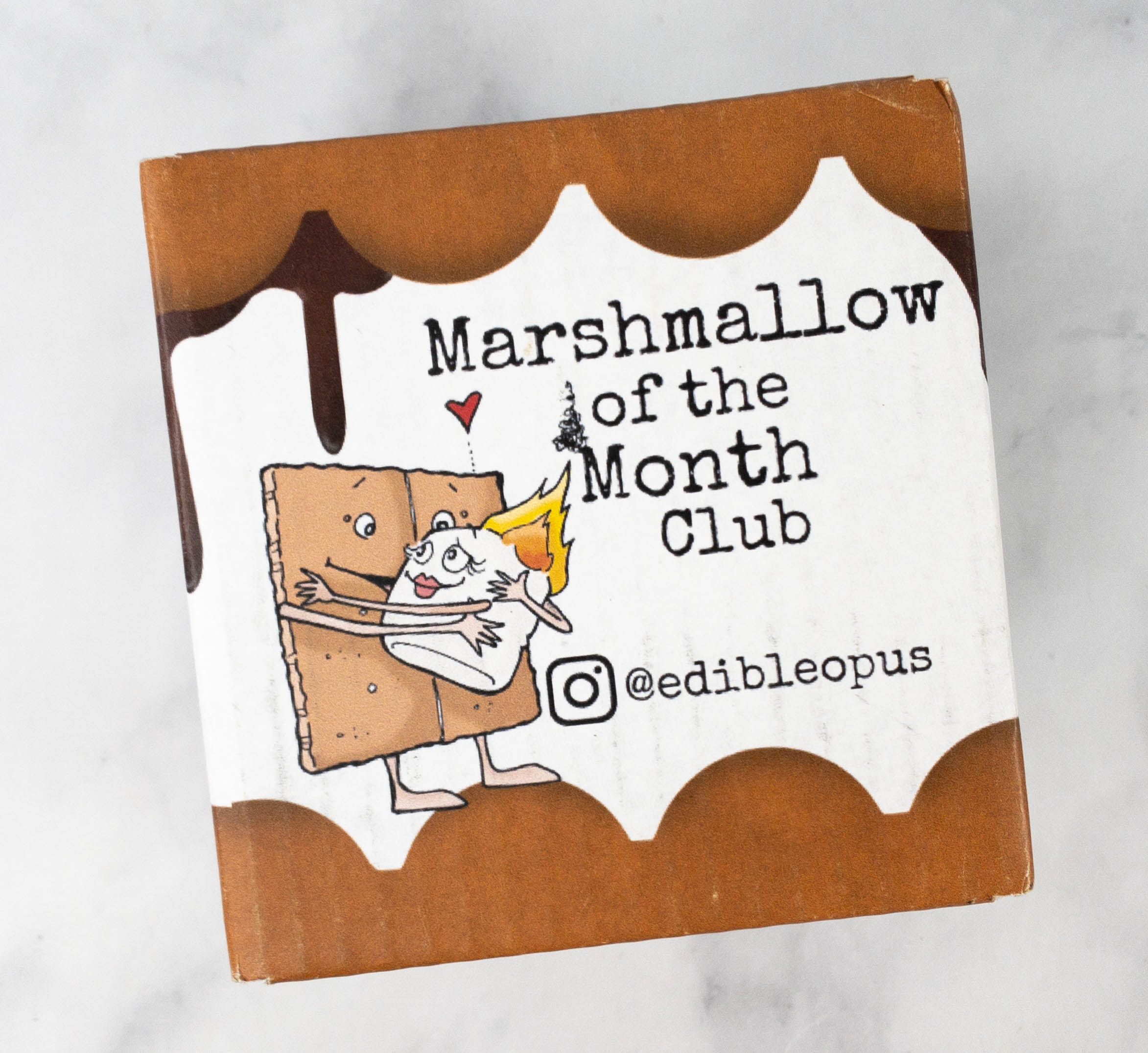 Marshmallow of the Month Club by Edible Opus sends all-natural marshmallows to your door every month! Each box includes a 6 bite-sized marshmallow, plus homemade graham crackers, a chocolate surprise, and a curated drink (your choice among coffee, tea, and chocolate) based on the current month's marshmallow flavor. Their marshmallows are made using fish-based gelatin, which is perfect for pescatarians. No eggs and corn syrup also make them guilt-free confections. The subscription is $25 per month.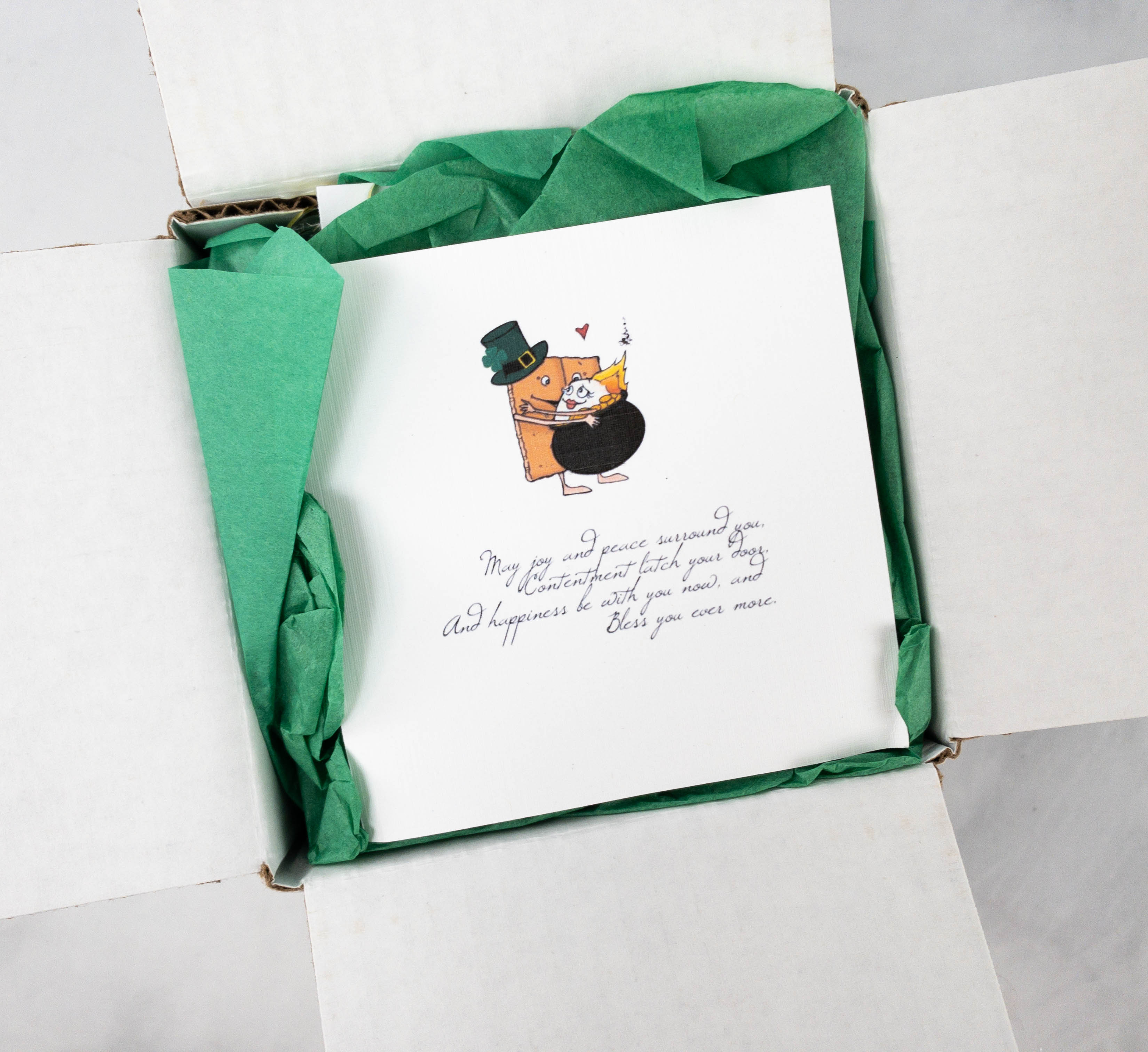 The main box contains a smaller box inside. Everything is wrapped in green tissue paper, and there's even a card sitting on top of the goodies!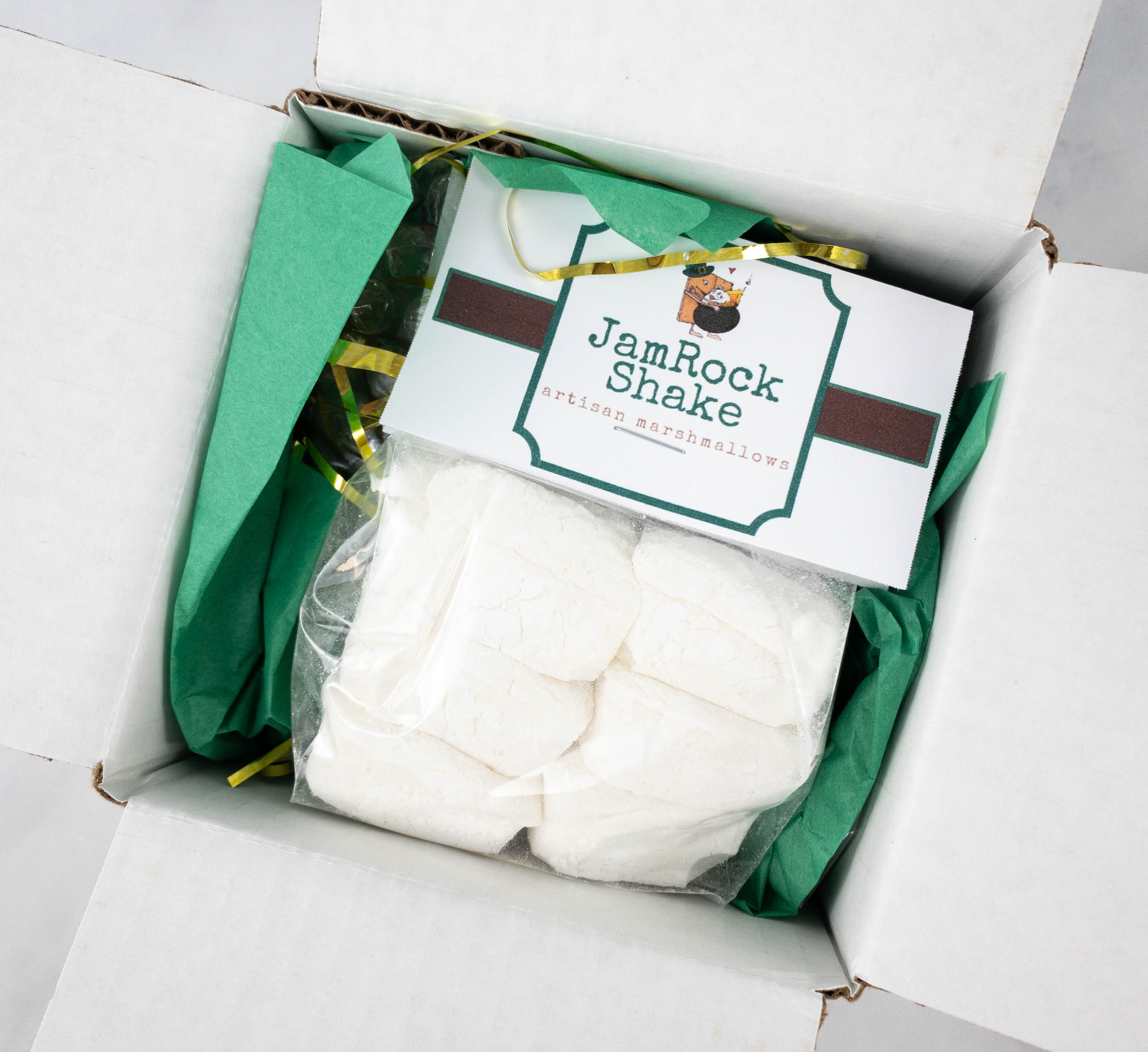 I'm excited to finally open this box!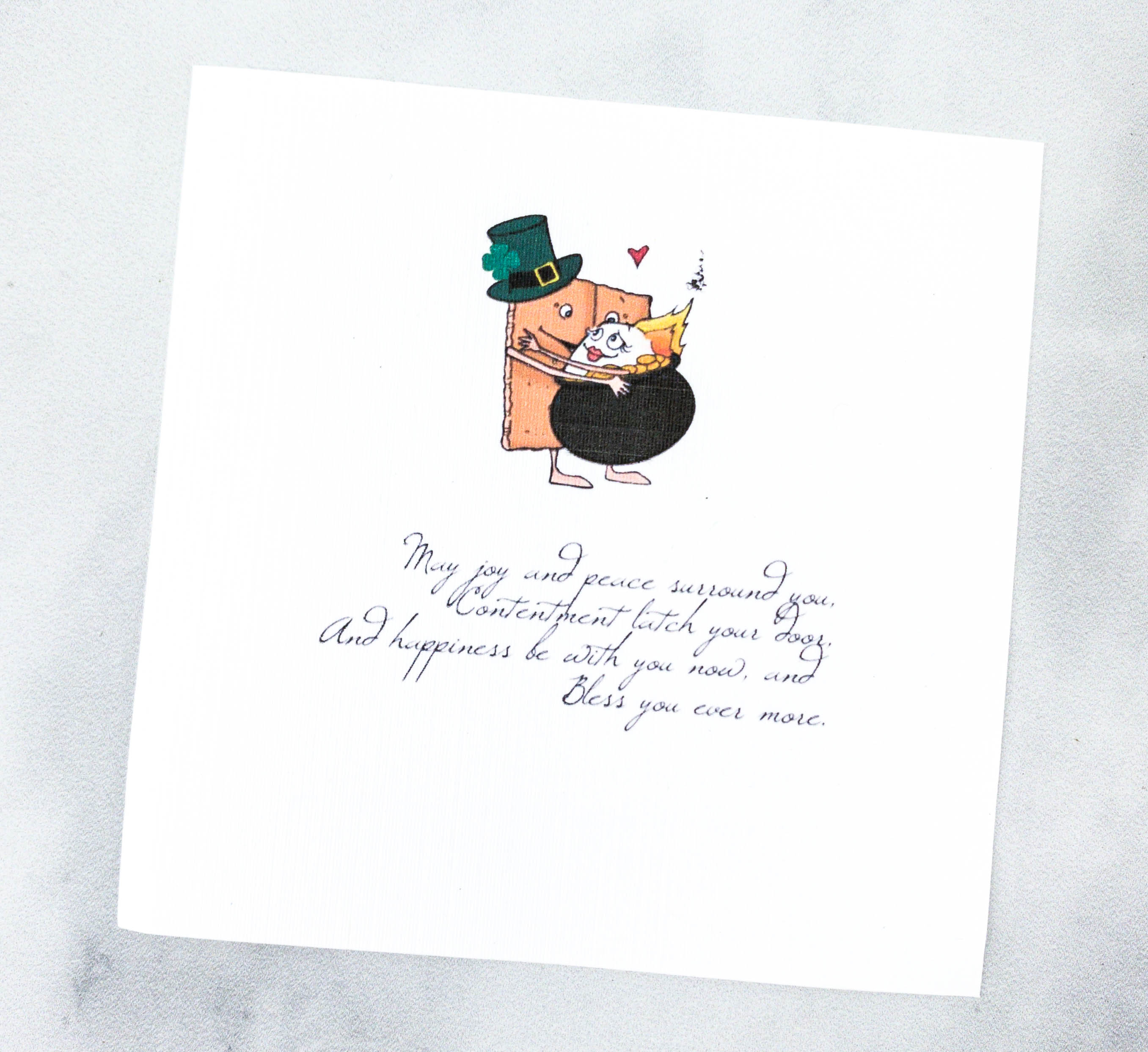 They also sent a cute card in this month's box. The graham cracker character looks adorable wearing that leprechaun hat!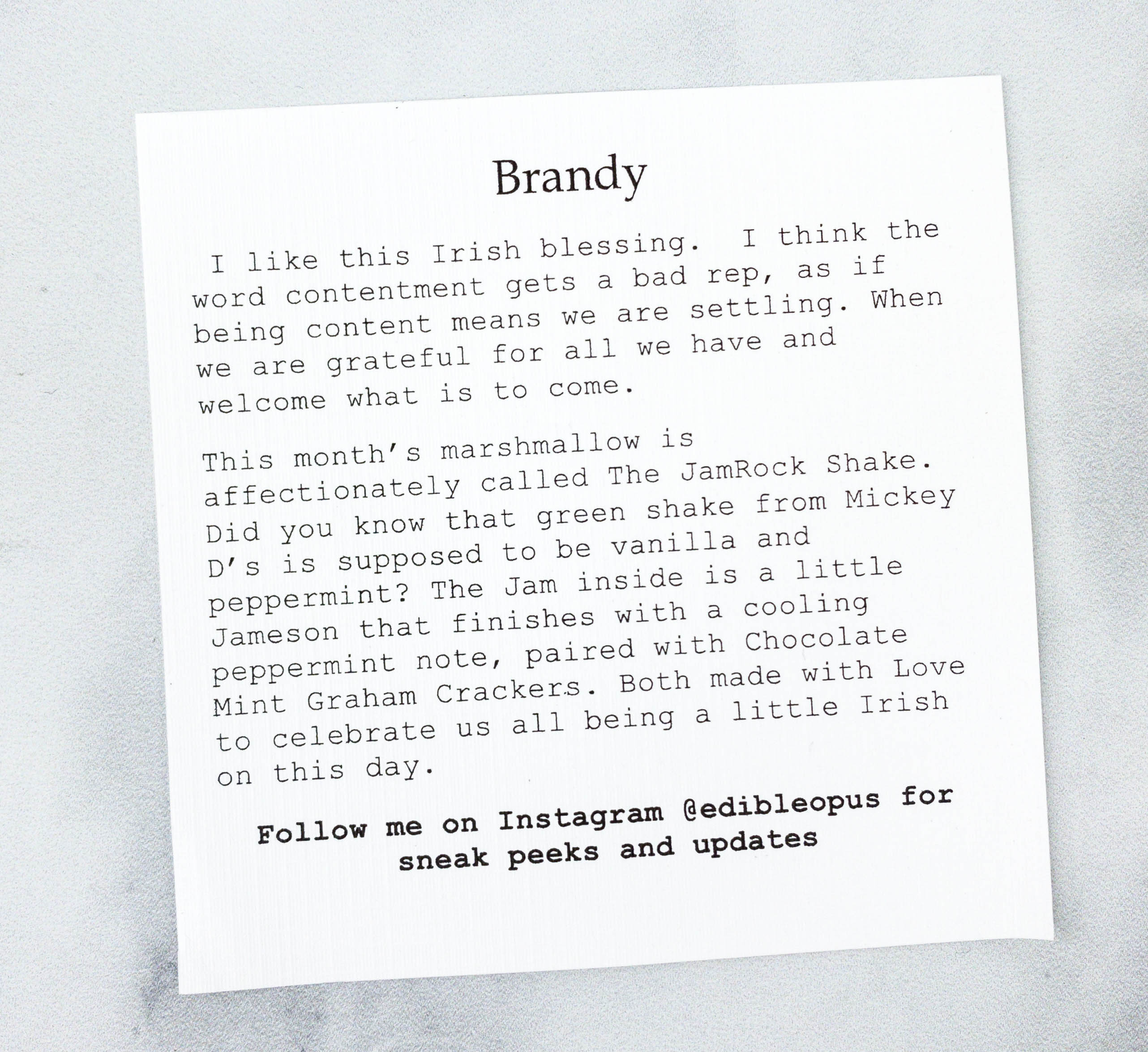 It contains a personalized message and lists all the items included inside.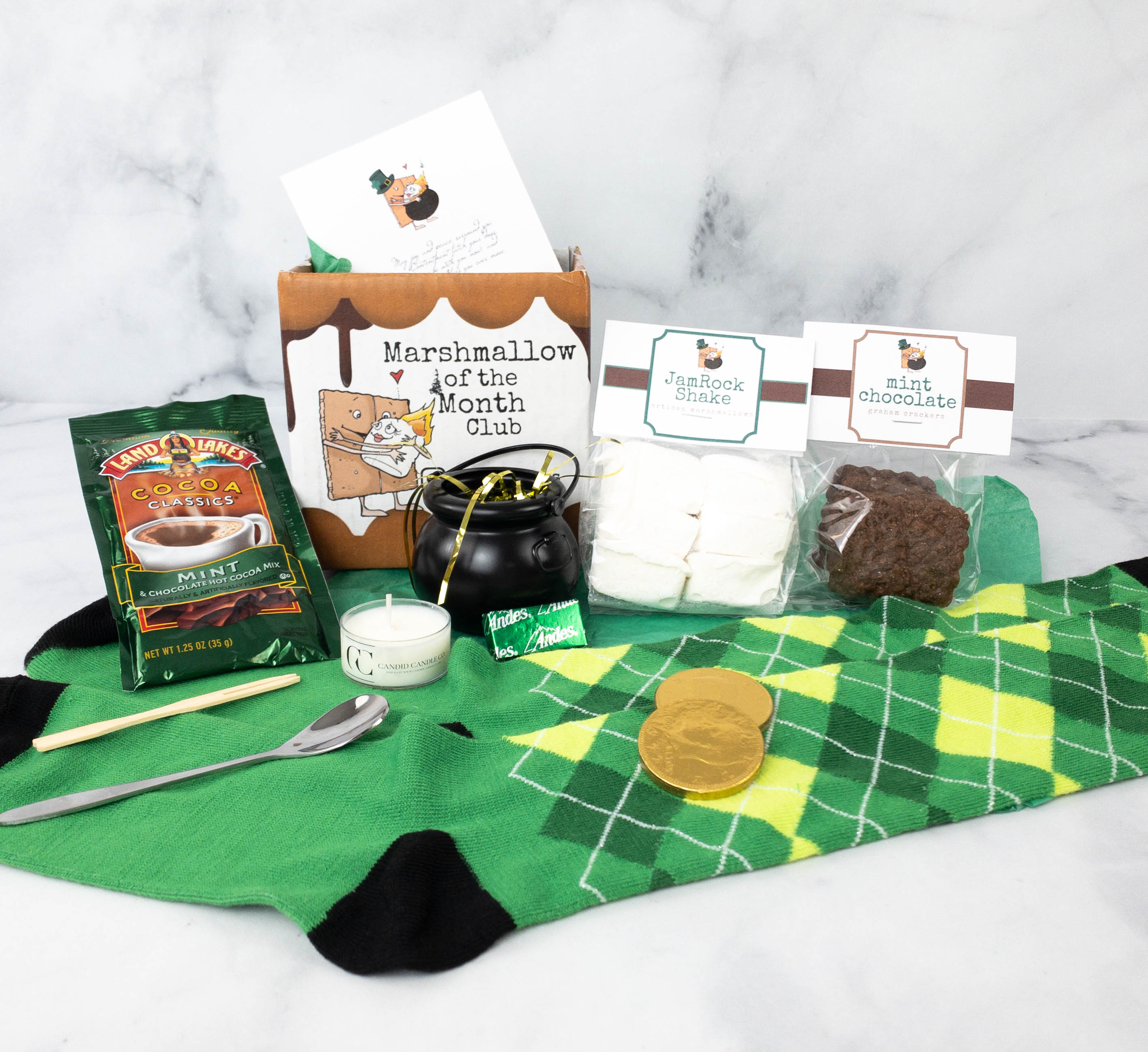 Everything in my box!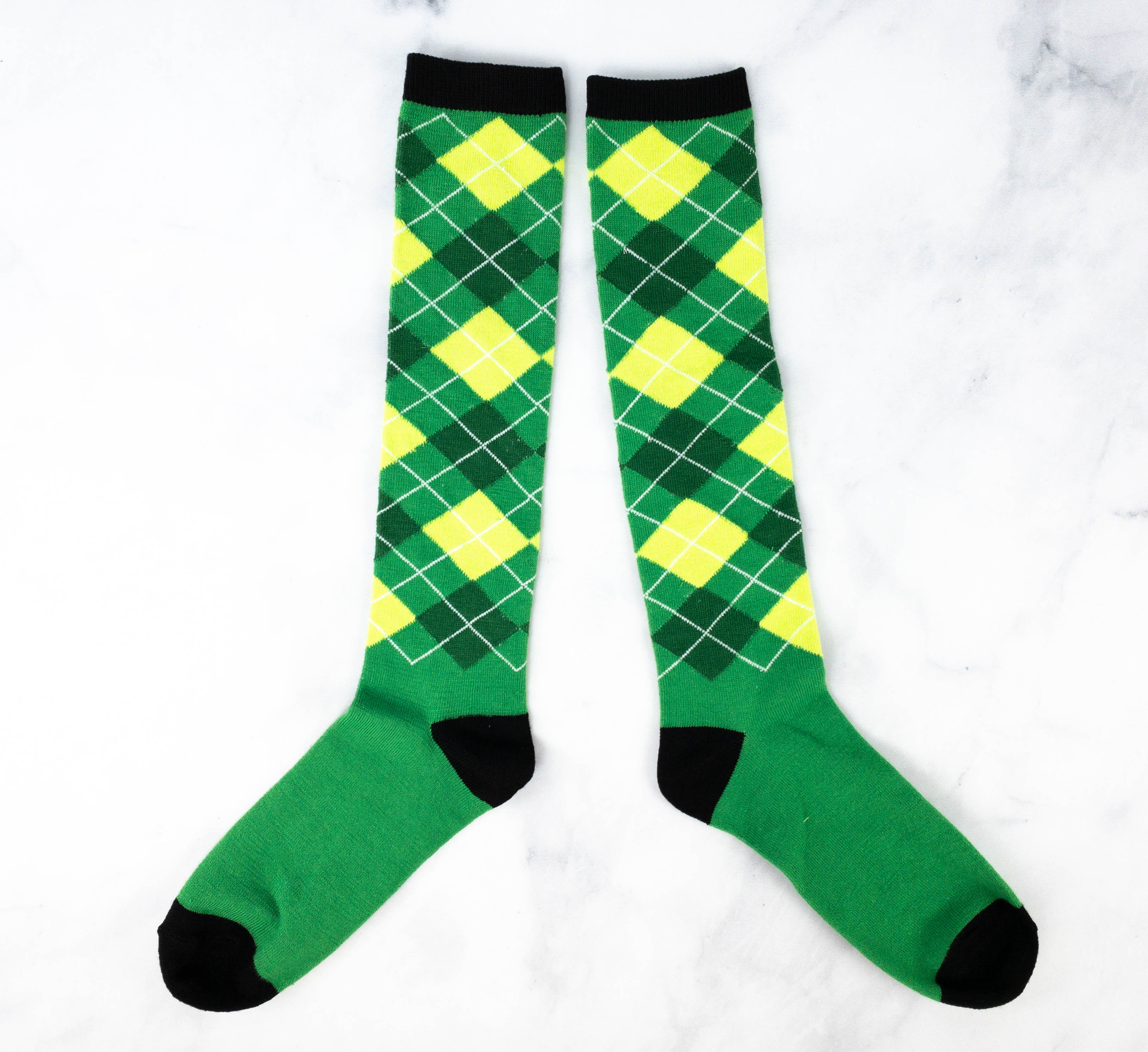 Here's a bonus item, a fresh pair of knee-high socks with a green base color. It also has black reinforced toes, heels, and cuffs.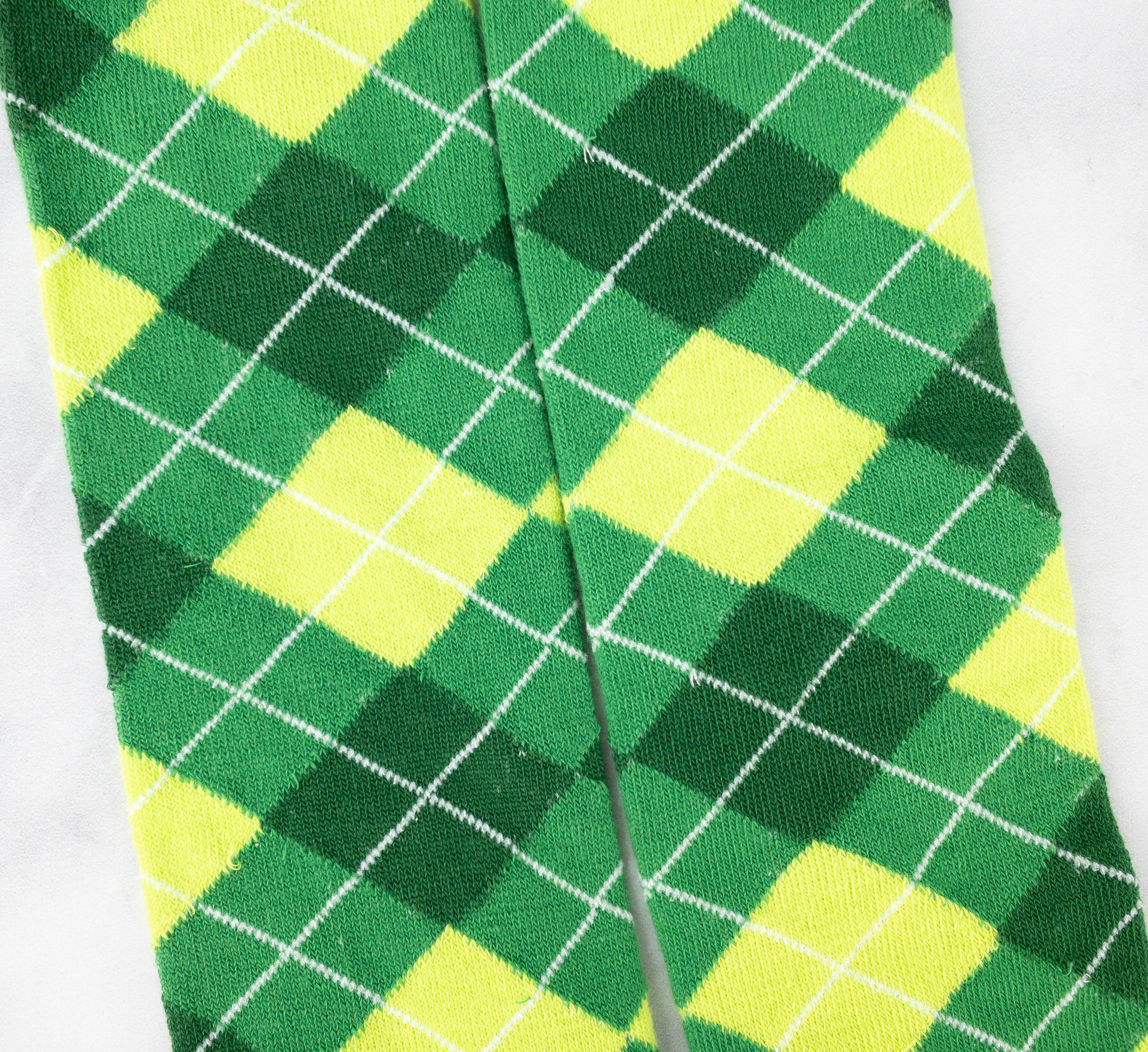 I'm loving these St. Patrick's Day argyle socks. The design on this is just perfect for dressing up as a leprechaun! It's also soft and comfy to wear!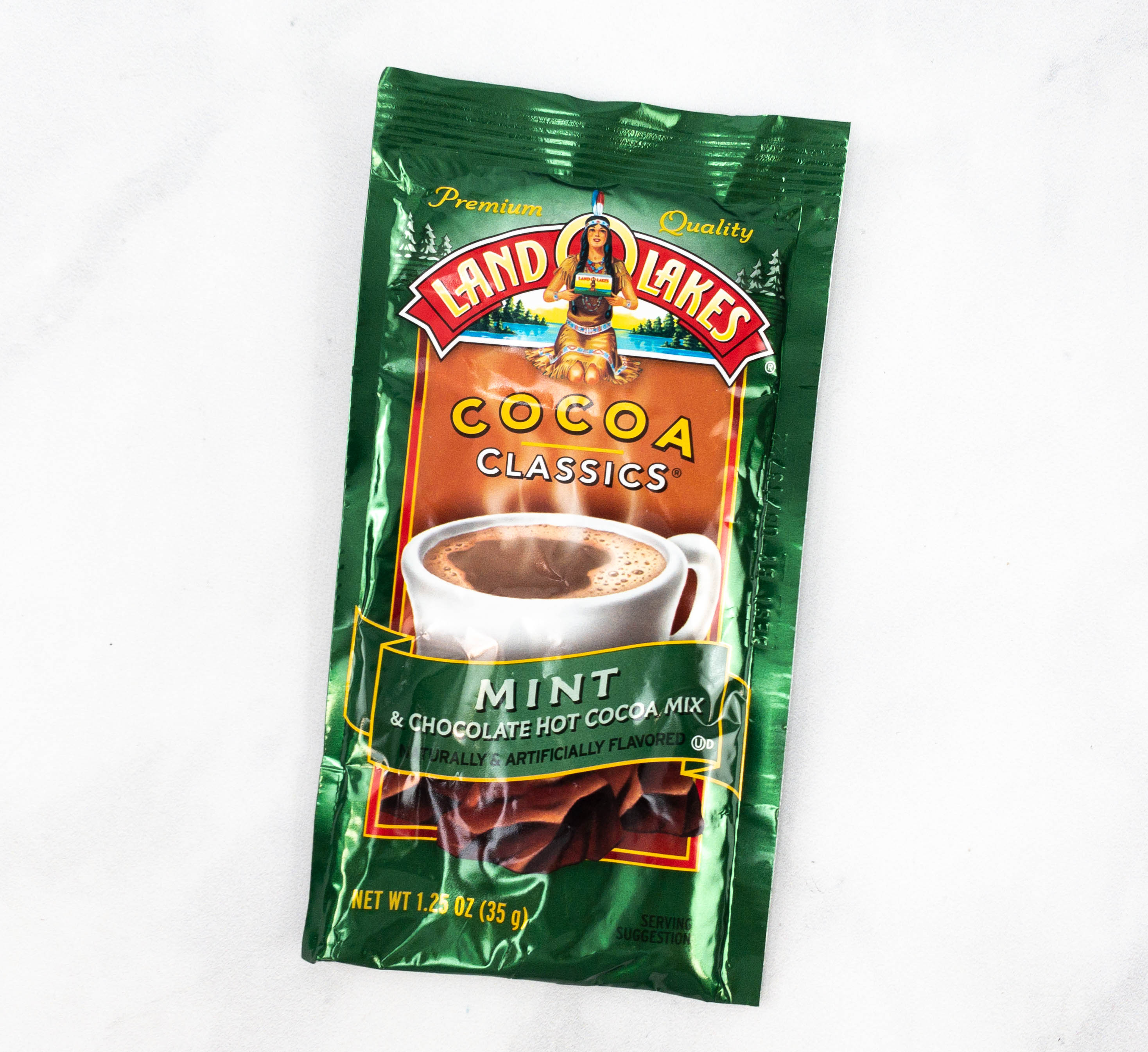 Subscribers can choose to receive chocolate, coffee, or tea with their marshmallows. For me, marshmallow is best paired with hot chocolate! The one I received this month is a single serving mint and chocolate hot cocoa mix and it's also curated specially to go along with this month's featured flavor!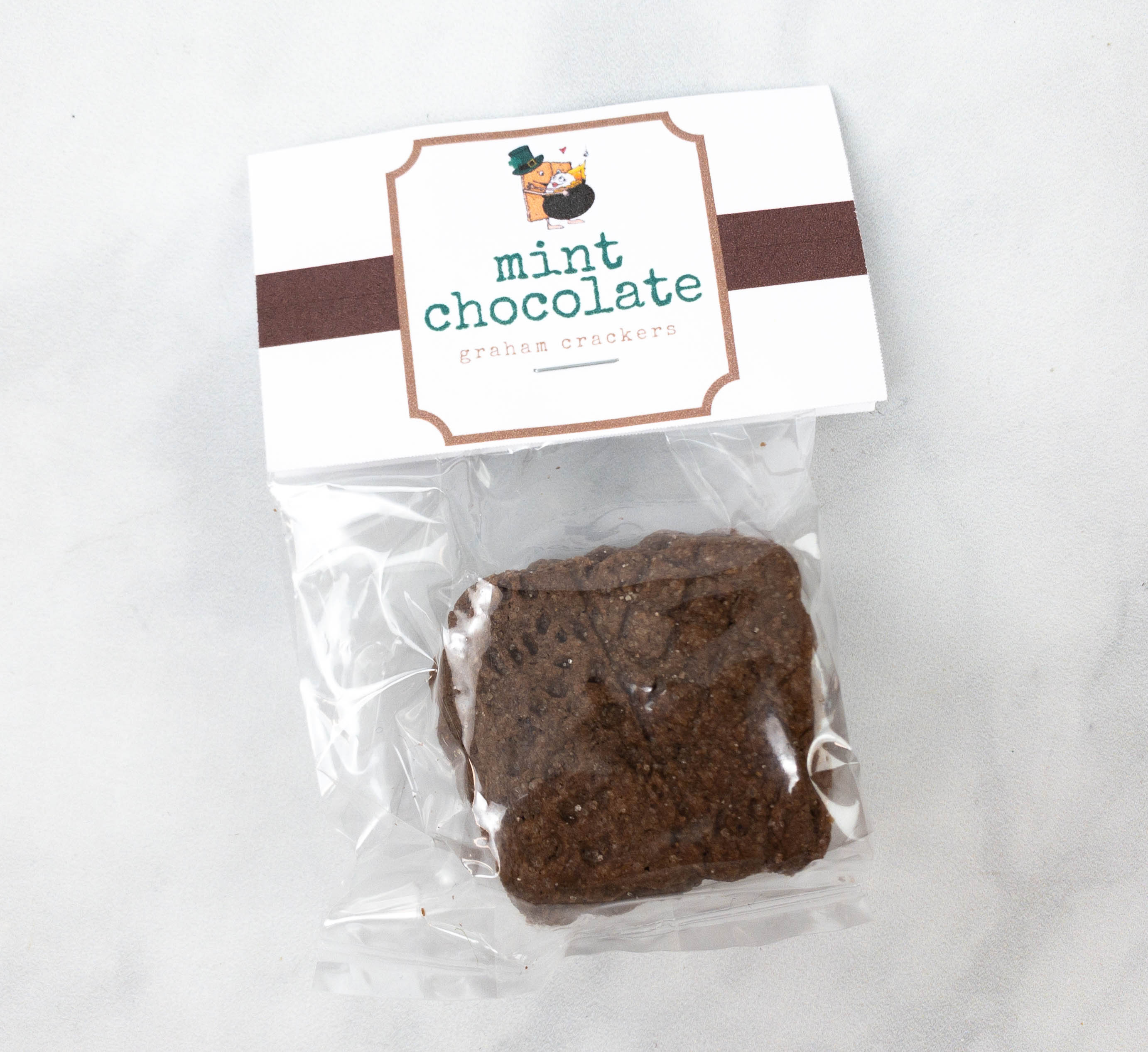 One key ingredient for making s'mores is graham crackers, and these look so appetizing already! For this month, the graham crackers are mint chocolate flavored. It's one of my favorite flavors, and I'm so excited to make some s'mores!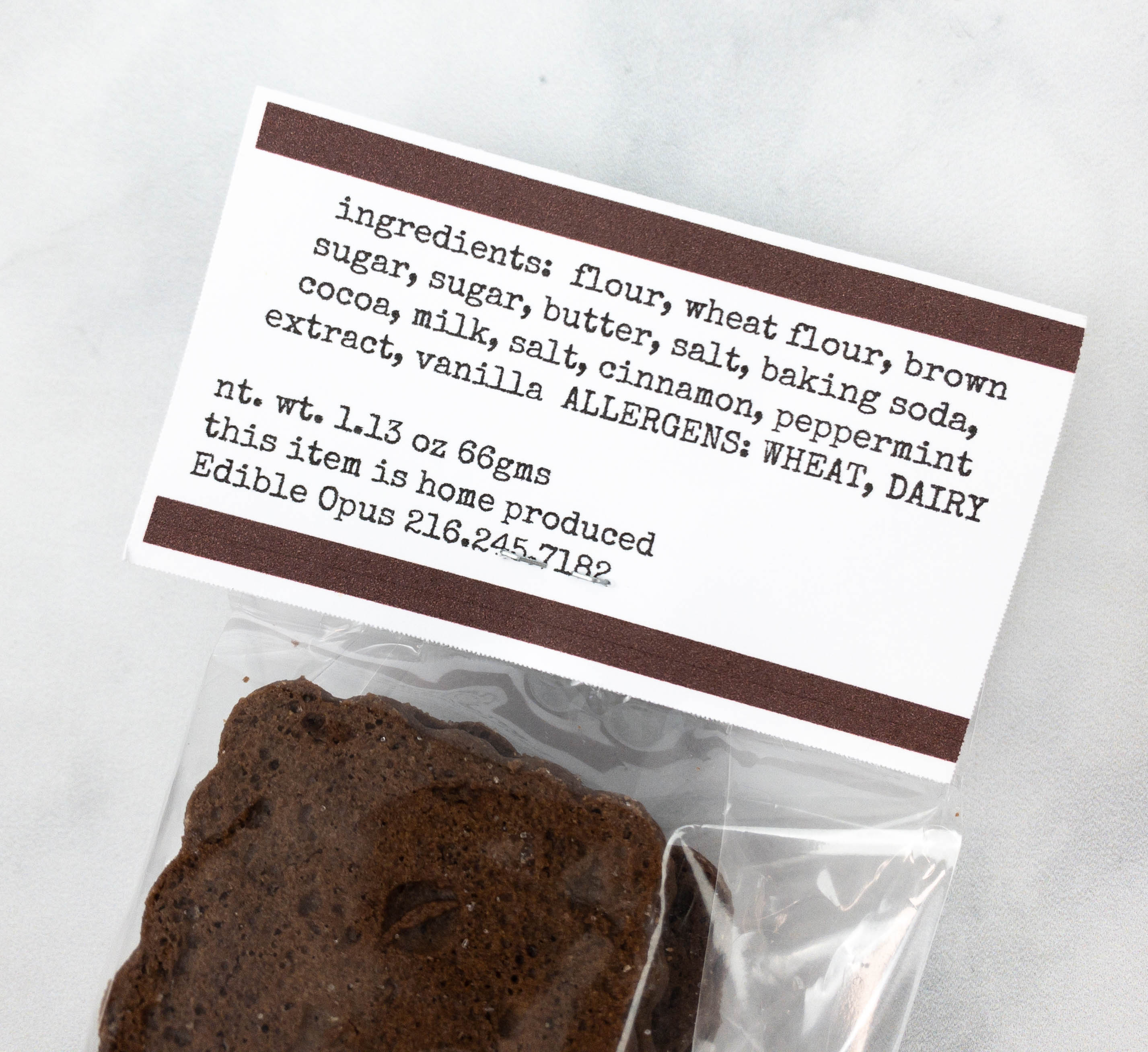 The back carton list the ingredients used in making these graham crackers.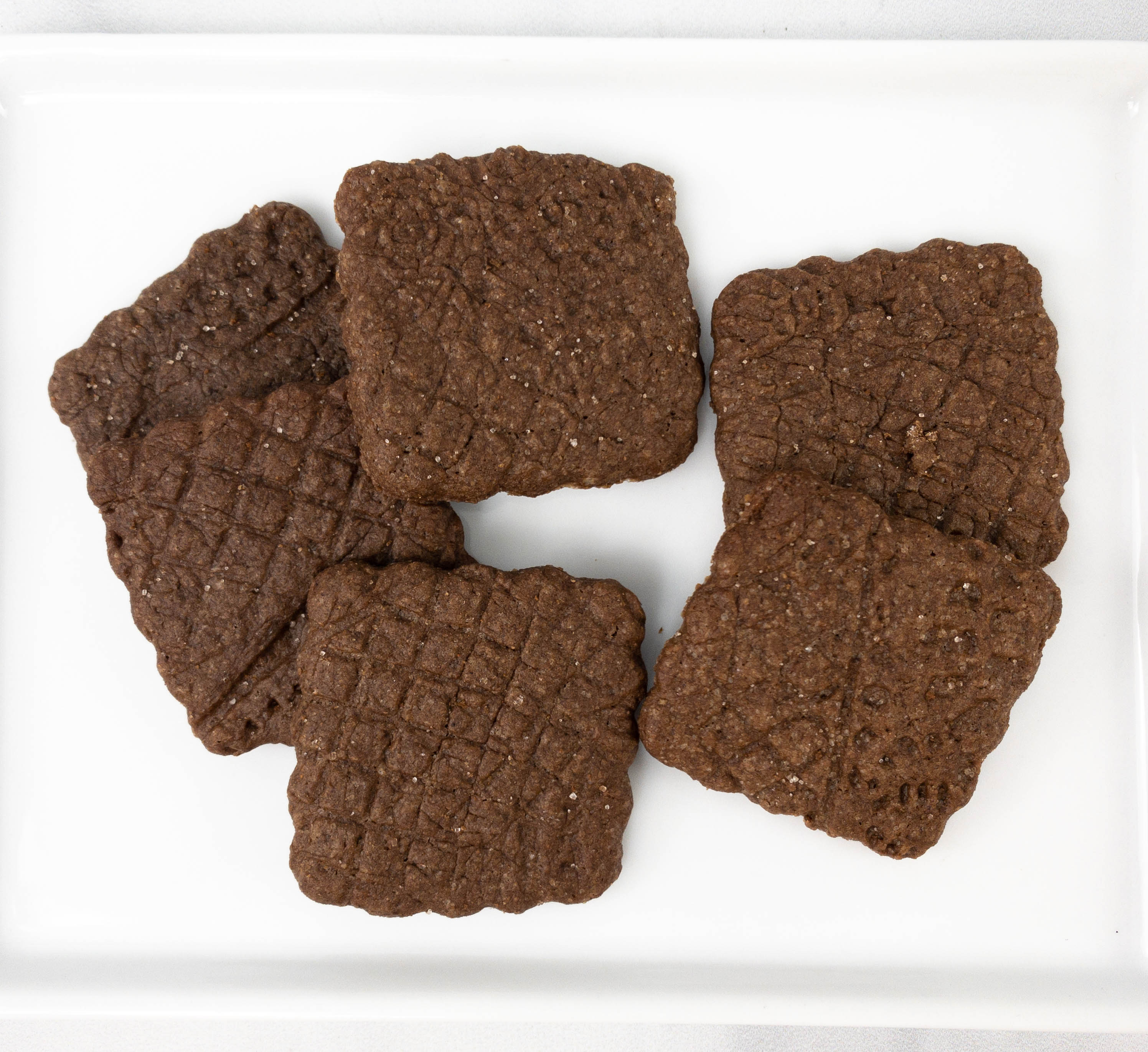 There are half-dozen mint chocolate graham crackers, and they look so delicious. They're also in  the perfect size for making s'mores.
Now, we're onto the main item in this box, a pack of delectable marshmallows! It contains 6 pieces of egg-free, fish-based gelatin marshmallows. Totally guilt-free, and they look so plump!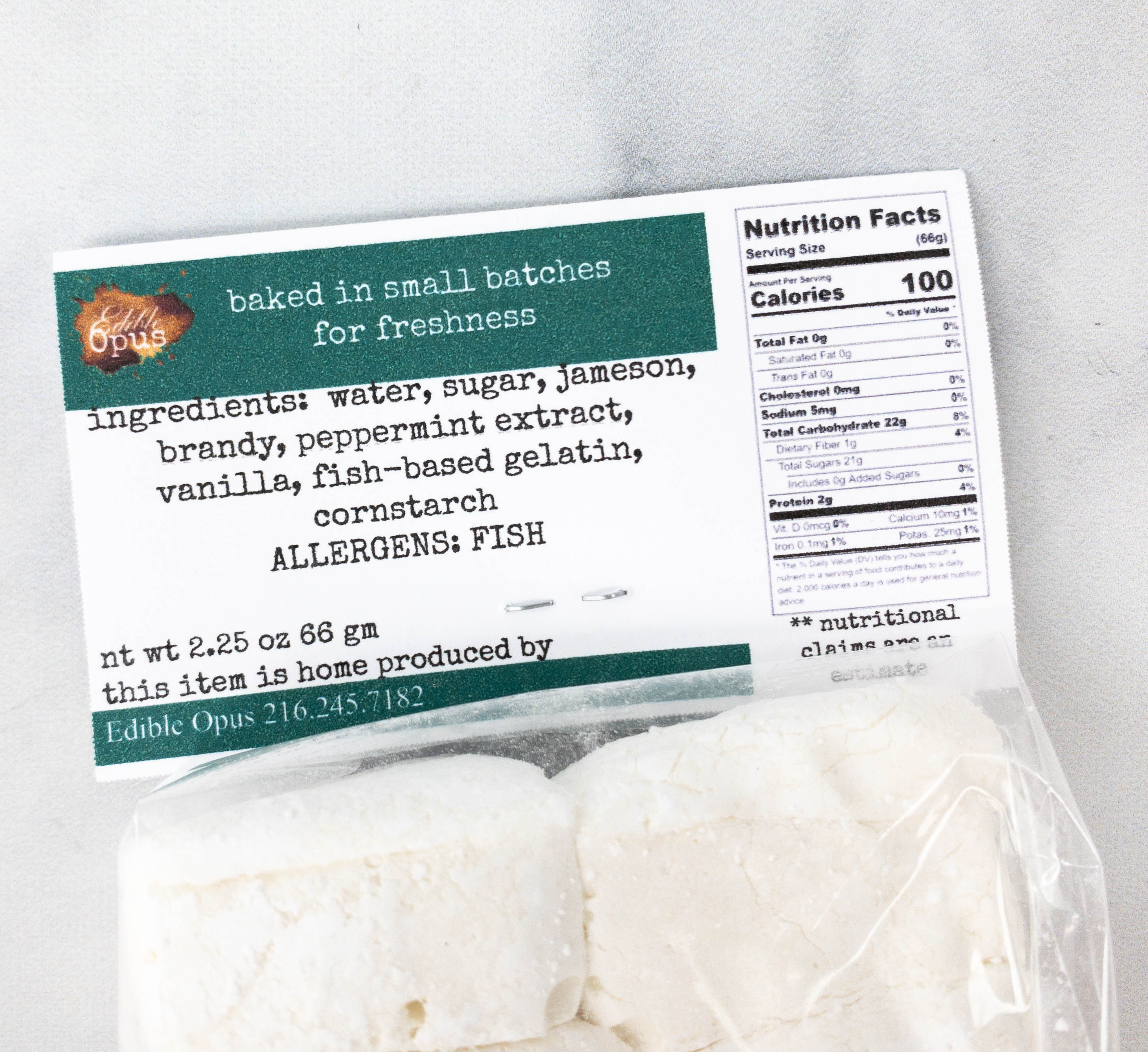 The carton tag lists all the ingredients. These marshmallows are baked in small batches, which means it's better in quality compared to mass produced ones.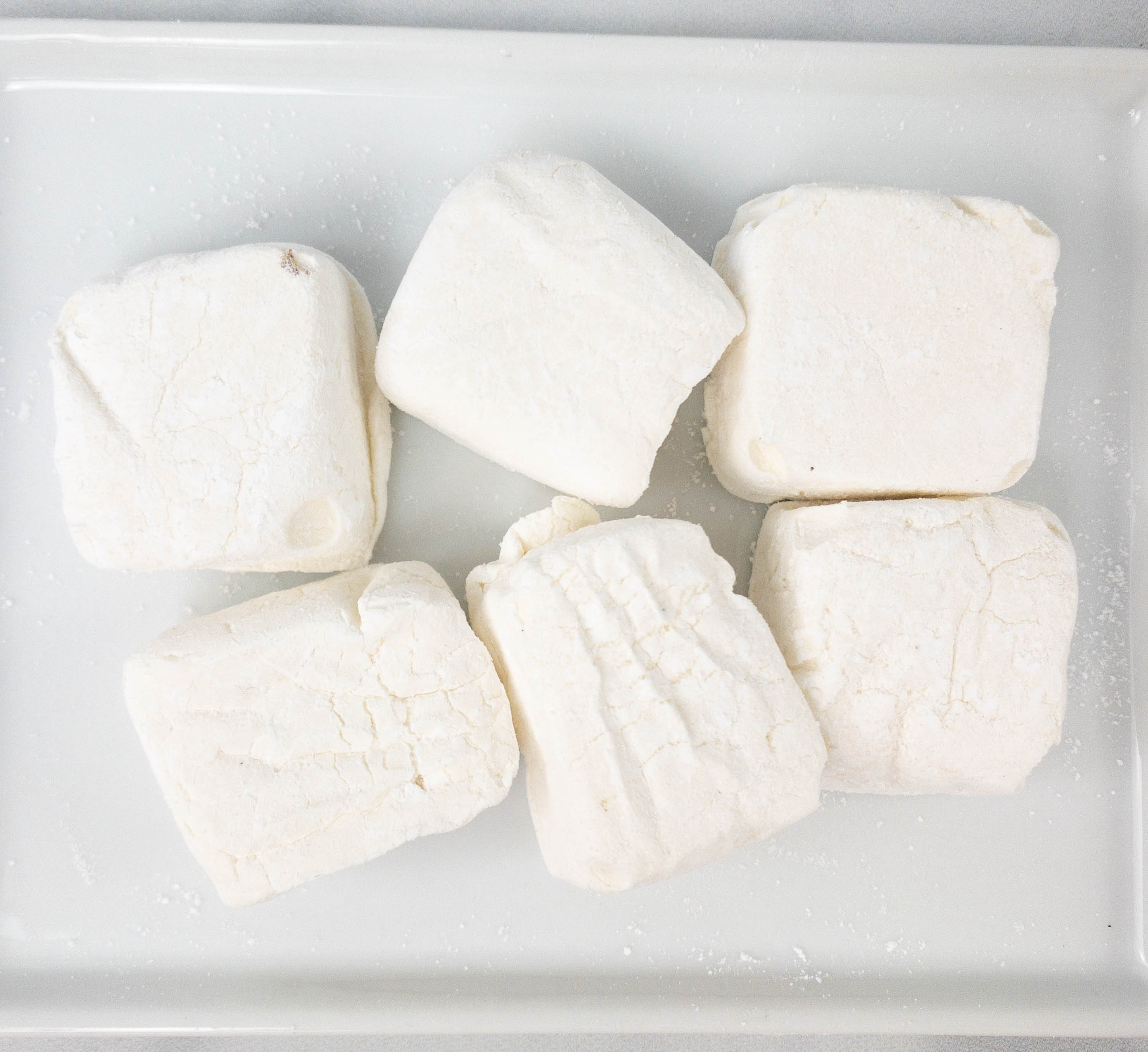 The marshmallows are so soft, fluffy, and white!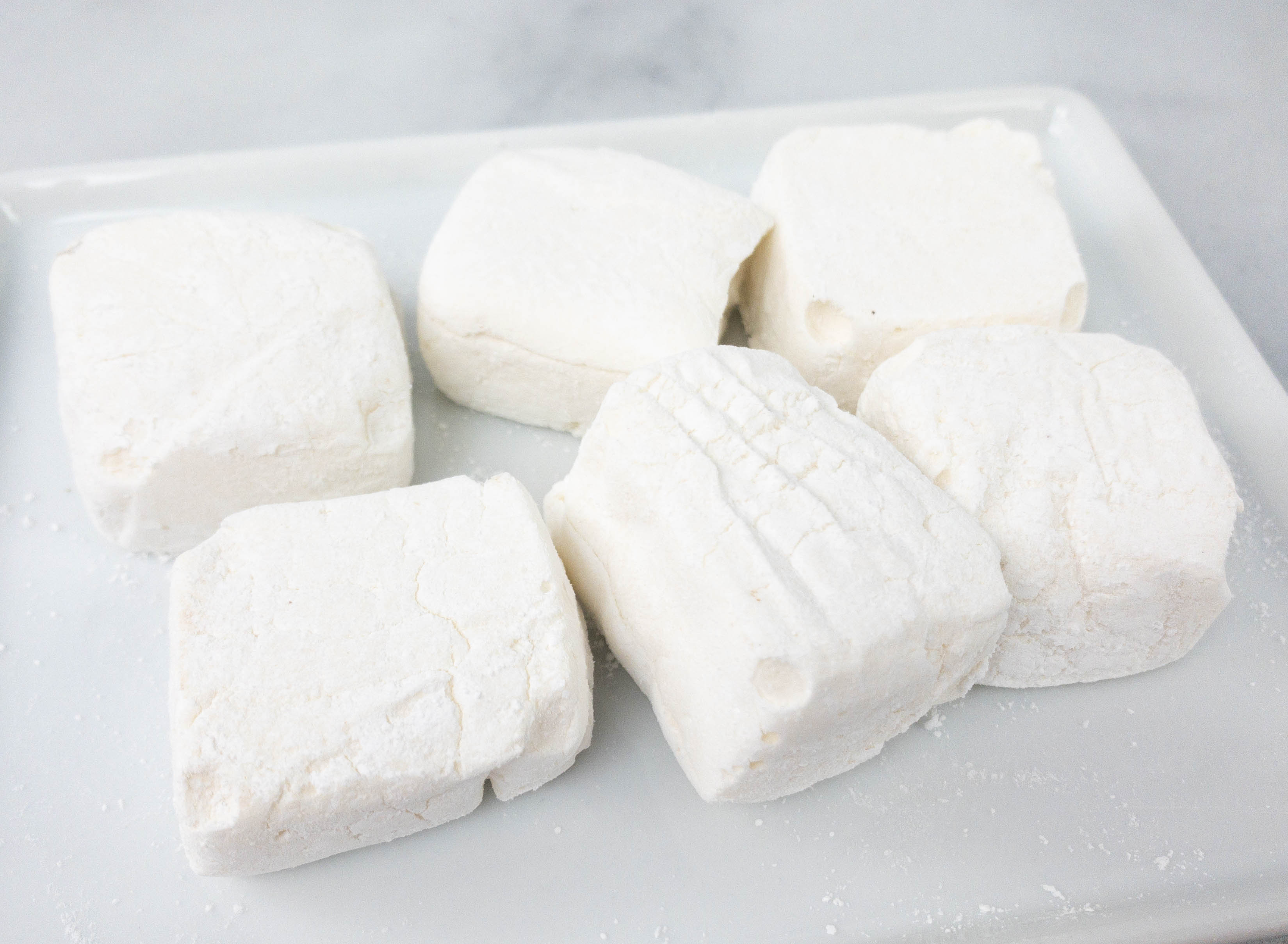 There's a subtle hint of Jameson, plus the peppermint and vanilla, and it just smells so amazing!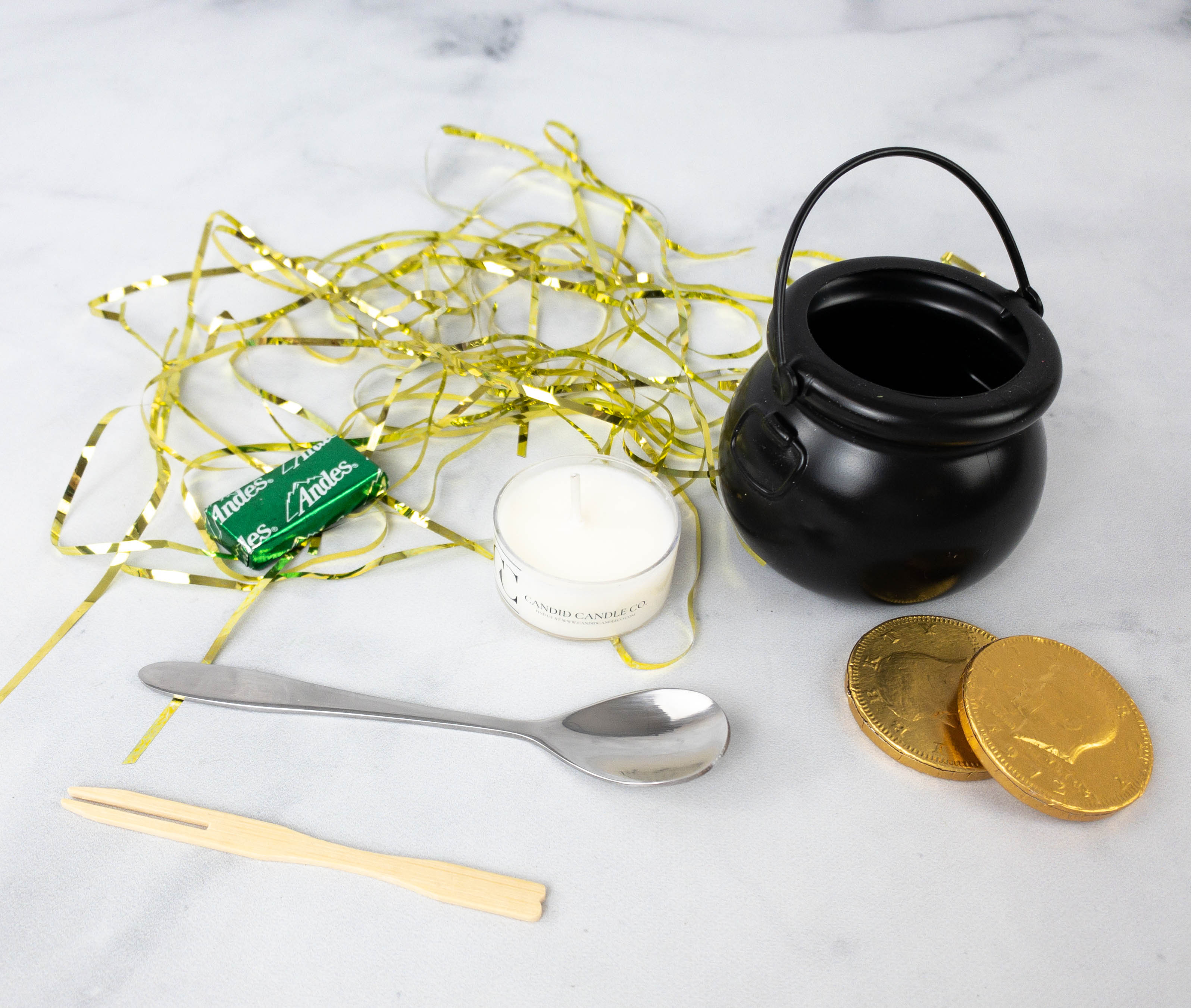 Here are more surprises from the box! There's a white tea light candle, a small pot, a mini wooden skewer for roasting the marshmallows, two chocolate gold coins, one Andes chocolate mint, and a cute metal spoon.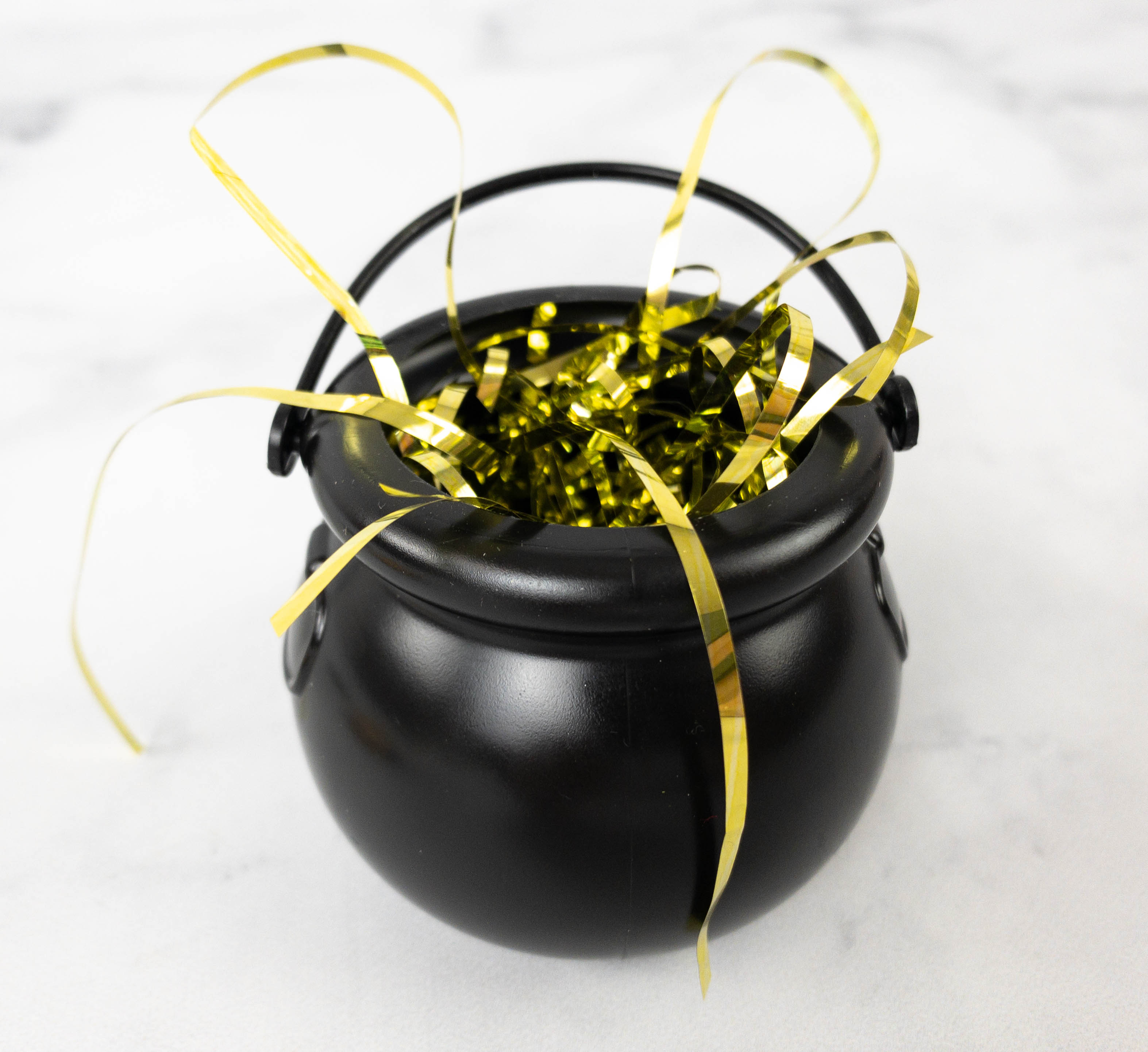 This mini pot is filled with strips of gold metallic foil. It's a cute representation of Leprechaun's pot of gold!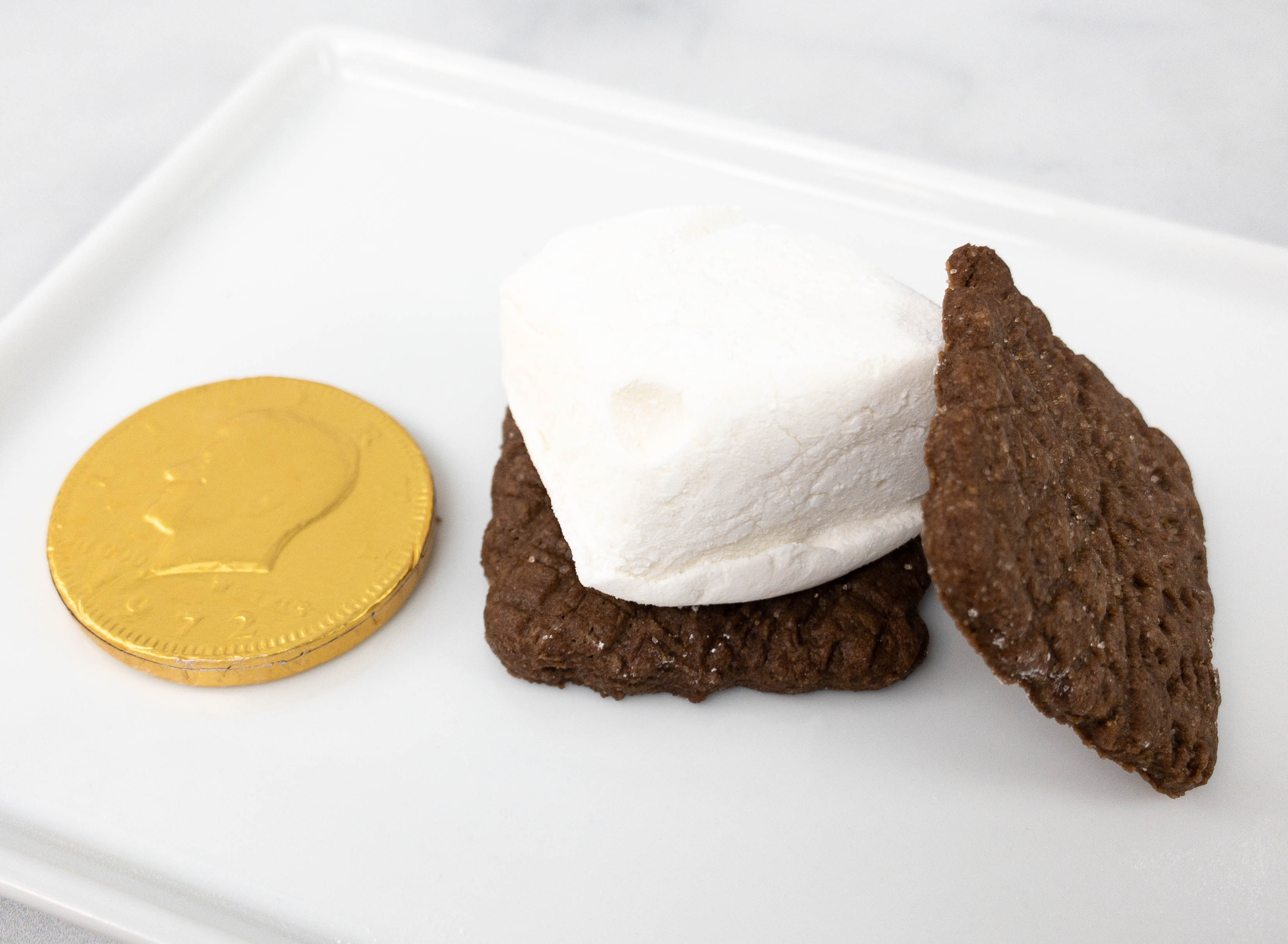 I'm ready to roast these marshmallows and indulge myself with some indoor s'mores!
Marshmallow of the Month Club by Edible Opus makes it easy for me to prepare s'mores at home, with high-quality ingredients at that! The box is filled with everything I need to make delicious s'mores, from graham crackers to marshmallows to chocolates. I love that this month's box revolves around the celebration of St. Patrick's Day, and they even prepared surprises like a fresh pair of socks and a little pot of gold. There's also a spoon included, and I believe it's a regular addition to monthly boxes. Another great thing I love is the selection of flavors for this box. It's a combination of the two flavors I love, chocolate and mint! There's also a splash of Jameson, making it a little exciting. The flavors vary every month, so there's always something to look forward to. Overall, I love this month's entire box! The packaging also added excitement when unboxing one as it looks like a large s'more!
What do you think of the Marshmallow of the Month Club by Edible Opus box?
Visit Marshmallow of the Month Club by Edible Opus to subscribe or find out more!