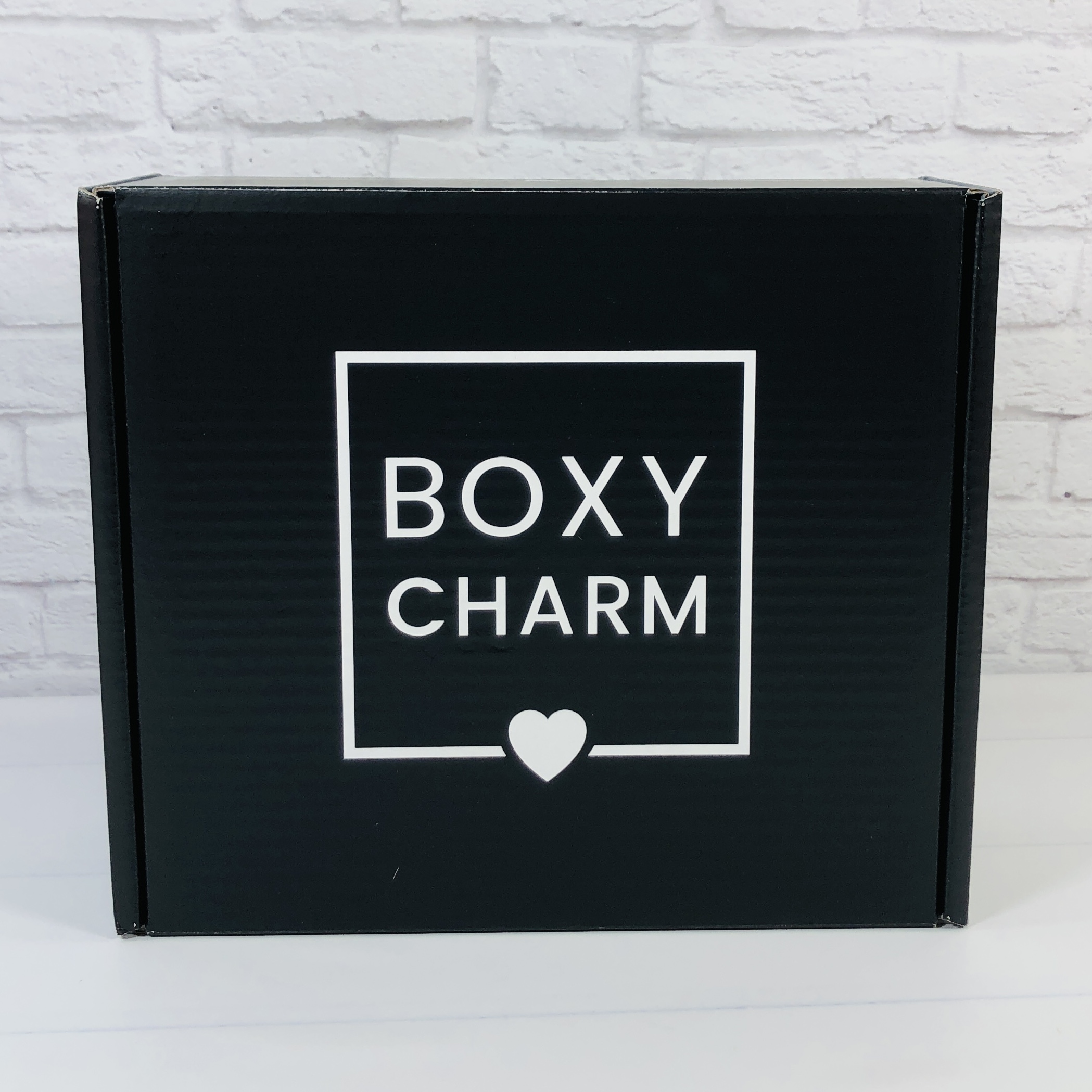 BOXYCHARM Premium is a beauty box from BOXYCHARM, separate from the regular/base BOXYCHARM and BOXYLUXE upgrade. For $35 per month, you'll receive 6-7 items with 1 item chosen by the subscriber. They also promise $175+ value in every box and no product overlaps. When you sign up for Premium, you must get the base/classic box for the month you signed up for and stay subscribed to that until you're off the waitlist for Premium. After you score Premium, you can let go of the base box if you choose.
DEAL: Subscribe now and get a free gift: Violet Voss OR HIPDOT Palette PLUS $10 credit to March PopUp!
Use this link and coupon code SEEINGGREEN to get FREE HIPDOT Cenote Palette OR use the coupon code LUCKYEYES to get FREE Violet Voss Olive You Forever Palette AND get your exclusive $10 Popup code via email within 24 hours of subscribing.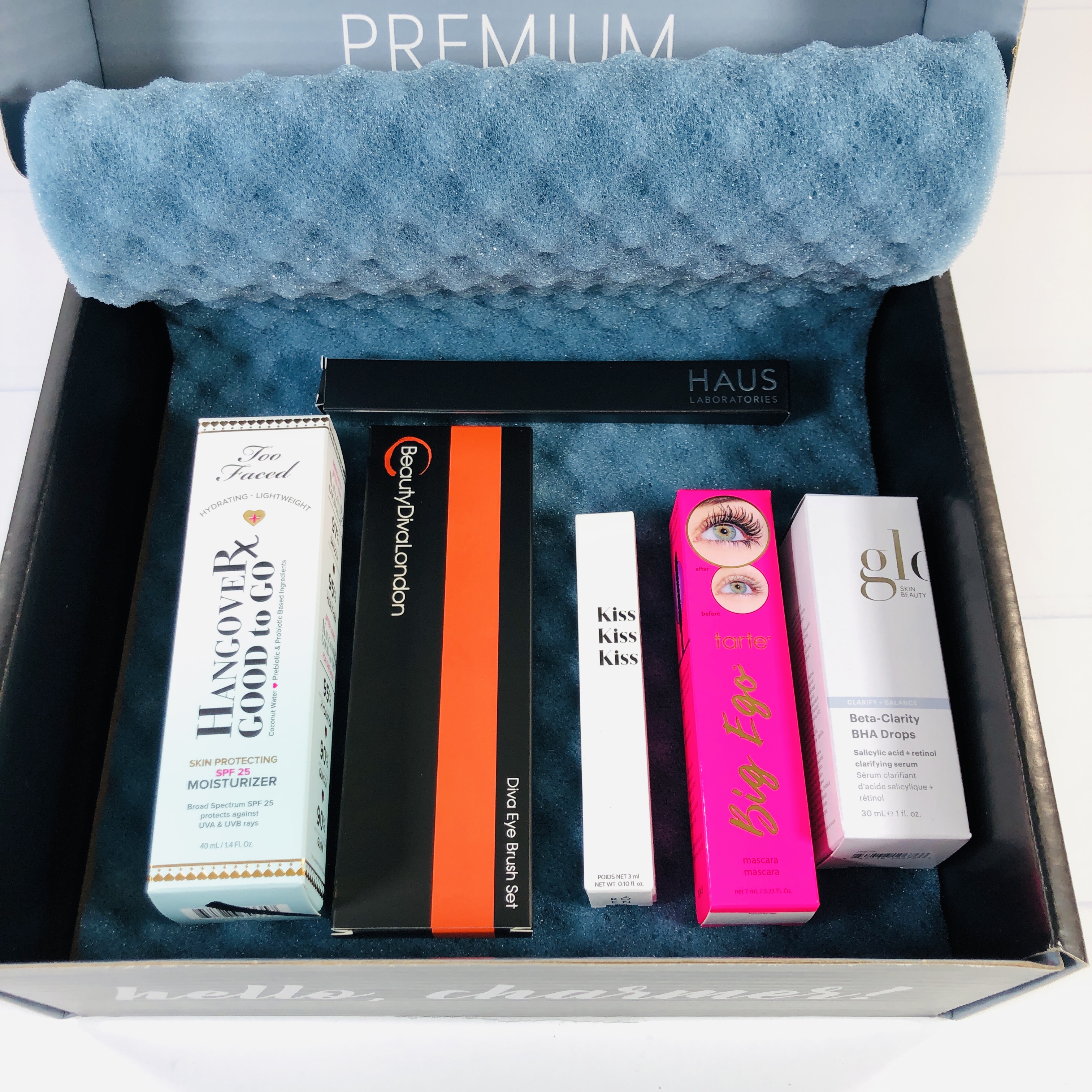 The items arrived in their original packaging and were cushioned with a foam insert.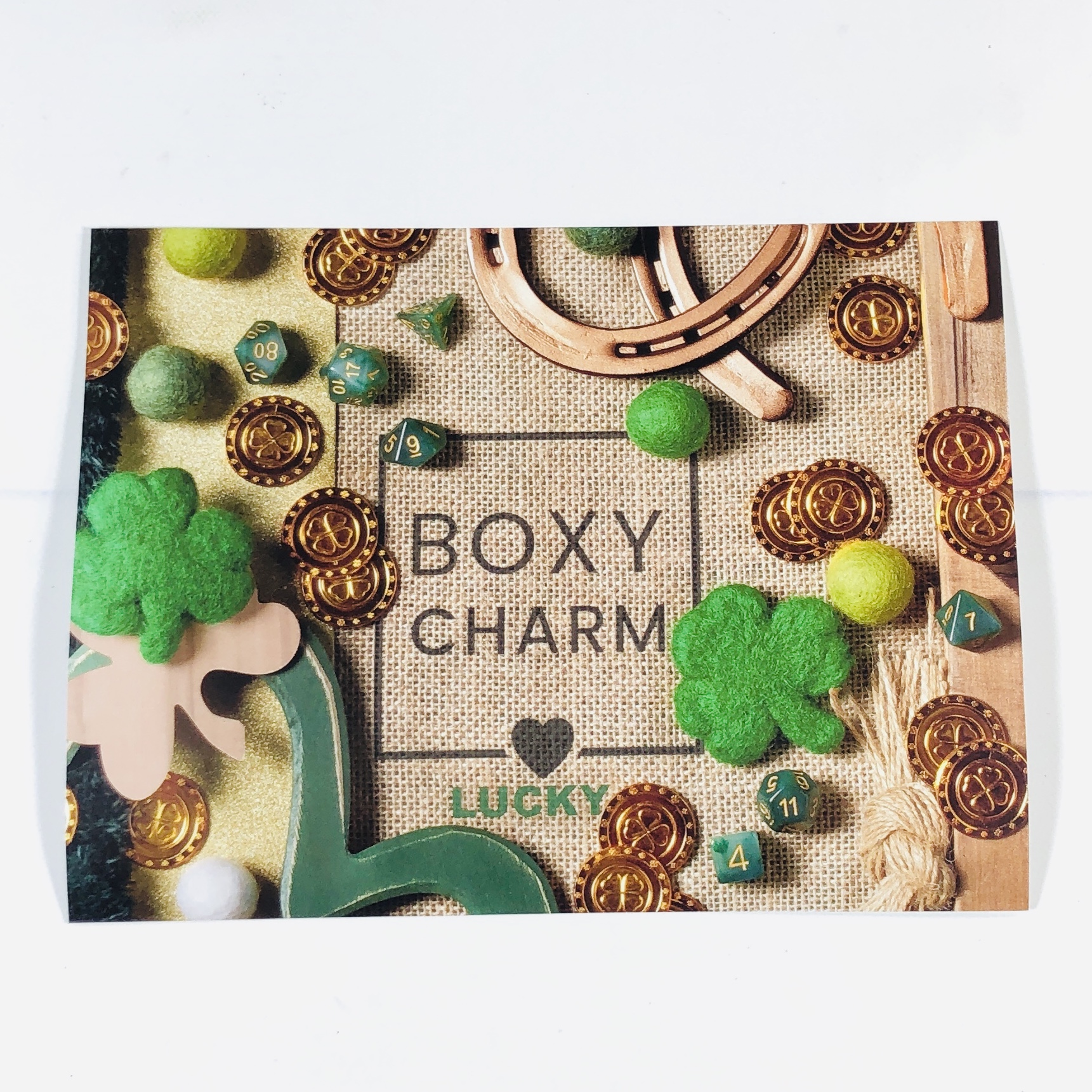 The theme for March is LUCKY!
Listed at the back are the products inside the box along with MSRP's.
Everything in my March 2021 BOXYCHARM Premium! There may be variations in the box – see the full spoilers here.
Too Faced Hangover Good to Go Moisturizer SPF 25 ($35) is a priming moisturizer with SPF to get skin ready to face the day.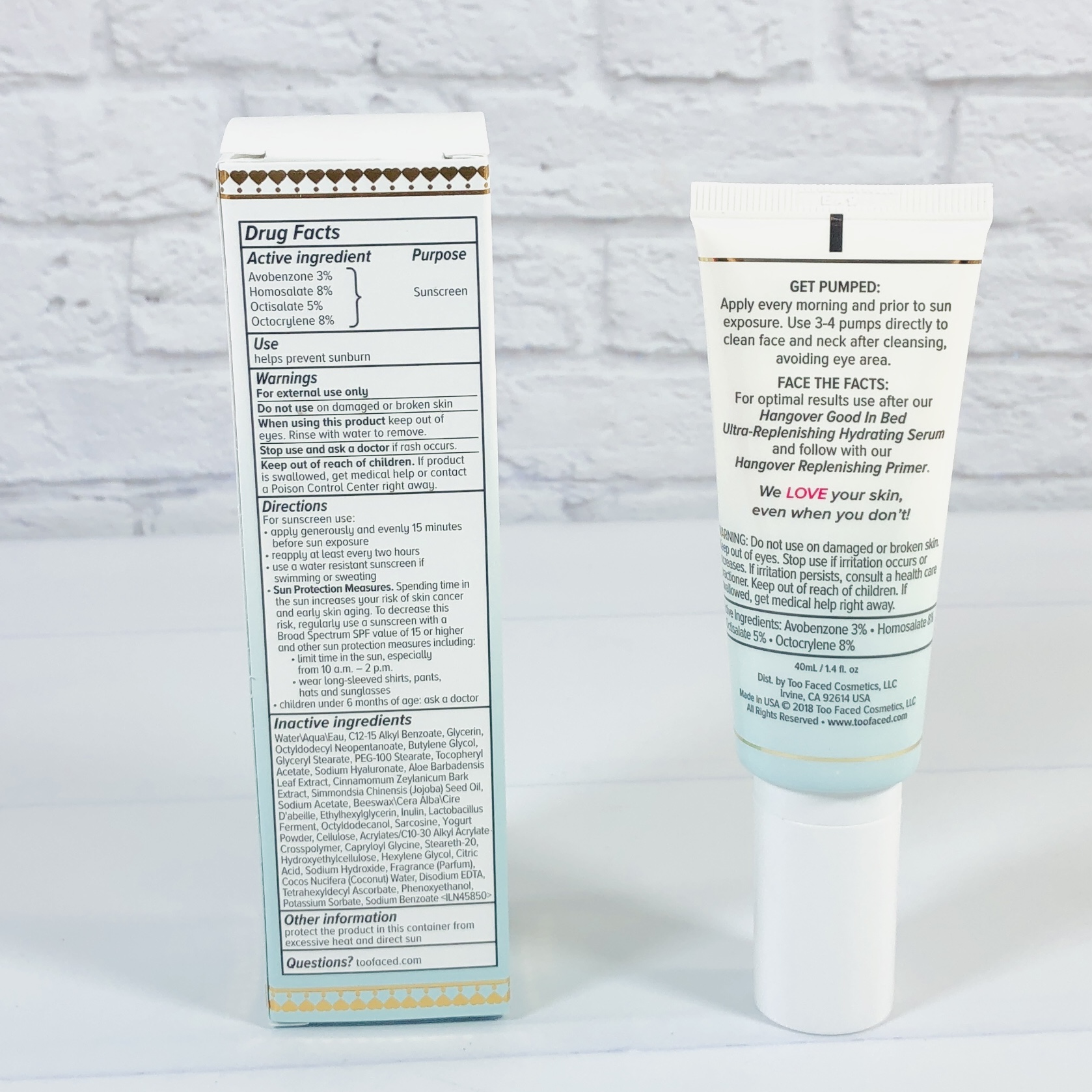 Apply a few pumps to skin and spread over the face, avoiding the eyes. It spreads easily and didn't leave a white cast on my skin. It didn't feel greasy and if you're not a fan of the way sunscreens usually smell, then know that this one has more of a perfumed scent.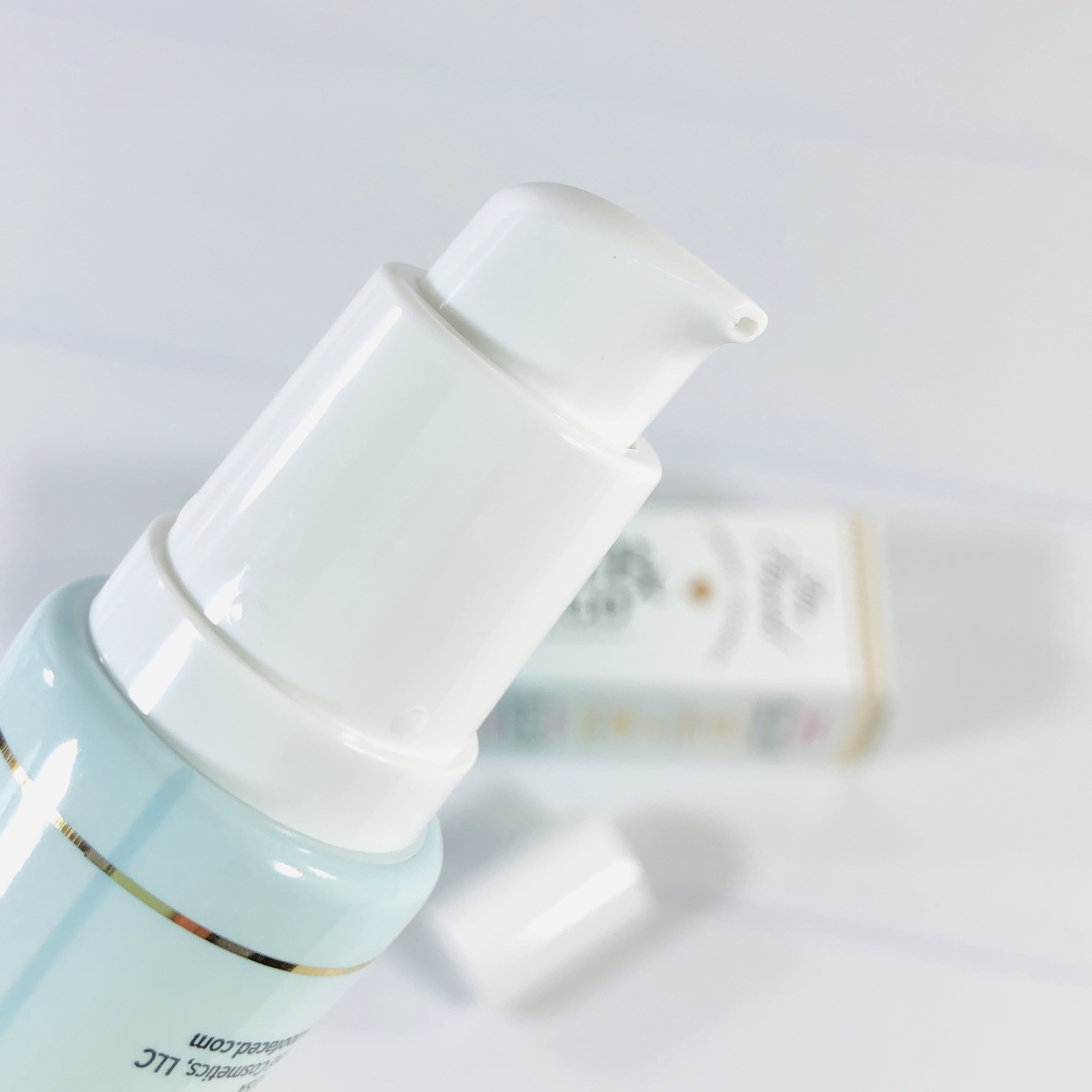 It might take several pumps to get it going. Keep in mind that this isn't a waterproof sunscreen, so this won't keep you protected for long if you are swimming or sweating. It's more of a daily moisturizer, but of course with SPF.
Glo Skin Beauty Beta-Clarity BHA Drops ($48) is a chemical (as opposed to physical, aka scrubby) skin exfoliator that helps remove dead layers of skin to reveal brighter skin underneath!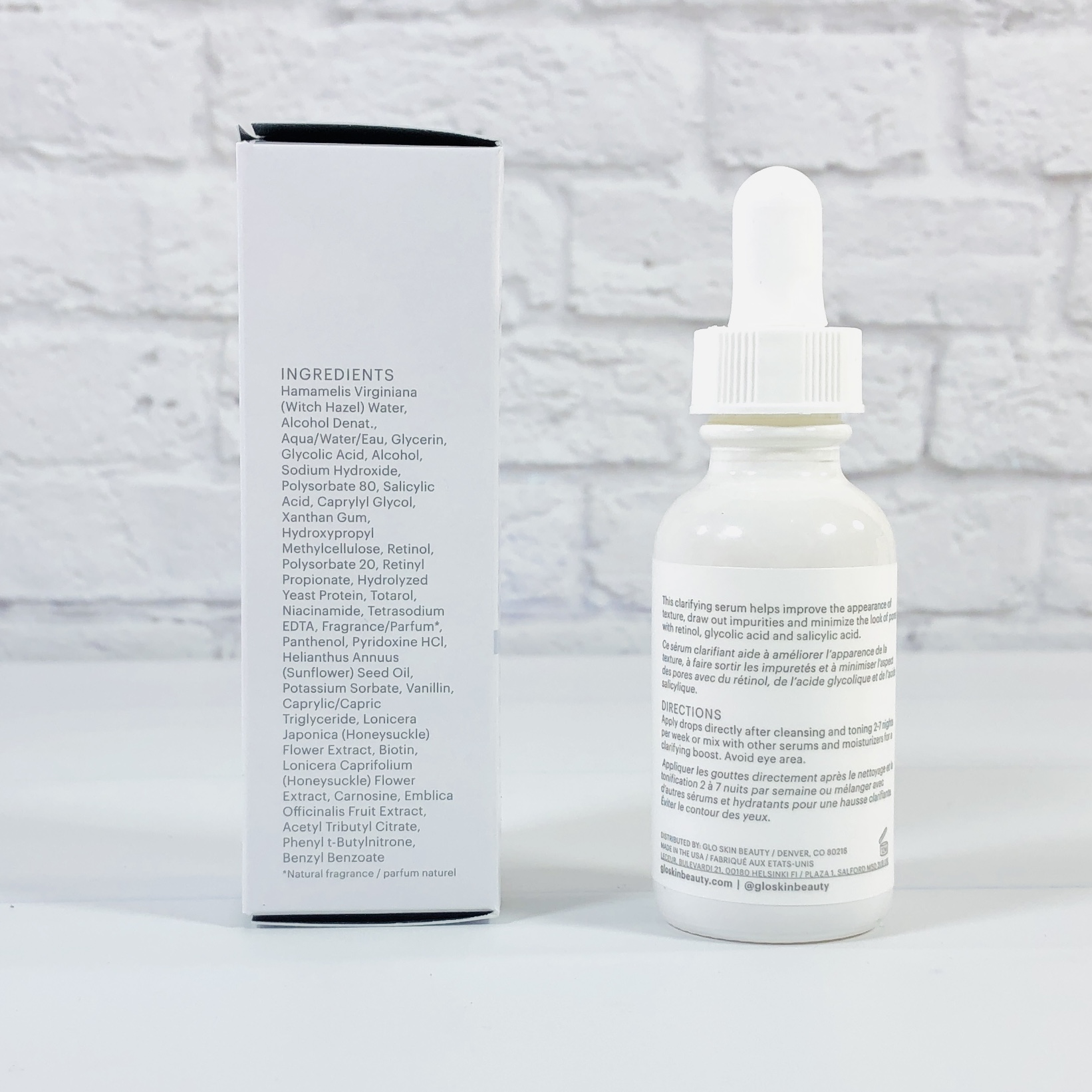 Ingredients include witch hazel, followed by alcohol, glycerin, glycoloic acid, and more alcohol. It also has hyaluronic acid, salicylic acid, retinol, niacinamide, fragrance, and fruit extracts.
The serum is supposed to balance oily skin, reduce the appearance of fine lines, reduce dark spots, and promote an overall brighter skin tone. It should be used only in the evening and of course keep using SPF during the day, because this may make skin even more sensitive to the sun. A pea-sized amount is all that's needed I have to say, the alcohol is very potent and stung the inside of my nose with its fumes. That fades quickly (as alcohol does) and the product didn't feel sticky or oily, and kind of made my skin shiny instantly.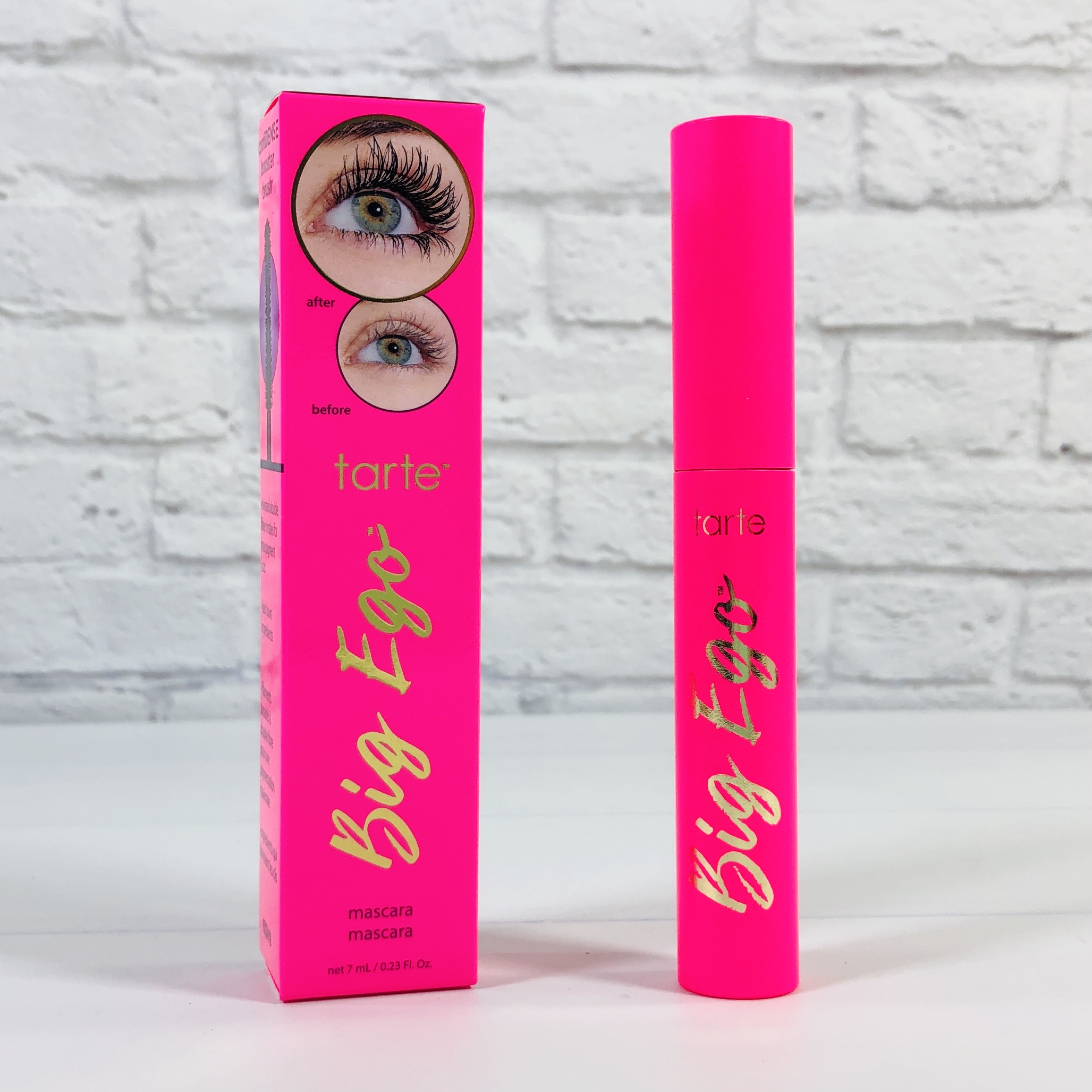 tarte Big Ego™ Vegan Mascara ($23) tarte is a fun brand and I look forward to receiving their products in subscription boxes! It's hard not to be happy when applying mascara from a hot pink tube!
See the model's "before" lashes? Mine don't look that full or long before I put on mascara, so obviously my results aren't going to be the same as the "after" look on the box. I'll take what I can get though! The formula here is vegan and there is babassu oil to condition the lashes, plant waxes to thicken, and glycerin to hydrate.
The brush made it easy for me to coat every lash and I could tell a difference after applying. I think this is a keeper!
Beauty Diva London Diva Eye Brush Set (£39, about $54.19 USD) There were about 7 products on this brand's website, and absolutely no way to click on them for directions or to purchase. You can buy them on the BOXYCHARM website here.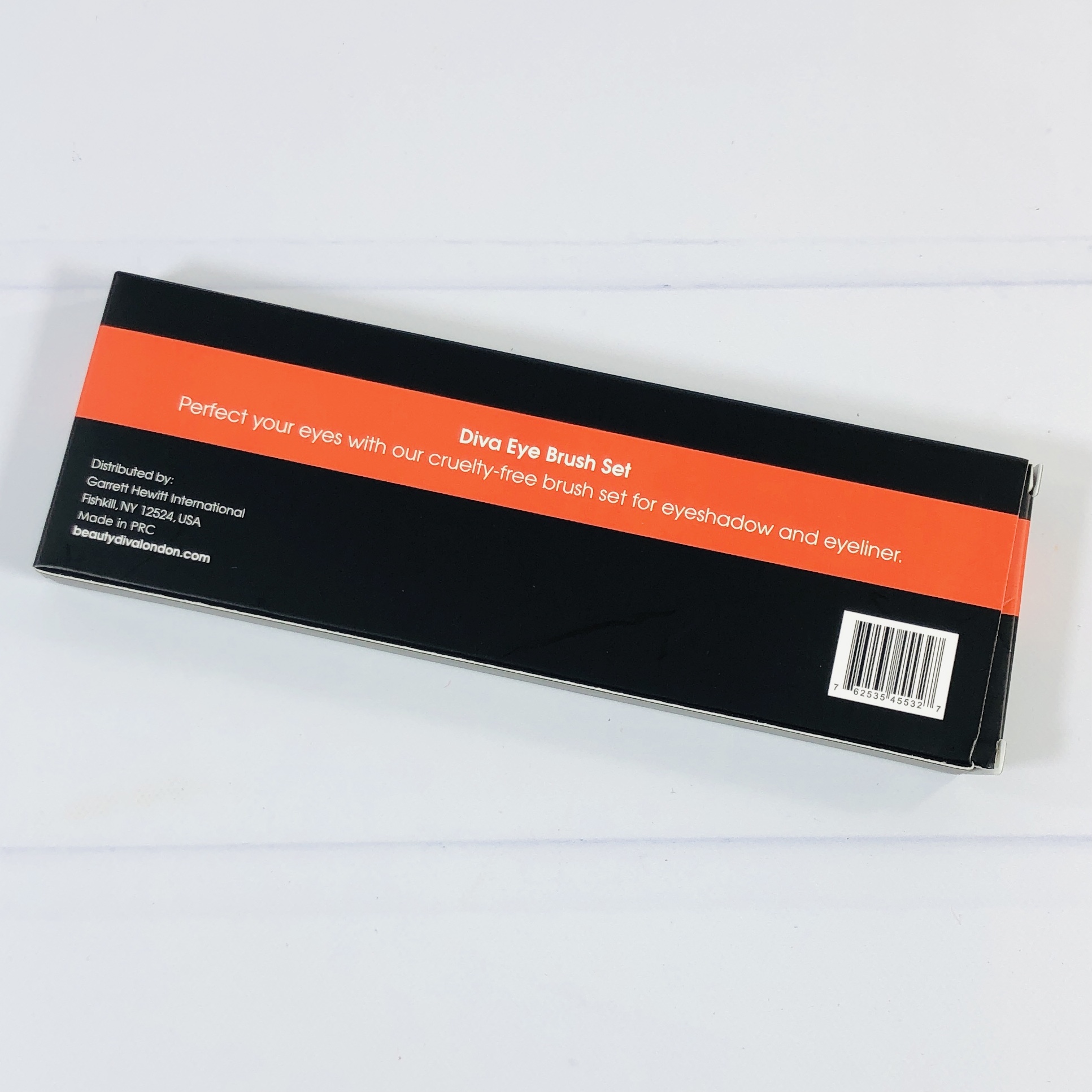 The website says these are cruelty-free but it doesn't say whether the bristles are vegan or synthetic.
Hmm, these look different from my usual brushes. They kind of look like a pumpkin carving set I had once or maybe they look a little like a construction warning sign. Danger, smoky eyes ahead. The handles are plastic with a honeycomb design and are about 5″ long.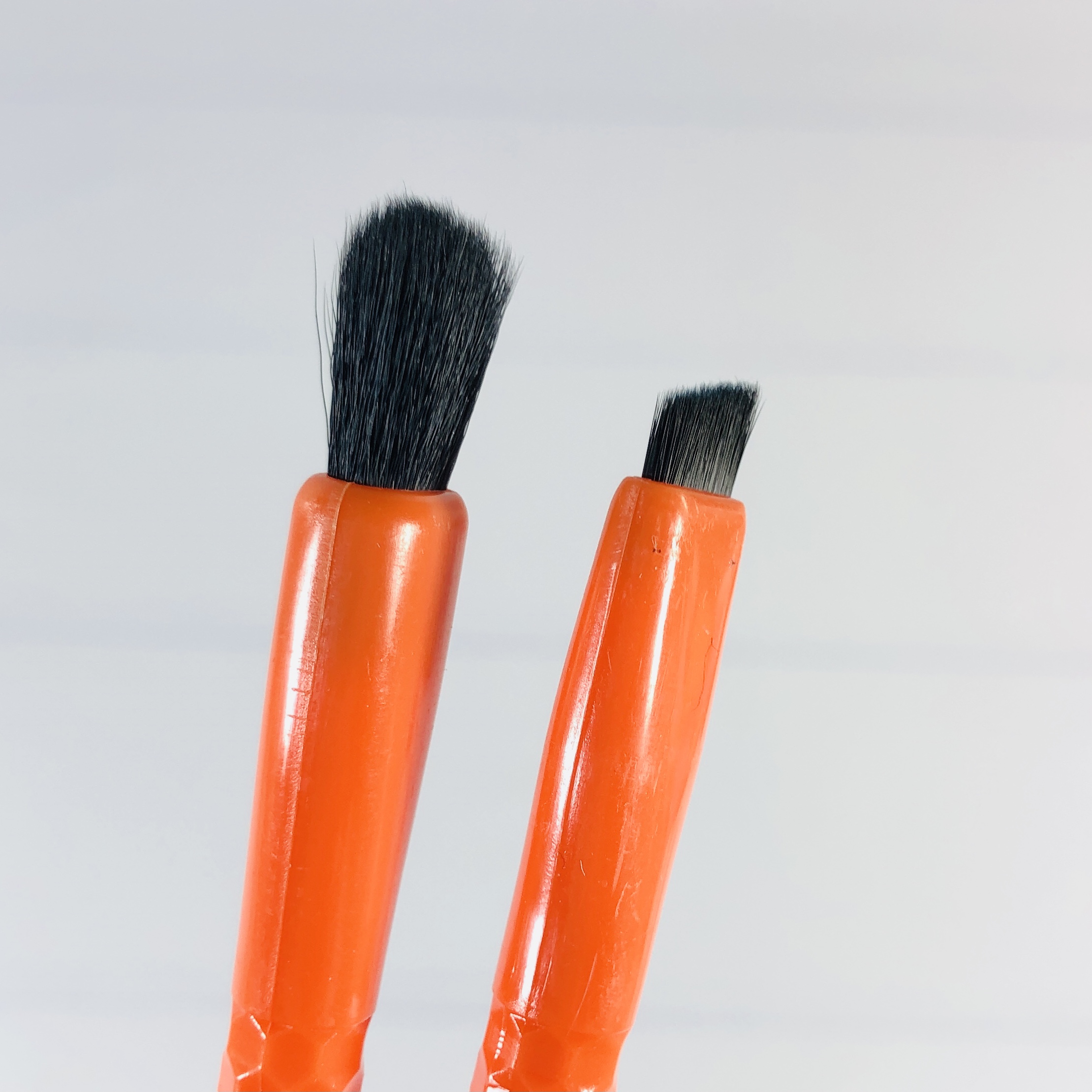 There are no descriptions listed on the brushes, box, or website so I'm calling these a blending brush and a liner brush.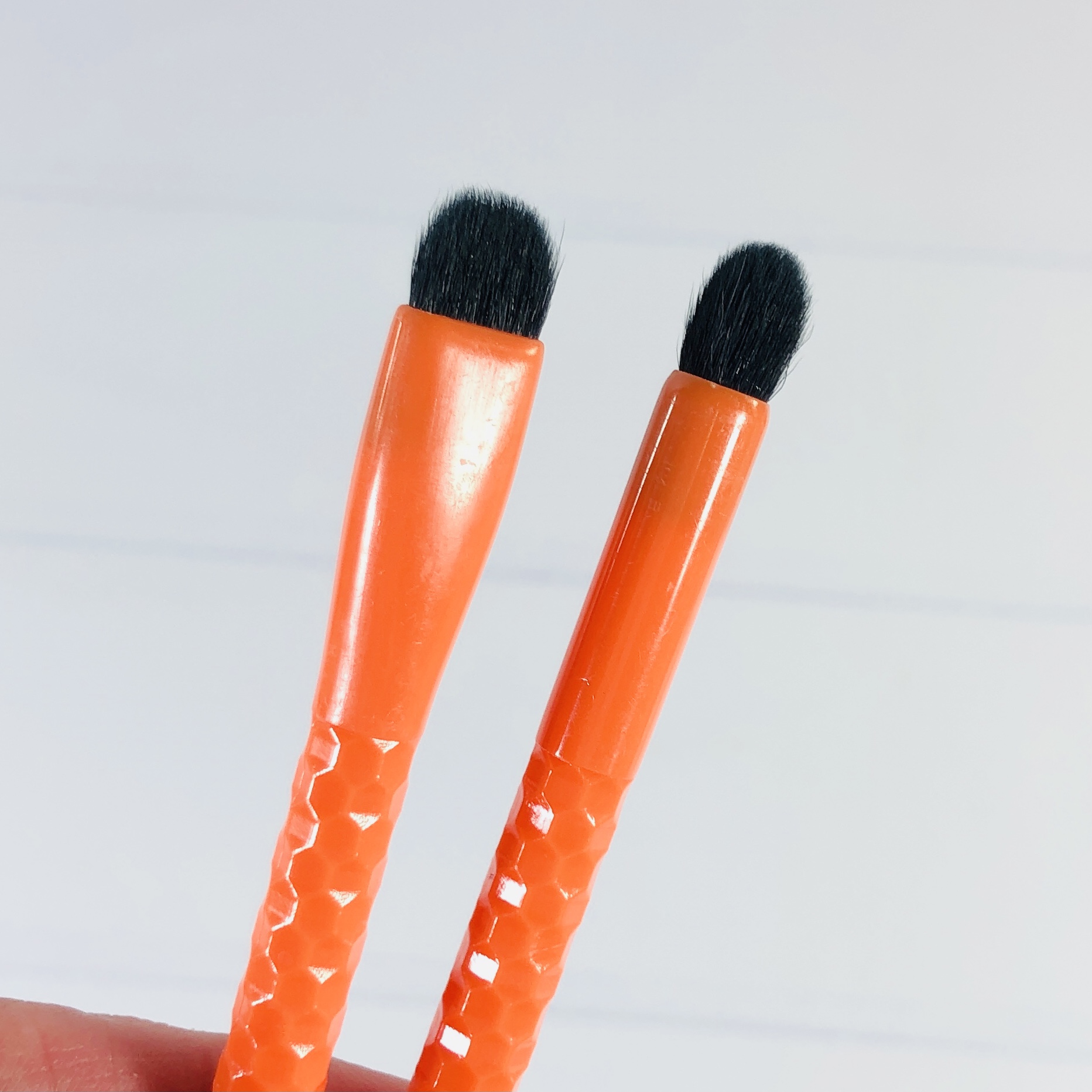 Here we have what I'm calling a shade brush and a pencil crease brush. They worked well enough and I pulled at the bristles to see if they would fall out and they didn't, so I would say they are better quality than elf brushes but not sure that they are worth $48.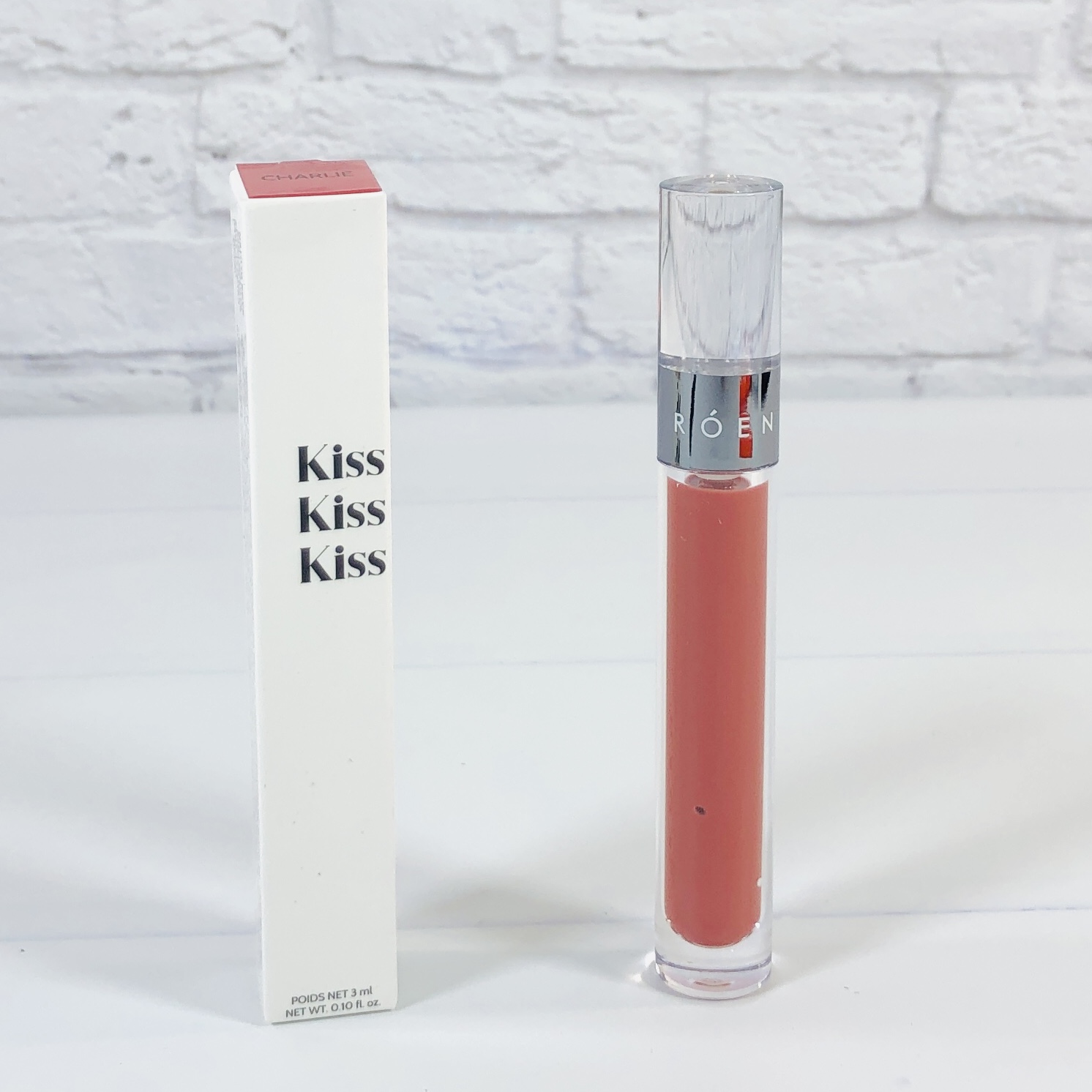 Roen Beauty Kiss My Liquid Lip Balm in Charlie ($26) The duo of this lip balm and the liner below was excellent, the colors worked well together, but of course, you can wear them separately too.
I liked the container this came in, it's like a block of acrylic and for whatever reason, it appeals to me.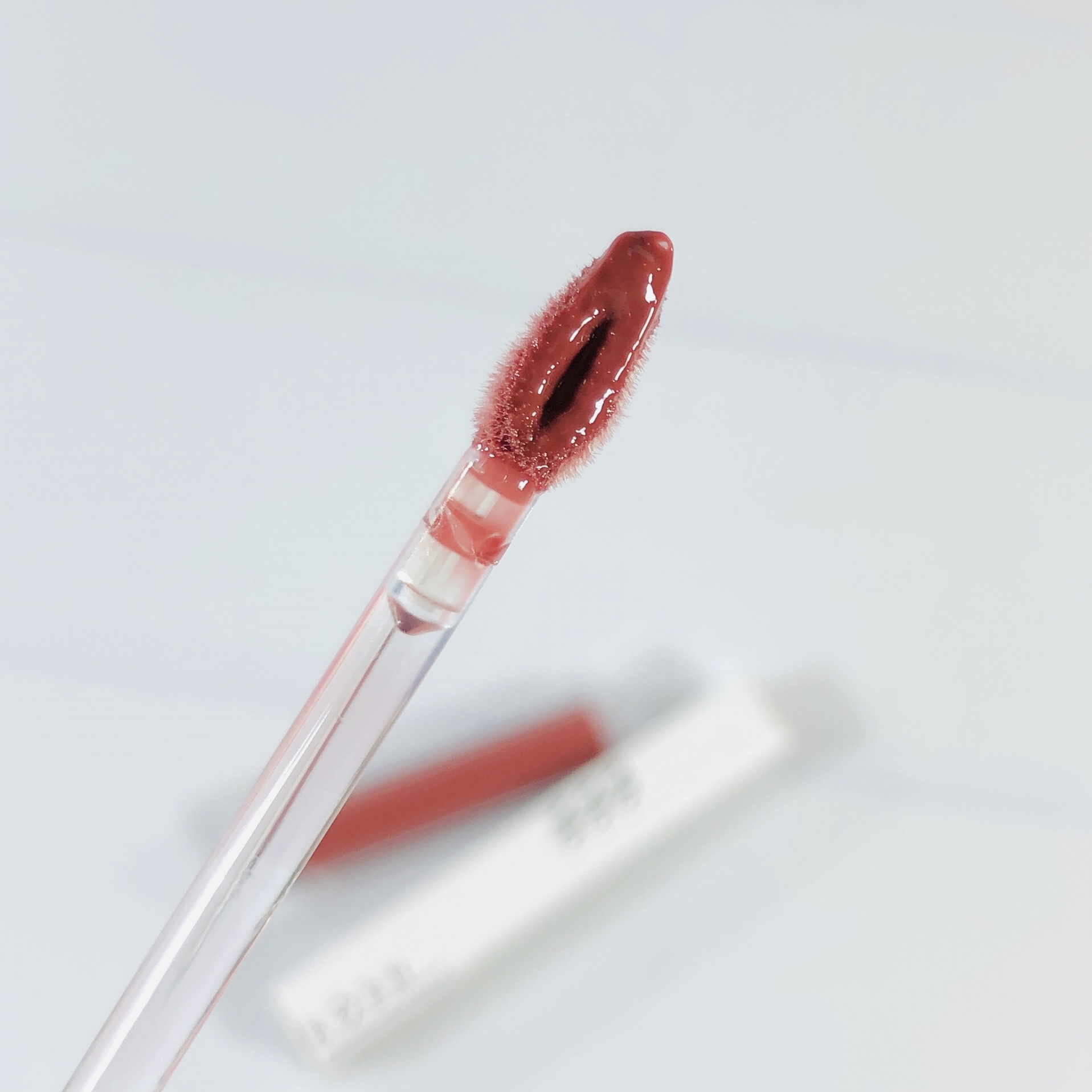 The gloss is non-sticky and tastes like mint, which left my lips feeling cool and like maybe they were pumped up a bit. The color actually showed up! Swatched below.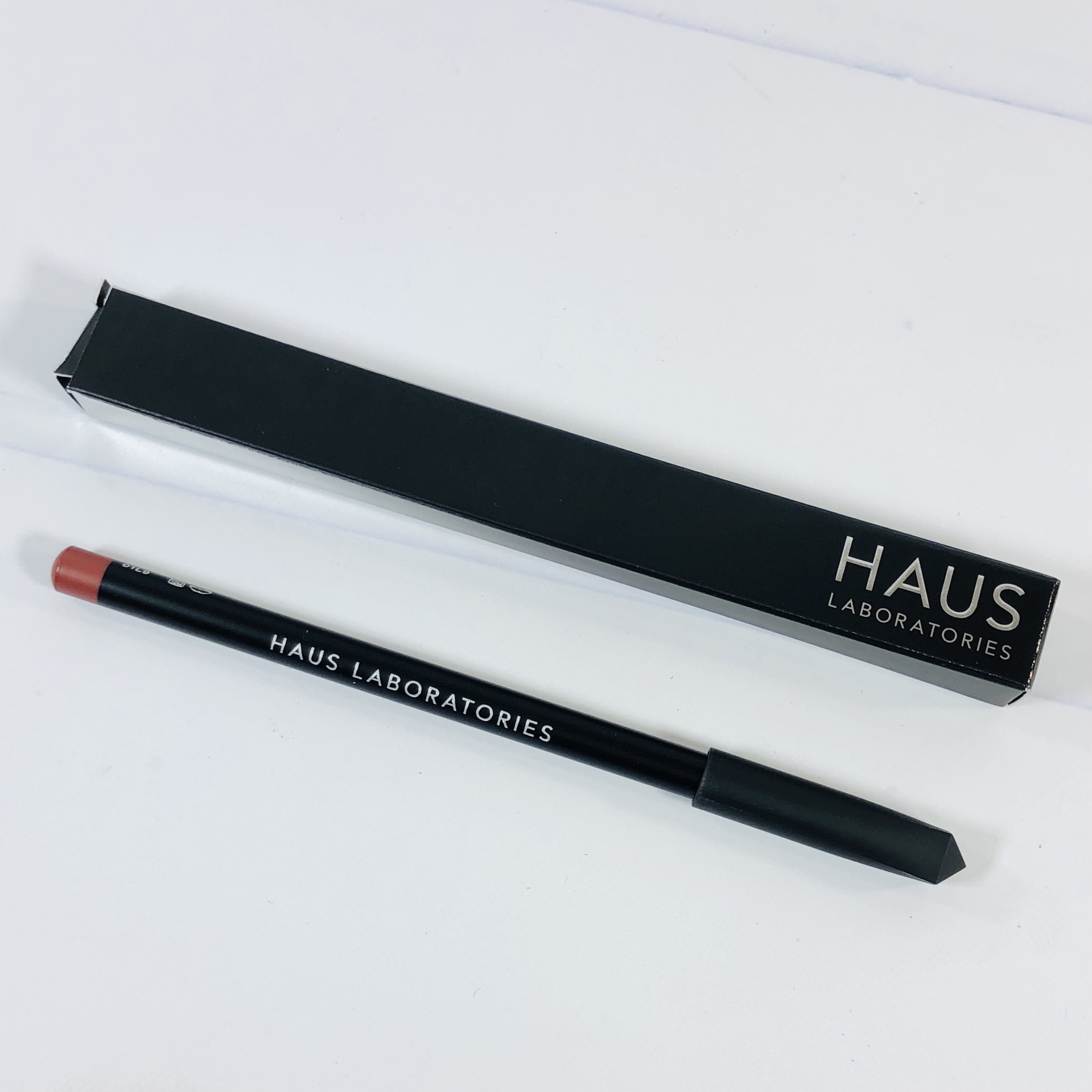 Haus Laboratories RIP Lip Liner ($16) Here is another winner! It's a demi-matte long-wearing lip liner that can also be worn as lipstick!
I received the color Rule, which is described as spiced terracotta. I had no problem lining my lips, the pencil glided smoothly but also stayed where I placed it. I also filled in my lips and again, it glided on easily. The third way I wore it was with the gloss from above over top. I am impressed with both items, and love that they go together so well.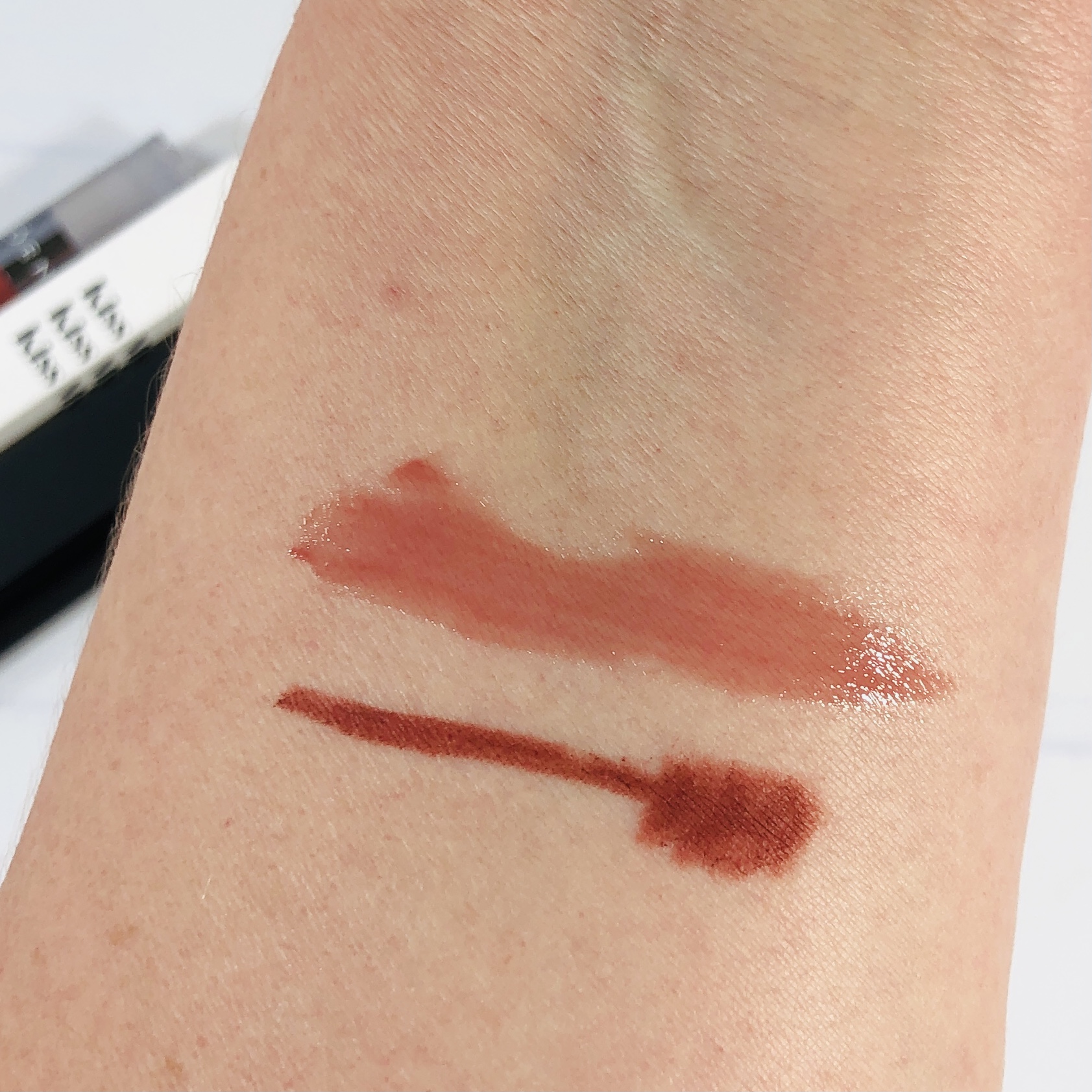 Here are the swatches of the lip gloss on top, the liner below.
My March BOXYCHARM Premium box was filled with some pretty commonplace stuff, like mascara, lip gloss, and makeup brushes, but they are classics for a reason and I don't mind having some new takes on the items I use every day! I have a new serum to help fight fine lines, an SPF moisturizer to fight free radicals and sun damage, a mascara that helps my lashes look like they exist, some crazy looking makeup brushes that make me feel like I'm constructing a new me, and a gloss and liner combo that came in colors and formulas that I was impressed with. The value for my March collection was around $202.19!
Did you get BOXYCHARM Premium? What's your favorite item?