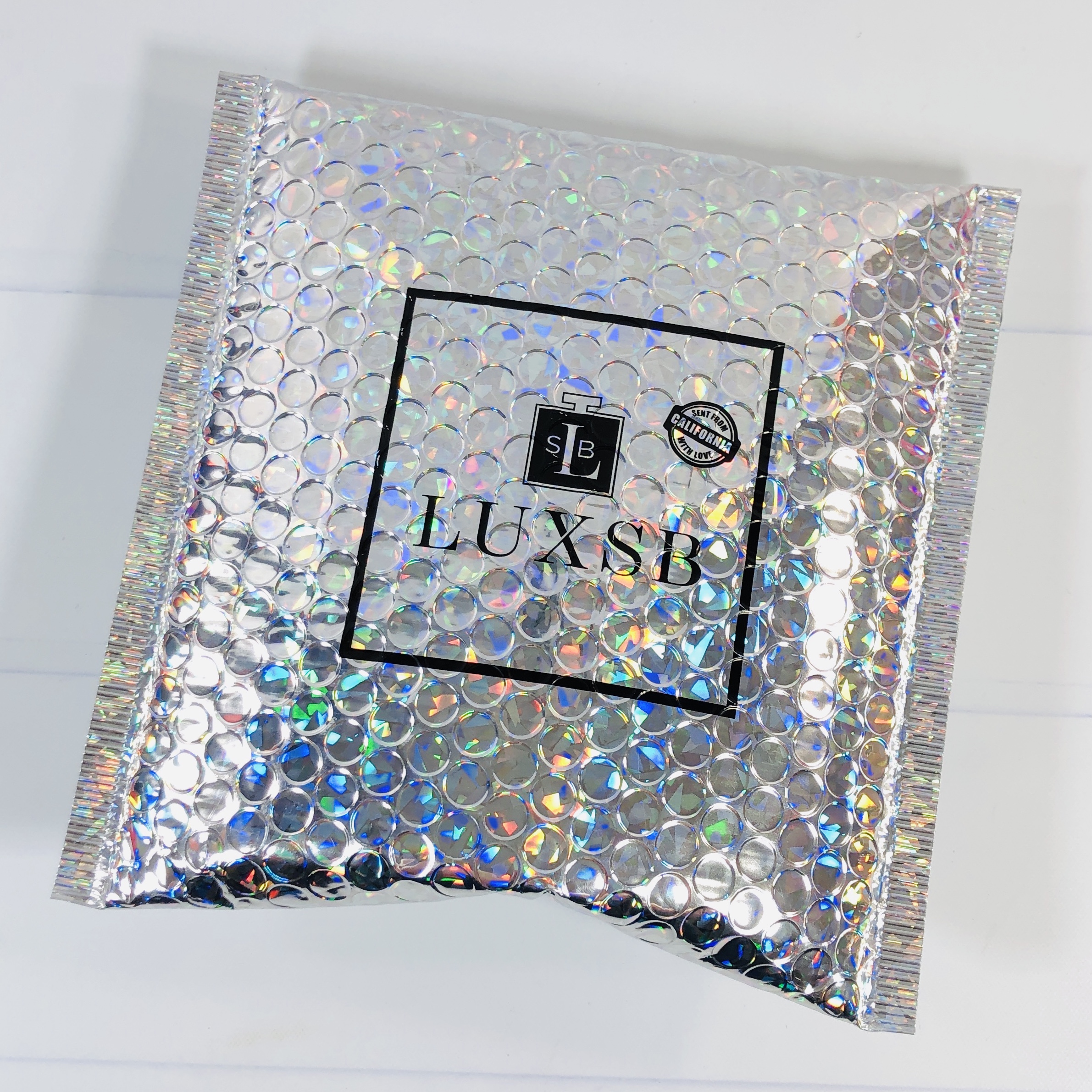 LUXSB – Luxury Scent Box is a subscription fragrance service that wants you to "LOVE LIFE WITH PERFUME™"! They send you the perfume or cologne of your choice for $15 a month ($5 extra for premium scents). You can choose your own scents or let LUXSB pick for you based on answers you give on a short quiz. They have tons of authentic designer and niche fragrances for you to choose from, which they decant into bottles before shipping. You can choose month-to-month or pay for 11 months and get the 12th month free! Shipping is always free.
DEAL: Get $5 off your first box! Use coupon code HELLOSUBSCRIPTION. Applies to new members only.
Everything in my box! You can add additional fragrances to your account and even purchase extra cases if you like. New members receive a case with their first order and a new case every quarter. The Premium $20 membership includes a new case every month (in addition to access to those pricier scents).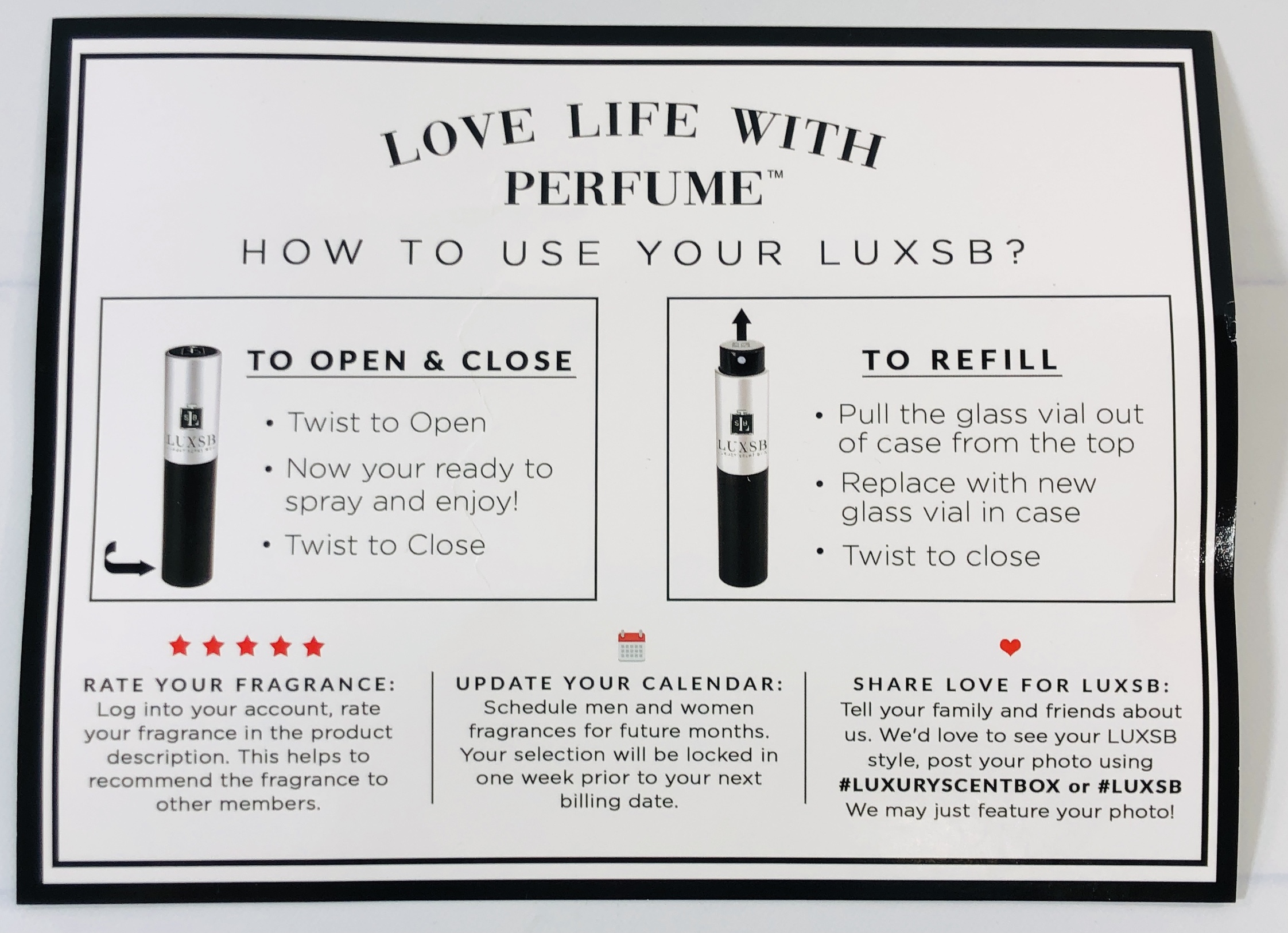 I received a card with instructions for changing out my perfume vial. Don't forget to rate your perfumes on the LUXSB website so they can continue to send fragrances that will wow you.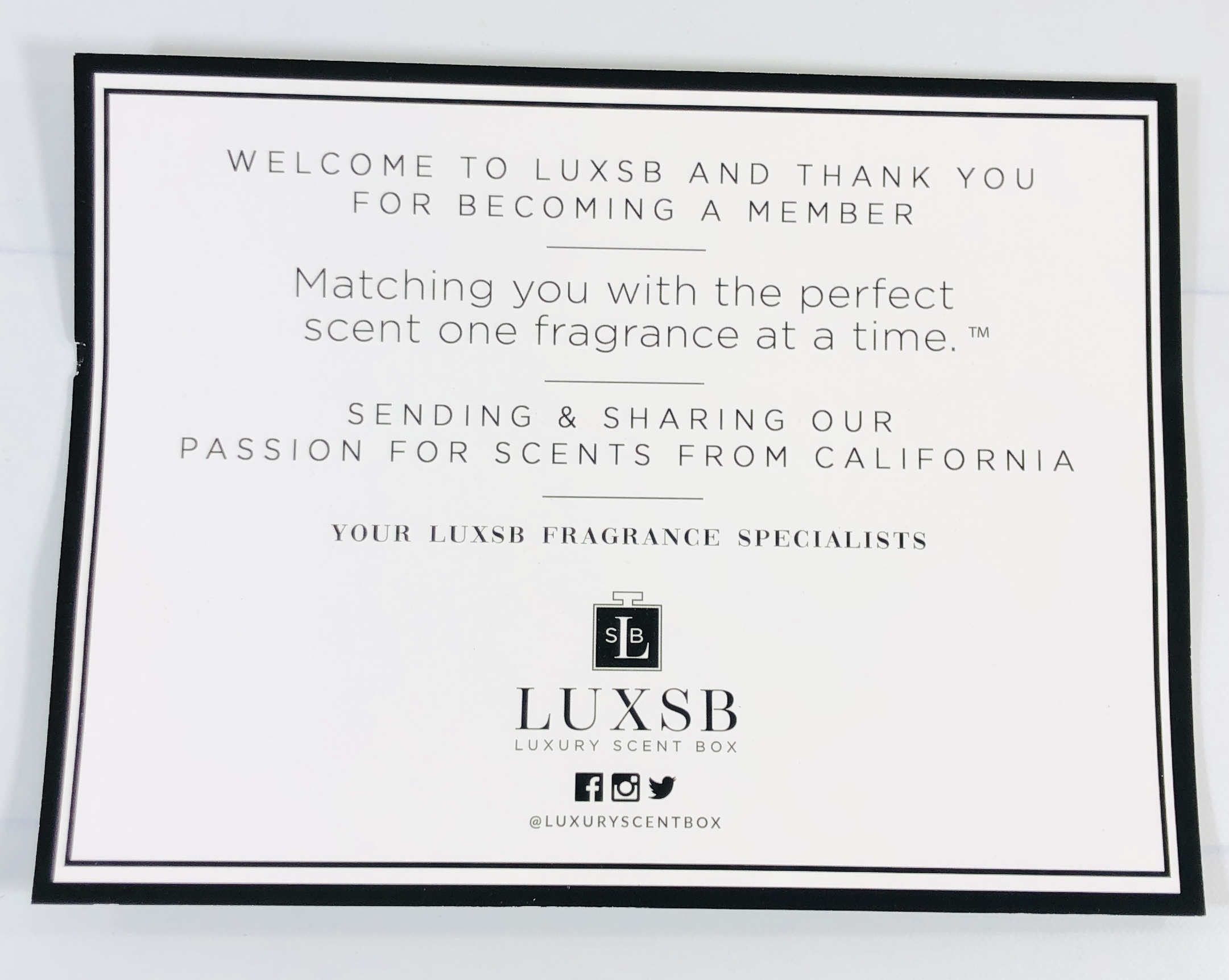 Here's the back of the card.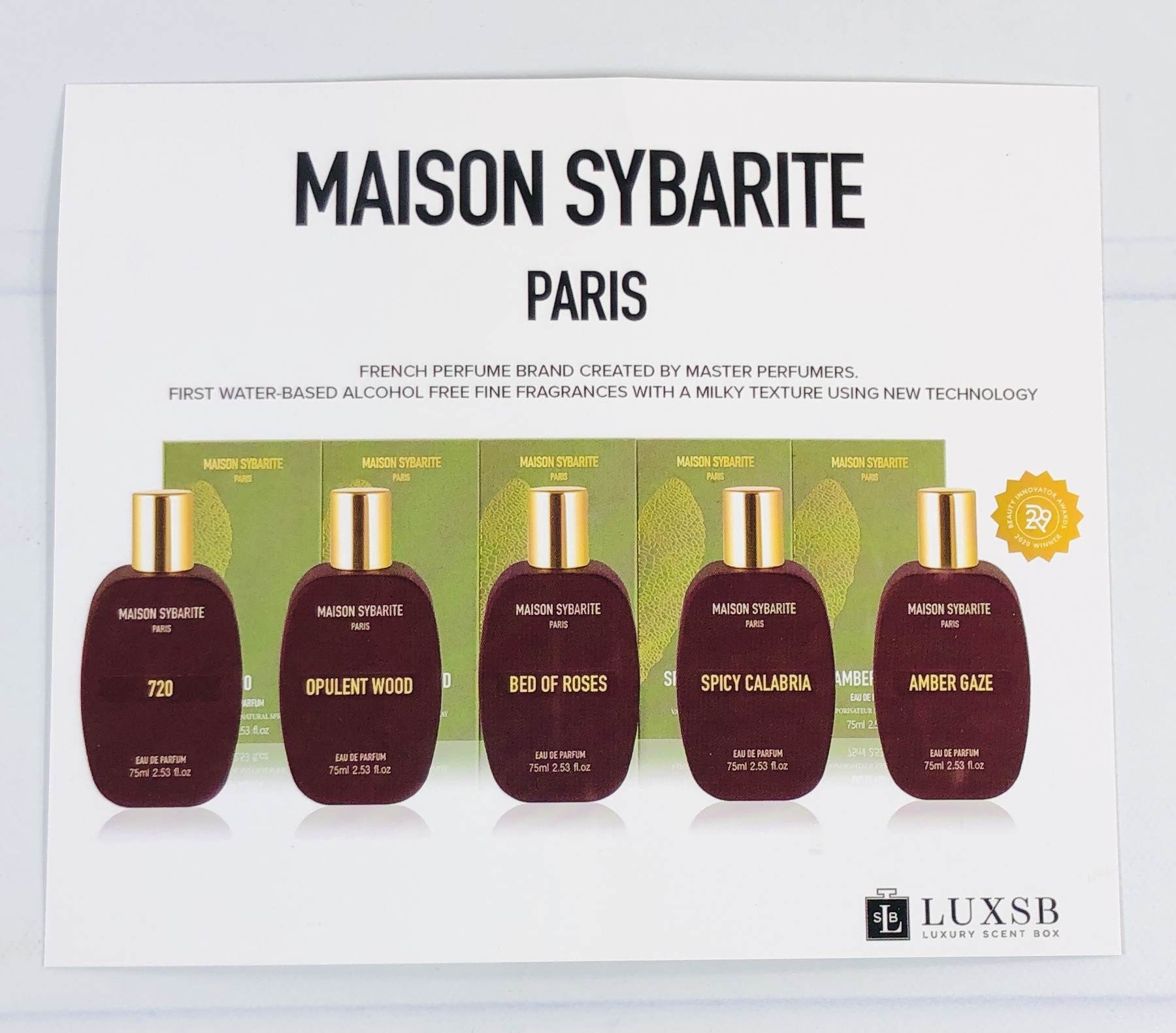 I received a second card that featured a new-to-me fragrance brand, Maison Sybarite Paris! This brand has a water-based formula that is alcohol-free. They choose not to use ingredients such as ethyl alcohol, chemical solvents, parabens, phthalates, and silicones. They are also vegan and cruelty-free.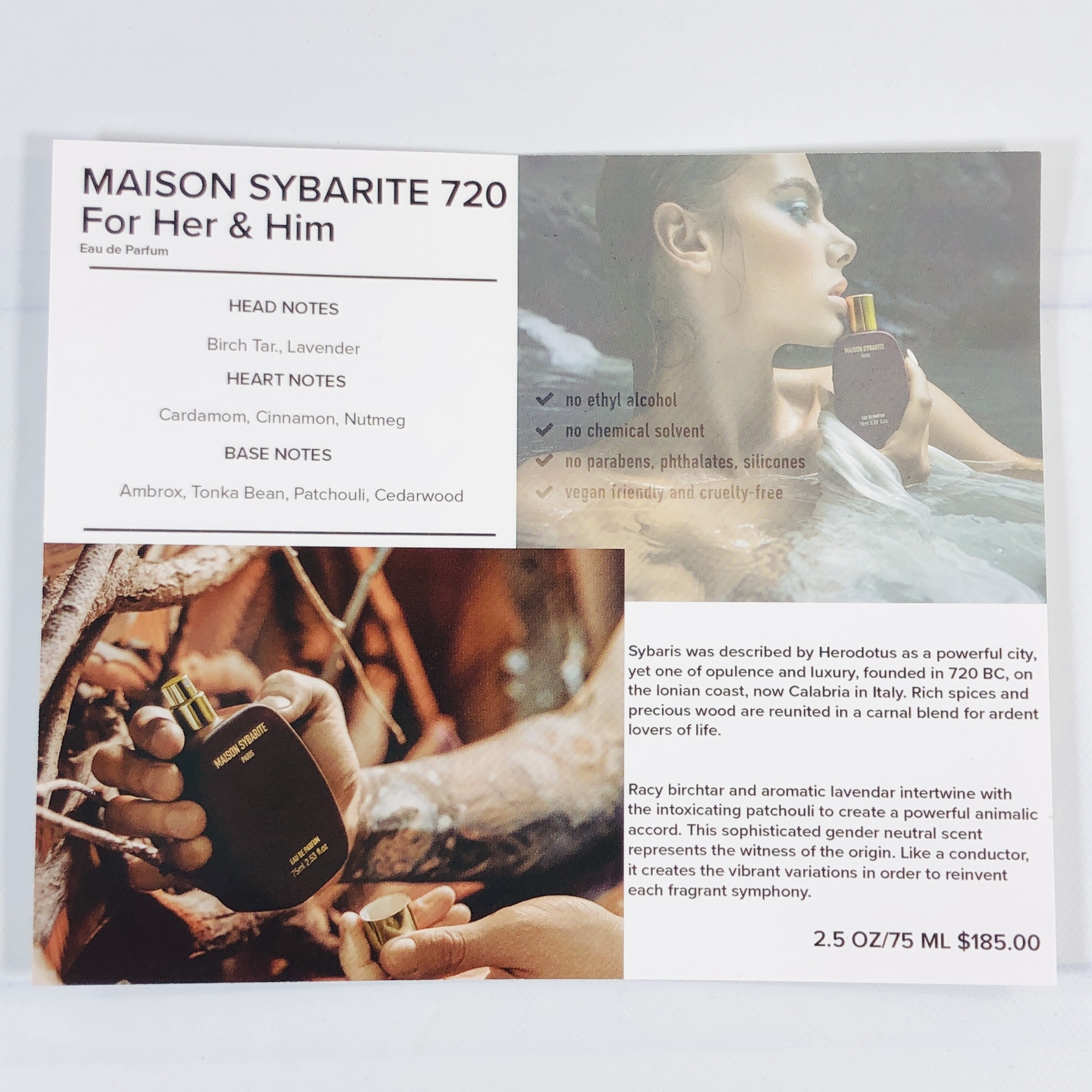 The back of the card listed some scent notes and a description of a scent that sounds amazing, I love a unisex scent myself! I think I need to add this to my fragrance calendar!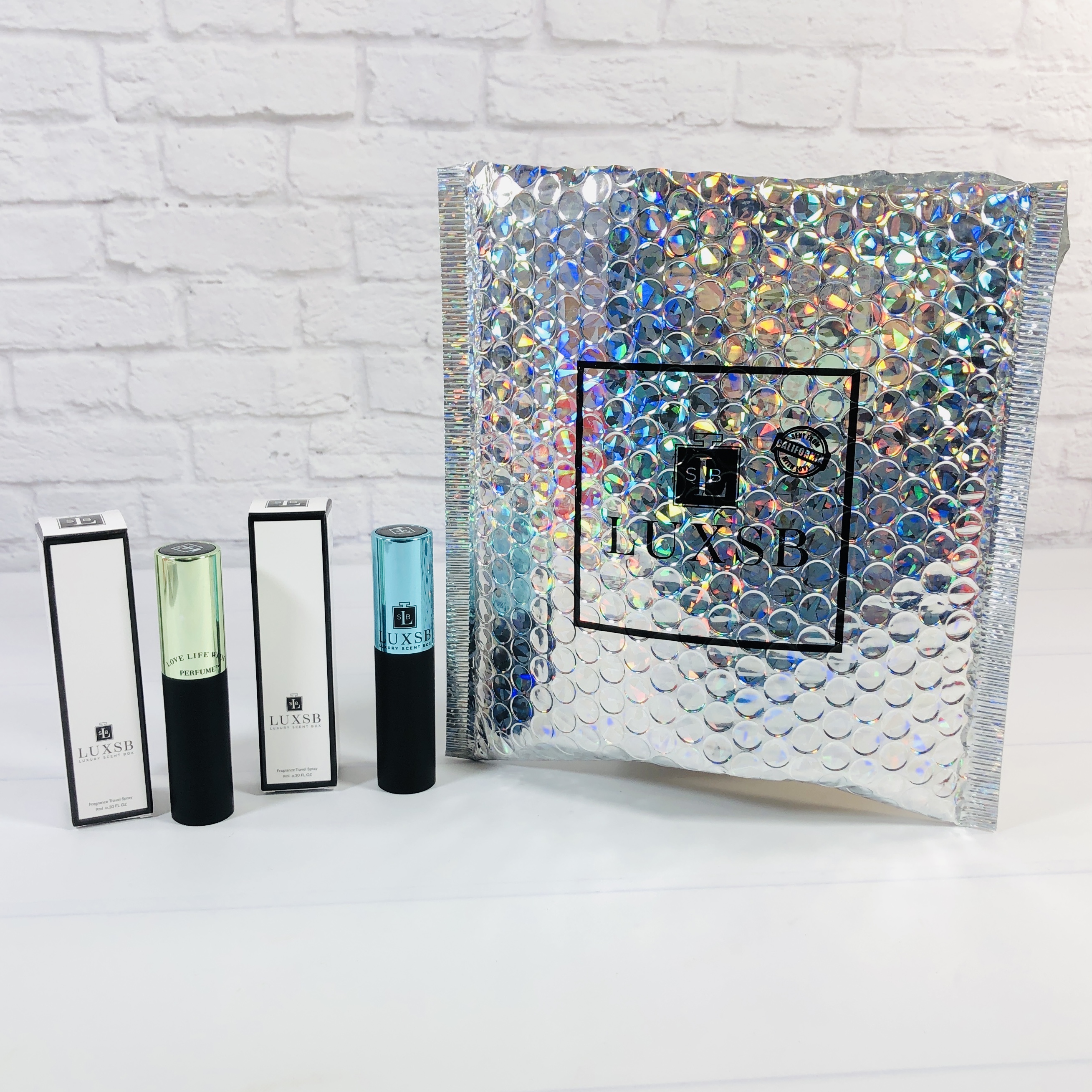 I received two fragrances this month! It's easy to add extra scents to your shipment, or you can sign up for the duo plan to get two scents every month.
Each fragrance also came with a new case.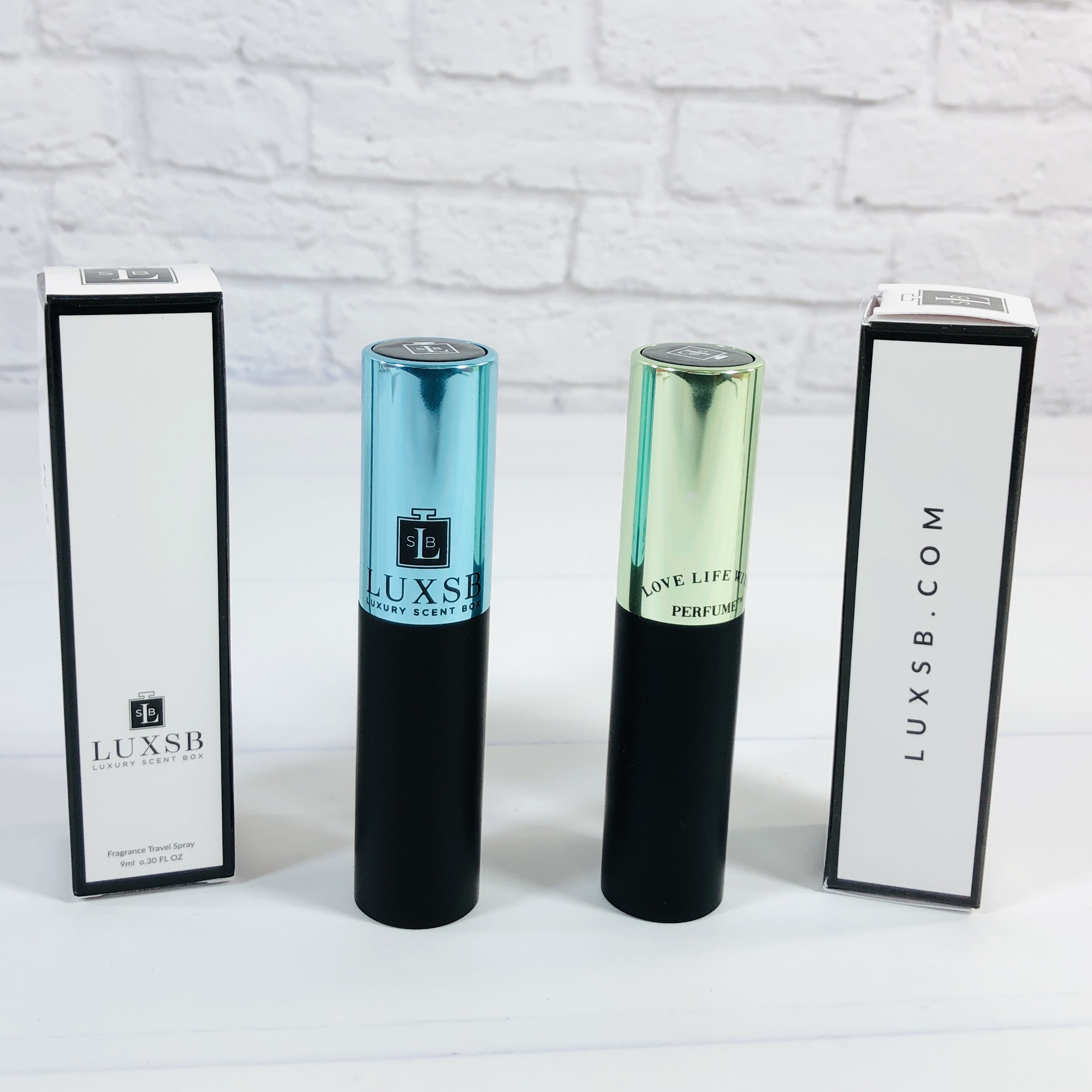 The perfume vials hold 9ml (.30 fl oz) and can be switched between holders, just twist to expose the sprayer and lift out of the holder. There is enough product in each bottle for about 150 sprays, or 5 sprays a day for an entire month.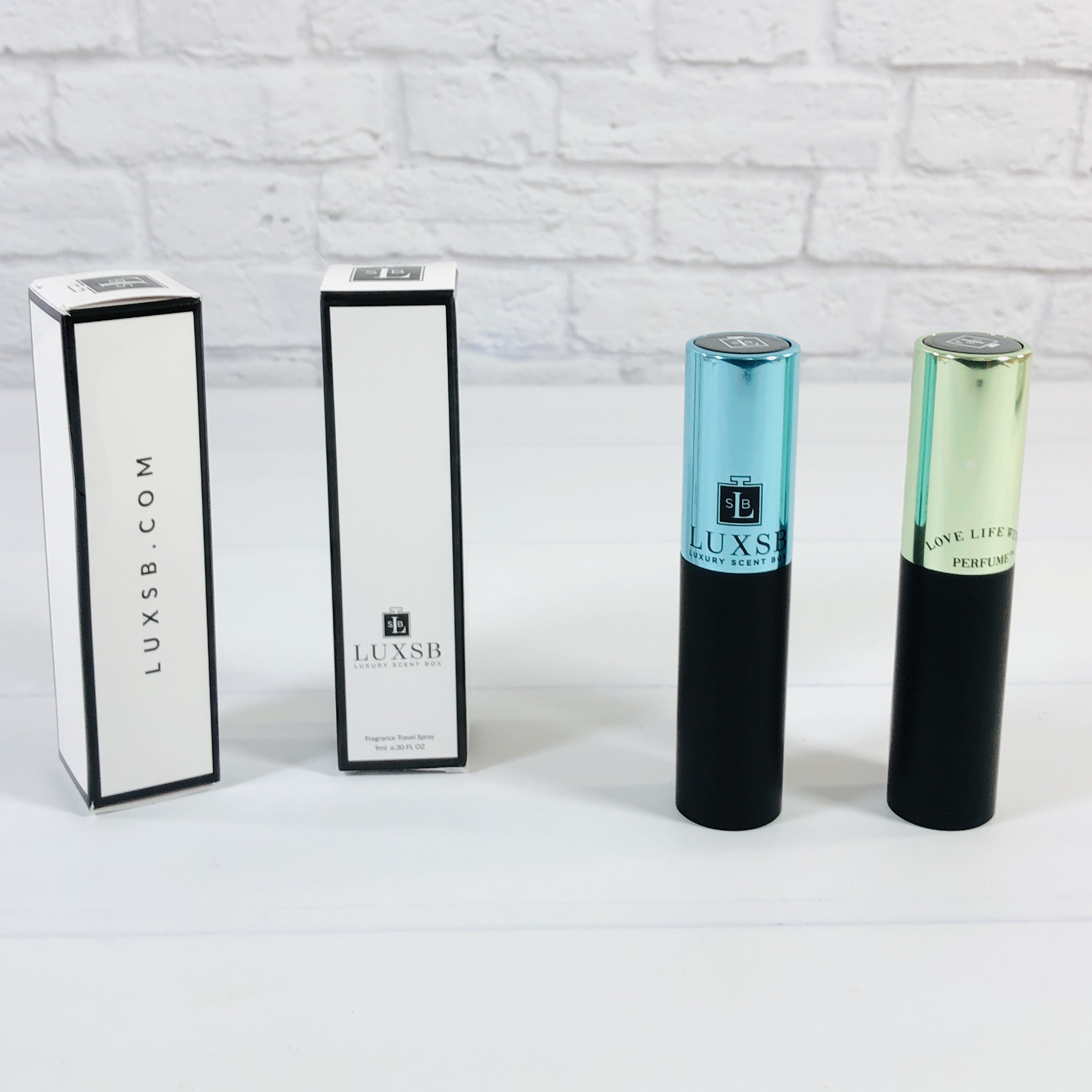 Their cases come in a variety of colors! They really look elegant and beautiful, especially with the shiny finish. Now it's time to check out the scents I received in this month's box!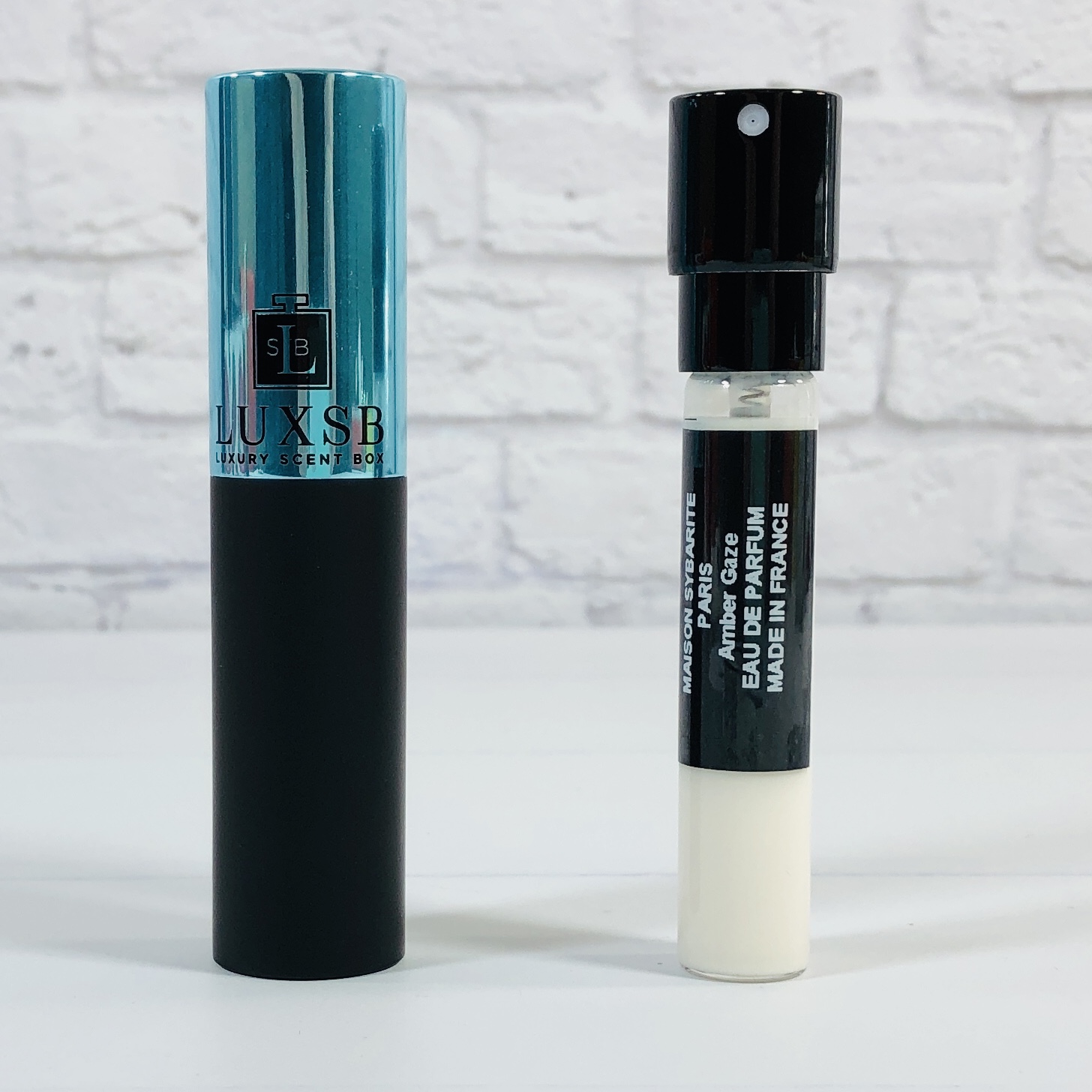 Maison Sybarite Paris Amber Gaze Eau De Parfum ($185 for 75ml) This fragrance is so new that the brand still has a "pre-order" emblem on their website! Scent notes include jasmine, tuberose, spices, sandalwood, and vanilla. It's an oriental scent that is rich and warm, yet it fades quickly to a hint of scent.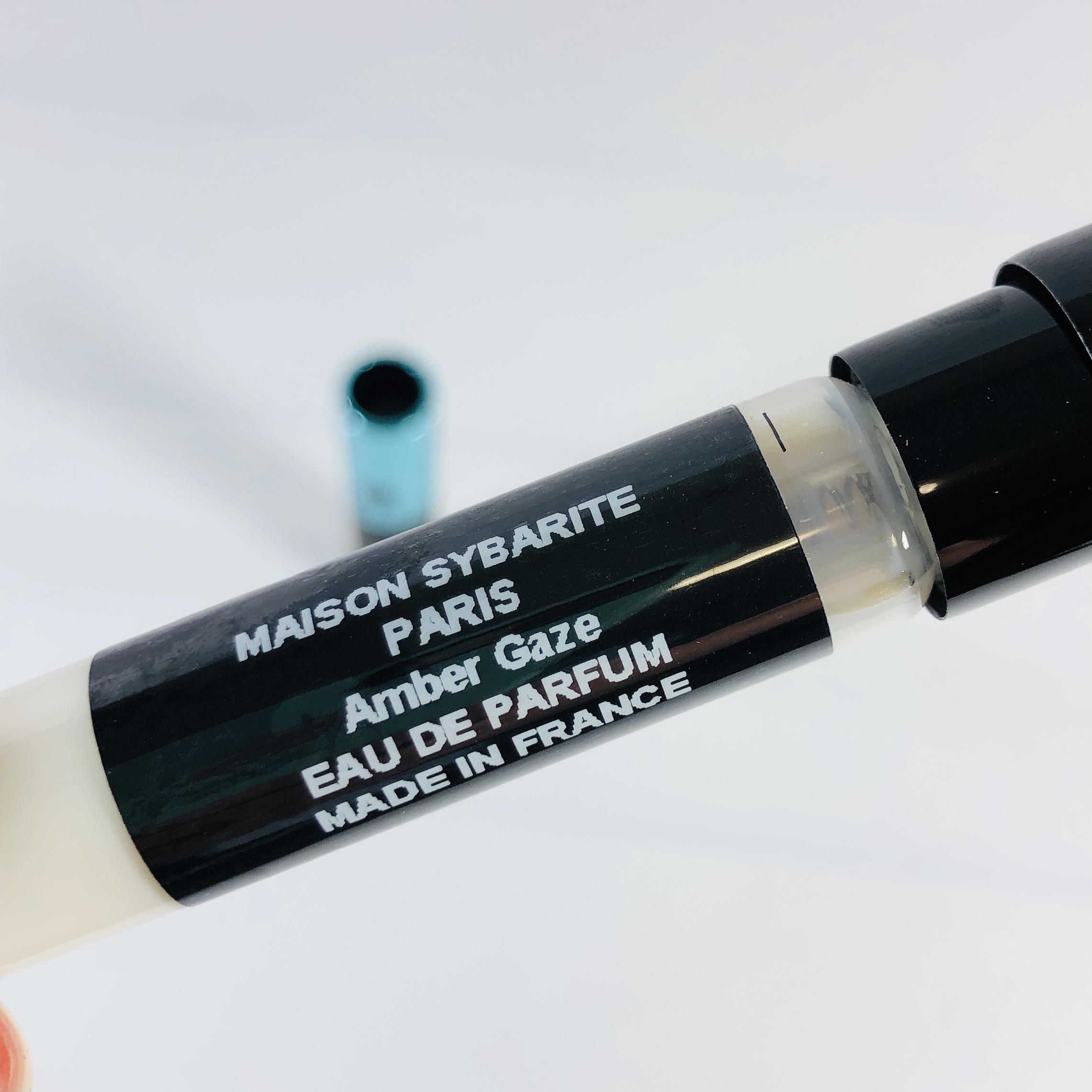 I've never encountered white perfume before, it looks a bit like milk! I thought the scent was very exotic and classy, romantic with spicy florals.
Maison Sybarite Paris Bed Of Roses Eau De Parfum ($185 for 75ml) is an oriental floral fragrance that is meant for women, although I think it seems somewhat unisex. It has notes of bergamot, saffron, rose, orris, and cedarwood.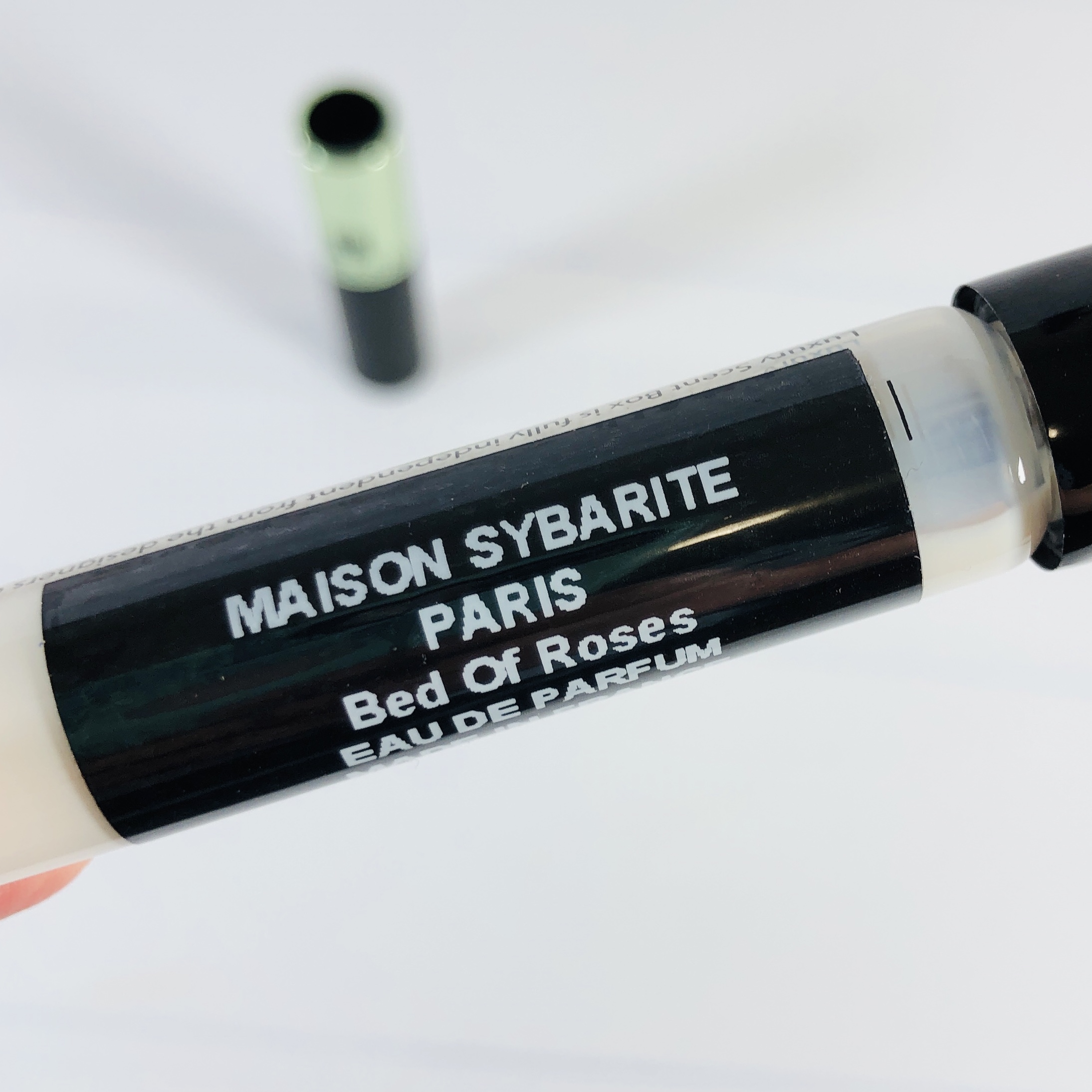 I thought the scent was warm and powdery, with a hint of spices and dry woods. It doesn't really hit me as a rose scent, nor a citrus one, and there is a hint of something animalic, maybe a bit of leather. It's sexy and mature, and although it doesn't last long, it is strong for those first few moments, and after an hour I forgot it was on.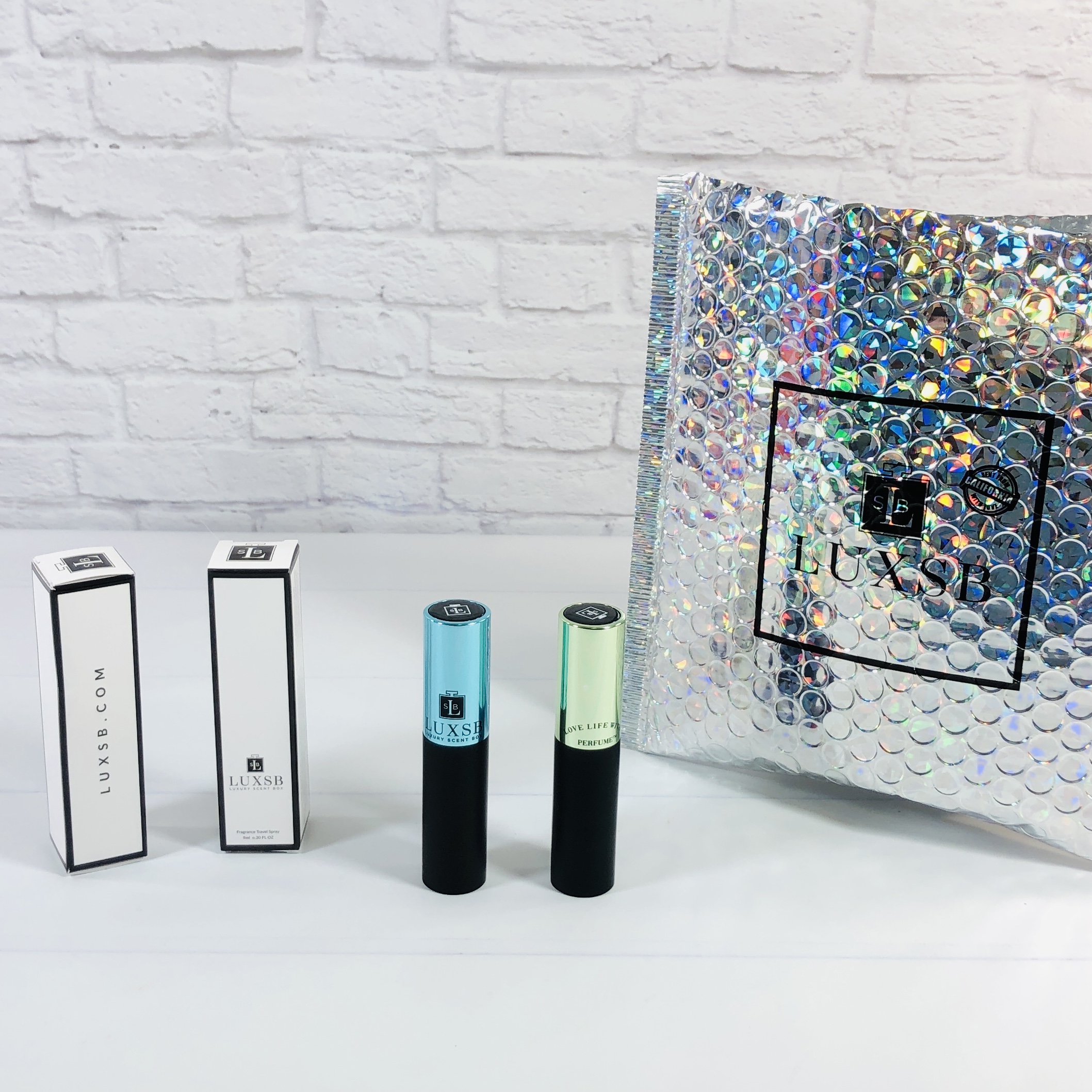 I enjoyed trying a new (to me) fragrance brand and even received a soon to be released scent, how exciting is that! I love clean beauty brands and that is what Maison Sybarite is, and I wouldn't have known about them if it wasn't for LUXSB! If you are someone who can't wear strong fragrances then this brand might work for you. I love to wear different scents all year long, it changes by the day, so I seriously prefer minis to full-sized bottles, although you can certainly purchase those from LUXSB too! This is a great way to try fragrances out before spending a good chunk of money (it's $185 a bottle!). I have never encountered Maison Sybarite in a store so this is the only way I would have discovered them. Check out the other indie brands (and yes, they have designer brands too!) at LUXSB!
Have you tried Luxury Scent Box? Let me know in the comments!