Loti Wellness is a subscription box with a focus on self-care. The box has a monthly theme curated by therapists to focus on items and rituals to promote positivity and improving one's self. Loti Wellness works with local brands and small businesses whenever they can, and choose cruelty-free and natural products. The box will have 5-8 products for self-care and wellness. The box is $49.95 CAD with lower prices on annual subscriptions – $38.95 USD – Use this link to access prices in USD. Shipping is $5.99 CAD to Canada and $7.99 CAD to the US (about $6 USD). A portion of proceeds go to CanadaHelps COVID-19 Fund.
A lotus is a flower that blooms from the mud. It symbolizes overcoming adversity and achieving your greatest potential. The Loti Wellness Box offers practical skills and products to reduce stress and anxiety, and improve your overall wellbeing.

Each Loti Wellness Box delivers the tools and strategies you need to cope with life's challenges, using research based in psychology and psychotherapy. The monthly themes focus on topics like reducing anxiety, setting goals, and even boosting positive mindsets to help you discover self-care and self-love.
DEAL: Save 10% on your first box! Just use this link and coupon code SUBSCRIBE10.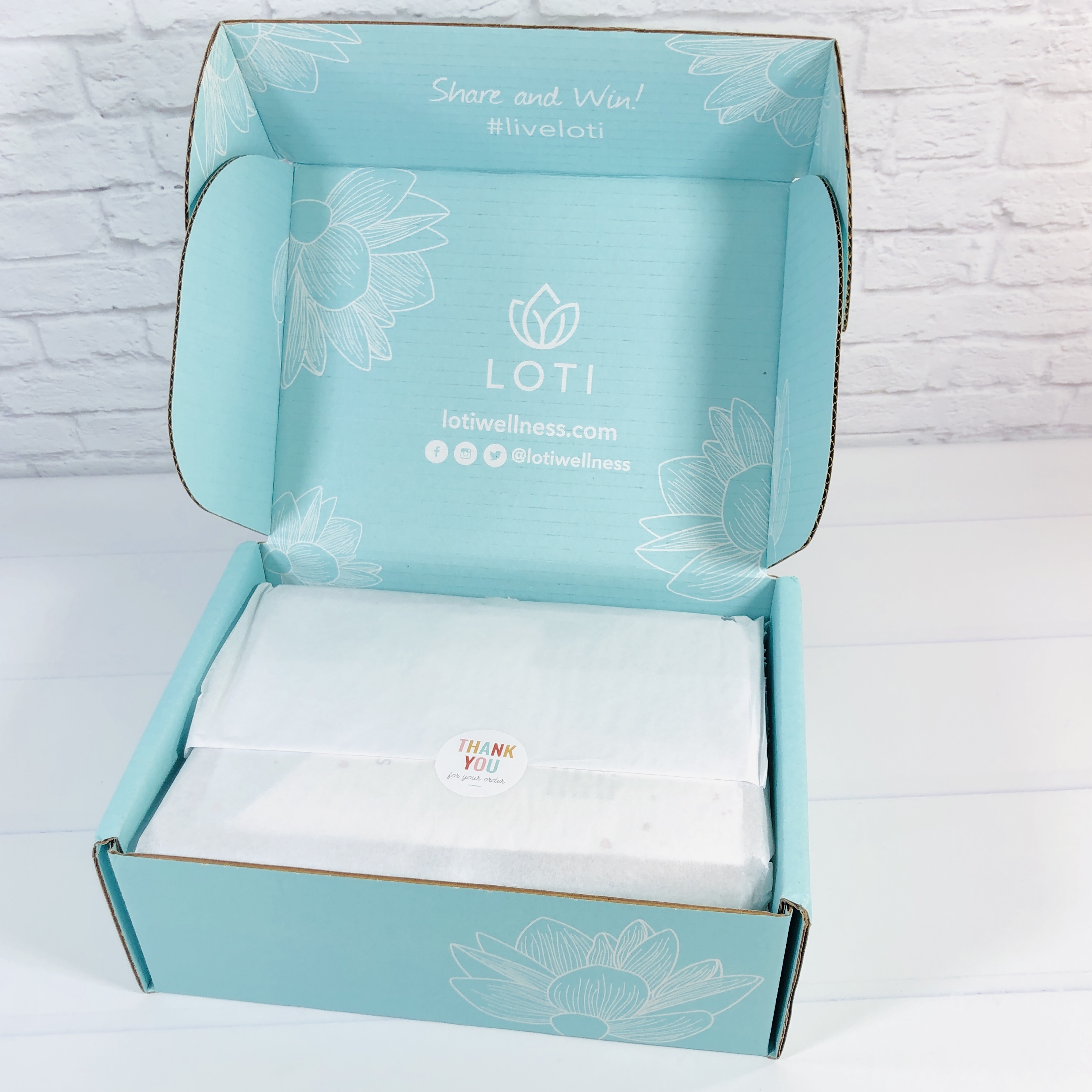 My items arrived in a lovely blue box and were wrapped in white tissue paper that was sealed with a sticker. I enjoy seeing the pretty lotus flowers all over the box!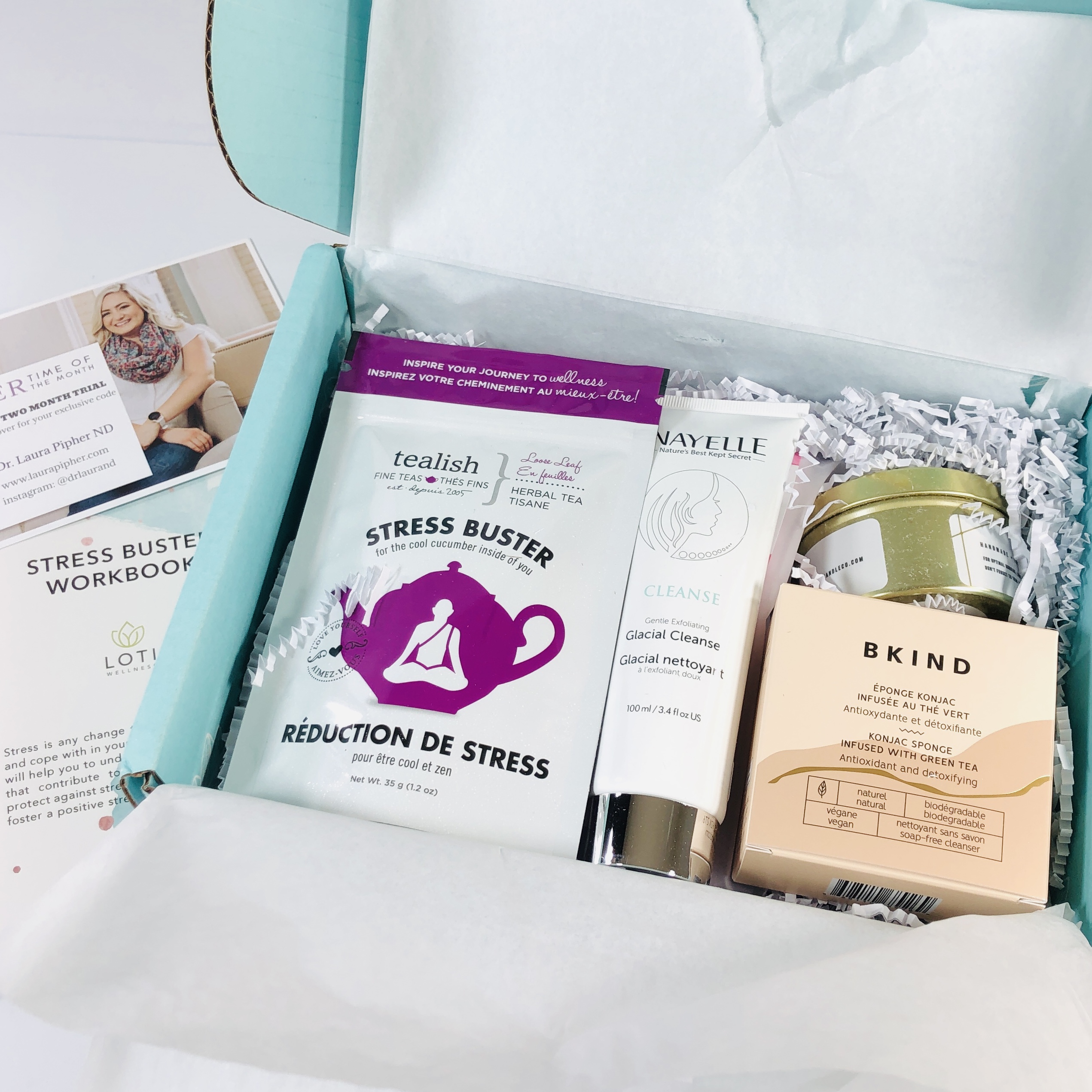 The items were snuggled into white paper squiggles.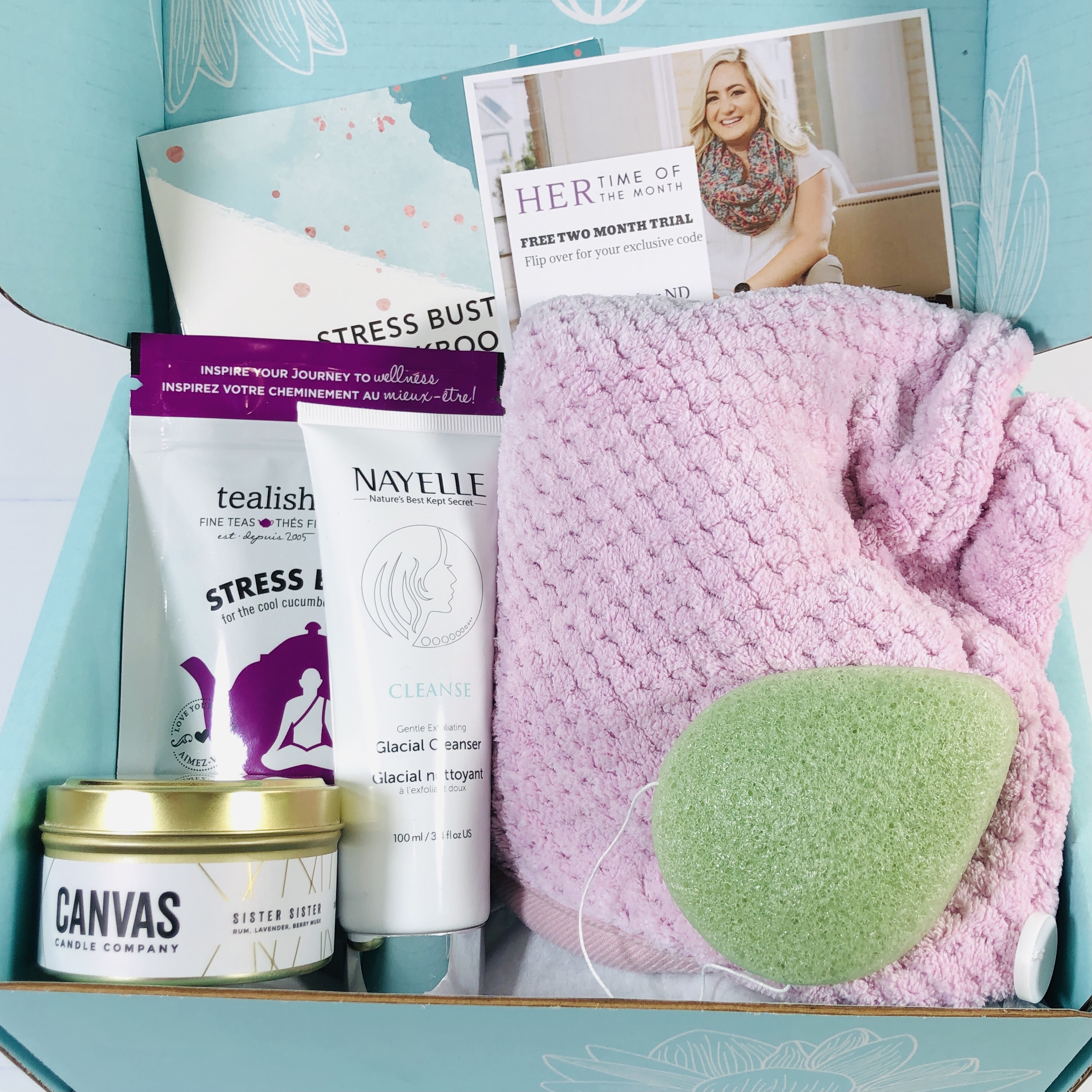 I am definitely going to feel pampered this month!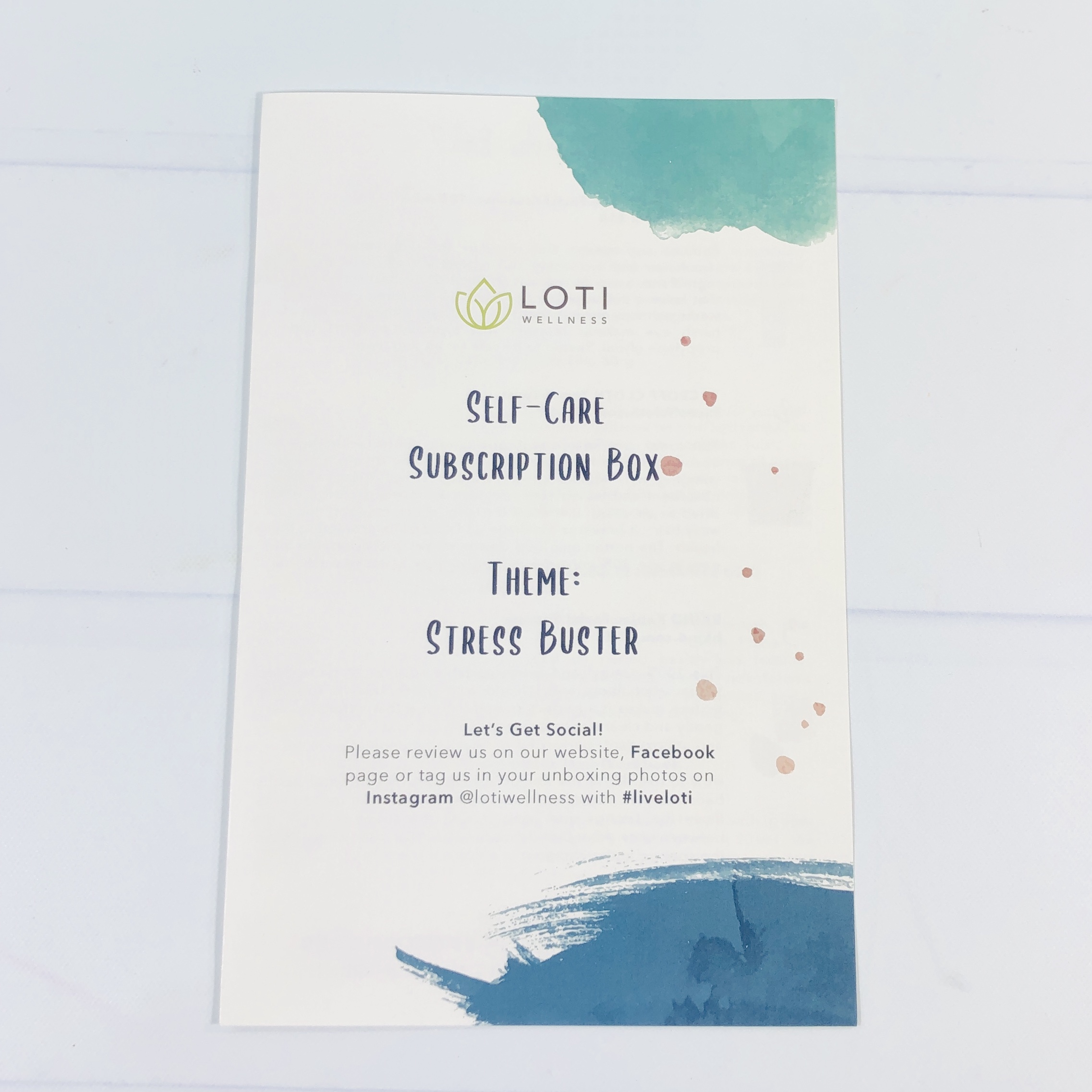 I received a brochure with the theme for March: Stress Buster!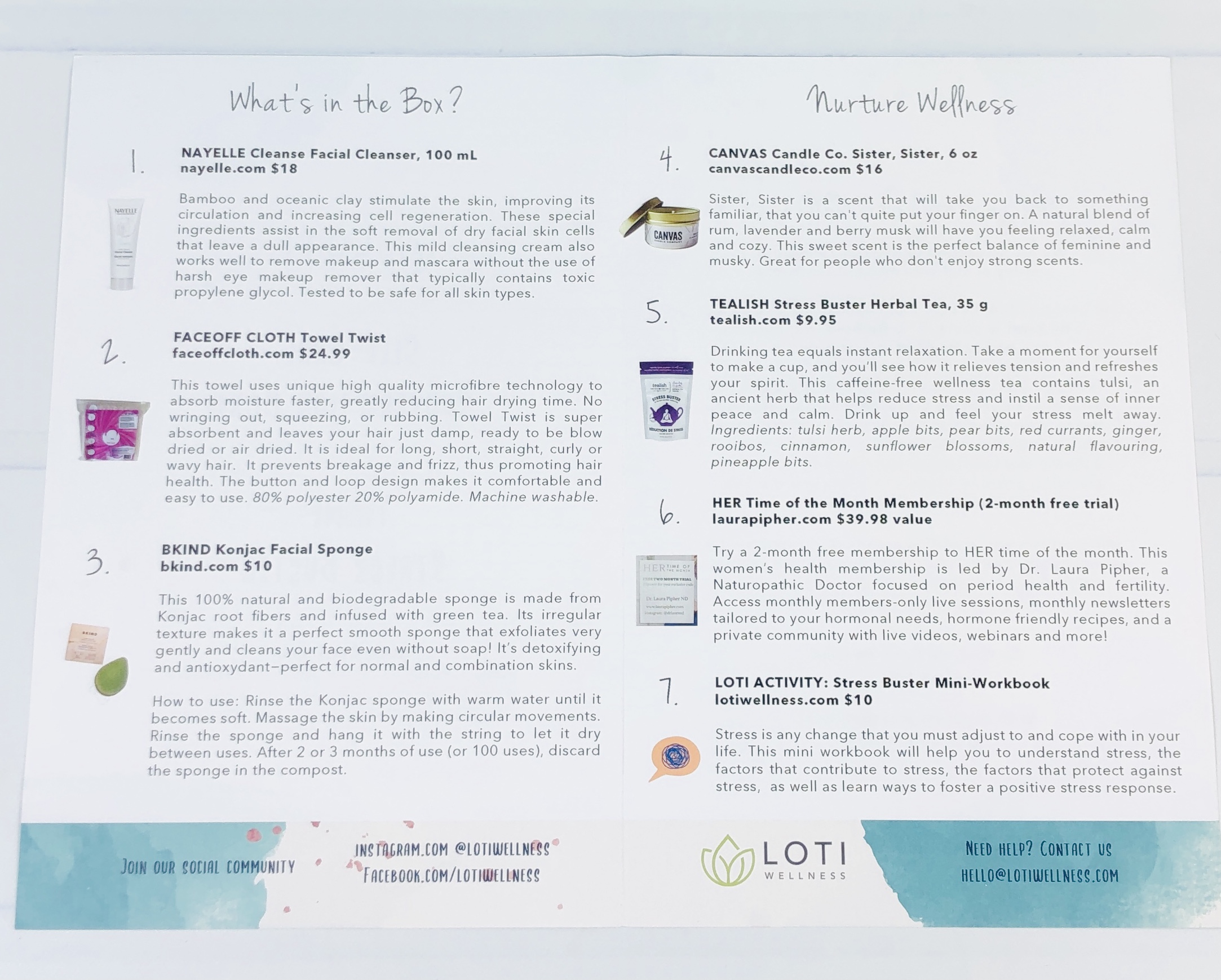 The inside of the brochure listed each item, MSRP, and website so you can stock up on more wonderful items from these brands.
The back of the brochure discussed some of the intentions of Loti.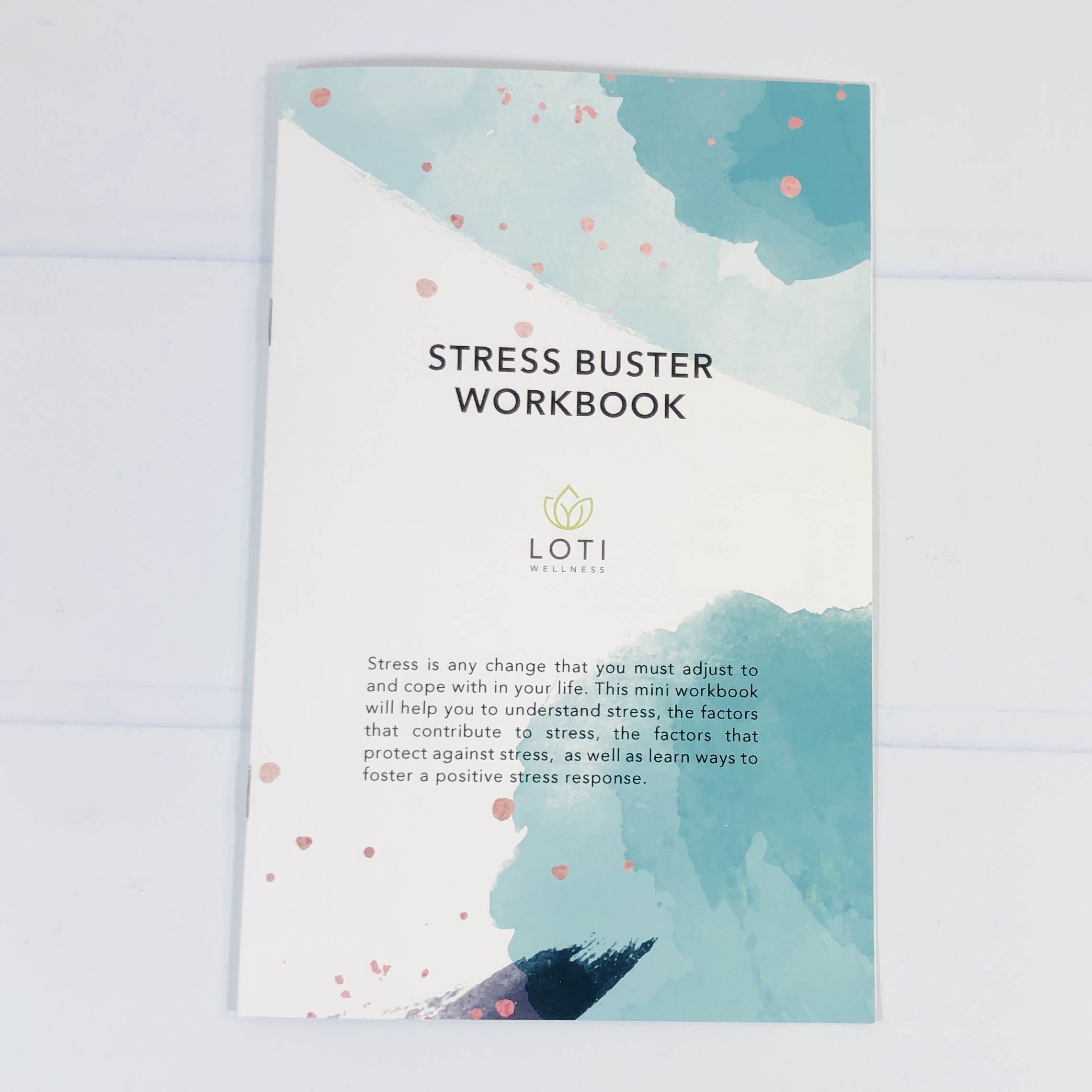 Next up was a Stress Buster Workbook ($10 listed value).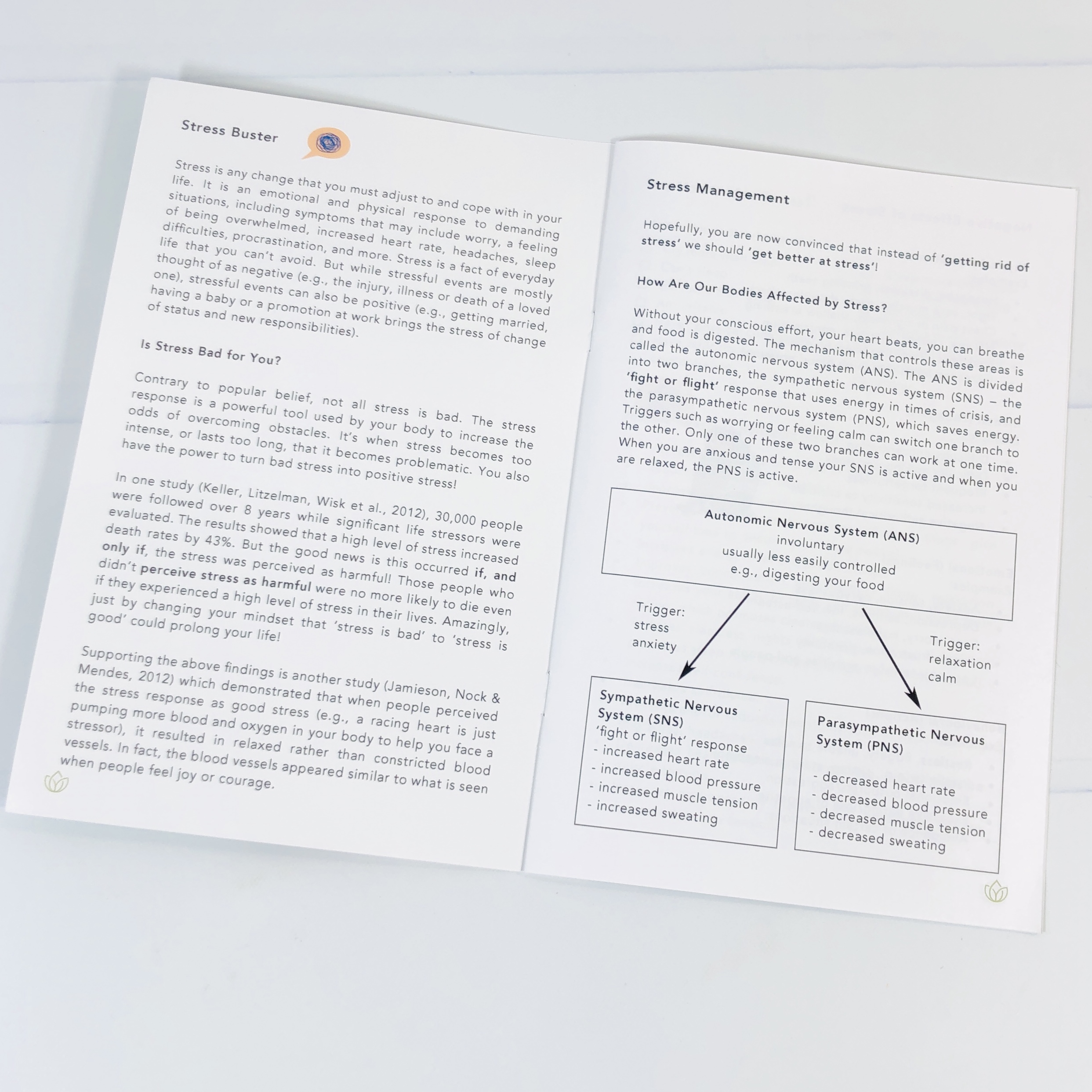 This month's focus was on how to manage stress, because let's face it, stress isn't ever going to go away.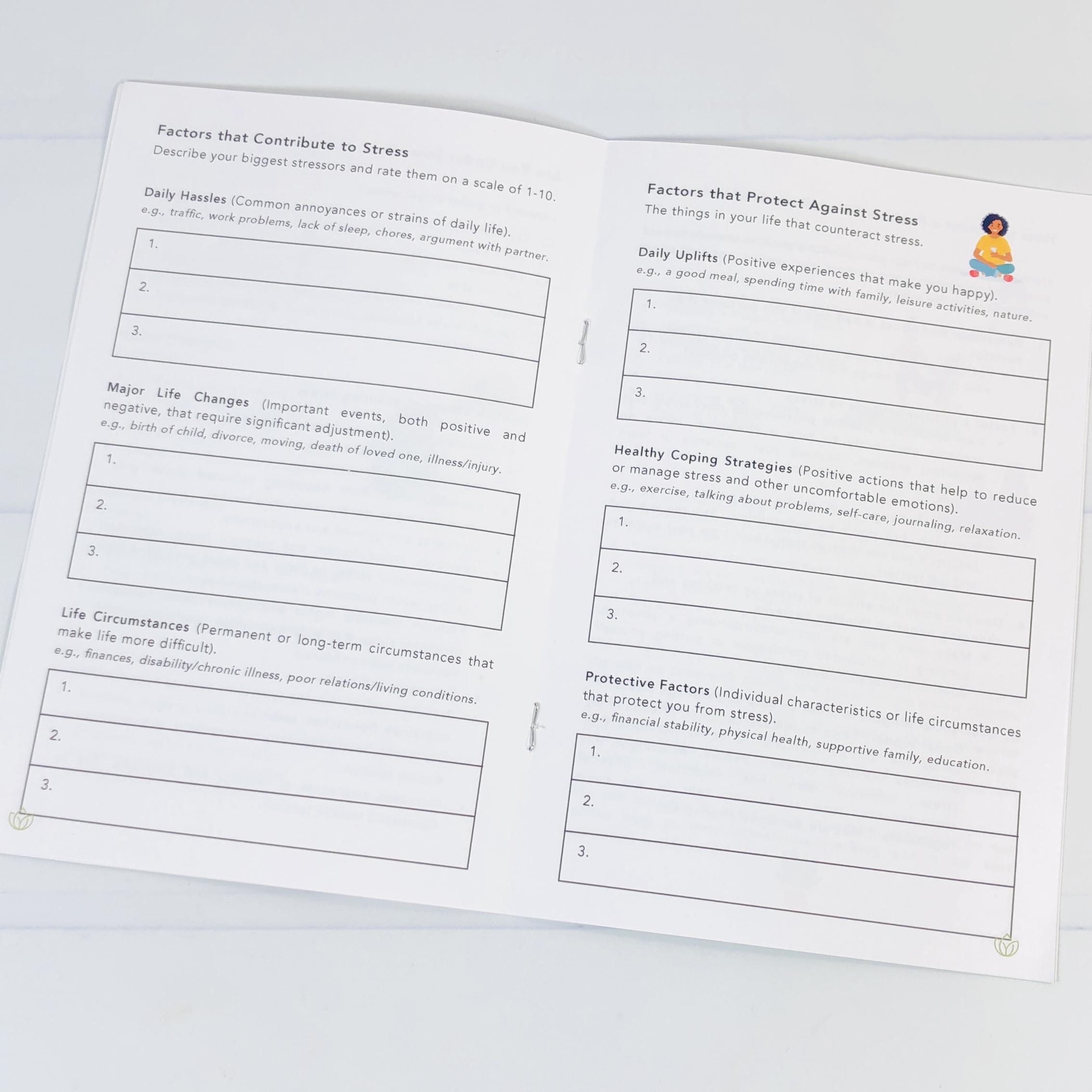 The booklet discussed the negative effects of stress, how to tell if you are under stress, factors that contribute to stress, and ways to protect against its effects. It lists relaxation techniques and has a stress management plan worksheet. There are 10 pages in all.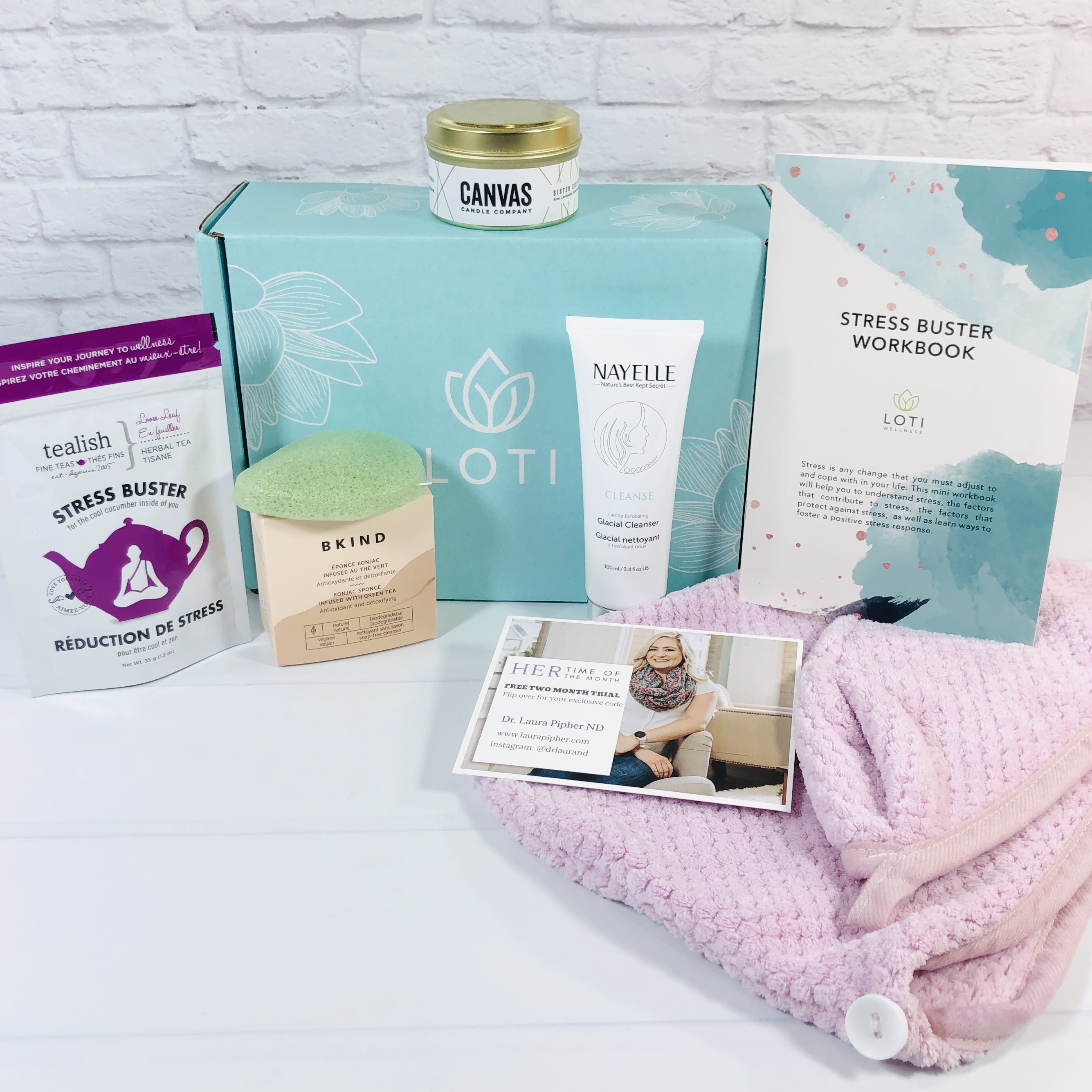 Everything in my box!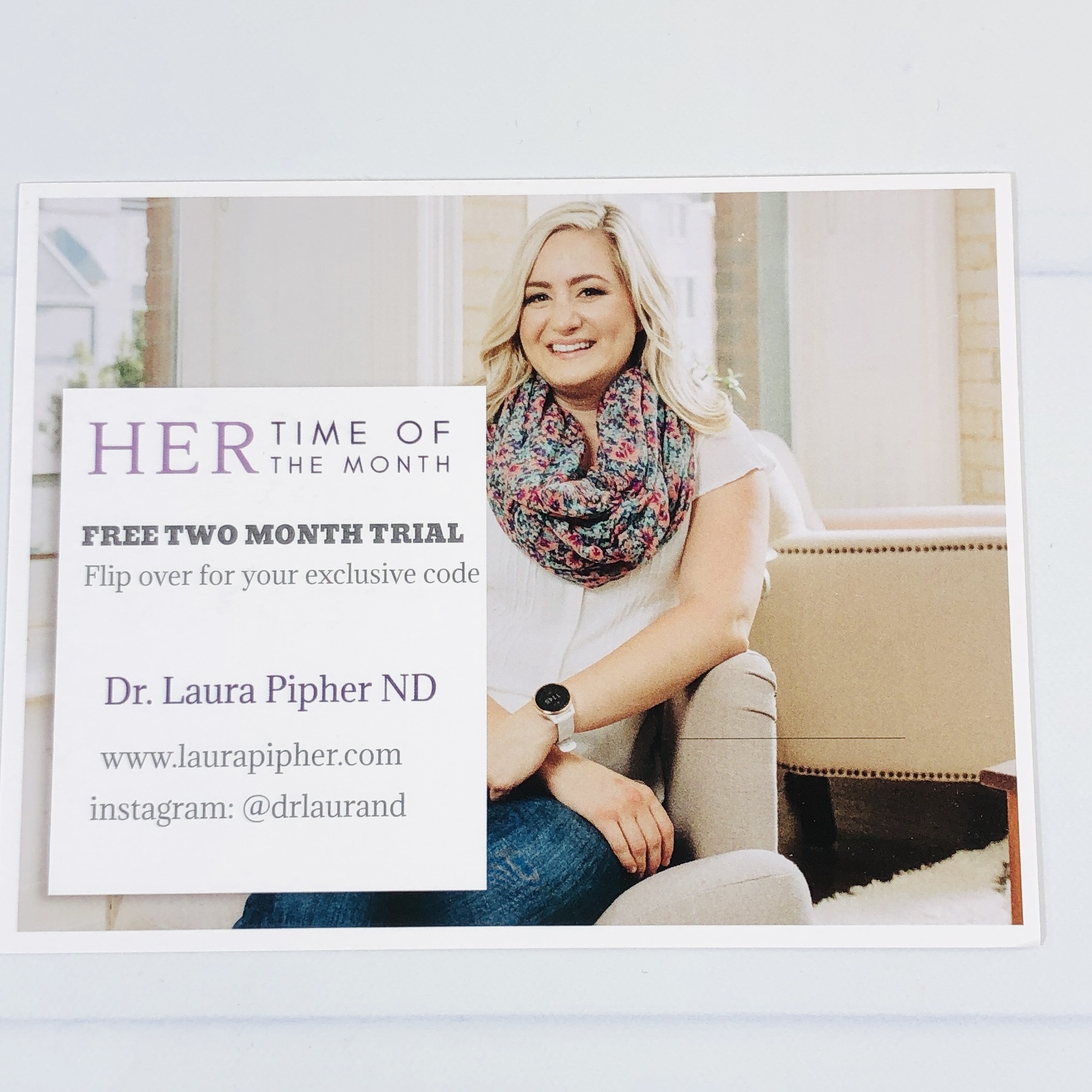 HER Time of the Month Membership Free Trial ($39.98 value) Our first item is a two-month trial to an online period-focused wellness plan.
The program offers recipes, newsletters, and support. I tried to enroll and it told me that the program was "out of stock" and so I am unable to tell you what is on offer. Perhaps it is full for now but the coupon is good until July 2021. If you are having problems redeeming your coupon then please contact Loti directly.
The Faceoff Cloth Towel Twist ($24.99) Towel Twist is a microfiber hair towel that helps reduce drying time after hair washing.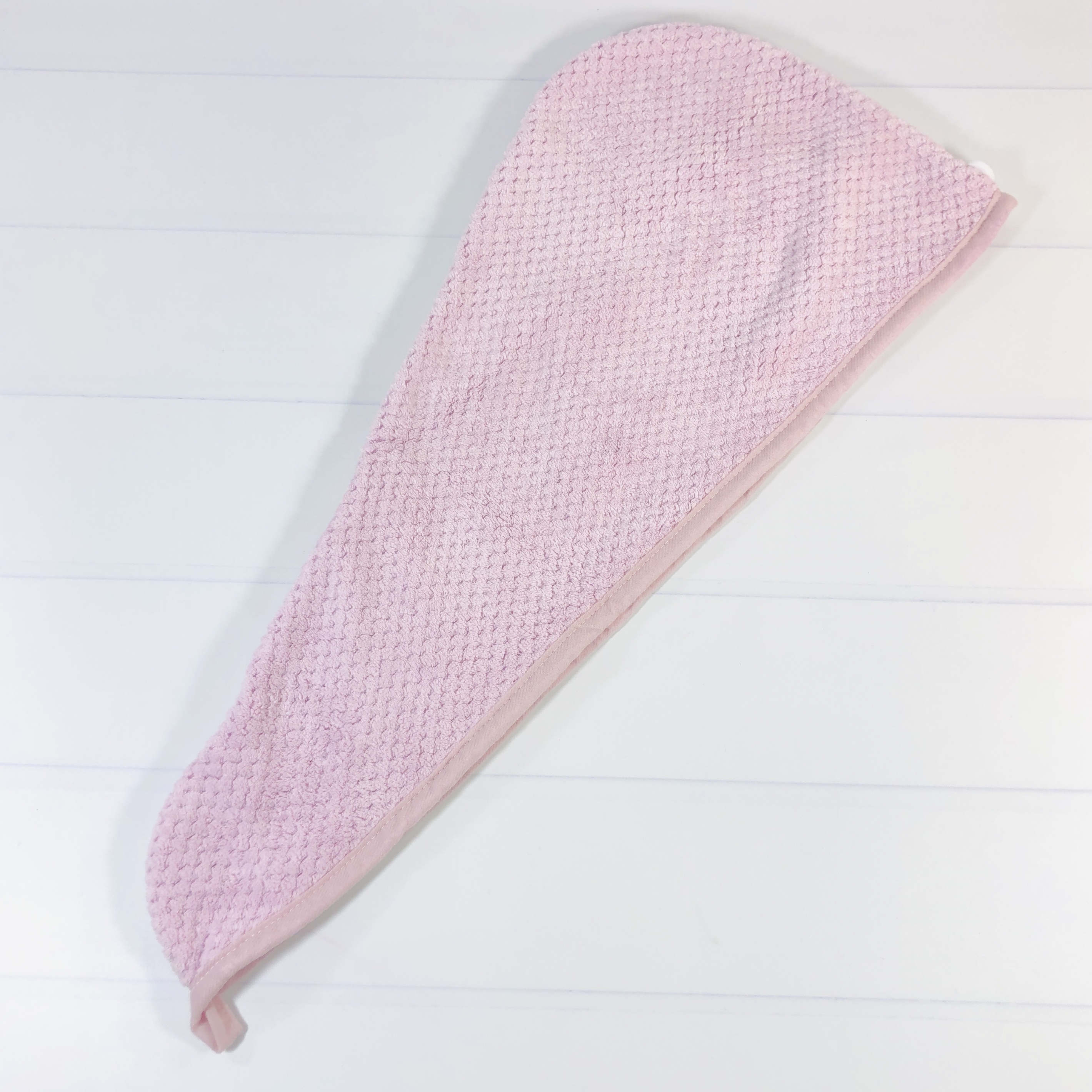 It is super soft and you just wrap damp hair in the towel, give it a twist, and adjust the closure.
There is a button and loop, and this is meant to keep it securely on the head while you get your morning coffee/tea/smoothie ready. If it reduces drying time via a blow dryer then you've saved not only time but energy!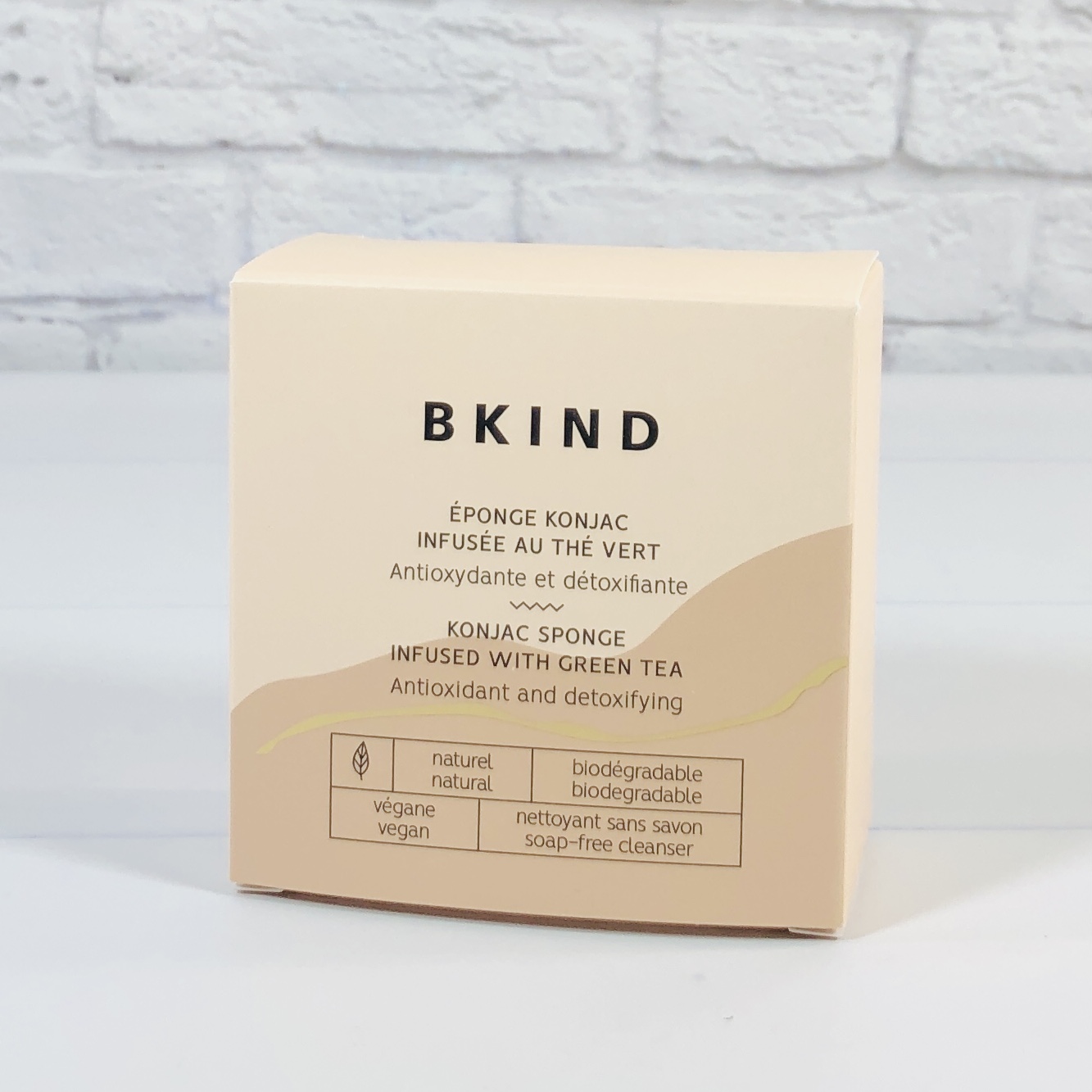 BKIND Facial Sponge ($10) I am no stranger to konjac sponges, they are made of a plant root that comes from Asia!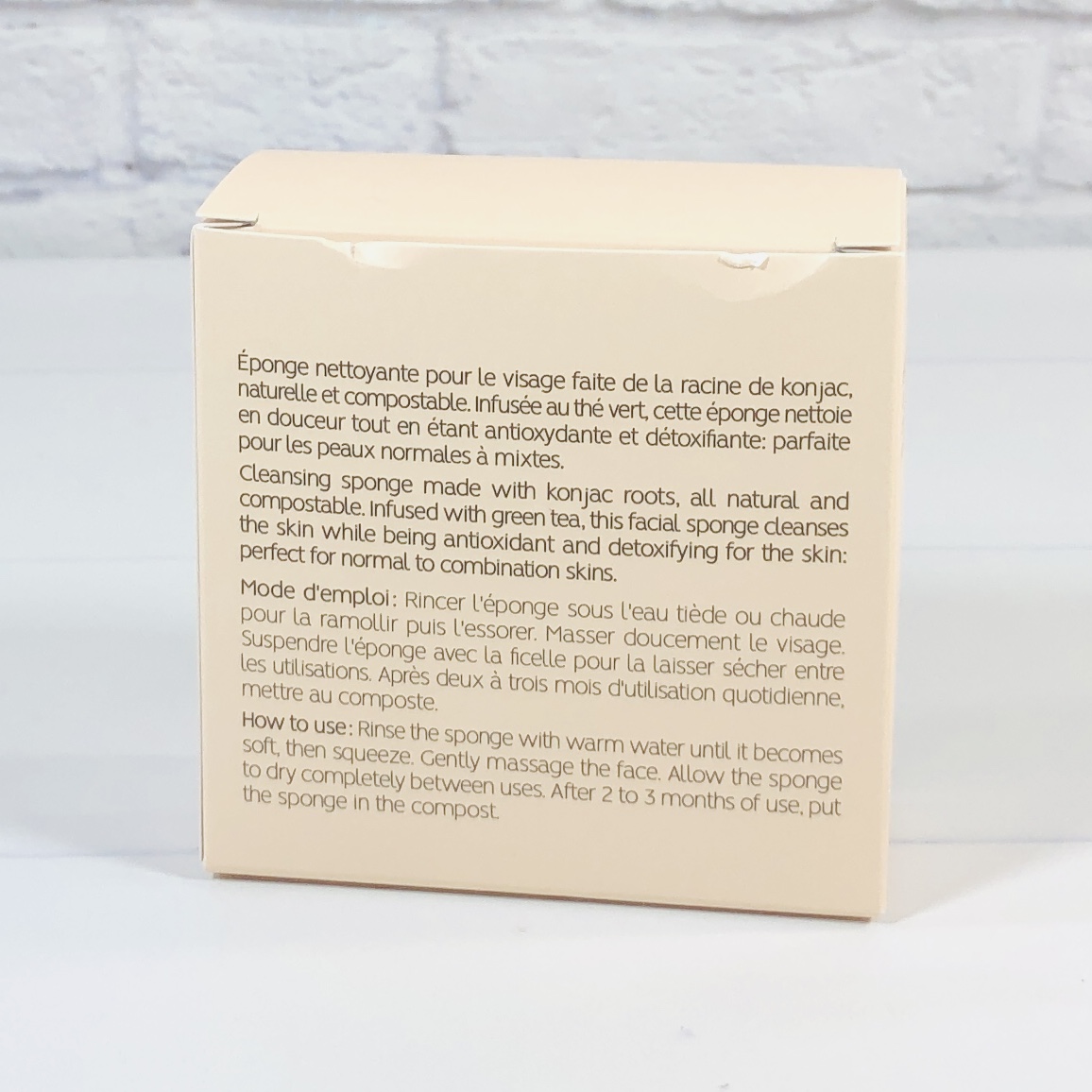 It is all-natural and compostable. This one is infused with green tea extract and is meant for those who have normal or combination skin.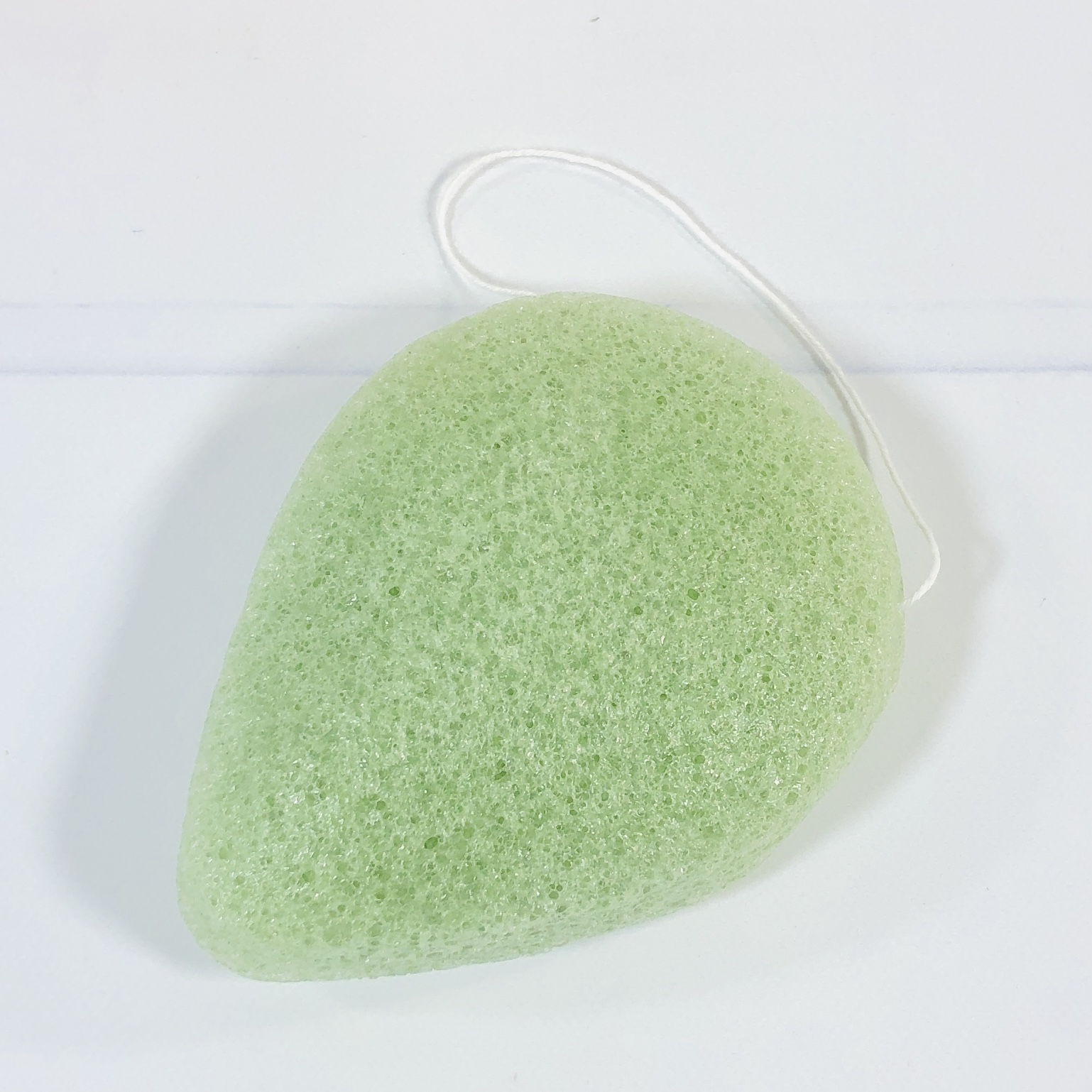 The sponge starts out hard but once you get it wet it will soften and expand.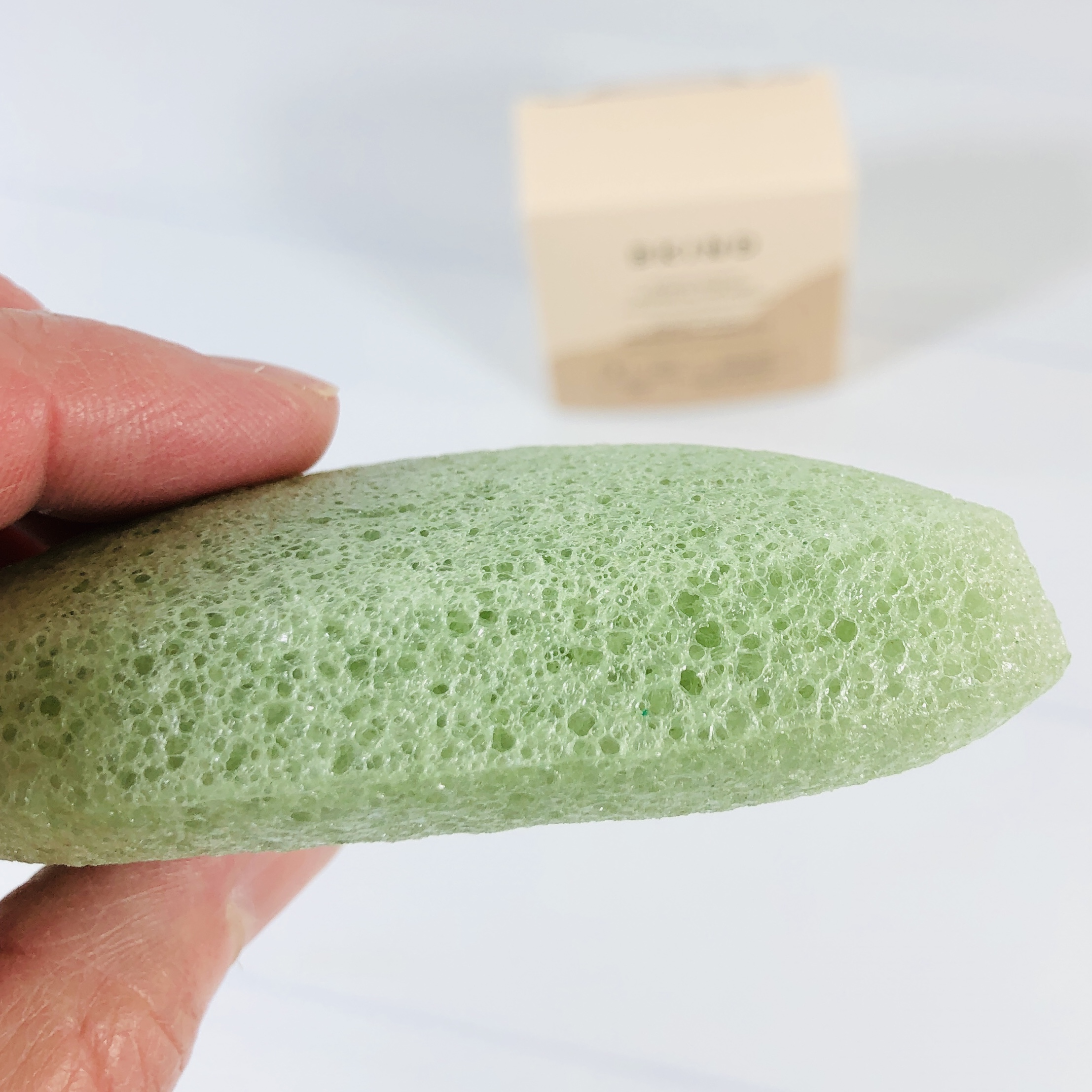 You can use it as-is or combine with the cleanser of your choice. It will gently clean the skin and give it a mini massage. Rinse thoroughly and hang to dry. It can be composted after about 100 uses.
Tealish Fine Teas Stress Buster Herbal Tea ($5.31 USD value) I love teas, all kinds of teas! This is a caffeine-free version that can be enjoyed at any time of the day but I especially like to drink herbal tea in the evening to unwind.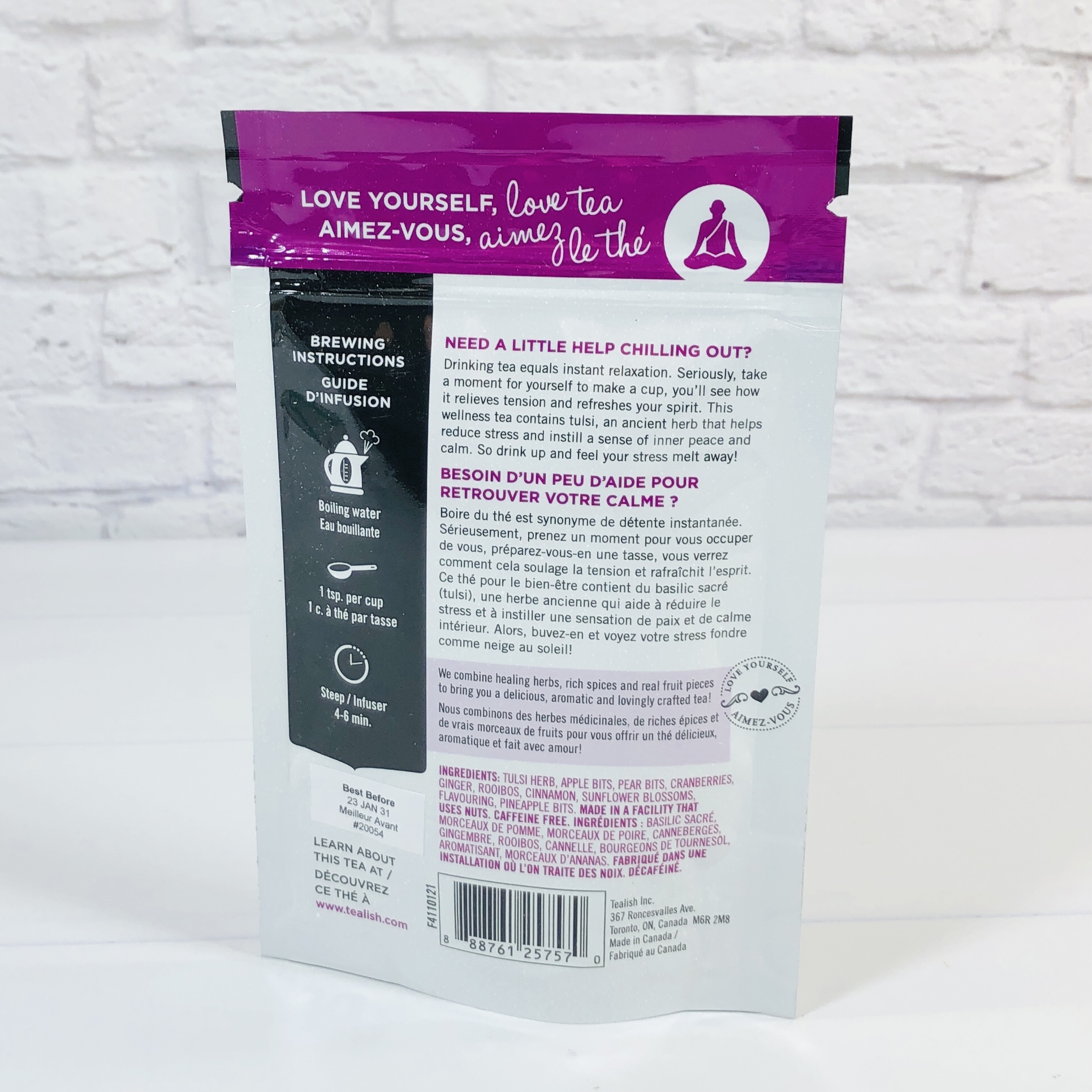 The ingredients here are basic herbal tea things, there's not really any "medicinal" ingredients, it's stress relieving because of the ritual, the preparation and the imbibing. This one has tulsi, apple, pear, cranberries, rooibos, sunflowers, pineapple, and a couple of warm spices.
Isn't it pretty? I thought it reminded me of drinking warm apple juice, maybe with a hint of orange, plus I could taste the cinnamon. Very nice!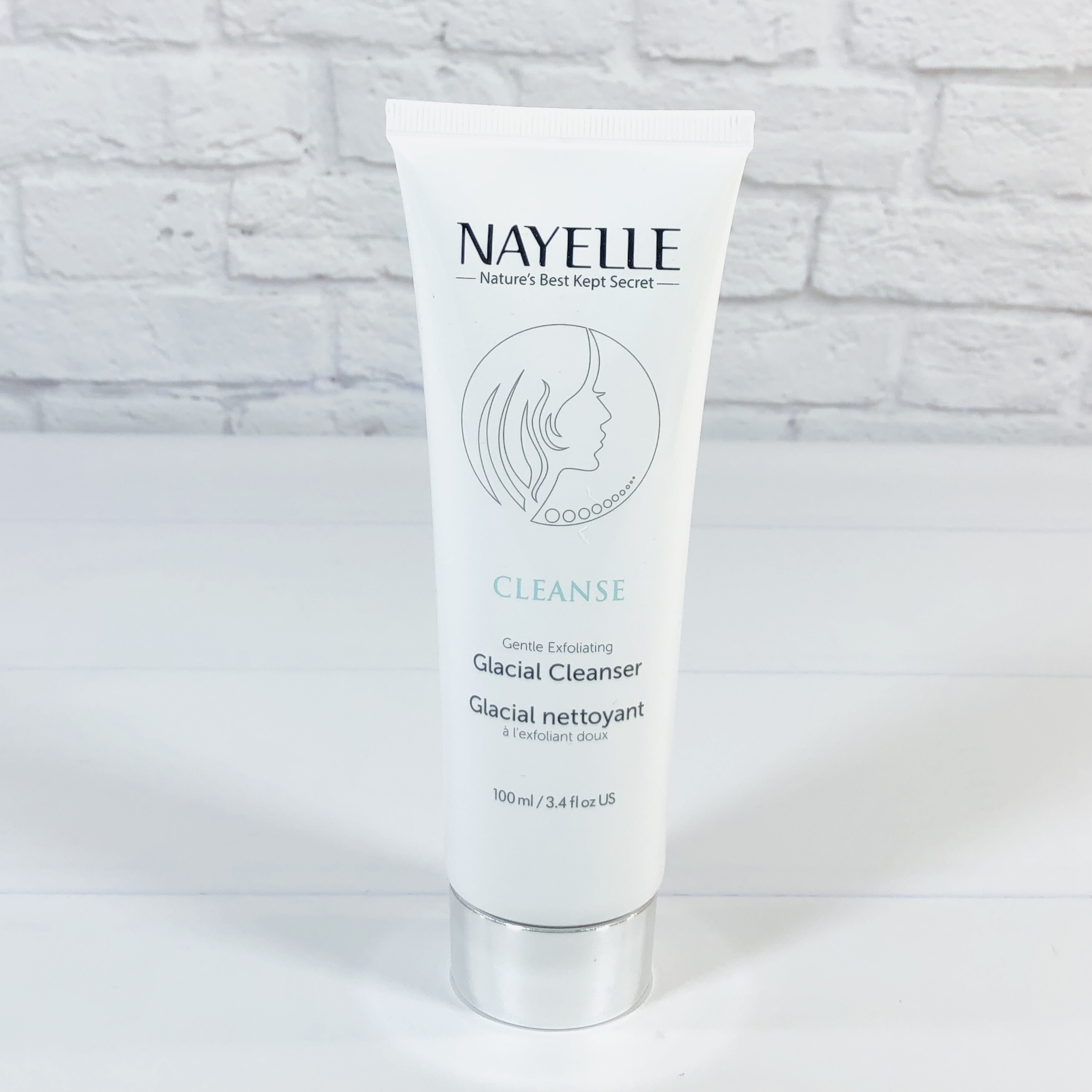 Nayelle Skincare Cleanse Facial Cleanser ($18) is an exfoliating cleanser that removes makeup and the rest of the day's dirt etc. without the use of SLS or microplastics.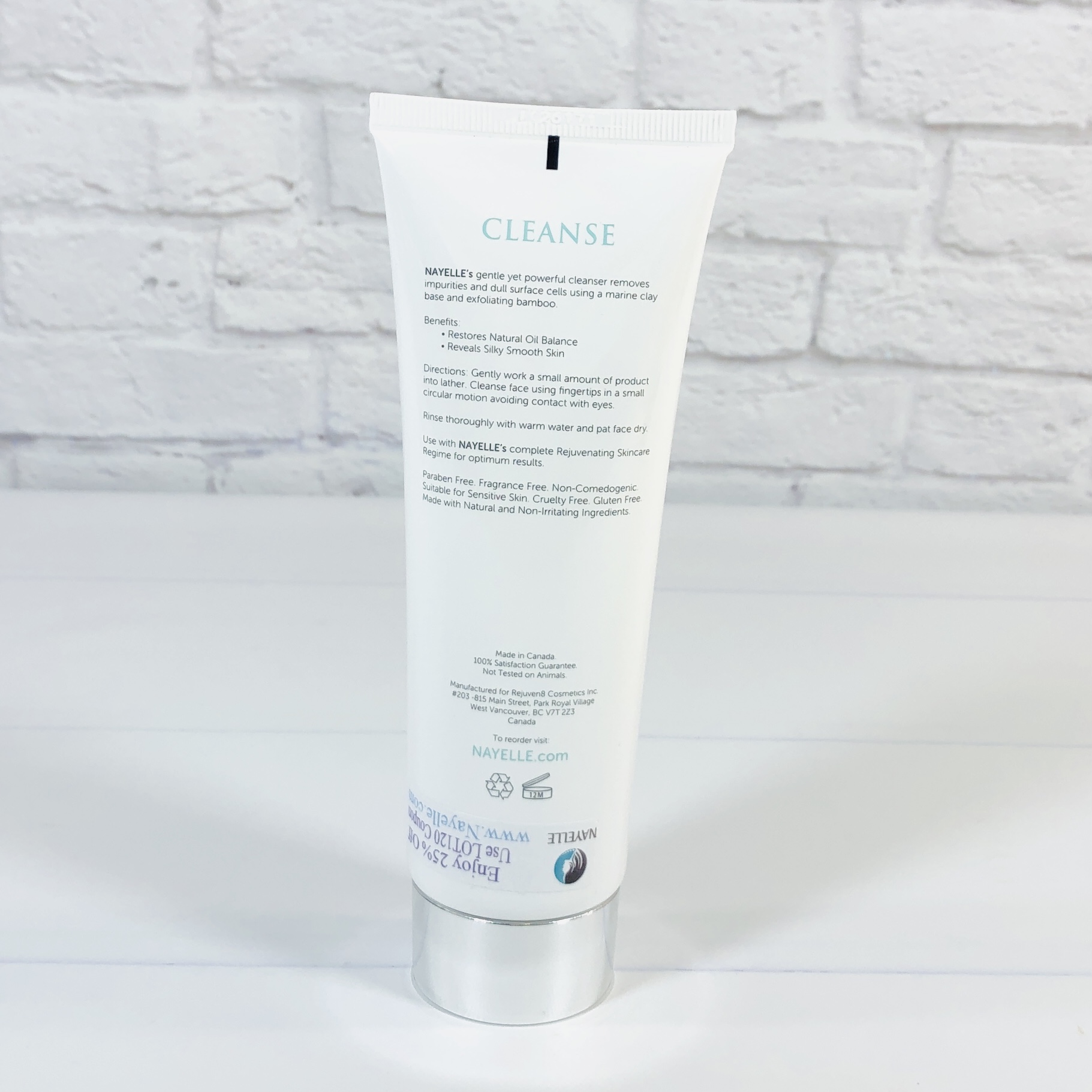 The online instructions say this will also remove mascara and eye makeup but the bottle says avoid contact with the eyes. After using it, I can say I wouldn't want to put it near my eyes because it has scrubby bits that would hurt if they got inside my lids. The product did a good job of gently exfoliating and it smelled good, like citrus (it's scented with bergamot oil). Other ingredients include sea silt, bamboo stem extract, and sunflower seed oil.
Canvas Candle Co Sister Sister Candle ($16) I am a fan of candles, and this gold tin looks pretty on my coffee table.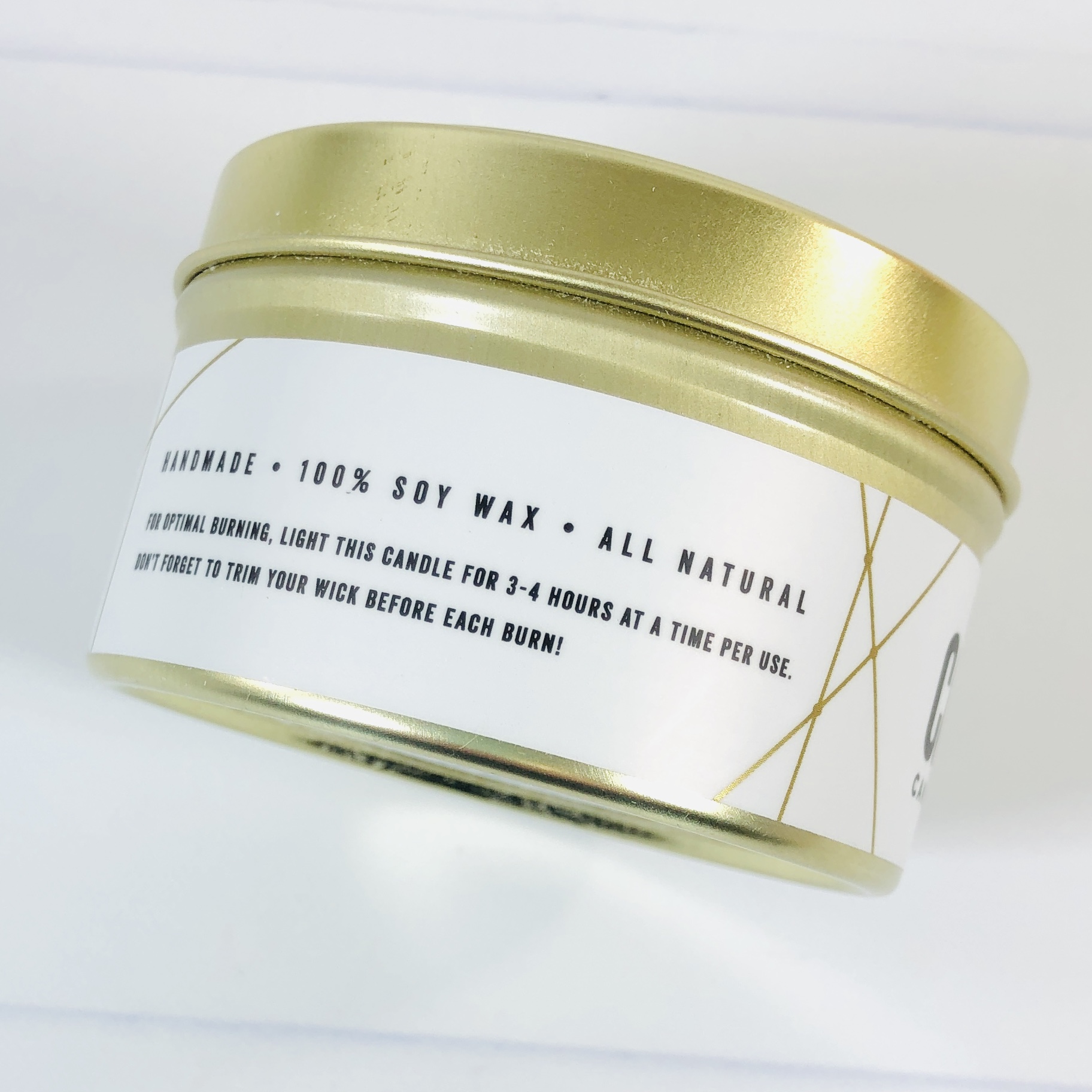 The candle is handmade with soy wax. The burn time may be as long as 40 hours and the tin makes it easy to pack into a suitcase for a homey atmosphere on the road.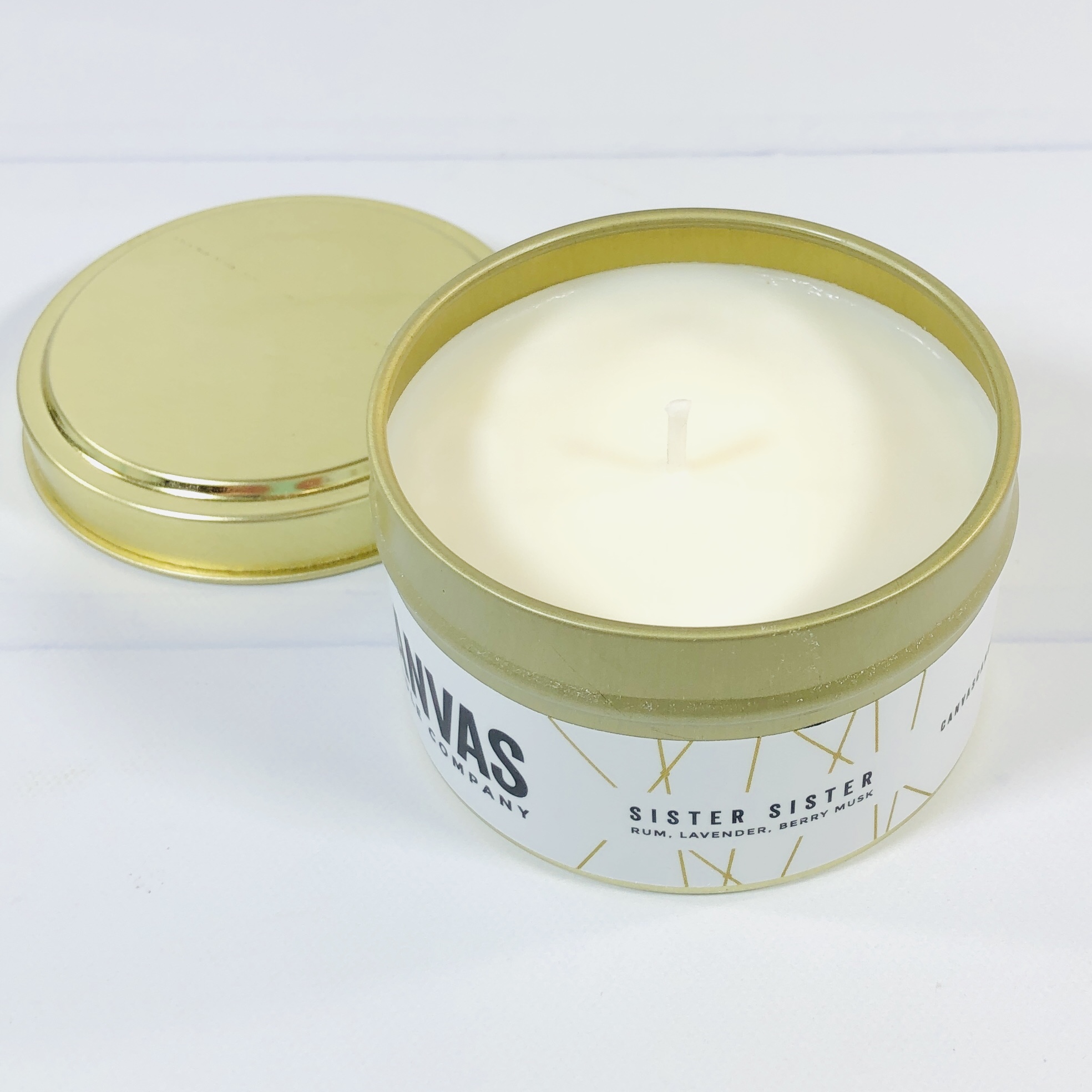 The scent has notes of rum, lavender, berry, and musk. It is sweet and masculine and while the scent wasn't noticeable at first, it got stronger as the candle continued to burn. It wasn't overwhelming though, just the way I like it.
Loti helped me put a stopper in my stressful month! It's been one thing after another in my life lately but this box reminded me that there's only so much I can do and that I can always try again tomorrow. I enjoyed drinking a warm cup of tea while having the candle burning nearby. The konjac sponge and face cleanser help me to wash away stress at the end of the day, I imagine it's going down the drain with the rinse water. The hair towel helps me shave a few minutes off of my prep time in the morning, meaning I have more time for an extra task here and there. Absolutely lovely!
What do you think of this self-care subscription?