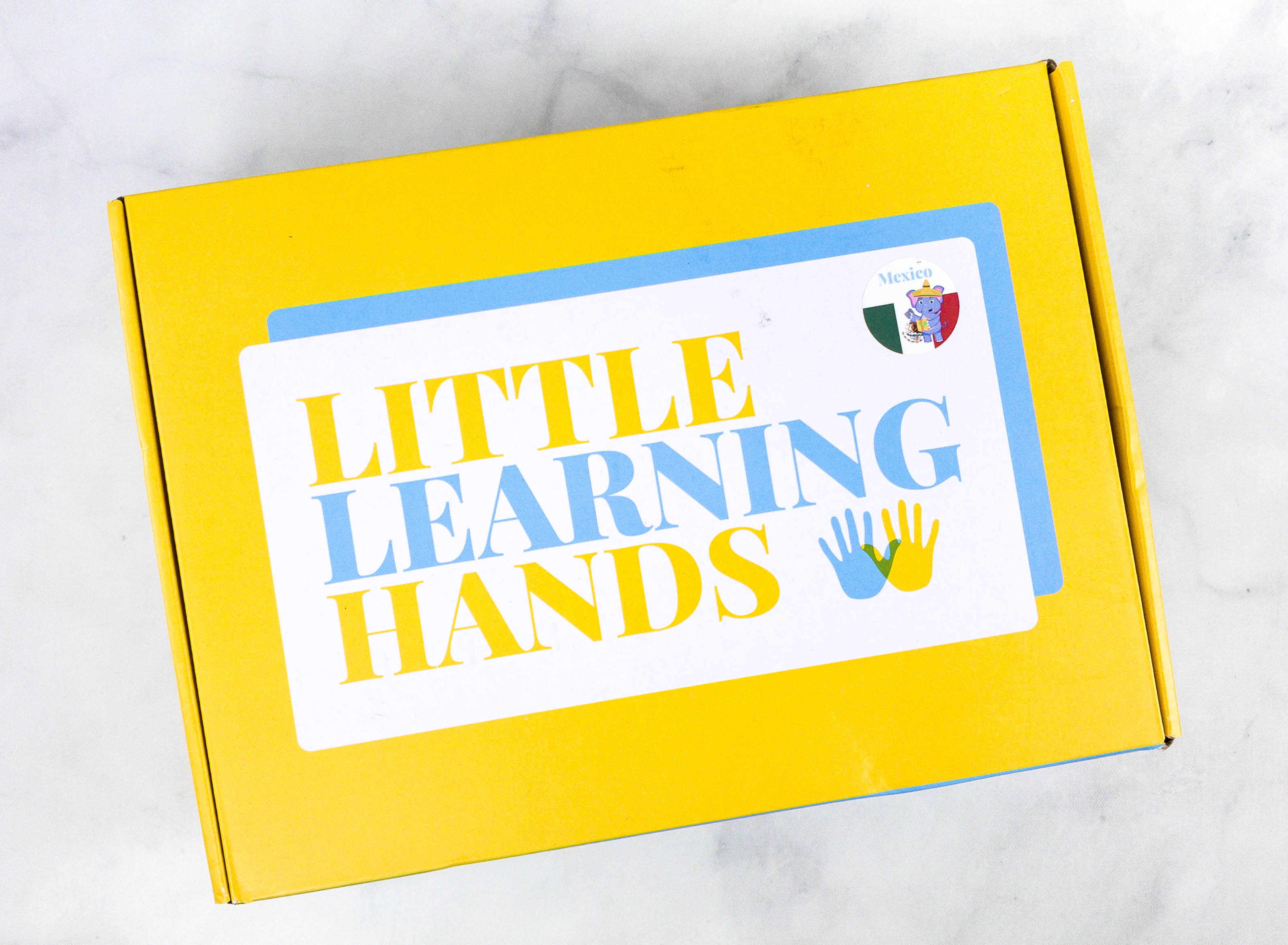 Little Learning Hands is a monthly kids subscription box that contains 4-5 hands-on learning activities for art, science, math, engineering, and literacy. Your first box is an Intro World Explorers Global Kit, which includes a Little Learning Hands Passport, a scratch-off map, and a backpack. The regular boxes after that will include a country sticker, country booklet, 2 recipe cards (one savory and one sweet), 4 Table Talk cards, 3D puzzle, other life skill-building activities (arts, crafts, science, etc.), country flag, and play money. Kit costs start at $34.95 a month.
DEALS: Get your first month FREE with 6 and 12 month plans! Use the coupon code HELLOFREE. OR Get 50% off your first month with 3 months plan! Use the coupon code HELLOSUBSCRIPTION.
The box arrived in excellent condition.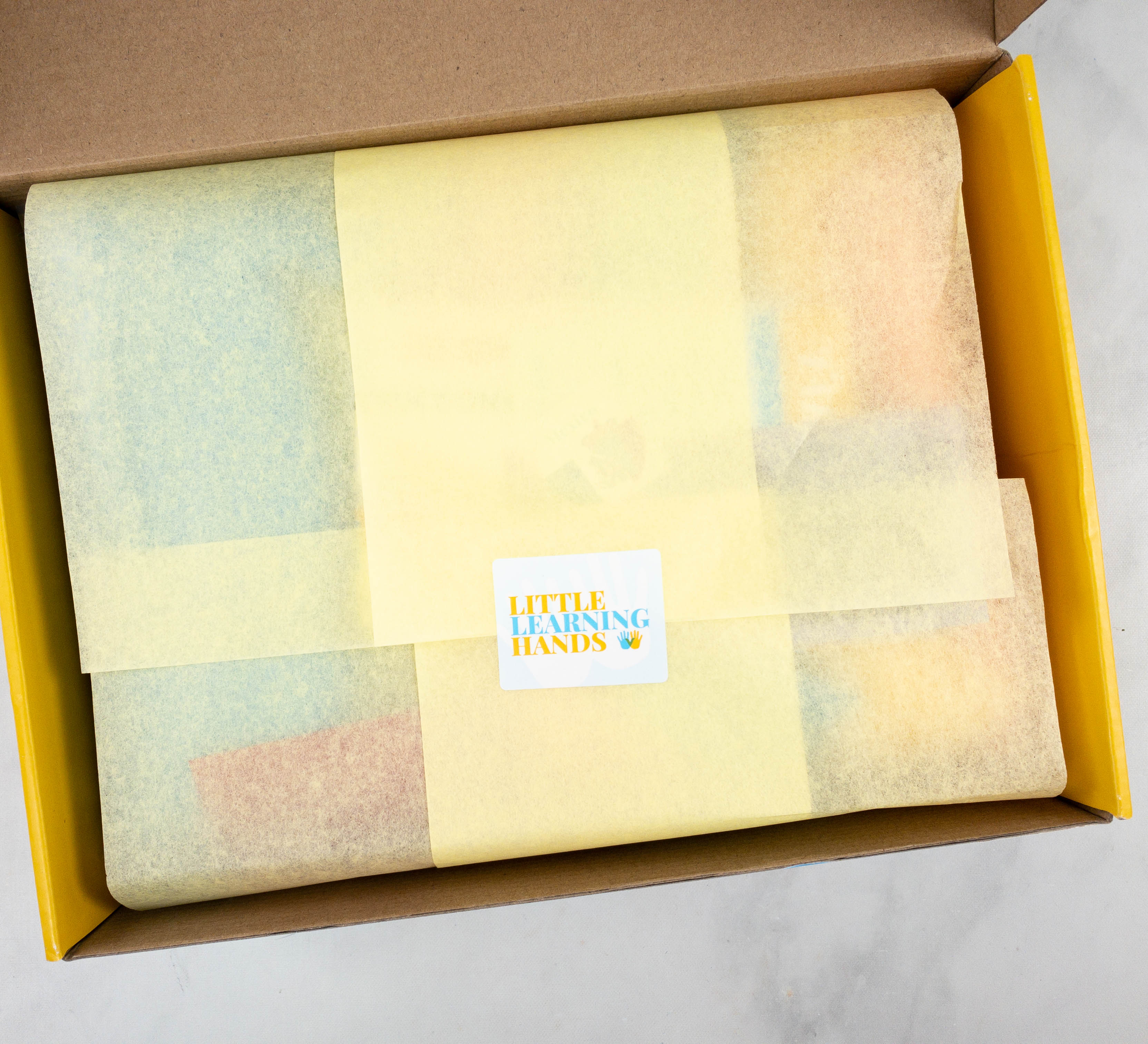 Everything in the box is wrapped in yellow tissue paper, sealed with a sticker.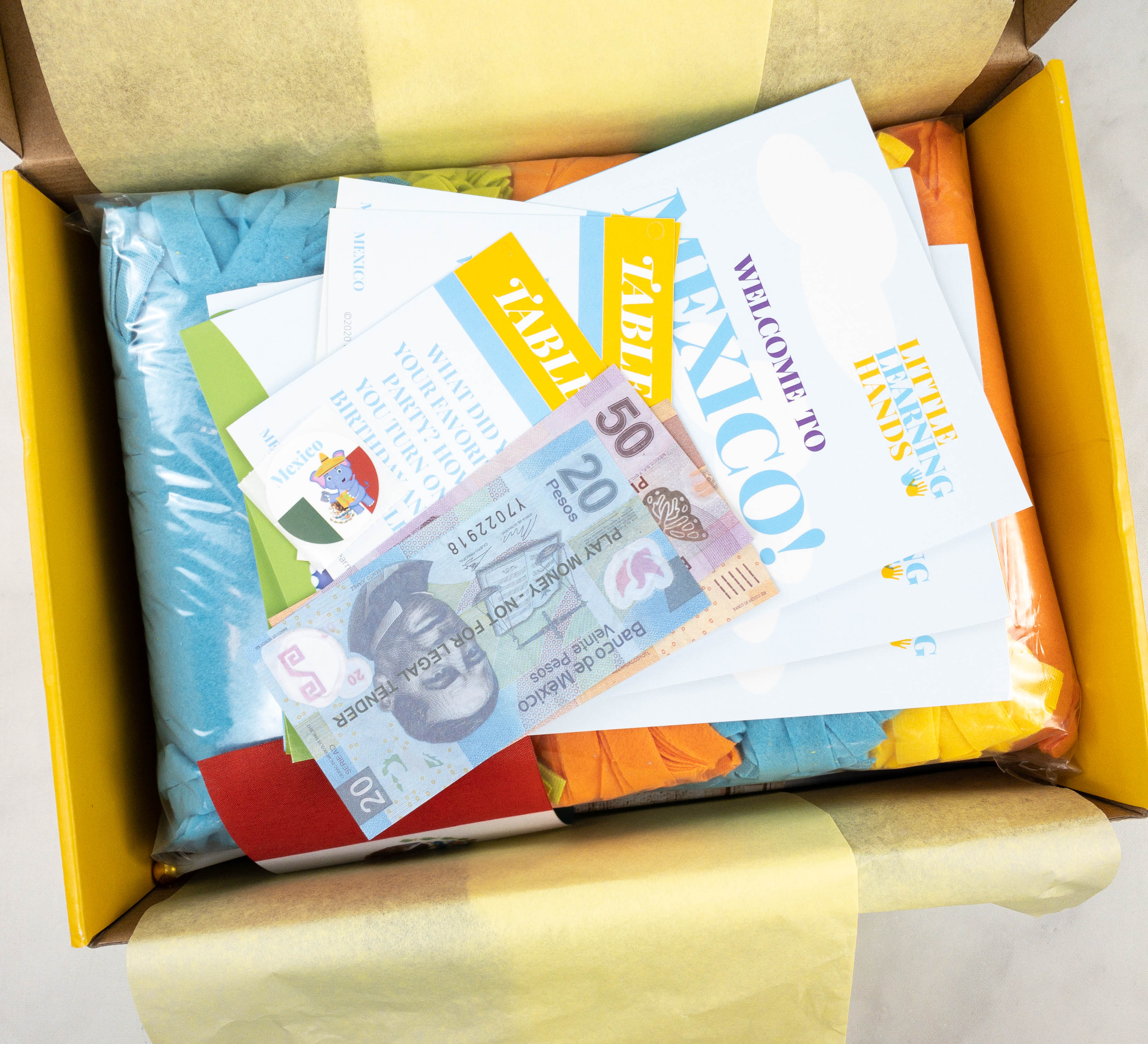 This month, the featured country is MEXICO!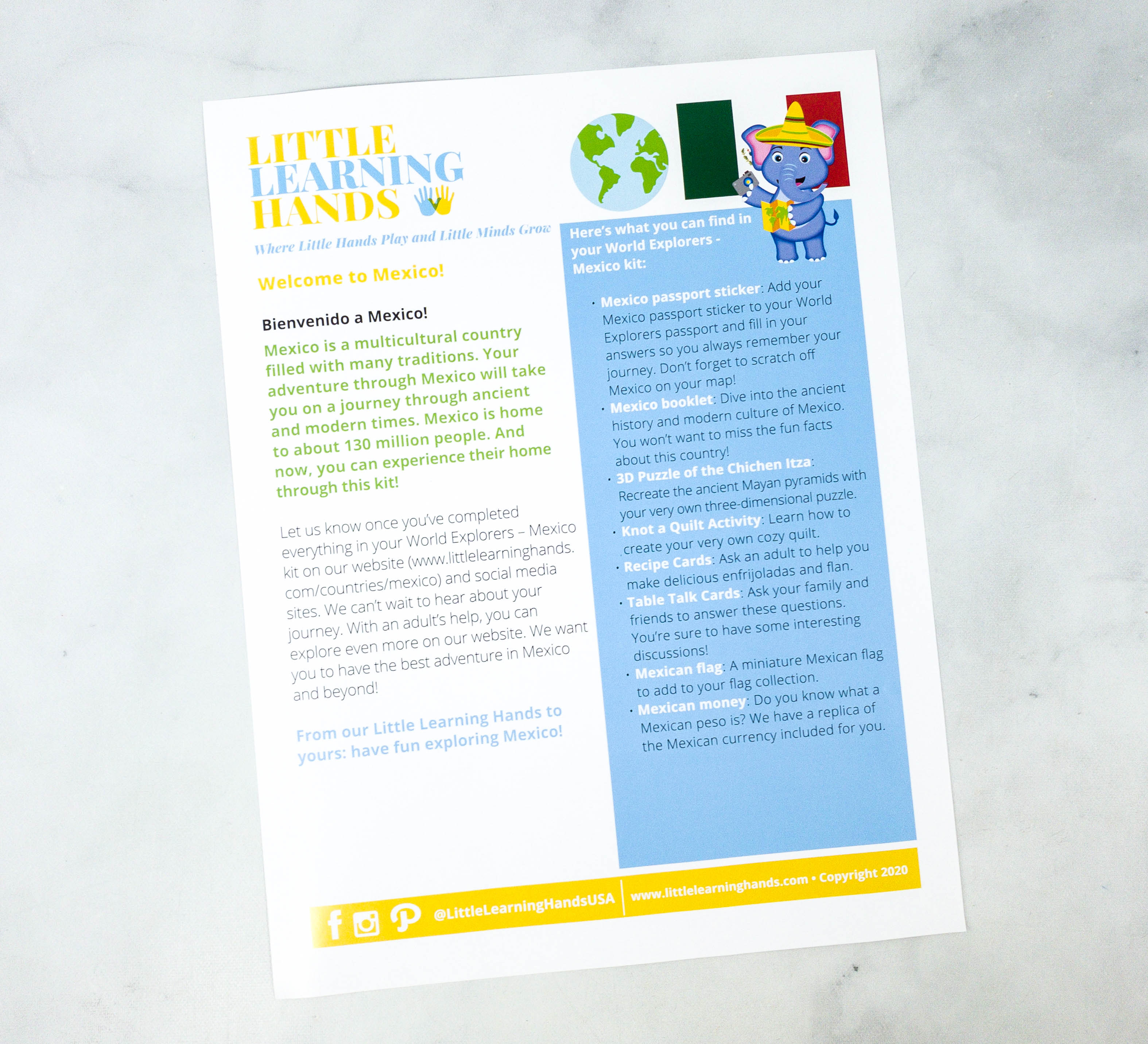 The information sheet lists all the items inside the box. There's a brief description for each of the item as well.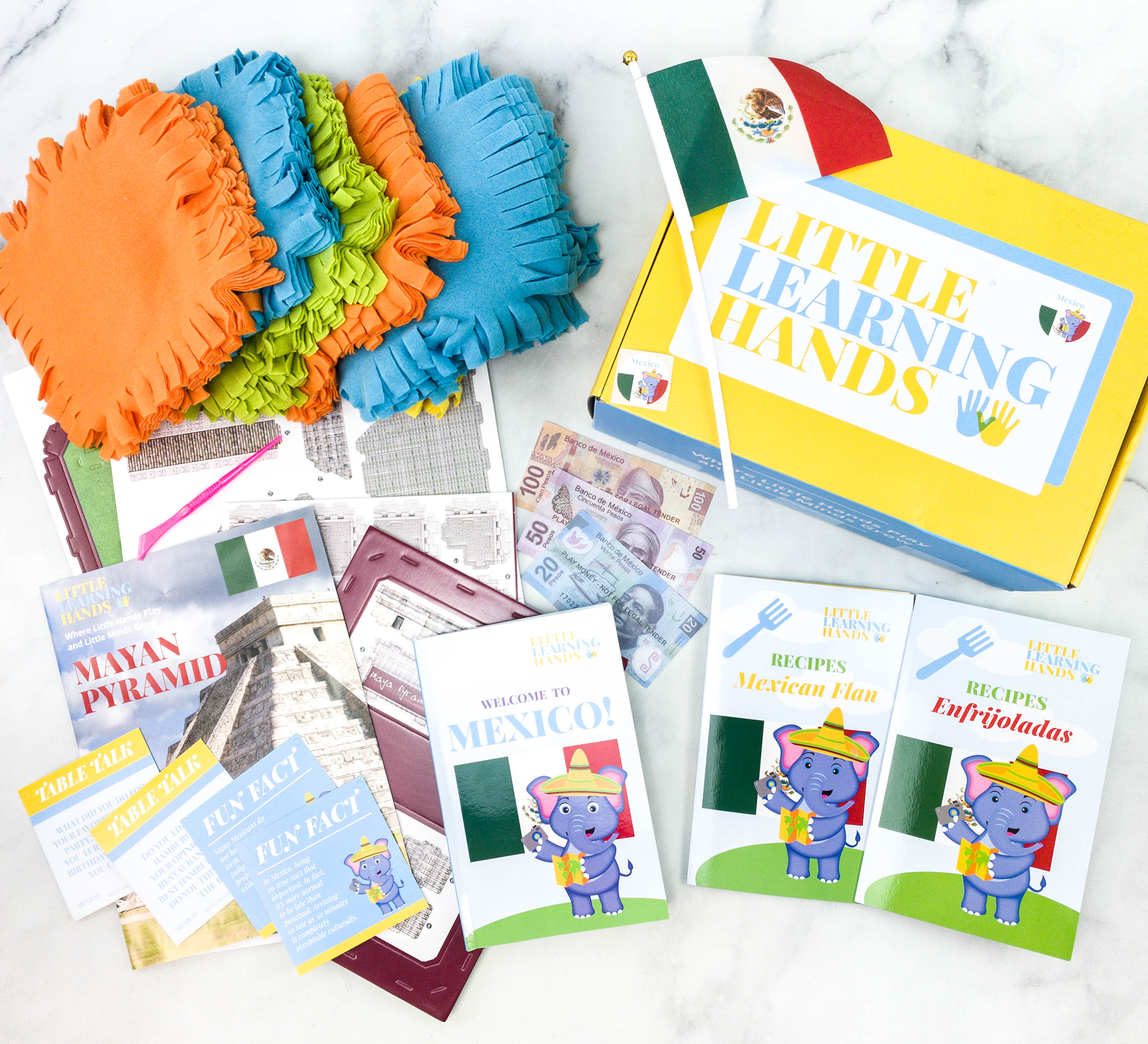 Everything in the box!
Mexico Passport Sticker. Each box comes with a sticker that kids can put on their World Explorers Passport from the Intro Box!
Table Talk Cards. These cards have a few questions that parents or guardians can ask kids during or after the activities. This is a great way to encourage discussion!
At the back, these cards also share fun facts about the featured country.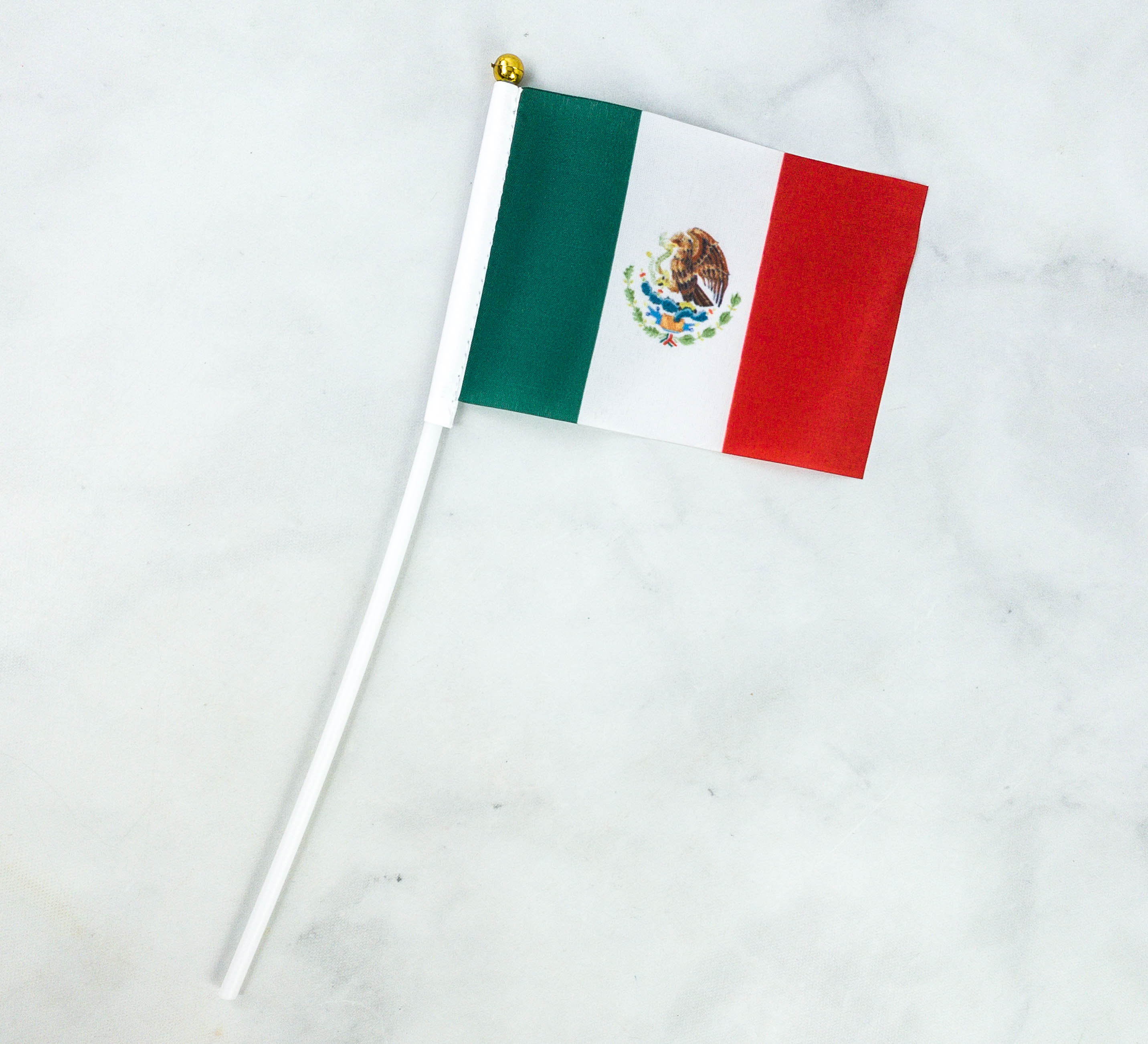 Mexico Flag. Here's a miniature replica of Mexico's flag. It has the colors green, white, and red with the image of an eagle on its center.
Mexico Booklet. This booklet contains lots of information about Mexico. It's fun to read and my kids love the illustrations in it!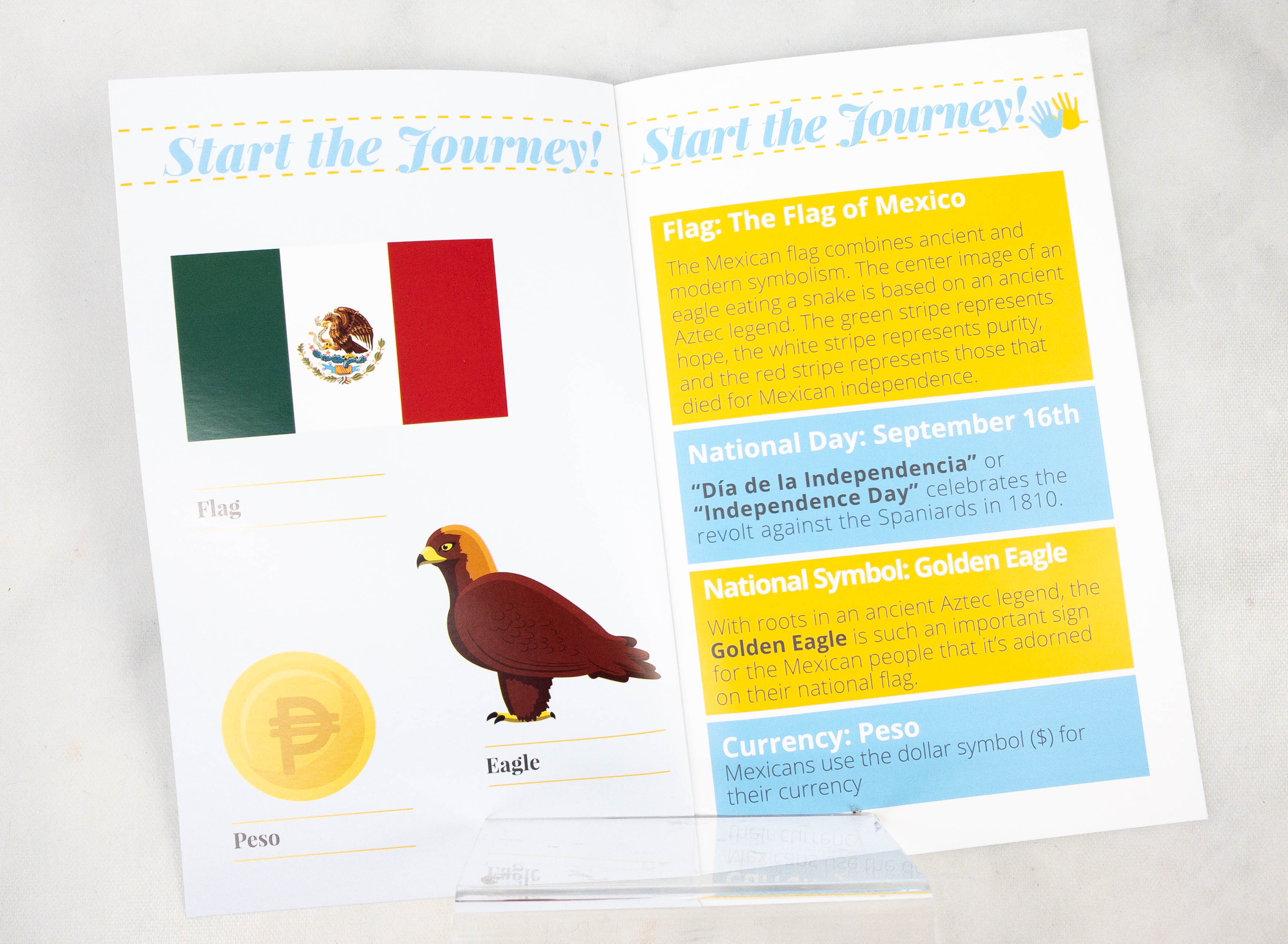 The country's flag and currency, national day, and symbol are discussed on the first pages. There's also a brief description about the country's flag and national day.
The box also included Mexican Peso play money.
Mexican Peso is the legal currency used in the country. Currently, they have 9 different kinds of banknotes and 9 coins with different values in circulation.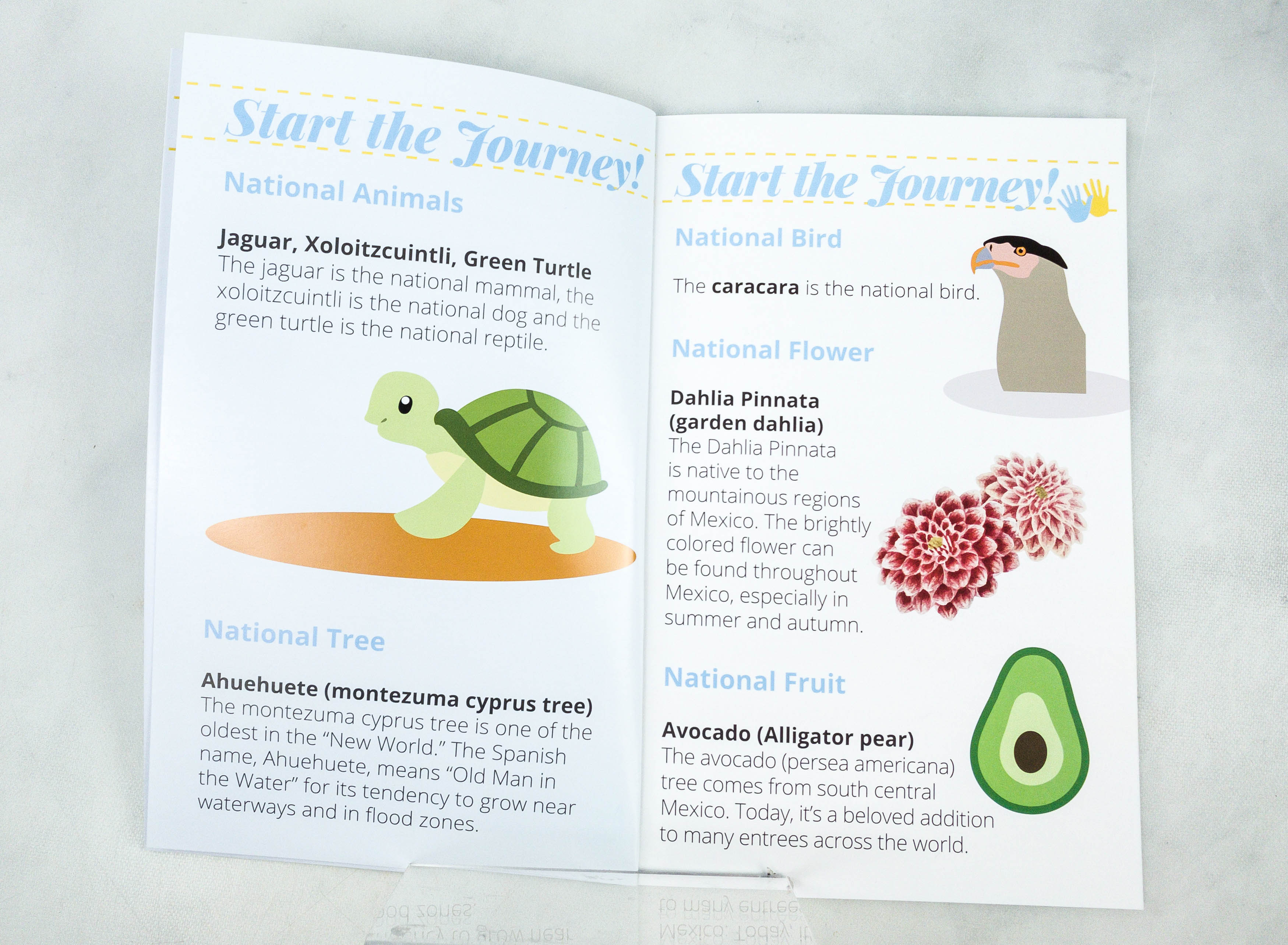 Mexico has 3 national animals: the jaguar, xoloitzcuintli, and the green turtle. The Ahuehuete is also known as their national tree and just like other countries, they also have their national flower which is the Dahlia Pinnata.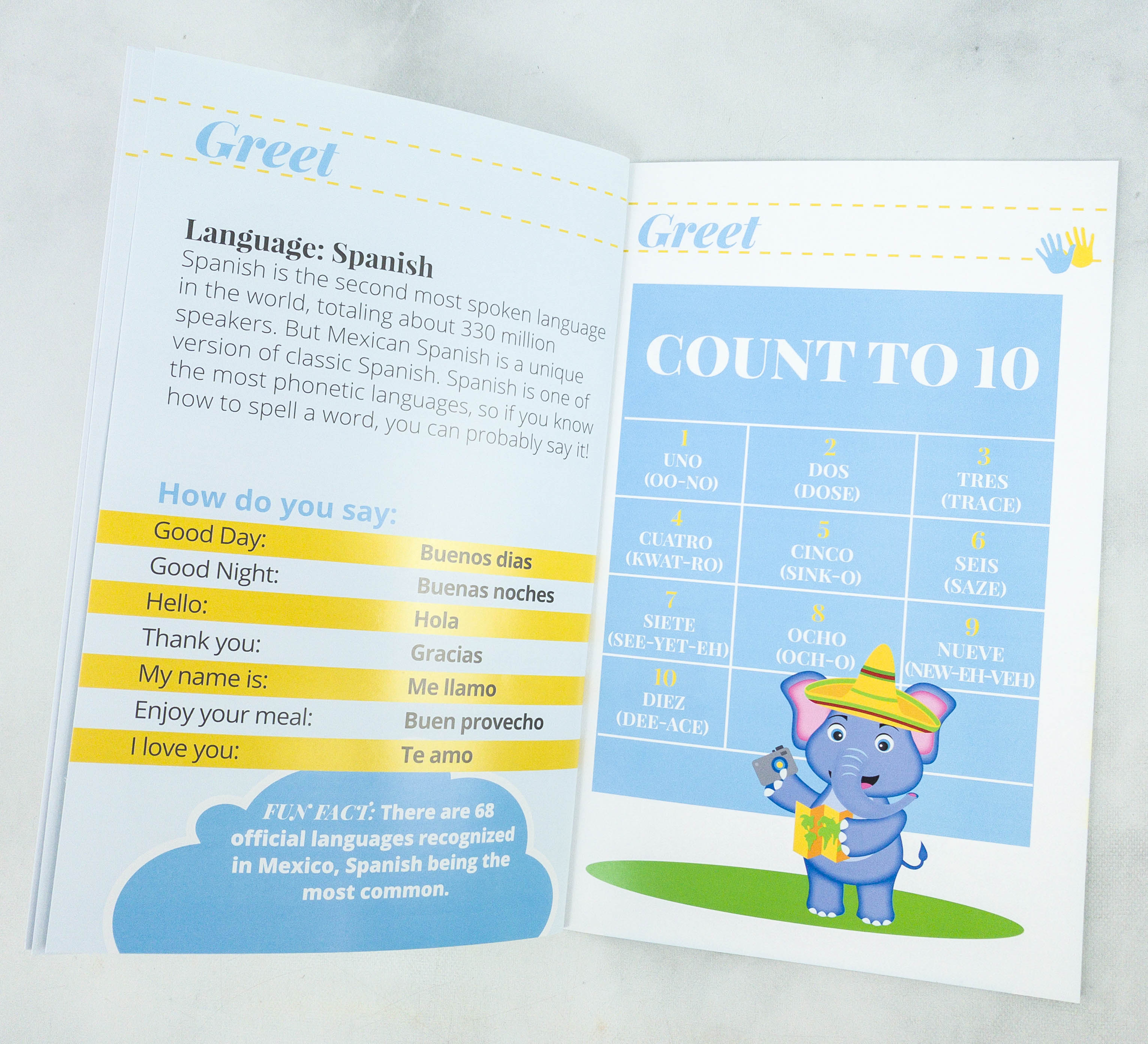 The booklet also lists some basic words and numbers using Spanish, which is Mexico's language.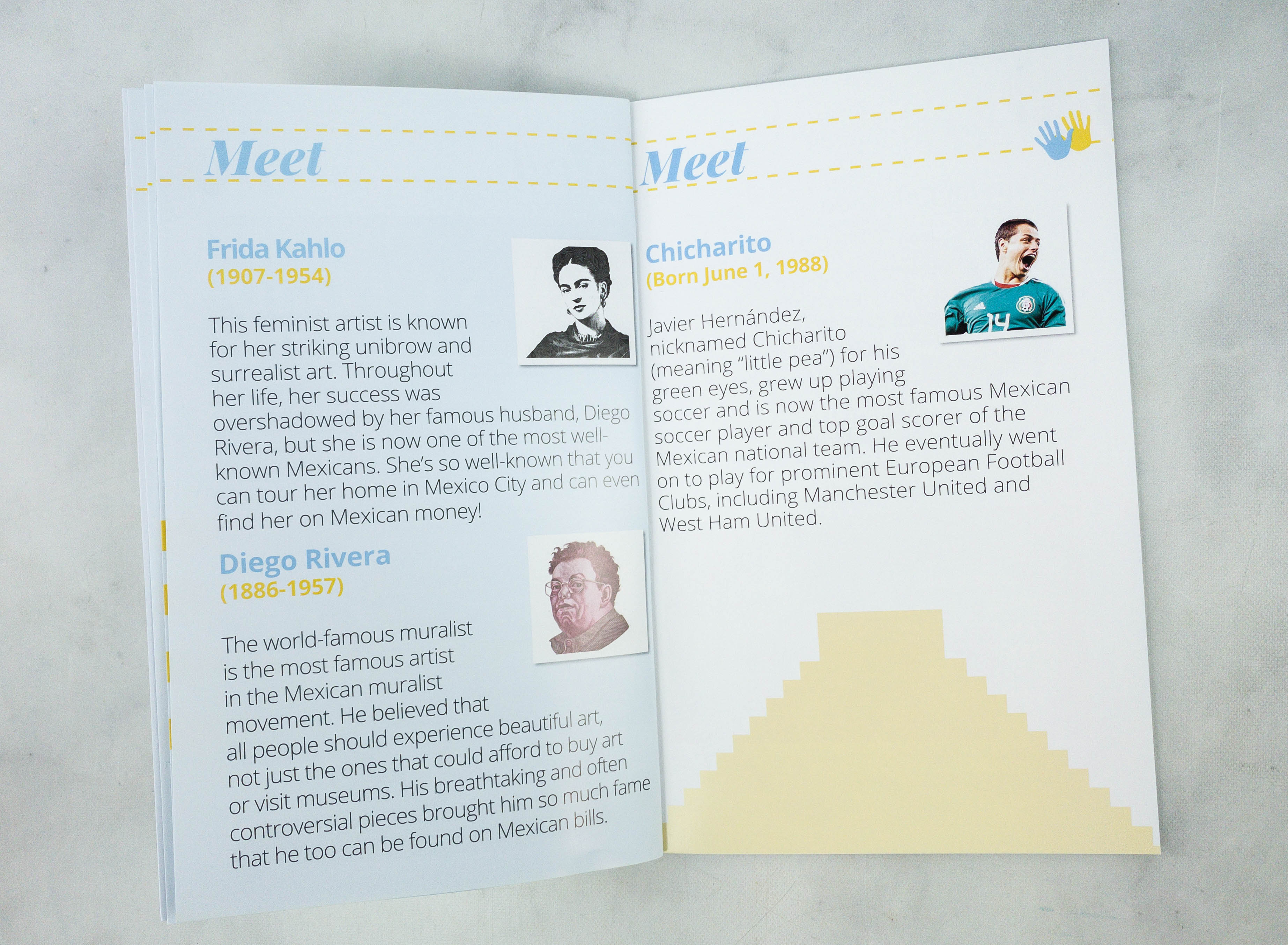 The booklet also featured some famous people from the country. It includes Frida Kahlo, Diego Rivera, and Chicharito.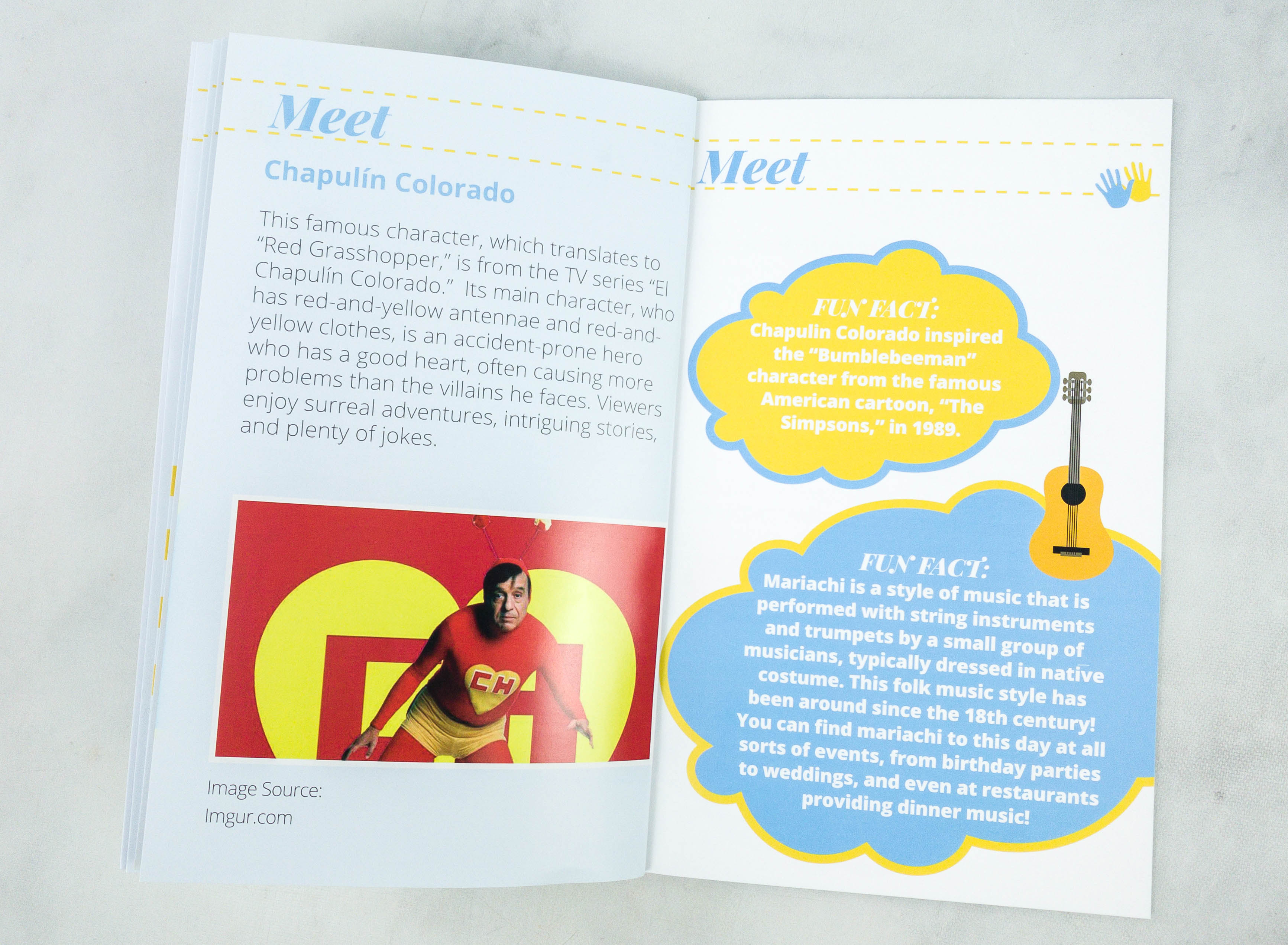 They also have a popular character named Chapulin Colorado, an accident prone hero from a local TV series. He has a good heart that usually cause more troubles than the antagonists that he faces!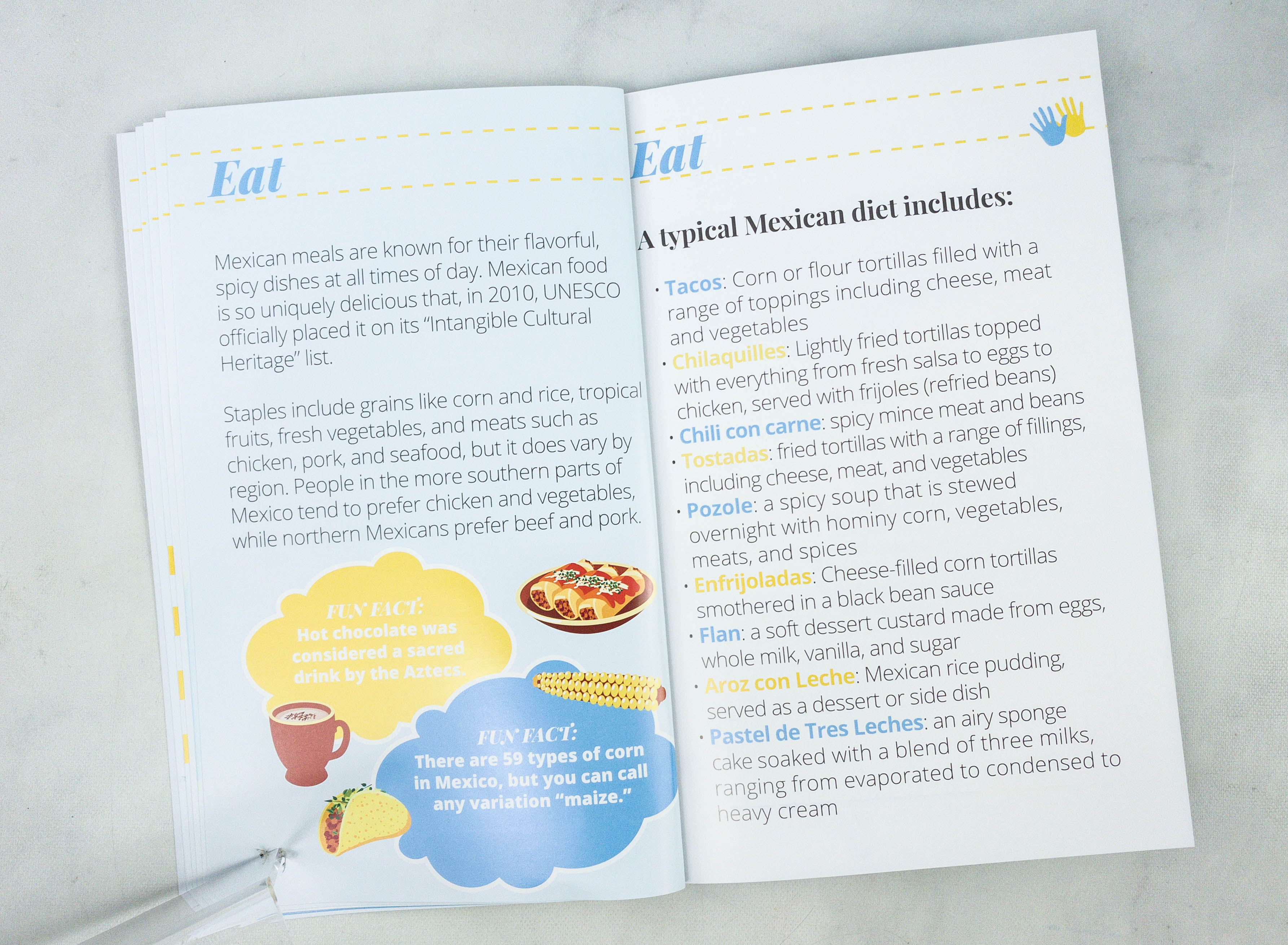 Another interesting feature in the booklet is the typical Mexican diet and meals. Tacos, tostadas, and chili con carne are just a few examples of delicious Mexican food!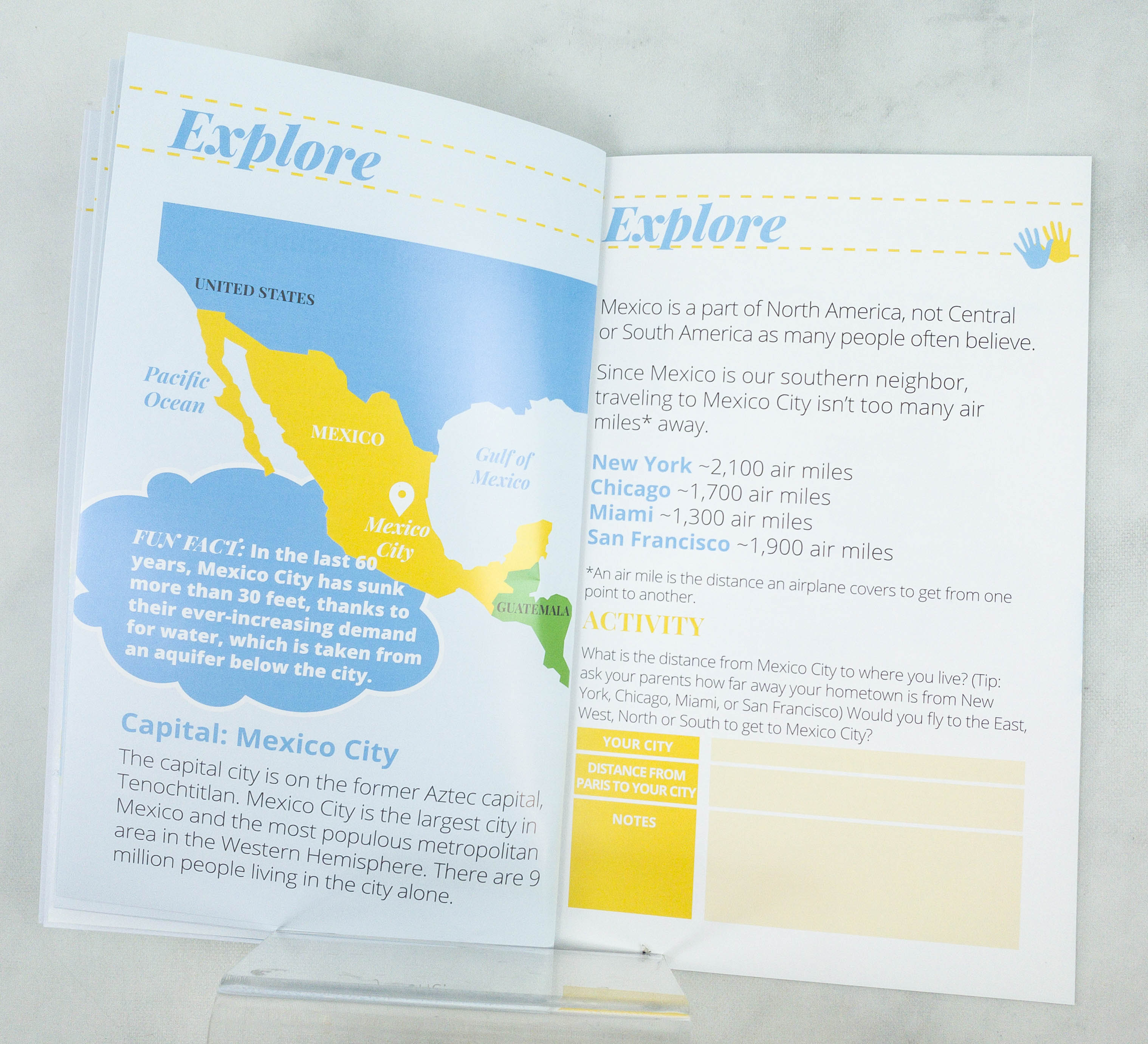 Mexico is a part of North America, and its capital is Mexico City!
The country is home to 130 million people and 21.3 million of them live in Mexico City alone. Also, Texas was once a part of Mexico!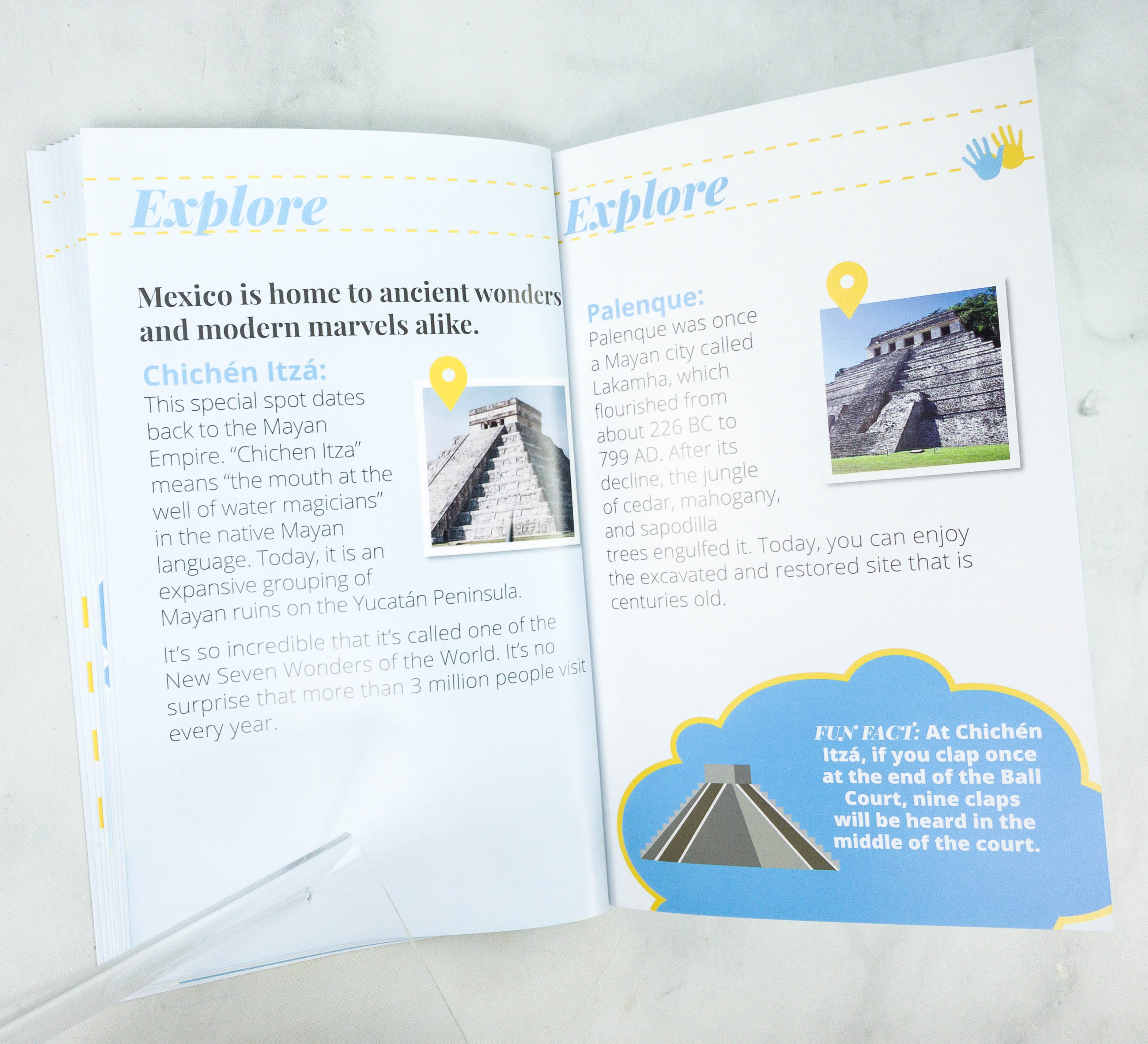 Several famous landmarks in Mexico are also mentioned in the booklet, including Chichen Itza and Palenque!
There are more locations highlighted on the next pages!
There are lots of interesting facts about the country and their rich culture! The booklet even shared how Mexicans celebrate Dia de los Muertos, or Day of the Dead.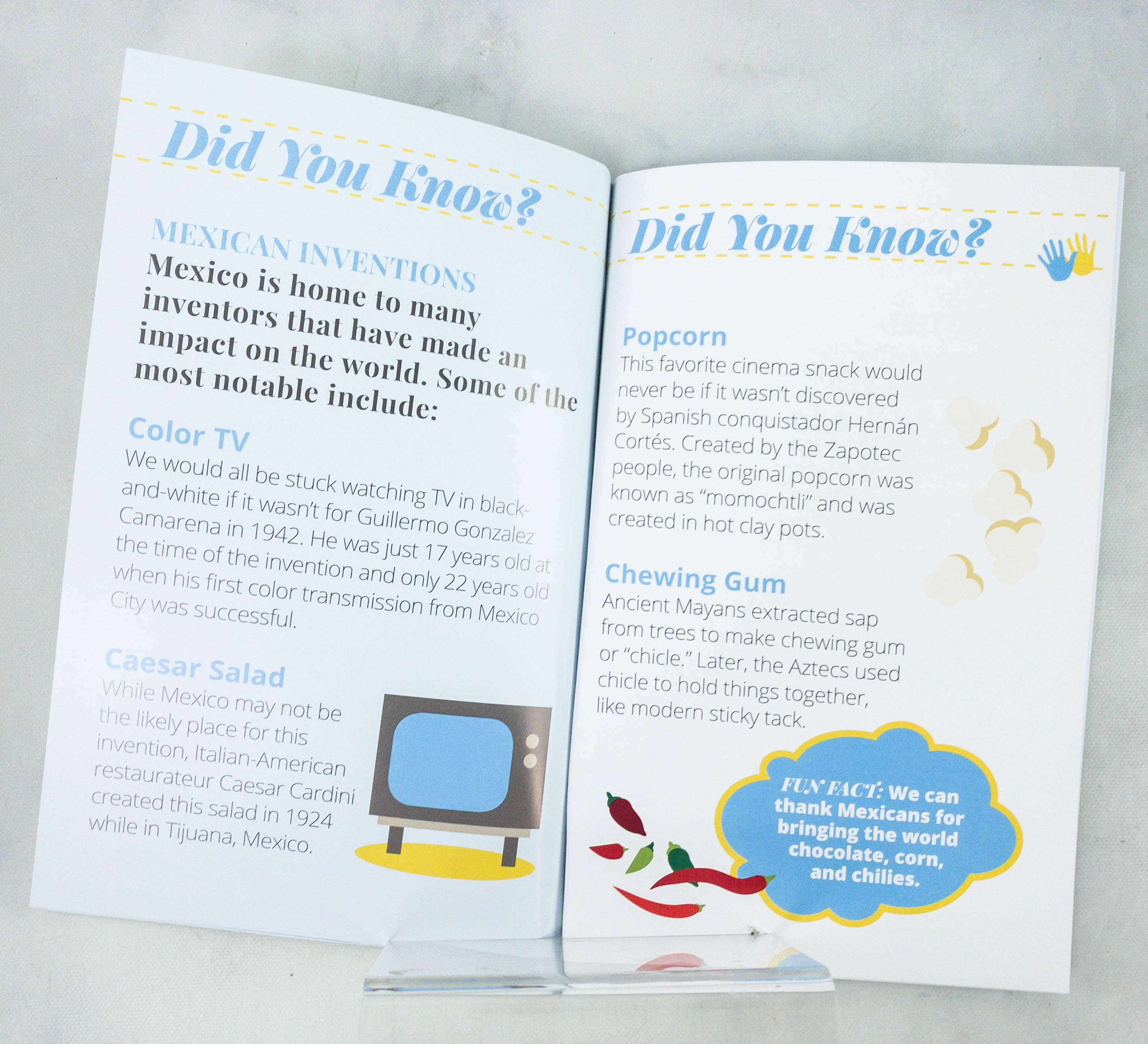 Of course, Mexicans also had their own share of inventions, like color TV, Caesar salad, popcorn, and chewing gum.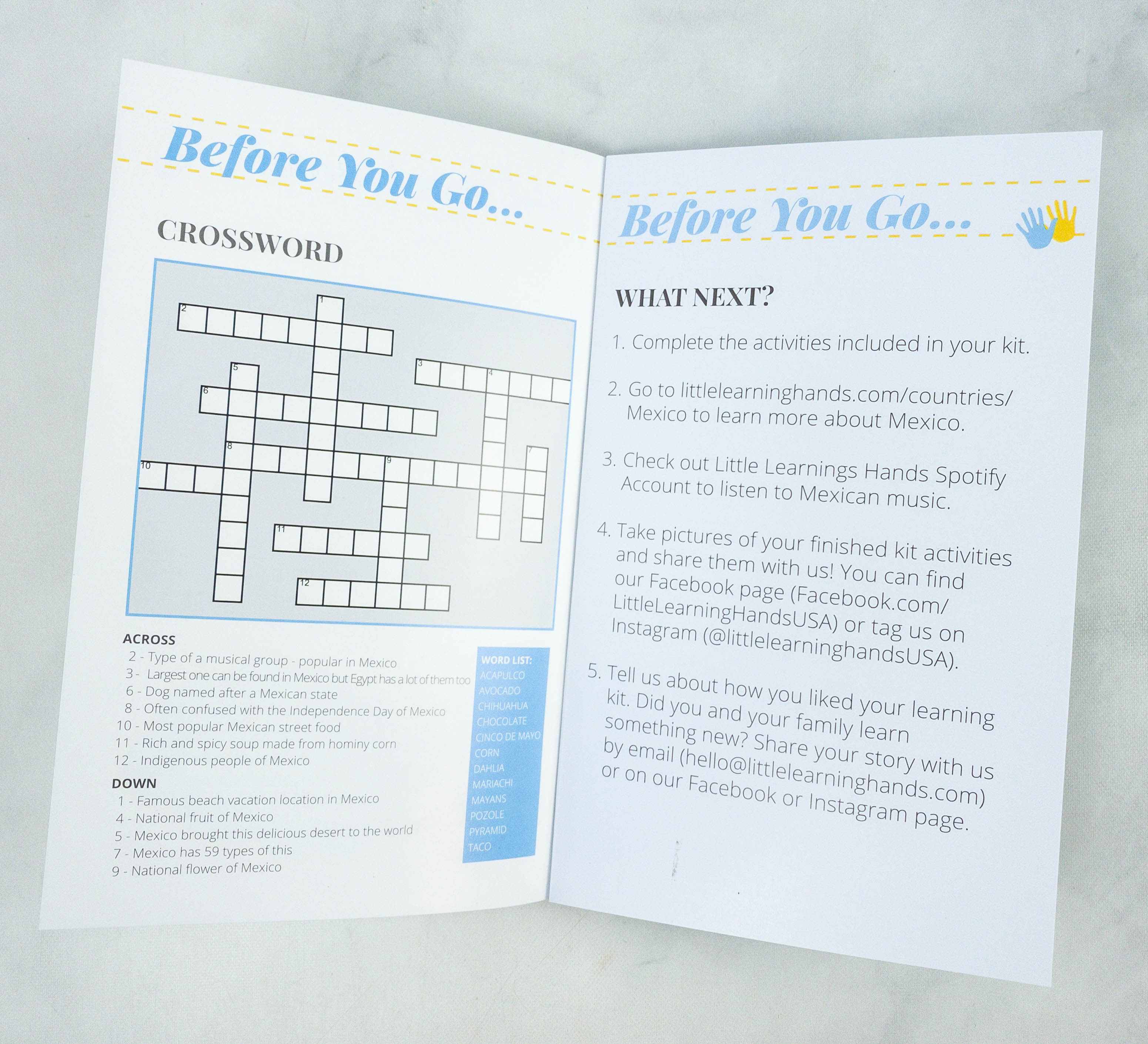 Lastly, there's a suggested activity plus a list of things kids can do after exploring the booklet.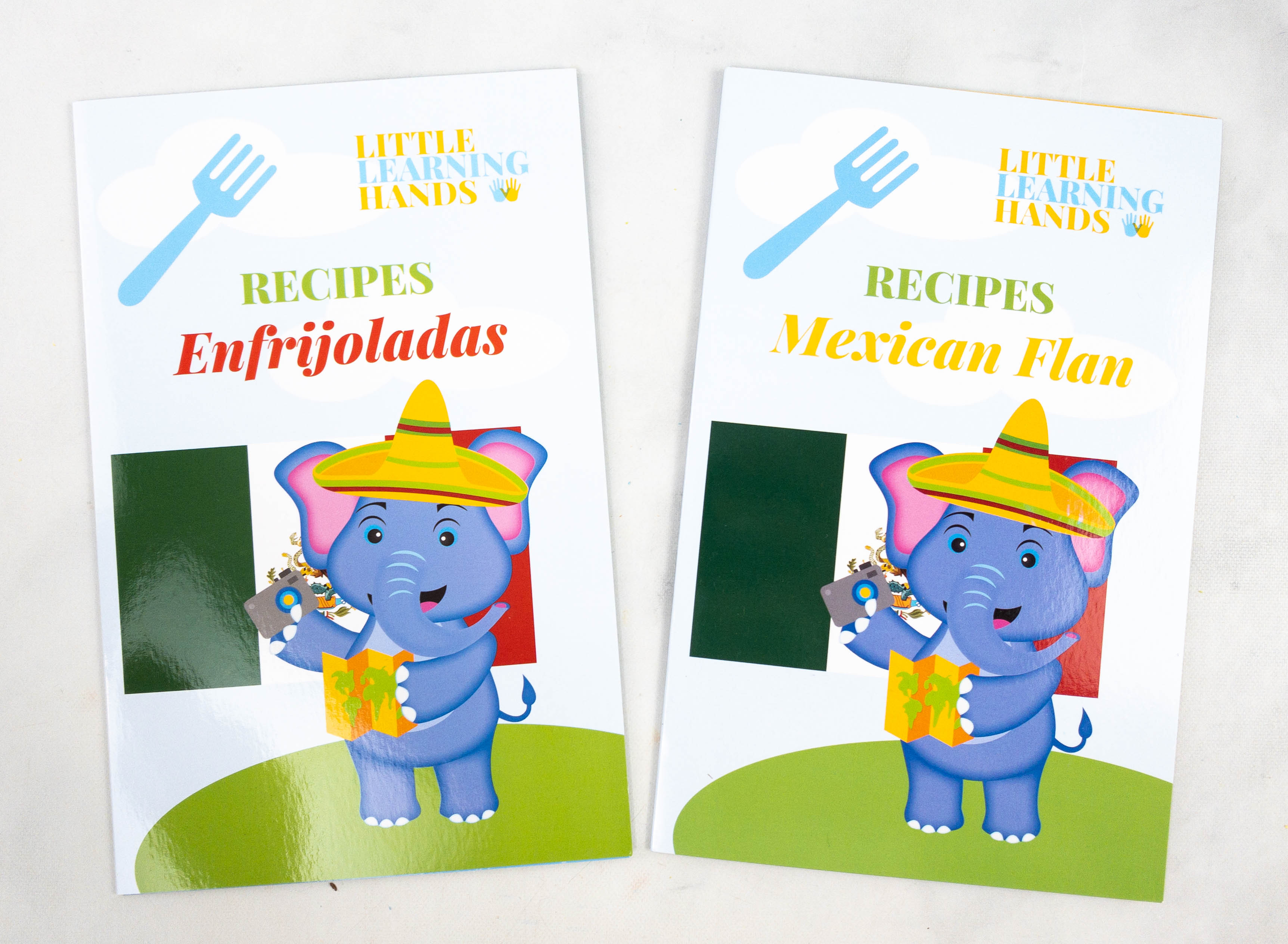 Recipe Cards. The box included these 2 Mexican recipes that kids can try doing at home!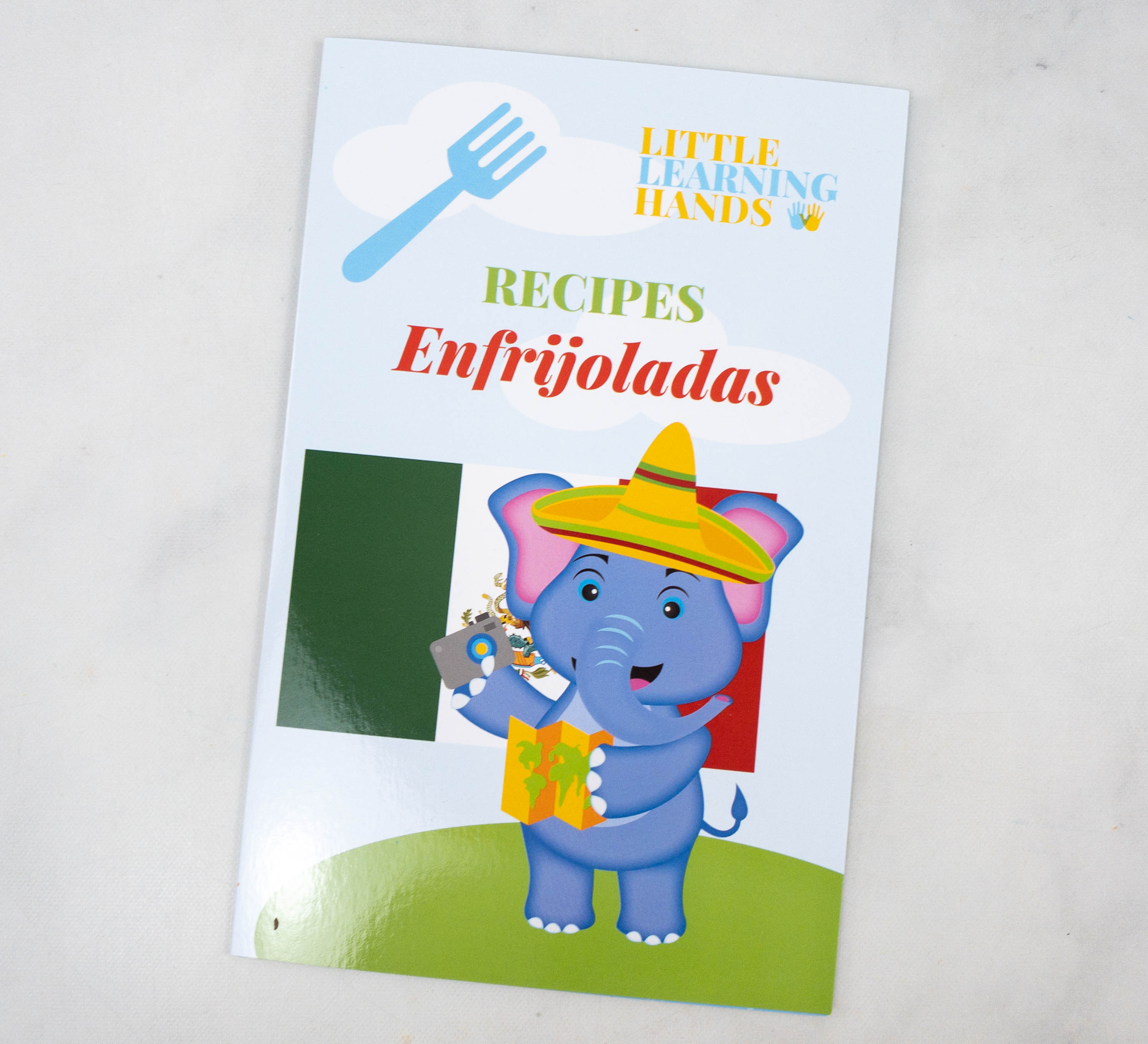 The first recipe is Enfrijoladas.
This comfort food is one of the most popular meals for Mexican families because it's quick and easy to prepare. These bean-smothered enfrijoladas are so delicious you'll soon see that the beans are more than just a side dish.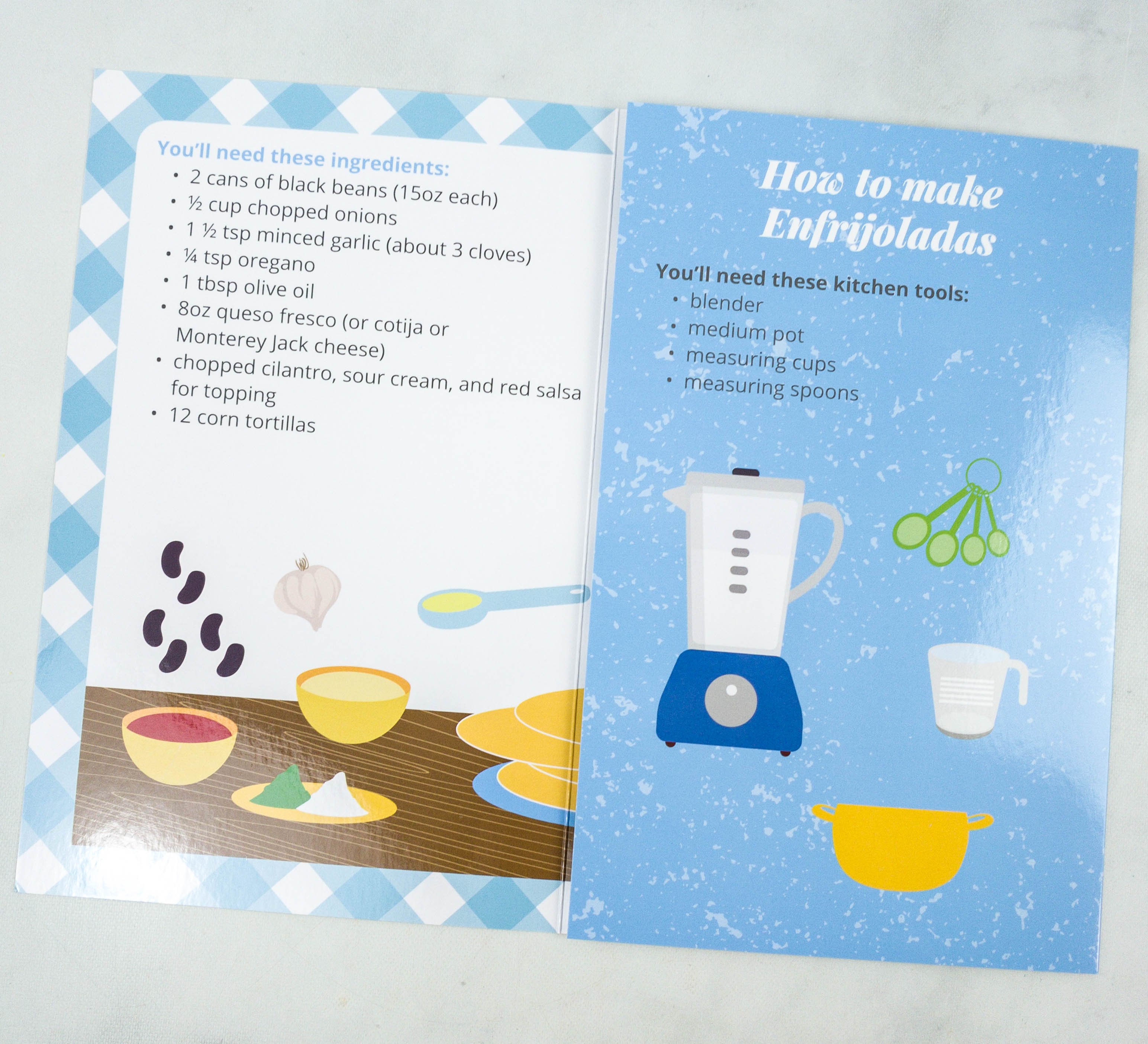 They provided a list of the ingredients and kitchen tools that kids need to make the dish.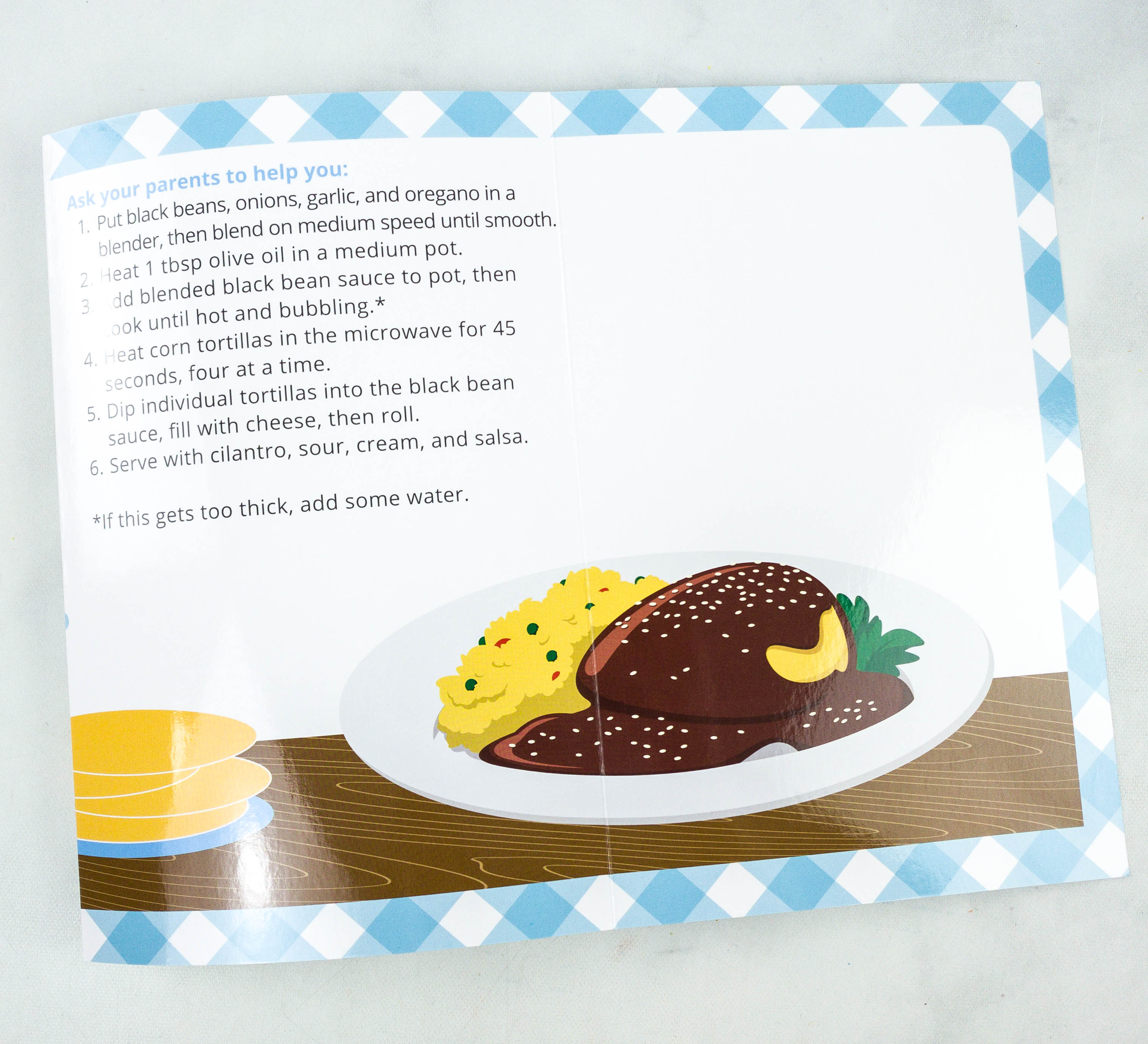 The instructions are easy to follow, although adult supervision may be required on some parts of it.
The next recipe is Mexican Flan.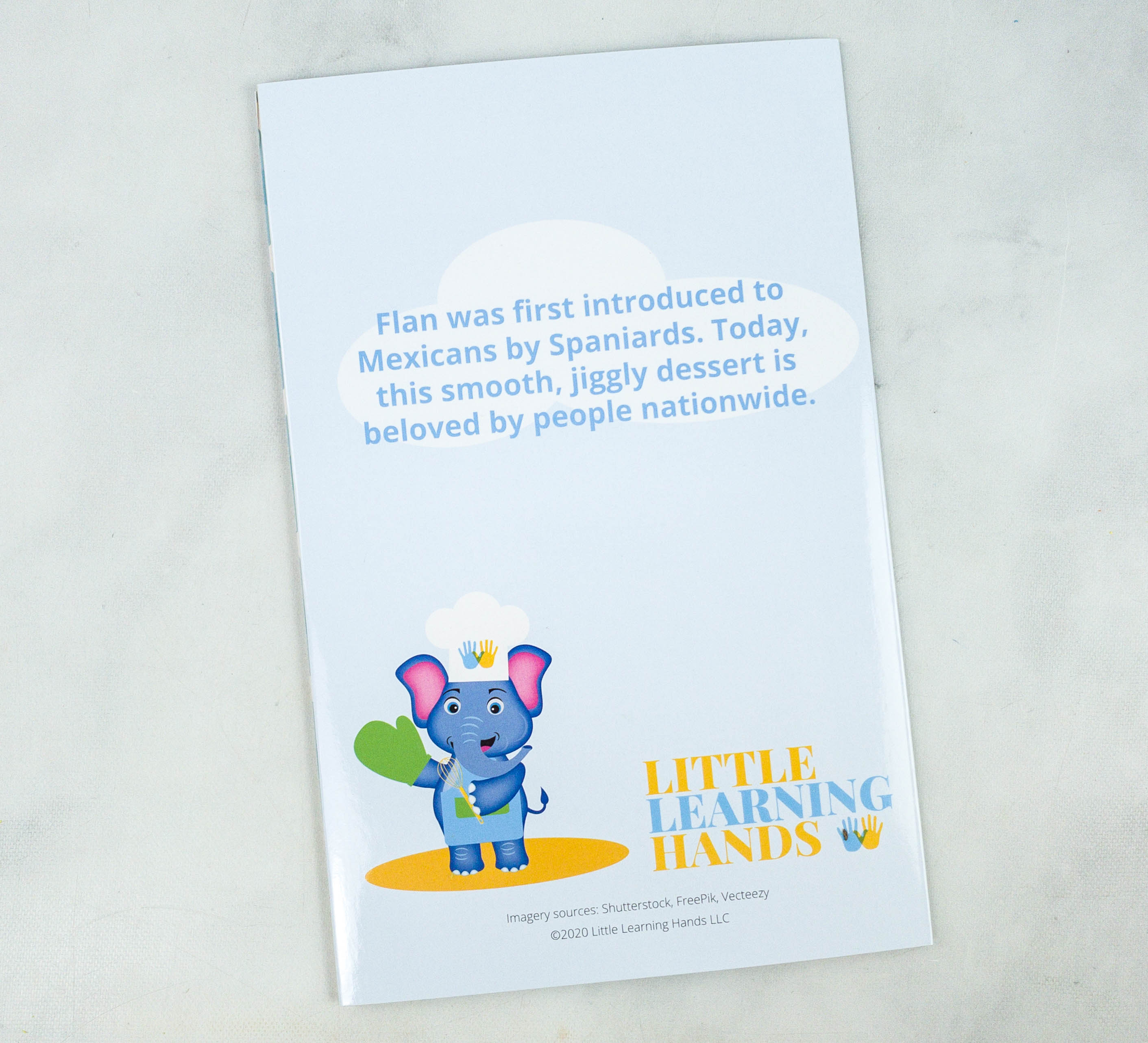 Flan was first introduced to Mexicans by Spaniards. Today, this smooth, jiggly dessert is beloved by people nationwide.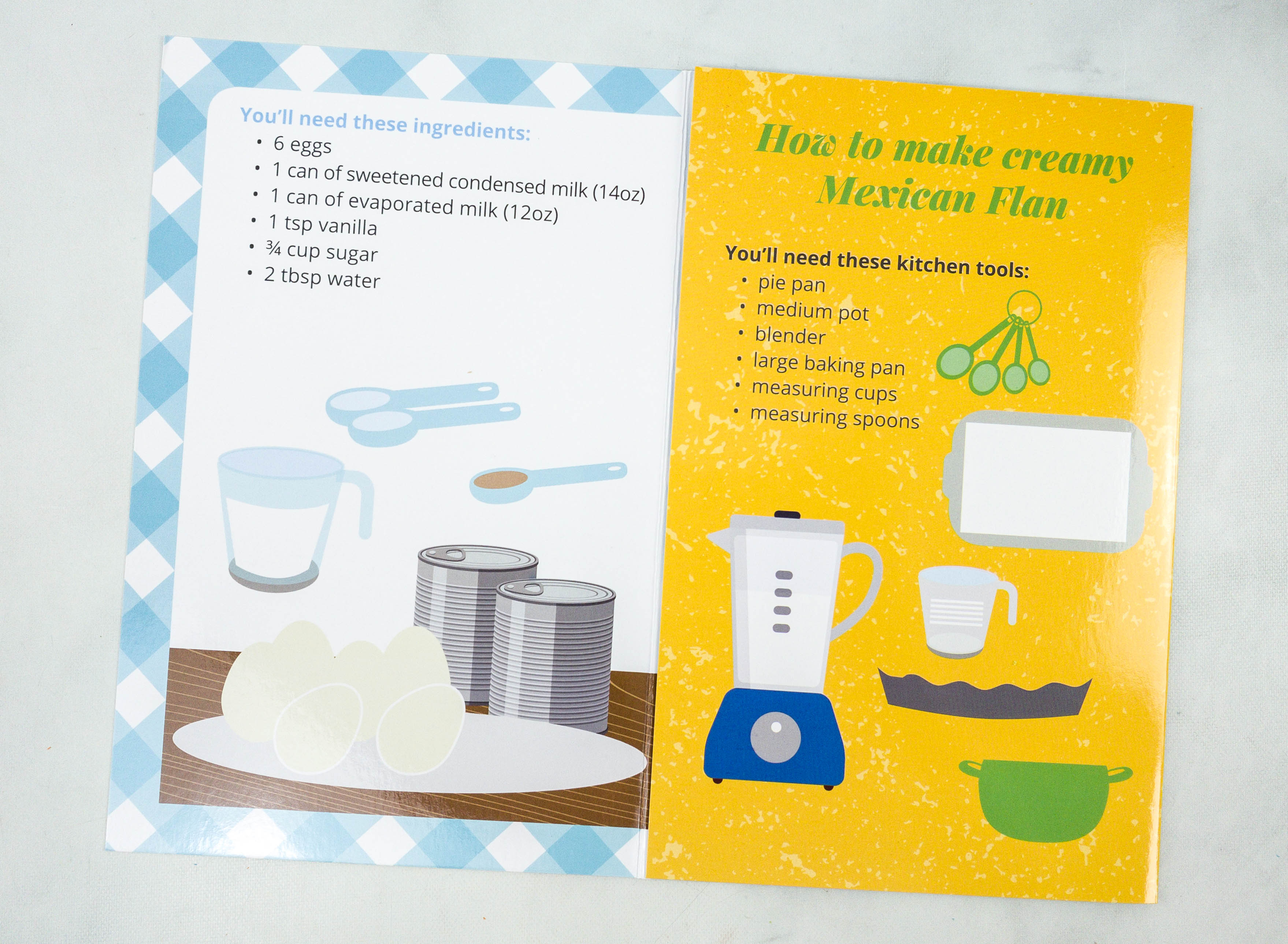 Like the previous recipe, a list of ingredients and required kitchen tools were listed on the guide.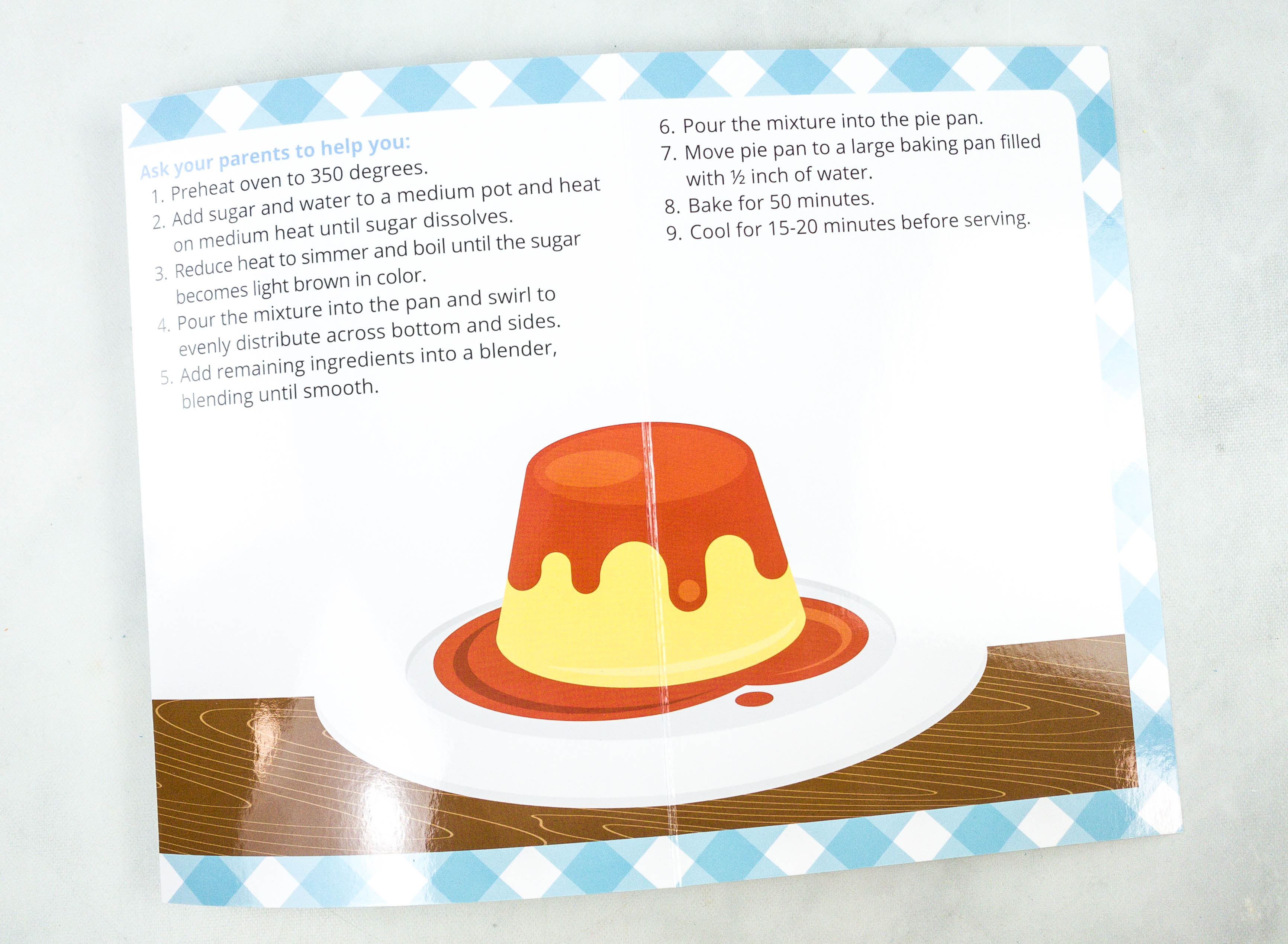 This looks like a yummy dessert!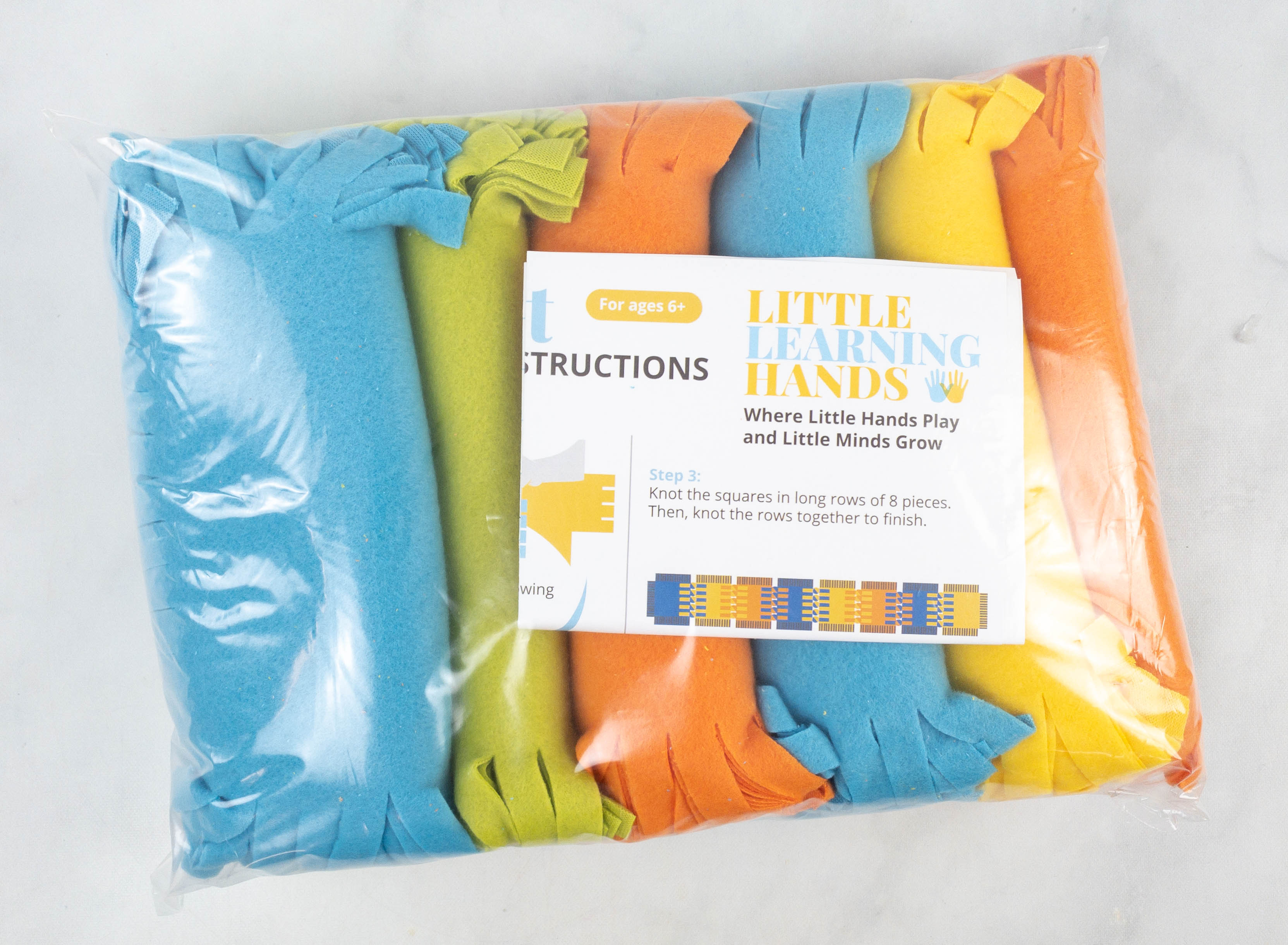 Knot-A-Quilt. Here's another fun activity for the kids, a DIY quilt kit!
The fabric for quilting came in fun and vibrant colors!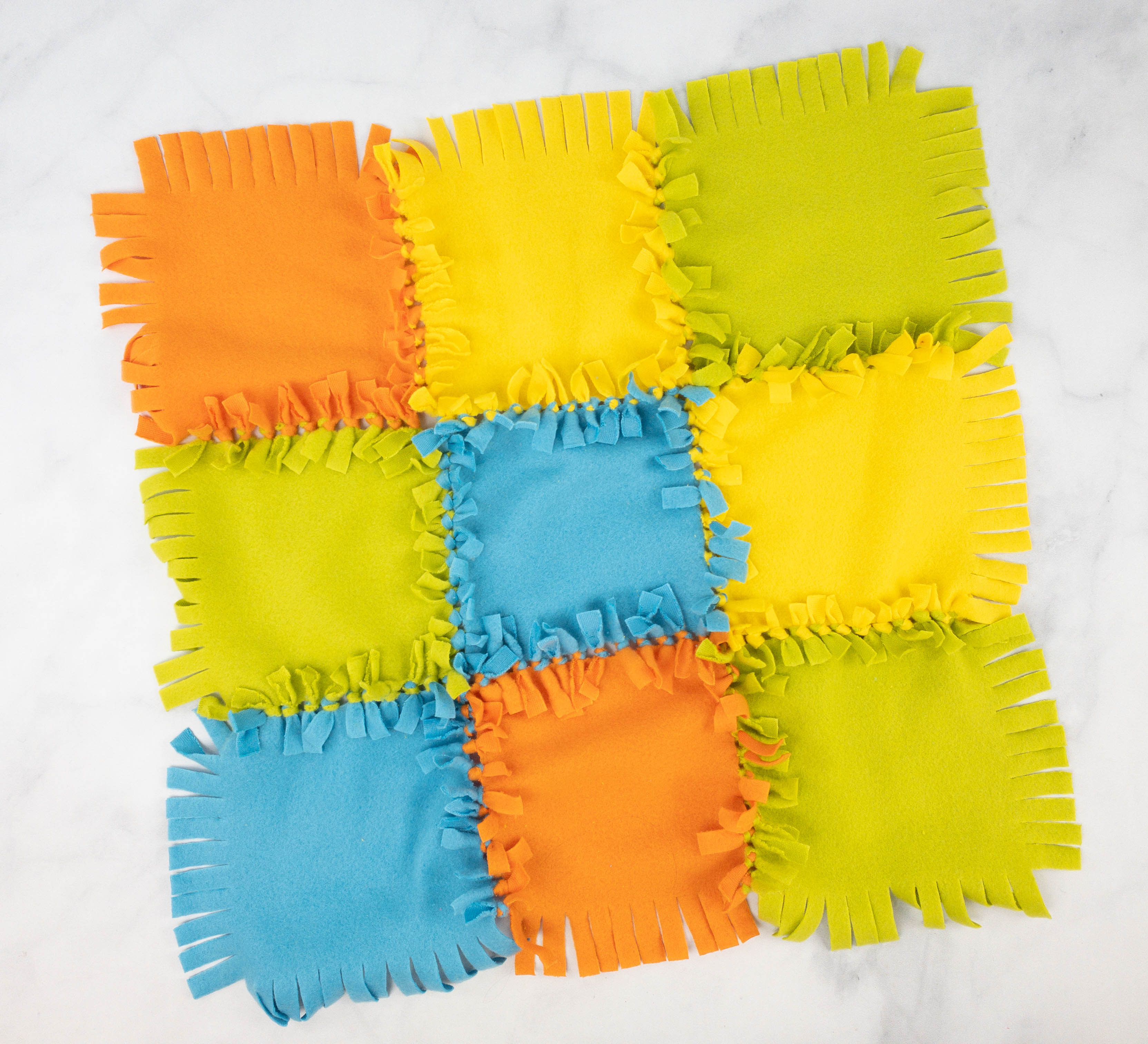 It's totally up to the kids to pick the patterns they want!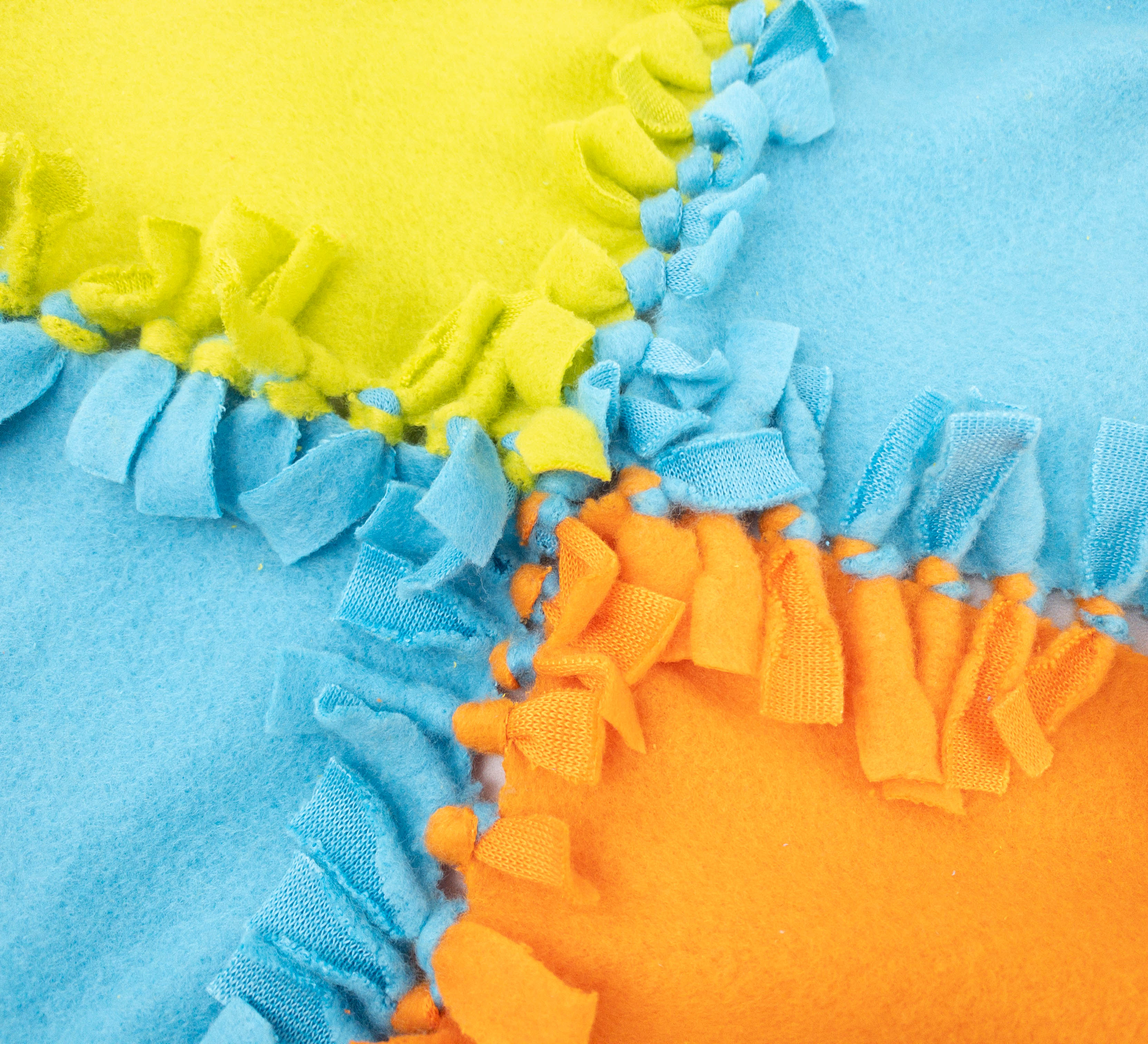 The procedure is actually simple and easy to do, they just have to knot the pieces together using the edges of each fabric.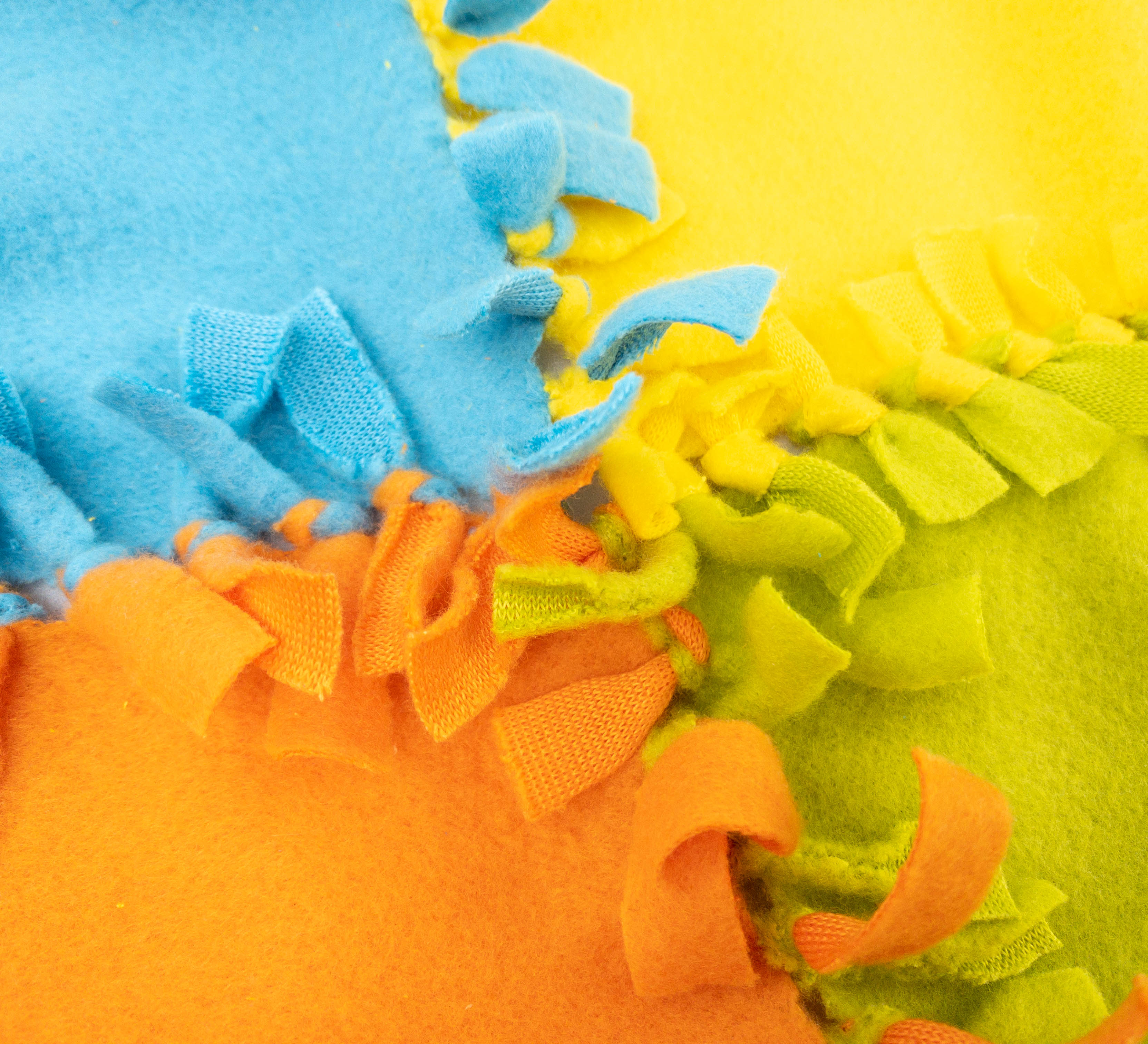 It is important to firmly knot each part for a more durable finished product.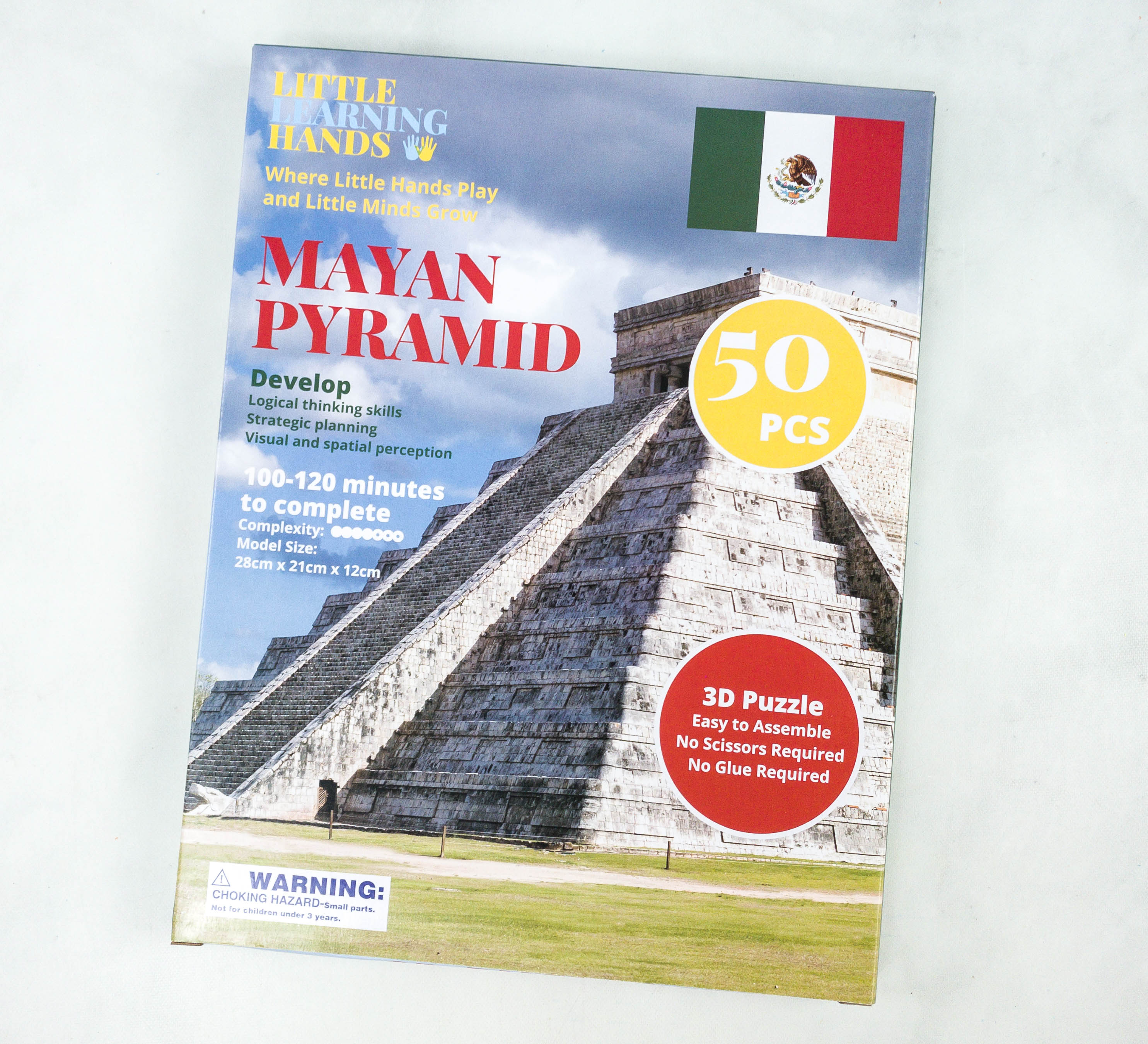 3D Puzzle Mayan Pyramid. All boxes from this subscription come with a 3D puzzle of a landmark from the featured country. This month, it's the Mayan Pyramid.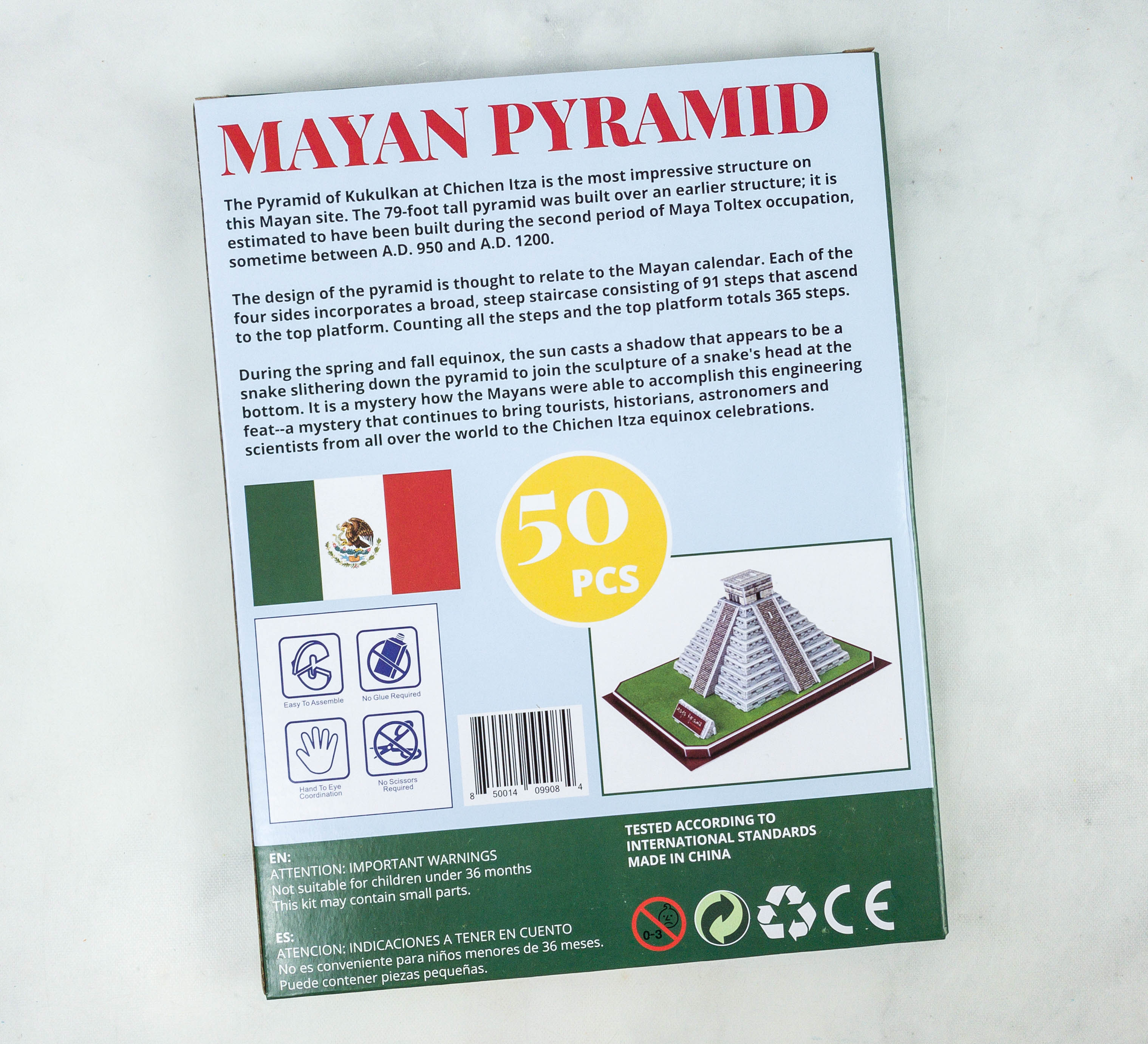 The box has a brief description of the Mayan Pyramid. This puzzle consists of 50 pieces.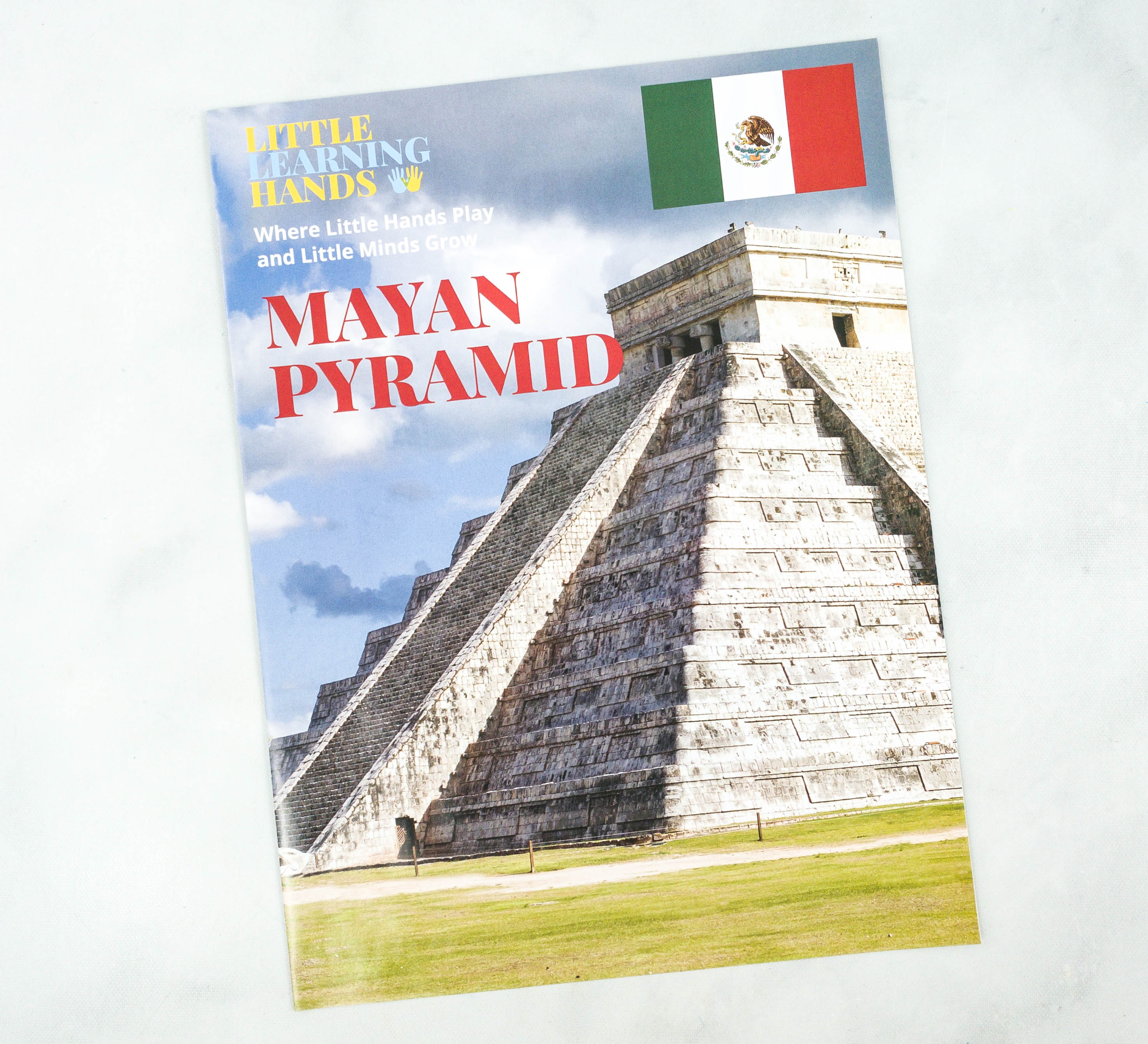 A booklet is also included in the kit. The front page has a beautiful photo of the landmark.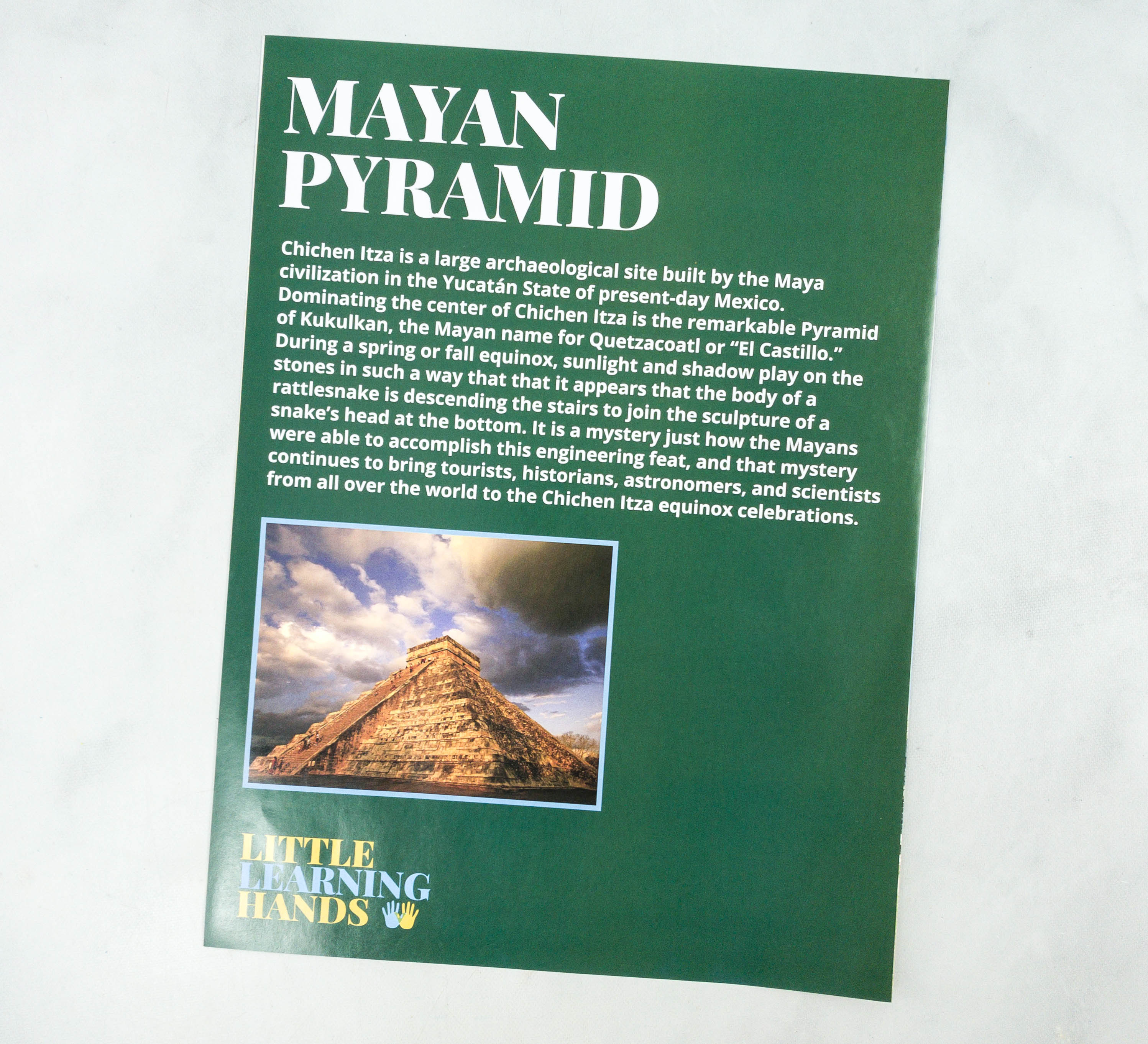 At the back, it tells us more about the Mayan Pyramid.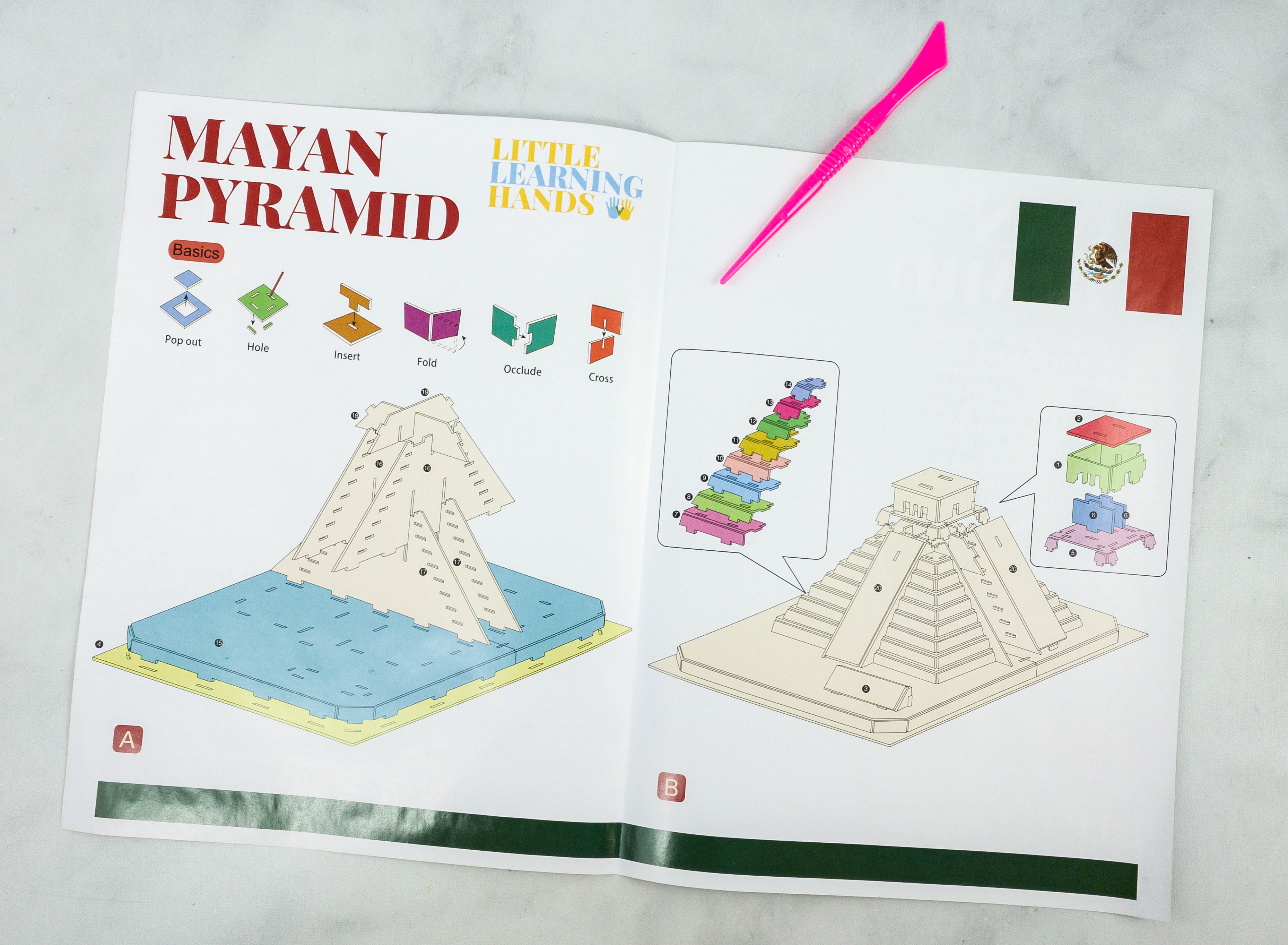 A detailed instruction was also provided by the booklet. It also showed which pieces will be used in every step.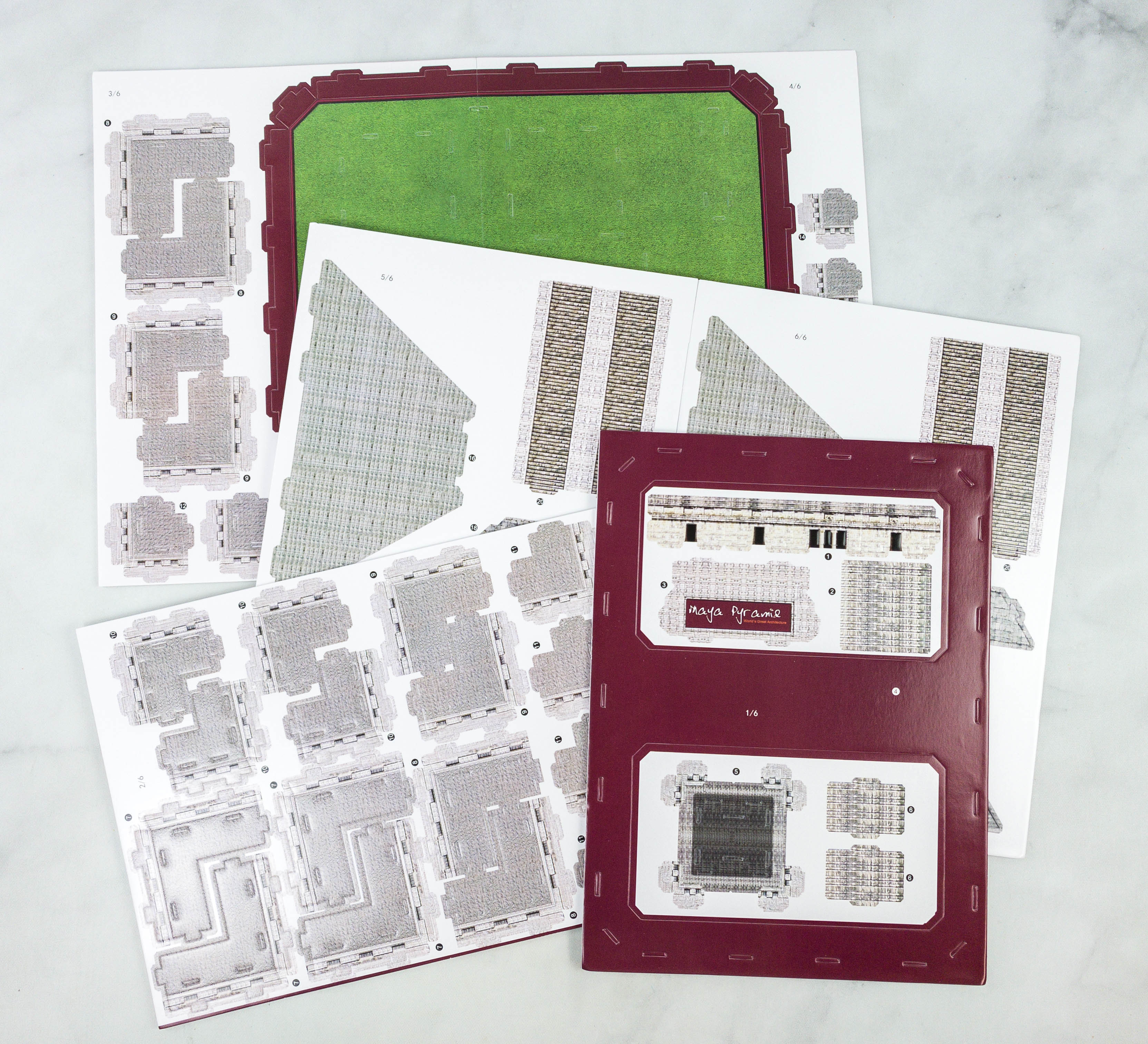 Here are all the pieces included in the puzzle!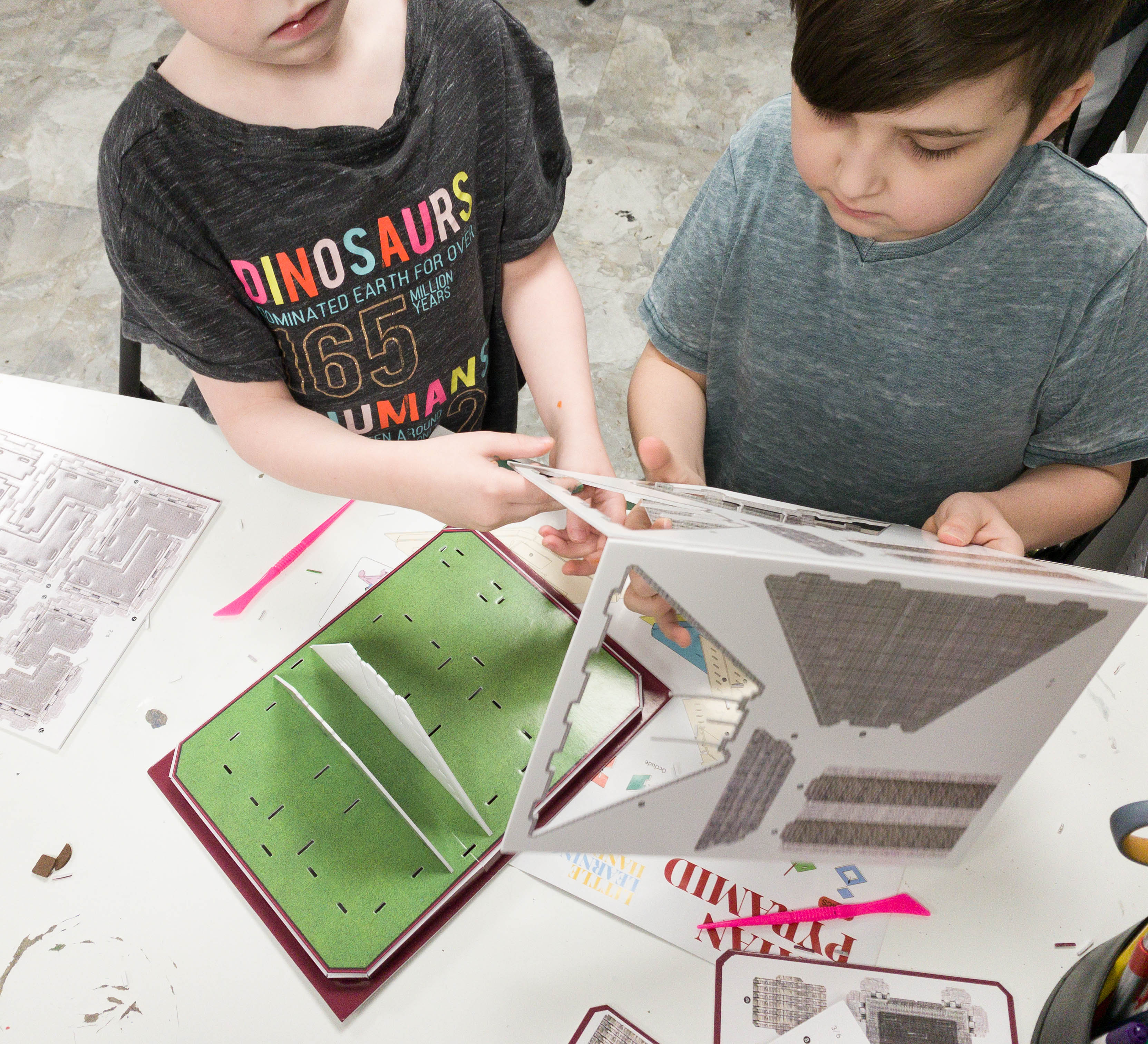 My kids started with taking off the pieces from the board so they can easily find its place.
The main deck has holes where you can insert the pieces. These holes enable the pieces to stand on their own and make this 3D project possible.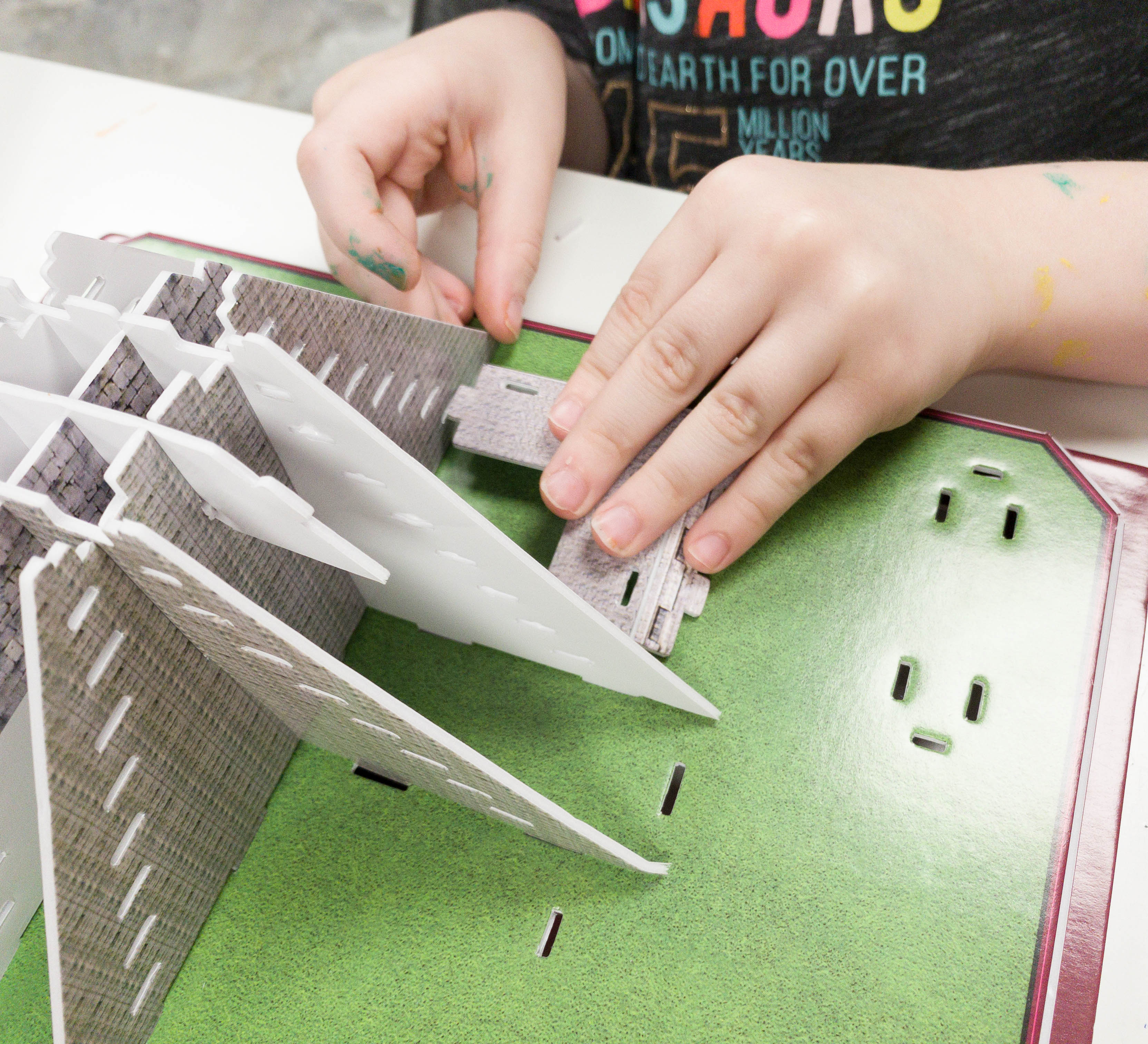 This was quite easy to put together, but it requires focus since you will have to make sure that all the pieces fit together.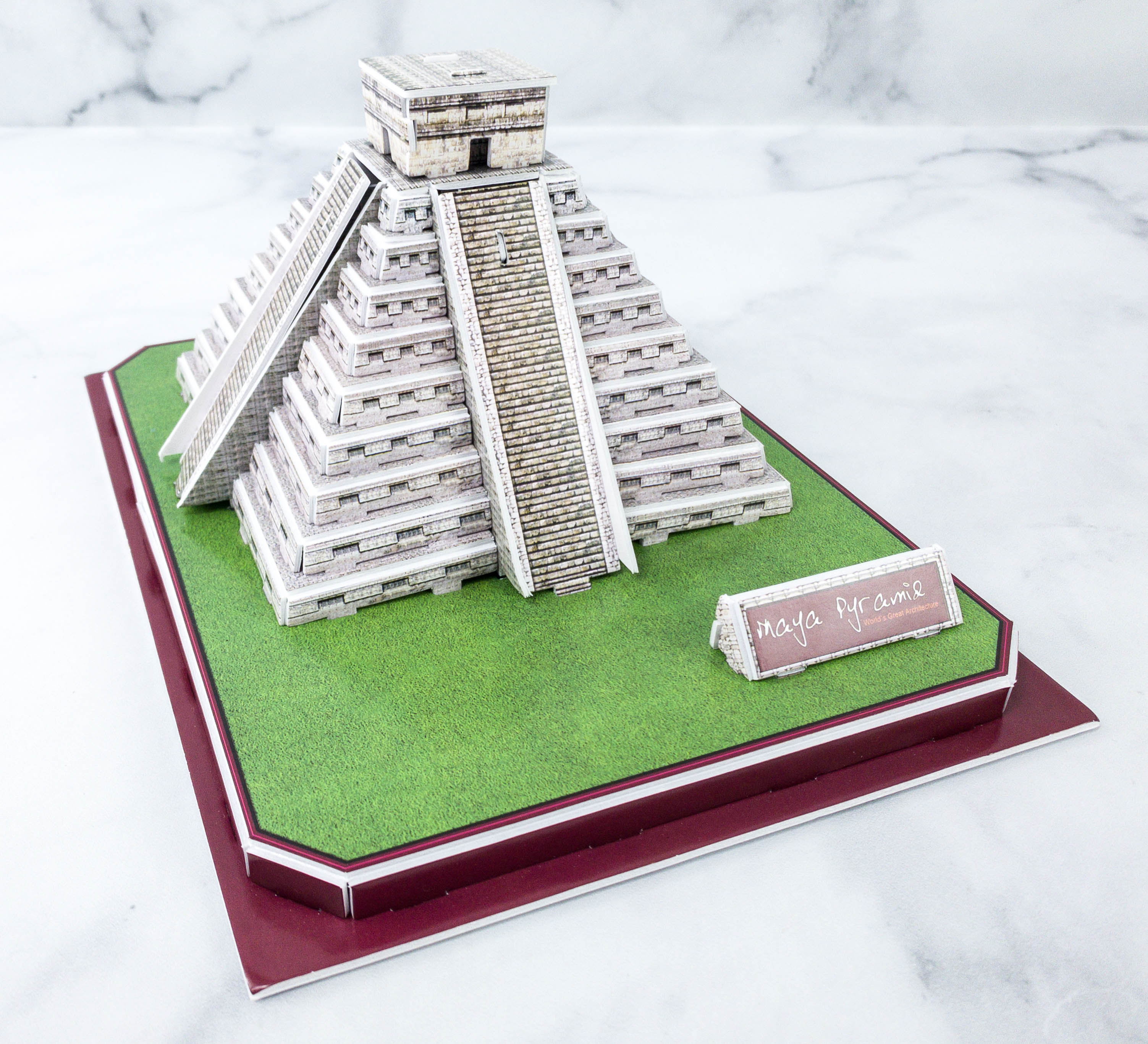 Here's the finished puzzle!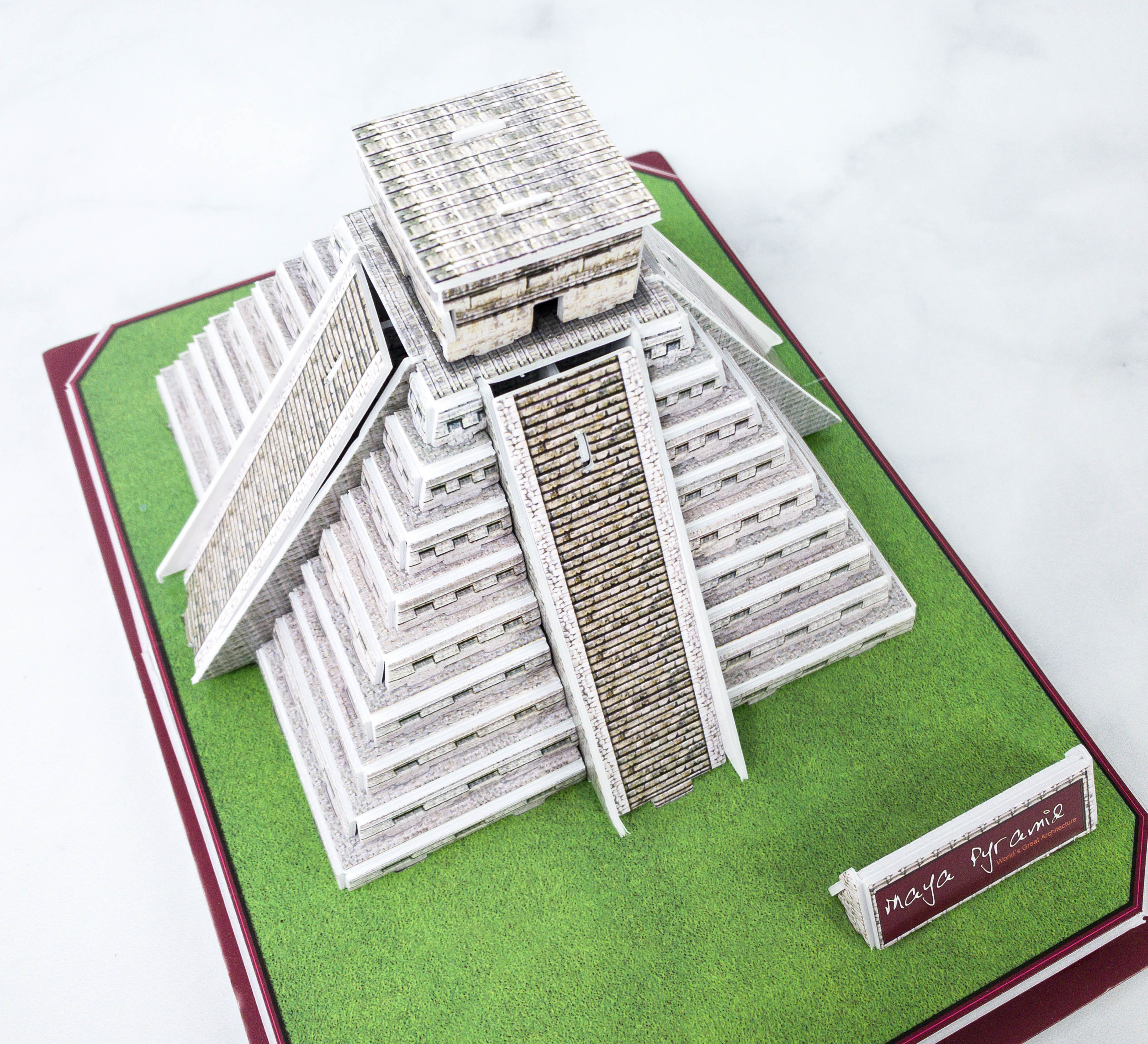 Now the Mayan Pyramid is up and ready for display!
My kids enjoyed all the activities this month!
This Little Learning Hands box is all about Mexico! The booklet introduces kids to Mexican culture, as well as their food, popular landmarks, and more. The Mexican recipes were also good and easy enough for kids, although some parts would still need the supervision of an adult! My kids' favorite activity from this month's box is the Mayan Pyramid puzzle. They enjoyed putting it together and they also happily displayed the finished piece at home. Overall, this box is a great way to learn more about the world and the diverse people and cultures that it has. It can also make a great bonding activity for siblings or the whole family, and is most especially for kids that enjoy working with their hands!
What do you think of the Little Learning Hands box?
Visit Little Learning Hands World Explorer to subscribe or find out more!