Kinder Beauty Box is a vegan and cruelty-free subscription box that sends skincare, hair care, makeup, and accessories. Each month you will receive more than $85 worth of products. The items are compassionately curated by Daniella Monet and Evanna Lynch. All Kinder Beauty Box products are guaranteed to be 100% vegan and cruelty-free. Kinder Beauty Box is $26 a month, with free shipping to the US, $5.95 elsewhere. Price drops to as low as $23 a box with a prepaid 6-month plan. A portion of all sales will go towards benefiting the founders favorite animal rights and environmental causes.
Every product that goes into a Kinder Beauty box is 100% vegan, and every brand we work with is completely cruelty-free. This means the products and ingredients are never tested on animals, the products aren't sold in China or any other countries that mandate animal testing, and the brands aren't owned by any parent companies that test on animals.
DEAL: Use coupon code HELLO5 for $5 off your first order!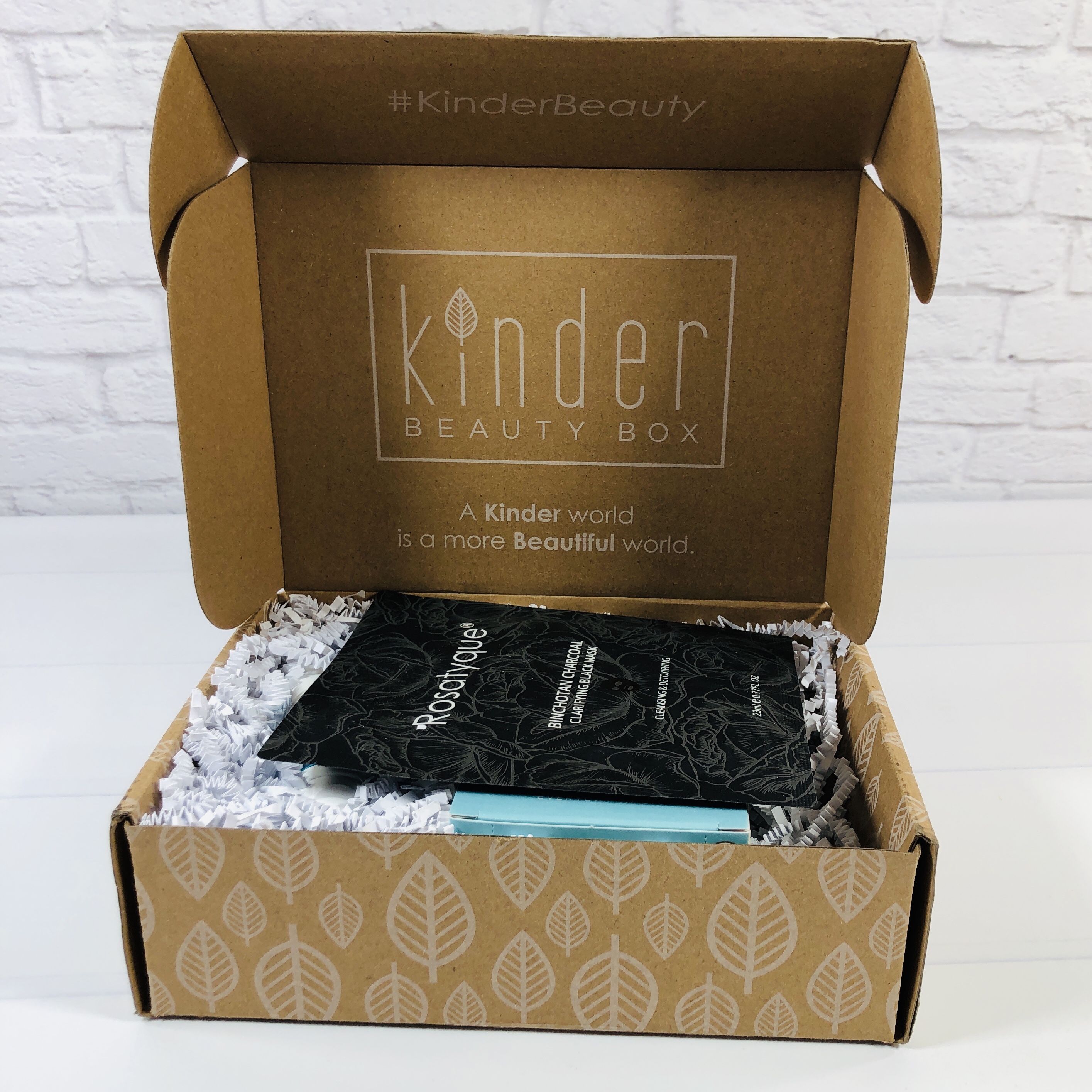 First look! Kinder Beauty Box sends out two box variations each month.
Each month, it will be a surprise which of the two boxes you'll be receiving, but you can rest assured knowing that they are always each going to be incredible in their own ways.

Wondering what happens if you really, really, really want one of the monthly collections in particular, but you receive the other? Got FOMO on your brain? We feel you.

No worries! At the end of the month, if we have any boxes remaining, we'll offer them to members only at a special price in our exclusive monthly Add-On Shop. This way, you won't miss out.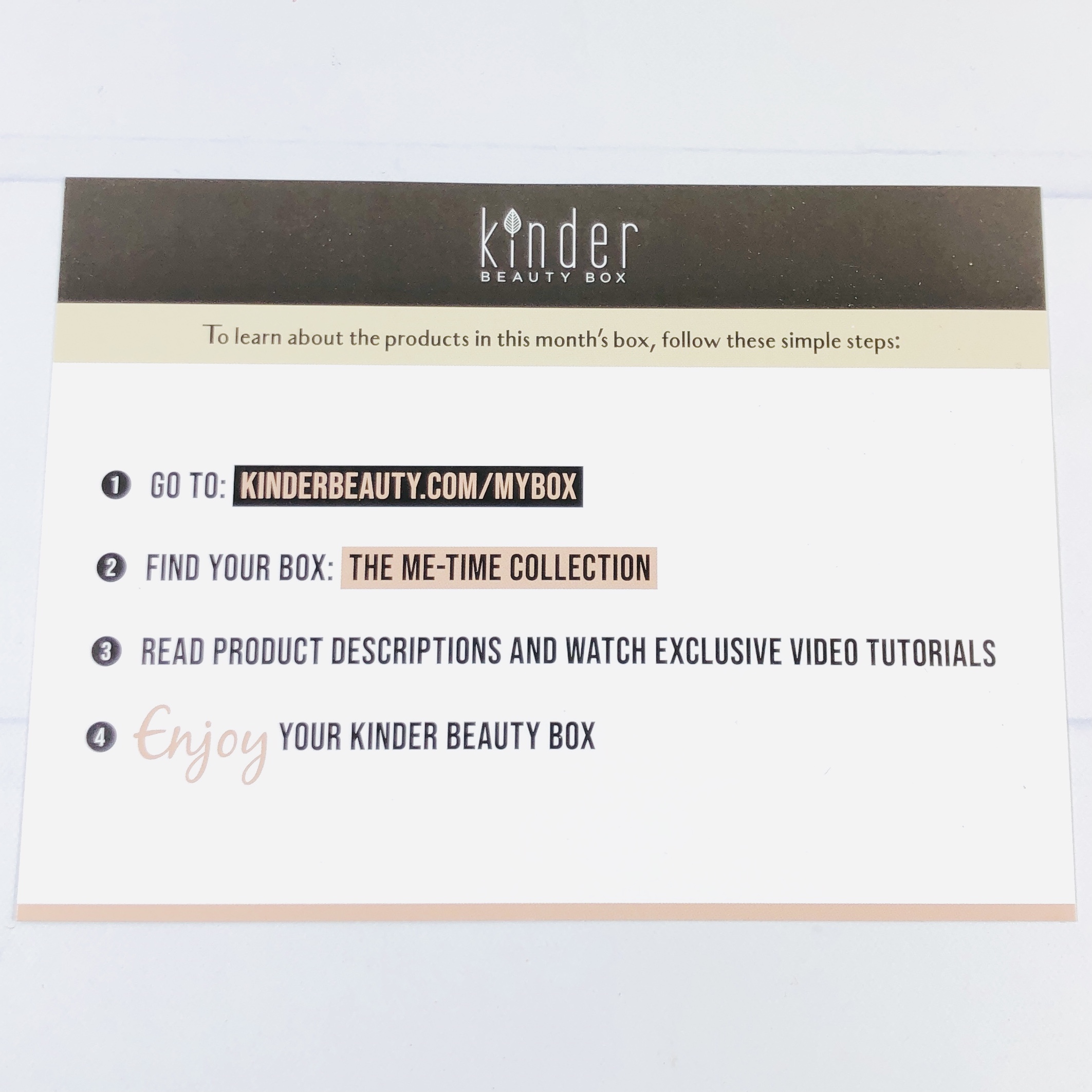 Kinder Beauty will no longer ship a product info card, but you can find more info about your products online! The February collections were called The Self-Crush Collection OR the Me-Time Collection. I received the Me-Time Collection. It is important to know that when you sign up, your first box will most likely be a Kinder Favorites box, which is shown on their main page and is different from what is in this review.
The Me-Time Collection features one of the our favorite adaptogenic wellness brands, a reef-safe sunscreen, a mask-proof liquid lipstick, an essential oil roll-on, and a charcoal sheet mask. For $25 or less, you get more than $82 worth of fabulous clean beauty products!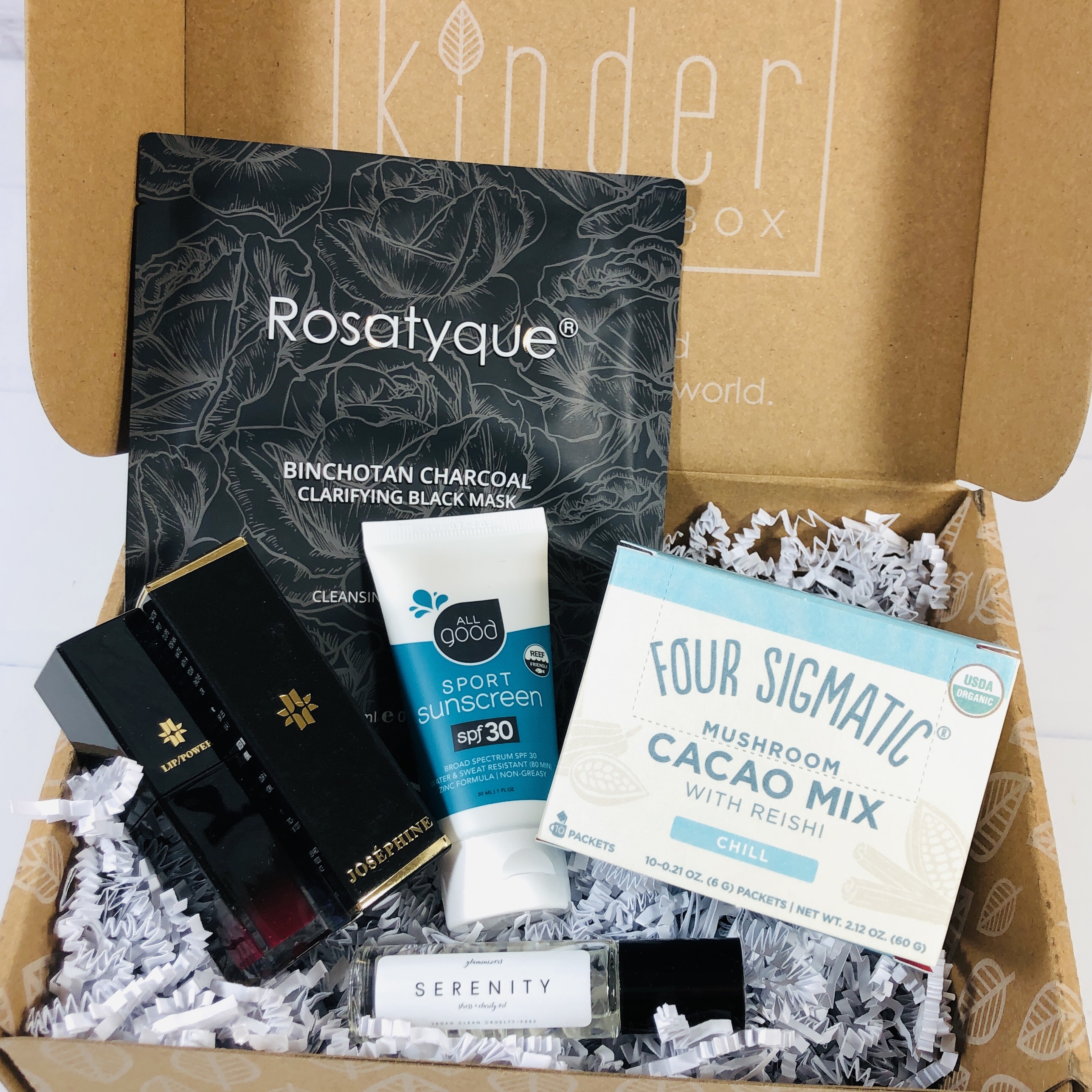 My items were tucked into paper squiggles to stay safe on their journey.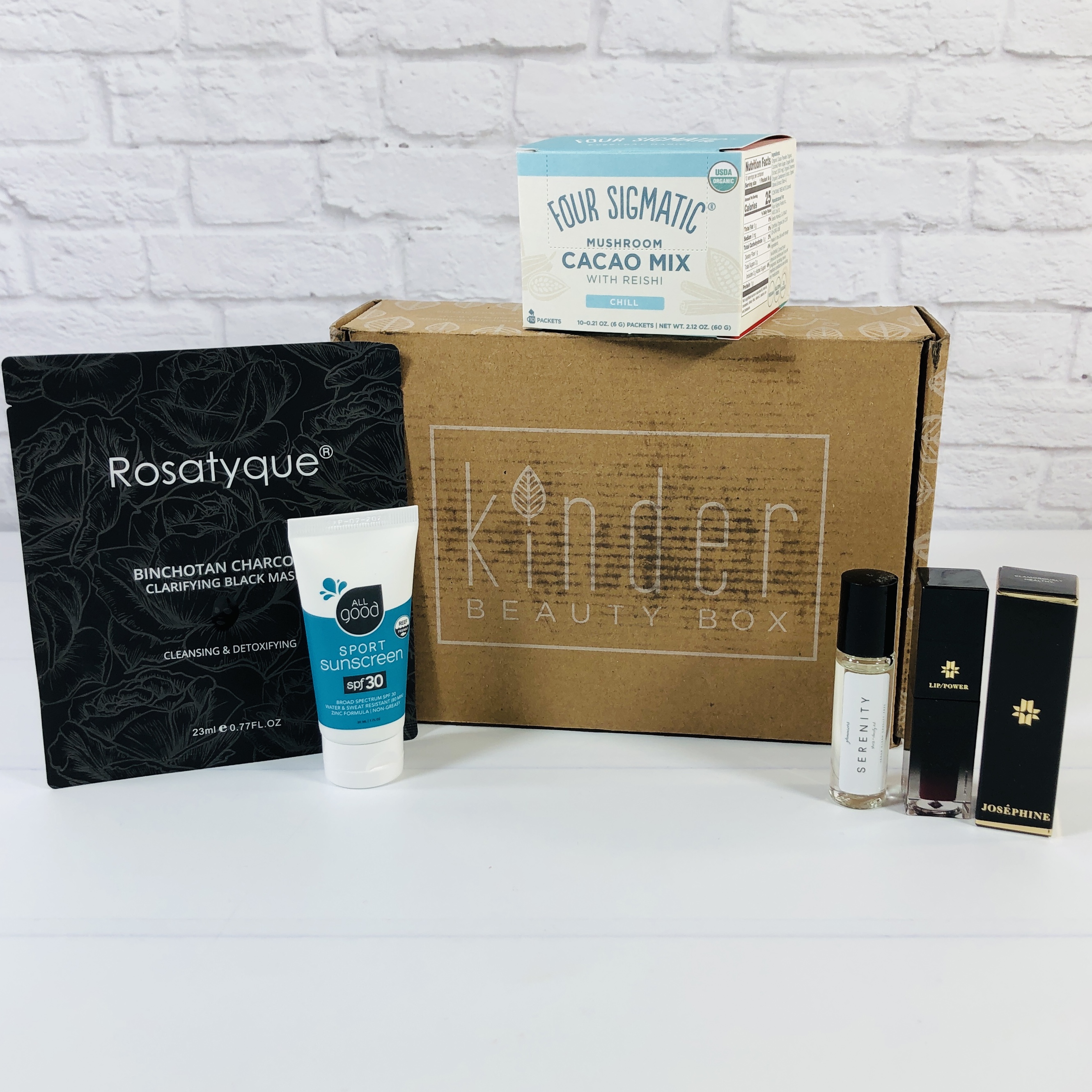 Everything in my February Me-Time Collection!
Rosatyque: Binchotan Charcoal Clarifying Black Mask ($6) Time to rid those pores of oil and impurities. The mask is suitable for all skin types and has food-grade charcoal powder!
There are only 7 ingredients in the mask and I was happy to see sodium hyaluronate, which draws moisture to the skin. Apply the mask to a clean face and then sit back for 20-30 minutes. You can massage in any leftover serum afterwards.
All Good: SPF 30 Sport Mineral Sunscreen Lotion ($6, or buy a 3 pack for $15.99) I had a tube of this lying around and my daughter tried it and now it is her go-to sunscreen. It's reef-safe, broad spectrum, and water resistant for up to 80 minutes.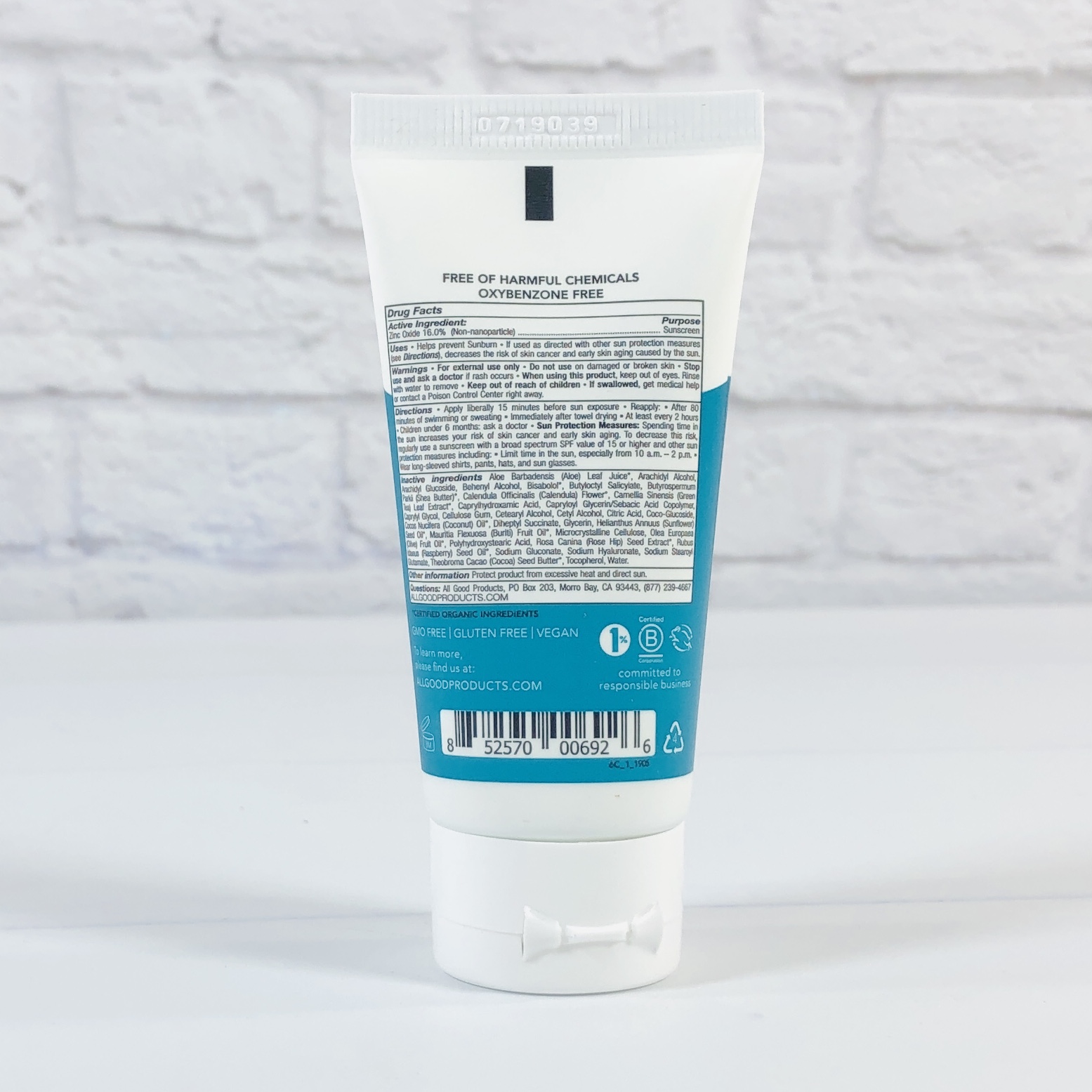 The active ingredient is zinc oxide, which repels the sun's rays to protect skin from burning and aging. It smells kind of nutty, rubs in well, and feels non-greasy. Want to know something? Most adults should apply about 1 ounce of sunscreen to their whole body, and repeat every 80 minutes or so when outside for long periods. That means the amount in this tube probably isn't enough for a whole day at the beach, but it is good for carrying around in a bag to apply when the sun pops out when you are out and about.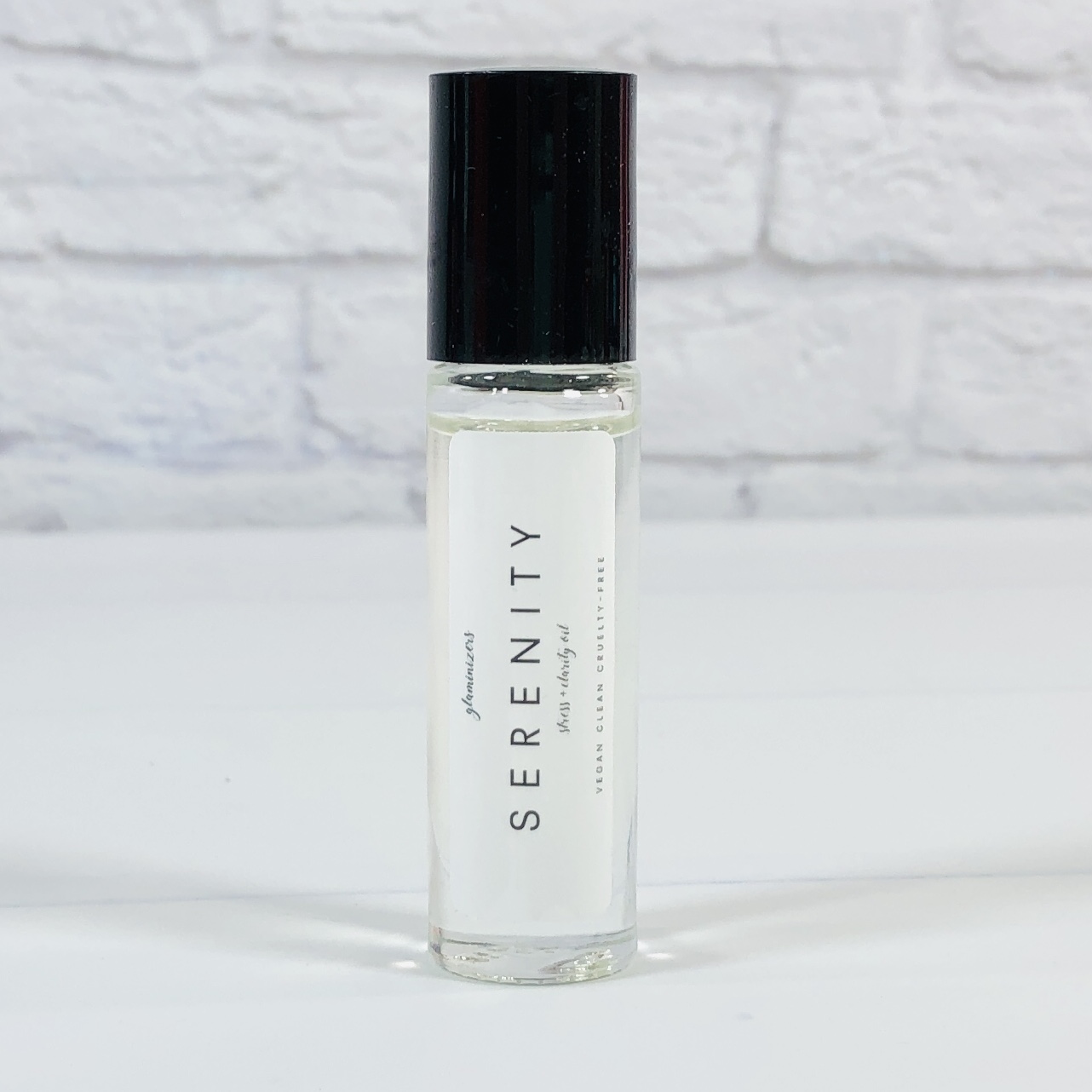 Glaminizers: Serenity Oil ($21) Serenity Oil is a blend of essential oils and carrier oil that encourages you to take a deep breath and let that stress flow away.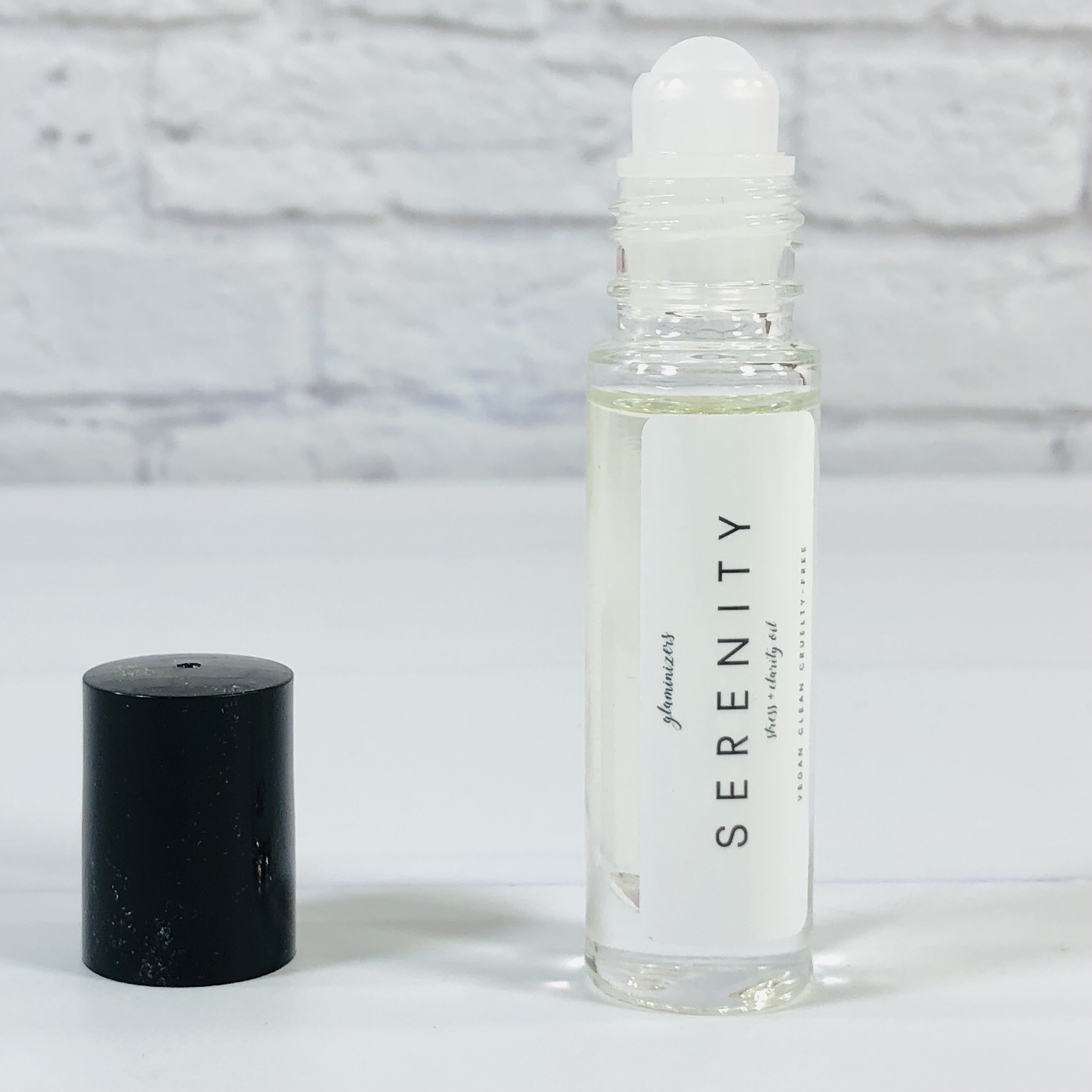 The carrier oil is almond and the scent is provided by a blend of spearmint, peppermint, eucalyptus, and lavender, plus there's a little chunk of amethyst in the bottle. Essential oils don't linger very long so roll, sniff, and repeat as often as you like. I think it smells like mint, I didn't detect the lavender or eucalyptus really.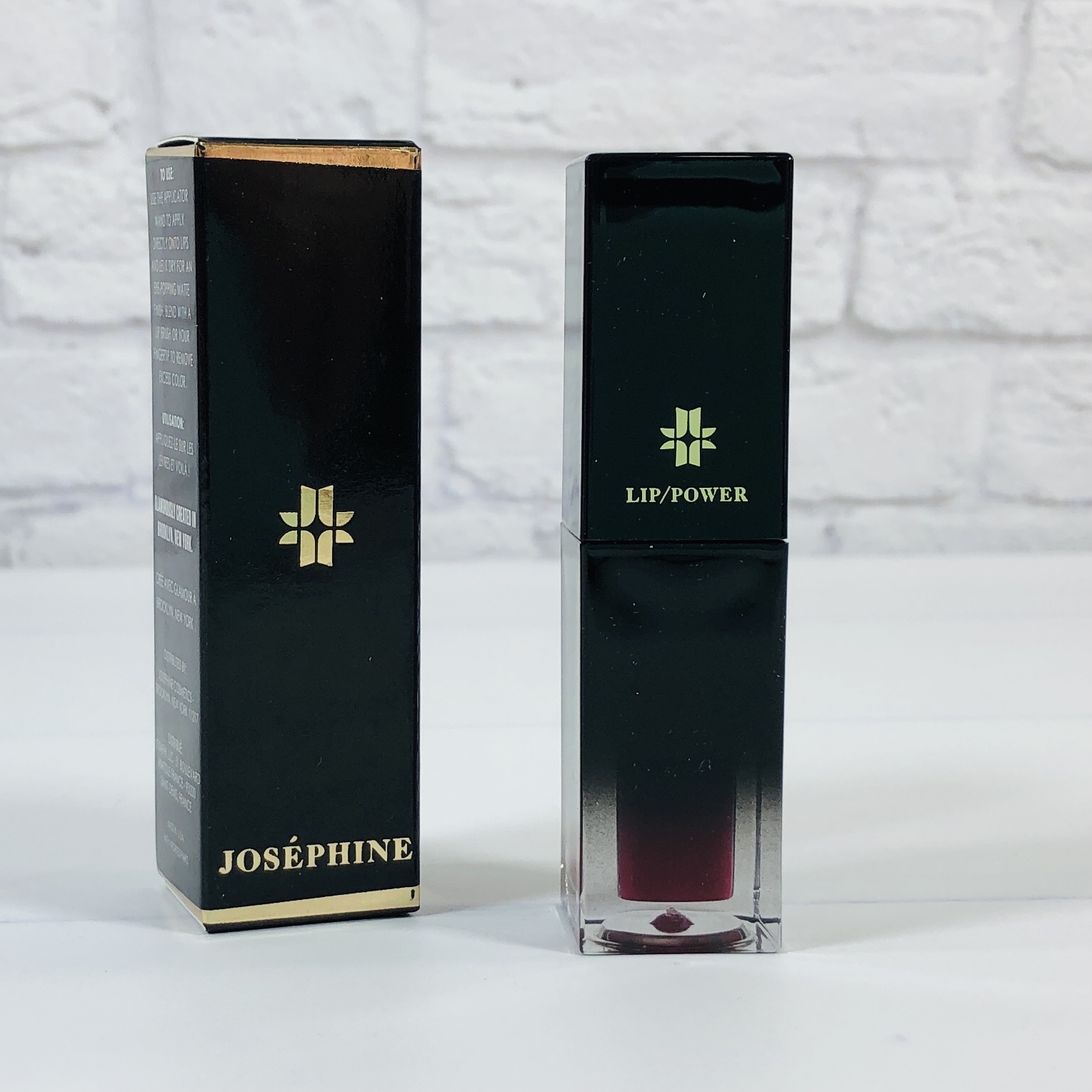 Joséphine Cosmetics: Lip/Power – The Bold Liquid Lipstick in Margeaux ($30) Some days I never leave the house. I put on makeup anyways. I even put on lipstick, and I will wear it under my mask when I go to the store. This is one of those quick-drying matte lipsticks that stays in place for a while.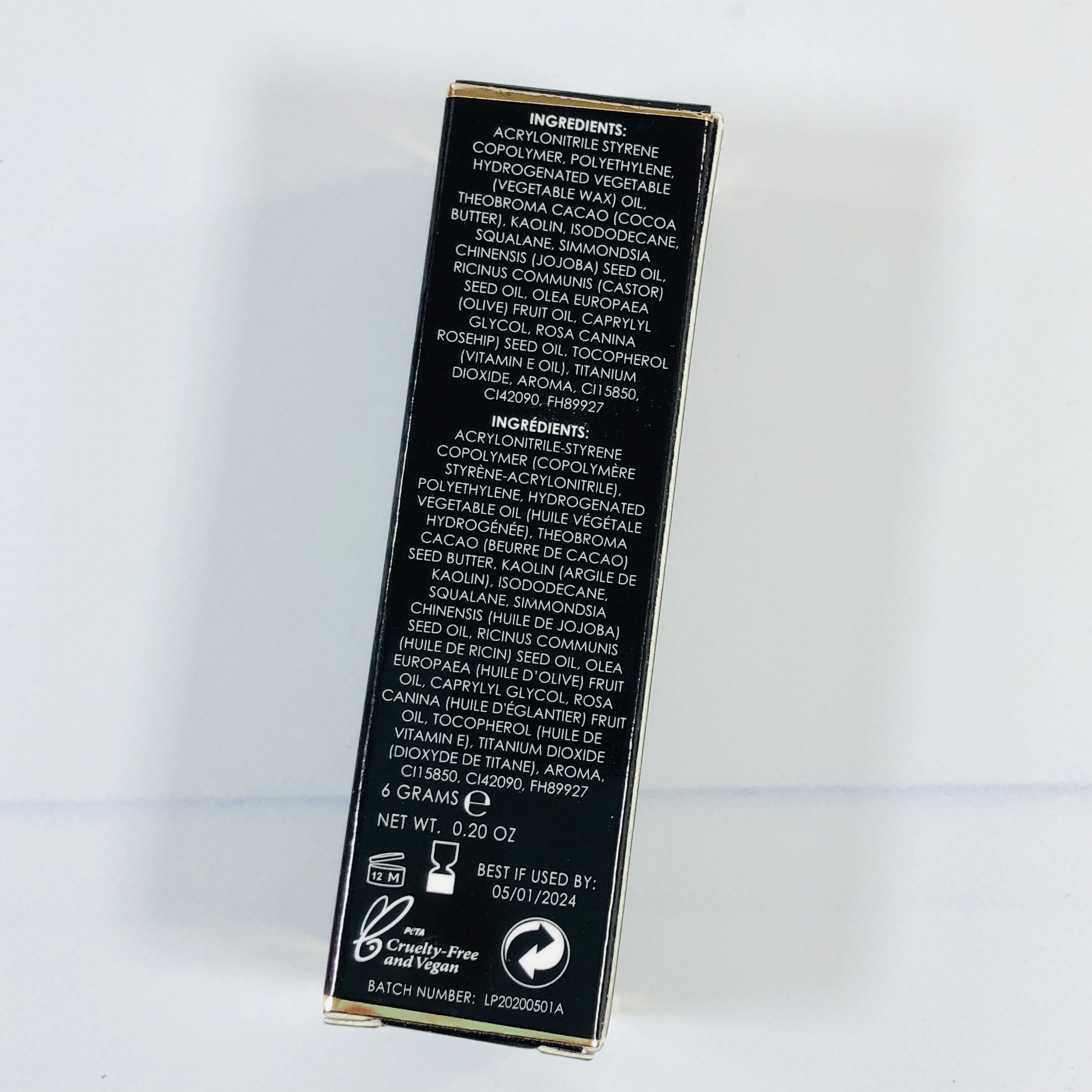 Jojoba and castor oils, cocoa butter, and kaolin clay are some of the ingredients.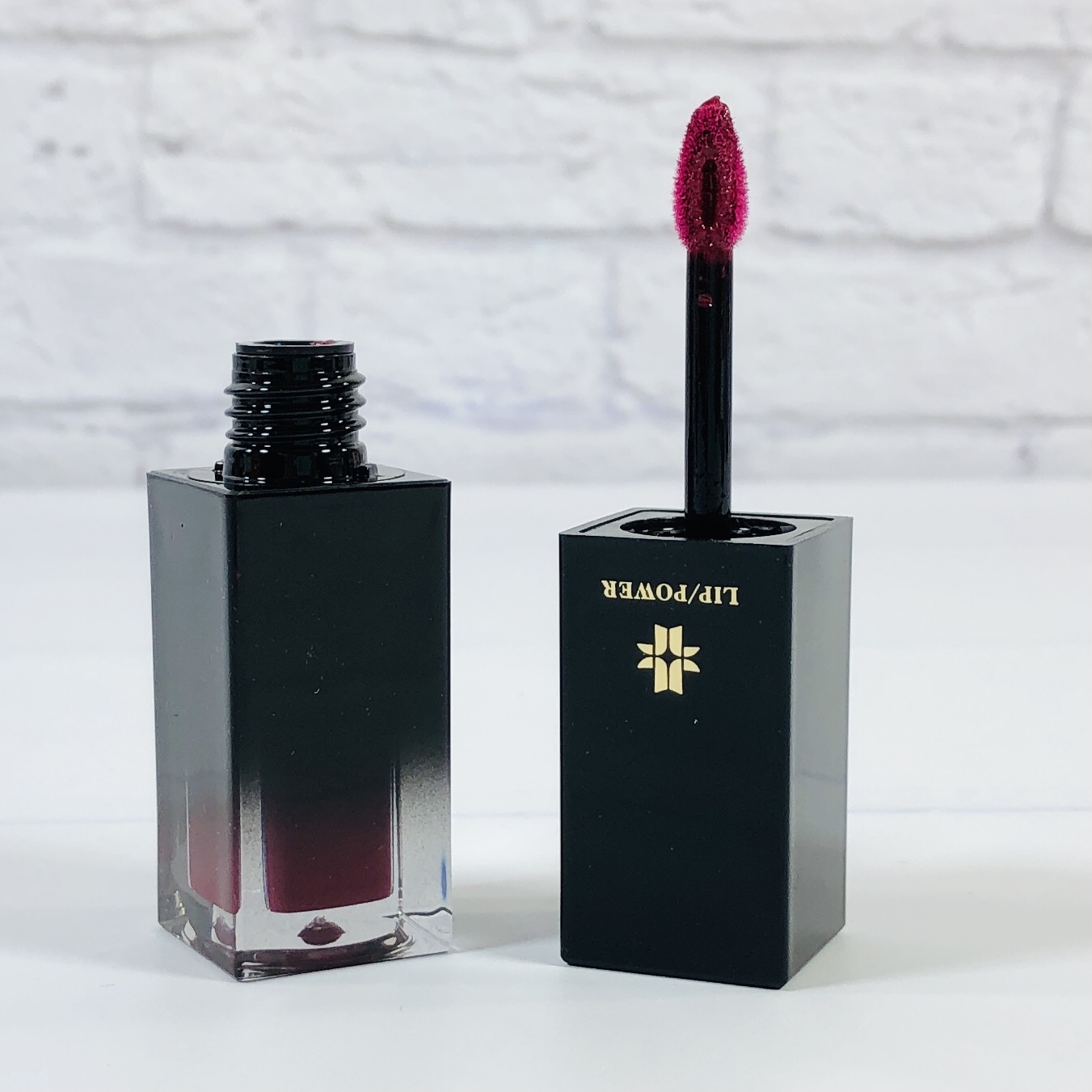 Margaux is described as deep fuchsia and it is a bold shade, a deep pink color. A little goes a long way and I even applied some, pushed it around with a lip brush, and then applied a little more. I didn't get a result as plush and filled in as the model on the brand's website, but it stayed on for quite a bit.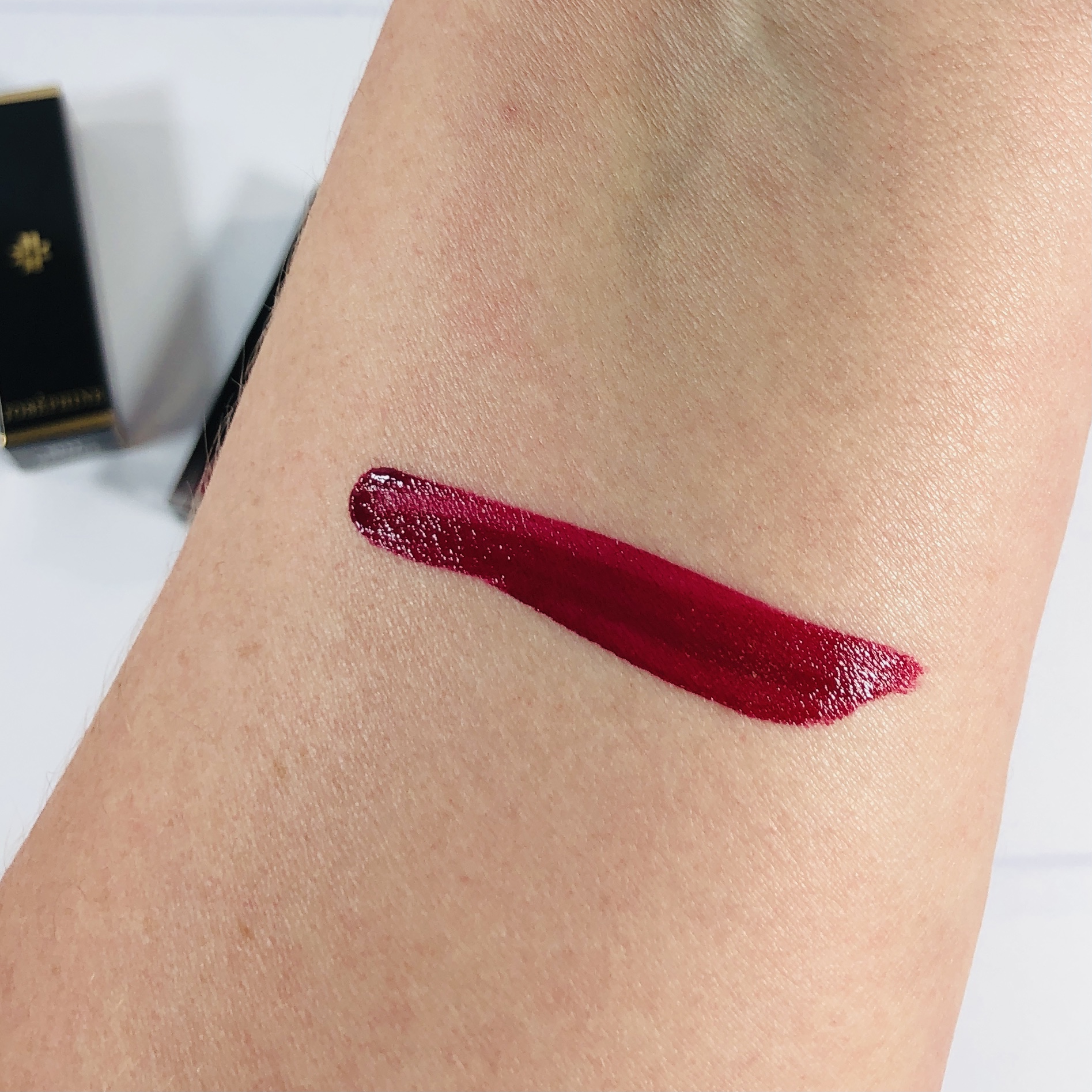 Here it is swatched!
Four Sigmatic: Mushroom Cacao with Reishi ($20) Finally we have what my daughter calls "healthy hot chocolate".
You can drink it hot or iced, and it is supposed to leave you feeling somewhat relaxed.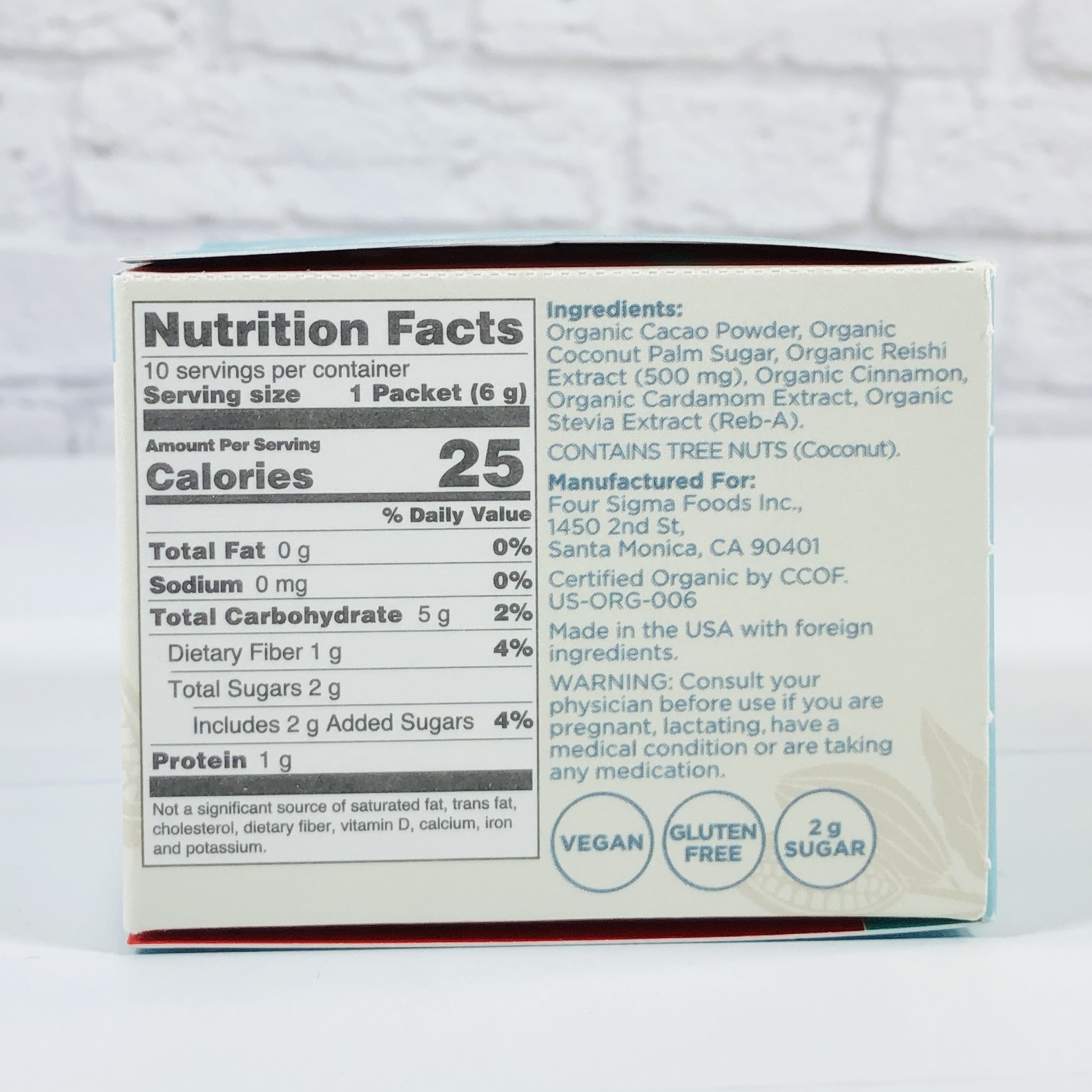 There are 25 calories in a pack if you prepare it with water, although you can use non-dairy milk too.
Here's the California Prop 65 warning. Do not consume if you are pregnant or breastfeeding.
There are 10 packs in the box.
It's a watery chocolate and it tastes like cinnamon, not a mushroom note to be found. It reminded me of cocoa that has no sugar added, although there is stevia. I thought it tasted bitter but then I have an aversion to stevia. My daughter liked it just fine.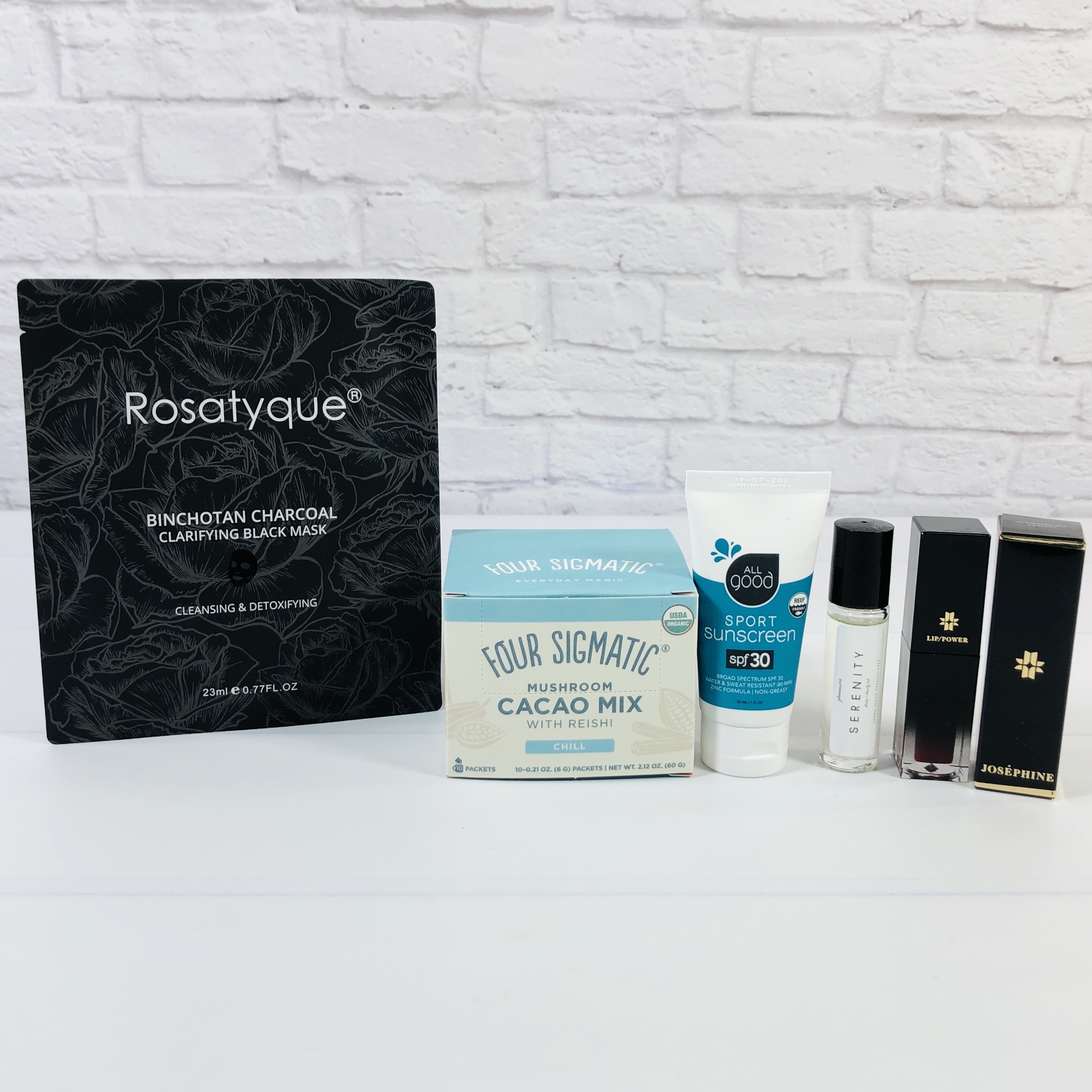 The February Kinder Beauty Box had a variety of relaxing items for Me-Time! I really liked the sunscreen, it worked well without leaving me feeling greasy, although I suspect my daughter has claimed it already. My daughter also seemed to like the reishi mushroom cocoa so I am happy to pass it along to her. The oil roll on smelled good but was fleeting, perfect for bedtime, and the lip color was a bold choice, great for a cold winter month. That leaves the mask, which my younger daughter claimed thanks to it's oil-drawing abilities. The value for the Me-Time collection was around $83!
What do you think of Kinder Beauty Box?