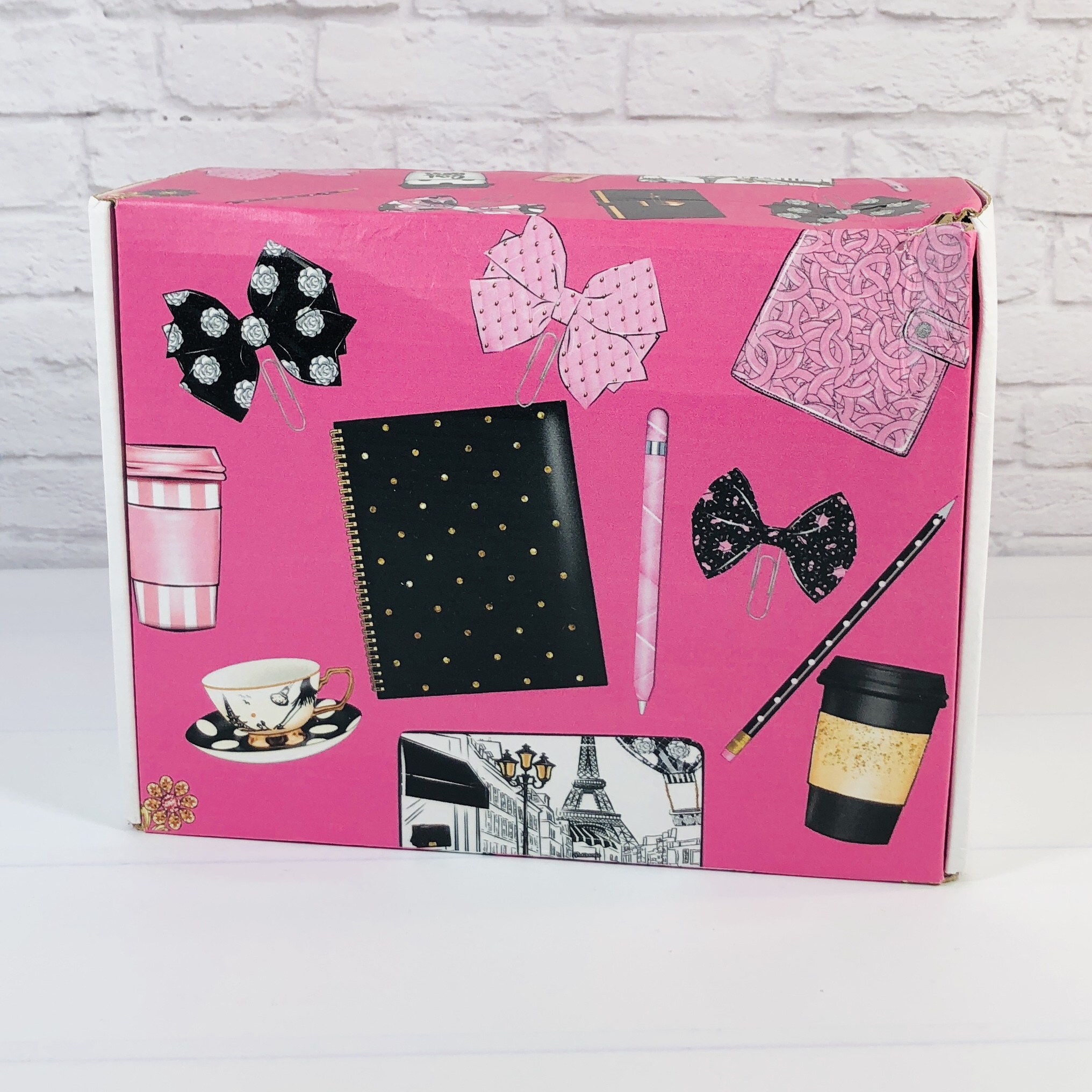 Journal Junk Box is a monthly subscription of journals, desk supplies, and planner items that are cute and functional. Each box will contain 8-10 items that may include a journal, pens, washi tape, craft scissors, sticky notes, planner/paper clips, and more. Journal Junk is $44 a month and shipping is $9.95. The price drops with longer terms and the yearly option has the shipping already included.
Love to decorate your office space with cute office things and get lost in creating? Want that positive push to finish your goals and be the best version of you? You'll love this box!
This is my very first box from Journal Junk Box!
My box displayed a "Fragile" sticker and everything was tucked into shredded paper squiggles. Unfortunately, the mug, which was well wrapped in bubbles, didn't make it intact. We contacted the company but they were out of mugs and offered a refund of that item.
The theme for March was Take Me to Paris. I love Paris and to have a box of Parisian-themed items sounds dreamy!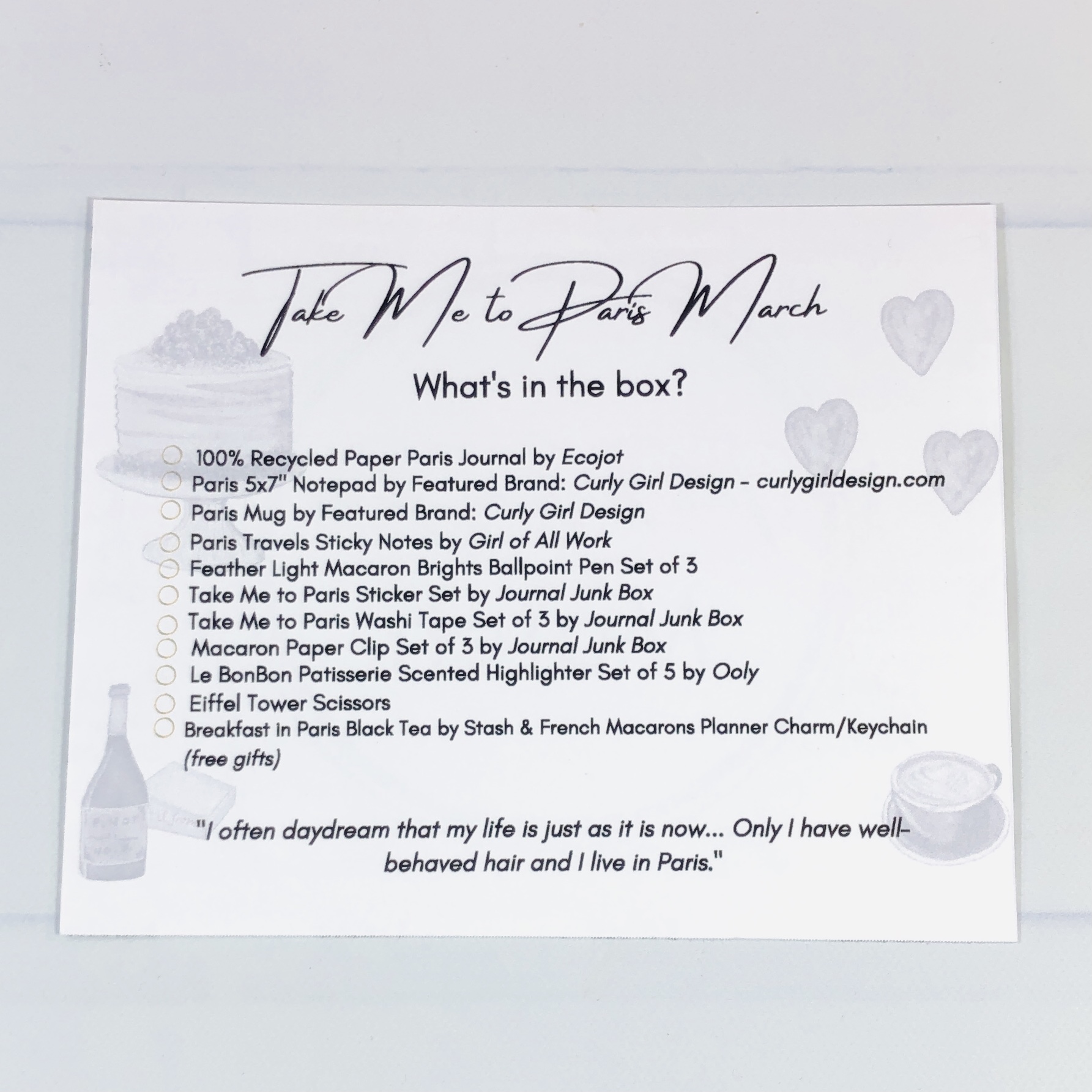 The back of the card listed the items in the box along with the manufacturer.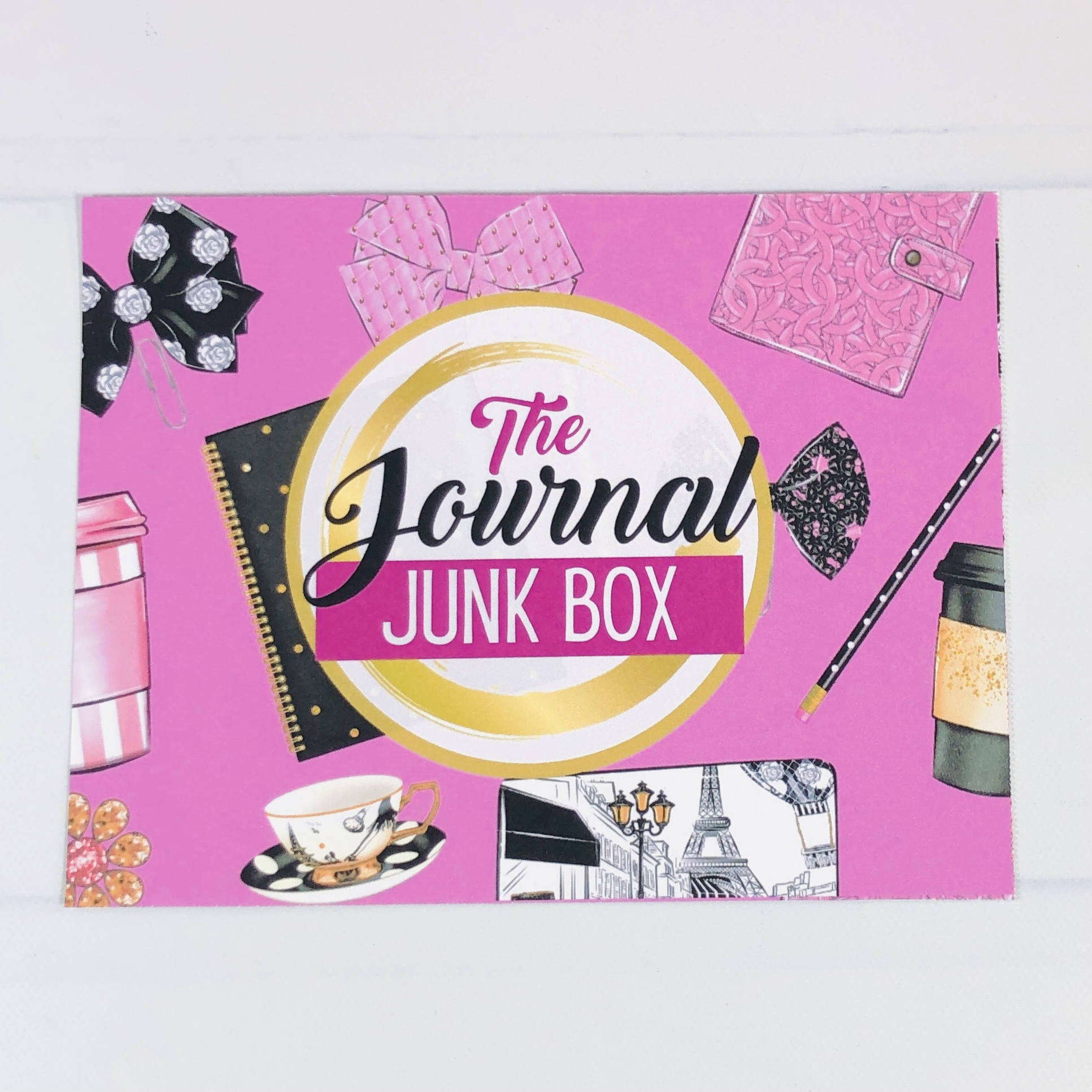 I received a second card that was colorful and matched the shipping box.
The back of the card said "thank you" and had the social media sites listed.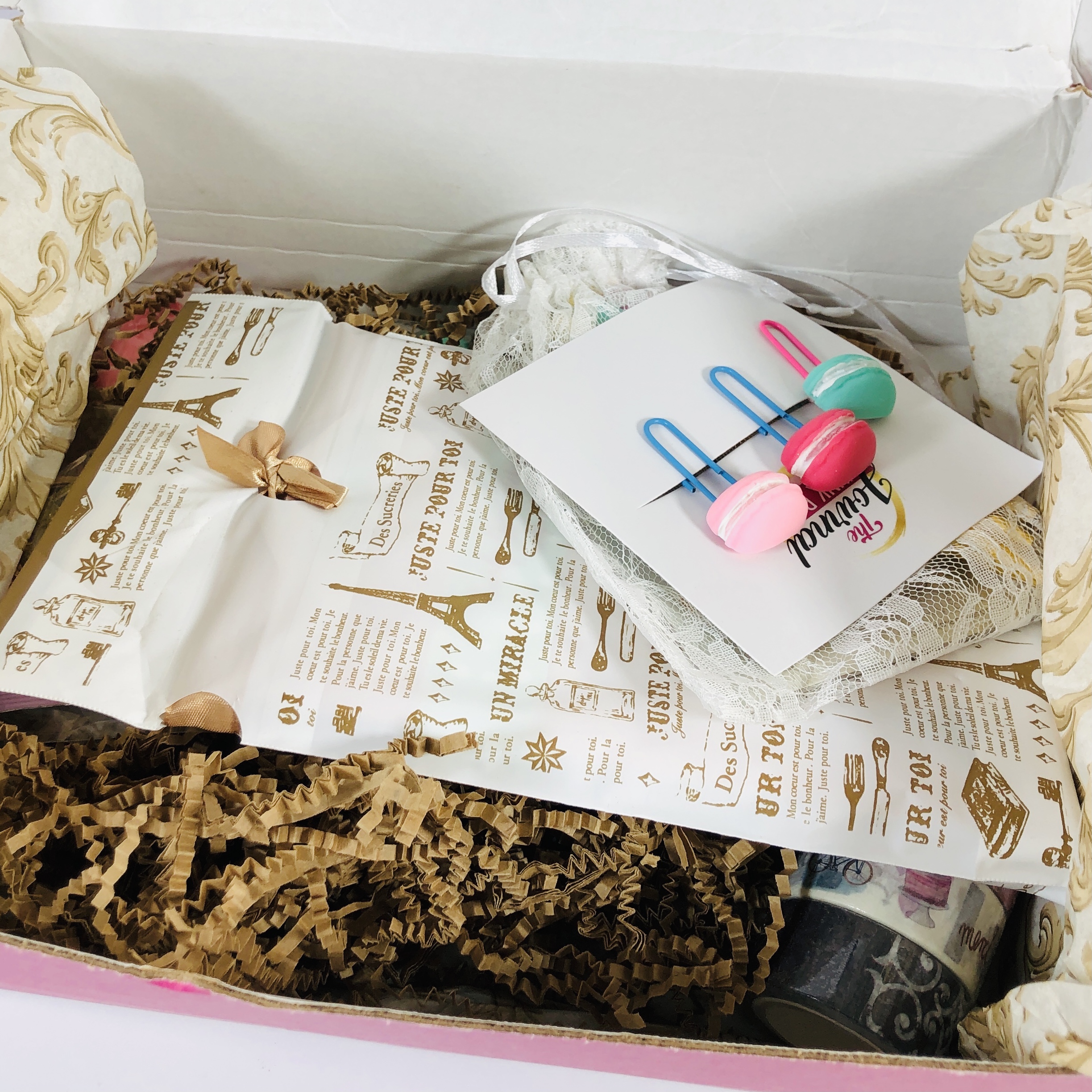 The items were packaged prettily!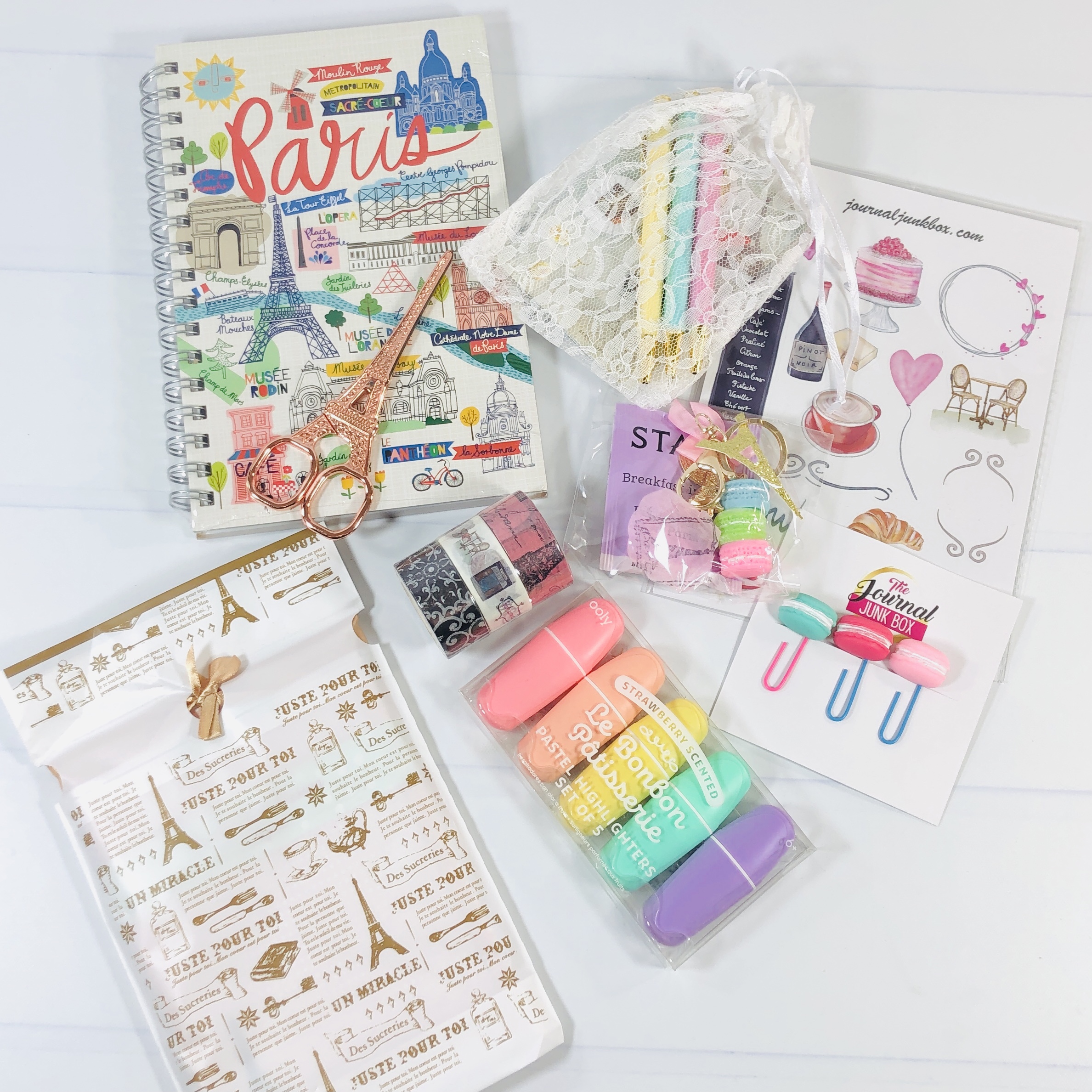 Some of the items had additional wrappings.
Everything in my box!
Take Me To Paris Sticker Set A set of two sticker sheets will have my planner looking like Paris in the Springtime in no time!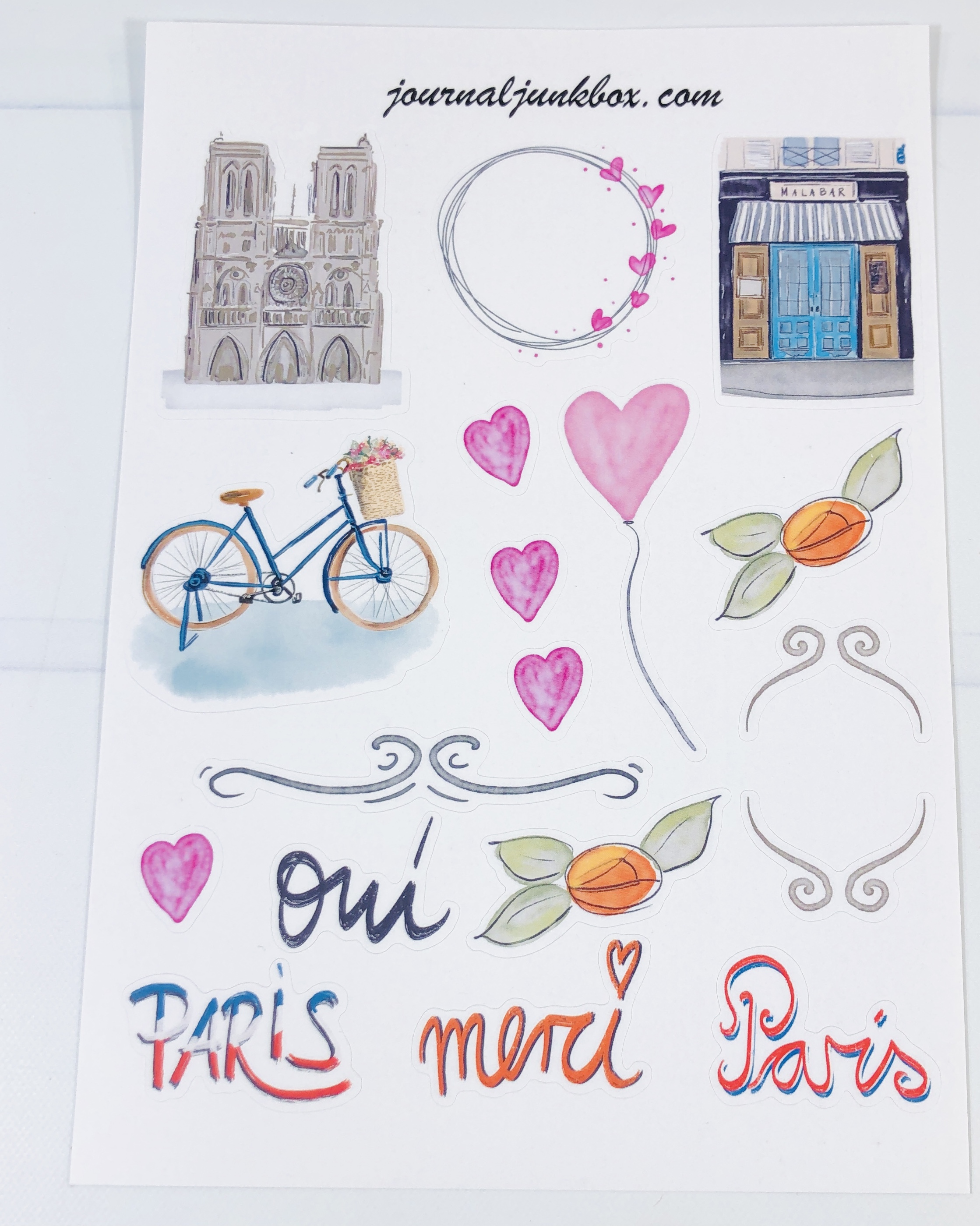 This sheet has Notre Dame, a heart-shaped balloon, and a bicycle.
The second sheet has pastries, a coffee, and a bottle of wine.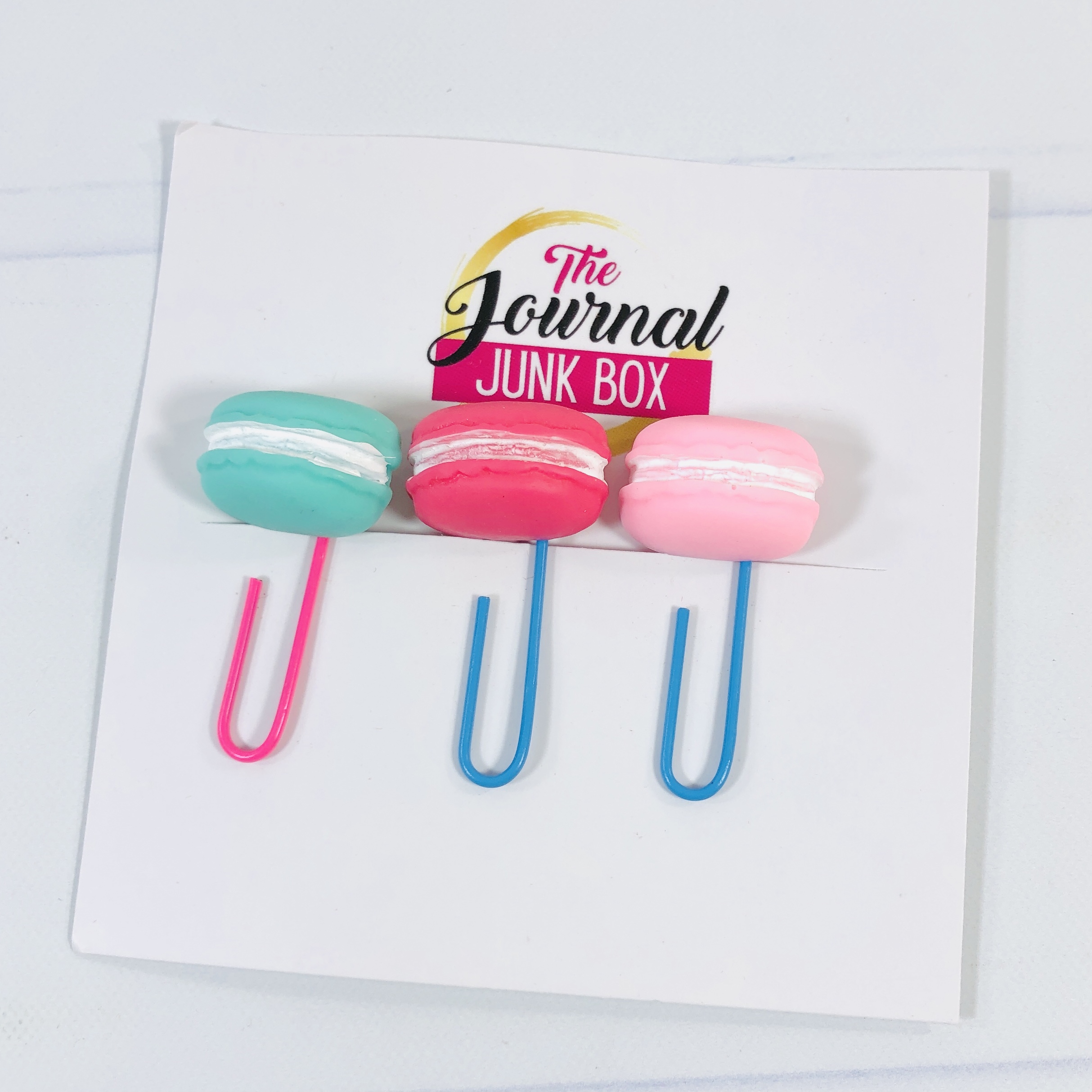 Macaron Paper Clip Set ($10.99 list price, now $8.99) A set of three paper clips featuring a pastry associated with the City of Lights adds some pretty pastels to my planner and papers.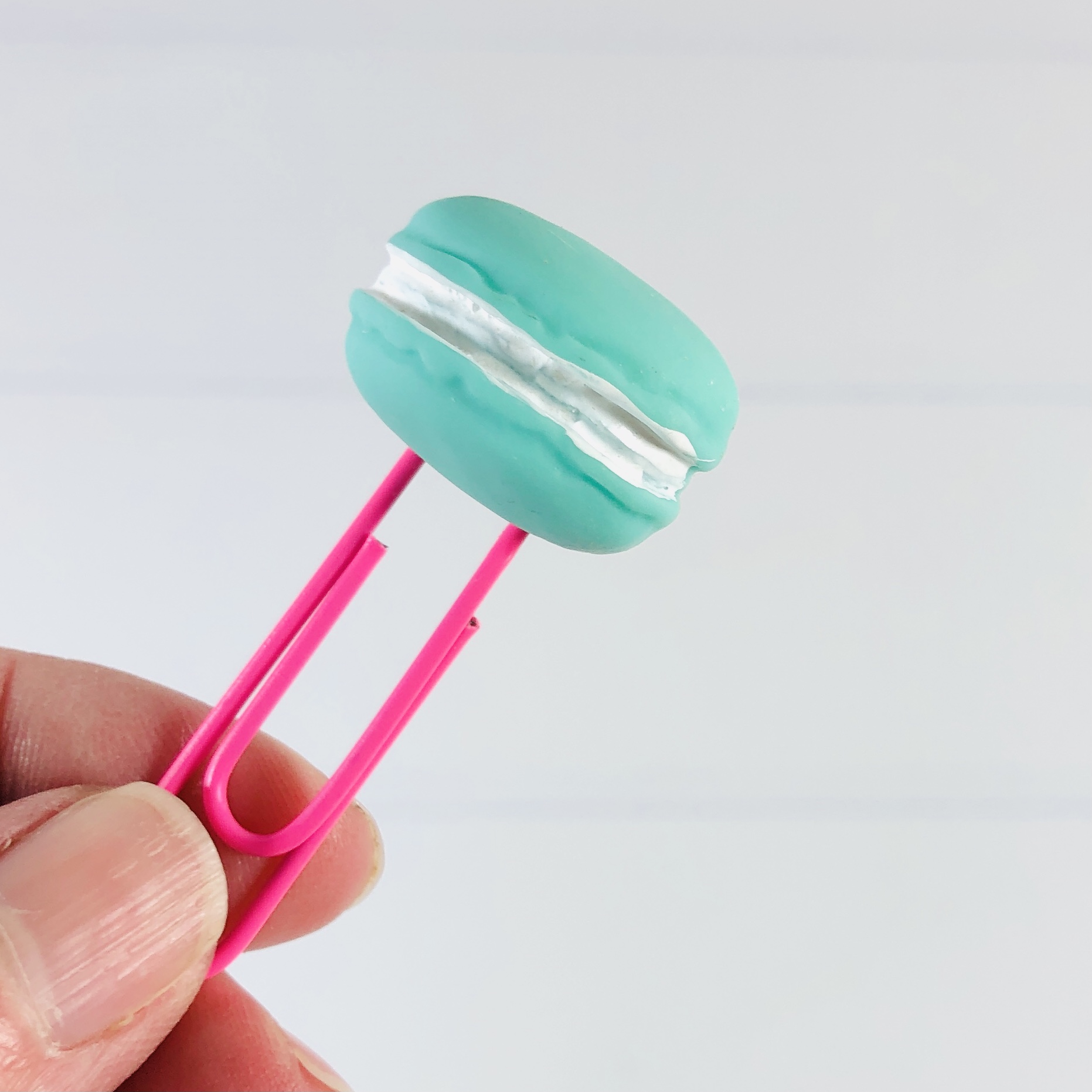 I like that the paperclips are also colorful!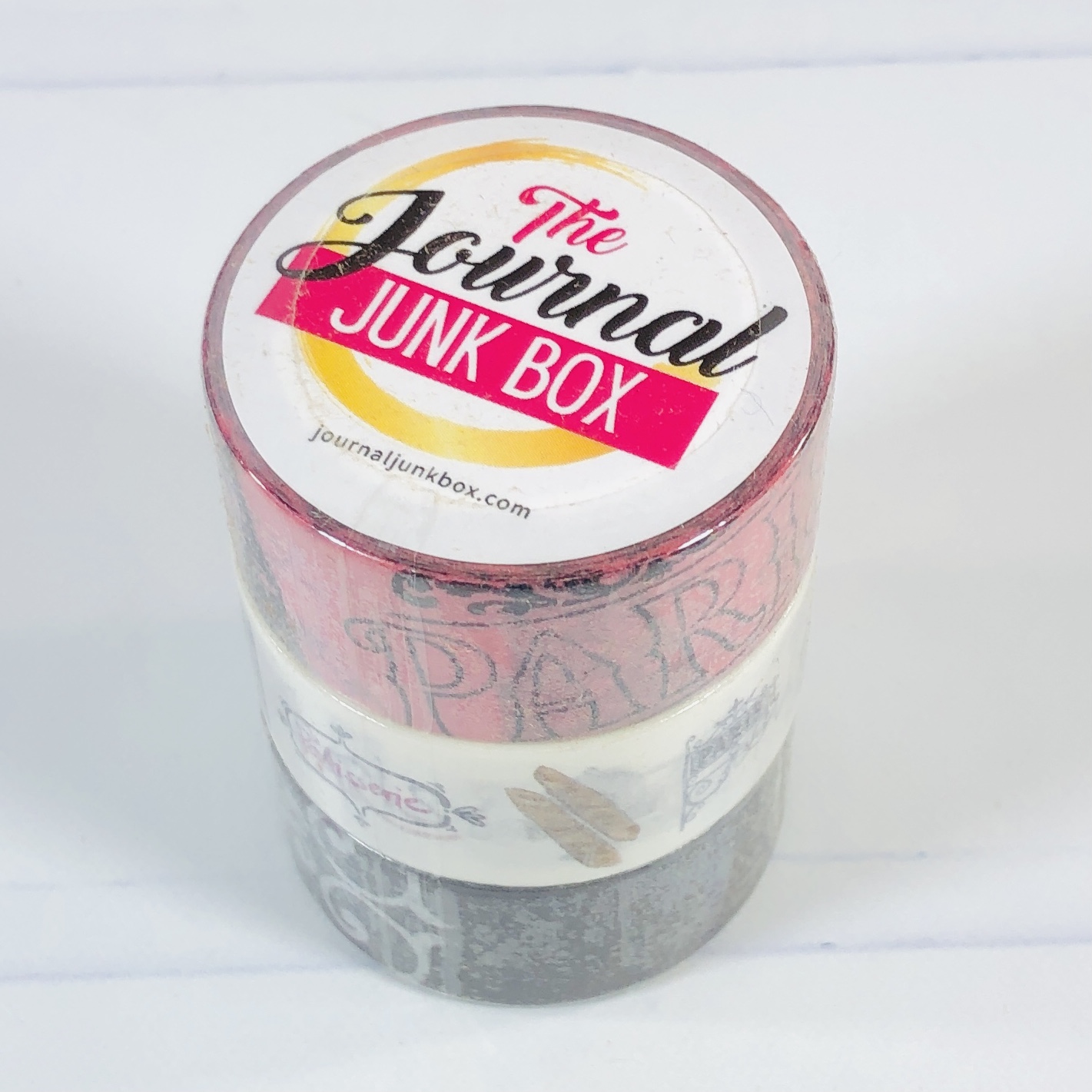 Take Me To Paris Washi Tape Washi tape is great for blocking off sections in a planner.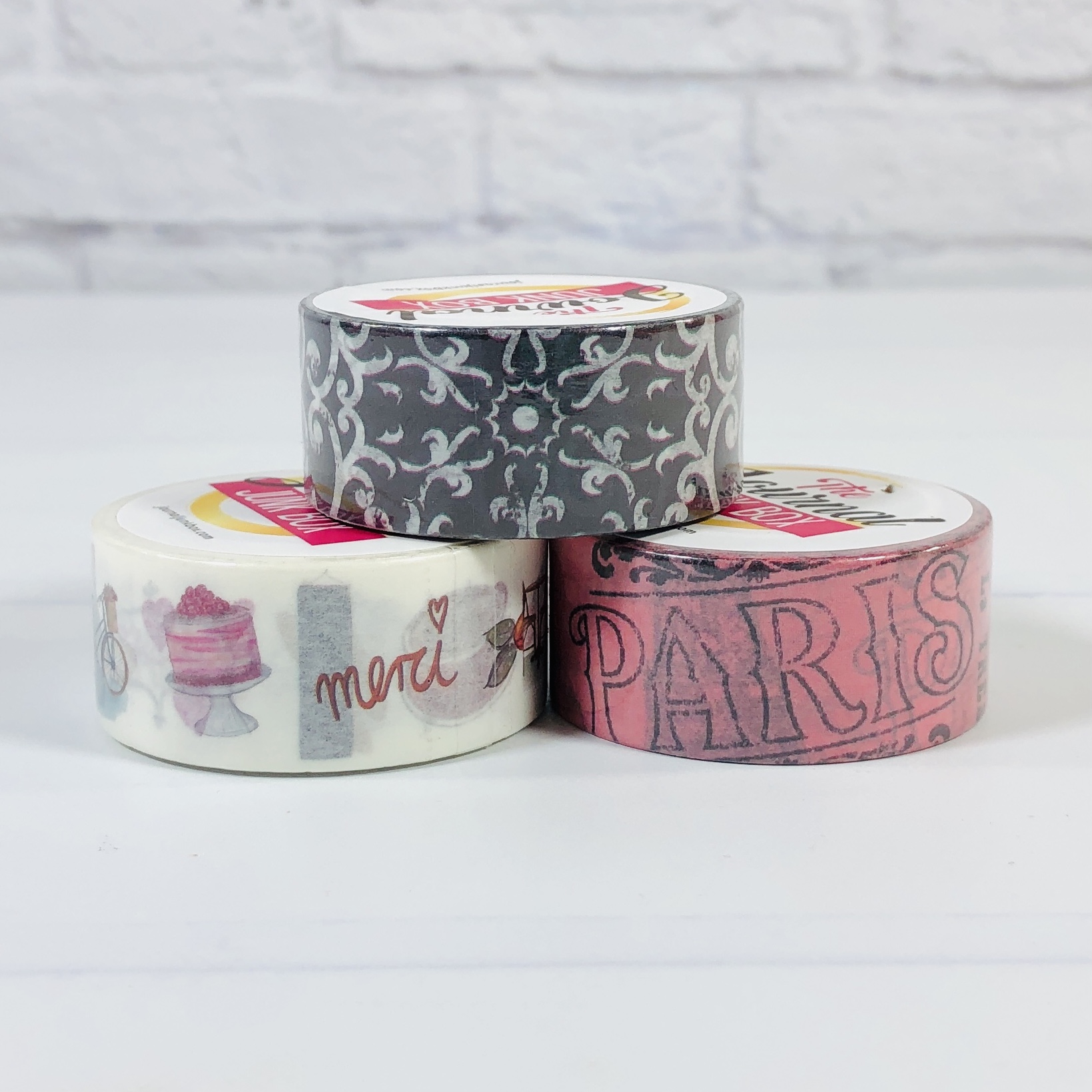 There were three rolls and they are about 3/4″ wide.
Here they are on paper.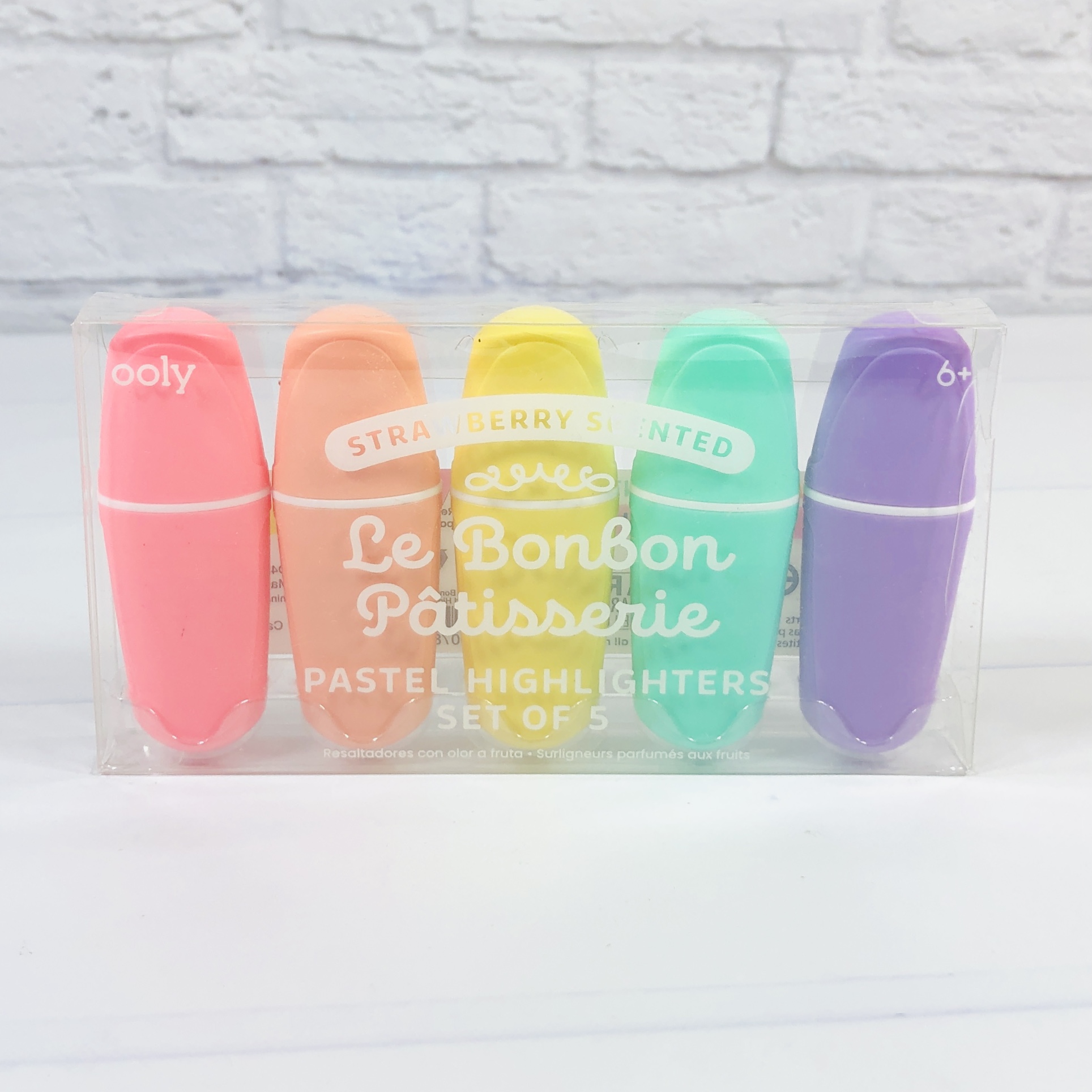 Le BonBon Patisserie Scented Highlighter Set ($4.99) Pastels are such a pretty color palette for spring. This is a set of 5 mini highlighters.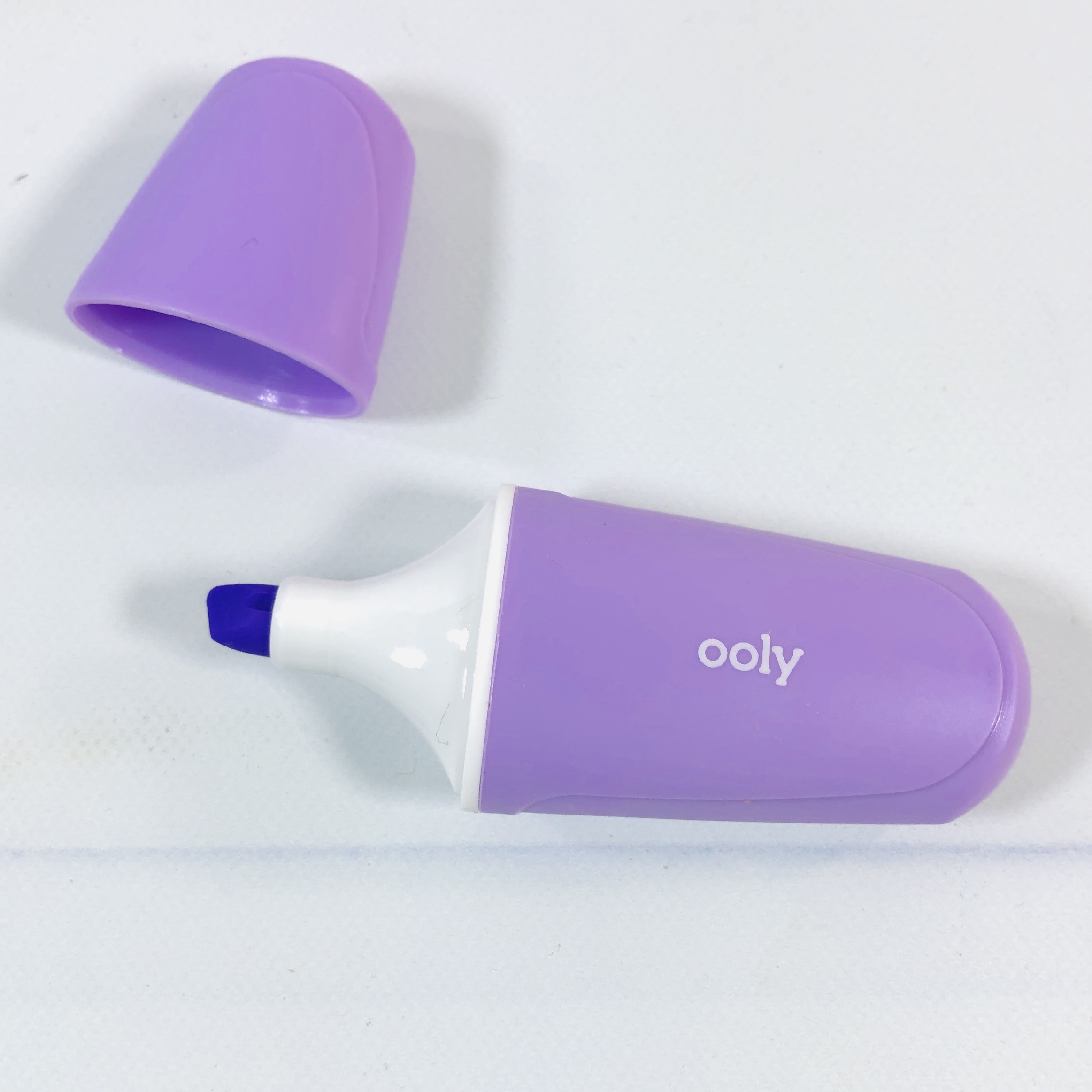 The highlighters have a light strawberry scent, which is way better than my usual highlighters for sure.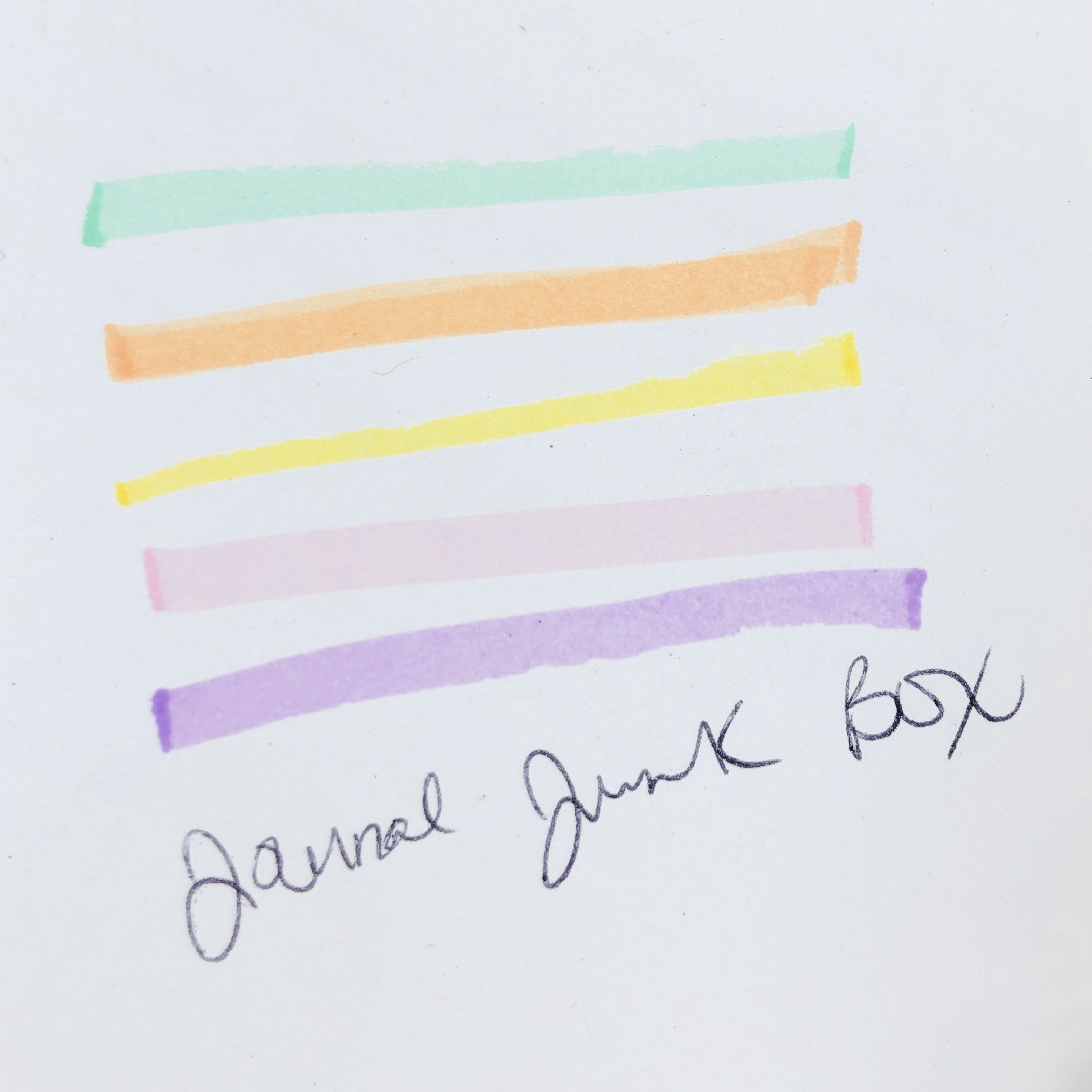 Here they are swatched.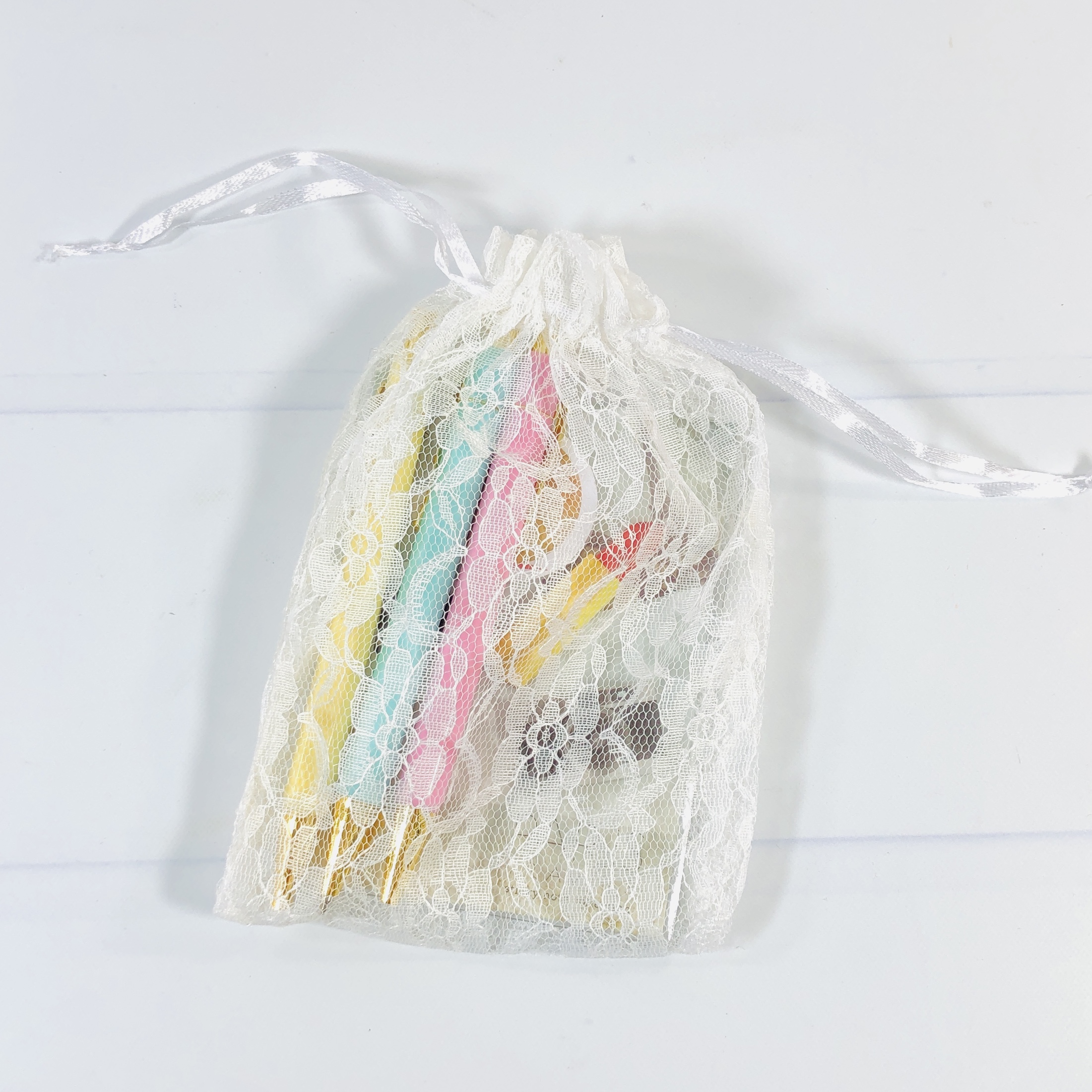 The next couple of items came in a lace bag, which works well for regifting items that may not be your favorites.
Feather Light Macaron Brights Ballpoint Pen Set This collection of ballpoint pens comes in pastel macaron colors with gold accents. They are lightweight and write in black ink.
Girl of All Work Paris Travels Sticky Notes ($6.50) A set of 4 different sticky notes means I can mark pages with a cute sticker instead of a plain flag.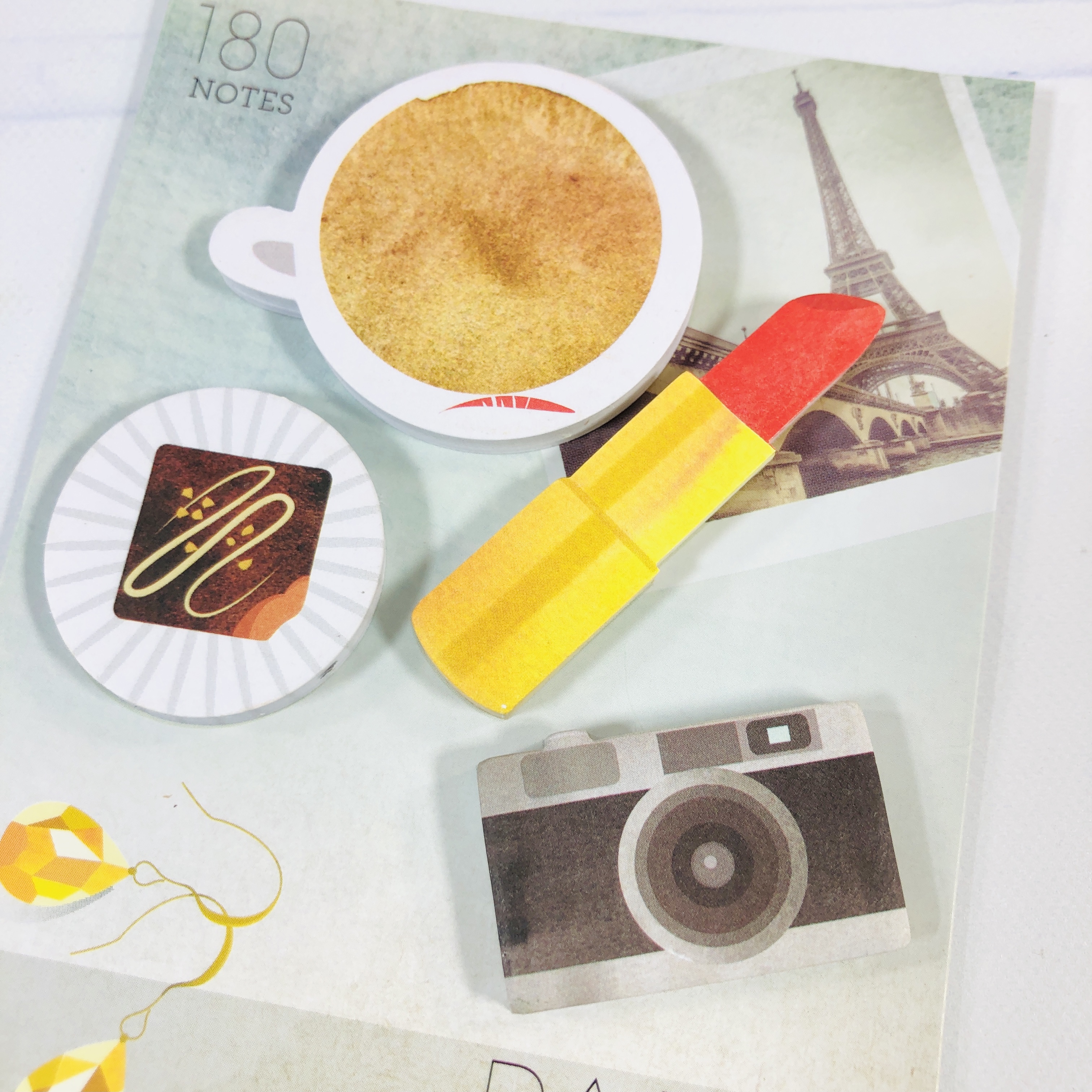 There are 45 stickers each of lipstick, espresso, camera, and chocolate.
Eiffel Tower Scissors (Find similar item here for $12.99) I once went up in the Eiffel Tower and would love to do so again one day. These scissors remind me of that amazing day and the view from the top.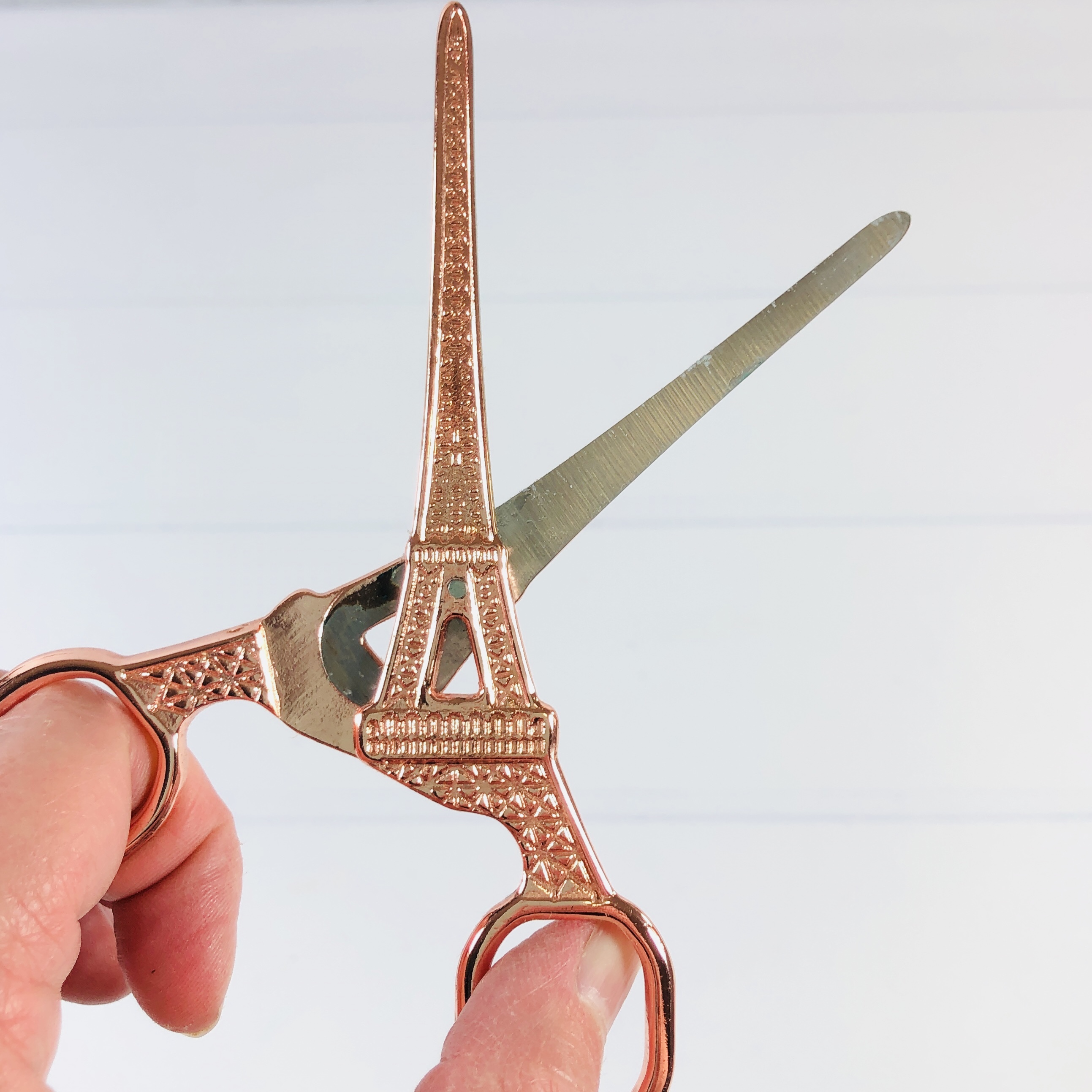 They are rose gold colored and about 5.5″ long. I have scissors all over my house but this special pair will grace my desk.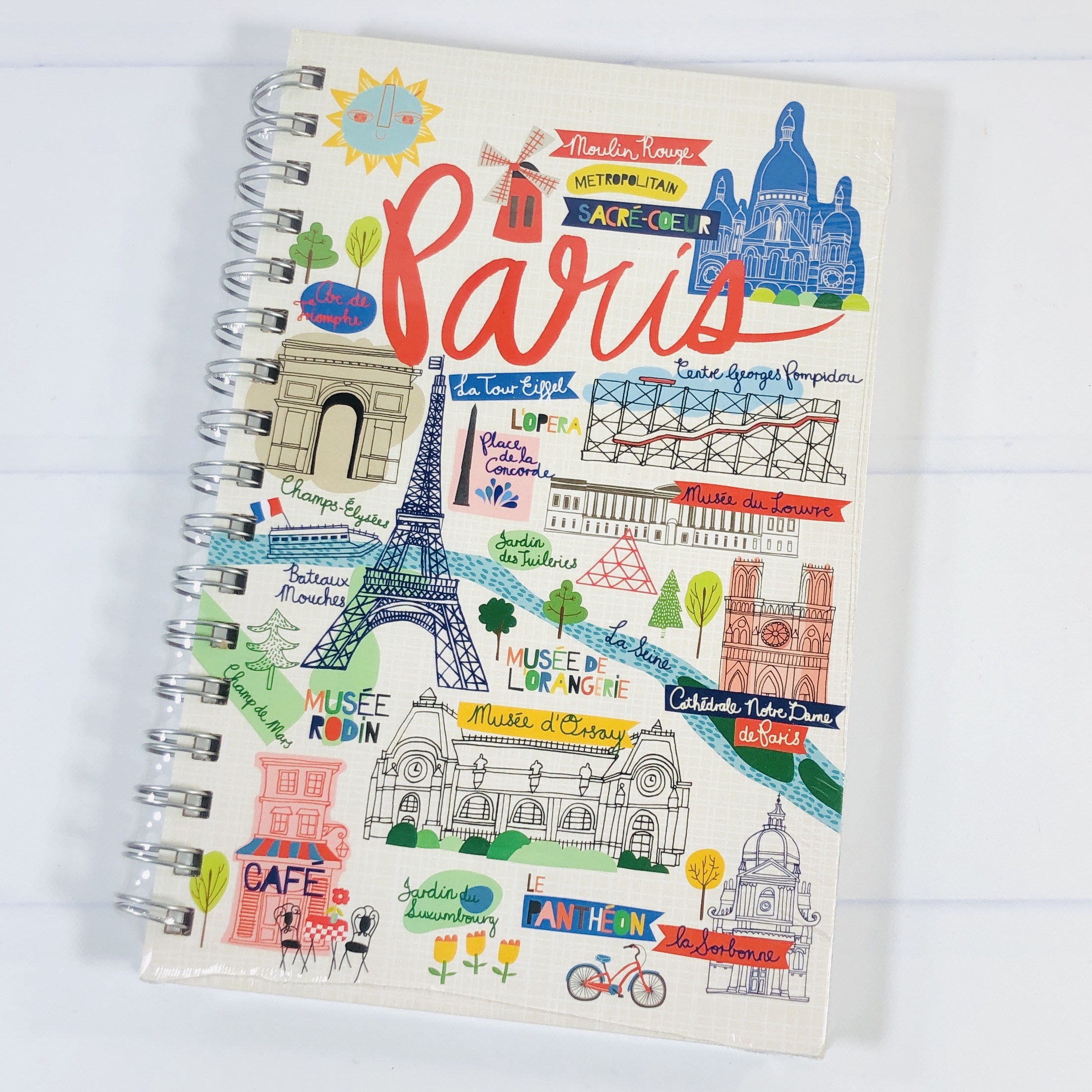 Ecojot 100% Recycled Paper Paris Journal (Similar journals are $17.53) I found a bunch of similar journals on the Ecojot website but this one may be out of print. The cover features Paris landmarks and the journal measures 6″ x 9″.
The inside page tells me this is made of recycled paper! Vegetable ink was used for printing.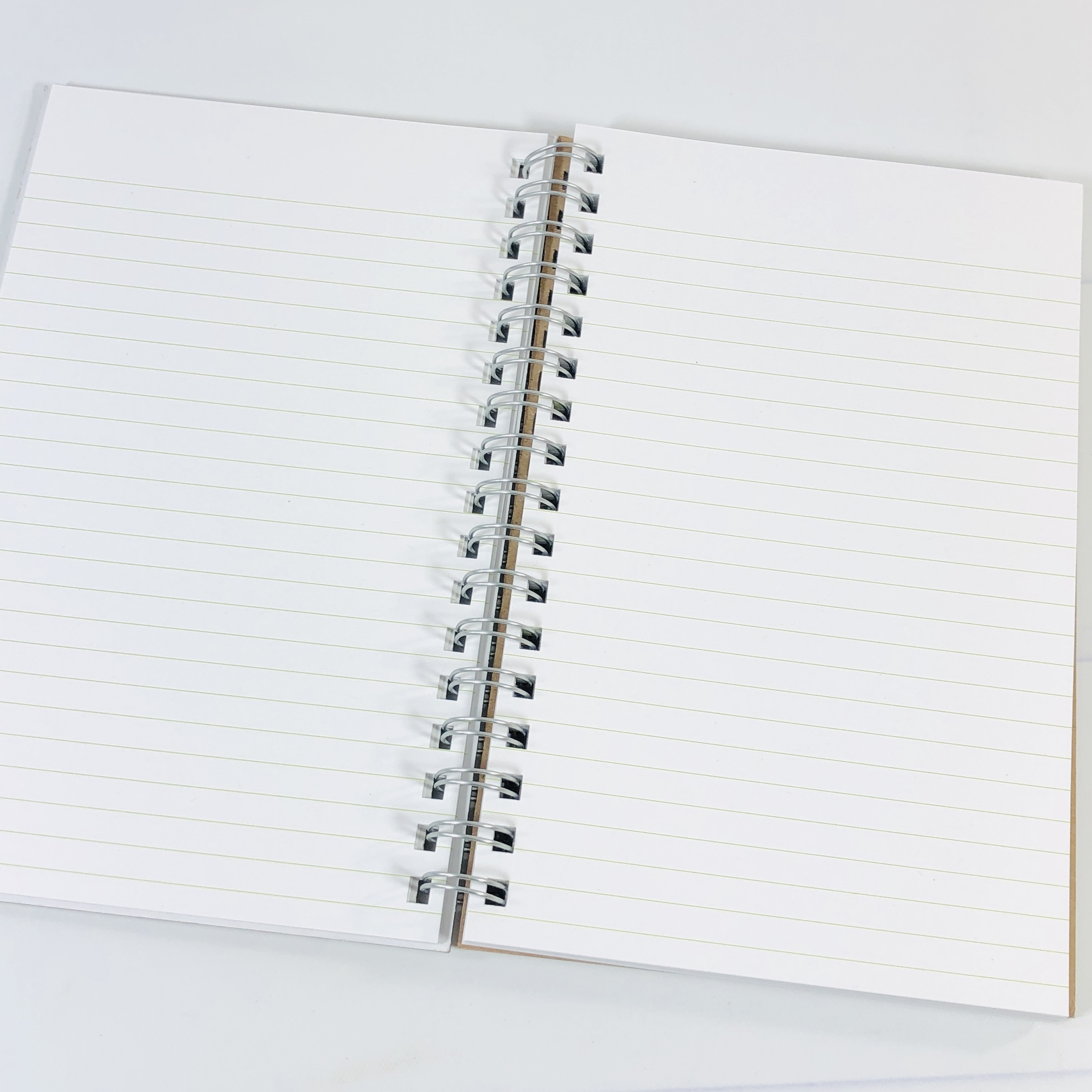 There are 150 sheets/300 pages in this generously sized journal. The page lines are green!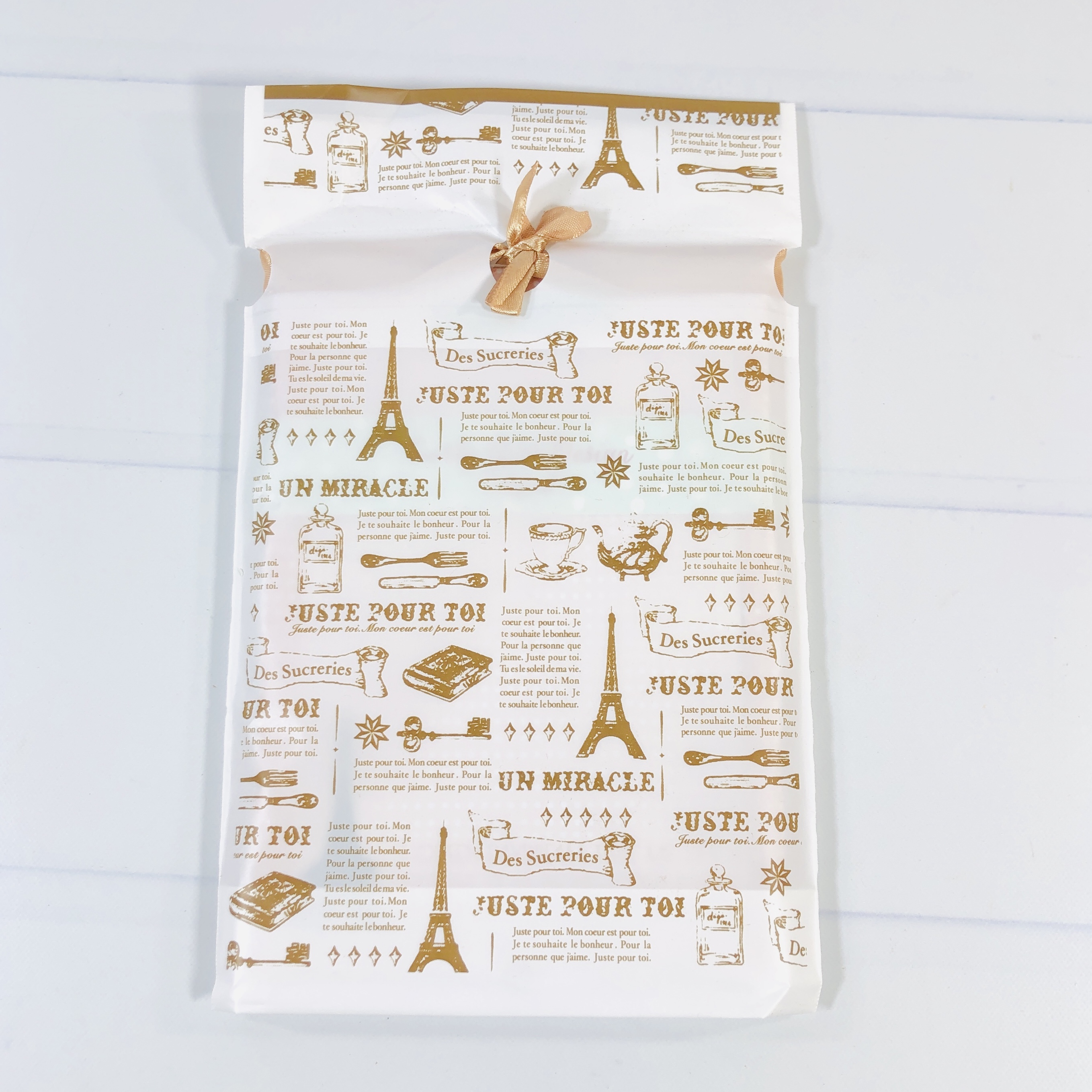 The next item came in a reusable bag!
Curly Girl Design Paris Notepad ($6.50) Inside the bag I found a 5″ x 7″ notepad with 80 sheets. The Eiffel Tower is in one corner and there is a cute quote across the bottom.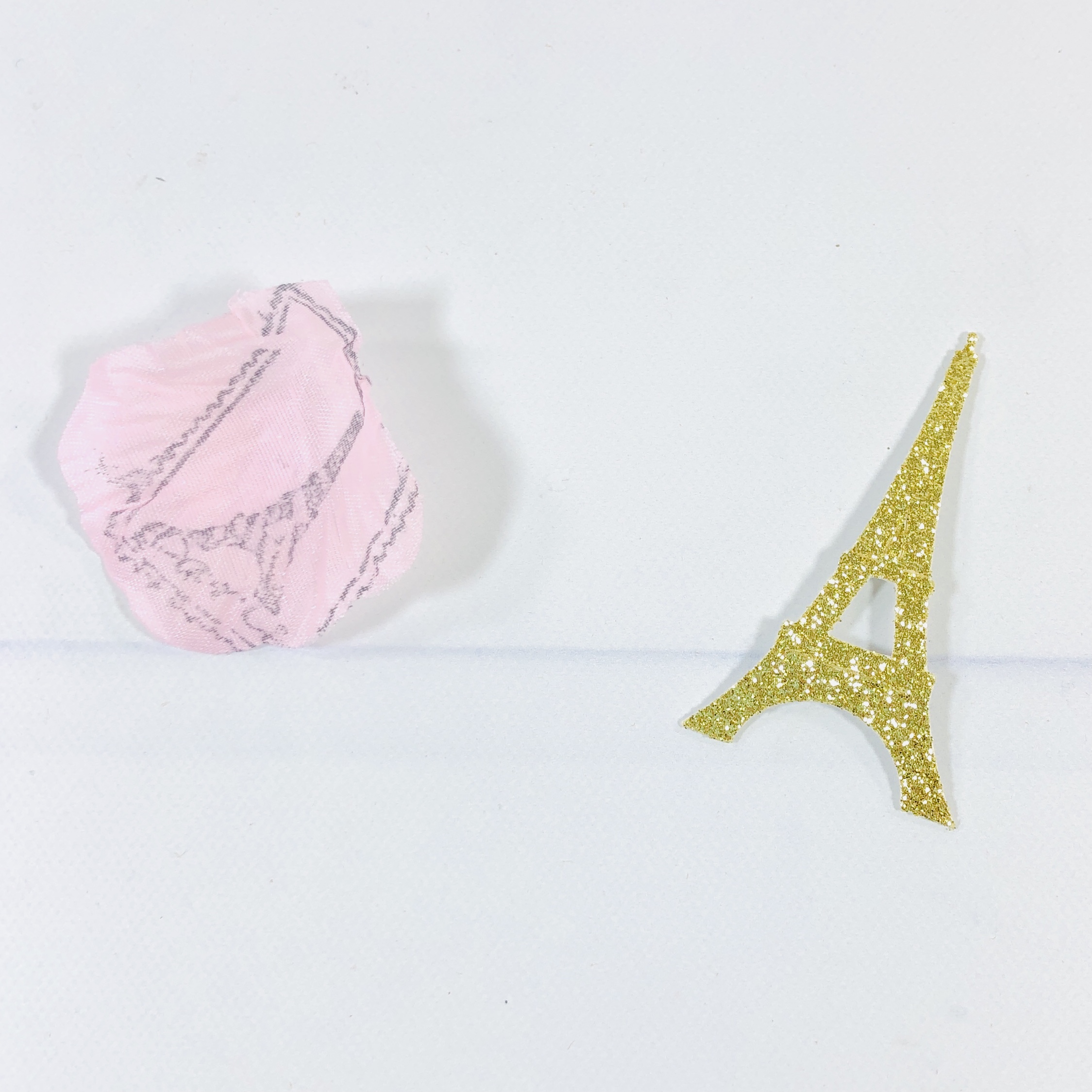 The next couple of items were in a plastic bag. Inside I found a sticker and "petal" confetti.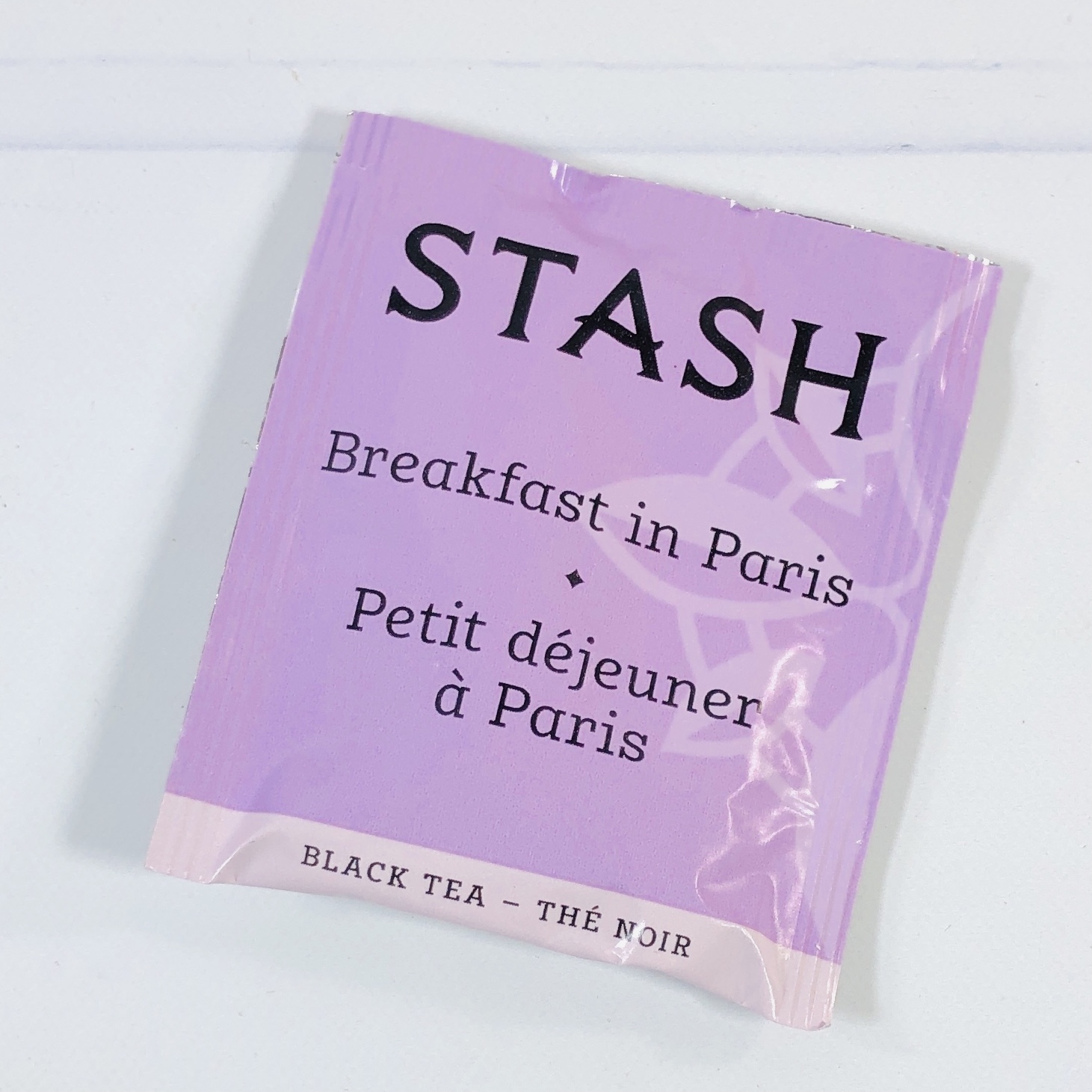 Stash Breakfast in Paris Tea I am familiar with this tea and flavor, Stash is one of my favorites! Breakfast in Paris is an Earl Grey with lavender and vanilla in addition to the traditional bergamot flavor and black tea combo.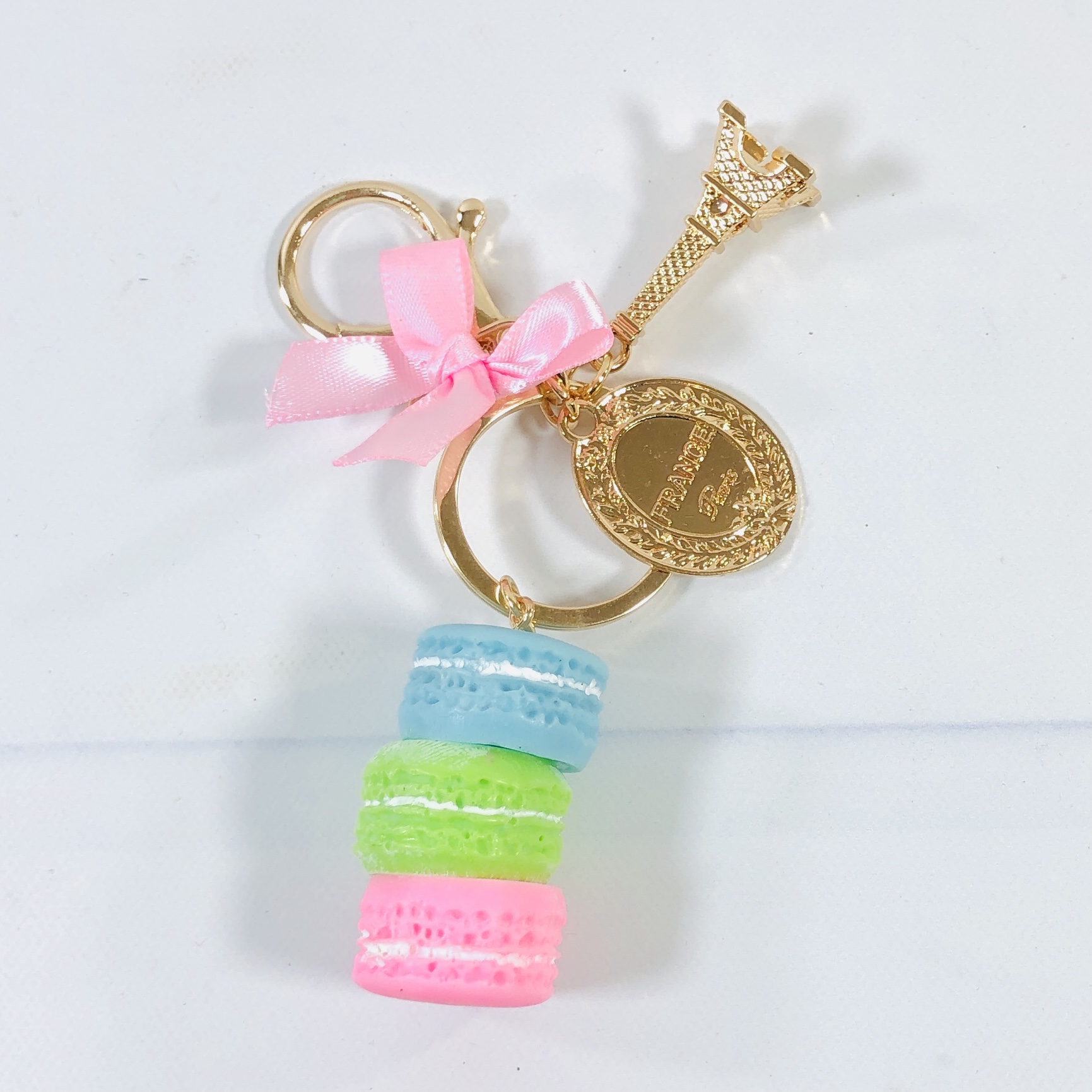 French Macarons Planner Charm/Keychain ($4.99) can be clipped to a planner or it can function as a traditional keychain. It can also attach to a purse as a cute accessory.
It has three macarons attached to a keychain ring and clip. There is also a pink ribbon bow.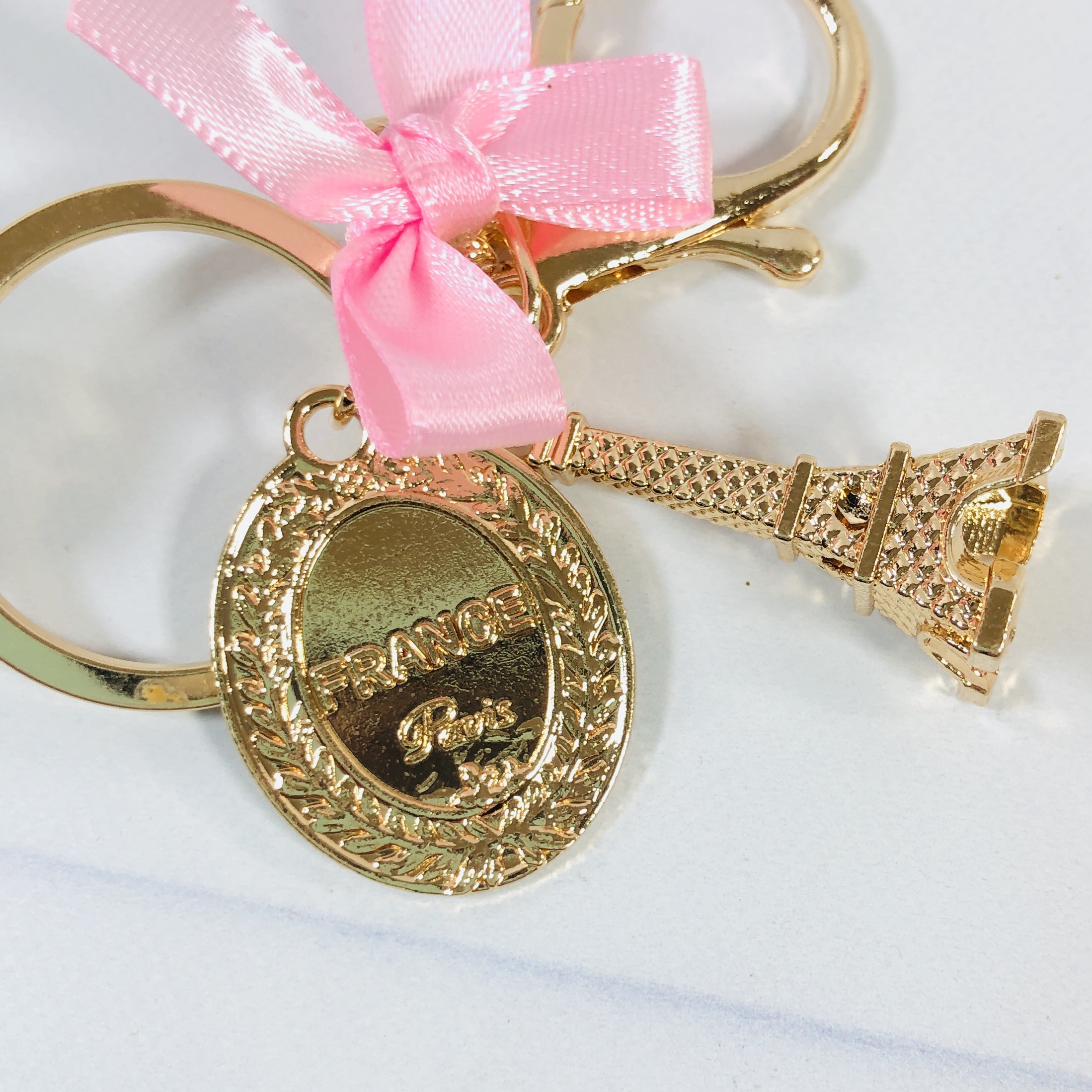 A gold tone Paris medallion and Eiffel Tower charm complete the set. So cute!
What an exciting and adorable collection from Journal Junk Box! I was absolutely entranced with the Paris theme, I love Paris and would happily surround myself with Parisian themed accents, whether for my desk or myself! There was plenty here for a planner/journal enthusiast to add to their collection but it would also work well for someone who wants to jazz up their office work space. The colors were cute and have me ready for spring, and also I think I need to search for some macarons next time I'm near a bakery. I didn't find the values for every item but there was minimum value of at least $80, including the mug, which retails for $17. I was very impressed and I saw the spoilers for the April box and have to say, it looks just as colorful, with lots of bright springtime florals!
What do you think of the Journal Junk Box?