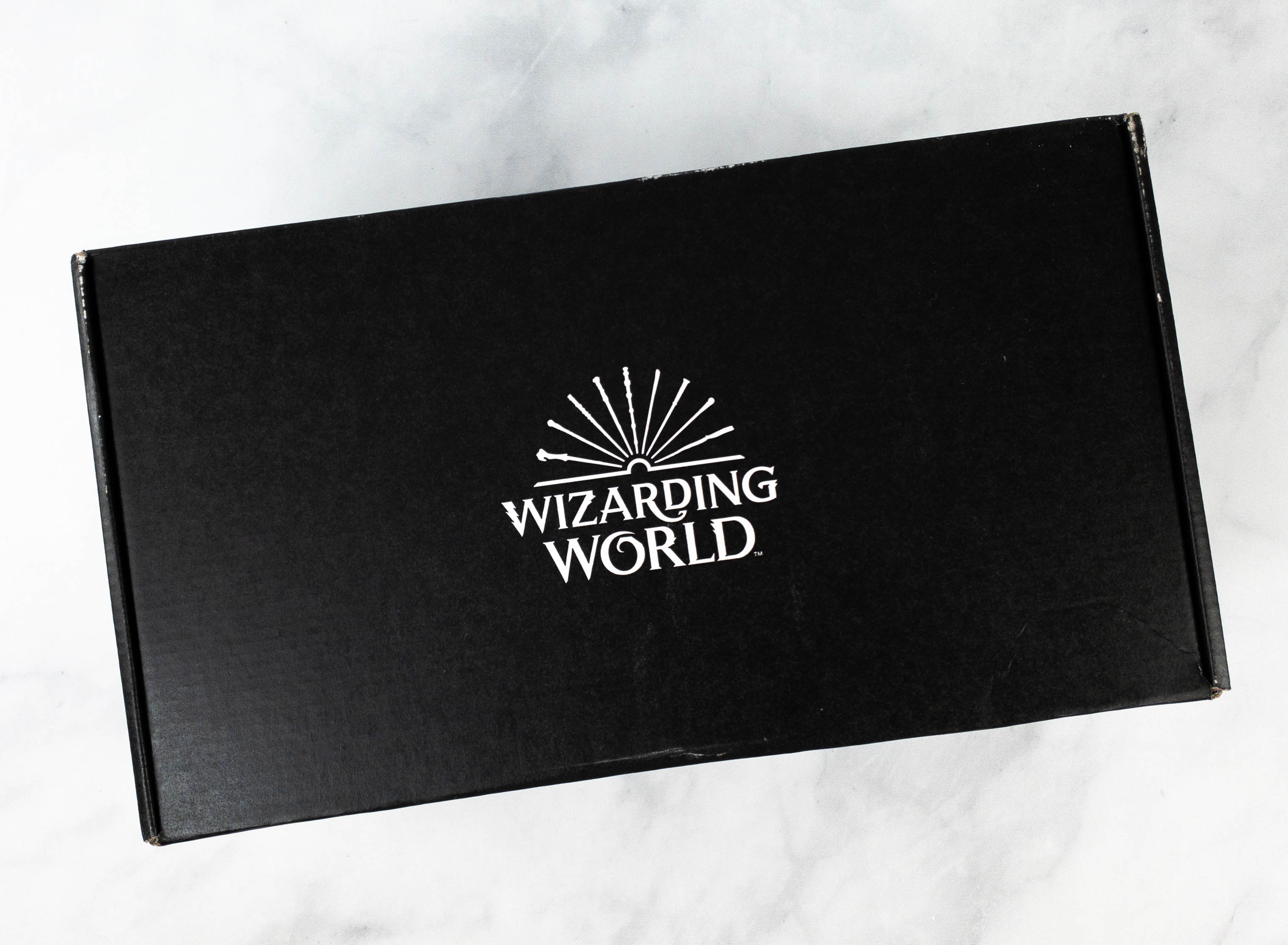 J.K. Rowling's Wizarding World Crate from Loot Crate is the bi-monthly and official Harry Potter & Fantastic Beasts subscription box. For $39.99 every other month, you'll get 5-7 unique and officially licensed Harry Potter and Fantastic Beasts merchandise, so there's no need to go to Diagon Alley!
DEAL: Save 15% on any subscription plan when you use this link and coupon code HELLOSUBSCRIPTION15.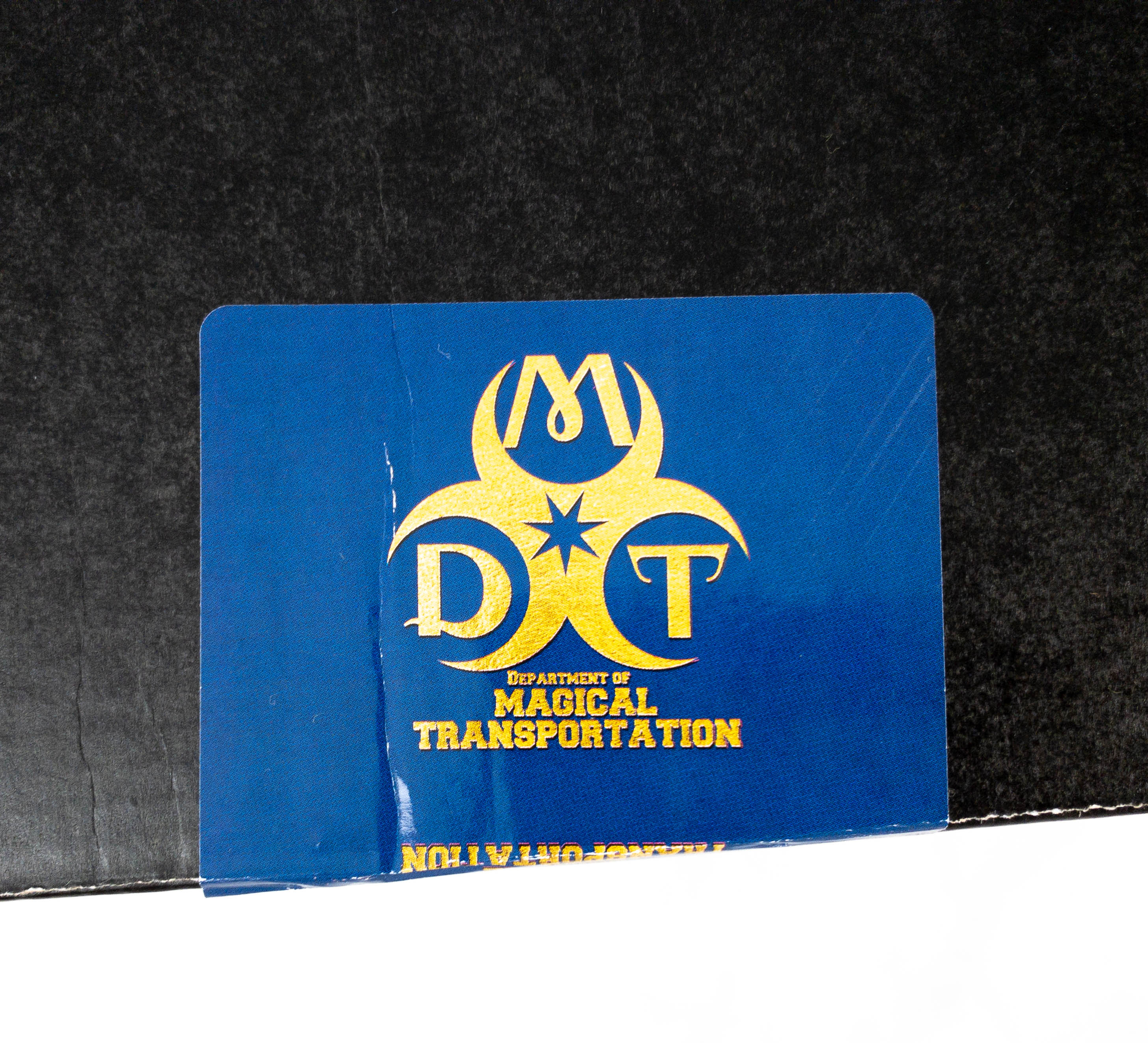 The box is sealed with a sticker that features this month's theme: The Department of Magical Transportation!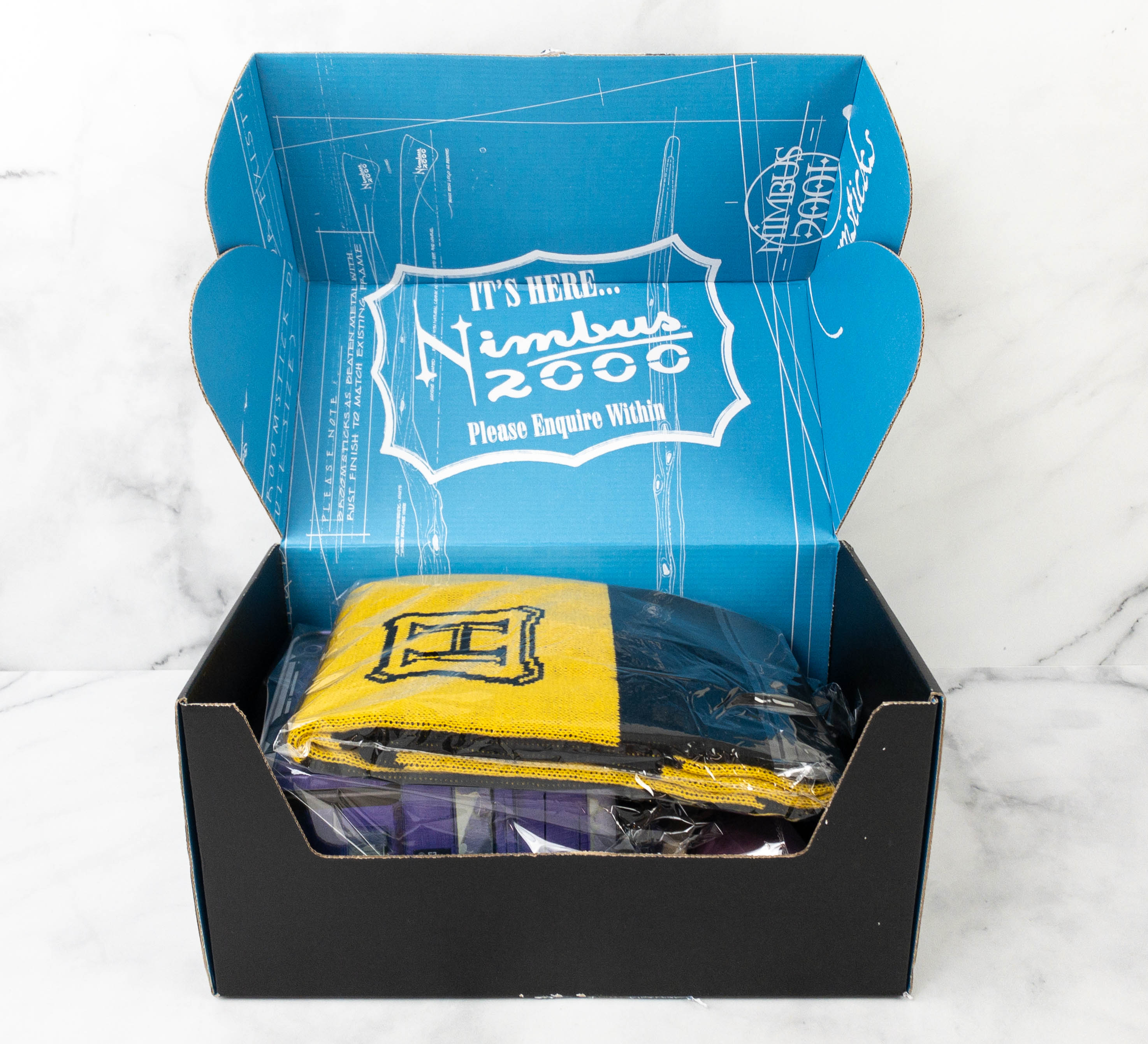 The inner flap of the box features an ad for the new Nimbus 2000!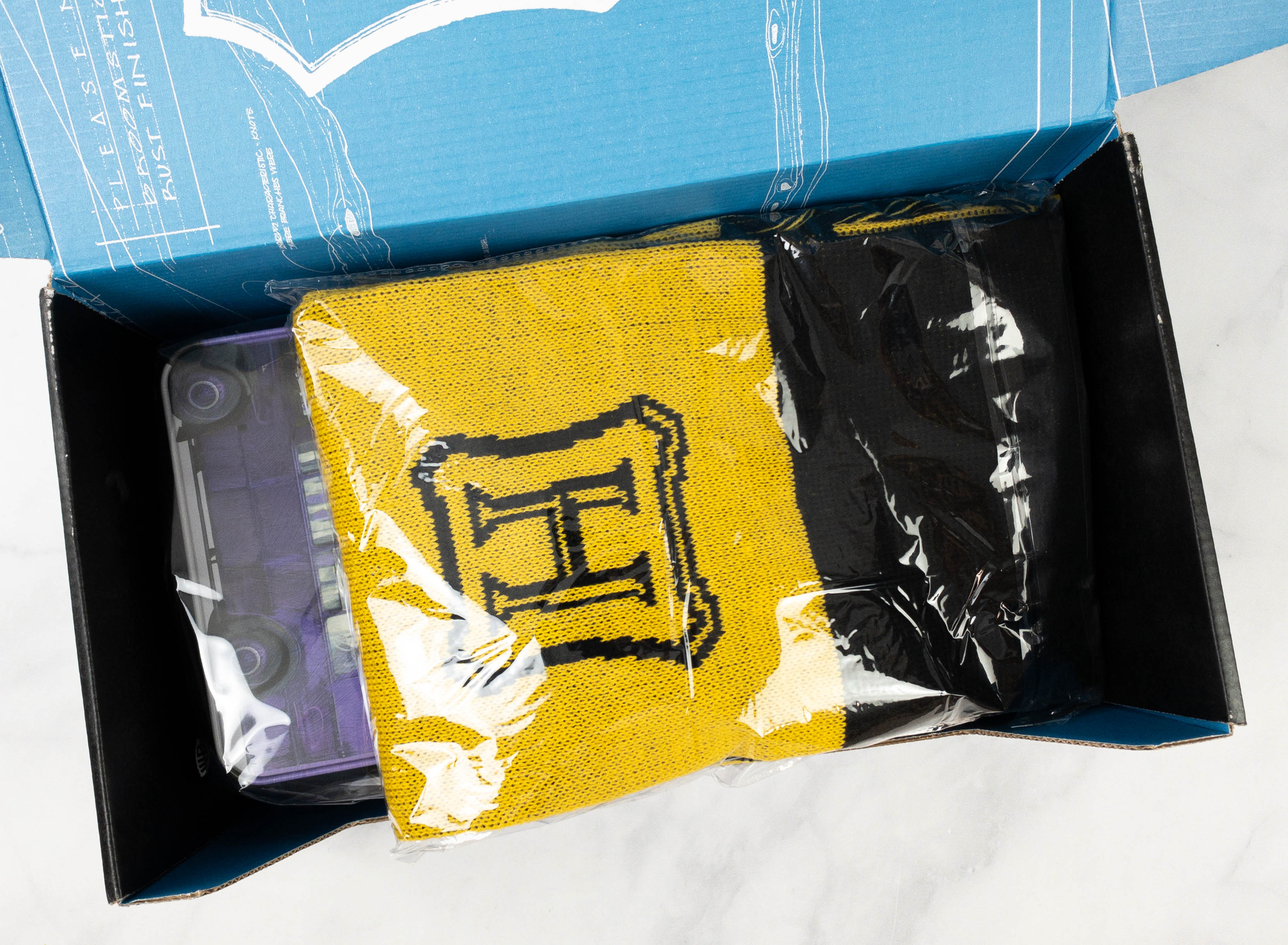 Some of the items were packed in plastic. They all arrived in great condition.
Here's this month's card!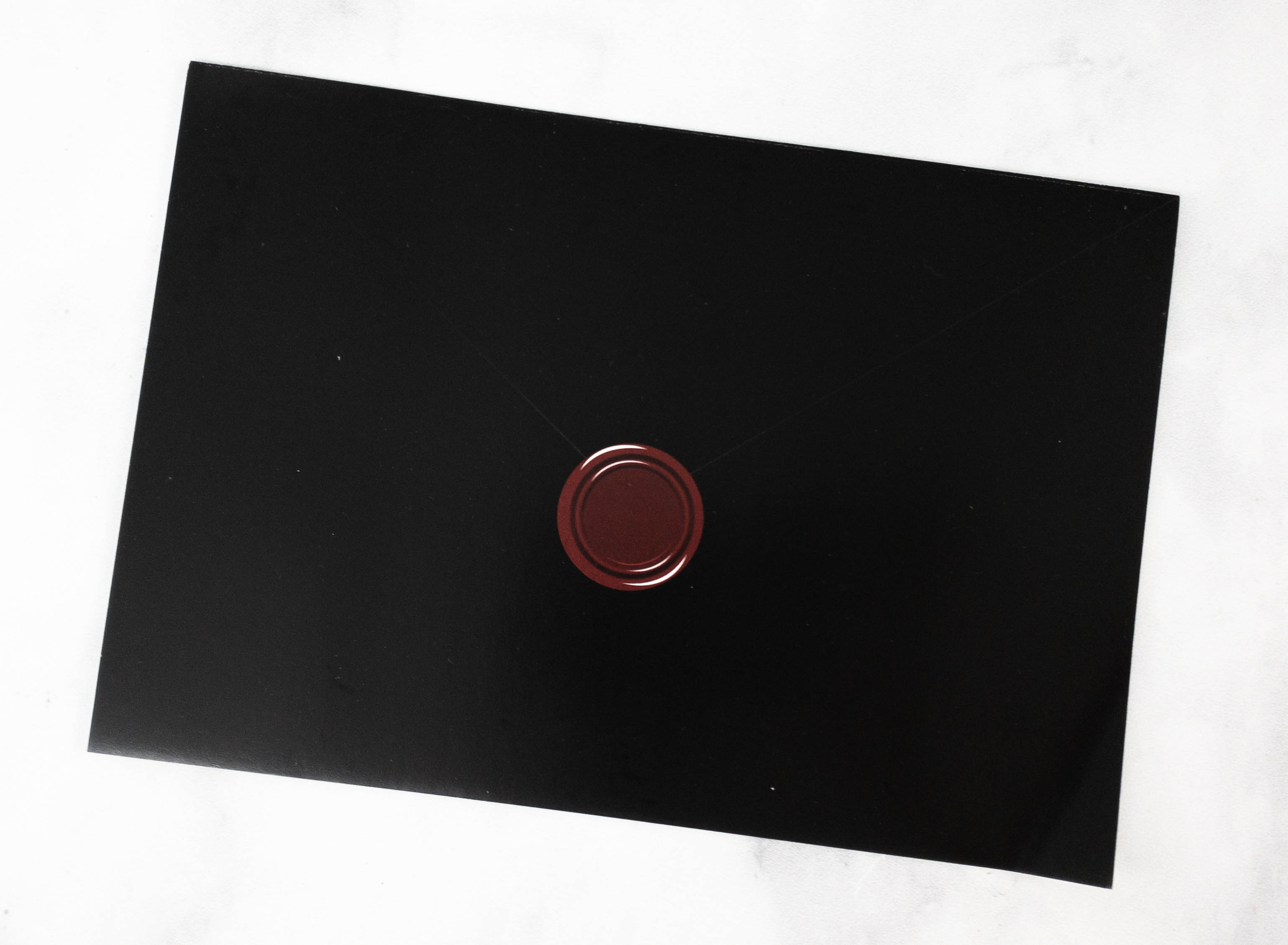 At the back is a faux seal.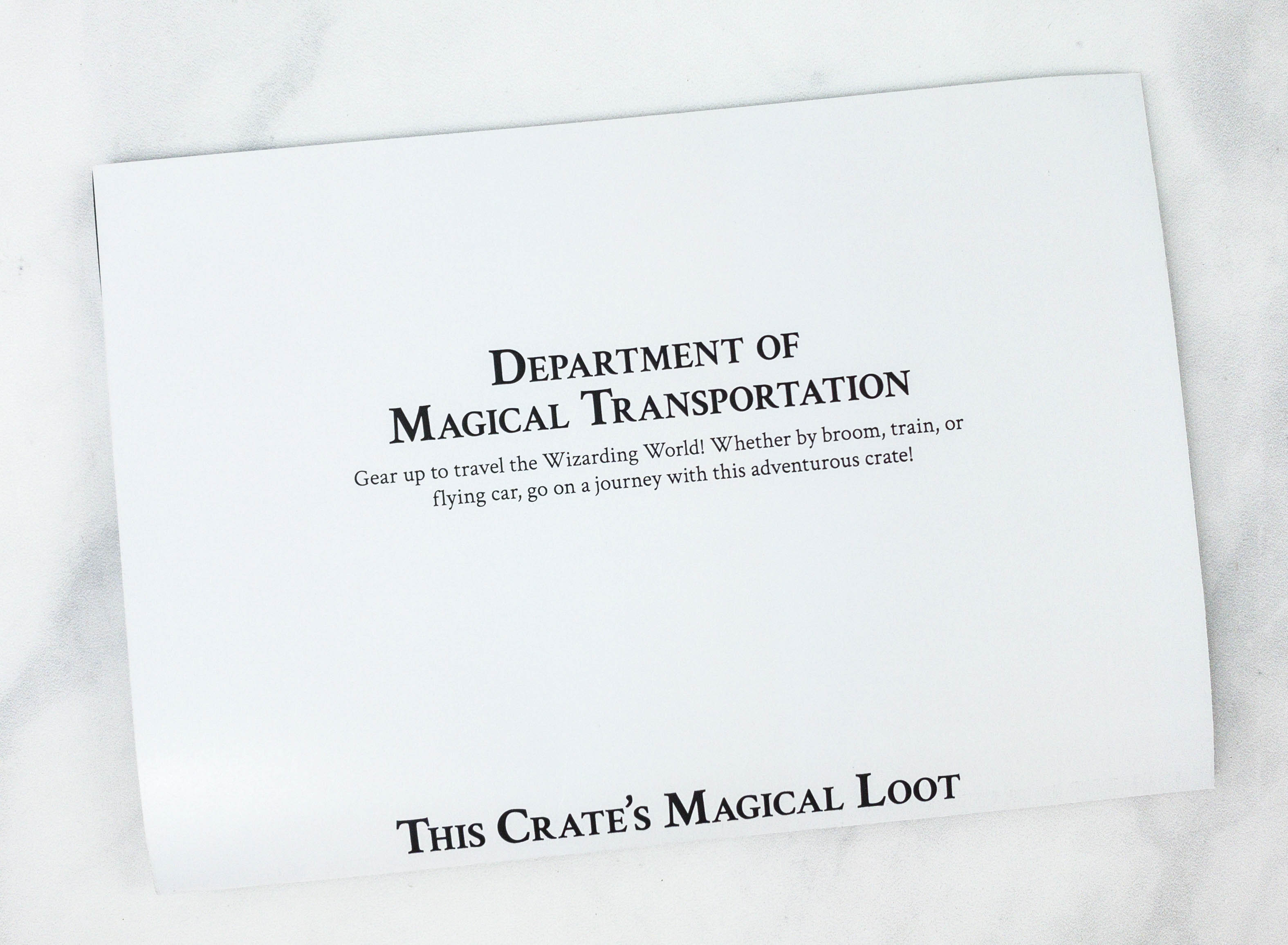 Gear up to travel the Wizarding World! Whether by broom, train, or flying car, go on a journey with this adventurous crate!
The letter tells you how magical this month's items are – the stars denote that the items are exclusive to the box!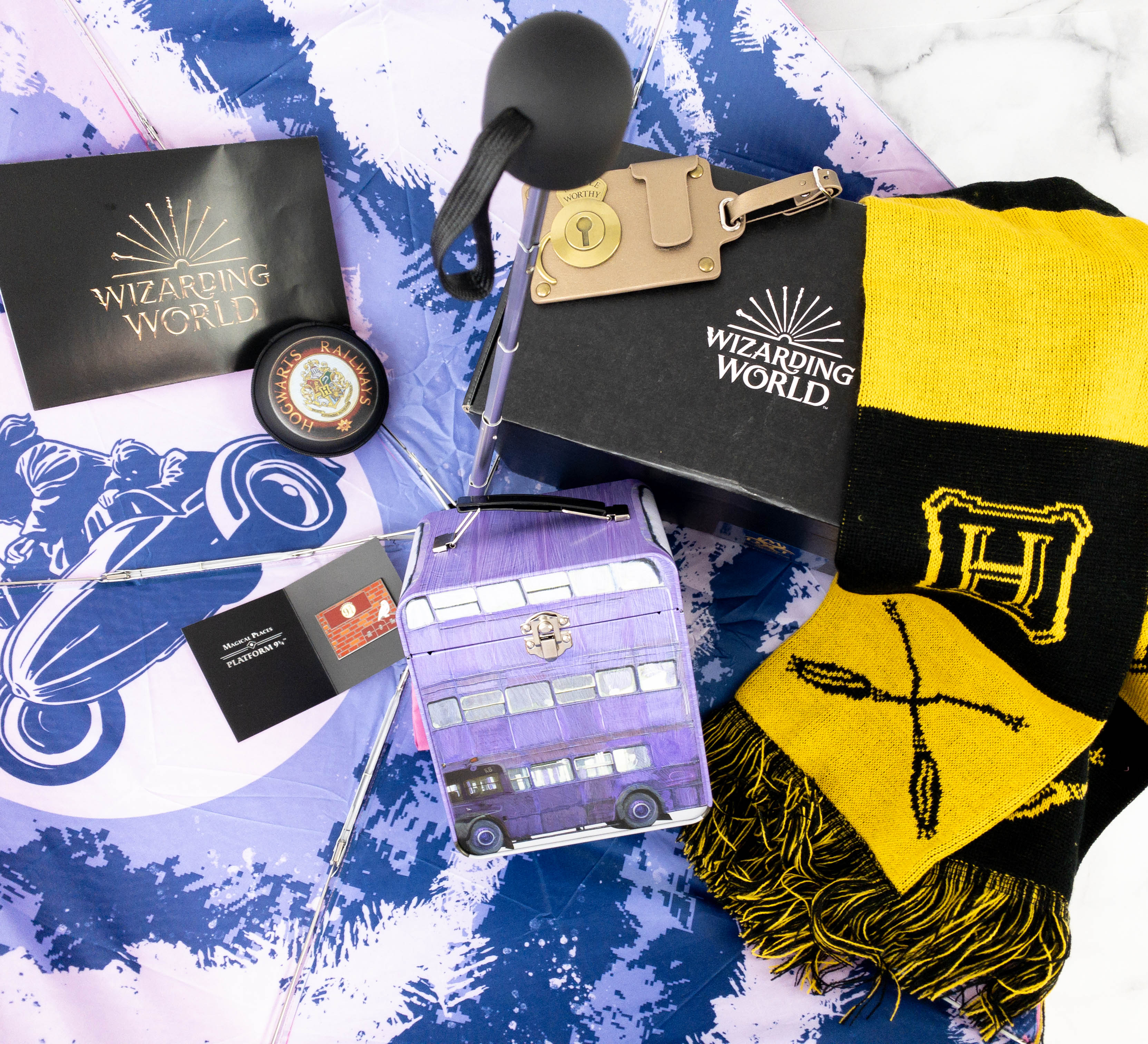 All the magical loot in the Department Of Magical Transportation crate!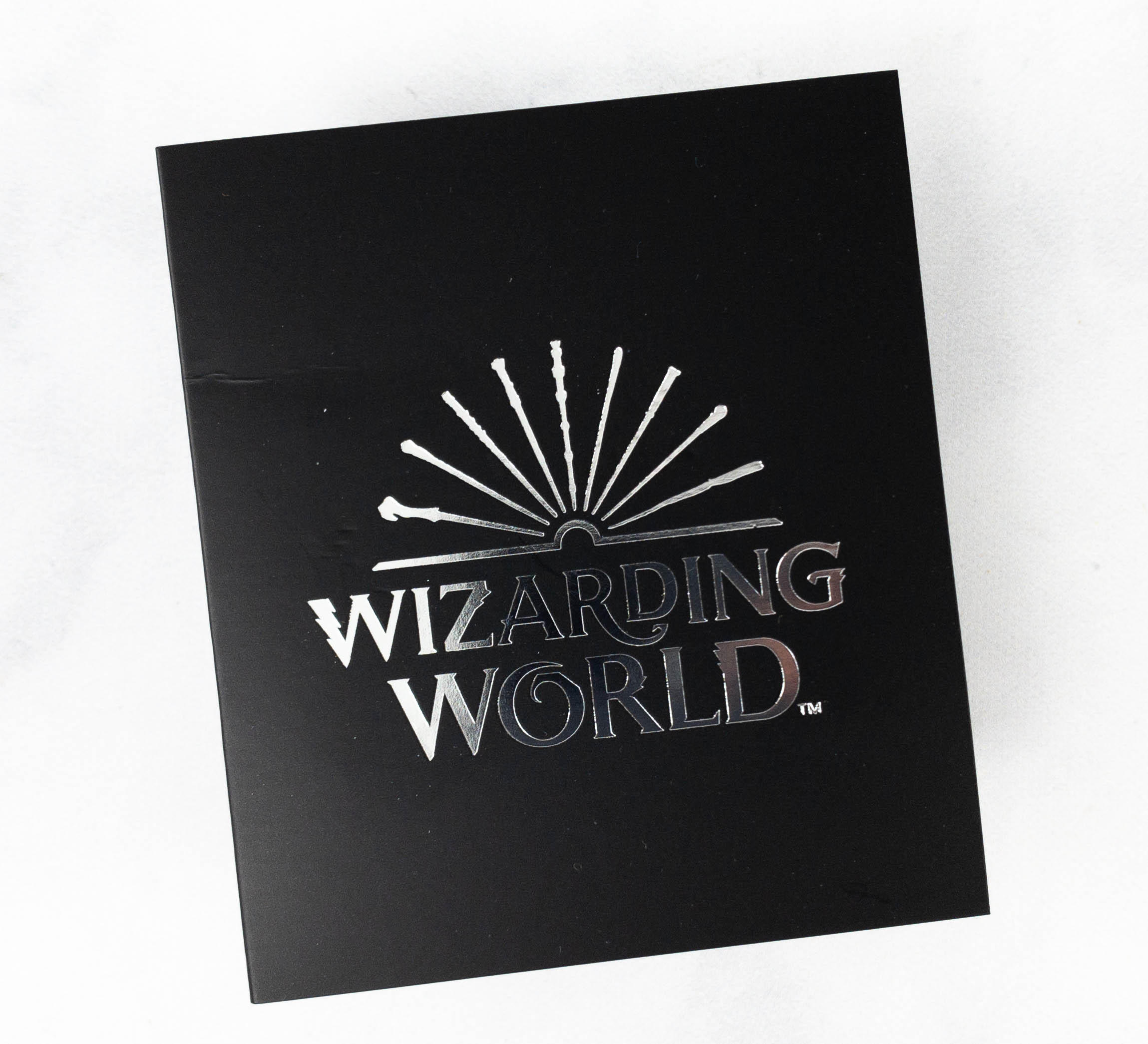 Platform 9 3/4 Pin. This month's featured pin is from The Department of Magical Transportation continuity pin series collection.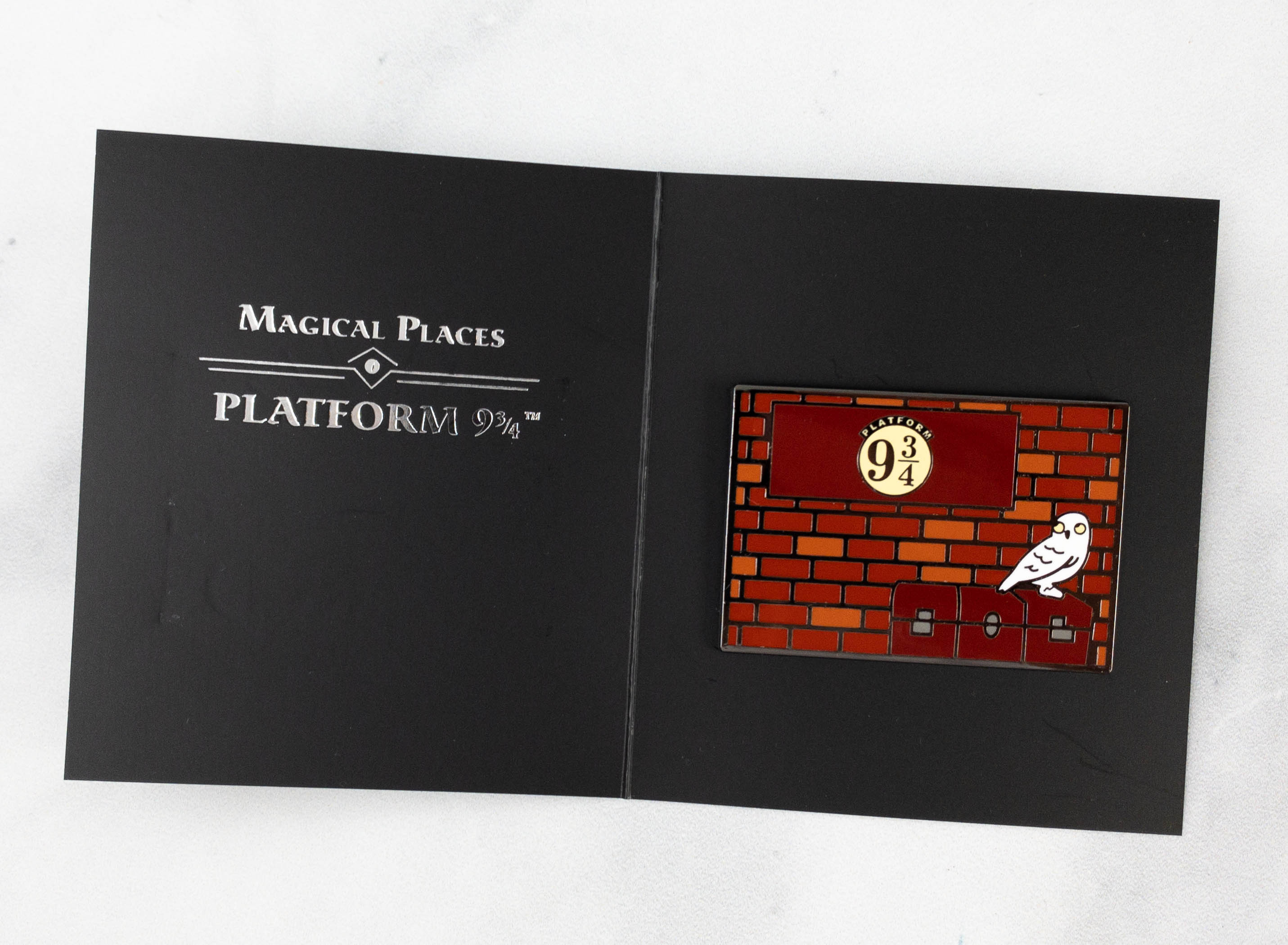 The pin features one of the most iconic places in the Harry Potter series, Platform 9/3!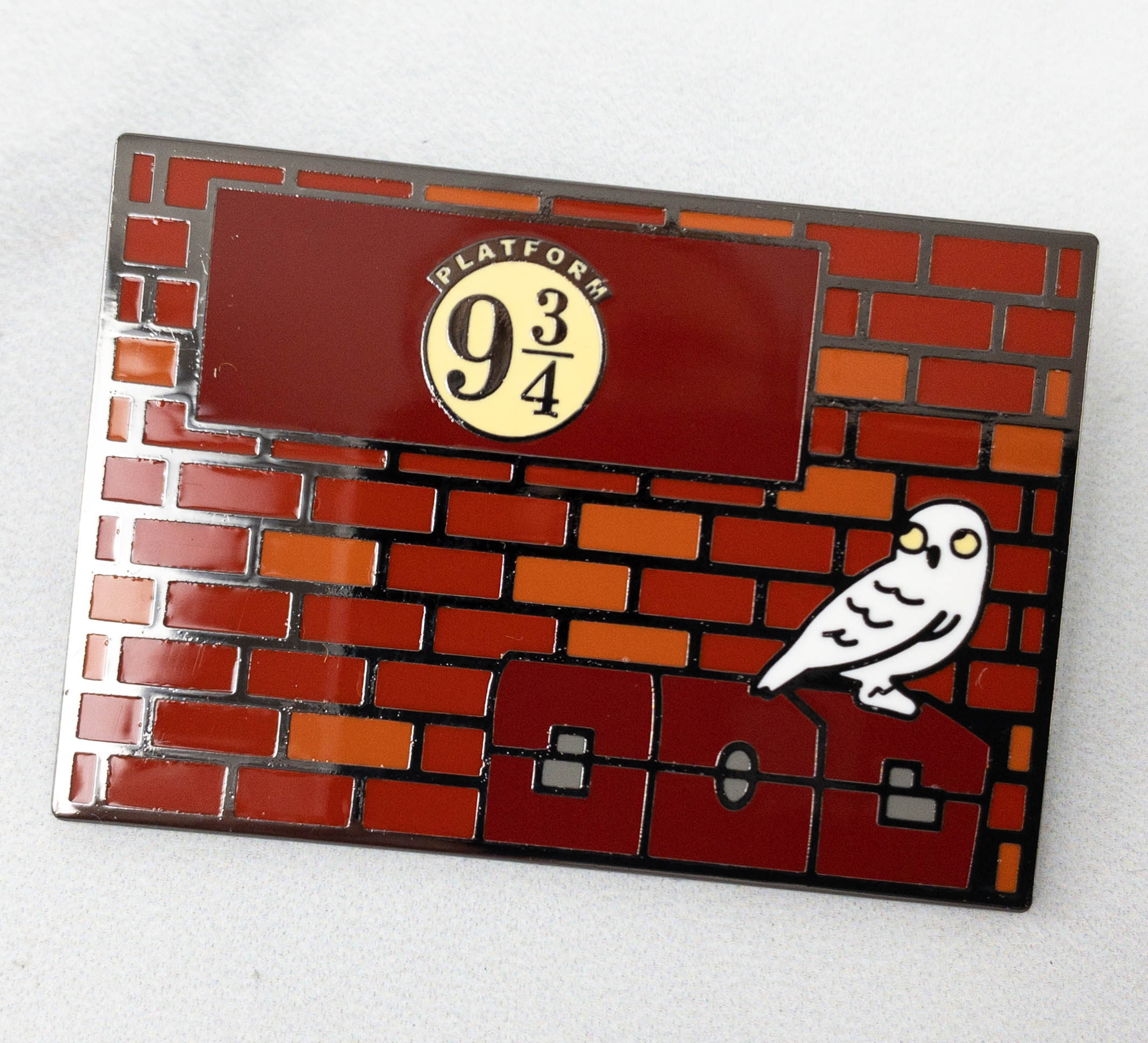 It features the entrance, complete with the brick wall and signage! They even included some traveling luggage and a white owl.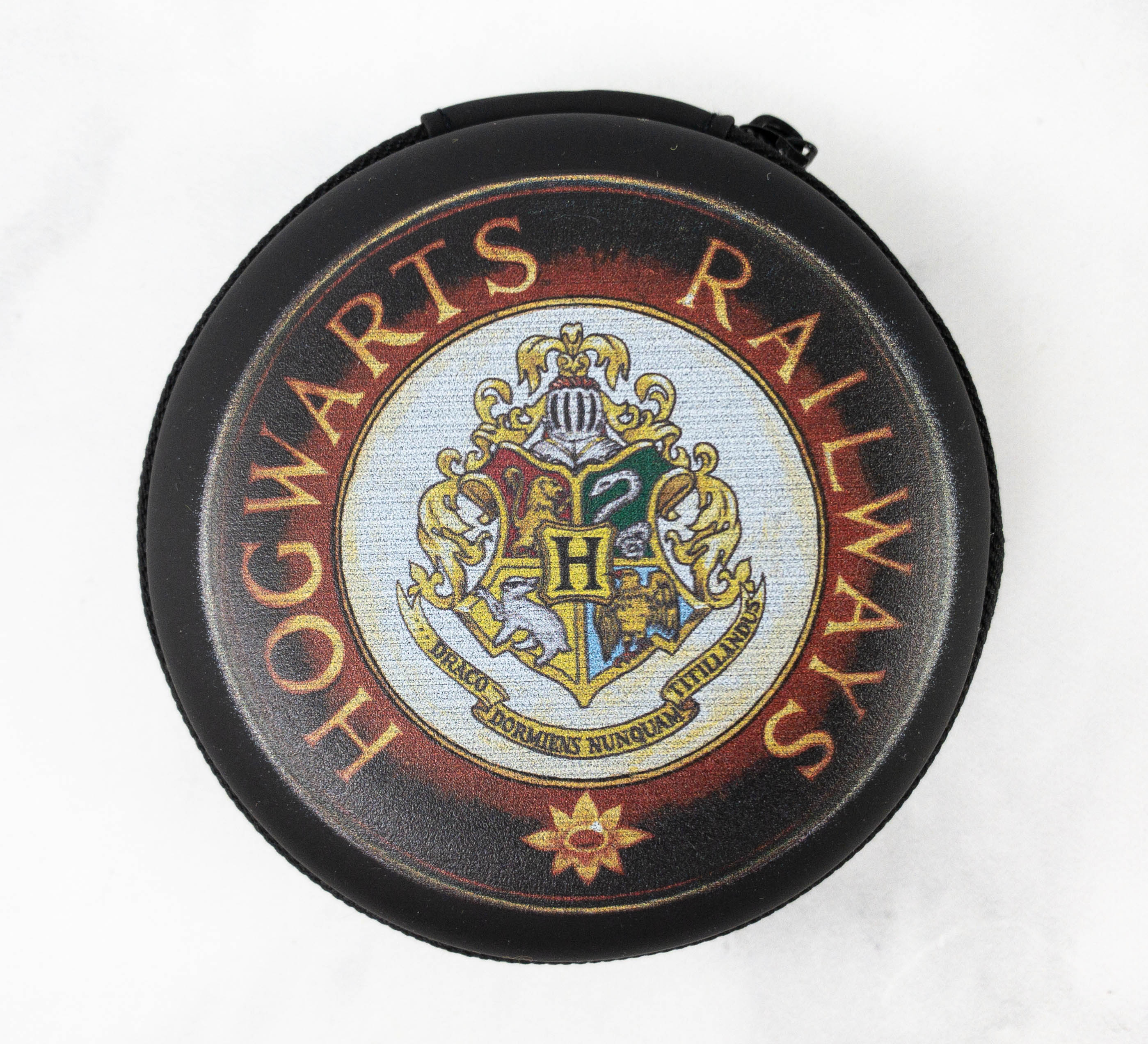 Hogwarts Express Headphone Pouch. This pouch is perfect to bring when traveling, so you can keep your headphones in handy and also to keep them from tangling.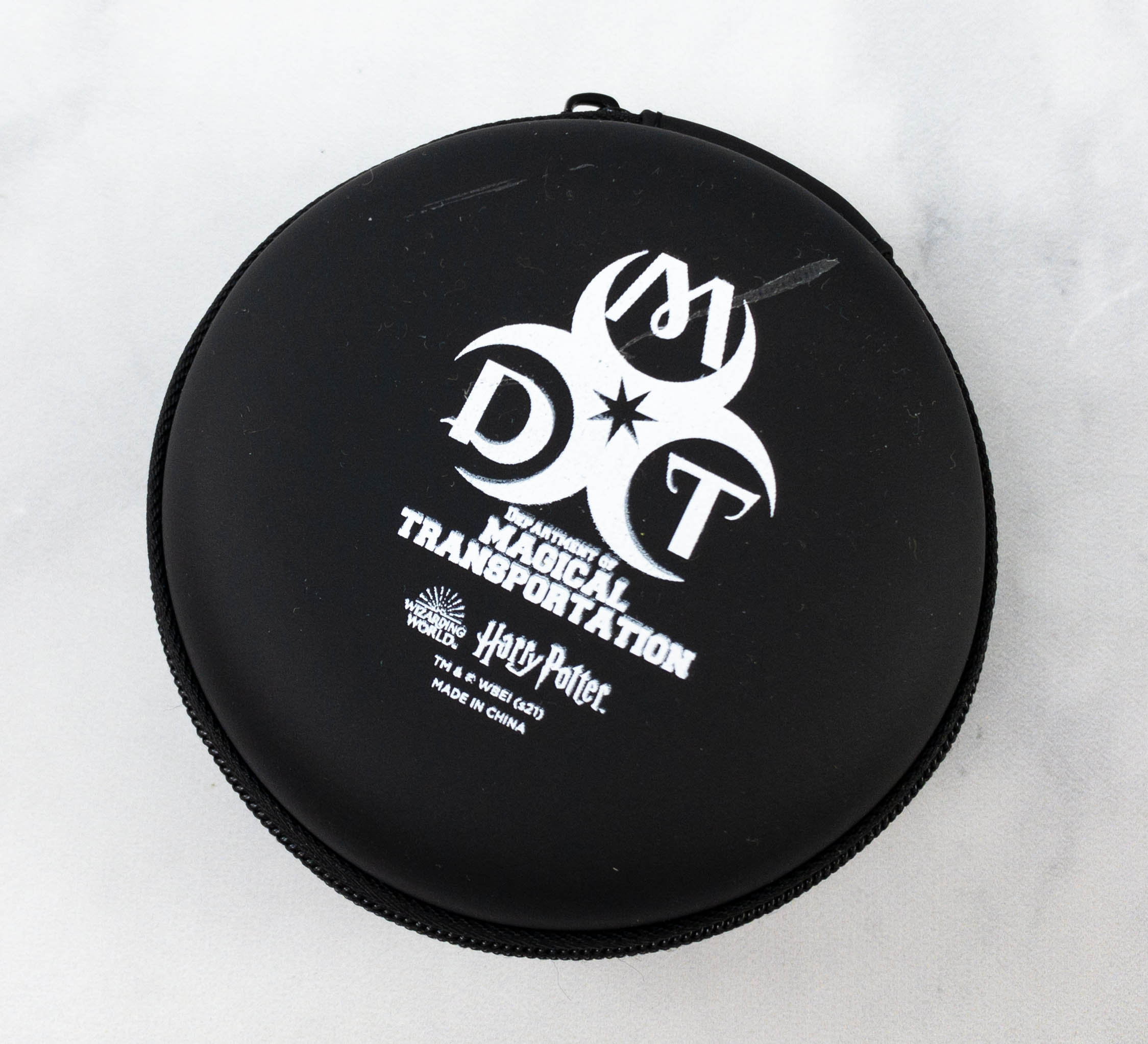 The front part features the Hogwarts Railways Logo along with the school emblem featuring the four houses. At the back is a logo of the DMT.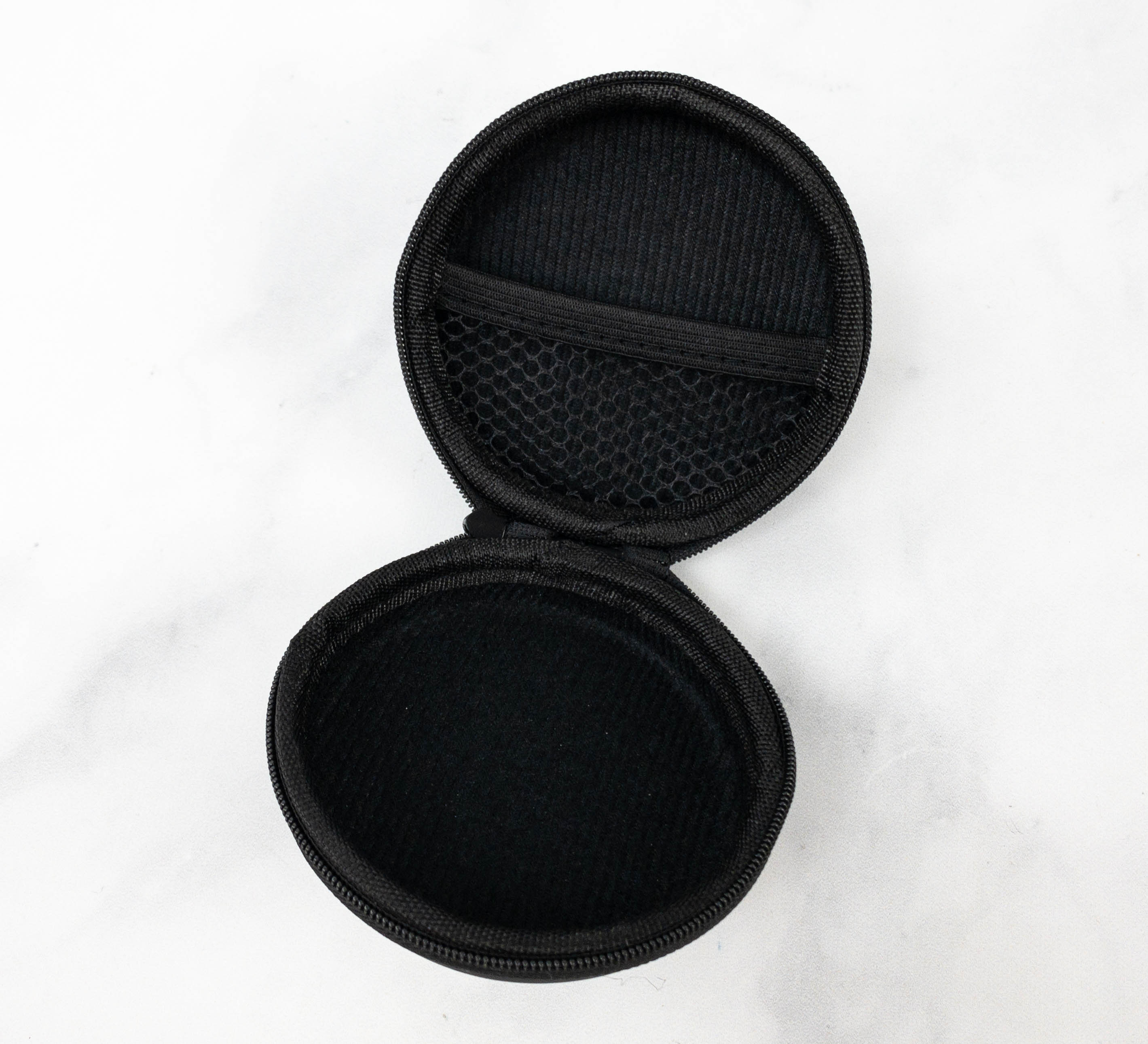 The inside is nice and spacious. There is even a net pocket where you can put other small items.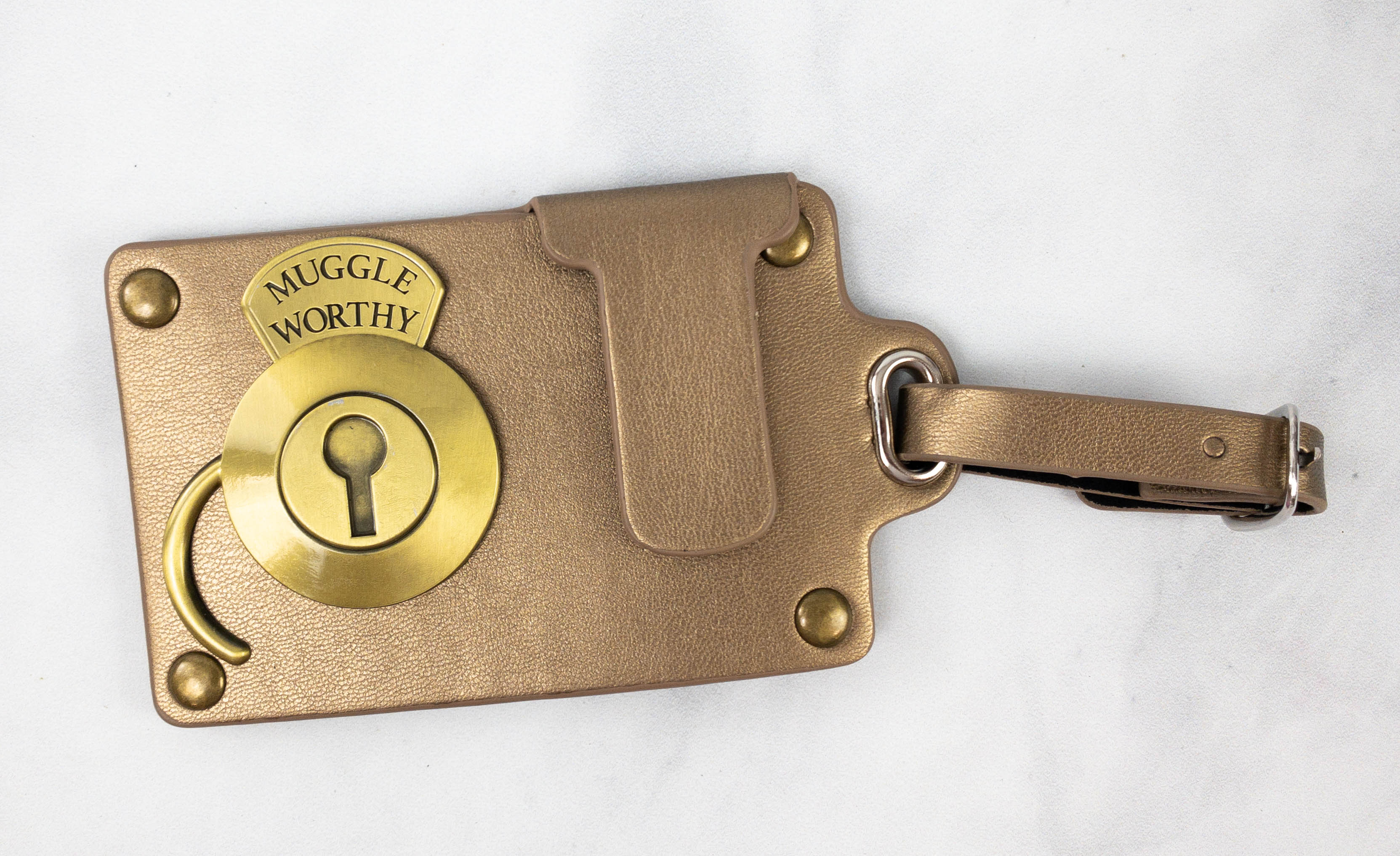 Muggle Worthy Luggage Tag. Still in line with the transportation theme, here's a luggage tag in a lovely gold color. It has a lock design in front that says Muggle Worthy.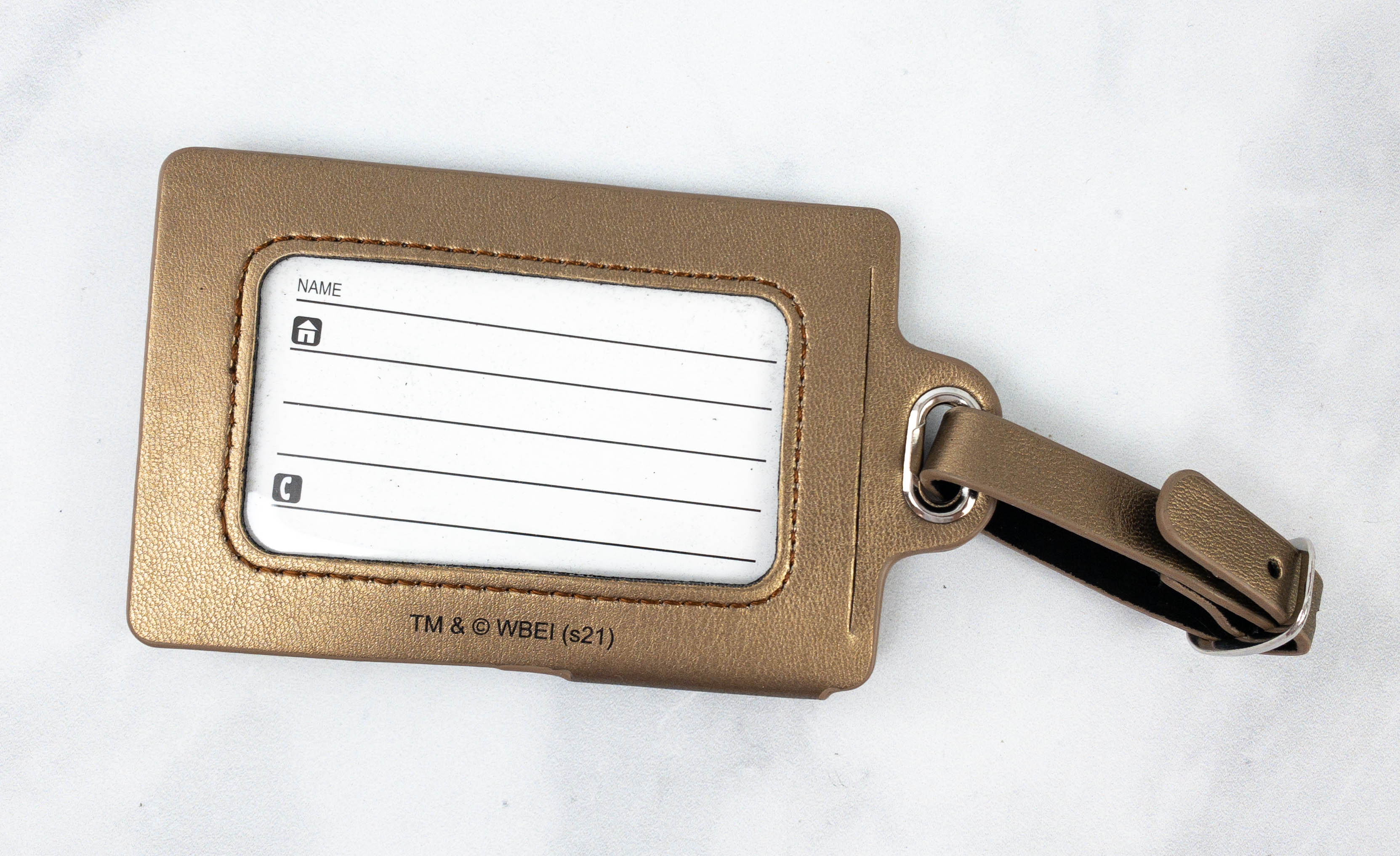 At the back, there is a space where you can write personal information, so in case your luggage gets lost, it can be easily returned to you.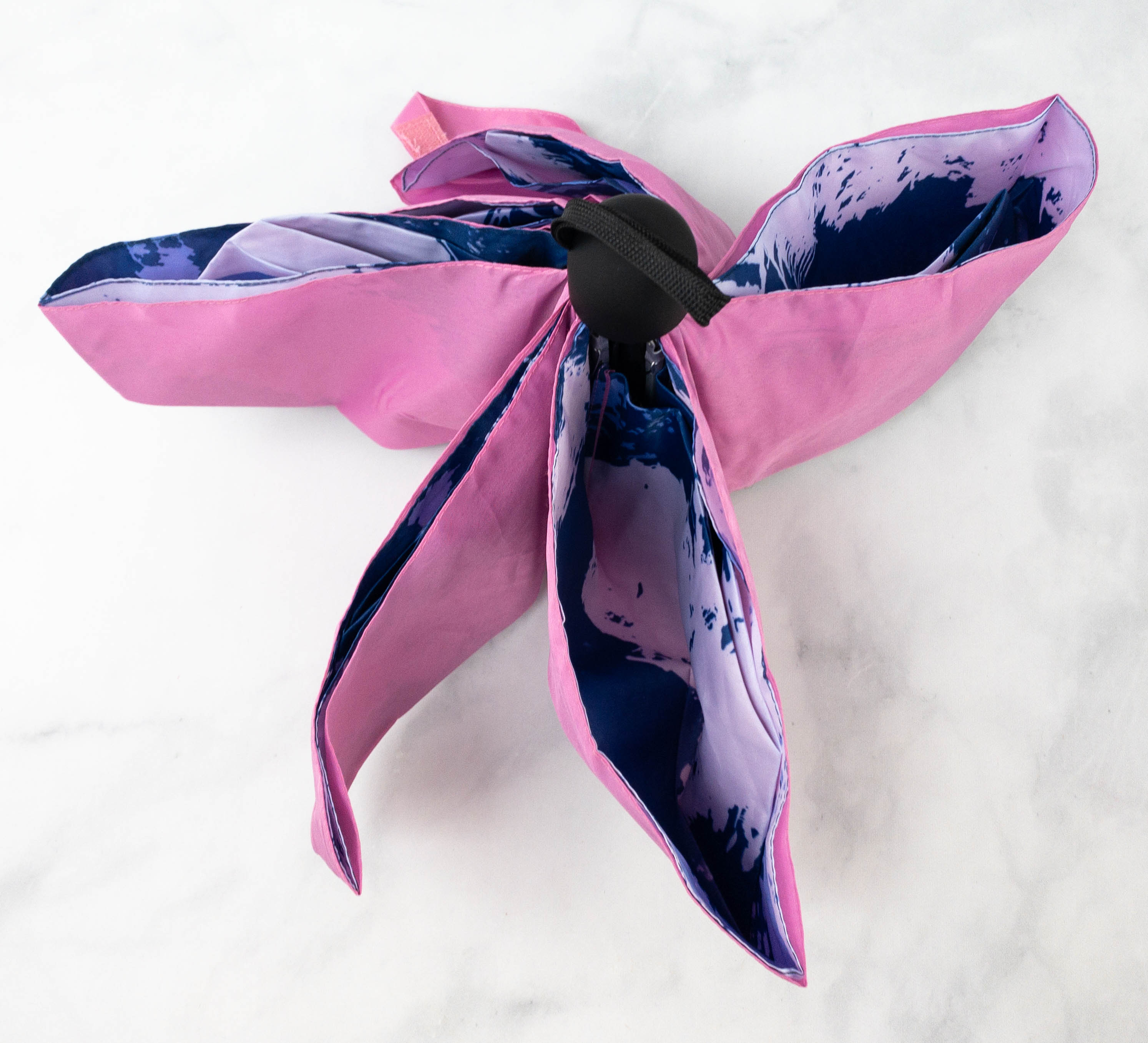 Hagrid Motorbike Umbrella. I love this umbrella! Aside from its compact size that will be easy to bring anywhere, the design is also pretty.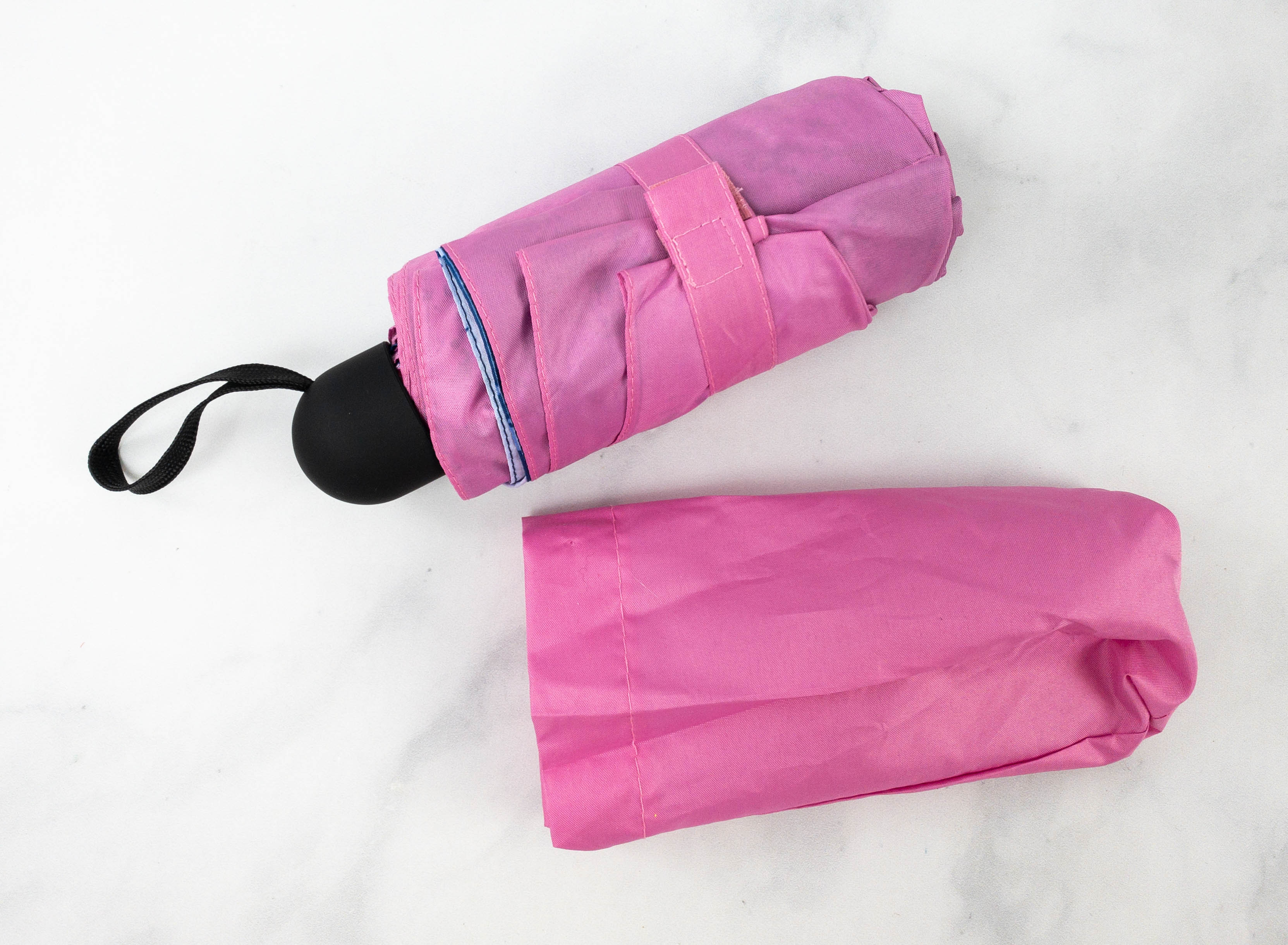 It came with a pouch in a pretty pink color.
The outside may be plain but the inside of this umbrella is where the magic is! It features Hagrid riding his motorcycle with Harry! This is a scene from where they were transporting Harry to safety and the others even drank some Polyjuice Potion to hopefully distract the Death Eaters from knowing where the real Harry is!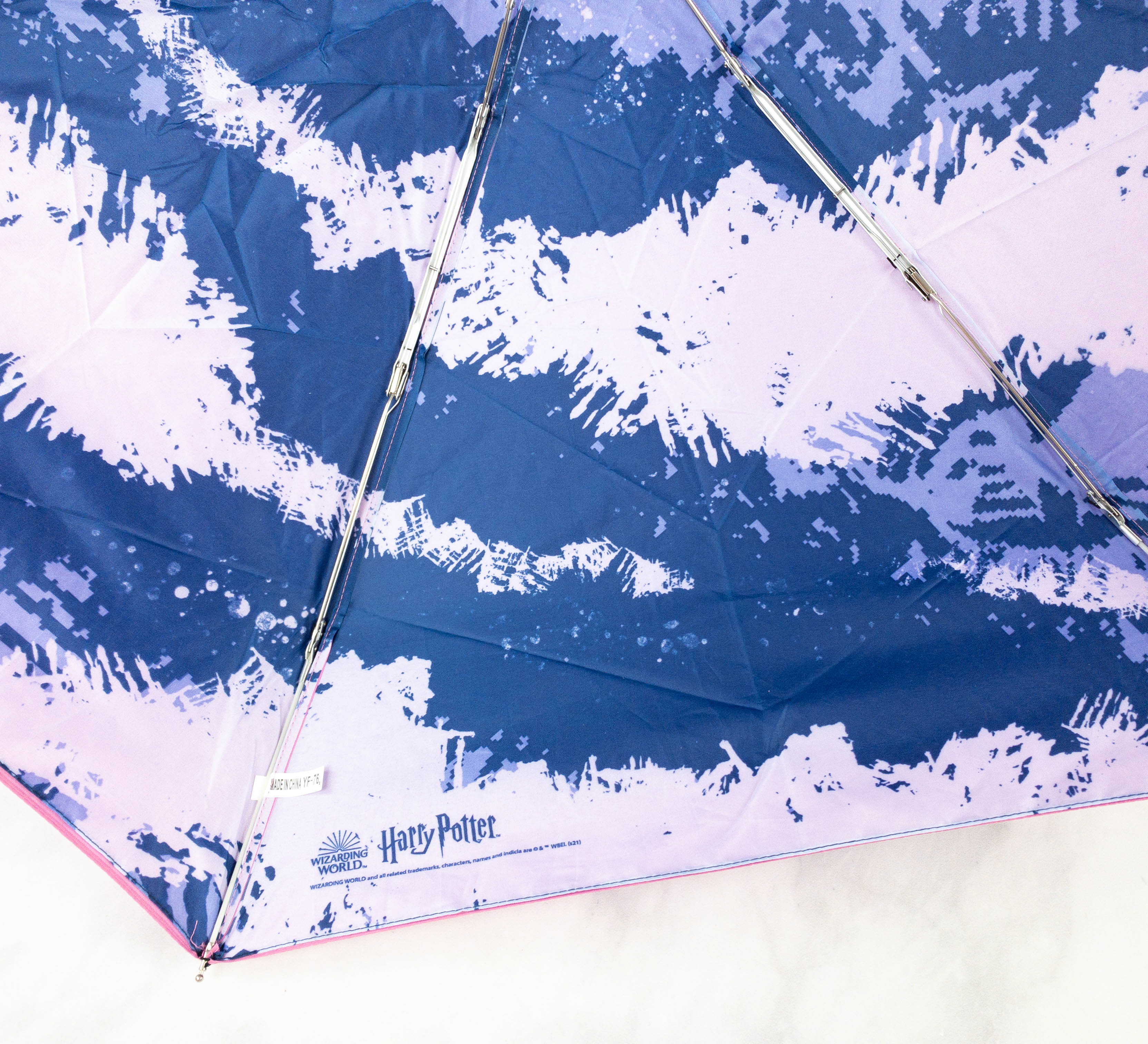 You can also find the Wizarding World of Harry Potter logo on one side.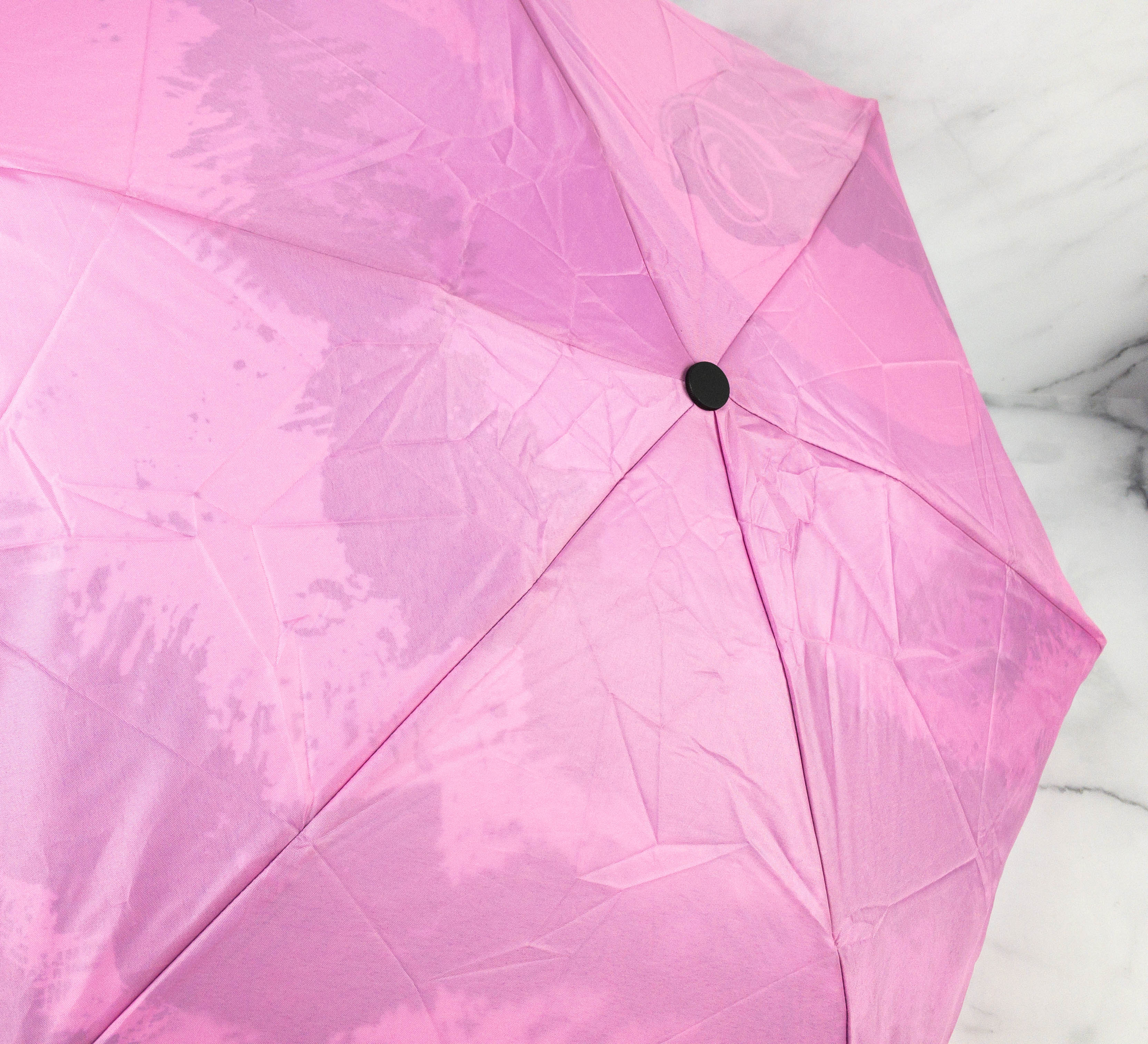 The outside of the umbrella is in plain pink!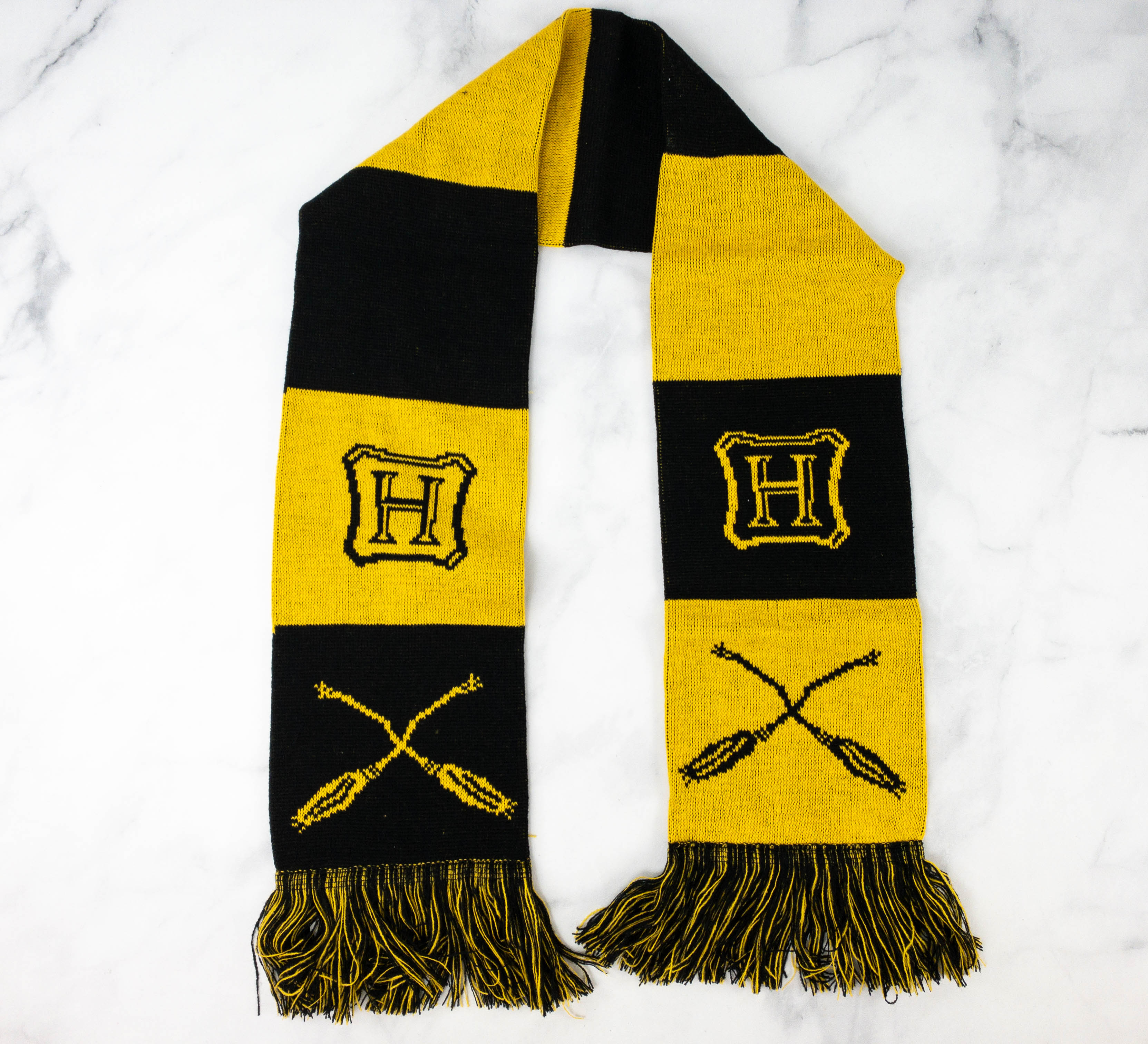 Nimbus Hogwarts House Scarf. To help keep me warm wherever I go, they sent this cute knitted scarf. It's in black and yellow, which represents Gryffindor!
There is also an illustration of the Nimbus 2000! This broomstick was a gift of Professor McGonagall to Harry because she saw his potential as Gryffindor's new seeker. Harry saw this broom back in the first movie when he was shopping with Hagrid for his things at Diagon Alley.
Knight Bus Lunch Tin. Lastly, I received this tin lunch box and it is the perfect illustration for the Knight Bus!
This bus appeared in The Prisoner of Azkaban movie (and book) as it transported Harry to The Leaky Cauldron.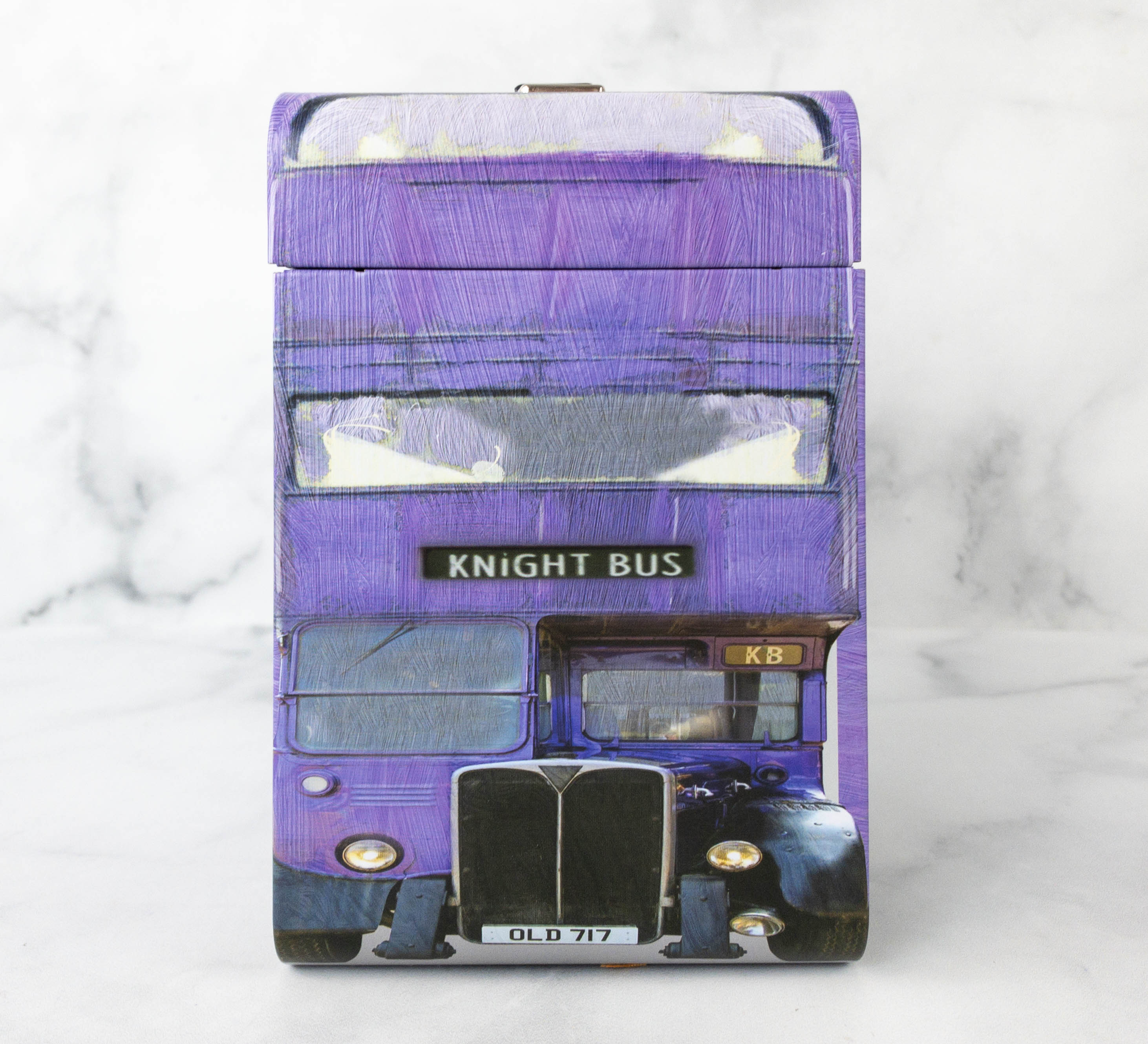 The Knight Bus is a common transport for witches and wizard that even The Leaky Cauldron sells tickets as part of their service. This bus can travel just about anywhere, except underwater!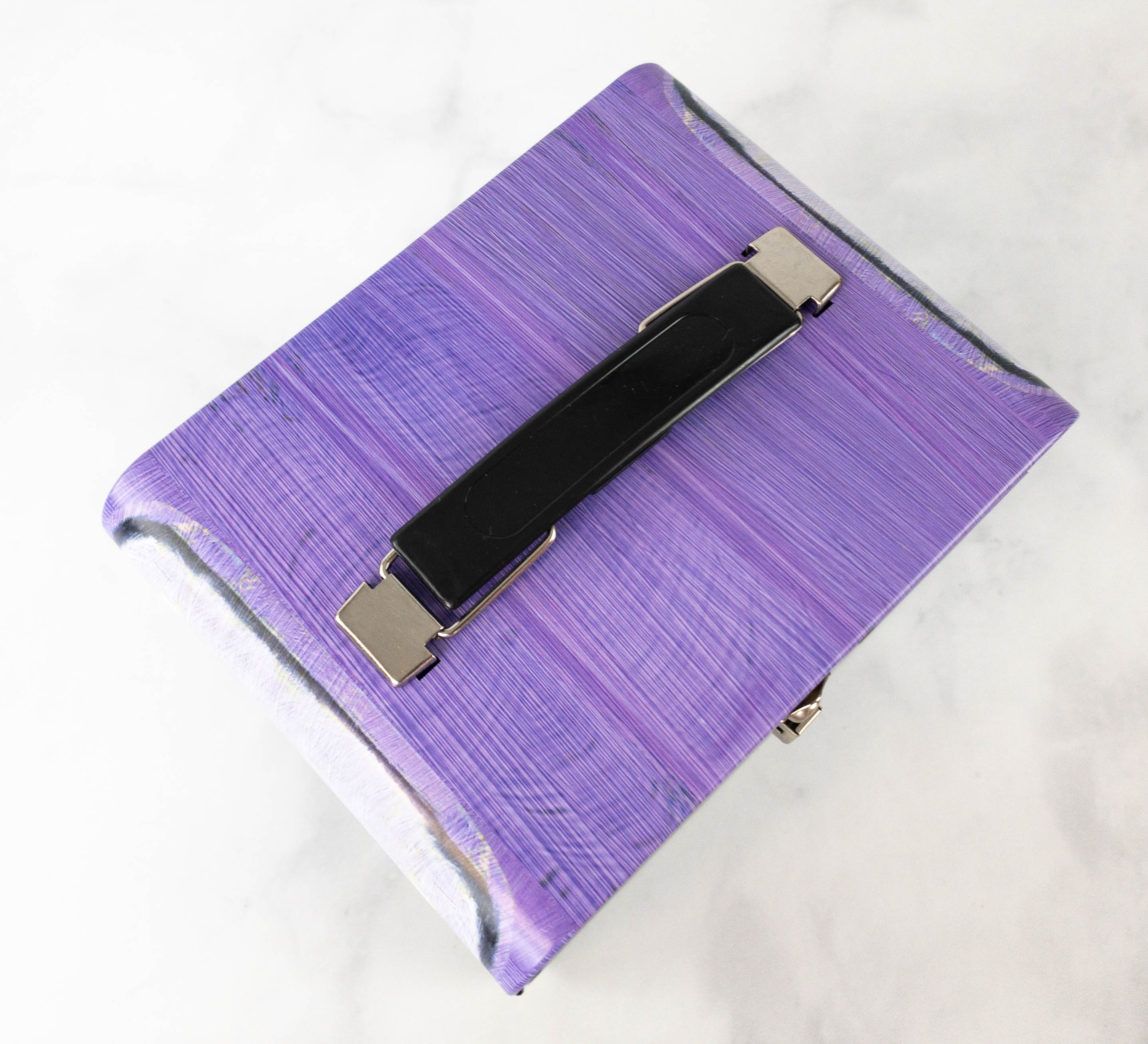 The lunch box tin has this handle at the top so you can carry it with ease.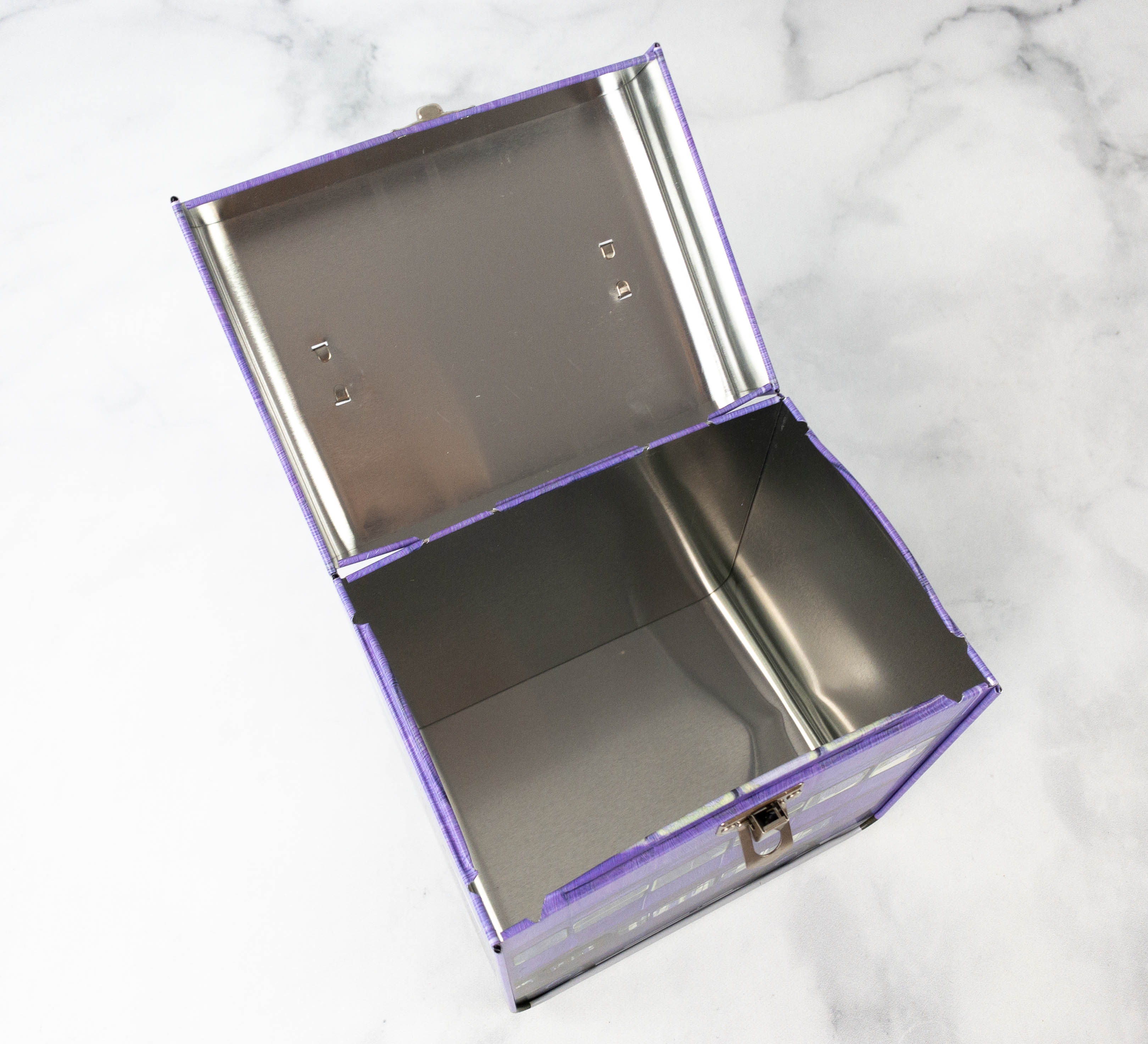 The inside is quite spacious so you can fit your lunch as well as some snacks inside!
JK Rowling's Wizarding World is a great way to collect Harry Potter merchandise! This month's Department of Transportation theme is on point, and my favorite is the umbrella because of its unique design. The inner part of the umbrella features the print instead of the outer part, and it also features Hagrid which is one of my favorite characters because of how much he loved and cared for Harry! The Knight Bus tin lunch box is also really cool. It's spacious enough to fit a sandwich and other snacks, and it can be used not just for school but for a mini picnic as well.
What do you think of this month's Wizarding World box?
Visit J.K. Rowling's Wizarding World to subscribe or find out more!