Japan Crate is a monthly subscription box that helps you "experience the excitement of Japan every month through fun candy & snacks." They have three subscription levels that start at $35.95 a month and offer 1, 3, 6, or 12-month plans that auto-renew at the end of the term. Japan Crate aims to send candy that is fun and exclusively available in Japan.
DEAL: Save $3 on your first regular or premium crate with coupon code HELLO.
This is a review of the Premium box!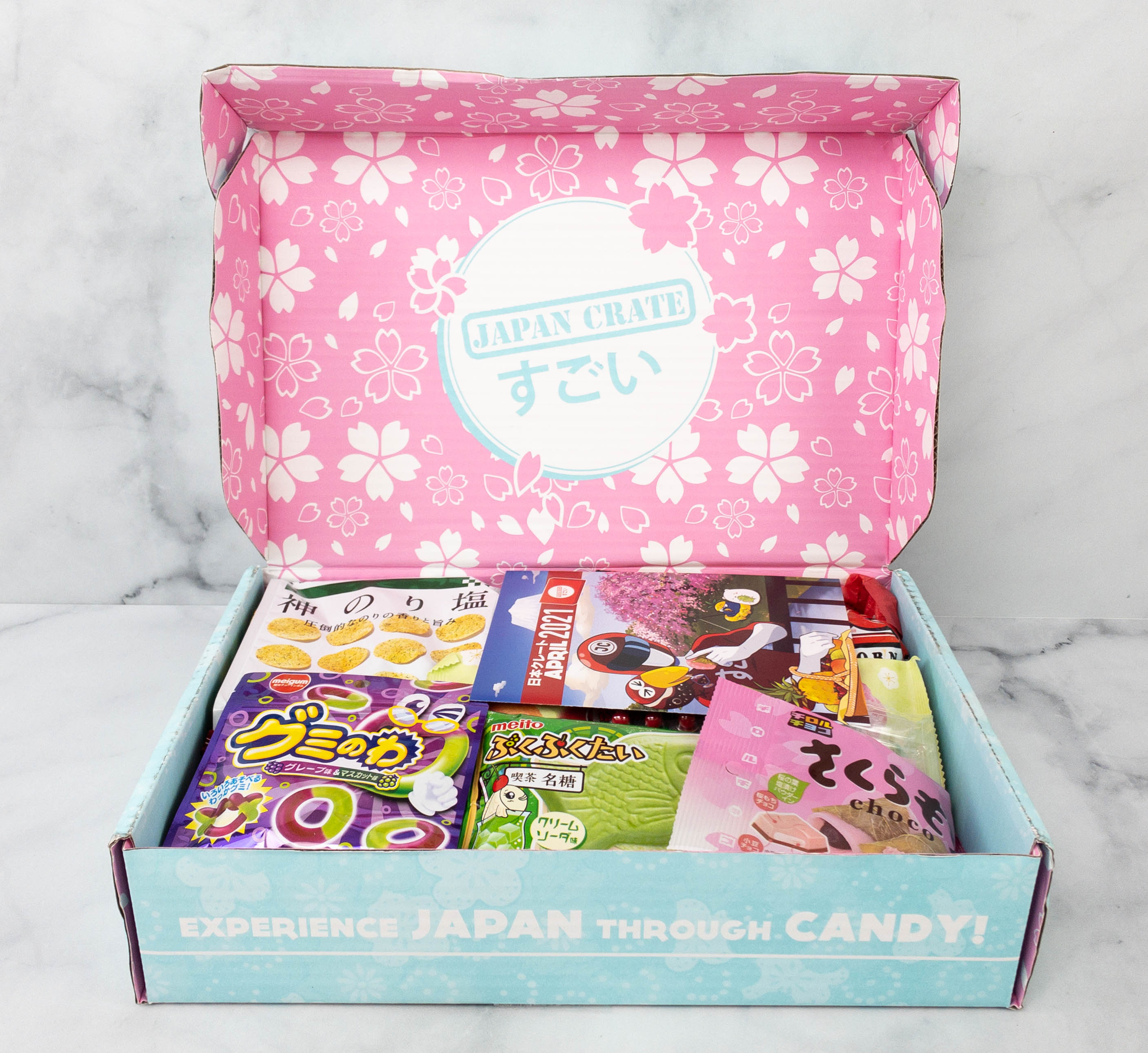 The interior of the box has cute sakura prints!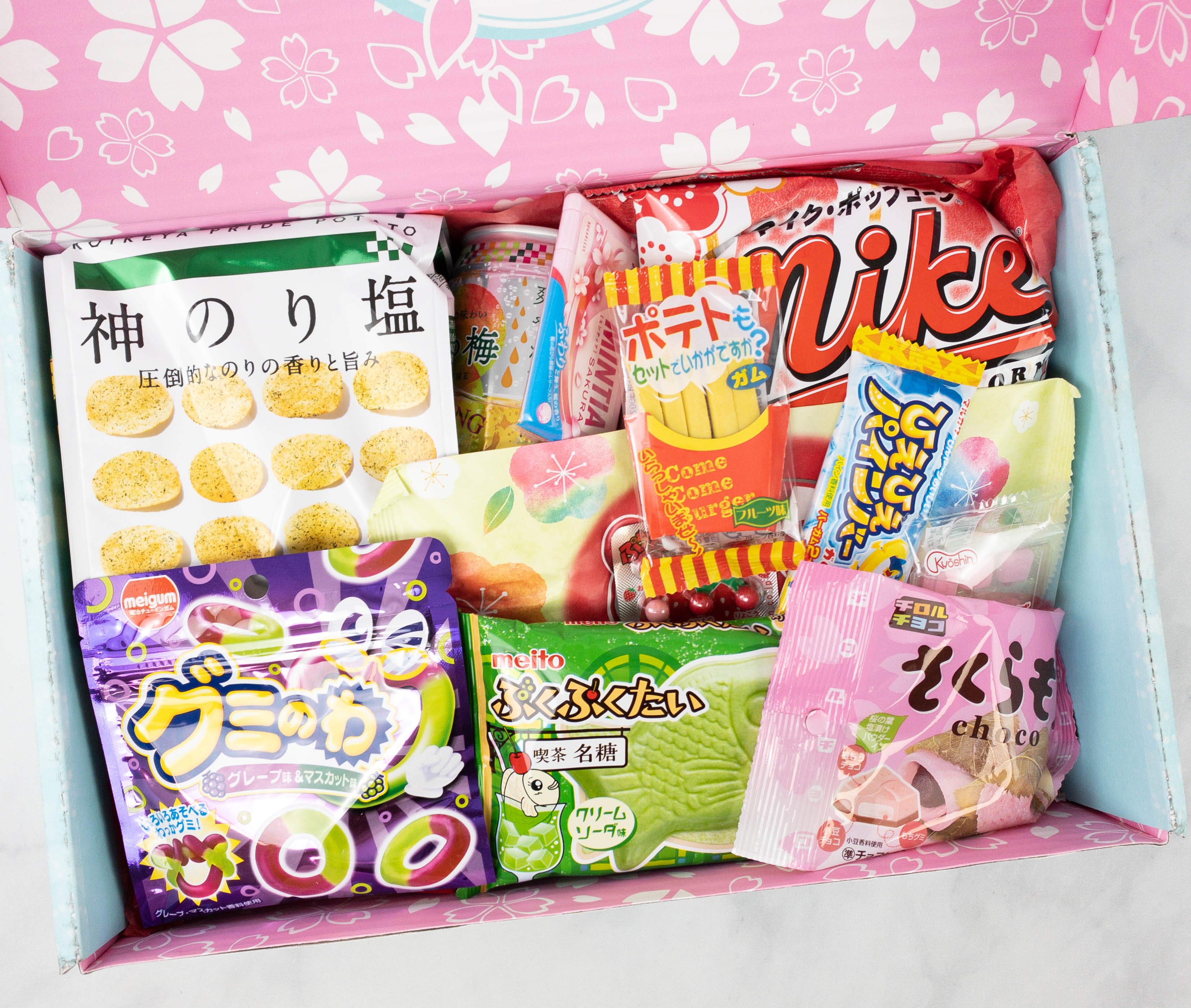 As always, the box is pack with LOTS of snacks!
The box also includes an information booklet!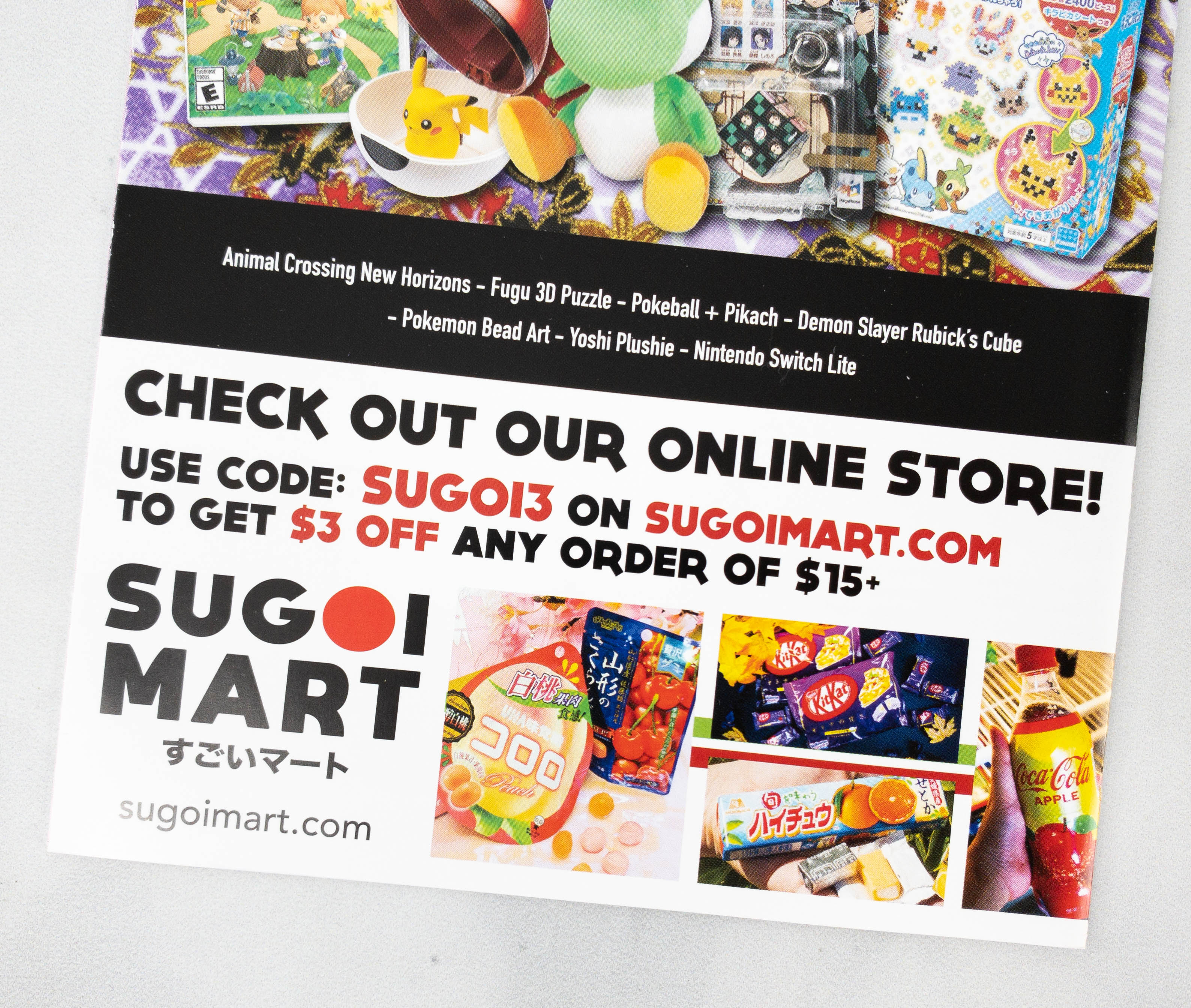 Featured in this part of the booklet is Sugoi Mart. They gave us a $3 off coupon code which we can use on orders $15 and up!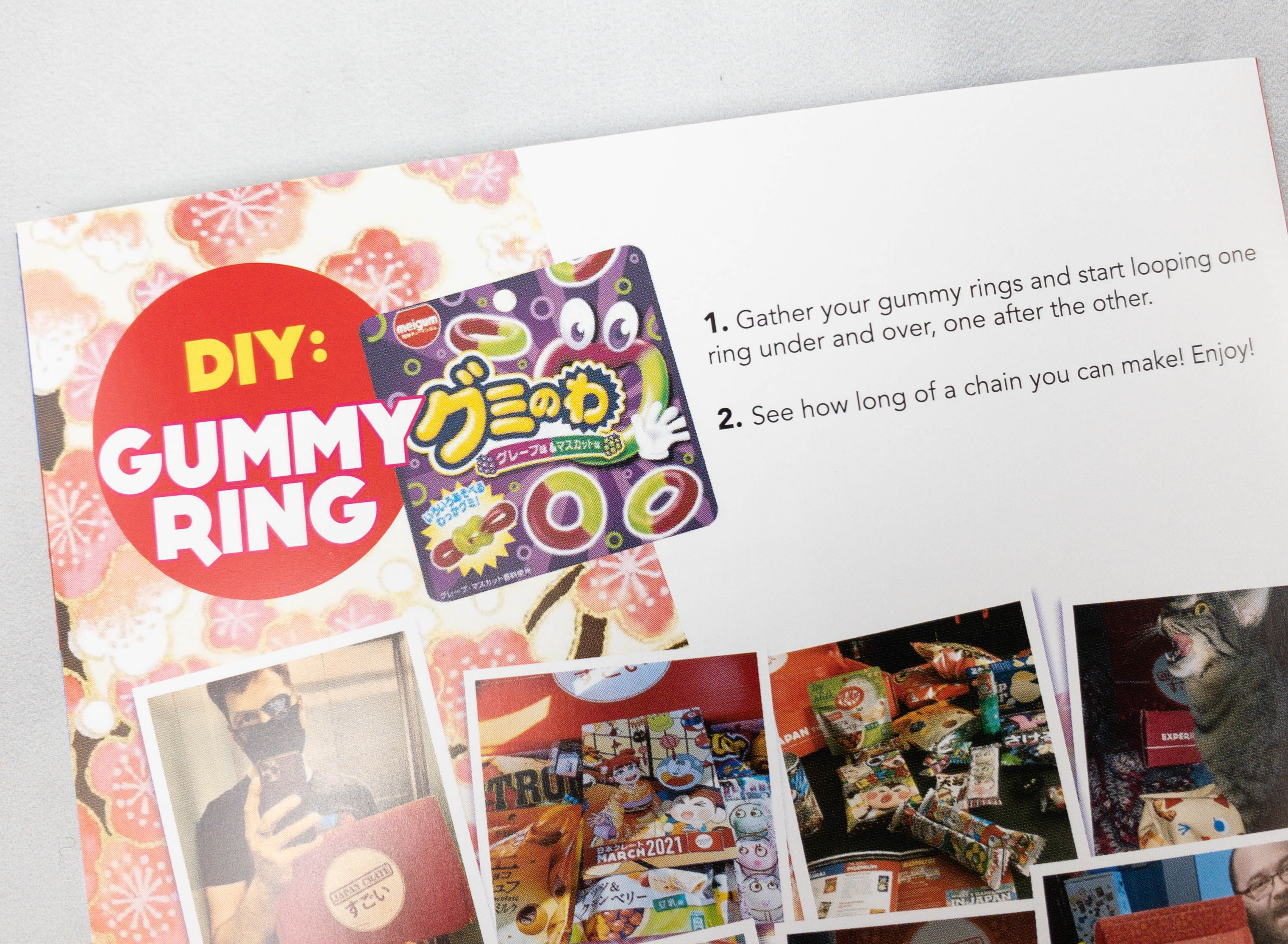 The booklet also features selfies of subscribers with their Japan Crate.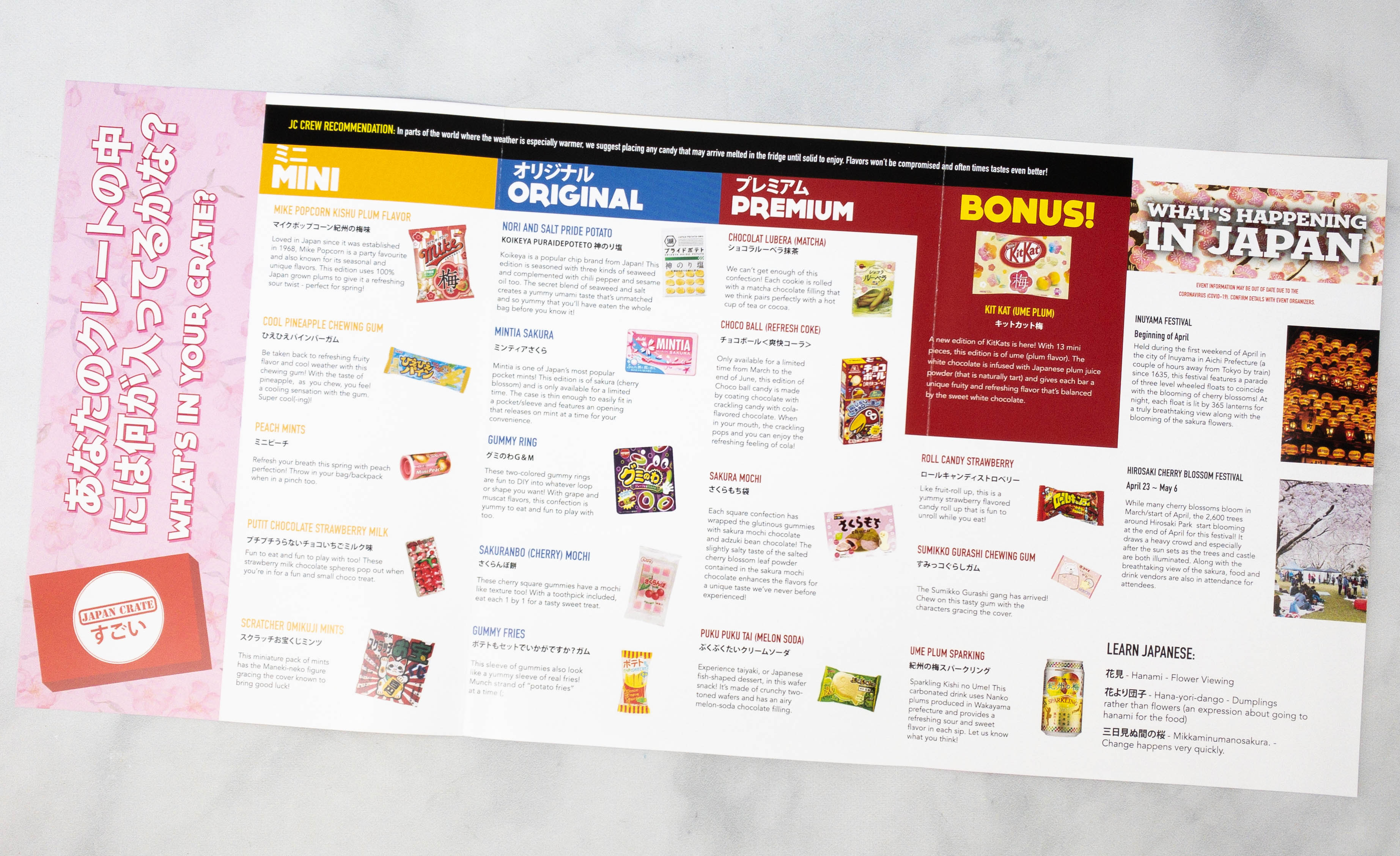 Inside the booklet is a chart of contents that lists all the snacks from three different box sizes. There are 3 different subscription levels available: The Mini includes 5 items, the Original includes those items PLUS another 5 items, and the Premium includes those 10 items PLUS another 5 items.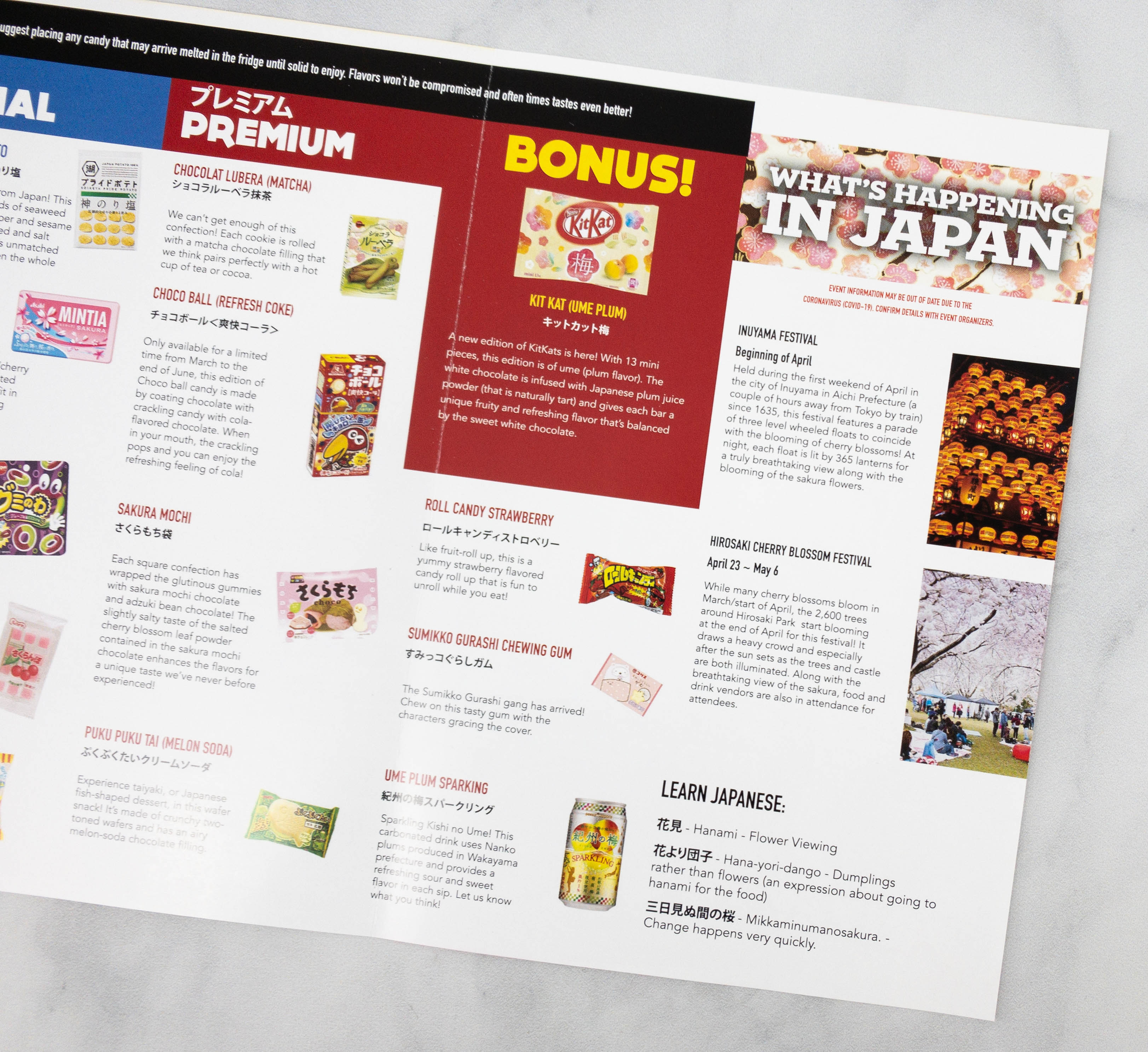 This month, subscribers will get a bonus item, a bag of Lime Plum KitKat. There are also info about festivals held in Japan during March and some Japanese vocabulary words.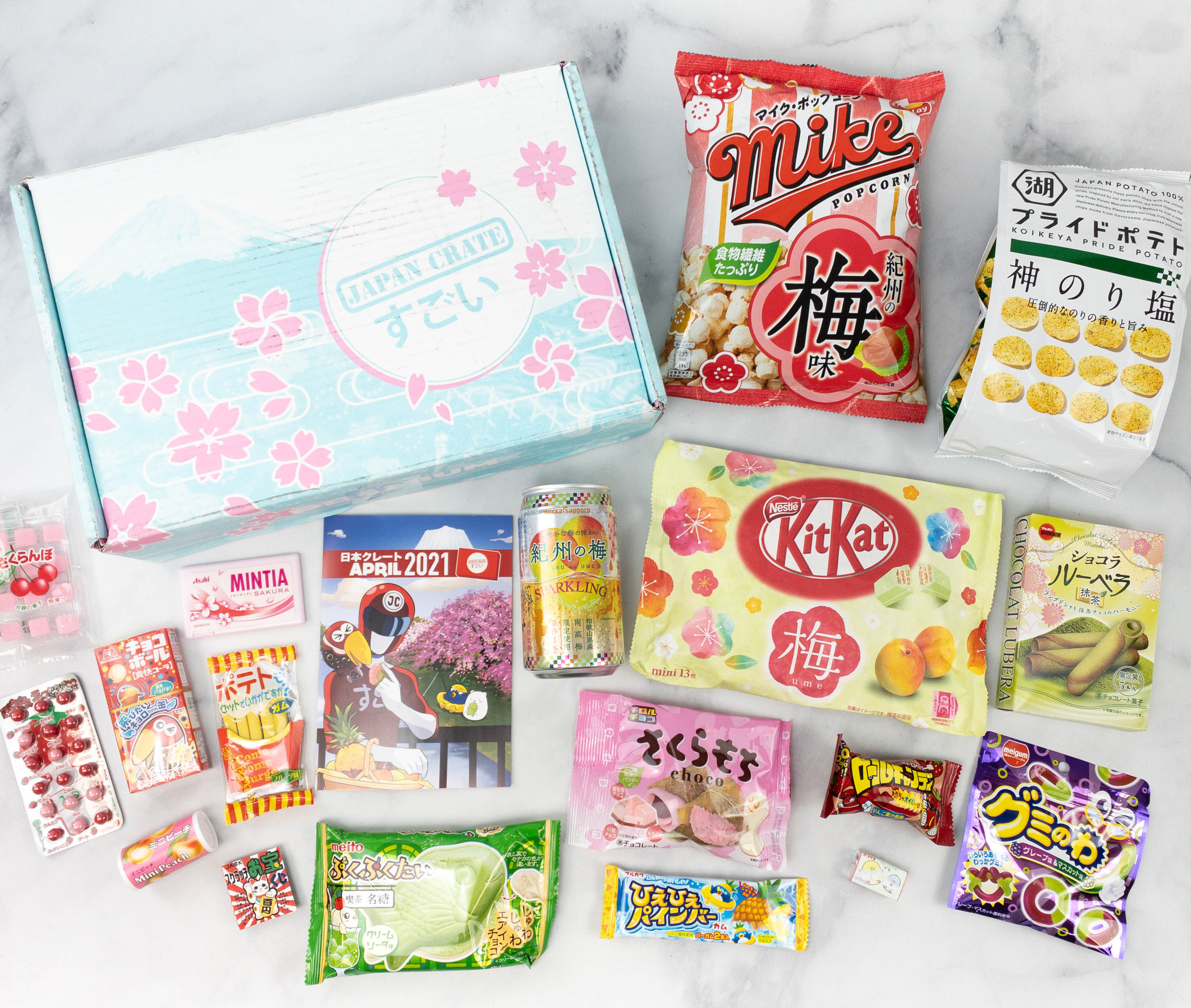 Everything in my April 2021 box!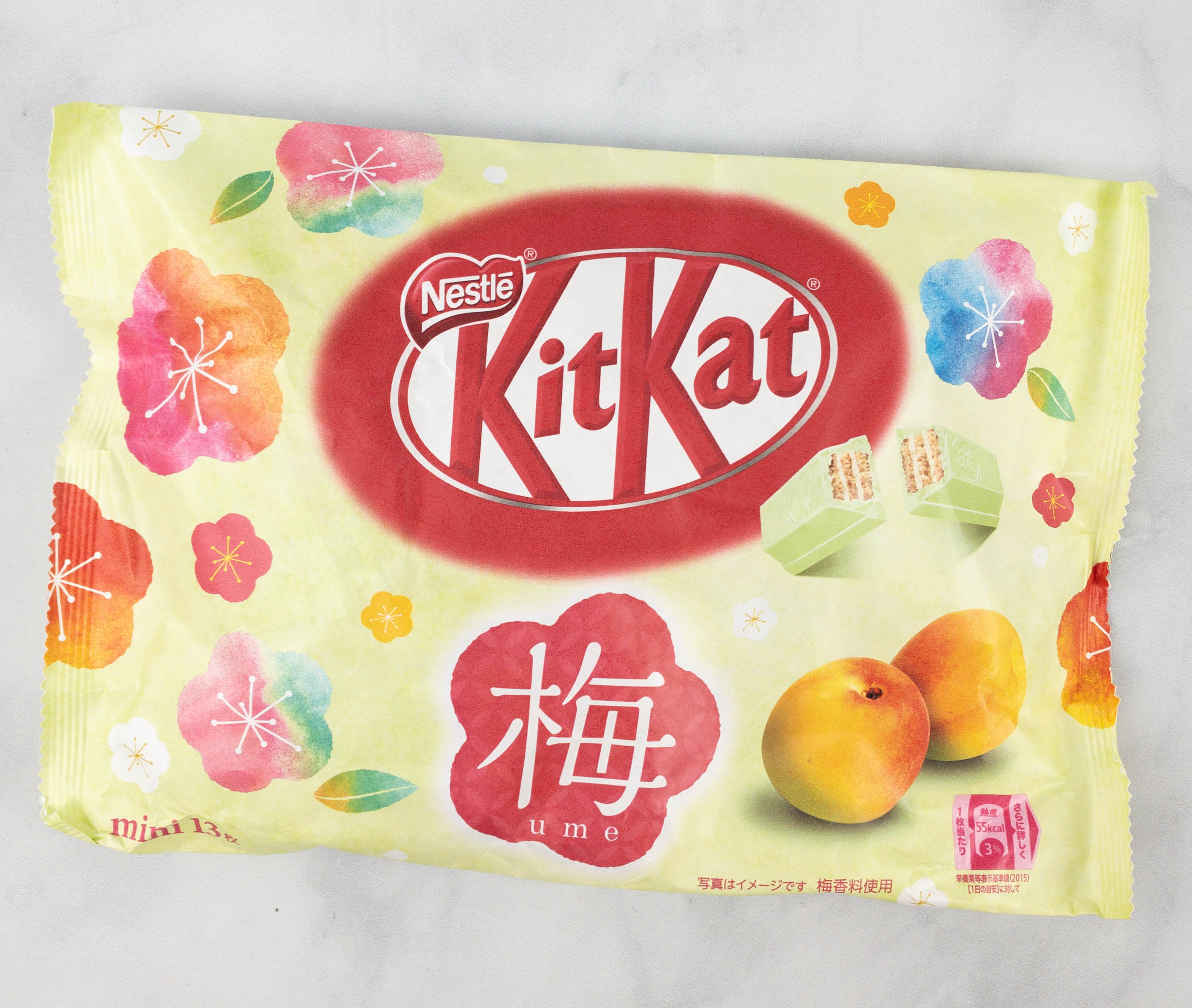 Kit Kat (Ume Plum). Here's this month's Premium box bonus item, a whole pack of mini KitKats in Ume Plum flavor!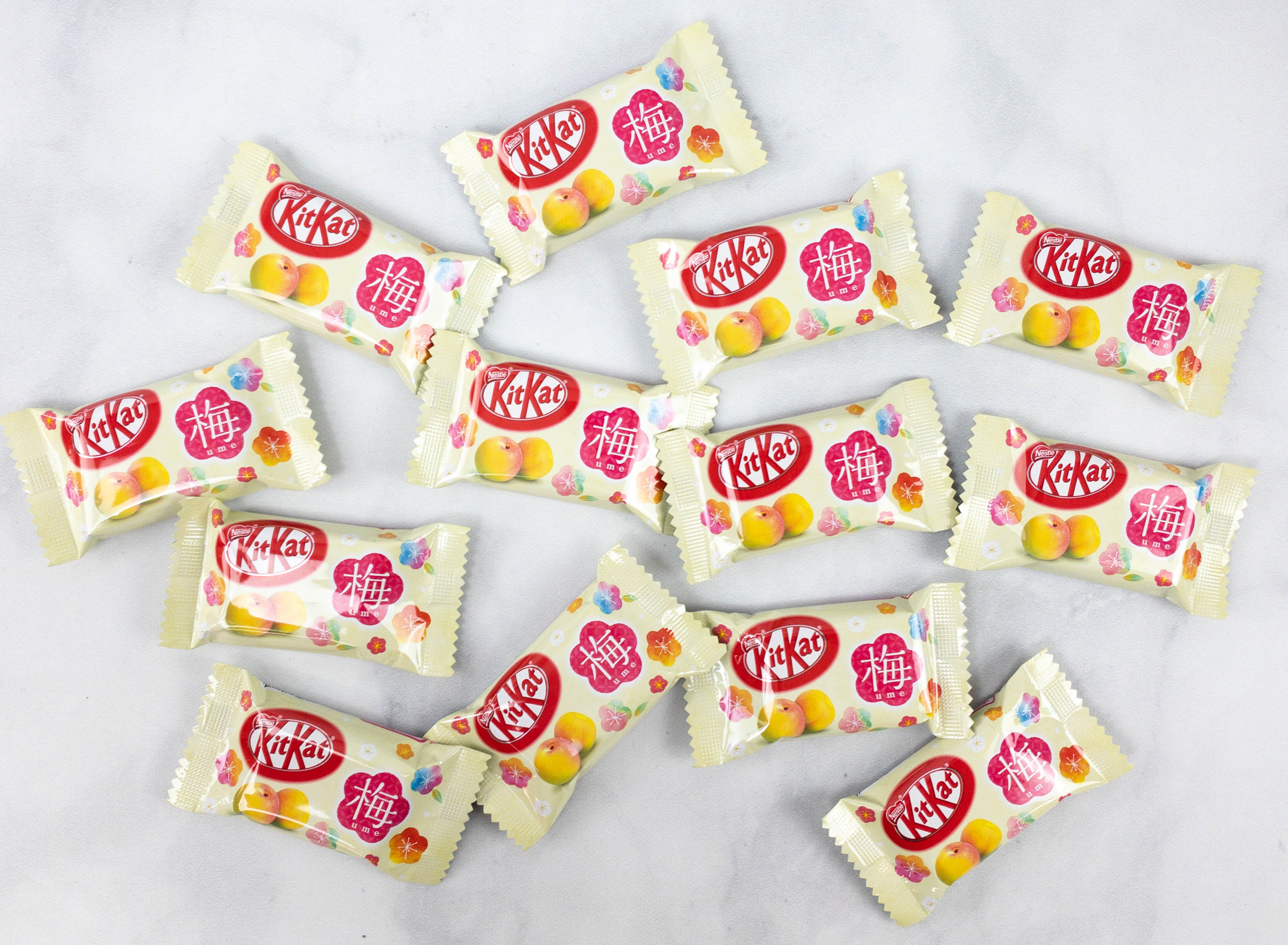 Each piece is individually wrapped to make sure it maintains its freshness! Each piece has a white chocolate base and the hint of sweet and tartness from the plum just balances everything out. It's a refreshing take on the popular treat and I like it!
Mike Popcorn Kishu Plum Flavor. This popcorn snack has a bit of a sour flavoring to it. At first, I thought it was weird but the flavor grows on you. It is said that this is a seasonal snack because it uses only Japan-grown plums!
Nori And Salt Pride Potato. These potato chips are amazing! I love how light and crunchy every bite is. The nori  (seaweed) and salt flavor is light but it accentuates the flavor of the potato without overpowering it. For me, this is a comfort snack that I won't mind having over and over again!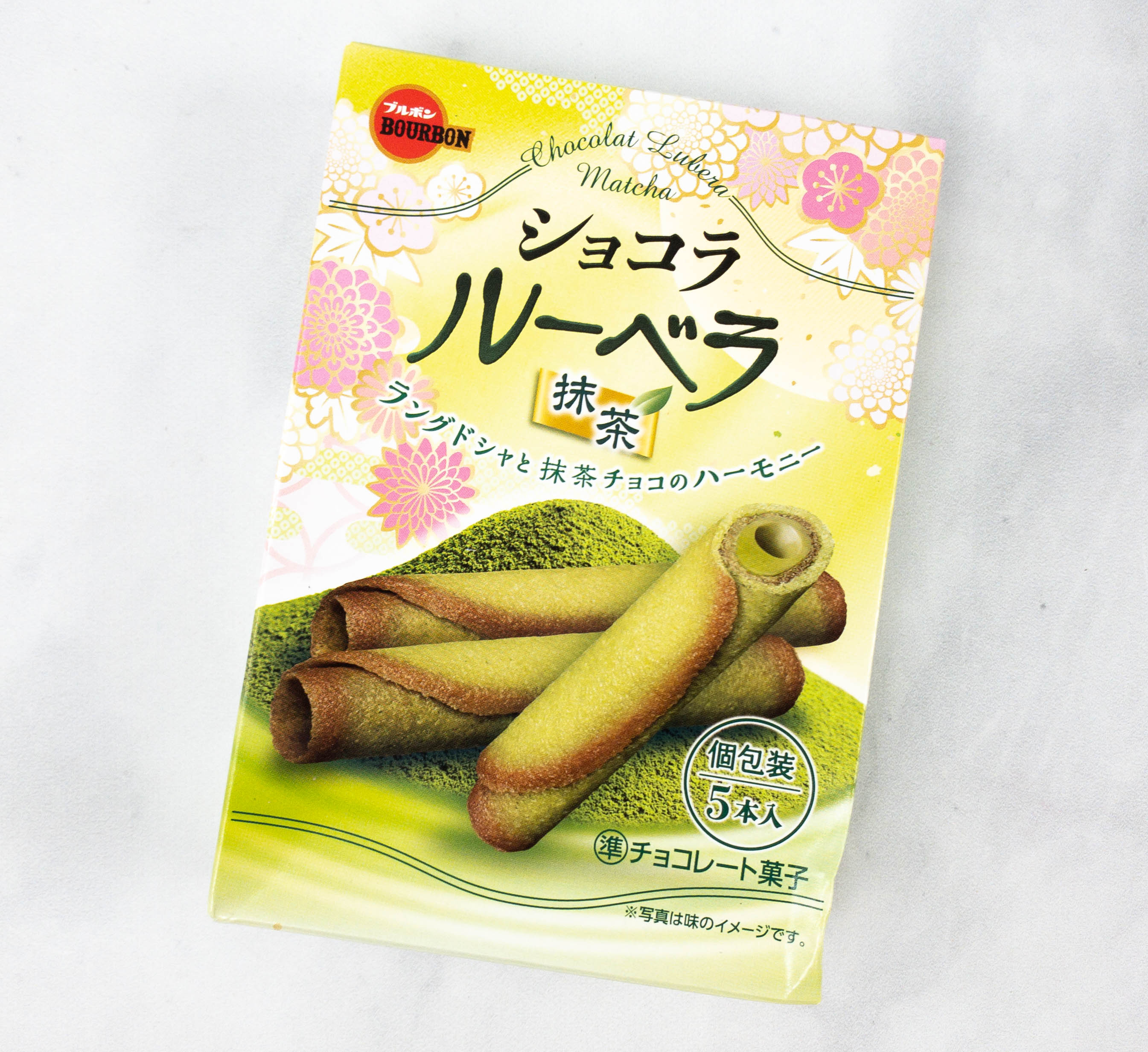 Chocolat Lubera (Matcha). I also received these rolled biscuits filled with matcha cream, which are a delight to snack on! The distinct matcha flavor is balanced out by the sweetness of the biscuit, and each roll is also satisfyingly crispy. I like that the rolls came individually packed so the crispiness can be maintained even when you don't finish everything in one sitting. I enjoy eating this on its own but it will be a nice snack to pair with any hot beverage as well.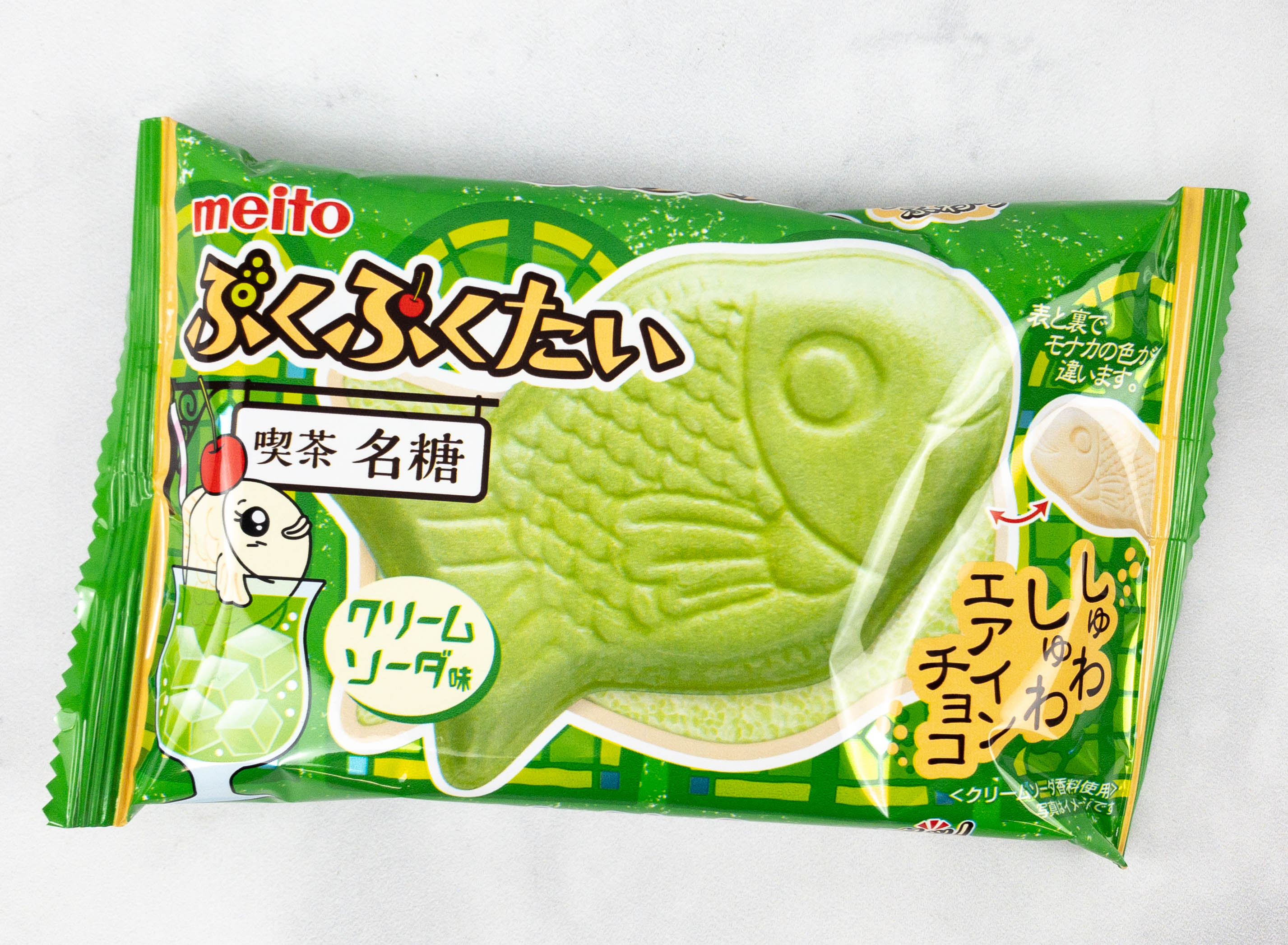 Puku Puku Tai (Melon Soda). It's a fish-shaped crunchy wafer with a light and soft watermelon-flavored filling. This flavor is inspired by the popular melon soda drink in Japan. I also enjoyed the contrast of textures in each bite!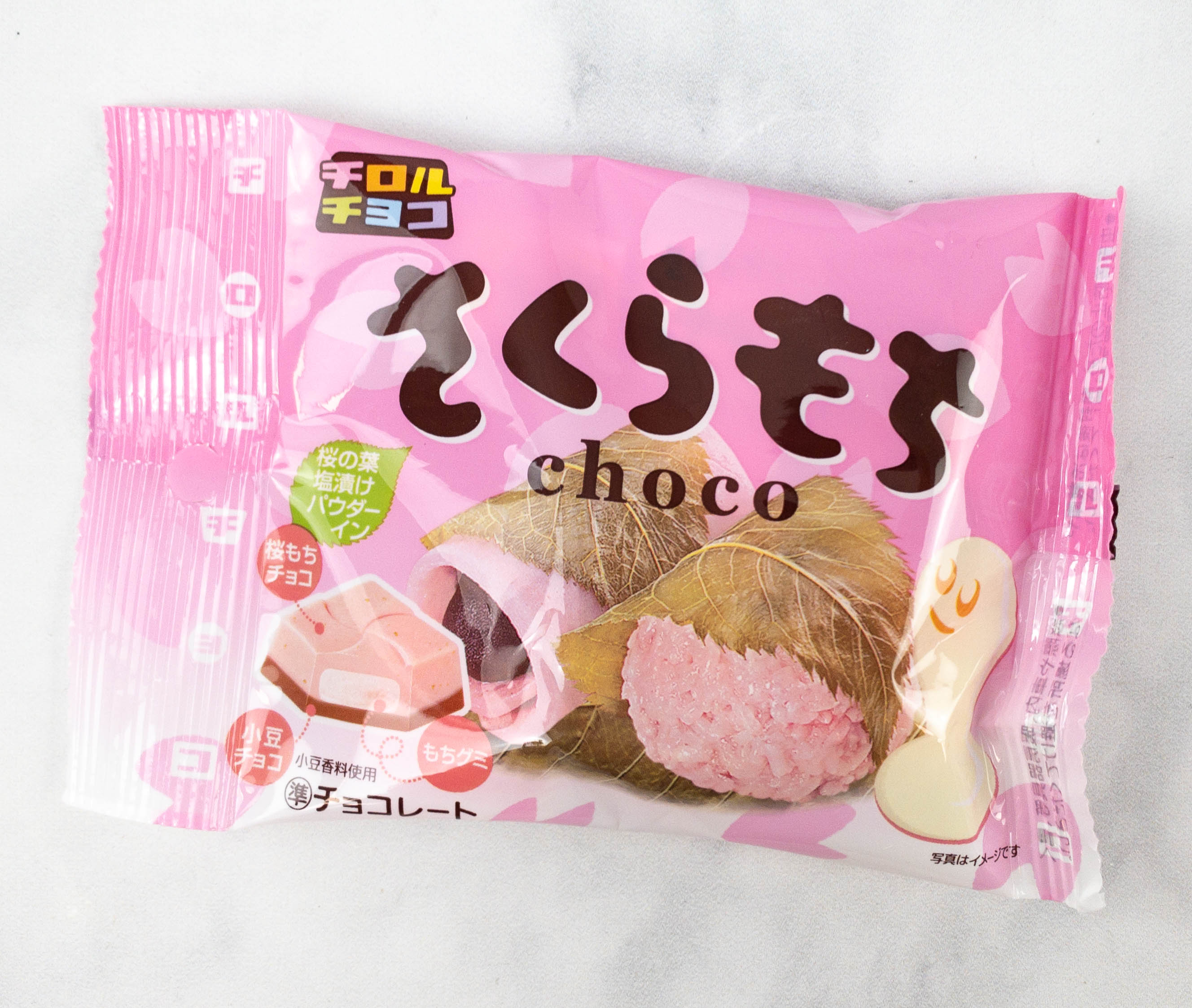 Sakura Mochi. These treats look like ordinary mini chocolate bars on the outside, but they are special because of their soft, sakura-flavored mochi center. A piece makes a nice treat after a meal.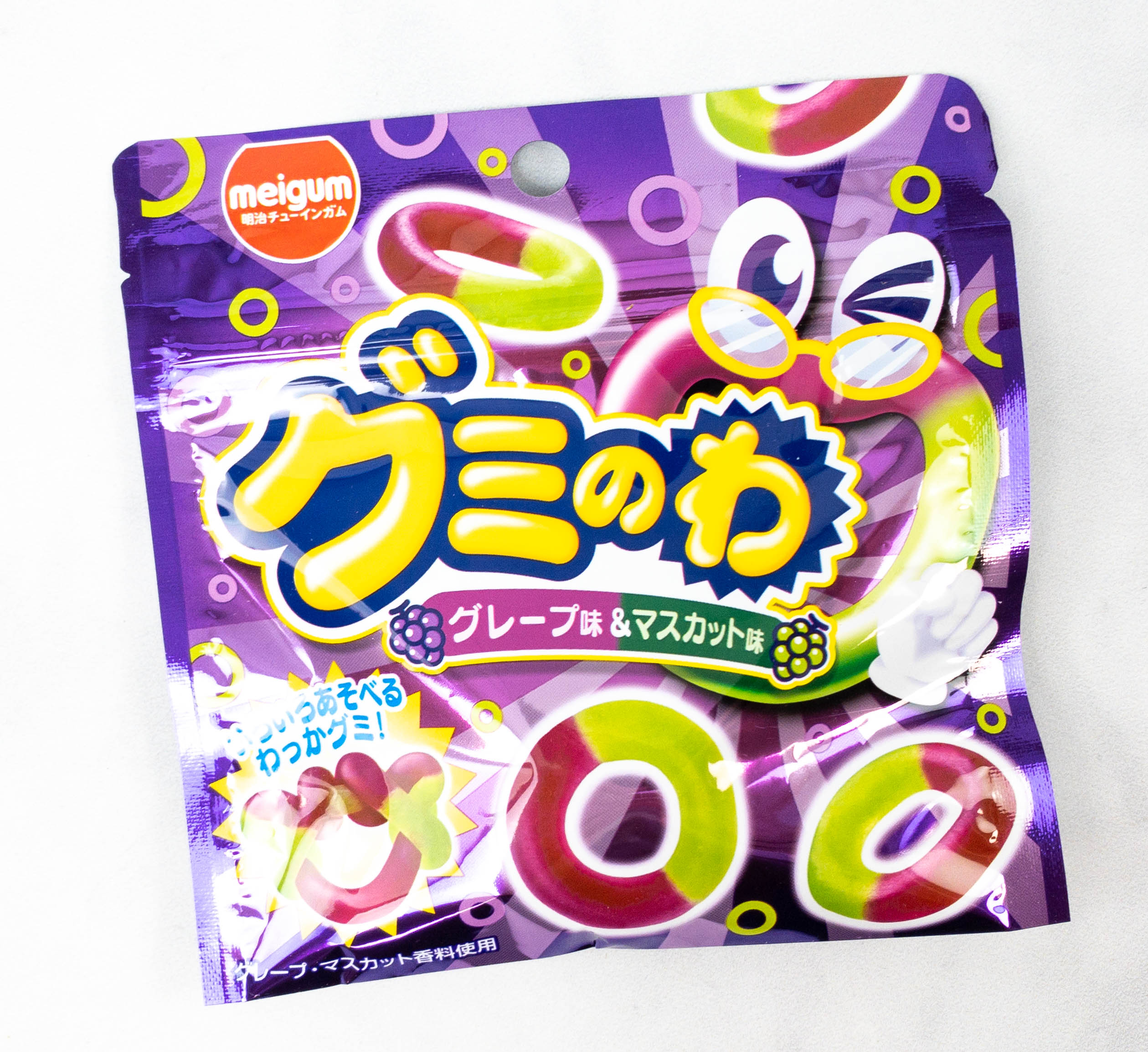 Gummy Ring. Gummy lovers, young and old alike, would probably love these gummy rings that come in two flavors: grape and muscat. You can actually form them into whatever shape that you want before munching on them. They are also chewy but not sticky!
Roll Candy Strawberry. This reminds me of fruit roll ups! They are really similar except that this one has more flavoring in it. Each roll is 50 cm so this one piece is also good to share.
Fortune Telling Chocolate Balls. The strawberry milk candies came in a foil packaging, which also makes for a fun fortune telling game. Under each treat, there is a symbol that represents your fortune. An X means bad, while a double circle means very good and a single circle means good. You can also get a triangle, which means so-so! It would also make a fun game to play with family or friends.
Gummy Fries. These look like potato fries, but they are gummy candies!
It has that lovely gummy texture and flavor but it came in this mini french fry shape that's super fun and cute!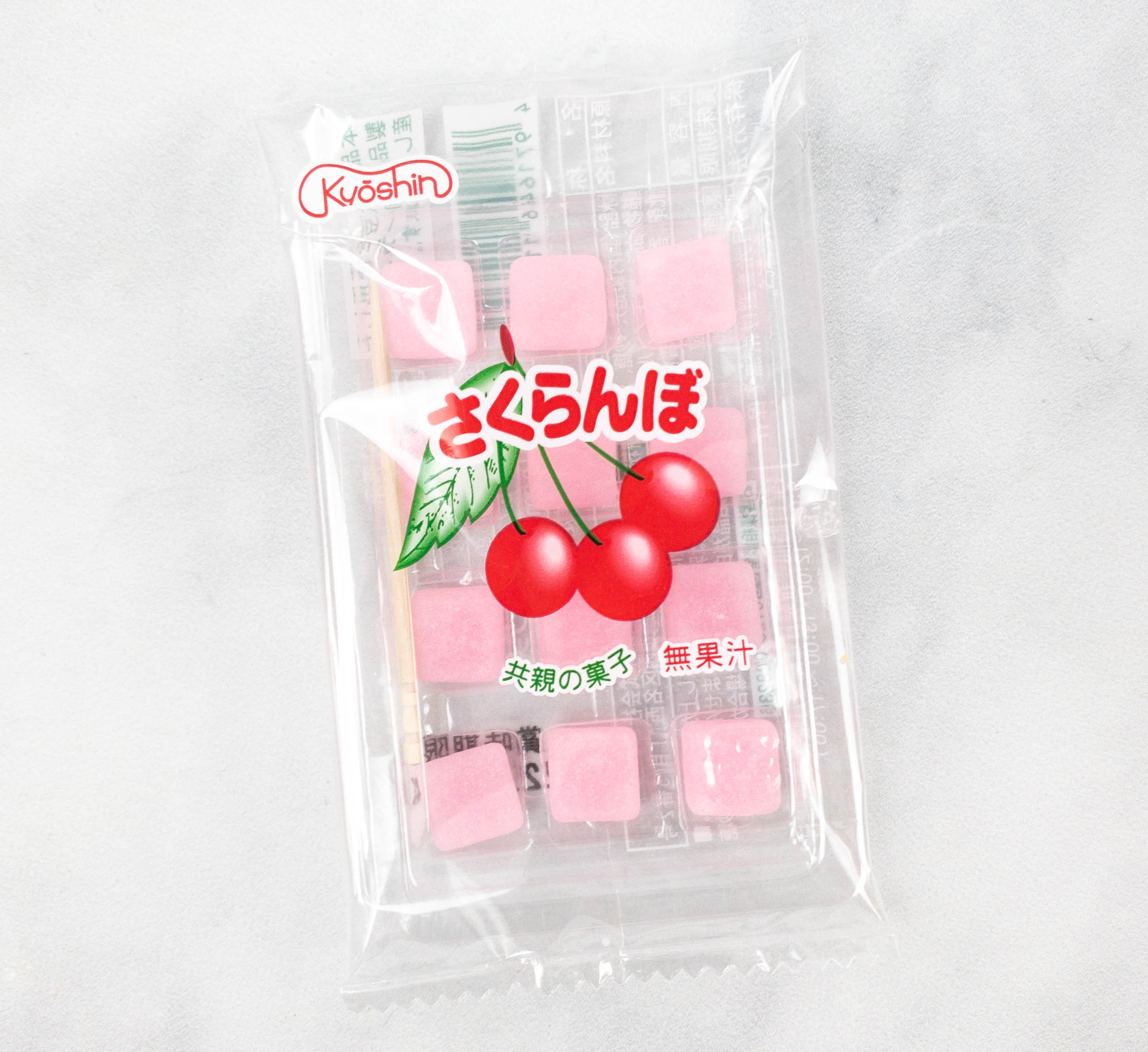 Sakuranbo (Cherry) Mochi. I received another mochi snack and this time, it's a pack of mochi candies. Each piece has a light cherry flavor which I liked, but what makes it really good is the soft and mochi-like texture. I love that this came in a nice packaging with its own toothpick to use when eating.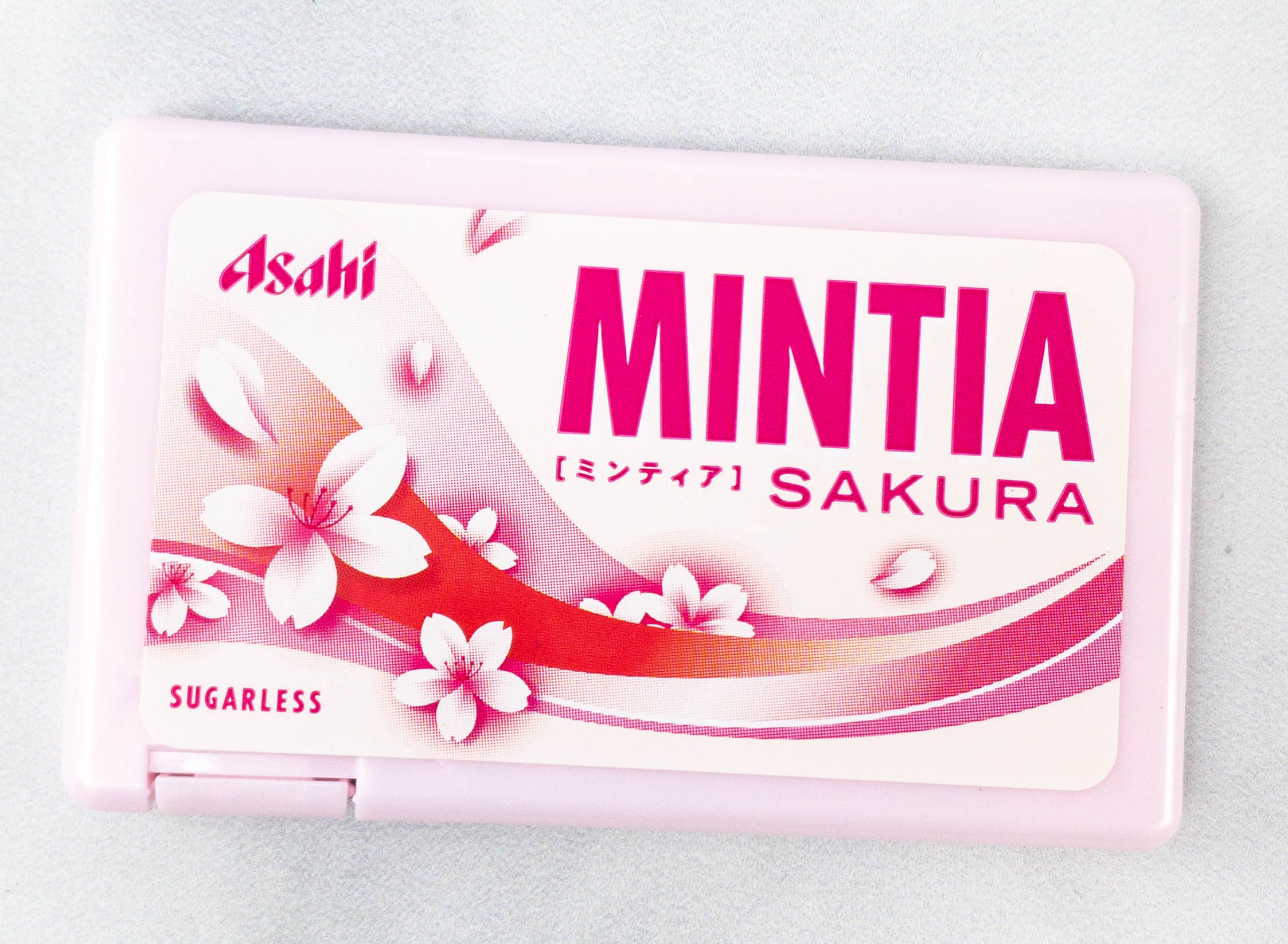 Mintia Sakura. They also sent in these sakura flavored mints in a compact packaging that's almost just as big as a card, making it easier to bring anywhere.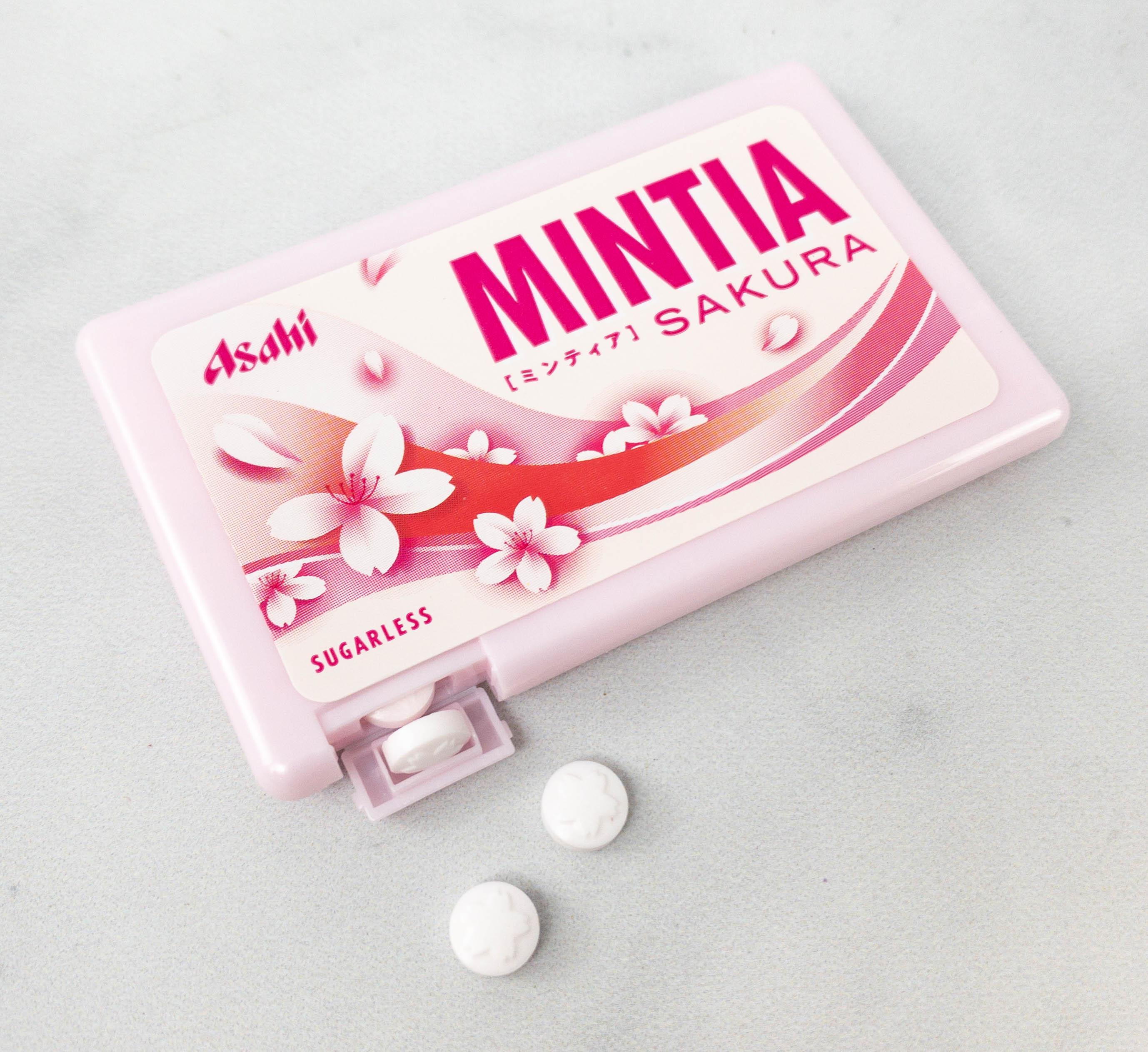 It's very convenient too as the dispenser is on the side and it manually releases one tab everytime you open it! This is a really tasty candy and it also helps freshen your breath whenever you're on the go. According to the label, these candies are sugarless.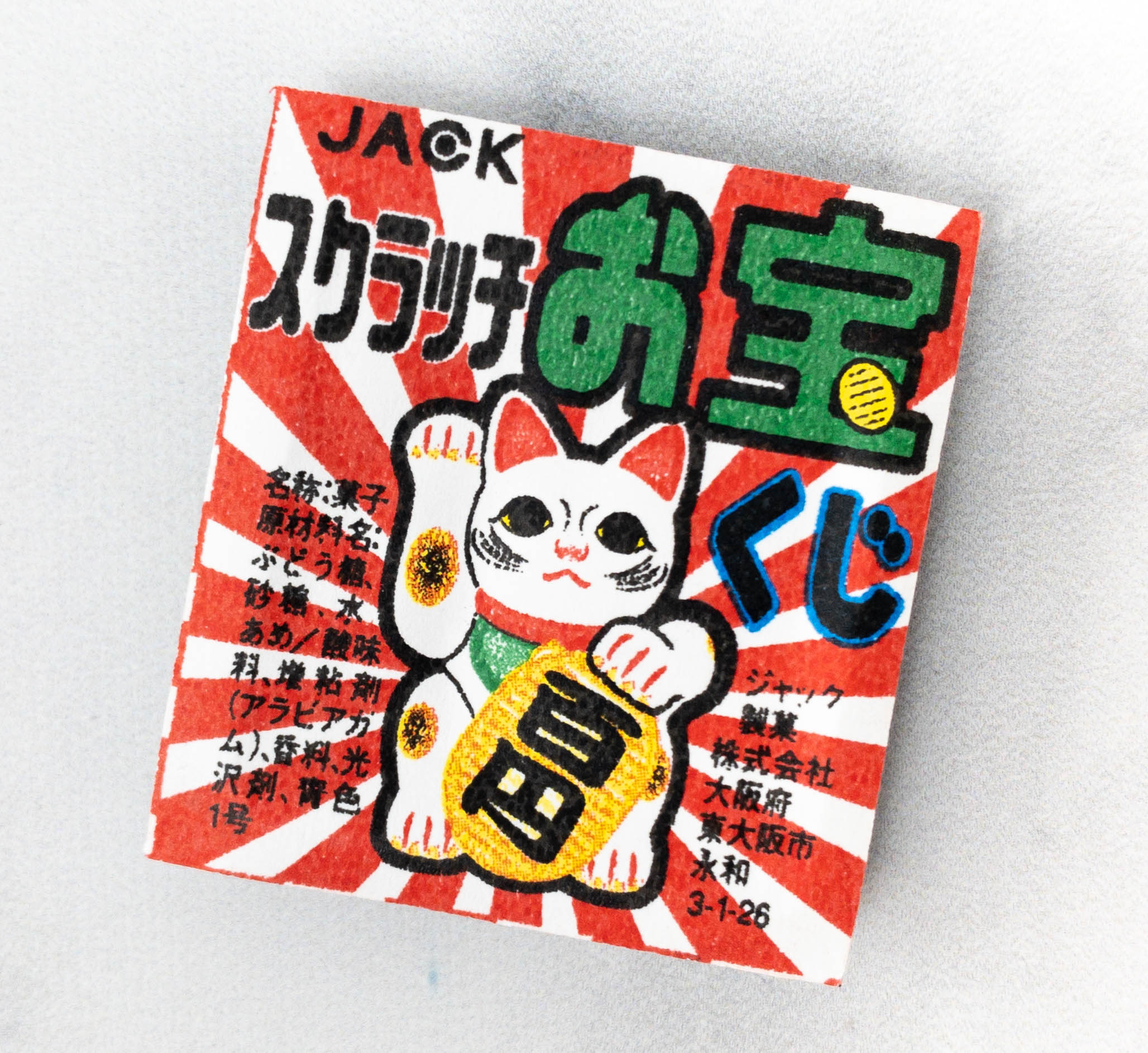 Scratcher Omikuji Mints. Here's another set of mints and it came in a box packaging featuring a lucky cat. Unlike the previous one, this packaging isn't as travel friendly but the mints are good too! It provides a refreshingly sweet flavor with each tab you take.
Sumikko Gurashi Chewing Gum. This gum may be small but it is bursting with flavor! I love the grape flavor, too bad I only have a single piece in this box. The gum cover is super adorable too! It features Sumikko Gurashi characters!
Cool Pineapple Chewing Gum. This chewing gum is infused with a pineapple flavor! I also loved the cooling effect in each chew, it is such a great addition to the fruity flavor.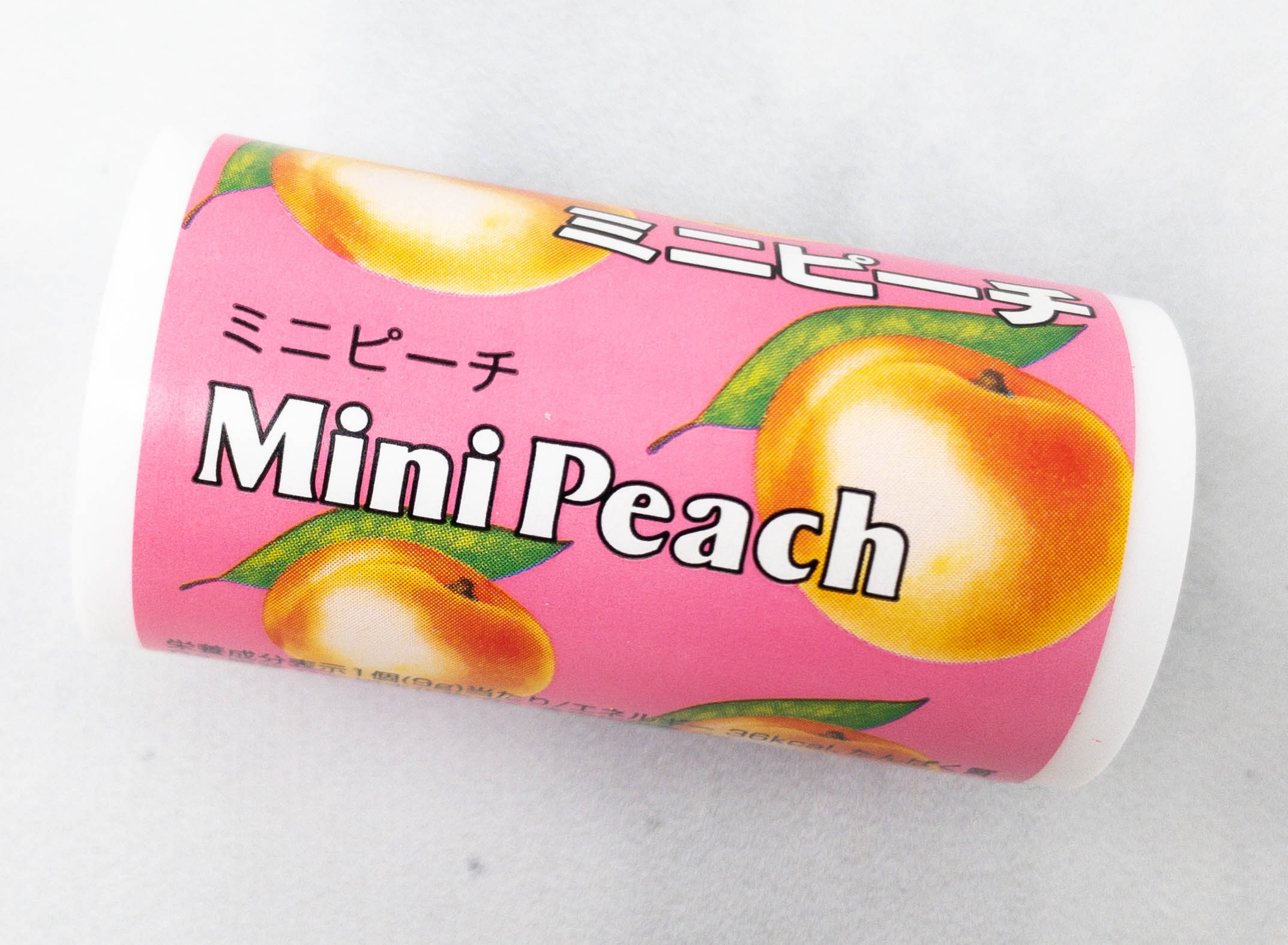 Peach Mints. More mints and I'm not complaining! These peach-flavored mints came in a nice container that I can easily bring in my pouch. I love the balance of flavors with this one as the peach is very flavorful but doesn't overpower the freshness of the mint.
Choco Ball (Refresh Coke). This unique snack is made with crackling candy covered in Coke-flavored chocolate. When the chocolate melts, you'll feel the candy popping in your mouth!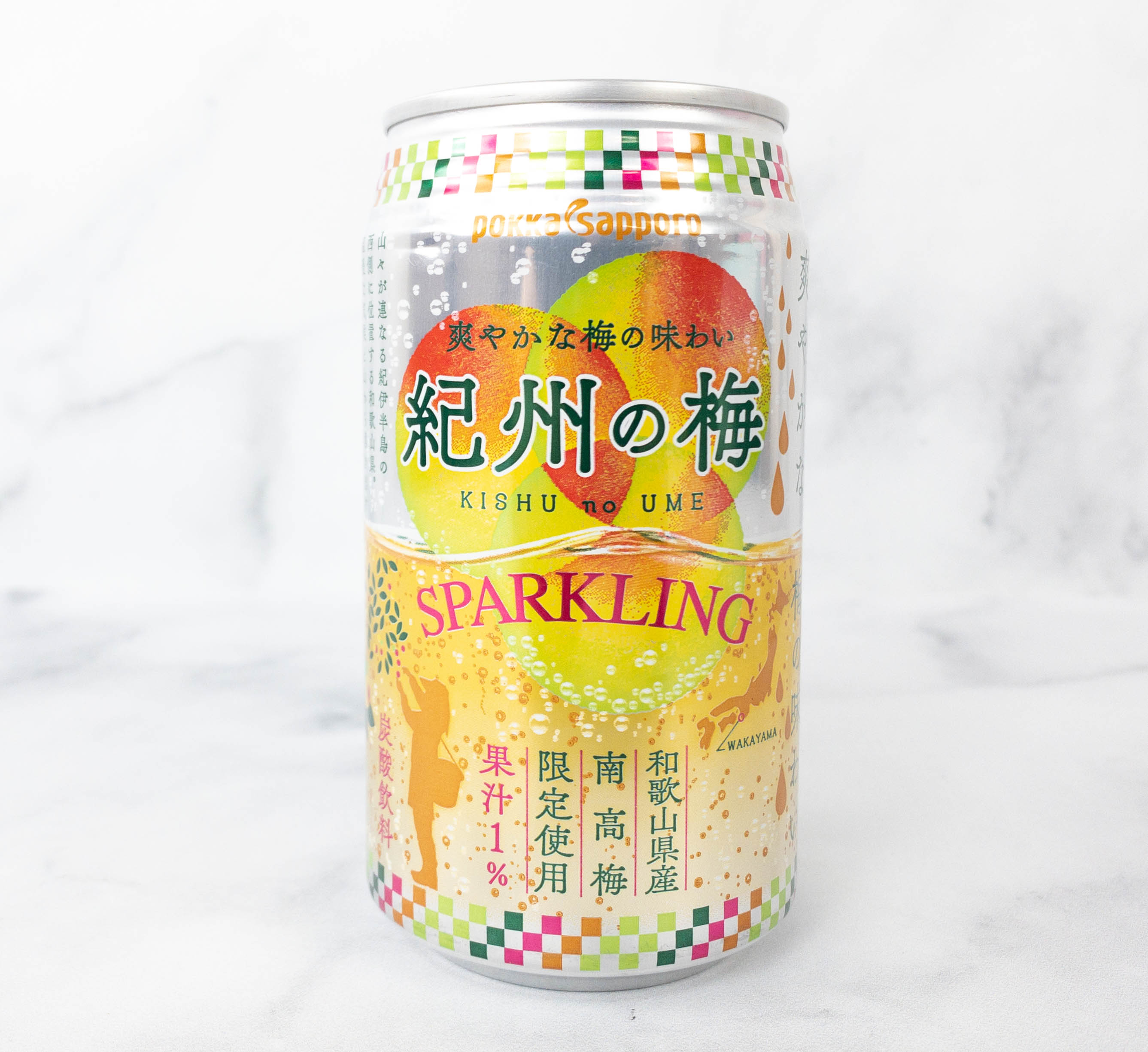 Ume Plum Sparkling. This sugary drink best served cold! Made with Nanko plums from the Nakayama prefecture in Japan, it features a good balance of sweet and tangy flavors. It's so good and I wish I could stock this in our fridge for whenever I need a sugar rush!
This month's featured Japanese snacks are good! Most of them are sweet, but I still got to try a few savory snacks, so I'm not complaining. If I have to pick a favorite, it would be the nori and salt chips. They taste way better than the average potato chips, and they are not too greasy either. The sakura mochi chocolate and the matcha snack are also yummy. As always, there's a bonus item in the Premium box, and this time it's a pack of ume plum flavored KitKats. It's a bummer that there's a price increase due to the shipping requirements amidst the COVID situation, but if you really want to get snacks straight from Japan and you have extra bucks to spend, this is still a good option!
What item do you want to try from this month's Japan Crate? Let me know in the comments!