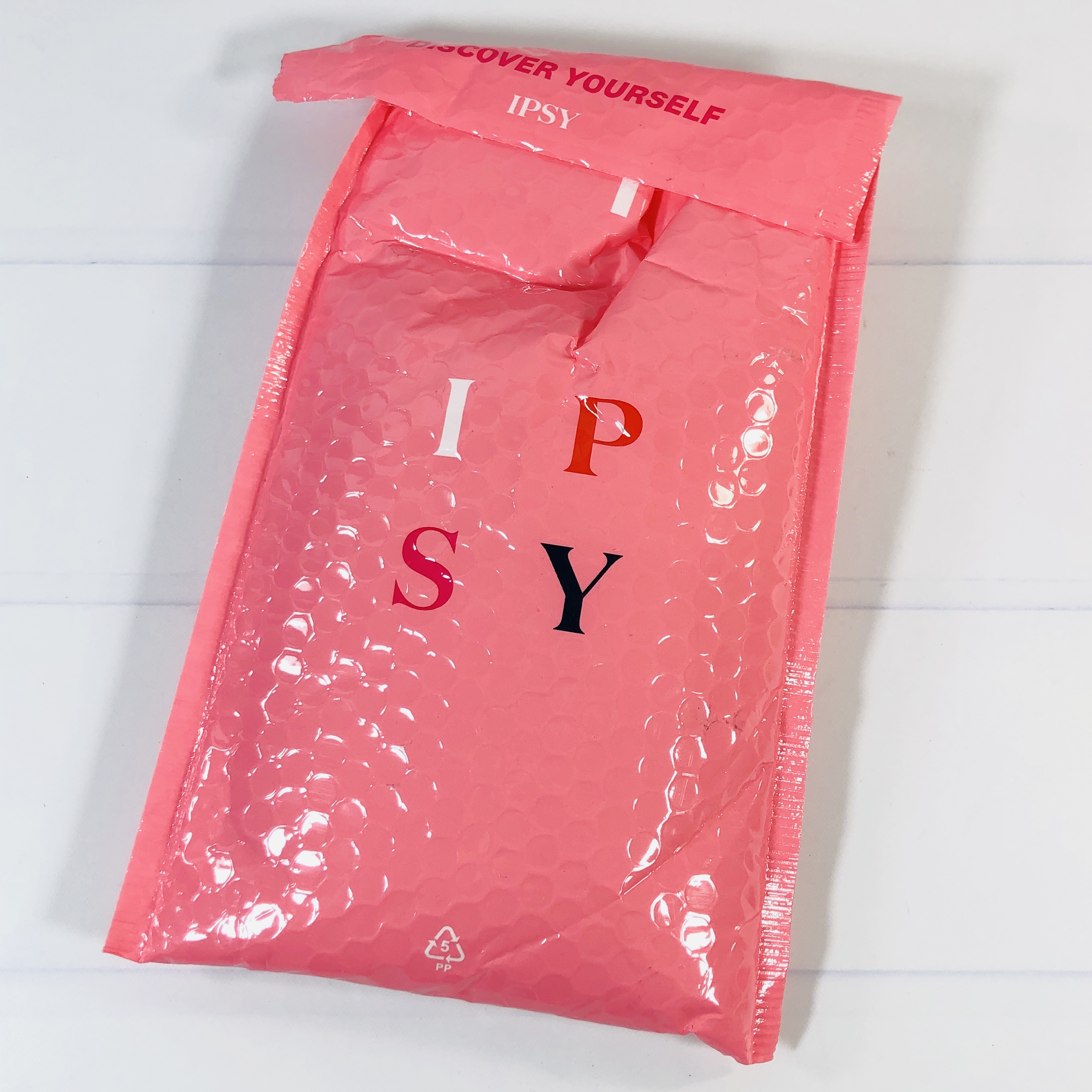 Ipsy is a monthly beauty subscription. You get five makeup, beauty, skincare, and hair care items in a cute bag for $12 a month! It's the most popular subscription box and a great way to sample new colors and beauty brands that you may have never heard of, as well as some of the bigger names. Ipsy also offers a Glam Bag Plus for $25 a month. They have just launched Refreshments and in February they introduced the quarterly Glam Bag X.
There are many bag variations every month for Ipsy – log in to your account to check out how-to videos and tips for your products.
IPSY was founded on a singular mission: to inspire individuals around the world to express their unique beauty. Everything we do is to support you on your journey to self-discovery, so you'll feel confident letting your unique beauty shine every day.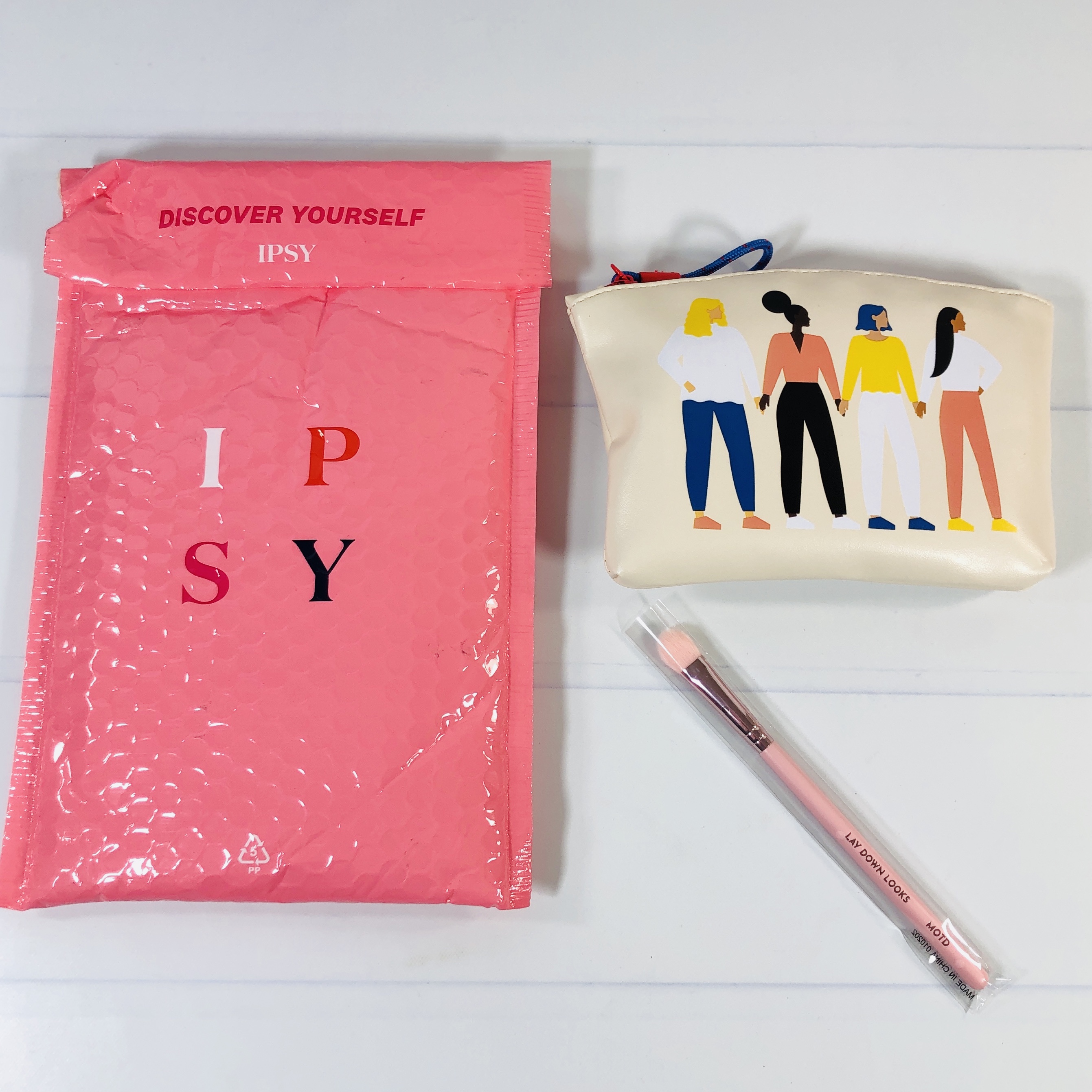 Most of my items were inside the cute makeup bag but make sure to double check the mailing bag, sometimes larger items (like makeup brushes) can be found there.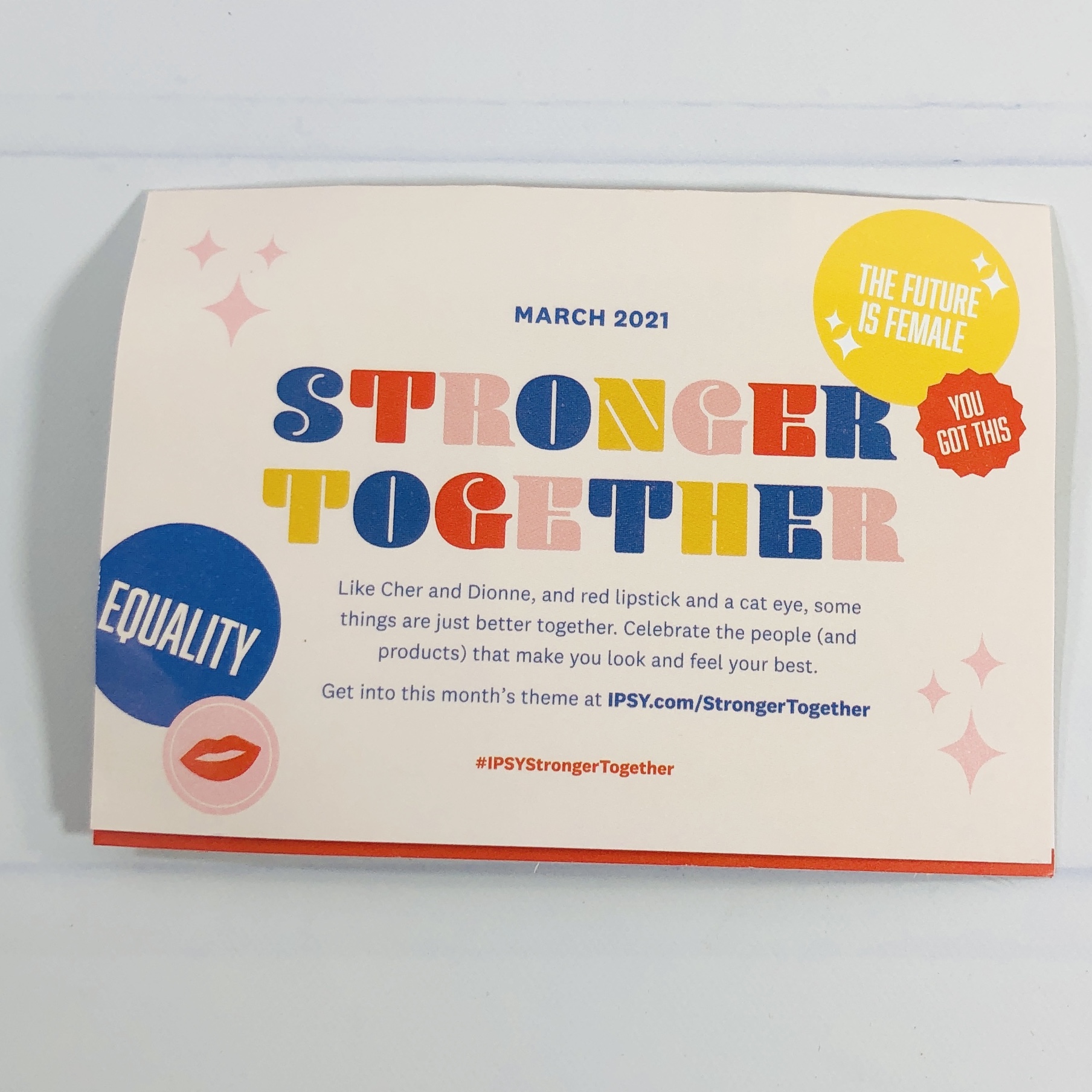 The theme for March is Stronger Together!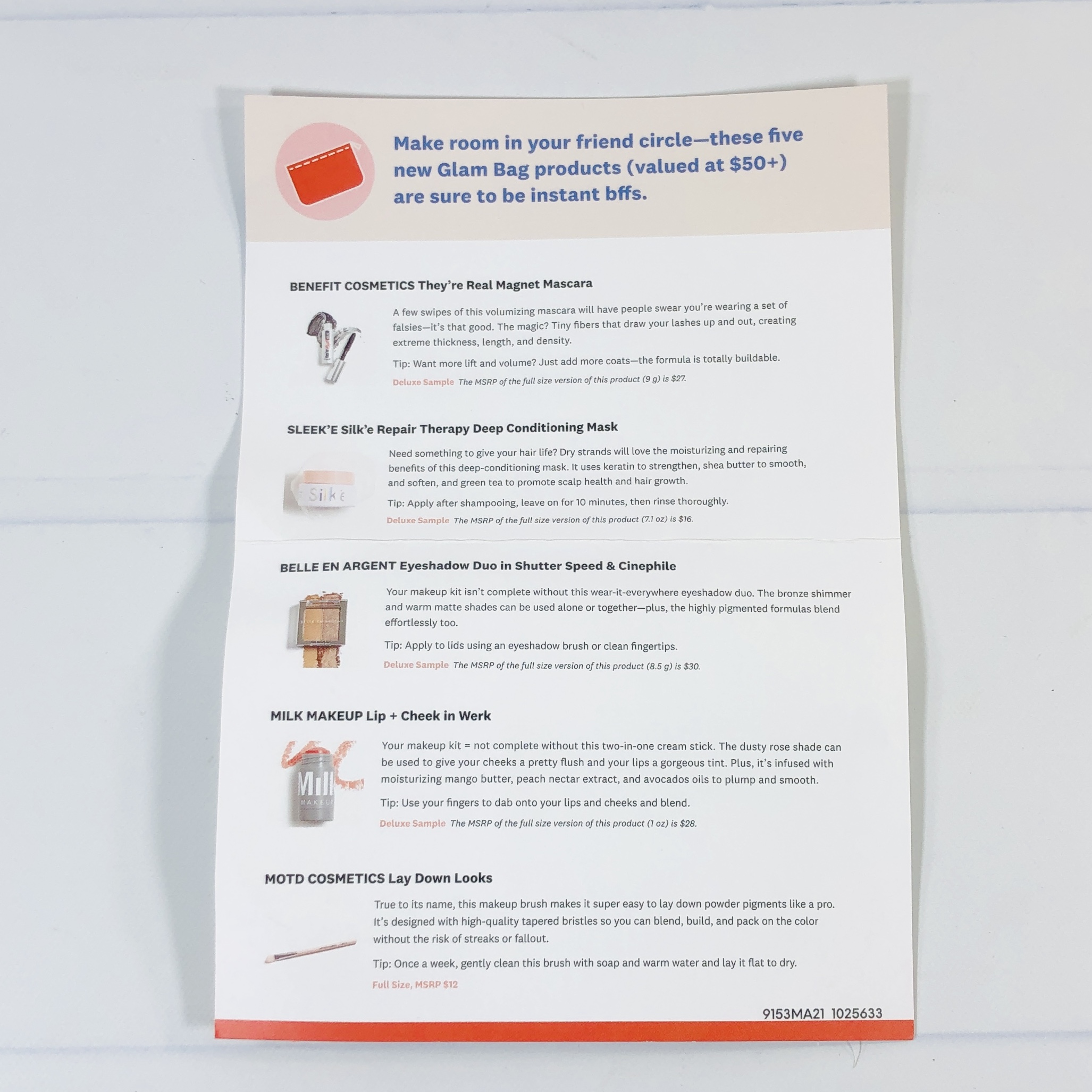 Inside Ipsy listed my 5 products and gave a brief description, plus it had the MSRP for the full sized product.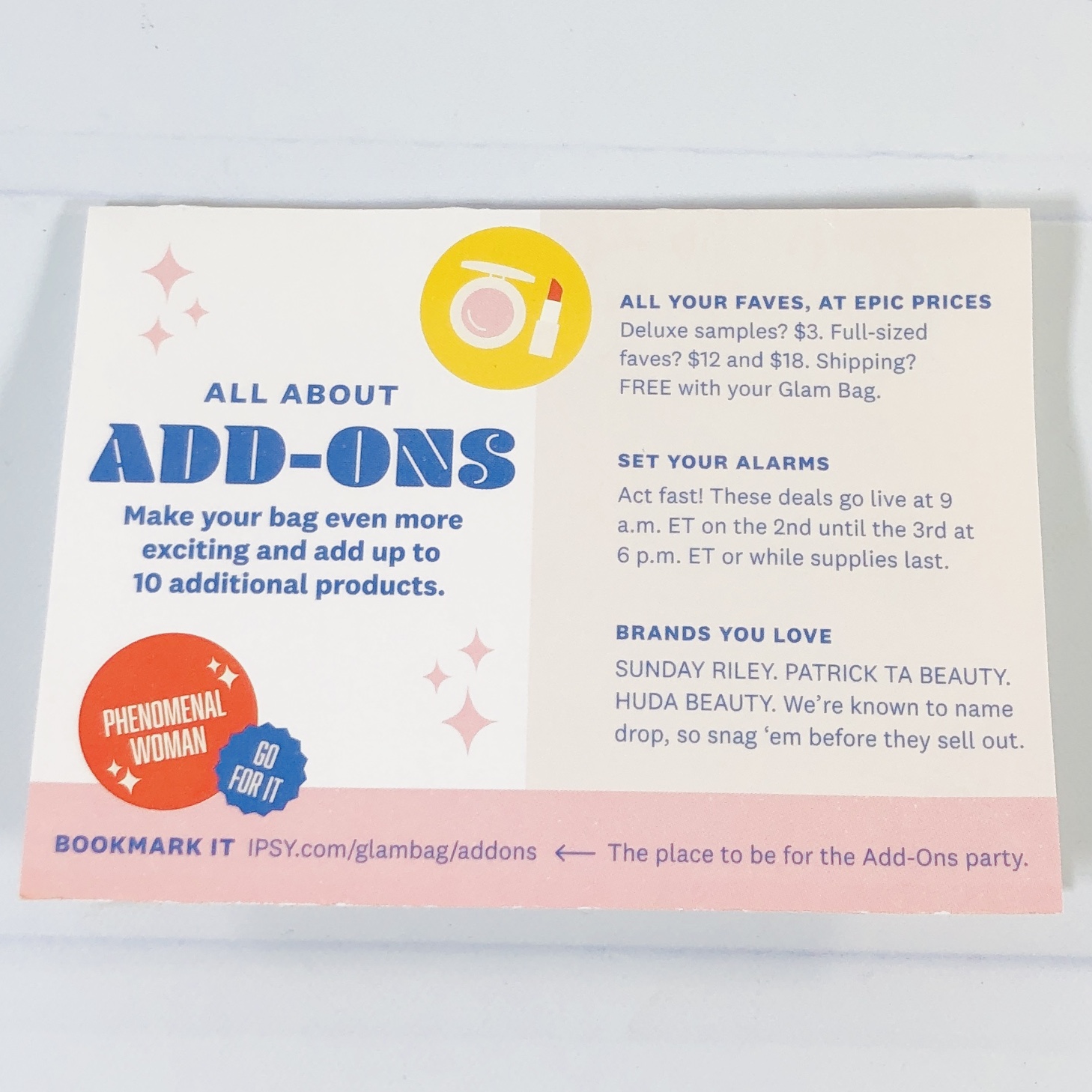 The back of the card discussed Add-Ons, which are extra products at exceptional prices for you to add to your shipment if you choose.
Don't forget that you can rate your items and you earn bonus points when you do that, so you can get additional products in your bag. All subscribers now have the chance to pick a product for their next bag – just log in on choice day and pick one!
Ipsy Glam Bag The bag this month is cream colored with four women across the front.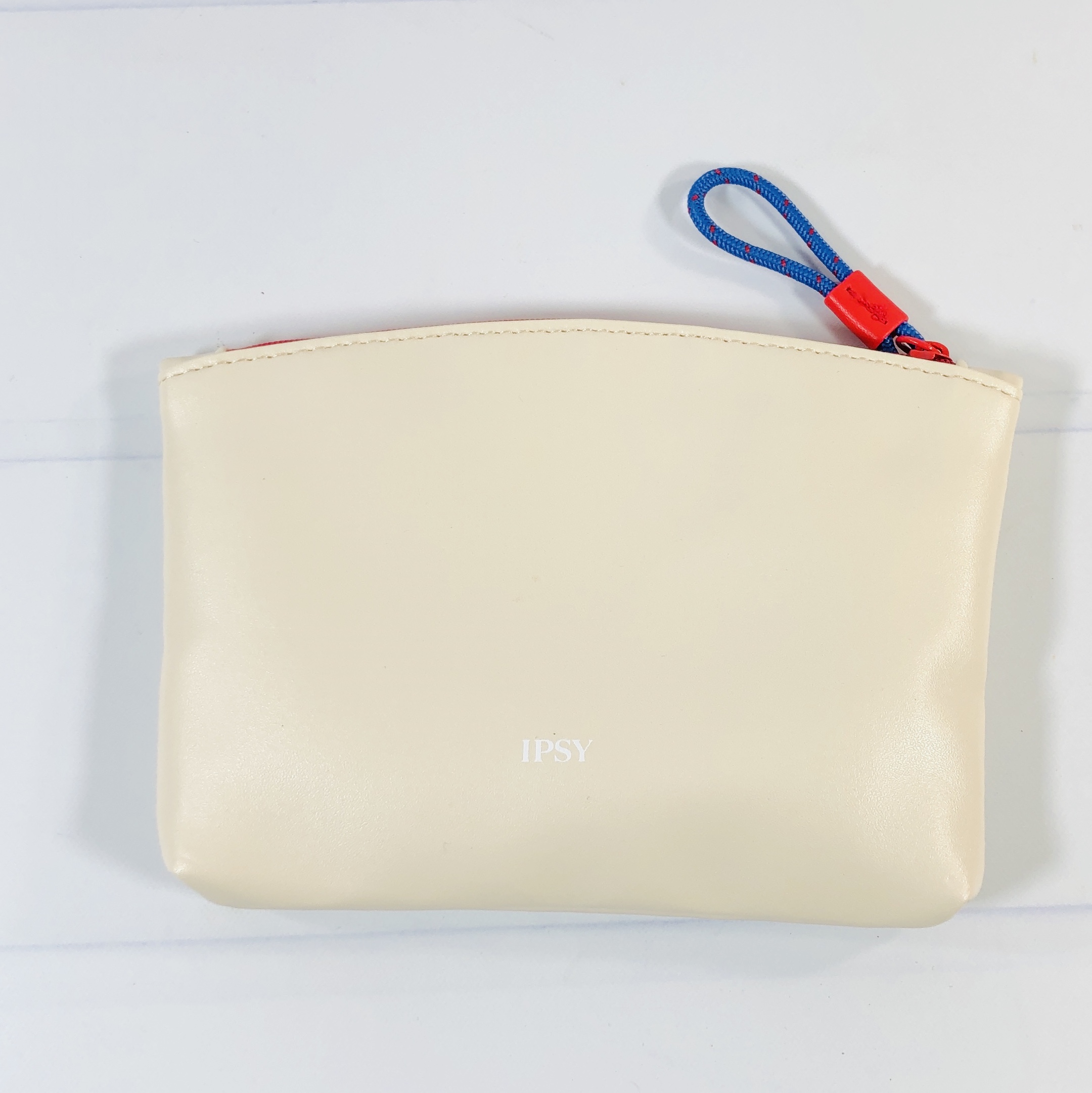 The back simply has the Ipsy name in tiny white lettering near the bottom. The zipper pull reminds me of a bungee cord.
The zipper is red and the inside of the bag is lined with red polyester fabric.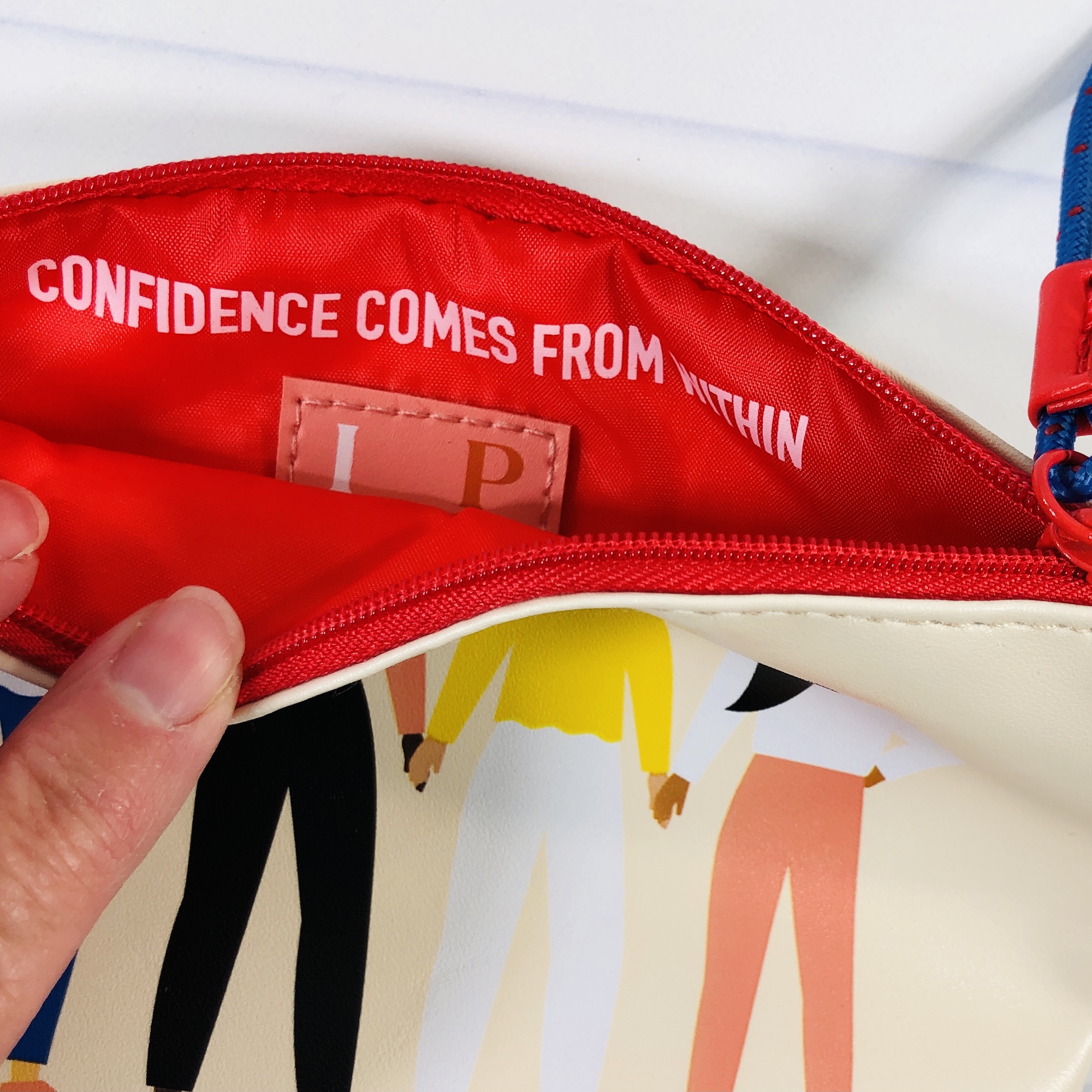 The Ipsy logo is inside and it also reads "CONFIDENCE COMES FROM WITHIN".
Some of the items came in their own boxes or wrapped in bubbles.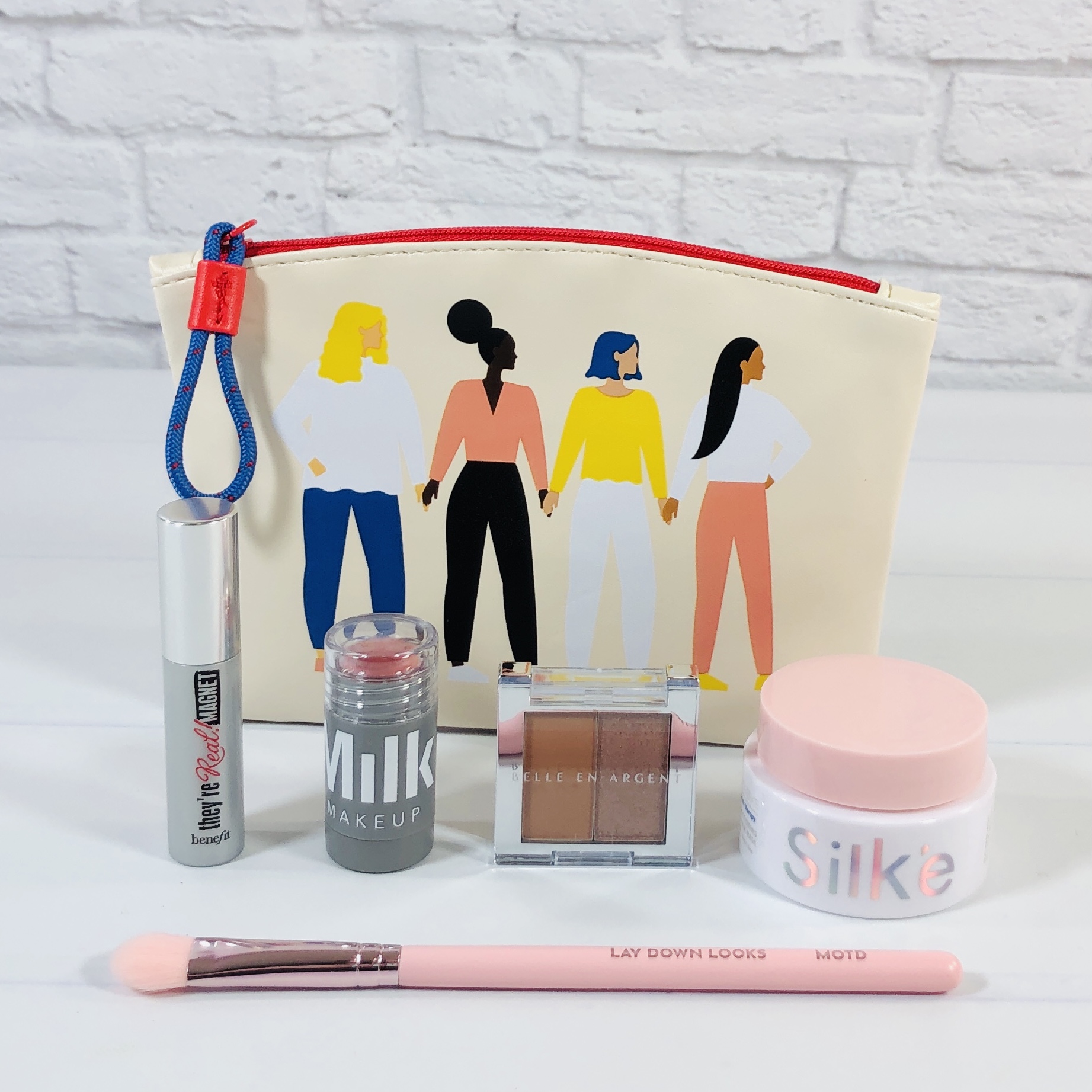 Everything in my box! You can find instructions for use and ingredients on the Ipsy app and website.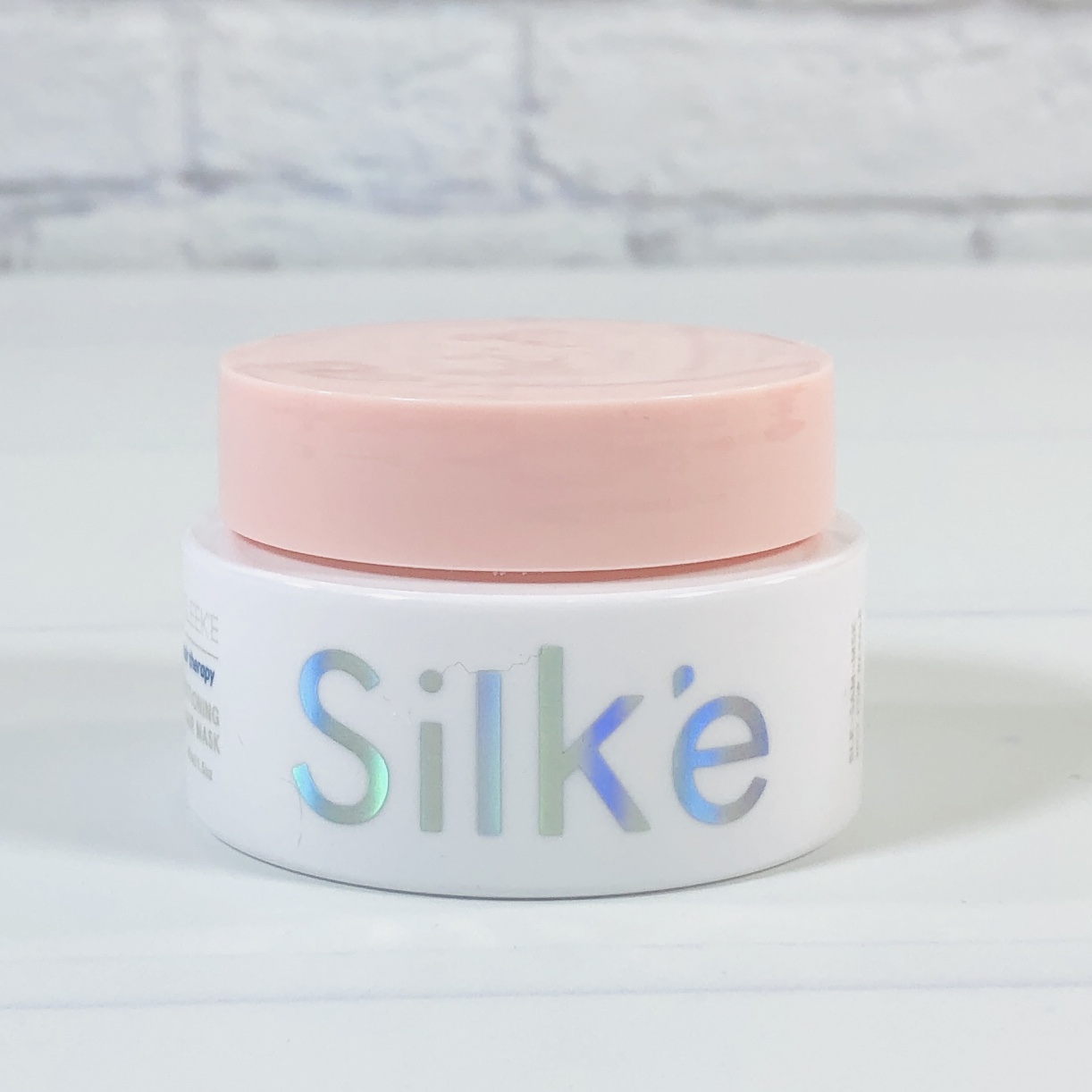 Sleek'e Silk'e Repair Therapy Deep Conditioning Mask ($3.38 value) is a deep conditioner that is supposed to bring new life to hair that has been damaged by color processing or other treatments.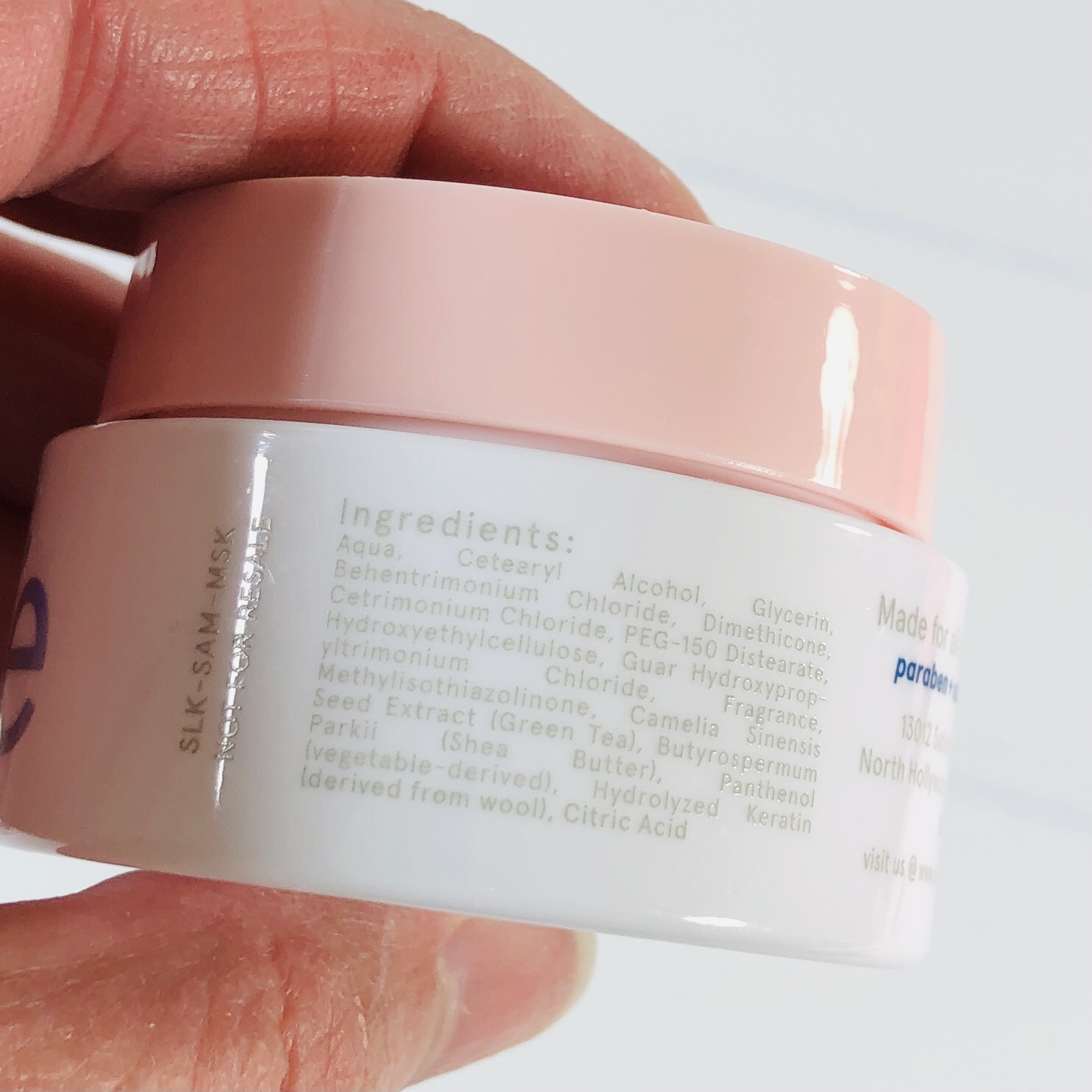 Here are the ingredients and I am sad to say that I am allergic to at least one of these, methylisothiazolinone. Like, allergic enough to cause my derm to order a biopsy of my angry scalp!
The product also has shea butter and hydrolized keratin, and although Ipsy claims this is vegan, I'm pretty sure that keratin only comes from animals (and in fact the container says it is derived from wool). The scent honestly takes me back decades to when I used to get my hair permed!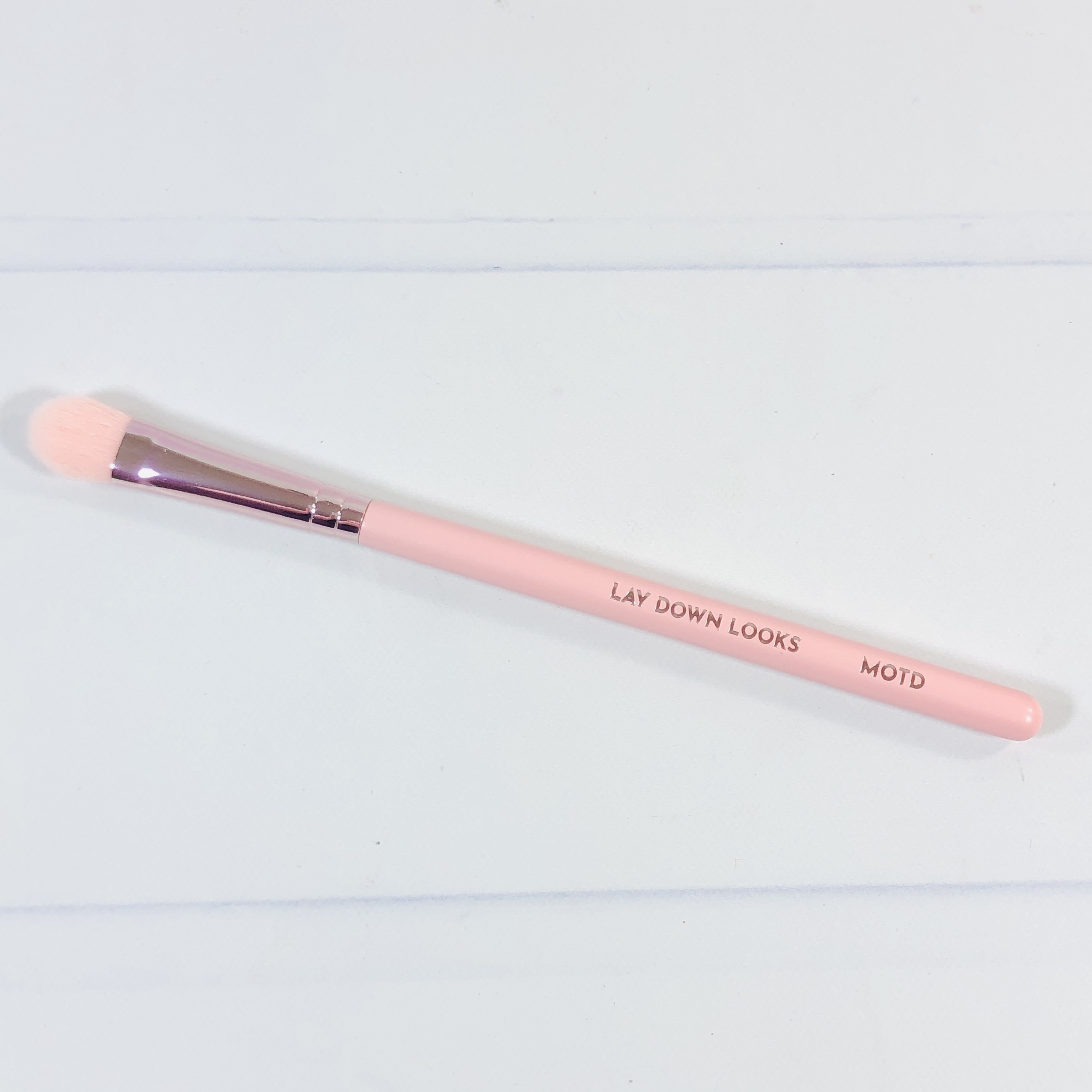 MOTD Cosmetics Lay Down Looks Brush ($12) Always check that pink mailer bag for makeup brushes! I see so many people complaining about not getting their brushes but most of the time they are in the mailing bag and not in the Ipsy bag because they usually won't fit!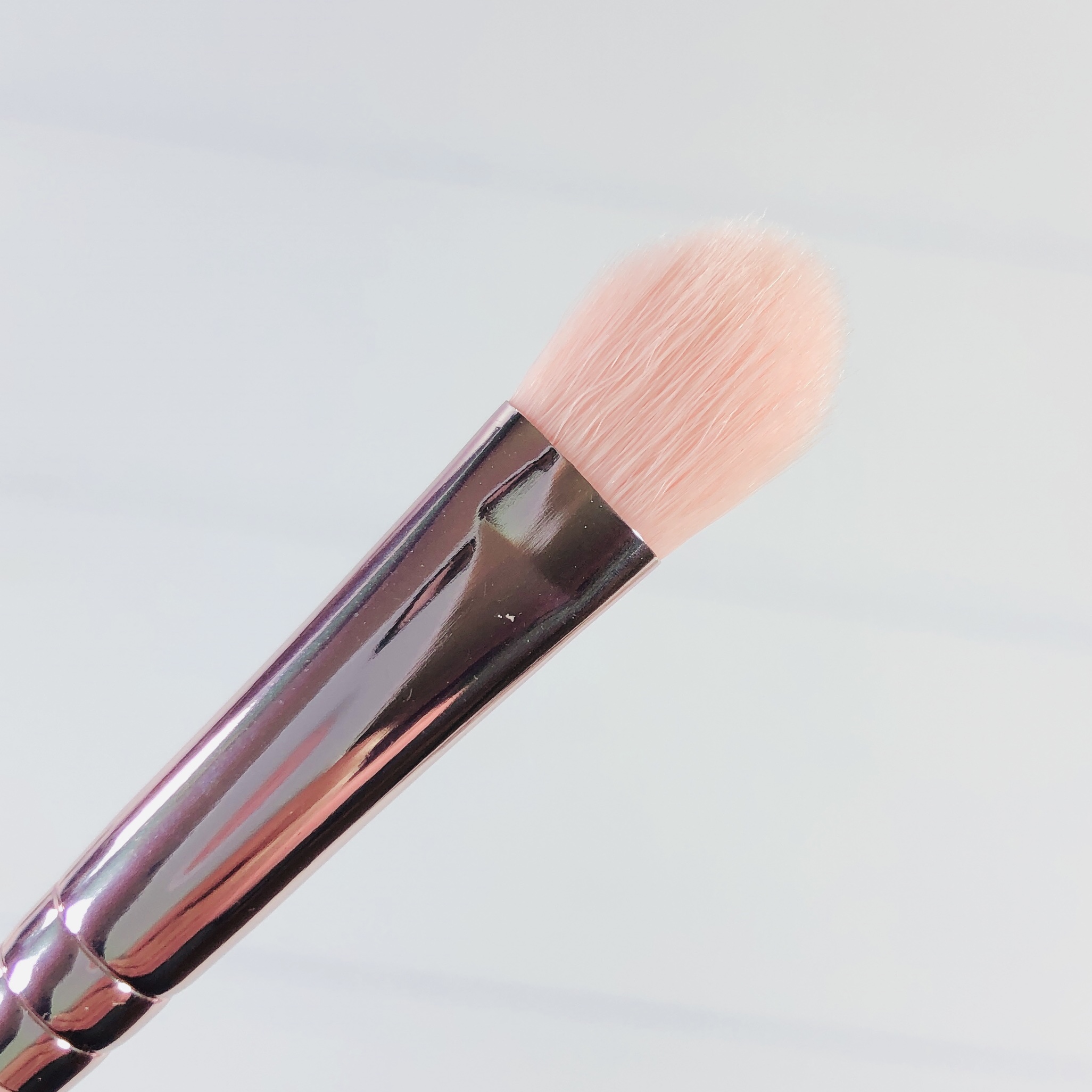 This brush has bristles that are dense enough to pack on product without hurting my lids. I actually prefer to use it for applying a dark color to my crease and this is now my go-to brush since I received it!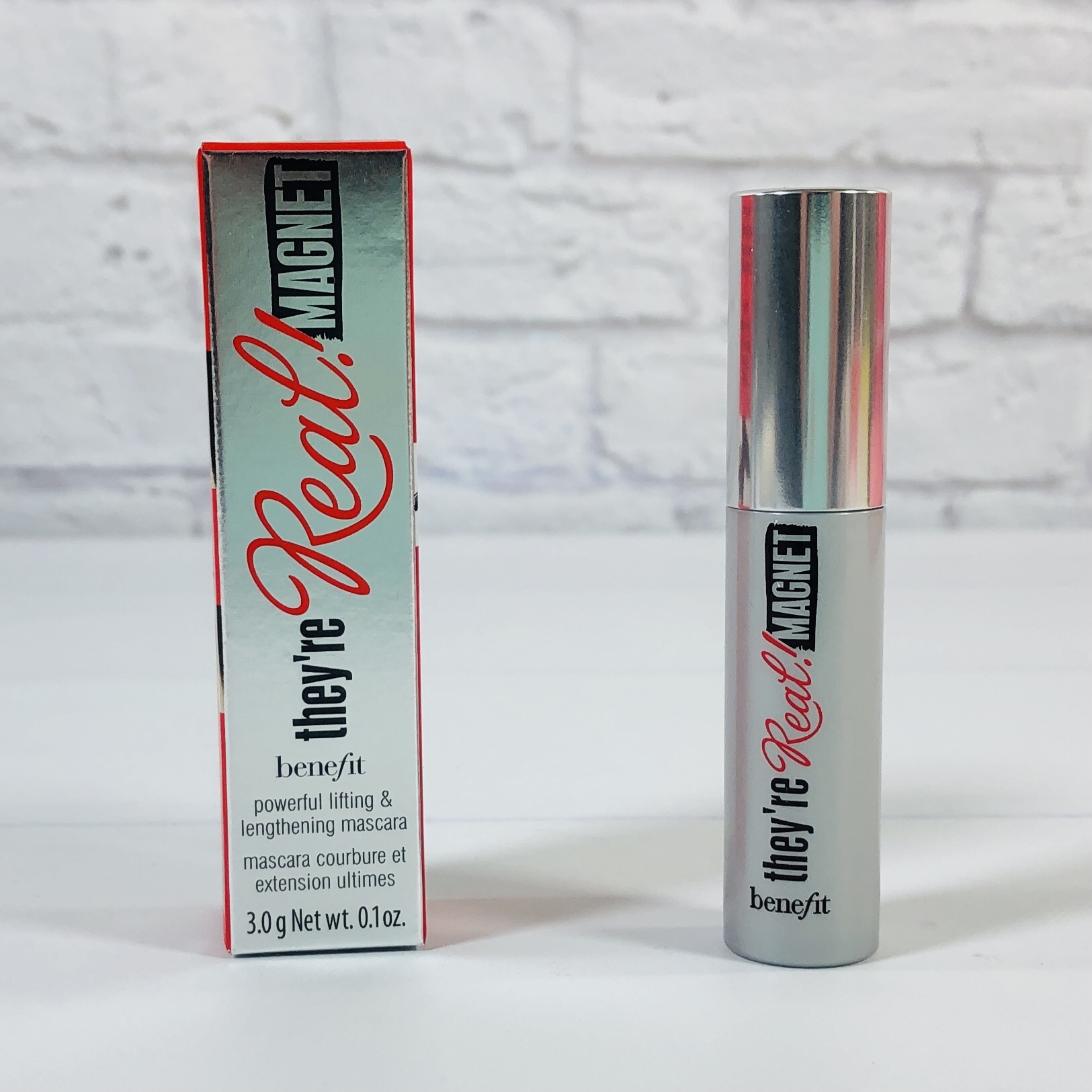 Benefit Cosmetics They're Real Magnet Mascara ($9.53 value) This wasn't my Sample Choice but it is from my favorite mascara brand so I was thrilled when I saw it in my Glam Bag preview!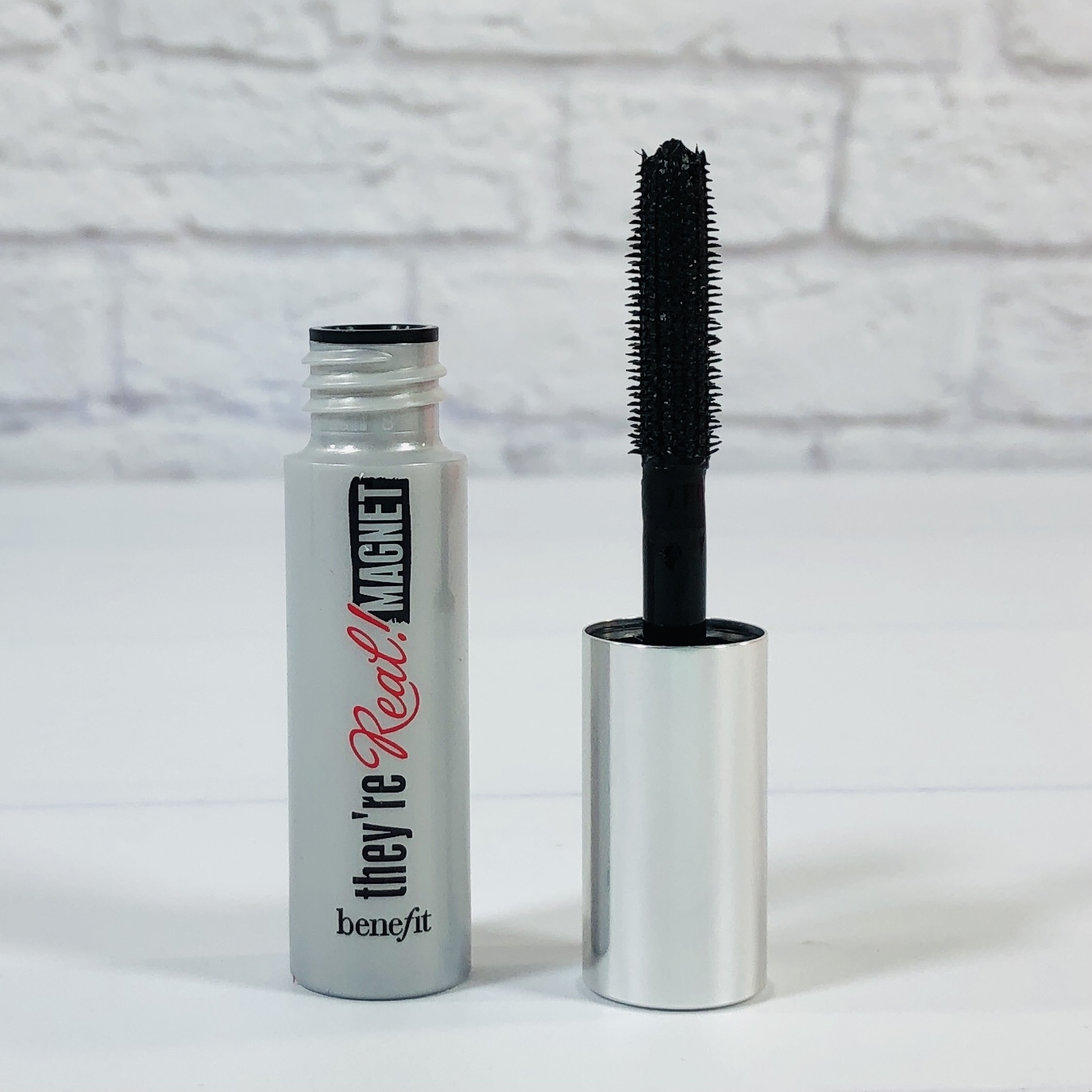 I applied two coats and thought that it made them look longer than usual, you could see that I actually have eyelashes! It lasted all day for me too and my love of benefit mascaras continues!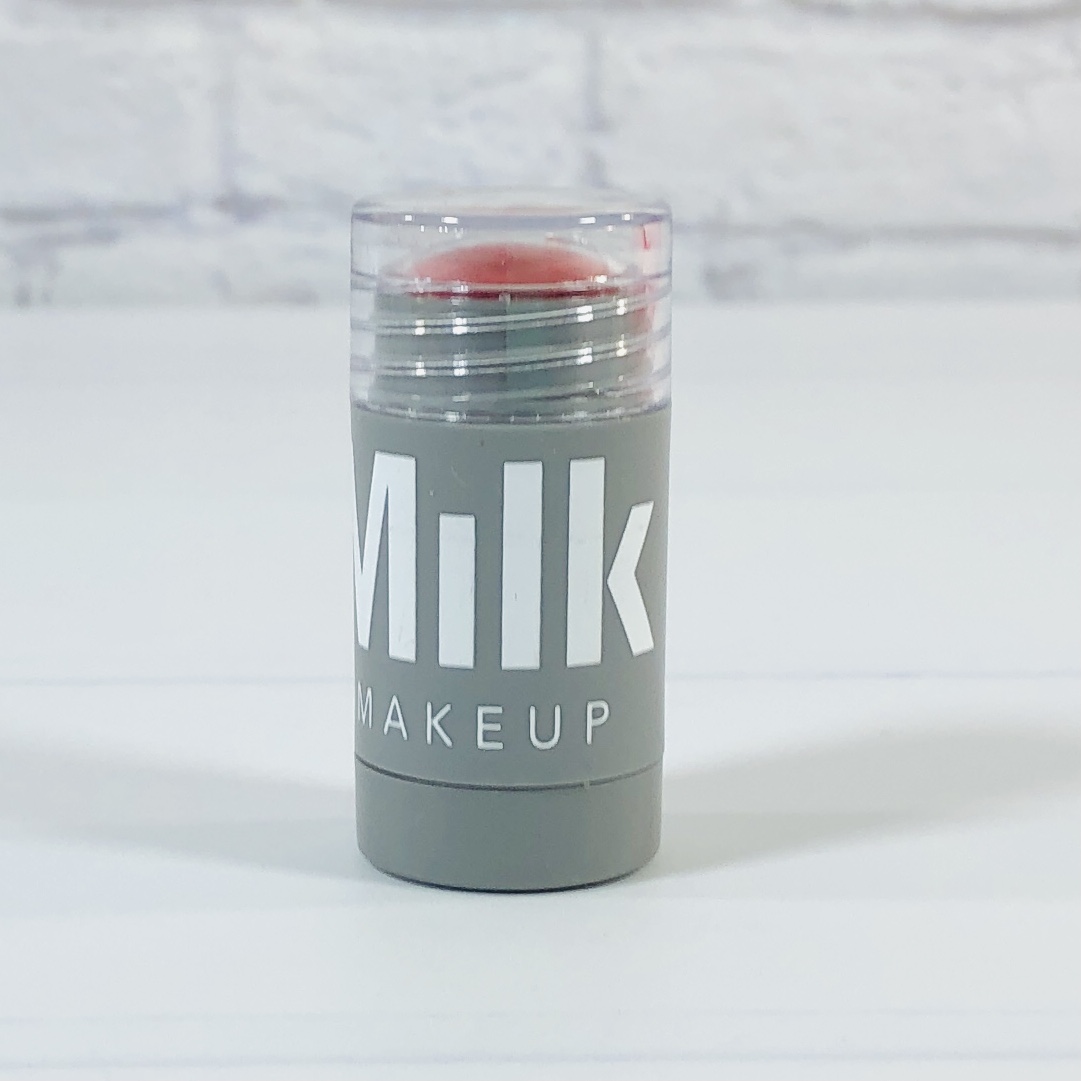 Milk Makeup Lip + Cheek Mini ($18) This product was my Sample Choice since I find I am liking cream blushes now that I'm older and my skin is dry.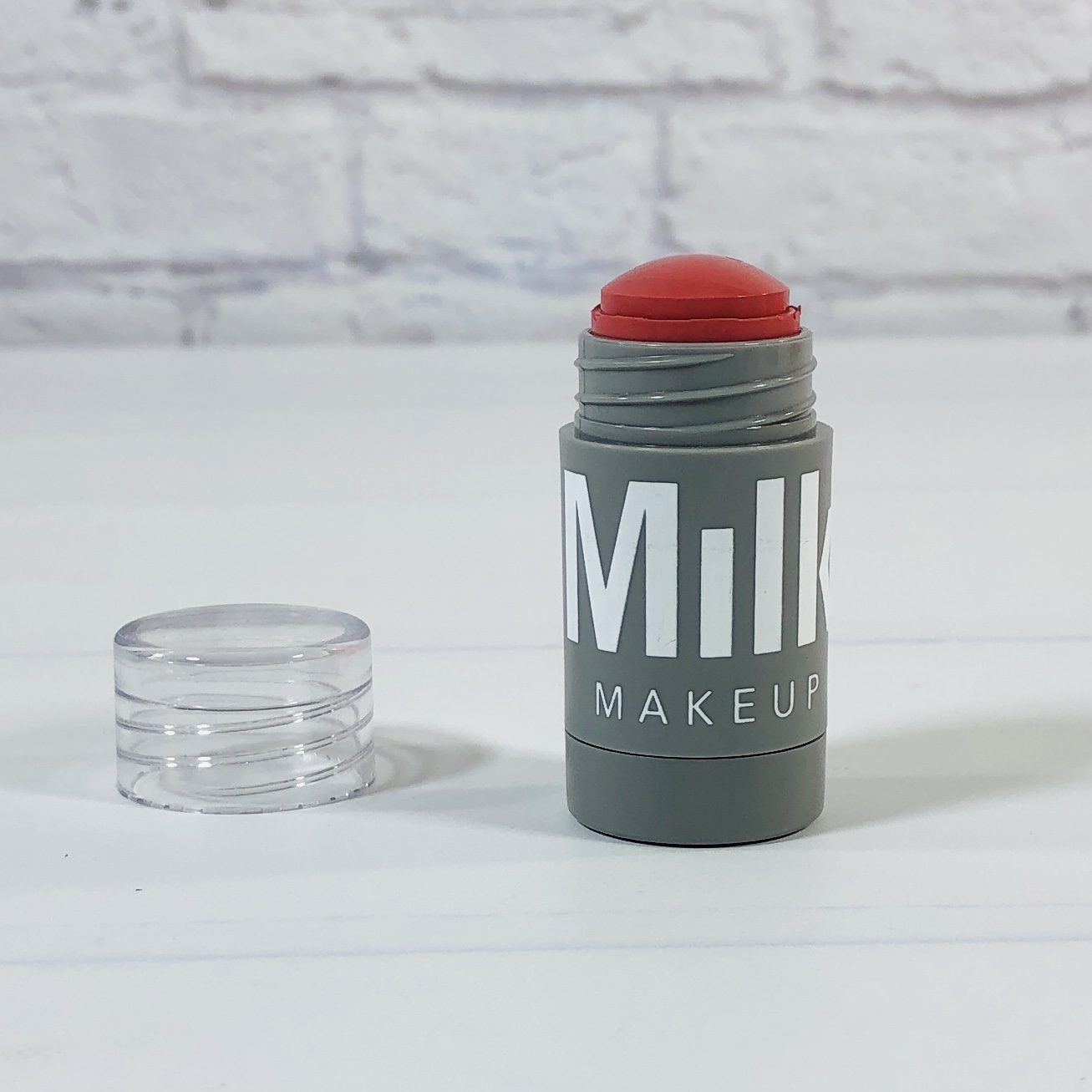 According to the brand, the shade Werk is a dusty rose and I agree, it doesn't look as bright as my pictures here. I used it on my cheeks and on my lips and I like the scent, which smells a little like orange blossoms. It was easy to blend on my cheeks and left my lips feeling like they had balm on instead of lipstick. Swatched below.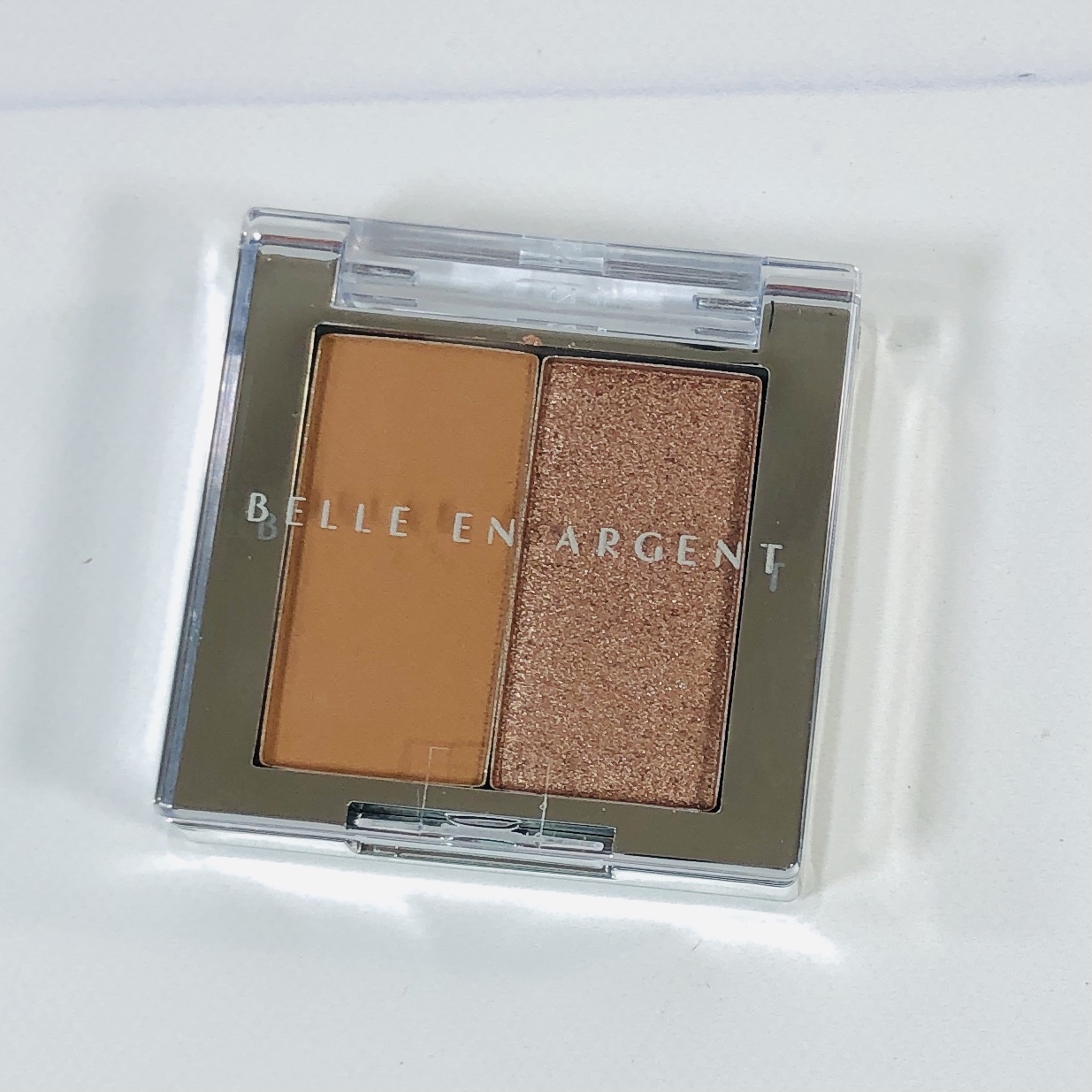 Belle En Argent Bronzed Eyeshadow Duo in Shutter Speed & Cinephile ($12) is an eyeshadow duo with a matte and shimmer shade, which is basically how I wear my eye looks every day!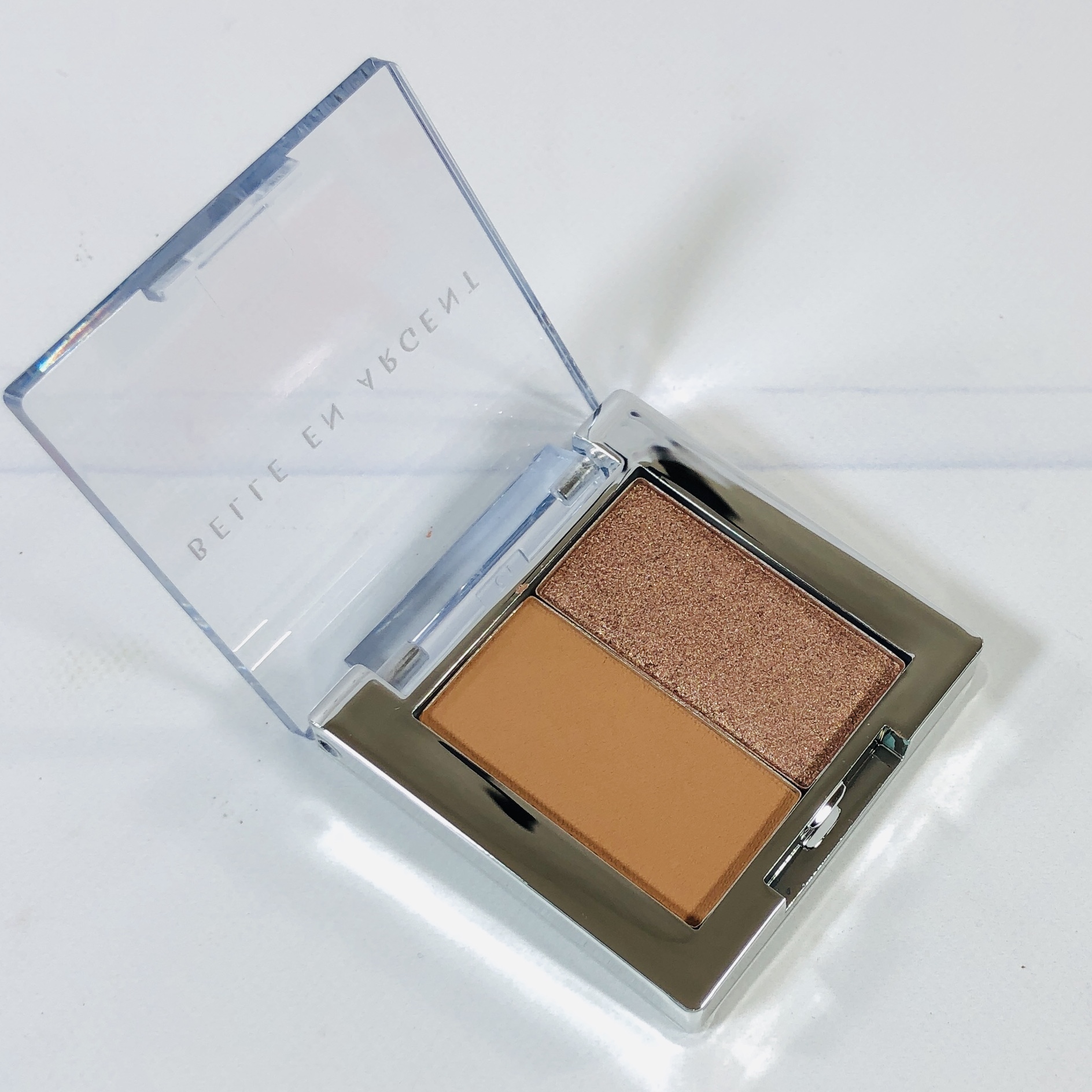 The matte shade is too orangey for my liking but I like the shimmer a lot. I also got fallout from the matte but I applied the shimmer with my finger, shimmers almost always go on better that way. Swatched below.
Here are the swatches of the cheek/lip product and the eyeshadow duo.
The March Ipsy Glam Bag was a hit with me this month! There was only one product that I wasn't into but the other four are every day basics that I enjoyed using and that were effective for me! I have been using the brush every morning for applying eyeshadow, the shimmery eyeshadow is in one of my preferred color choices, and the blush and mascara are from brands that I like and they worked well too! The value for my assortment was around $54.91, which is above the promised $50 value too!
What did you get in your Ipsy this month?