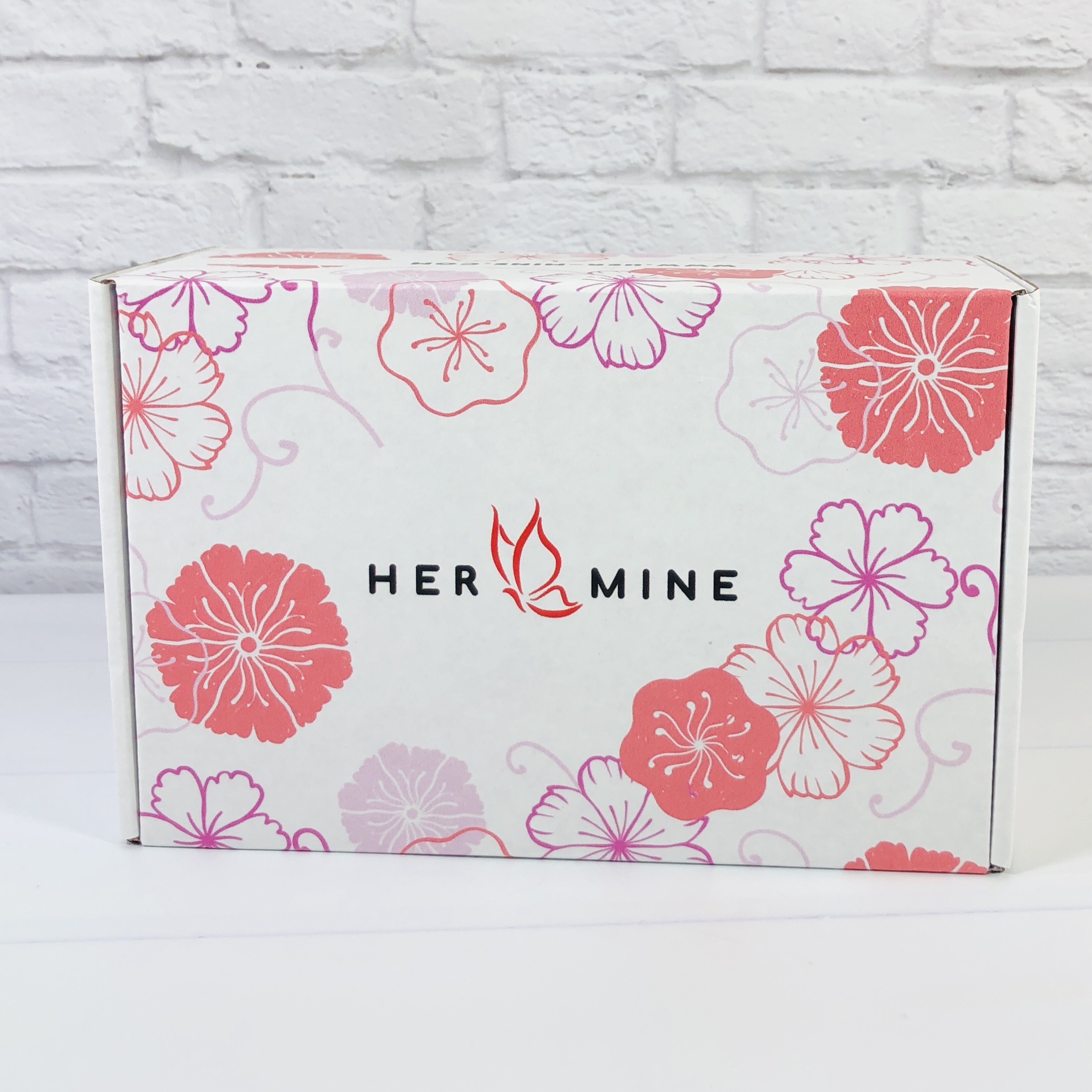 HER-MINE Self-Care Box is an aromatherapy, beauty, wellness, and lifestyle subscription box that sends items that are from women-owned companies. Her-Mine is a box for those who like to relax with pampering products, and who knows that self-care is important. The Deluxe Box is $44.95 and comes with 5-8 products. Products will be both full and deluxe sample sized.
HER-MINE Box is a monthly self-care subscription focused on pampering and empowering women. Each box incorporates 5-8 wellness products sourced primarily from female vendor partners that produce natural, organic, or feel-good products ranging from aromatherapy, clean beauty/skincare, and unique lifestyle goodies. Themes and items change each month so it's always a delightful surprise!
DEAL: Get 10% off on any order! Use coupon code HERTEN.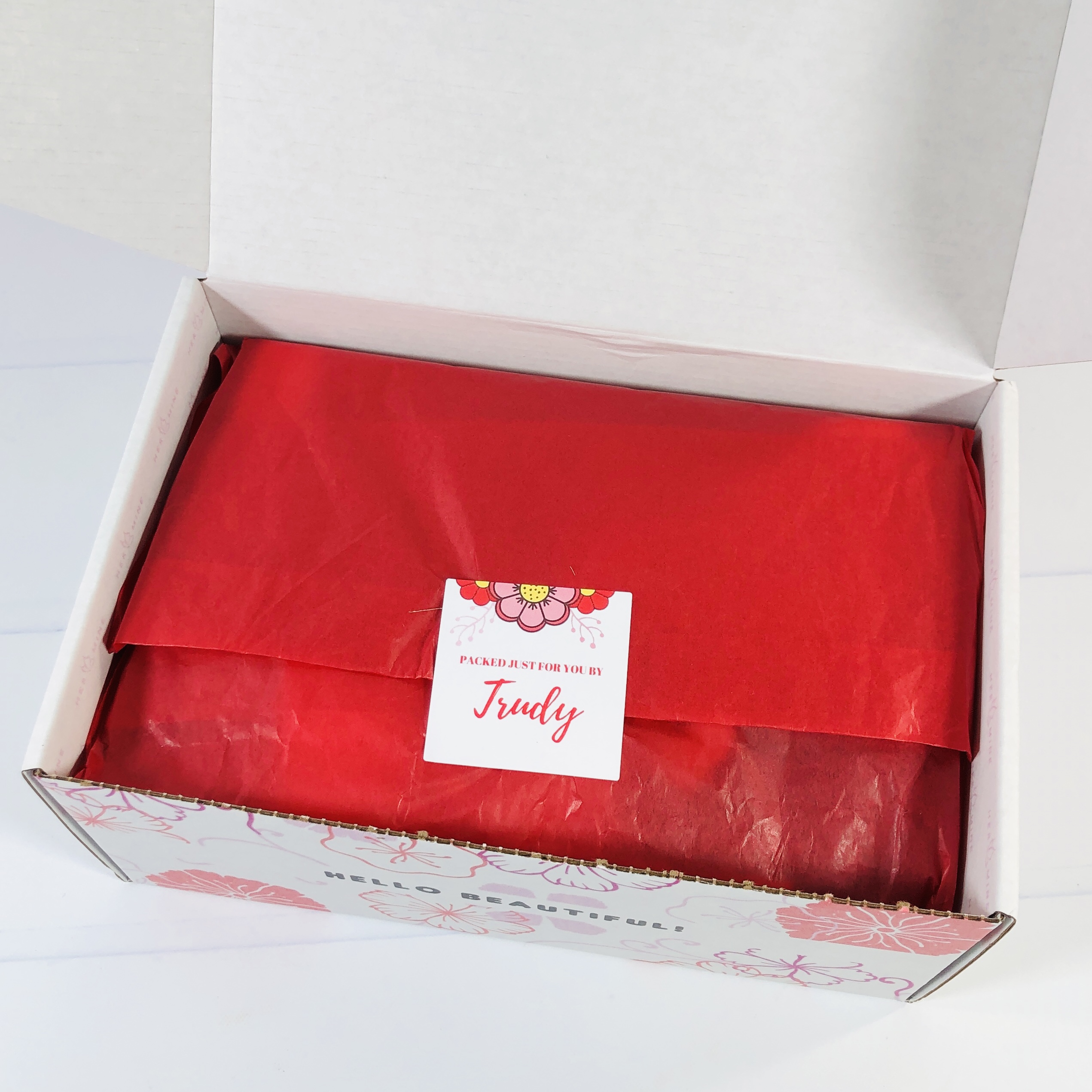 My items were wrapped in red tissue paper that was sealed with a sticker. My box was packed by Trudy, one half of the team behind HER-MINE (the other is Pam, her mother!).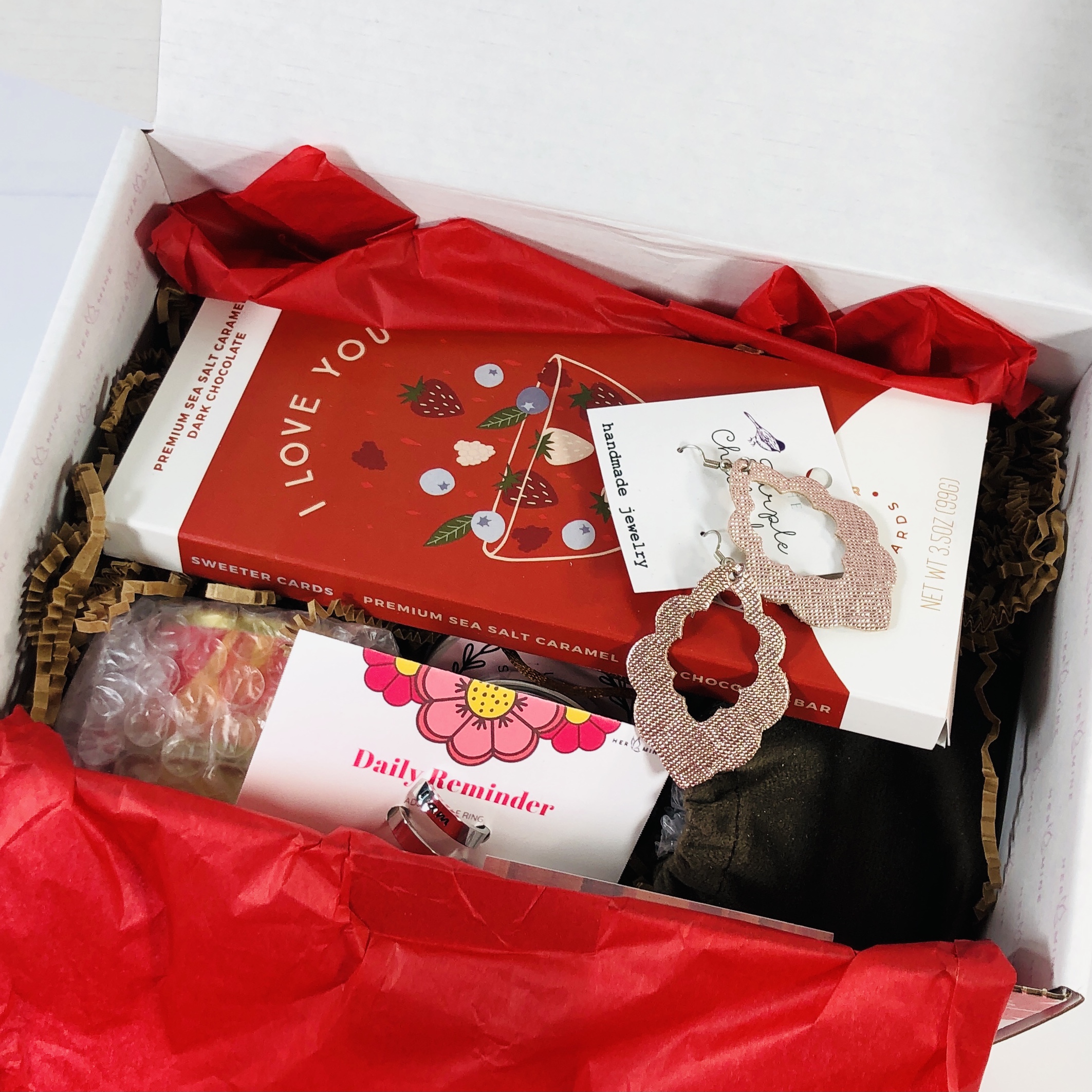 The items were snuggled in shredded paper squiggles. It looks perfect for February, look at those reds and pinks!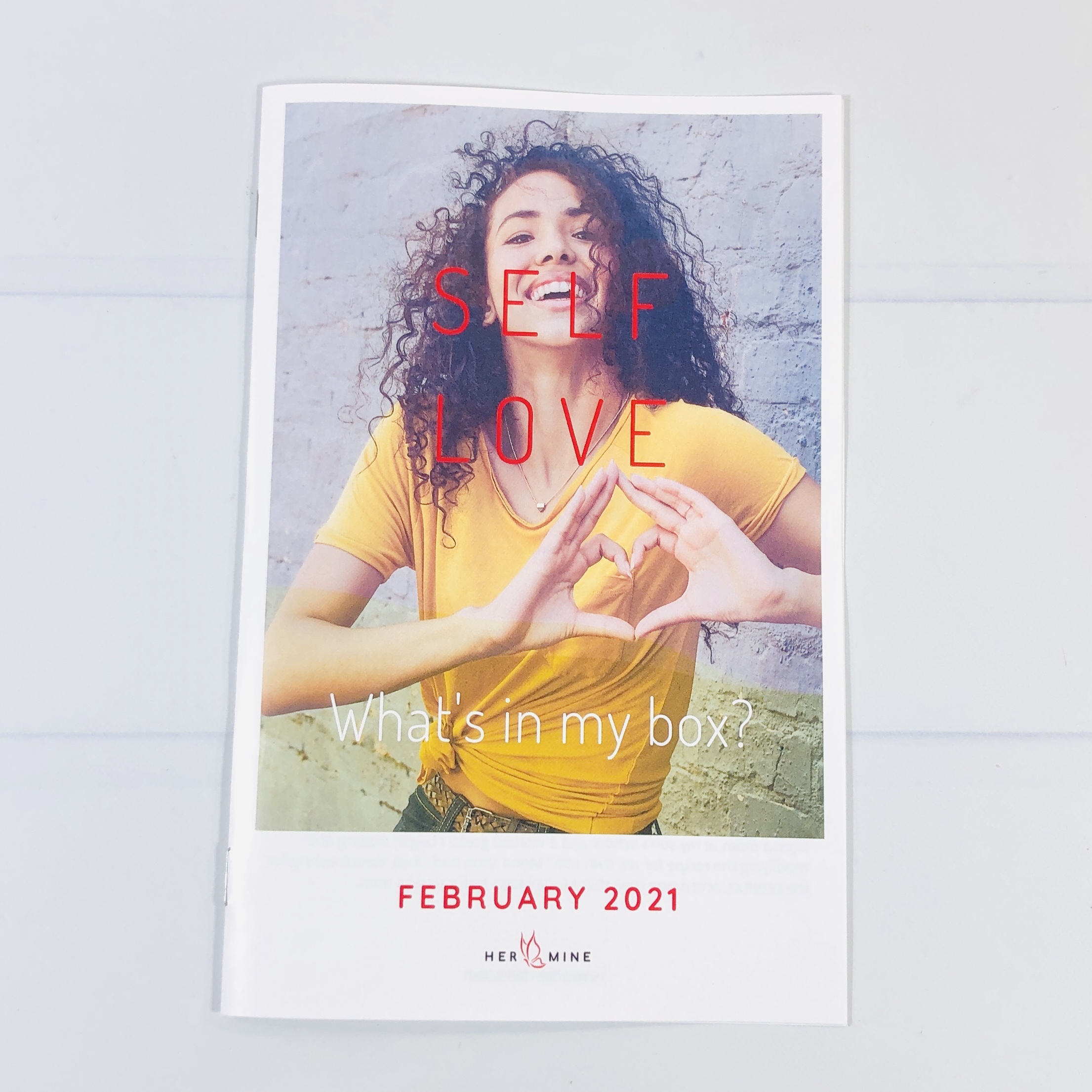 A lovely pamphlet was included. The theme for February was Self Love!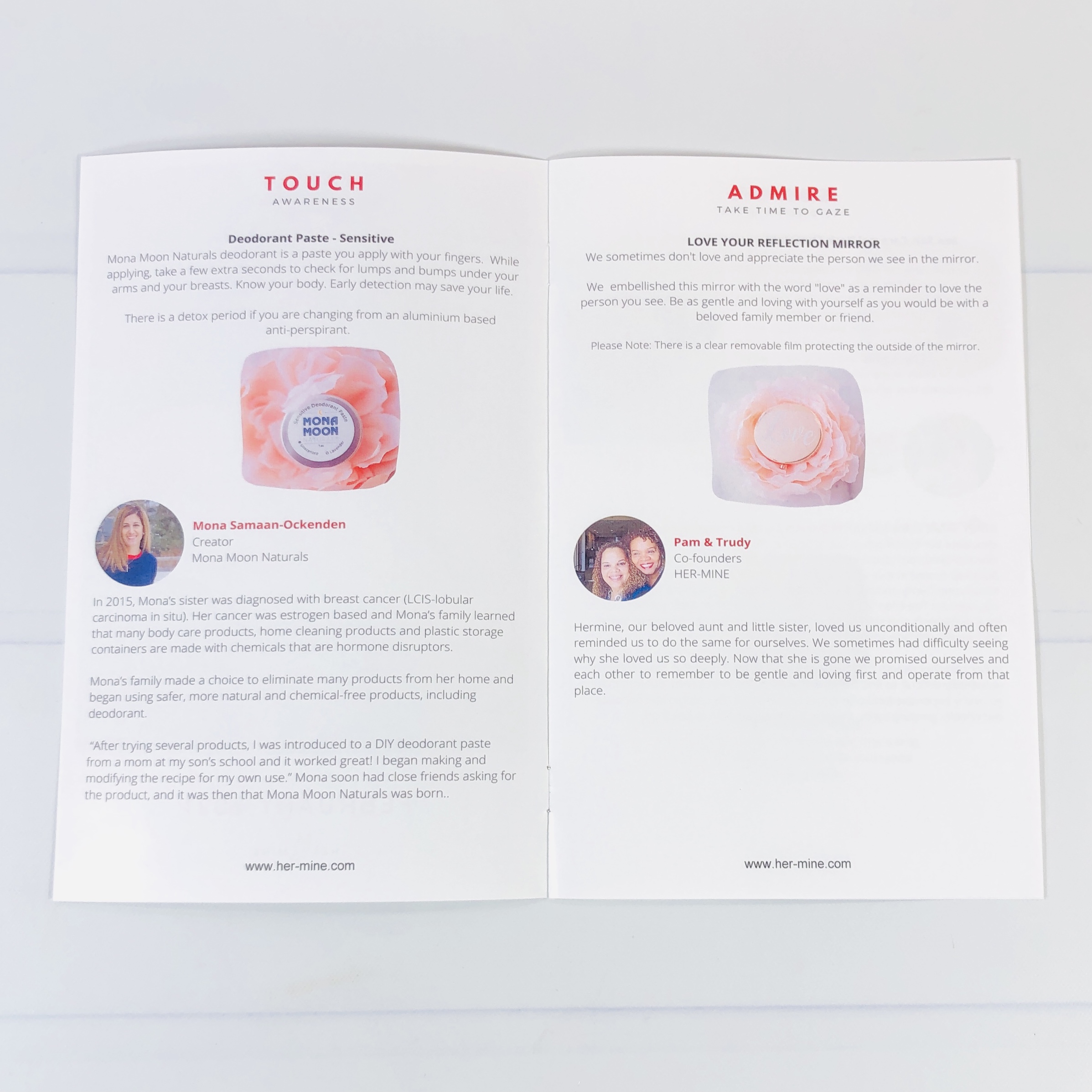 Each product in the box was shown along with its creator. I think it's wonderful that both the item and maker are discussed, that way I feel more of a connection to each company.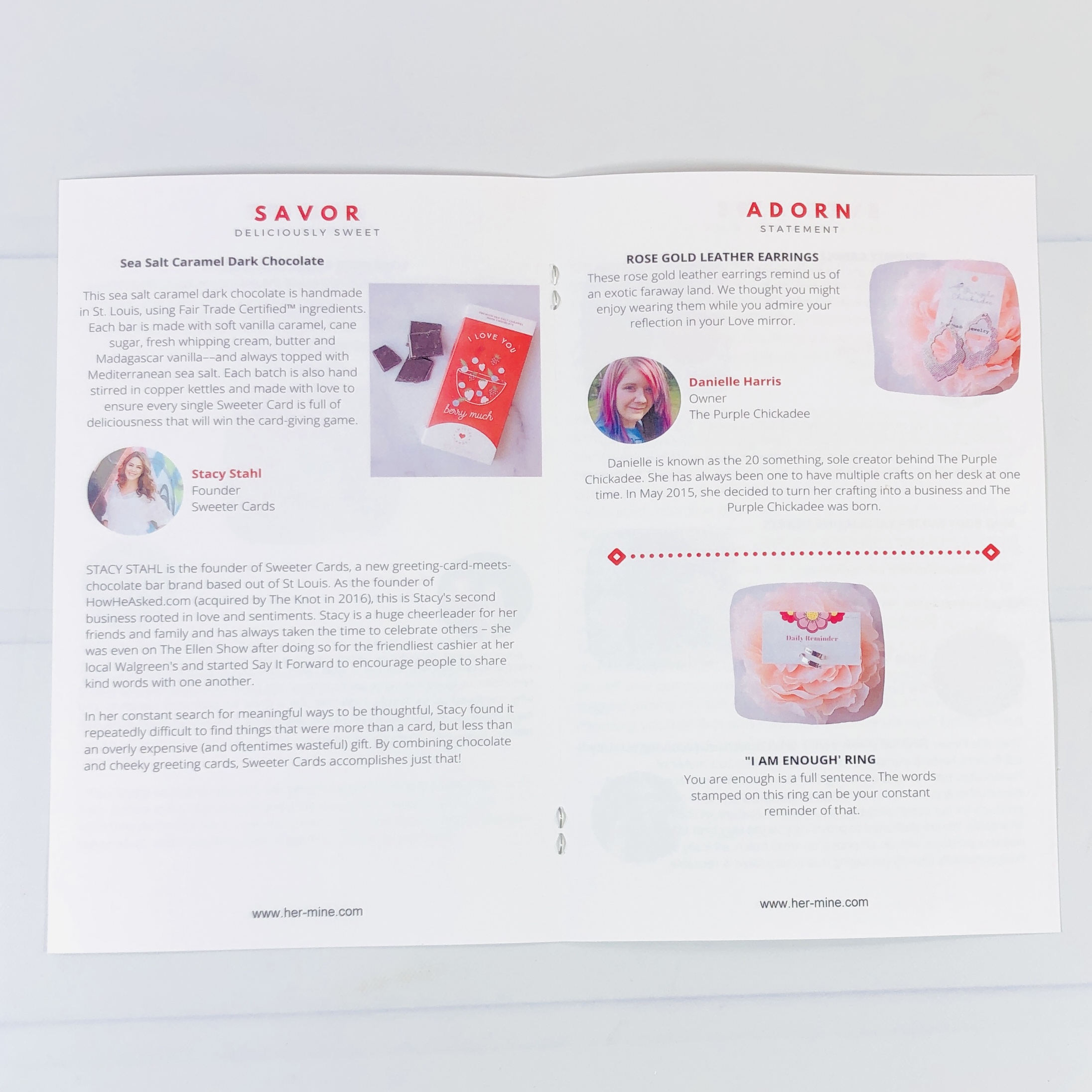 It looks like a great curation, as always!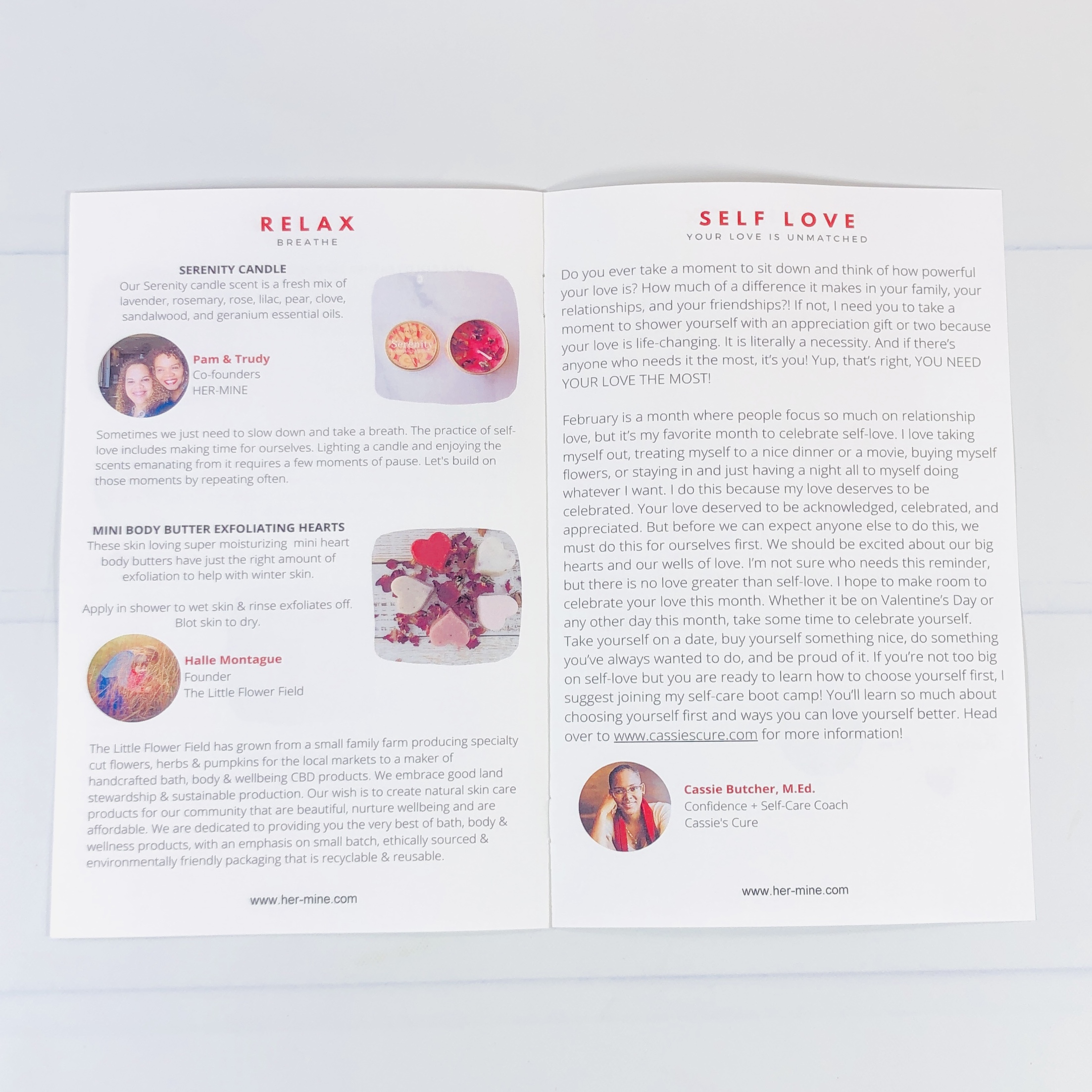 There was a mini article on self love and a reminder to take care of ourselves.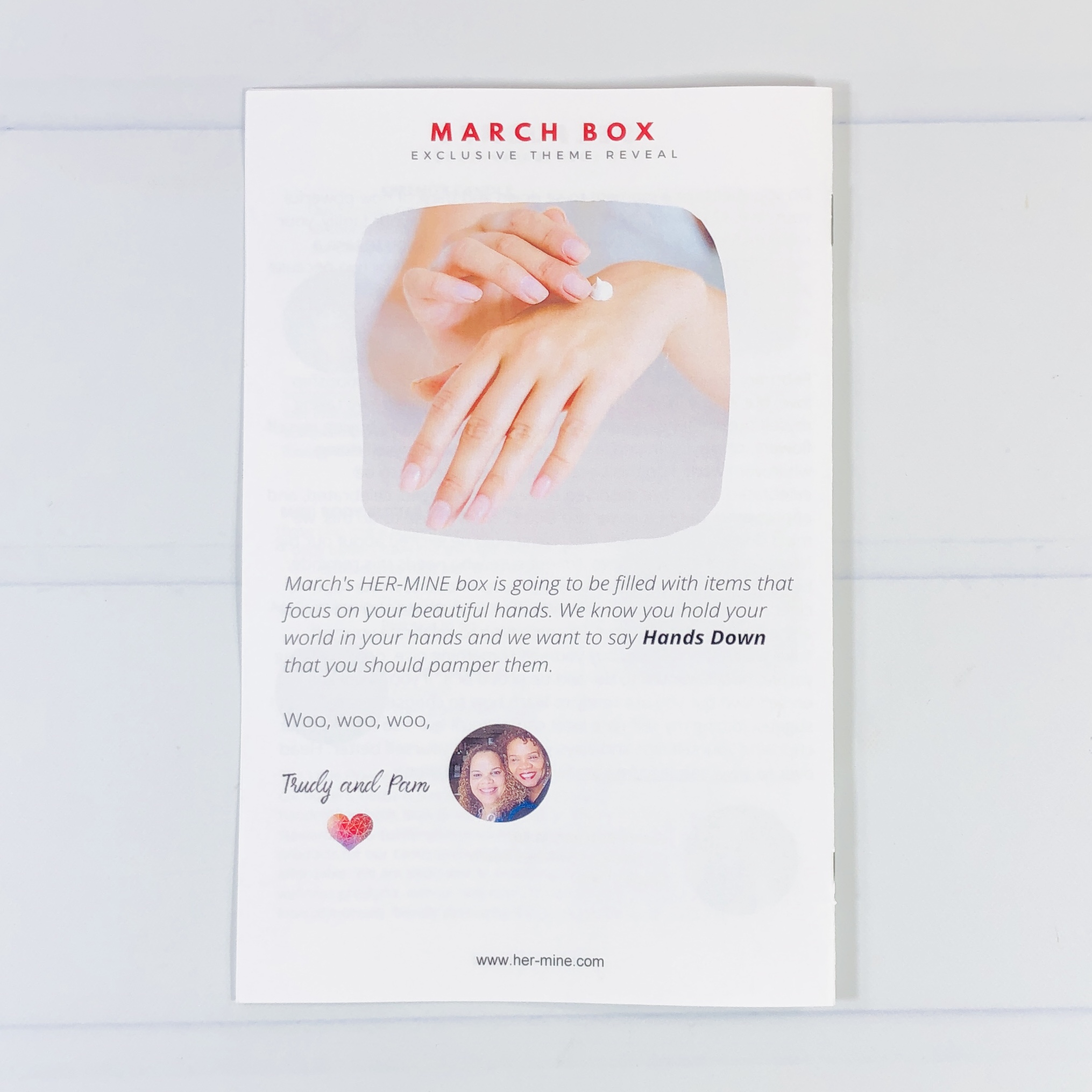 The back of the pamphlet gave us a peek at the March theme. I love it, it's all about the hands!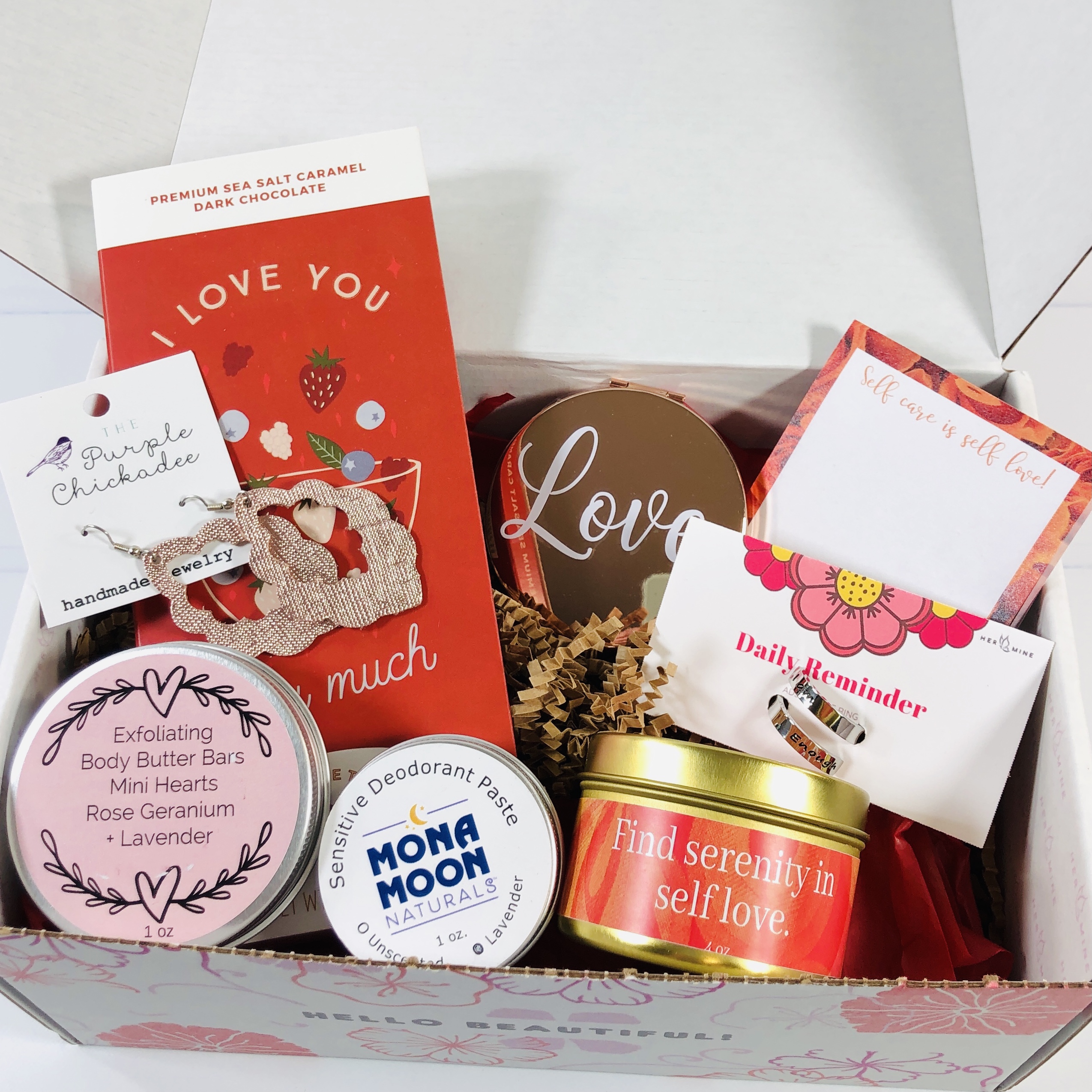 Looking good!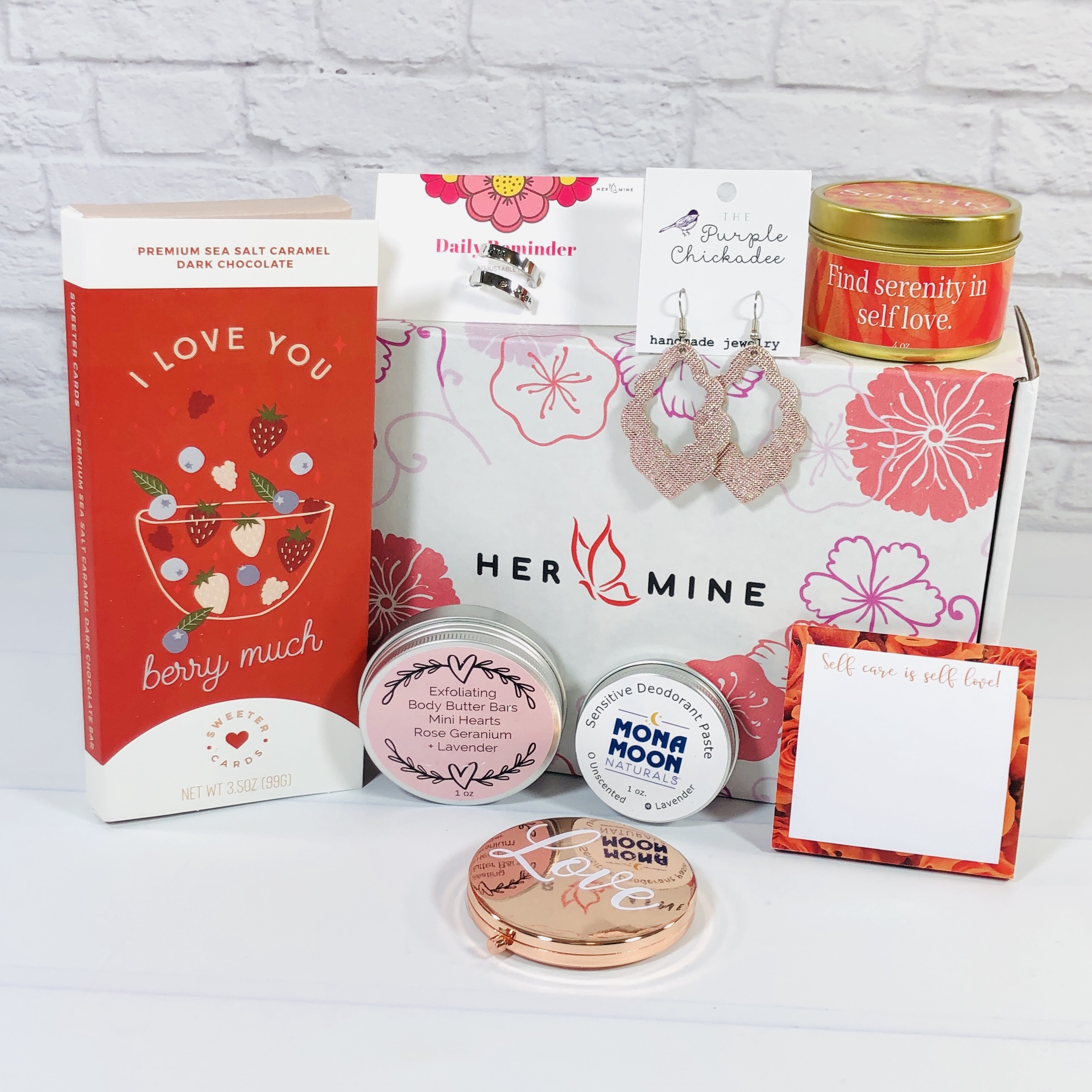 Everything in my box!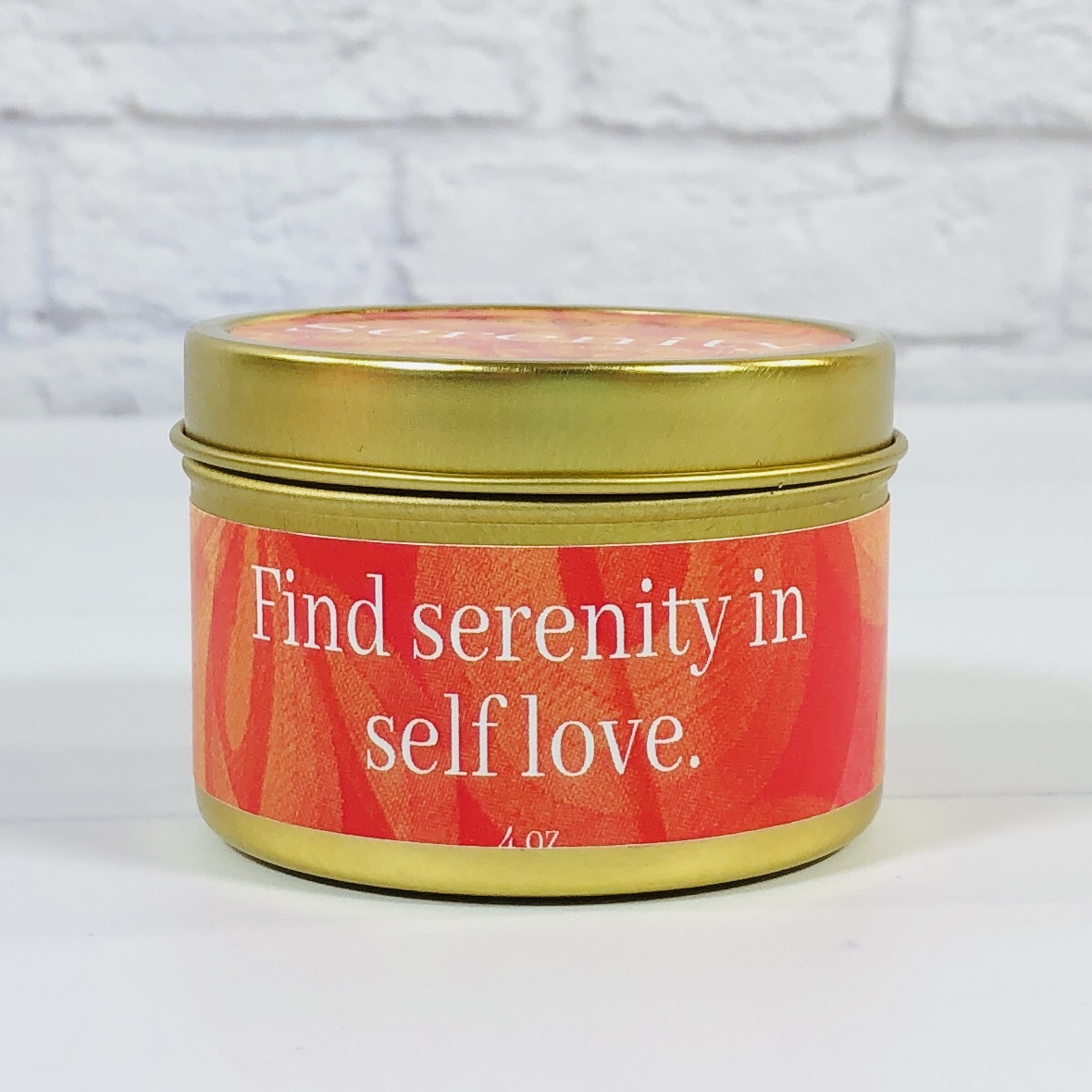 Serenity Candle I love burning candles, they help me feel relaxed and all cozy inside and out.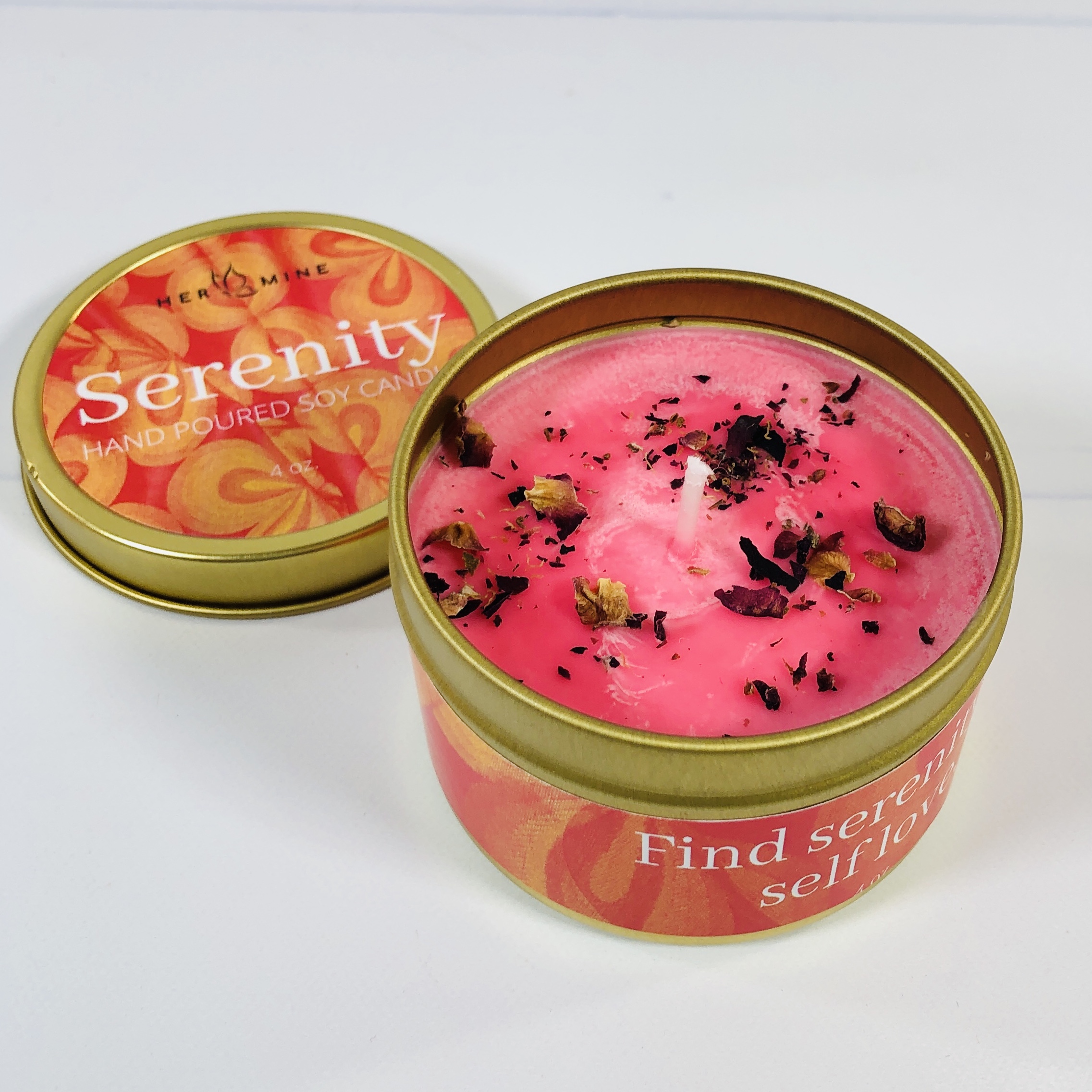 This candle is made by the HER-MINE team! It has rose petals on top and the scent is a combo of lavender, rosemary, rose, lilac, pear, clove, geranium, and sandalwood. I thought it had a good hot throw, not too strong, and just enough to lightly scent my living room while burning. It smelled floral and warm.
Sticker Notepad I didn't see this in the booklet, I think it's a bonus! It has roses around the edges and says "Self care is self love!". It probably has about 50 pages and the backing says Post-it so you know it's going to stick.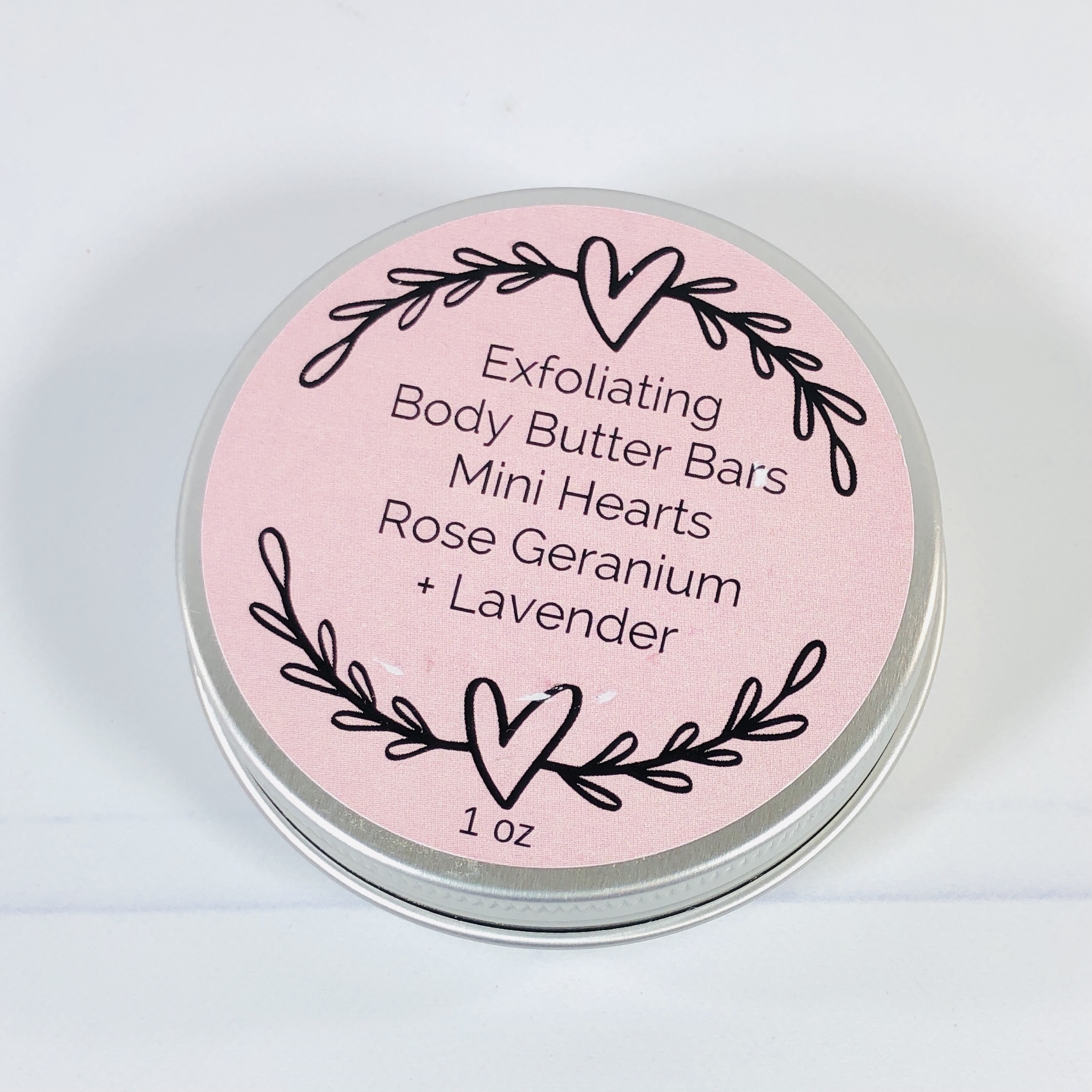 Mini Body Butter Exfoliating Hearts (Buy a set of 5 for $9) I was expecting a little more exfoliation from these mini bars, but they are more body butter than anything else.
The bars are made of shea butter, sweet almond oil, beeswax, and essential oils plus some vitamin E and a few other ingredients depending on the bar.
Aren't they adorable? The brown one felt like it had sugar while another bar had dried flowers (I haven't tried the white bar). I applied to wet skin in the shower and the product didn't go anywhere — it's like when you put butter or Crisco on your hands, it's stuck there for a good long time. So no rinsing really happened, I had to wipe it off after my shower.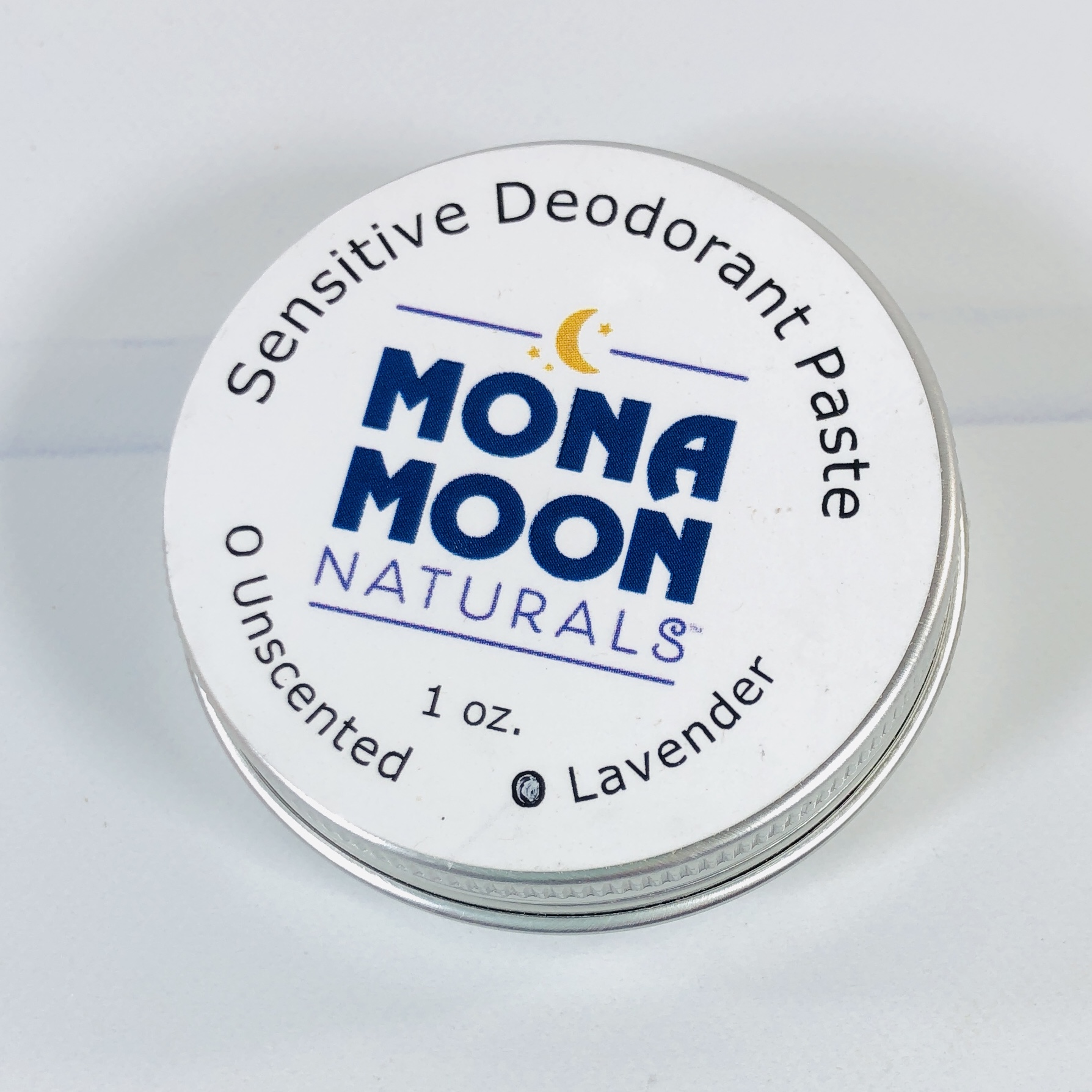 Mona Moon Naturals Deodorant Paste-Sensitive ($12 for 2 ounces) is a paste that you apply with your fingers to keep pits from smelling, although it won't keep the body from sweating.
This version has beeswax, shea butter, and coconut oil. Some people are sensitive to baking soda so if that is you, please know that it is also listed. This version is scented with lavender.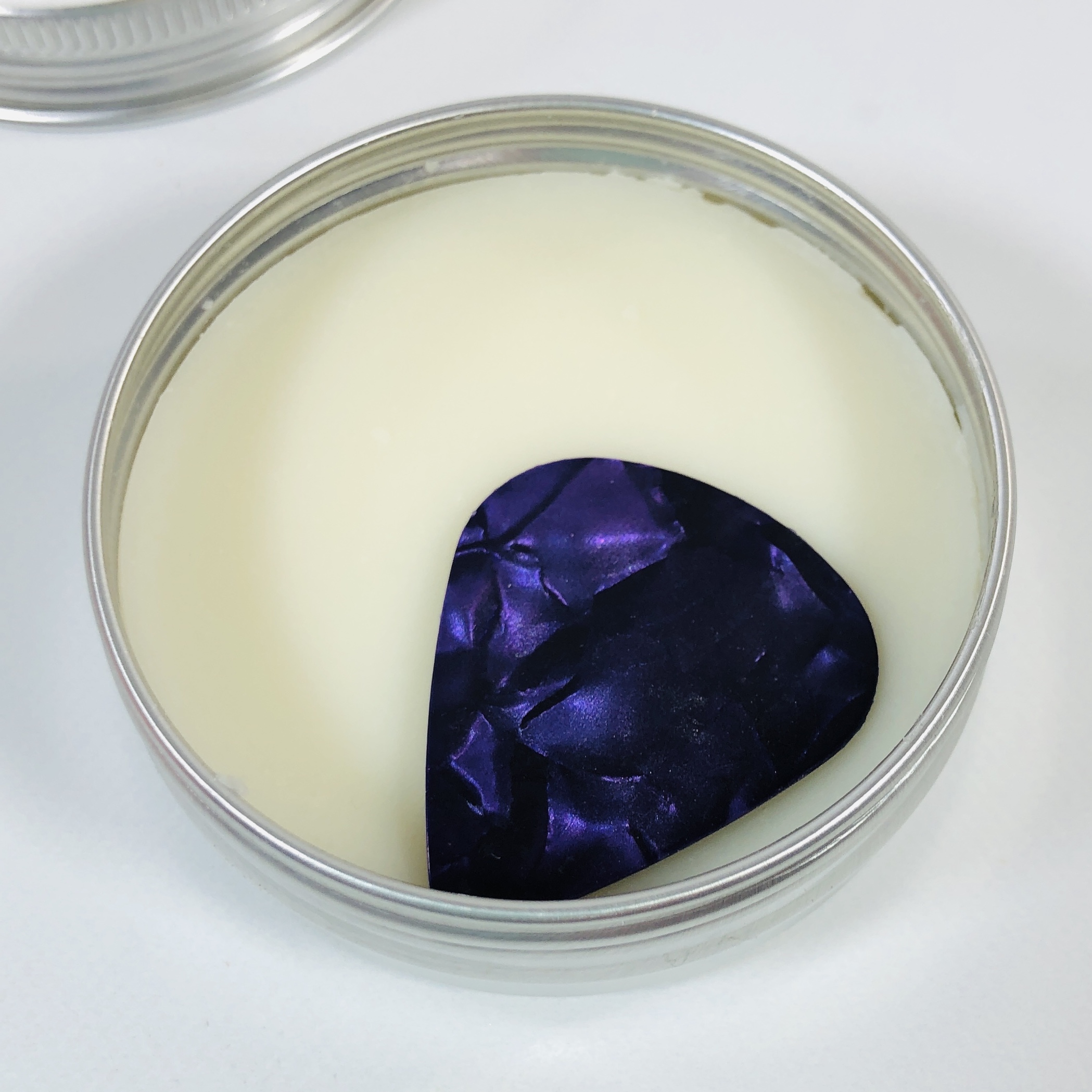 It even came with a purple guitar pick to make it easier to remove the product from the container. Rub about a pea sized amount under the arms. The product is smooth, it doesn't feel gritty at all, and it doesn't really smell like lavender, just herbal.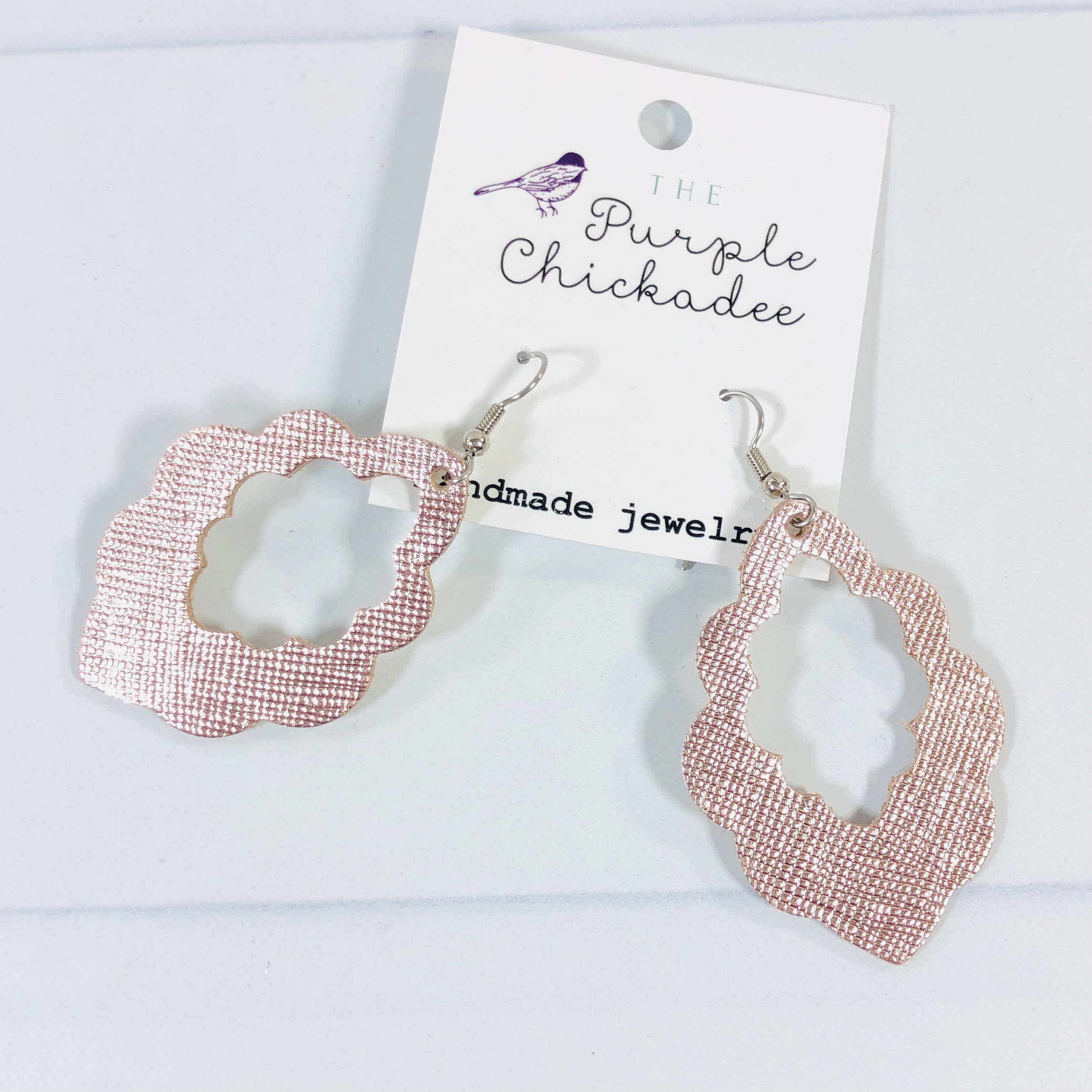 The Purple Chickadee Textured Rose Gold Leather Scalloped Earrings ($10) come on stainless steel fishhook earring wires and the leather is cork-backed.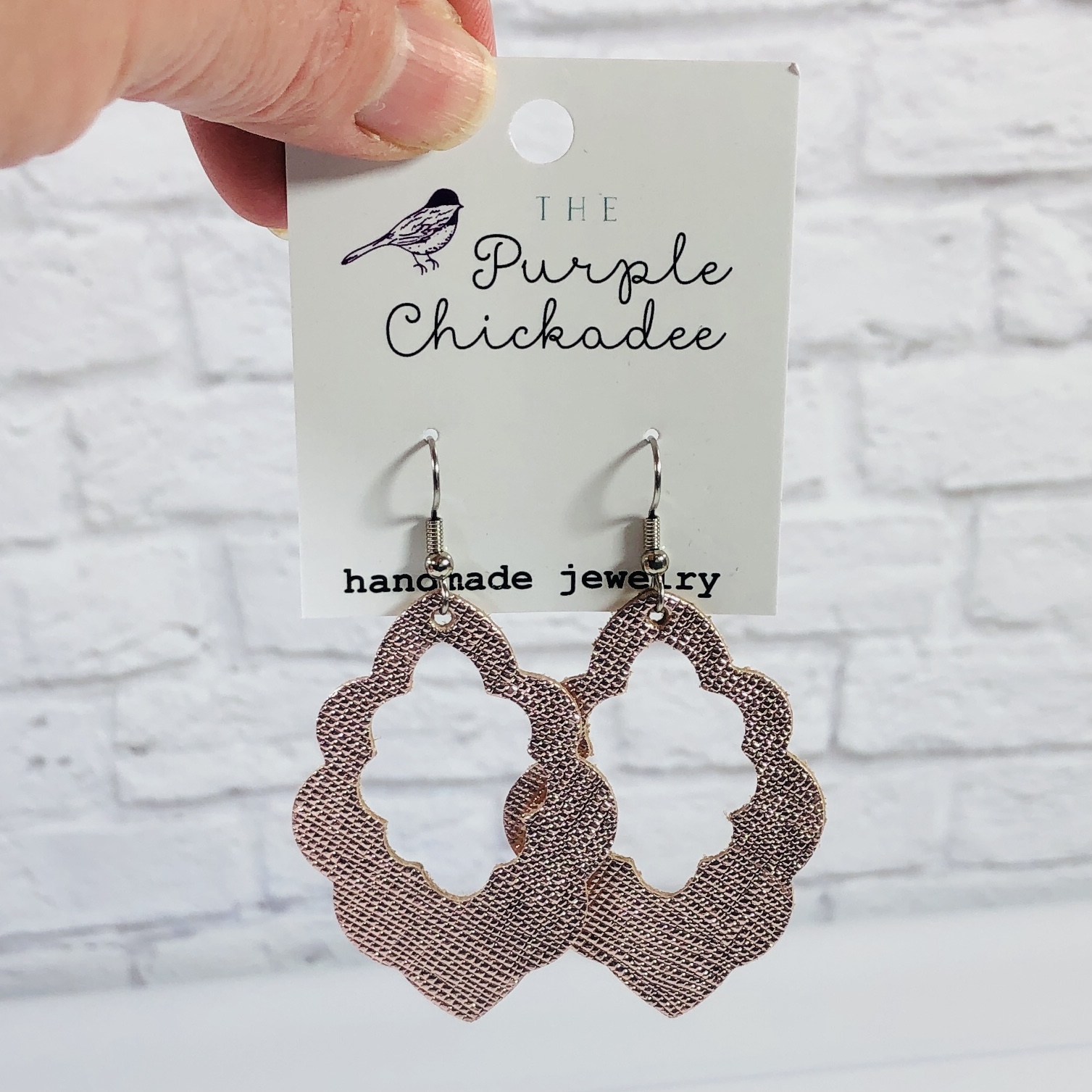 The earrings are lightweight and I love the shiny rose gold color! The leather part is 2″ long and there is a decorative cutout in the middle.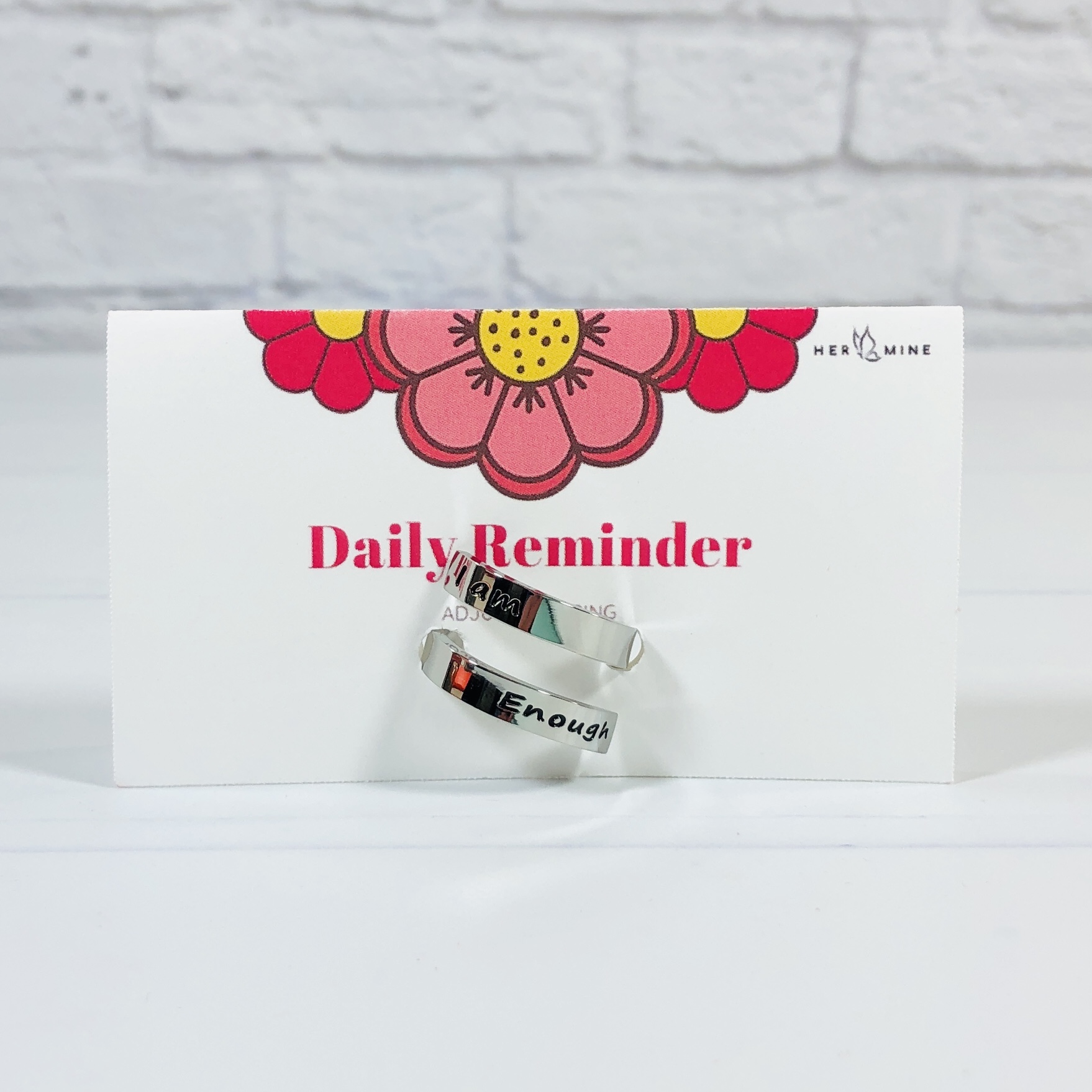 "I Am Enough" Ring (find similar item here) comes from Her Mine and it is an adjustable ring with a positive message!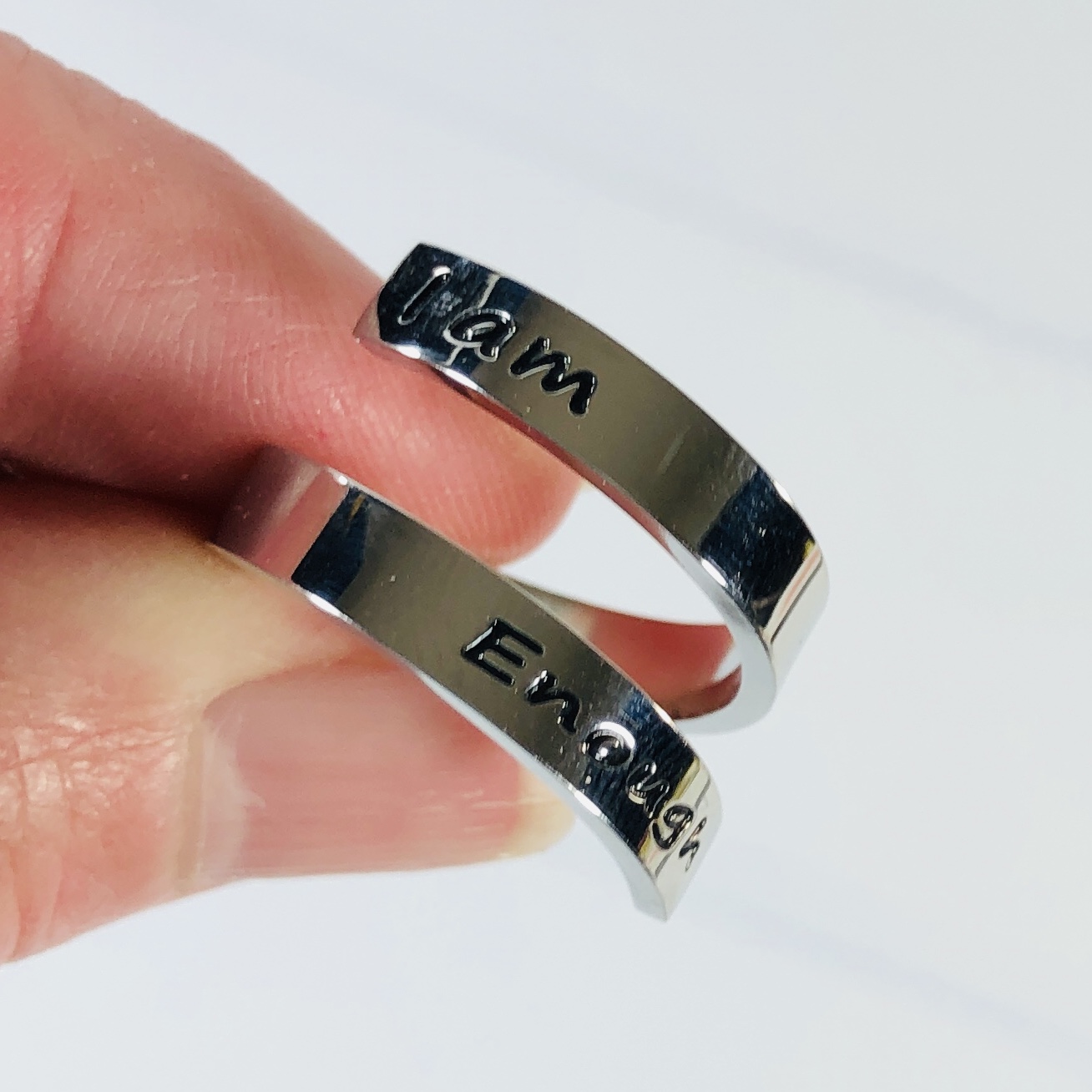 It says "I am Enough" and there is a mini star on the inside.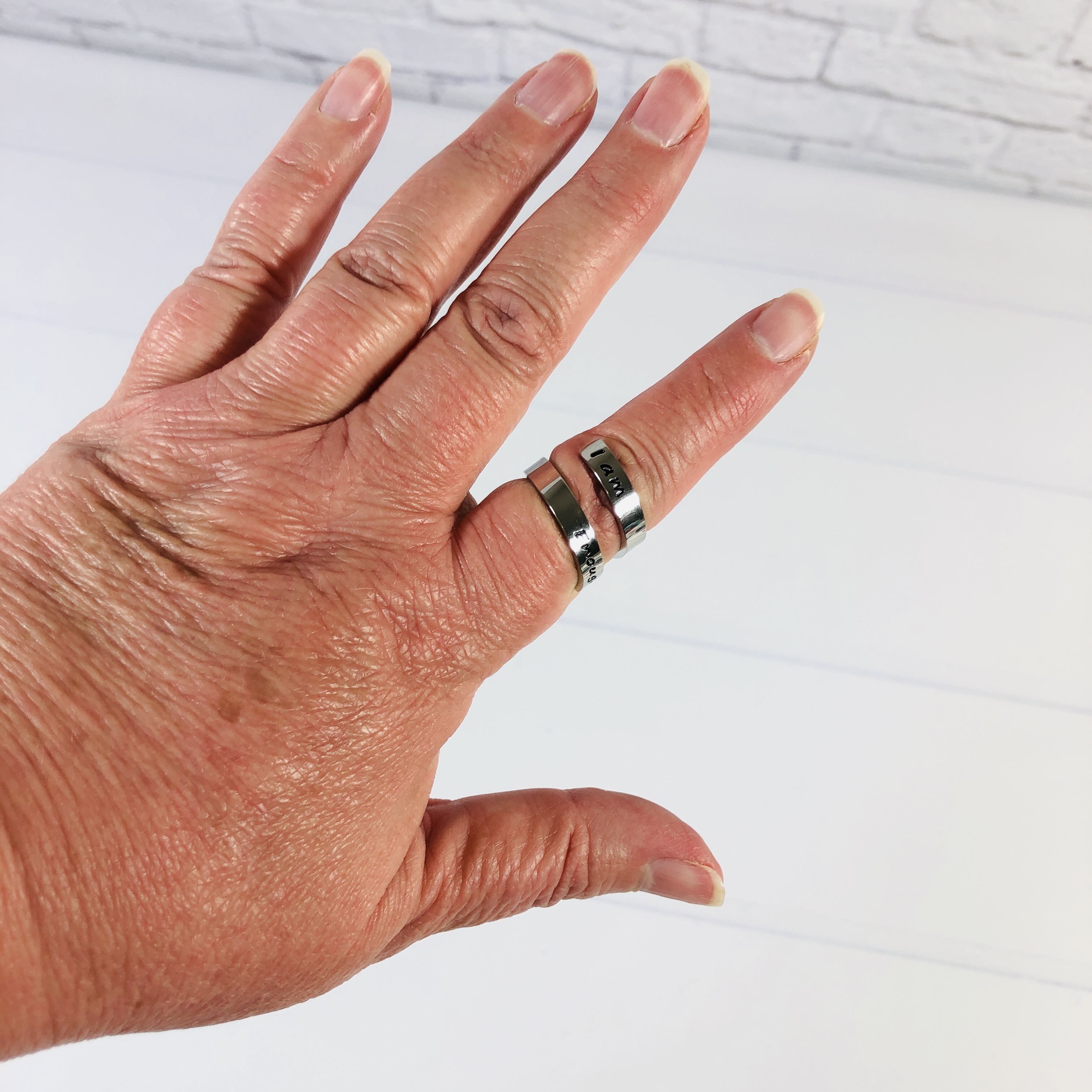 Hmm, I'm not sure which finger to place it on! I haven't been able to adjust it yet, I bet my husband can help me out with that though.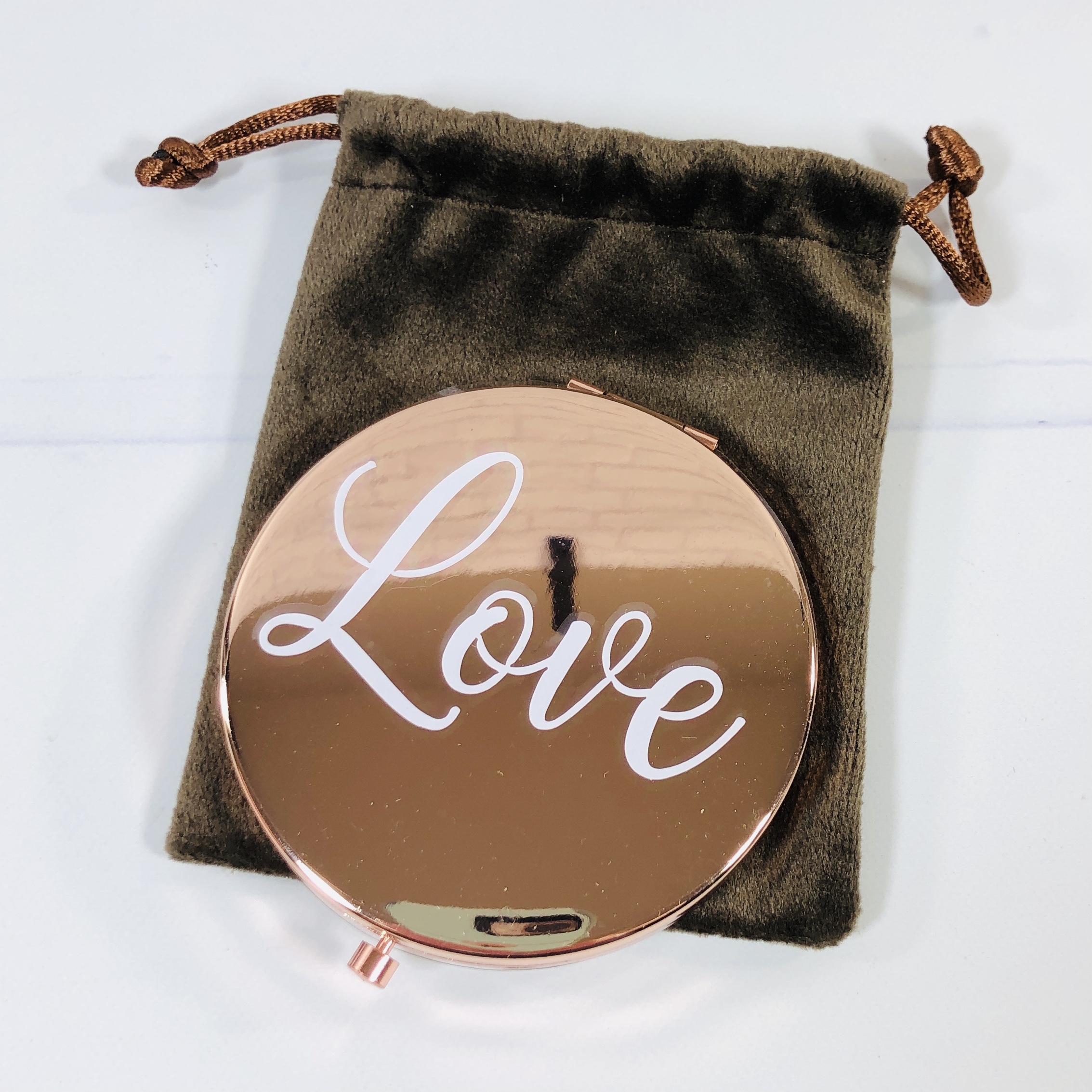 Love Your Reflection Mirror is also by the Her Mine team but you can find similar compacts on Etsy and have them personalized the way you wish. This beauty came in a super soft carrying bag. I didn't realize it until later but there was a protective plastic cover over top (and on the bottom) in this picture, you can peel it off when you get a chance or leave it in place to prevent scratches.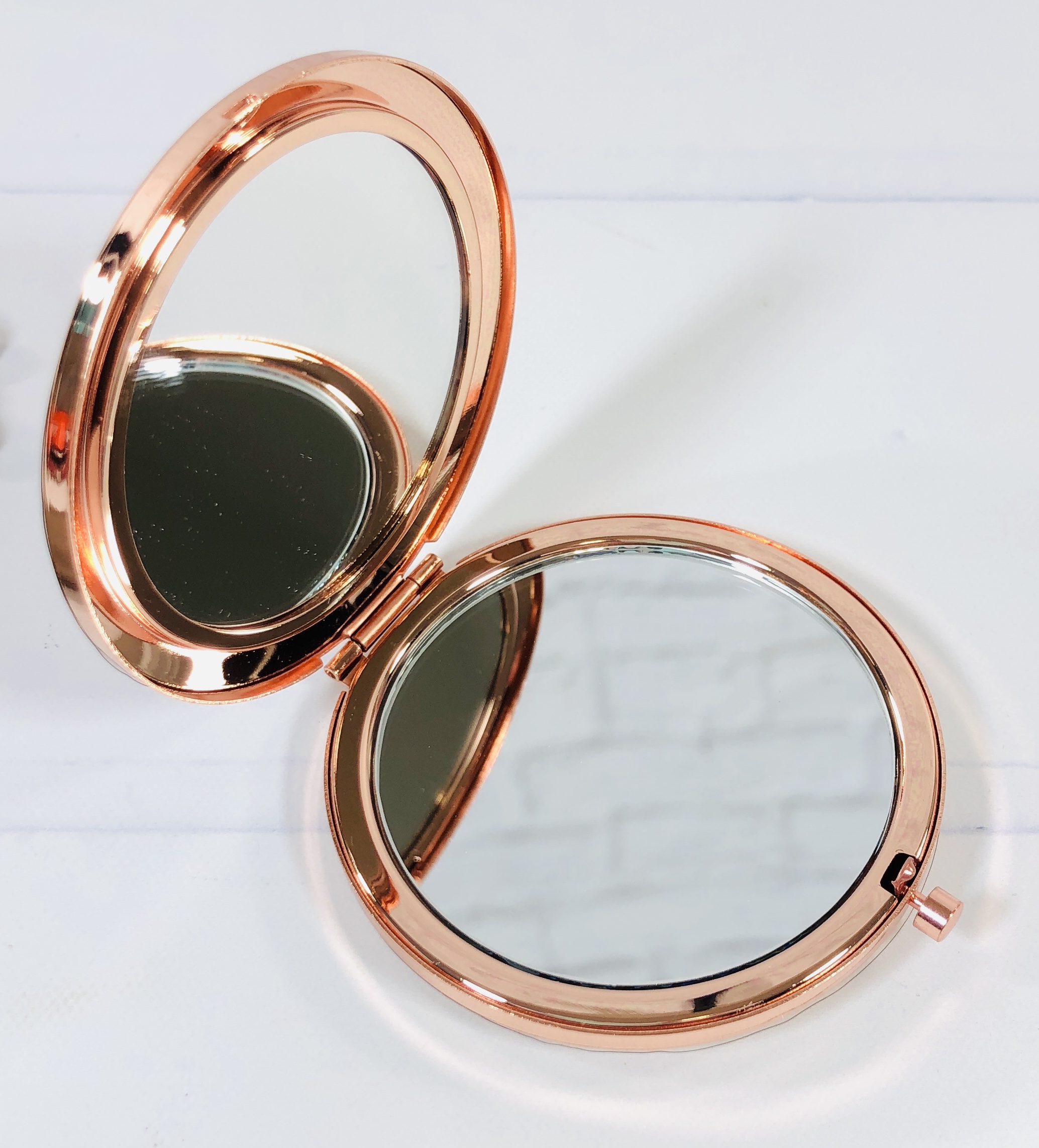 The compact is about 3″ wide and is in a beautiful rose gold shade. It has two mirrors inside, one regular and one with magnification. It is beautiful and is going straight into my makeup bag!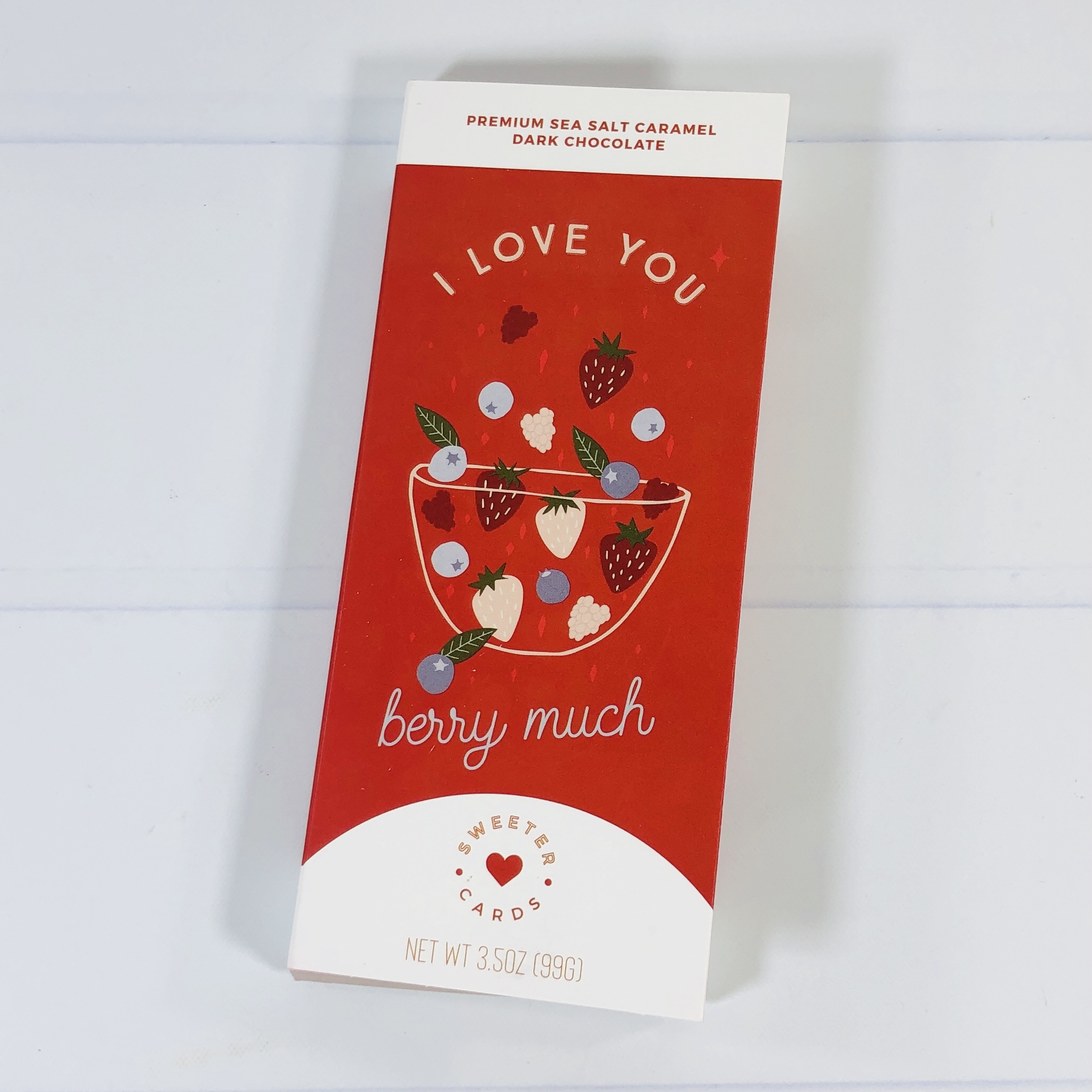 Sweeter Cards Sea Salt Caramel Dark Chocolate ($8.99) Sweeter Cards are a combo of chocolate and a lovely greeting for someone you love! The box serves as the card and this one has a berry sweet message.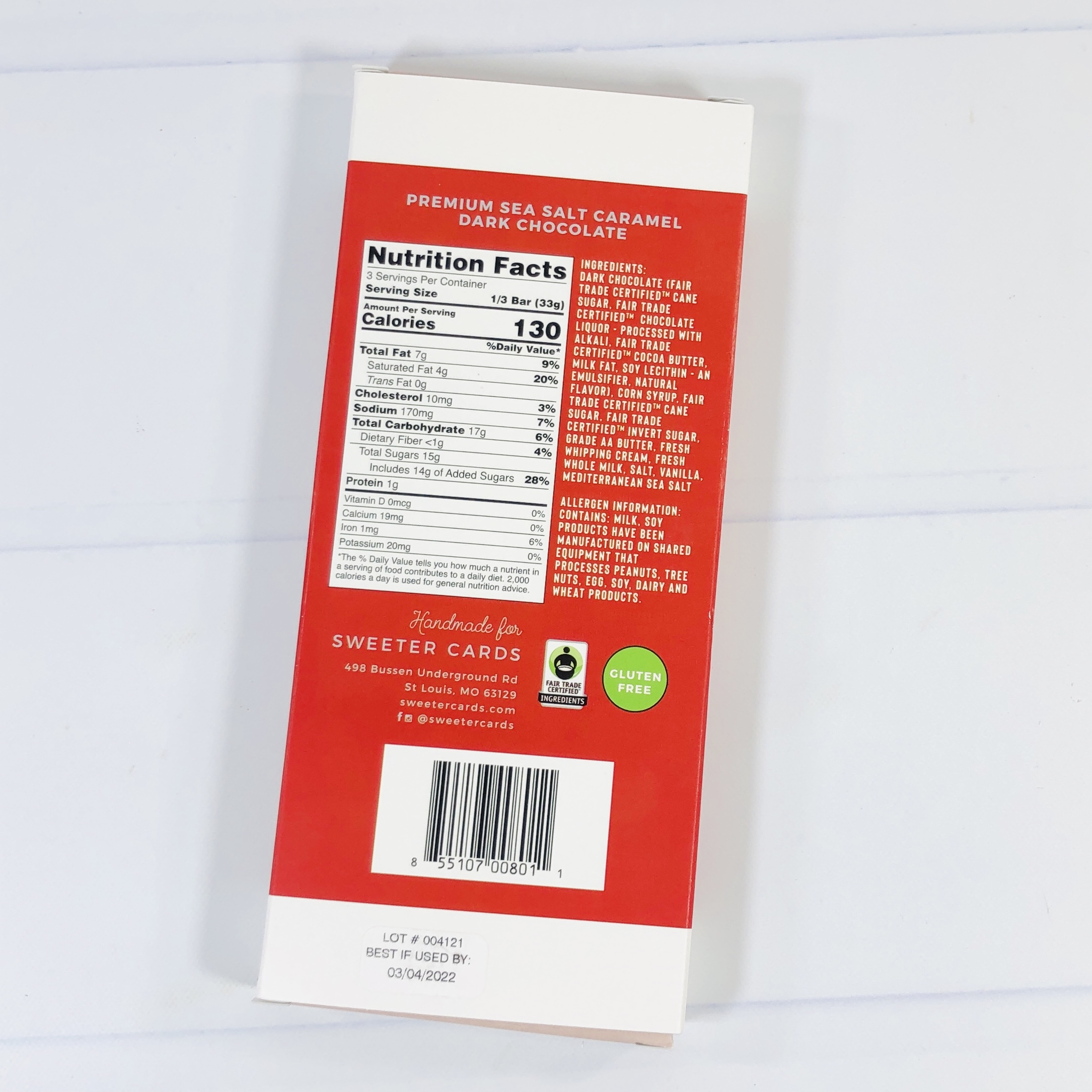 The back has the ingredients and they include fair trade chocolate and sugar.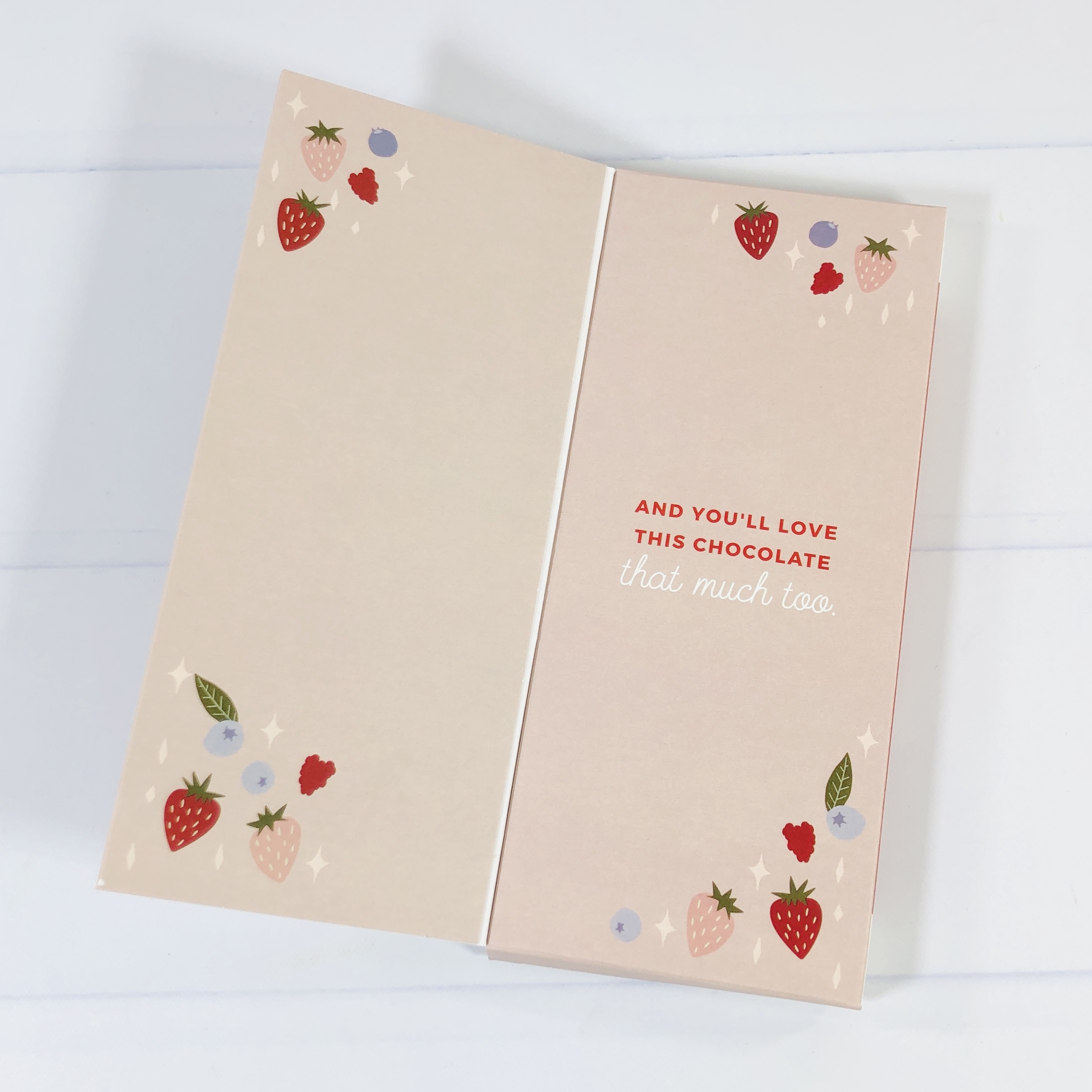 Here's the inside of the card!
This is a mostly dark chocolate bar with crunchy bits of salt and a little bit of caramel. It is absolutely delicious and I like the texture from the salt. The bar is scored into 8 pieces and you can see the front and backs here, along with a hint of what is on the inside.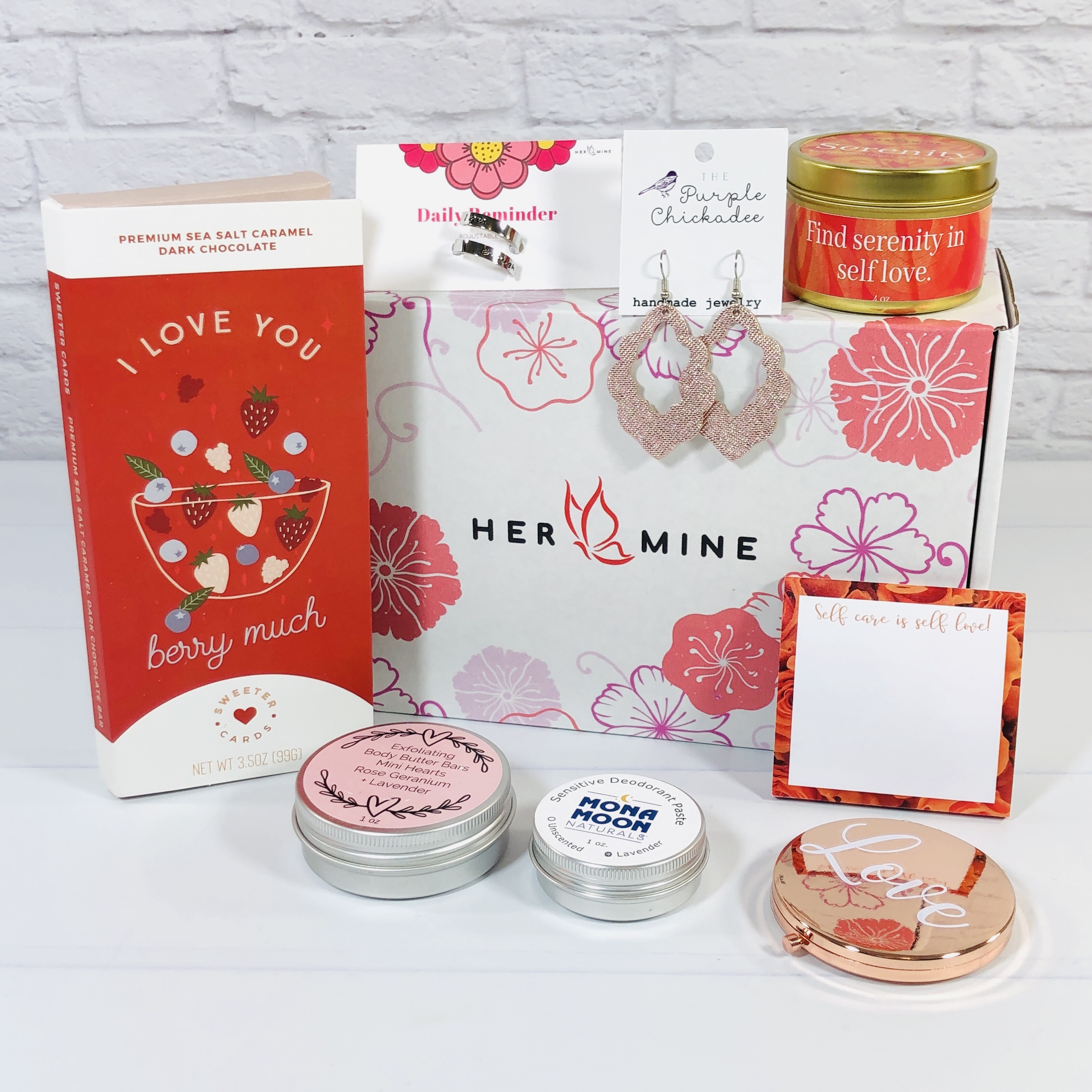 The February HerMine Box was perfect for the month of love, whether that's love for others or yourself! I indulged in some self care by lighting the candle and thinking happy thoughts while eating the chocolate bar (while also watching funny tv shows, ha!). The deodorant and lotion/scrub bars are clean beauty items and the jewelry items were unique and shiny, always a good thing in my eyes! Speaking of shiny, the mirrored compact is in my favorite finish, rose gold, and is super helpful when I'm out and about and need to find out what exactly is in my eye. The sticker pad is next to my desk and ready to jot a reminder to myself or one of my children. Overall a lovely curation!
What do you think of this box?