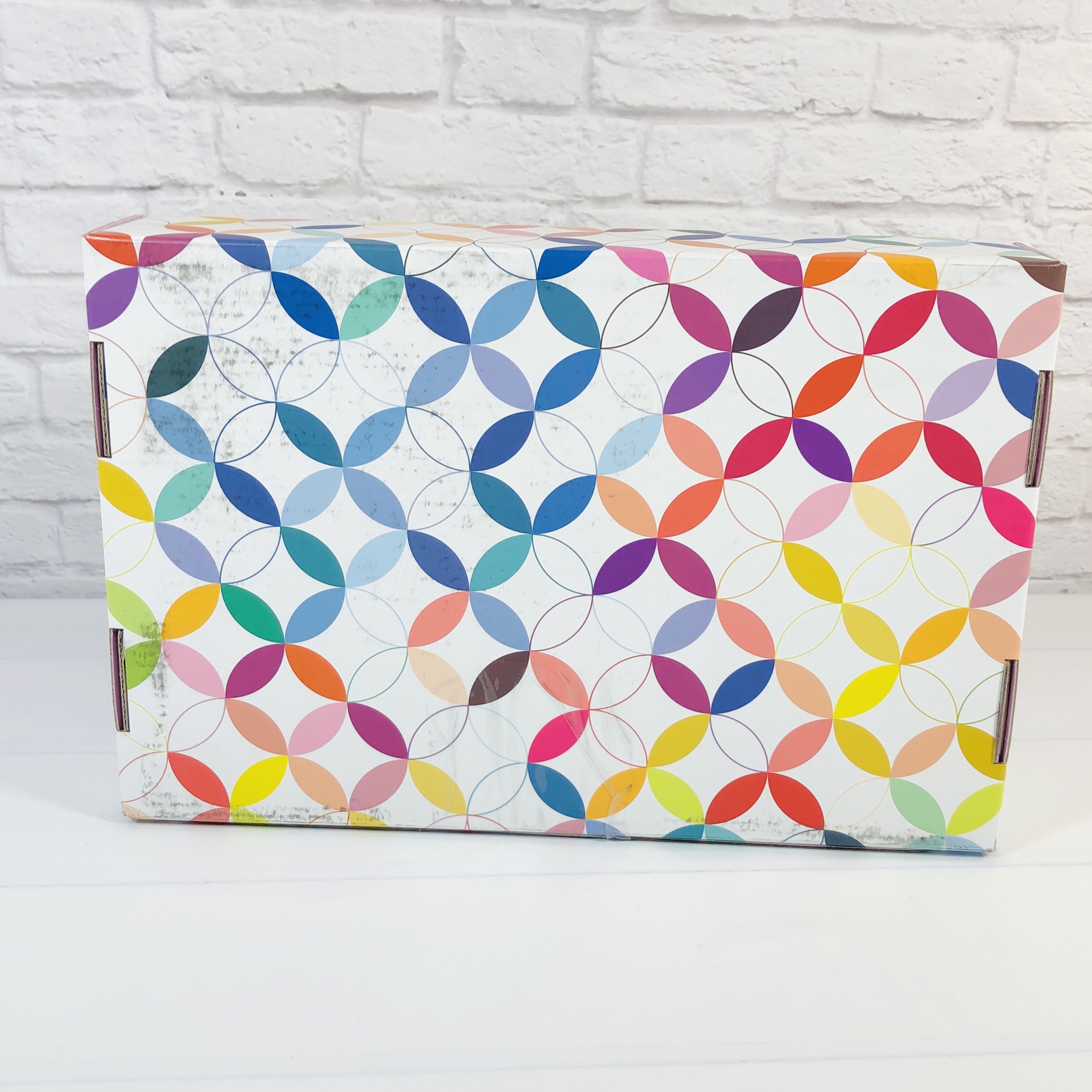 Erin Condren's Seasonal Surprise Box is a quarterly planner accessories and stationery box featuring early access items, popular accessories, and exclusive surprises from Erin Condren. This box isn't available by subscription; you must purchase each box individually. This box usually sells out quickly but click here and tap that blue bell to get notified when the next box becomes available! The box is $40 and includes free shipping to the US.
Our Seasonal Surprise Box is a hand-picked assortment of sneak peeks, exclusives, and best-selling items in a beautiful, reversible, giftable box. This is a special edition, can't-miss collection bursting with wonderful winter surprises!
DEAL: FYI – if you use this referral link to register for the site, you'll get a $10 coupon code emailed to you. It may not work on the box purchase. You can use it on pretty much anything on the site.
The inside of the box has an inspirational saying printed in silver metallic. You can turn the box inside out and have the saying on the outside if you would like to use it for storage (see last photo)! The items were wrapped in tissue paper and bubble wrap and arrived in perfect condition.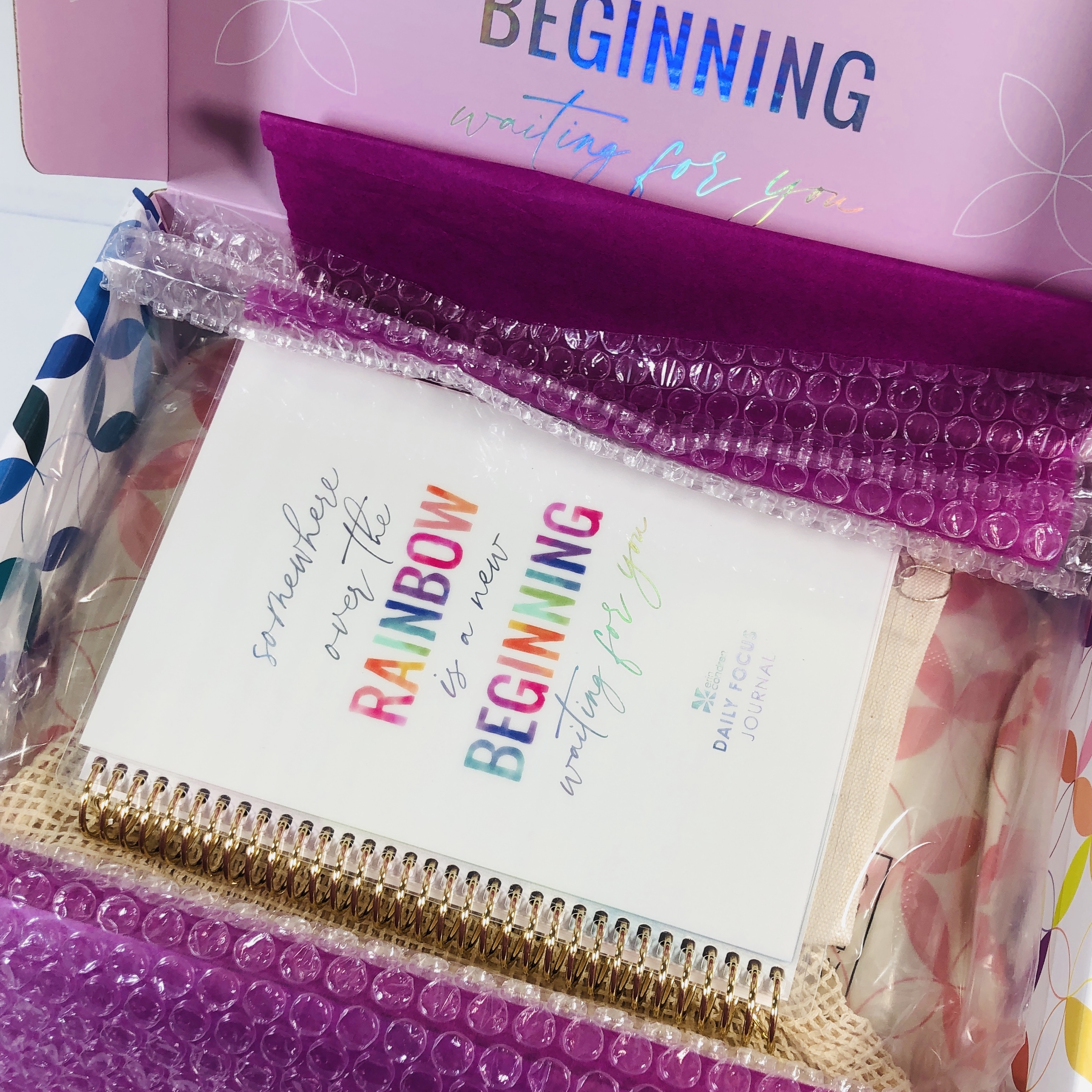 First peek!
The theme for the Spring 2021 Box is New Growth New Beginnings!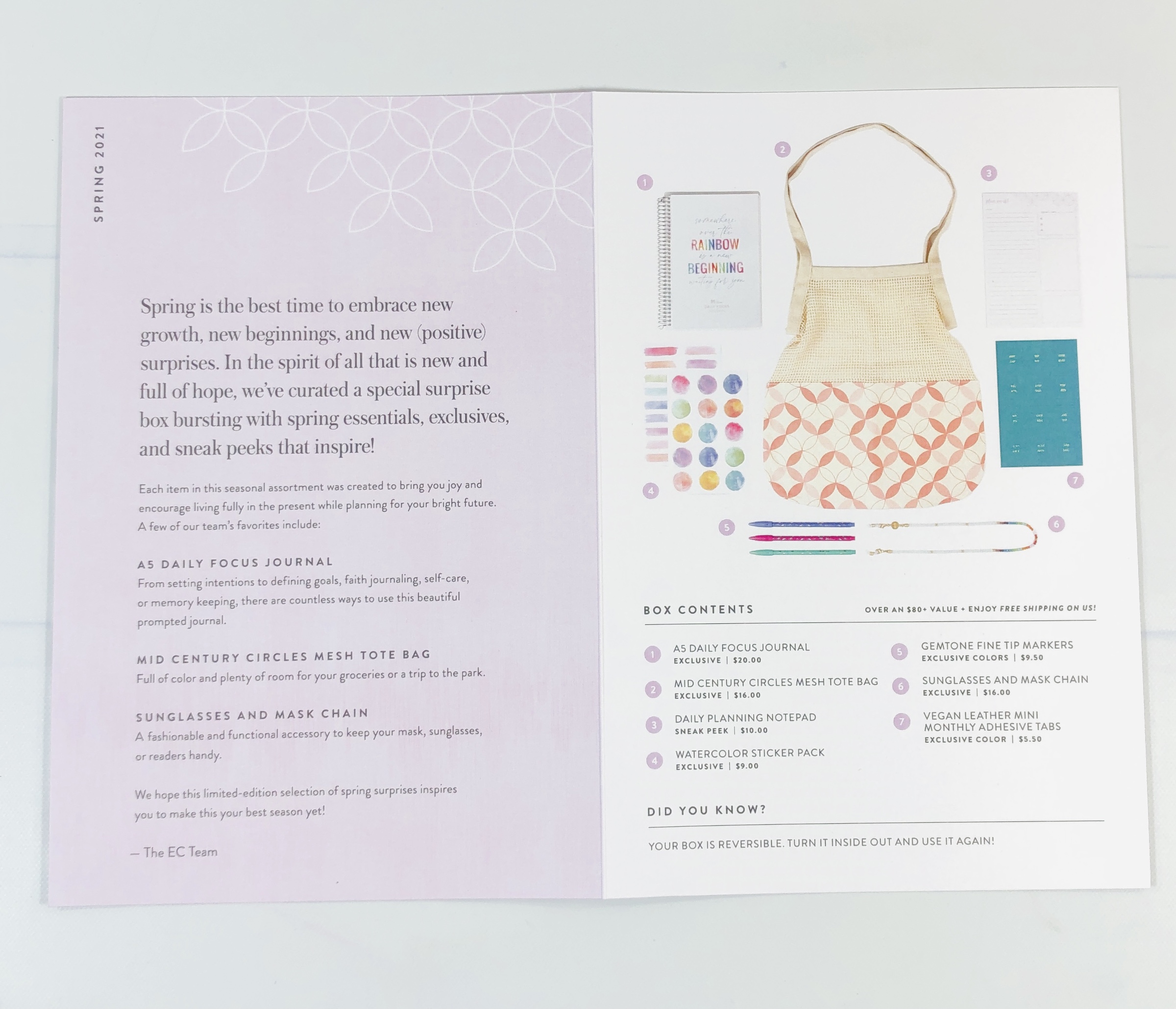 On the inside I found a picture list of all the items included. Some of the items may be available at Erin Condren retail locations, some may be coming soon, and others are exclusive to the box.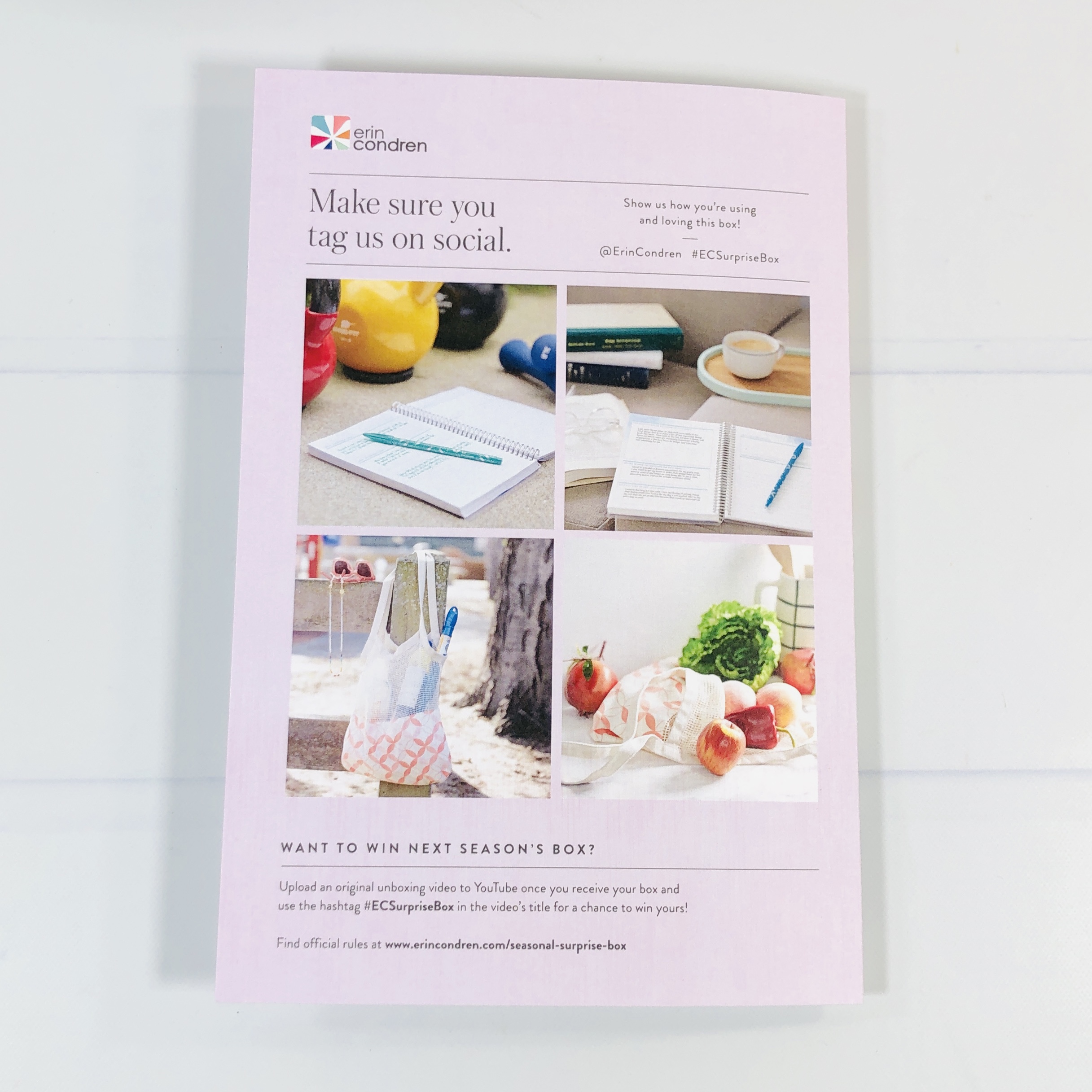 The back described how you can win a box by posting to social media!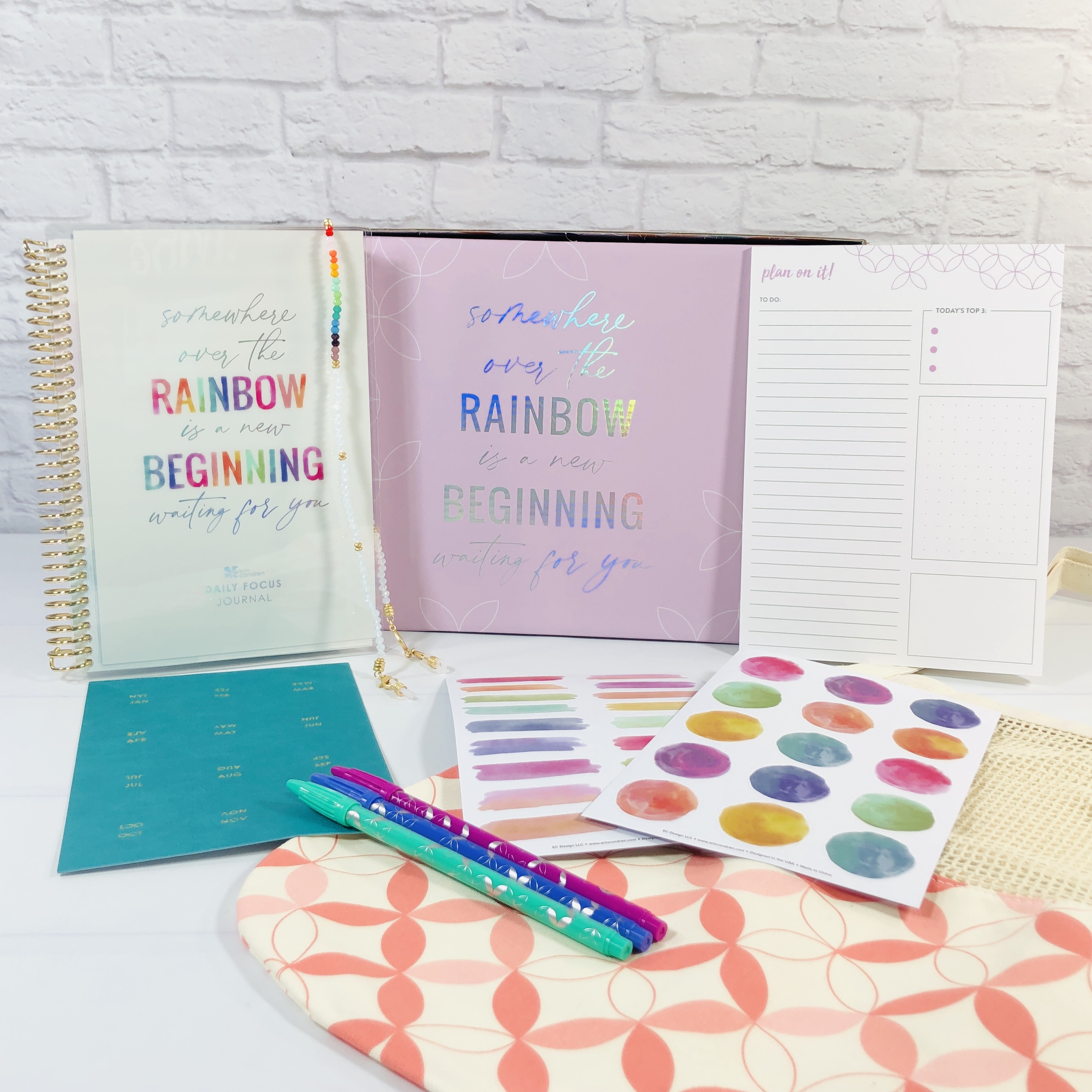 Everything in my box!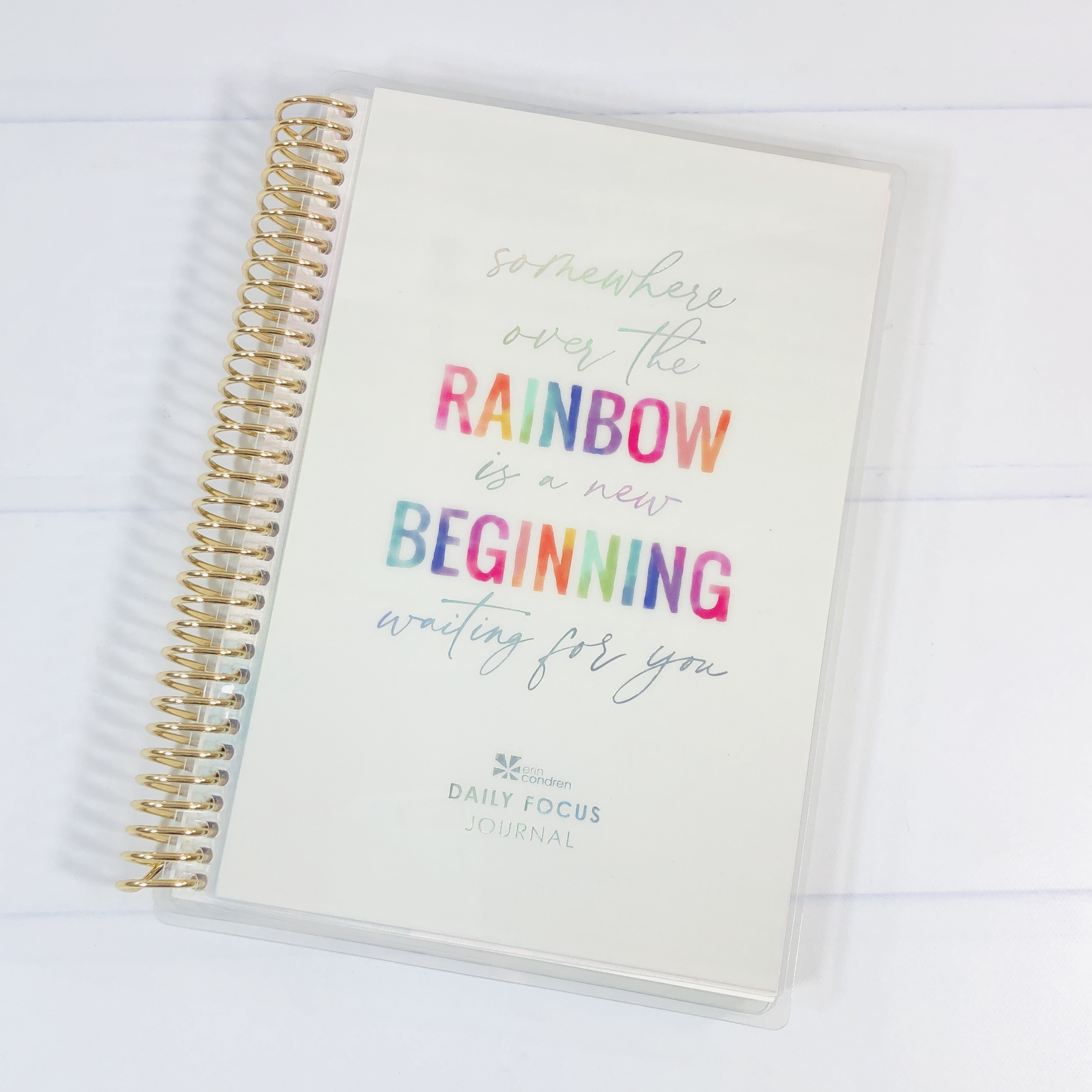 Erin Condren A5 Daily Focus Journal ($20 value) There were a few new goal planning products added to the Erin Condren online store but I think this one is exclusively for subscribers.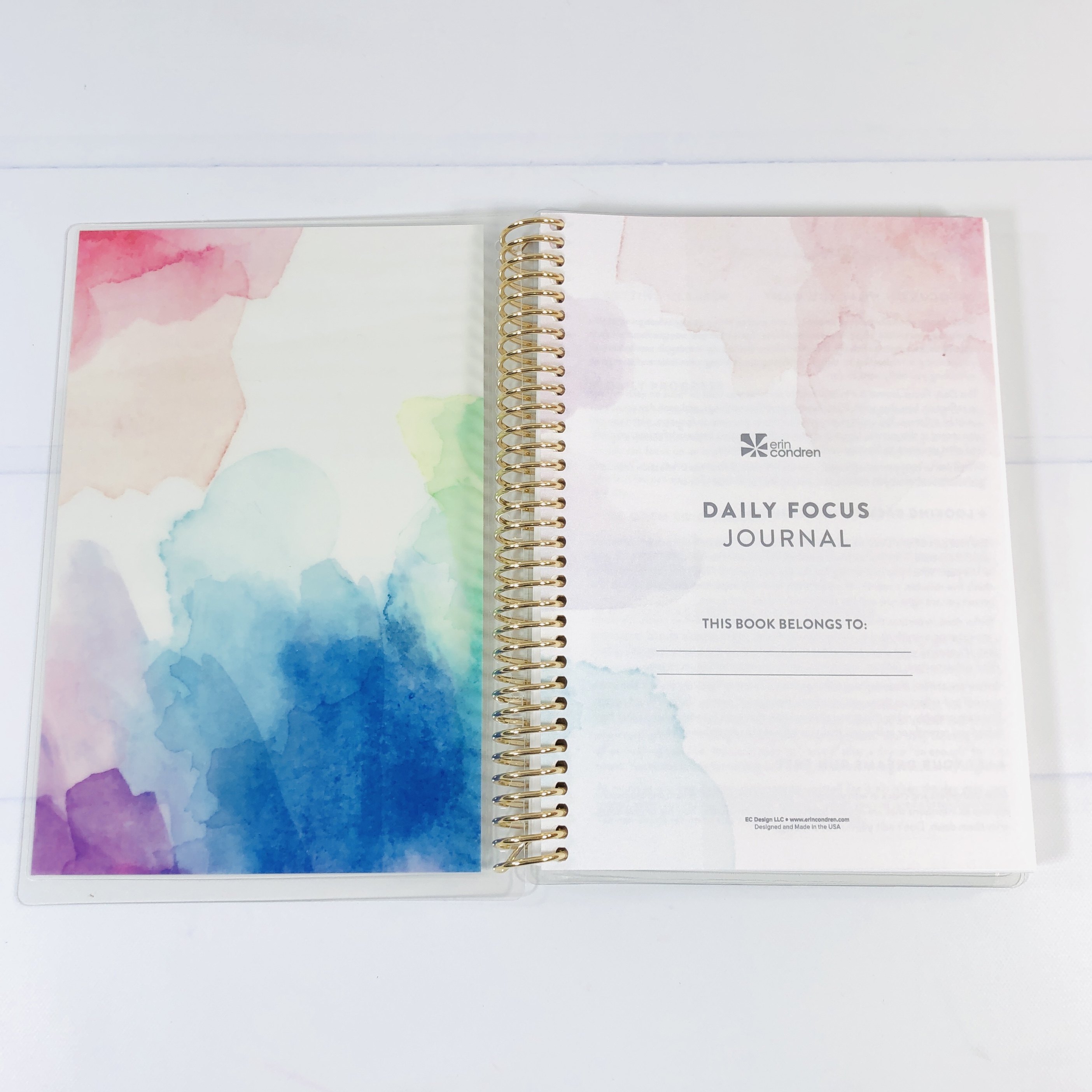 From setting intentions to defining goals, faith journaling, self-care, or memory keeping, there are countless ways to use this beautiful prompted journal.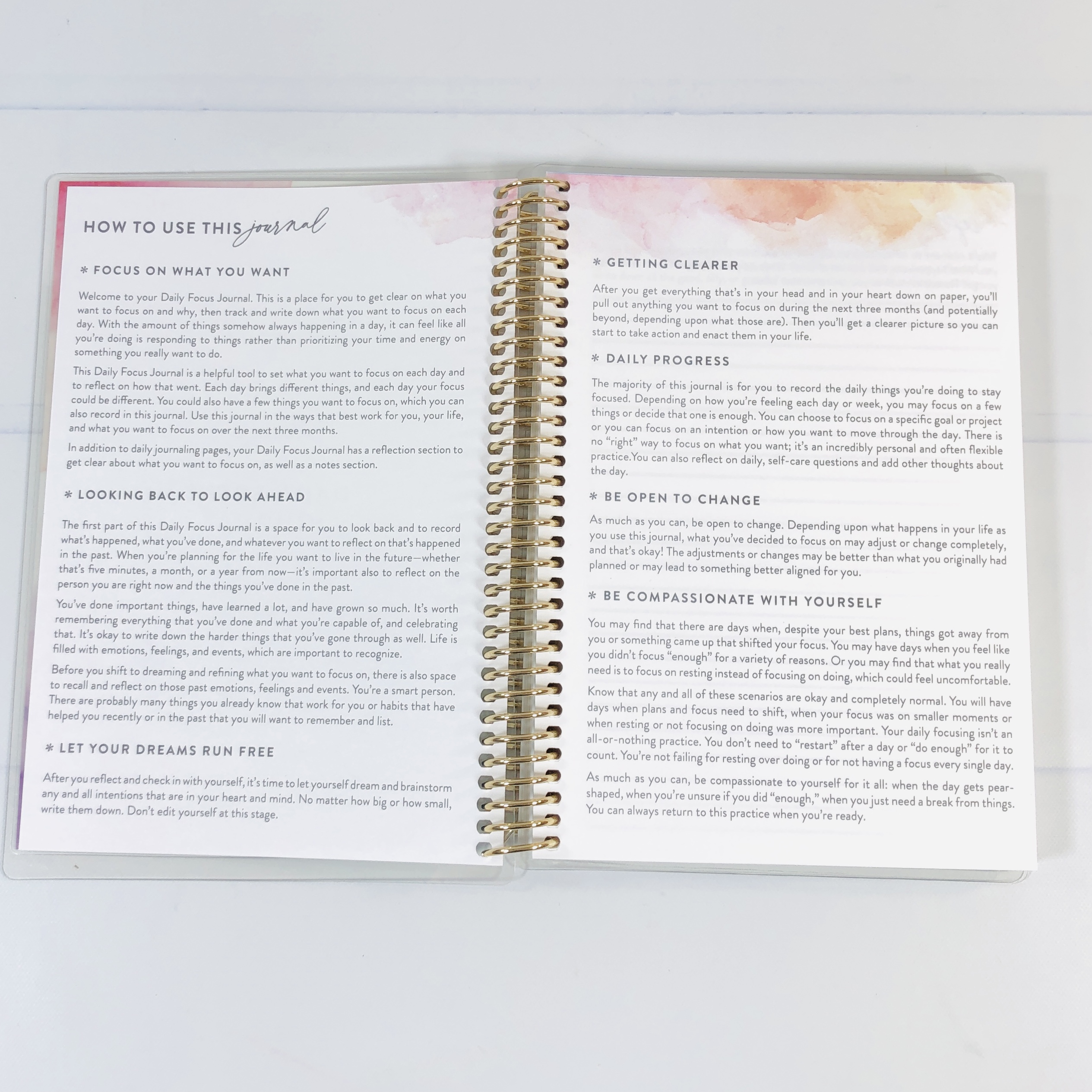 The first section tells me how to get the most out of my new journal.
There is room to write down memories of the past year, including the silly times. There's a spot for jotting down habits that work for you, things to let go of, and brainstorming ideas.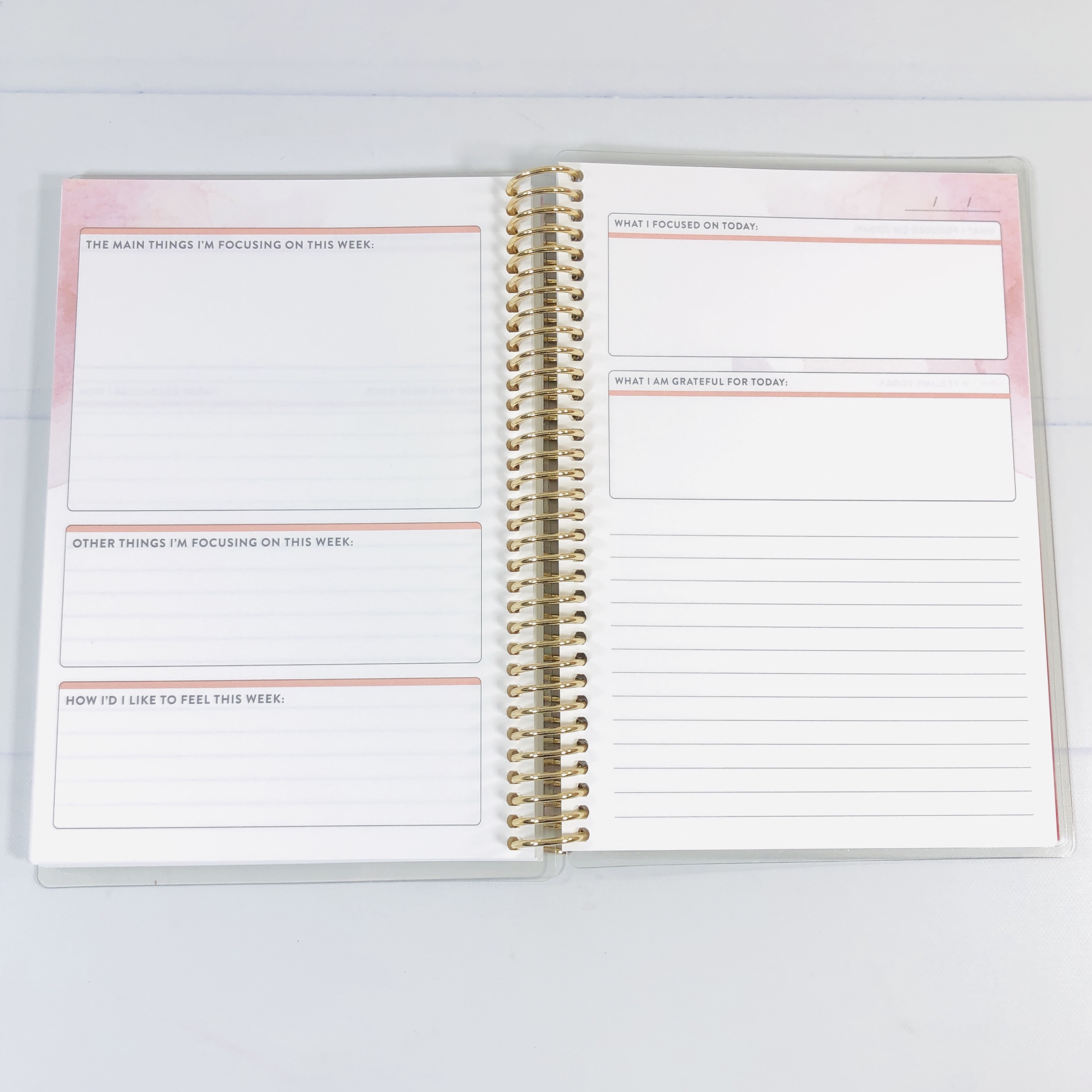 Getting Focused is another section and it breaks it down by week and day.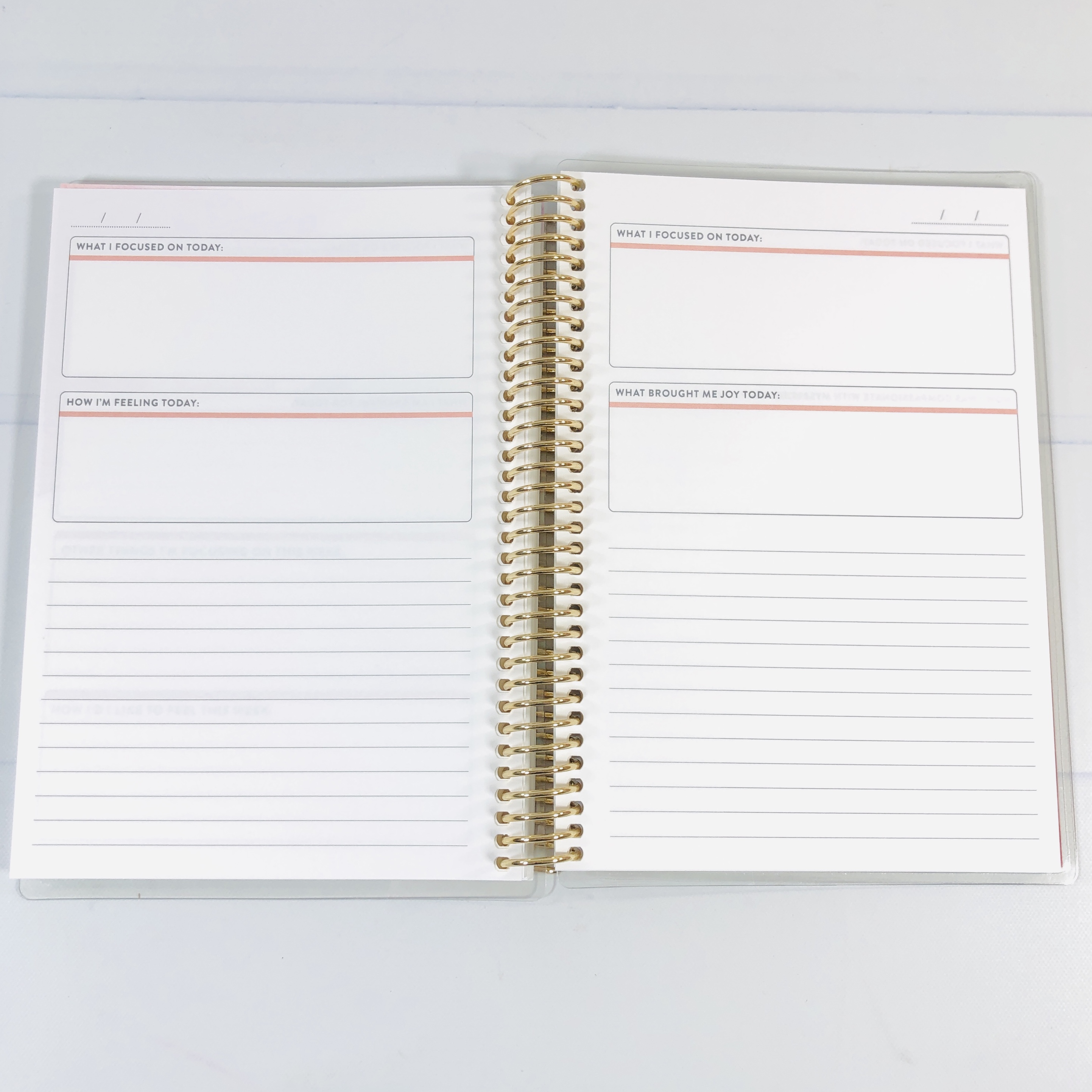 The very back has a spot for noting what you are looking ahead to in the future. There are 3 months worth of pages and they are broken down into 3 tabbed sections. Note pages can be found in the back.
Gem Tone Fine Tip Markers ($9.50 listed value) I love Erin Condren pens and there were three exclusive colors in this box!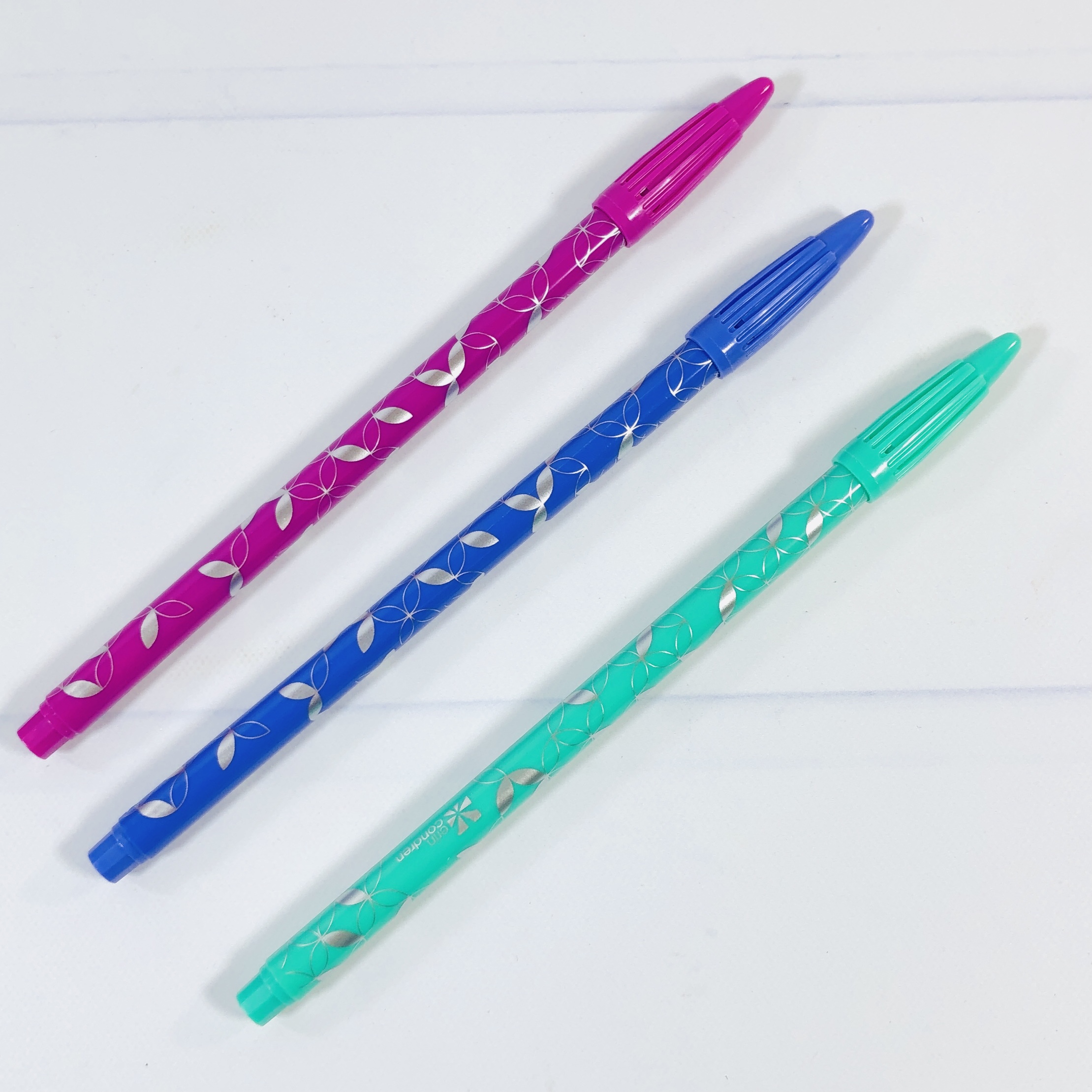 The pens won't bleed through the planner pages!
These have a finer tip just like my usual EC pens. I use them every day and have assigned a different color to each family member.
Sun Glasses & Mask Chain ($16 listed value) Here is another exclusive item!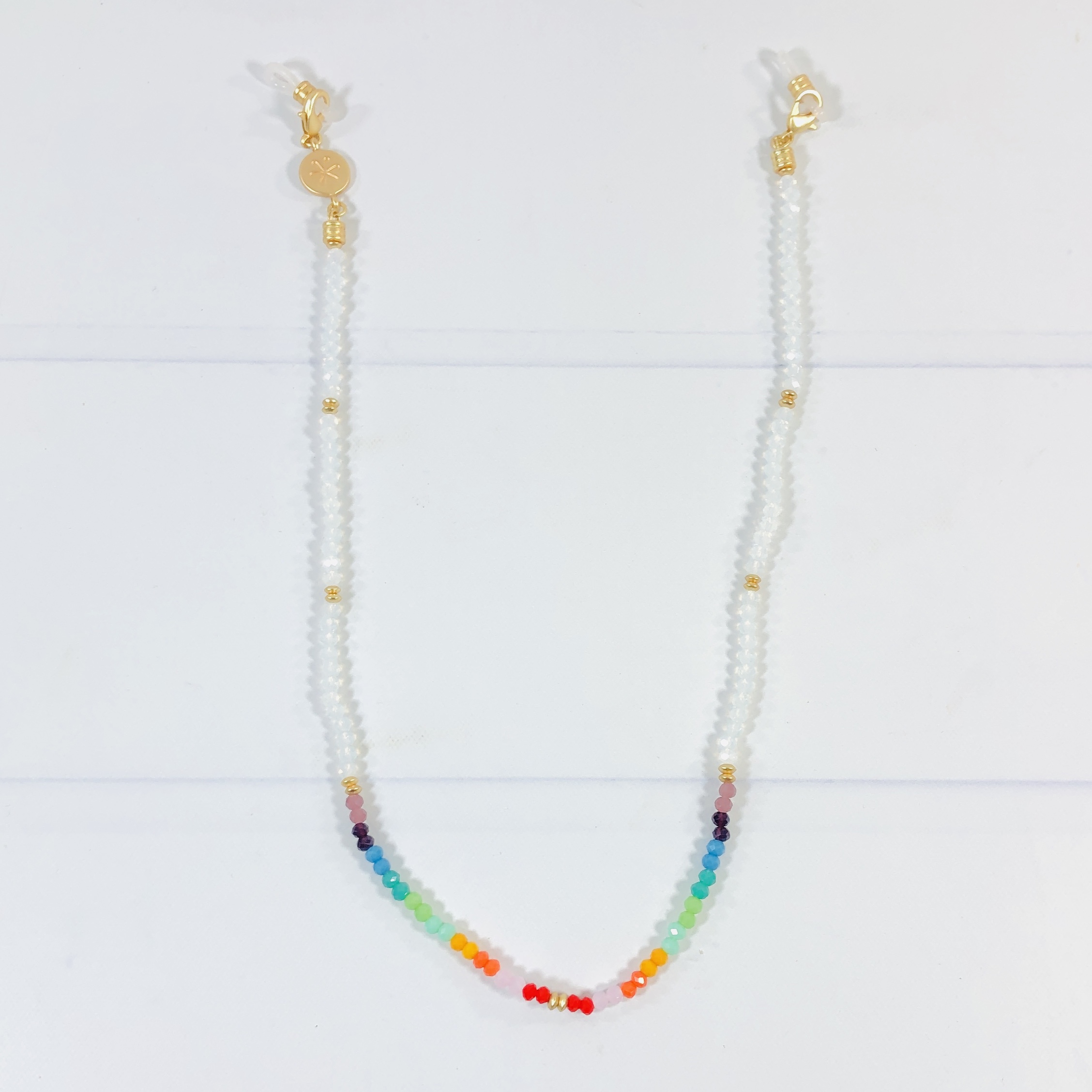 I love rainbow colors and this has all of those colors and more. There are plastic beads and a couple of gold-tone beads too.
The plastic loops adjust to fit over the arms of readers or sunglasses. Remove the loops from the lobster clasp closure to attach to a face mask.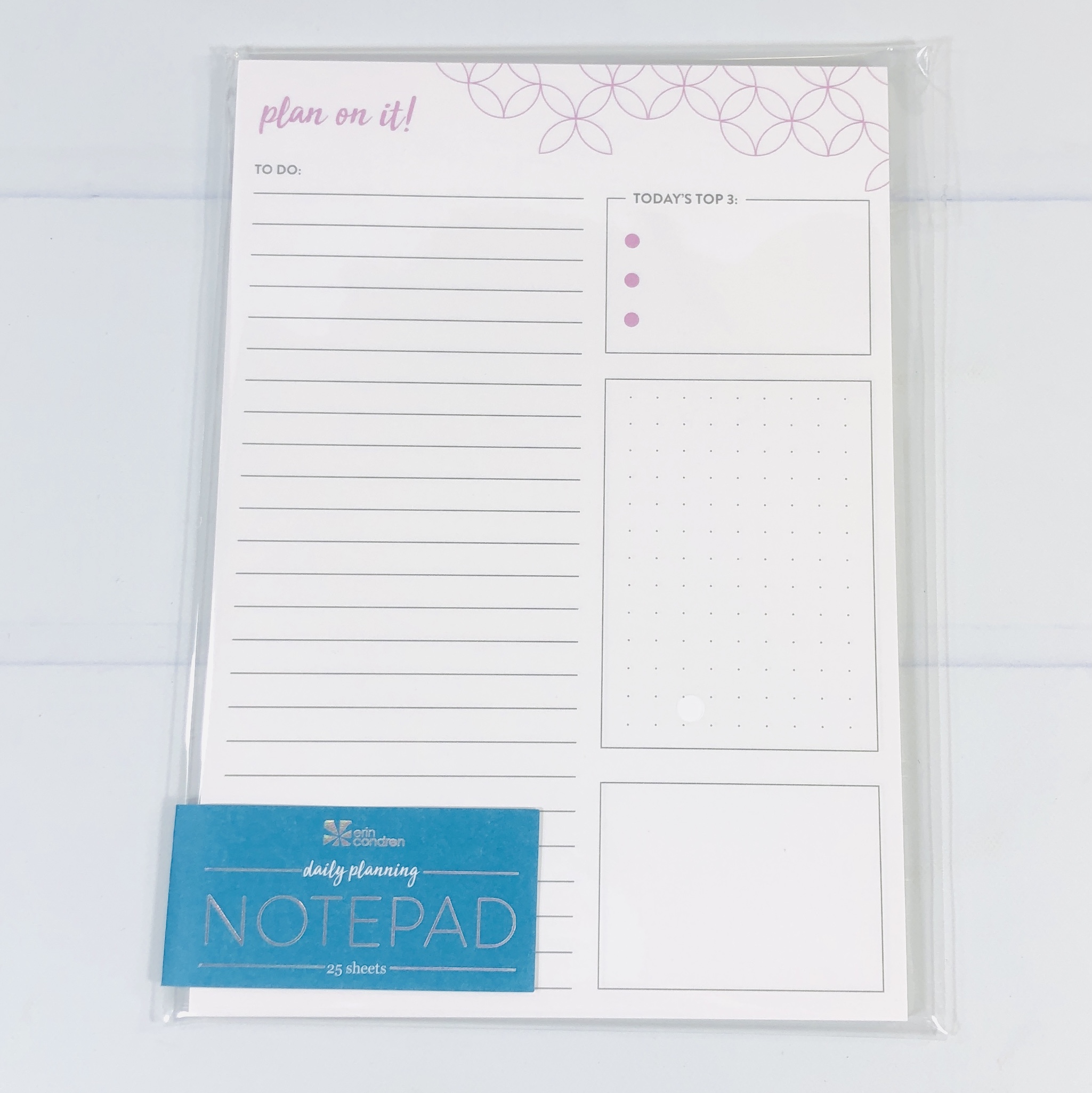 Daily Planning Notepad ($10 for similar item) is a sneak peek so I linked to a similar item instead. It is a 25-sheet notepad.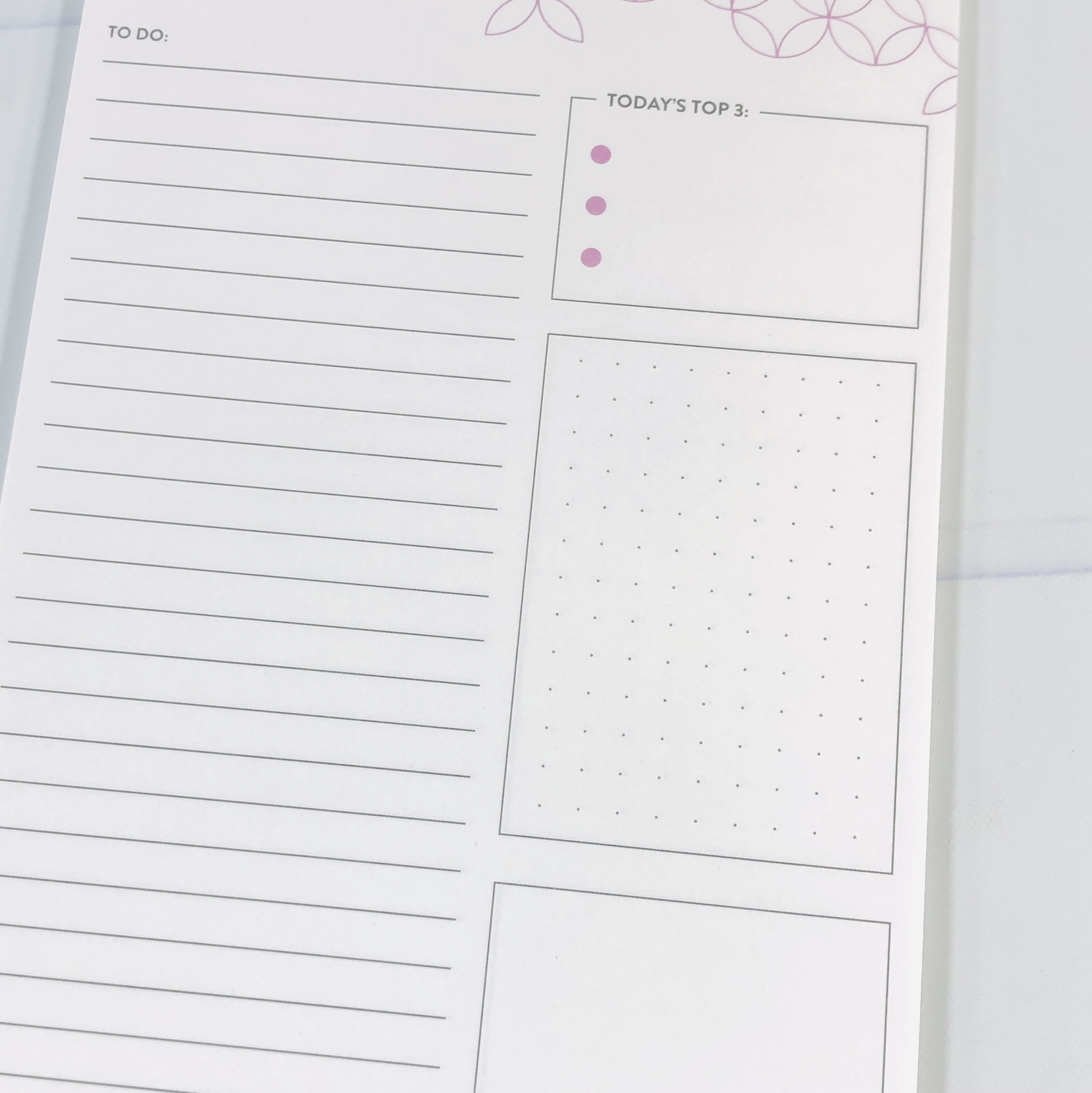 There is plenty of room to write a to-do list, along with space on the side for whatever else you wish to write, including a dot grid for doodling.
Vegan Leather Adhesive Tabs ($5.50 for similar item) are in an exclusive color just for subscribers!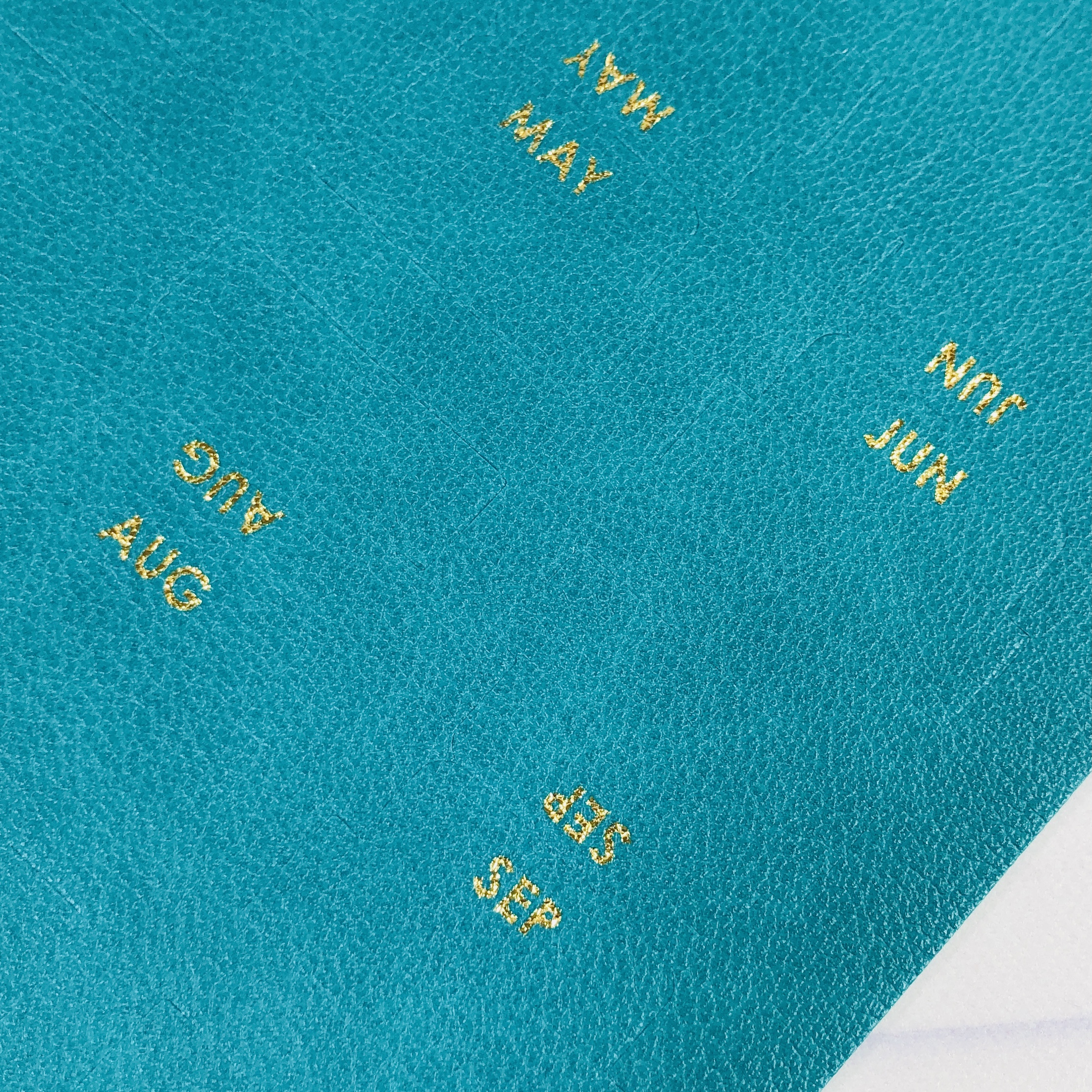 These are on teal vegan leather. They can be added to planners, notebooks, and journals.
Watercolor Sticker Pack ($9 listed value) is another exclusive item. I received two sheets of paper stickers. The first sheet has colorful swatches that are 2″ long.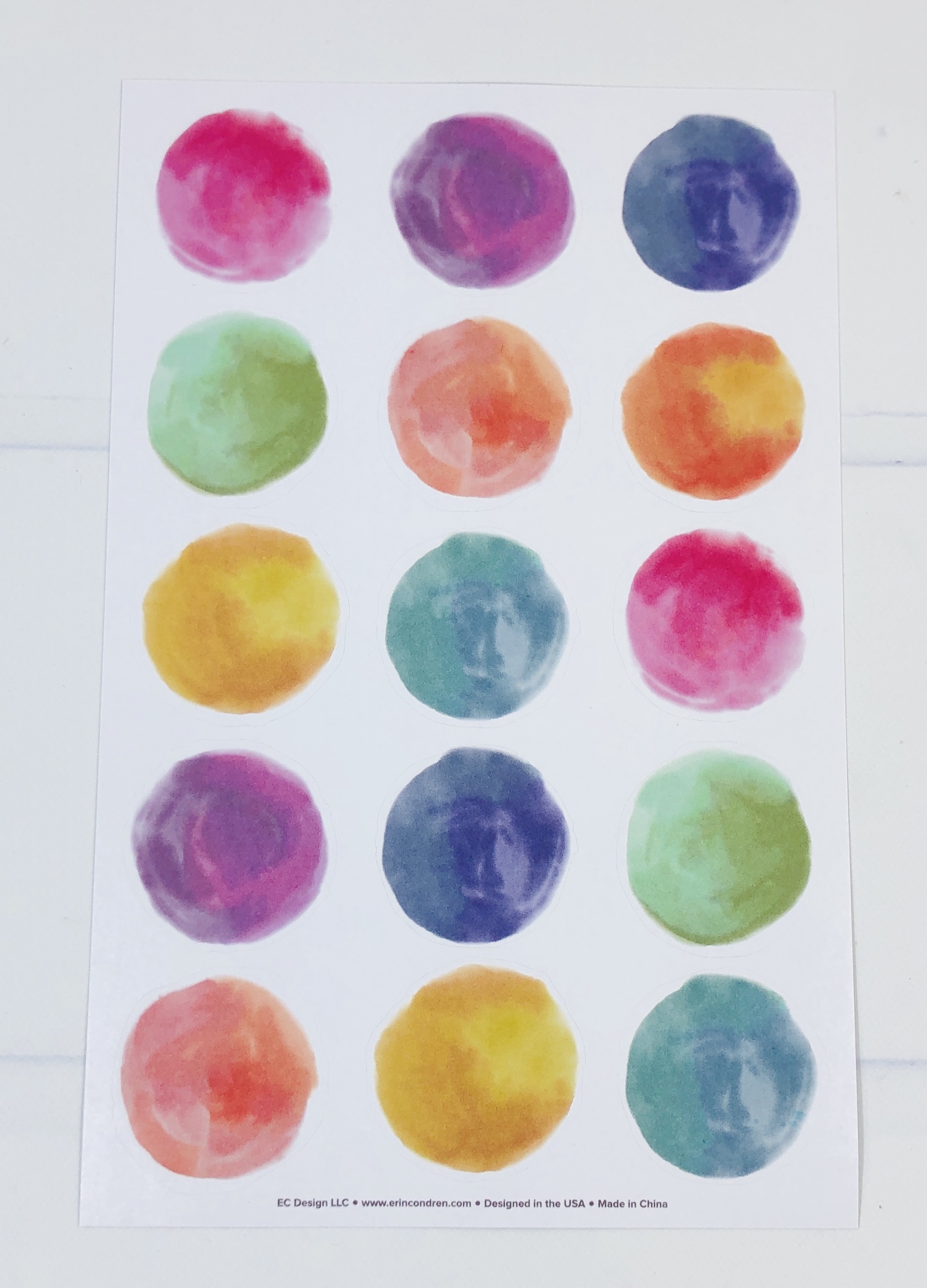 The second sheet has colorful splotches that are 1″ across.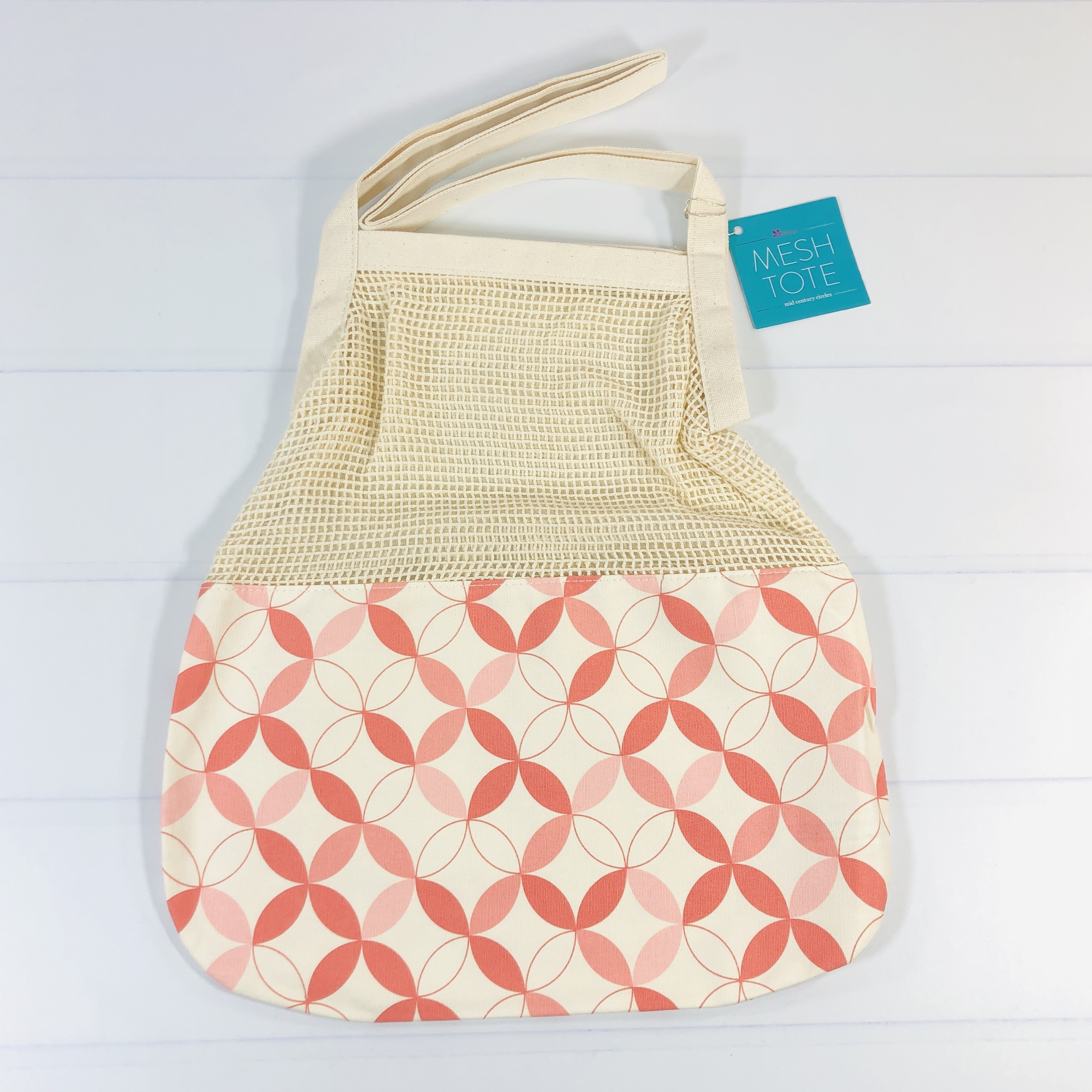 Mid Century Circles Mesh Tote Bag ($16 listed value) The final item is yet another exclusive!
It has the iconic Mid Century Circles print Erin Condren is known for. The bottom cotton panels are sturdy while the upper mesh isn't too wide, so I won't be afraid of losing anything like the market bags with larger holes.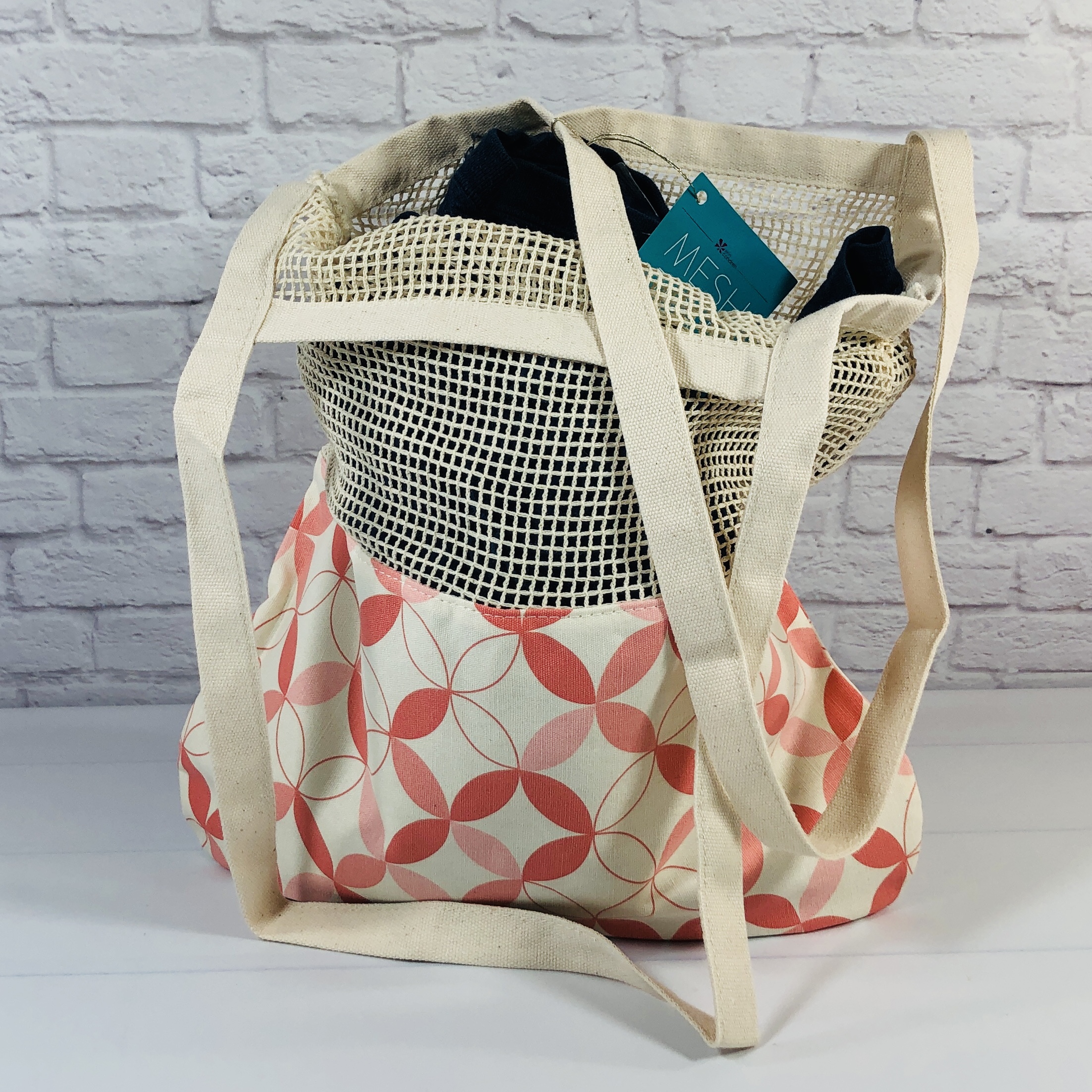 Here it is stuffed with a yoga outfit and t-shirt. It will hold about the same amount as a grocery store bag but of course it looks much prettier than a disposable plastic bag!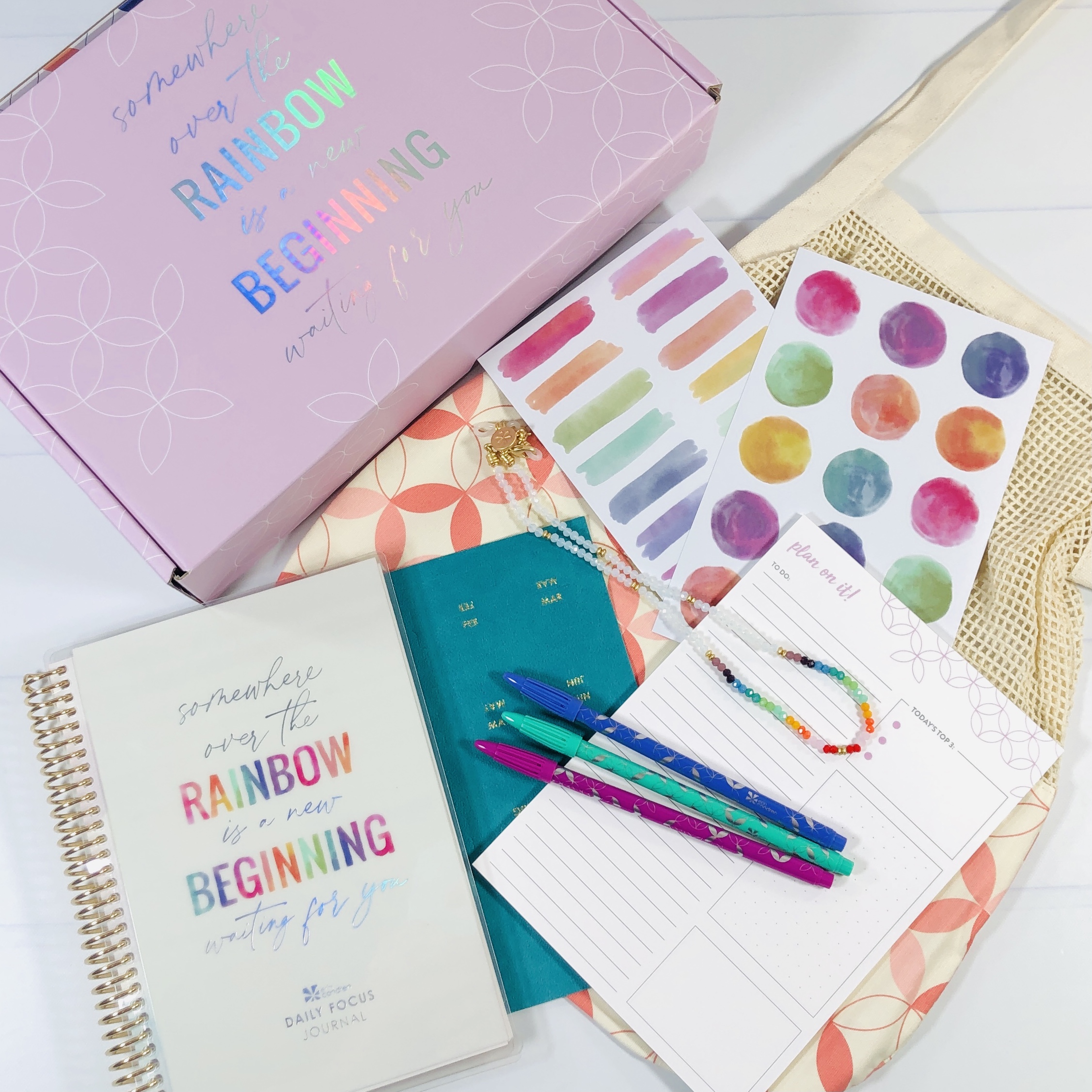 I am loving the rainbow pastels and brights in the Spring 2021 Erin Condren Seasonal Surprise Box! There were a lot of exclusive items this time around and I think it's appropriate that they have special items just for subscribers. They usually have similar items in their online store too, like the vegan monthly tabs. I am always excited when I receive notepads with checklists and of course I adore Erin Condren pens and stickers. The journal is a great way to practice mindfulness in the here and now as well as reflecting on the past and planning for the future. The tote is great for stashing in the car for those quick trips into Target and I like that the eyeglasses holder can be used to keep a face mask nearby, but considering that I never seem to know where my readers are I know exactly how I am going to use them!
What did you think of the box?
Visit Erin Condren Seasonal Surprise Box to subscribe or find out more!