BOXYCHARM is a makeup and beauty subscription box that sends out 5 full-size items every month. Products include makeup, skincare, and beauty tools and each box has an average value of around $175. BOXYCHARM is $25 a month with discounts for those who prepay for longer terms.
Charmers will receive specially curated products from well-known, popular, chic and up-and-coming brands. Our beauty experts carefully select each item based on current and emerging trends, so you're always in the know about the latest shades and styles. With BoxyCharm and BoxyCharm Premium, we like to focus on beauty! That means makeup, skincare, haircare, and much more. To add lifestyle items to the mix, we offer the dreamy BoxyLuxe upgrade. Being a Charmer is where it's at!
DEAL: Subscribe now and get a free gift: Violet Voss OR HIPDOT Palette PLUS $10 credit to March PopUp!
Use this link and coupon code SEEINGGREEN to get FREE HIPDOT Cenote Palette OR use the coupon code LUCKYEYES to get FREE Violet Voss Olive You Forever Palette AND get your exclusive $10 Popup code via email within 24 hours of subscribing.
BOXYCHARM is always so much fun!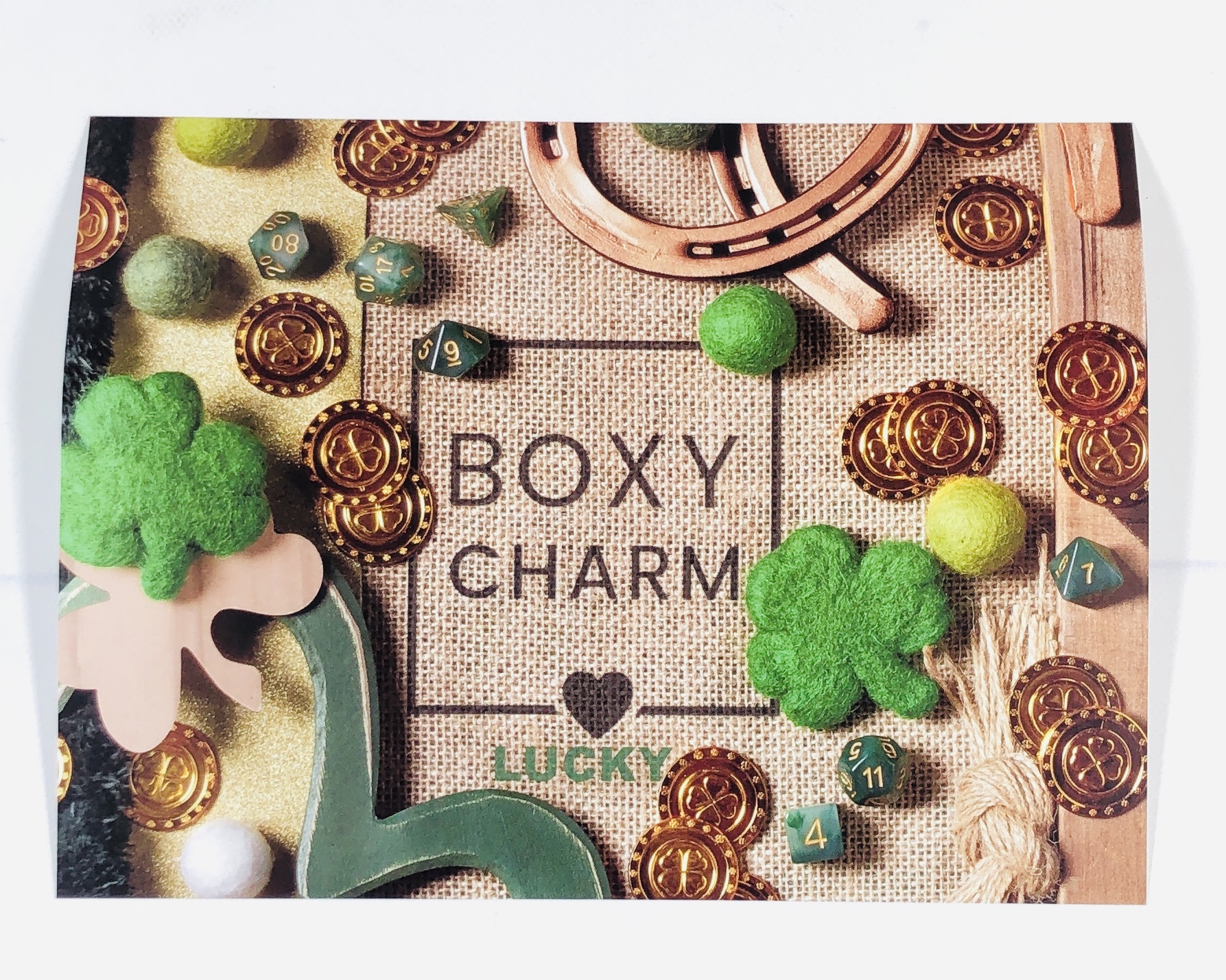 I received a card with the theme — Lucky!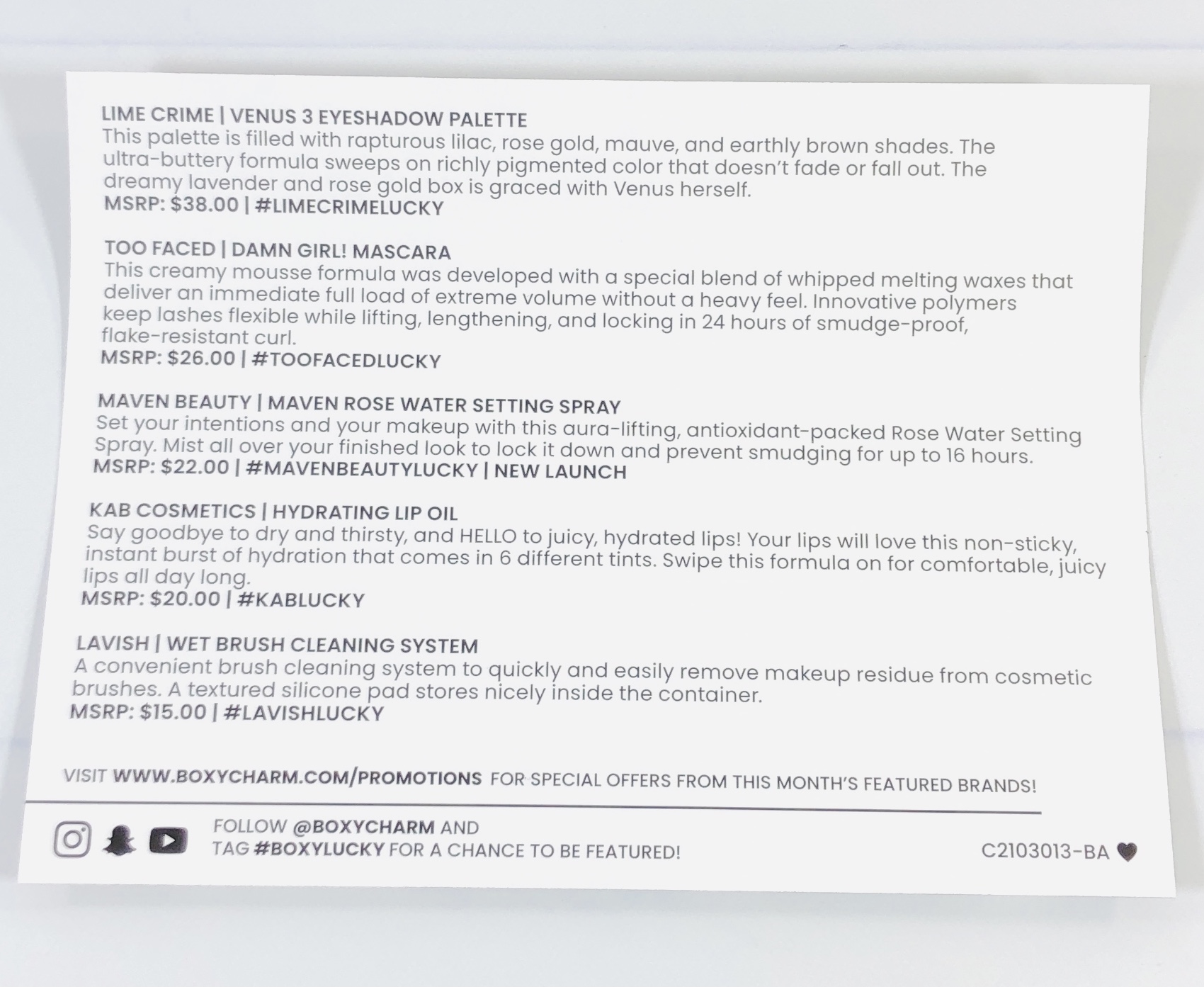 The back of the card listed the items and MSRP's.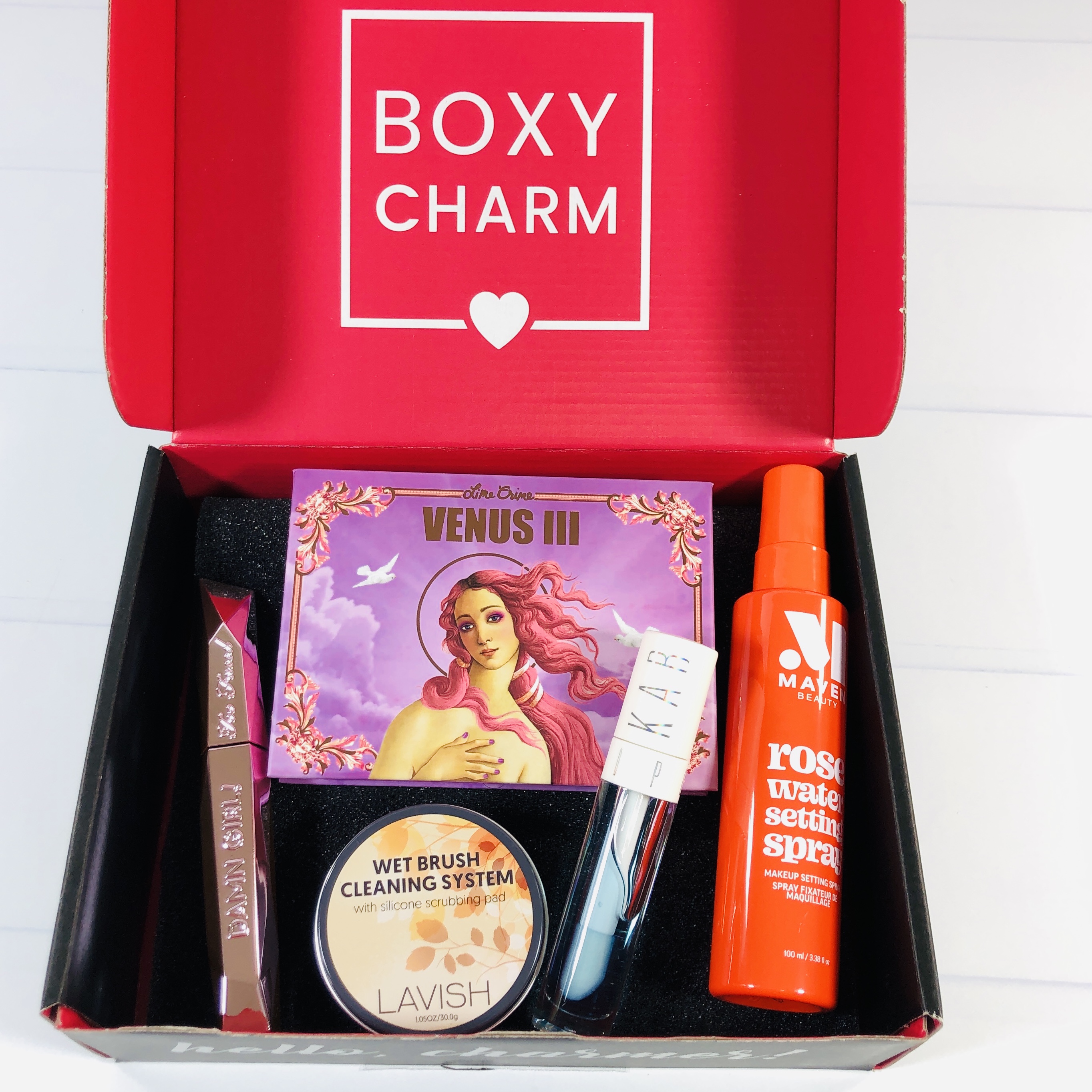 My items were cushioned with a foam insert and most of the items came in their original boxes.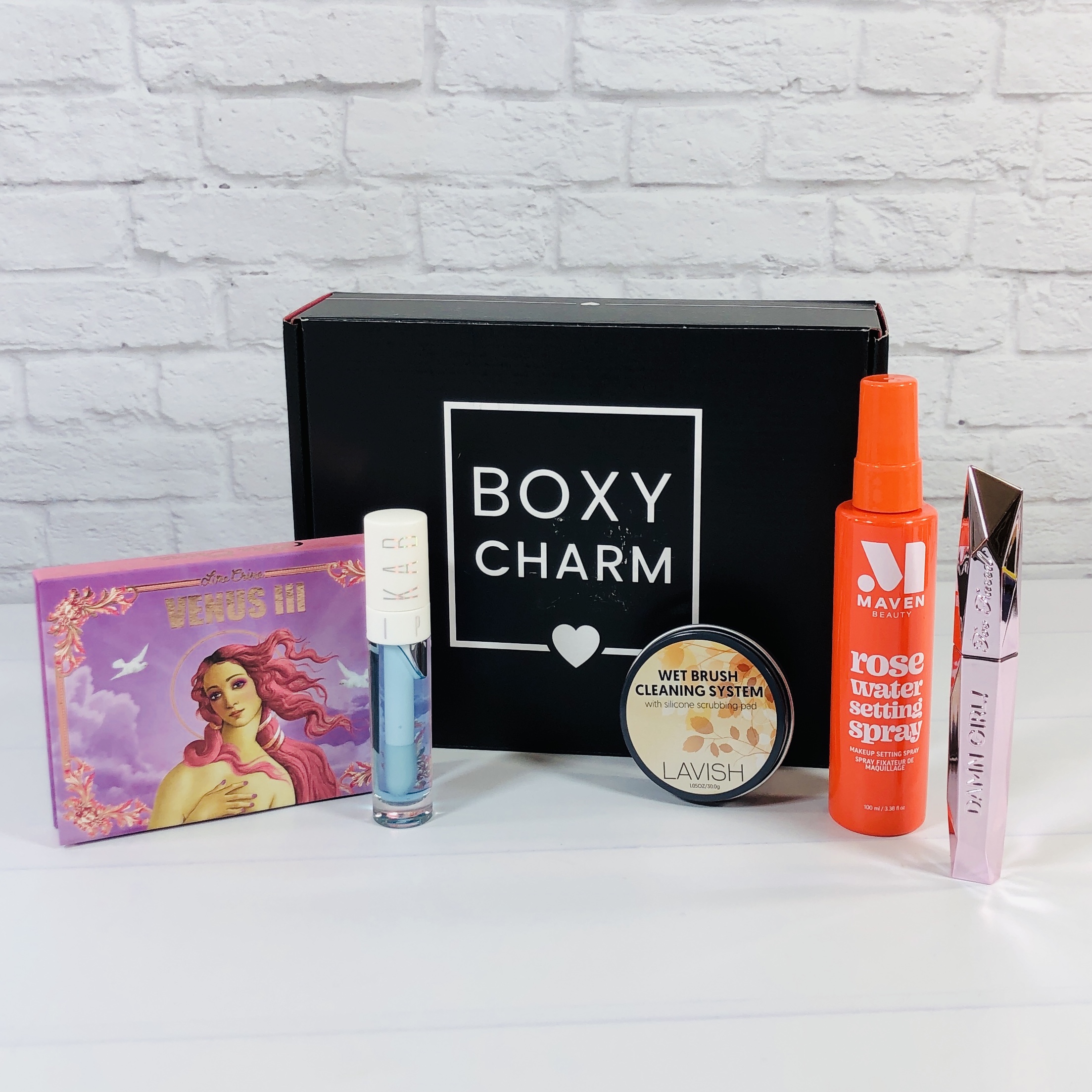 Everything in my March 2021 BOXYCHARM! Keep in mind that BOXYCHARM sends many box combos so your box items and value may be different than mine. There are variations in the box – see them here.
Lavish Wet Brush Cleaning System ($15) This may be TMI but I have a confession to make: I don't clean my makeup brushes as often as I should. I know, scandalous, but this makes it much easier so now I have no excuse!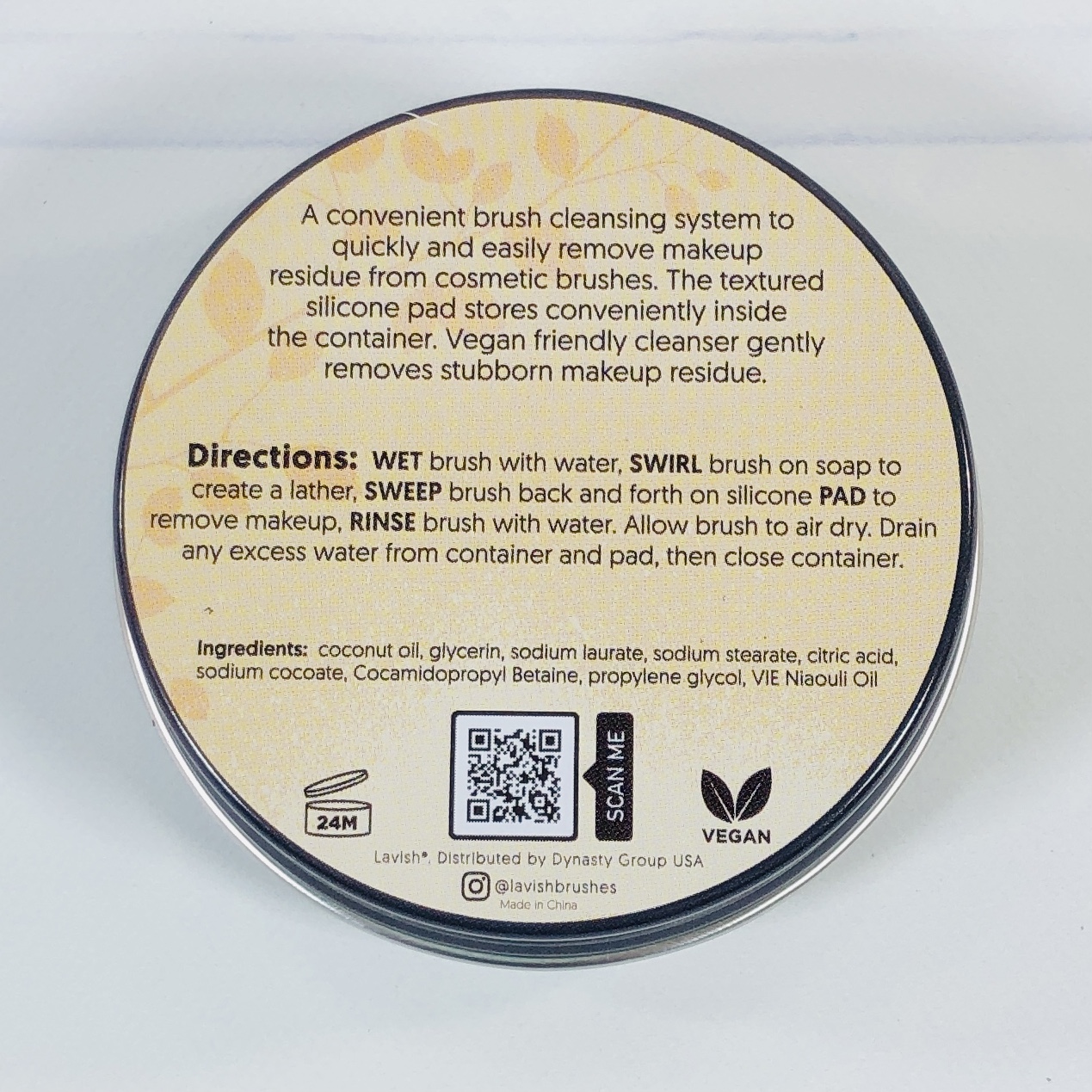 Coconut oil and glycerin are a couple of the ingredients.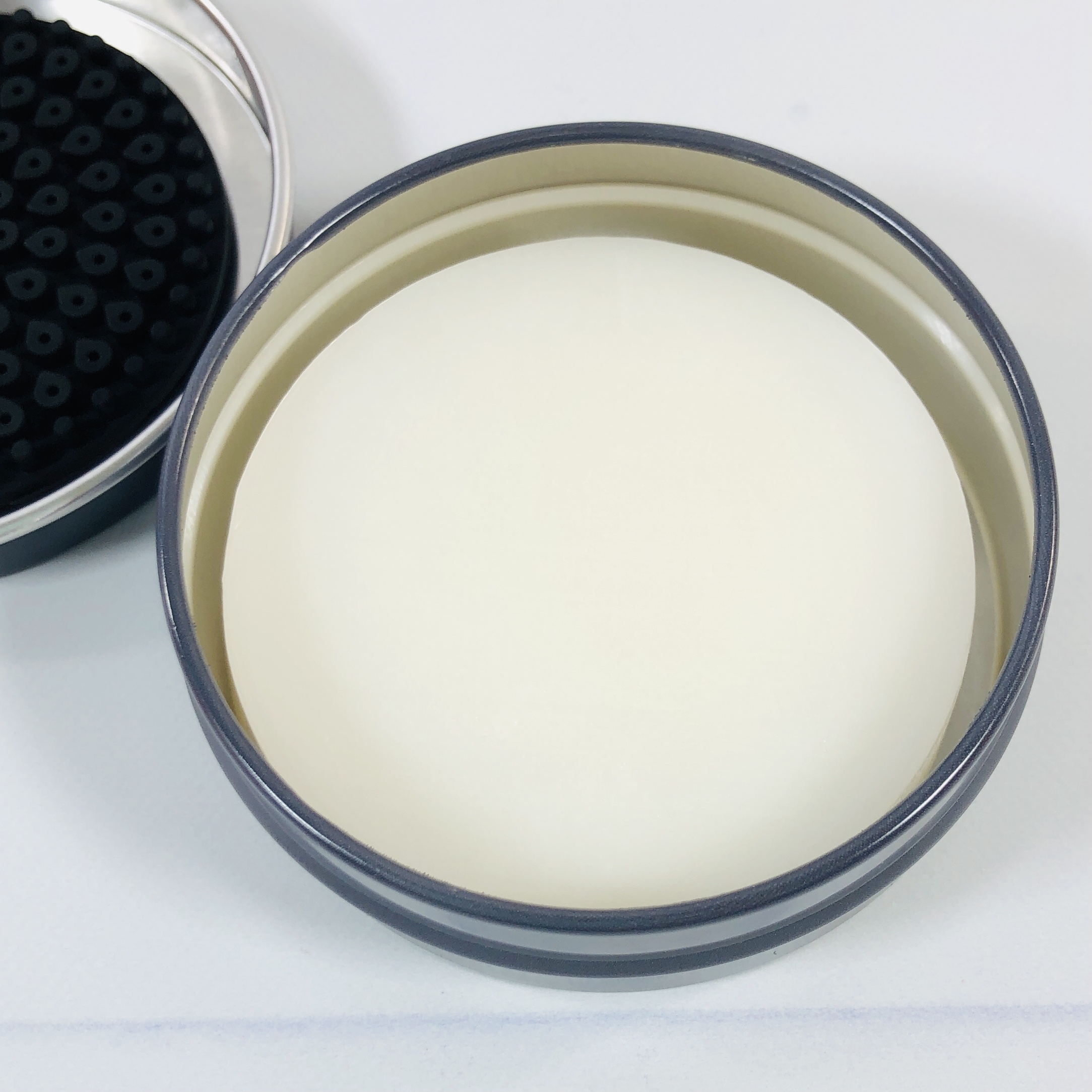 Just wet your brush and rub it over the soap bar.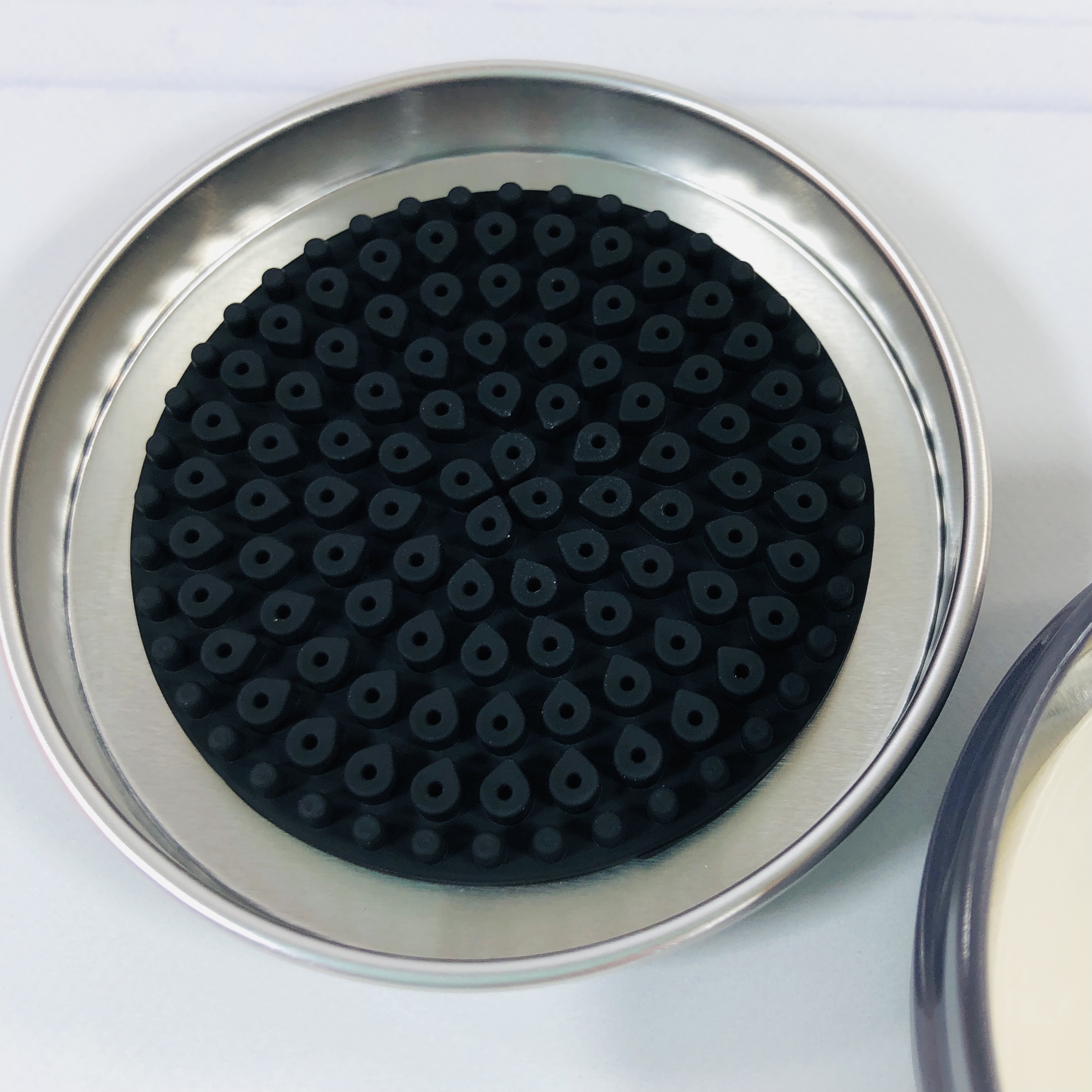 Here's the super cool part — rub it over this silicone scrubby thingy inside the lid before/while rinsing et voila, a clean brush! It was really easy to use and already I have a few clean brushes, it might take me a while to work through the whole collection but I've made a start!
Maven Beauty Maven Rose Water Setting Spray ($22) Maven Beauty is a new-to-me brand, which is always a plus with subscription boxes, trying things and learning about companies I've never heard of before!
It has rose water along with regular water and alcohol, plus other stuff that is supposed to lock makeup into place.
I thin an aerosol would be a smoother delivery system but this pump was ok, it didn't come out too heavy. It also smelled like roses but it wasn't super strong.
Too Faced Damn Girl Mascara ($26) offers "SHOCKING VOLUME, OUTRAGEOUS CURL, SHAMELESS THICKNESS" and all I gotta do is swipe it on my lashes!
The idea is that this mousse mascara will lengthen, volumize, and just all around make those lashes stand out and all without flaking or smudging because racoon isn't a good look for anyone, except maybe raccoons.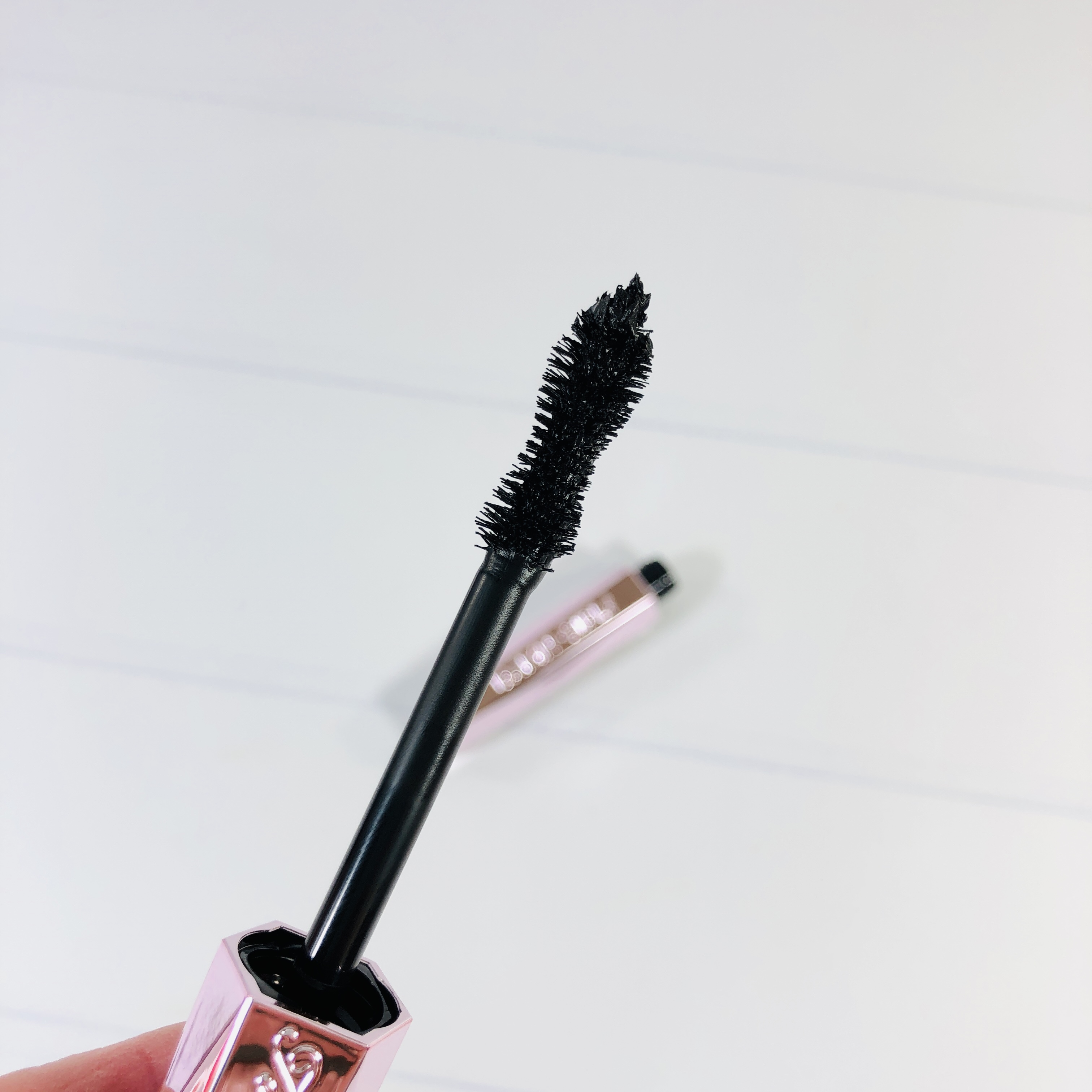 The brush is shaped like an infinity symbol, with short and long bristles to grab every hair. My lashes did indeed look longer and fuller, however, not quite as long as the models on the website, but then their lashes are longer than mine to begin with. I thought this was a solid mascara.
KAB Hydrating Lip Oil in Blue Raspberry ($20) Despite the description, this product isn't blue raspberry flavored, it's coconut flavored! The blue adds no color to my lips, it's just there to make it look pretty. This will be a summer staple and go straight into my purse for a hint of the tropics during the transition to spring.
Mineral oil is the first ingredient here.
I don't think this is an oily oil at all, just a lovely lip gloss that's non-sticky, smells good, and leaves my lips shiny.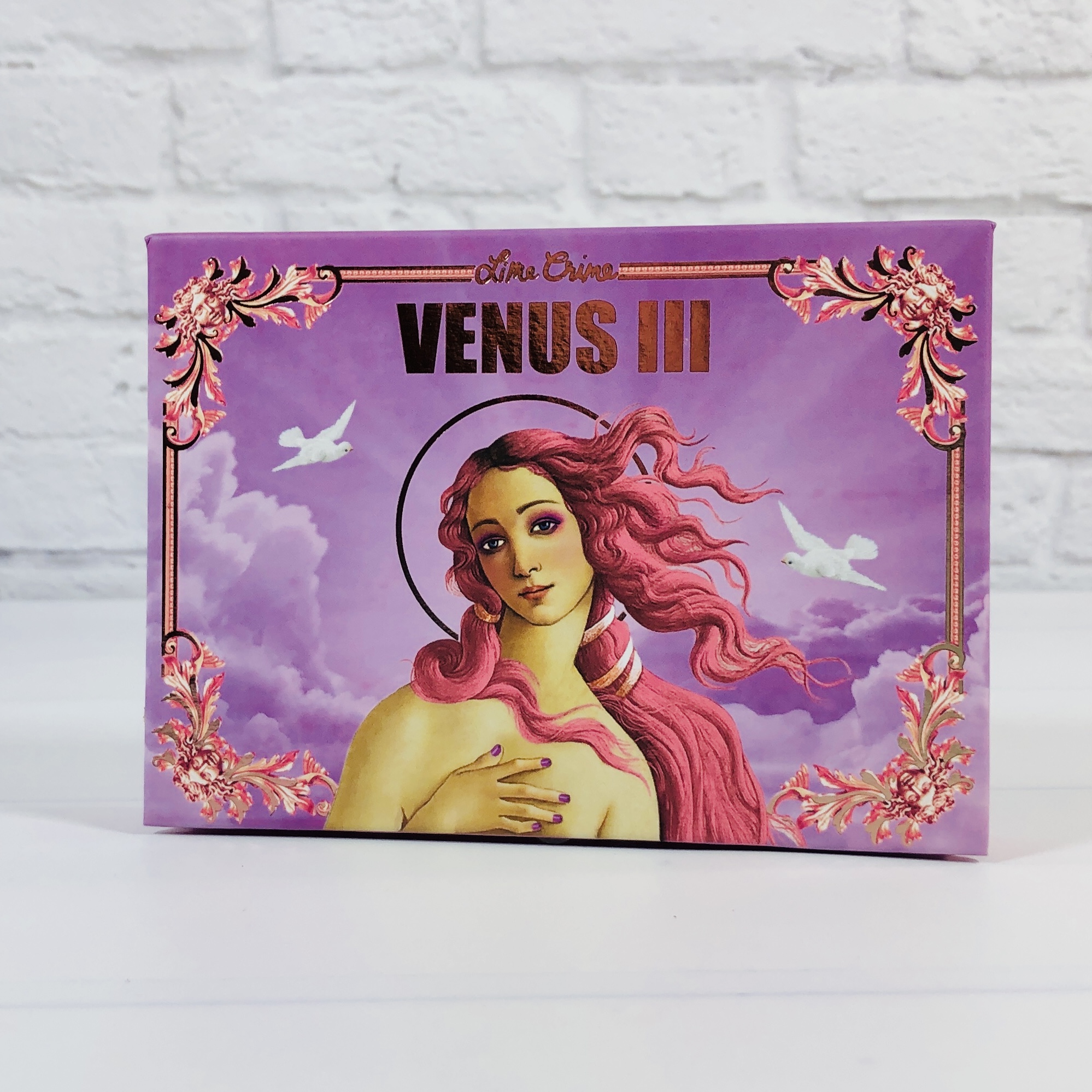 Lime Crime Makeup Venus 3 Palette ($38) is a "pretty grunge" color palette and I think that's not a bad description at all.
The heavenly sister of the grunge shadow palette! Happy pops of purple and pink put the crowning touch on the perfect light-to-mid tone range to flatter all skin tones. This palette includes 8 shades, 5 different finishes, 1 swipe coverage designed for eyes, cheek, and face.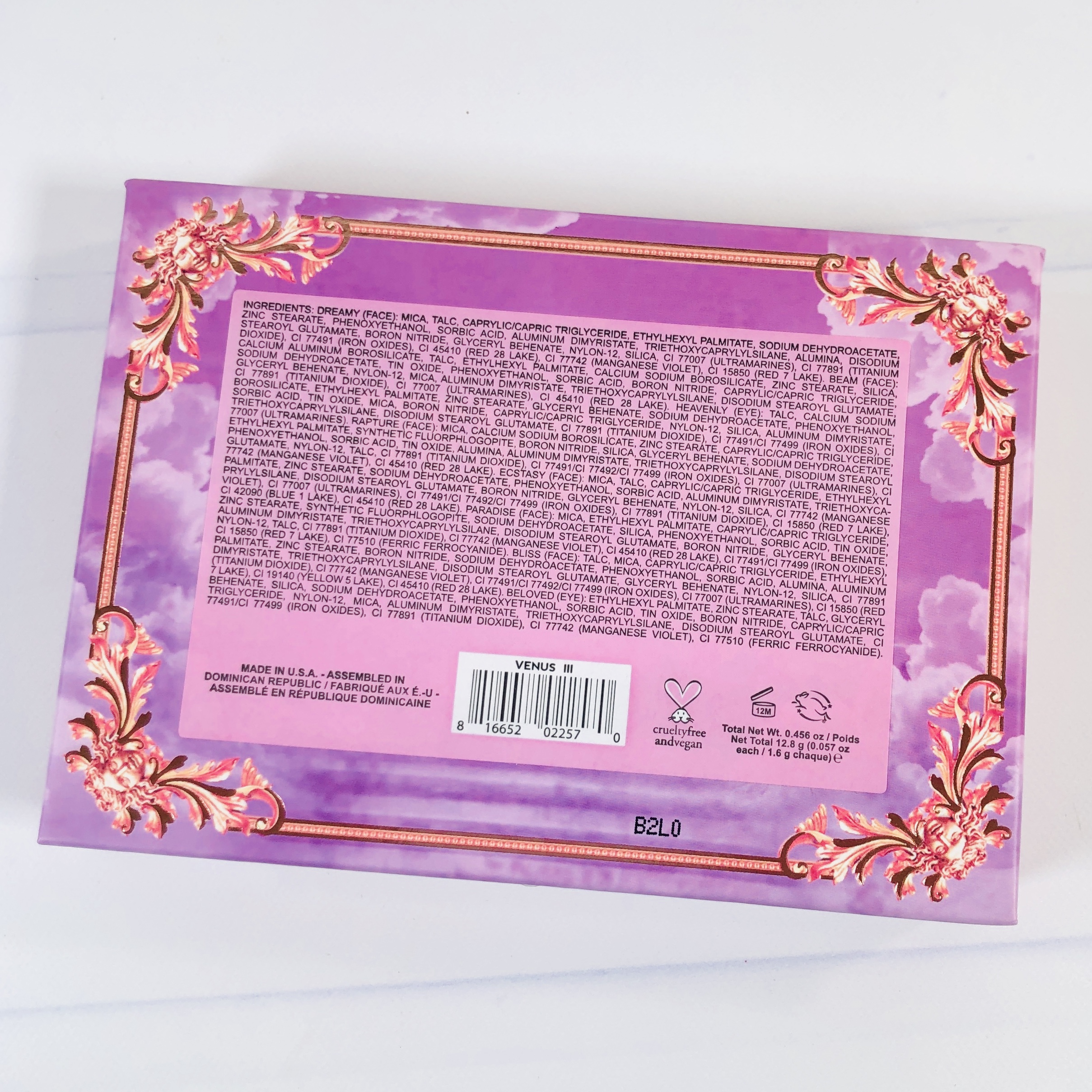 Here's that ingredient list.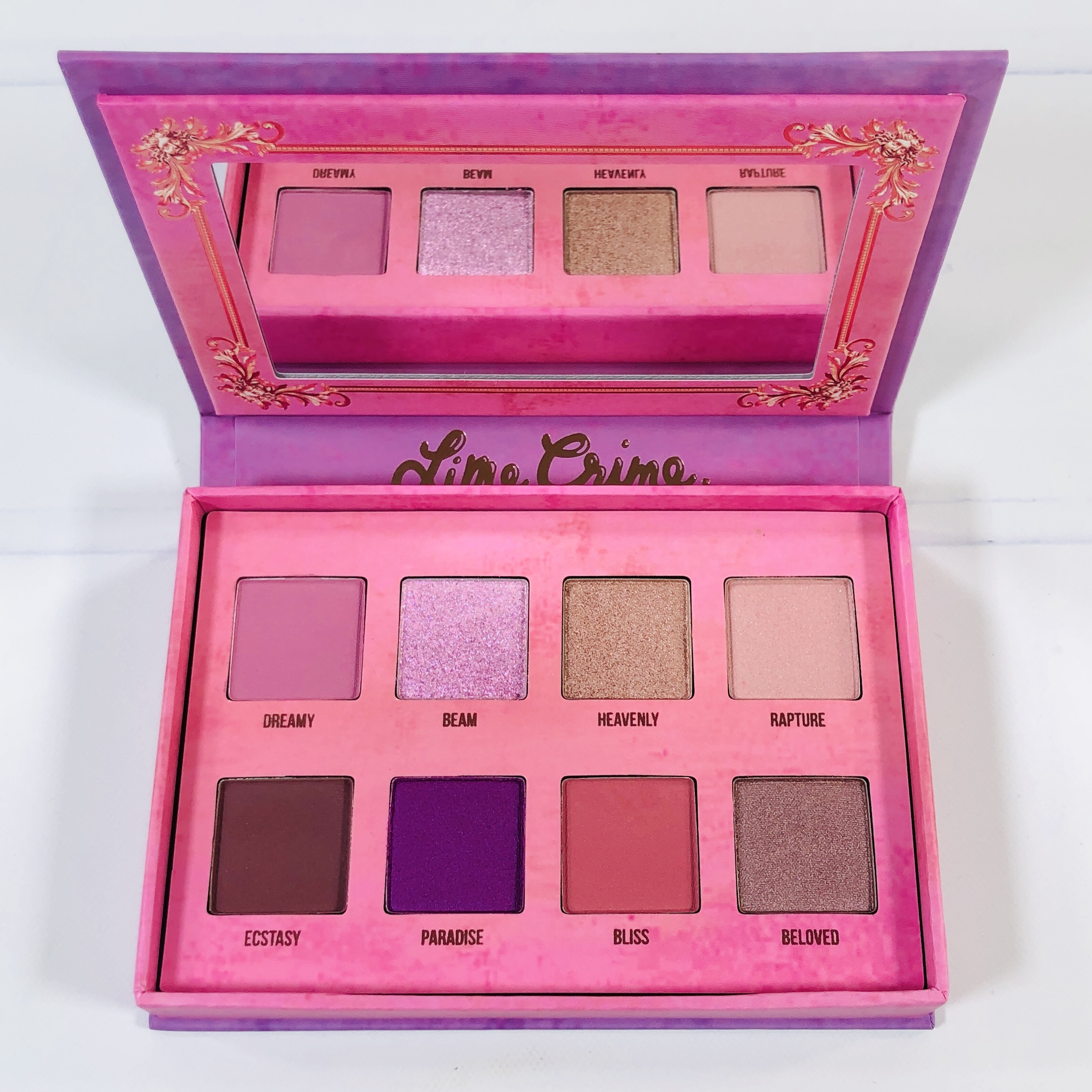 • Dreamy: Mauve (matte)
• Beam: Lit lilac with pink shift (foil)
• Heavenly: Rich rose gold (foil)
• Rapture: Soft blush with blue flash (sparkle matte)
• Ecstasy: Dried fig (matte)
• Paradise: Bright fuchsia with blue glow (sparkle metallic)
• Bliss: Rosewood (matte)
• Beloved: Minky lavender brown (metallic)
I know I will have fun playing with this palette, which is much more vibrant than my usual makeup choices. I've already tried it out and there was some fallout, and I had some shimmery shades all around my eyes (now that's a racoon look I wasn't expecting!). Despite the grunge description it was still girly and feminine.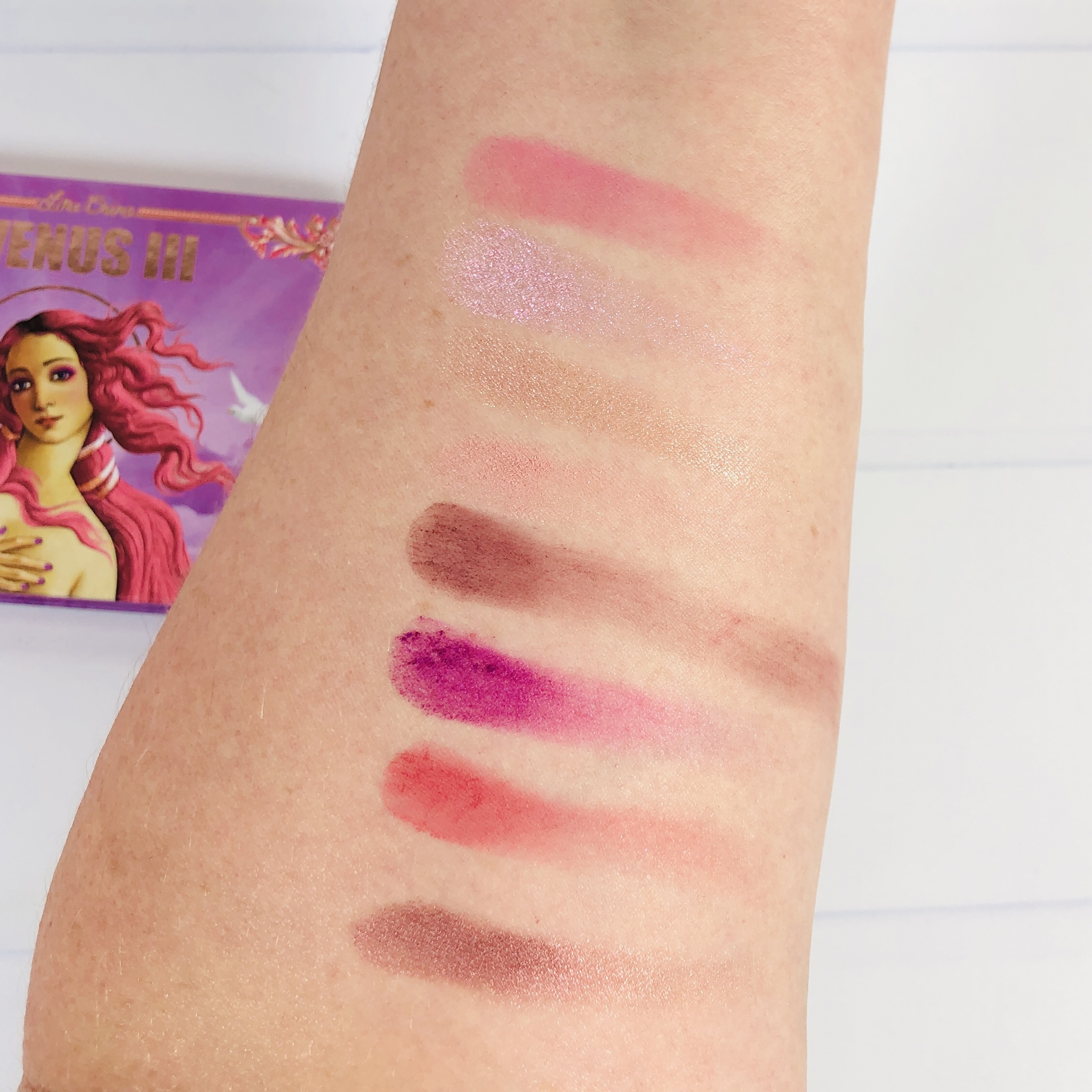 Here are those colors swatched and they range from barely there to in your face, but most fall somewhere in between.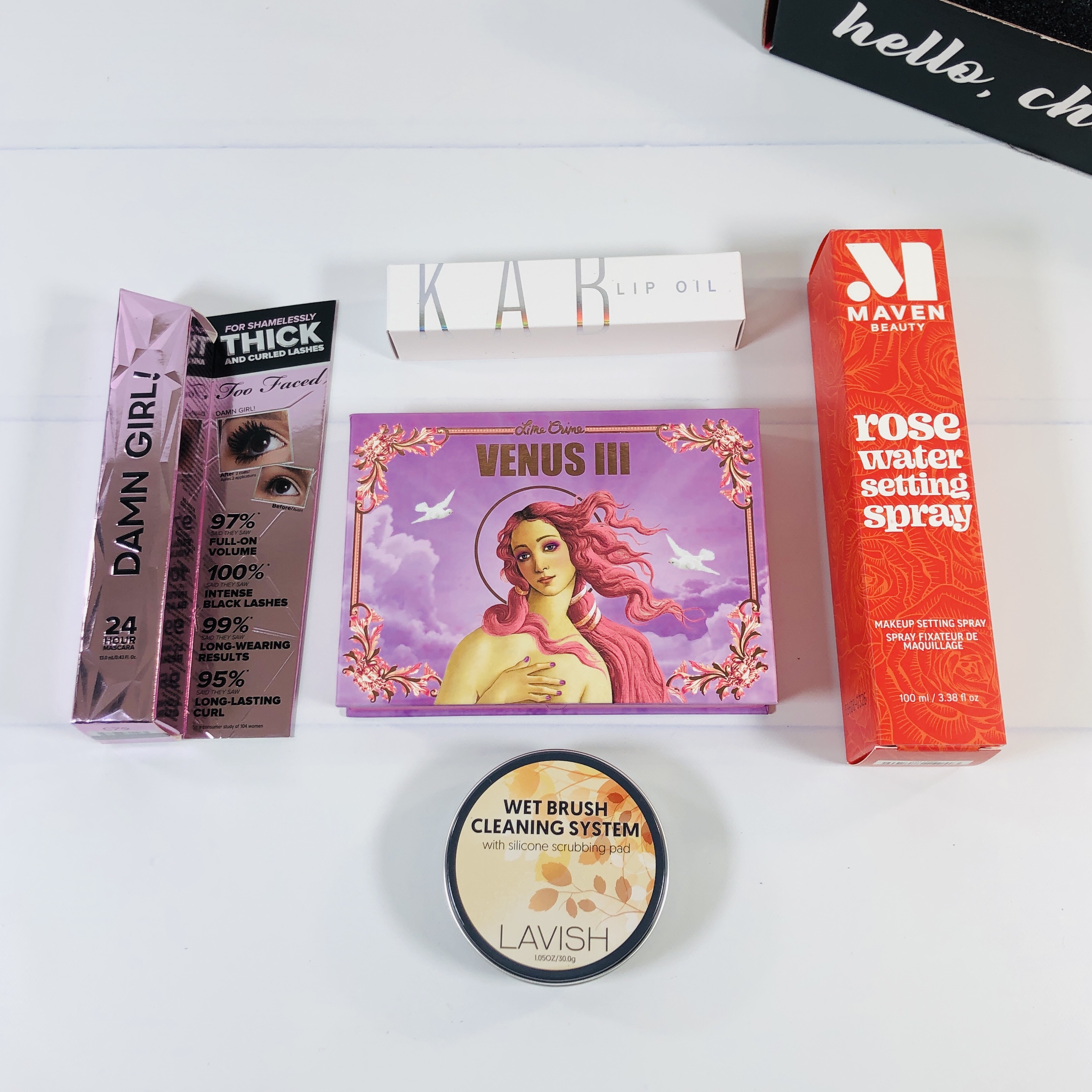 My March BOXYCHARM was so much fun, I love my new products and have been enjoying trying them out! I was a little worried about the palette, I thought it might be too dark but it ended up looking quite pretty on my eyes, even if I did notice sparkles migrating below my eyes as the day wore on. My lashes looked really nice and the gloss was just the thing I needed to remind me that summer is almost here. My favorite was the brush cleaner, I needed a reminder that I am behind on brush cleaning duties and this will help me get caught up, also, maybe I need to rotate my stash anyways and I can't store dirty brushes! The value for my collection was around $121 but keep in mind that your products and value will differ depending on what you receive!
What's your favorite item in this month's BOXYCHARM?