Vellabox is a monthly natural candle subscription box. The candles are always in seasonally inspired scents and are created by the finest American artisans. Each box features a different candle brand. The candles are from small businesses and are made of all-natural wax, cotton braided wicks, and premium fragrance oils. Vellabox also includes a surprise lifestyle gift in every box.
Our Vellabox Candle Curator handpicks the candles and guarantees that they are always all-natural, seasonally relevant and bound to bring warmth and joy to any space. The surprise gift in your box each month is chosen carefully to align with our team's health-centric values.
DEAL: Save 50% on your first box! Use coupon code HELLOSUB50.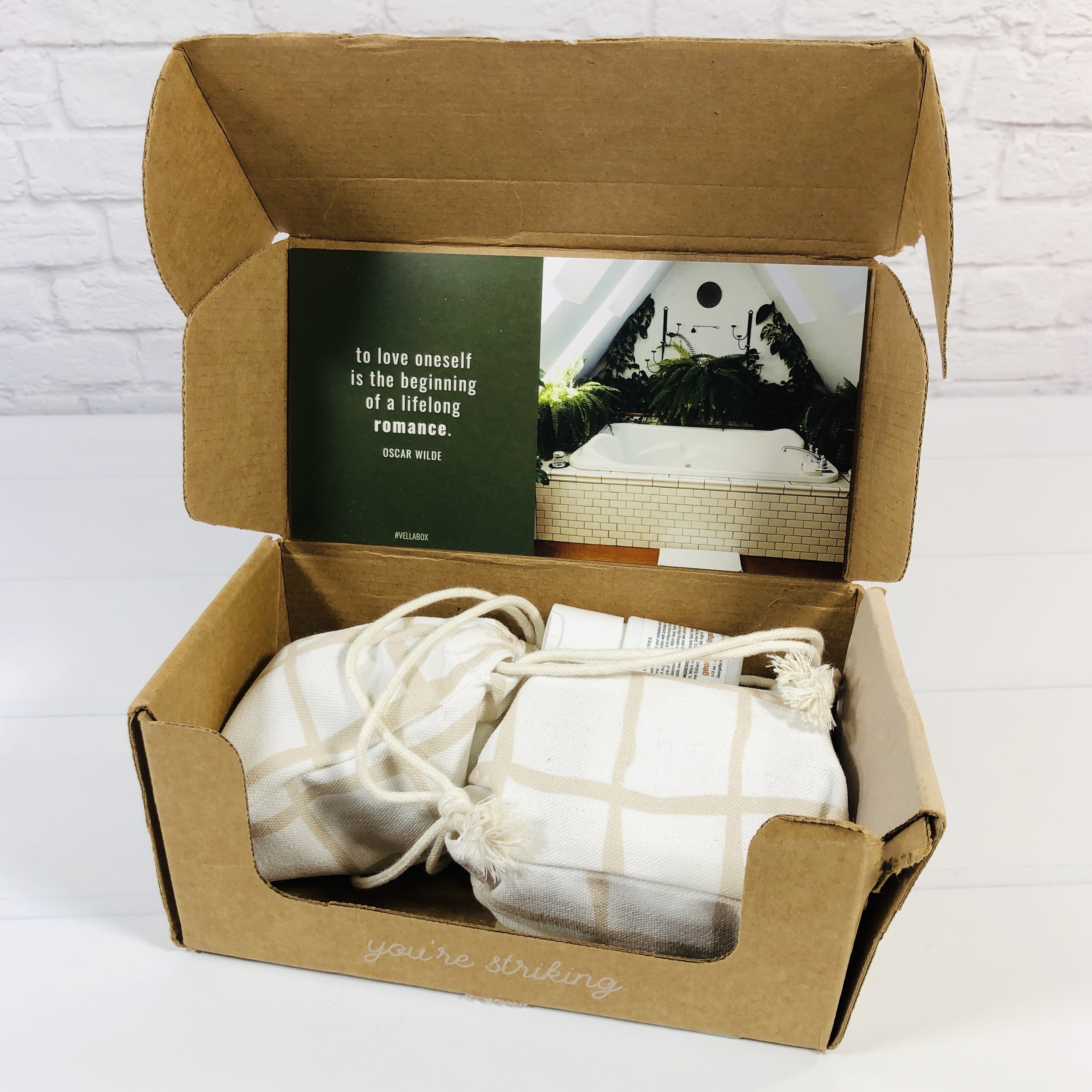 The first thing you need to do is decide which level you prefer. You can choose from The Lucerna Box ($10) which includes a 4 oz candle monthly, The Ignis Box ($20) with an 8 oz candle monthly, and The Vivere Box ($30) with an 8oz + a 4 oz candle monthly. Each level receives the bonus lifestyle gift. Shipping is $3 per month for Lucerna and Ignis to the US, and free for Vivere. Vellabox now ships to Canada for $8 per box.
I am reviewing The Vivere Box.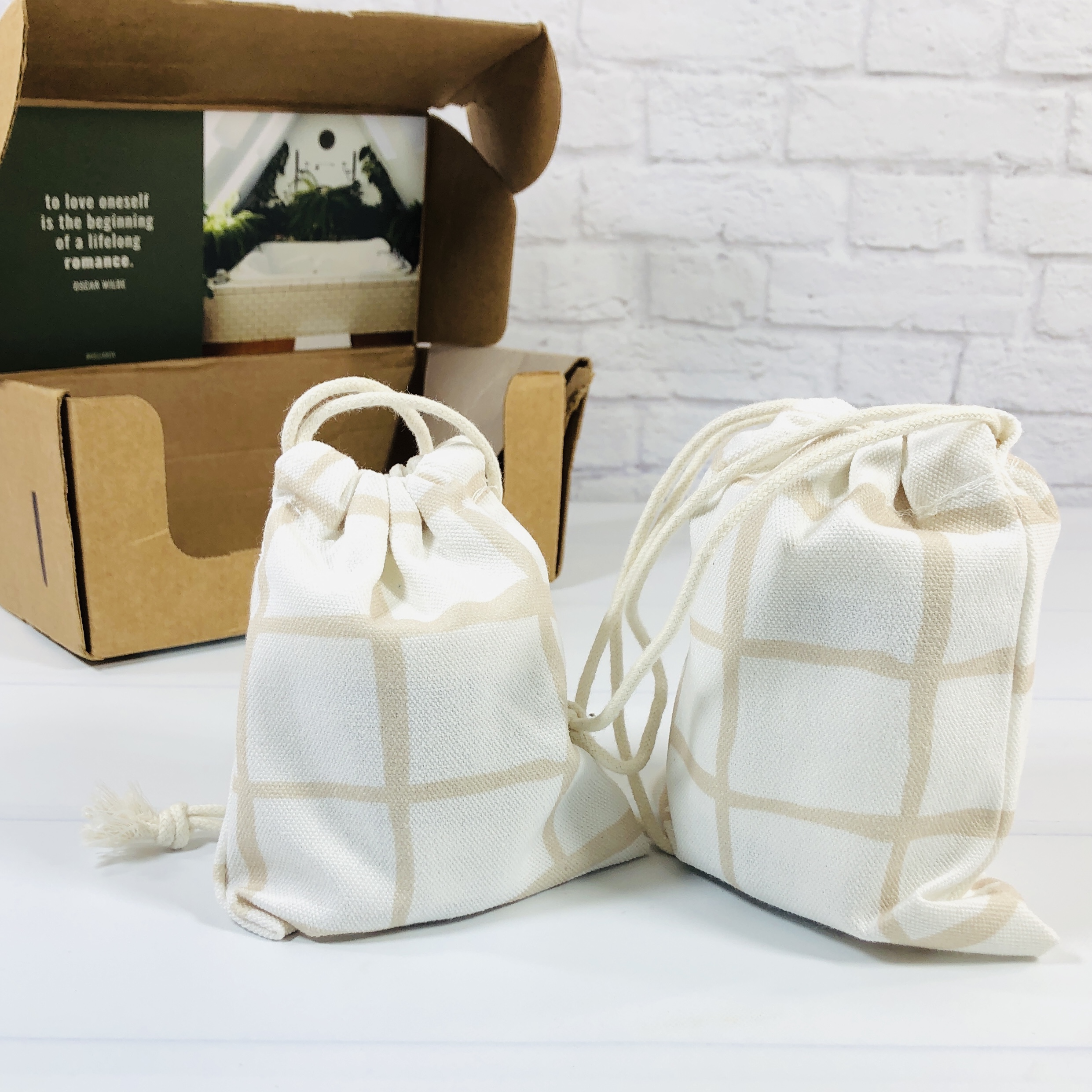 The candles were in reusable drawstring canvas bags. The bags can hold items like jewelry or other trinkets.
There was a card with info on the candle brand, Nightshift Wax Co., and a coupon code for future purchases from the featured brands!
WE BELIEVE IN THE POWER OF NATURE!

Our candle and skin collections are both inspired by the natural beauty in our planet. We use only organic American grown soy wax, premium grade fragrance oils and natural cotton braided wicks in our candles to ensure our products are clean burning, safe and better for the environment. We take pride in our products and ethically source our ingredients in our skincare items as well, each recipe is created by us and tested on humans – never animals!  Standing strongly by the idea that a person should be able to relax and unwind, as well as have a daily skincare regimen.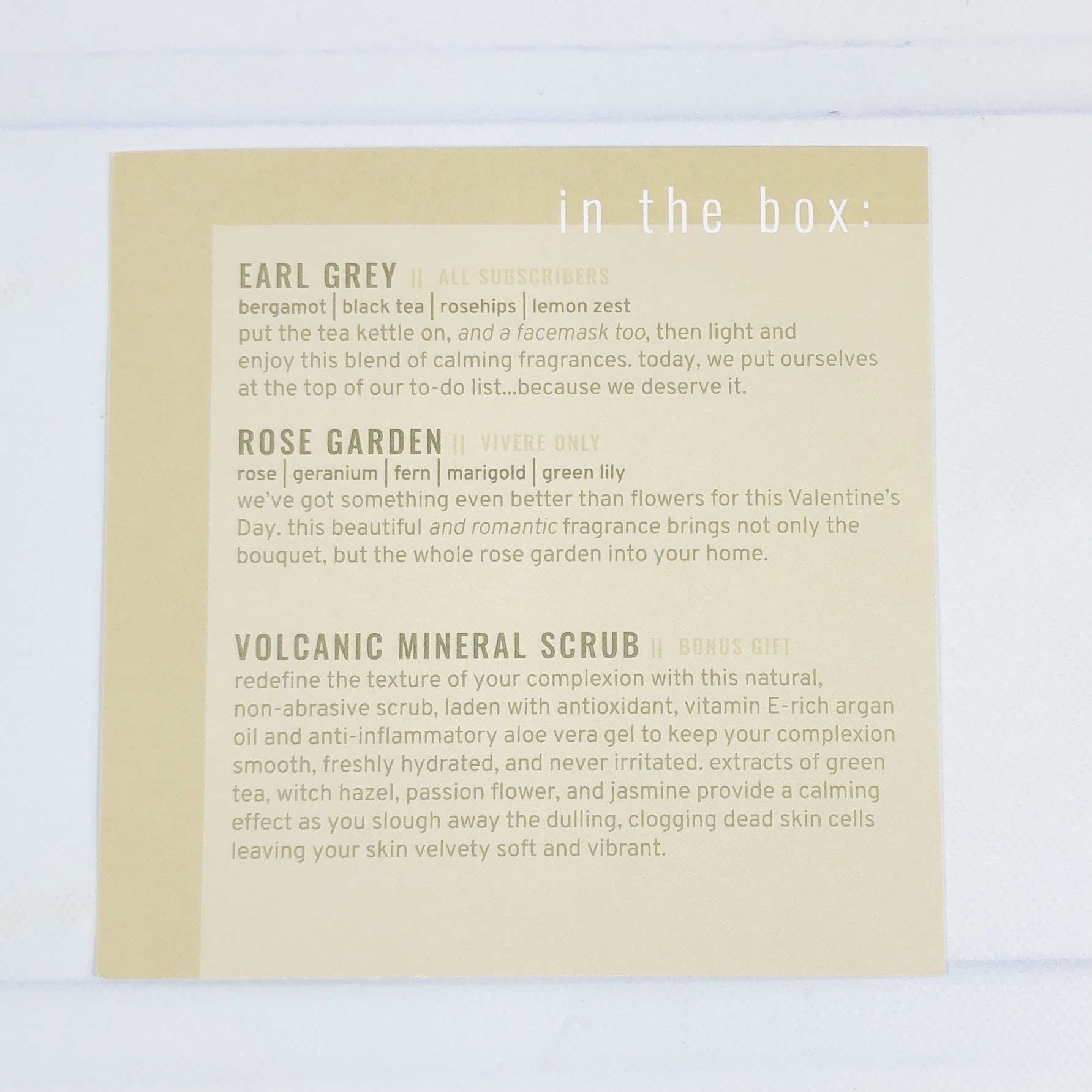 The back of the card described the scents and the extra, which is a face product.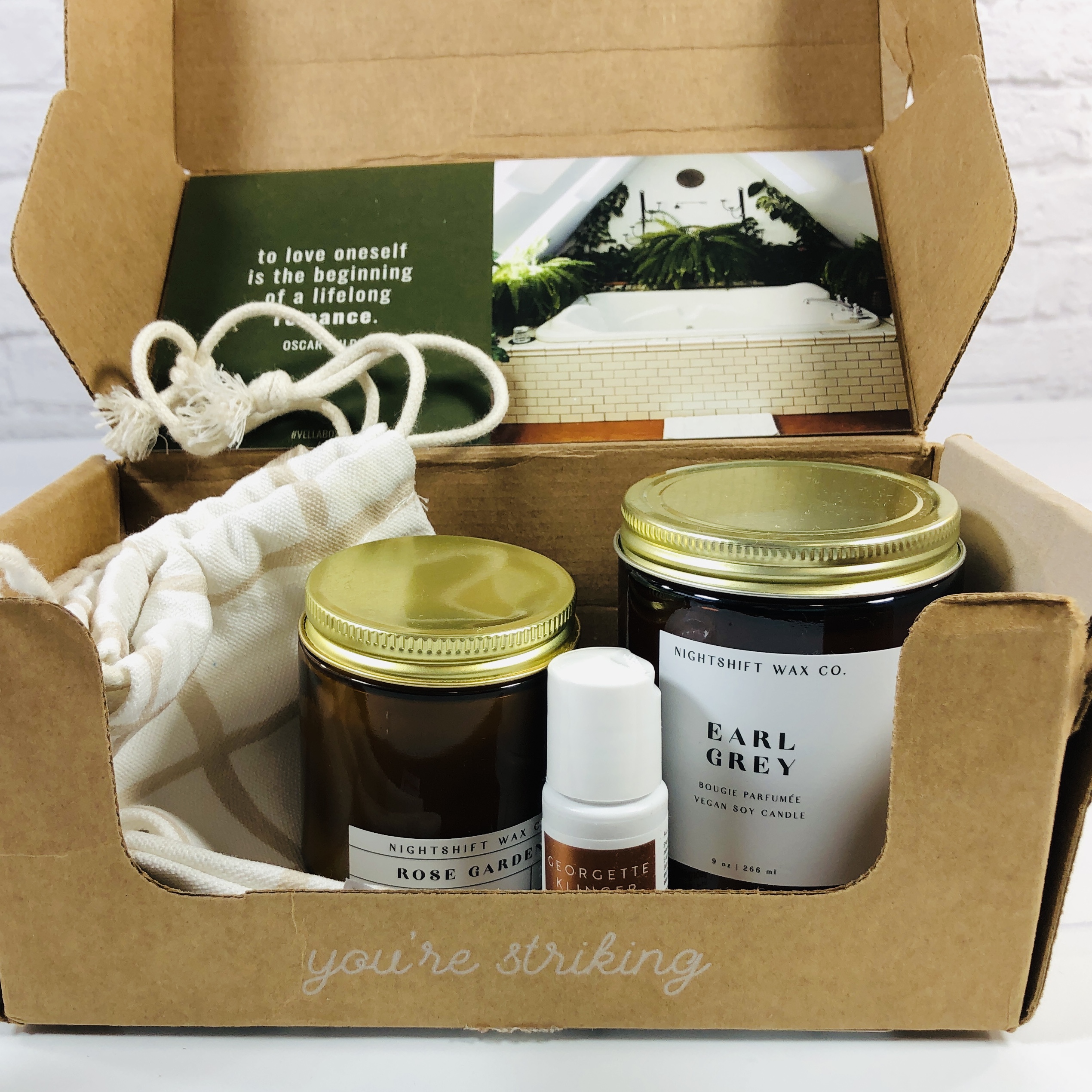 Here's everything in the box!
Yay for candles!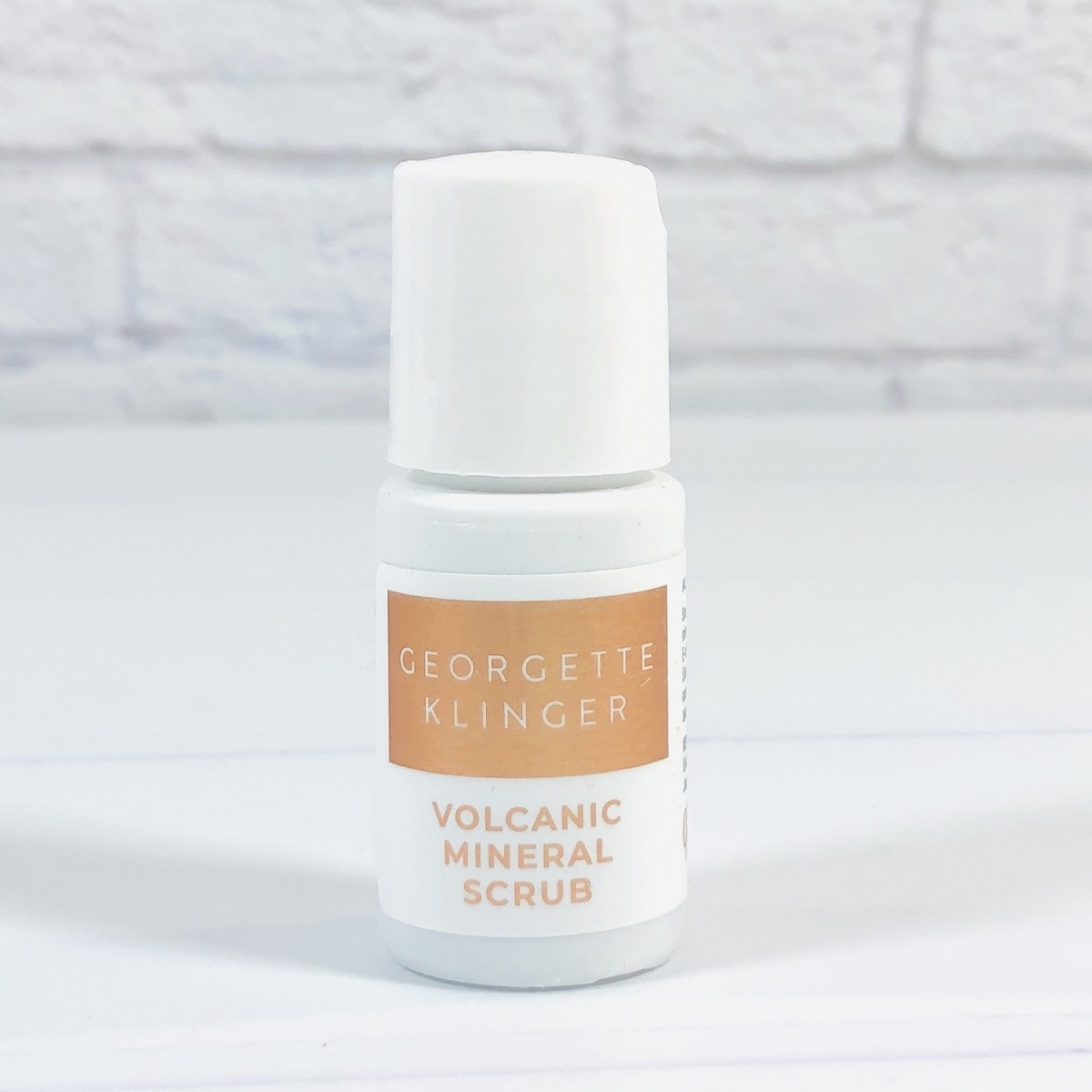 Georgette Klinger Volcanic Mineral Scrub ($3.57) Our extra this month is a face scrub that has volcanic sand.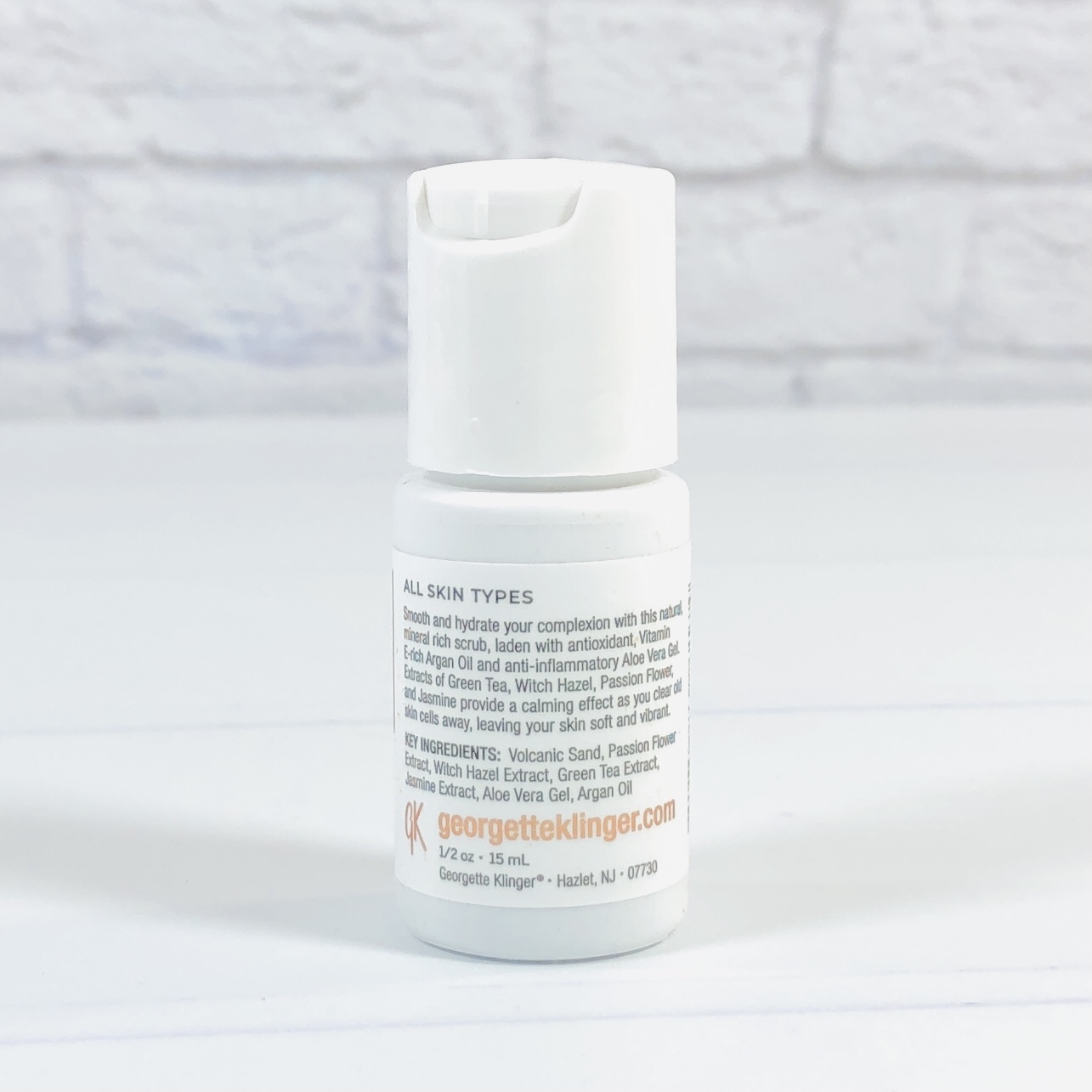 The key ingredients are listed and the rest can be found at the link above. It's a gentle scrub, nothing too harsh, and it has a light floral scent.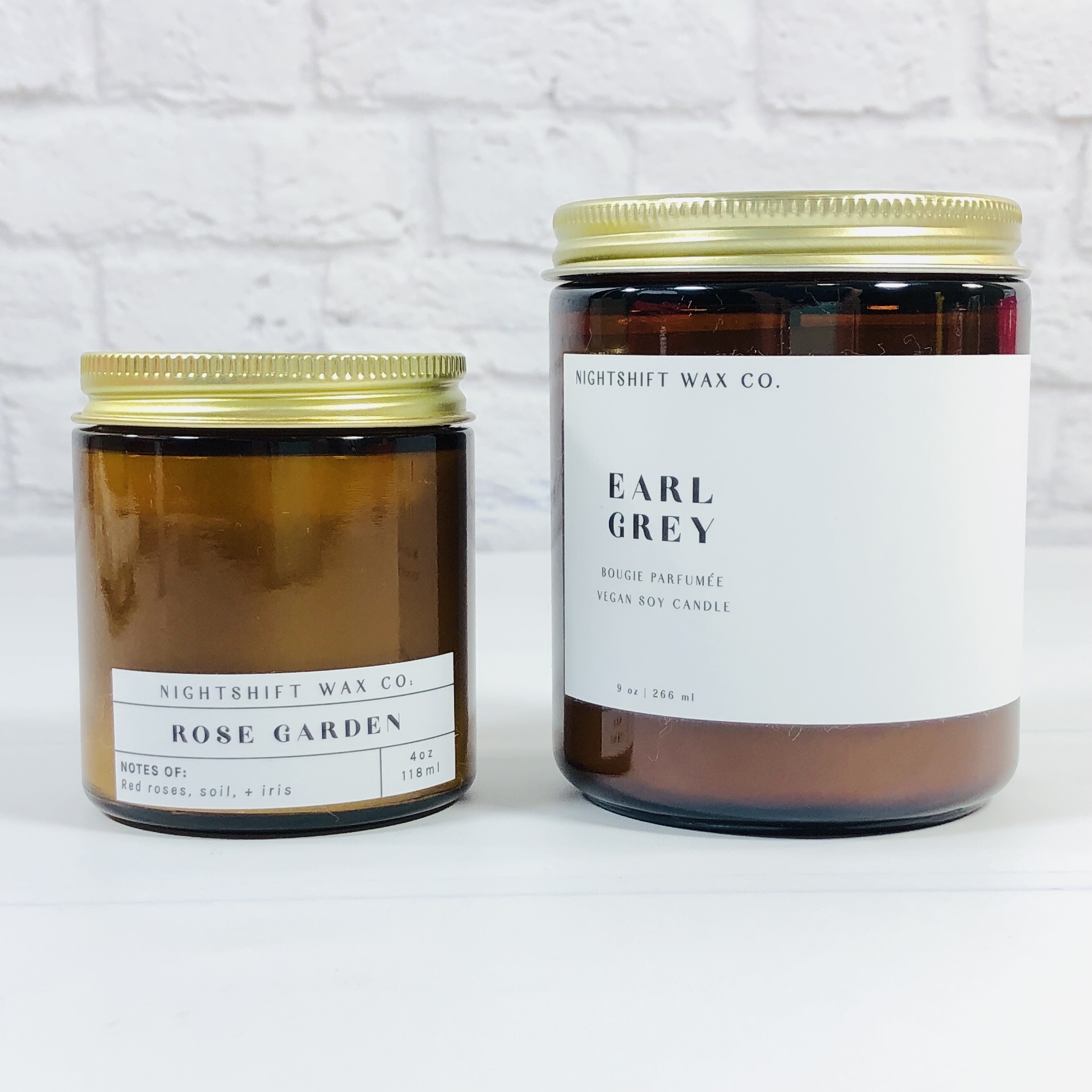 The jars have gold lids and white labels, so they work with probably every decorating style.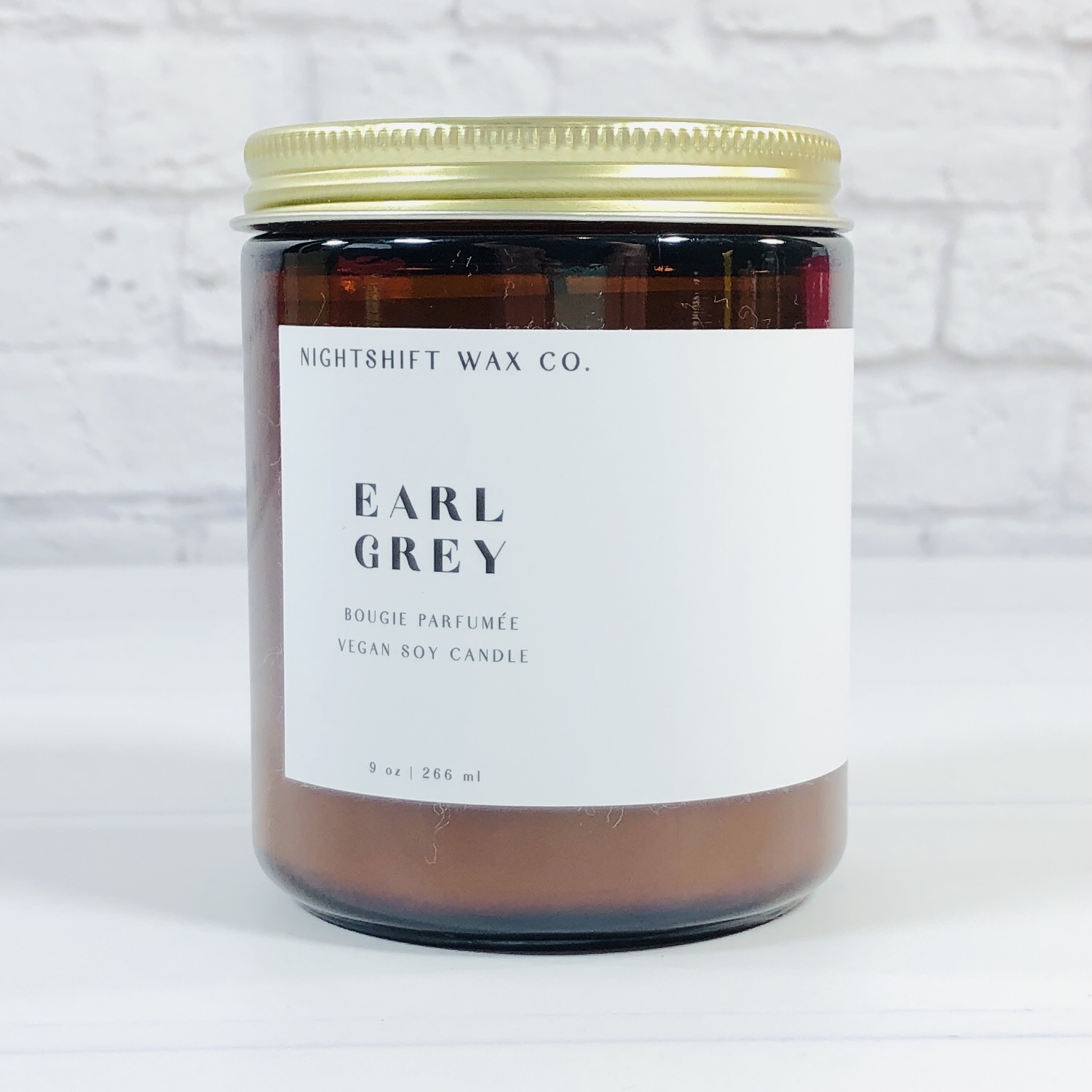 Nightshift Wax Co. Earl Grey Vegan Soy Candle ($25) I love a hot cup of Earl Grey tea and this candle has that note, which comes from bergamot, a small, bitter orange.
Other scent notes include black tea leaves, roses, and violet. I had it burning for hours during an extended power outage and at first I didn't smell much, but the second night I could really pick up that rose scent. I have burned half of the candle already and now I can smell the bergamot.
Make sure to burn your candle safely and keep away from pets and children.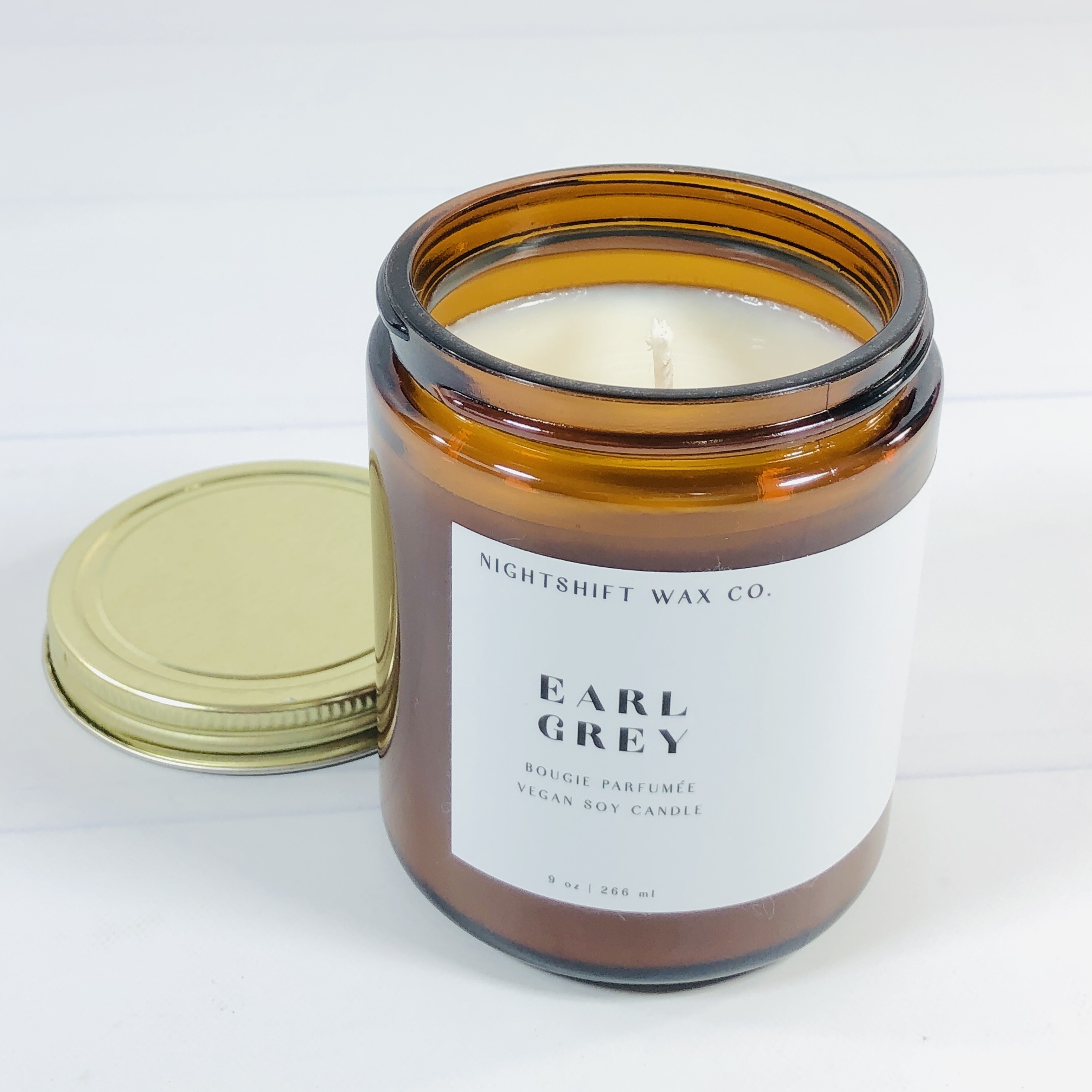 Out of the two candles I received, this one had the lightest scent.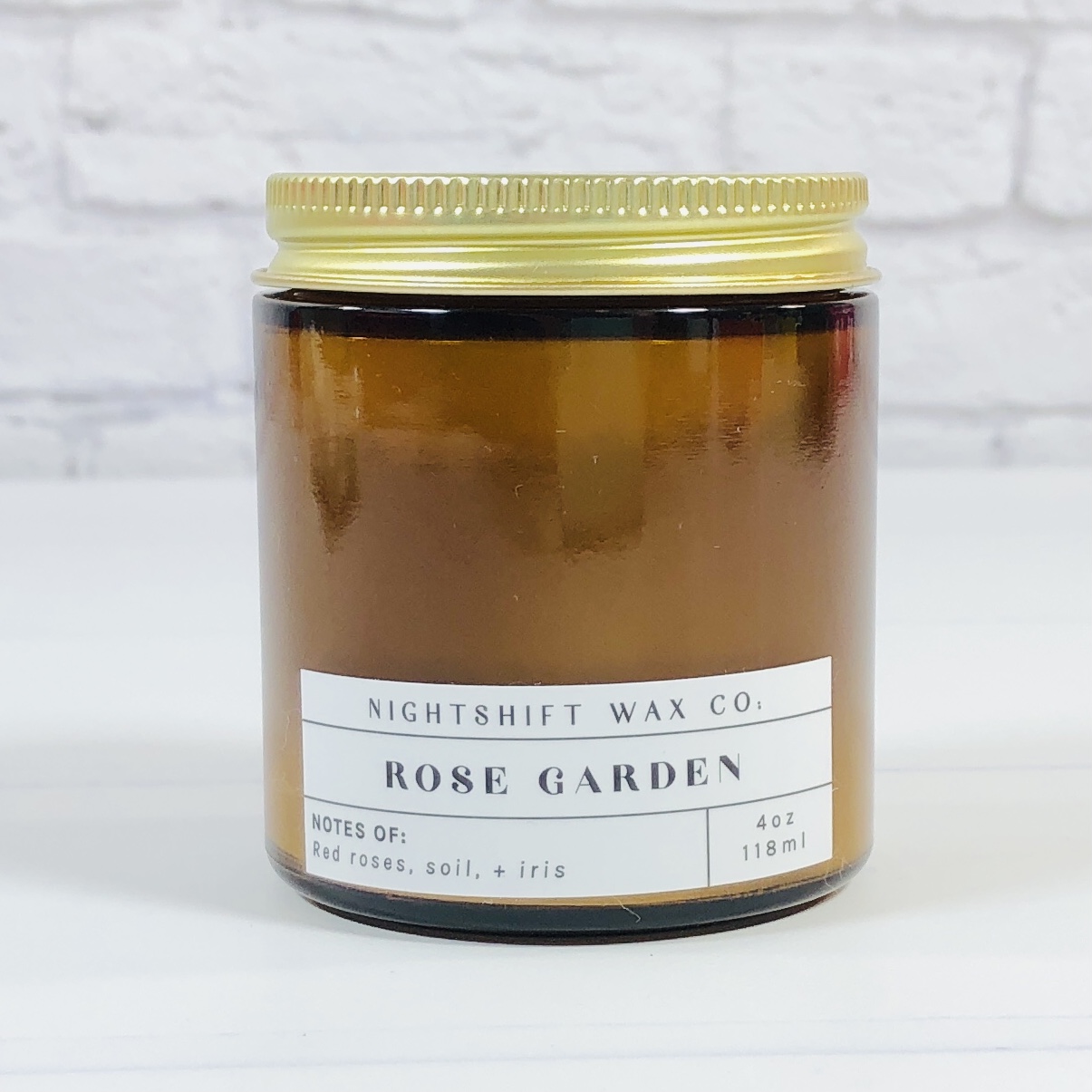 Nightshift Wax Co. Rose Garden Vegan Soy Candle ($15) According to the jar this candle has notes of roses, soil, and iris and the website adds geranium, fern, and musk.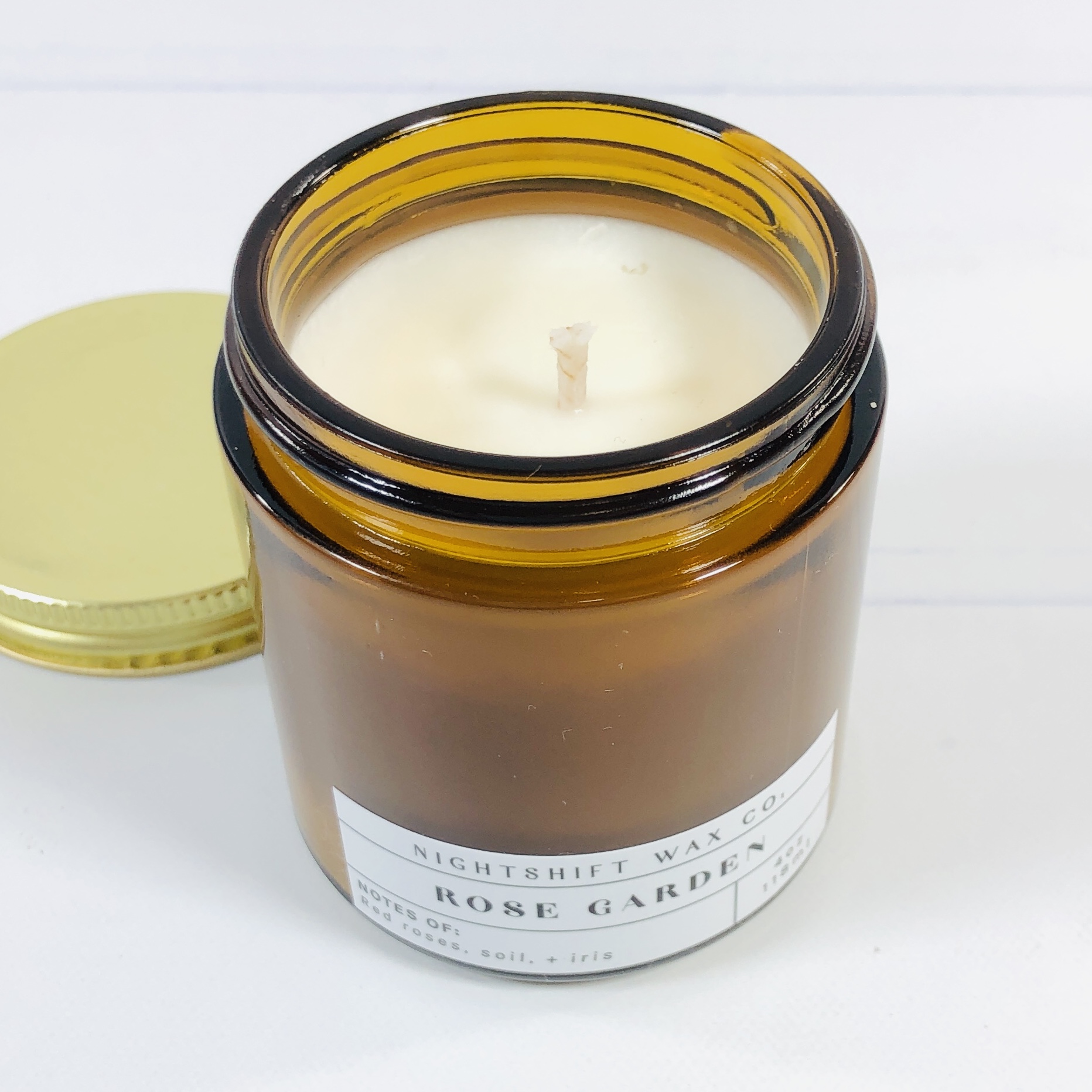 This candle may be smaller but it packs a fragrant punch! It is very noticeable and all I can detect is the scent of roses, similar to potpourri. I had three candles burning at the same time and this was the only one I could smell.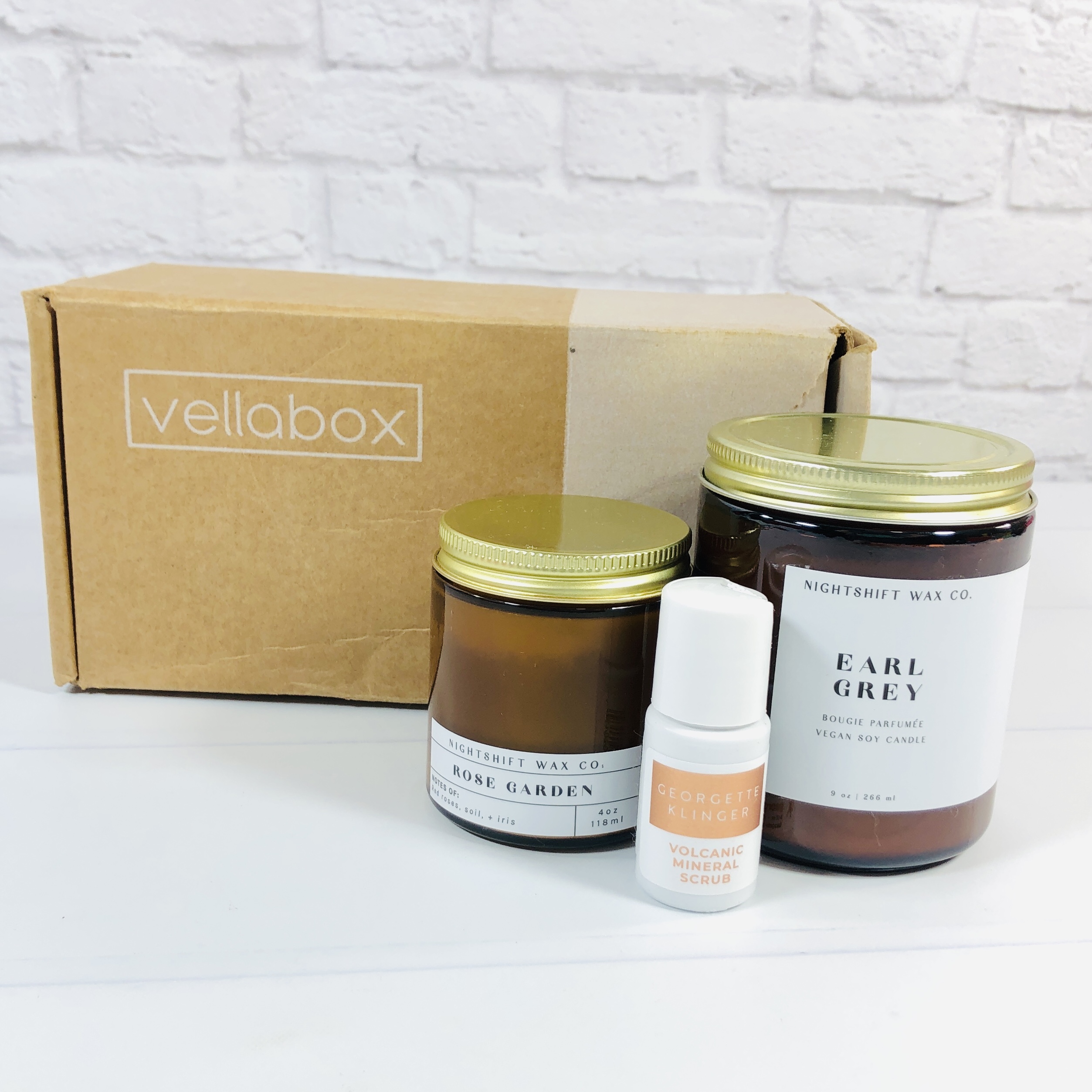 I really enjoyed my two new candles from Vellabox and Nightshift Wax Co! Earl Grey had a much more subdued scent than Rose Garden but they were both lovely scents and promoted a cozy atmosphere, and in fact, the only available light in my house for a couple of nights! I noticed that the company also offers perfumes and diffuser oils so those would be fun to try too. The face scrub was a satisfying self-care item that wasn't too harsh for my sensitive skin.
What do you think of this box?