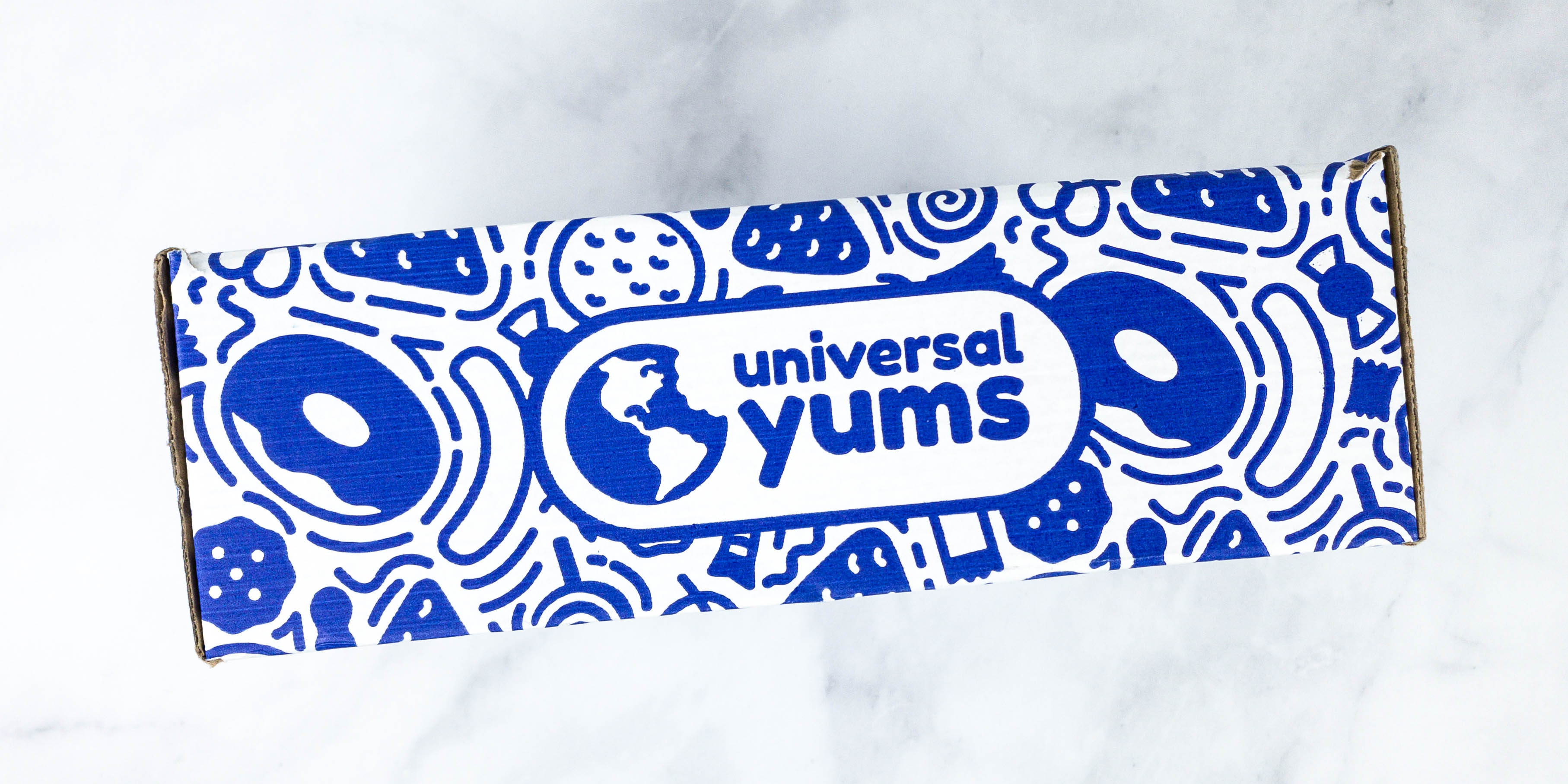 Universal Yums is an international snack subscription! Featuring a new country each month, the box contains unique and delicious snacks that are either difficult or impossible to find in US stores. They promise to always include a variety of sweet and savory snacks, all with the featured country's distinct flavors and spices. Each box also comes with an interactive guidebook containing an explanation of why they chose each snack, as well as trivia, games, recipes, and other cultural features!
There are three available box sizes:
Yum Box – 6+ snacks plus a 12-page booklet for $14 a month
Yum Yum – 12+ snacks plus a 16-page booklet and other bonus content for $25 a month
Super Yum Box – 20+ snacks plus a 20-page booklet and other bonus content for $39 a month
DEAL: Save 10% on a 6+months Universal Yums subscription!! No coupon code needed, just use this link to sign up!
This is the review of the Yum Yum box!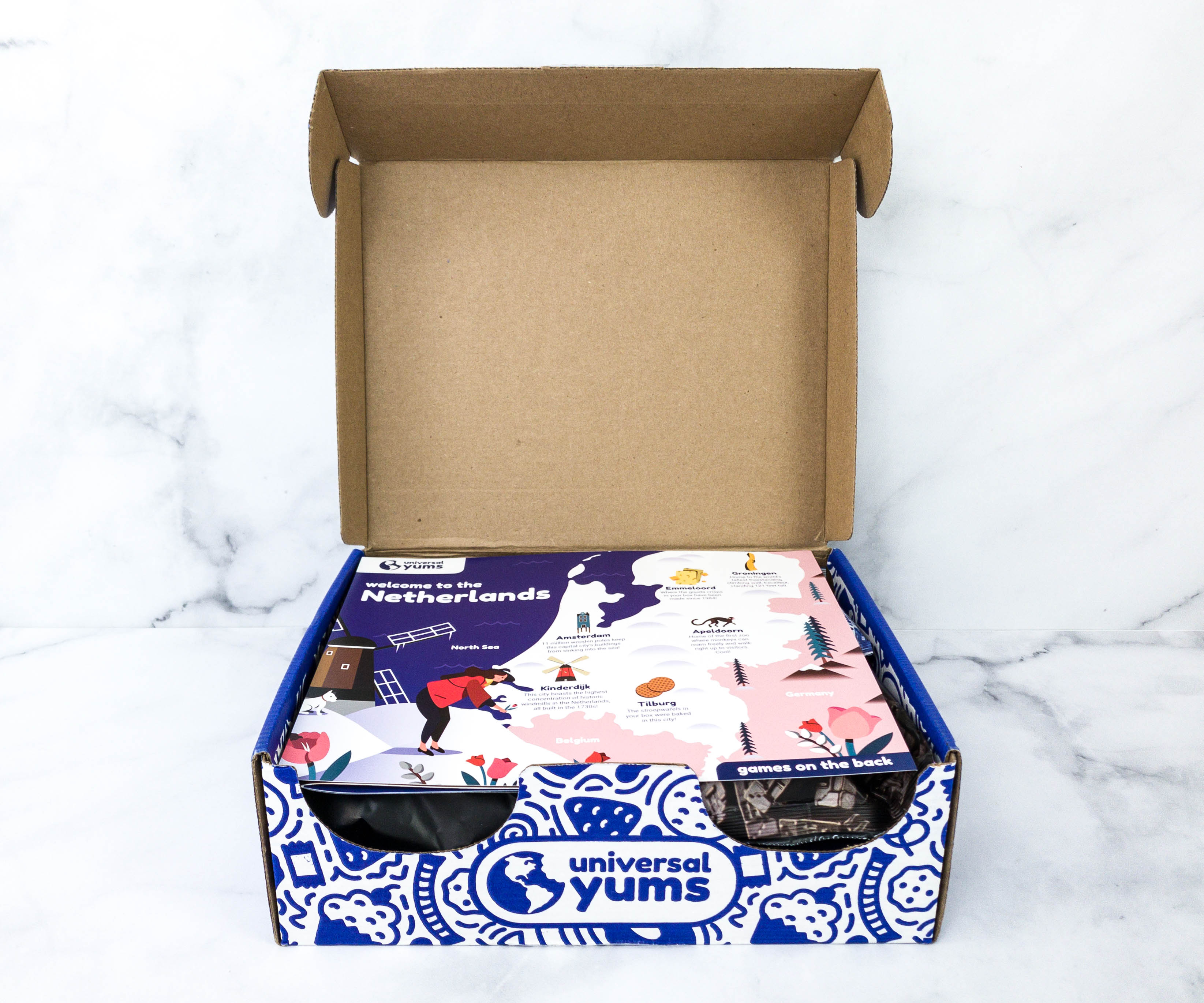 The featured place this month is NETHERLANDS!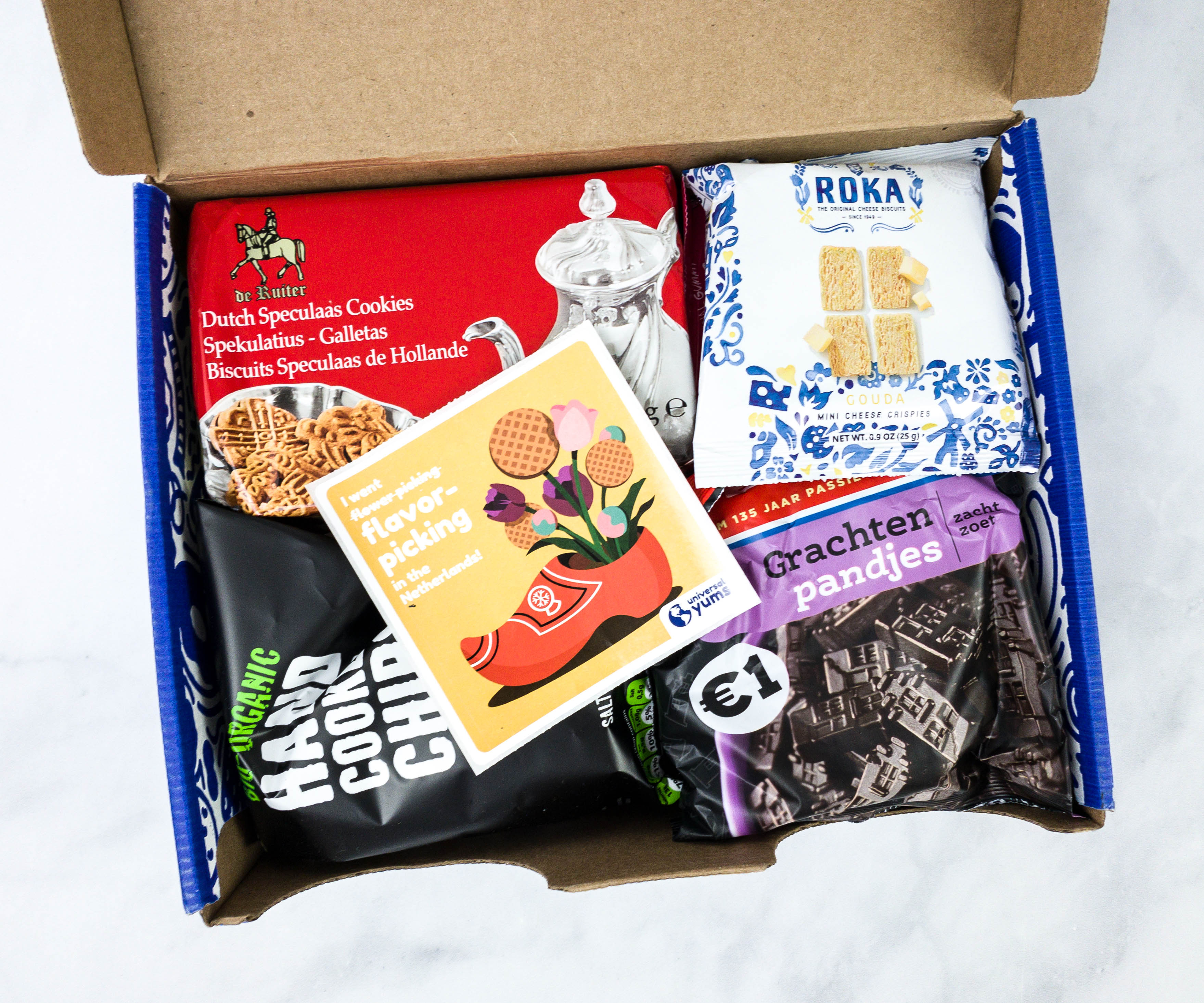 A card sits on top of the snacks for this month.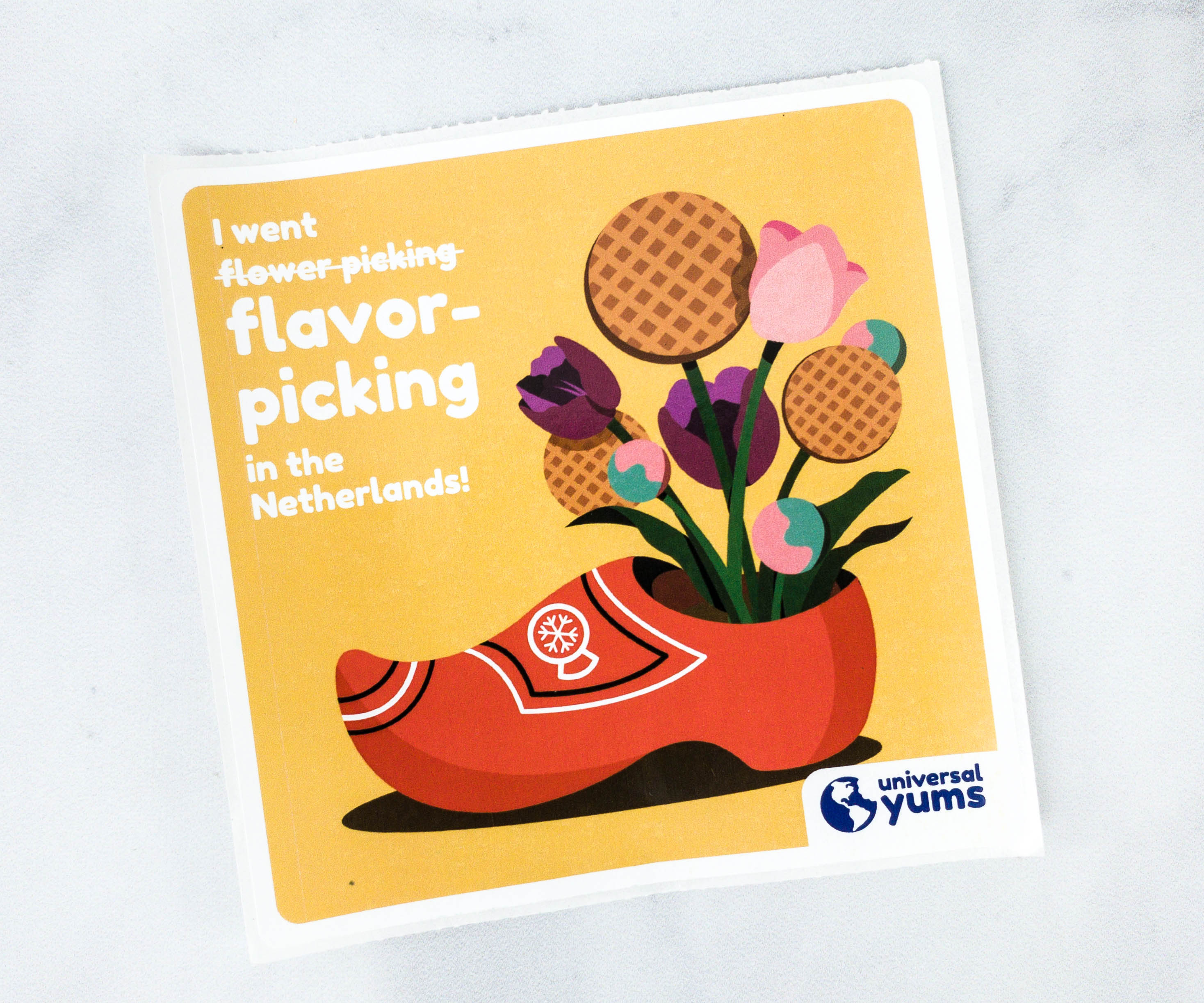 The month's sticker features a wooden shoe. This kind of footwear was worn for centuries in Netherlands.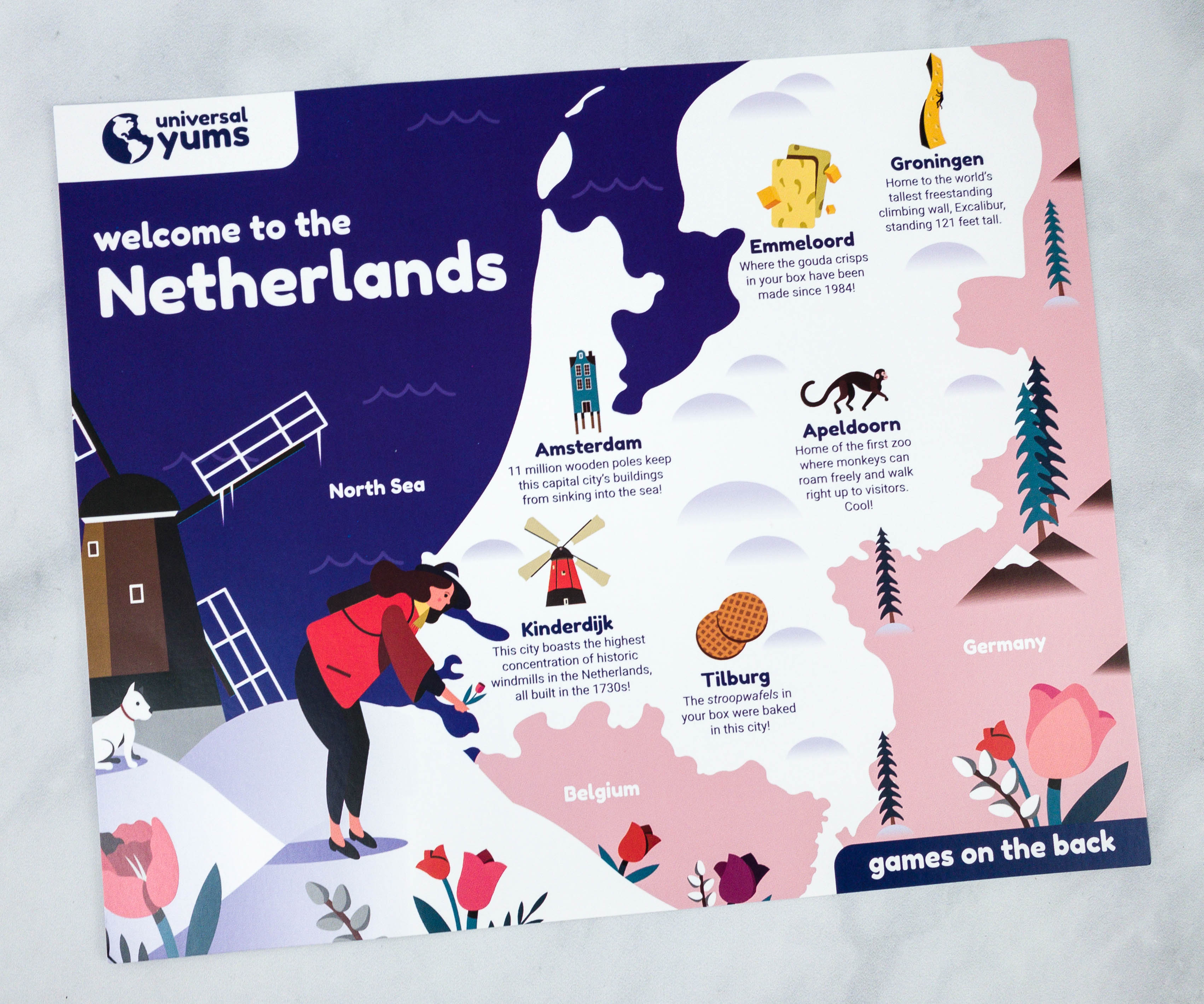 This card features the map of Netherlands. It also gives us a brief overview of the country!
At the back is The Official Yum Awards where you can rate all the snacks!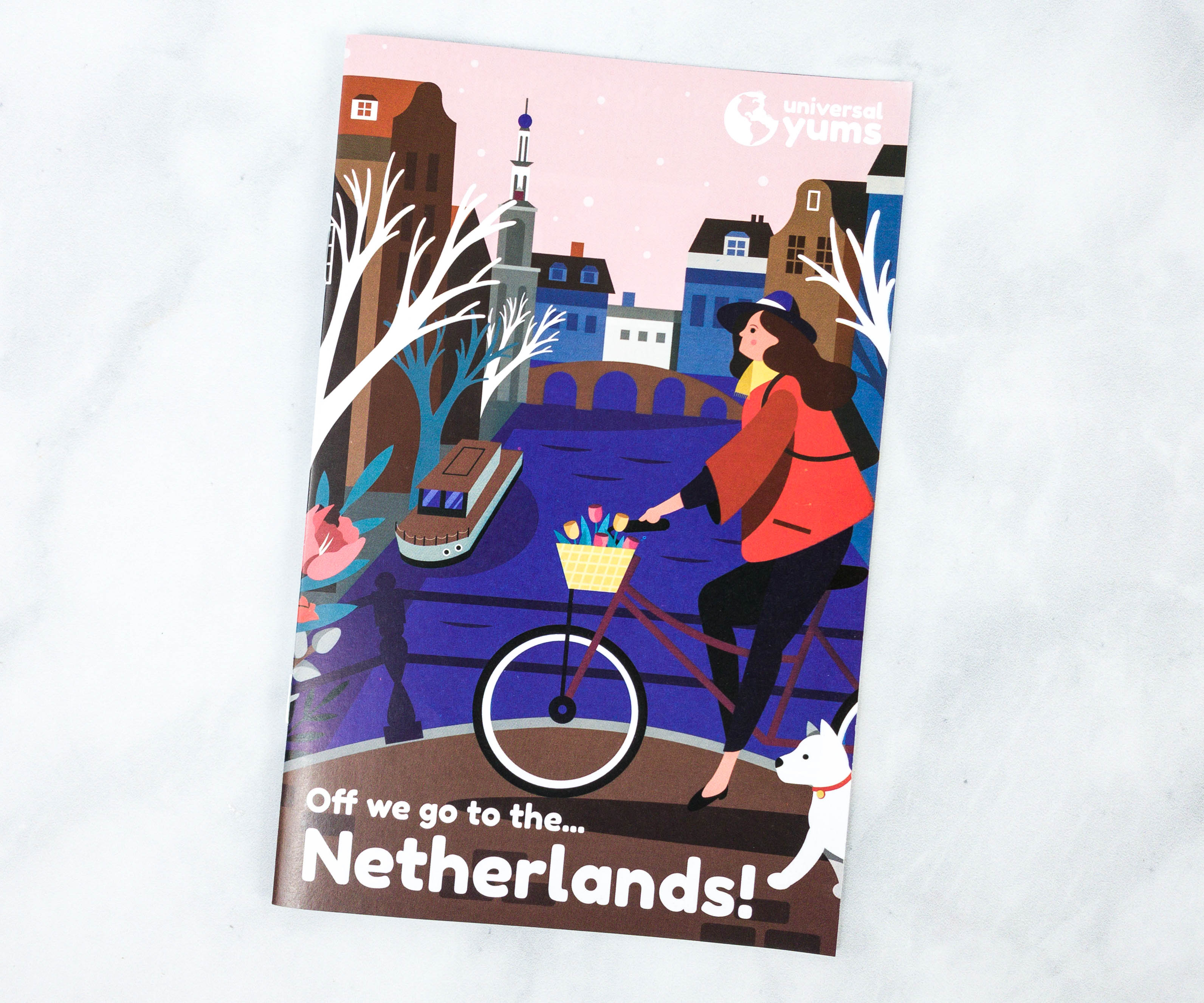 Aside from the sheet, the box also includes an information booklet.
At the back, they featured items that are available in The Yum Shop.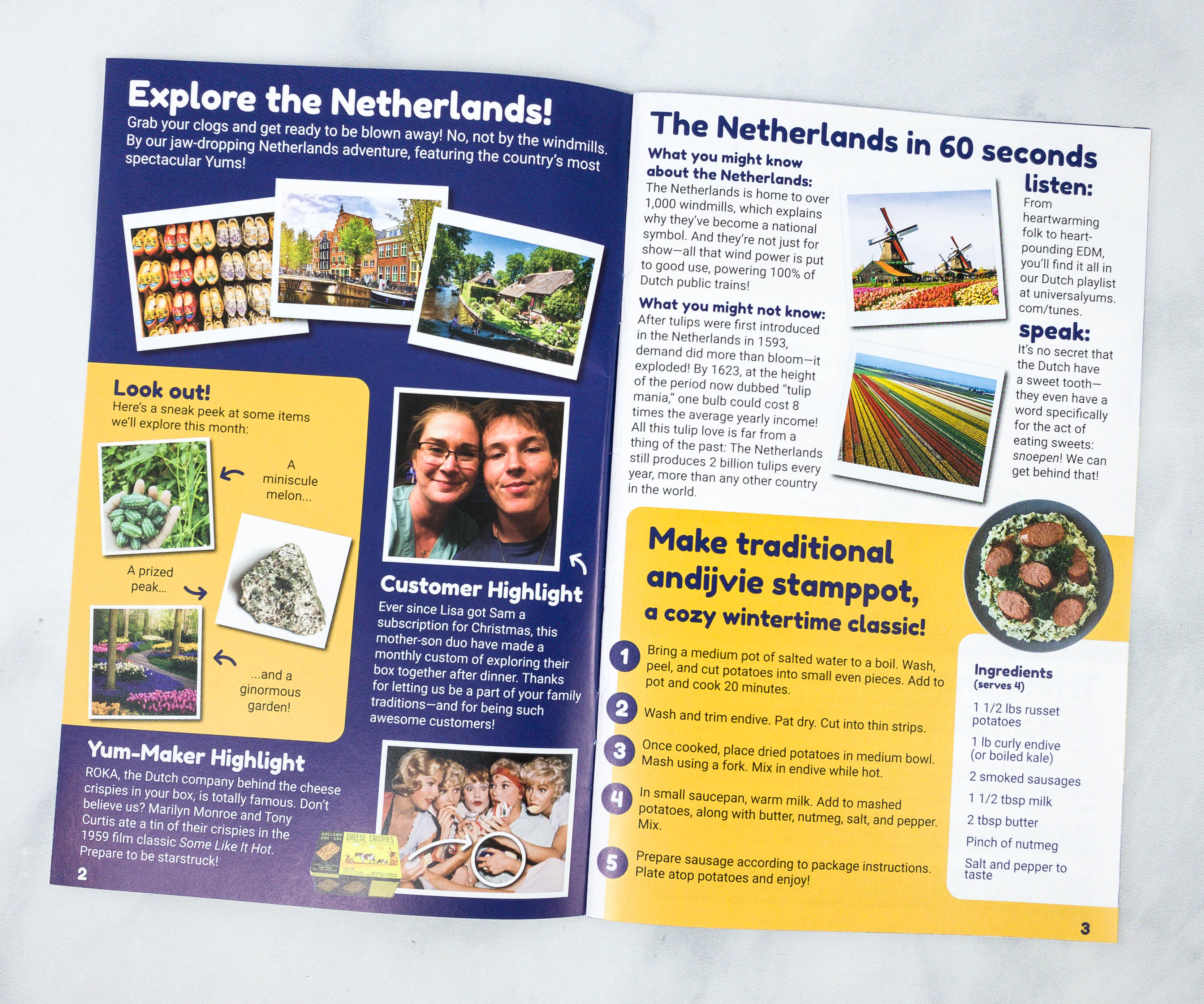 Inside the booklet, there are more fun facts about Netherlands, and some sneak peek of the country's rich culture and destinations. There's even a recipe for a traditional andijvie stamppot, a cozy wintertime classic!
Here's a trivia page where you can test your knowledge about this wonderful country!
This booklet also lists down all the amazing snacks inside this box.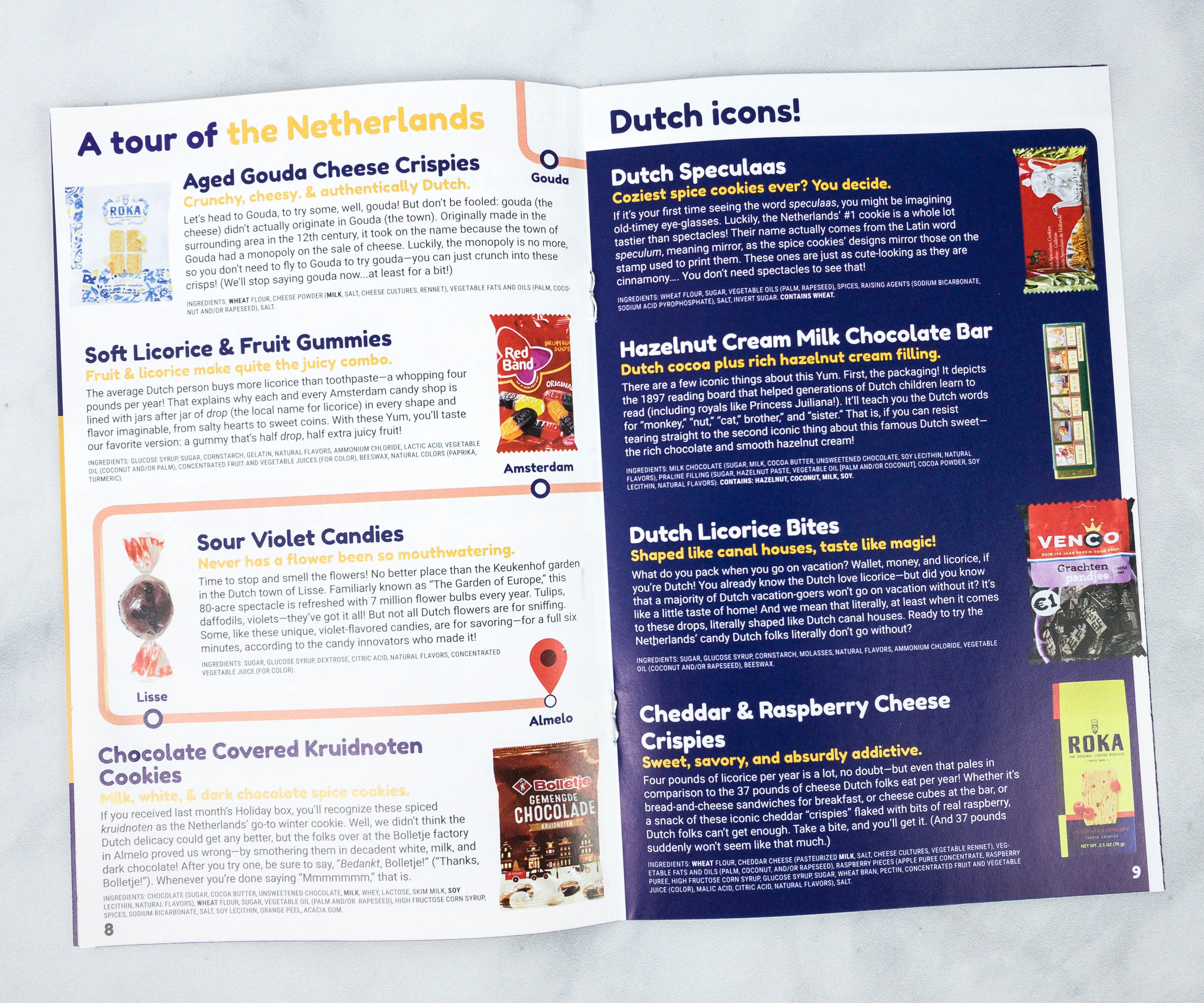 Each snack comes with a photo and a long description in the booklet!
They also included the Nutrition Facts of each item this month.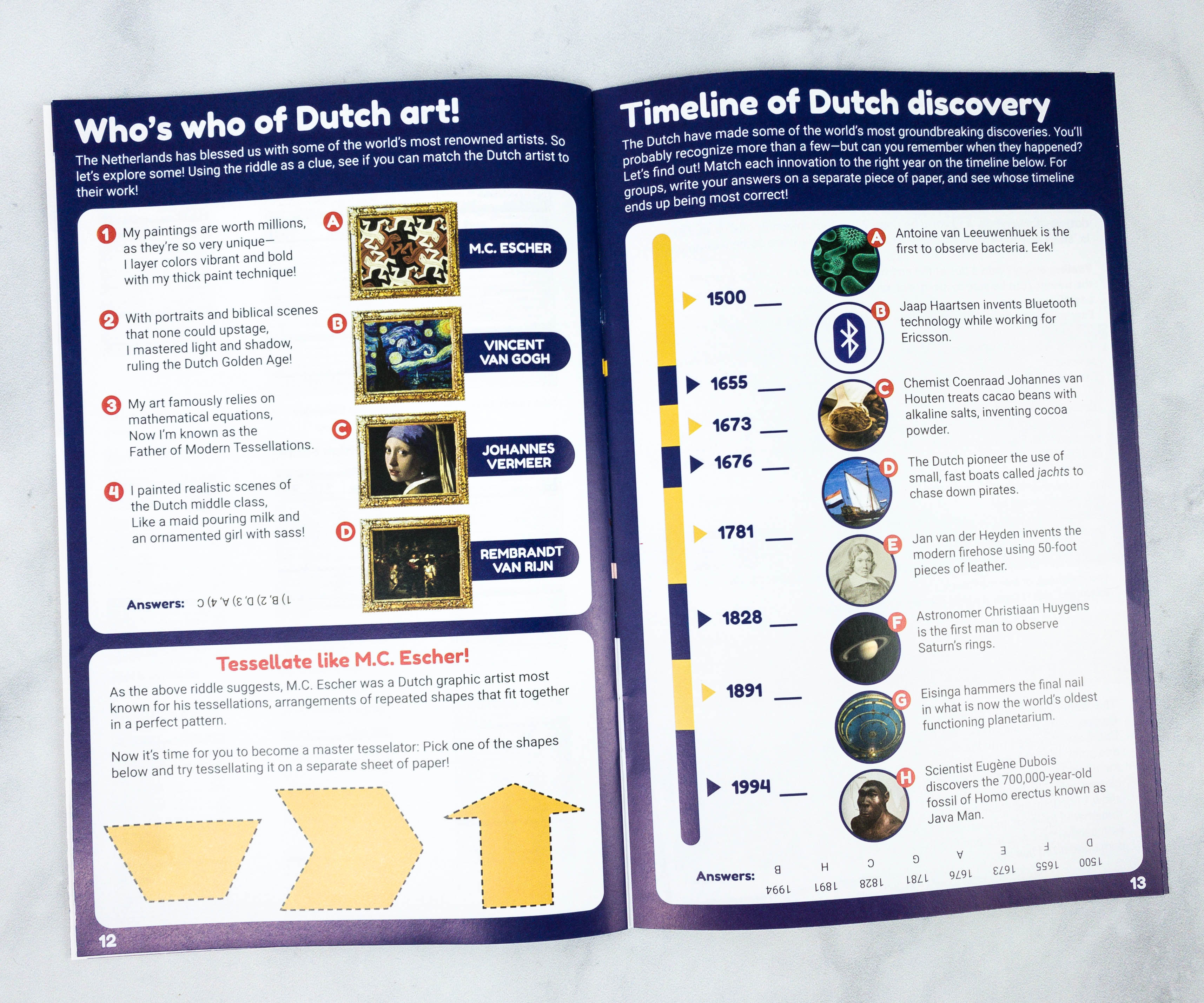 There are even fun quizzes you can play on your own or with friends!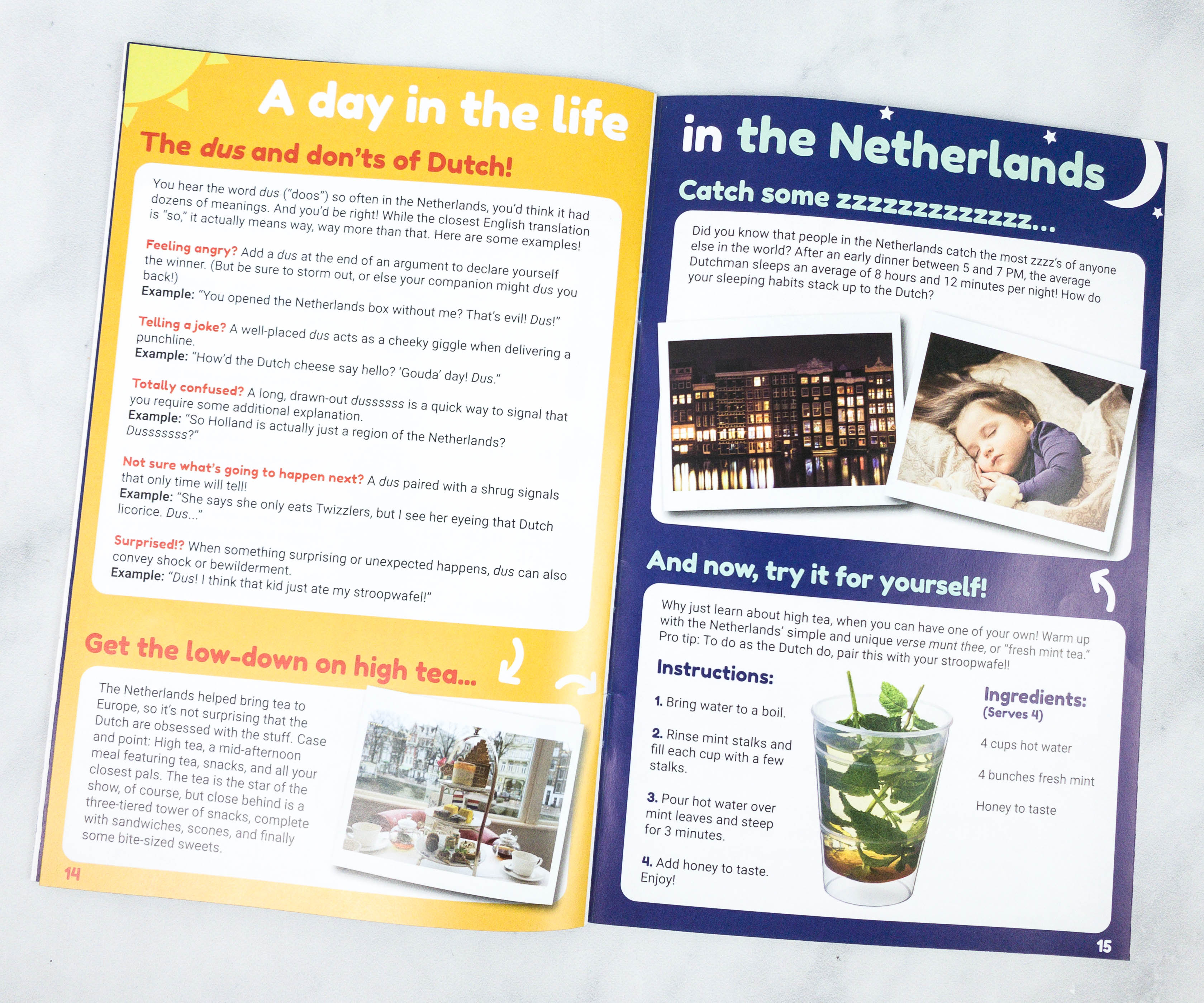 I loved reading this before taking a bite on this month's snacks!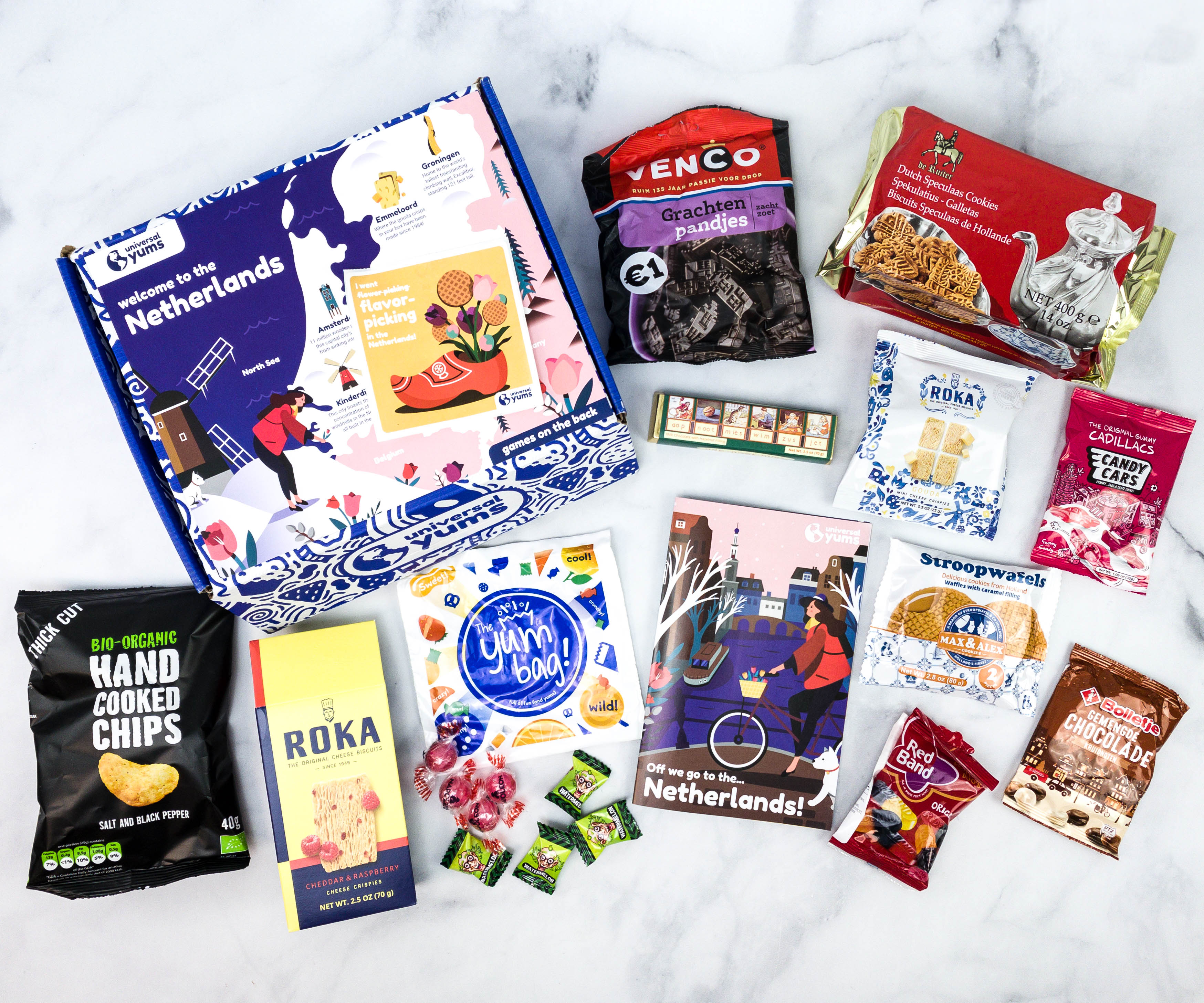 Everything in my January 2021 box!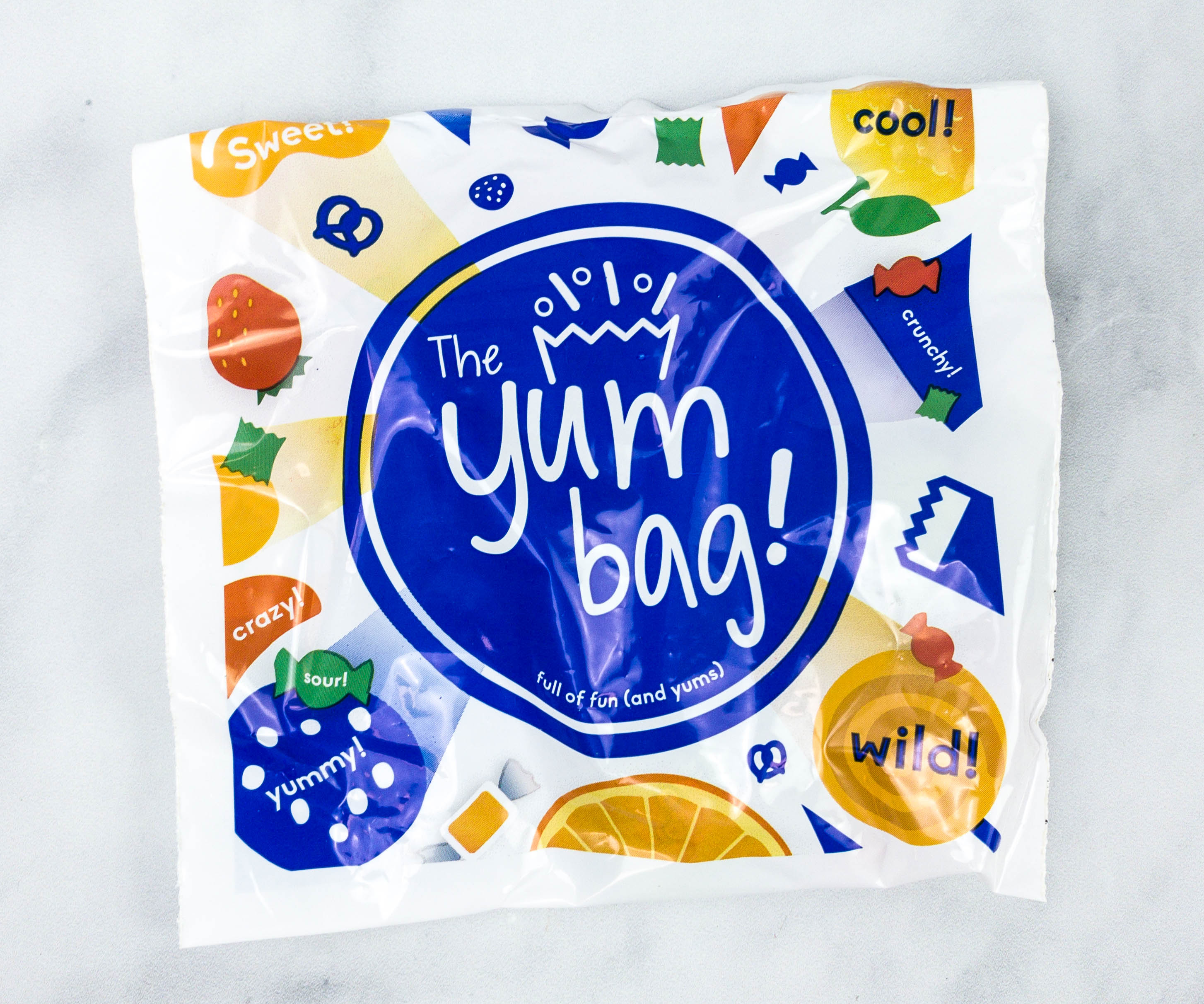 Yum Bag. This bag is packed with candies from the featured country!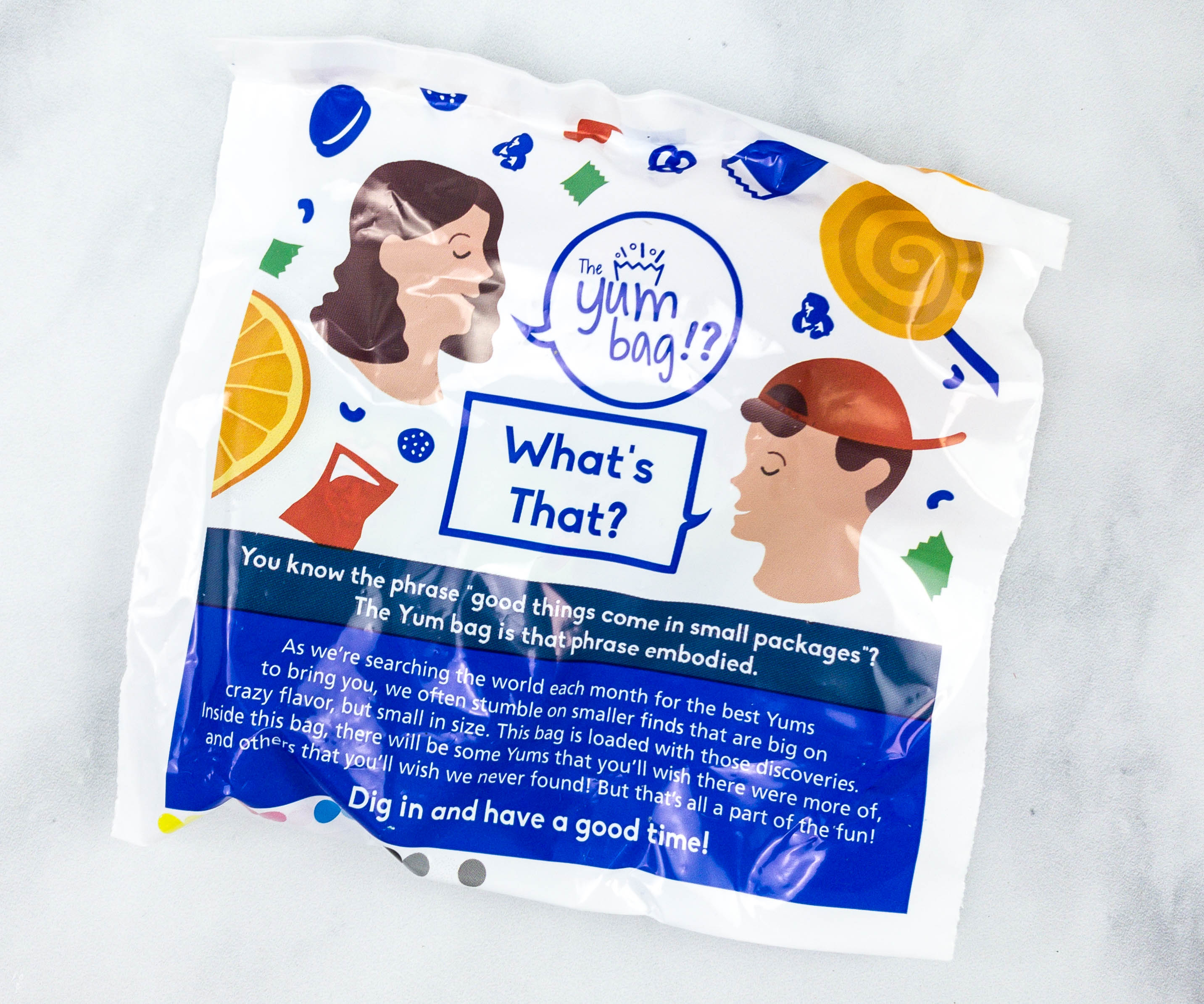 It may include flavors that you'll easily love and some that you may find weird and unusual.
Sour Watermelon Candies. These are watermelon-flavored chewy candies, perfect for people who love sour treats.
Sour Violet Candies. Violets (yes, the flowers!) are used to make this sour candy. The outer layer is sweet and floral, while the center is sour!
Salt & Pepper Potato Chips. These thick cut potato chips have an addicting salt and black pepper flavor. Aside from the perfect blend of taste that it offers, it also boasts an amazing texture that make it more fun to eat!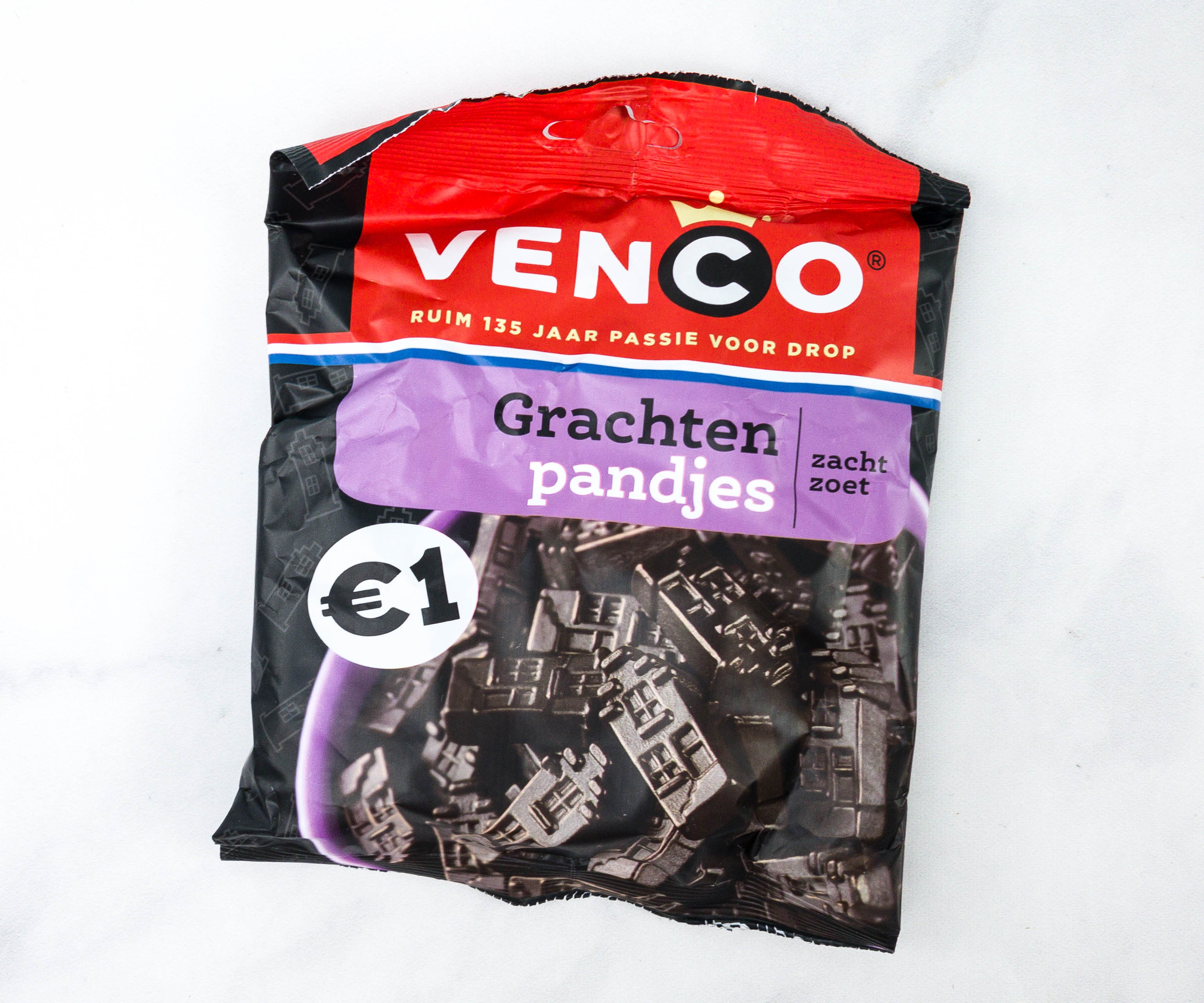 Dutch Licorice Bites. Here's something every Dutch can't go without: licorice! They love this confection so much that they bring it even when they're on vacation. It's an acquired taste for others, but once you've gotten used to it, there's no going back. This pack contains canal house-shaped licorice that makes them unique. Canal houses are a popular sight in the Netherlands!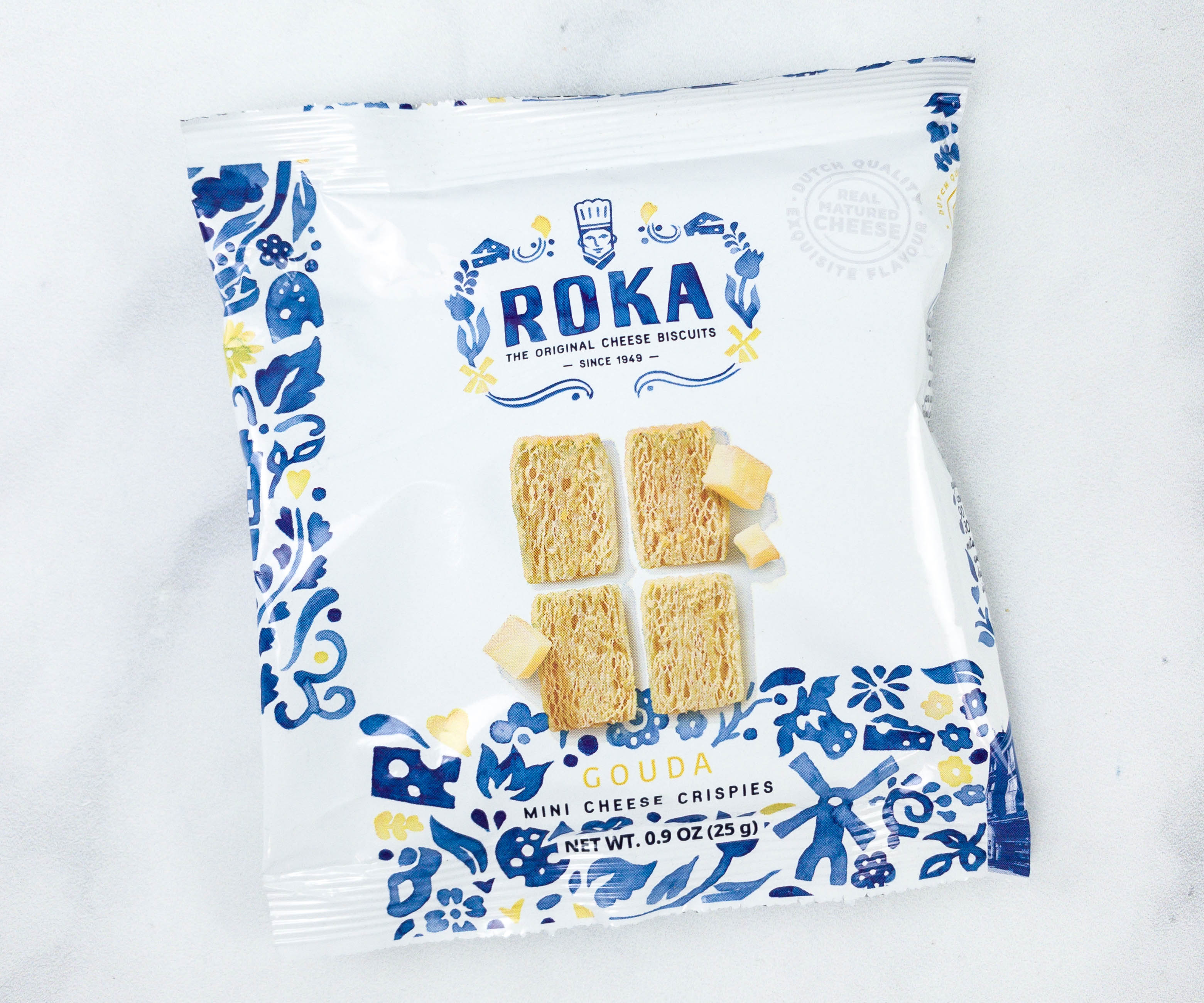 Aged Gouda Cheese Crispies. I love cheese and these biscuits are packed with rich gouda cheese flavor made my day. They were so good and satisfyingly crunchy!
Chocolate Covered Kruidnoten Cookies. Spiced cookies are a winter favorite in the Netherlands! This month, they sent spiced cookies covered in white, milk, and dark chocolates, taking the snack to a whole new level. This is a great treat for chocolate lovers and those who have a sweet tooth in general.
Dutch Candy Cars. The Dutch also have these best selling Cadillac shaped candies since 1965! The gummy candy cars are popular not only with the kids but also with the adults because of its sweet and nostalgic flavor over the years. I received them in juicy strawberry, blackcurrant, and cherry flavors, and I loved every single one!
Caramel Stroopwafels. Stroopwafel is the Netherlands' national cookie that was originally made from cookie crumbs and caramel back. The famous stroopwafels are best enjoyed by putting them on top of a hot beverage for about 2 minutes! I received a pack of stroopwafels in this box and they were so good. They were perfectly sweet and they made for an enjoyable afternoon snack!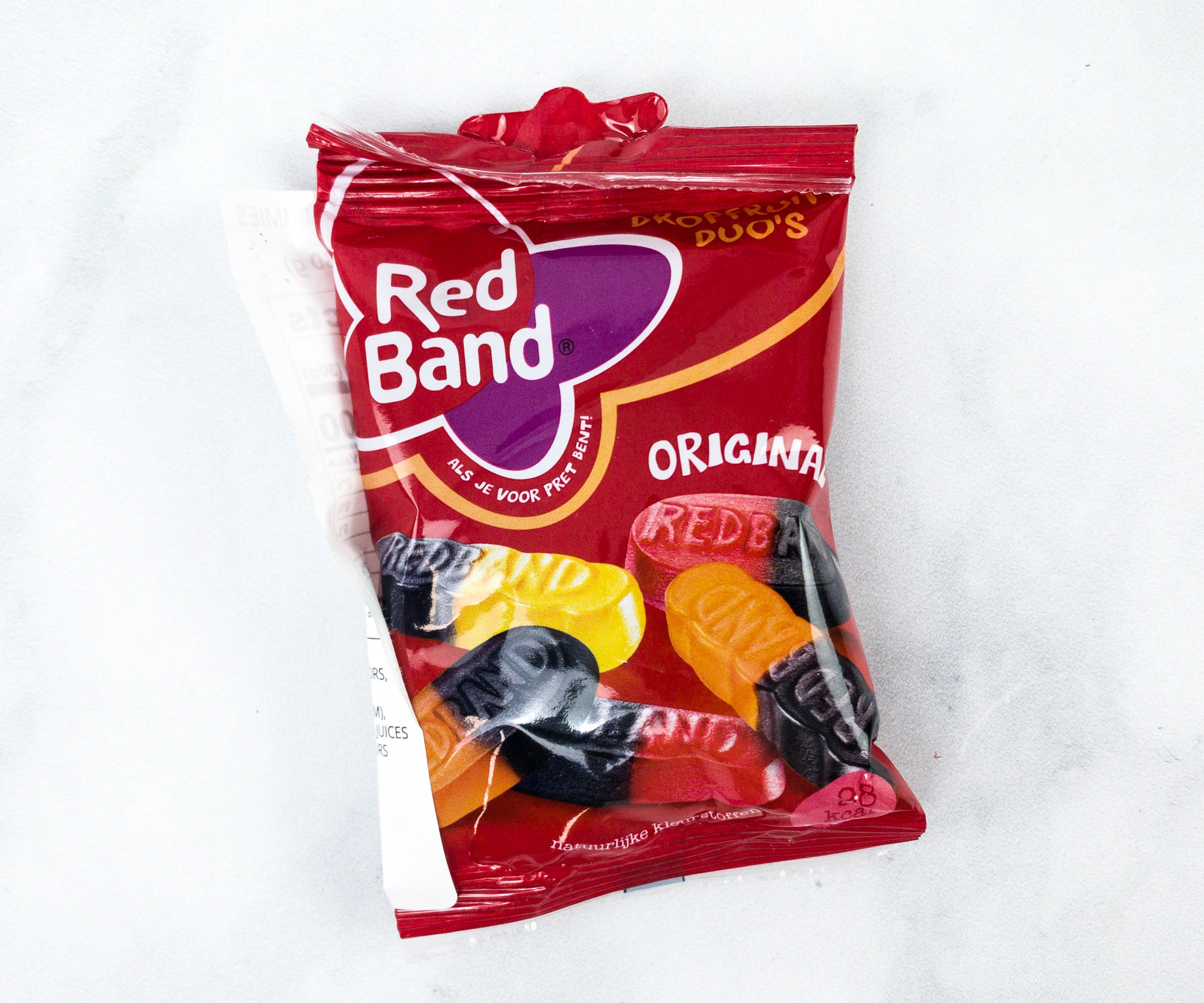 Soft Licorice & Fruit Gummies. Here's another licorice treat in my box! One half of each gummy is composed of licorice while the other half is infused with refreshing fruit flavors. They were so chewy! They are also quite different from the gummy candies I'm used to, but I like them!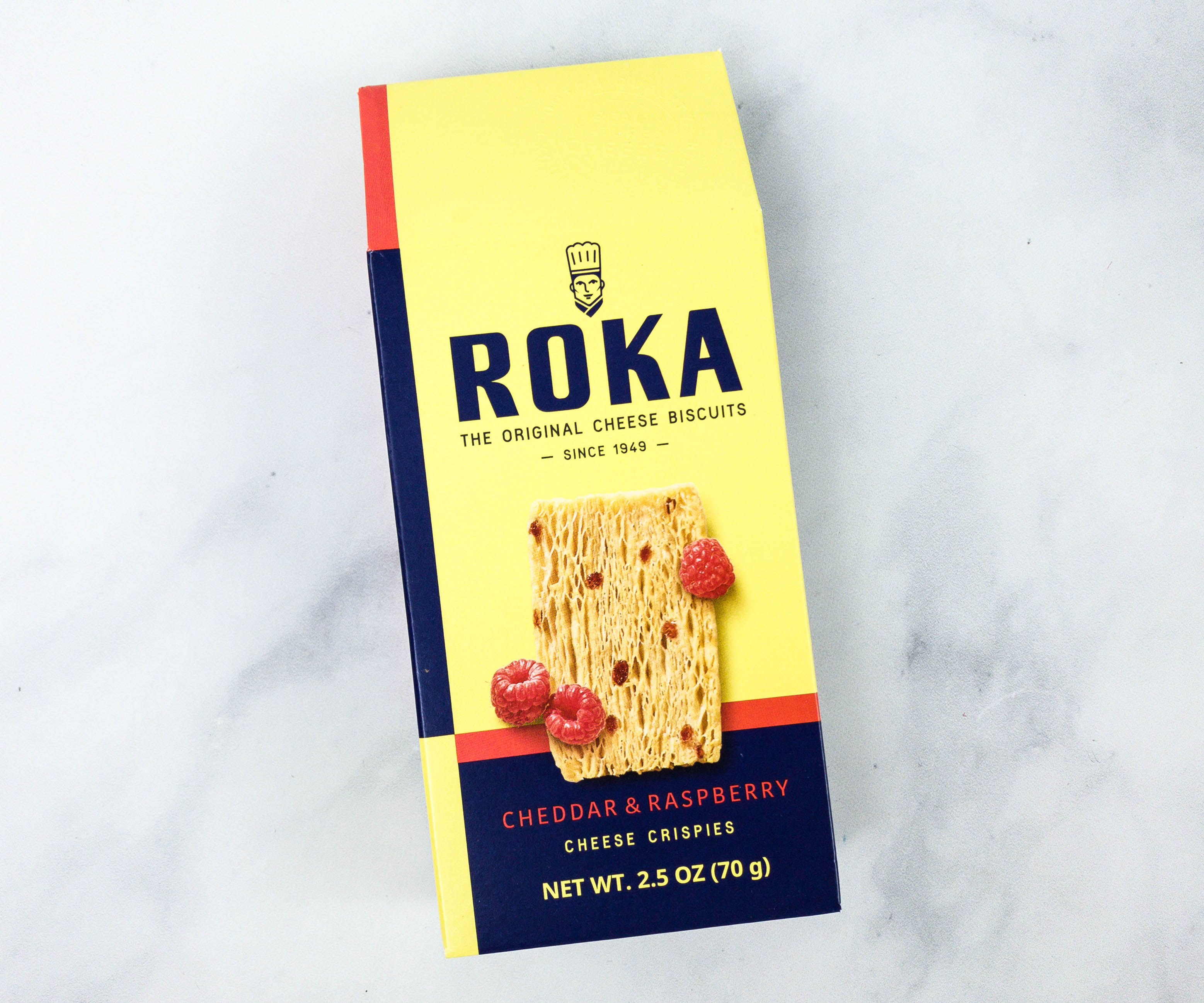 Cheddar & Raspberry Cheese Crispies. More cheese biscuits! This version has raspberries paired with cheddar, and the combination is just heavenly. They are sweet and savory at the same time!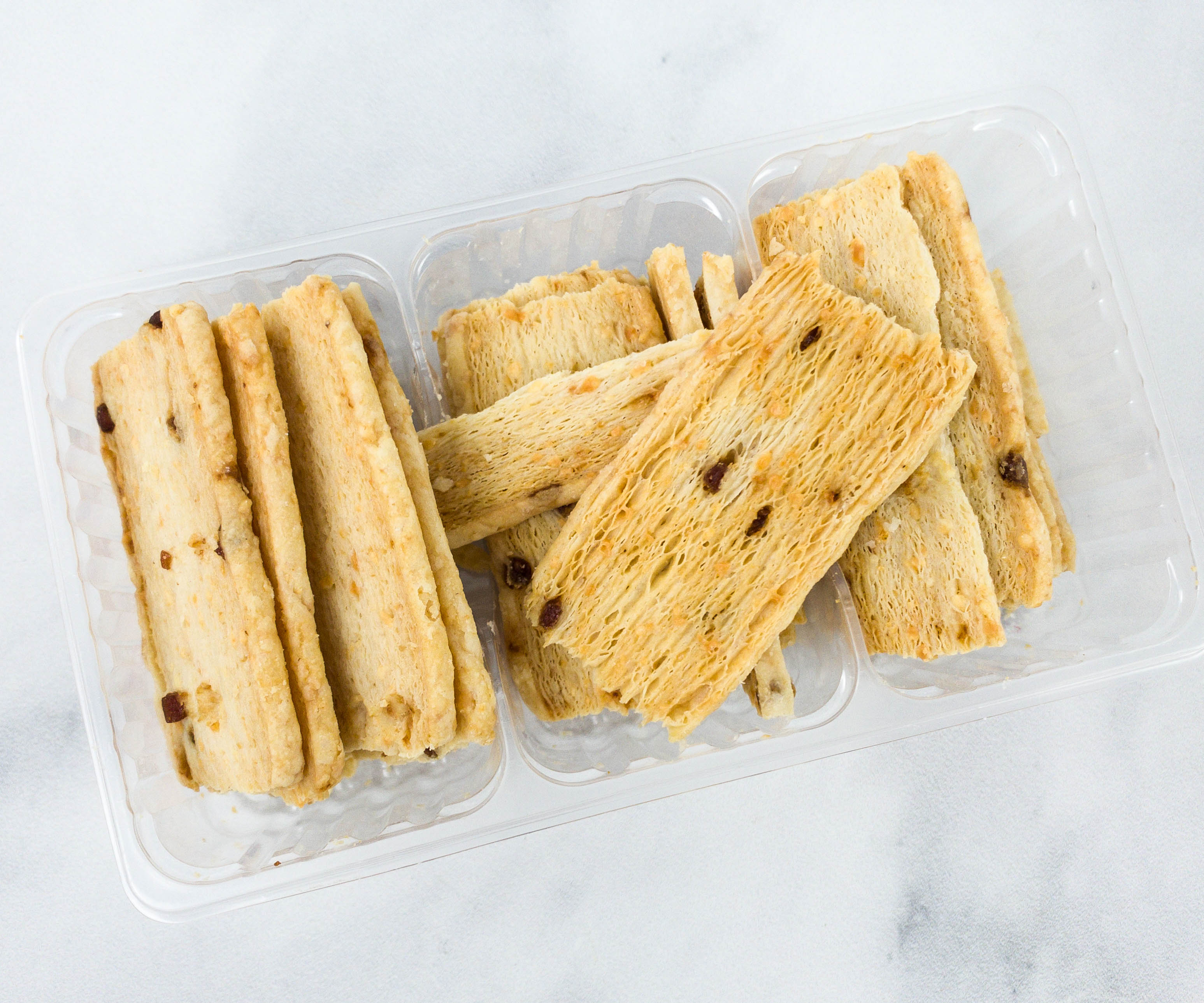 These crispies are bigger than the gouda ones! They have a nice, crispy texture as well, making them addictive.
Dutch Speculaas. I can never get enough of these Dutch cookies called speculaas. They have the perfect balance of sweet and spice!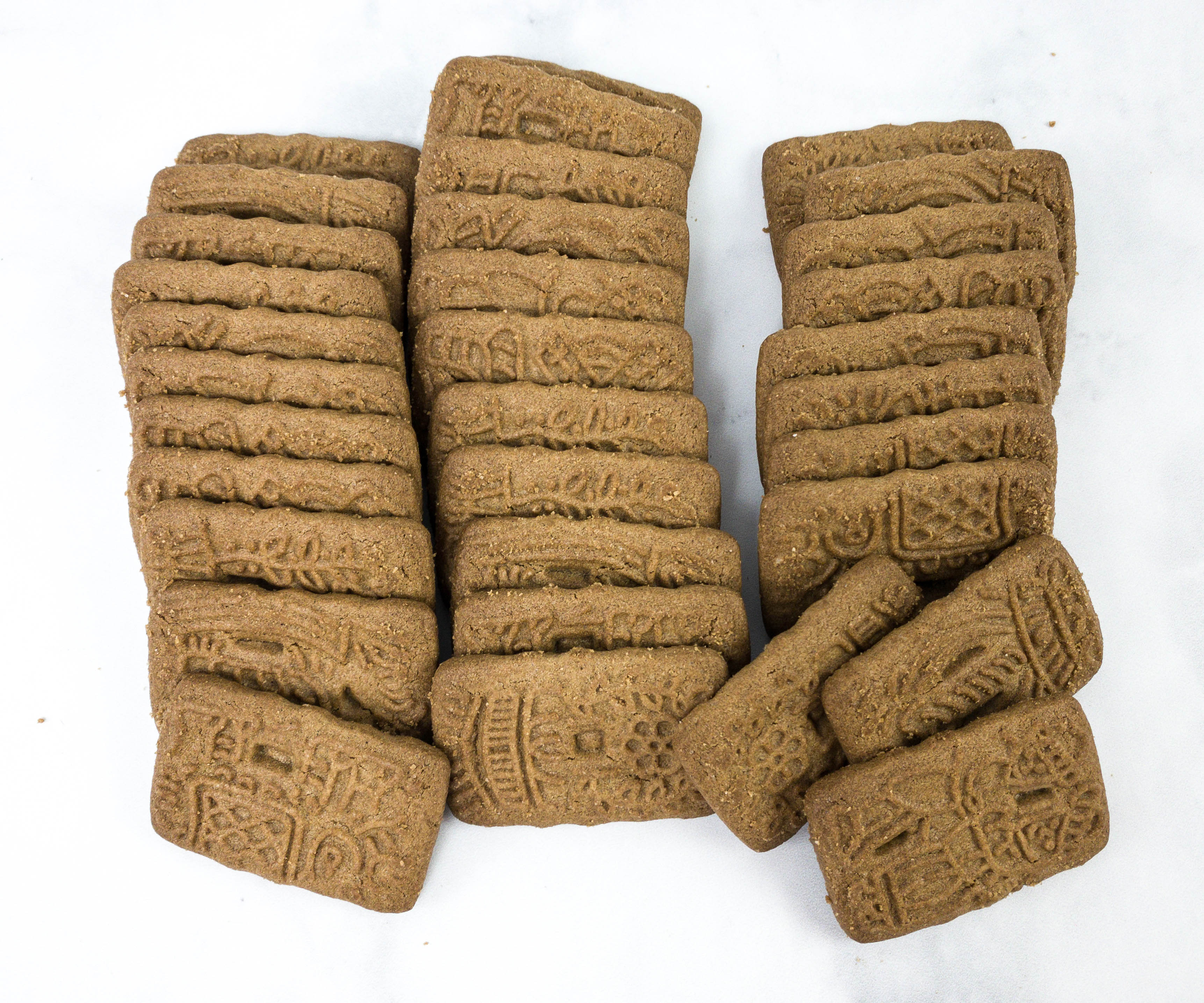 Another thing that makes these cookies special is the unique designs on them! We didn't wrap these up and they developed an eggy taste after about 5 days, which was surprising. It's only because I hid them that they even lasted so long!
Hazelnut Cream Milk Chocolate Bar. This is such an iconic chocolate bar! Its packaging depicts a reading board that helped many generations of Dutch children to learn how to read.
Another thing to love about this unique Dutch treat is its sweet chocolate coating and the smooth hazelnut cream inside.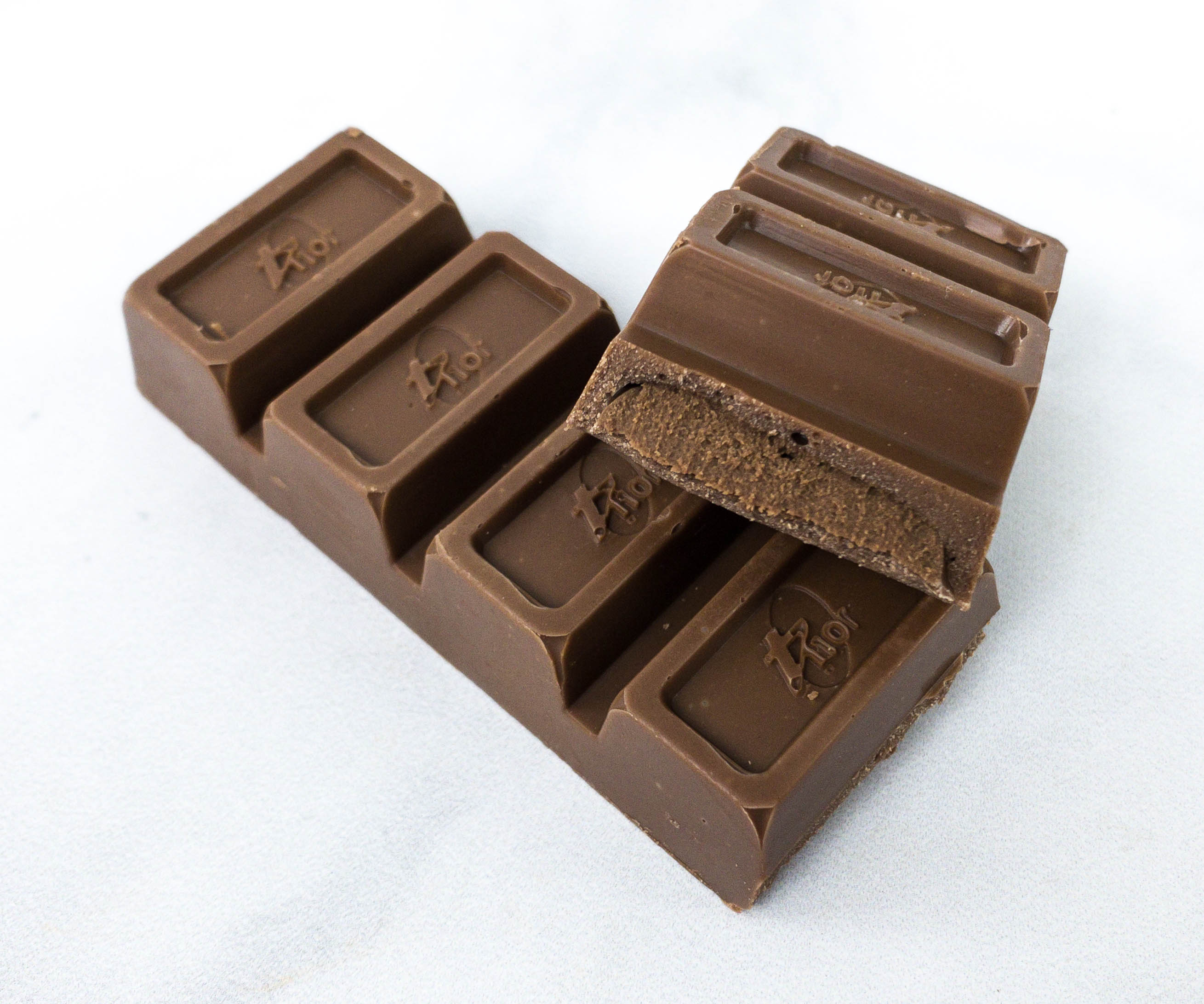 You can break it off easily to share with others or save for later. Here's a closer look at the irresistible chocolate bar from Netherlands!
Netherlands is a beautiful place and their snacks are also interesting! They have so much to offer, as their food culture is just as incredible as the country's history. Most of the snacks were already embedded in their lives since a long time ago and has been passed on from one generation to the next! This month, they sent us the best snacks from the Netherlands, from sweet ones like the chocolates to the unique ones like the licorice candy and gummies. They even sent cheese crisps, which are my favorites in the box because they were perfectly crunchy and cheesy! Another Dutch snack I loved is the stroopwafel. It tastes great especially when served warm! This is another fun box filled with unique snacks from an international destination. It's an amazing subscription to try if you are an adventurous snacker or even when you just miss traveling and trying different kinds of snacks from different countries!
Have you tried Universal Yums? What do you think?