THiNK OUTSiDE BOXES is a monthly subscription for children ages 7 up that promotes exploration and survival in the great outdoors, along with the whole family. The box costs $34.95 per month + free shipping within the US. Each month, they will send out a themed box that includes outdoor gear, water-resistant resource cards, a 16+ page educational & activity booklet, as well as an outdoor challenge to do as a family. Your first box will also include a lightweight packable daypack, and you can choose what color you like! The box aims to gear and help the kids to grow more confident in exploring the great outdoors!
DEAL: Get $10 off on any subscription order! Use coupon code HELLO10.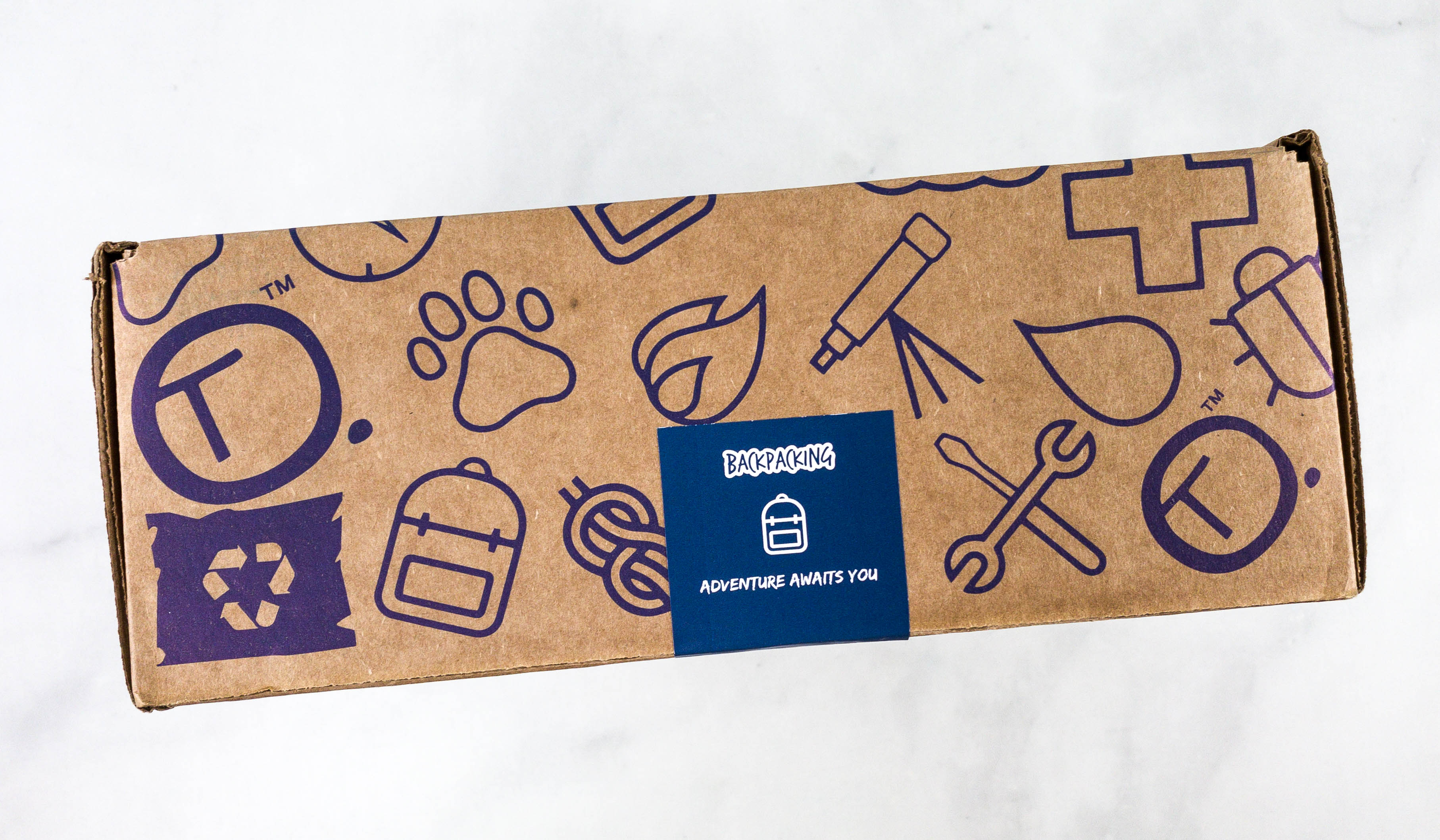 The box is sealed with a sticker.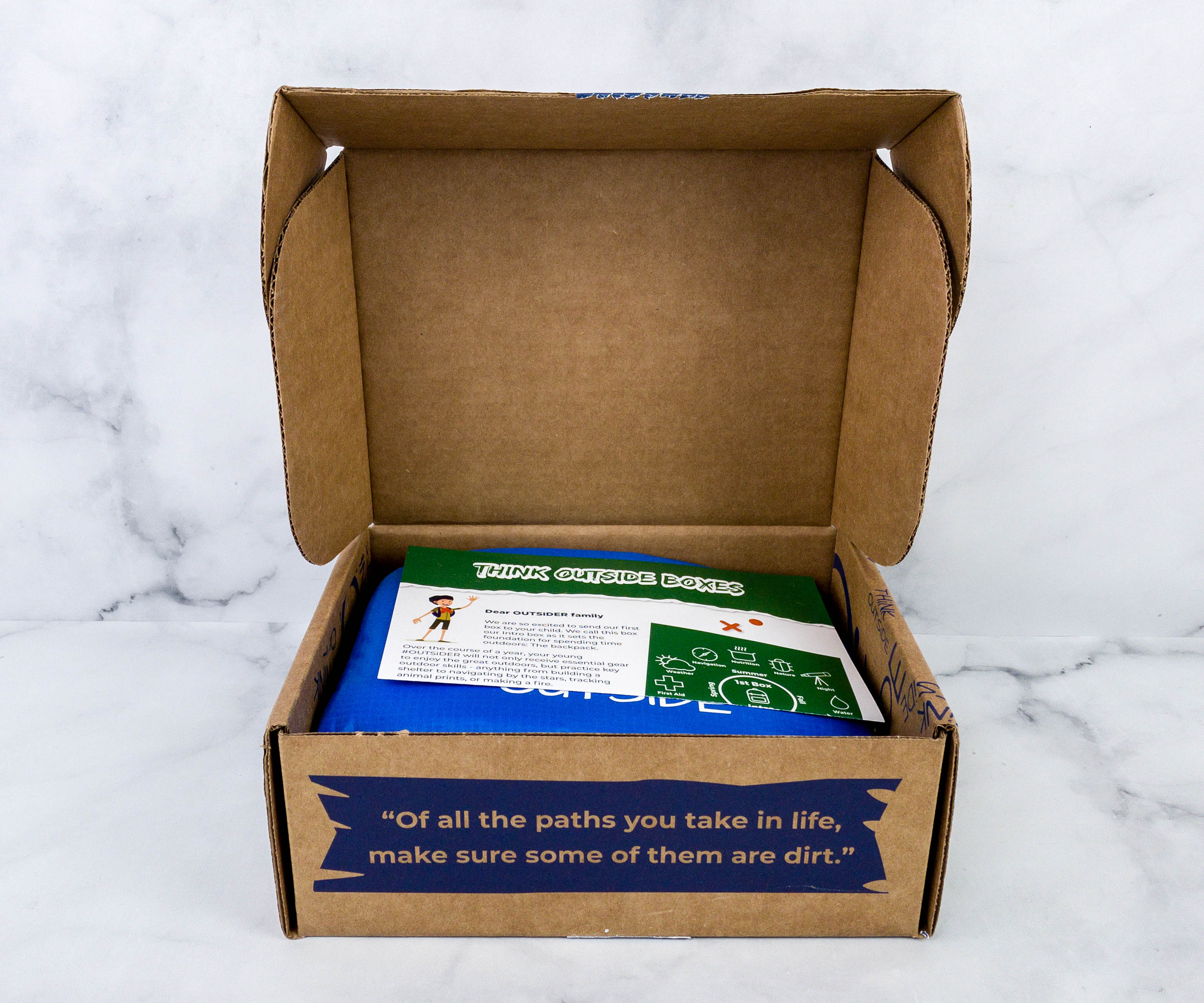 There's a quote on one side of the box.
Of all the paths you take in life, make sure some of them are dirt.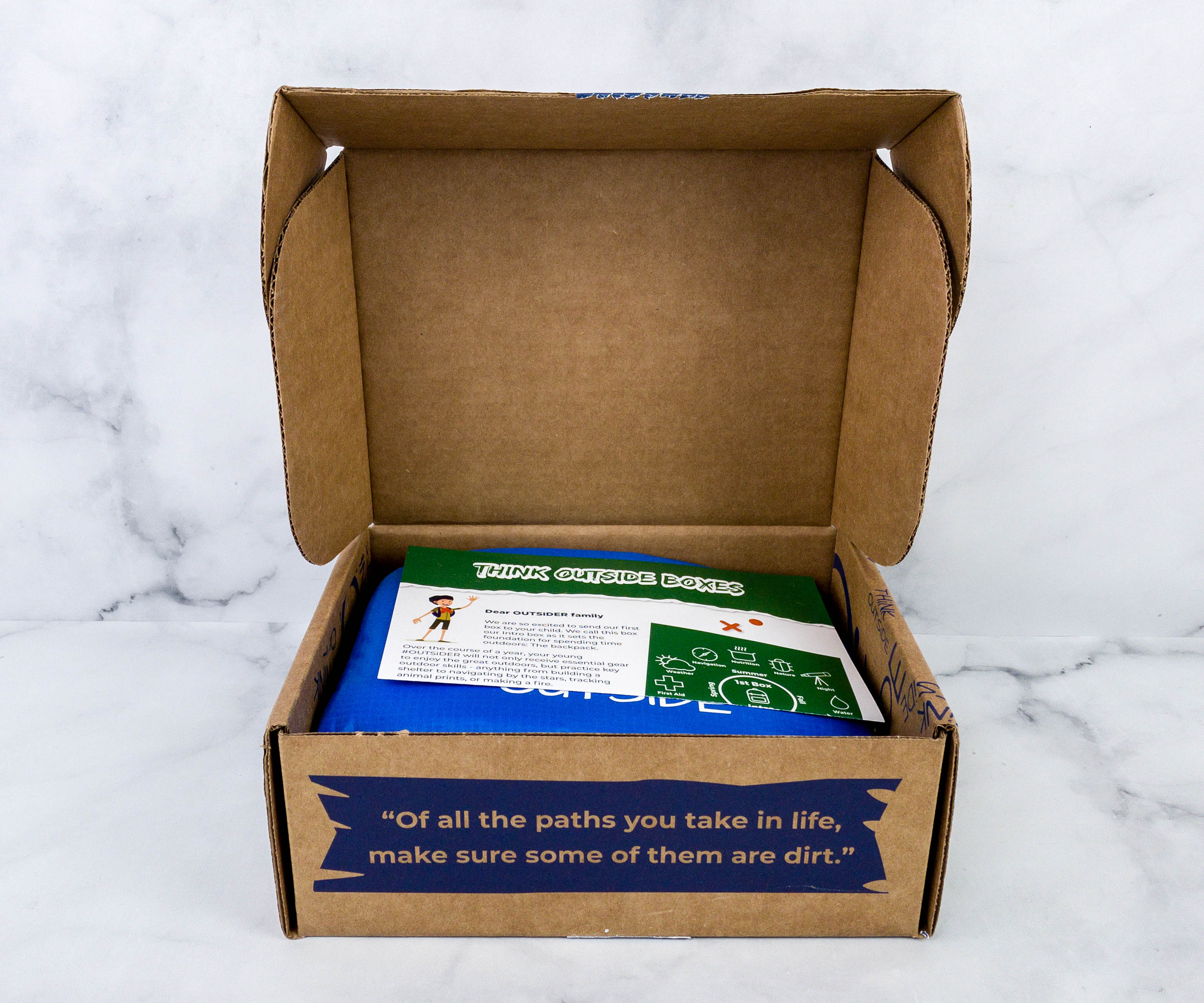 A card sits on top of the items.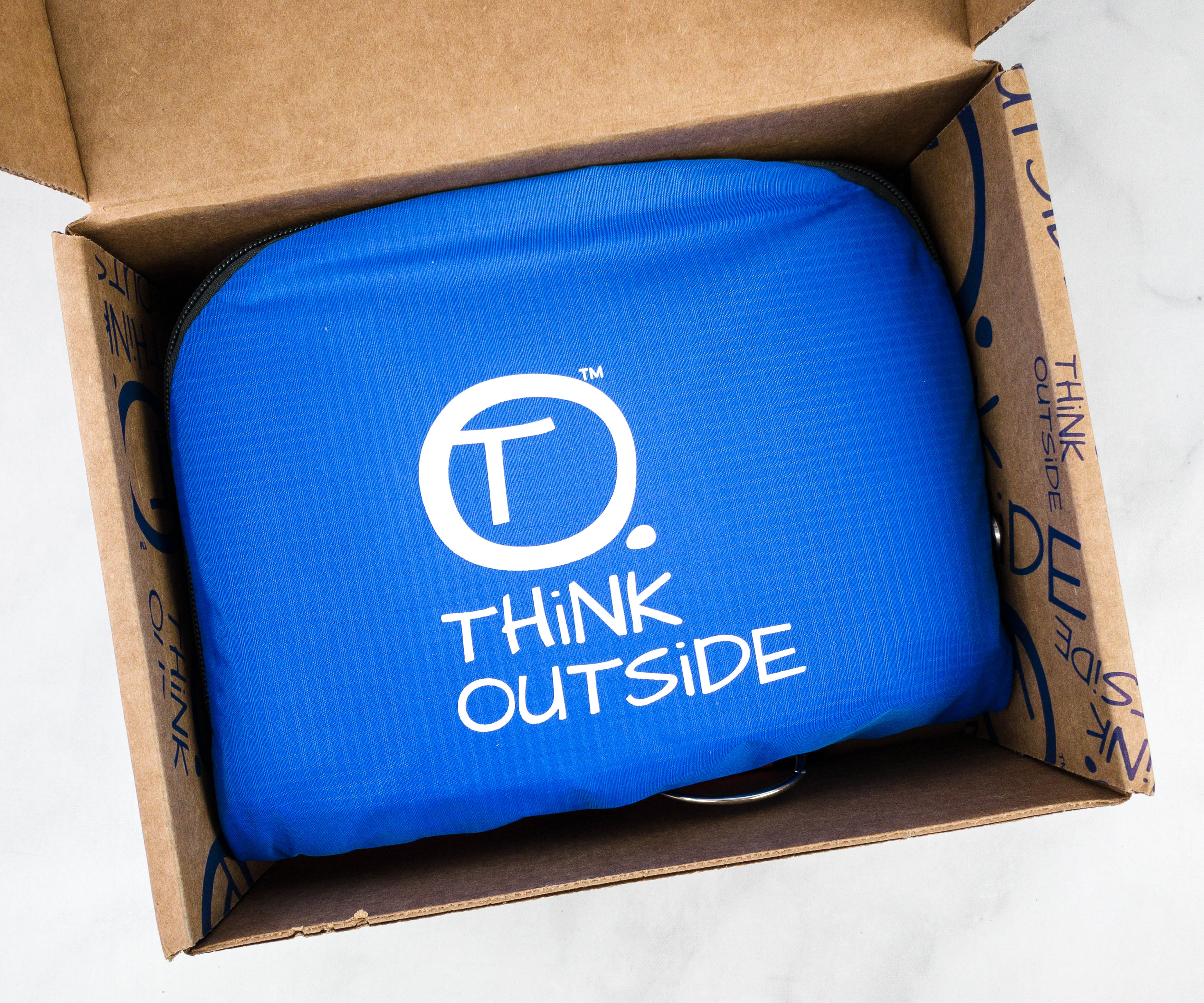 The items are well packed inside a blue bag.
Here's a message from the Think Outside Team.
There's also a promotional card from the subscription.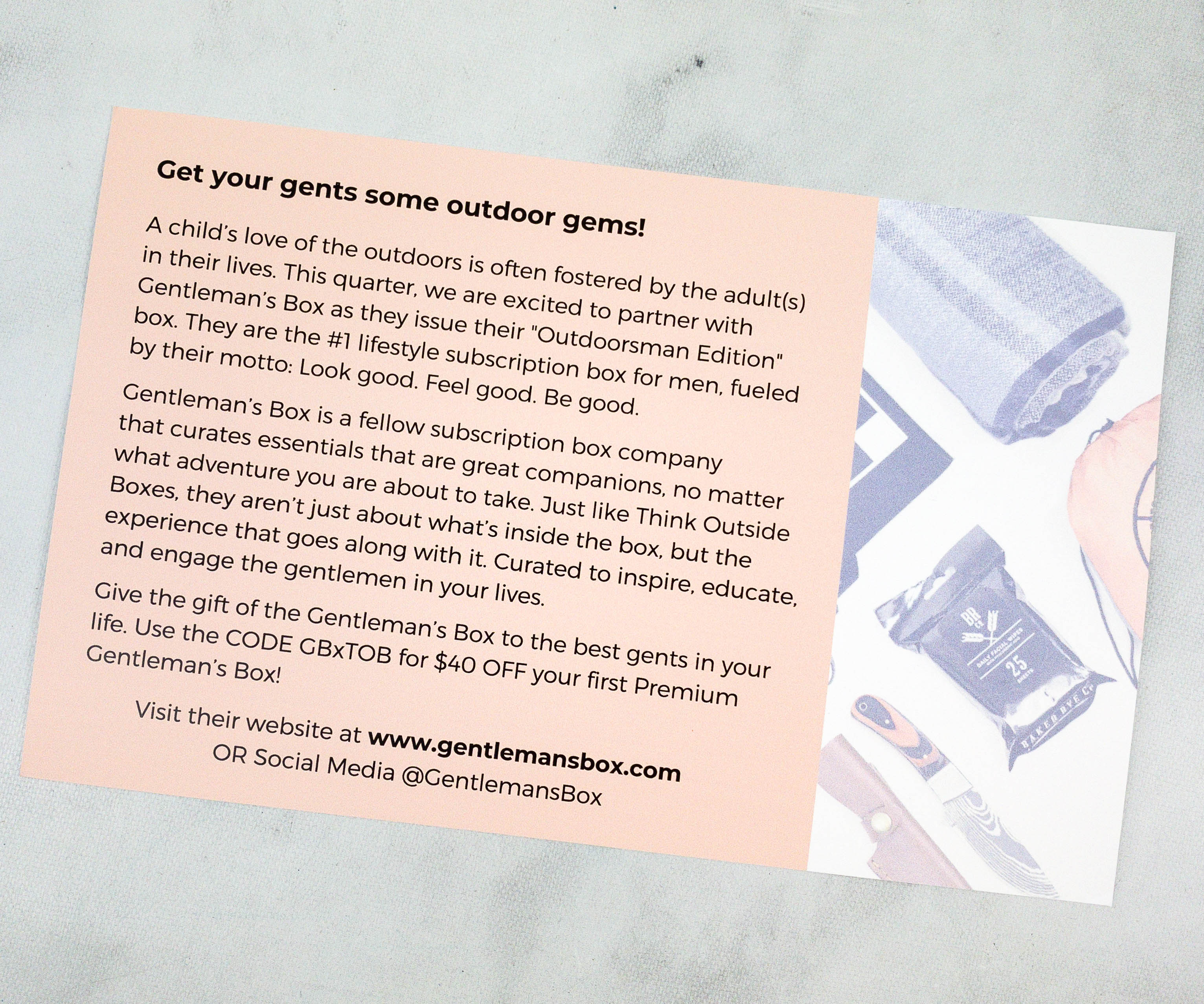 It provided a coupon for the Gentleman's Box, their partner for this quarter's box.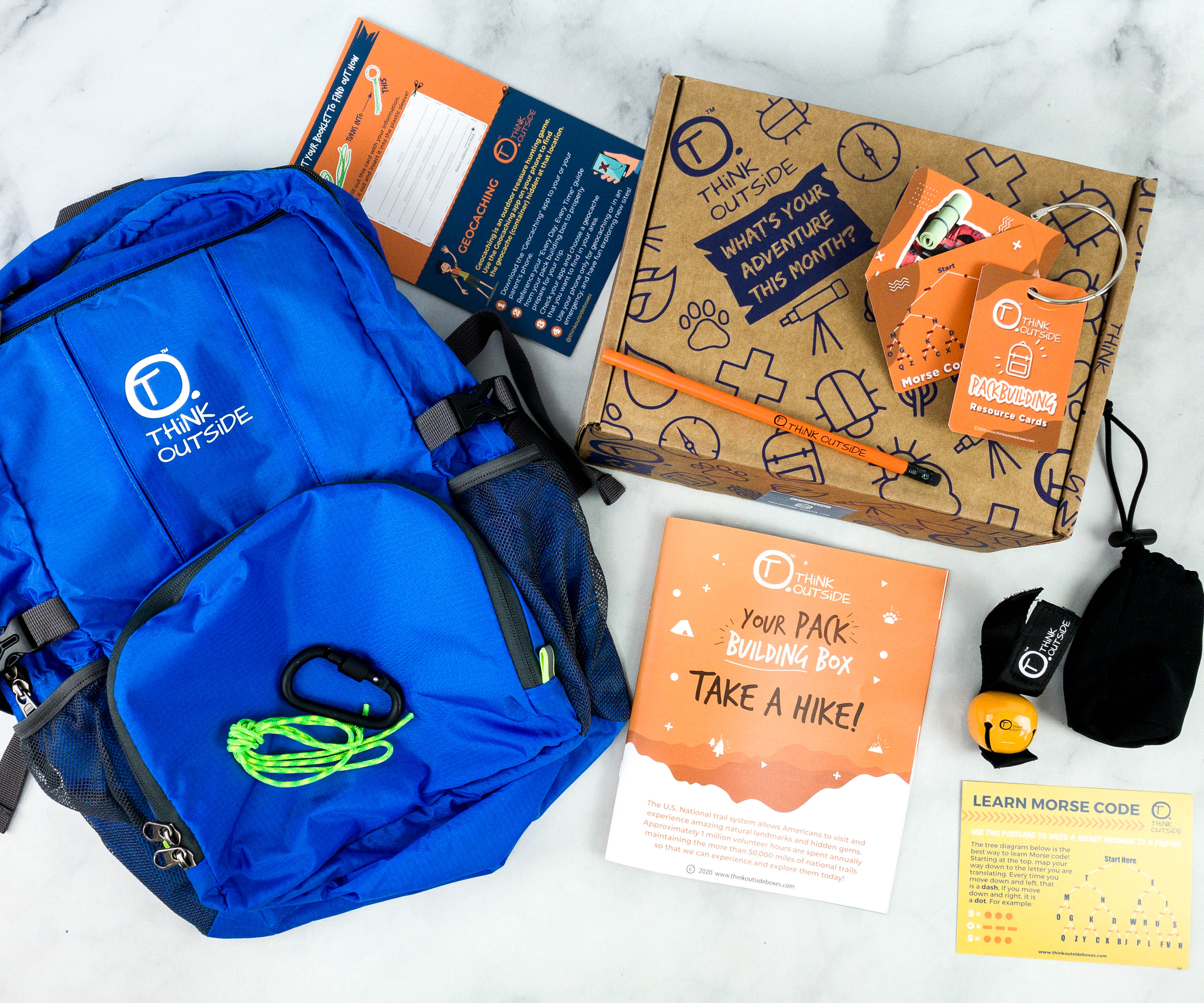 Everything in the box!
This booklet contains information about the Take a Hike box, or the Intro box!
The booklet includes a welcome letter, plus an explanation about what the program is all about.
Think Outside Boxes is a year-long program designed to promote exploration and survival in the Great Outdoors. Every month has a new theme covering everything from first aid and outdoor nutrition to nighttime discovery and building shelters.
Here's a guide that lists the items that kids can gather from the year-long program!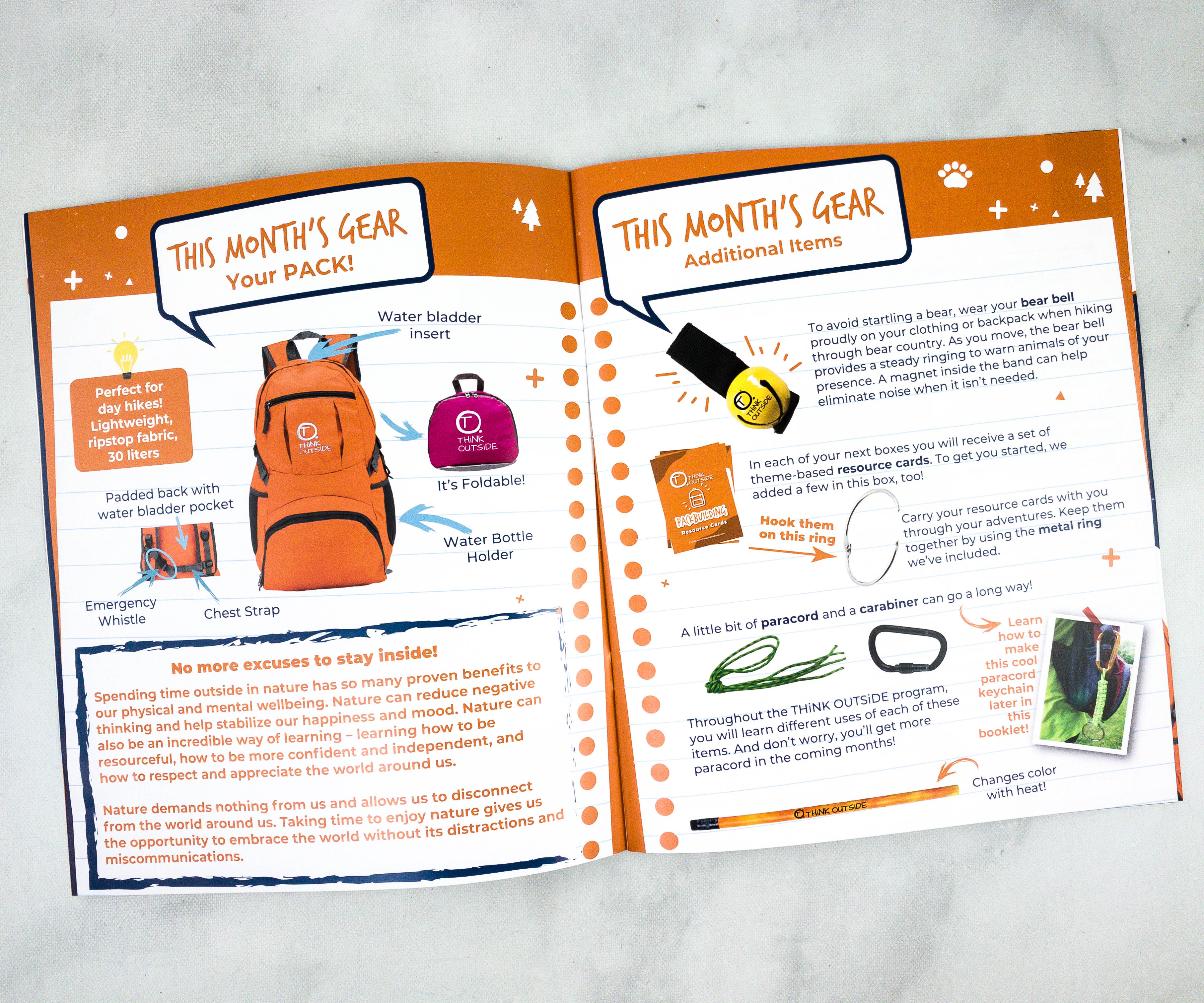 There's also a list of the items you can expect inside this month's box with a photo and a brief description of each.
There are informative articles in the booklet as well. Kids can learn a lot from it, including pointers on how to properly and efficiently pack a bag, essential items for outdoor adventures, a quick introduction and instruction about Morse code, and a tutorial for making a DIY paracord keychain.  There's also a part where kids can write down notes and a puzzle that serves as a review for the things that they learned from the booklet. Another interesting feature is about the Andes Mountain and the wildlife that lives on it. The booklet even discussed proper hiking etiquette and more good deeds that kids can do for others. Lastly, on the back of the booklet, they featured the Black Hills National Forest, Badlands National Park, and Mount Rushmore!
The box provided a card that kids need to cut in half. The upper part is a tag/personal information card and the lower part is for Geocaching.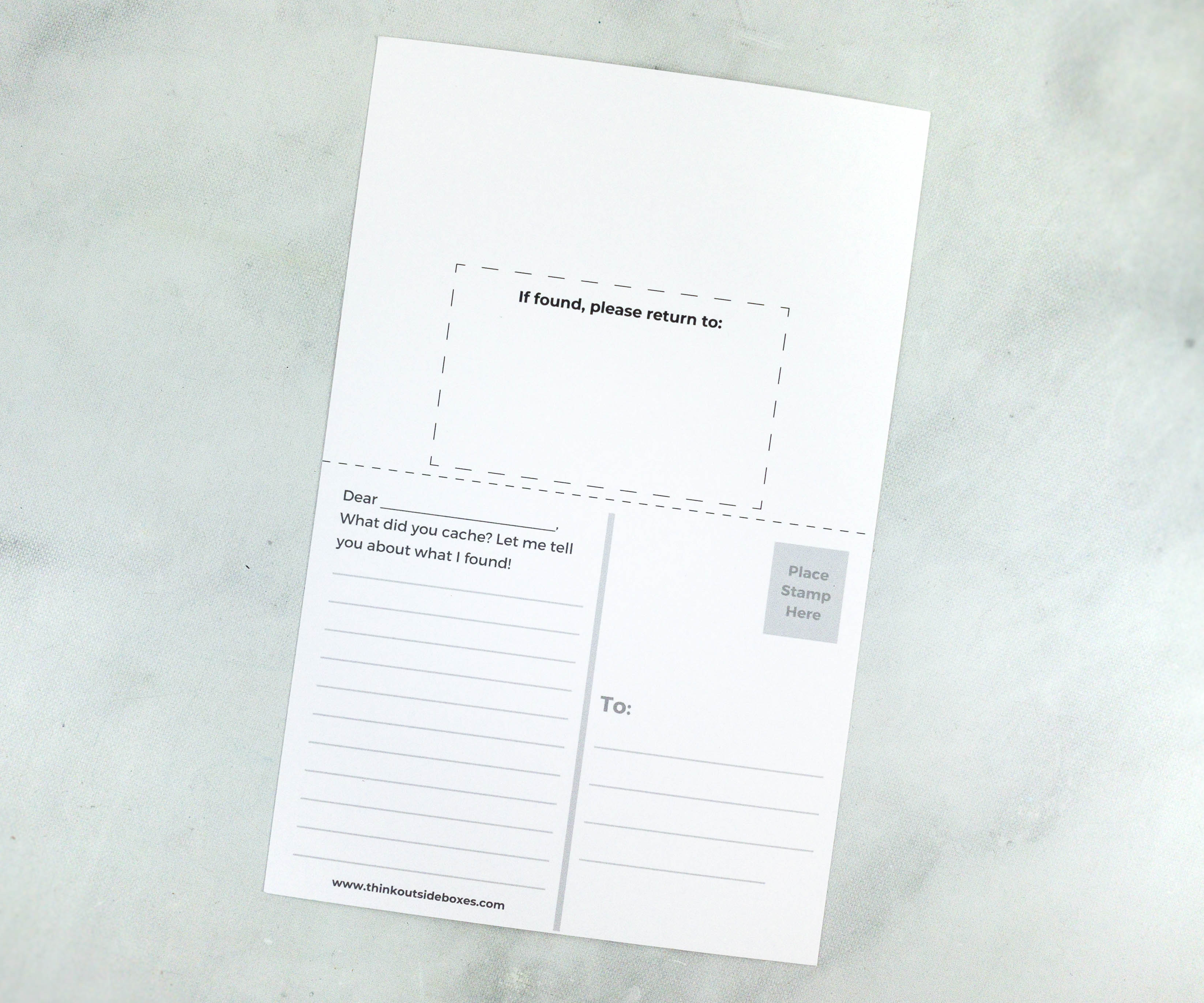 For the Geocaching card, kids just need to answer the question provided, add a stamp, and write the name of the recipient. For those who are not familiar, Geocaching is an outdoor treasure hunting game and it involves the use of an app in finding "treasures".
Another postcard has a tree diagram, which provides a fast and easy way to learn Morse code.
This makes a fun way of sending messages to family or friends! Kids can write their messages in Morse Code and the recipient will interpret it using the diagram in front.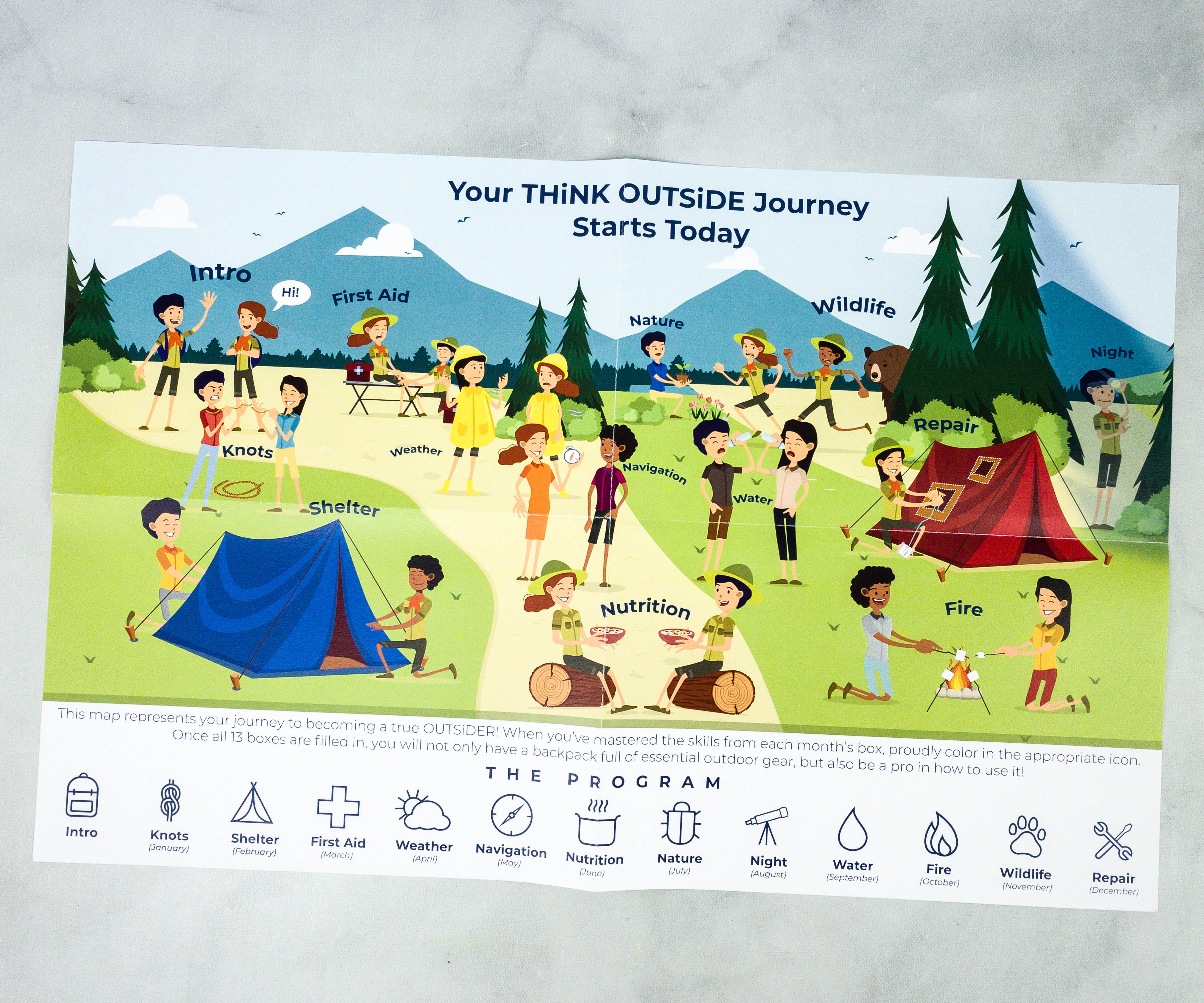 They sent this map to serve as a tracker for the program. Kids can color the matching icon when they've mastered the skills from each month's box. We're only at the beginning, which is the Intro box, and it only gets more exciting from here!
Carabiner. It's a carabiner that can be paired with the paracord to make a keychain or used for climbing during hiking.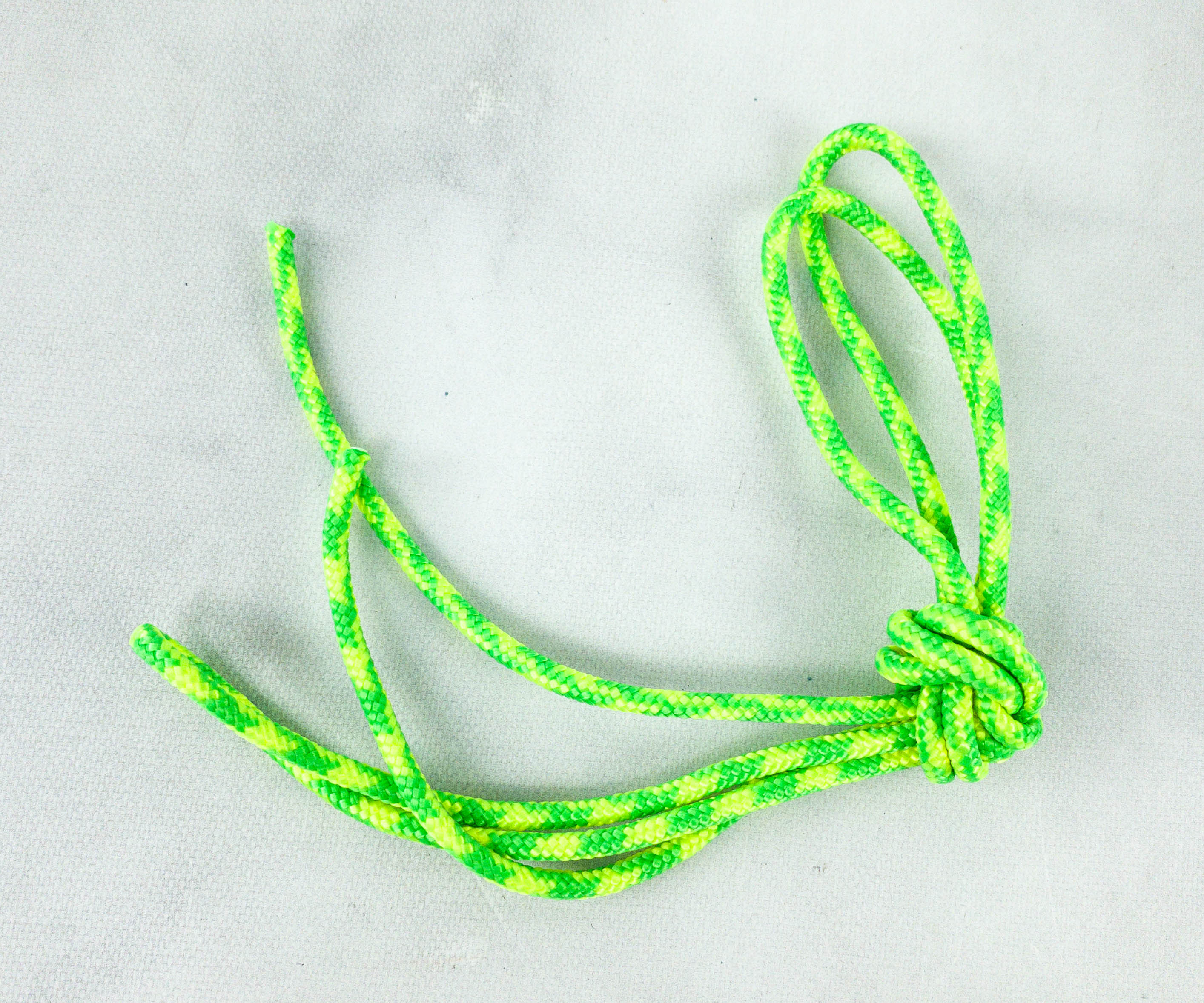 Paracord. This paracord has so many uses, but as the booklet suggested, my kids turned it into a keychain!

Pencil. They also sent a pencil so kids can write down notes while they are on their journey. This also has a special ability to change its color with heat!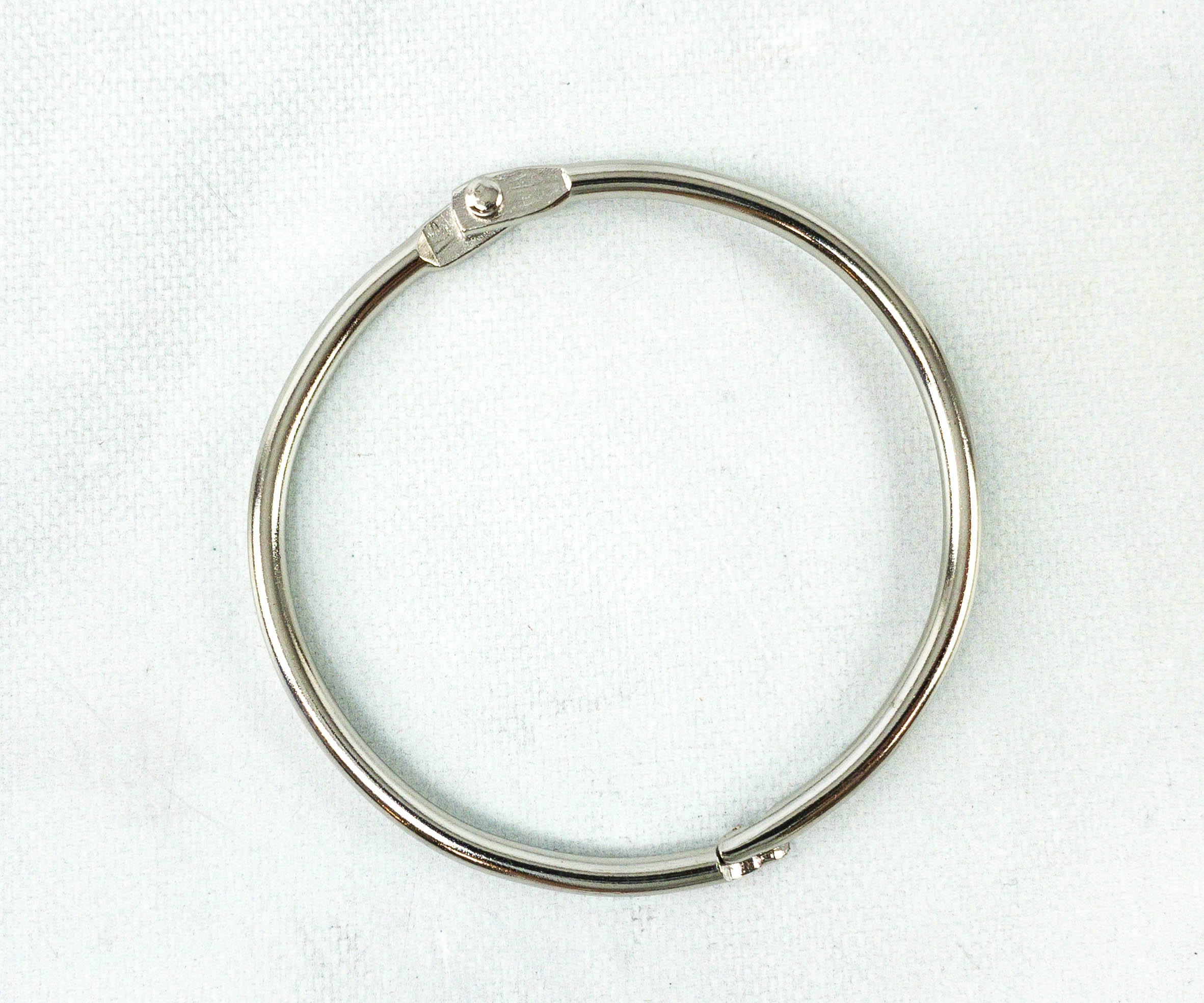 Metal Ring. This ring will help kids organize the cards from this subscription box to guide them through their adventures.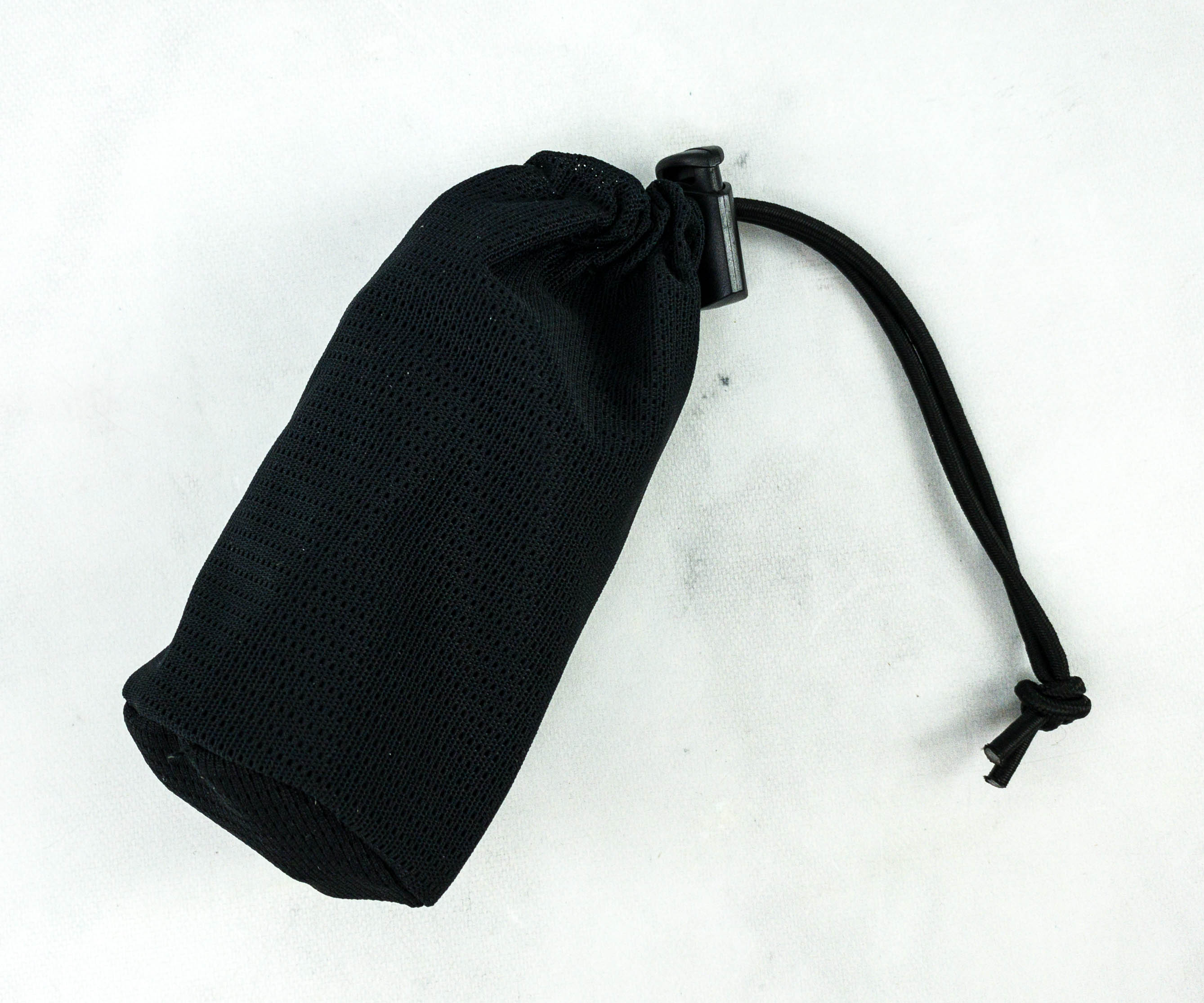 Bear Bell. The bell arrived in its own drawstring pouch for safekeeping. It produces a steady sound to warn the animals of your presence.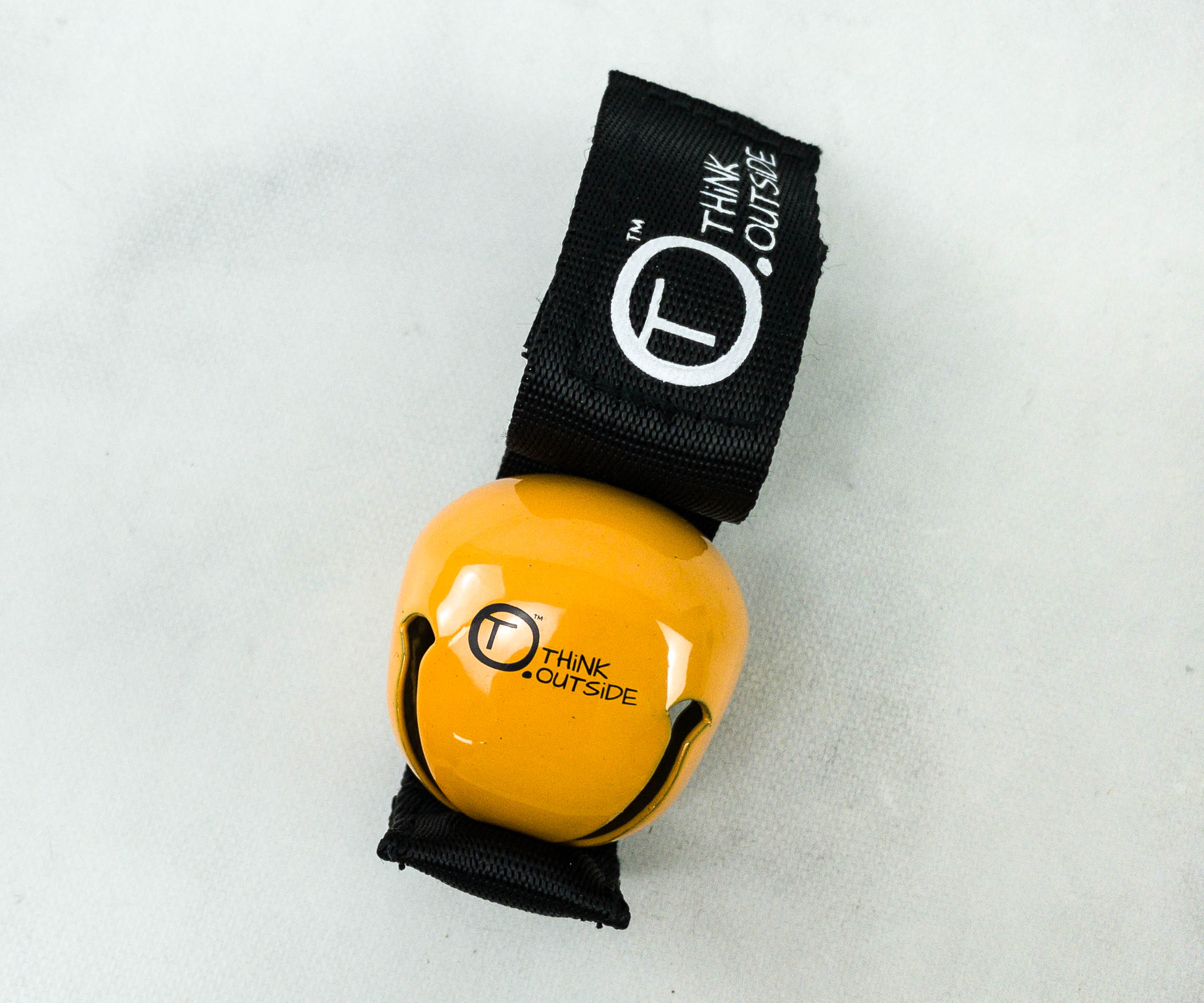 There's a magnet inside its band to stop the sound when not needed.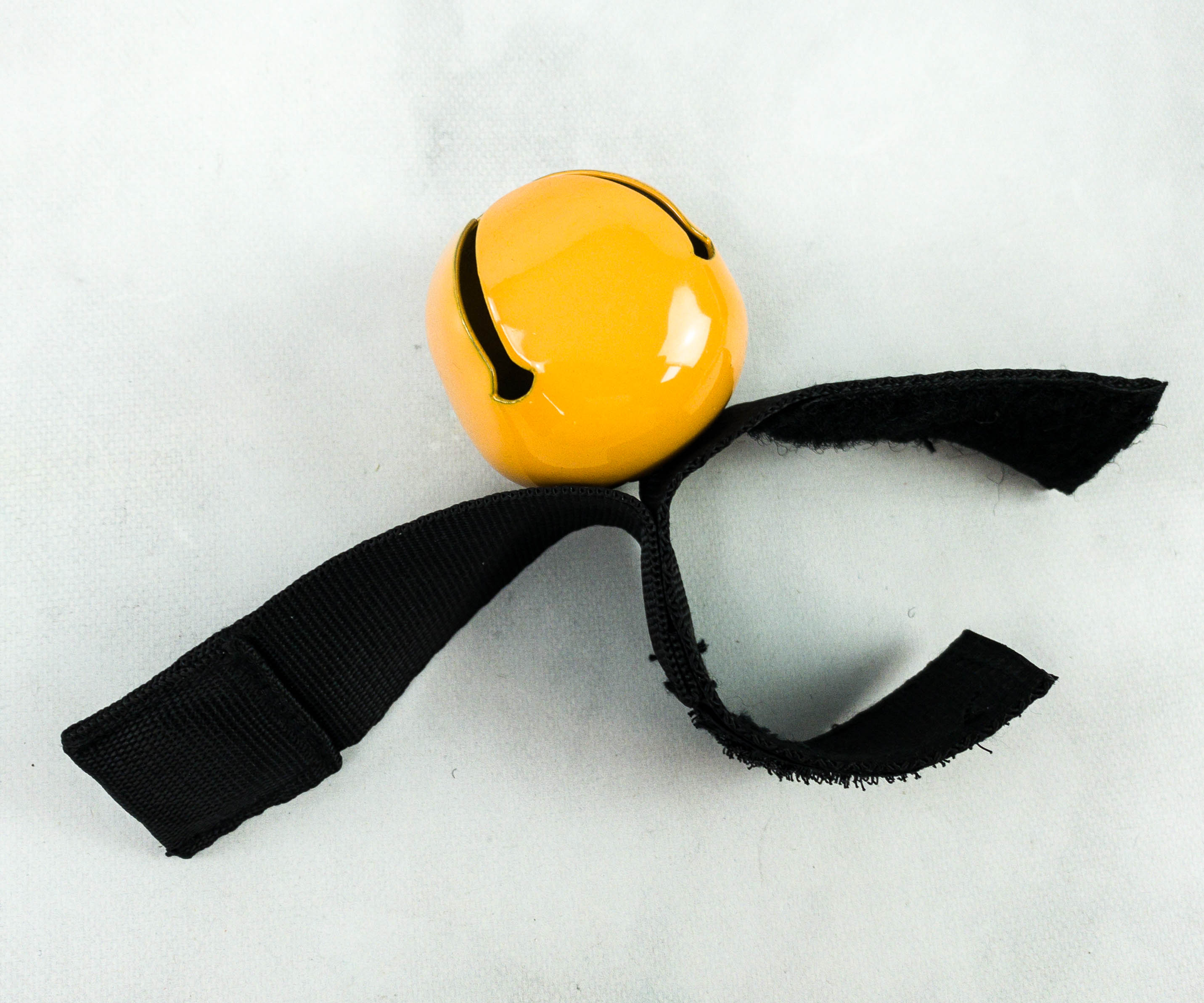 You can easily attach it to kids' clothing or bag while hiking.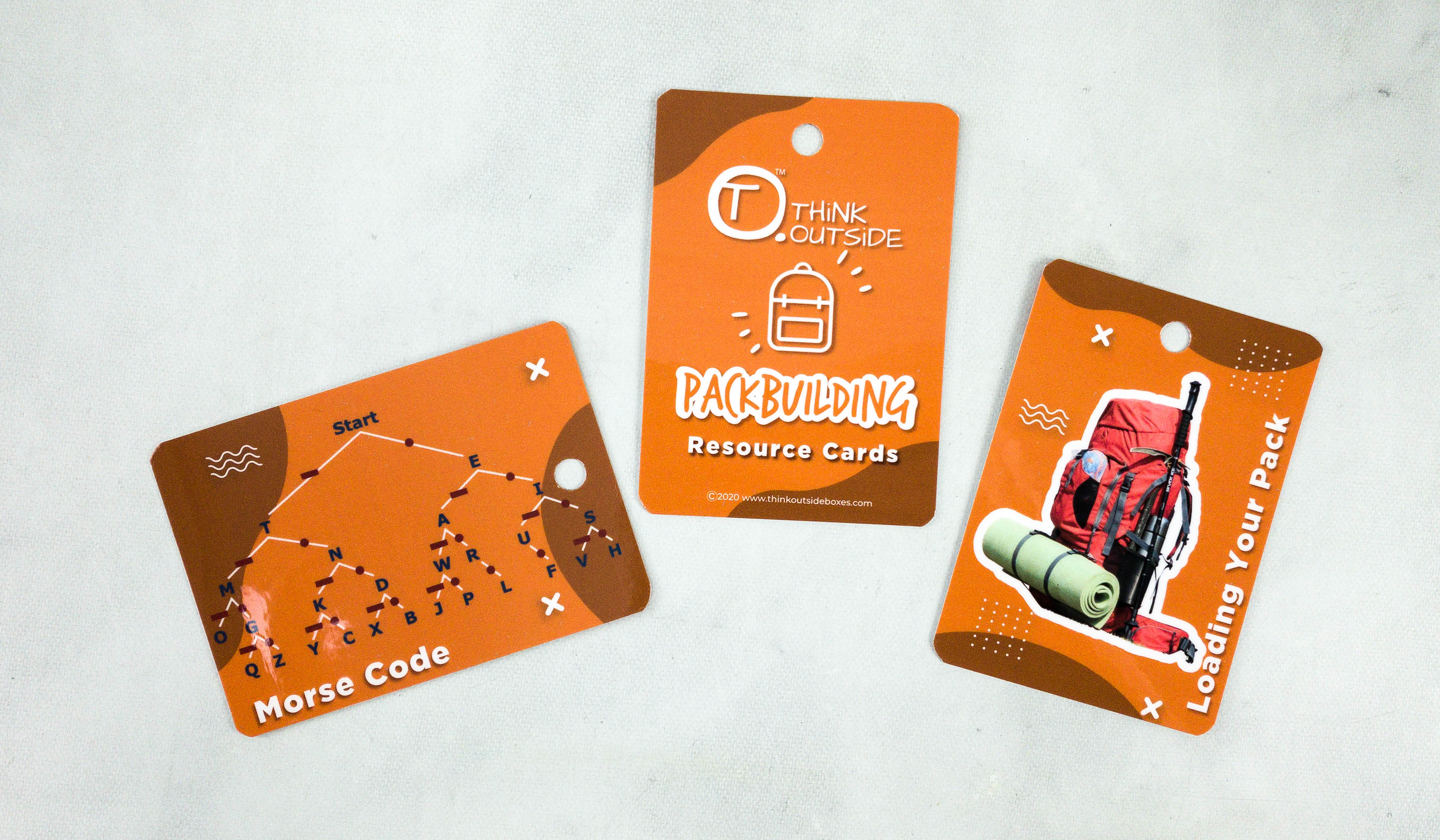 Resource Cards. These resource cards are a great guide for a safe and fun adventure. They also come with holes on the upper part so you can easily attach them to the metal ring which is also provided in the box.
One card is about Morse Code, the other has rules for packing, and the third one has tips for even distribution of weight in your bag.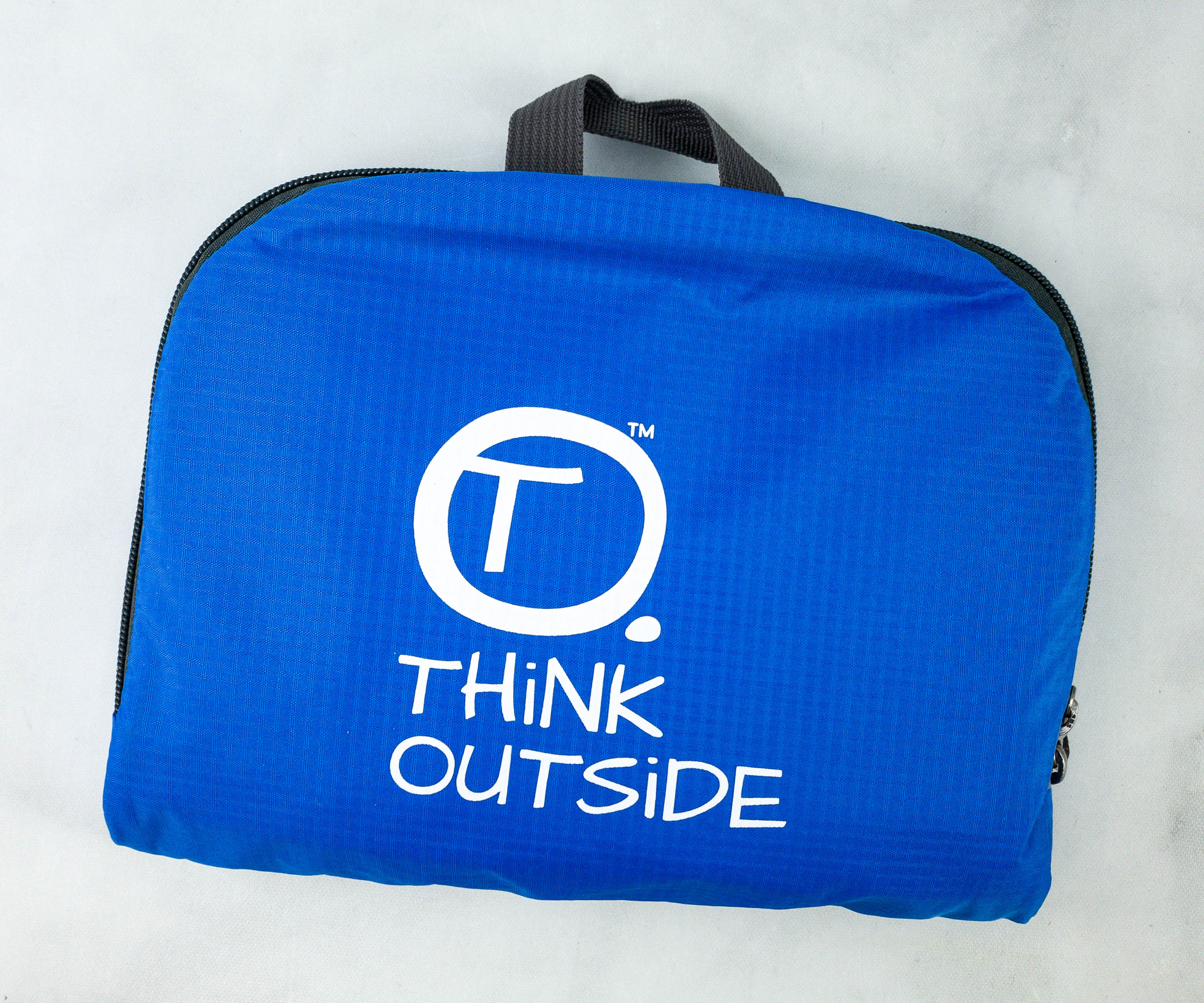 Foldable Backpack. Speaking of packing, they also included a foldable backpack in the box!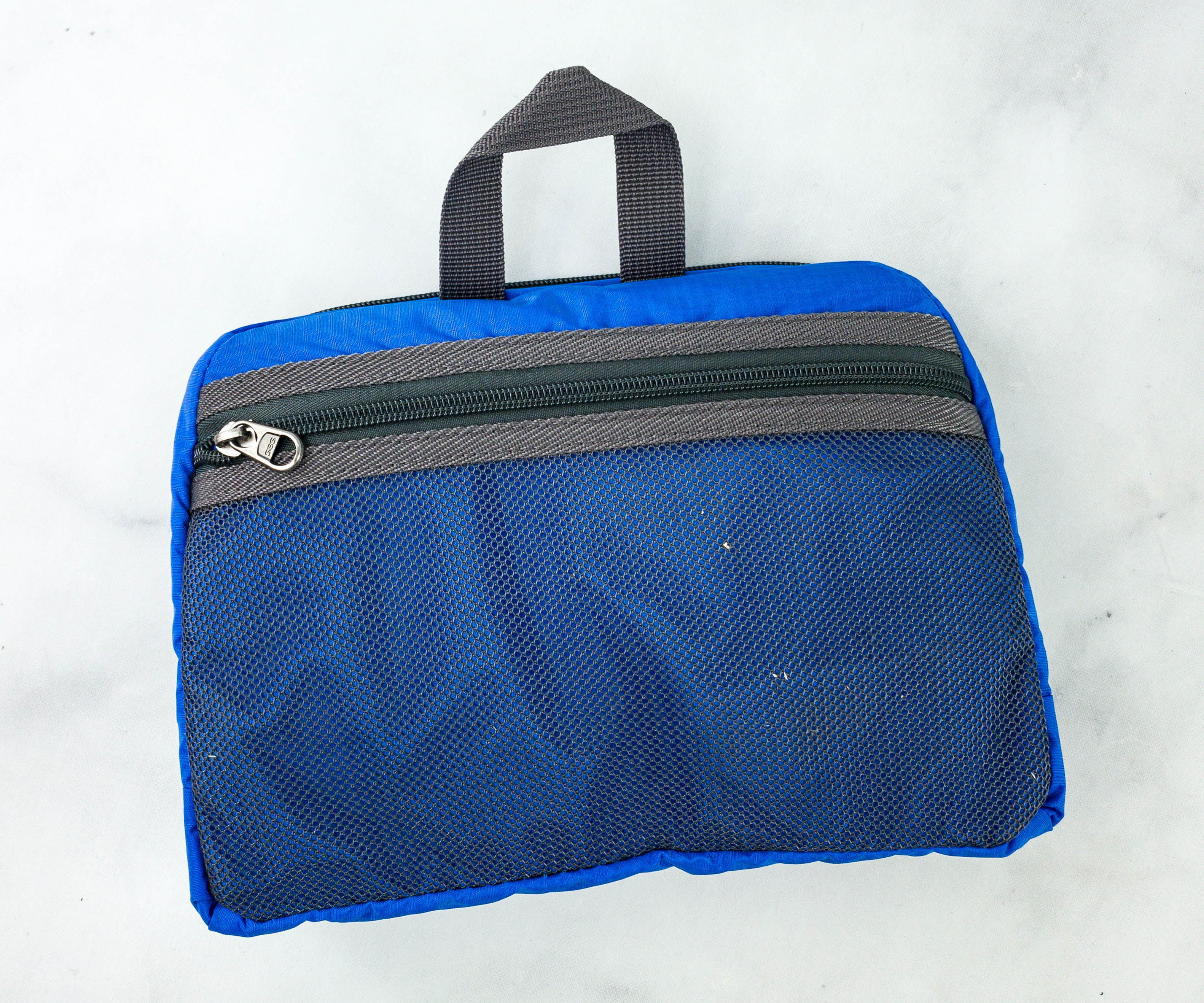 It has an easy access net pocket outside for the essential items.
I love that it saves space when not in use. Also, my kids had no problems unfolding it!
There are durable straps to make sure the bag is always in place and comfortable to carry around.
One of the most important items to have for a hiking adventure is a reliable bag like this one. It's spacious, so it can fit a lot of items.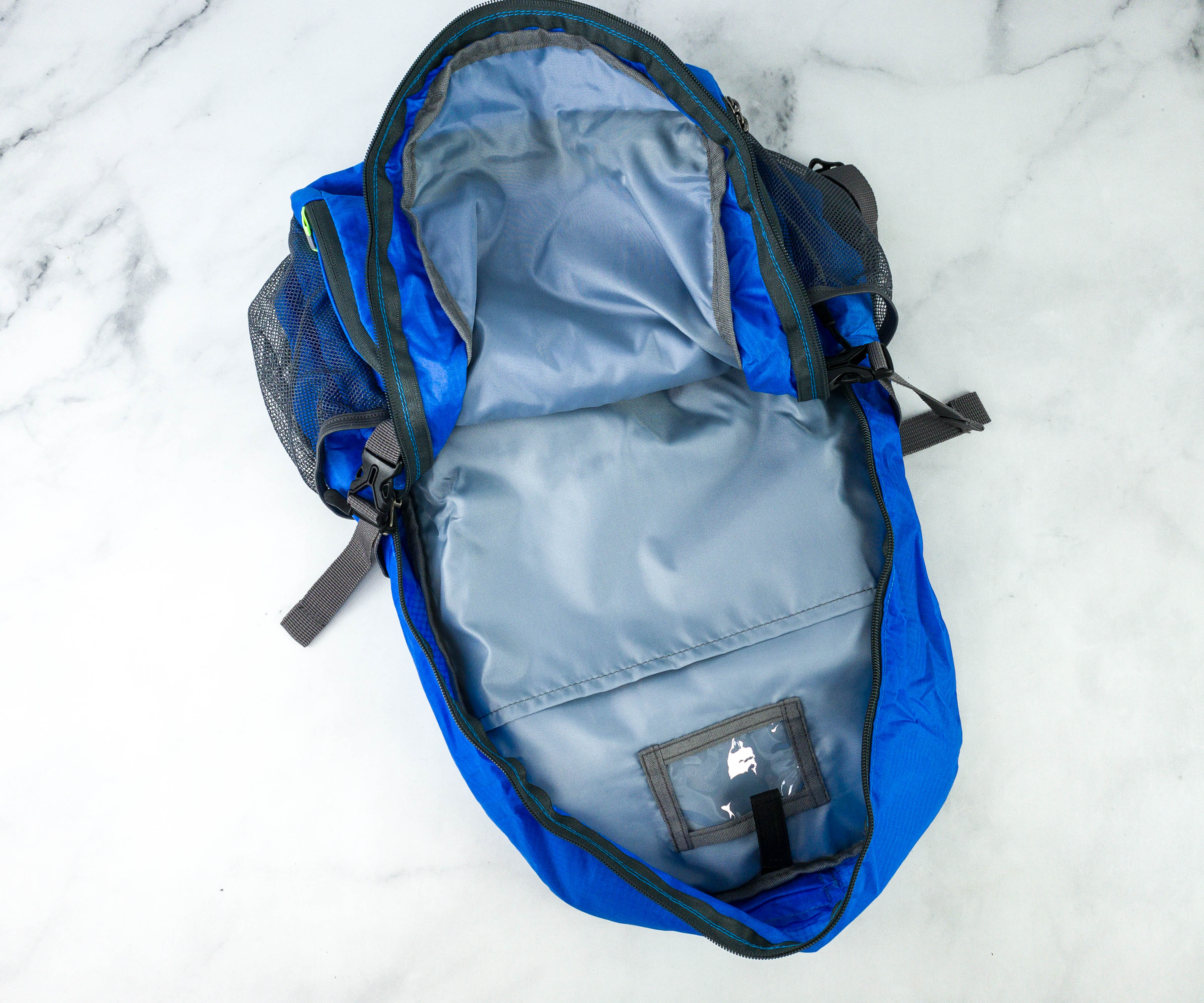 My kids can also place their card on the plastic slot inside!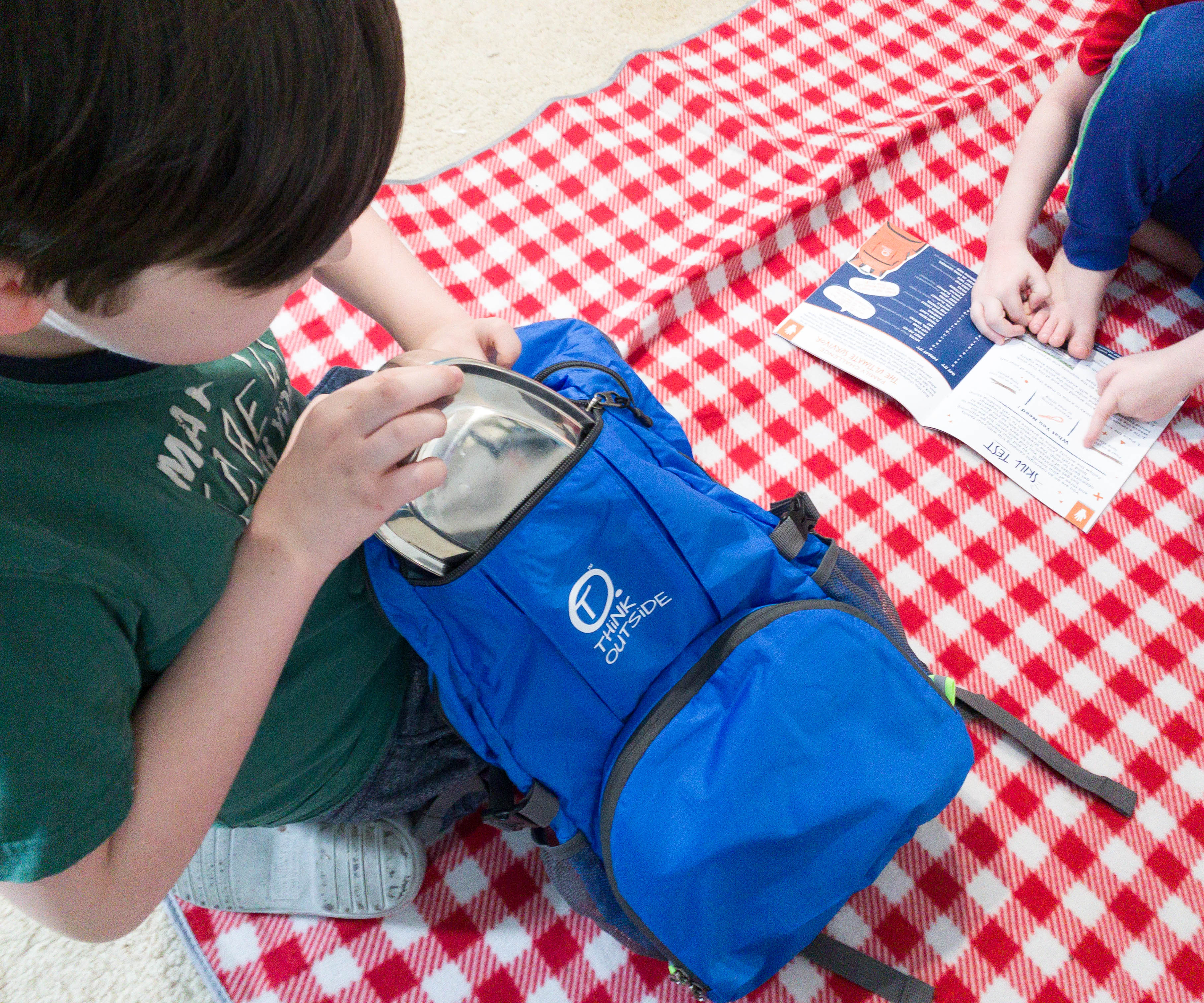 After reading the booklet and the resource cards, my kids tried to pack the bag on their own.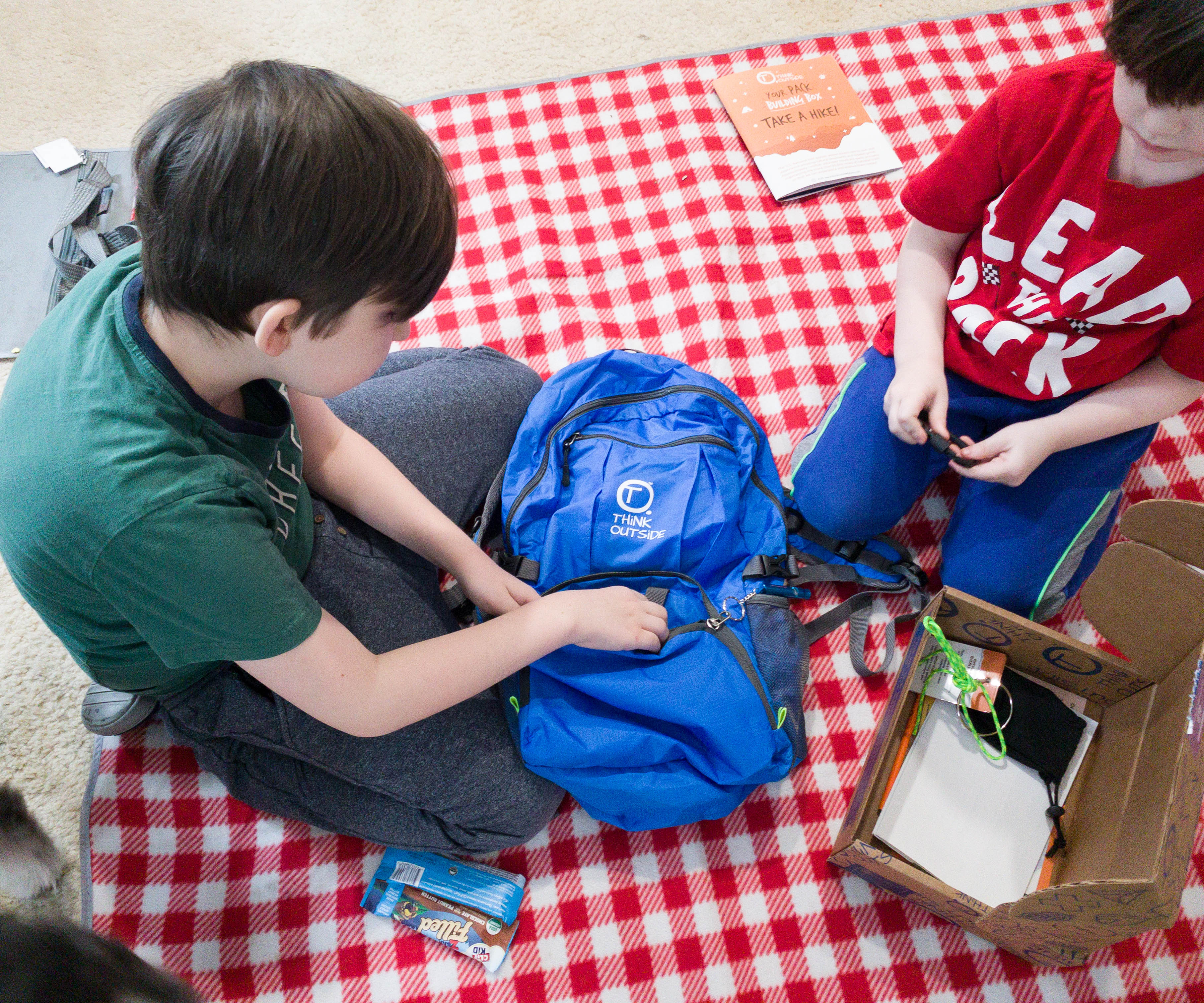 They had fun and they also did a great job with it!
THiNK OUTSiDE is definitely a great subscription for kids who love the outdoors – or if you want to inspire them to! It's a great guide and encouragement, and it helps kids learn skills that they can use for a lifetime. My kids enjoyed reading the booklet and doing the suggested activities in it. The outdoorsy items from the Intro box are also useful for any hiking journey, from the carabiner and paracord to the backpack and even the resource cards. From what we've seen so far, the whole program that will last for 1 year is a promising one! Each box focuses on a certain aspect of outdoor adventures and my kids are excited for all of them!
What do you think of the Intro box?
Visit THiNK OUTSiDE BOXES to find out more about this subscription!