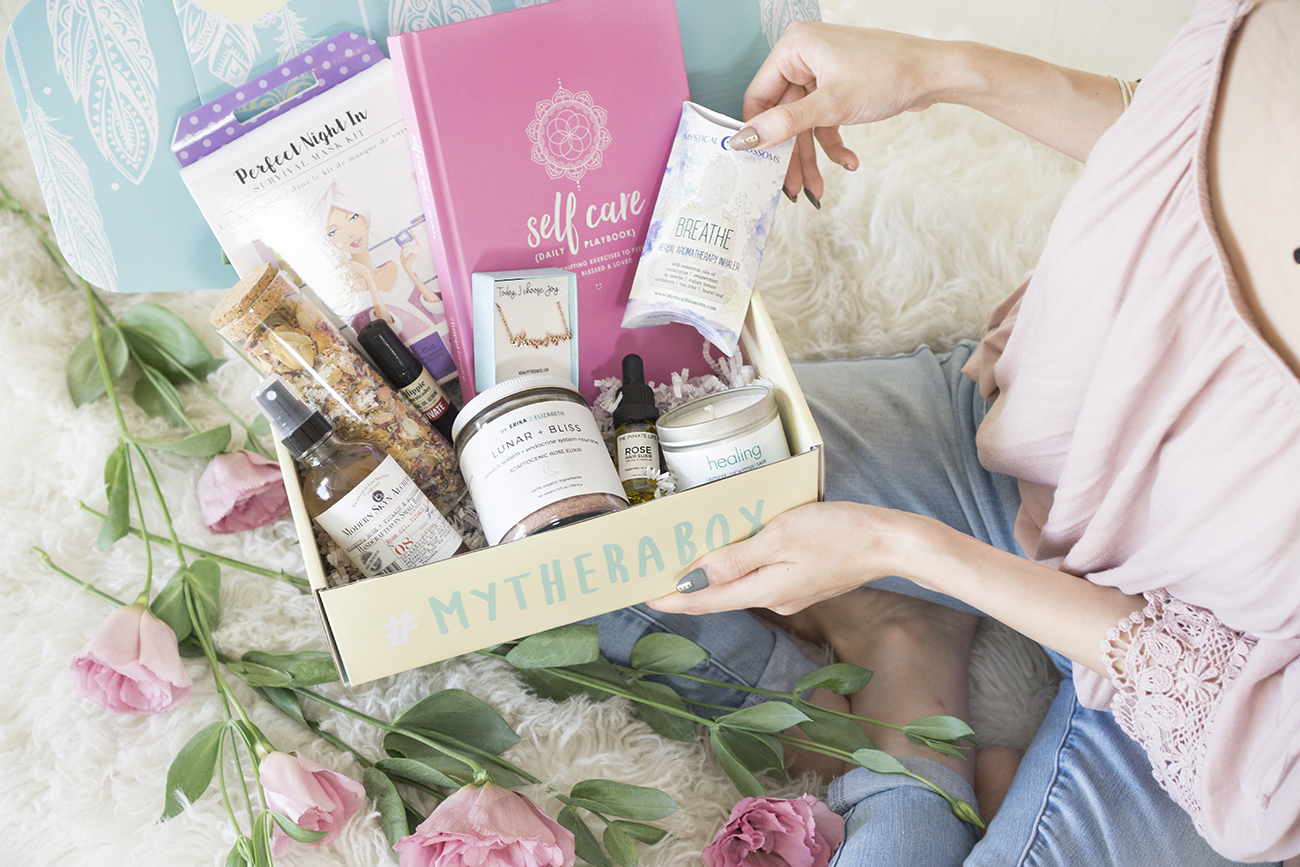 We have the first THREE spoilers for the February 2021 TheraBox! The theme is AMOUR BOX!
Cultivate an intimate self-love affair with yourself with the AMOUR box! Over $170+ worth of self-love goodies. Scroll down to see a sneak peek of this box which ships between February 24th – 29th!
DEAL: Get 10% off your first order! Use coupon code HELLO10
Each box includes:
VITAMASQUES GEMSTONE FACE MASKS BUNDLE $30+ (£21.99)
If your skin likes to roll with the seasons (AKA shiny and greasy in the summer, but dry as dull come winter) then your skin will absolutely love this gemstone sheet mask bundle from Vitamasques. Vegan, sensitive skin friendly and luxurious, this Face Mask Bundle imported from London contains real gemstones combined with aromatherapy, color therapy, gemstone therapy and skin therapy. Clarifying, brightening, moisturizing — you name it! The masks are fortified with skin-loving ingredients that help achieve incredible and multisensory results. The bundle includes a Citrine Sheet Mask, Jade Sheet Mask, Ruby Sheet Mask and Sapphire Sheet Mask. The Citrine Sheet Mask is made with Yuzu extracts that helps the nervous system and uplifts he mind, along with Calendula extracts that provides anti-inflammatory protection, stimulates collagen production and nourishes dry skin. The Jade Sheet Mask on the other hand contains jade powder which works toward encouragement of a happy mindset, spirulina which helps support serotonin production and pine extract which soothes skin + is super great for sensitive skins. The Ruby sheet mask features Geranium essential oil which is known for reducing symptoms of anxiety and depression, as well as goji berries which aids with skin hydration. Lastly, the Sapphire Sheet Mask contains Sapphire powder which helps clear the mind & improve focus and concentration. Blueberries are also infused in the formulation and helps with mental clarity and collagen production and Violet Flowers which provide a natural source of hydration to the skin. Keep your skin supple and moisturized and give yourself a post-treatment glow and plumper complexion! use these masks on days where you need a little pick me up and feel noticeably calmer and happier! TIP: Pop them in the fridge before applying for an extra TLC + cooling effect!
SKIN&CO TRUFFLE THERAPY FACE TONER $30
Over 60 years ago, the Skin & Co family bought their first acres of land and established a farm in Umbria, Italy to cater to locals by delivering freshly harvested ingredients. Today, Skin & Co honors this tradition of sharing farm-fresh ingredients in their natural and eco-friendly skincare formulas to offer the freshest, most effective, and indulgent skincare, while respecting and sustaining their ancestral Umbrian farmlands. With every bottle, Skin & Co strives to bring the Mediterranean ritual and sensorial experience to their customers around the world by using only time-tested recipes and rigorously selected ingredients. As they balance nature + tradition with science and modernity to create the very best products for your skin, this luxurious face toner is proof of their commitment. Show some love for the skin you're in because spoiler alert — this toner is gentle, powerful, soothing, and healing! The Truffle Therapy Toner deeply cleanses and purifies pores with the antiseptic power of Witch Hazel and Sage. The natural extracts and antioxidant properties of Black Winter Truffle, Rosemary, Calendula, and Cucumber soothes and protects from environmental and free radical damage + it's suitable for all skin types. An essential step in the beauty routine for healthy and radiant skin, as well as balancing and refreshing the complexion, it also effectively removes impurities, clogged pores, and dead skin cells to treat, heal, and prevent blemishes! Say goodbye to dry, dull, and flaky skin and flaunt your rosy skin all season!
LARITZY CREAM LIPSTICK (SHADES MAY VARY) $20
Nourishing. Buildable. Satin Finish. Bring some glam to your days with a cult-favorite, cream lipstick that instantly delivers long-lasting and intense pigment for full lip coverage. Love personified for your lips, Laritzy's cream lipsticks are formulated to be effortless, non-drying, luxurious, and complementing! Formulated with shea butter, making them ultra-hydrating and comfortable to wear, these cream lipsticks glide over the lips smoothly and won't bleed or feather. The formula is buildable with a satin finish which makes lips look fuller and smoother + it adapts to you, so they'll appear a bit different but still look great on everyone! Cruelty-free, vegan-friendly, and made with the highest quality skin-loving ingredients that moisturize and condition your skin at the same time, these lipsticks are also free of parabens, BHT, BHA, and phthalates! So, for the days you want luscious lips, go ahead and swipe this long-wearing, ultra-pigmented cream lipstick and channel the inner Love goddess in you! PLEASE NOTE: Members will receive one lipstick with varying shades.
Plus, we have the full reveal of the January 2021 TheraBox!
Each box includes:
Willow Collective Mindful Pebbles (Salt + Pepper Shaker & Sauce Dish Set) $30
Nelson J Beverly Hills Moisture Healing Hair Mask $24
Becalia Botanicals Hibiscus Clay Face Mask $22
Tynt Beauty Phantom Liner (Black) $18
Aminnah Skincare Lavender + Lemongrass Face Mask Refreshing Spray $19.99
Zoe Ayla Micro Needler Derma Roller $33.99
Ariul Stress Relieving Hand Sanitizing Tissue $2.49
Simple Self The Self-Care Planner $19.95
Are you getting TheraBox?