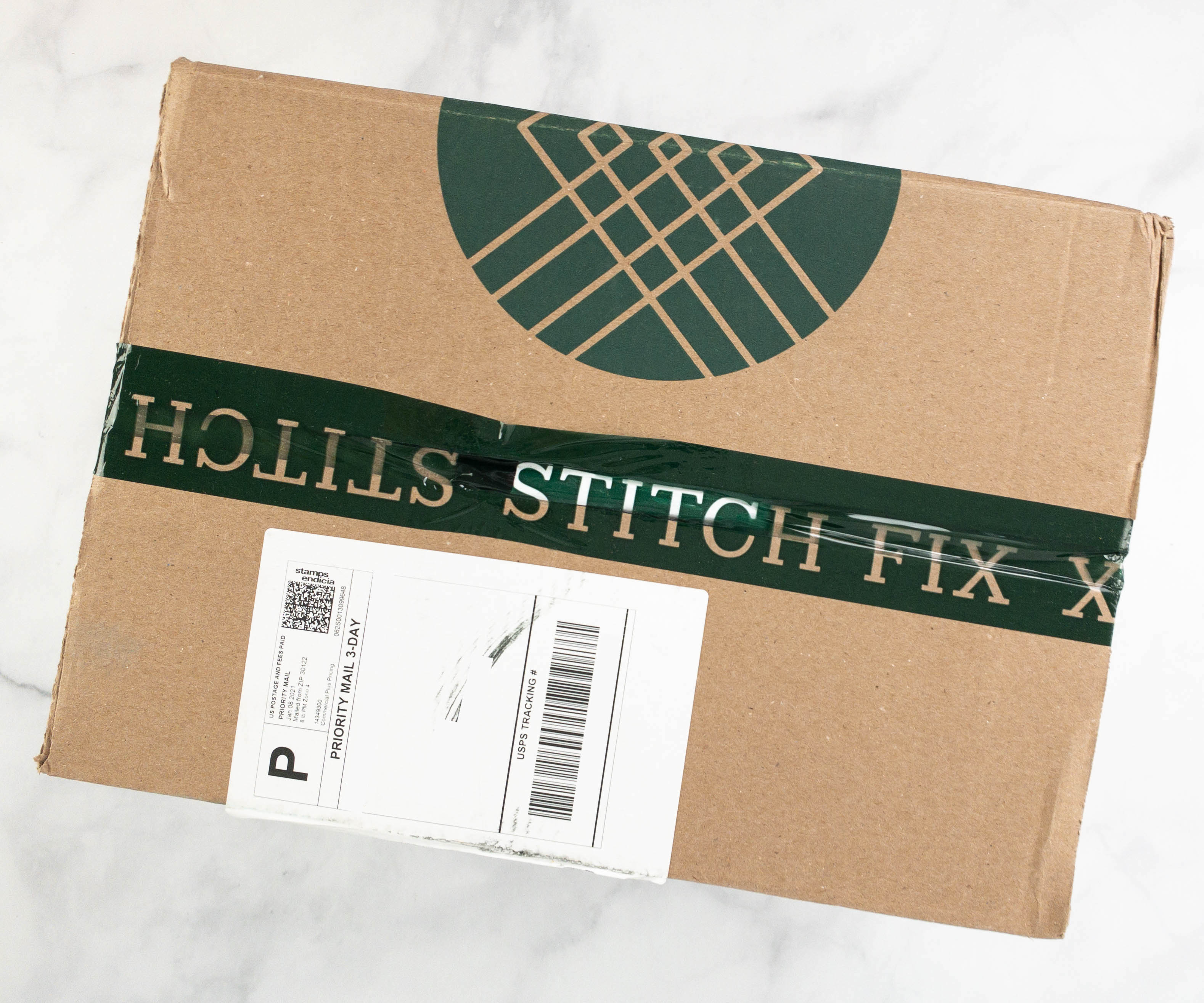 Stitch Fix Men is a personal styling service customized to your fit, lifestyle & spending preferences. Just like Stitch Fix for women, your stylist will send you 5 pieces based on your profile for you to try on at home. You only keep what you love, and you never have to set foot in a mall! There are no coupons for Stitch Fix, but if you love everything in your fix, you save 25% when you keep the whole fix (read below for details)!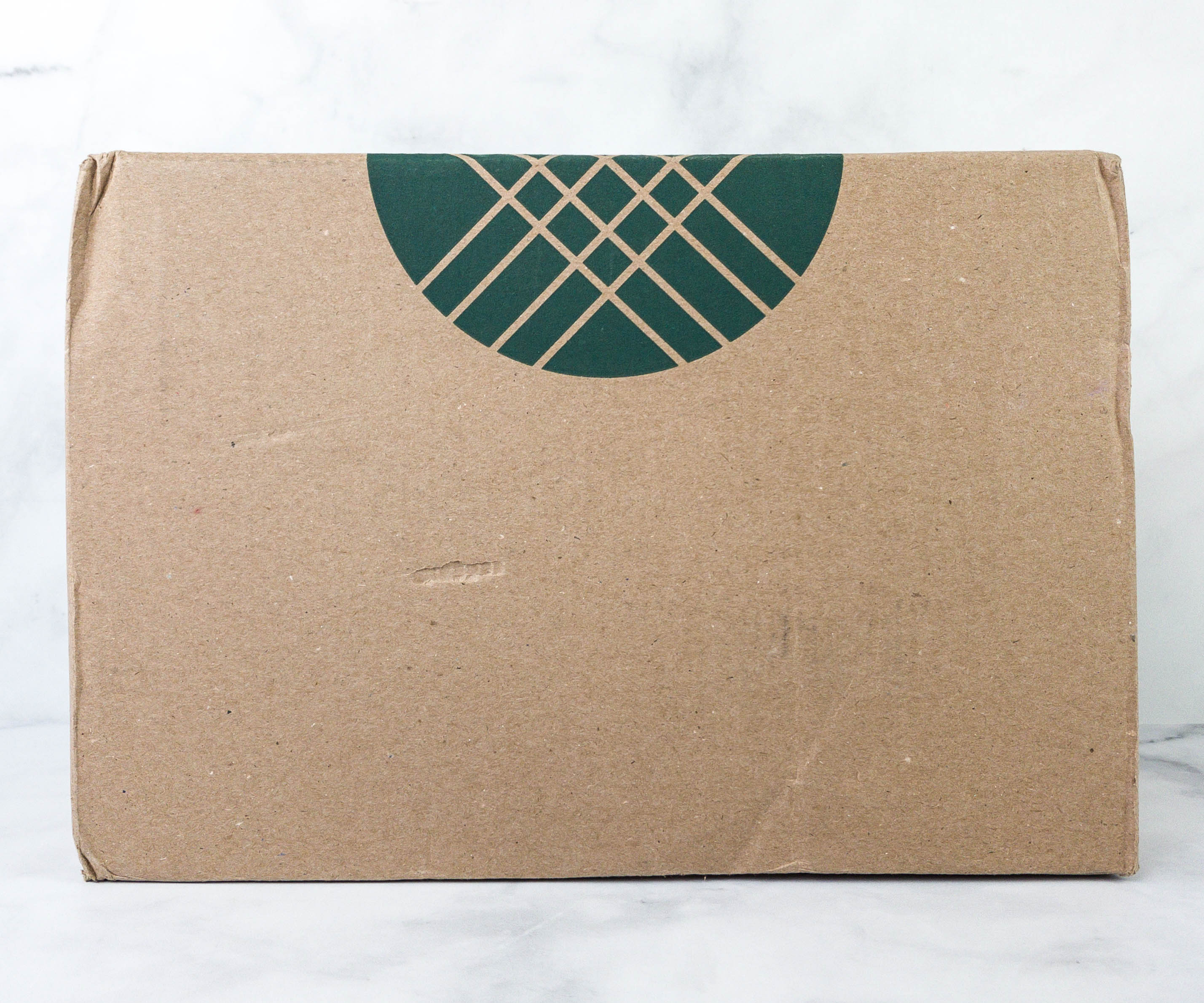 The box was secured by a Stitch Fix tape. There are slight dents in the box, but everything inside is in great condition.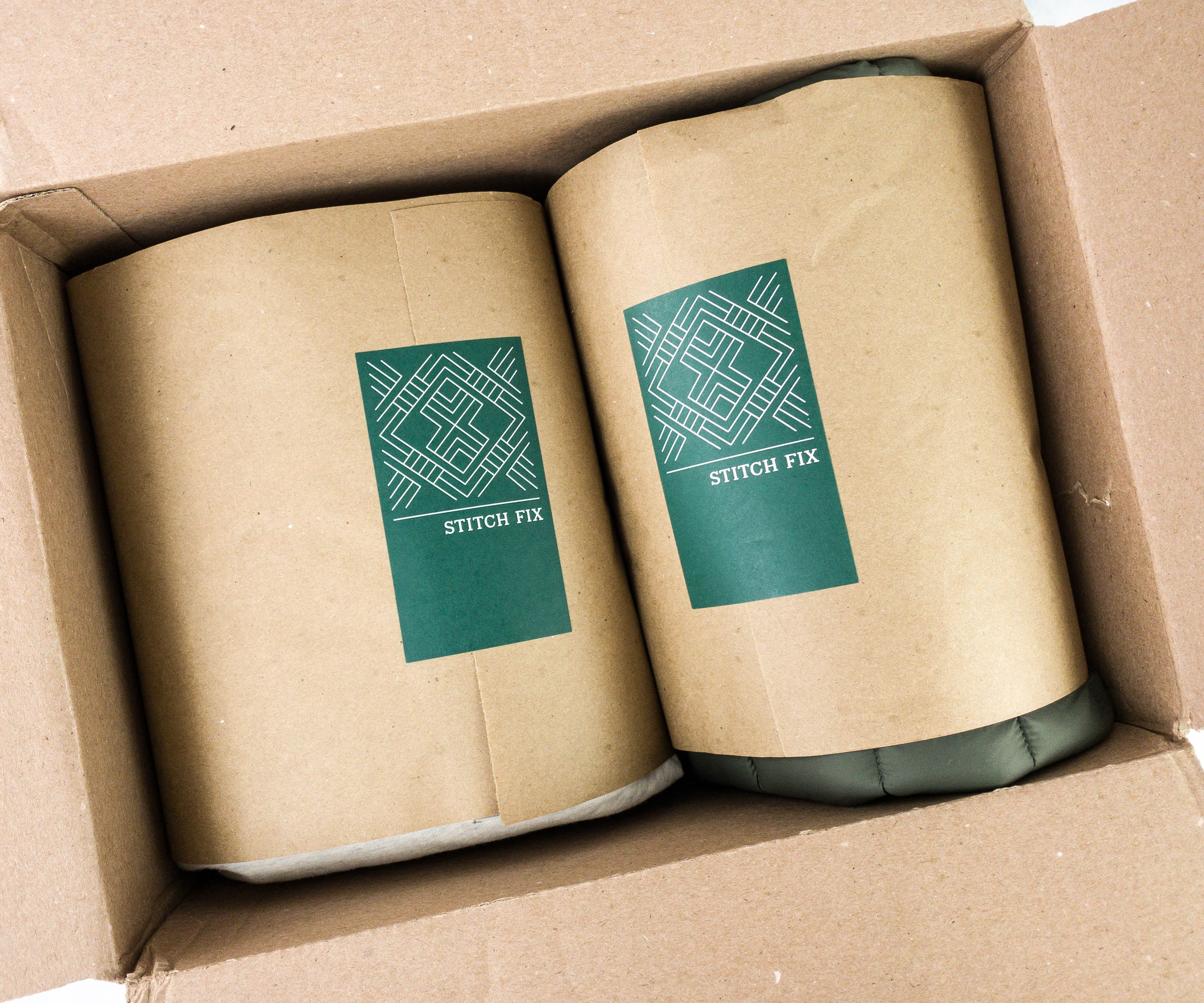 All the fix come neatly bundled inside the box.
There's a return pouch inside the box as well.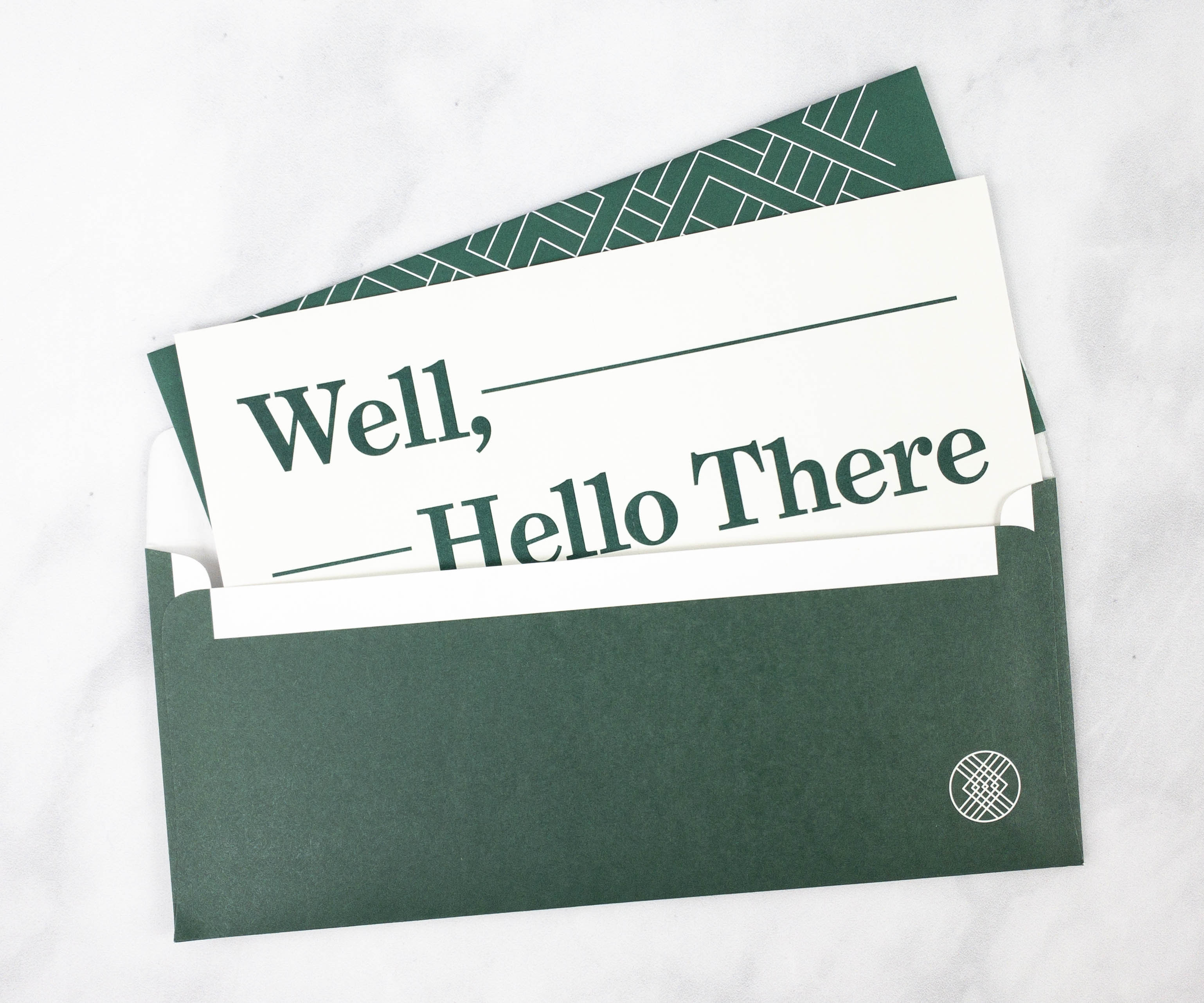 Here's a green envelope from the Stitch Fix team.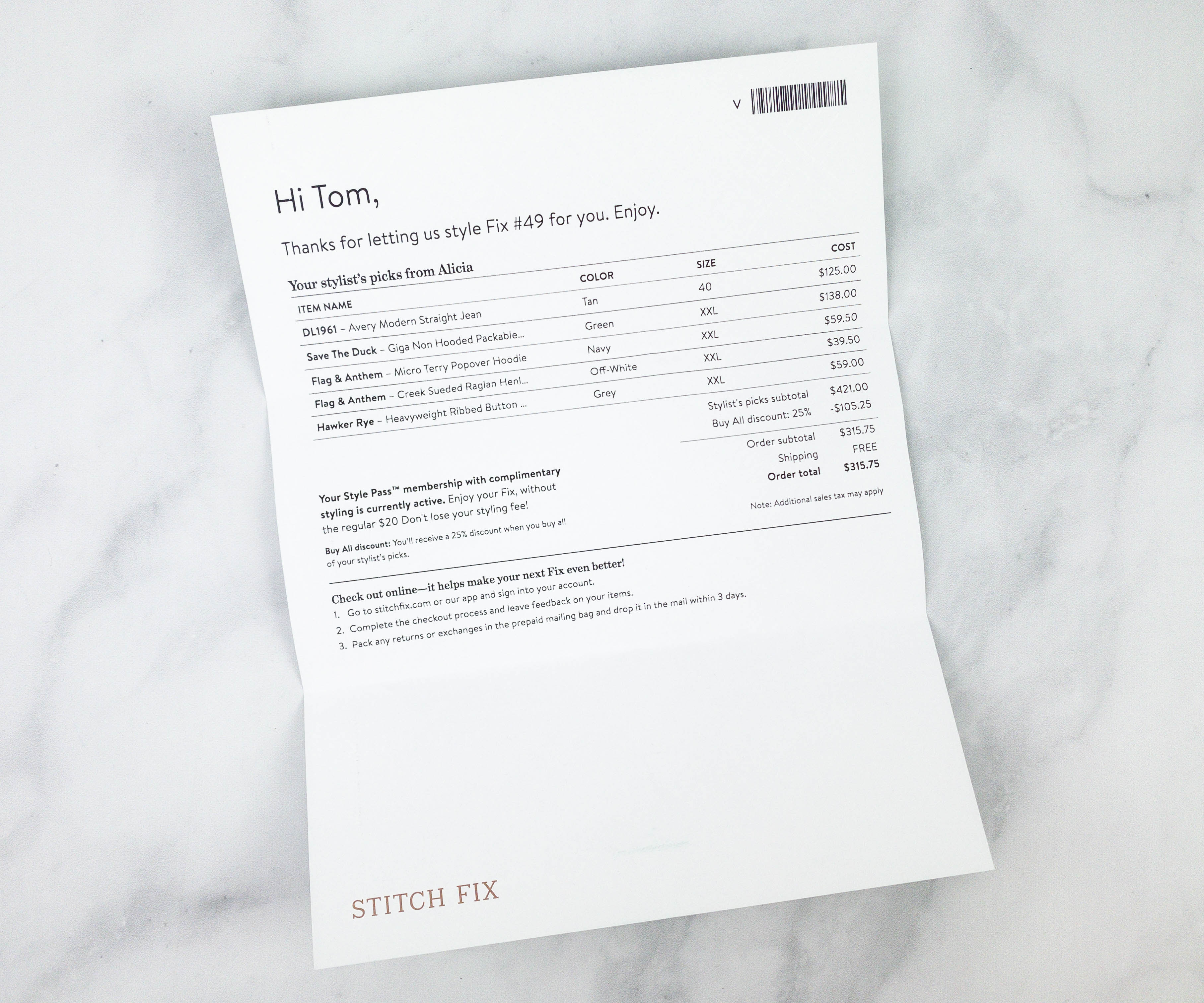 If you keep everything you get a 25% discount. This is why it is so important to be detailed and accurate in your profile, as it increases the chances that your stylist will run the table and score your great clothes and a discount (without having to keep anything you don't really want). You will check-out and get charged through your Stitch Fix Men account. You'll be charged a $20 styling fee and shipped five items to try on at home. If you keep anything your styling fee will be applied to your order, but if you don't, you will pay the $20 fee. As you can see on the invoice, we joined the optional Style Pass program, so we paid a single, annual styling fee (with unlimited Fixes) instead of $20 per Fix.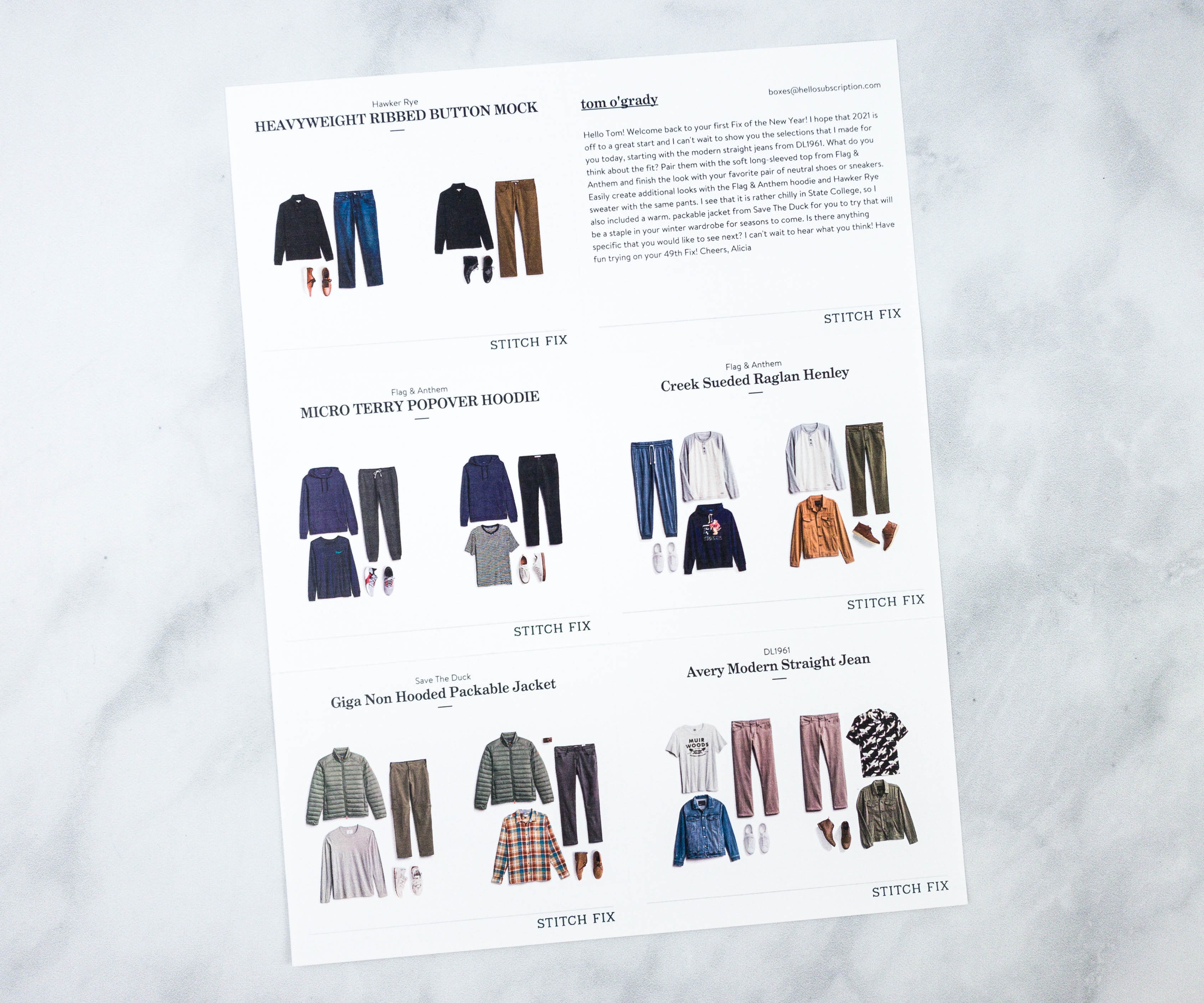 Every Stitch Fix box includes styling cards showing a couple of looks for each item in the Fix.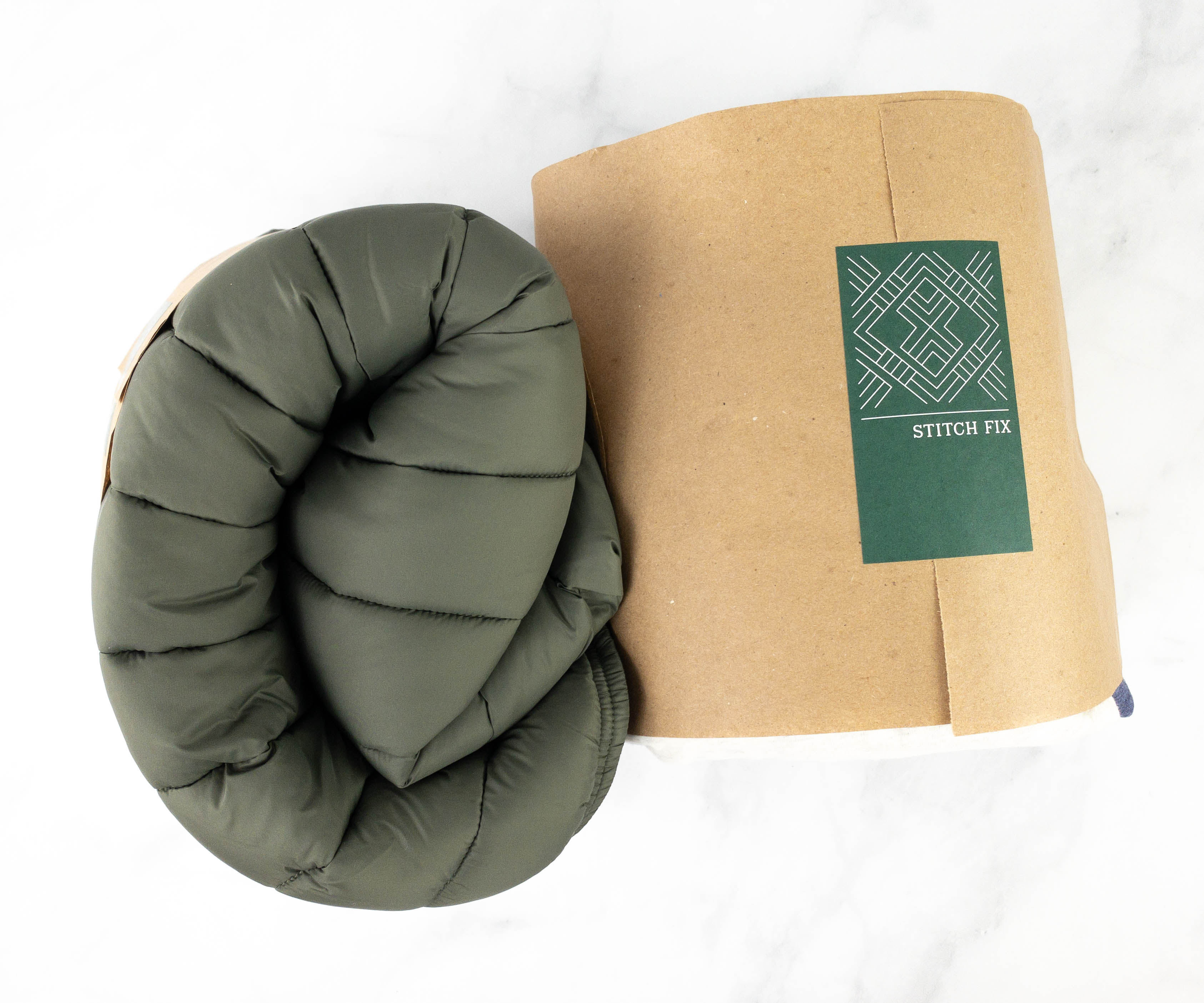 I like that they just stack the clothes neatly and don't make me tear through multiple plastic bags.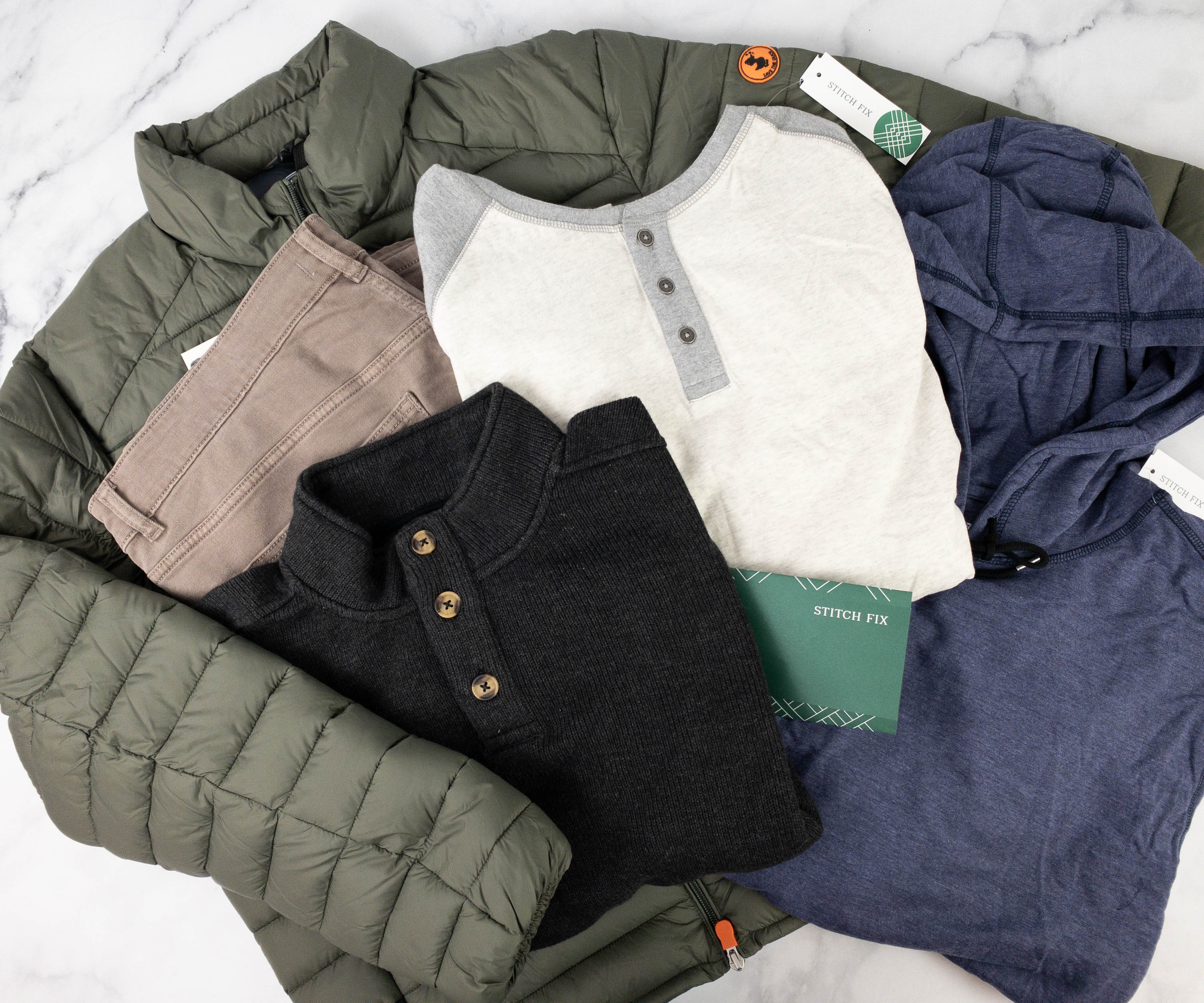 Everything in my December 2020 fix. You just have to unfold each item to see how they look.
Save The Duck Giga Non Hooded Packable Jacket ($138) It's a gray jacket to keep me warm in style during the cold weather!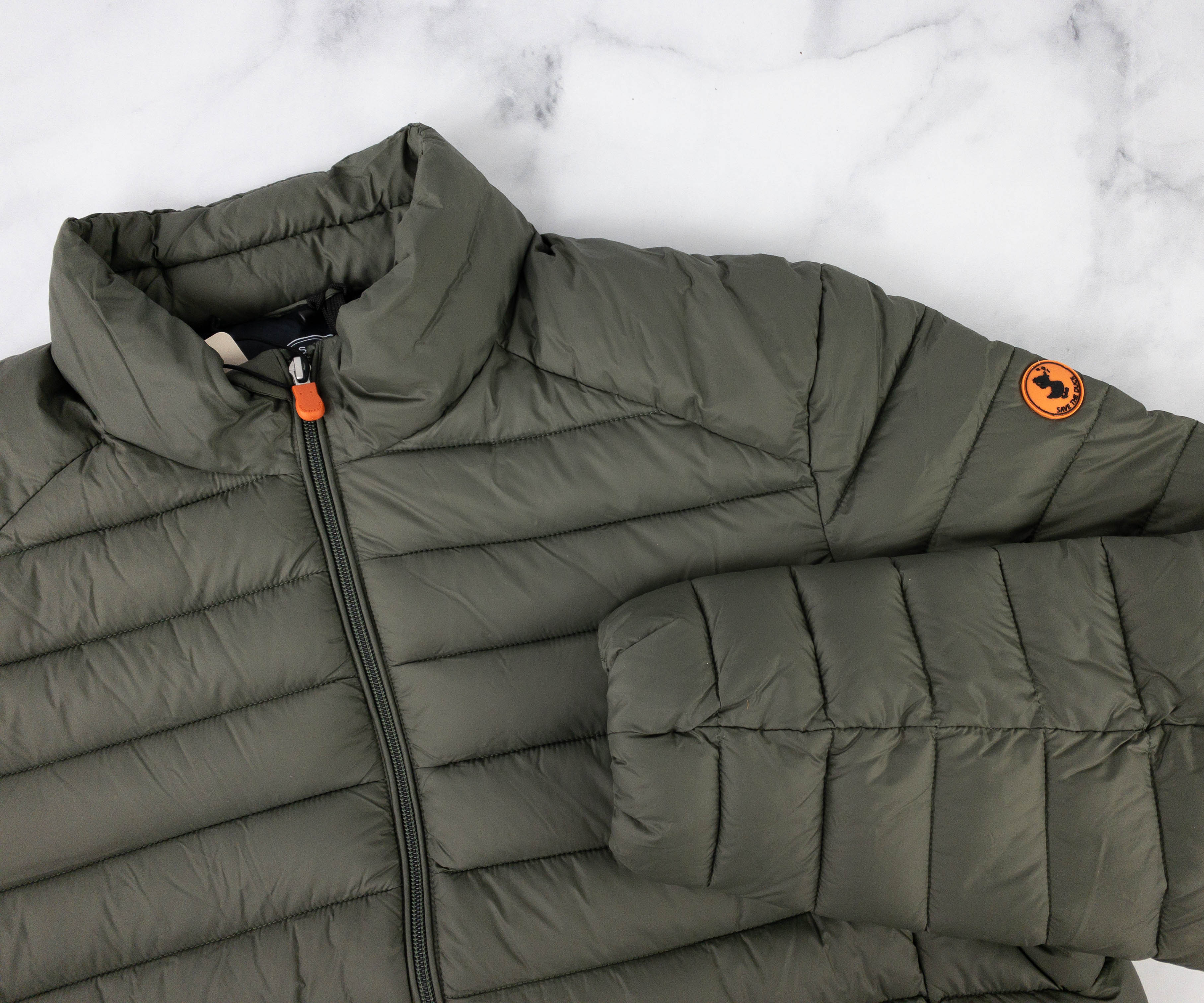 I like the style of this jacket, it does not have a hood but it's totally fine. I can match this with a nice beanie for my head.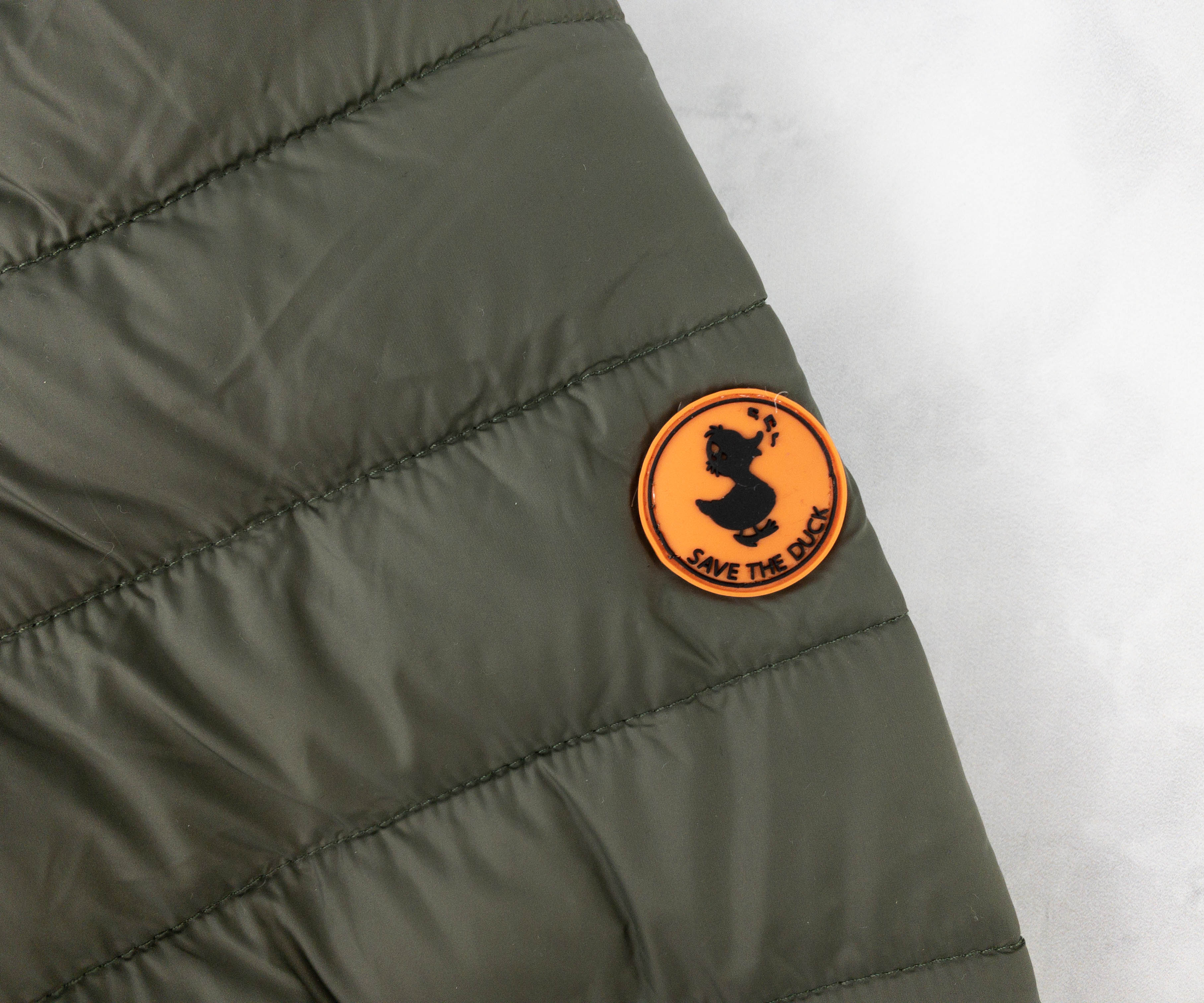 There's also a brand logo on its left sleeve.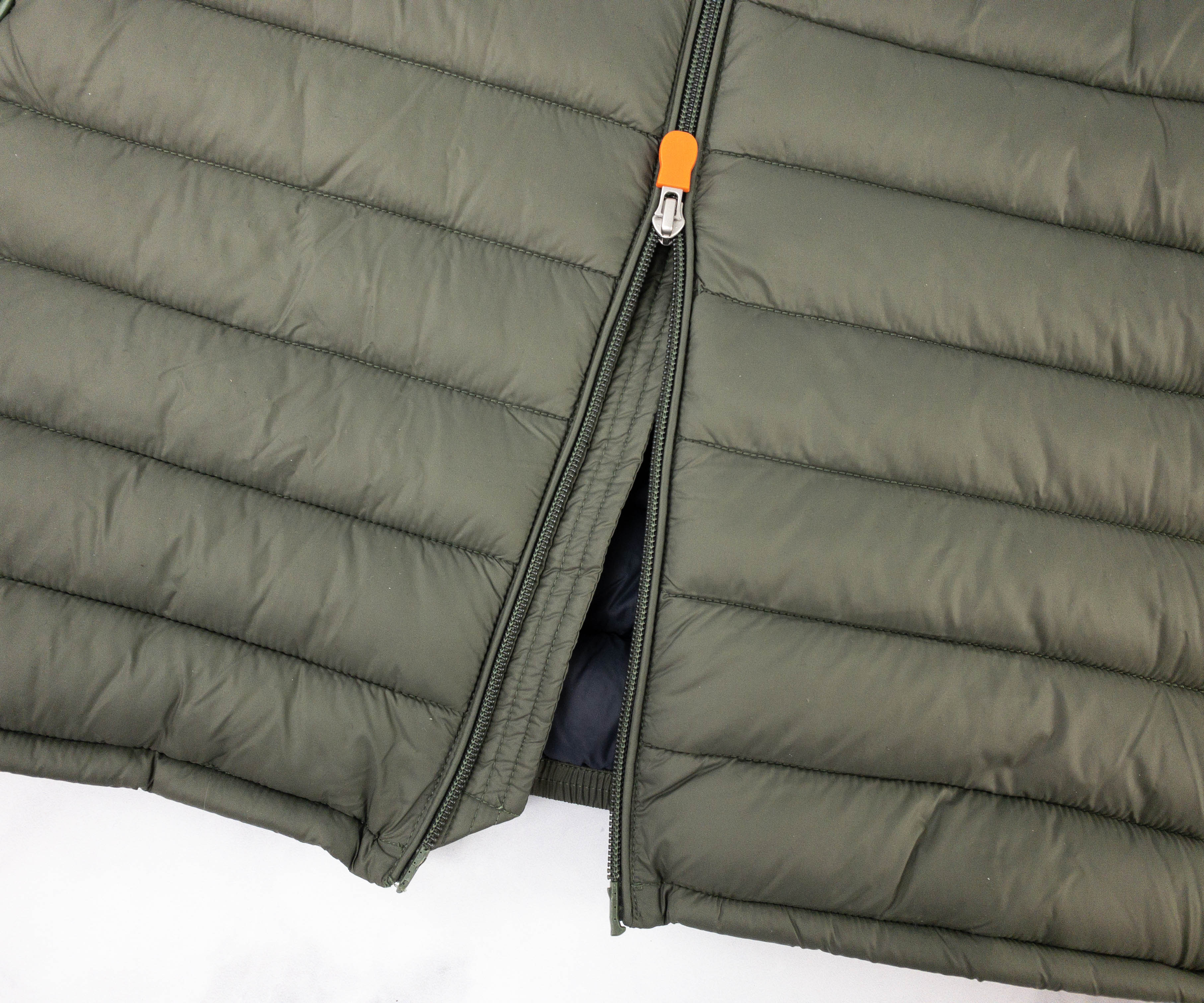 It has a zipper that goes all the way down for more flexible wearing.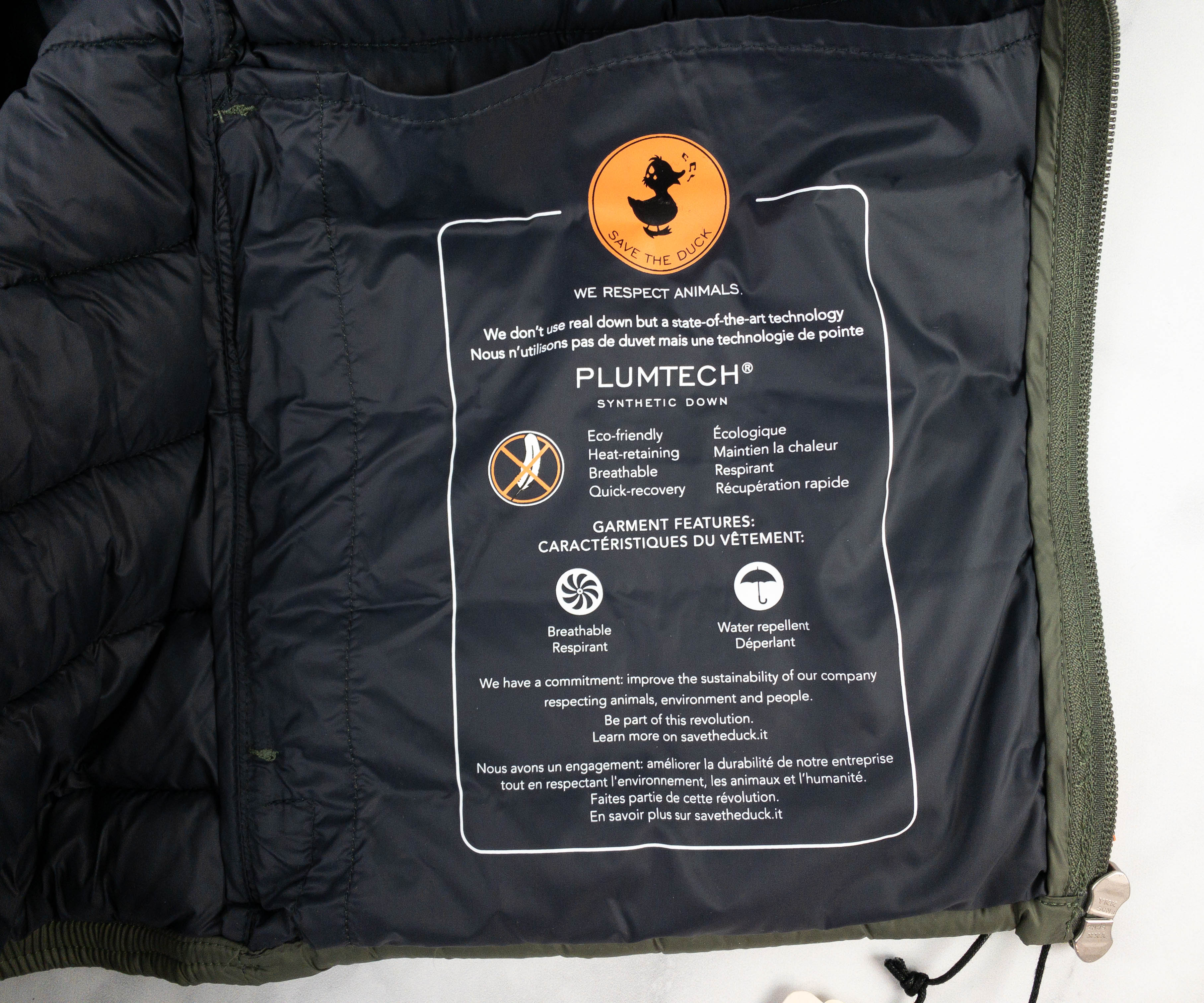 A product label can also be found inside, it has a brief company overview and it also lists all the features of the jacket. According to it, the materials used for this jacket are eco-friendly, heat-retaining, and breathable.
A pouch is also included for easy storage and handling. If it wasn't obvious by the brand name, this is a synthetic down jacket!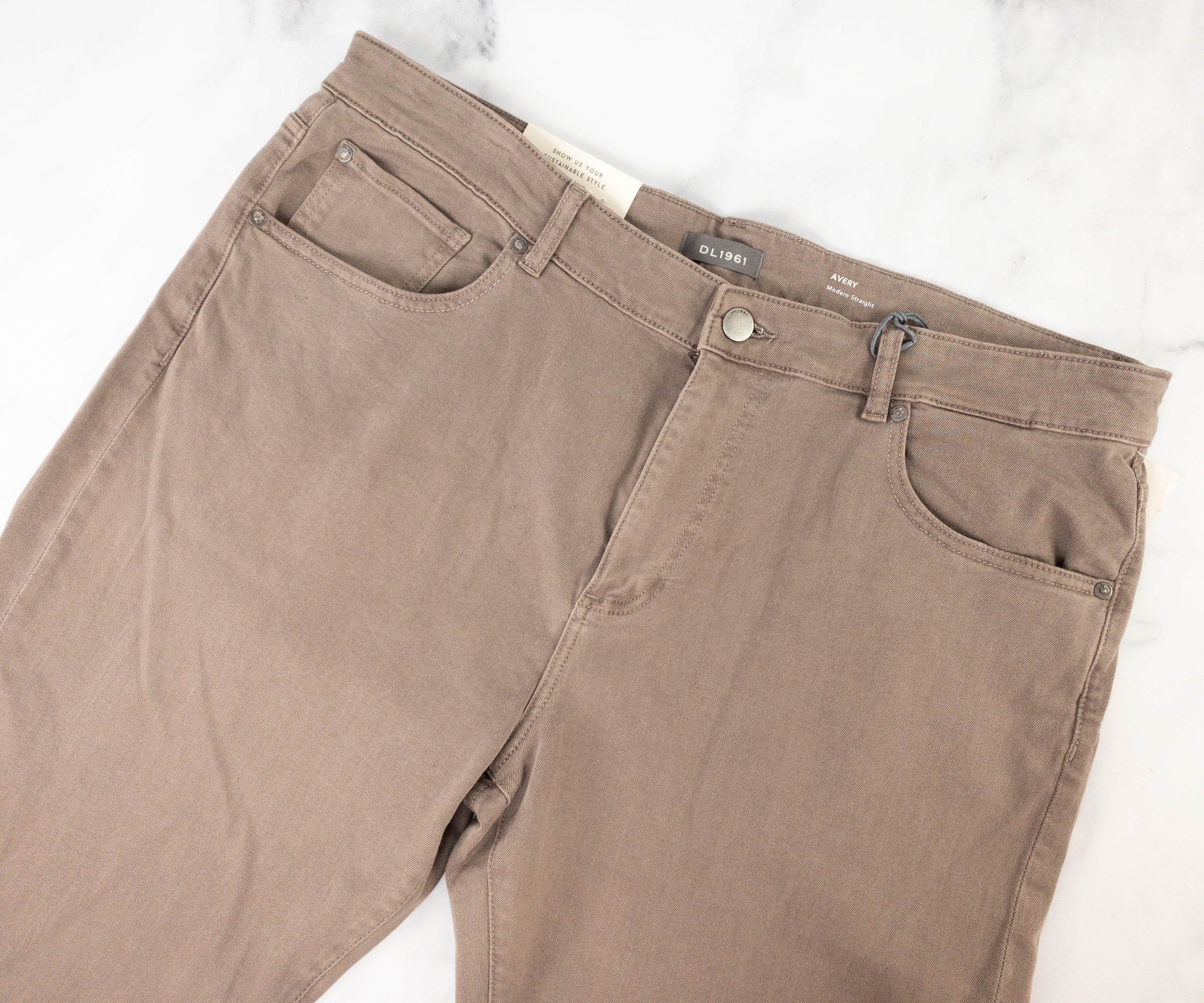 DL1961 Avery Modern Straight Jean ($125) This straight jean in brown is a nice alternative to my black pants and denims.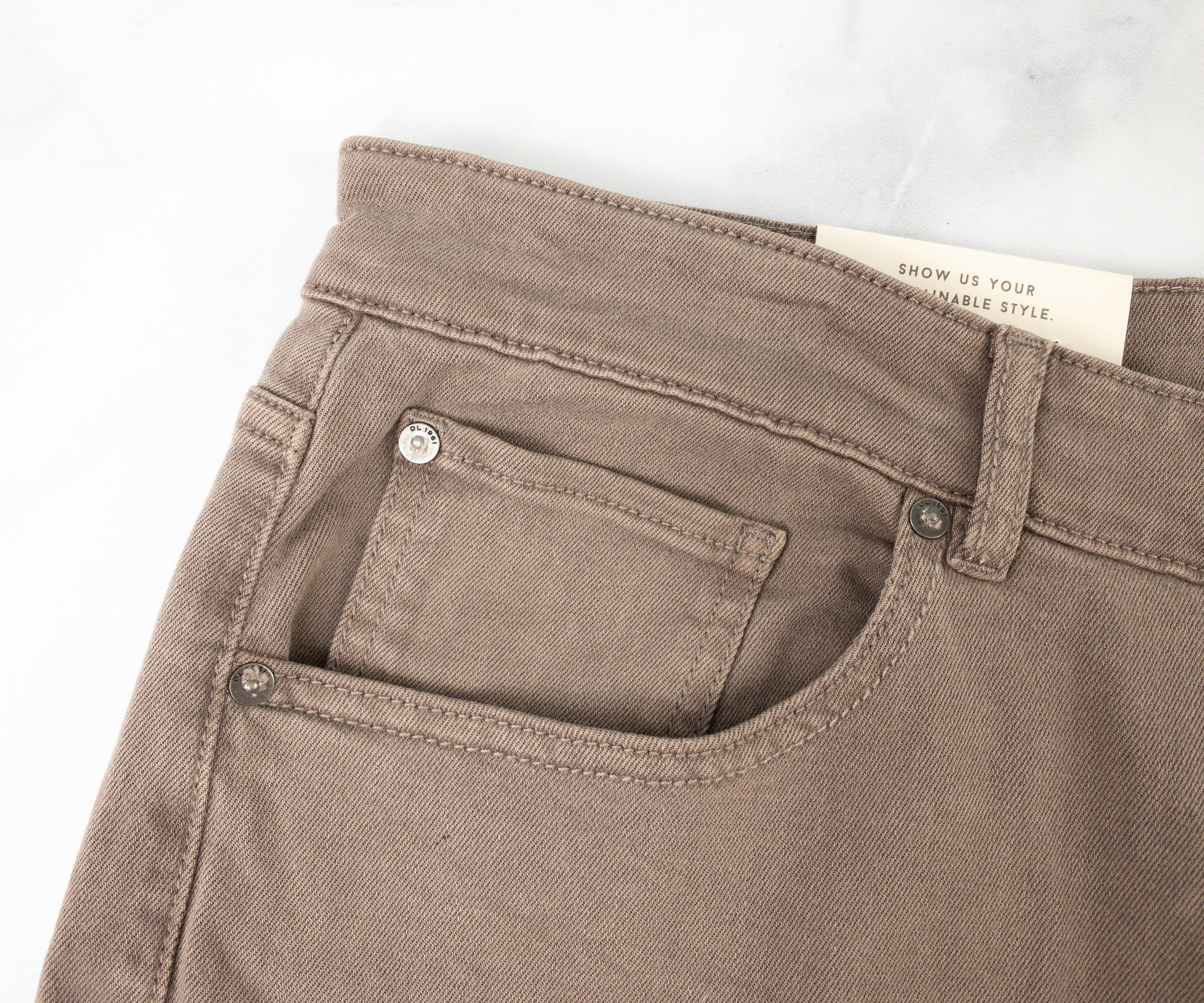 There are copper rivets placed strategically on high tension areas to make this jean durable.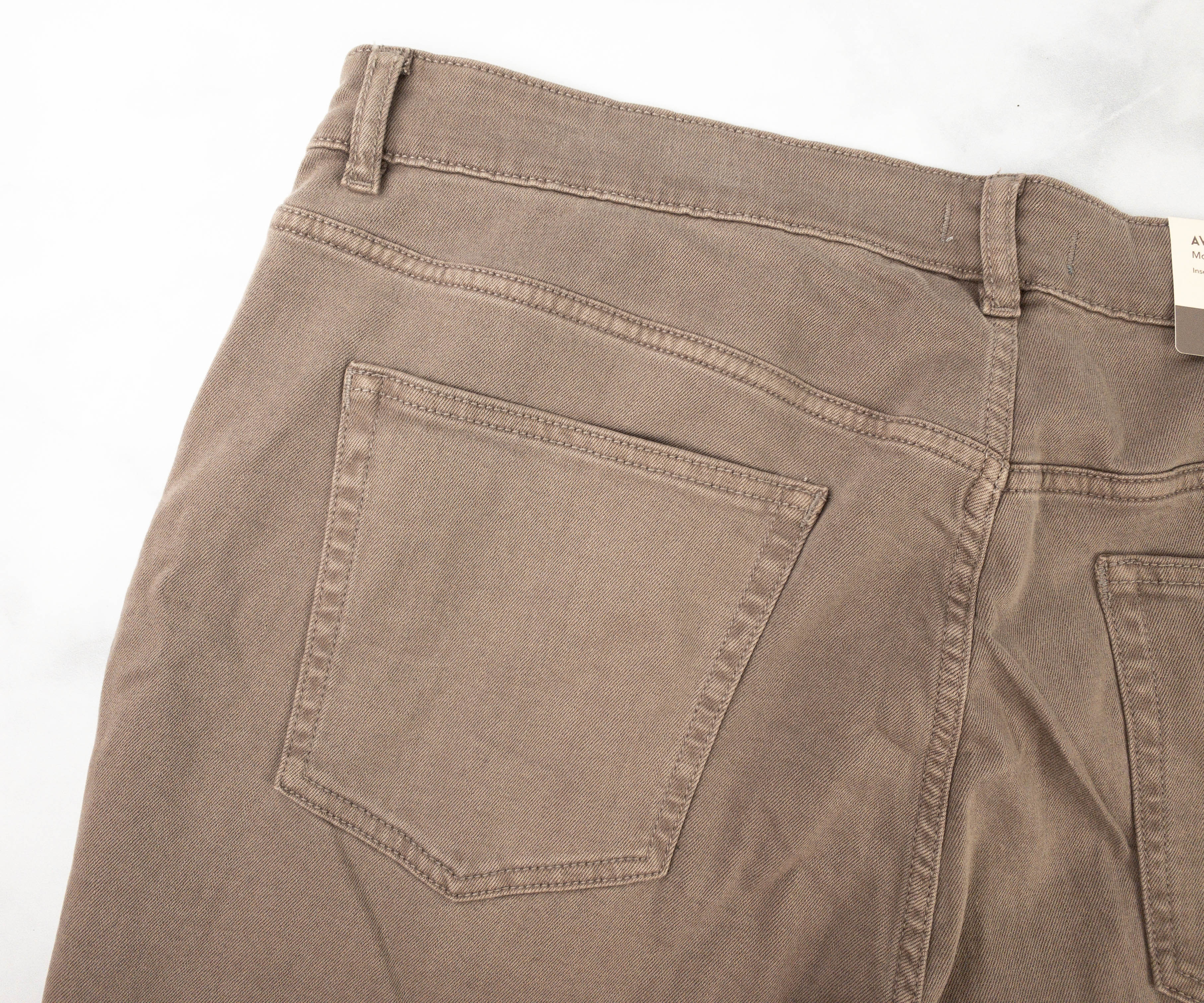 They used the same color for the stitches and the traditional back pockets design is also nice.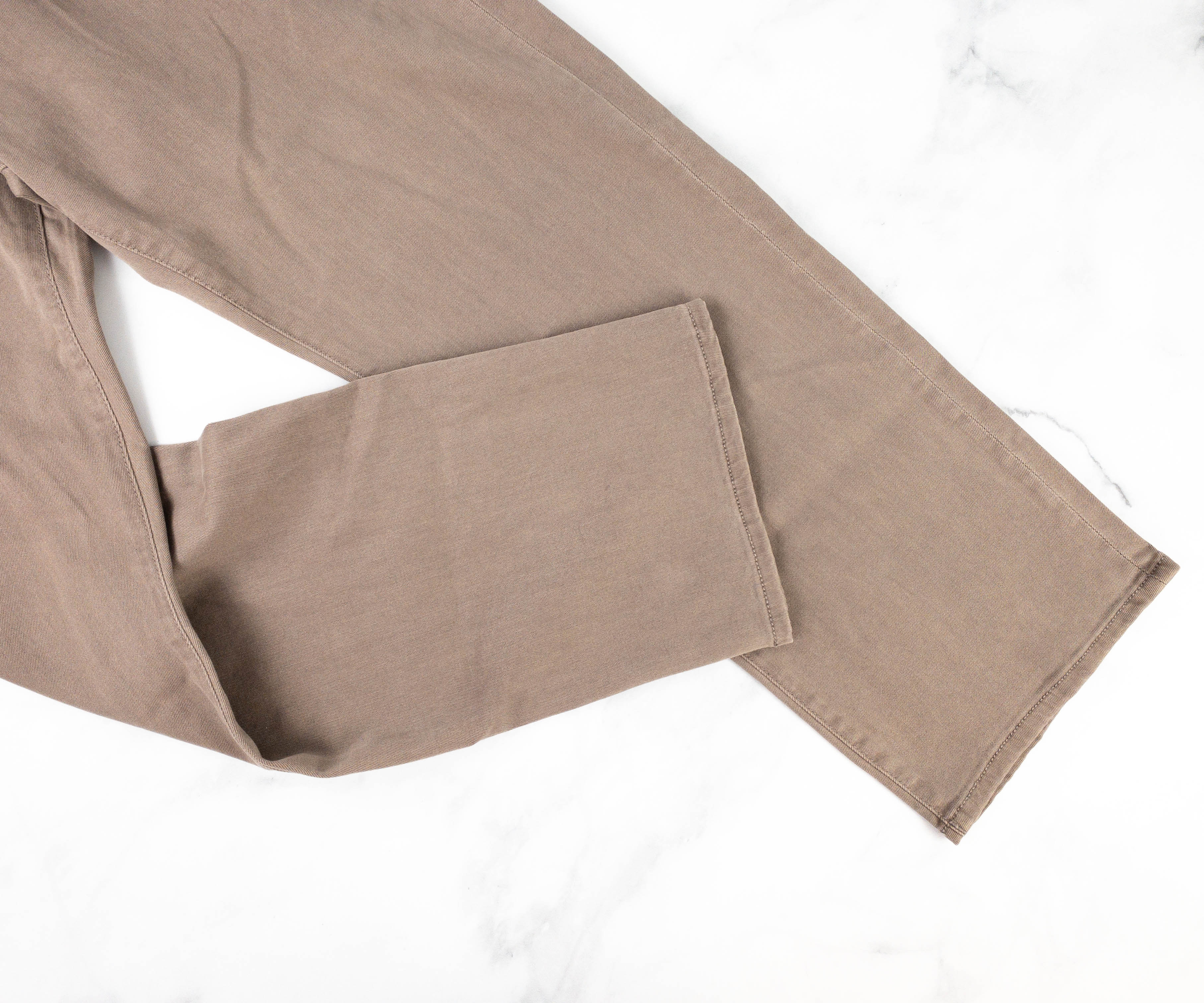 The straight cut makes it very comfortable to wear. It allows me to move around comfortably when I'm wearing it!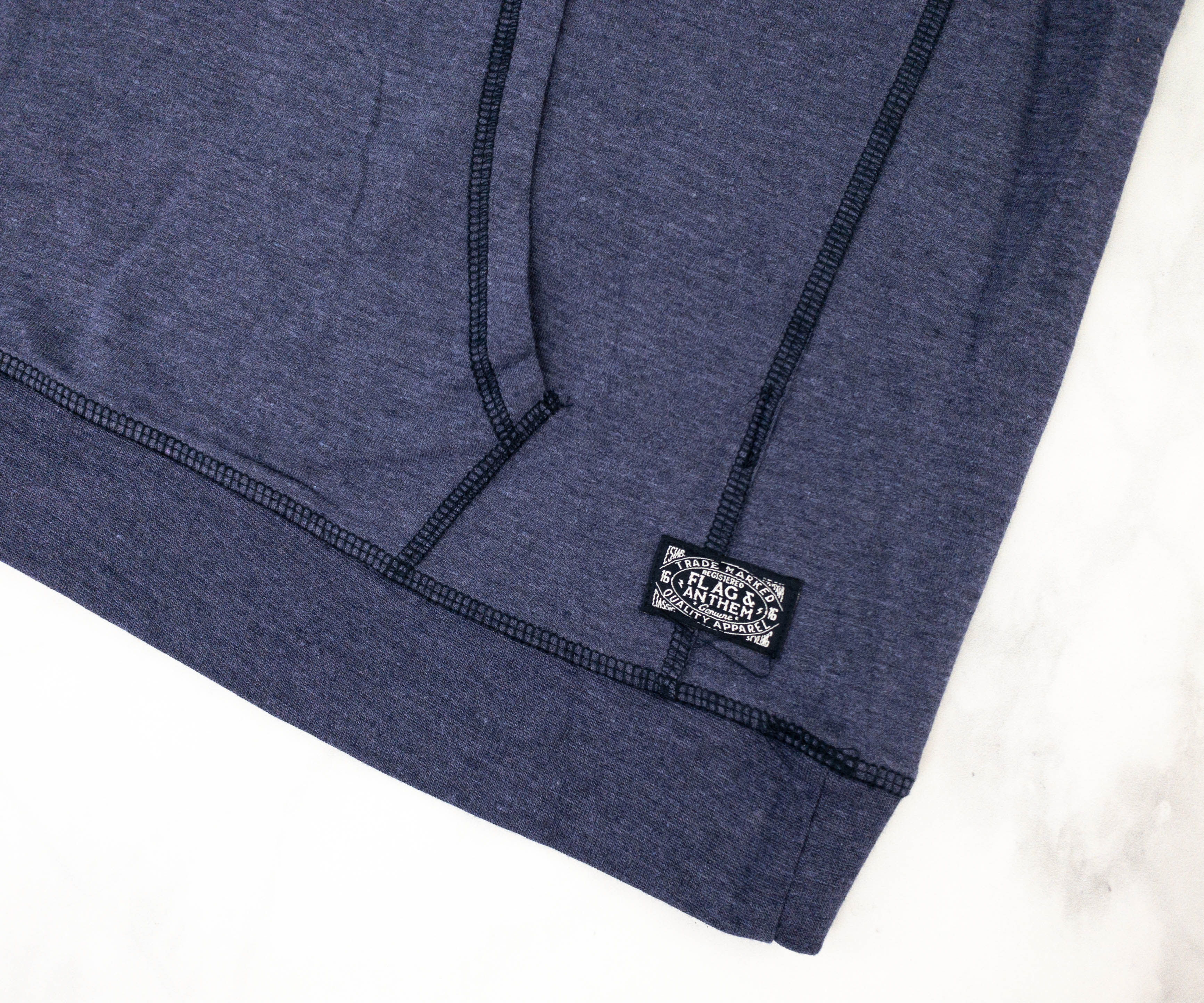 Flag & Anthem Micro Terry Popover Hoodie ($59.50) Here's a nice hoodie top ideal for running and exercising outdoors, or simply for creating a laid back look!
It has a relaxed and loose fit. This is perfect to layer with a tee for extra warmth.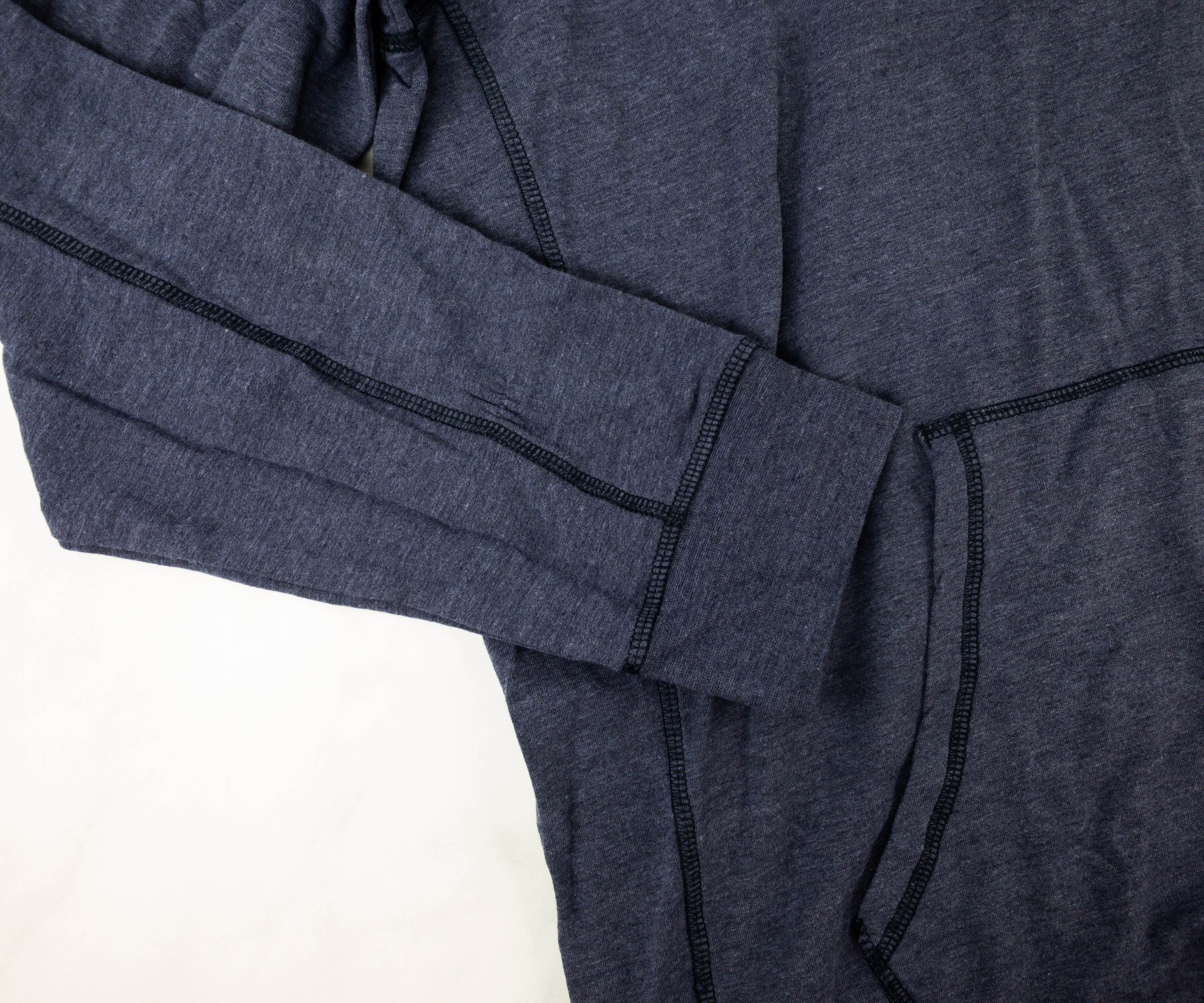 It also has a multi purpose front pocket where I can put my hands to keep them warm or for storing important items.
The string allows the hoodie to adjust and provide a more snug fit.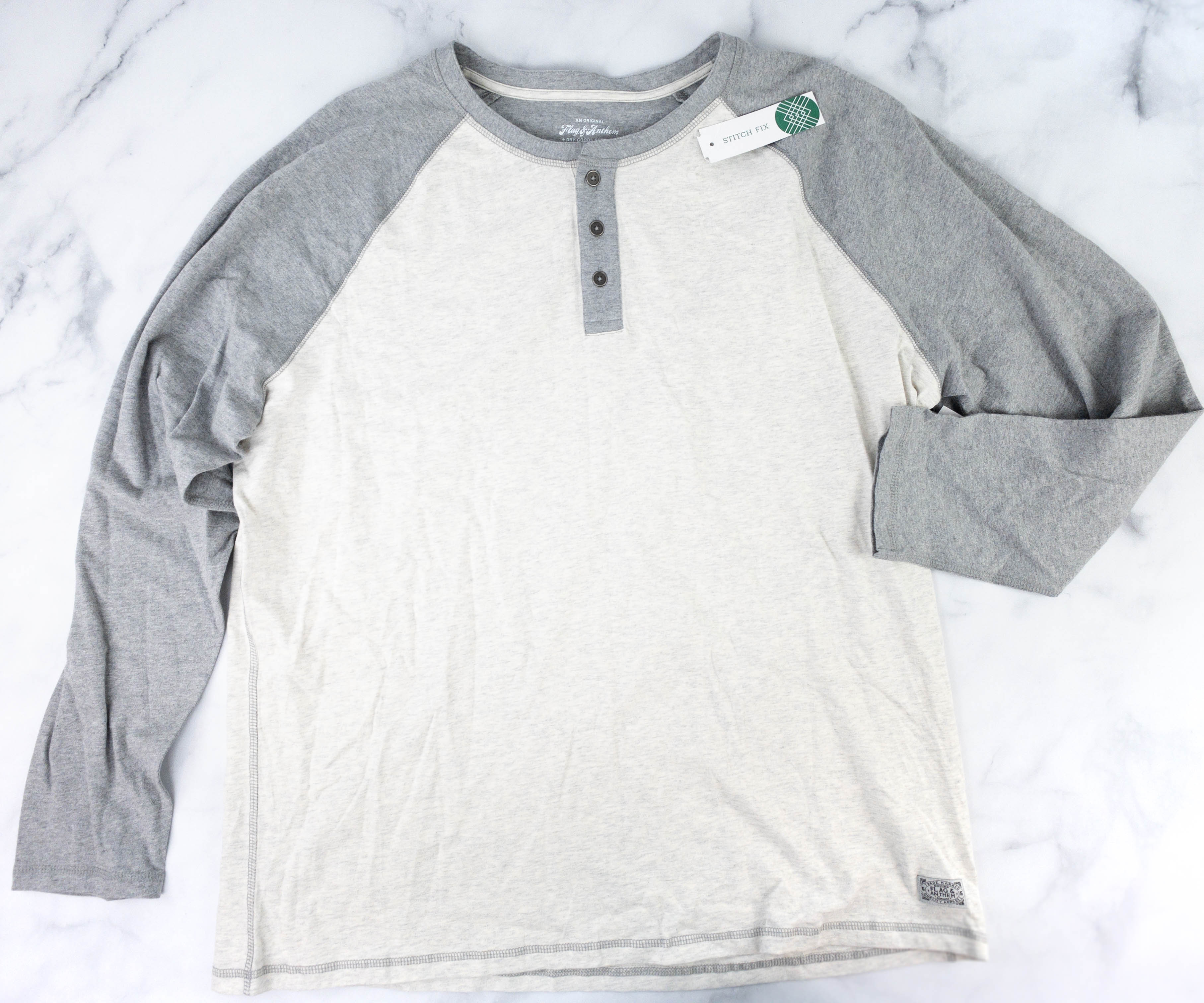 Flag & Anthem Creek Sueded Raglan Henley ($39.50) Here's another top that makes for a cozy winter look! It's a 2-toned long-sleeved top, and I like how soft the fabric is.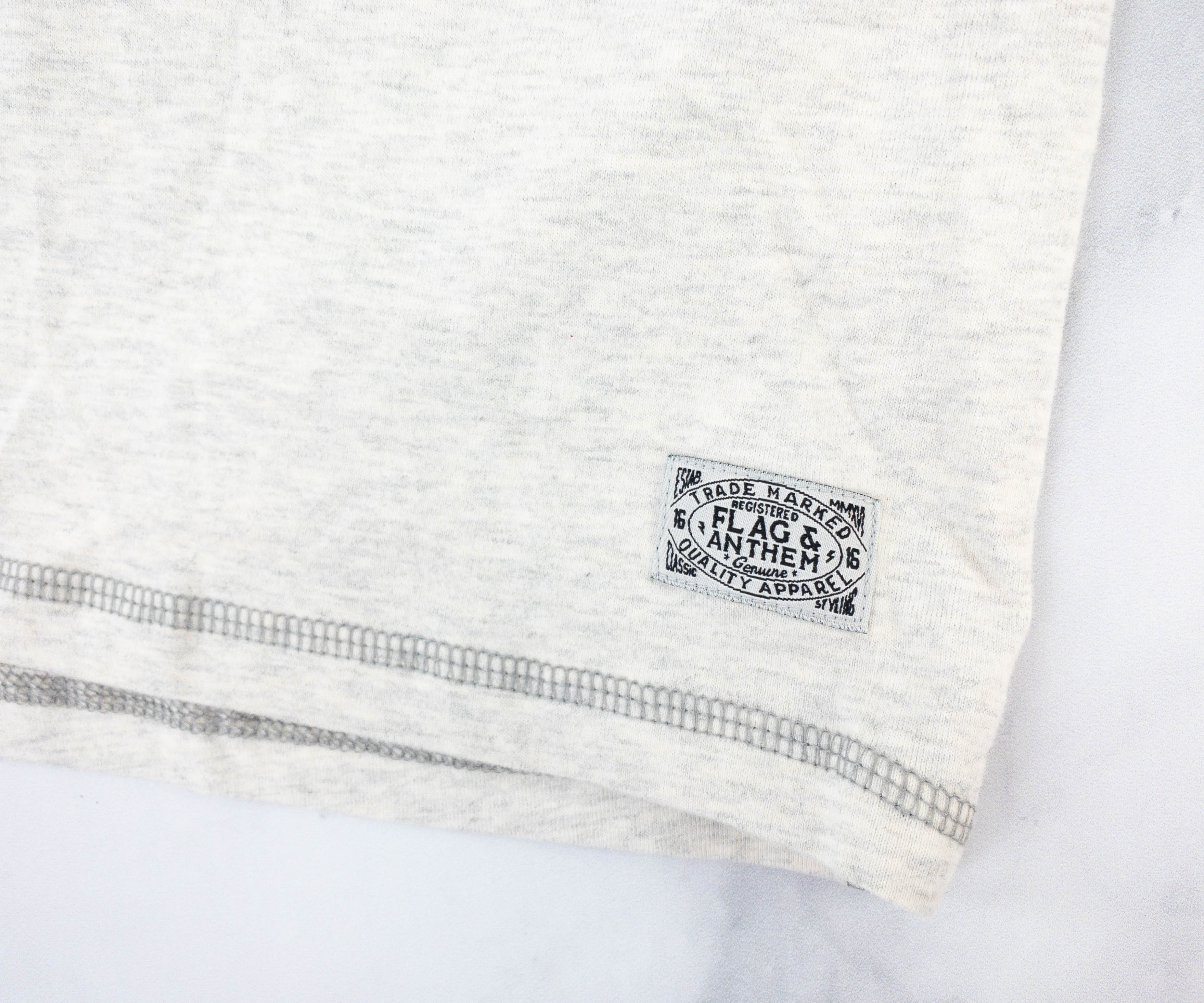 A brand tag is located at the bottom part of the shirt.
It has 3 buttons that blends well with the color of the fabric. I can also customize my style of wearing using them.
I like its raglan style and I love wearing it on casual days. Also, the light color of this top makes it easier to pair it with different kinds of shorts and pants!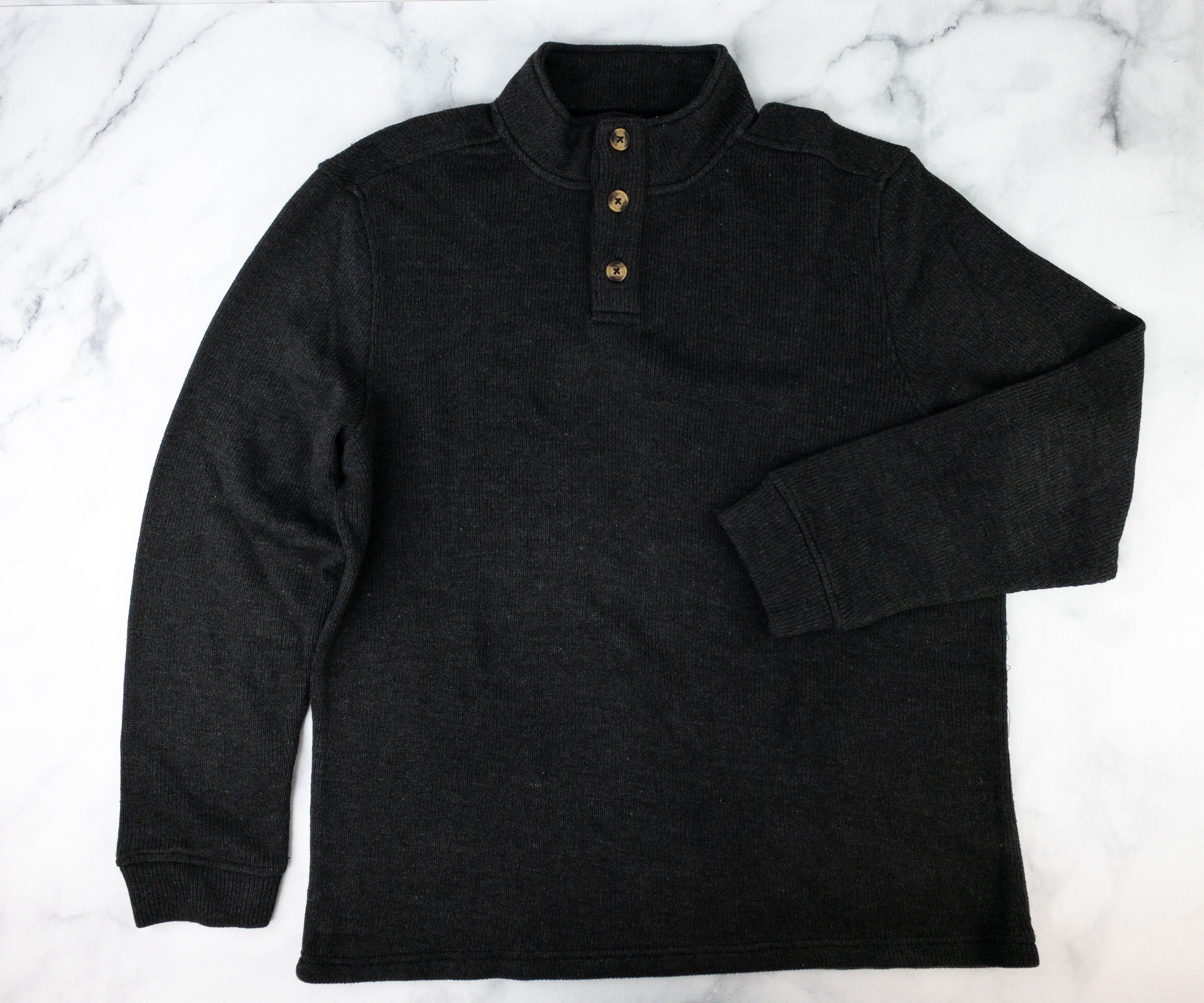 Hawker Rye Heavyweight Ribbed Button Mock ($59) This long-sleeved mock neck top is a new favorite!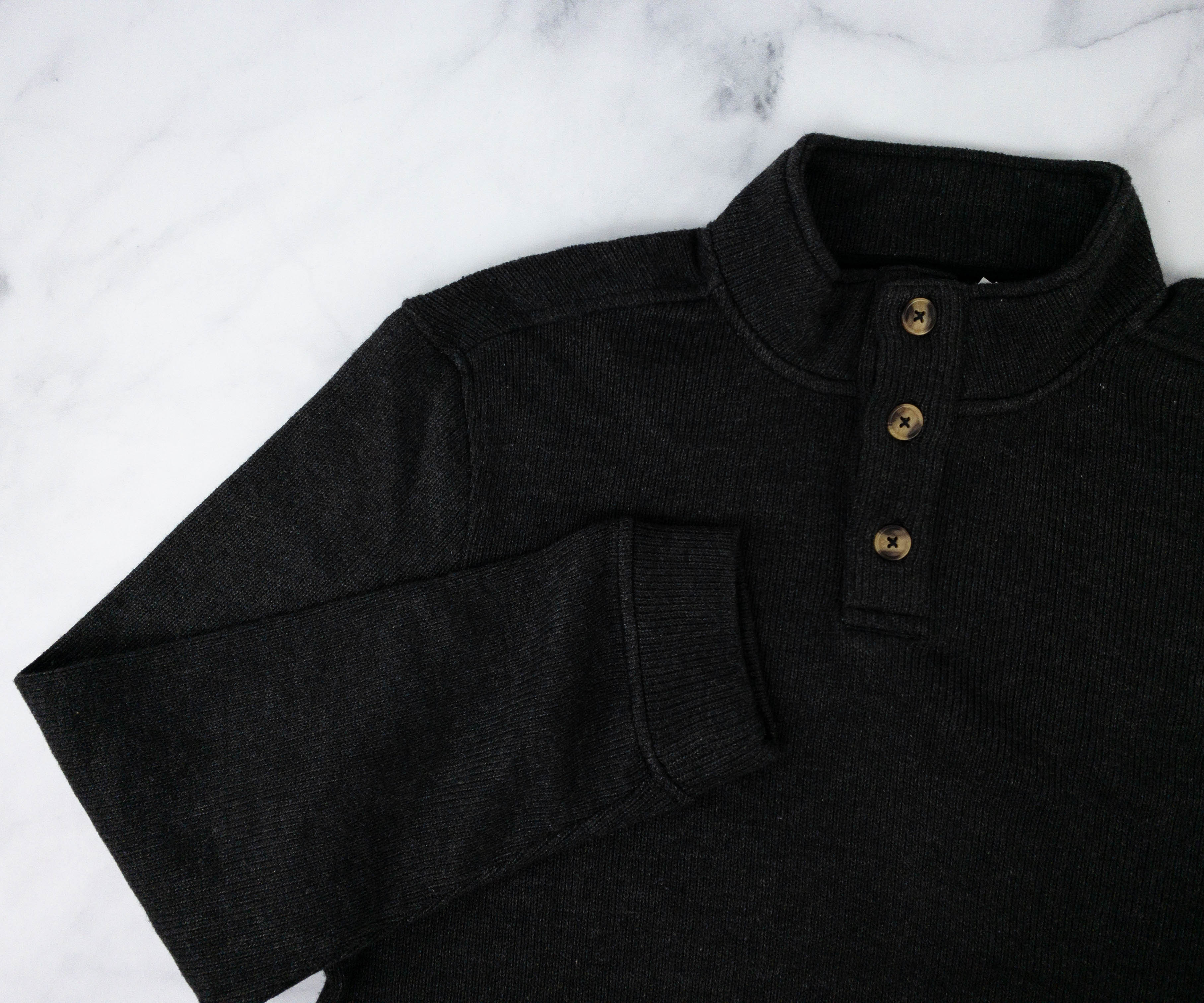 It has 3 buttons for adjusting the fit, and it also has ribbed cuffs and neck to add to the relaxed vibe.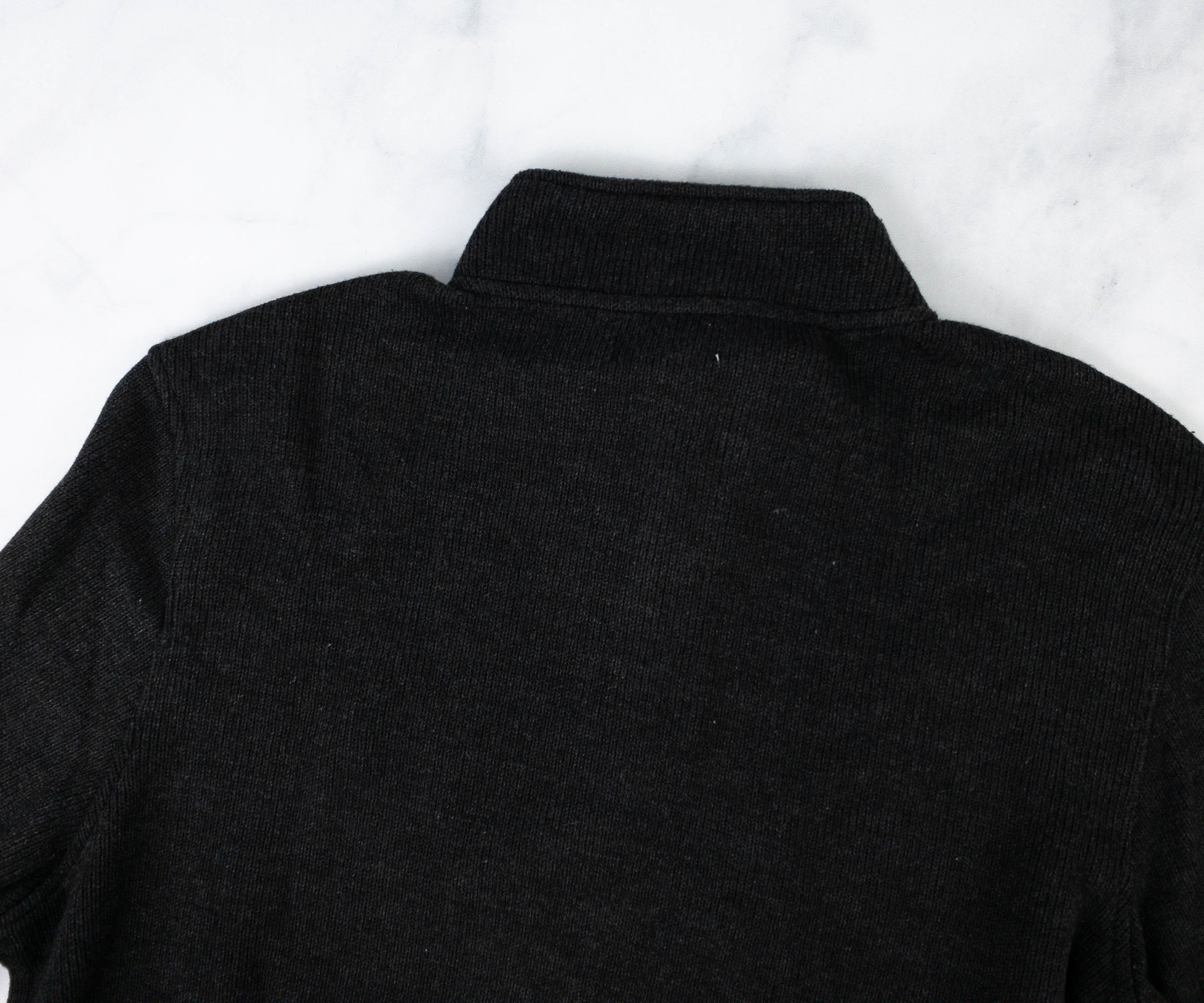 I feel warm and cozy when I wear this. Even the shoulders fit me well, plus the fabric is soft and comfortable!
With this month's fix, the stylist made sure that have warm and comfortable clothes for winter WFH. I loved all the clothing pieces and the design of each of them really suits my style! Even the fit of the tops and the pants is great, it's like I was the one who went out and picked the items. The classic and neutral designs and colors also made it easier for me to pair them with what I have in my wardrobe. If you also need fresh and trendy clothing pieces, this styling service would be a great way to get them regularly without having to go to a physical store. Just try out the pieces at home and return the ones you don't like or doesn't fit! It's so convenient!
What do you think of Stitch Fix Men?