Stagedoor Boxes is a monthly subscription box that sends super cool Broadway and musical theater themed items. They promise to send 4-5 unique musical theatre everything like themed stickers, candles, t-shirts, and more. The products will be a mystery but Stagedoor Boxes takes your favorite and least favorite shows into consideration to come up with a box just for you. Stagedoor Boxes are $49.95 a month and this box ships internationally, just contact them directly for the postage rates.
Is Stagedoor Boxes for me?

Do you love theater? Have you found yourself performing entire musicals, and playing every character in your shower? Do you believe there's no business like show business? Do you miss listening to overtures in person because you typically skip over them on the cast album? Do you crave Jonathan Groff spitting in your face? Would you accept standing room at this point to just see a show? Do you just love Broadway? Then yes, this box is for you.
This is my first shipment from Stagedoor Boxes and I am reviewing it with the help of my 17-year old daughter, who is into musical theater, has taken theater classes and been in performances, and who is currently in (online) theater class in high school. She loves Hamilton, Dear Evan Hansen, Come From Away, and so many others and we are always listening to her favorites through Spotify in the car. In other words, this is her box. They get her.
The items were in a bright spotlight yellow box and were cushioned with black paper squiggles.
I received a card that tells me I can find out more about the featured vendors on the Stagedoor Boxes website and find links to their websites.
The back of the card listed what I would find in my box.
I received a card with some social media sites listed and received a sticker.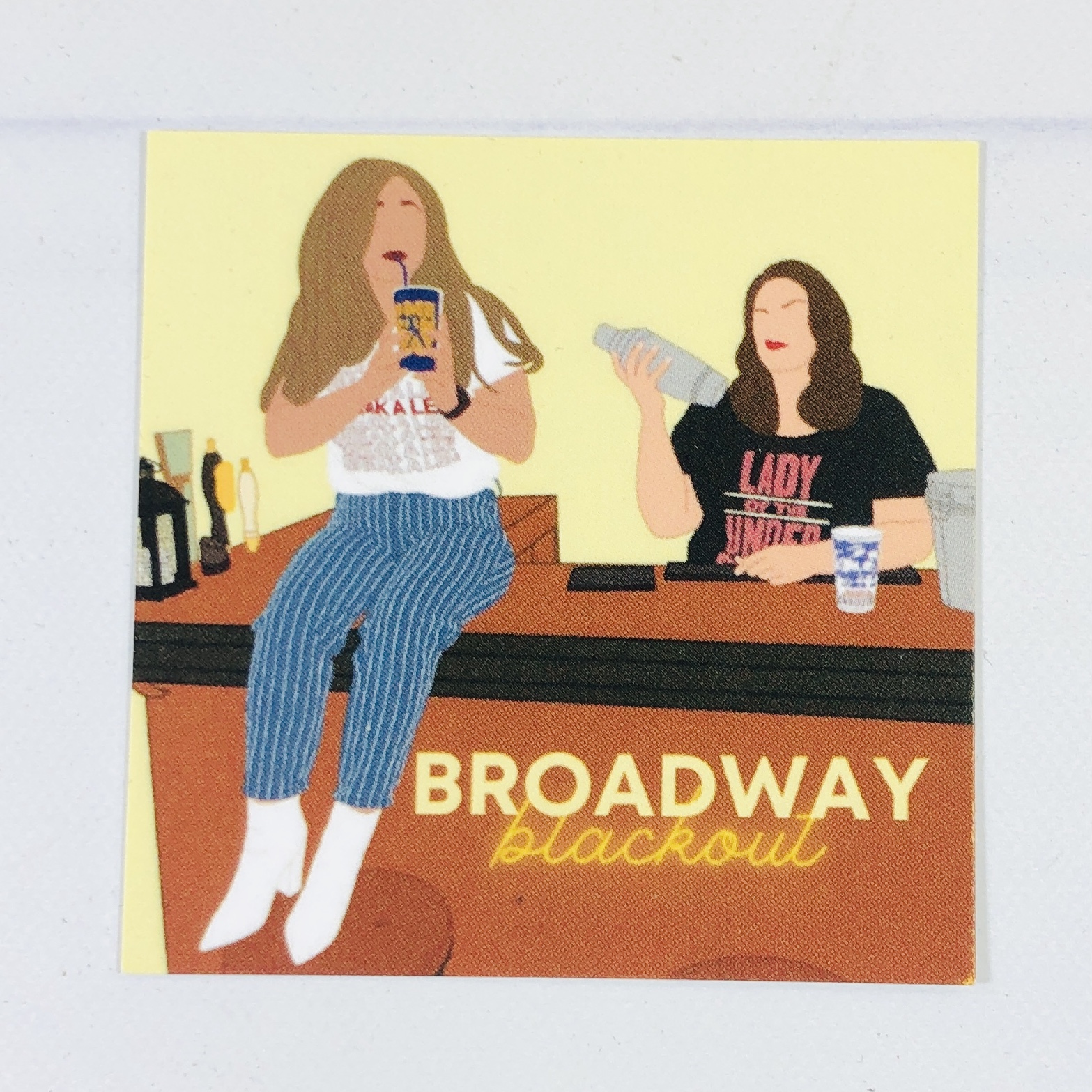 Next was a little card…
…that described a podcast about flops on Broadway. Remember Spider-Man: Turn Off the Dark? Yeah, me neither.
Everything in the box!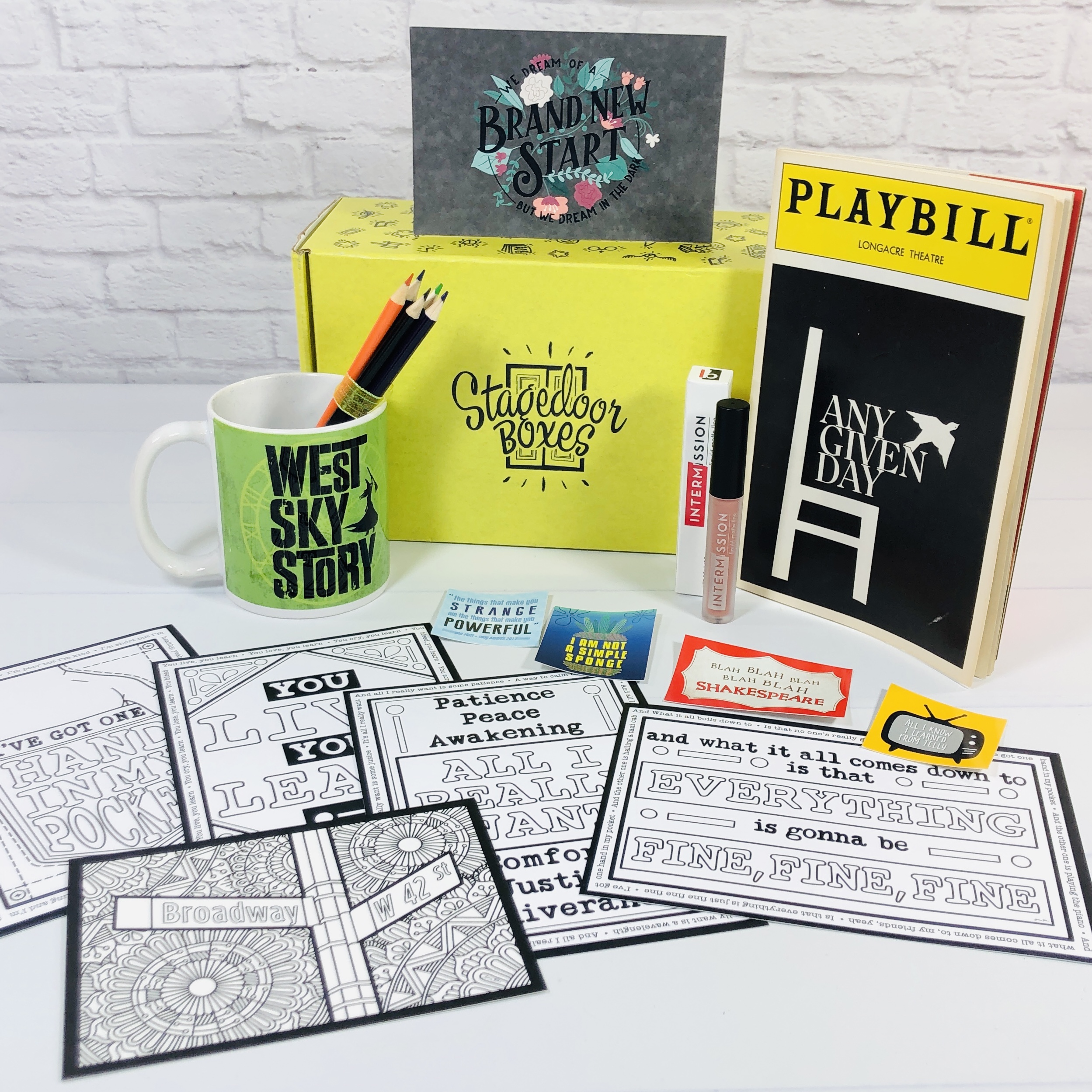 Everything out of the box!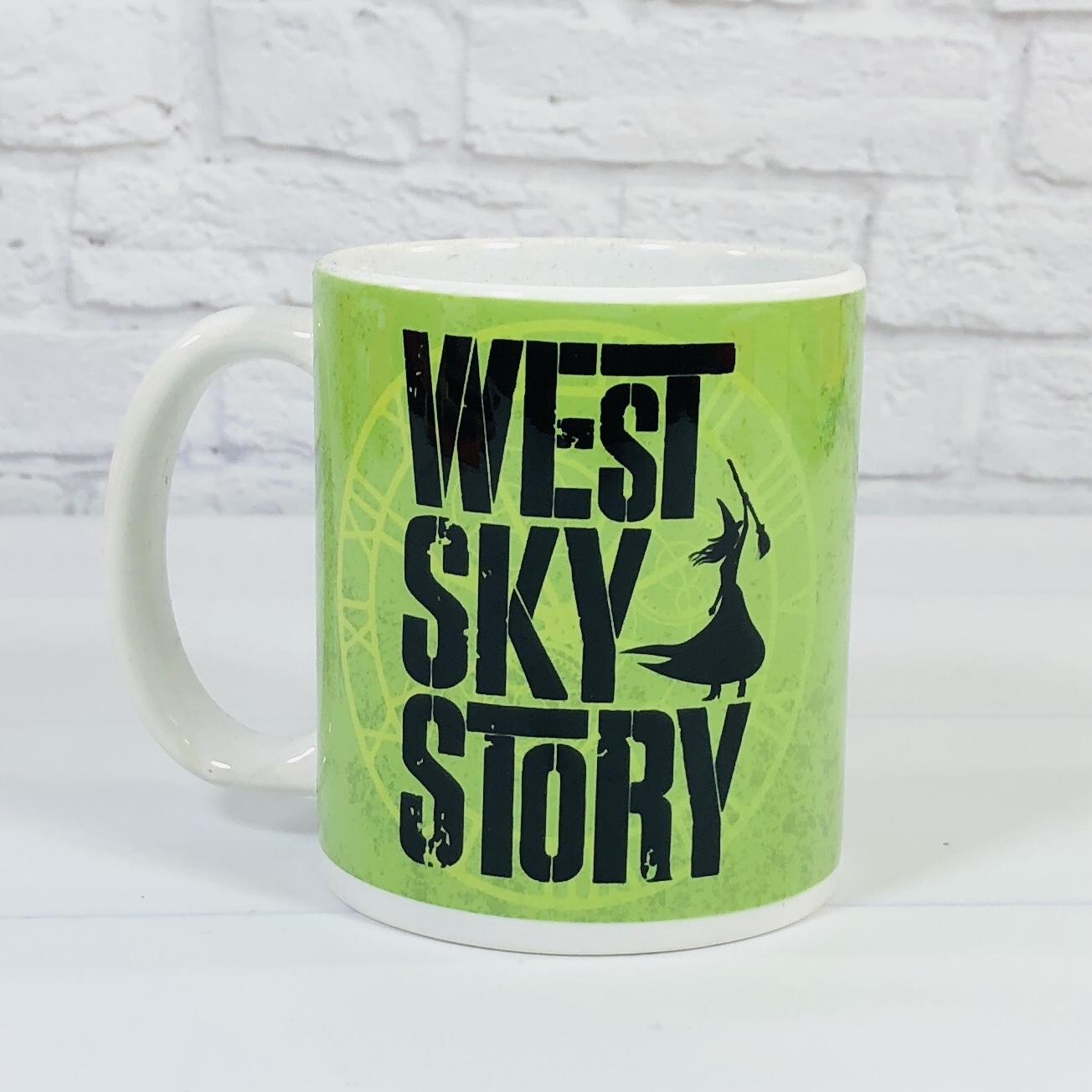 Parodybill West Sky Story Mug ($14.95) Parodybill takes musicals and mixes them up, like Weird Al but you can wear it/drink it/hang it up on your wall. West Sky Story crosses West Side Story with Wicked and look, the witch Elphaba is striking a pose that is Hamiltonesque.
The back has the Parodybill logo and the mug is dishwasher and microwave safe.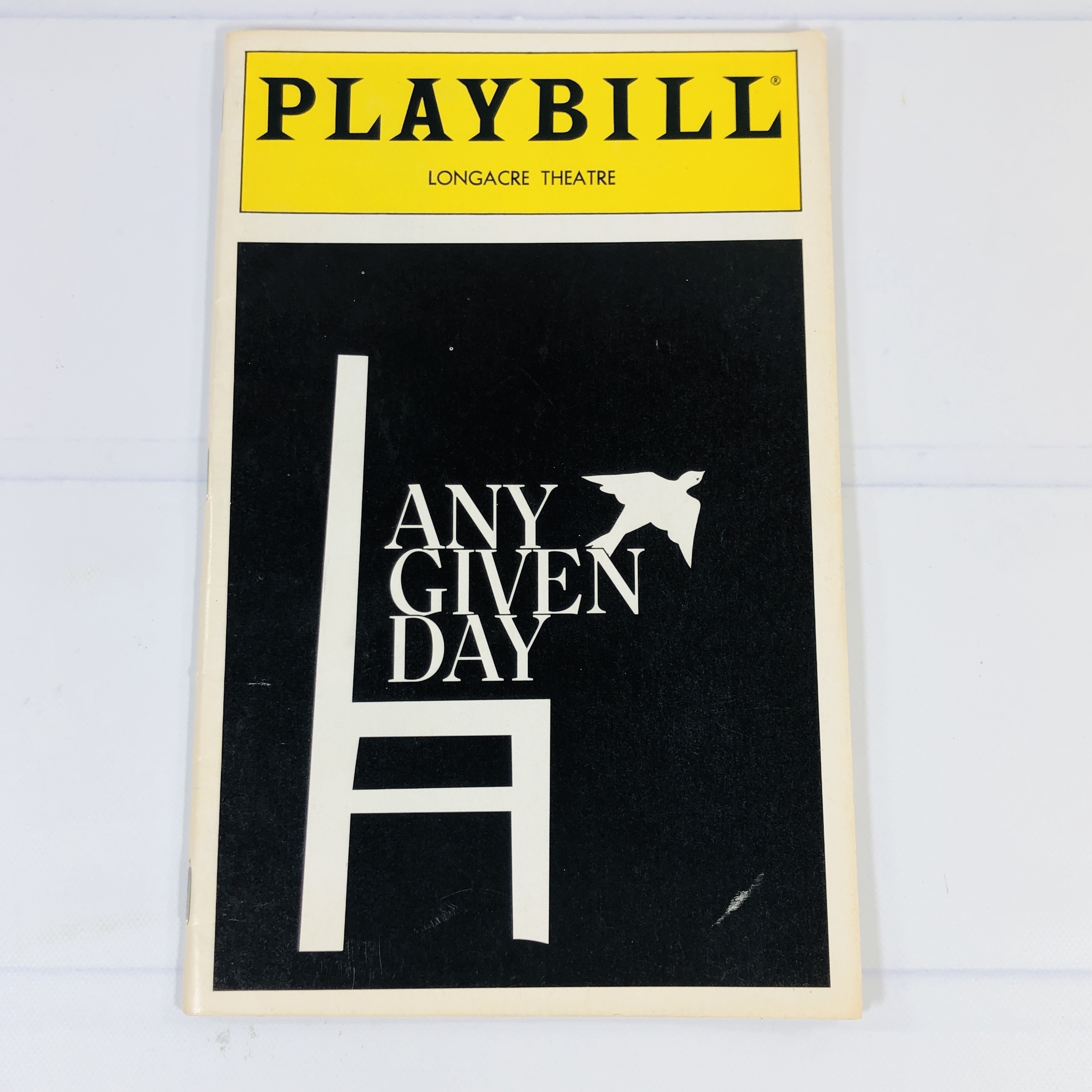 Playbill Any Given Day I found this listed on eBay in case you wanted to look for something similar.
A Playbill is a program/mini magazine for a production and lists the actors bios and also has ads like other magazines. This Playbill is from 11/1993 and has 67 pages. My daughter got a kick out of looking through the book and we talked about how back then we didn't have email, the internet, cell phones, etc.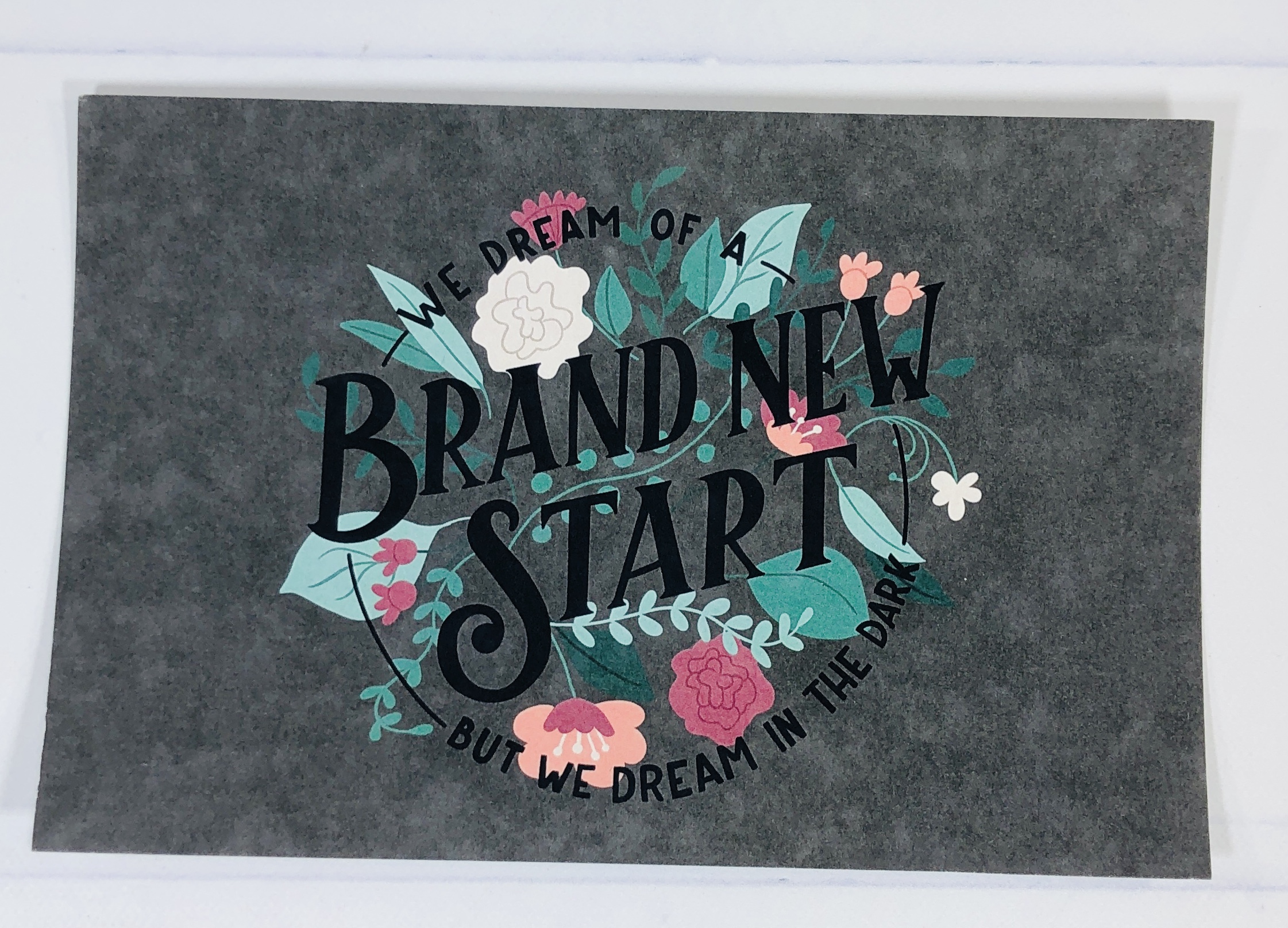 Ellipsis Co Hamilton Art Print Ellipsis Co. makes art prints that are downloadable and that are inspired by musicals. This print is 4″ x 6″ and is from Hamilton, The Room Where it Happens.
Coloring Broadway Jagged Little Pill Coloring Postcards ($7.95) Next up is a set of coloring postcards inspired by the musical Jagged Little Pill, from Alanis Morissette. I have two things to say: I had no idea this was a musical, and I wish I had known about this website before Christmas!
Four of the cards measure 5″ x 7″ while a fifth card is 4″ x 6″. Check out the borders, they feature some of the lyrics to the songs!
The top card shows what the back of the cards look like and the smaller postcard had a savings code. The prints can be mailed to friends or they can be placed in frames!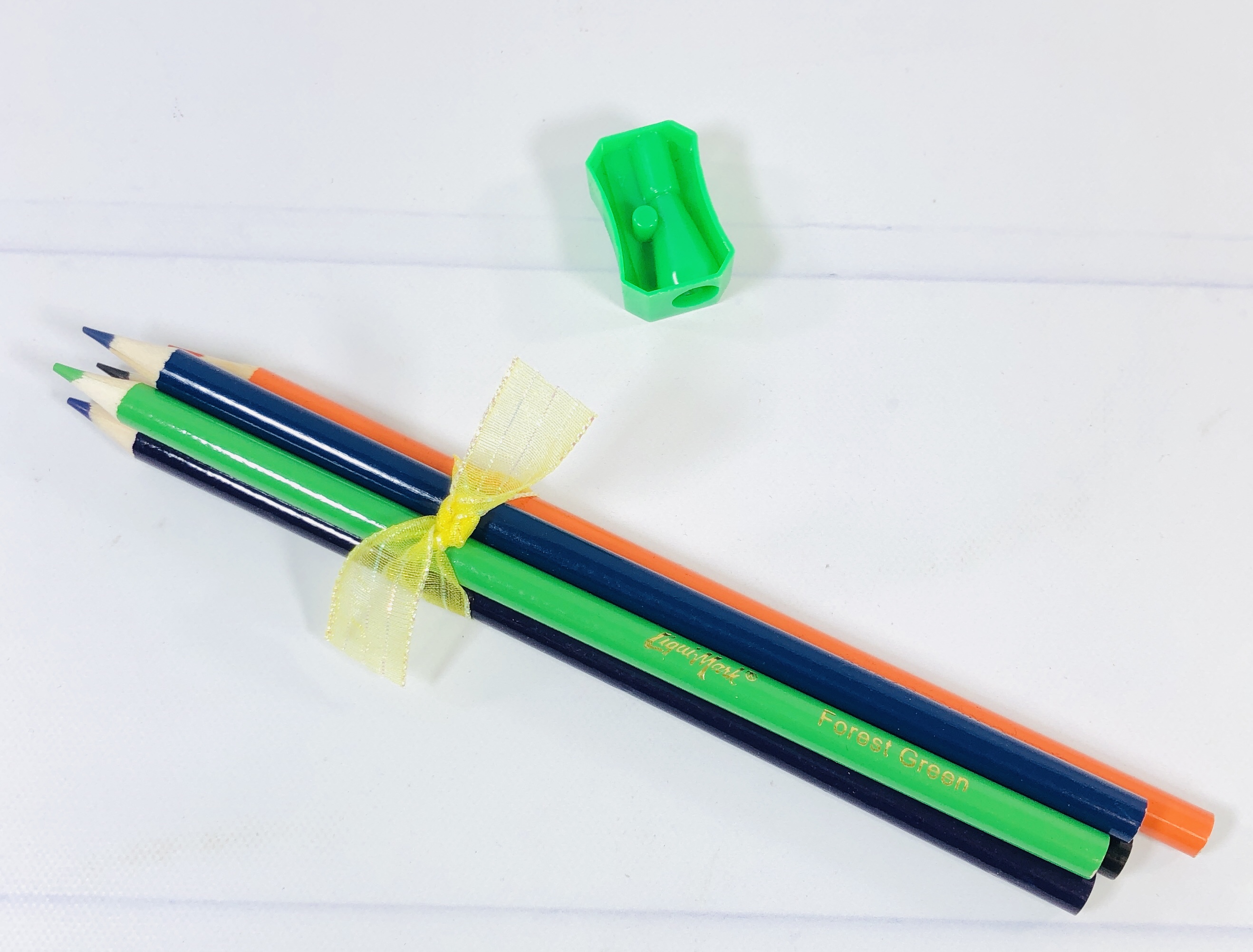 A set of 5 Colored Pencils and Sharpener means we can start coloring right away, and not have to hunt down art supplies.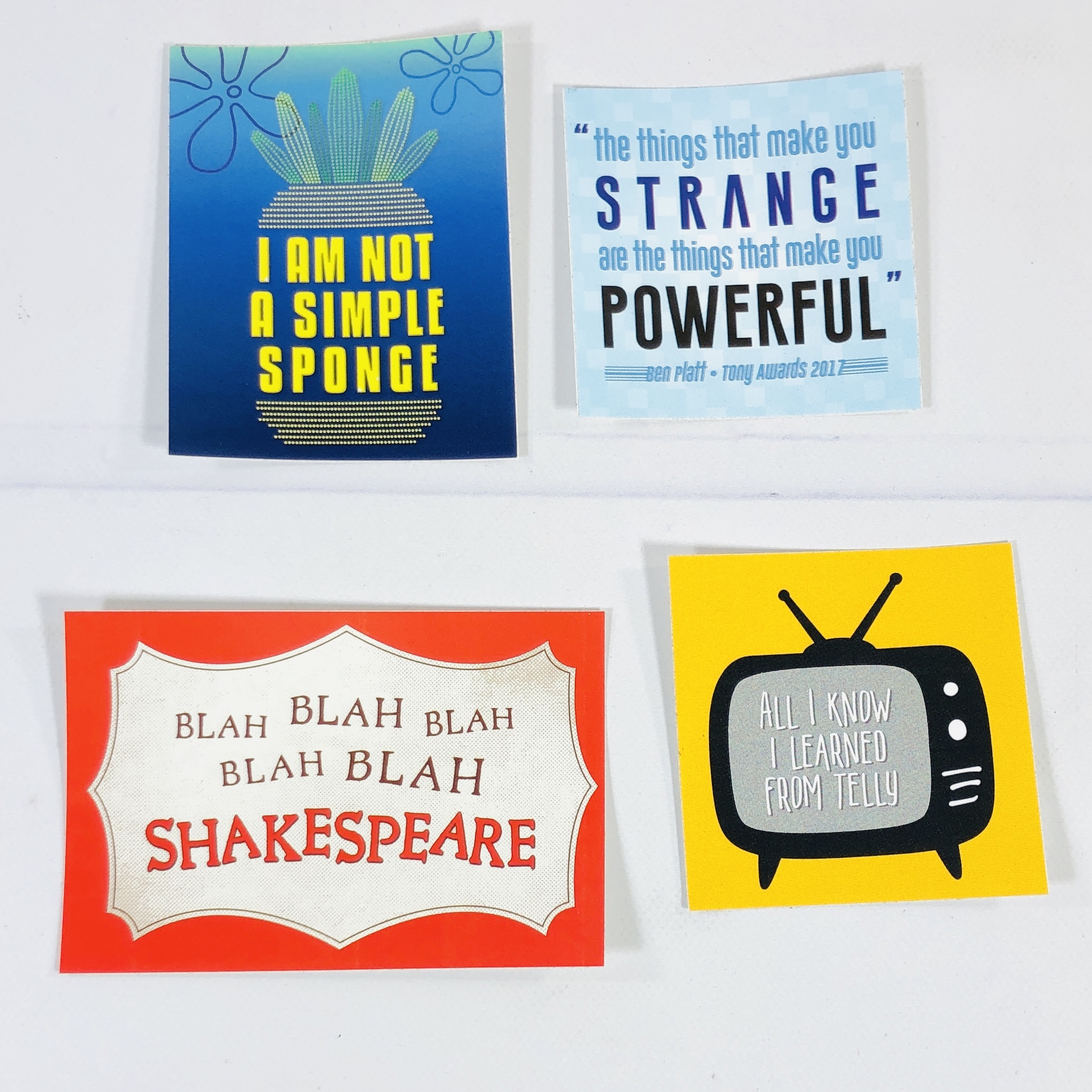 My daughter loves Stickers and there were four different musicals here. Clockwise from top left we have: Spongebob, Dear Evan Hansen, Matilda, and Something Rotten. The biggest sticker is 2″ x 3″.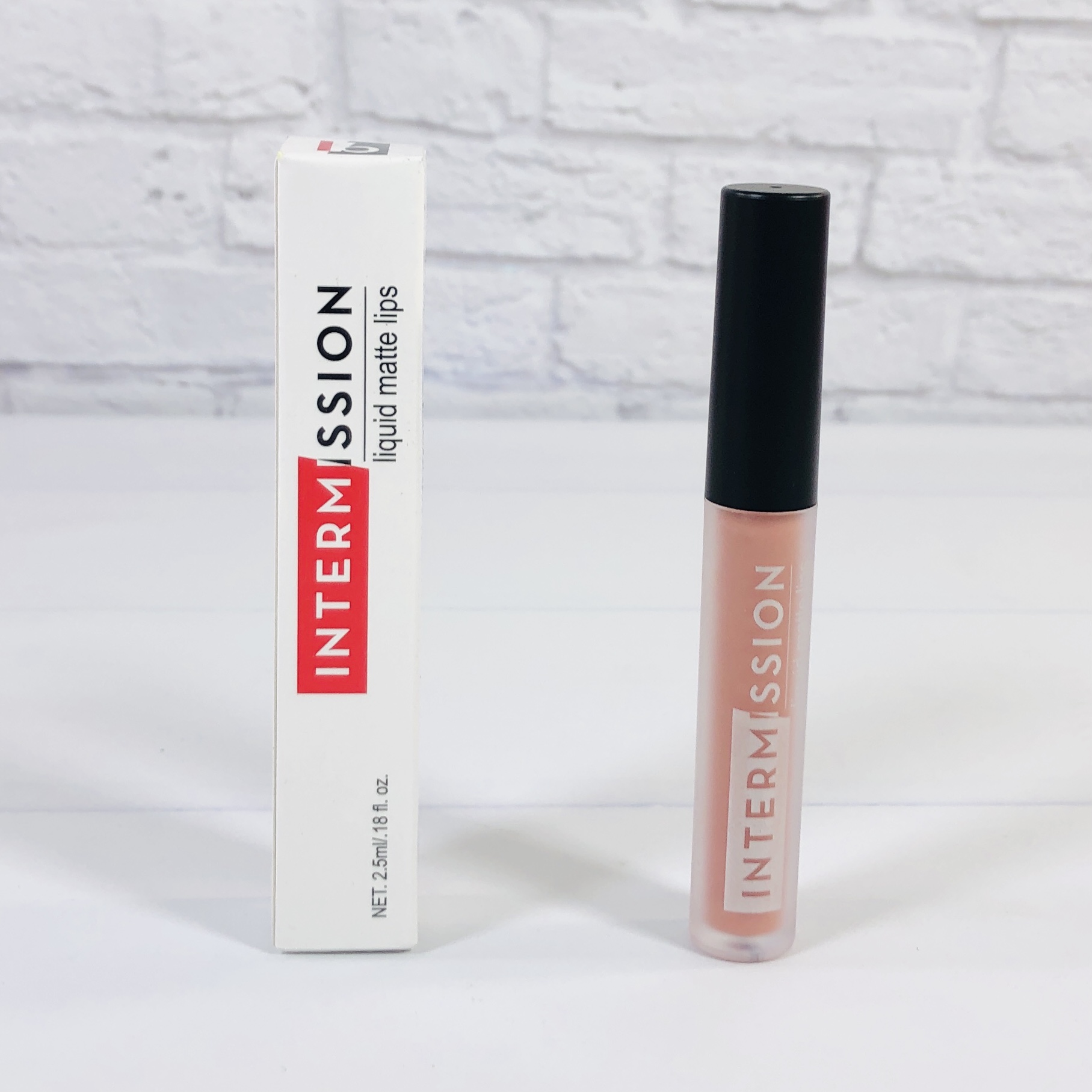 Intermission Liquid Matte Lips in Matilda ($20) There was a makeup item and it's inspired by Matilda, The Musical!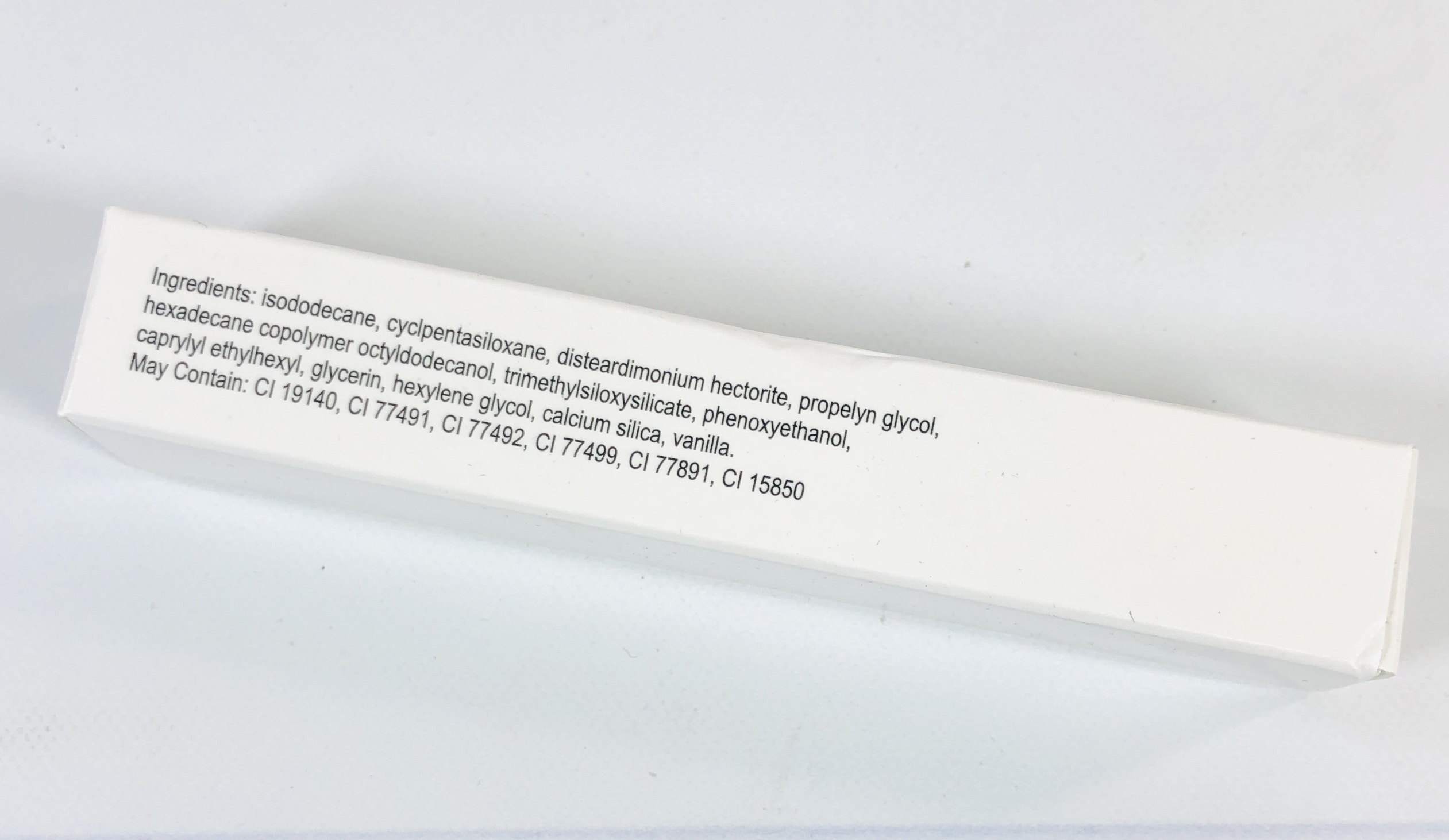 Here's the ingredients and it is cruelty-free and made in the USA.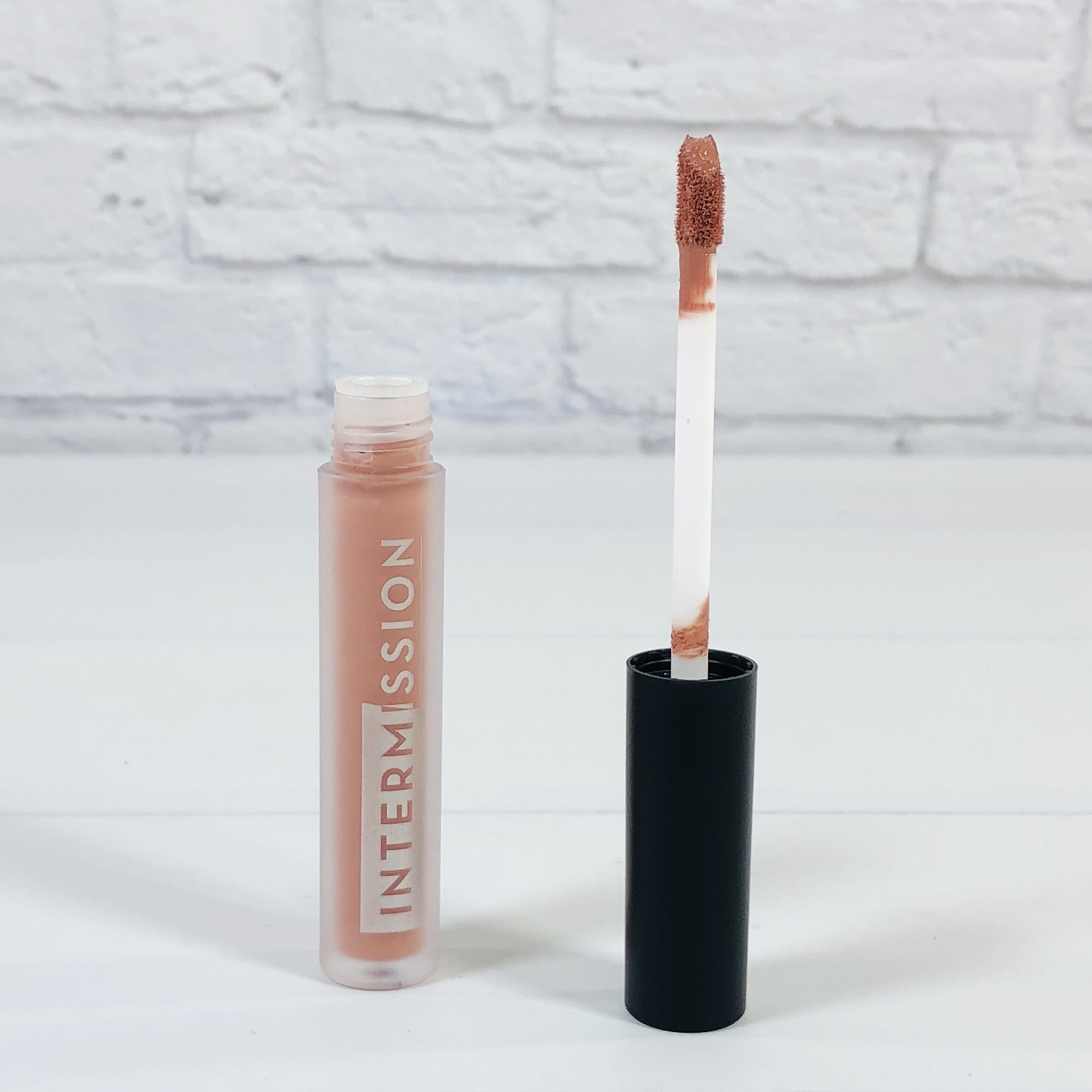 Matilda is a warm nude and the finish is matte and long lasting. It takes just a few moments to set and in that time you can get it applied exactly where you want it. It felt comfortable on my lips and didn't leave them feeling dry or sticky.
Here it is swatched and it looks pretty similar to my natural lip color when I put it on. I don't know if anyone would be able to tell it was there but it also stays put under a mask!
I was really pleased with my very first Stagedoor Boxes box but what matters is that my daughter absolutely LOVED it! She has been into musical theater and Broadway musicals for quite a while and you should have seen how thrilled she was as she went through each item. She was engaged and animated as she told me about some of the references that I didn't know about (like that Spongebob is now a musical?) and the items were all of really nice quality and made by smaller businesses. Even the Playbill was cherished! I now know of some cool websites to get musical-related gifts for the future too. I couldn't find values for all of the items but the 3 I found came up to $42.95 so although it probably isn't a huge value over the price paid, the curation and exposure to new-to-me brands is worth it, and of course, the joy I witnessed from my musical theater child was priceless. Keep in mind that your box contents may vary depending on your favorite musicals!
What do you think of the Stagedoor Boxes review?