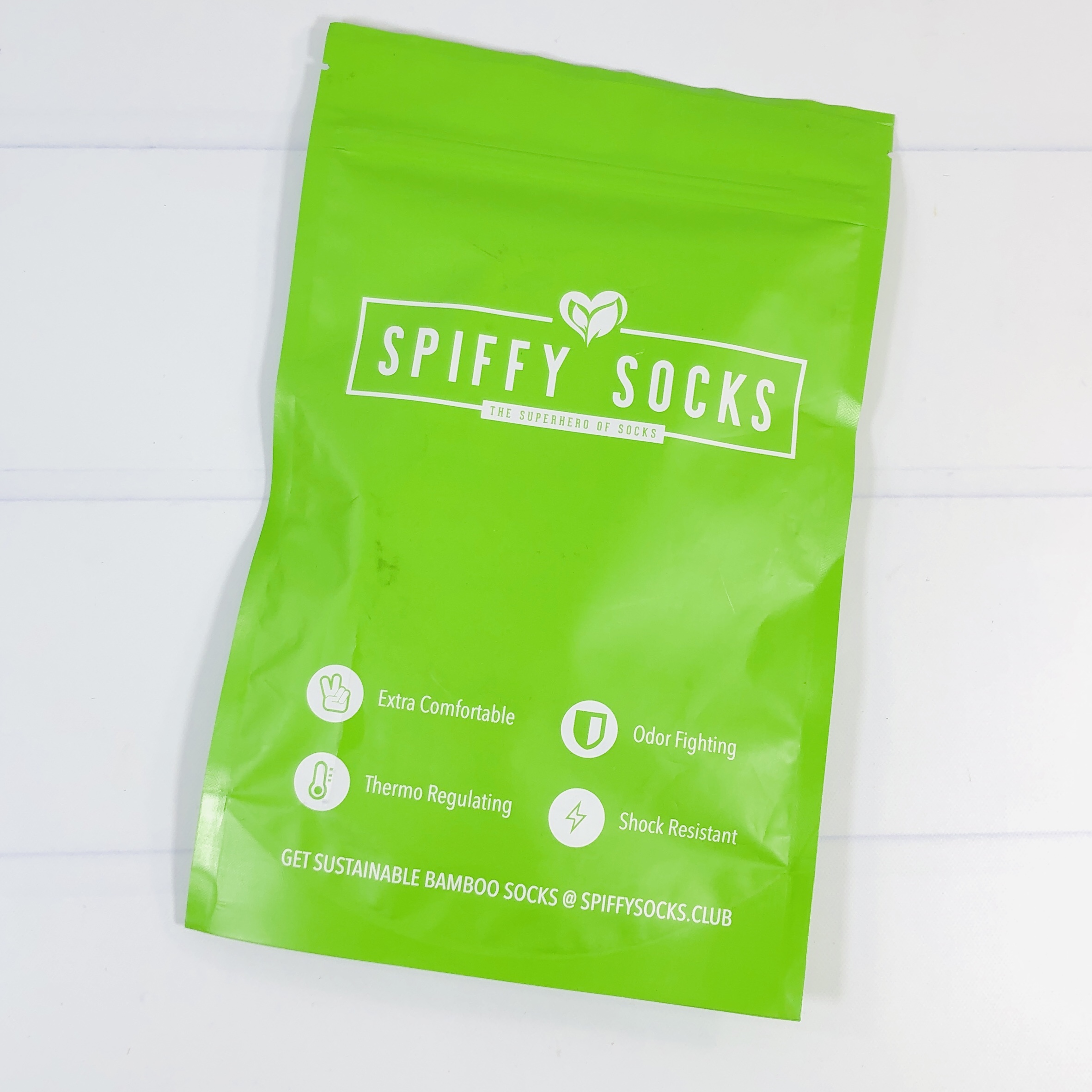 Spiffy Socks is a monthly subscription that sends snazzy socks made with bamboo fiber. They offer subscriptions for both men (sizes 6-12.5) and women (sizes 5-10) and subscriptions are $11 per month and even lower for longer terms. It automatically renews, but you can cancel anytime. Shipping is free to the U.S.
The most comfortable, hygienic, stylish, and sustainable pair of socks you'll ever wear. Learn the advantages of wearing socks made of bamboo fiber and why it compares to no other.

Super Light and Comfortable – Twice as soft as cotton!
Natural Antibacterial Fighting Qualities – Wicks away moisture and combats odor naturally
Thermo-regulating Abilities – Warms comfortably on the cold days but stays cool when it's hot
Shock and Wrinkle Protection – Spiffy Socks are naturally durable and never require any type of ironing
Free shipping within the United States!
Note: Order by the 20th to get the current month's box!
DEAL: Get 10% off for the life of your subscription! Use coupon code HELLOSUBSCRIPTION.
Everything in my January 2021 Spiffy Socks box for women!
I received a sticker featuring Benjamin, a super Spiffy looking dog.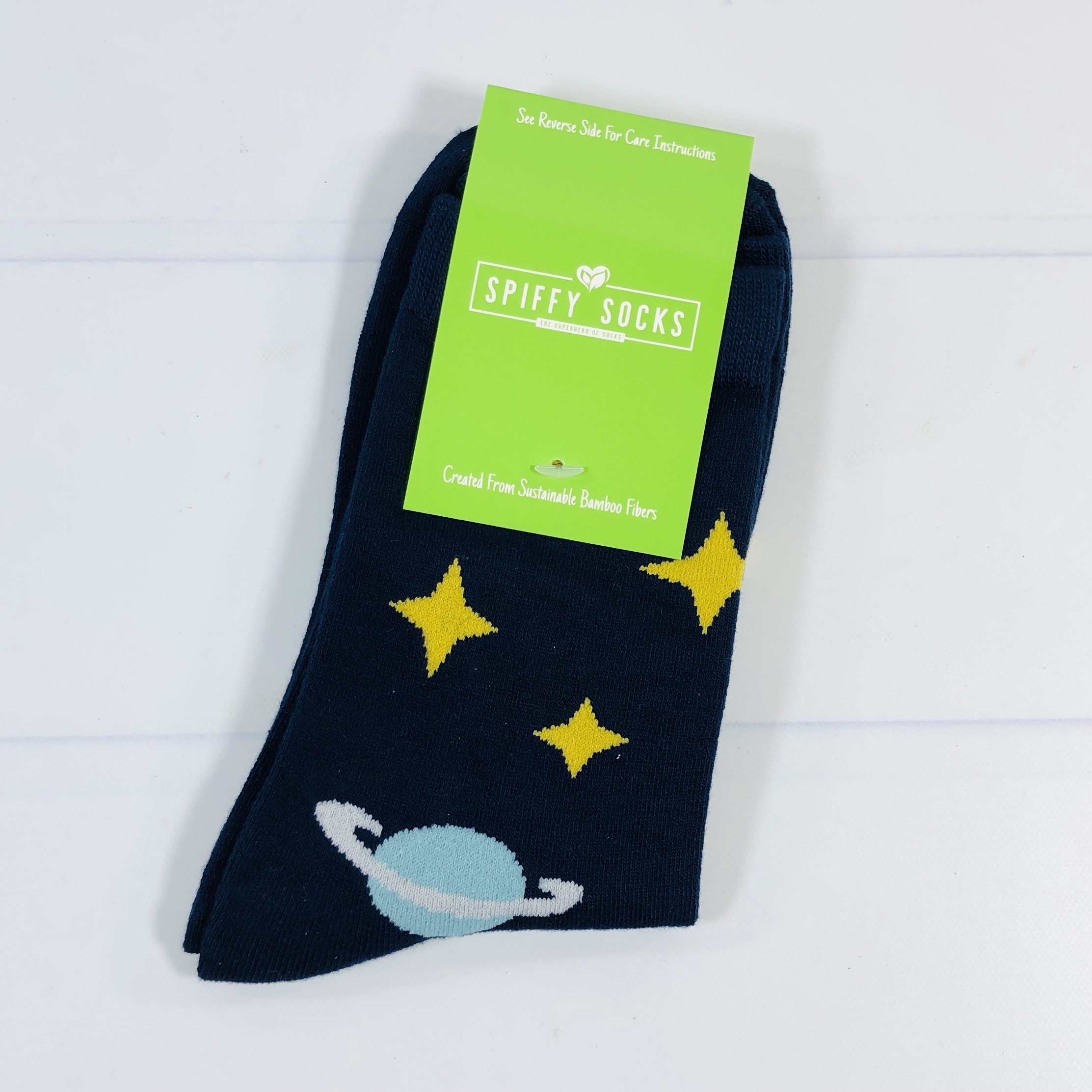 My socks came with a tag telling me they are made with sustainable bamboo fibers.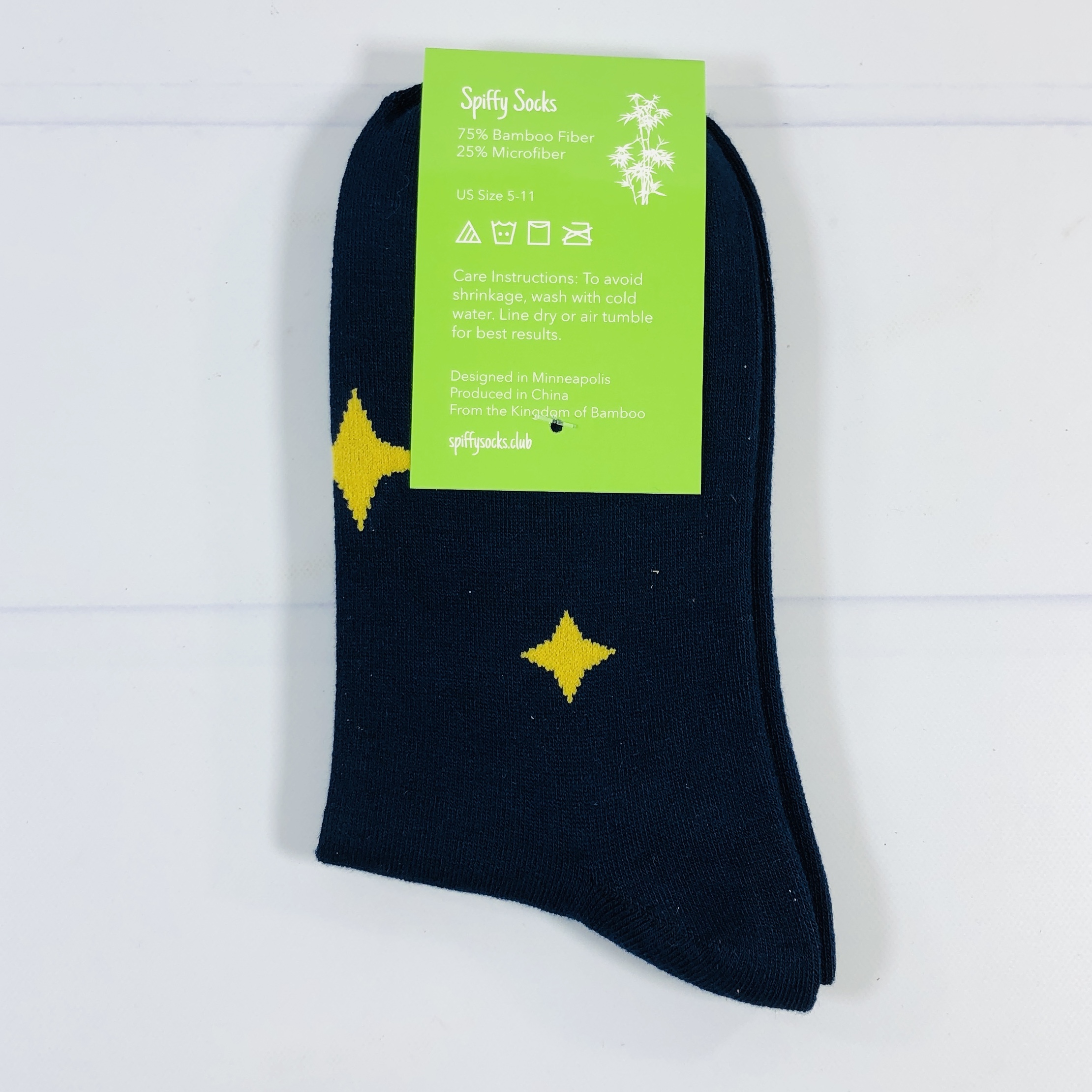 For the most part they are bamboo fiber but they also contain microfiber. They fit women's shoes sizes 5-11. The care instructions say to wash with cold water but I throw them in with my warm water wash and then into the dryer they go.
The style this month is out of this world!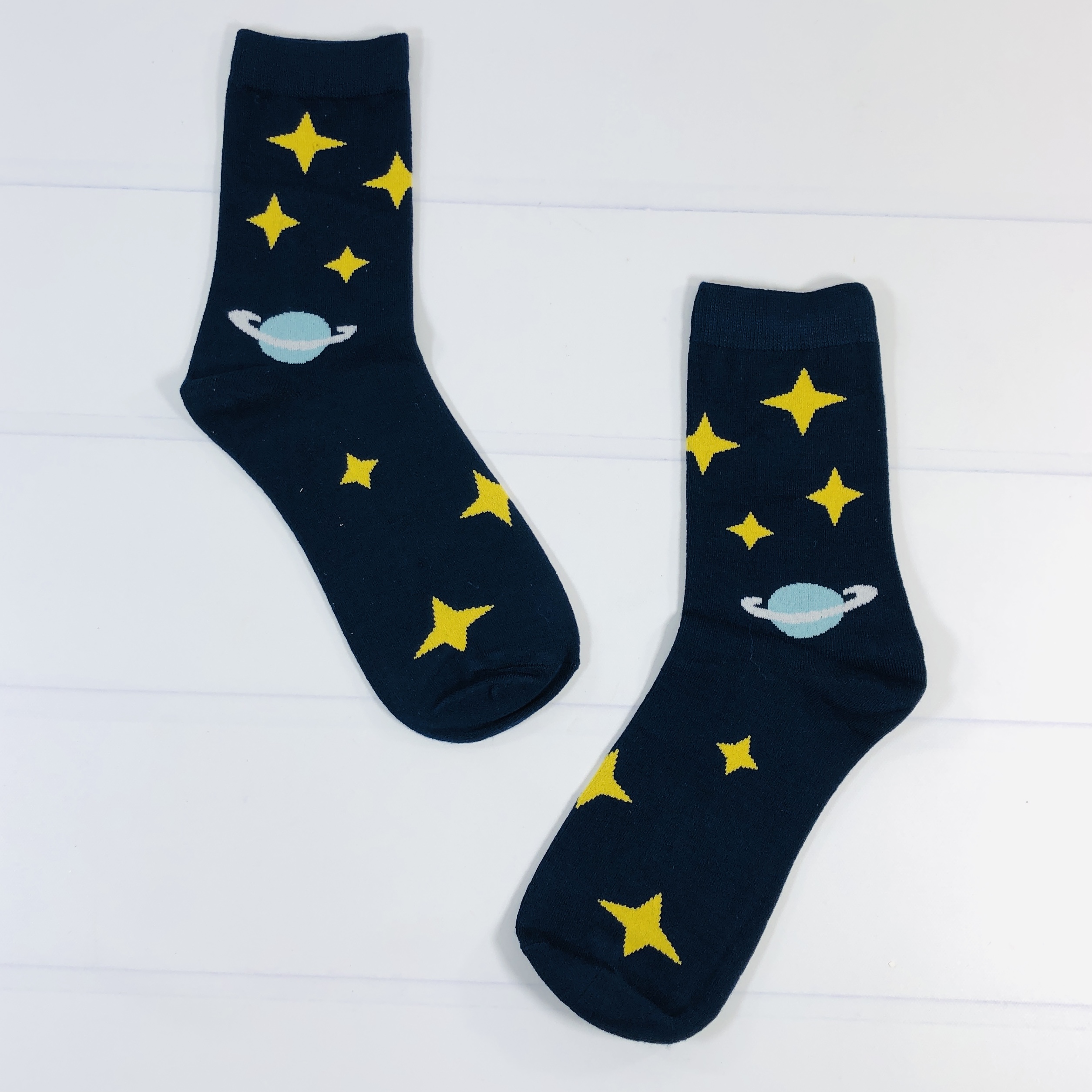 The body is navy blue and there are golden yellow stars and a ringed planet on both sides.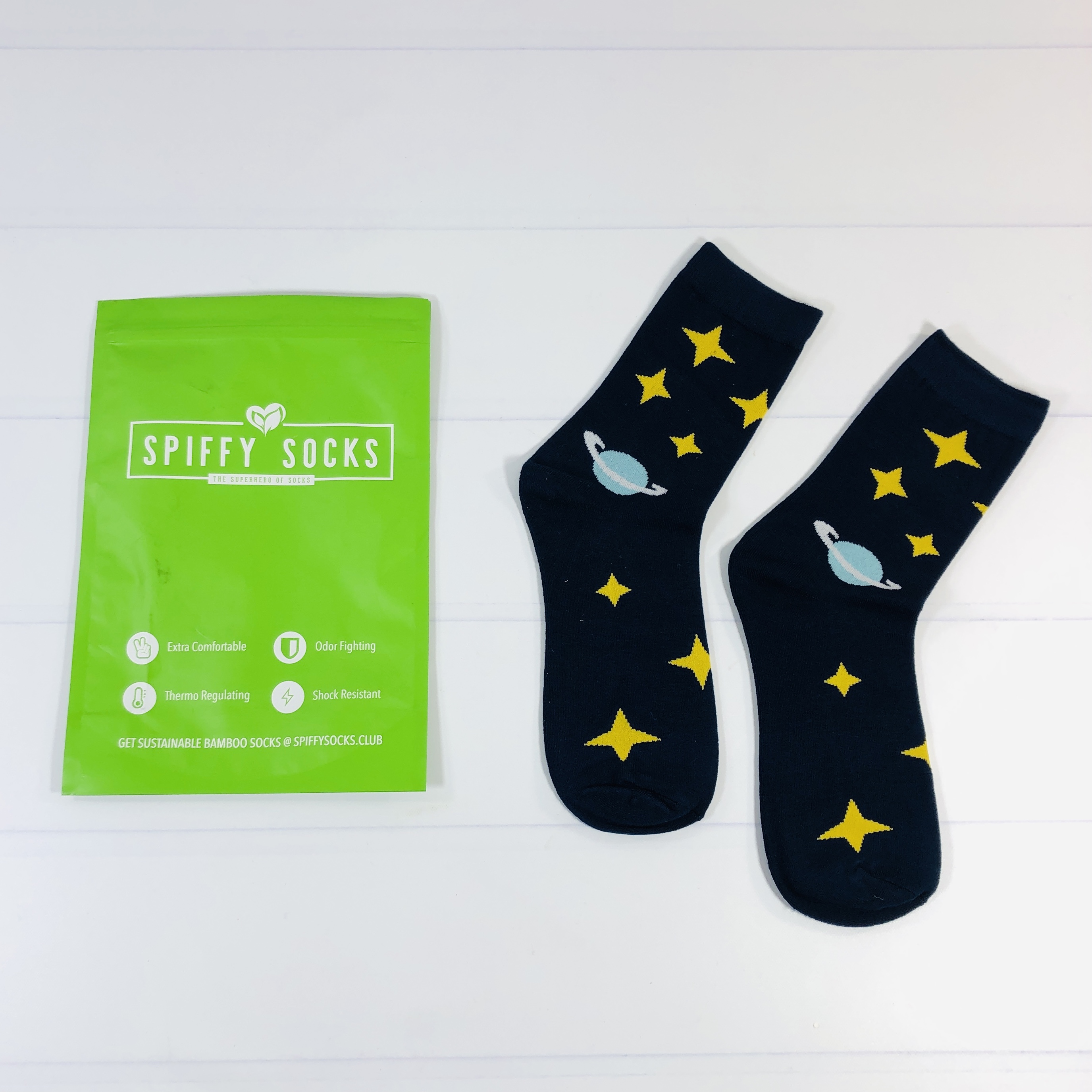 Spiffy Socks are by far my favorite socks to wear! I love how soft they are, how long they last, and their sturdiness. They are comfortable and don't cut off my circulation. They aren't heavy yet they keep my feet warm and don't alter the feel of my shoes, you know what I mean? I think the design is simple yet lovely and that's how most of the Spiffy Socks are: cute, colorful, and cozy.
Have you tried Spiffy Socks? Let me know what you thought by leaving a comment!