SnackFever is a monthly subscription box that delivers all your favorite Korean snacks, as well as other hard-to-find Korean treats. Snack Fever is available in two boxes, the Original box ($30) which contains 8 to 11 full-size snacks and Deluxe box ($40) which has 10 to 13 full-size, bigger, more premium snacks. Your subscription auto-renews and you can pause or cancel anytime. Shipping per box is only $5 worldwide.
This is the review of the Deluxe box.
DEAL: Save $3 off your first box (Mini, Original, Deluxe). Use coupon code HELLOSUB3.
NOTE: Due to shipping related issues, SnackFever are canceling all the SnackFever Original Box subscriptions, and every subscription to Europe (except UK, Germany, Norway, Switzerland, Estonia, Denmark, and Sweden) and Asia (except Japan). If you still have any boxes remaining in your plan, they will issue refunds. Deluxe boxes remain available.
SnackFever's social media handles are printed on the box. On the side, there's even a Korean sentence which means "You're so pretty when you eat"!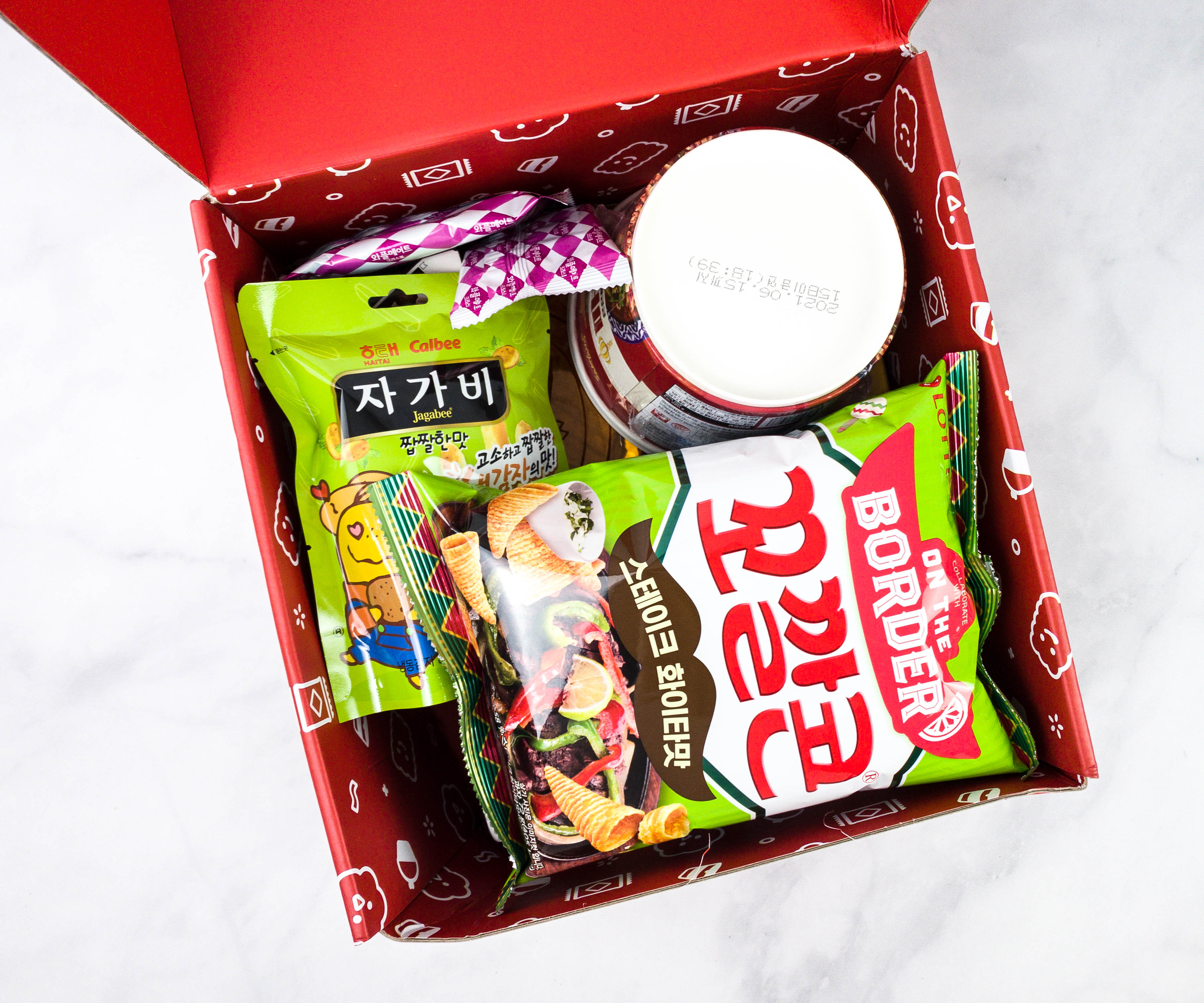 There is no extra packaging, just the snacks!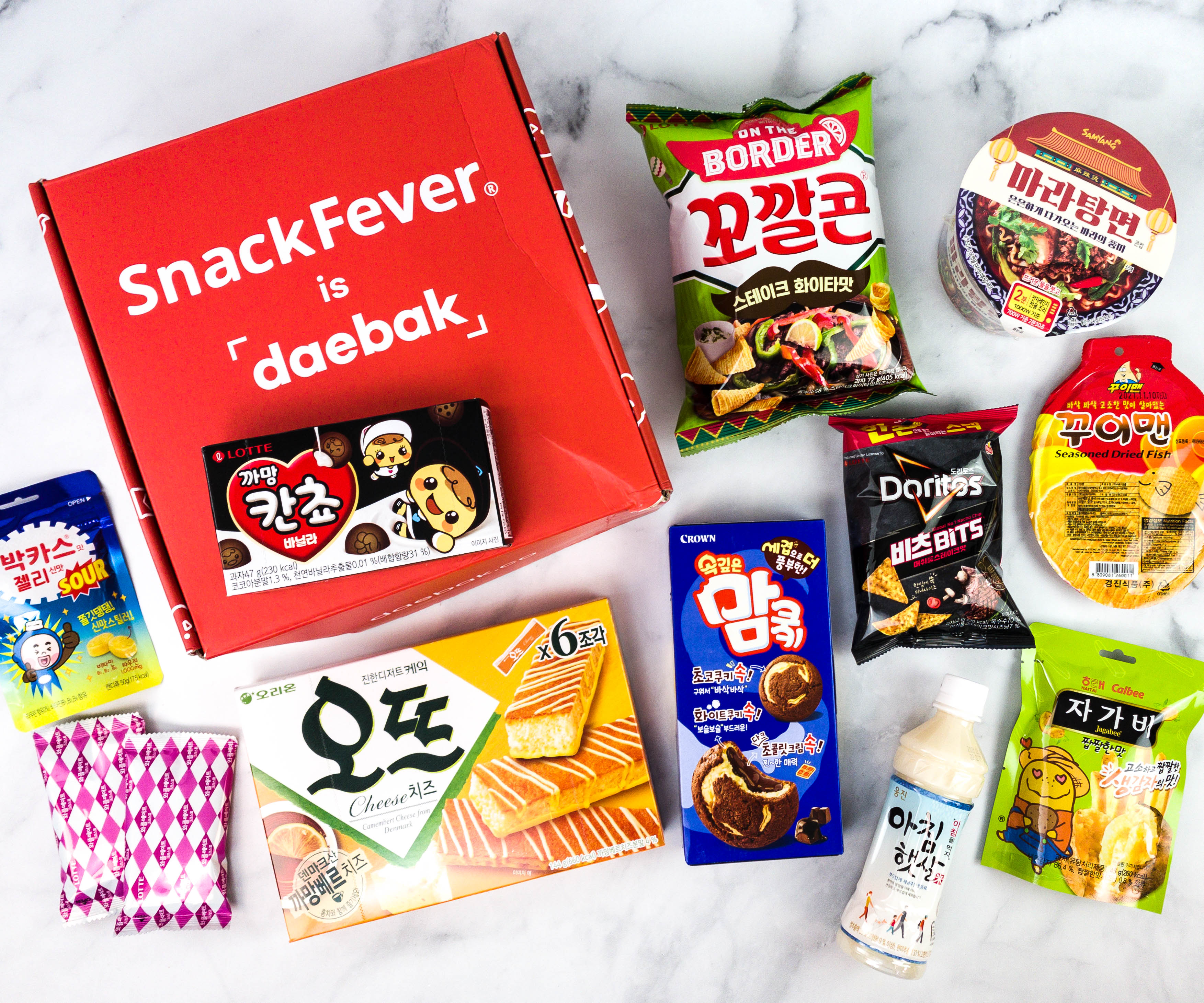 Here are the full contents of the Deluxe box.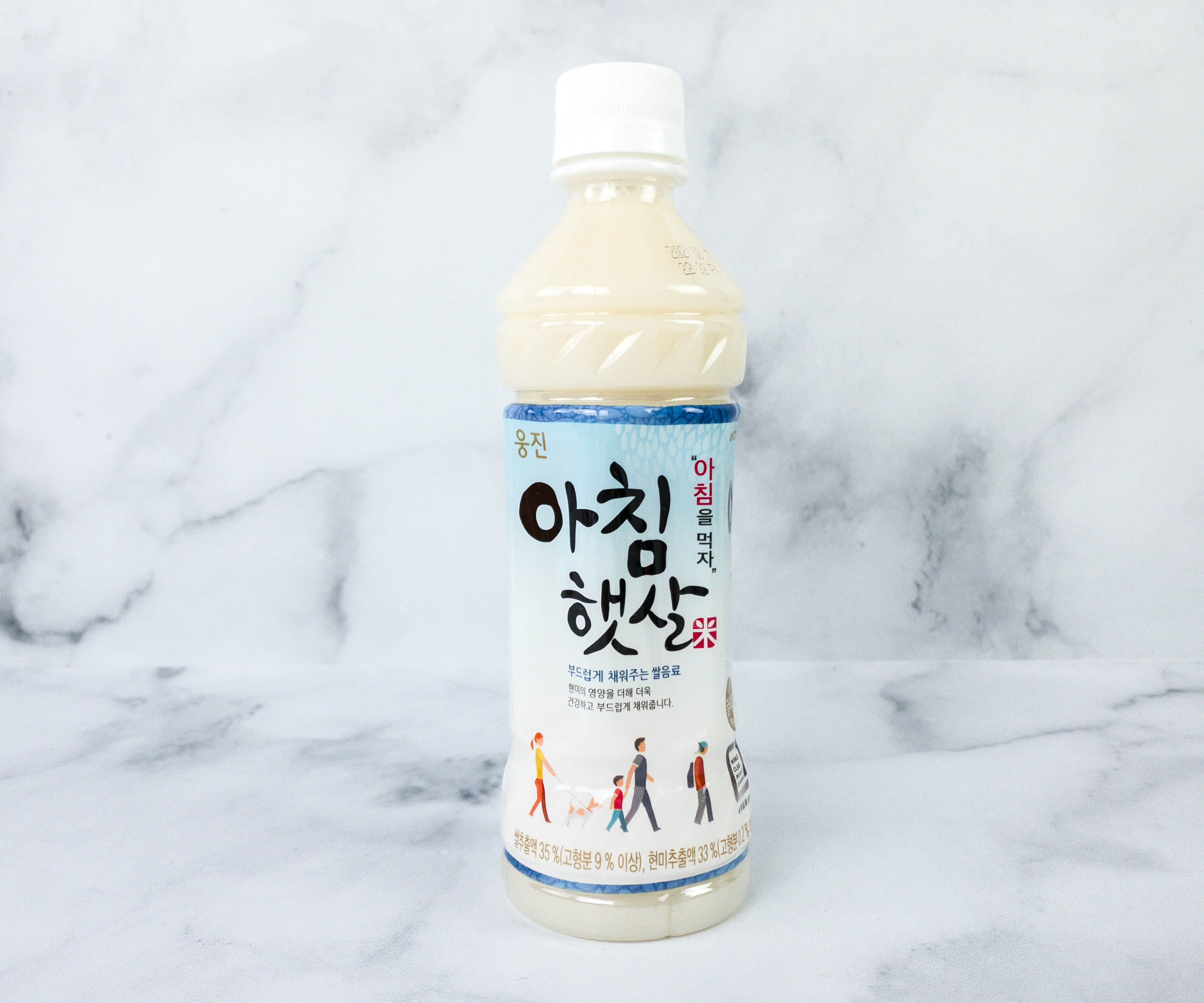 Woongjin Sikhye (Korean Rice Milk). Sikhye is a traditional Korean beverage made with native white and brown rice. This drink features a sweet, smooth, and creamy taste and it's usually served as dessert!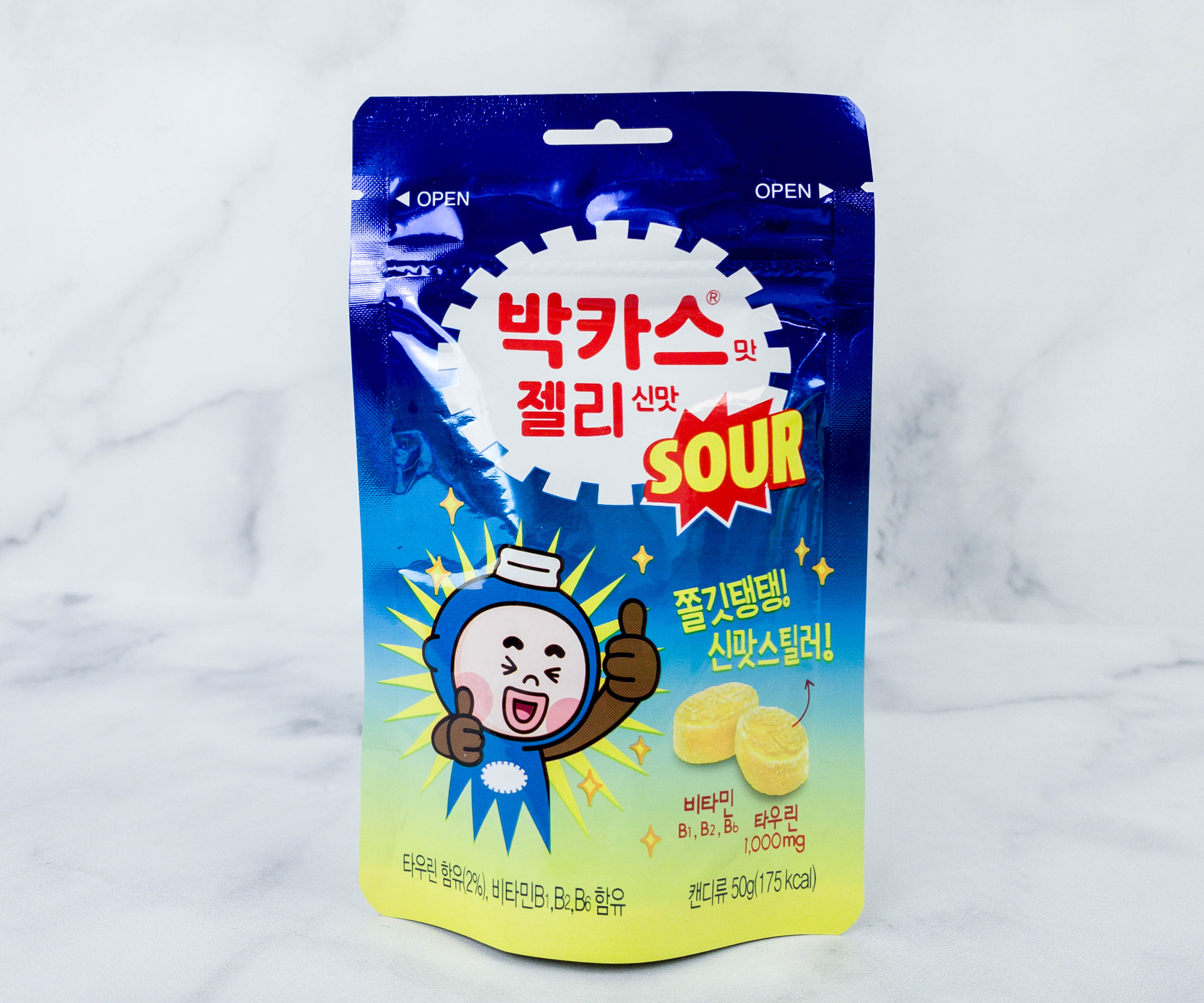 Bacchus Sour Jelly. This pack of jellies is infused with vitamins and flavors like that of the popular Bacchus energy drink from Korea! Each piece is chewy, with sour and sweet end taste. It's perfect to chew on to help keep you awake and energized.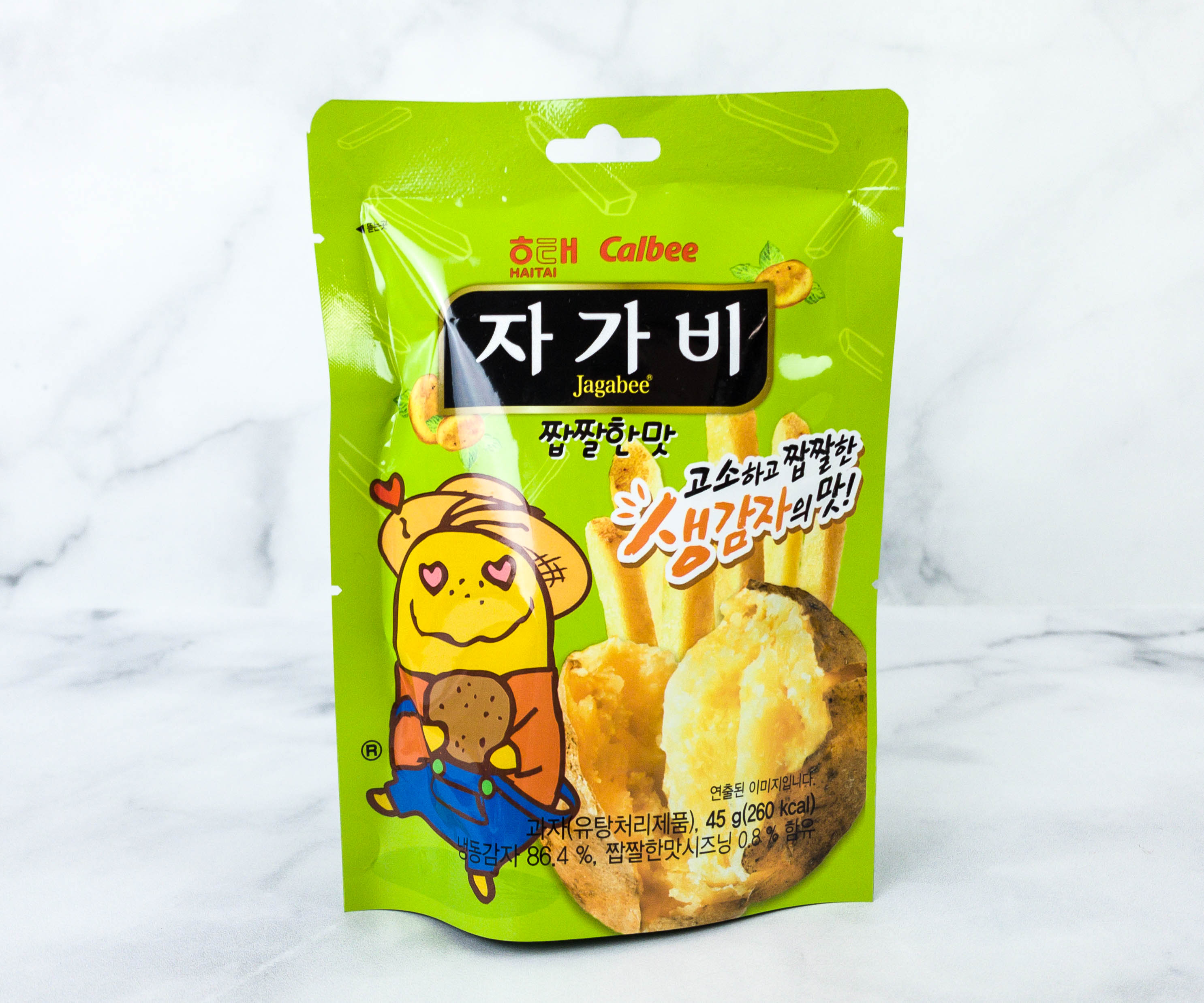 Haitai Calbee Jagabee. These are sweet potato sticks from Calbee, a well-known brand that produces delicious chips. This is definitely not your ordinary potato snack, as it features a sweet and lightly salty flavor with crunchy texture. I easily finished the bag and it was filling!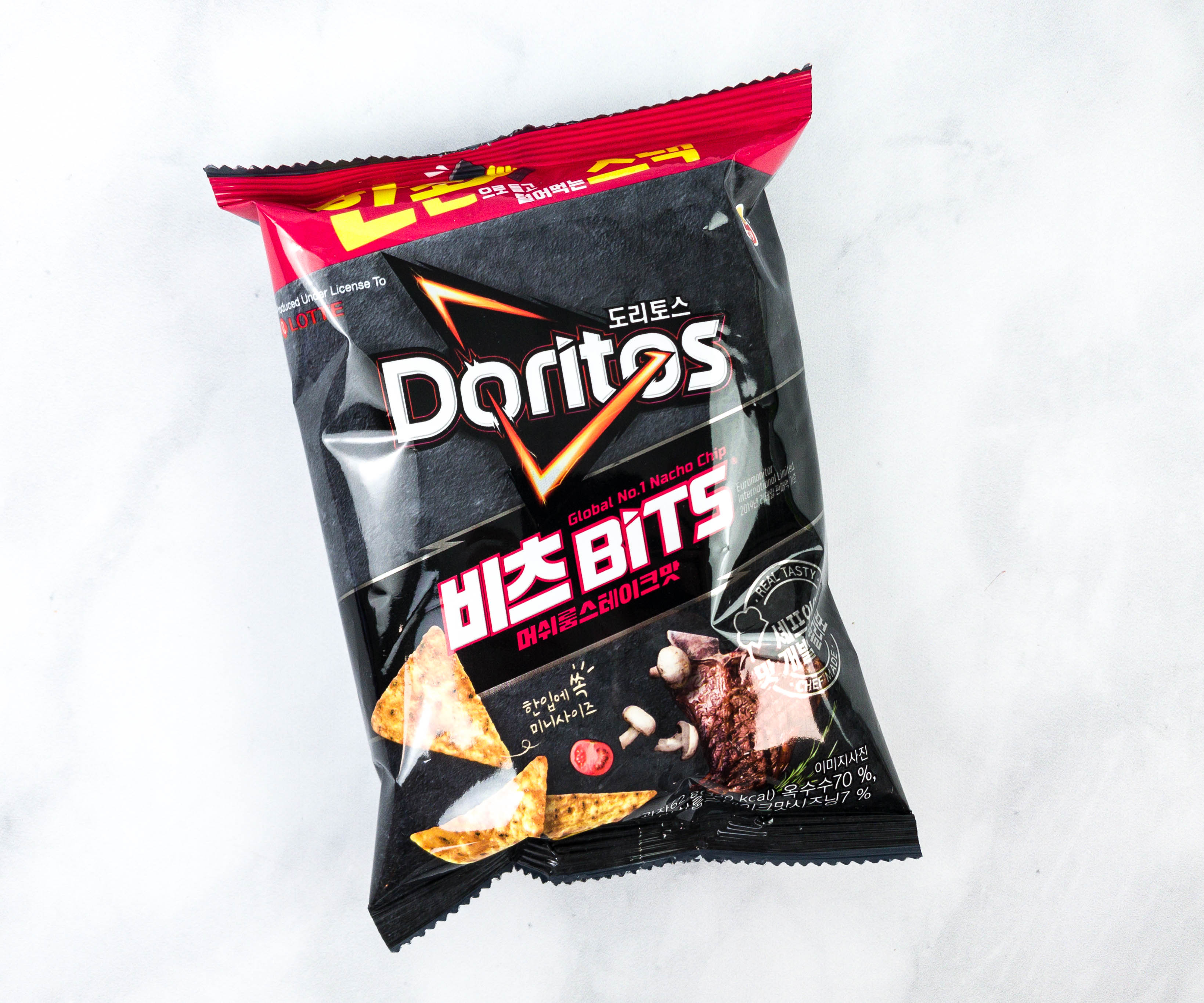 Doritos Bits Mushroom Steak. This snack is one of our all-time favorites! It's a limited-edition Doritos snack that features its trademark crunchy nacho chips, and this time it is infused with scrumptious mushroom steak flavor. This snack is best be paired with an ice-cold drink!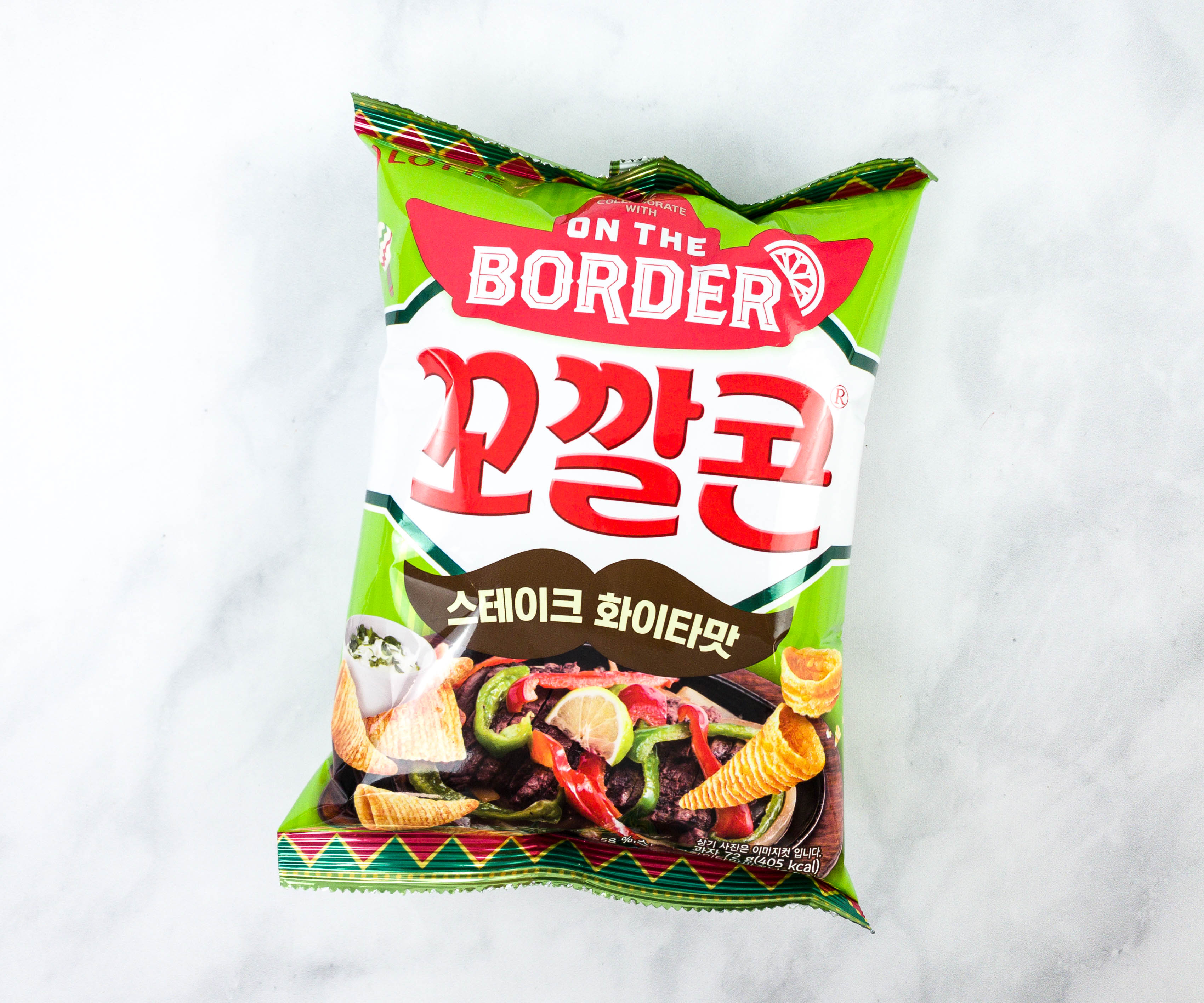 Lotte Popping Corn Steak Fajita. Here's another delicious snack in the box! It's a bag of crunchy cone-shaped chips mixed with mouthwatering steak fajita flavor. I love how savory each piece is. These chips are also lightweight and airy!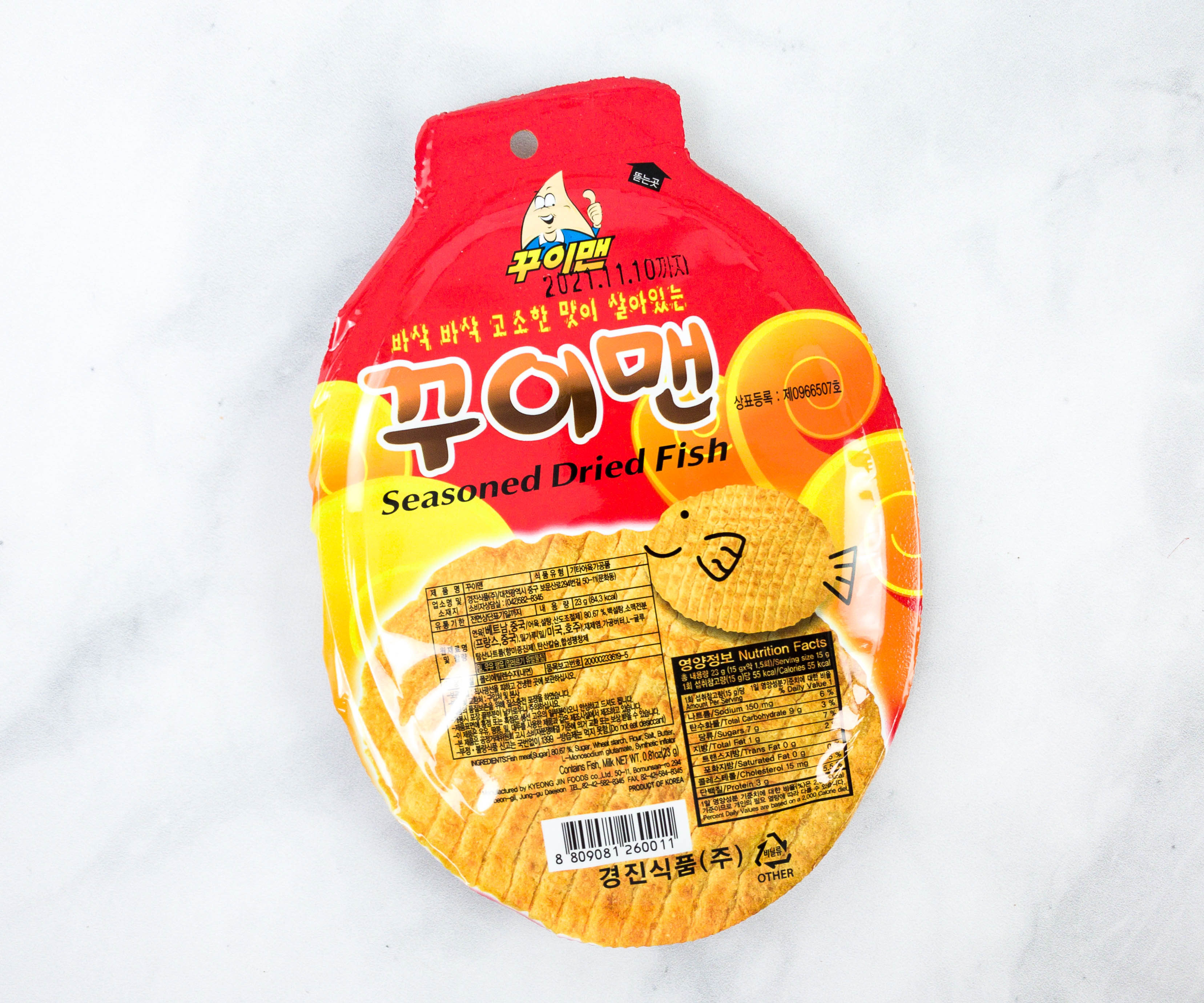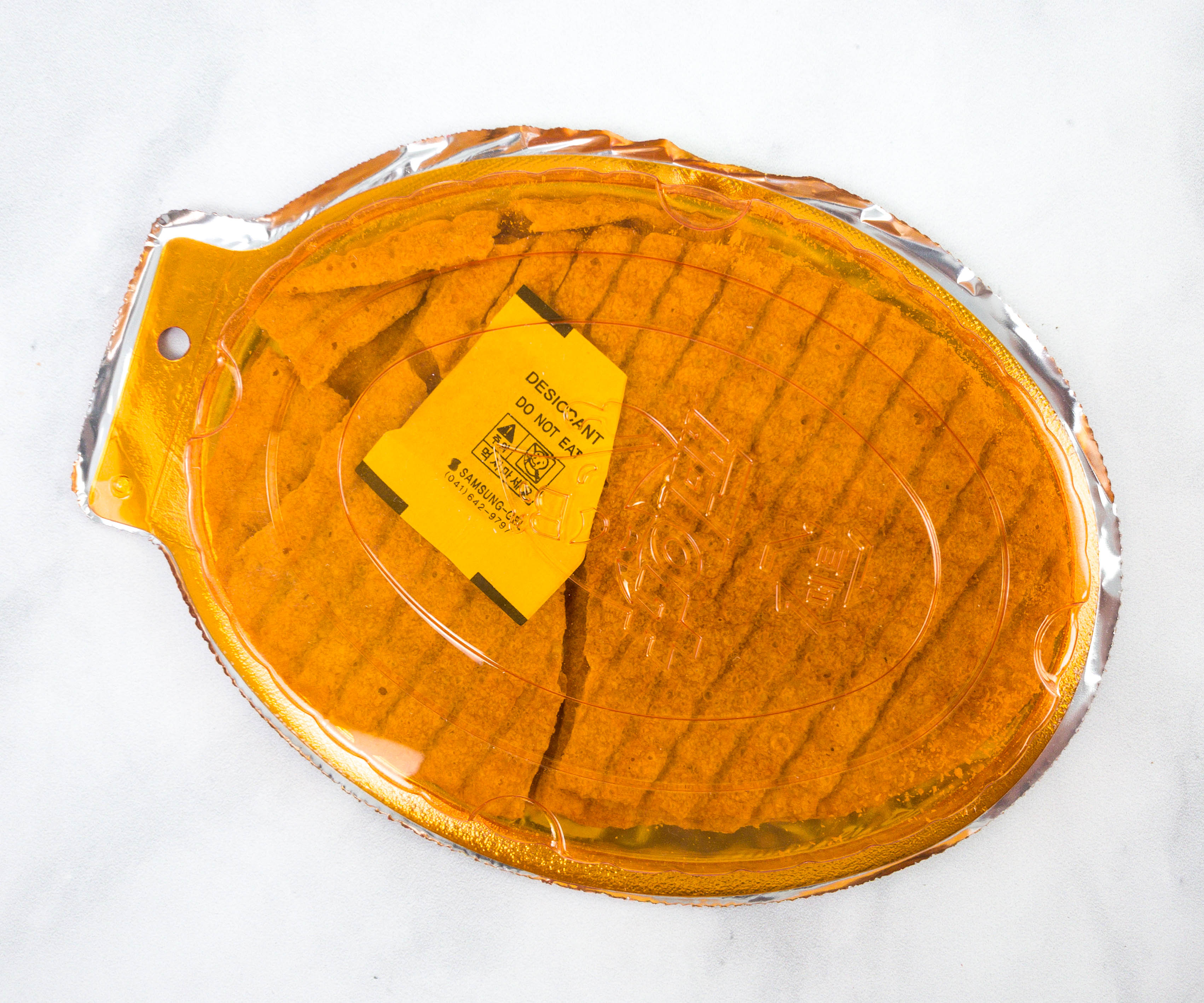 Gguiman Seasoned Dried Fish. This snack is made with real fish meat, which is seasoned, dried, and grilled to achieve its unique flavors. Each pack contains 3 sheets of dried fish meat, perfect for sharing with family and friends!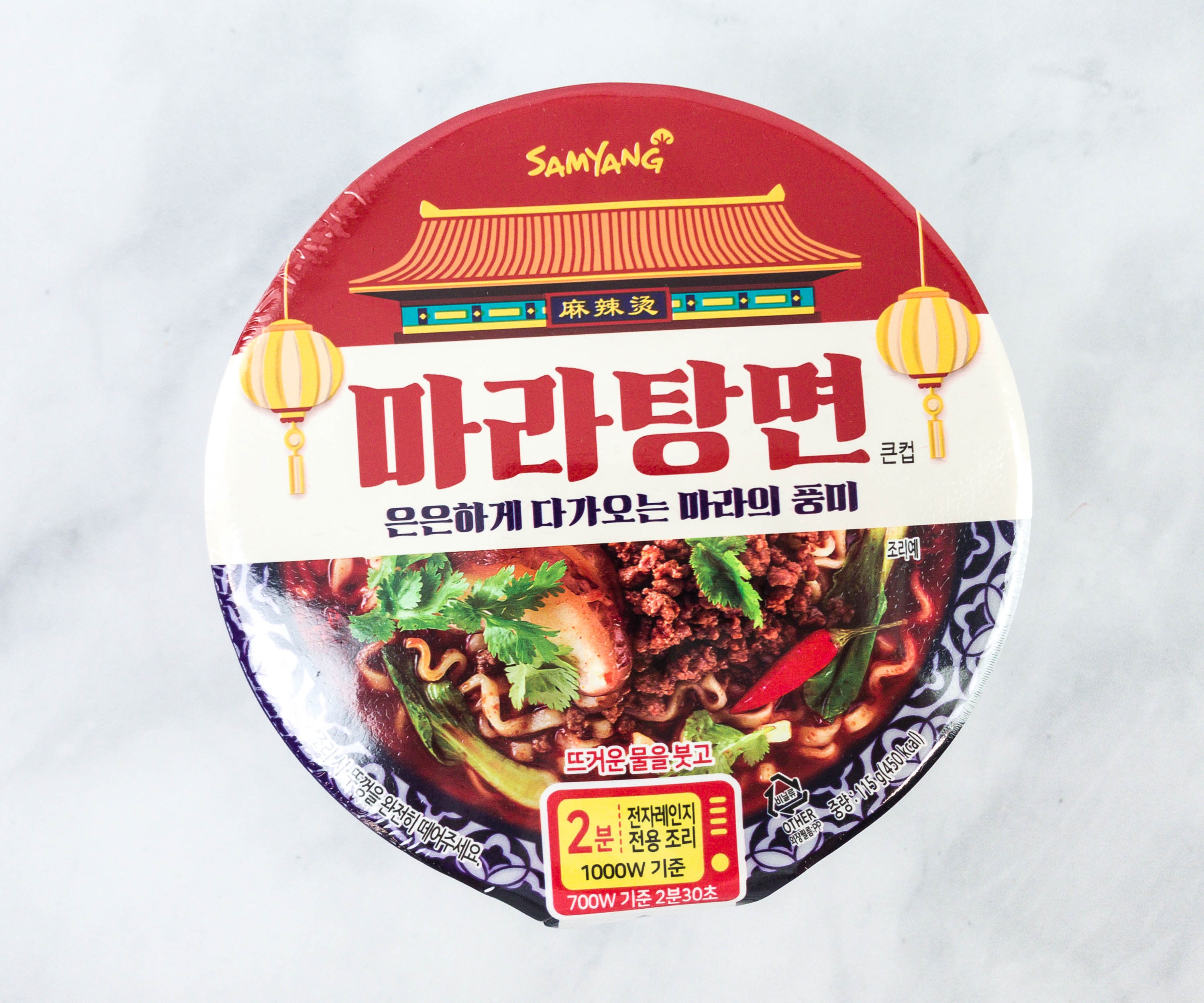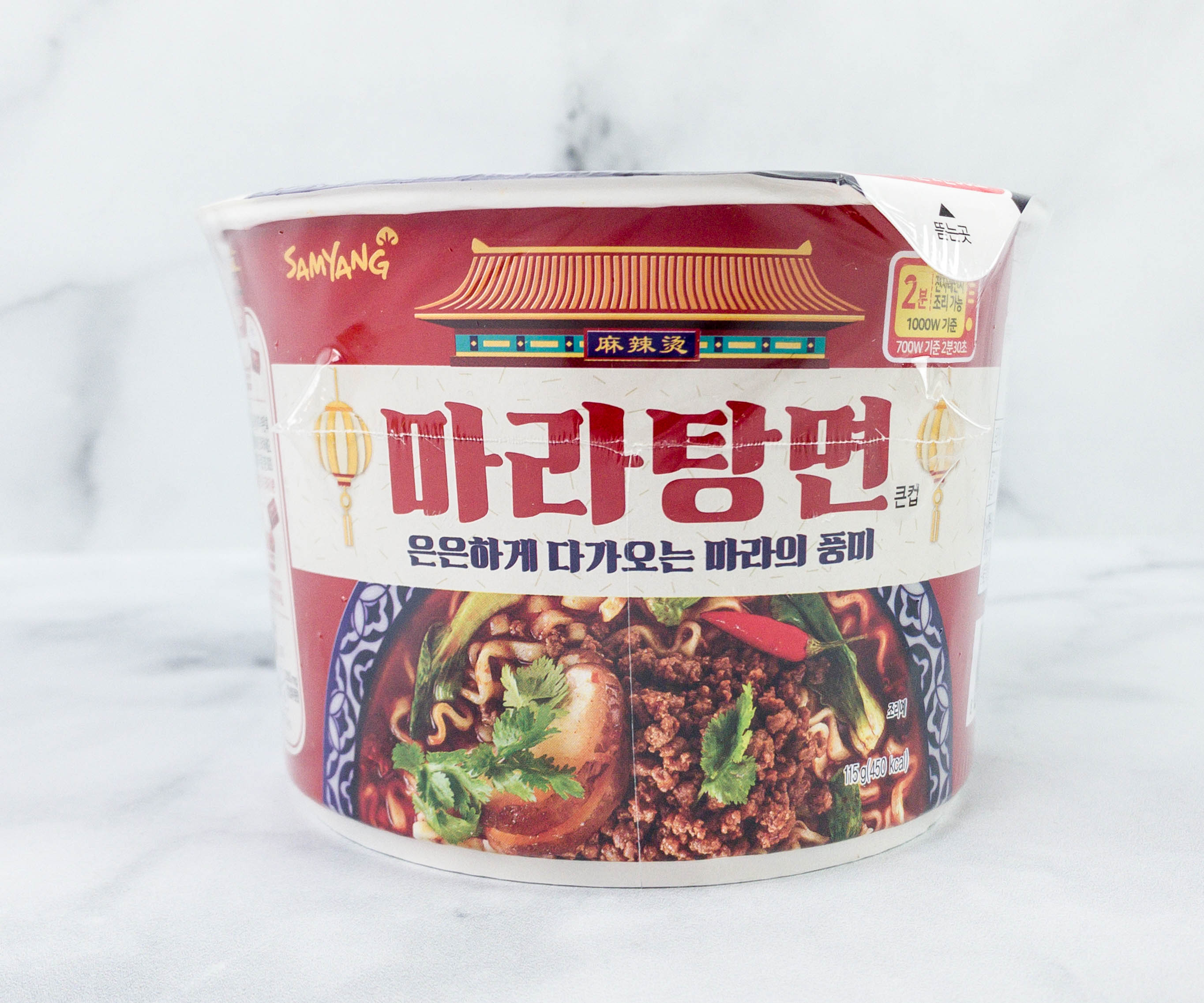 Samyang Maratangmyeon Spicy Noodle. If you are into spicy food, you'll probably love these Korean spicy noodles  based on a popular Chinese street food. It has meat and vegetables, and it's also seasoned with red chili seed oil that gives each bite extreme heat. It's usually served with roasted seaweed flakes!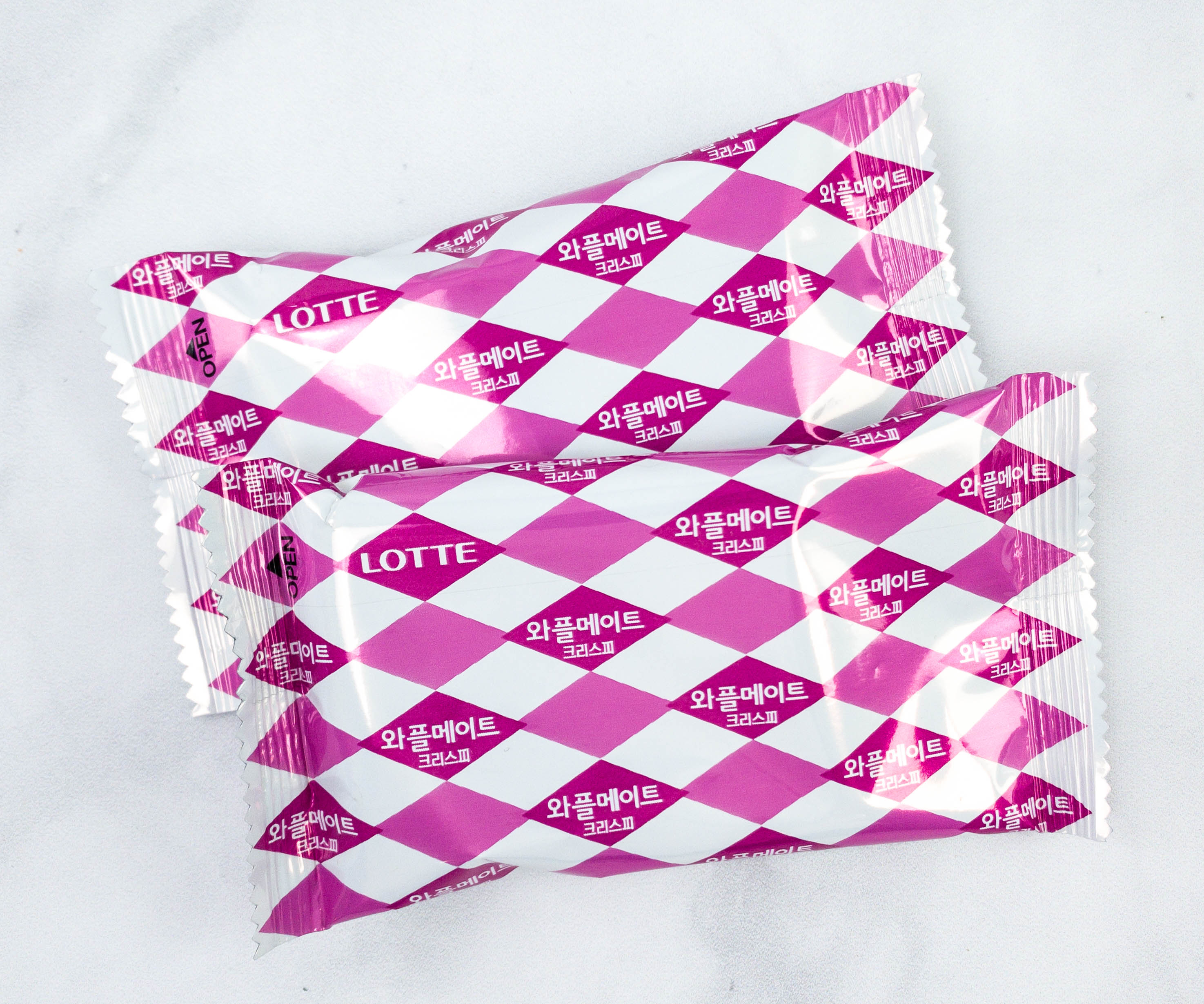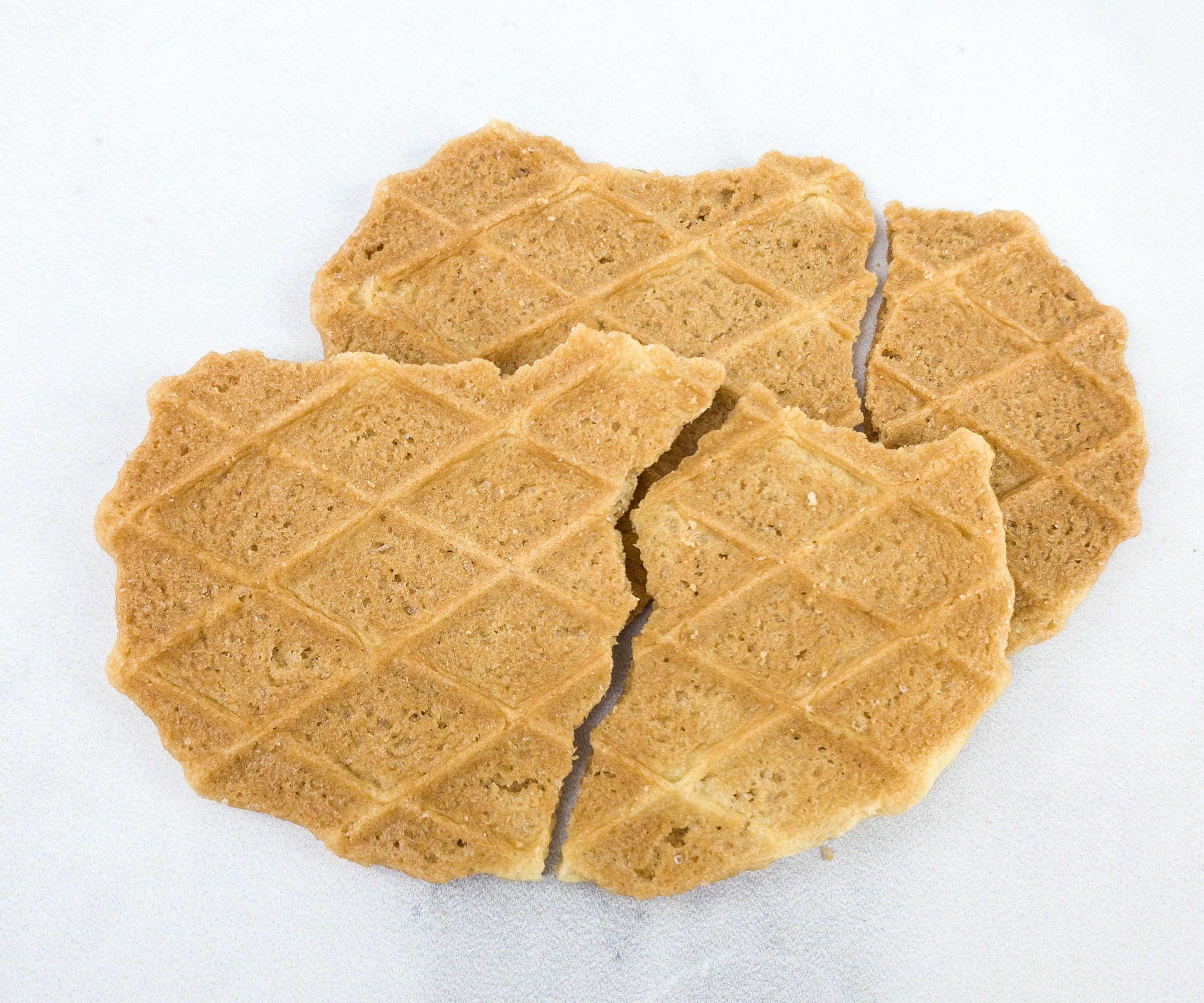 Lotte Crispy Waffle. I love these crispy and buttery waffle snacks! I received two individually wrapped pieces and they were gone in no time. They are so good and they melt in my mouth!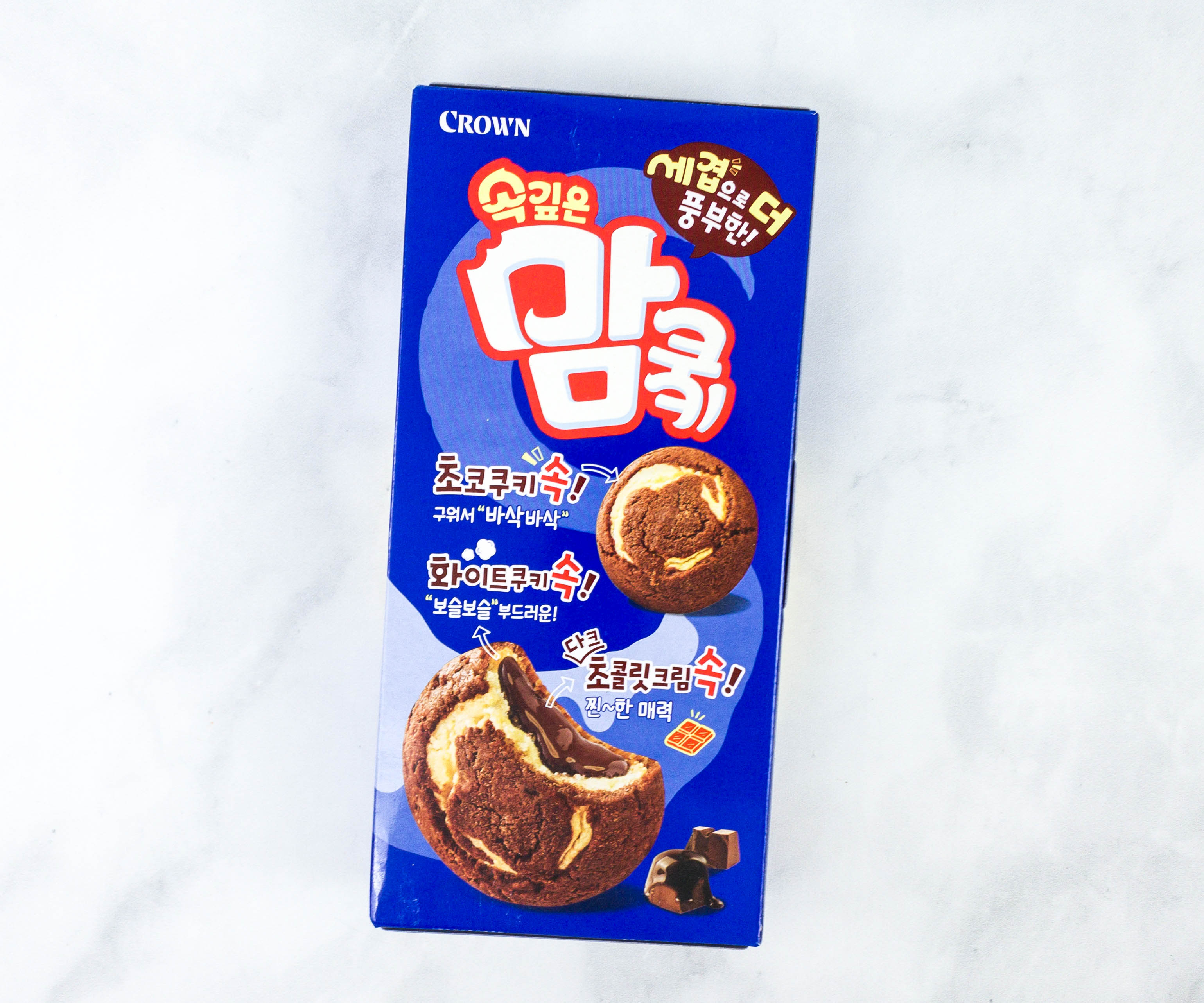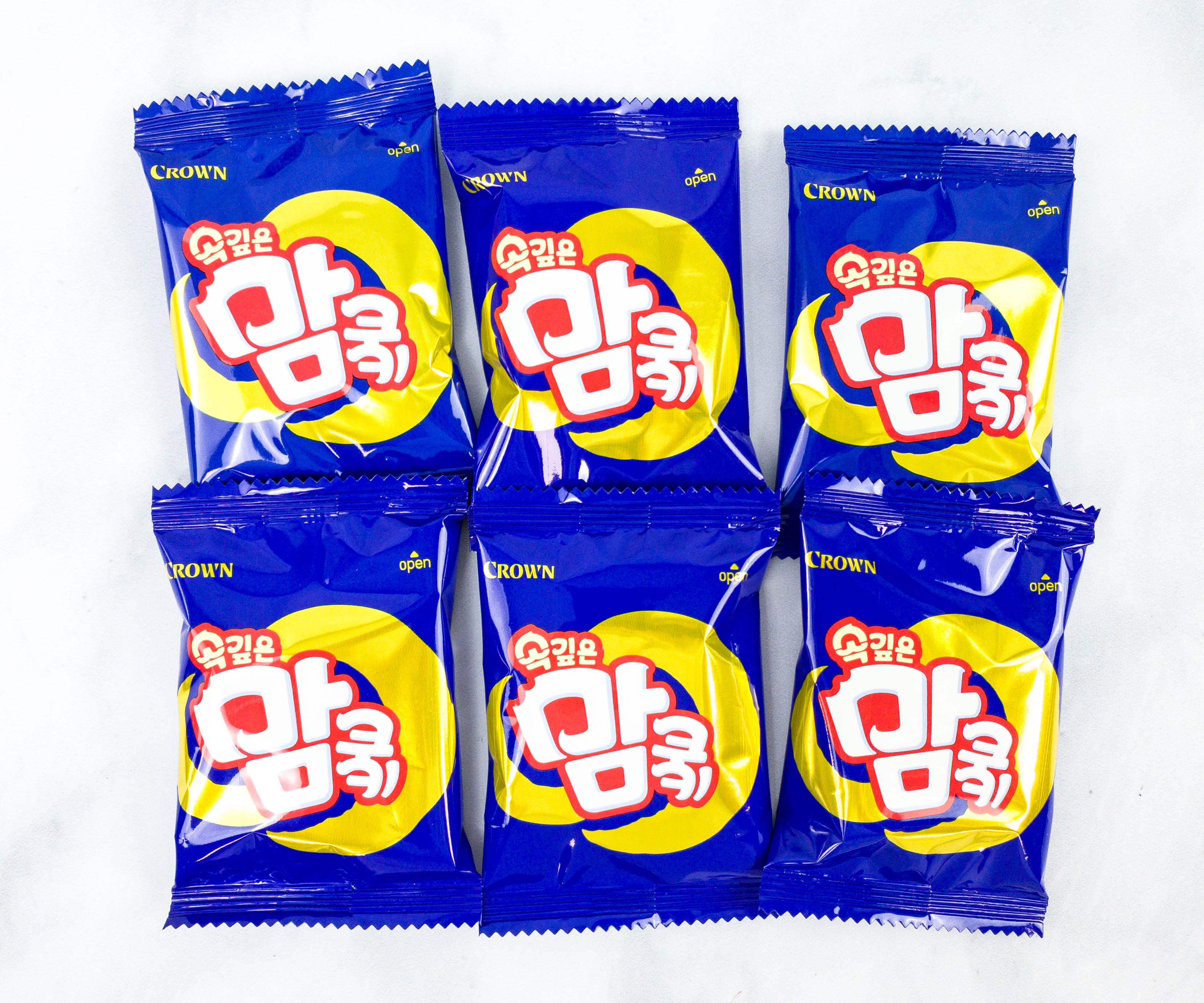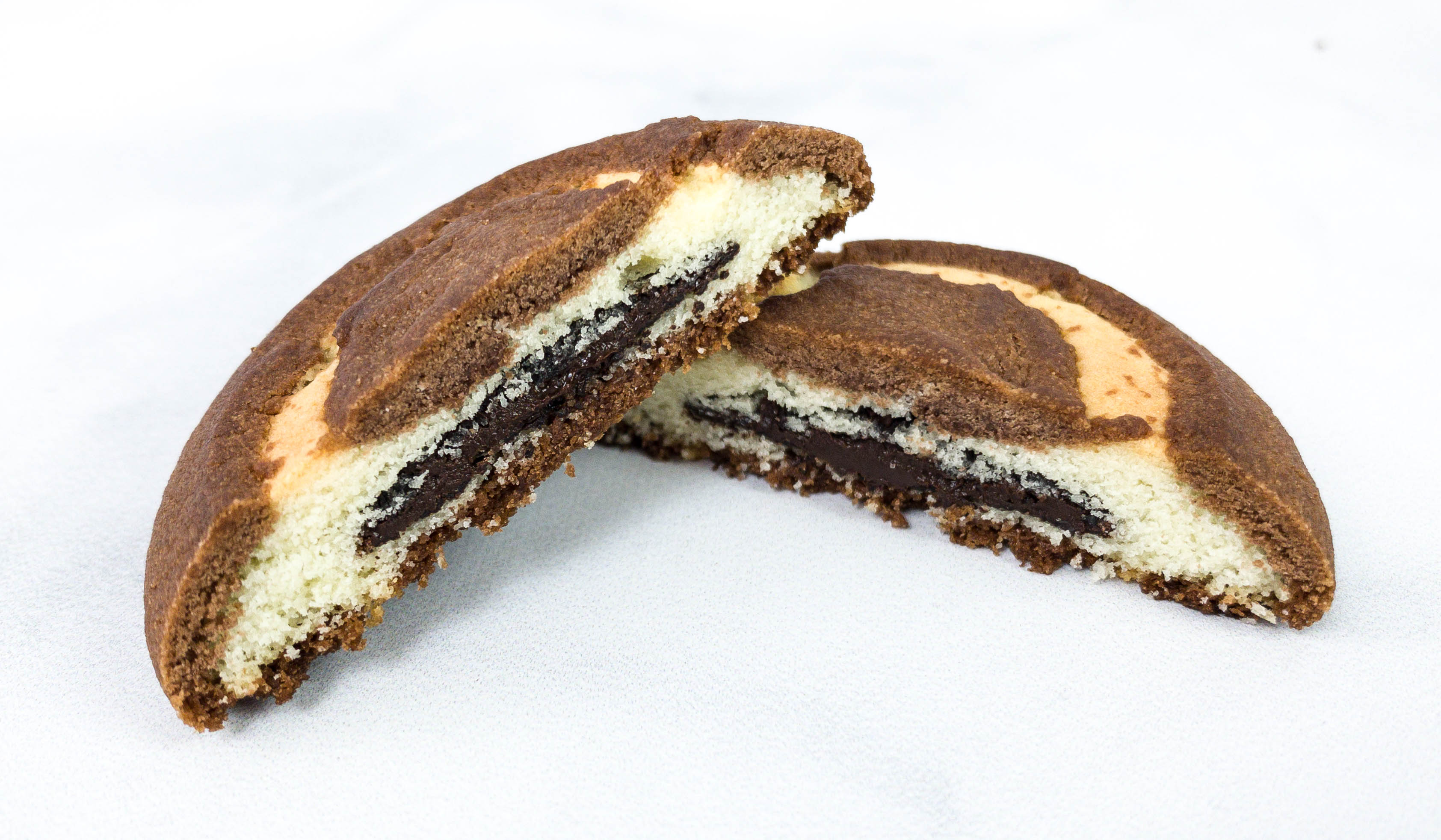 Crown Cookie. The box includes 6 individually-wrapped chocolate cookies! The cookies are soft and chewy, and the filling is creamy and rich. It makes a great dessert snack, and you can also pair it with a hot beverage for a delicious afternoon snack. Since it comes in a small pack, it's also perfect to eat on the go.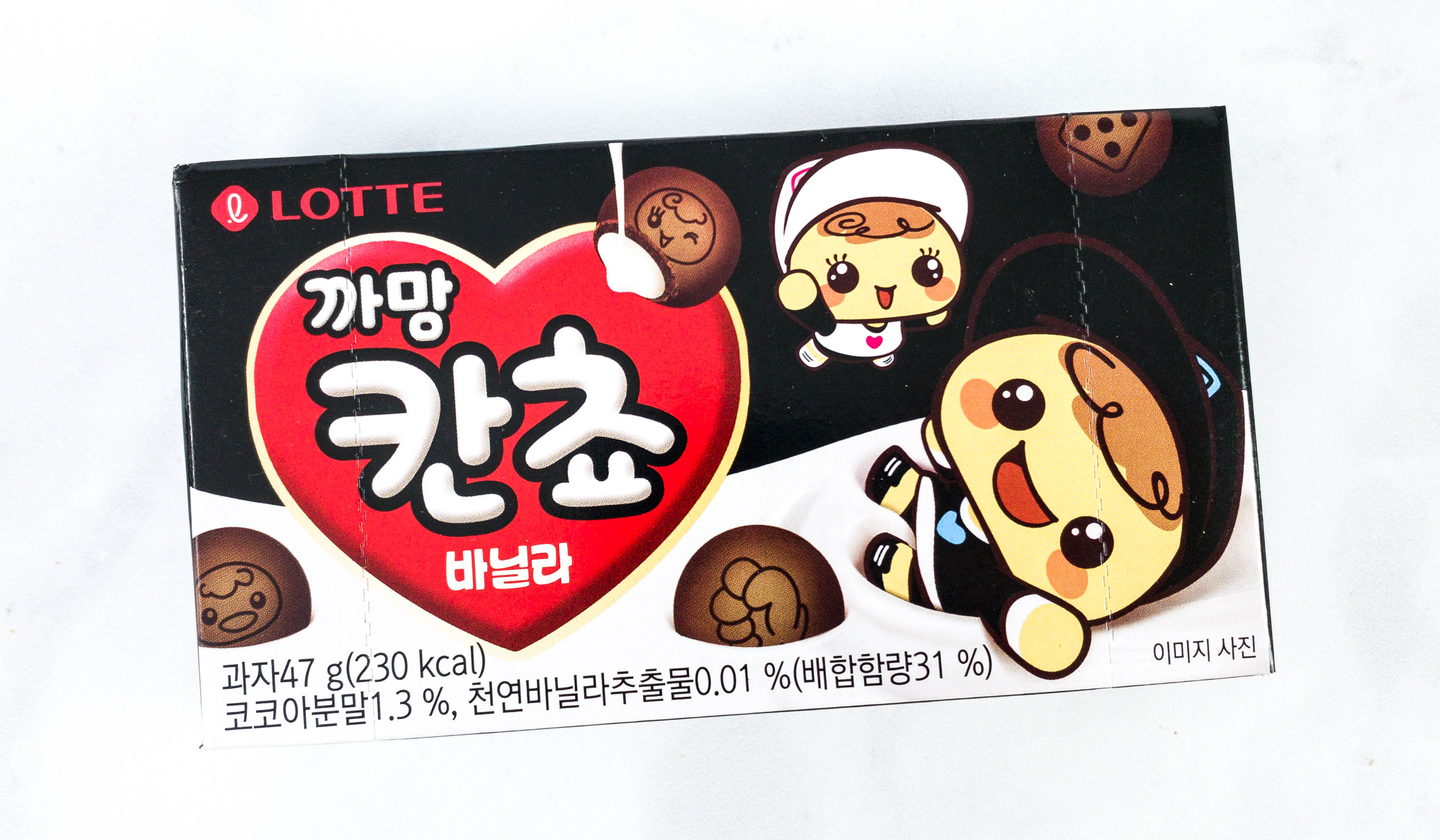 Lotte Kancho Vanilla Biscuit. Inside this cute little box are crunchy, bite-sized vanilla-flavored cookies with creamy chocolate filling. Each piece comes with a picture of either Kany or Chony printed on top. They are sweet, tasty, and absolutely addicting!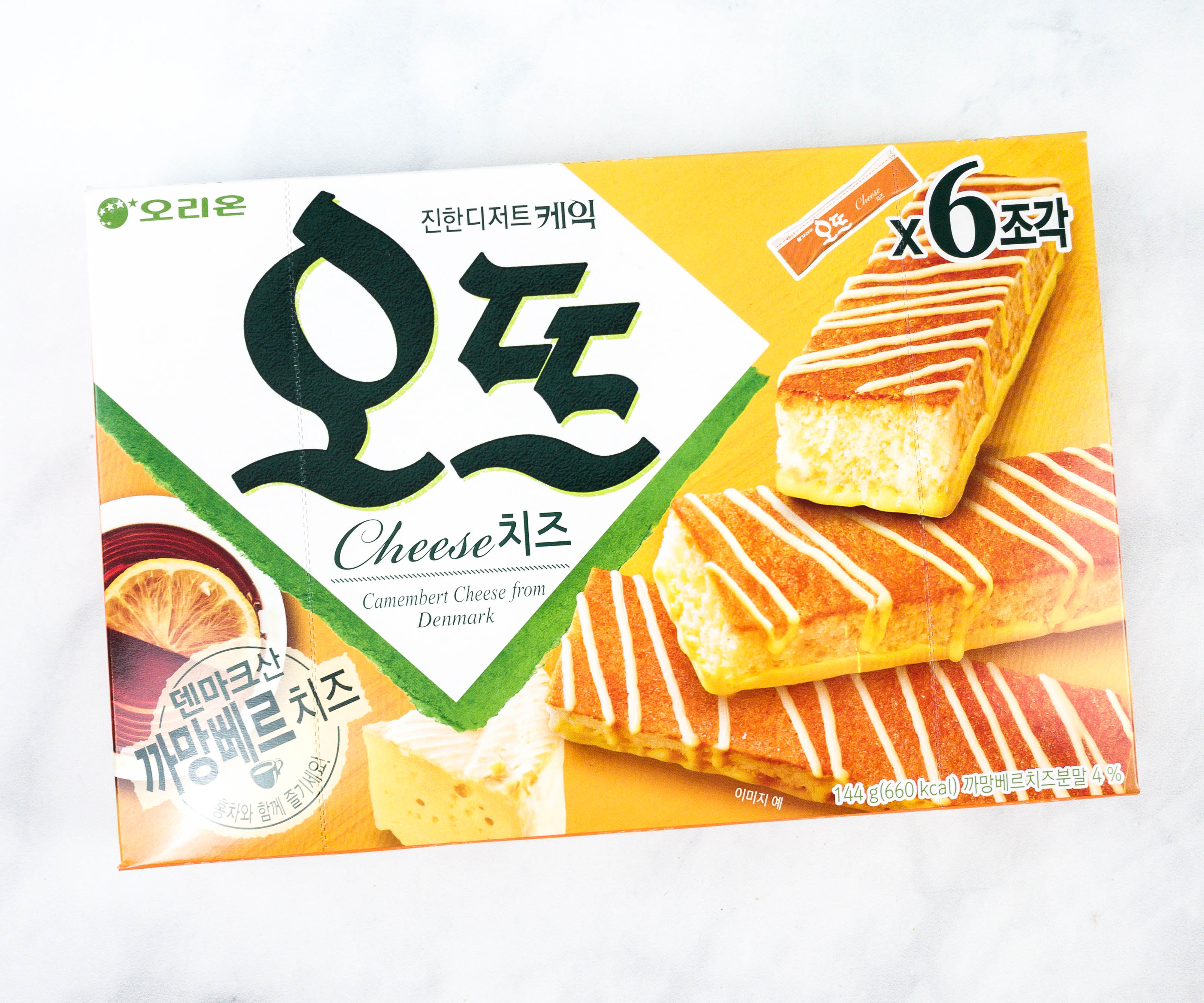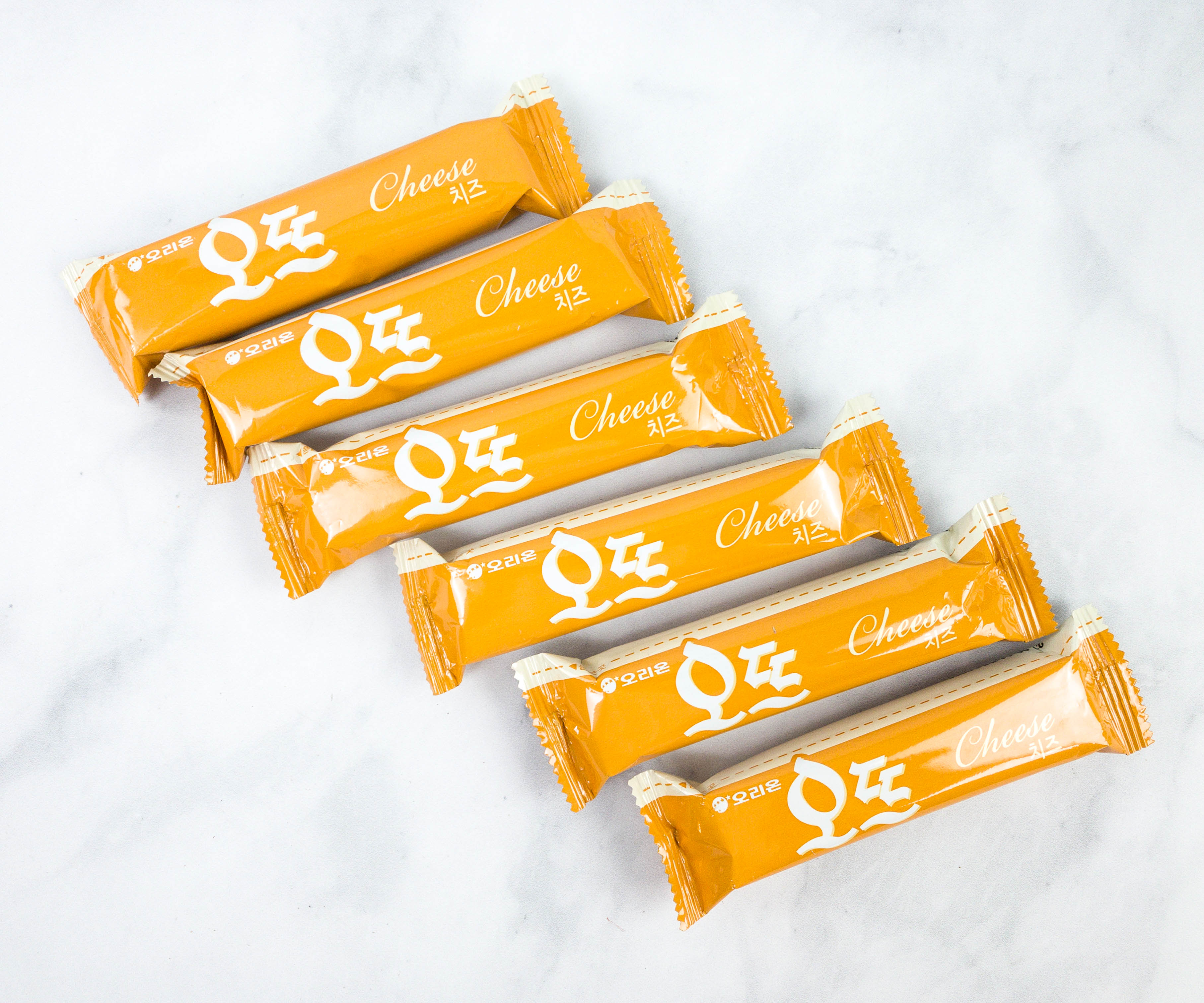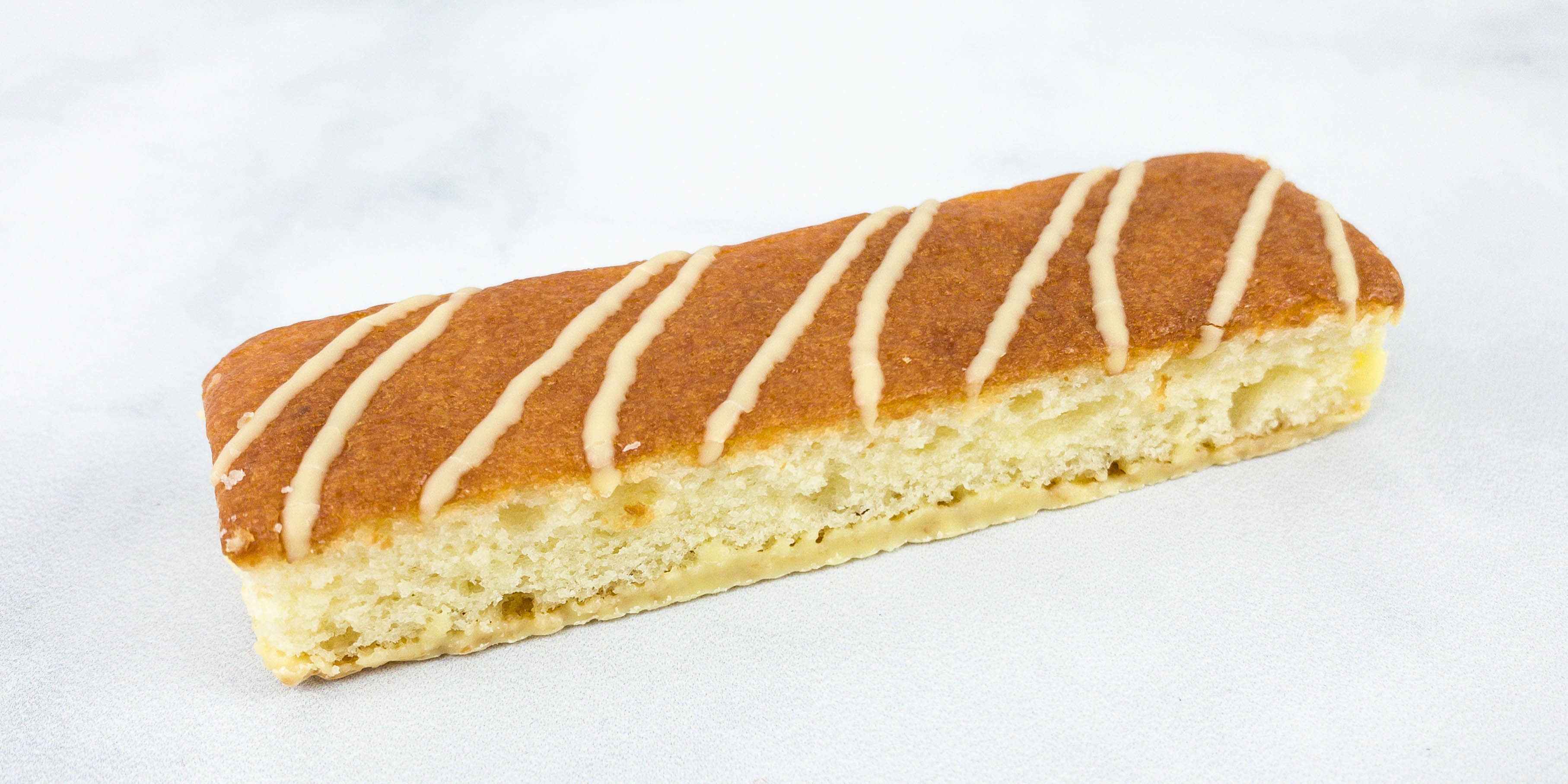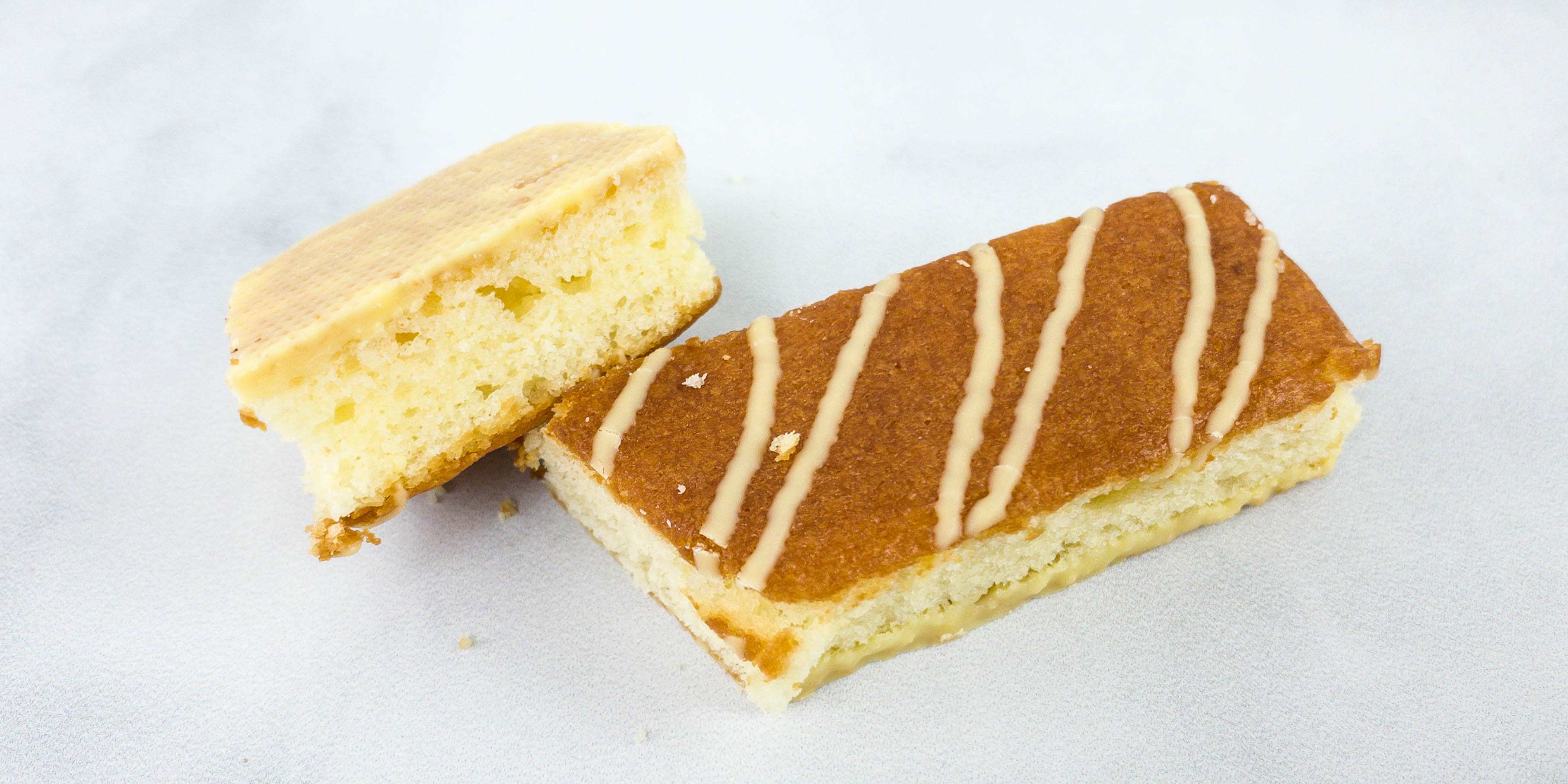 Orion Haute Cheese. These are cheesecake snack bars made with creamy Camembert cheese from Denmark! The box includes 6 individually packed cheesecake bars. Each piece has a golden brown top, a spongy cake in the middle, and a creamy bottom. I love snacking on them as is but they also go well with any hot beverage!
This month's Snack Fever box includes yummy Korean snacks, ranging from sweet and chocolaty to savory and spicy! I'm happy to try them all, especially the cheesecake bars and the chocolate cookies. They are so good and so filling! The noodles in a cup is also pretty great if you are a fan of spicy food. I love the amount of heat in every bite, and it was flavorful as well. Another item I liked from this box is the bottle of sikhye! This traditional drink is quite refreshing, no wonder it's well-loved in Korea. All in all, it's another jampacked box with a great variety of local Korean snacks and flavors. They include both new snacks and traditional ones as well, and I'm all for it!
Have you tried Snack Fever?