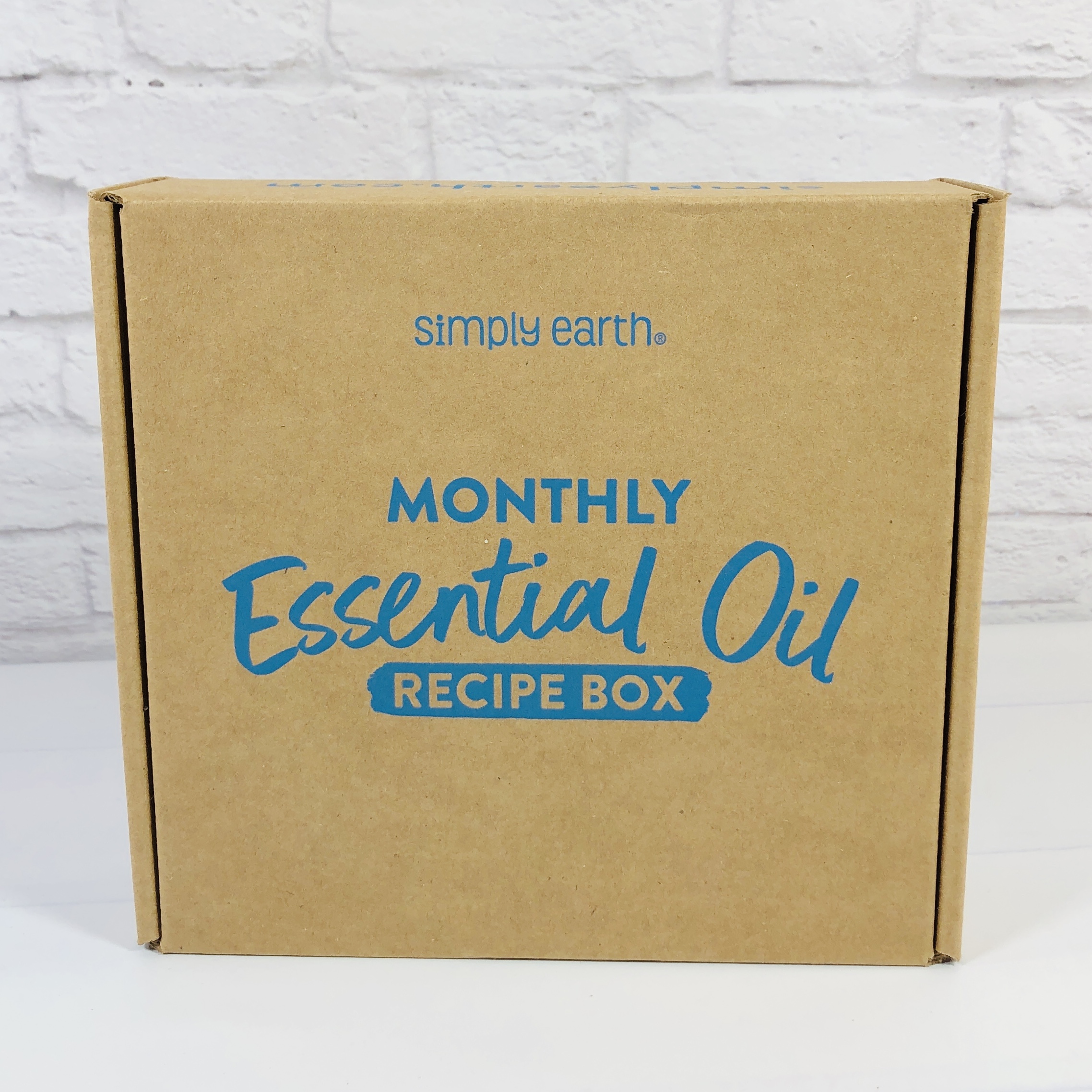 Simply Earth is a monthly subscription that sends high-quality essential oils along with recipes and ingredients to make natural beauty and home products! Each box comes with 4 essential oils, containers, extra ingredients to make the recipes, and 5 – 7 recipes on recipe cards. When you sign up (and every 6 months thereafter) you will receive a free Bonus Box full of extra containers and ingredients needed for the recipes, such as carrier oils and beeswax. Simply Earth is $39 a month. They feel strongly about giving back and donate 13% of all profits to help end human trafficking.

Every month is designed around a new theme with ingredients, containers, and extras you need to make 6 natural recipes (this includes 4 full-sized bottles of essential oils!) … delivered right to your doorstep.

We loved making our own natural products and knowing what was in them, so we created. With the essential oil recipe box, you get everything you need to make your home natural; easy and fun recipes to follow, honest prices, and products that work. It puts you in charge and you can enjoy time together making natural recipes with friends and family.
DEALS: Receive a FREE Big Bonus Box with your first box. Deal applies automatically, just VISIT AND SUBSCRIBE. Plus, get a $40 gift card you can use for your next box or future purchases!
Open with care as the oils are inside glass bottles!
First look!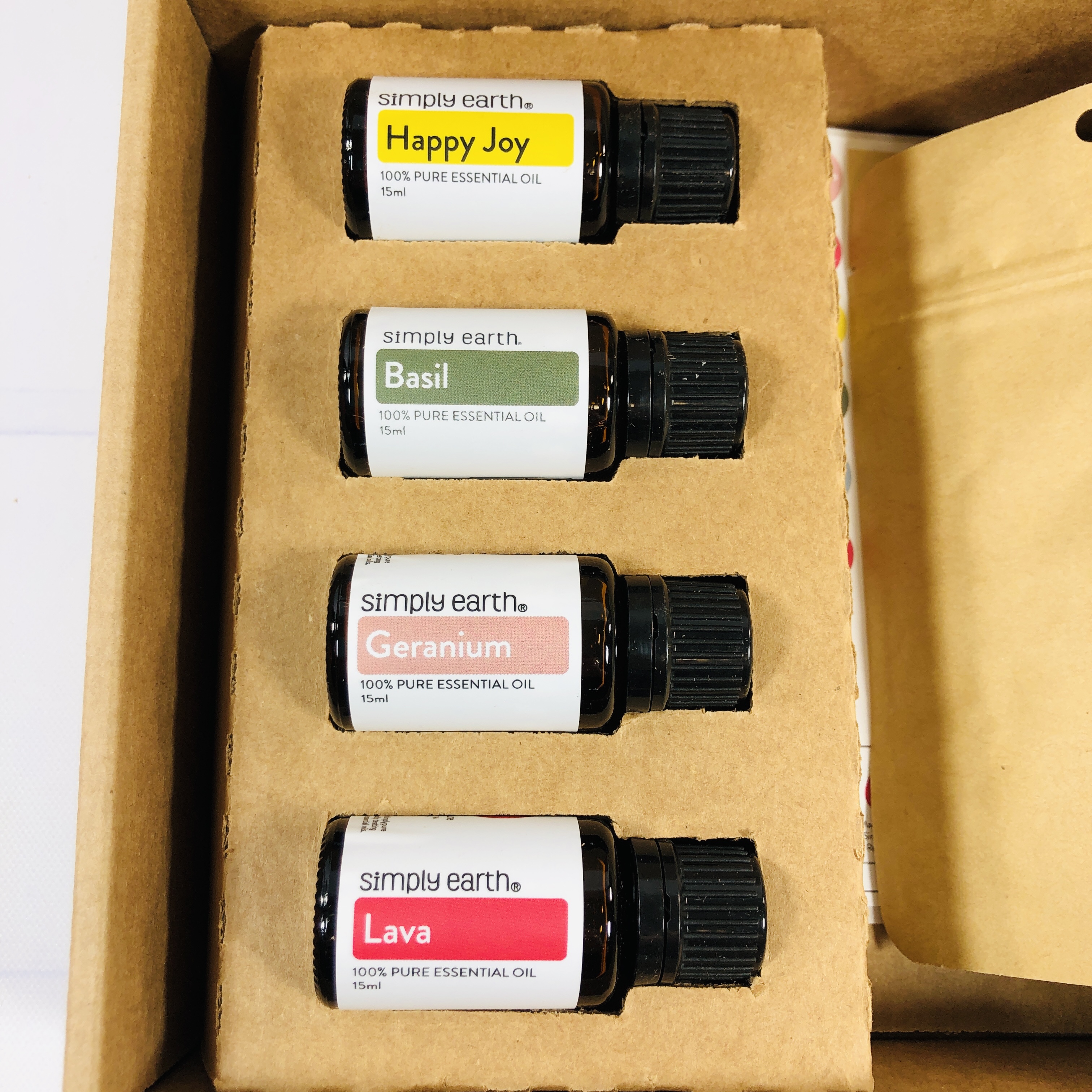 The bottles were on one side, the extra supplies on the other, and the cards were placed on top.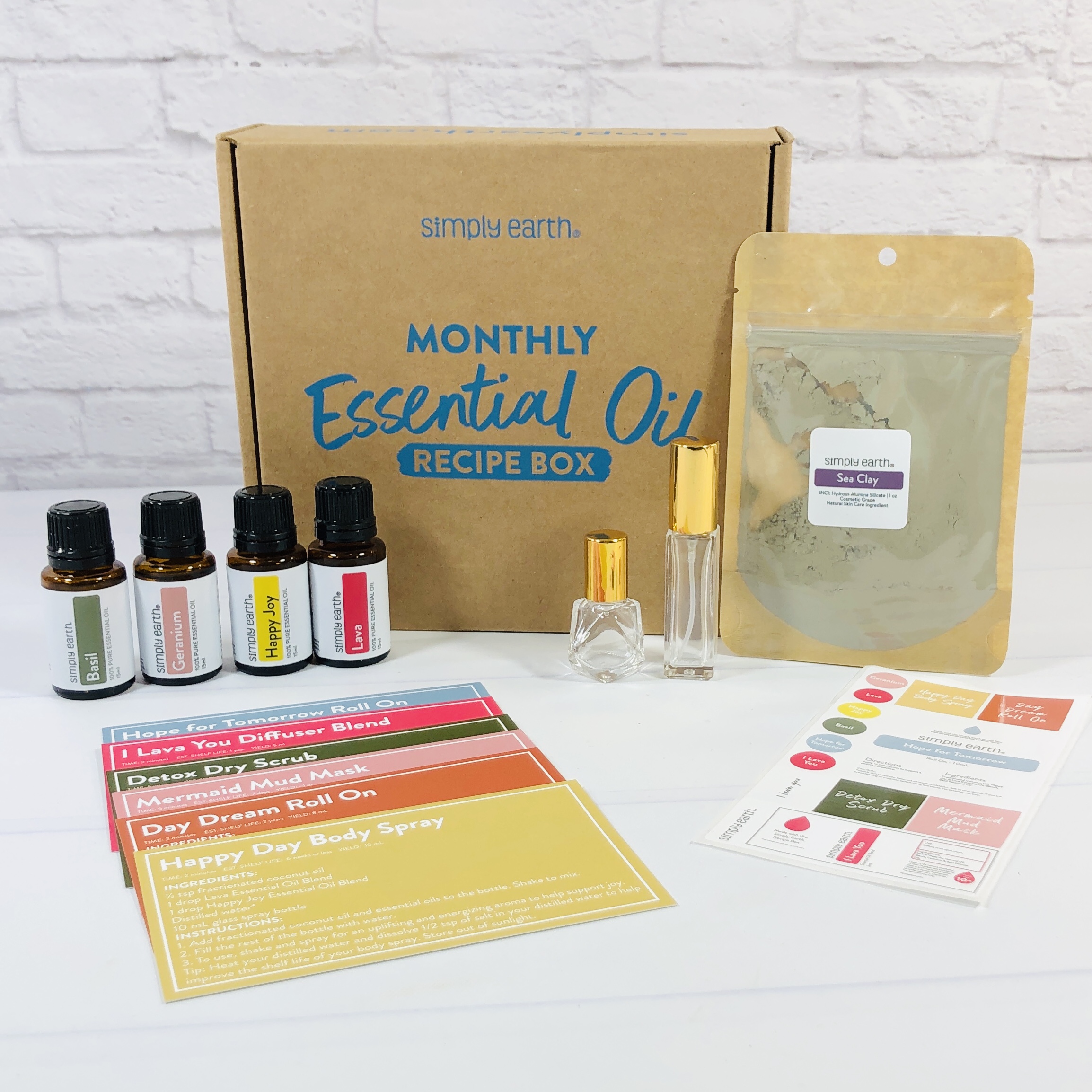 Everything in my box!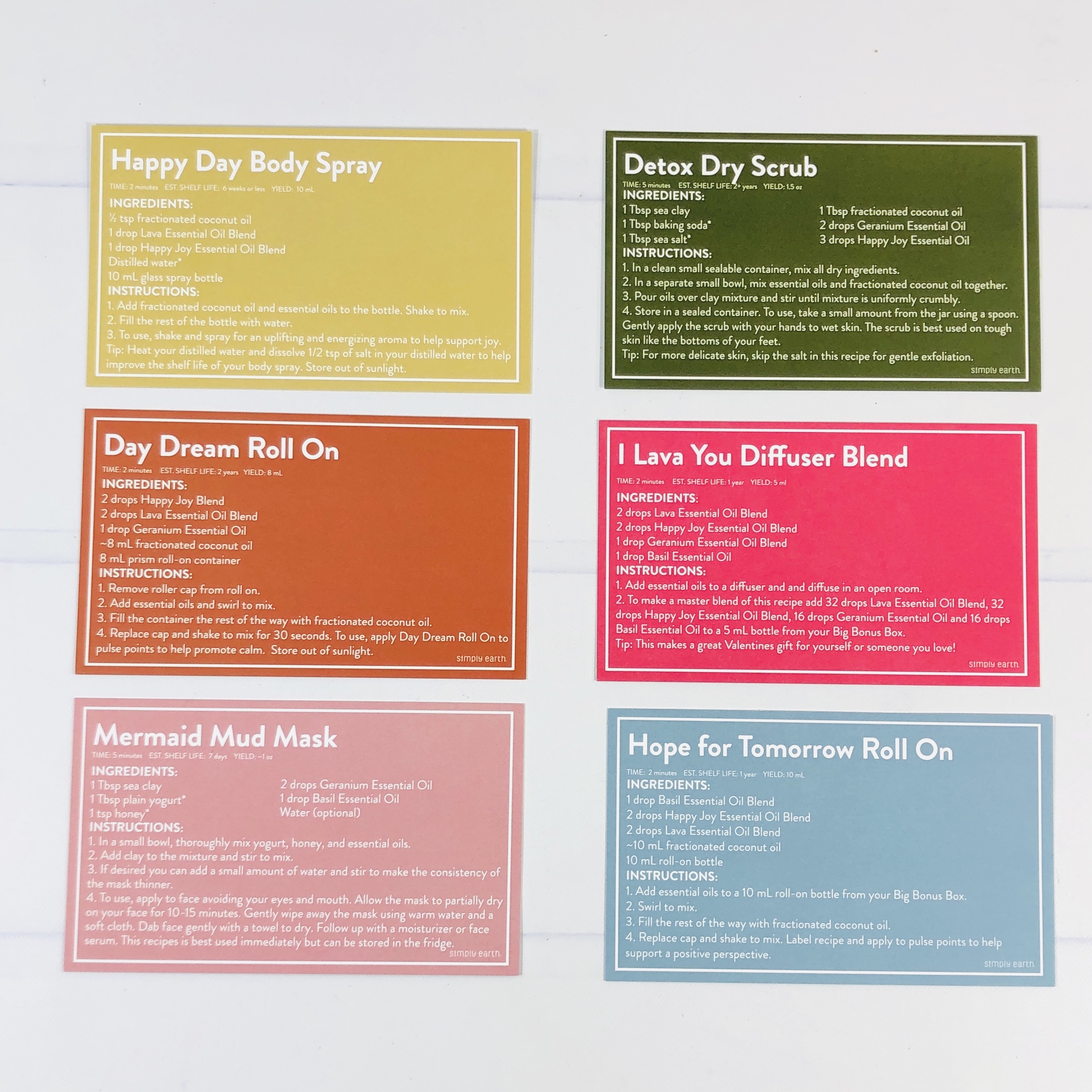 There were 6 recipe cards included this month. Sometimes the recipes continue on the back, but most of them have other info there, as shown below.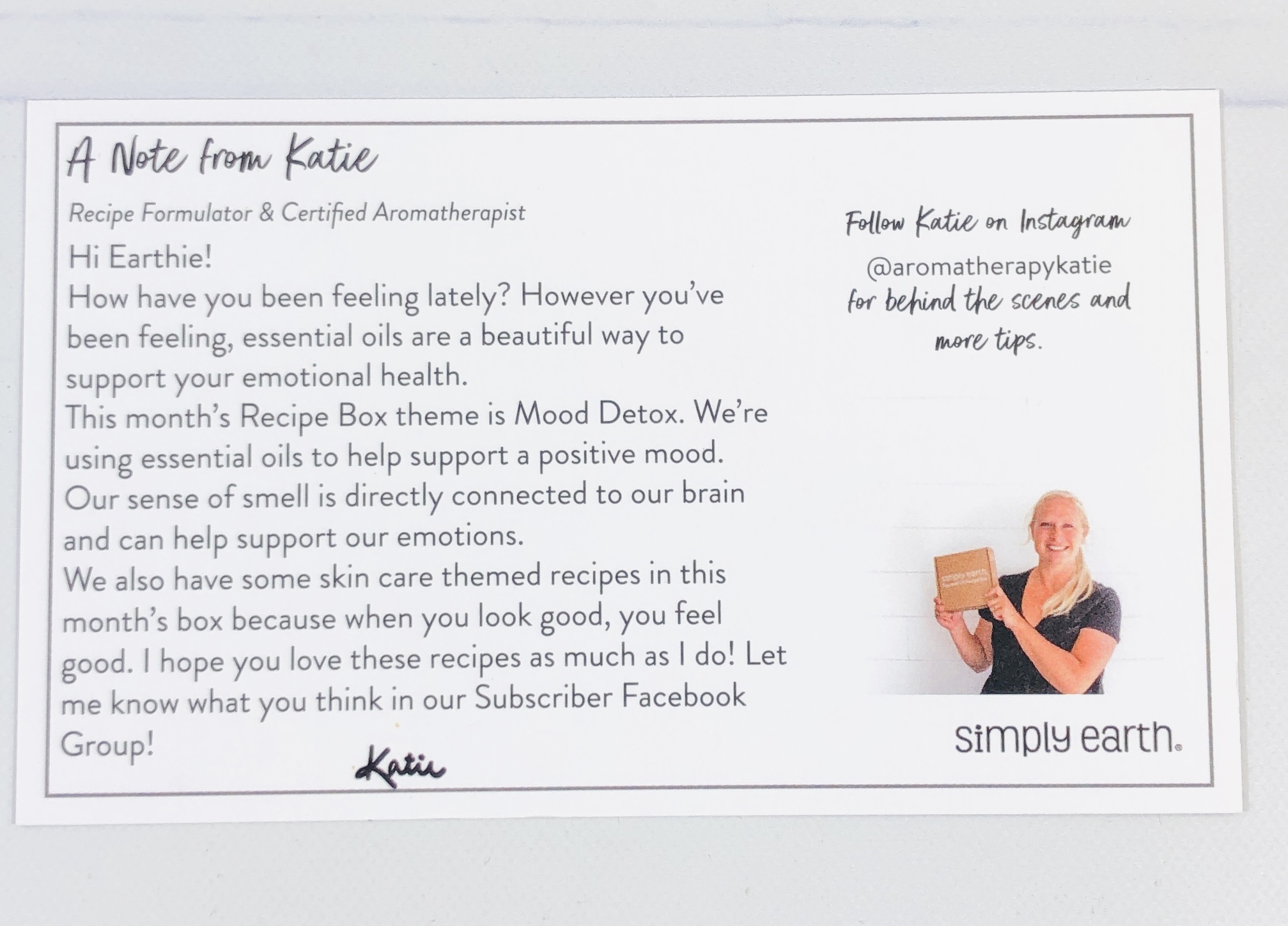 We received a note letting us know that the theme for February is Mood Detox. We are going to make skincare items too! I saw that there is a Facebook group for fellow subscribers to exchange ideas.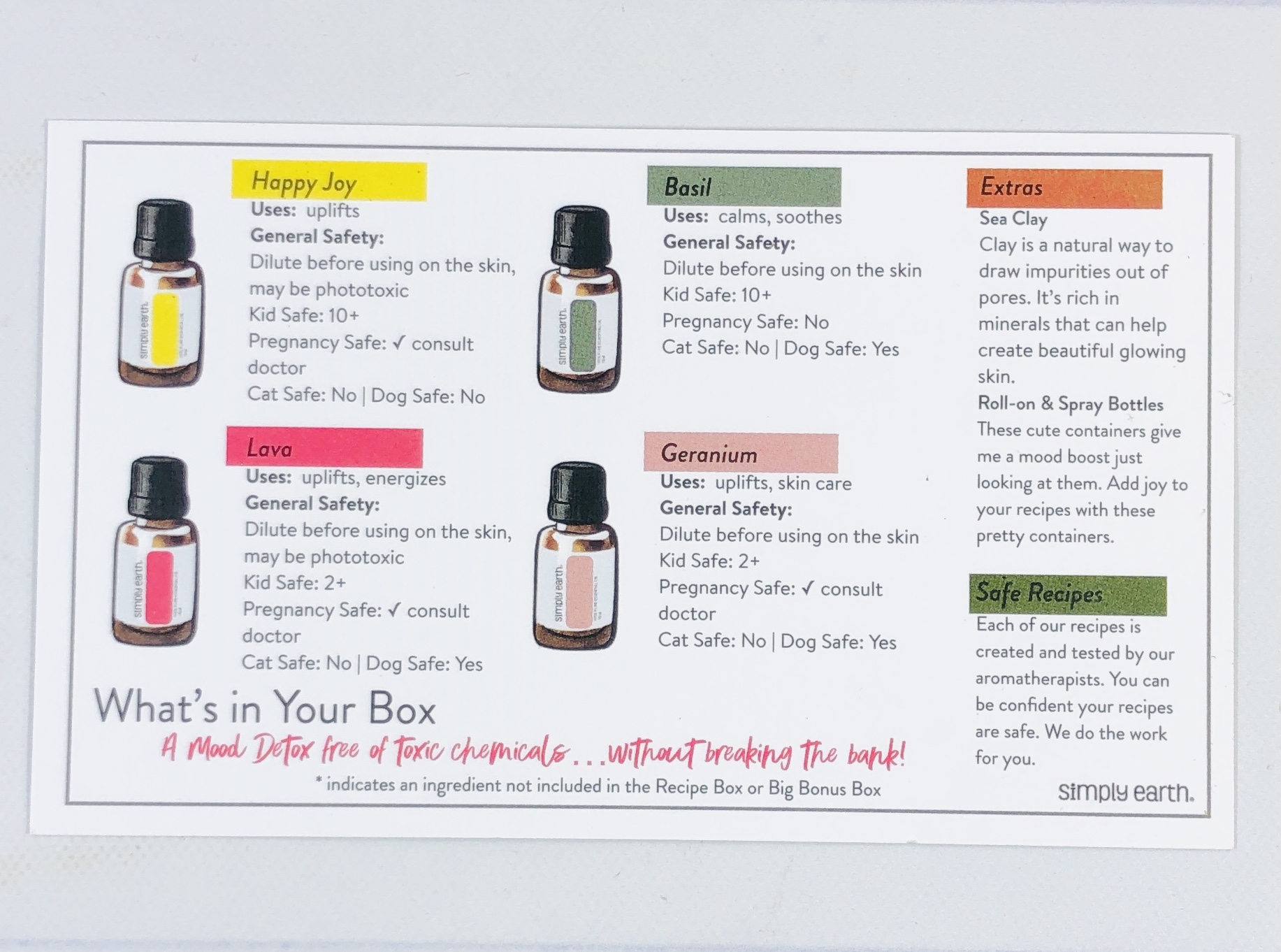 The next card showed me what I would find in my box. As always, use with care and discuss using oils with a doctor if you are pregnant or nursing, be careful using around children and pets, and remember that this isn't a substitute for professional medical care.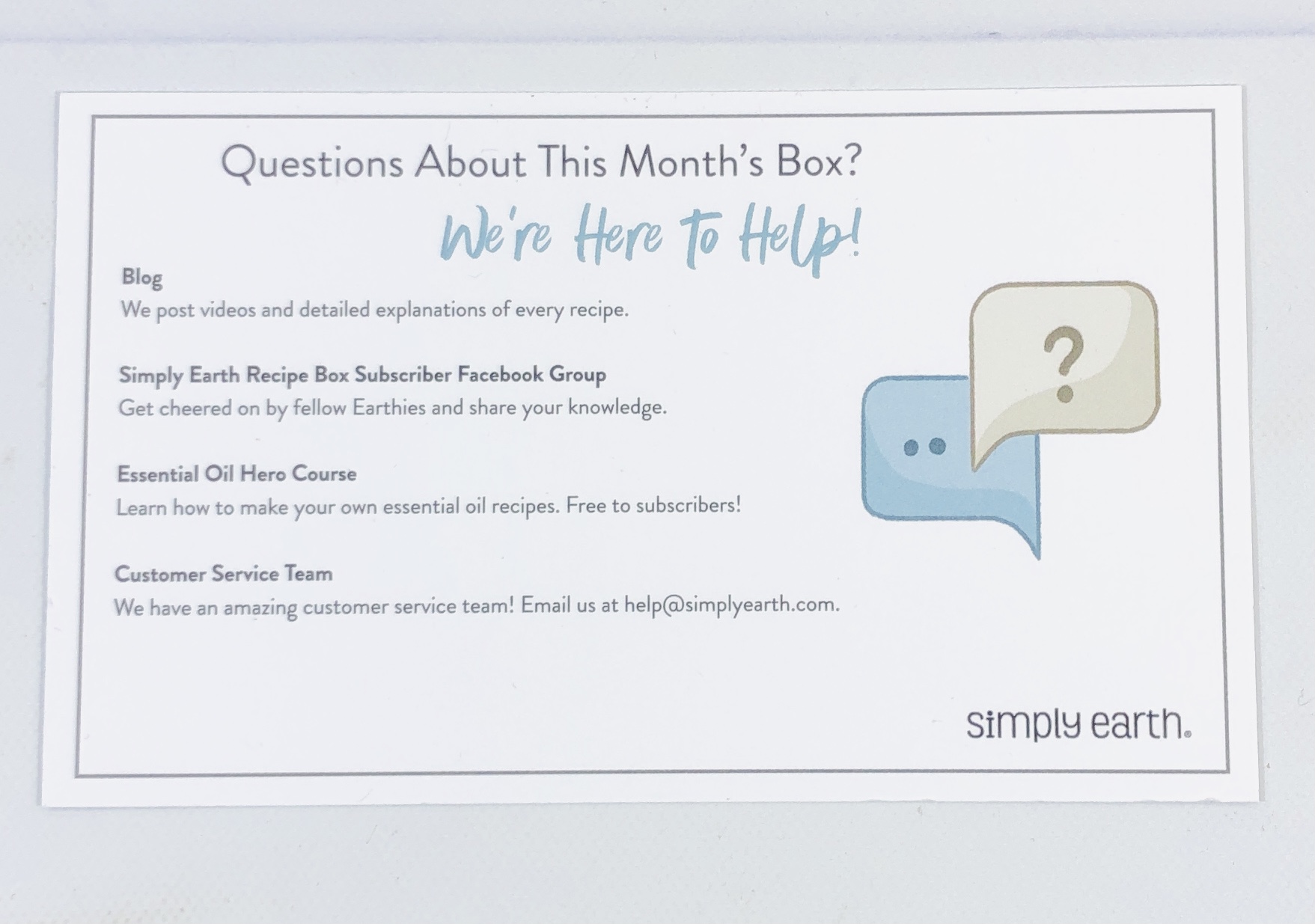 If you have any questions, reach out to Simply Earth. Make sure to watch the videos posted on their blog first, they are helpful and funny too.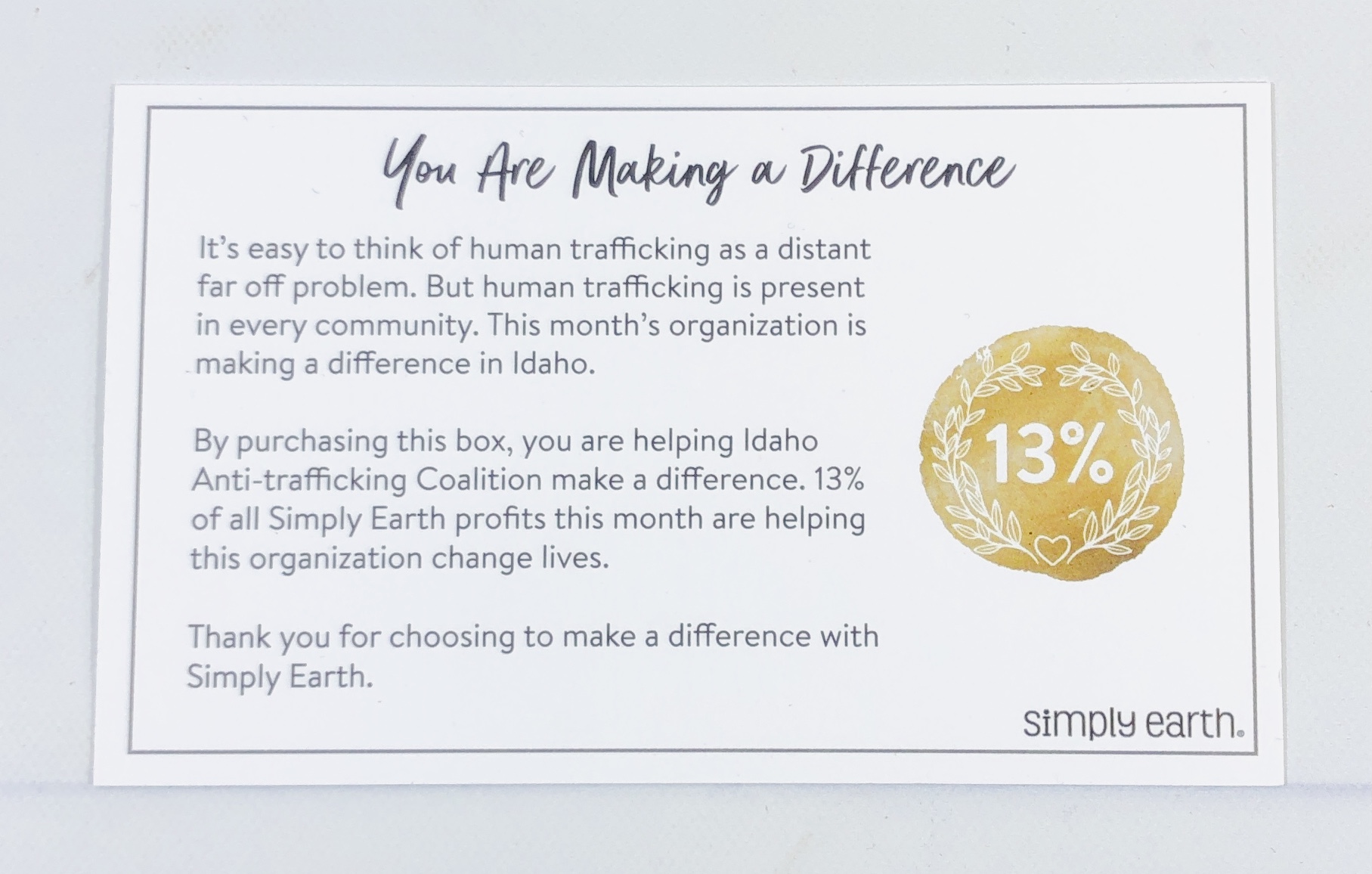 A portion of proceeds goes to helping fight human trafficking.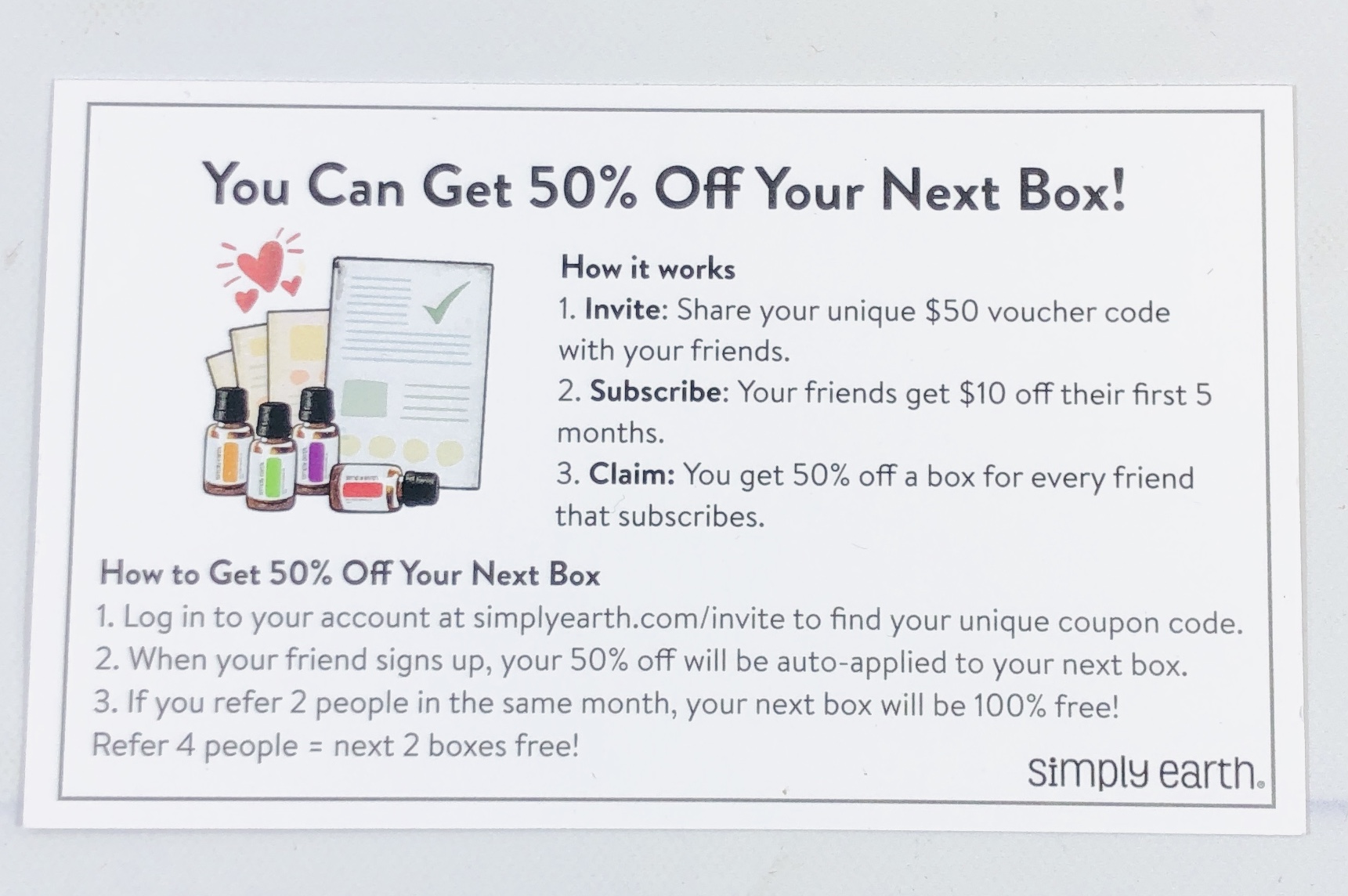 Share your unique code with a friend and they will get a discount and you might earn a free box!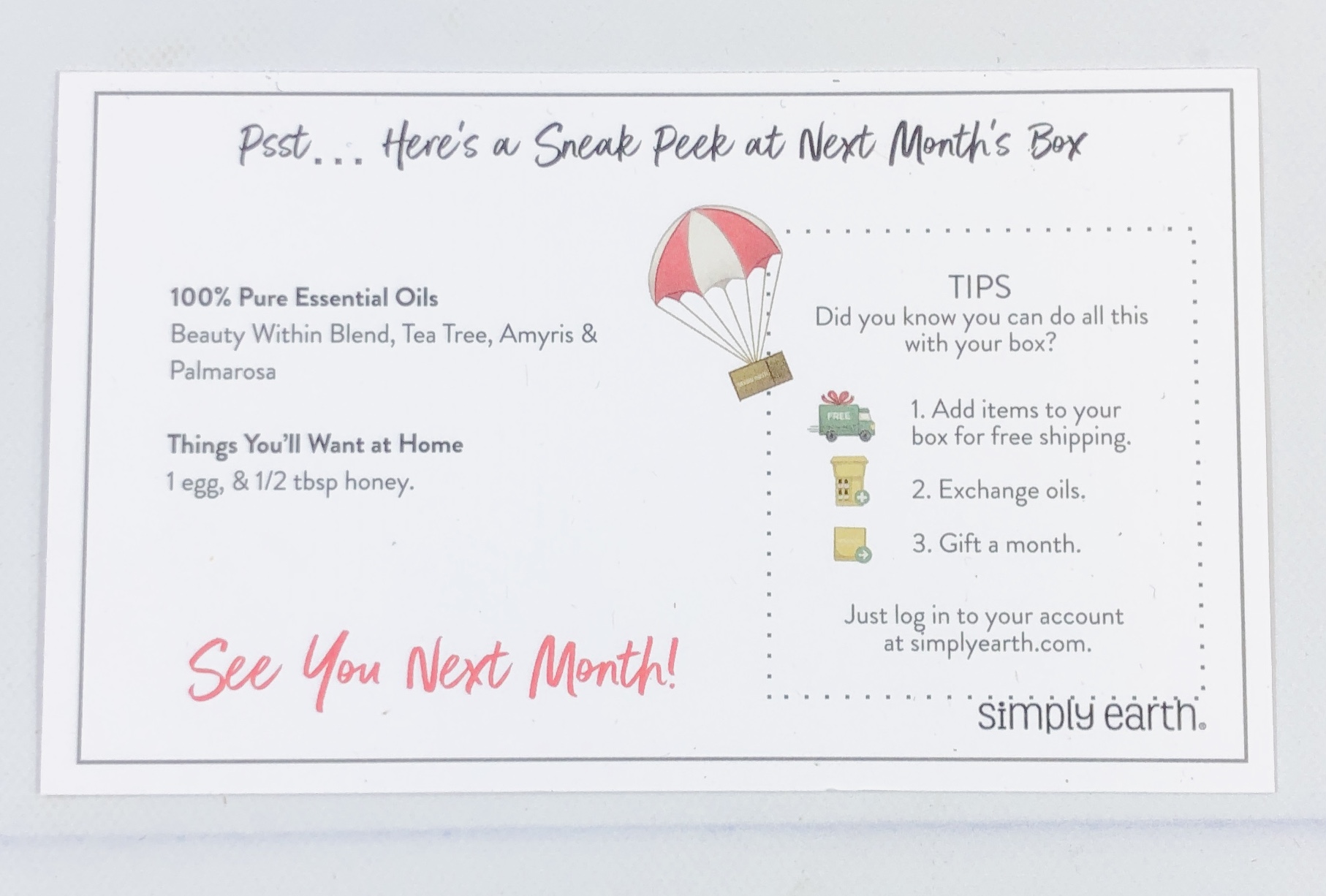 Here's the oils coming in March. You can log into your account to switch up the oils if you already have some of these on hand. It also lists what you need to have on hand at home to complete those recipes.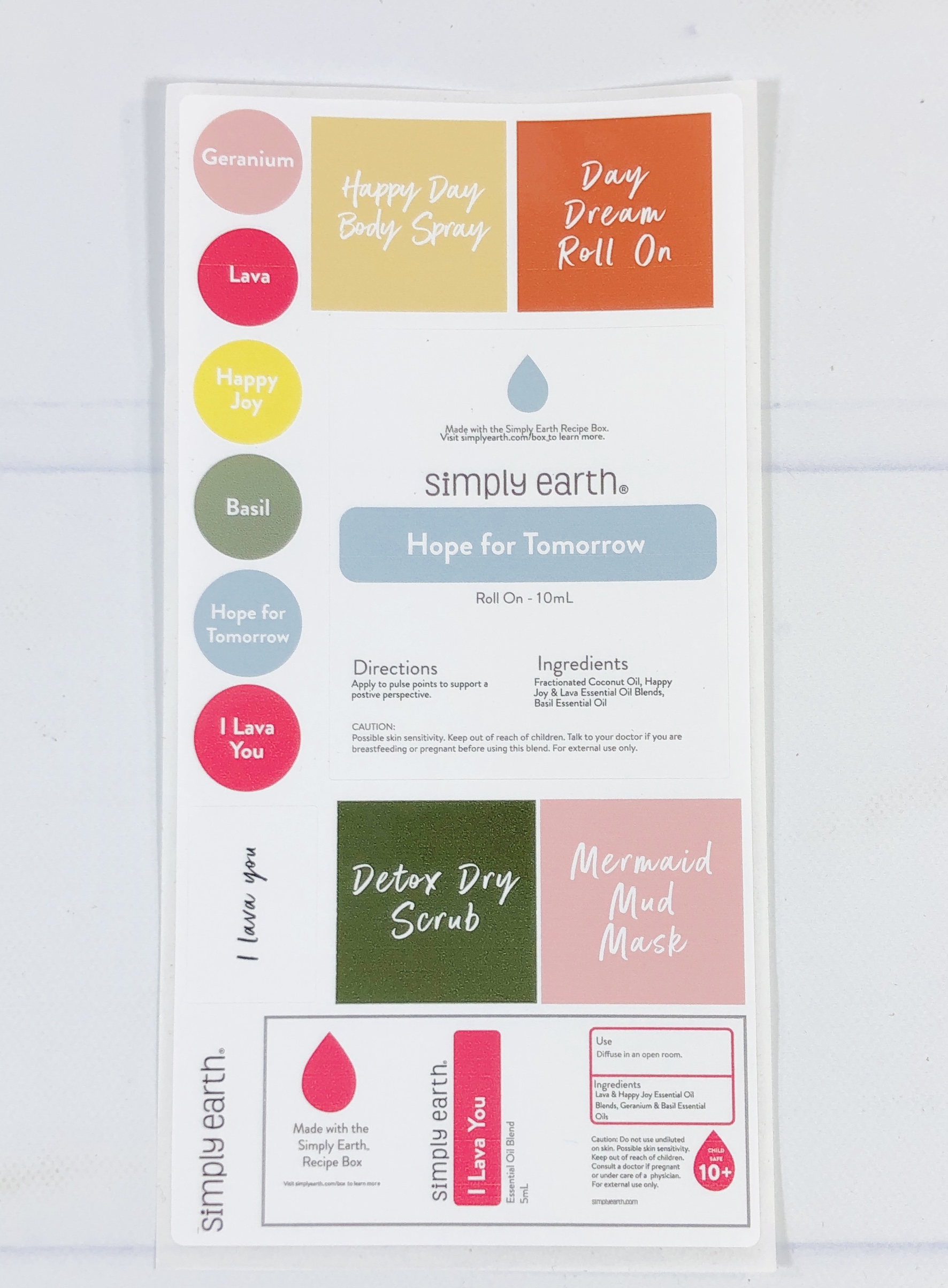 A sheet of stickers is pre-scored, just peel and place.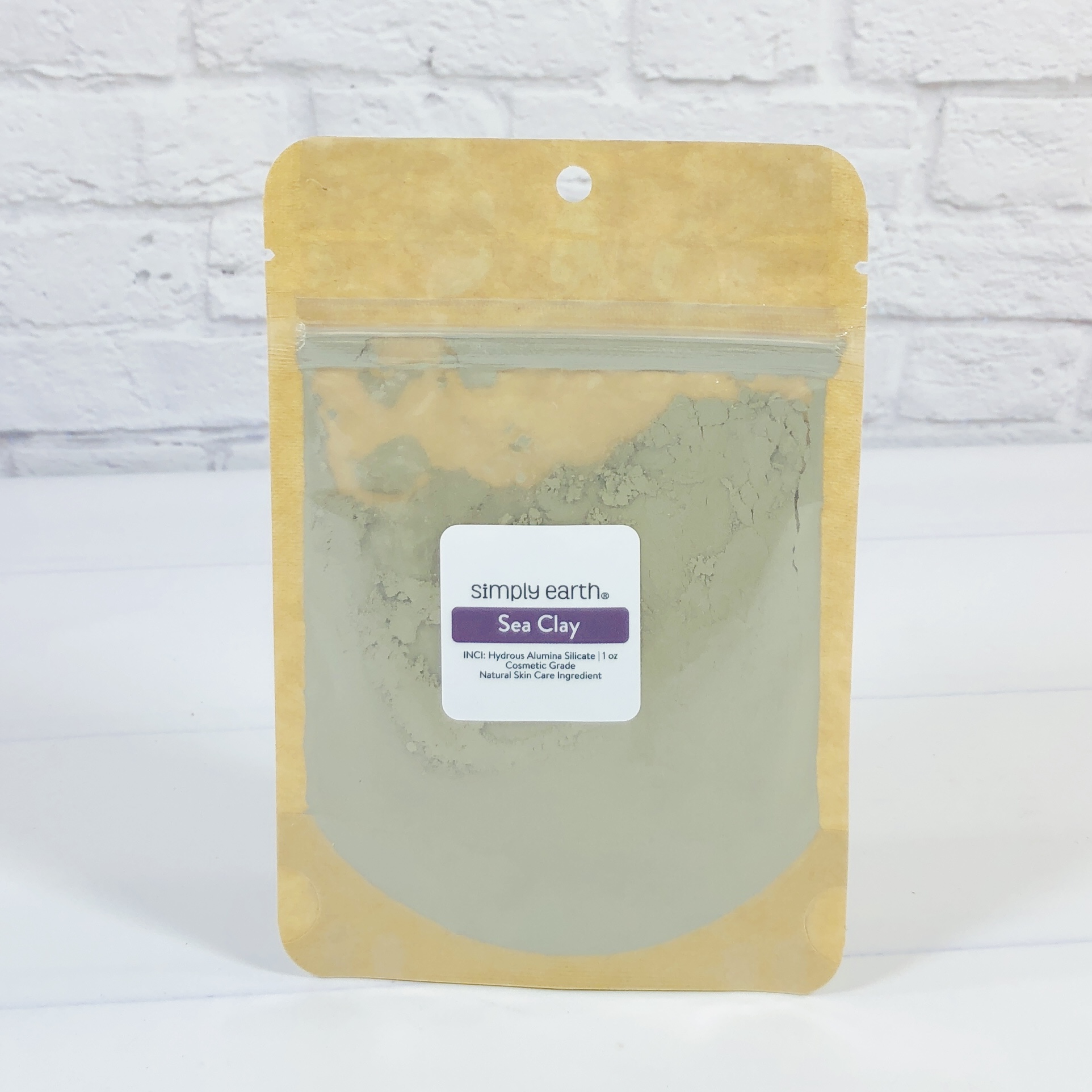 Simply Earth Sea Clay ($4.89 listed value) Hmm, could we be making a mask this month? Clay helps clear oil from pores. I linked to French Green Clay because I am told by Google that they are the same thing.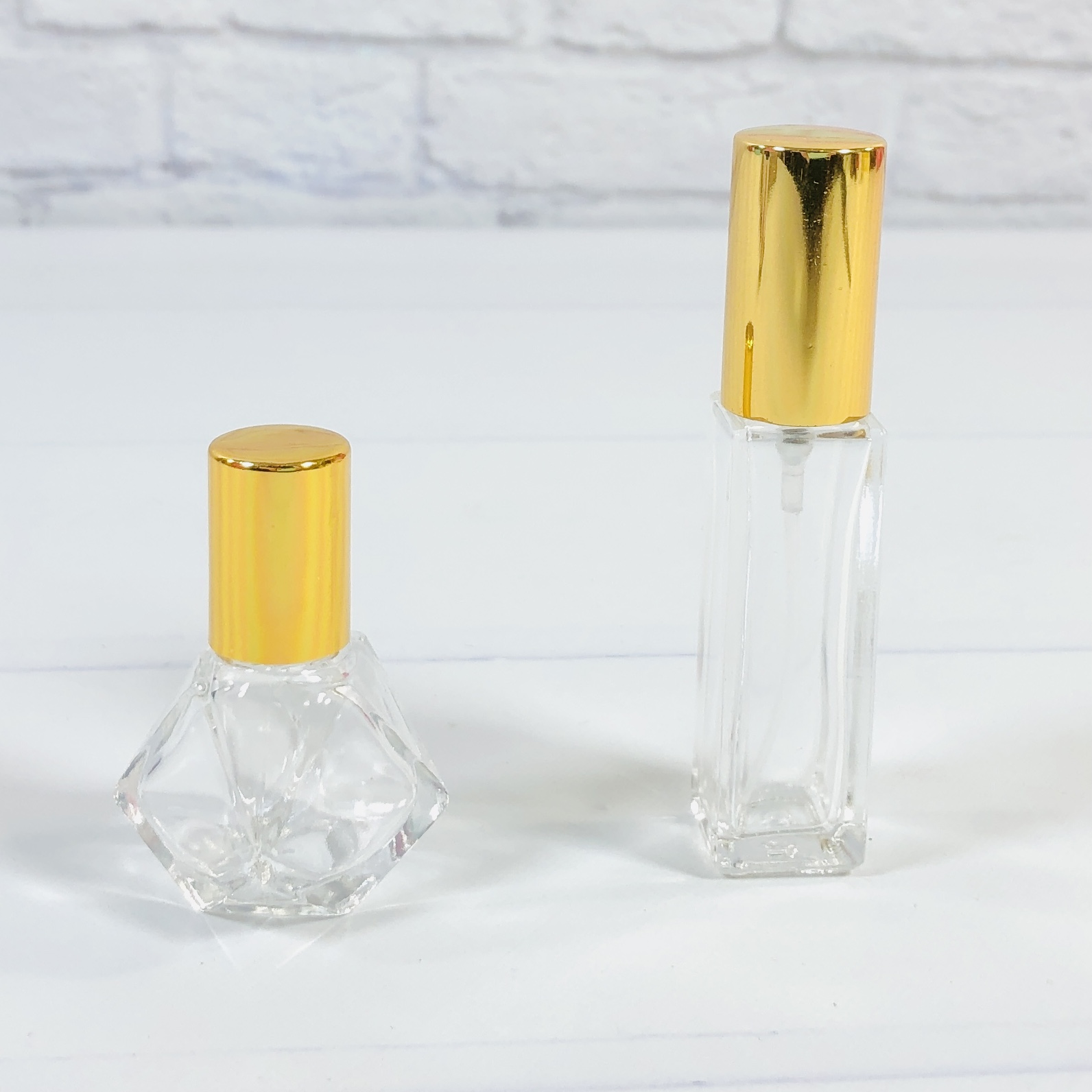 Prism Roll-On & Spray Bottle ($2.19 and $2.99 listed values) Two bottles were included for making this month's recipes.
They are glass and one has a removable rollerball while the other has a sprayer.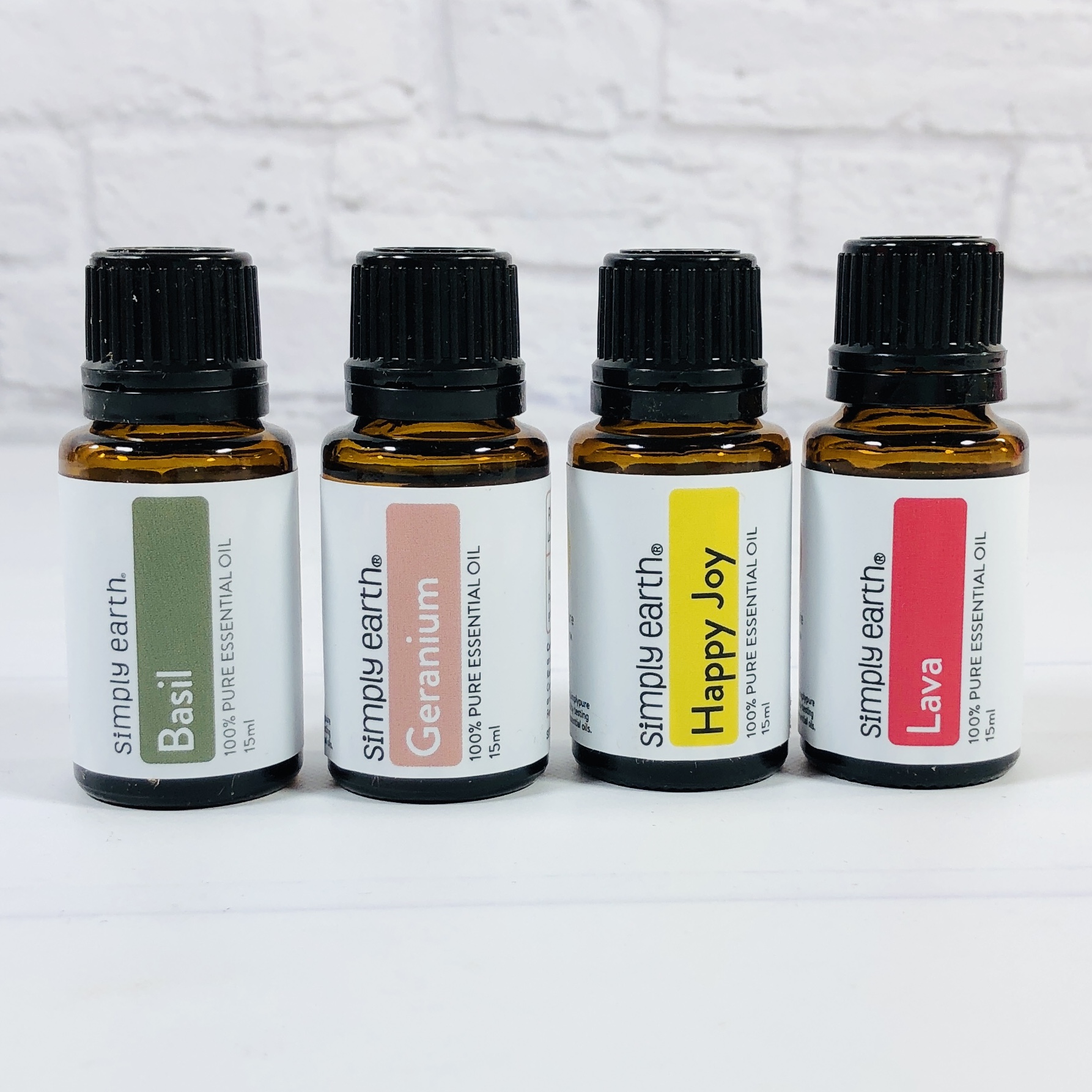 Two of the oils this month are singles while the other two are blends.
Simply Earth Basil Pure Essential Oil ($14.99) I was expecting this oil to smell like pesto but it smells deeper, more earthy than I was expecting. In a blind smelling, I don't think I would have guessed correctly. Basil can help relieve a headache and upset stomach.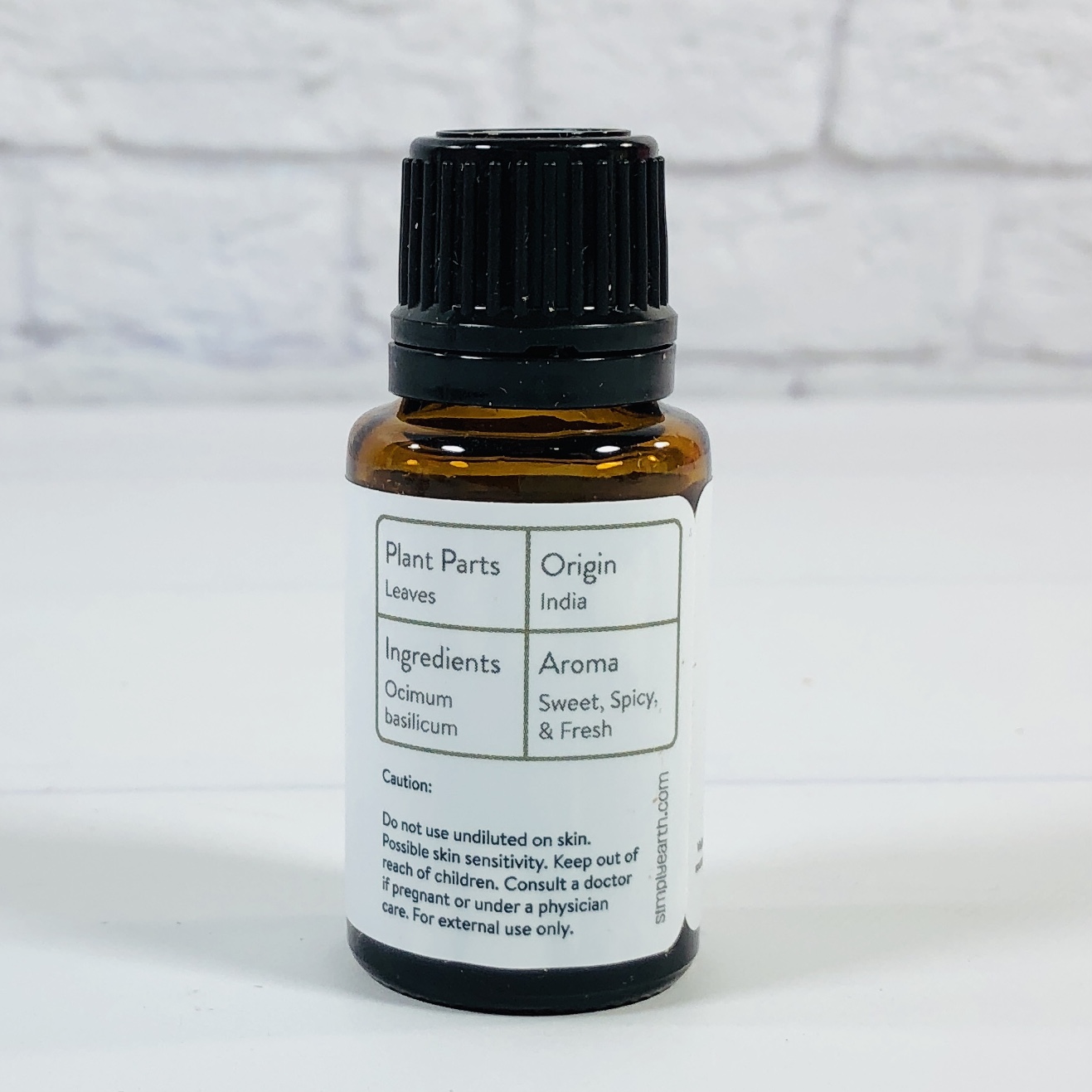 The bottle tells us pertinent information, like the parts of the plant used and the country of origin. If you click on the links you will also find some additional recipes using the oils.
The bottles have a handy euro dropper lid but be careful, some oils come out faster than others.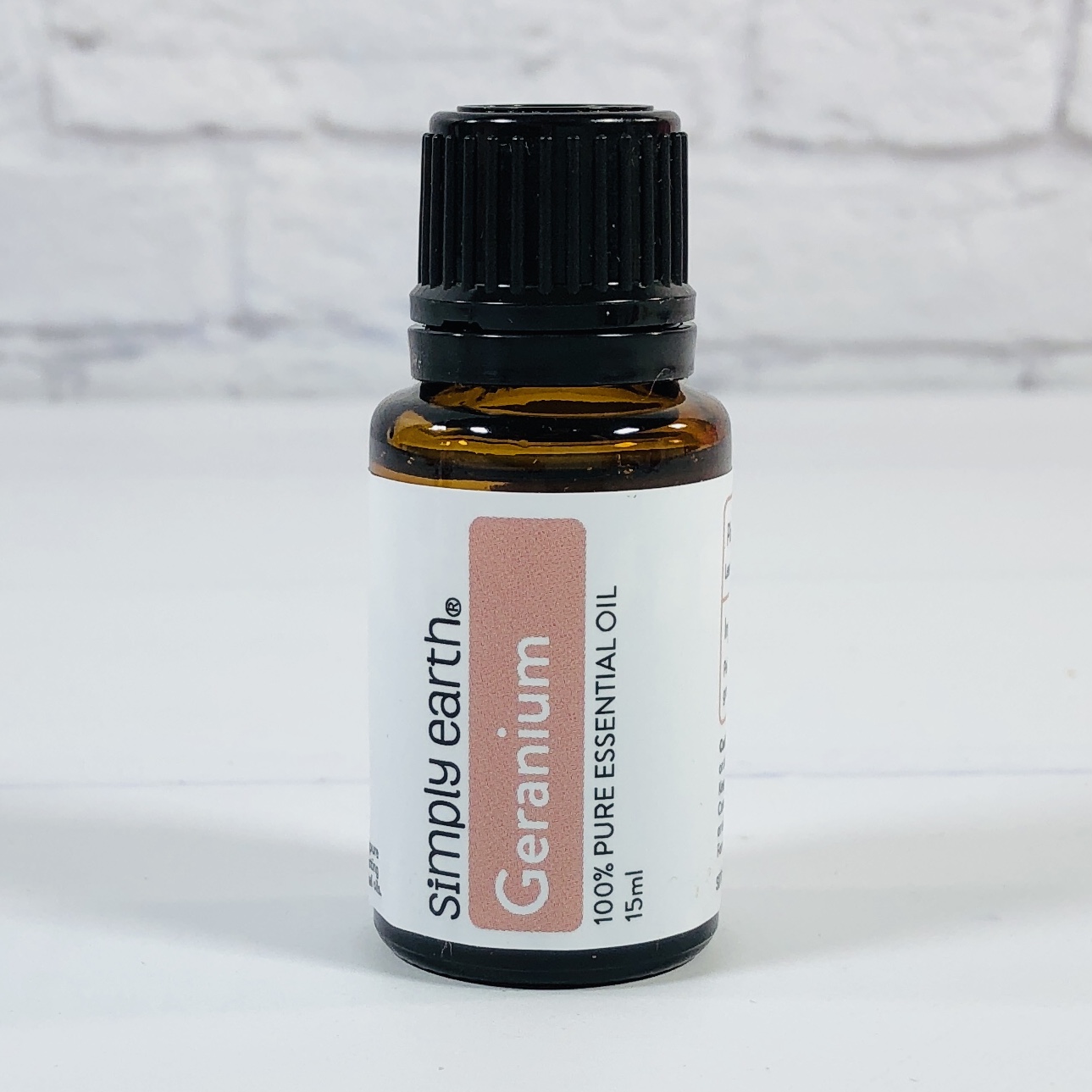 Simply Earth Geranium Pure Essential Oil ($16.99) Geranium comes from a flower and has a unique floral scent, I can usually pick it out in a natural beauty product with no problem. It can be used in perfumery, skincare, and to relieve stress.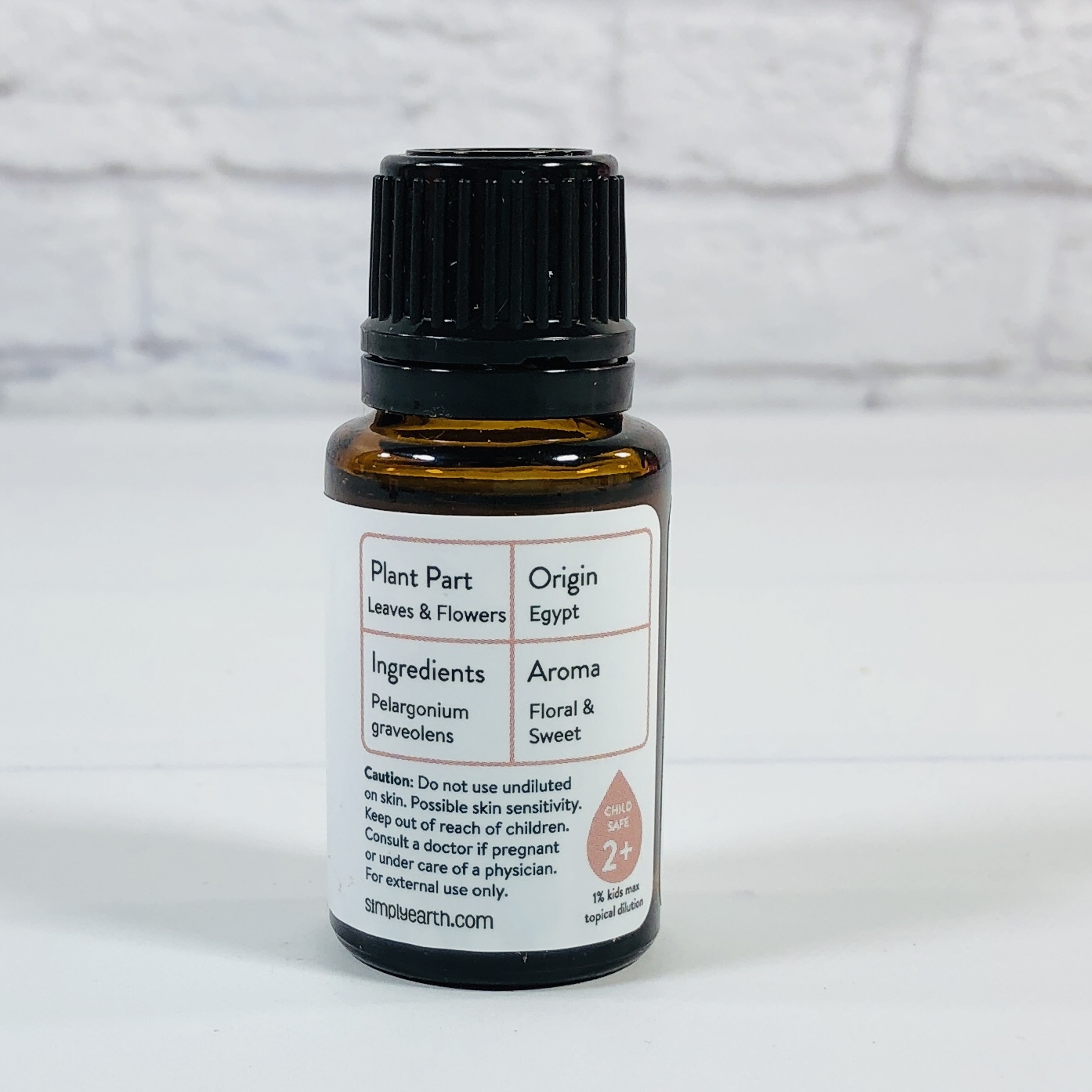 It comes from the leaves and flowers of the plant.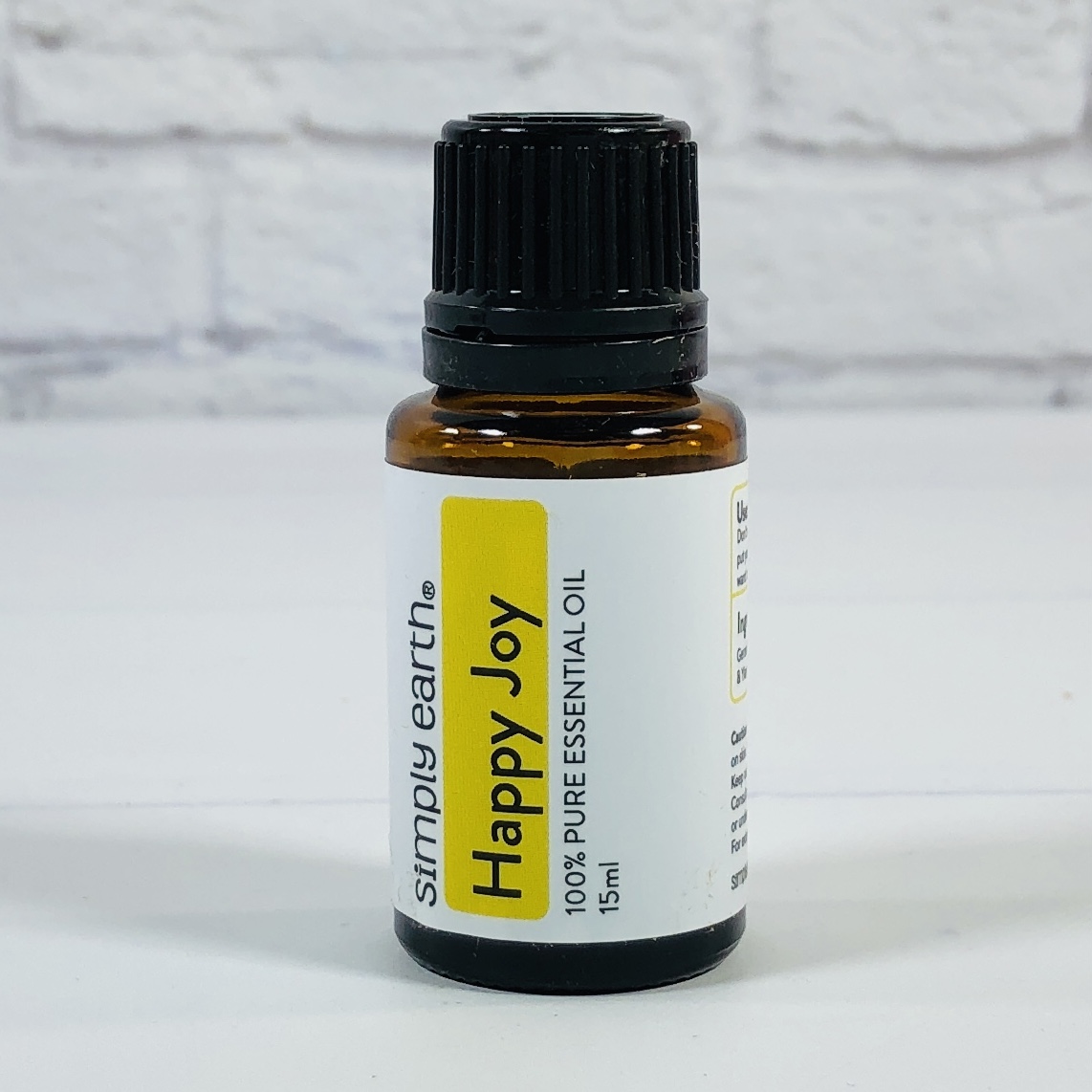 Simply Earth Happy Joy Essential Oil ($12.99) is an uplifting scent blend that smells most like ylang ylang to my nose.
It is made of ylang ylang, of course, and also geranium, sweet orange, and grapefruit.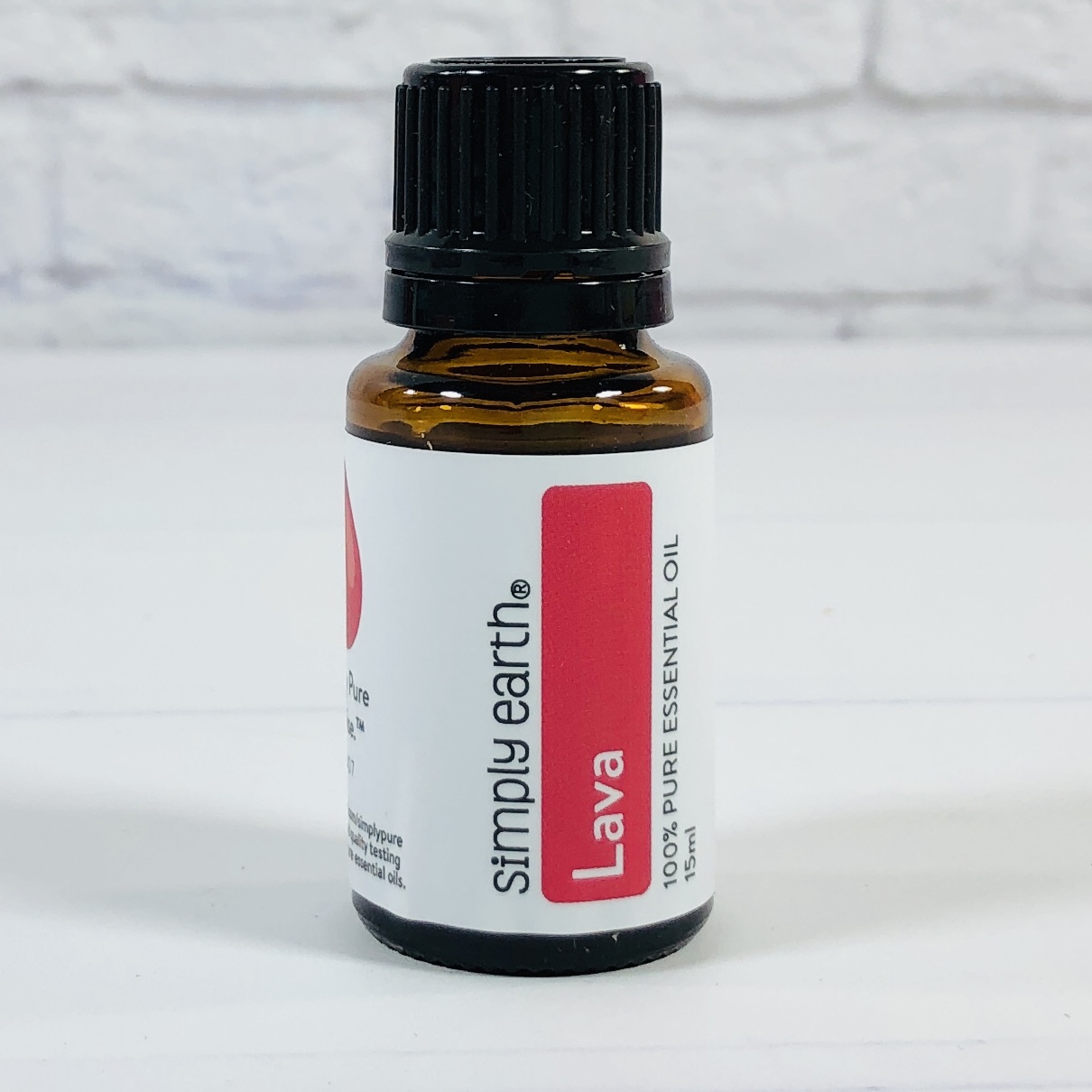 Simply Earth Lava Essential Oil Lava appears to be a new or exclusive blend as I couldn't find it on the Simply Earth website. It smells warm with hints of orange and woods.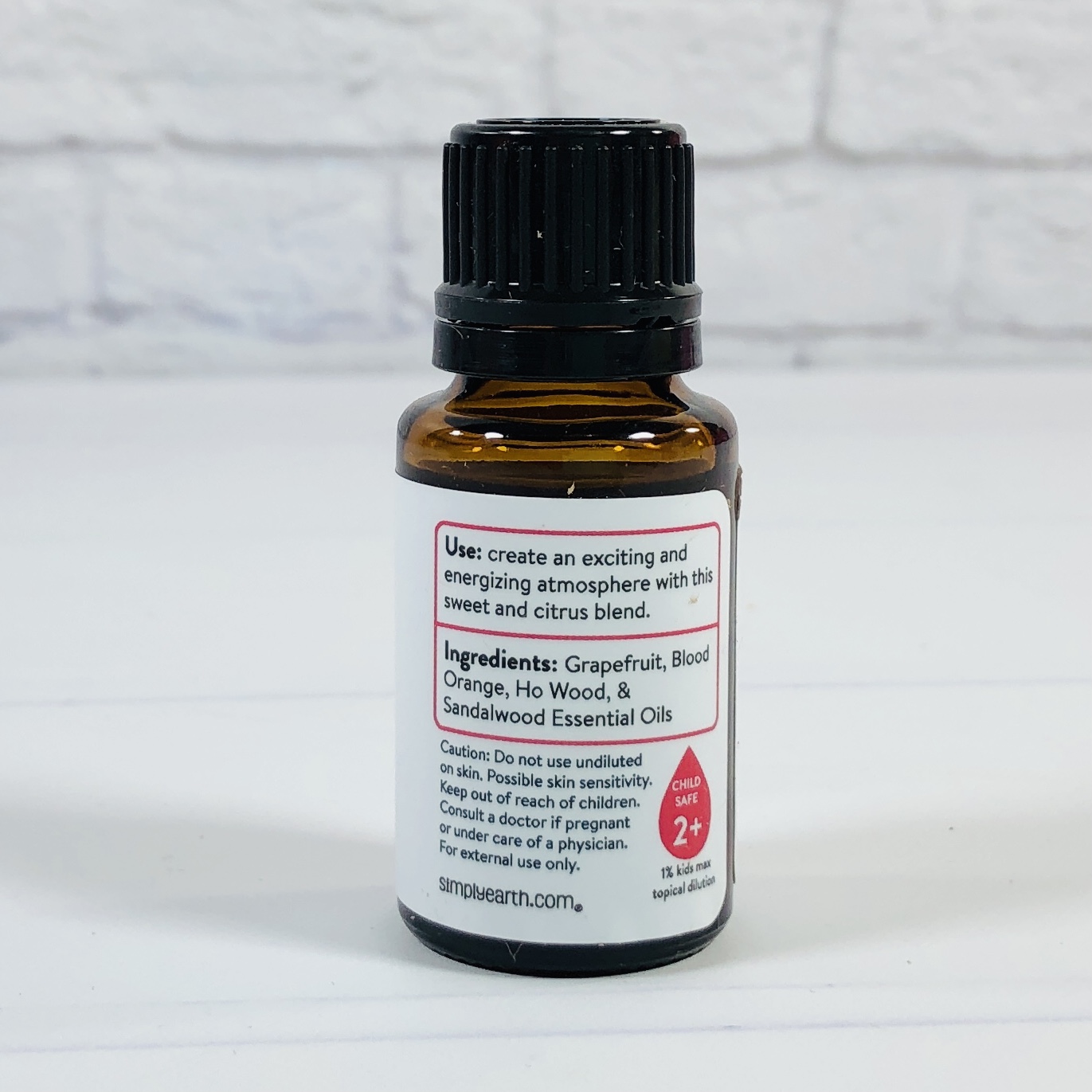 This combo has grapefruit, blood orange, ho wood, and sandalwood.
Now on to the recipes! As always, remember to use caution with oils, check with a physician first if you are pregnant or nursing, and be careful when using around children or pets. Have fun, but be safe!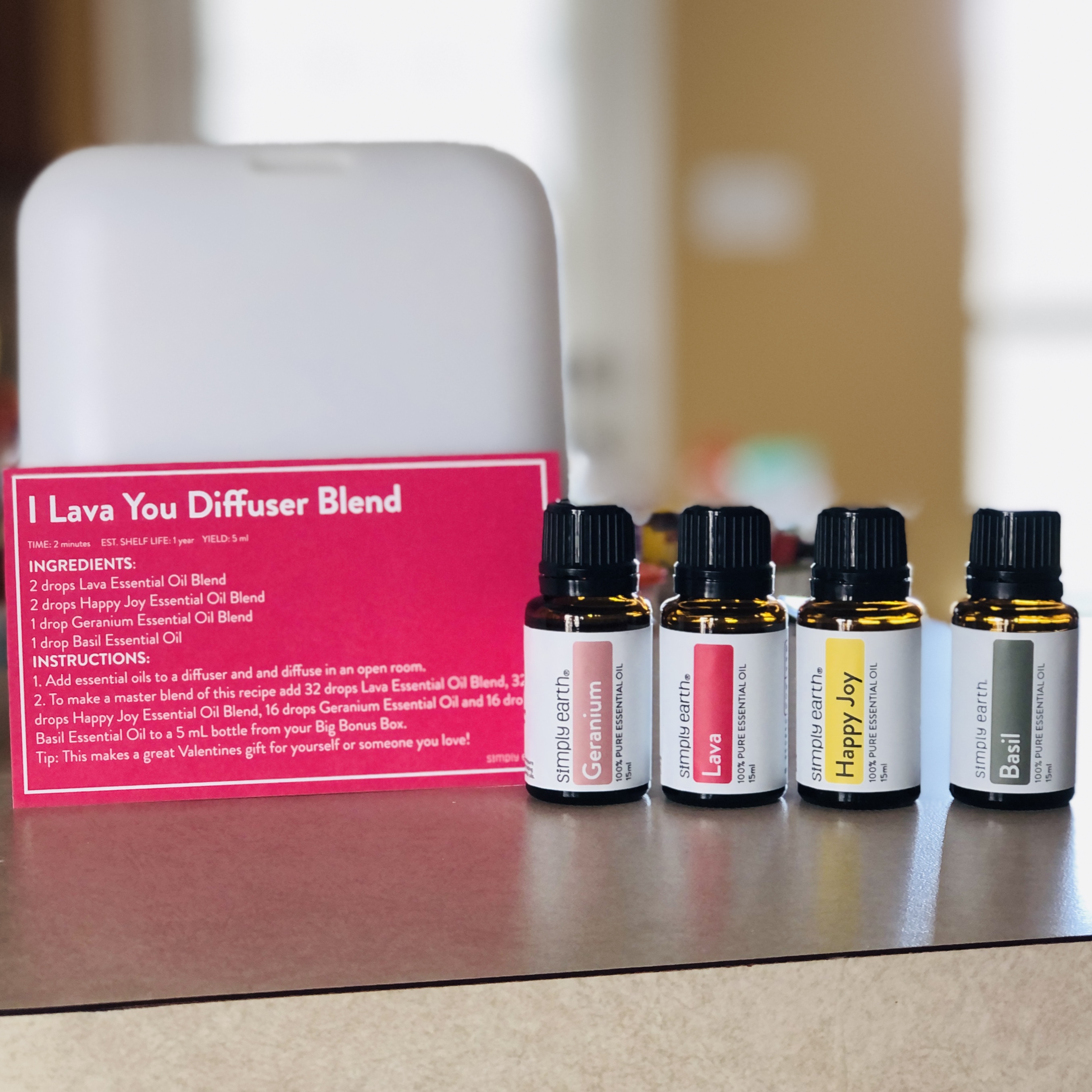 The easiest recipe of all if the diffuser blend. I just dropped these into my diffuser, added water, and turned it on. The smell changes from day to day but most of the time I pick up ylang ylang when walking by. You can make a big batch recipe by dropping the oils into a dropper bottle (from the Big Bonus Box).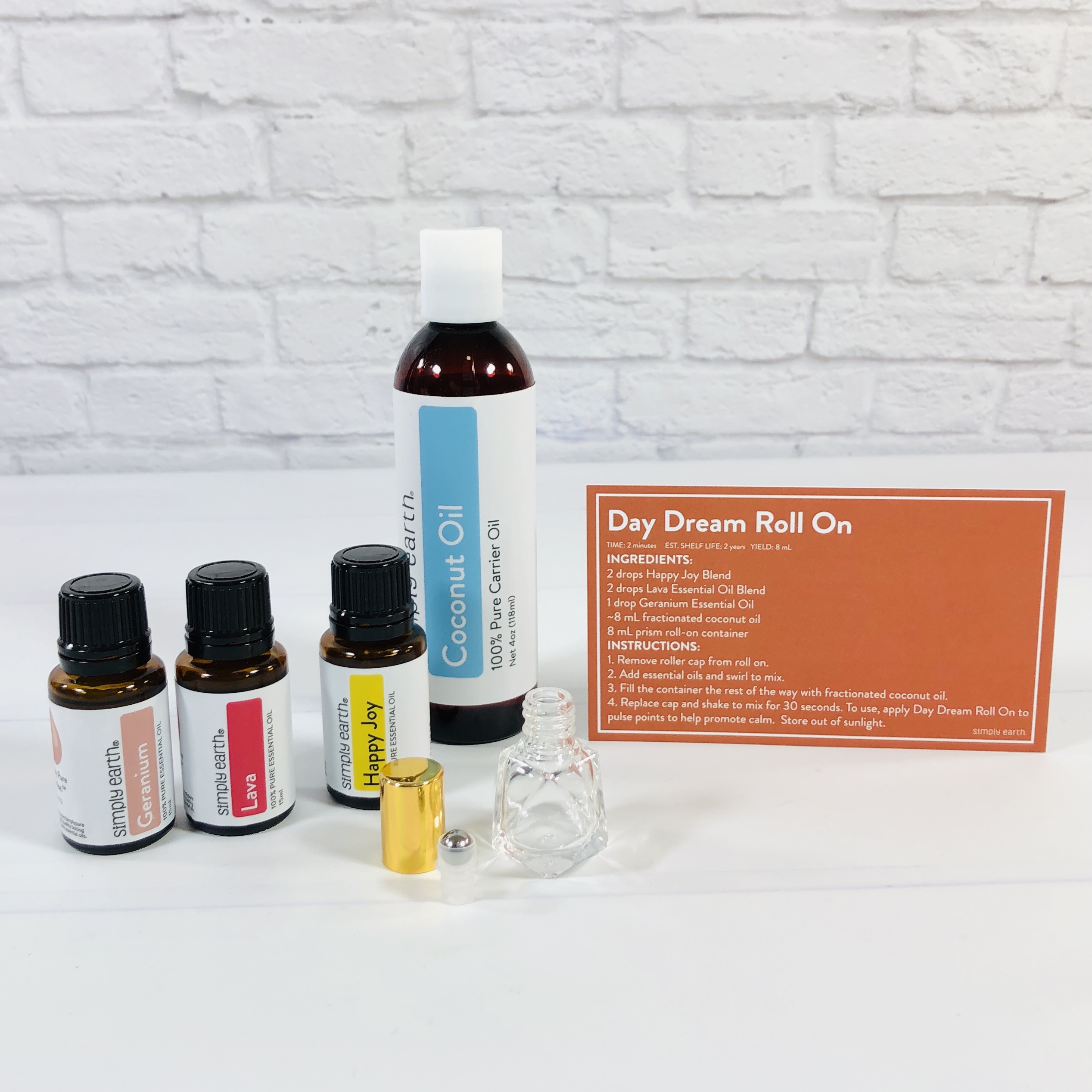 Next, I made the Day Dream Roll On.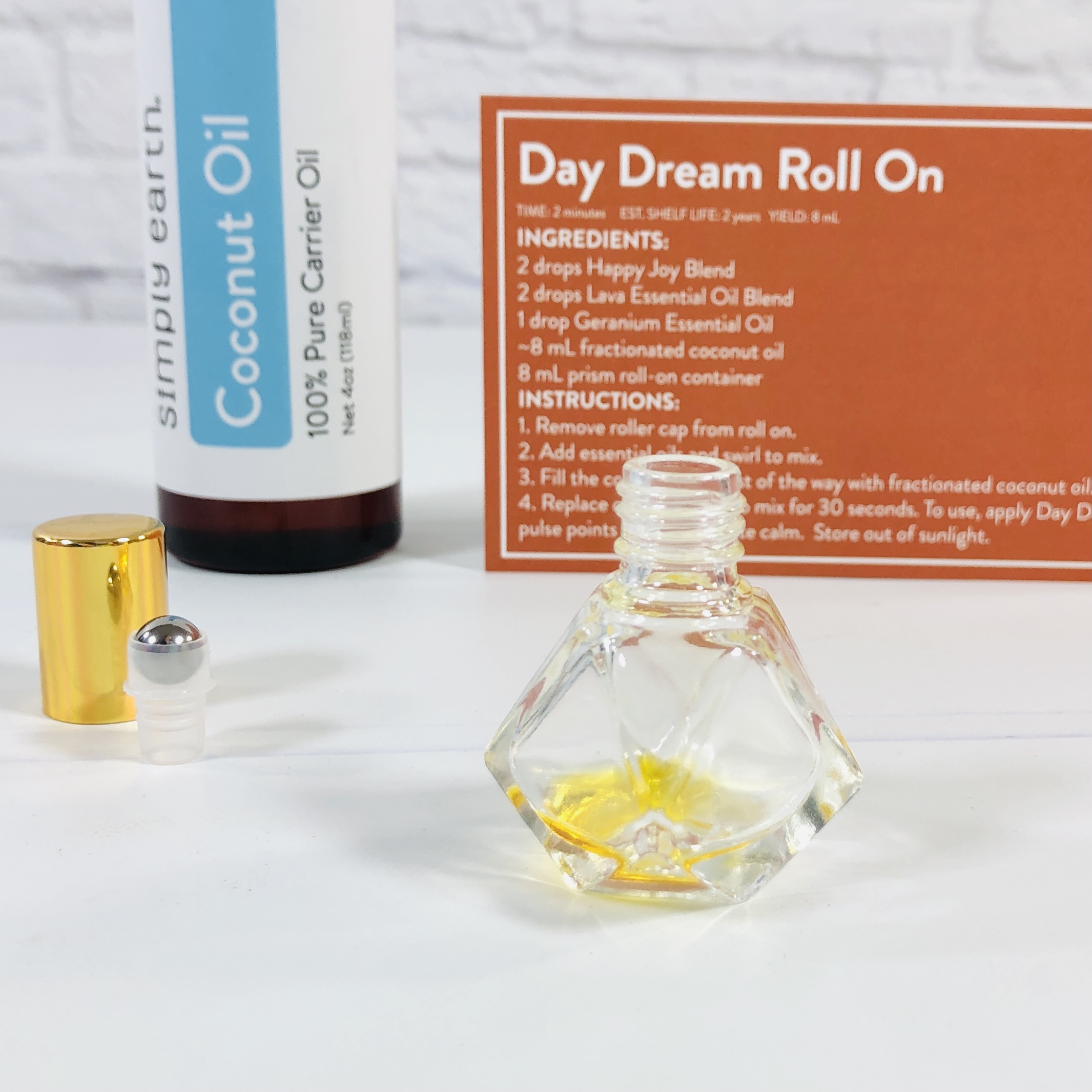 I placed the essential oils in the bottle and swirled them around. I poured coconut oil (from the Big Bonus Box) on top and then swirled it again. Finally, I pushed the rollerball top in place.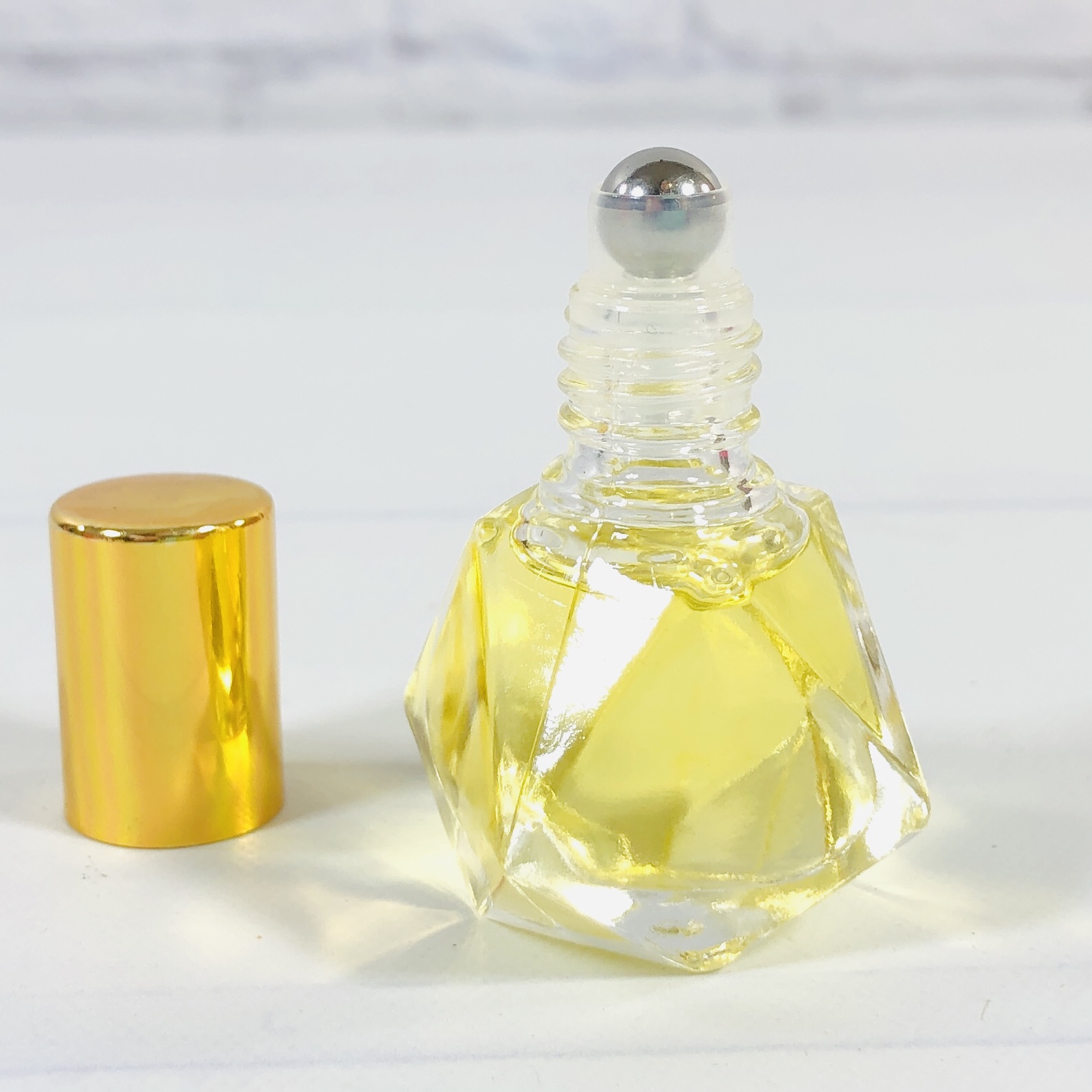 There was a label included but I can't really see any way to put a square label on this prism bottle. The scent is light, with citrus and geranium notes taking the lead. It was suggested to use a teeny tiny funnel to get the oils into the bottle but I don't have one of those but I used patience and a steady hand.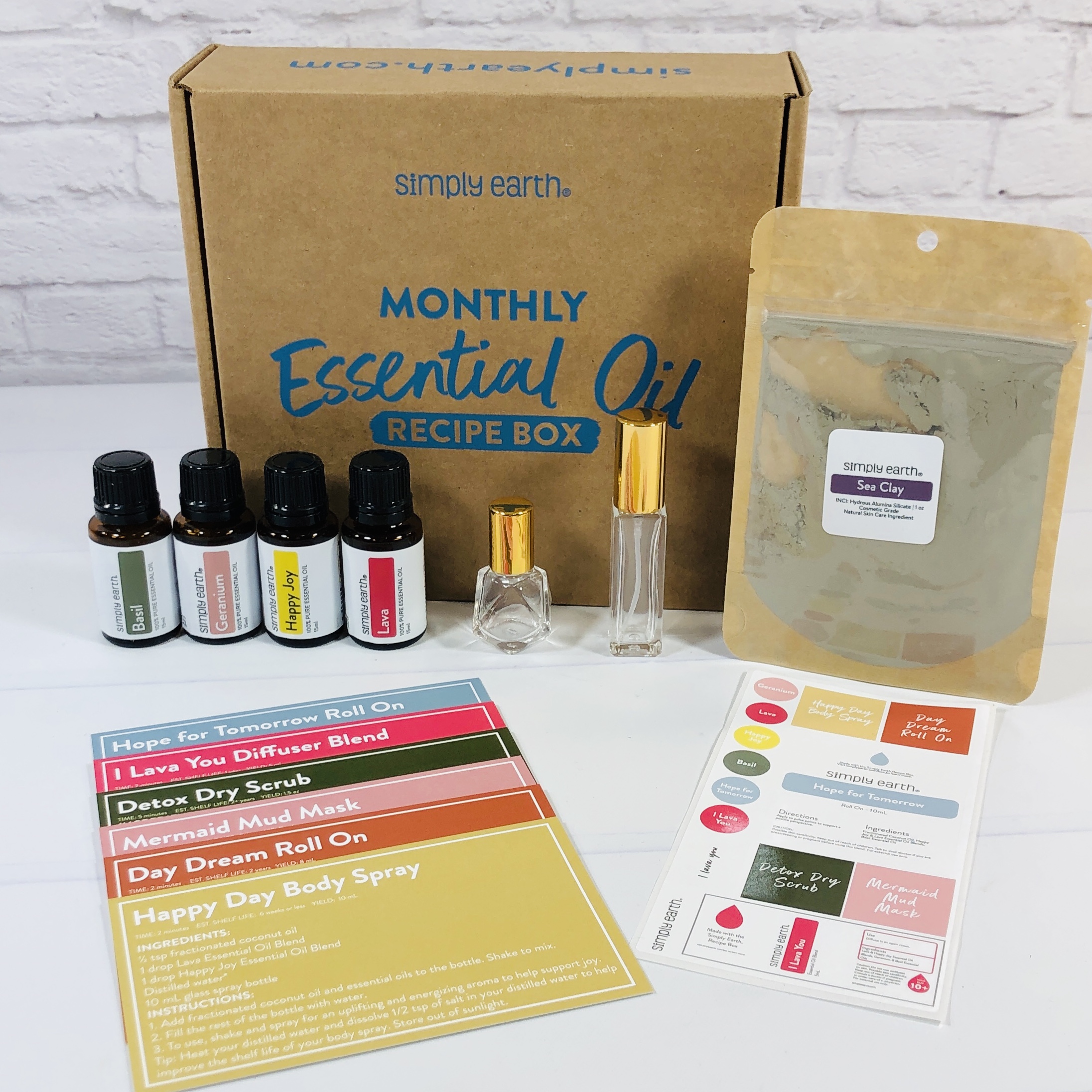 Simply Earth makes it easy to use essential oils, whether for cleaning, wearing, or diffusing. The big Bonus Box is super helpful, because a lot of the basics are on hand once the box is in your hands. Then the Recipe Box shows up every month with new oils, exciting blends, and extras for that month's recipes. I still have a few more recipes to make with my "ingredients" and can't wait to try them out. I think Simply Earth has high quality oils and I love learning about how to use them. Check out their website for extra recipes and make sure to watch those videos first, they are quite entertaining!
What do you think of the Simply Earth box?