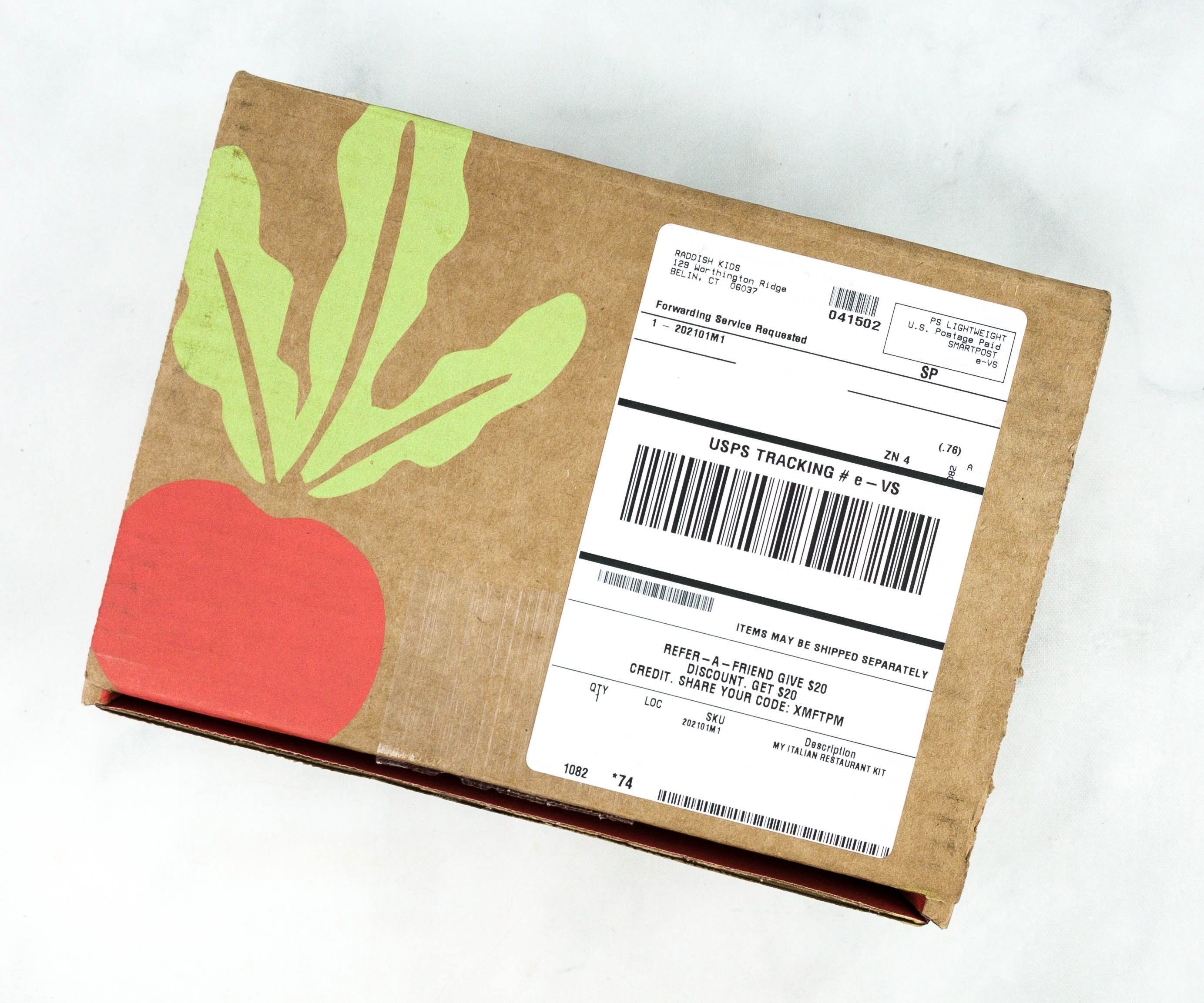 Raddish is a monthly kids' activity box centering around food and cooking! Designed for kids 4 to 14+, each themed box will include 3 illustrated recipe guides, 3 culinary skill cards, a creative kitchen project, kid-friendly tools and collectibles such as Table Talk cards, a culinary tool, and an iron-on Raddish patch. Themes range from Seasonal Spotlights to Global Cuisine and Creative Cookery to Holiday Celebrations. Although the ingredients are not included, they email you a shopping list for each month's recipes before your kit is shipped.
DEALS:
Get $15 off when you sign up for a 6 month subscription! Just use this link and use the coupon code ATHOME at checkout.
Get $20 off when you sign up for a 12 month subscription! Just use this link and use the coupon code CHEF20 at checkout.
PLUS Get a FREE apron with your first box when you sign up for a 6+ month subscription!
They offer a monthly membership for $24/month, a 6-month membership for an upfront payment of $132 ($22/month), and a 12-month membership for an upfront payment of $240 ($20/month). For those who are getting the 6 and 12-month memberships, expect a free apron in your box.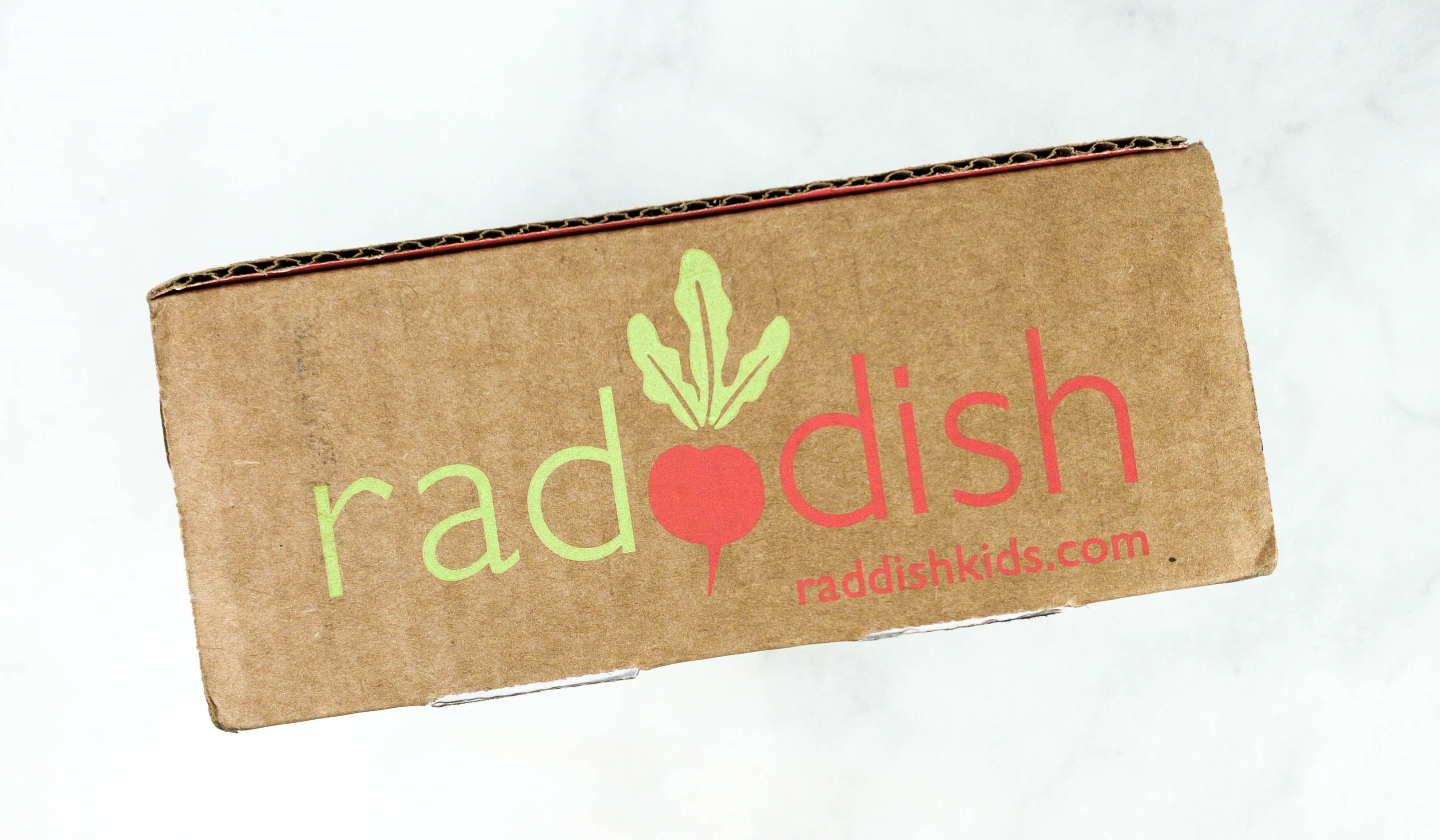 The box came in perfect condition!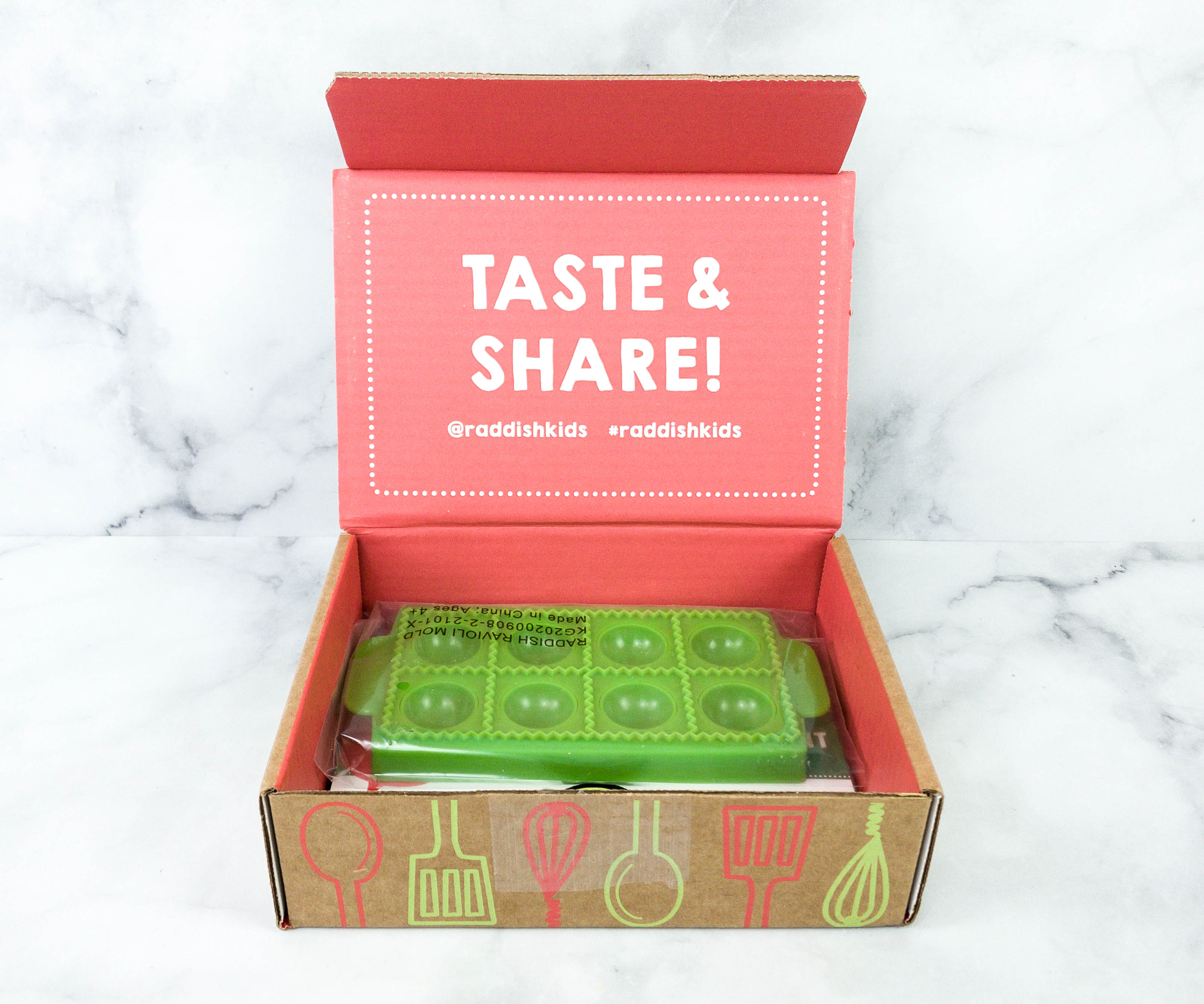 Featured on the inner part of the box's flap are Raddish Kids' social media handles where you can share your cooking experience.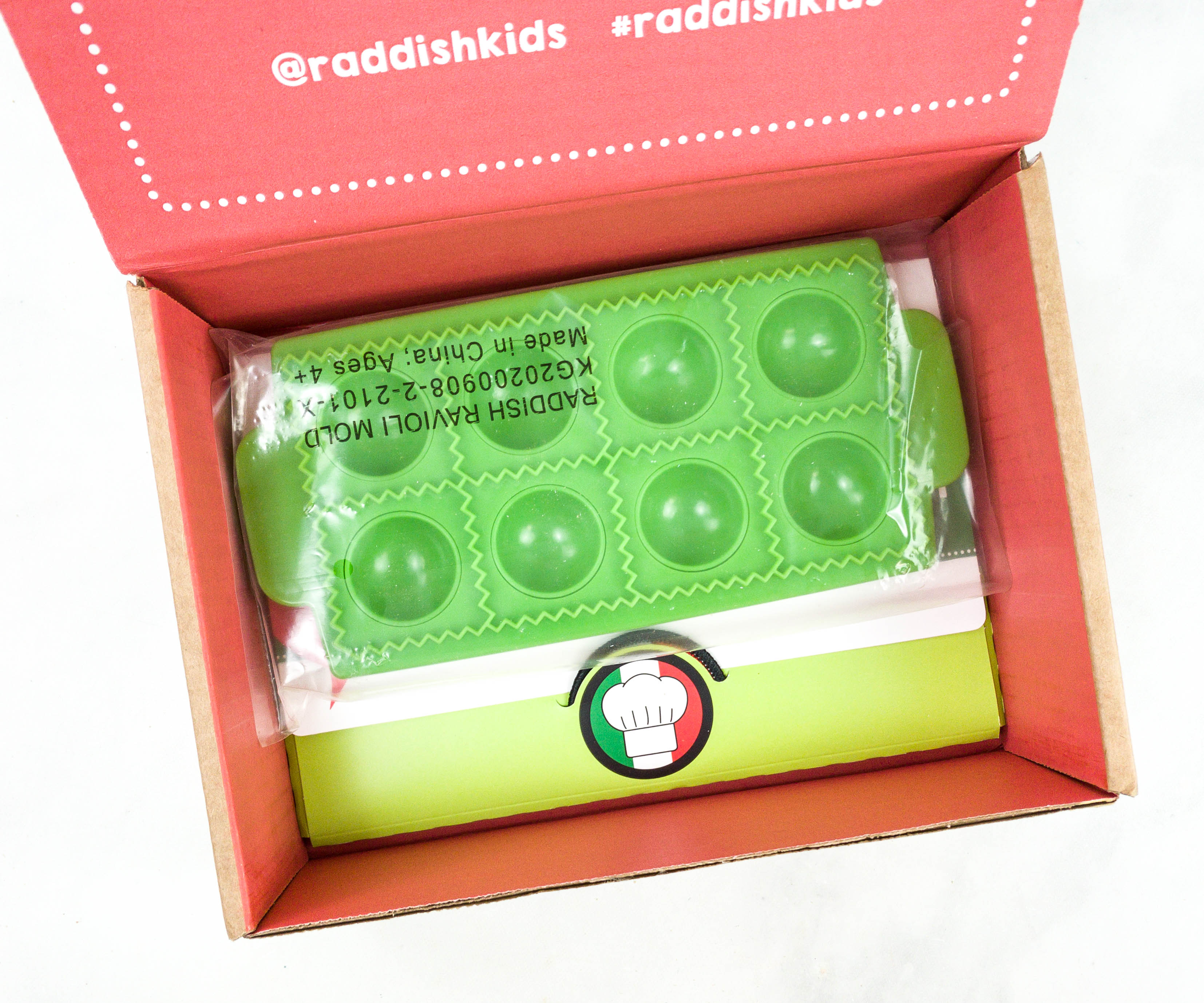 All the items were neatly packed inside the box.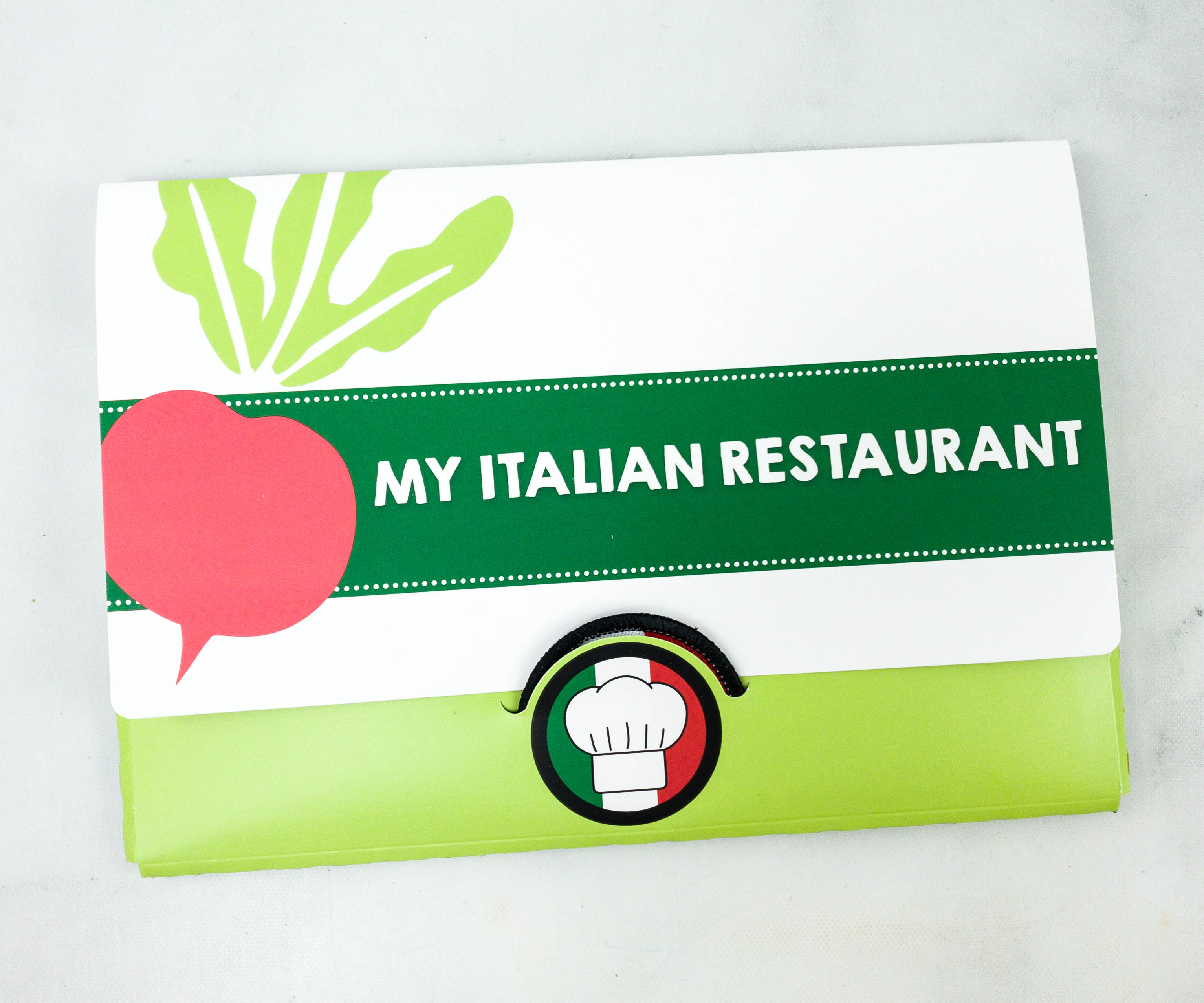 This month's theme is My Italian Restaurant! Inside the envelope are small cards containing some culinary skill lessons, guides with fun and exciting activities.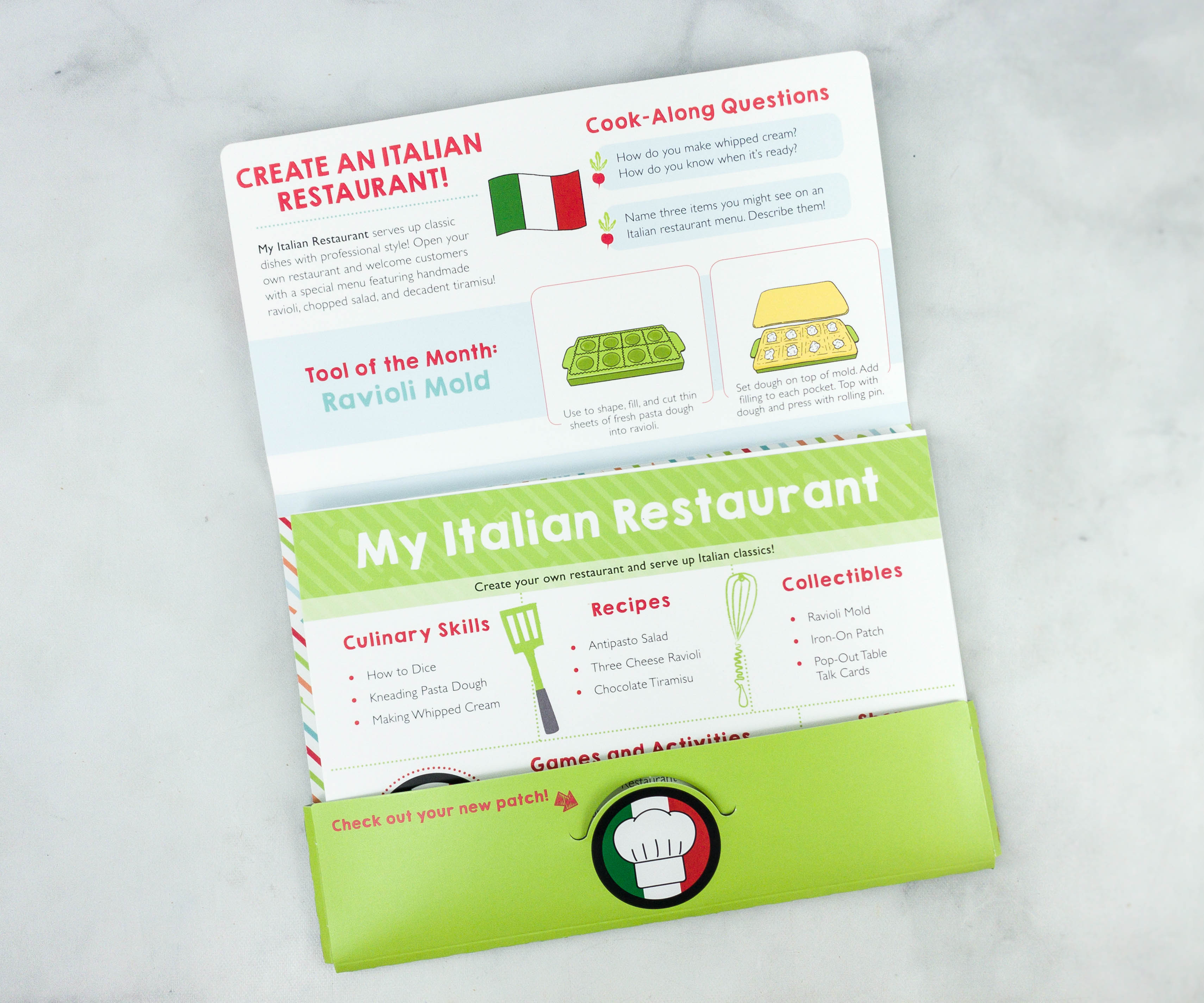 They also have bonus content on their website, called Bonus Bites, which includes a Spotify playlist that the kids can listen to while cooking, dietary modifications for the recipes in the box, and even lesson plans to accompany the kit.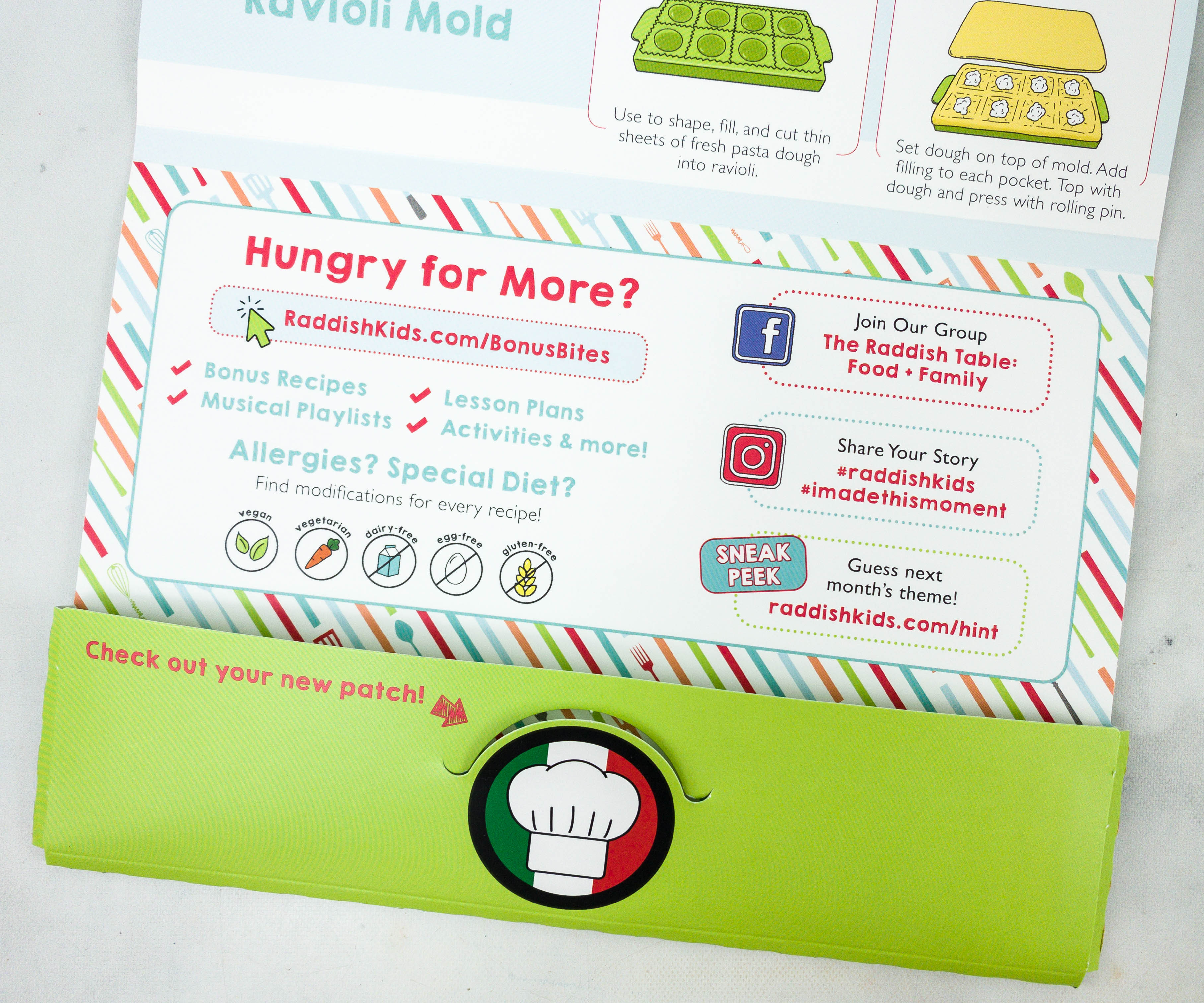 The envelope lists ways on how you can connect with Raddish Kids on social media, as well as a sneak peek for next month's theme.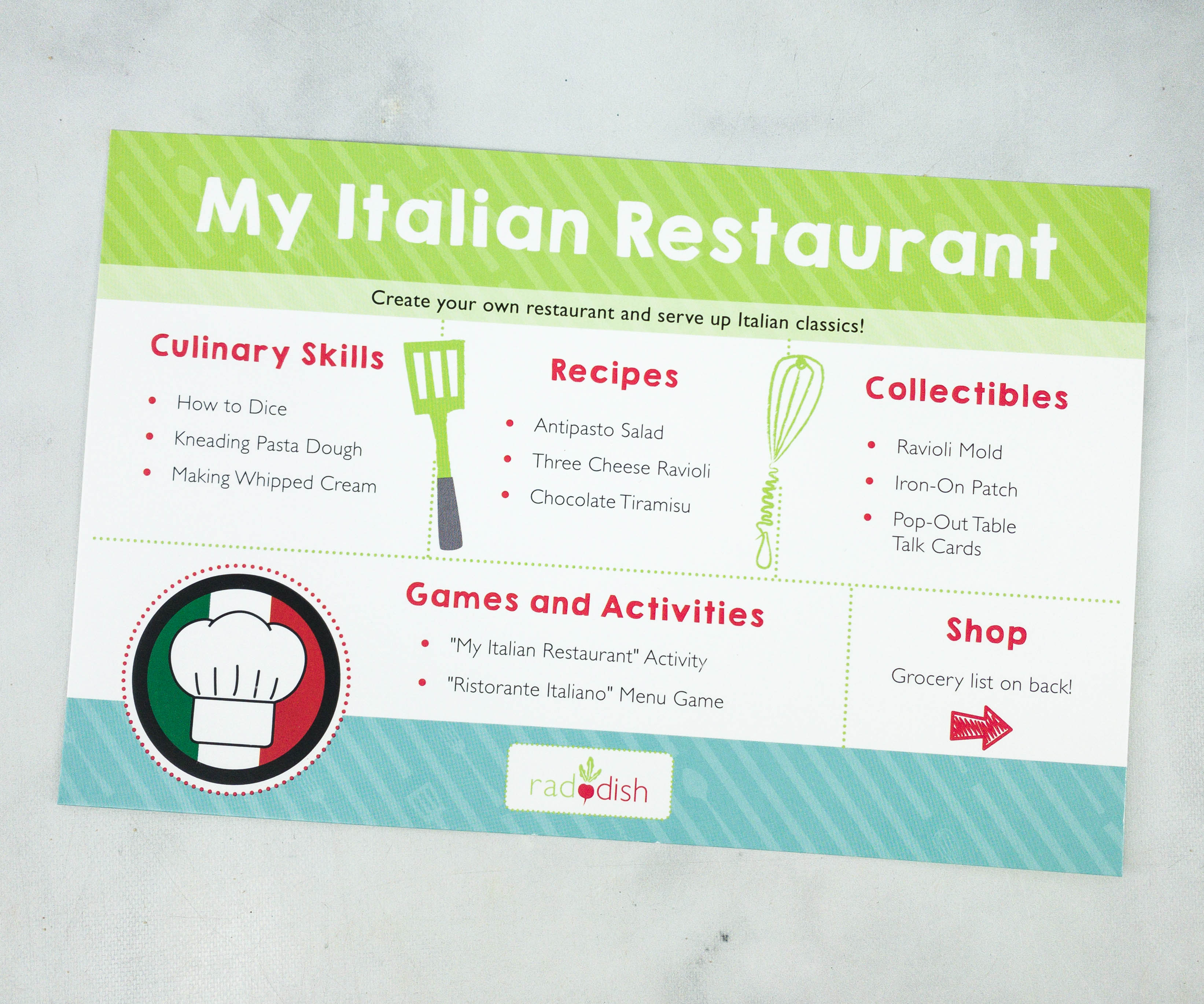 This card contains all the information you need to know about this month's box. It lists all the culinary skills your kids will be acquiring, the recipe names, collectibles, and other games and activities.
The back of the card provides a complete grocery list for all the featured recipes this month. The recipes are Antipasto Salad, Three Cheese Ravioli, and Chocolate Tiramisu.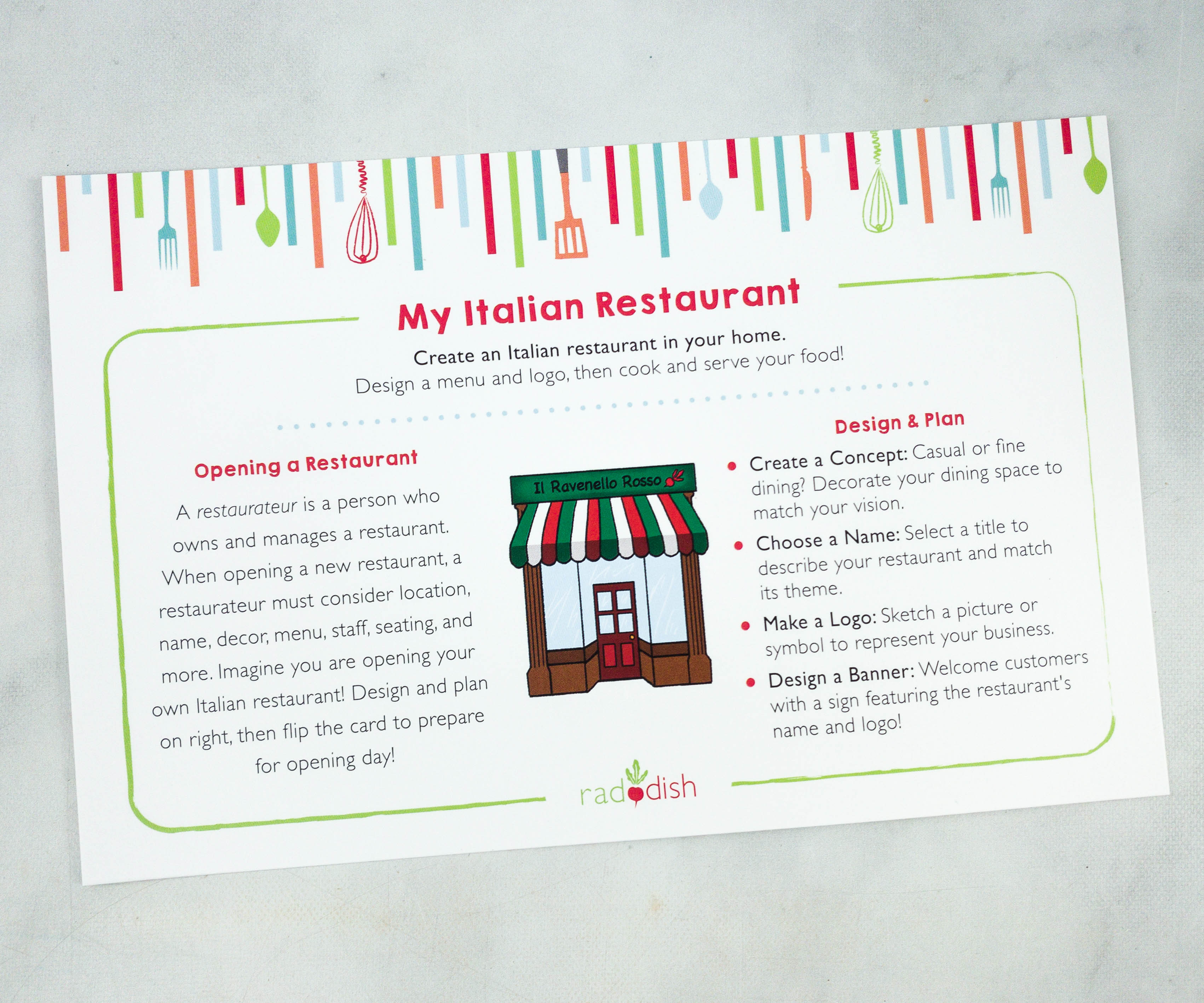 This card has a guide on how to create an Italian restaurant at home.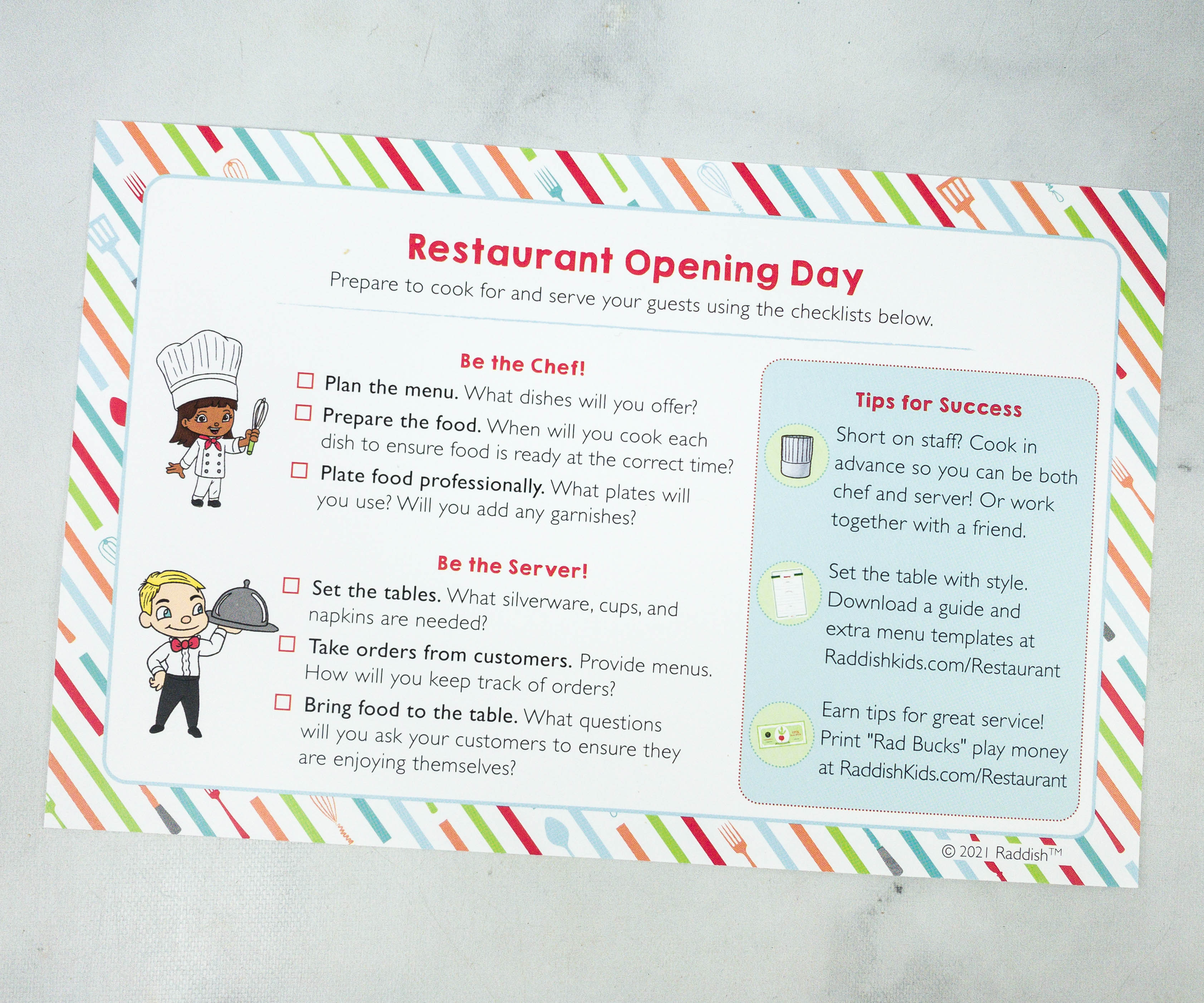 The flip side features more suggestions and tips for the opening day!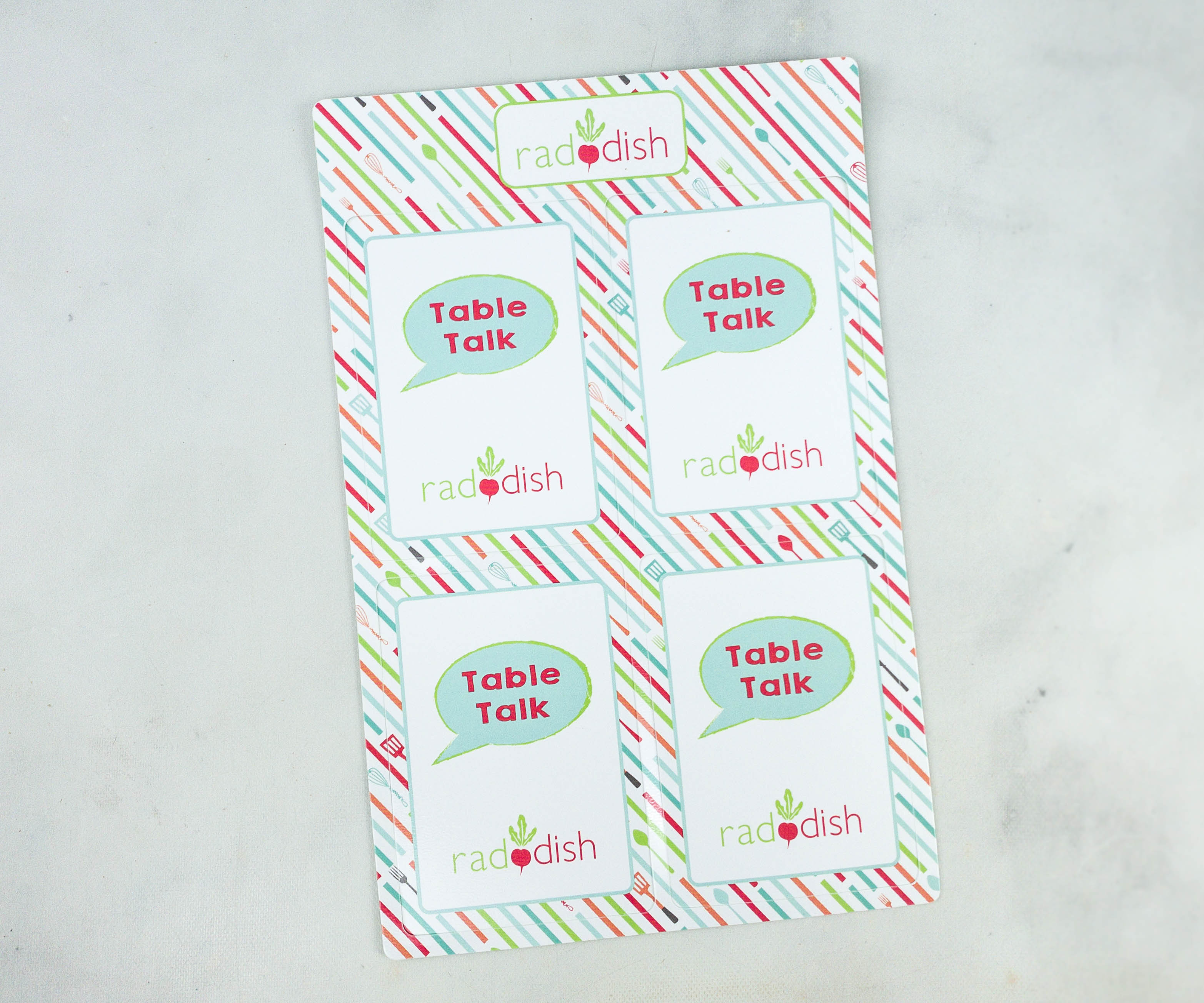 The box also includes exclusive Table Talk conversation starter cards.
Each card contains some questions for a great table talk conversation. They come in a sheet and you can easily tear them down.
Everything in my January 2021 box!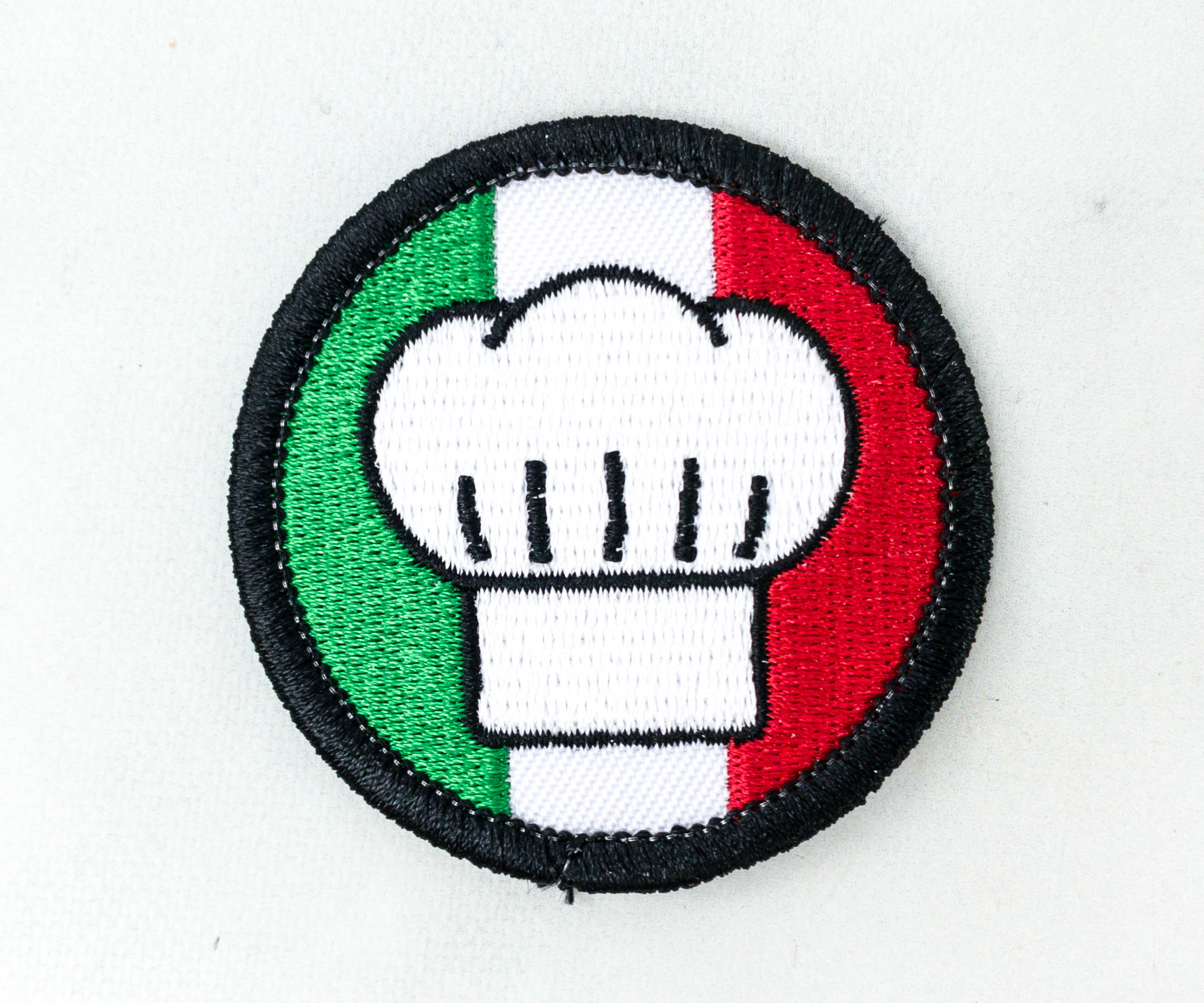 This month's patch features a chef's hat and the signature colors of Italy's flag on its background.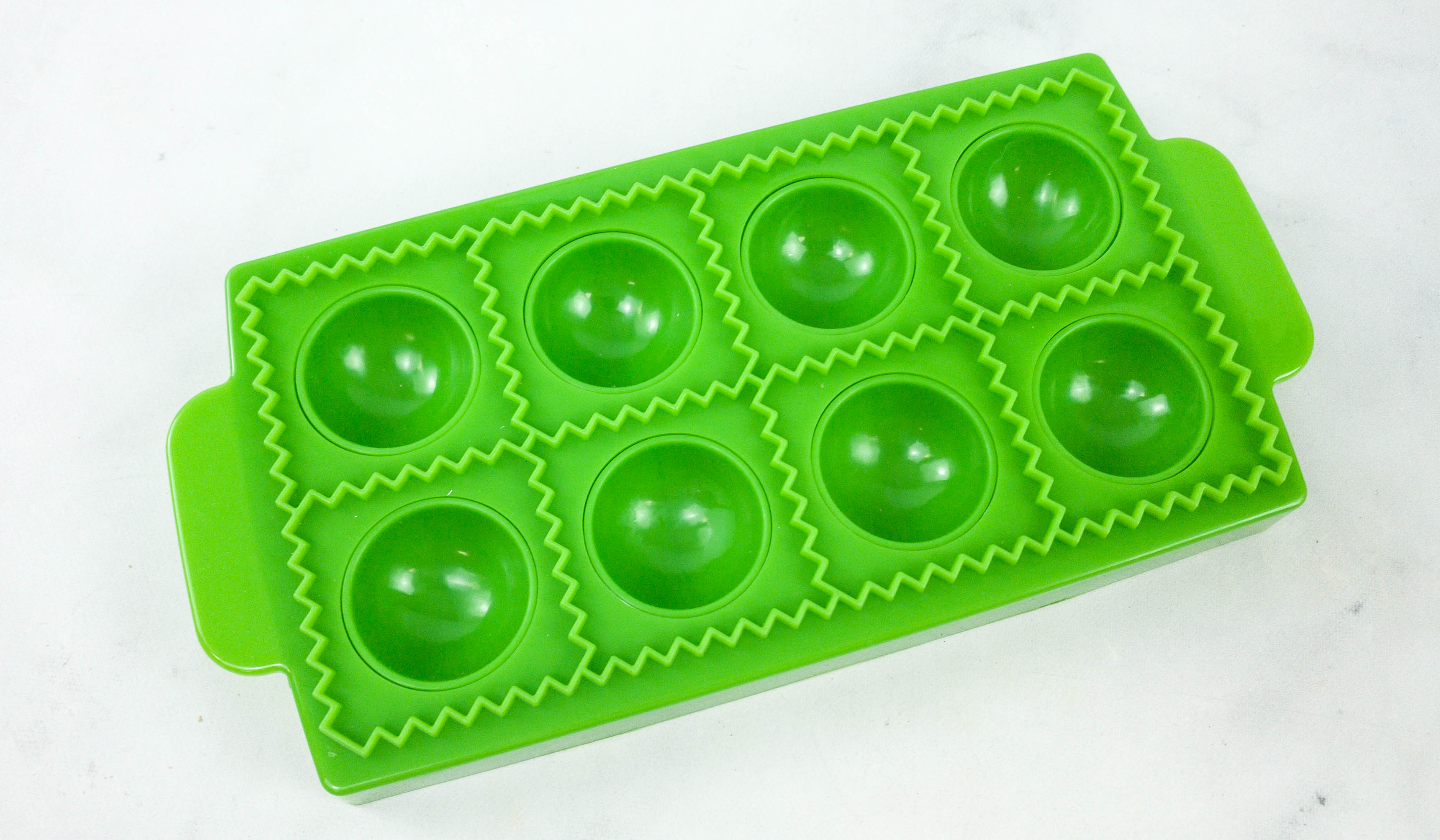 There's also a featured tool, and it's a Ravioli mold.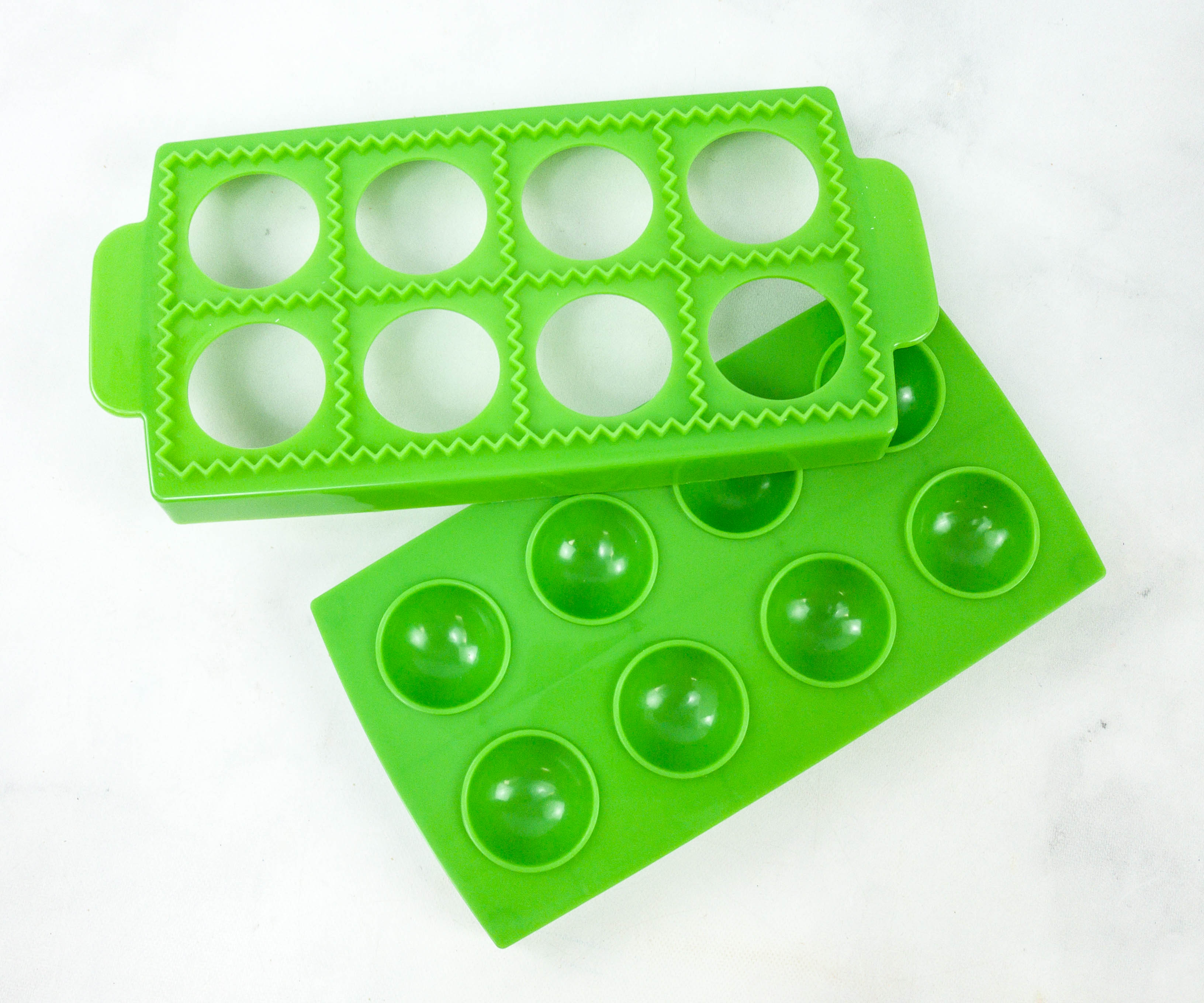 Making perfect Raviolis will be easier and more precise using this. It's easy to use and clean as well!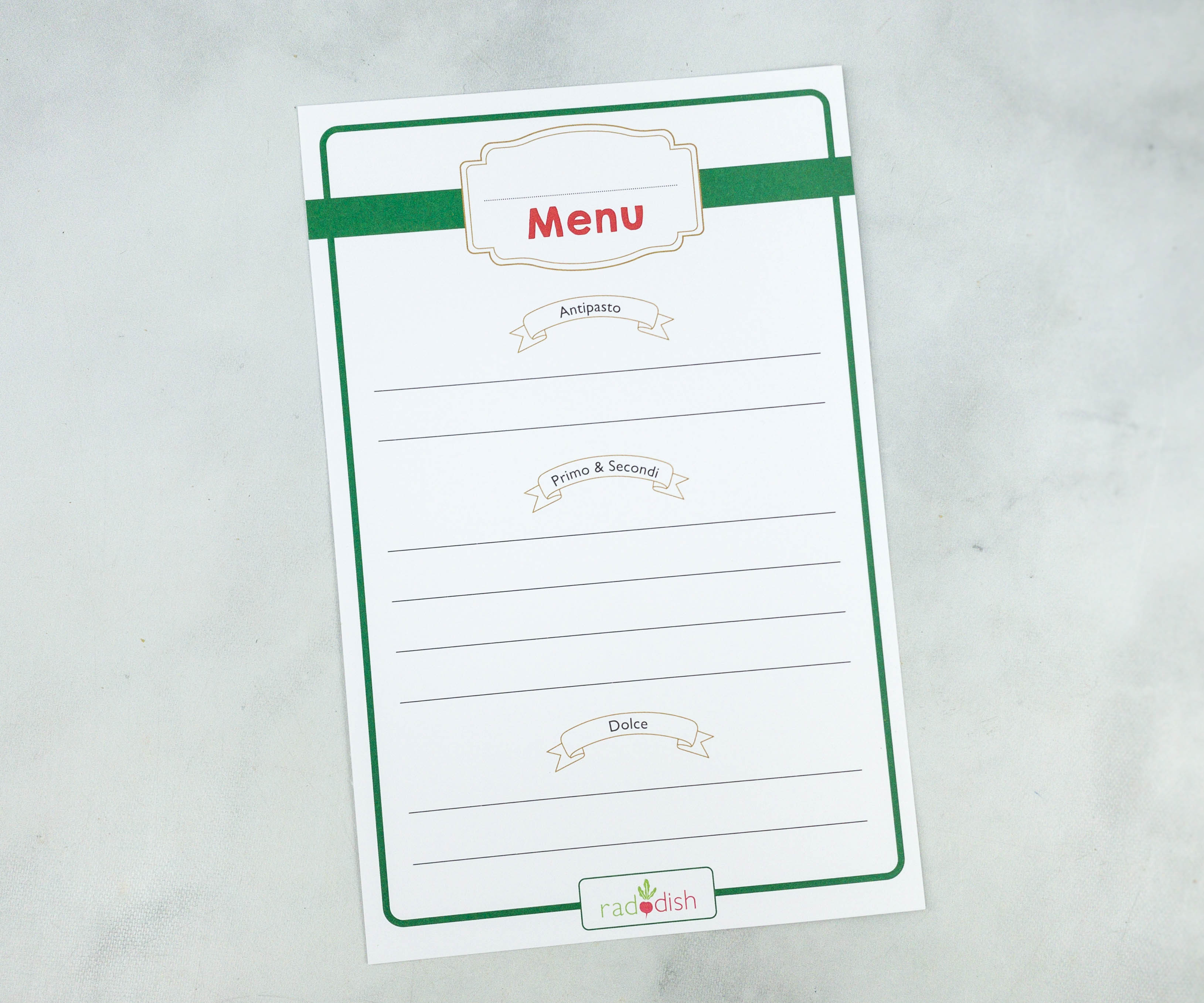 Since this month's theme is restaurant-inspired, they included a menu card that kids can use to list and describe the delicious meals they'll prepare!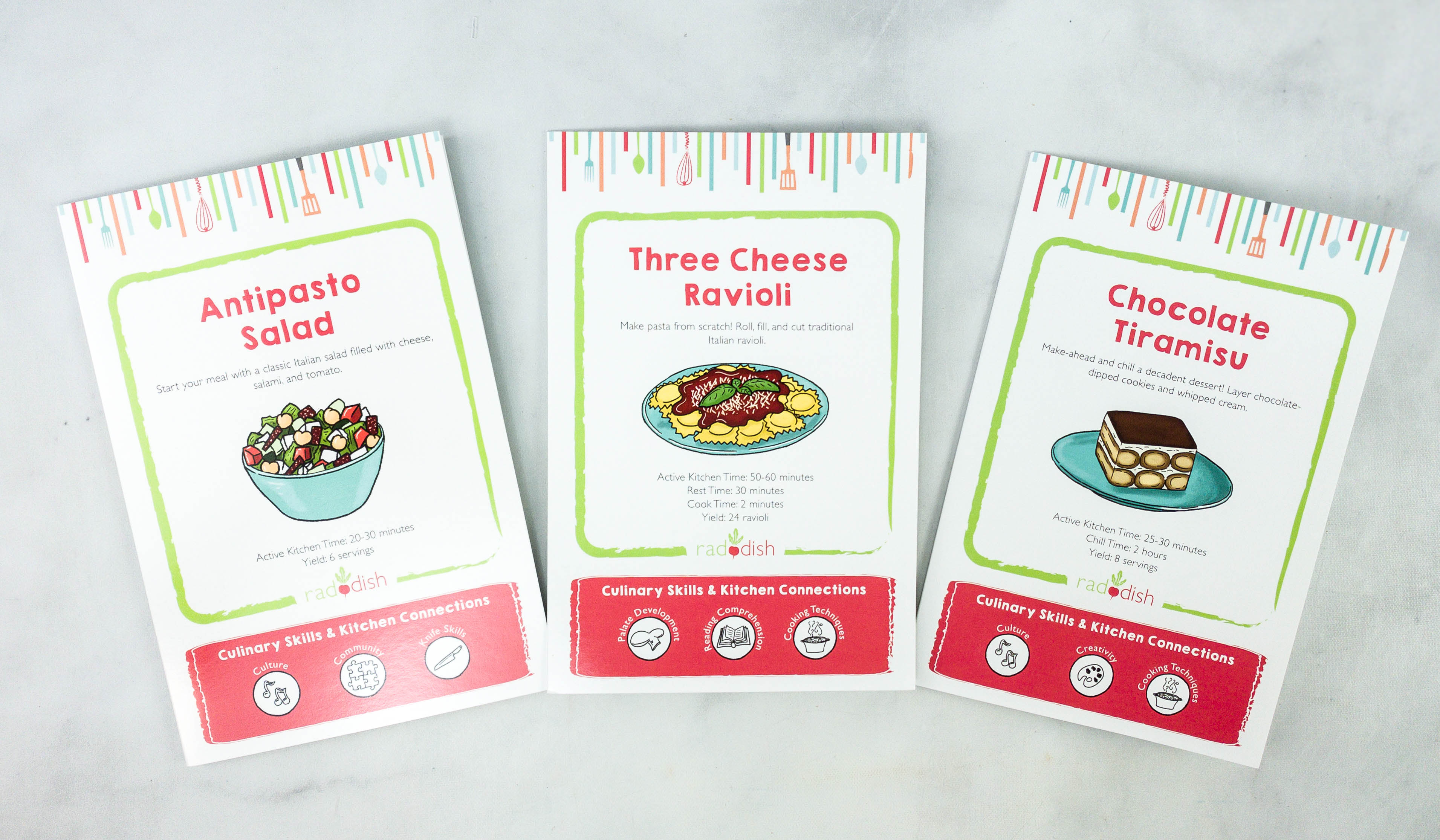 Here are this month's recipe guides!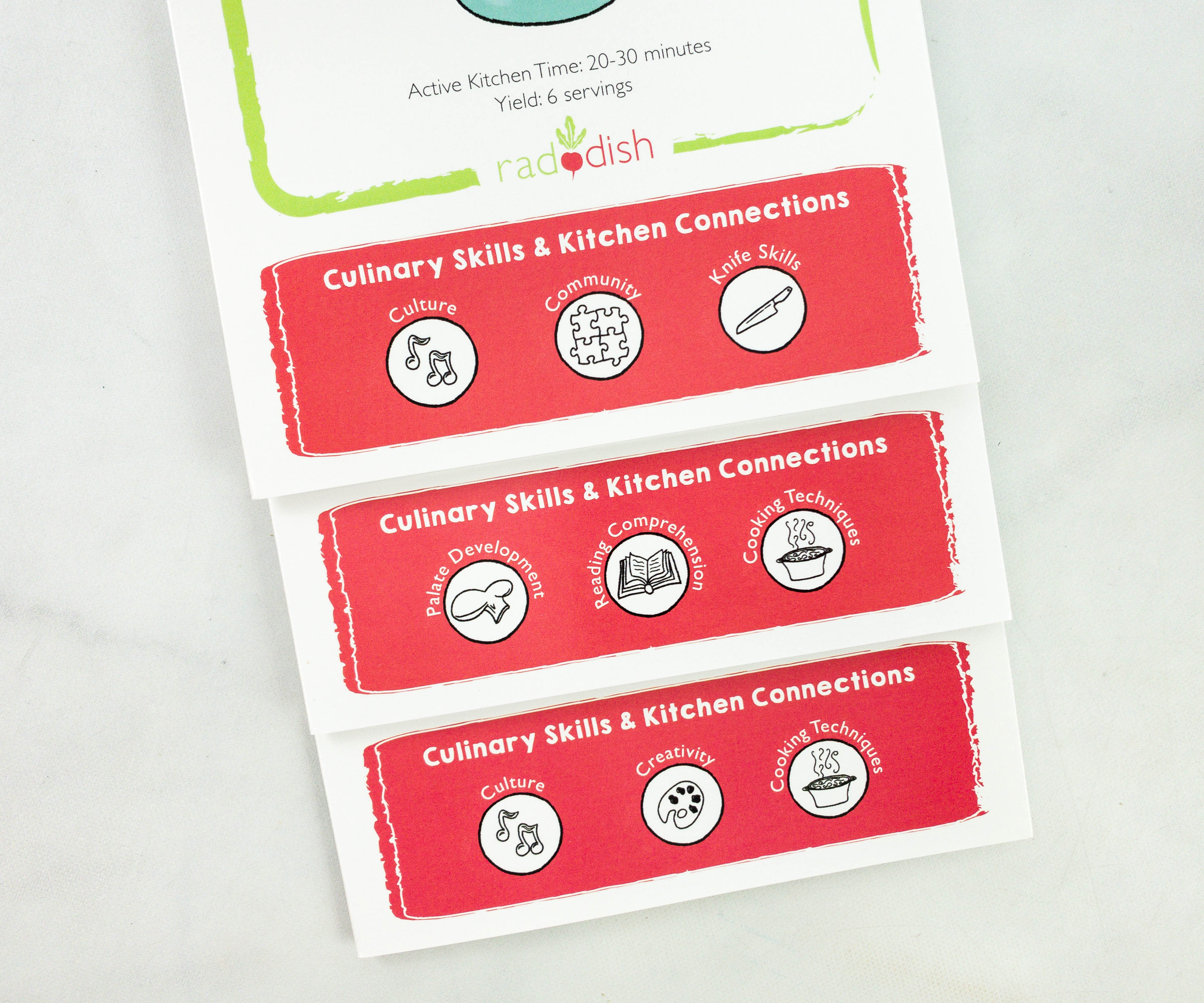 Each recipe has corresponding culinary skills and kitchen connections.
Antipasto Salad. The first recipe is Antipasto Salad! This is a healthy and delicious starter for the restaurant's first customers.
Active Kitchen Time: 20-30 minutes

Yield: 6 servings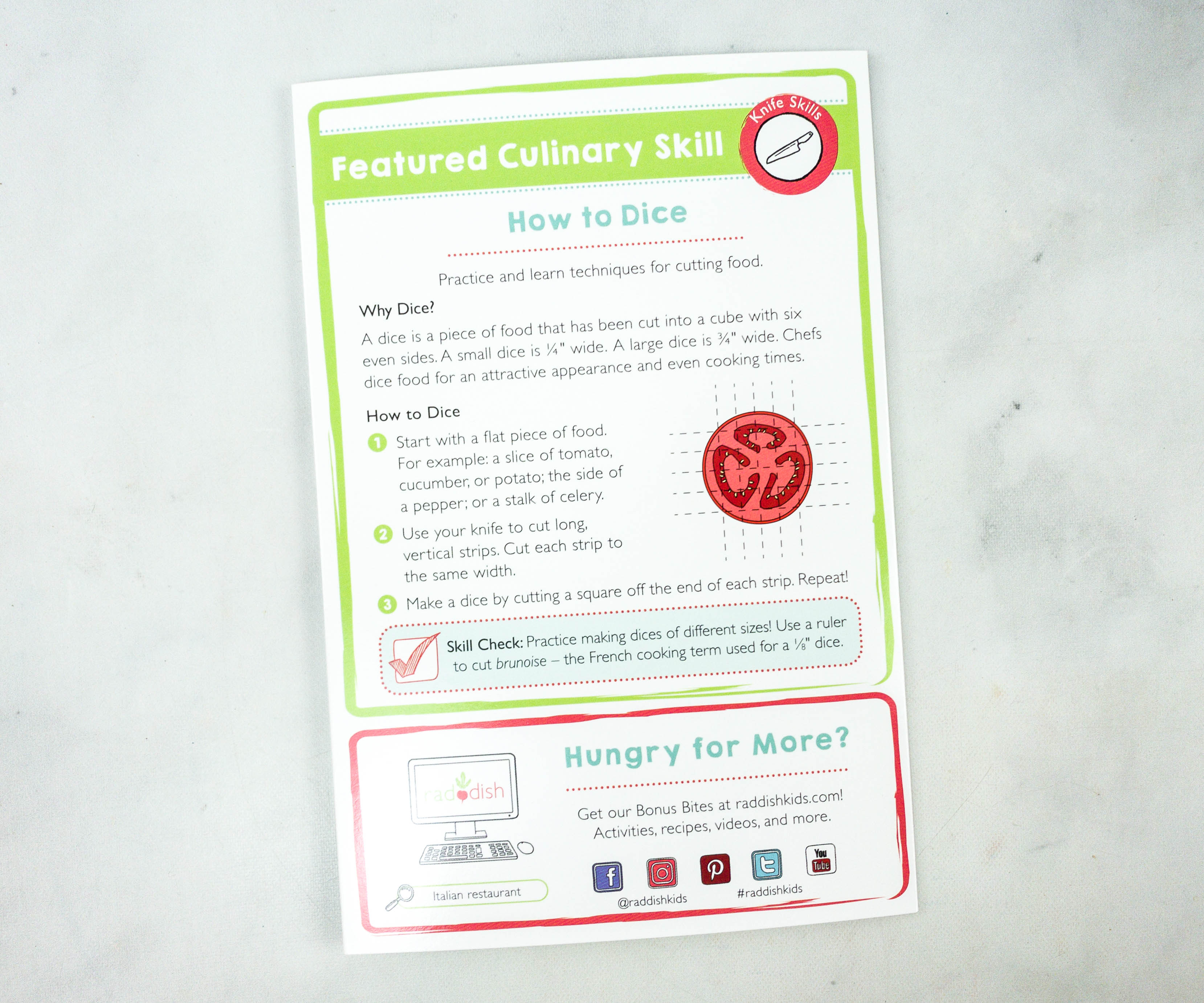 This recipe is a great way to teach kids how to dice.
A dice is a piece of food that has been cut into a cube with six even sides. A small dice is 1/4″ wide. A large dice is 3/4″ wide. Chefs dice food for an attractive appearance and even cooking times.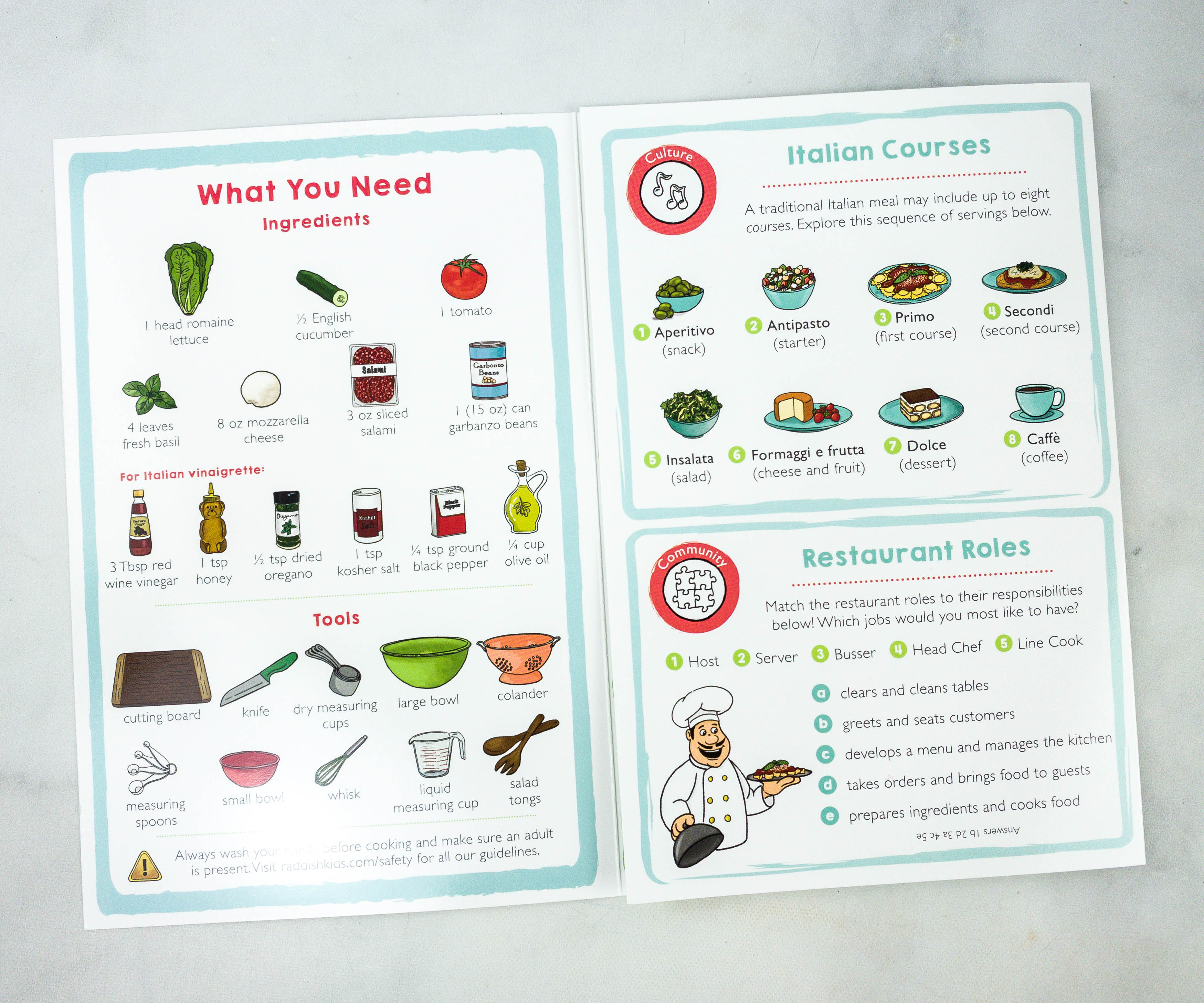 Inside the booklet are the ingredients and the needed tools. Some Italian courses and restaurant roles are also highlighted on this part of the booklet.
Ingredients for this recipe include 1 head of romaine lettuce, 1/2 English cucumber, 1 tomato, 4 leaves of fresh basil, 8oz mozzarella cheese, 3oz sliced salami, and 1 can of 15oz garbanzo beans. To make the vinaigrette, the ingredients are 3tbsp red wine vinegar, 1tsp honey, 1/2tsp dried oregano, 1tsp kosher salt, 1/4tsp ground black pepper, and 1/4 cup olive oil.
Each step in the recipe guide is accompanied by an illustration!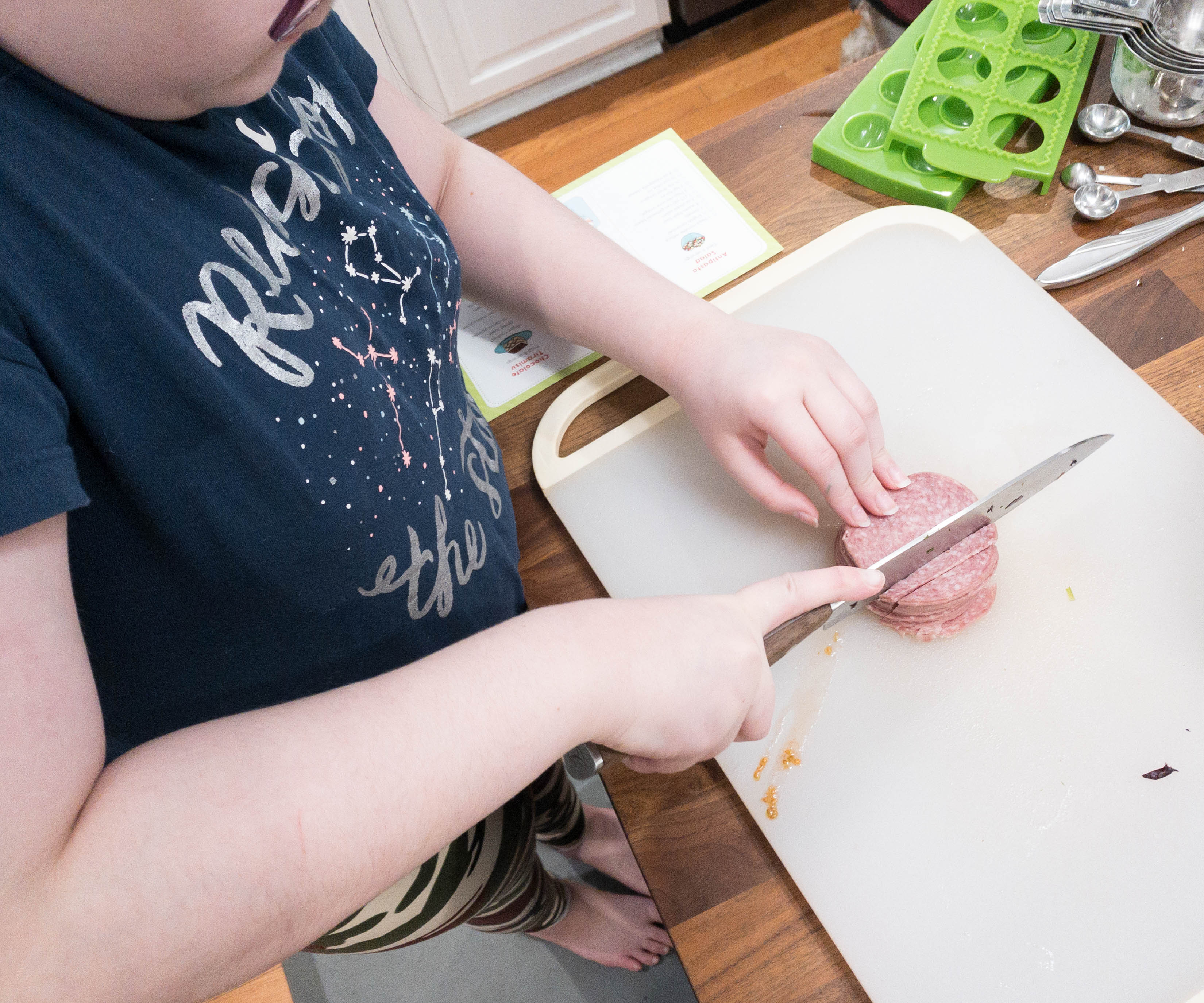 My daughter started by slicing the salami. These will be cut later into smaller sizes.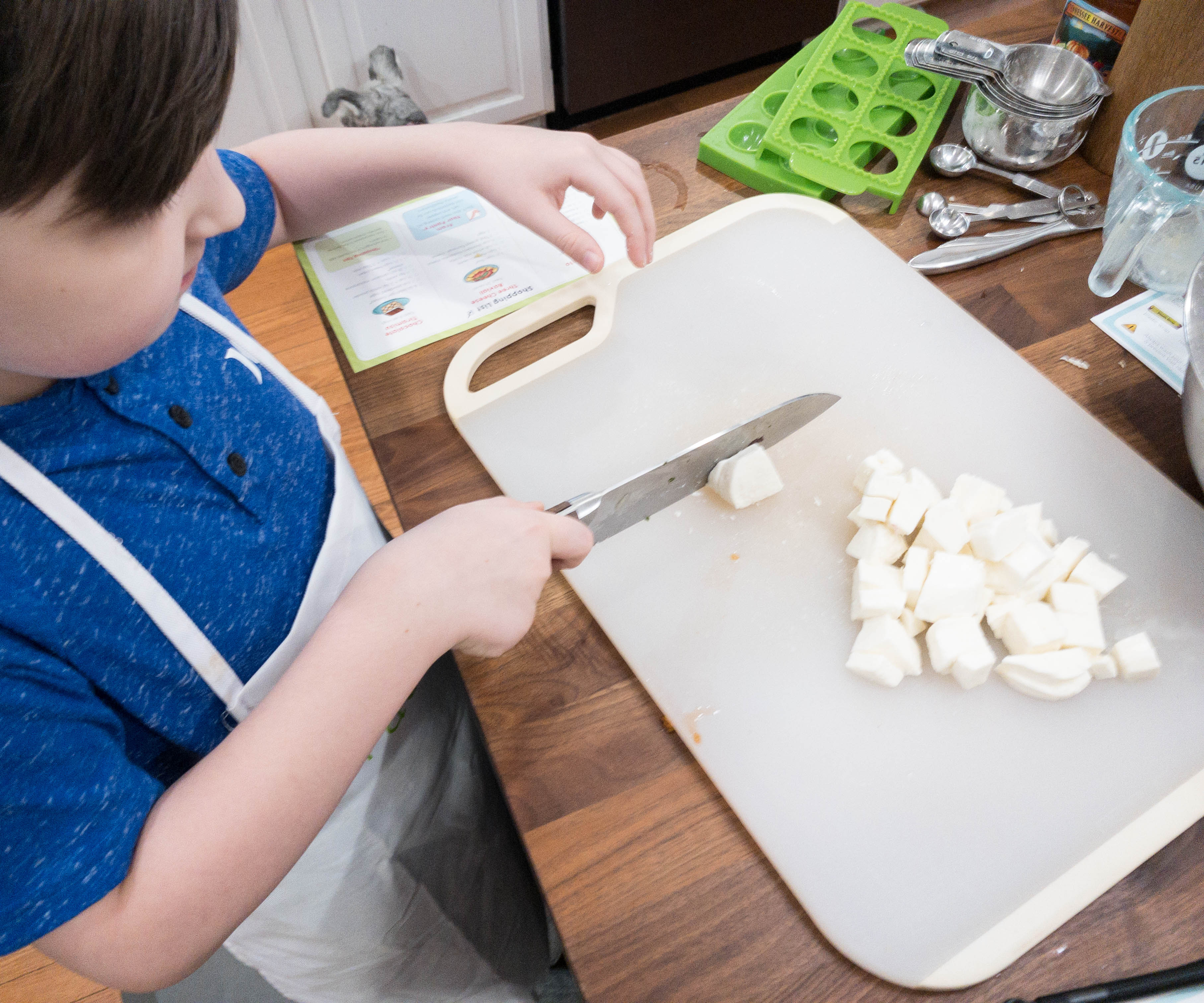 My son also diced the mozzarella cheese.
While my daughter prepared the other ingredients, my son started making the vinaigrette.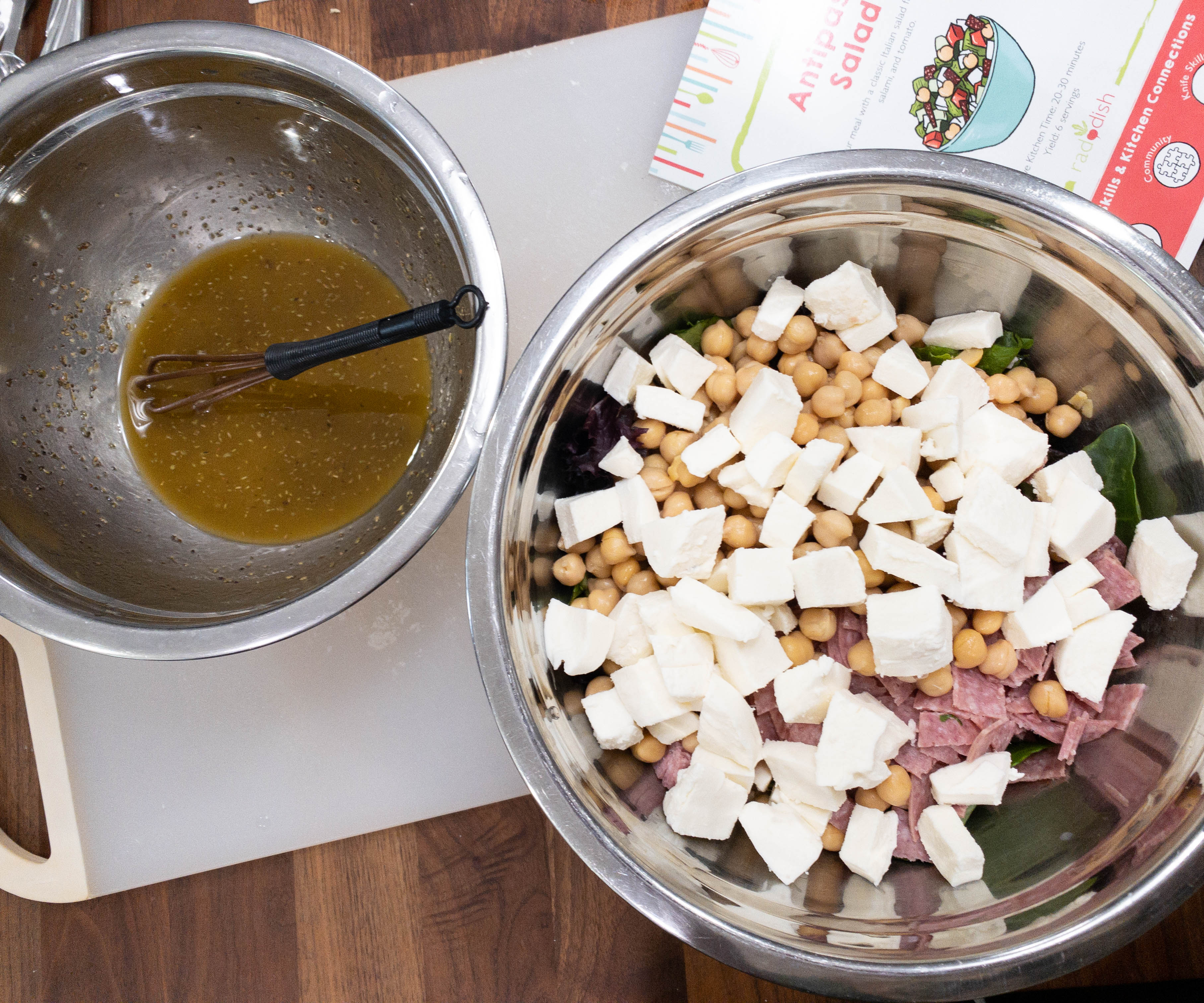 Here are all the ingredients that they need to make the Antipasto Salad.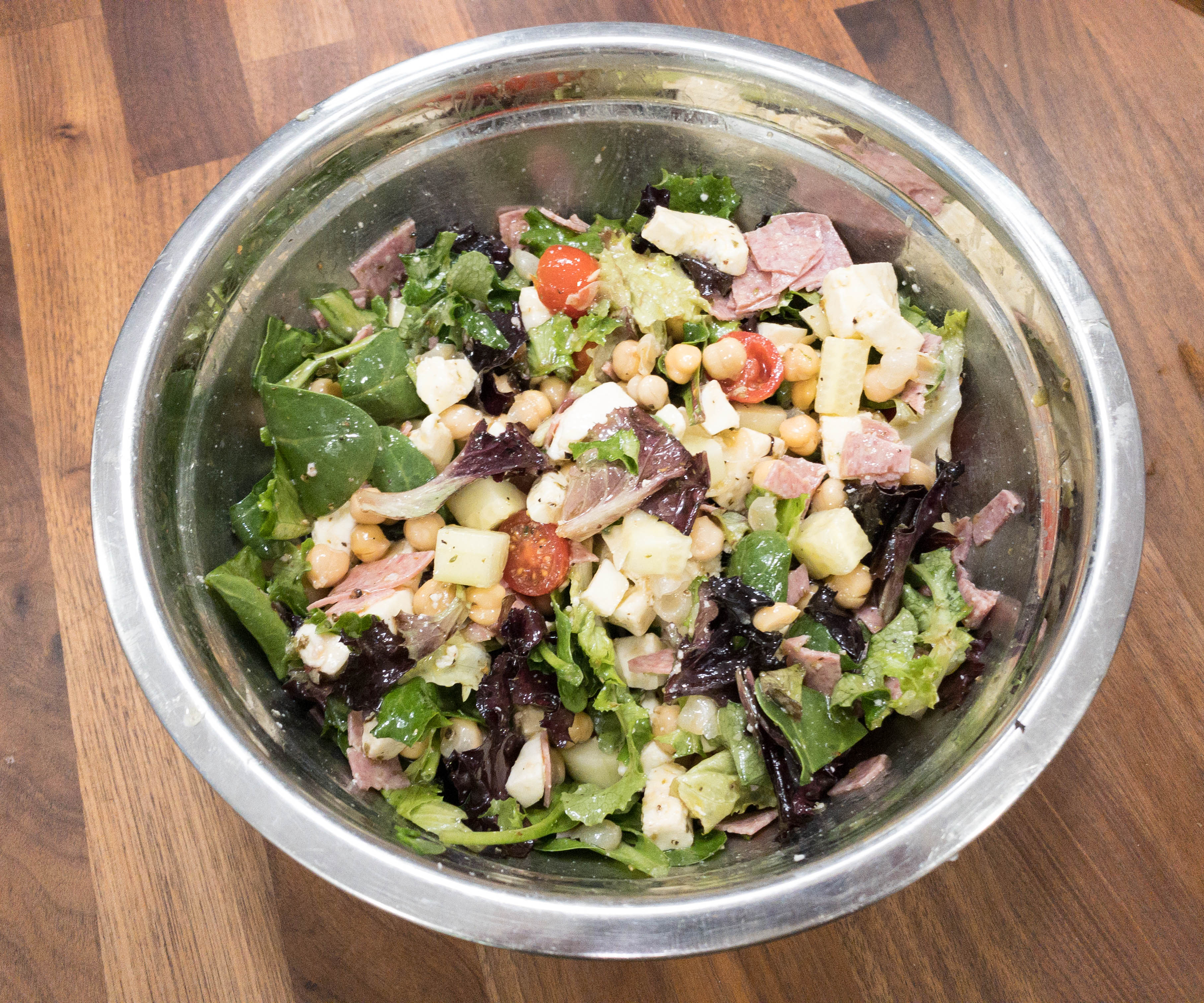 After preparing all the ingredients, it's time to pour in the vinaigrette and toss everything gently.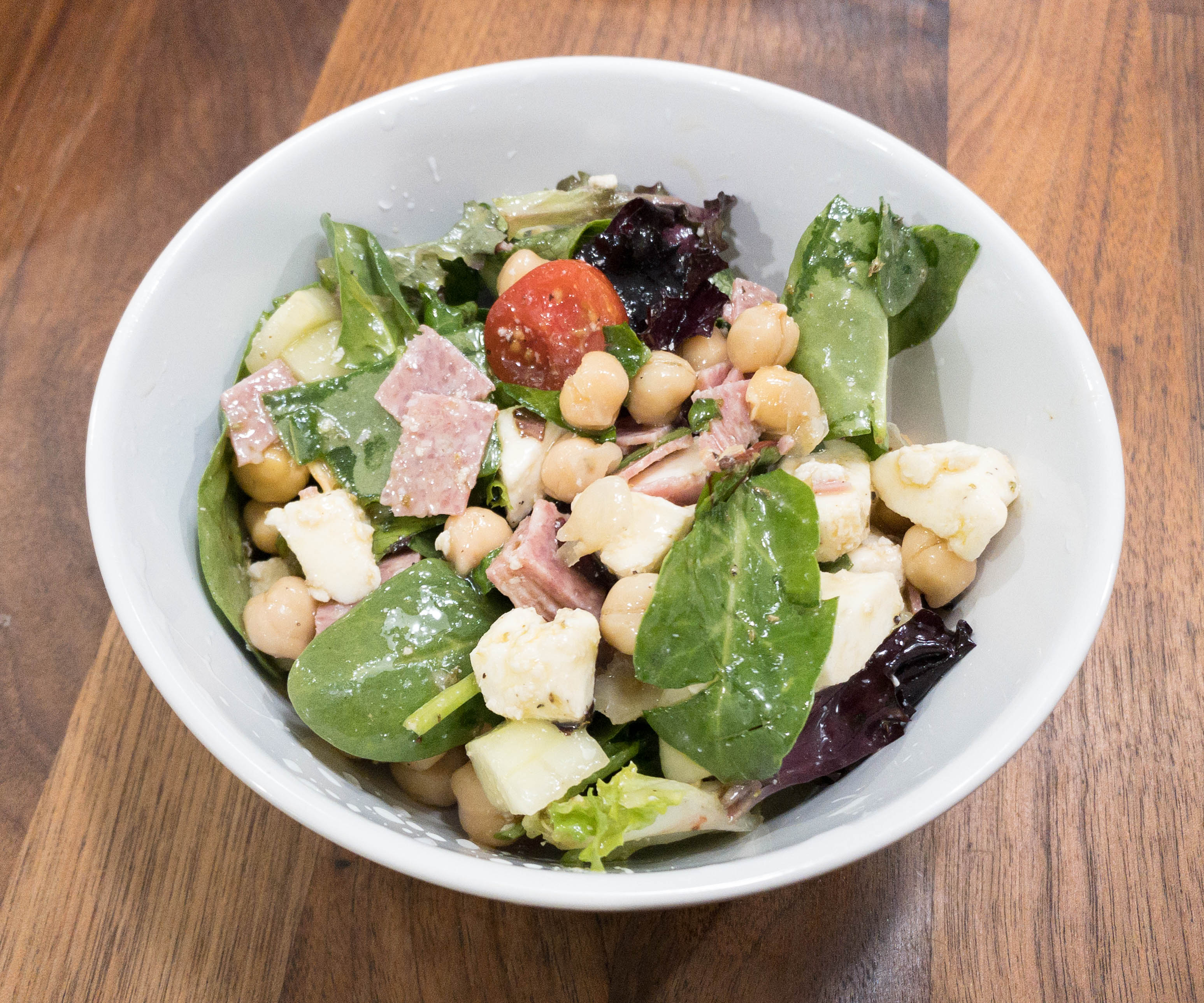 This is indeed a delicious and healthy starter meal. The vinaigrette really played an important role for the flavor of this meal.
Three Cheese Ravioli. Next, my kids made ravioli with lots of cheese. They love cheese and they were so excited about it!
Active Kitchen Time: 50-60 minutes

Rest Time: 30 minutes

Cook Time: 2 minutes

Yield: 24 Ravioli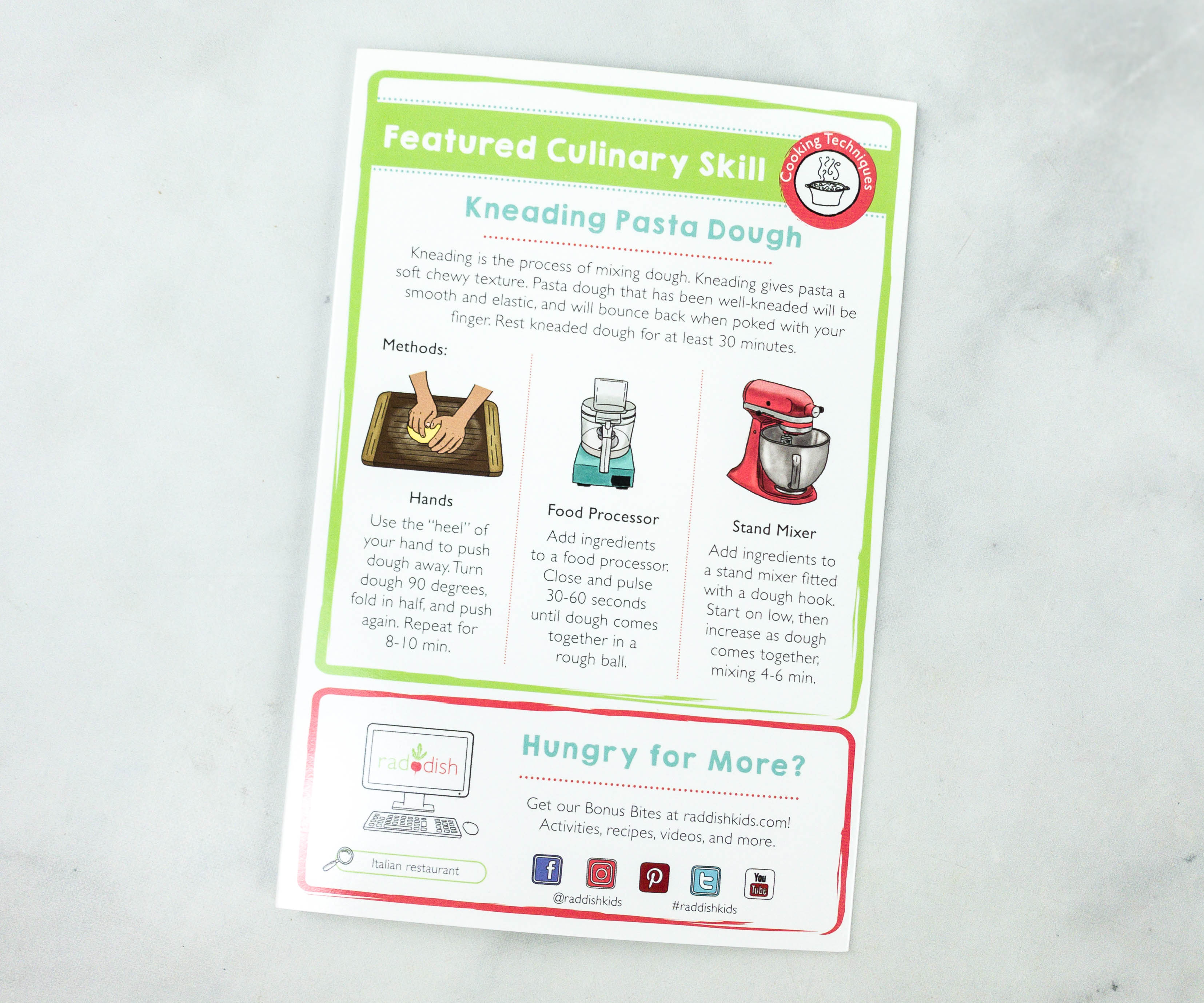 This time, the kids learned how to properly knead a pasta dough.
Kneading is the process of mixing dough. Kneading gives pasta a soft chewy texture. Pasta dough that has been well-kneaded will be smooth and elastic, and will bounce back when poked with your finger. Rest kneaded dough for at least 30 minutes.
Of course, it came with a list of ingredients and the needed tools. There's also a tutorial on how to make a Marinara and some basic Italian language.
Ingredients for this recipe include 2 eggs, 1 1/4 cups flour, 3/4 tsp kosher salt, 1 Tbsp. olive oil, 1/4 cup whole milk ricotta, 1/4 cup shredded mozzarella cheese, 2 Tbsp. grated parmesan cheese, and 2 cups marinara sauce.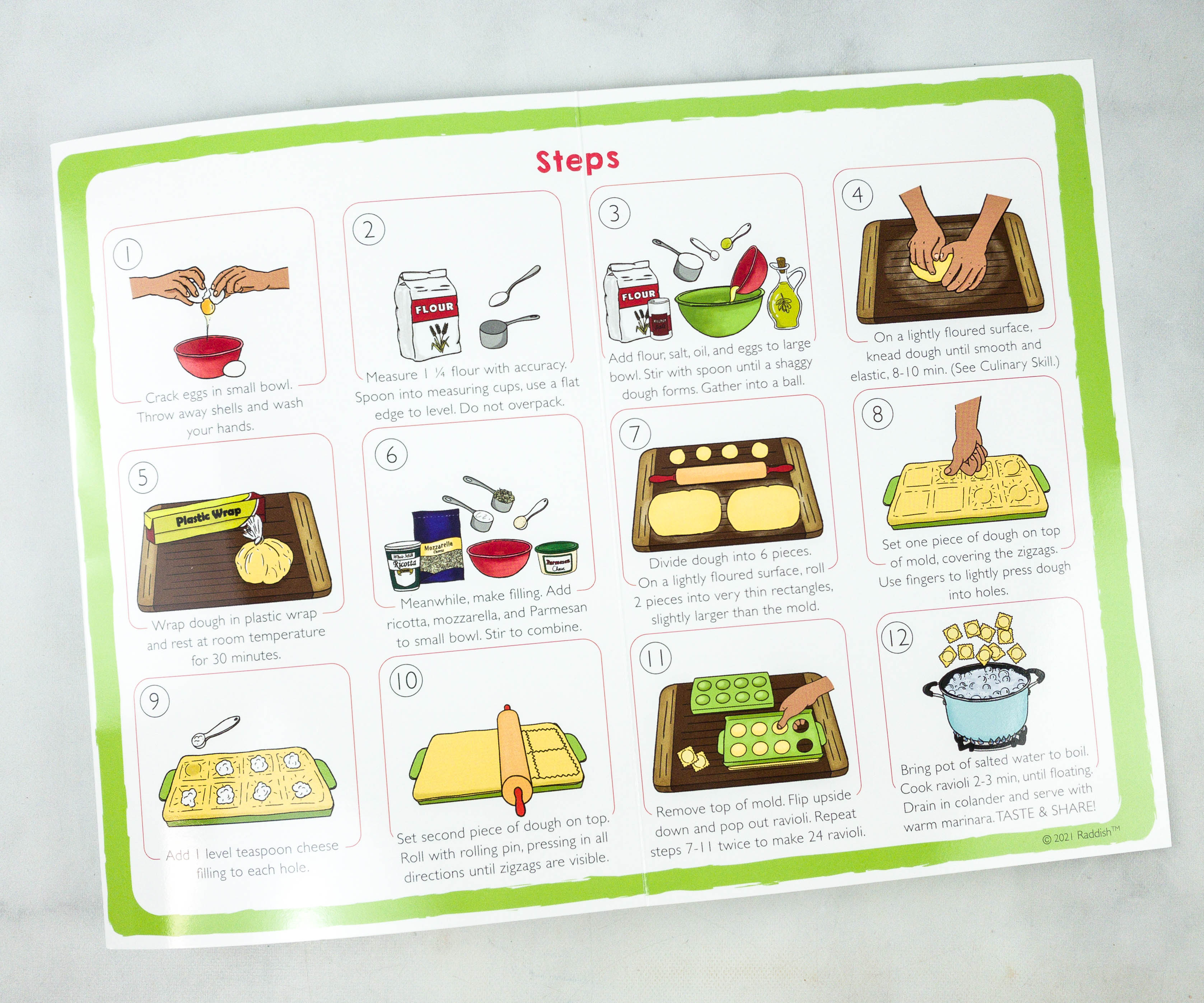 The steps are clear and easy to follow!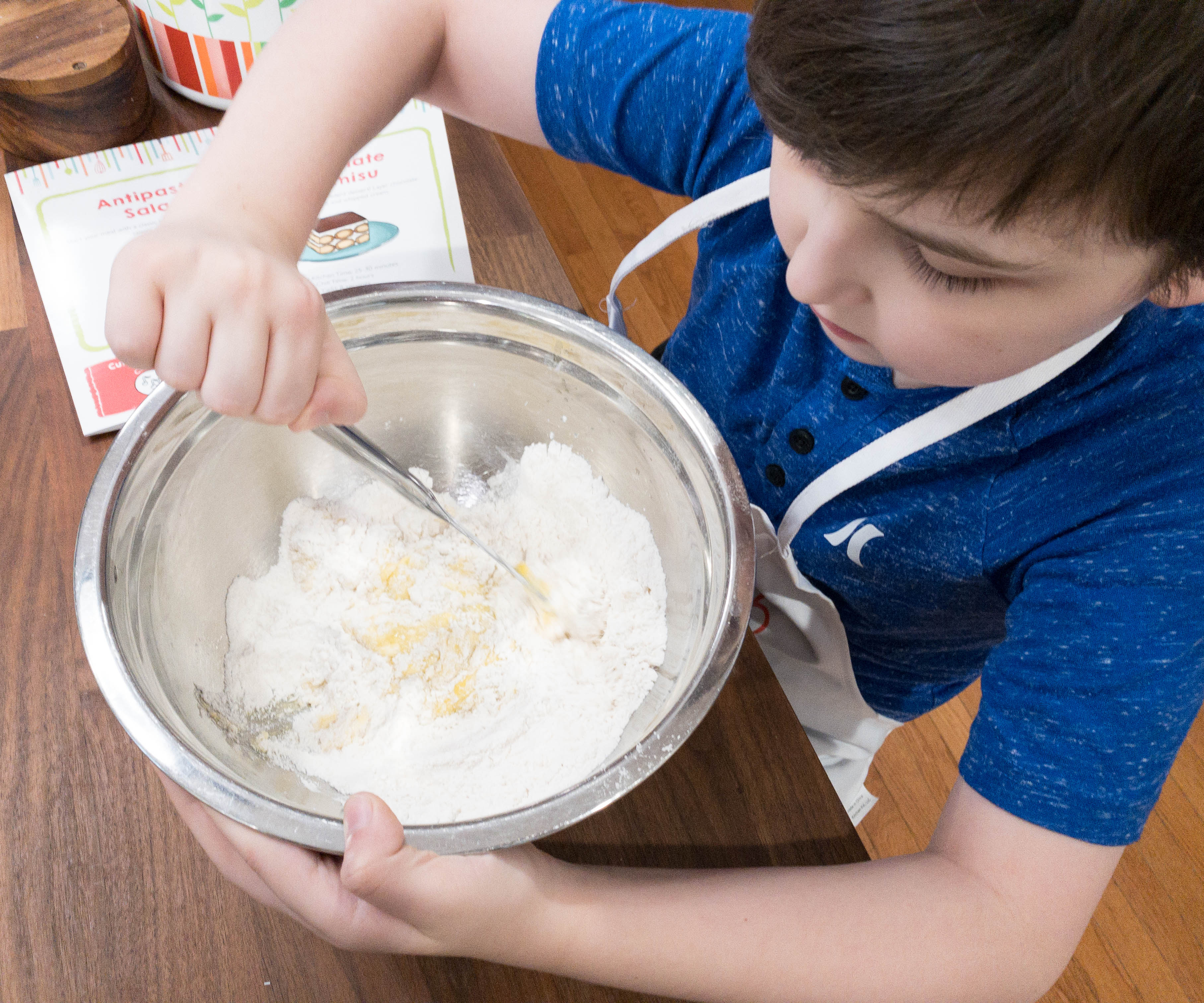 My son started mixing the eggs and flour to make the dough.
He also made the filling for the ravioli by mixing the ricotta, mozzarella, and parmesan.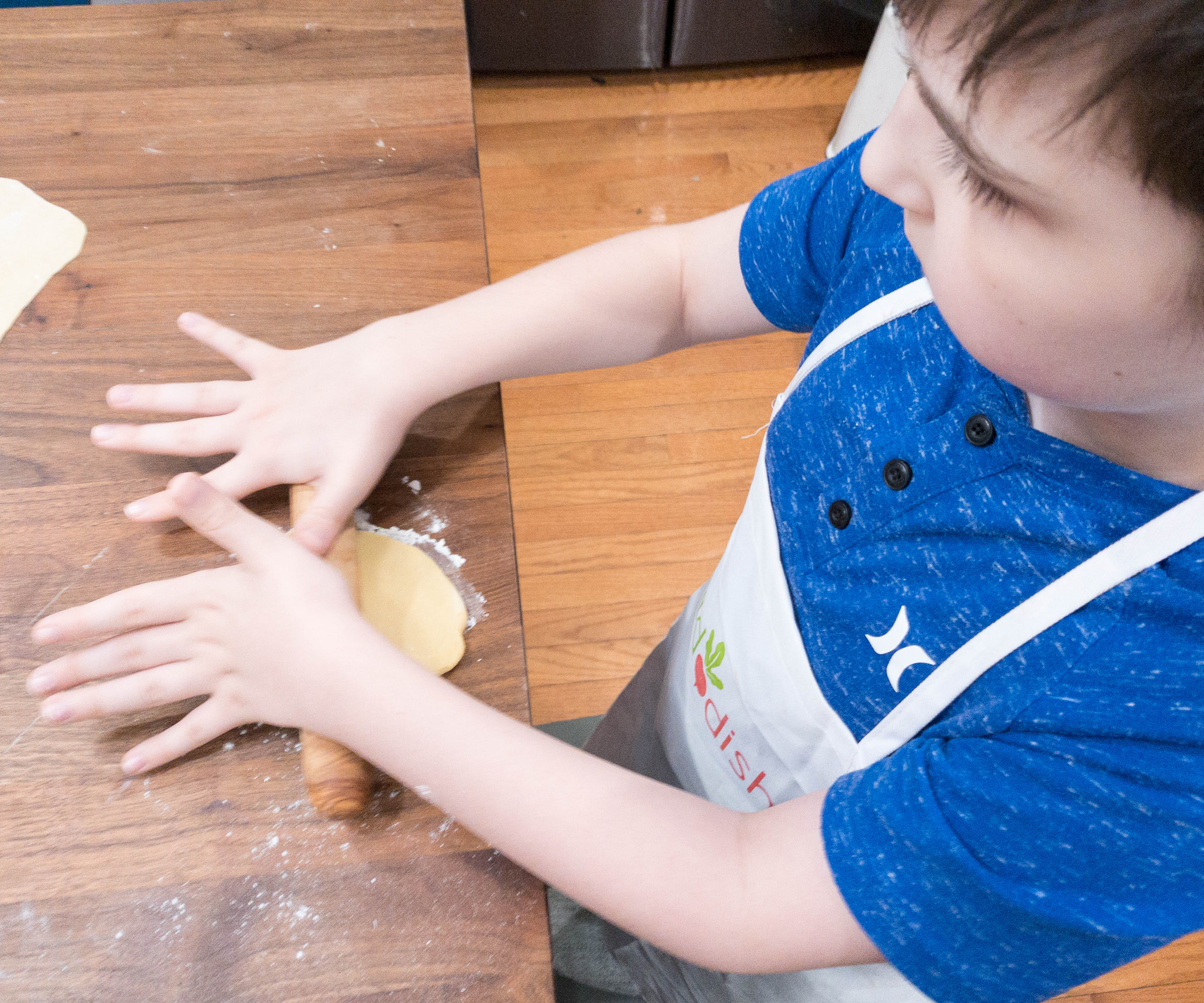 It's time to knead the dough to keep it smooth and elastic when cooked.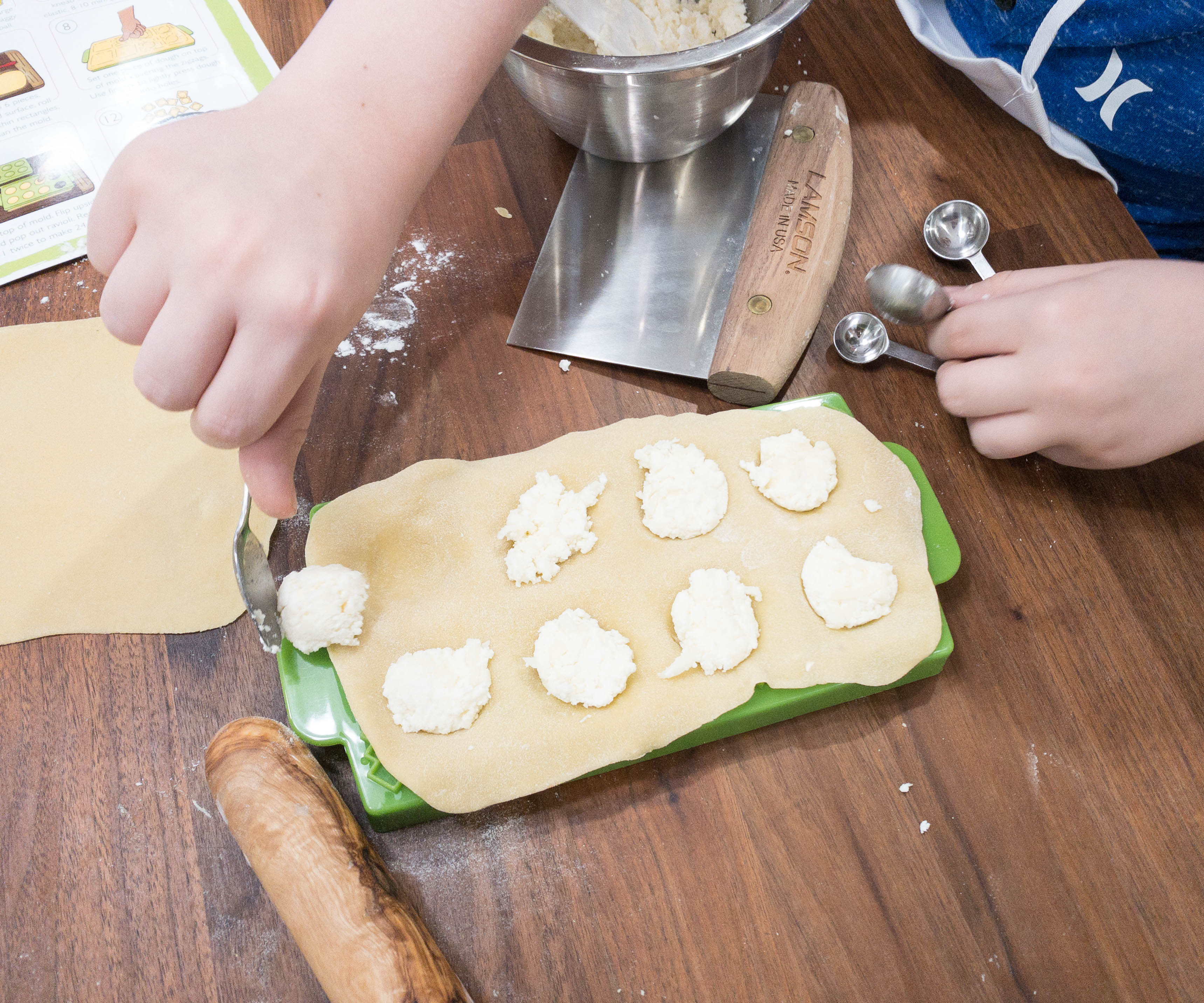 The fillings were also placed on each hole. This mold is really a big help in making raviolis!
He made sure everything has a generous amount of filling for a more cheesy outcome!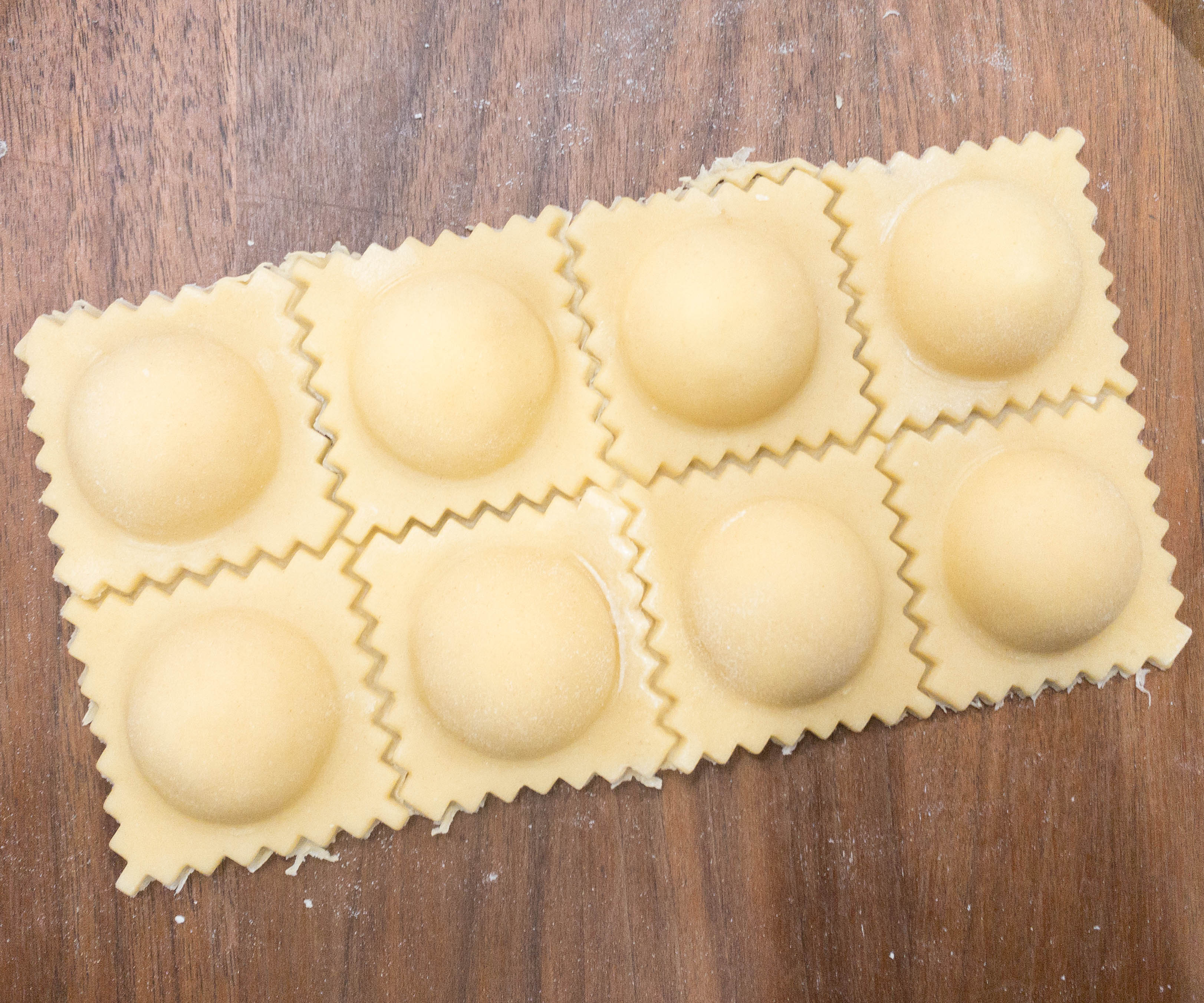 Here's what the raviolis should look like after taking them out of the mold.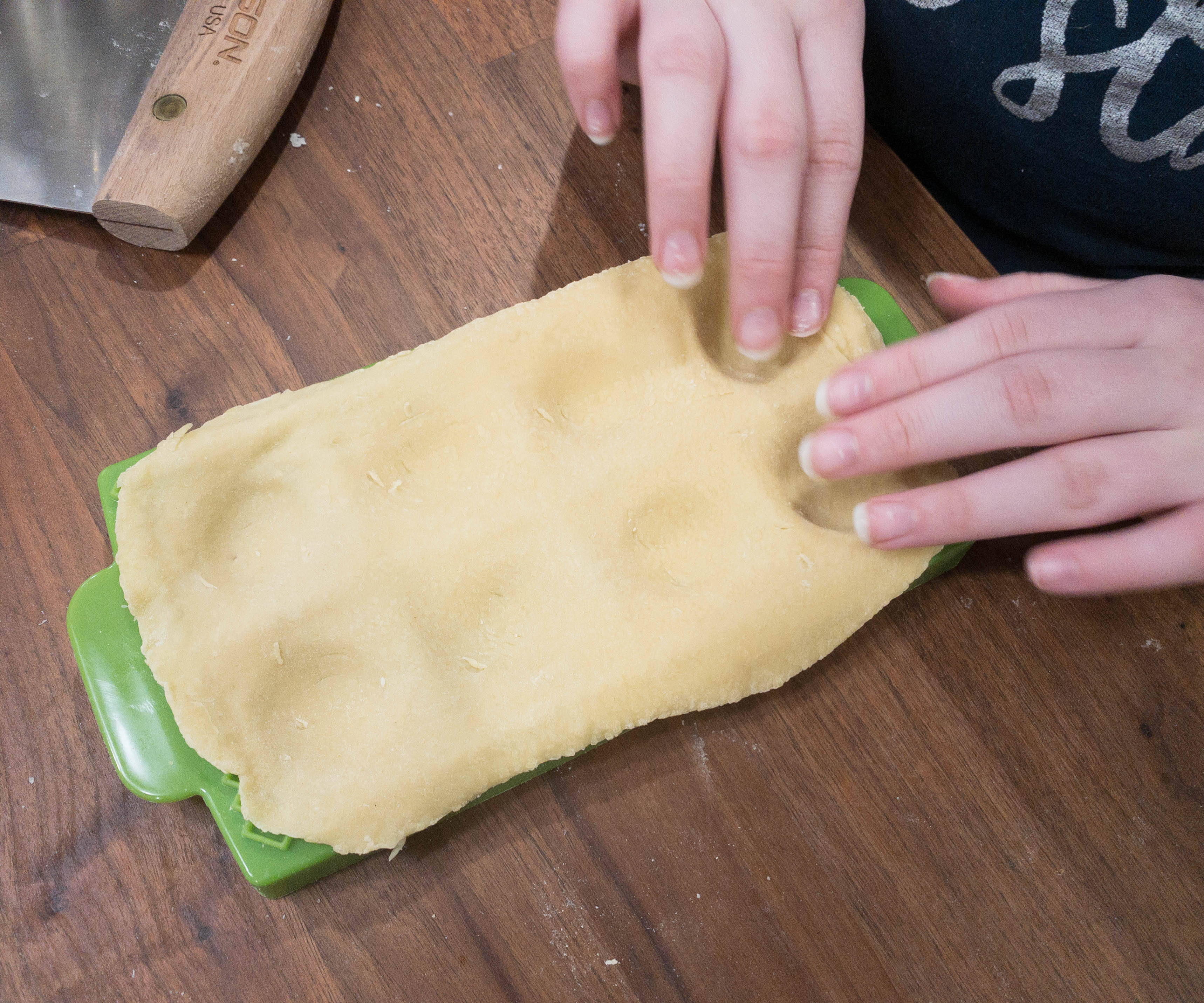 My daughter also tried making some ravioli.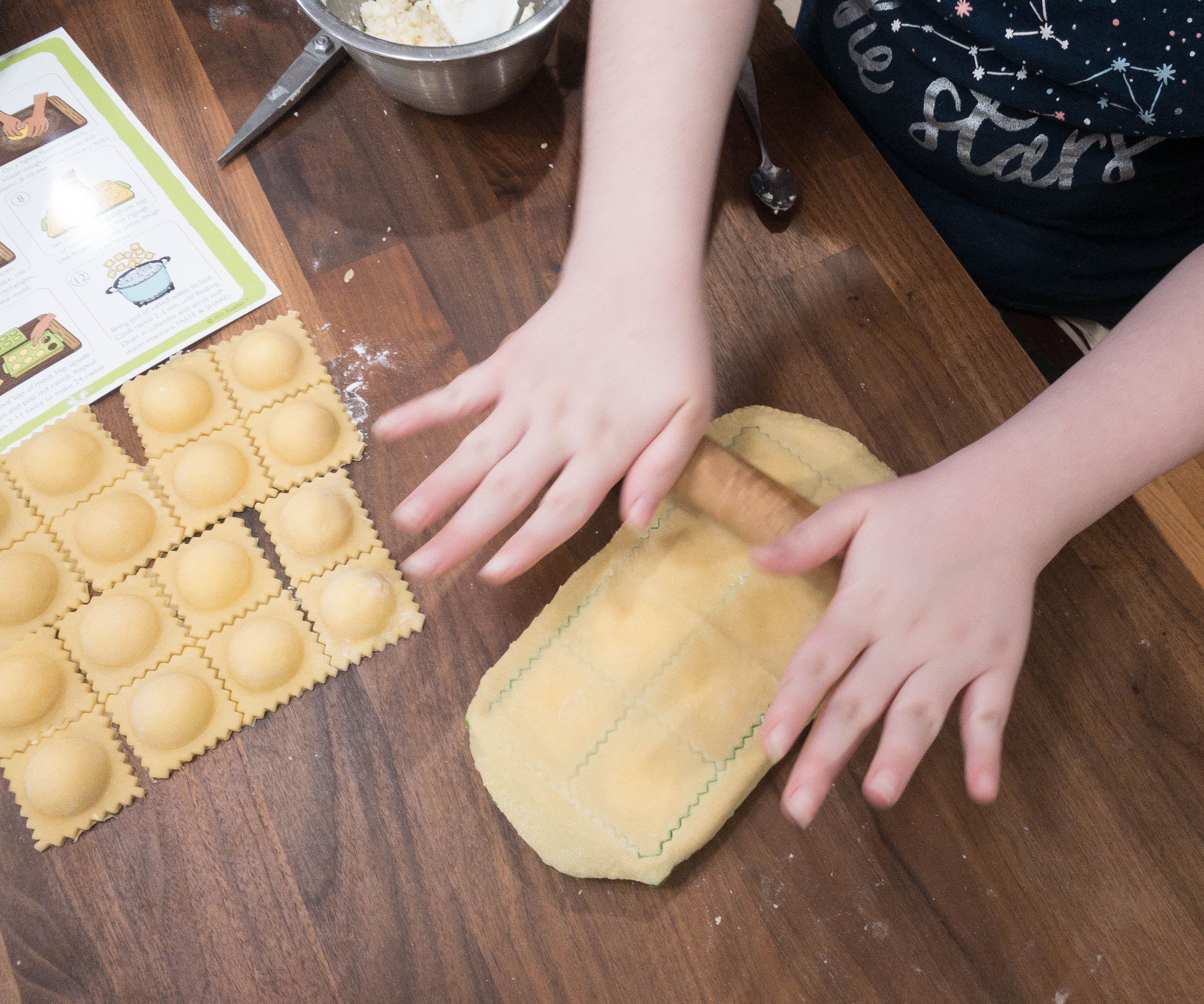 With the help of the roller, she was able to press the second layer of dough to cover the fillings.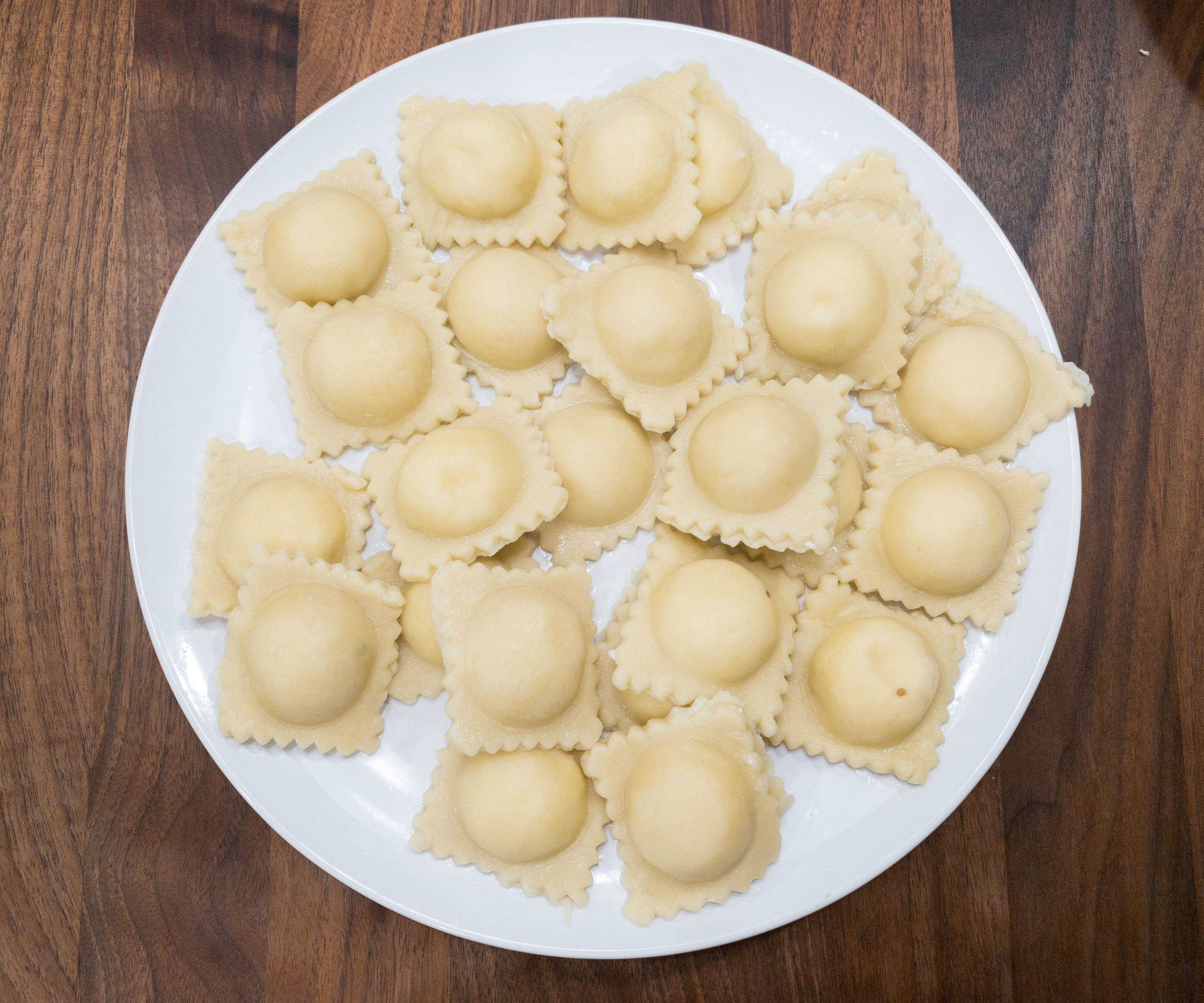 It's time to boil these pieces and check how delicious they are!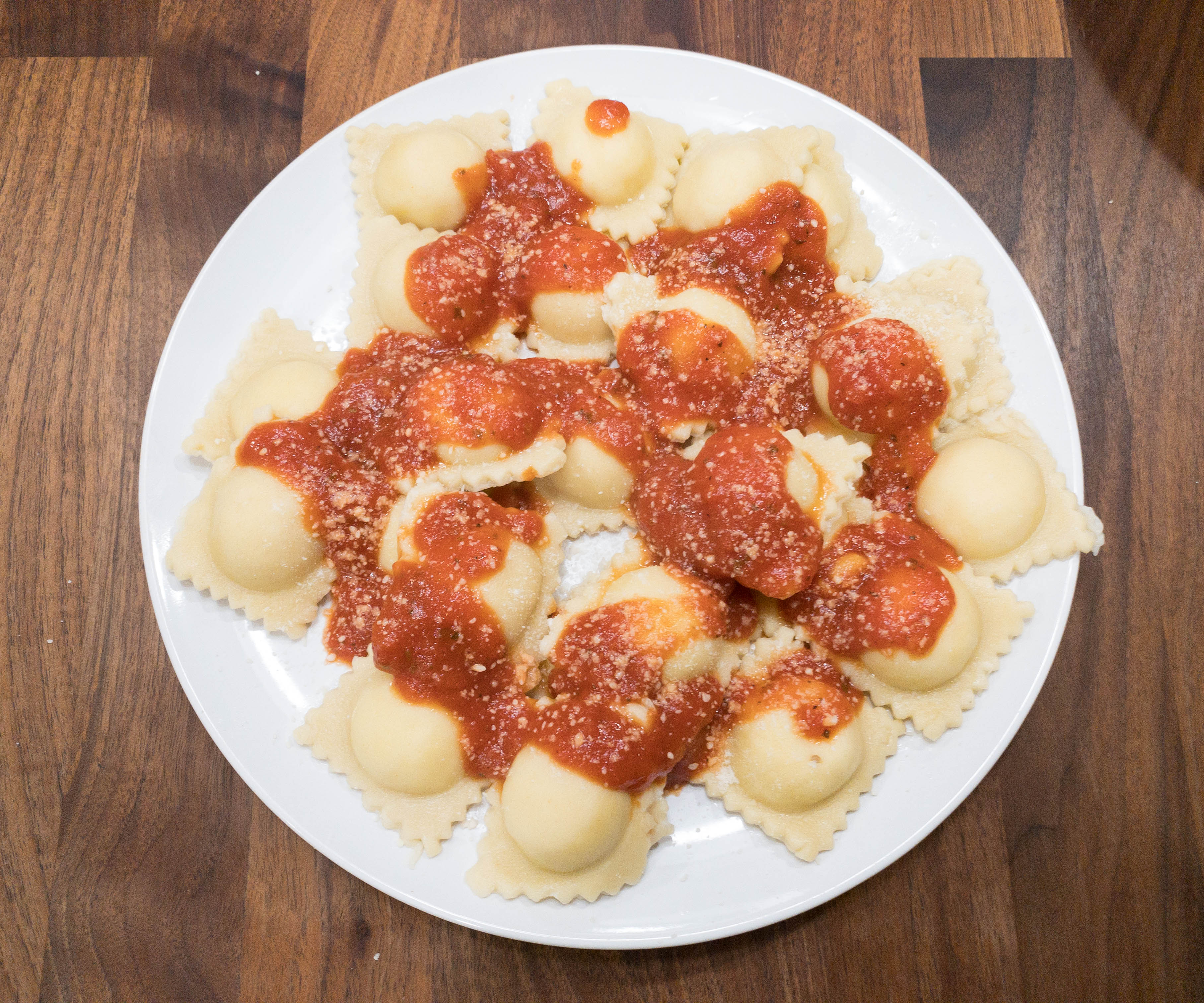 To complete the dish, they added warm marinara on top of all the ravioli pieces. The flavors blended very well and the whole family enjoyed this meal!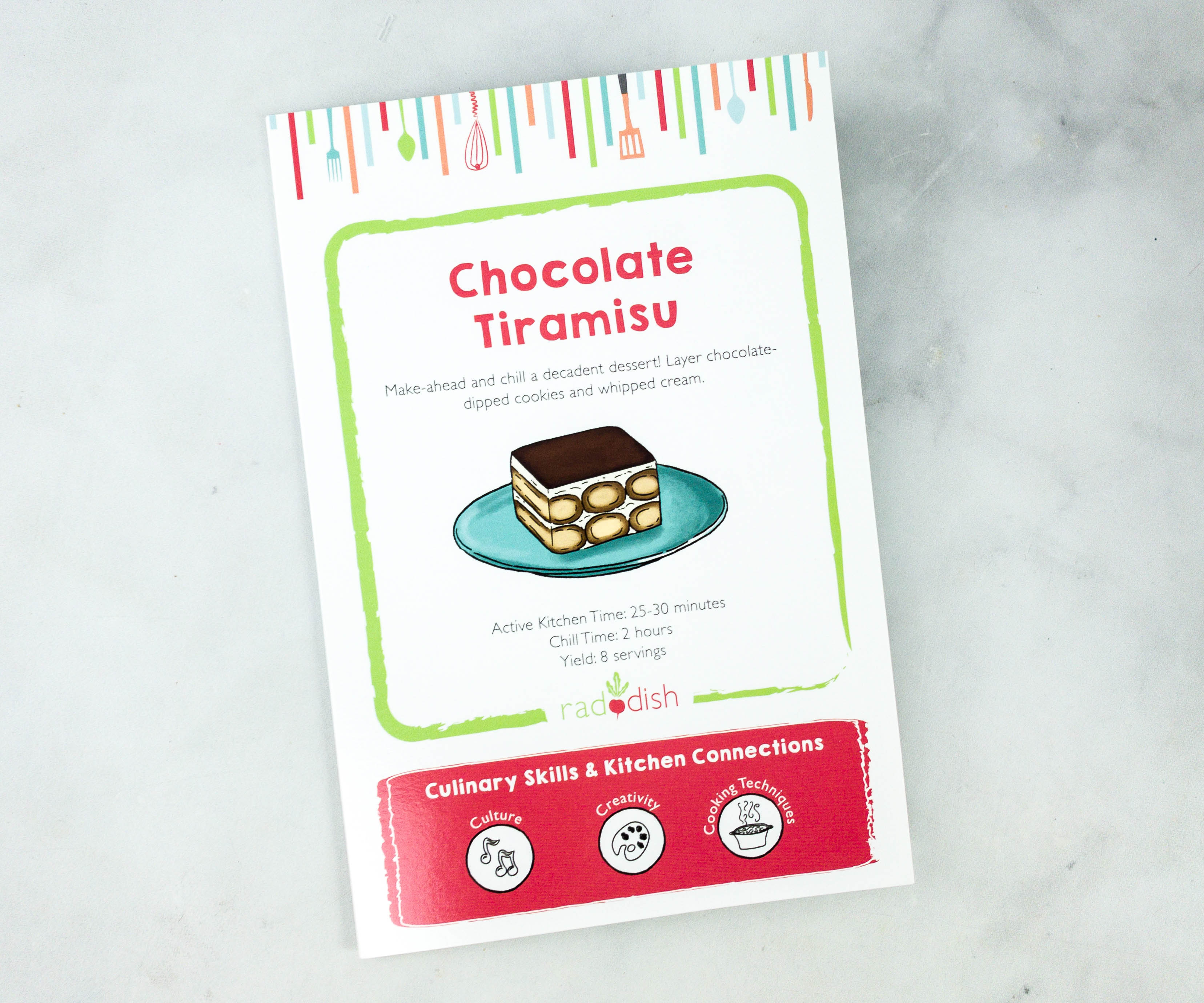 Chocolate Tiramisu. Finally, for dessert, my kids made delicious tiramisu!
Active Kitchen Time: 25-30 minutes

Chill Time: 2 hours

Yield: 8 servings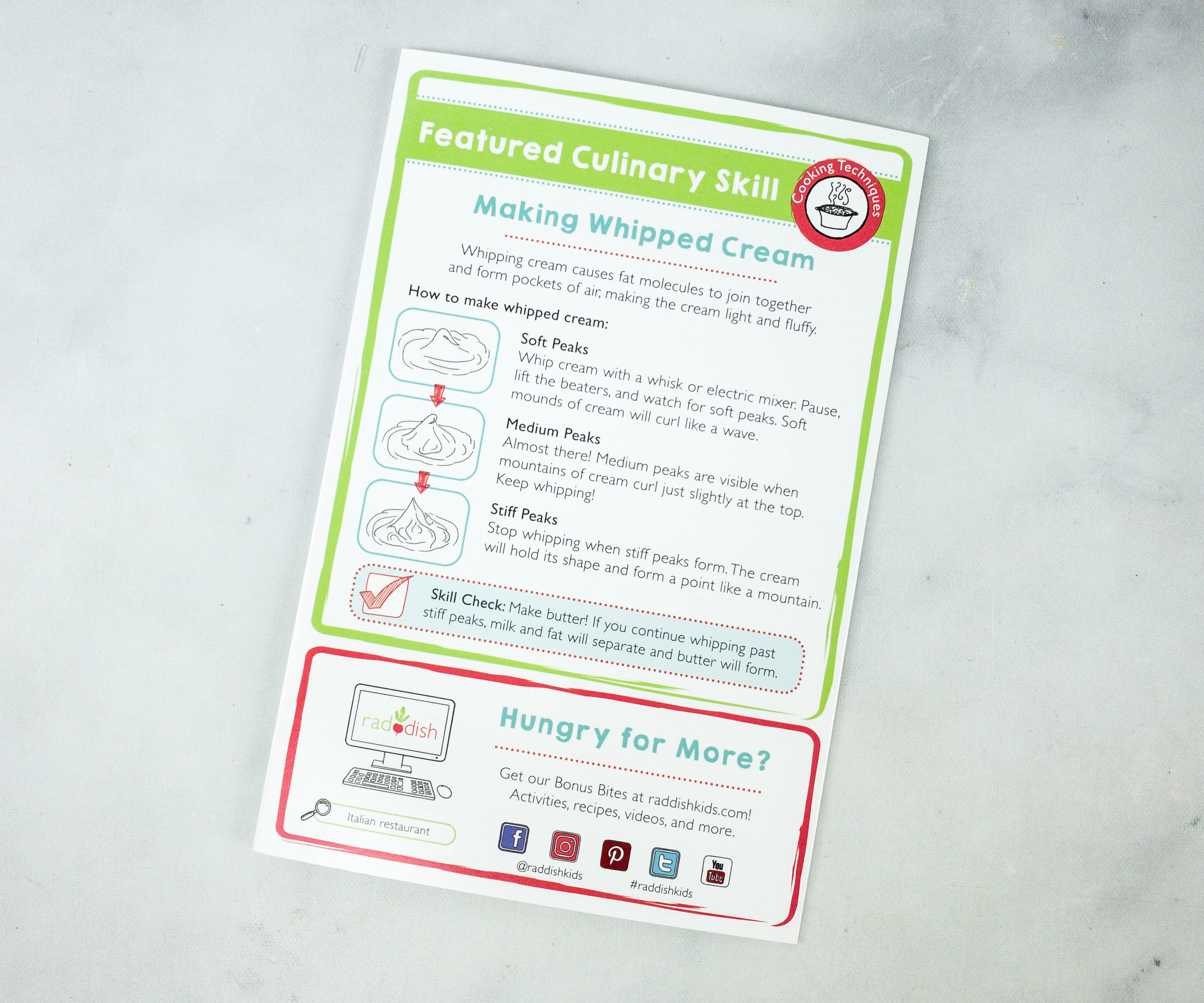 This recipe includes learning how to make a whipped cream.
Whipping cream causes for molecules to join together and form pockets of air making the cream light and fluffy.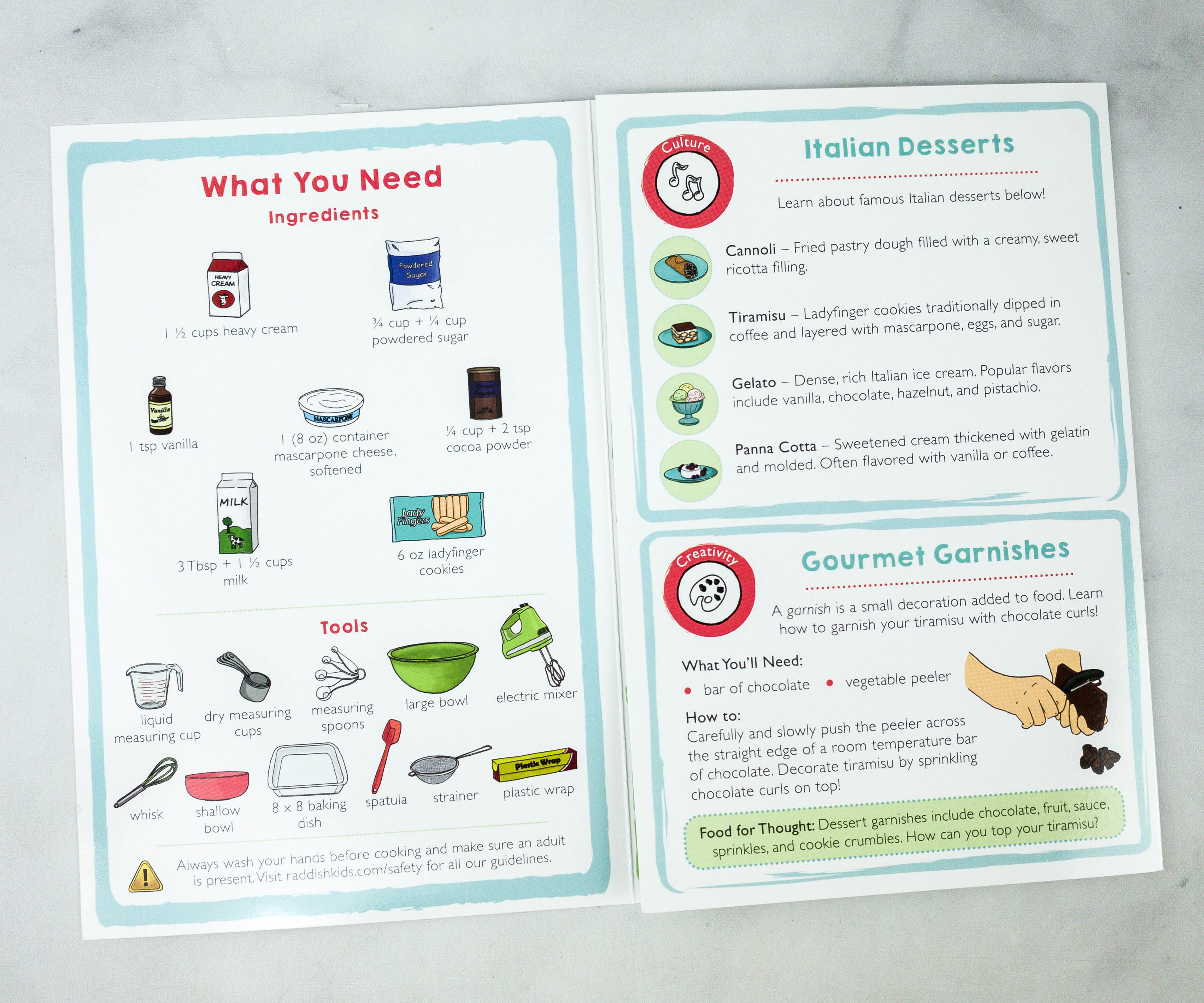 Beside the list of ingredients and tools, there's a list of Italian desserts and a lesson on how to garnish the Tiramisu.
The ingredients needed to make this dessert recipe include 1 1/2 cups heavy cream, 3/4 cup + 1/4 cup powdered sugar, 8oz of softened mascarpone cheese, 1/4 cup + 2tsp cocoa powder, 3 Tbsp. + 1 1/2 cups milk, and 6oz ladyfinger cookies.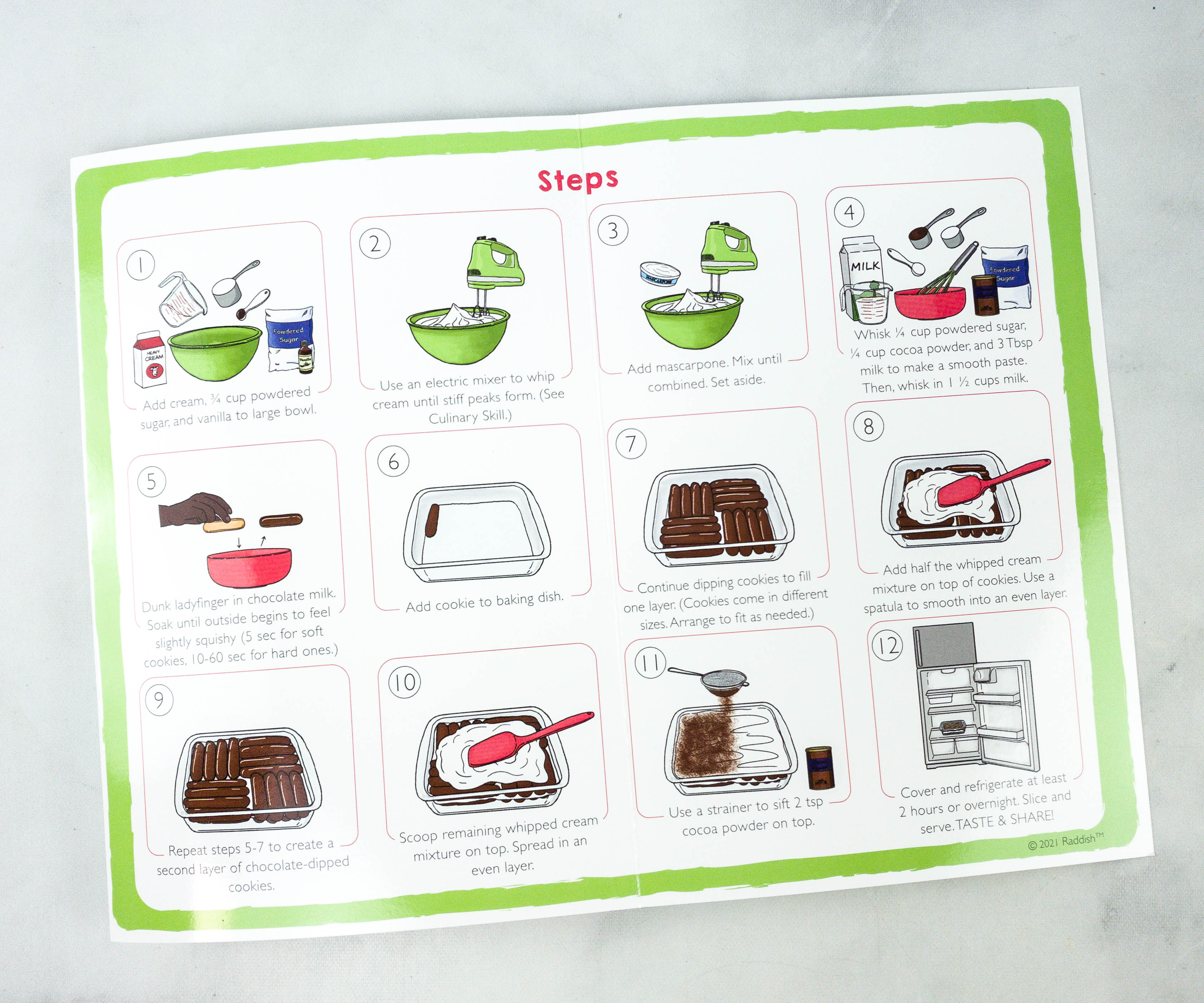 My kids used an electric mixer for this recipe. It's a skill that they have learned from one of the previous boxes.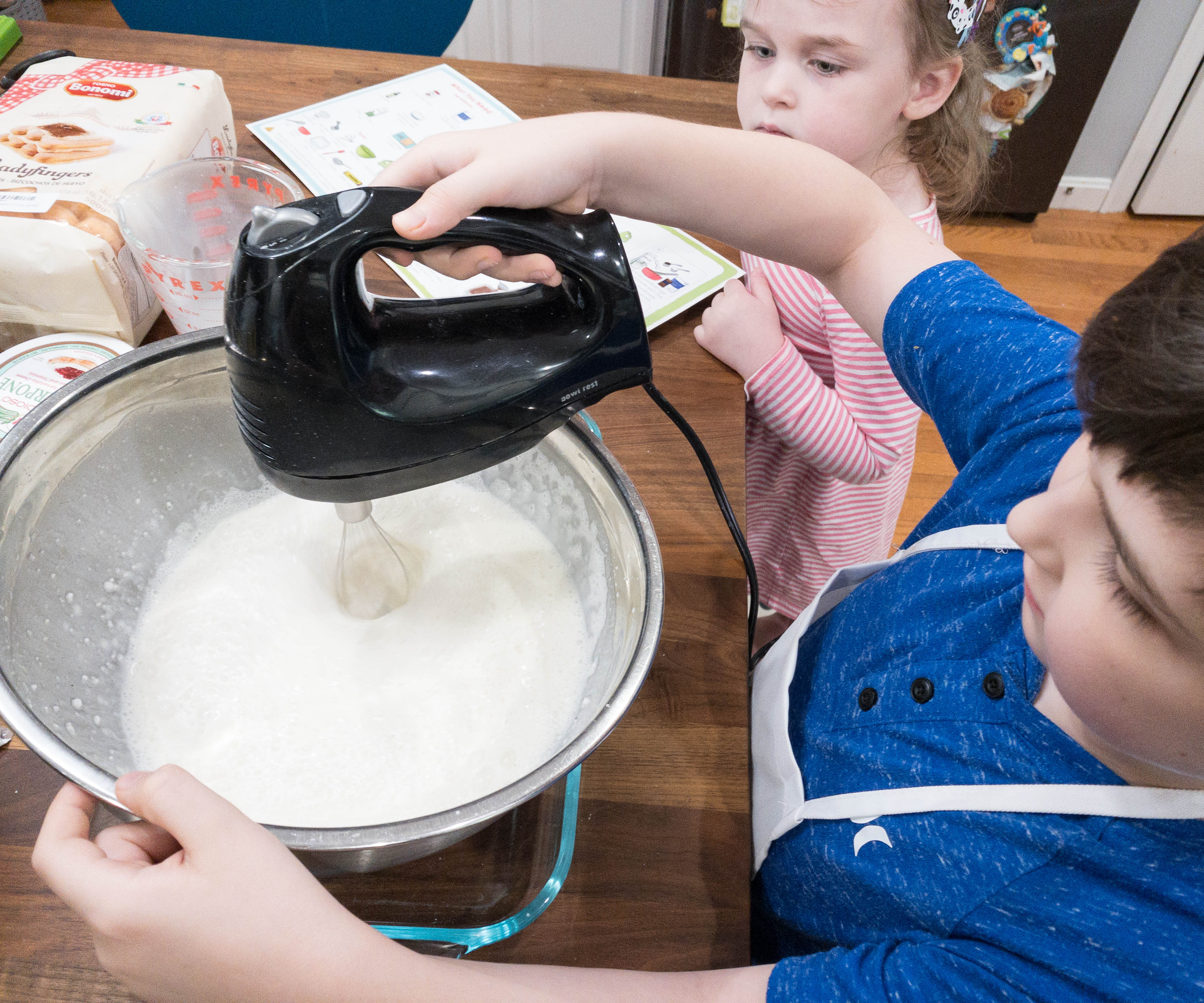 My younger son took charge of using the electric mixer and whipped the cream.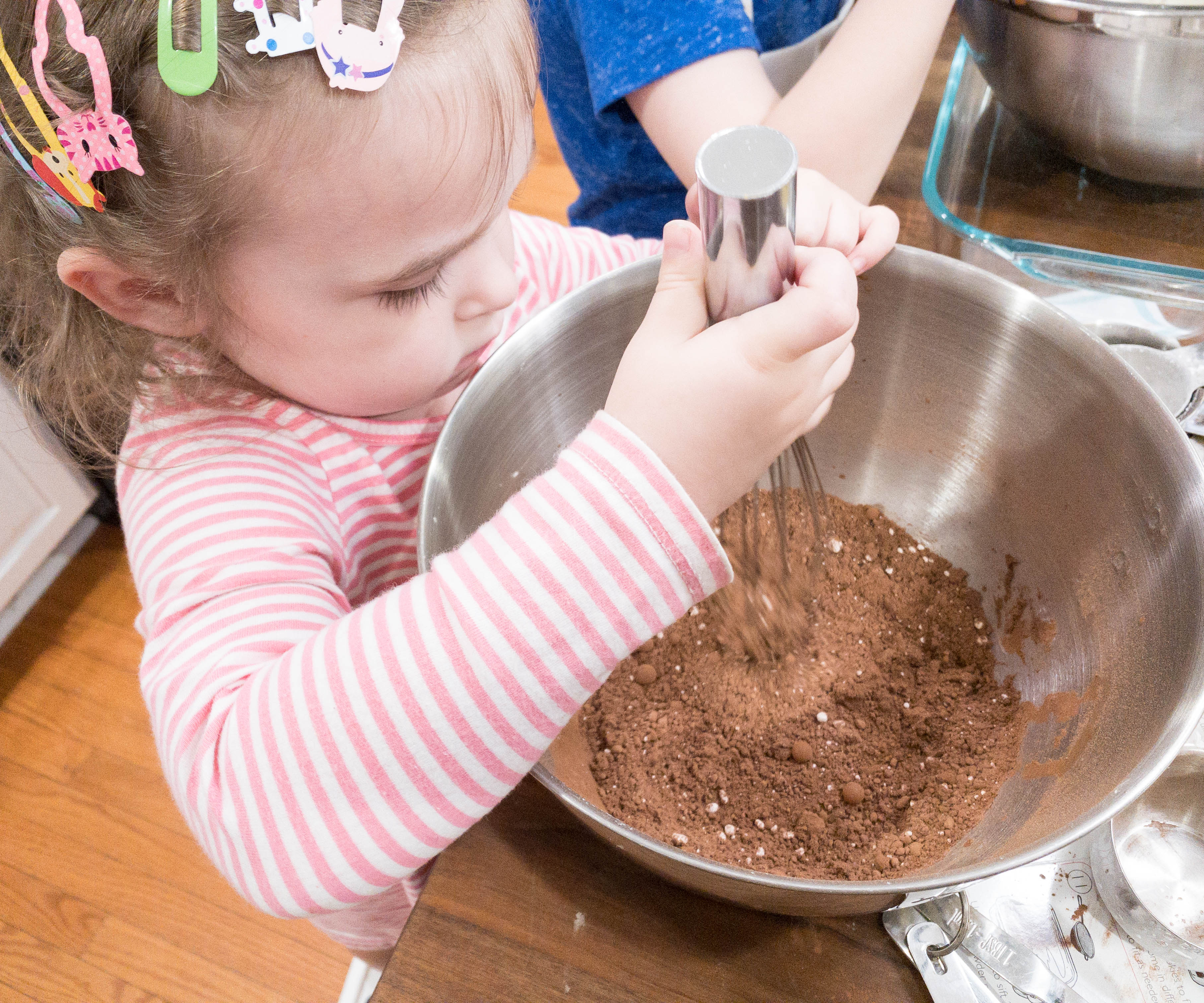 My youngest also did her part and mixed the other ingredients.
It's time to dip the ladyfinger cookies to the chocolate milk mixture!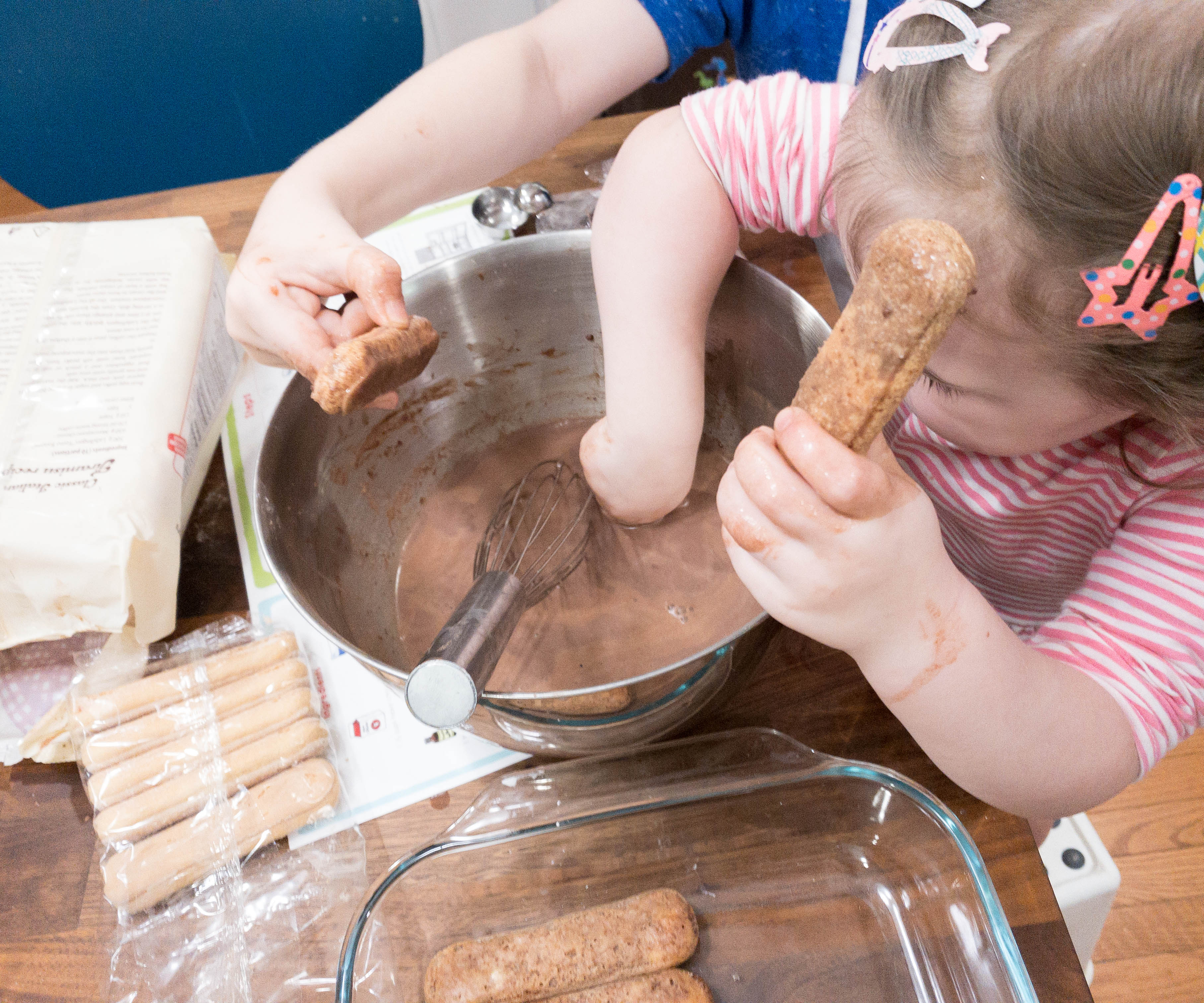 They all wanted to try dipping the cookies in the bowl full of chocolate, and they really had fun doing this part of the activity!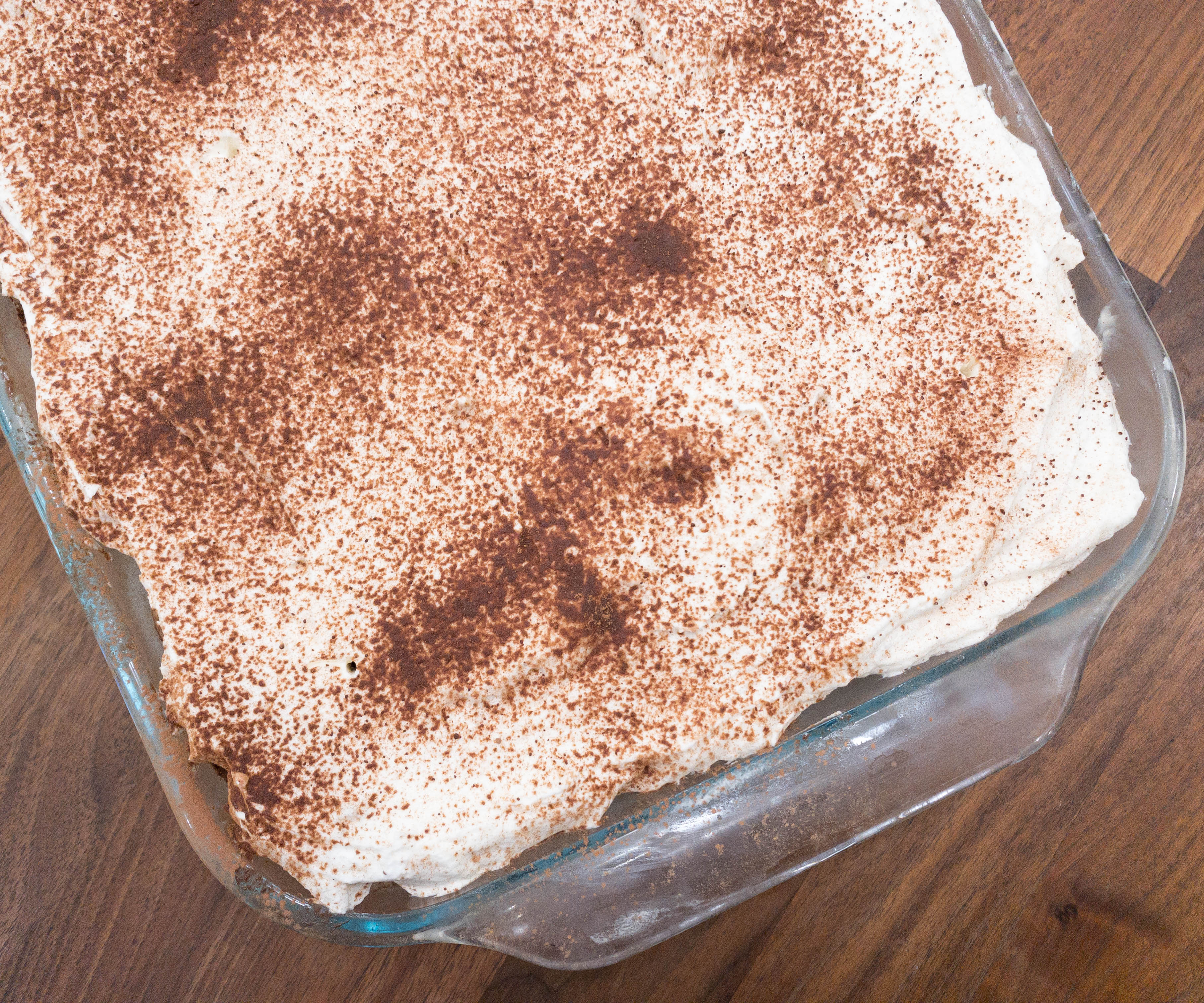 The finished product looks very appetizing.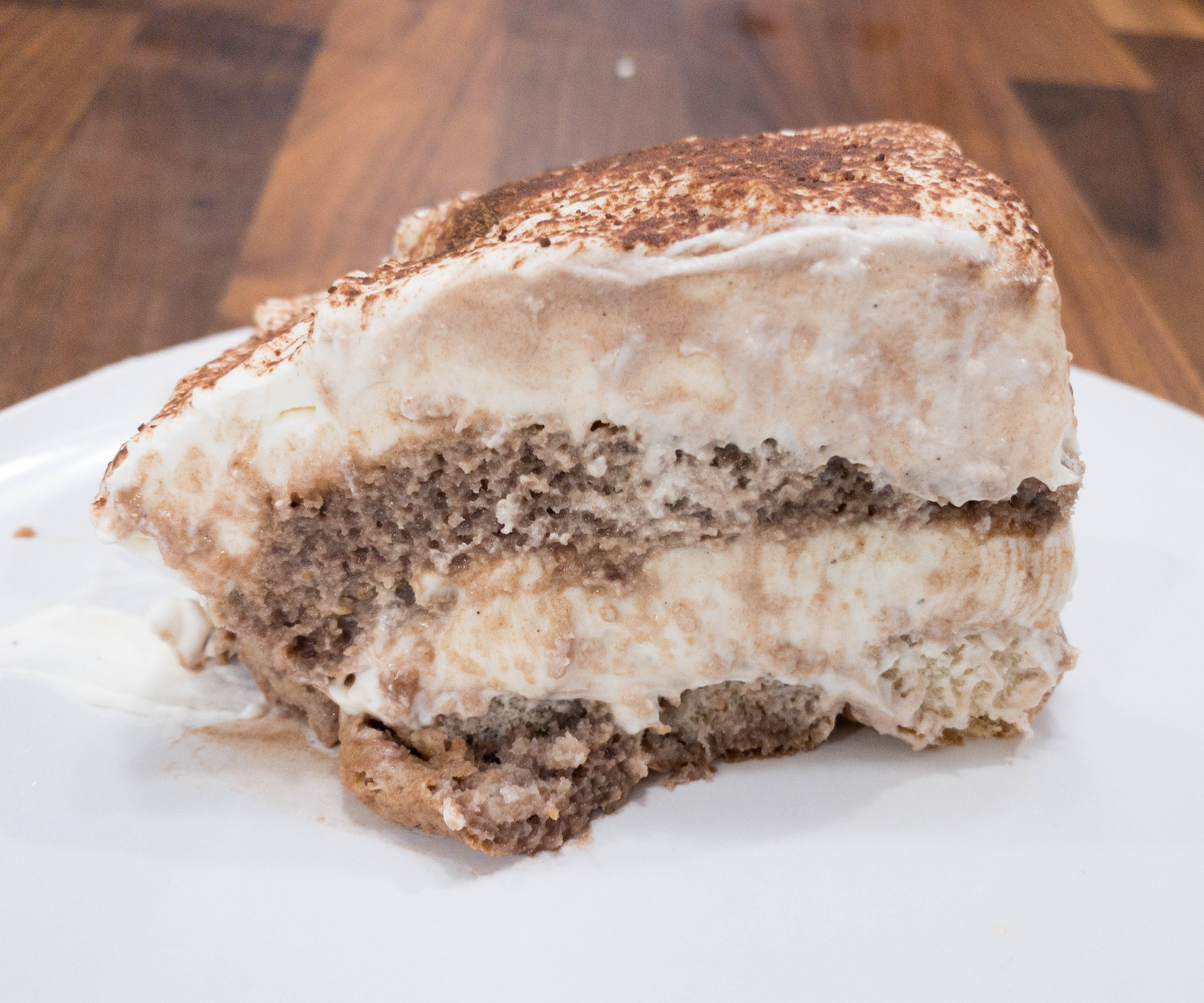 Here's a closer look on a beautiful slice of Chocolate Tiramisu.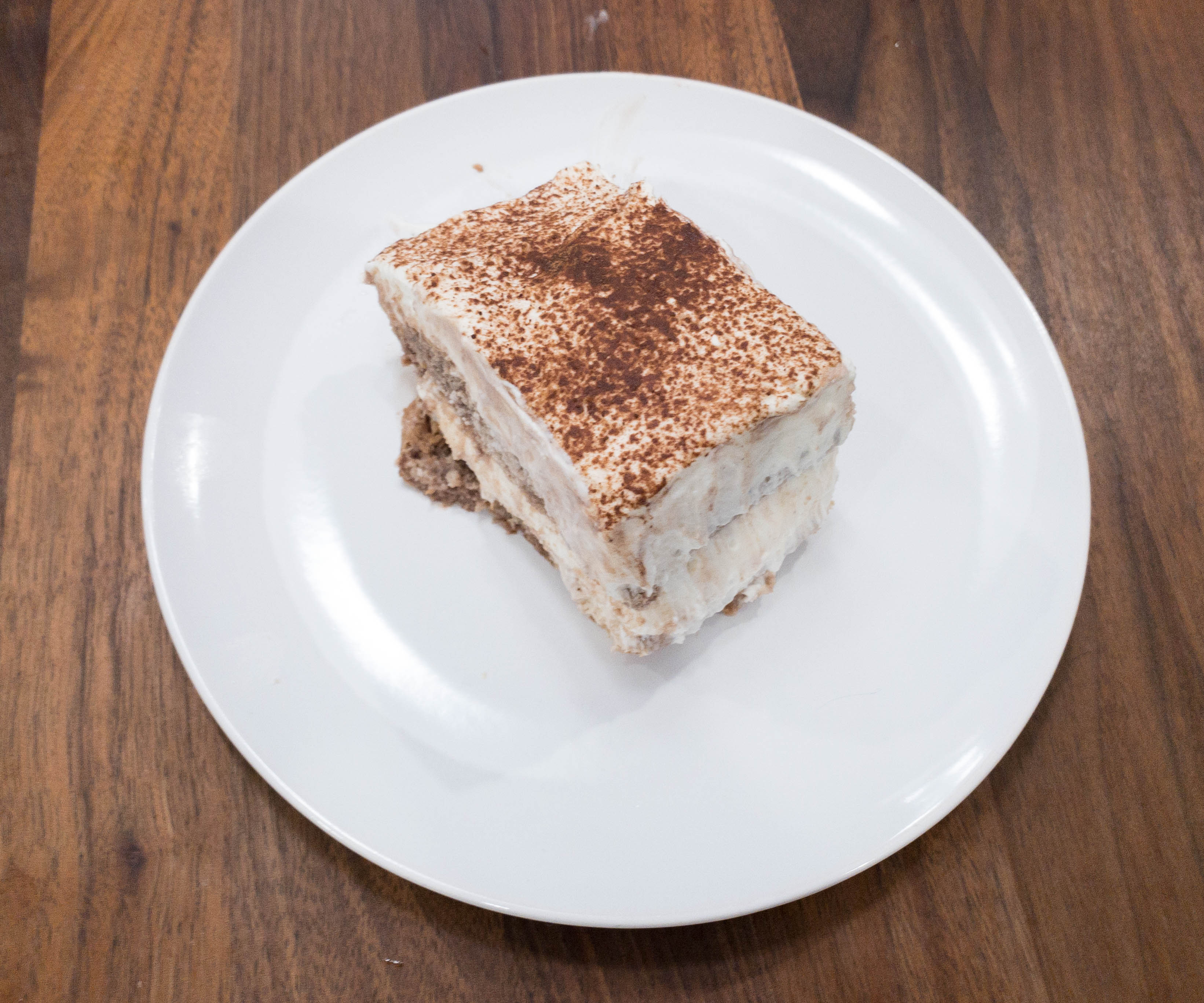 This was perfect for dessert, after the salad and ravioli!
The recipes from Raddish Kids this month are all Italian inspired! Everything was easy to prepare and cook because of the kid-friendly instructions. Also, with each meal, my kids learned different culinary skills like dicing ingredients and kneading dough. Their favorite is the cheesy ravioli, but all the dishes turned out really good and I'm so proud of my kids! This subscription is indeed a great way of helping kids get familiar with how the kitchen works and improve their culinary skills, which they can use not just today but in the future as well.
What do you think of this month's Raddish Kids box?