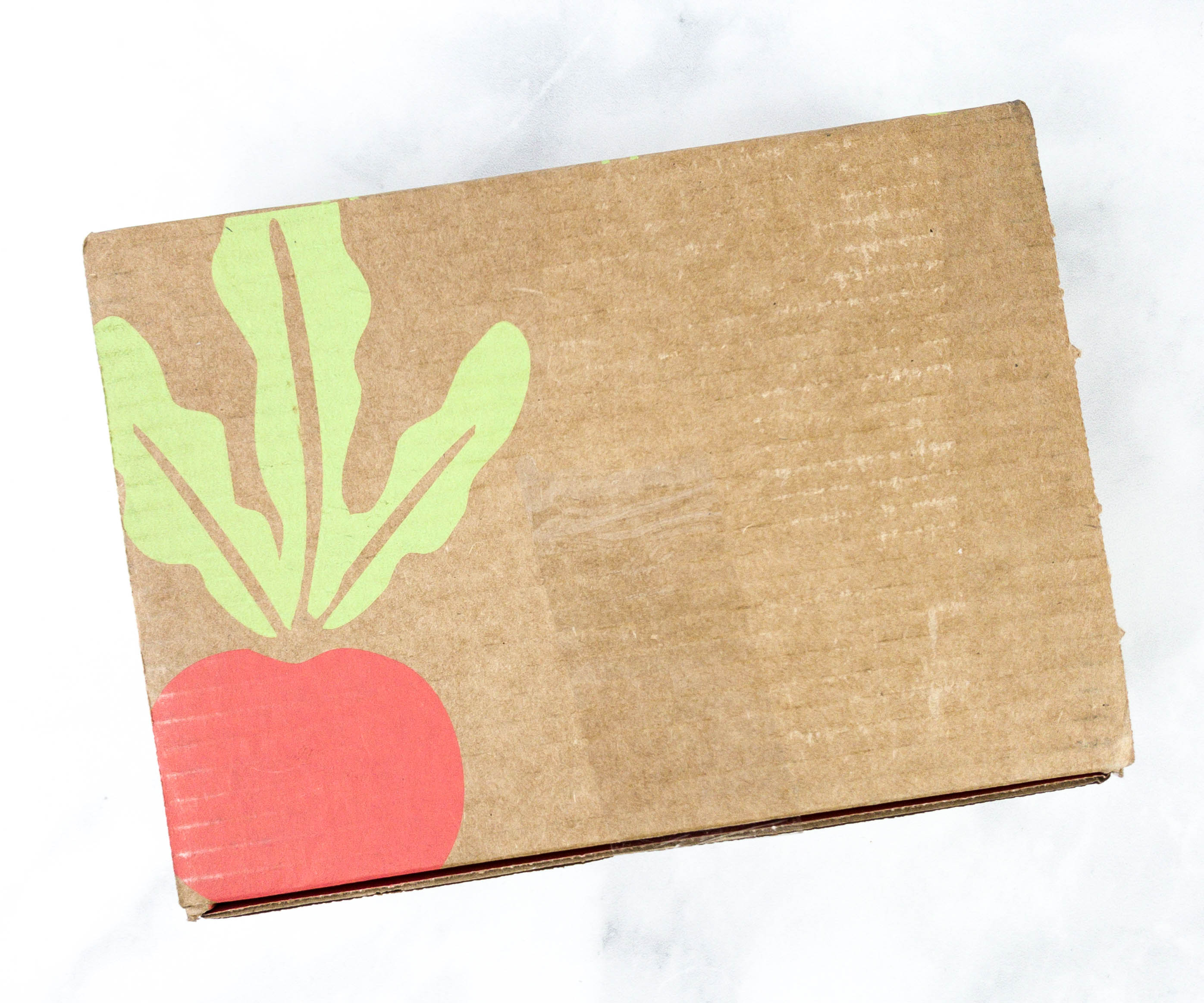 Raddish is a monthly kids' activity box centering around food and cooking! Designed for kids 4 to 14+, each themed box will include 3 illustrated recipe guides, 3 culinary skill cards, a creative kitchen project, kid-friendly tools and collectibles such as Table Talk cards, a culinary tool, and an iron-on Raddish patch. Themes range from Seasonal Spotlights to Global Cuisine and Creative Cookery to Holiday Celebrations. Although the ingredients are not included, they email you a shopping list for each month's recipes before your kit is shipped.
DEALS:
Get $15 off when you sign up for a 6 month subscription! Just use this link and use the coupon code ATHOME at checkout.
Get $20 off when you sign up for a 12 month subscription! Just use this link and use the coupon code CHEF20 at checkout.
PLUS Get a FREE apron with your first box when you sign up for a 6+ month subscription!
They offer a monthly membership for $24/month, a 6-month membership for an upfront payment of $132 ($22/month), and a 12-month membership for an upfront payment of $240 ($20/month). For those who are getting the 6 and 12-month memberships, expect a free apron in your box.
The box came in perfect condition!
This month's theme is FAMILY FUN NIGHT! Inside the envelope are small cards containing some culinary skill lessons, guides with fun and exciting activities.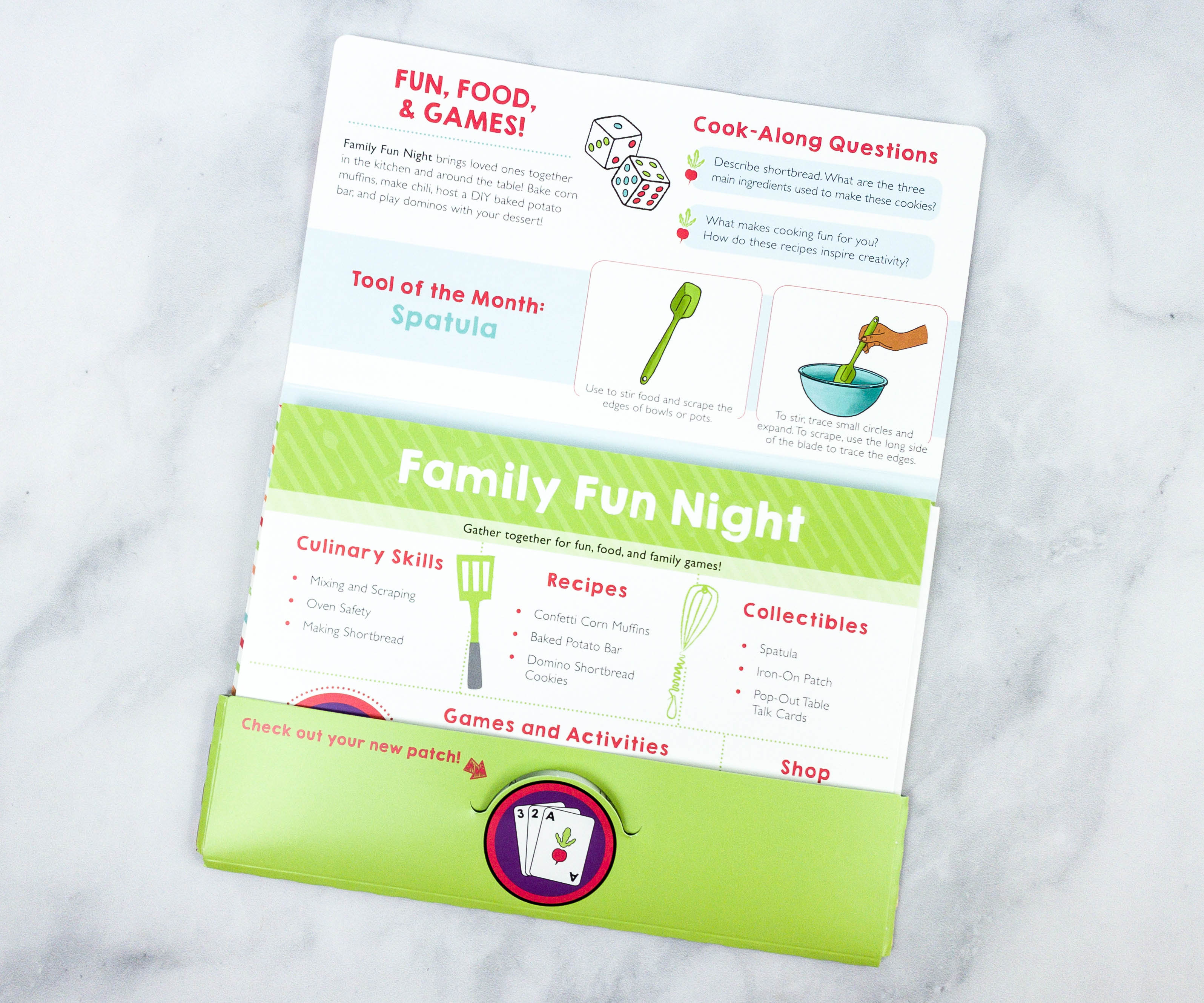 They also have bonus content on their website, called Bonus Bites, which includes a Spotify playlist that the kids can listen to while cooking, dietary modifications for the recipes in the box, and even lesson plans to accompany the kit.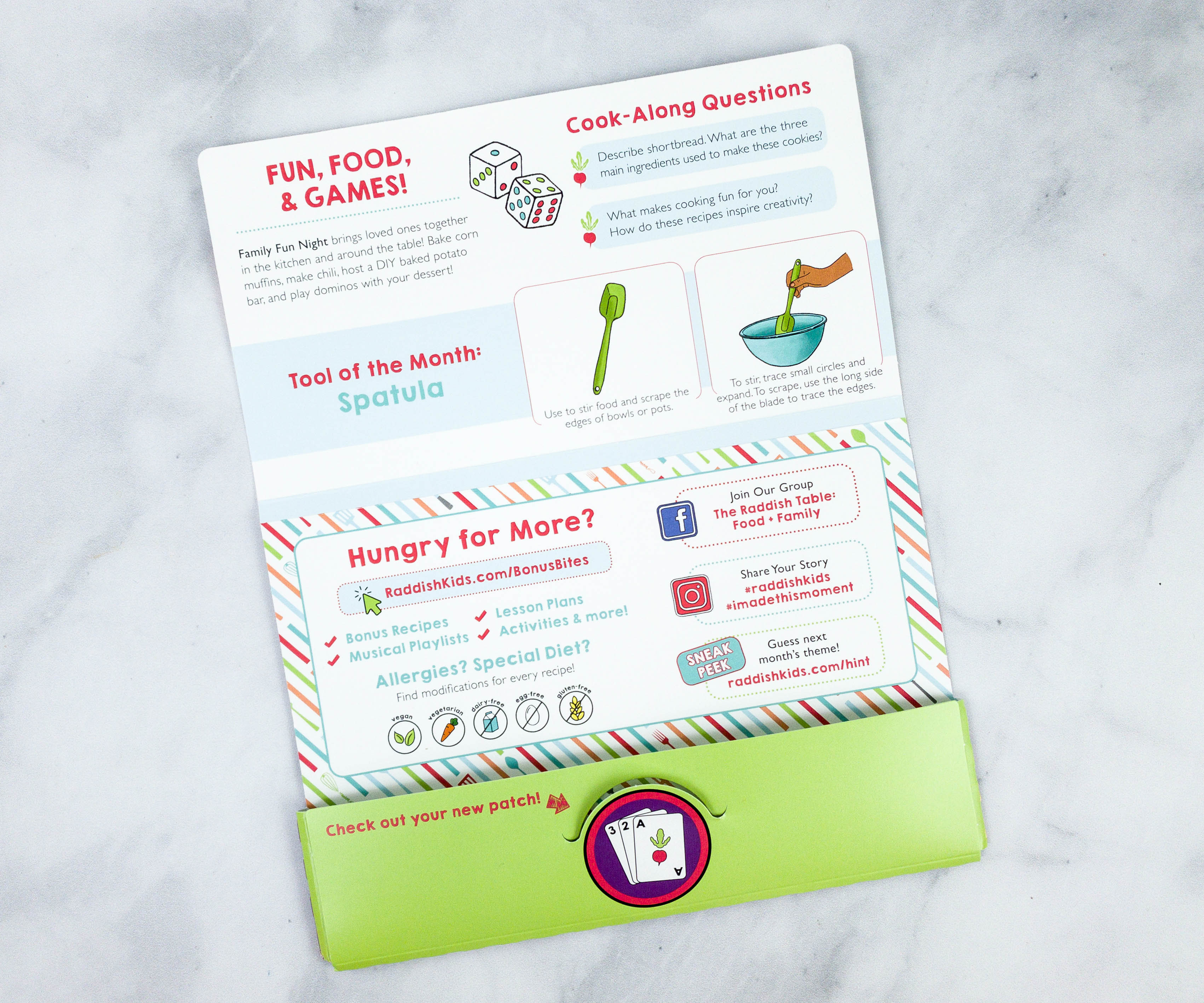 The envelope lists ways on how you can connect with Raddish Kids on social media, as well as a sneak peek for next month's theme.
This card contains all the information you need to know about this month's box. It lists all the culinary skills your kids will be acquiring, the recipe names, collectibles, and other games and activities.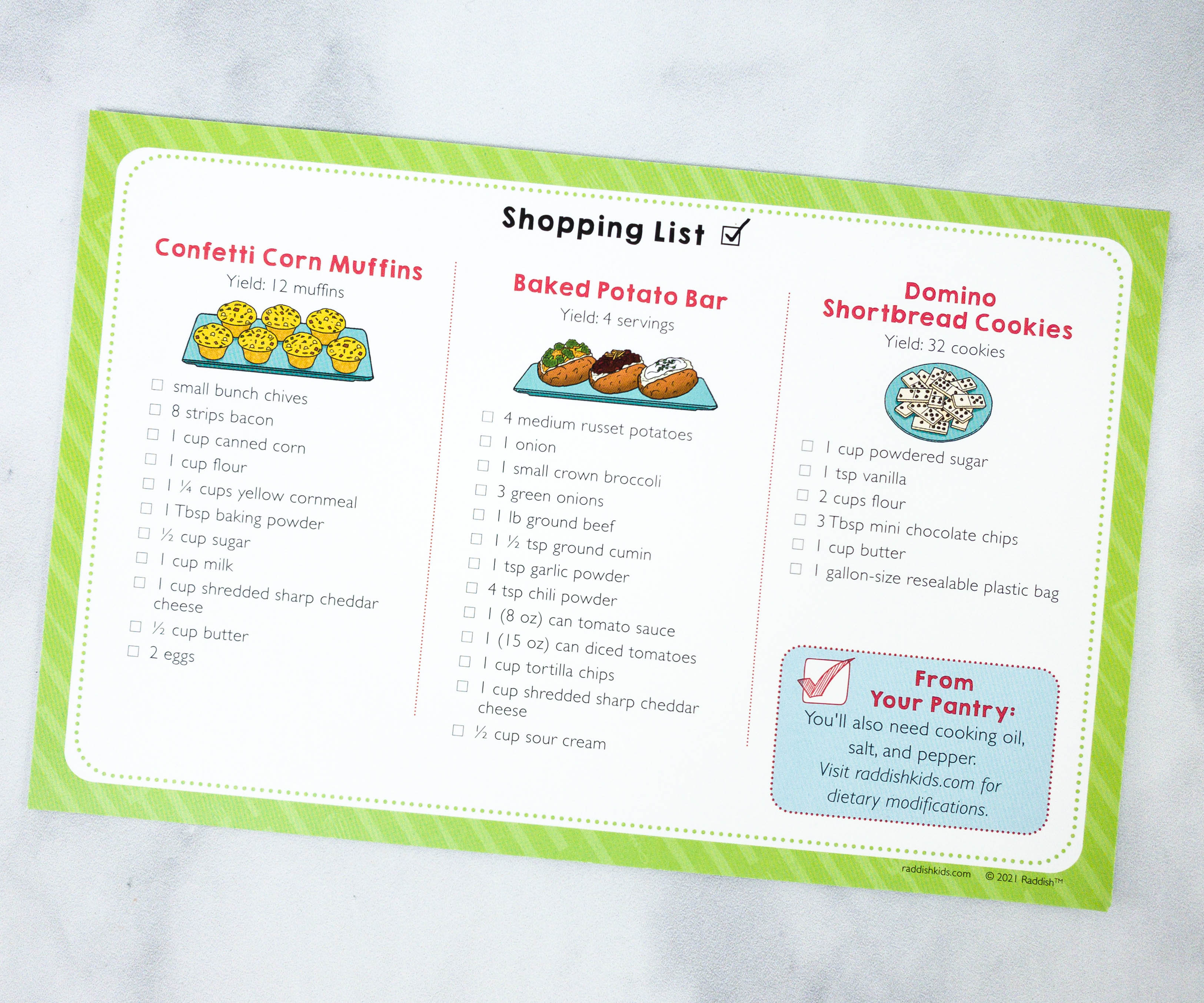 The back of the card provides a complete grocery list for all the featured recipes this month. The recipes are Confetti Corn Muffins, Baked Potato Bar, and Domino Shortbread Cookies.
There's also a card that features "Spoons", a fun game that the whole family can play!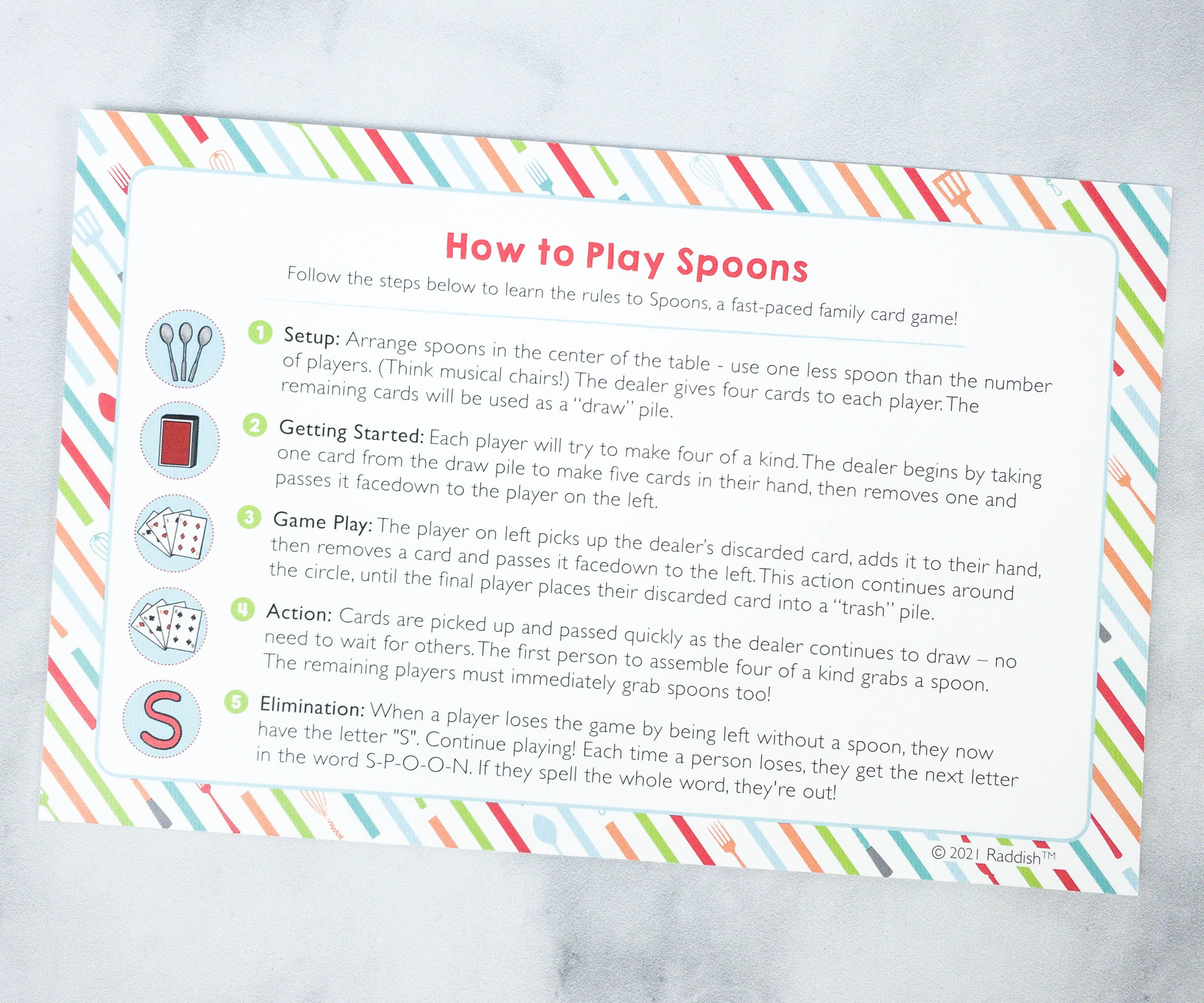 The flipside has the rules on how to play the game.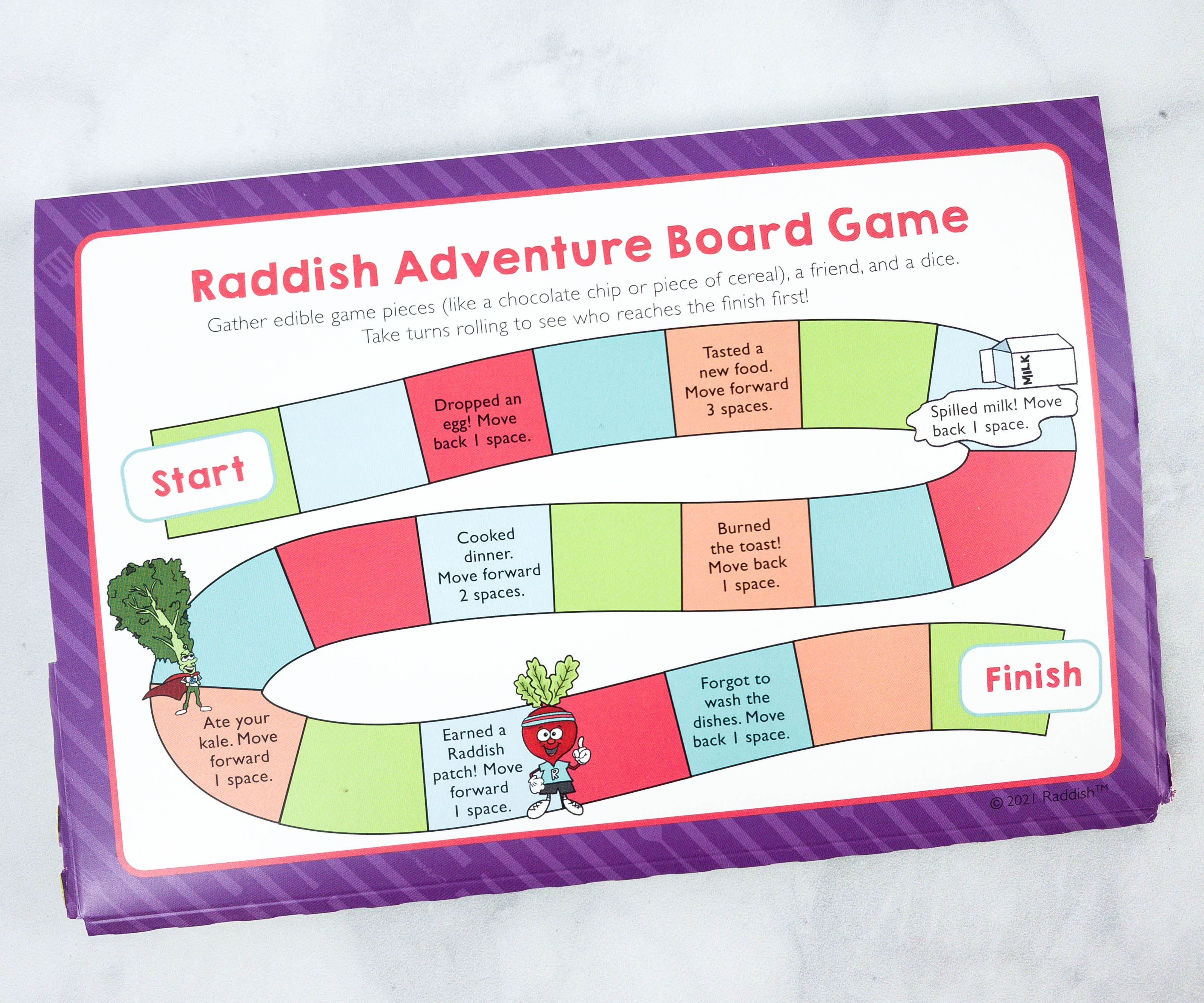 Here's another exciting board game that the kids can try, the Raddish Adventure Board Game.
Each box also includes exclusive Table Talk conversation starter cards.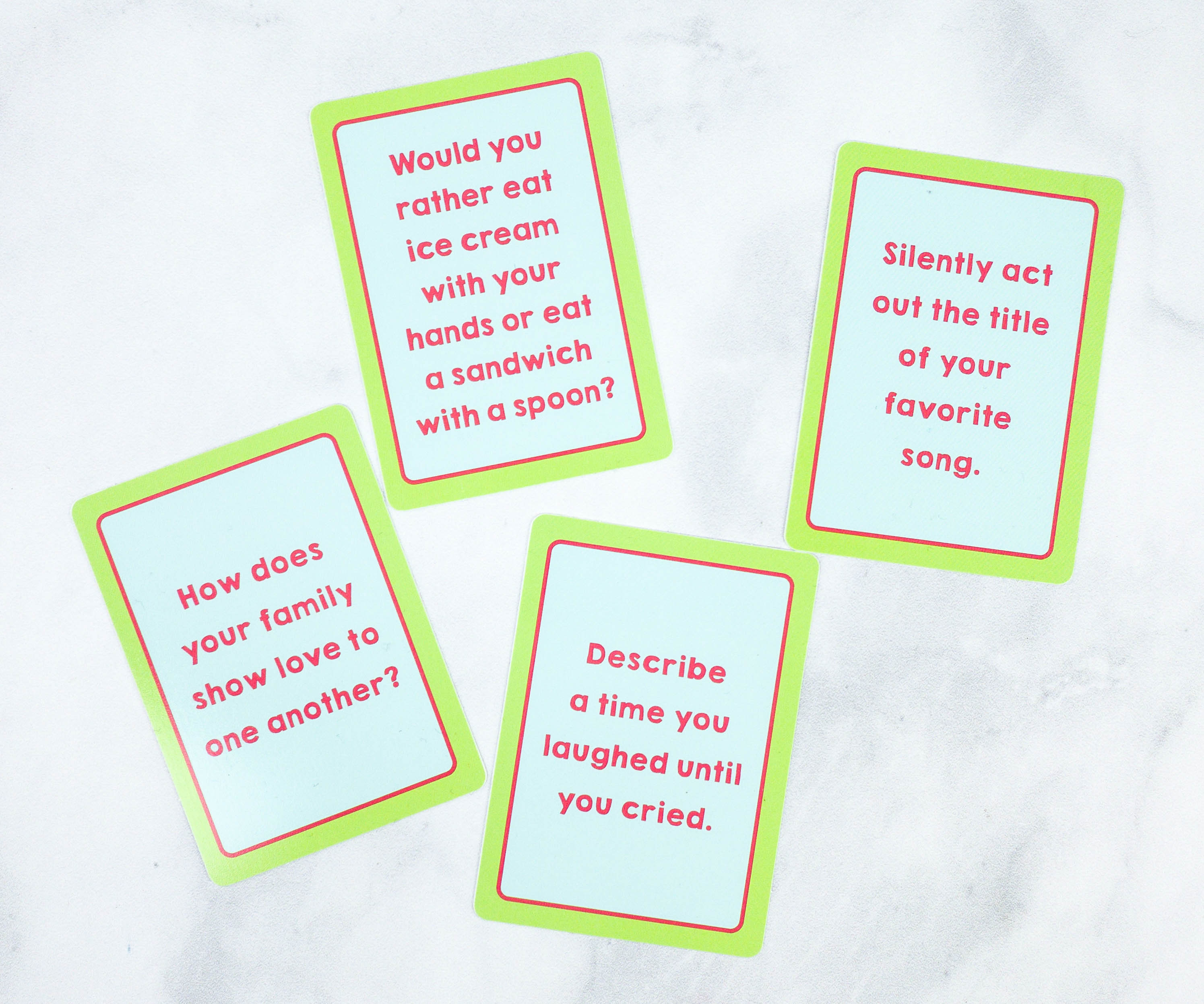 The cards contain questions for a great table talk conversation. They come in a sheet and you can easily tear them down.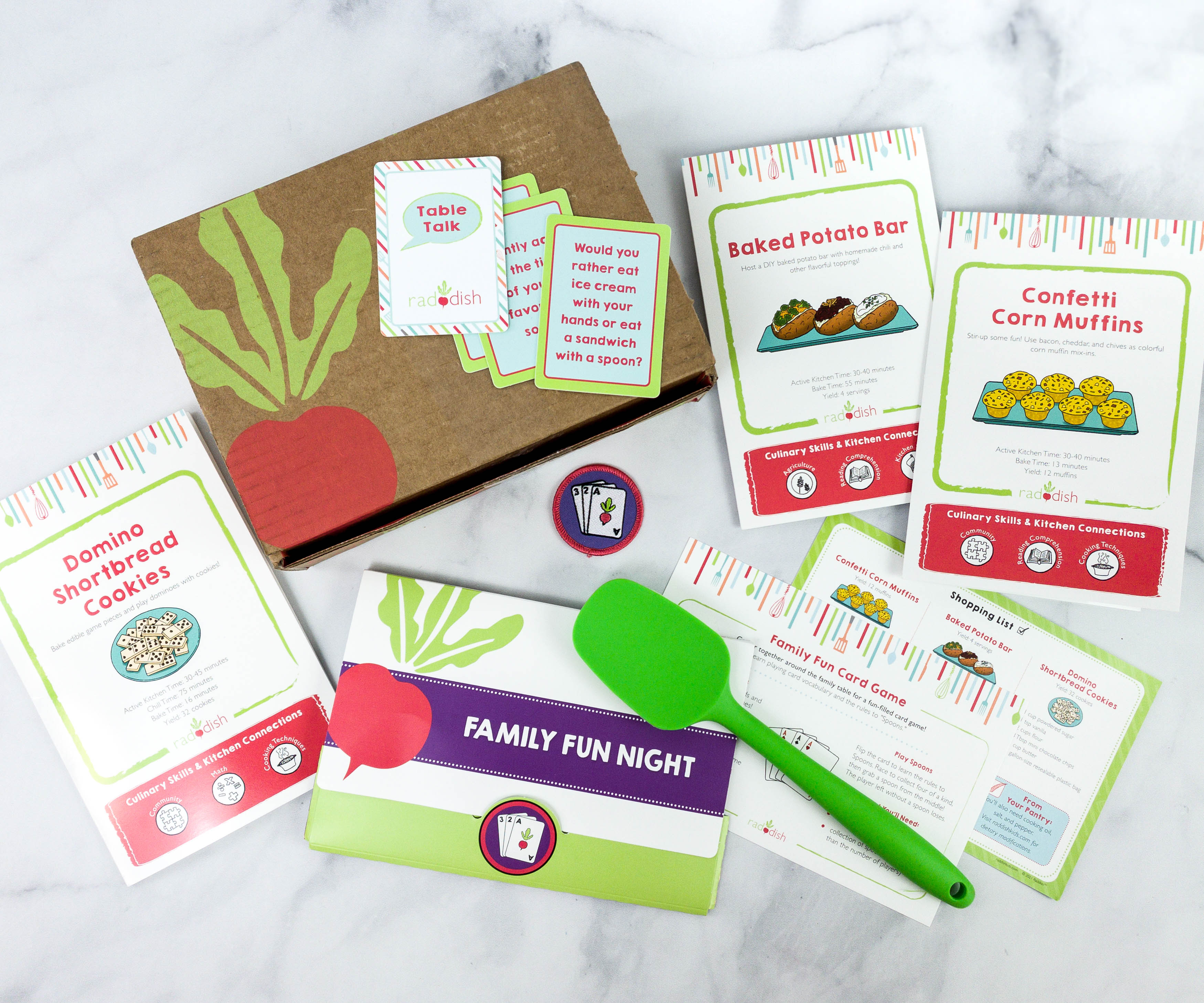 Everything in my February 2021 box!
The patch represents this month's theme.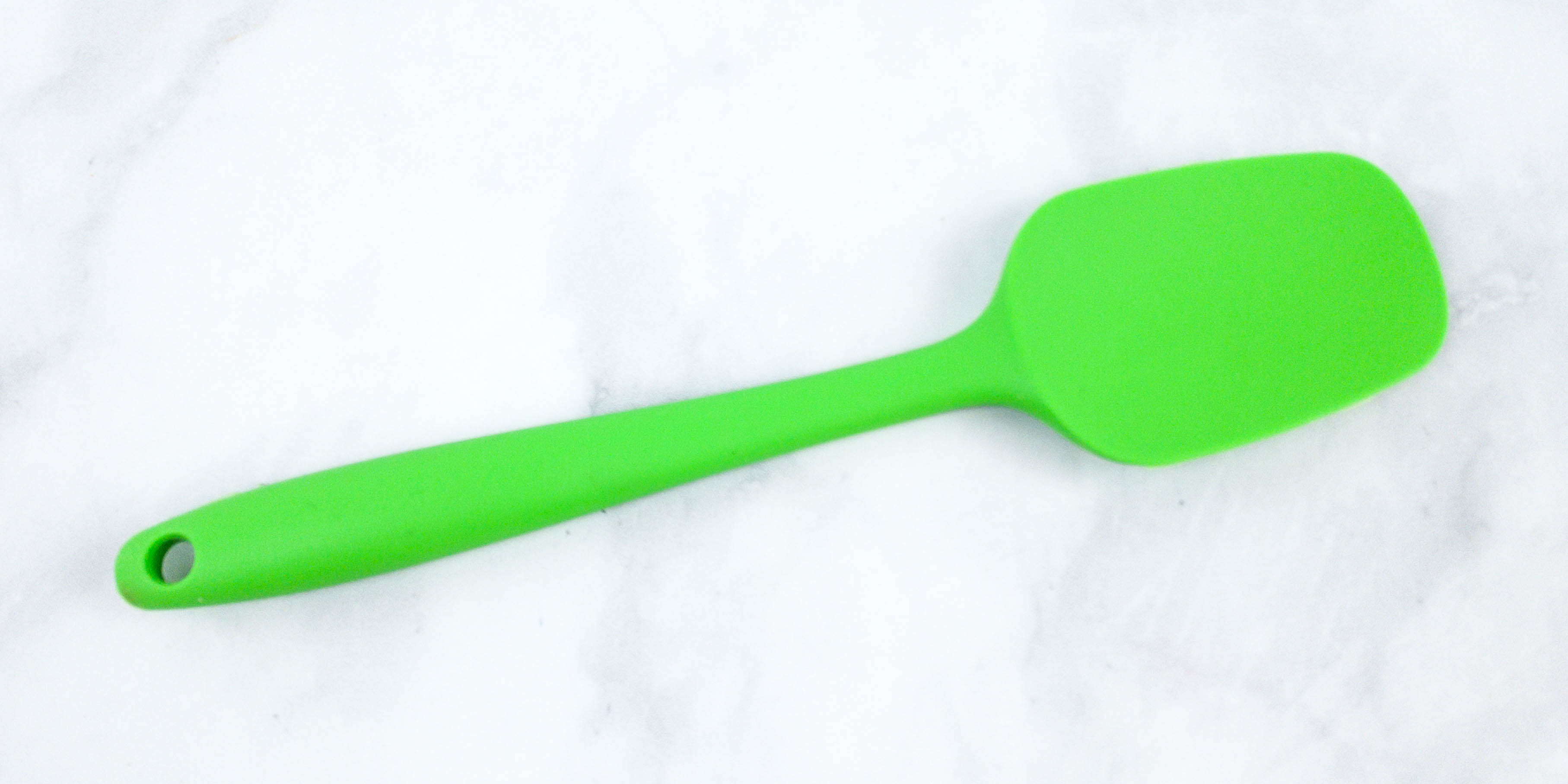 The spatula is this month's featured tool. It can be used to stir food and scrape the edges of bowls or pots.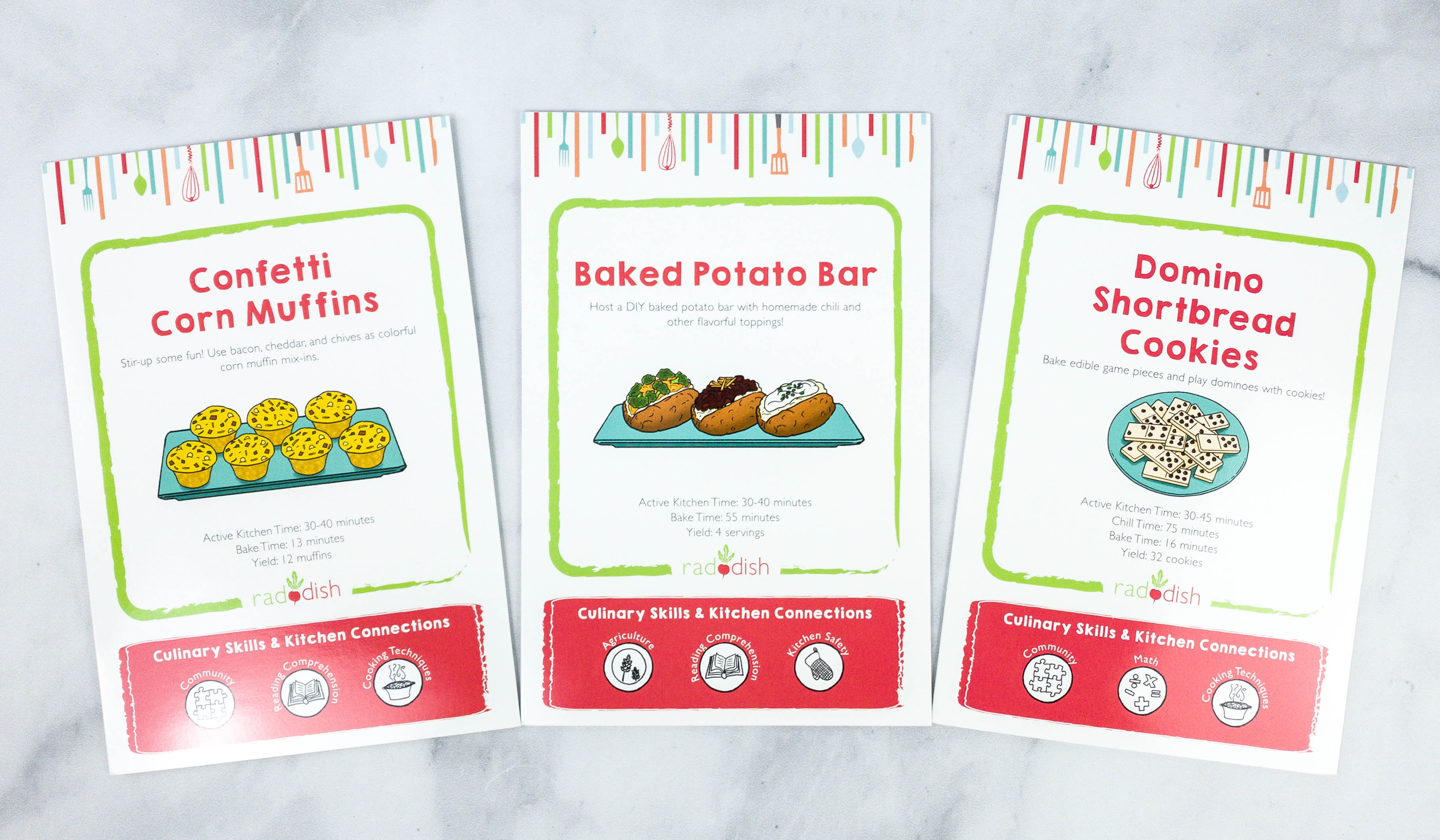 Here are this month's recipe guides!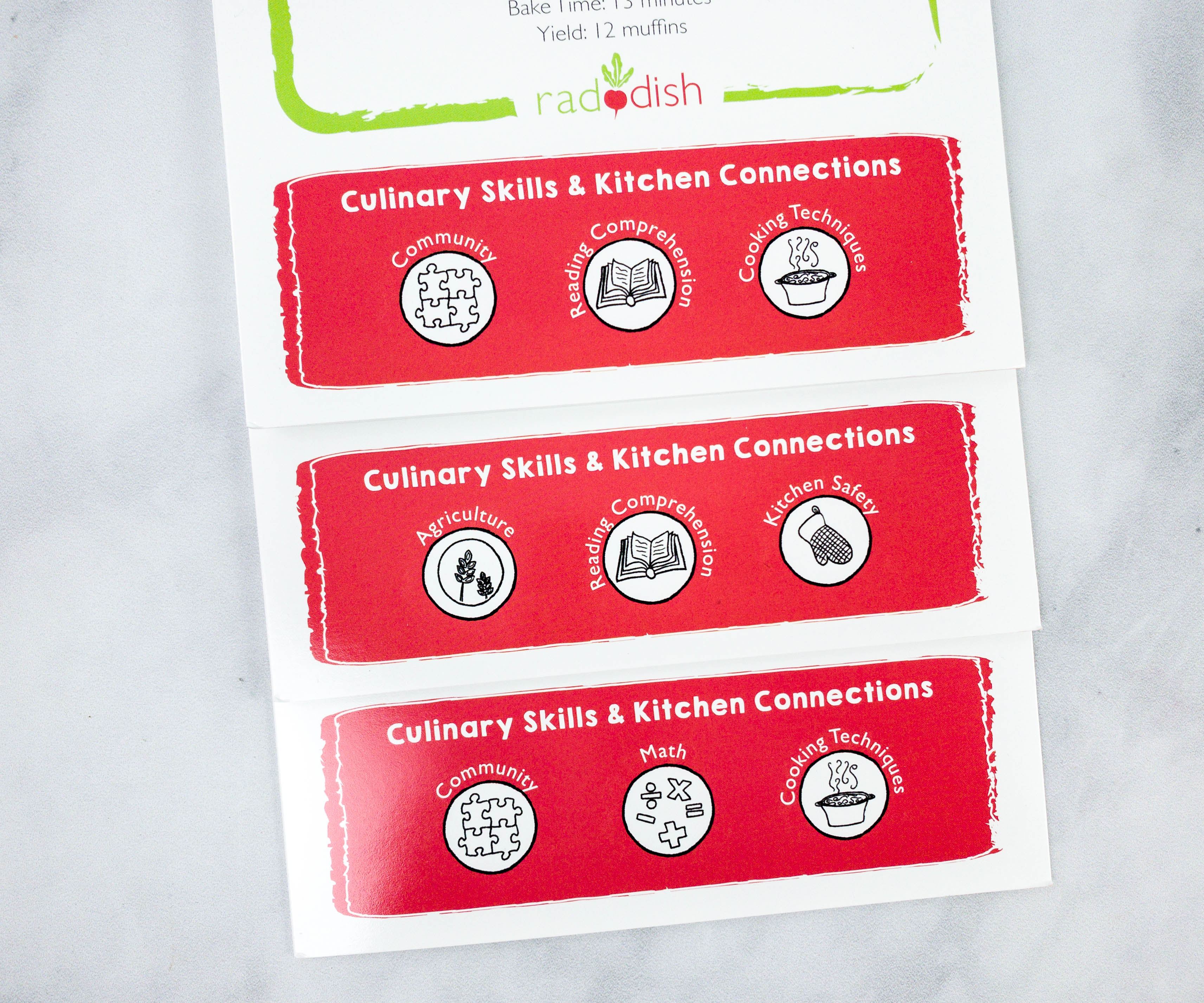 Each recipe has corresponding culinary skills and kitchen connections.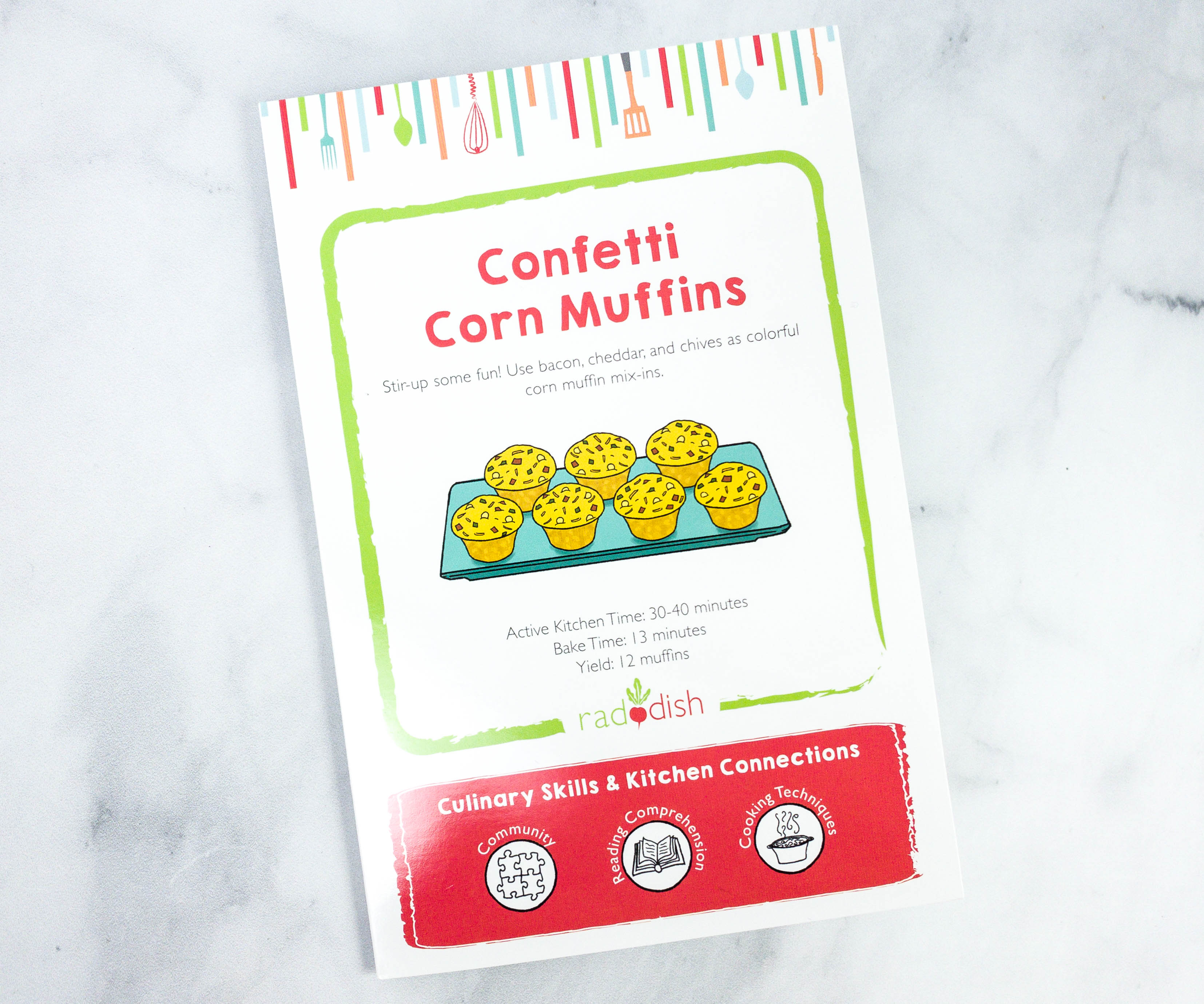 Confetti Corn Muffins. The first recipe is all about muffins, made special by muffin mix-ins such as bacon, cheddar, and chives.
Active Kitchen Time: 30-40 minutes

Bake Time: 13 minutes

Yield: 12 muffins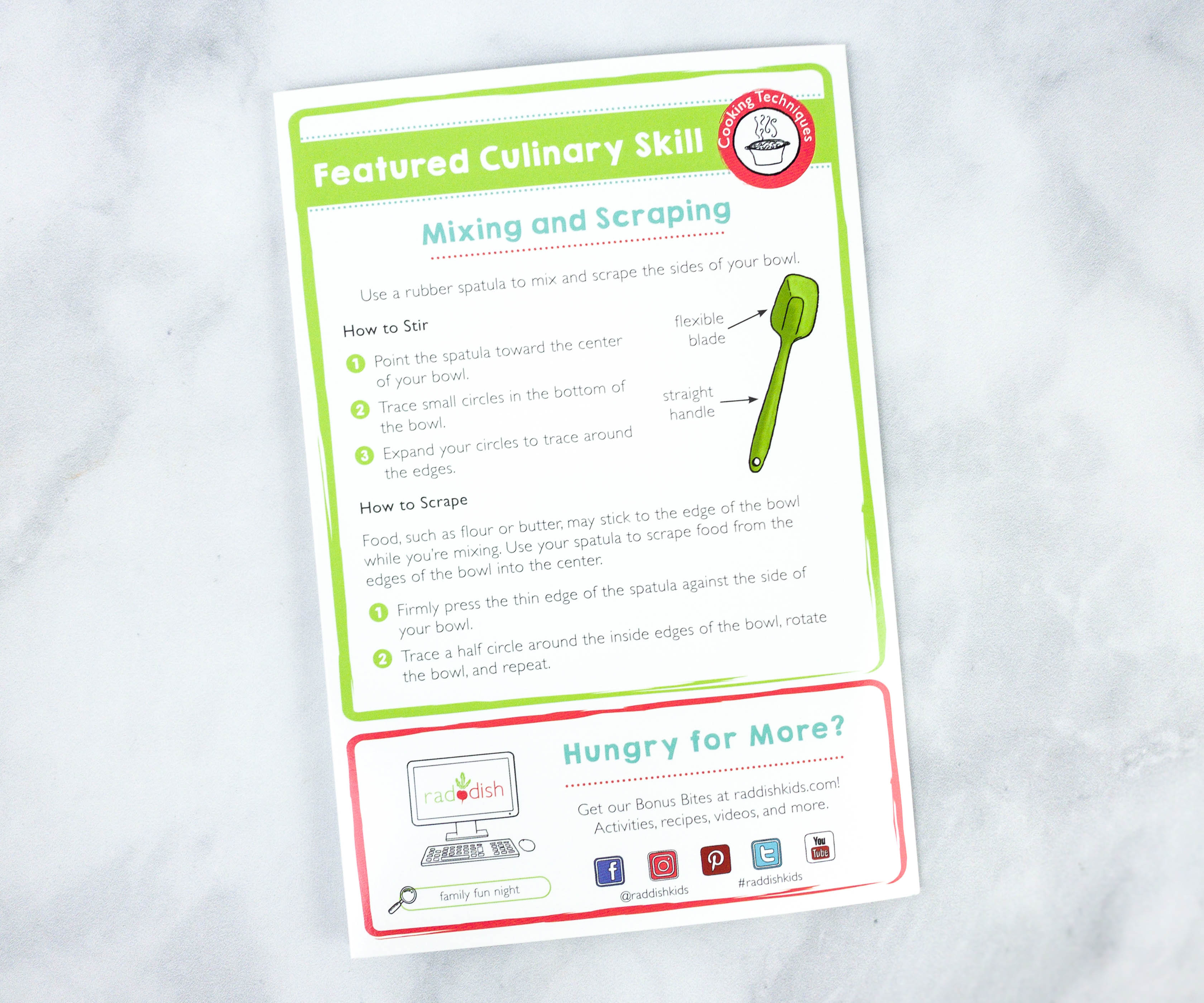 Mixing and scraping are the featured culinary skills for this recipe. The kids will learn how to properly do them using this month's featured tool, the spatula!
Inside the guide is a list of the ingredients and the needed tools. The next page also has a list of ways to connect with members of the family by creating different routine for meals and activities that may go along with it. There's also a mini game that the kids can play while preparing for the meal.
Ingredients for this recipe include 8 strips bacon, small bunch of chives, 1 cup flour, 1 1/4 cups yellow cornmeal, 1 Tbsp. baking powder, 1/2 cup sugar, 1 tsp kosher salt, 1/2 cup butter, 2 eggs, 1 cup milk, 1 cup canned corn, and 1 cup shredded sharp cheddar cheese.
Each step in the recipe guide is accompanied by an illustration!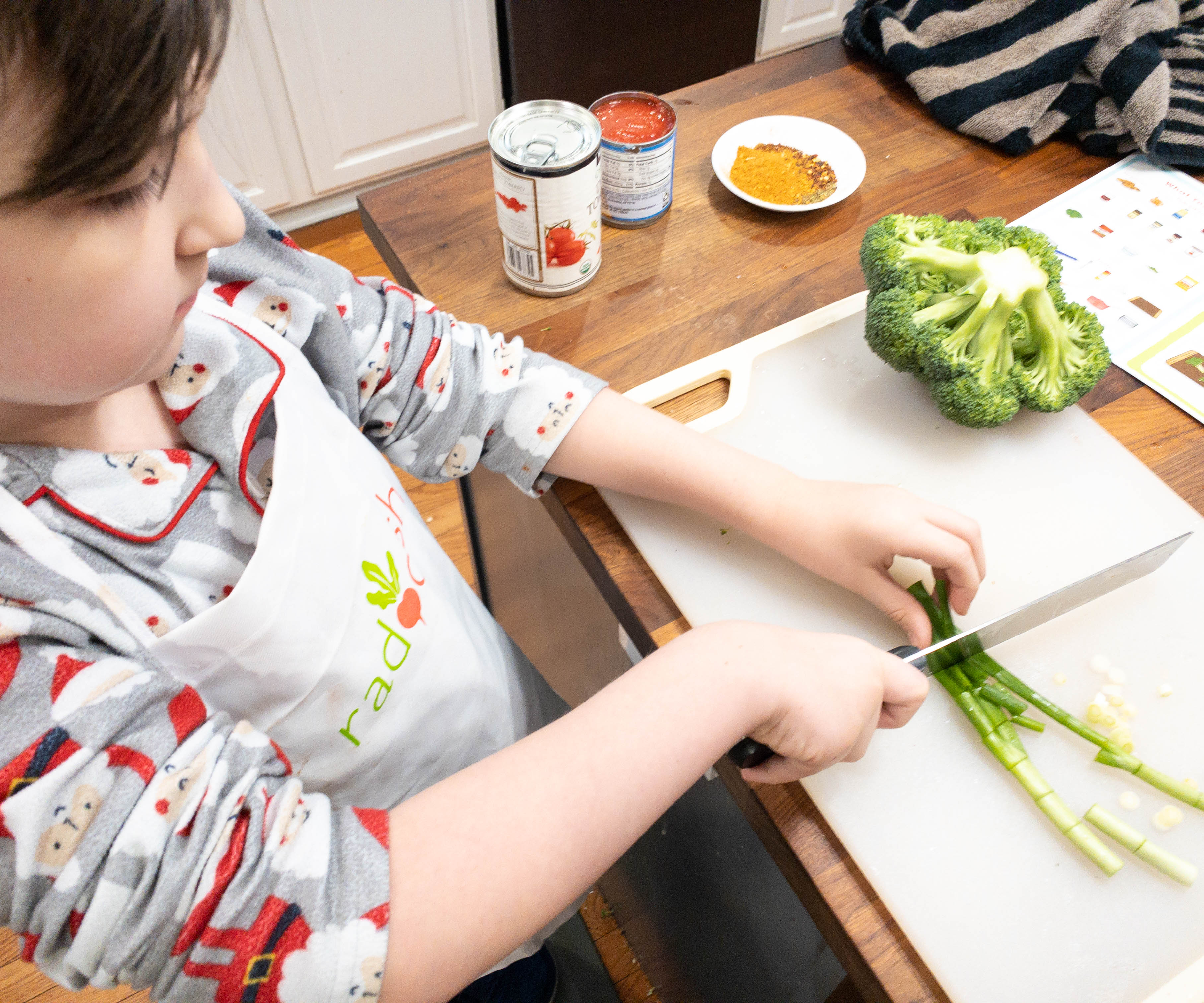 My son started mincing the chives into small pieces. This is a skill that he learned from one of the previous boxes.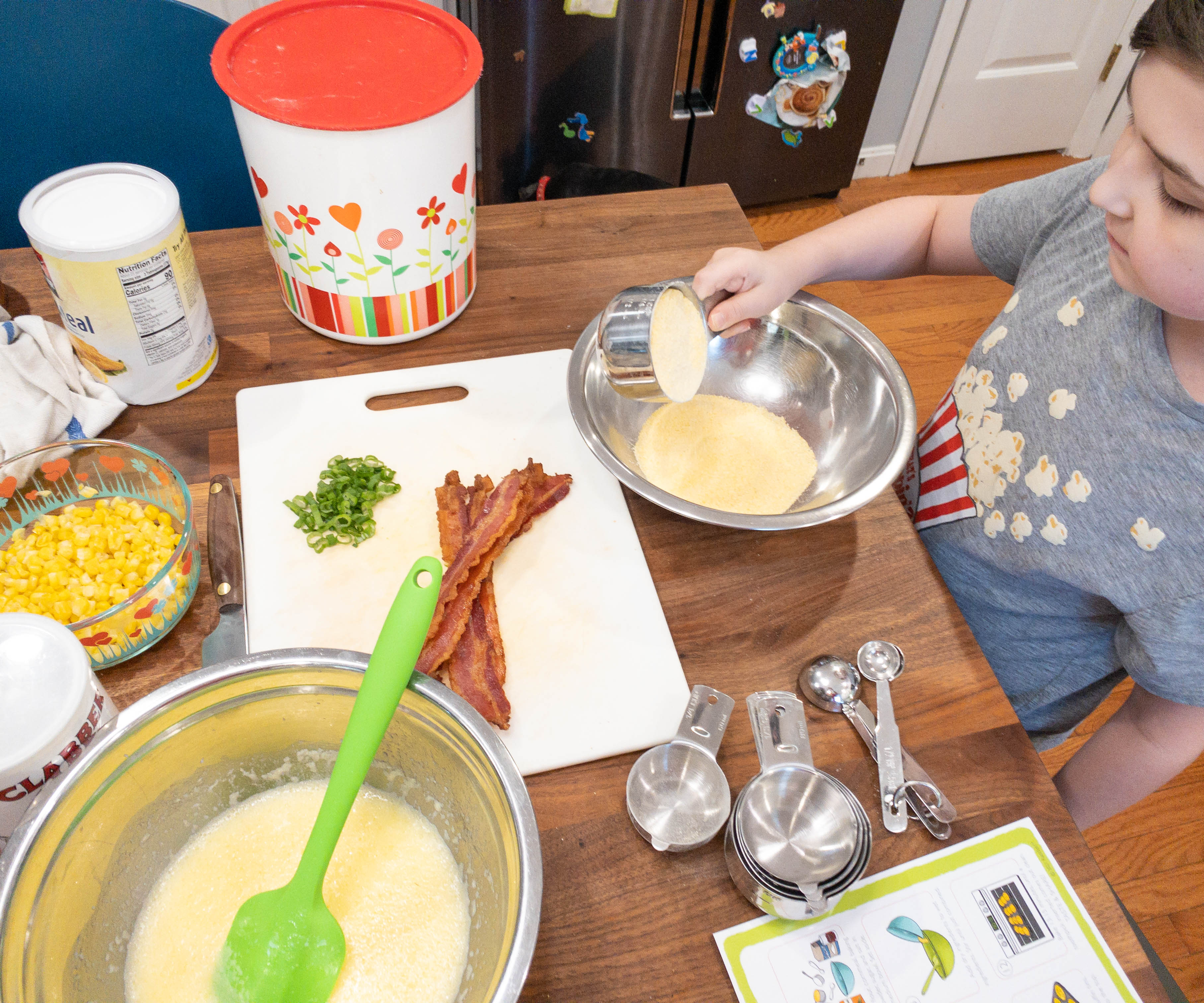 He also combined the dried ingredients on a separate bowl.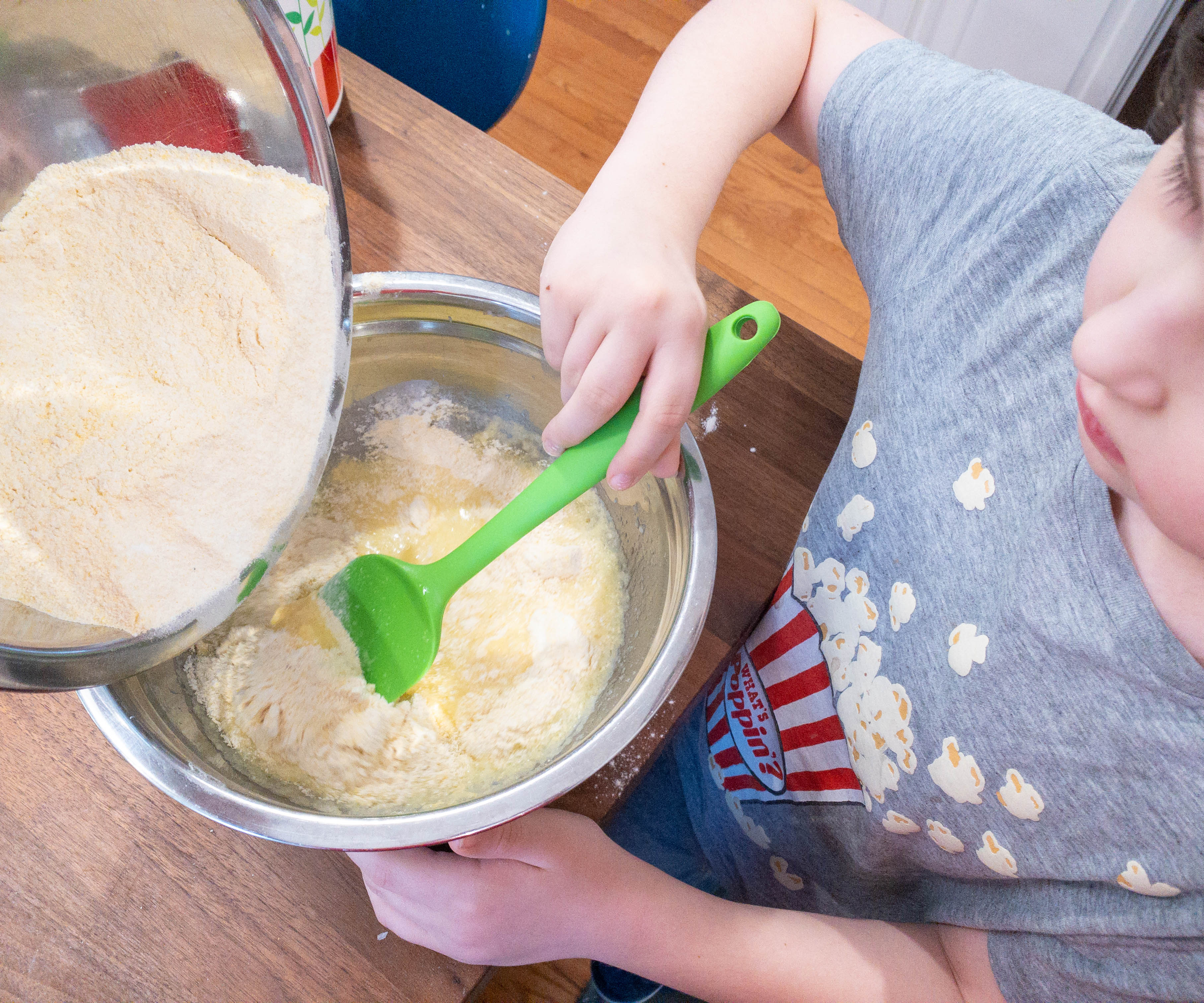 It's now time to mix it with the wet ingredients to make the batter.
My son also cut the bacon into smaller pieces.
He added the bacon last after putting corn, chives, and cheddar to the batter.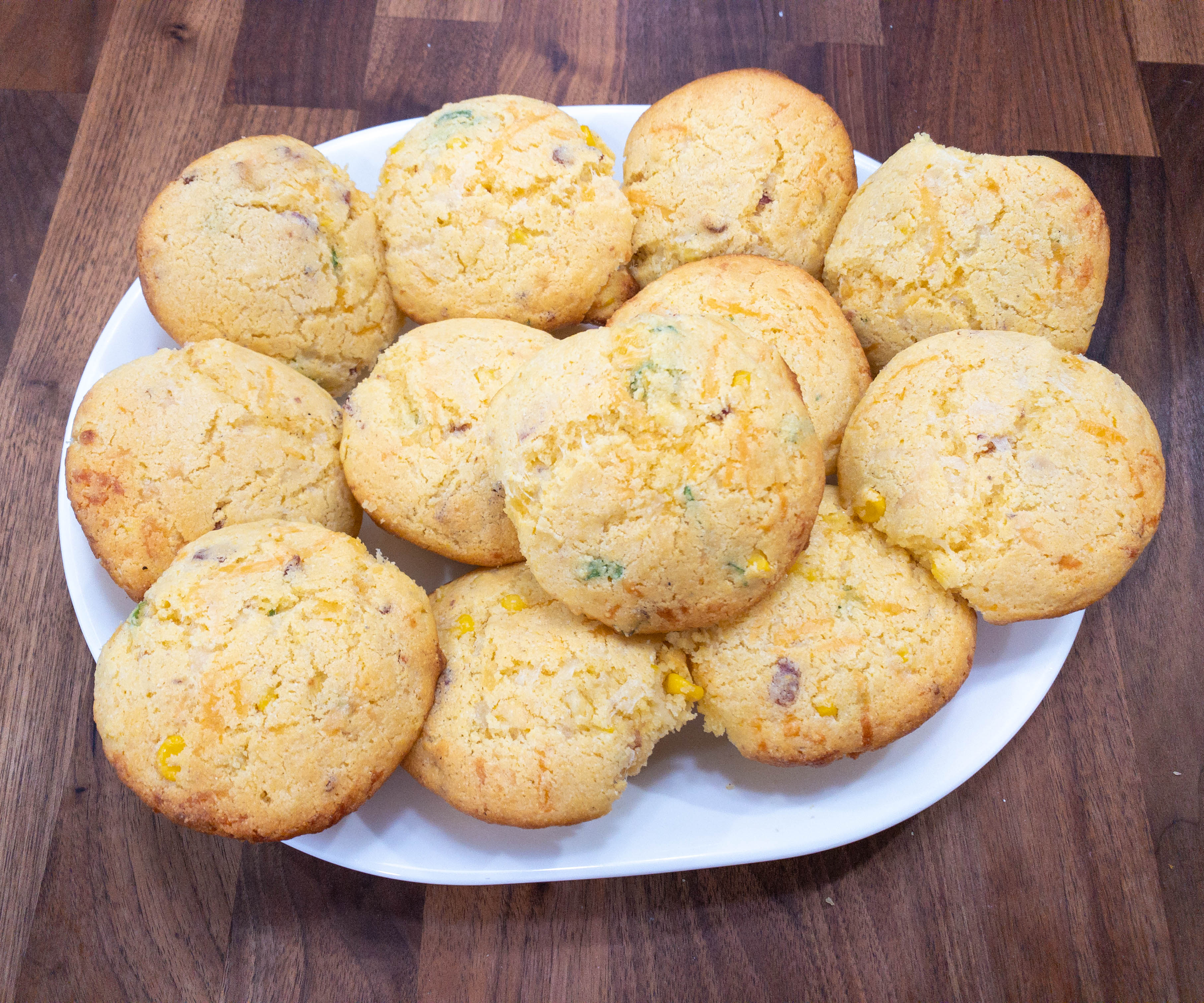 After baking for 15 minutes, the muffins are now ready to eat!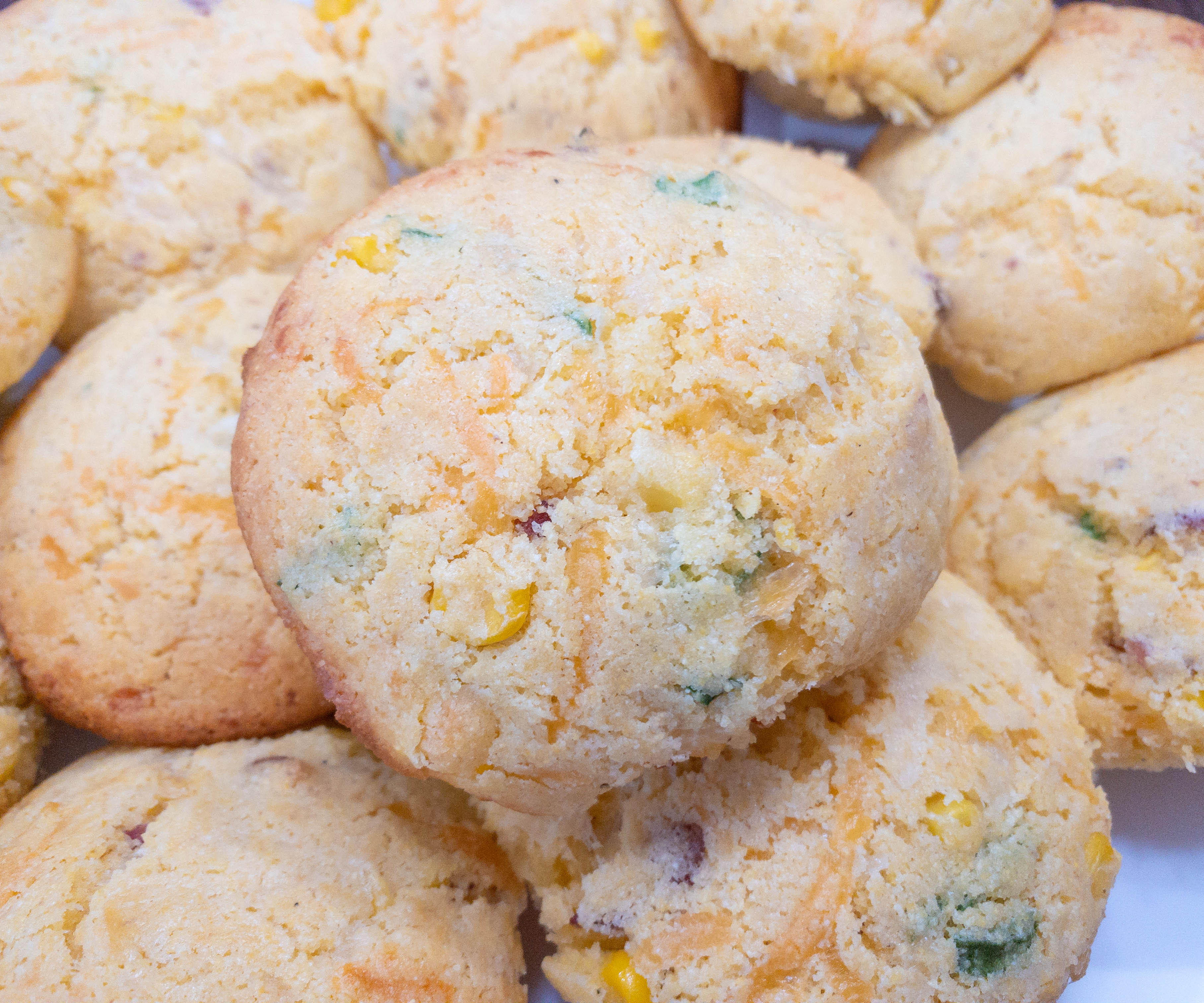 They smell good too! The taste is even better, and the whole family enjoyed them all!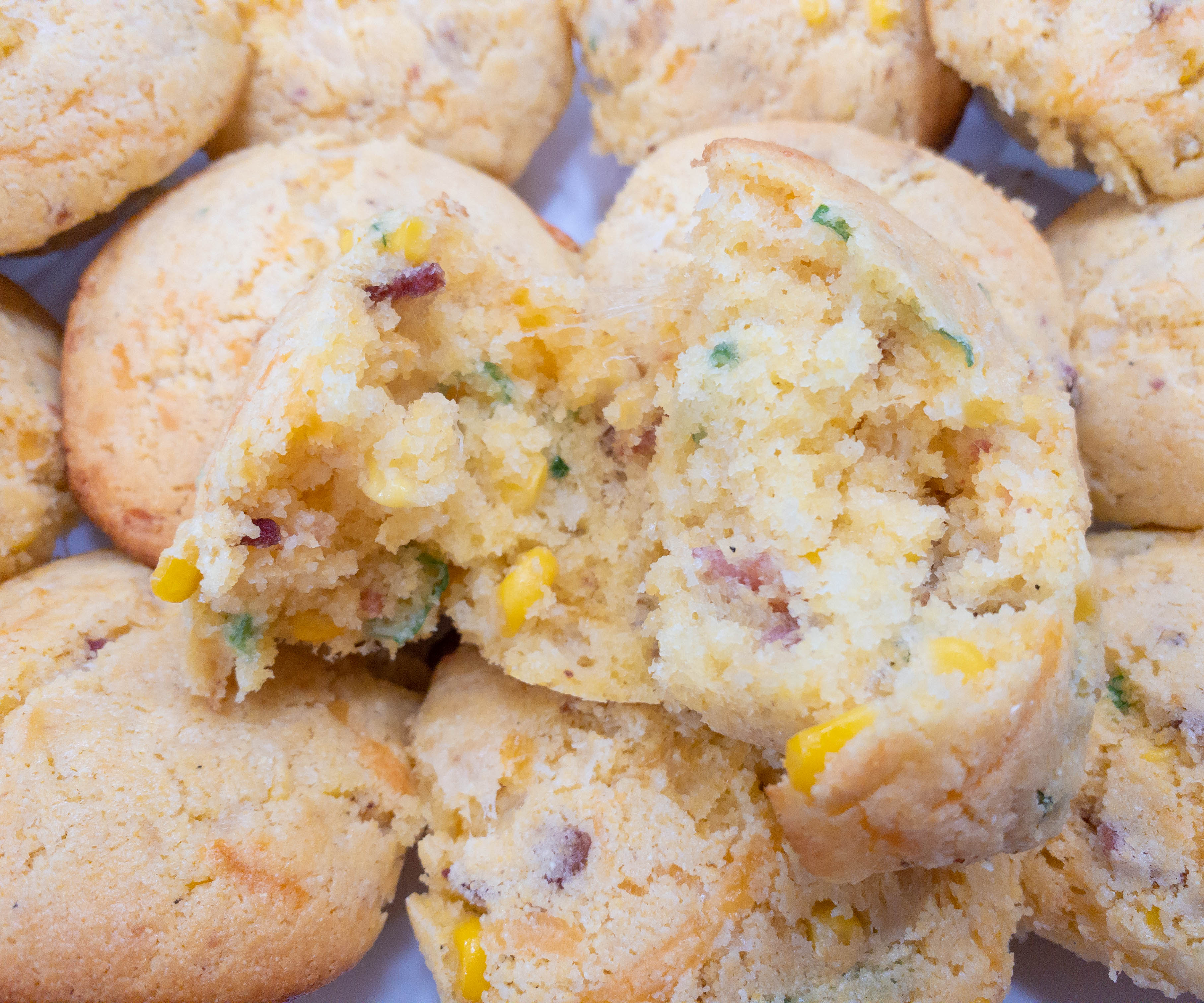 Here's a closer look of the muffins. I split it in half to show how beautiful it looks with all the mix-ins inside!
Baked Potato Bar. The next recipe also involves baking, and this time, my kids used potatoes!
Active Kitchen Time: 30-40 minutes

Bake Time: 55 minutes

Yield: 4 servings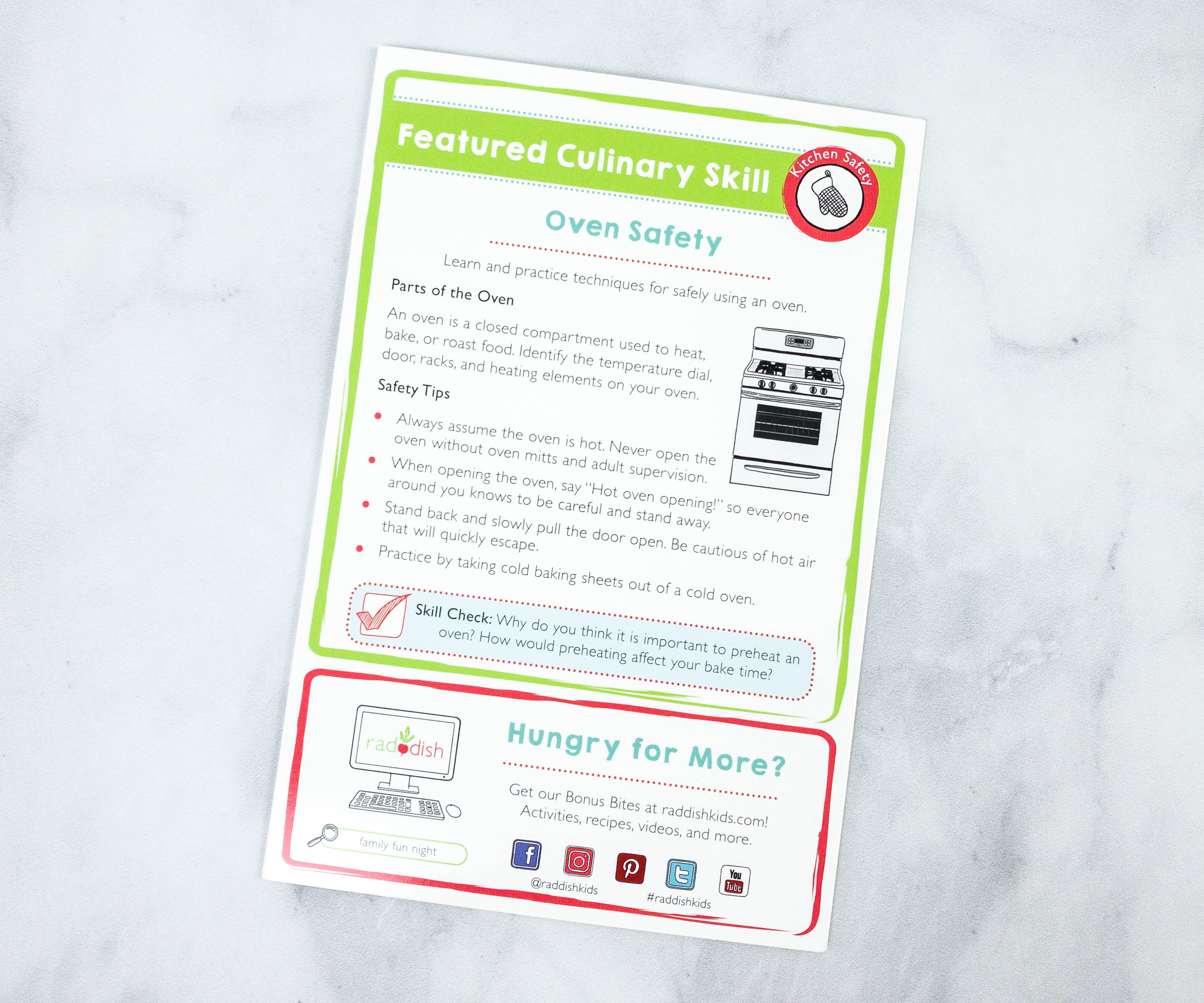 In this recipe, kids will be able to learn and practice techniques for safely using the oven.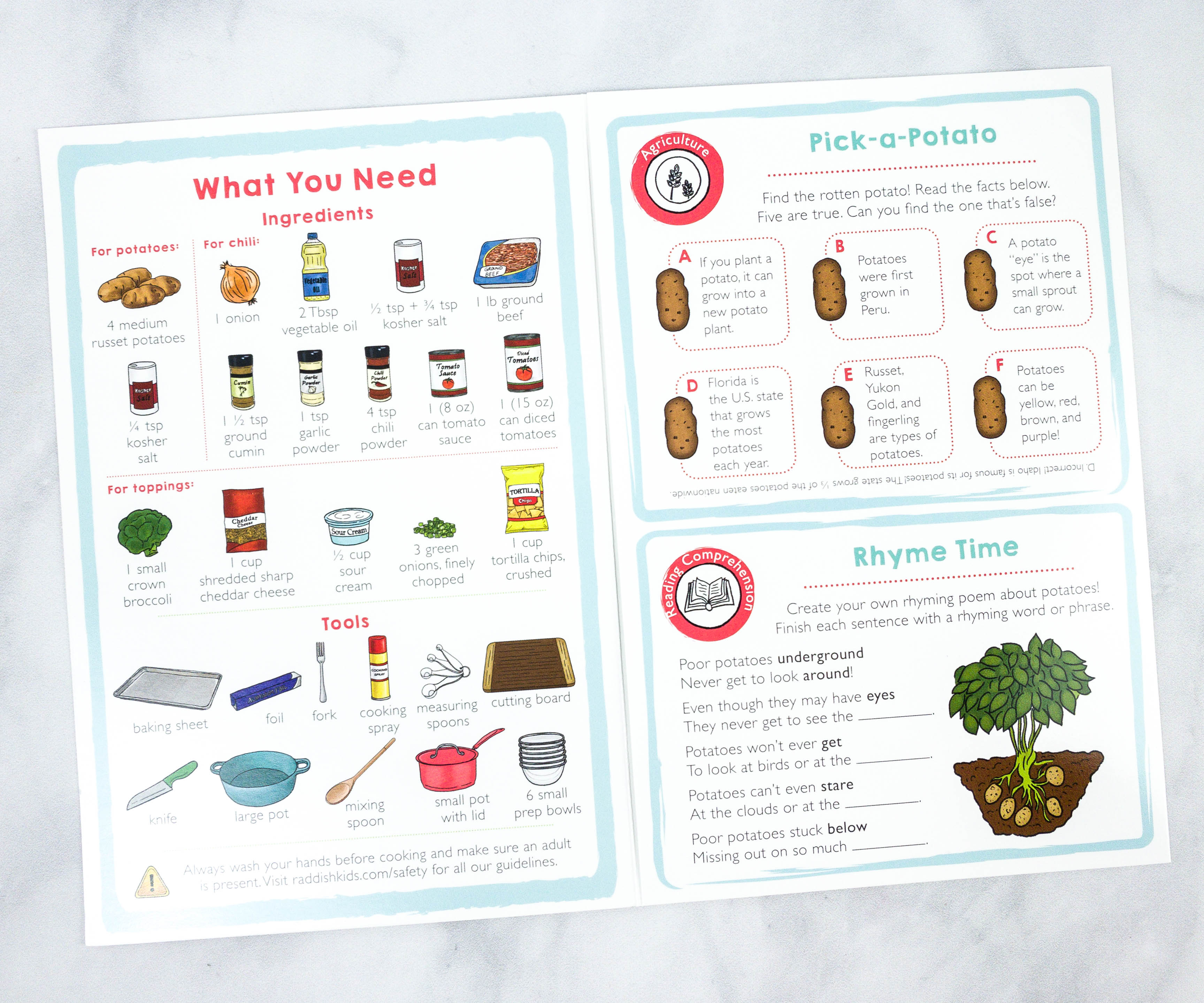 As always, the booklet provided the recipe's ingredients and needed tools. There's also a potato facts game and a poem making activity for the kids.
Ingredients for this recipe include 4 medium russet potatoes, 1 onion, 2 Tbsp. vegetable oil, 1/2 tsp + 3/4 tsp kosher salt, 1lb ground beef, 1 1/2 tsp ground cumin, 1 tsp garlic powder, 4 tsp chili powder, 8oz tomato sauce, and 15oz diced tomatoes.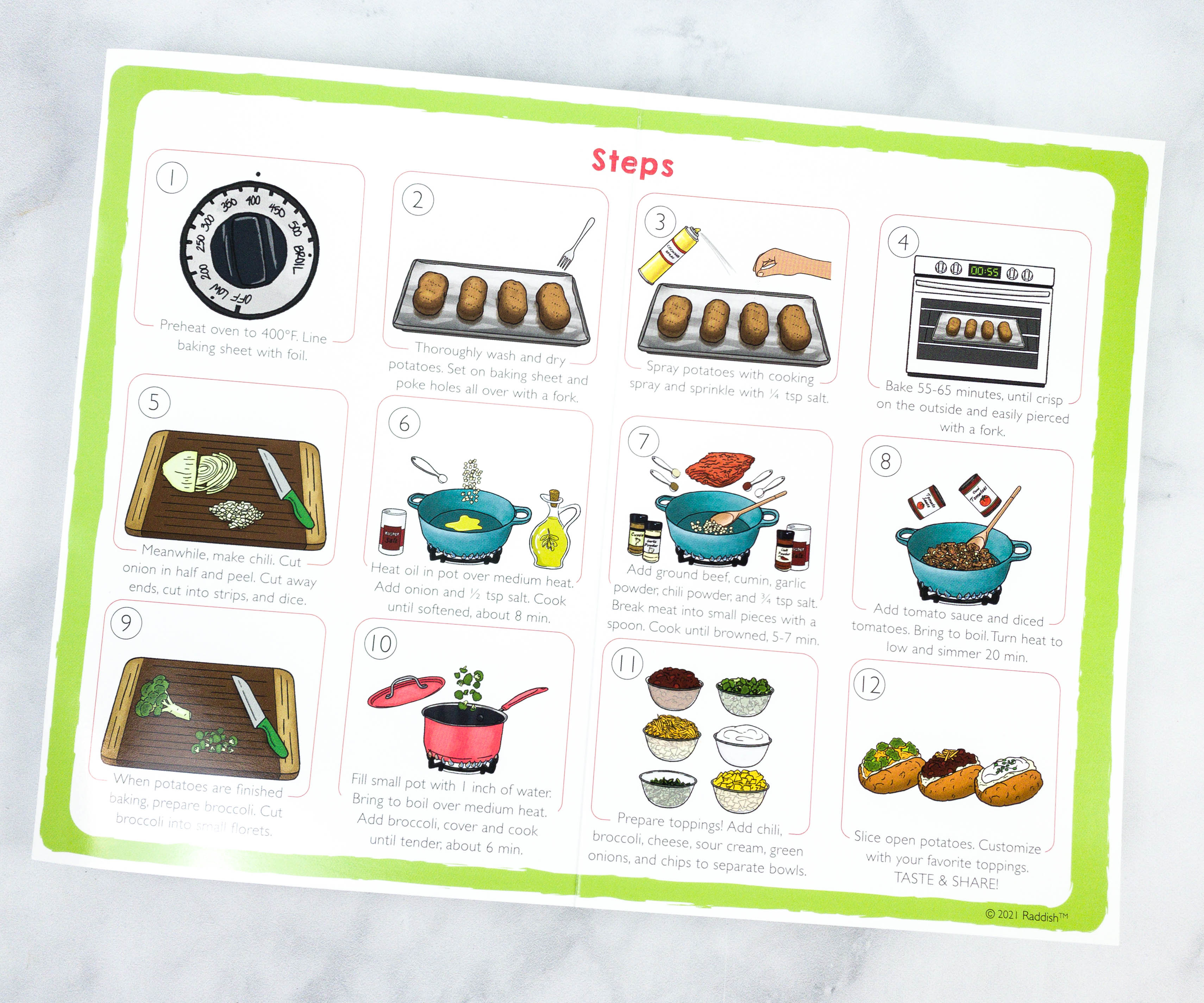 The first thing to do is to bake the potatoes in the oven and then the kids can prepare the toppings while waiting.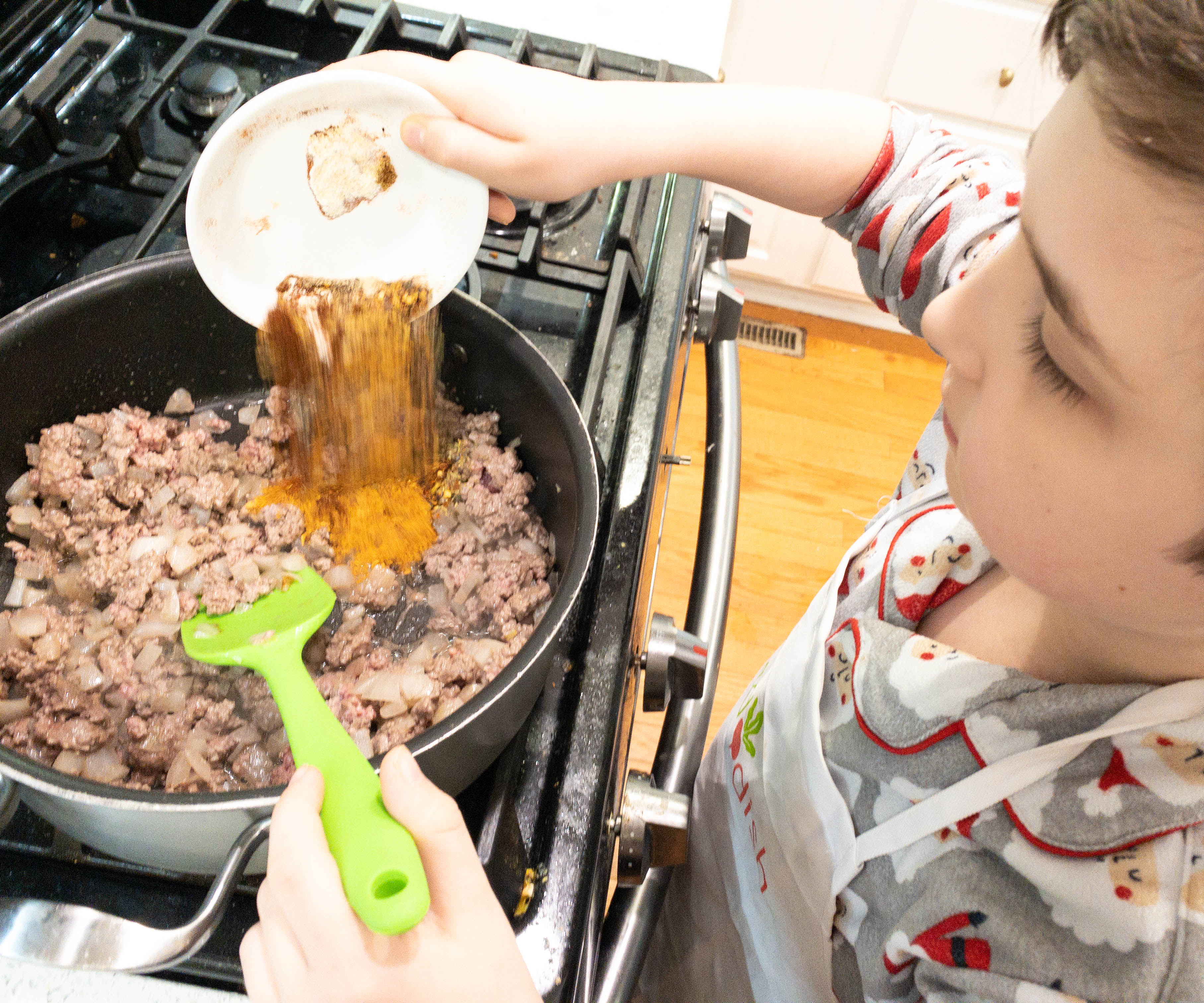 My son started cooking the chili toppings! He heated the oil and added onion and salt, followed by the ground beef, cumin, garlic powder, and chili powder. He also added tomato sauce and diced tomatoes afterwards.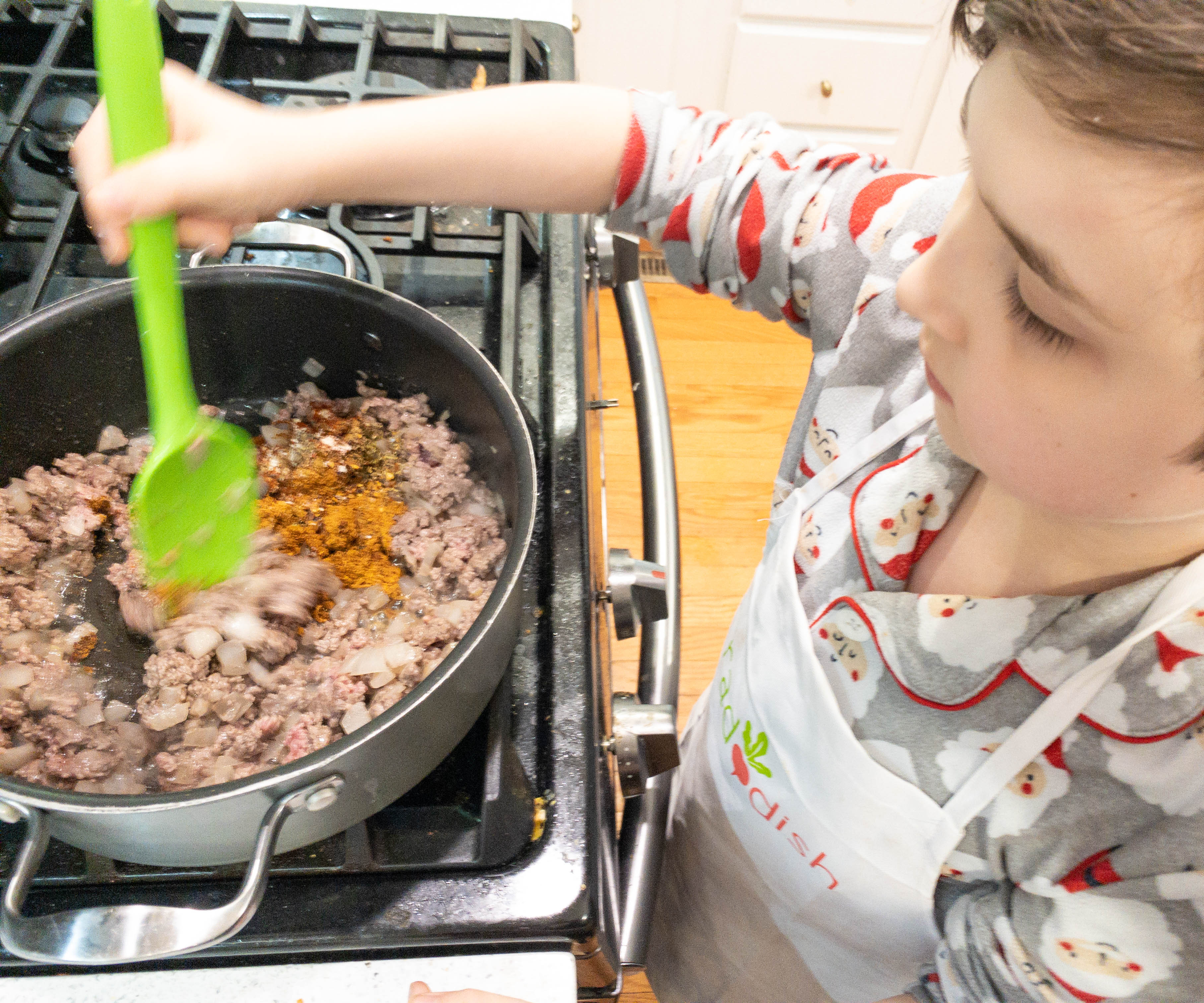 Cooking the meat required only minimal adult supervision and my son was able to do it really well!
The potatoes require 55-65 minutes of baking.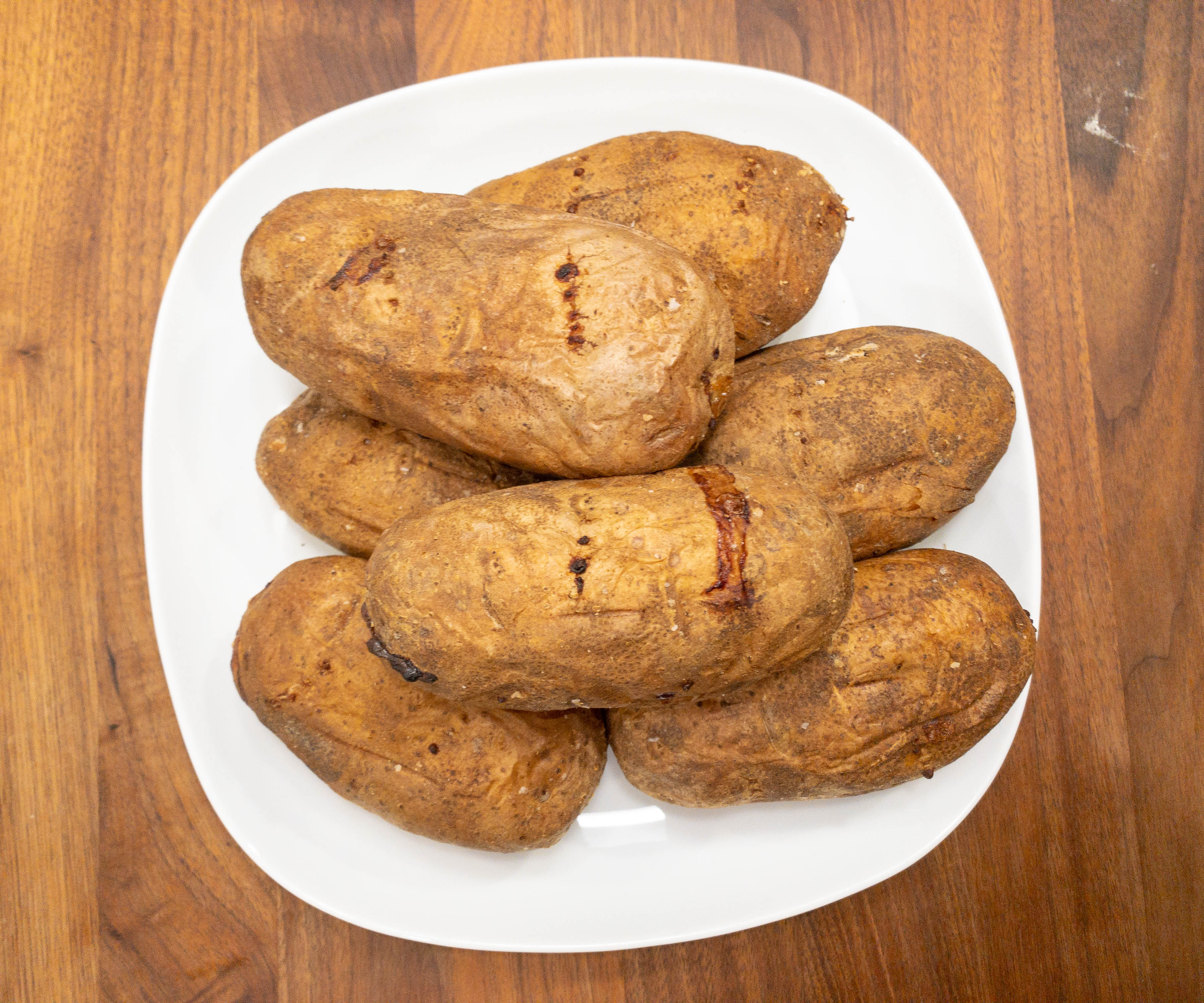 They turned out great, as they're crisp on the outside and can be easily pierced with a fork!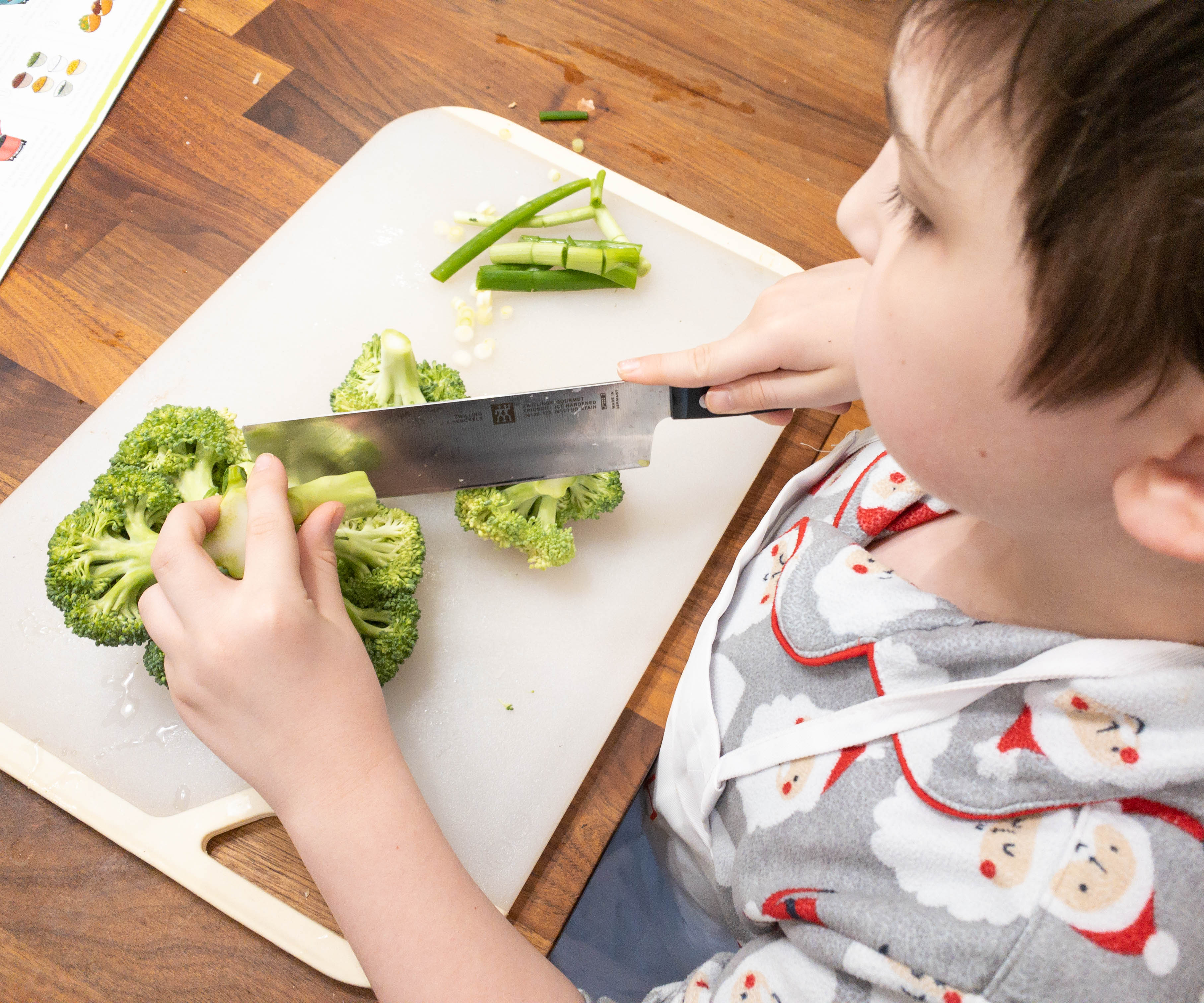 Cutting the broccoli was also an easy task for my son. His kitchen skills has really improved since our first box!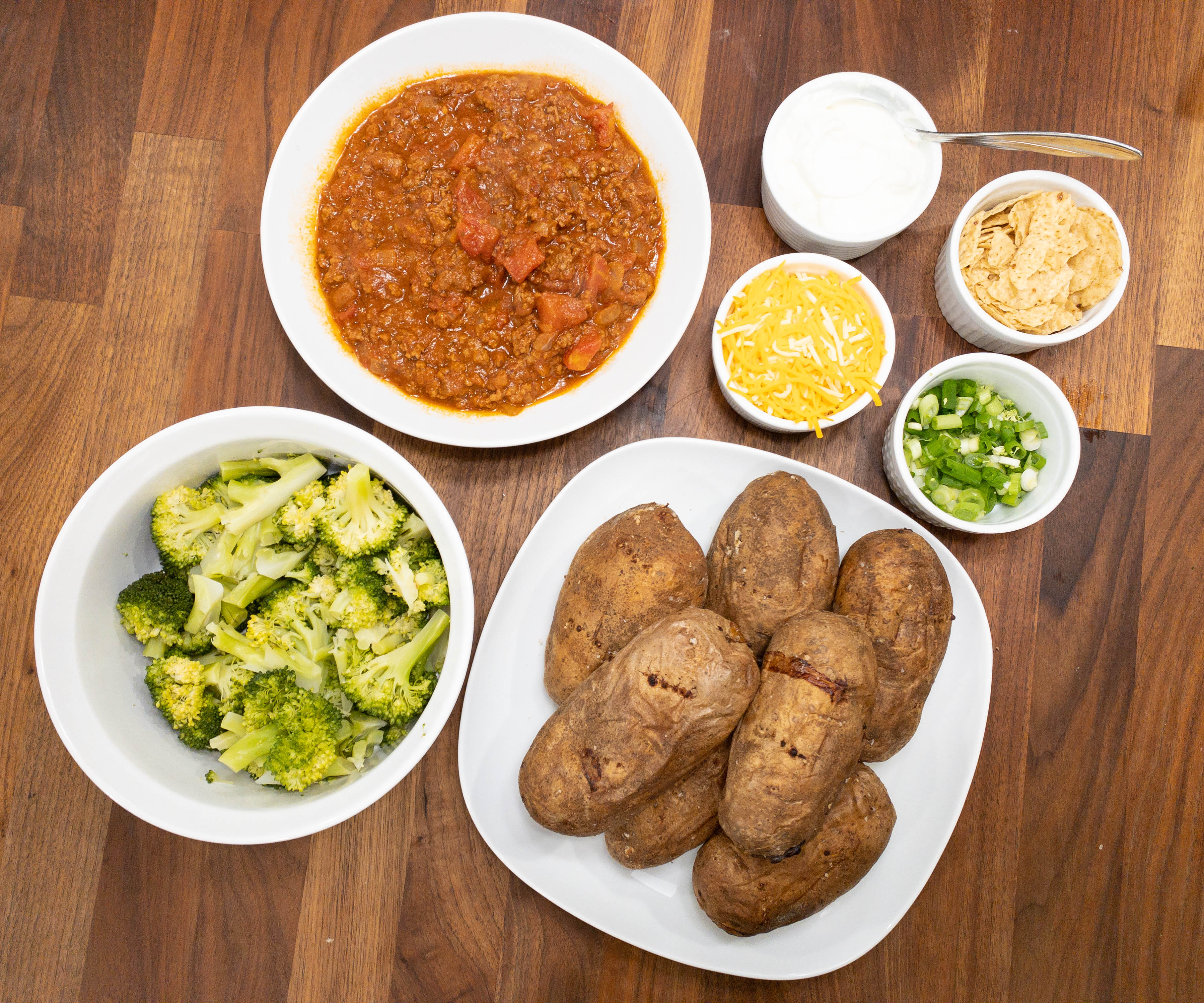 Now, it's time to add the toppings to the potatoes! To keep things organized, the toppings were placed in separate bowls.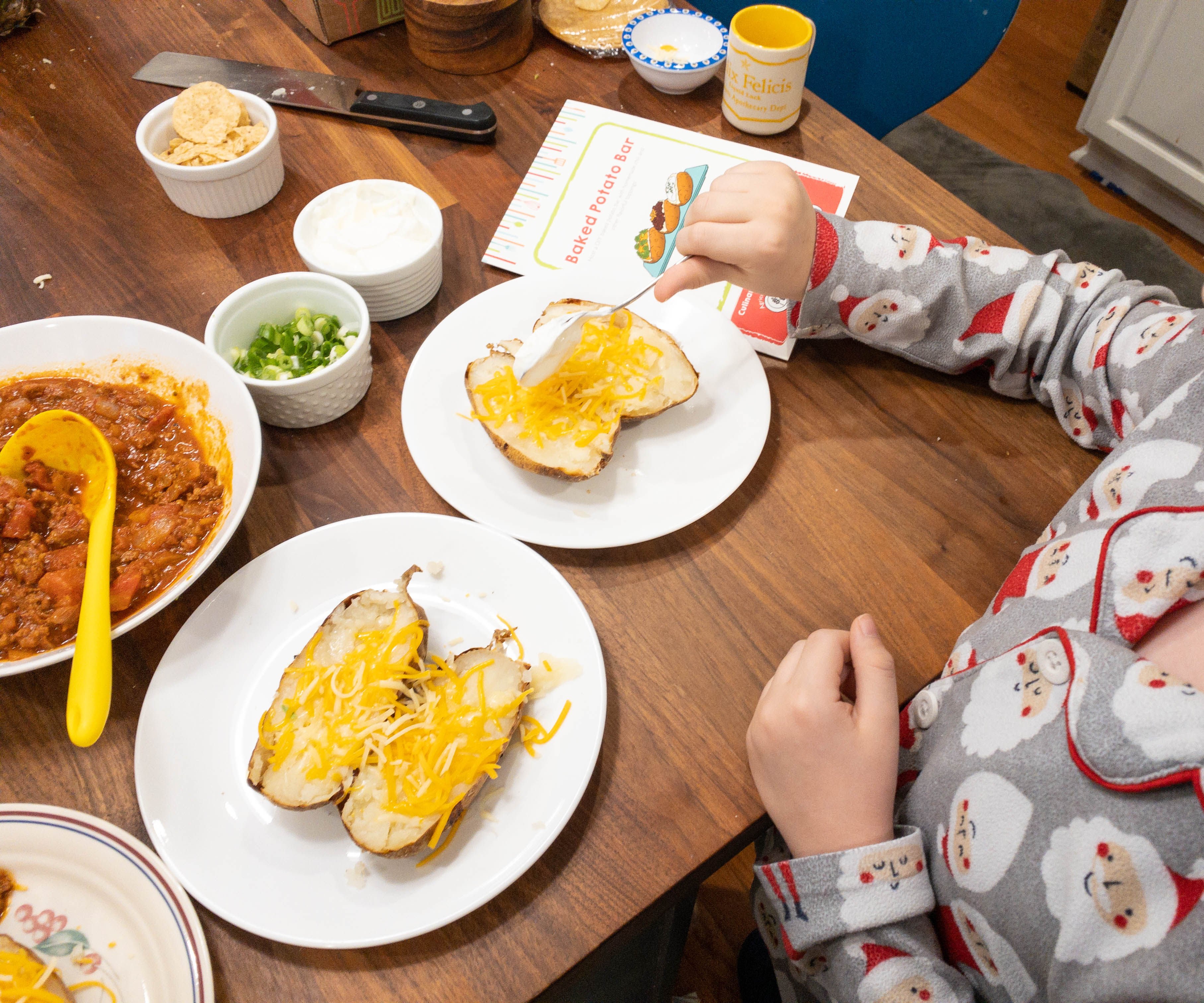 After slicing the potatoes in half, you can choose whichever topping you want!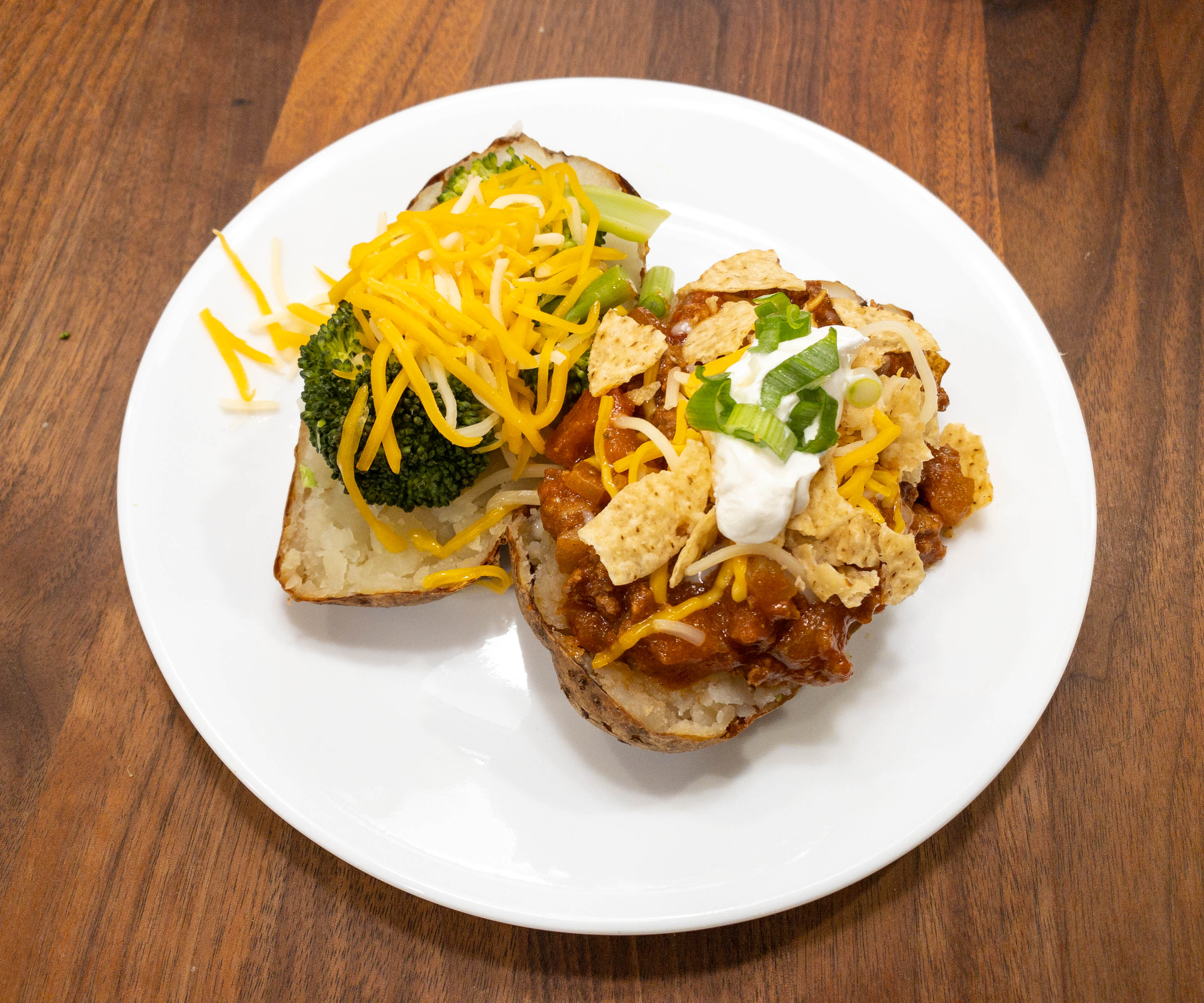 My son wanted the chili on one side and vegetables on the other half of the potato. Yum!
My son enjoyed making these! The potatoes were perfect and having the freedom to choose toppings makes it really fun.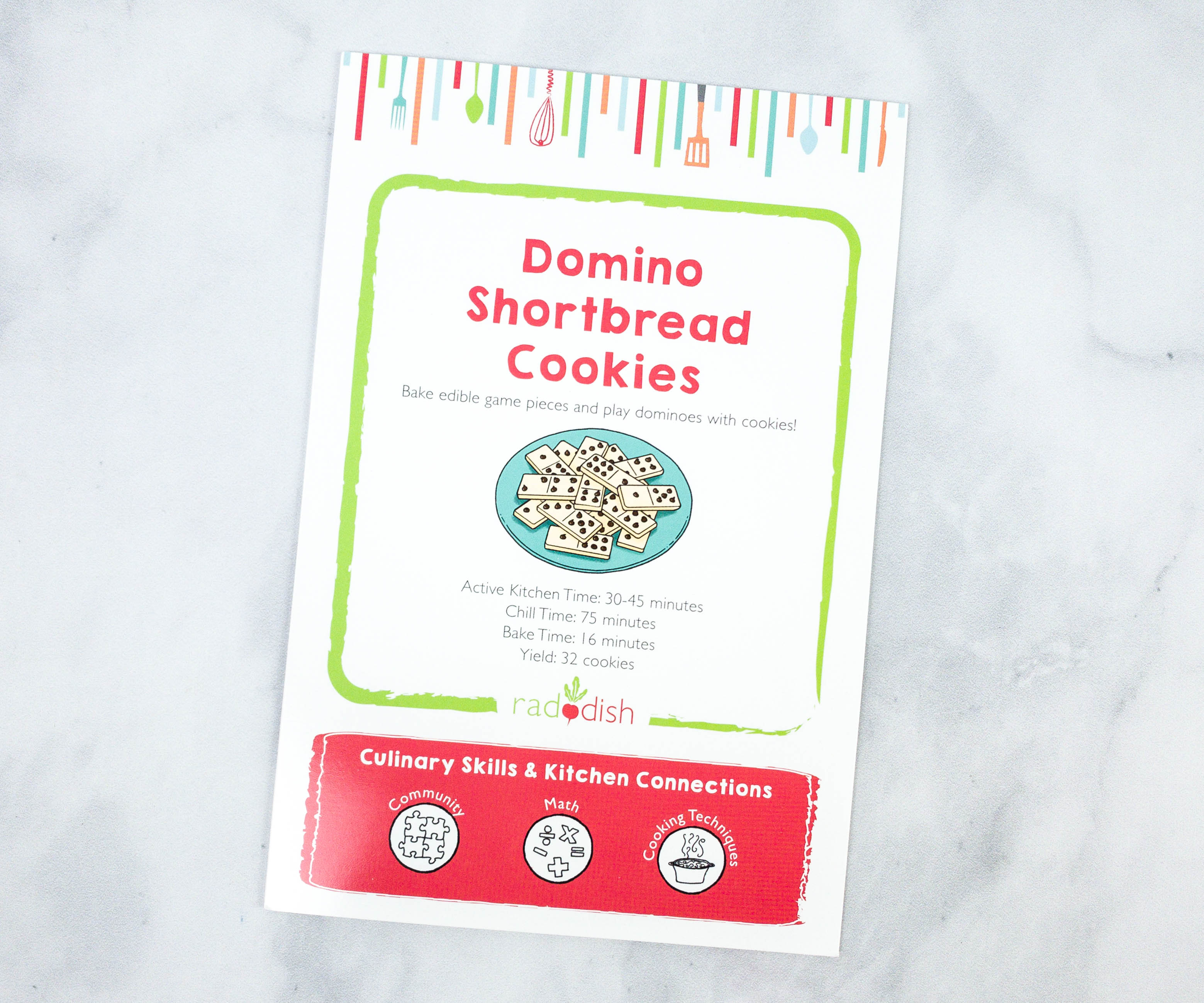 Domino Shortbread Cookies. The last recipe is about making edible game pieces with shortbread cookies!
Active Kitchen Time: 30-45 minutes

Chill Time: 75 minutes

Bake Time: 16 minutes

Yield: 32 cookies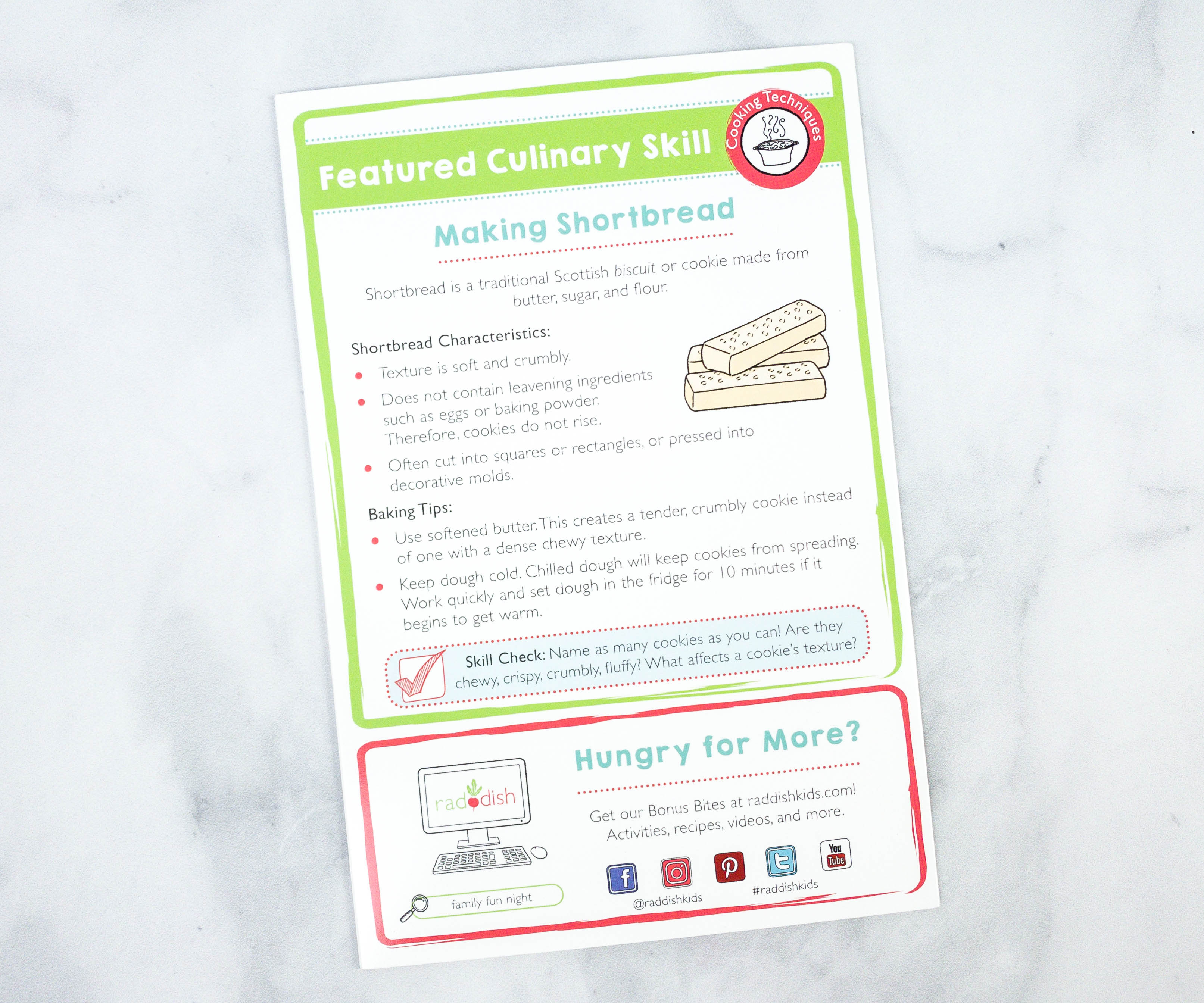 This recipe teaches kids about making shortbread, a traditional Scottish cookie made from butter, sugar, and flour.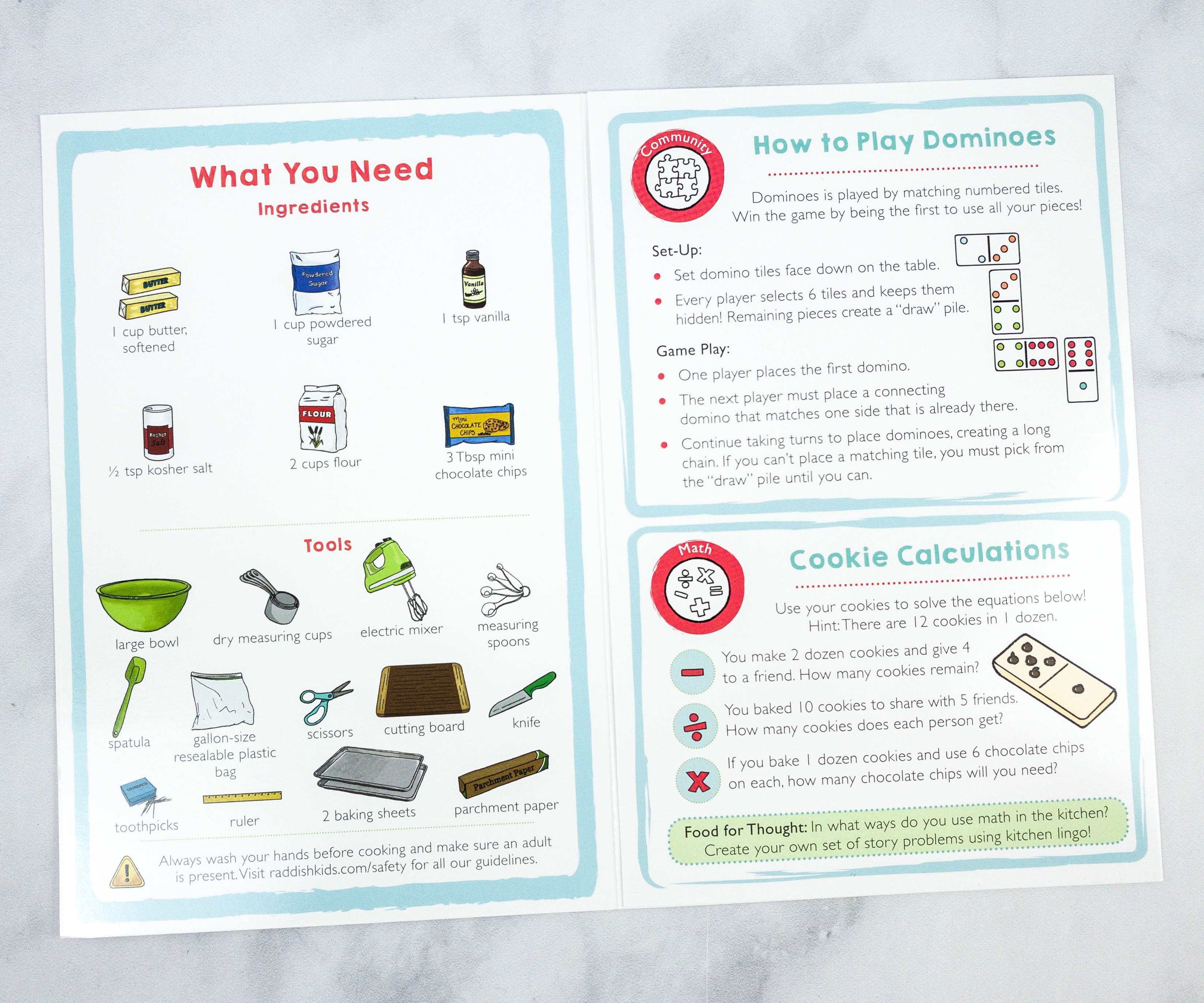 Aside from the ingredients and tools needed for the recipe, there's also a tutorial on how to play dominoes and how to use the cookies to solve some equations.
The ingredients for this cookie recipe include 1 cup softened butter, 1 cup powdered sugar, 1 tsp vanilla, 1/2 tsp kosher salt, 2 cups flour, and 3 Tbsp. mini chocolate chips.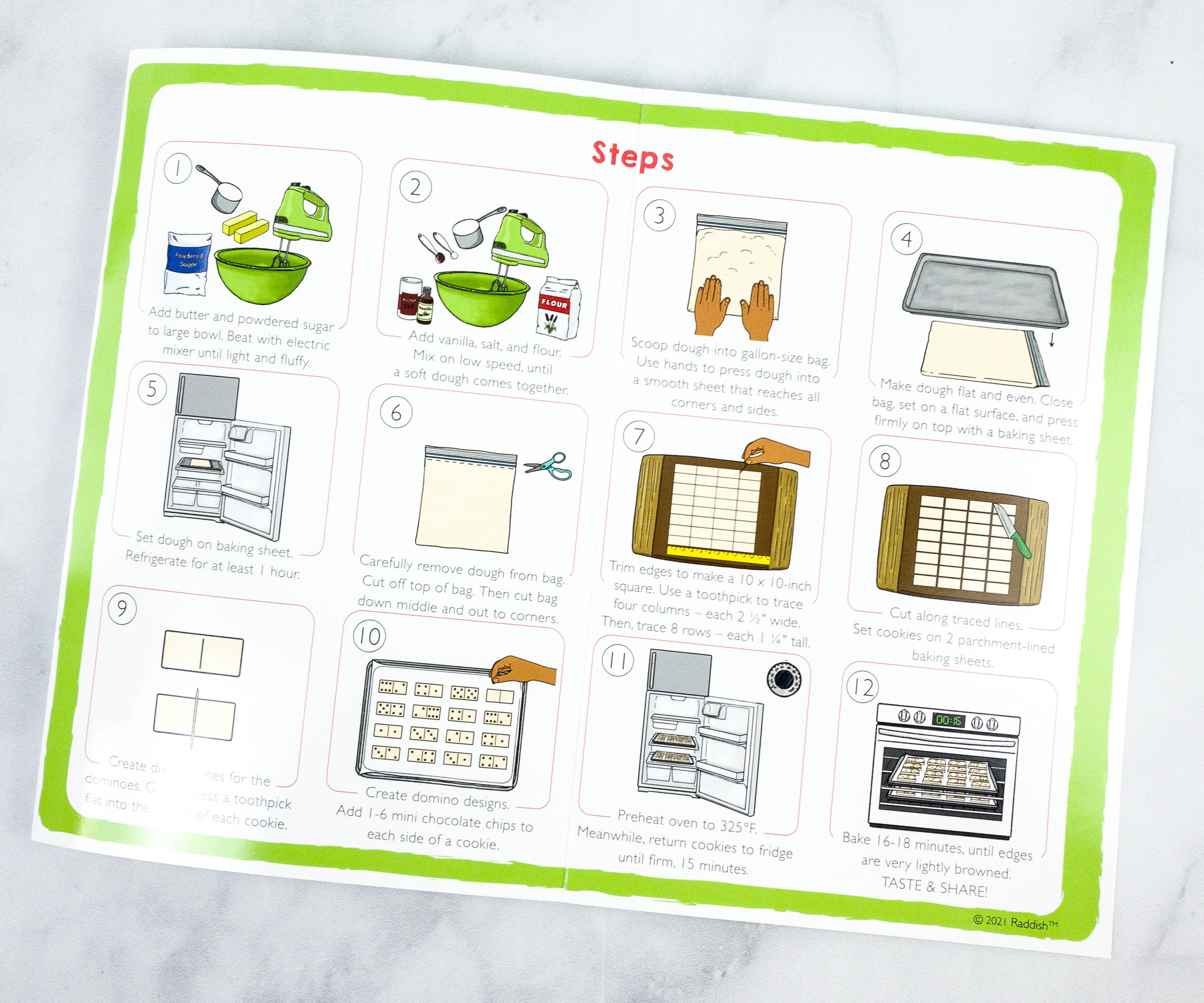 Here are the steps in making the cookies! It involves the use of an electric mixer, a skill which was already taught in the past boxes.
It's another set of fun, kid-friendly recipes from Raddish Kids! Each recipe teaches kids a culinary skill, which they can use not just for the activities in this box but beyond. The box doesn't provide the ingredients, but it's easy enough to shop for them because of the included shopping list. My kids' favorite recipe for this month is definitely the baked potatoes. It was fun to choose the toppings, and the potatoes turned out really delicious and filling.  For kids who are interested to learn about how the kitchen works, this is a good subscription to try. It also makes a great bonding experience for the whole family!
What do you think of this month's Raddish Kids box?