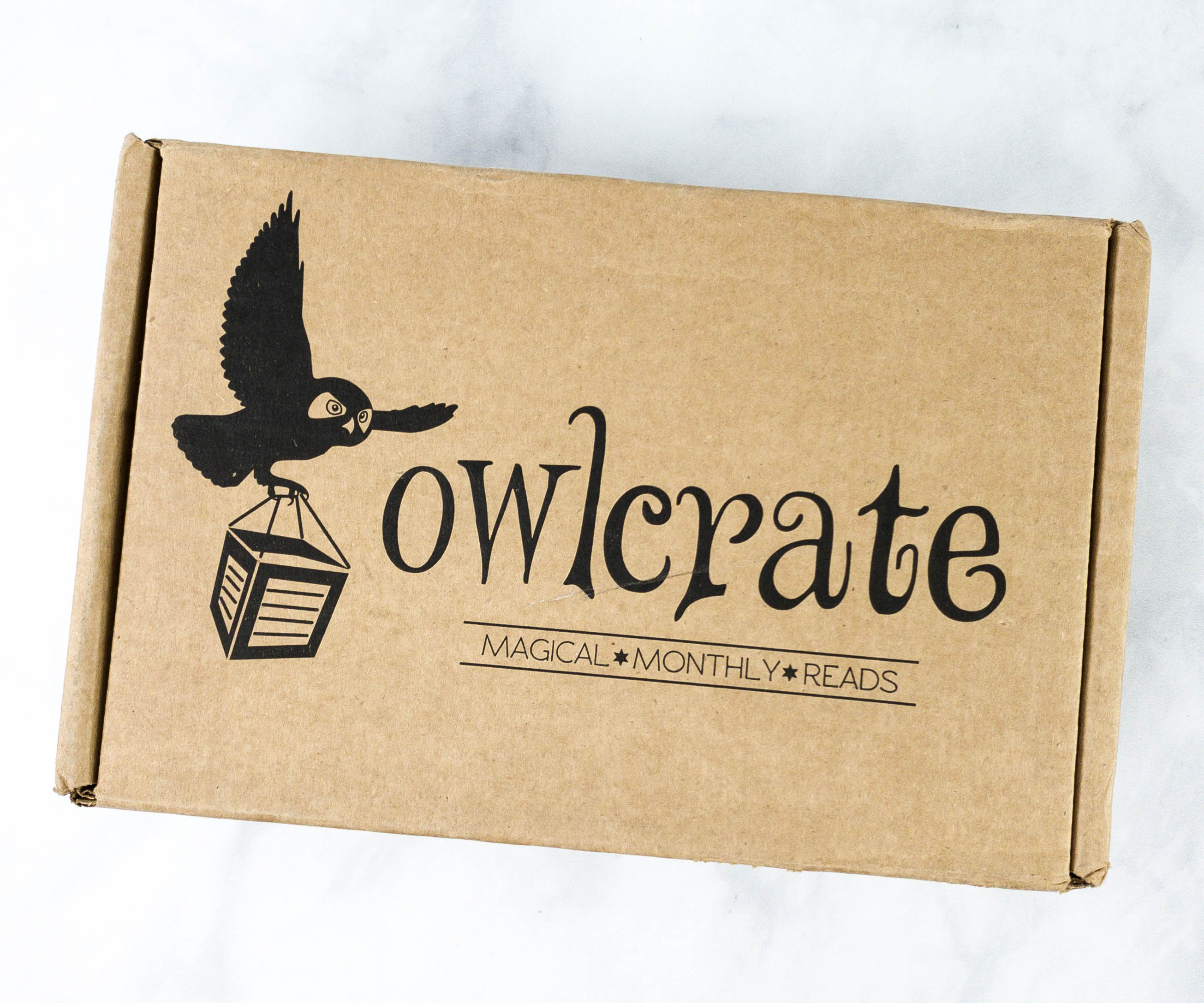 Owl Crate is a monthly subscription of books and bookish items. Each OwlCrate contains one new Young Adult novel, as well as 3-5 other bookish items all matched to the monthly theme. OwlCrate always sends the best items to go along with their theme with the hottest new books out there.
DEAL: Use coupon code HELLO15 to save 15% on your first subscription!
January's theme is FROM OLYMPUS WITH LOVE!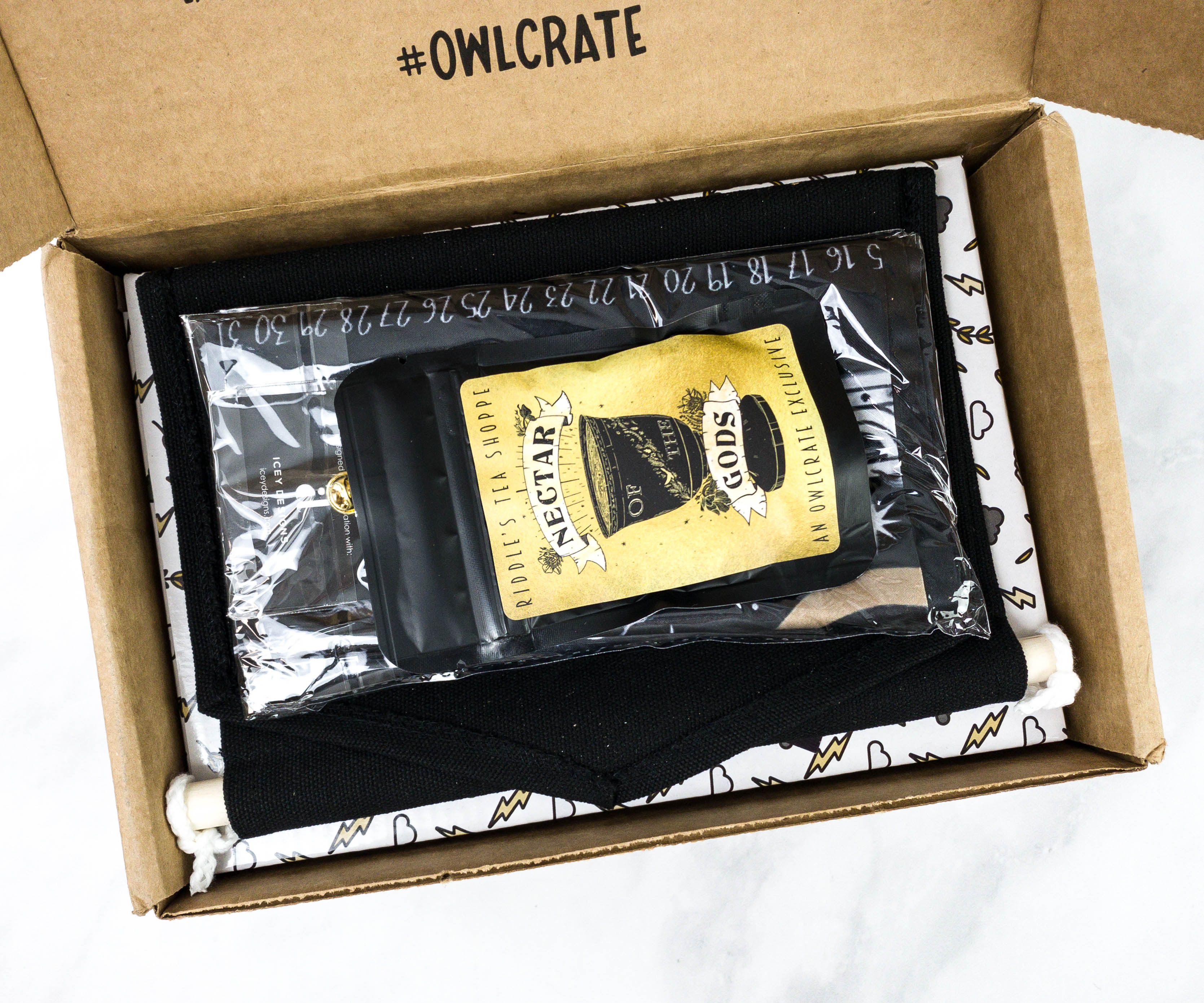 The items were neatly tucked inside.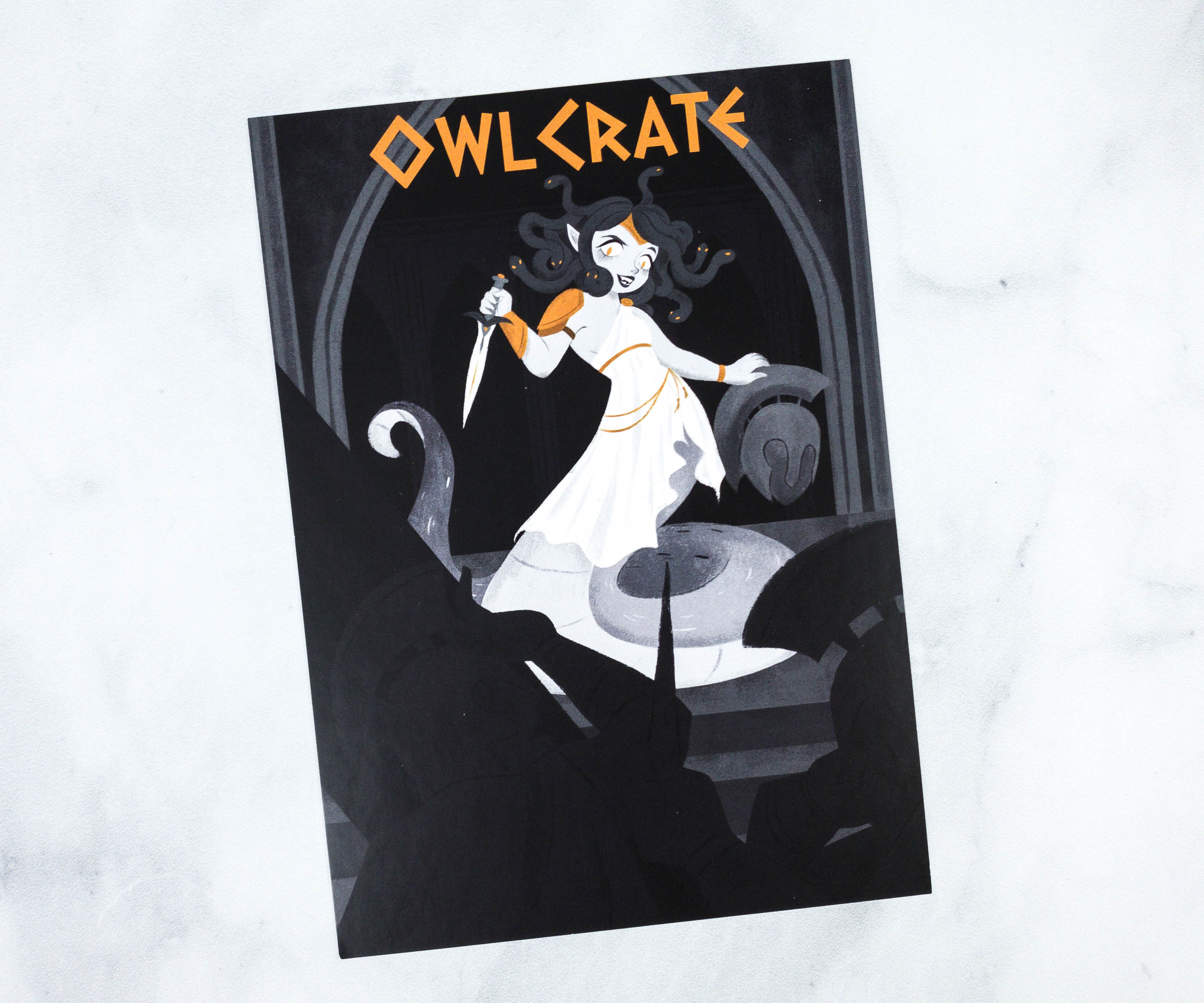 OwlCrate always has the best info card prints!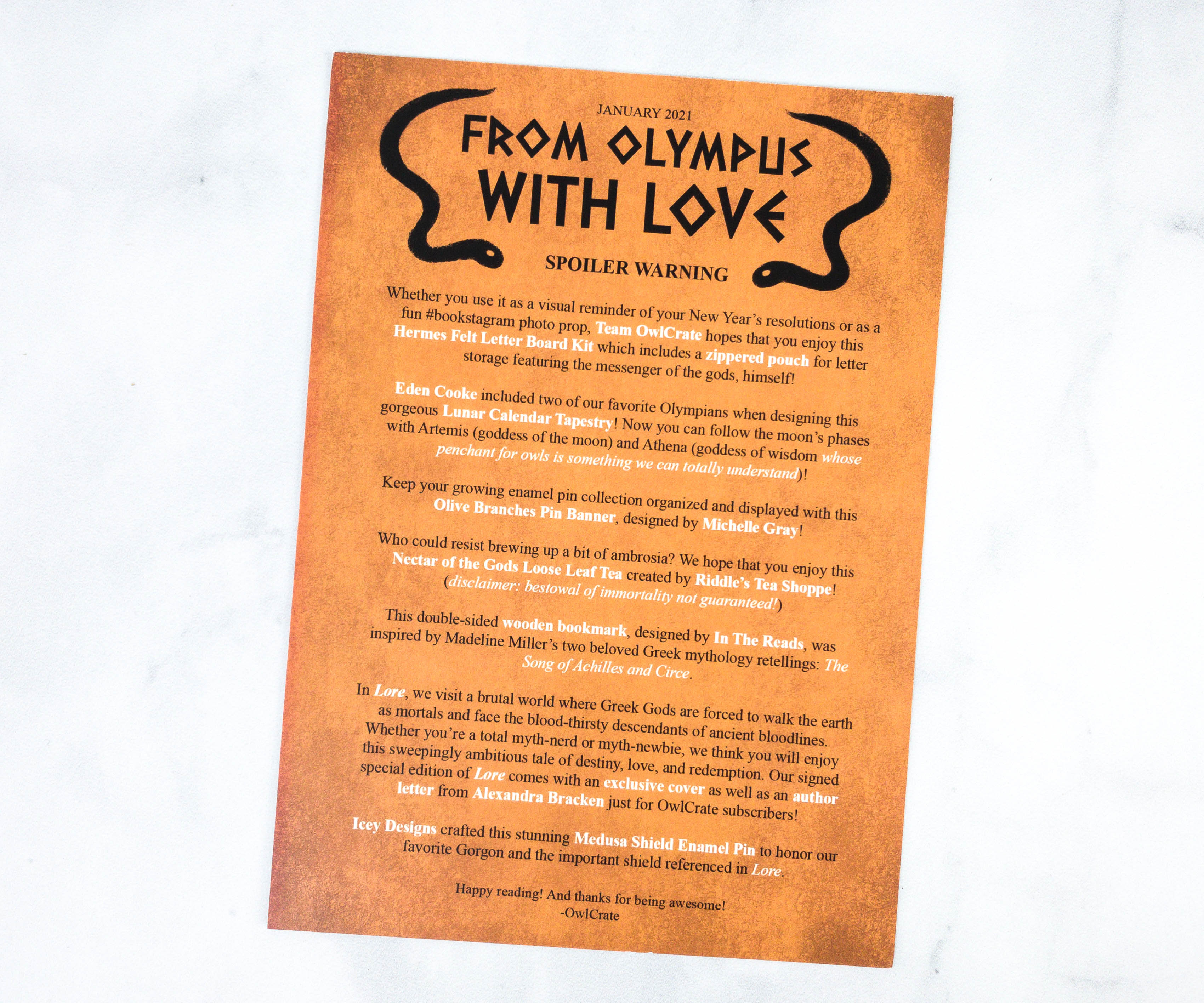 The flip side contains some spoiler warnings.
They also included a mini-magazine!
The mini-magazine includes an author interview. This month's featured author is Alexandra Bracken. Knowing what inspired the author to pen a story can help us understand the book better.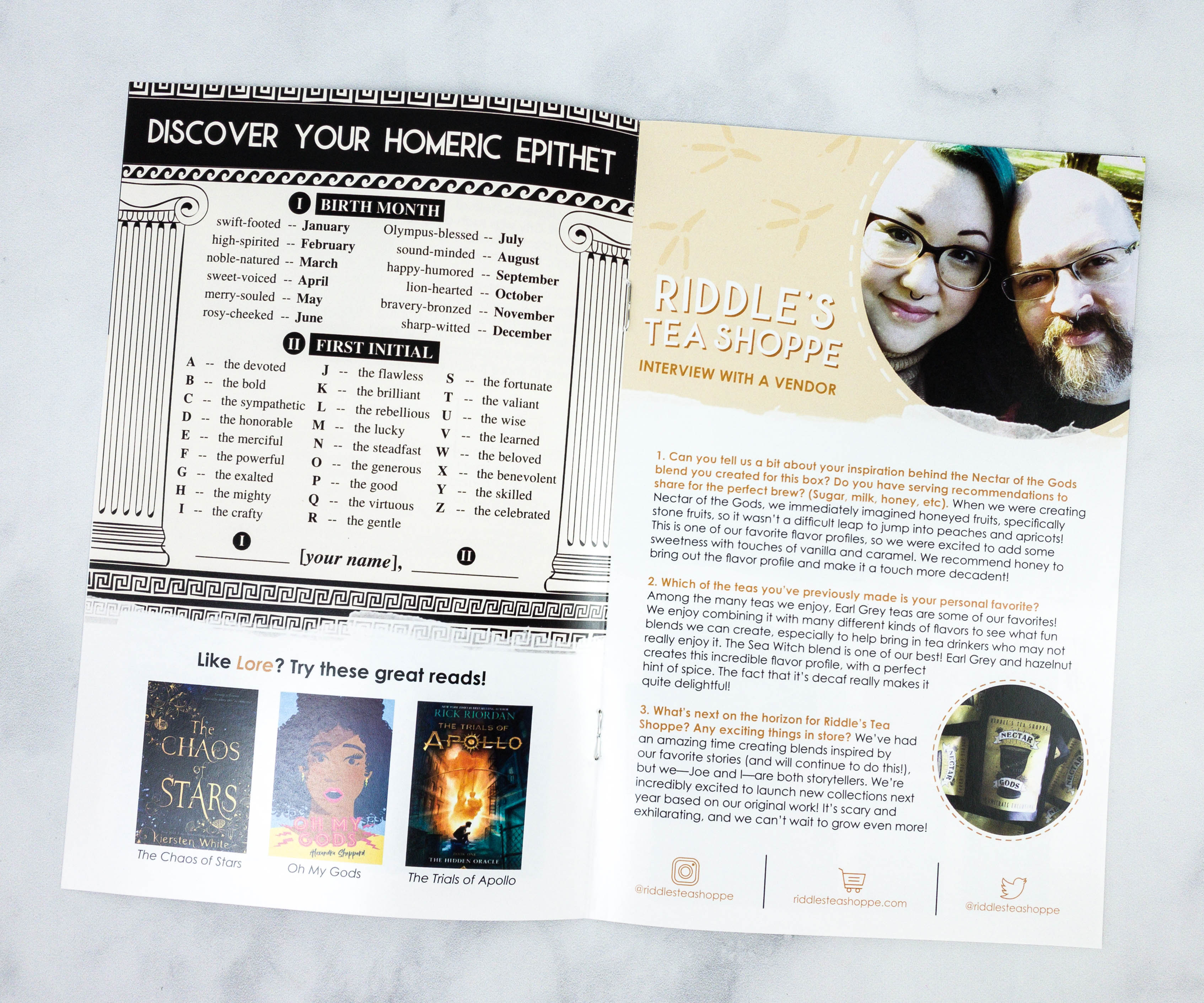 The mini-magazine also included some fun activities, while the other page is another interview with a vendor, Riddle's Tea Shop. There are even book suggestions for those who liked the featured book this month, and it includes The Chaos of Stars, Oh My Gods, and The Trials of Apollo.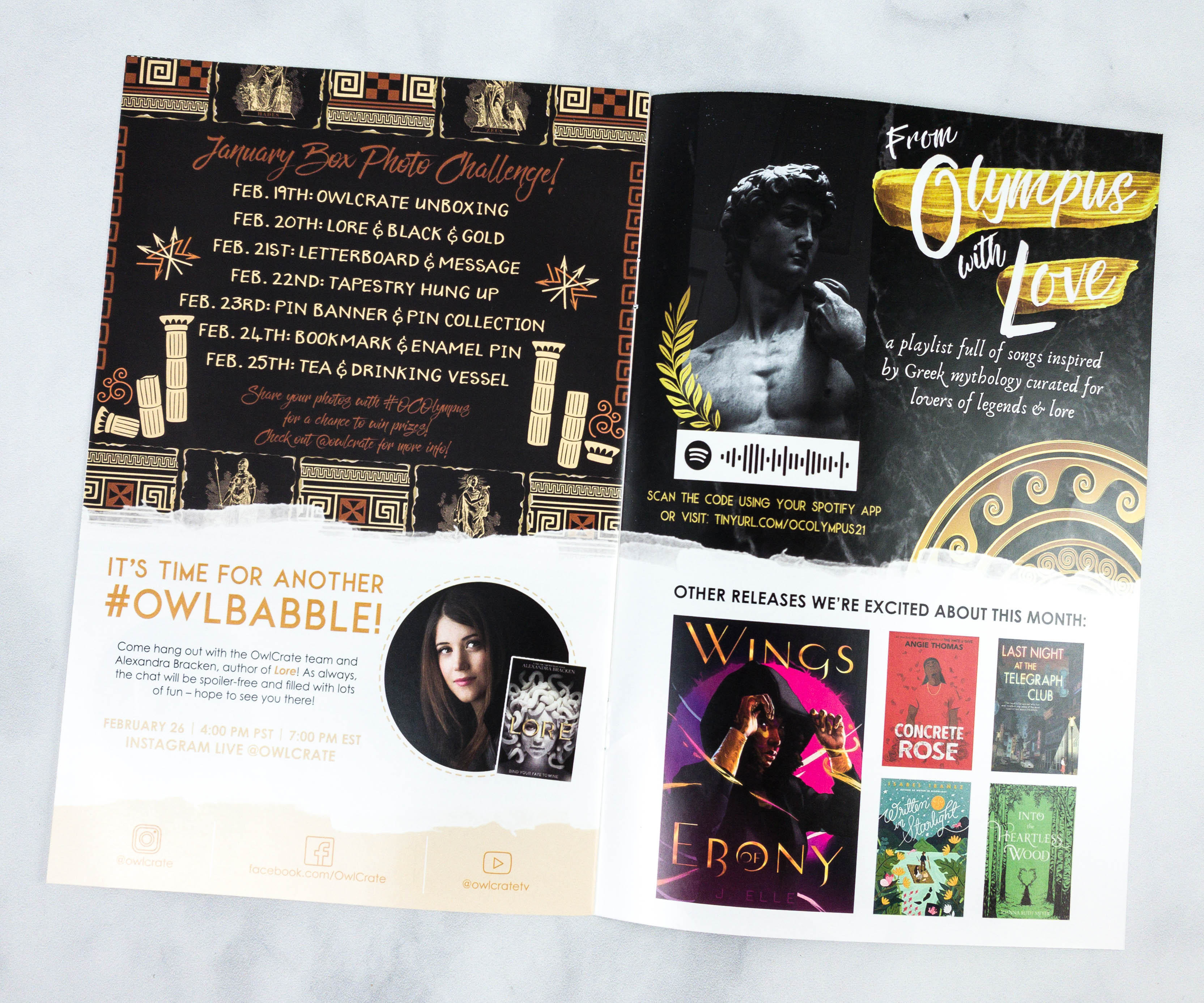 There's also a box photo challenge that you can join.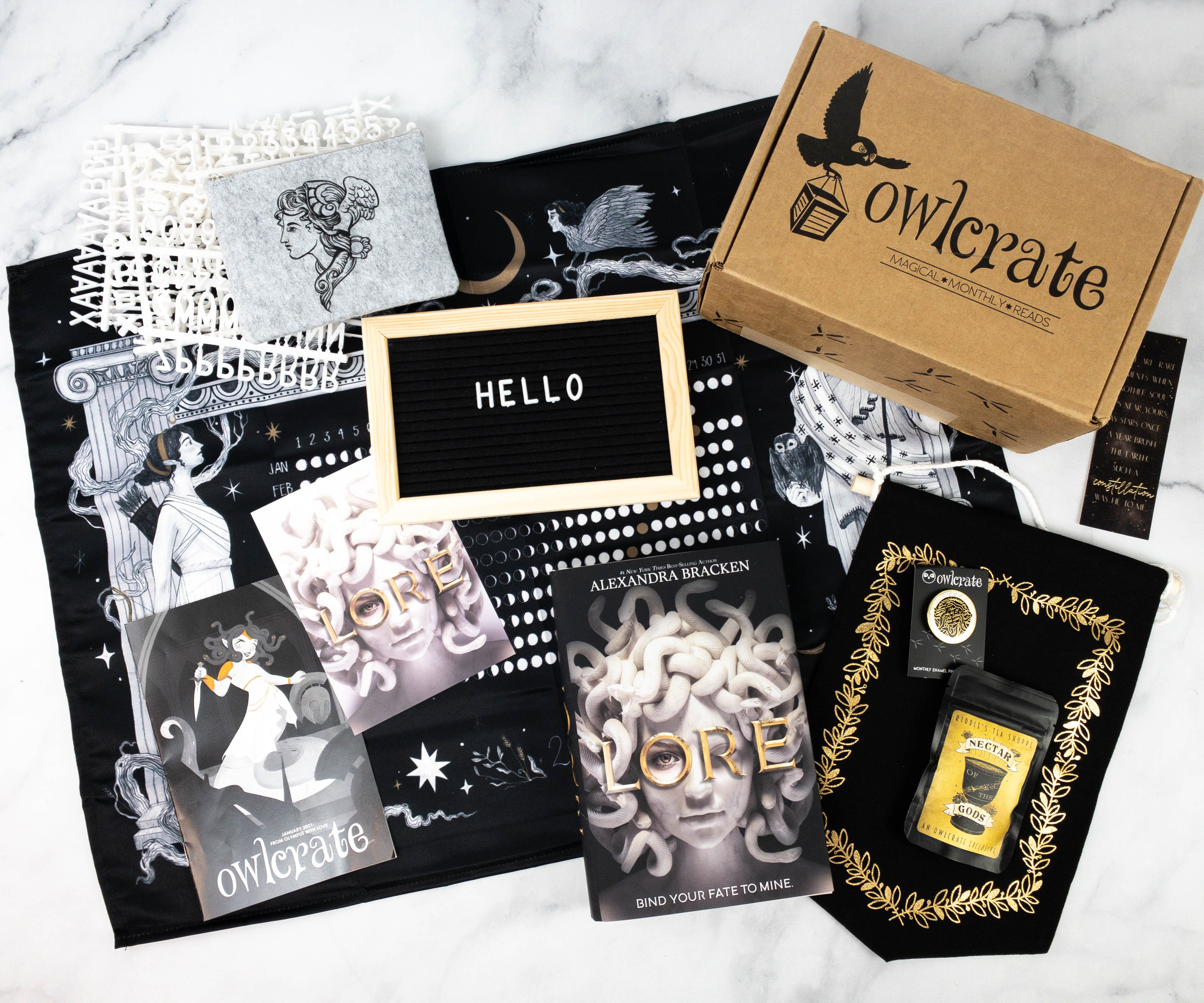 Everything in our January 2021 OwlCrate!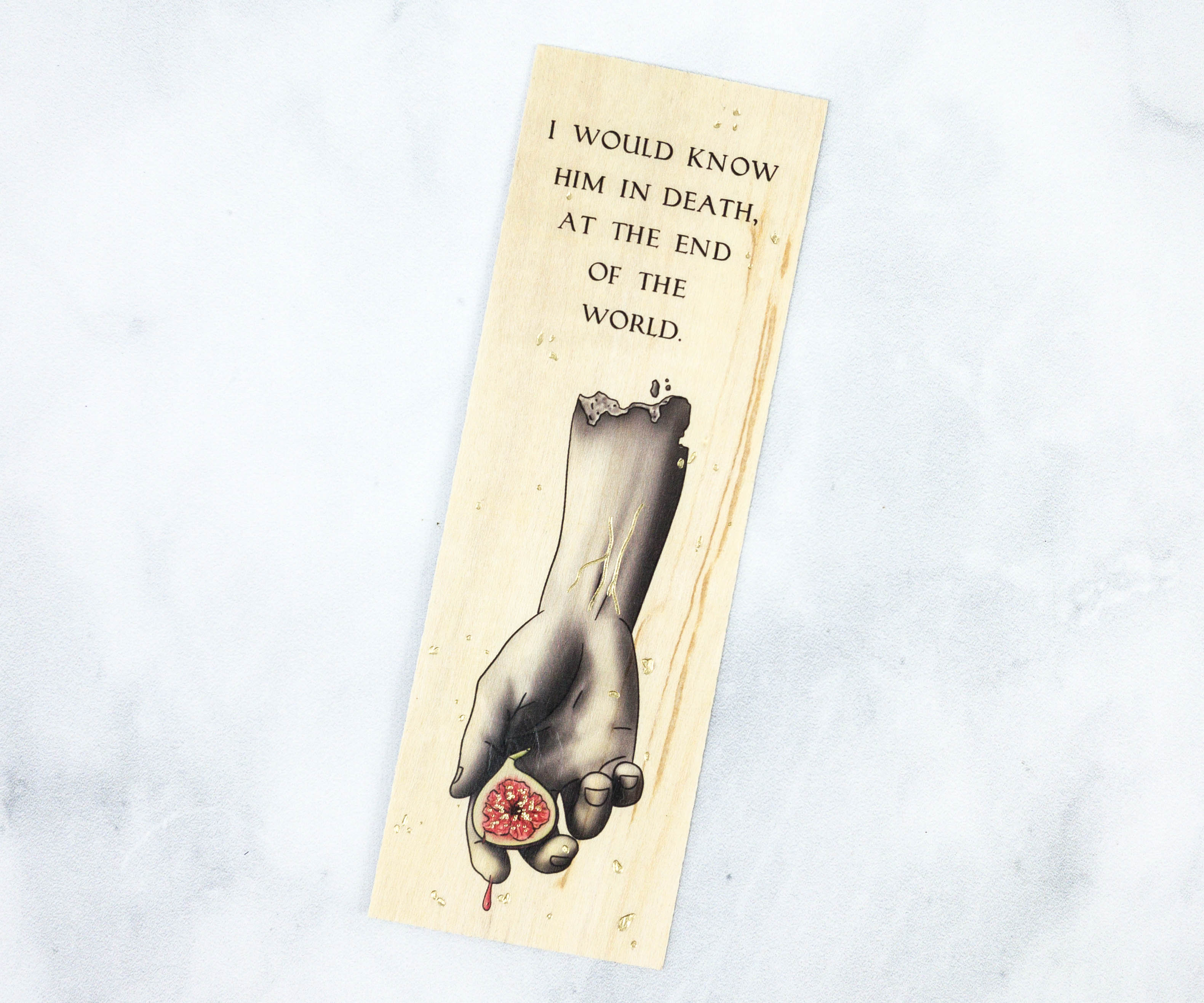 Wooden Bookmark. It's a double-sided wooden bookmark designed by In The Reads. One side features the quote from The Song of Achilles: "I would know him in death, at the end of the world."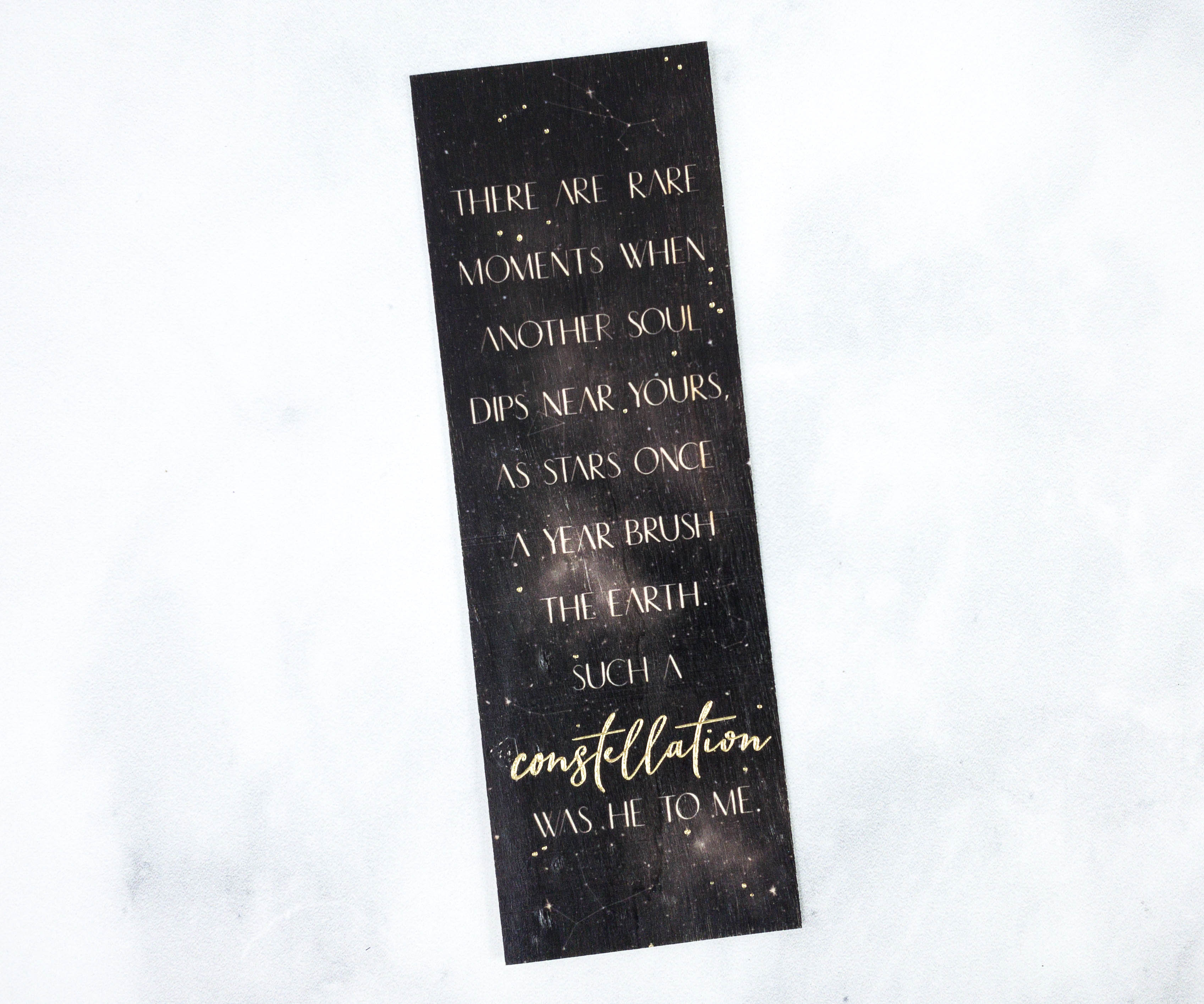 The other side is galaxy themed. It also features a quote from Circe: "There are rare moments when another soul dips near yours, as stars once a year brush the earth. Such a constellation was he to me."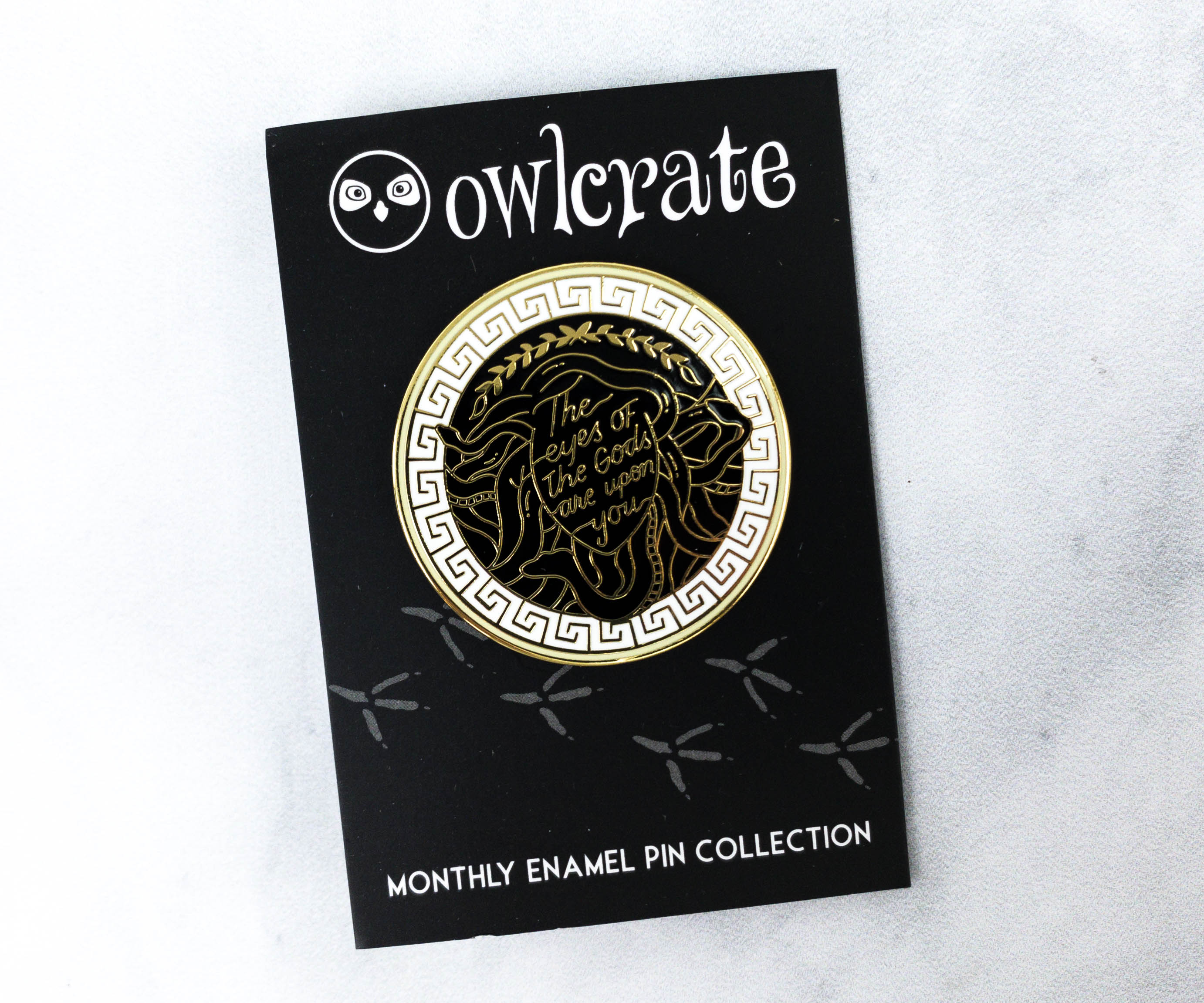 Medusa Shield Enamel Pin. This month's enamel pin has very intricate detailing.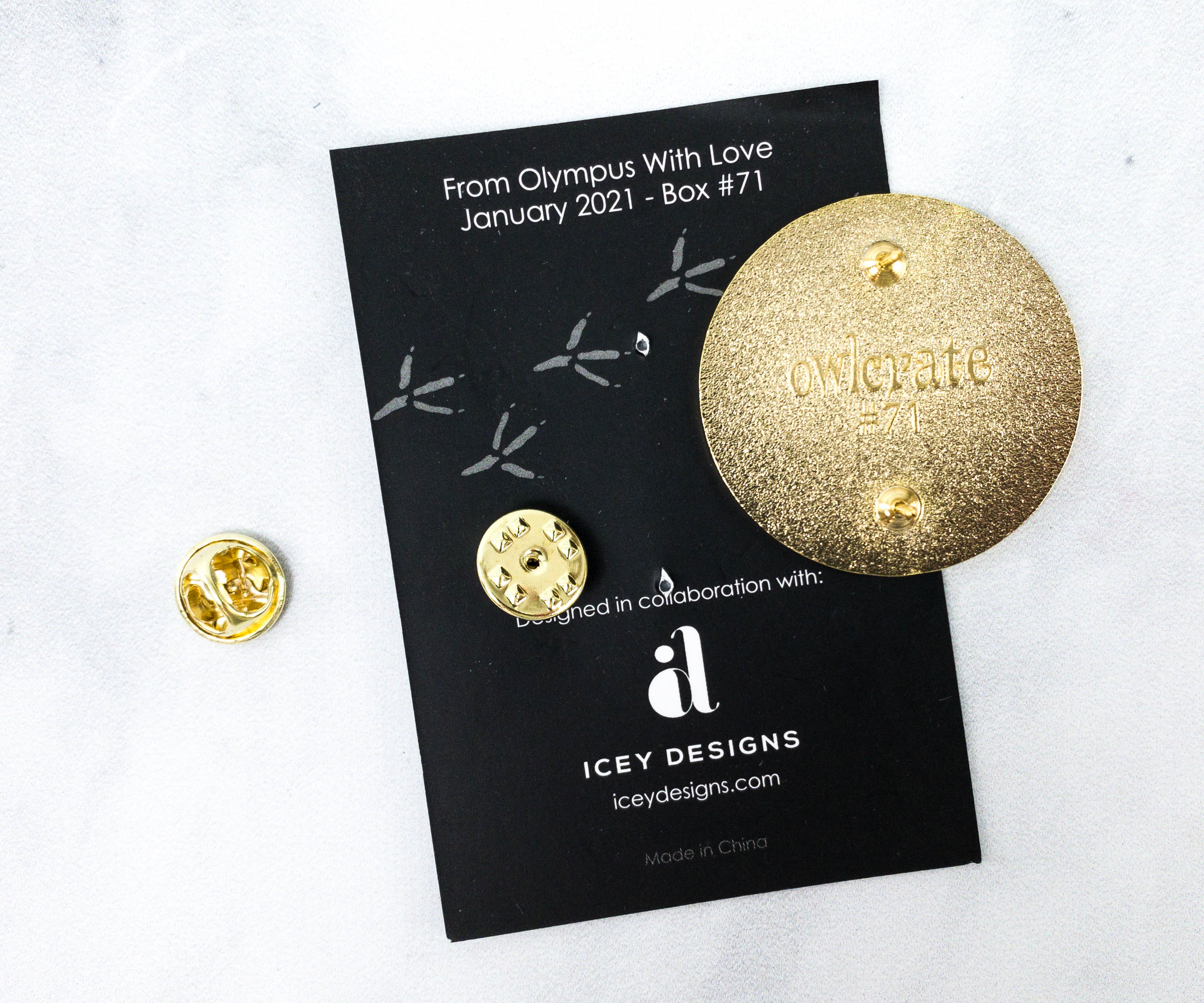 The pin is a bit heavy so it's supported by two posts to make sure it is sturdy when you attach it.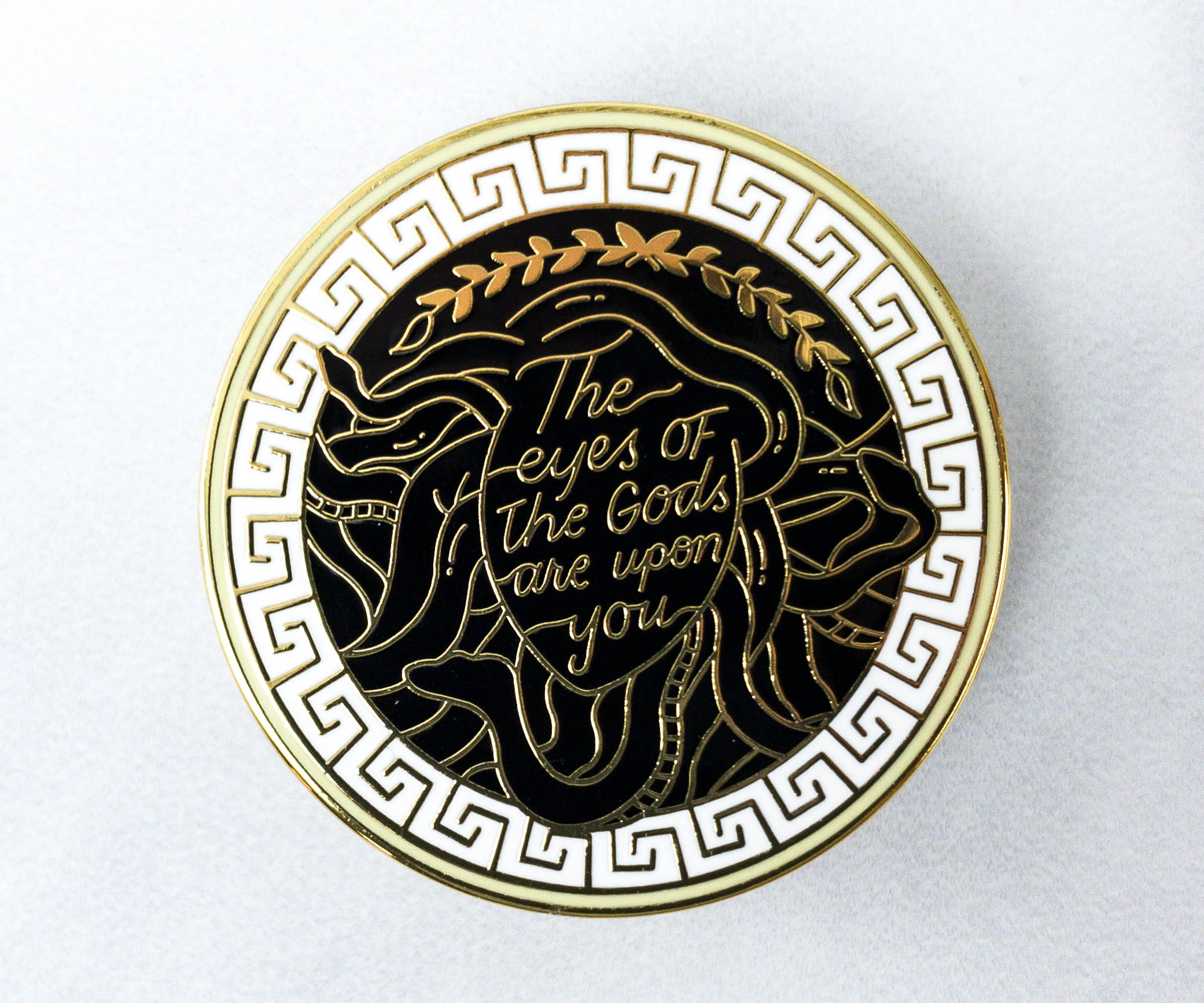 The design reminds me of Medusa and it's a lot like the cover of this month's featured book. There is no face to the character but there is a message:
The eyes of the Gods are upon you.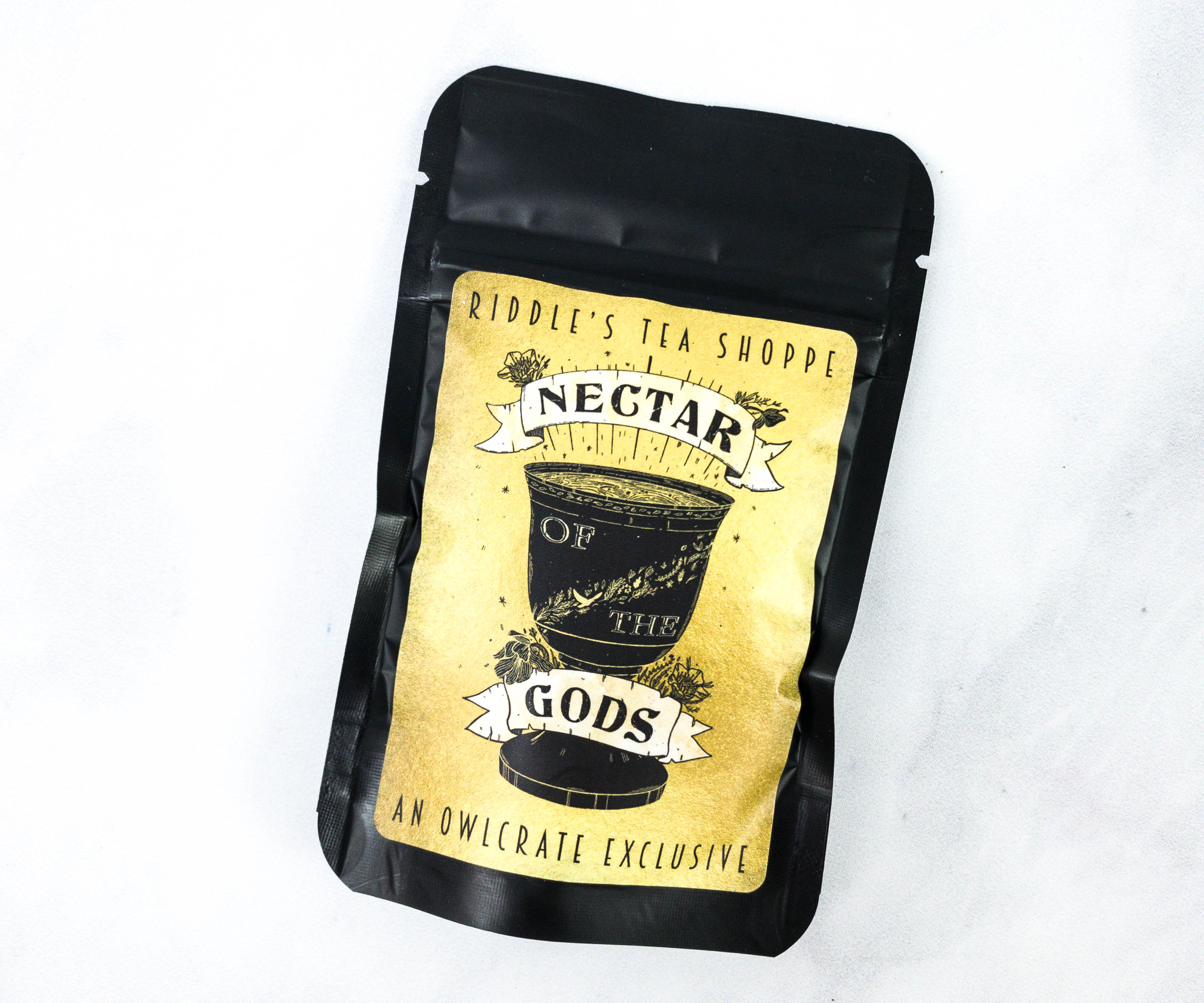 Nectar of the Gods Loose Leaf Tea. They also included loose leaf tea in the box, so subscribers can get cozy with a hot drink while reading. It's made by Riddle's Tea Shoppe and it came in a resealable pouch. They even made the effort of designing the packaging to be in line with the theme!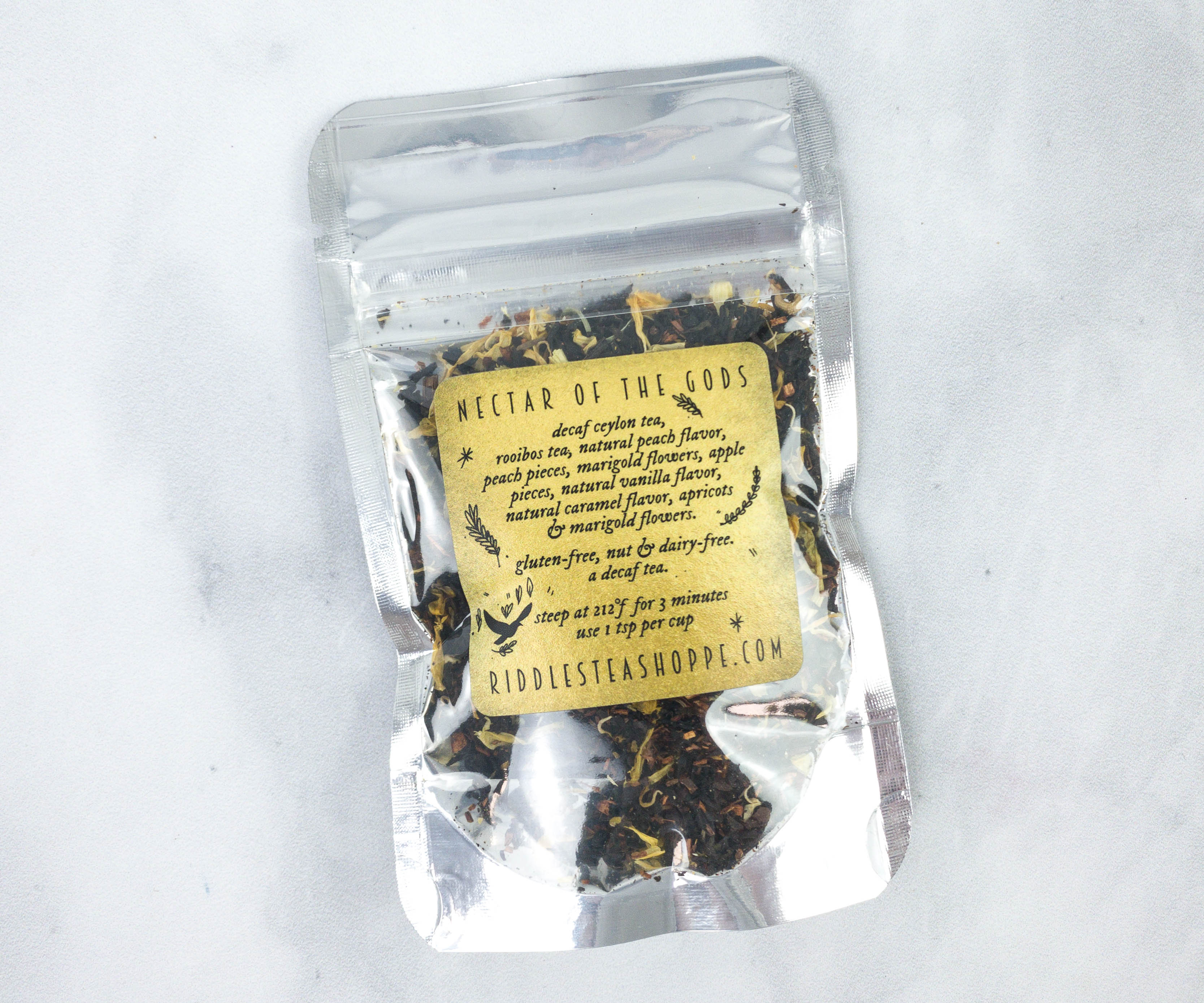 This tea is called Nectar of the Gods and contains decaf ceylon tea, rooibos tea, natural peach flavor, peach pieces, natural vanilla flavor, natural caramel flavor, apricots, and marigold flowers.It's also gluten-free, nut-free, and dairy-free! To prepare it, all you need to do is to steep at 212 F for 3 minutes. A teaspoon should be enough for one cup.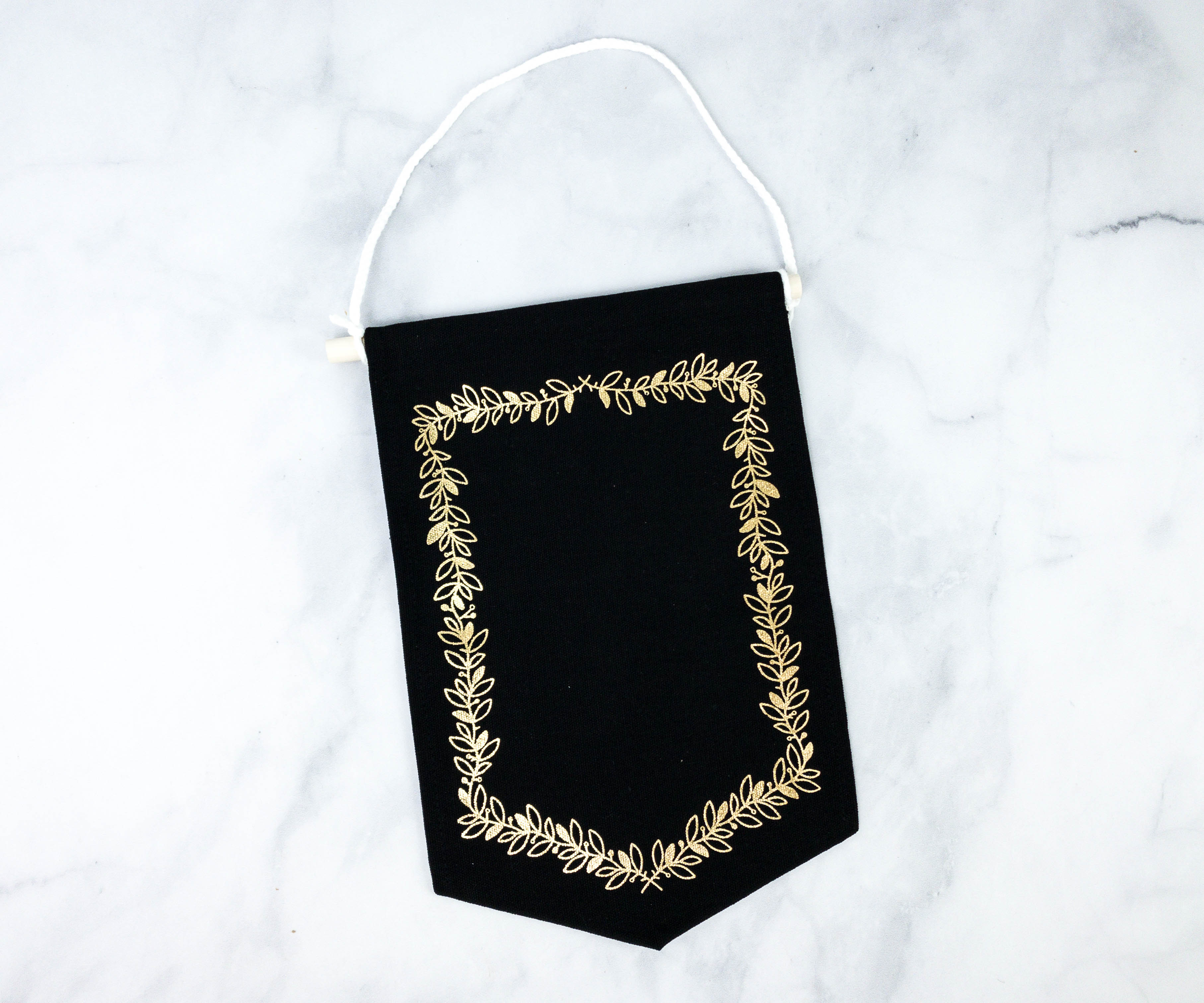 Olive Branches Pin Banner. This elegant pin banner is a great way to display my pin collection, especially the ones from Owl Crate!
The gold border really stands out amidst the black background!
Lunar Calendar Tapestry. Another item I can display at home is this tapestry featuring the lunar calendar. It looks magical!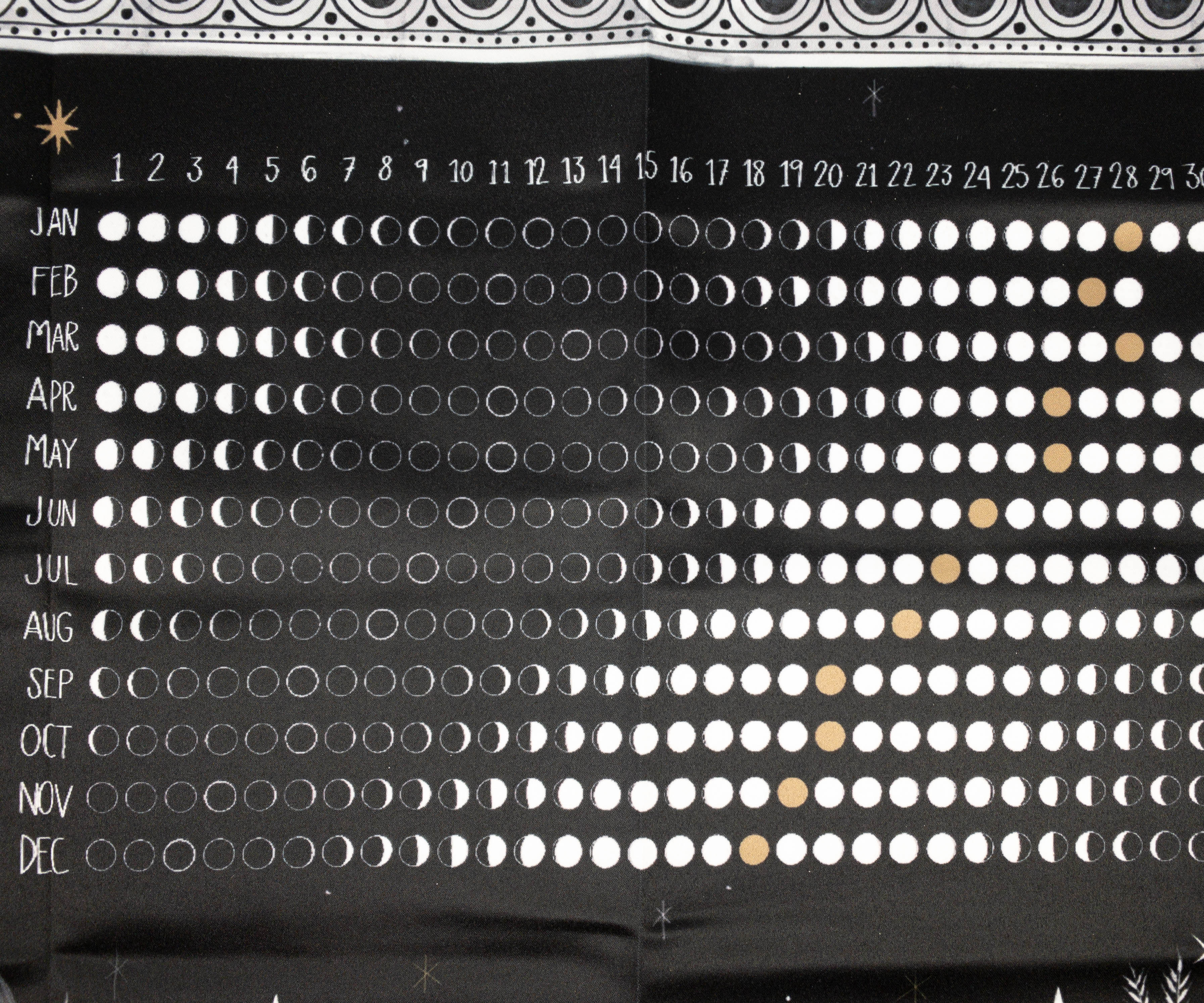 It looks really complicated but it's quite easy to read. Just look at the month and the date and find where its line intersects!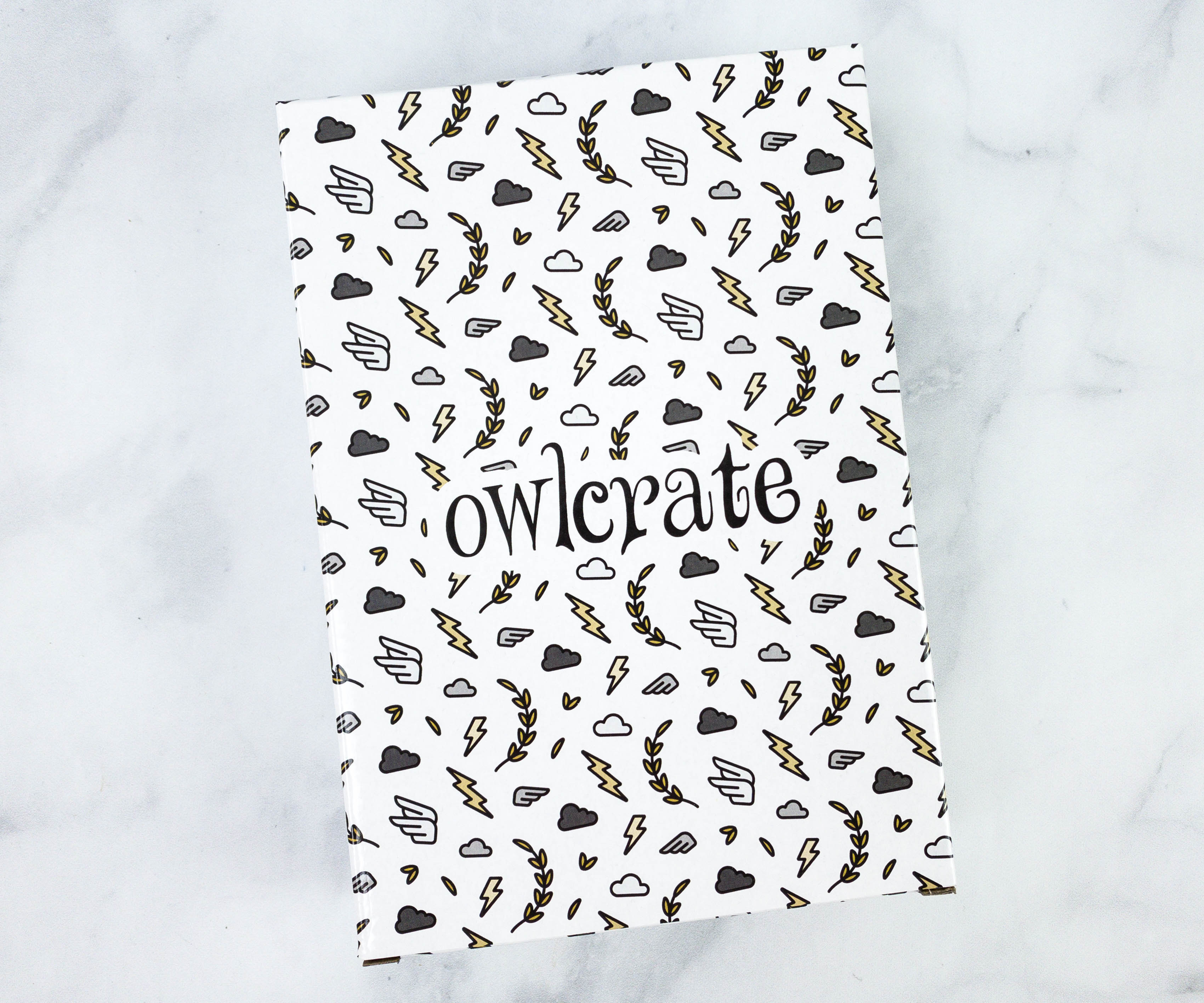 Hermes Felt Letter Board Kit. The letter board kit arrived in its own box with the Owl Crate branding and cute icons all over!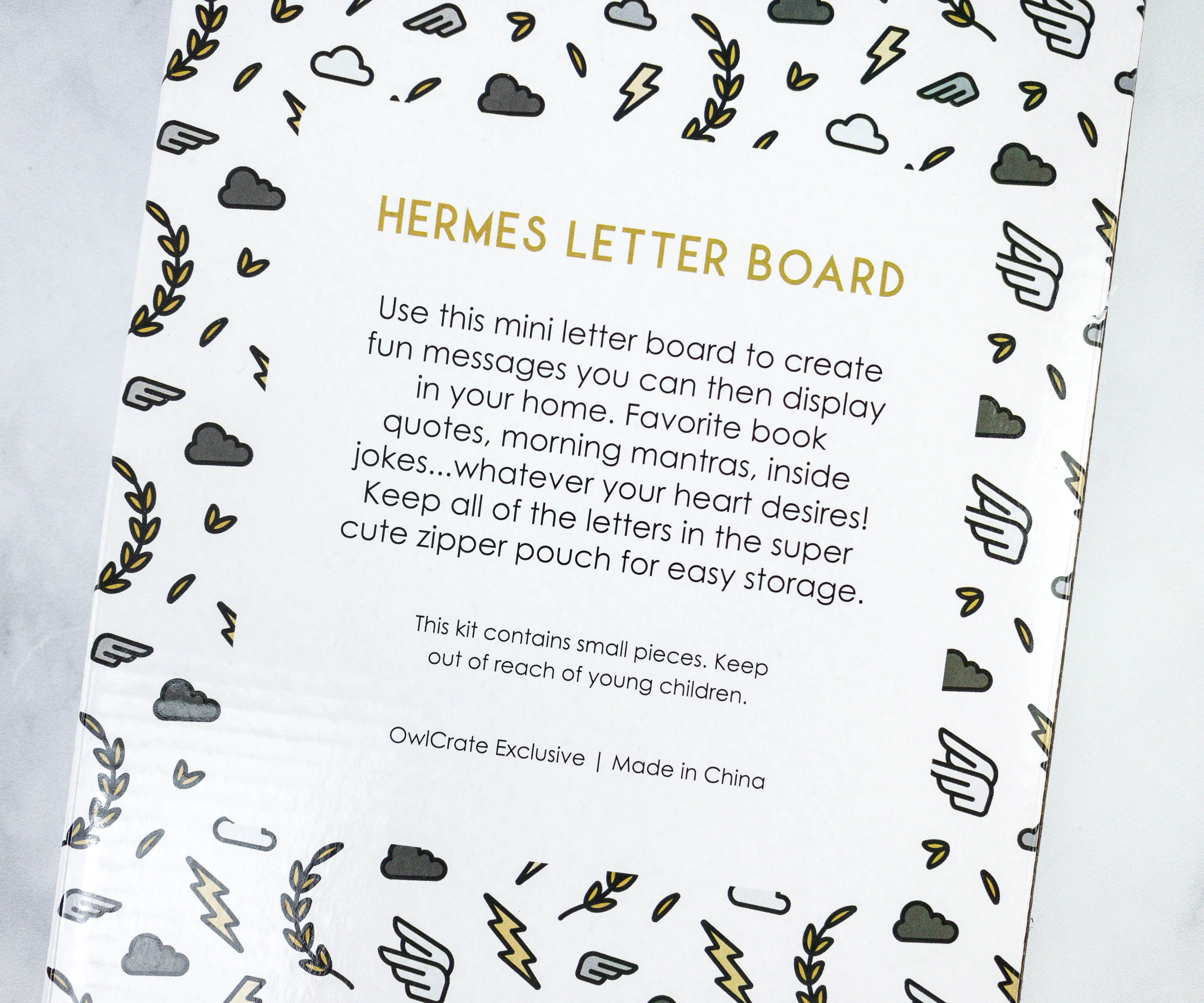 Here's what's in the box, a board and a gray pouch.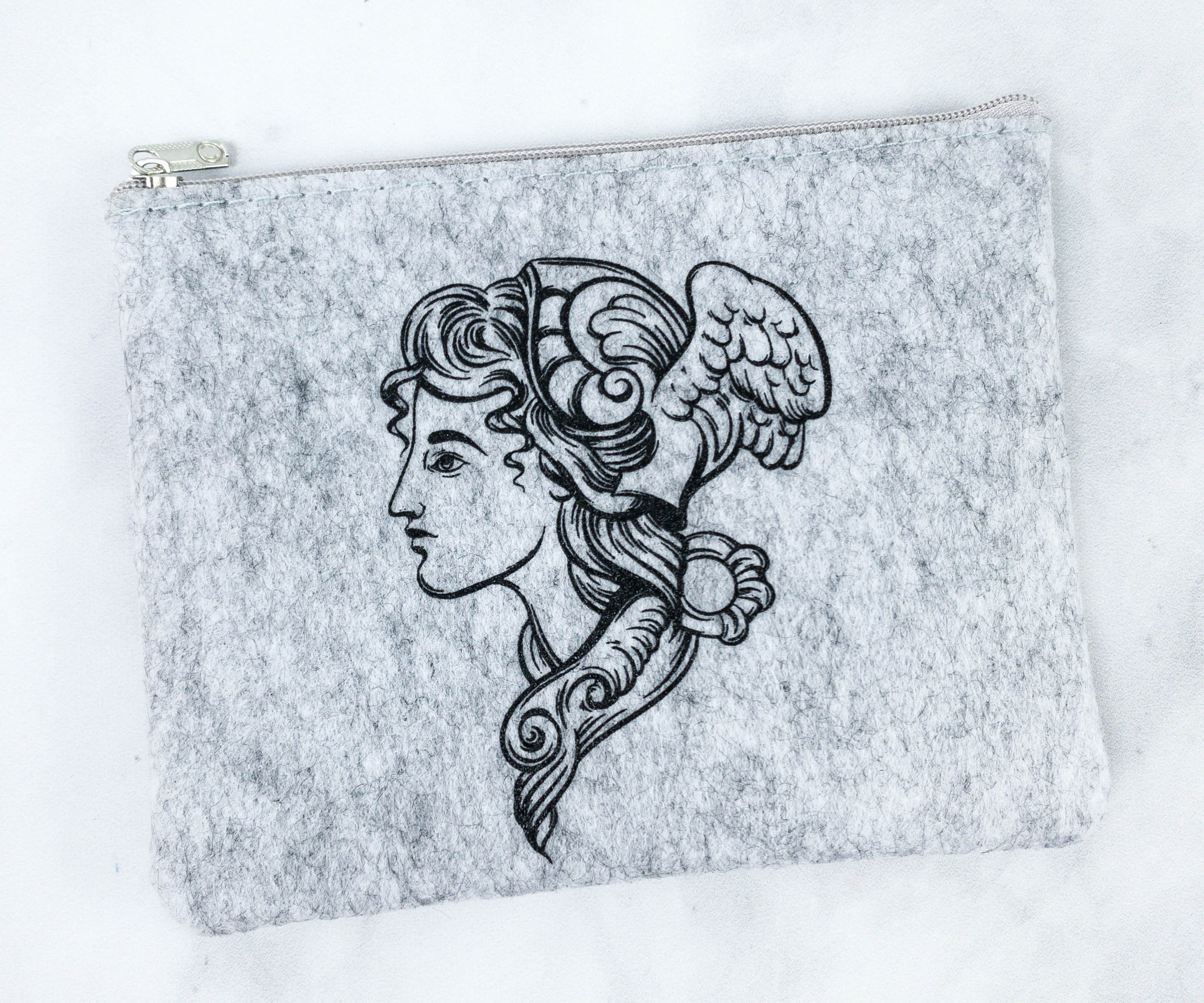 The zippered pouch features Hermes, the Greek god of of trade, wealth, luck, fertility, animal husbandry, sleep, language, thieves, and travel.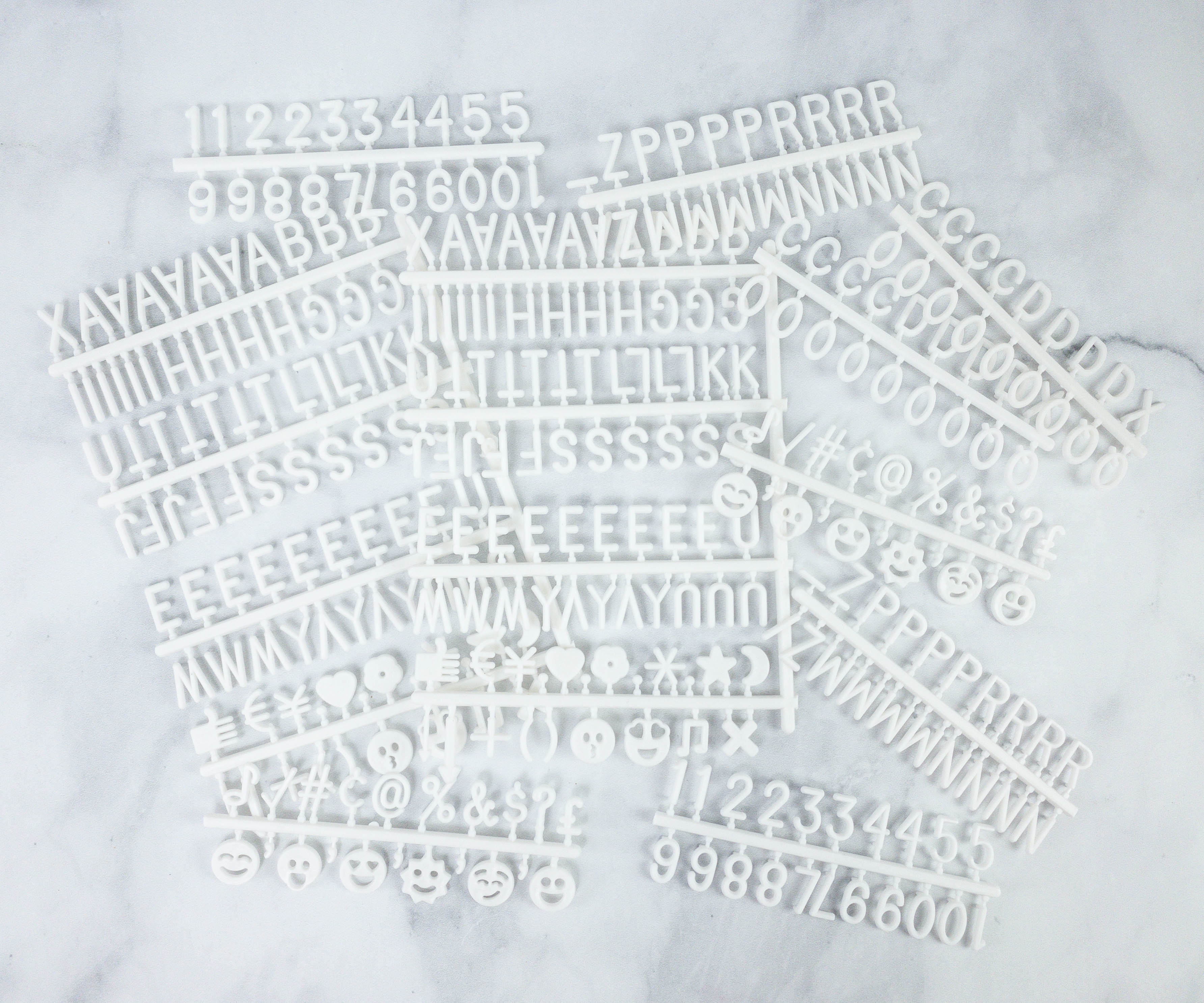 Inside the pouch is a set of letters, numbers, and even emojis that I can use to create a message on the board!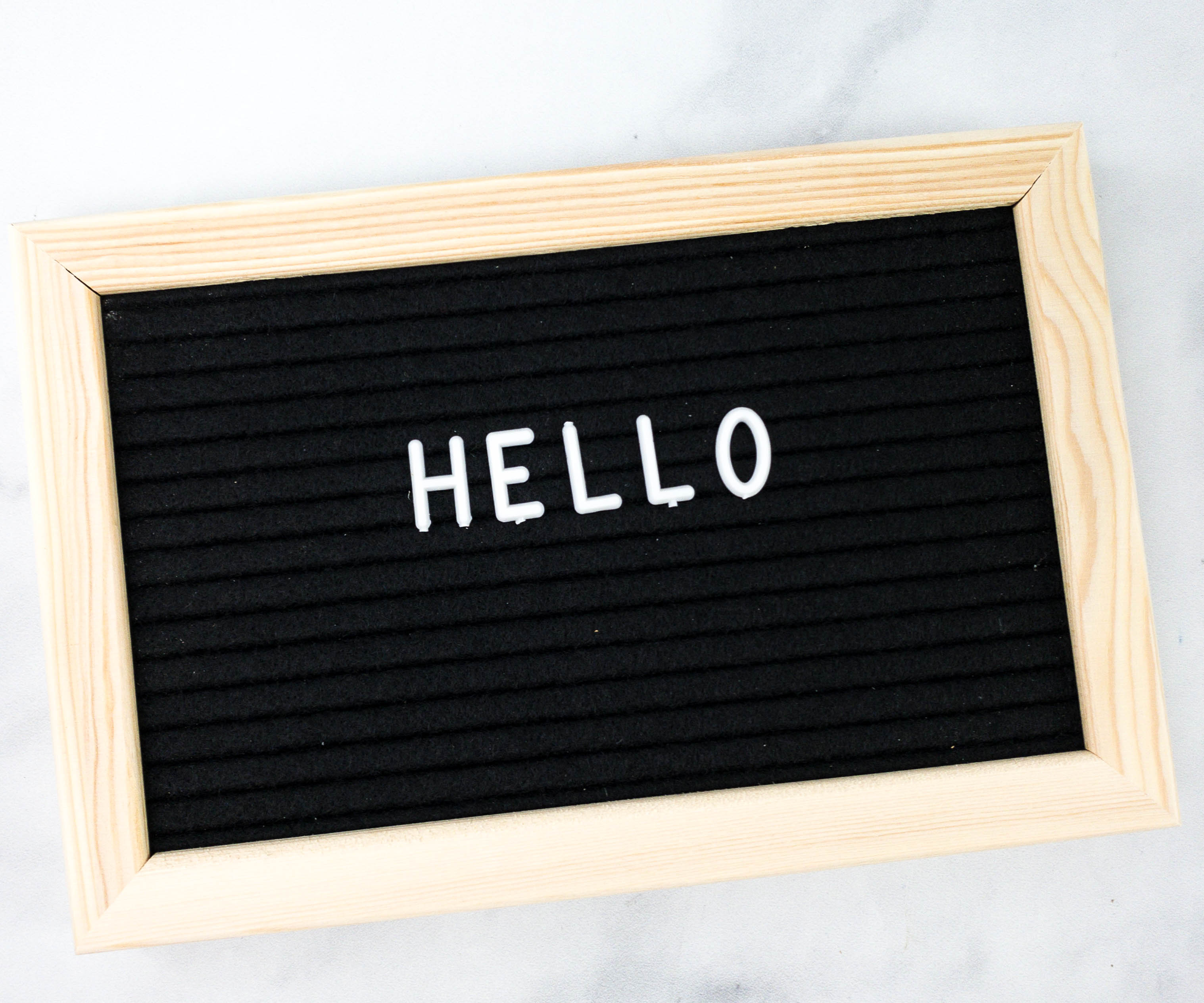 I love that the board has a black background which makes the white letters stand out. The wooden frame balances out the whole look by giving it a softer vibe.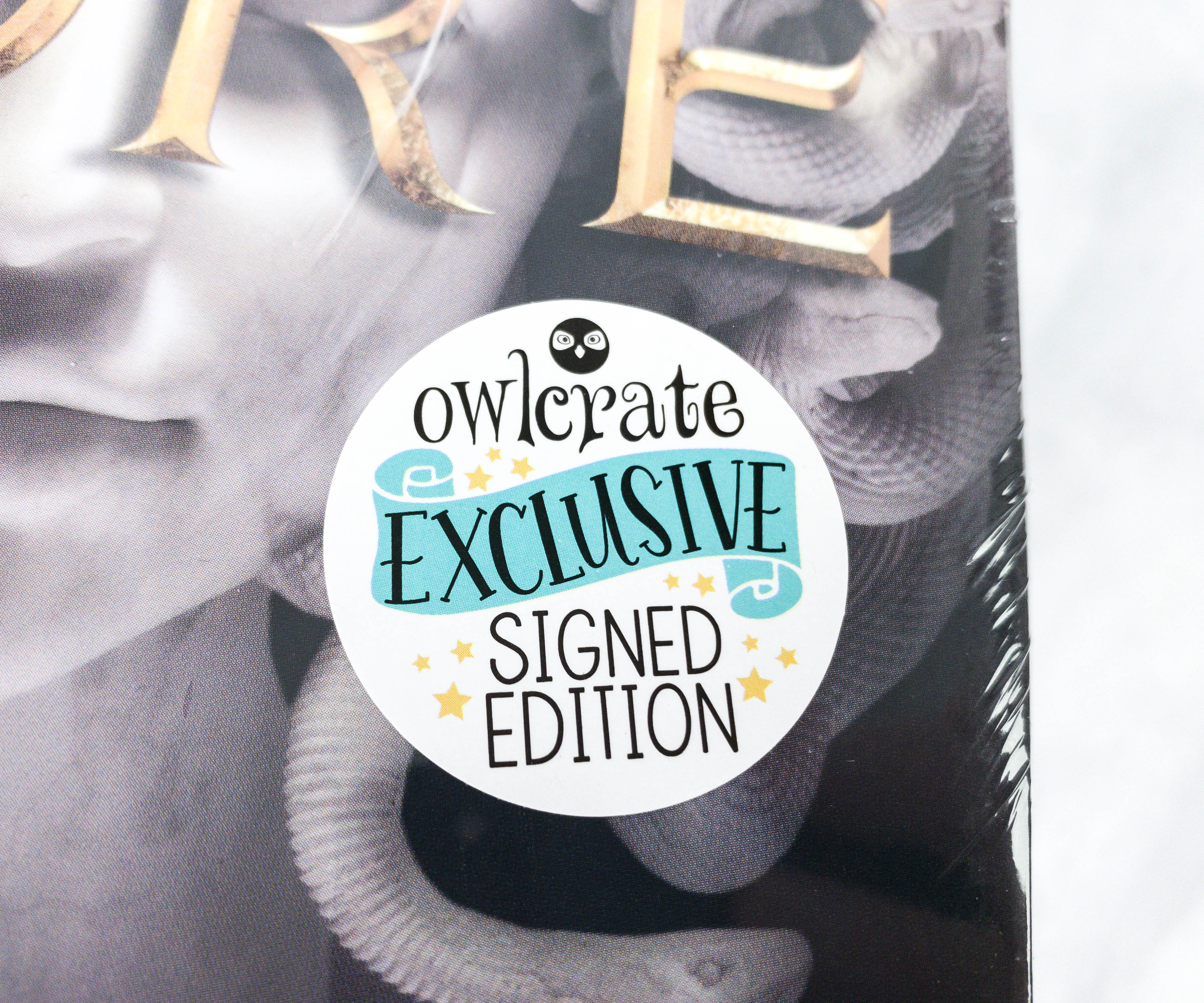 Now, let's proceed to the book. They sent me this exclusive signed copy of the book and I feel really giddy with excitement!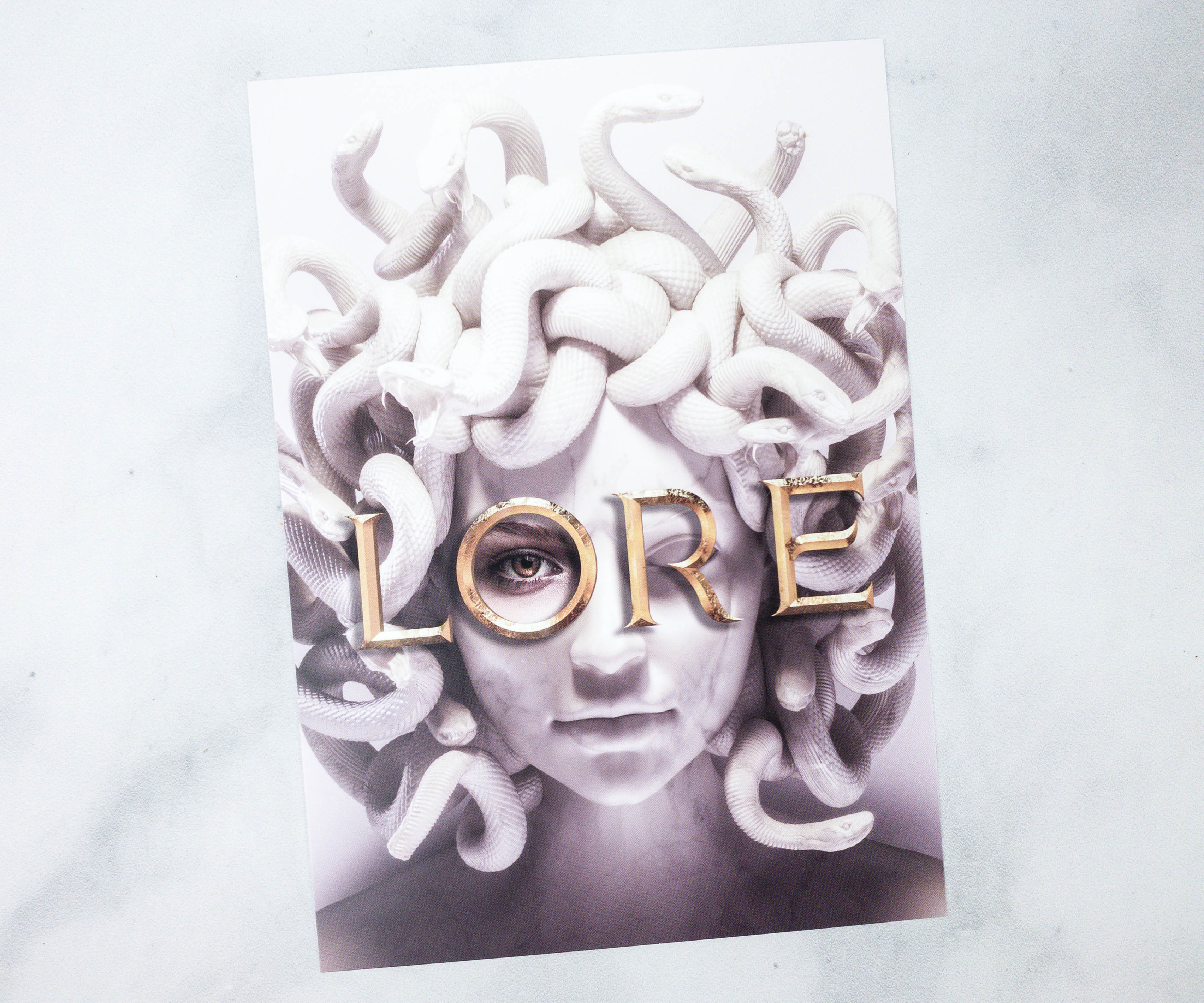 Lore by Alexandra Bracken ($13.45)
From the #1 New York Times best-selling author of The Darkest Minds comes a sweepingly ambitious, high-octane tale of power, destiny, love and redemption.

Every seven years, the Agon begins. As punishment for a past rebellion, nine Greek gods are forced to walk the earth as mortals, hunted by the descendants of ancient bloodlines, all eager to kill a god and seize their divine power and immortality.

Long ago, Lore Perseous fled that brutal world in the wake of her family's sadistic murder by a rival line, turning her back on the hunt's promises of eternal glory. For years she's pushed away any thought of revenge against the man–now a god–responsible for their deaths.

Yet as the next hunt dawns over New York City, two participants seek out her help: Castor, a childhood friend of Lore believed long dead, and a gravely wounded Athena, among the last of the original gods.

The goddess offers an alliance against their mutual enemy and, at last, a way for Lore to leave the Agon behind forever. But Lore's decision to bind her fate to Athena's and rejoin the hunt will come at a deadly cost–and still may not be enough to stop the rise of a new god with the power to bring humanity to its knees.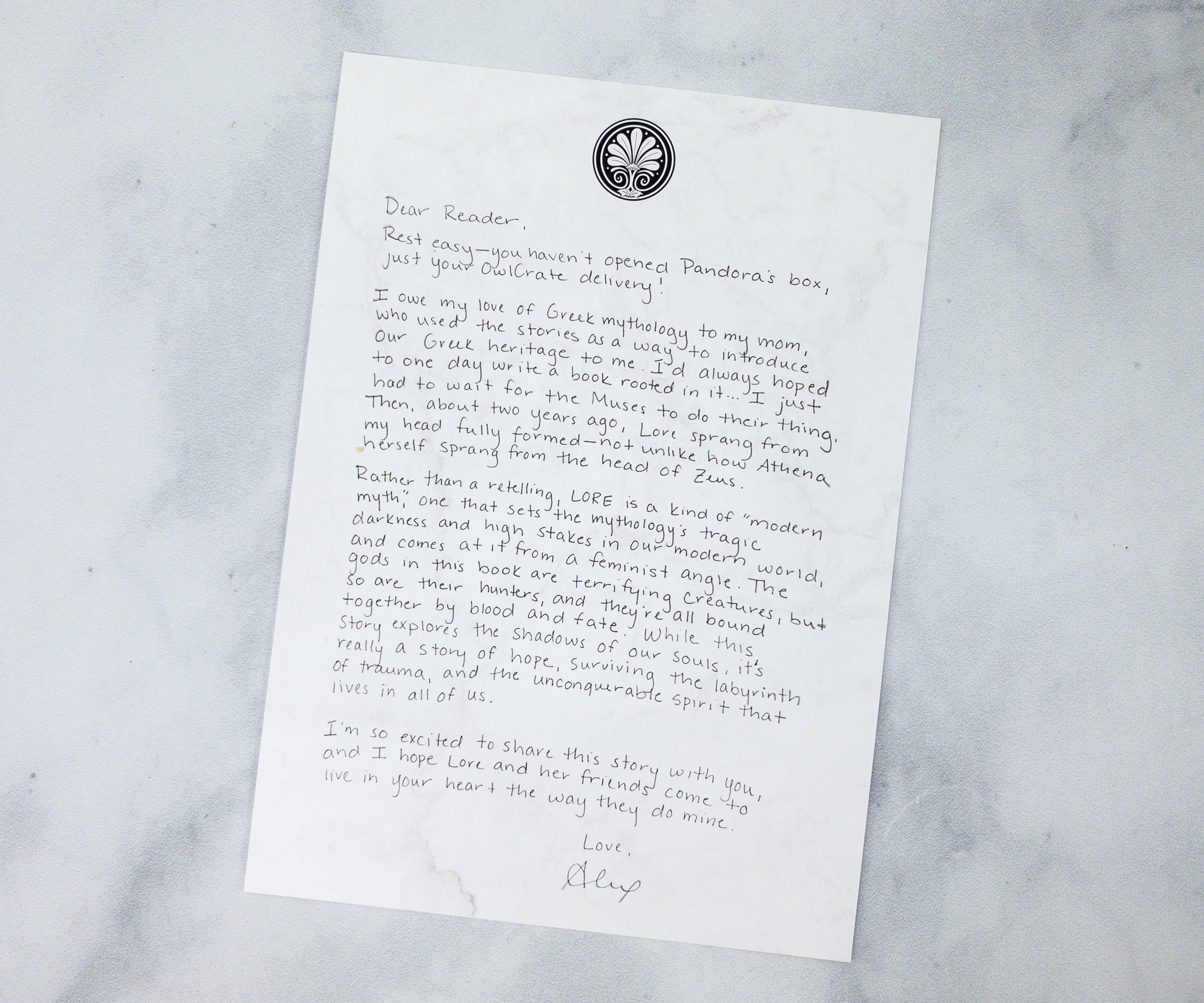 There is a message from Alexandra Bracken for all the readers of this book!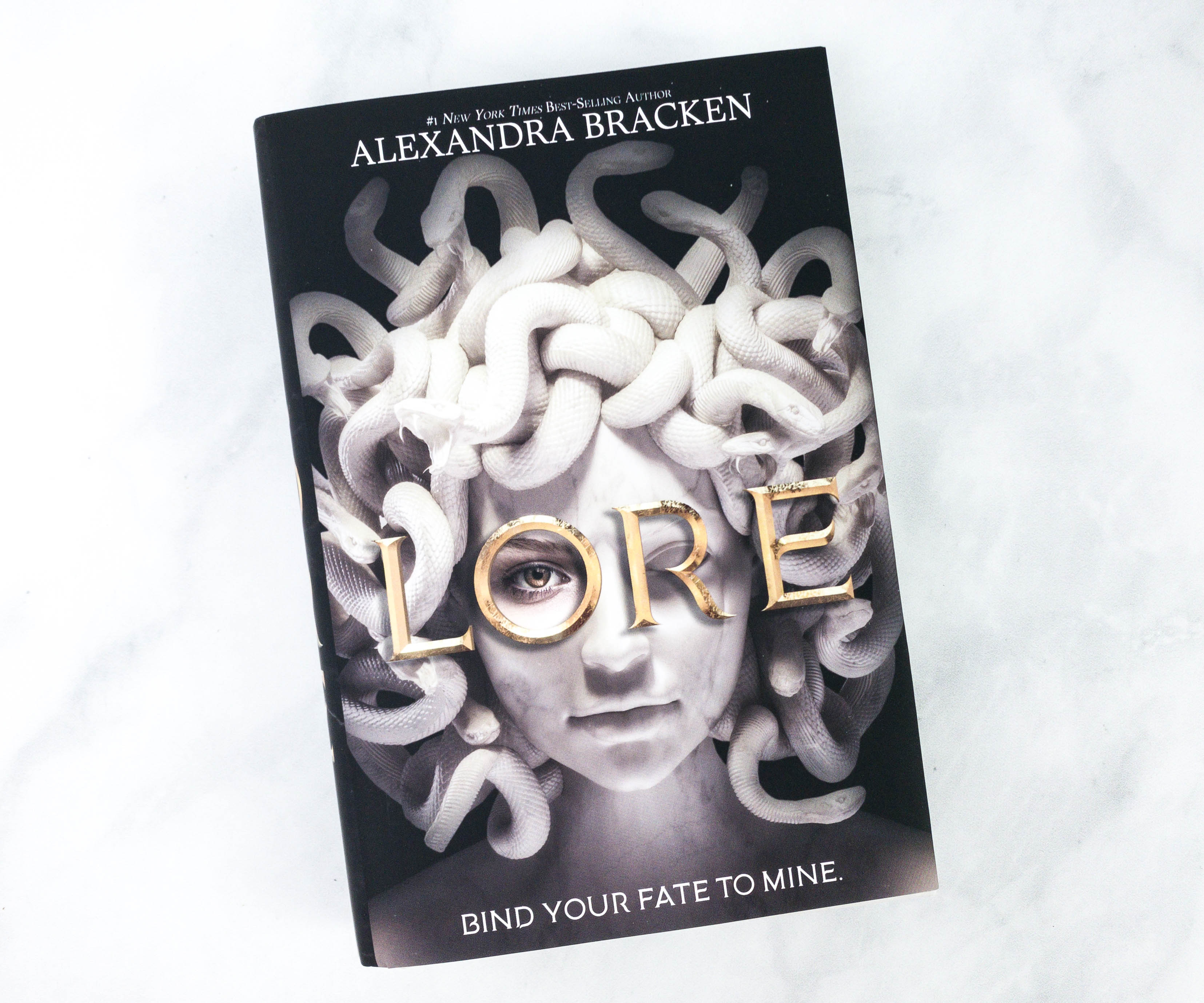 I love the cover! It has a very Medusa-like vibe and it has that Greek mythology feel to it.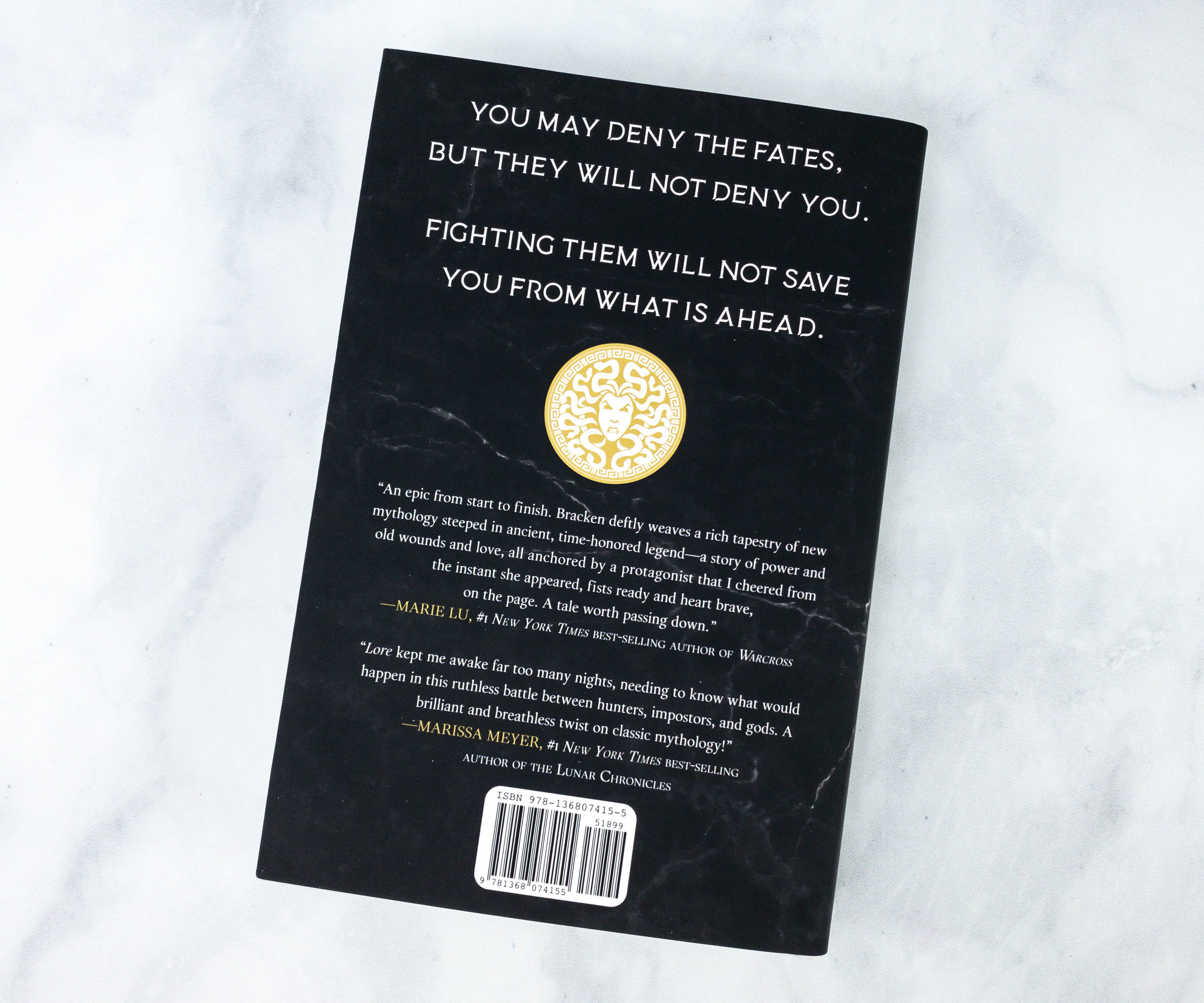 You may deny the fates but they will not deny you. Fighting them will not save you from what is ahead.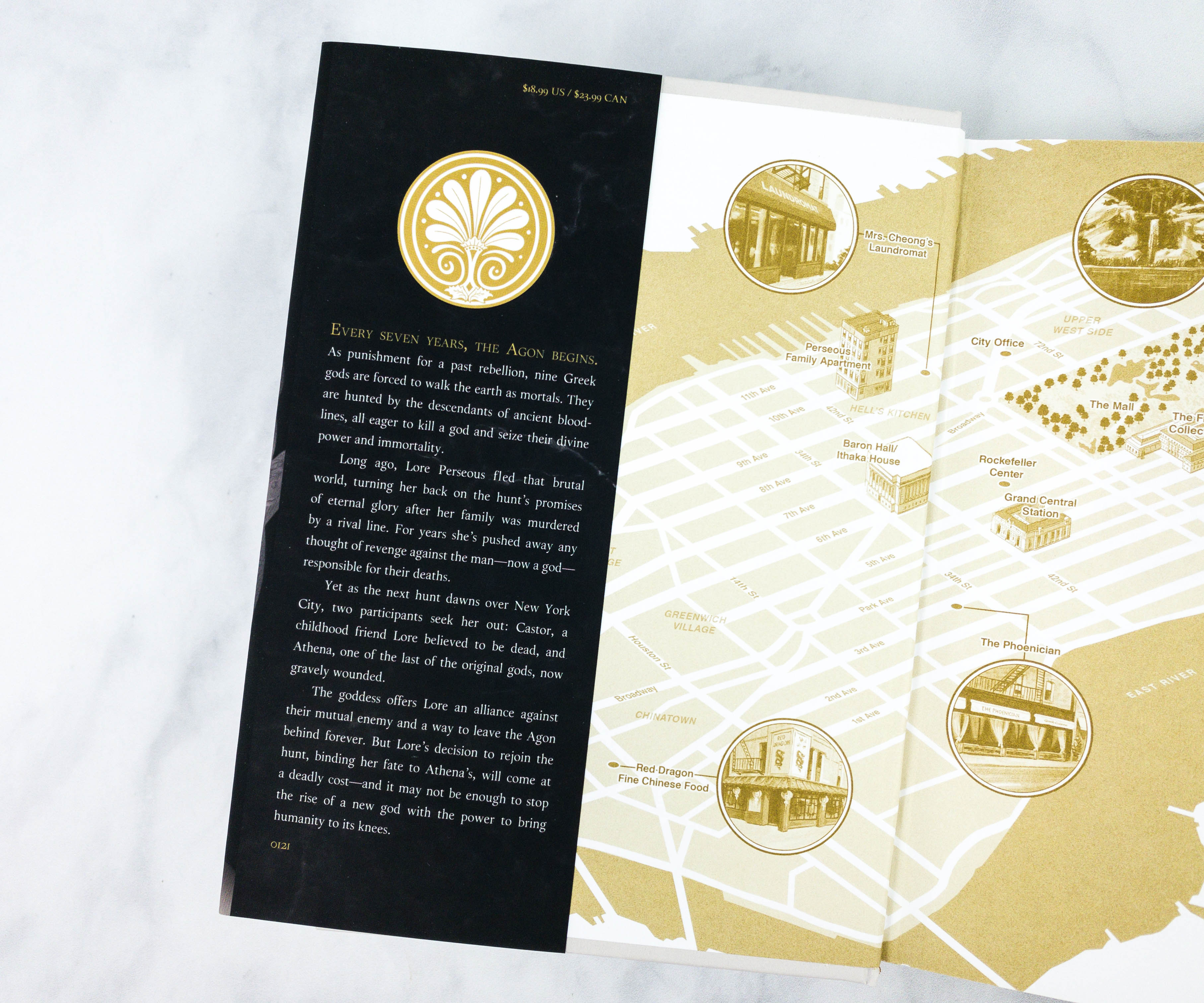 The synopsis can be found at the flap of the book's dust jacket.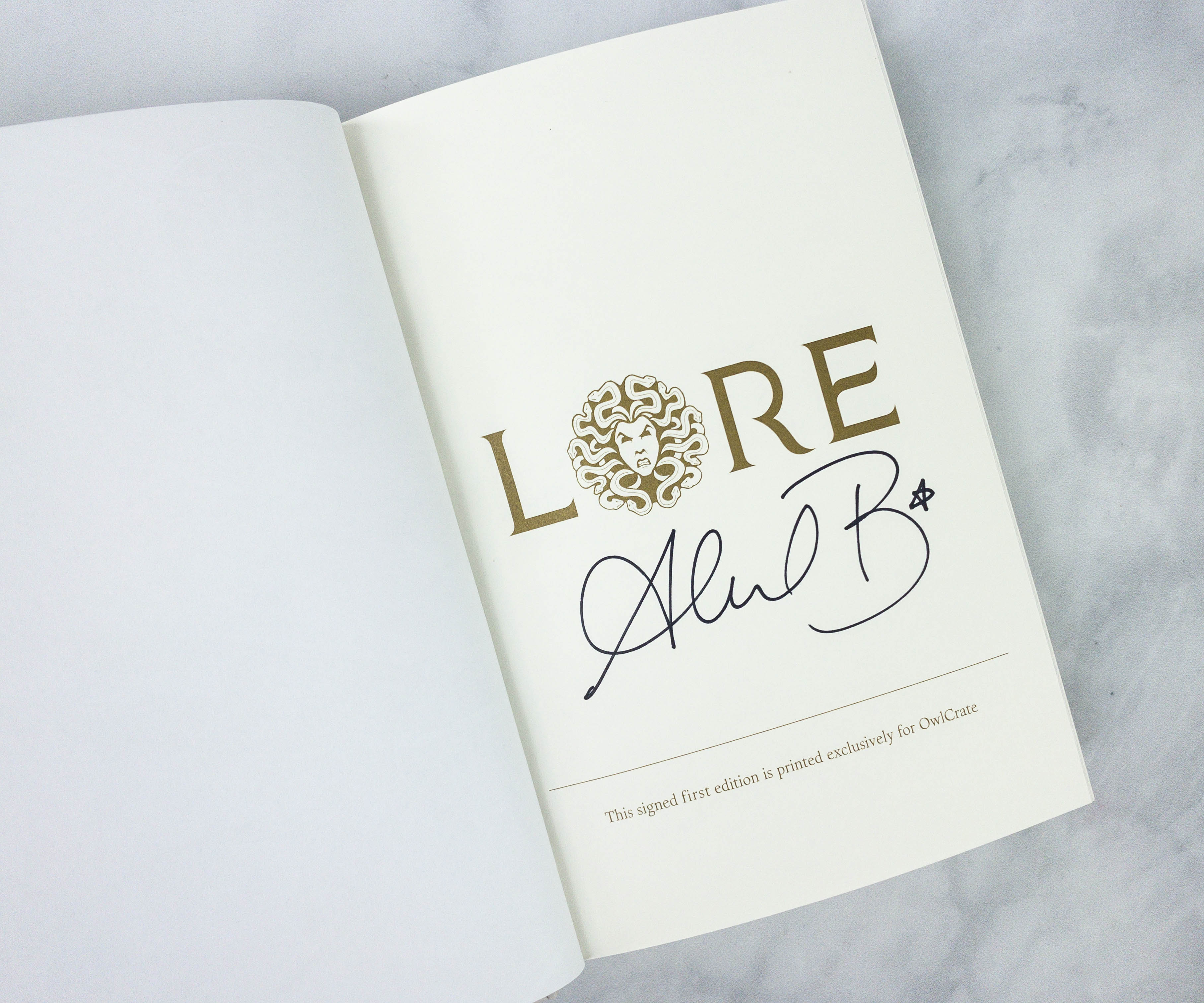 Yes, this is a signed copy!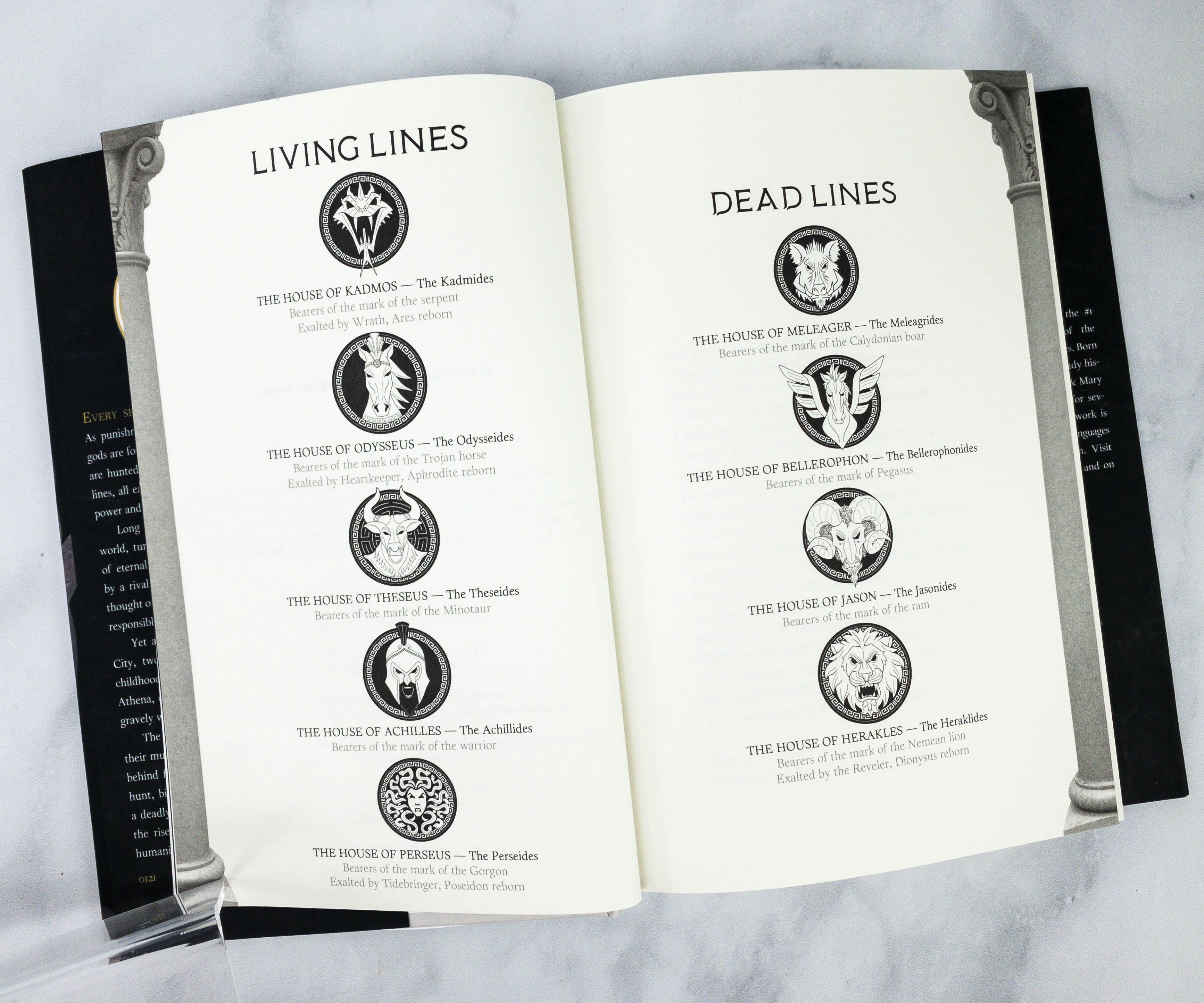 The families in this book can be determined by houses, which reminds me so much of Game of Thrones.
The story is centered upon nine Greek gods who were punished for their rebellion. Every seven years, they are stripped of their immortality and are forced to fight the decendants of the dead blood lines because if they can kill a god, they will be able to seize their power and immortality. It's honestly very Greek Mythology meets Hunger Games and I like it!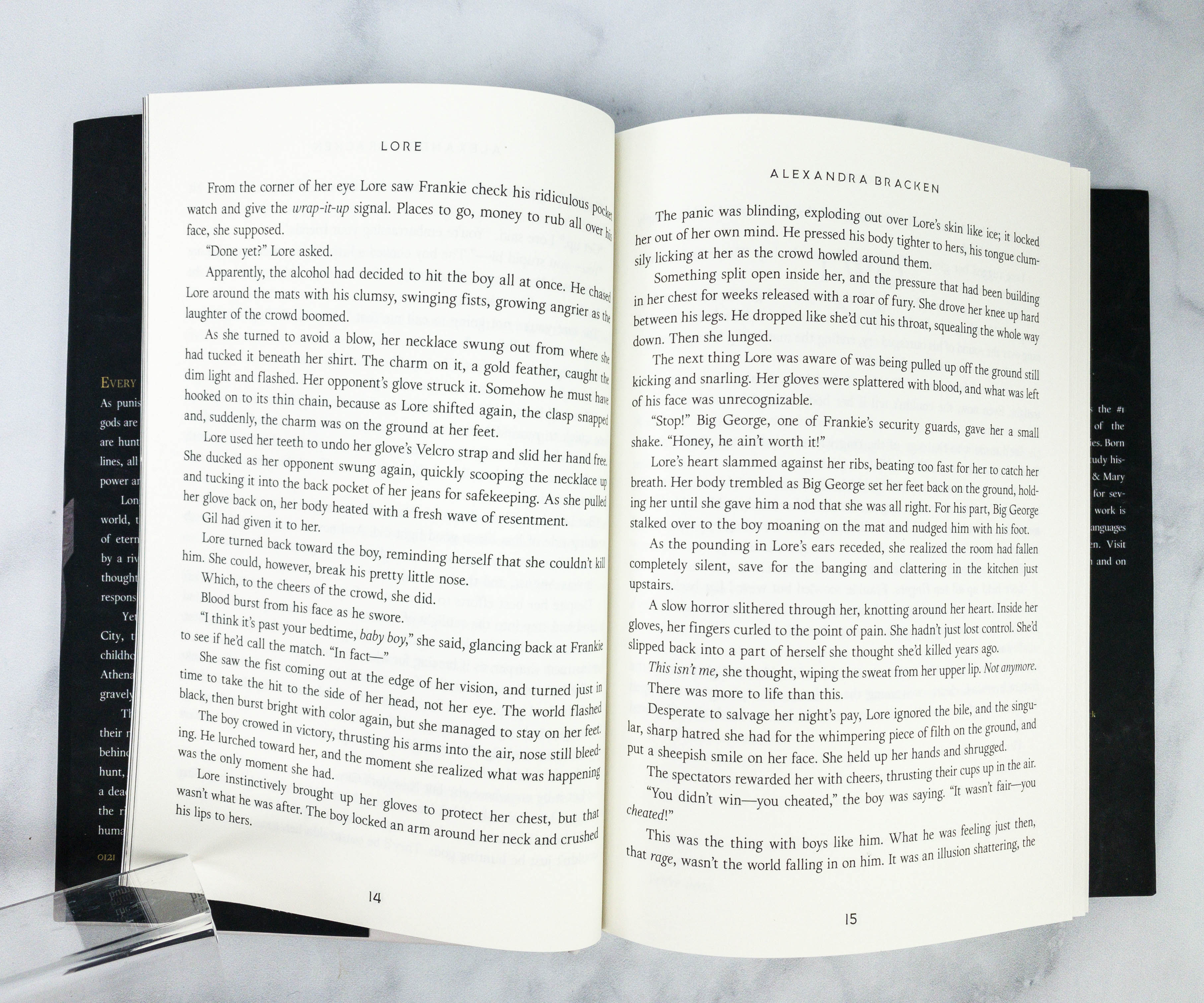 The story is so good and Lore is an awesome character! Her development in this book is quite spectacular as she started out a bit broken because of what happened in her past. Don't get me wrong, she was strong but you can clearly see that she was hurting. In the end, she has evolved to truly become a force to be reckoned with. The relationships within the story also made the book even more interesting and I like the dynamics of some of them.
Here's a sneak peek for the next month's box!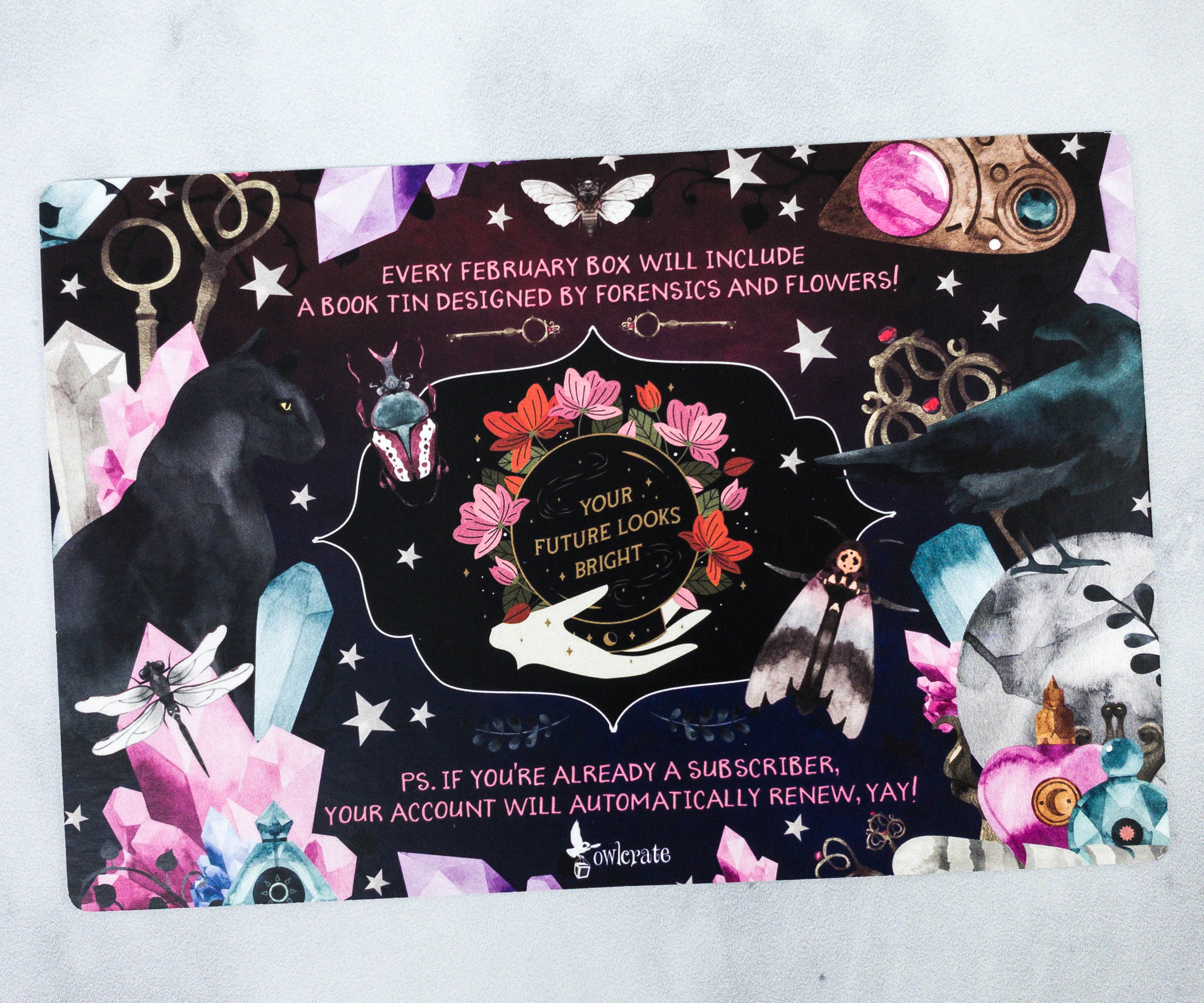 It looks like our next journey will be more magical so now I'm all the more excited!
I really like the story of the featured book this month. It's a great read for any Mythology fan! The items they included with the book are also nice. There's the loose leaf tea for instance, which you can enjoy while reading the book, as well as a cool wooden bookmark that you can use to keep track of where you've stopped reading. I also like the felt board kit which I can display at home. I can even change the messages on the board using the letters and numbers provided. Overall, this box made my book-loving self happy and I thought it was one of the most cohesive curations I've ever seen from this subscription! If you want to receive new books with high-quality and exclusive bookish items, this subscription would be a great fit!
What did you think of this month's Owl Crate theme? Are you excited for next month's theme?