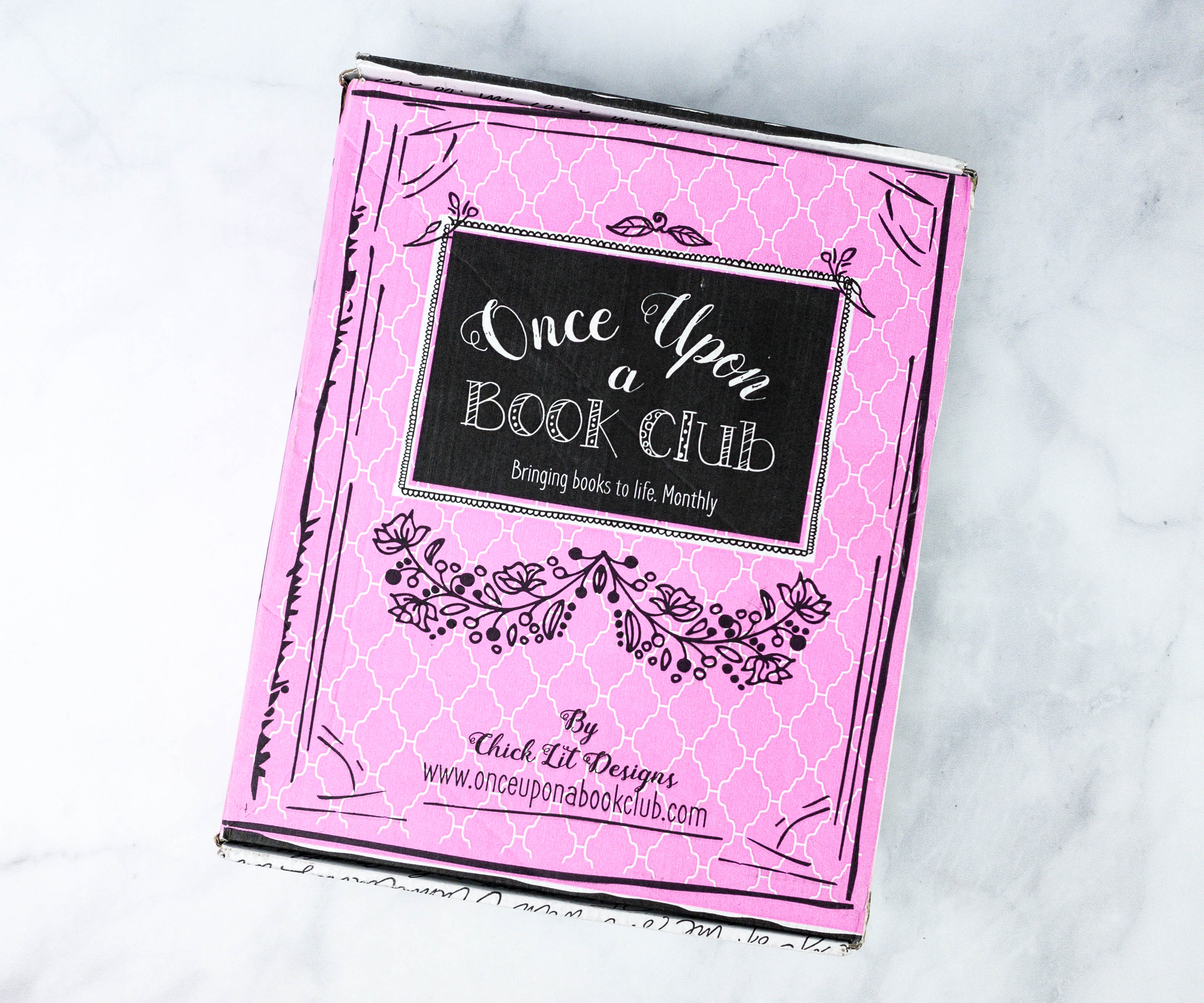 Once Upon a Book Club is a subscription that offers a unique reading experience. Each month, you'll receive a book to read, a 5″ x 7″ quote print, along with 2-4 corresponding gifts to match a quote/item mentioned in the book. Readers are advised to open the gifts as they finish the corresponding page to make them feel as if the book is coming to life!
You can choose between Once Upon a Book Club's Young Adult edition and Adult edition. This is the review of the Adult box.
DEAL: Enjoy 10% off your first box. Use coupon code BOOKNERD.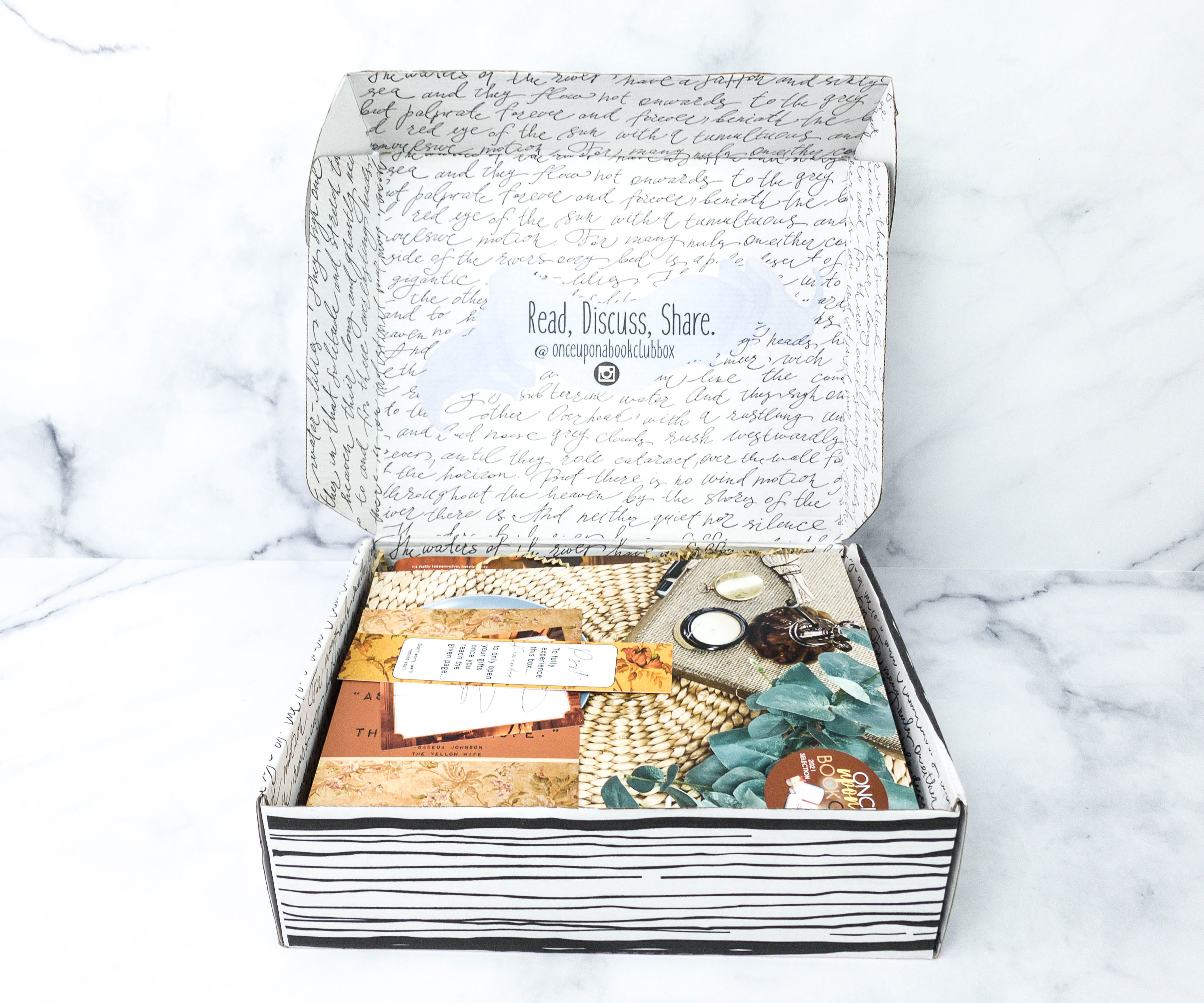 The box interior looks lovely with those words in script.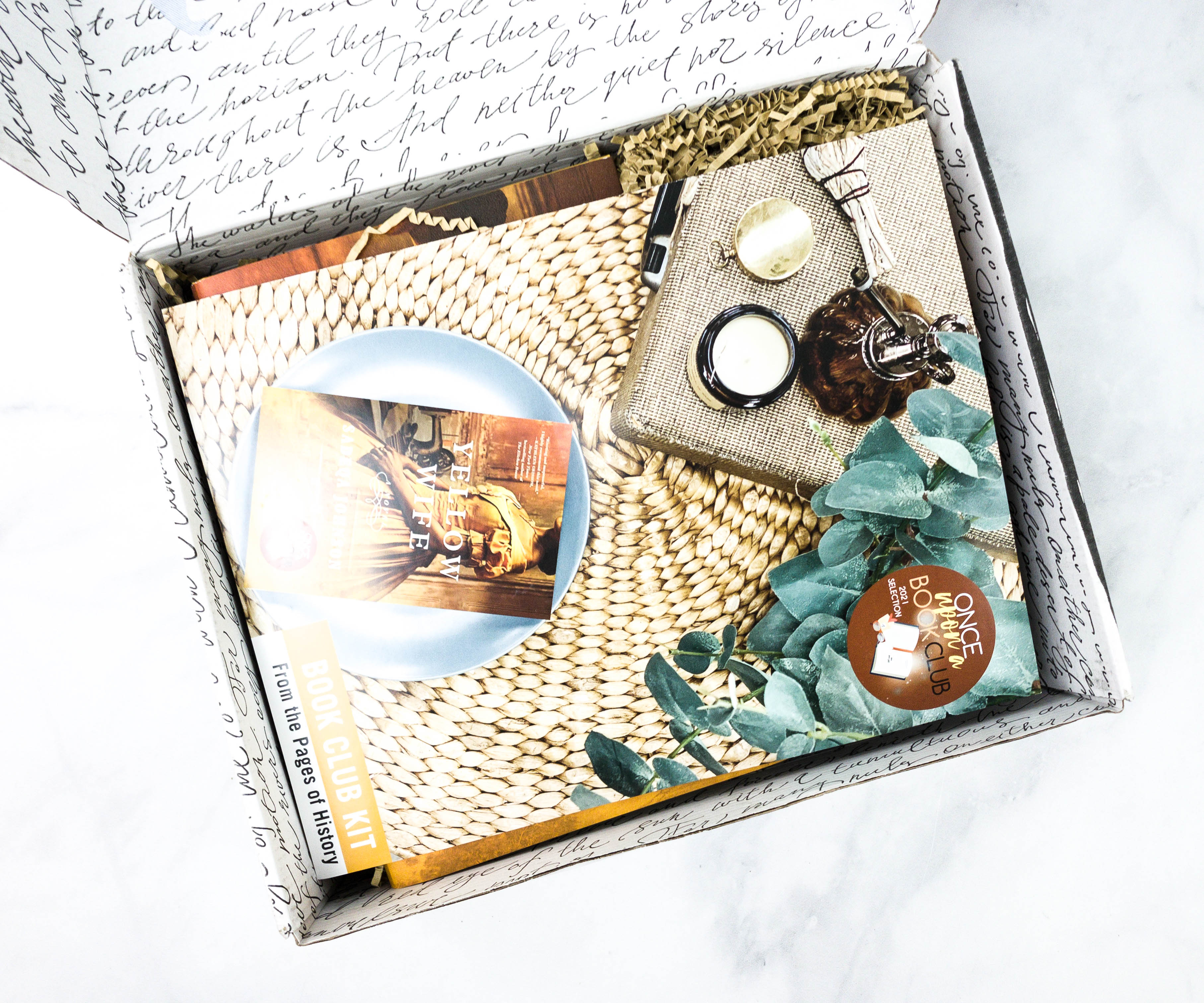 The items were neatly stacked inside the box.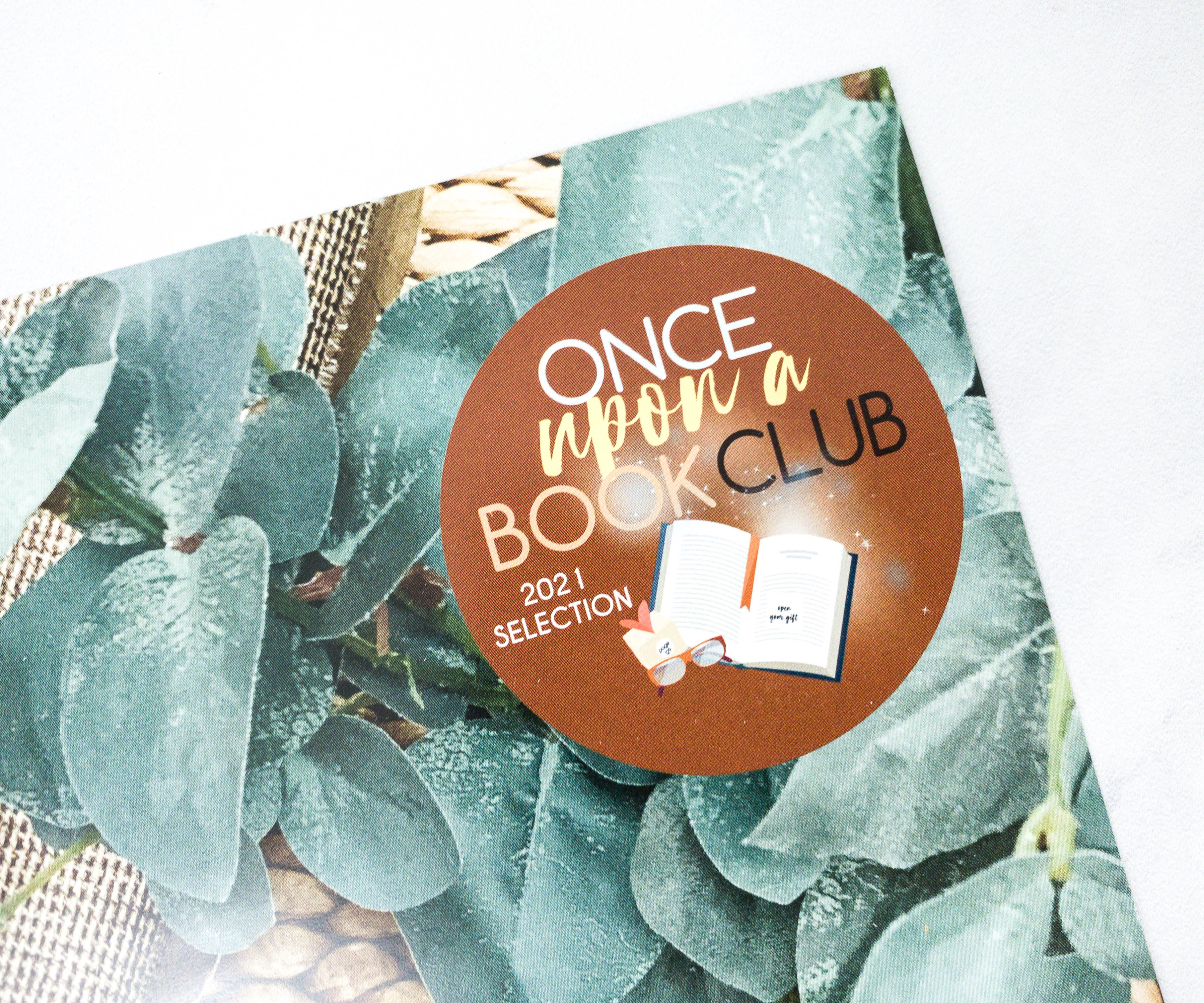 The book has a Once Upon A Book Club 2021 Selection Sticker!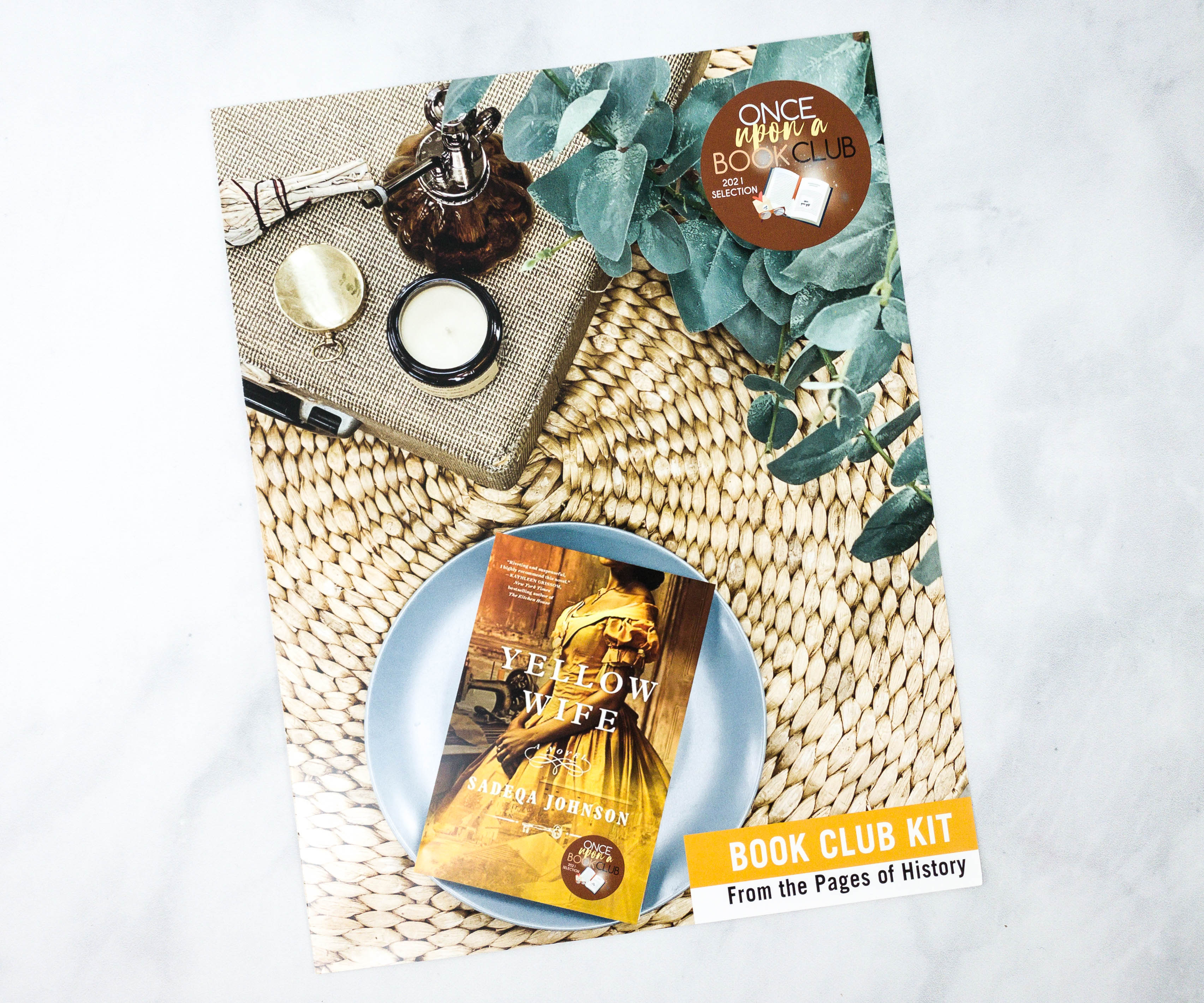 The box also includes a Book Club Kit guide.
At the back, there is a recipe for Elsie's Mutton Stew!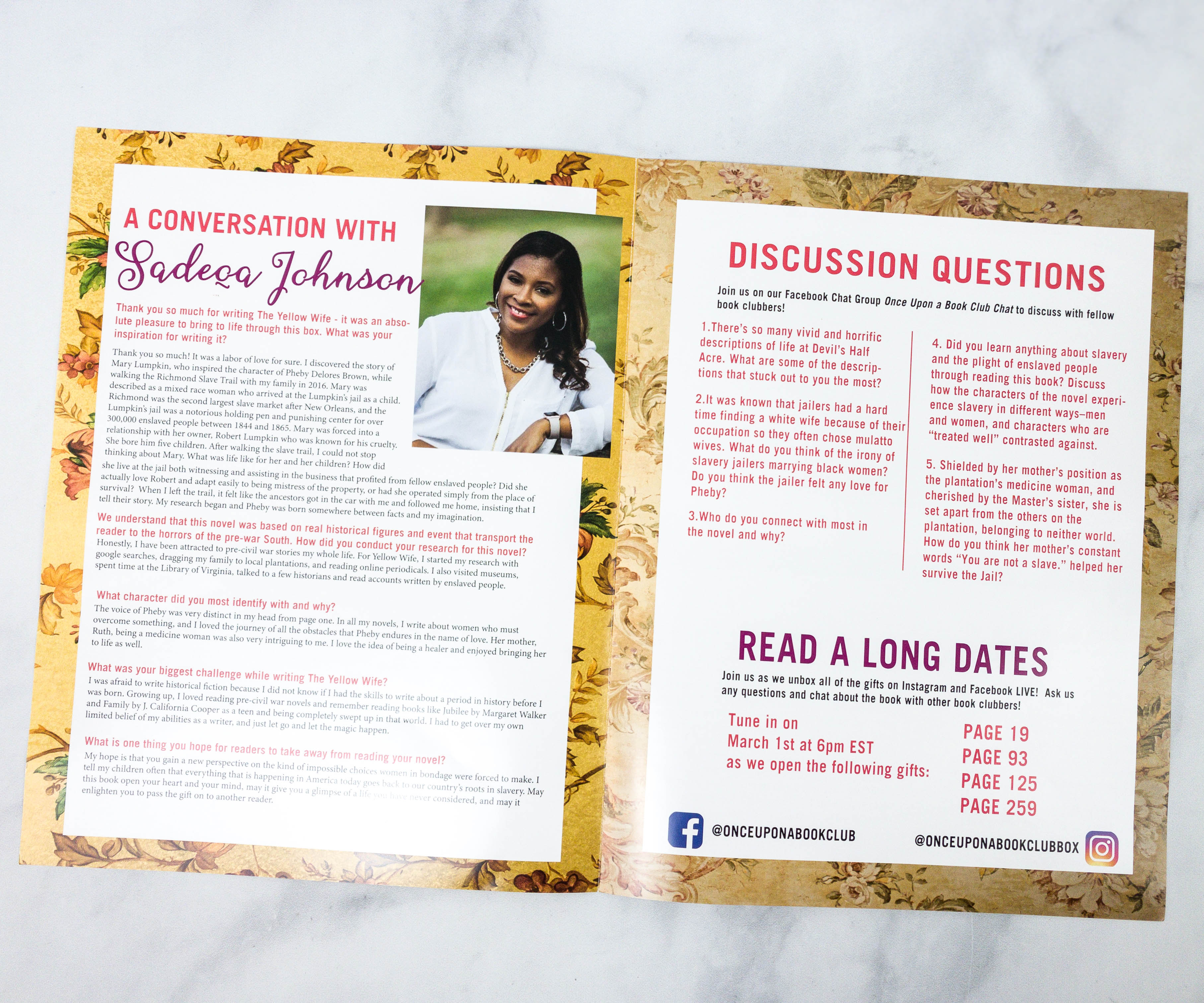 Inside, there's an Author's Note featuring Sadeqa Johnson. There are also read along dates and some discussion questions.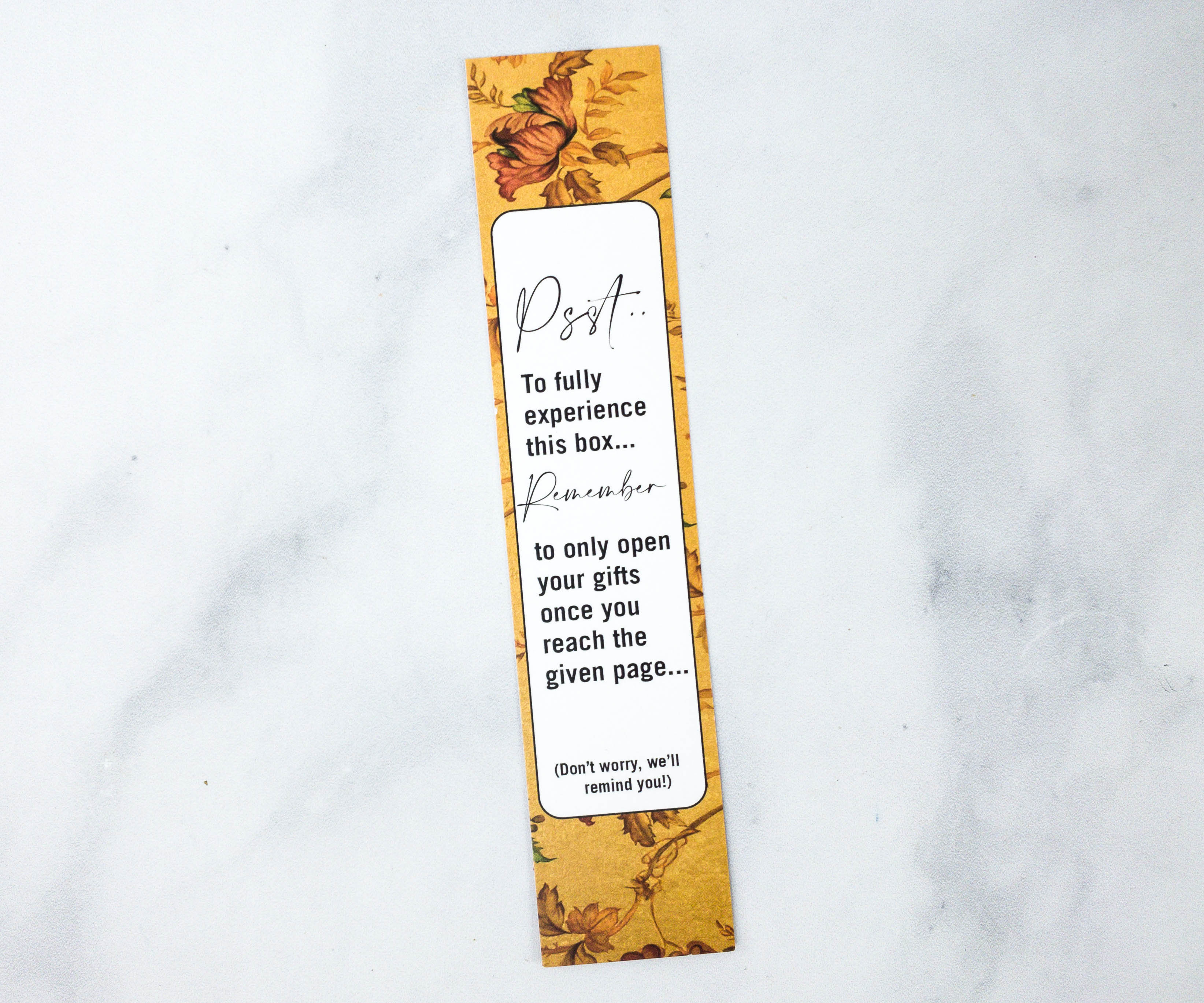 As always, the bookmark reminds to only open the gifts once you're on the given page.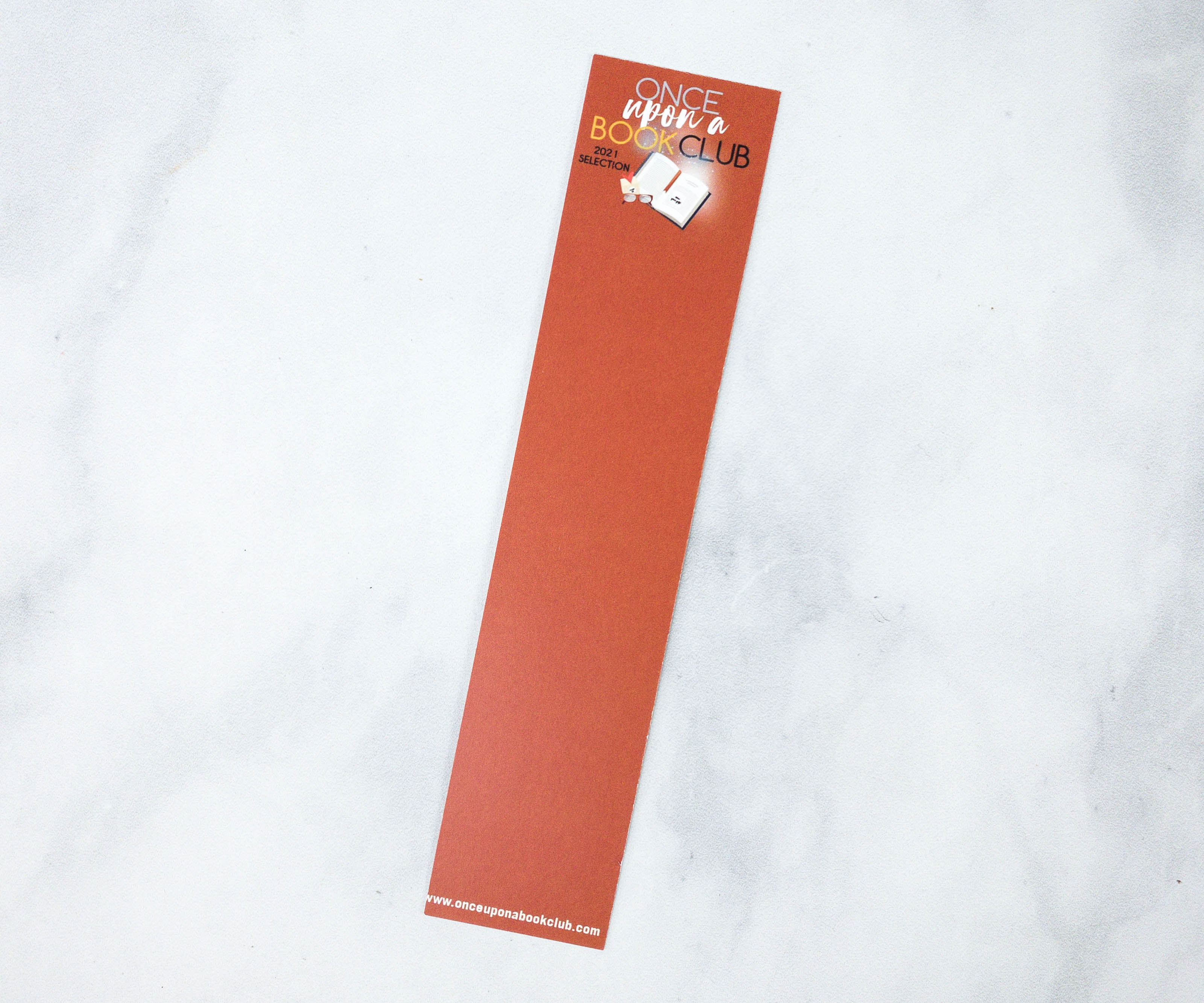 The back has a Once Upon A Book Club logo at the top as well as the website URL at the bottom.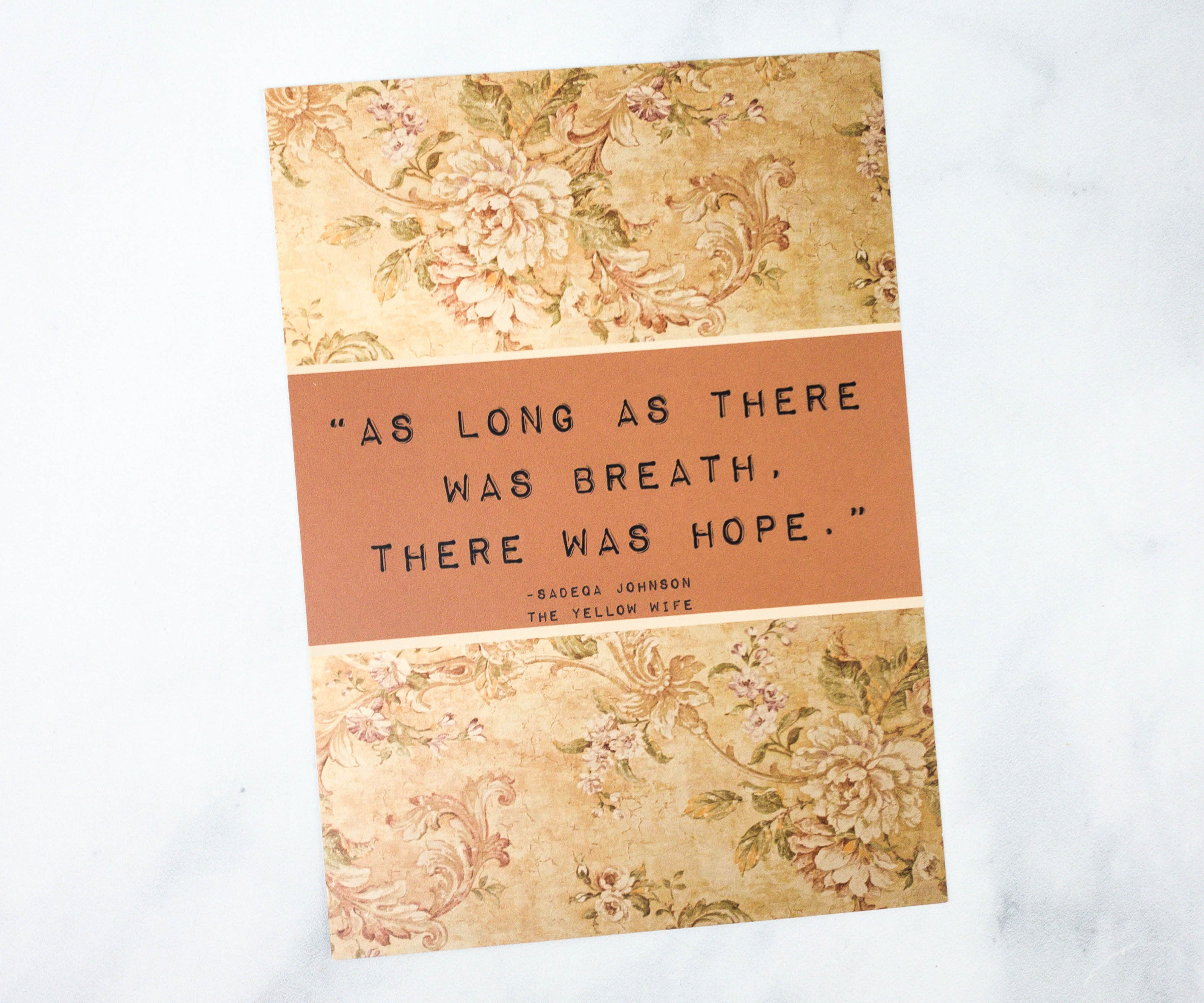 As long as there was breath, there was hope.

– Sadeqa Johnson, The Yellow Wife
I'm excited to open the gifts!
Everything in my box!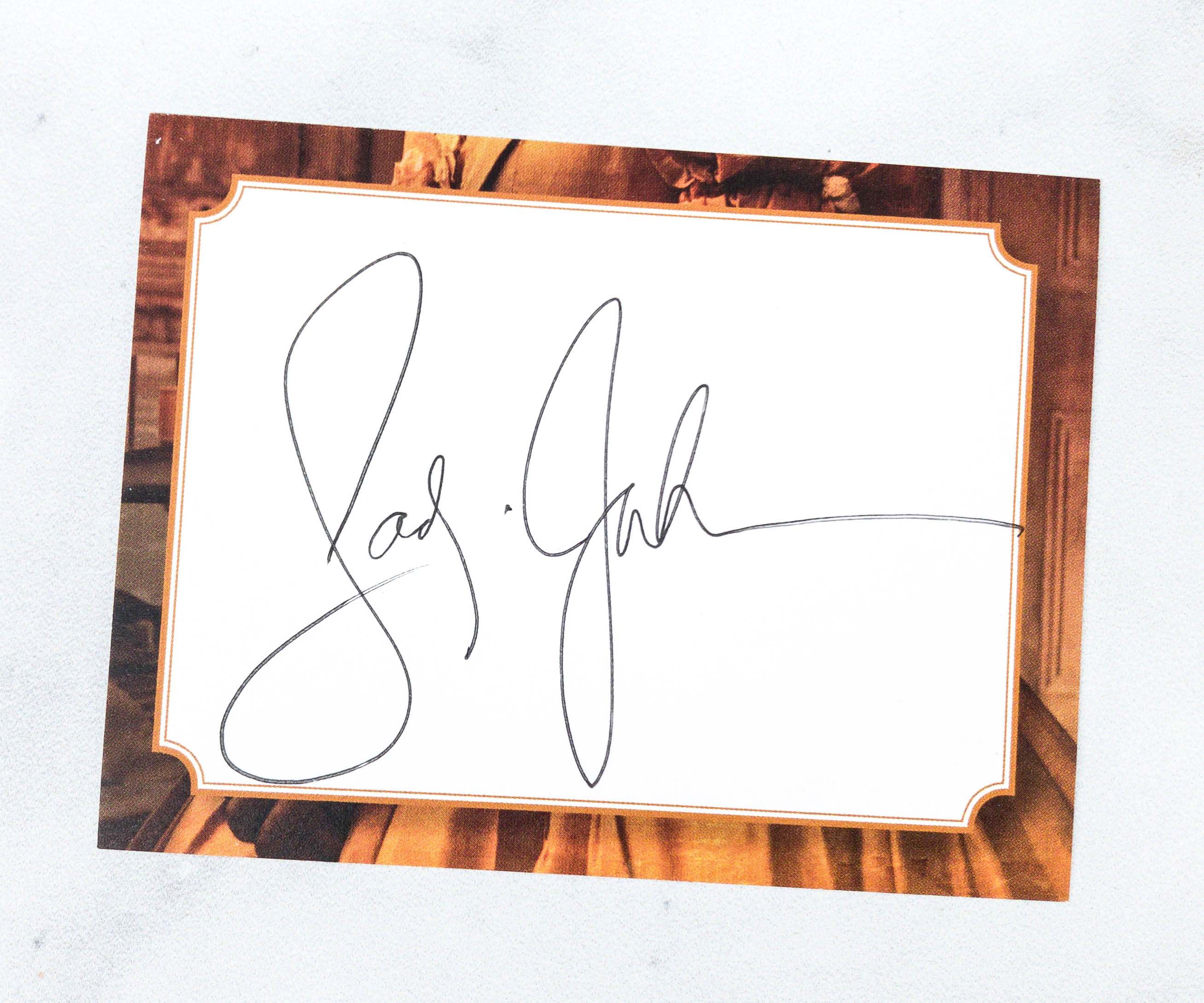 This card comes with the author's signature!
Yellow Wife by Sadeqa Johnson ($22.82)
Called "wholly engrossing" by New York Times bestselling author Kathleen Grissom, this harrowing story follows an enslaved woman forced to barter love and freedom while living in the most infamous slave jail in Virginia.

Born on a plantation in Charles City, Virginia, Pheby Delores Brown has lived a relatively sheltered life. Shielded by her mother's position as the estate's medicine woman and cherished by the Master's sister, she is set apart from the others on the plantation, belonging to neither world.

She'd been promised freedom on her eighteenth birthday, but instead of the idyllic life she imagined with her true love, Essex Henry, Pheby is forced to leave the only home she has ever known. She unexpectedly finds herself thrust into the bowels of slavery at the infamous Devil's Half Acre, a jail in Richmond, Virginia, where the enslaved are broken, tortured, and sold every day. There, Pheby is exposed not just to her Jailer's cruelty but also to his contradictions. To survive, Pheby will have to outwit him, and she soon faces the ultimate sacrifice.
I was excited to get this book by Sadeqa Johnson, it was one of O Magazine's 2021's Most Anticipated Historical Fiction Novels That Will Sweep You Away!
This novel is a historical fiction set in the 1850's, before the start of the Civil War.
The dust jacket includes a story synopsis.
The story follows a young woman, Pheby Delores Brown. It's set during a time when enslavement was prevalent especially in the South.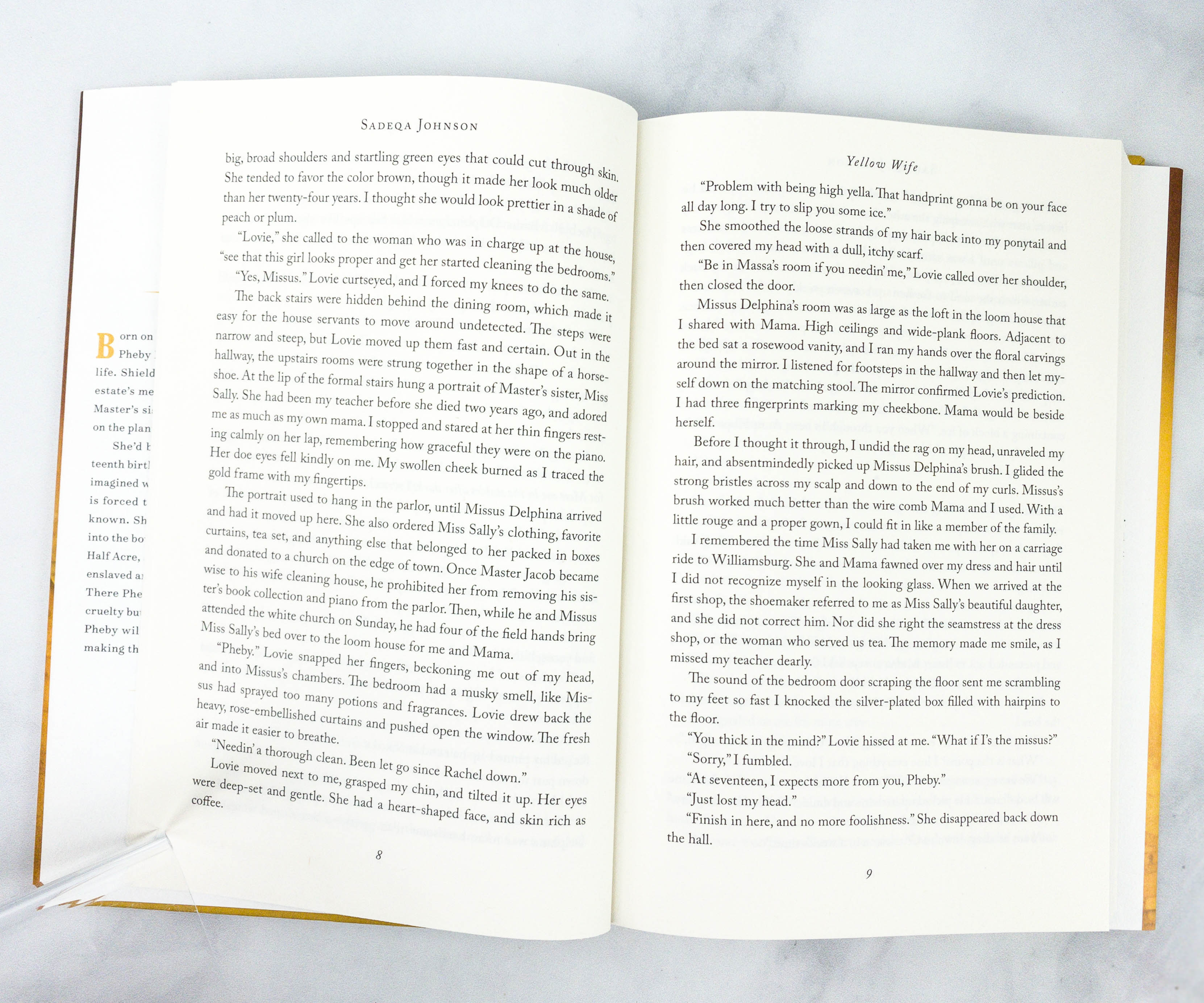 Pheby was promised freedom when she turned eighteen but things took a turn for the worse when an accident killed the white man who fathered her and her mother who was the medicine woman of their community. This is when the spiteful wife Missus Delphina came in and sent Pheby away to Devil's Half-Acre.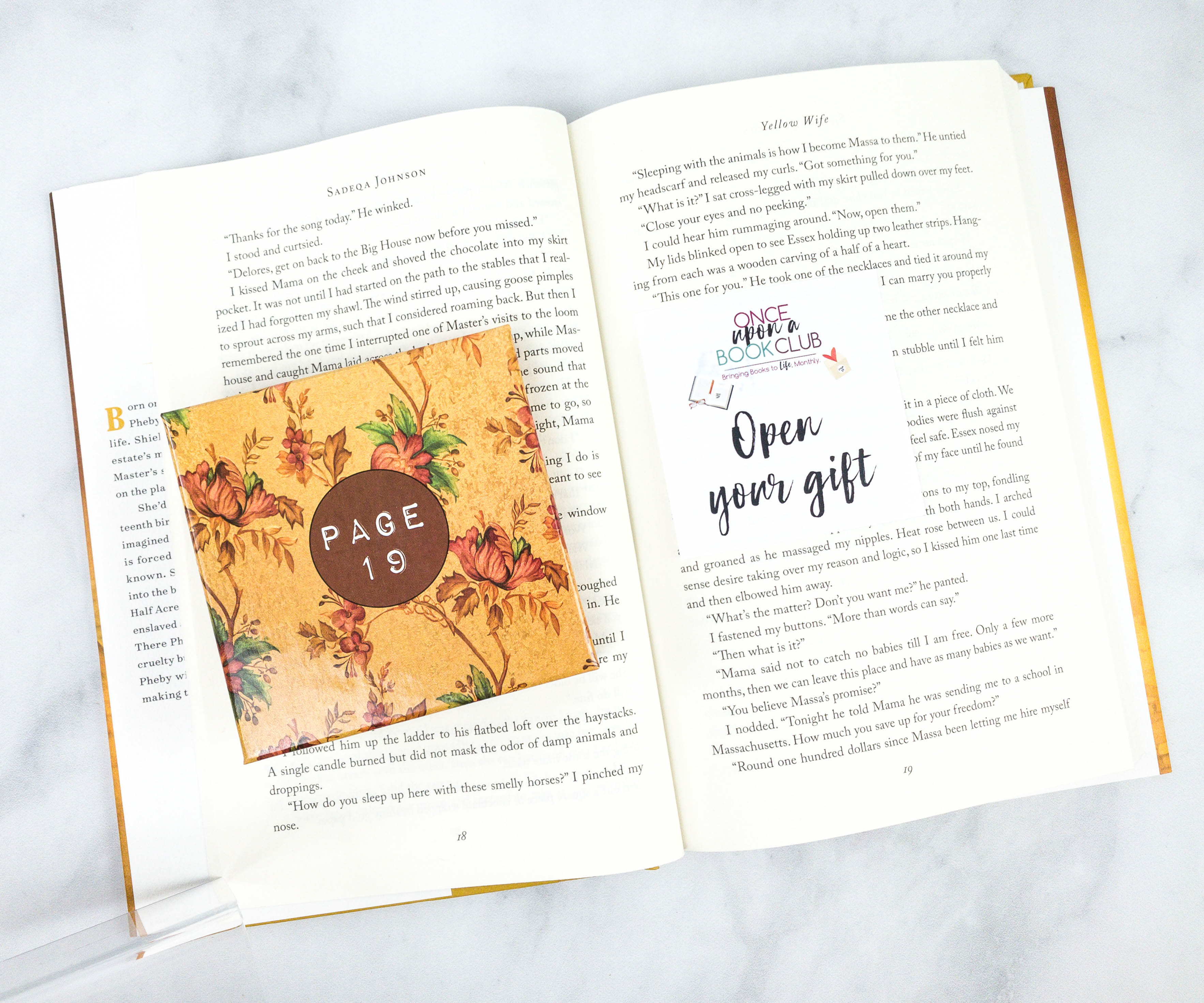 I opened the first gift upon reaching Page 19.
The box has a pretty floral design on it.
Wood Heart Necklace. It's a pair of necklaces with wooden charms that form a heart. It symbolizes the love that Pheby and Essex, her lover, shared.
You can also share this with a loved one. The necklaces may look simple yet they are really meaningful.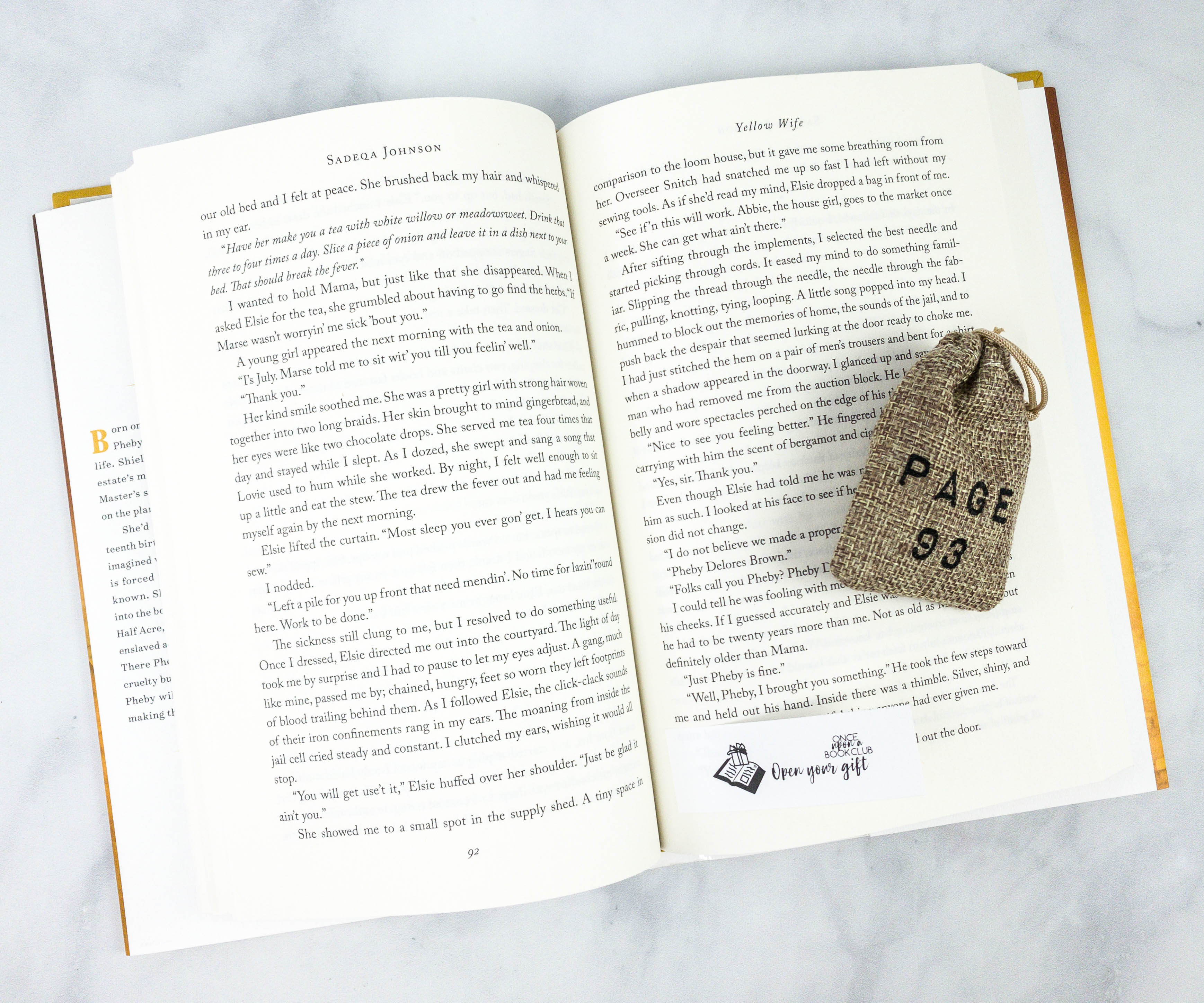 Upon reaching page 93, I opened another surprise!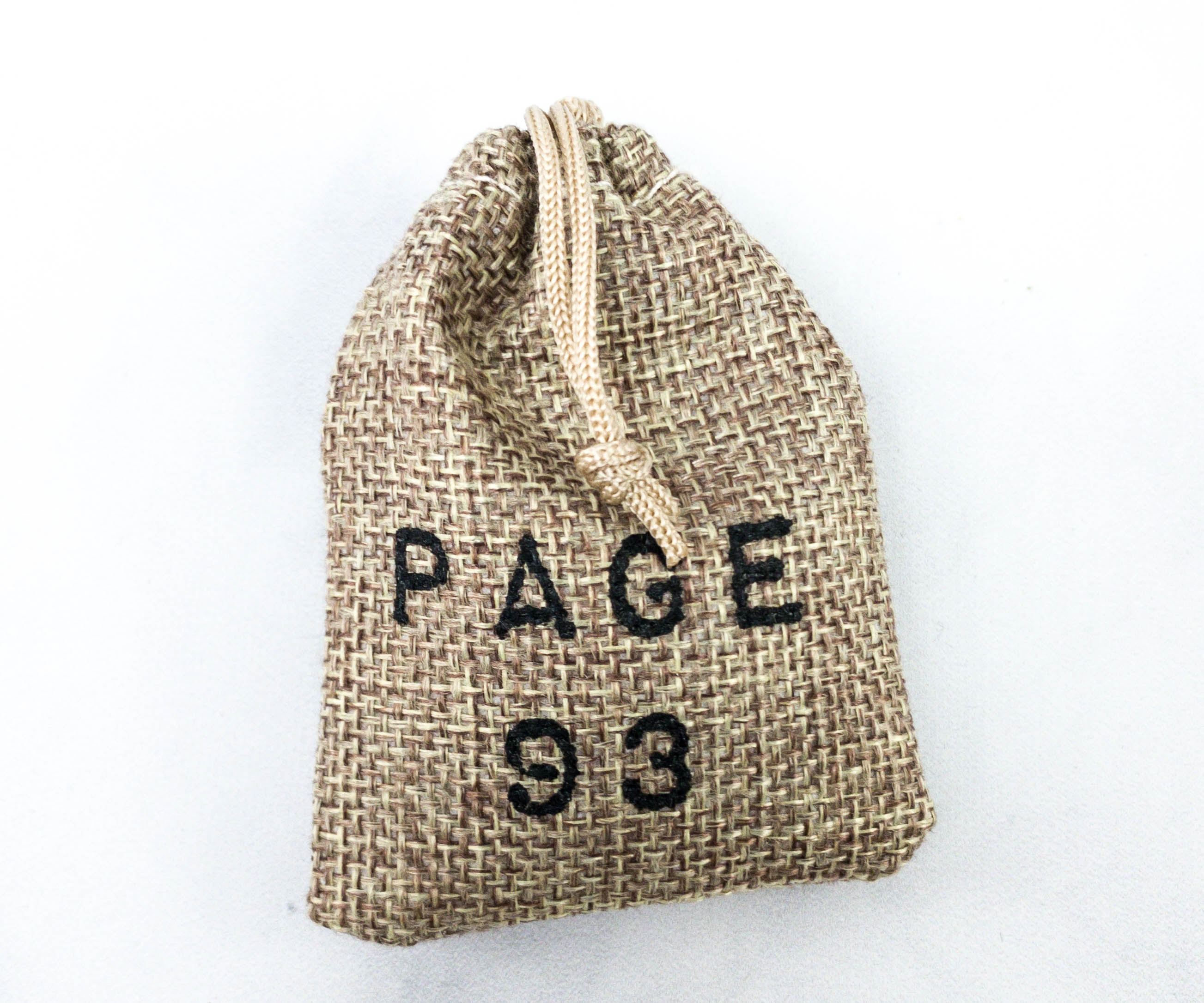 This one came in a little sack.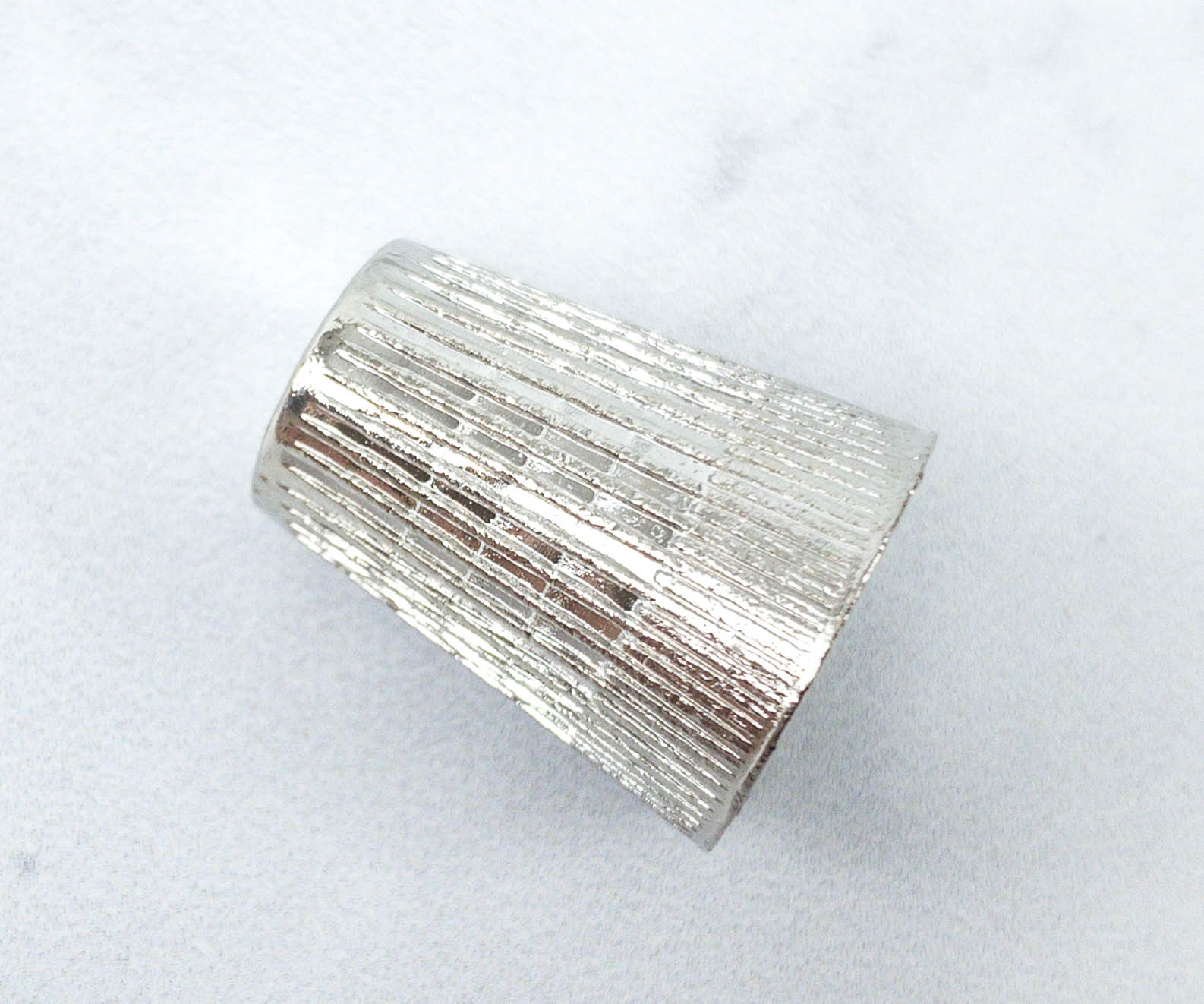 Thimble. It's a silver thimble, a tool often used in sewing to protect the thumb from getting poked by a needle accidentally.
In the book, a thimble was a given to Pheby as a gift by the man who had removed her from the auction block.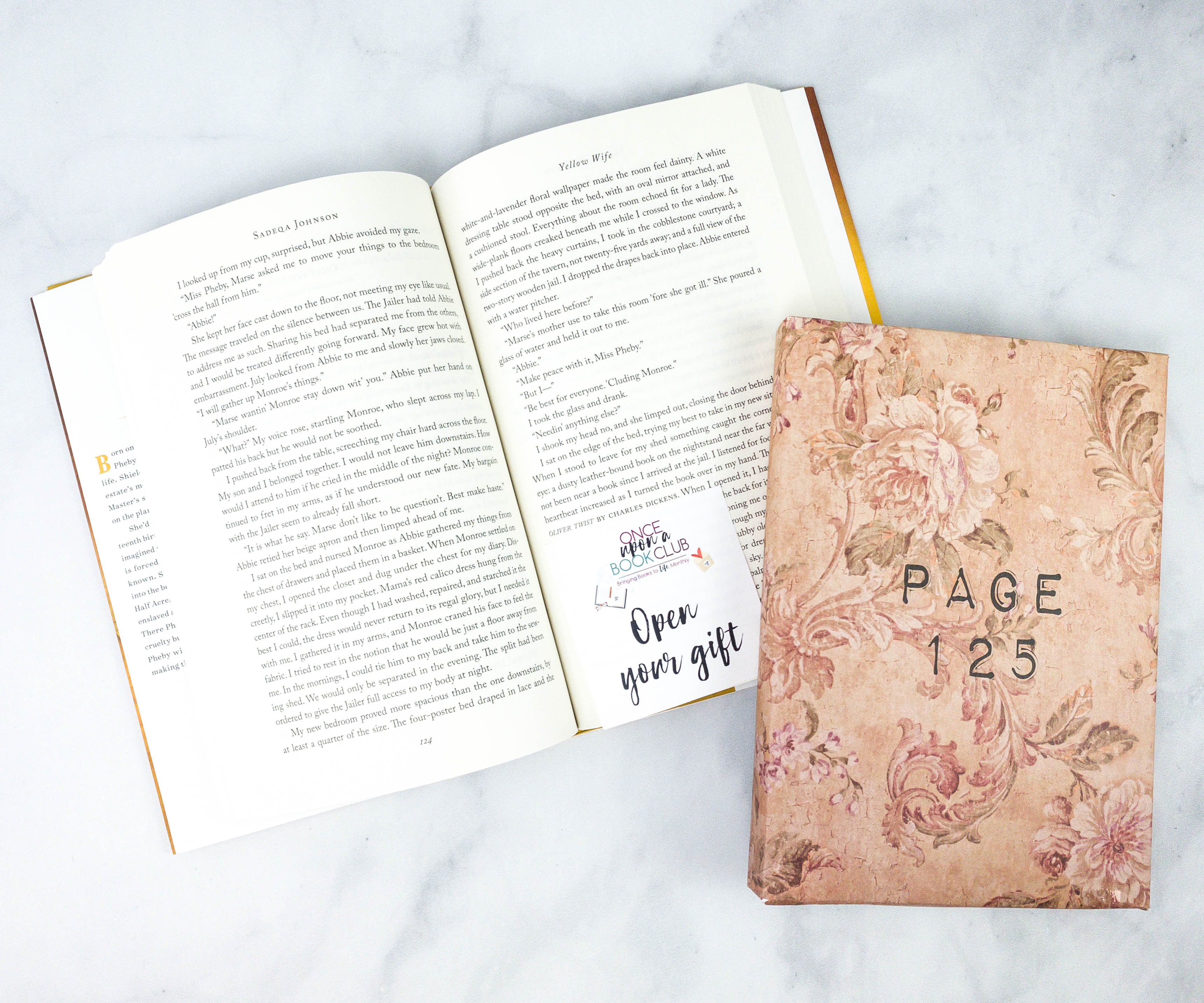 Another gift is to be opened upon reaching page 125!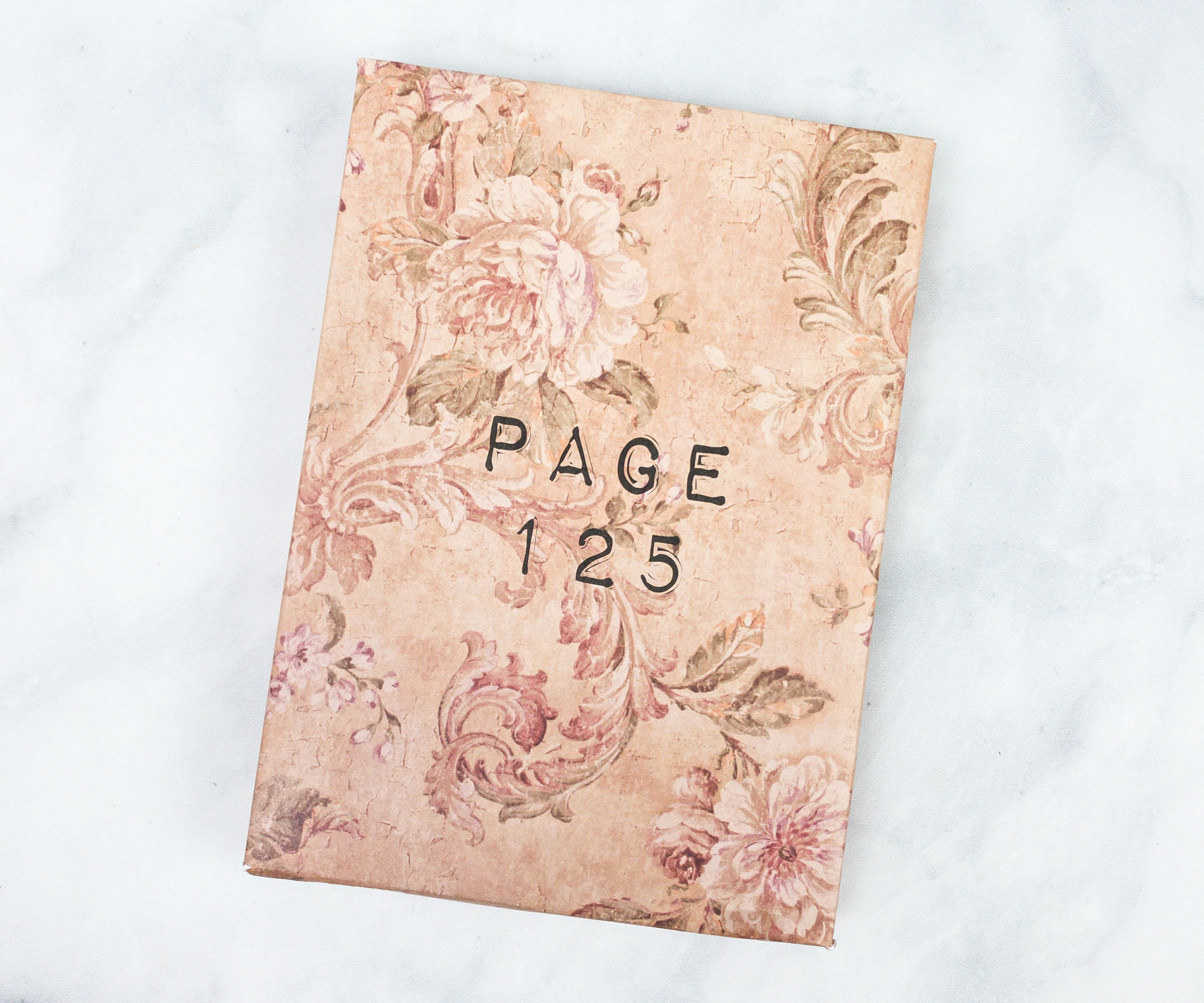 This one also has a pretty floral packaging.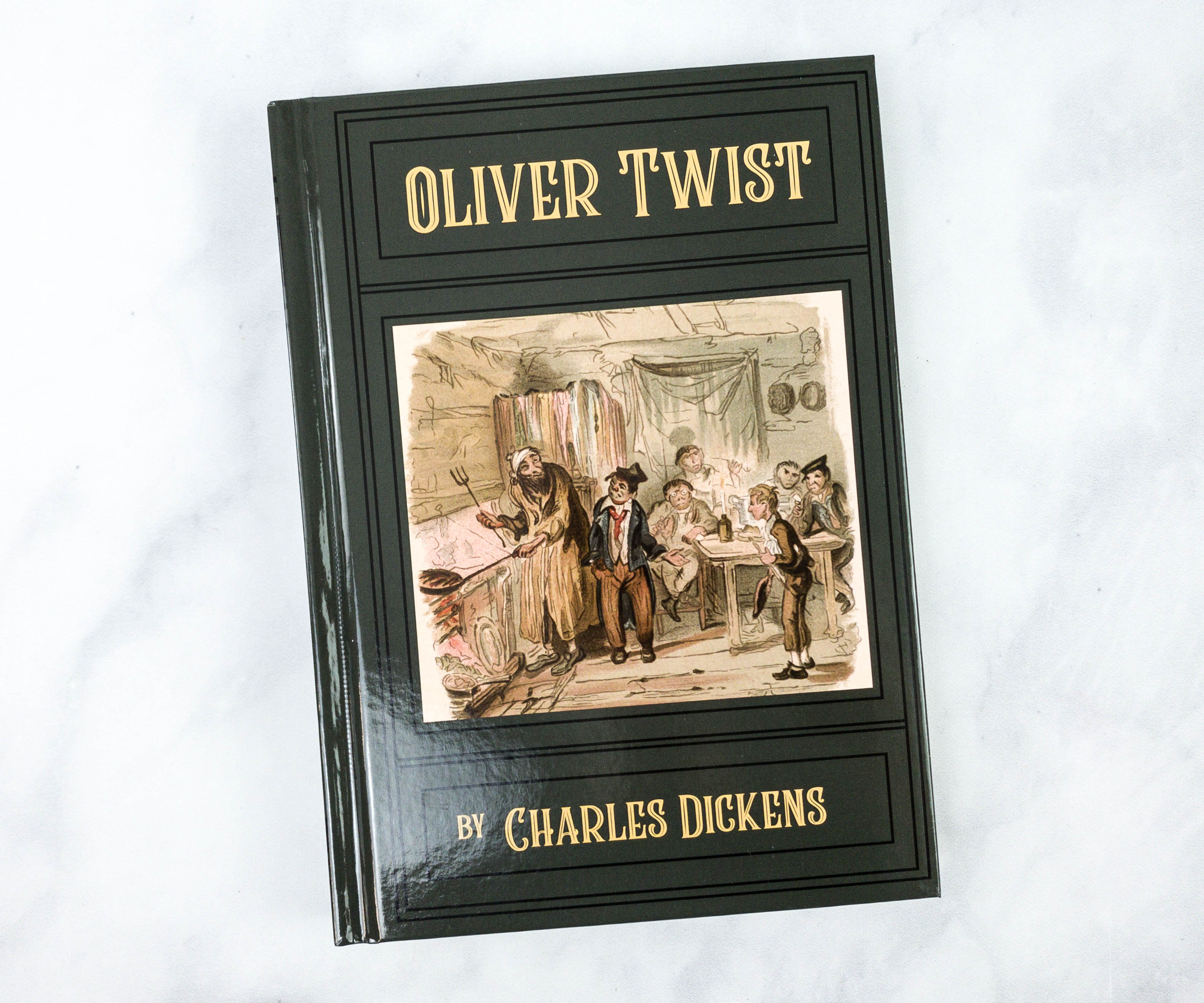 Oliver Twist by Charles Dickens. It's a book entitled Oliver Twist and it's written by the famed novelist of the Victorian era, Charles Dickens.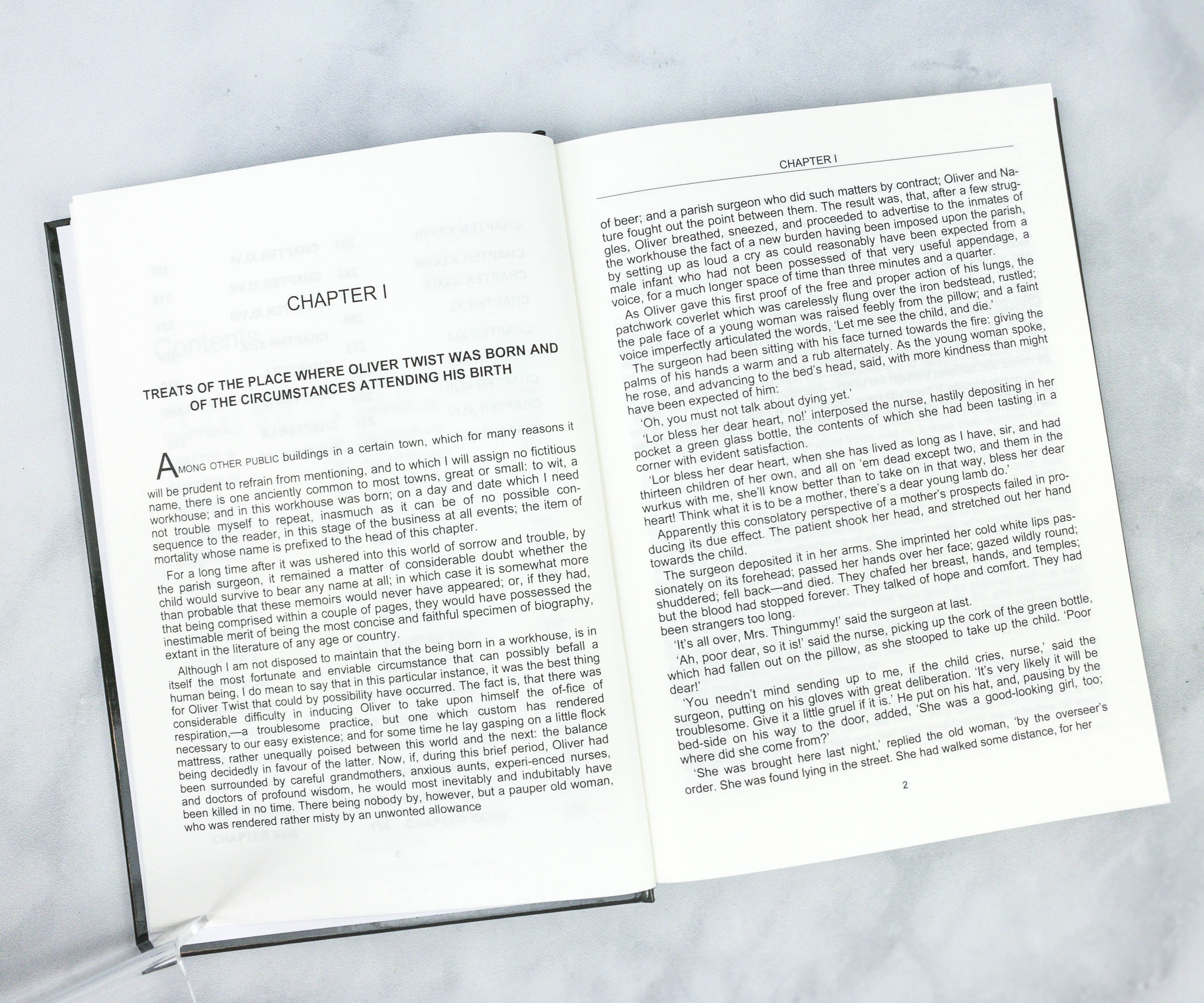 Pheby likes books but ever since she got sent away to Devil's Half-Acre, she hasn't been able to be near one. This is the first book she has encountered after a while and it really caught her attention.
I unveiled the last gift upon reaching page 259!
This packaging is quite interesting because it features a close up photo of a piano.
Peppermint Lavender Salt Rub. This is a lovely gift, a small tub filled with salt rub! It also includes peppermint and lavender, making it smell really good and relaxing. This is inspired by the brown jar that Pheby kept in her pocket!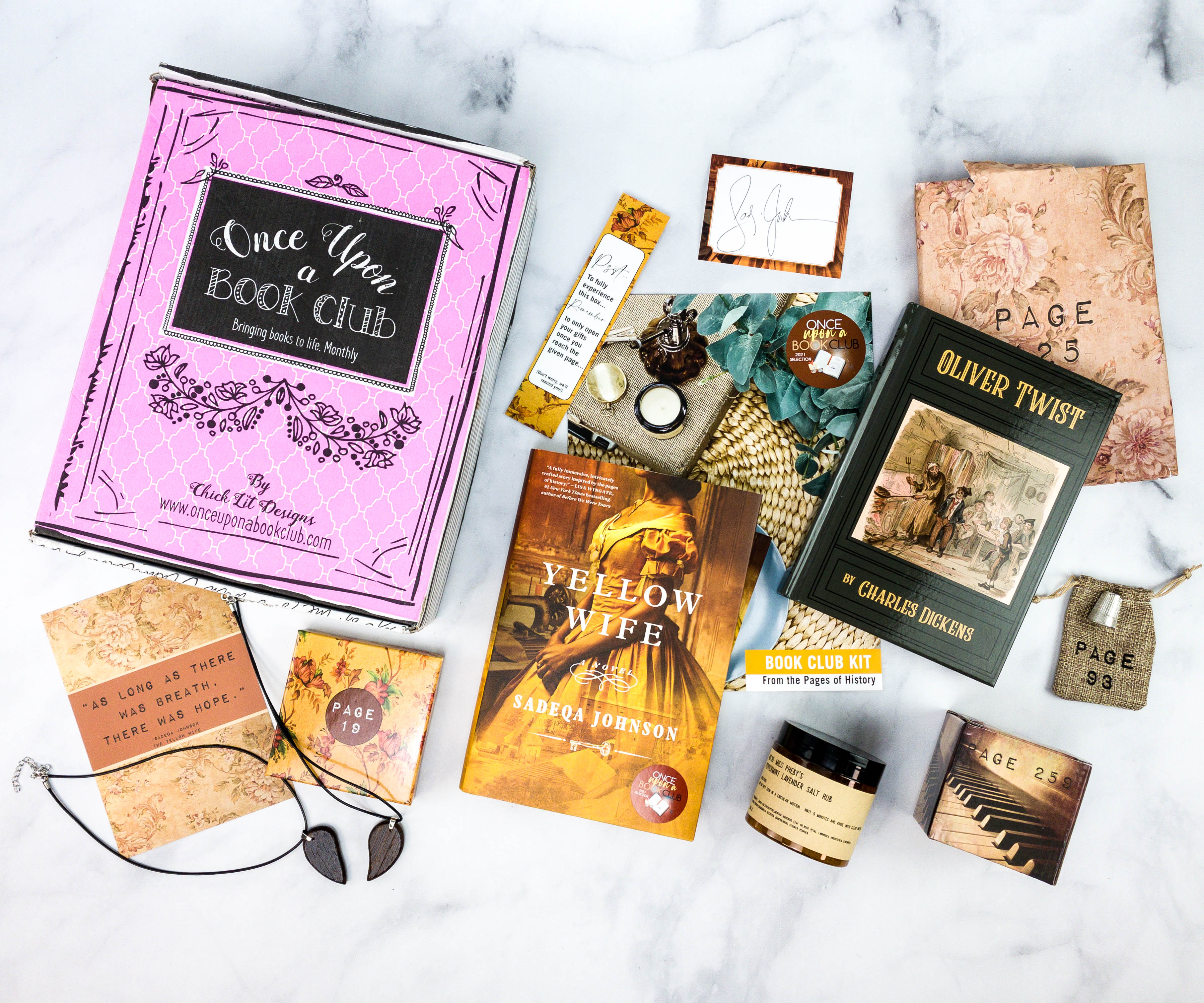 The book is filled with lots of emotions and it tackles heavy topics. It's also well-researched. Although the story is fictional, it's definitely an eye-opener.
This month's featured book takes readers back in time and gives an insight into the horrifying acts that were committed against enslaved people. It also provokes the readers' thoughts and inspires us to do better not just for ourselves but for other people as well. Aside from the book, I also received 4 gifts in this month's box! My favorite is the pair of wooden heart necklaces because they symbolize love. The salt rub is also a nice inclusion and it smells so relaxing. Overall, it's another impressive curation from Once Upon A Book Club! This is a great box for bookworms who love receiving surprises as well. Revealing each gift as the story progresses is really fun. If you're more into Young Adult books, no worries because also offer a subscription for that genre!
What do you think of this month's Once Upon a Book Club?