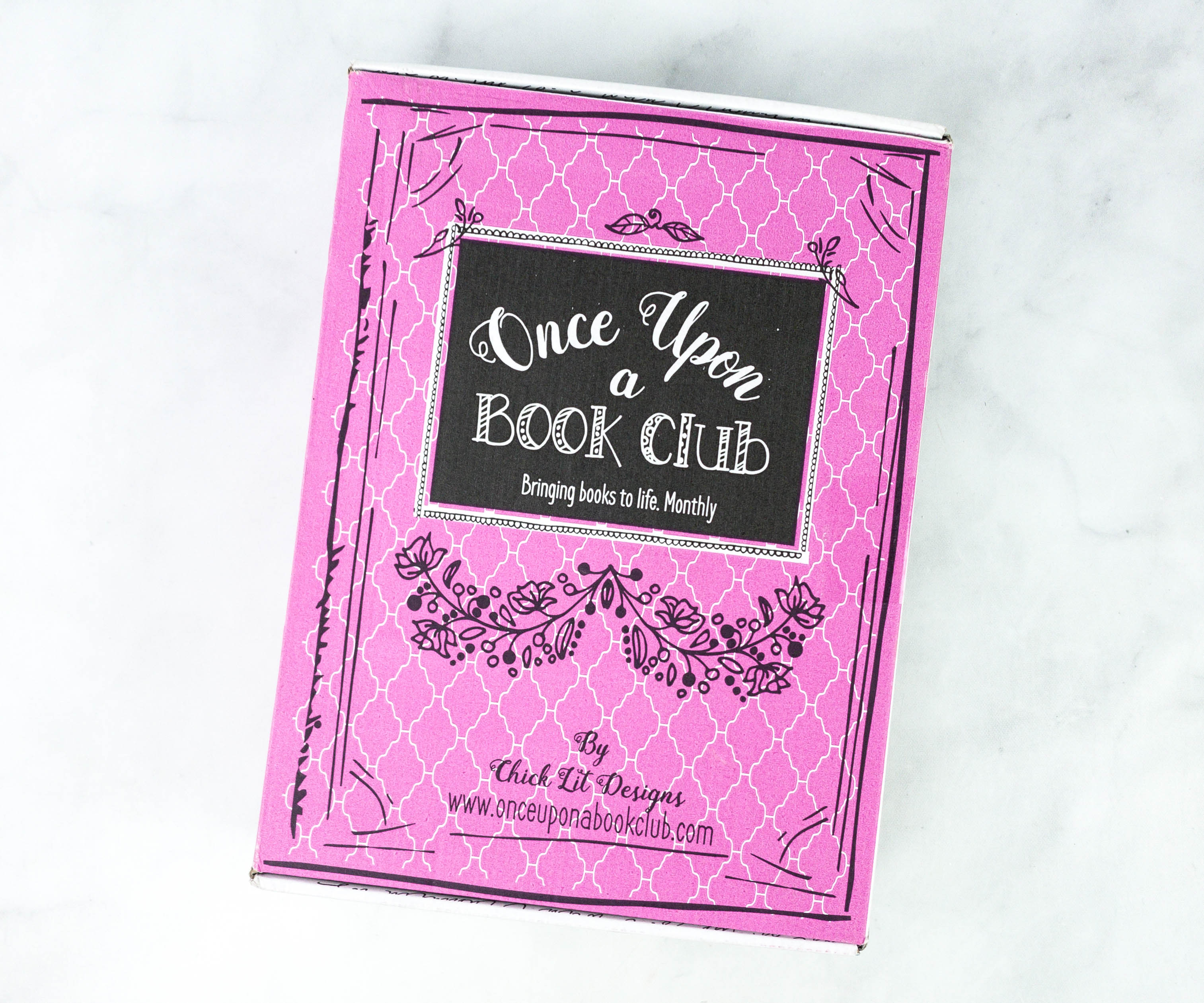 Once Upon a Book Club is a subscription that offers a unique reading experience. Each month, you'll receive a book to read, a 5″ x 7″ quote print, along with 2-4 corresponding gifts to match a quote/item mentioned in the book. Readers are advised to open the gifts as they finish the corresponding page to make them feel as if the book is coming to life!
You can choose between Once Upon a Book Club's Young Adult edition and Adult edition. This is the review of the Adult box.
DEAL: Enjoy 10% off your first box. Use coupon code BOOKNERD.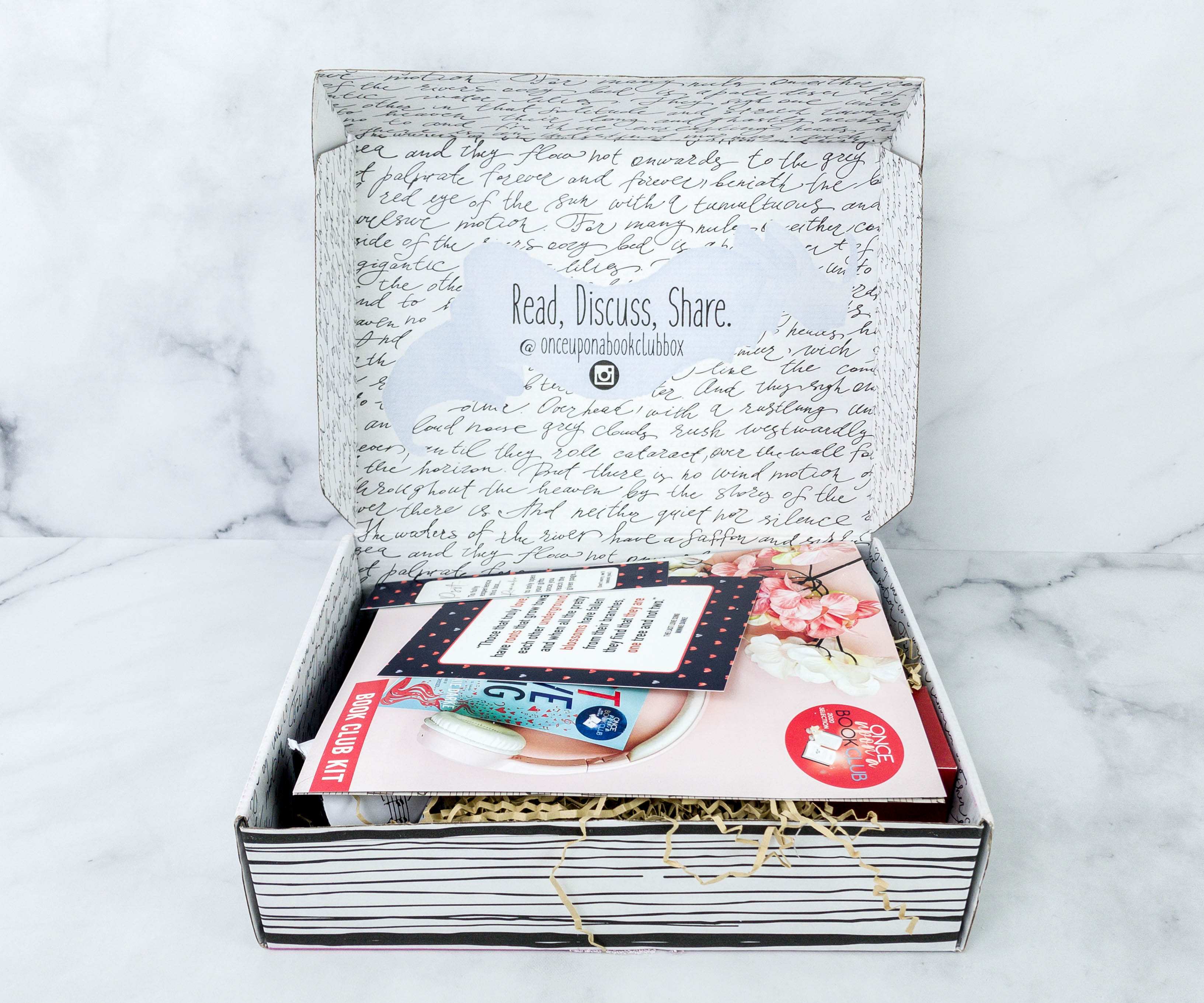 The box interior looks lovely with those words in script.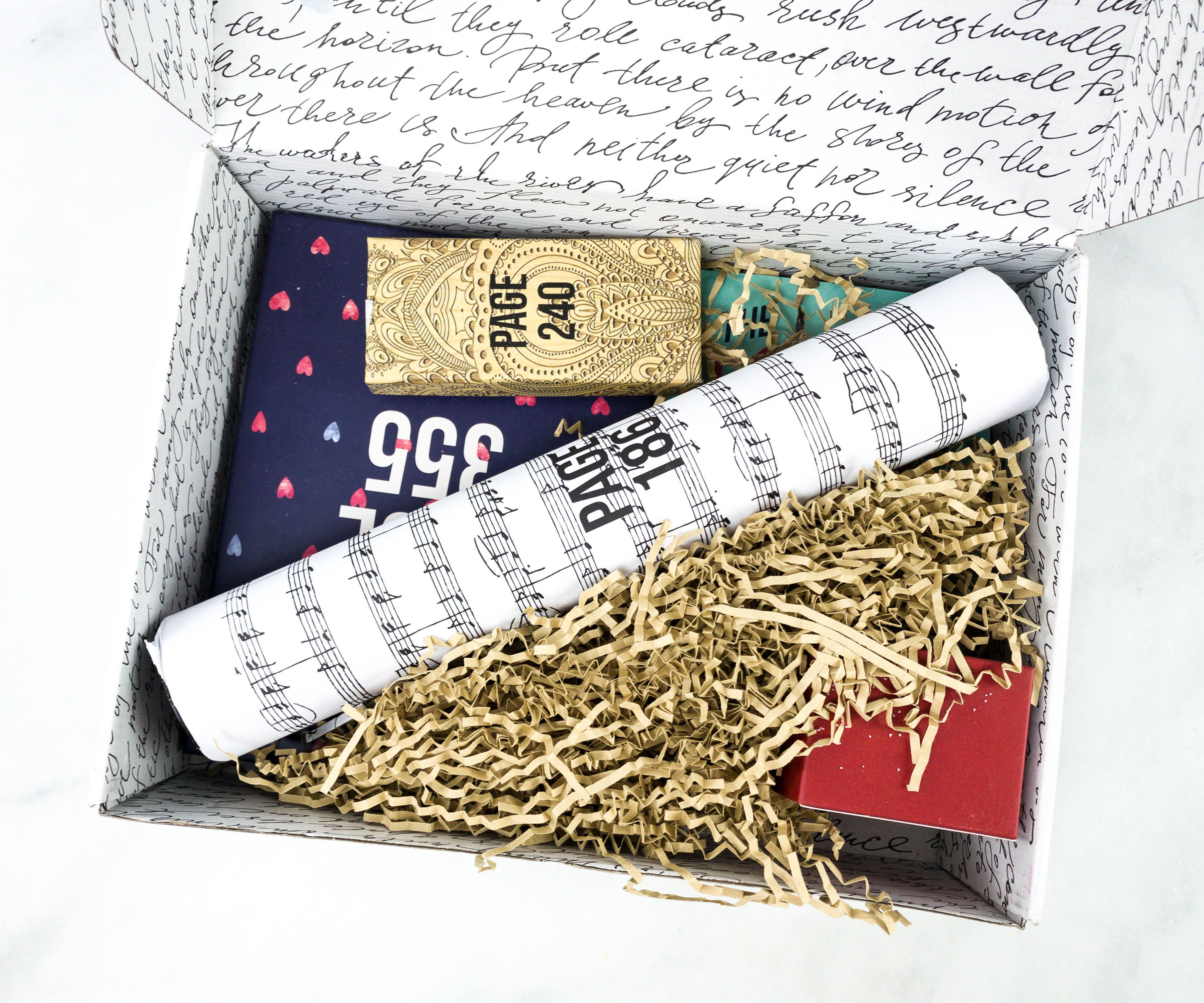 The items were packed with squiggles.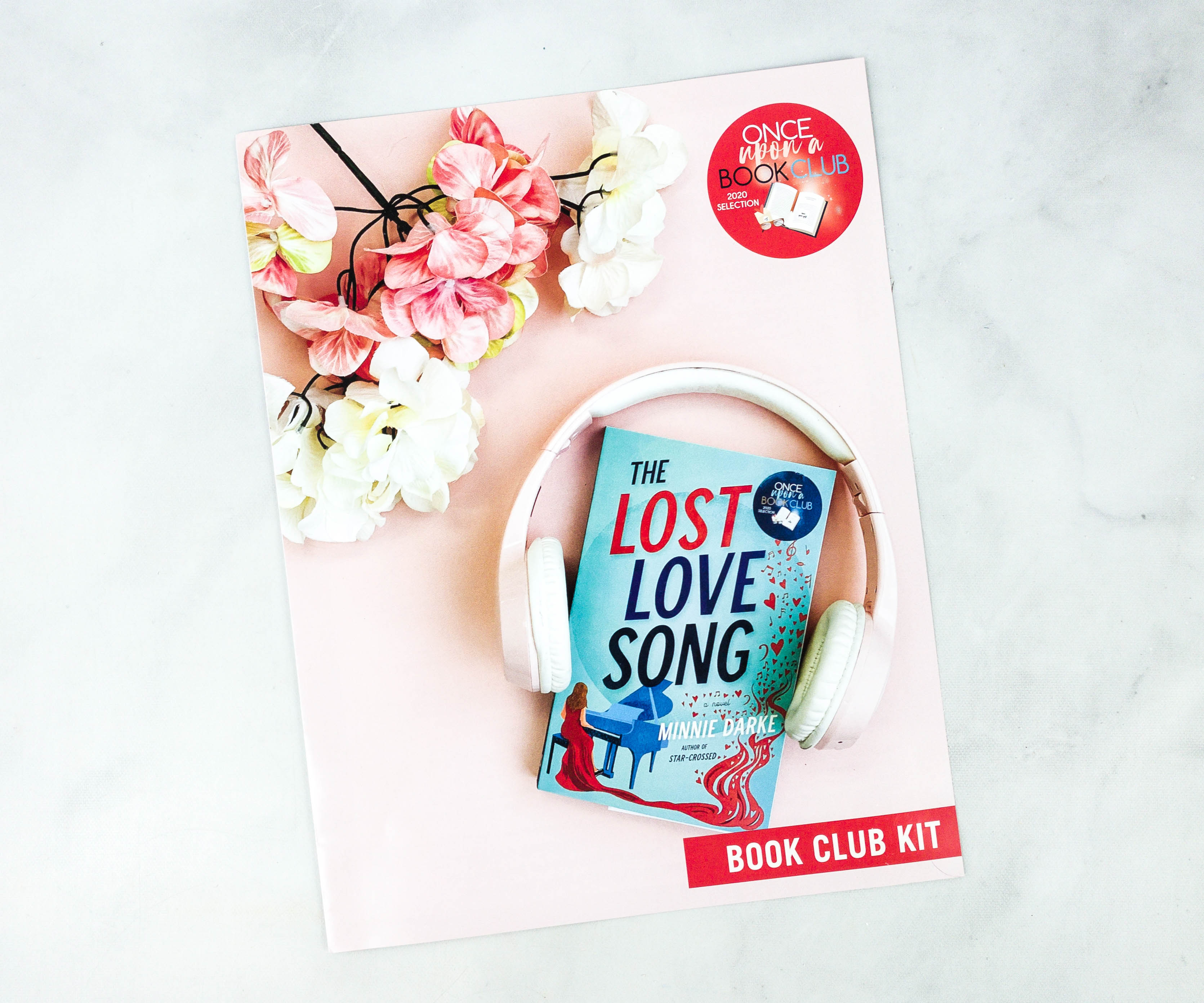 The box includes a Book Club Kit guide.
At the back, you can create your very own playlist!
Inside, there's an Author's Note featuring Minnie Darke. There are also read along dates and some discussion questions.
As always, the bookmark reminds us to only open the gifts once we're on the given page.
Those that truly love, have roots that grow toward each other underground, and when all the pretty blossoms have fallen from their branches, they find that they are one tree and not two.

– The Last Love Song, Minnie Darke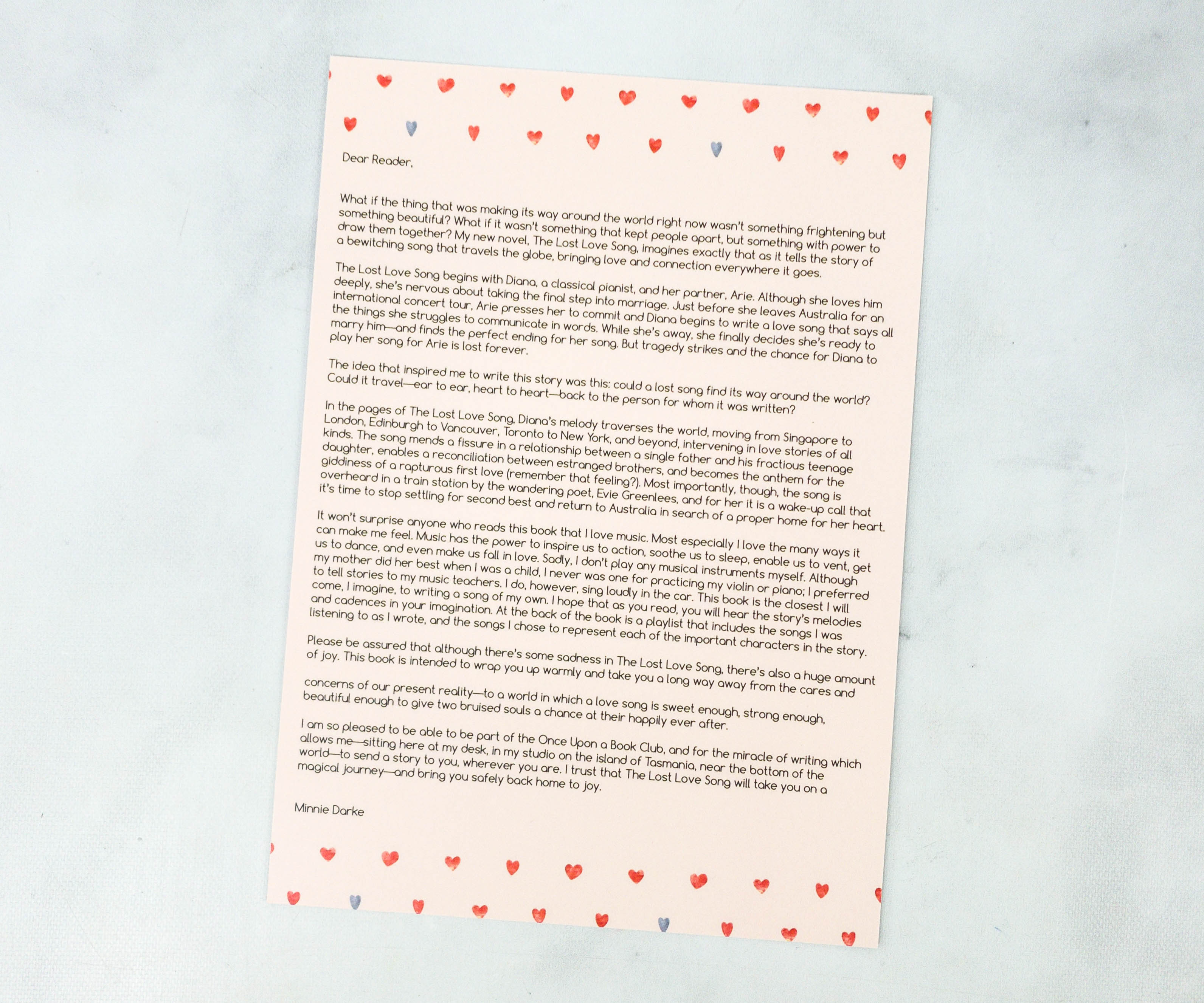 There is a message from the author for the readers.
I'm excited to open the gifts!
Everything in my box!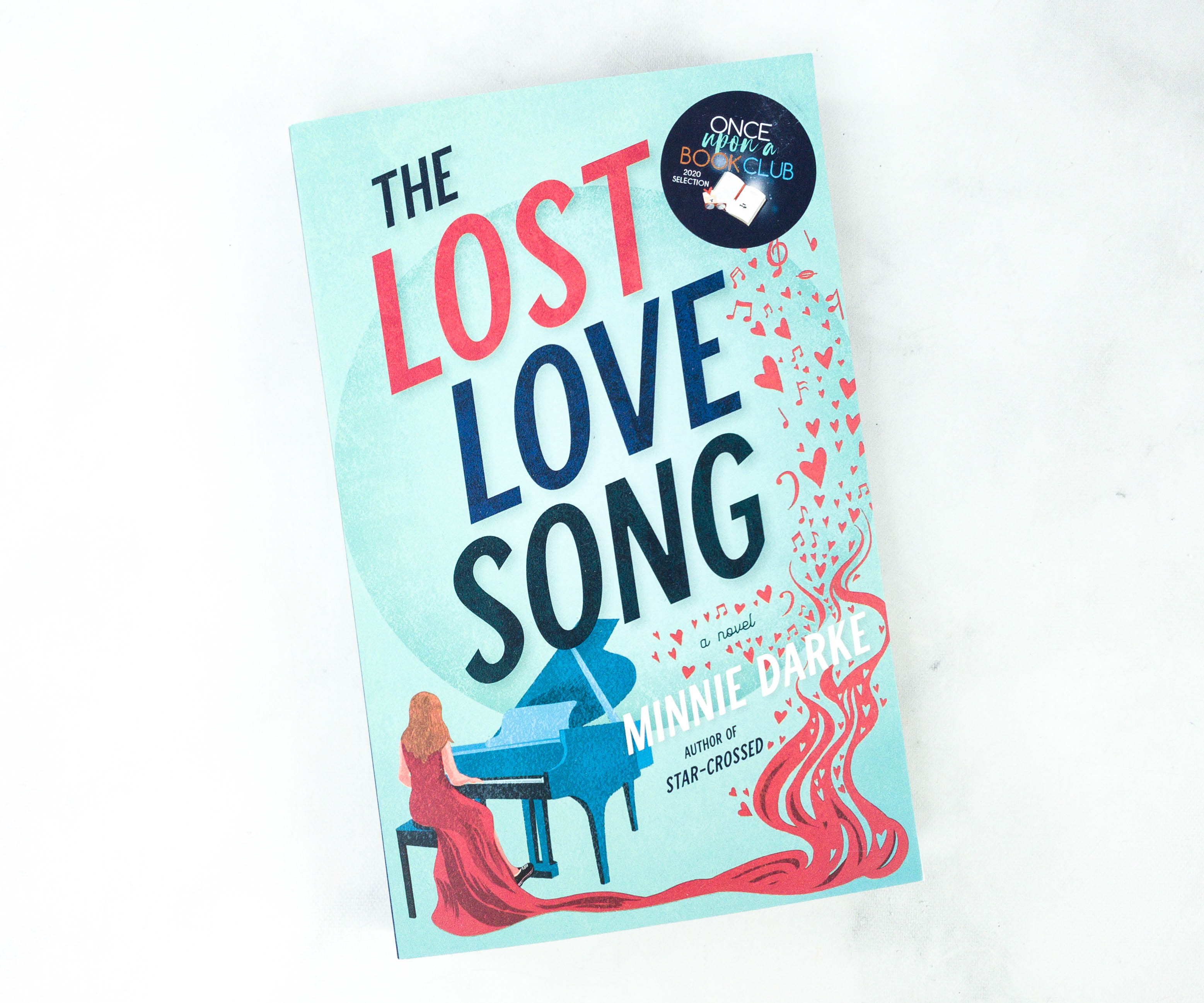 The Lost Long Song by Minnie Darke ($16.70)
Behind every great love song is a great love story, from the author of Star-Crossed

Concert pianist Diana is finally ready to marry her longtime fiance, Arie; she's even composing a beautiful love song for him, and finishes it while on tour. Before she can play it for him, though, tragedy strikes—and Diana is lost to Arie forever.

But her song might not be.

In Australia, the world has gone quiet for Arie and he lives his life accordingly, struggling to cope with his loss. In Scotland, a woman named Evie is taking stock of her life after the end of another lackluster almost-relationship. Years of wandering the globe and failing to publish her poetry have taken their toll, and she might finally be ready to find what her travels have never been able to give her: a real home. And through a quirk of fate or circumstance, Diana's song is passed from musician to musician. By winding its way around the world, it just might bring these two lost souls together.

With heart-wrenching emotion, The Last Love Song explores what it means to be lost, what it means to be found, and the power of music to bring people together.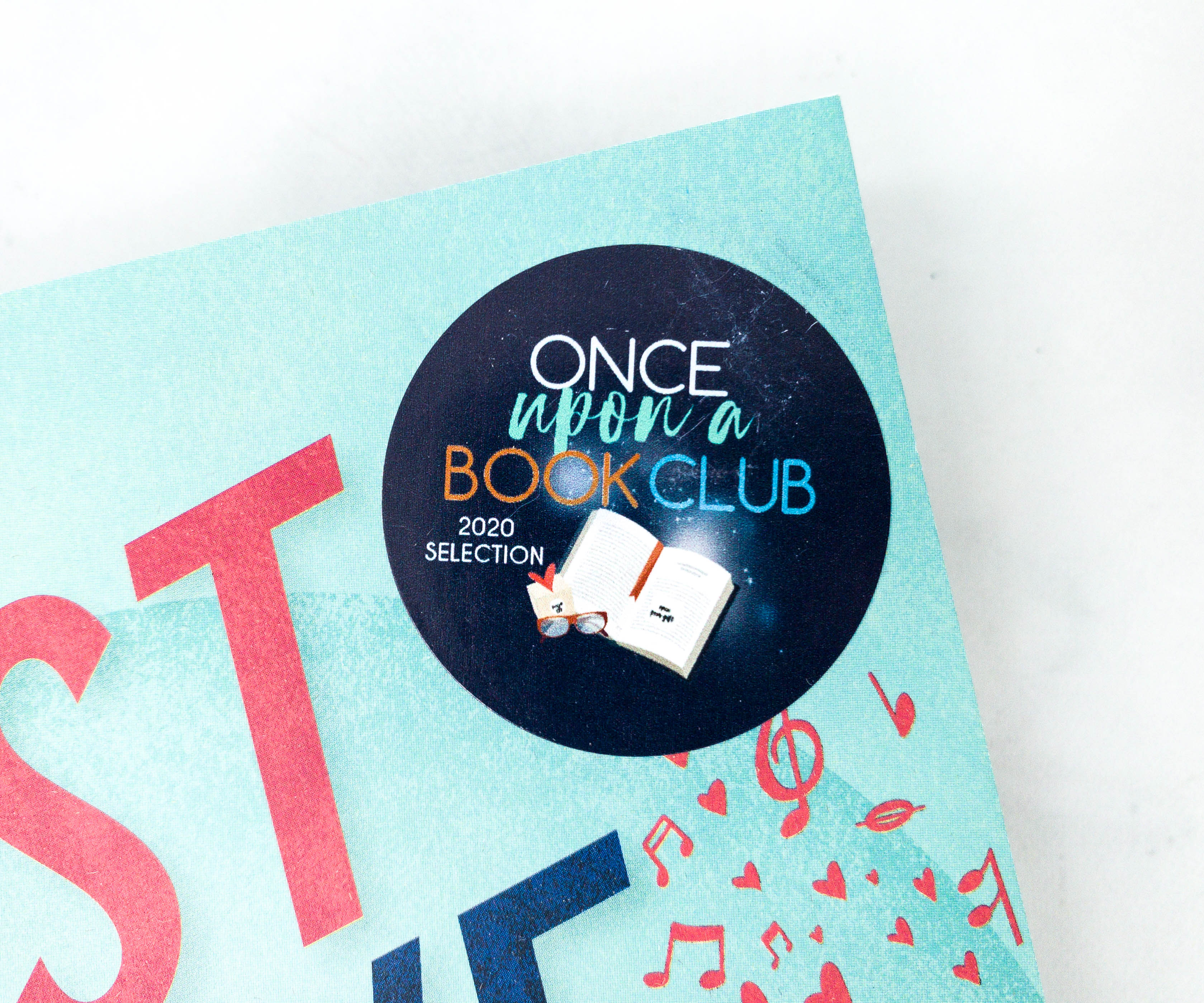 The book has the Once Upon A BookClub 2020 Selection sticker!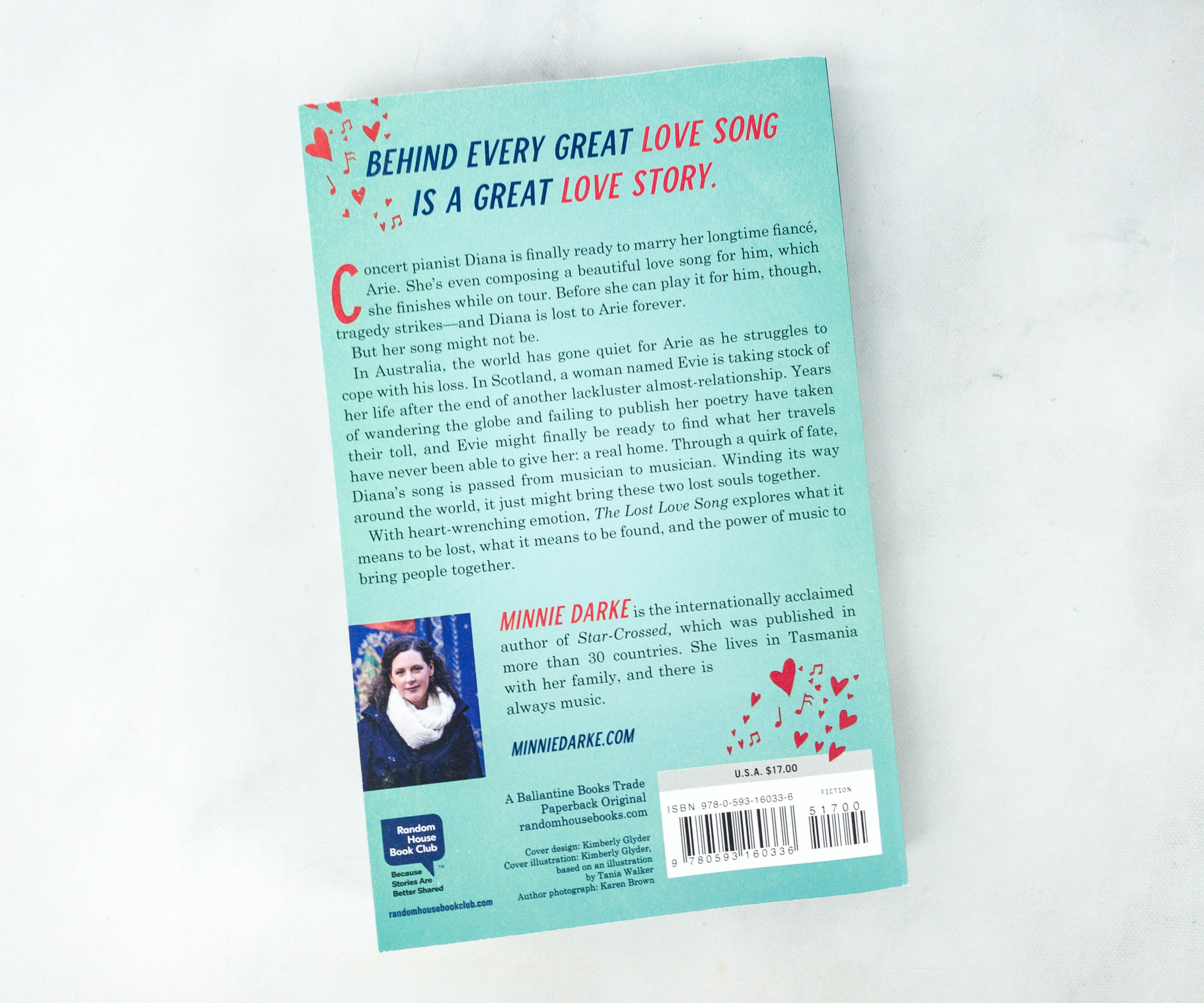 The cover of this book looks so cute with a girl playing the piano and her dress flowing to become cute little heart fragments. It's so fitting for the book's title!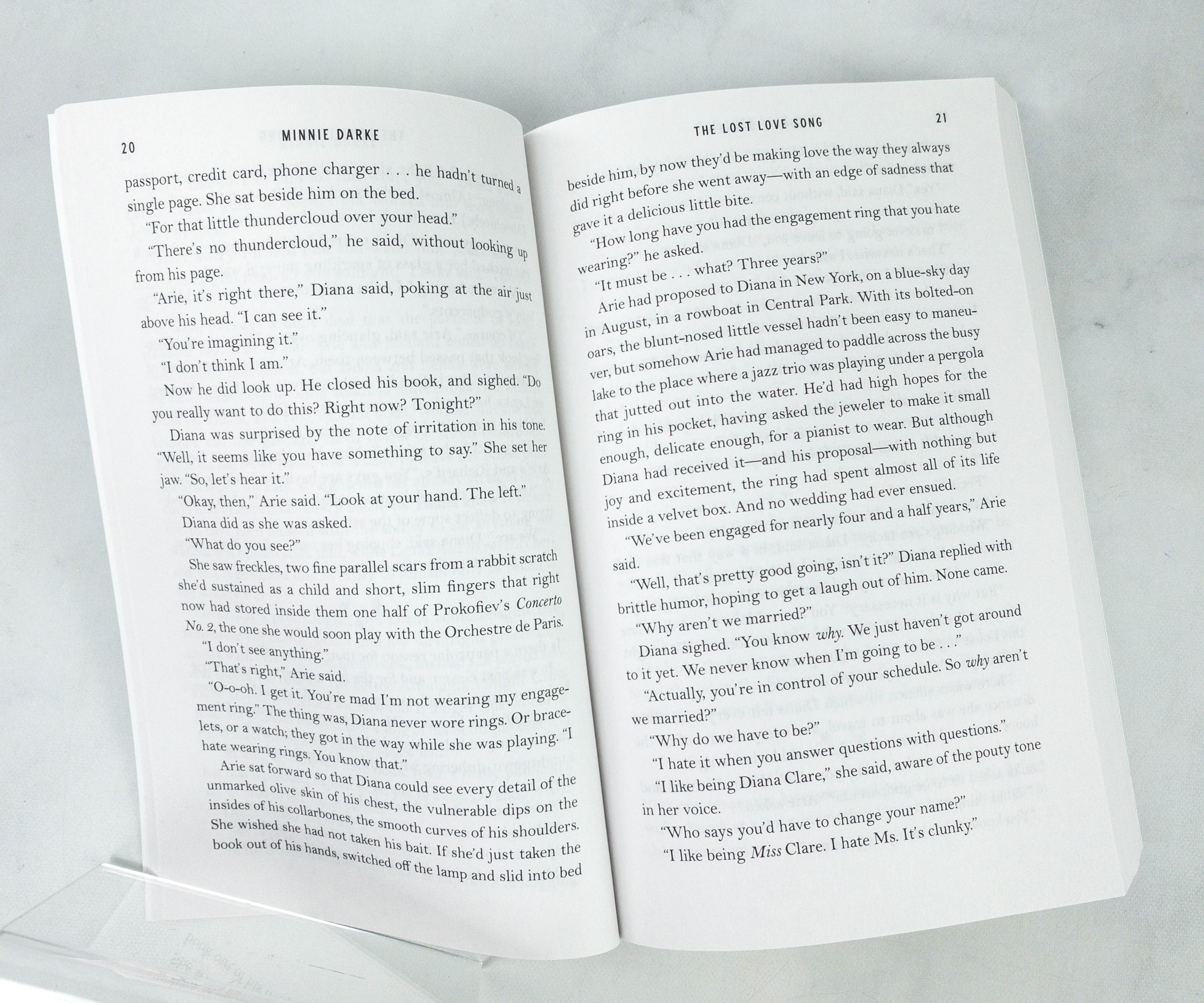 The story is about Arie, a tech guy, and Diana, a concert pianist. They were together for quite sometime now and Arie has finally decided to pop the question after one of Diana's tours. Diana is also so in love with him that she wrote a love song that perfectly describes how she feels.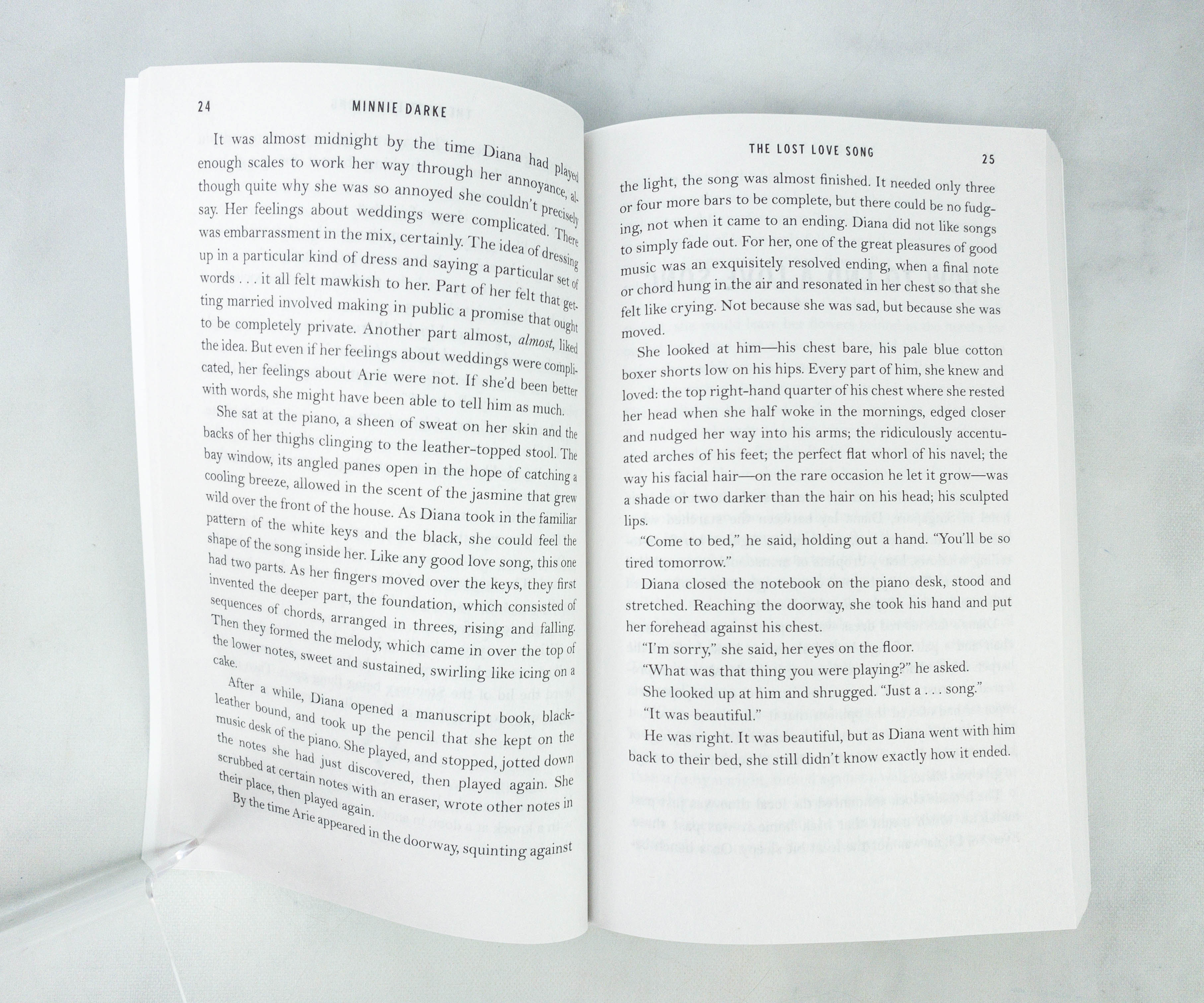 However, the love song that Diana wrote got lost. Eventually, it found its way to a handful of people from all over the world. This is where Evie comes in. She's a struggling poet and this song changed her life! It's such an interesting story!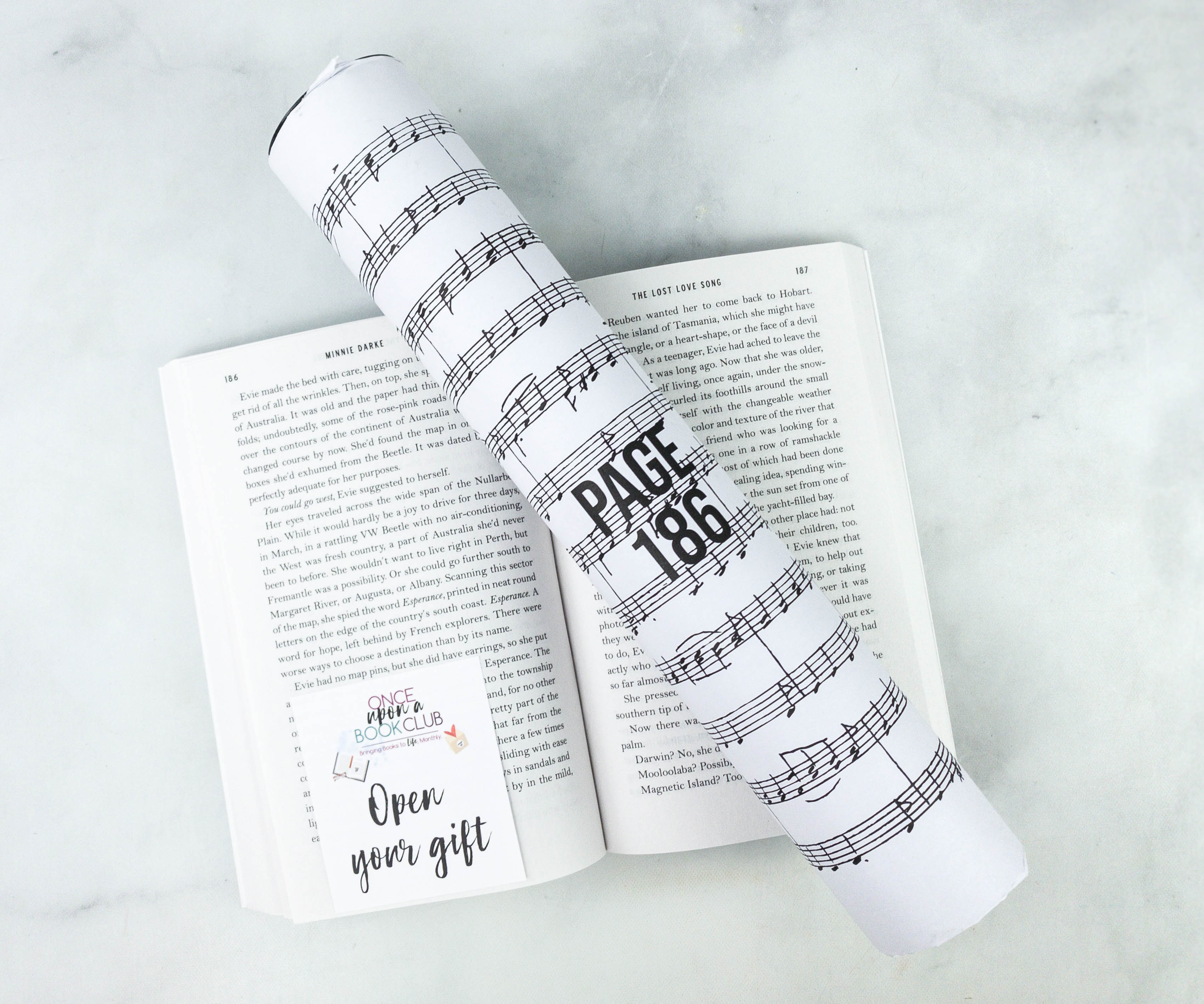 Map. I opened the first gift upon reaching page 186!
I had to wait a long time to open the first gift! It wasn't until I'm about halfway through that it prompted me to open the first gift, so this one is exciting. It came wrapped in a paper that looks like a music sheet.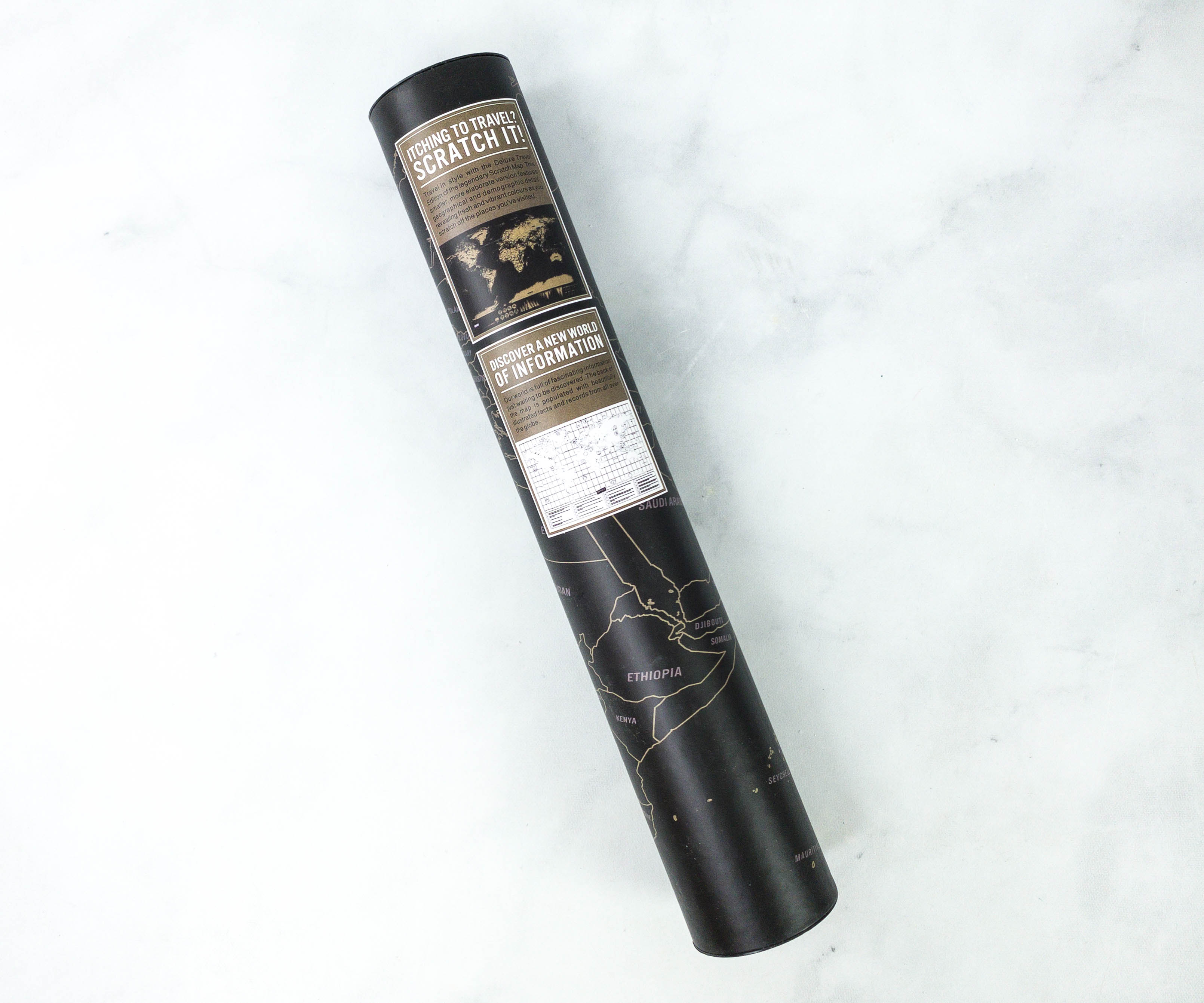 In that part of the book, Evie was in her car and she's feeling lost. She doesn't know where to go so she is looking at the map, trying so hard to figure things out.
I love this! It's a scratch map wherein you can scratch all the places that you have been to reveal it in the map! This is perfect for people who love to travel because this way, you can have a goal and that is to scratch everything off of this map!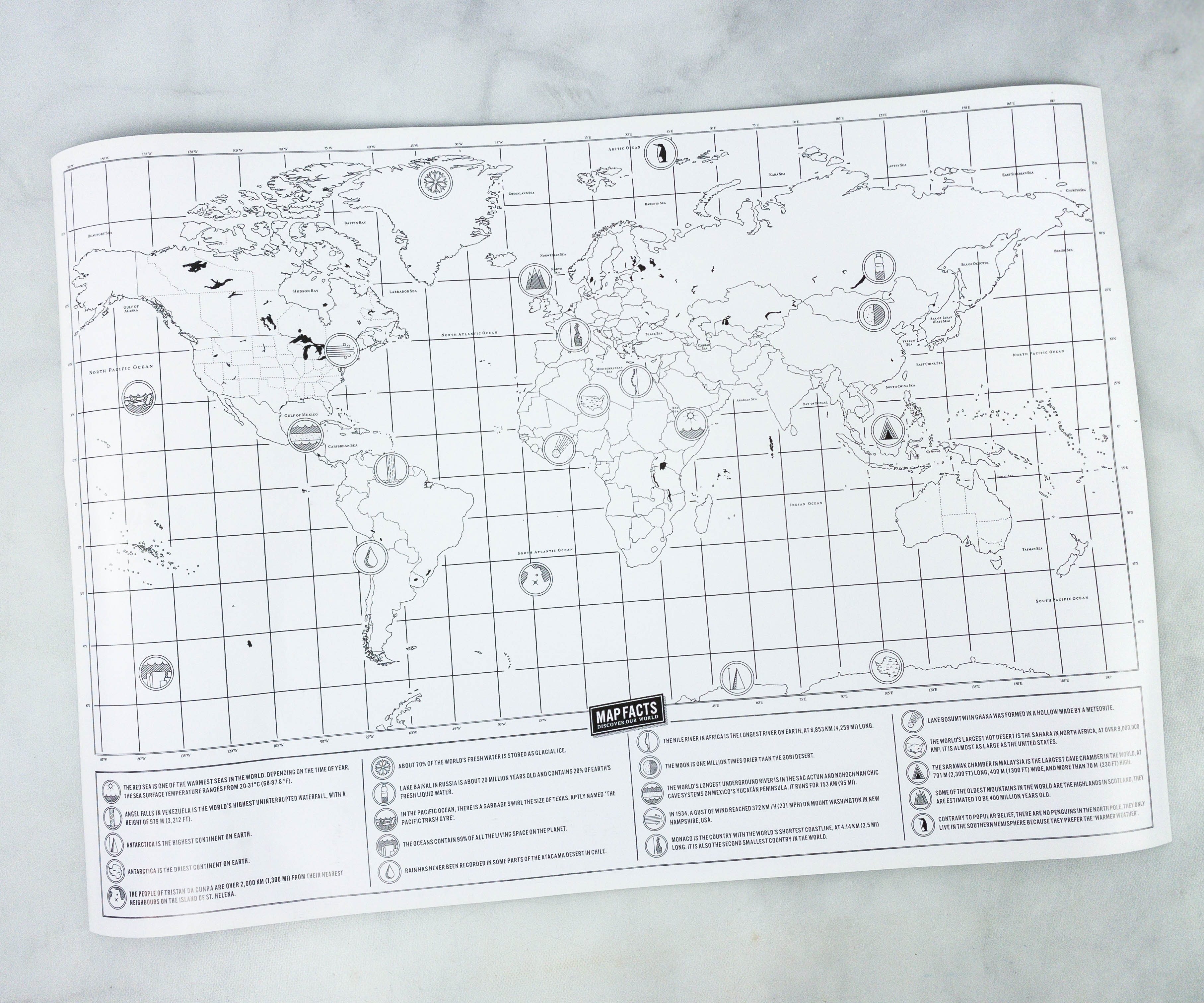 There are even some map facts listed at the back. In here, you will know a place where there has been no record of rain, where the largest hot desert is, and many more!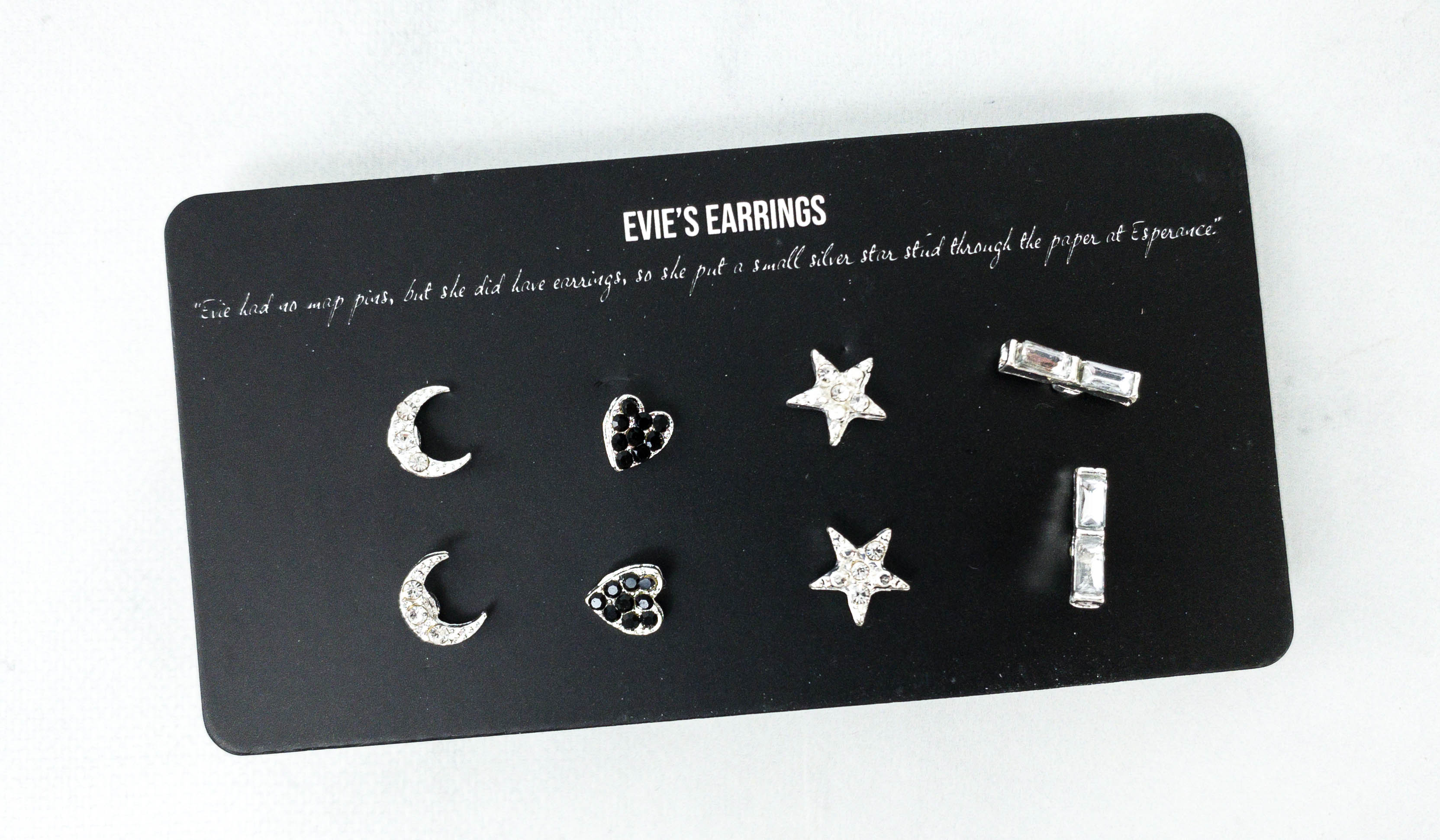 Earrings. In the book, there is also a part where it says that Evie liked using her earrings as map pins, so they also included a set of earrings in this gift! It's such a brilliant idea!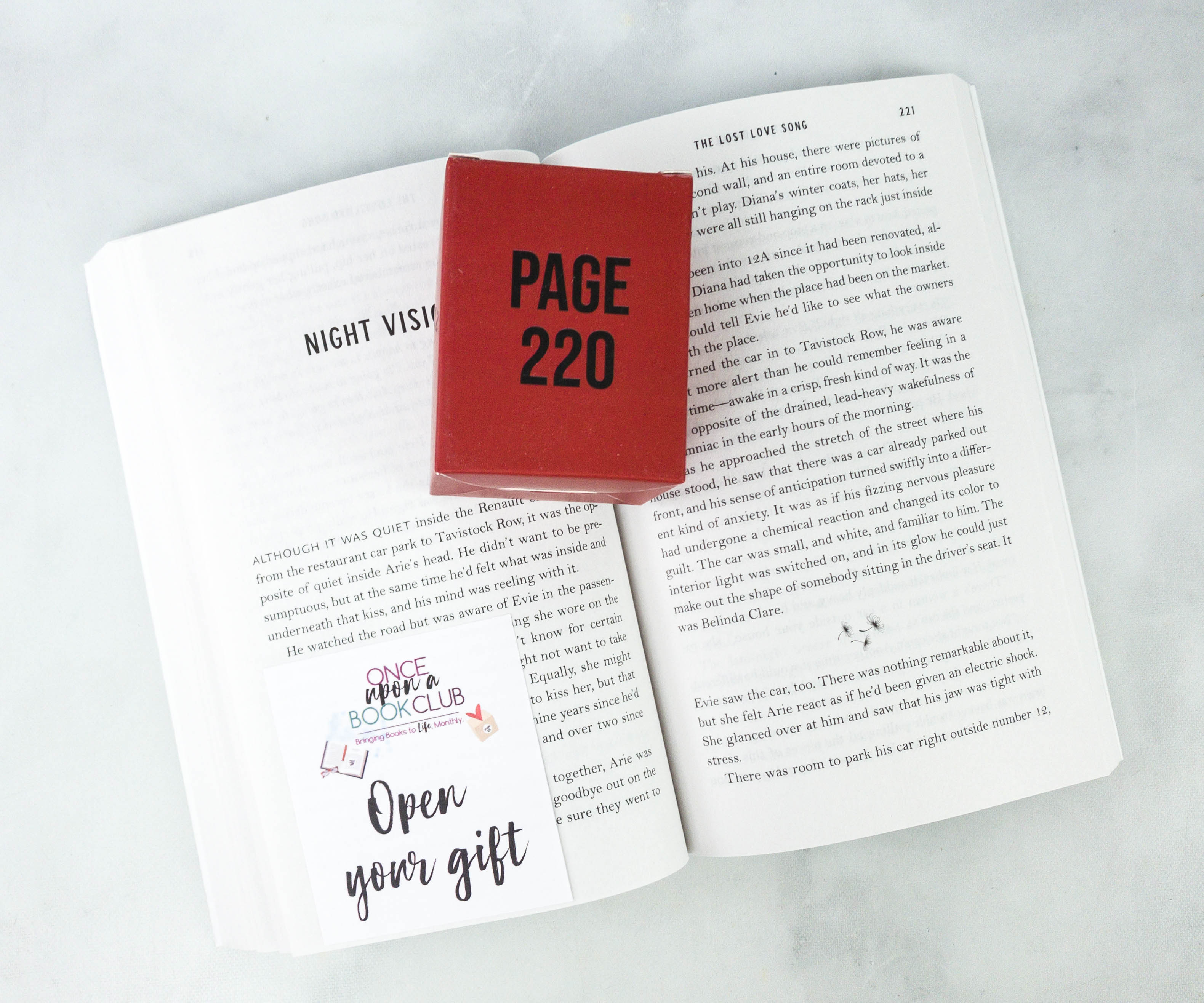 Ring. Upon reaching page 220, I opened another surprise!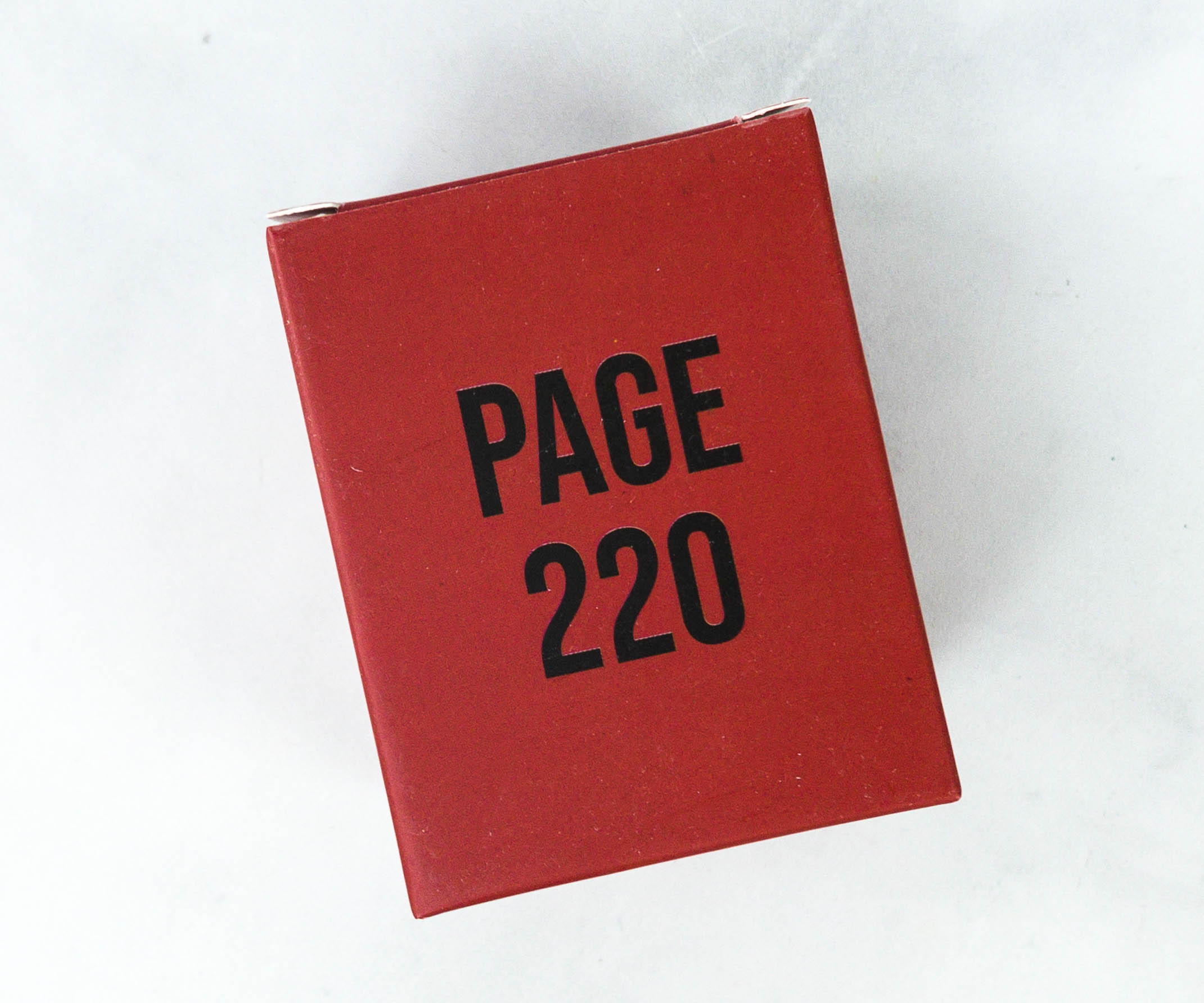 It came in this plain red box.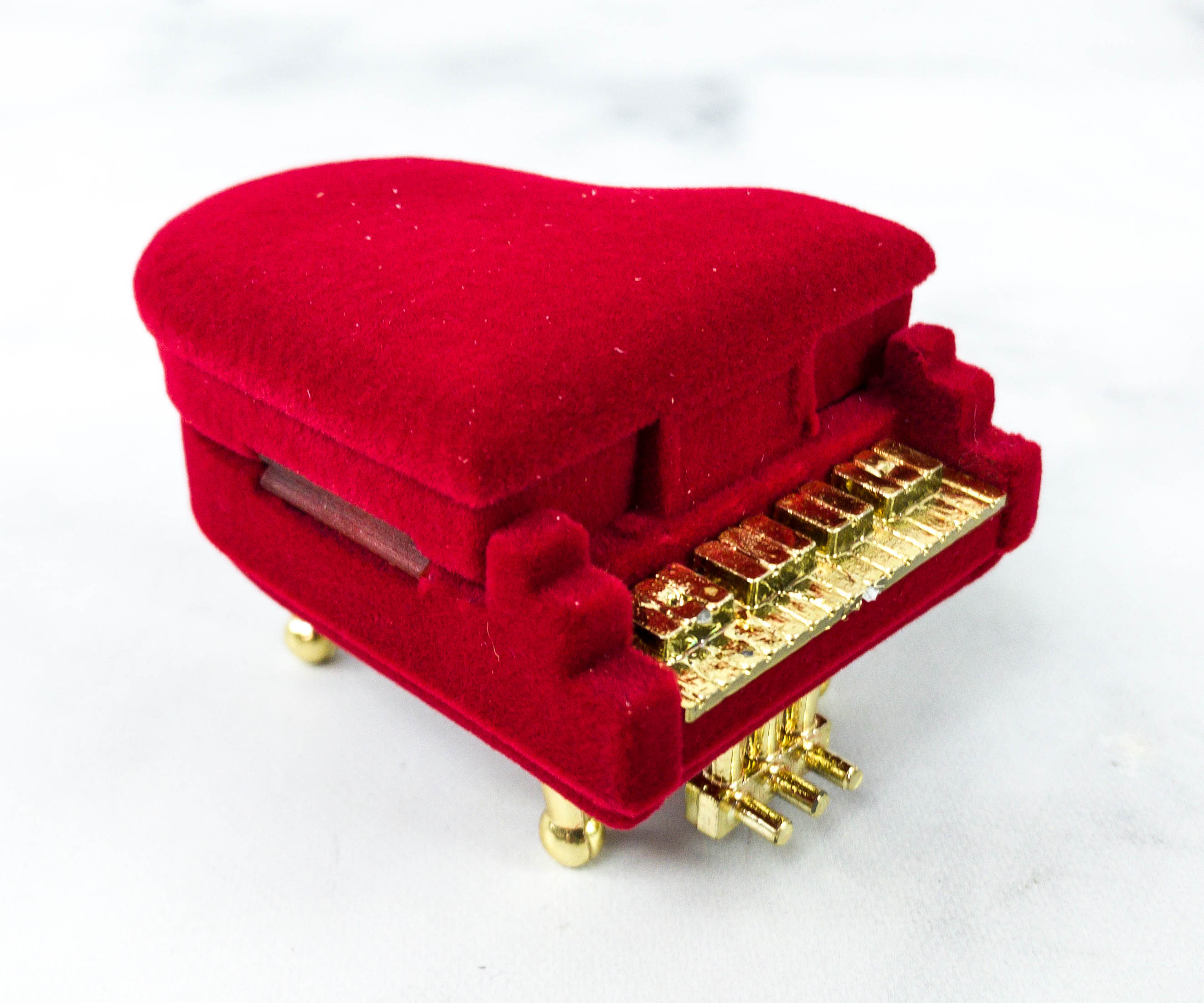 This is one of the cutest jewelry boxes I've ever seen! It's a velvet box with gold plated trimmings.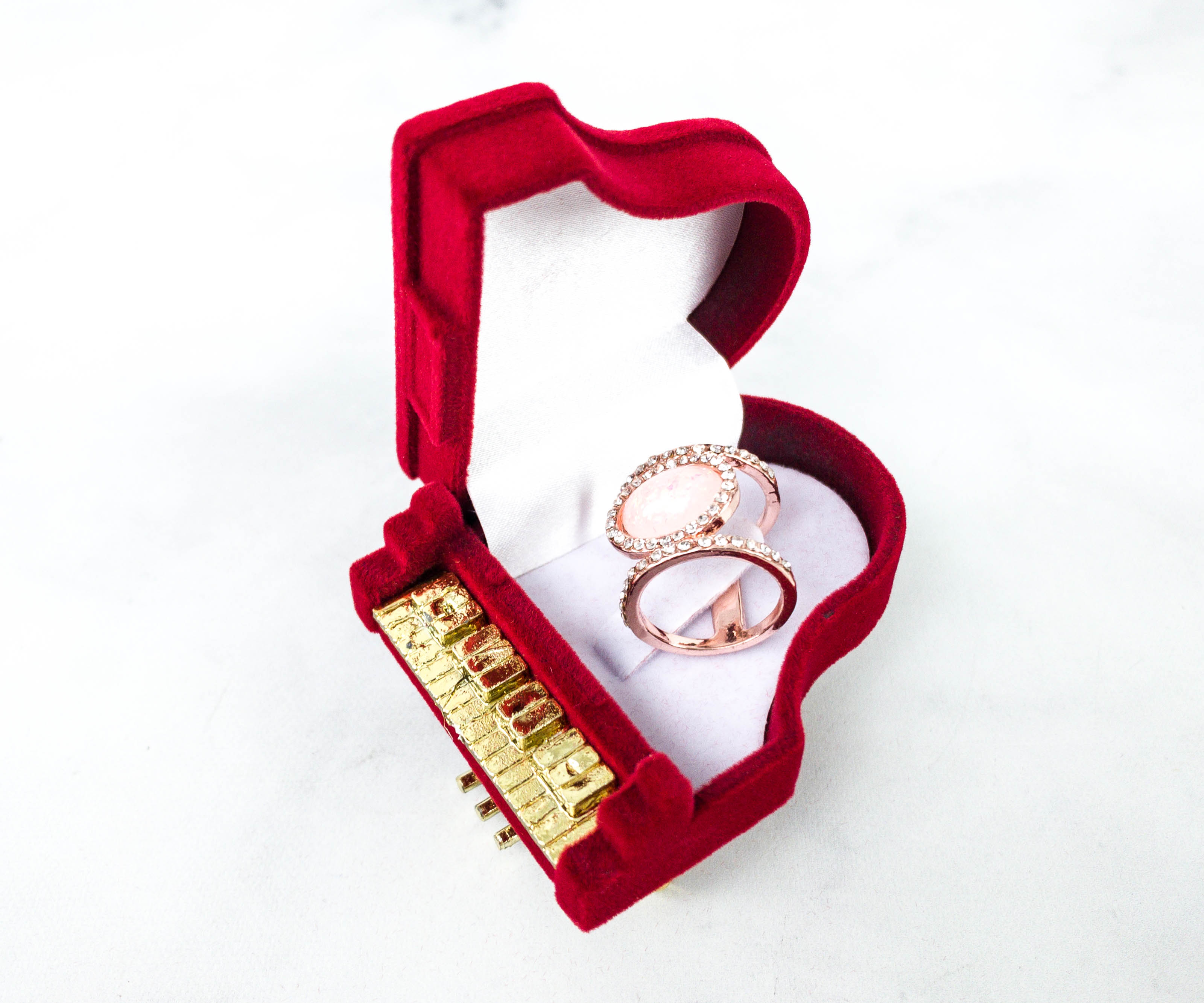 Yes, it can be opened, and inside it is the replica of the moonstone ring that Evie has been wearing in the story!
It's a lovely piece of jewelry! The rose gold base complements the moonstone well and the studs all over the ring give it a more luxurious look!
Message in a Bottle. Another gift is to be opened upon reaching page 240!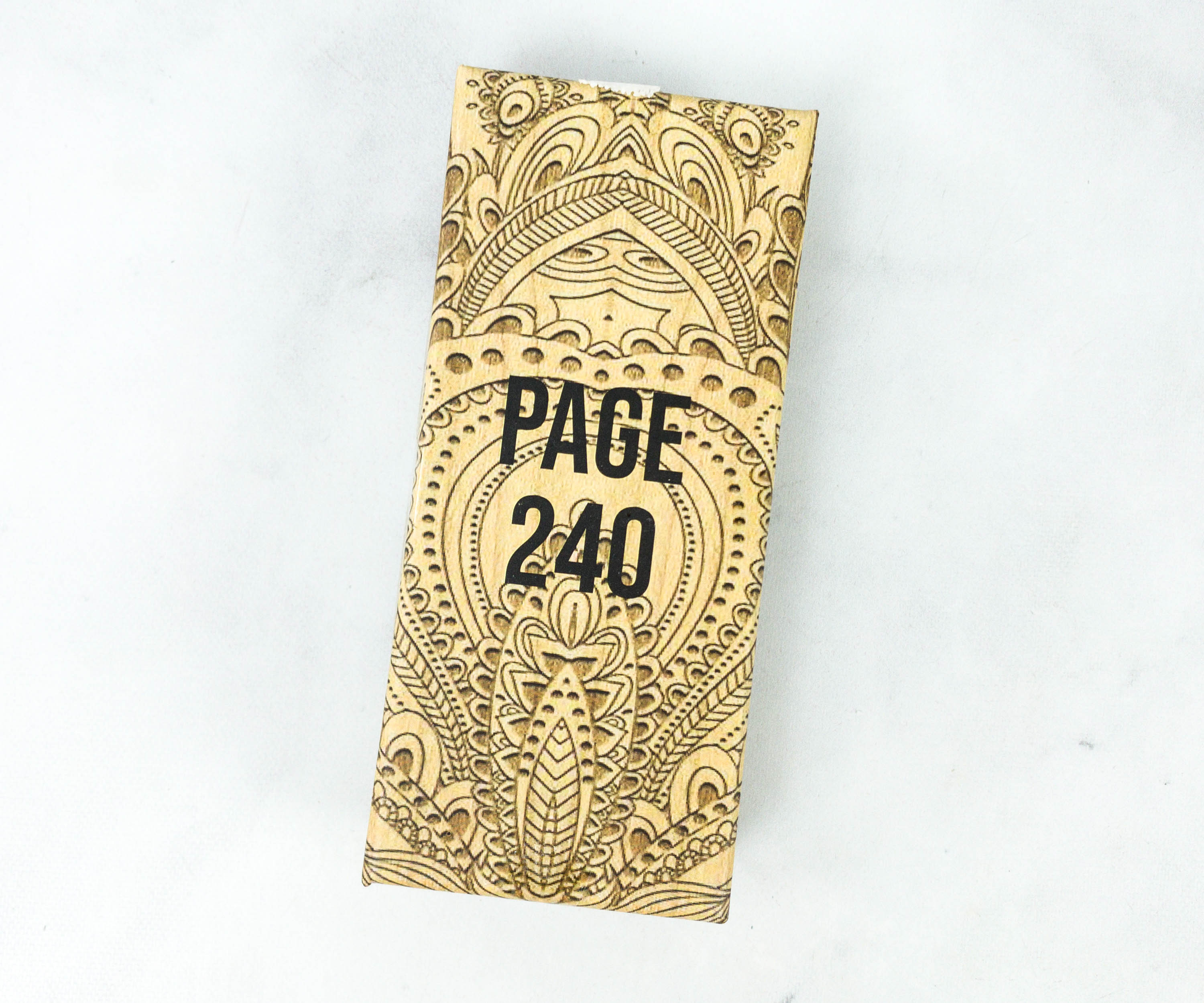 I love the pattern in this box. It reminds me of the ceilings of the classic opera houses where concert pianists usually perform.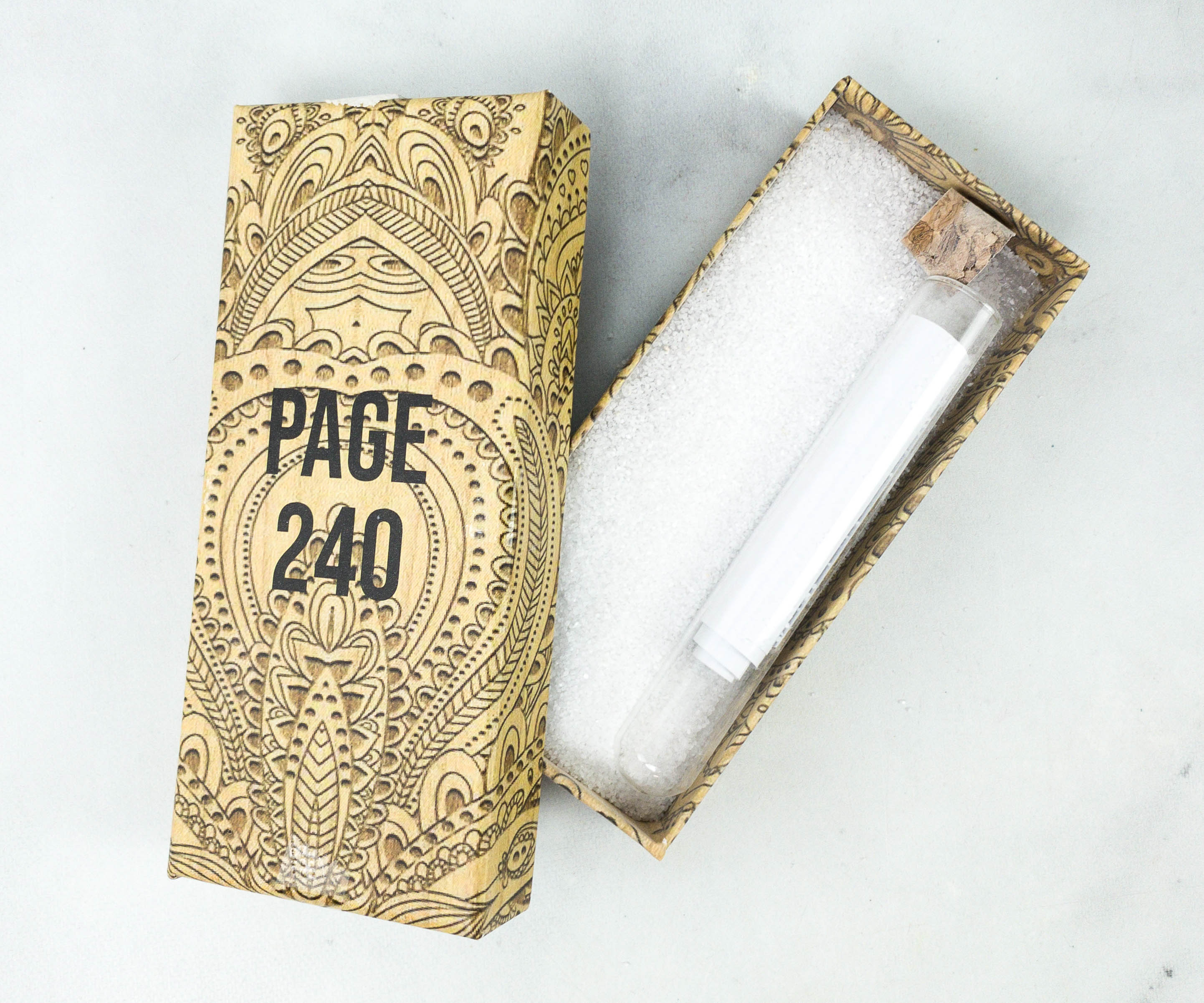 Inside, there is a bottle with a piece of paper inside. There's also a foam to make sure its safe during transit.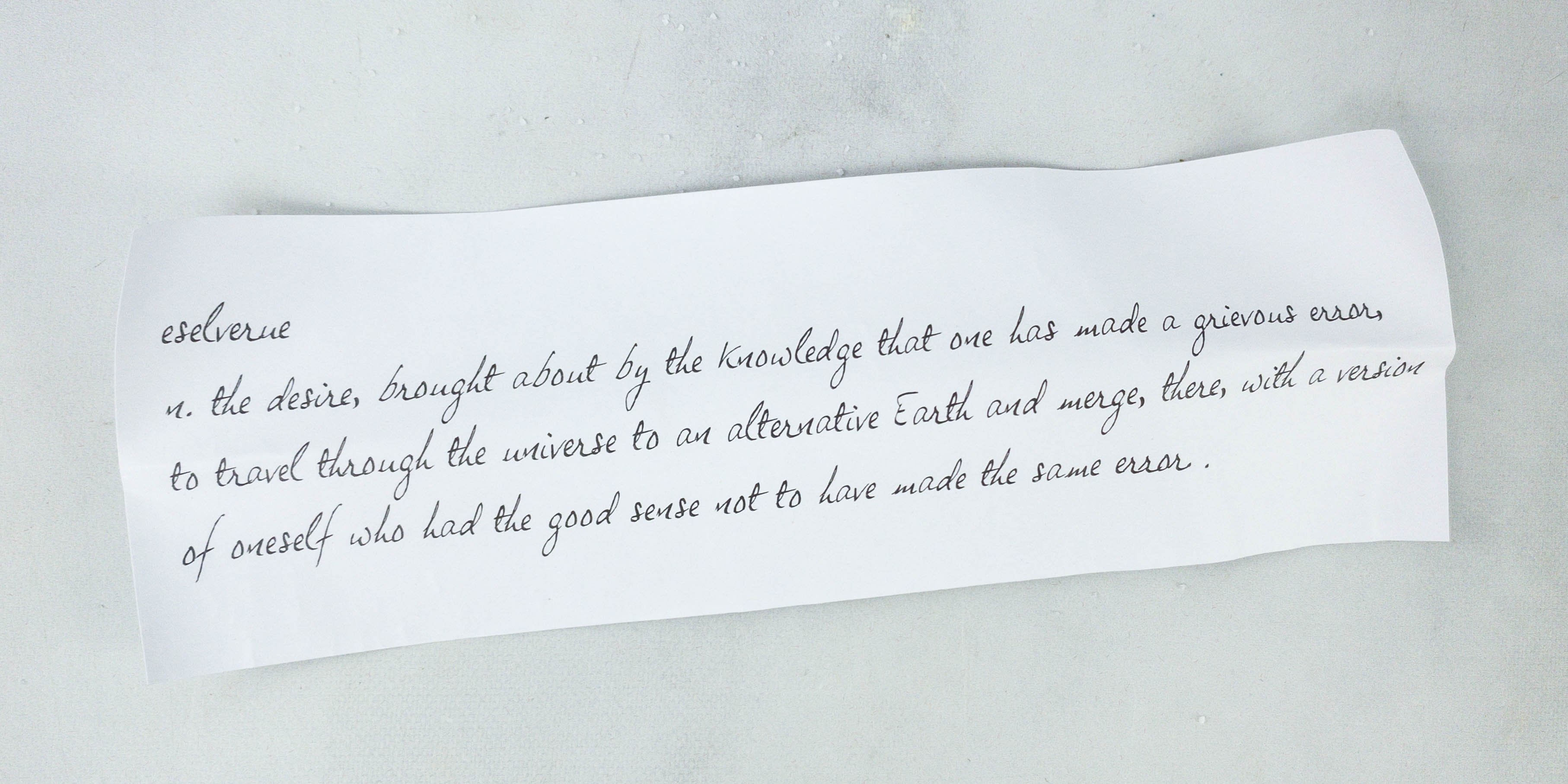 I like that this single piece of paper is exactly just how it was described in the book! It has that lovely penmanship that I've always imagined when I was reading the book. It did not disappoint because it really is good writing!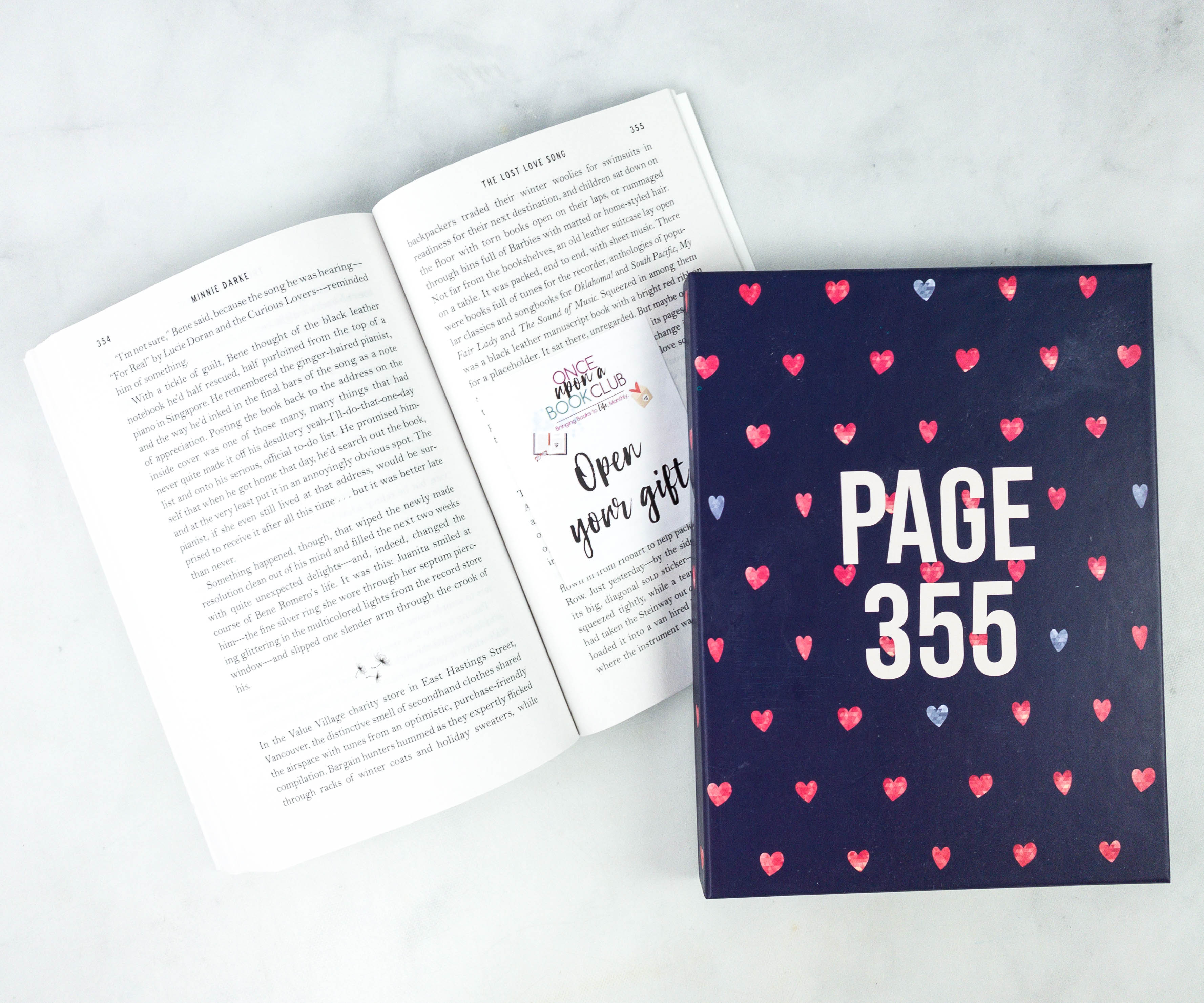 Black Leather Manuscript Book. The last gift is supposed to be opened upon reaching page 355.
The last gift came in this lovely box with hearts all over it.
Inside is a pen and a notebook that I can use for journaling and other forms of creative writing!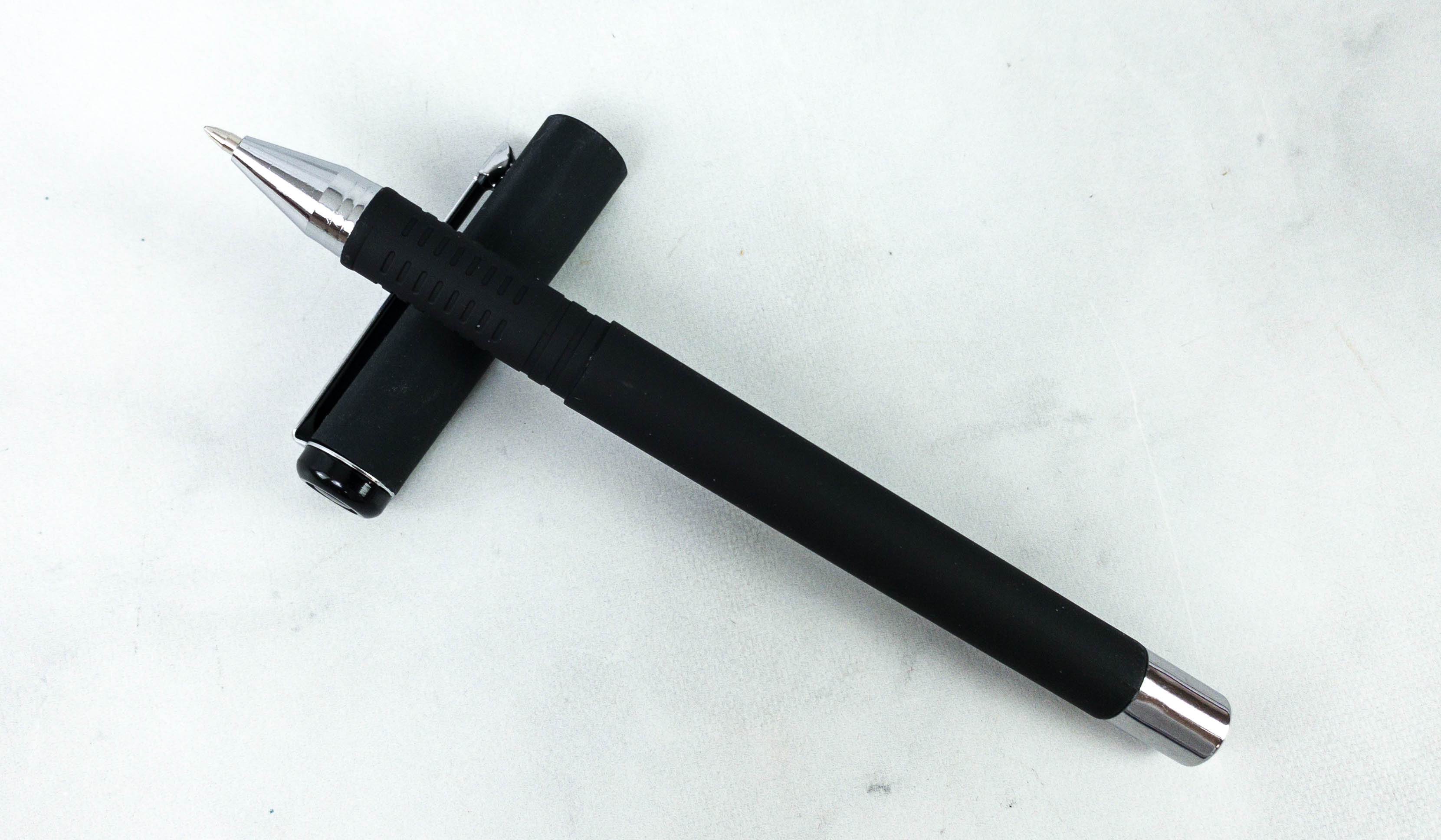 I like how simple and sturdy the pen is. It goes really well with the aesthetic of the notebook. It has silver hardware with a black rubberized body.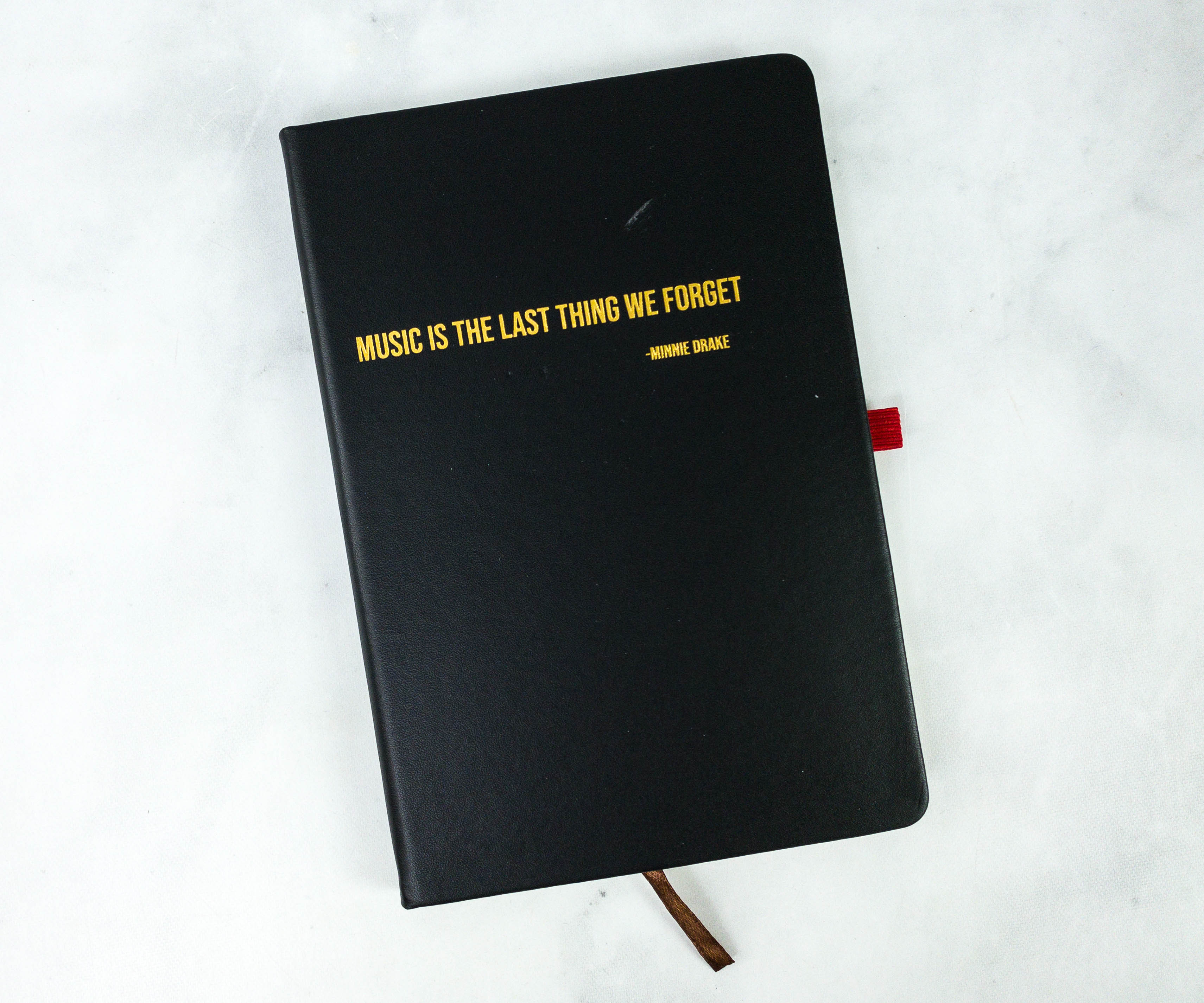 The notebook is black as well. It has a gold foil writing printed in front that says "Music is the last thing we forget."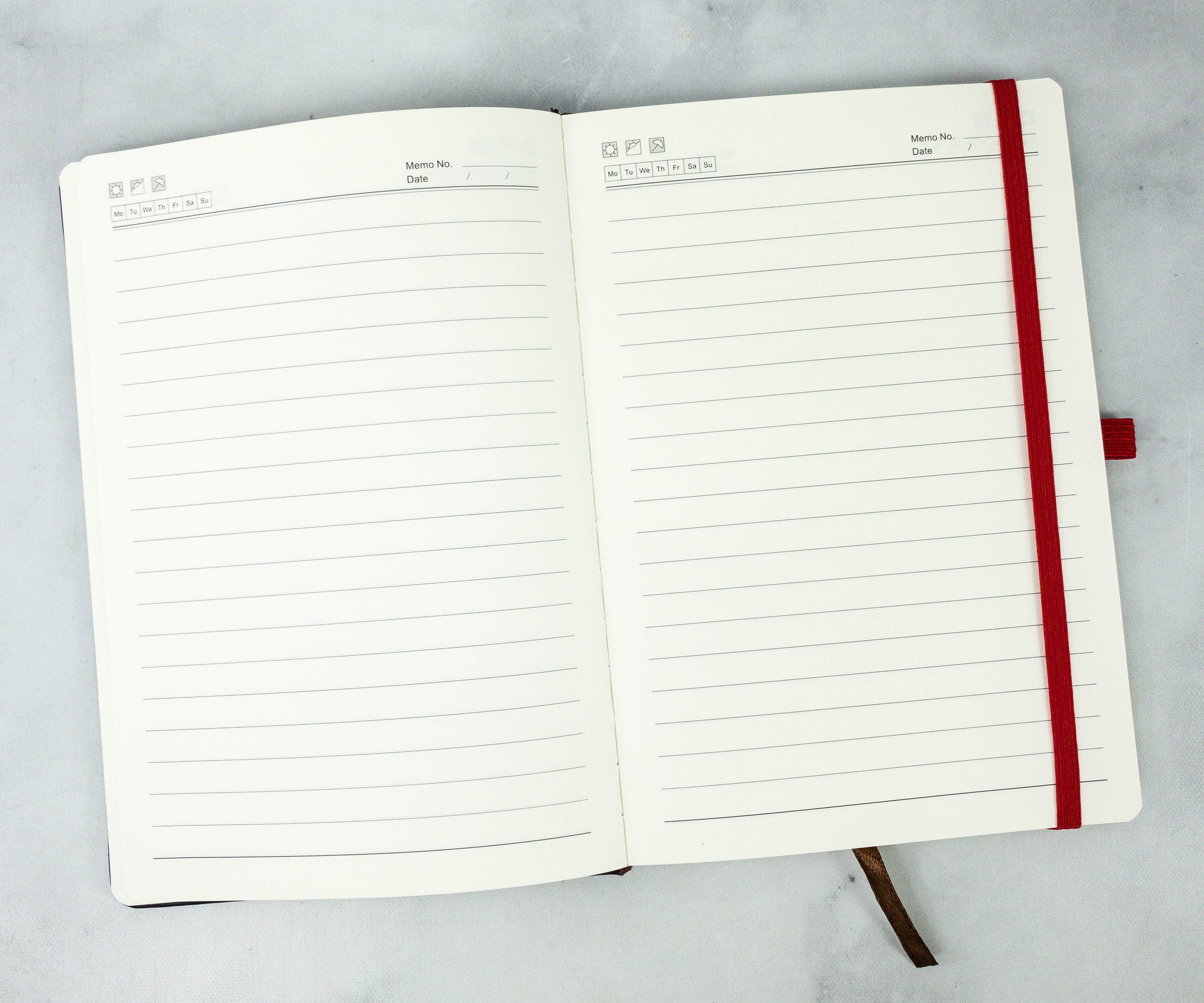 There is a built-in elastic bookmark so you can keep track of the last page you were in easily. It even has a pen holder so you can always keep your pen in handy.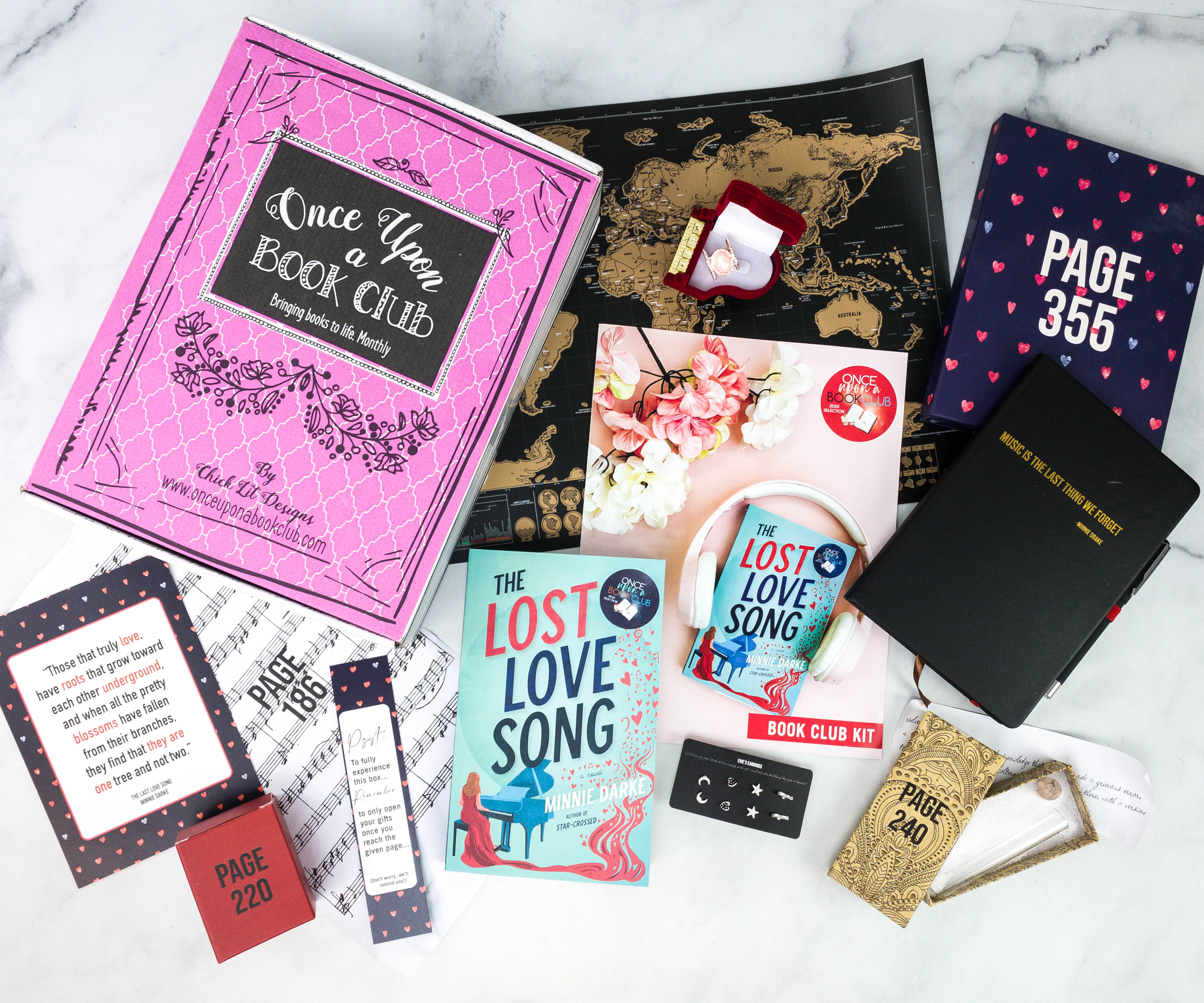 I had a great time reading the book and uncovering the gifts!
This is another impressive Once Upon A Book Club curation! The book is a roller coaster ride of emotions, and I loved it. Among the gifts, my favorite is the scratch map as it can help me keep track of all the places I've visited and it makes a great wall decor as well. Another thing I liked is the pretty ring patterned after Evie's! The rest of the gifts are also well-thought-out and having them in real life makes me feel more connected to the book. In the end, the story left me feeling warm and cozy and I put down the book with a smile on my face! Once Upon A Book Club curates their boxes really well so if you want a full-on experience while reading a book, this is a great choice! They have a Young Adult box and some limited boxes as well!
What do you think of this month's Once Upon a Book Club?