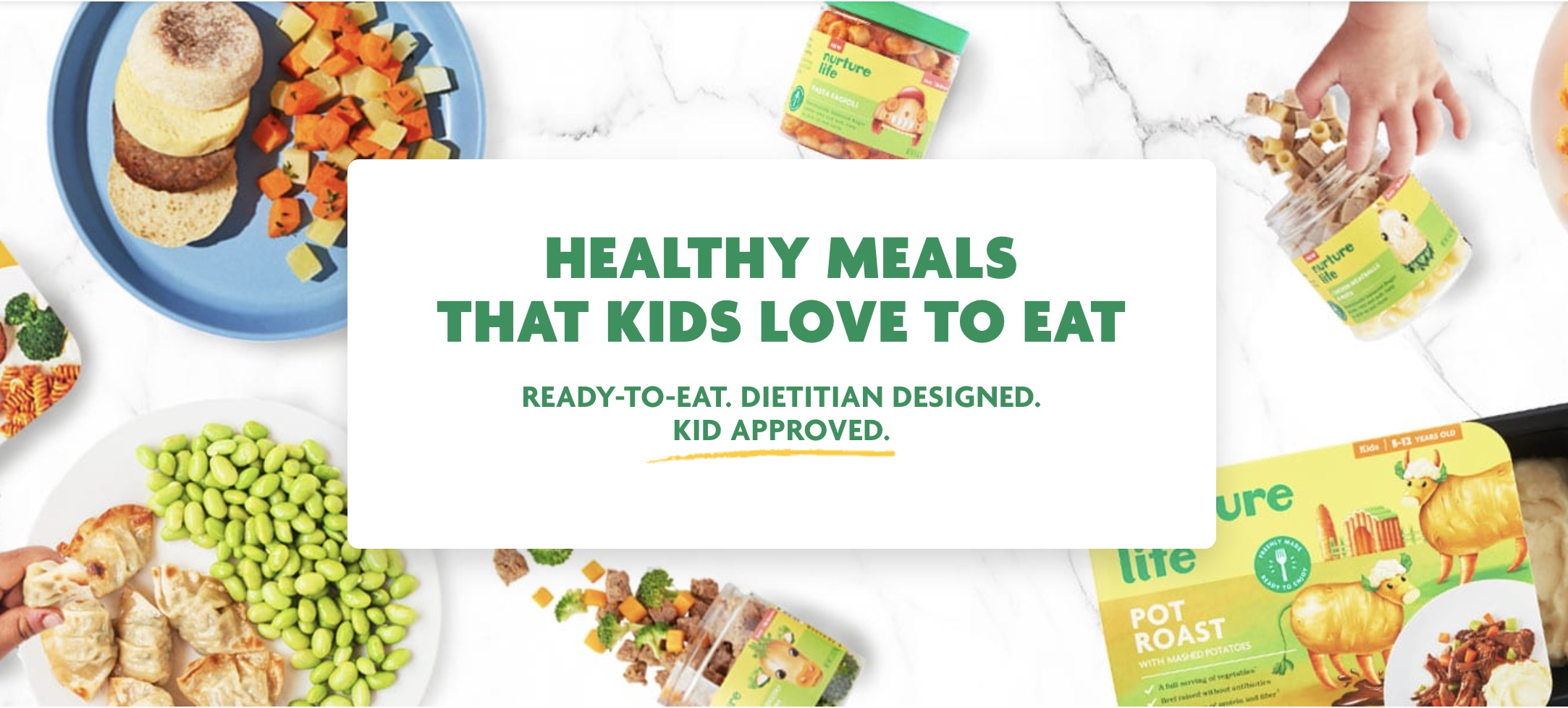 Nurture Life's best deal ever is back – grab this offer on their nutritious meal plans for babies, toddlers, kids, tweens and teens, and even adults to help relieve some of the burden of meal prep and grocery runs!
Save 50% off your first TWO orders! Use this link and coupon code FEBRUARY50 at checkout. Ends 2/27.
See all our Nurture Life Reviews here to find out more about their meal plans! Nurture Life offers meals for the entire family: Finger Foods, Toddler, Kid and Teen & Adult Meals and Shareables. Baby Finger foods start at $6.89, Toddler Meal prices start at $7.99, Kids age 5–12 years meals at $8.99 up, and Teen & Adult meals start at $10.99. Cold lunches are available starting at $7.99, and Sharables for the family dinner table start at $9.99. Meals are designed by registered dietitians and chefs and handmade with real ingredients. Meals are designed to please picky eaters to flavor explorers They have something for everyone:
our Finger Foods, Toddler, Kid and Teen & Adult Meals and Shareables make it easy to get a variety of nutritious, ready-to-enjoy meals in balanced portions to offer the right nutrients at each stage of growth. We use real ingredients like organic produce, antibiotic-free proteins and whole grains, so you can feel great about any meal you choose. It's the nutrition your family needs in flavors they'll love.
Nurture Life offers dietary preferences for kids with special dietary needs! Choose from Meat + Fish + Veg OR Vegetarian. You can also choose meals that are Gluten Free, Egg Free, Fish Free, Soy Free, Pork Free, Milk Free, Coconut Free, and Sesame Free. Here's how it works:
Select Nutritious Meals Choose from a variety of freshly made Baby, Toddler, Kid and Family Meals focused on organic produce, antibiotic-free proteins & whole grains.
We Cook & Deliver Our meals are cooked by us—hand made with real ingredients and delivered with care weekly. Skip, pause or cancel any time.
They Love It Serve up meals in 2 minutes or less, and let your kid dive into all the goodness of a perfectly portioned meal designed by dietitians.
Here's a peek at their menu:
Baby 10-24 months Menu
Egg Bite, Sausage & Sweet Potato A breakfast delight with a good source of protein, calcium & iron
Salmon Cake, English Pea & PotatoVitamin D rich, ASC-certified salmon & organic veggies
Pasta FagioliRich in protein, iron & potassium, made with organic carrots & beans
Mini Falafel, Carrot & Rice

Protein-packed, pan-seared falafel with organic brown rice & carrots

Chicken, Sweet Potato & Waffle

Mini breakfast classic with antibiotic-free chicken & whole grain- rich waffle
and more! Toddler Menu 1-4 Years
Build-Your-Own Pizza with Italian Sausage & Apple Slices Egg Free, Fish Free, Soy Free, Coconut Free, Sesame Free
Cheesy Pesto Tortellini with Chicken Breast & Carrots Sesame Free, Coconut Free, Pork Free, Soy Free, Fish Free
Chicken Meatball Slider with Carrots & Pear Slices Fish Free, Pork Free, Coconut Free, Sesame Free
Bolognese with Penne

Excellent source of protein & fiber with a full serving of veggies

Turkey Meatloaf with Mashed Potatoes & Green Beans

Full serving of organic veggies (with extra veggies in the meatloaf!)

Chicken Parmesan with Broccoli

Protein and fiber-filled with a full serving of veggies
and more! Kids 5-12 Years Menu
Pesto & Cheese Ravioli Sesame Free, Coconut Free, Pork Free, Soy Free, Fish Free
Chicken Bites with Mashed Sweet Potatoes & Green Beans Egg Free, Fish Free, Soy Free, Pork Free, Coconut Free, Sesame Free
Chicken Biryani Sesame Free, Coconut Free, Pork Free, Soy Free, Fish Free, Egg Free, Gluten Free
Build-Your-Own Pizza with Italian Sausage & Apple Slices

Antibiotic-free pork, organic apples & pizza sauce with hidden veggies

Bolognese with Penne

Excellent source of protein & fiber with a full serving of veggies
and more! Teen & Adult 13+ Years Menu
BBQ Pulled Pork with Cornbread Muffin and Carrots Kid Sesame Free, Soy Free, Fish Free
Chicken Meatballs with Pasta & Vegetables Fish Free, Coconut Free, Sesame Free, Pork Free
Veggie Ragout Pasta with Fresh Mozzarella Egg Free, Fish Free, Soy Free, Pork Free, Coconut Free, Sesame Free
Bolognese with Penne Egg Free, Fish Free, Soy Free, Coconut Free, Sesame Free
Tortellini Alfredo with Asparagus

Creamy, 4-cheese tortellini with a good source of iron, fiber & protein

Cheeseburger Mac & Cheese with Butternut Squash

Two classic flavors with organic veggies blended into the sauce

Japanese-Inspired Chicken & Vegetable Noodles

5 veggies, antibiotic-free chicken & noodles tossed in tasty stir-fry sauce
and more! Cold Lunches Menu – Made to Pack & Go
Build-Your-Own Pizza with Italian Sausage & Apple Slices Antibiotic-free pork, organic apples & pizza sauce with hidden veggies
Chicken Meatball Slider with Carrots & Pear Slices Antibiotic-free chicken slider with organic carrots & pears
Cheesy Pesto Tortellini with Chicken Breast & Carrots Protein-rich, antibiotic-free chicken with organic baby carrots
Shareables Menu – Main & Sides to Share (2—4 Servings)
Grilled Chicken Au Jus Excellent source of protein that pairs well with any side
Chicken Meatballs with Marinara and Parmesan Sauce blended with carrots and butternut squash for extra veggies
Italian Sausage Marinara with Rigatoni Sauce made with antibiotic-free pork & blended with carrots & squash
Mushroom & Truffle Ravioli Topped with a creamy cacio e pepe sauce to complement mushroom filling
Chive & Roasted Garlic Mashed Cauliflower Potatoes Good source of fiber from Yukon Gold potatoes blended with cauliflower
Maple Glazed Heirloom Carrots 60% daily value of vitamin A from vibrant, tri-color carrots
Roasted Garlic Haricot Verts with Sauteed Leeks Organic green beans for a good source of vitamin C & fiber
Roasted Yukon Gold & Sweet Potatoes Good source of fiber from organic potatoes roasted with thyme & garlic