Mosaic Foods is a frozen meal subscription that offers healthy and delicious meals. The subscription starts at a $70 minimum order per box (to avoid unsustainable shipping) and comes with free next-day shipping for a $100+ box. Their meals are healthy, single-serving portions that feed an average adult for one meal (lunch or dinner). The meals are complete, balanced, healthy, and most of all, satisfying. They are packed with plant-powered protein and fiber, and provides the energy a person needs to go on with their day! Currently, they offer veggie bowls, soups, and oat bowls. Even better, all of Mosaic's packaging is recyclable and sustainable – even the plastic film.
DEAL: Get $15 off on your first box– just use this link and coupon code FIRSTBOX15.
Mosaic has just added oat bowls – both sweet and savory – and some new meals! Oat bowls are $4.99 each. Soups are $7.99, and the meal bowls are $8.99.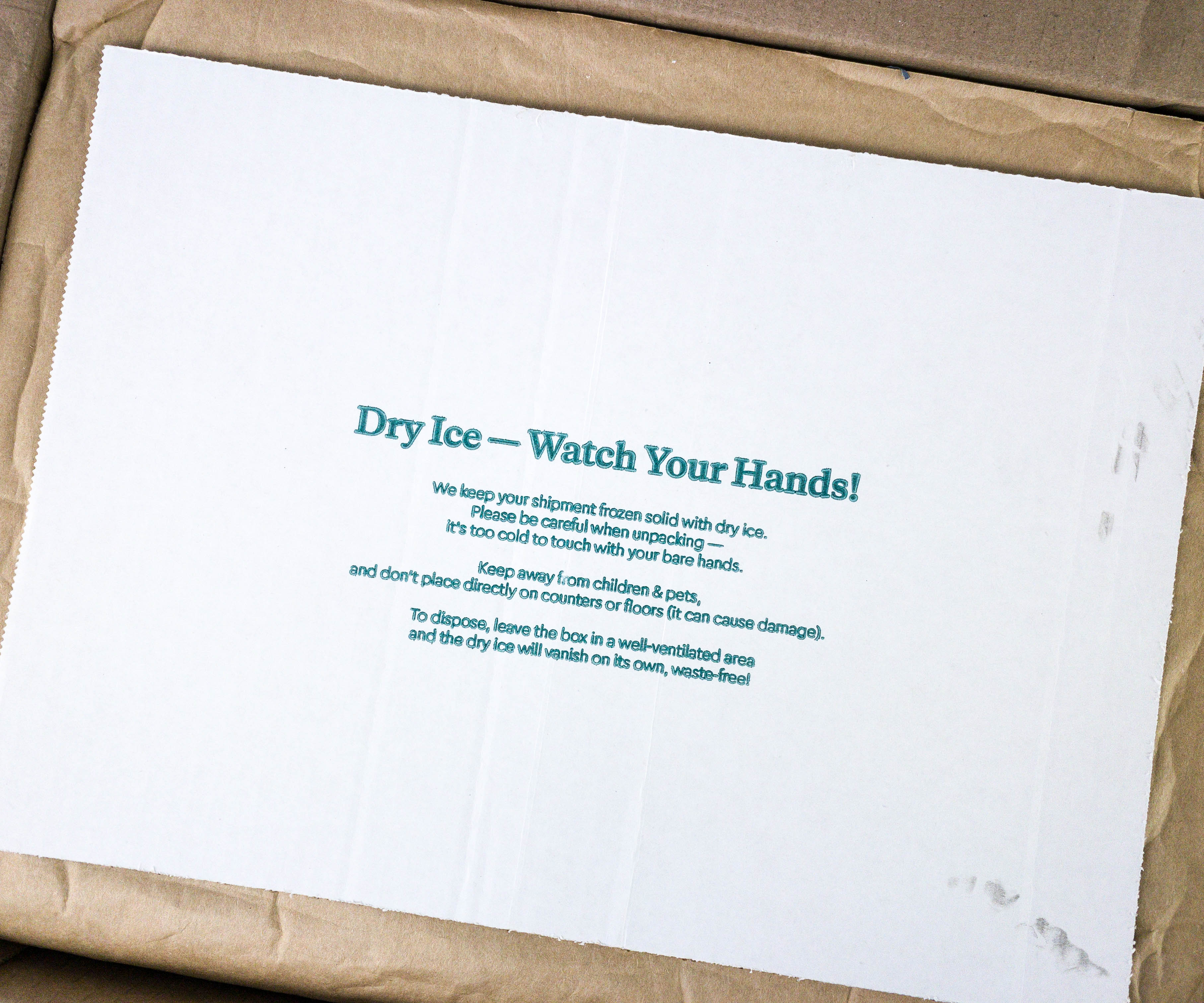 An info card sits on top of the box with a warning regarding the contents.
The package contains dry ice as they need to keep the shipment frozen solid.
The items arrived in great condition and they are nicely tucked inside the cold box!
All the packaging for Mosaic is recyclable and sustainable – even the plastic liner for the meal trays!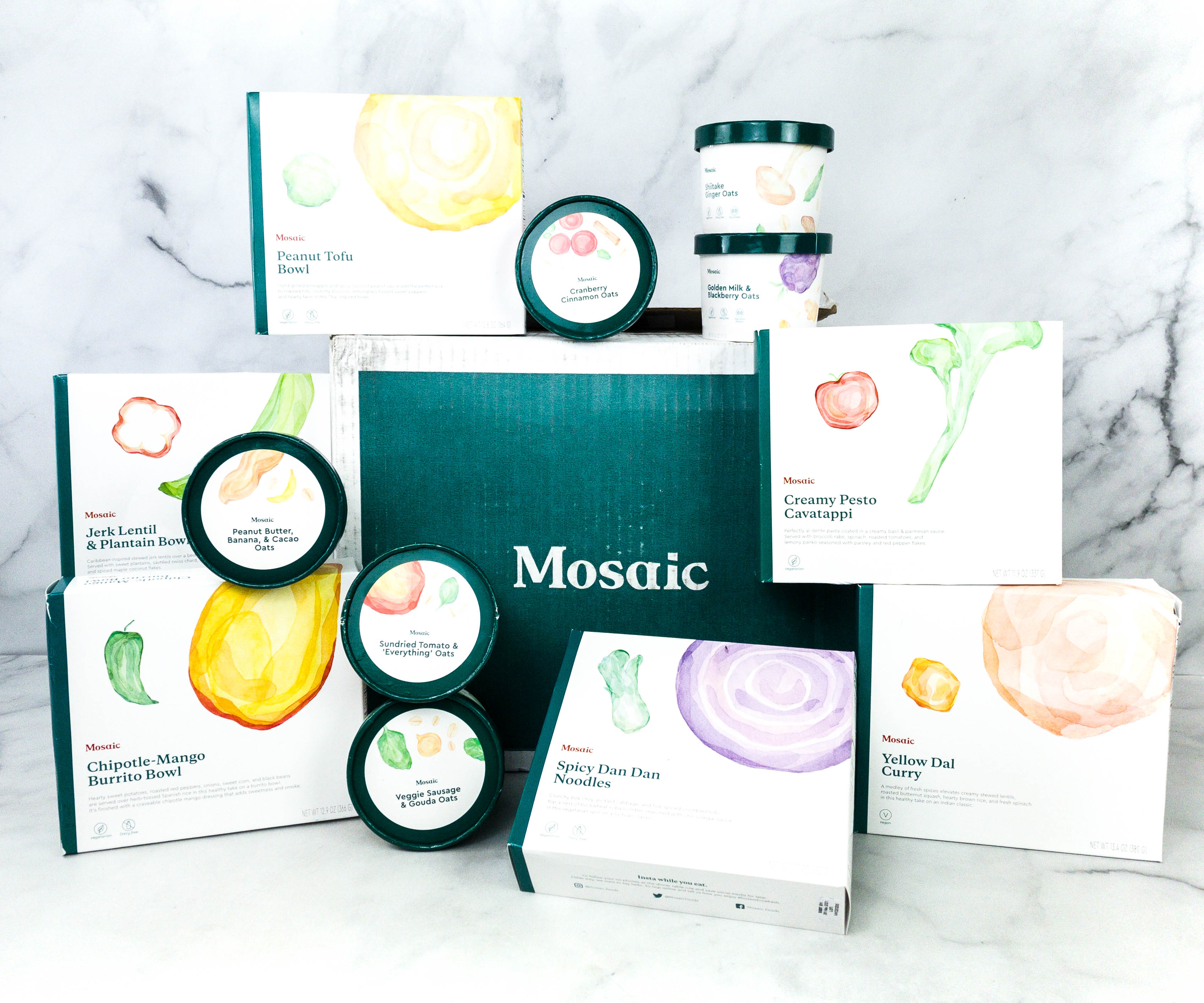 Everything in my box!
The oats came in cute ready-to-serve tubs for easier consumption. You can even enjoy them on-the-go! Mosaic offers both savory and sweet oat bowls starting at $4.99 – with over 10g of plant protein.
Veggie bowls start at $8.99 and feature a wide variety of options with a focus on plant-based protein, hearty whole grains, interesting veggies, and flavorful sauces.
I received quite a lot of items this time! I can't wait to dig in!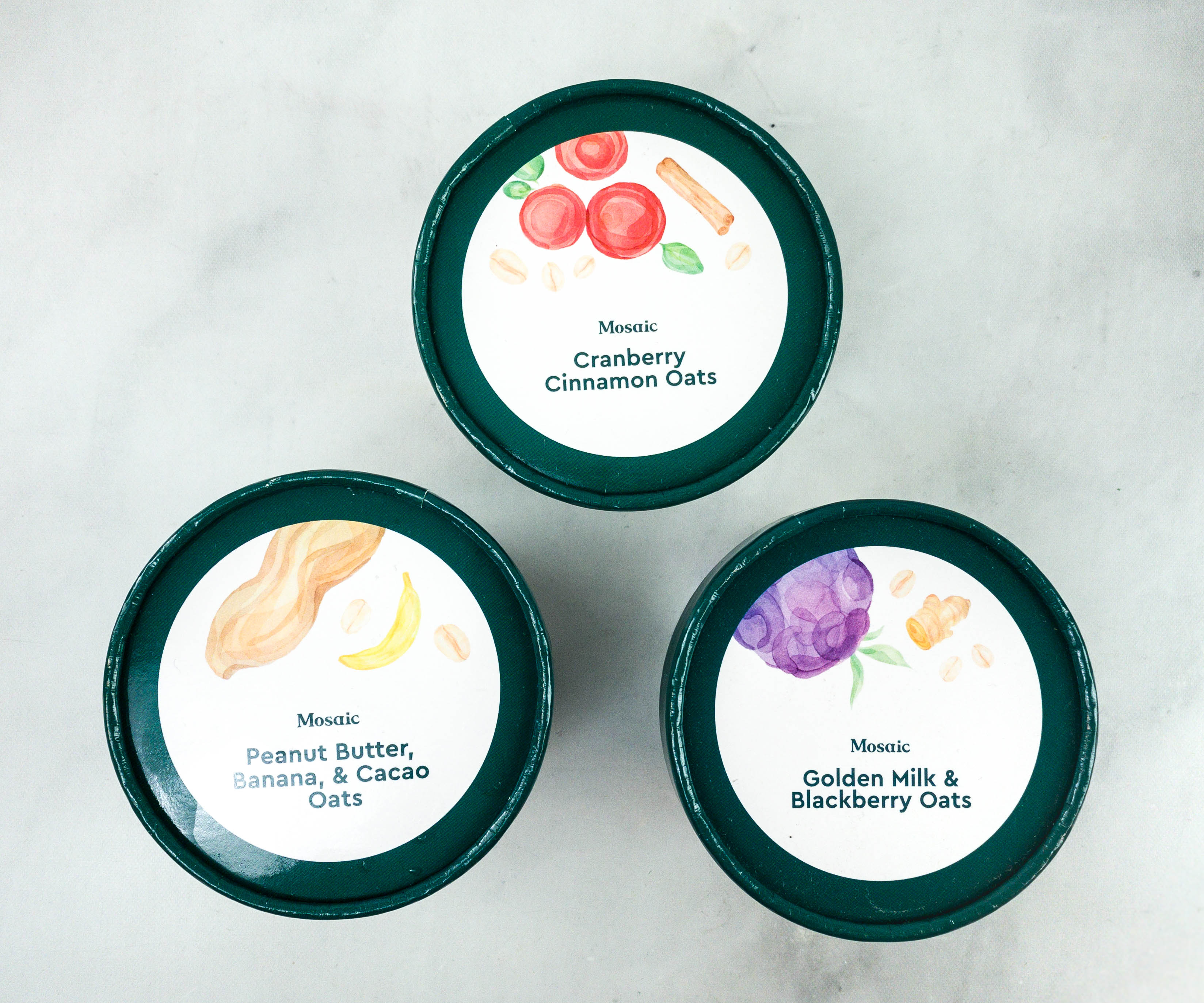 First up, here are Cranberry Cinnamon Oats, Peanut Butter, Banana, & Cacao Oats, and Golden Milk & Blackberry Oats!
Cranberry Cinnamon Oats. I like Cranberries so this was an automatic win for me. It has a deliciously tart taste and it's also rich in vitamin C and antioxidants that help maintain the immune system.
Ingredients include oats, cranberries, walnuts, chia seeds, cinnamon, and almond milk.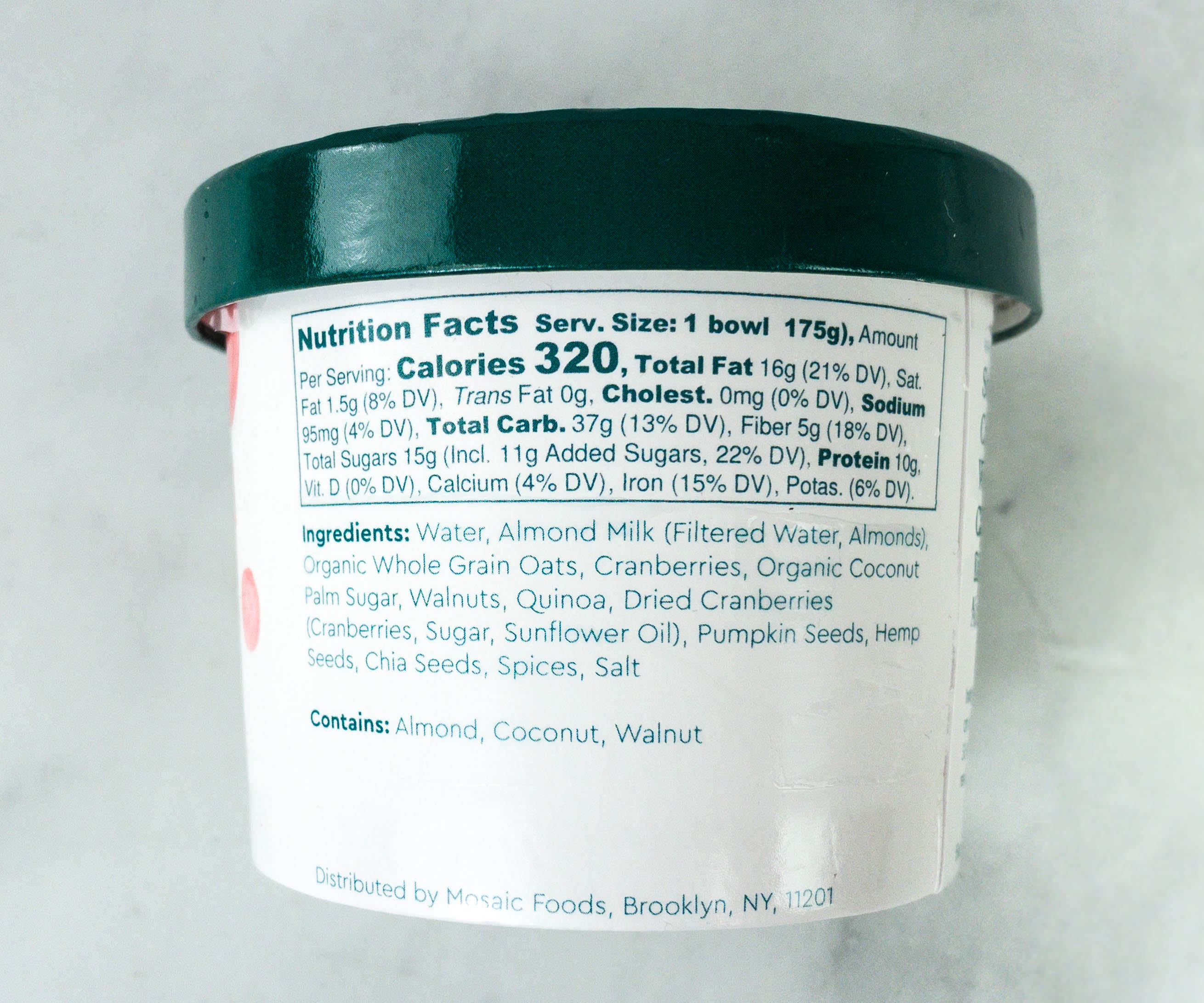 To prepare, just put it in the microwave for 30-60 seconds (or more) and it's good to go!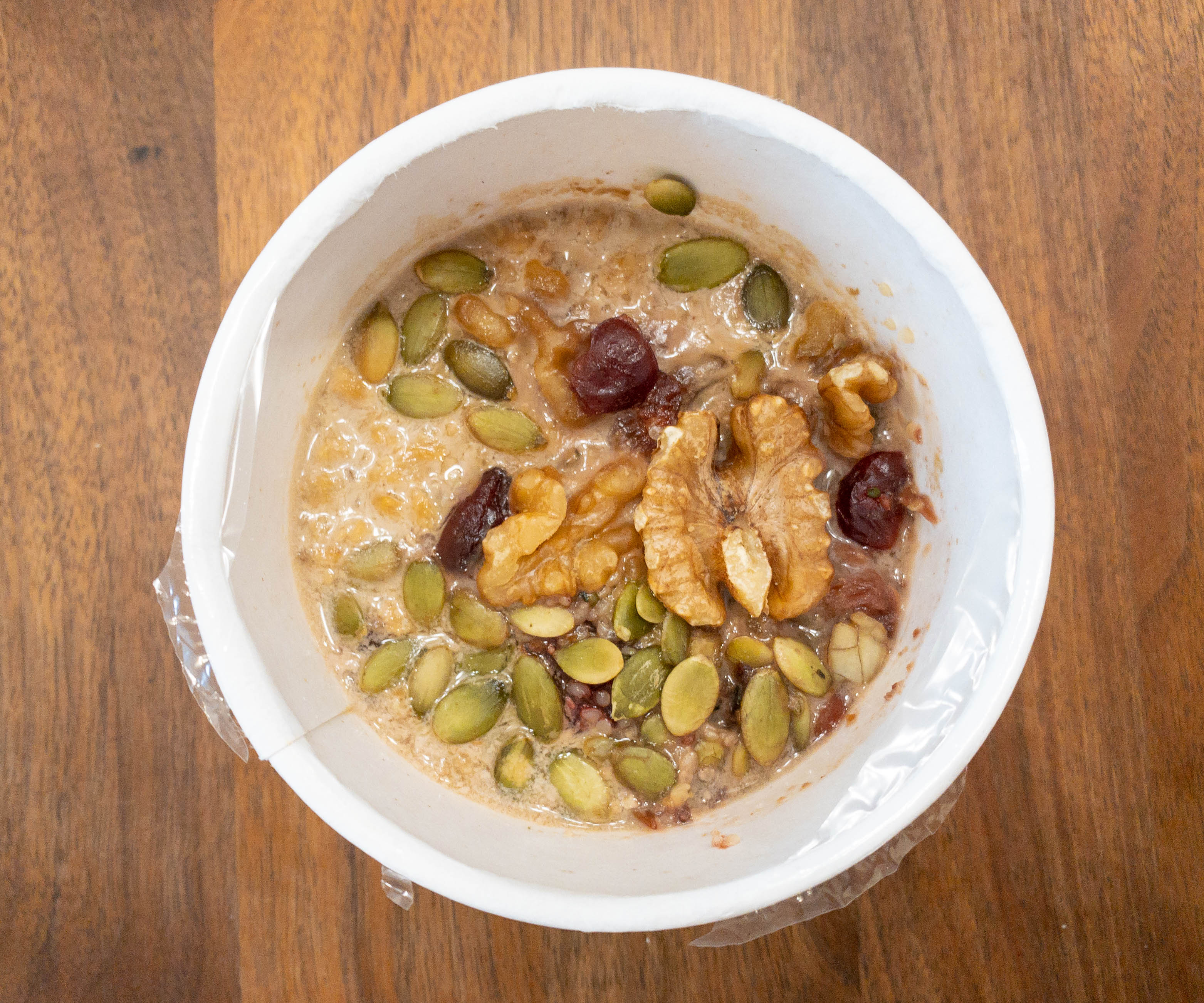 Just be sure to remove the top lid and the clear film! It looks really good. There's a good amount of pumpkin seeds in it.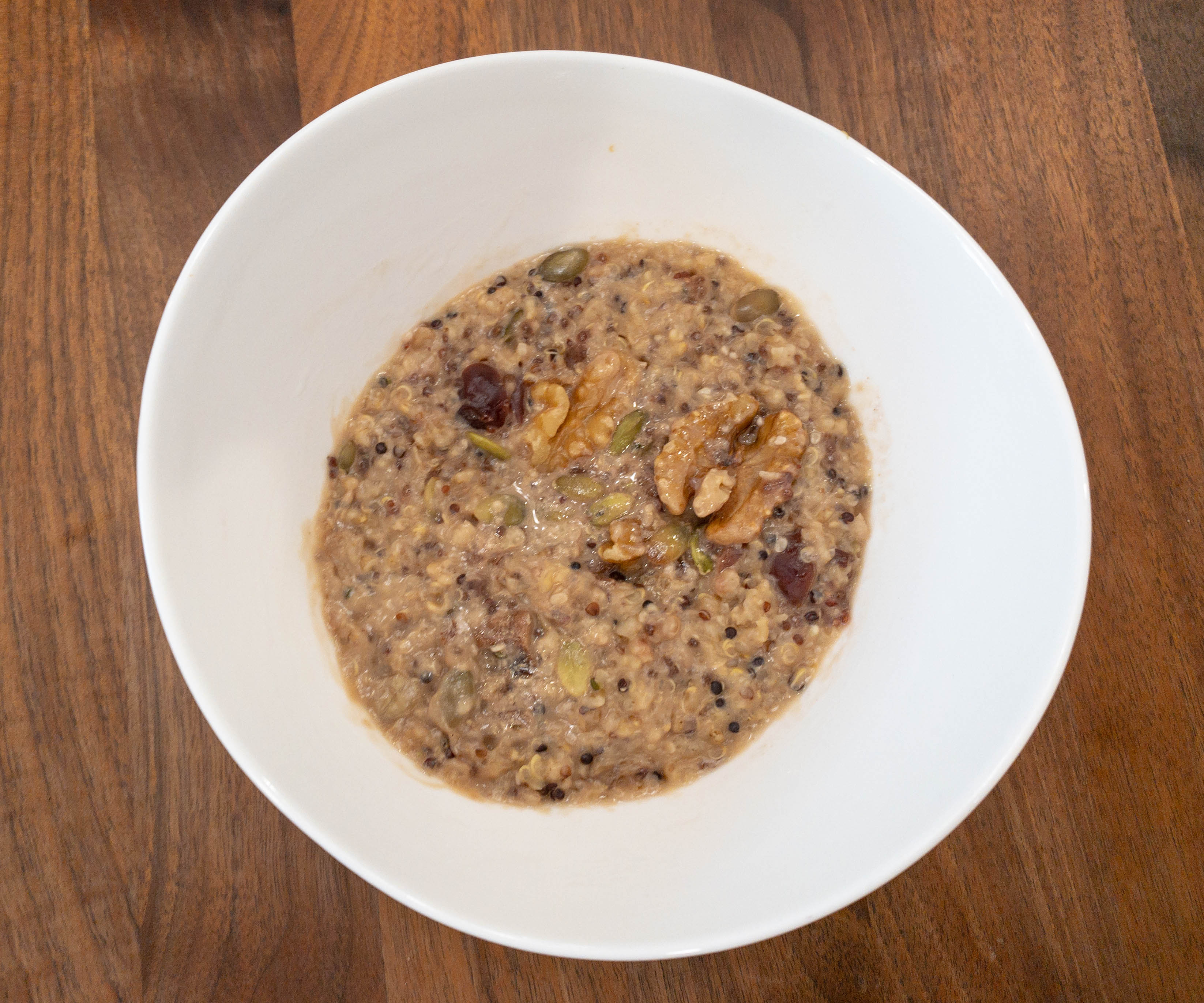 Here's how oats looked like after heating it up! It wasn't too thick, just the way I like it.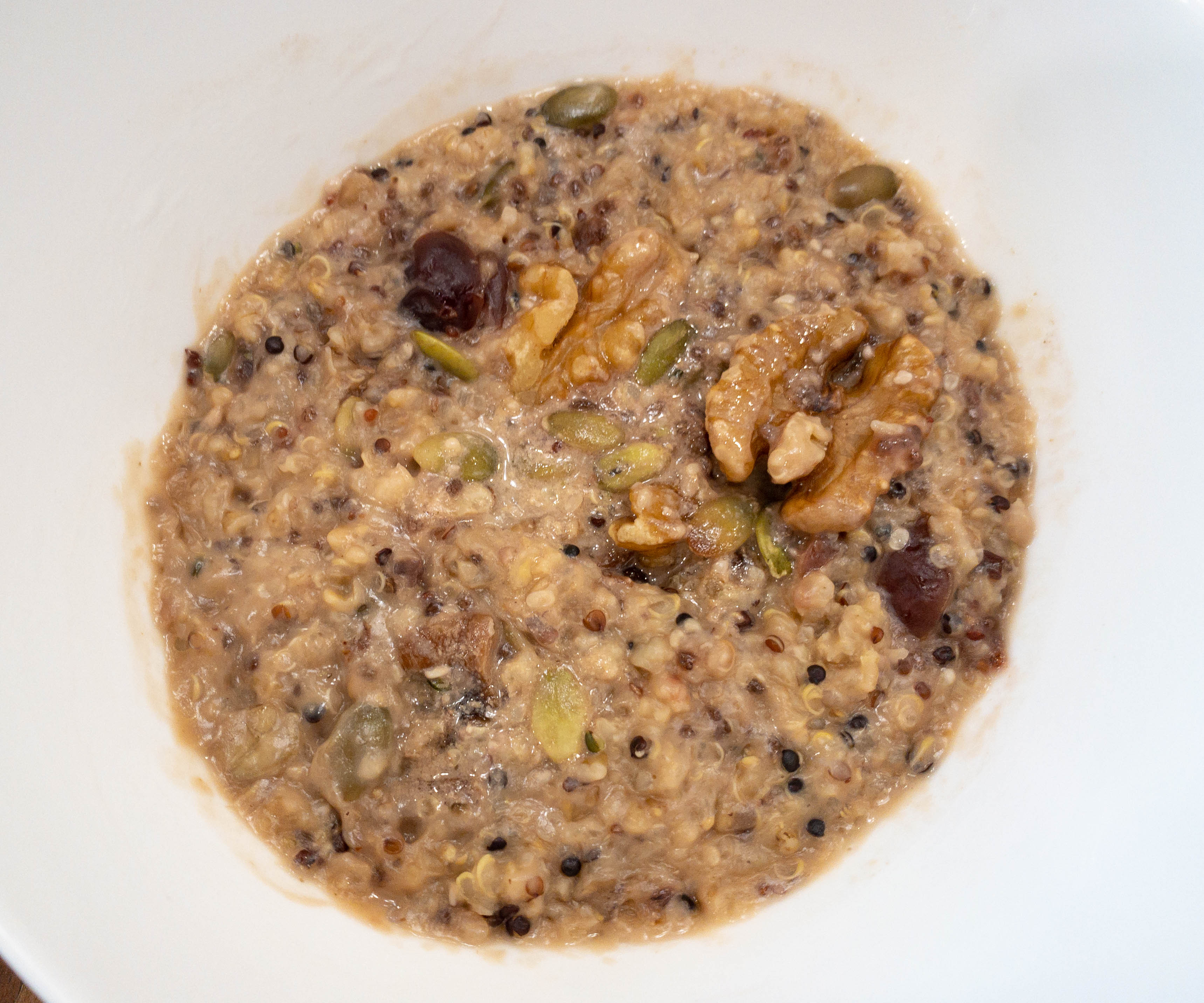 I could really taste the cranberries and the cinnamon in each spoonful, but what I liked most about it is the texture from the walnuts, the pumpkin seeds, and the chia seeds. They add a nice bite that makes this meal all the more satisfying!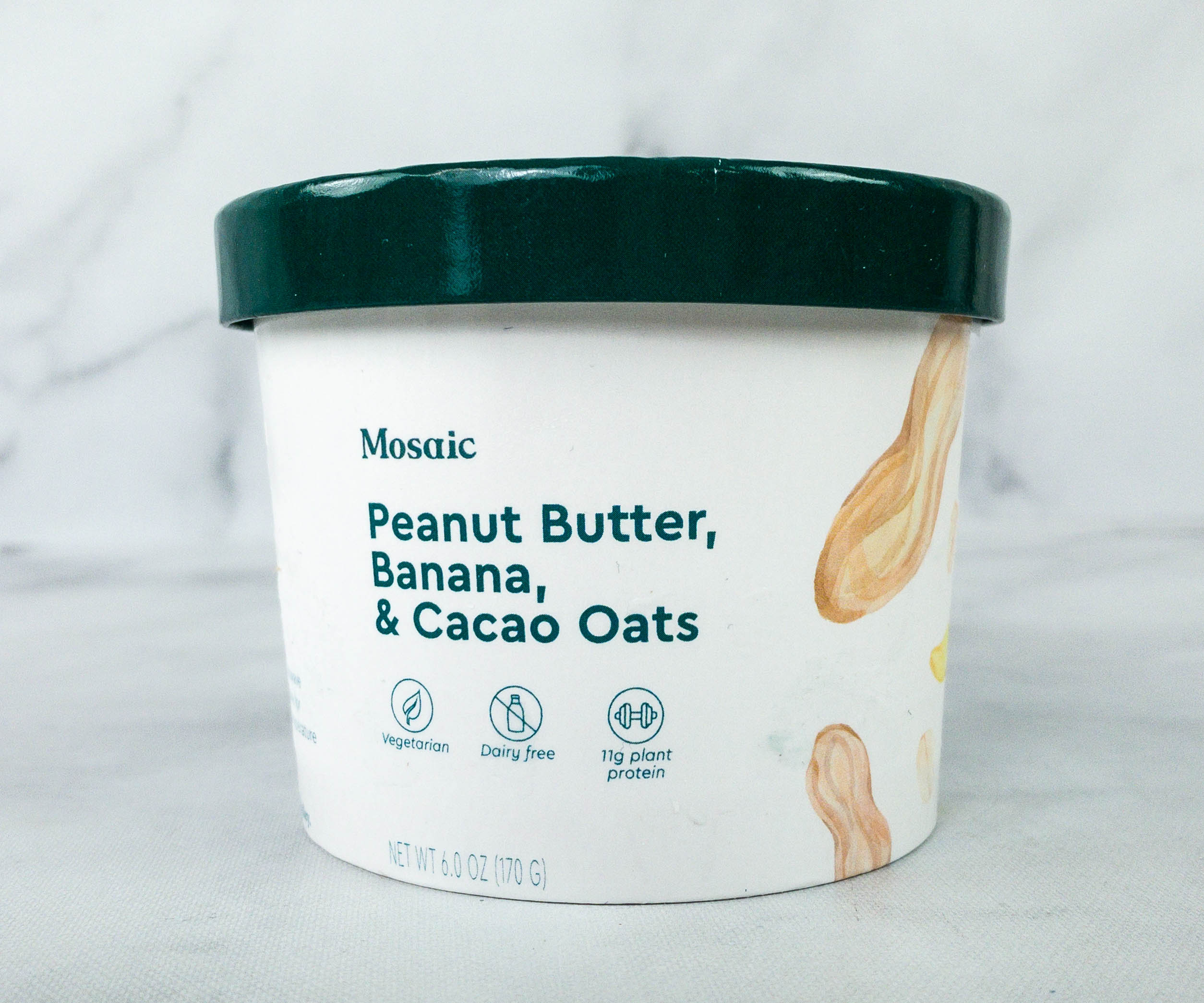 Peanut Butter, Banana, & Cacao Oats. Here's something for the peanut lovers! It's mixed with banana and cacao for a delicious breakfast meal.
Aside from the main ingredients, it also contains dates, organic coconut palm sugar, quinoa, hazelnuts, hemp seeds, and chia seeds. Just like the other bowl, this will need a few minutes inside the microwave.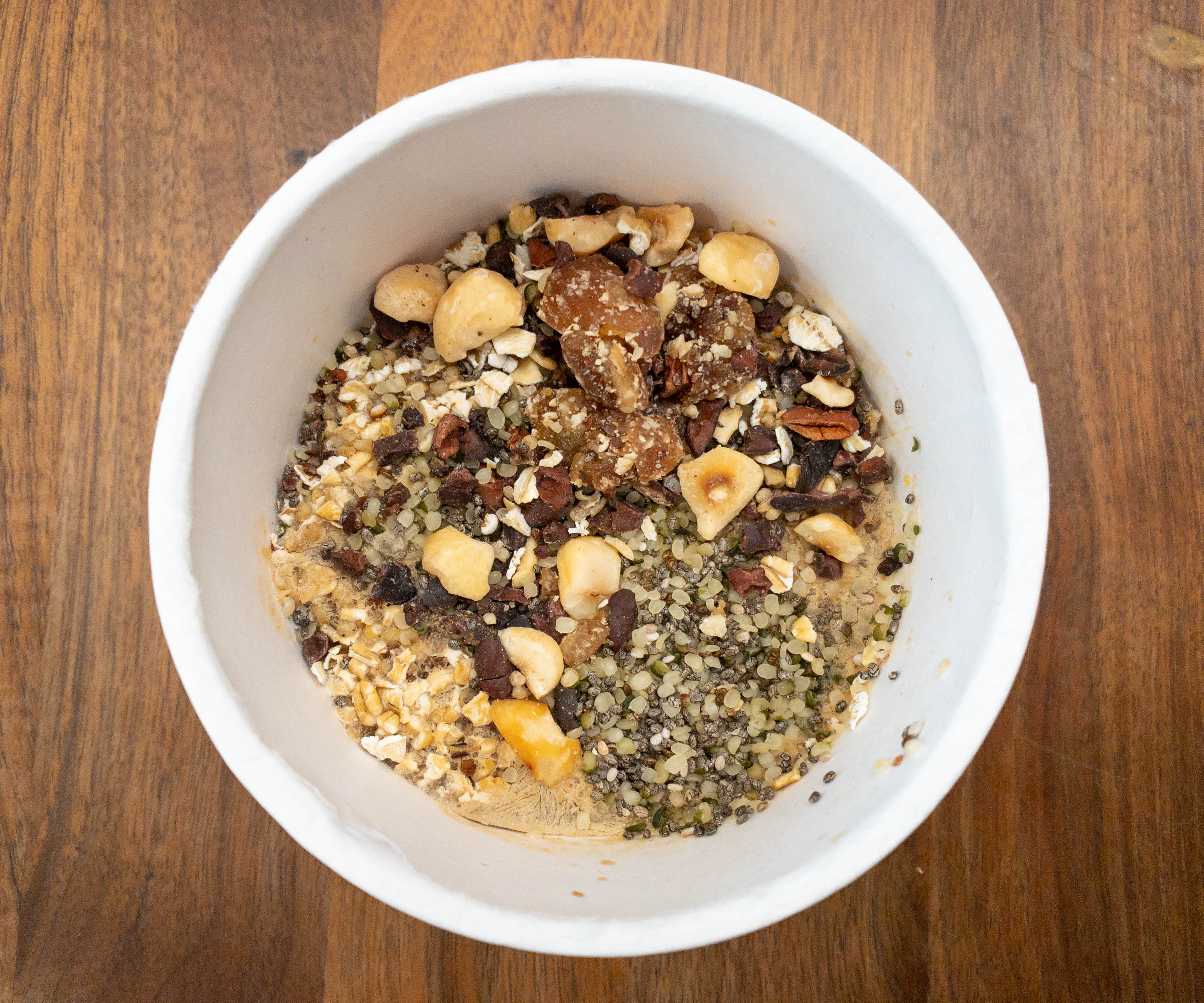 There aren't big chunks of bananas inside this bowl, but there are cacao nibs and I loved them. I was also surprised to see quite a lot of hemp seeds when they are almost at the end of the ingredient list so I was expecting fewer.
This is a great oat bowl for breakfast since it's filling and energizing!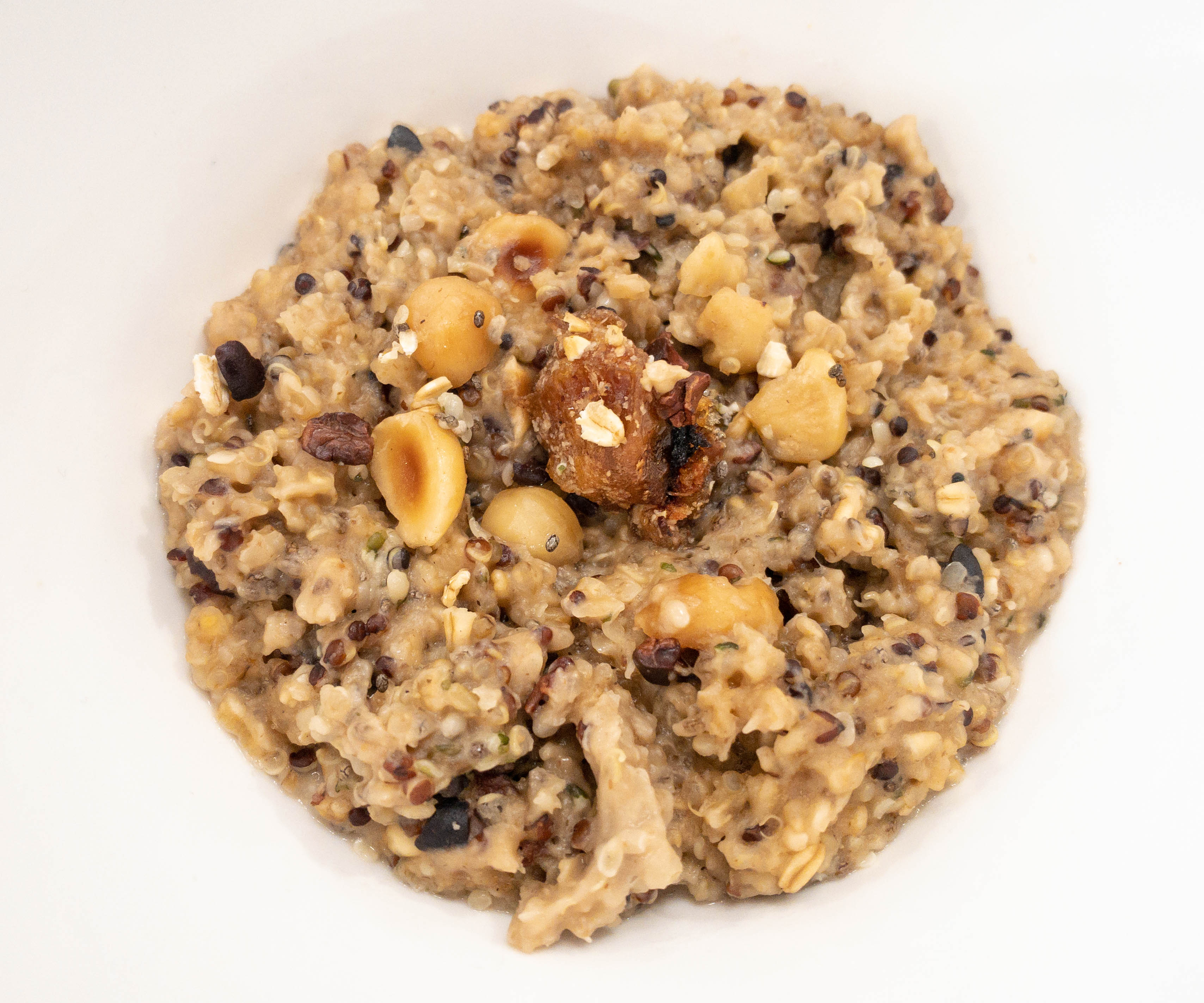 The nuts played a big part in this bowl as they provided a lot of texture and it was really fun chewing on them.
Golden Milk & Blackberry Oats. Almond milk was mixed with cardamom and vanilla to make Mosaic's delicious golden milk. They also added blackberry to the oats for a hint of tartness!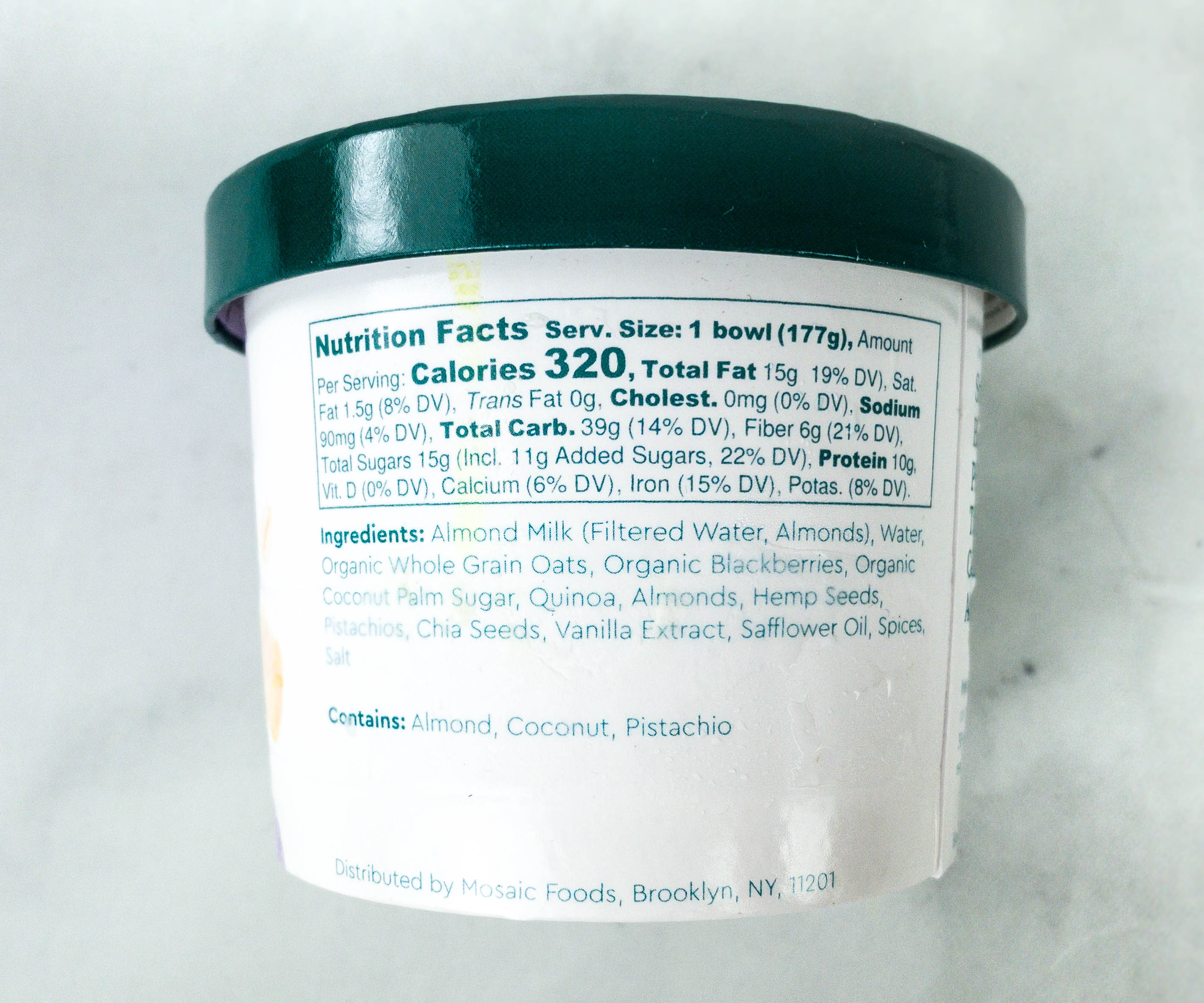 This one also contains almonds, quinoa, hemp seeds, and pistachios! Yum!
This bowl has a good amount of protein!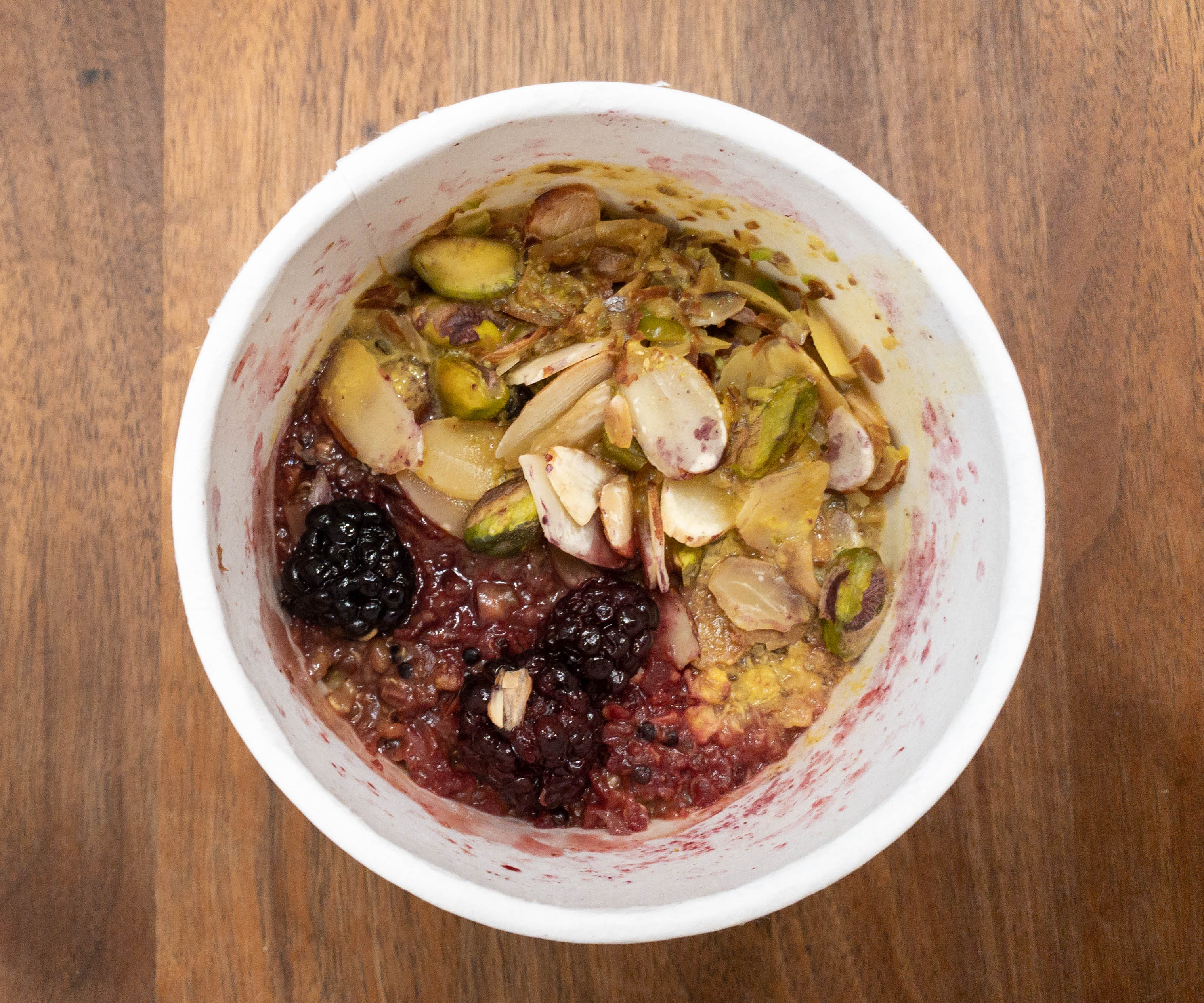 There are 3 pieces of whole blackberries in there and they did add a lot of flavor to the bowl!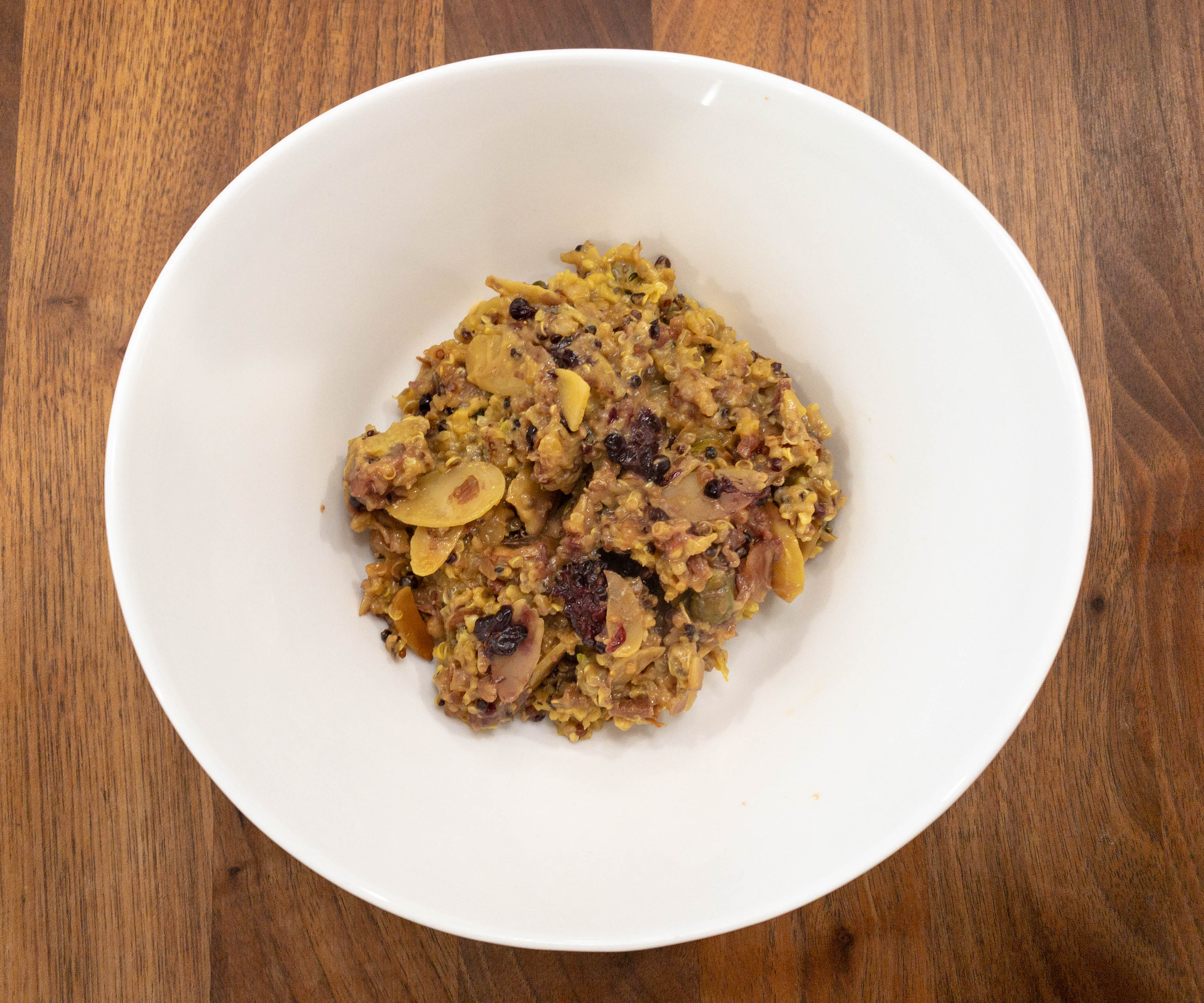 They didn't skimp on the pistachio and almonds either!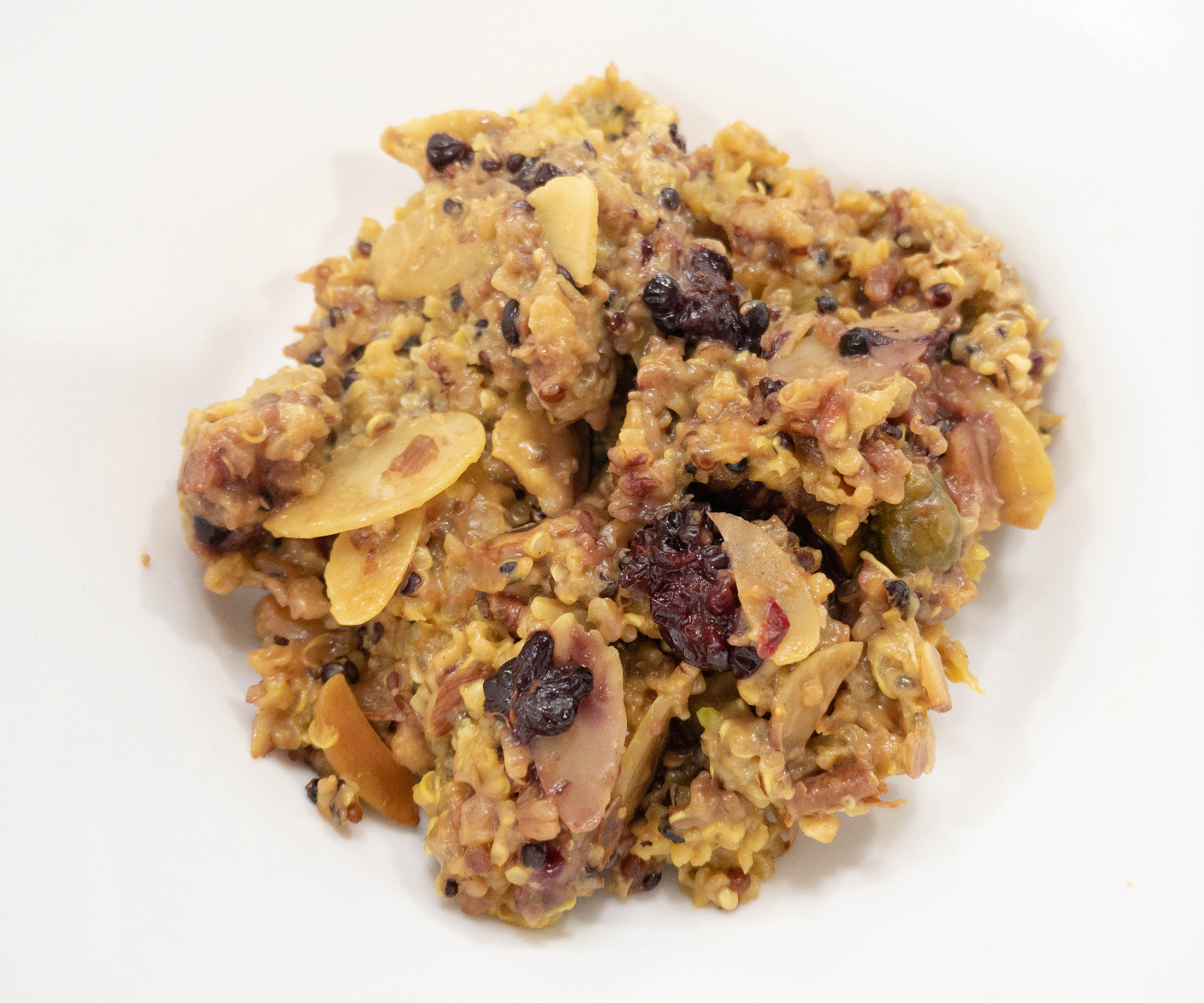 The well-balanced flavors and the chunky ingredients made each bite so hearty. If you love fruits and nuts, you'd probably love this oat bowl as well.
Now it's time for savory oat bowls!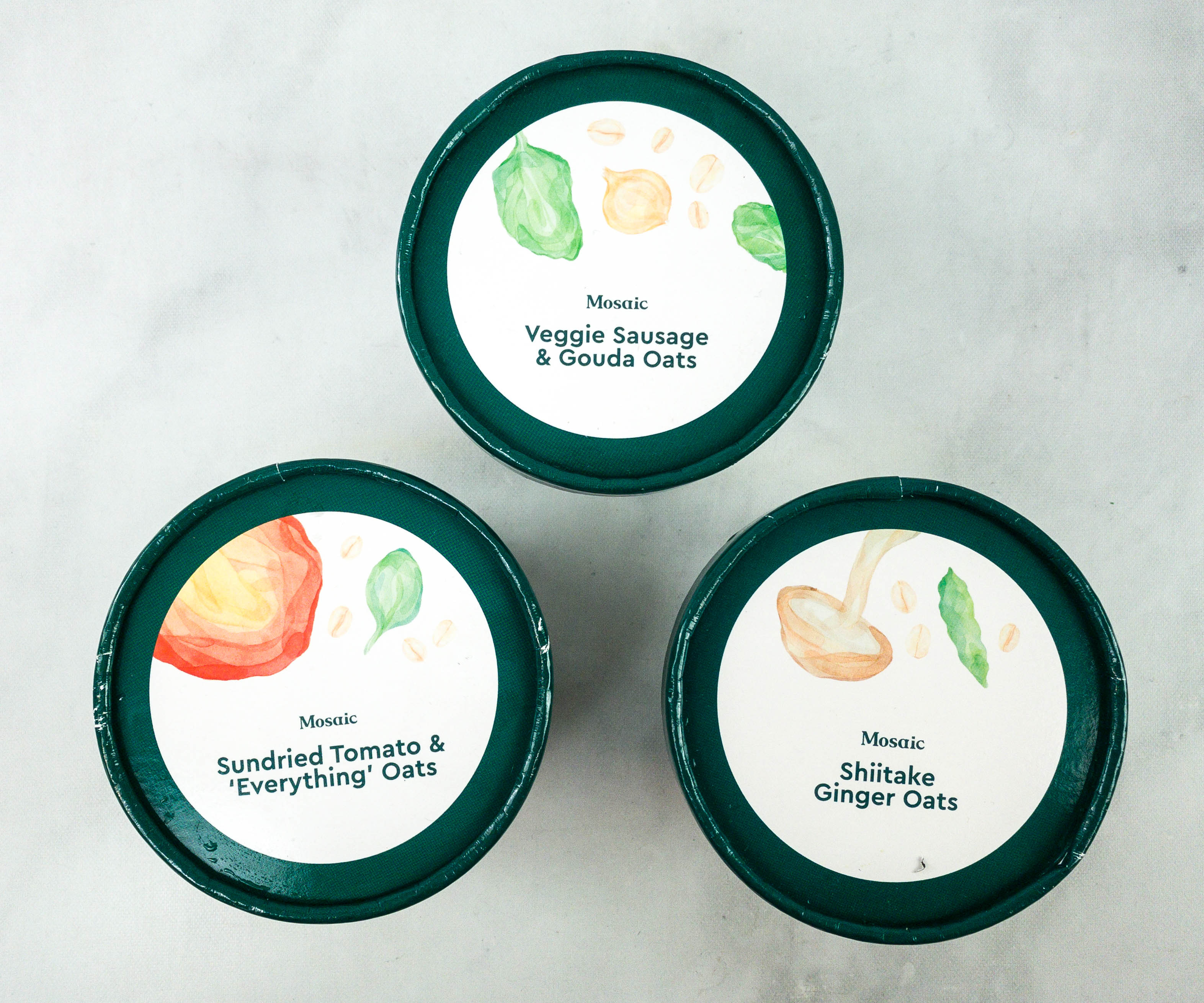 Next up are Veggie Sausage & Gouda Oats, Sundried Tomato & 'Everything' Oats, and Shiitake Ginger Oats.
Veggie Sausage & Gouda Oats. This bowl is a sweet-savory delight! It contains savory gouda and vegan sausage sweetened with real maple syrup.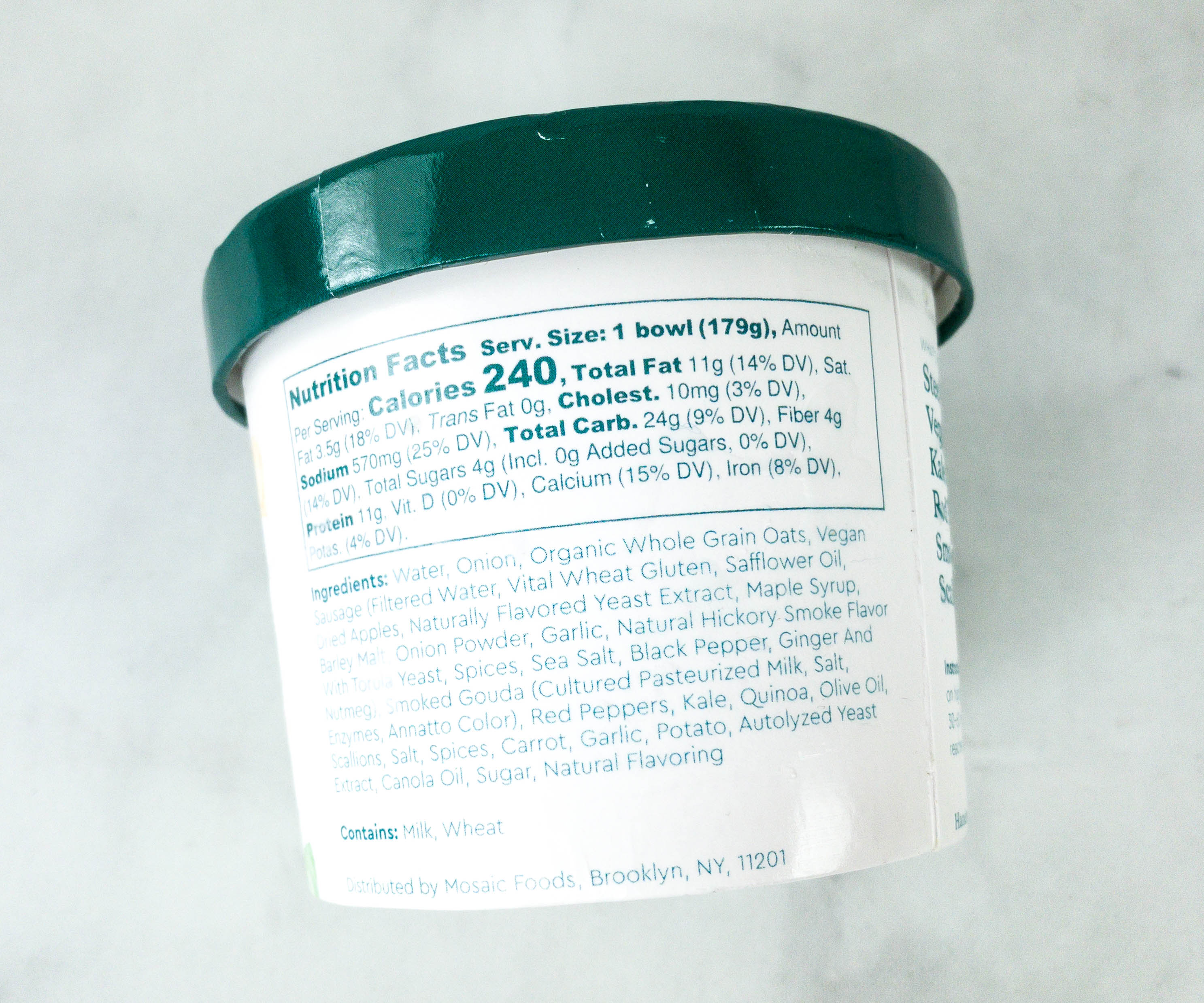 Ingredients also include red peppers, kale, quinoa, scallions, potato, carrot, and garlic.
It looked really good when I opened it. The sausages are the most noticeable ingredient and the scallions add a nice color to the bowl.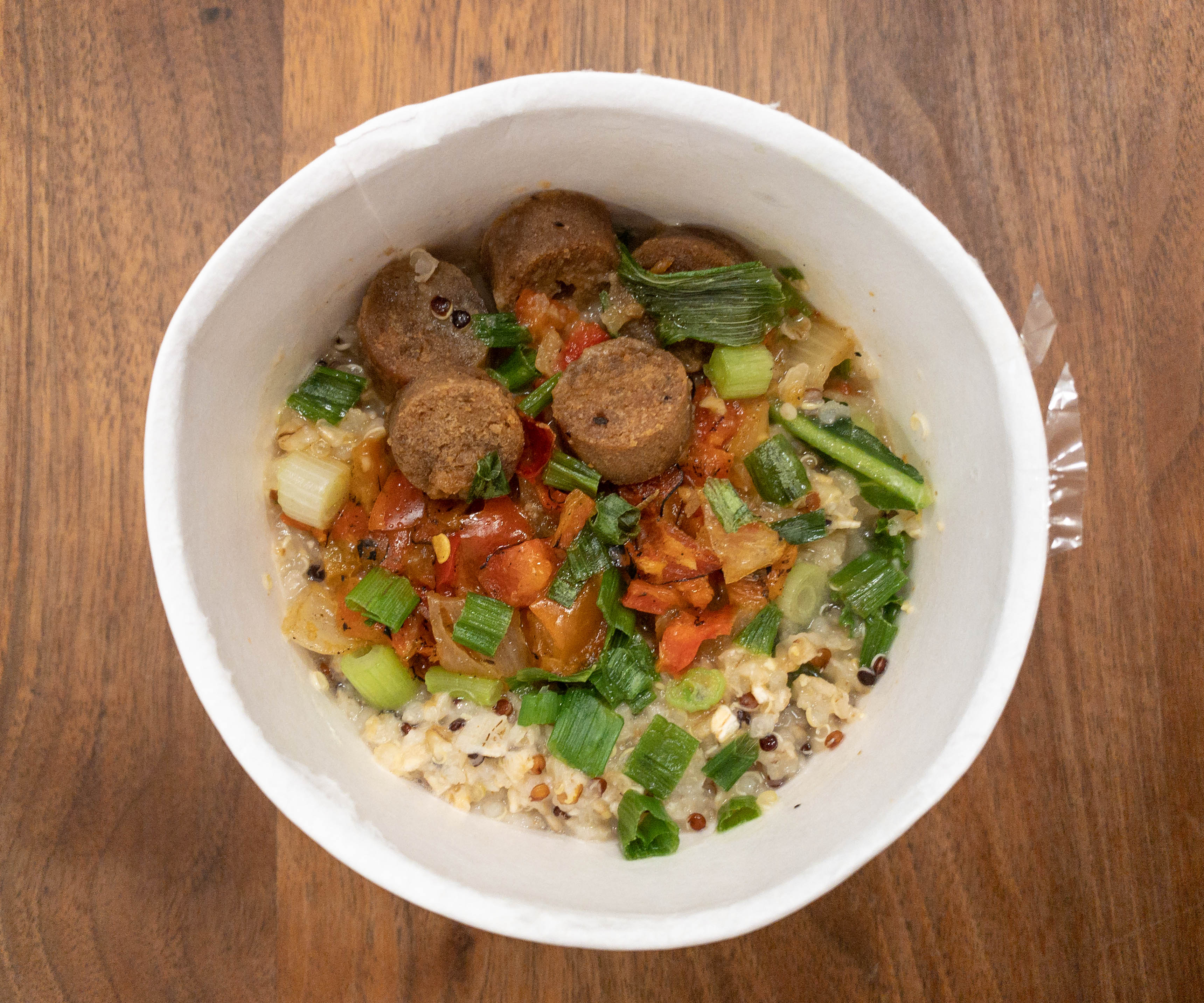 It looked even better after heating, as the colors became more vibrant. It also smelled so good!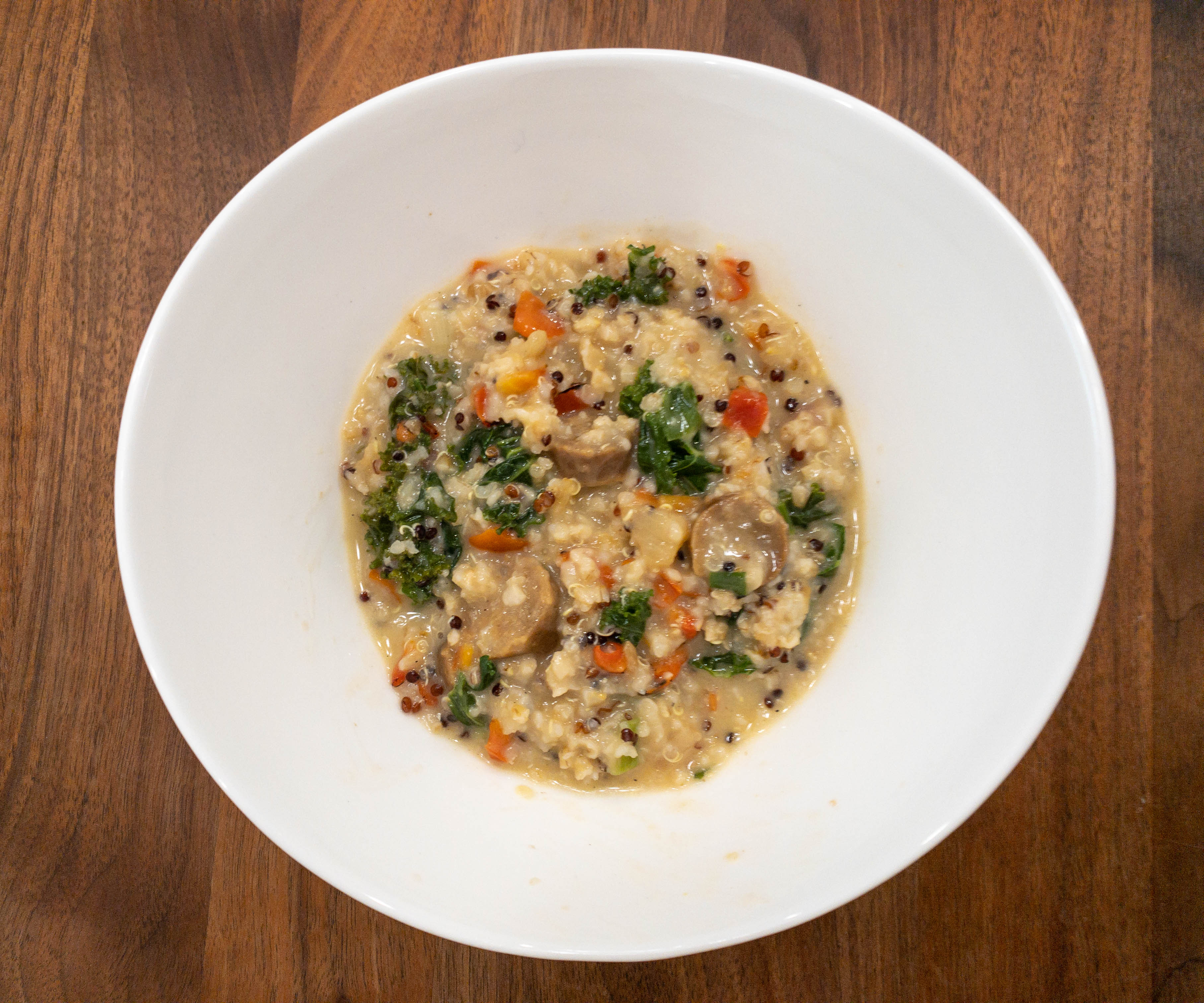 I liked the flavors of this bowl. It's not too salty and I think the ingredients went really well together!
The vegan sausage is truly the star of this bowl! It was tasty and having it with the oats and quinoa made such a quick yet filling meal.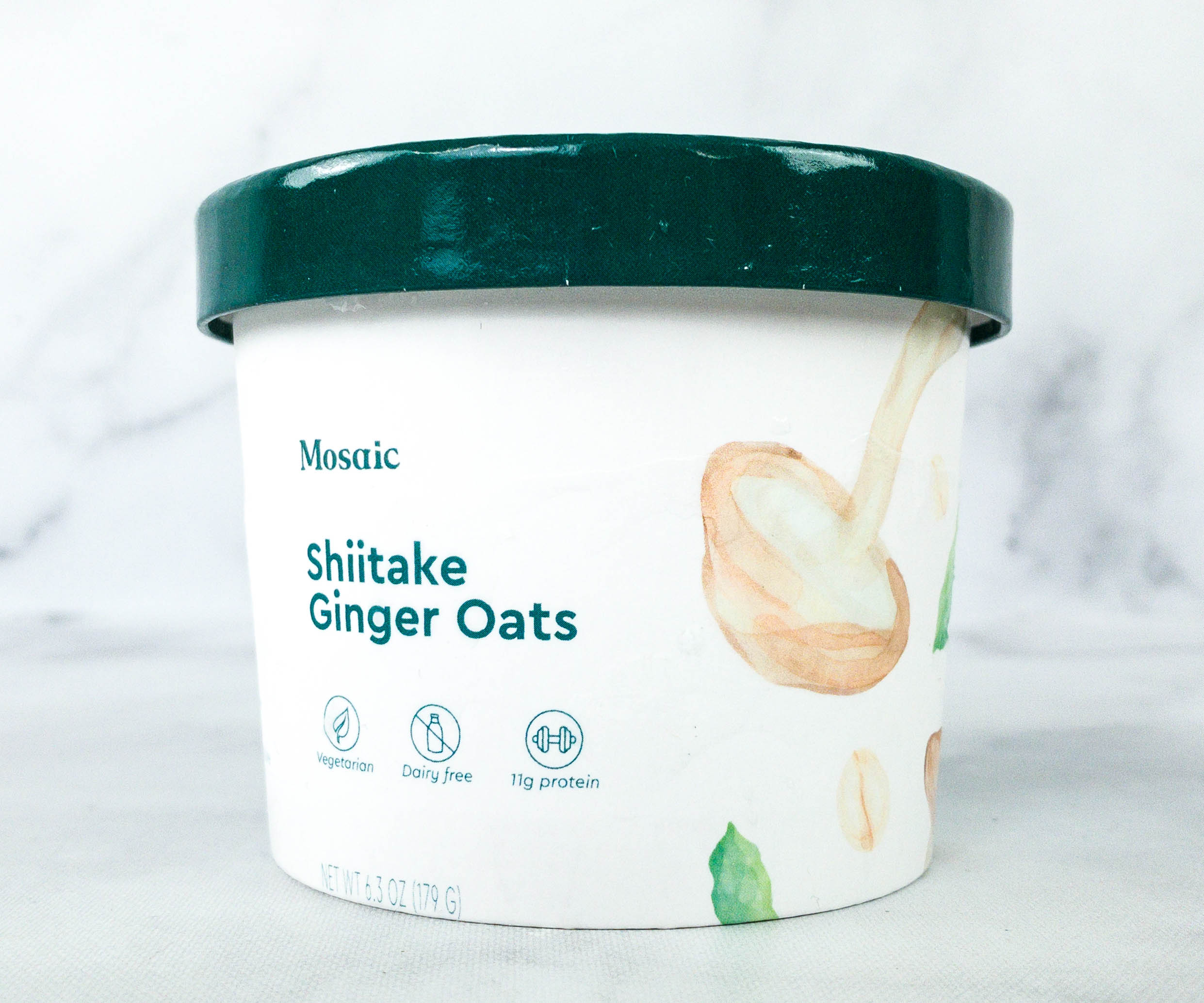 Shiitake Ginger Oats. Shiitake and ginger is such an interesting flavor combination! This is another bowl to try for fans of savory oats.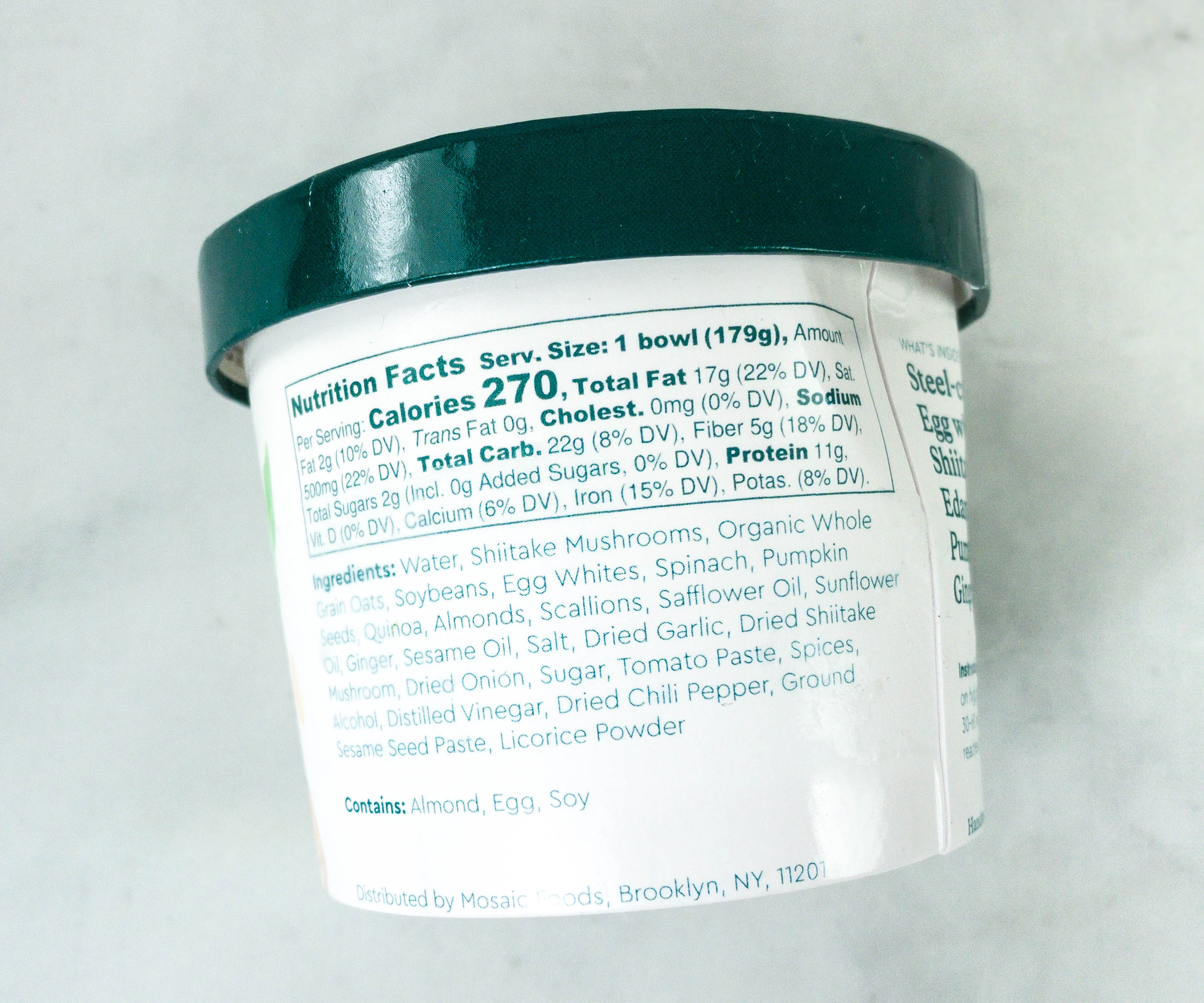 Aside from shiitake mushrooms and ginger, this one also contains spinach, pumpkin seeds, quinoa, almonds, scallions, dried chili pepper, and ground sesame seed paste.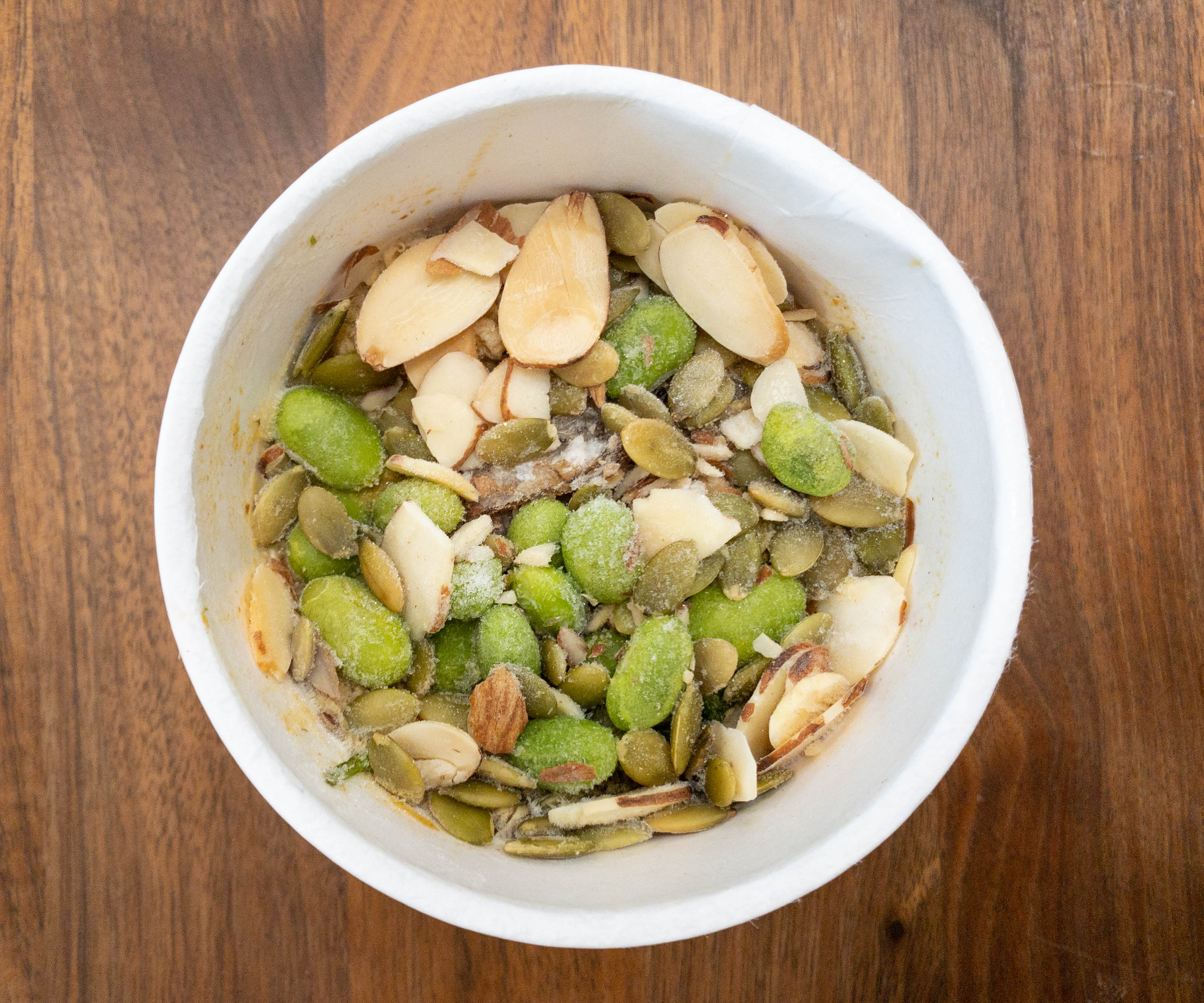 This has quite a lot of pumpkin seeds and almonds in it!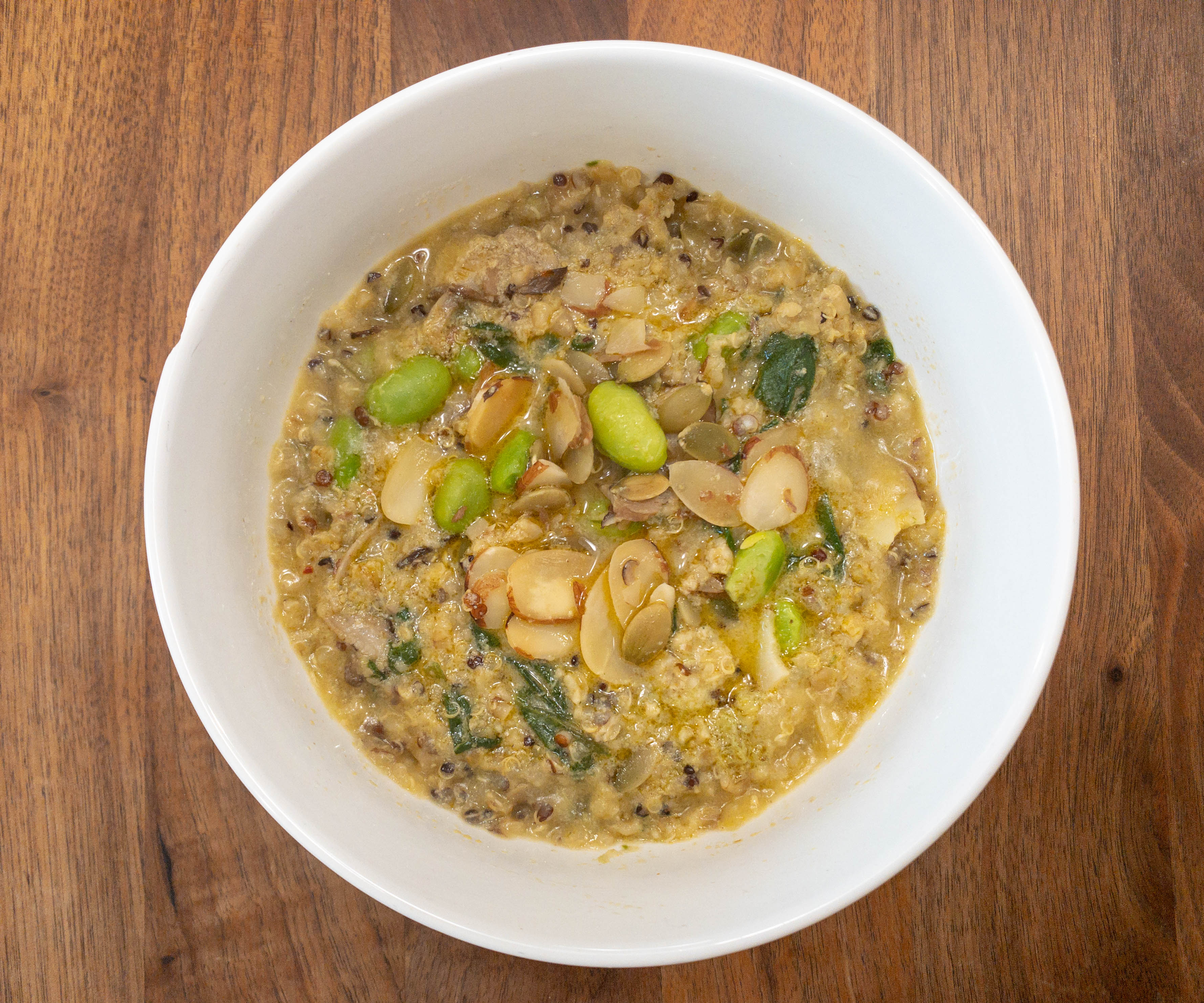 The mushroom brings umami to each bite and there's also a kick of spice from the chili pepper!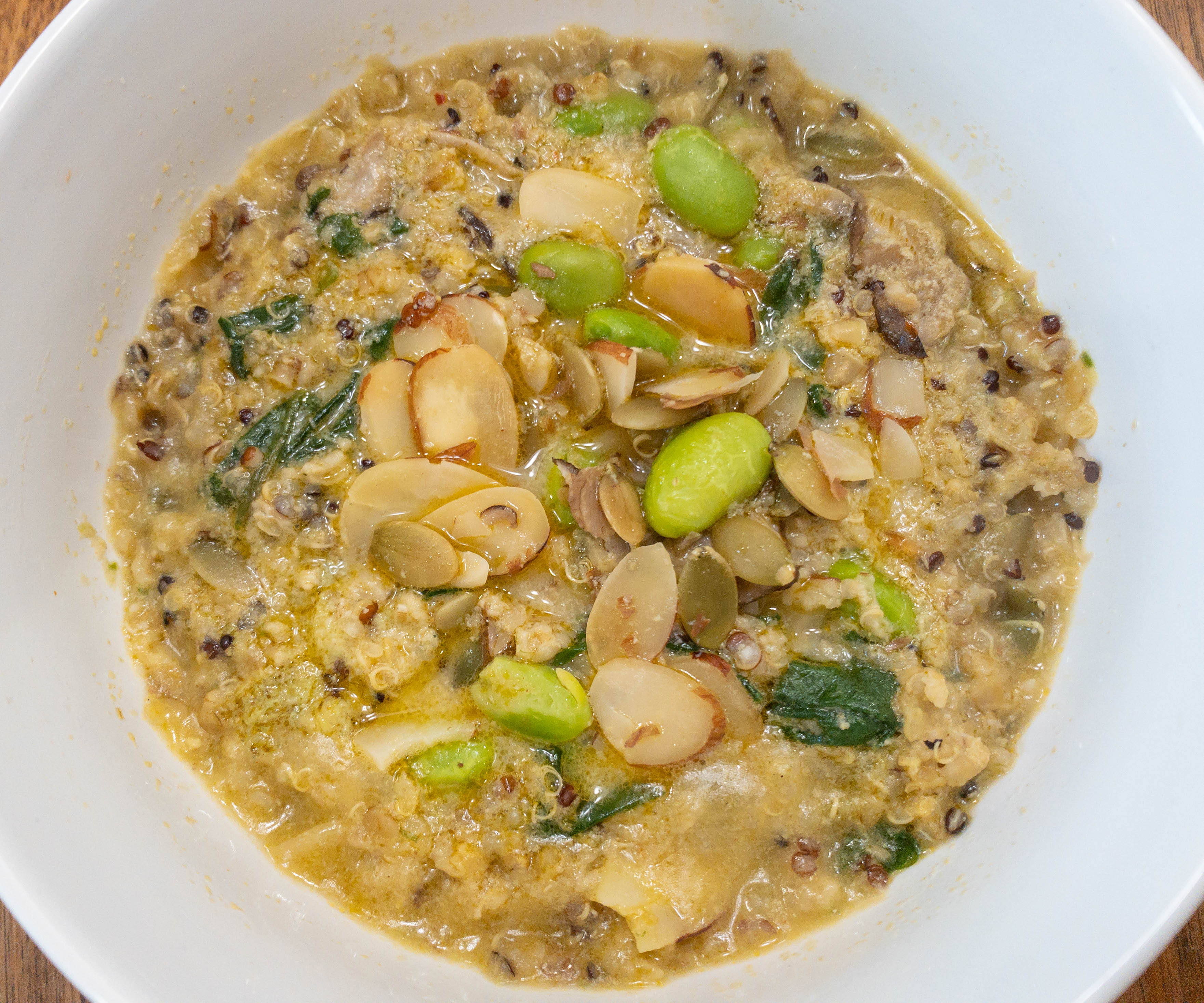 The almond slices and pumpkin seeds level up the field by giving you something to nibble on!
Sundried Tomato & "Everything" Oats.  The last bowl of oats in this box has a sundried tomato base.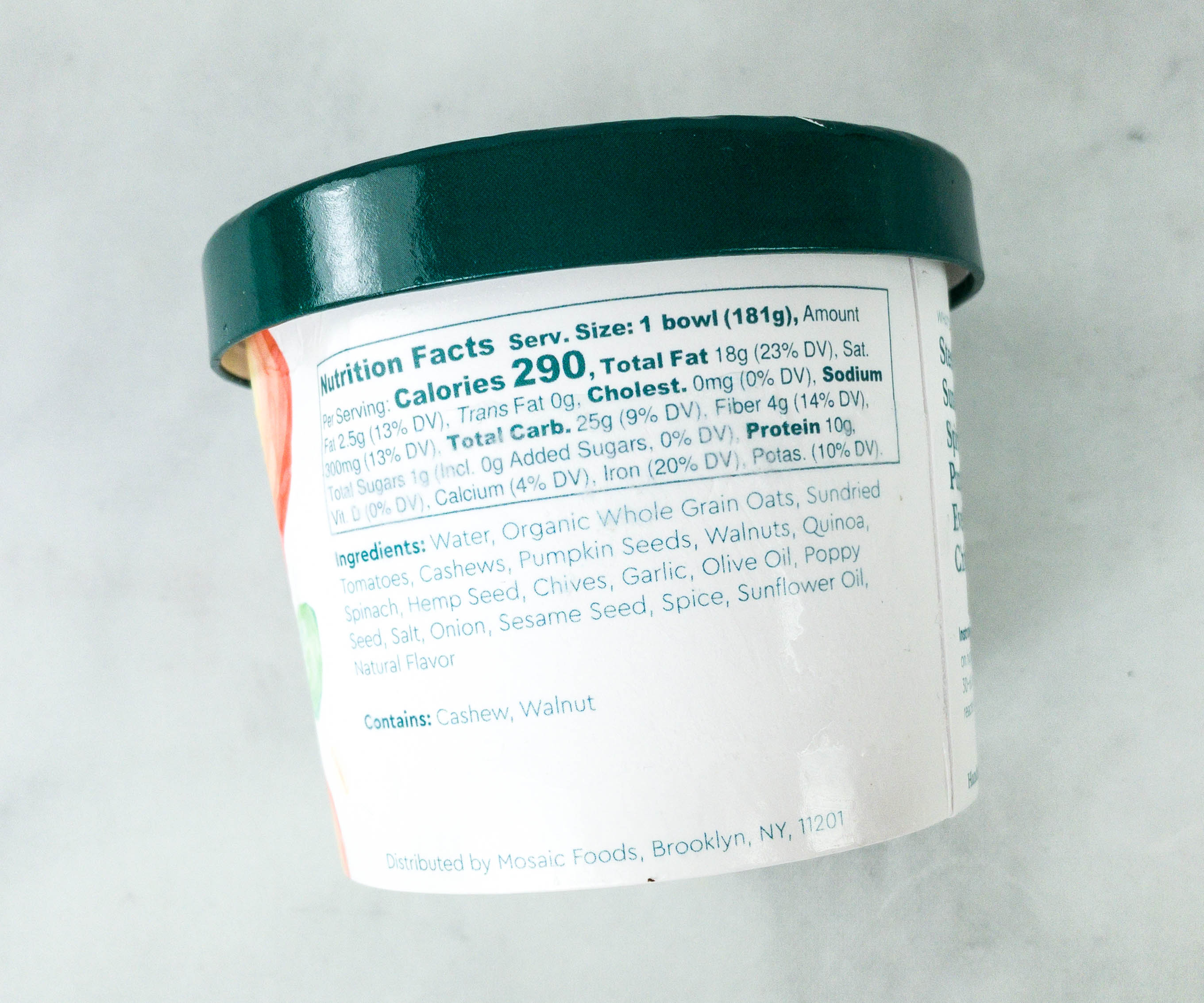 It also contains cashews, pumpkin seeds, walnuts, quinoa, spinach, hemp seed, chives, garlic, poppy seed, and sesame seed.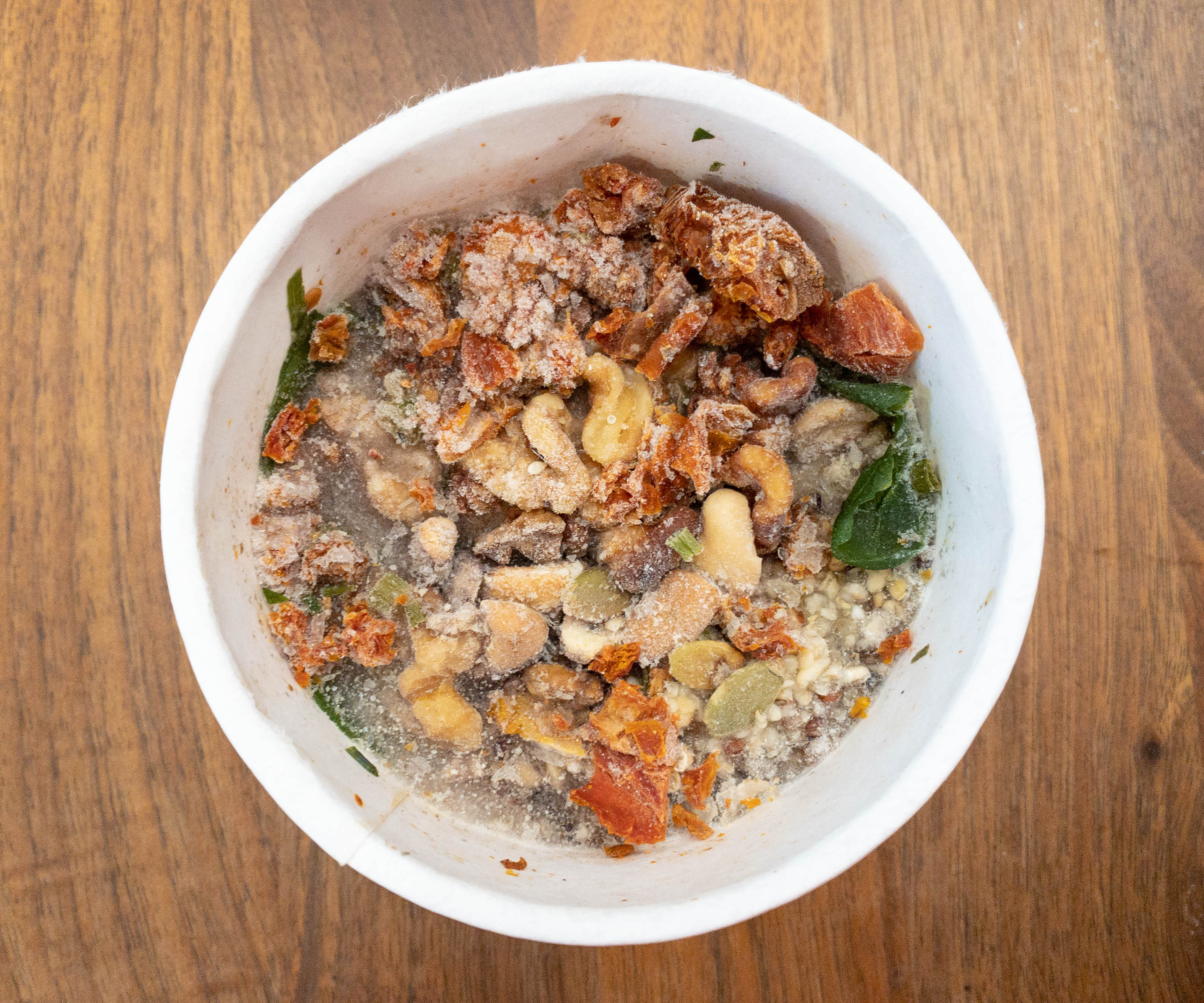 This was frozen solid so I had to put it in the microwave a few times, in 30-second intervals.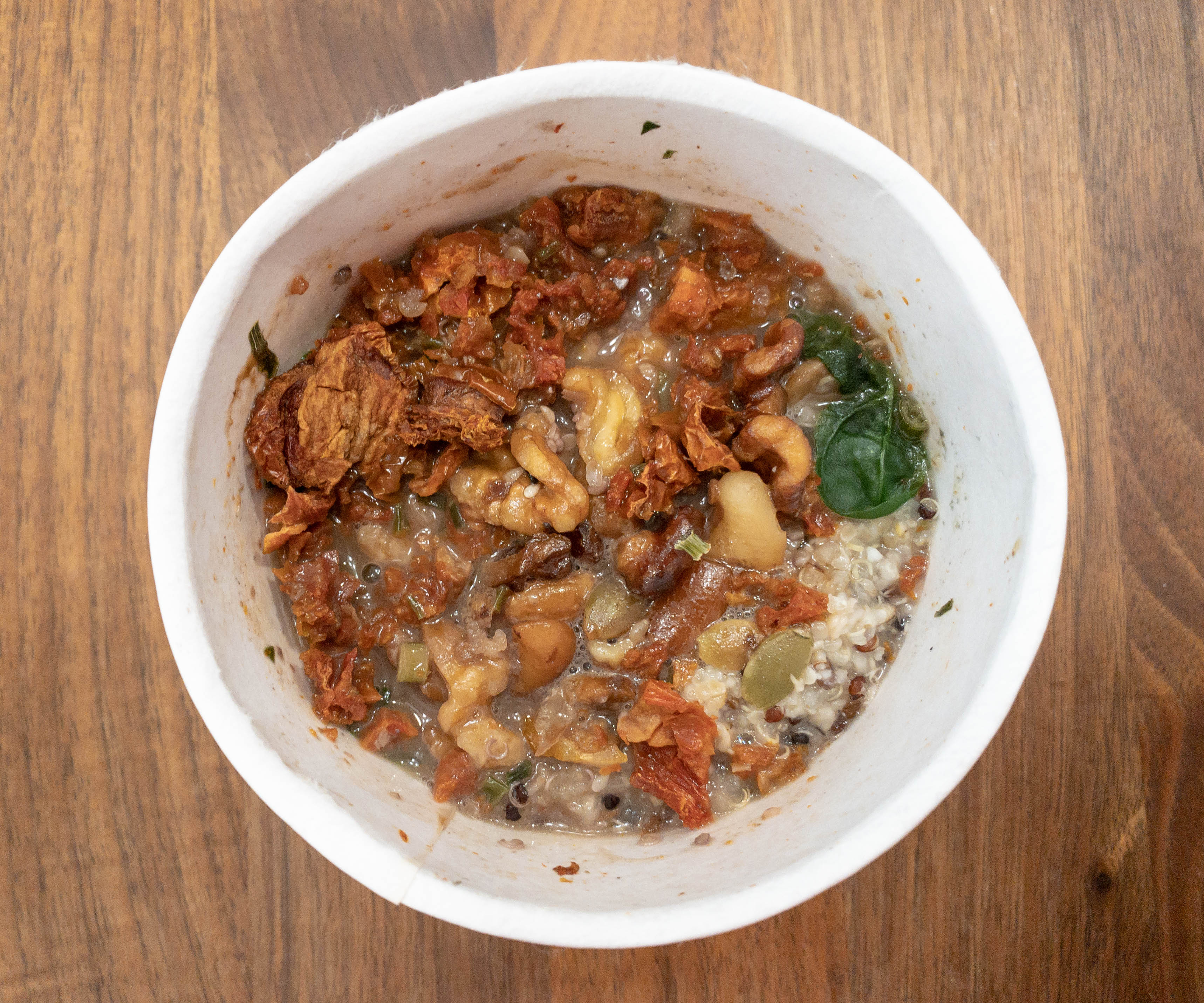 Finally, it's now hot all the way through!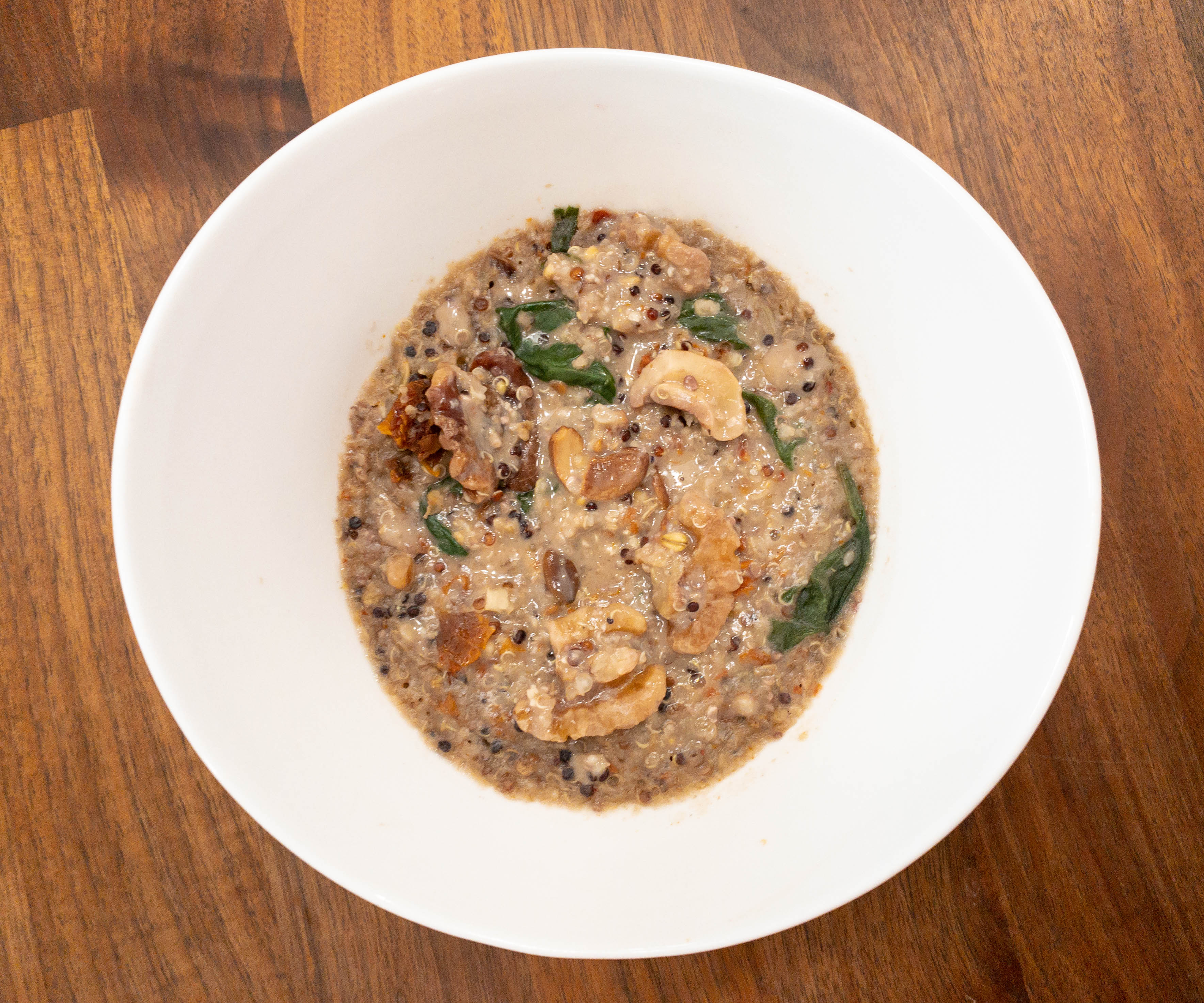 The flavor of this bowl is inspired by everything seasoning! The savory garlic and sauteed spinach created a perfect symphony in my mouth, and it's made even better by the bright flavors of the sun-dried tomatoes.
This one is also packed with vitamins C and K, plus protein from the seeds! I loved how filling this was, it's indeed a perfect way to start my day.
We also got some new veggie bowls to check out. This batch includes Chipotle-Mango Burrito Bowl, Jack Lentil & Plantain Bowl, and Peanut Tofu Bowl.
Chipotle-Mango Burrito Bowl. I was intrigued by this burrito in a bowl, a plant-based one at that!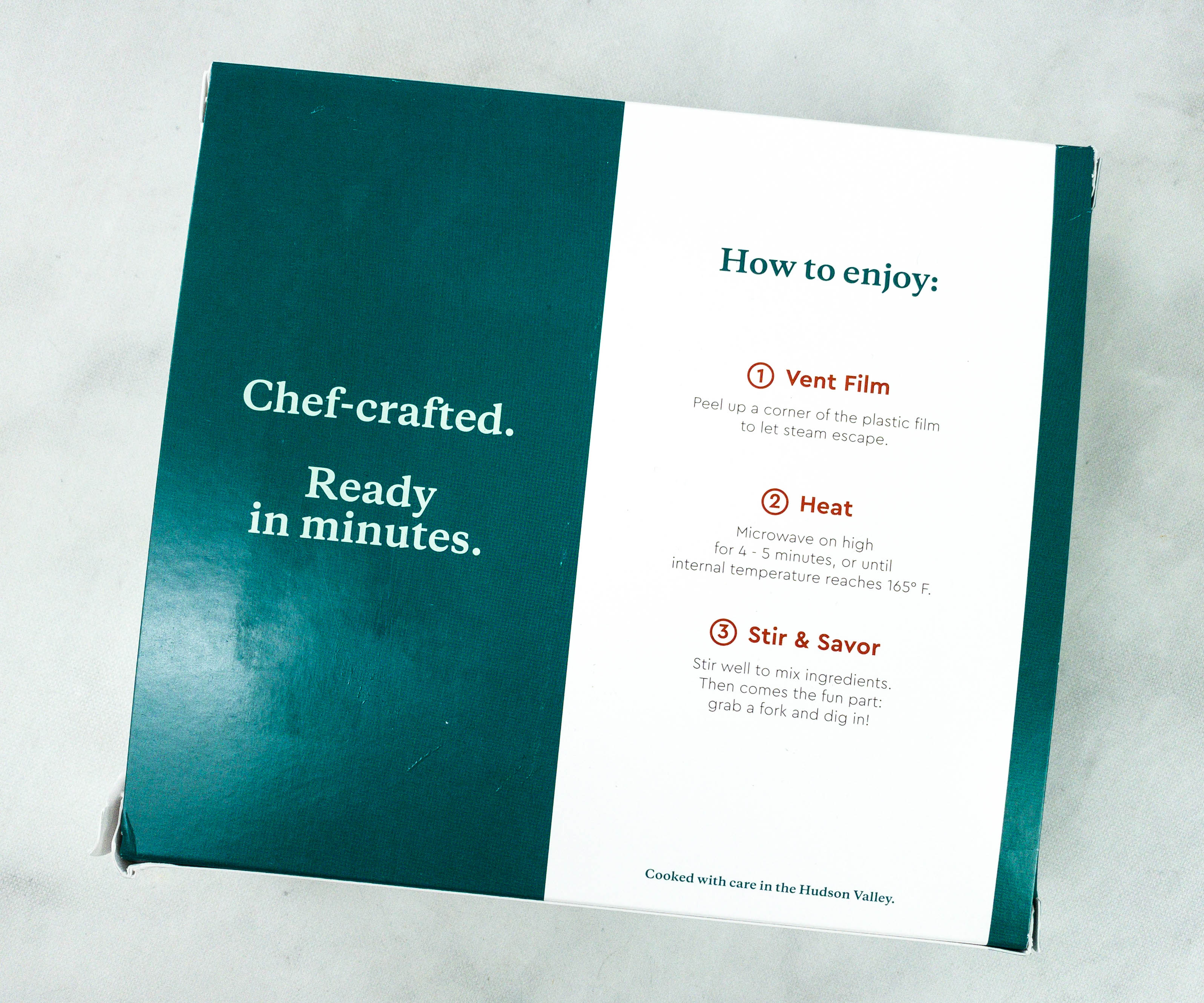 The instructions on how to prepare it is at the back of the box.
The side of the box also has the nutrition facts and ingredients list.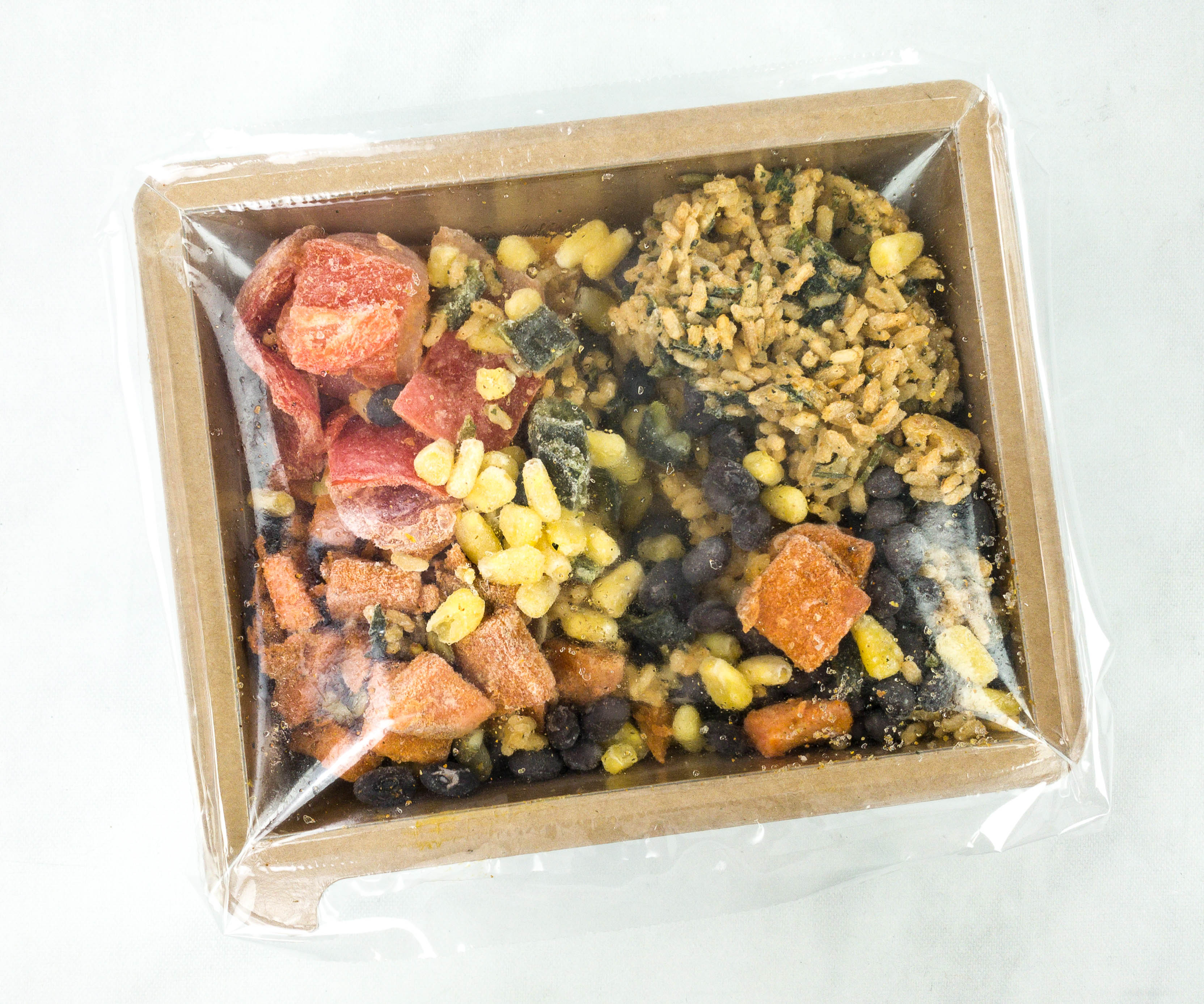 To prep this, simply peel off the vent film before popping it in the microwave.
Leave it in for at least 4-5 minutes and once it's done, your meal is all set!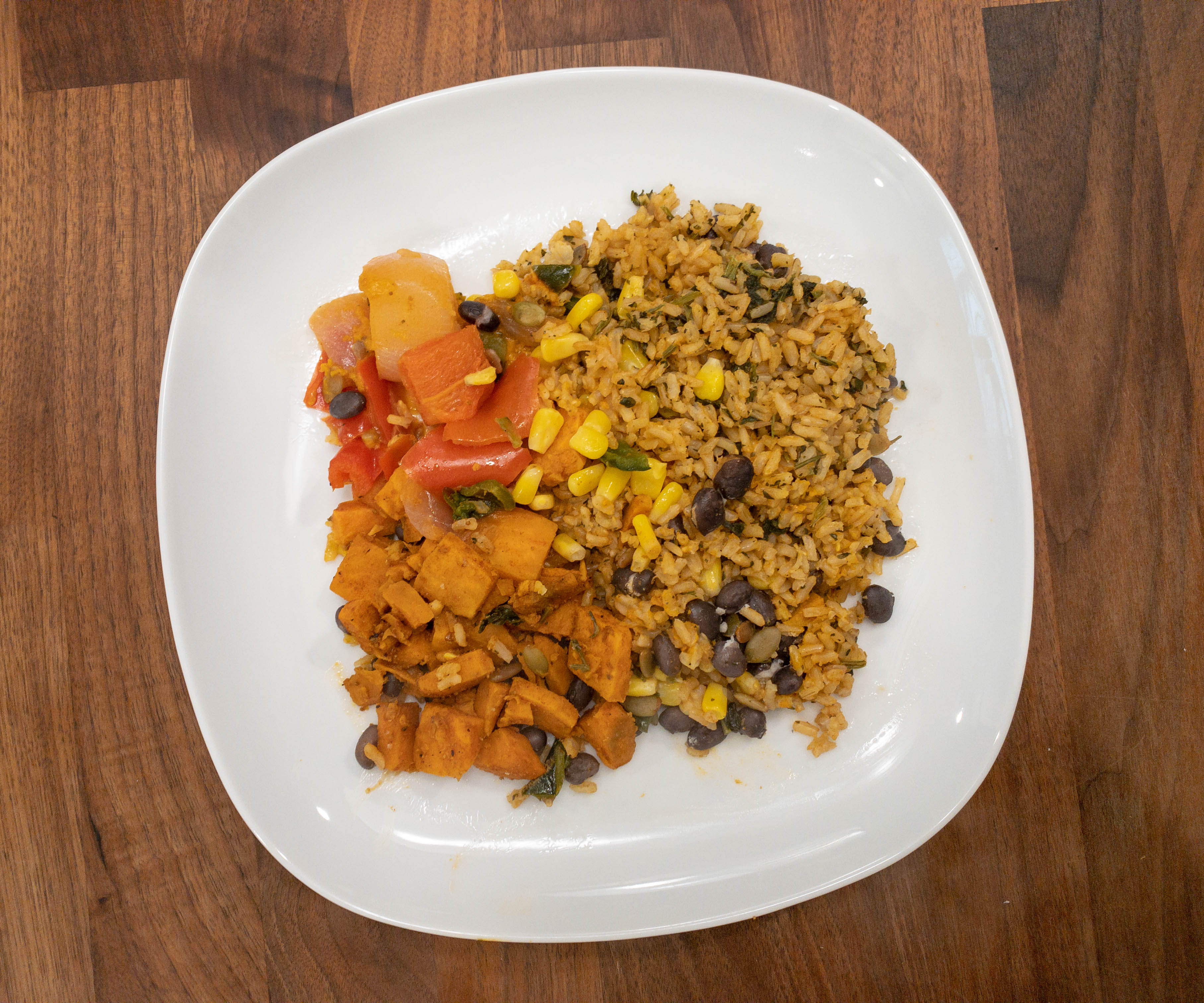 The portion size looks really good. It also smells amazing!
I like that the rice is not mushy even though it has been frozen and reheated. It still has a chew to it. I can also taste the smokiness in there, while the corn adds a subtle sweetness in every bite!
Jerk Lentil & Plantain Bowl. Lentils are high in protein and fiber but low in fat, making it a great ingredient in meals to keep you full and nourished throughout the day!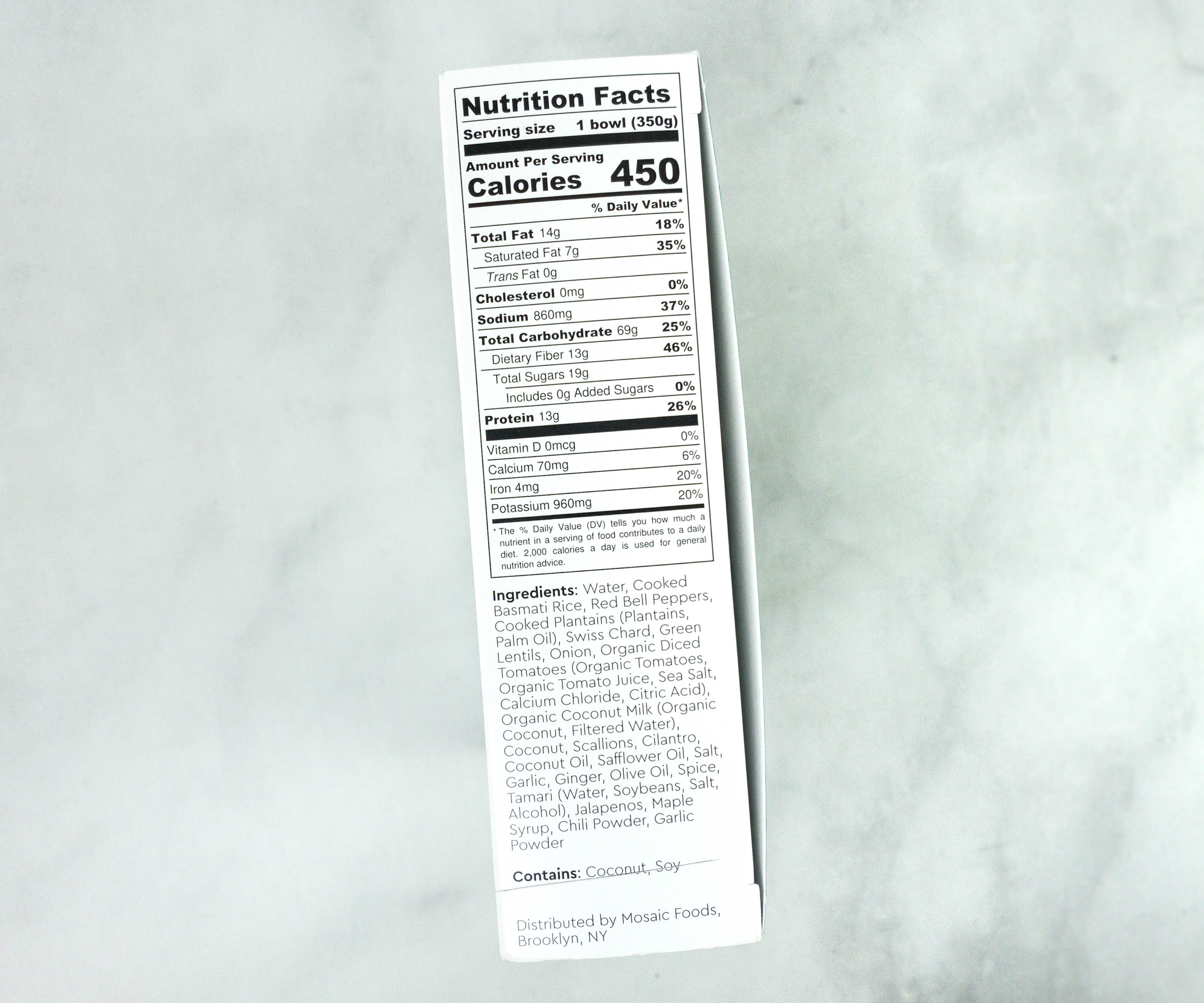 This meal has 0g trans fat and 0mg cholesterol!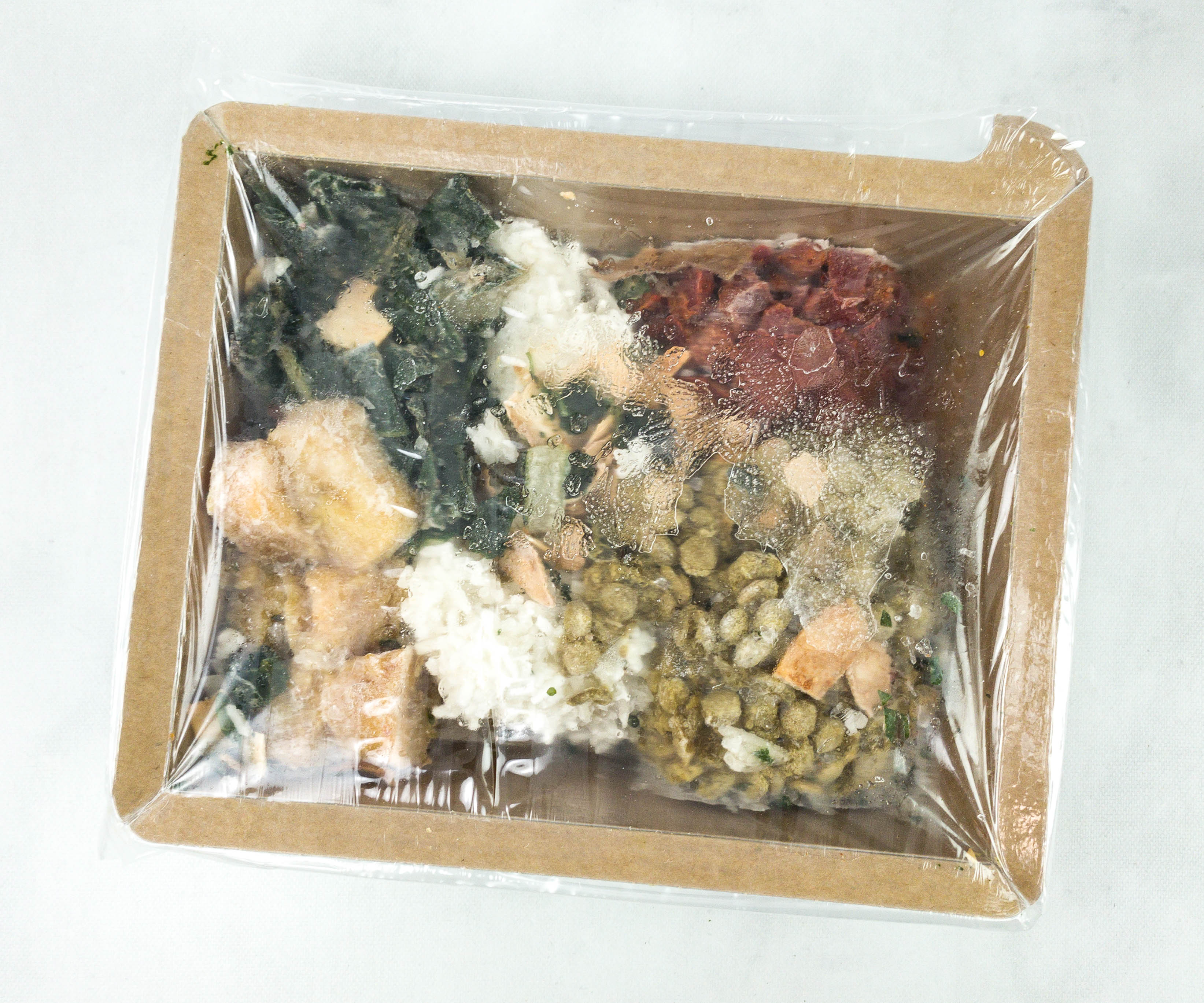 This meal is easy to prepare, you just have to heat the contents of the bowl.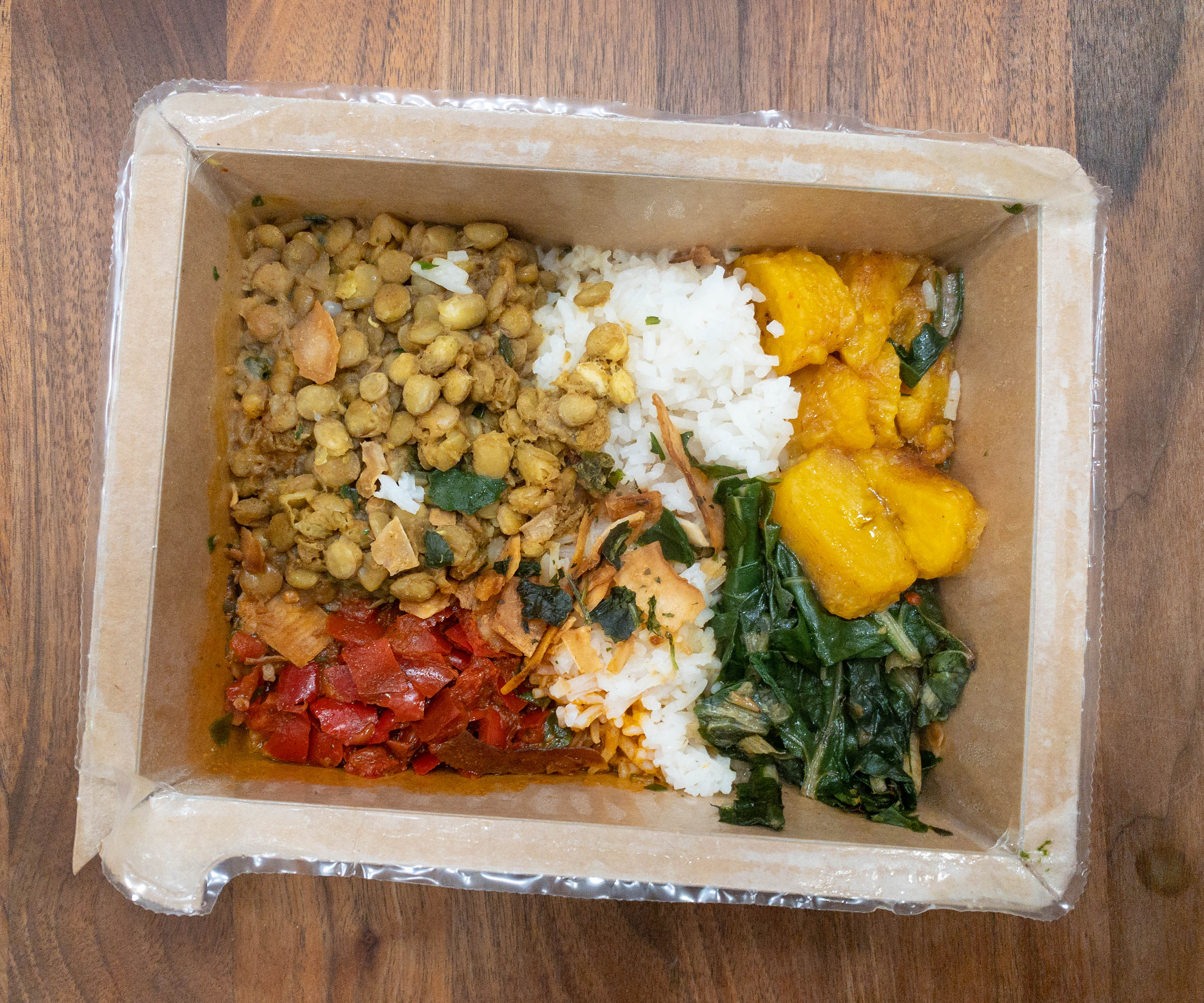 Toss it in the microwave for a few minutes, transfer to a plate, and enjoy!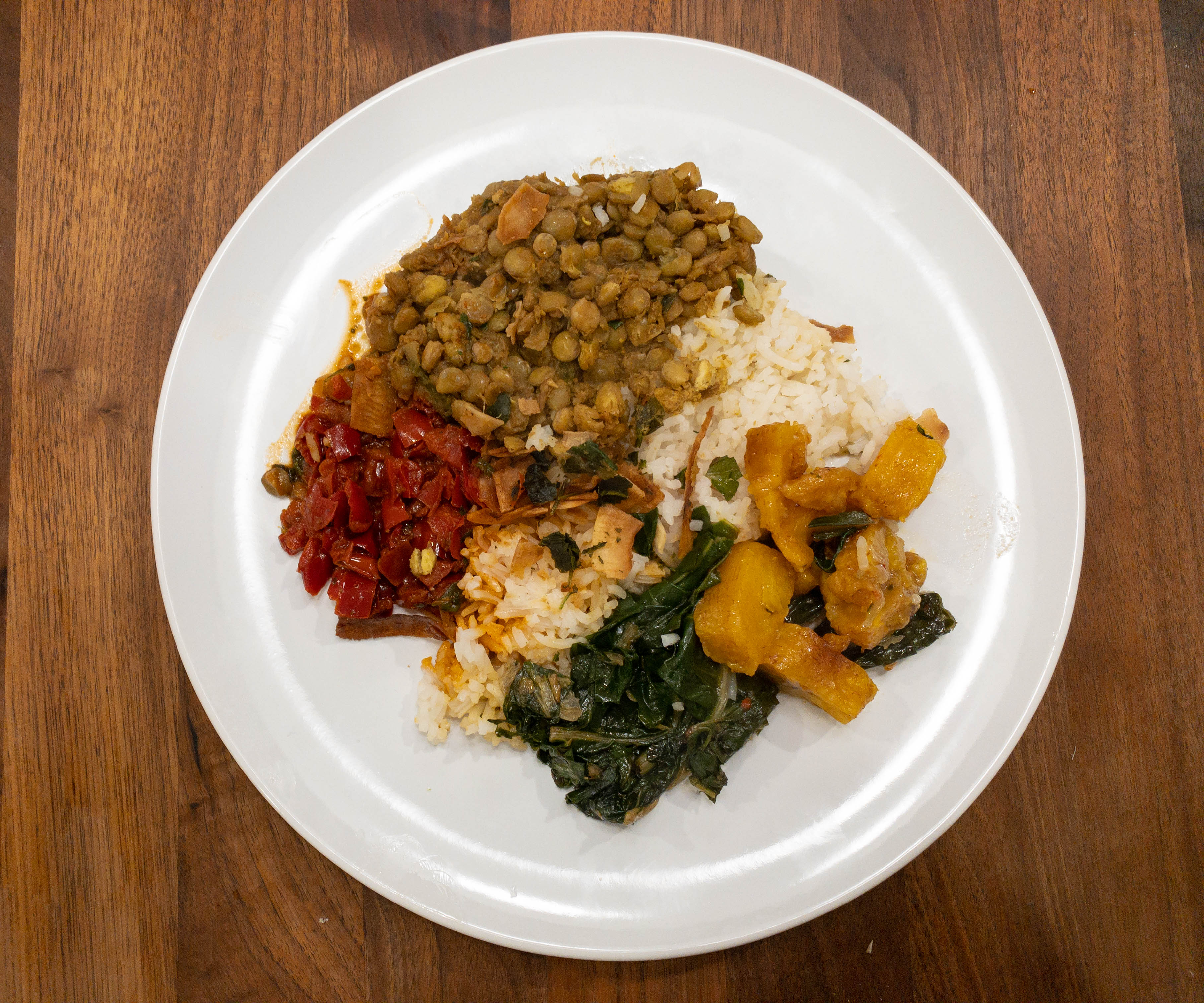 The lentils taste really fantastic, packed with flavor from all those spices. I like how soft and fluffy the basmati rice is!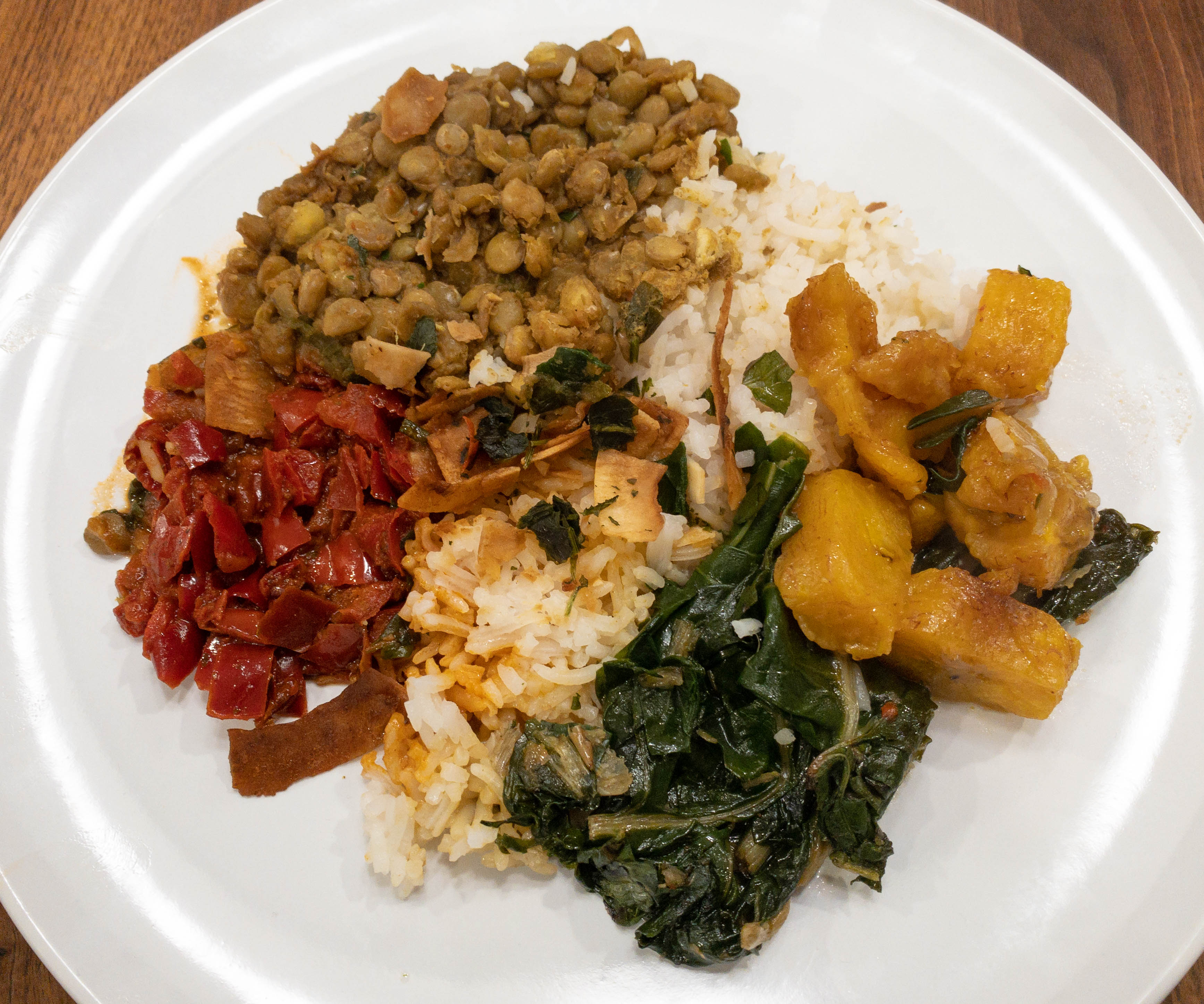 The plantains are super tasty. They're sweet but not so much that it overpowers the dish. It's a nice pop of flavor that balances everything out. The charred swiss chard tastes buttery and combined with everything, this dish is an explosion of flavors in my mouth!
Peanut Tofu Bowl. Tofu has long been used as a meat substitute, and I love that it's the main highlight of this next dish!
This is a peanut-based dish that I am really excited to try!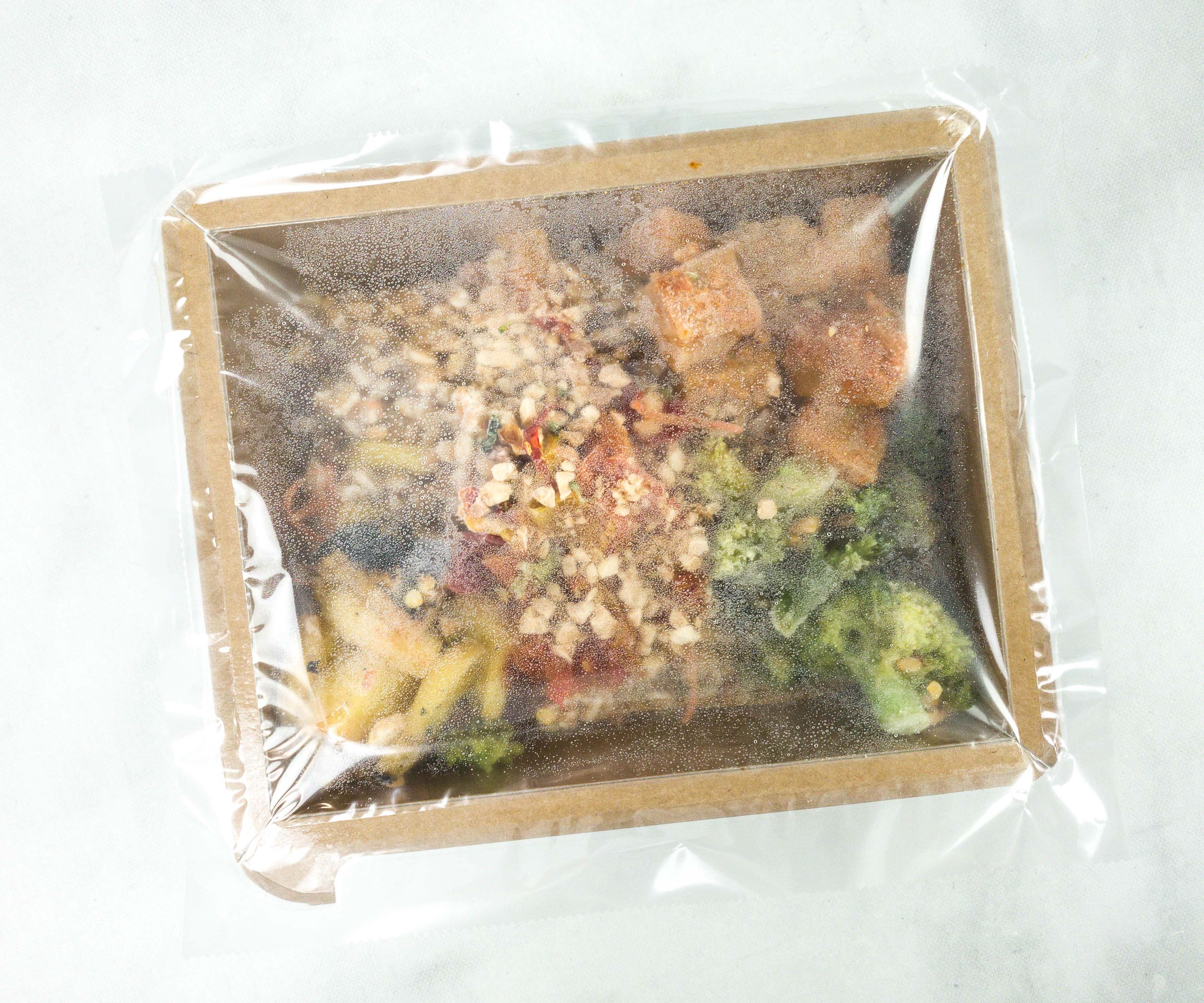 Make sure to remove the vent before putting this in your microwave!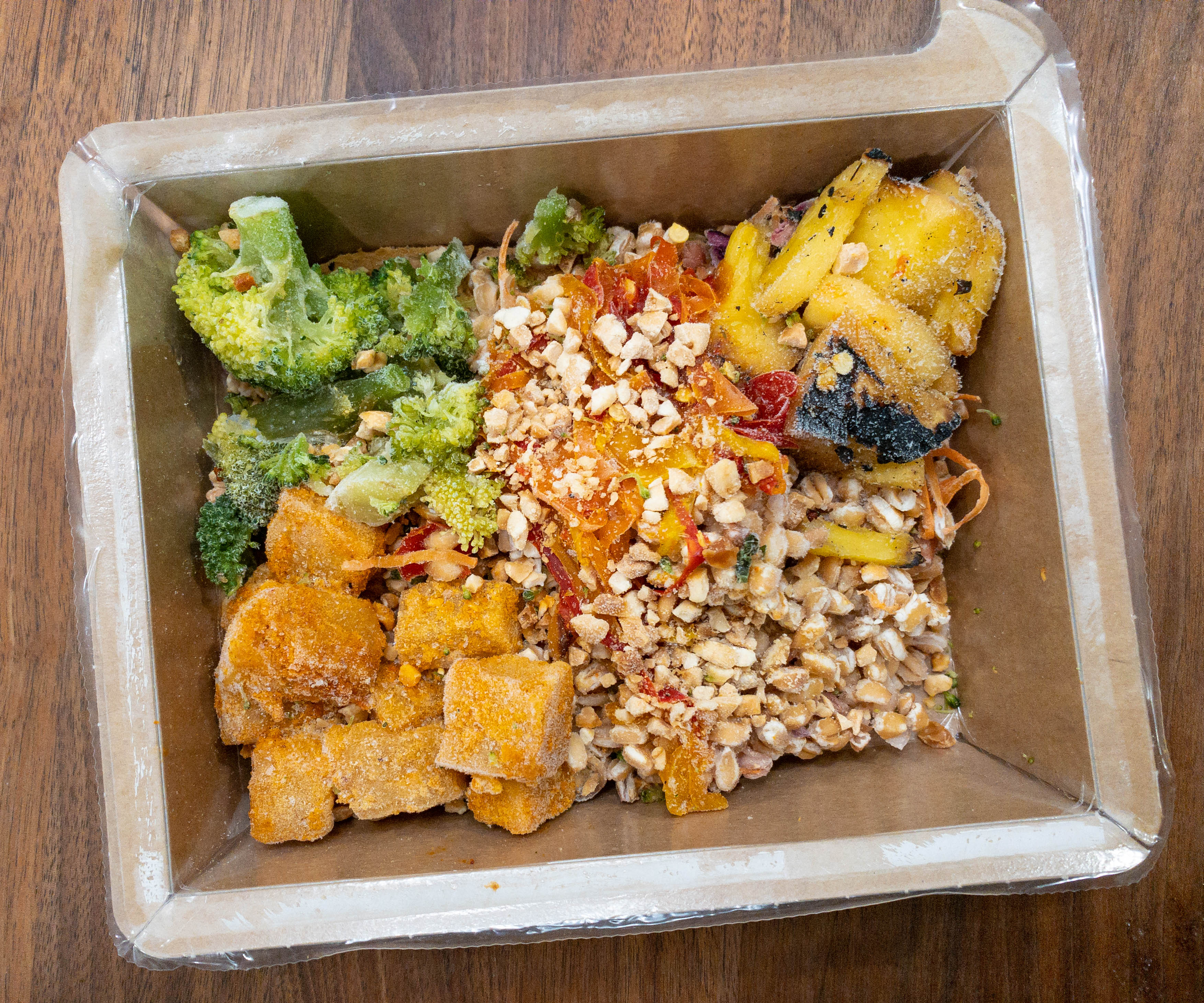 I really love how easy it is to prepare these meals. This is how it looks like when it's still frozen!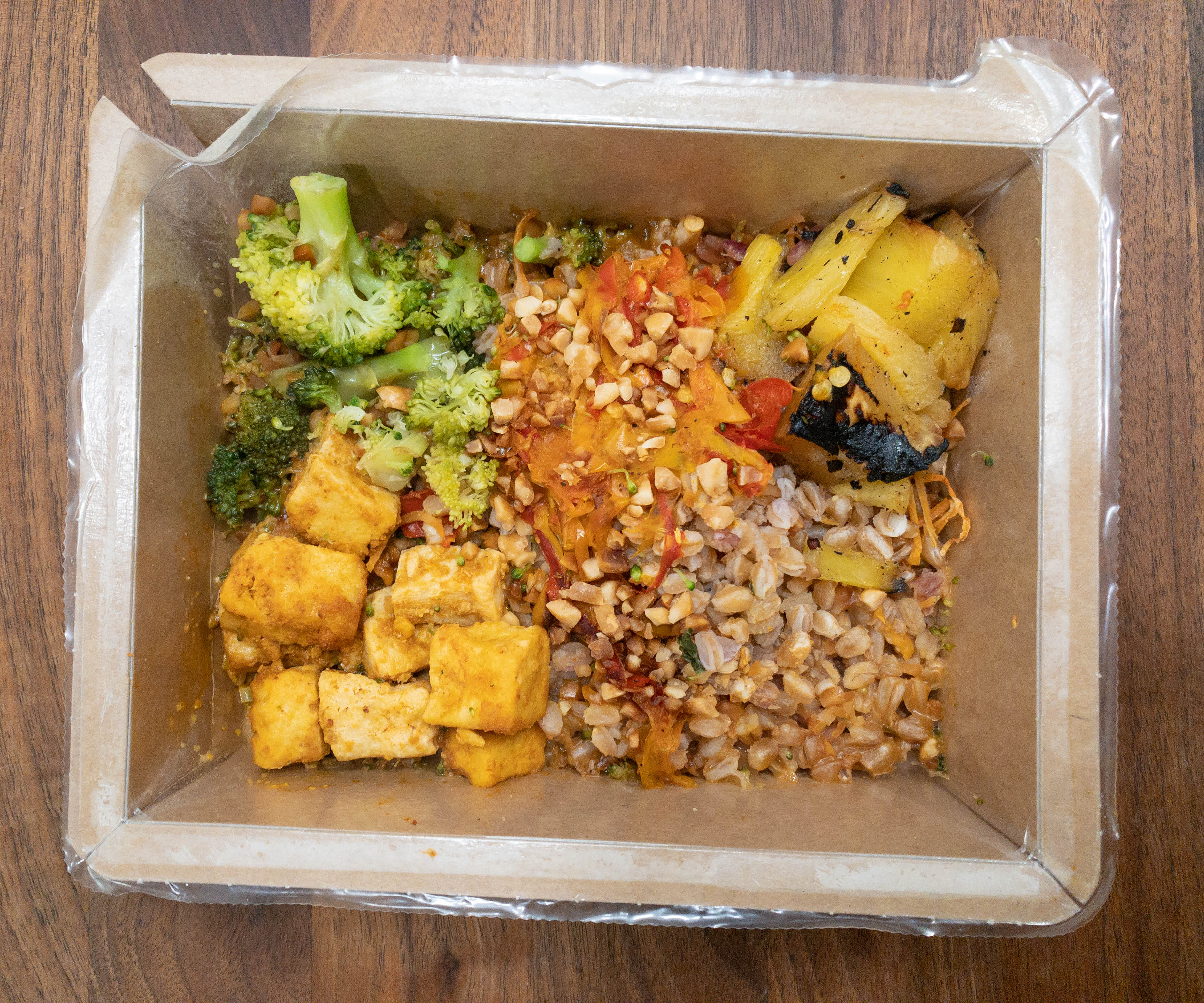 Now, this is how it looks like after heating! I love the colors!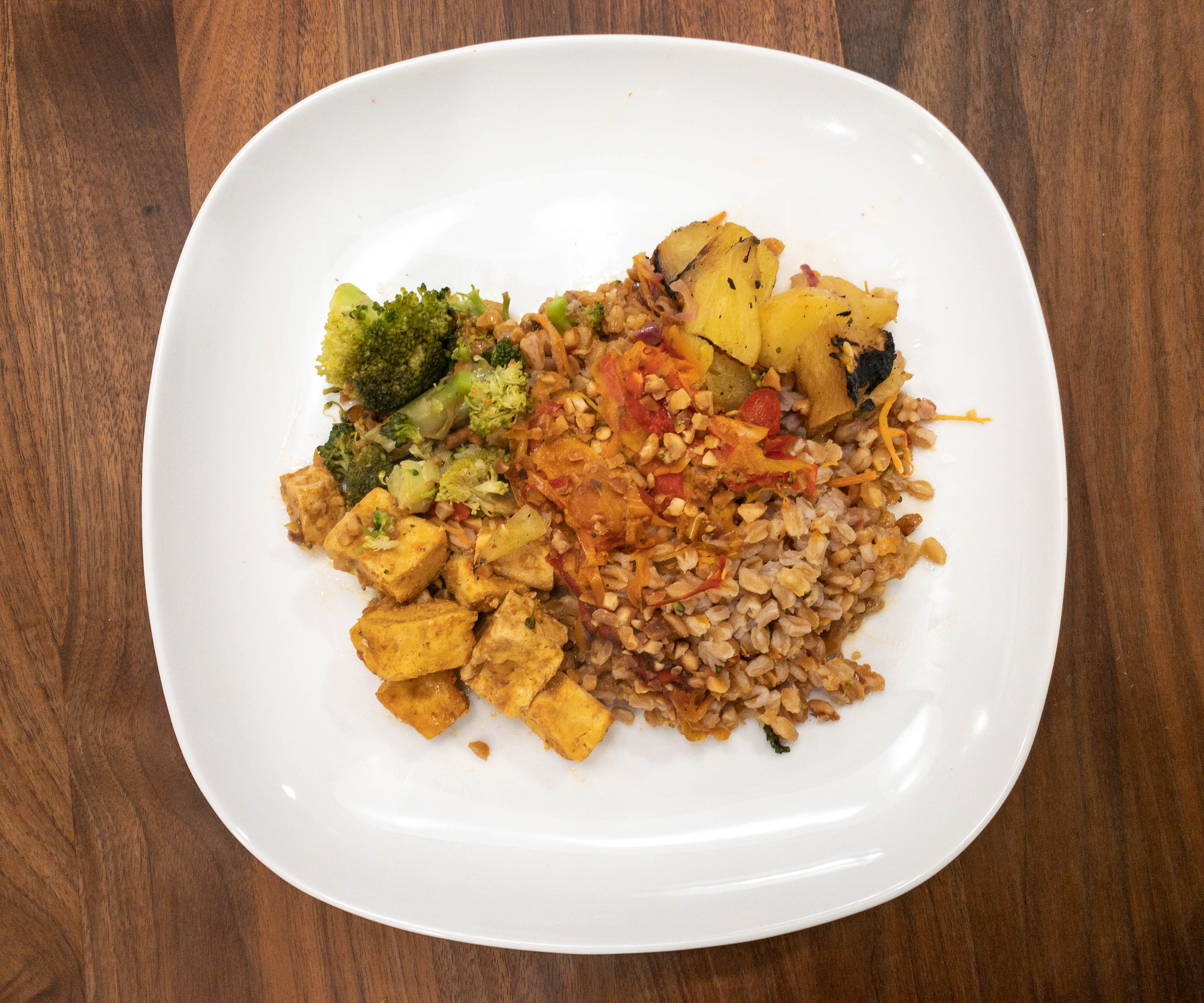 This is a Thai inspired bowl as peanut sauce is widely used in Thai cuisine.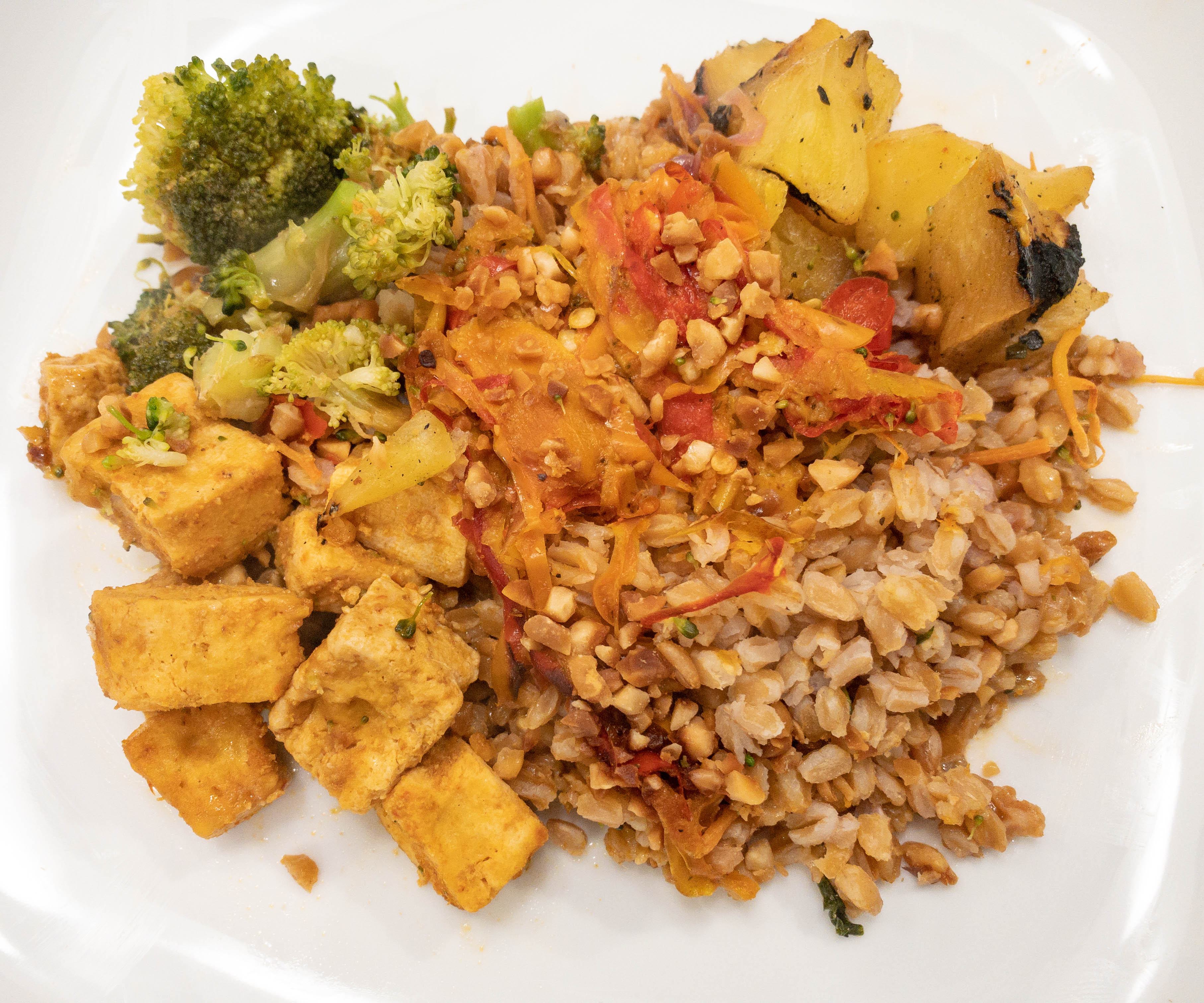 I like the blend of flavors from the creamy peanut butter sauce to the sweet and smokey charred pineapple chunks. The broccoli is also well prepared as it still has that bit of crunch. This meal is really filling and it's surely one of my favorites in the whole box!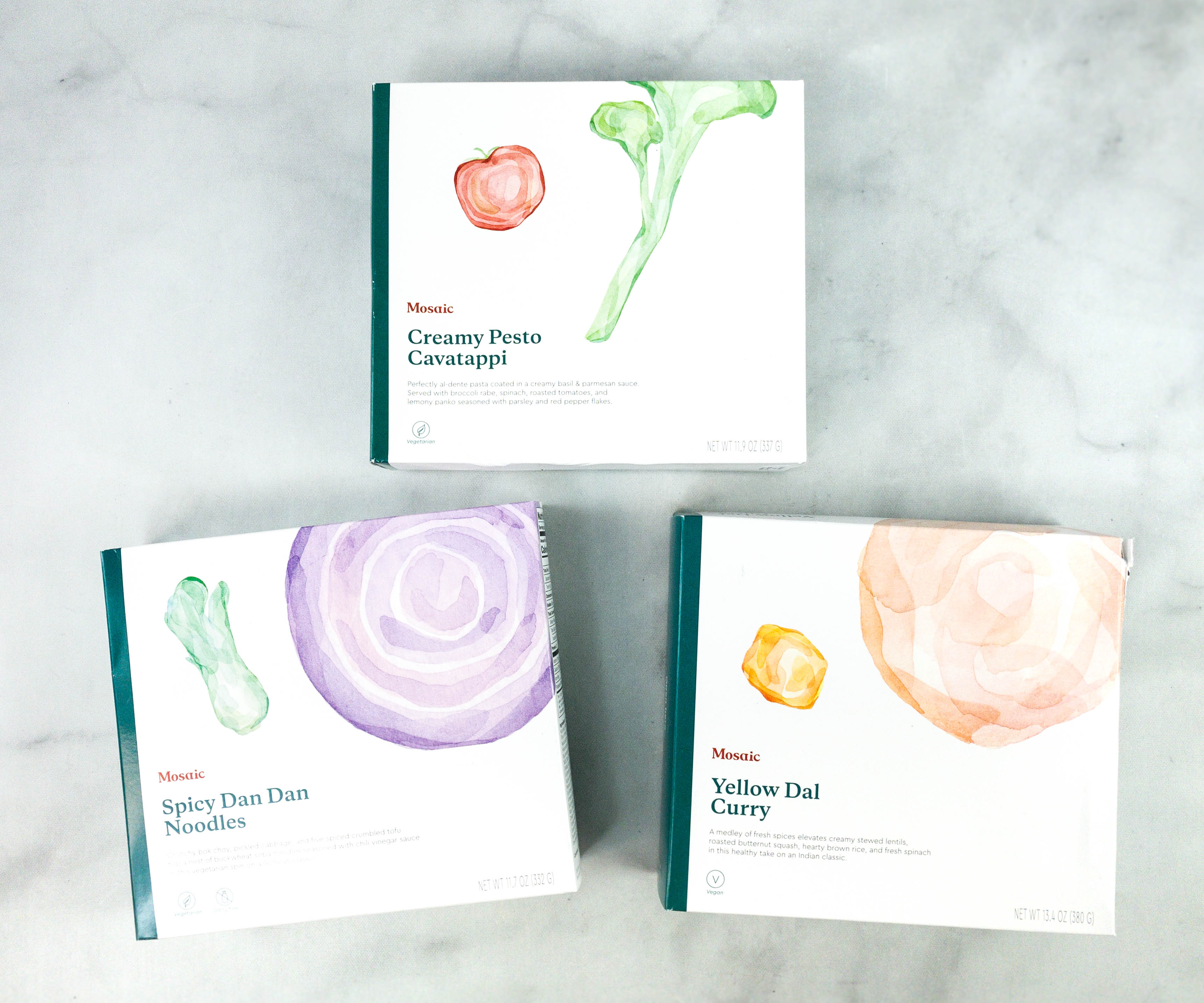 There's also Creamy Pesto Cavatappi, Spicy Dan Dan Noodles, and Yellow Dal Curry!
Creamy Pesto Cavatappi. I like pesto so I am really looking forward to this meal!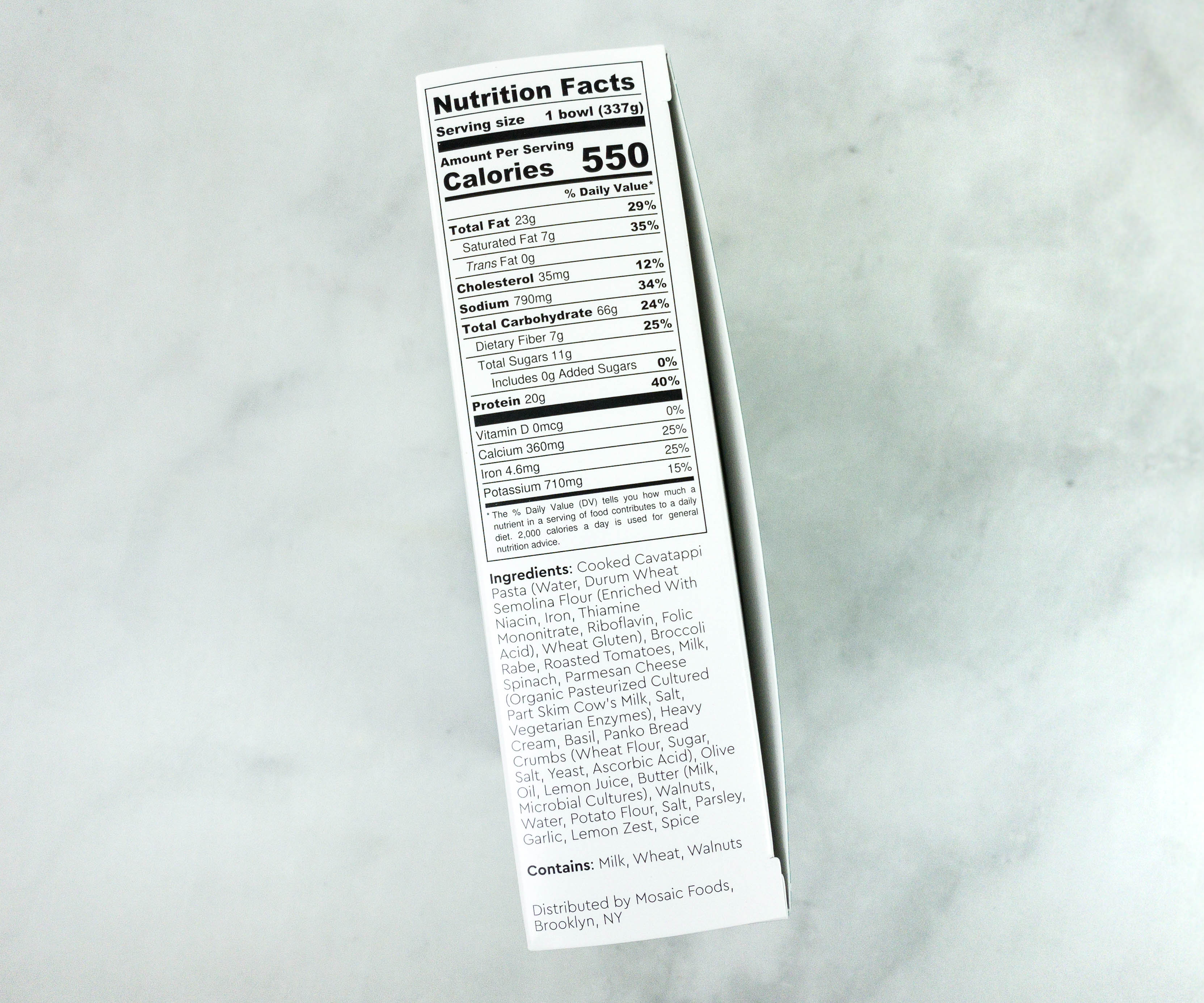 Cavatappi is tubular spiral-shaped pasta and I think it will make this dish more enjoyable to eat.
Those roasted tomatoes and basil look good already!
Everything is nicely sealed to maintain its highest quality. Only remove the seal when you're ready to heat and consume.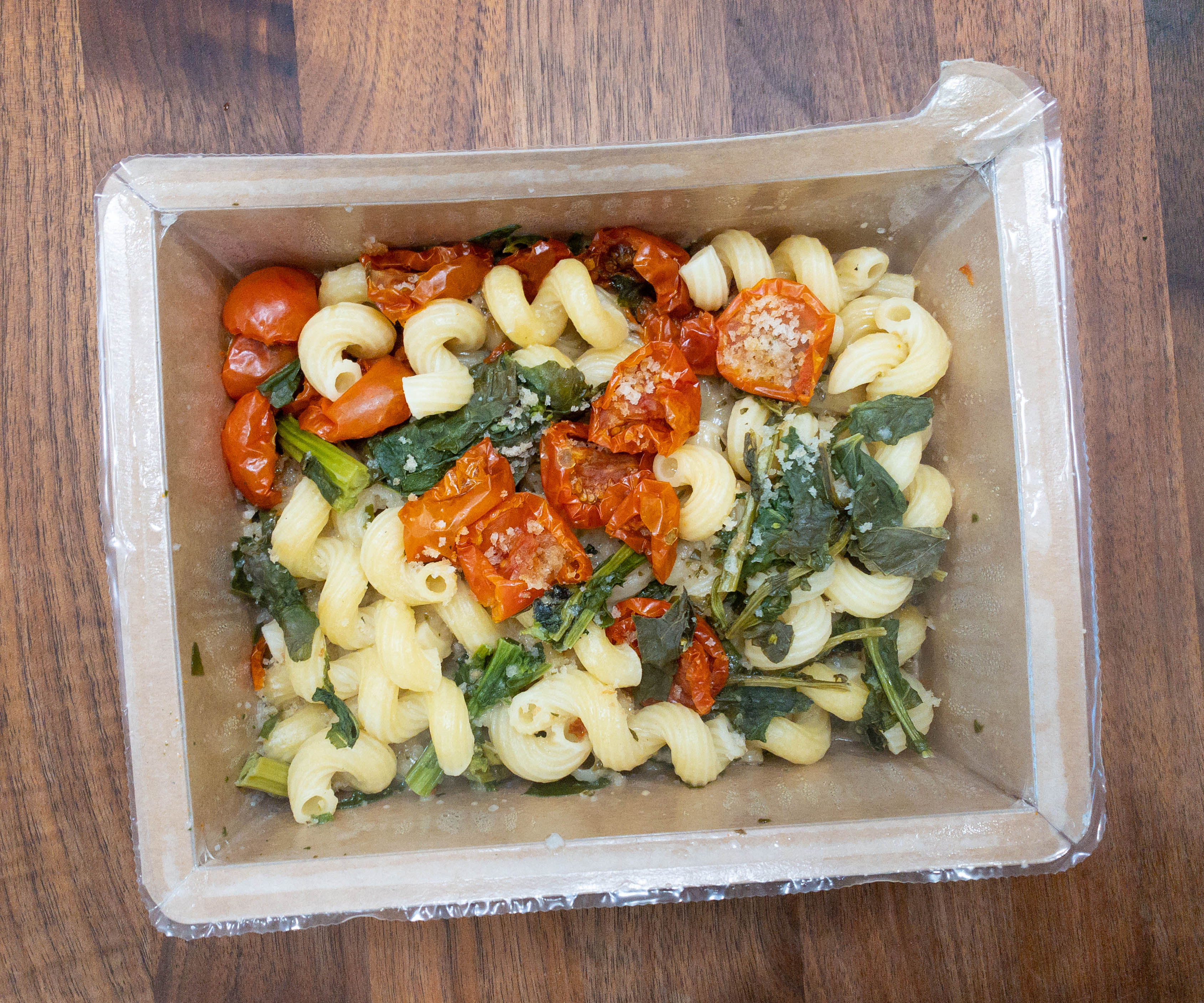 This looks and smells amazing!
The sauce is at the bottom. Make sure to stir it really well before transferring it to a plate to make sure each pasta is nicely coated.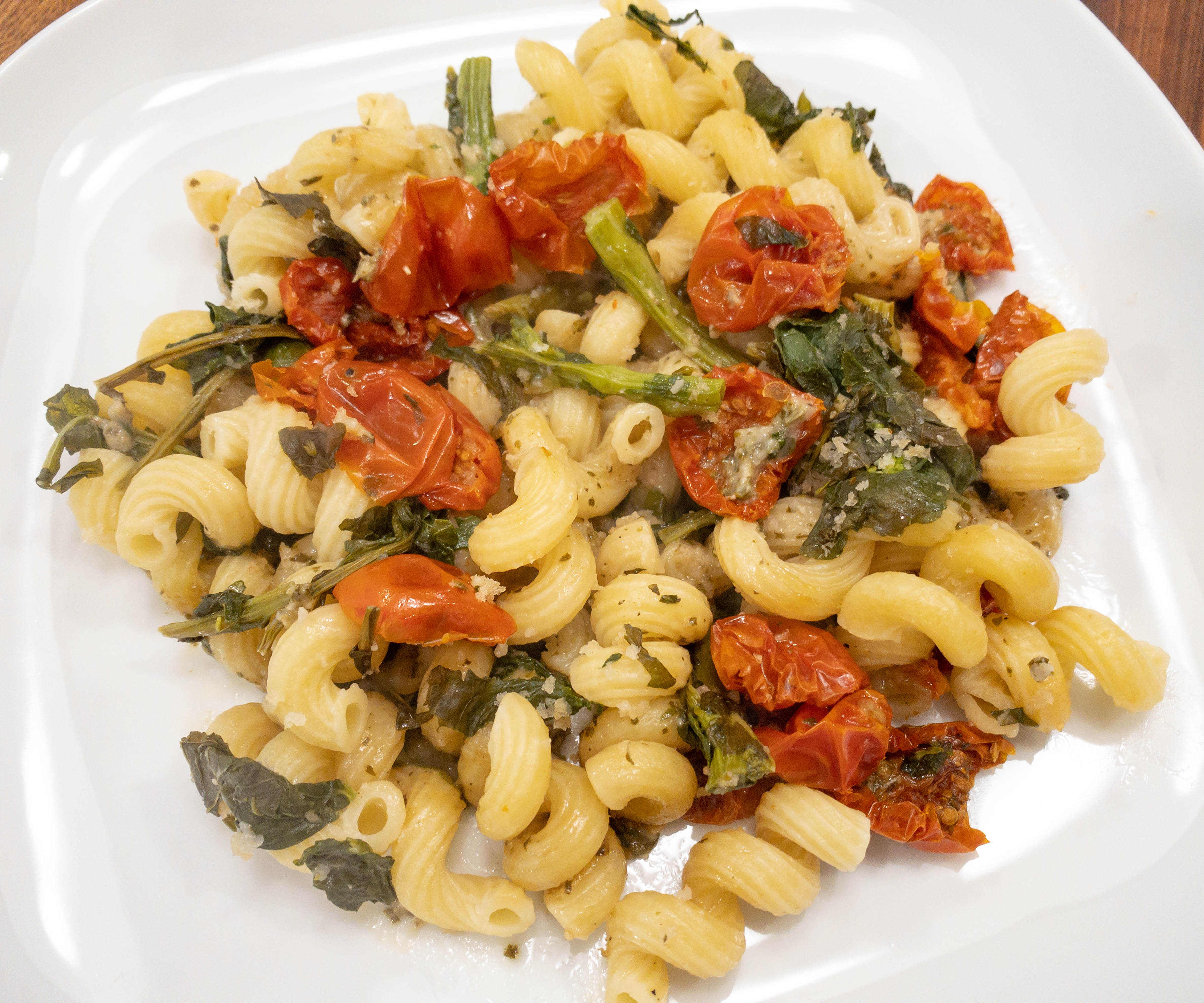 Although it didn't have a lot of ingredients, this pasta was fresh and delicious. It's packed with essential vitamins, magnesium, and iron as well. The toasted lemony breadcrumbs on top were really nice and I love that they added a dusting of red pepper flakes for a kick of heat.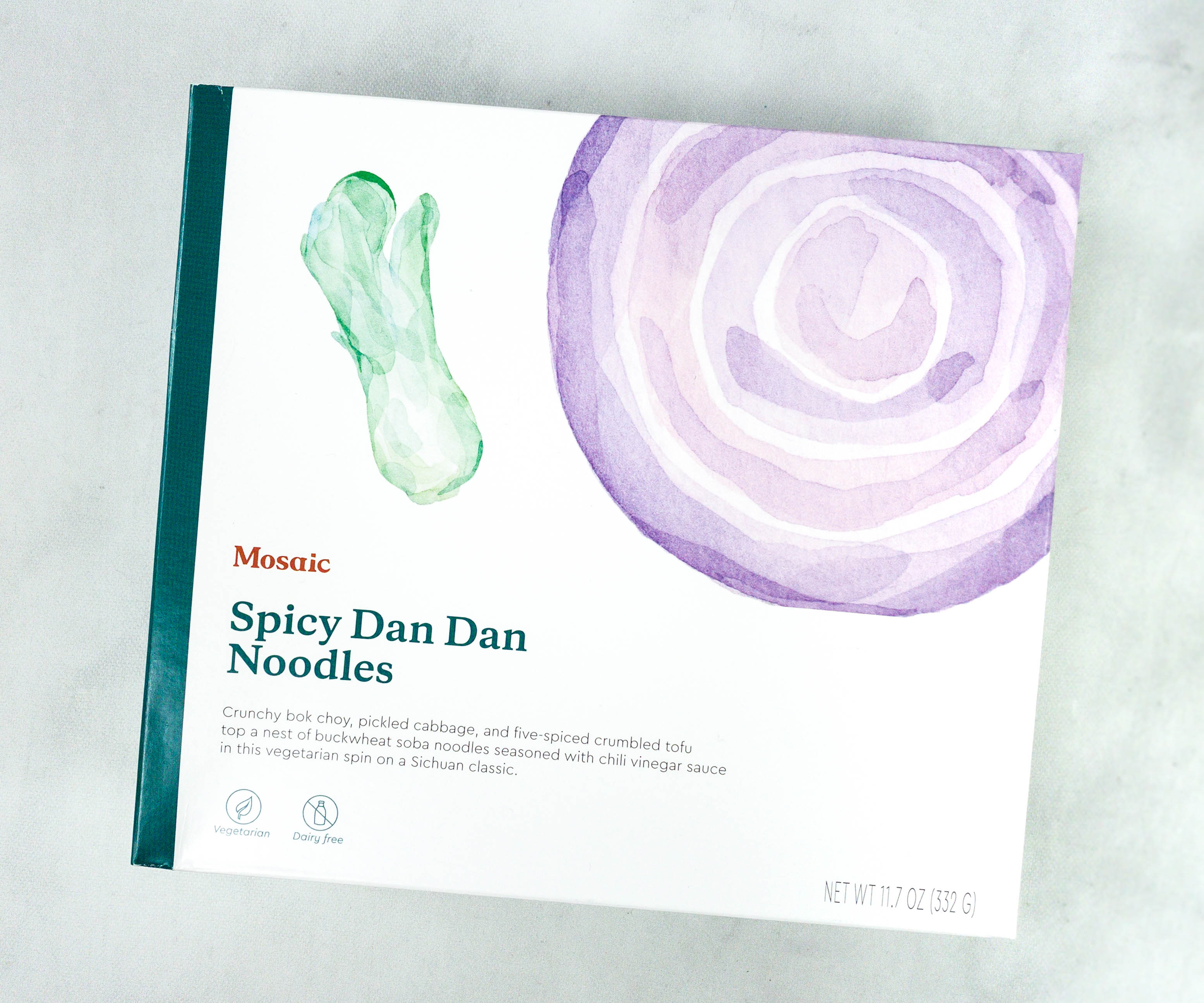 Spicy Dan Dan Noodles. This dish is popular in China, specifically in the Sichuan region. The name translates to "carried on a pole" as it was often sold by vendors carrying a pole on their shoulder with a basket on each end containing the noodles and sauce at either end.
Different types of noodles can be used for this dish and in this version, they used the buckwheat soba noodles.
The presentation is really pretty. Everything looks good and I'm super excited to try it!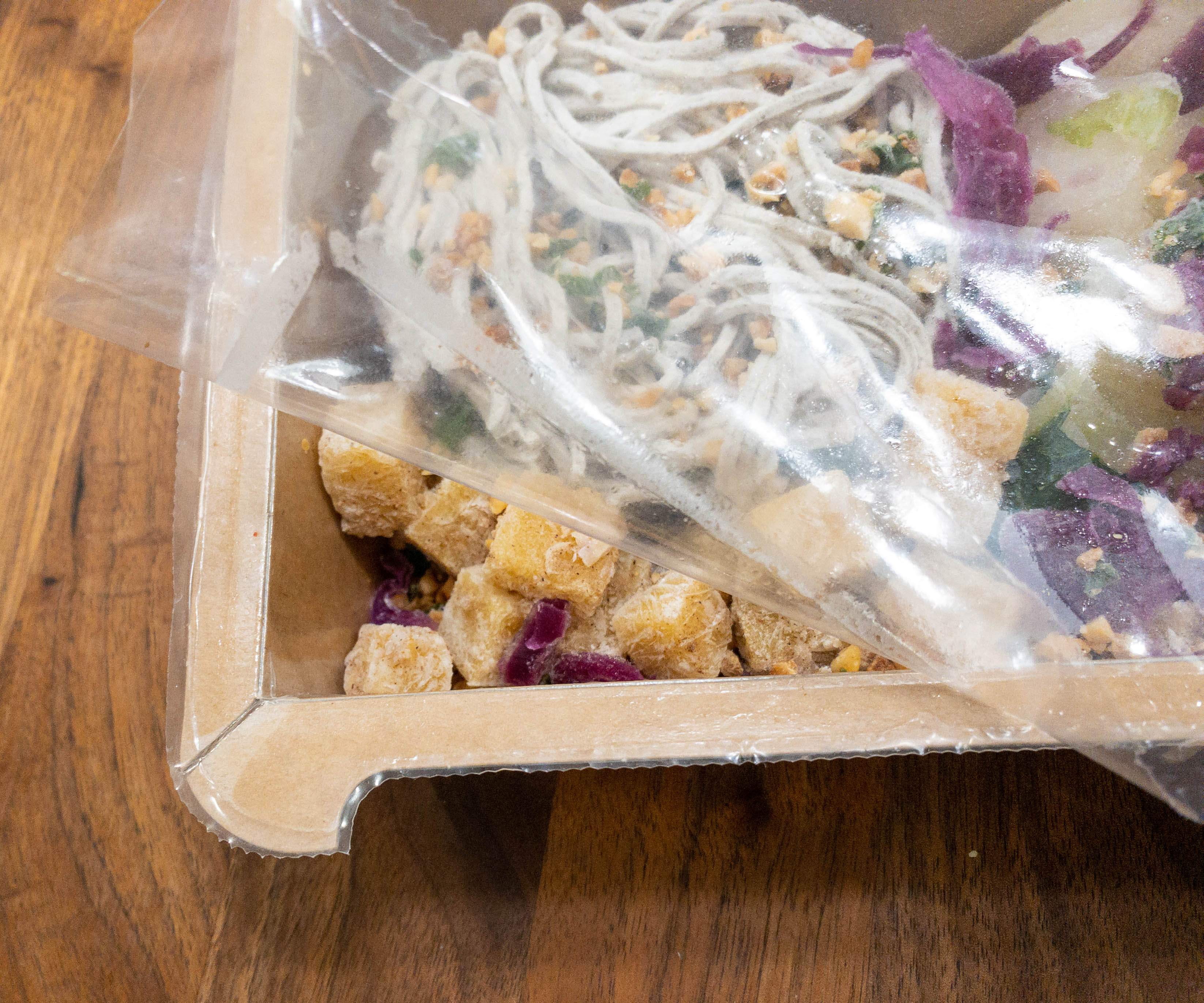 Inside, there's tofu, pickled cabbage, and bok choy!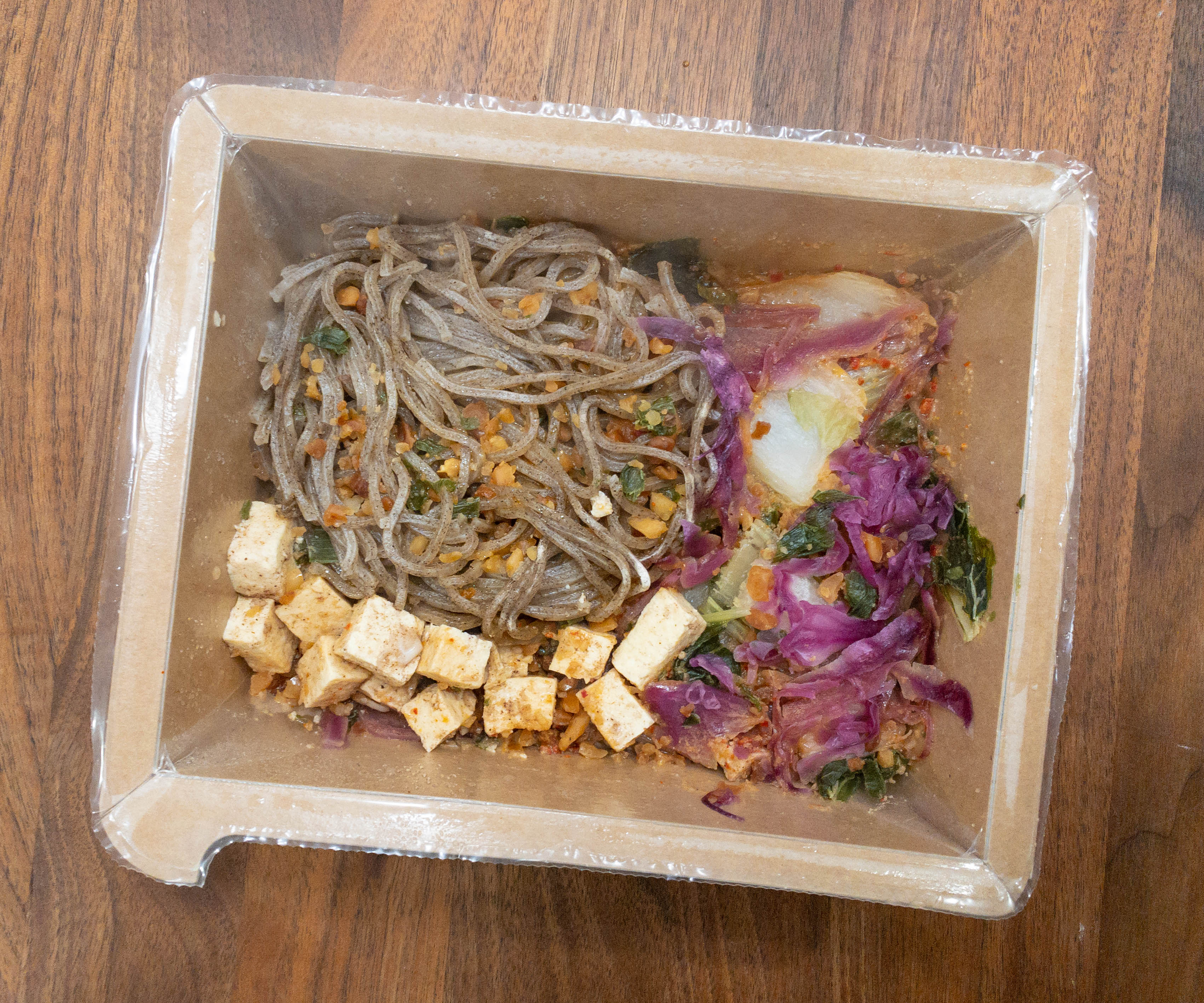 Traditional Dan Dan Noodles can be served either with soup or dry. This one is without the soup, but no worries because it's still packed with flavor!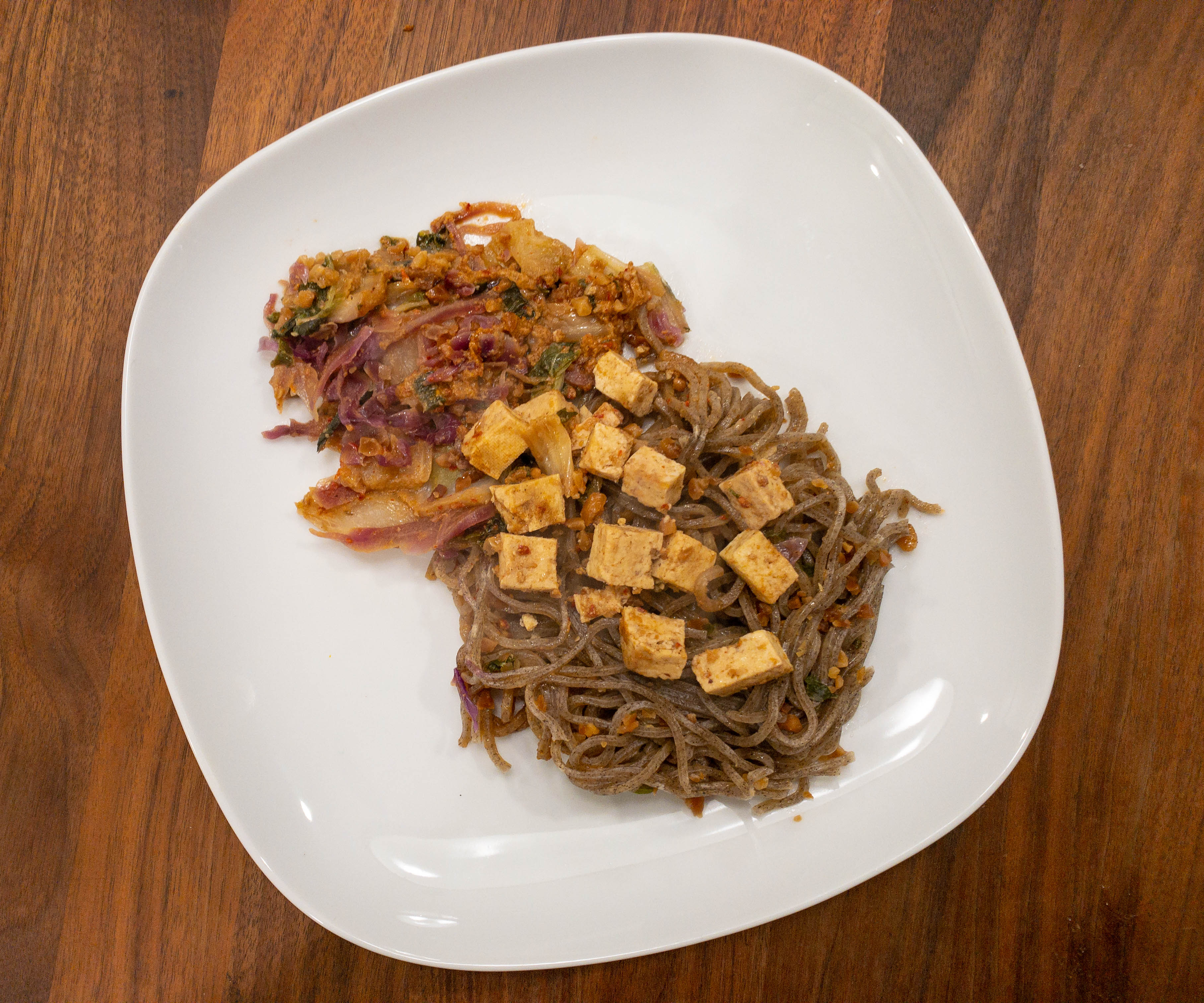 The buckwheat noodles are nice and chewy. I like the texture and combined with the flavor, it makes for one amazing meal!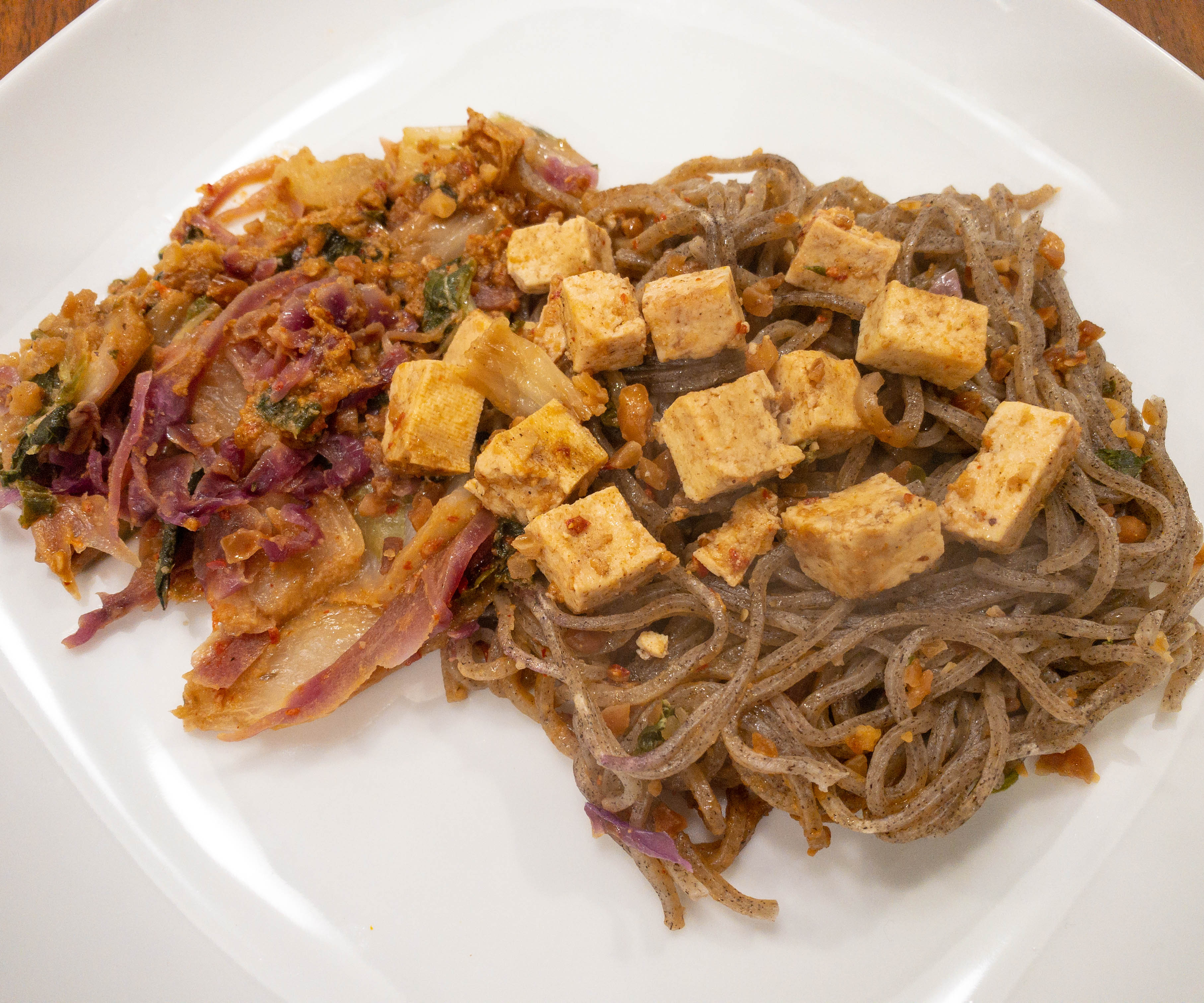 The tofu is seasoned with five-spice, giving it a rich taste.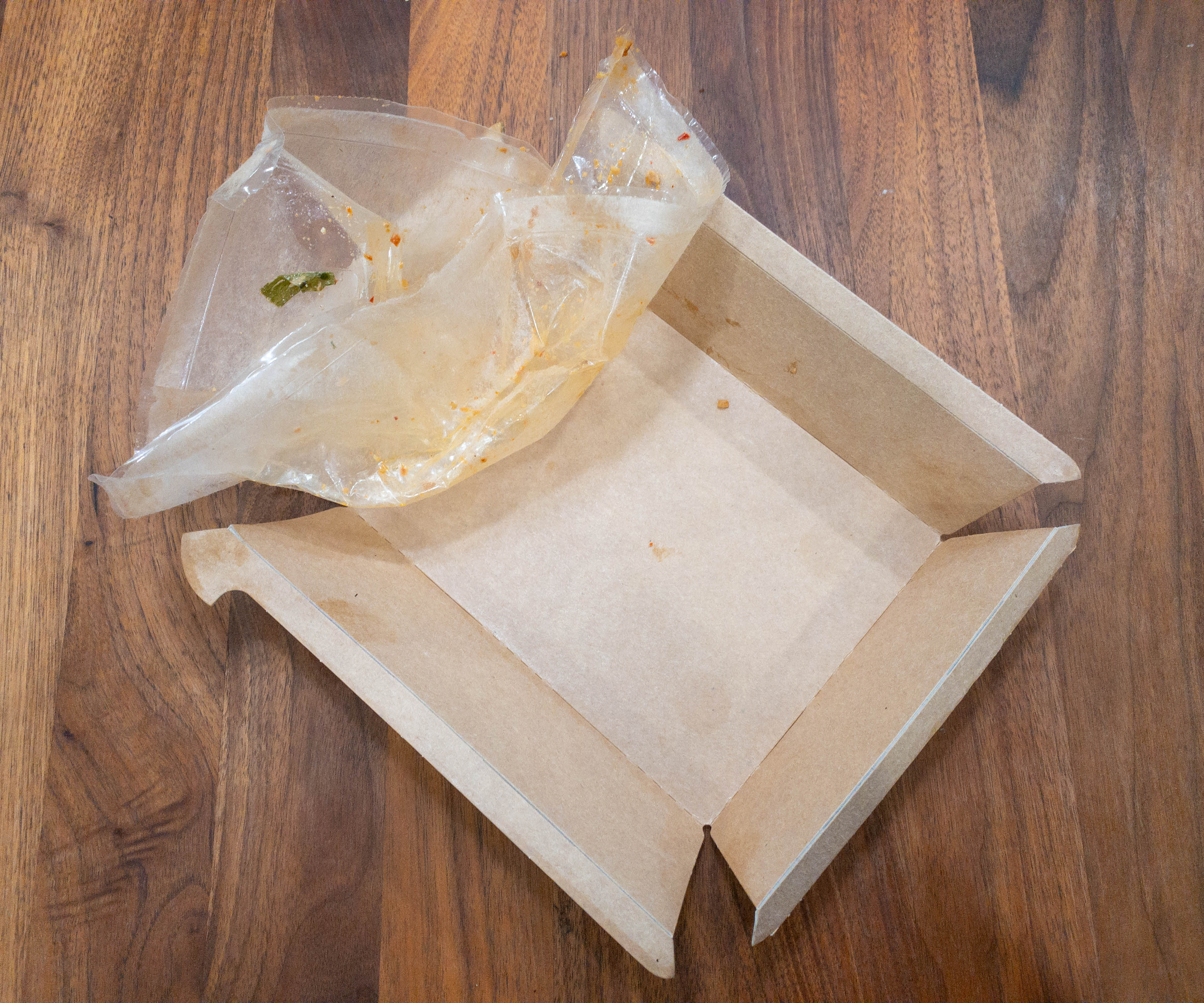 Once you're done with your meal, just remove the lining and recycle everything!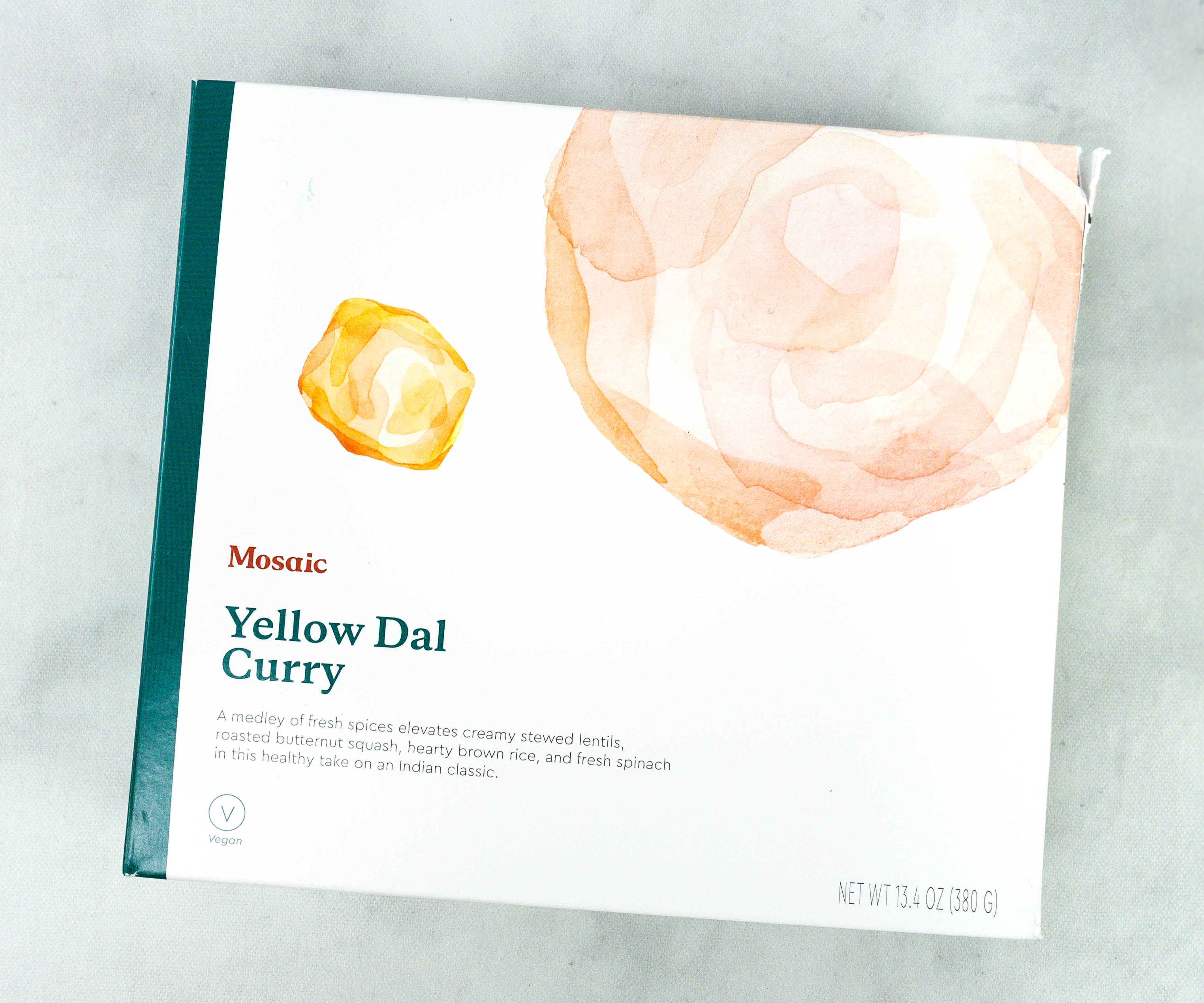 Yellow Dal Curry. Mosaic's Yellow Dal Curry is a healthy version of the Indian favorite.
This meal has squash, brown rice, and organic coconut milk.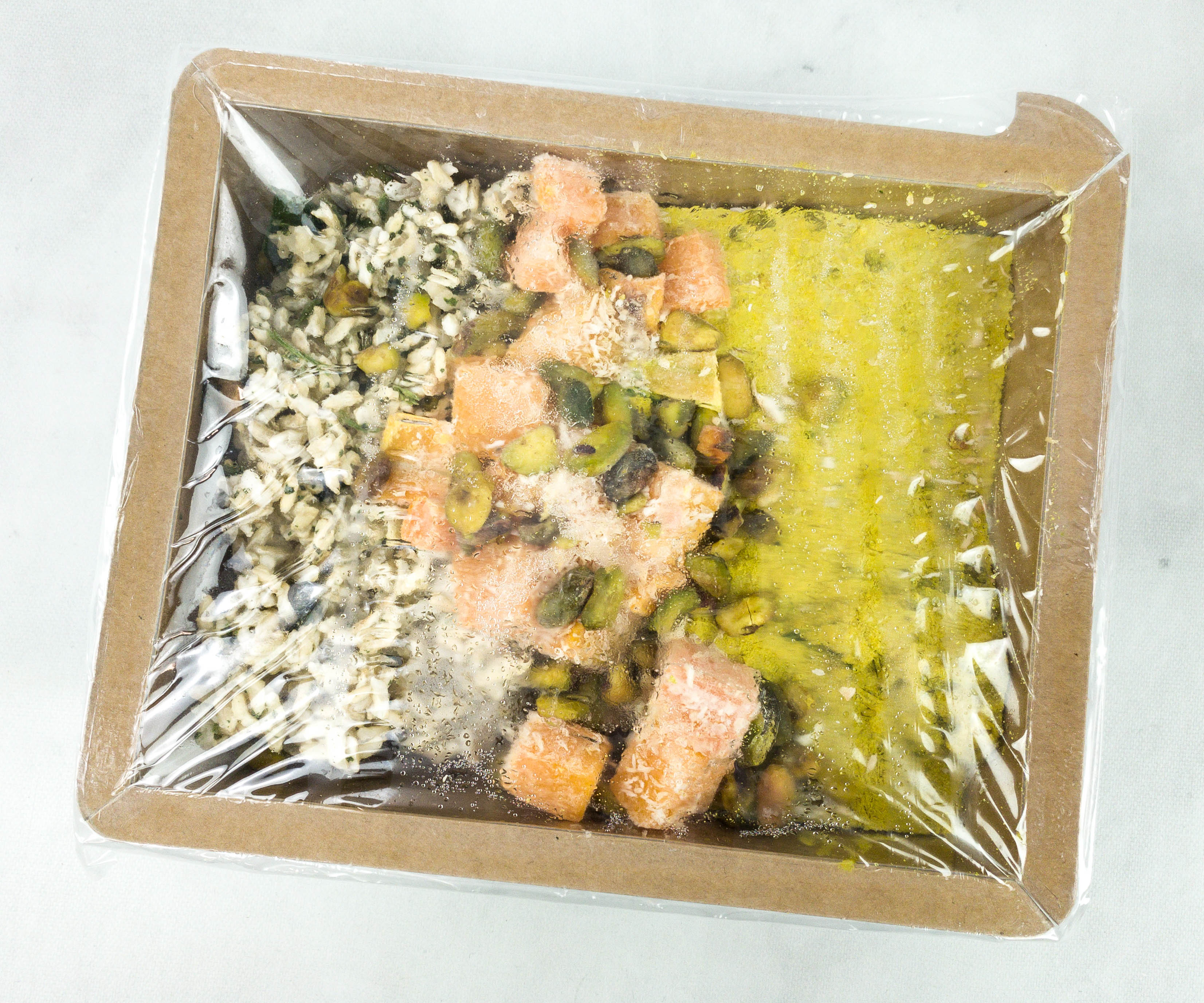 It contains a good amount of protein and dietary fiber, as well as vitamin B complex.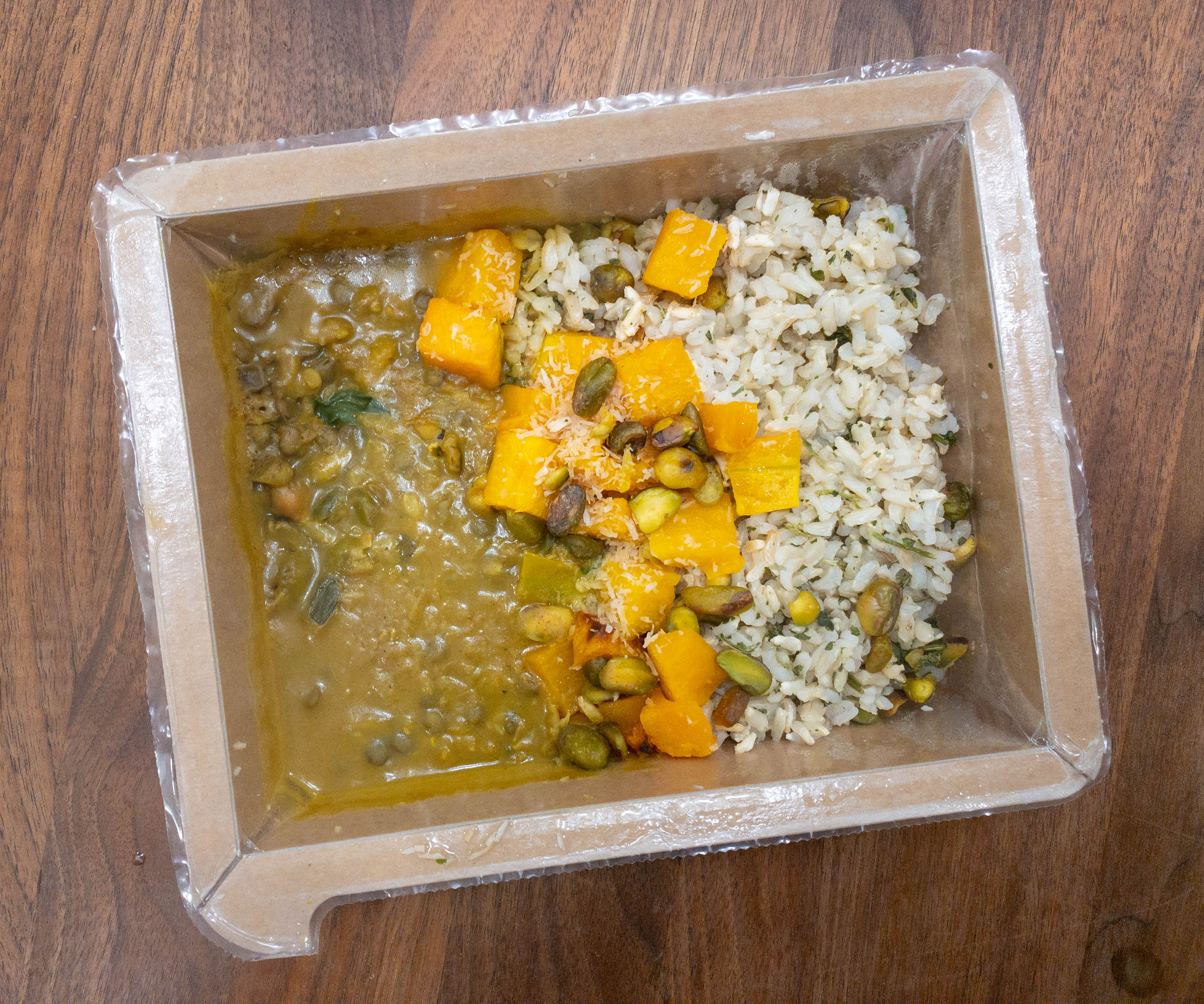 The rice is flavorful on its own! It's spiced just right and I can taste the cilantro in there as well.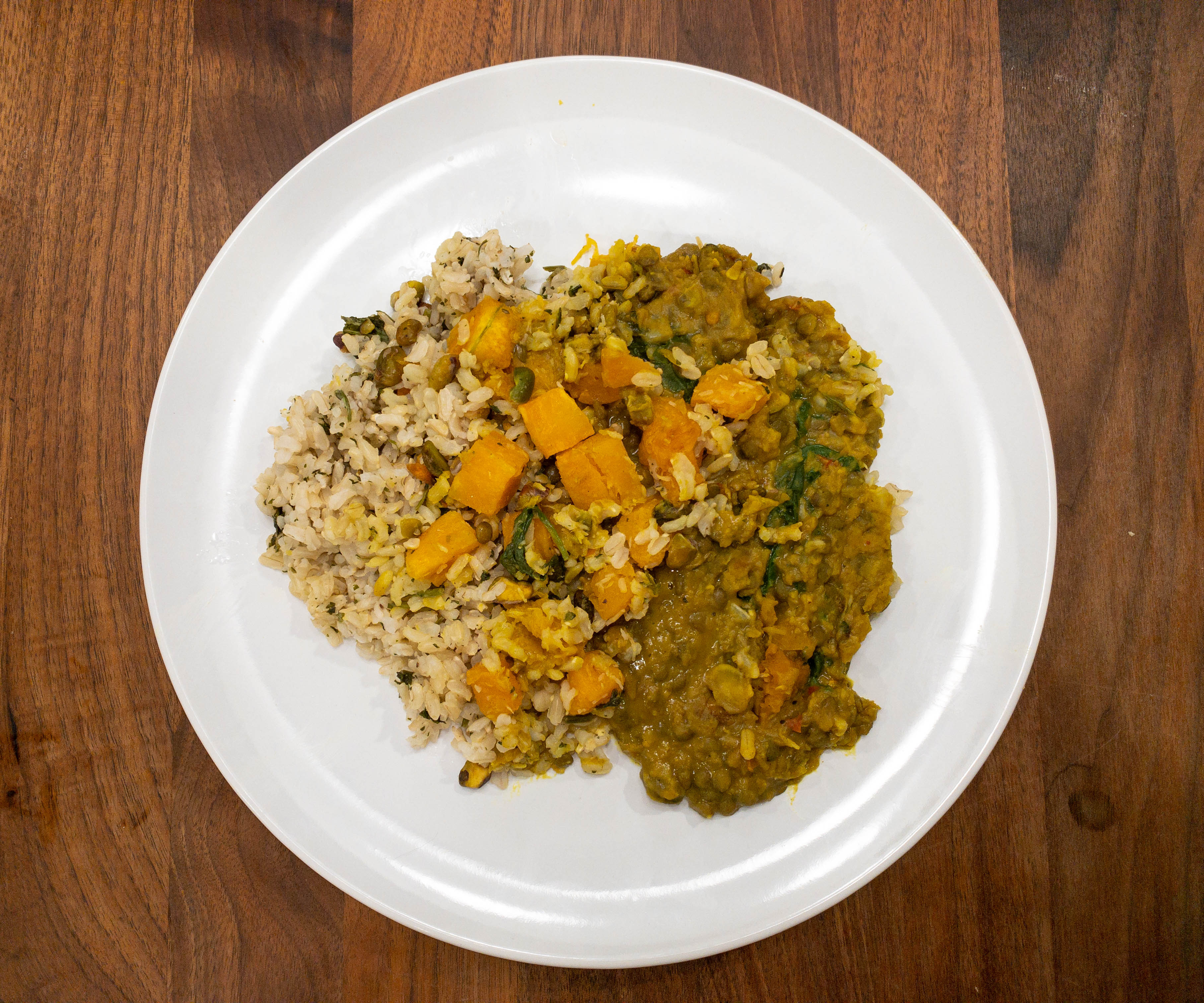 The squash also has a nice texture, add the crunchy pistachios on top of that and you get an amazingly hearty bite! Another thing that sets this dish apart is the lentils that have a rich curry flavor.
Mosaic makes the best plant-based meals! I'm happy that they're not just tasty, they're pretty healthy too. They're a great option for those who are trying to switch to a healthier diet but don't have much time to cook their own meals.  Mosaic's meals are easy to prepare, you just have to heat them up either in the microwave or using the stovetop and in just a few minutes, you already have a hearty but guilt-free meal to enjoy. I also like the variety of healthy food they offer. They have oat bowls, noodles, and veggie bowls, and many of them are even inspired by international cuisine. Also, their packaging is sustainable and recyclable and that's always a plus!
This meal subscription gets an A+ on taste for me and the veggie bowl portion sizes are enough for two if you eat a little lighter. We've mentioned this before – when a dish is spicy, Mosaic's heat level is a little above average. We love this, but it's not for everyone. Now they have breakfast goodies too so it's even easier to eat healthy without fooling around.  Mosaic makes everything convenient, from the delivery to the recycling, and we couldn't be happier with the engaging flavor profiles and the textures. Yum!
What do you think of Mosaic Foods?