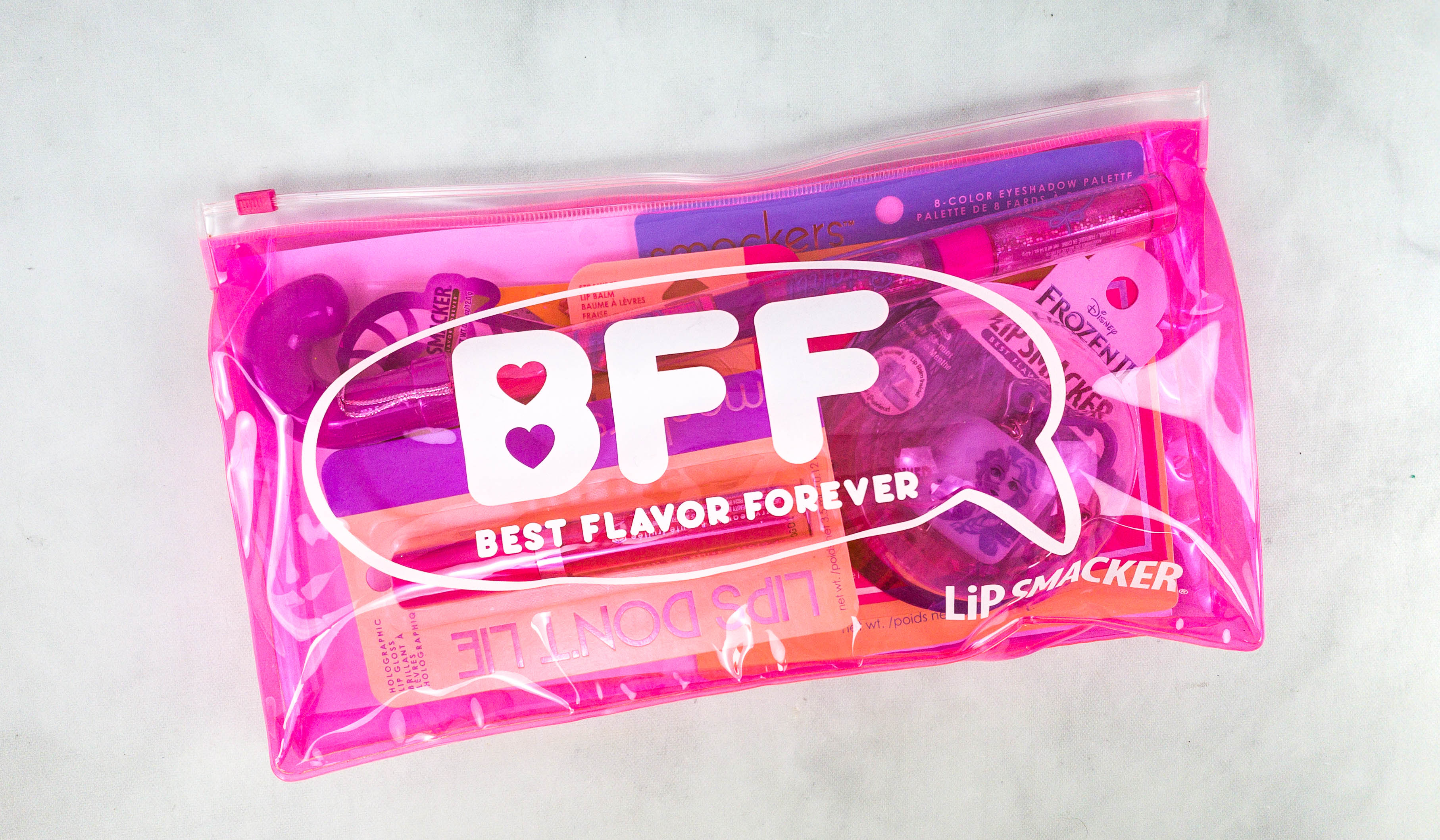 Lipsmacker BFF Lip Balm is a lip balm subscription for any lip balm enthusiast! They ship every three months, and every package also includes a Best Flavor Forever (BFF) exclusive product and a Surprise Mystery flavor lip balm. This subscription is $25 per quarter ($80 per year) + FREE Standard US shipping!
NOTE: This subscription is not currently available to order. While in the past we thought they might plan on opening it only once per year, it didn't come back and is now closed. If you're looking for similar subscriptions, see more lip balm subscriptions and our picks for tweens! In particular, we recommend Fashion Angels as a good replacement for this subscription.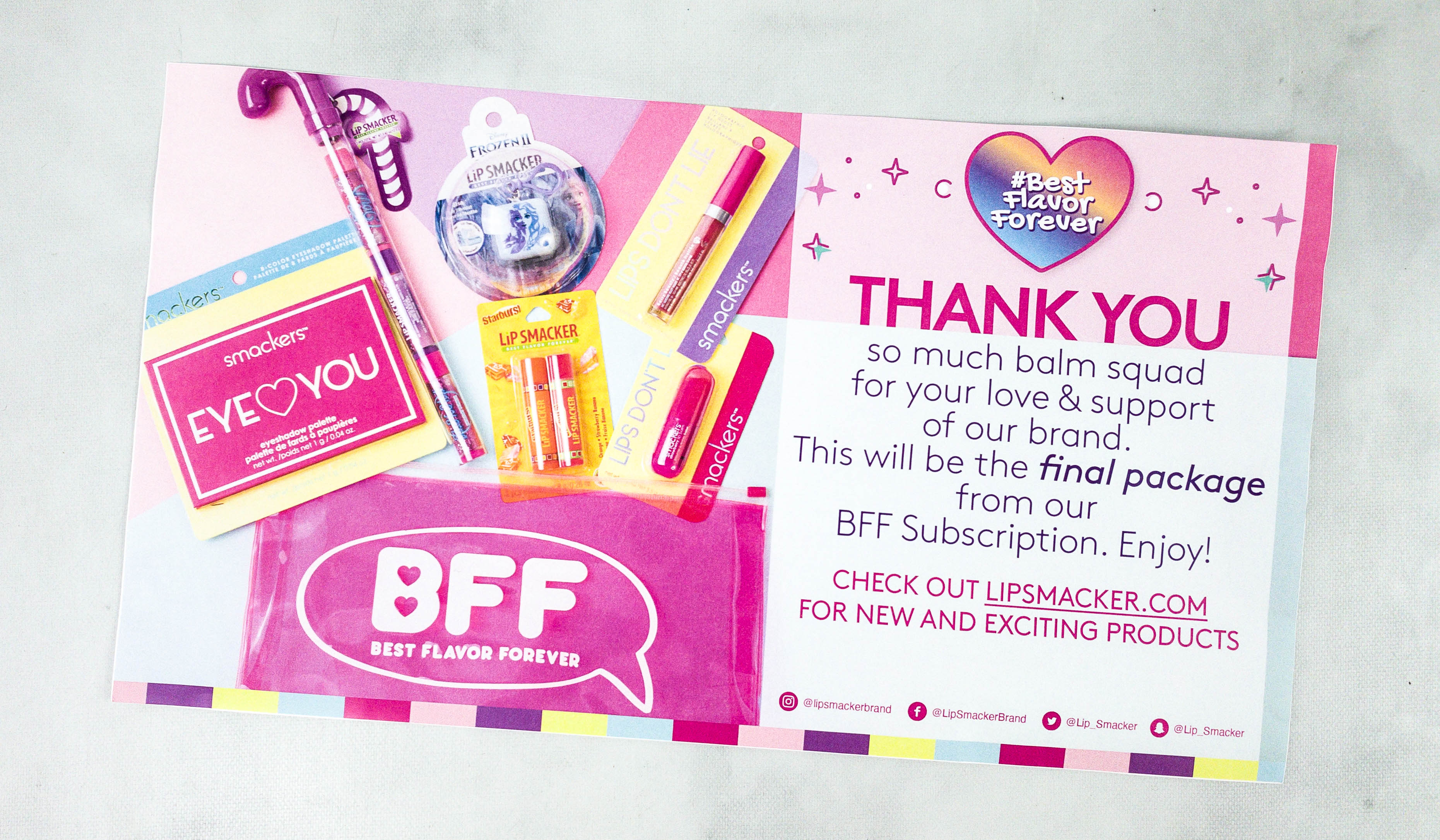 There is a Thank You card included inside noting the closure of the subscription.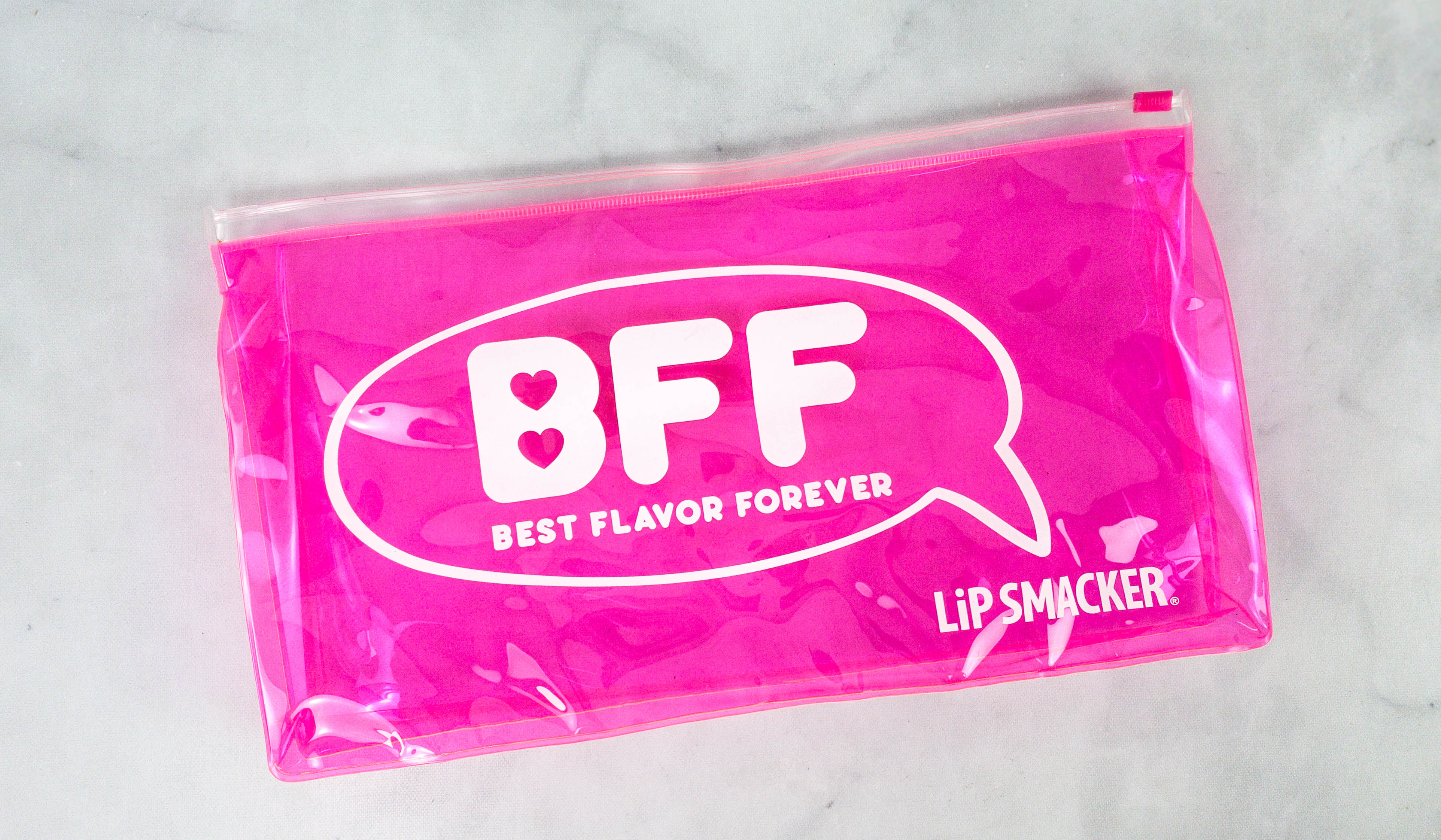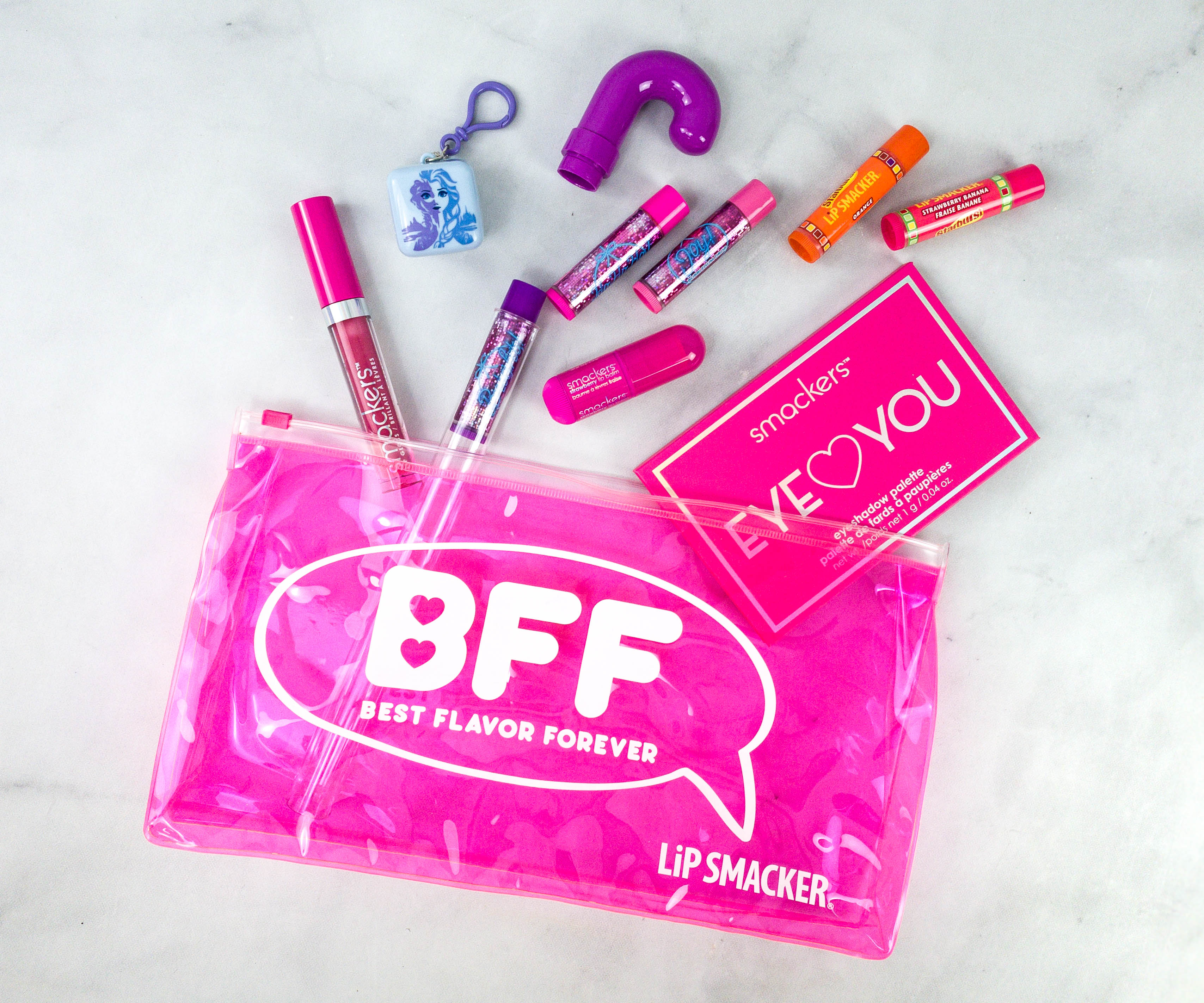 I really love their classic neon pink pouch! All the items came inside this pouch.
Everything in our shipment!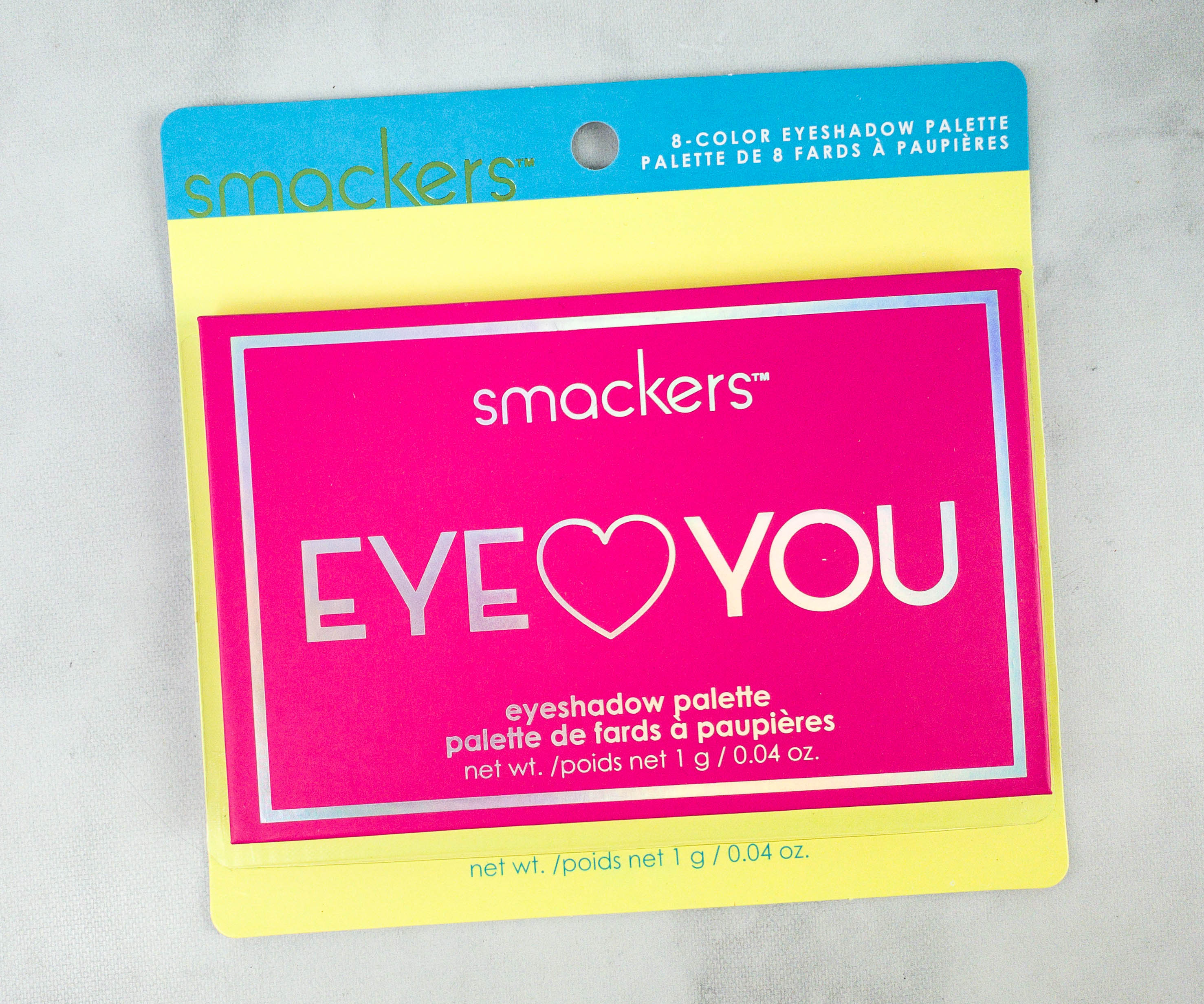 Smackers Eye You Eyeshadow Palette. It's the first time that I received other items aside from lip products in this box so I was surprised to see that there's an eyeshadow palette!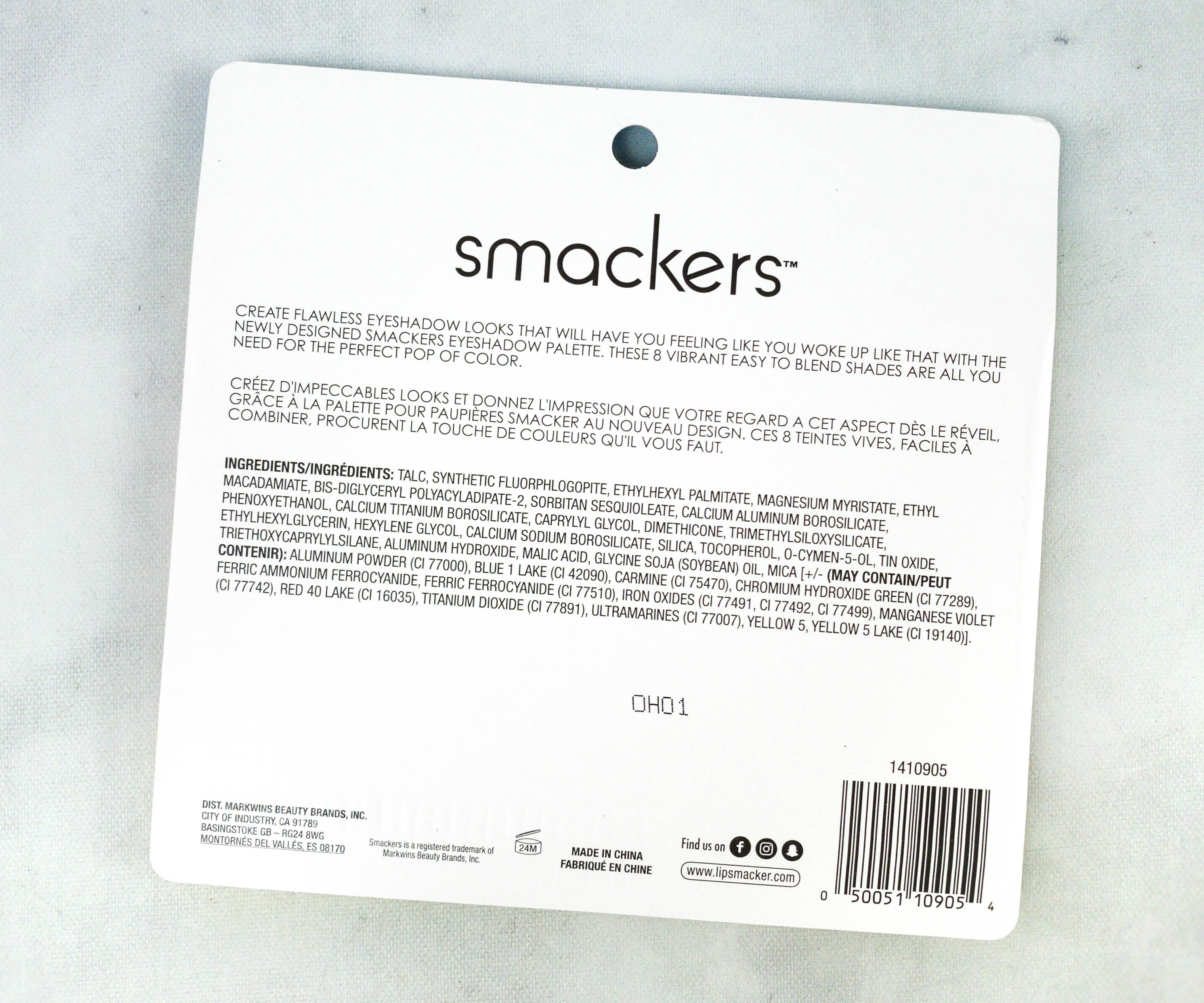 It came in this card stock packaging and all the information we need to know about the product is listed in the back.
The packaging is actually really cute. The hot pink base really makes the holographic labels stand out!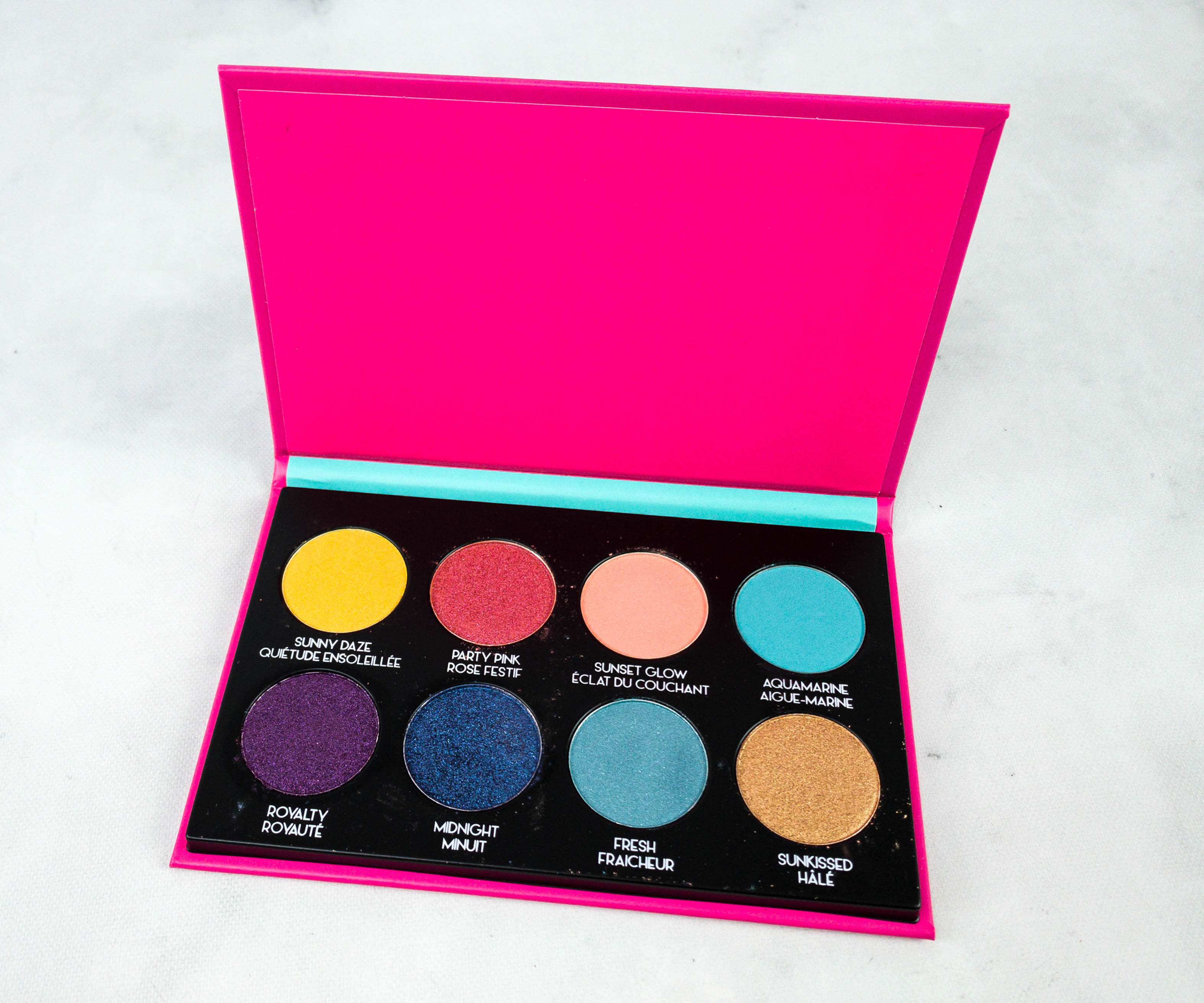 Inside is a nice selection of colorful eyeshadows.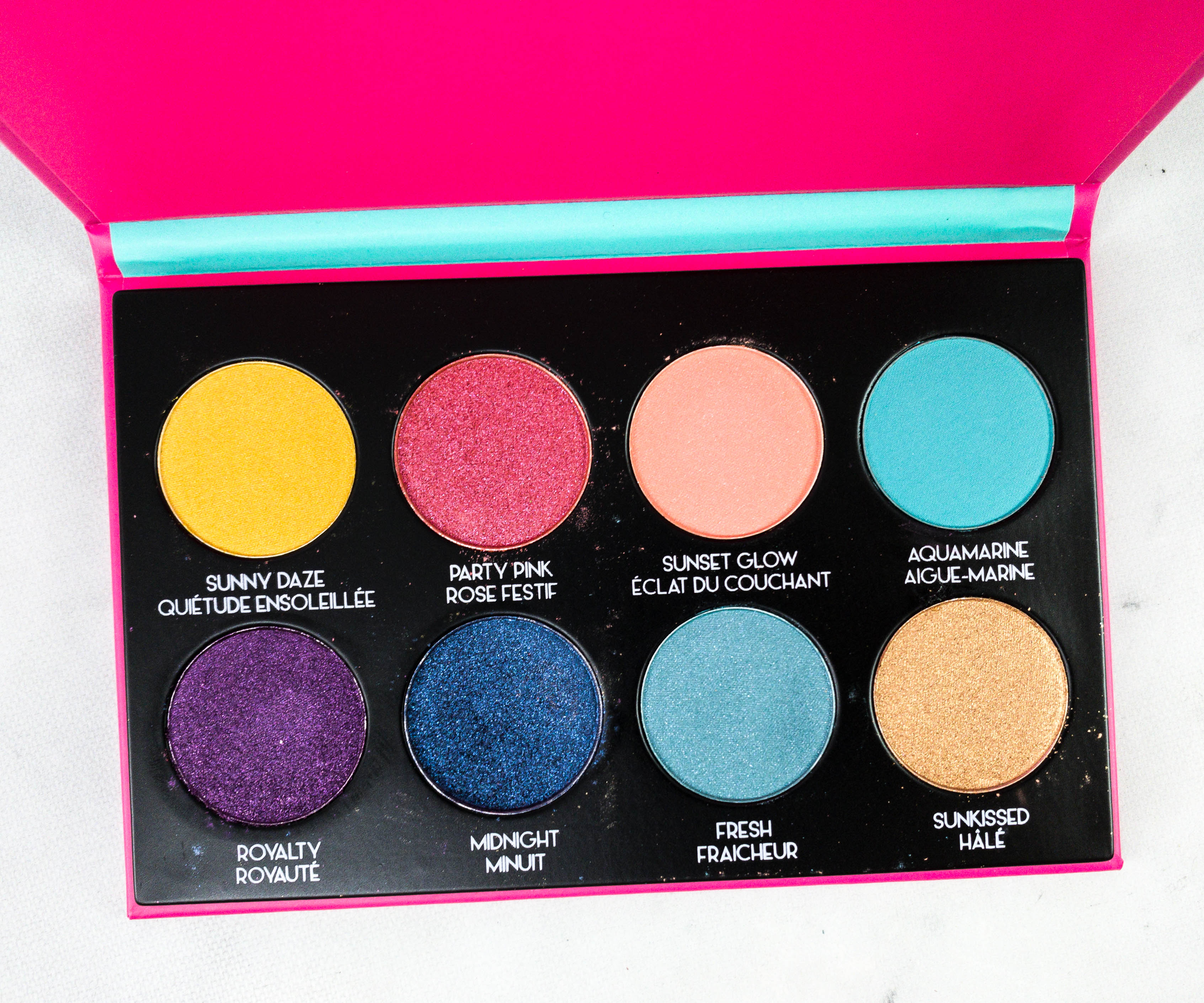 They don't really have the best quality and pigment but it's there. The names of each shade is cute and straight to the point! I especially love Sunset Glow, Midnight, Sunny Daze, and Royalty! That being said, I'm not a fan of talc in shadow products for girls and wouldn't have expected this product at all.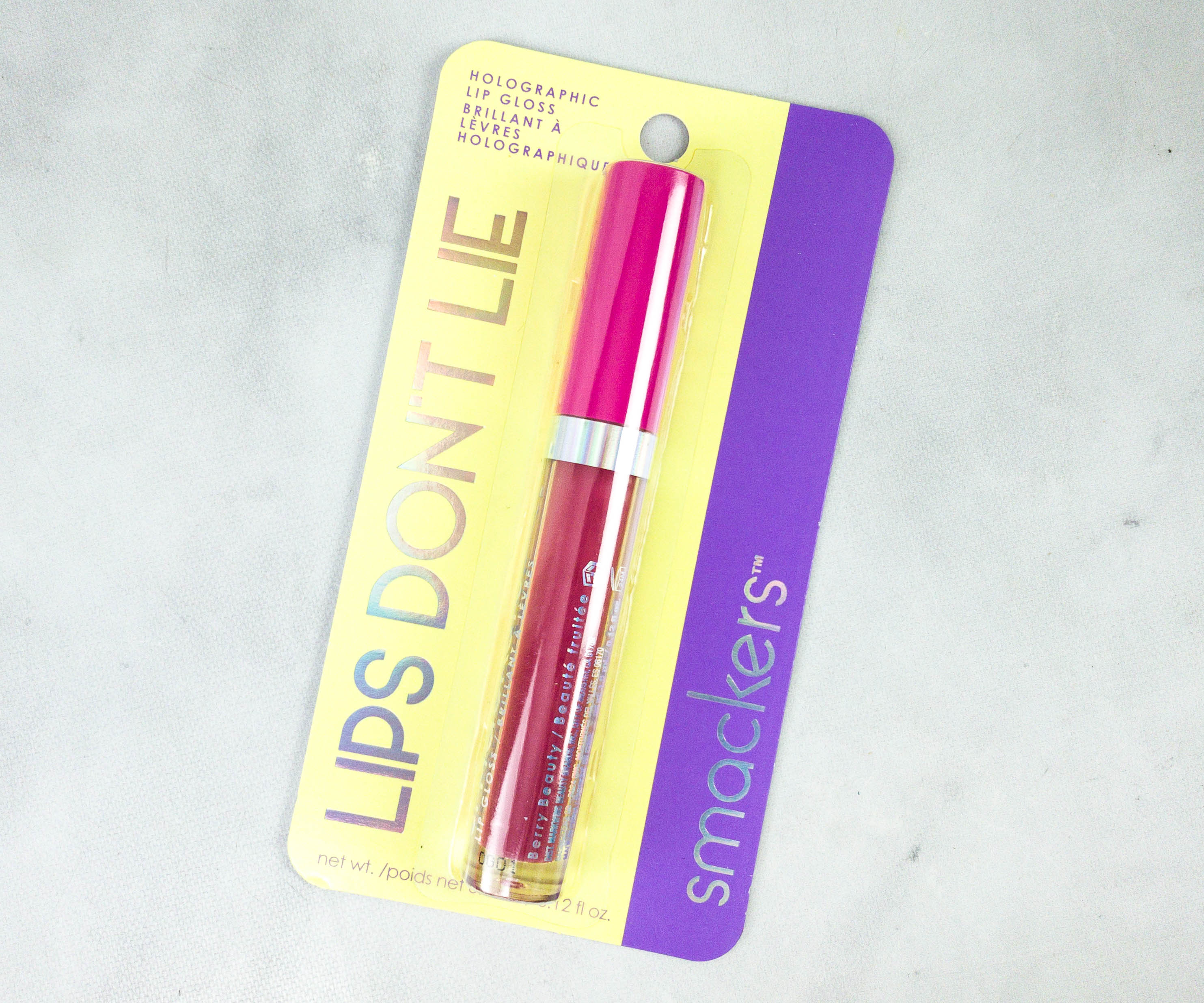 Smackers Lips Don't Lie Holographic Lip Gloss. Next is another item that came in the card stock packaging. Looks like Lip Smackers is evolving!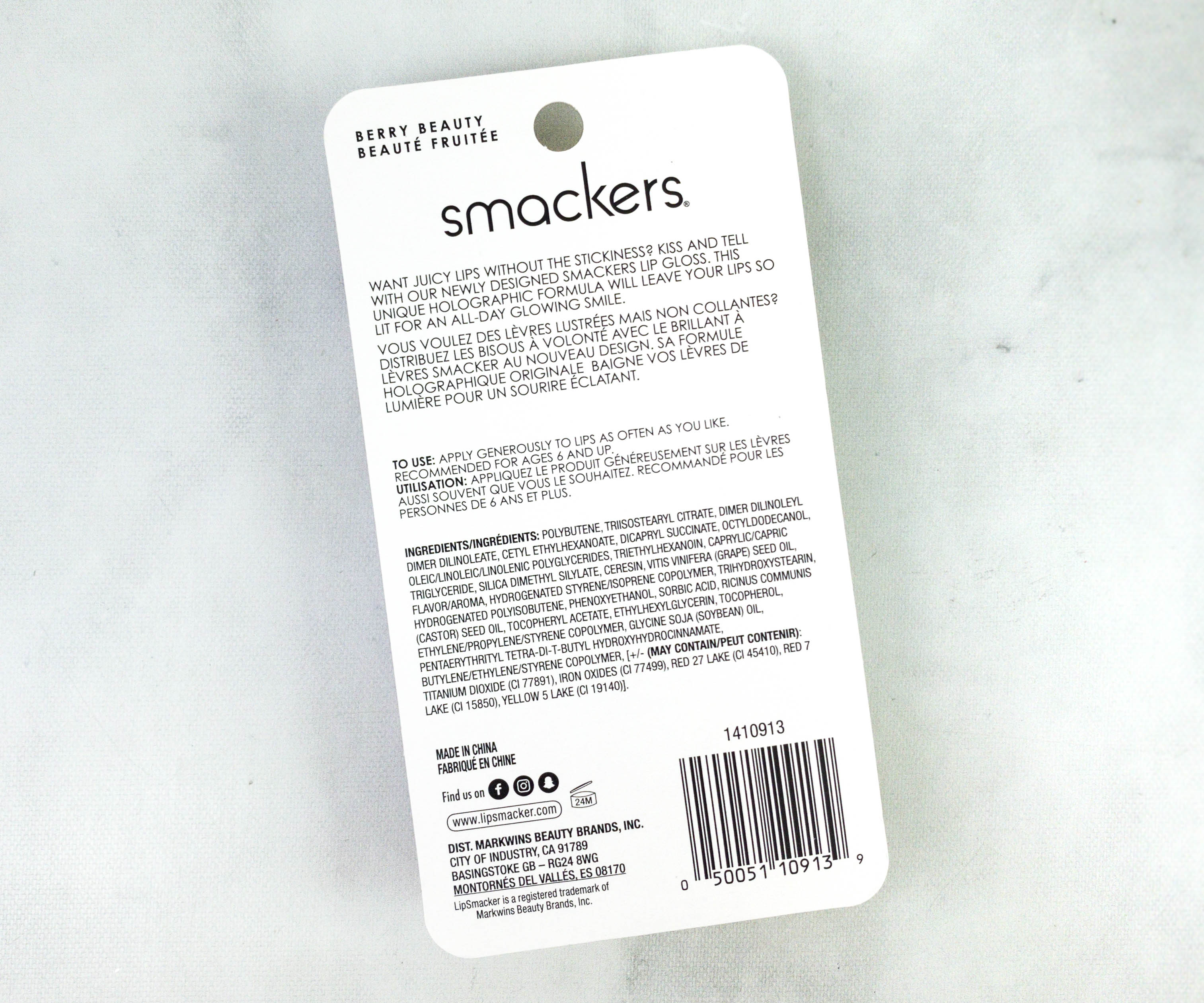 It's called LIPS DON'T LIE and it's said to be holographic.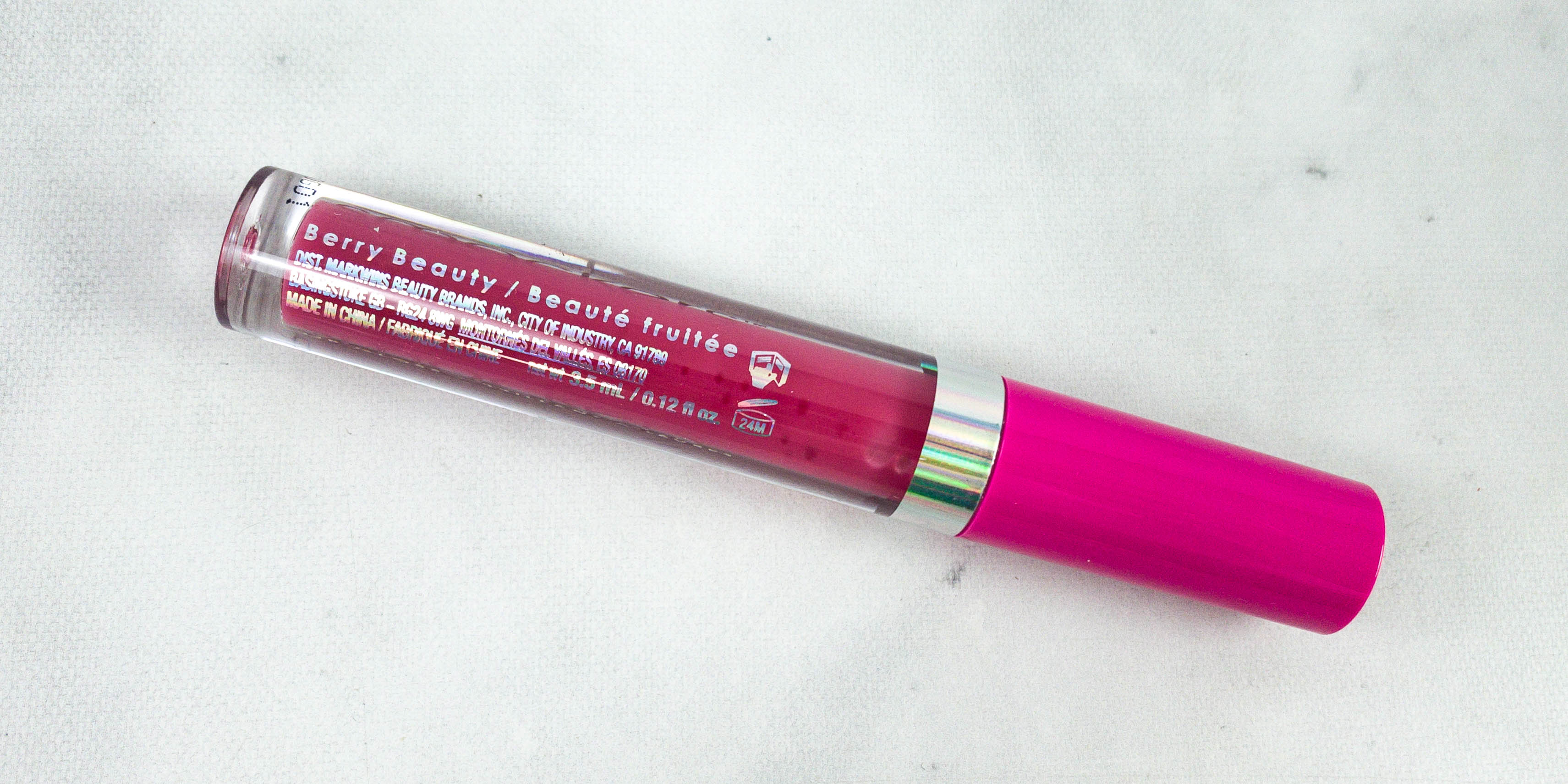 I like the simple packaging. You can see the color of the product through the tube. They also used a holographic print for the labels of the main packaging which I think is cute.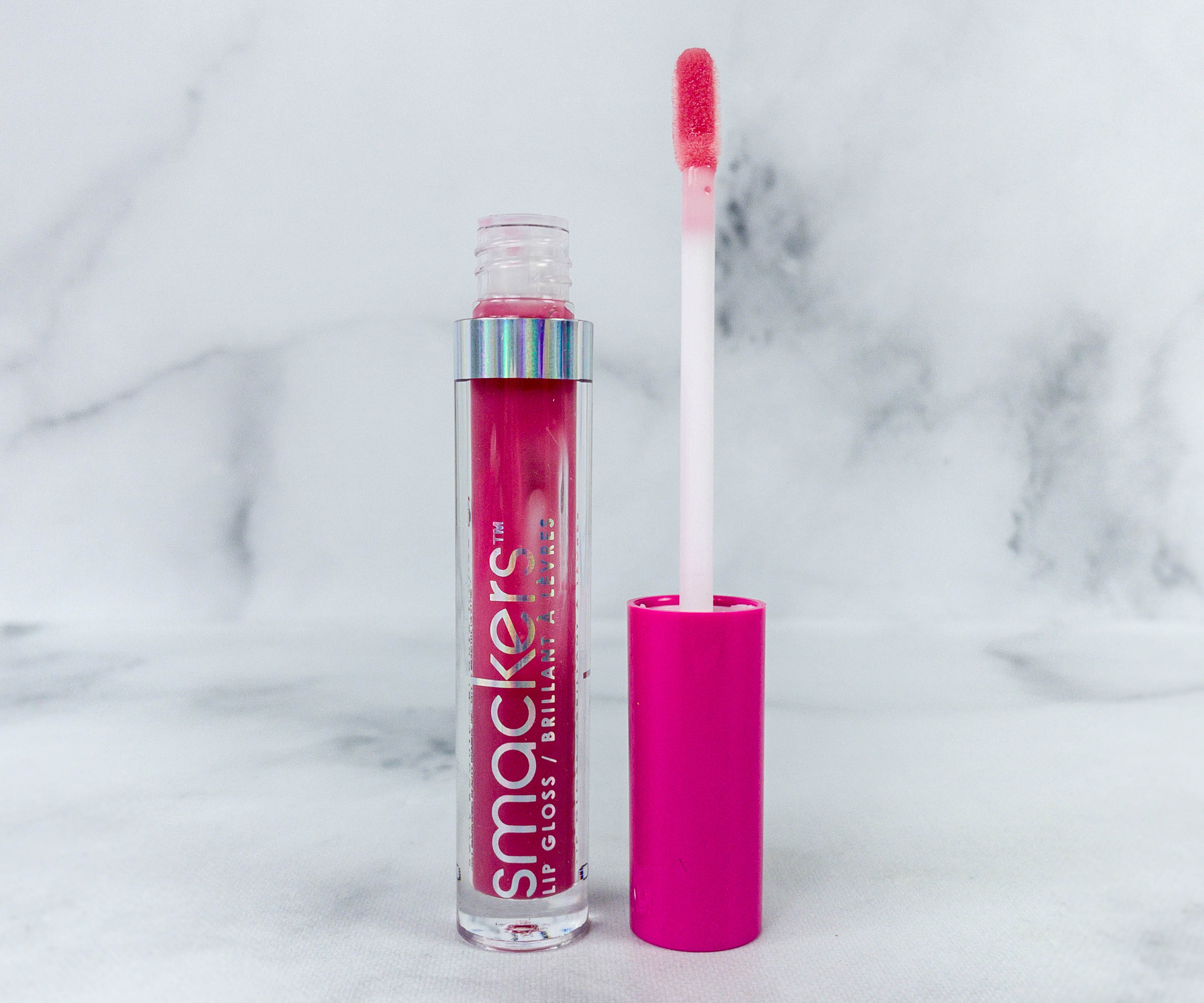 The doe-foot applicator applies the product nicely. It doesn't have much of a pigment but it adds a nice color and sheen on my lips and it does have that holographic effect when hit by the light at the right angle. It's a pretty lip product and fun for girls.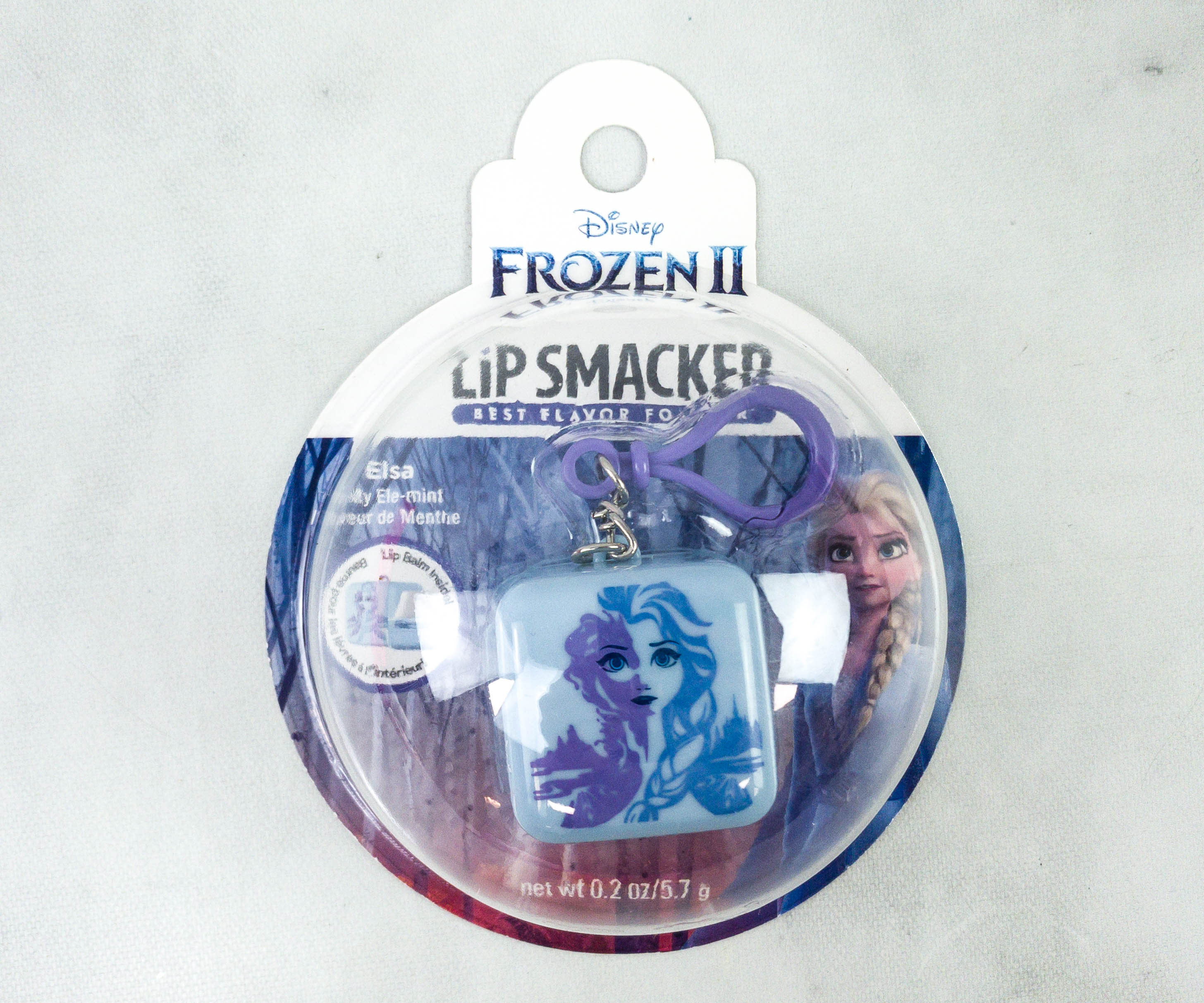 Lip Smacker Frozen II Lip Balm. My daughter squealed when she saw this Frozen II packaging! This is way more on point for what I expected from this subscription.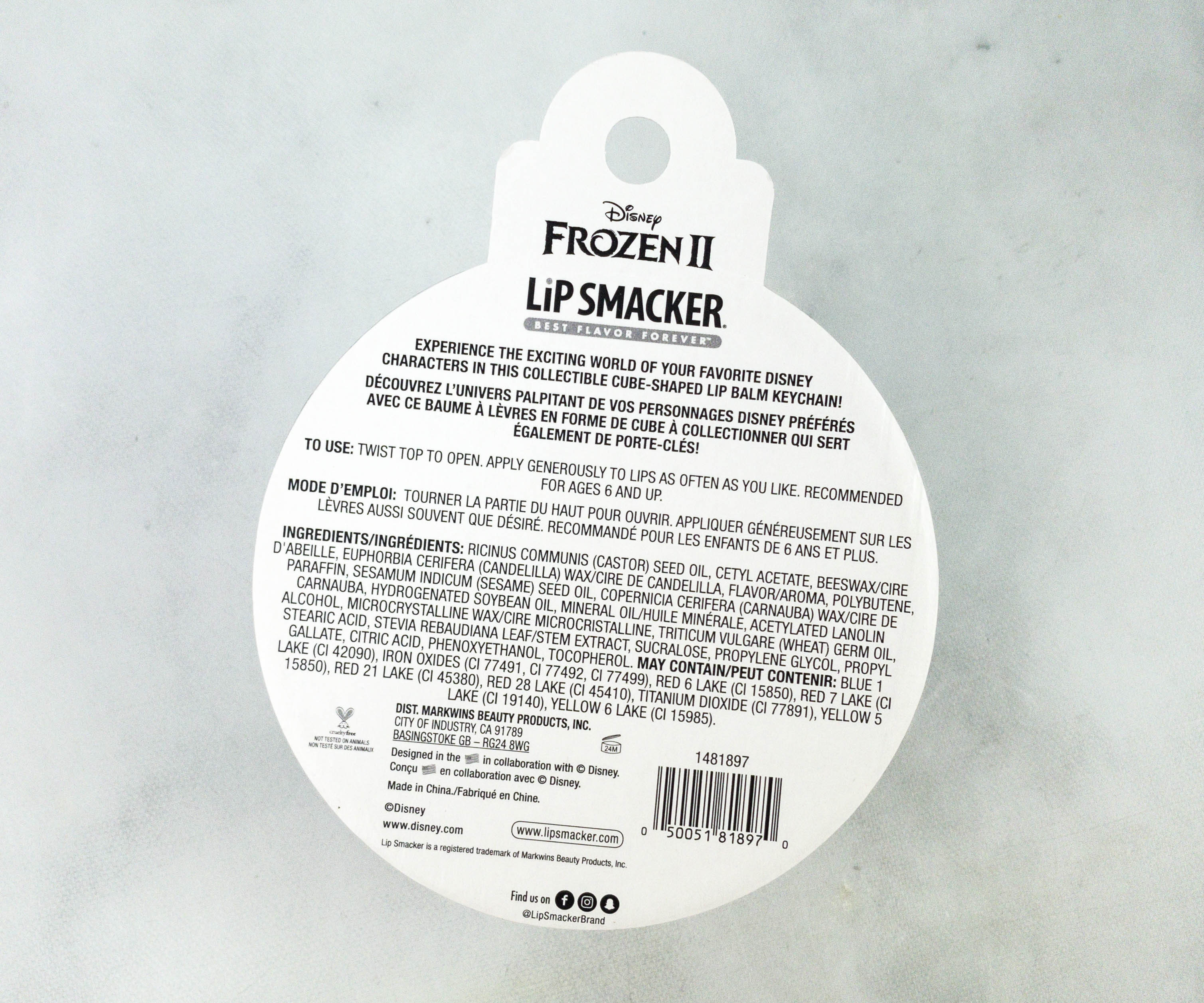 It's a collaboration between Lipsmacker and Frozen II!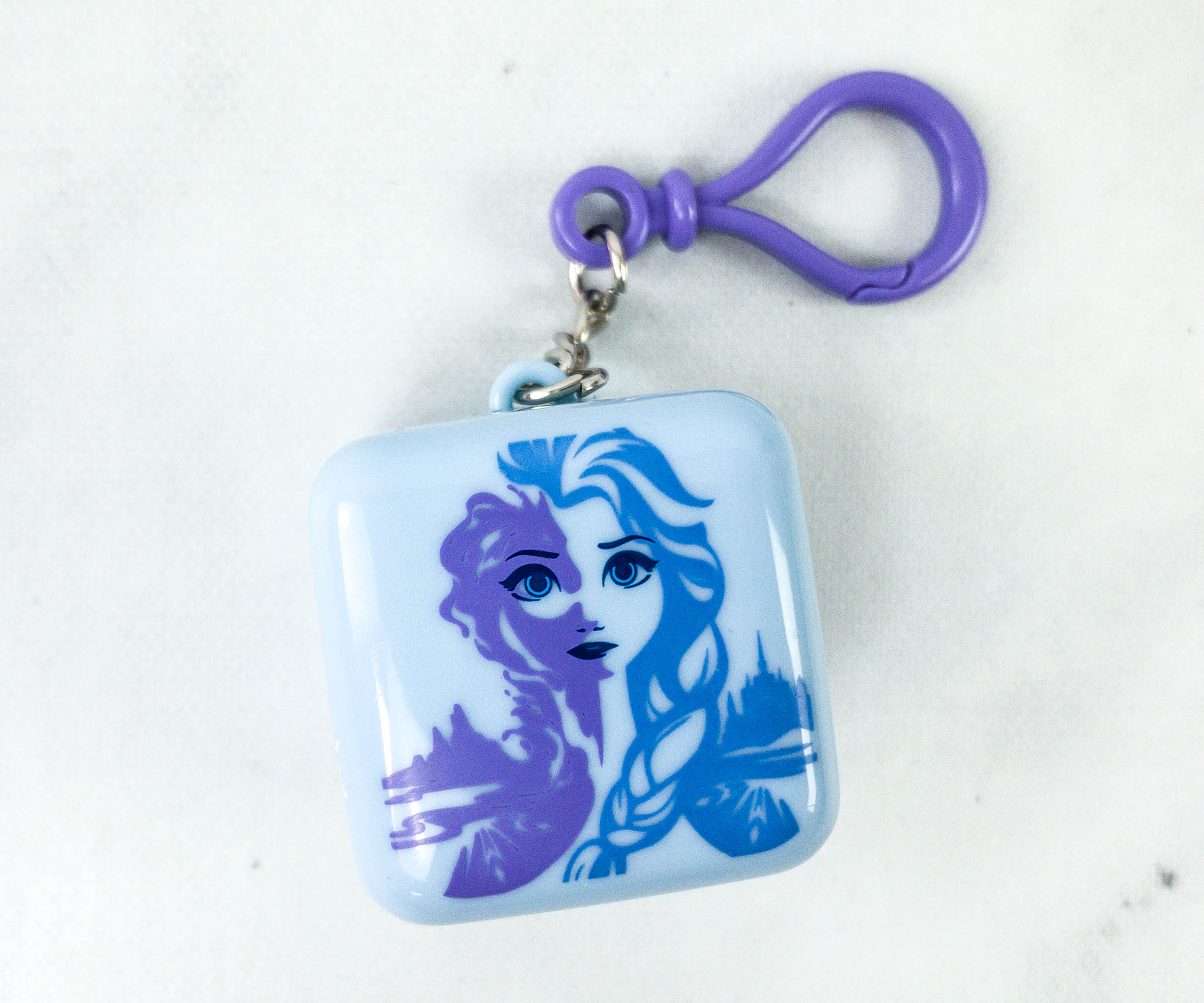 It features Elsa's face with half of it being Nokk, the water spirit who Elsa battled but eventually won over and helped her reach Ahtohallan in the movie!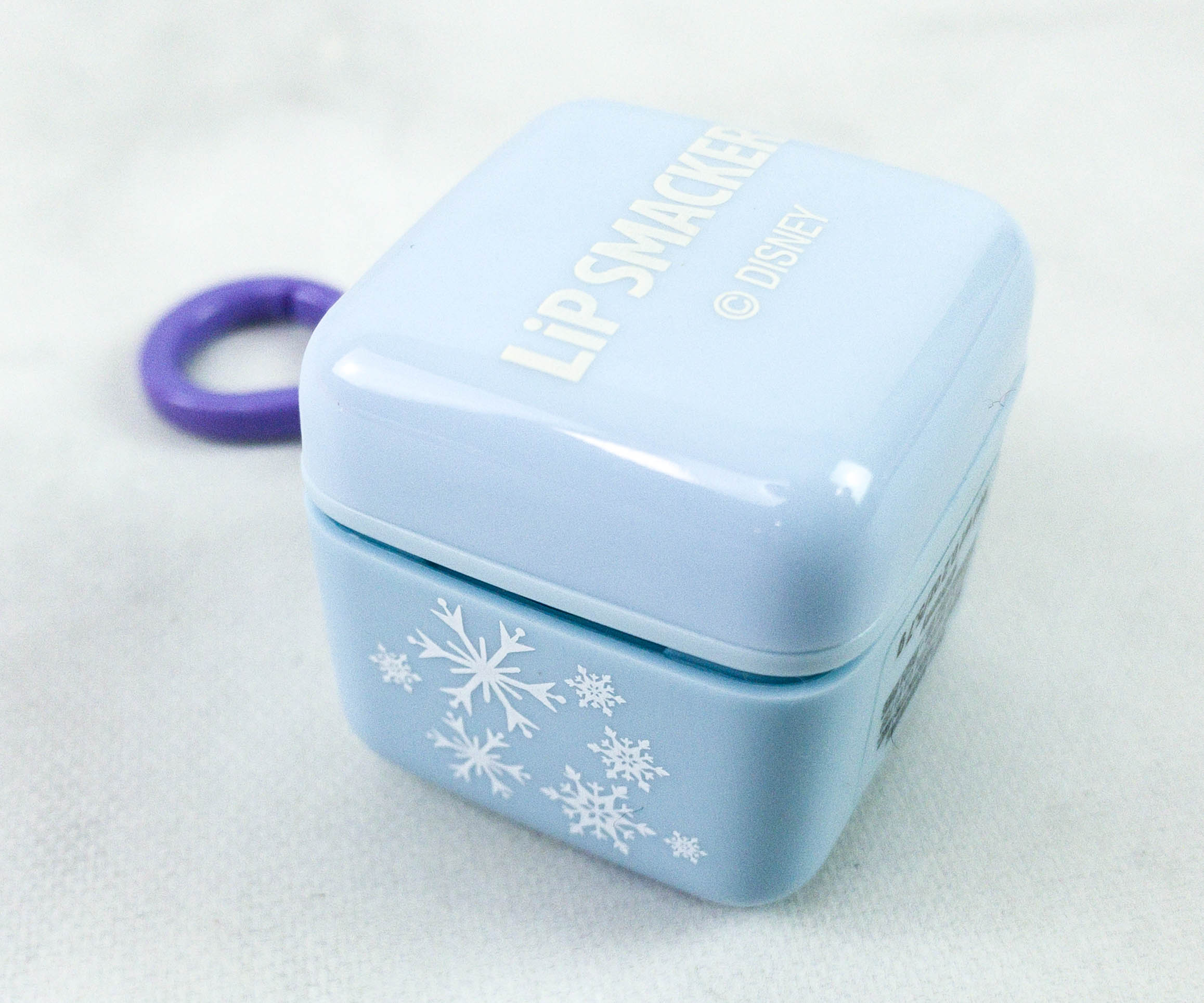 The item is small and compact. It even has a keychain attachment so you can easily attach it to your bag!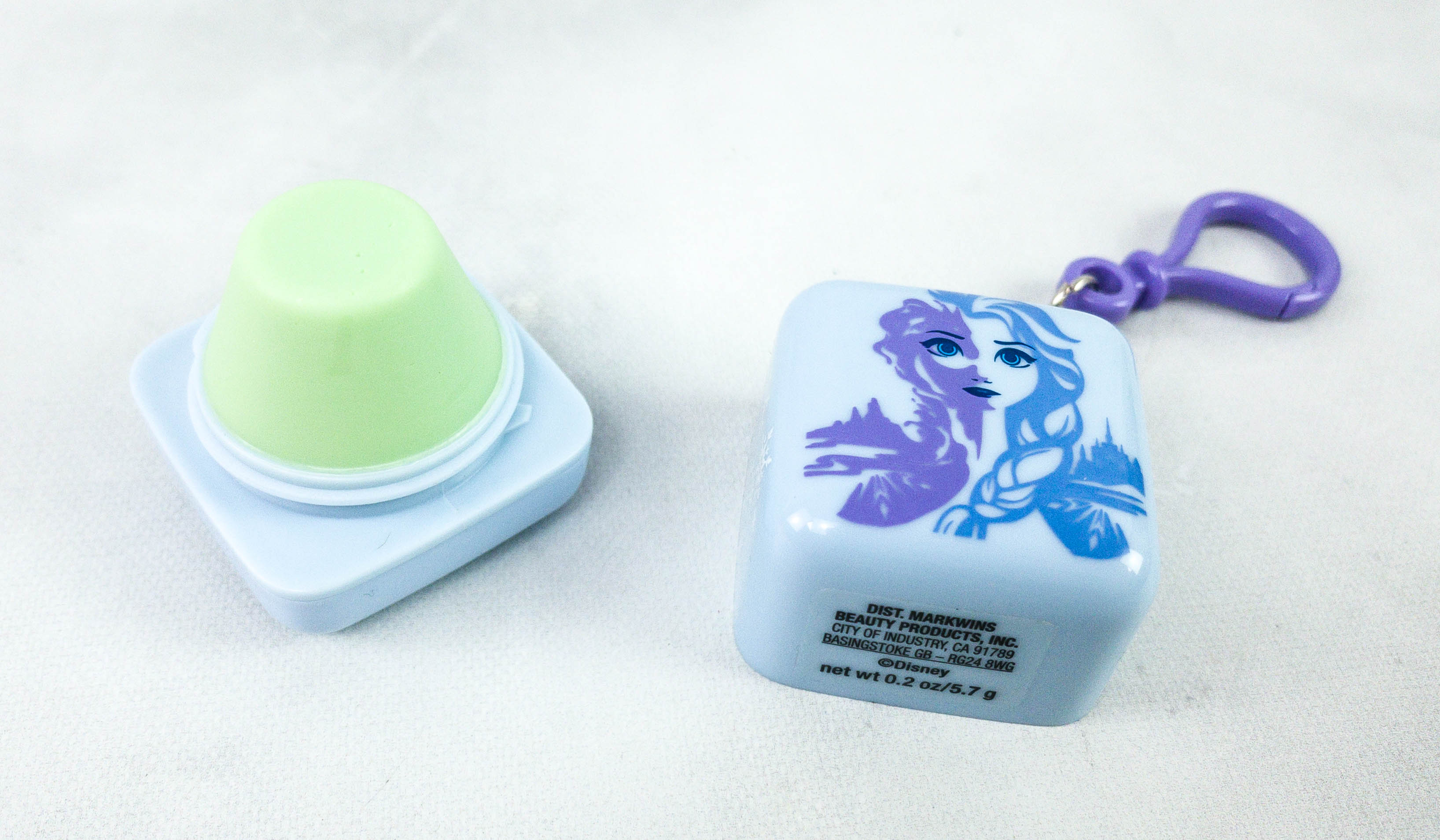 Simply twist the cube to open and reveal the lip balm inside! It helps keeps the lips soft and hydrated (and minty!) while being a fun decoration to your bag!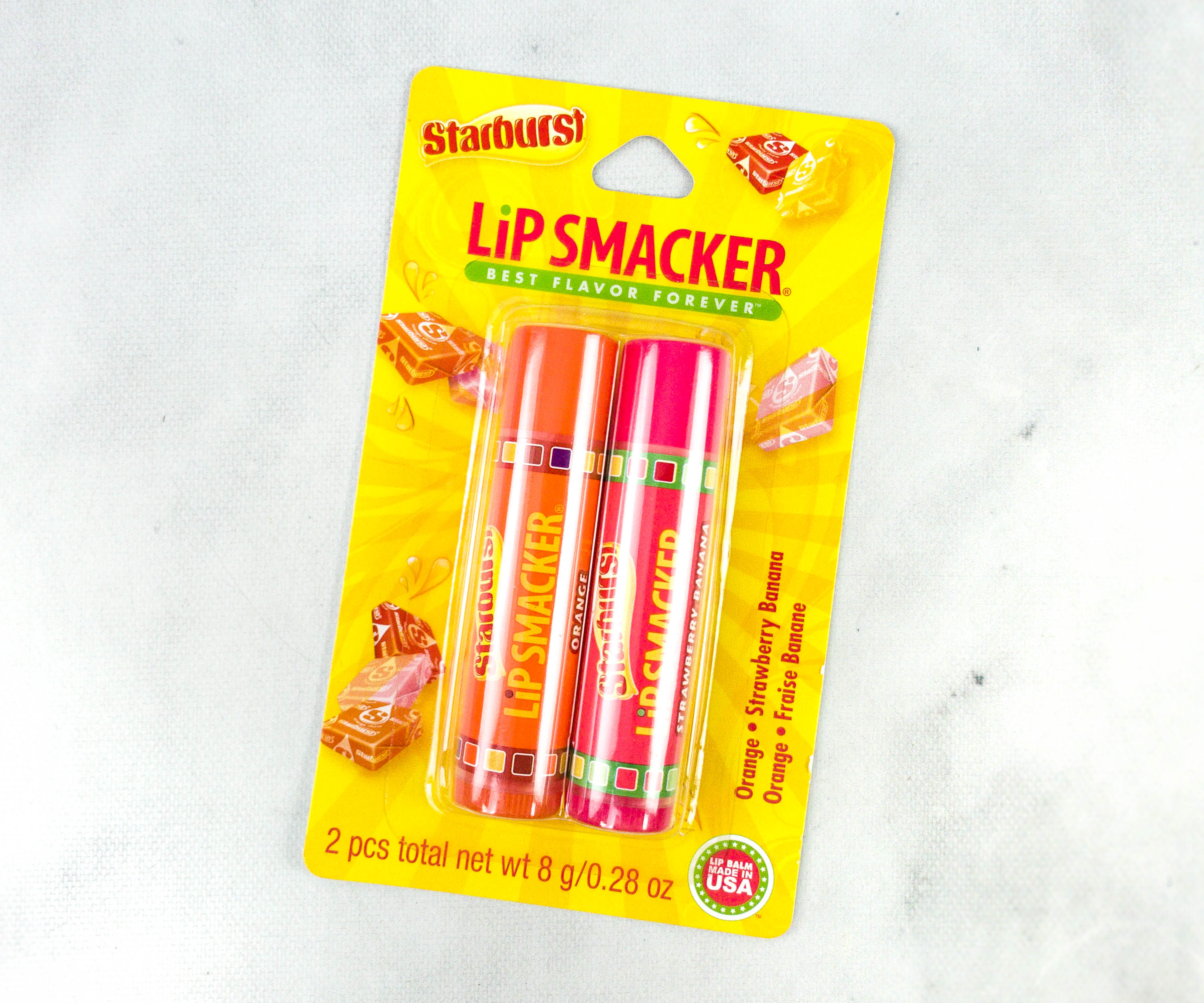 Lip Smacker Starburst Lip Balms. We love Starburst and these came in our favorite flavors!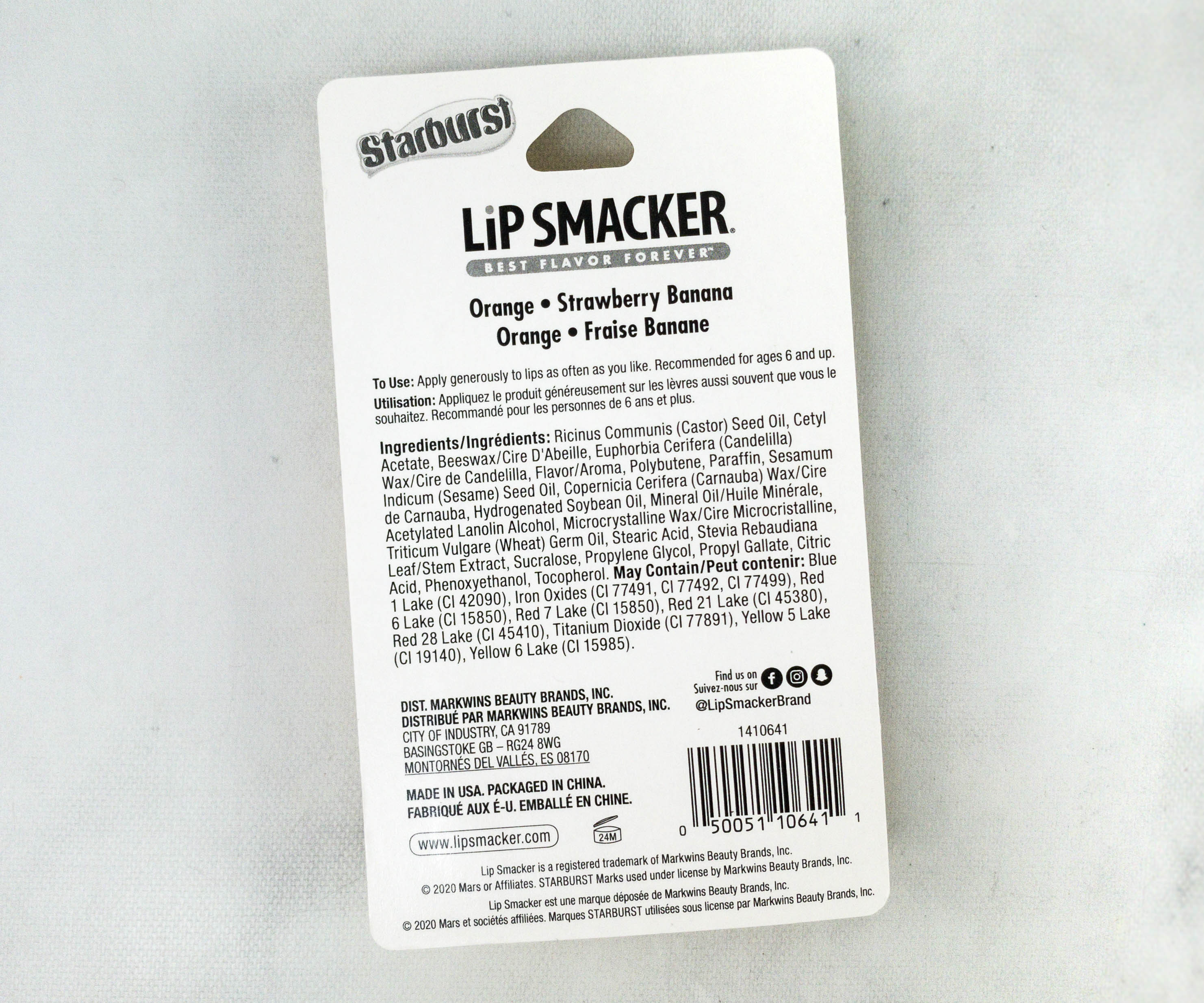 Inside this dual pack is an Orange and a Strawberry lip balm that all the kids are so excited to try!
They both smell amazingly delicious, I could seriously eat them! The sweet, fruity scent is superfun for kids.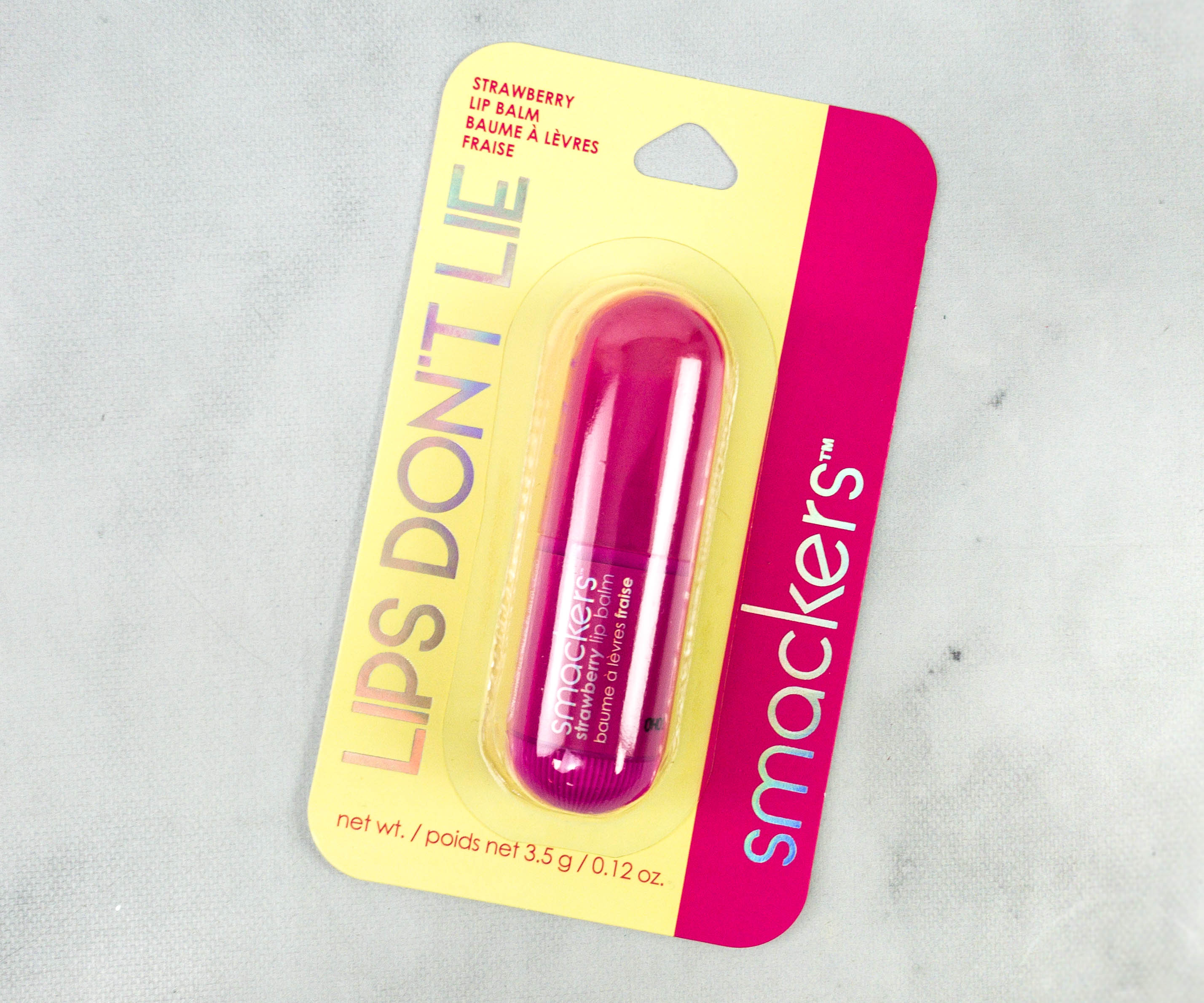 Smackers Lips Don't Lie Strawberry Lip Balm. Here's another Lips Don't Lie product – this time it's a lip balm.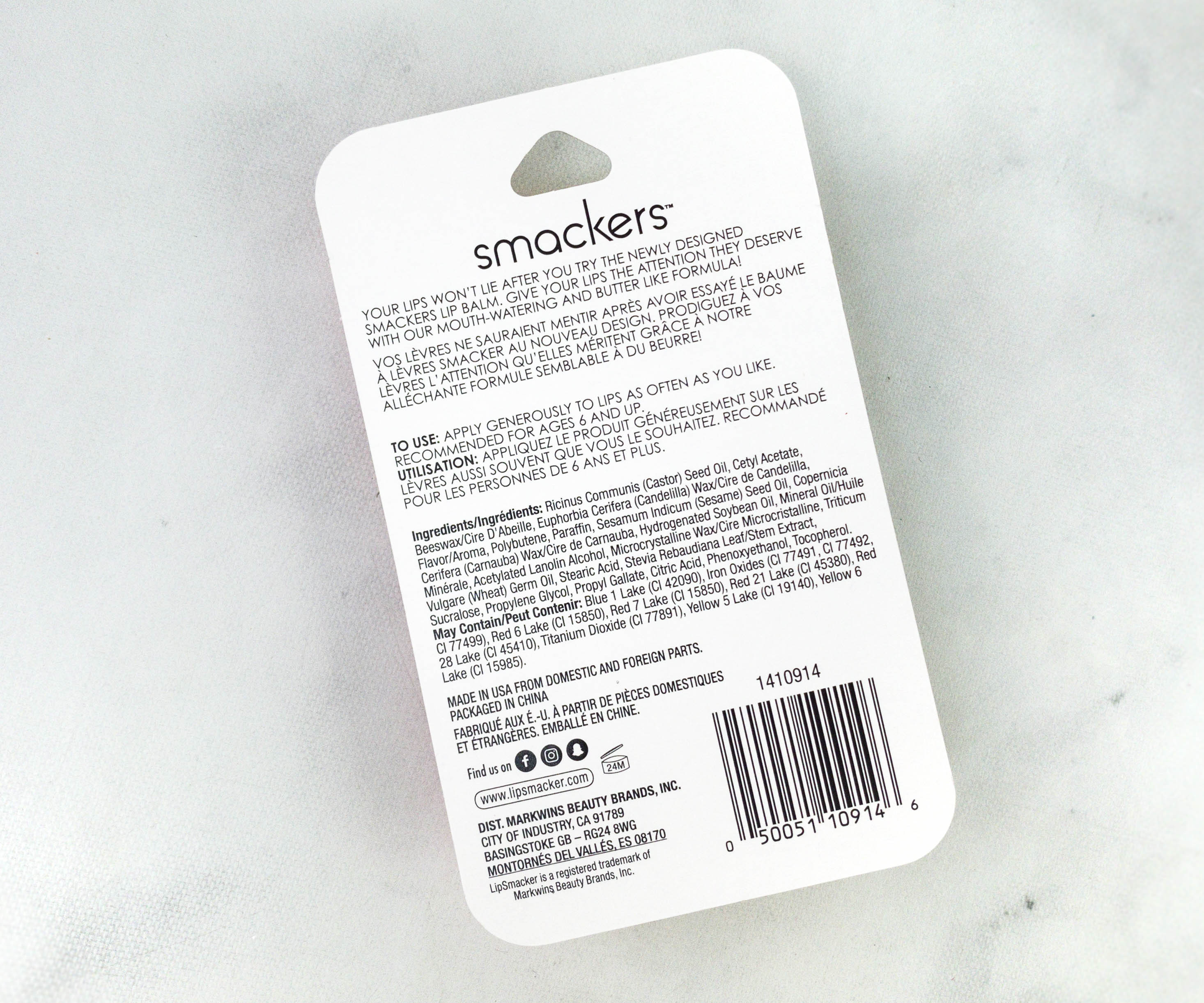 This one is plain and strawberry flavored.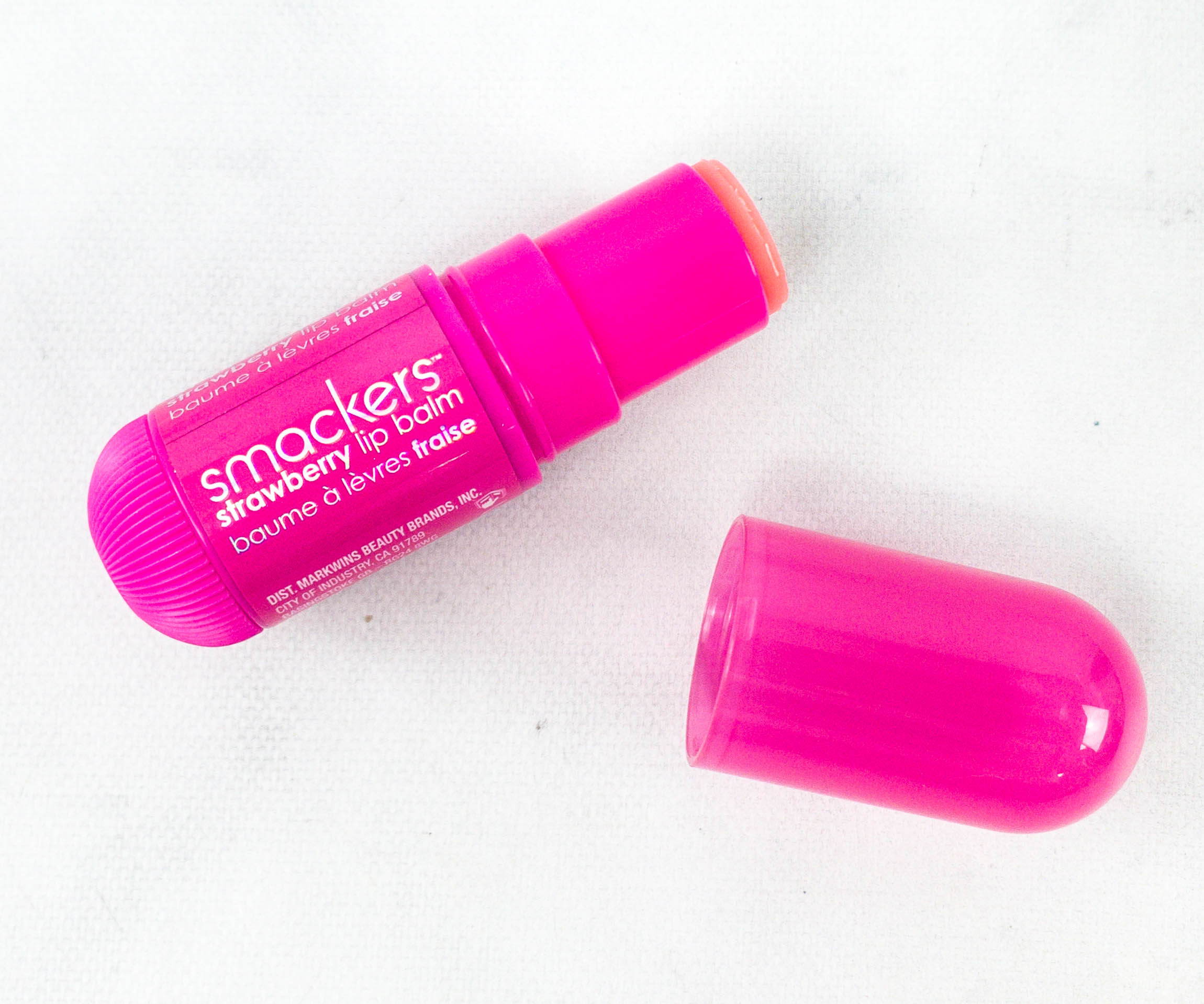 Unlike the other one, this came in a bullet style lippie and it has a cute twist up packaging! It has a nice strawberry scent that is a bit less sweet than the Starburst one but it's still good!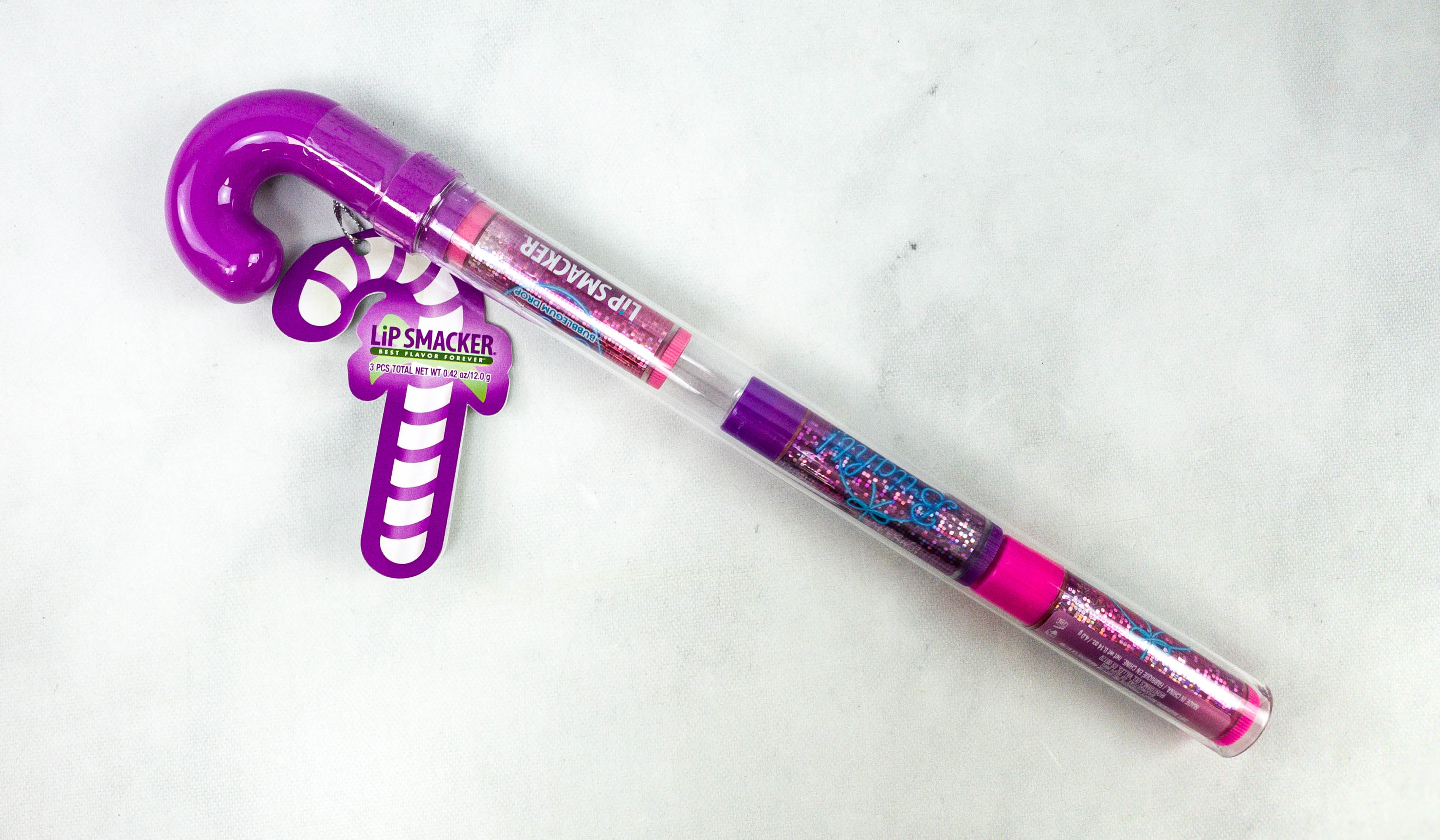 Lip Smacker Holiday Lip Balms. Last item is this lip balm trio that came in this awesome sugar cane packaging! It's the perfect packaging for the holiday season!
Inside are the flavors Holiday Punch, Santa's Strawberry, and Bubblegum Drop. The fun and witty names along with the vibrant and flashy packaging sure are in line with the whole festive holiday theme. These balms work just as good as the others in keeping my lips soft, smooth, and hydrated!
We really liked the Lipsmacker BFF Lip Balm but I wish they went out on a high note, and the Smackers product were a little in the next age range than I would've expected for this subscription. Even adults subscribing to this were probably doing so because they wanted the cute nostalgic fun of Lip Smackers, not what looks to be a new tween line of products. I wasn't really that into them and neither were my kids. They aren't on the Lipsmackers website, so it's unclear to me if they were a dud or yet to launch, but for my money, I would like licensed or holiday cuteness on my lipbalms please. (Also tbh, why spend retail prices on tween and teen makeup when Ipsy exists?) My kids did love all the Lip Smackers cutesy products as expected.
If you're looking for similar subscriptions, see more lip balm subscriptions and our picks for tweens! In particular, we recommend Fashion Angels as a good replacement for this subscription.
What did you think of Lipsmacker's last box?