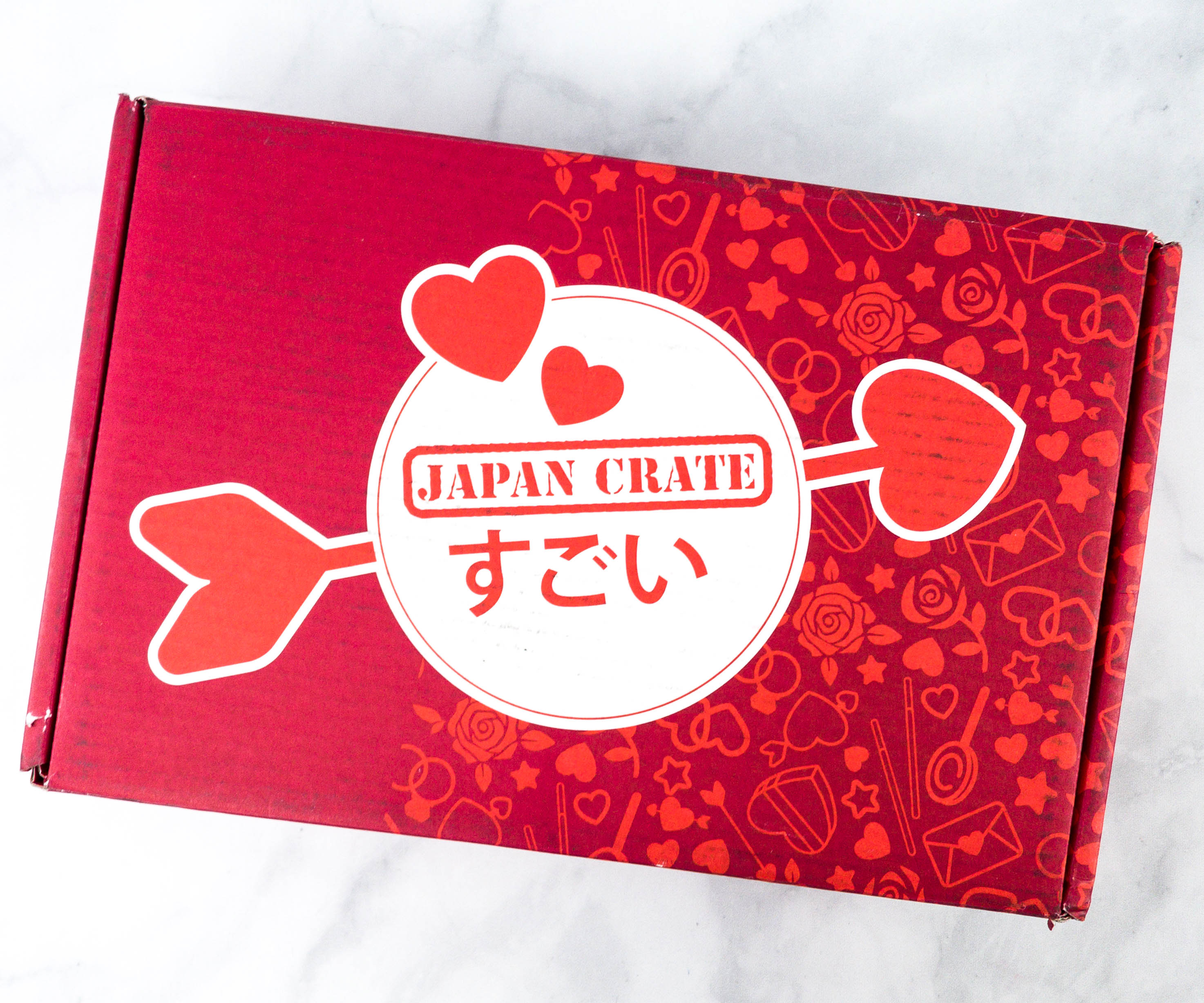 Japan Crate is a monthly subscription box that helps you "experience the excitement of Japan every month through fun candy & snacks." They have three subscription levels that start at $35.95 a month and offer 1, 3, 6, or 12-month plans that auto-renew at the end of the term. Japan Crate aims to send candy that is fun and exclusively available in Japan.
DEAL: Save $3 on your first regular or premium crate with coupon code HELLO.
This is a review of the Premium box!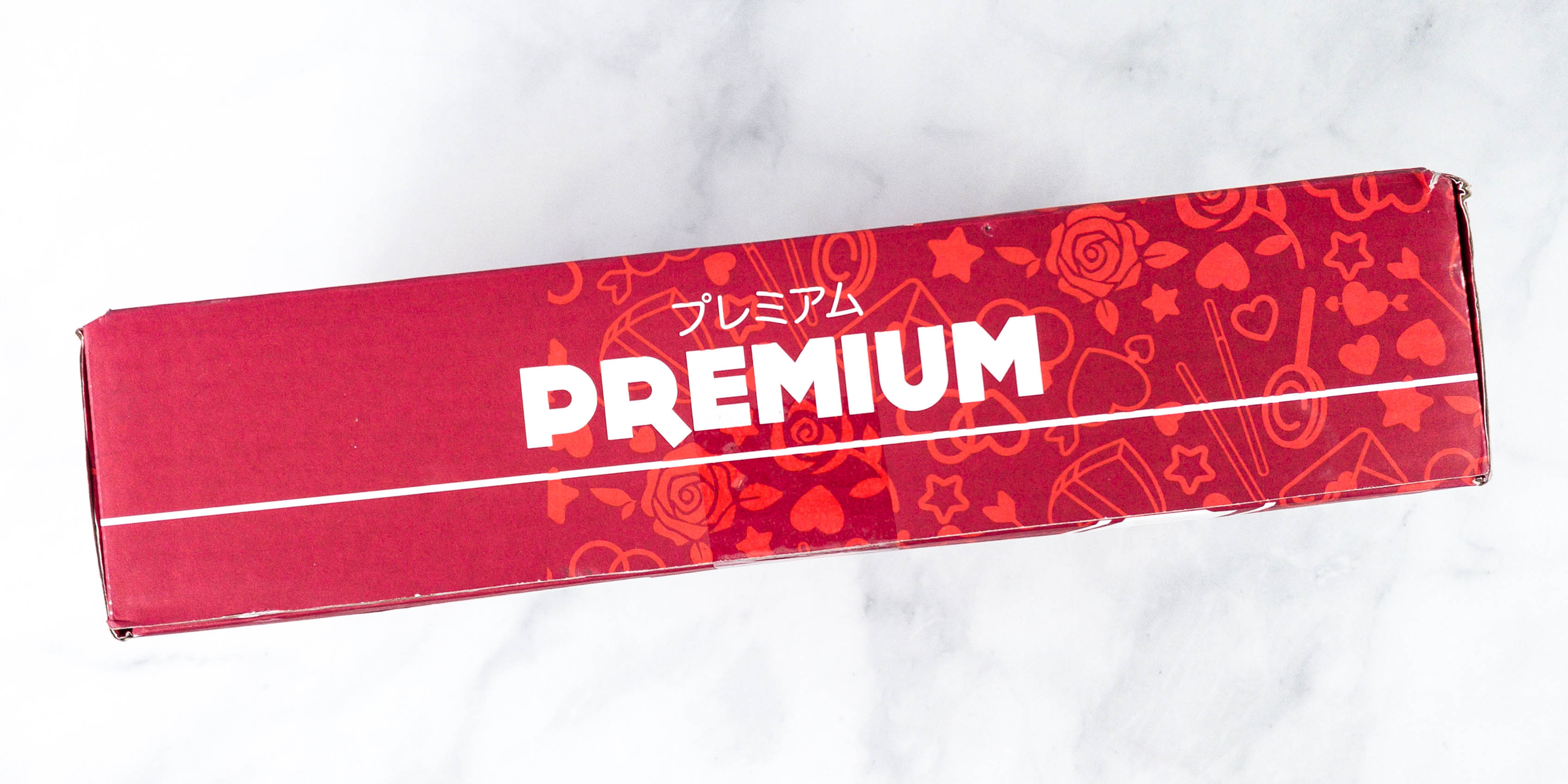 This month's box has a Valentine's Day themed design.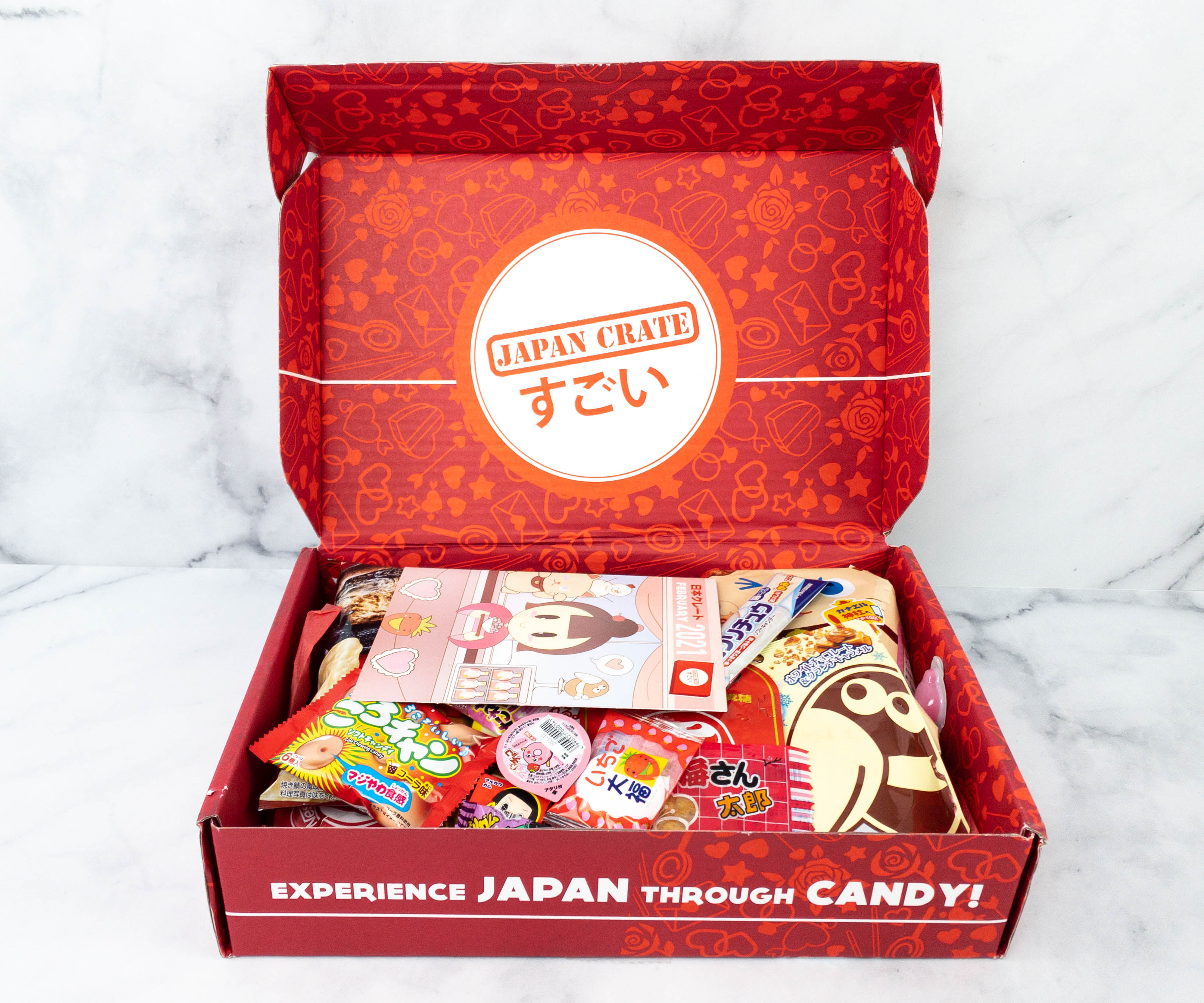 Even the interior of the box has cute doodles!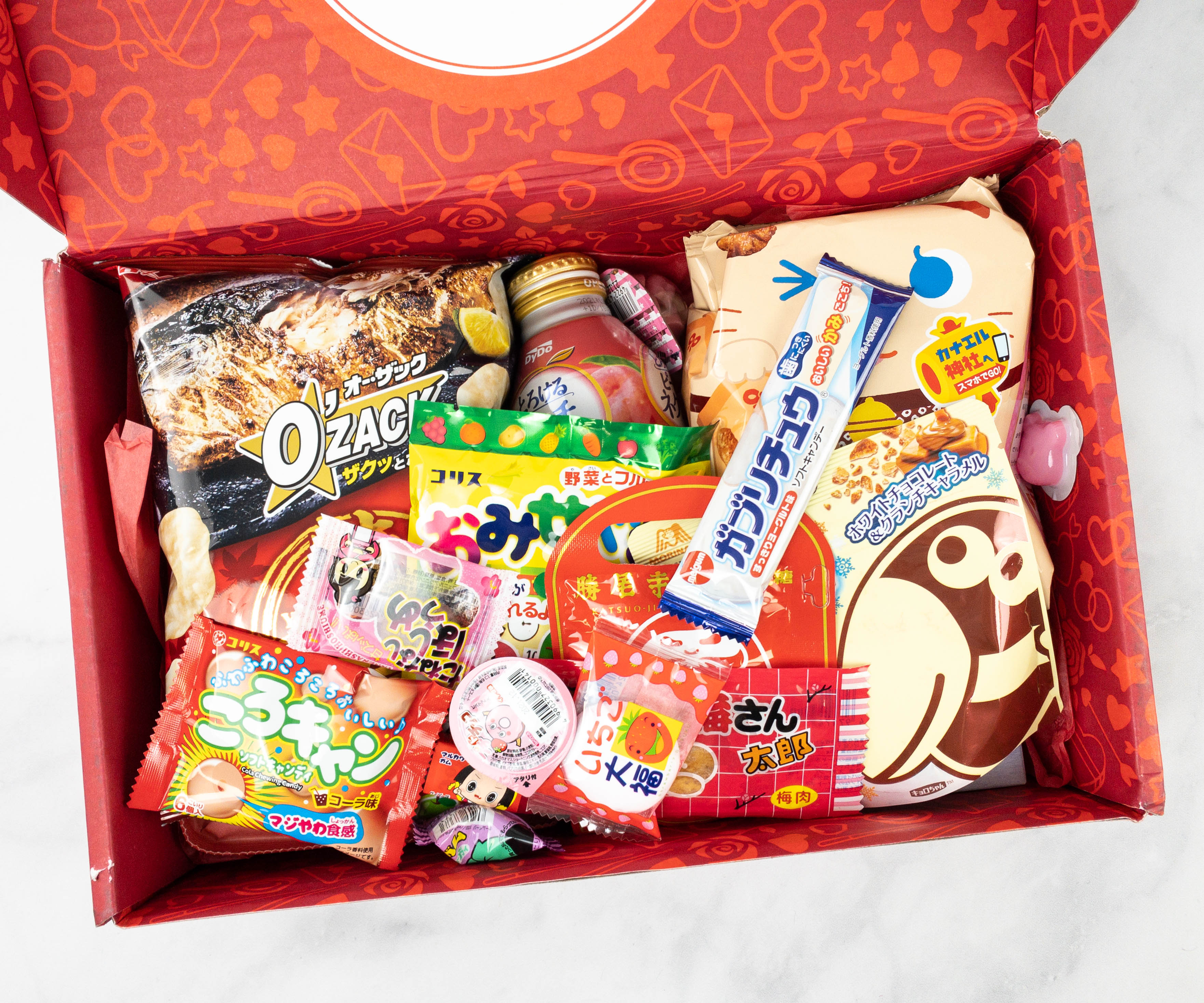 As always, there are LOTS of snacks in this box!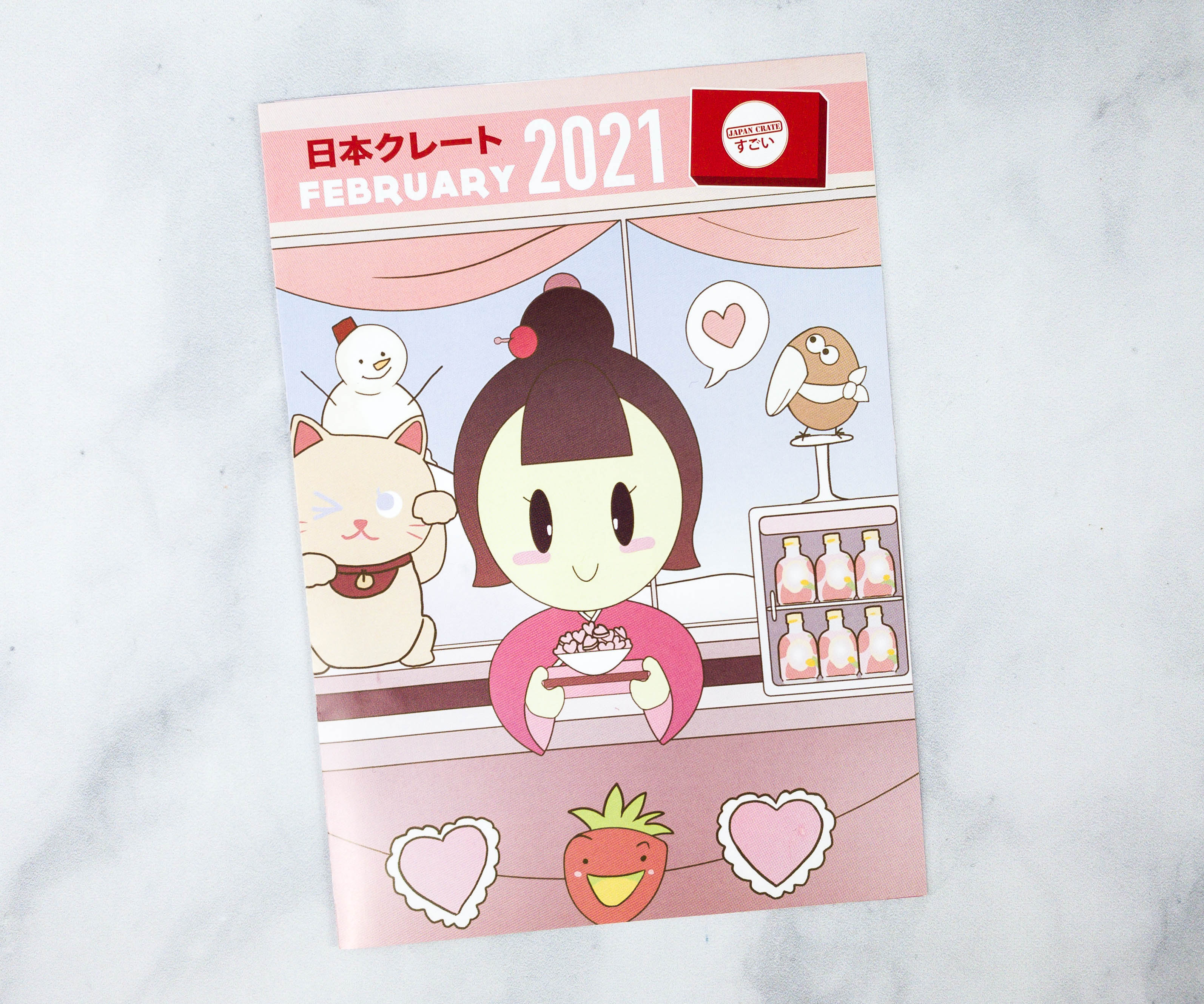 The box also includes an information booklet!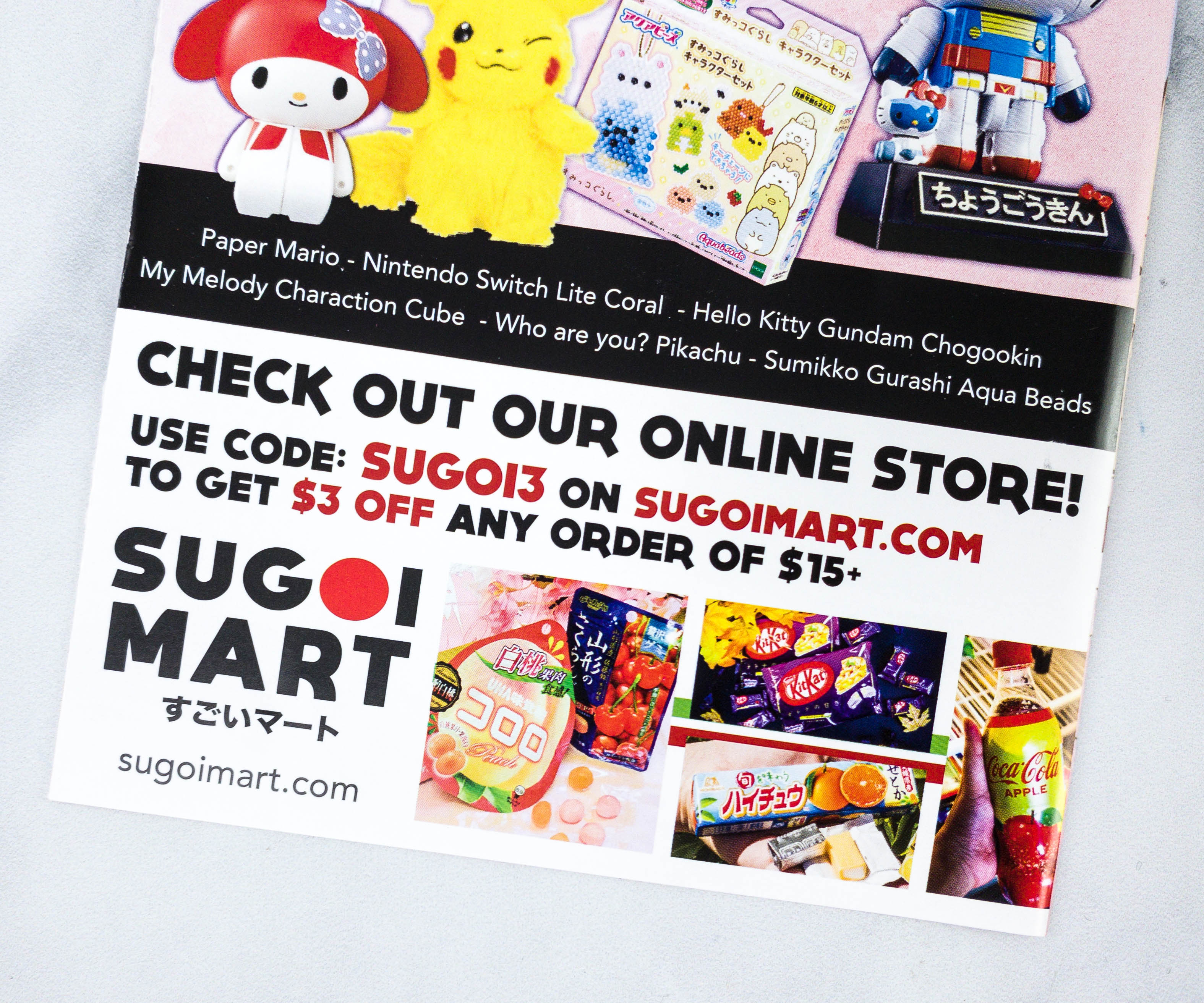 Featured in this part of the booklet is Sugoi Mart. They gave us a $3 off coupon code which we can use on orders $15 and up!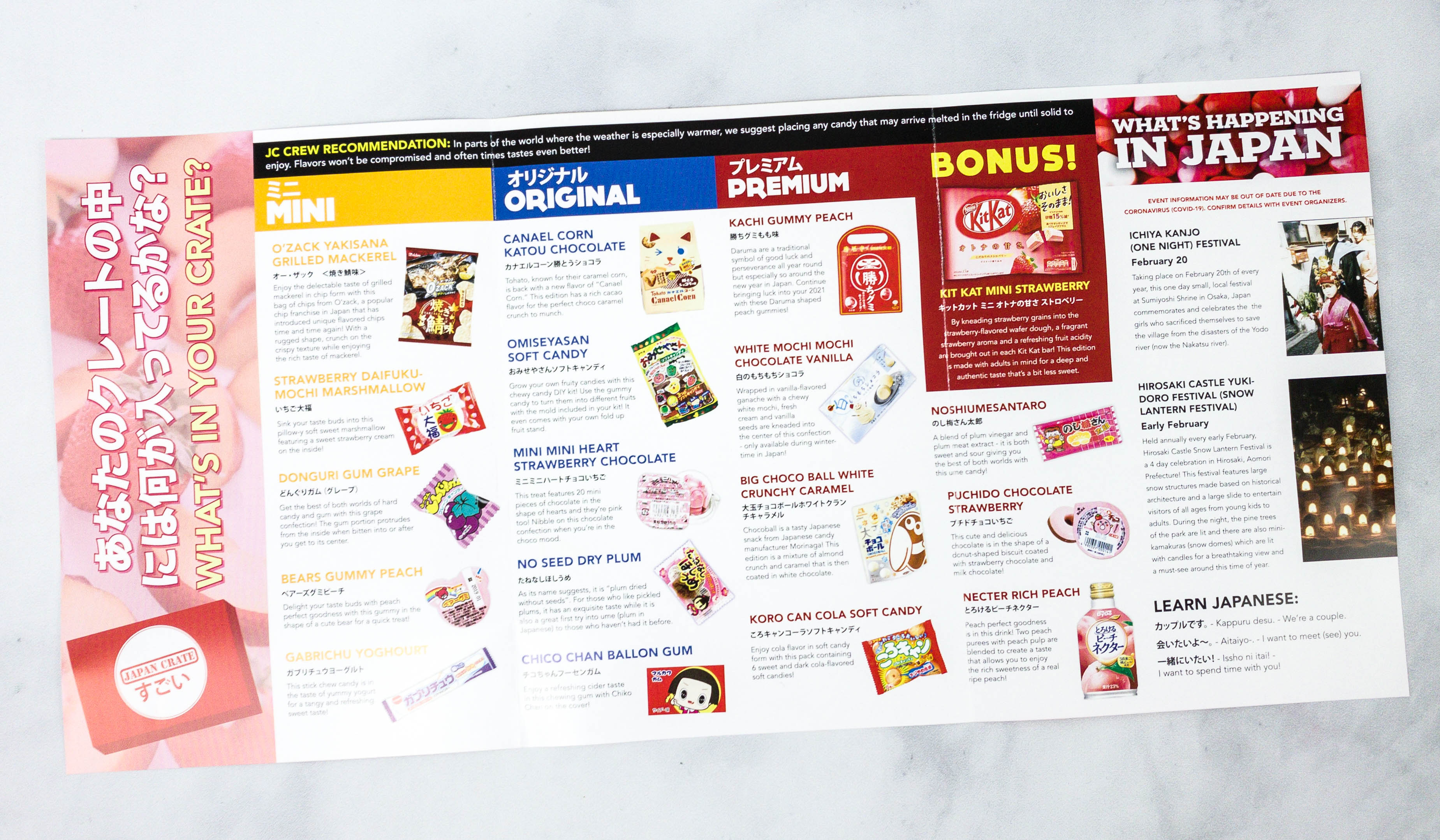 Inside the booklet is a chart of contents that lists all the snacks from three different box sizes. There are 3 different subscription levels available: The Mini includes 5 items, the Original includes those items PLUS another 5 items, and the Premium includes those 10 items PLUS another 5 items.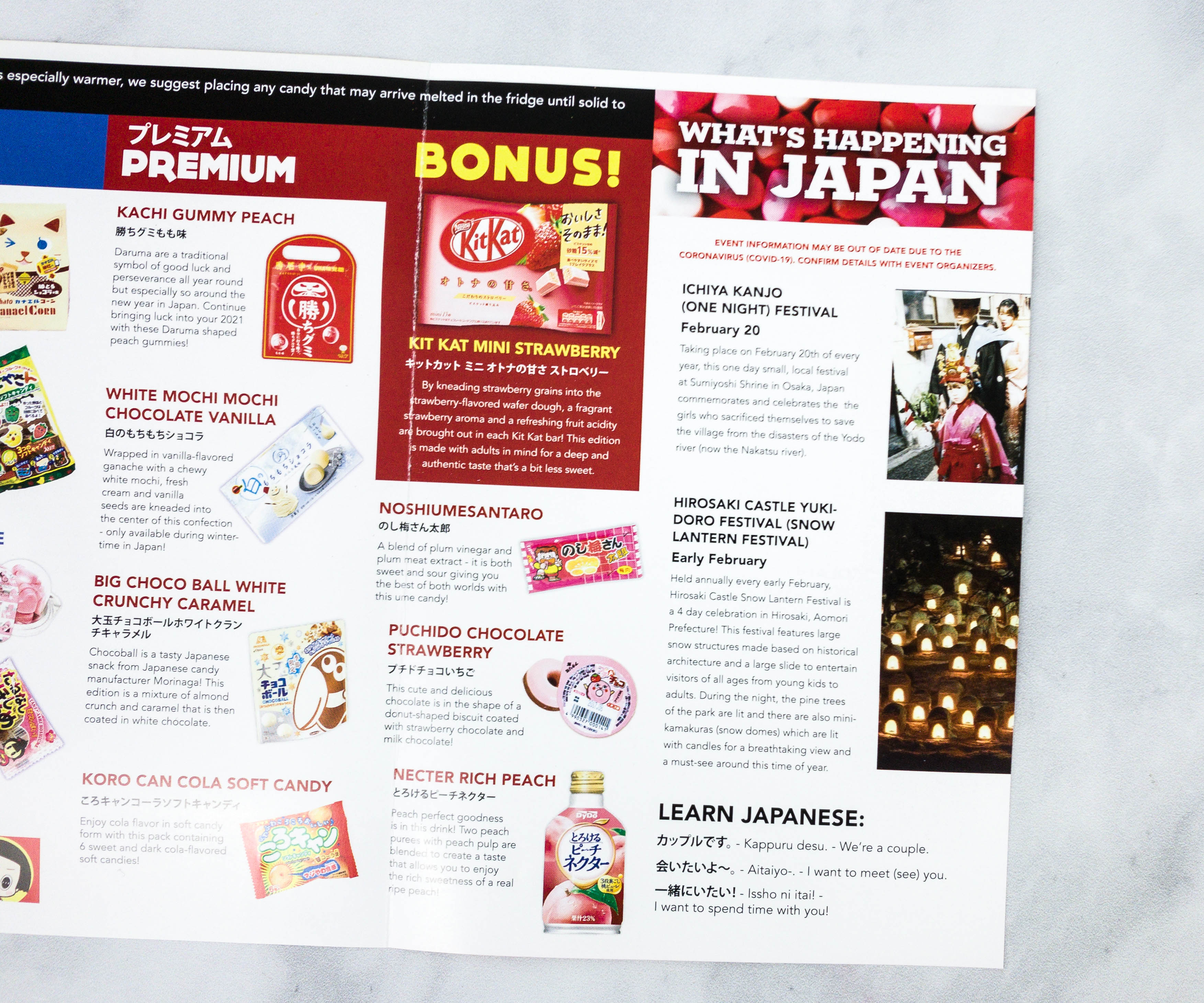 This month, subscribers will get a bonus item: KitKat Mini Strawberry. There are also info about festivals held in Japan during February and some Japanese vocabulary words.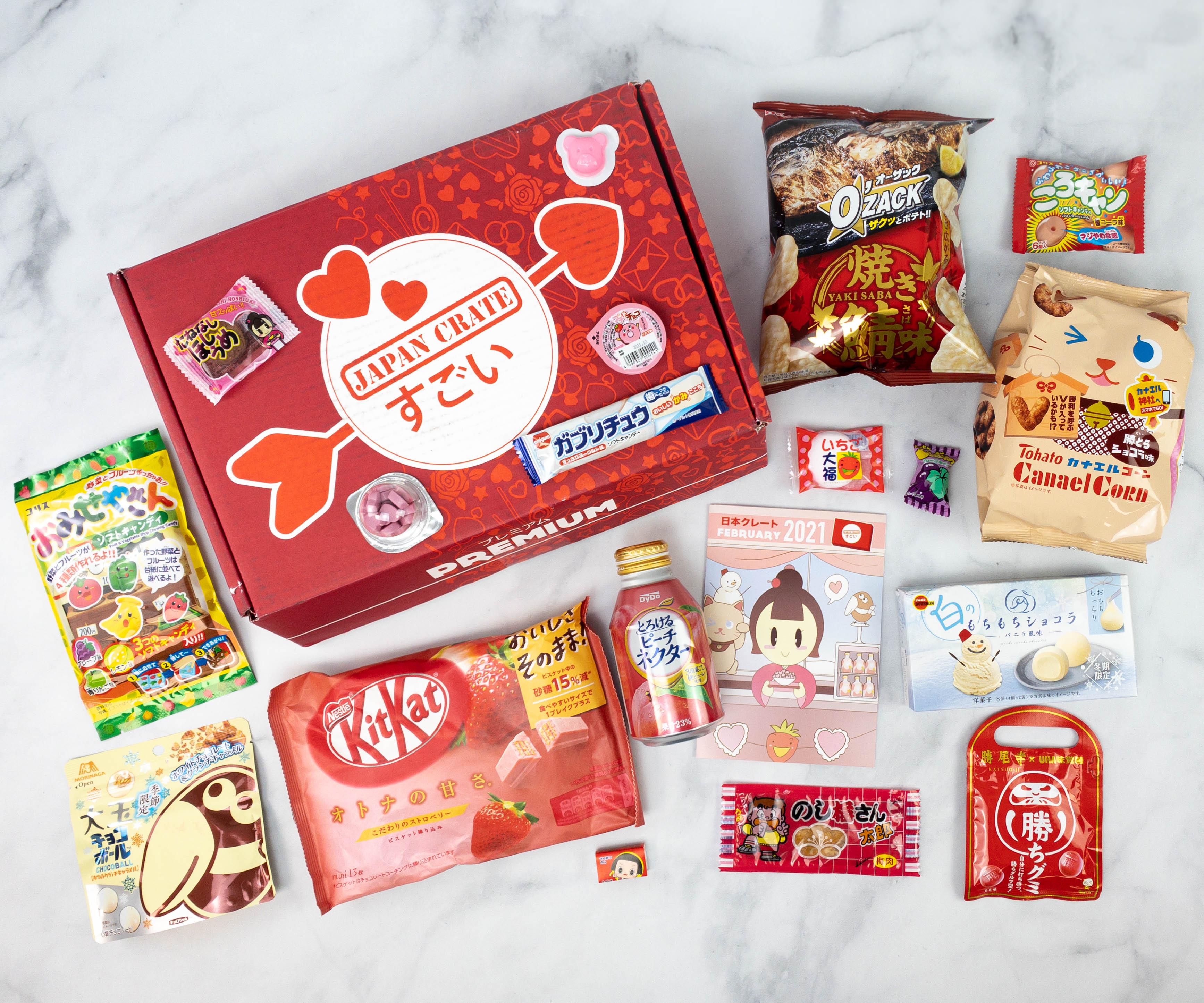 Everything in my February 2021 box!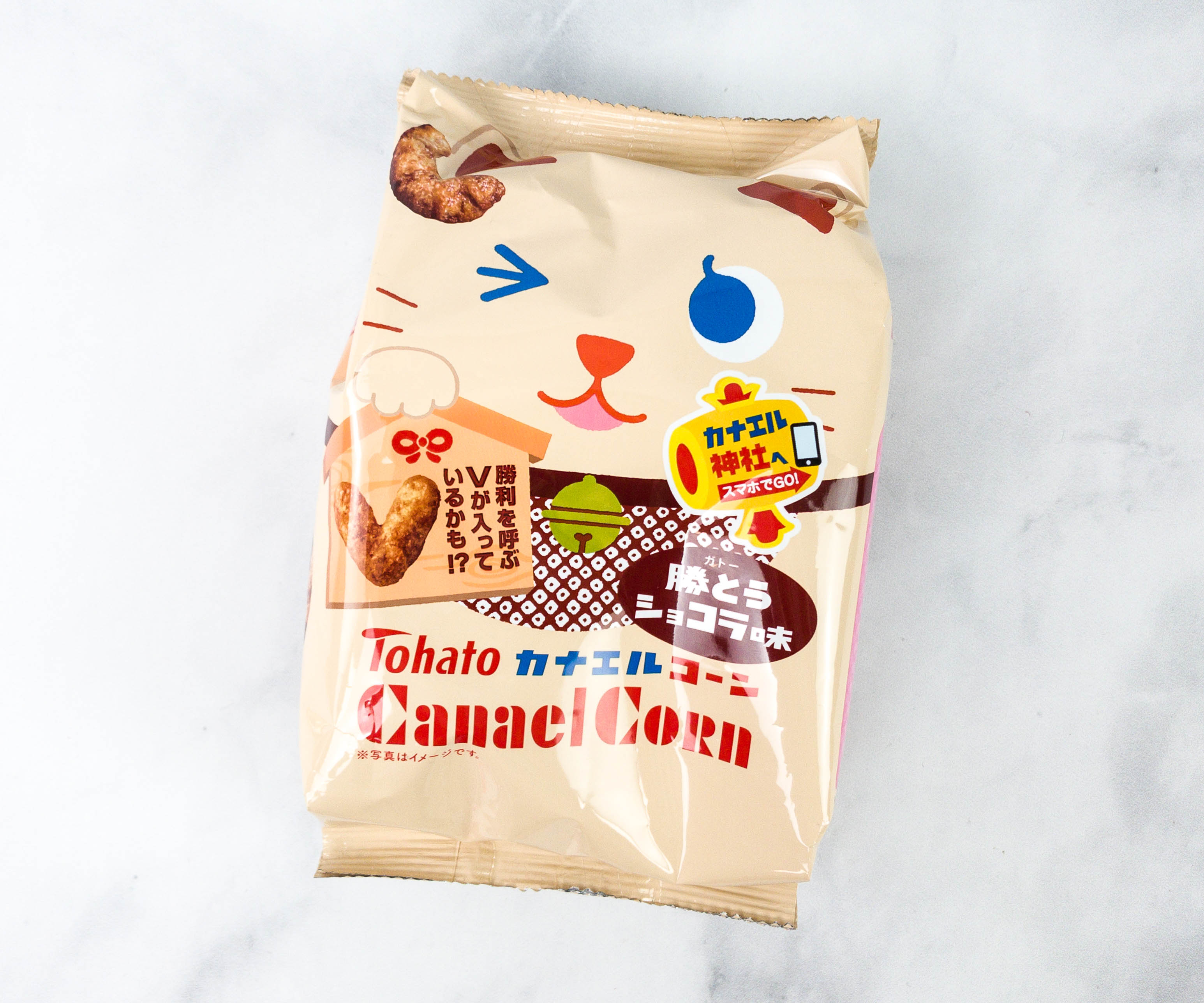 Canael Corn Katou Chocolate. Tohato is famous for their caramel corn puffs, and this new flavor is also gaining popularity with its rich cacao flavor. Each piece is fluffy and airy, I love how they melt in my mouth! The packaging is also cute, as it features a lucky cat. If you get a V-shaped corn puff in the pack, it's said that you can make a wish!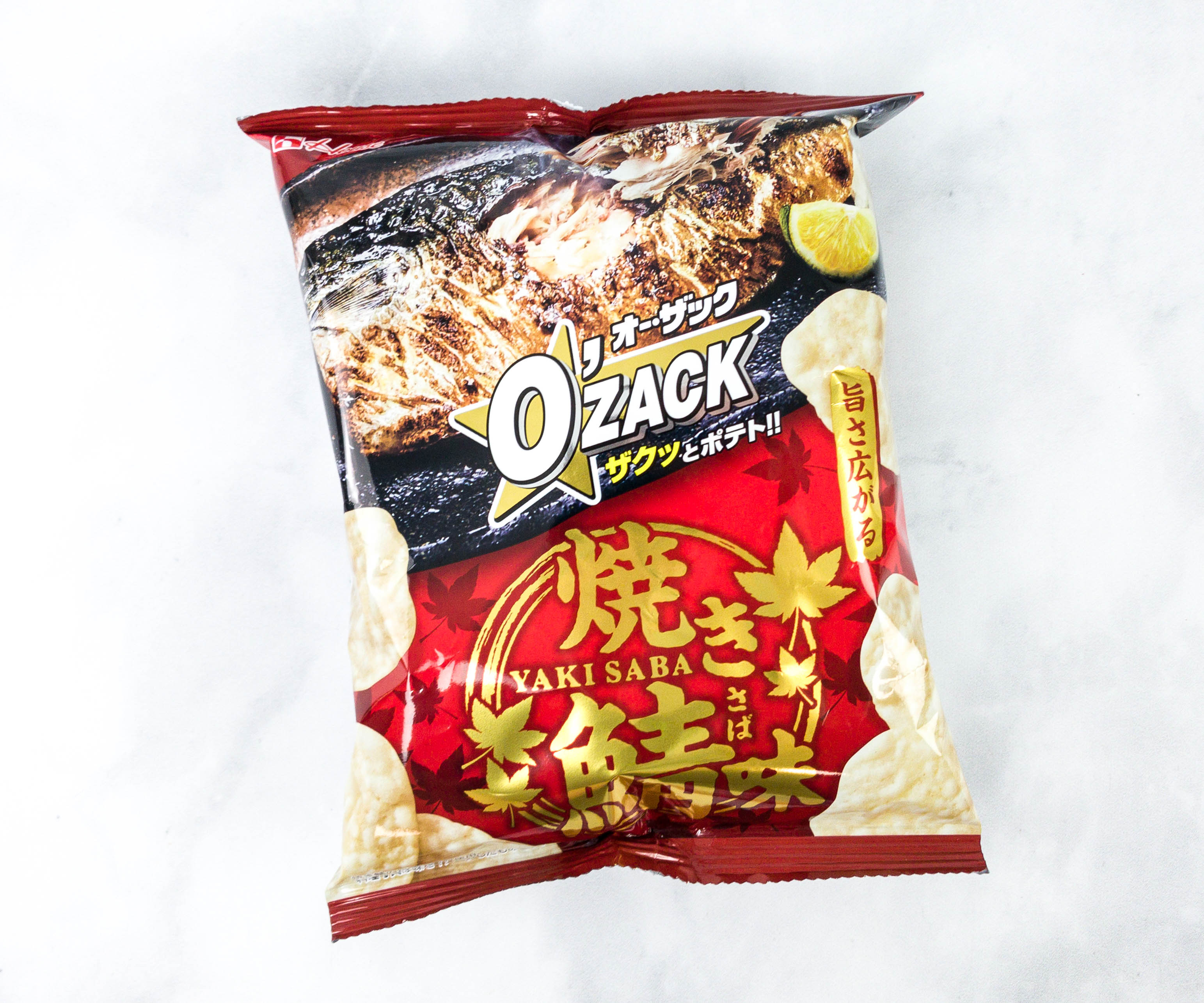 O'Zack Yakisana Grilled Mackerel. It's a bag of chips with the delicious taste of grilled mackerel. Aside from the flavor, the texture made this snack more exciting and fun to eat. It has a ragged shape and it's also pretty crunchy. It doesn't have a weird seafood taste unlike other fish-flavored snacks. It's great when pair with a glass of beer!
Noshiumesantaro. This plum candy strip is for sour candy lovers. It's made with plum vinegar and plum meat extract, and it also has a chewy texture that I like!
Gabrichu Yoghurt. I've tried the plum version of this taffy candy from a past Japan Crate box, and this time, I was able to try the yogurt flavored one. It's a bit tangy and perfectly chewy!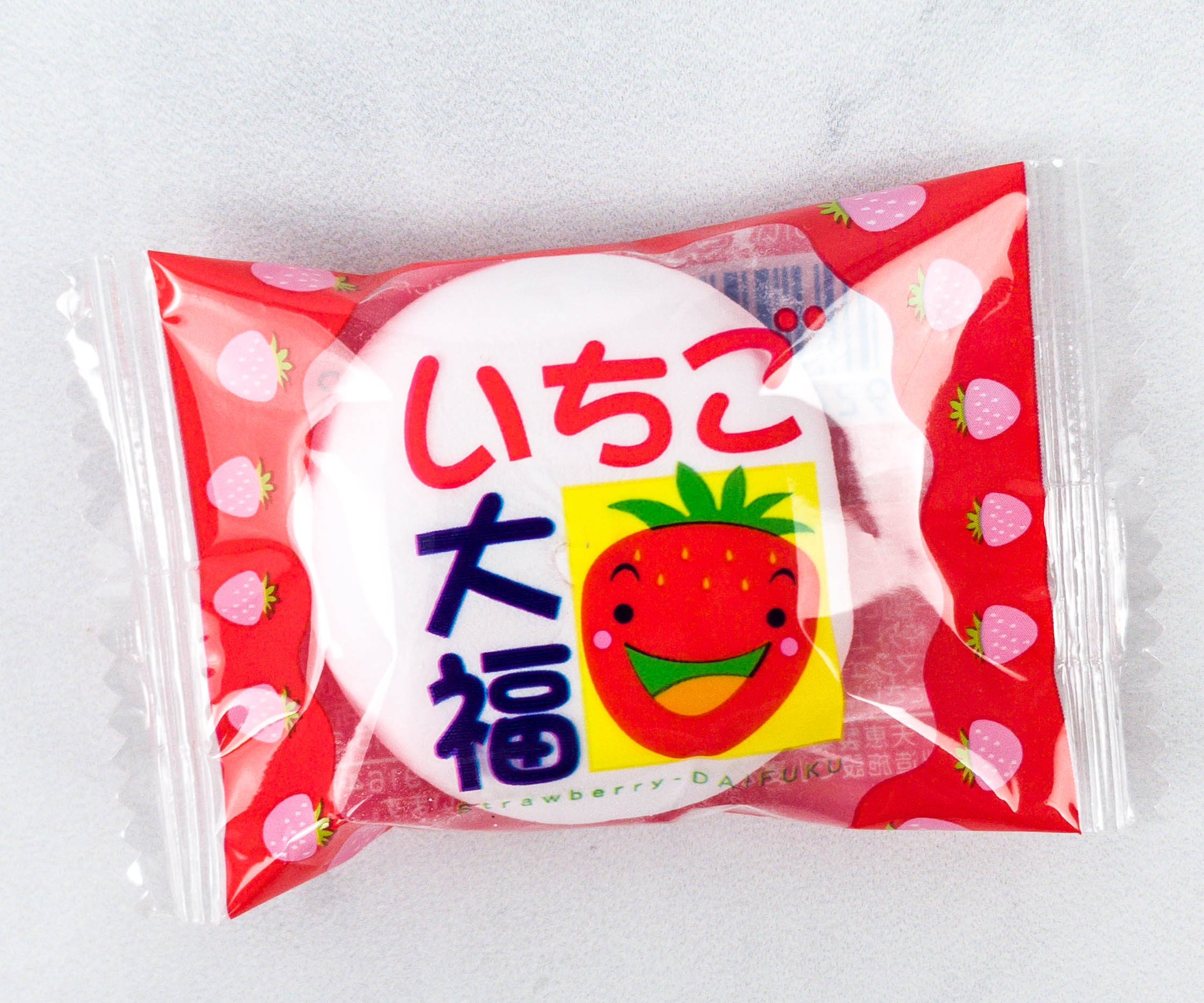 Strawberry Daifuku Mochi Marshmallow. Daifuku refers to a mochi with a sweet filling. This one features a marshmallow outer layer and a delicious strawberry cream inside. It's a perfect dessert snack!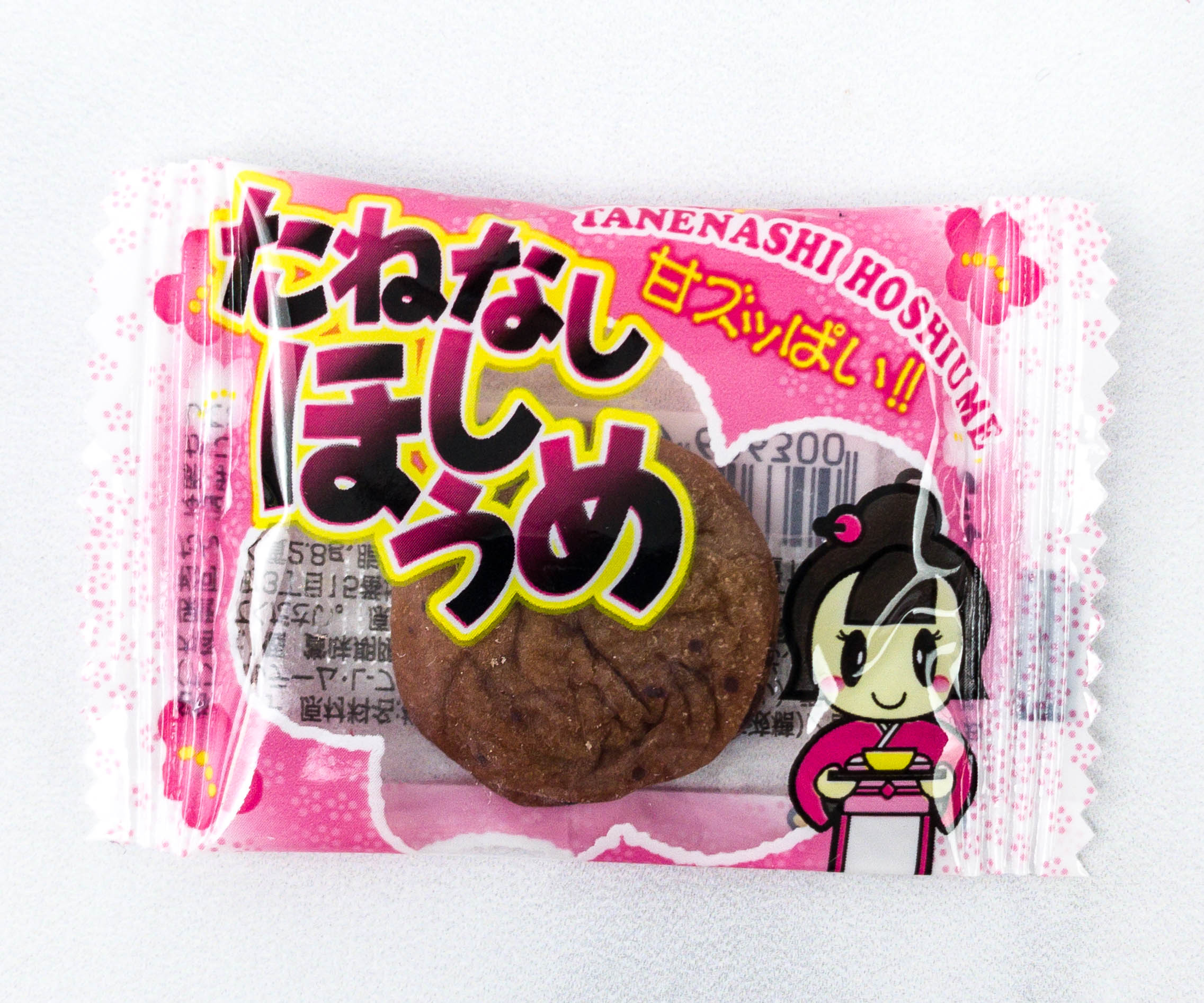 No Seed Dry Plum. I received another plum snack in the box, and this time it's a dried plum. It's seedless so it's easy to eat, and although it's small, the plum is packed with flavor!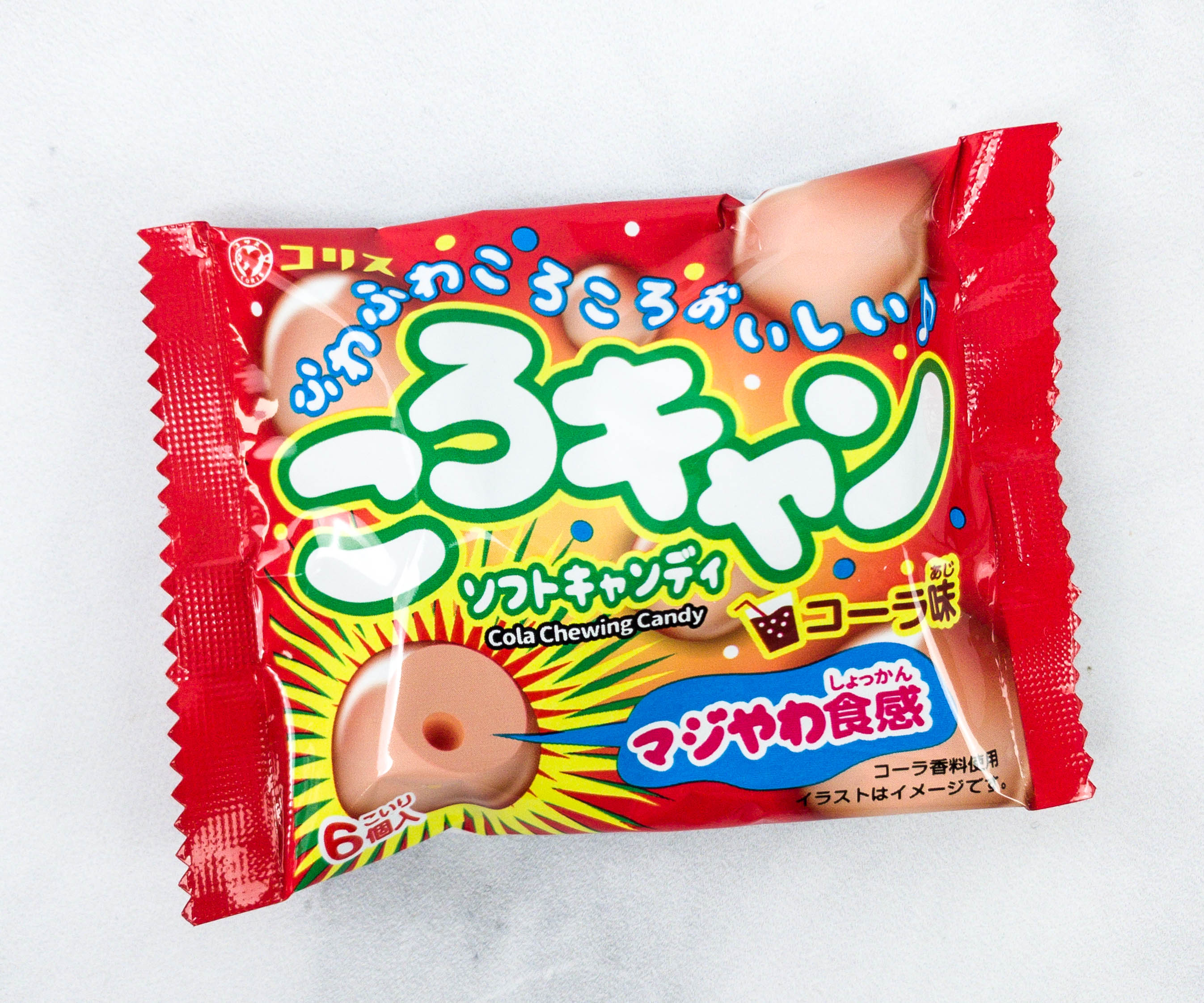 Koro Can Cola Soft Candy. This pack of soft candies is for cola lovers. Every chew is bursting with a refreshing cola flavor and I just can't stop at one! It's so good!
Kachi Gummy Peach. These gummies are shaped like a Daruma, a Japanese doll which is known to bring luck. I liked its tasty peach flavor! It's so juicy and the sweetness is just right!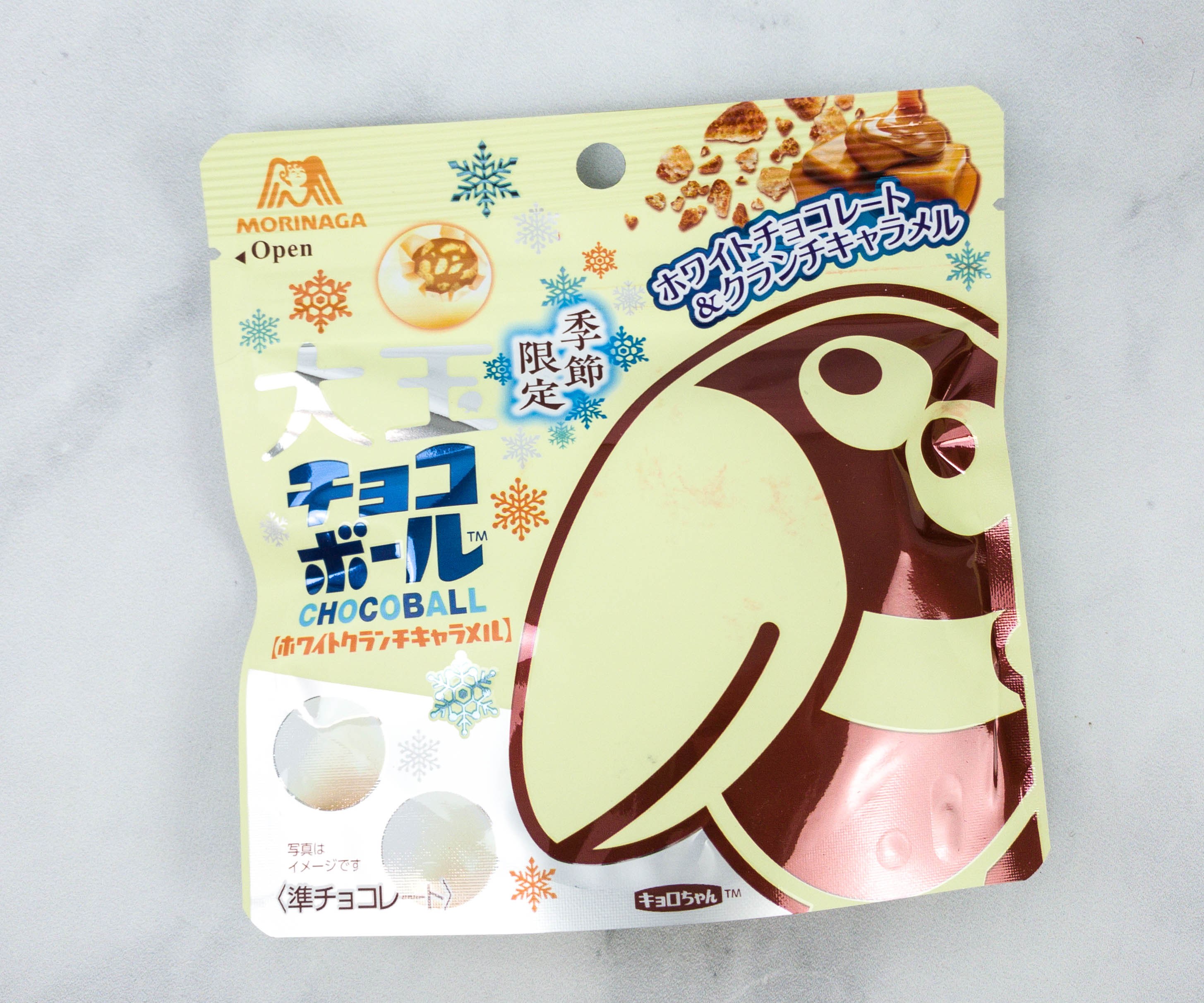 Big Choco Ball White Crunchy Caramel. This snack is the perfect mix of crunchy and sweet. Each ball-shaped piece is made with almond crunch and caramel, with a luscious white chocolate coating! I loved munching on it and it easily fulfilled my sweet tooth cravings!
Donguri Gum Grape. A surprise awaits inside this hard shelled candy! It has a gum in its center, and the grape flavor is just so delicious and sweet.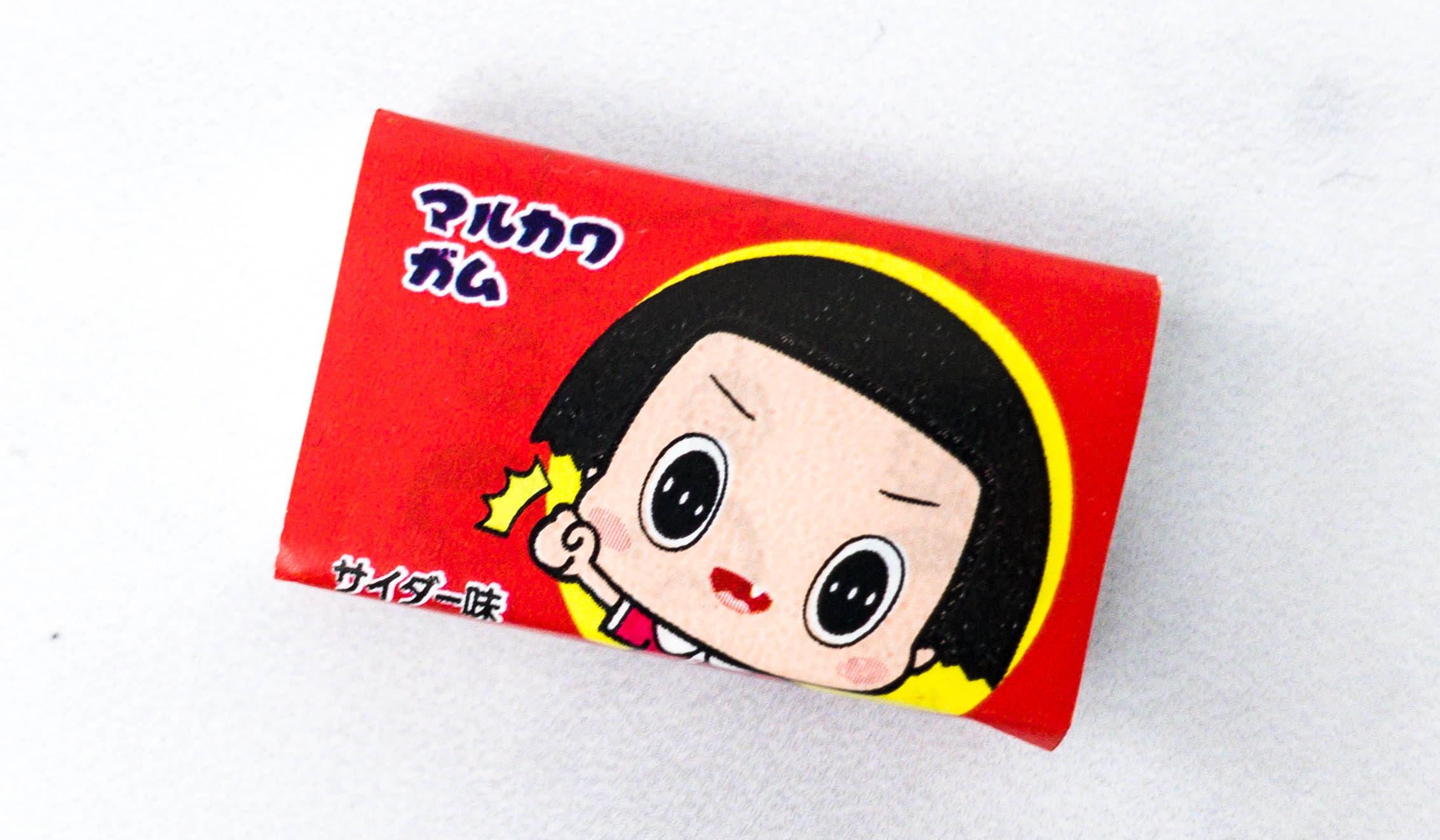 Chico Chan Balloon Gum. Chico Chan is a popular character in Japan. She's a 5-year-old girl from the series Chico-chan ni Shikarareru, which means Don't Sleep Through Life, and she is also featured on the packaging of this tasty balloon gum. The gum is cider flavored! It was fun to chew on and a great picker upper because of its refreshing taste!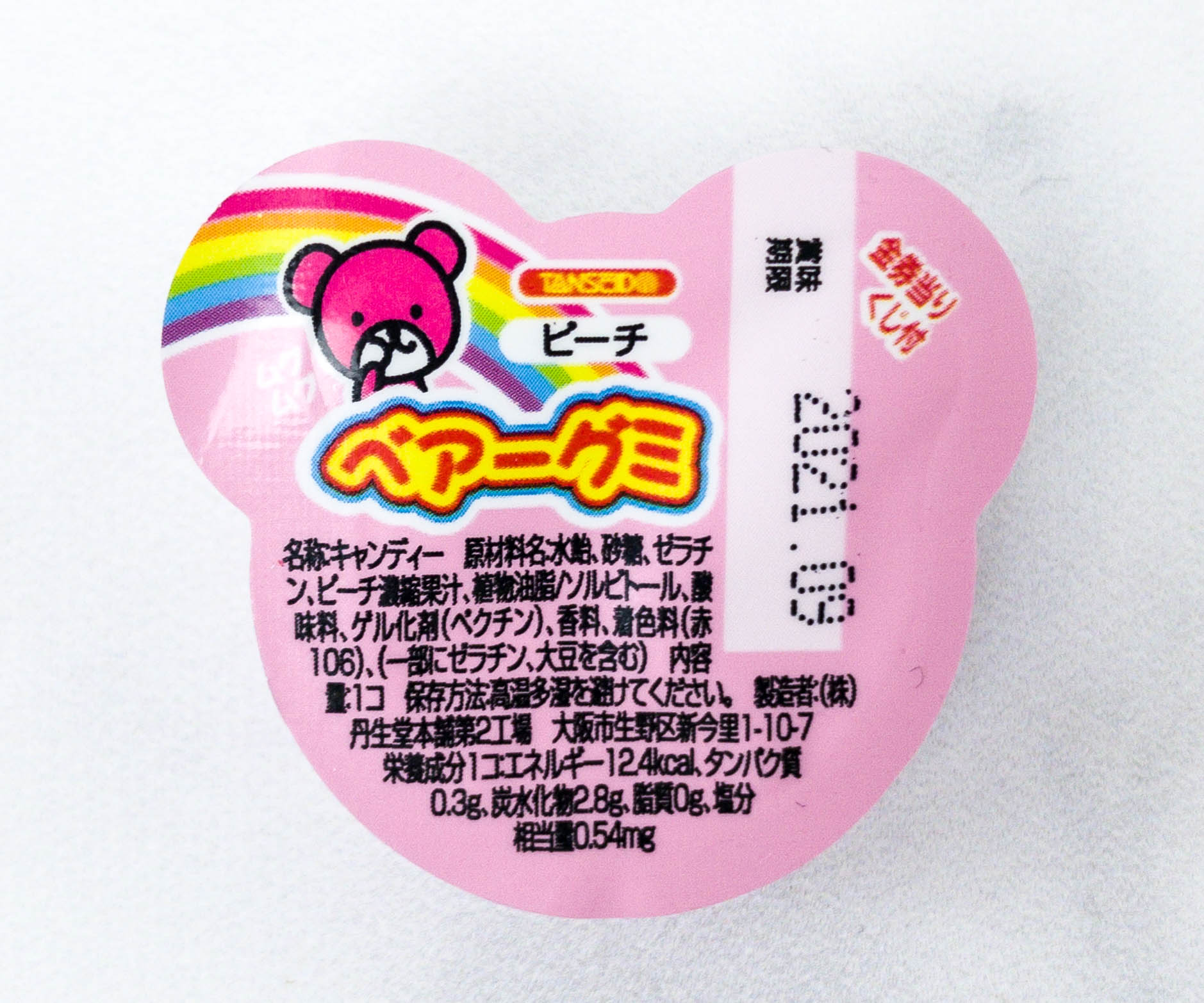 Bears Gummy Peach. It's a bear-shaped gummy candy with an irresistible peach flavor that left me wanting more!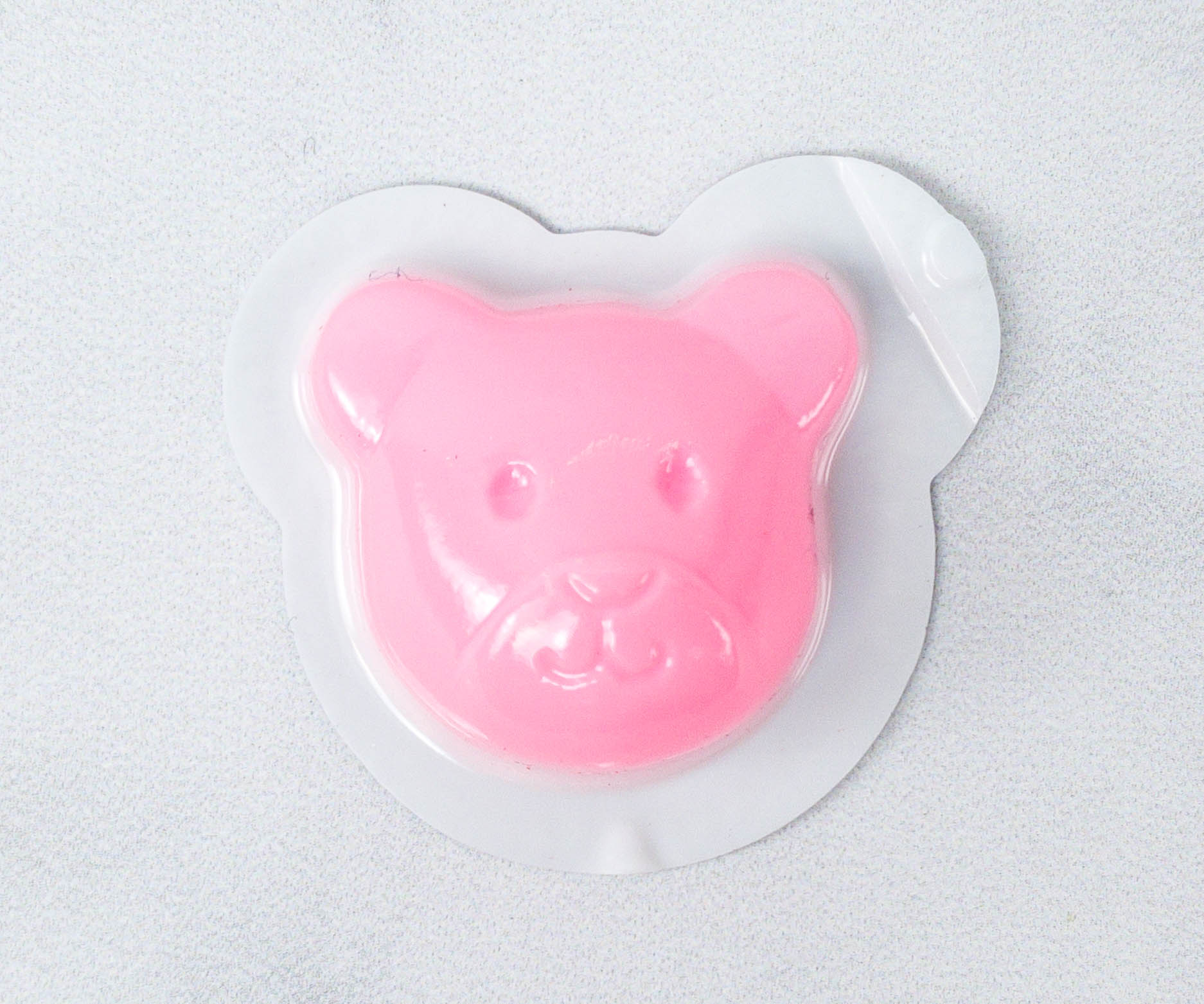 The bear looks cute in pink!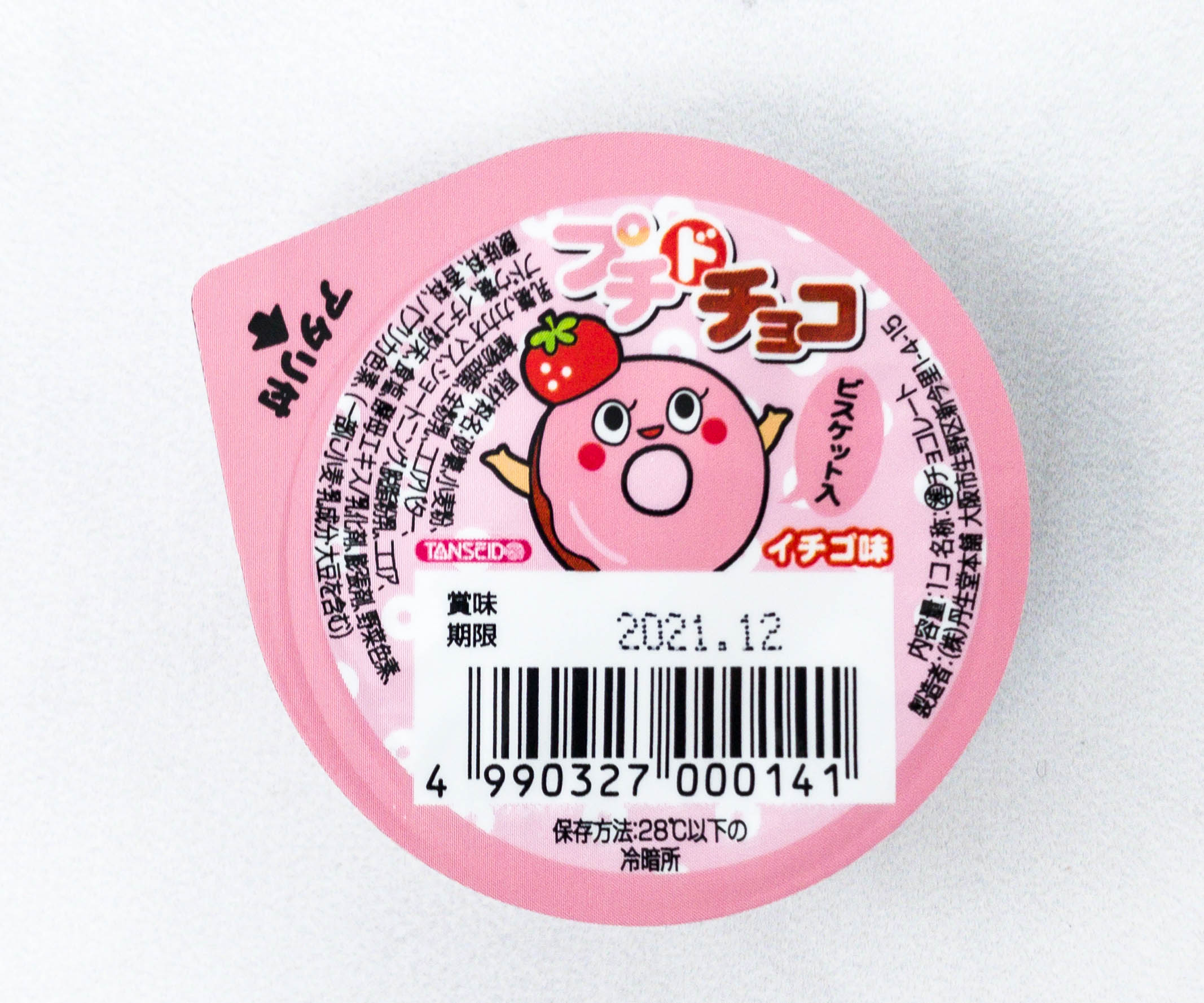 Puchido Chocolate Strawberry. Strawberry and milk chocolate made this snack so delectable! The sweetness of the chocolate and the texture of the biscuit is simply satisfying.
It's even shaped like a donut. How cute!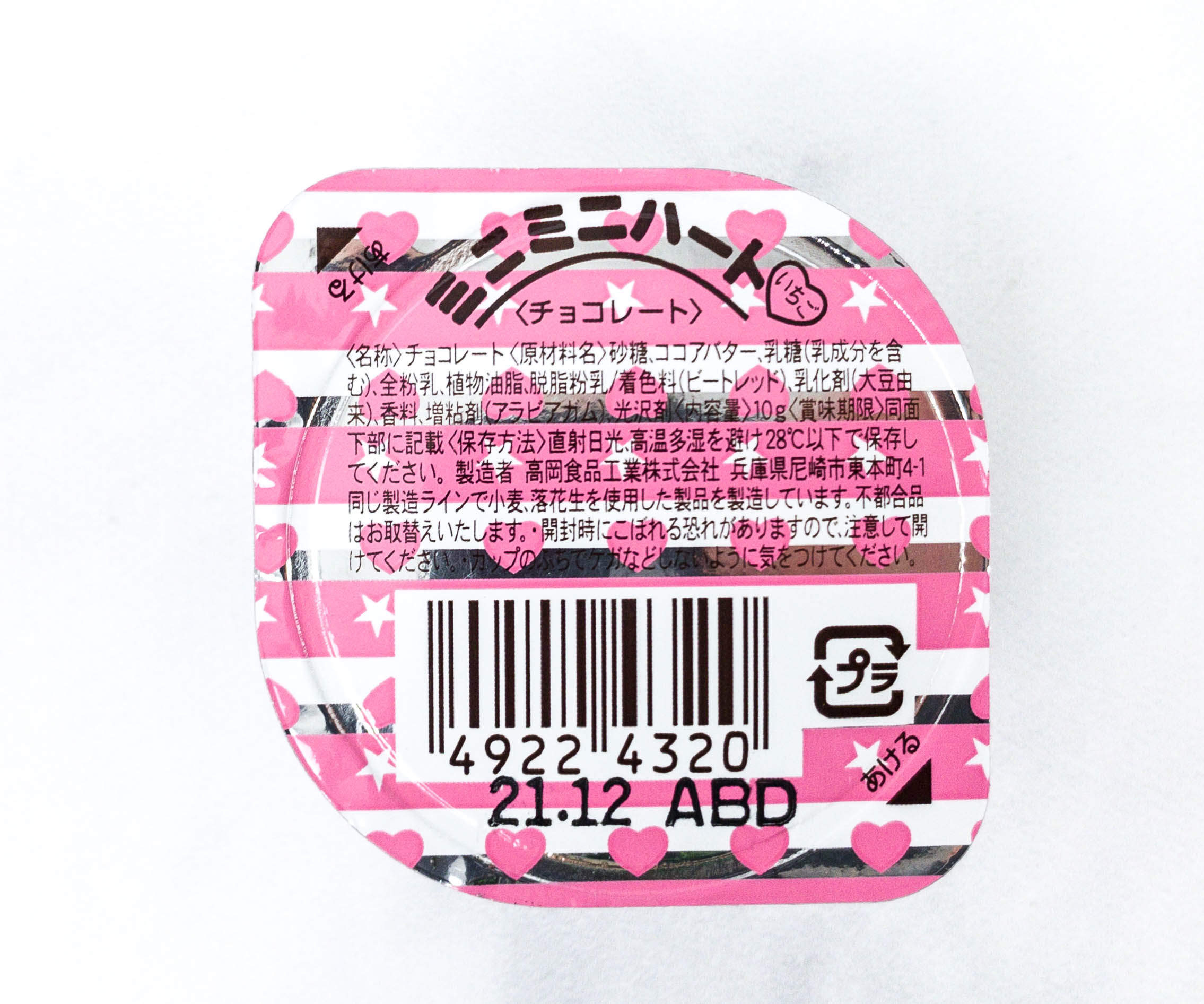 Mini Mini Heart Strawberry Chocolate. Here's a pack full of heart-shaped strawberry chocolates. They are so smooth and rich in taste!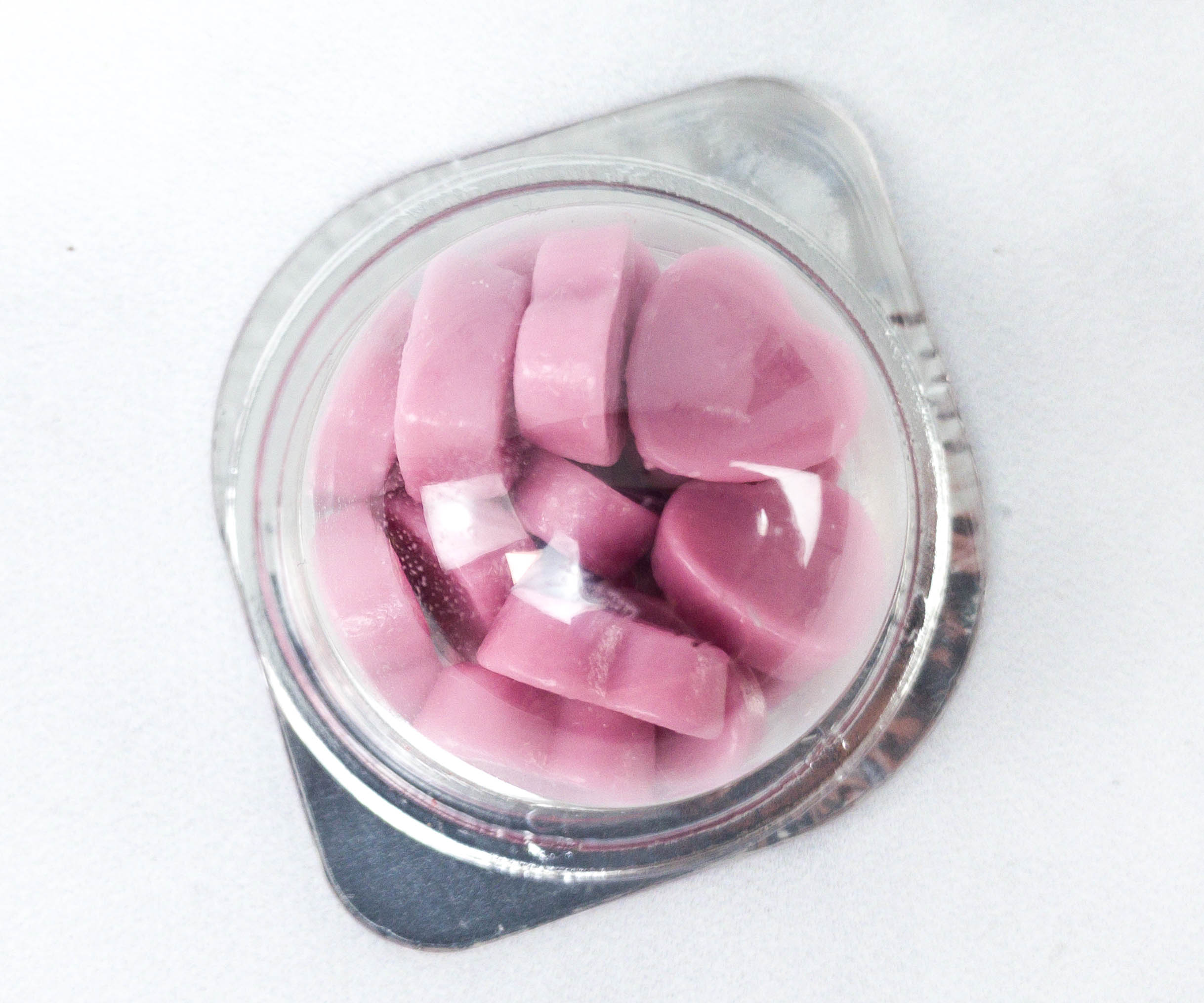 Each pack contains 20 mini chocolates that you can share or enjoy by yourself!
White Mochi Mochi Chocolate Vanilla. They took mochi to another level by wrapping it in vanilla flavored ganache. There are even vanilla seeds kneaded on its filling! It's tastier than the usual mochi snacks, and it's also perfect for dessert.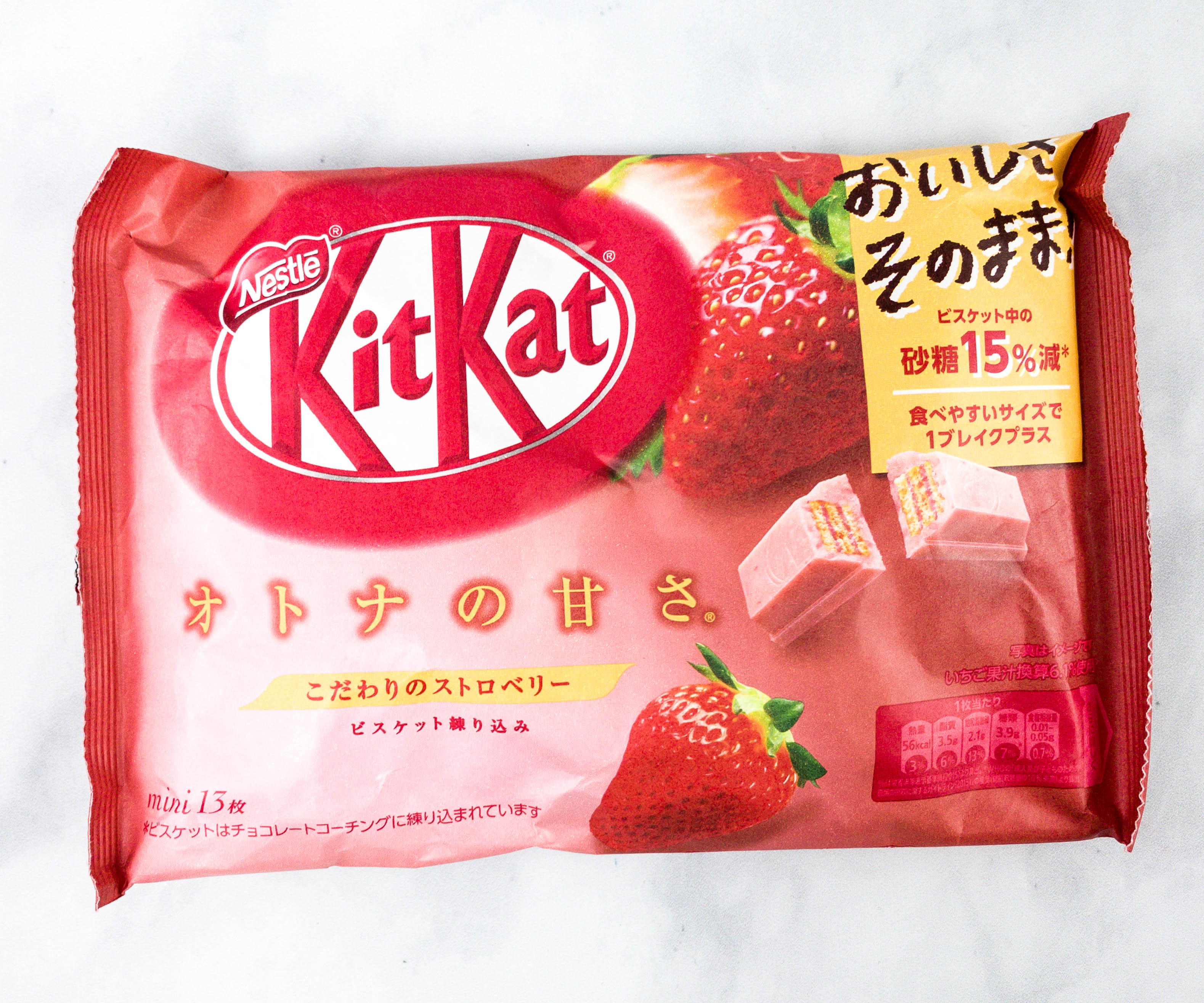 Kit Kat Mini Strawberry. This month's bonus item is a pack of KitKat mini strawberries! The wafer snack goes well with any flavor and this time, I received the strawberry variant.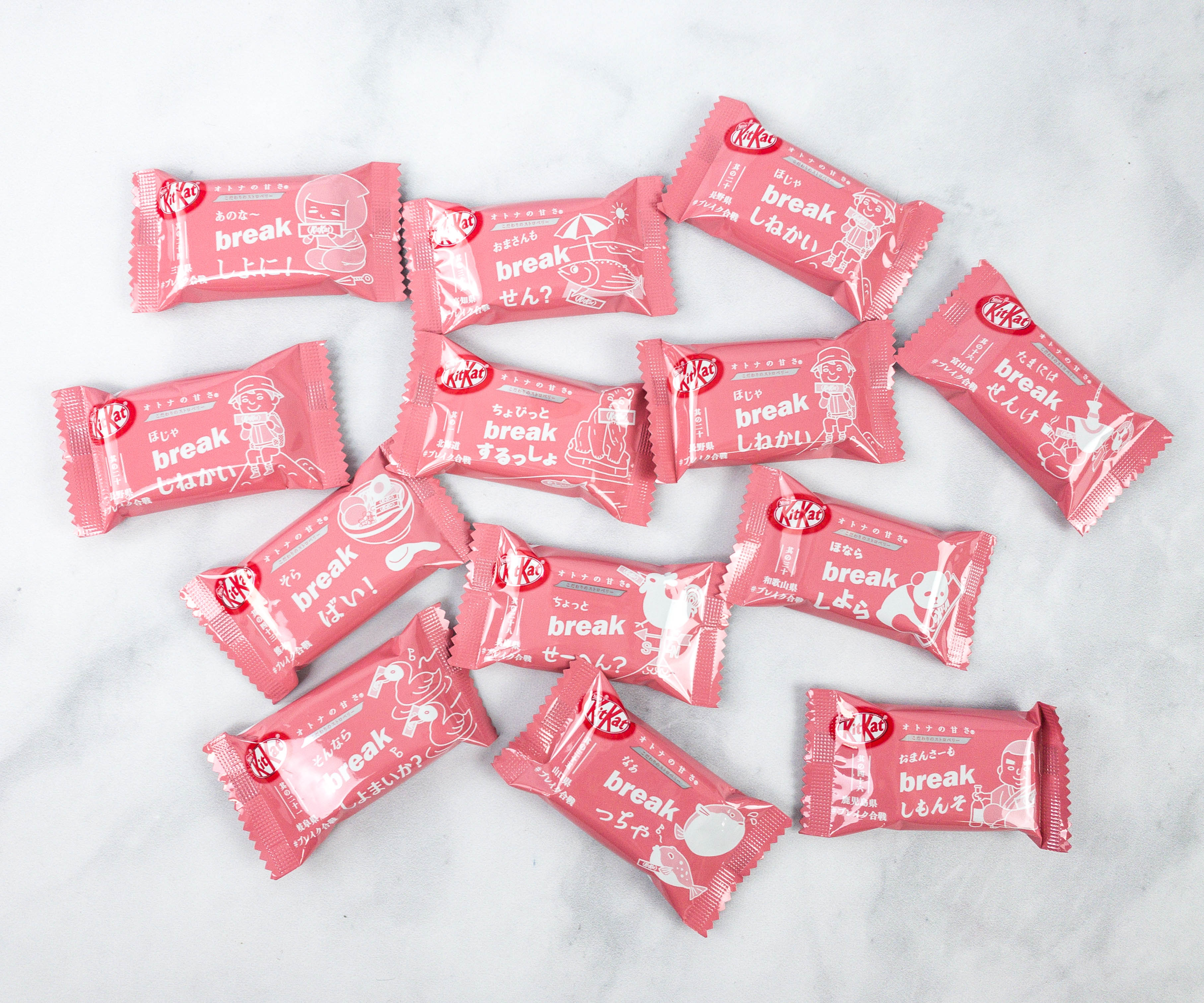 They are packed individually to maintain freshness. These are also good for sharing! The wafer is crunchy as usual, and I love how creamy and fruity the chocolate coating is.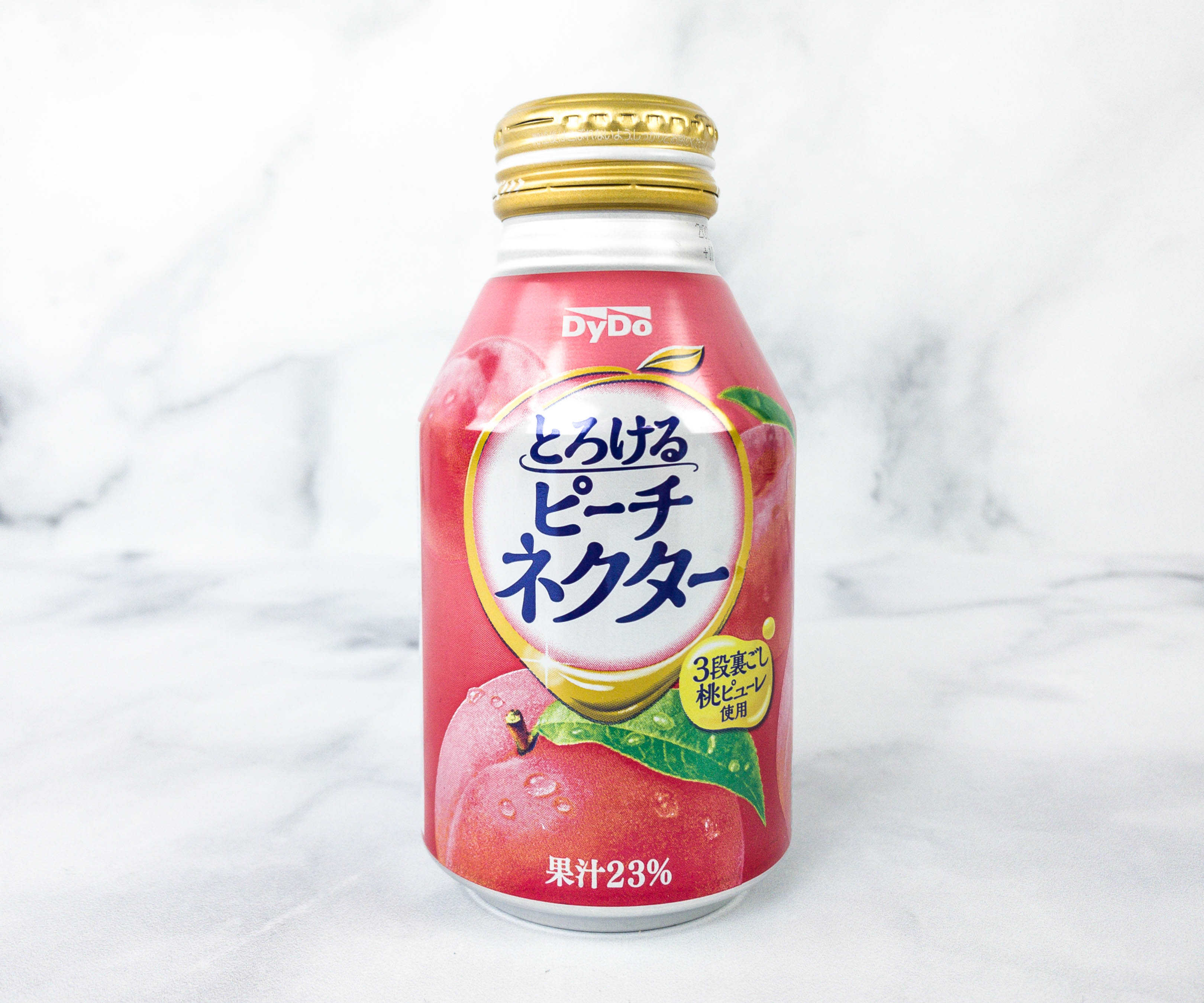 Necter Rich Peach. My Premium box will not be complete without a refreshment! This month, they sent a peach flavored drink to pair with the snacks in my box. Unlike other peach drinks, this one didn't taste artificial nor too sweet! Also, it's best served chilled!
Omiseyasan Soft Candy. Here's this month's featured DIY candy! It includes ingredients for making fruity candies that can be molded and shaped like the miniature version of the actual fruits.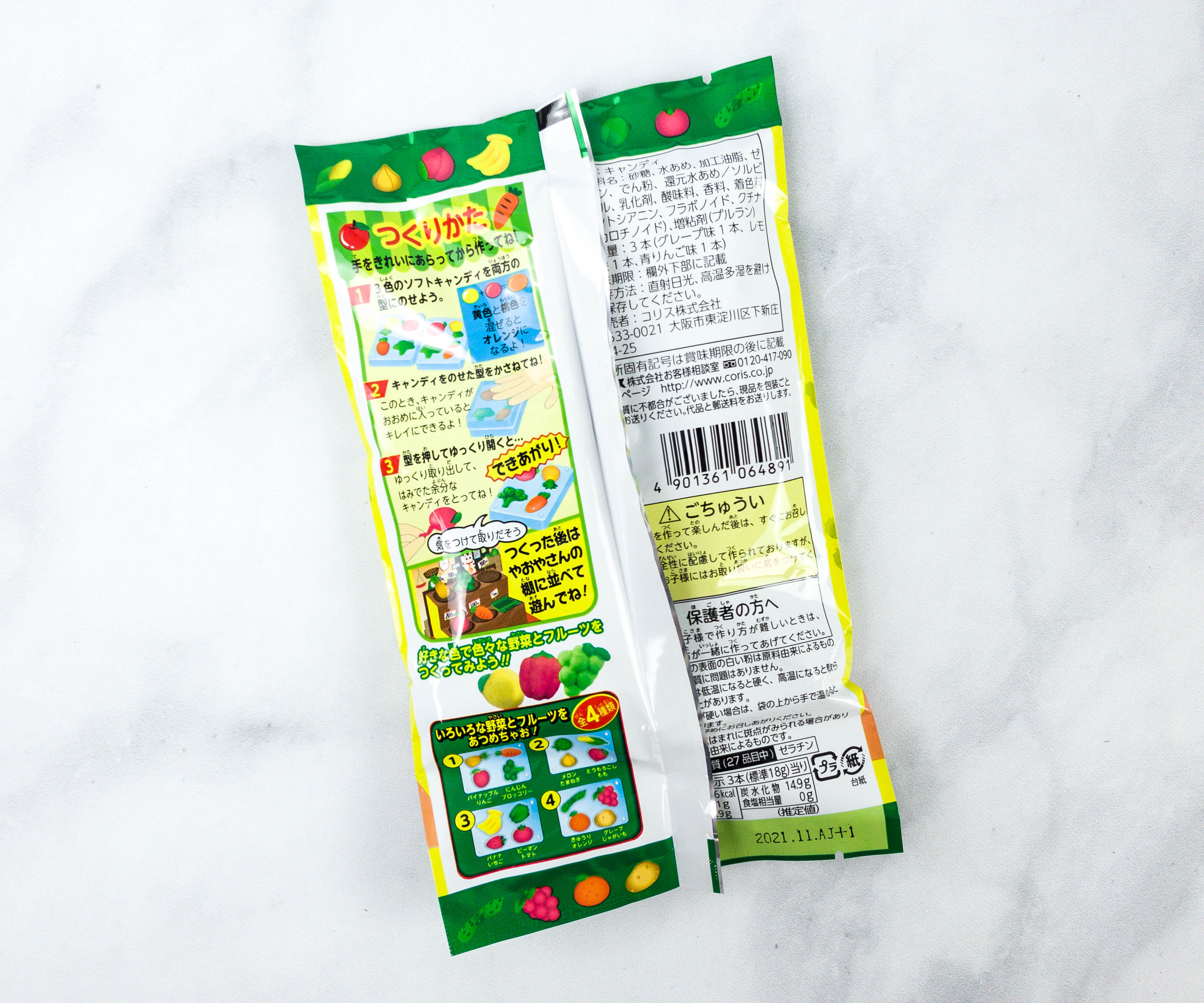 The back shows the instructions on how to make the candies. It's in Japanese but the illustrations are easy to understand.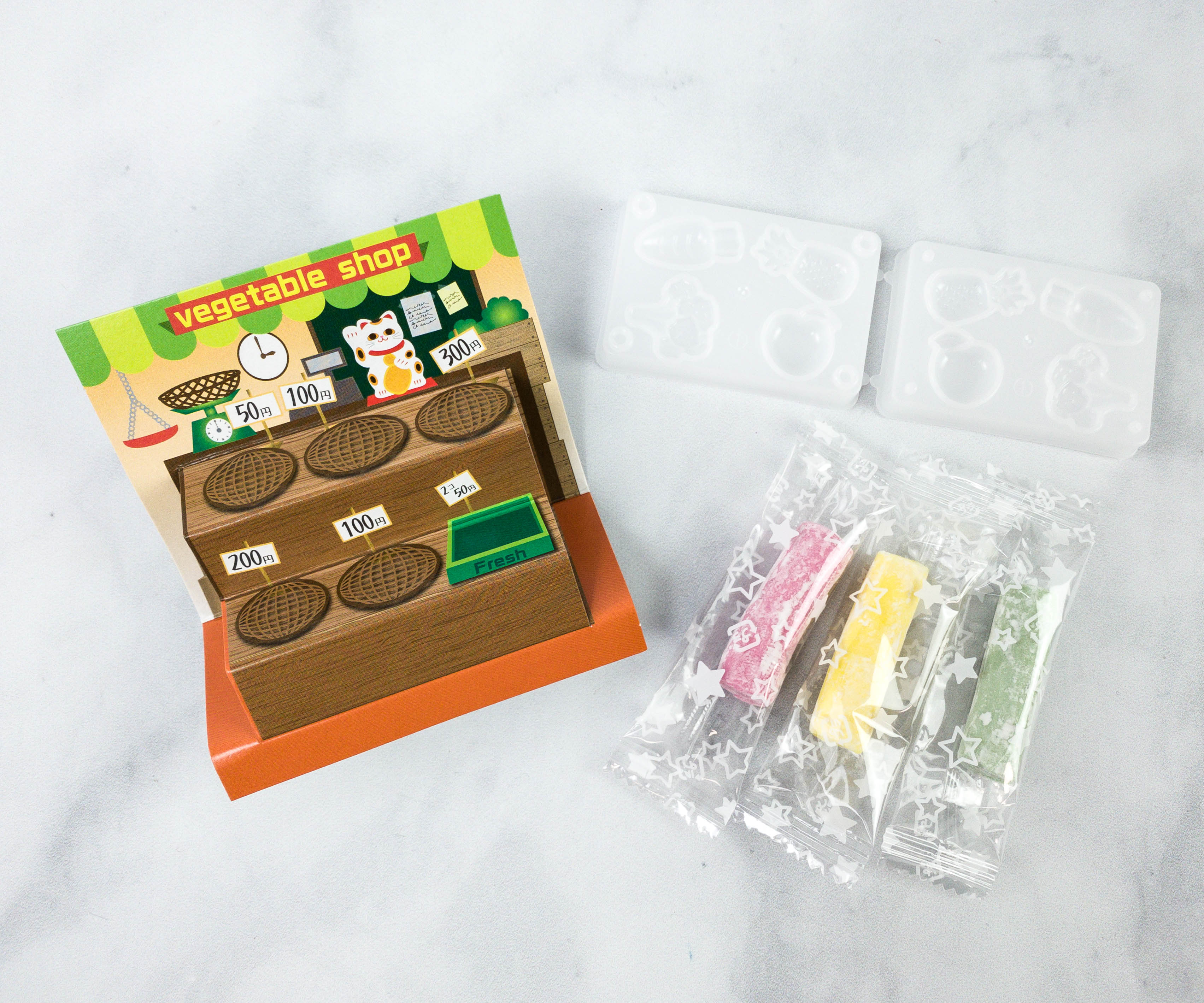 It even included a fold up fruit stand to display the gummies after making them!
Japan Crate is always filled with unique and delicious snacks from Japan! A bunch of snacks in this box are peach and strawberry flavored. I loved them all, especially the peach drink and the strawberry KitKat! Another snack I like from this box is the mochi wrapped with vanilla ganache. It's a level up from the usual mochi snacks and it's also pretty sweet! Of course, they didn't forget to add savory snacks as well, which balanced the curation. The Premium box is really jampacked overall! It's a great deal for heavy snackers and also for those who love sharing their snacks to family and friends! Unfortunately, there's currently a price increase in effect for Japan Crate due to COVID-required shipping methods. It's currently on the pricey side and I hope they're able to decrease that charge soon.
What item do you want to try from this month's Japan Crate? Let me know in the comments!