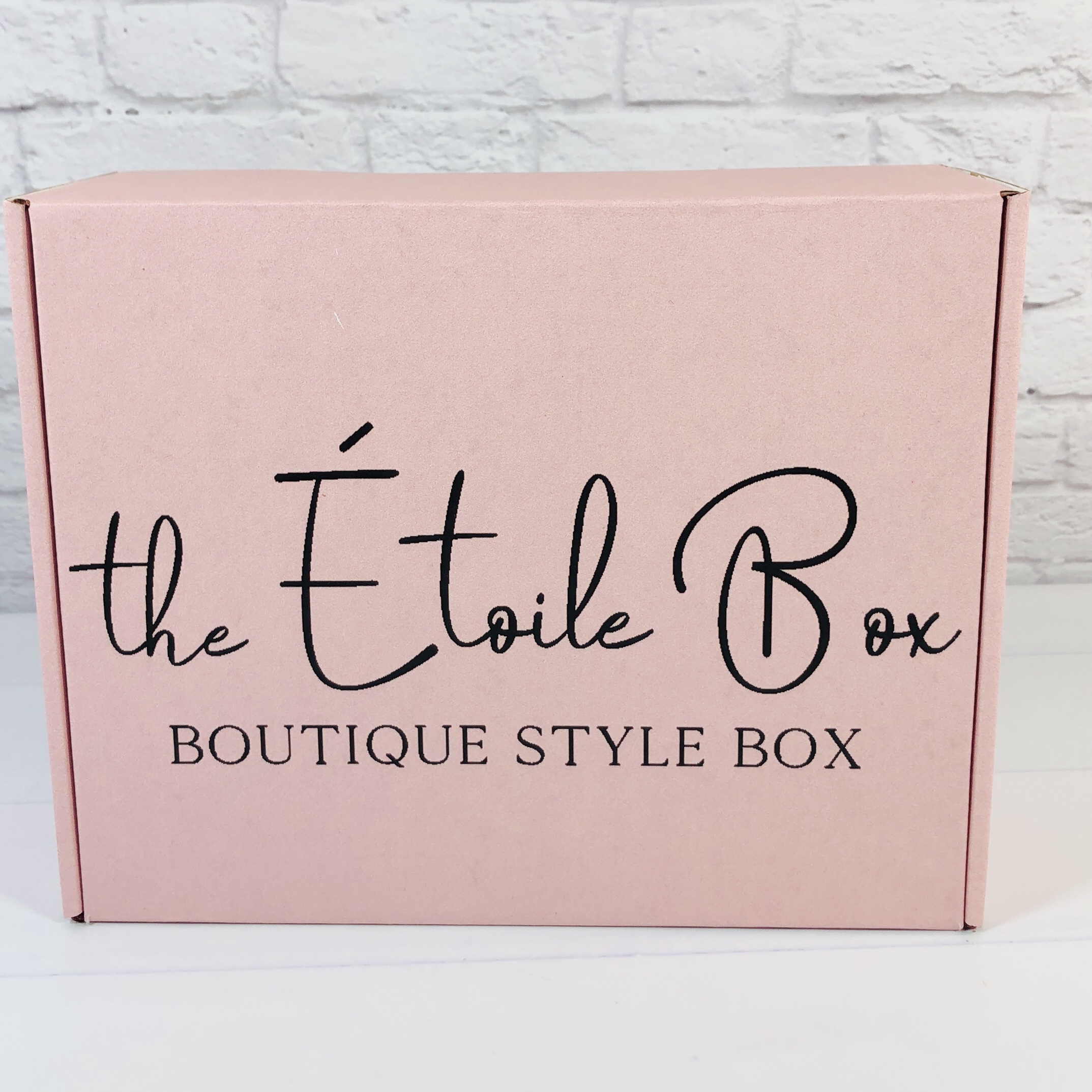 Étoile Box is a monthly boutique lifestyle, beauty and wellness box! The products sent come from women run businesses and all beauty and body products are vegan, eco-friendly, and all natural. Not only does this box want you to feel happy when you open it up, they want you to know you are supporting small businesses. Etoile Box is $39.99 a month.
 DEAL: Get 20% off on your first box! Use coupon code HELLO20.
Inside I found a product info card with descriptions of the items in the February "Take Me To Paris" box!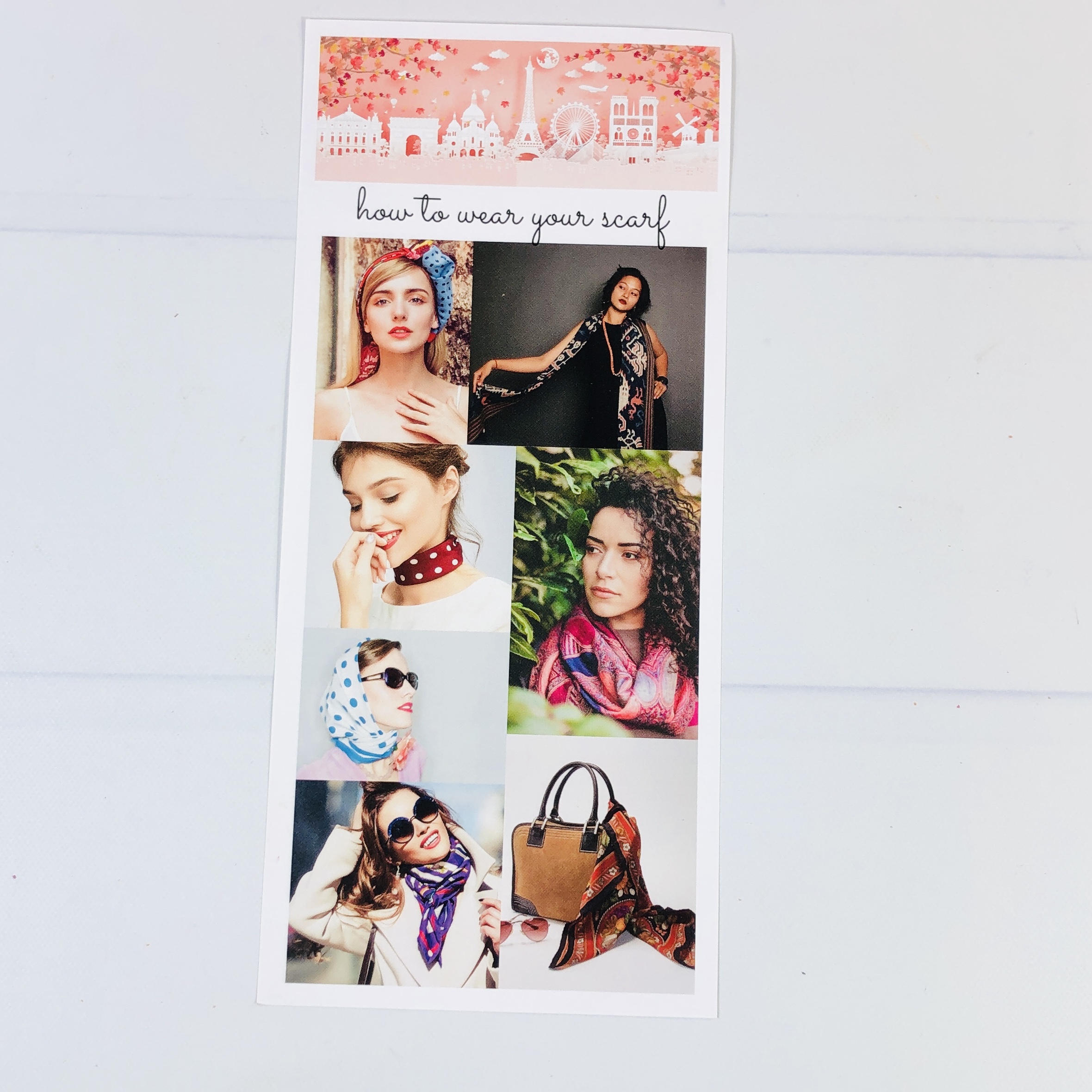 The back of the card showed several different ways to wear a scarf, one of the included items!
The inside of the box had a heart and trellis design, so appropriate for February! The items were cushioned with shredded paper squiggles.
Looking good!
I was touched by the pretty bundle of lavender on top of the items. It made the box smell wonderful, but not in a perfume bomb type of way. What a lovely detail!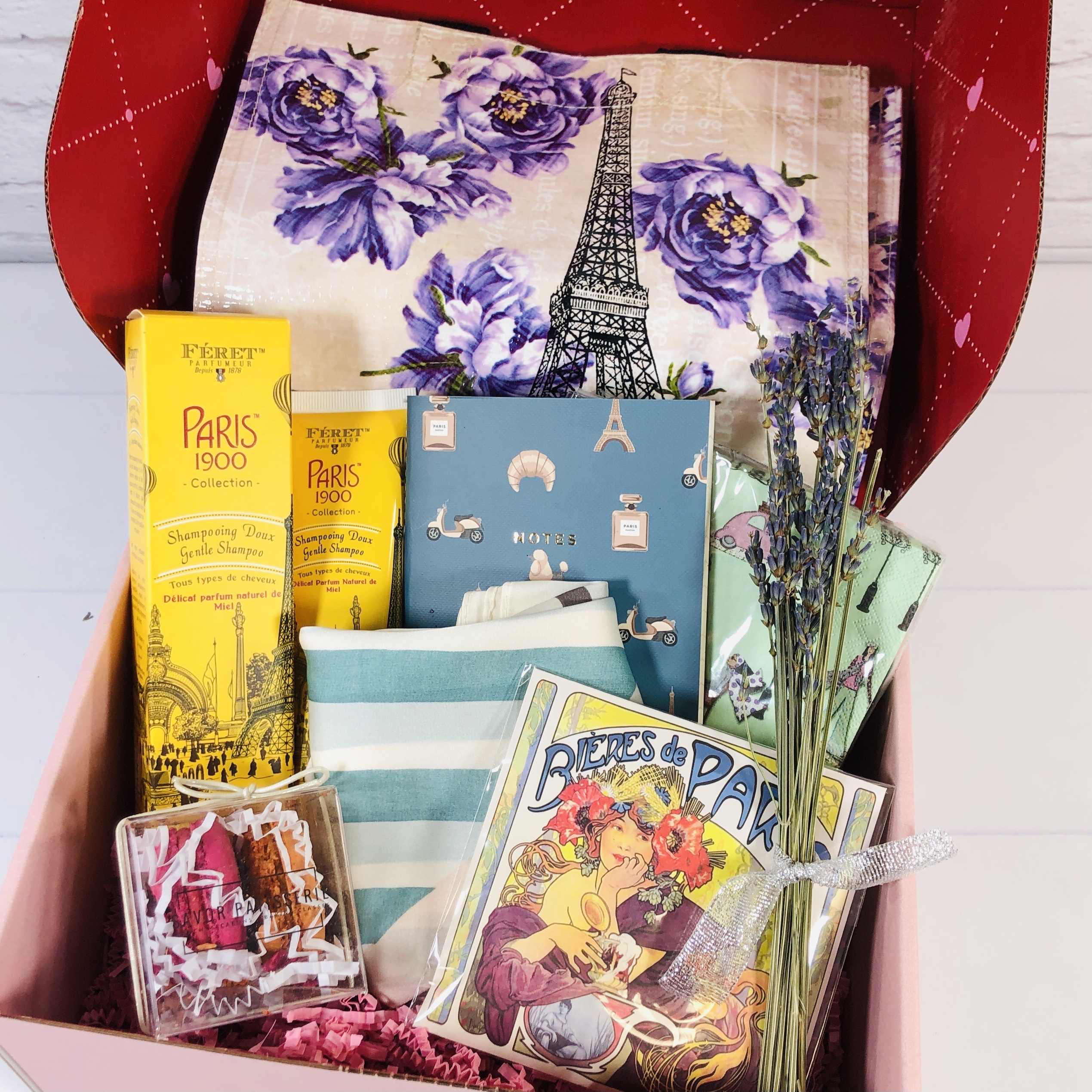 Everything in my box!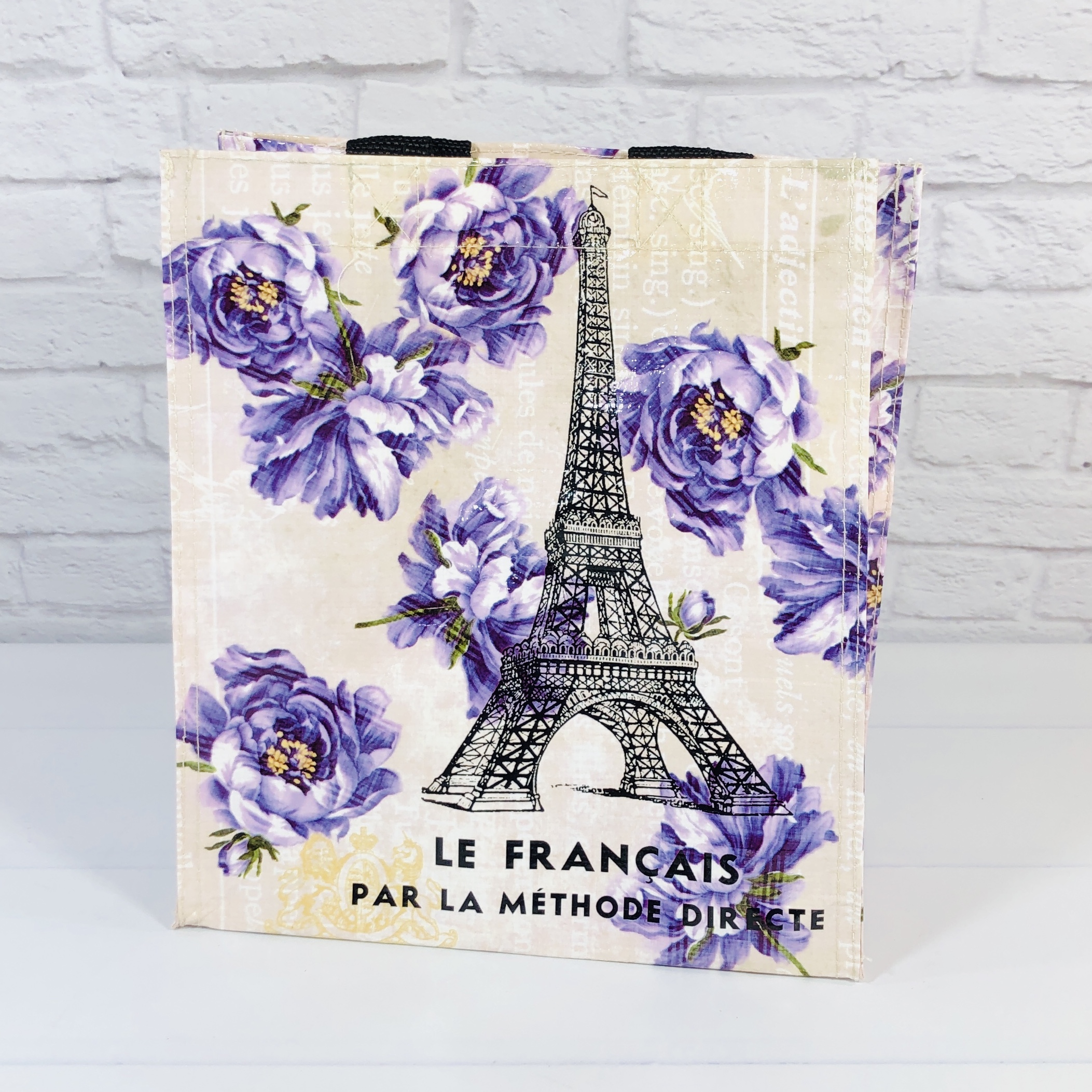 Margot Elena French Kiss Tote ($12) I love pretty much anything that falls under the Margot Elena family of products: TokyoMilk, The Cottage Greenhouse, Lollia, Library of Flowers. This bag is from the TokyoMilk line. It's a small tote bag that would work as a lunch bag too in a pinch. It's made of plastic of some sort and has pretty purple flowers and of course, that icon of Paris, The Eiffel Tower. The design is the same on both sides.
The inside is pretty basic and there are carrying handles. The bag measures 8.5″ W x 10″ H x 4" D. It would also make an excellent gift bag.
Féret Parfeumer Paris 1900 Collection Shampoo ($16) This shampoo is actually from France! It's a gentle shampoo meant for all hair types.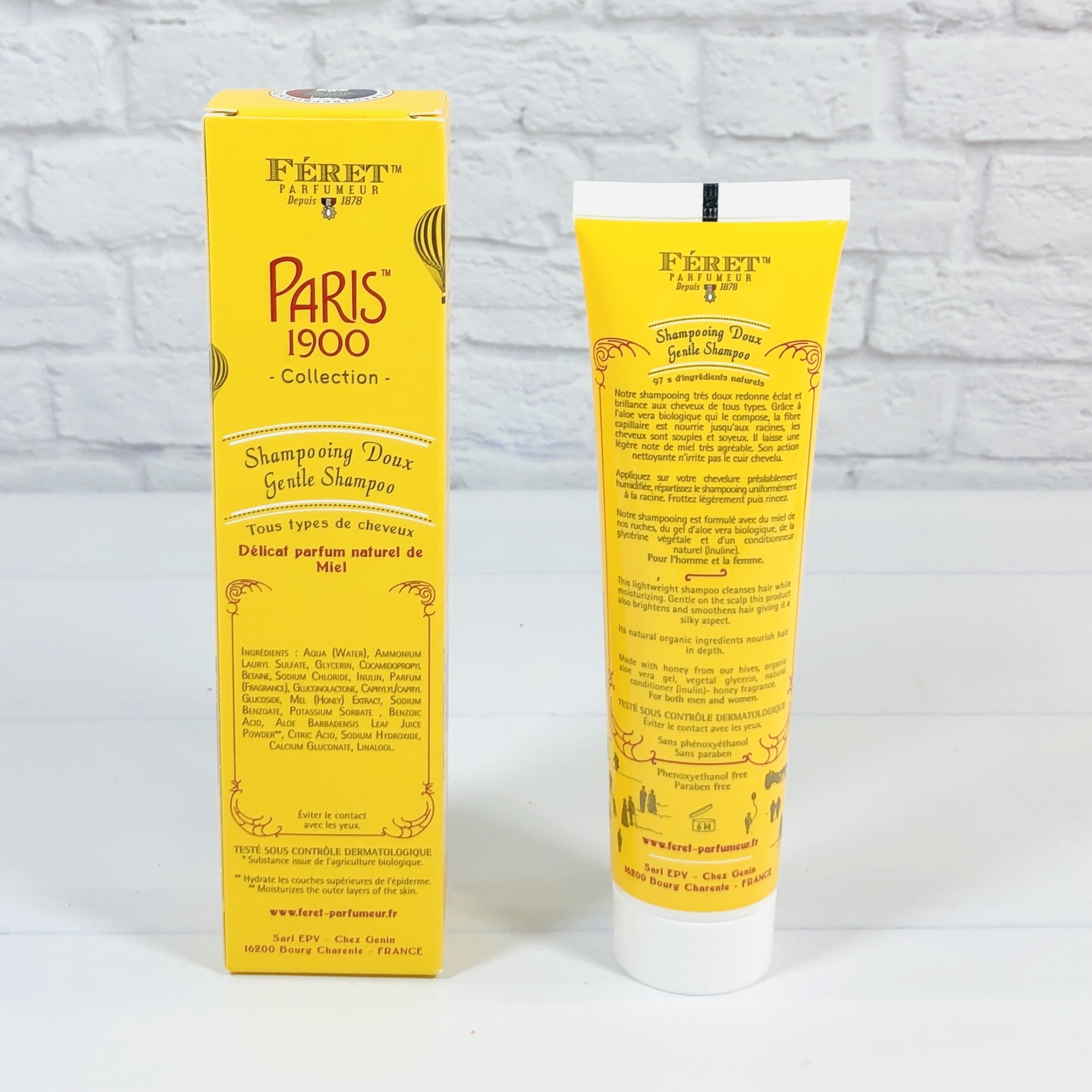 Here are the ingredients and there is honey extract listed. The brand was established in 1878! I am having some scalp problems and am avoiding fragrance there so I ended up using this as a body wash! I poured it on my shower pouf and it created loads of bubbles. It felt good on my skin and had a fragrance that reminded me of baby wash, not what I was expecting but actually it was very nice.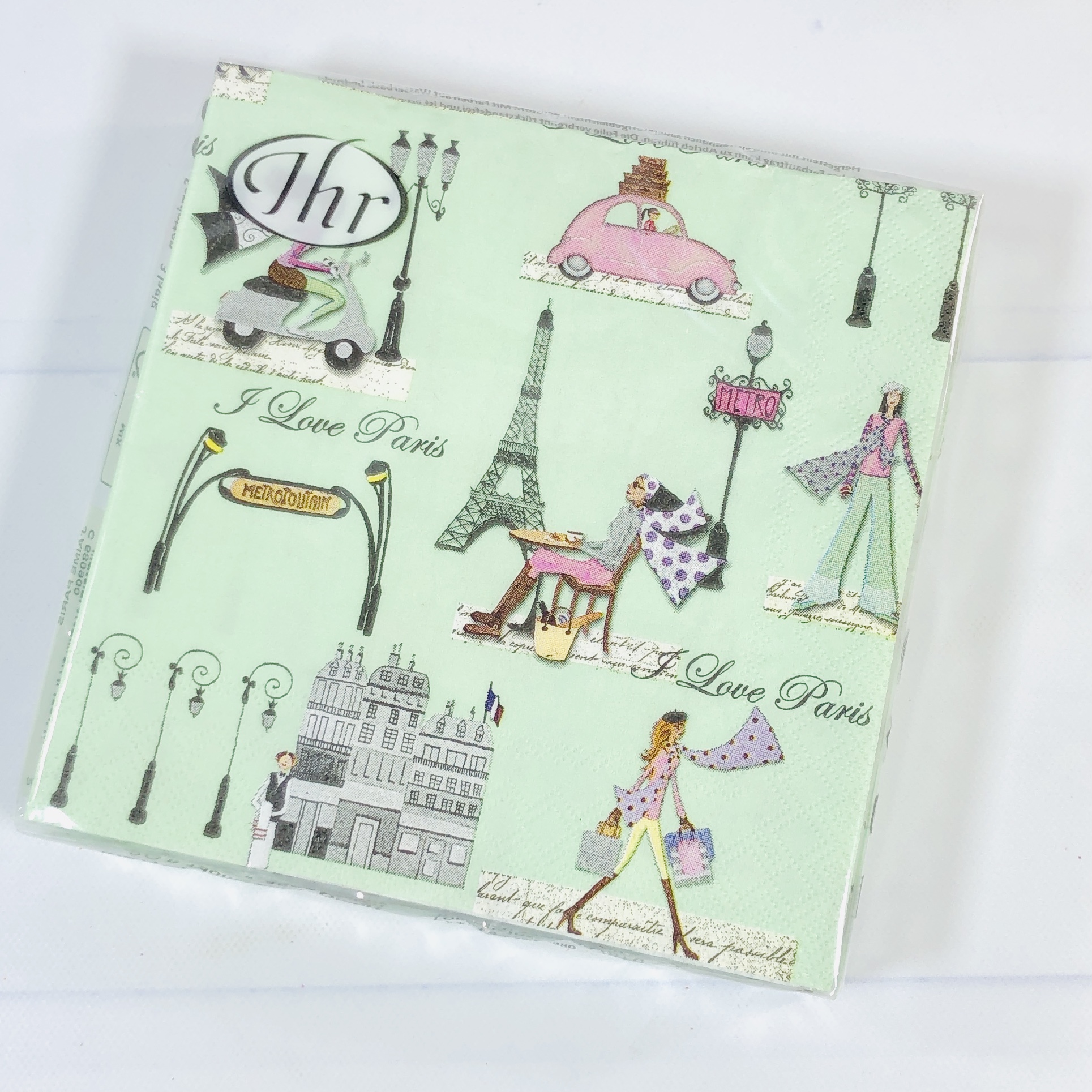 "I Love Paris" Cocktail Napkins ($5.49) Fancy up your snack time napkin, host a small Parisian-inspired gathering, or smile every time you pull this napkin out of your lunchbox!
There are 20 napkins in all.
I think pink and green is a beautiful color combo and this napkin has scenes from Paris, like the Eiffel Tower and the Metro entrance.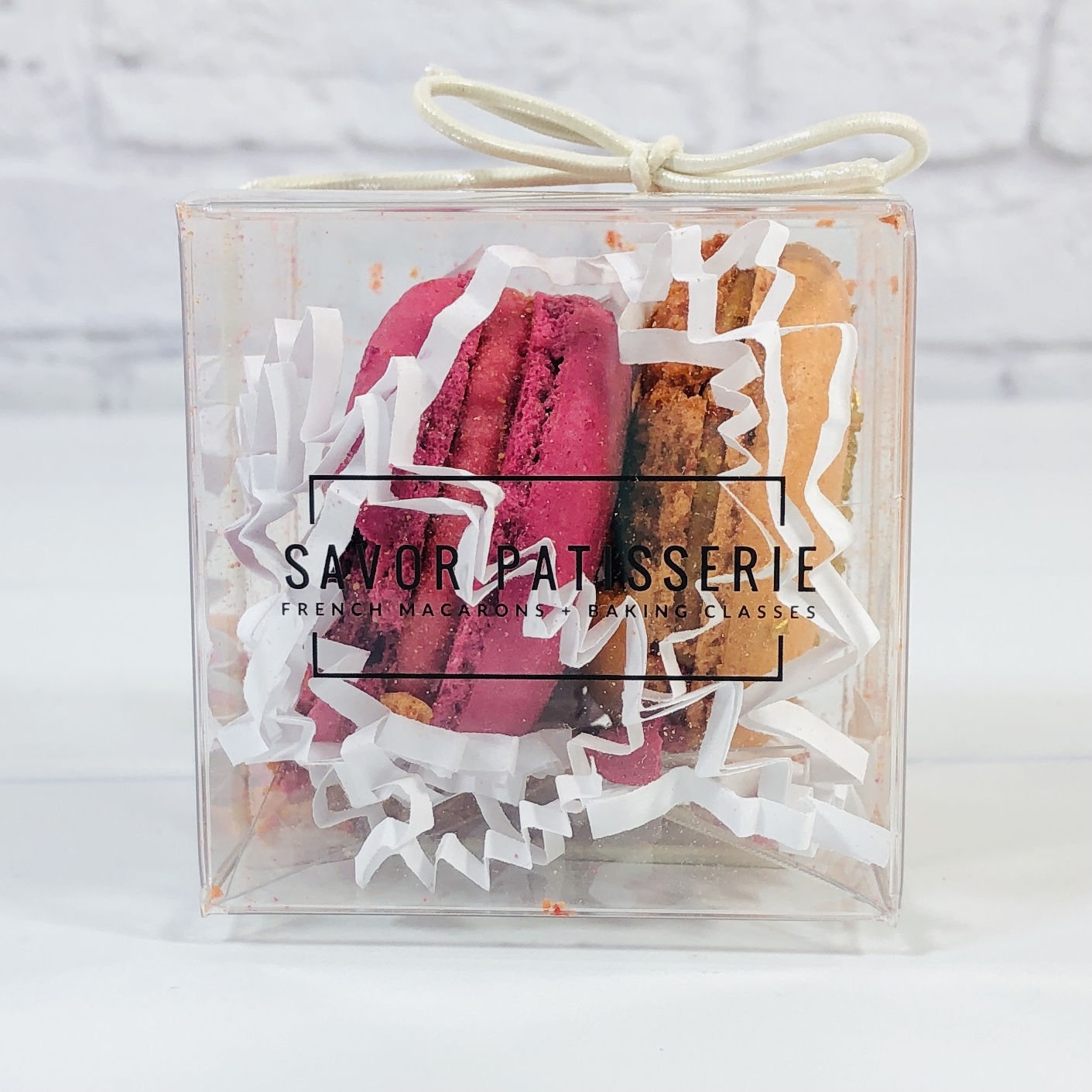 Paris Savour Patisserie French Macarons ($5.50) You can build your own box of macarons from this DFW-based baker. You can mix and match your favorite flavors and they are gluten-free but keep in mind that they are made with almond flour.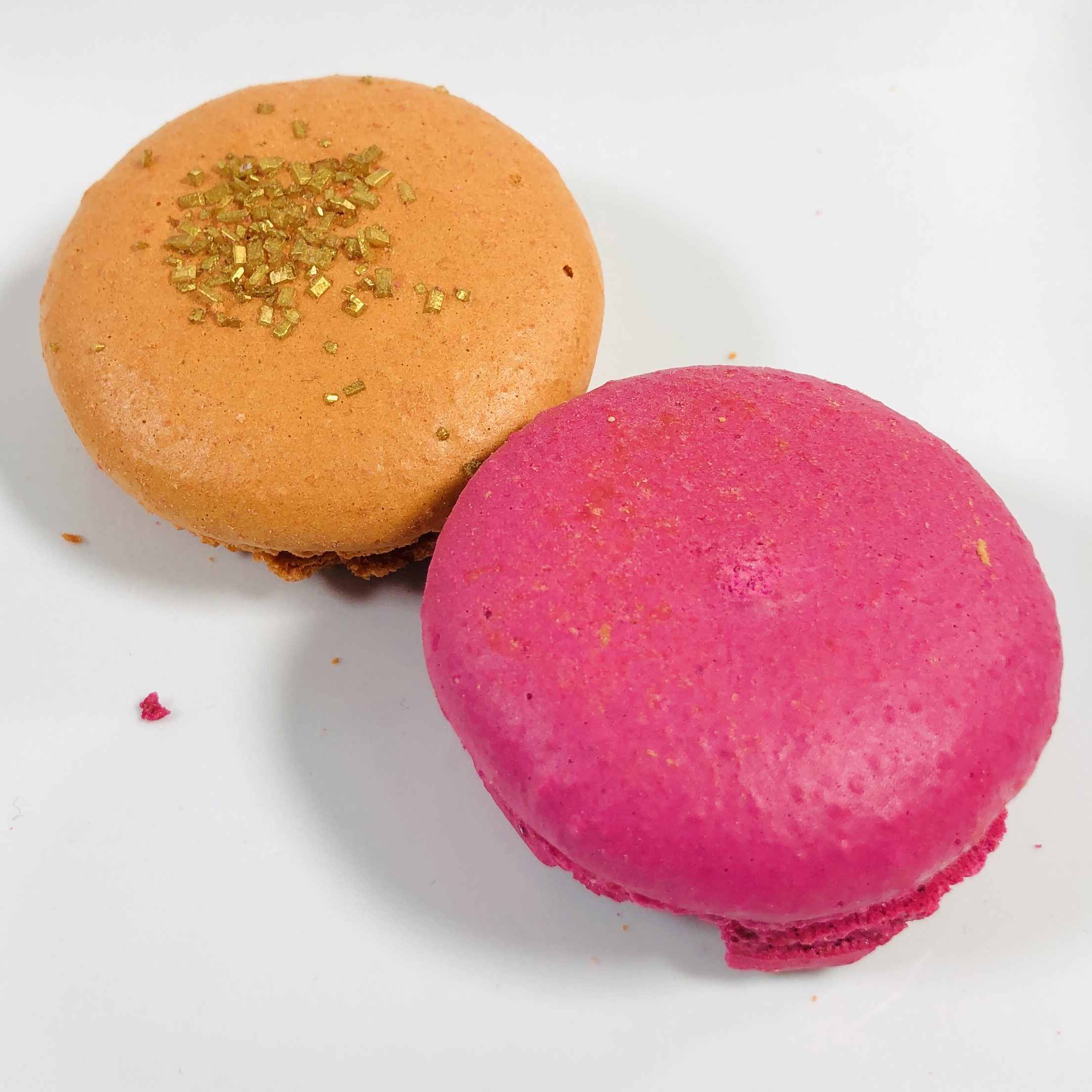 I think the pink one is raspberry flavored. It has edible glitter on one side but that side was crushed. I believe the orange one is salted caramel. I am basing this off of the pictures from the website combined with the flavor notes I am picking up.
Bières De Paris Peony Sachet (Buy a pack of 12 for $29.99) Sachets are a pretty way to infuse perfume in delicates or clothing, just place a bag in a drawer et voilà.
The bag is filled with scented minerals and this one is the scent of peonies. You remove the bag from the plastic and place in the drawer or even your car. You can empty the contents on the floor of your house and vacuum them up to scent the air.
Hadron Epoch Mini Paris Notebook (Buy a set of 3 for $11) More items that can be found in the City of Lights. I remember that every morning for breakfast they gave us a croissant, baguette, strawberry jam, and butter. I also see a poodle, Vespa, Eiffel Tower, and Chanel-inspired bottle of parfum.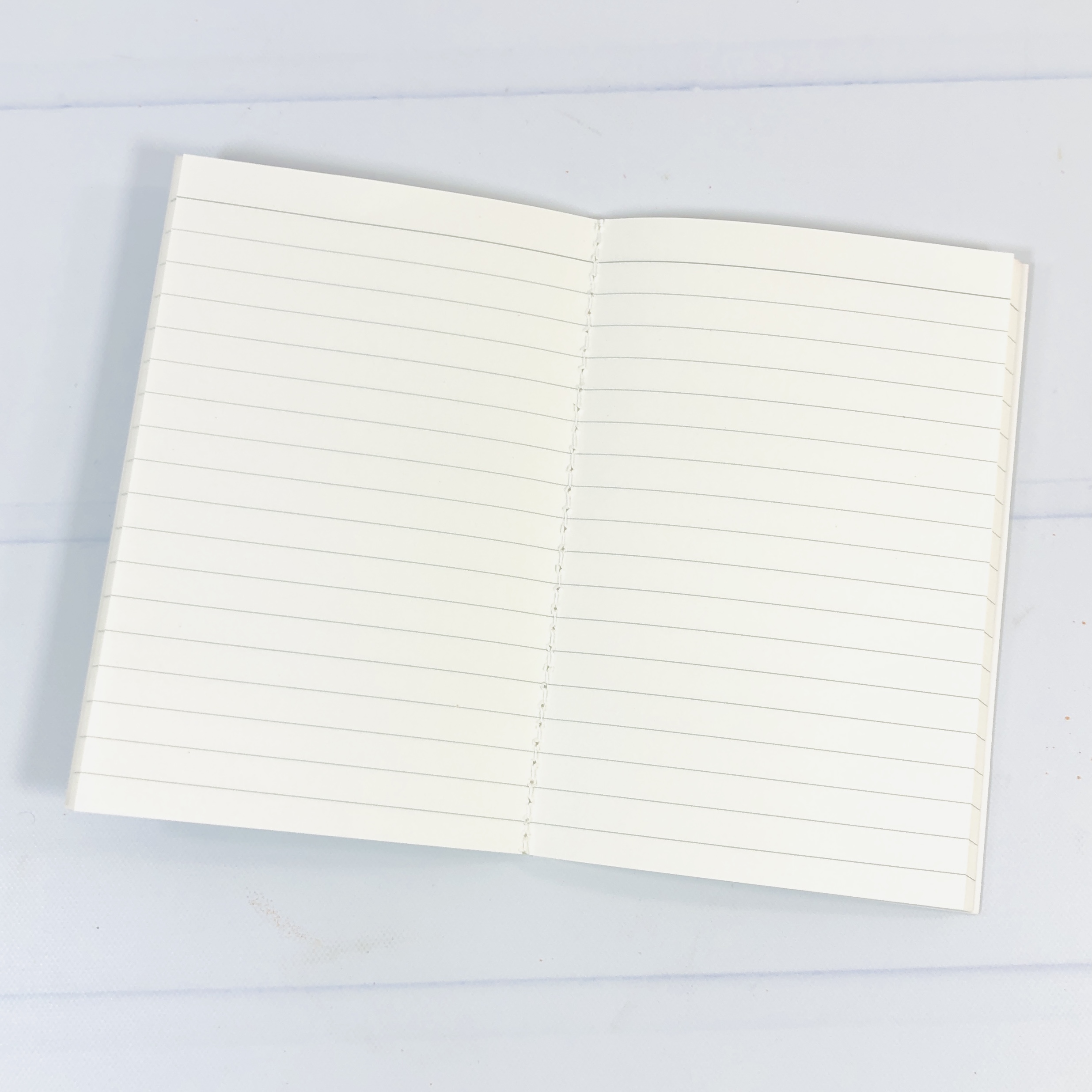 The notebook is 4″ x 6″ and has 60 lined pages. The word "NOTES" on the front is in gold metallic lettering.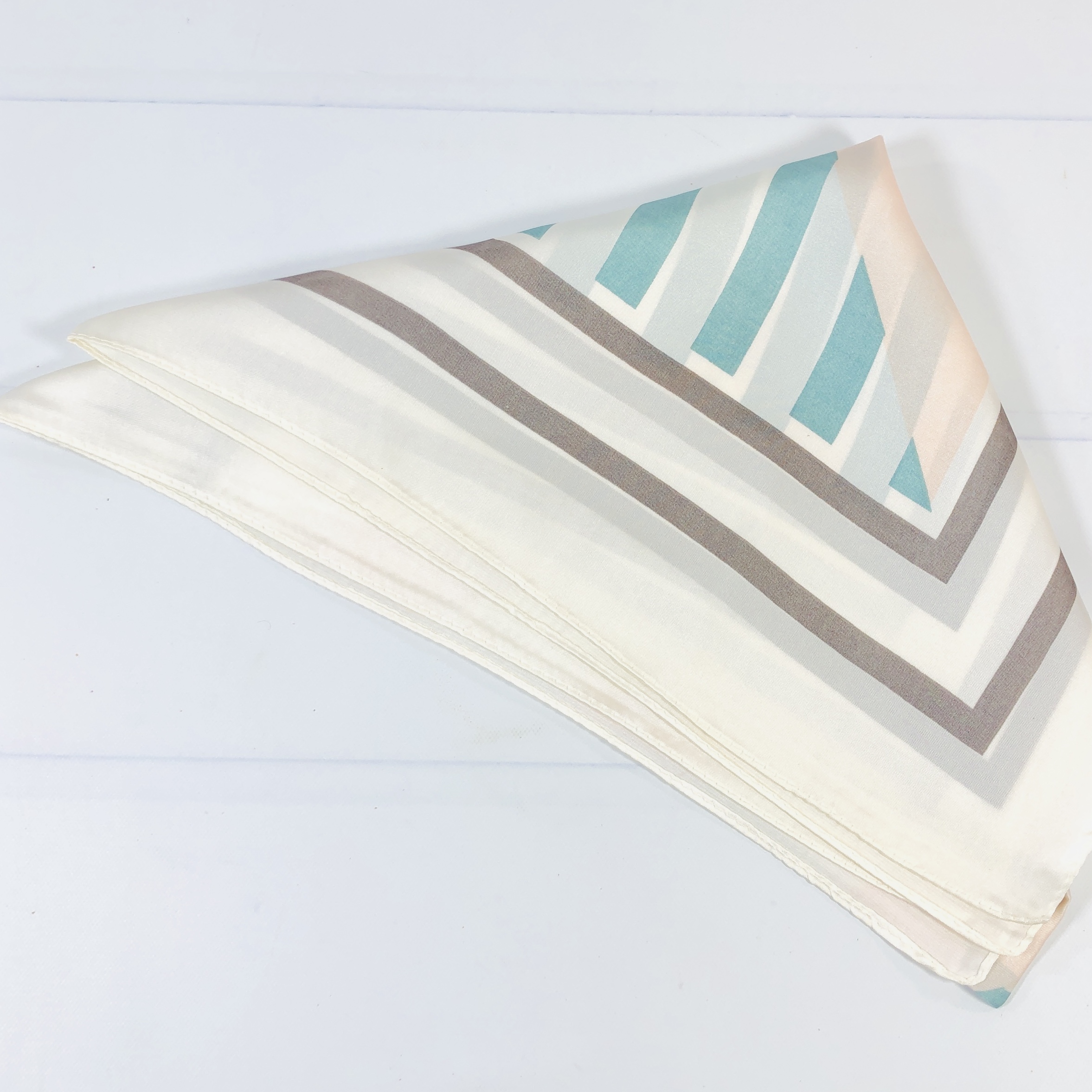 Sparking For Love French Chic Scarf A classic square scarf is très chic. This one is about 27″ on each side.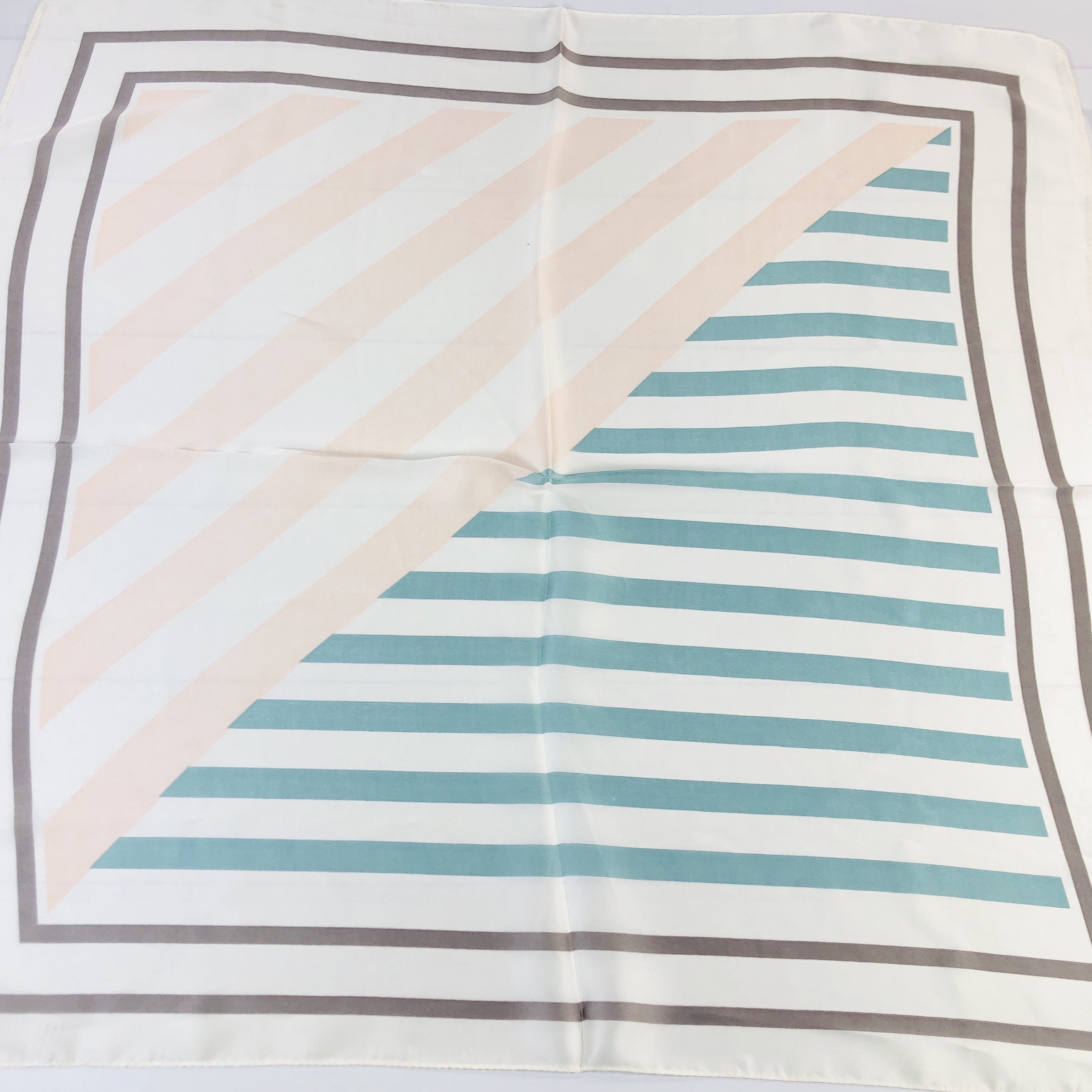 My scarf is made of 100% polyester and has a cream-colored base, plus teal, apricot, and grey stripes. It can be worn around the neck, the head, a purse handle, or you can do a Google search for all kinds of suggestions. Refer to the back of the info card for some pics!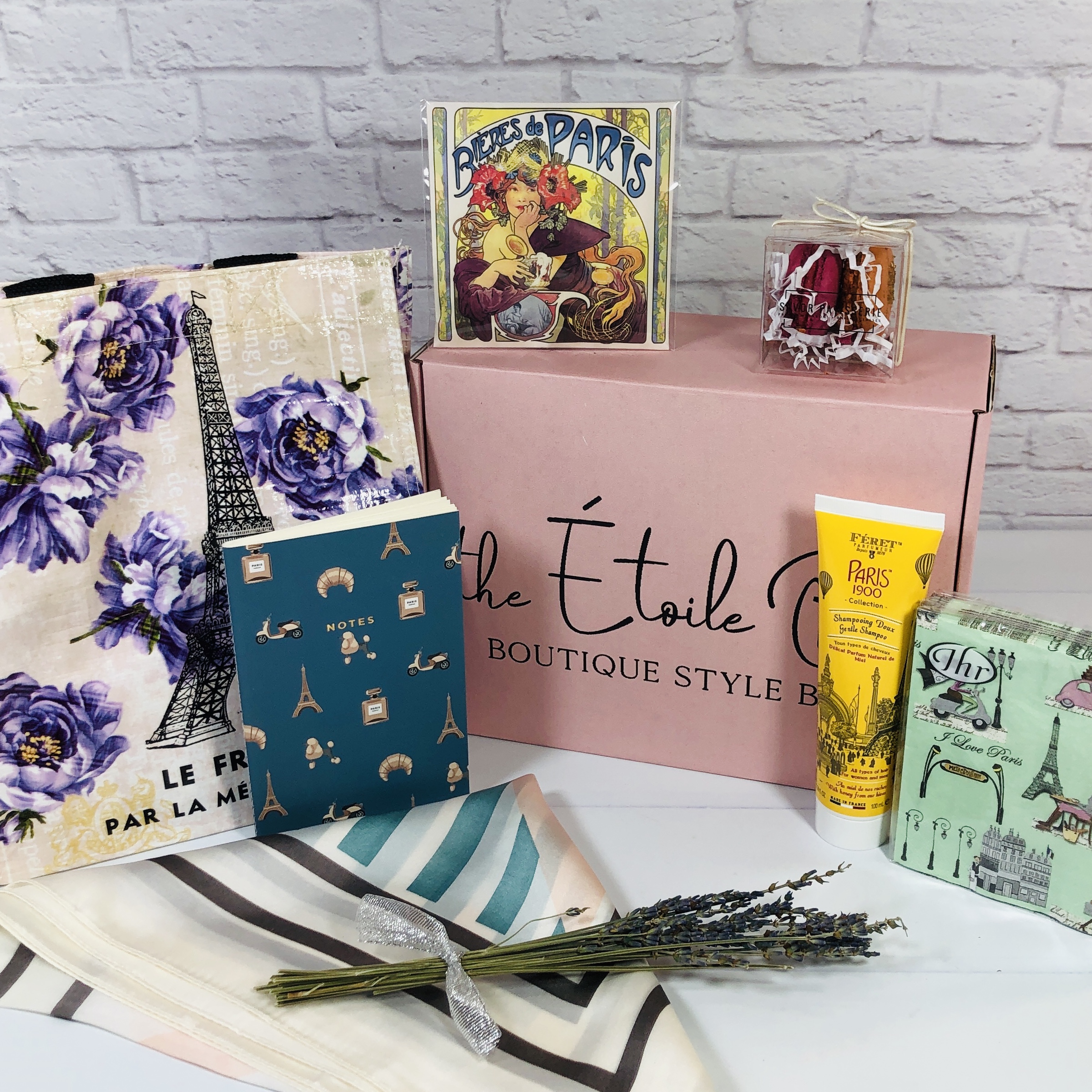 What a fun collection of items in the February Etoile Box! I love Paris and so the theme was a hit with me! Each item had something to do with France and these are cute takes on everyday types of items, like totes bags and shampoo. The sachet will go into my delicates drawer while the napkins will add a splash of style to afternoon tea. The macarons were so pretty and tasty, while the notebook fits perfectly in my purse. A scarf is a simple way to add a cute pop of color and panache. Please note that some of your items may be slightly different from mine, but it would be in the color or some other detail like that. In this box, the scarf, notebook, sachet, and cookie flavor may have a slight variation. Speaking of boxes, this is my second box and it looks different from the last box, I think they must change it up to fit the theme every month, what an adorable touch!
What do you think of this box?