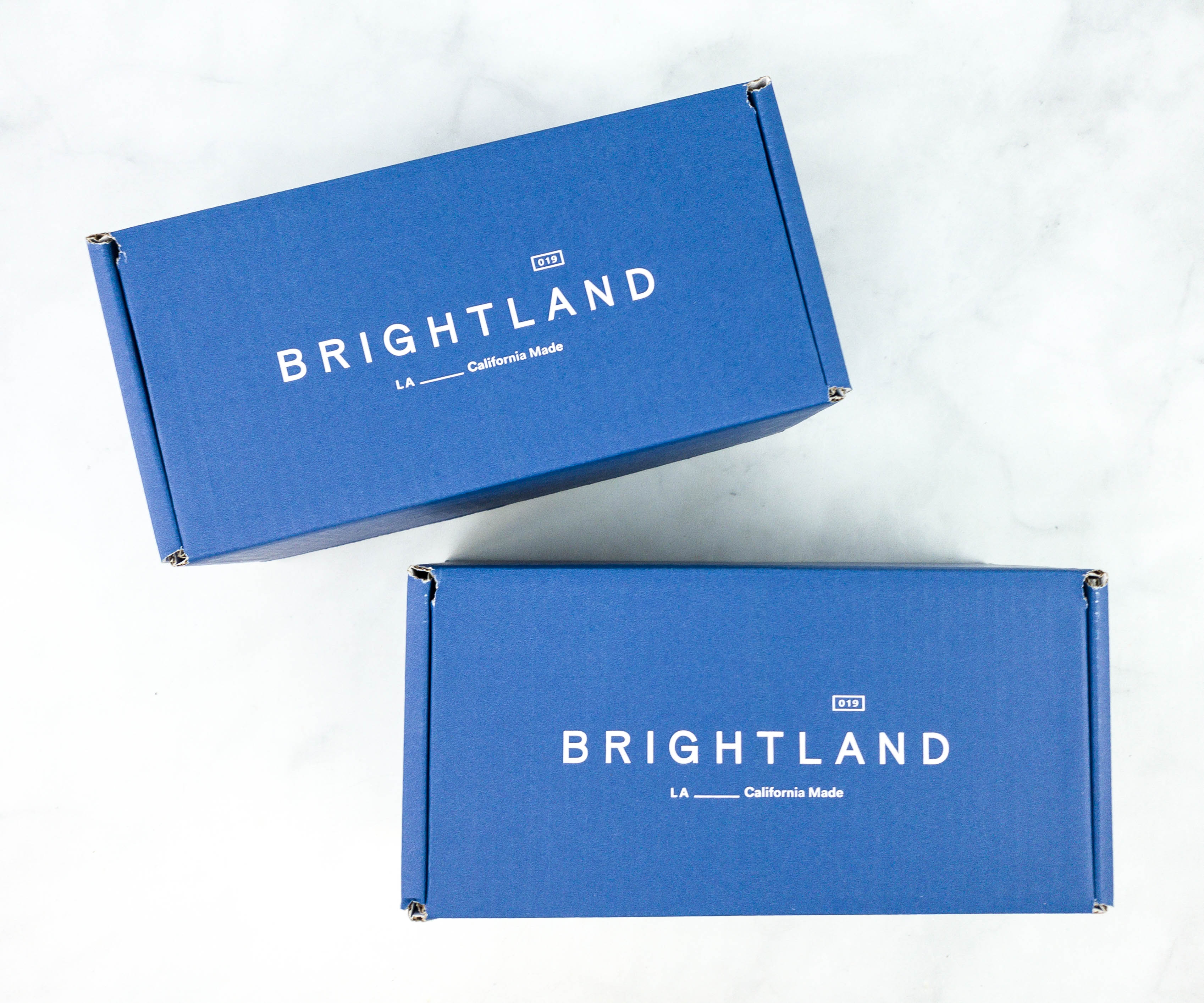 Brightland offers extra virgin olive oils and vinegars, consciously made in California. For the oils, they use olives from a family-run California farm and for the vinegars, they use fruits grown on a family-run farm in California's Central Coast using Chardonnay and Zinfandel grapes, Navel and Valencia oranges, and ripe Triple Crown blackberries. None of their products contain artificial preservatives or fillers. All of their very pretty olive oil bottles are UV protected and have the harvest date on the label.
The Brightland Duo subscription ($65 per delivery) is a replenishing delivery of Brightland's AWAKE and ALIVE every 1, 2 or 3 months, based on your choice. You will receive two 375 mL bottles (one AWAKE, one ALIVE) with each delivery, including free standard shipping in every order. Brightland also promises early access to exclusive collections and new product releases and gifts and goodies delivered each quarter. You can also purchase this without a subscription for $74.
This is the review of the Brightland Duo ALIVE and AWAKE Olive Oil!
DEAL: Get 10% off your first order of The Duo, Arise, Ardor, or Lucid! Use coupon code HELLO10. Does not apply to The Duo subscription.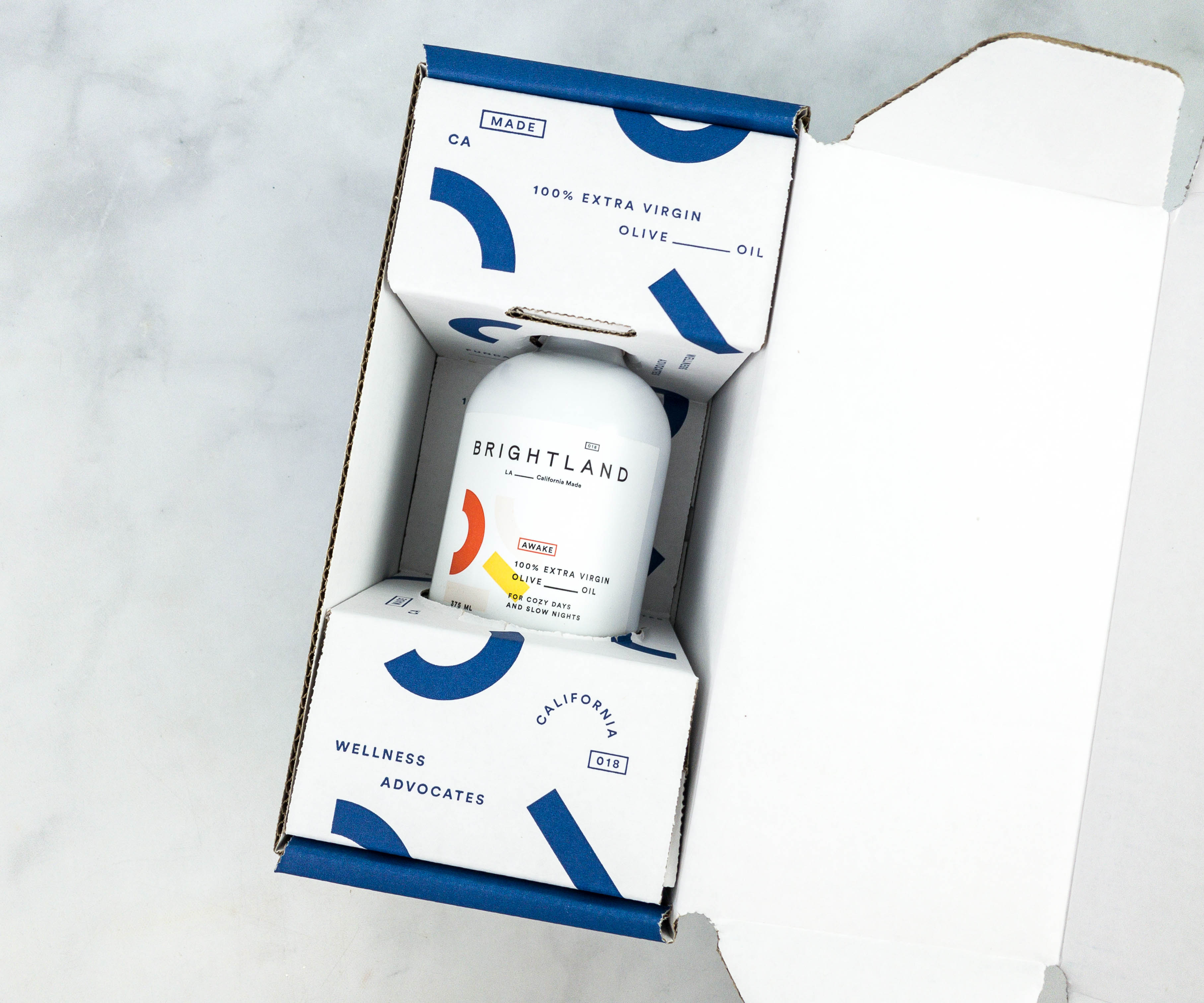 The bottles were tucked inside a custom carton packaging. I received these two bottles in a regular cardboard box, but I believe they might also arrive packed in a double box. We did not receive any additional "gift" with this order.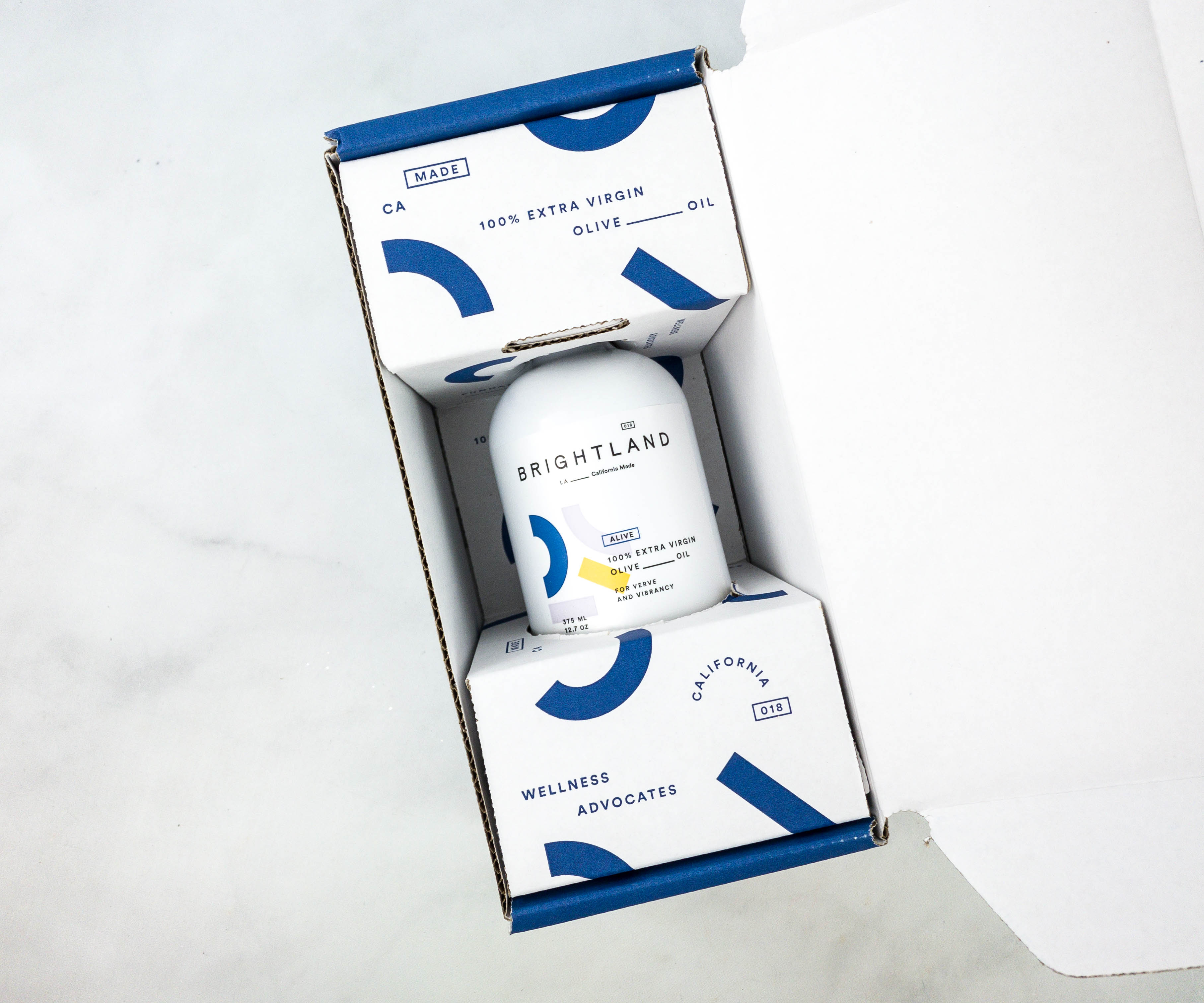 They are well packed and would make a lovely gift!
The package came with a mini booklet that includes information about the featured product.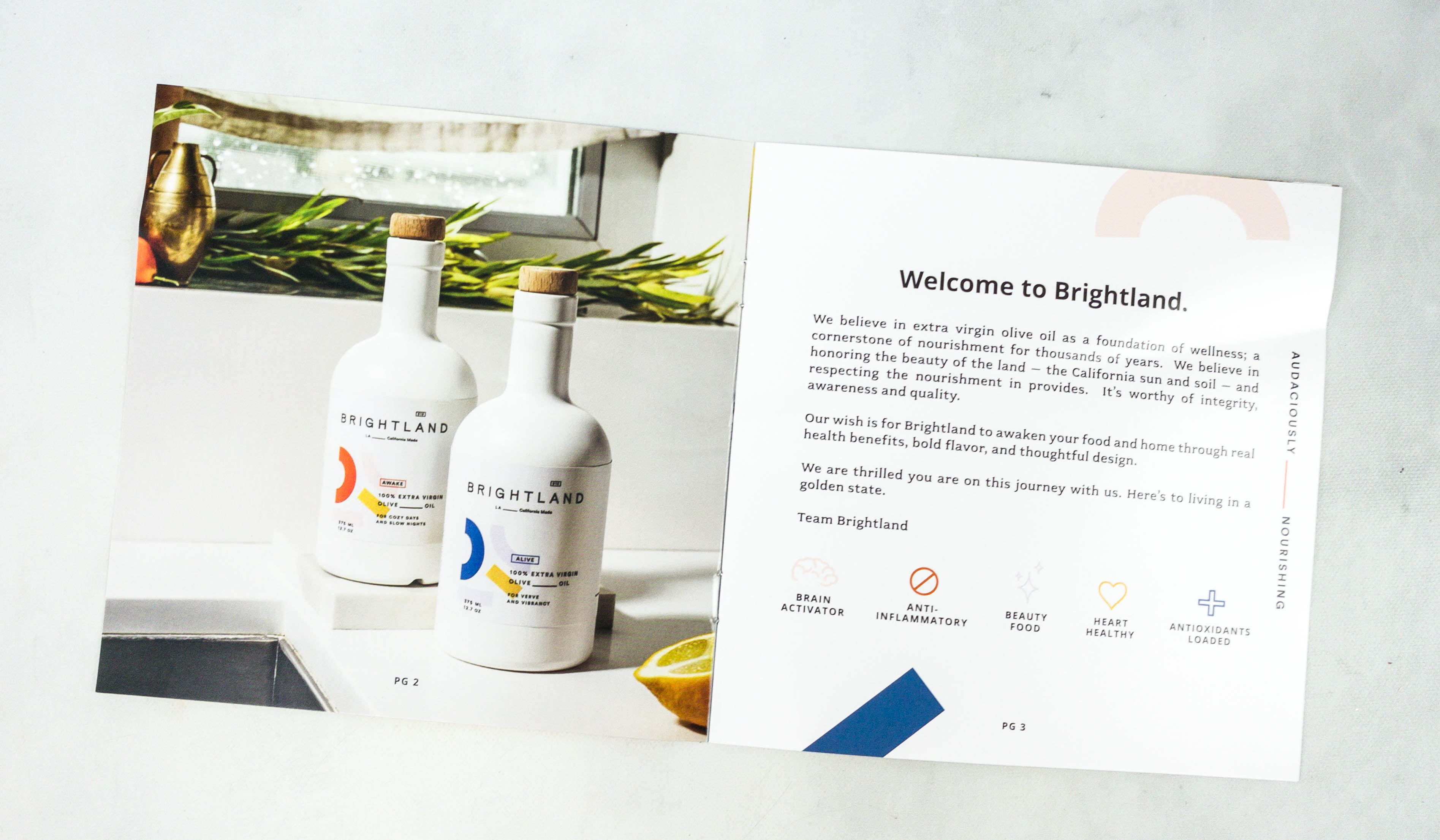 Inside, there is a photo of the products as well as a welcome message from Team Brightland.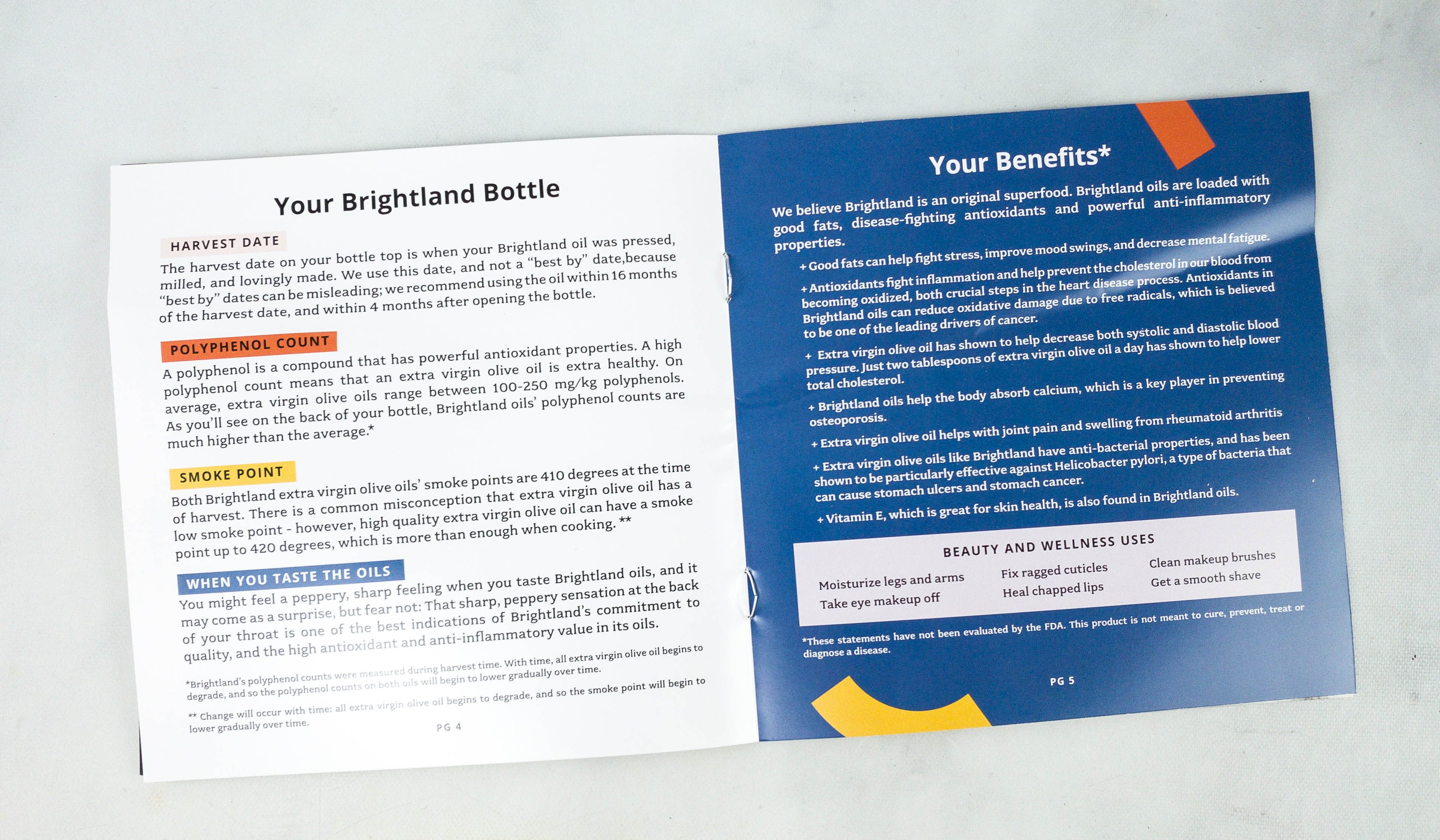 This part of the booklet discusses the bottle's harvest date, polyphenol count, smoke point, and the benefits you can get from it!
If you're wondering what Polyphenol is and why it's important, here's an explanation from Brightland:
That sharp, peppery sensation at the back of your throat is one of the best indications of Brightland's commitment to quality, and the high antioxidant and anti-inflammatory value in its oils. Additionally, the polyphenols in olive oil that contribute to a sharp taste and resistance to oxidation. These polyphenols are strong antioxidants and have been shown to provide a host of beneficial effects from healing sunburn to lowering cholesterol, blood pressure, and risk of coronary disease. Additionally, oleocanthal, a natural polyphenolic anti-inflammatory agent uniquely found in extra virgin olive oil, functions much the same way that ibuprofen, an over-the-counter non-steroidal anti-inflammatory drug (NSAID) does. This receptor is spatially located at the back of the throat, which is exactly where the distinctive sting from high quality olive oil is felt. This unique sensation and the accompanying cough or clearing of the throat are regarded among connoisseurs as indicators of high quality olive oil.
These oils aren't blended for blandness!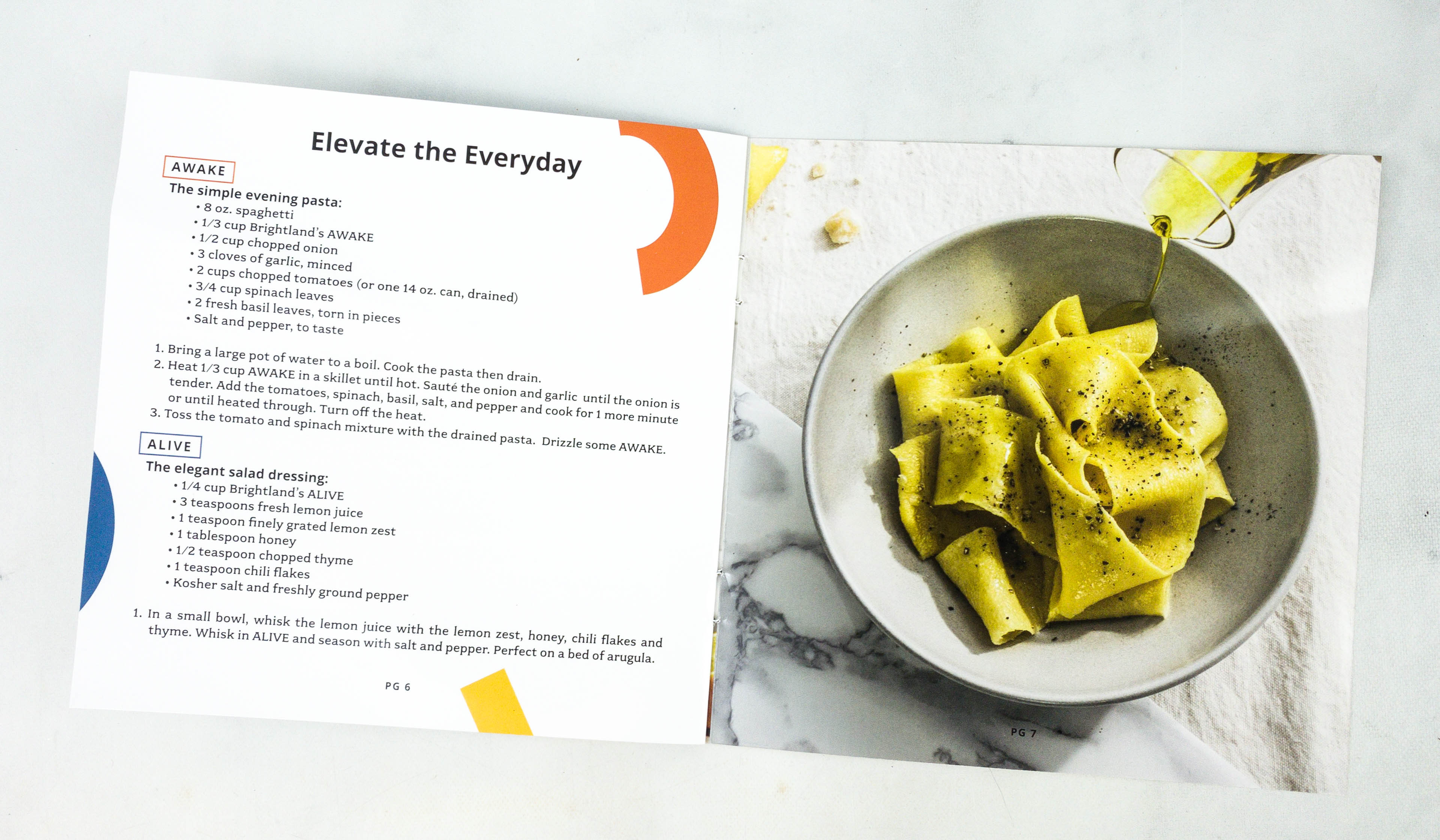 There is even a recipe for a simple evening pasta and an elegant salad dressing.
Everything in my box! I'm so excited to try these out!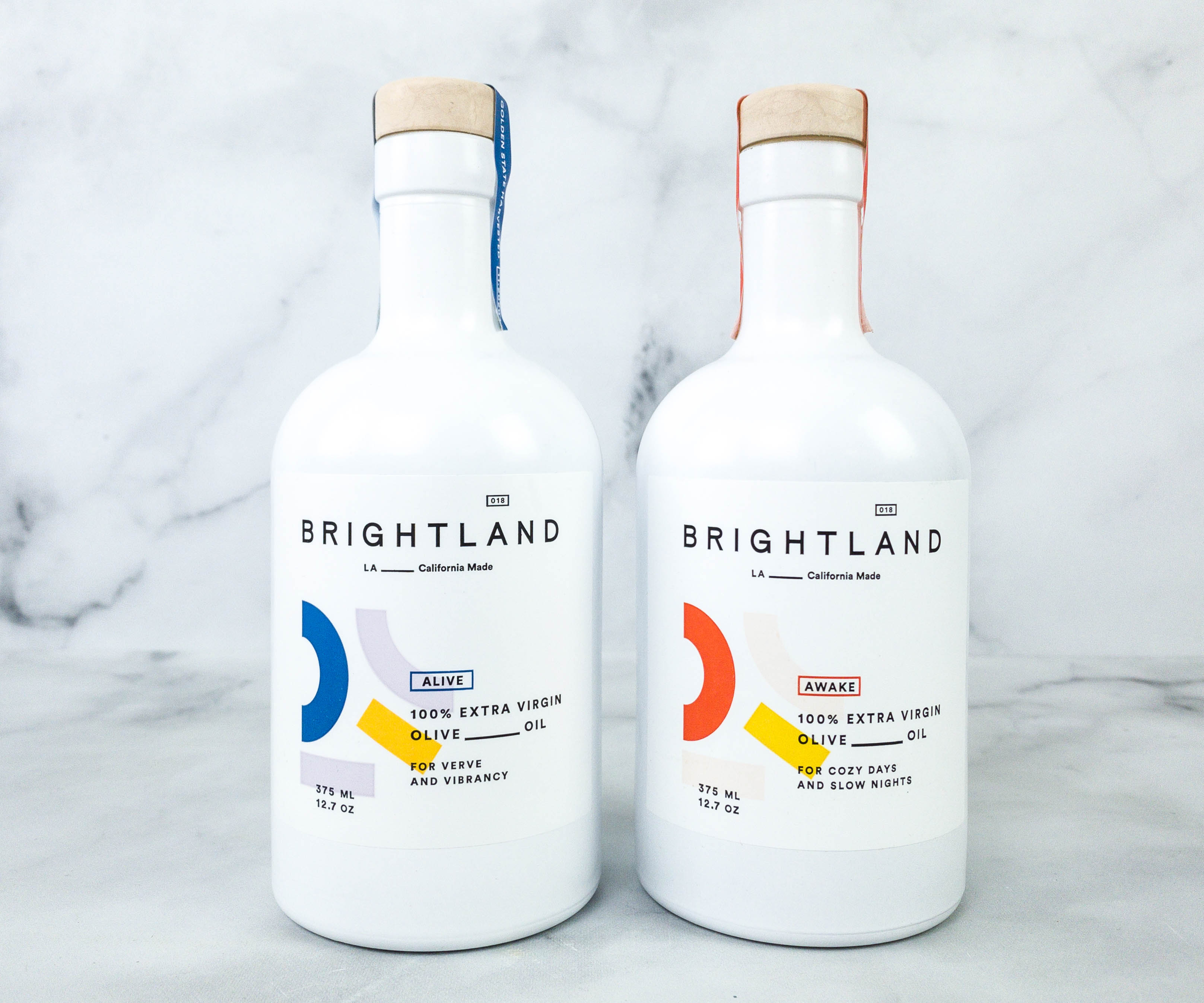 The bottles look really great – the design is perfect. They will make for great displays on open cupboards. Also, they're UV protected to keep the oil inside in good condition.
ALIVE is lovingly made with heirloom Coratina and Frantoio olives and harvested early by a master miller onsite in a certified organic mill. Our rigorous standards mean tastier, healthier oils; we aim for each bite to leave you shining a little brighter.
At the time of harvest (November 2020), ALIVE olive oil's Polyphenol Count is: 653 mg/kg.
Alive is great whether you're using it for dressing or cooking. It has a high smoke point of 410 F so you don't have to worry about ruining your dish with a burnt taste.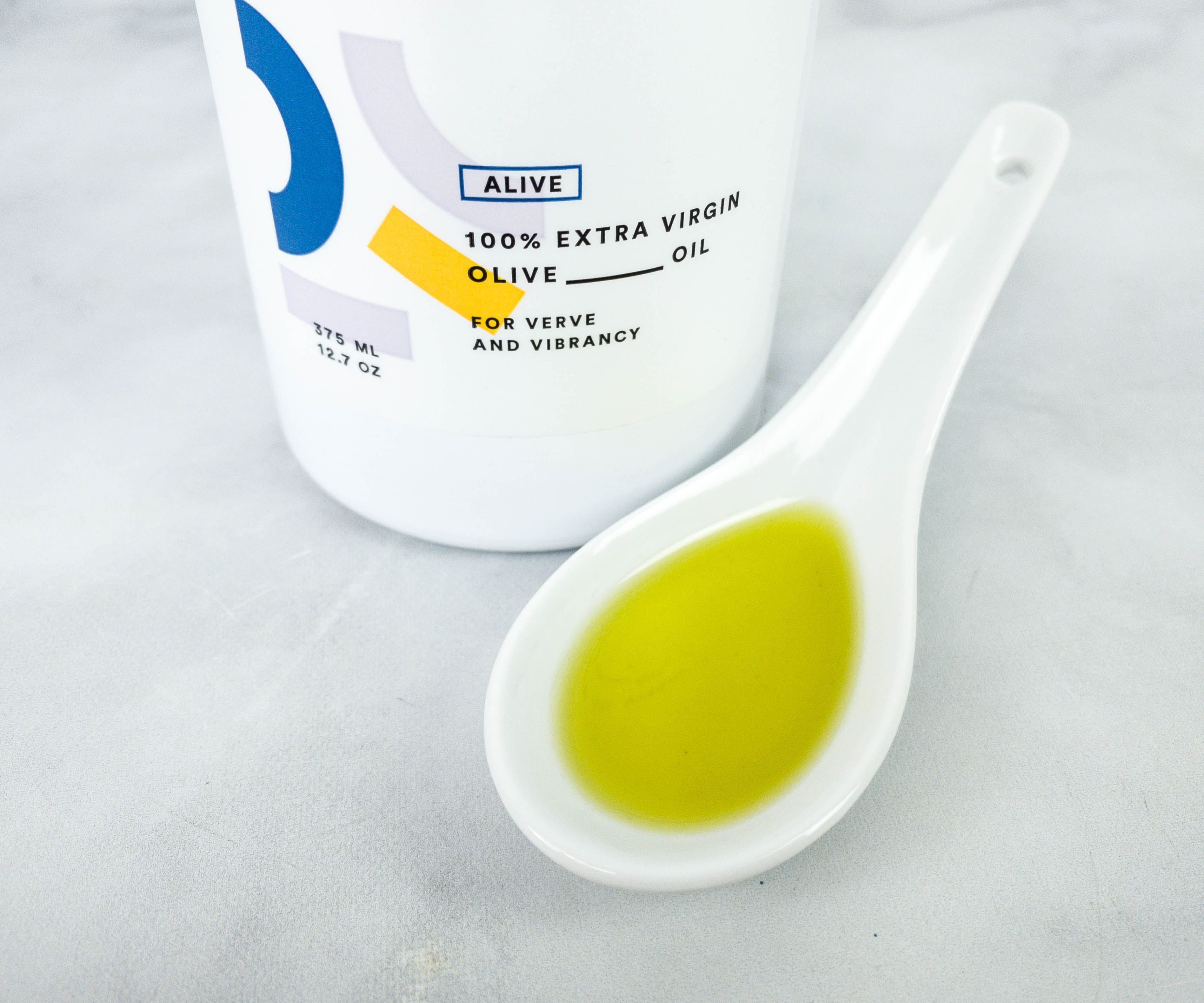 This olive oil isn't just versatile, it tastes amazing as well. It's light and smooth, with peppery notes that delight my tastebuds. I like using this on salads to add extra flavor! It's also great for dressings and marinades, as well as hummus and baked goods. Brightland even suggests using it on sorbet or chocolate!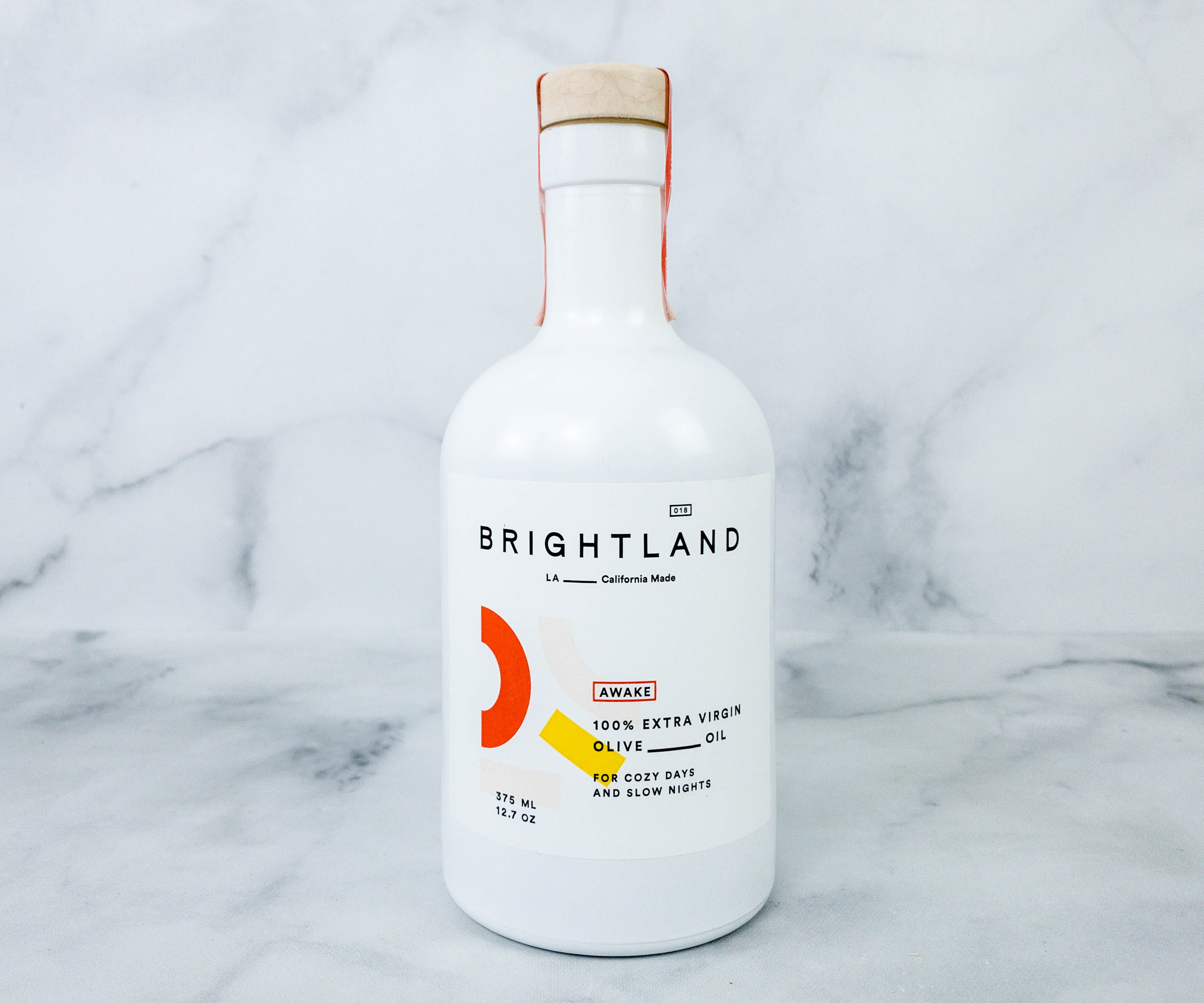 AWAKE is lovingly made with heirloom California Coratina olives and harvested early by a master miller onsite in a certified organic mill. Tasting notes: Herbaceous, green, grassy, artichoke, complex. Our rigorous standards mean tastier, healthier oils; we aim for each bite to leave you shining a little brighter.
At the time of harvest (November 2020), AWAKE olive oil's Polyphenol Count is: 756 mg/kg. It's higher than Alive's Polyphenol Count!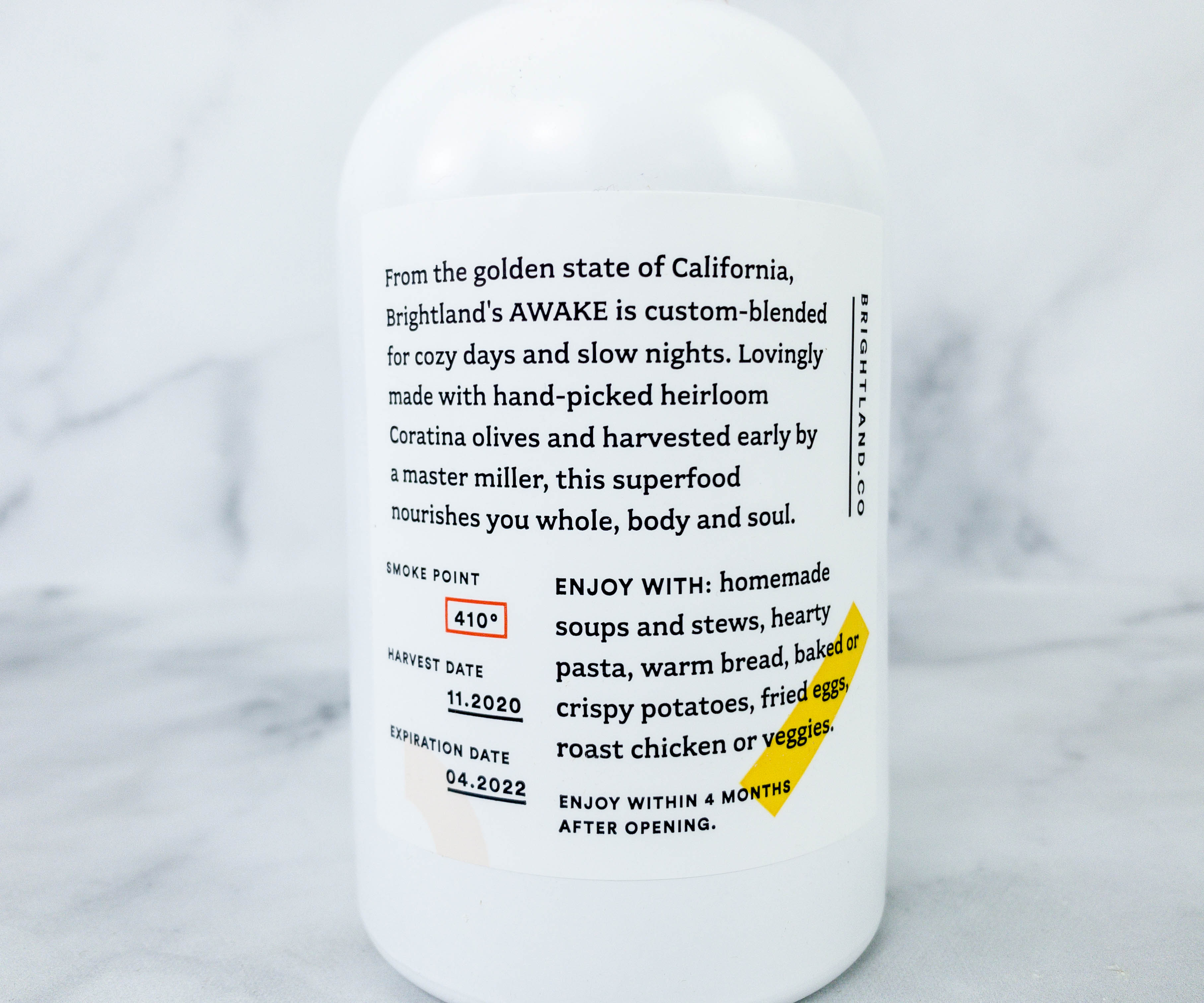 Awake makes comfort food even better with its herbaceous flavor! It's perfect for soups and stews, pasta, bread, and potatoes. Even fried eggs for breakfast becomes tastier when I use this olive oil. Of course, they're also great for roasted chicken and veggies!
Just like the other variant, this one has a high smoking point that makes it perfect for cooking.
This one has a more complex and green flavor which I think is the reason why it goes so well with meats and starch. It adds that 'healthy" taste that balances everything out.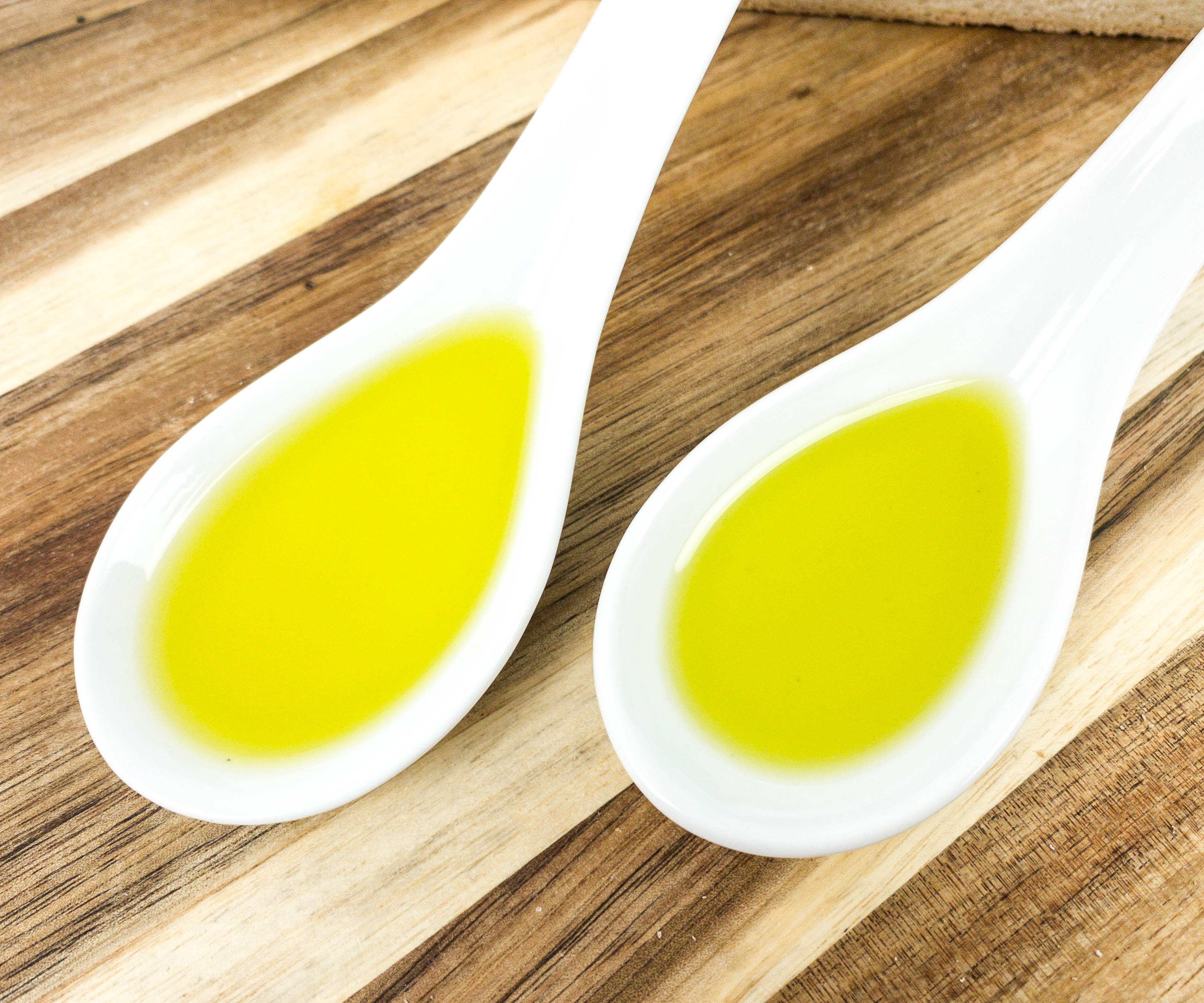 Here's a look at both Awake and Alive Olive Oil! They have almost the same color but Awake has a touch of green compared to Alive's sunny yellow.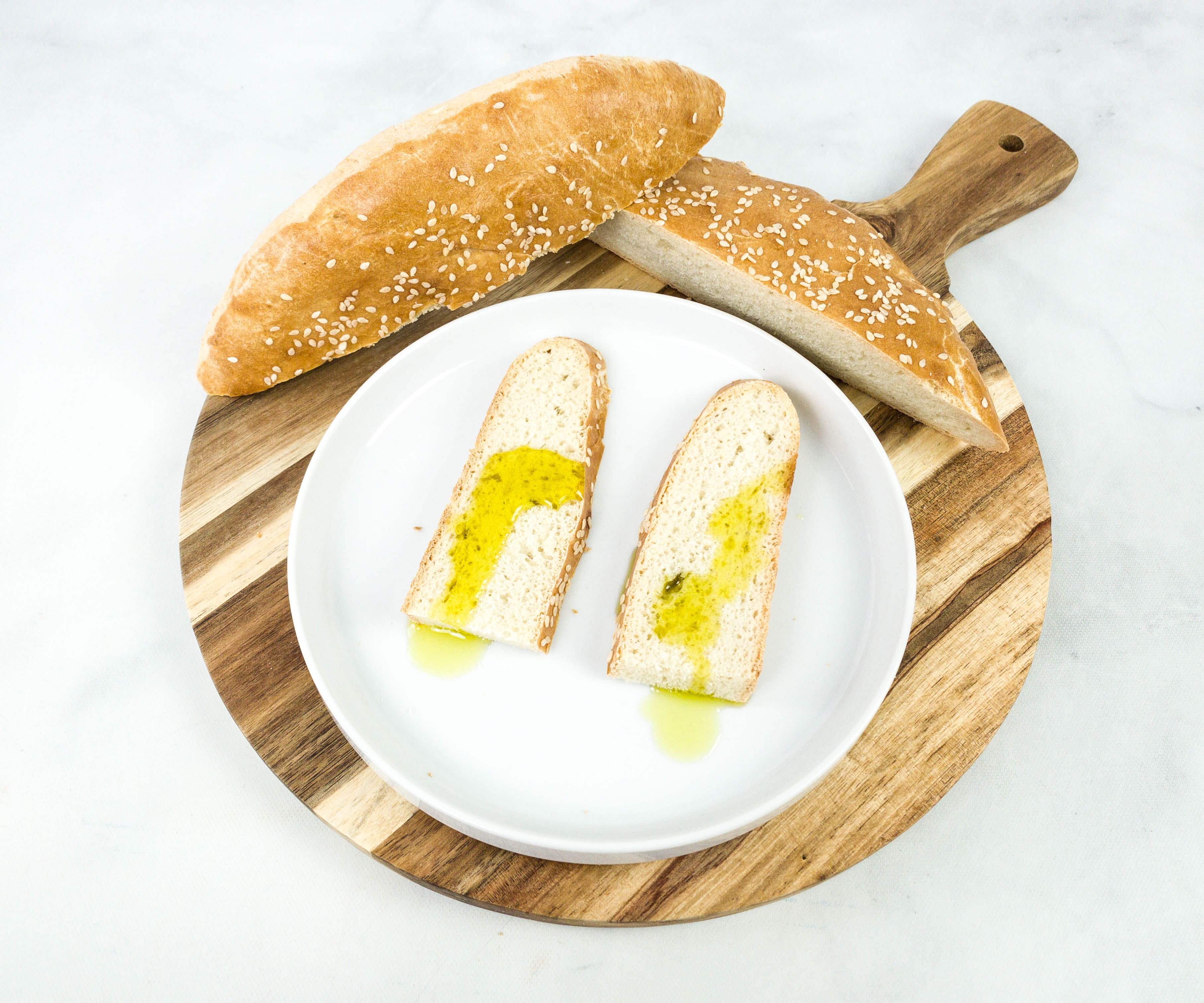 These oils are packed with antioxidants and anti-inflammatory properties, and benefits include lowering cholesterol and blood pressure and even reducing the risks of coronary heart disease. I tried them both with bread and they taste good!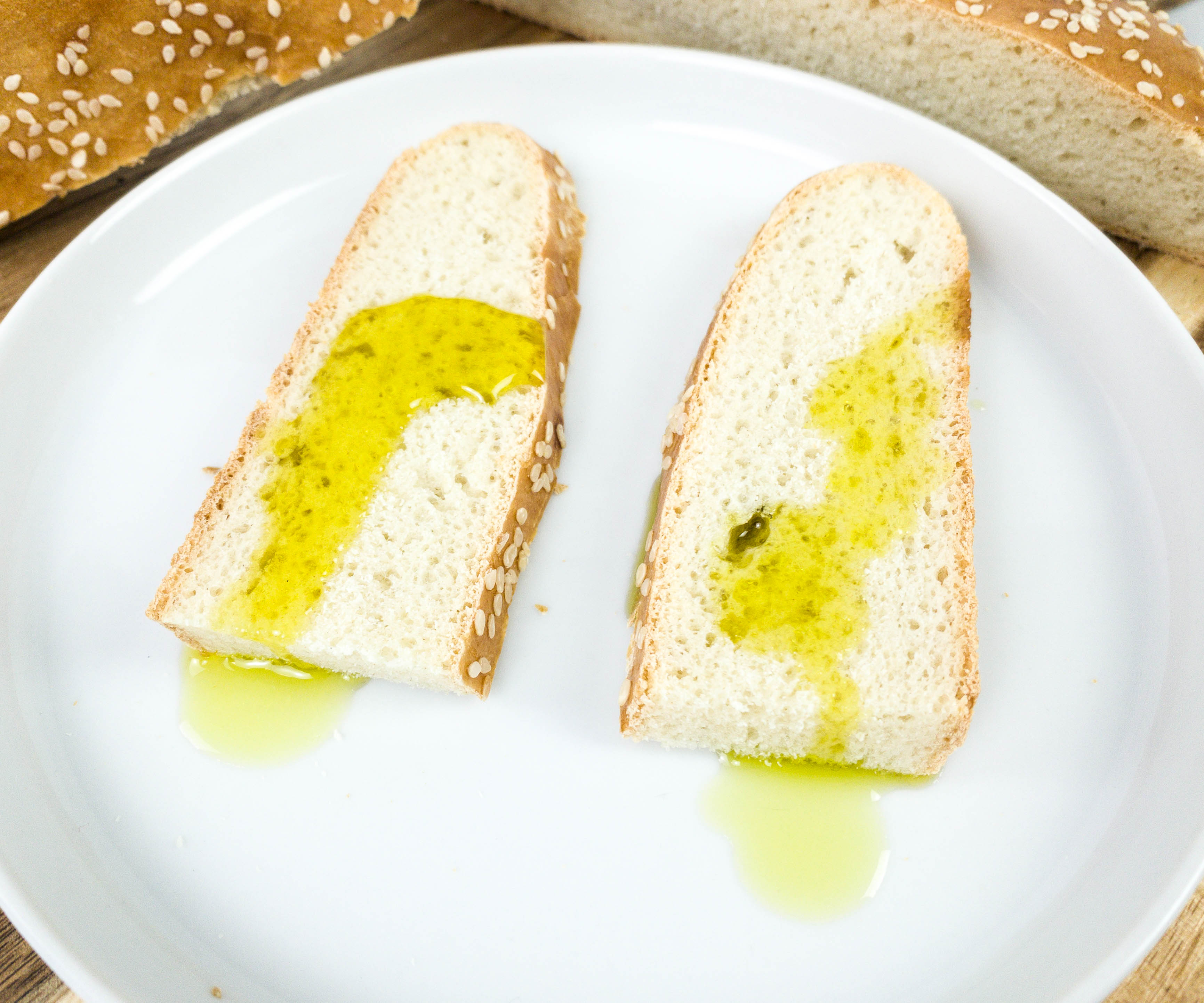 Olive oil even contains good fats that powers up the brain while supporting the immune system. It also helps keep the skin vibrant from within.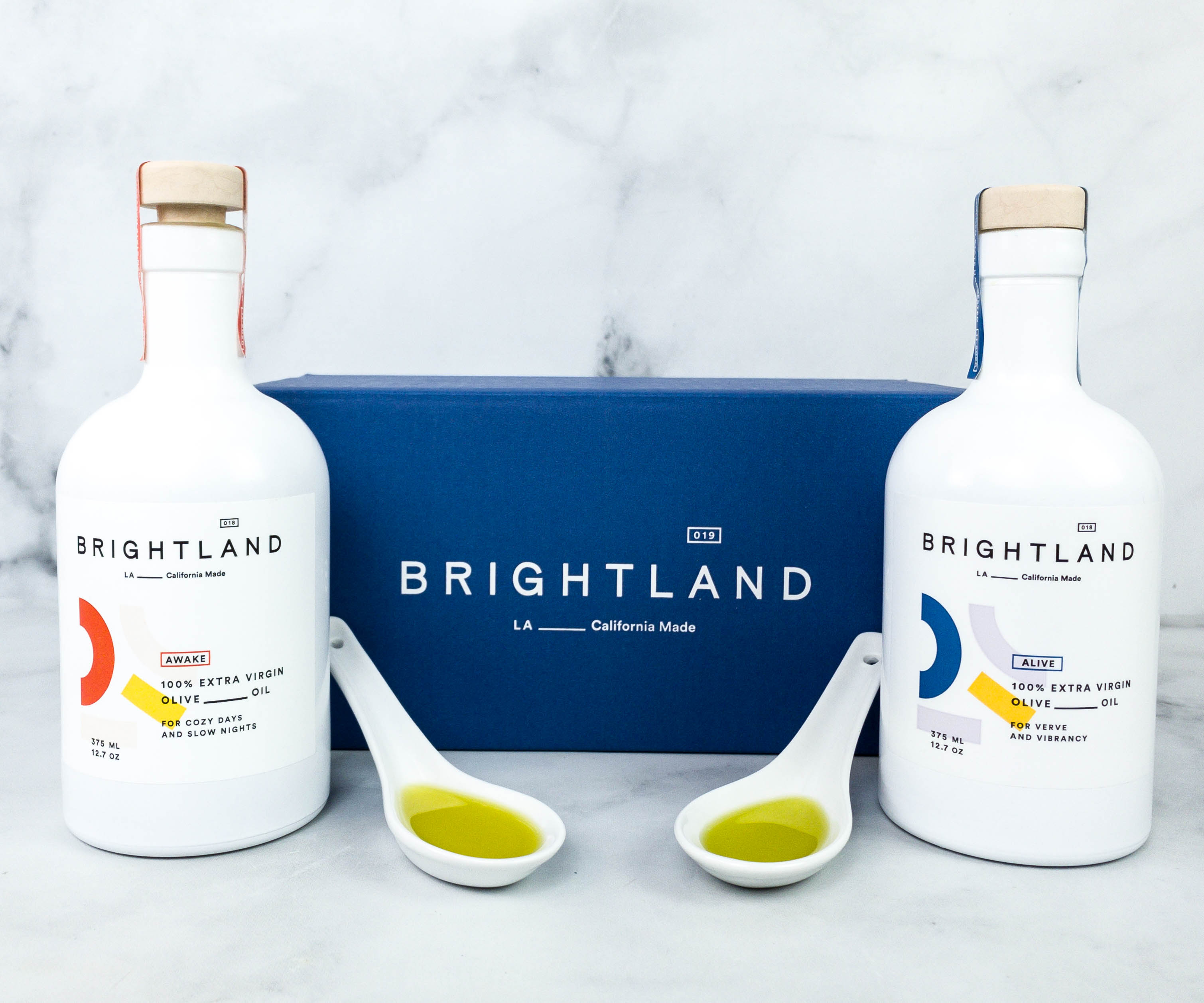 Brightland never skimps on the quality of their products and I'm all for their California grown and made oils. If you want to make your everyday food extra special, it would be great to have both bottles on hand!
Brightland has a bite, and these oils are wonderful for experimenting with transforming your meals with what you may have thought was a boring everyday ingredient. Brightland's oils are pricier than regular olive oils but they're worth shelling out extra for if you love the potential health benefits, the flavor, and the bottle design. The olive oils are versatile – I love drizzling these oils on everyday food such as salads and warm toasts, and they're also great for cooking. If you're looking for a nice gift for any occasion, this subscription also makes a good choice. Even the presentation of the goodies doesn't disappoint. I wouldn't want to give up my relatively cheap every day mild-mannered olive oil, because that has its place in my kitchen, but I love these for an extra gourmet touch when olive oil should be the star.
Also available from Brightland are the Golden State Capsule ($230) with 7 full-size Brightland oil and vinegar bottles and Mini Essentials Box ($70) with 4 petite-size Brightland essentials for starting chefs, along with a variety of other gift boxes and limited edition oils, like Arise (basil) and Lucid (lemon)! The Pair is Brightland's vinegar set ($44) – not available on subscription, with a raw champagne and a raw balsamic vinegar.
What do you think of Brightland?