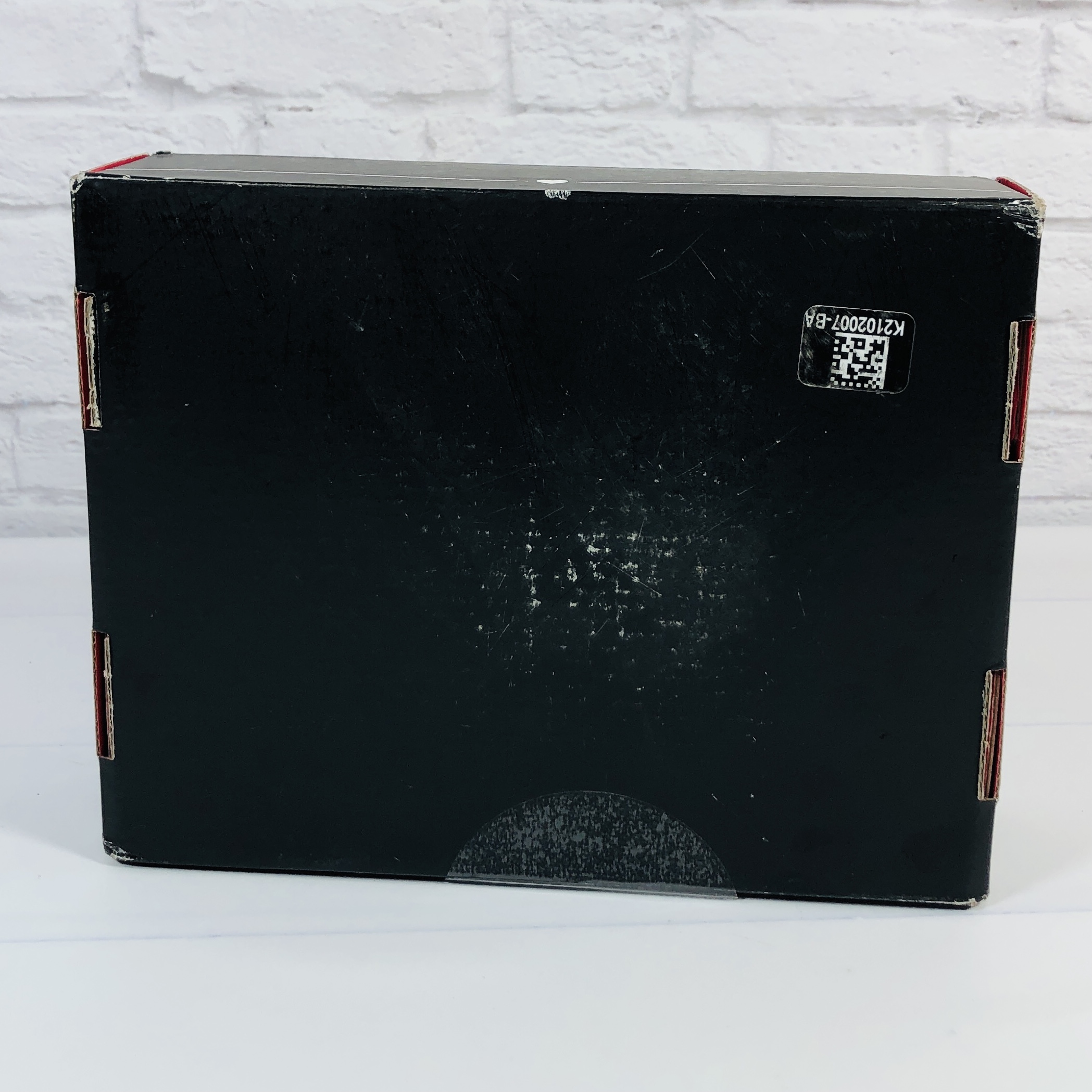 BOXYCHARM is a makeup and beauty subscription box that sends out 5 full-size items every month. Products include makeup, skincare, and beauty tools and each box has an average value of around $175. BOXYCHARM is $25 a month with discounts for those who prepay for longer terms.
Charmers will receive specially curated products from well-known, popular, chic and up-and-coming brands. Our beauty experts carefully select each item based on current and emerging trends, so you're always in the know about the latest shades and styles. With BoxyCharm and BoxyCharm Premium, we like to focus on beauty! That means makeup, skincare, haircare, and much more. To add lifestyle items to the mix, we offer the dreamy BoxyLuxe upgrade. Being a Charmer is where it's at!
DEAL: Subscribe now and get a FREE gift: Eloise Beauty The Queen Palette OR Murad AHA/BHA Exfoliating Cleanser PLUS $10 credit to February PopUp!
Use this link and use the coupon code BEMYQUEEN for a FREE Eloise Beauty The Queen Palette ($53 value) OR Use  the coupon code LOVEYOURSKIN for a FREE Murad AHA/BHA Exfoliating Cleanser ($42 value) AND get your exclusive $10 Popup code via email within 24 hours of subscribing.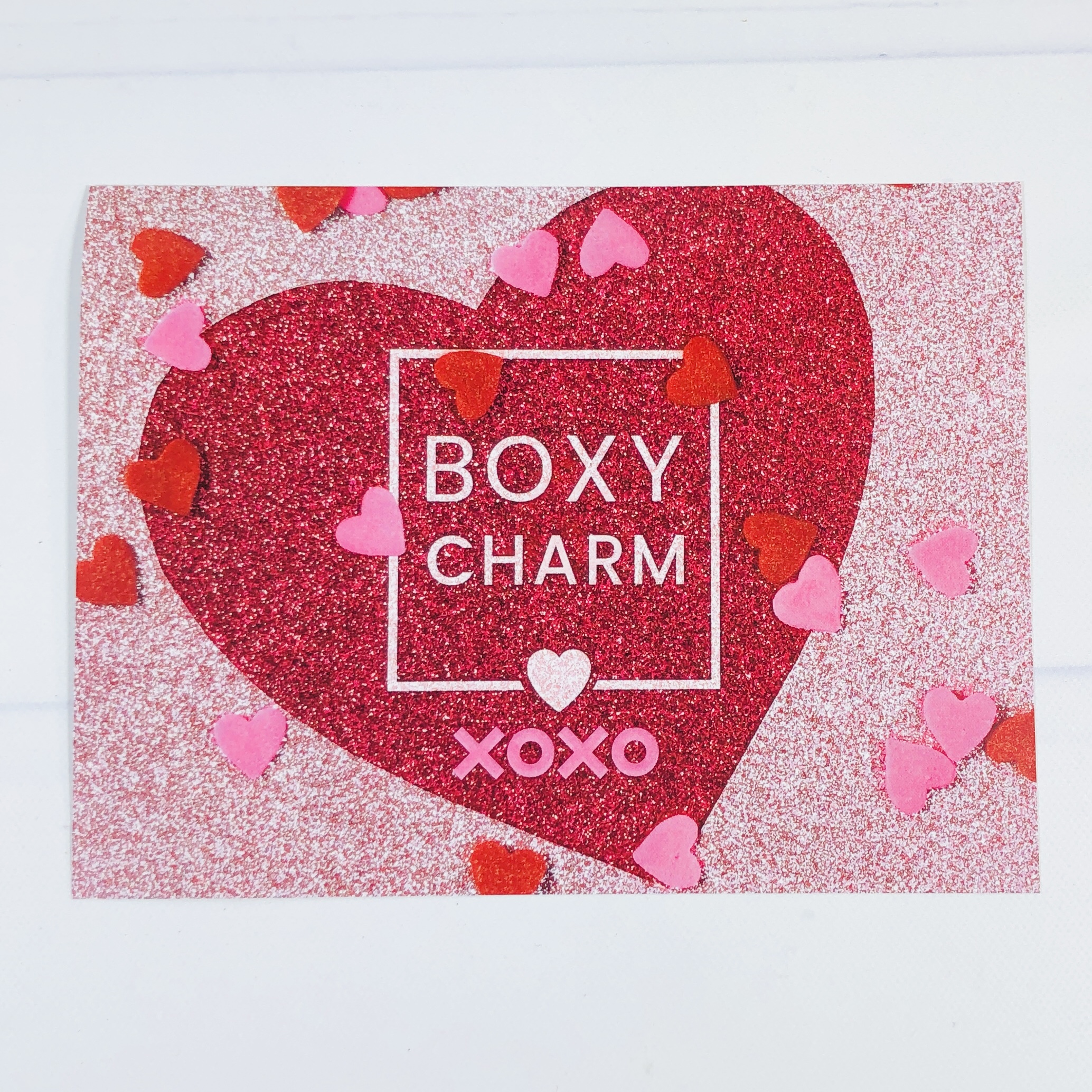 I received a sparkly card.
The back of the card listed the items and MSRP's.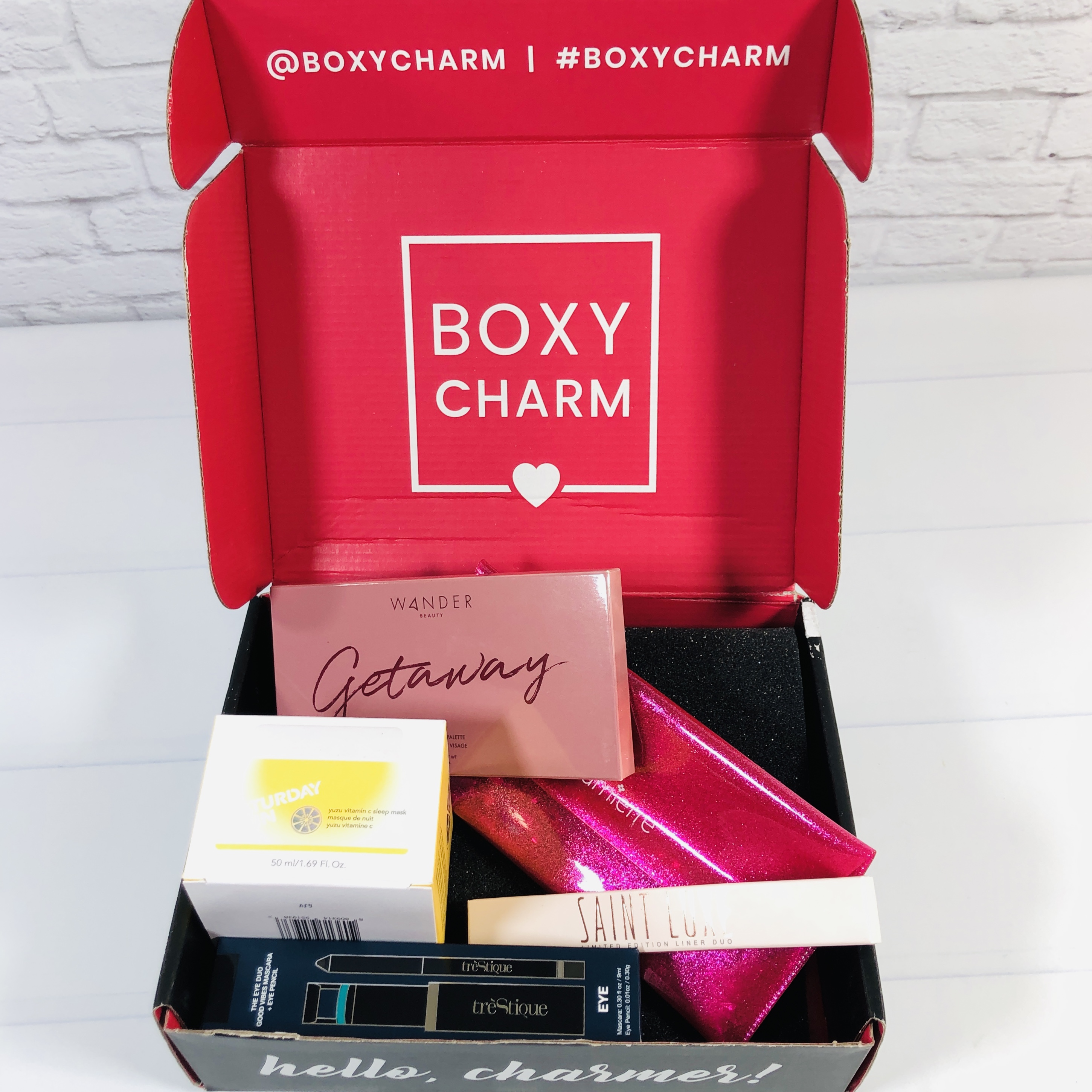 My items were cushioned with a foam insert and most of the items came in their original boxes.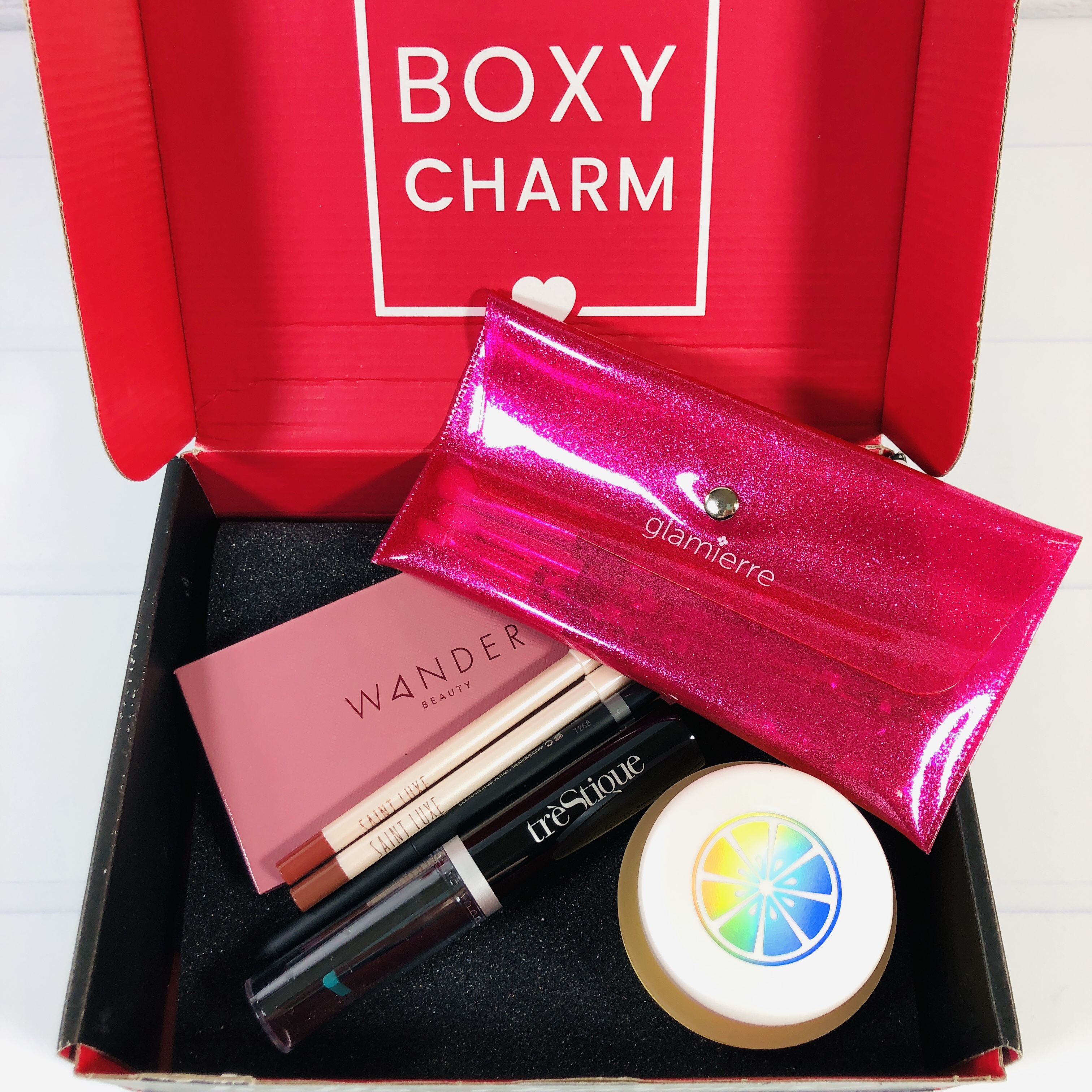 Looking good!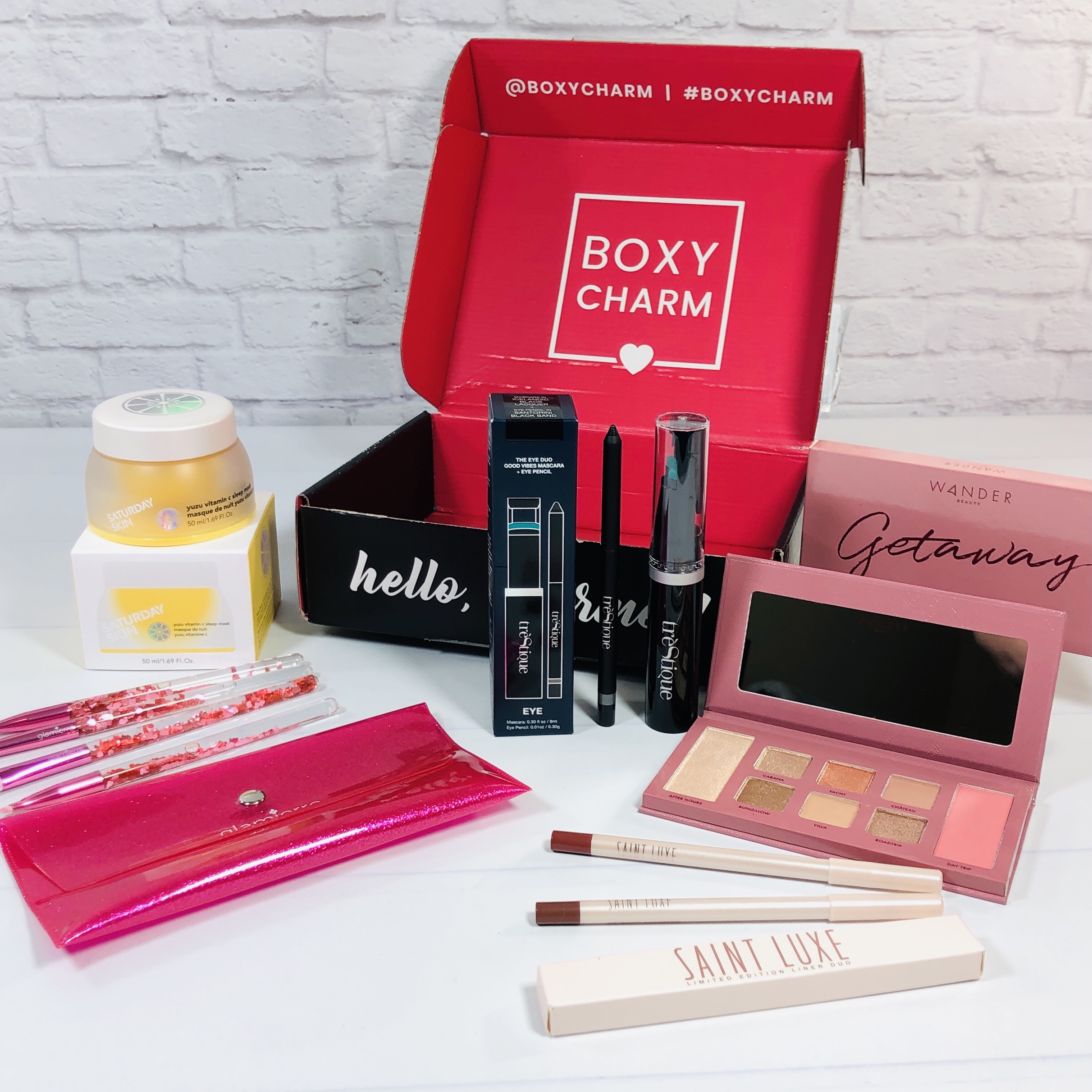 Everything in my February 2021 BOXYCHARM! Keep in mind that BOXYCHARM sends many box combos so your box items and value may be different than mine. There are variations in the box – see them here.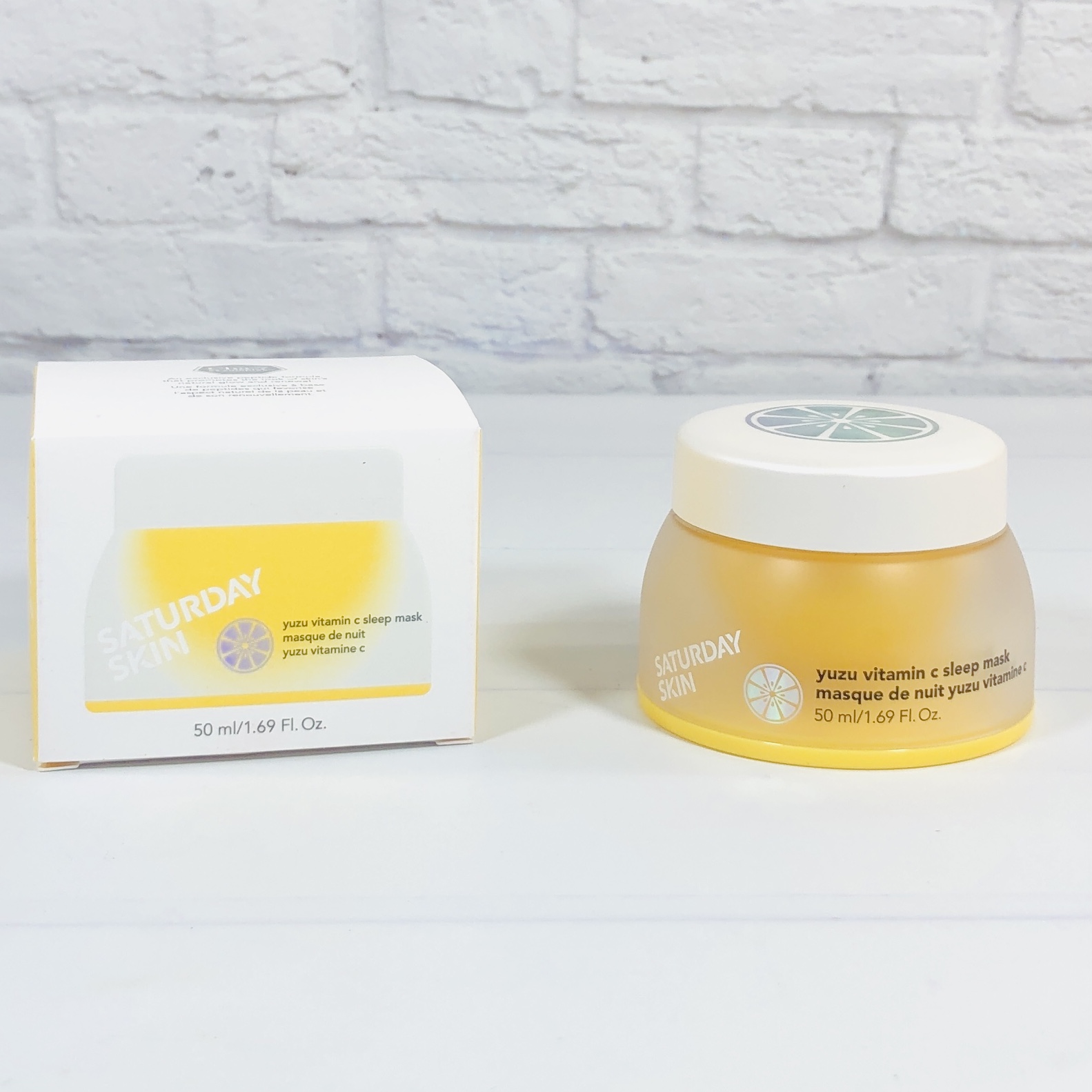 Saturday Skin Yuzu Vitamin C Sleep Mask ($29) The first product has earned the Clean at Sephora badge, which means it doesn't contain stuff like parabens or phthalates. It is a sleeping mask, which means you leave it on overnight.
Ingredients include niacinamide, which helps improve skin texture; yuzu, a citrus fruit with antioxidants that may help skin look radiant; and retinol, an anti-aging ingredient.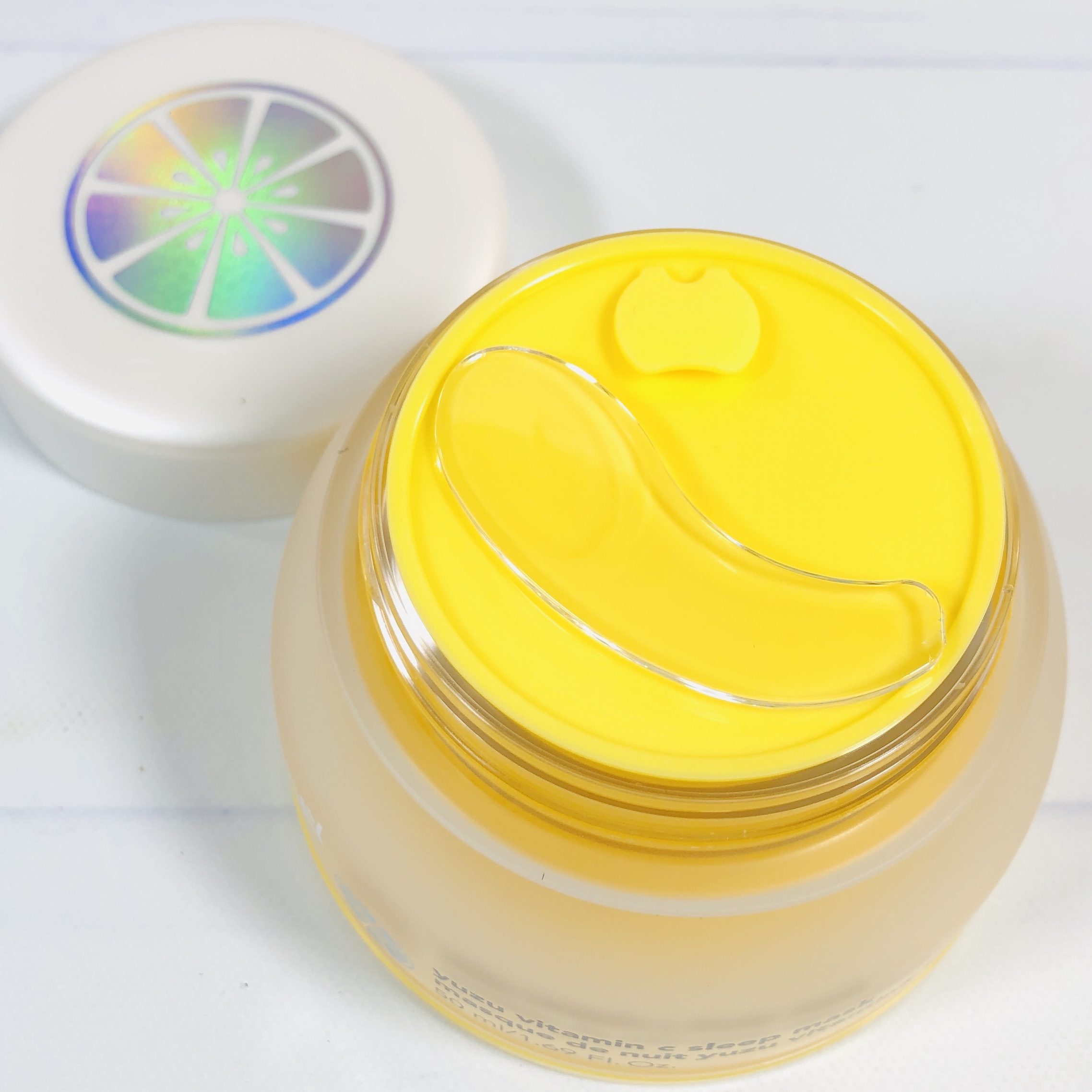 There is a scoop on top so you can cleanly remove the product from the jar.
It looks a little like lemon jelly! Use 3-5 times a week instead of your usual moisturizer. It may help reduce pore size and relieve dryness. The scent smells a bit like tangerine, nothing super strong, and it doesn't feel greasy or heavy.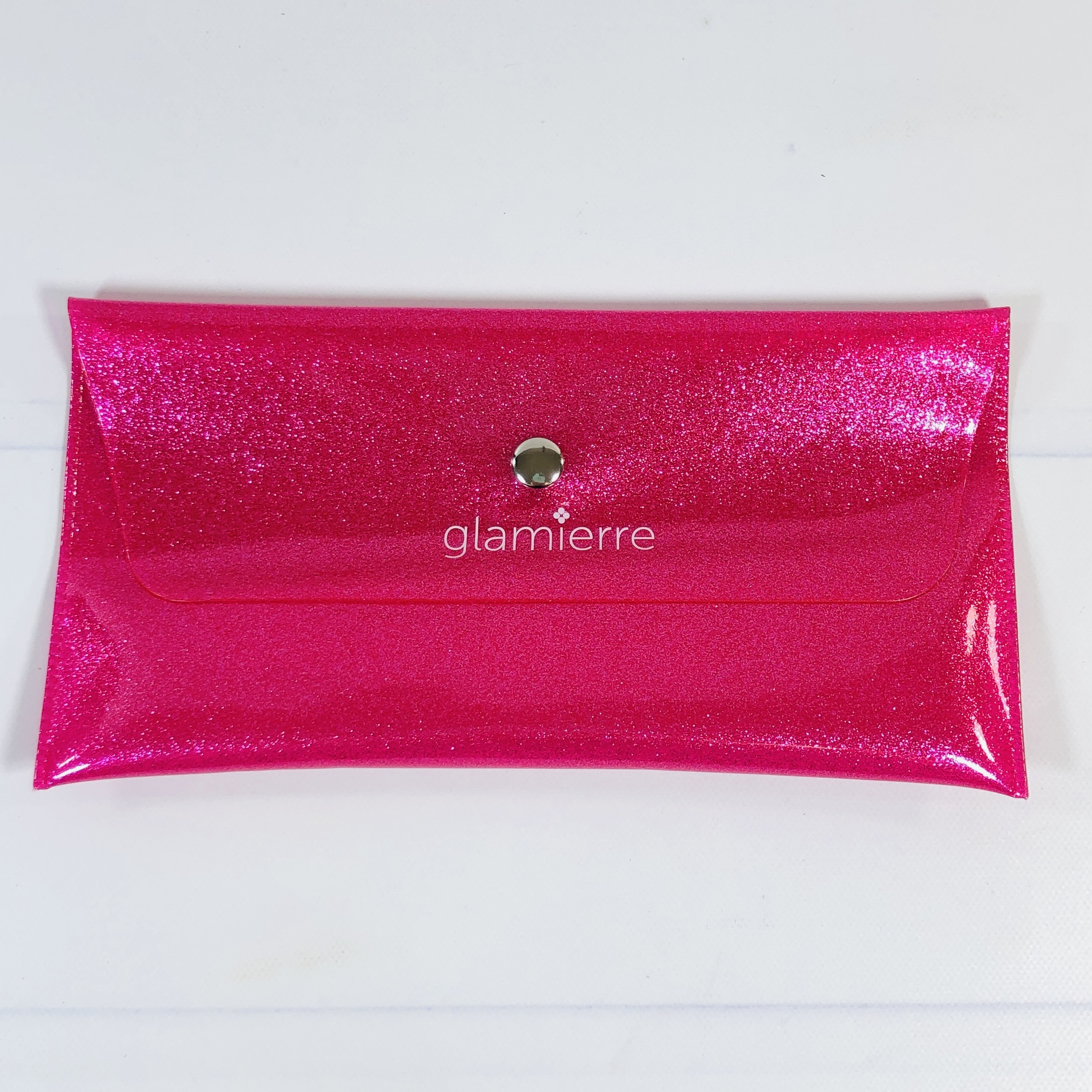 Glamierre Brush Set ($29.95 value listed on card, new launch) I couldn't find this set on the brand's website, it might be coming soon!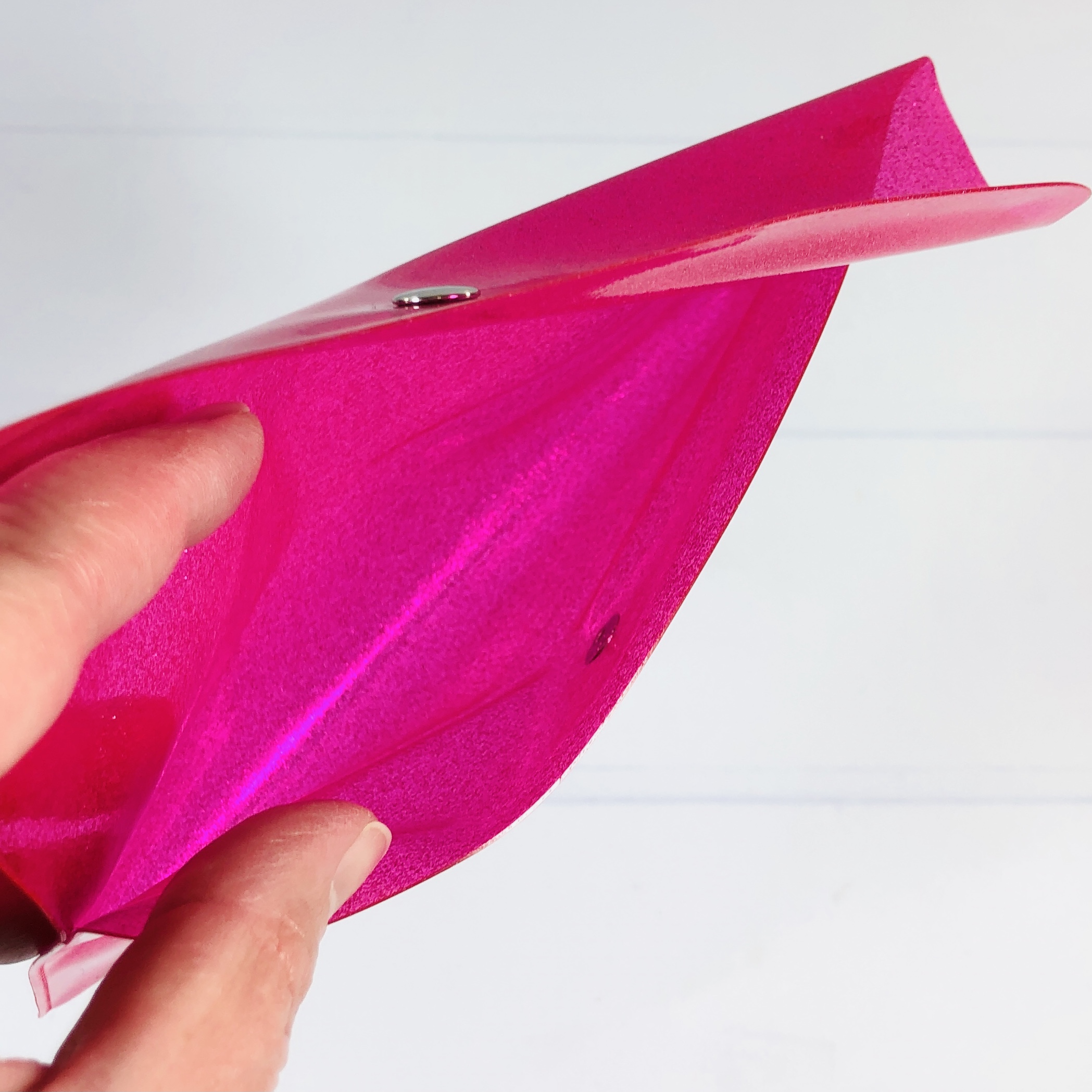 It came in a plastic glittery envelope holder with a snap closure.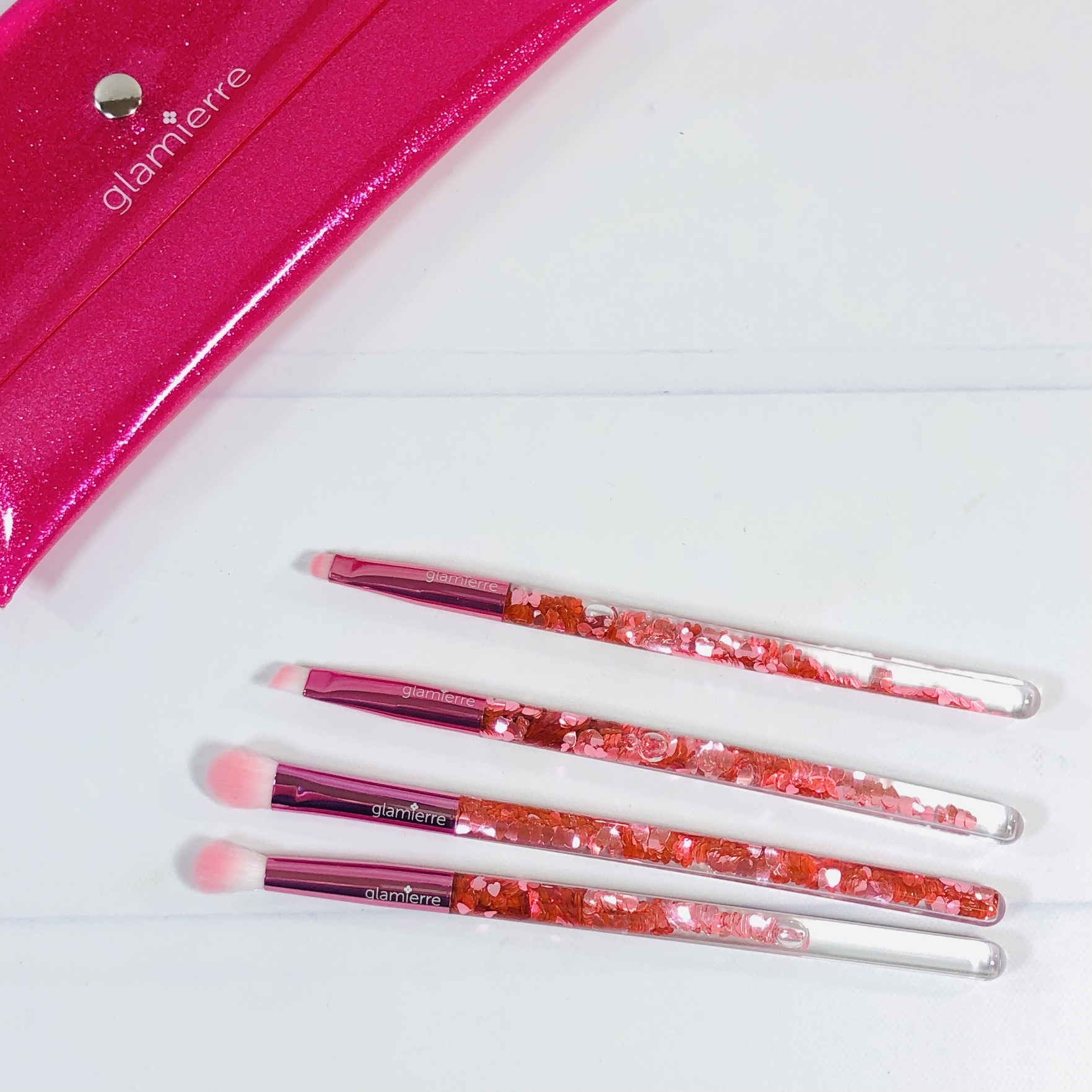 Inside I found four eye makeup brushes with clear handles, hot pink ferrules, light pink and white vegan bristles, and heart-shaped glitter inside the handles.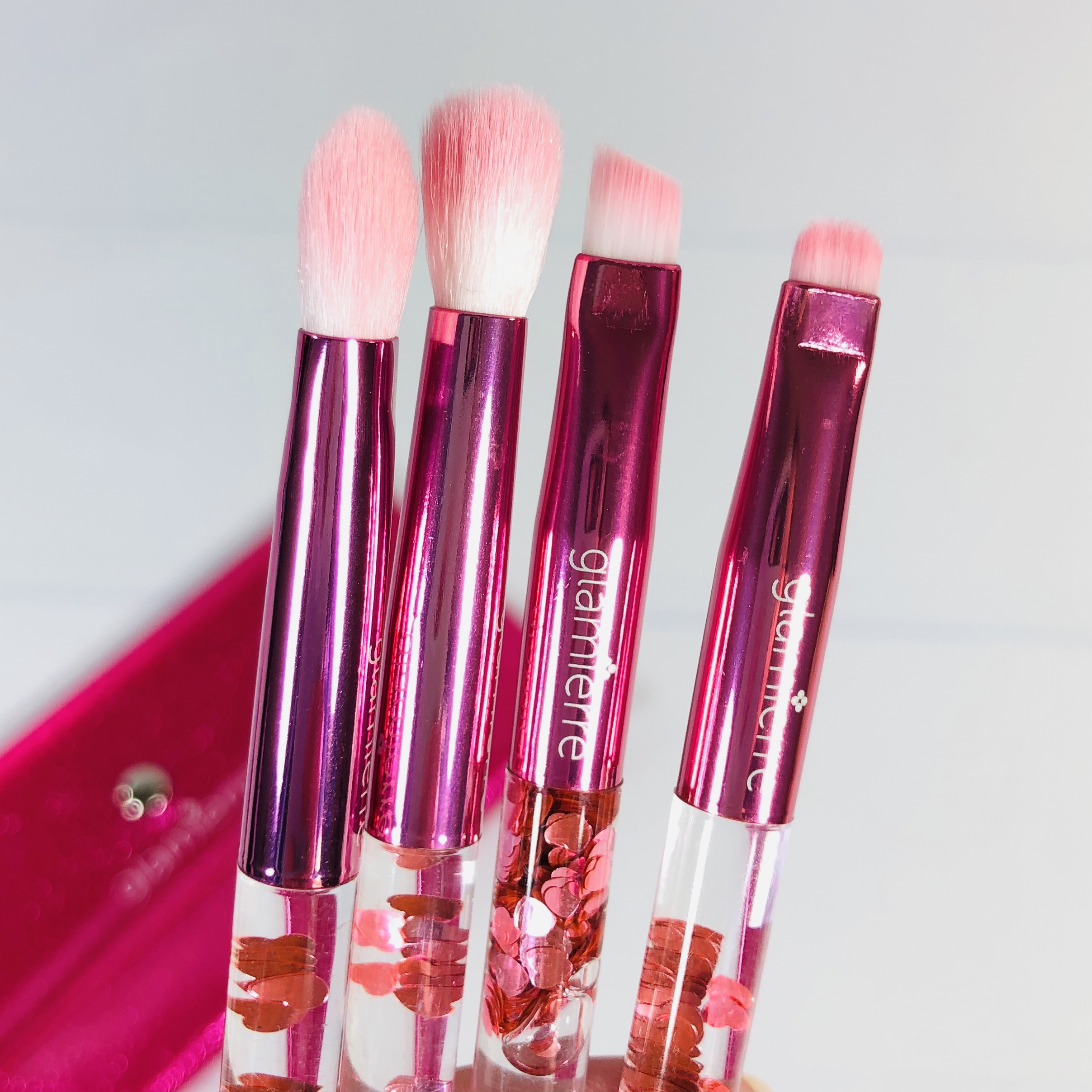 There is a brush for applying shadow, a crease brush, and a couple of denser brushes for brows and liner.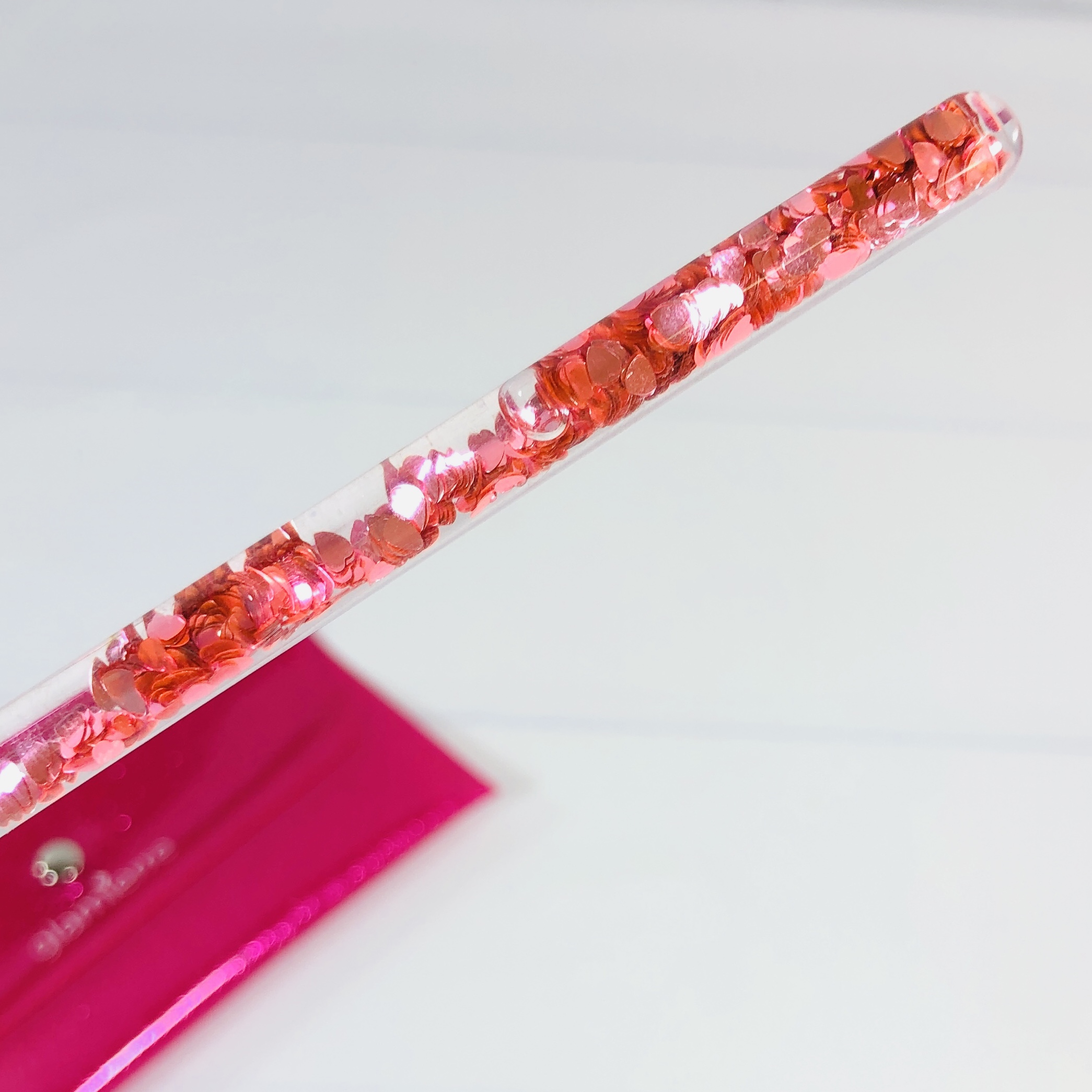 The glitter inside the handle moves, it's in a liquid of some kind! I love these brushes, they are girly, unique, fun, and they work well!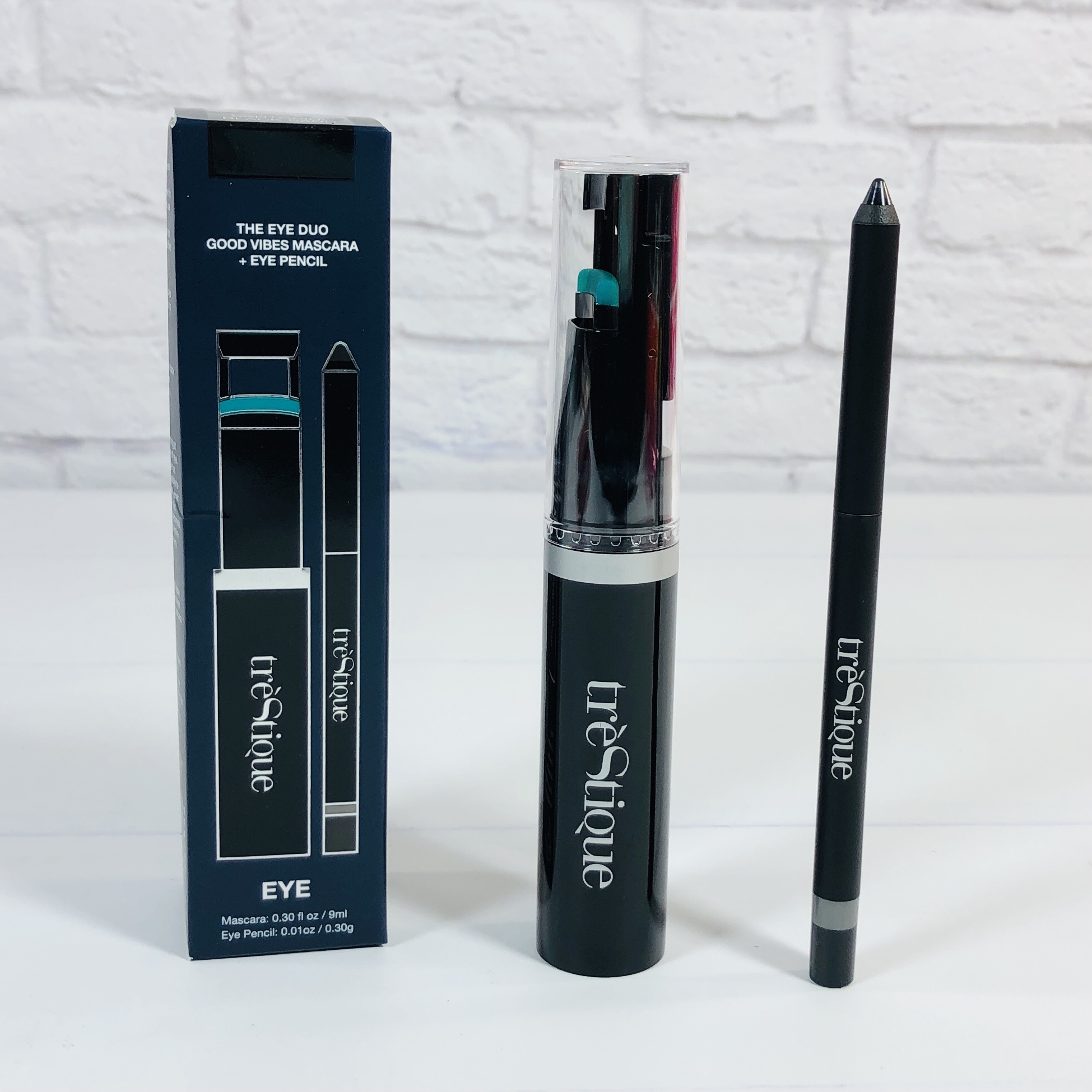 Trestique Eye Duo: Good Vibes Mascara + Eye Pencil ($44 listed value, sells for $34) The card listed this value as higher than what the duo sells for, I guess you get a discount when you bundle!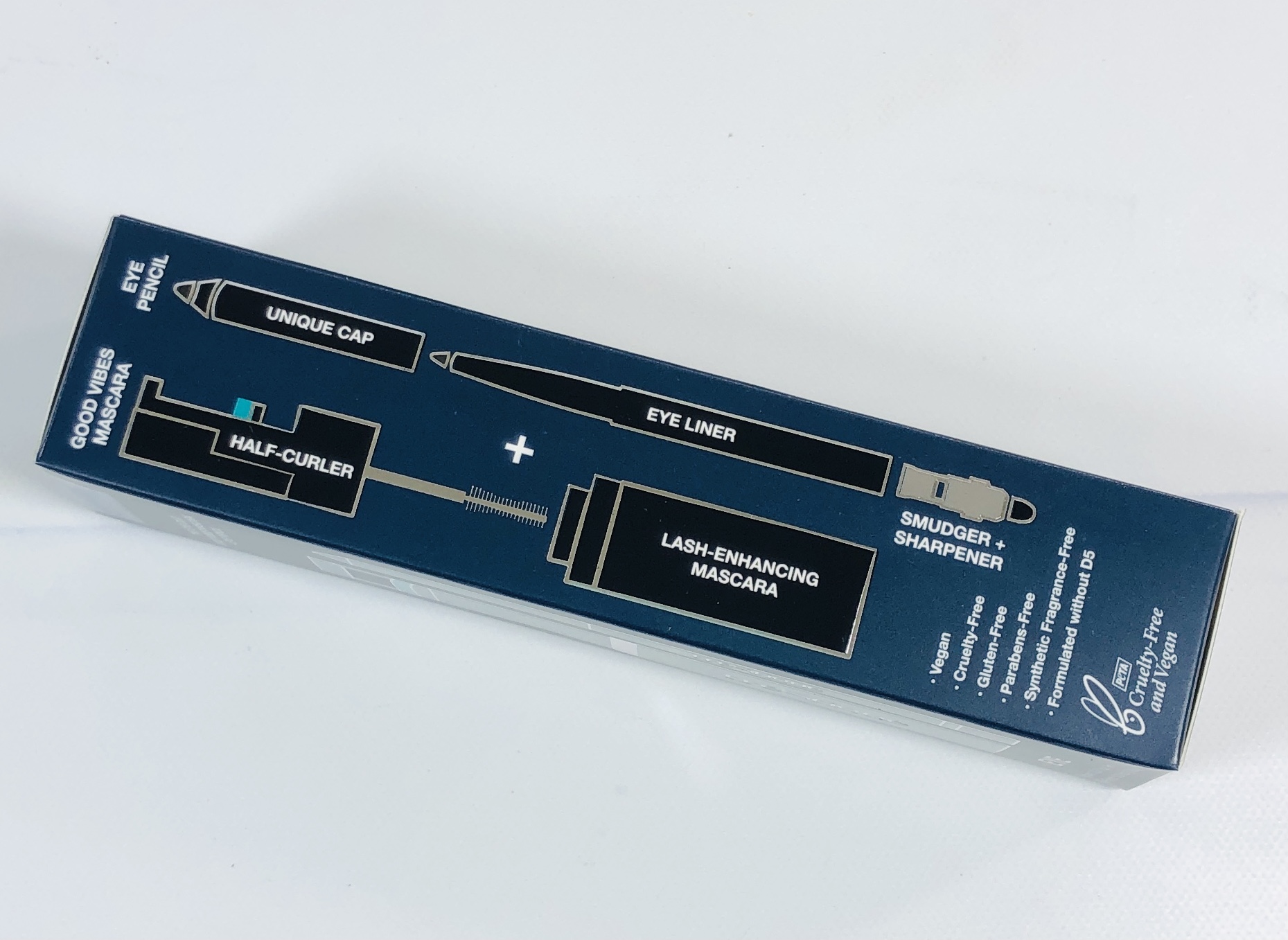 This illustration reminds us that Trestique has unique lids that tend to look like the makeup itself. They also show that there is a smudger/sharpener on the back of the liner.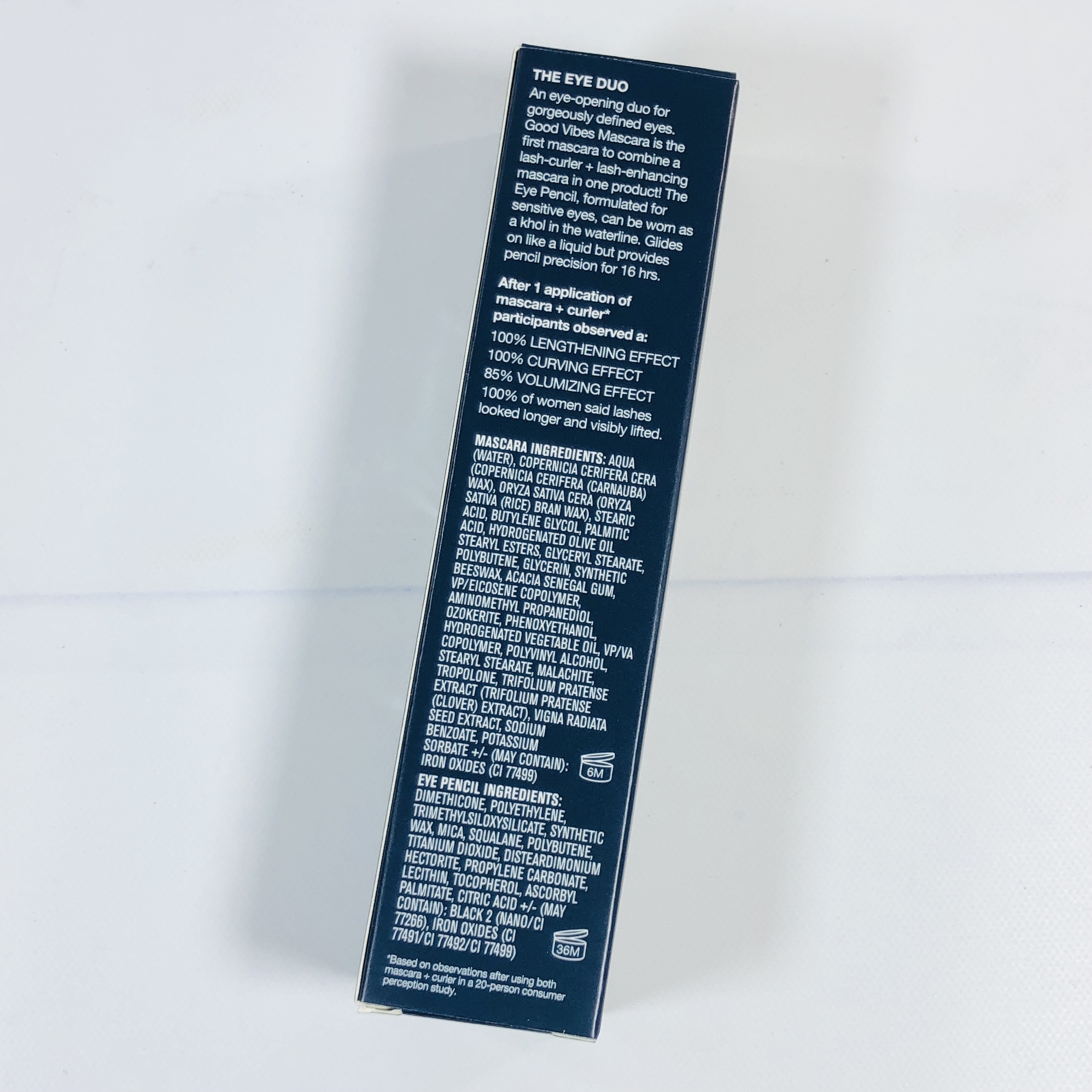 Here are the ingredients.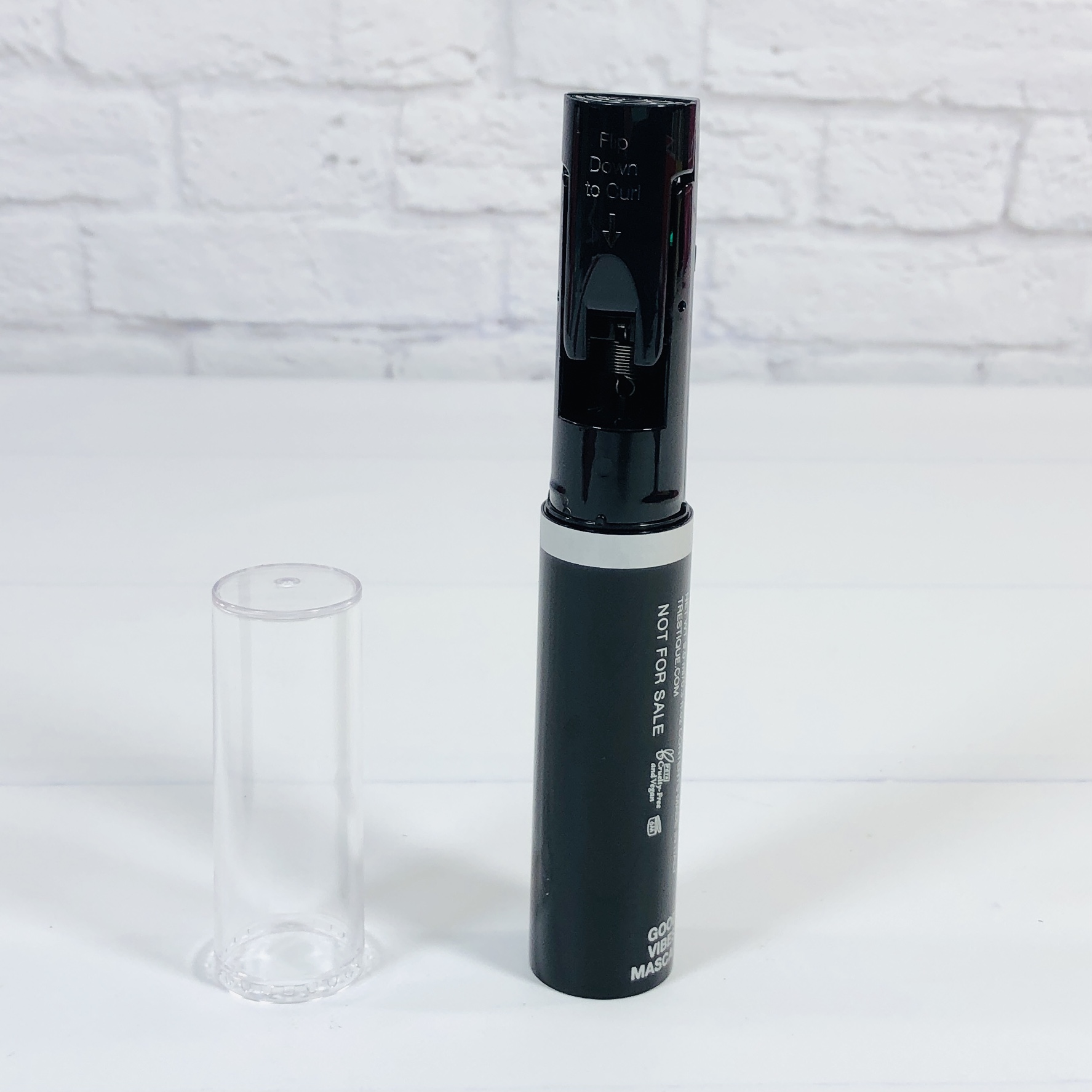 The mascara has a built-in eyelash curler.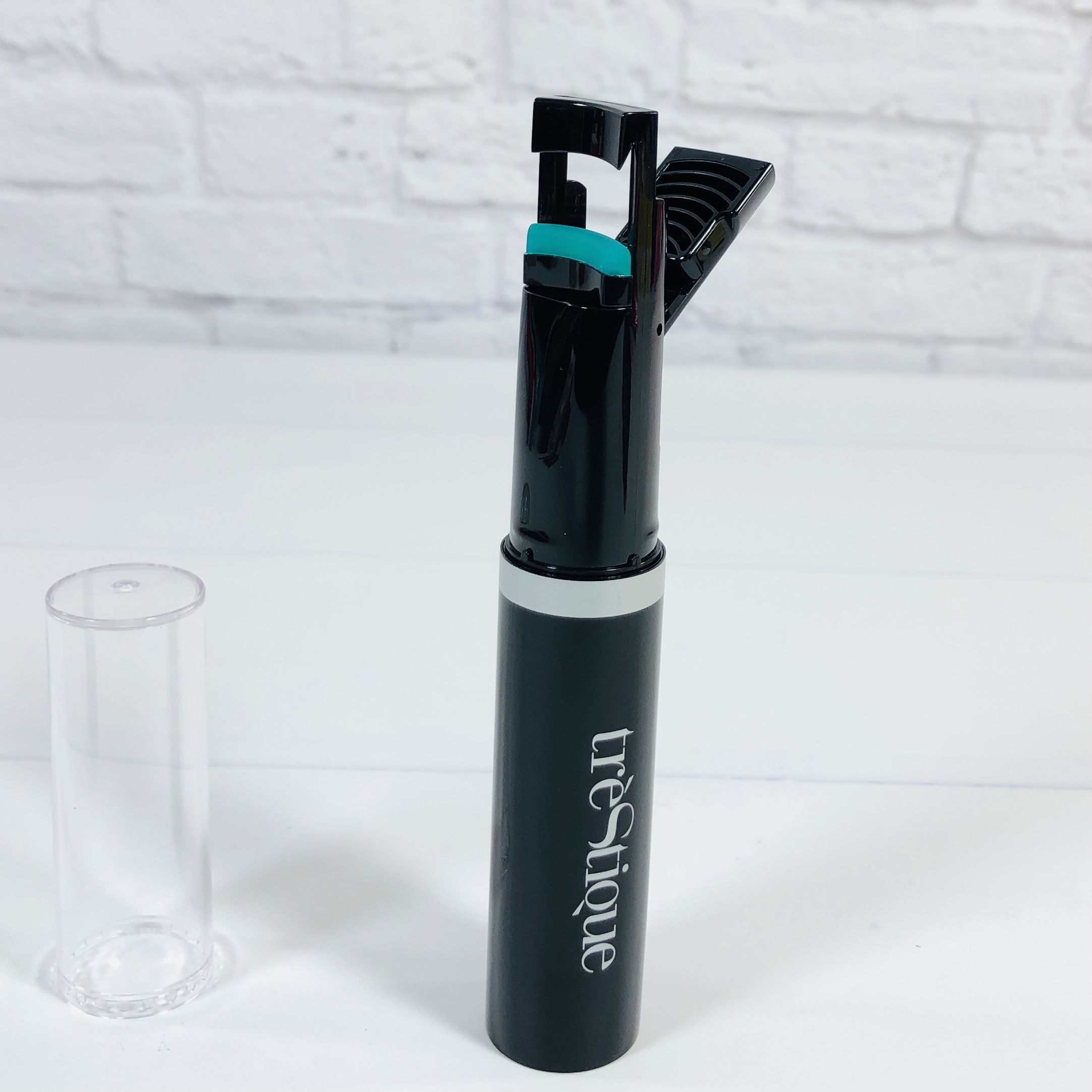 Flip down to reveal the eyelash curler. I am not a fan of curlers because I have very short lashes and have to get super close, which scares me. This curler is even smaller than the usual kind and it's bulky so it's hard to see exactly where it's supposed to go. I managed to figure it out but probably won't use it much, I just don't like to curl my lashes.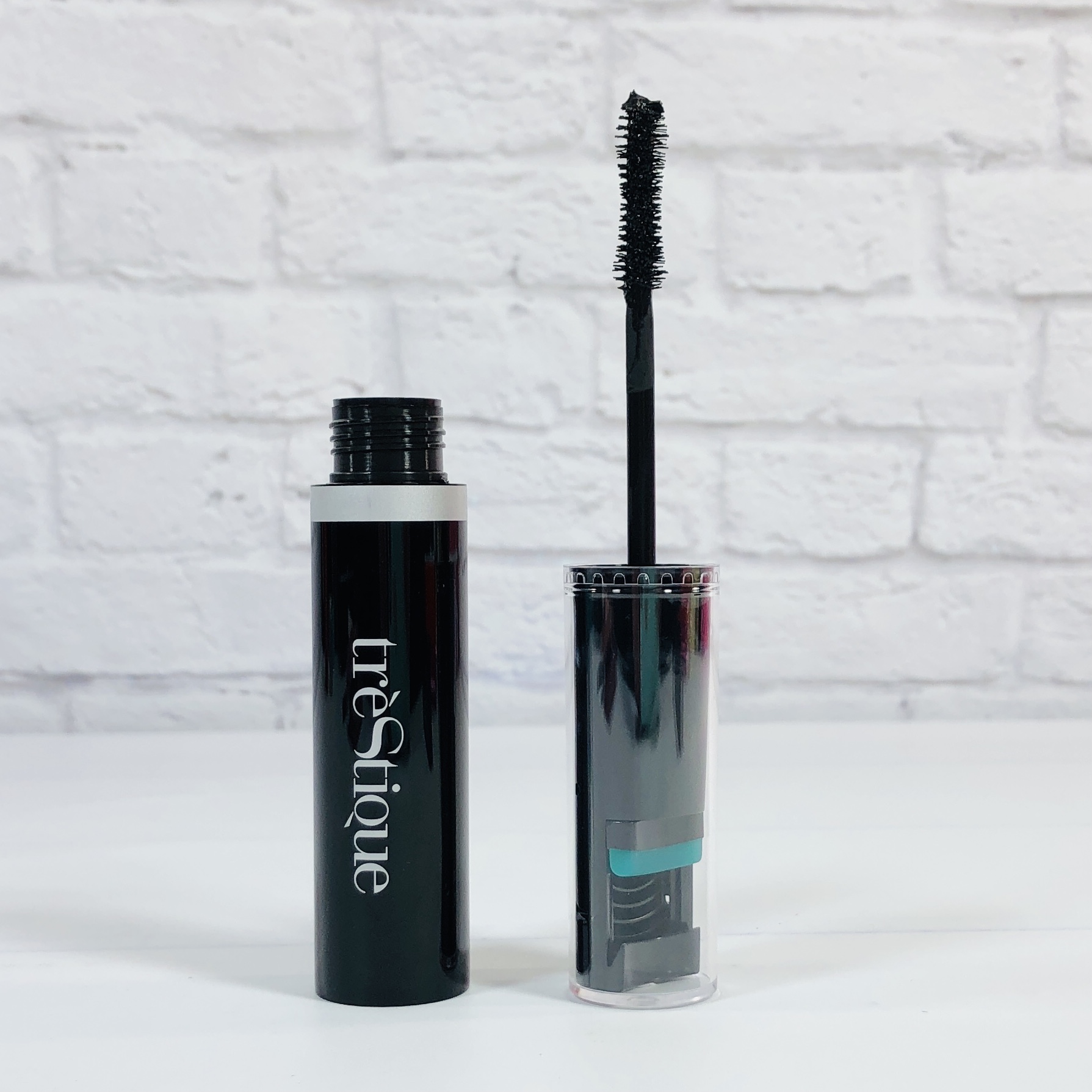 The mascara worked well and I have no problems with that at all. It's a classic!
The eyeliner is a pencil that goes on pretty smoothly.
Remember, it's got a weird cap and of course the smudger and sharpener are at the back.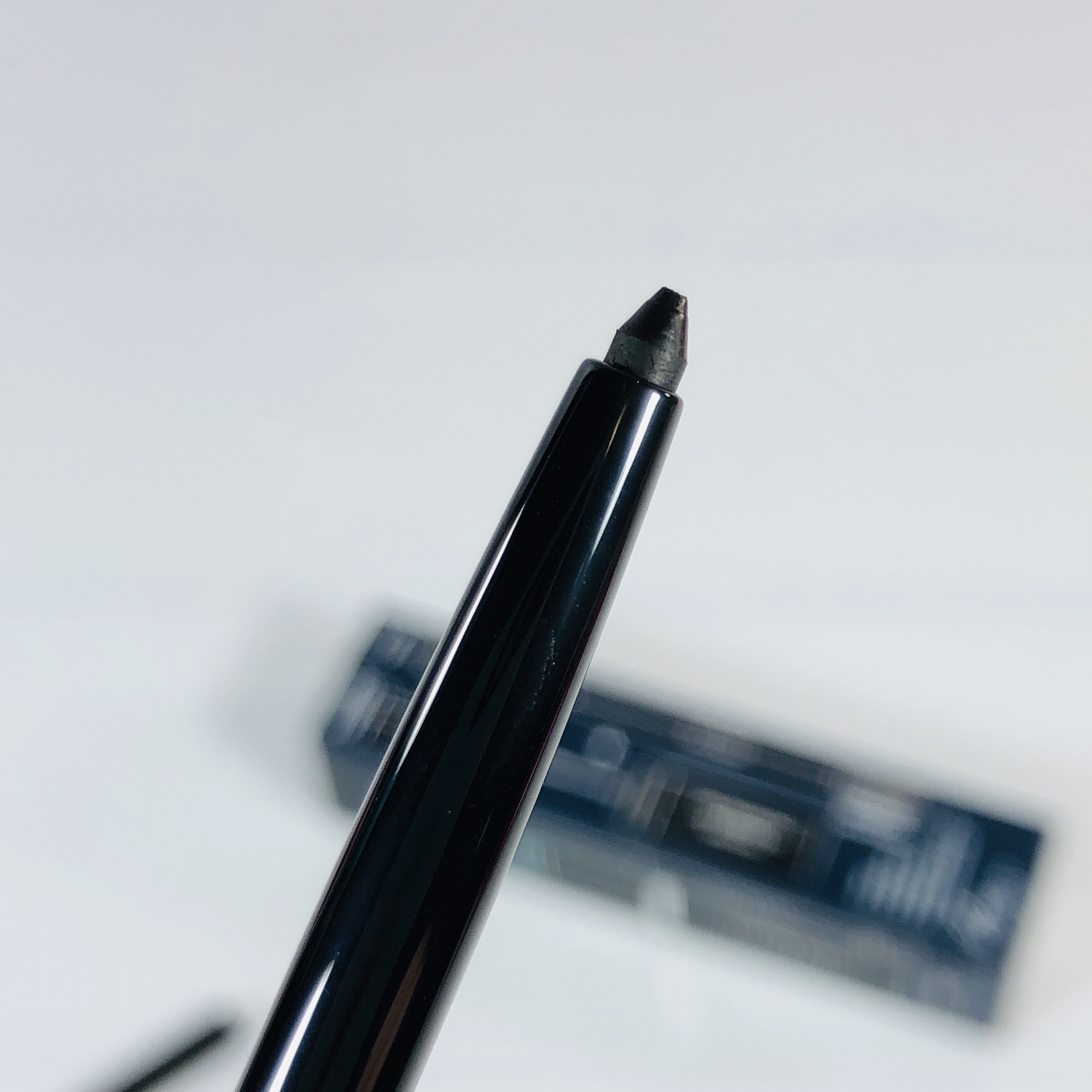 I already own this liner and it's one I reach for again and again, and I especially like the smudger at the end, it helps soften the line and I think the liner lasts all day long too.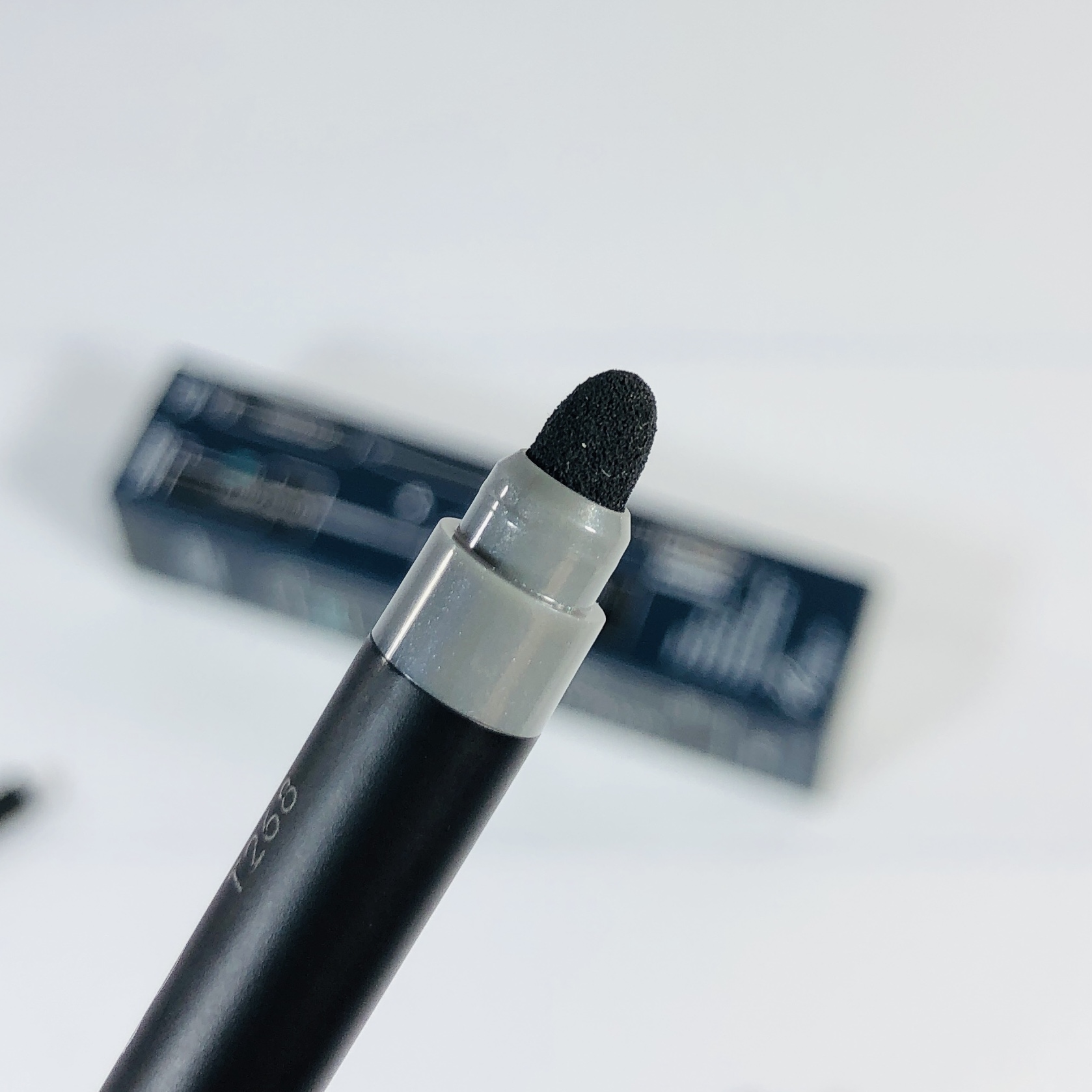 I need a smudge brush like this for all my other liners!
Wander Beauty – Getaway Eye and Face Palette ($36) Wander tends to show up in beauty boxes frequently and I don't mind that at all, it is a brand that works well for me and my needs.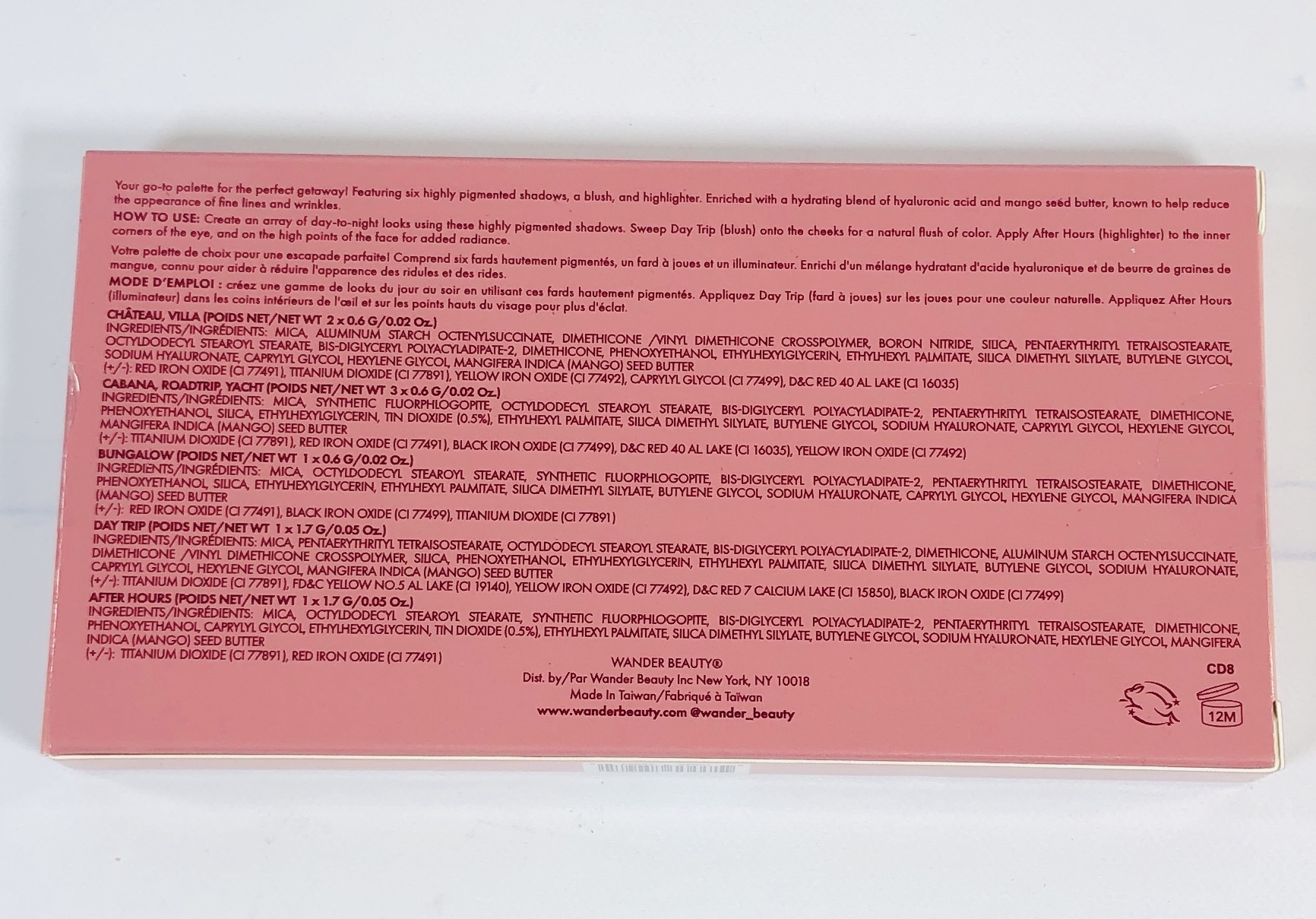 Here are those ingredients.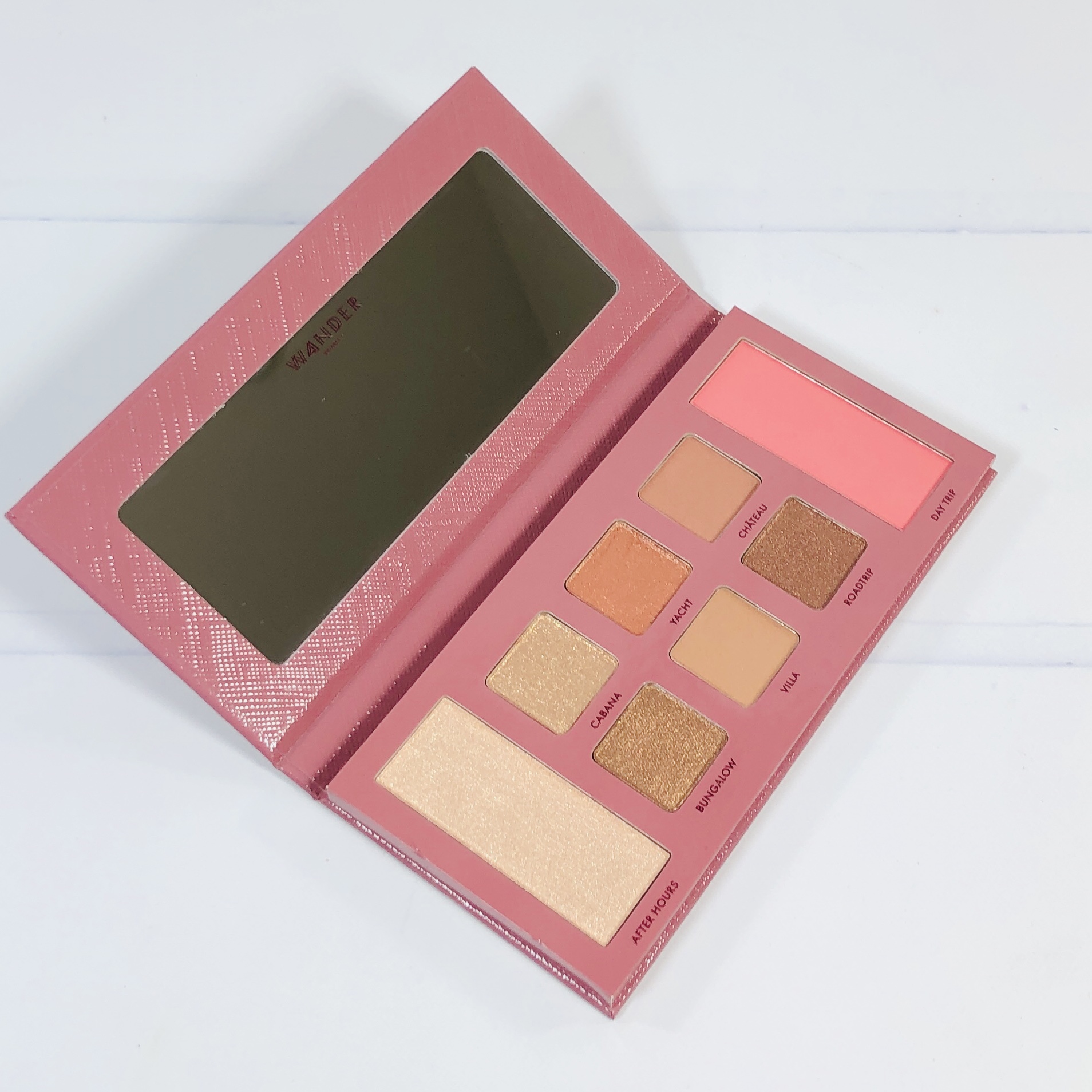 The palette has a mirror so you can apply on the go.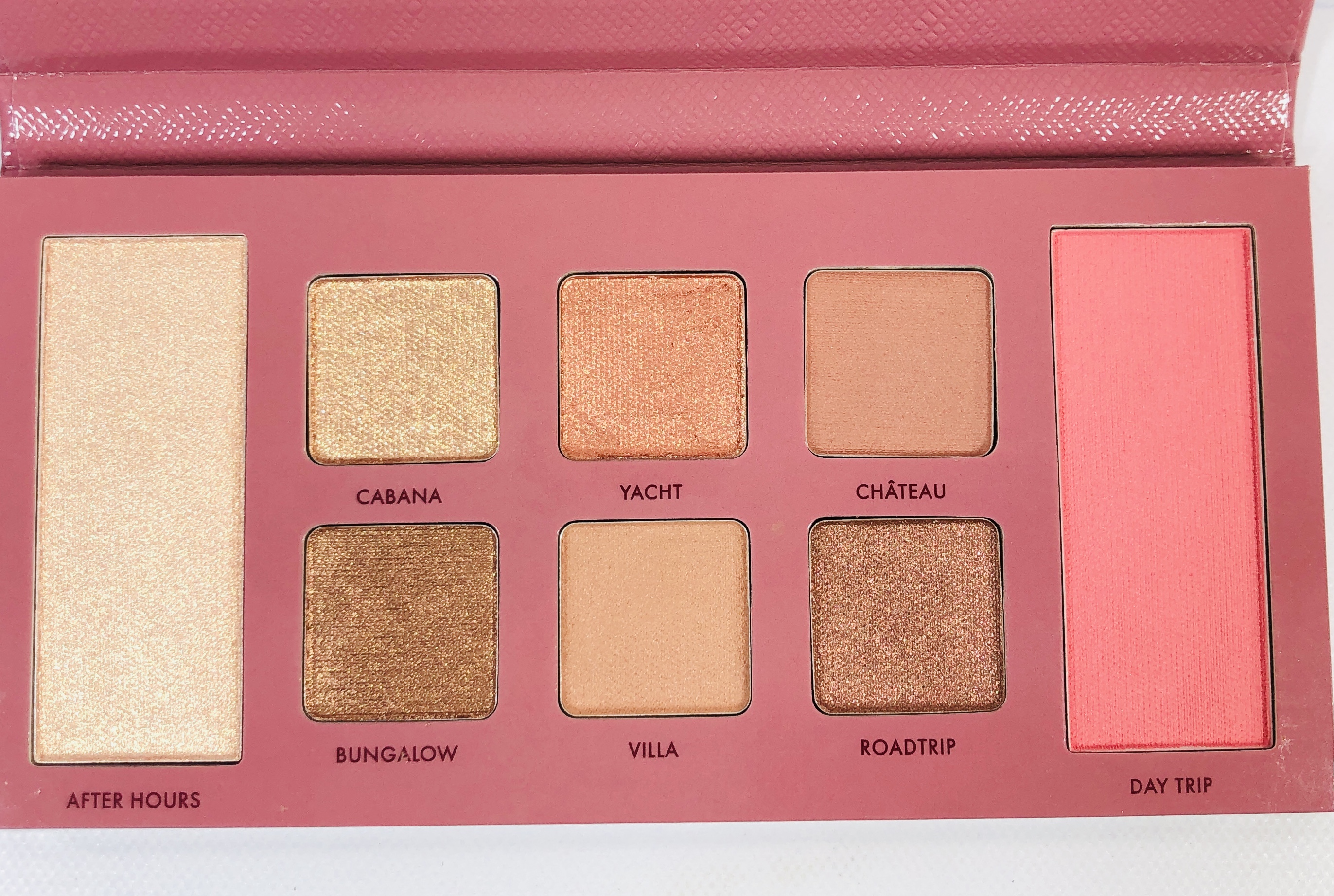 There's a highlighter, blush, and six eye shadows. Here's the color descriptions:
– Cabana (shimmer foil warm champagne)
– Yacht (shimmer foil peachy rose)
– Château (matte dusty mauve)
– Bungalow (shimmer foil bronzey brown)
– Villa (matte nude beige)
– Roadtrip (satin shimmer deep taupe brown)
– Day Trip (matte bright pink blush)
– After Hours (satin shimmer champagne pearl highlighter)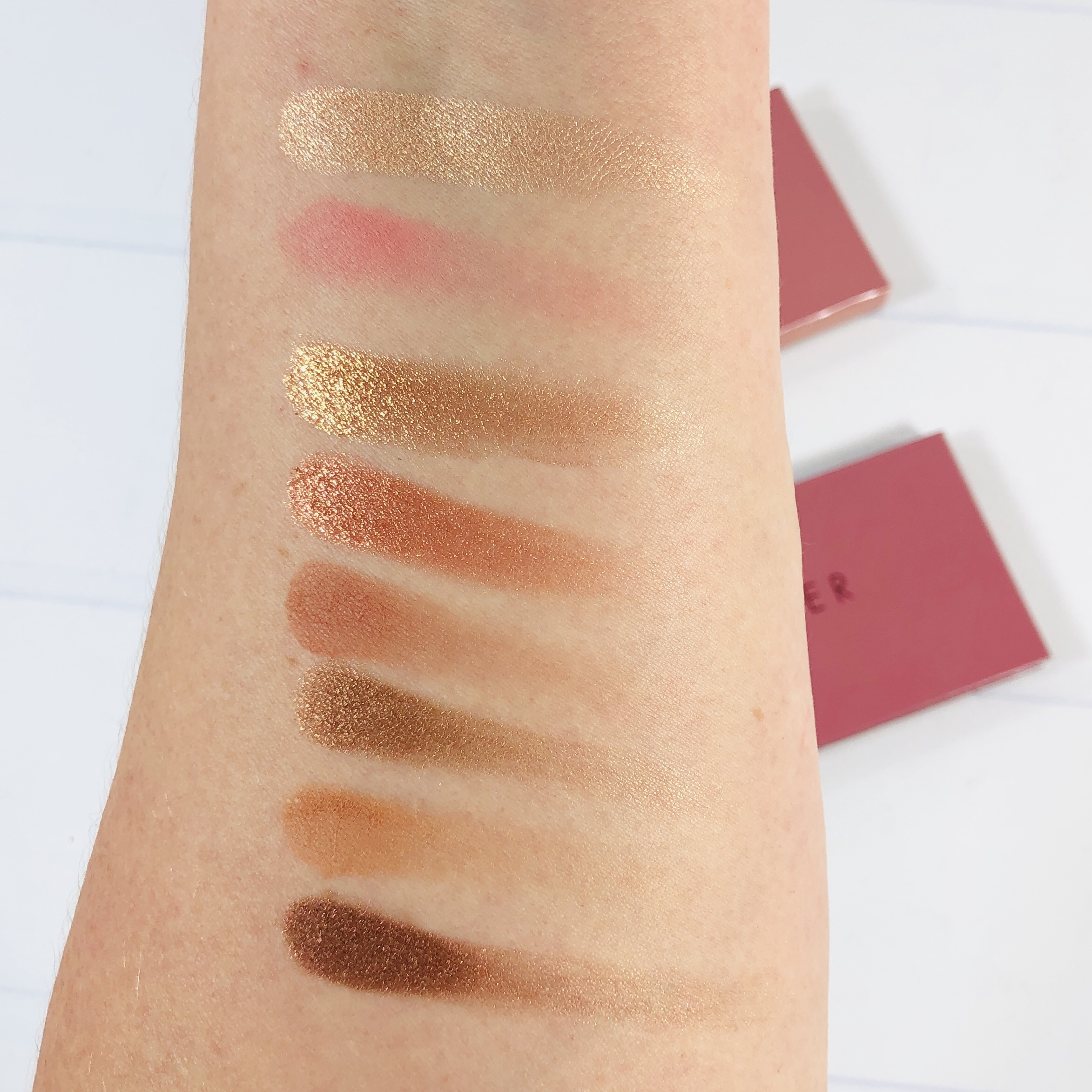 Swatched on top is the highlighter, then the blush, followed by the shadows, Cabana through Roadtrip.
I have been using this palette for several days now and love that it helps me get ready in no time, everything it right at my fingertips. I apply the shimmers with my finger, I find that I get fuller coverage that way. The color payoff was awesome. Overall, this will be a palette I reach for again and again.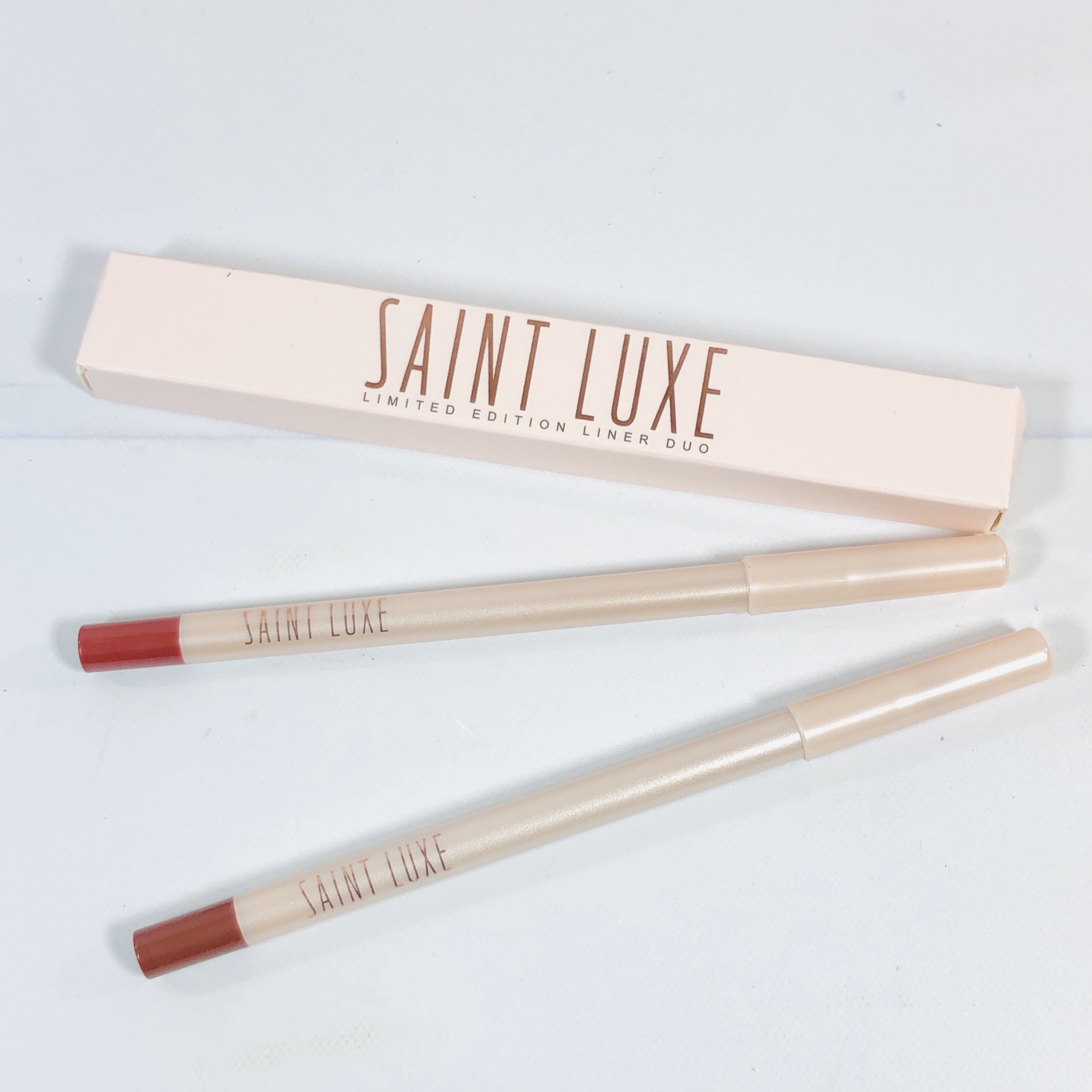 Saint Luxe Limited Edition Liner Duo ($40) A gel pencil liner duo is here to help sculpt bold lip looks.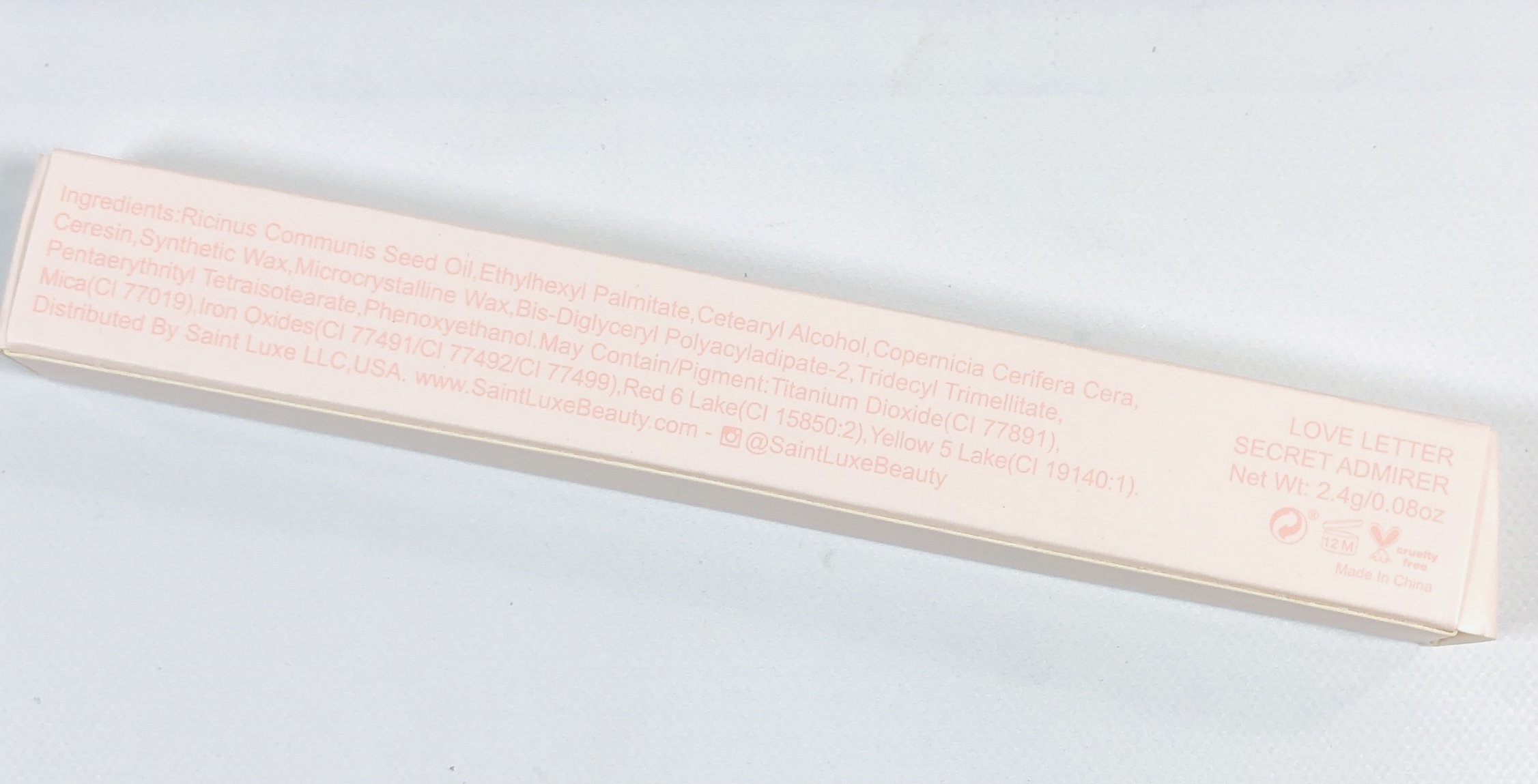 Here's the ingredients, which are kind of hard to read. Luckily, full ingredients are listed on the brand's website.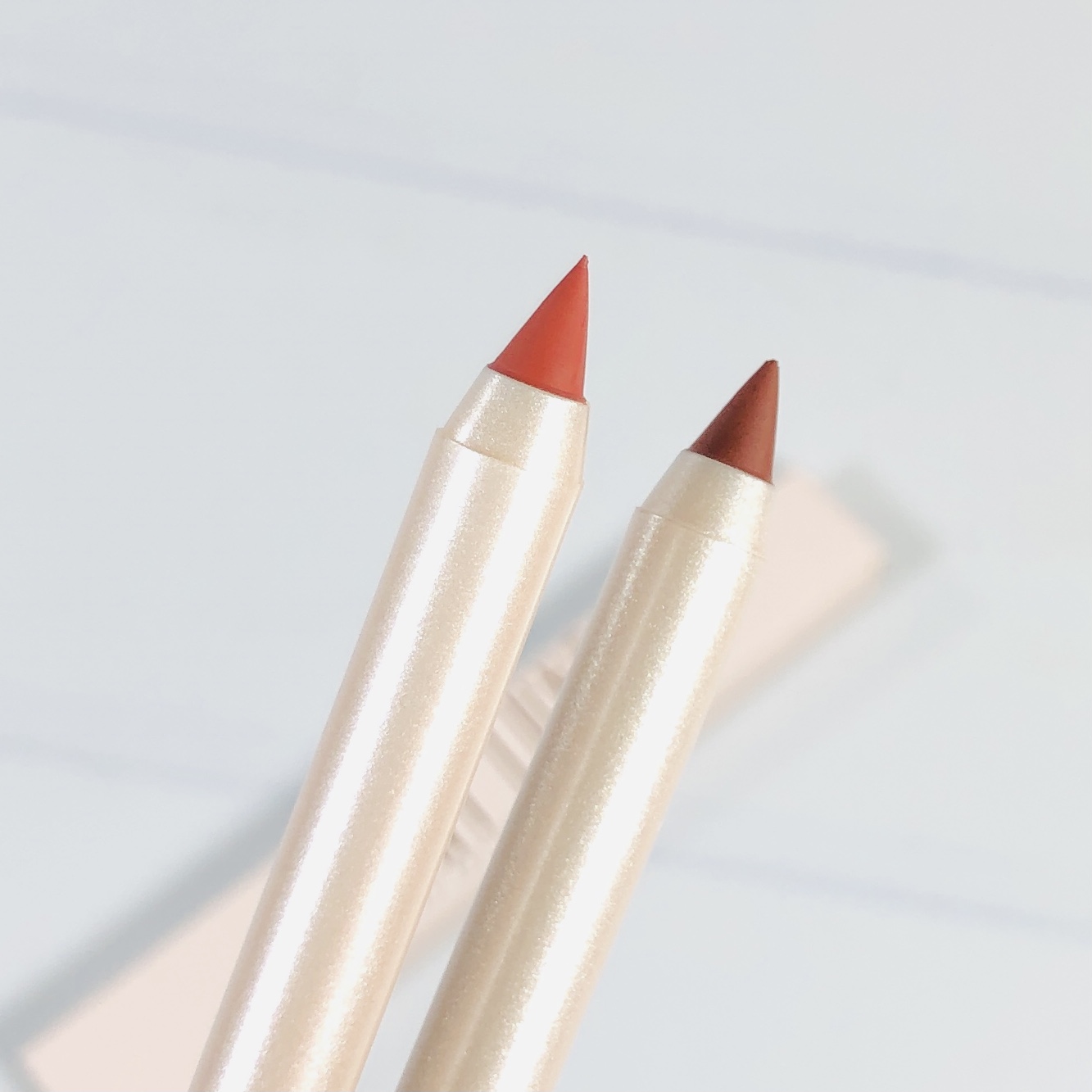 Love Letter is on the left, Secret Admirer on the right. Love Letter most closely matches the types of colors I tend to wear regularly.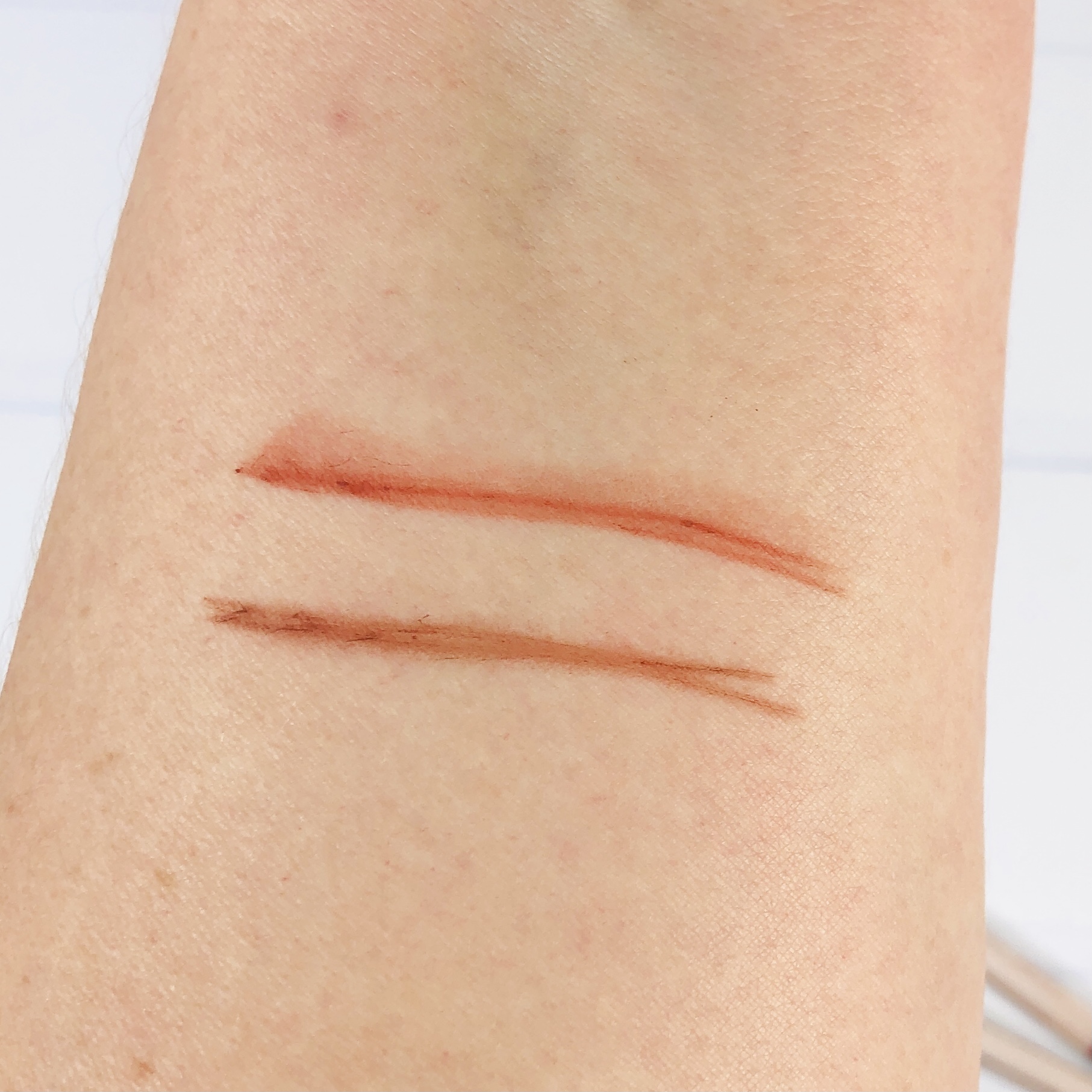 Love Letter is swatched on top, Secret Admirer on bottom. They didn't glide super smoothly on my arms but worked fine on my lips. I think this is similar to regular lip liners, and not the kind that double as lipstick.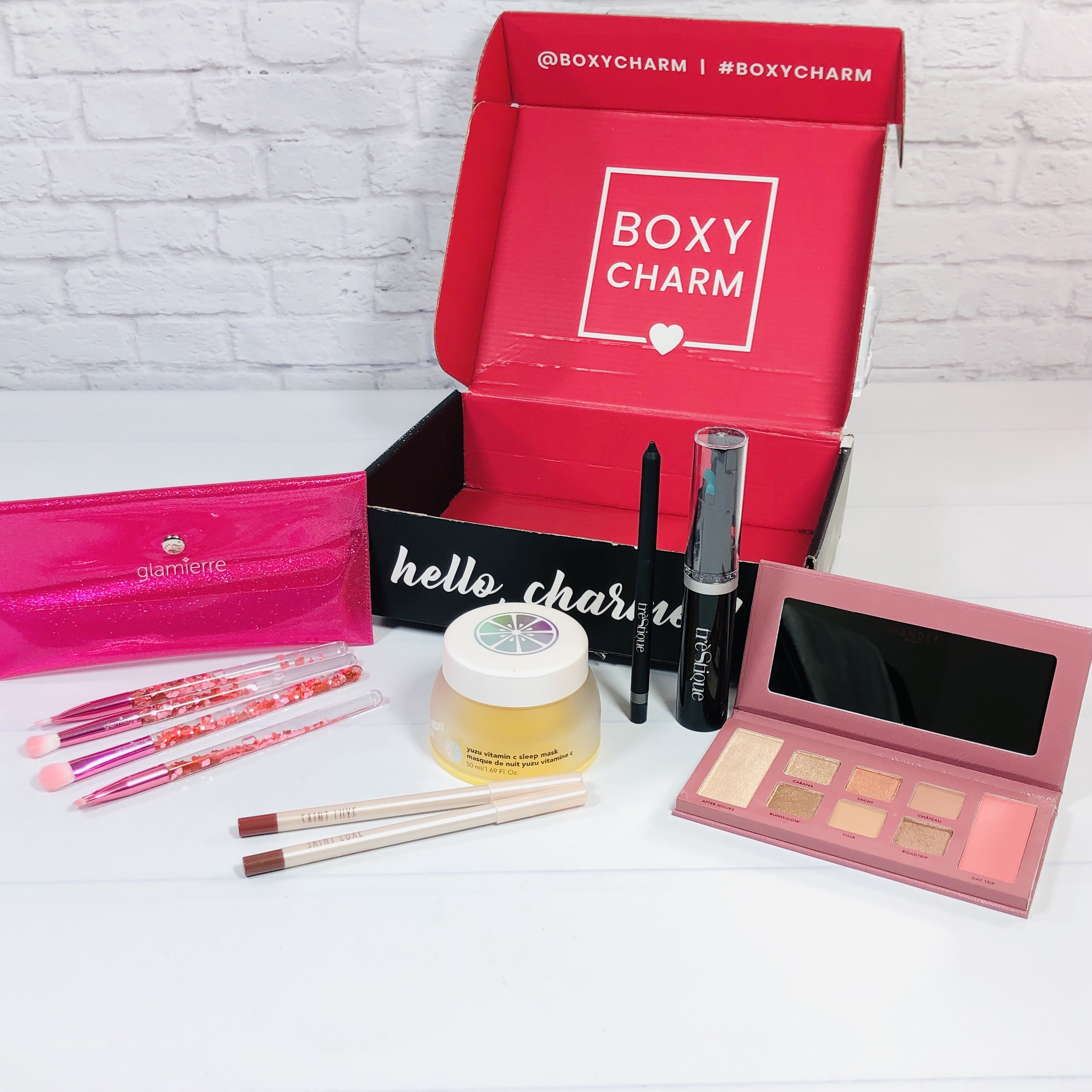 The February BOXYCHARM had items I will reach for over and over: I am loving the colors, formulas, and overall usefulness of my collection! I prefer makeup colors that aren't super bold but that at least show up and all of these colors worked well for my needs. The makeup brushes make getting ready just plain fun and they work well too. The overnight mask has no added synthetic fragrance which is just the way I like my skincare. Of the five items listed on my card, 3 of them are makeup and one is for applying makeup, so this is a makeup heavy month for me and I don't mind that at all. The value was around $139 using current selling prices and not including the makeup brushes. What's more, I love all of the items so it was an especially awesome month for me personally.
What's your favorite item in this month's BOXYCHARM?