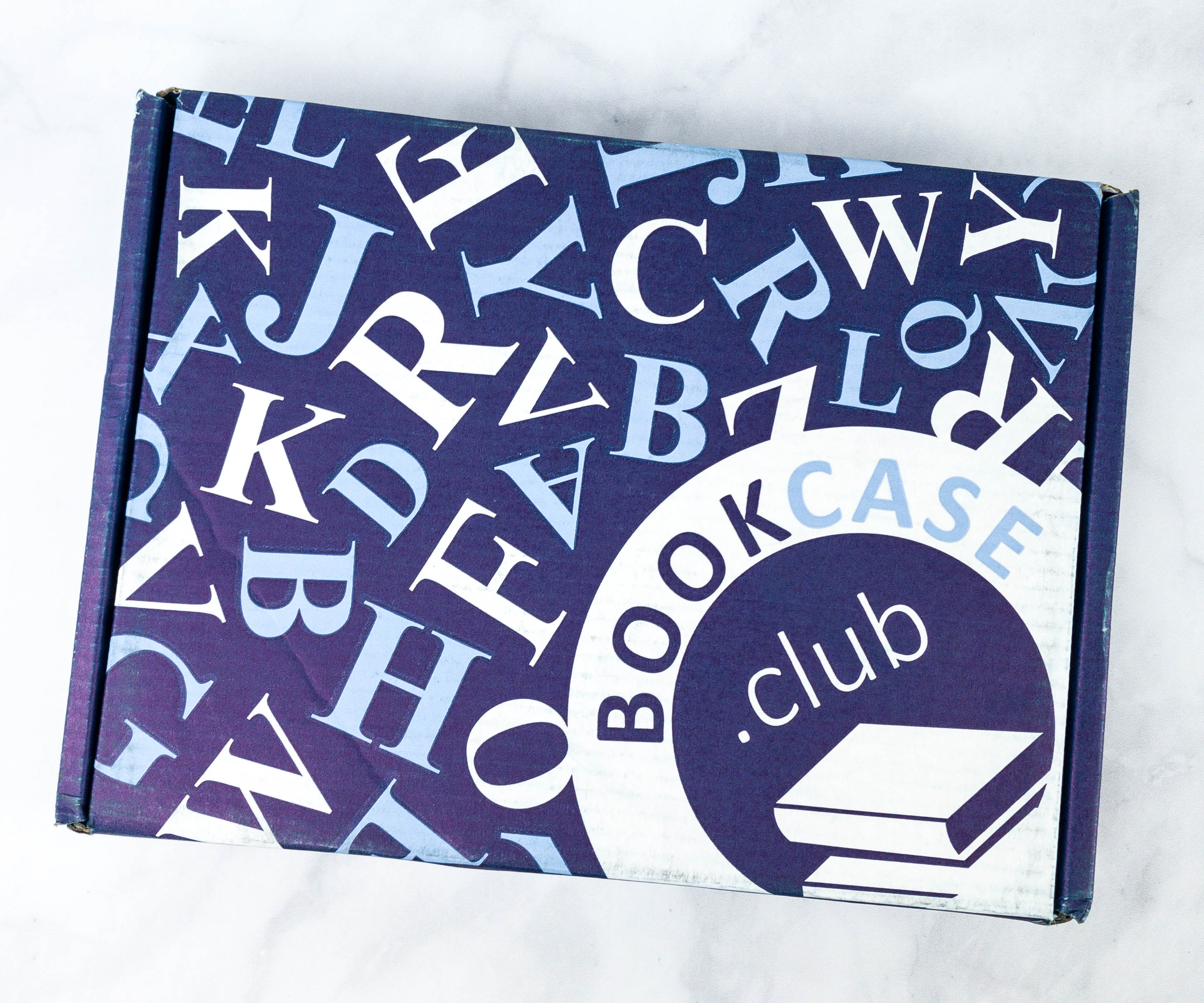 BookCase.Club is a monthly book subscription box offering different genres: Children's, Young Adult, Mystery/Thriller, Sci-Fi/Fantasy, Romance, and Historical/New Age/Contemporary Fiction. Each box contains 2 hand-picked books, except for the Children's box, which includes 3 books. It costs $9.99 per month, making it one of the most inexpensive book subscriptions out there.
This is the Popular Romance case, formerly known as the Booking For Love case.
DEAL: Save 50% on your first month! Use coupon code HELLOSUB501M. OR Get 10% off your entire order! Use coupon code HELLOSUB10.
When you sign up, you'll pick the genre.
They encourage subscribers to take a photo of the box and share them online using #BCCUNBOXING. The books were wrapped with light blue tissue paper.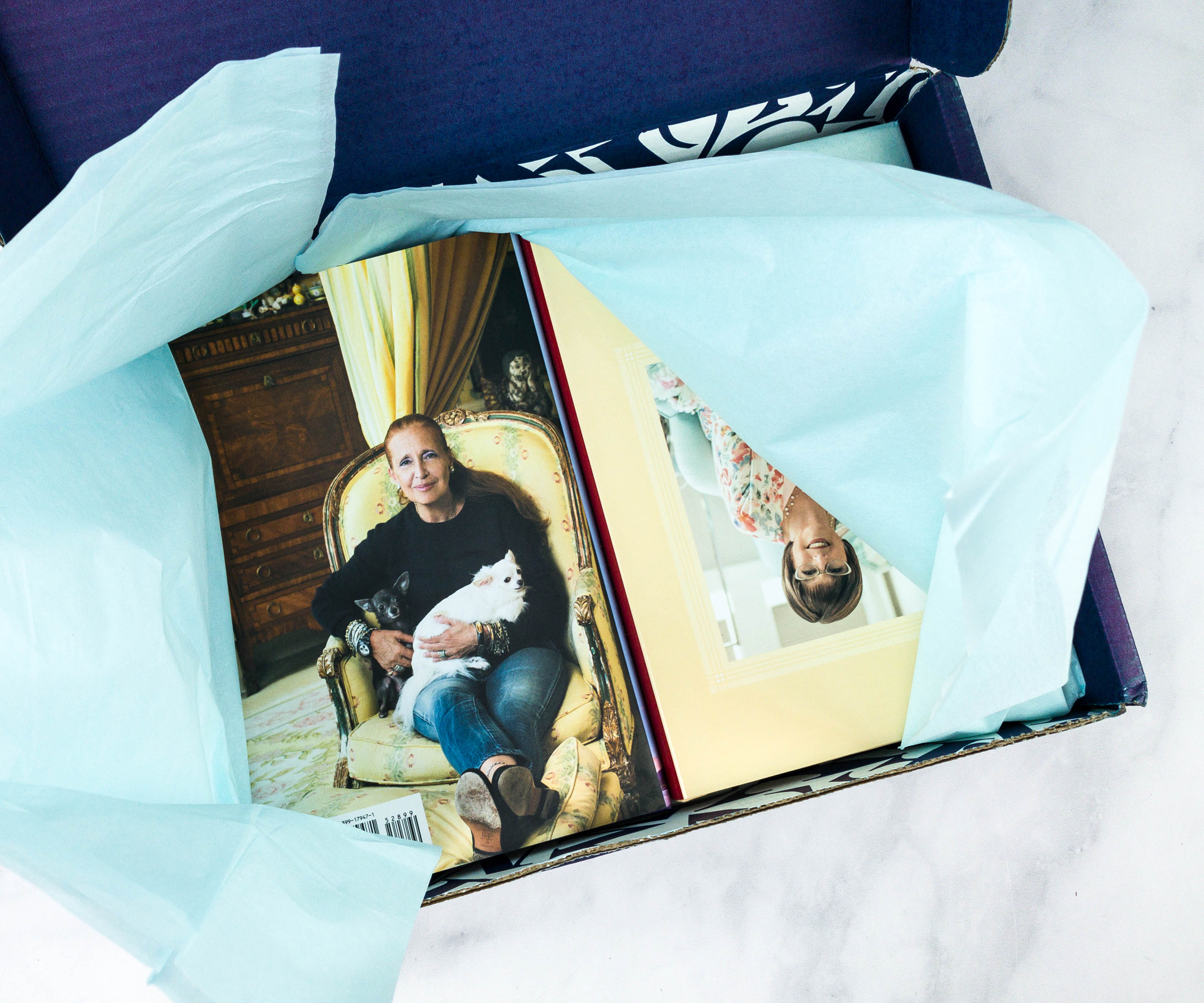 This month's Popular Romance book picks are Window on the Bay by Debbie Macomber and Lost and Found by Danielle Steel.
Everything in my box!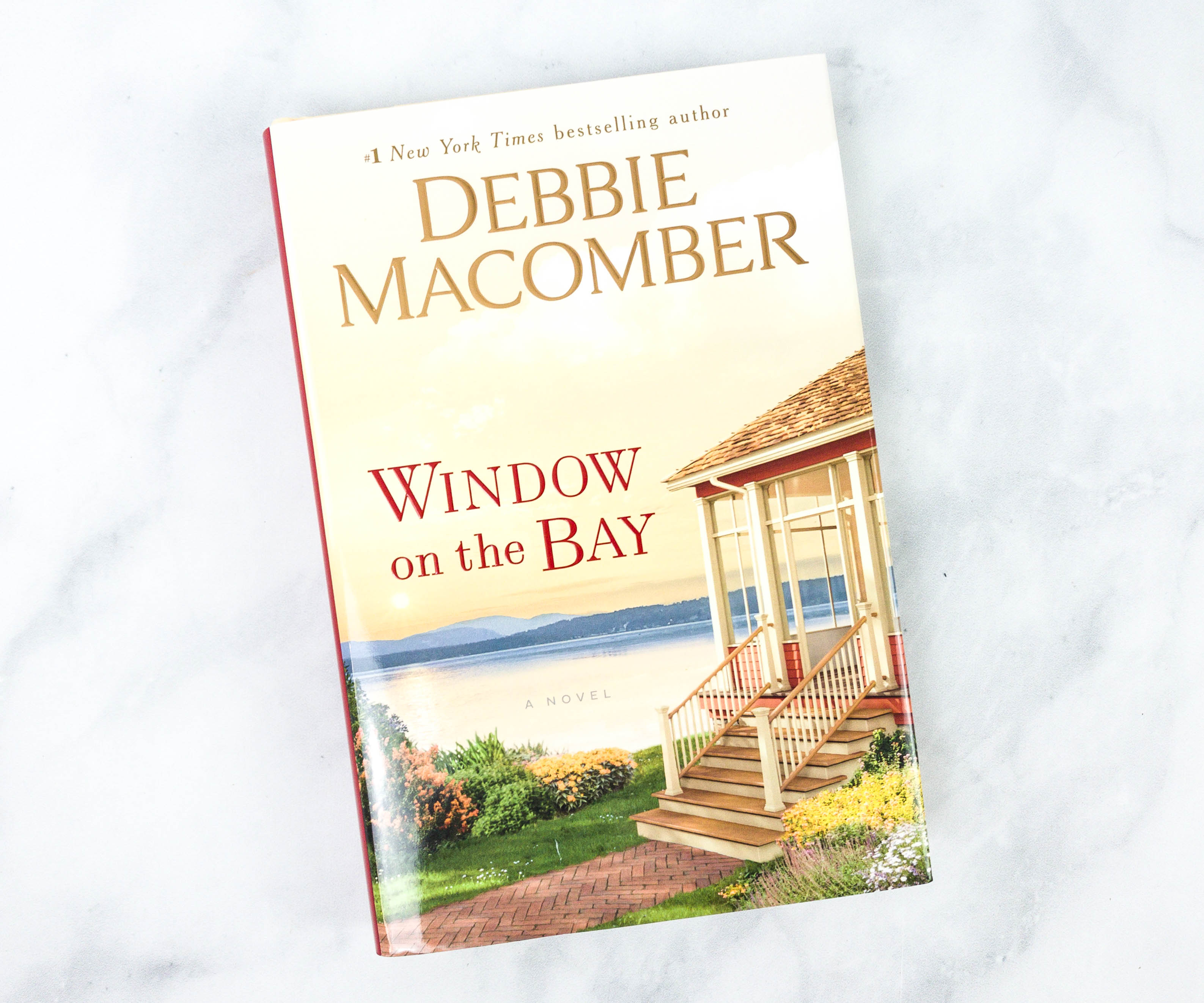 Window On The Bay by Debbie Macomber ($16.40)
NEW YORK TIMES BESTSELLER • When a single mom becomes an empty nester, she spreads her wings to rediscover herself—and her passions—in this heartwarming novel from #1 New York Times bestselling author Debbie Macomber.
 
Jenna Boltz's life is at a crossroads. After a messy divorce from her surgeon husband nearly twenty years ago, she raised her two children on her own, juggling motherhood with her beloved job as a Seattle intensive-care nurse. Now that Paul and Allie have gone to college and moved out, Jenna can't help but wonder what her future holds.

Her best friend, Maureen, is excited for Jenna's newfound independence. Now is the perfect time to finally book the trip to Paris they've been dreaming of since their college days. But when it comes to life's other great adventure—dating—Jenna still isn't sure she's ready to let love in . . . until an unexpected encounter begins to change her mind.

When Jenna's elderly mother breaks her hip, Dr. Rowan Lancaster saves the day. Despite his silent, stoic exterior, Rowan is immediately smitten with Jenna. And even though Jenna is hesitant about becoming involved with another surgeon, she has to admit that she's more than a little intrigued. But when Jenna's children approach her with shocking news, she realizes that she needs to have faith in love and embrace the unexpected—before the life she has always dreamed of passes her by.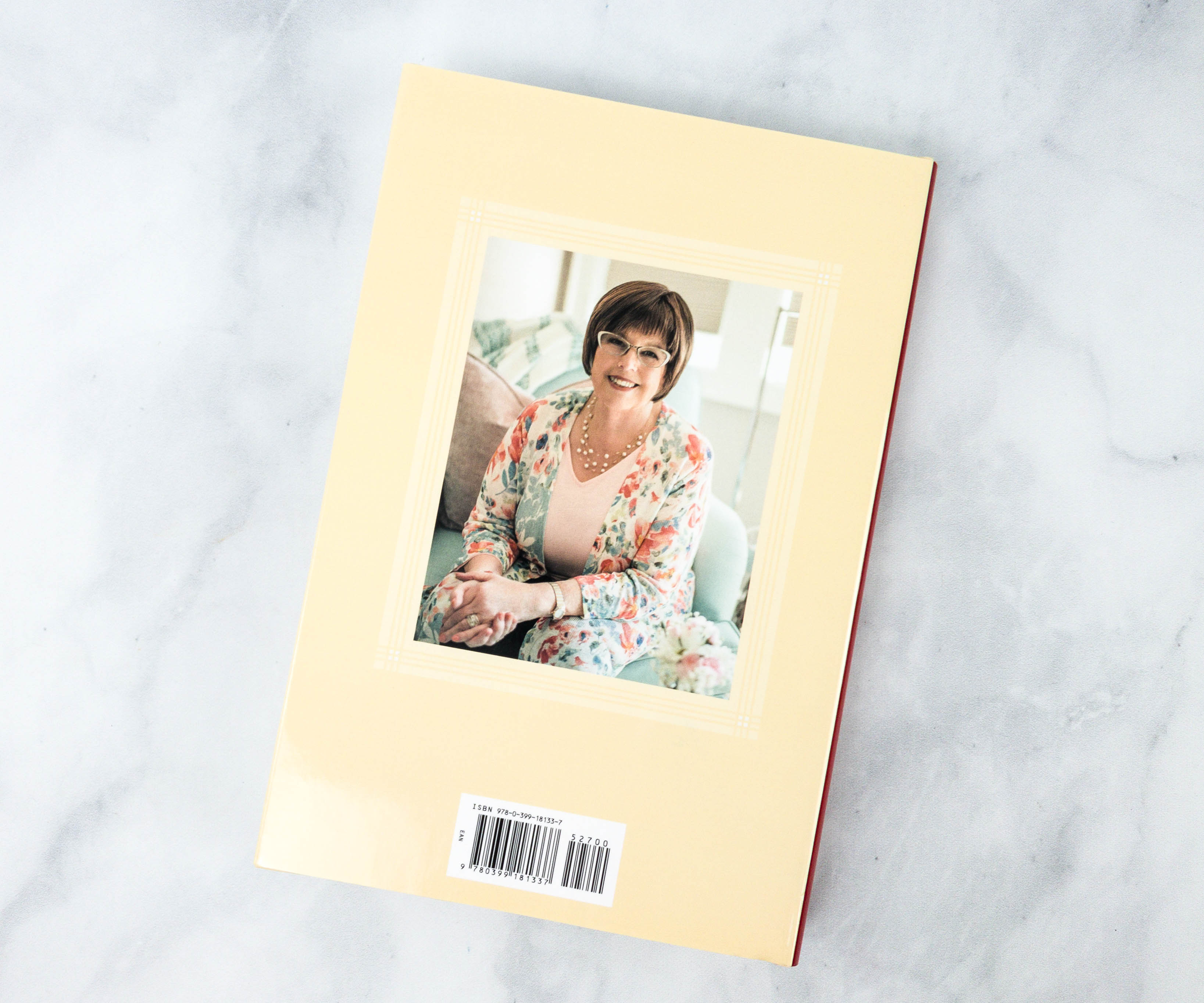 The back of the book features an image of the New York Times bestselling author, Debbie Macomber.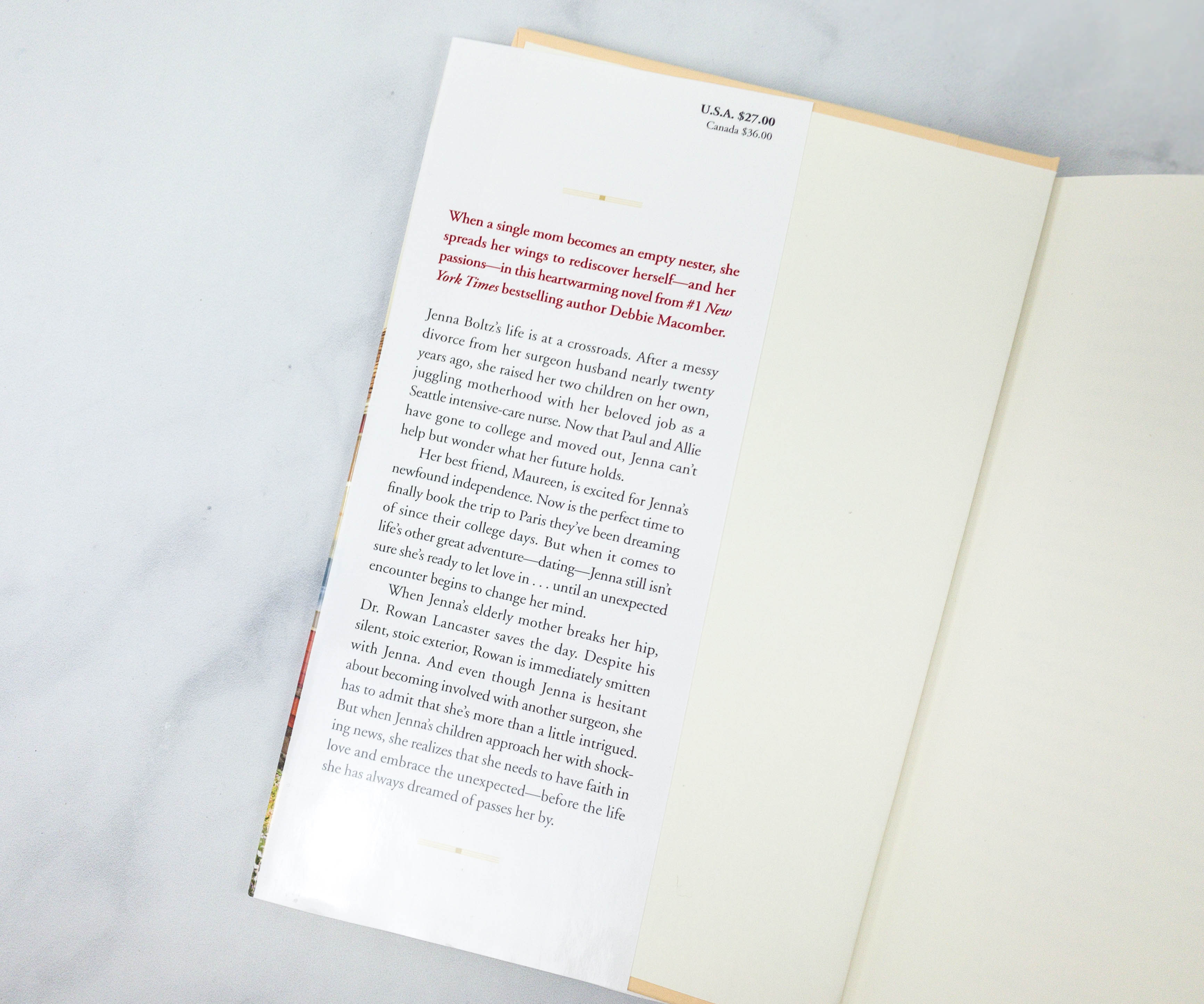 The inside flap of the dust jacket carries the synopsis of the novel.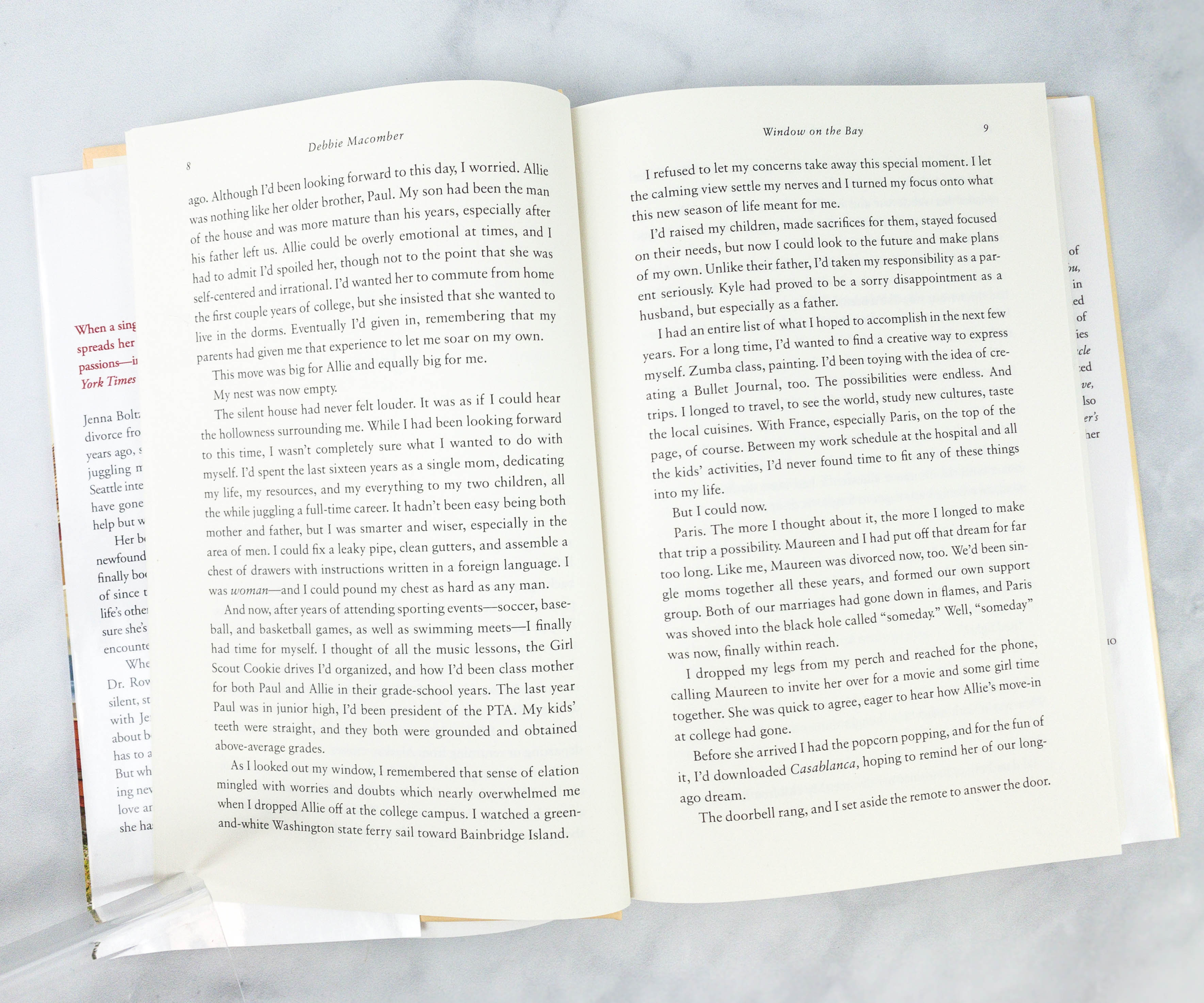 This story presents two middle-aged women, Jenna and Maureen, who are both empty nesters after sending their kids to college. They both finally decided to get on with their plan since college: a trip to the city of love and romance, Paris. But sometimes, life has other plans. It's a good mix of friendship, family drama, and of course, finding new love. If you're looking for a light and cozy read, this story is for you!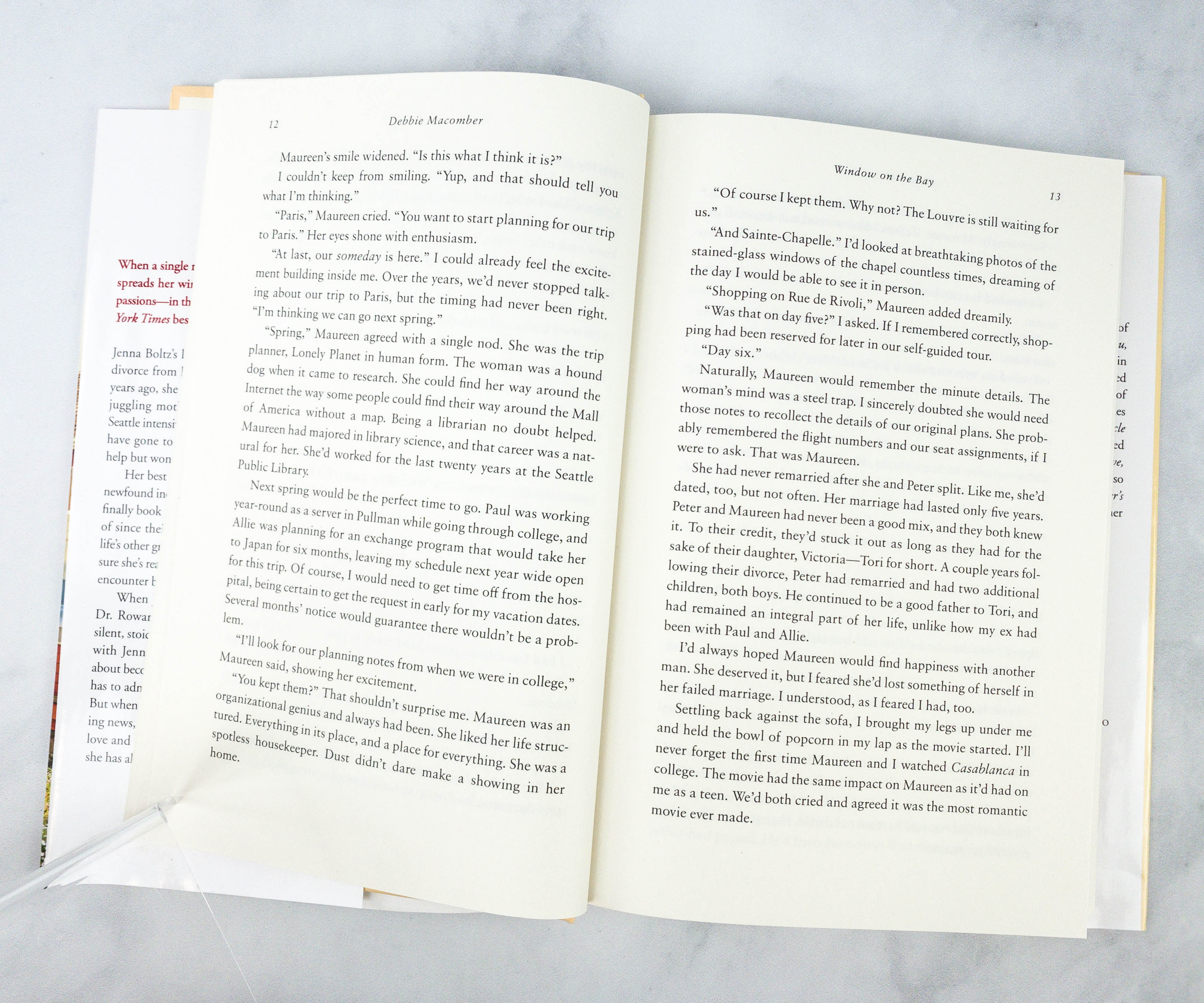 This story had me love it and hate it at the same time. I did want to take the book down midway but there was something that pushes me to read it all the way through, and I'm glad I did! The storyline gets better. Although it has flaws, it's a good and relaxing story.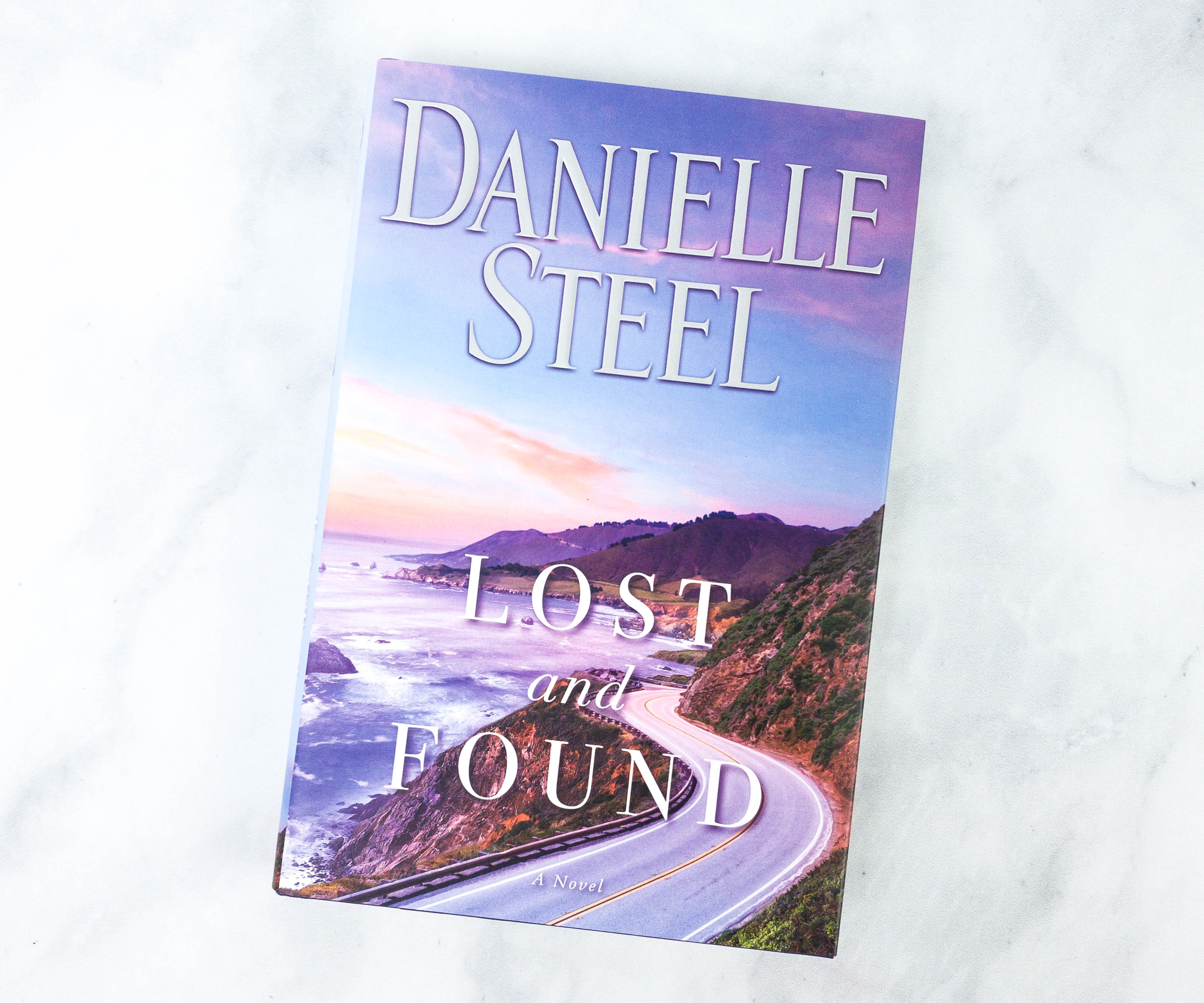 Lost And Found by Danielle Steele ($24.99)
NEW YORK TIMES BESTSELLER • What might have been? That tantalizing question propels a woman on a cross-country adventure to reunite with the men she loved and let go, in Danielle Steel's exhilarating new novel.

It all starts with a fall from a ladder, in a firehouse in New York City. The firehouse has been converted into a unique Manhattan home and studio where renowned photographer Madison Allen works and lives after raising three children on her own. But the accident, which happens while Maddie is sorting through long-forgotten personal mementos and photos, results in more than a broken ankle. It changes her life.

Spurred by old memories, the forced pause in her demanding schedule, and an argument with her daughter that leads to a rare crisis of confidence, Maddie embarks on a road trip.  She hopes to answer questions about the men she loved and might have married—but didn't—in the years after she was left alone with three young children. Wearing a cast and driving a rented SUV, she sets off to reconnect with three very different men—one in Boston, one in Chicago, and another in Wyoming—to know once and for all if the decisions she made long ago were the right ones. Before moving forward into the future, she is compelled to confront the past.

As the miles and days pass, and with each new encounter, Maddie's life comes into clearer focus and a new future takes shape. A deeply felt story about love, motherhood, family, and fate, Lost and Found is an irresistible new novel from America's most dynamic storyteller.
The back cover of the book features a photo of one of the world's bestselling authors, Danielle Steel, with her dogs!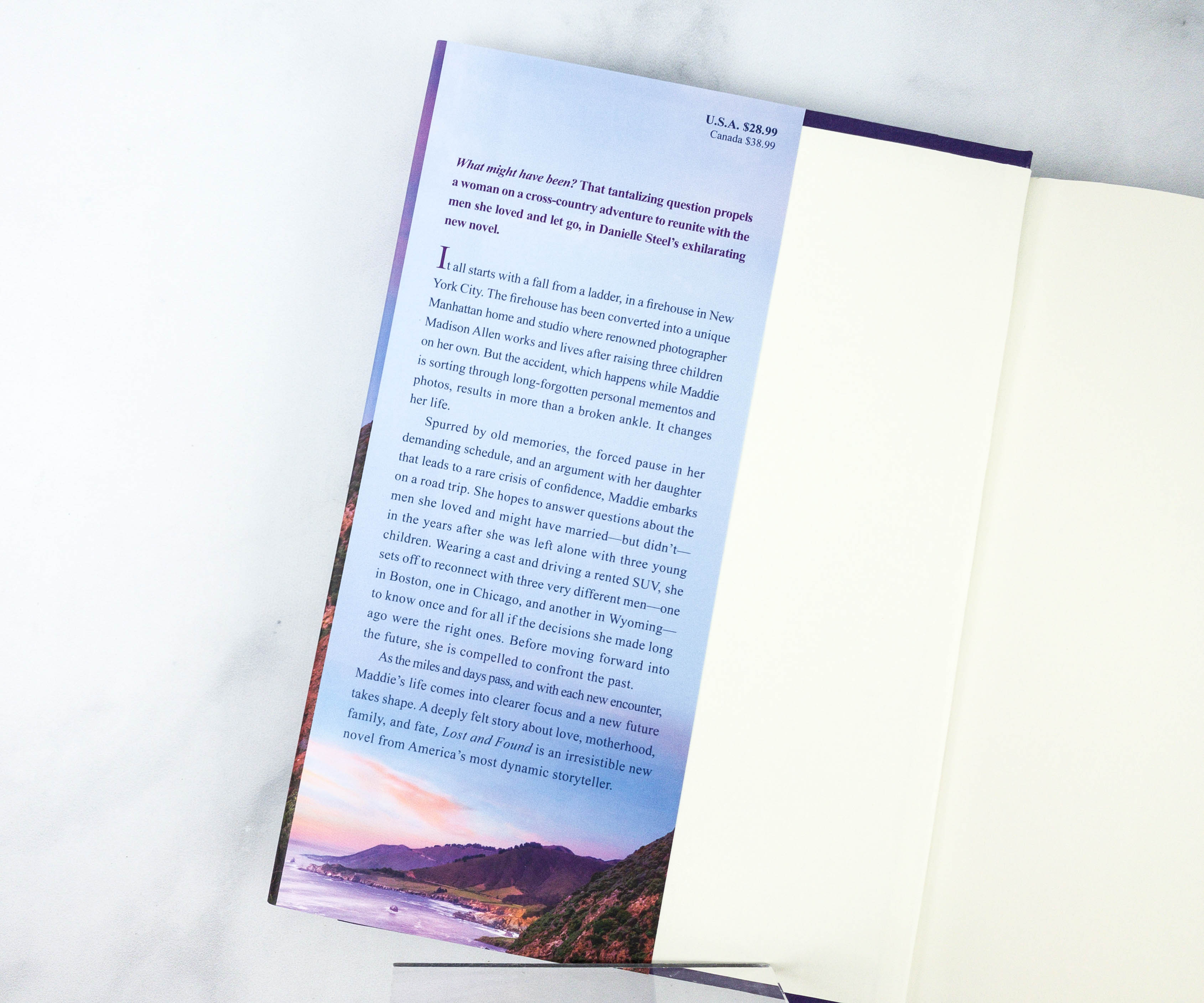 The story revolves around motherhood, career, past love, and all the choices the protagonist, Maddie, made in her life.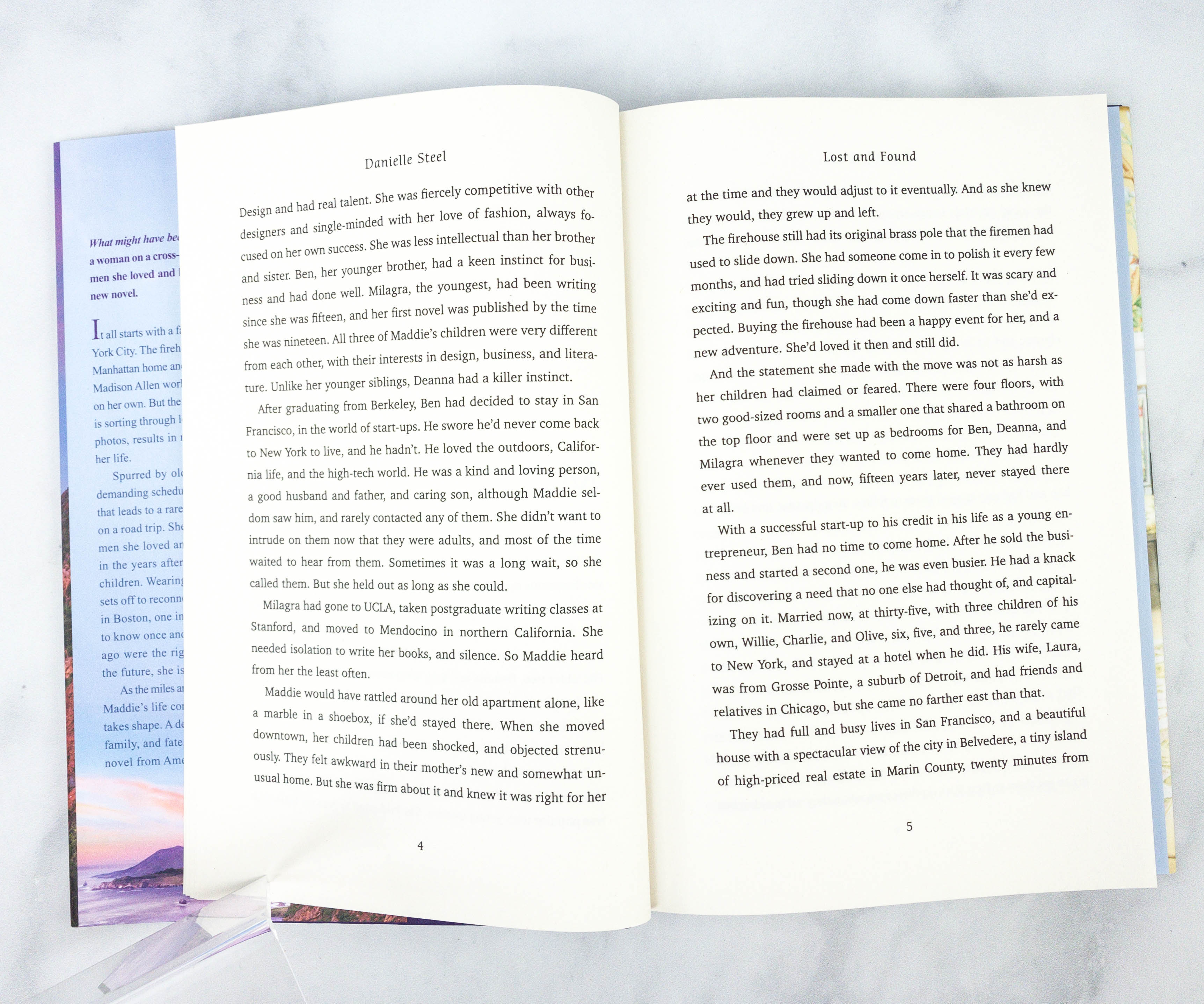 After her kids decided to go on their own successful ways, Maddie was left alone in a firehouse, converted into her home and studio. A box of old love letters led her into an adventure. This book will take you on a ride towards self-reflection!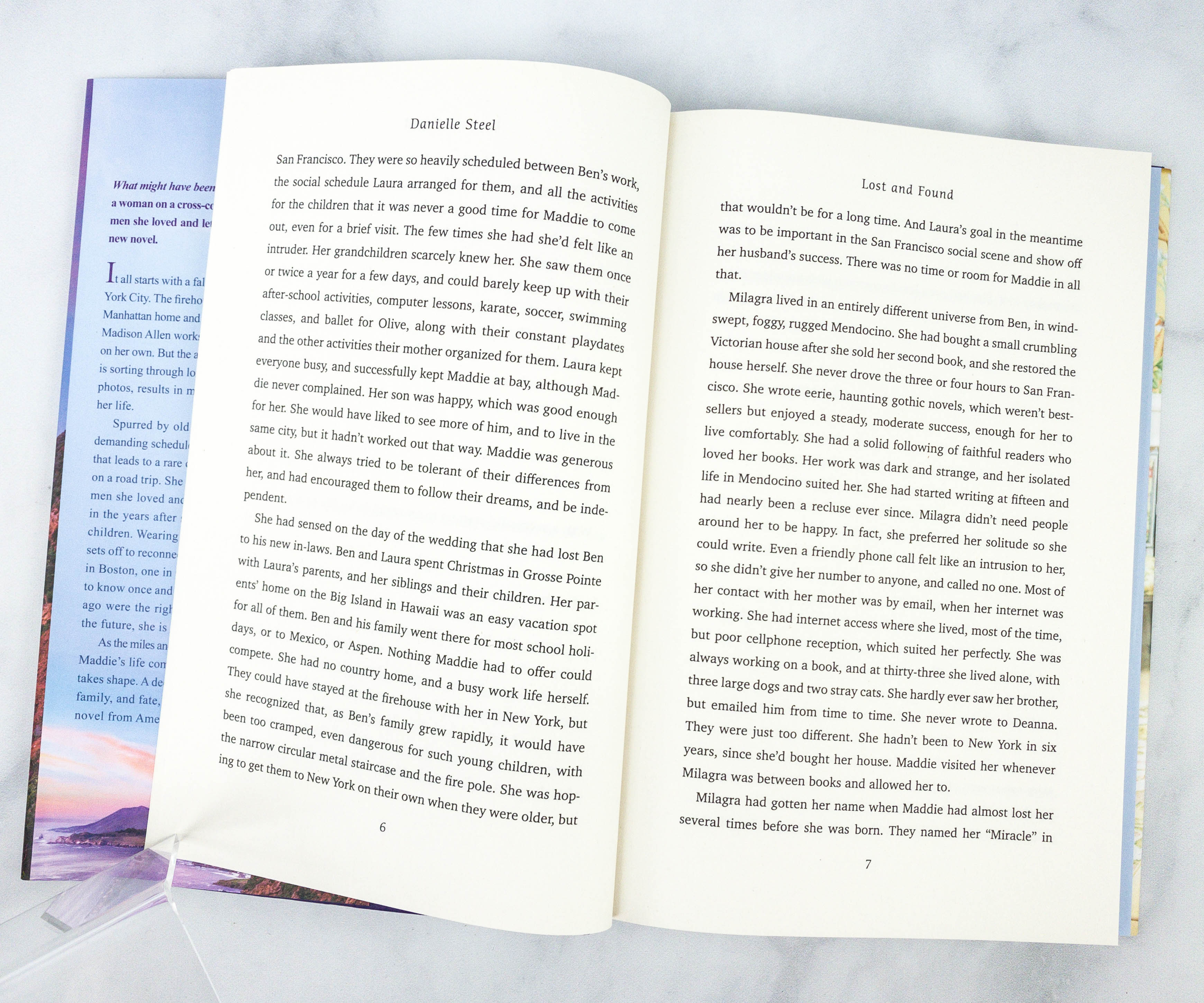 There are repetitions of ideas in the book, but I still enjoyed reading it. It's an easy read with a slight touch, and I like how the story ended.
Having good books to read fills my heart with joy! The book picks for this month's Popular Romance Case are quite similar. They share the same idea: empty-nesters, single mothers who opened their hearts for new love. Still, the plots are interesting, and that's what separates them from one another! BookCase.Club makes it easy to find new books to read each month. You can pick a subscription by genre, and it's also easy to switch to another genre when you feel like reading something new for the next month!
Have you tried BookCase.Club? What are you currently reading?