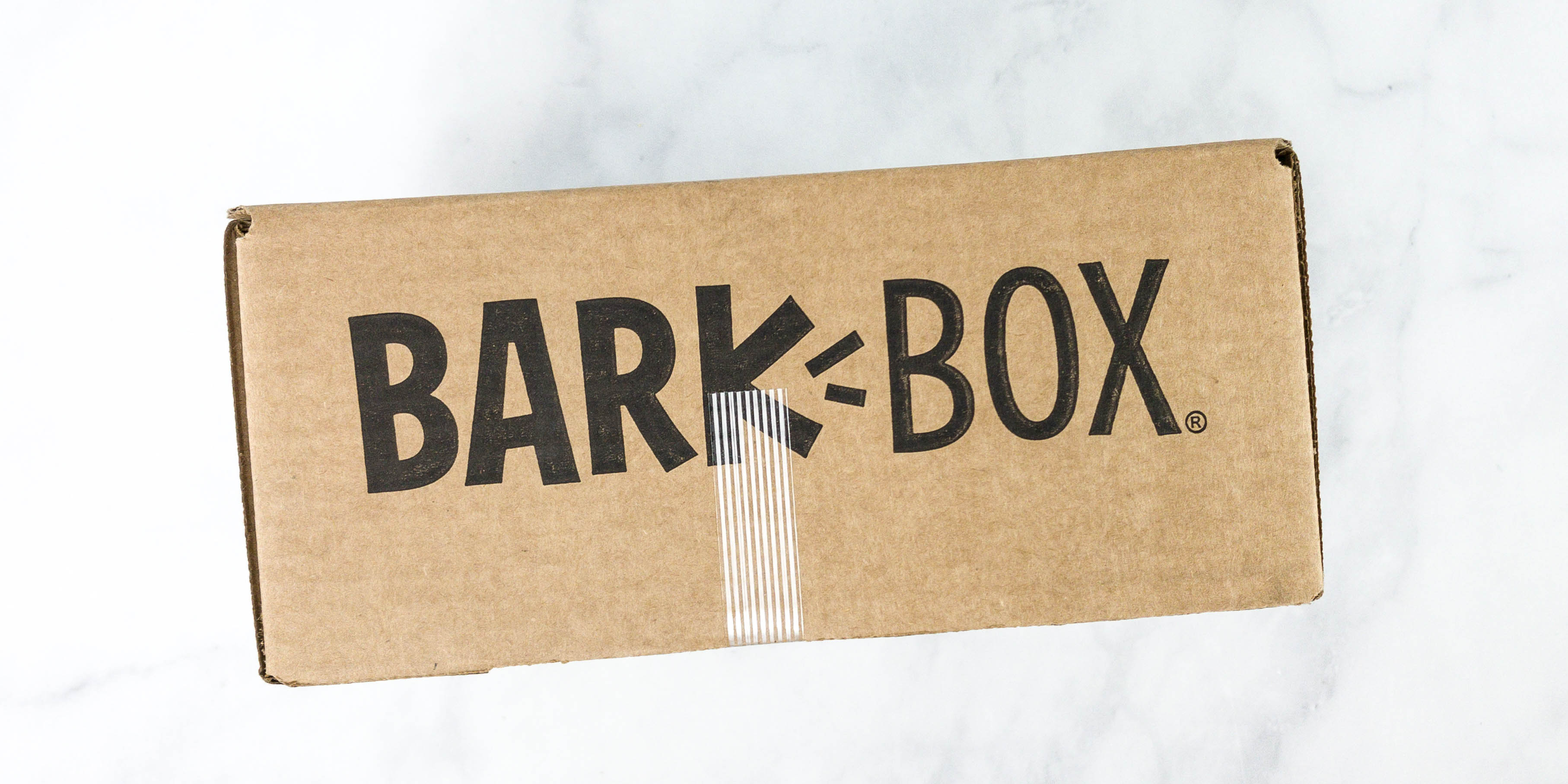 Barkbox is a monthly subscription box created just for dogs! Each box is themed, and includes toys, treats and photo-worthy props. The classic assortment is composed of 2 toys, 2 treats, and 1 chew, but you can also customize a box to fit your dog's needs. A monthly plan costs $35 and there are discounts if you get a longer plan. The best deal is the 12-month plan, which reduces the monthly cost of the box to $23. Shipping is free in the contiguous United States.
DEAL: Get a FREE month on a 6 or 12-month subscription when you sign up for BarkBox with this link! OR, check for the latest special offer here!
This Barkbox is for small dogs like our miniature schnauzers, Buffy and Dean, but you can get them for medium and large dogs too.Plus, they also offer Barkbox SUPER CHEWER – the heavy chewer box!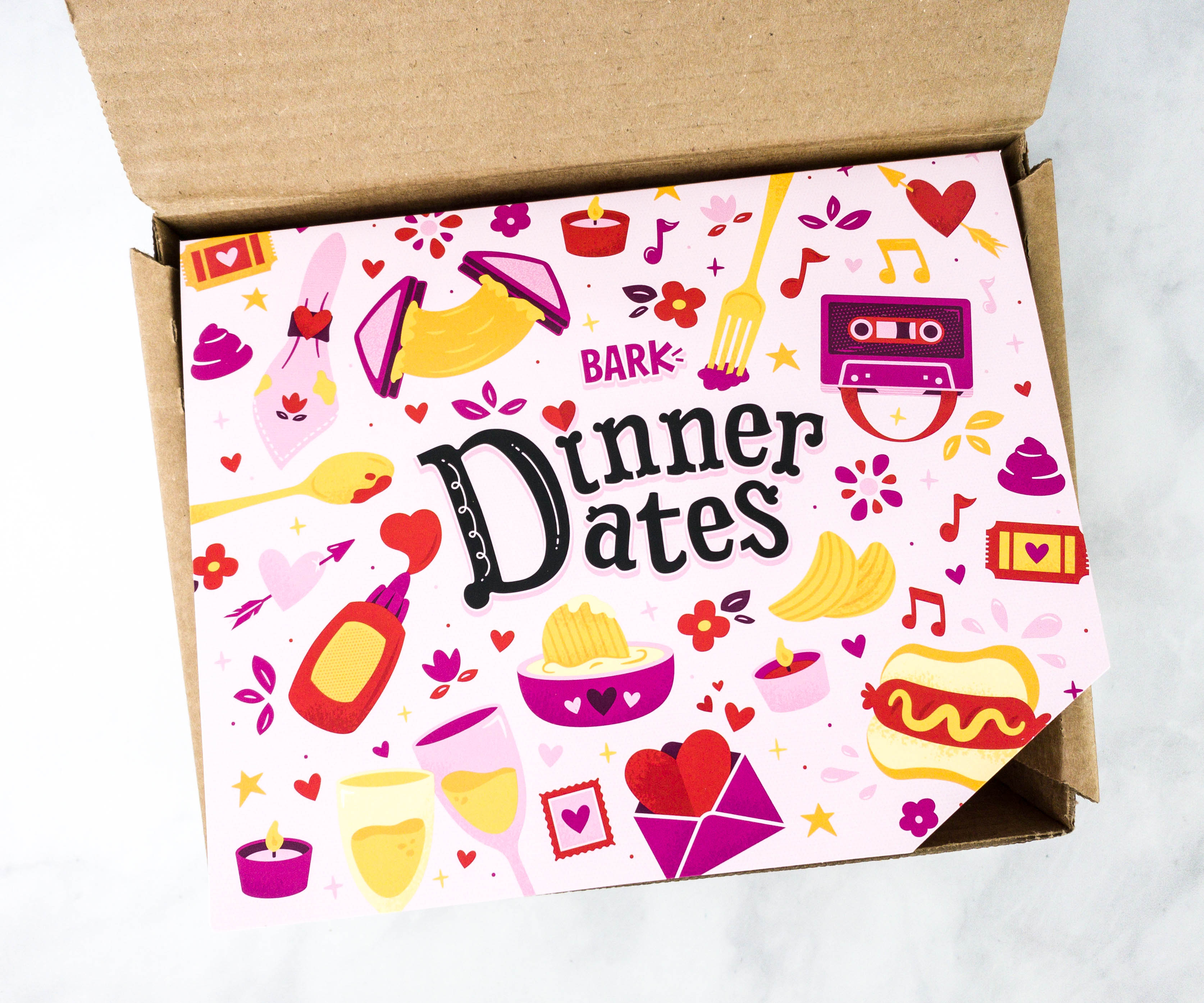 This month's theme is DINNER DATES!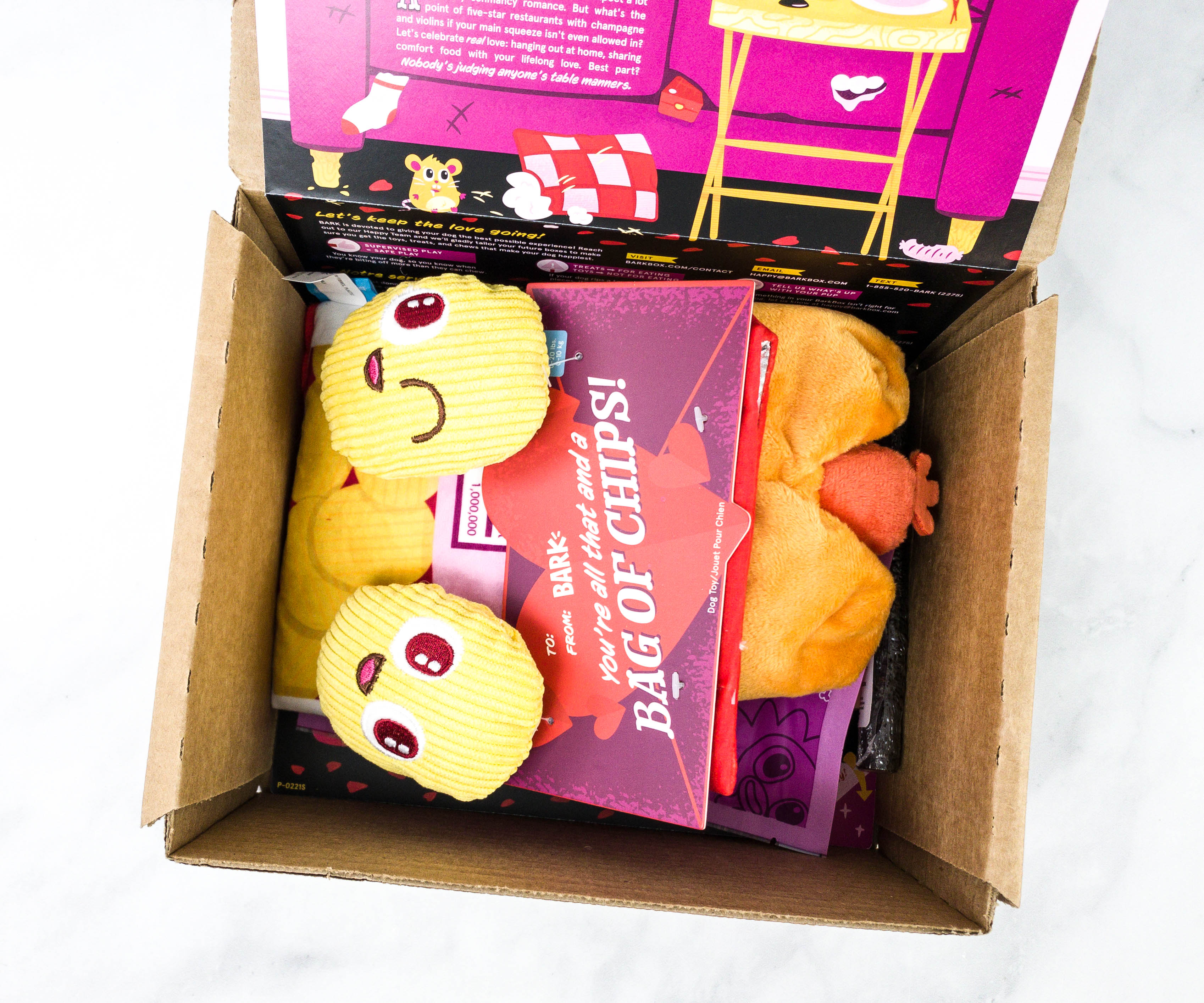 The box this month doesn't contain any custom-made wrapping paper. Instead, they used this month's theme to design the carton and to cover all the items inside the box.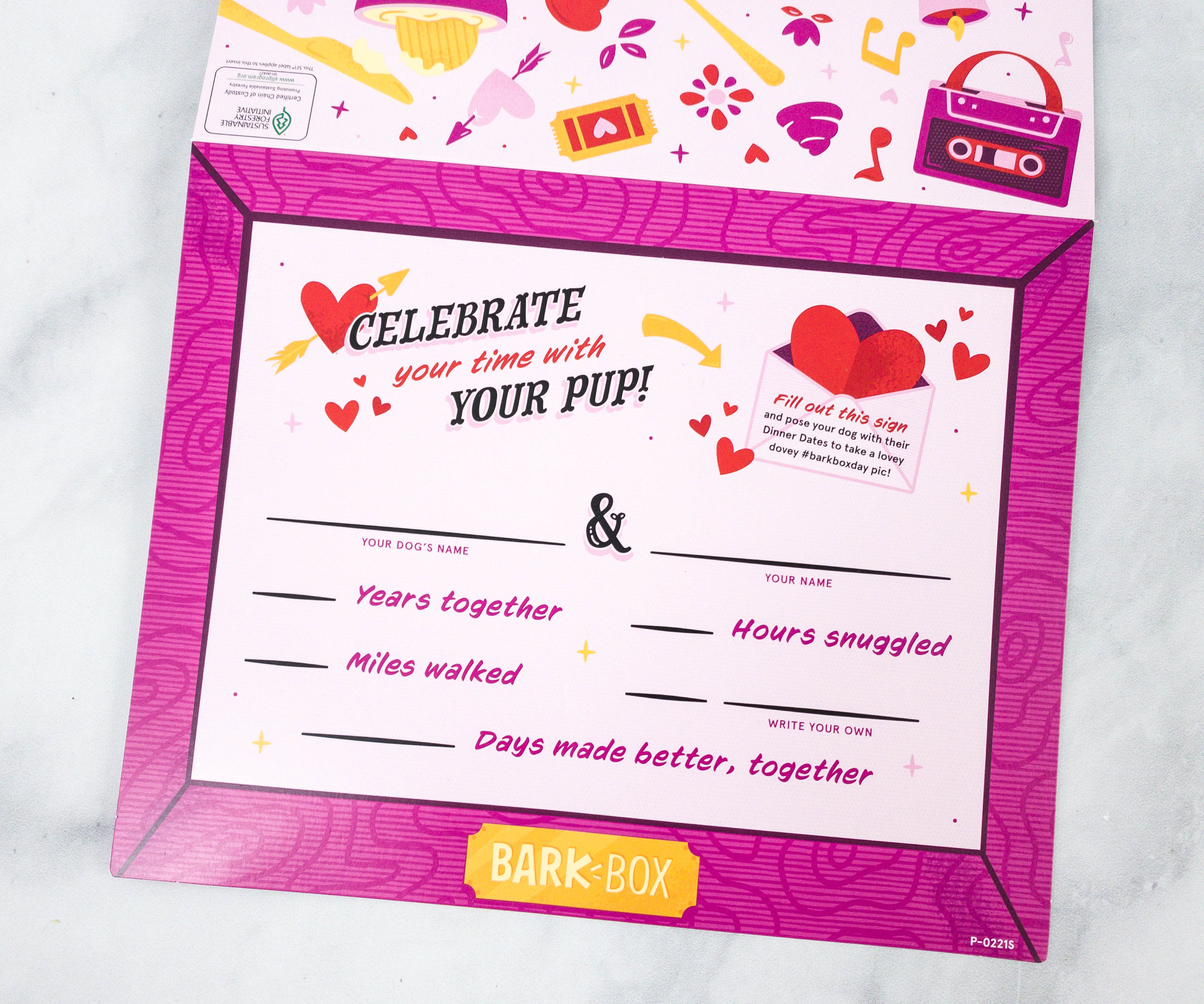 You can fill-out this part of the flap and take a picture of your dog together with their Dinner Dates and share it online using #barkboxday!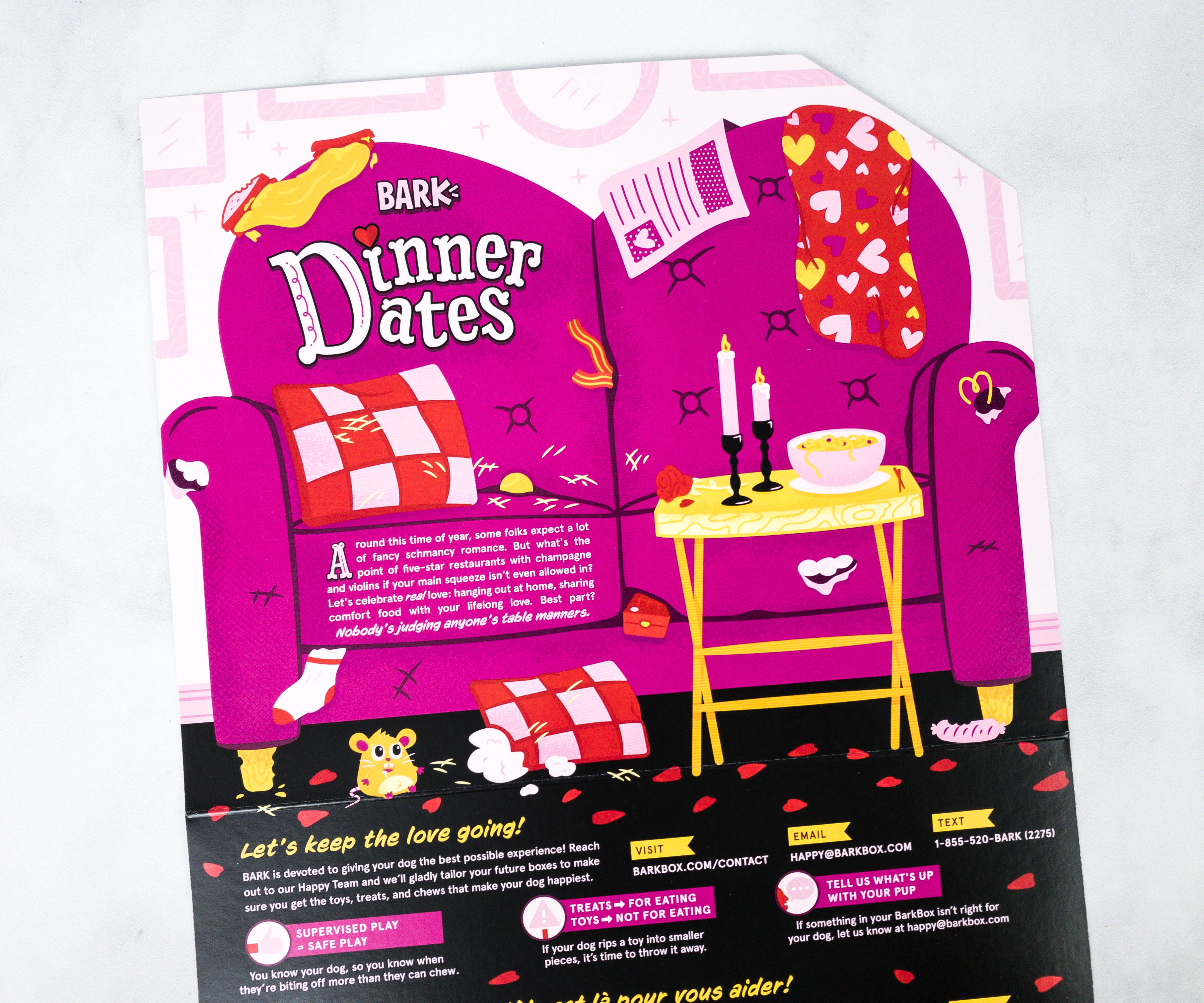 Let's keep the love going! BARK is devoted to giving your dog the best possible experience! Reach out to our Happy Team and we'll gladly tailor your future boxes to make sure you get the toys, treats, and chews that make your dog happiest.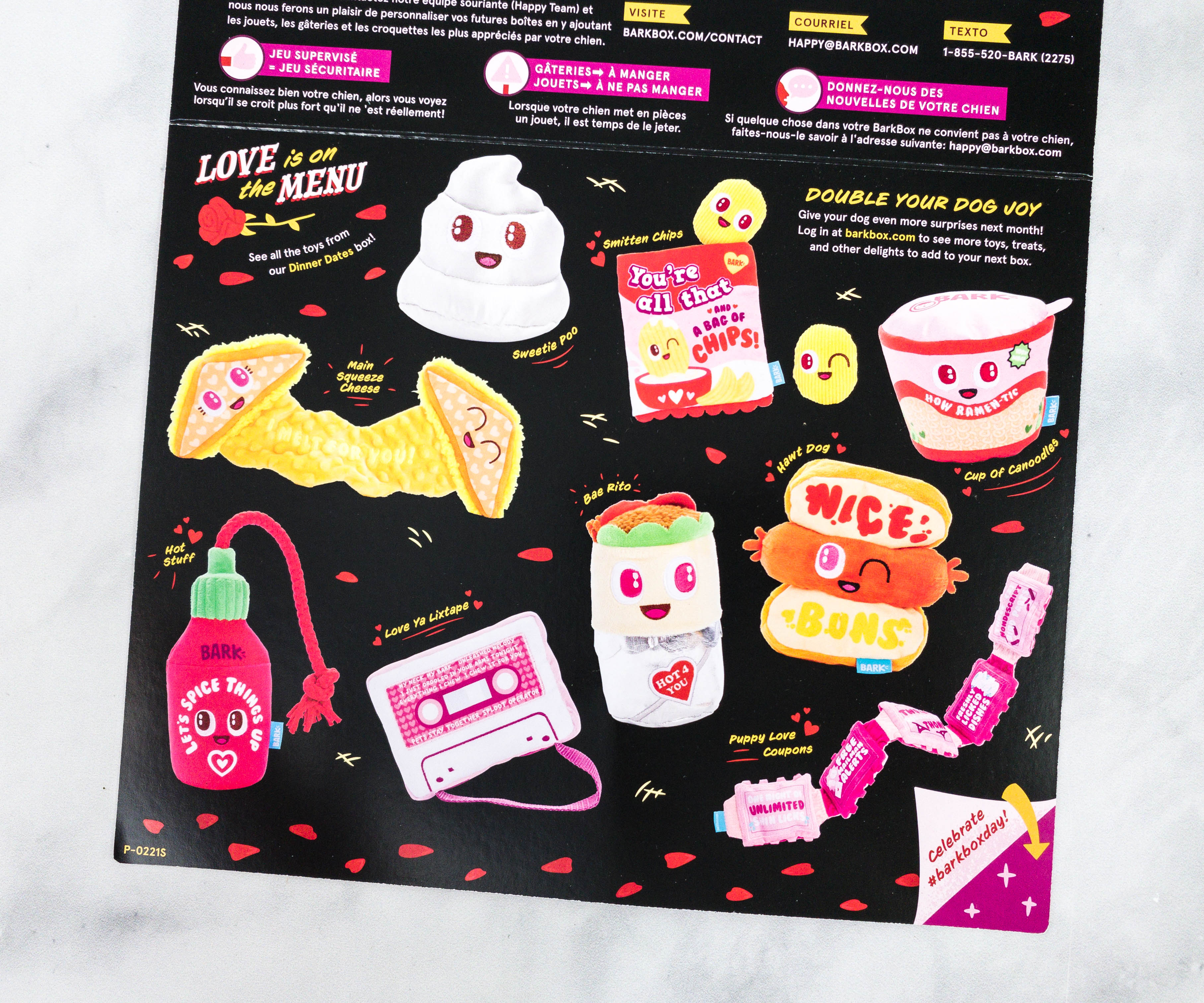 This part of the flap features photos of the toys that you might get in this month's collection.
Everything in my February 2021 box!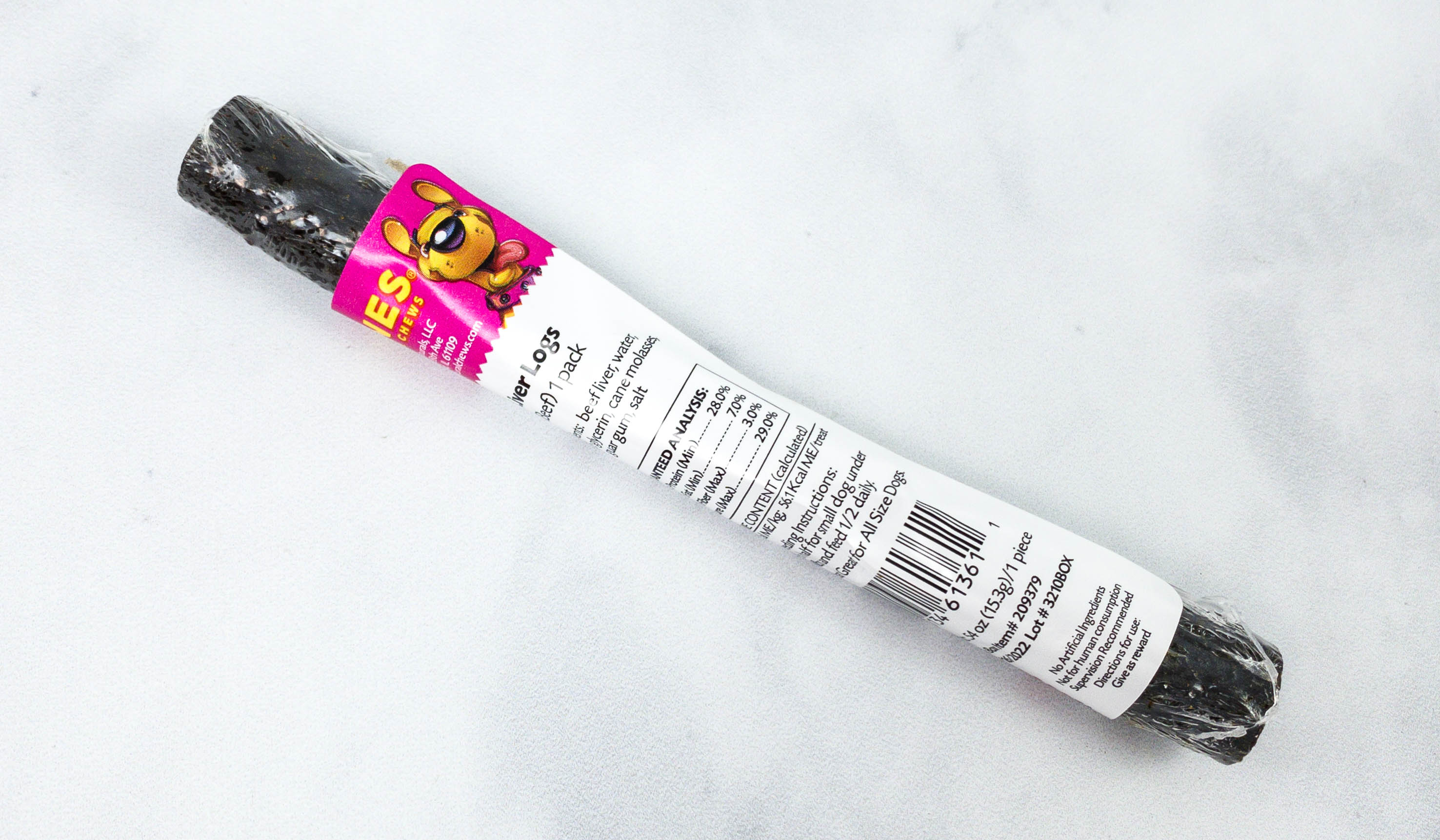 Jones Liver Logs Dog Chew Stick ($1.50) This meaty dog treat is made in the USA using natural, premium-quality, and highly digestible ingredients including beef liver, vegetable glycerin, cane molasses, guar gum, and salt.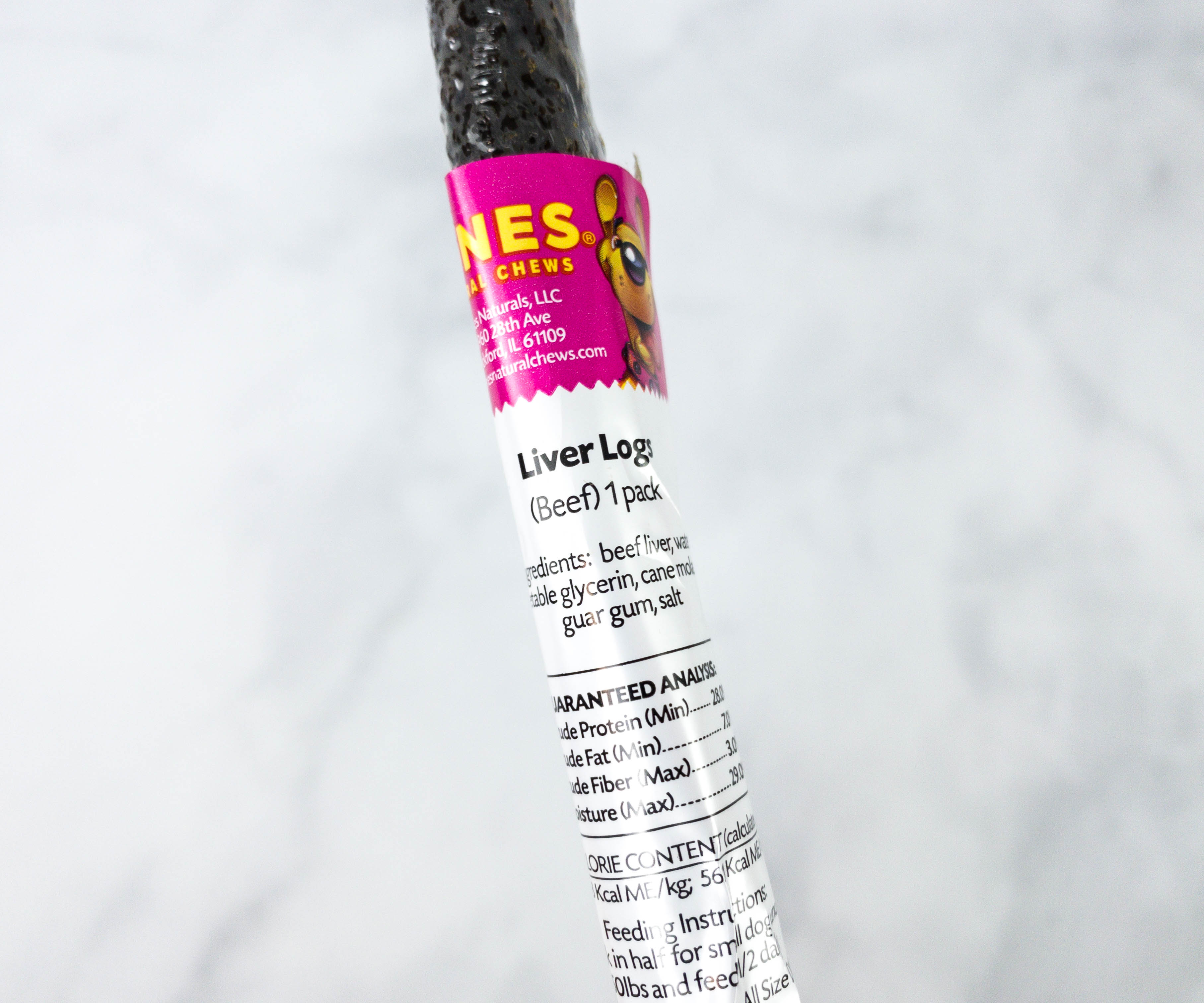 It's a highly nutritious treat packed with protein. It has low calorie content as well.

This meaty stick is 7-inch long. You can serve it as is or break into smaller pieces for easier munching!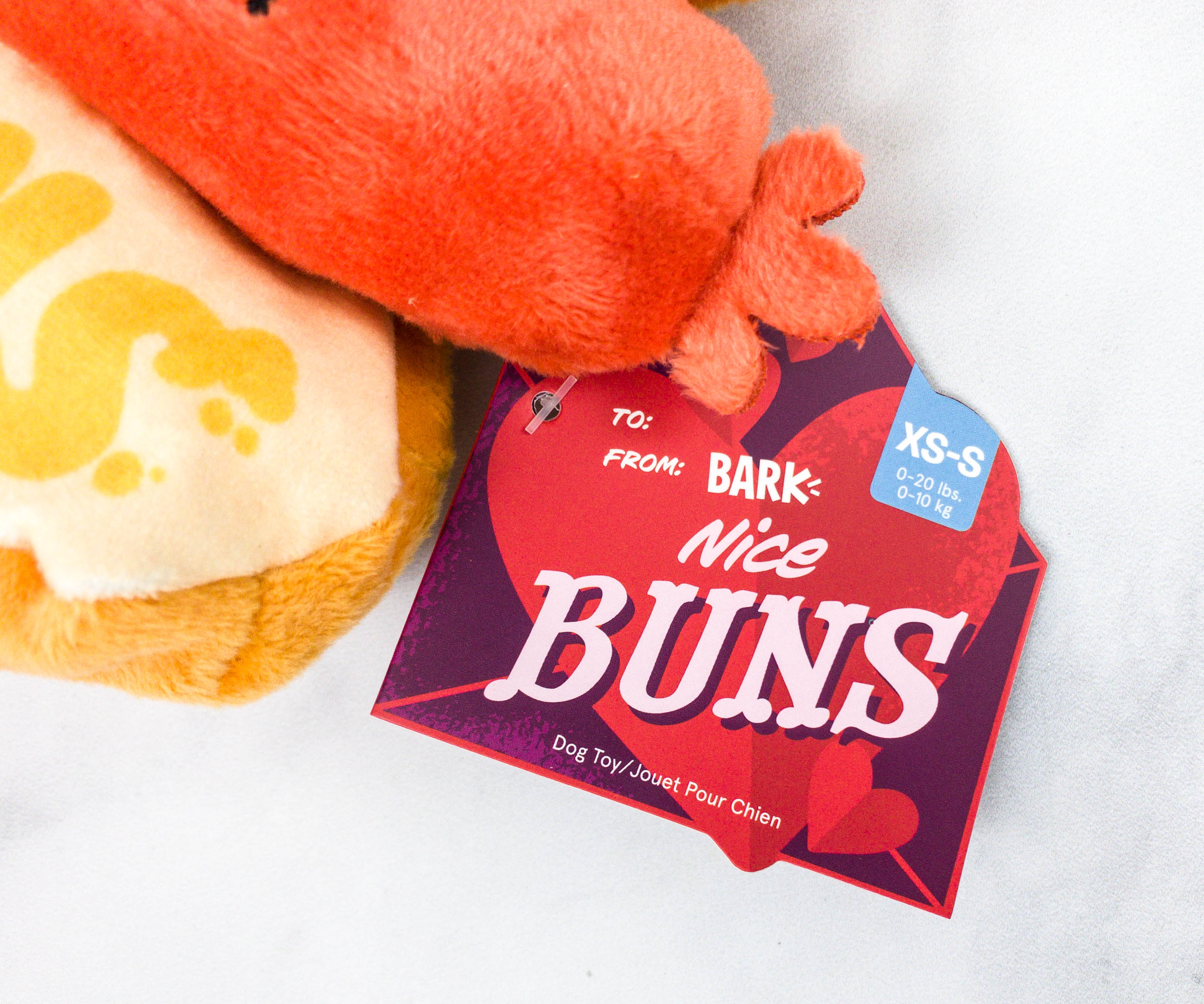 Hawt Dog Dog Toy ($10) The first toy in the box is a hotdog sandwich plushie designed for extra small to small dogs.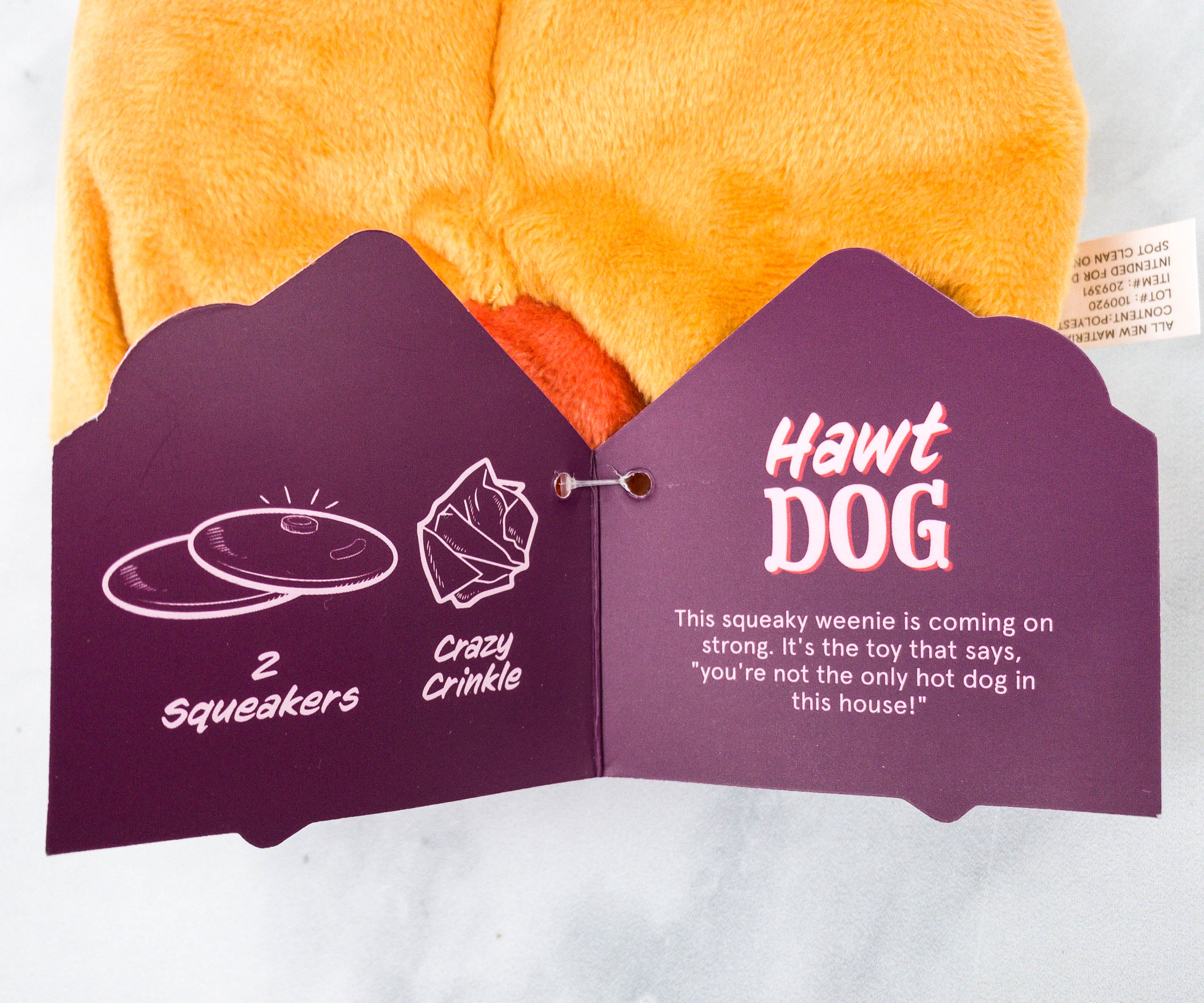 According to the label, this toy includes 2 squeakers and a crazy crinkle!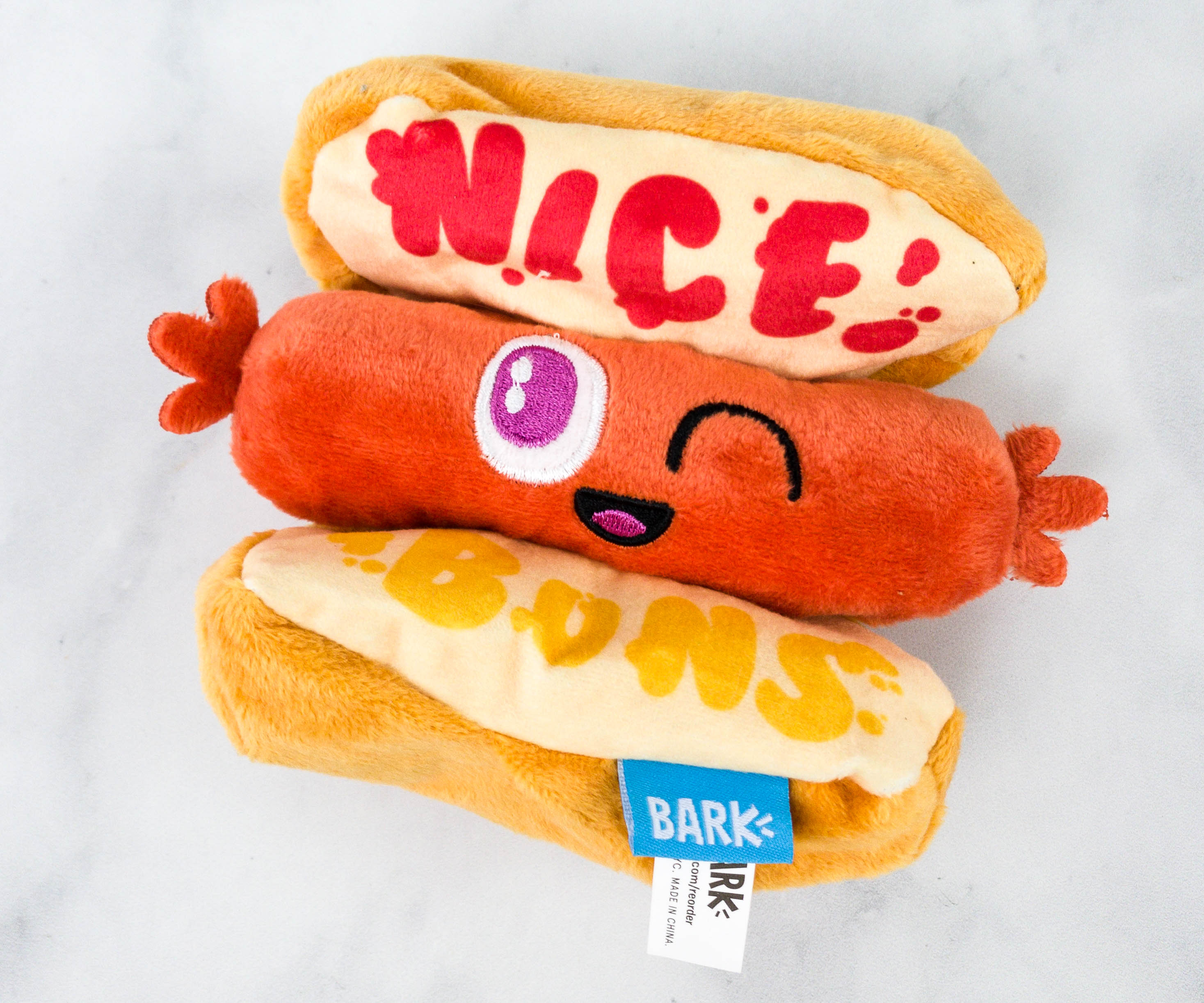 It's a 3-part toy that features a pair of squishy buns and a soft hotdog with a winking face in the middle. This is so cute!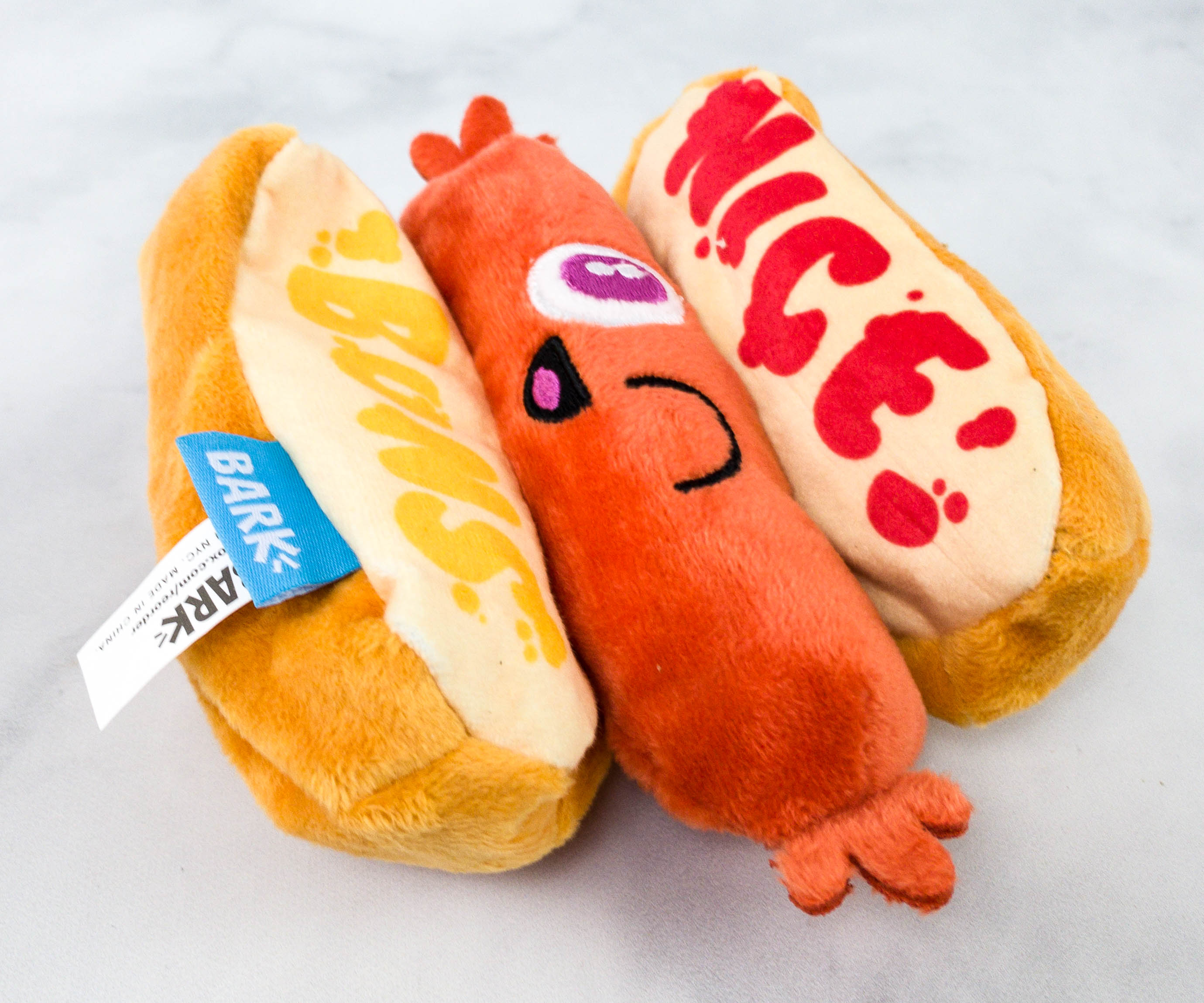 This hotdog sandwich comes with a reinforced stitching on seams, making it a super soft yet durable at the same time!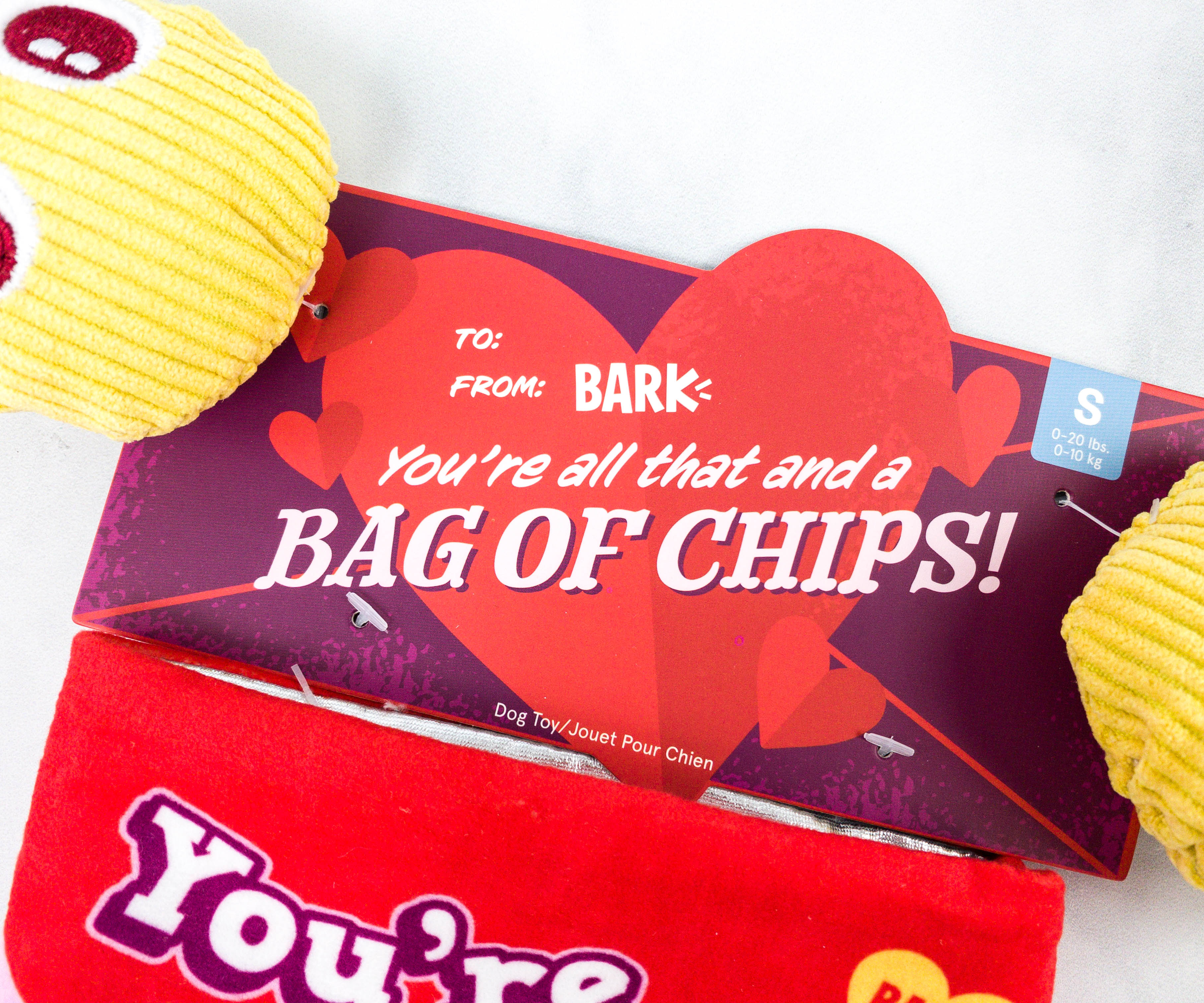 Smitten Chips Dog Toy ($10) Here's another snack-themed toy in the box, and like the first one, it is also designed for small dogs.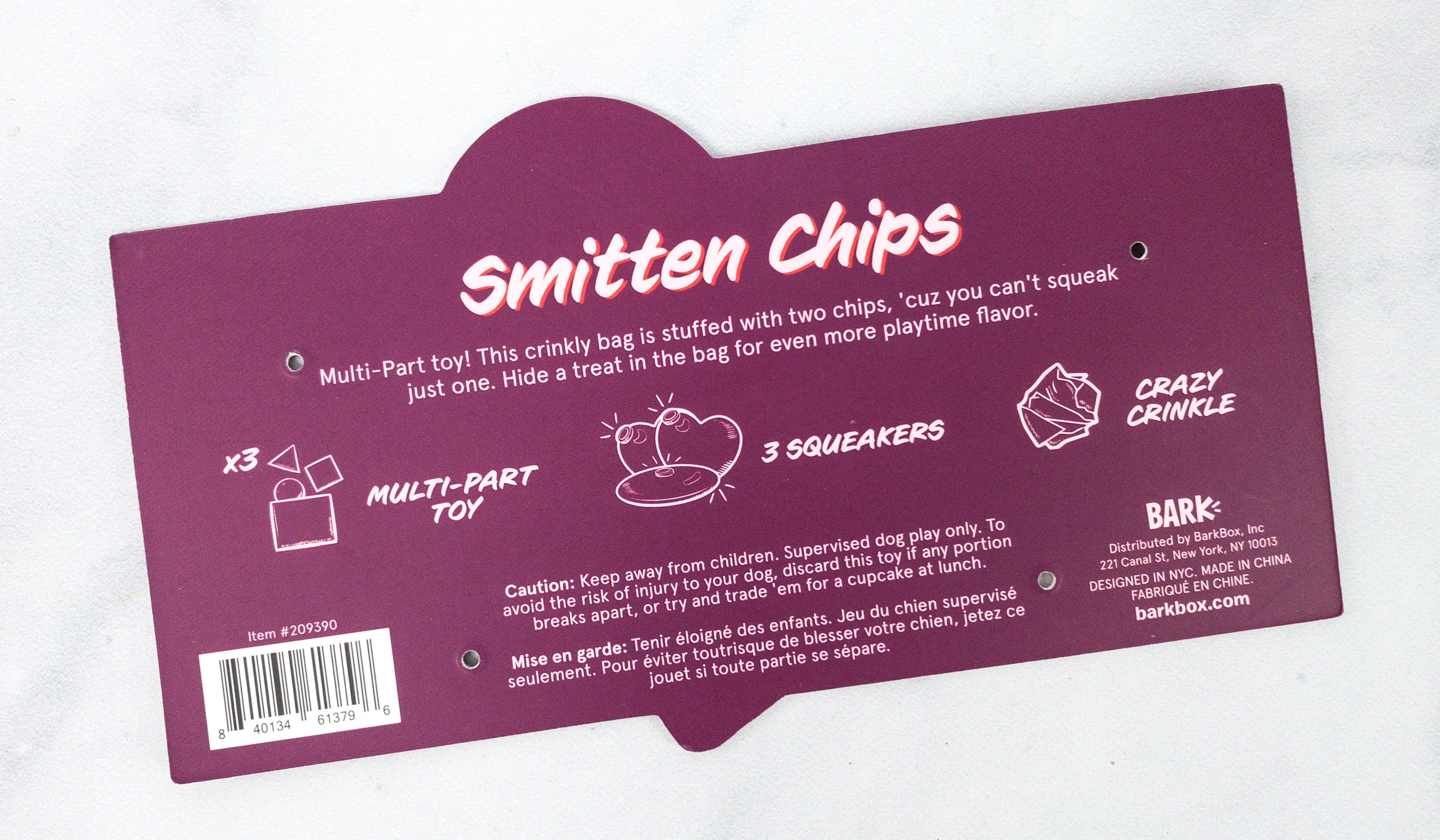 It comes with a card that contains all the information you need to know about this yummy plush toy!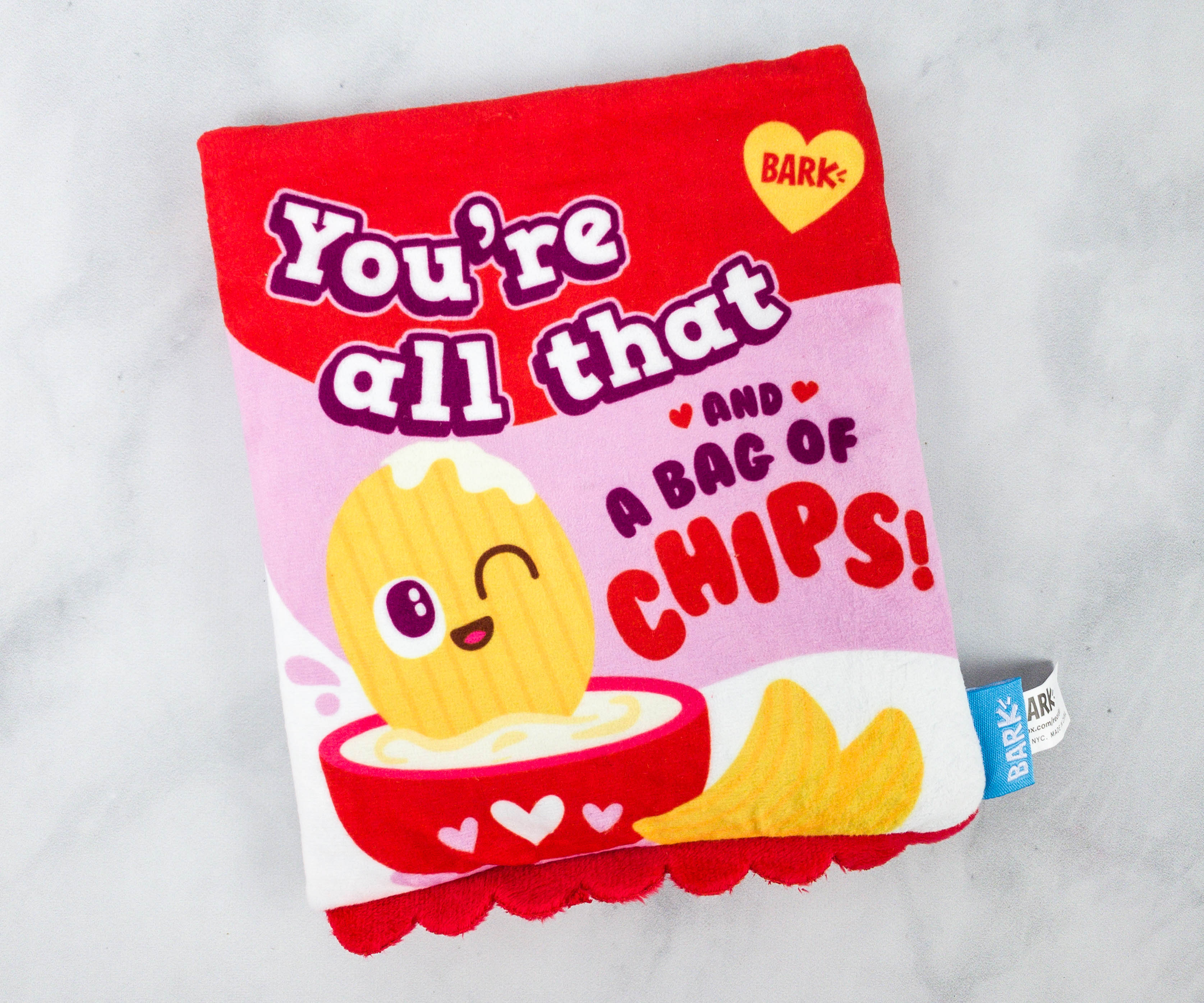 According to the card, it's a multi-part toy that is made with squeakers, crazy crinkles, and premium-quality fabric!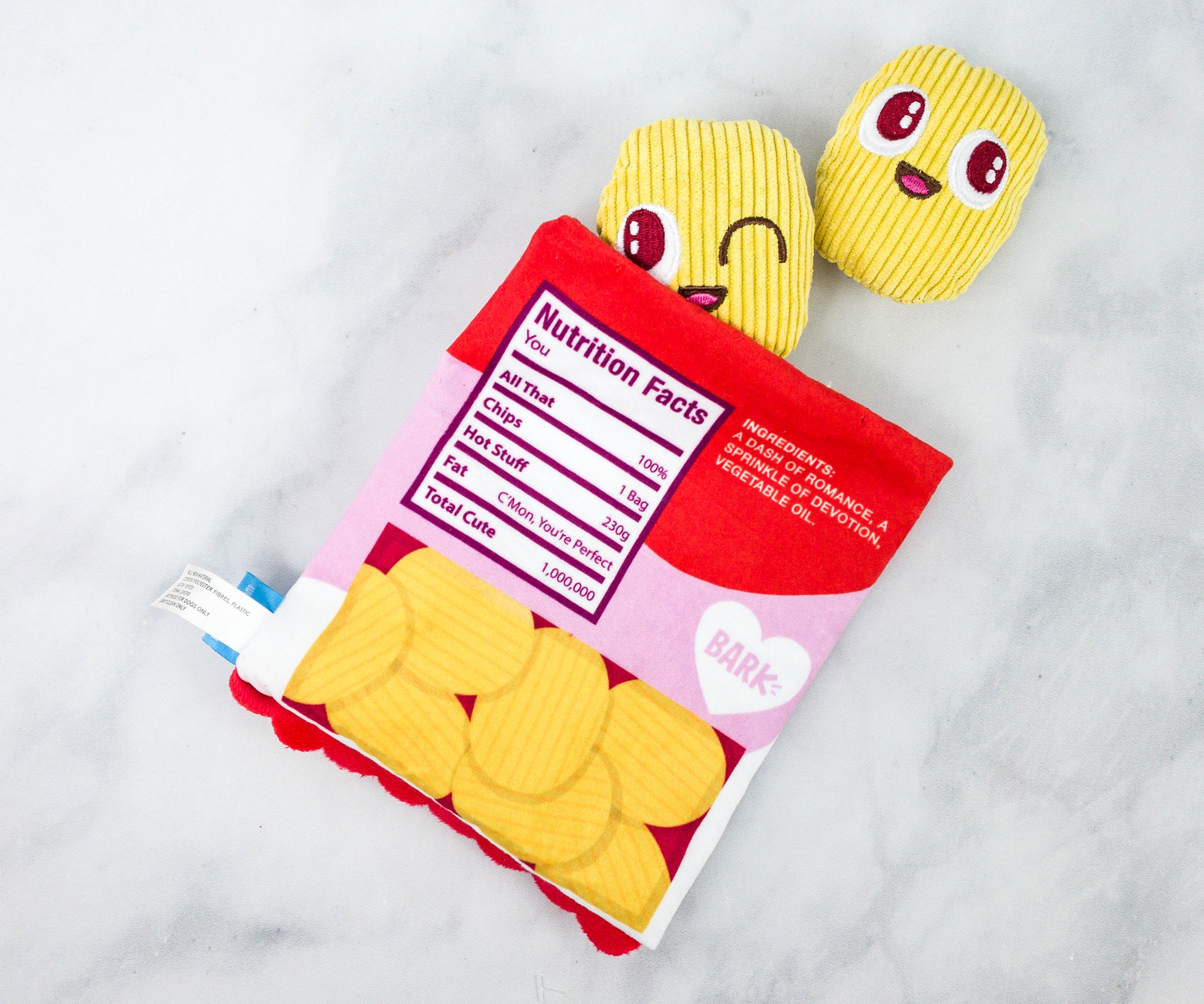 It's a well-designed toy and it looks pretty much like a real pack of potato chips. Inside, there are 2 pieces of potato chip plushies. For more fun during play time, you can hide a treat along with the plushies inside the pouch and let your dog find it!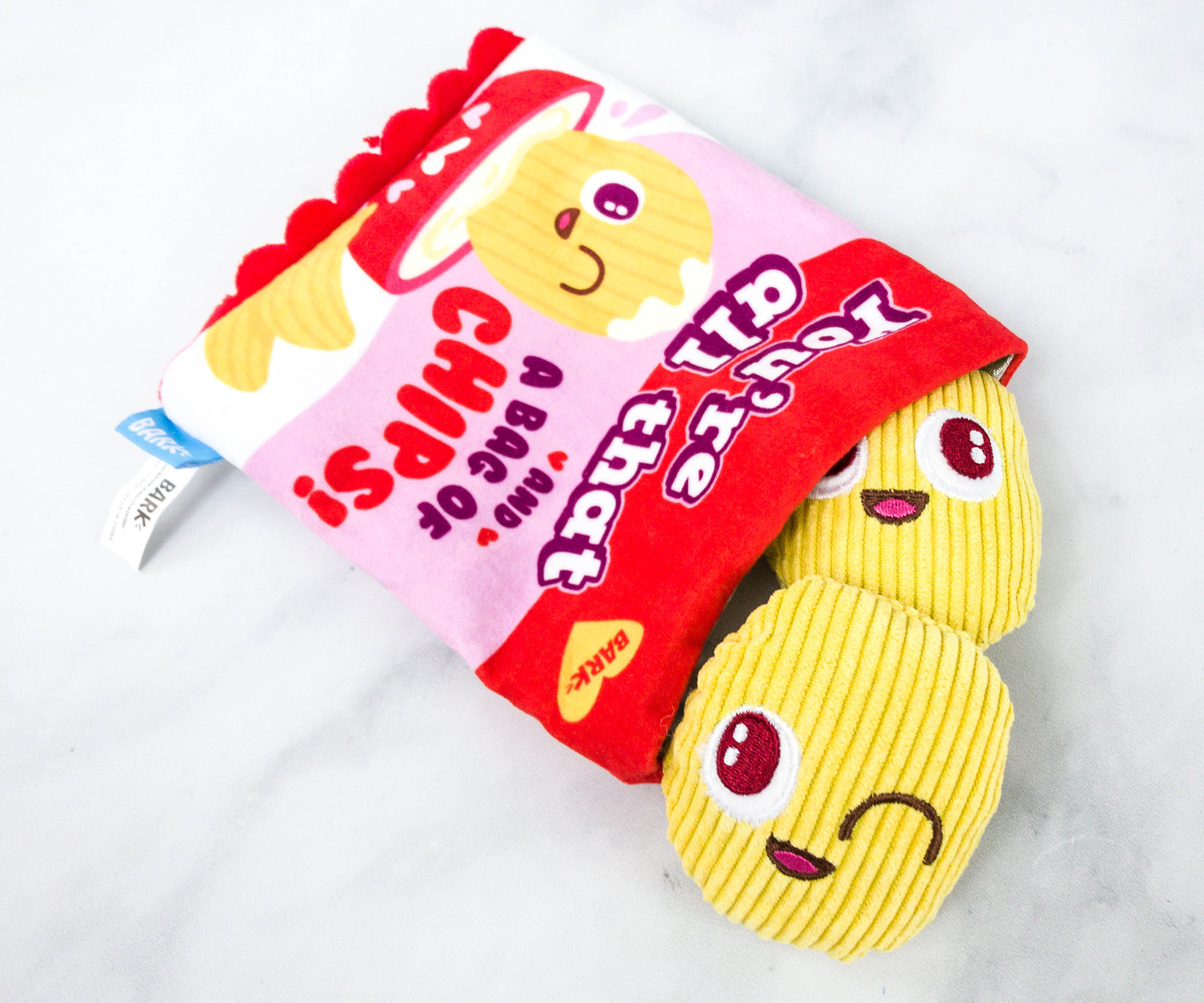 The potato plushies have a nice texture and embroidered eyes and lips. Buffy had so much fun tossing them around!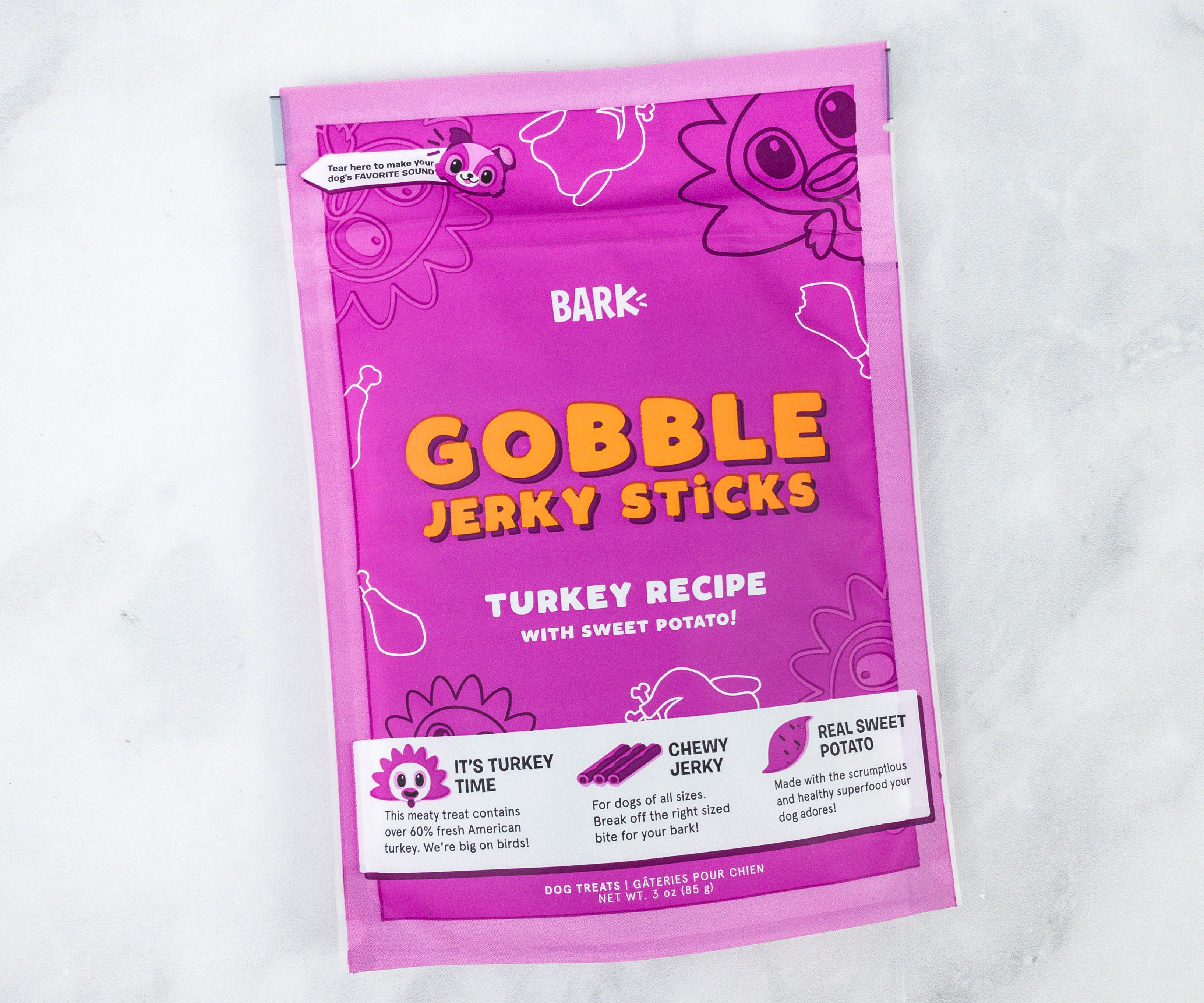 Gobble Jerky Sticks Turkey Recipe with Sweet Potato. This month, we received 2 bags of delectable dog snacks! The first pack contains jerky sticks made from fresh American turkey and sweet potato.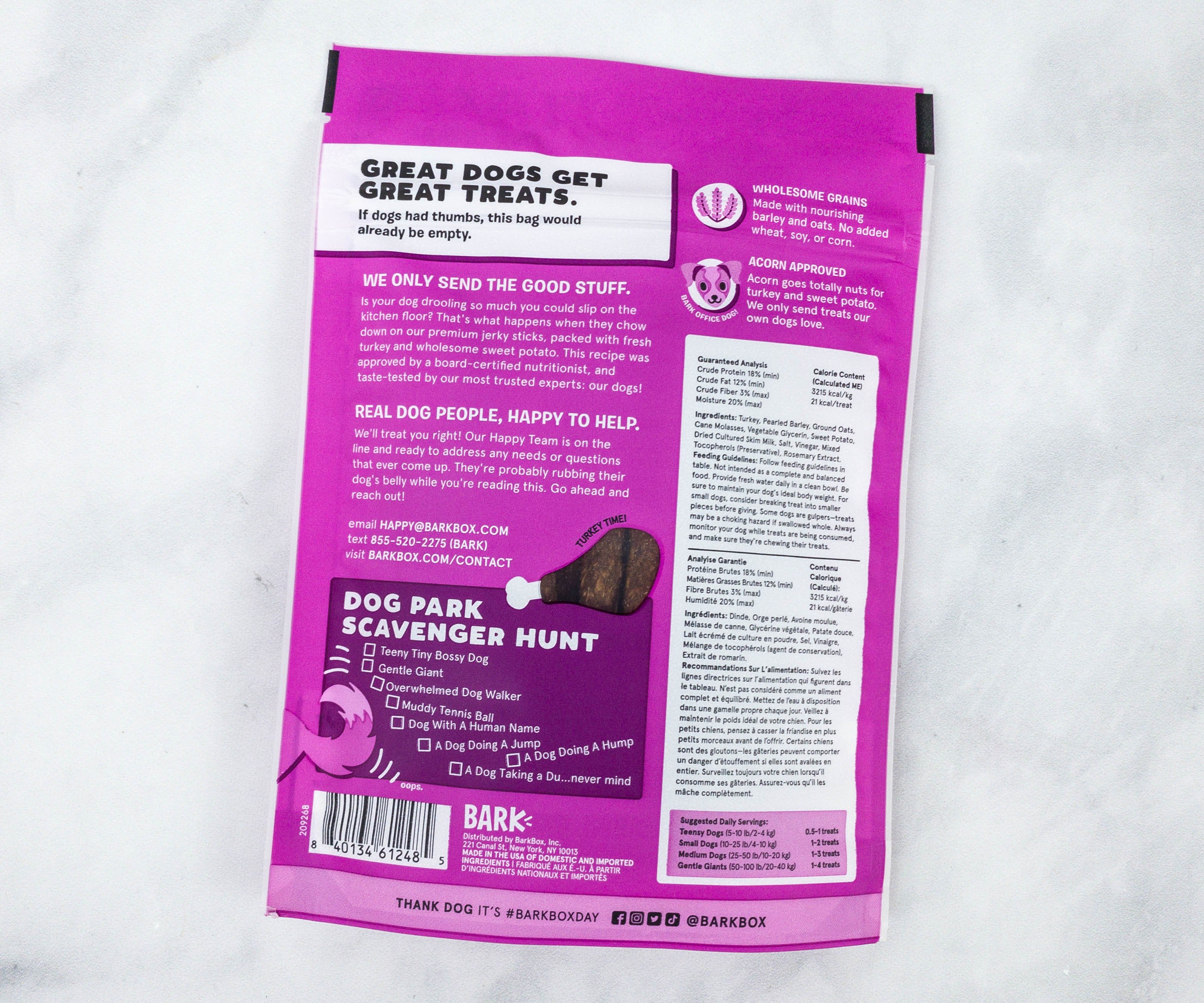 They are also made with wholesome grains including pearled barley and ground oats, together with cane molasses, dried cultured skim milk, and rosemary extract.
The stick treats are crunchy! Depending on your dog's size, you can break it off or feed as is. Since they are made with turkey, they are rich in protein and other nutrients that support a dog's immune system.
Clucky Jerky Cuts Chicken Recipe with Pumpkin. The second bag contains chewy jerky made from chicken and pumpkin!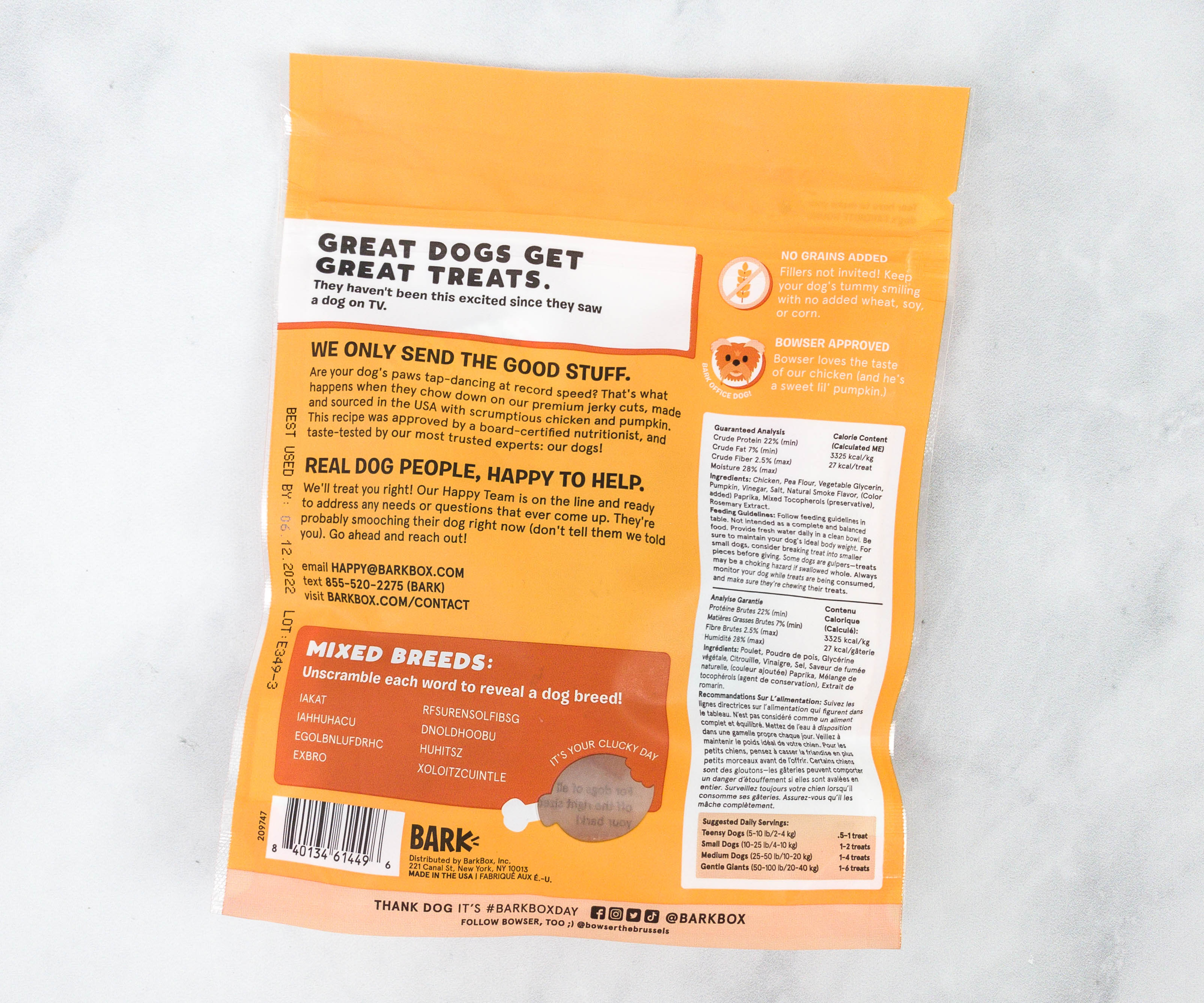 These treats don't contain fillers, and they are wheat-free, soy-free, and corn-free as well.
These square-shaped treats are thick and chewy! They make ideal snacks for dogs, or even as a training reward.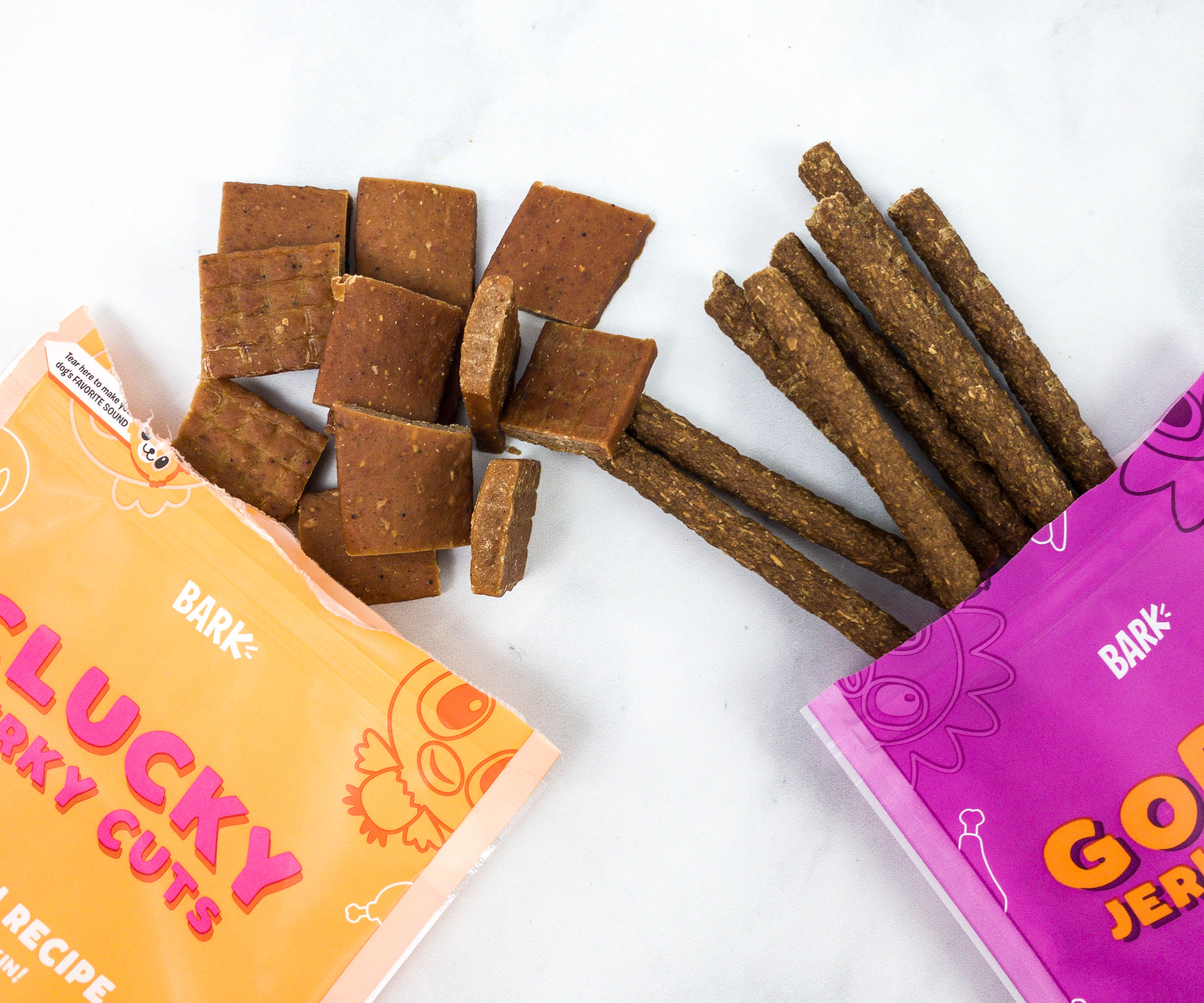 The featured treats this month are quite different from each other, but my dogs loves them both!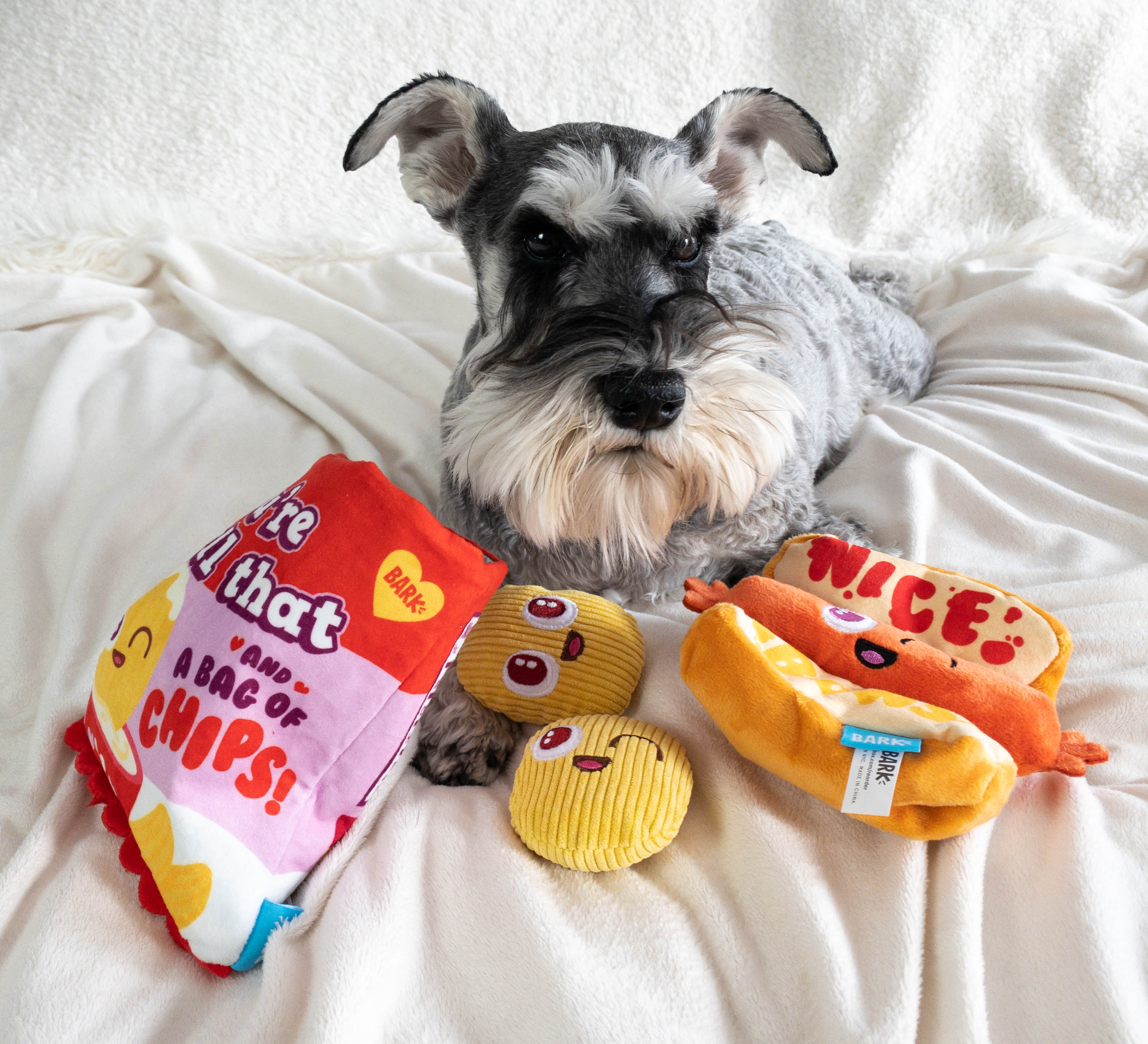 Look at Dean with his new toys!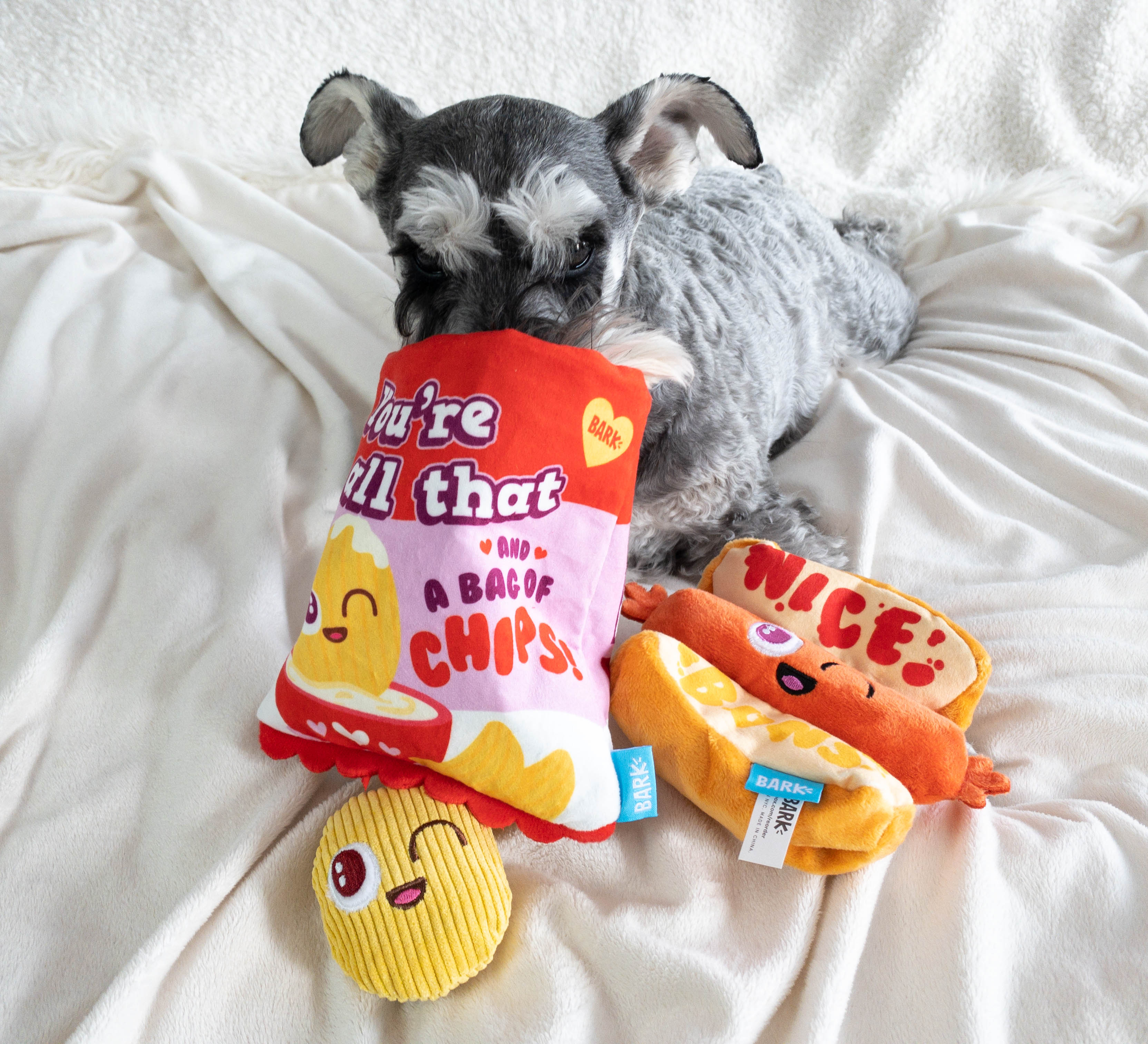 That bag of chips is definitely his favorite!
It's another impressive curation of dog treats and toys from Barkbox! This month's box is Valentine's date themed and it's so cute. My dogs are happy with their new cuddle buddies, the hotdog sandwich plushie and the potato chips toy. They also happily munched on the treats, as well as on the chew stick! This subscription ensures that the treats they send don't contain harmful ingredients, and that's really a plus for me. Overall, I'm satisfied with the quality of the box contents! It's also really convenient that they send the toys tailored to your dog's size, so you'll only receive what your dogs can actually enjoy!
What do you think of Barkbox? If your dog is a serious chewer, check out Barkbox Super Chewer!