Amoda Tea is a premium tea subscription that sends hand-selected teas sourced from small, independent tea companies. There are two choices of box available — the Original Monthly Tea Box and The Low Caff. Both cost $20, have free shipping to Canada/US (no international shipping yet), and you can also add on some extra bonuses like a perfect teaspoon or extra tea bags. They also have a tasty tea guarantee — if you don't like a tea in your box, they'll replace it in your next box!
We scour the shelves of independent tea companies across North America to find unique teas, delicious blends and fun flavours. We offer a way to discover the hidden gems of the tea world, support the up-and-coming tea companies and taste the very best they have to offer.
This is a review of the Original box.
DEAL: Get 40% off of your first month! Use coupon code HELLO40.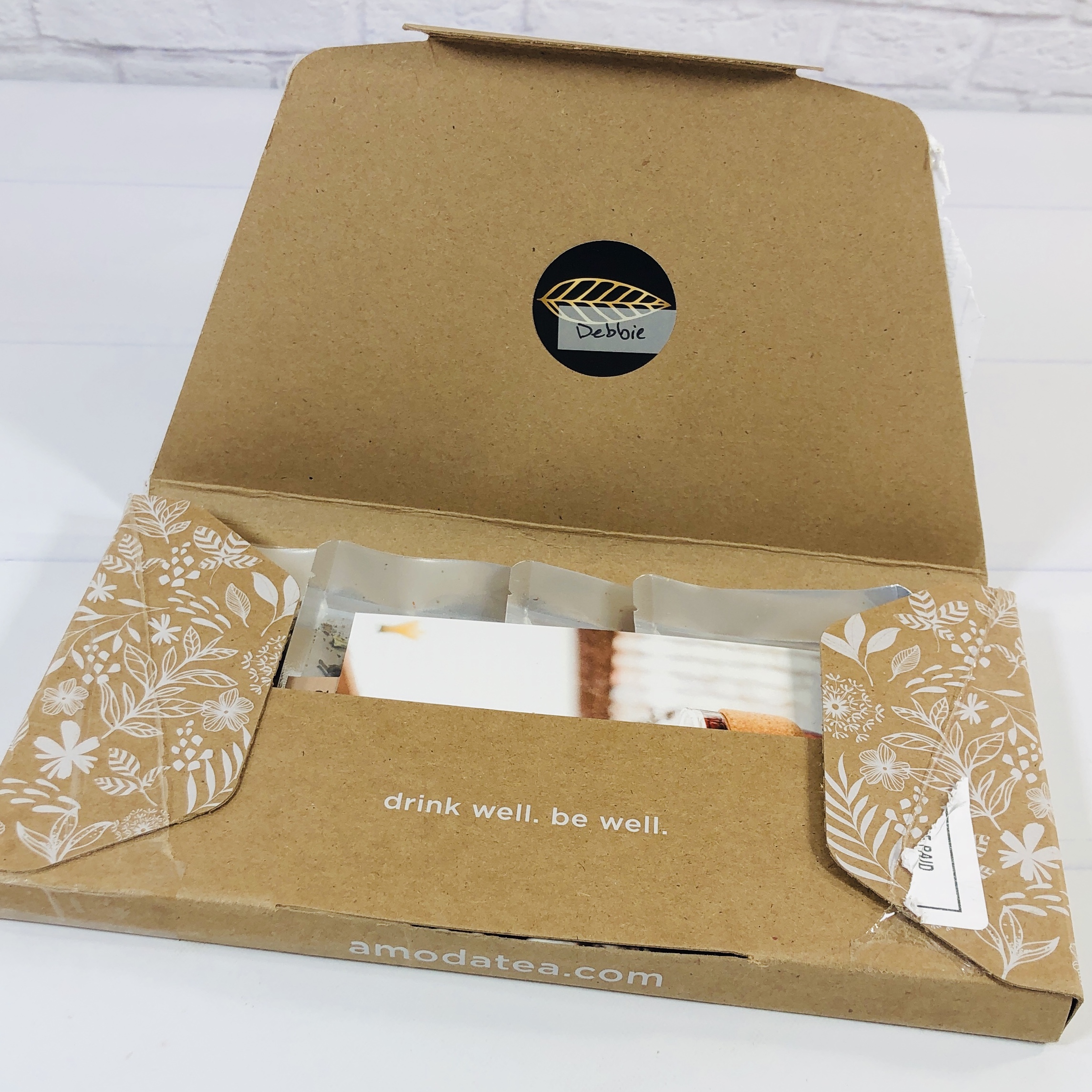 I can't wait to see what's inside!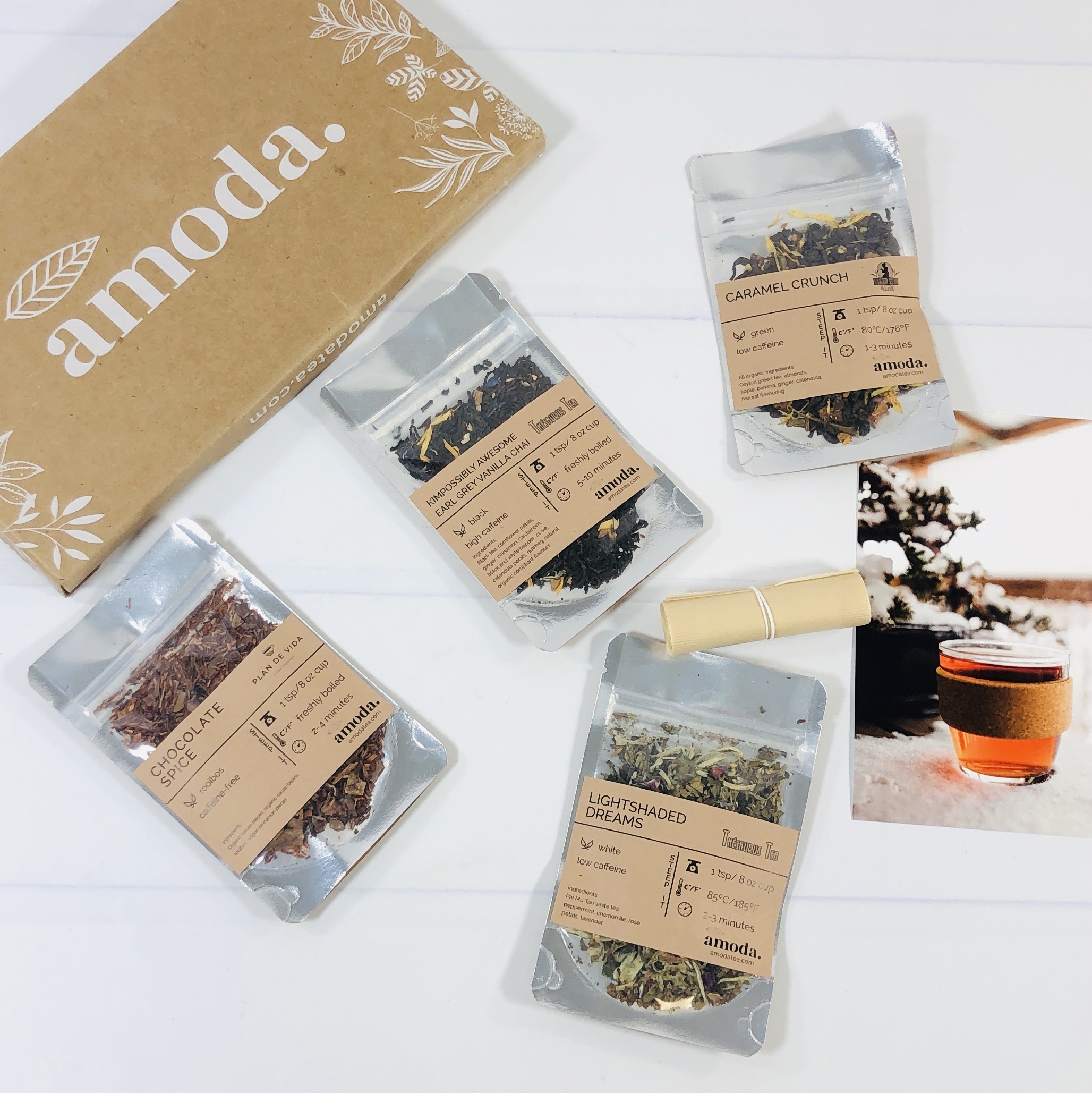 Everything in my box!
I always get a tea postcard. I usually place it on my desk to look at throughout the day.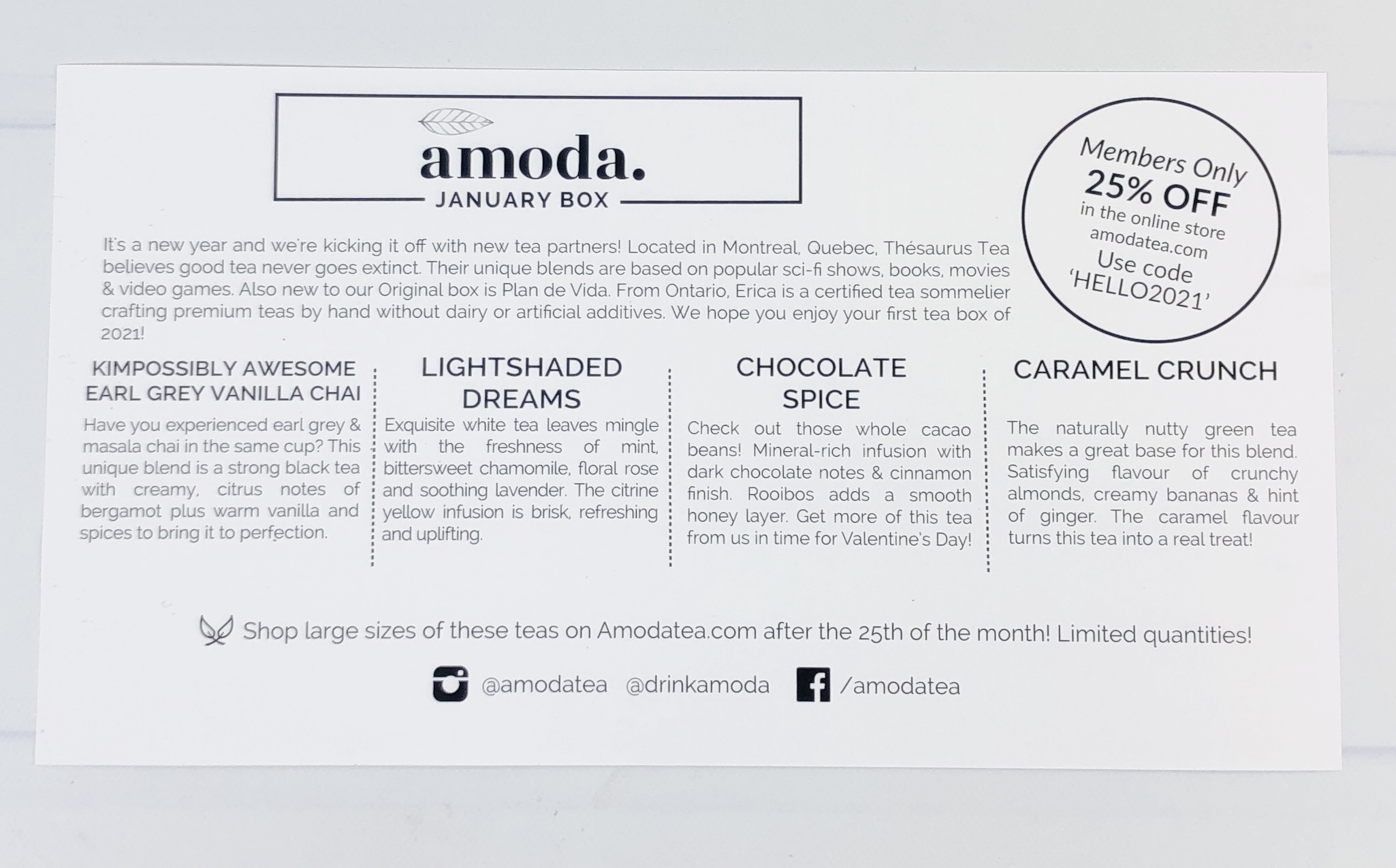 I received a sheet with all of the teas listed. It has a coupon code for an online shop purchase so I can save more on my favorites!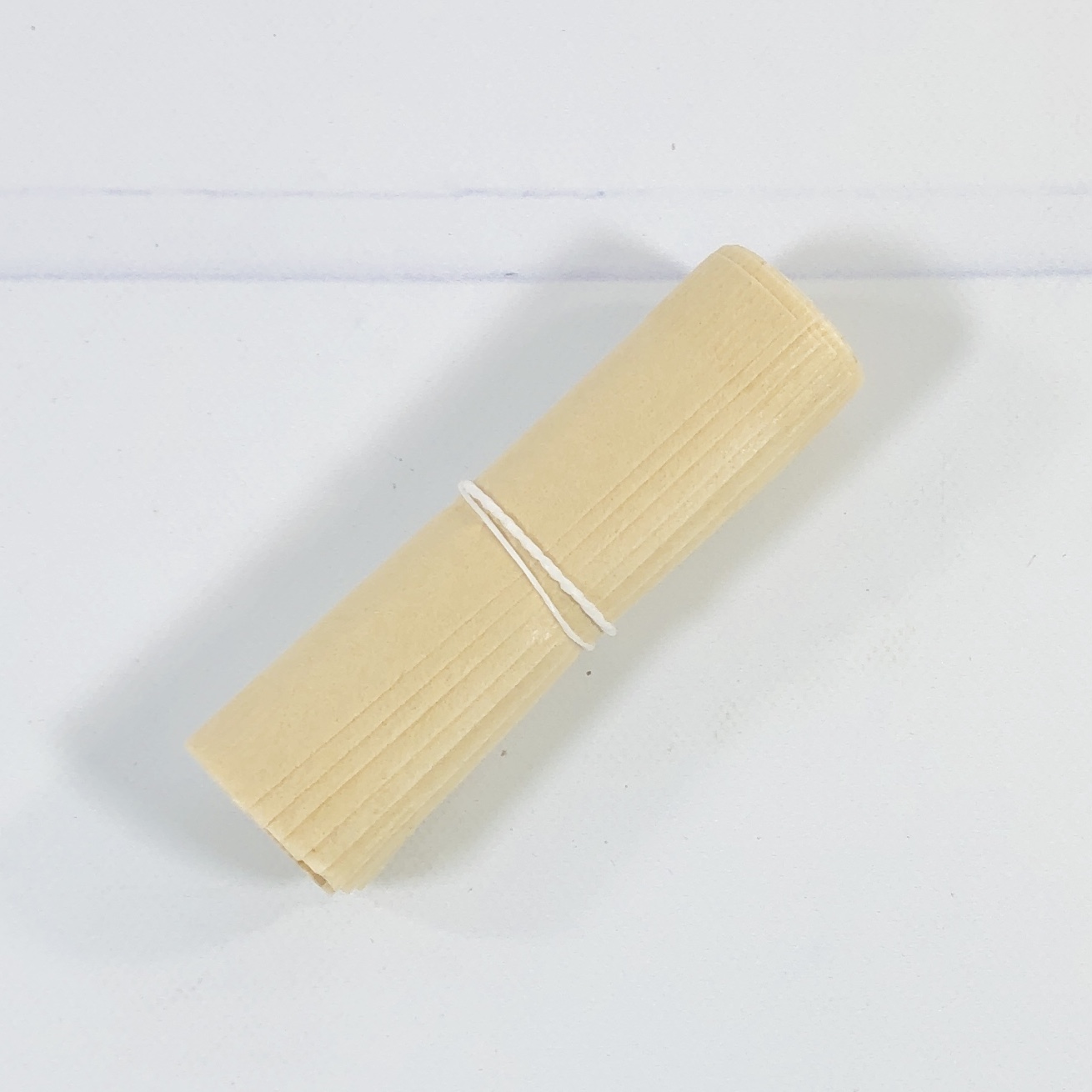 I also found some disposable tea bags. This is loose leaf tea so we need a way to separate the tea leaves when finished steeping.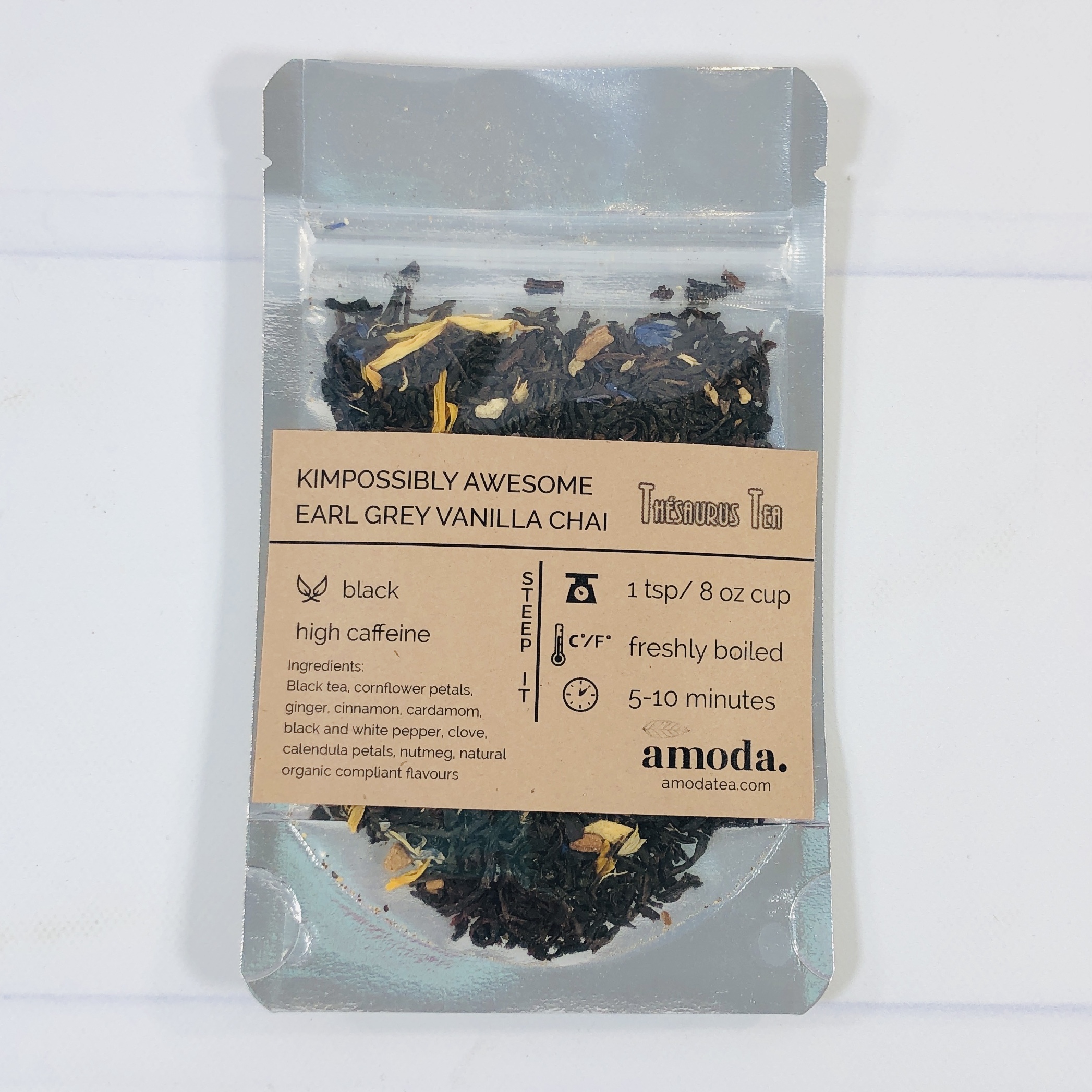 Thesaurus Tea Kimpossibly Awesome Earl Grey Vanilla Chai Amoda introduced two new tea vendors this month and first up is Thesaurus Tea. I've had Earl Grey, I've had chai, but my brain almost exploded when I saw them together! Plus the name reminds me of a cartoon my daughter used to watch and I would send her on missions around the yard on pretend walkie talkies.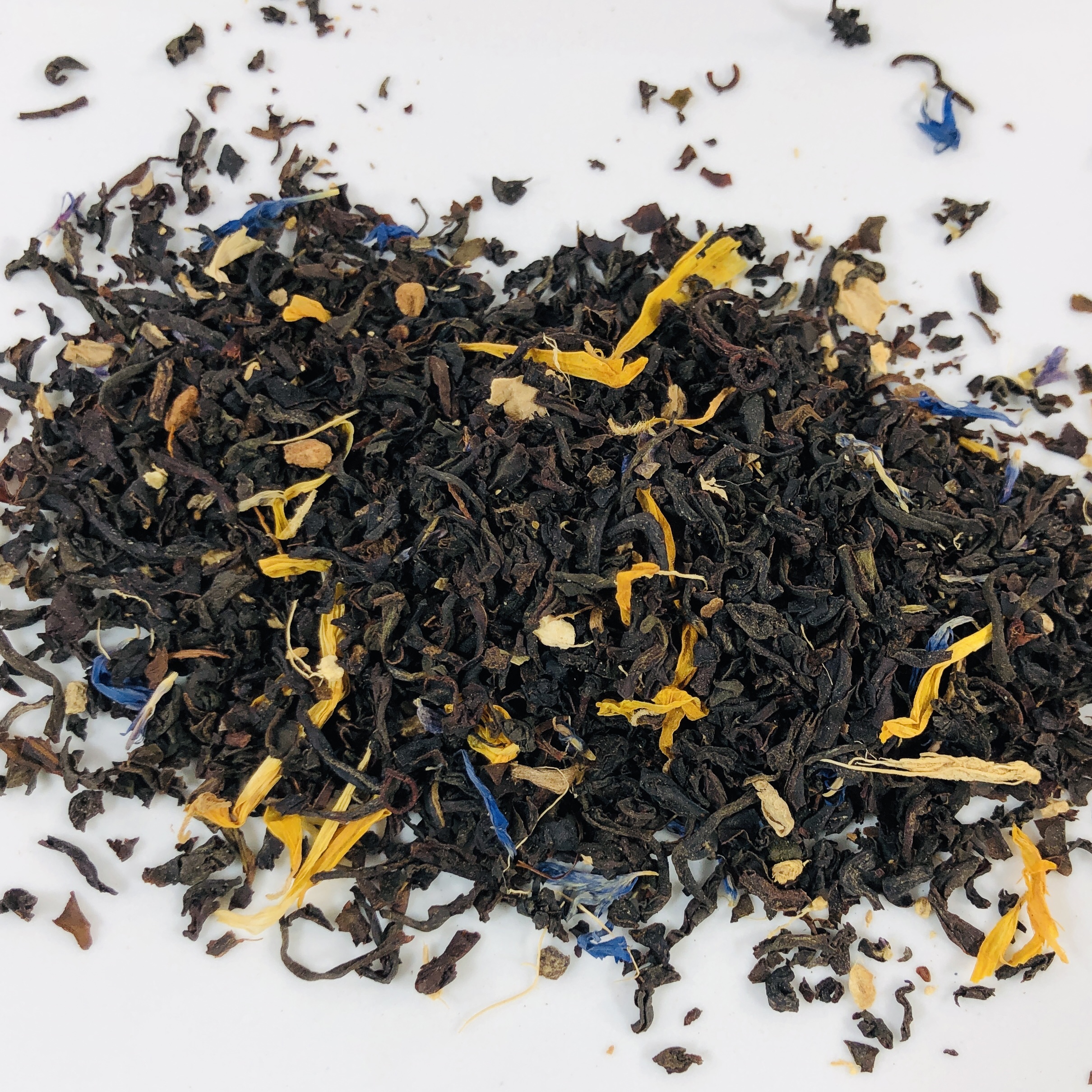 Isn't it pretty? It has a black tea base plus cornflowers, spices, and vanilla. I don't see bergamot, which is classic Earl Grey, but perhaps that's the "natural flavor"? It tastes and smells like classic Earl Grey with just a hint of spice and vanilla.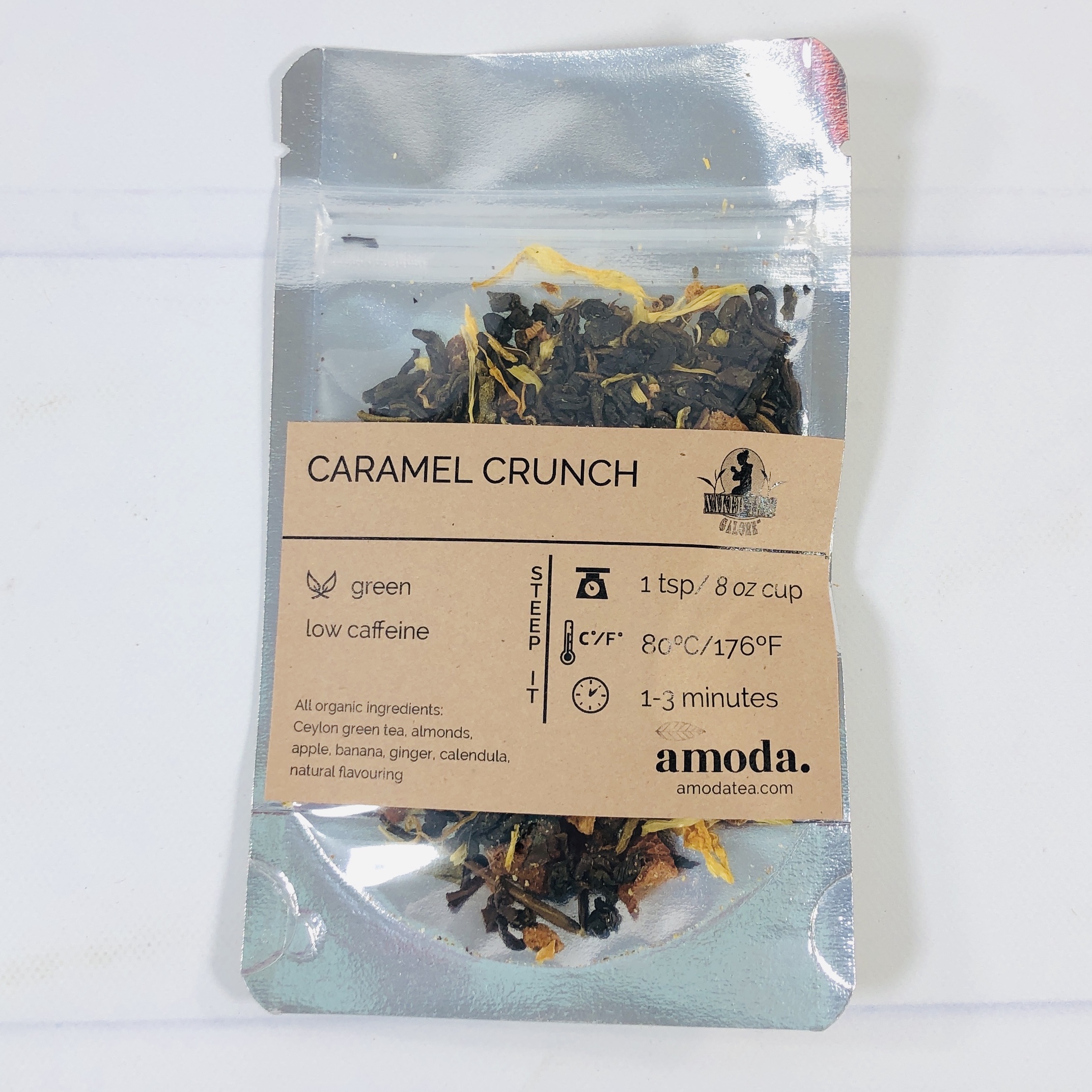 Naked Teas Galore Caramel Crunch Green Tea I wasn't expecting to find banana as a flavoring in a caramel tea but it seems to work! This tea starts with a green tea base and has cinnamon, almonds, and natural flavors.
The caramel flavor worked well with the green tea, and there was a nuttiness to the drink. Make sure to keep that water under the boil – it keeps the tea from turning bitter.
Thesaurus Tea Lightshaded Dreams I have long been a fan of peppermint tea and this one has white tea plus lavender and rose petals as well.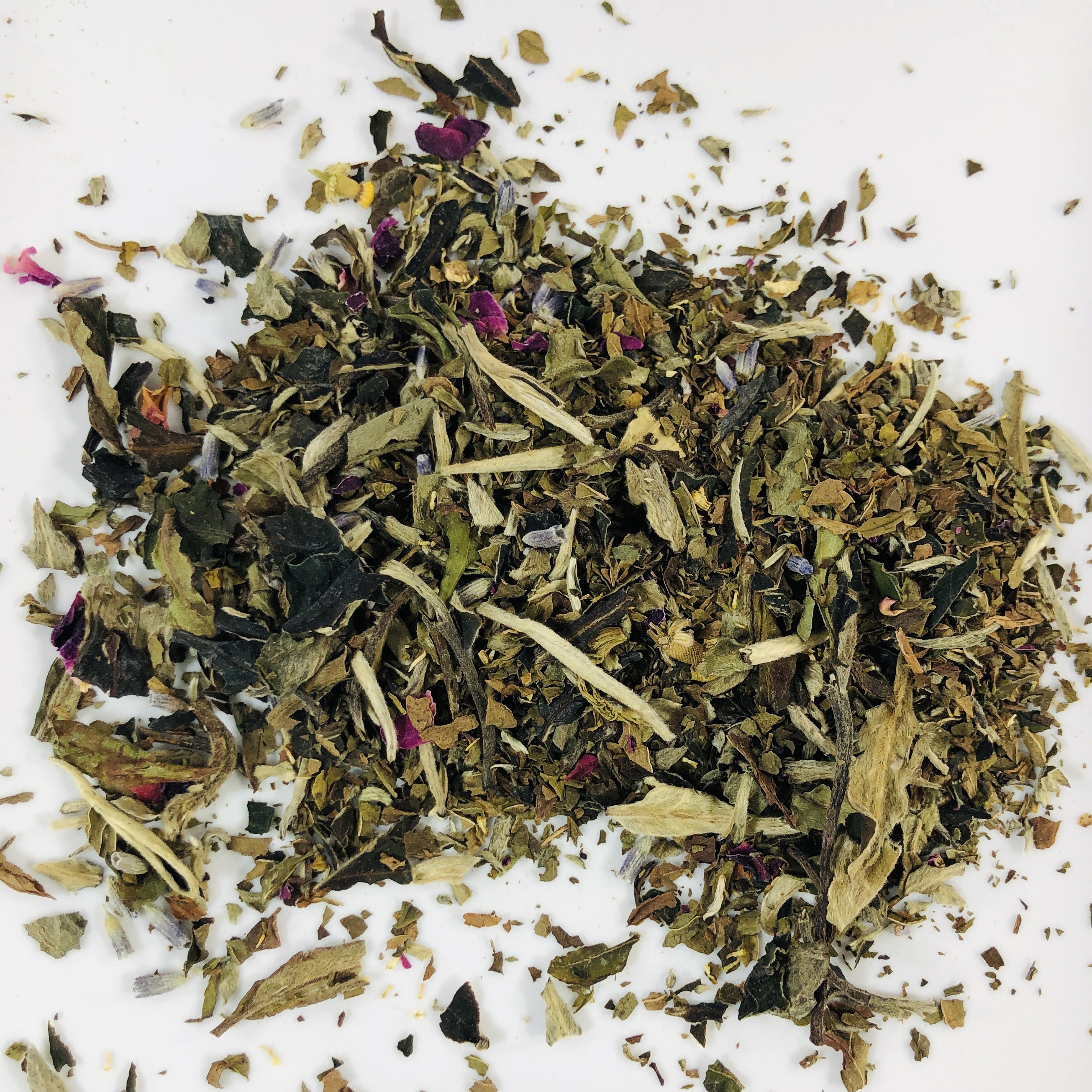 The shining star here is the peppermint! I couldn't taste anything else and am quite happy with it, plus, it would make a great iced tea. It's close to 80 degrees here today and this is so refreshing for a warm day.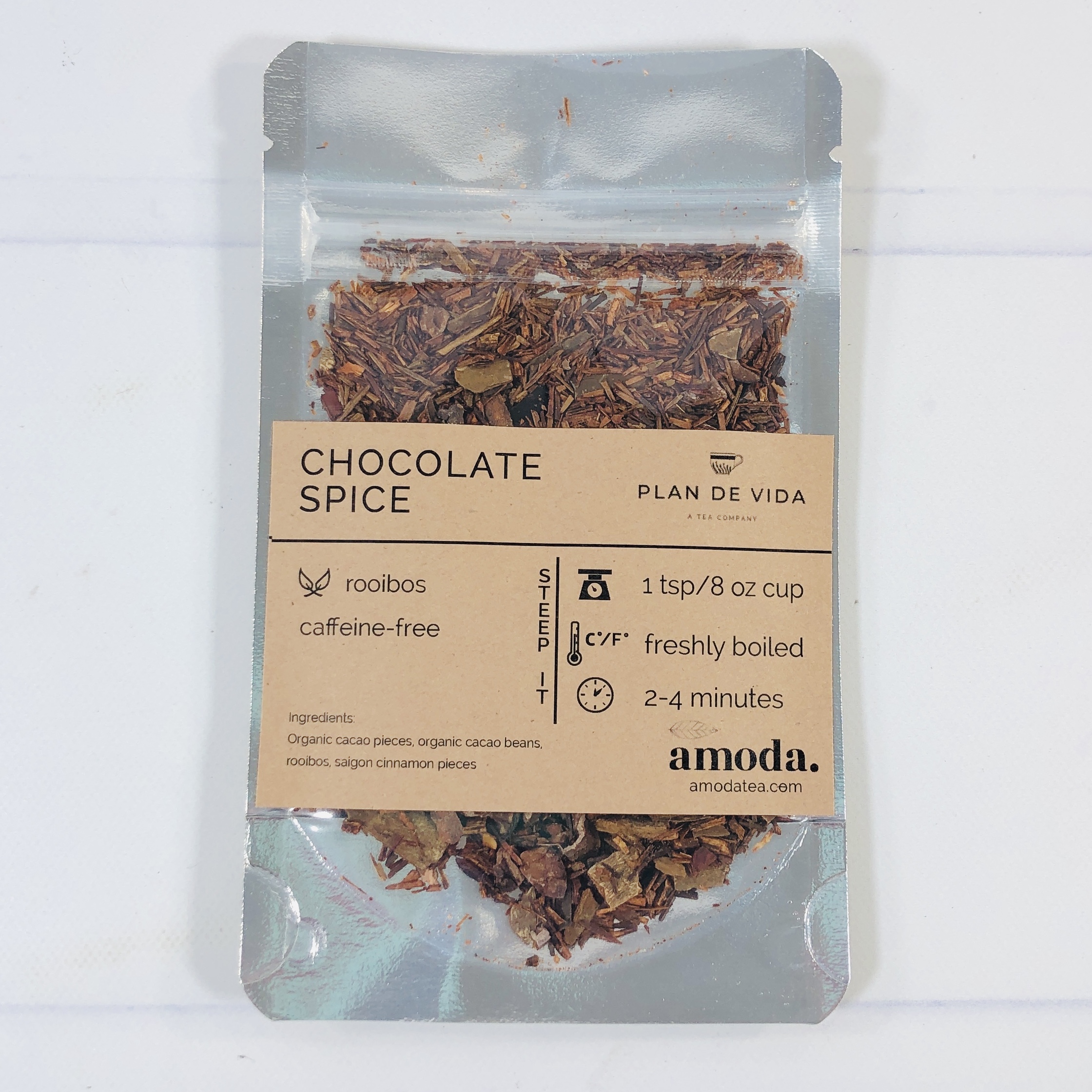 Plan de Vida Chocolate Spice Plan de Vida is another tea brand that is new to Amoda! This blend has cacao, rooibos, and cinnamon.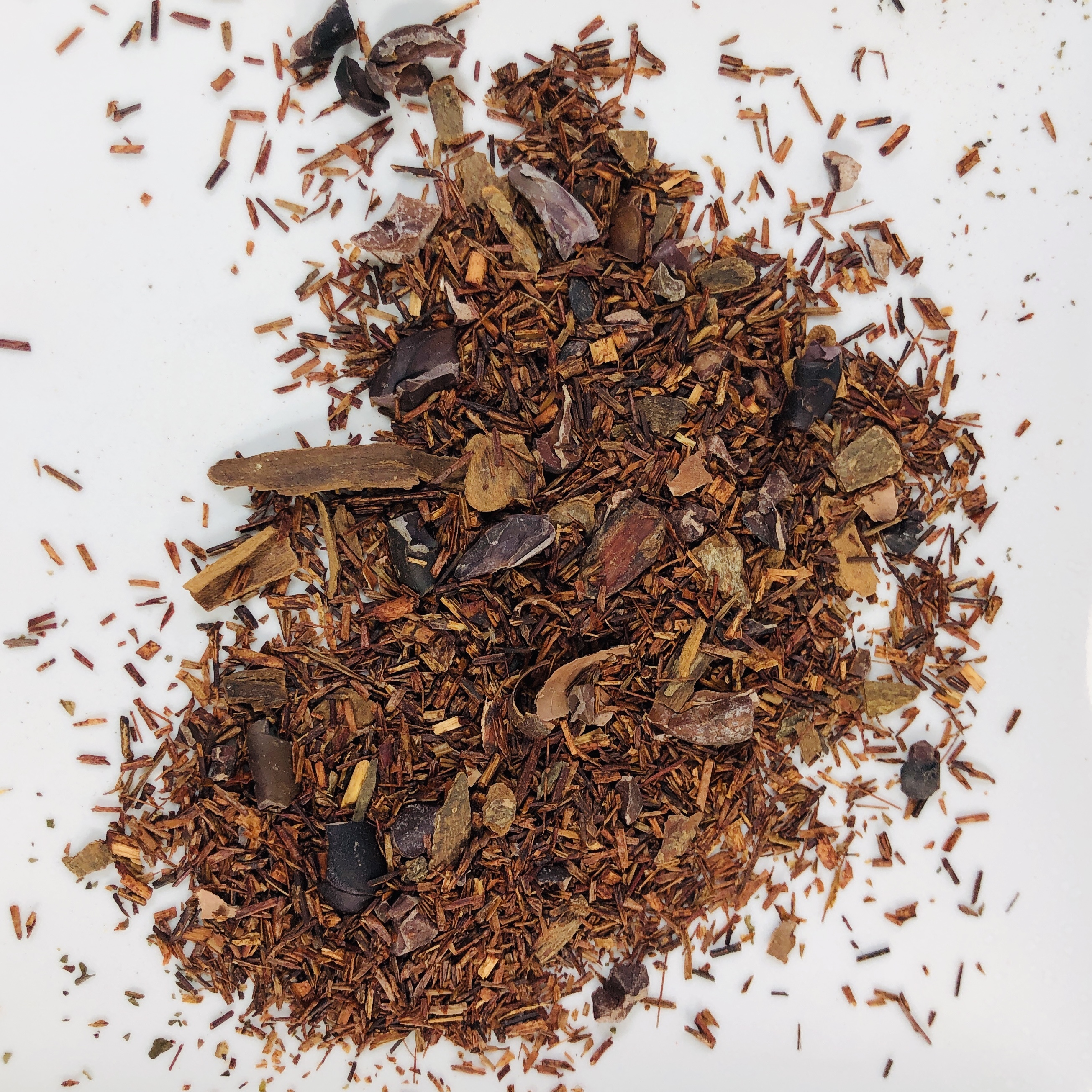 I can't say that I tasted the cacao and I am ok with that. I think this was a strong rooibos with cinnamon so it was a spicy after dinner tea for me.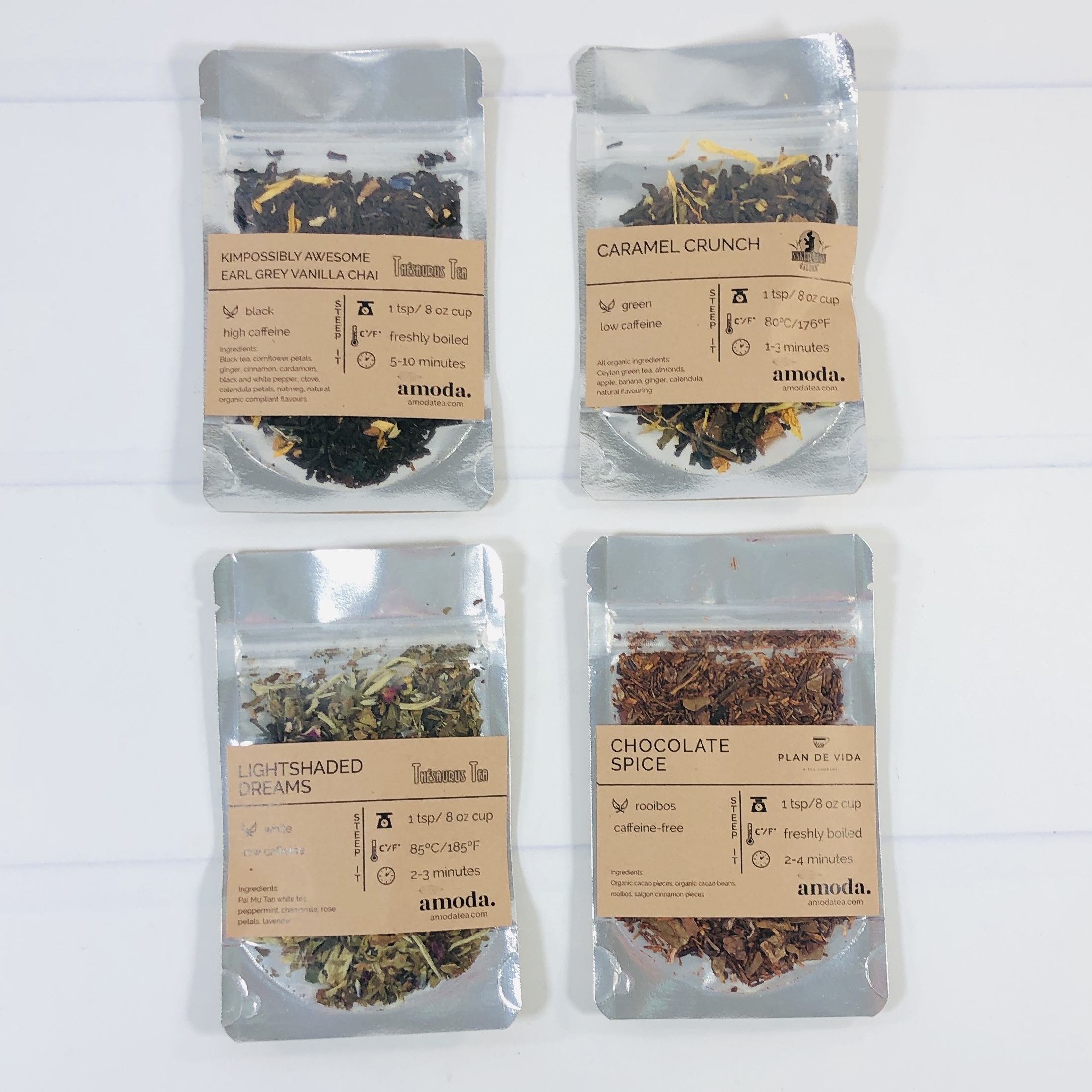 The blends sent by Amoda in my January box were super tasty! I loved reminiscing with the Kimpossibly Awesome chai/Earl Grey mash up and the minty white tea was full of flavor. The caramel tea was intriguing while the chocolate spice was spicy for sure. I love trying the various blends that Amoda sends every month and am thankful that they introduce new-to-me tea brands and flavors that I have never encountered before.
Which tea was your favorite? Let me know in the comments!