YogaClub is a monthly yoga clothing and apparel subscription box curated based on your preferences. They send brand name clothes, but at a fraction of the retail prices! Upon sign up, there's a fun style quiz that subscribers can use to tell them about your style preferences. You can subscribe to the Guru Monthly for $79. Shipping is $6.95 to USA and $9.95 to Canada, Alaska & Hawaii. They are also shipping to the UK.
DEAL: Use the coupon code HELLO to get your YogaClub Guru Box subscription for just $59 for life! That's $20 savings per month!
Prefer fewer items? Get your first 2-outfit box for just $39, instead of $49! That's $10 savings! Use this link and use the coupon code KARMA10 at checkout OR Take $10 off your first seasonal legging subscription box! Use this link and the coupon code TAKE10 at checkout.
Yoga Club now has services to make exchanges on your items, and there's even a community for Canadian subscribers!
So much colors in this month's box! And a big sweater perfect for the winter.
Vie Active Lulu Full Multi. Vie Active is a staple in this subscription box. This month, I've received these awesome, colorful full leggings!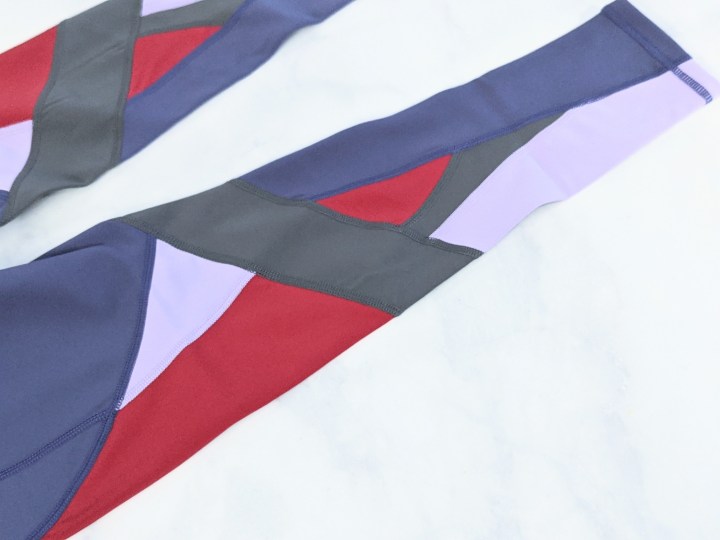 They are super soft, very nice on the skin, and the pattern is bringing some color in the middle of winter! There's some indigo, red, grey, and a light purple. The thing though is that each color change brings in a new seam, so it might bother people who don't like seams on their leggings.
Also, pockets! There's two deep side pockets.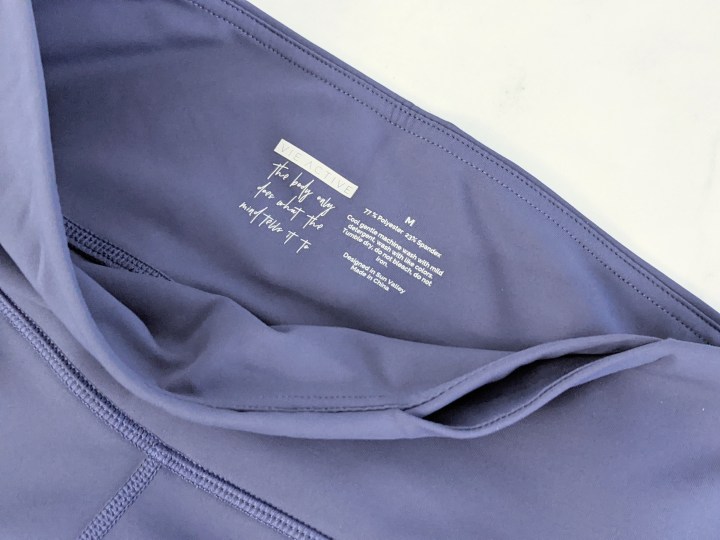 It has a high waist with the usual small pocket, and there's no weird elastic or anything annoying.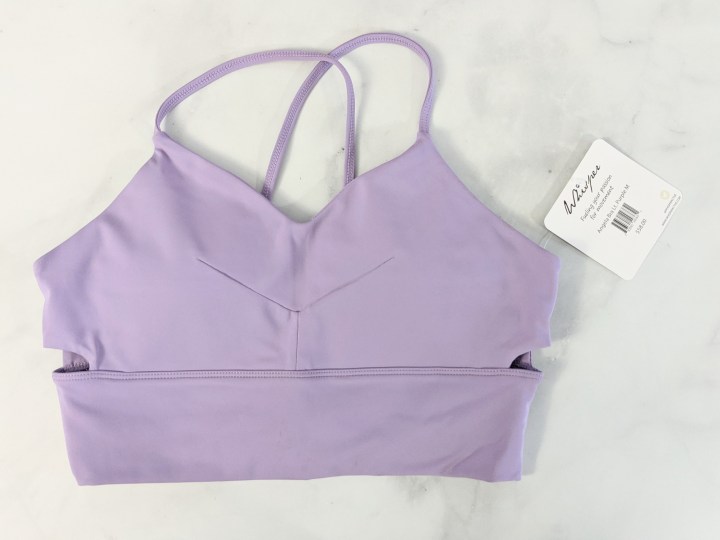 Whisper Angela Bra Light Purple. The fabric (mix of polyester and spandez) is sooooo soft! The wide band has no elastic, sits lower under the bra and keeps it in place without making is hard to breathe.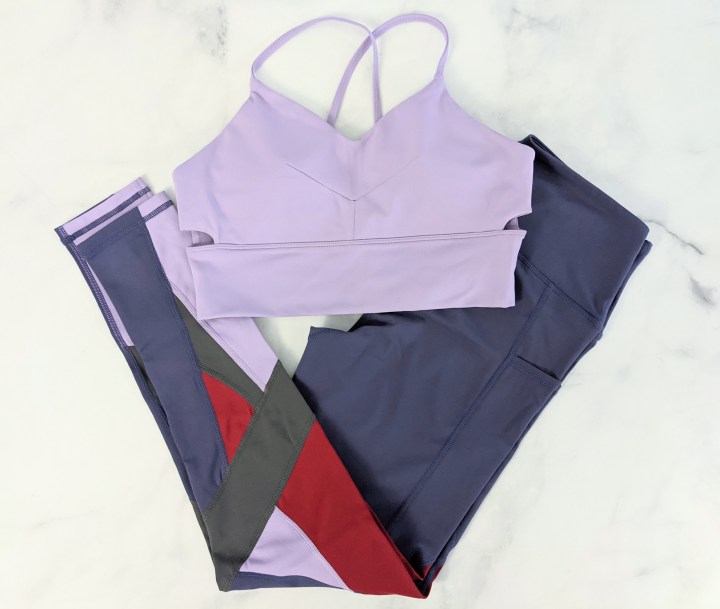 And it matches the leggings perfectly!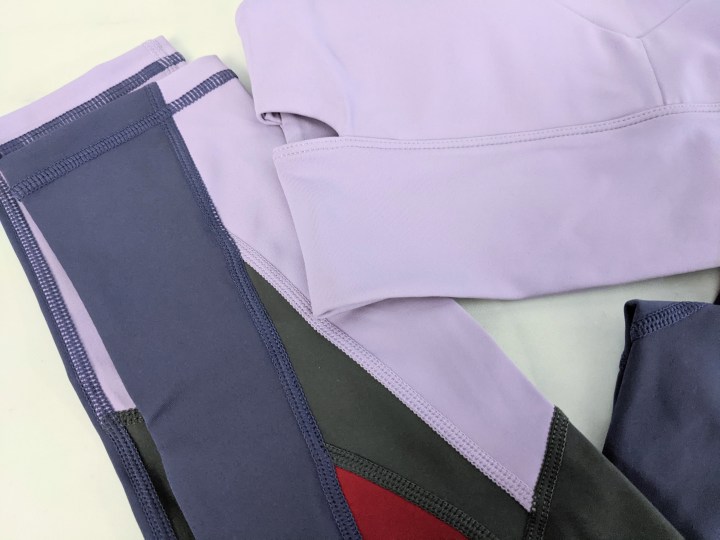 They are not from the same brand, so that was a lovely surprise!
It features simple straps and it is also quite high in the back.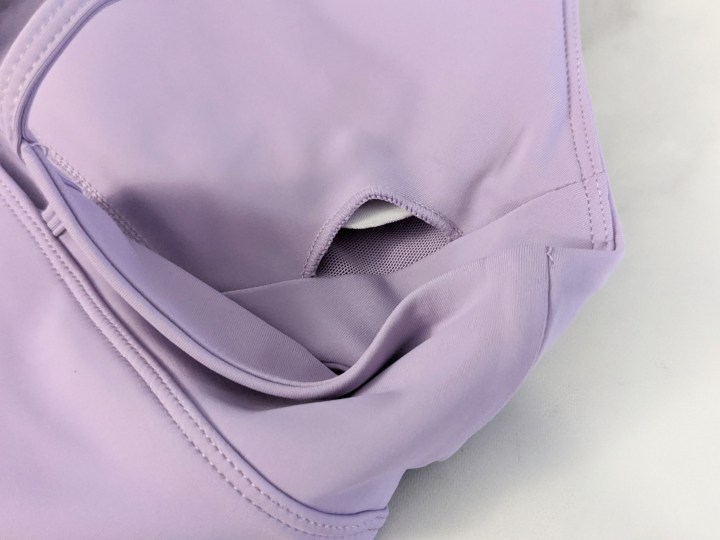 It has inserts for extra padding (included).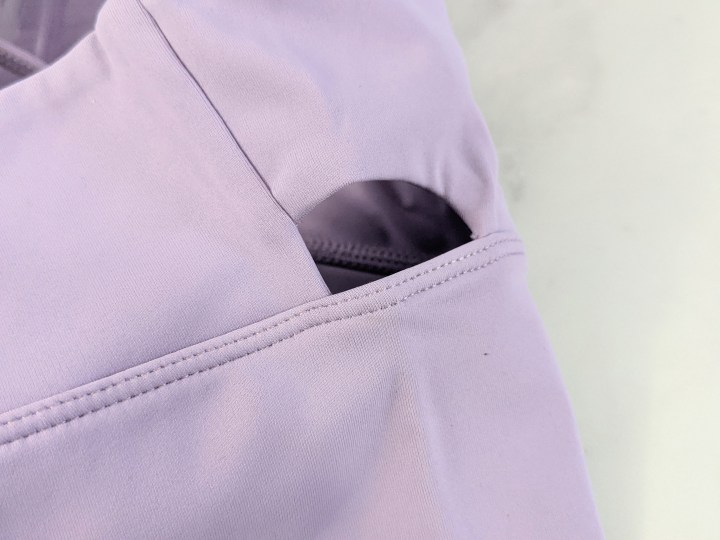 There's cute little details all over, like these side holes.
On the inside, there's mesh for better breathability.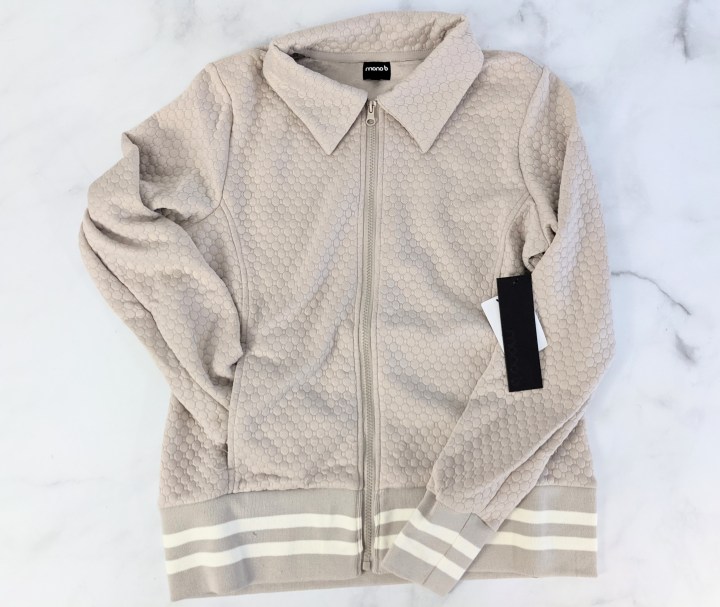 Mono b zip jacket. I couldn't find a lot of information on this jacket online. I'm always happy when we get outerwear in winter because let's face it, we need to layer up a bit at the beginning of our practice to keep our muscles warm. At least, I do!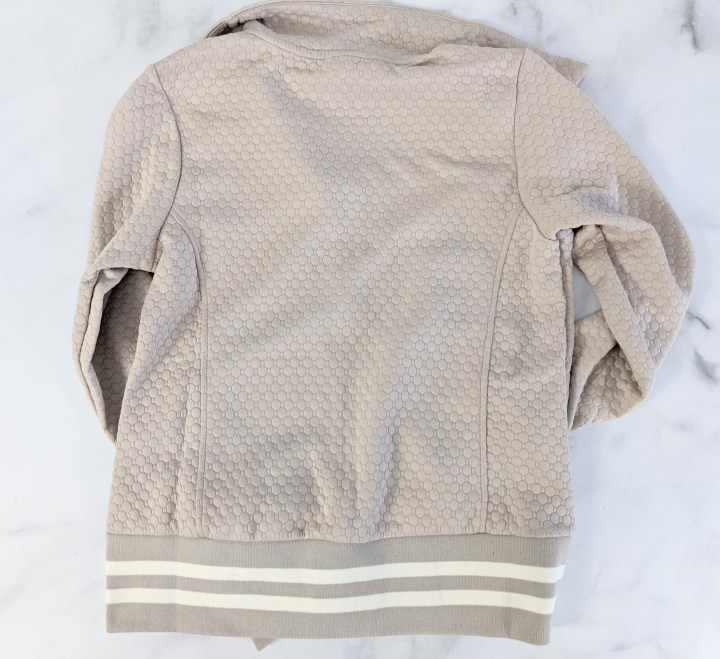 It features a quilted fabric in beige, with very large cuffs and waist band.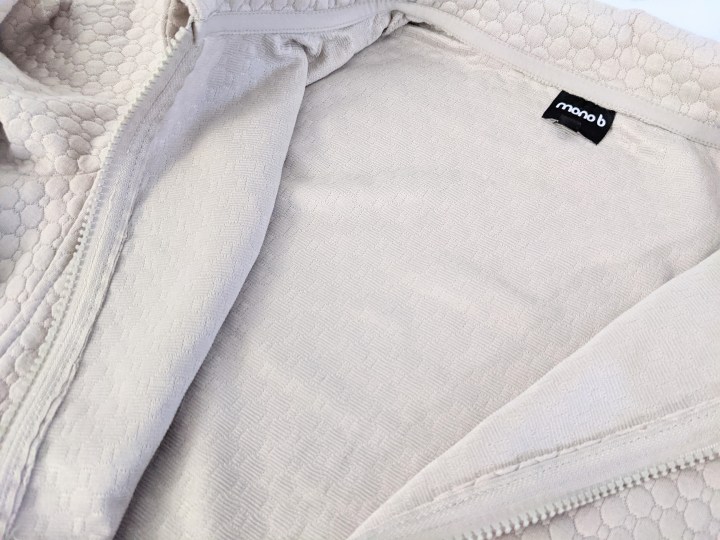 It's not lined and it's medium weight. It's not a light jacket, but it's not a sweater either. It's great for light activity.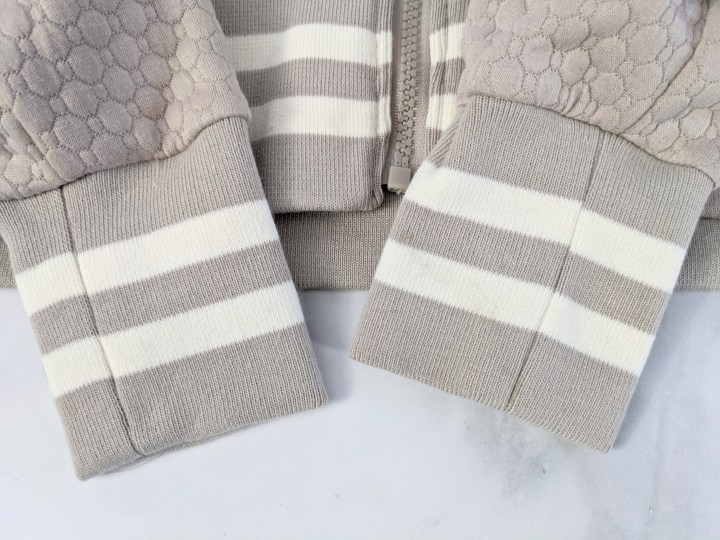 The cuffs are a bit tighter than what I usually go for, but I also don't have to pull them up my arms all the time!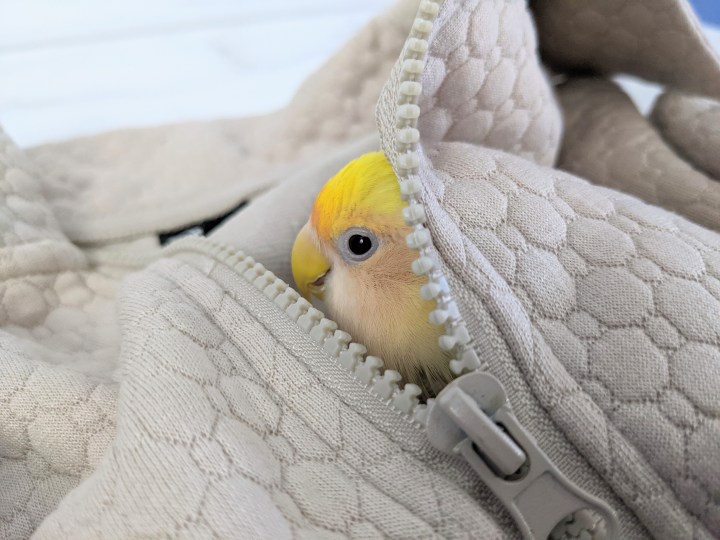 The plastic zipper is quite sturdy, and the sweater is bird approved (she likes to spend her day under my shirts, so this jacket is perfect to keep her warm as well.)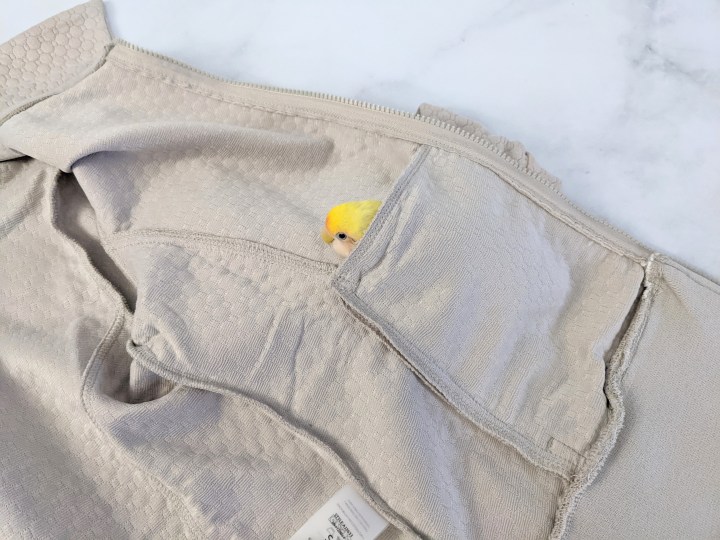 There's also two inside pockets.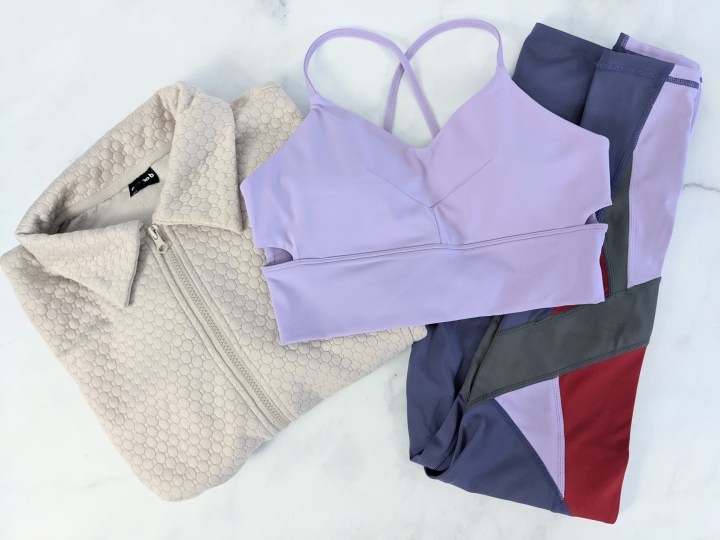 While the bra and the leggings are perfect match, with buttery soft fabric and lovely colors, I first thought that the jacket didn't quite fit with them. I'm really happy to have received a jacket, it's a great addition to a winter box, but if I wanted to be picky, I would say I wish I would have received it in grey, or navy, or any colors that would tie it to the bra-legging outfit better. But the whole outfit works perfectly and this was definitely a winning box and one of my favorite in the last couple of months.
I like that you can change your sizing pretty much whenever you want, but I wish there was a way to add a bit more personality in the profile such as colors you don't like.
If you know of a brand that doesn't fit you or that you don't want, a style that you prefer, or any other thing you want to let them know, you can send them an email and they will make a note to your account. And if you want to change your subscription or the schedule (instead of monthly, you want the box quarterly), you just need to send them a message through your account and they will make the arrangements as soon as possible.
Have you tried YogaClub? What do you think of this month's personalized selection?