Vellabox is a monthly natural candle subscription box. The candles are always in seasonally inspired scents and are created by the finest American artisans. Each box features a different candle brand. The candles are from small businesses and are made of all-natural wax, cotton braided wicks, and premium fragrance oils. Vellabox also includes a surprise lifestyle gift in every box.
Our Vellabox Candle Curator handpicks the candles and guarantees that they are always all-natural, seasonally relevant and bound to bring warmth and joy to any space. The surprise gift in your box each month is chosen carefully to align with our team's health-centric values.
DEAL: Get $5 off any purchase! Use coupon code HELLOSUB5.
The first thing you need to do is decide which level you prefer. You can choose from The Lucerna Box ($10) which includes a 4 oz candle monthly, The Ignis Box ($20) with an 8 oz candle monthly, and The Vivere Box ($30) with an 8oz + a 4 oz candle monthly. Each level receives the bonus lifestyle gift. Shipping is $3 per month for Lucerna and Ignis to the US, and free for Vivere. Vellabox now ships to Canada for $8 per box.
I am reviewing The Vivere Box.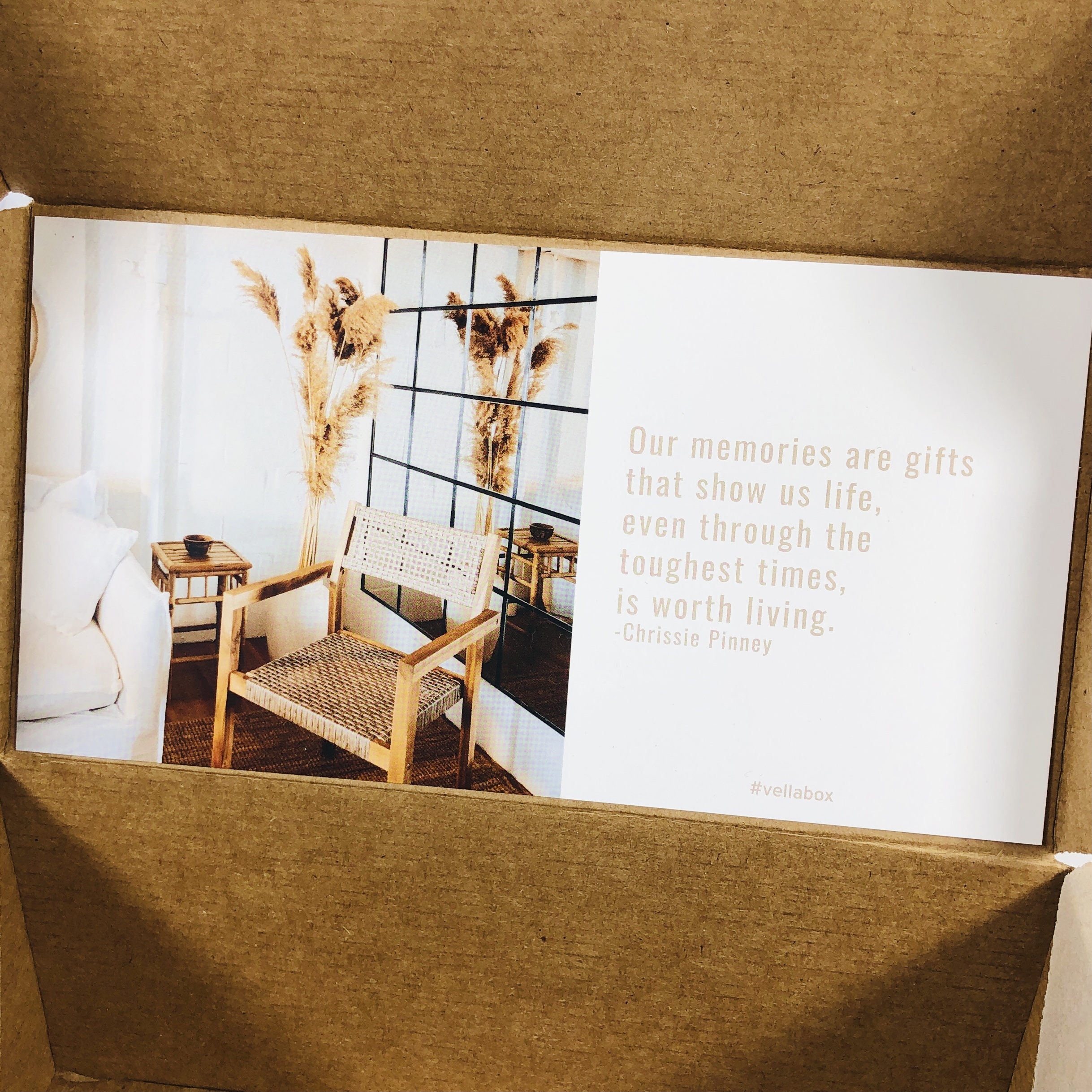 The inside always features a cozy scene and inspiring quote.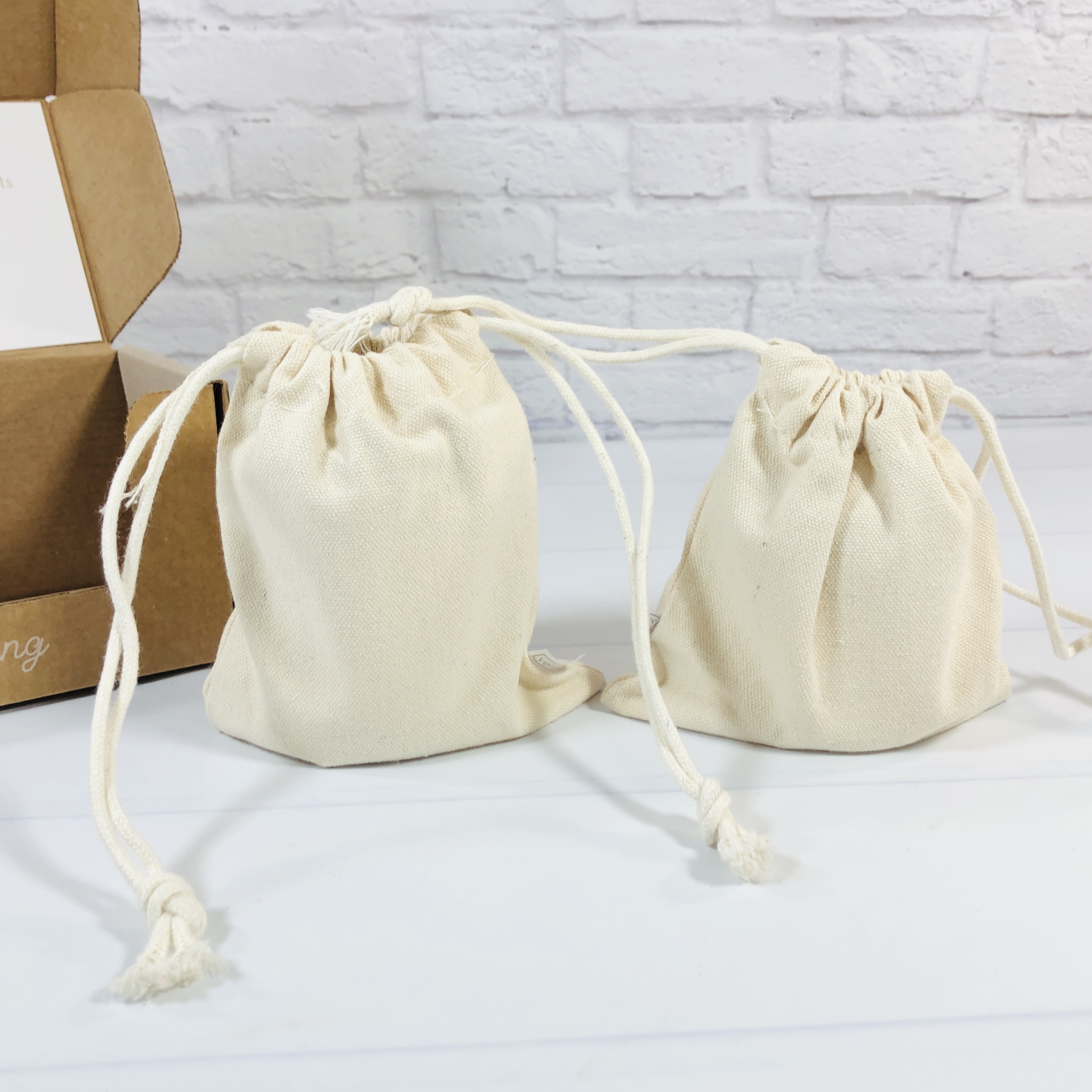 The candles were in reusable drawstring canvas bags. The bags can hold items like jewelry or other trinkets.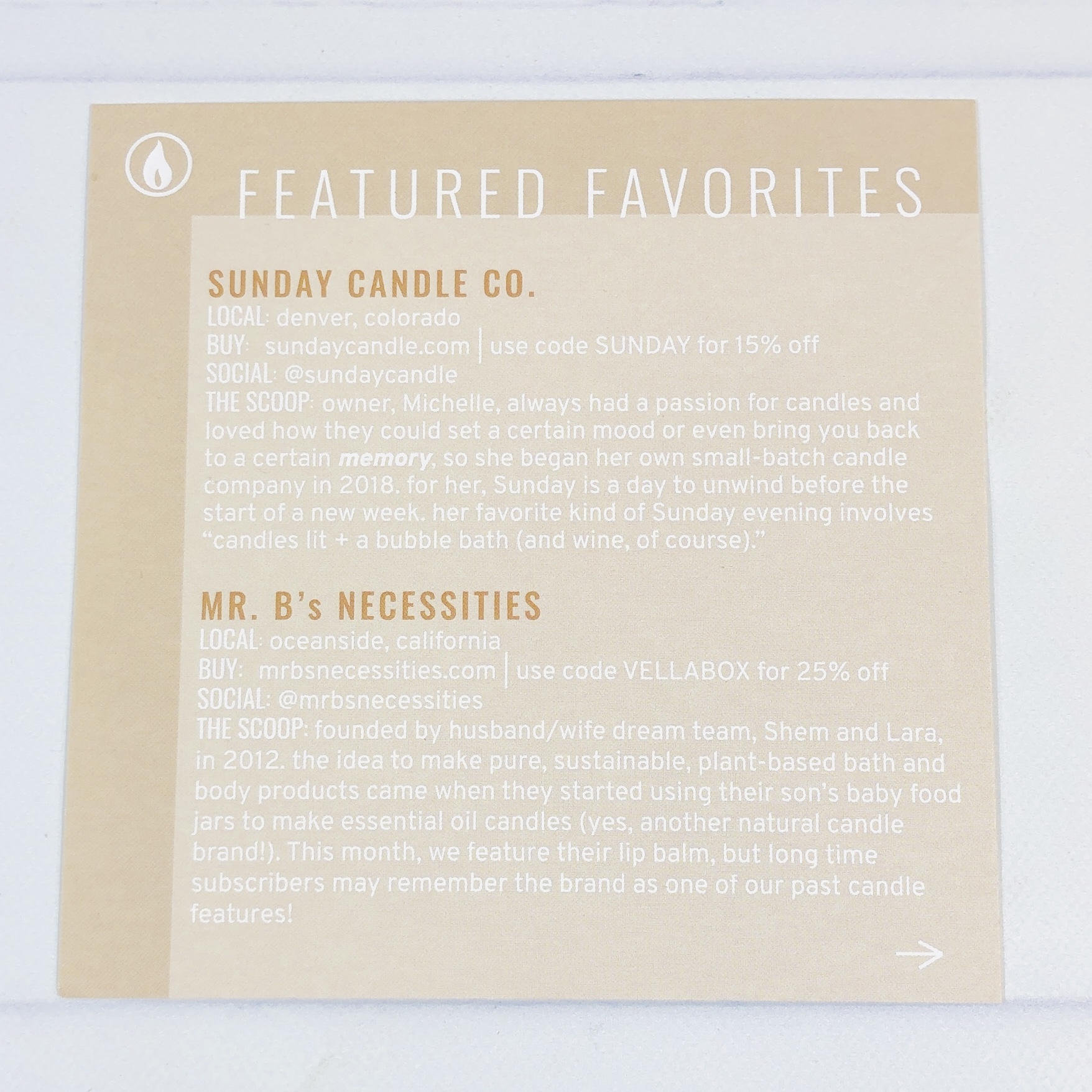 There was a card with info on the candle brand, Sunday Candle Co., and a coupon code for future purchases from the featured brands!
Sunday Candle Co is a small batch candle company based in Denver. Our candles are thoughtfully made using only premium grade products. We use 100% natural coconut wax, phthalate-free fragrance oils, and cotton core wicks to ensure a safe and clean burn. We do not use any additives such as paraffin, UV stabilizers, or color. Our scents are soft + work well for those that are sensitive to strong scents/candles. Our subtle fragrances are inspired by mountain hikes, Sunday mornings, city adventures, and weekends at the cabin.

We are passionate about authenticity, quality products, and good smells. We believe candles can elevate a mood and bring back the best memories.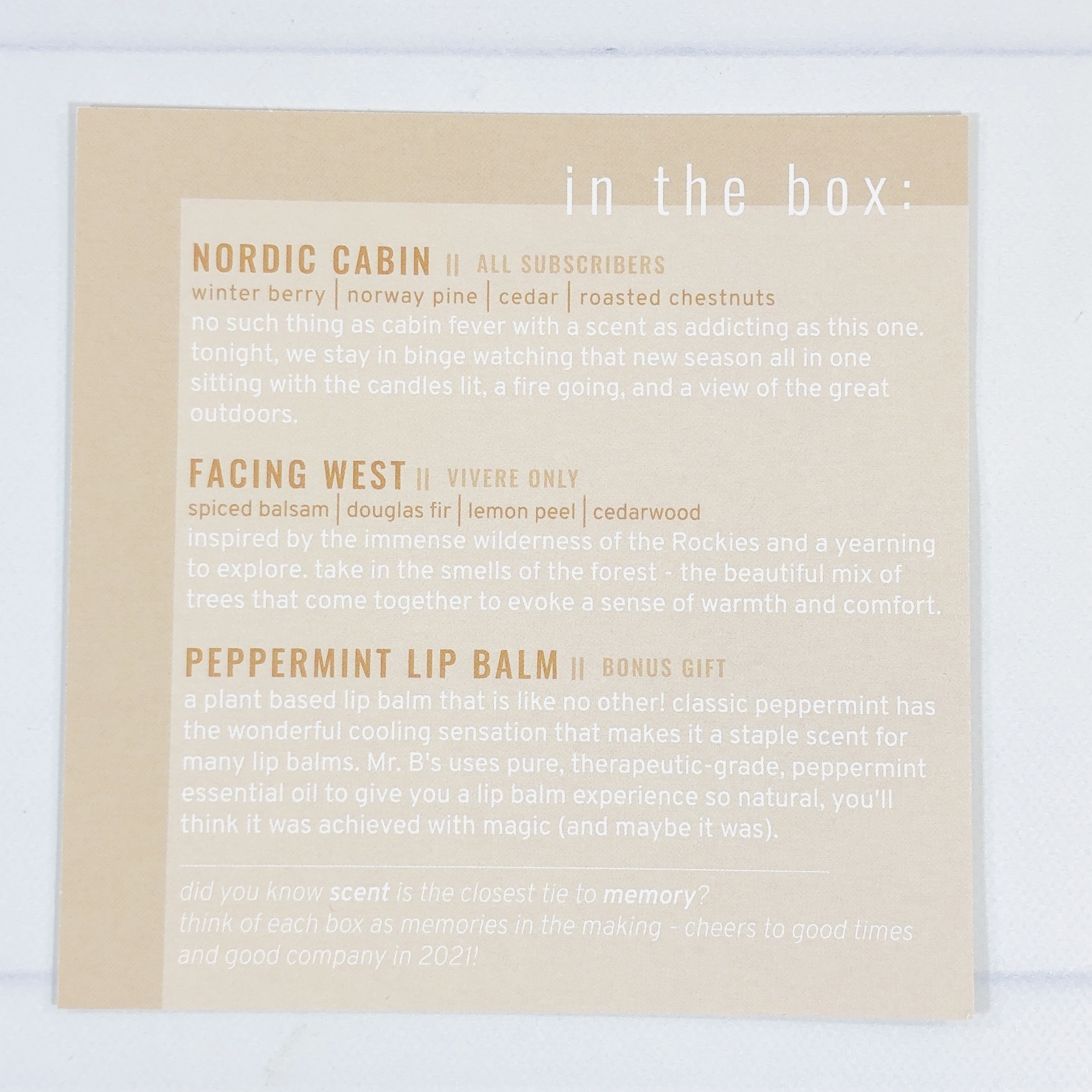 The back of the card described the scents and the extra, which is a lip balm.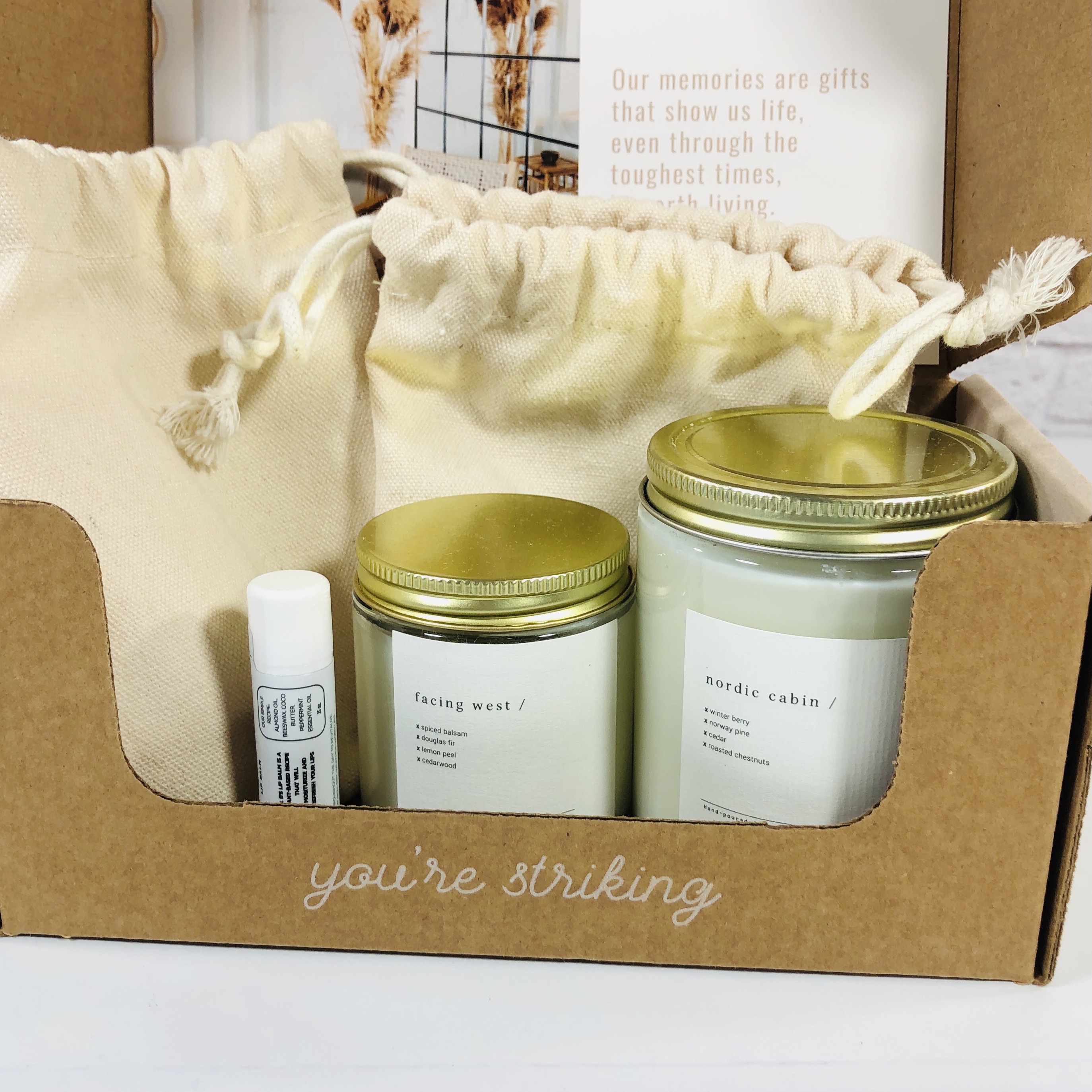 Here's everything in the box!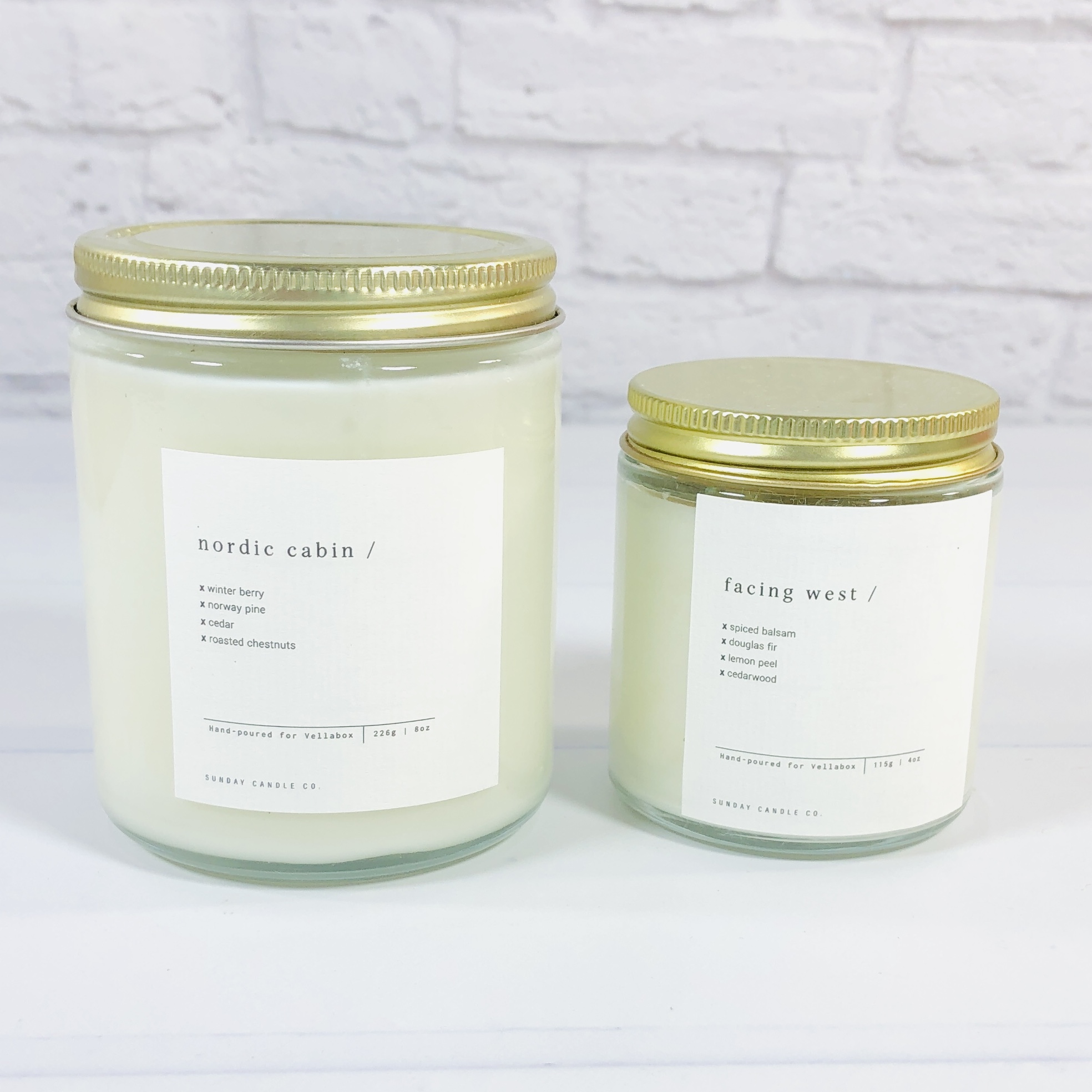 The jars are clear with off white wax inside and the lids are golden.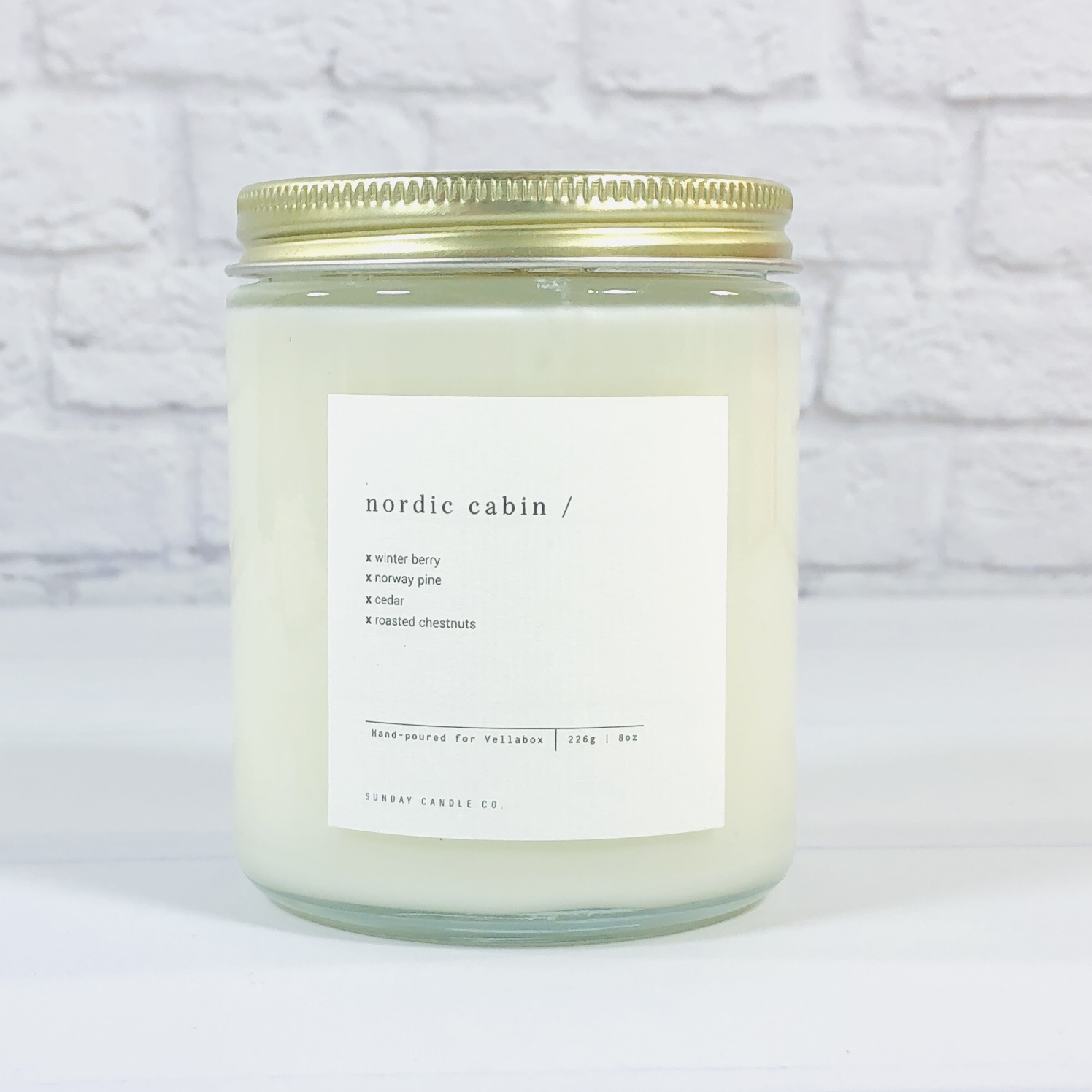 Sunday Candle Co. Nordic Cabin Hand-Poured Candle ($24.89 value) The candles sold on the Sunday Candle Co. website are all 9 ounces so I have estimated a value based on ounces. You can see by the label that this was made especially for Vellabox and the packaging is slightly different.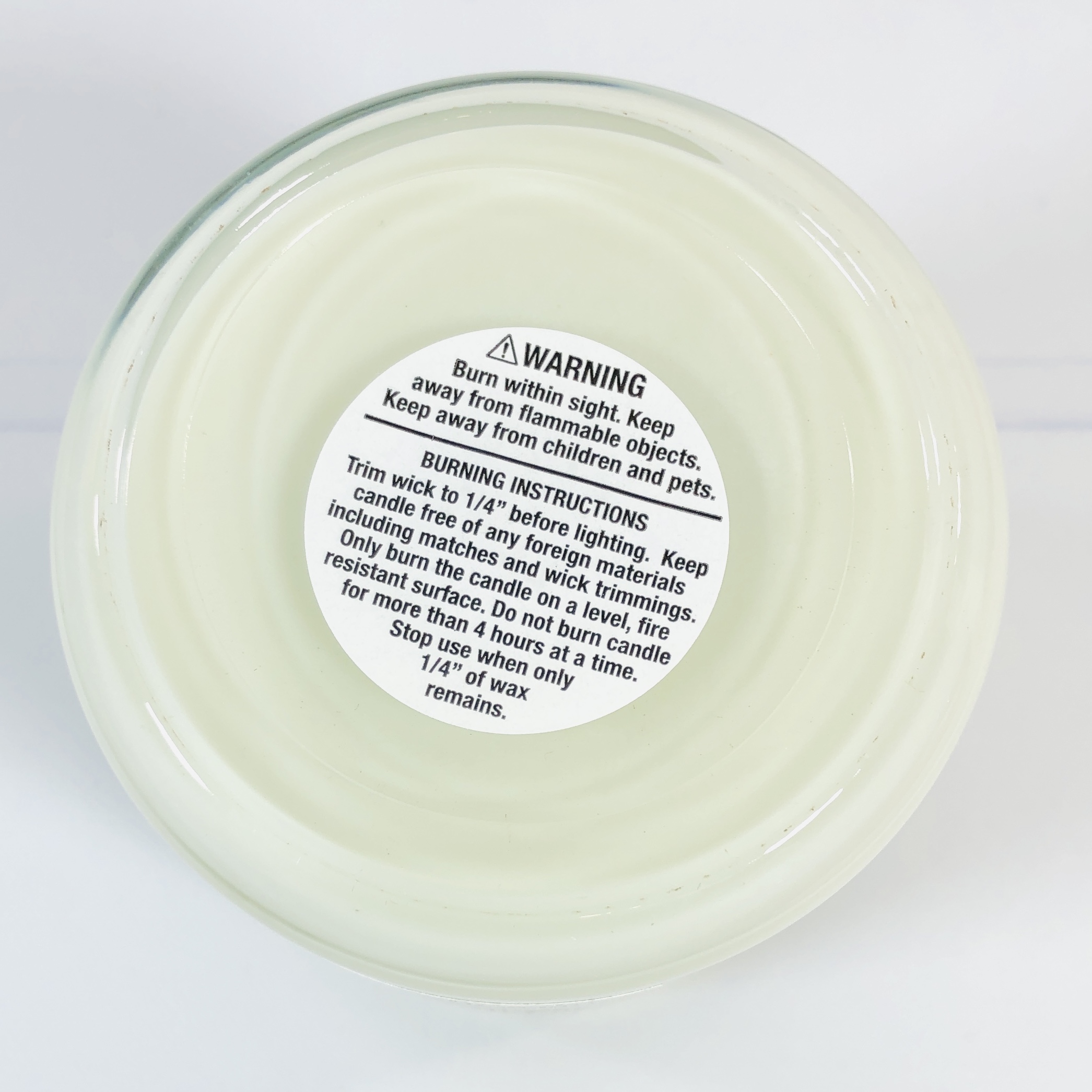 The bottom of the candle has the standard warning.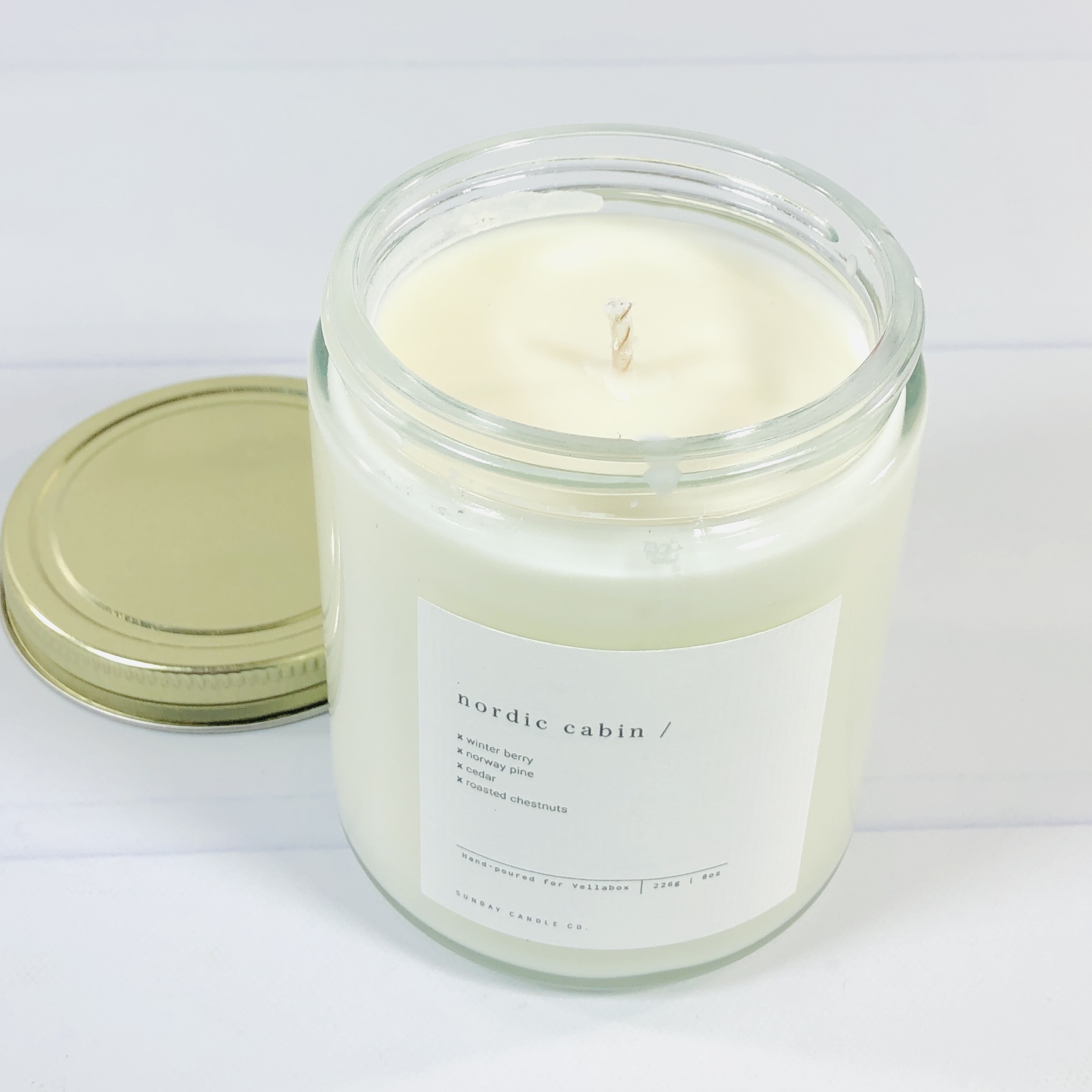 Nordic Cabin has scent notes of winter berry, Norway pine, cedar, and roasted chestnuts and is supposed to remind one of a Scandinavian cabin in the woods.
Sunday Candle Co. Facing West Hand-Poured Candle ($12.44 value) Our second cold weather candle was inspired by the Rockies. Scent notes include spiced balsam, Douglas fir, lemon peel, and cedarwood.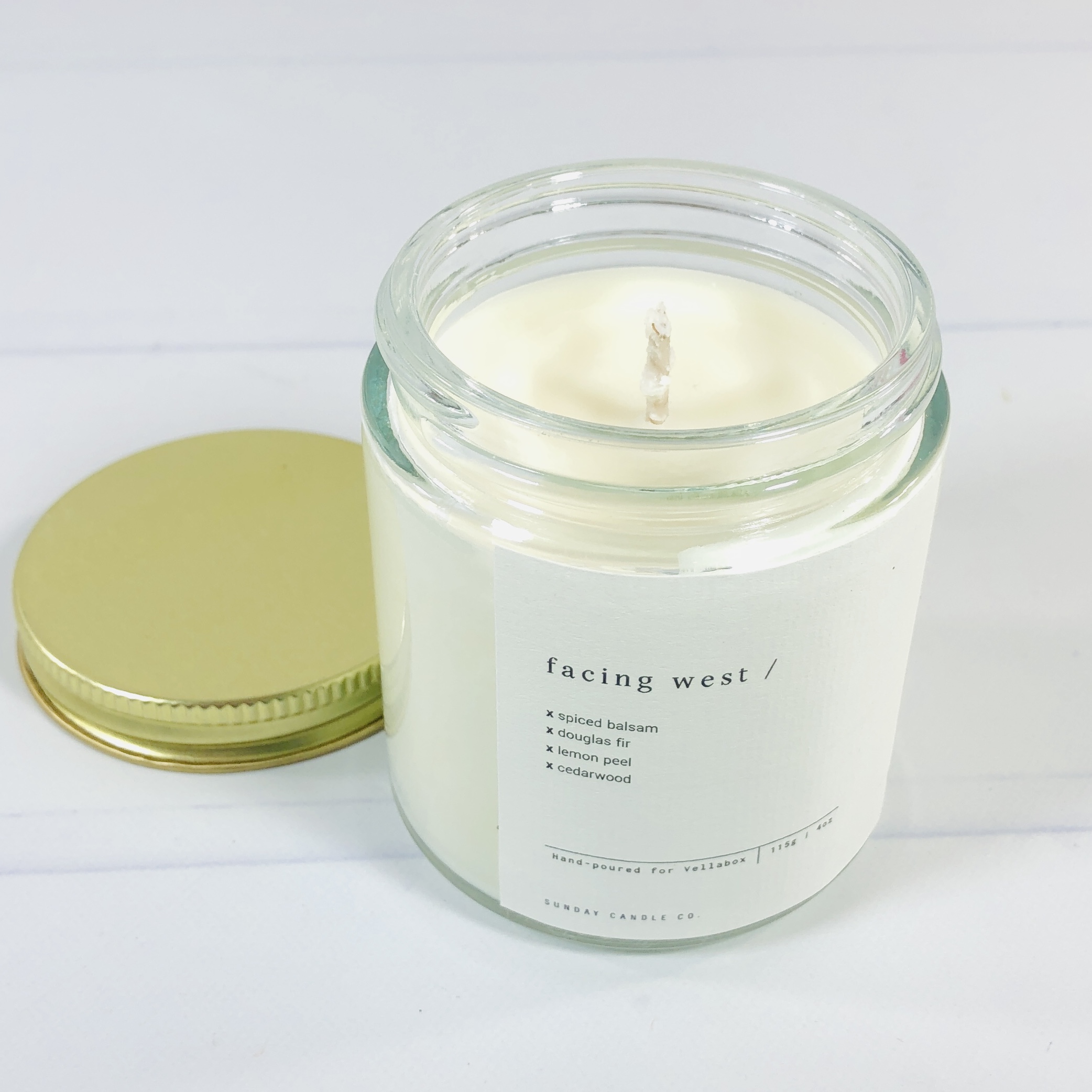 Both candles are made of coconut wax and are scented with phthalate-free fragrance.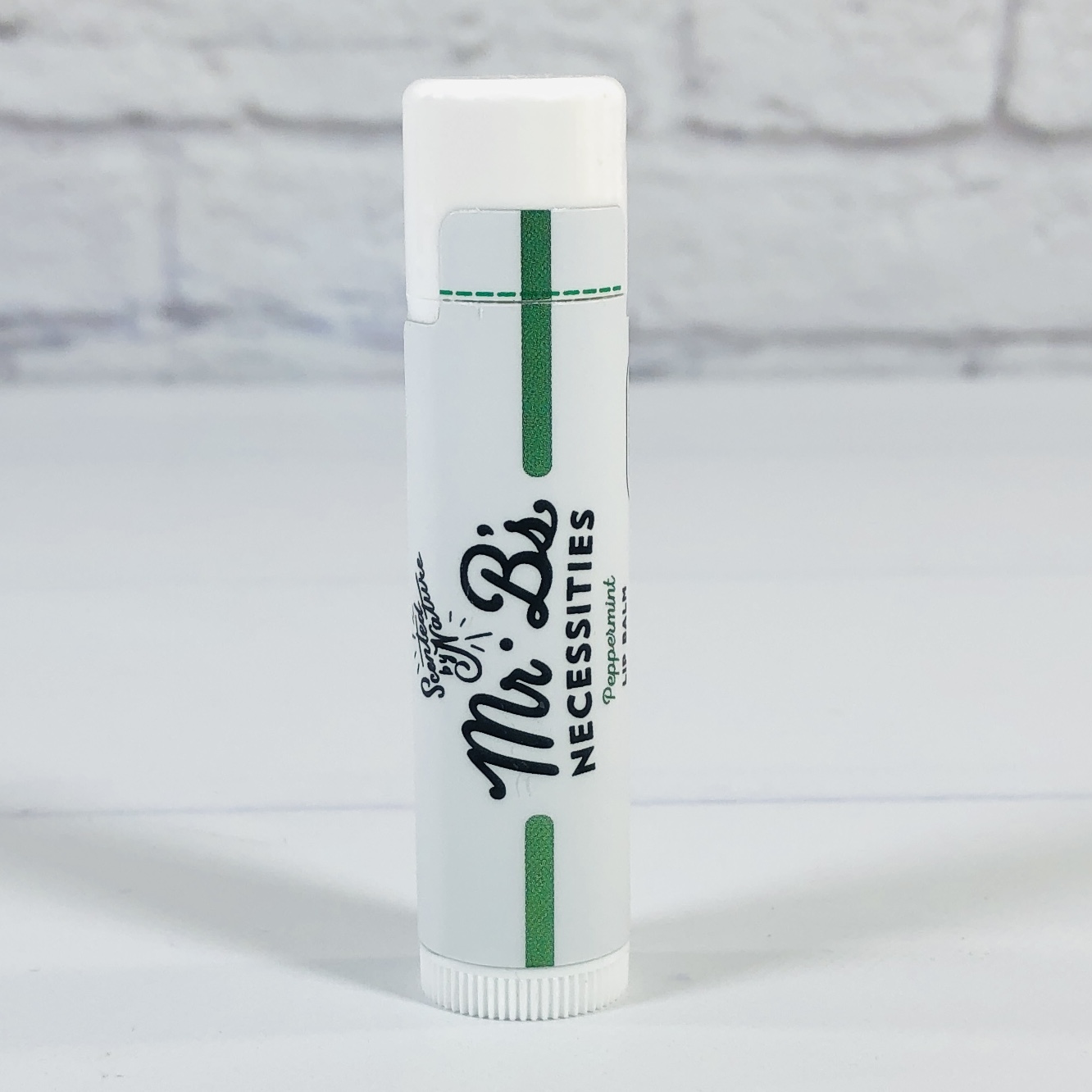 Scented by Nature Mr. B's Necessities Peppermint Lip Balm ($5.95) A minty lip balm is a sure way to make the lips feel icy cold, but in a good way.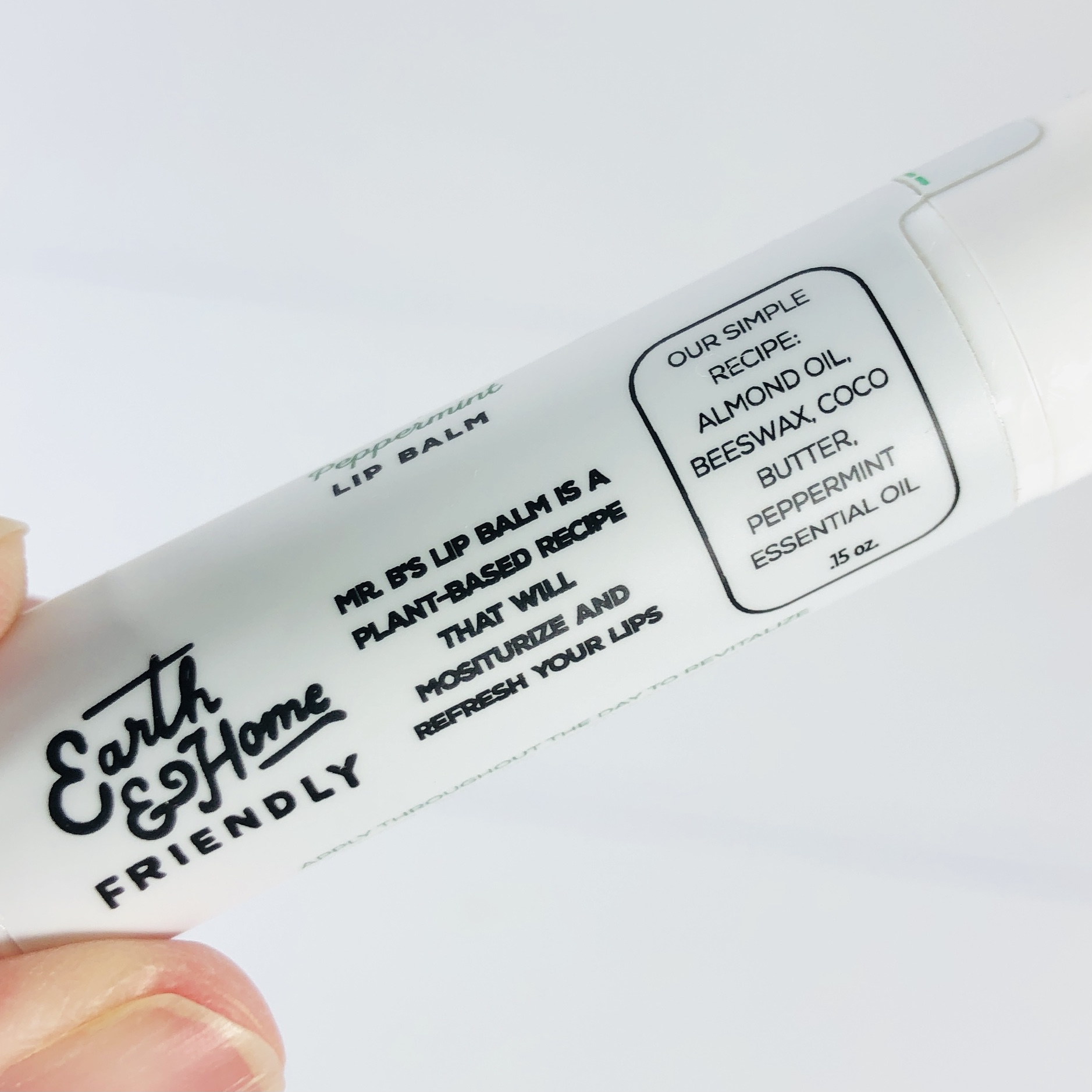 The recipe is "plant-based" which I take to mean that it isn't made with petroleum products. It has almond oil, beeswax, "coco" butter, and peppermint essential oil.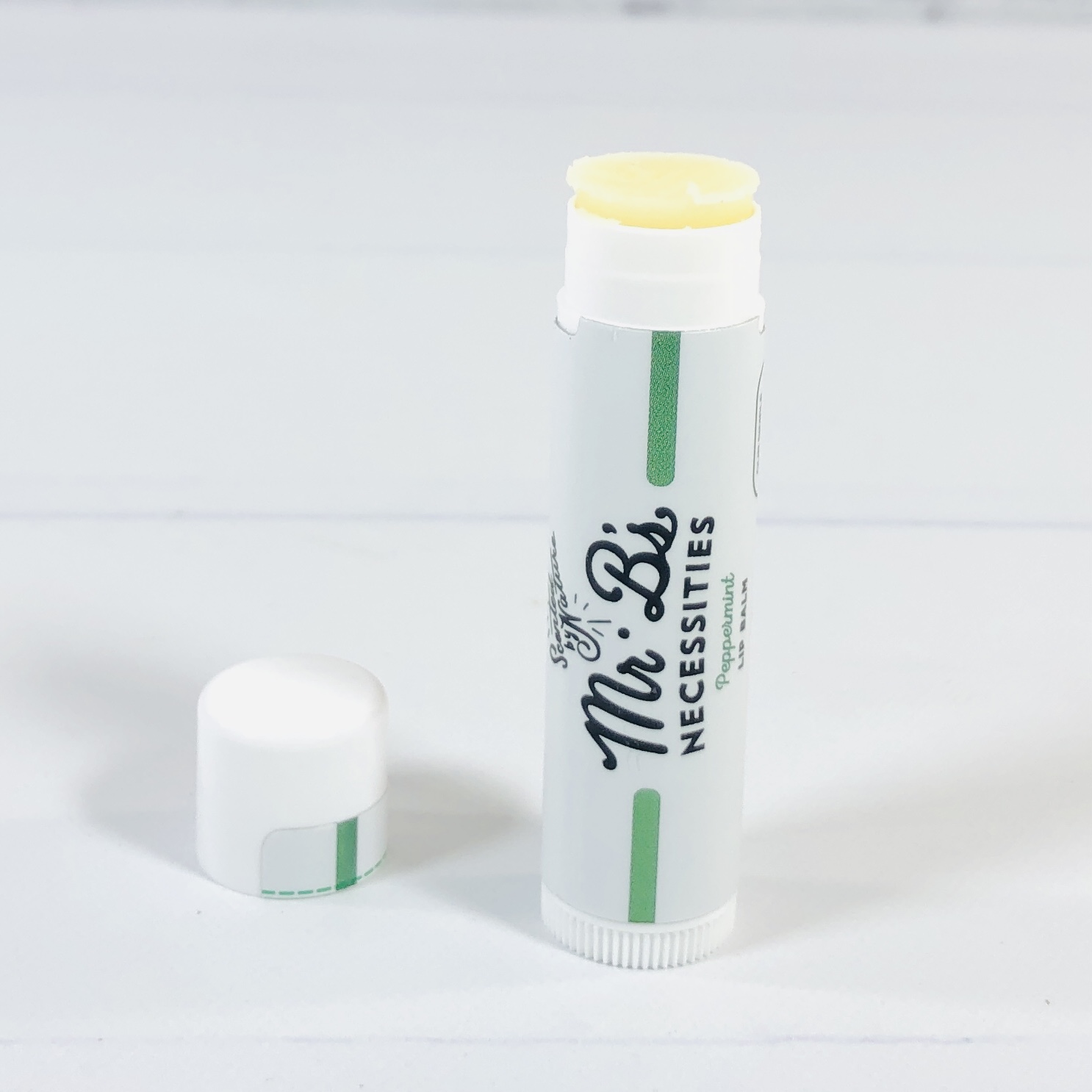 The balm swept over my lips effortlessly and yes, my lips tingled for several minutes after applying, so refreshing. It even made me feel like I had recently used mouthwash!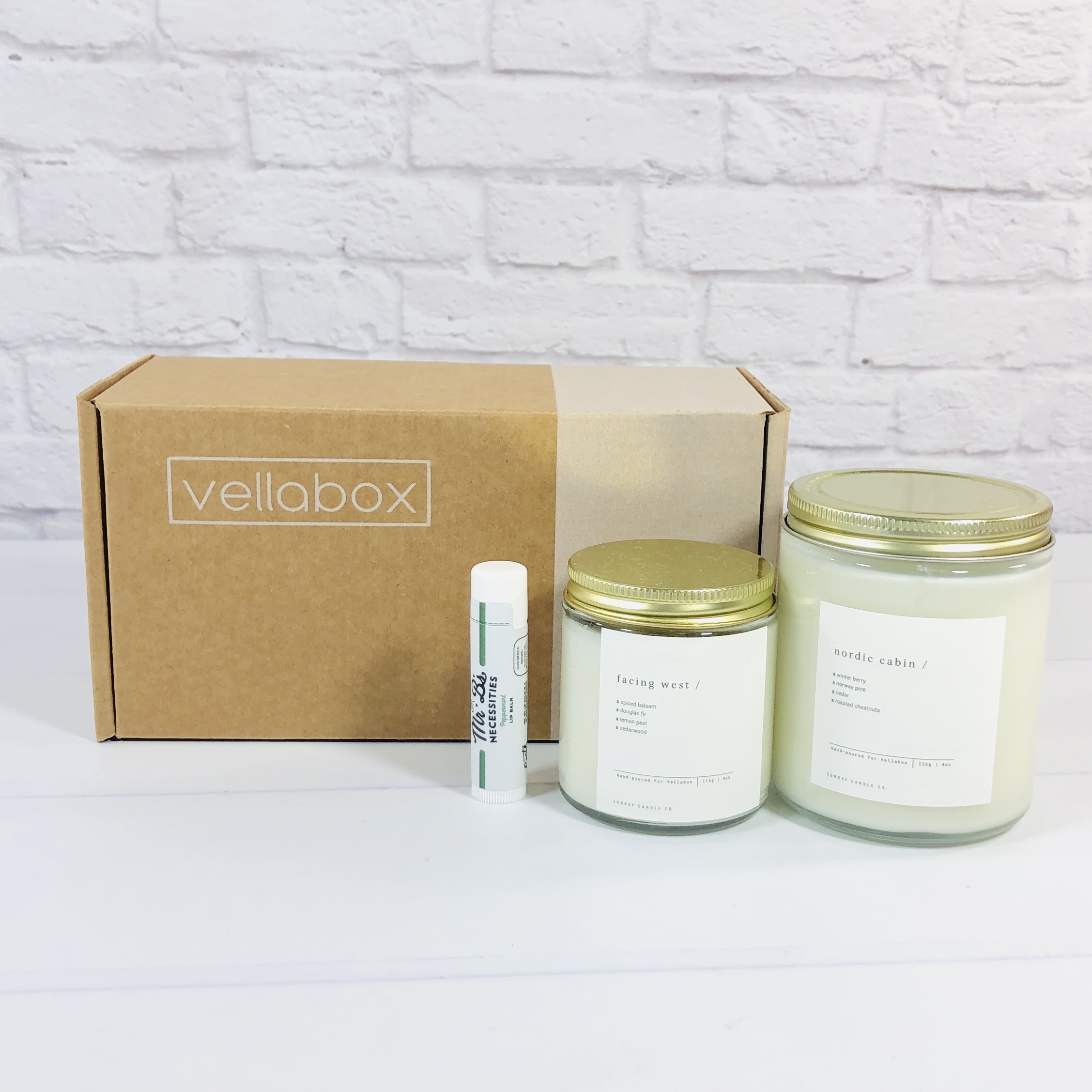 I am loving my January candles from Vellabox and Sunday Candle Co.! They both have that outdoorsy fresh yet cozy woodsy feeling about them and they both have evergreen notes. Facing West definitely has more of a Christmas tree scent to it while Nordic Cabin is a little deeper. Both candles are as promised, not overpowering but gently wafting fragrance close to the burning area so those who aren't fans of strong scents should get along fine with this brand (and with most brands sent in this subscription!). The lip balm was also a big hit with me, I love all things mint and this balm was especially bracing. I was lucky enough to receive this box the day before getting snowfall (which is rare here in Austin) so it especially added to the atmosphere of a cozy winter cabin in my suburban home.
What do you think of this box?