Vegancuts Beauty Box is a monthly beauty subscription service that sends 4 or more items ranging from unique cosmetics to luxurious skincare. Best of all, they are 100% cruelty-free and vegan, plus most items are natural and non-toxic! Monthly recurring shipments are $24.95 with free shipping in the USA (there is an additional charge for other countries). This sub is also available in 6 or 12-month terms that do not renew but that do earn you a discount.
Each month you'll receive a delivery of 4 or more new deluxe or full-size products, from unique cosmetics to luxurious skin care, that treat your outside as good as you treat your inside.
DEAL: Use the coupon code hellosub to get $5 off your first box on any Vegancuts subscription! It can only be used once per customer, but it can be used on multiple subscriptions at once so long as they are in the same transaction.
My beauty items come in the same box as my snack subscription, but they are always placed in a separate bag.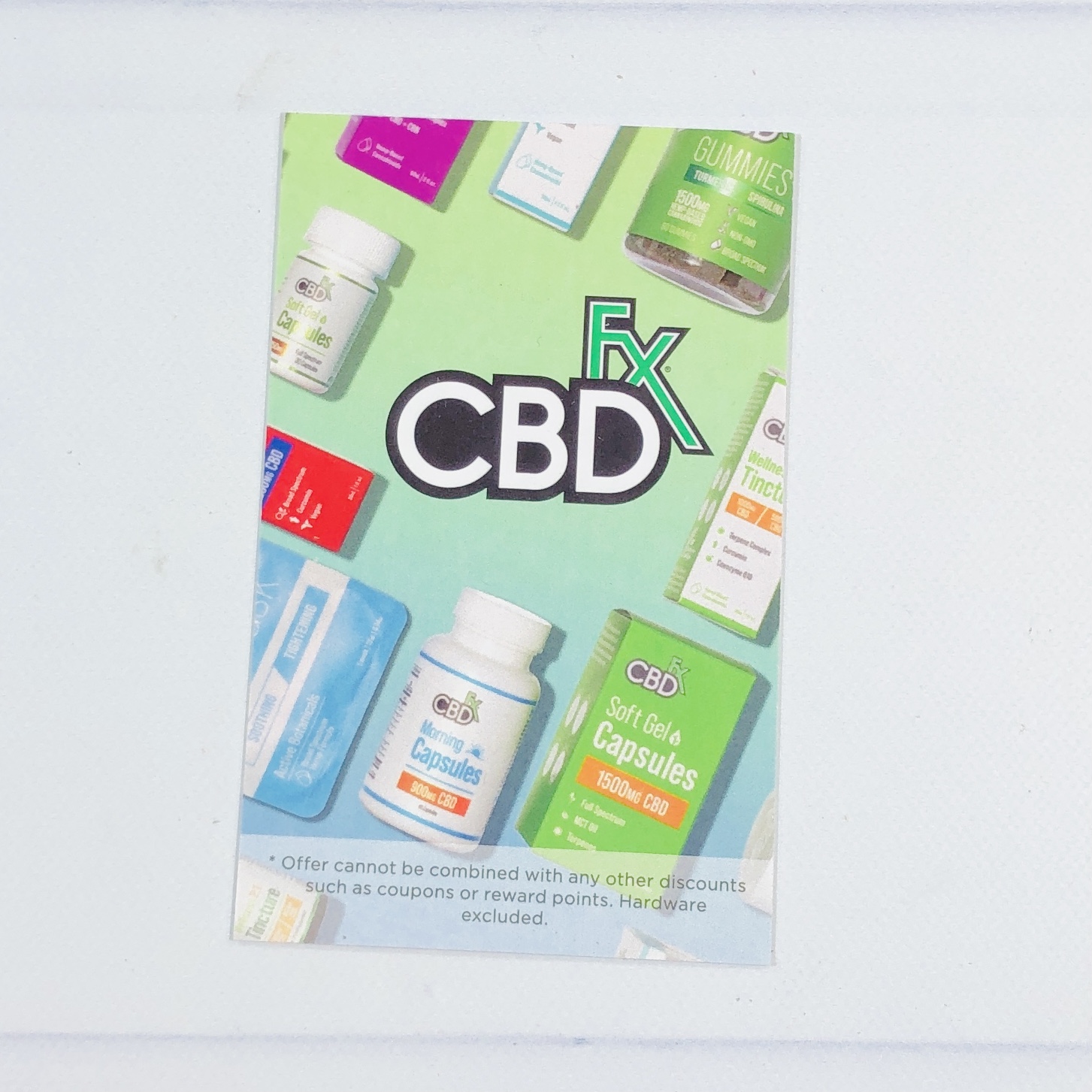 I found a coupon code to save 35% off of a first order from this brand.
The product info card tells me we are supporting Finding Shelter Animal Rescue this month!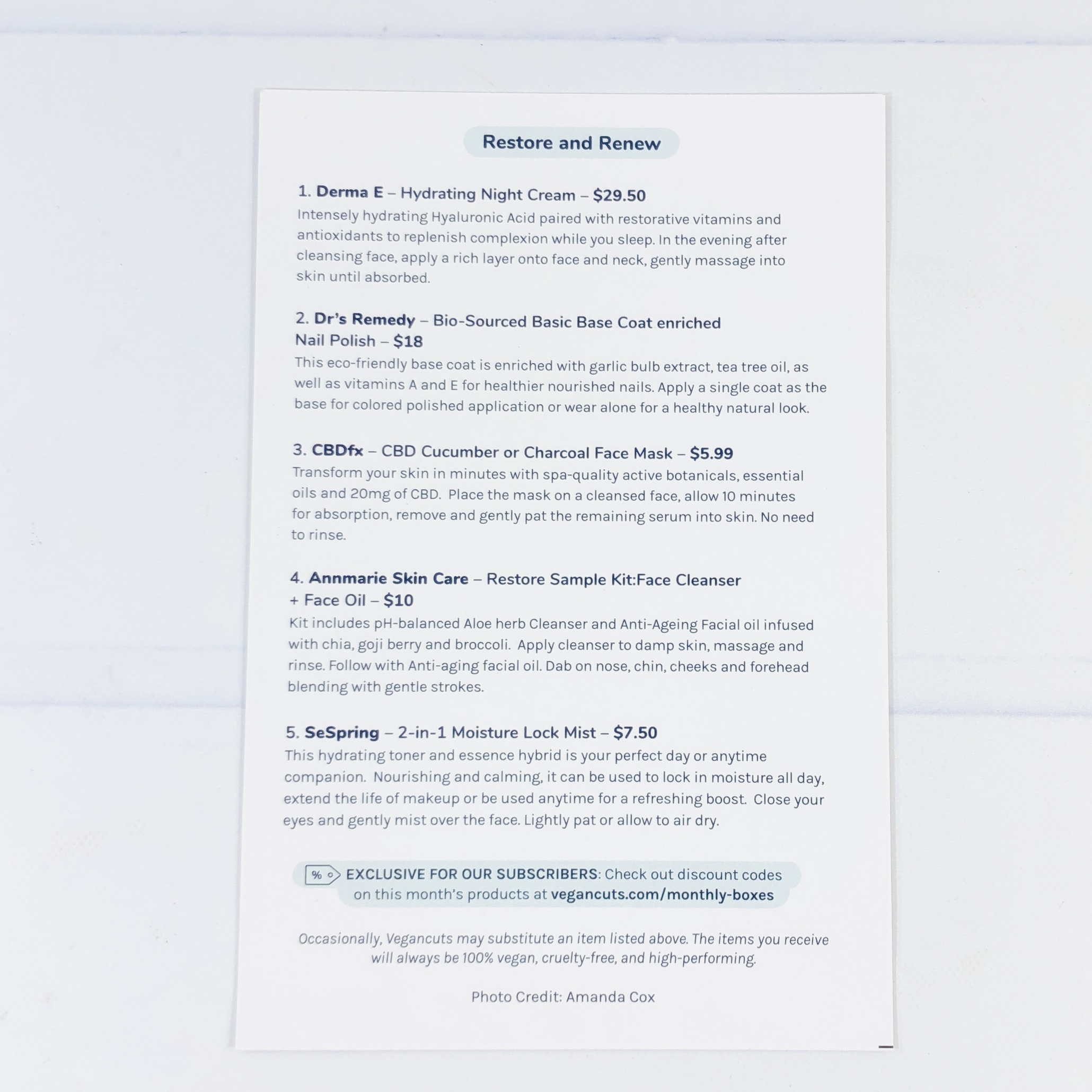 The back of the card listed the items and an MSRP. More discount codes can be found at the Vegancuts website. The theme for January is Restore & Renew!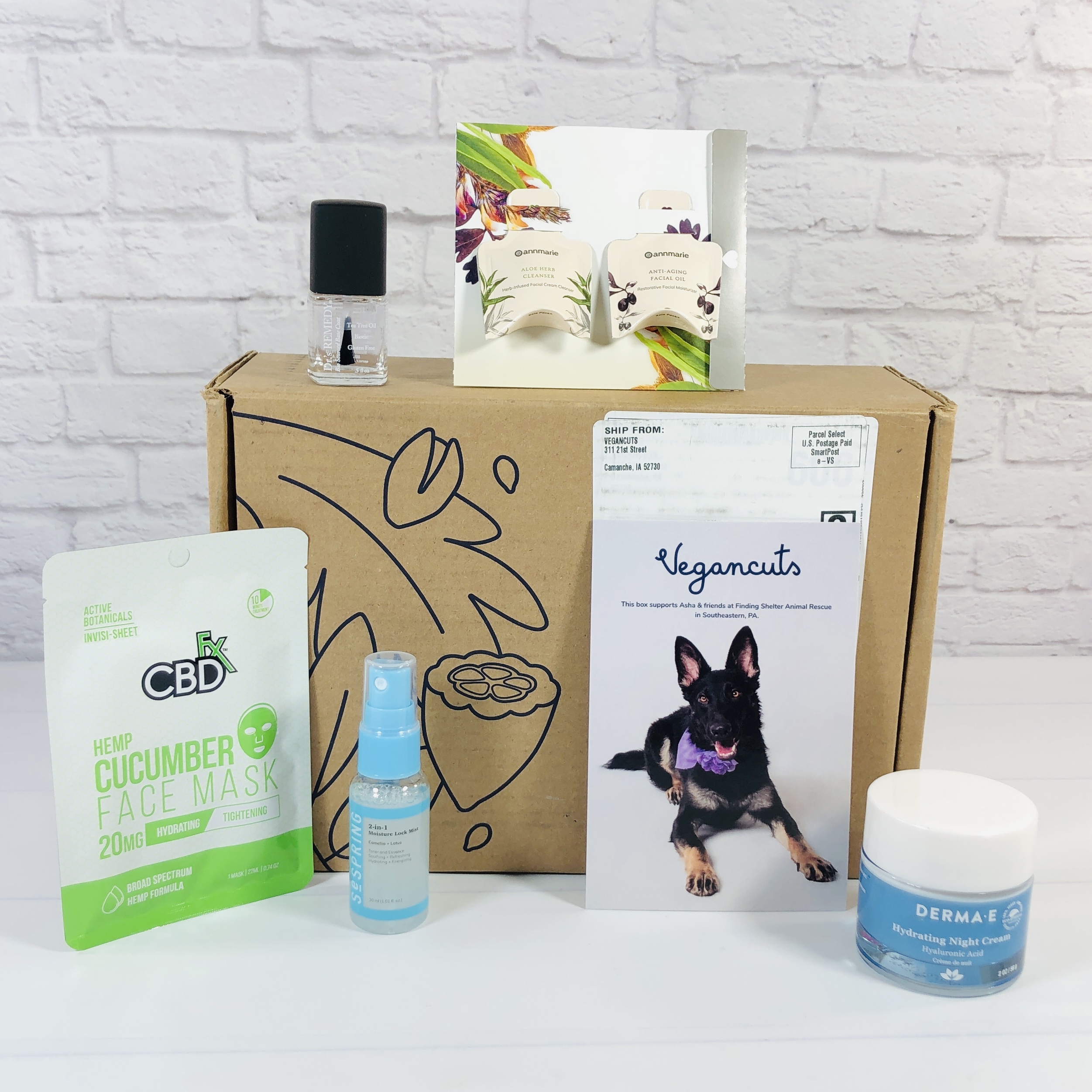 Everything in my box! One item was shipped separately but Vegancuts sent an email to let me know about the delay and that I could expect the face mist shortly.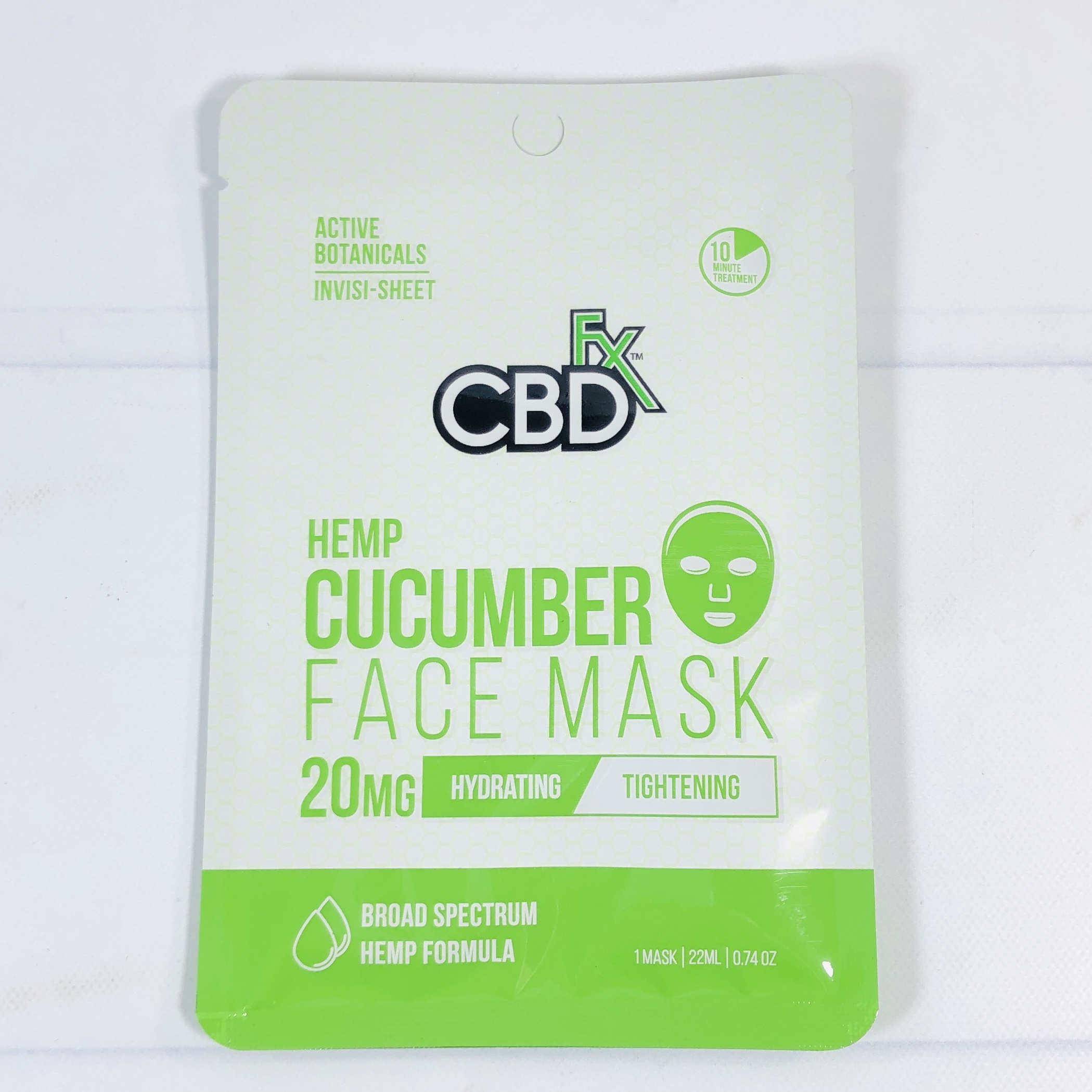 CBD FX Hemp Cucumber Face Mask ($6.99) I received a cucumber sheet mask but some subscribers will receive the charcoal version. This mask is supposed to tighten pores while helping restore skin hydration.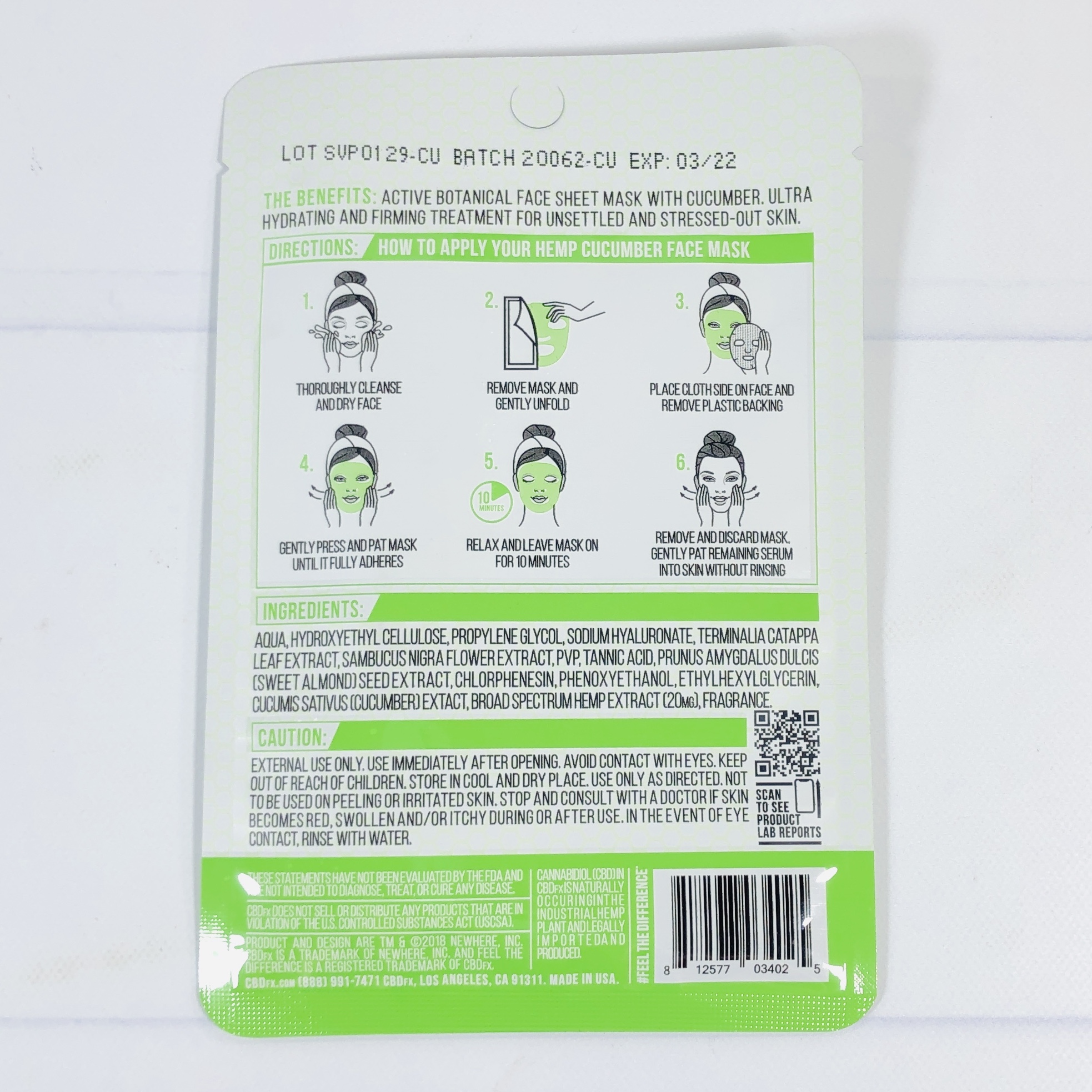 The mask has CBD, which may provide anti-inflammatory benefits for the skin. This is supposed to happen in just 10 minutes, and that's all the time they recommend you wear the mask. Place on a clean face and sit back for a bit while the mask does its work, then pat any remaining essence into the skin afterwards.
Dr's Remedy Bio-Sourced Basic Base Coat Enriched Nail Polish ($18) I'm always forgetting to use a base coat when doing my nails so this is a good reminder to get into the habit of putting this base on first. For those who are not into having colorful nails, you can wear it alone for a shiny effect.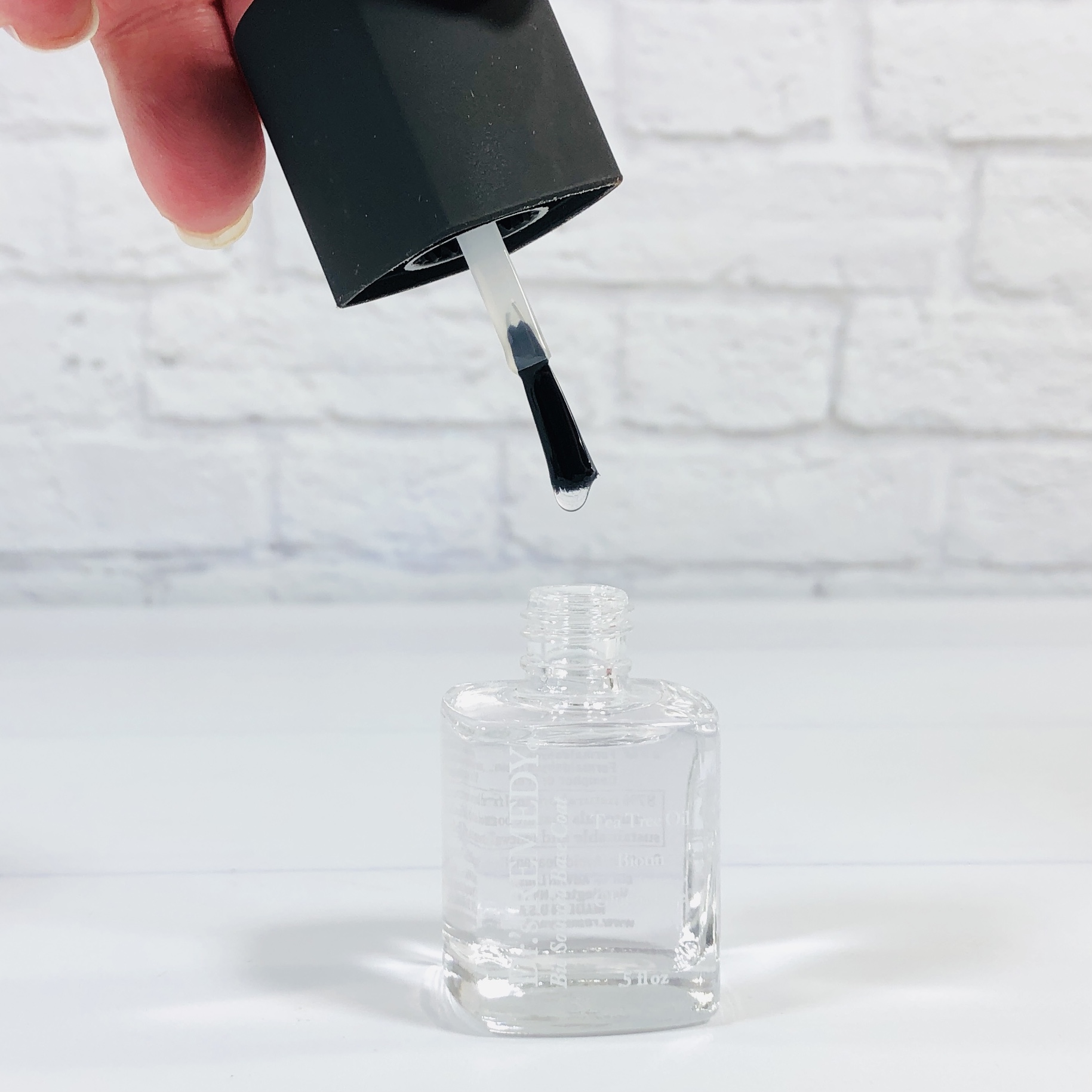 It includes ingredients such as garlic, tea tree oil, biotin, and wheat protein. It is also 10-free, meaning it doesn't have icky stuff like formaldehyde or parabens, although I couldn't find a full list of ingredients online.
Derma E Hydrating Night Cream ($29.50 list price, now $18.50) is a nighttime moisturizer that helps plump up the skin while relieving dry patches.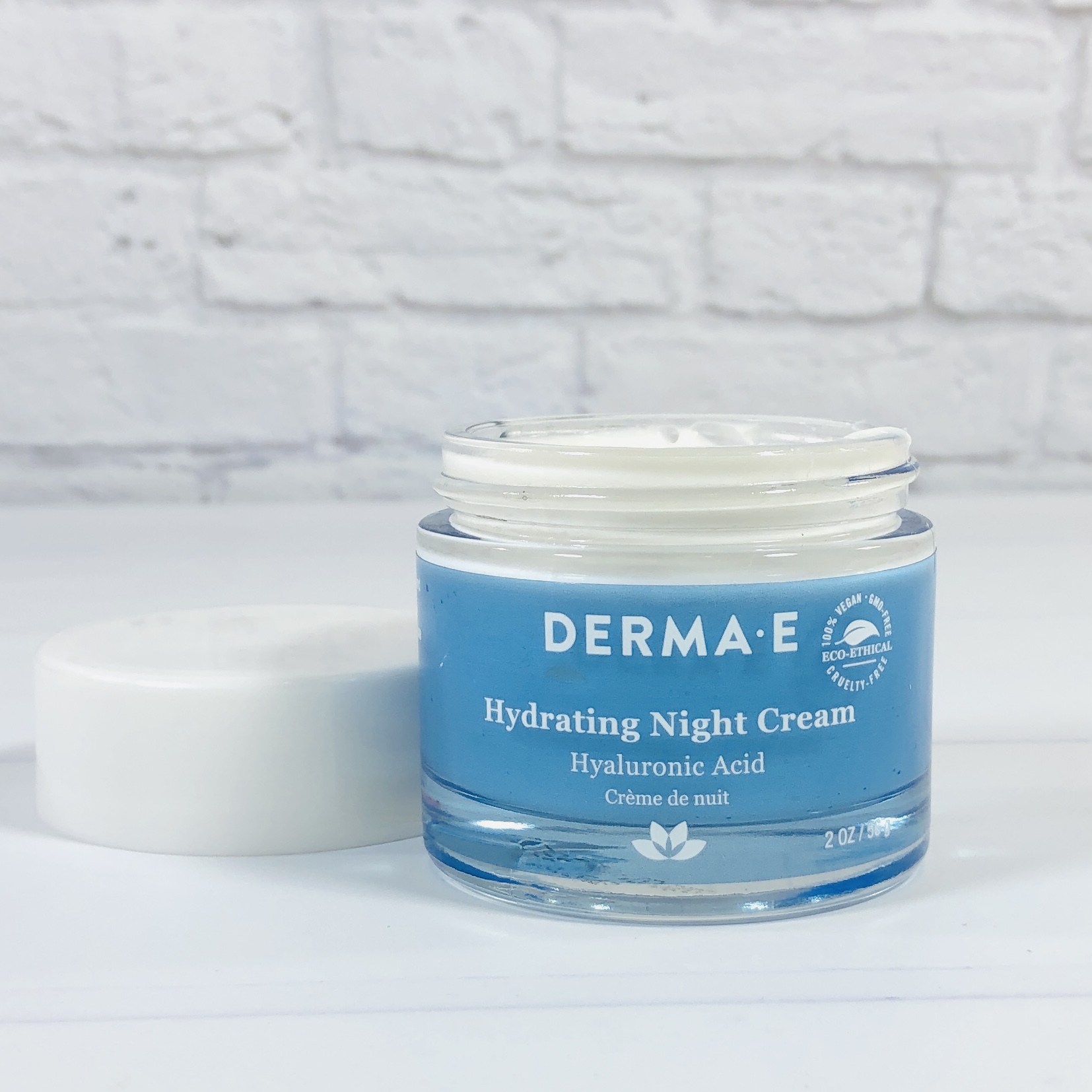 Hyaluronic acid draws water to the skin, it's like a moisture magnet! Other ingredients include aloe, macadamia oil, green tea extract, and jojoba oil.
It's a rich cream but it doesn't leave my skin greasy. It has a rather strong (at least to my nose) scent from "natural fragrance oils" and I believe it is supposed to smell like plumeria. It is an unusual floral scent.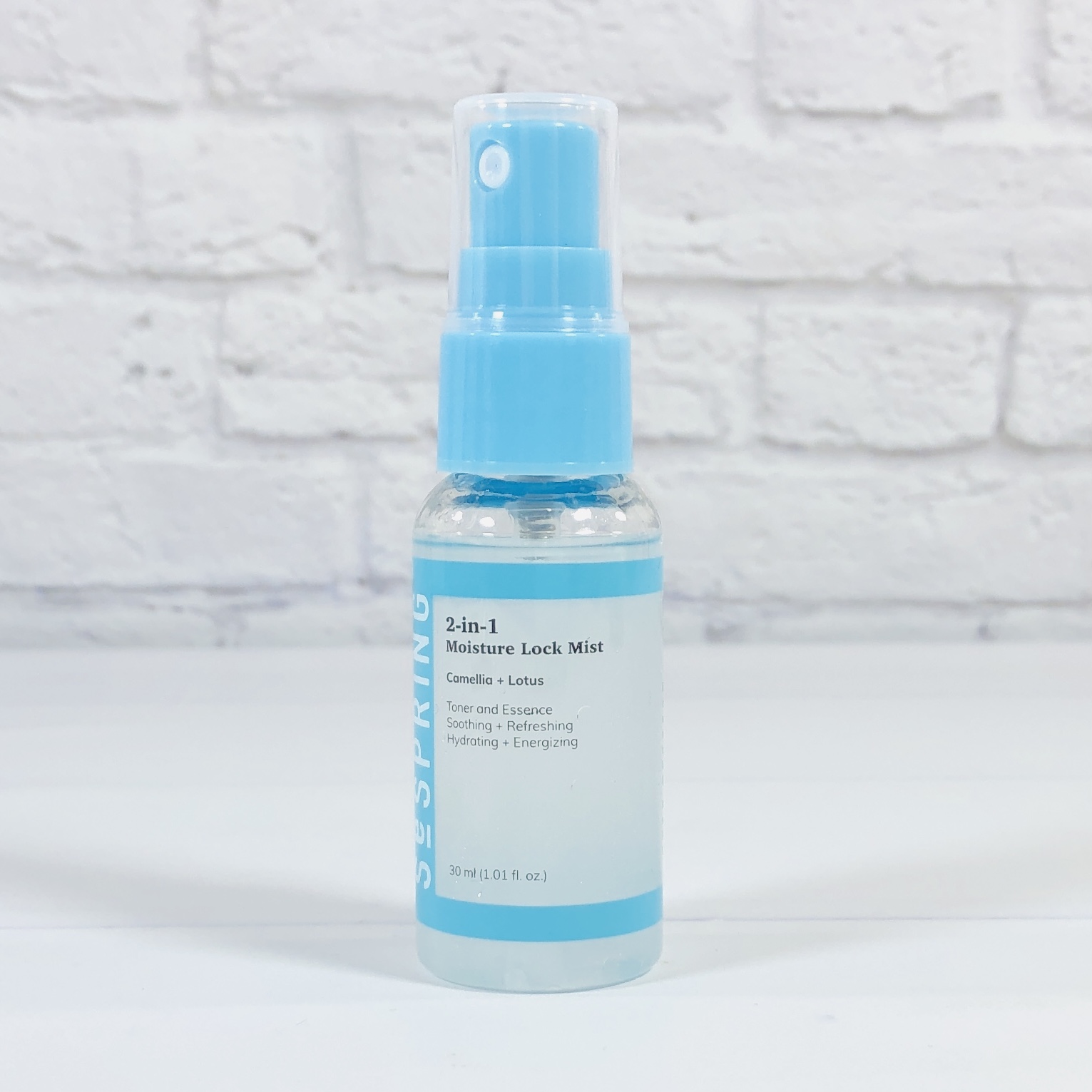 SE Spring 2-in-1 Moisture Lock Mist ($3.72) is a mist that combines toner and serum and is supposed to lock in hydration and help makeup last all day long. It is also supposed to calm down the complexion and can be spritzed on as a midday touch up. It has plant extracts along with stuff like olive and macadamia seed oils. Make sure to give it a good shake before spraying and use after cleansing. I didn't detect any scent and it made my face feel like it had a light layer of moisture on top.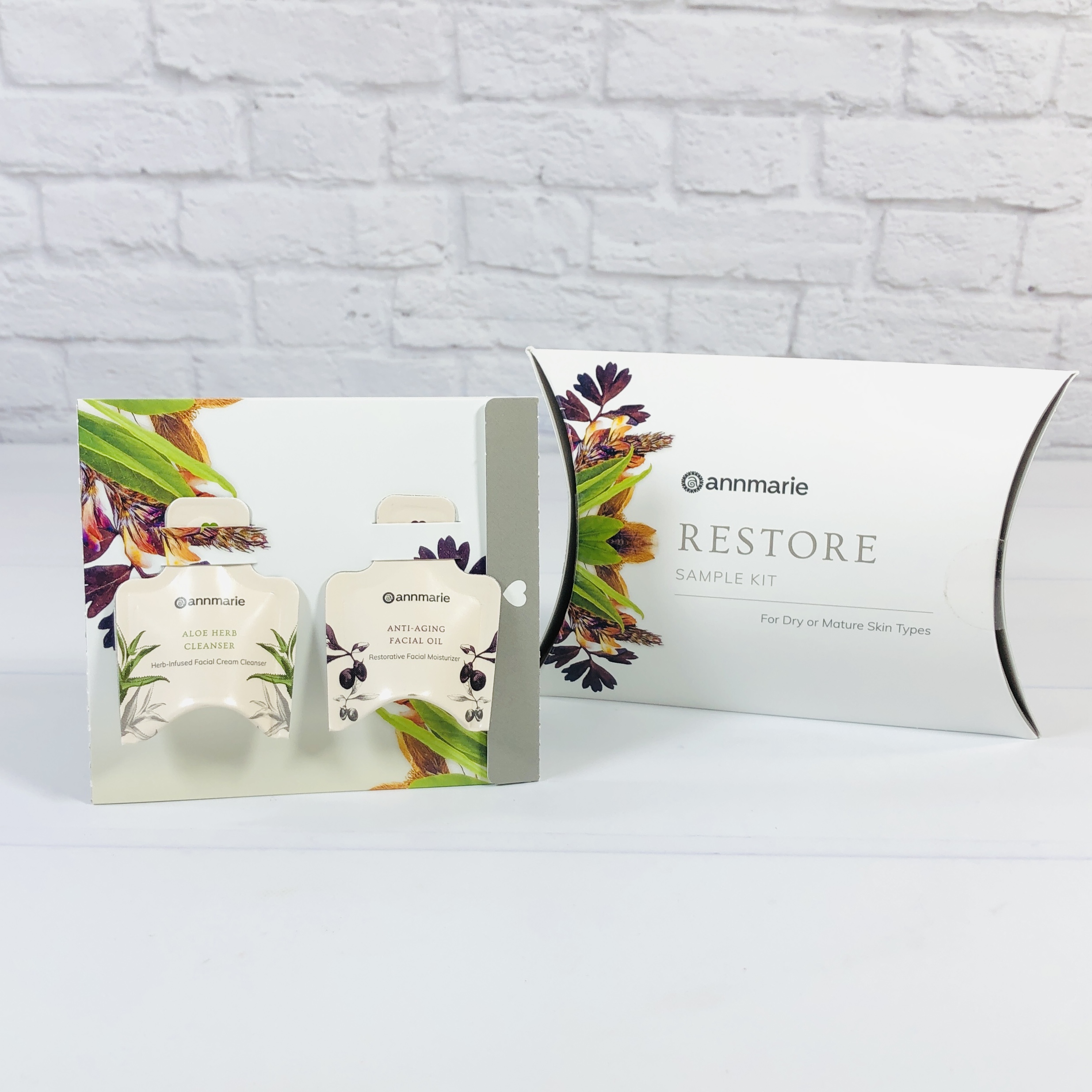 Annmarie Restore Sample Kit ($10) had two samples of face products inside. This duo is meant for dry or mature skin.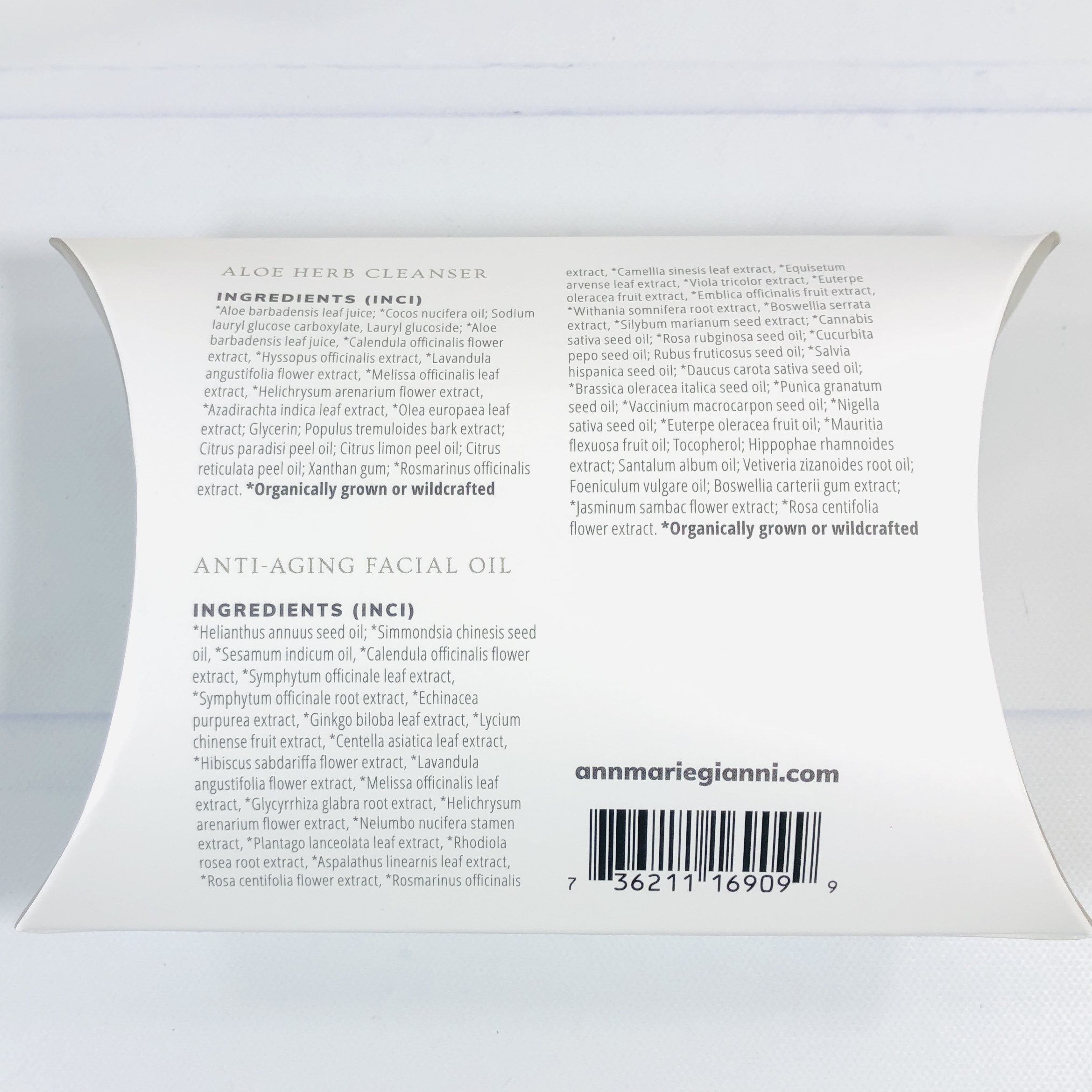 Ingredients are on the back and they are extensive. I realize they are mostly plant ingredients but I'm in the "less is more" boat.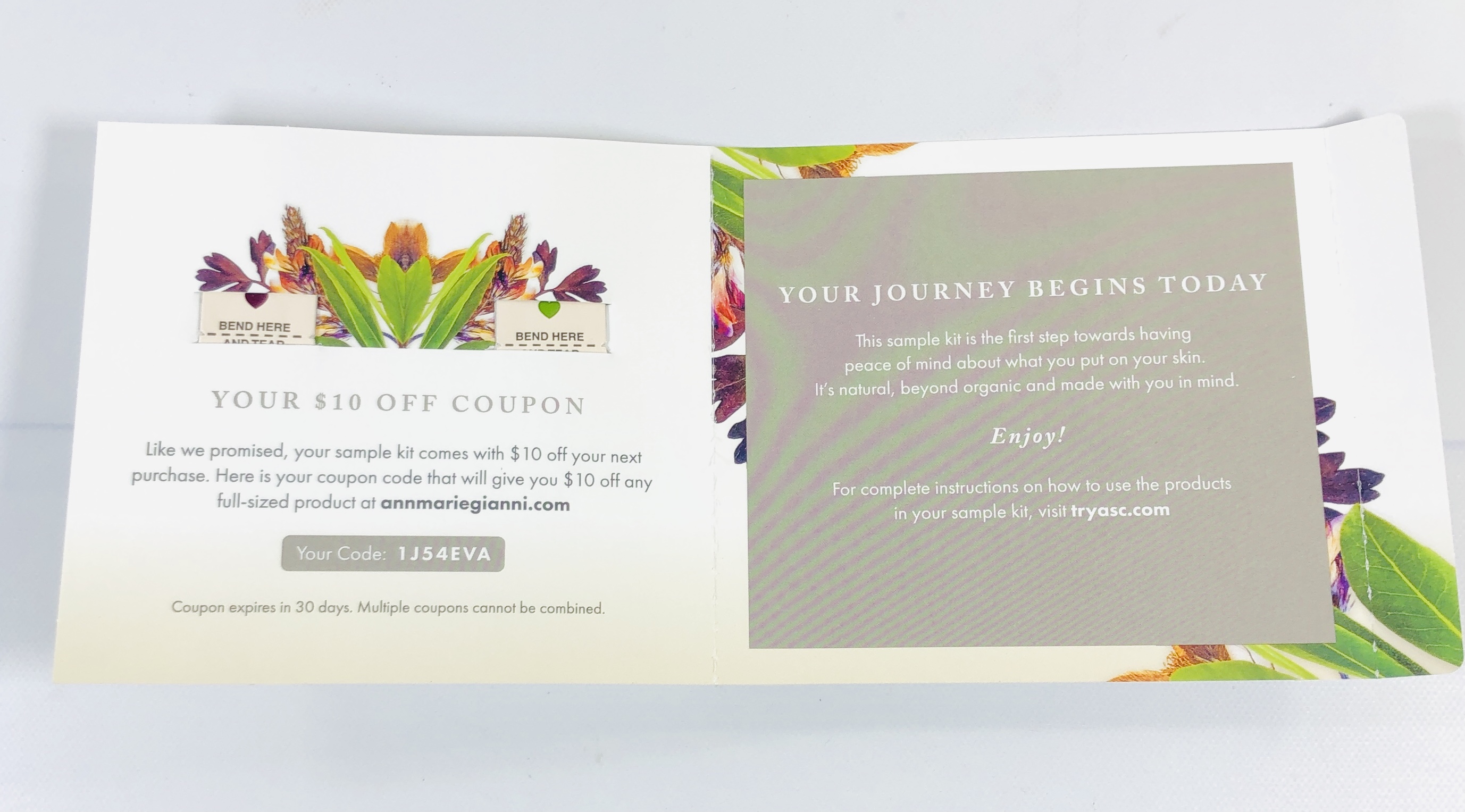 There was a $10 coupon inside in case you would like to get to know more about this brand.
Each came in these paper containers that have a top you can tear off. I thought the cleanser did a good job of removing most of the makeup from my face but would probably have to do a second cleanse since my toner-soaked pad showed some residue left over. The facial oil was thick and is best applied while skin is still damp to help it spread easily. There isn't a lot of product in this kit, just enough to see if you like the feel, scent, and results. I wouldn't mind trying this line again in the future!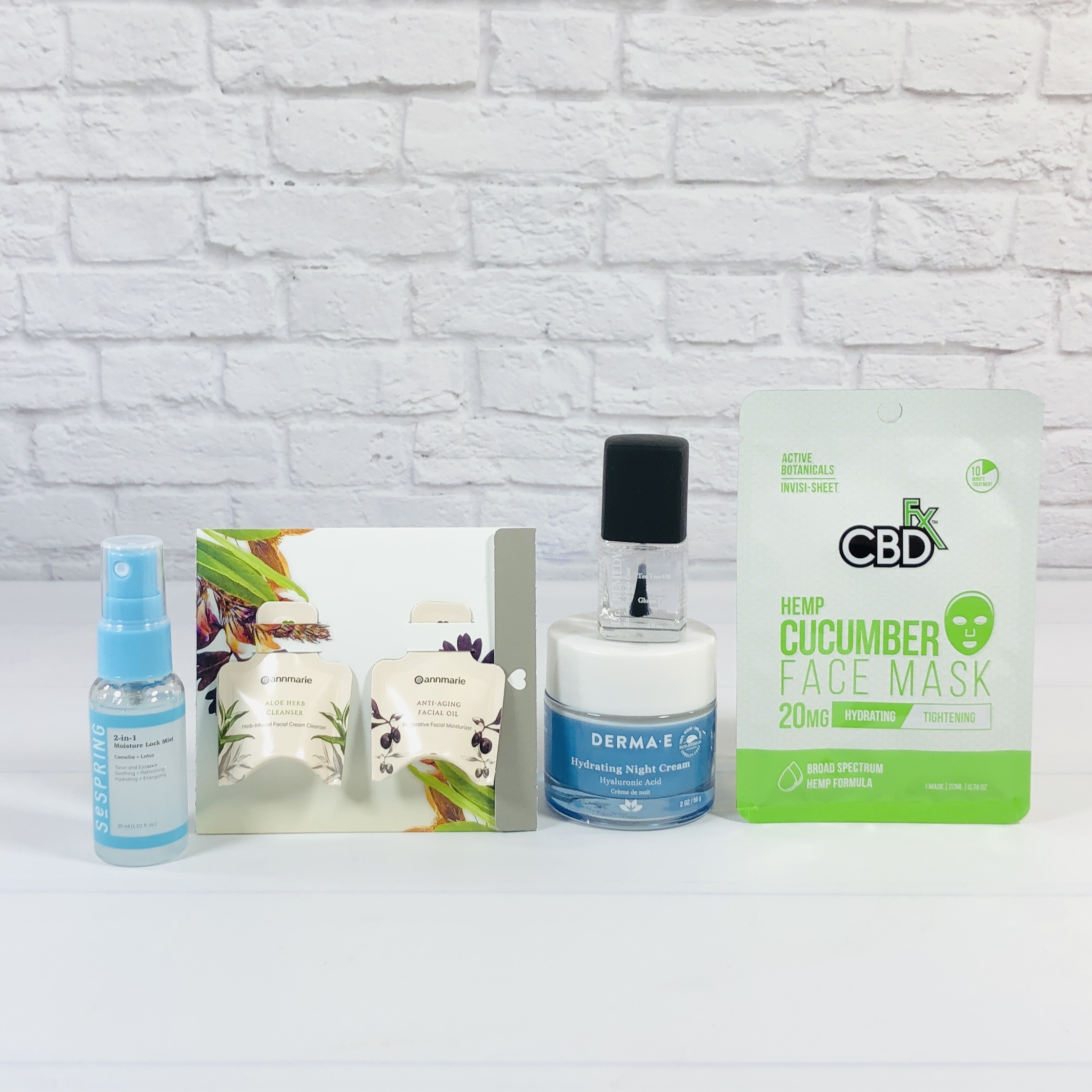 Vegancuts held fast to their Renew and Restore theme and sent products to help revive winter weary skin. In fact, four out of five products were meant for the face and the fifth item is for the nails. The Derma E and the nail product will both last for months while the skin duo and sheet mask are mainly one time use only. The spritz will last for a week or two depending on how often it is used. This was a good mix of new-to-me brands as well as familiar favorites and the value was around $57.21!
What do you think of this month's Vegancuts Beauty Box? Let me know which product you're loving in the comments!