Twice makes premium toothpaste using healthy ingredients, focusing on cavity prevention (including fluoride), sensitivity relief, and enamel strength. Their toothpaste formula also contains vitamins, antioxidants, and aloe vera for optimum mouth health. Twice toothpaste is vegan and is Leaping Bunny certified.
Twice currently offers a subscription, and you can choose whether you want to receive a 2-pack ($11.88) or a 4-pack ($22.09) toothpaste every 1, 2, or 3 months. This is a 15% discount from their shop prices. Subscriptions come with free shipping – shop orders are $2.99 to ship.
Twice has 3 flavors, and since they sent us this package, has updated their branding (and added that third flavor). Originally they went with a day & night flavor vibe, but are expanding!
Invigorating Wintergreen & Peppermint
Calming Vanilla Lavender Mint
Cooling Spearmint Eucalyptus
DEAL: Get 20% off your first order! Use coupon code HELLOSUB20. Code works in the shop and on subscriptions!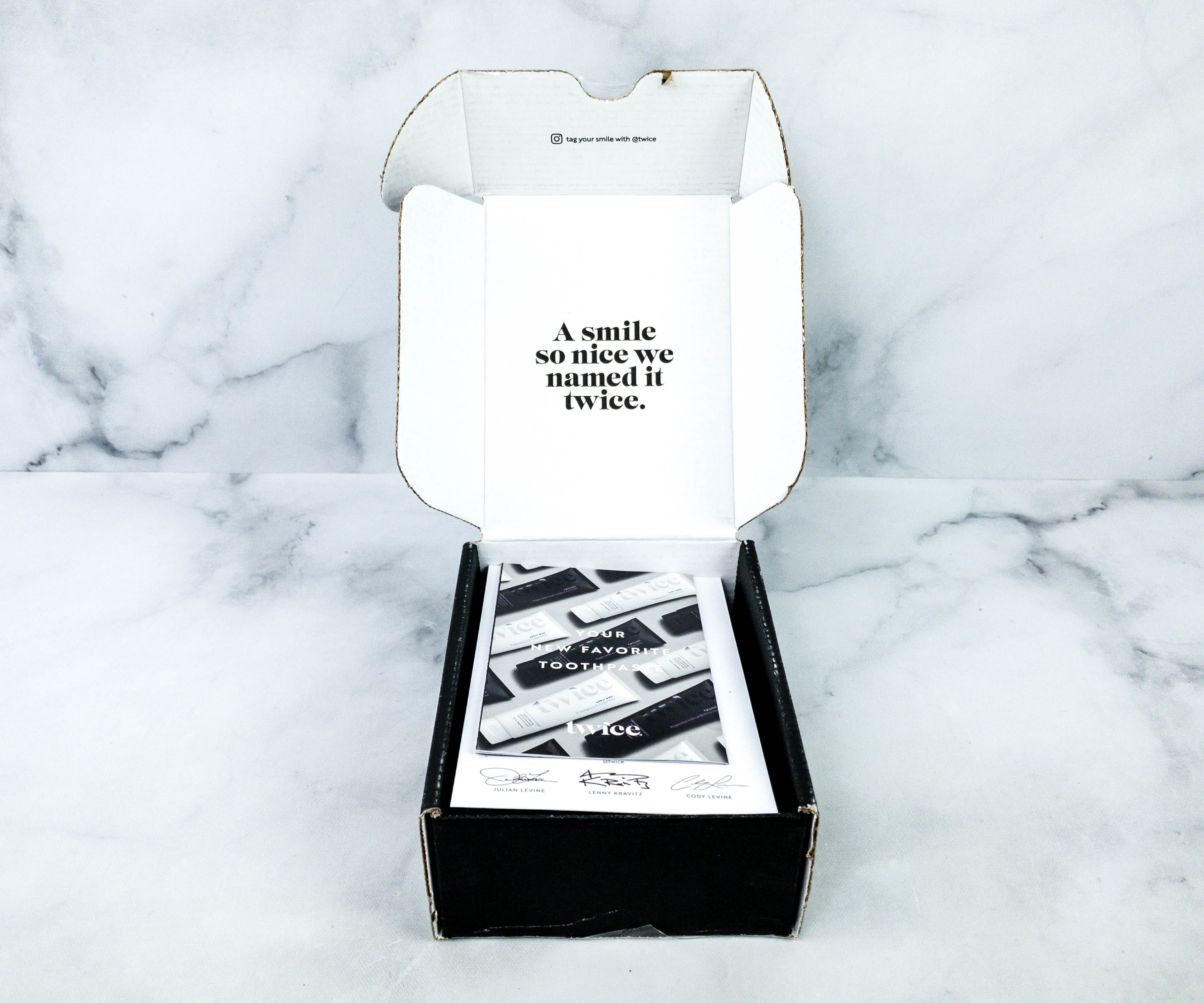 A smile so nice we named it twice.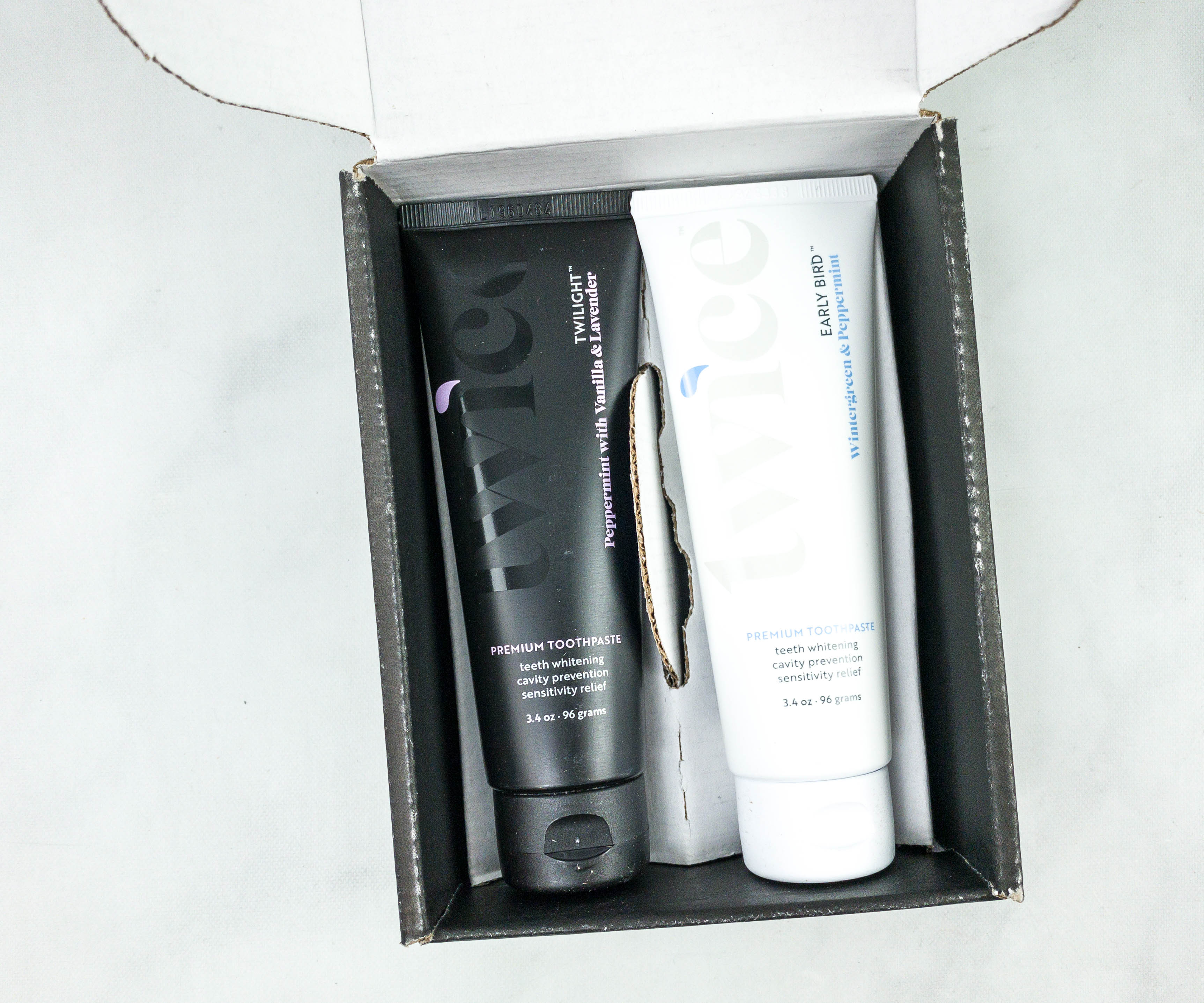 The tubes of toothpaste were neatly packed inside a thick customized carton case. The tubes are made with plastic, but they are recyclable.
Here's a letter from one of the co-founders of Twice toothpaste brand, Lenny Kravitz!
At the back is a QR code that you can scan to know more!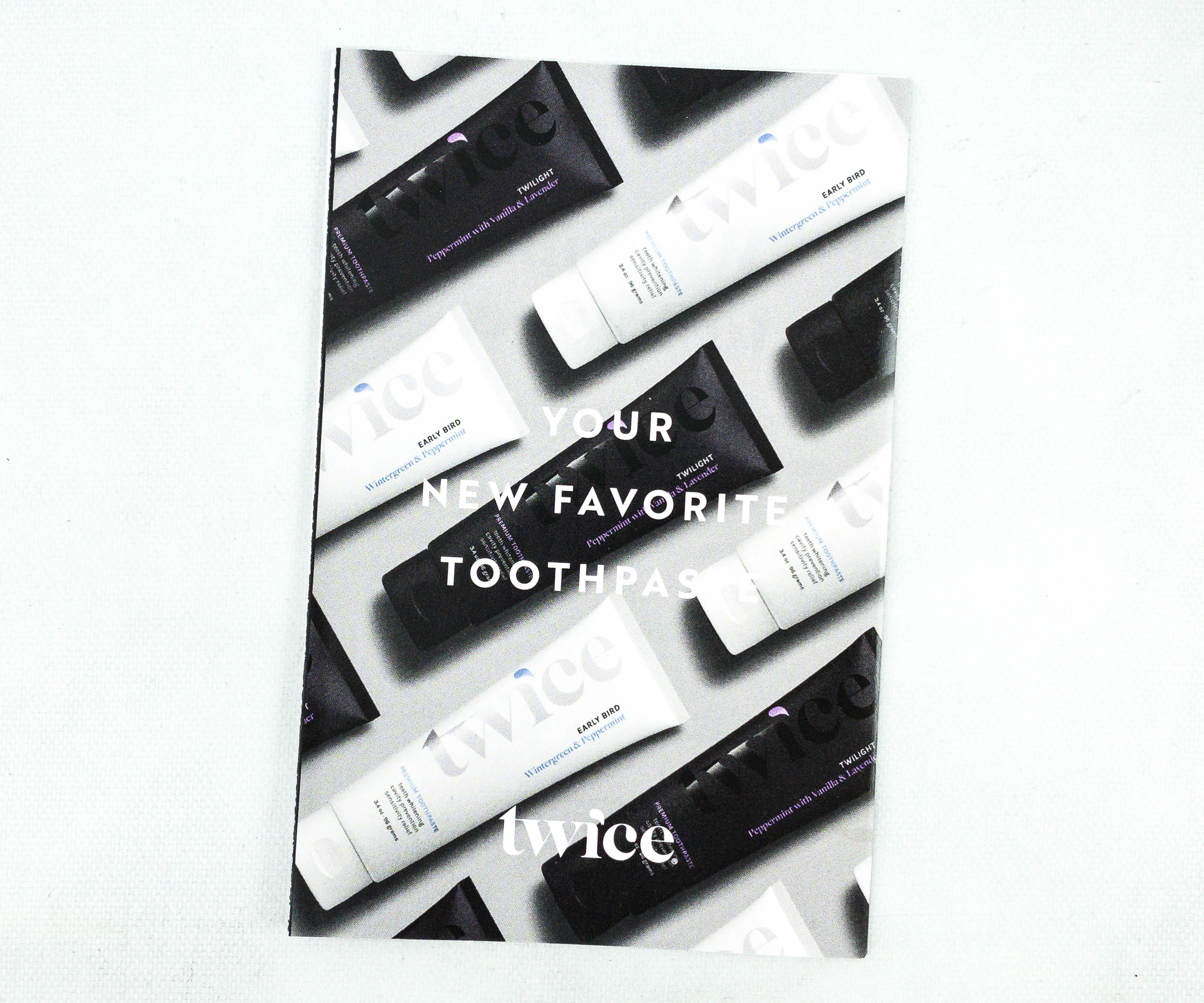 Also included is a three-fold booklet.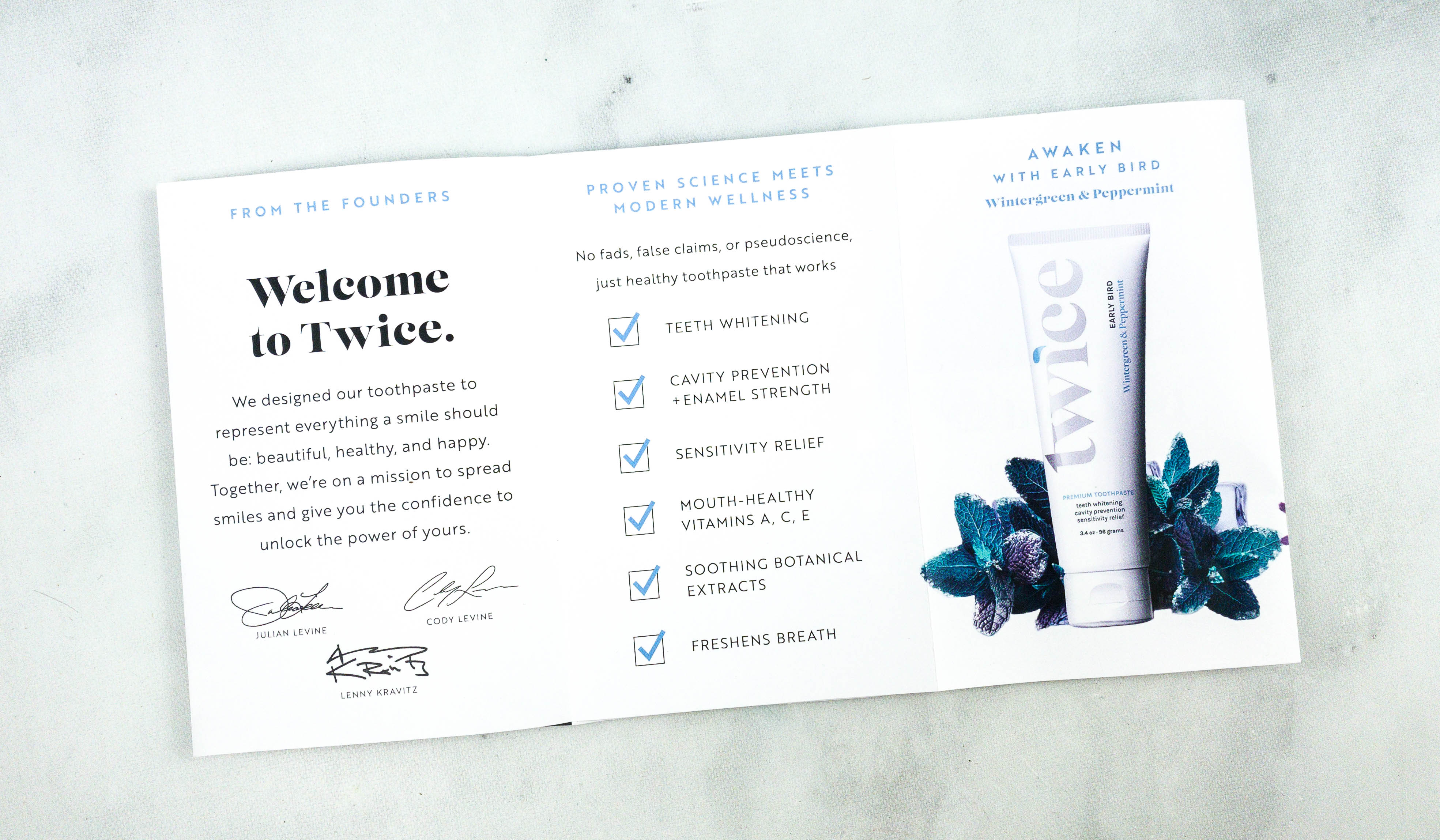 This booklet contains all the information you need to know about the featured toothpaste.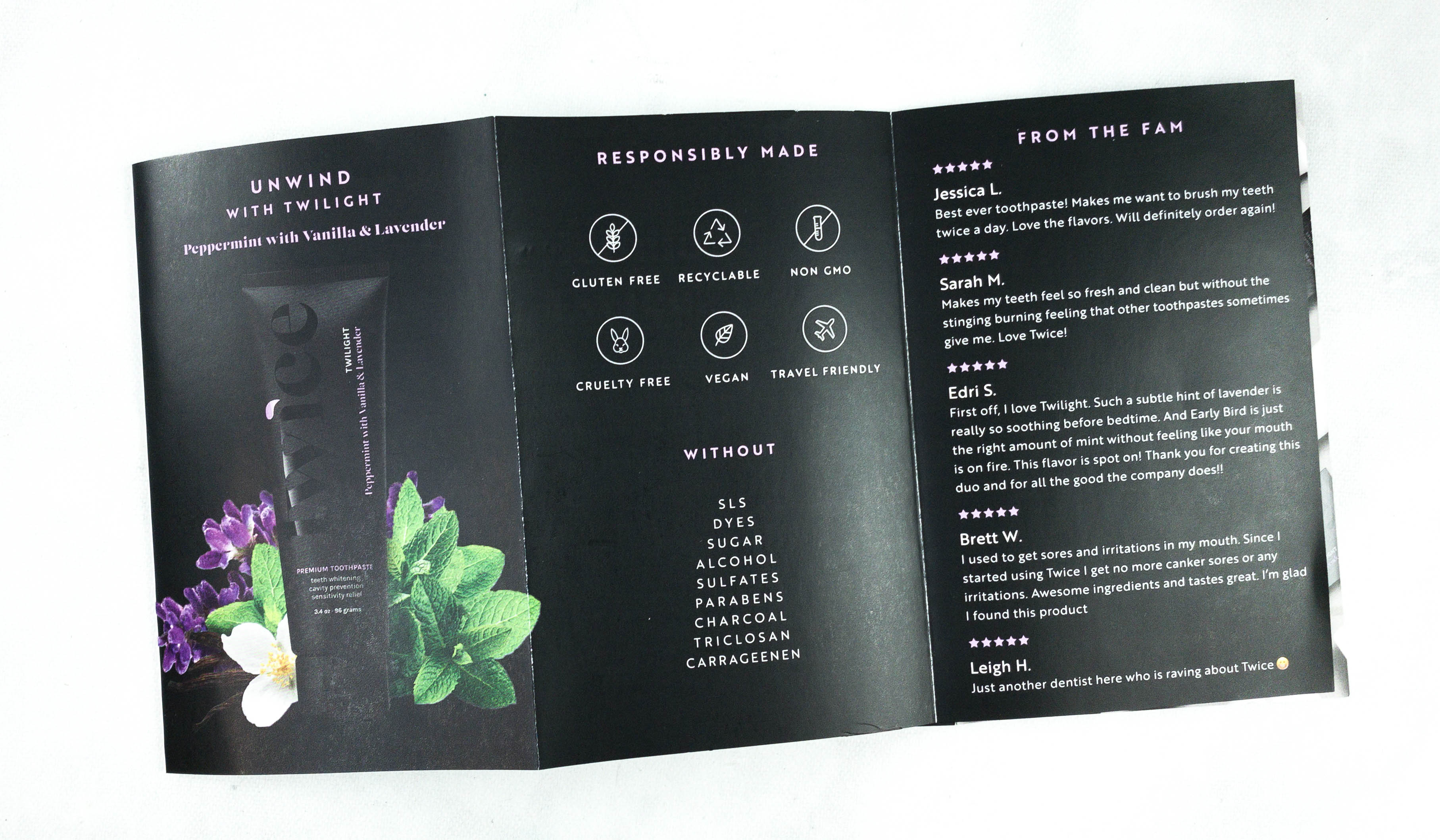 According to the booklet, Twice toothpaste is made without SLS, dyes, sugar, alcohol, sulfates, parabens, charcoal, triclosan, and carrageenan.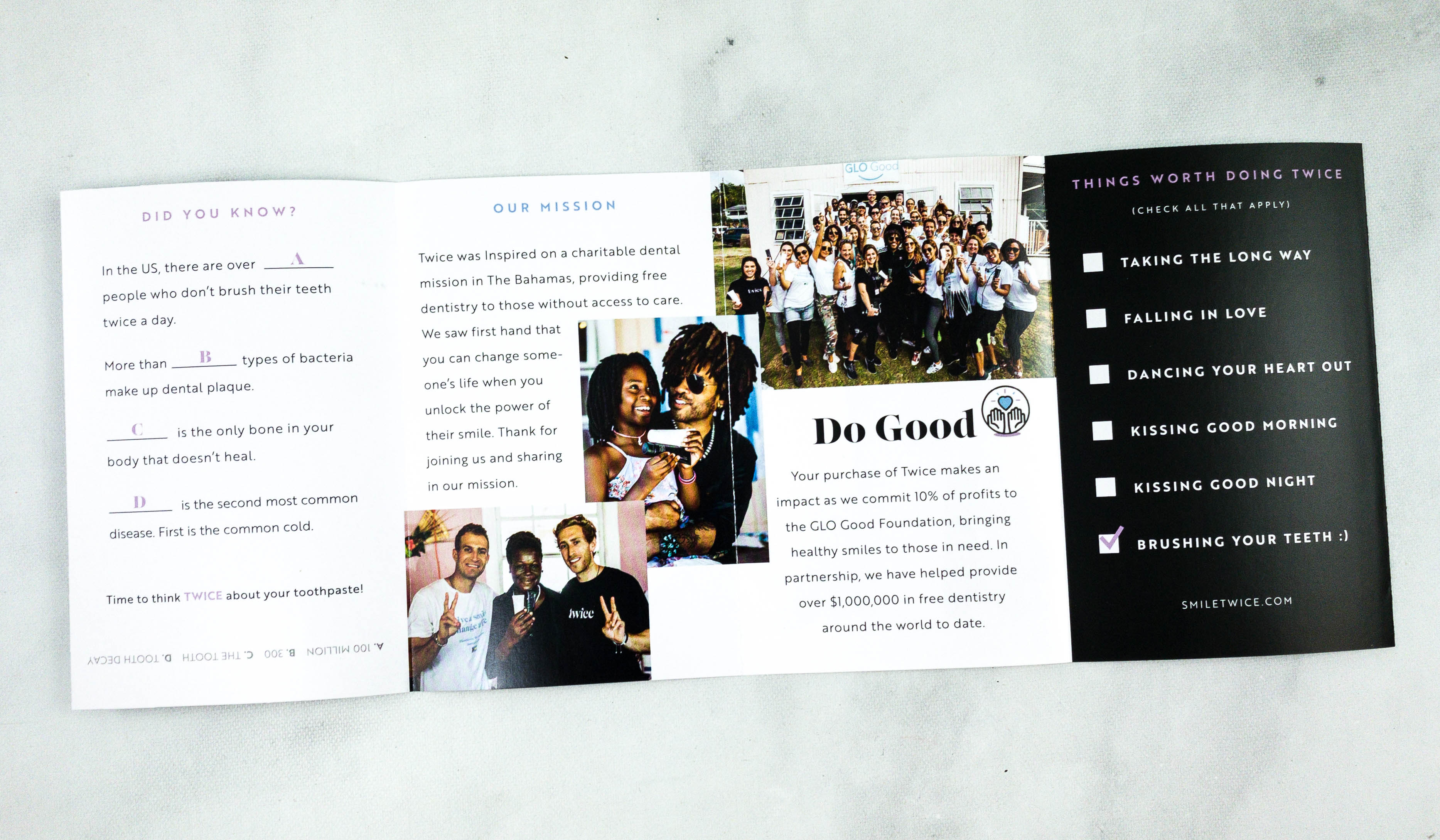 Twice also committed themselves to donate 10% off their profit to GLO Good Foundation. The Foundation provides life-changing dental work to people without access to care, and is run by the parents of the other two co-founders of twice – Julian Levine and Cody Levine. Dad is Dr. Jonathan B. Levine DMD – a big time dentist and founder of GLO Science (the teeth whitening brand).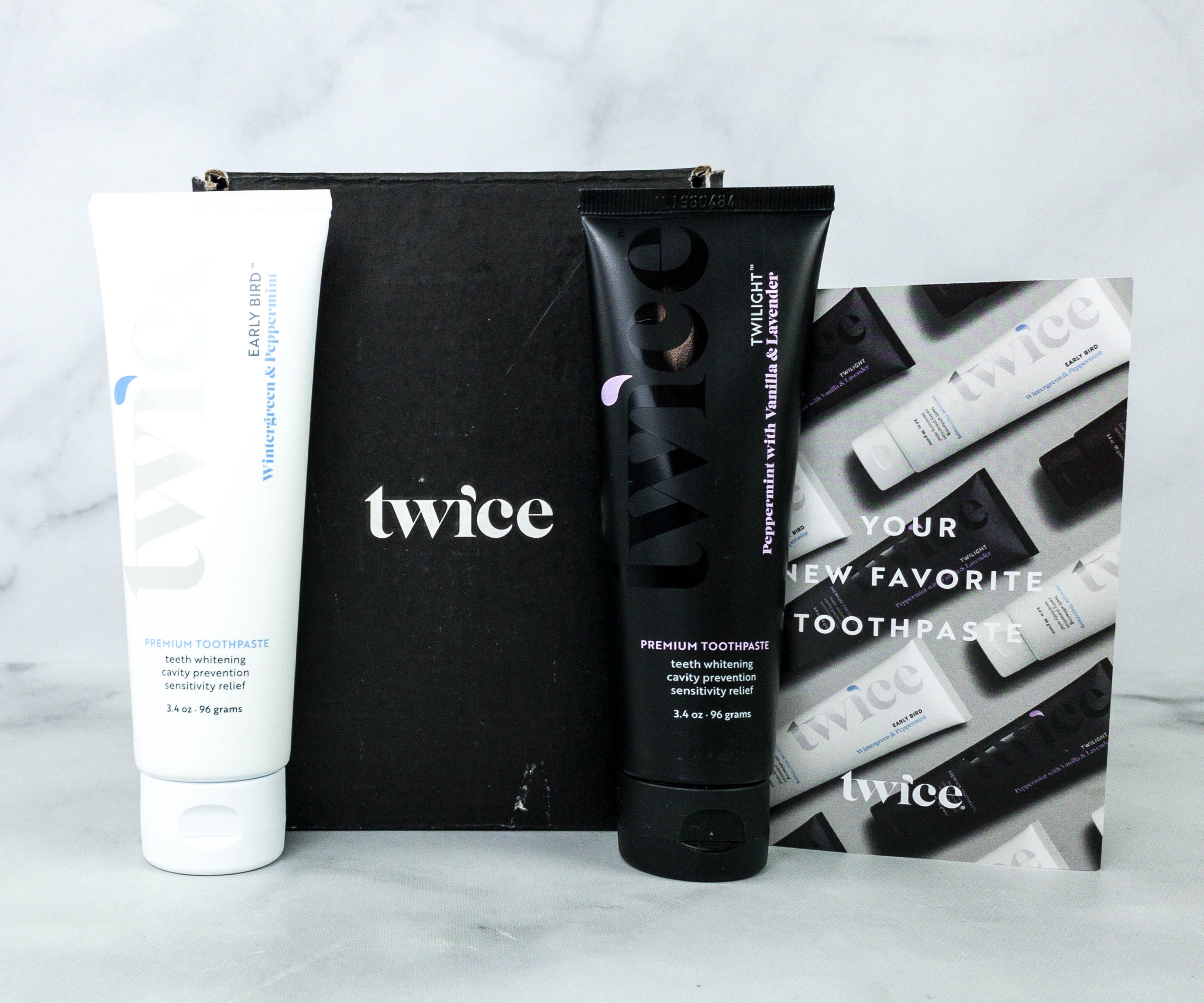 Everything in my box! On subscription, you can get this duo for $11.88 or the new trio for $17.82.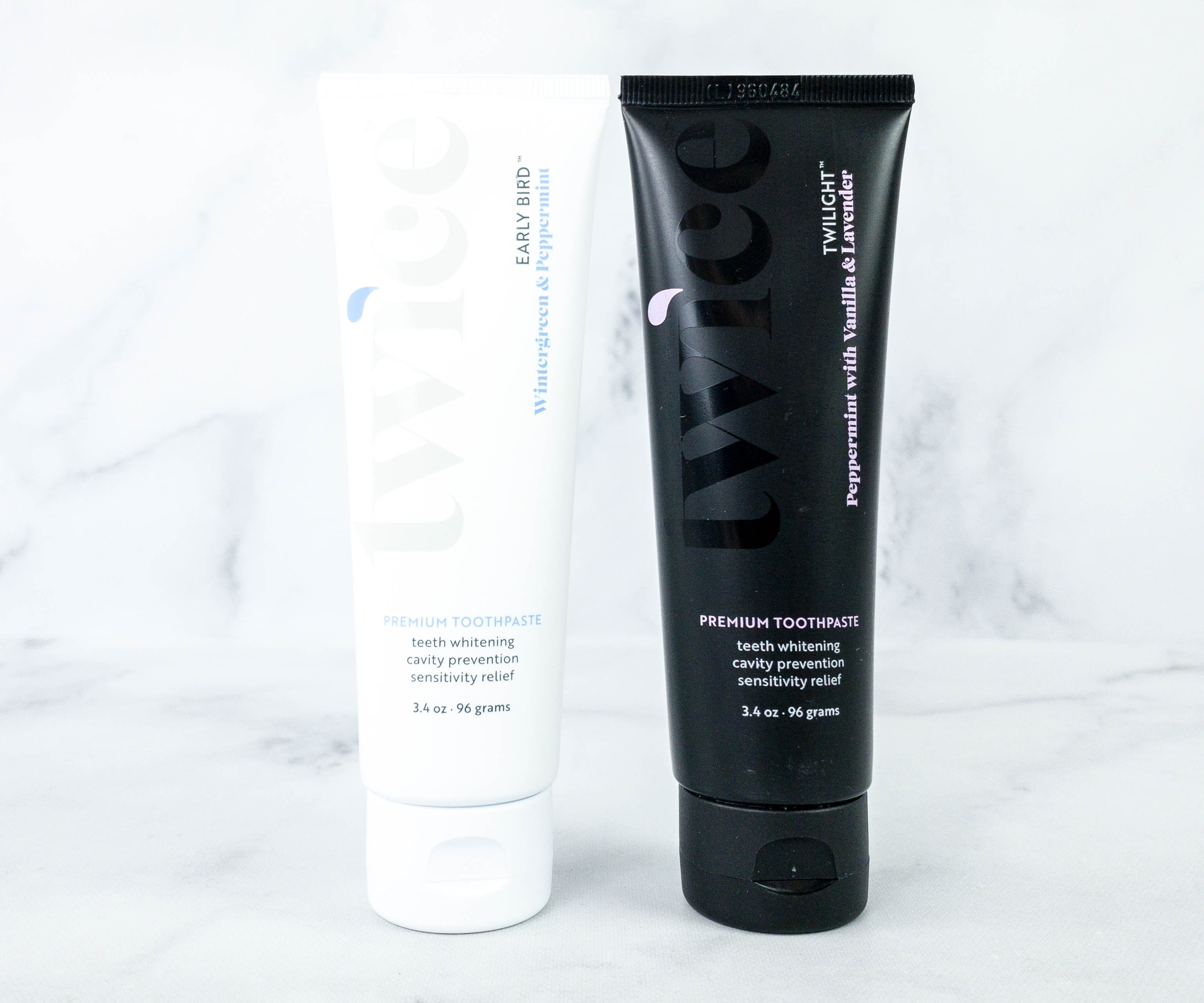 This month's box contains Twice's Early Bird and Twilight premium toothpaste! Each tube contains 3.04 oz (100 ml) of toothpaste, and they're TSA sized for travel!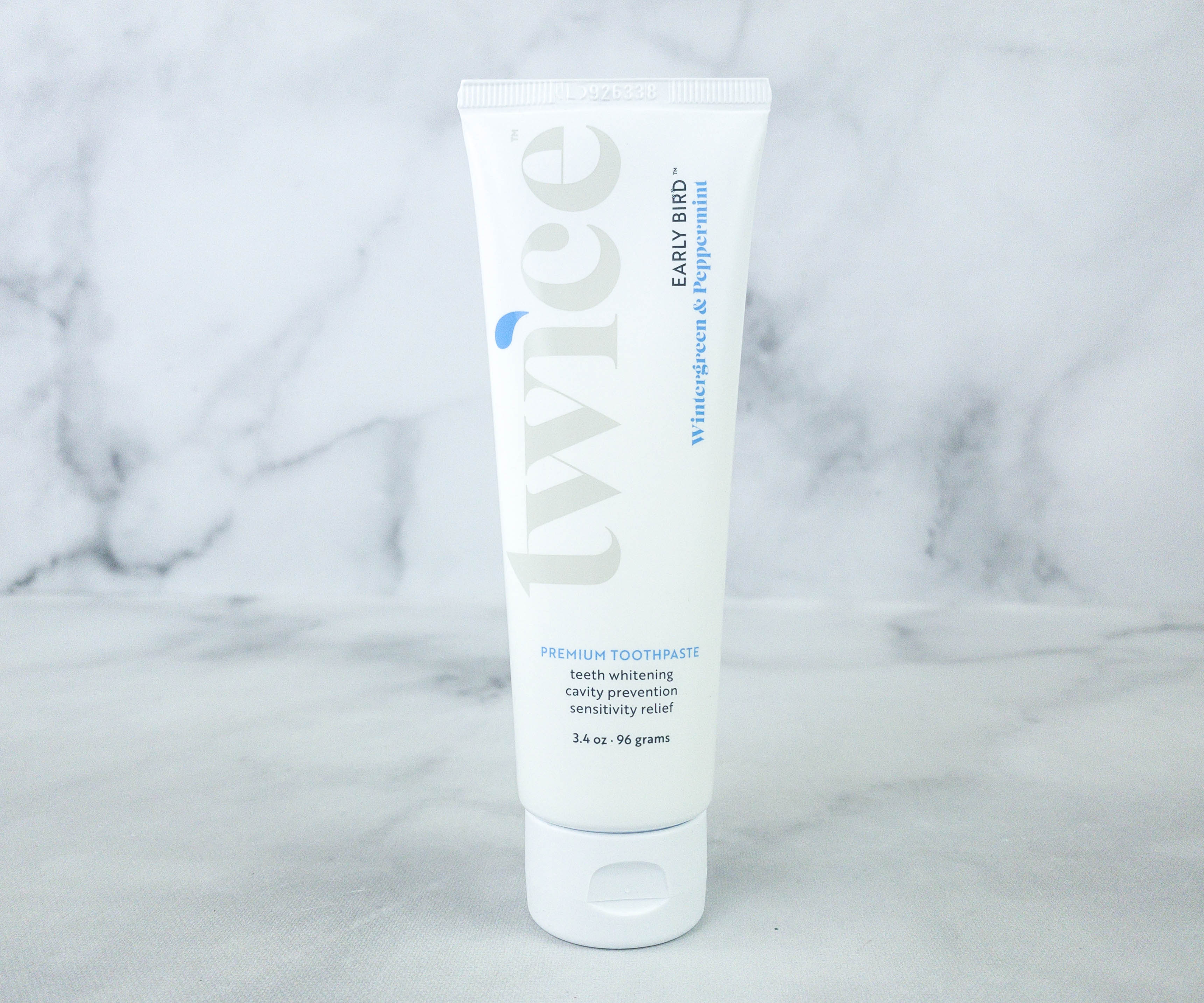 Twice Invigorating Wintergreen & Peppermint Premium Toothpaste ($5.94) This toothpaste, previously called Early Bird, is infused with wintergreen and peppermint, making it a great toothpaste to use in the morning to help awaken your senses. All kinds of toothpaste from Twice are gluten-free, non-GMO, and vegan. They also contain potassium nitrate and sodium fluoride that fight cavity while lessening teeth sensitivity.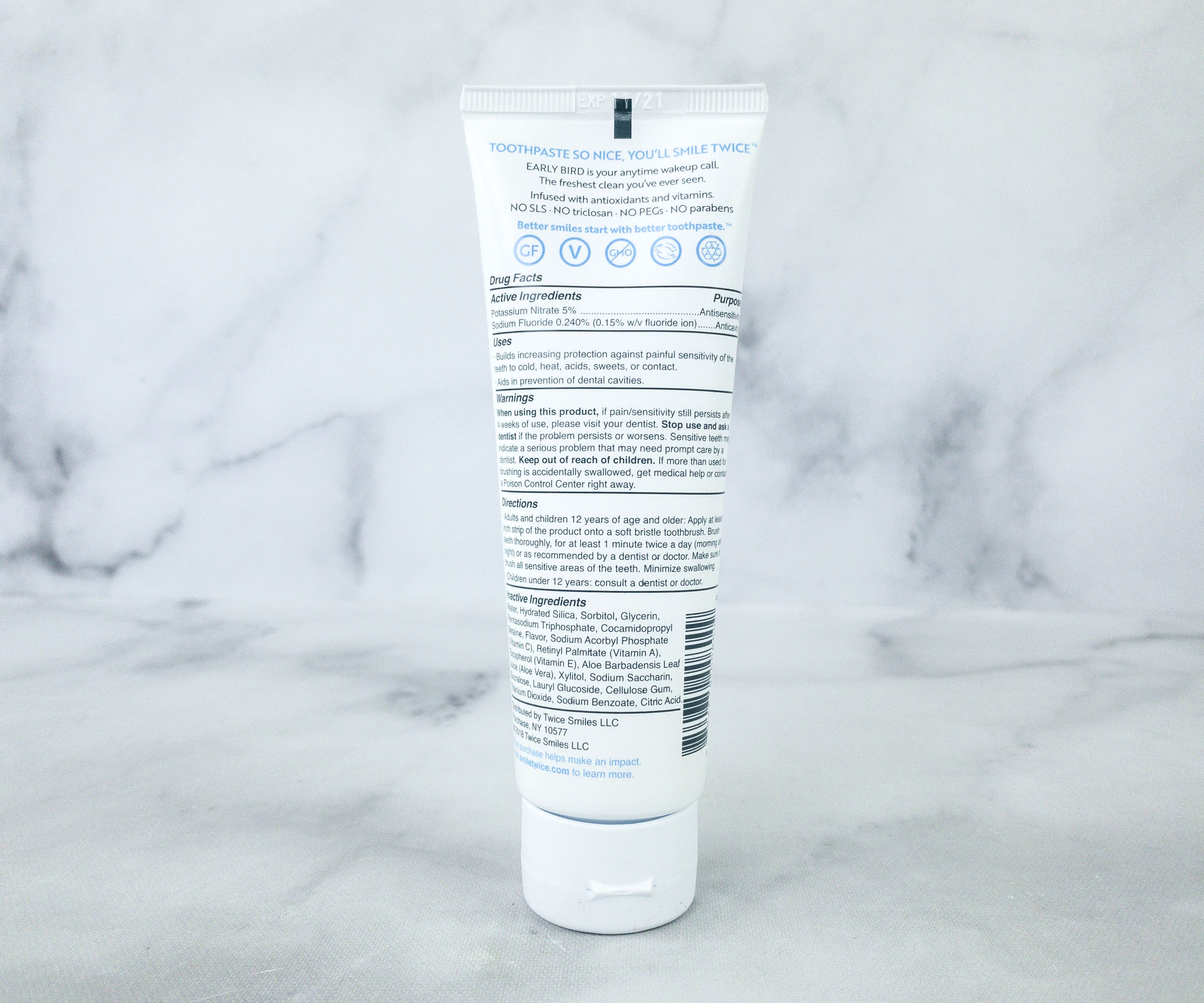 Here's the complete list of ingredients:
Potassium Nitrate, Sodium Fluoride, Hydrated Silica, Sorbitol, Glycerin, Pentasodium Triphosphate, Cocamidopropyl Betaine, Sodium Ascorbyl Phosphate (Vitamin C), Retinyl Palmitate (Vitamin A), Tocopherol (Vitamin E), Aloe Barbadensis Leaf Juice (Aloe Vera), Flavor, Lauryl Glucoside, Sodium Saccharin, Xylitol, Sucralose, Cellulose Gum, Titanium Dioxide, Sodium Benzoate, Citric Acid, Water.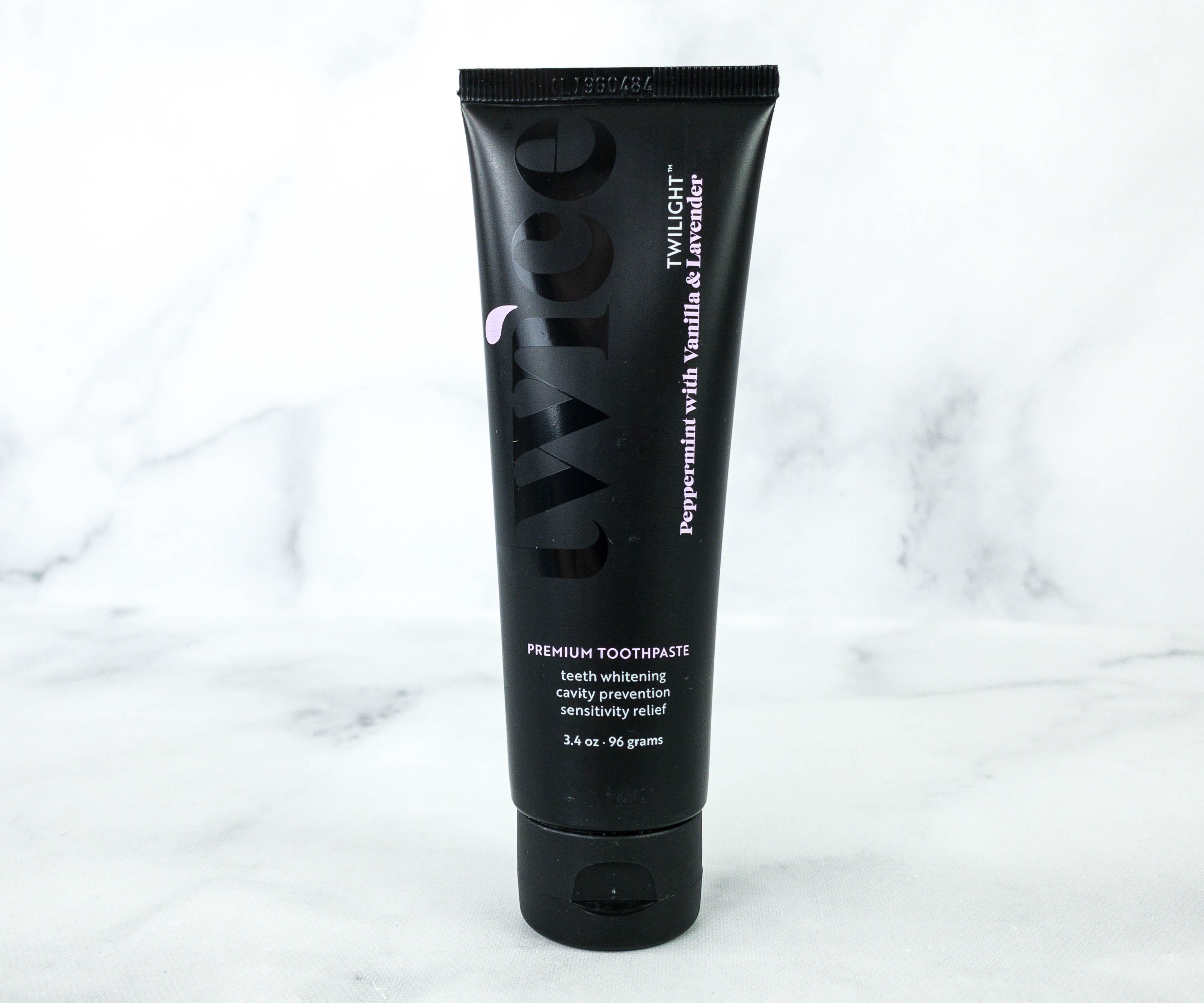 Twice Calming Vanilla Lavender Mint Premium Toothpaste ($5.94) Calming is also made with the same ingredients as Invigorating, but this time it's blended with peppermint, vanilla, and lavender flavor to give you a calm and relaxed feeling after brushing. This one is perfect to use before bedtime and was previously called Twilight.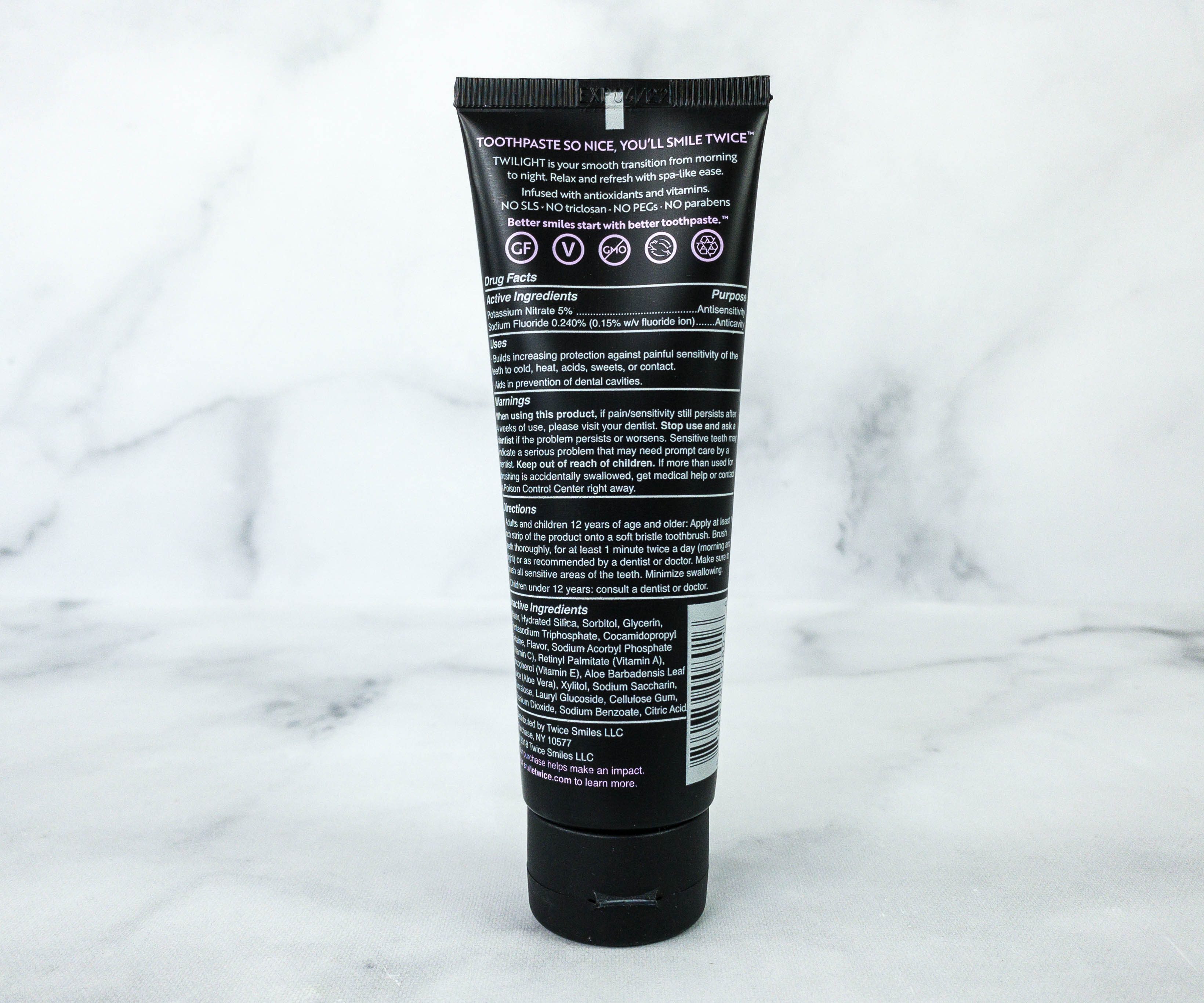 Just like the first tube of toothpaste, this one doesn't contain gluten and GMOs, plus it's also vegan! Since the blend of ingredients remove surface stains and plaque, the formula also helps whiten the teeth.
I had high expectations for Twice toothpaste and it didn't let me down! For me, the best toothpaste doesn't just keep my teeth and mouth clean, it's also made with safe ingredients and feels refreshing. Twice definitely fits the bill. Both Early Bird and Twilight toothpastes feel refreshing, and I equally like them although they have different purposes. Invigorating helps awaken the senses, while Calming helps me feel calm and relaxed. The whitening effect is just a bonus! Also, they may be pricier than regular toothpaste, but they're definitely worth it! They don't contain any of the harmful ingredients that other kinds of toothpastes might have. The tubes are not too big or unwieldy! If you're looking to switch to a healthier toothpaste for yourself or for your family, this is worth a try. The subscription is a great way to ensure that you won't run out of toothpaste in your home or when traveling! Plus, for a premium toothpaste, I was happy with the price!
What do you think of Twice?