Gentleman's Box is a monthly subscription of men's accessories and grooming products. Each box is uniquely themed, honoring a noteworthy gentleman from the past or present. Currently, you can choose from two subscription types: The Classic Subscription with 4-5 products for $29 a month and The Premium Box with 4-6 premium accessories for $100 per quarter.
This is a review of The Classic Subscription.
DEAL: Save $5 on your first regular box. Use coupon code HELLO.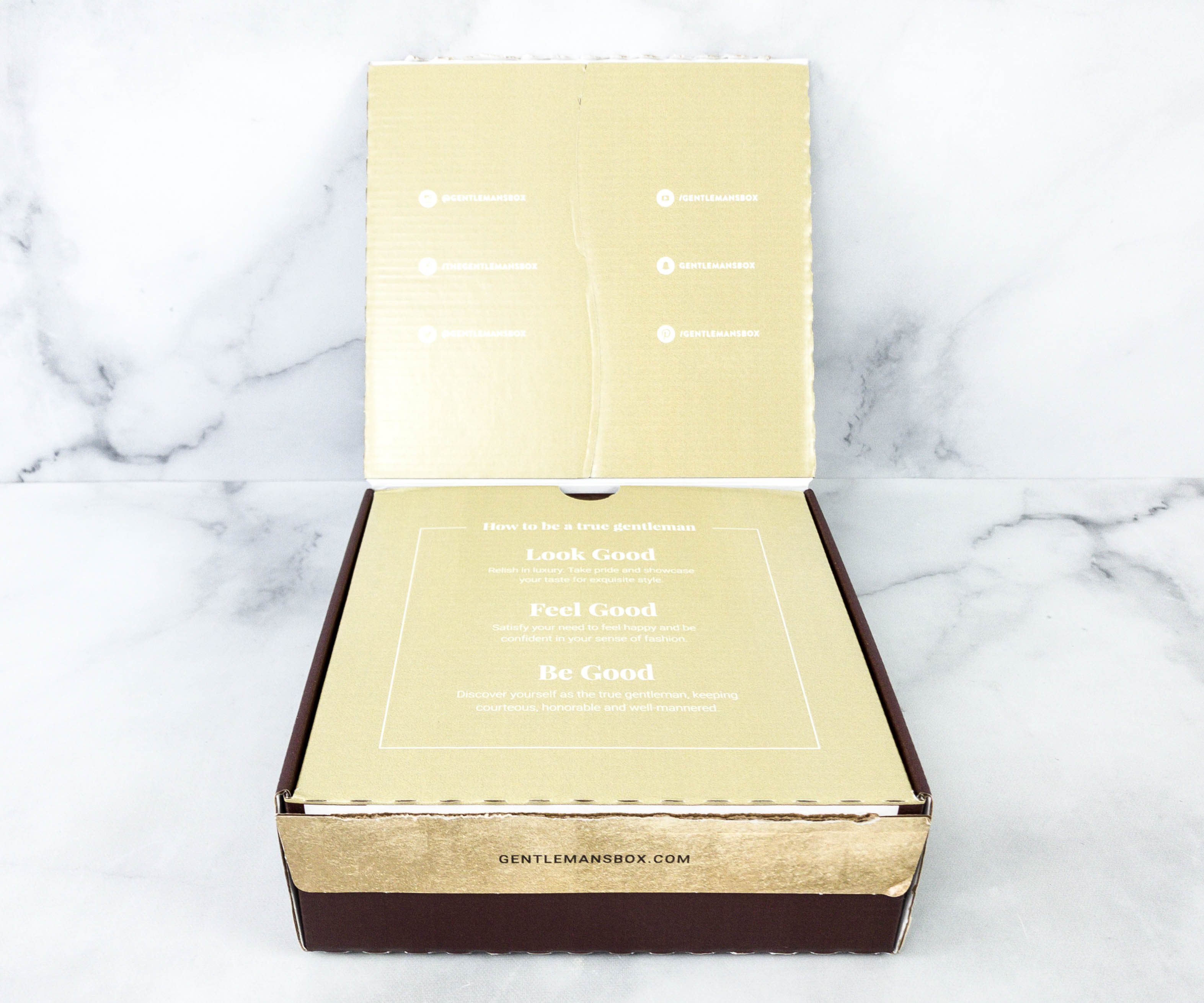 The inner part of the box lid features Gentleman's Box social media handles.
There are no extra packaging materials inside, but the items arrived in great condition.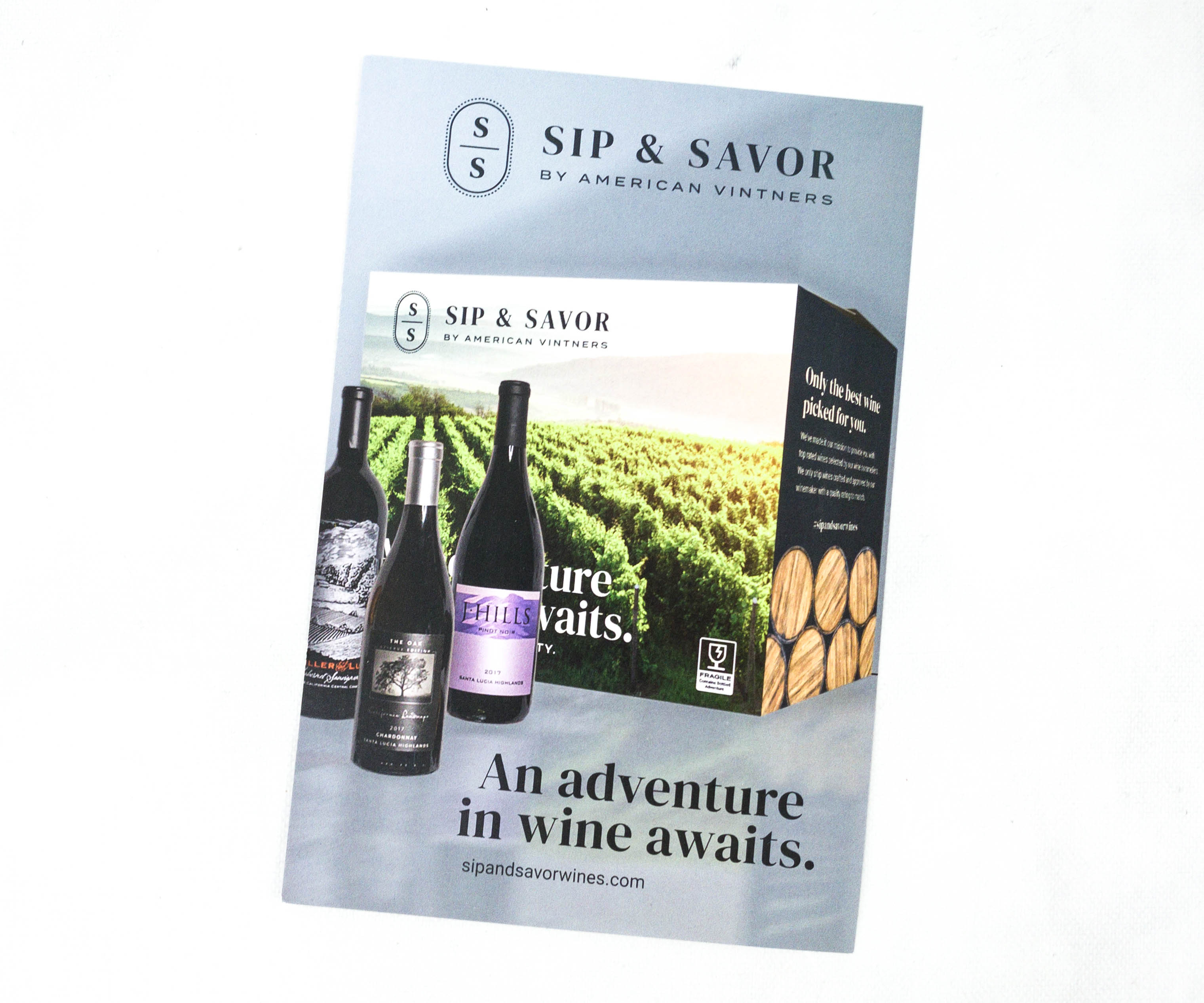 This month's box includes a promotional card.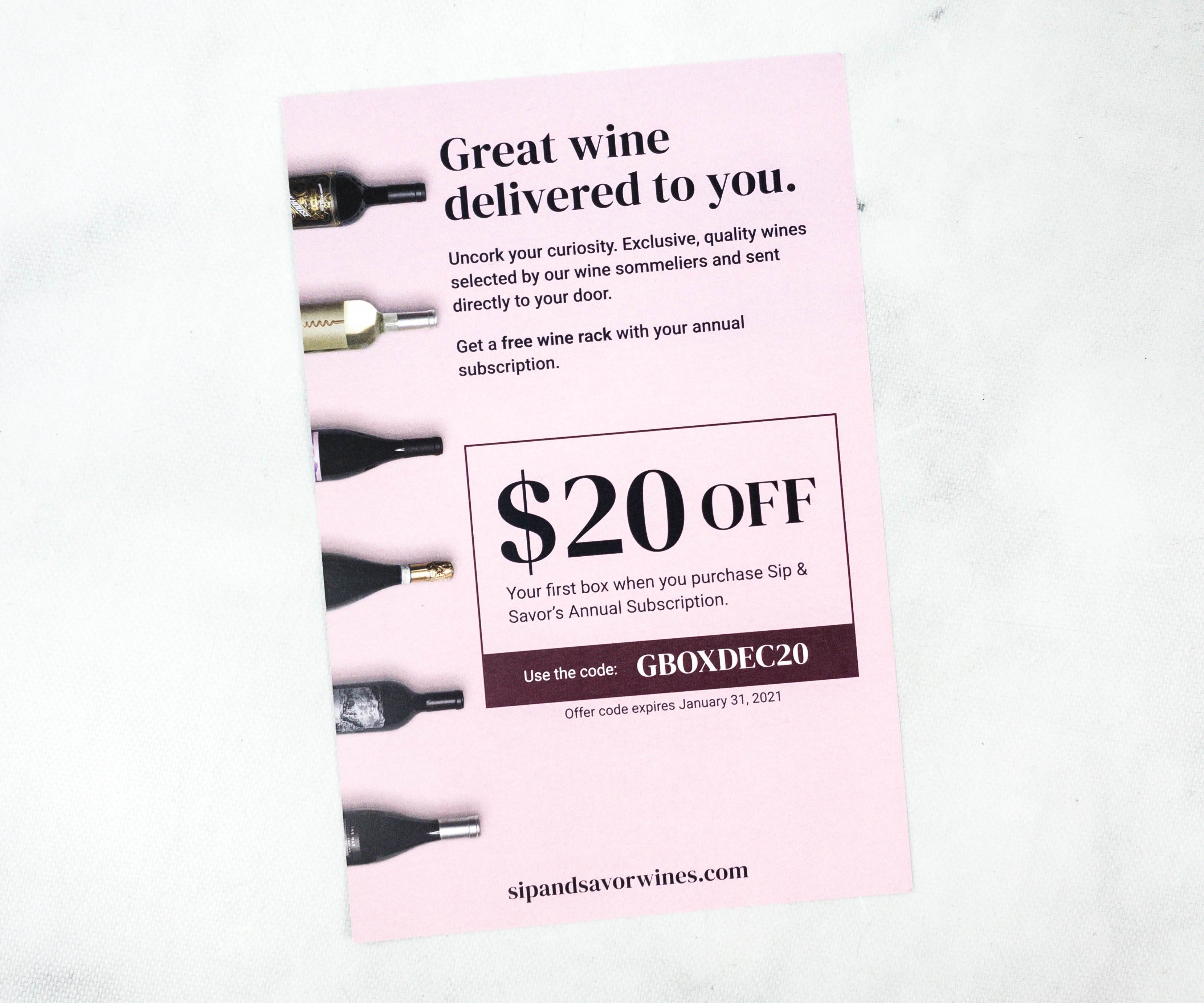 At the back is a $20 off coupon which can be used on Sip & Savor purchases.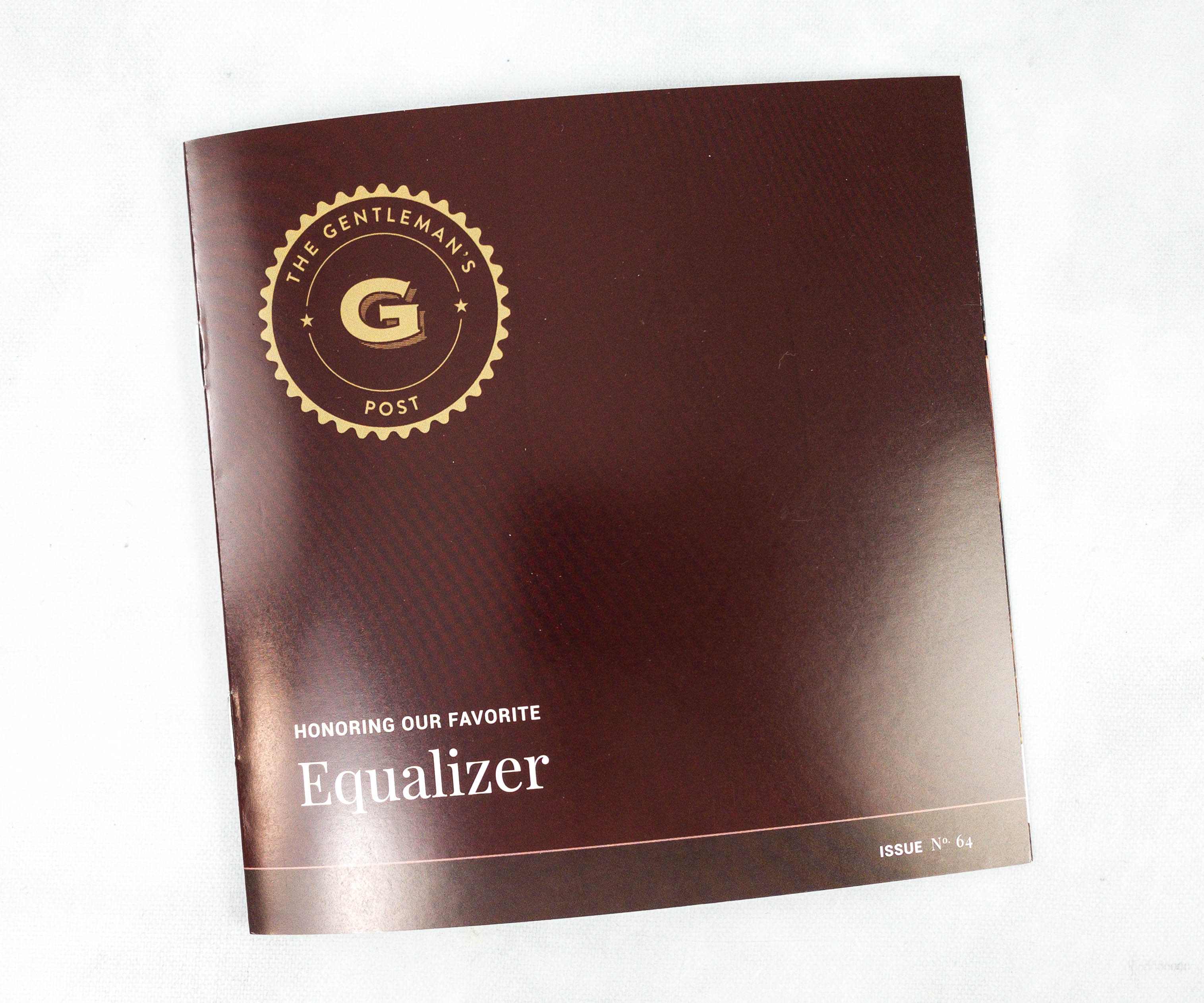 Each box includes a copy of The Gentleman's Post, a well-designed booklet describing the products in the box and offering styling suggestions for each one.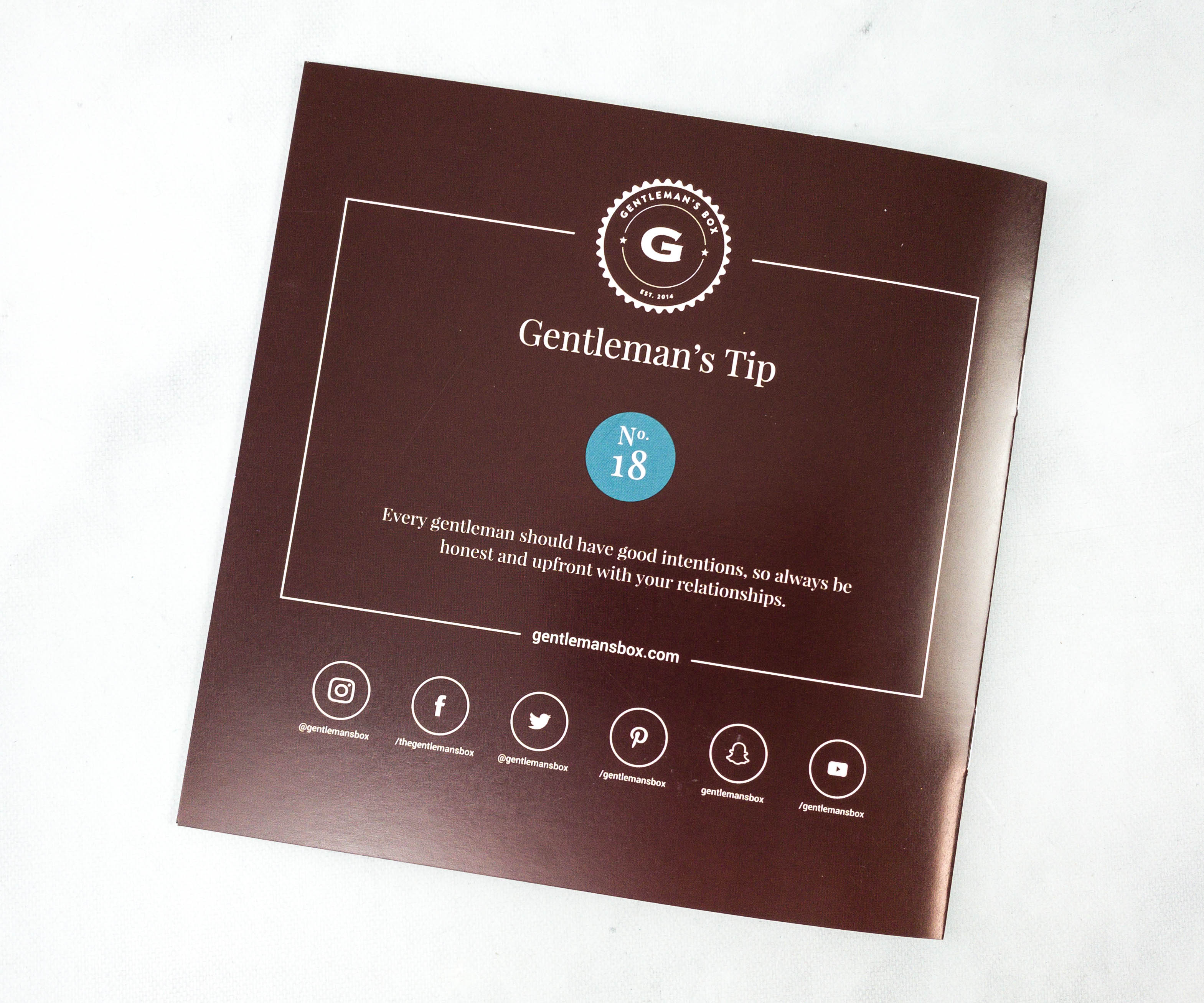 Featured at the back of the booklet is Gentleman's Tip No. 18:
Every gentleman should have good intentions, so always be honest and upfront with your relationships.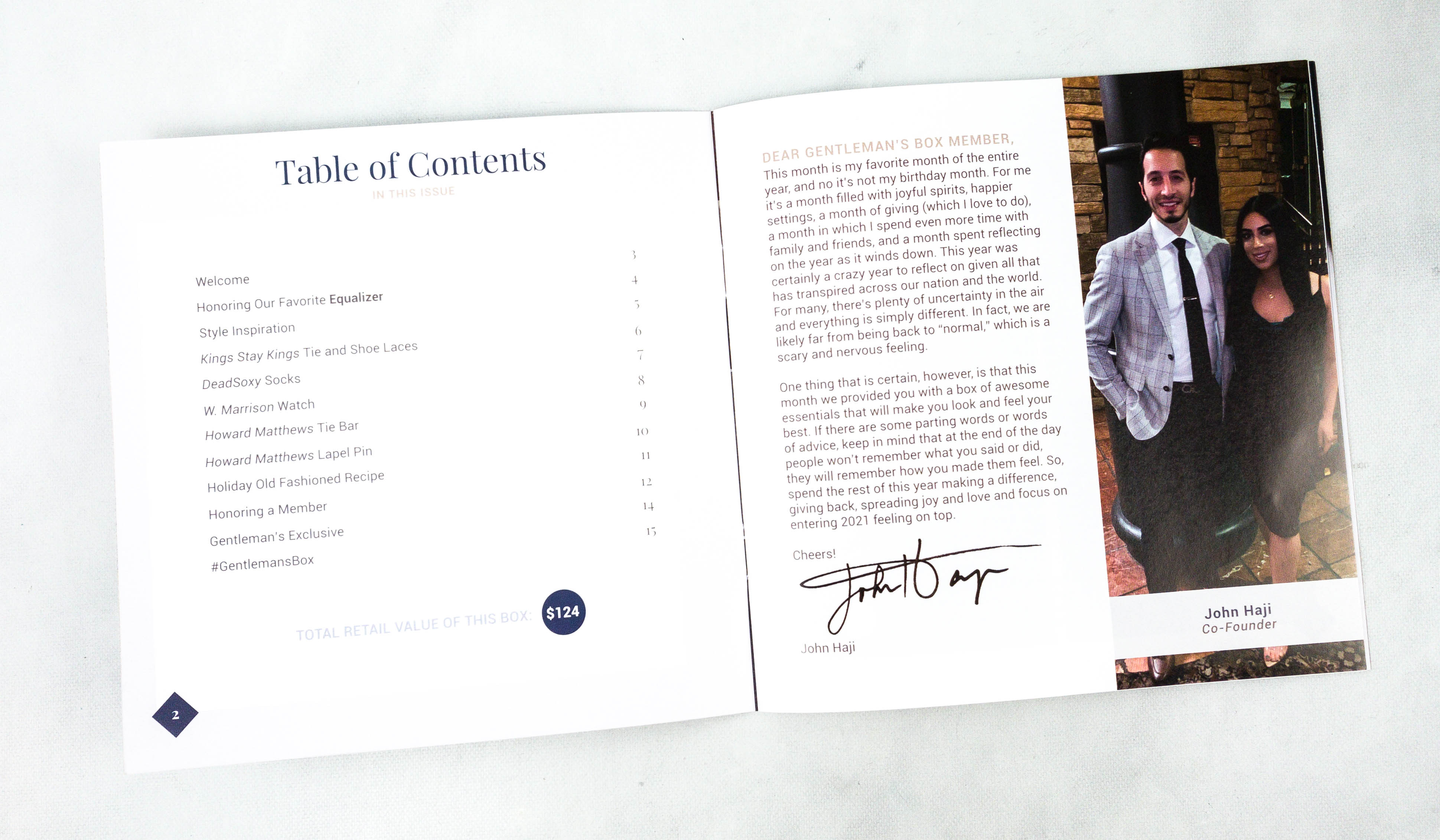 The Gentlemen's Post walks through everything in the box, and more. There is even a handy table of contents that gives a quick list of the contents and the total retail value of the box. They regularly have a feature that introduces us to members of the Gentleman's Box team.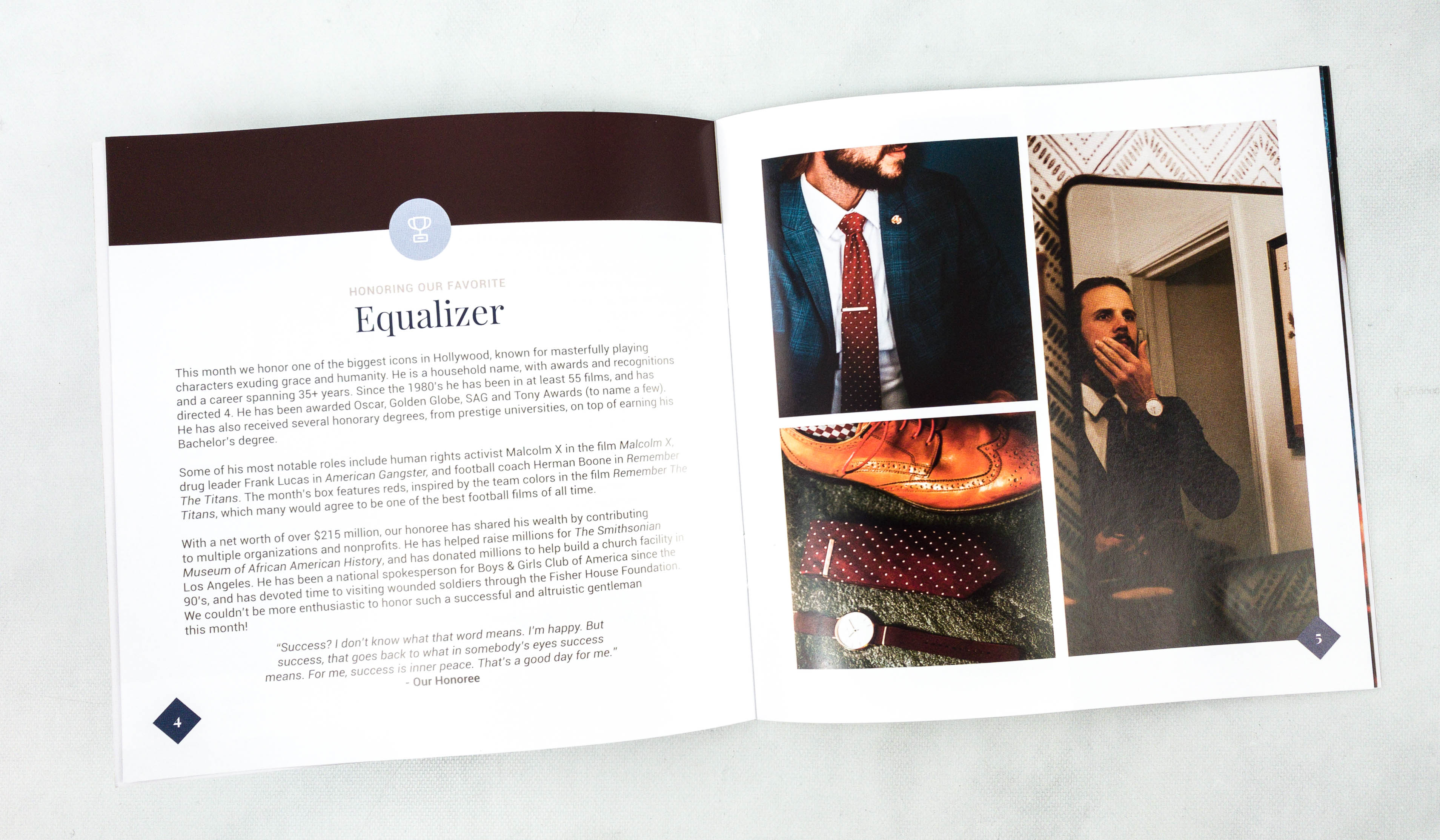 This month's box is dedicated to honoring our favorite Equalizer!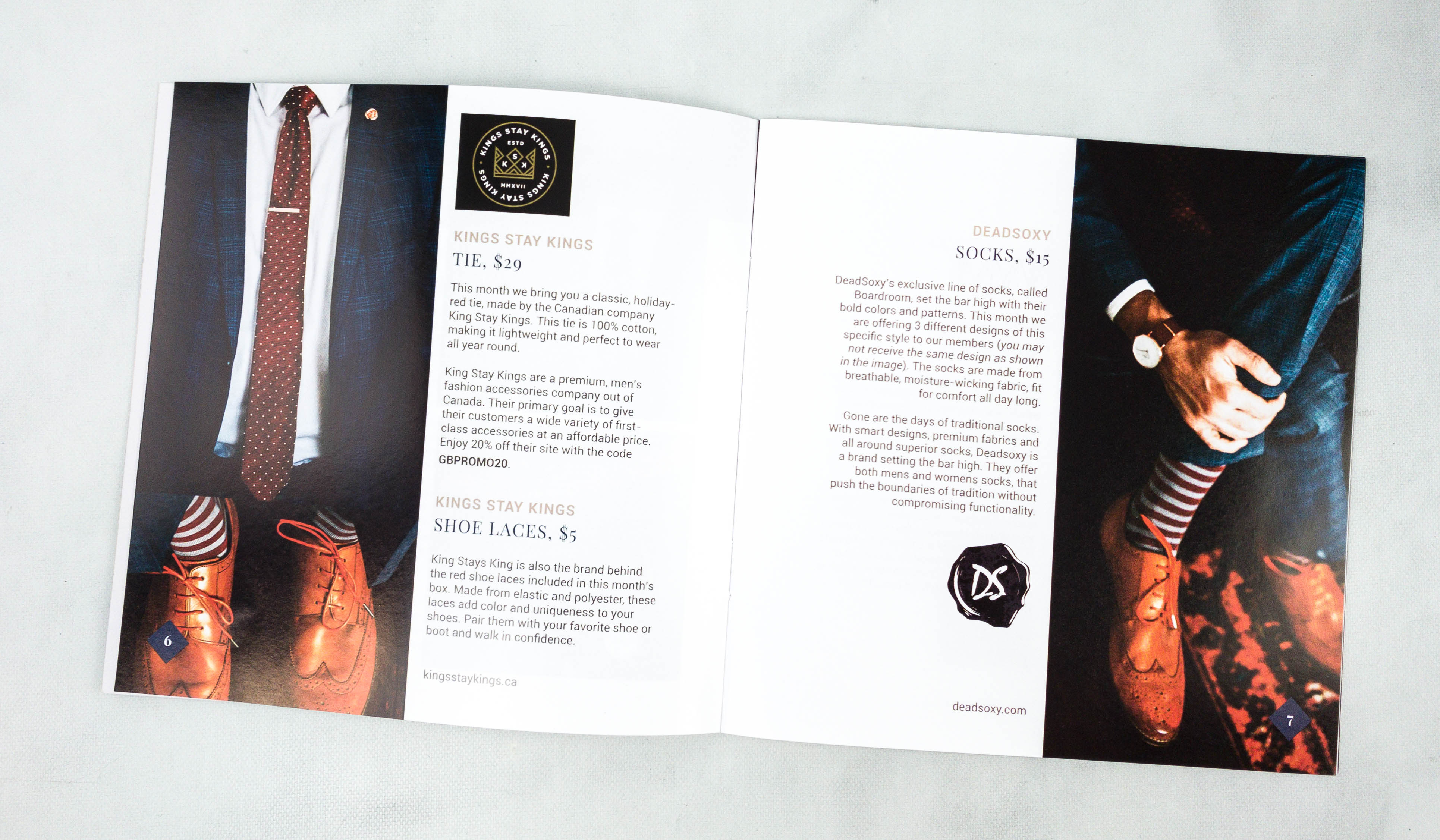 The booklet starts off with a style guide to give you some visual cues on wear and pairing options.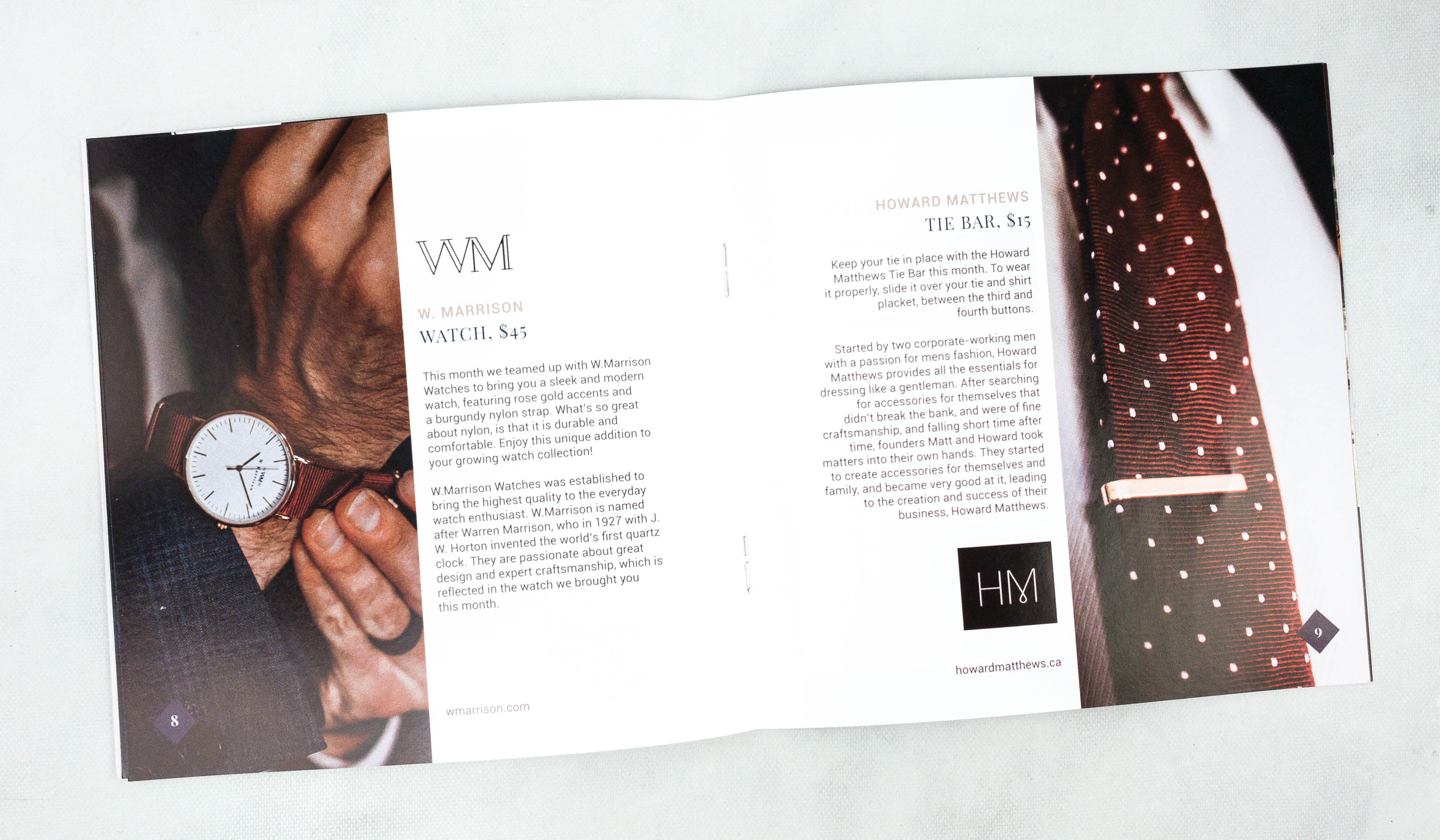 Every page is dedicated to each item — they include the usual picture and blurb, but they also include a handy section denoting the level of attire (e.g. formal, business, casual) for which the item is appropriate, as well as colors that best complement it.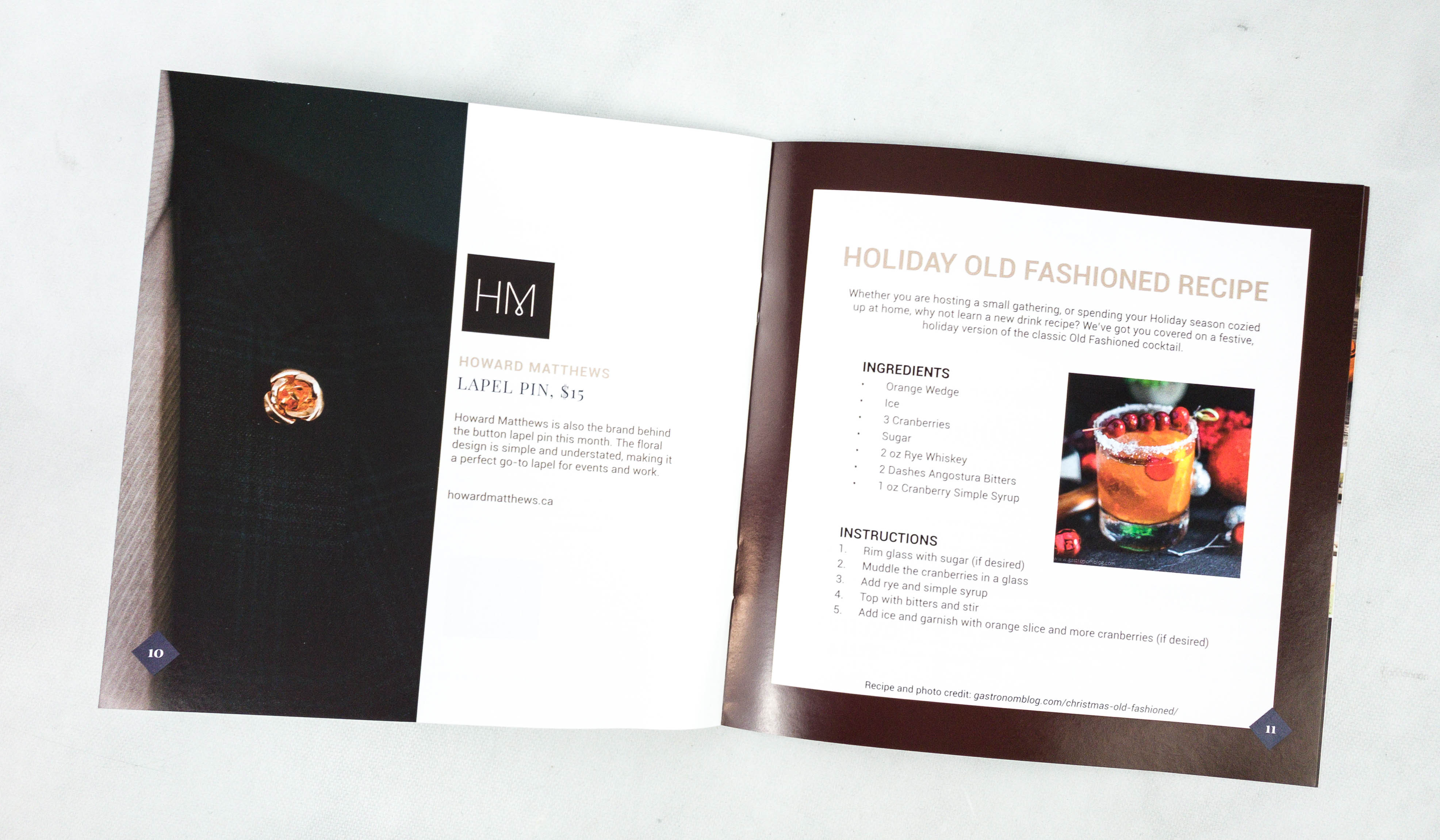 This month, the booklet includes a delicious Holiday Old Fashioned Cocktail Recipe!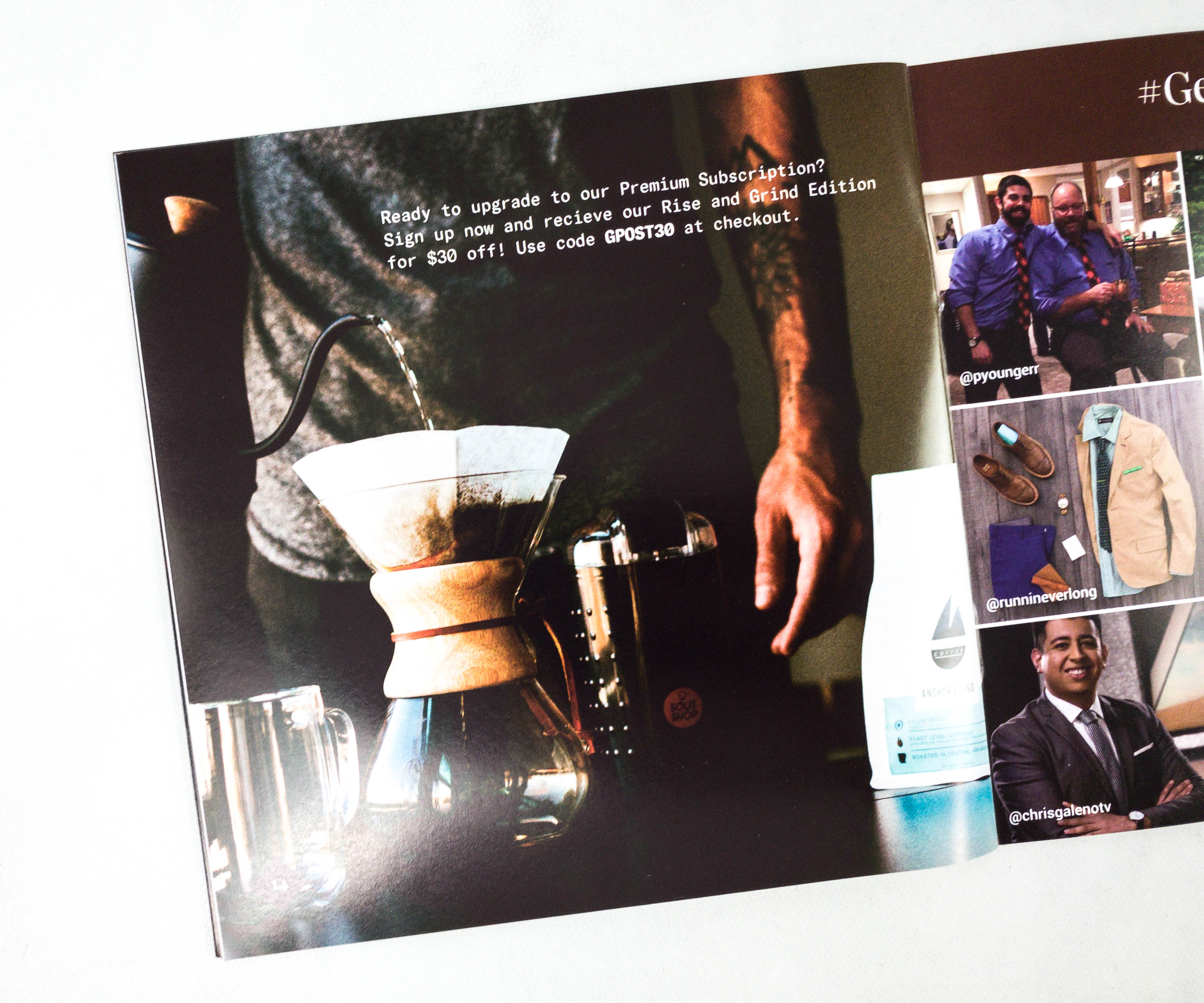 Every booklet also includes a Gentleman's Exclusive Deal of the Month. This month, they gave us a $30 off a Premium Subscription – just use code GPOST30.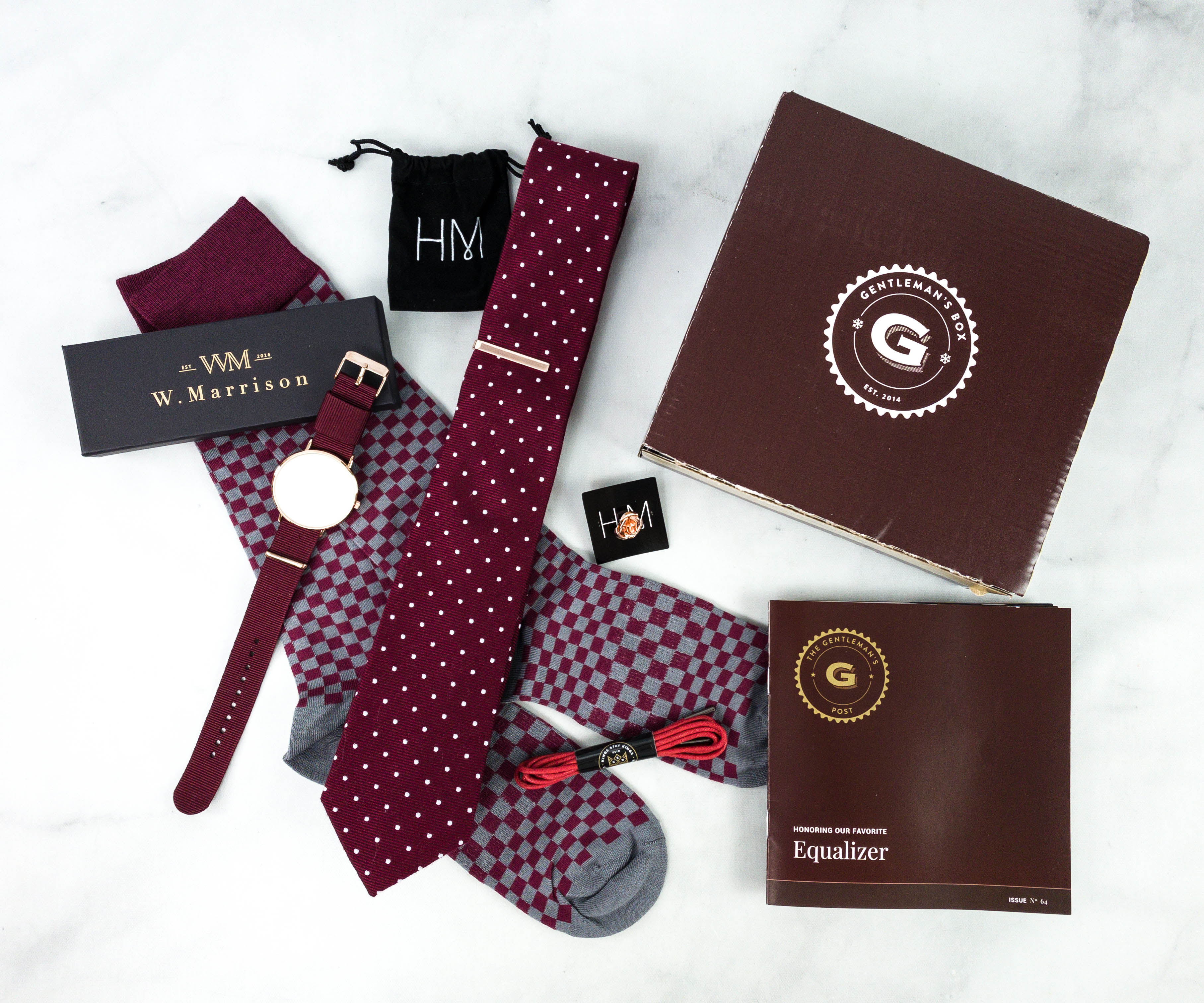 Everything in my box!
Howard Matthews Lapel Pin ($15) This lapel pin is definitely a head turner! It easily adds a touch of style to any type of suit.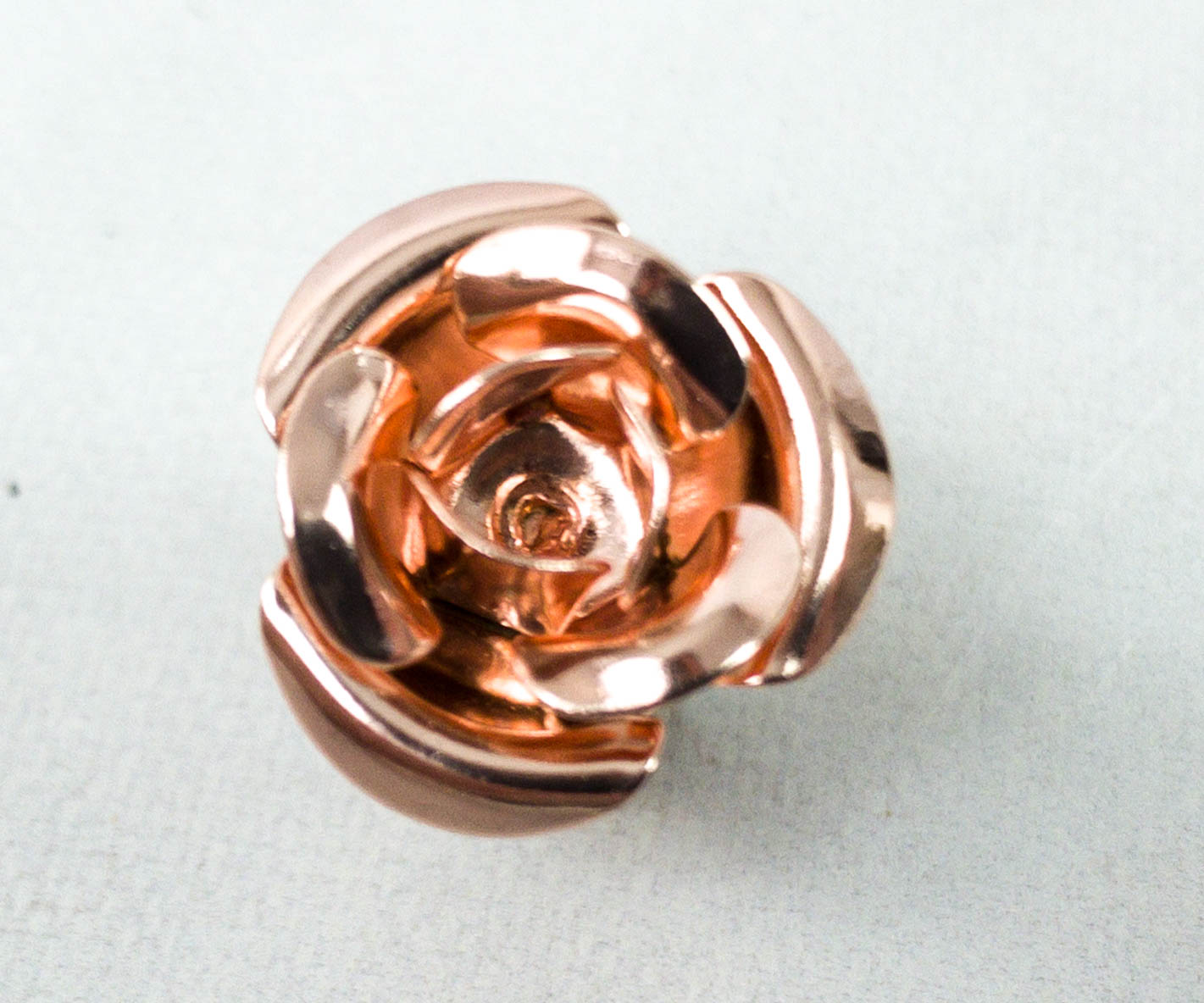 Here's a closer look at the lapel pin. It's in rose gold and it's also shaped like a flower. I love both the look and the quality!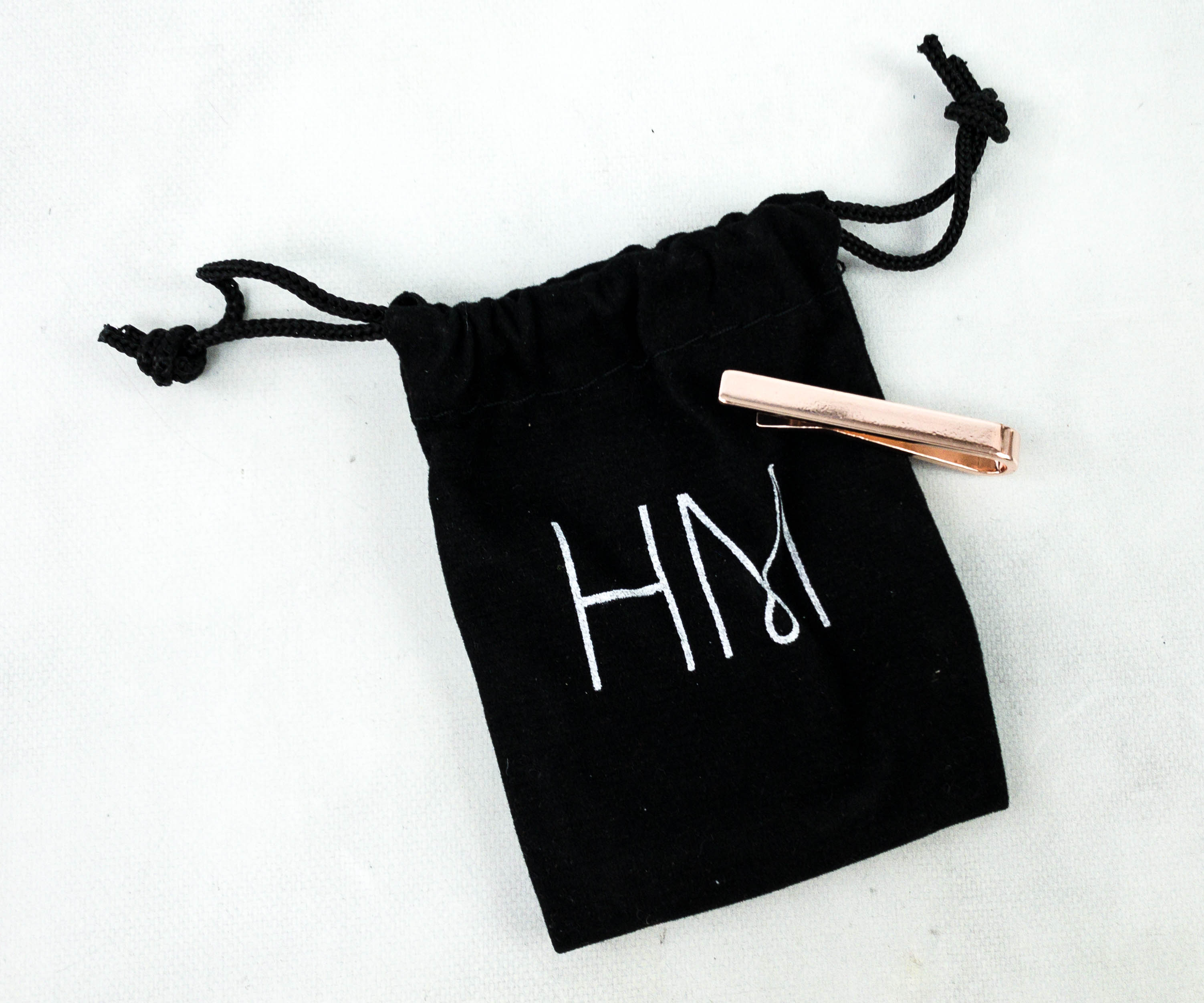 Howard Matthews Tie Bar ($15) The next accessory is a tie bar. It came in an elegant black drawstring pouch bag.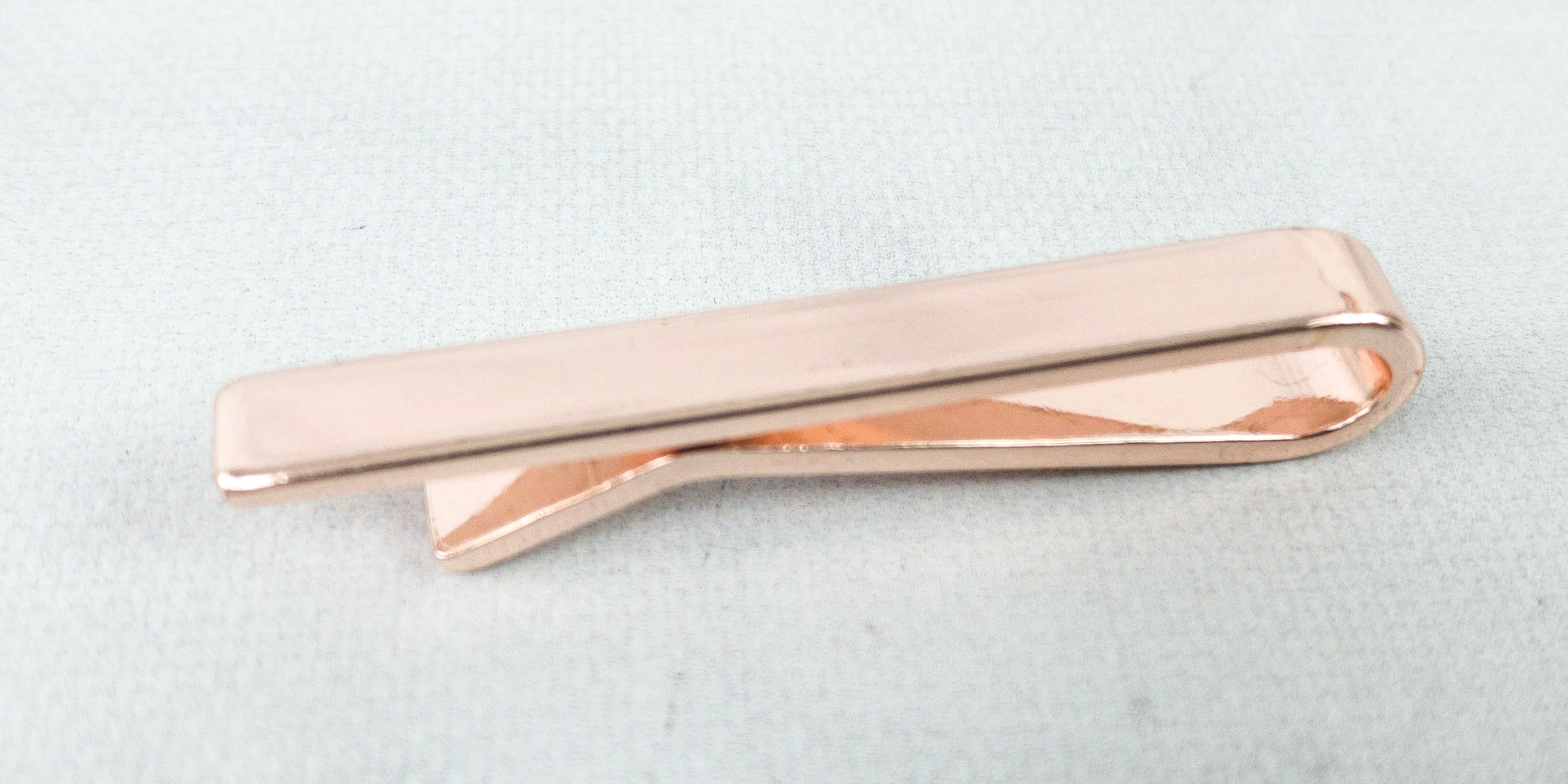 Just like the lapel pin, the tie clip comes in rose gold. It's made from stainless steel and it's pretty lightweight. To use, just slide it through your necktie and on your shirt and then clip.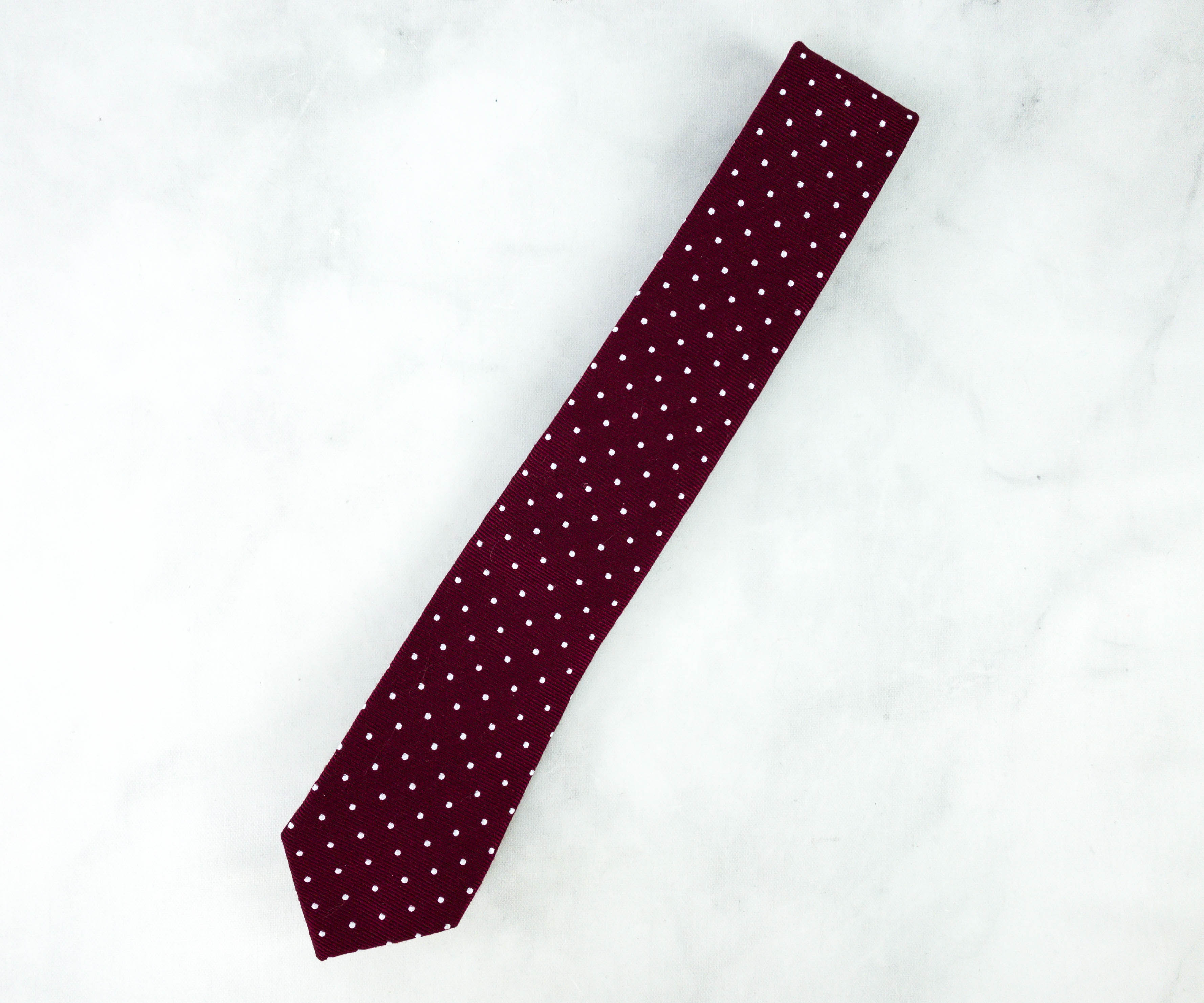 Kings Stay Kings Tie ($29) This month's featured necktie has a dark red base color and classic white polka dots.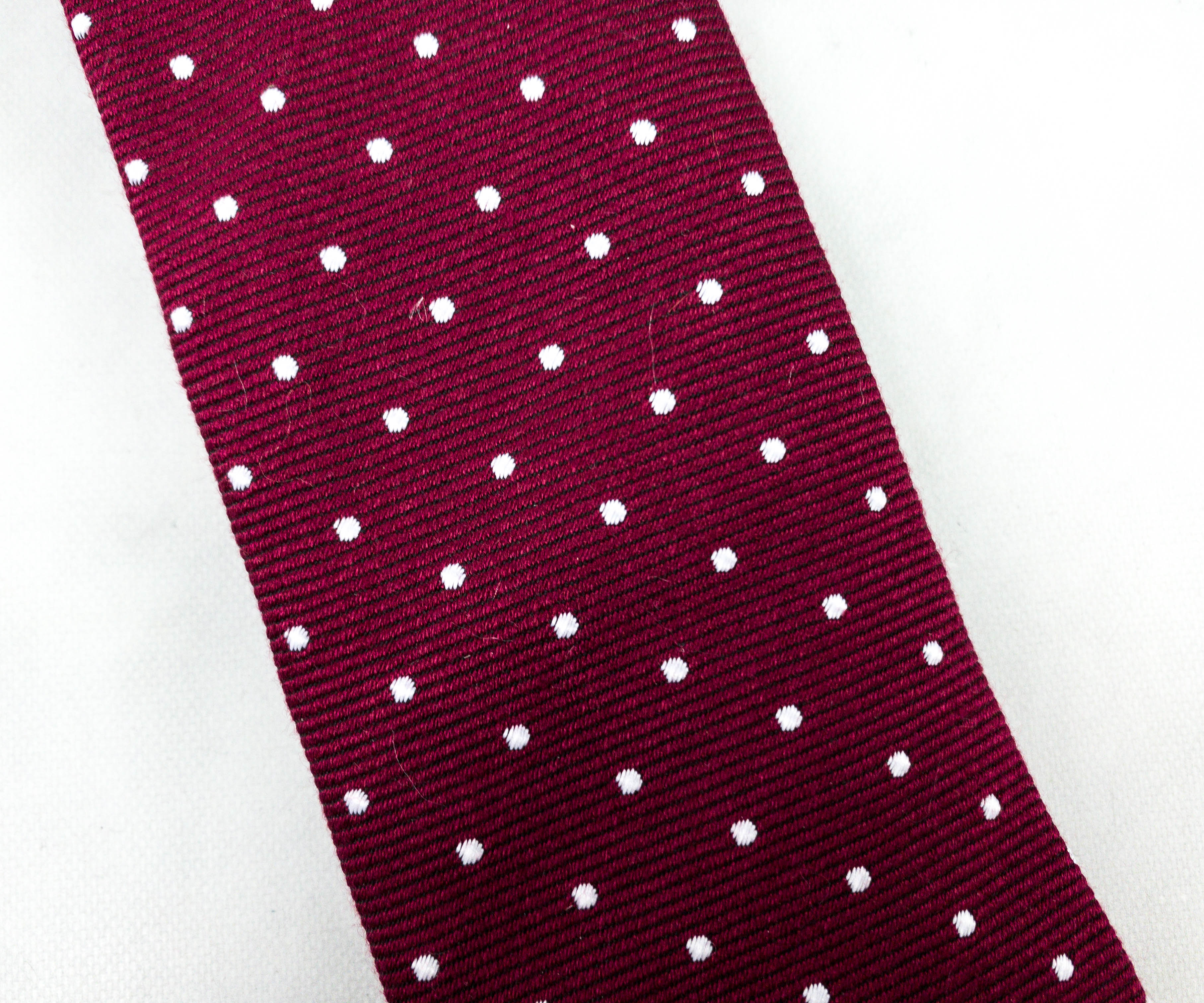 It has a slim look. I also like how easy it is to pair with different kinds of suits.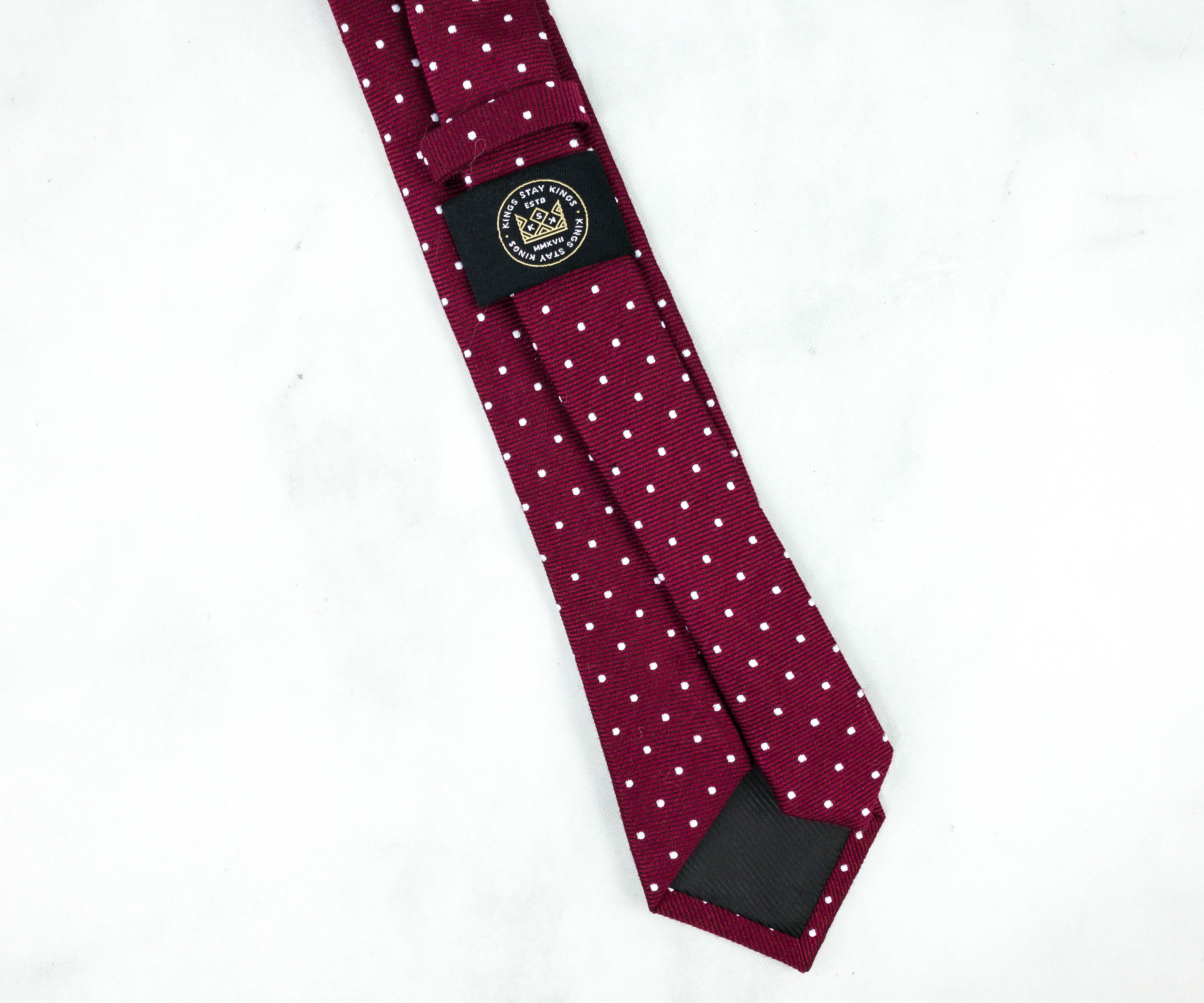 The back of the tie features a single strap insert and the brand logo embroidered just below it. This insert secures the excess tie for a neat look.
Dead Soxy Socks ($15) To match with the tie is this pair of crew-cut style socks. They are made in China and designed in Dallas.
According to the label, these premium socks are made from 75% bamboo, 20% polyester, and 5% elastane. They fit shoe sizes 9-13.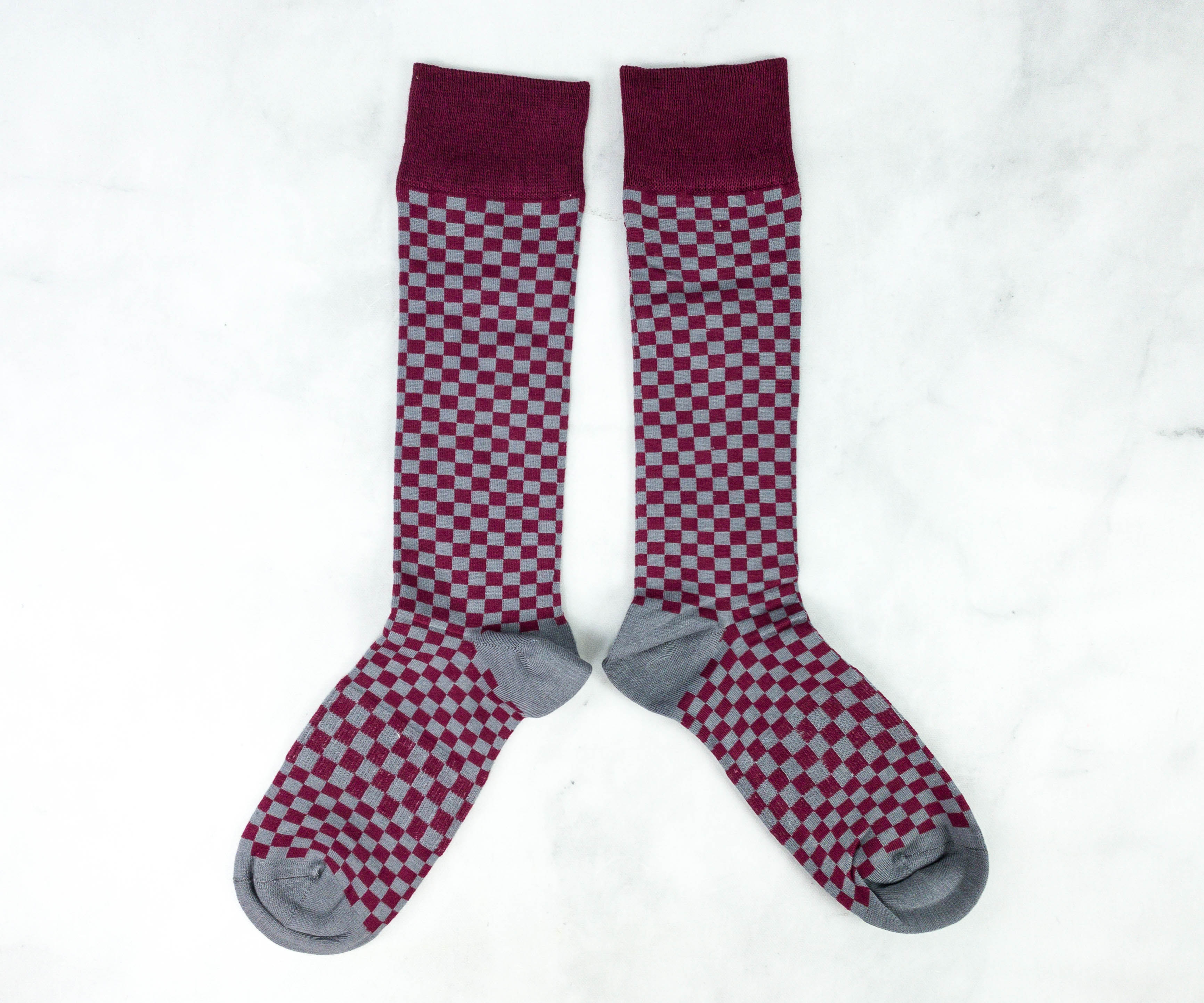 These socks are eye-catching because of their gray and burgundy checkered pattern. The toes and heels are in plain gray, while the cuffs are in burgundy as well.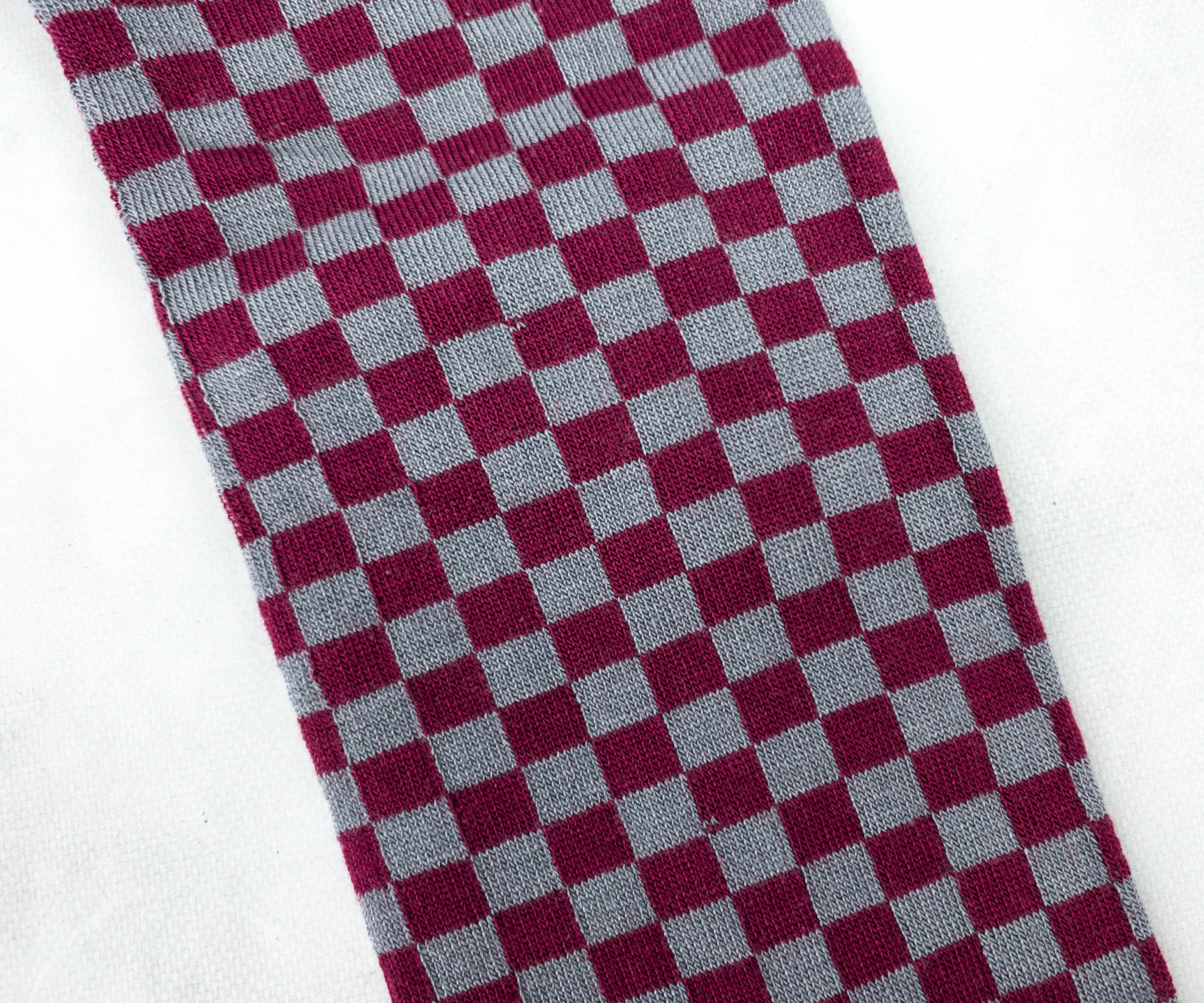 Here's a closer look at the checkered design. Another thing that I like about this pair is that they are soft and comfortable on my feet!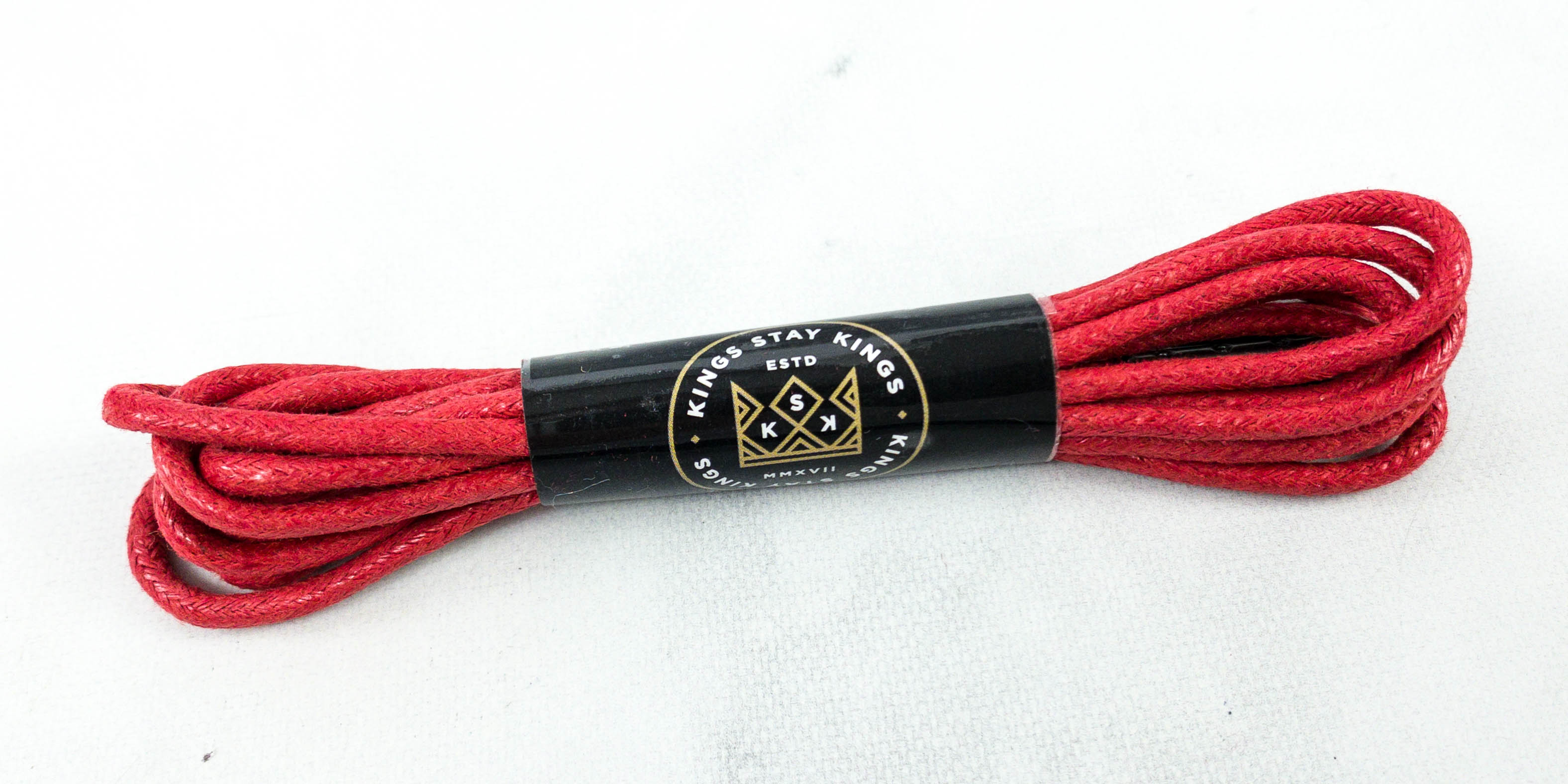 Kings Stay Kings Shoe Laces ($5) This month's box also includes a pair of red shoelaces made from elastic and polyester, with metal cap ends!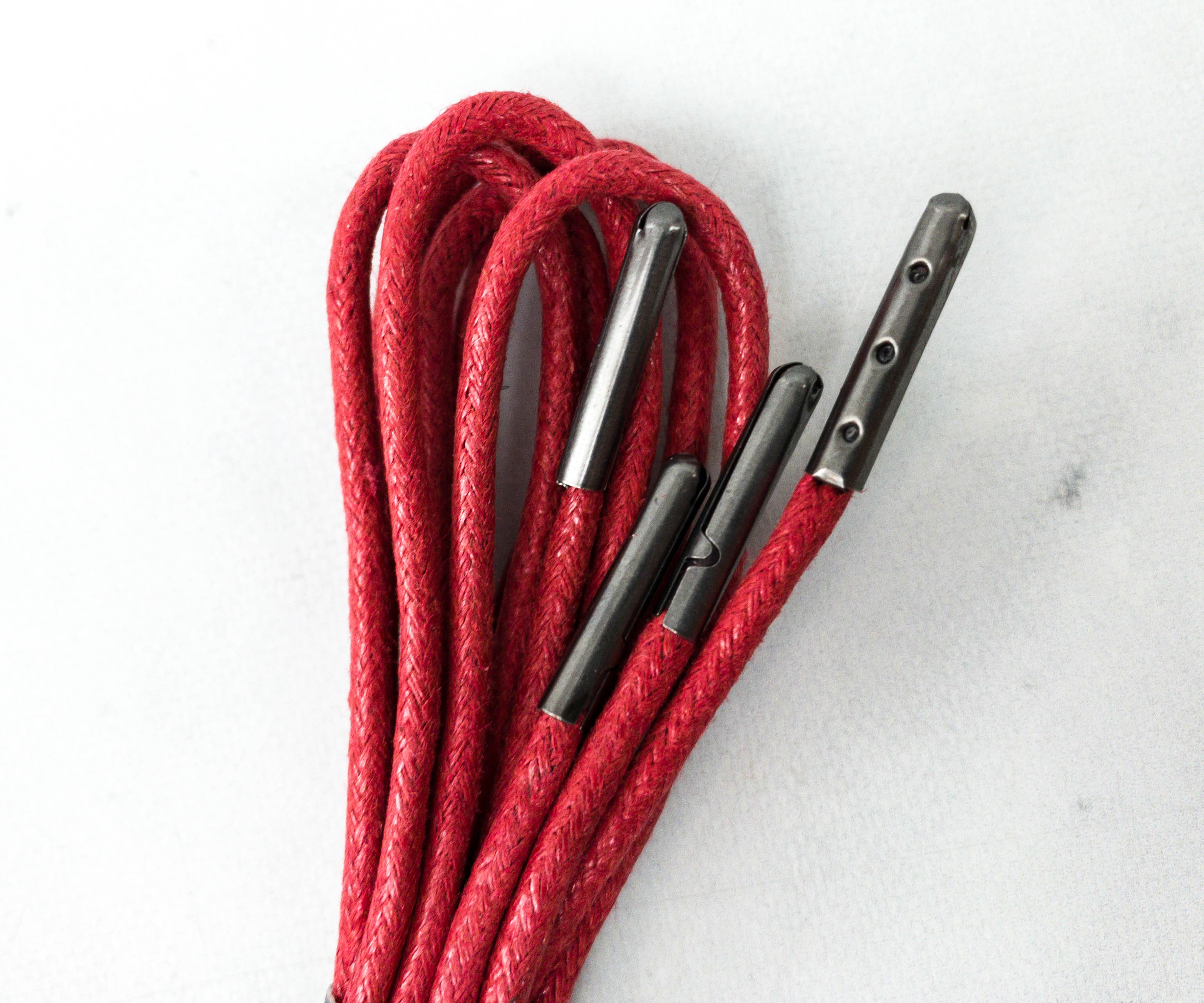 Its vibrant color makes it a great way to add an accent to your shoes!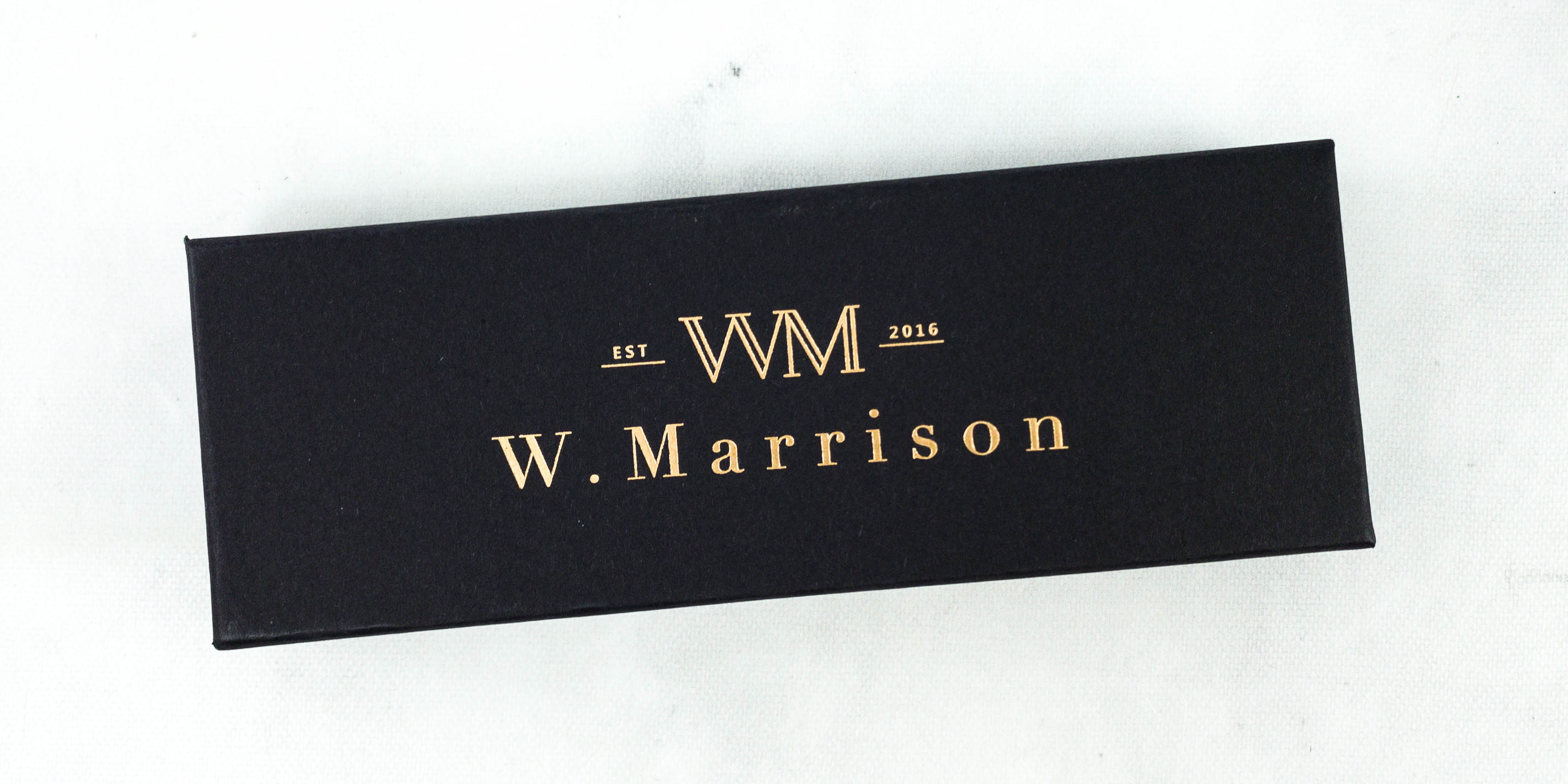 W. Marrison Watch ($45) Here's my favorite item in this month's box, a watch encased in an elegant black box!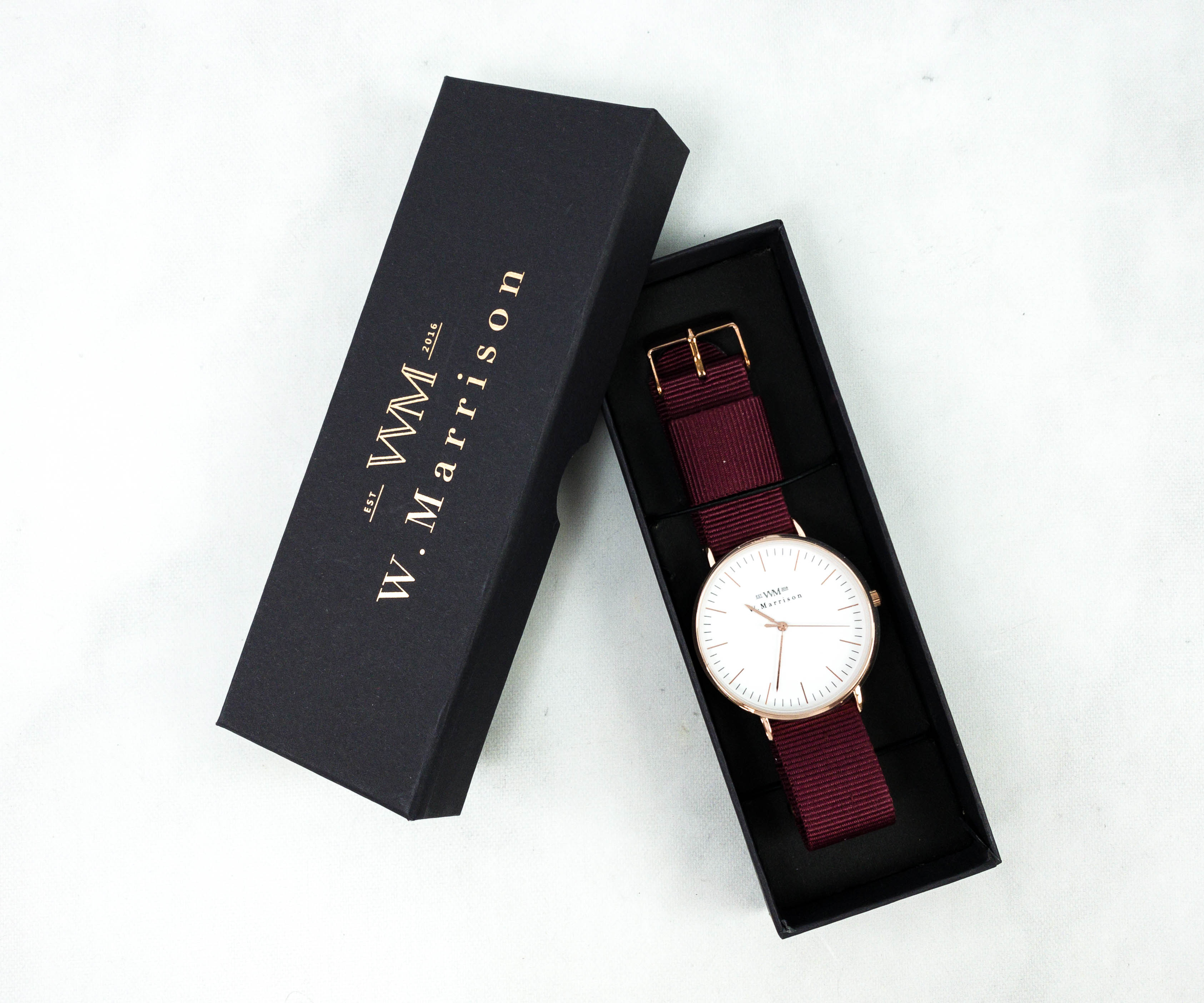 This watch is placed in a custom-made foam case that protects the watch and keeps it in place.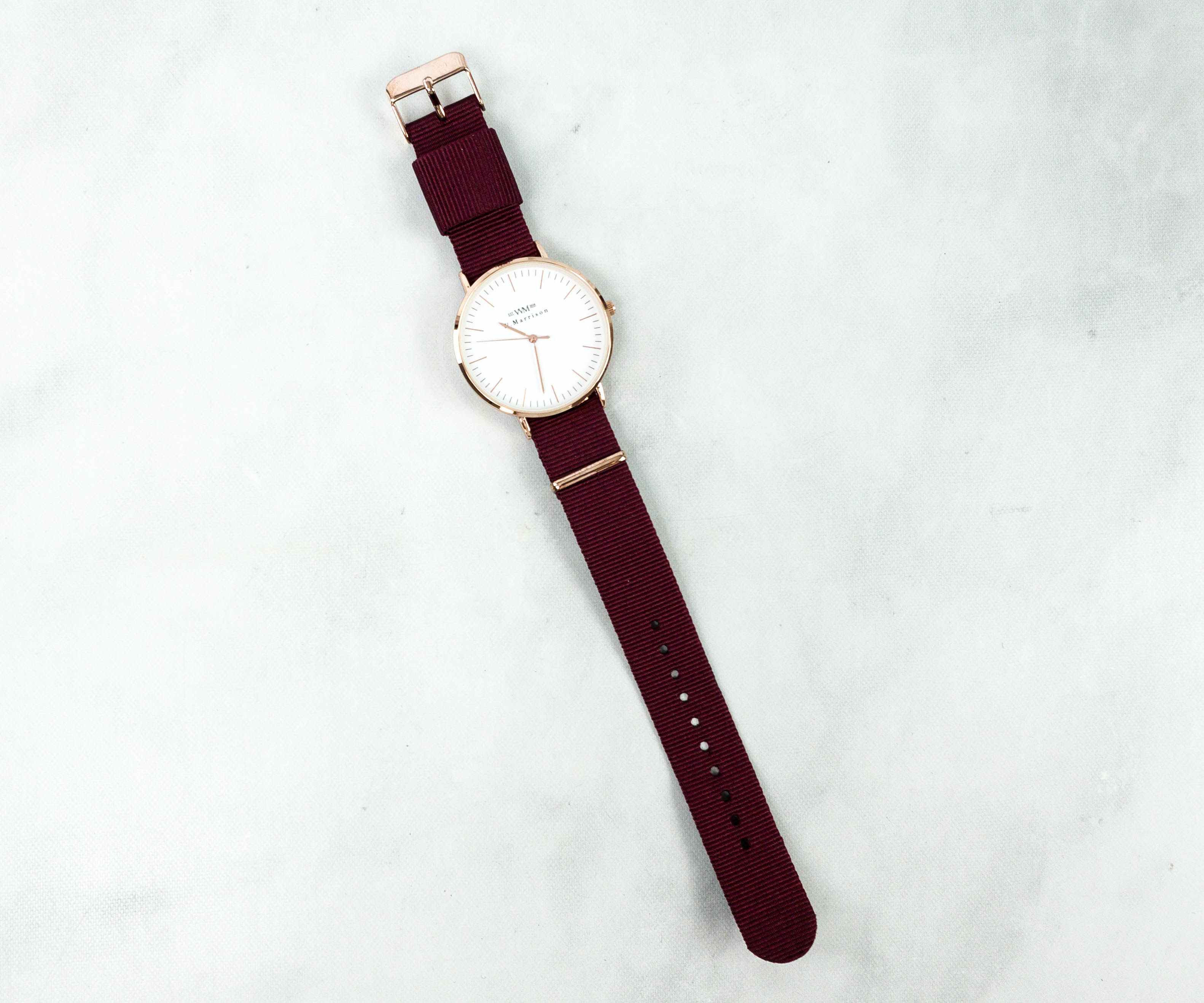 It's a simple yet elegant watch with a durable, premium-quality nylon strap in burgundy.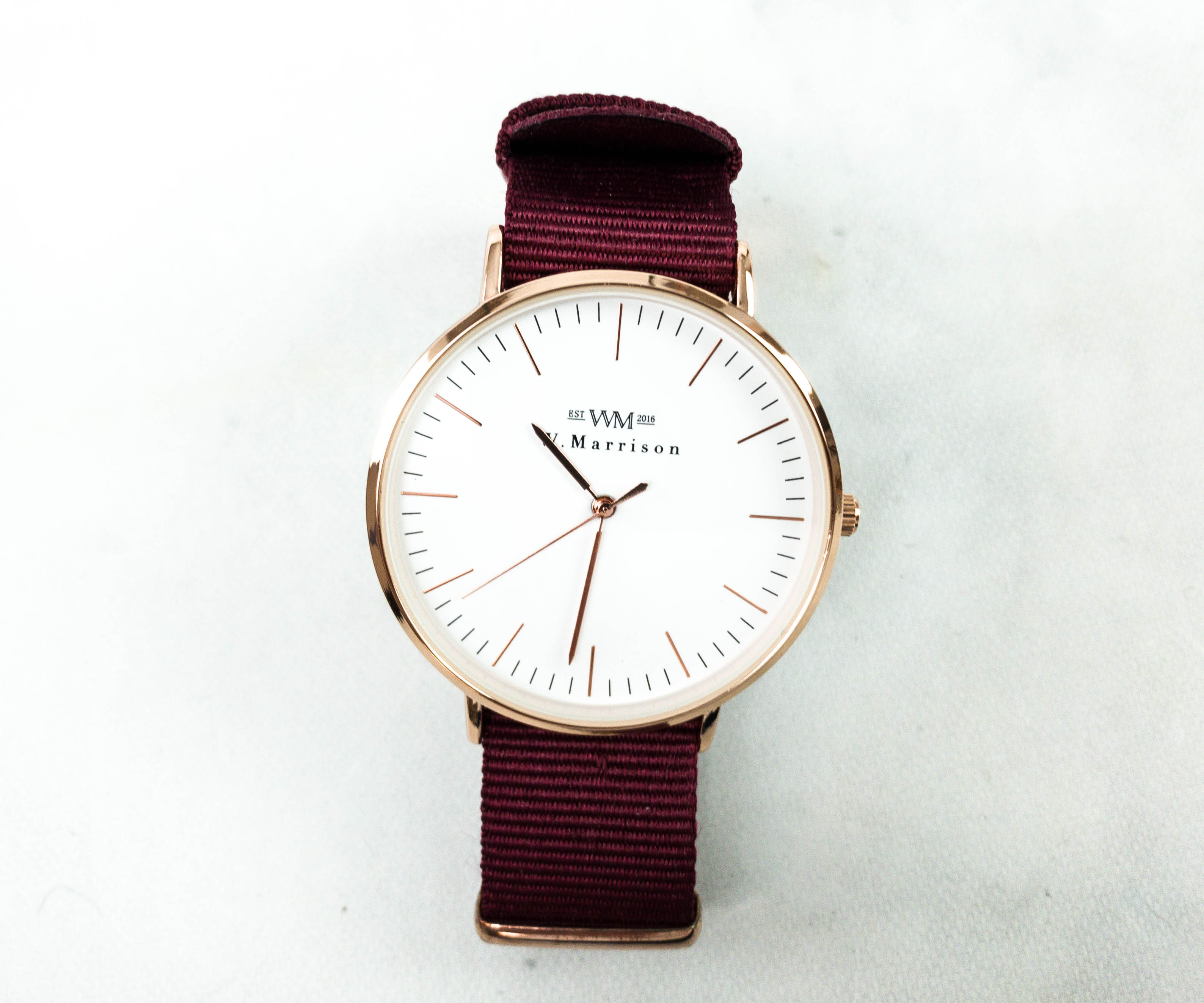 This watch features a white dial with a stainless steel crown and rose gold case. It's a classic watch with a versatile design that I can wear on any occasion!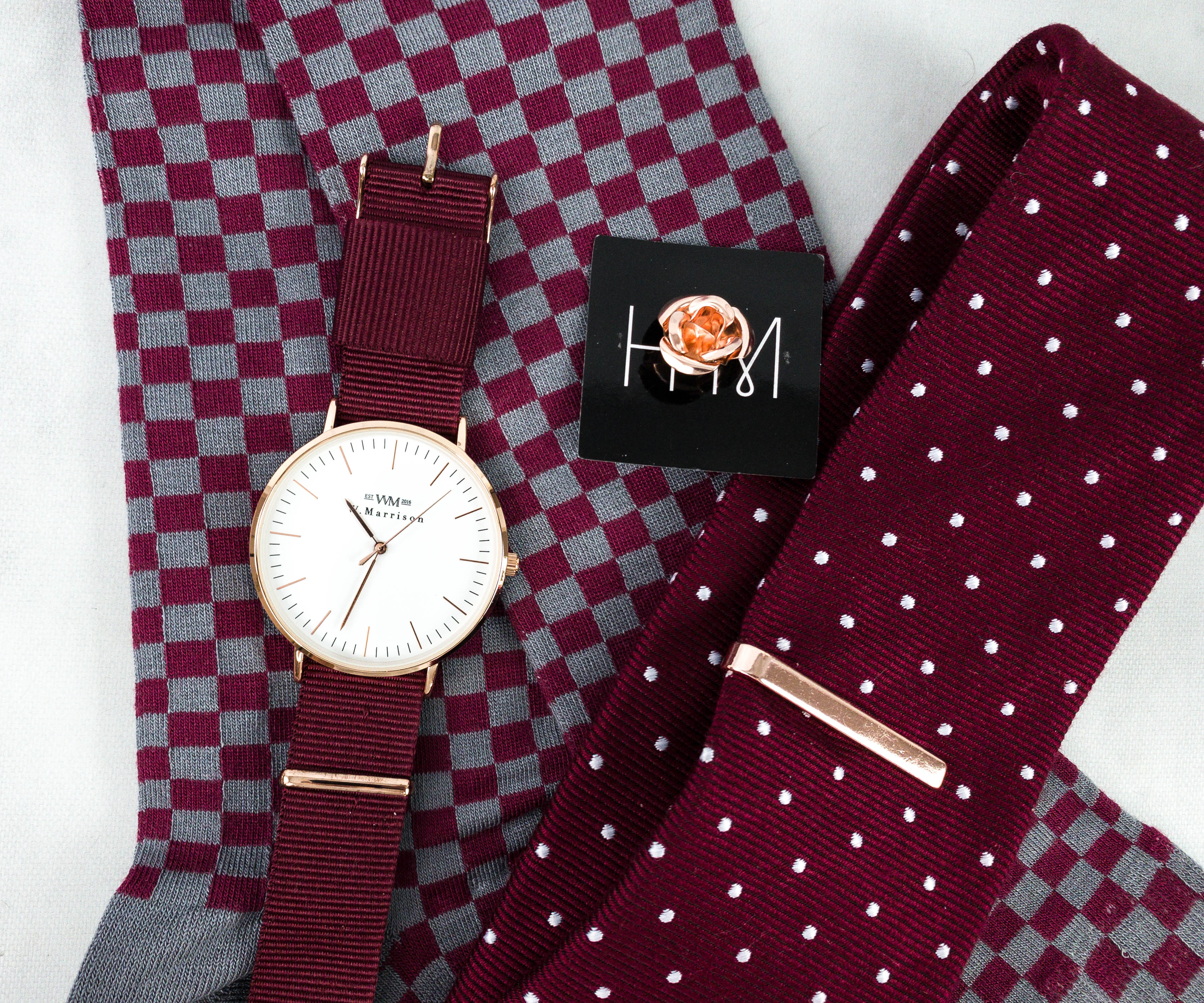 Here are all the items I received this month. All of them look really great and match each other well.
Gentleman's Box is a subscription ideal for any man who wants to keep his style on point. Every box comes with high-quality men's accessories, like this month's pair of socks, tie, lapel pin, and tie clip. I'm loving this month's color scheme. Everything just looks sophisticated in burgundy! My favorite item is the watch because it's something I can wear on any occasion. Again, this subscription didn't disappoint! They surely know how to elevate a man's style using well-coordinated accessories!
What do you think of this month's box?