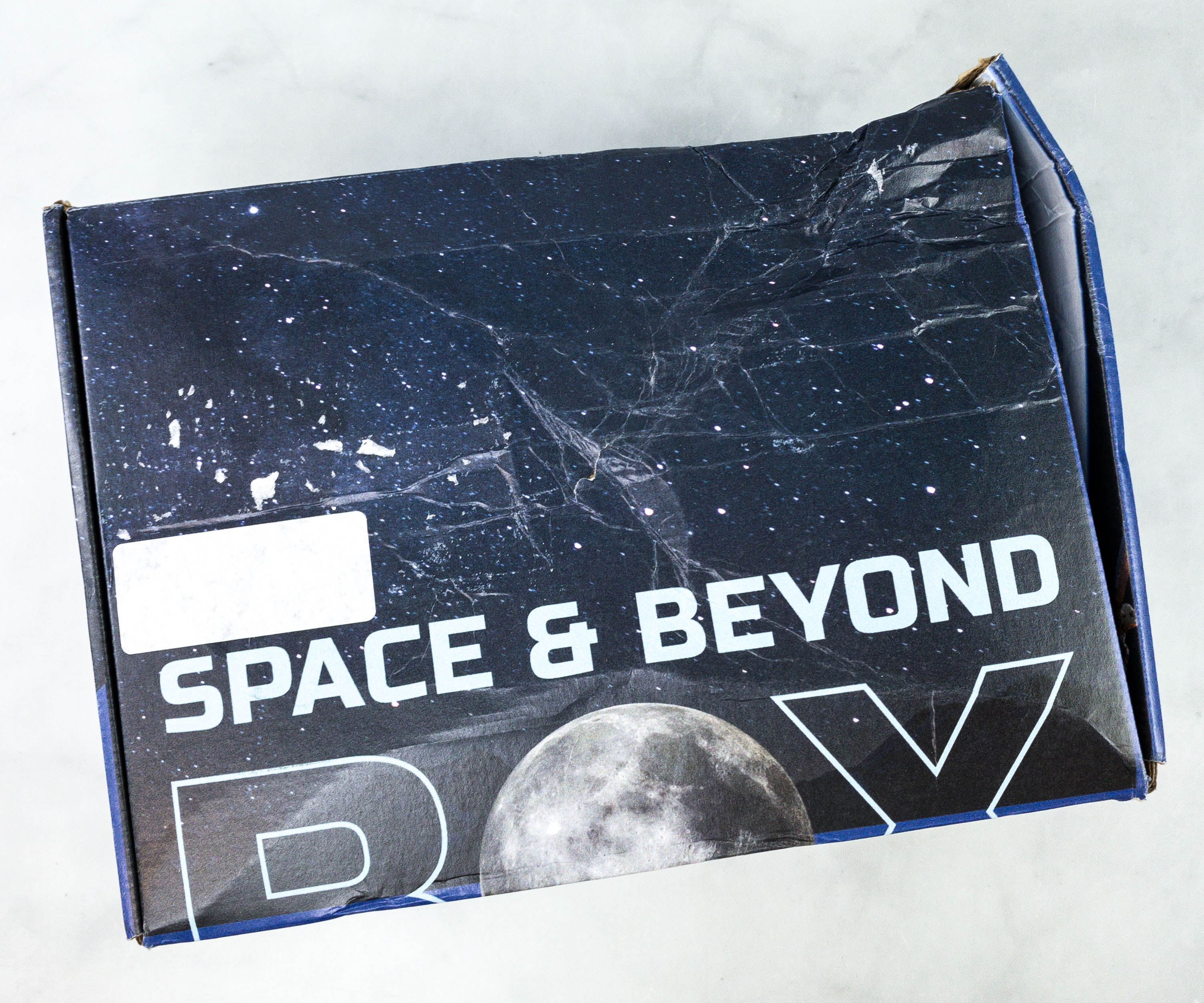 The Space & Beyond Box is an astronomy-themed subscription box specially designed for space enthusiasts from Astronomy magazine. The box offers three subscription plans: the Quarterly plan (pay for each box when it ships for $49.95/quarter), the 2-Quarter plan (pay for 2 boxes at a time for $46.70/box), and the Annual plan (pay for 4 boxes upfront $44.80/box). Each quarter, they have a specific topic that you can explore, and appreciate the wonders of the universe without the need to get out of the house. The box contains 5 to 7 high-quality items, hand-selected by the editors of Astronomy magazine, and they will range from globes to notebooks, scientific posters, books, 3-D models, space artifacts, collectibles, astronomy gear, and more, valued for more than $80!
DEAL: Get 15% off your first Space & Beyond Box with coupon code HELLO15.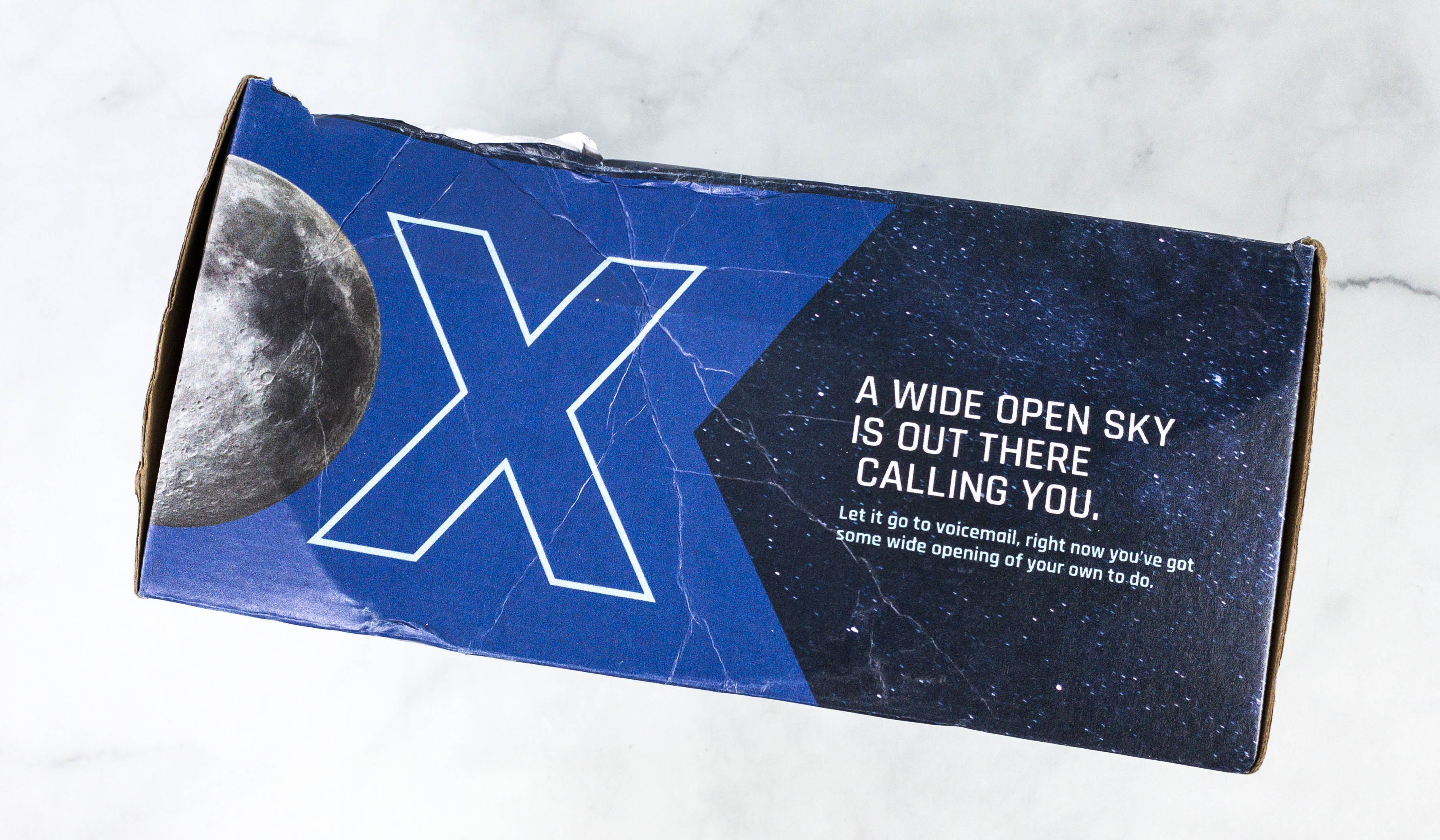 My box was damaged when it arrived.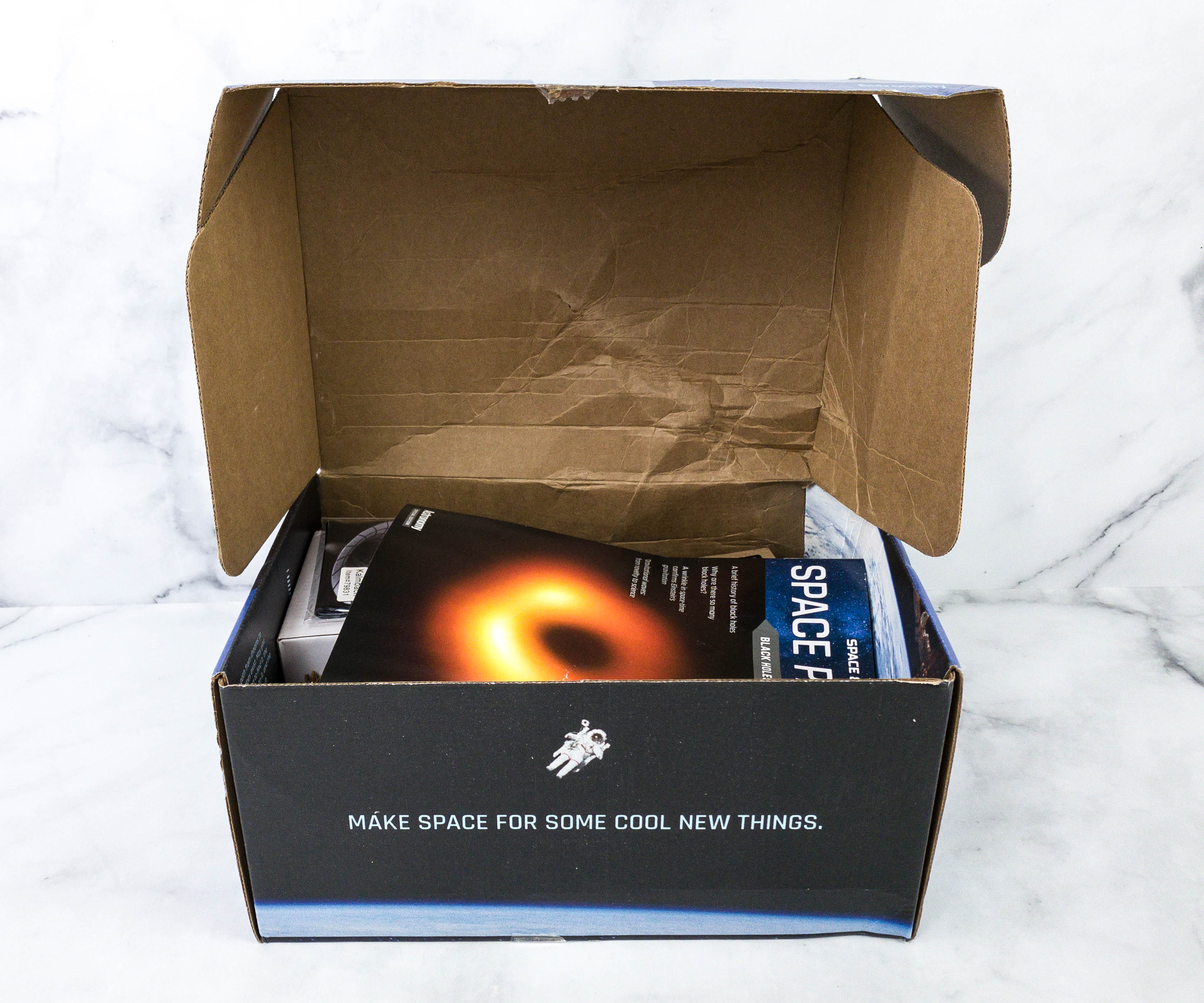 Although the box was damaged, most of the items were still in great condition.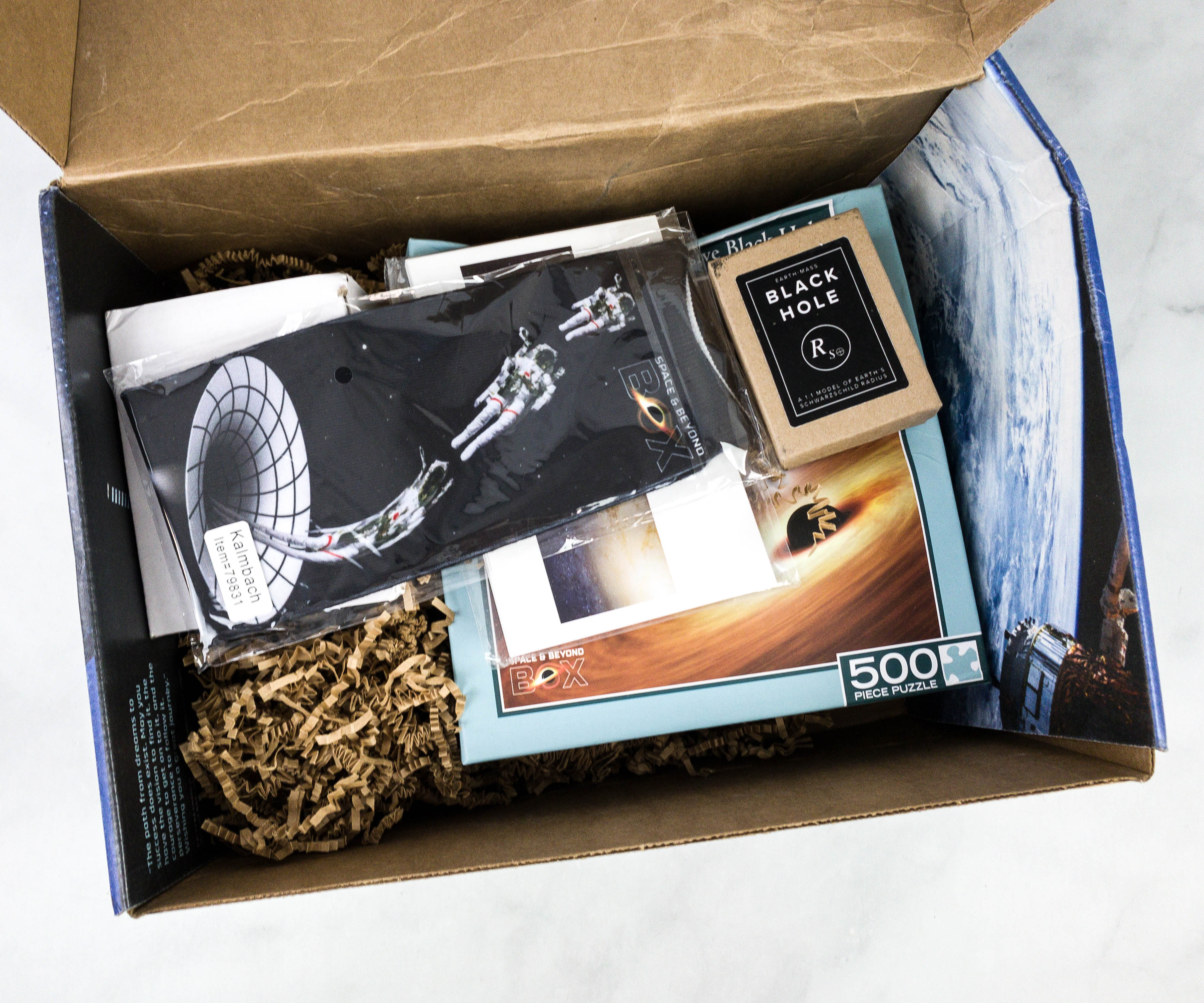 Most of the items are individually packed and are protected by brown squiggles.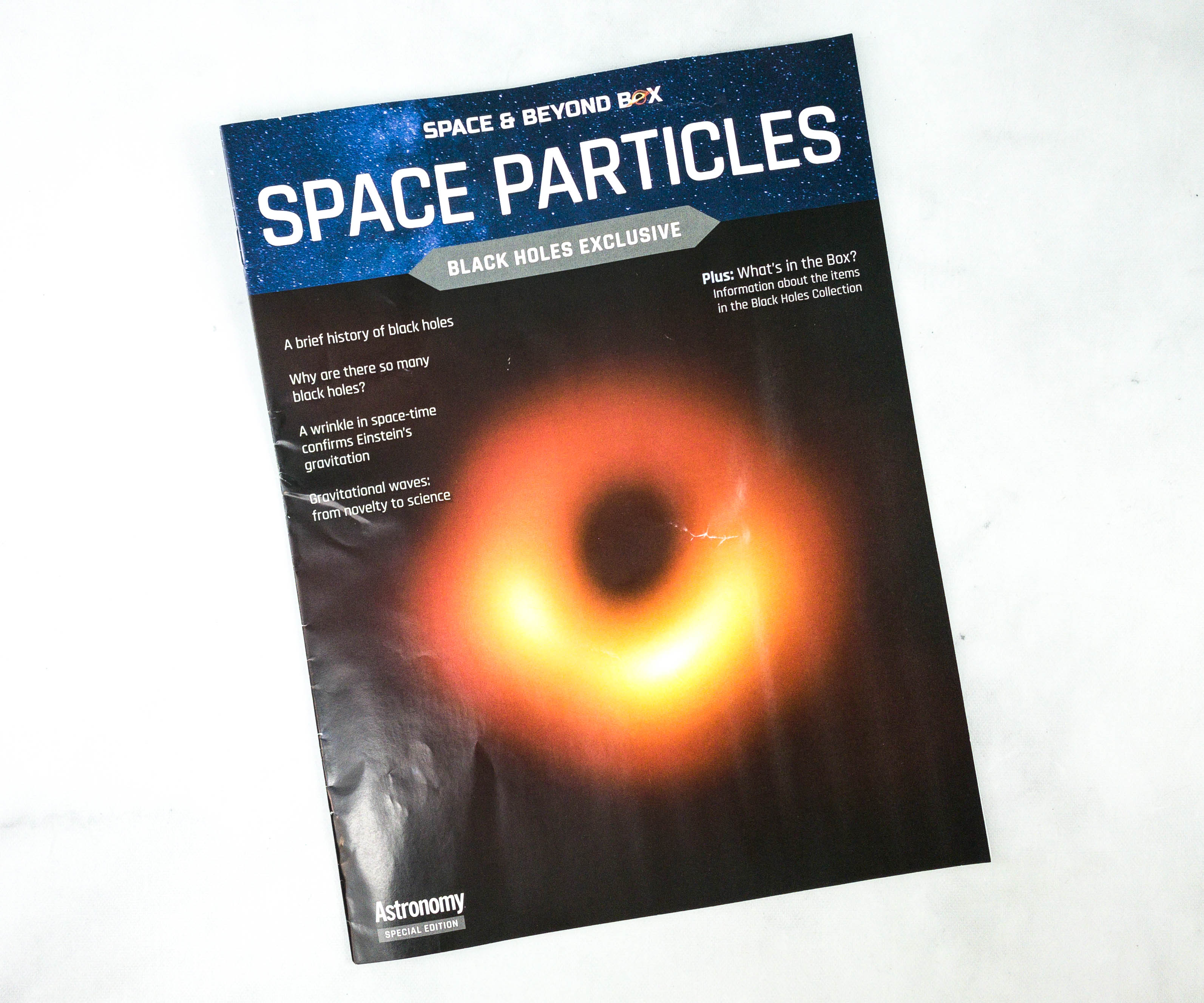 Space Particles: Black Holes Exclusive Edition ($6)
Dive deeper into a thoughtfully curated collection of articles, interviews, images and analysis tailored to each Space & Beyond Box. In this issue, we'll explore a brief history of black holes, why there are so many, the confirmation of Einstein's gravitation, and more!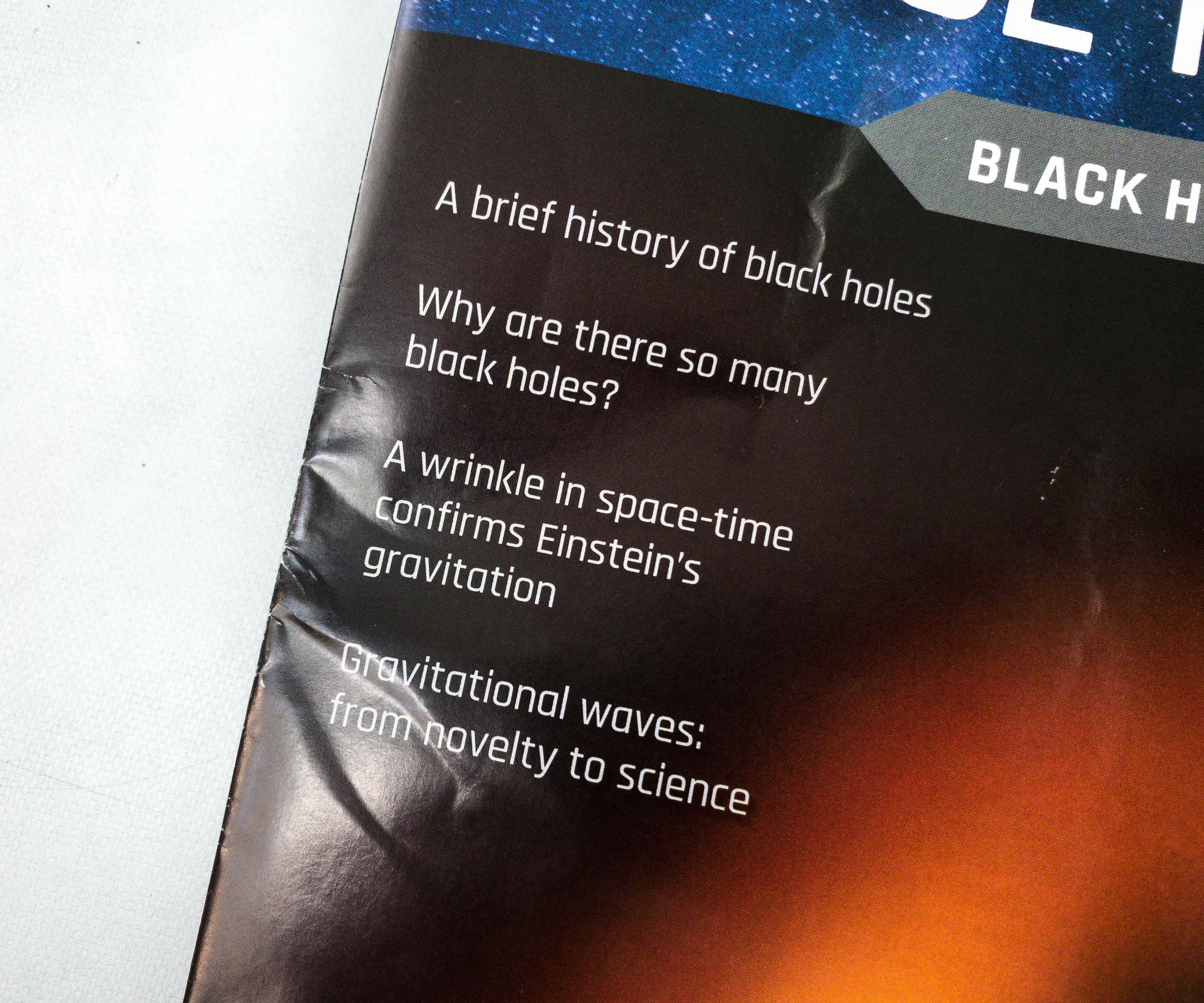 There's a crease on the side of the copy I received.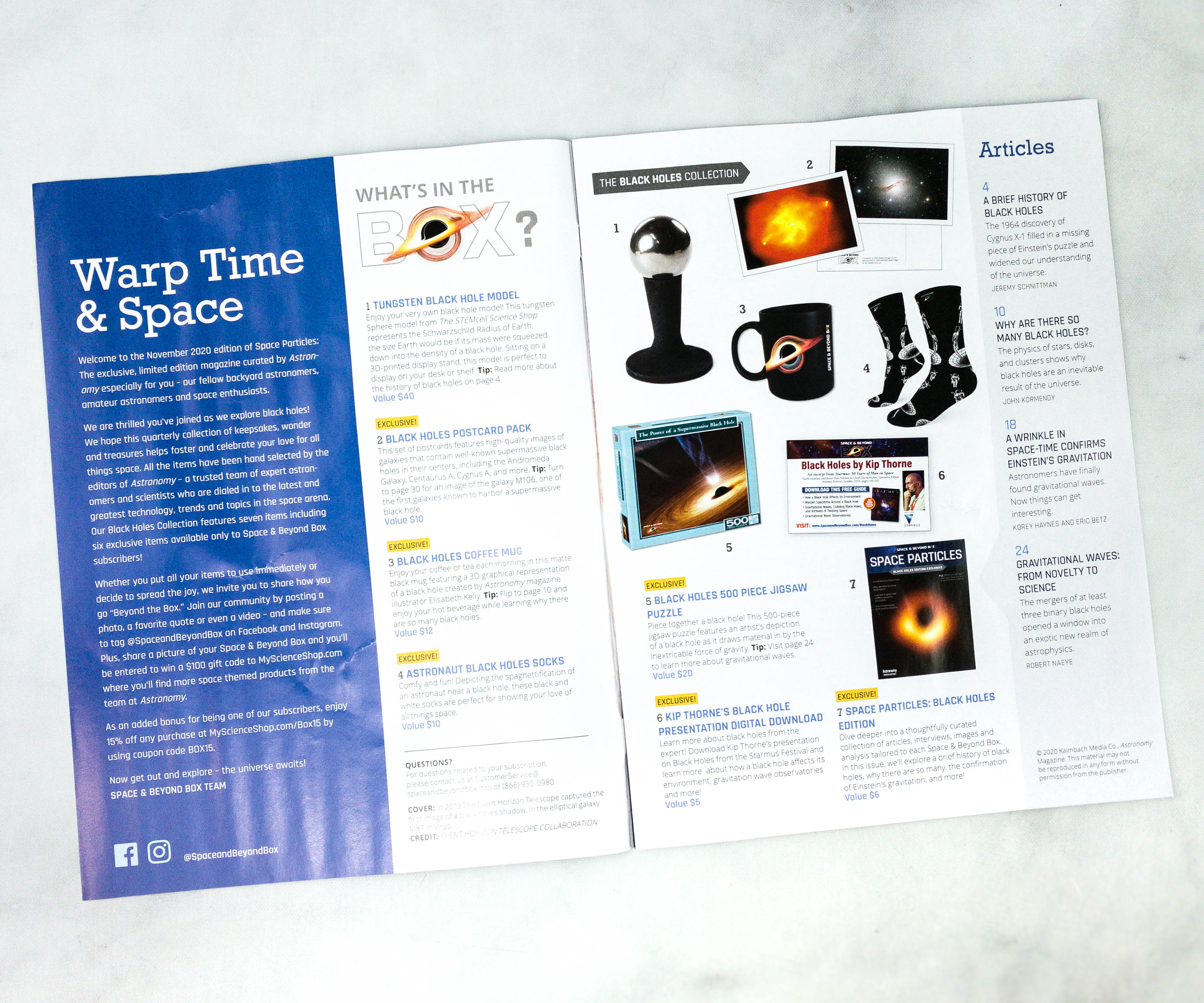 This part of the magazine lists the items included in this month's box, plus a description for each.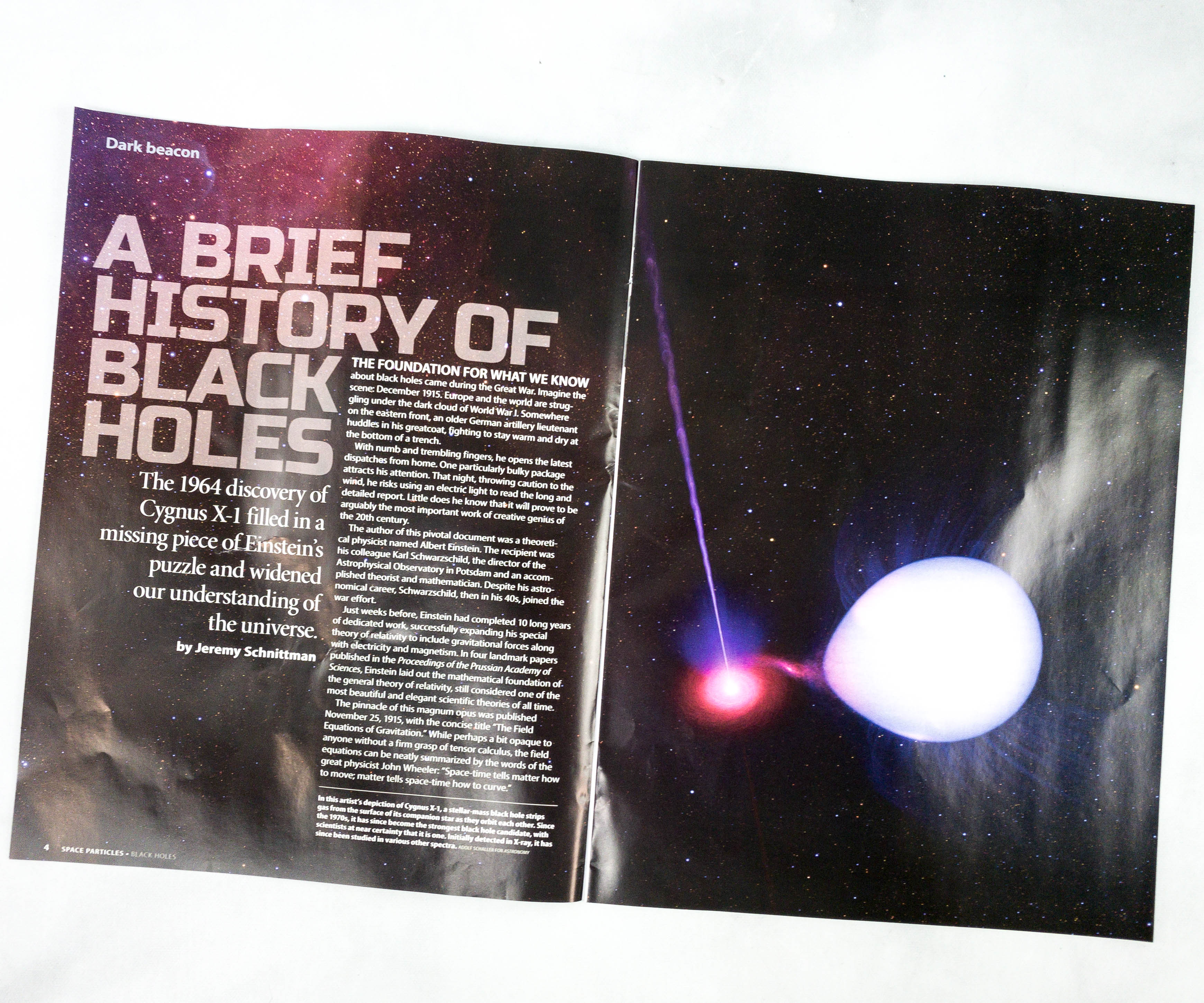 One of the features in the magazine is about the history of black holes!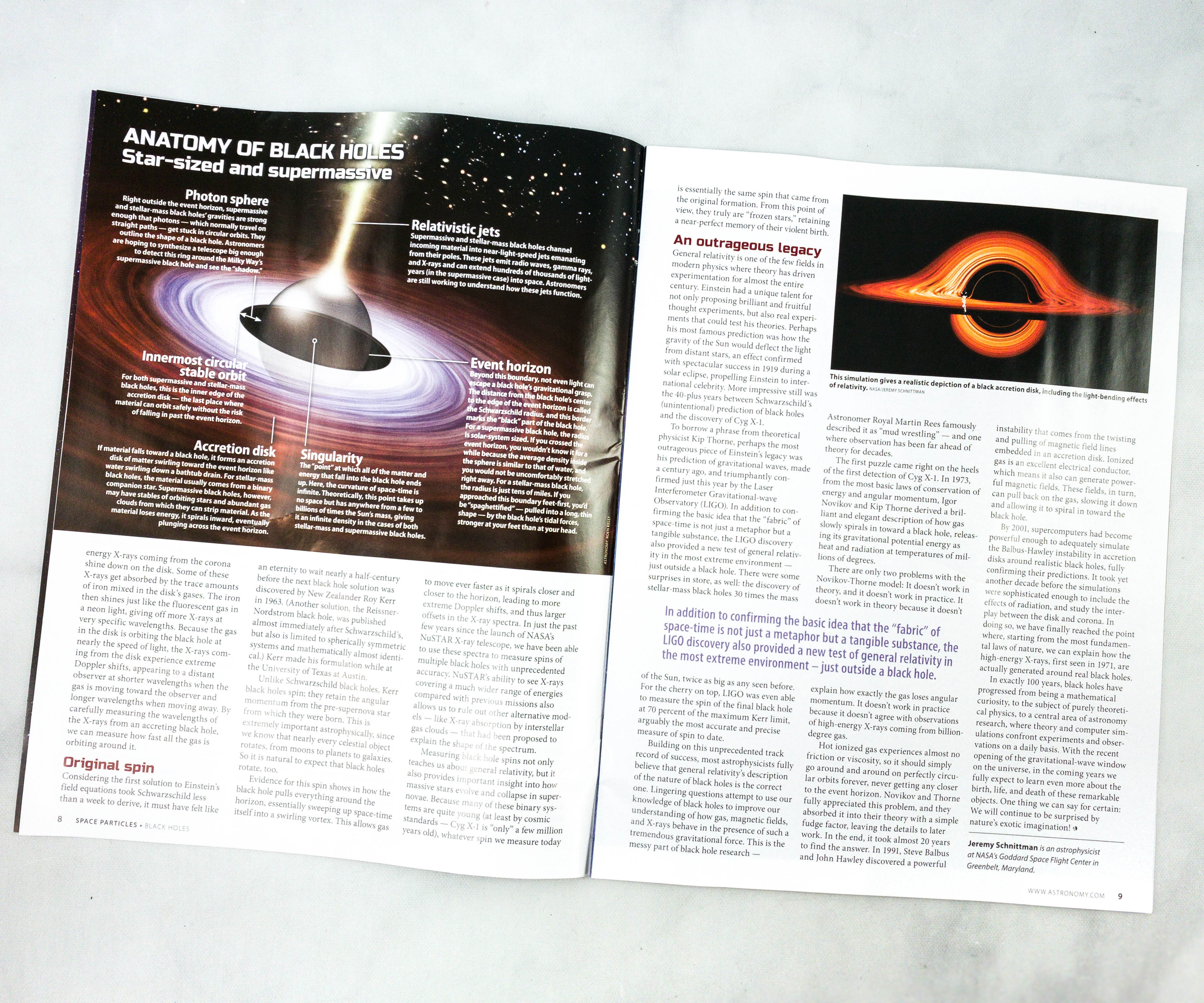 This two-page article provides a detailed discussion about the anatomy of black holes.
They even included some high-quality photos of black holes, galaxies, and a skating rink analogy.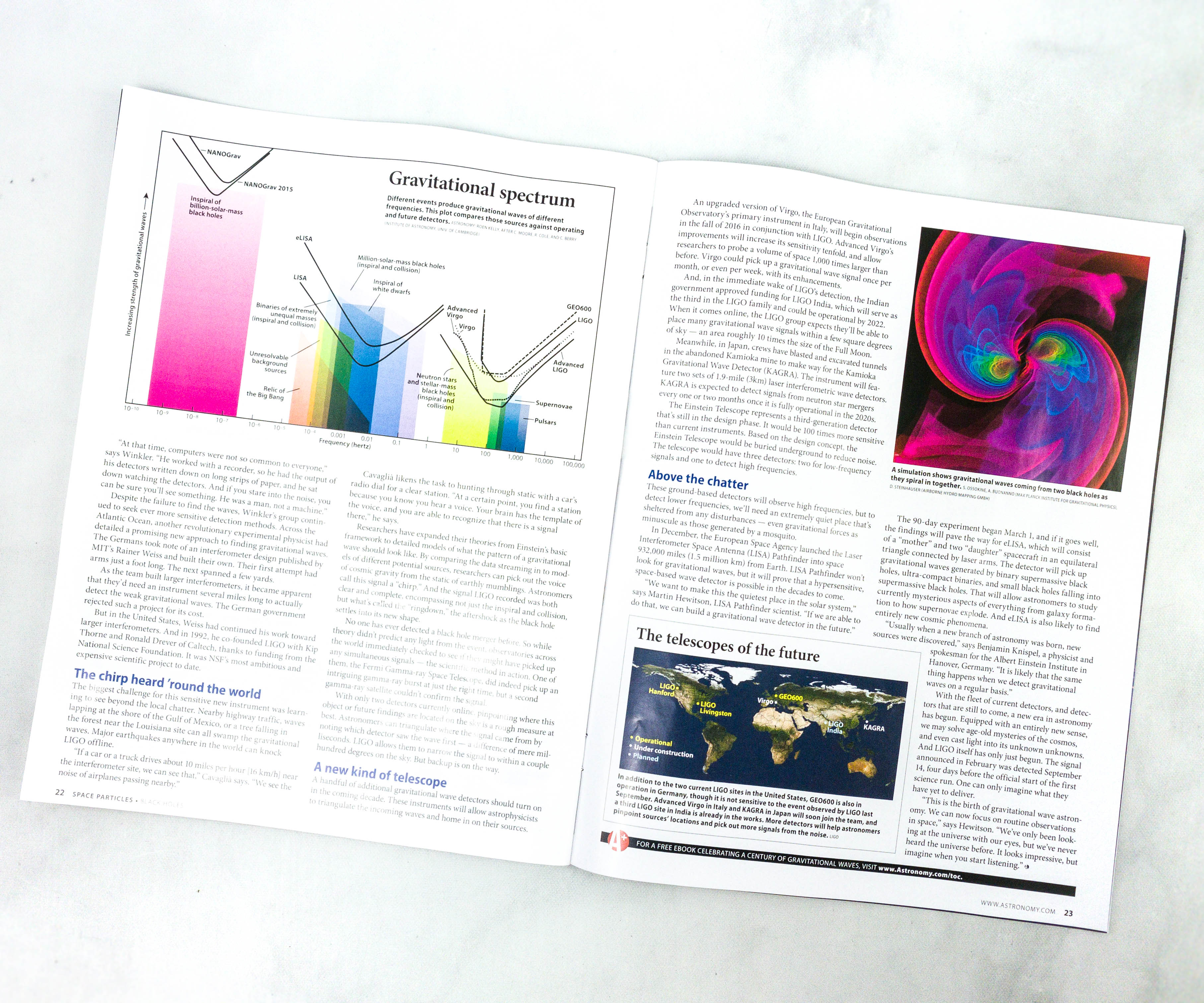 Here's a graph that features the gravitational spectrum. It shows and compares the different events and frequencies that produce gravitational waves.
These articles are well detailed and informative. It definitely is a great read for any space enthusiast!
This month's box also includes a card that tells us how we can download Black Holes by Kip Thorne, which is an excerpt from Starmus: 50 Years of Man in Space.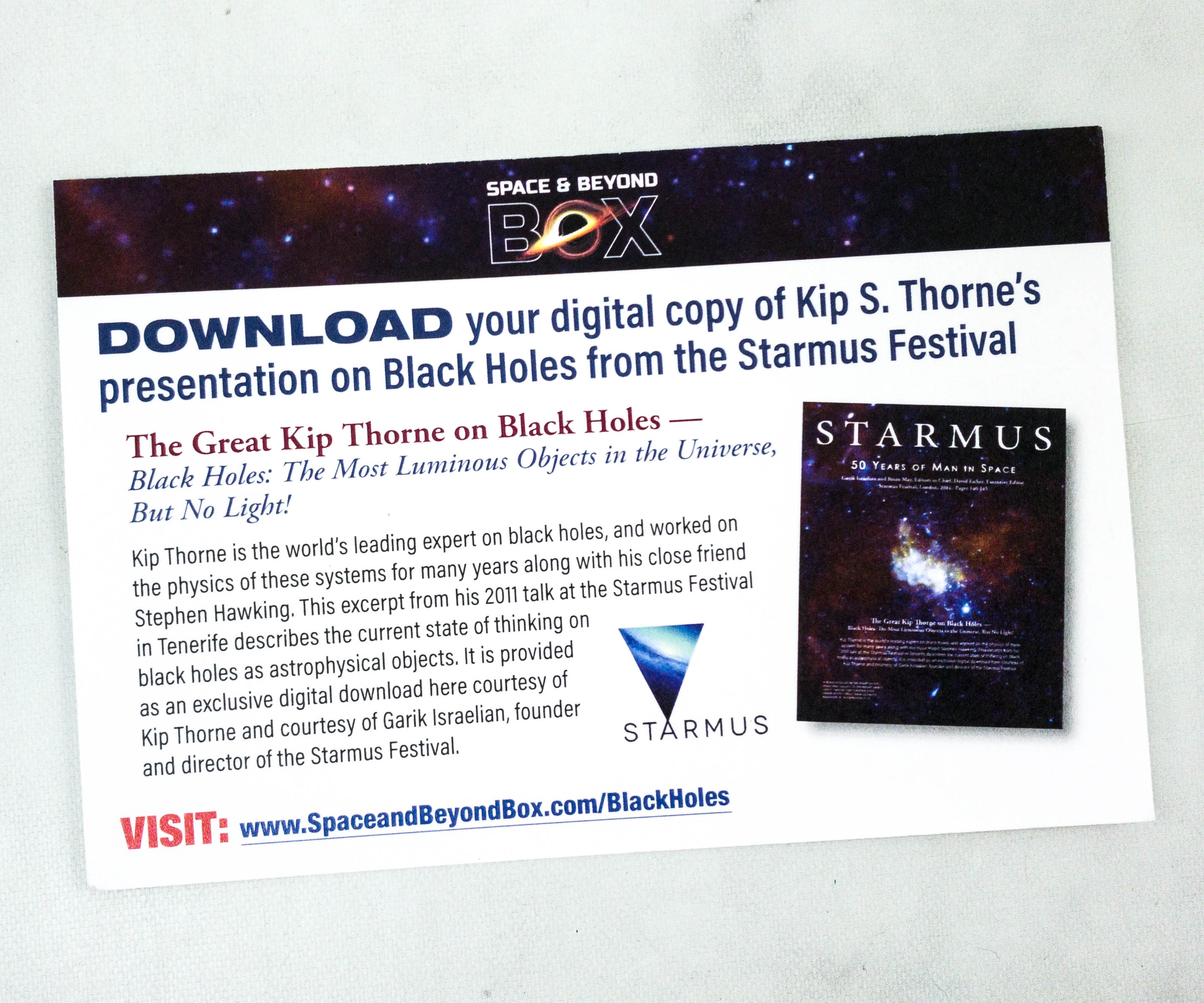 Kip Thorne is the world's leading expert on black holes, and worked on the physics of these systems for many years along with his close friend Stephen Hawking. This excerpt from his 2011 talk at the Starmus Festival in Tenerife describes the current state of thinking on black holes as astrophysical onjects. It is provided as an exclusive digital download here courtesy of Kip Thorne and courtesy of Garik Israelian, founder and director of the Starmus Festival.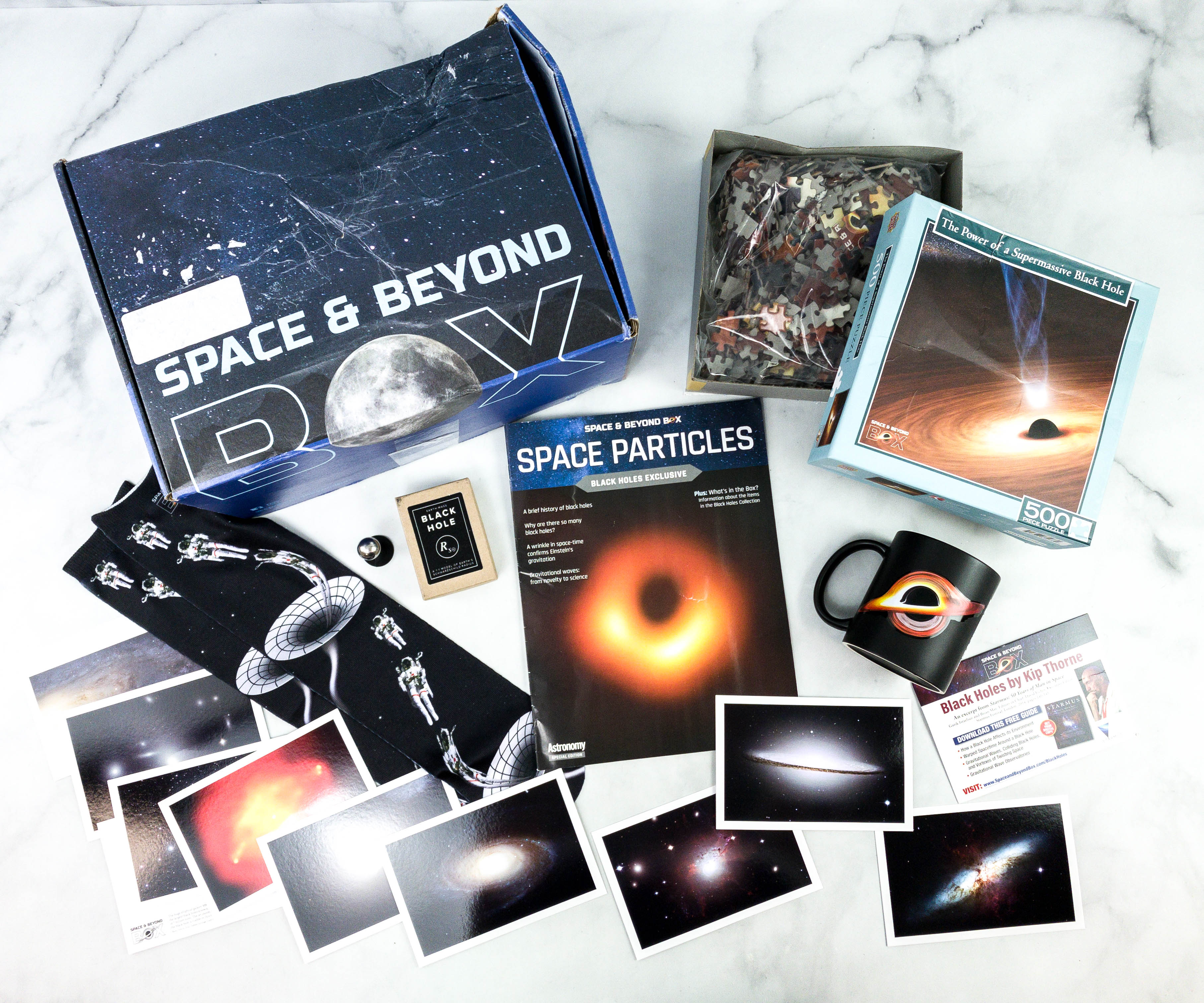 Everything in the  box!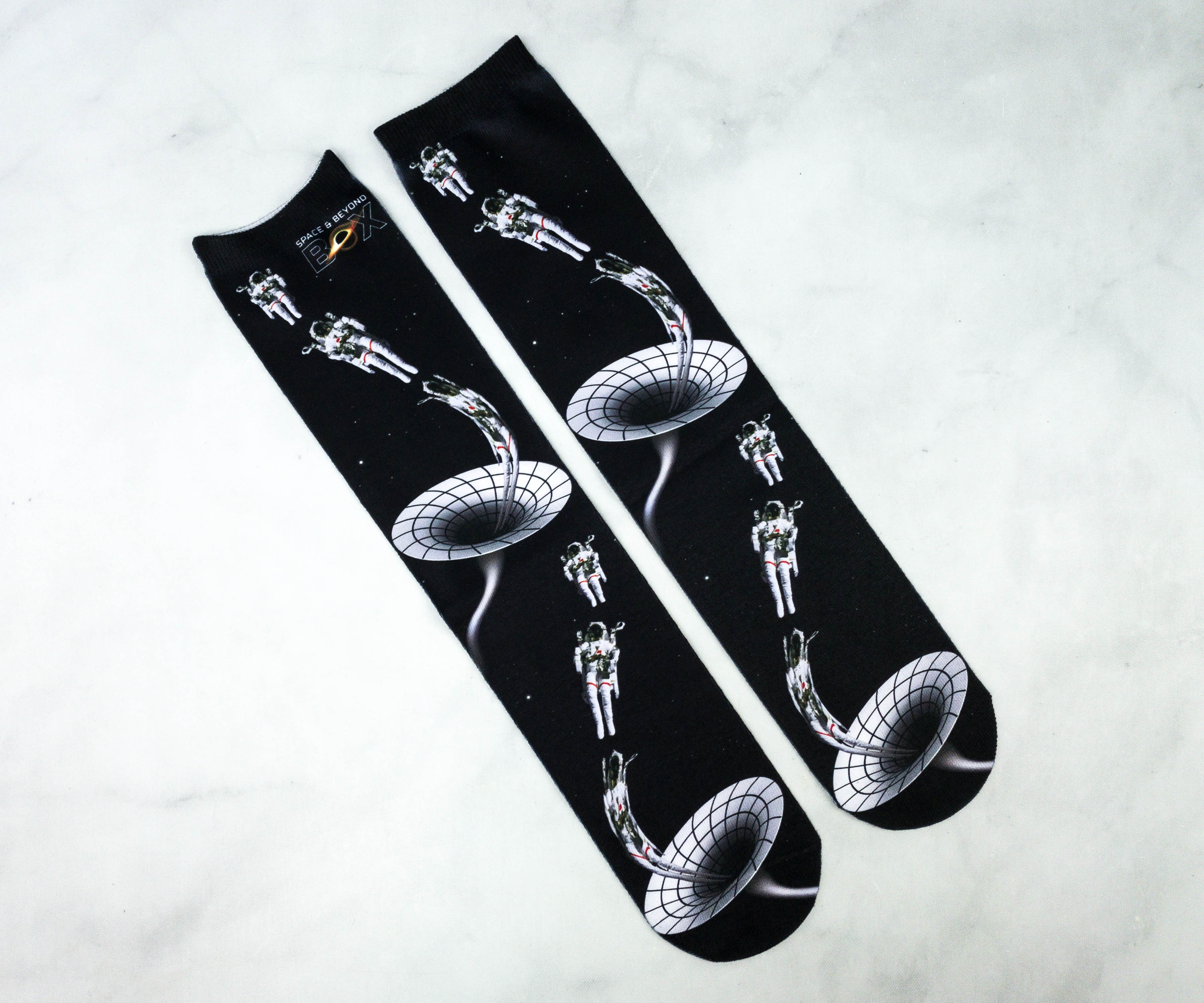 Astronaut Black Holes Socks ($12) It's a pair of space-themed crew-cut socks, an exclusive from Space and Beyond Box.
These socks feature the spaghettification-effect of an astronaut floating near the black hole. I love the design, it definitely makes a great addition to my socks collection!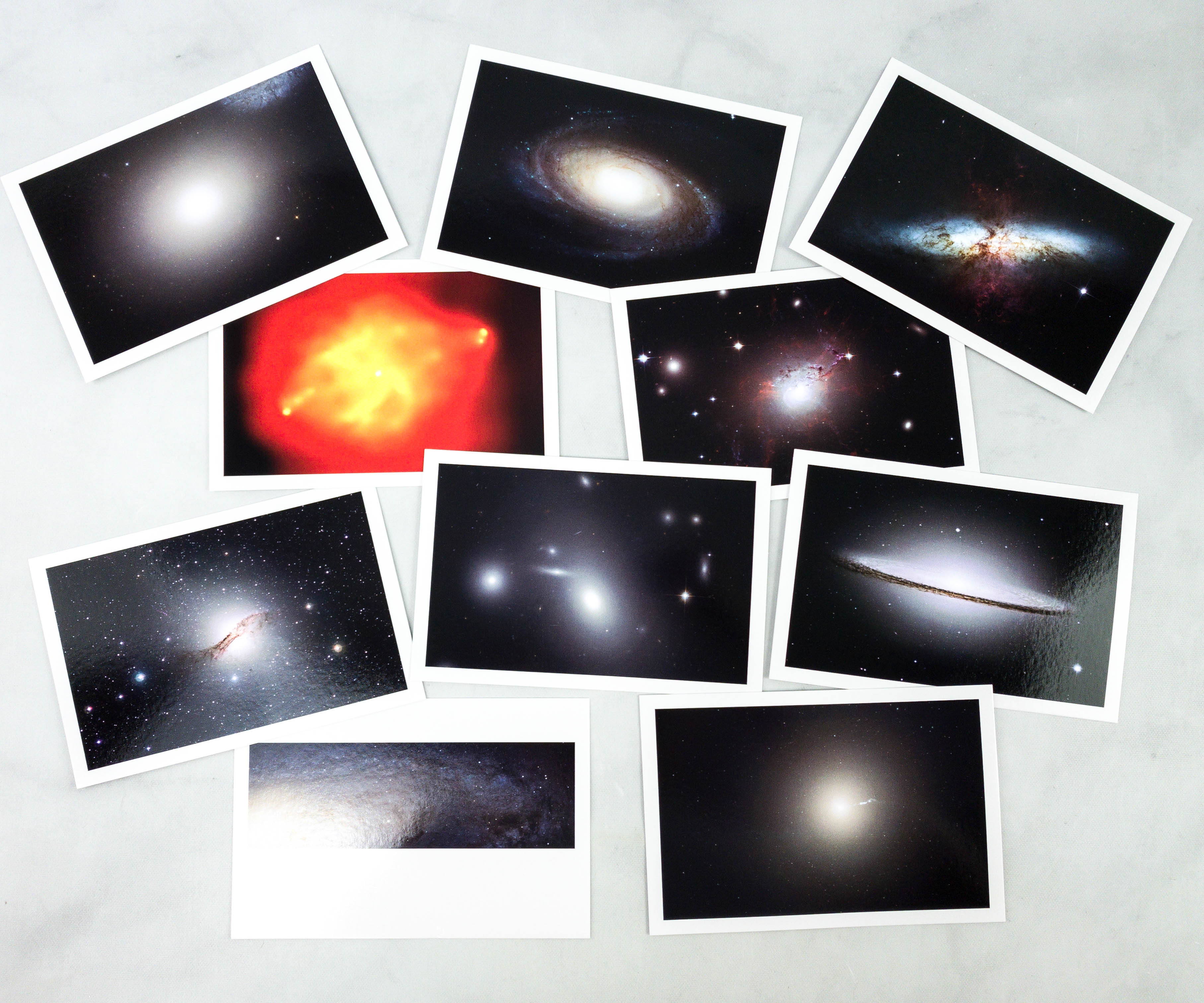 Black Holes Postcard Pack ($10) This set of postcards features high-quality images of different galaxies that has extremely large black holes in their centers. It includes the Andromeda Galaxy, M81, M60, Cygnus A, Centaurus A, Perseus A, NGC 4889, M104, M87, and M82.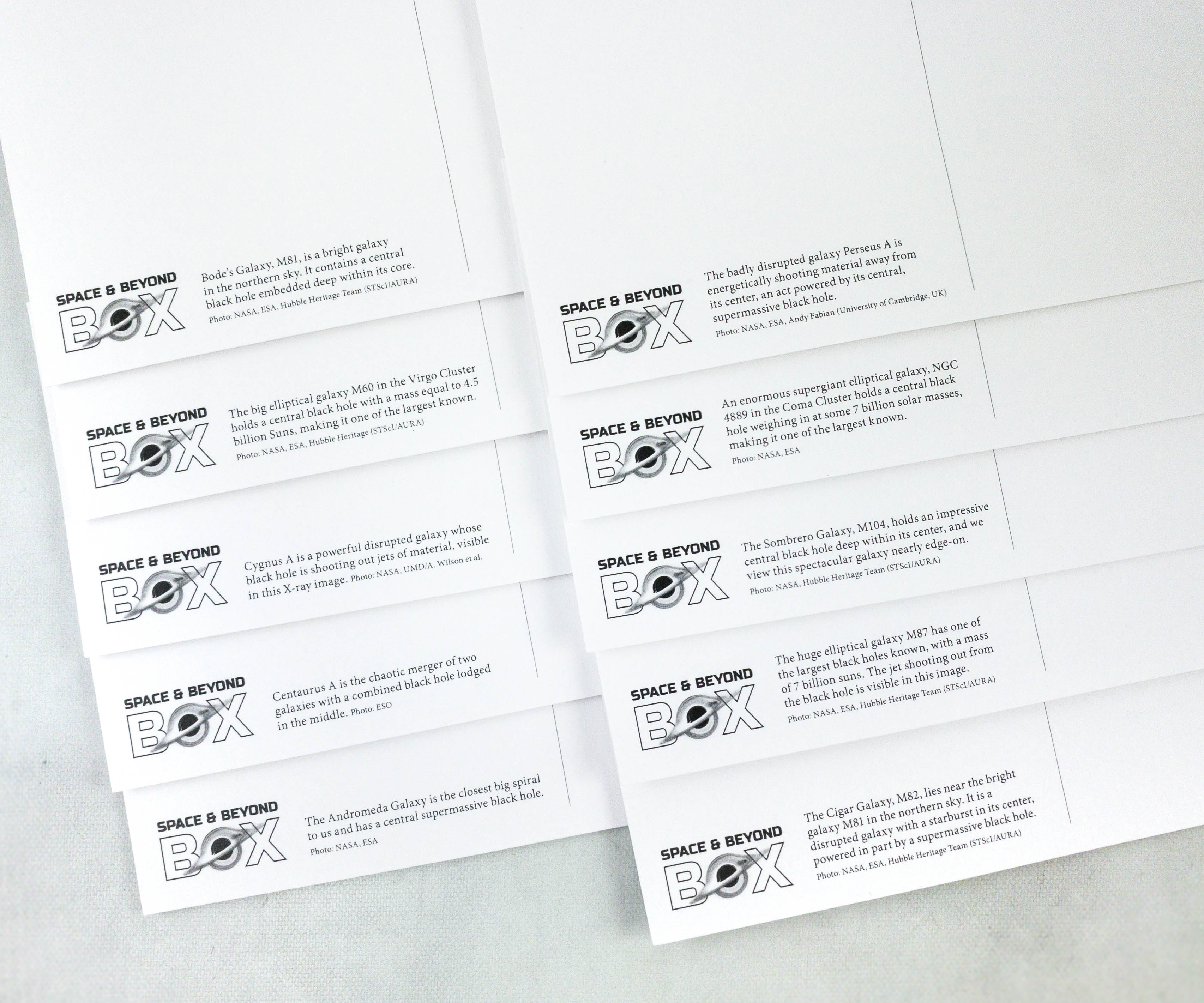 At the back of each postcard, there's information about the featured galaxy.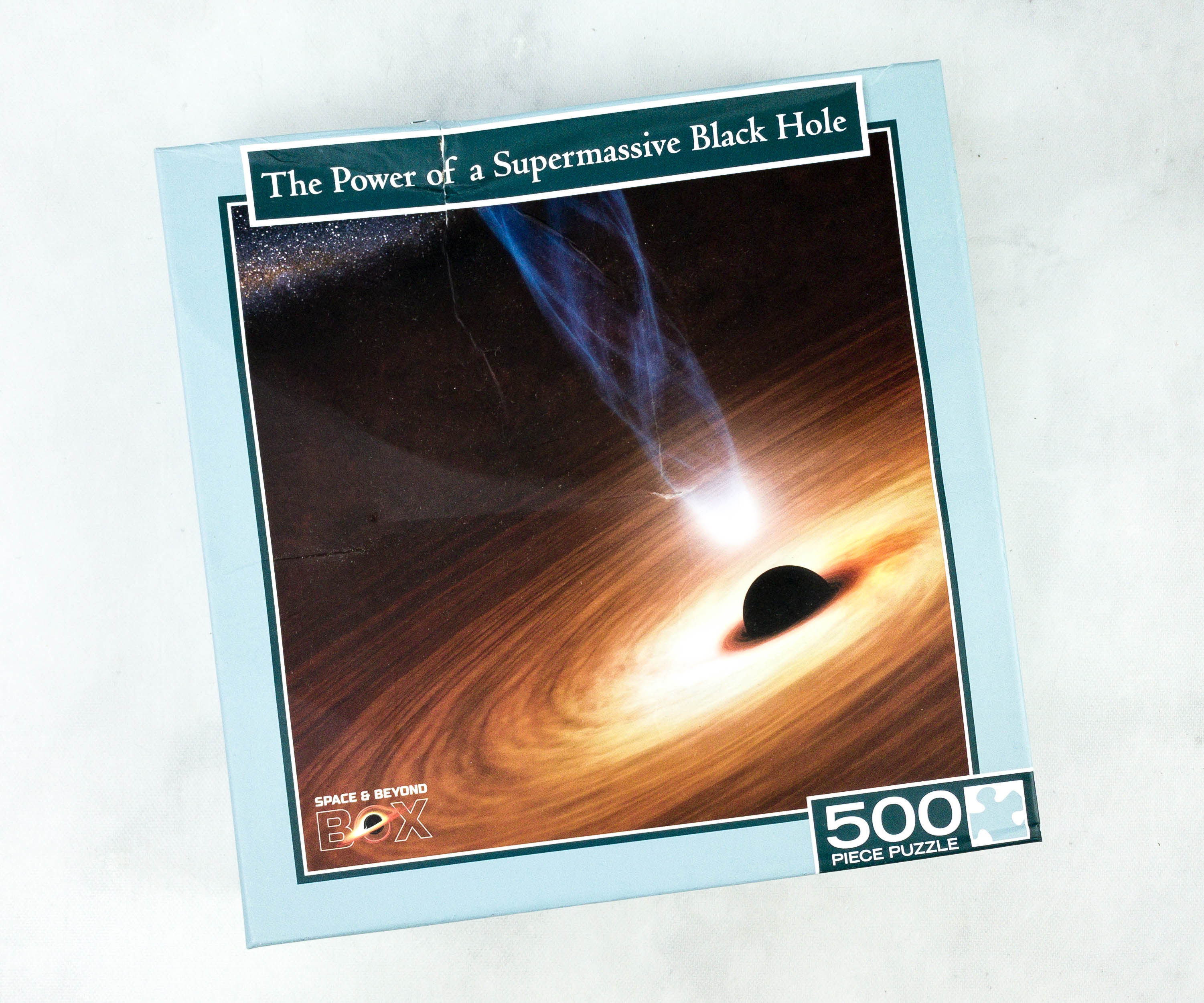 Black Holes 500 Piece Jigsaw Puzzle ($20) This jigsaw puzzle features an artist's illustration of a massive black hole!
Inside the box is a plastic bag filled with 500 puzzle pieces. It makes a great way to pass time and in the end, you'll have a nice puzzle to display!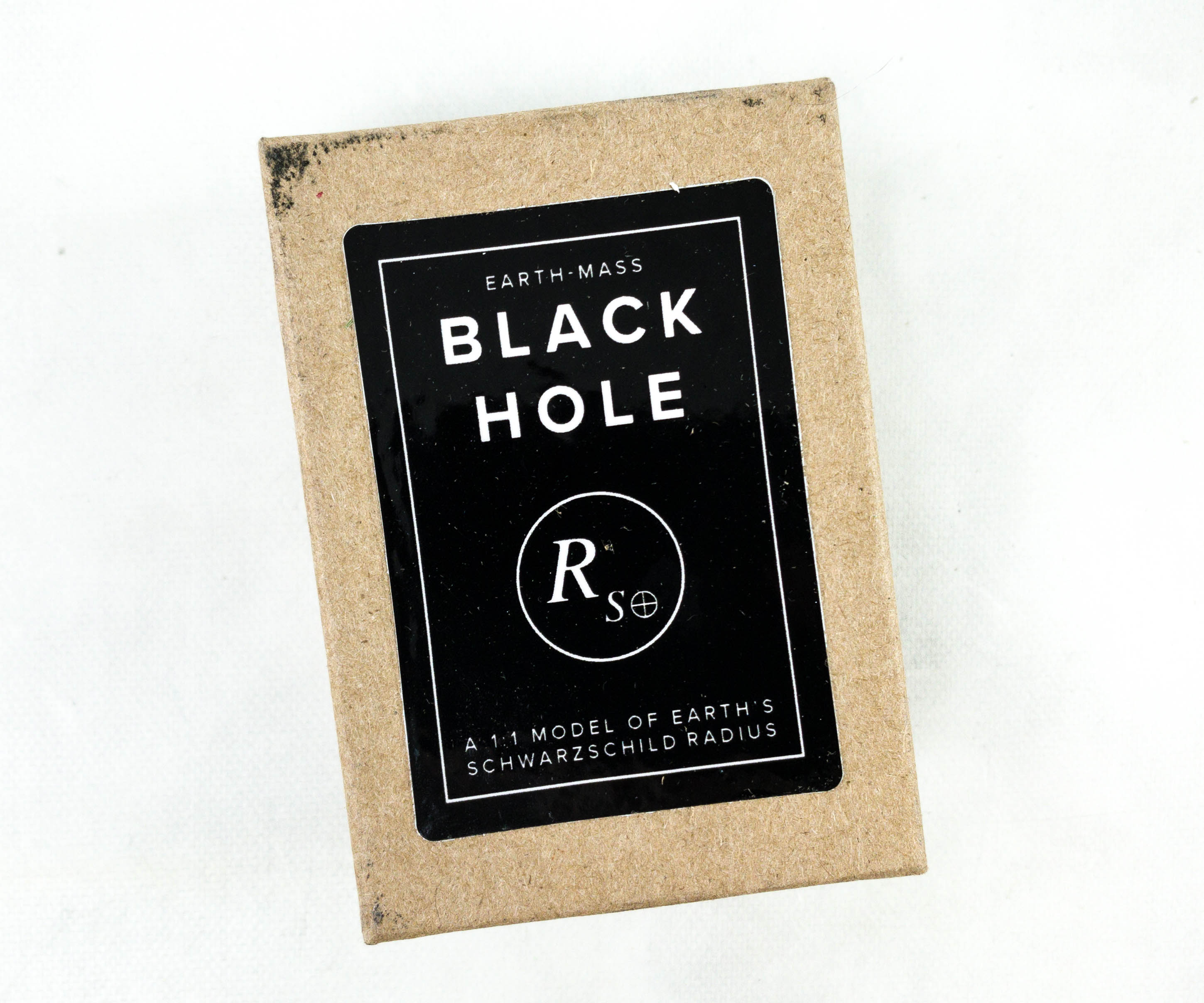 Tungsten Black Hole Model ($40) Inside this box is an engineered true-to-scale replica model of Earth's radius made by Karl Schwarzschild, a German physicist and astronomer.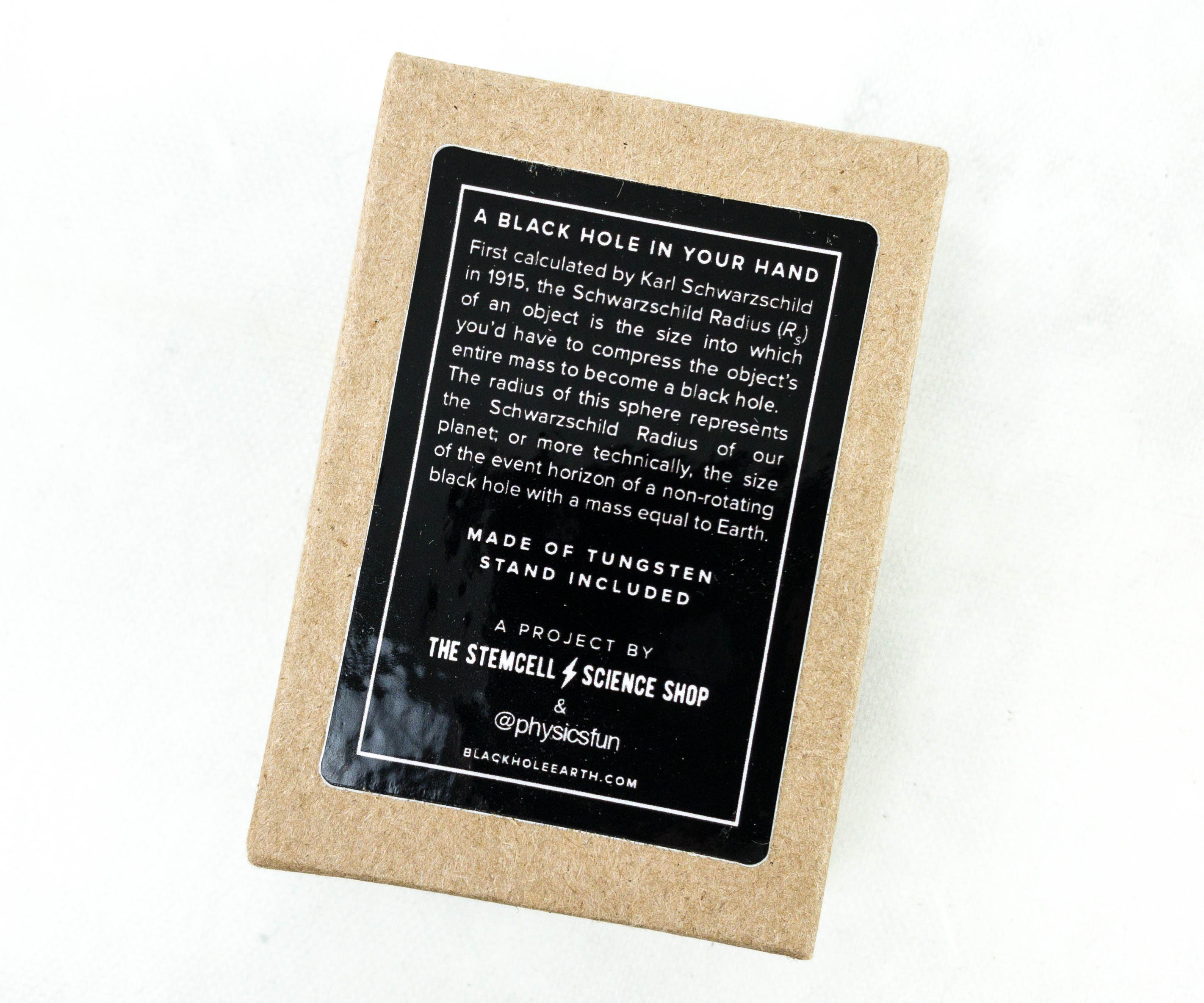 This side of the box indicates that this item is a project by The Stemcell Science Shop and @physicsfun.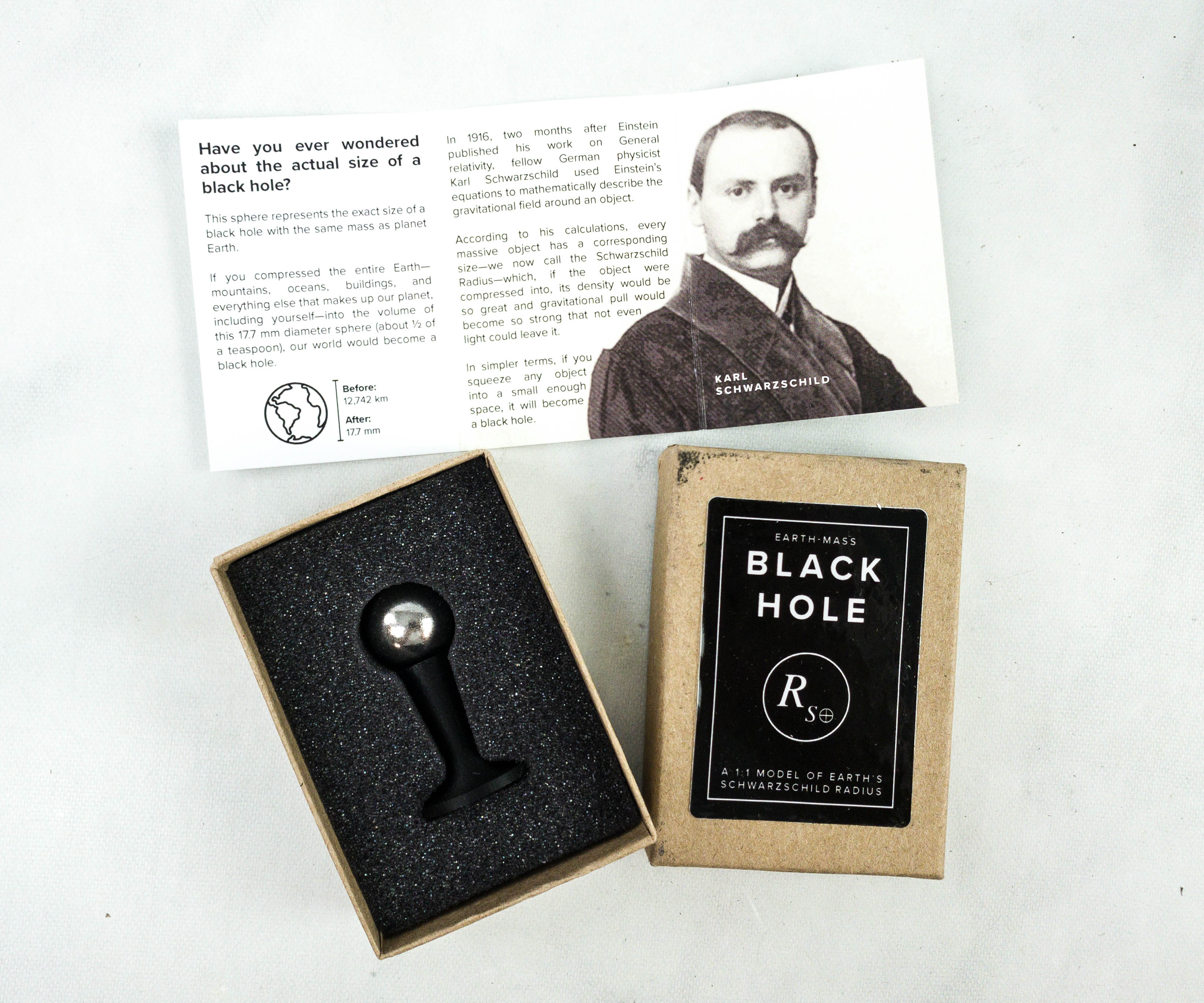 The black hole model was packed in a custom-made foam case, making sure that it arrives in great condition.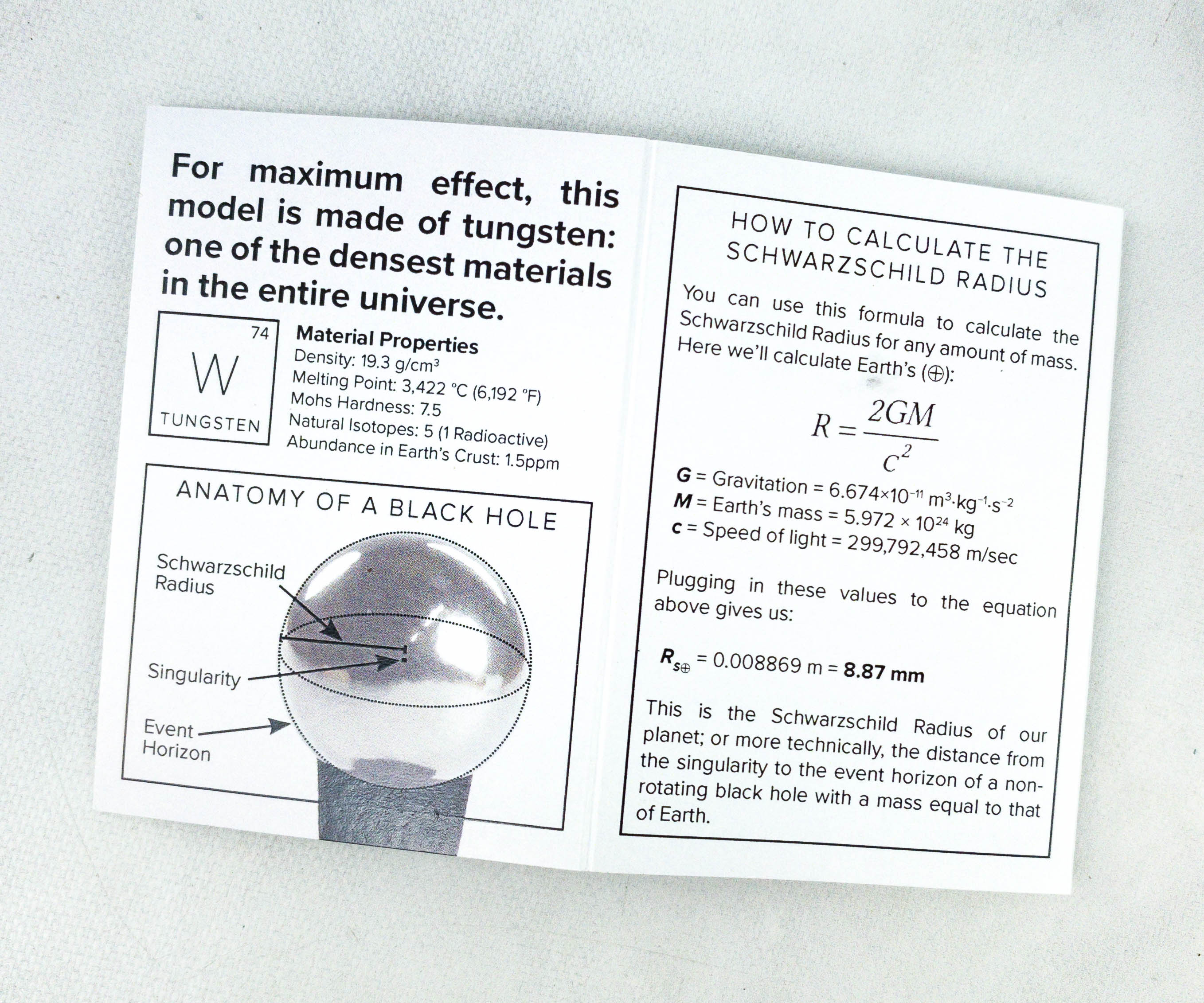 Also included in the box is a mini sheet that contains all the information about the black hole. It features the anatomy of a black hole and the formula used to compute the radius.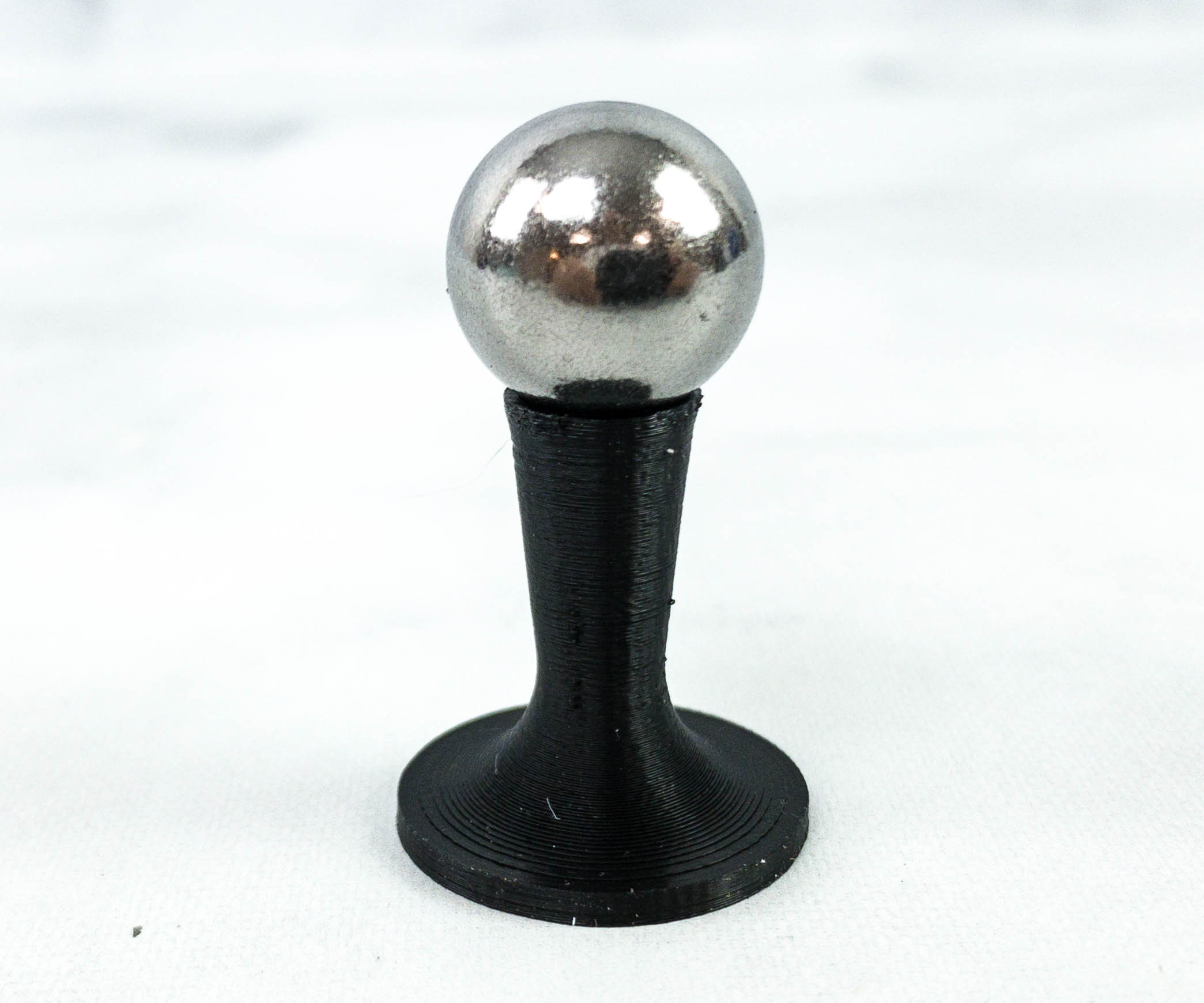 This model is made from 100% tungsten, one of the densest element in the universe. It helps illustrate the high density of the object, making it a great aid to further comprehend the scale of black holes.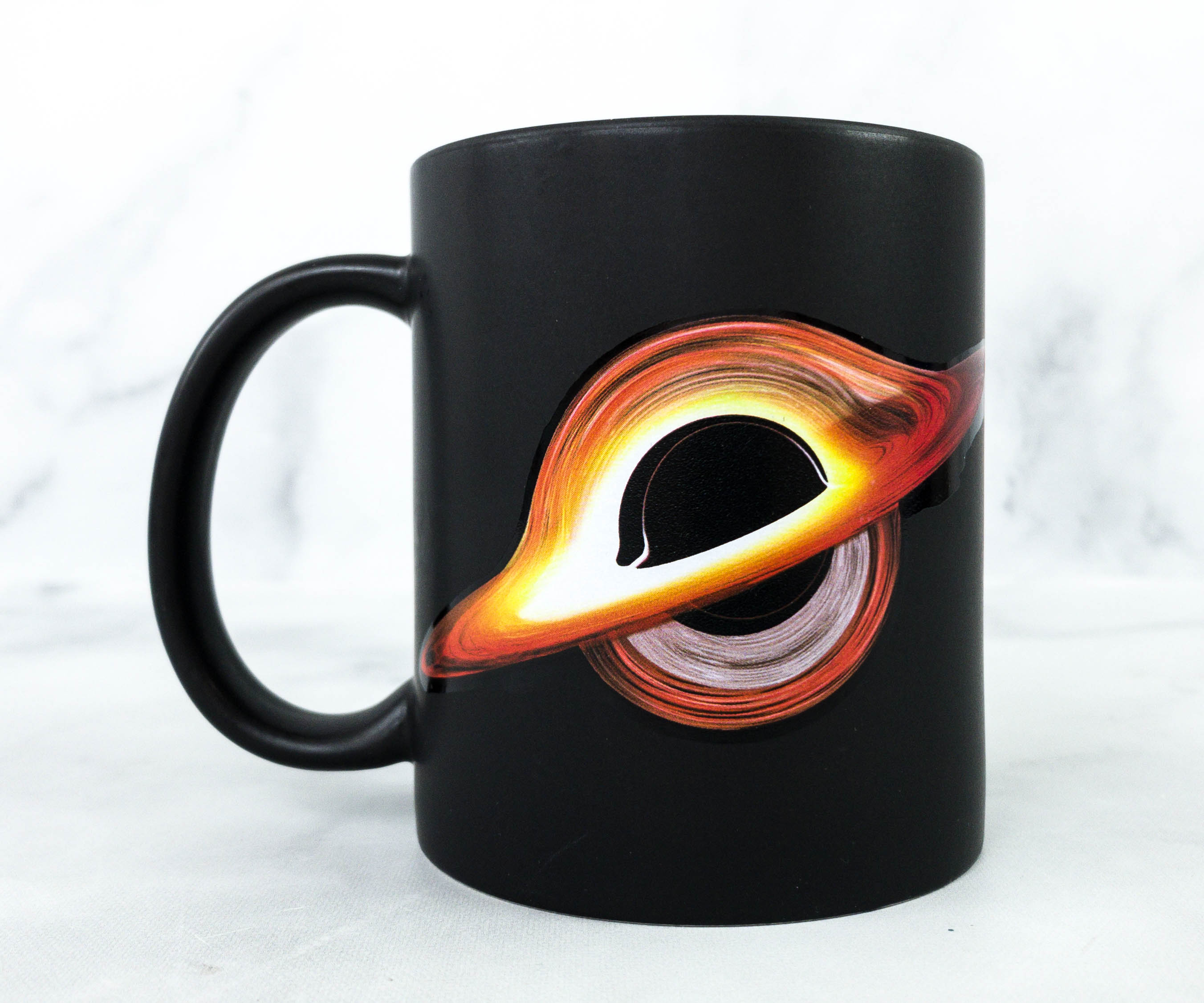 Black Holes Coffee Mug ($12) Still in line with the theme, here's a Black Hole Mug! It's another Space & Beyond exclusive.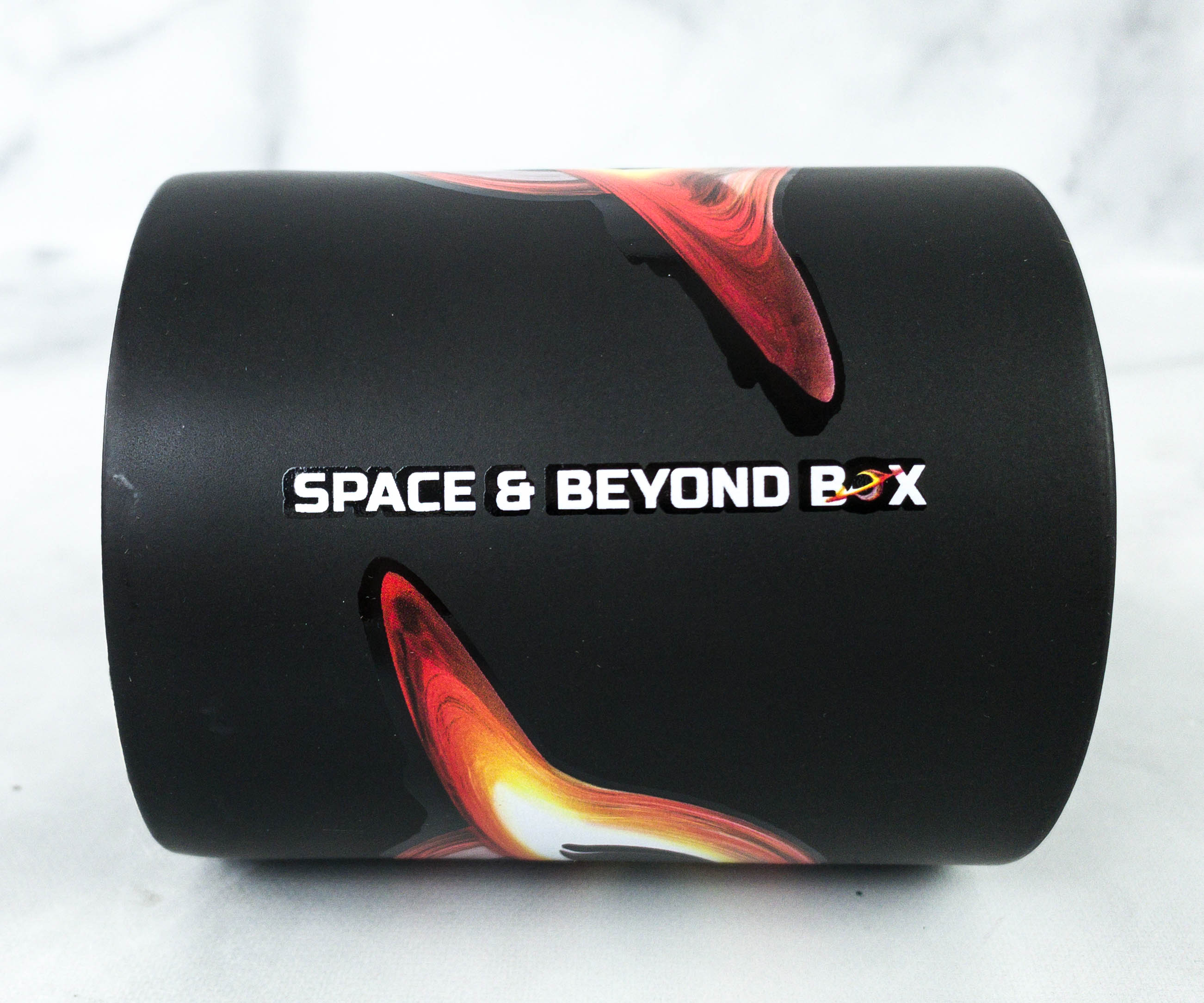 It has a matte black coating and an eye-catching black hole illustration. It's so beautiful, I can't wait to use it for my morning coffee!
This month's Space and Beyond Box is a well-curated one! This is already my third box, but I'm still as excited about it as the first one. I love all the items I received this month, which are all black hole themed. I also appreciate that they included everyday items such as the pair of socks and the mug. As always, the magazine is fun and informative. Plus, you don't need to be an astrophysicist to understand the features! If you're a space nut, this subscription would make a great way to satisfy your curiosity and you also get unique space-themed merch that you can wear, use, or keep!
What do you think of this month's box?