Sonäge Skincare Mystery Box is a monthly subscription of a surprise full-sized beauty item from the brand that produces French spa-grade products used by estheticians from 700+ spas worldwide. Their products are rated by EWG for safety and they offer "clean" beauty products with a list of ingredients that they pledge not to use. Plus, subscribers save 15% off sitewide during the first week every month on any product and it will ship with the box.
Beauty, like food, should be a health choice. We want to give our new, and existing, customers the opportunity to try all of our wonderful products. We're positive we'll have an exciting new treasure for you to discover with our very own #SonageCircle mystery box!

Every month, we're shipping out a different full-size product from Sonage. Not only do you enjoy this SWEET deal, but also have the chance to explore all the amazing skincare from every collection we offer — up to $75+ value
DEAL:  Get $5 off your first box! Use coupon code 5OFFSONAGEBOX.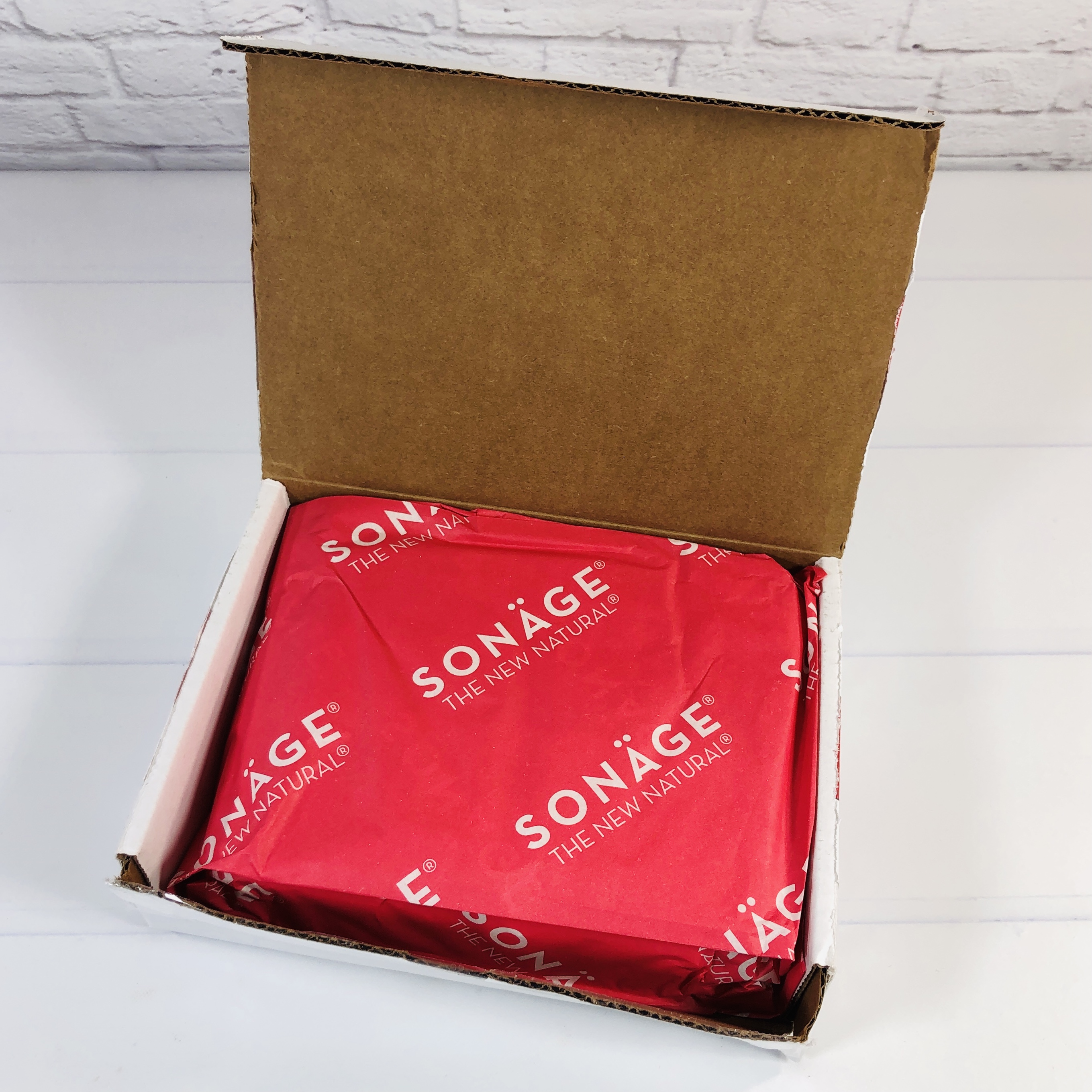 This is my first Sonäge Skincare Mystery Box and my items were wrapped in pretty branded paper.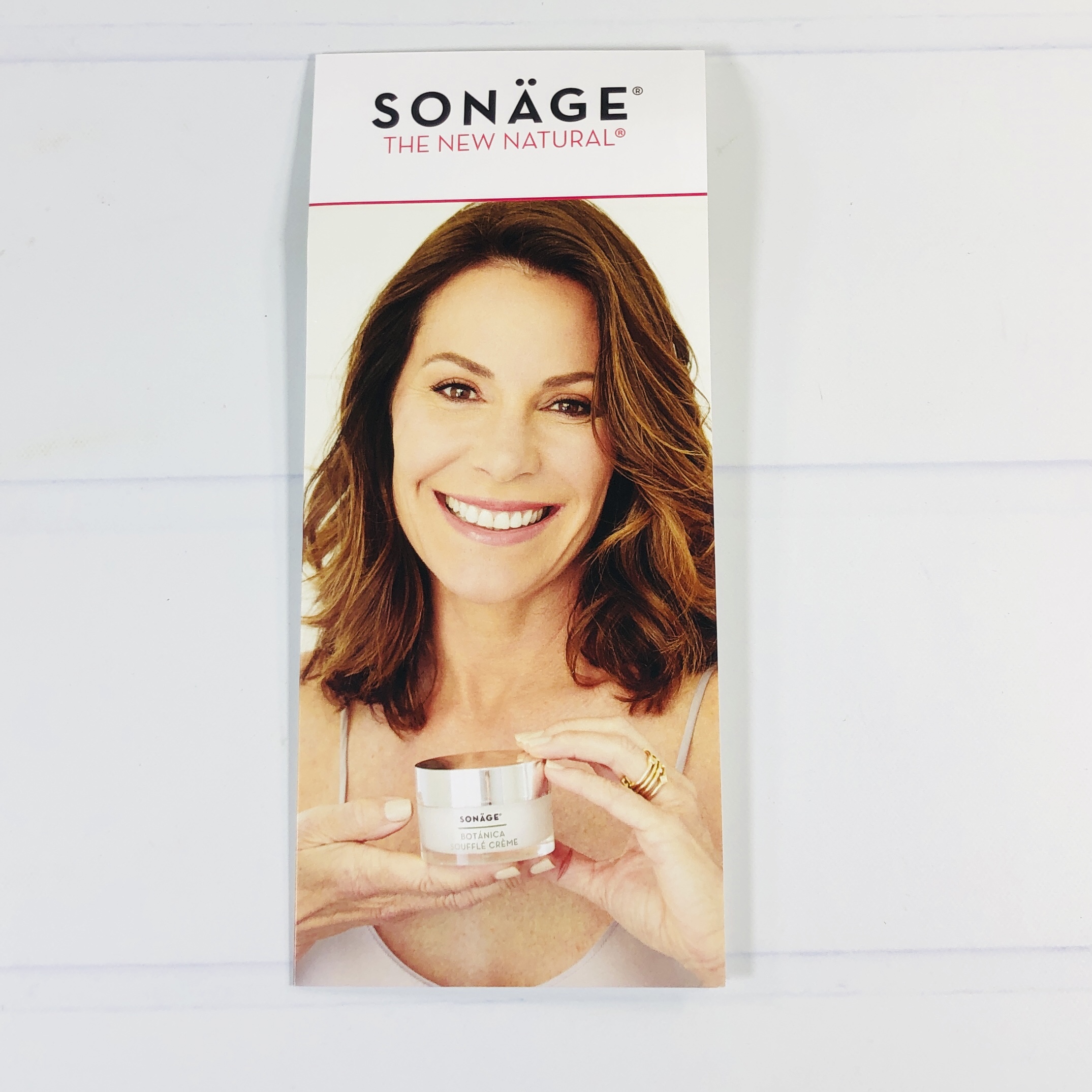 I received a flyer from the brand.
Inside I was introduced to the different skincare lines and products that Sonäge offers.
They also discussed their history and Green Mission.
Here's what you won't find in Sonäge products:
WE ARE PROUD THAT ALL SONÄGE PRODUCTS ARE FREE FROM PARABENS, PHTHALATES, SODIUM LAURYL SULFATE, METALLIC ALUMINUM, TRICLOSAN, TALC, MINERAL OIL, PETROLATUM, FORMALDEHYDE, TOLUENE, OXYBENZONE, AVOBENZONE AND OCTINOXATE.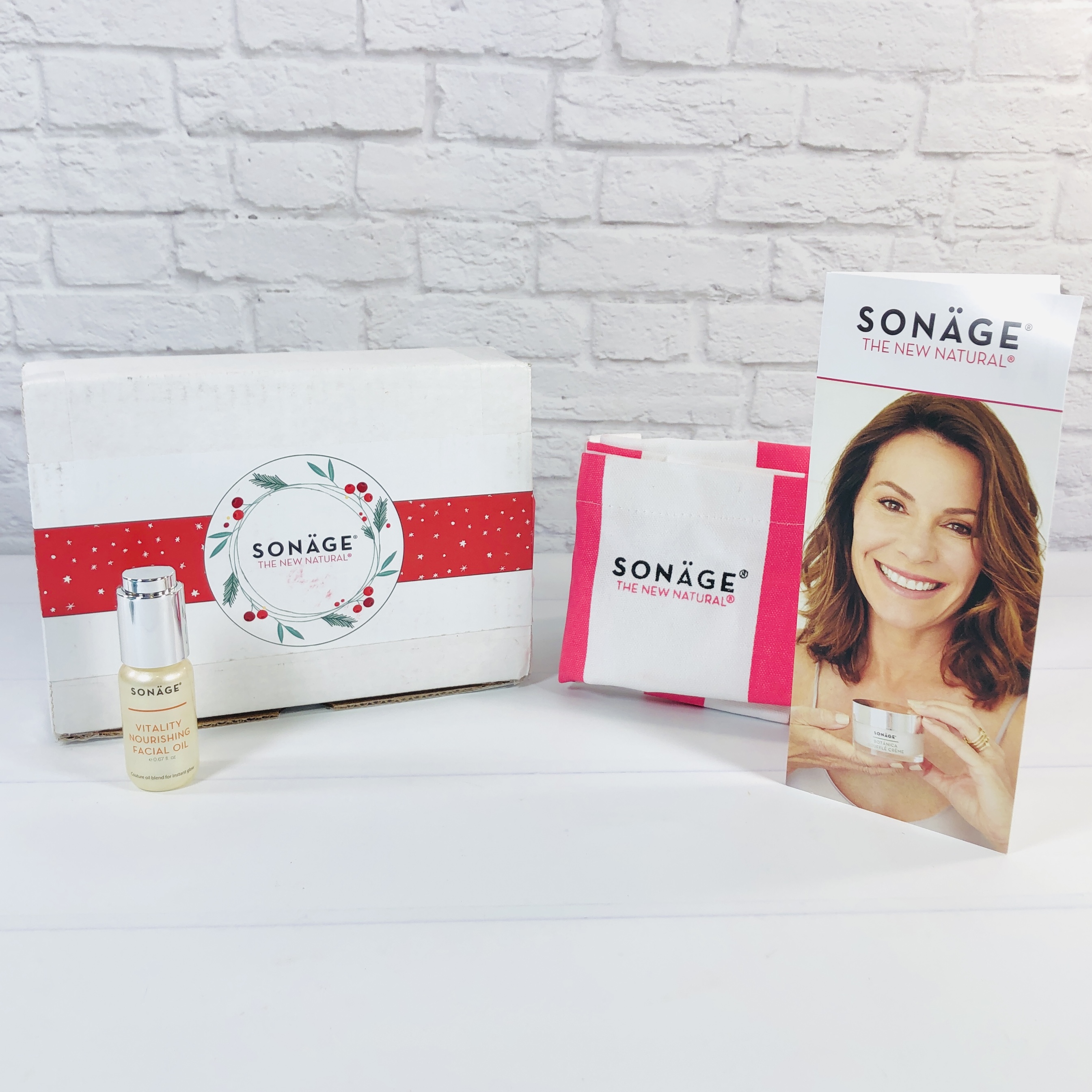 Everything in my box!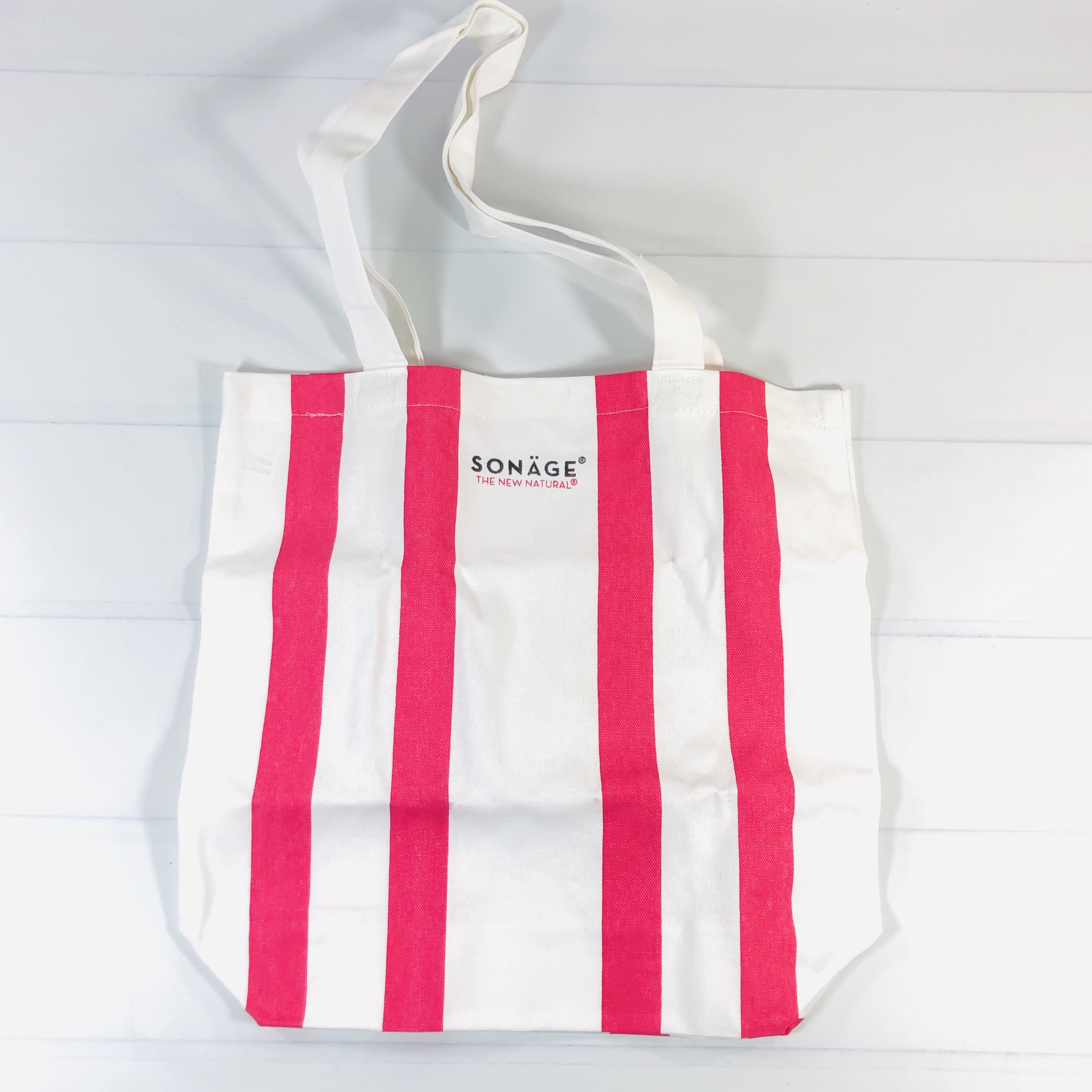 Sonäge Organic Tote Bag ($15 value) New subscribers receive a bonus tote bag in their first box!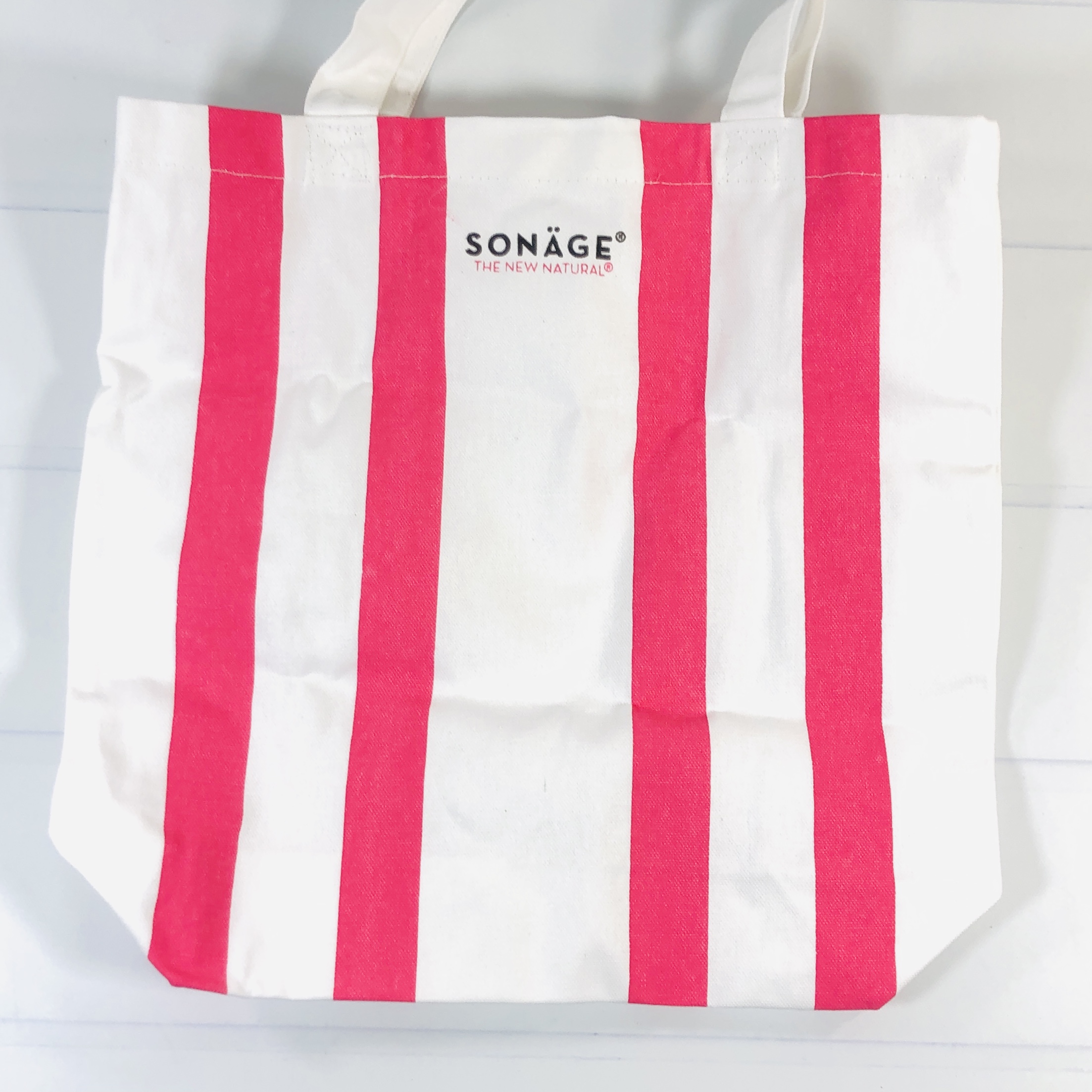 The tote bag has pink and white stripes and the Sonäge branding on the front and back. The tote is made of cotton and seems pretty sturdy.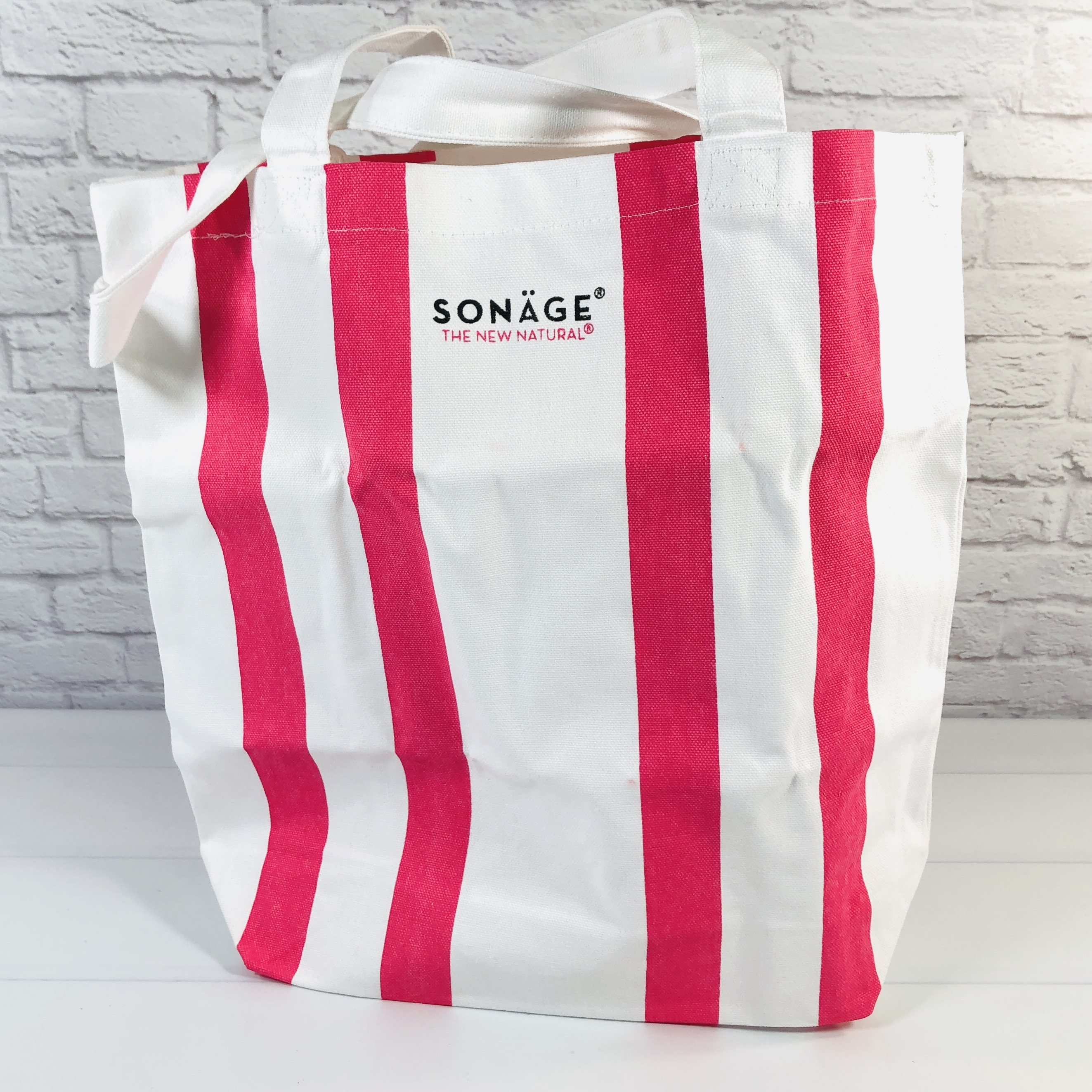 It will sit upright too! It measures about 13.5″ x 14″.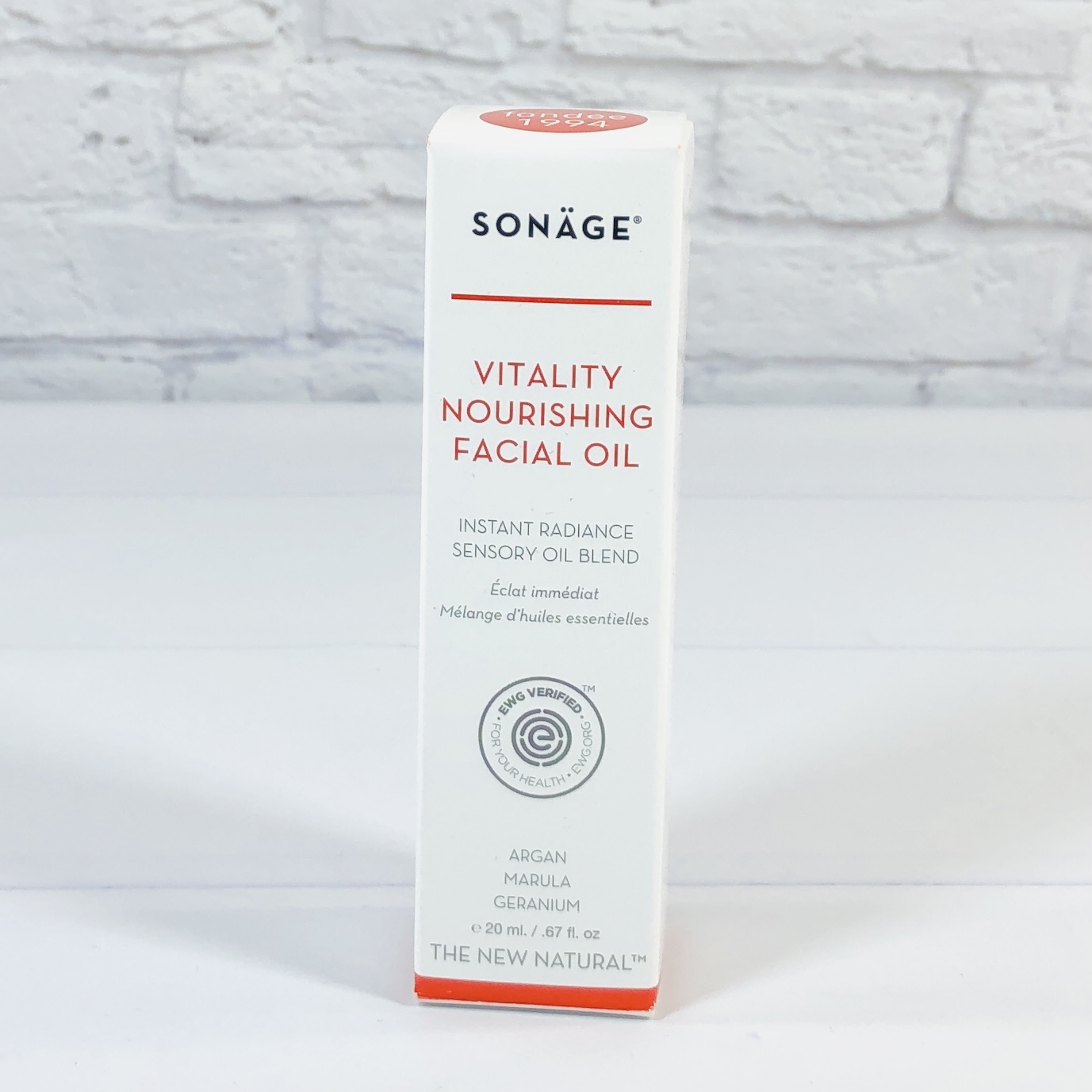 Sonäge Vitality Nourishing Facial Oil ($48) My mystery item is a face oil! I love face oils as I have dry skin and need lots of moisture, especially in winter.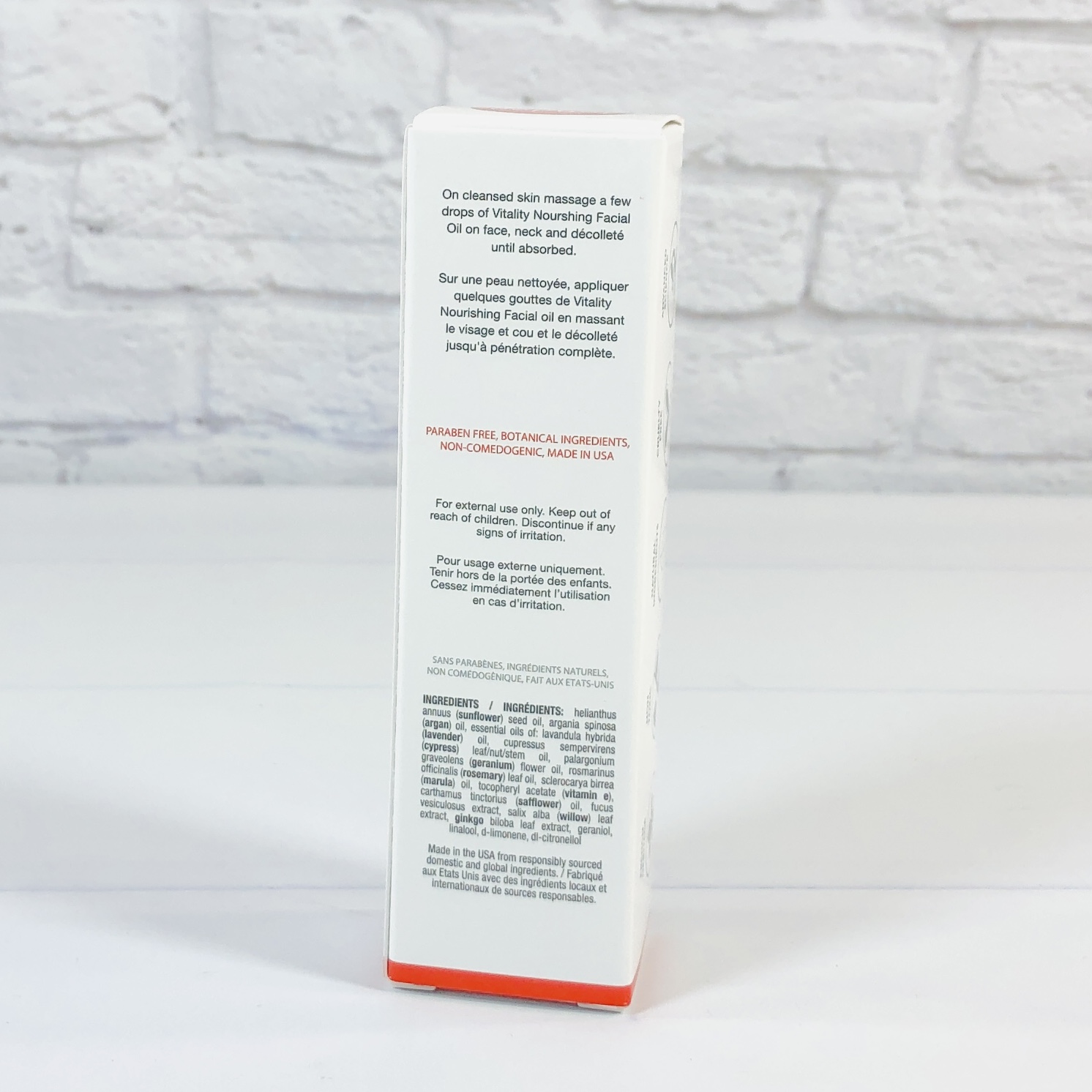 It is made of a blend of plant and essential oils. Sunflower seed oil and argan oil top the list and are supposed to help maintain the skin barrier while soothing the skin. The essential oils provide their benefits (fighting oil and reducing pore size) while also providing an aromatherapy experience.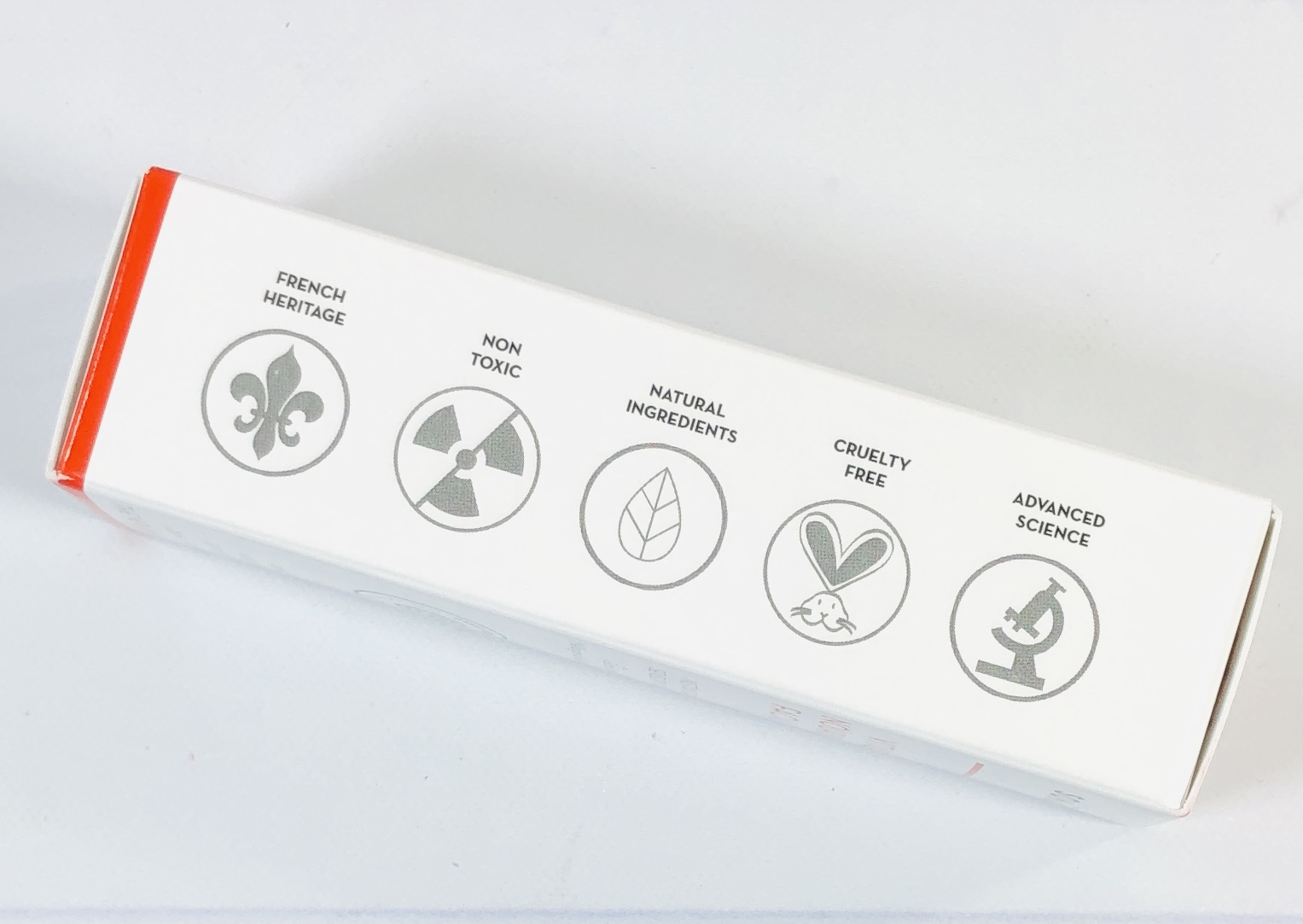 The product is cruelty-free, like all Sonäge items.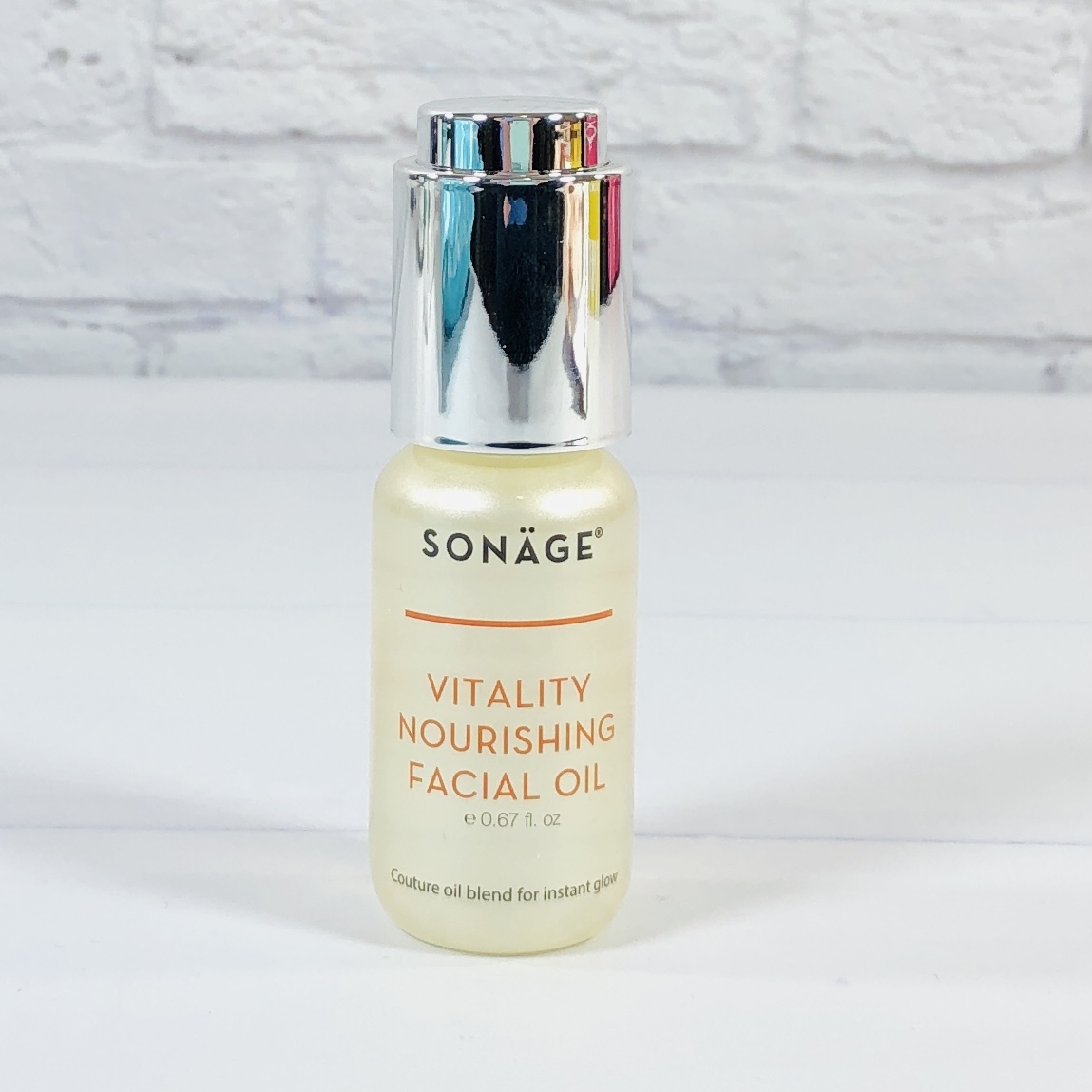 The product is in a pearlized plastic container with a pump housed on the lid.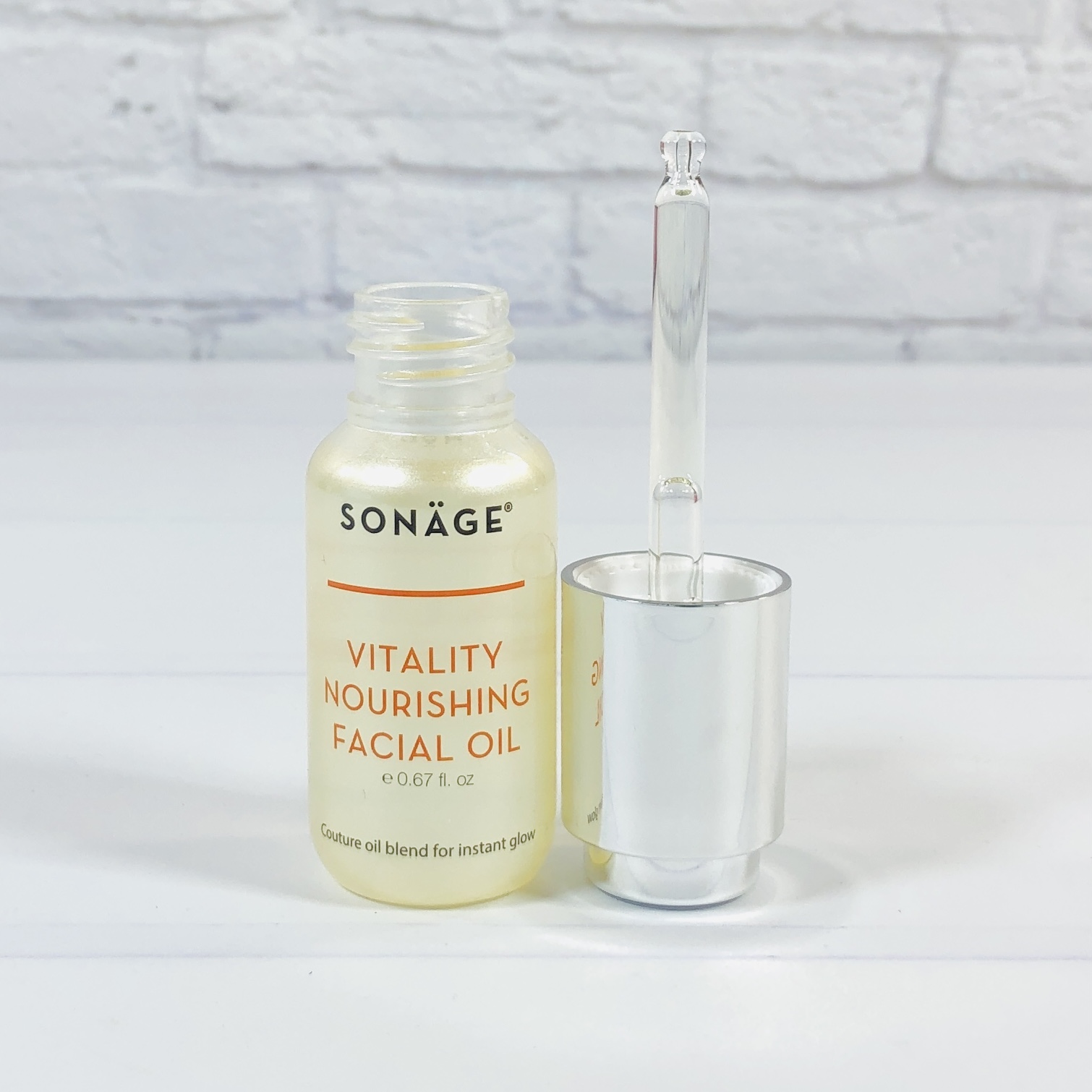 You pump the lid to draw the oil into the dropper.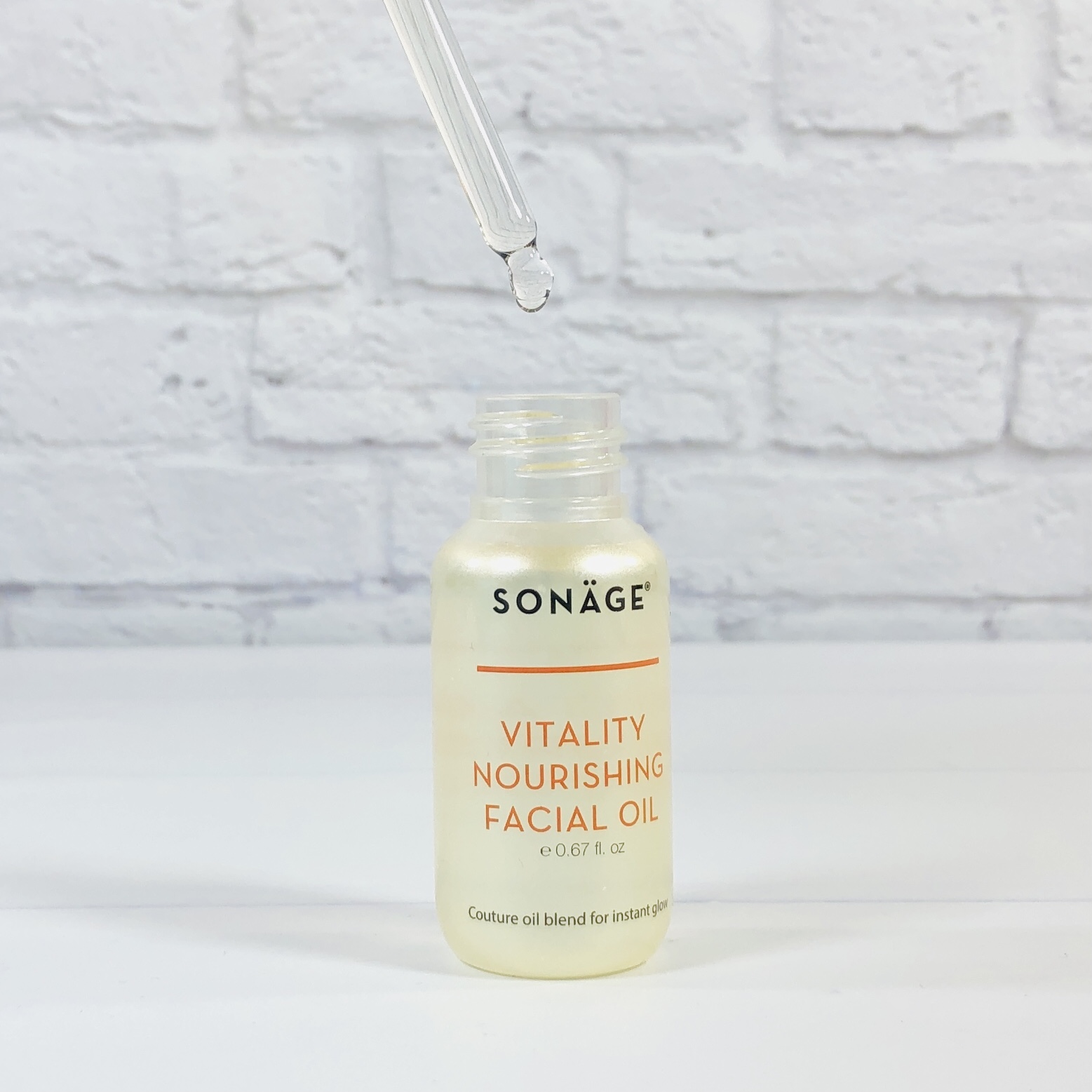 The oil is light in color and is easily spread on the face. It has a peppy scent thanks to those essential oils and smells most like geranium with a hint of lavender. It left my skin soft but it wasn't greasy.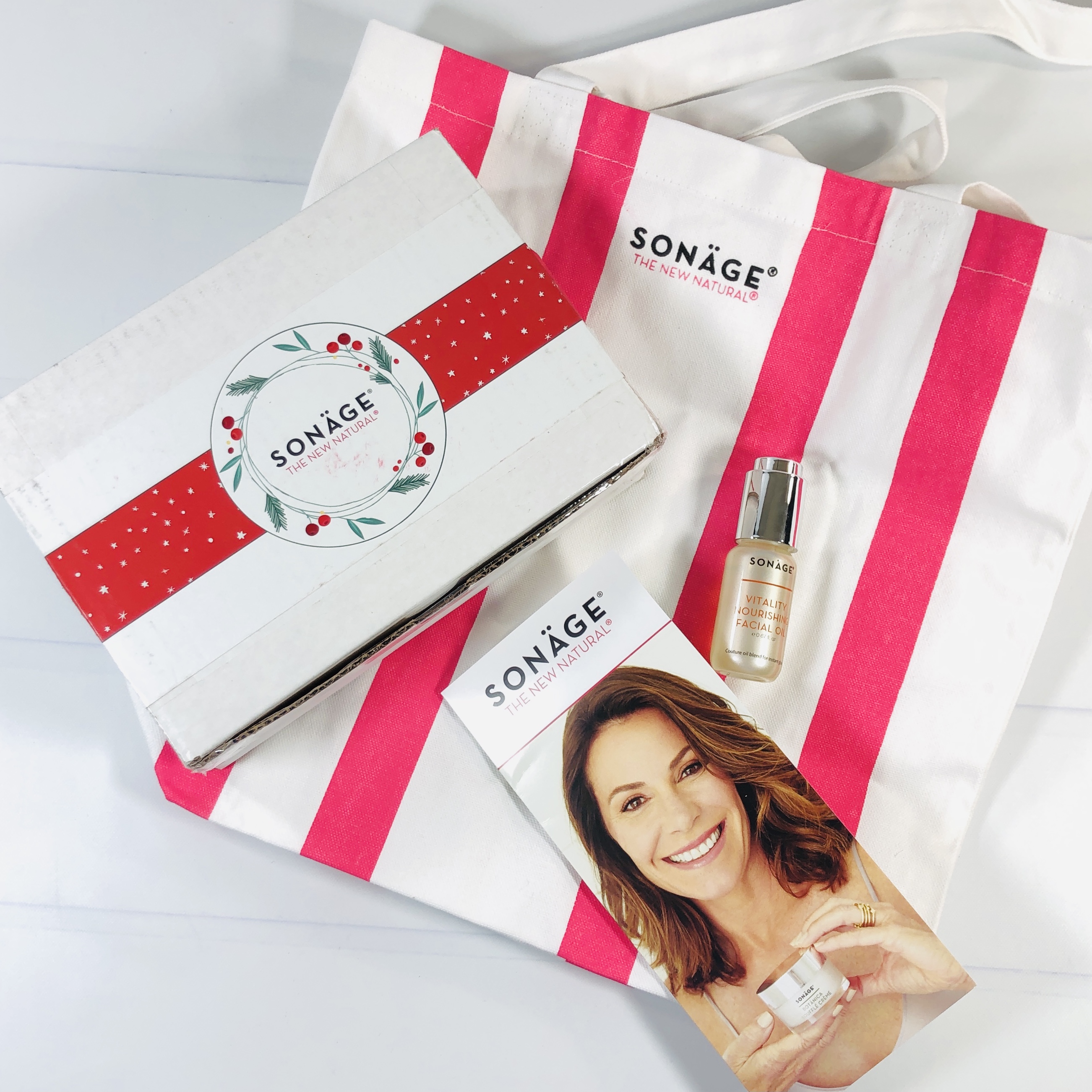 I was very satisfied with my first Skincare Mystery Box from Sonäge! The tote bag was a total surprise and I liked the color and quality, it will make for a good library book bag as it seems so sturdy. The Vitality Nourishing Facial Oil left my face glowing and I enjoyed the sensory experience while I massaged it on my skin. I would be thrilled to try other items from this brand and liked that the ingredients were natural and verified by EWG, which works to promote ingredient information for consumers so that buyers know what they are putting on their skin or into their body. The oil is priced at $48 so there was a significant savings since the box is $15 and includes free shipping. Plus, I got a bonus tote in this first box!
What do you think of the Sonäge Skincare Subscription Box?
Visit Sonage Skincare Subscription Box to subscribe or find out more!