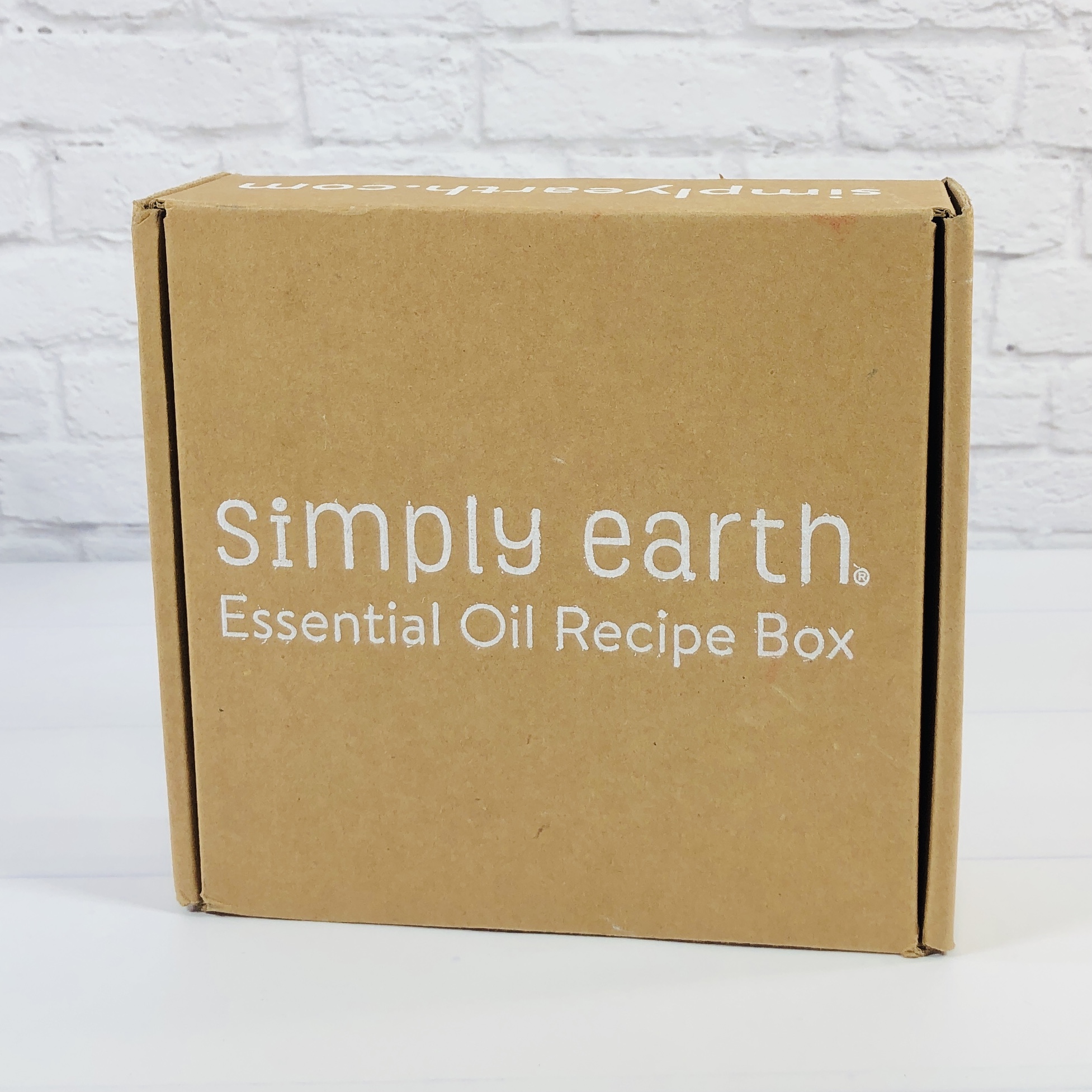 Simply Earth is a monthly subscription that sends high-quality essential oils along with recipes and ingredients to make natural beauty and home products! Each box comes with 4 essential oils, containers, extra ingredients to make the recipes, and 5 – 7 recipes on recipe cards. When you sign up (and every 6 months thereafter) you will receive a free Bonus Box full of extra containers and ingredients needed for the recipes, such as carrier oils and beeswax. Simply Earth is $39 a month. They feel strongly about giving back and donate 13% of all profits to help end human trafficking.

Every month is designed around a new theme with ingredients, containers, and extras you need to make 6 natural recipes (this includes 4 full-sized bottles of essential oils!) … delivered right to your doorstep.

We loved making our own natural products and knowing what was in them, so we created. With the essential oil recipe box, you get everything you need to make your home natural; easy and fun recipes to follow, honest prices, and products that work. It puts you in charge and you can enjoy time together making natural recipes with friends and family.
DEALS: Receive a FREE Big Bonus Box with your first box. Deal applies automatically, just VISIT AND SUBSCRIBE. Plus, get a $40 gift card you can use for your next box or future purchases!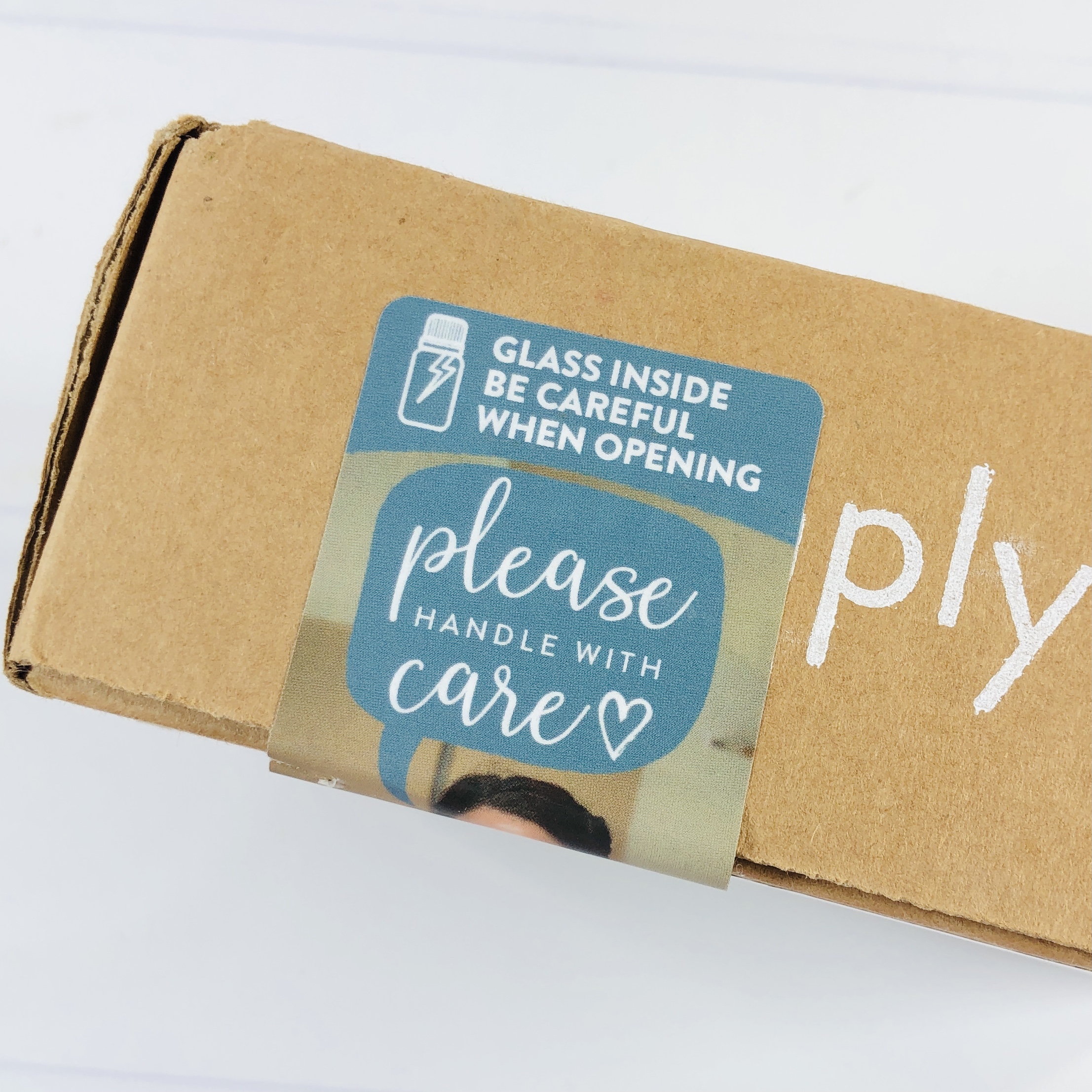 Open with care as the oils are inside glass bottles!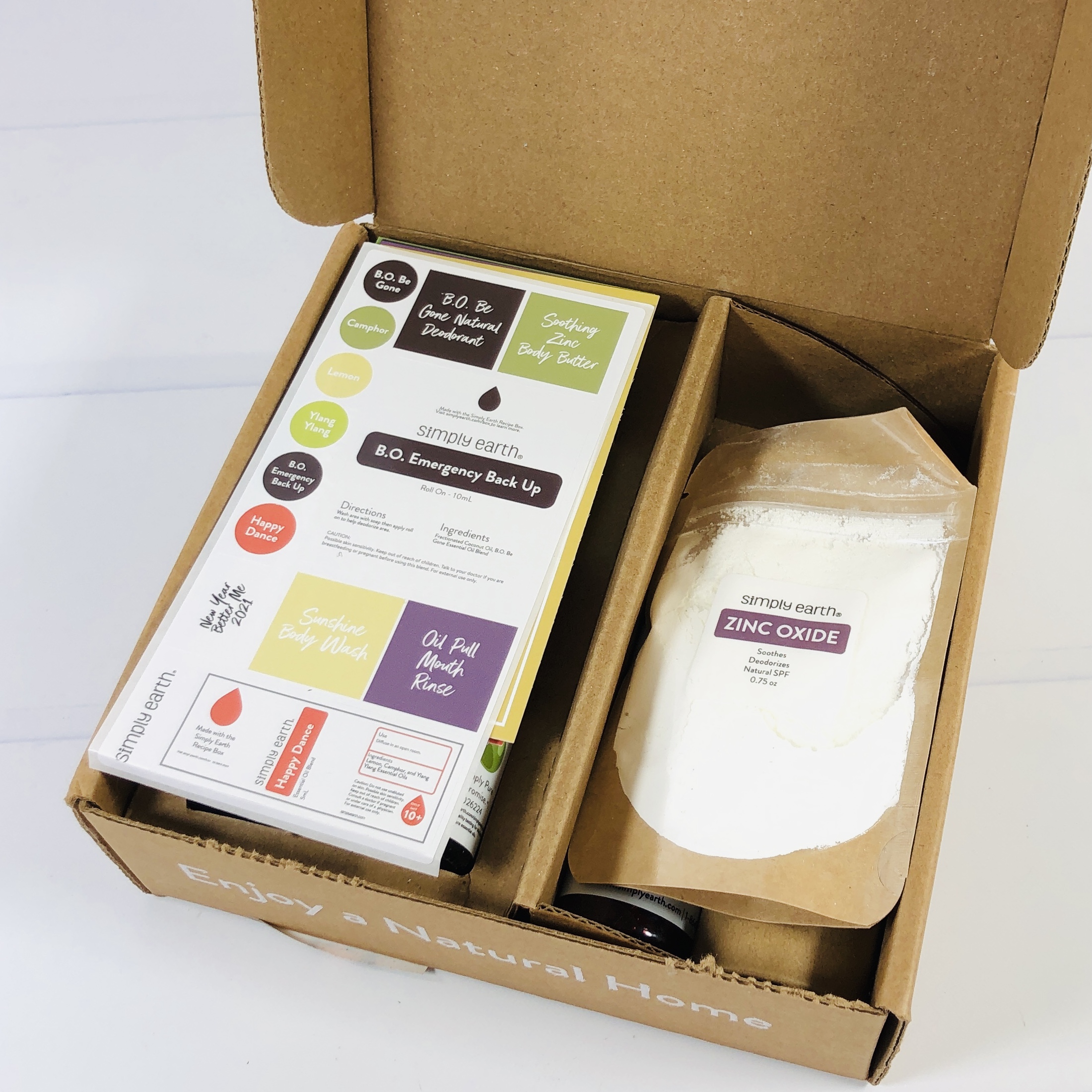 First look!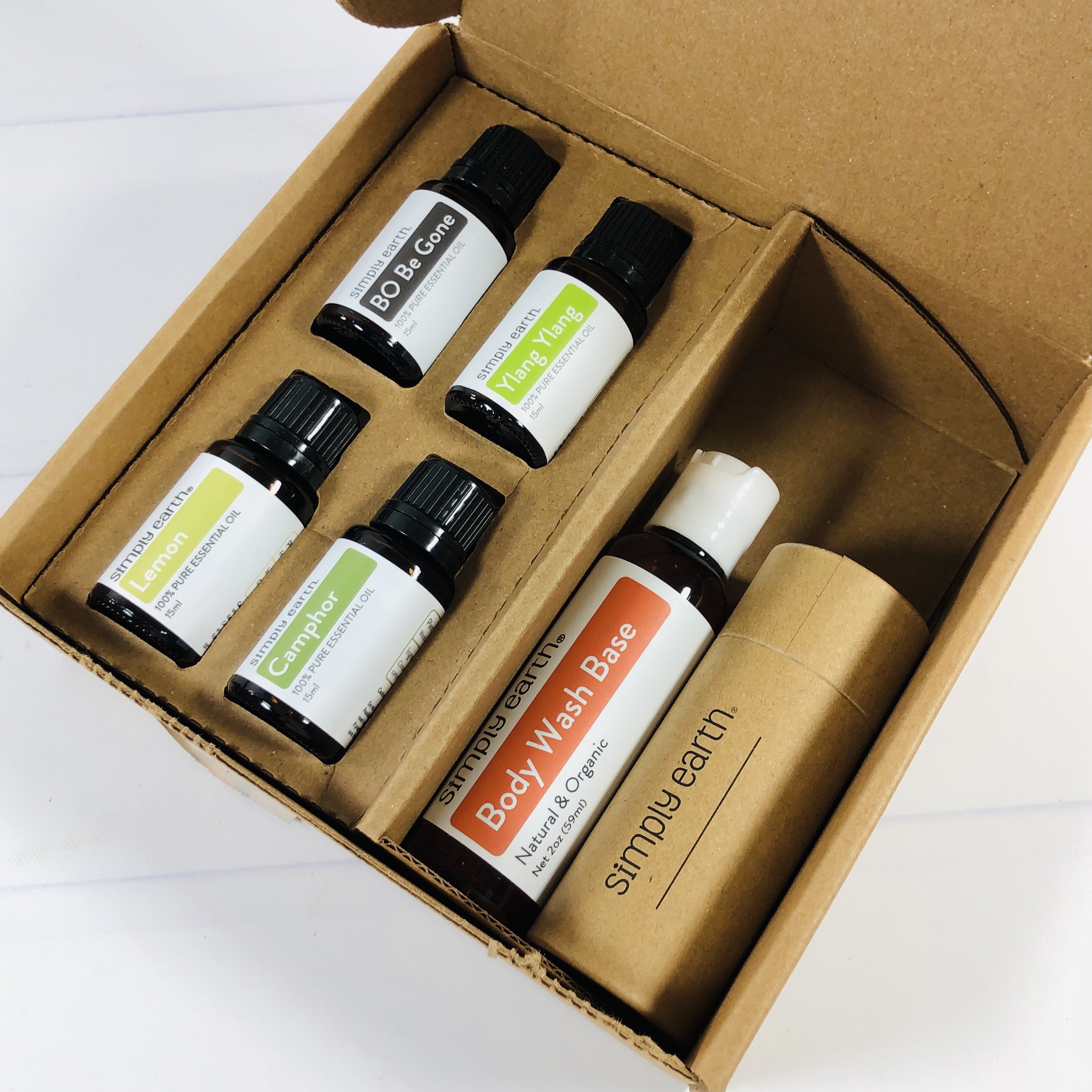 The bottles were on one side, the extra supplies on the other, and the cards were placed on top.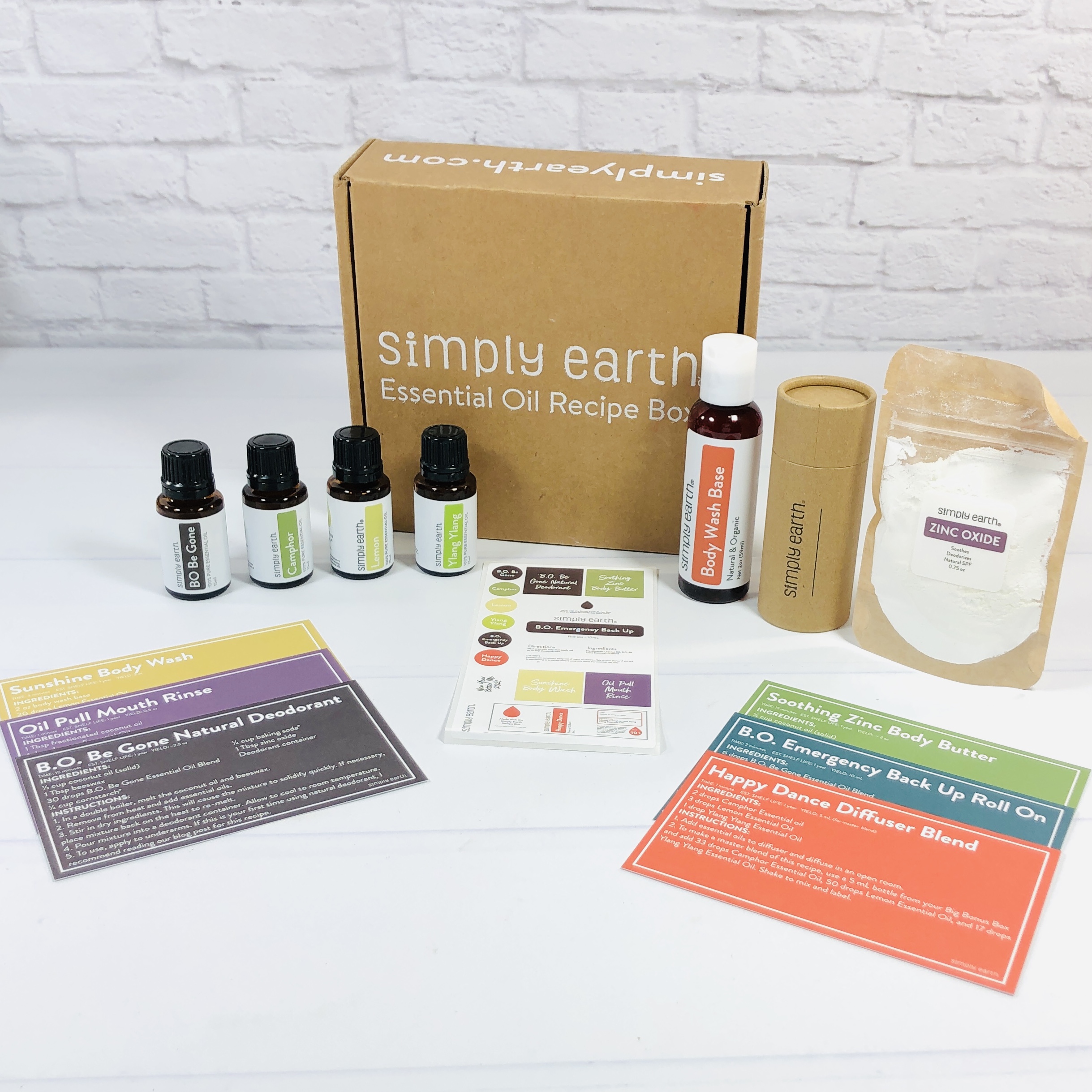 Everything in my box!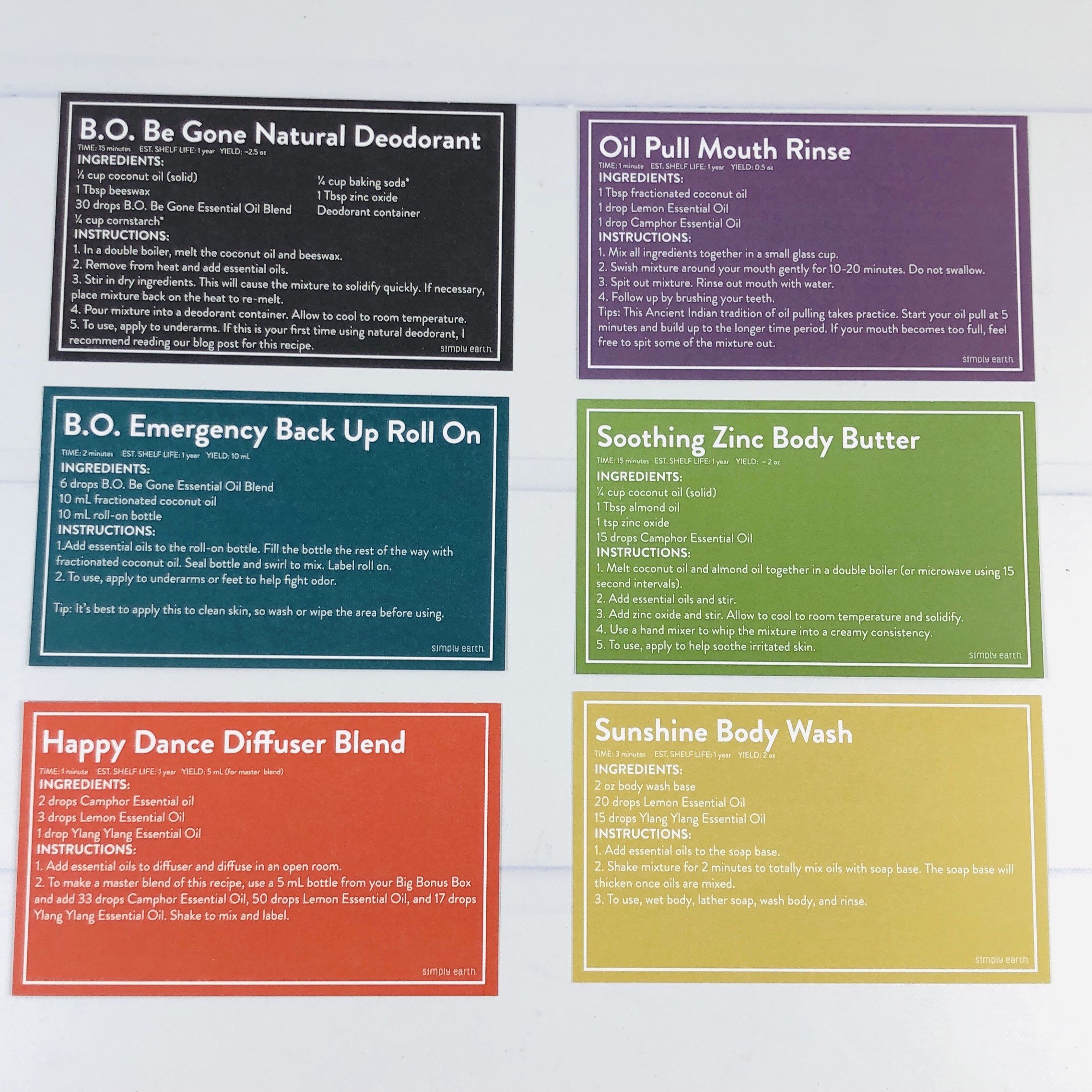 We received 6 recipe cards. They have the instructions for all of this month's projects. The back of each card has other info, which is what follows below.
There was a note from Katie, the owner of Simply Earth. The theme for the January box is Hygiene.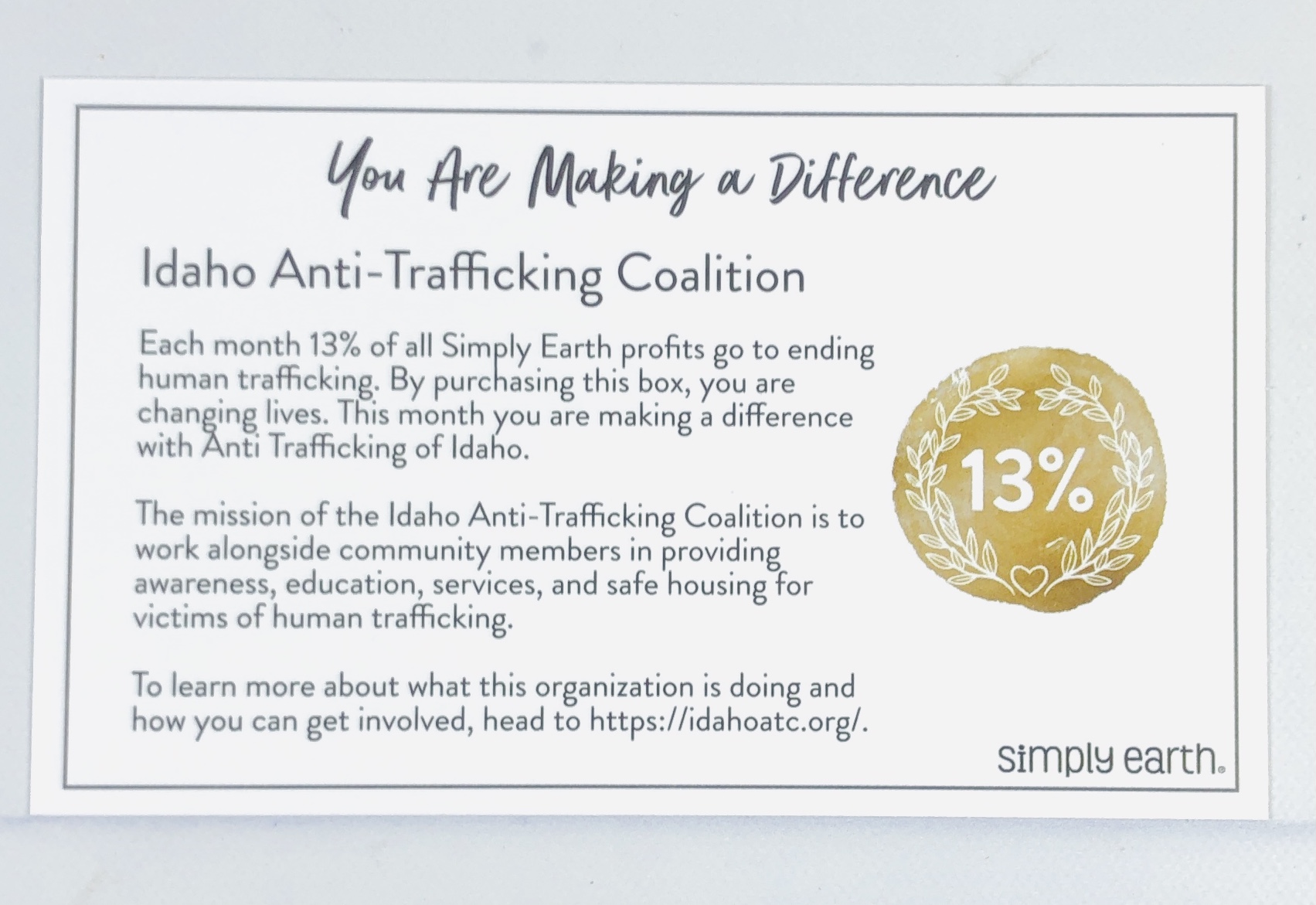 Simply Earth gives 13% of profits to help end human trafficking.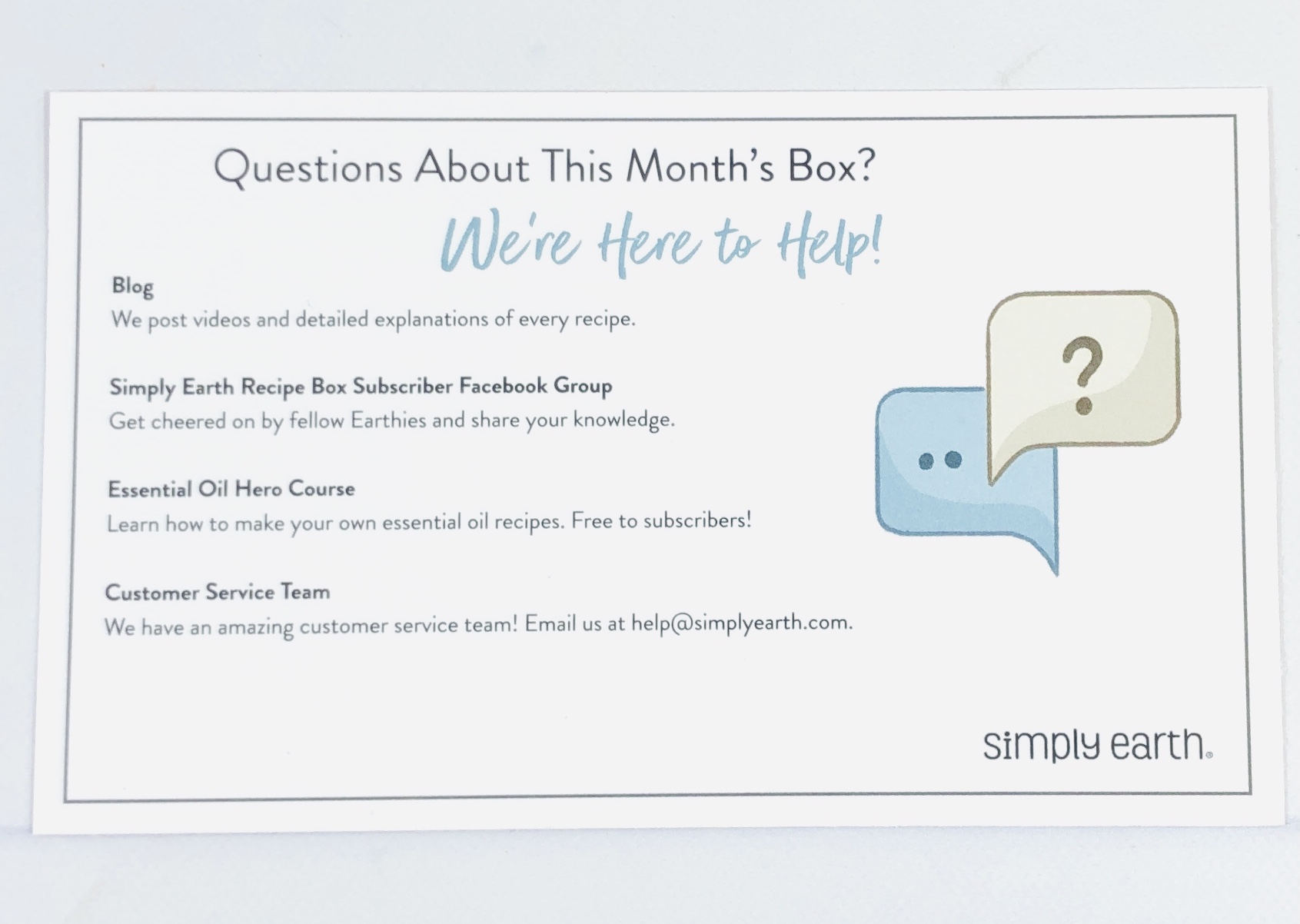 If you need some help then check out those social media accounts or reach out directly to Simply Earth.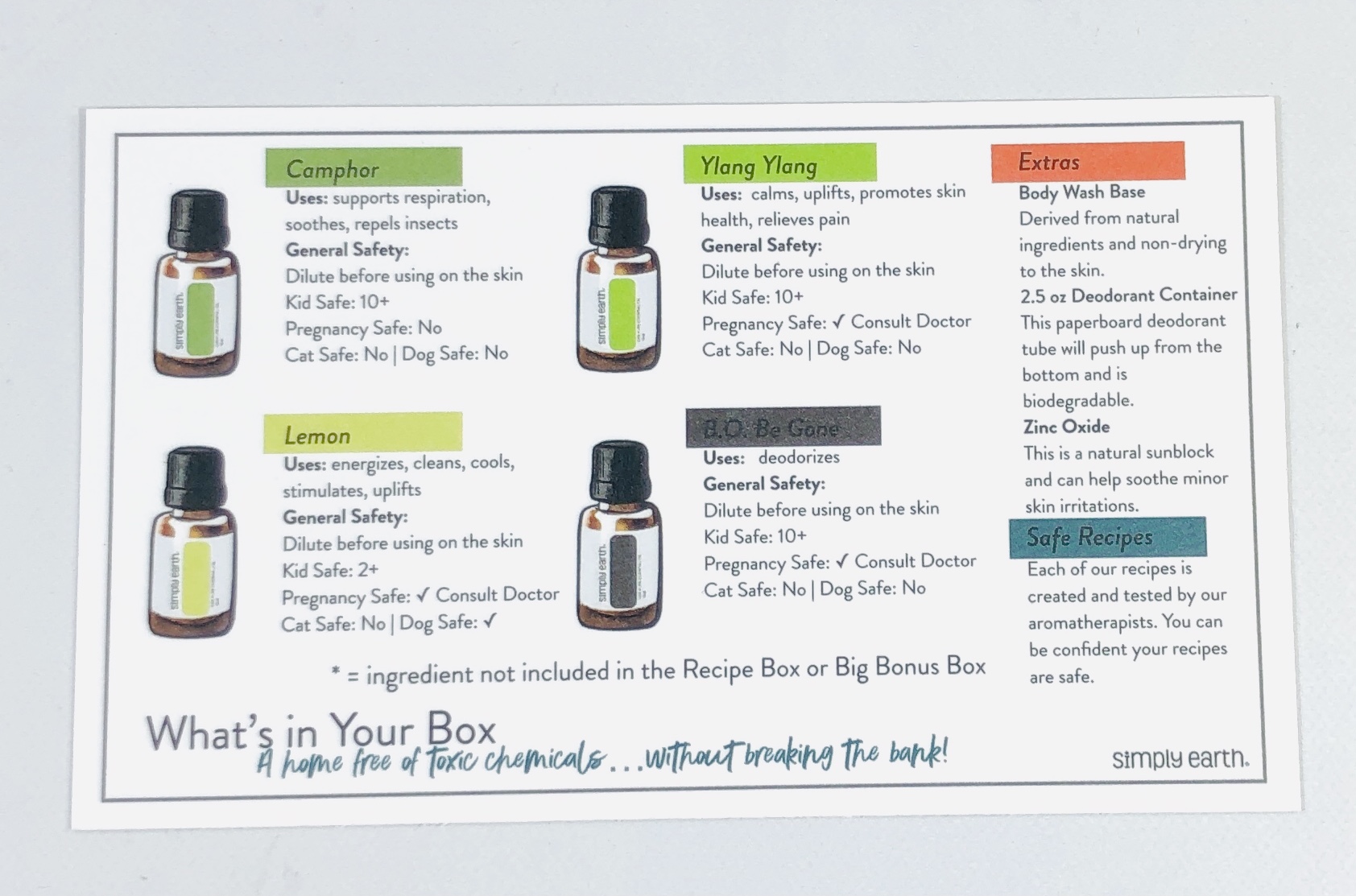 The oils were shown, along with a brief description. The box extras were also described here.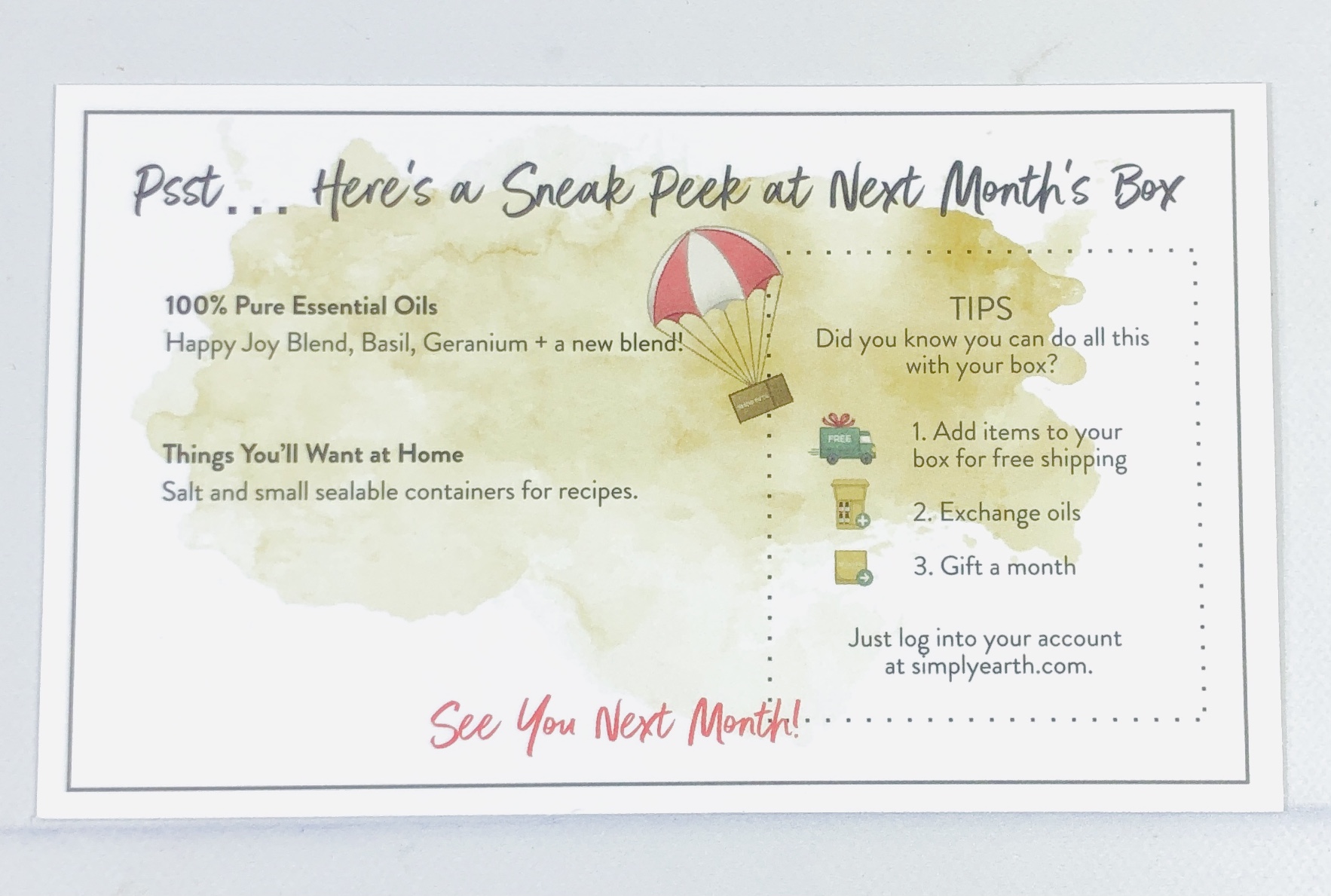 Here's a sneak peek at February's box. You'll need salt and small, sealable containers for the projects. I was excited to see geranium is one of the next oils. I have wanted that one for some time now.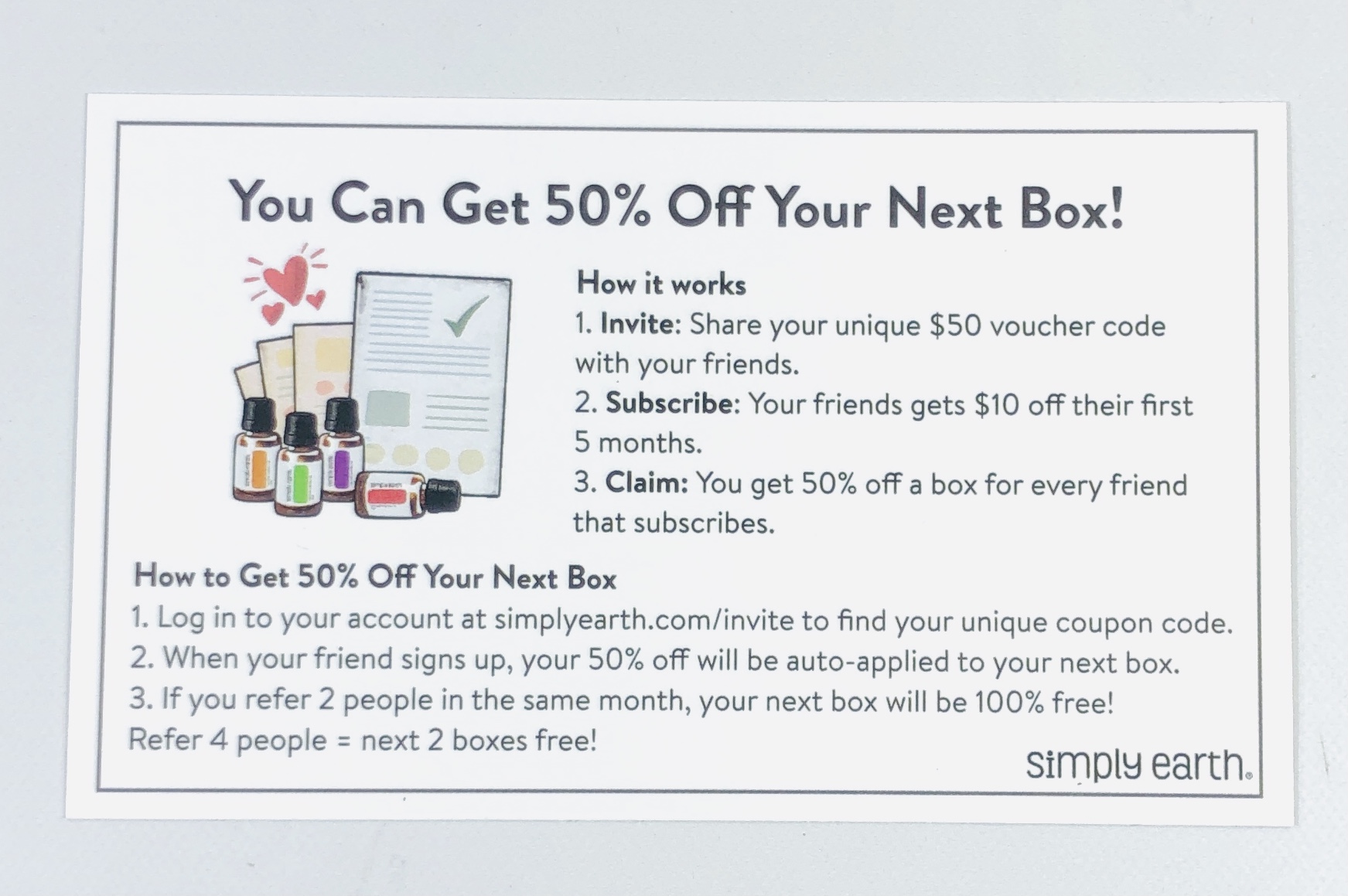 Simply Earth has a very generous rewards program.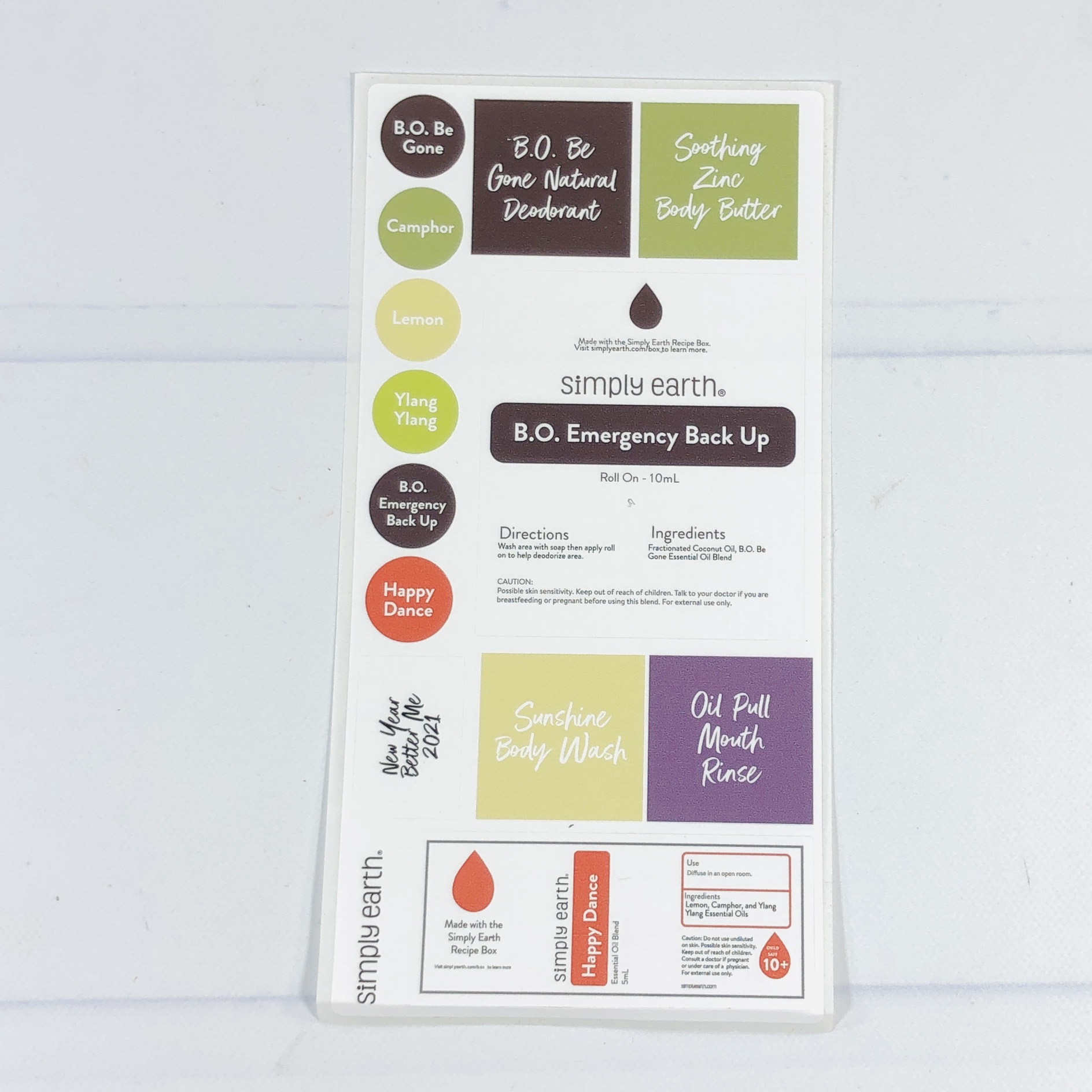 Here is a sheet of pre-scored stickers, just peel and apply to the containers. They will be used in the following projects.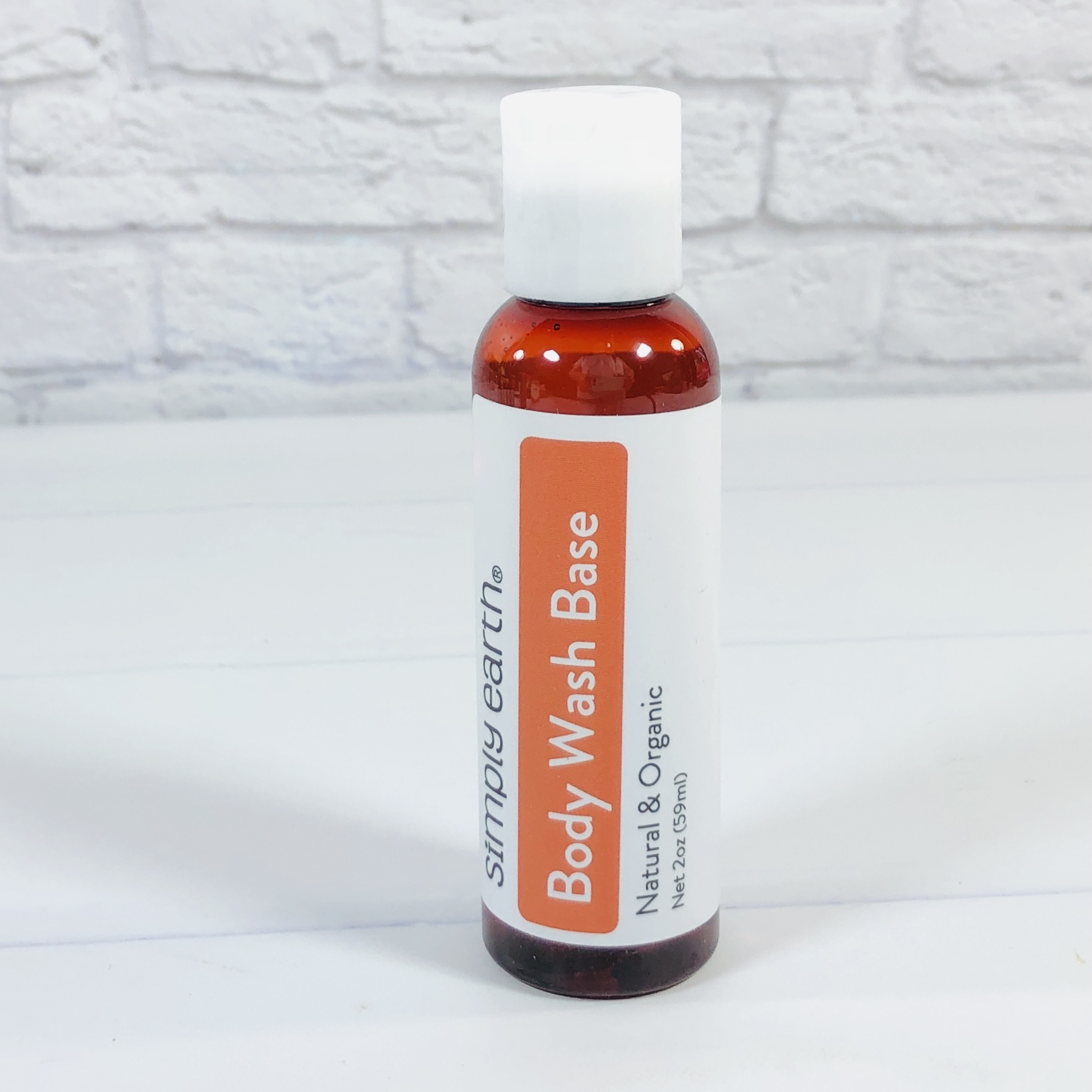 Simply Earth Body Wash Base One of the projects is a body wash and that starts with a base.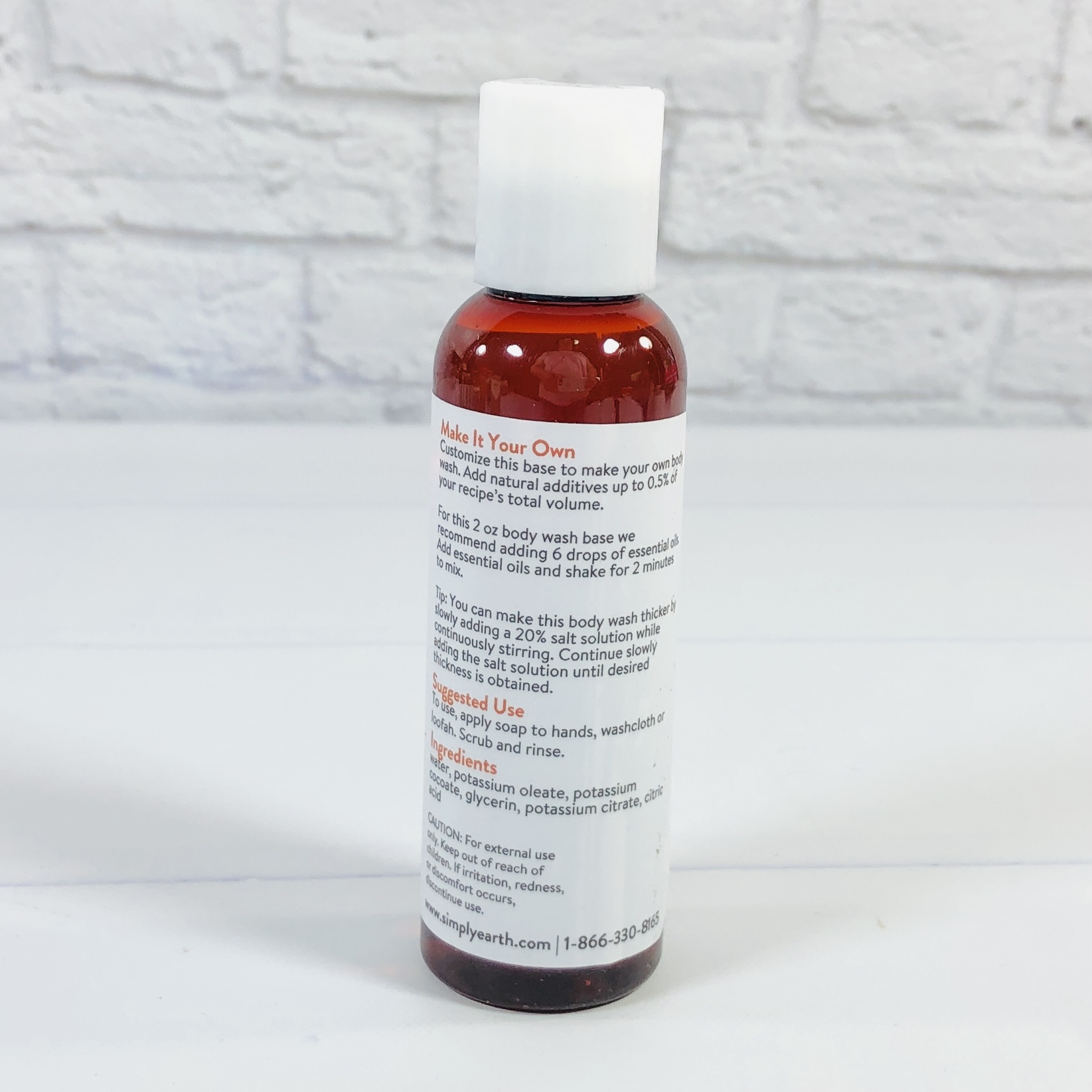 It's pretty much ready to use, just add a few drops of essential oils to customize the scent. I will be using it for one of the recipes.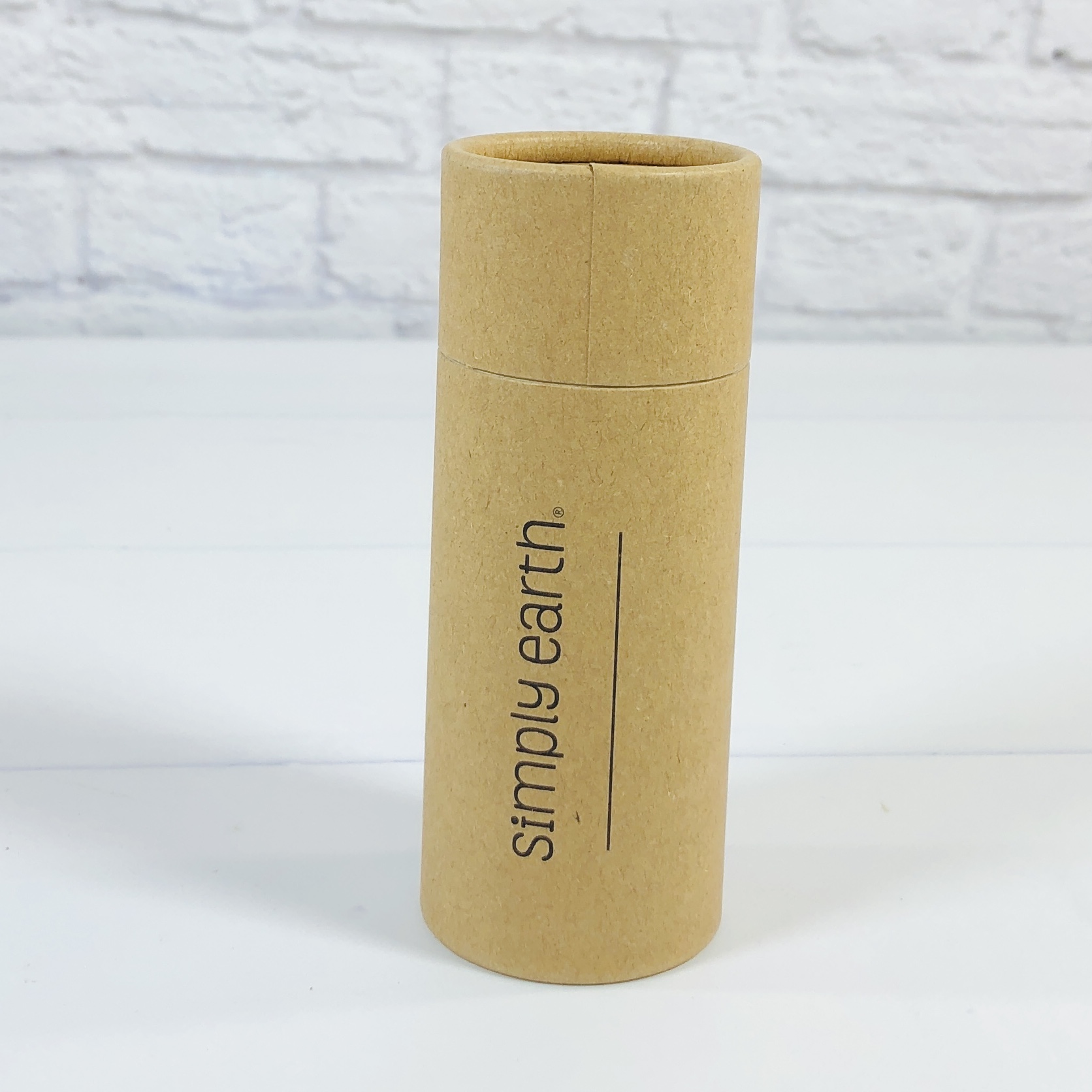 Simply Earth Deodorant Container We are making a natural deodorant and received a cardboard container to house the product.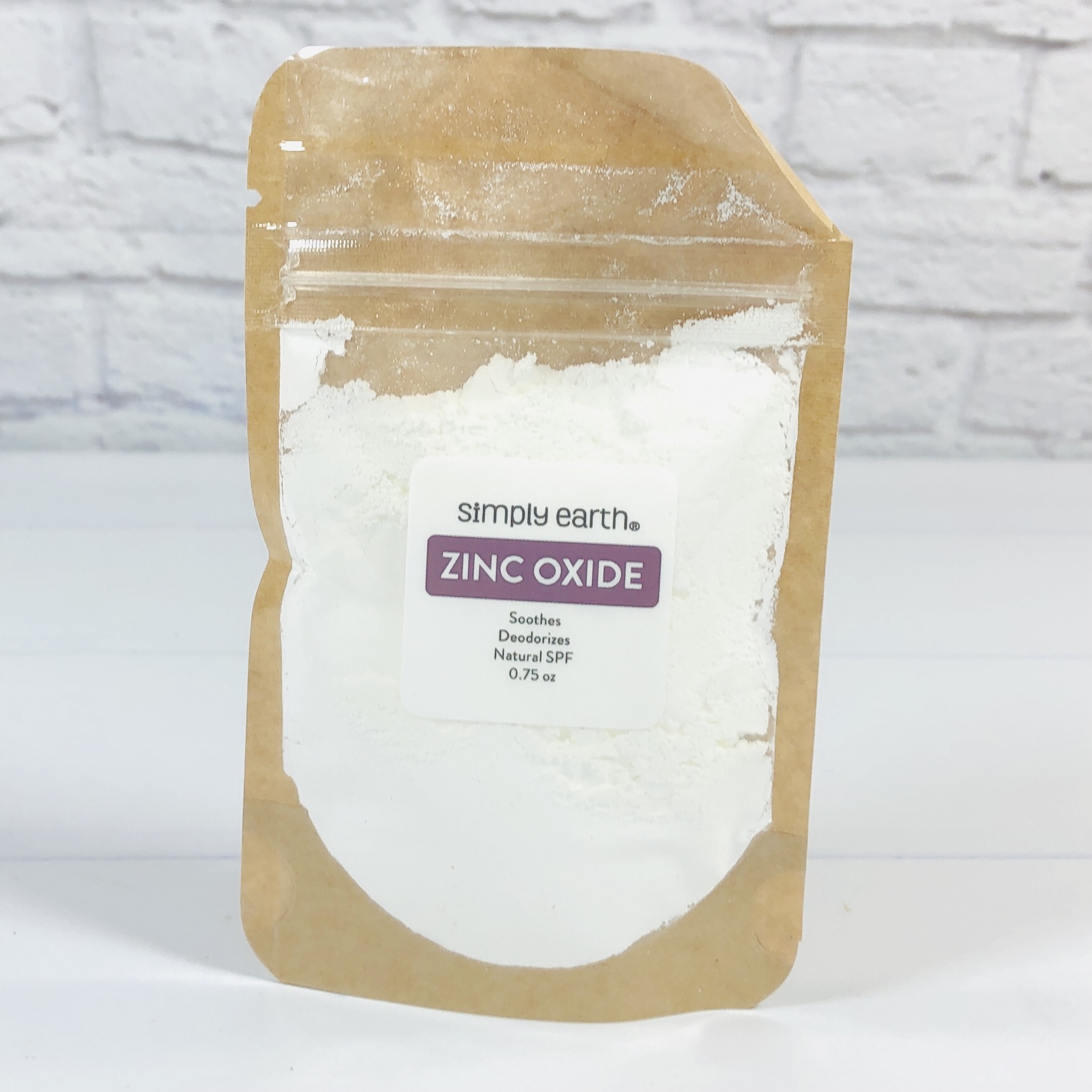 Simply Earth Zinc Oxide is a skin soother and can sometimes be found in natural sunscreens and diaper rash cream.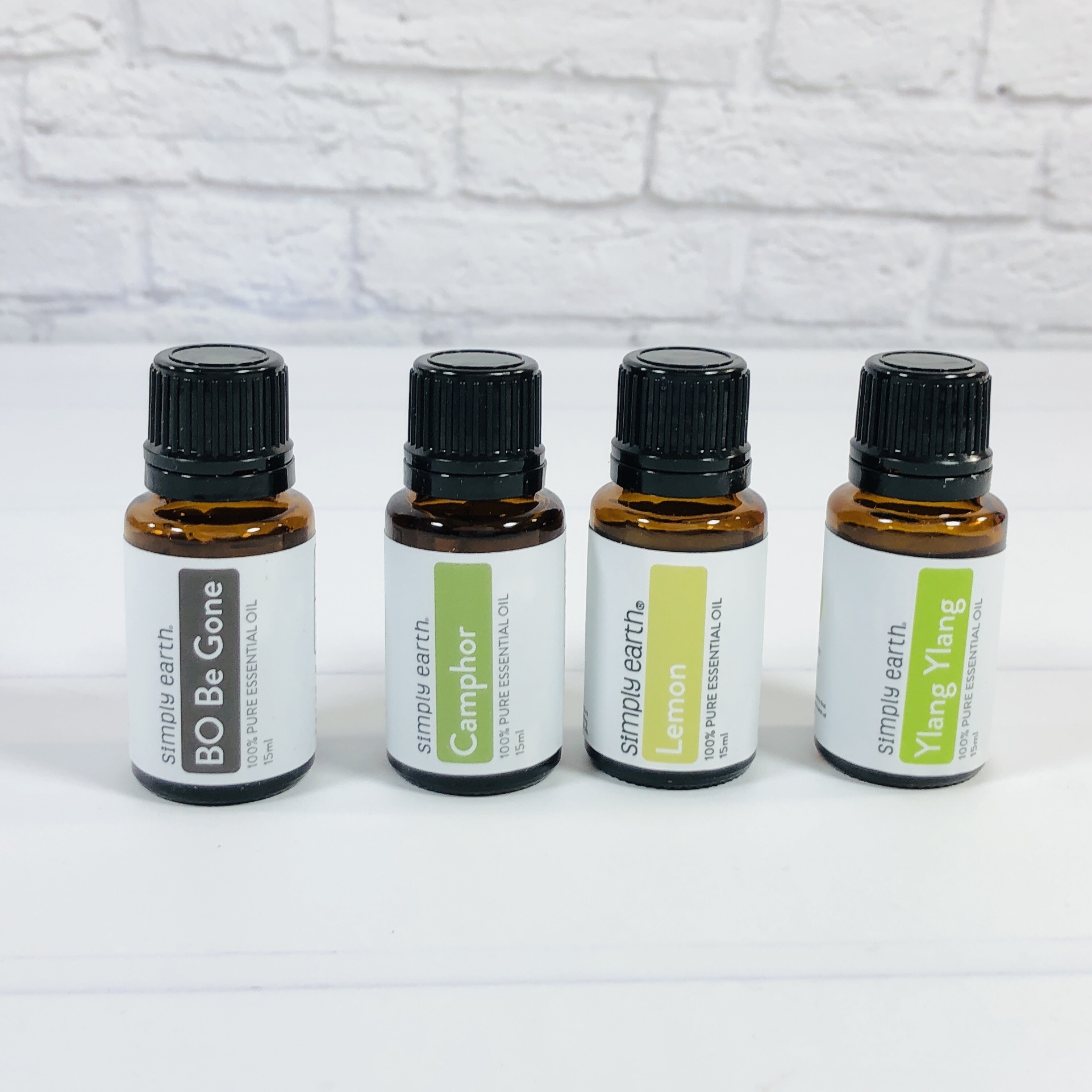 I received one blend and 3 single oils. I was super excited to receive ylang ylang, I have wanted that for my collection for a while!
Simply Earth BO Be Gone Essential Oil Blend ($12.99) The blend is meant to fight those not so pleasant odors that emanate from under the armpits. It is comprised of patchouli, ylang ylang, sandalwood, lavender, and sweet orange. There are two additional recipes using this blend on the Simply Earth website.
Each bottle has a special cap that lets the oil drip out one drop at a time for less waste.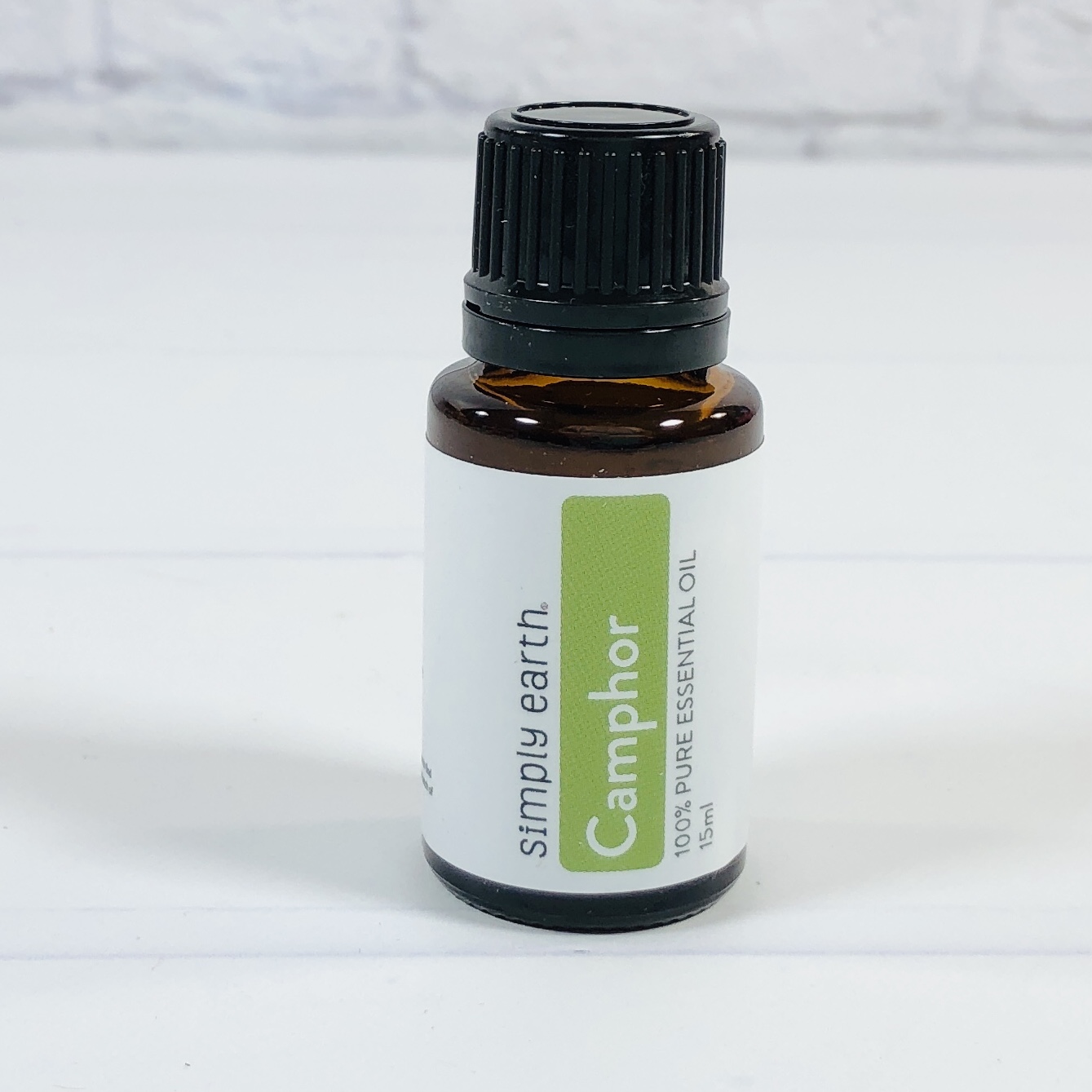 Simply Earth Camphor Essential Oil ($11.99) Camphor is helpful for congestion and relieves muscle aches. It can be added to a carrier oil and applied to sore arms, legs, or back.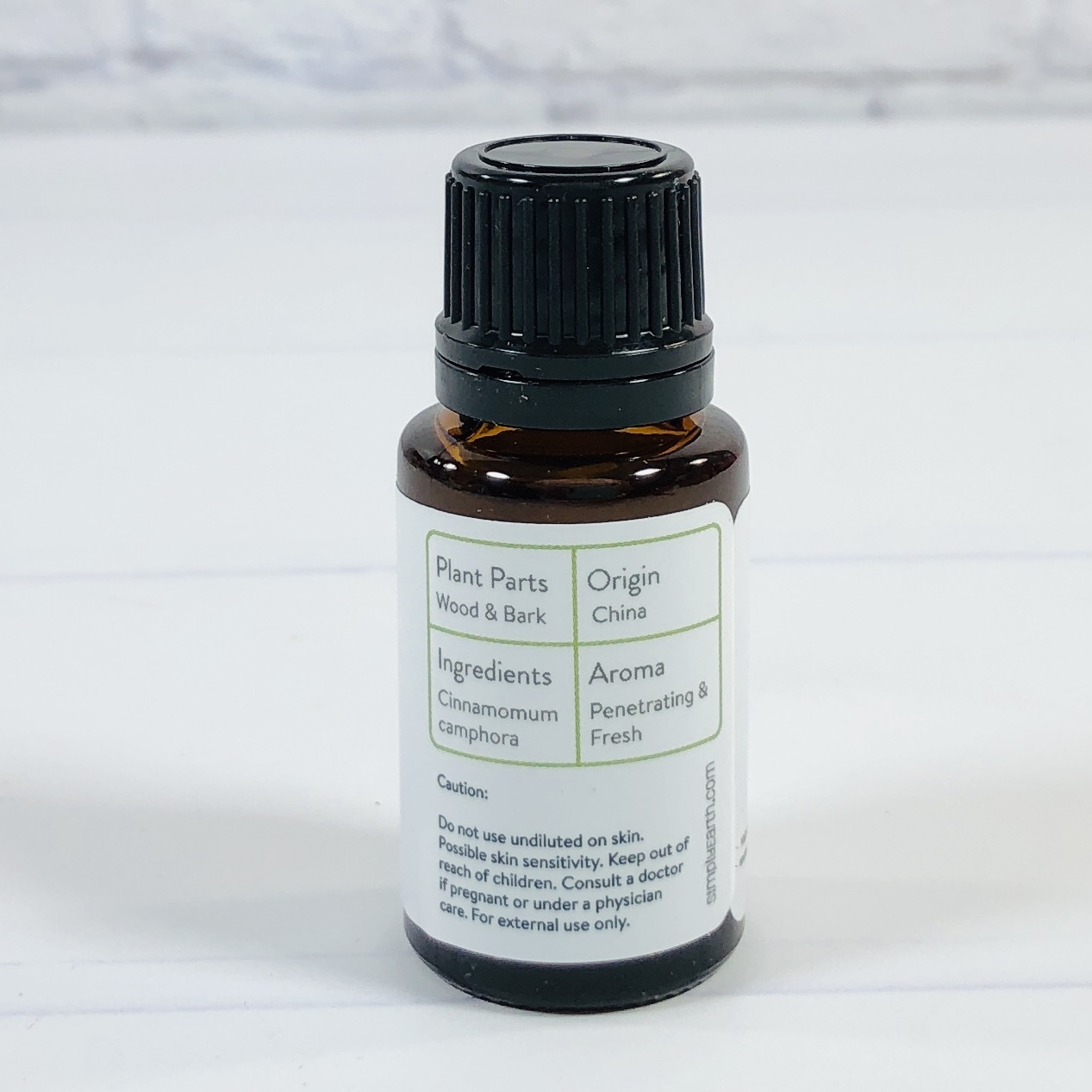 The label tells me what the oil is made of, parts used, country of origin, and general aroma. This oil smells like Vicks and Campho Phenique and is strong.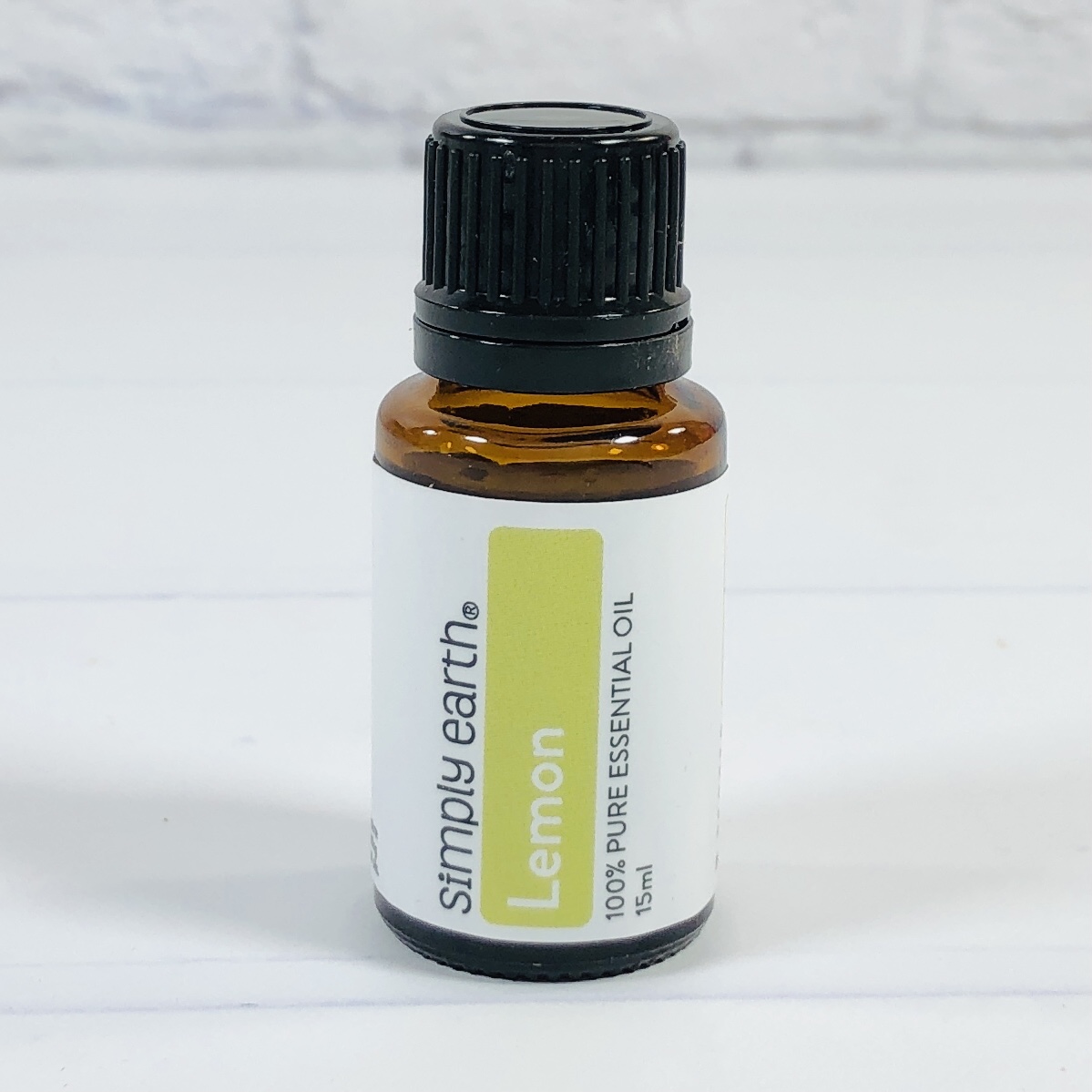 Simply Earth Lemon Essential Oil ($9.99) Lemon is commonly used in homemade cleaning products and of course has an uplifting sunny citrus scent.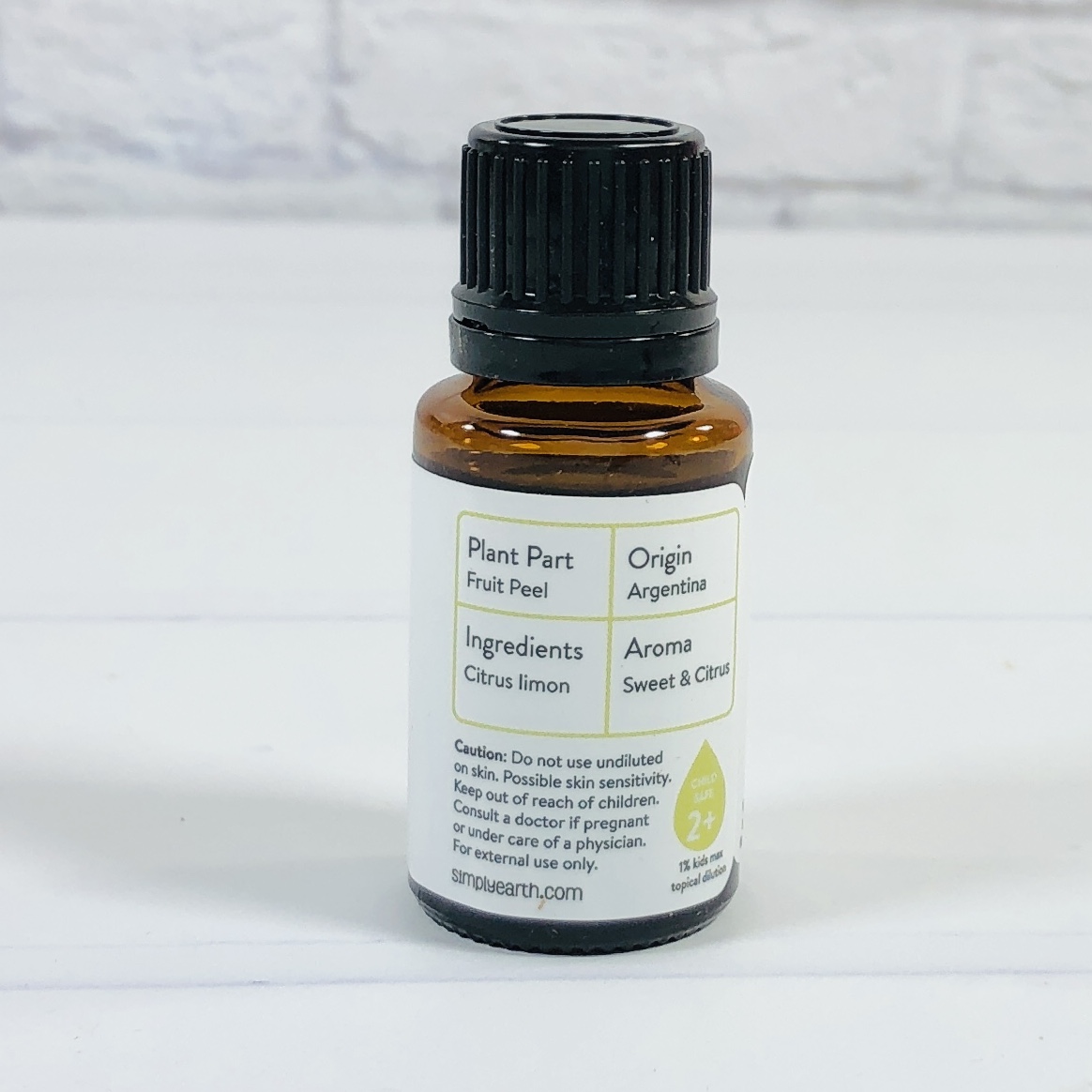 It comes from the fruit peel and is such a fresh scent.
Simply Earth Ylang Ylang Essential Oil ($18.99) Ylang ylang is another popular choice for massage oils to be used on sore muscles and is also used in perfumery.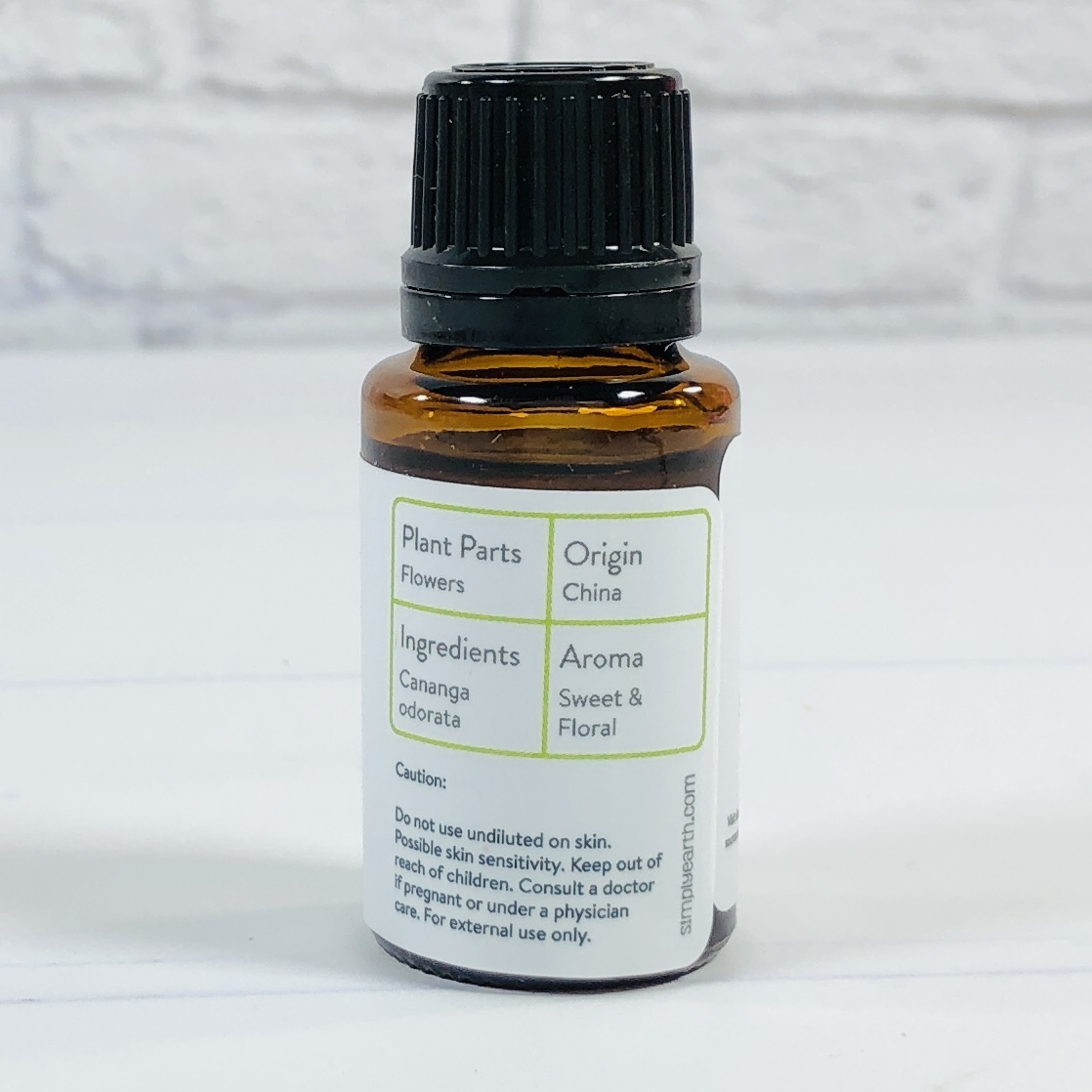 The oil comes from the flower and it is so unique but possibly reminds me a bit of narcissus or hyacinth.
Now, it's time to make some of the recipes! I decided to watch the videos at the Simply Earth website first before getting started. As always when using essential oils, please consult first with a doctor if pregnant or nursing, do not apply oils directly to skin without diluting in carrier oil first, and be careful when using around pets.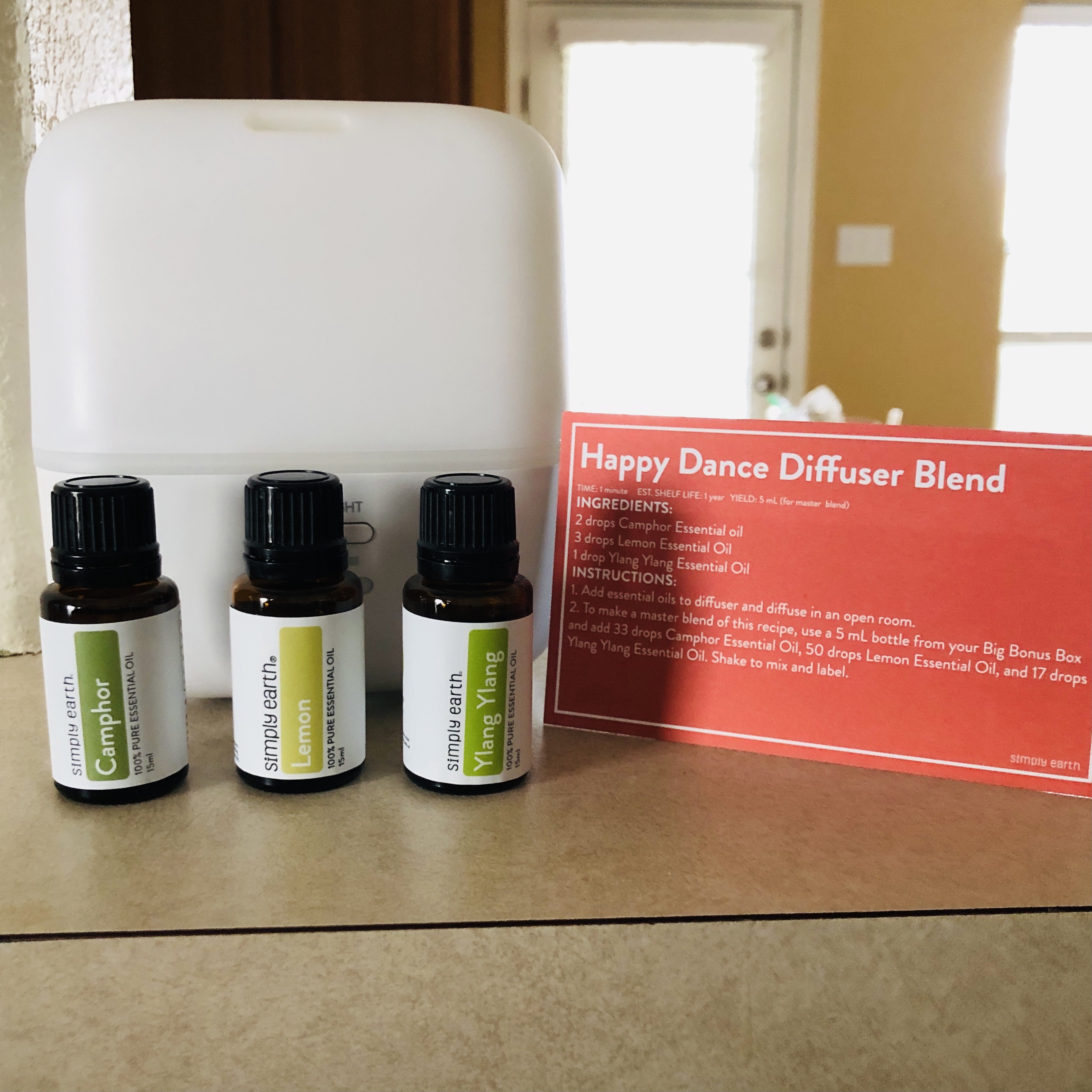 As always, I start with the diffuser blend. I simply placed the listed number of drops in my diffuser, added water, and pushed the power button. This blend is floral and clean and the ylang ylang really stood out. You can make a larger batch and put it in one of the dropper bottles that comes in the Big Bonus Box.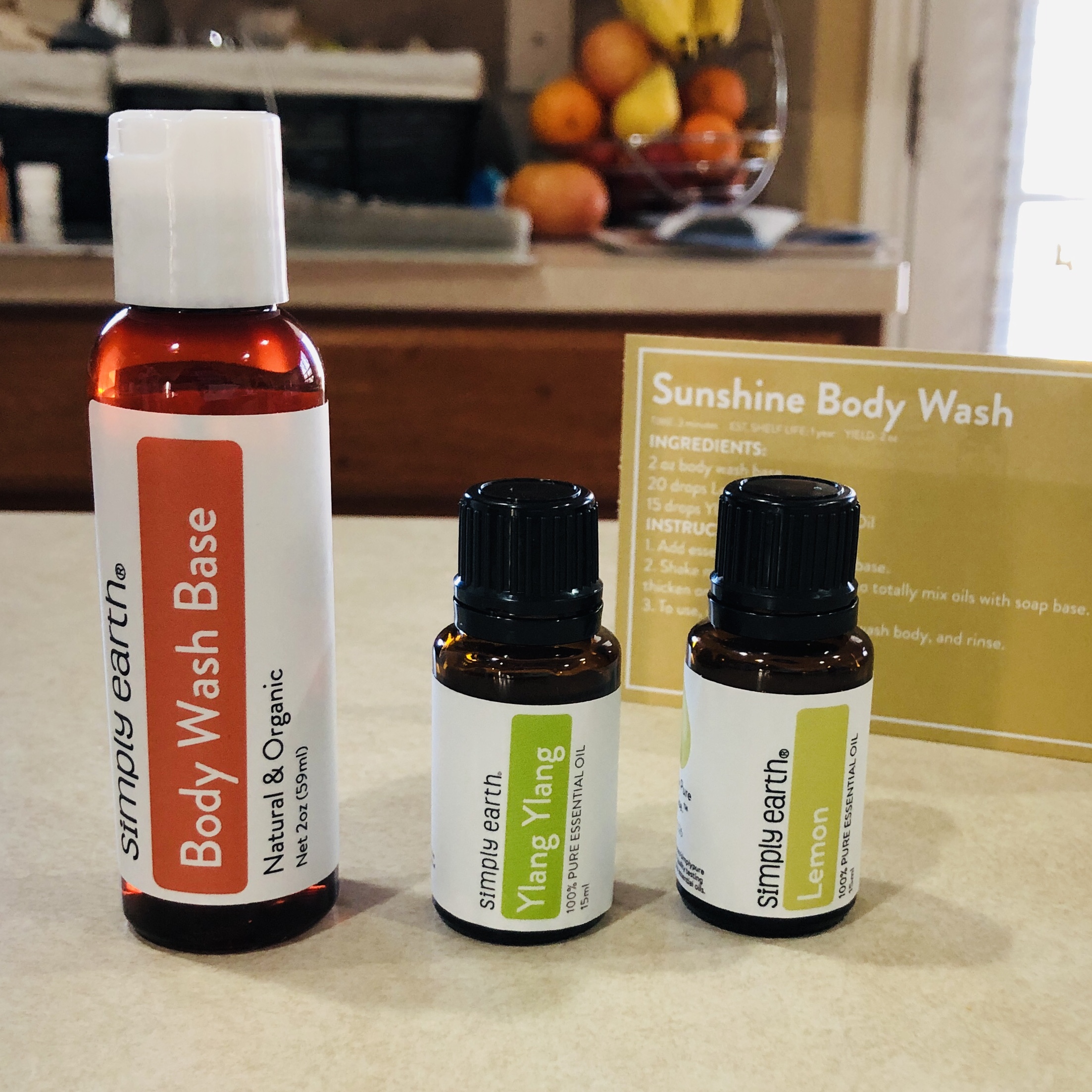 Next I tried the Sunshine Body Wash and again, I just had to place some drops in the bottle and shake it up. Make sure that the bottle isn't too full before adding the drops. I ended up having to use some of it up first to make room for the drops. I also used a chopstick to stir it up inside. The gel will turn thick and cloudy at first but then it clears up.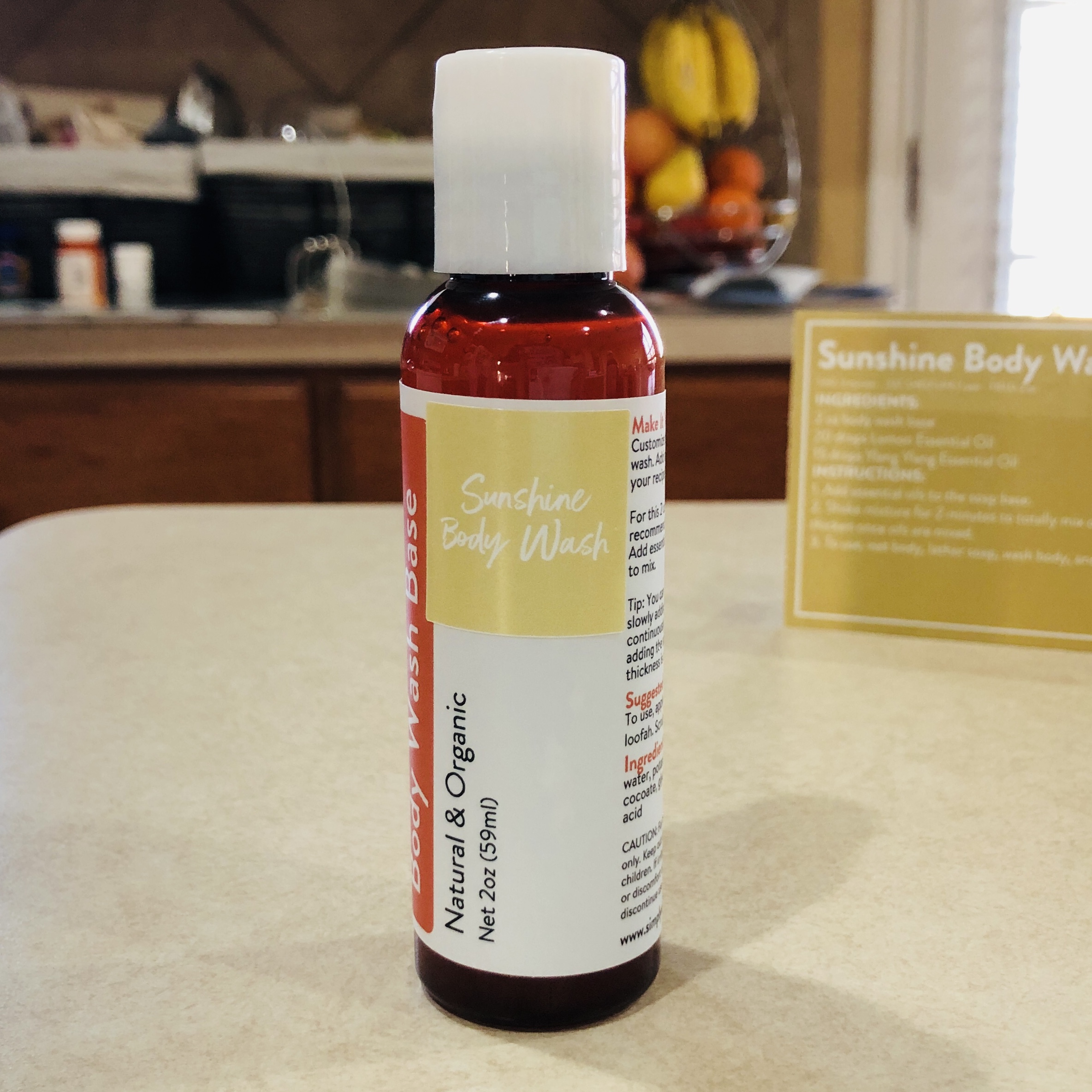 I didn't remove the old label, just placed the new one on top. Again, the ylang ylang is noticeable and the scent is uplifting and floral. It was very foamy on my shower pouf too.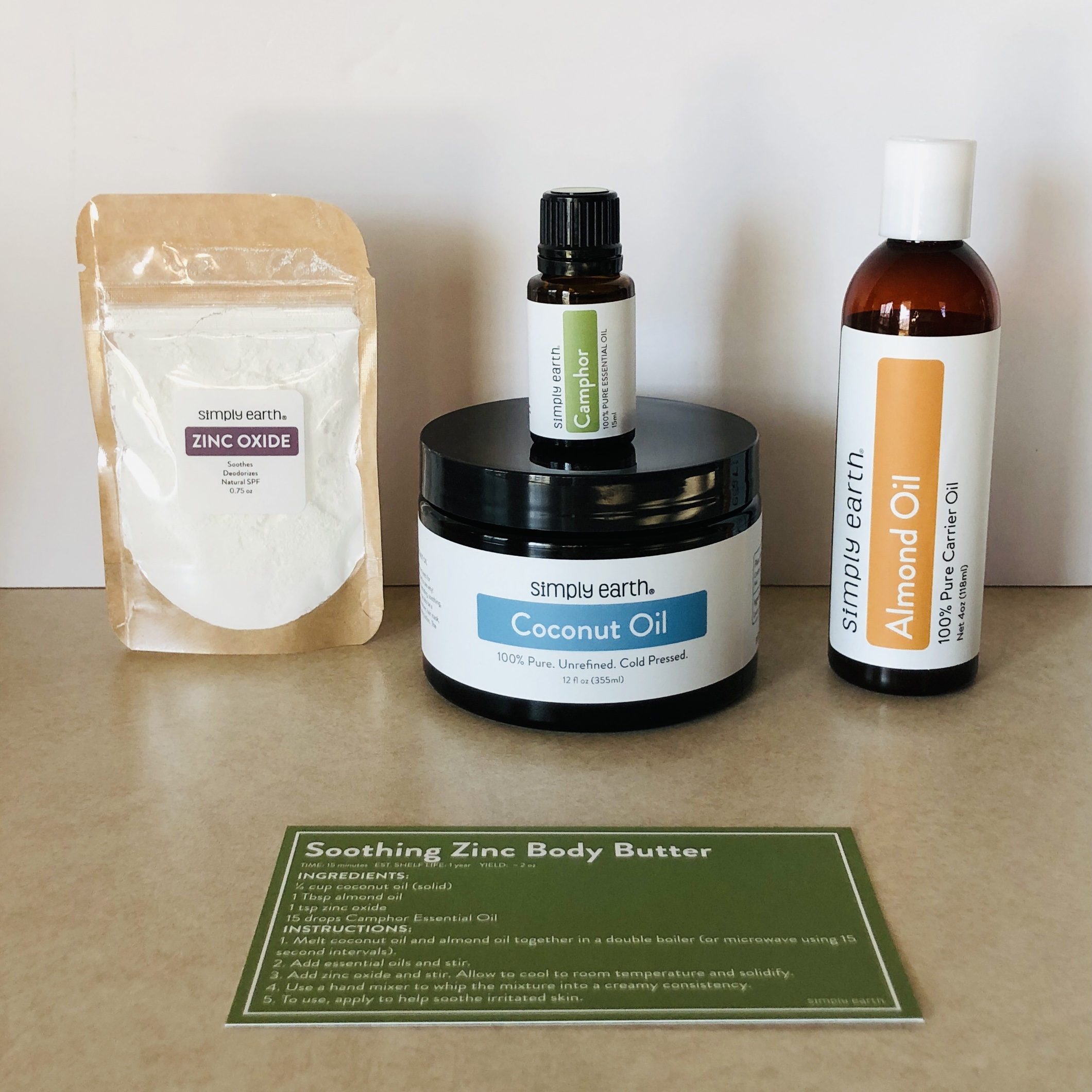 The next two recipes required products that I received in my Bonus Box, which ships with your very first recipe box and then every 6 months thereafter. The Zinc Body Butter wasn't hard to make at all.
I measured solid coconut oil and some almond oil into a glass bowl and then microwaved it, stirring every 15 seconds until it was melted.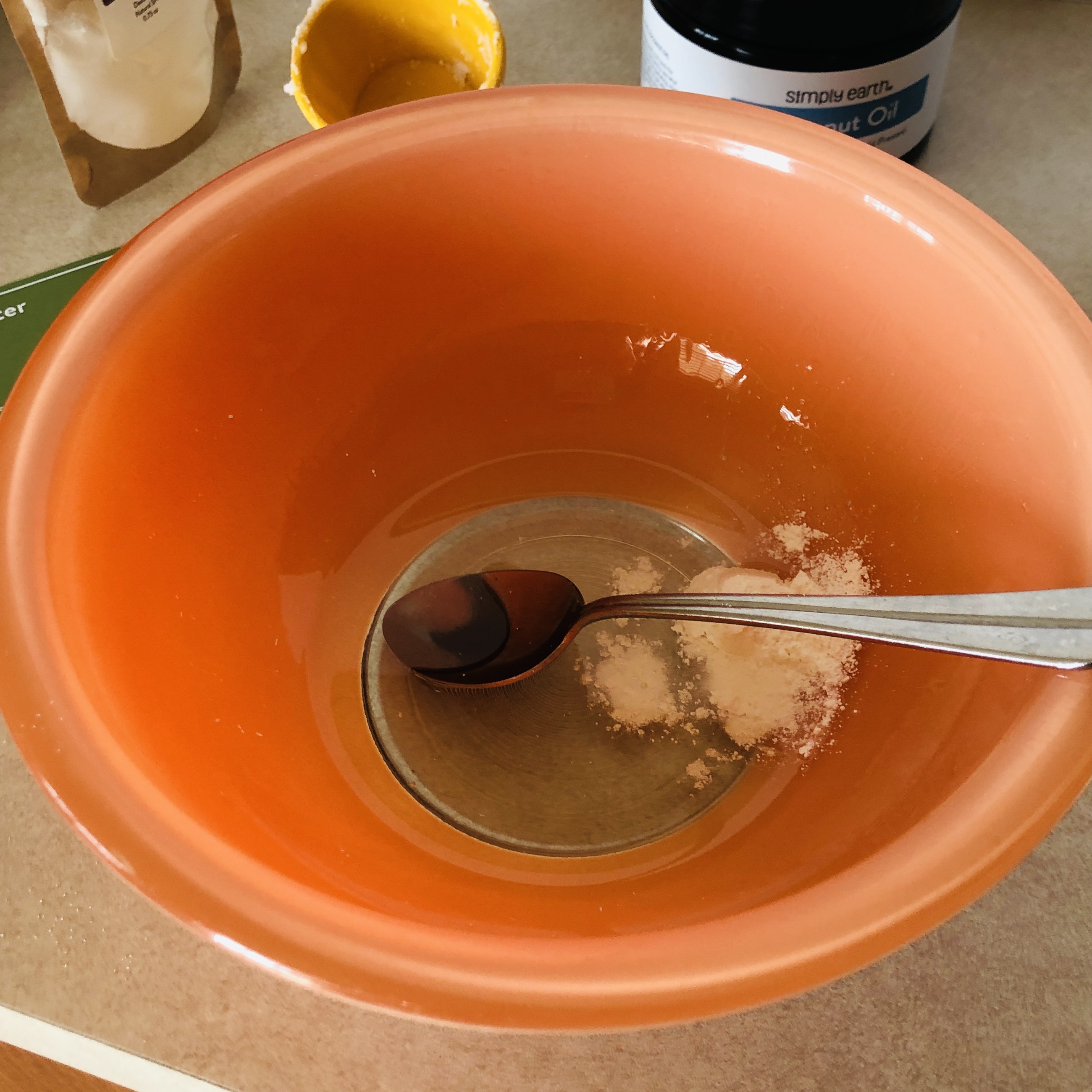 Next I stirred in the zinc powder and then set it aside to harden for several hours before beating with a hand mixer.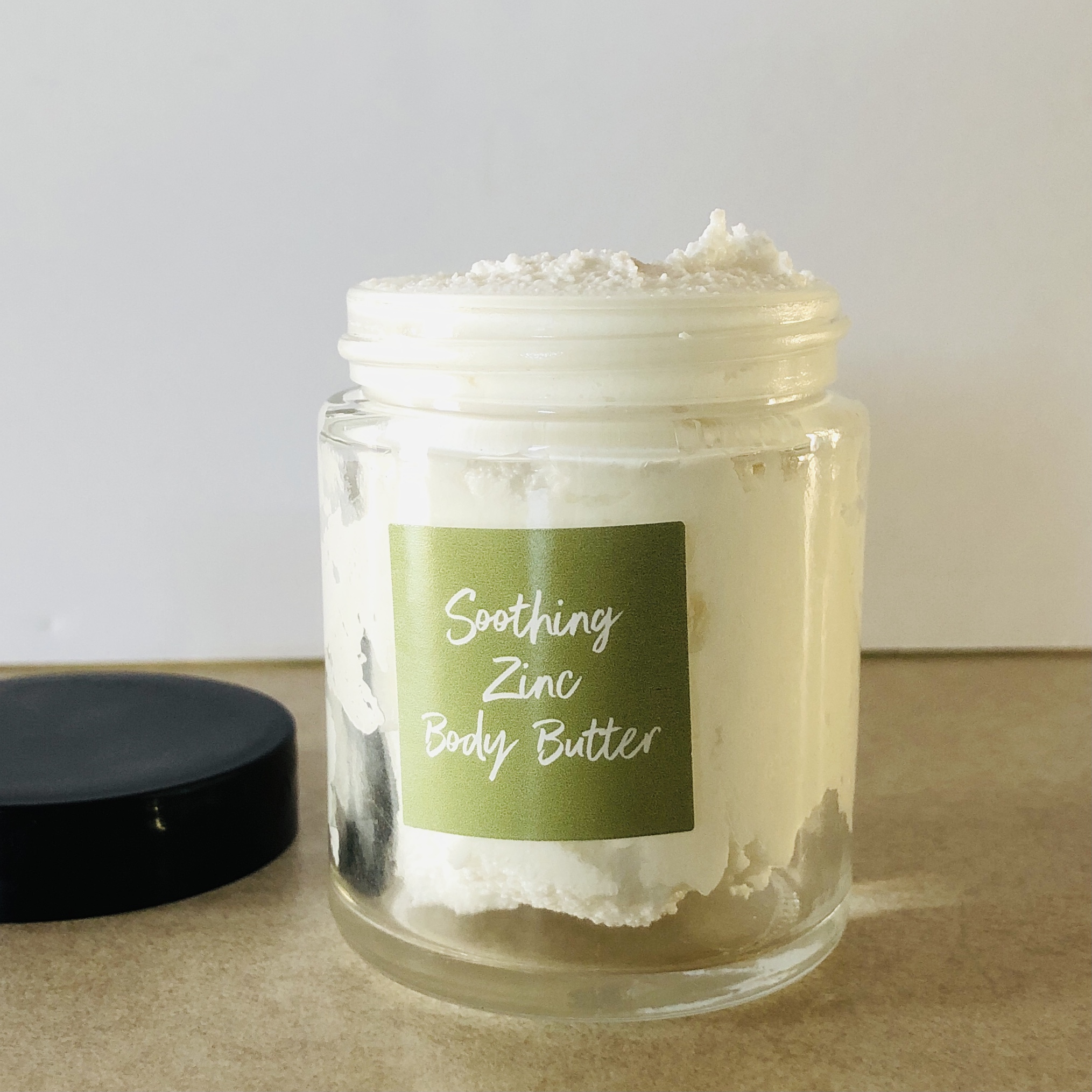 I beat it just like I would whipped cream and it looked like frosting when I was done! I spooned it into a clean jar and then smushed it down with a spatula. It can be used to relieve minor skin irritations or as a moisturizer for itchy spots.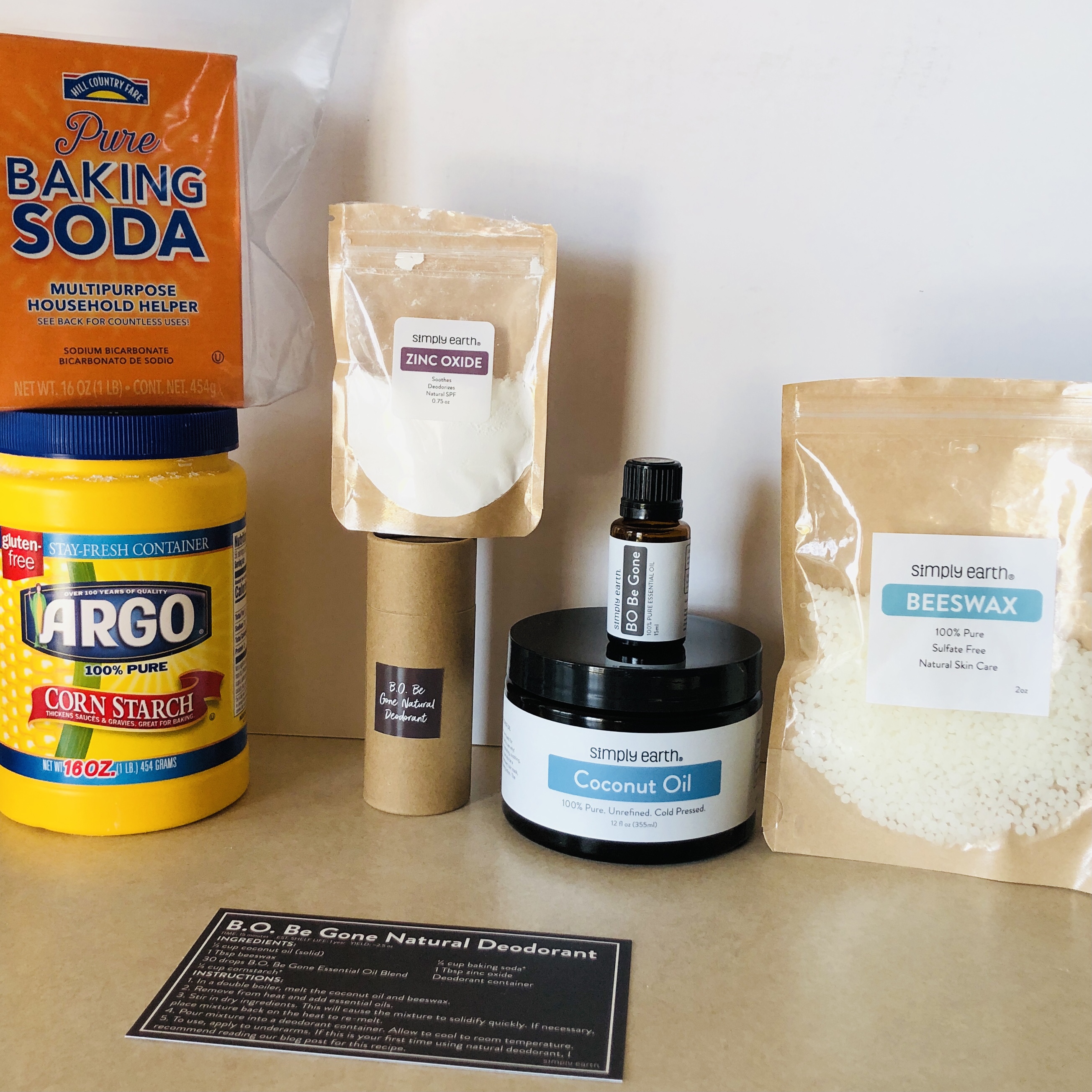 I have used natural deodorants before so it was cool to see what all goes on behind the scenes. For this recipe I needed to grab baking soda and cornstarch from my kitchen pantry. If you are sensitive to baking powder in your deodorant, then you can replace it with more cornstarch.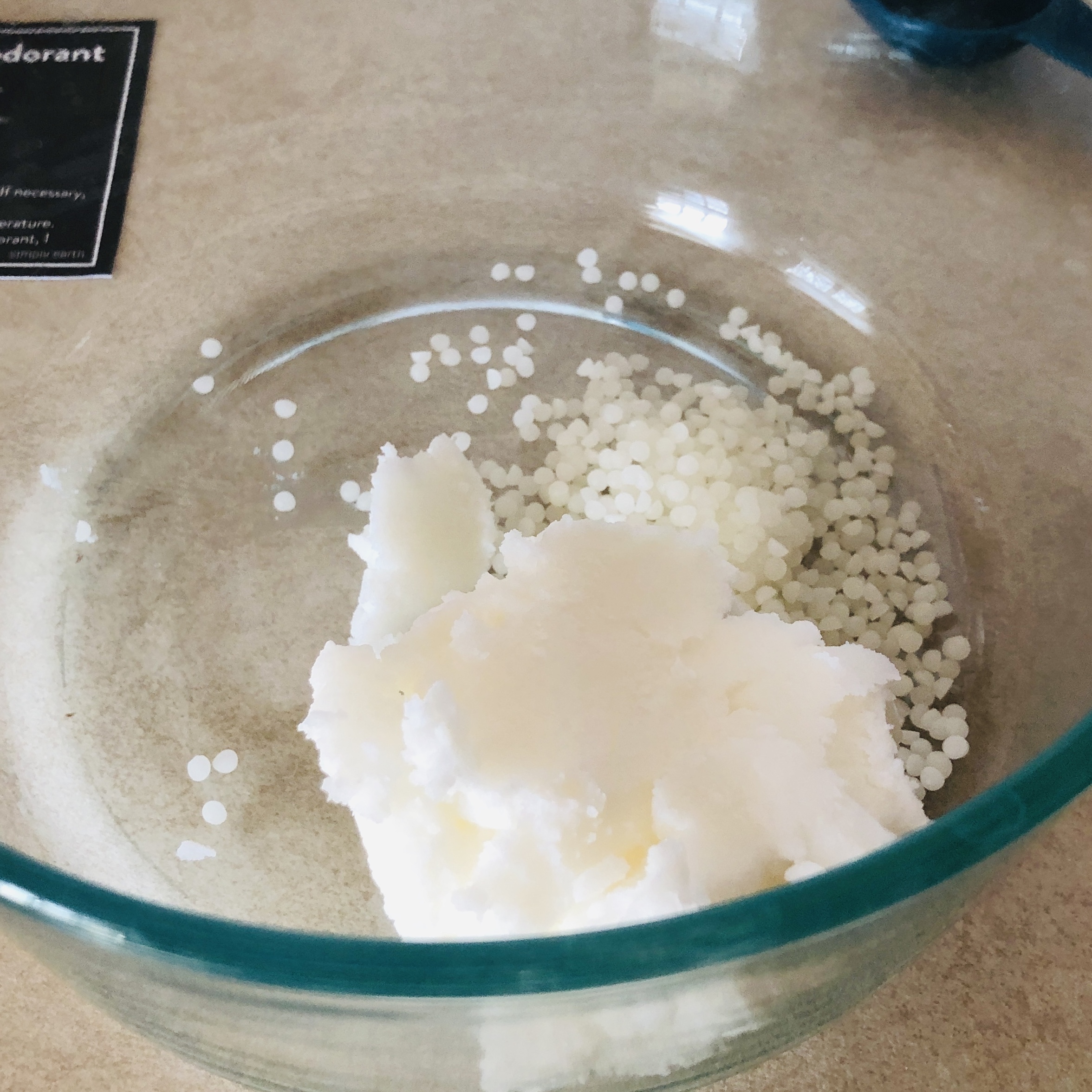 I used the microwave again and stirred the coconut butter and beeswax every few seconds until the beeswax was melted. I think this took less than two minutes total.
I measured in the rest of the ingredients and then got to stirring.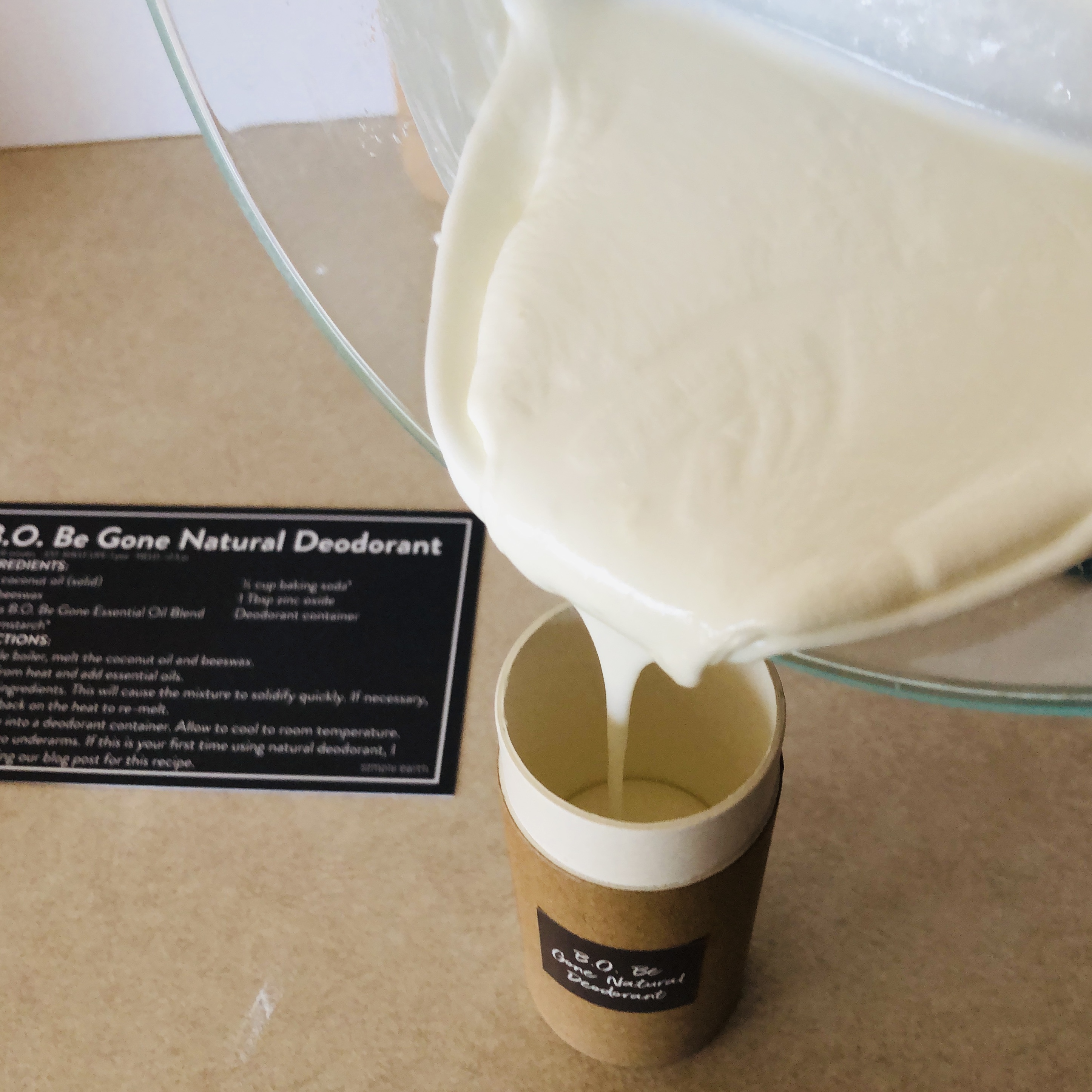 I had to quickly pour it into the cardboard tube and you can see that the product around the edge of the bowl had already started solidifying. If you have another tube or maybe an empty deodorant applicator that's now empty then maybe keep it close by as I had extra product left over. If not, then try to scrape the rest in the trash immediately because you don't want to put this down the drain or you may get clogged drains. I poured the remainder in a glass jar and then heated the bowl again to liquefy the contents before scraping the edges into the trash.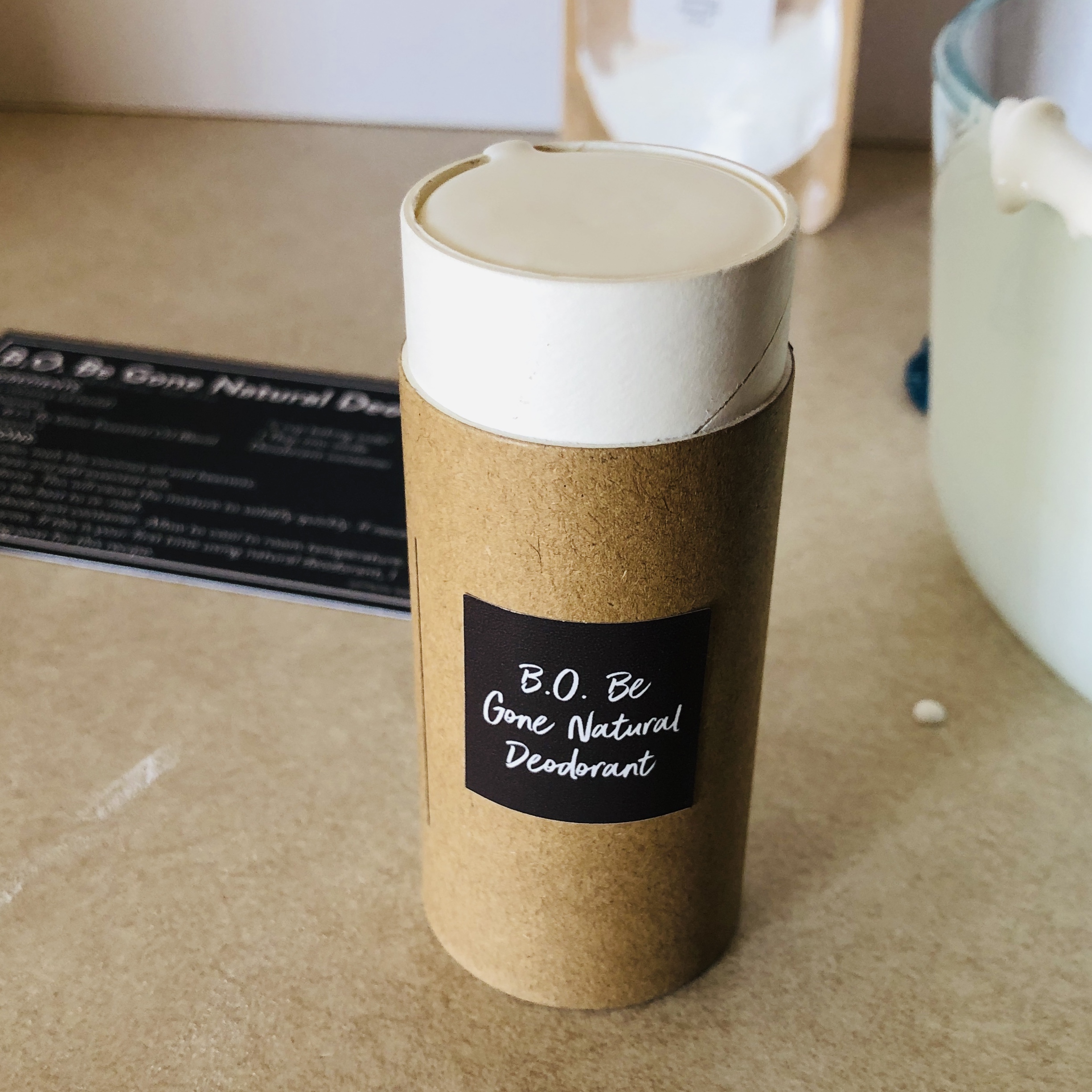 I was wholly impressed at the fact that I made my own deodorant! I asked my daughter to smell it and she said it smells like Whole Foods.
This is the type of applicator that you push up from the bottom. I plan on applying the leftover product with my fingers but it would need to melt a bit in the hands before being rubbed on.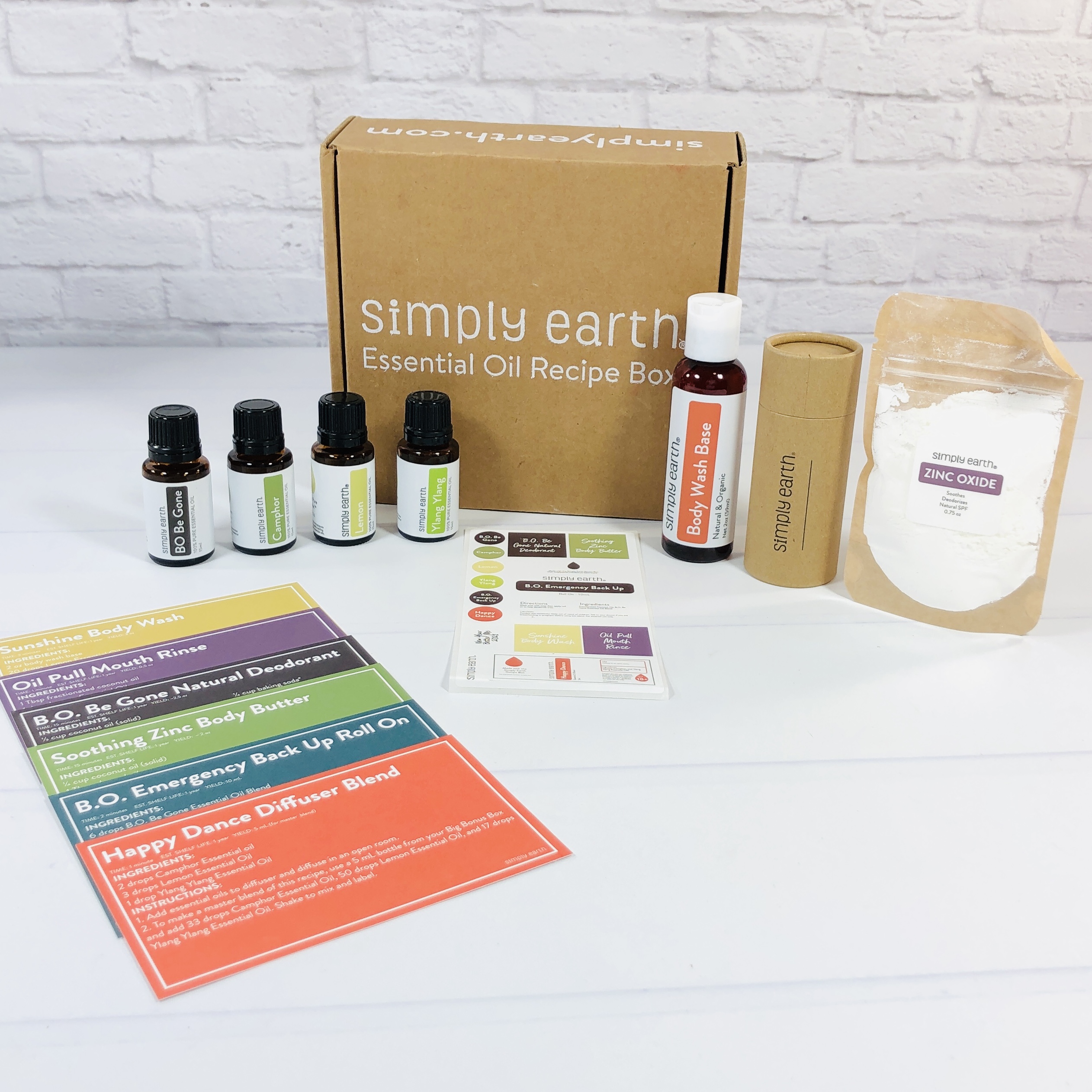 I don't know, this might be my most favorite Simply Earth Box of all! I had such a proud feeling of accomplishment after making those ridiculously easy body care recipes. Natural deodorant – bam, looks professional! Body wash – yes, smells just like the one I bought in England all those years ago that started my love for ylang ylang! Soothing body butter – whoopie, I made my own natural skin soother! I am considering starting a cottage industry in my kitchen but probably won't but then again maybe. The only recipes I didn't make were the backup deodorant because I don't think I would use that (I have forgotten deodorant maybe twice in the last 5 years) and the oil pulling because I have a strong gag reflex and lack of patience. If you try the oil pulling, make sure to spit out the oil into the garbage and not into the sink because the oil might solidify and clog your drains. If you want to feel a sense of accomplishment by making your own beauty and home cleaning products then I urge you to give Simply Earth a chance because they make it so easy and they even have those helpful videos which crack me up every time.
What do you think of the Simply Earth box?