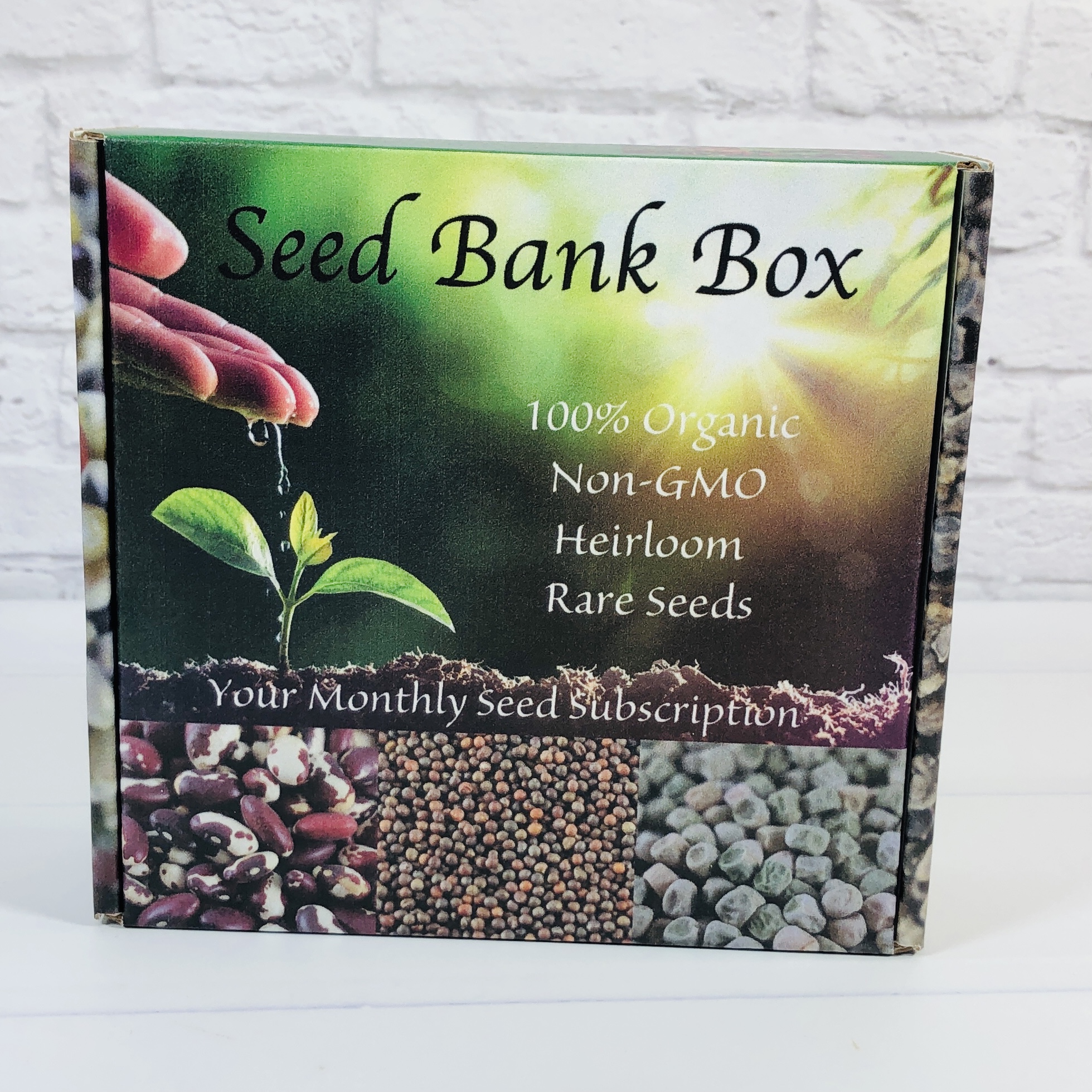 Seed Bank Box is a monthly subscription box for the urban gardener. They send boxes of organic, non-GMO, heirloom, and sometimes rare seeds for you to plant in your vegetable garden every month. Seed Bank Box is $21.95 a month and drops a bit with longer subscription terms.
Our Seed Curator will be choosing amazing seeds to put in the boxes every month.  Everything from root vegetables, vining vegetables, fruit plants, leafy greens, edible flowers, rare heirloom varieties, even medicines, the possibilities are endless. All of our seeds are for edible gardens. Expect 8 to 10 varieties of seeds every month.
I have a 4×4 raised plot in my suburban backyard and was excited to receive some new seeds. If you have tried to garden since the beginning of Covid, then you might be aware that finding seeds is not easy and they have been in high demand. I tried planting older seeds that I saved from previous years and the bunnies ate everything but now I'm back with chicken wire. I'm happy to have some new seeds to add to my stash!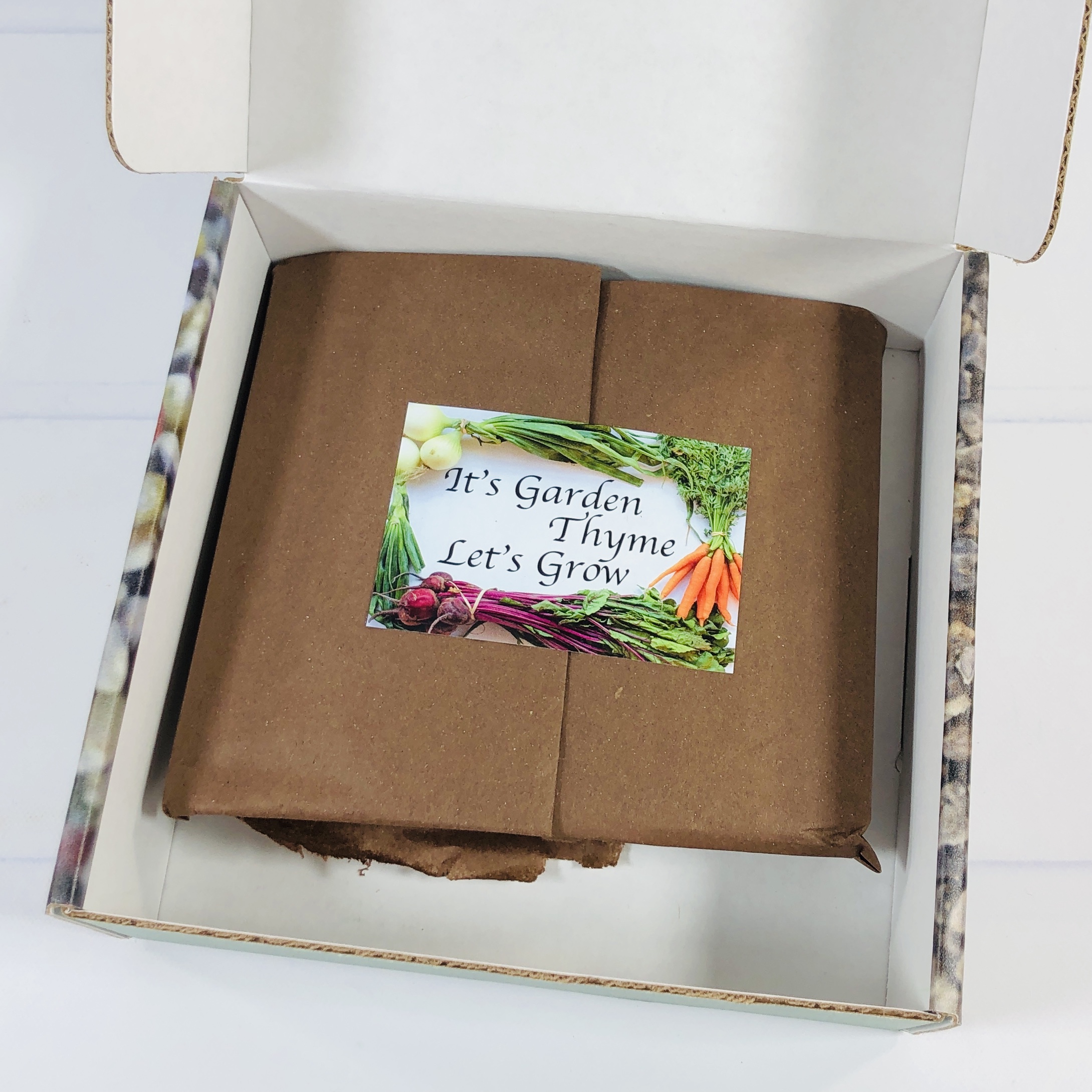 My seeds were wrapped in tissue paper and sealed with a punny sticker. Did you see how cool the outside of the box was?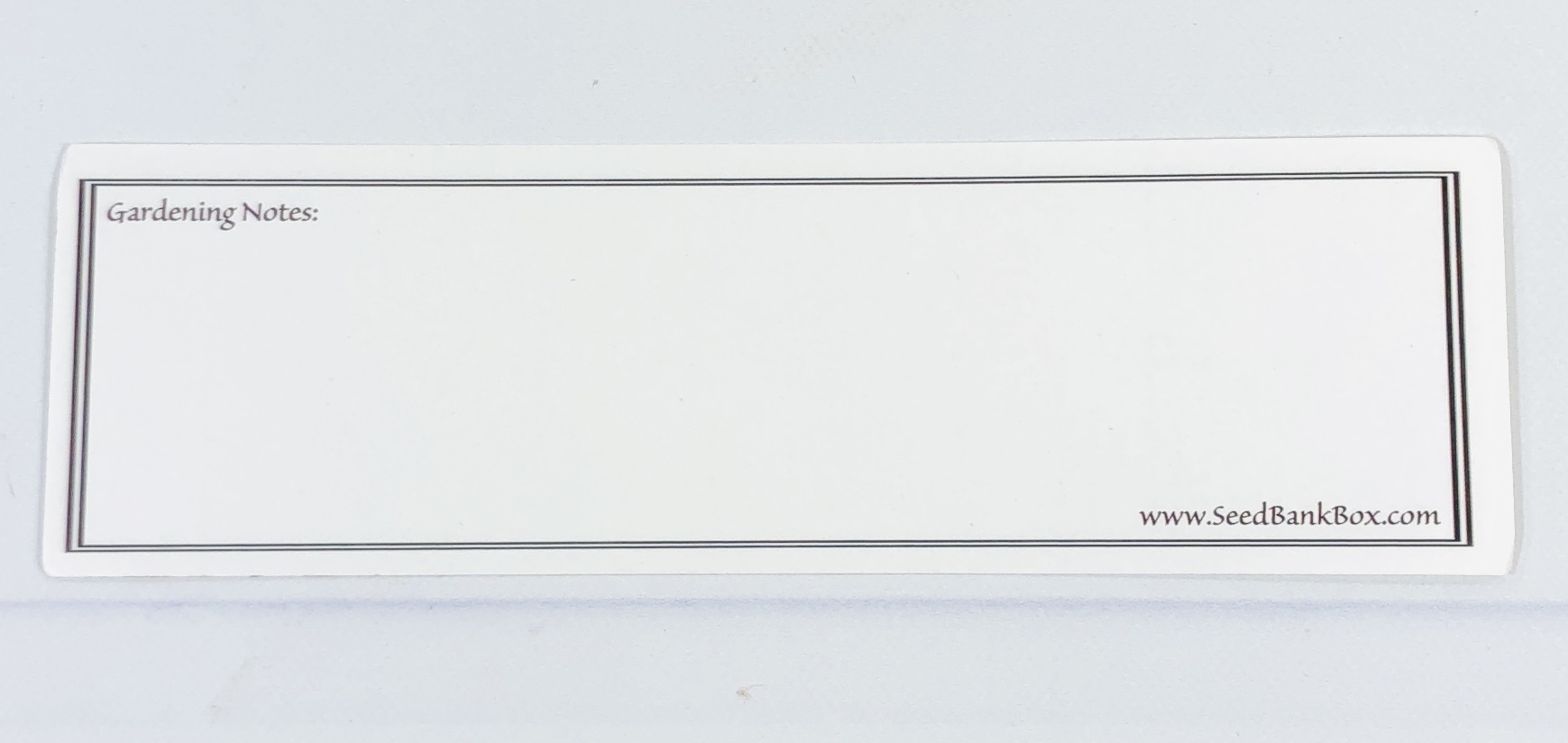 I found a sticker that has space for writing gardening notes and then it can be placed in a journal.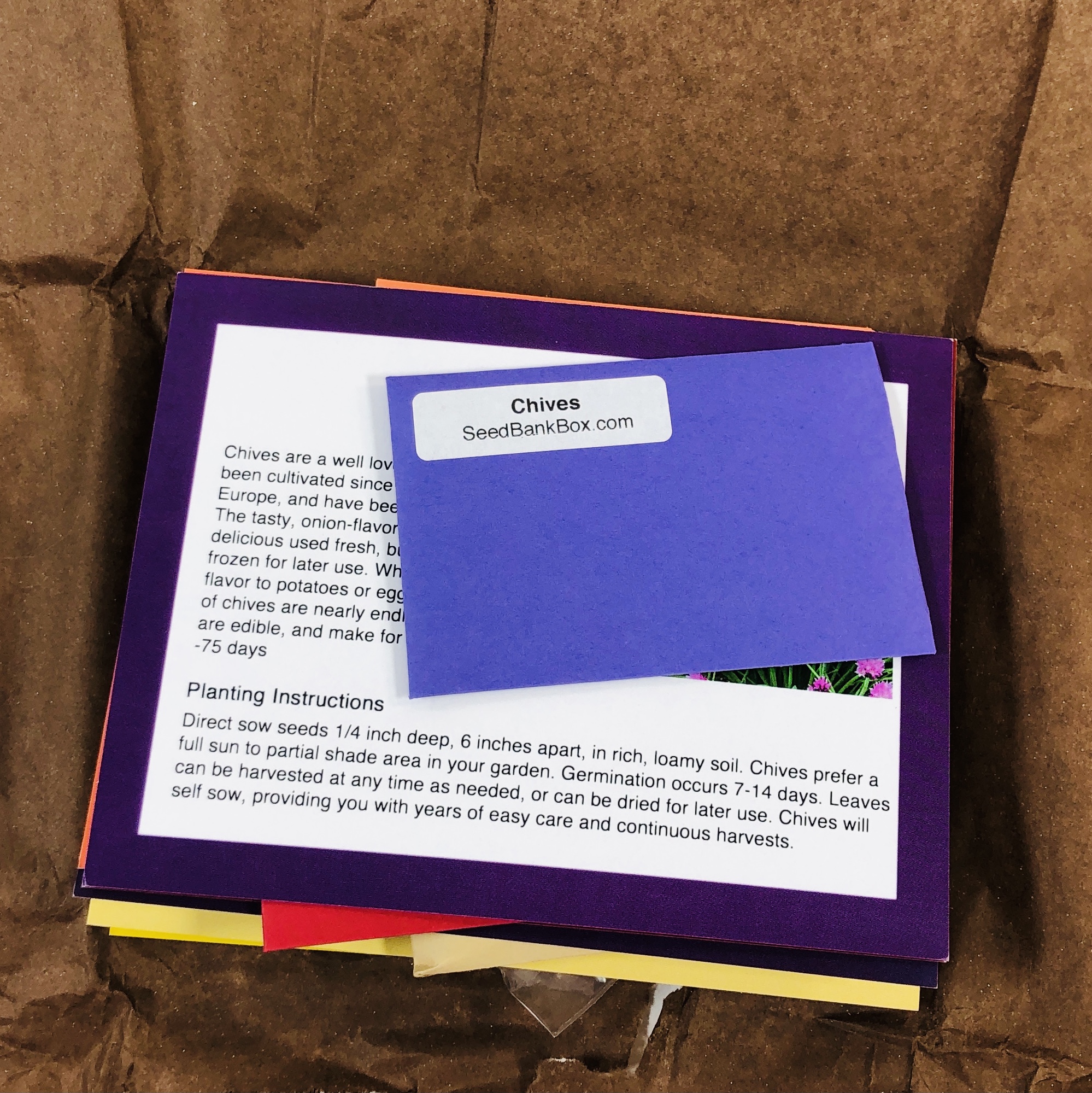 Inside I would find a card and its seeds packed together, so I had a stack of cards and seeds.
Everything in the box!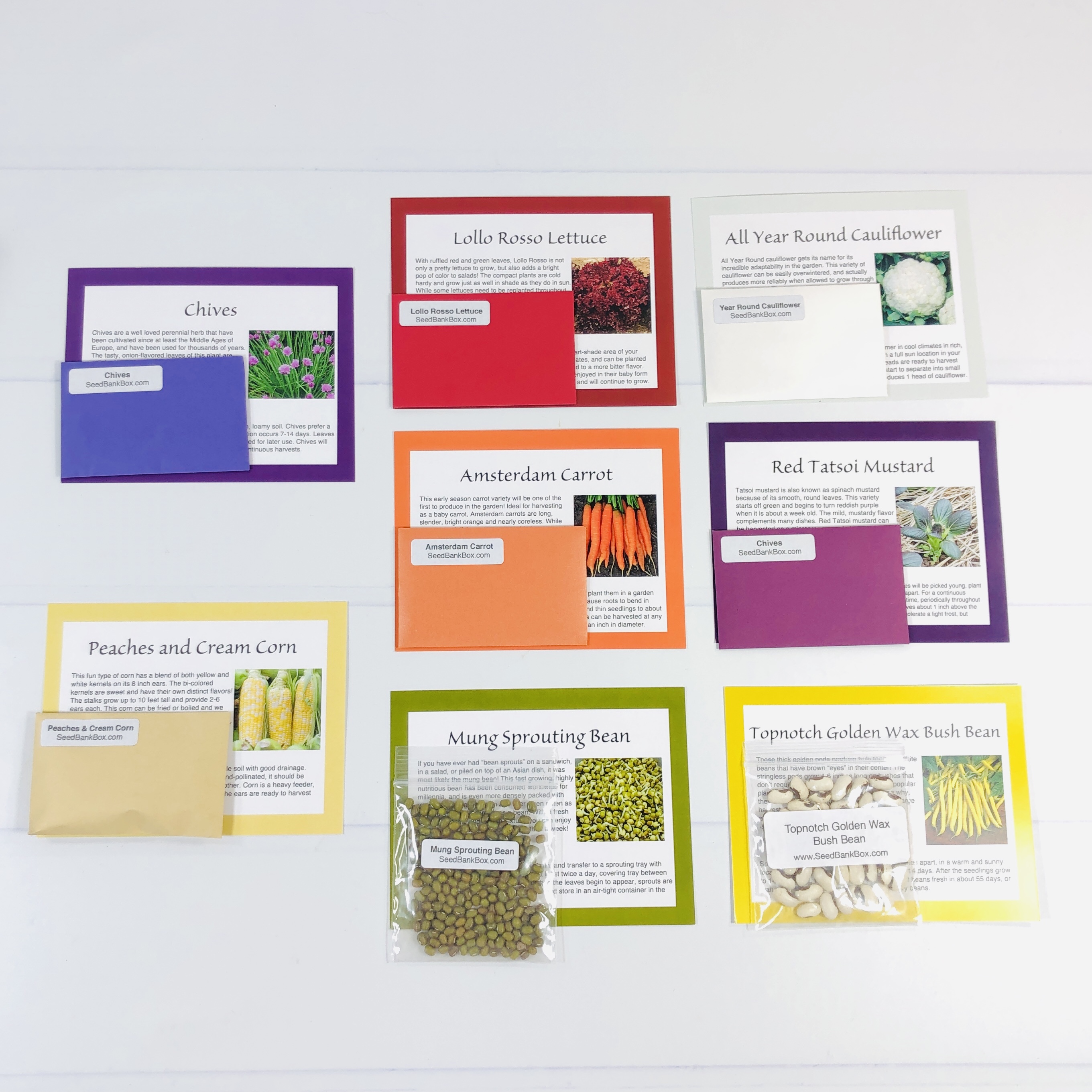 Each type of seed came with its own card with general growing instructions. The U.S. has a lot of different growing climates so please note that your results may vary depending on your local growing conditions. I use a free app called From Seed To Spoon and it tells me when to plant in my area, including indoor and outdoor dates. It even tells me how many seeds to place in a square foot, which is the method I prefer to use.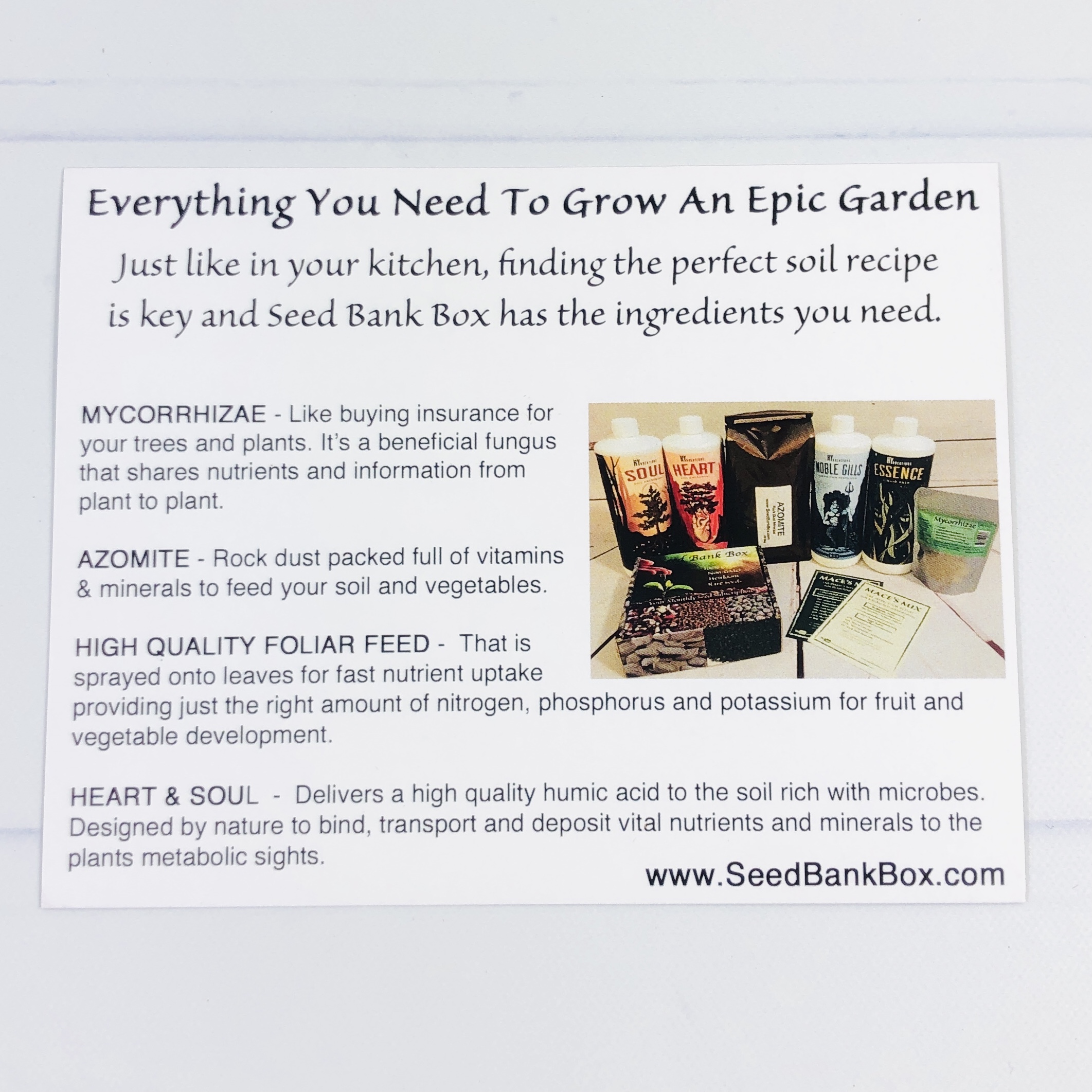 The back of each card had this info on the ingredients needed in your garden.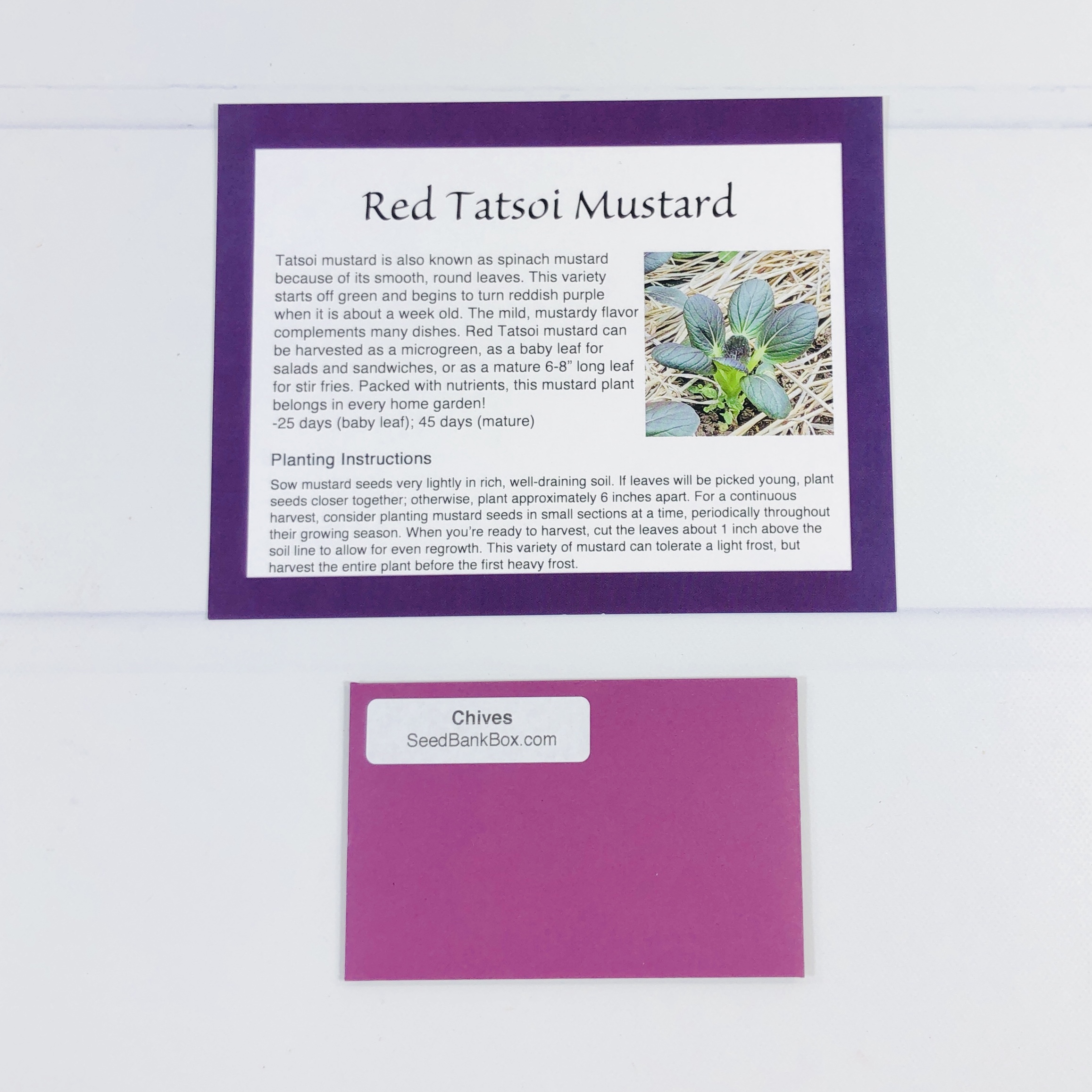 Chives My card here says Tatsoi but it looks like I received a bag of chive seeds instead. That's ok, I can always use more chives! Each card has planting instructions and a few suggestions for how to consume after harvesting.
Year Round Cauliflower I love roasted cauliflower and even eat it raw. Only one more month until I can plant it outside!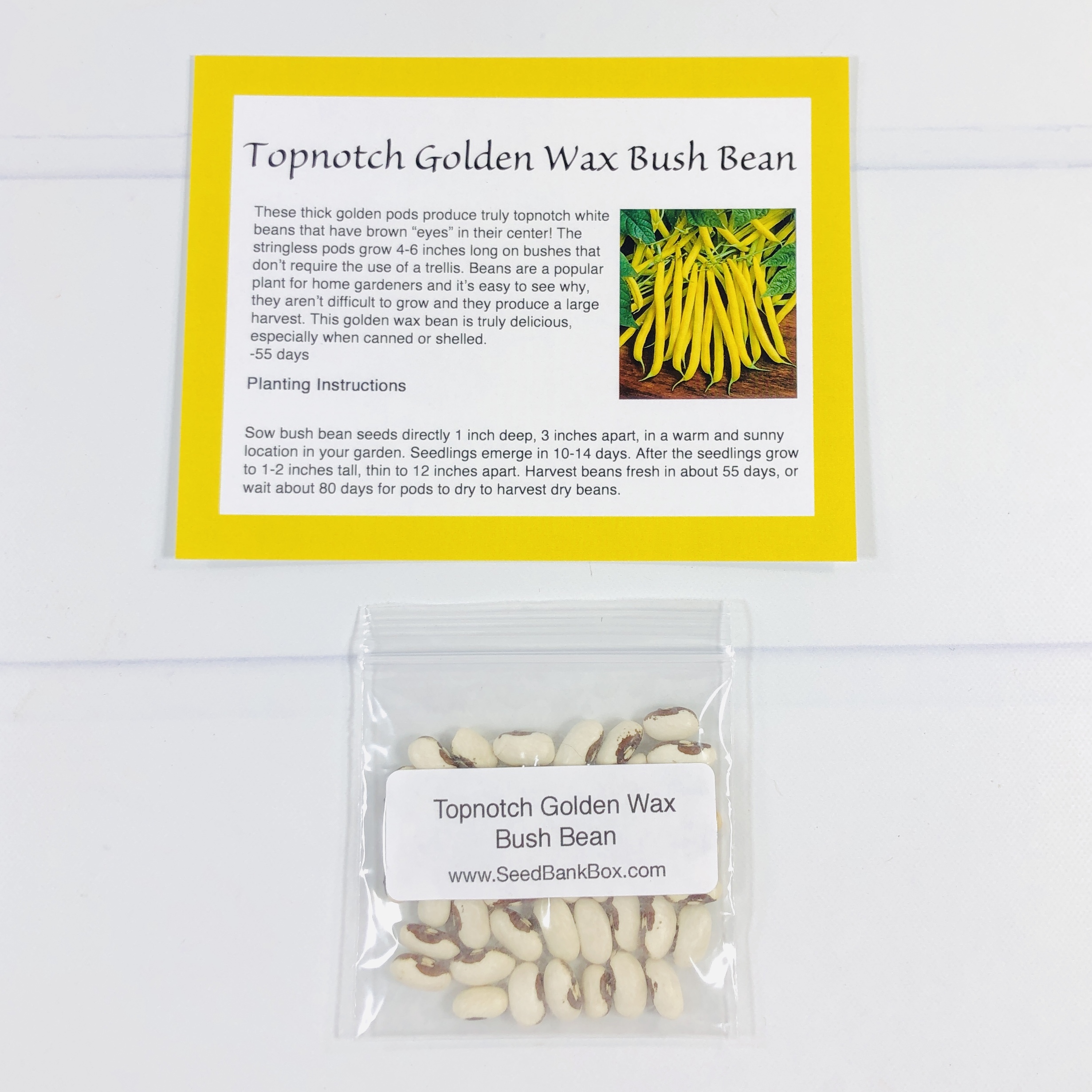 Topnotch Golden Wax Bush Bean I love to grow bush beans and check out the color on these babies!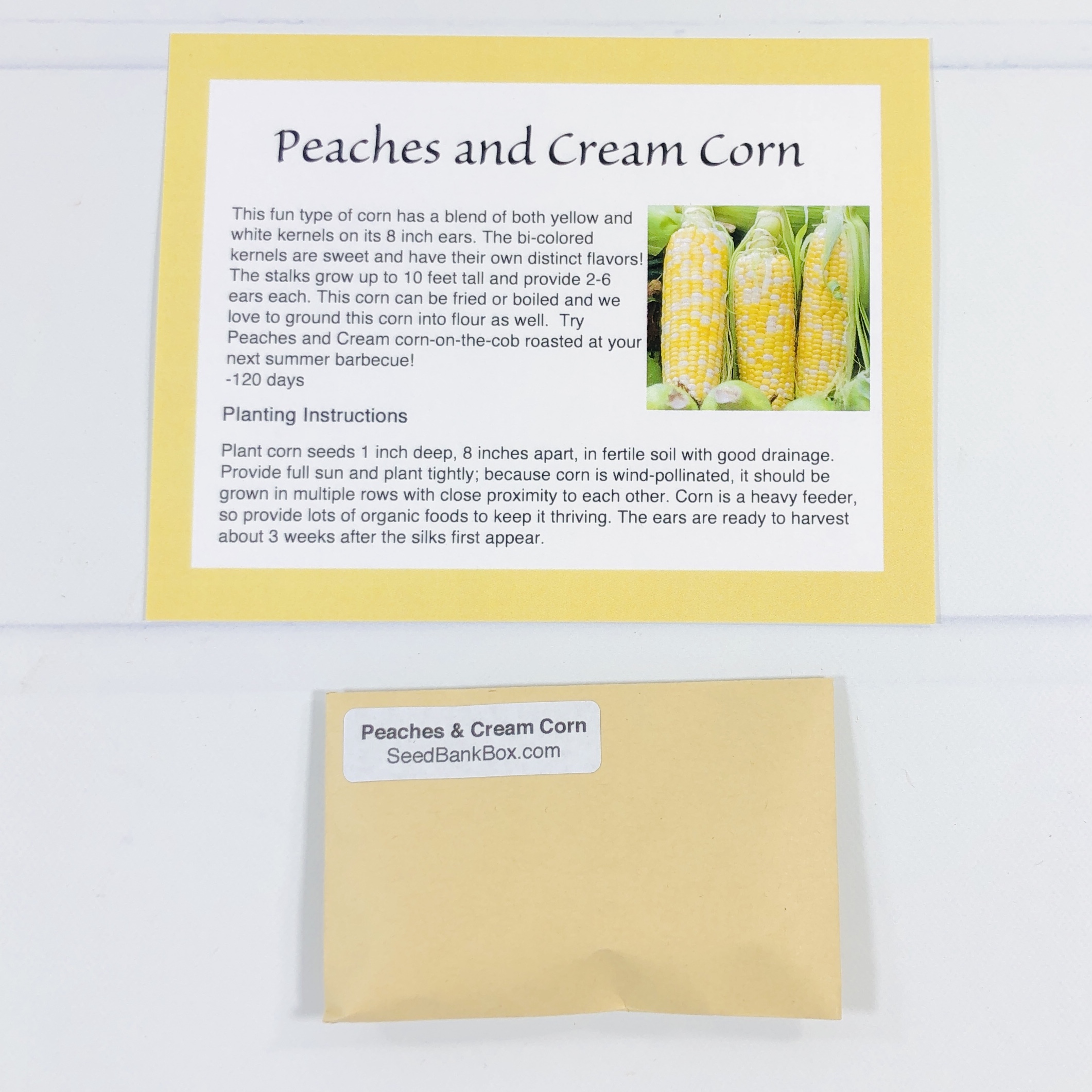 Peaches & Cream Corn The color variation on this corn type looks lovely. Corn needs several other corn plants nearby so they can pollinate each other.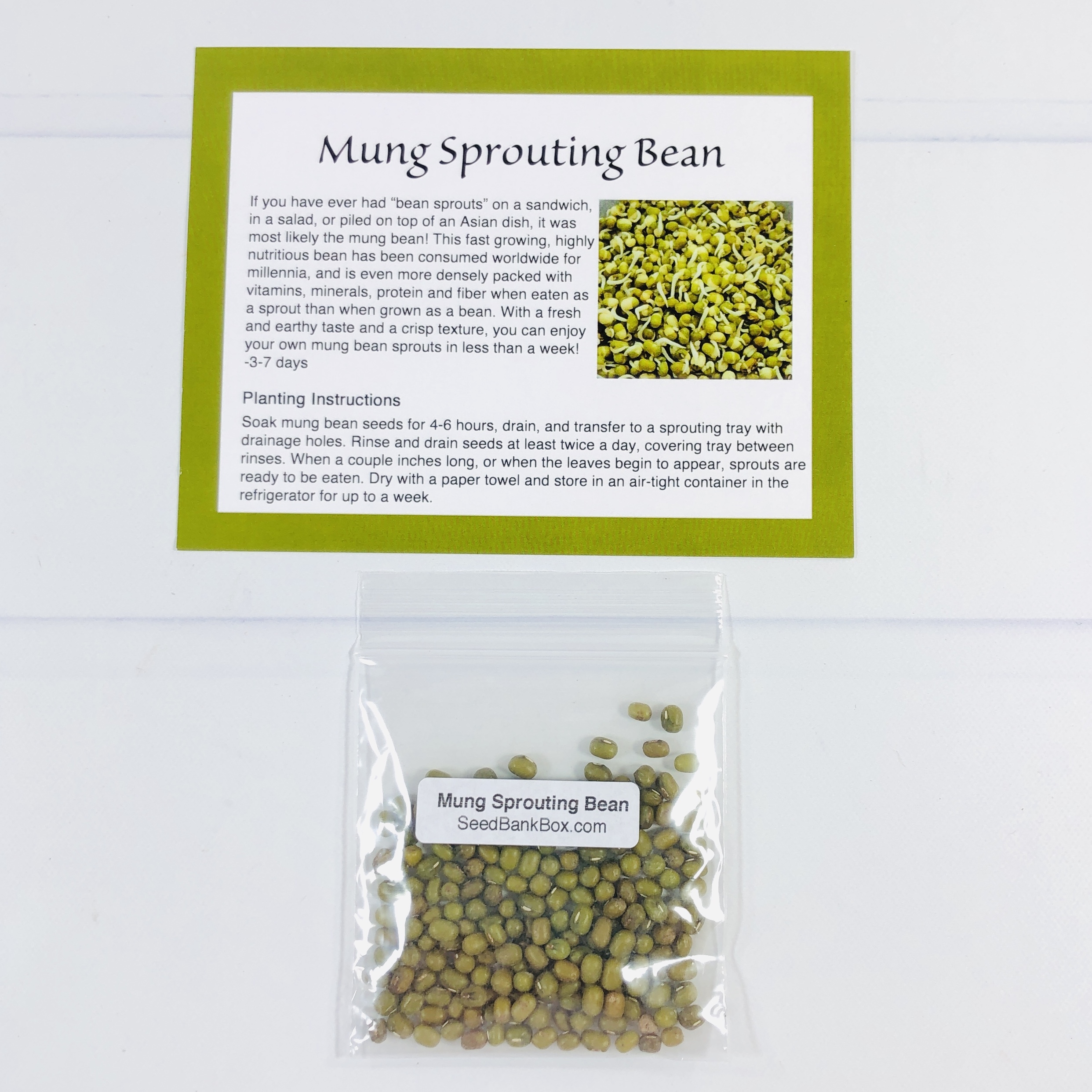 Mung Sprouting Bean These beans are meant to be sprouted rather than planted in the ground. If you have ever had Vietnamese pho then you might recognize them from the little dish that accompanies that soup. My favorite Korean restaurant serves them as a banchan side dish lightly dressed in sesame oil. My mom grows sprouts and I have been considering starting to sprout too so maybe this will give me the push to buy a sprouting tray.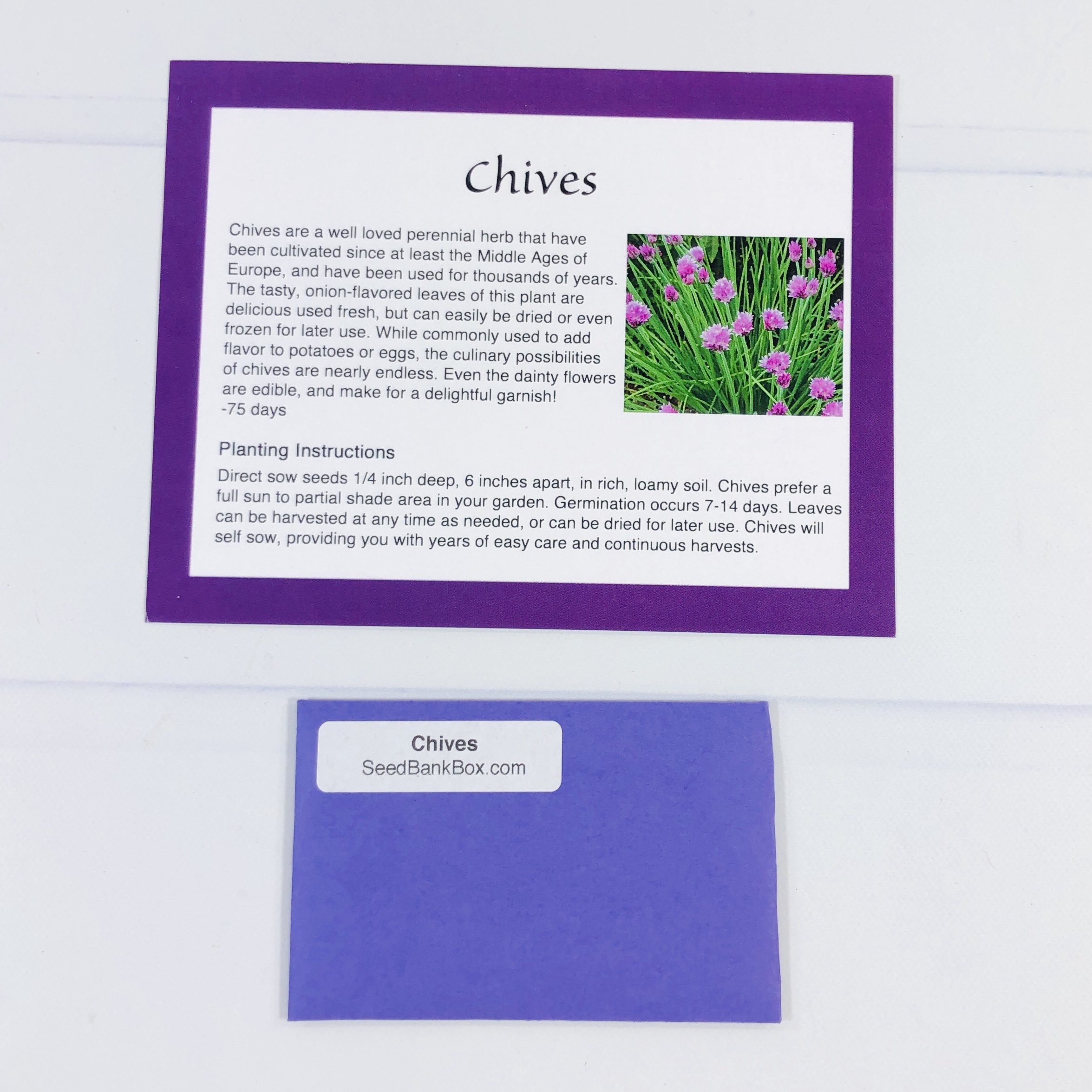 Chives Here's another bag of chive seeds but this time they are with the correct card! I usually buy and use green onions when a recipe calls for chives because they are expensive to buy at the store so wish me luck in growing them!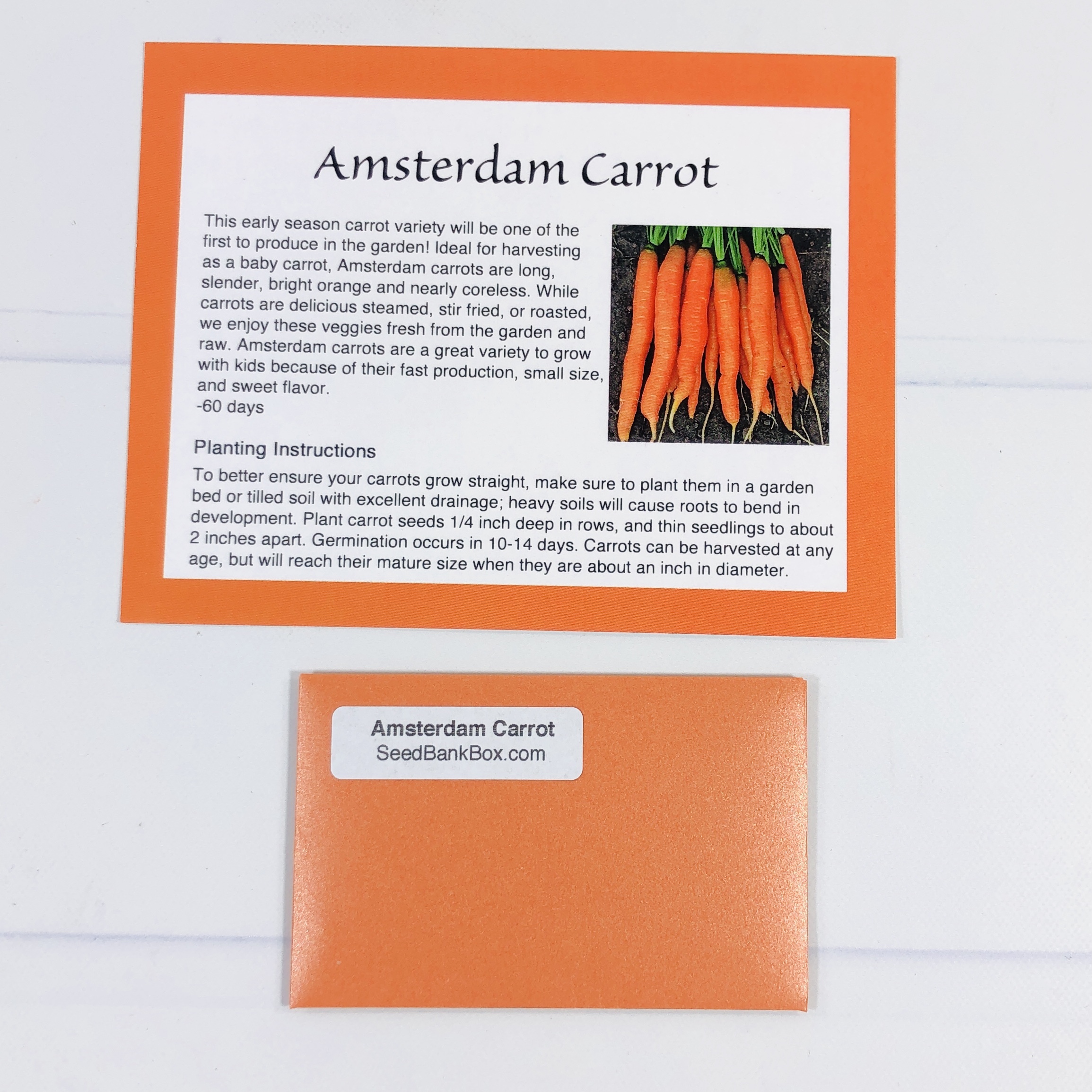 Amsterdam Carrot I had luck growing carrots one year so I hope I can repeat that success this spring!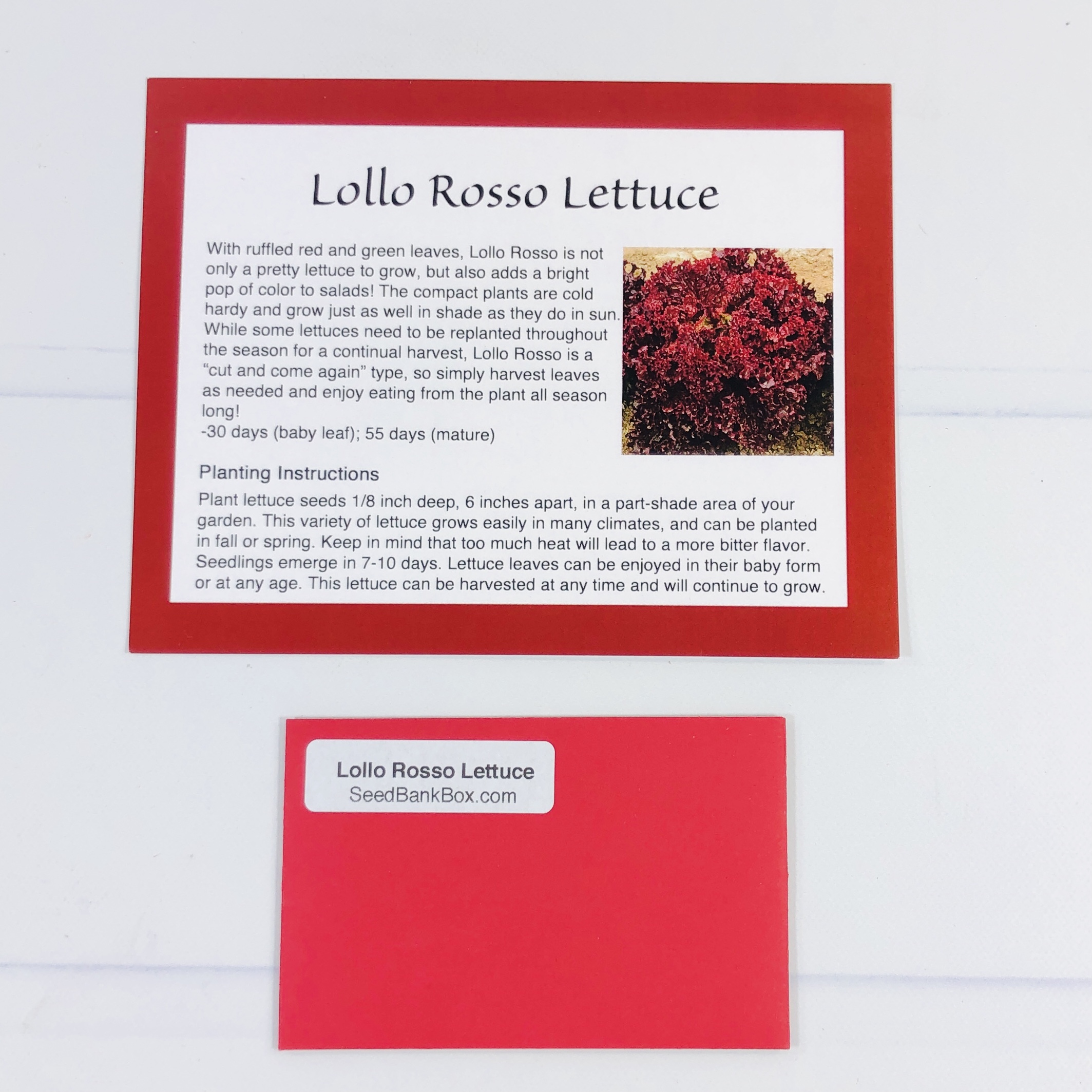 Lollo Rosso Lettuce That same year I grew carrots I also managed to grow lettuce and it was such an awesome feeling to go out to the garden and snip tender leaves to place on a sandwich or toss into a salad. I don't know why I haven't been able to replicate that amazing year I had but this spring I am determined to try again. Back then I had a dog who probably kept the bunnies away while my cats get scared and come inside whenever they see them.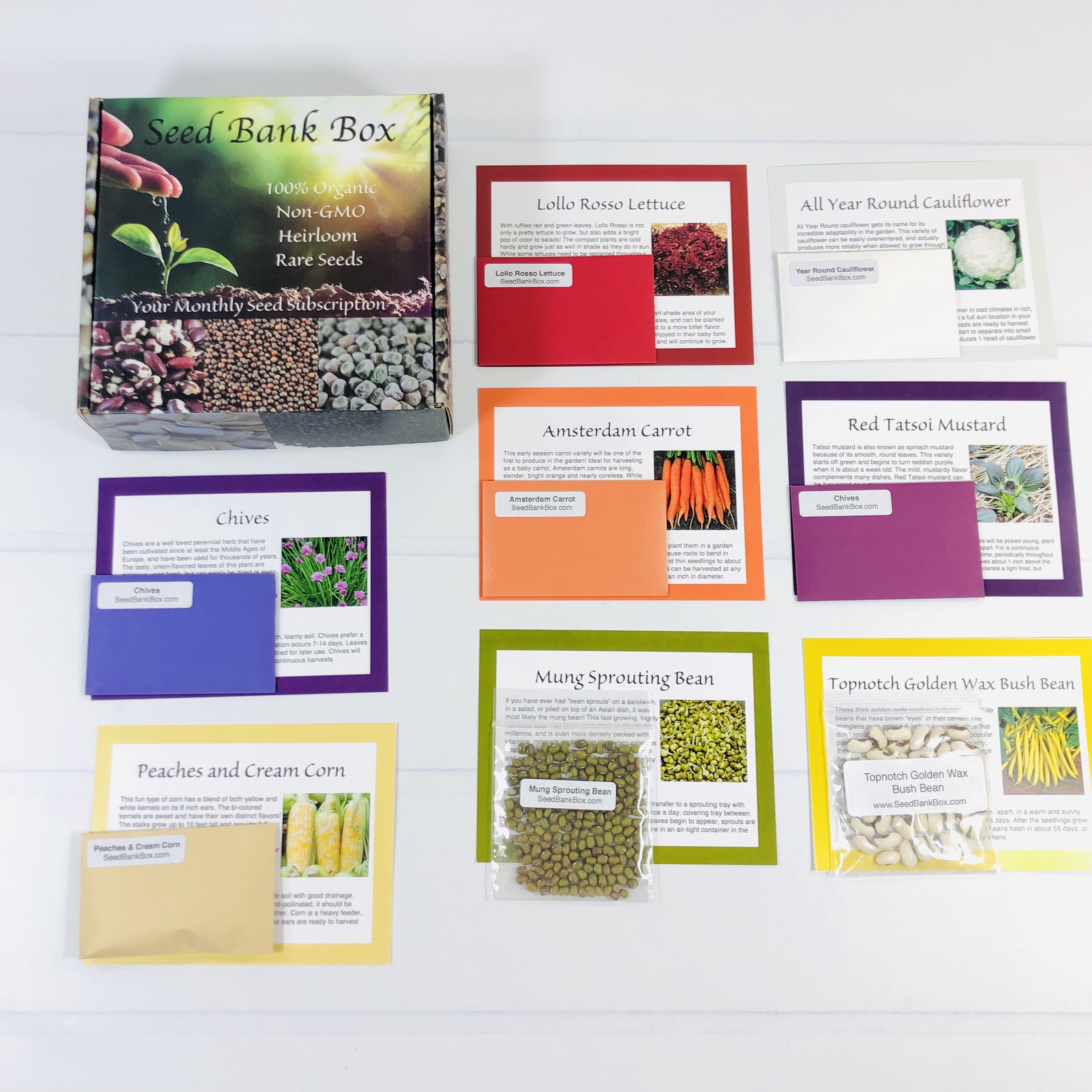 After a dismal gardening year I am now excited to try again with the seeds from my Seed Bank Box! I really did try last year and even put up a fence but discovered that bunnies can chew through plastic so we will se if they can defeat the chicken wire. So far I have some chard and arugula out there and they haven't disappeared yet so maybe this will be my year. If you are new to gardening I highly suggest using an app or a book like Square Foot Gardening to get started. Another one of my biggest problems last year was simply finding seeds so I am already ahead of the game thanks to my Seed Bank Box and plan on spreading the word to my Facebook gardening groups!
What do you think of Seed Bank Box? Let me know in the comments, and tell me which plant you'd like to grow!