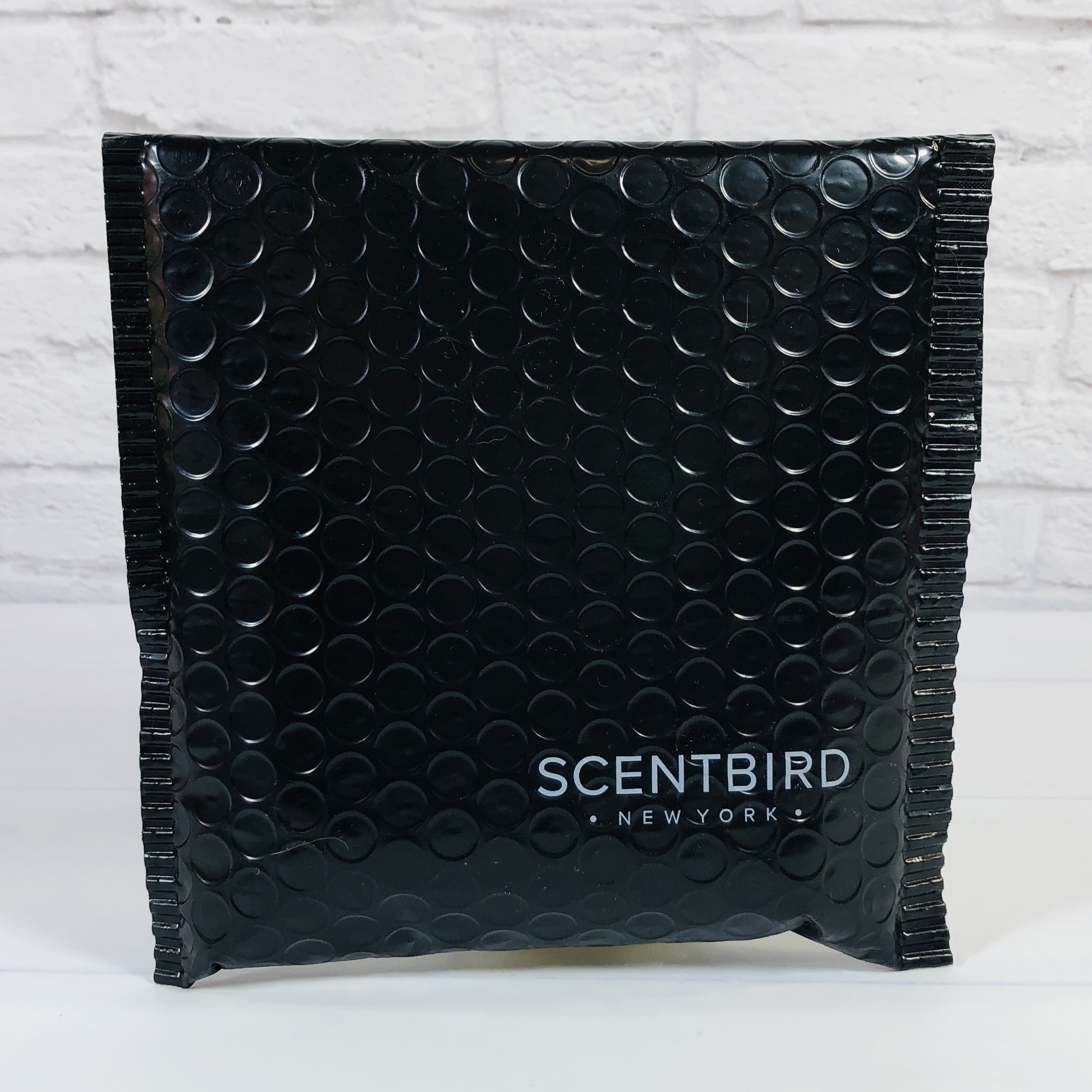 Scentbird is a monthly perfume and fragrance decanting subscription that has branched out into skincare, makeup, and even candles. With Scentbird, you get a thirty-day supply of perfume every month – Scentbird takes authentic perfumes and decants them into travel sprayers. There are over 450 fragrances to choose from and Scentbird adds new ones every month! You can save when you purchase a multi-month subscription, or even arrange to receive perfume every other month. Keep in mind that some fragrances and other items may have an upcharge of up to $15 in addition to the subscription cost. 
Scentbird is about the fun and magic of fragrance. We designed Scentbird for the pickiest girl- or boy- to let you date luxury perfumes before marrying them.
When you sign up, you can fill out a quiz so Scentbird can provide you with some suggestions. There are only 5 questions and you can take the quiz as often as you like. You can place both men's and women's scents in your queue too and of course there are lots of unisex scents available. You can also fill the queue with whichever fragrances you prefer and keep in mind that if your queue is empty, you will receive the Fragrance of the Month. The Perfume of the Month for February is Skylar Vanilla Sky:
A scent created to envelop your senses and enrich your heart and soul. Vanilla Sky is a decadent gourmand fragrance with rich warm vanilla notes and hints of cappuccino using the breakthrough "Smell The Taste" technology. This technology translates the true taste of cappuccino to our sense of smell and creates meaningful, emotional connections to the fragrance.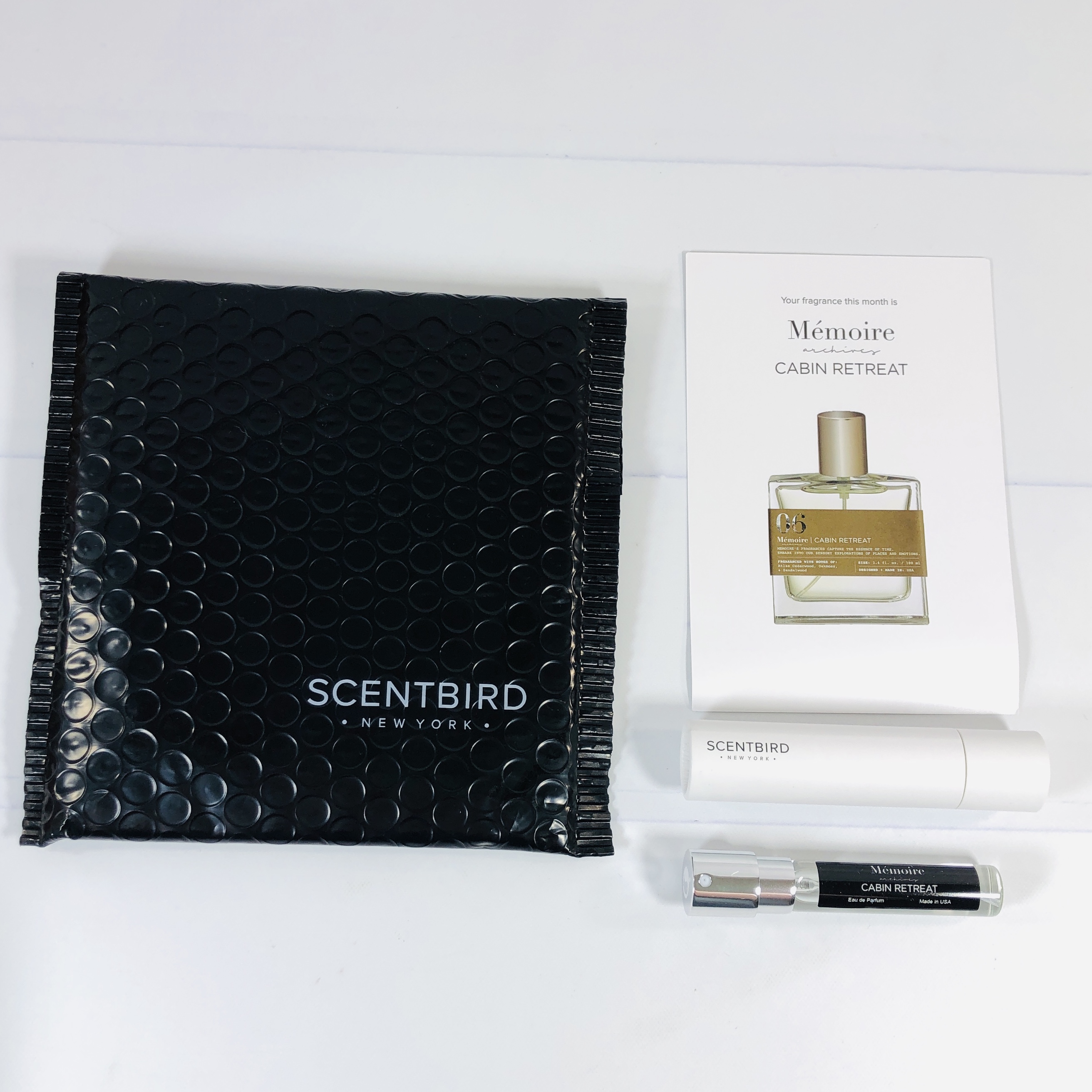 Everything in my box!
I received a card with my chosen scent for the month. It's from a brand with only 6 scents in their repertoire and this is #6.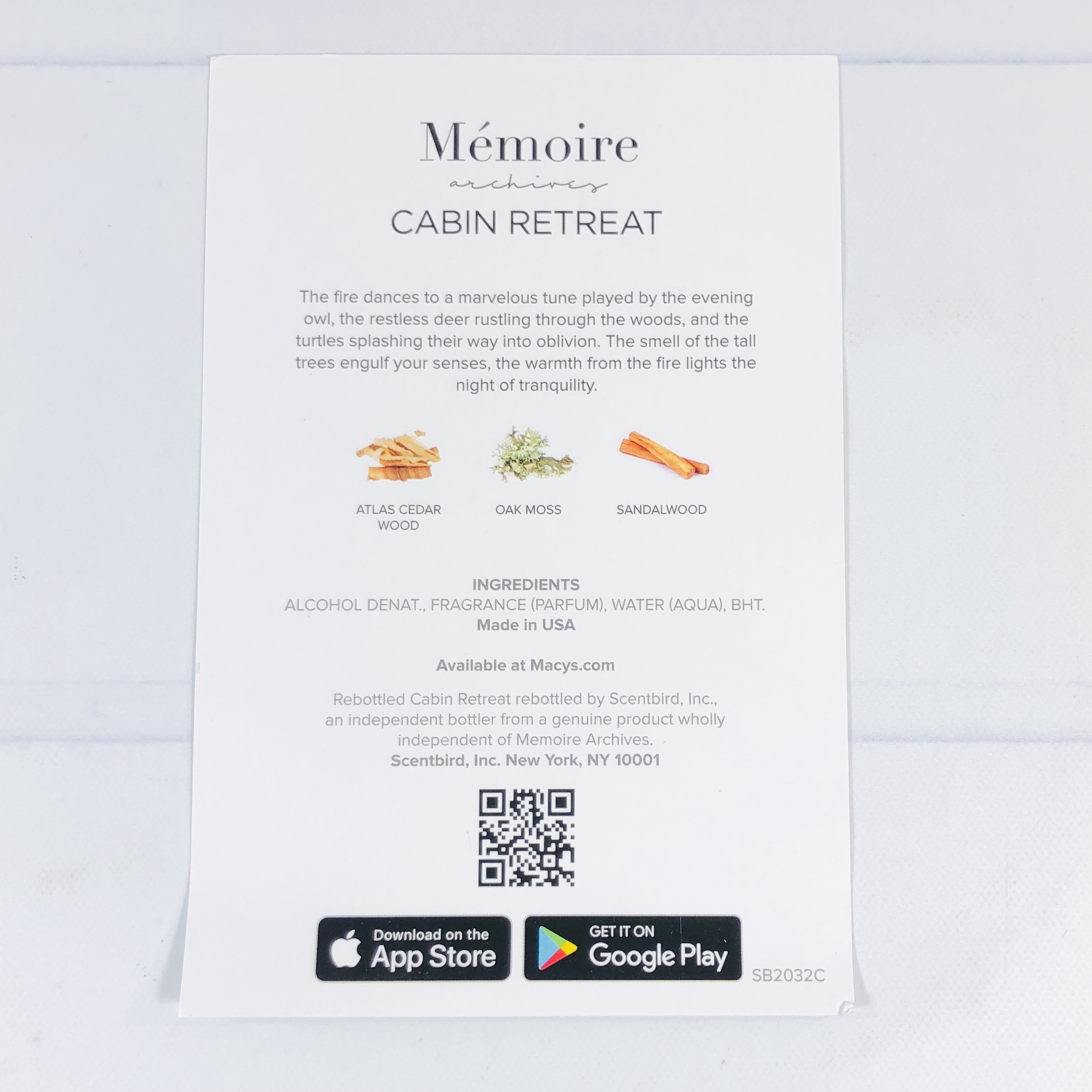 A description, scent notes, and ingredients were shown on the back.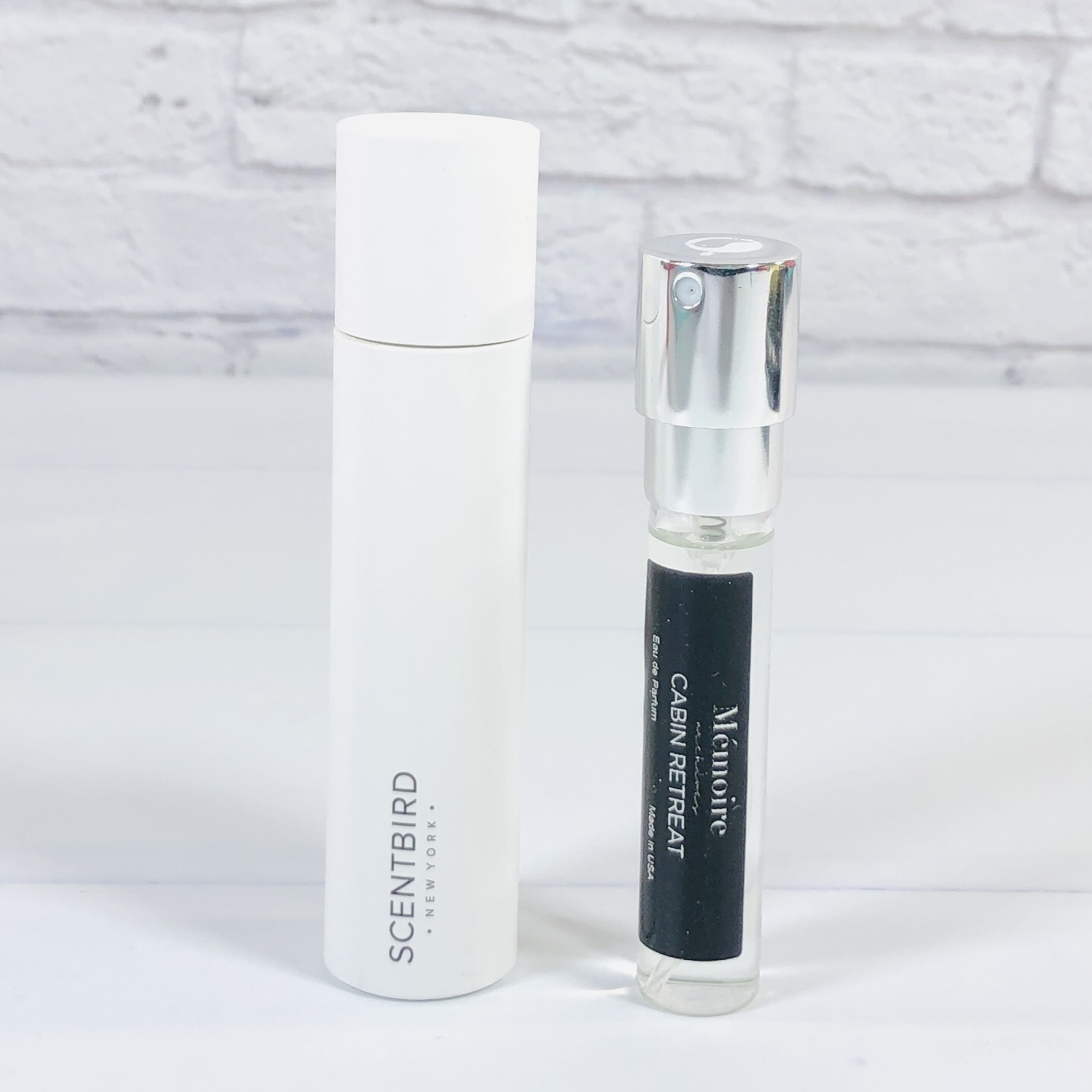 Mémoire Archives Cabin Retreat ($60 for 100ml) I chose a new-to-me brand that seems to be available only at the brand's website, Macys.com, and Scentbird. It is a fougere which means "fern" and fragrances from that family usually smell clean and green. The scent notes here are cedarwood, oakmoss, and sandalwood and I was expecting something cozy based on the name and notes.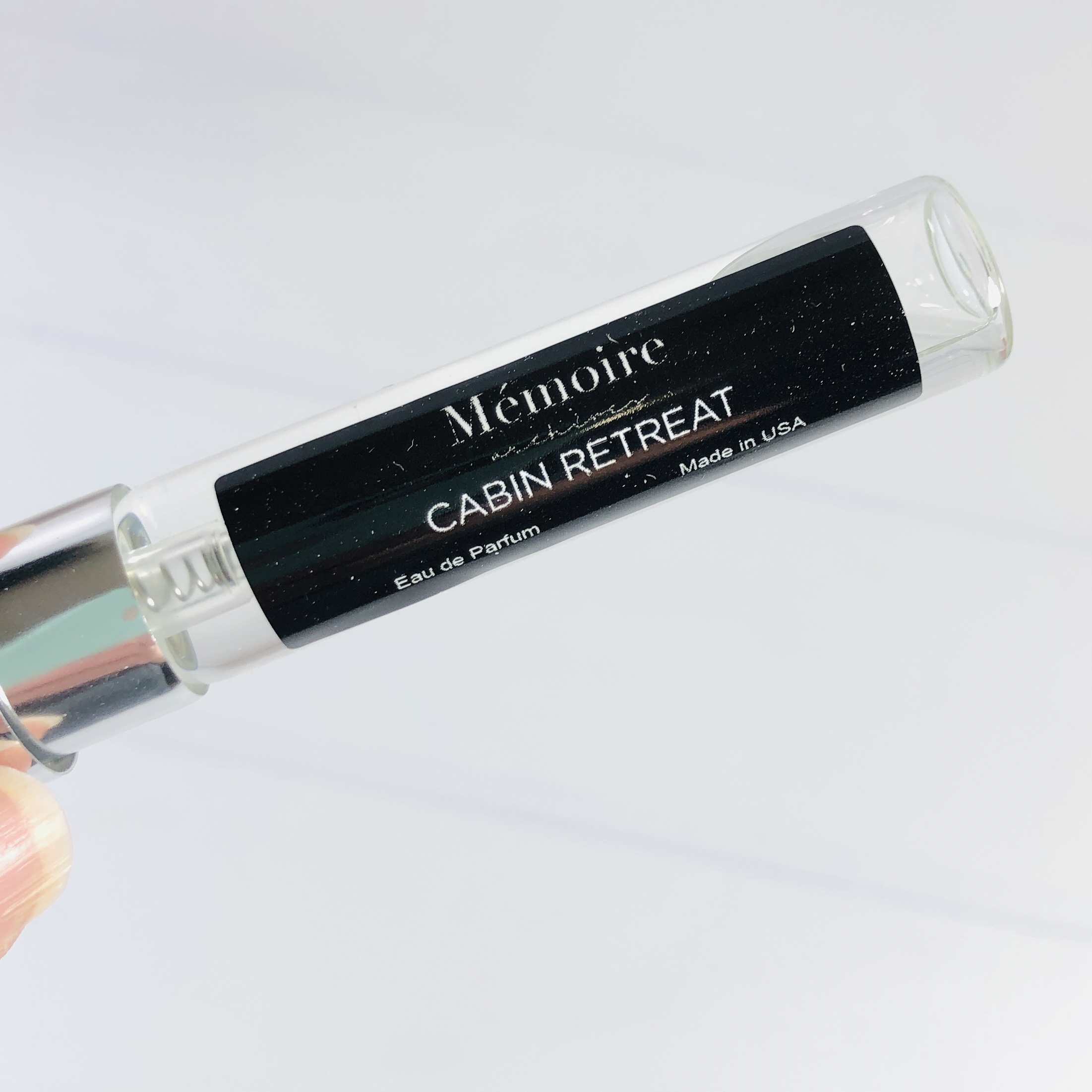 It is a unisex scent that I think falls just over the line into masculine, although I don't think anyone would think I was wearing aftershave, although that is the whiff I get at first spritz. Those sharp top notes quickly fade and I am left with a mossy type of scent and while this isn't cabin in the woods with a burning fire inside it is more like a fresh, uplifting sniff of greenery as the earth wakes up after winter's nap. It smells more clean than dirty, but like maybe you slept outside in a sleeping bag than inside next to the fireplace.
Most users rated this scent as woody and I have to agree, as the other descriptors just don't work here. Scentbirdies thought it was perfect for fall and everyday wear.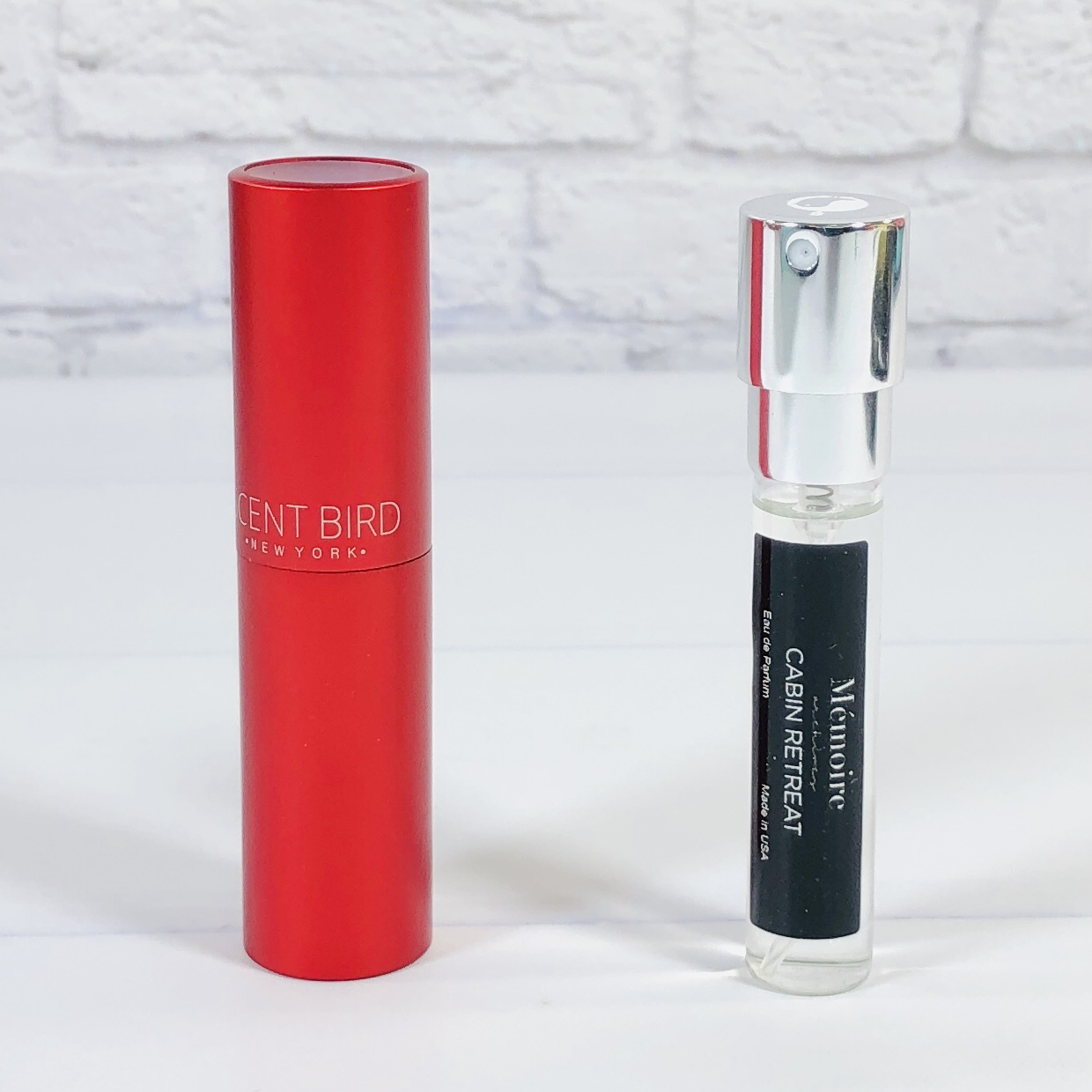 Your first shipment will include a holder for your scent, but you can order other colors to have on hand. I believe the basic case is a pearlized white color for women, black for men, and at some point I received this snazzy little red number.
Just place your vial inside, then twist while pushing down until the nozzle is hidden from view. You just twist it back up to expose the sprayer. There is enough scent (8ml, or 0.27 ounces) to last for a month if you apply a couple times a day.
I was excited to try something different in my January Scentbird shipment! I liked the sound of the notes and it turned out to be a wonderful scent for me, I like the gentle whiff I pick up throughout the day. It isn't too strong (except for that initial blast) and it fades quickly into a skin scent. I love wearing different fragrances throughout the month and year, and Scentbird helps me do that at a reasonable price, since I can't afford to buy full sized bottles all the time. Of course, when I find a winner I can feel confidant purchasing something I already love. I have also added a couple of the other offerings from this brand to my queue to try in the future!
What's in your Scentbird queue? Let me know what scent you're wearing now in the comments!