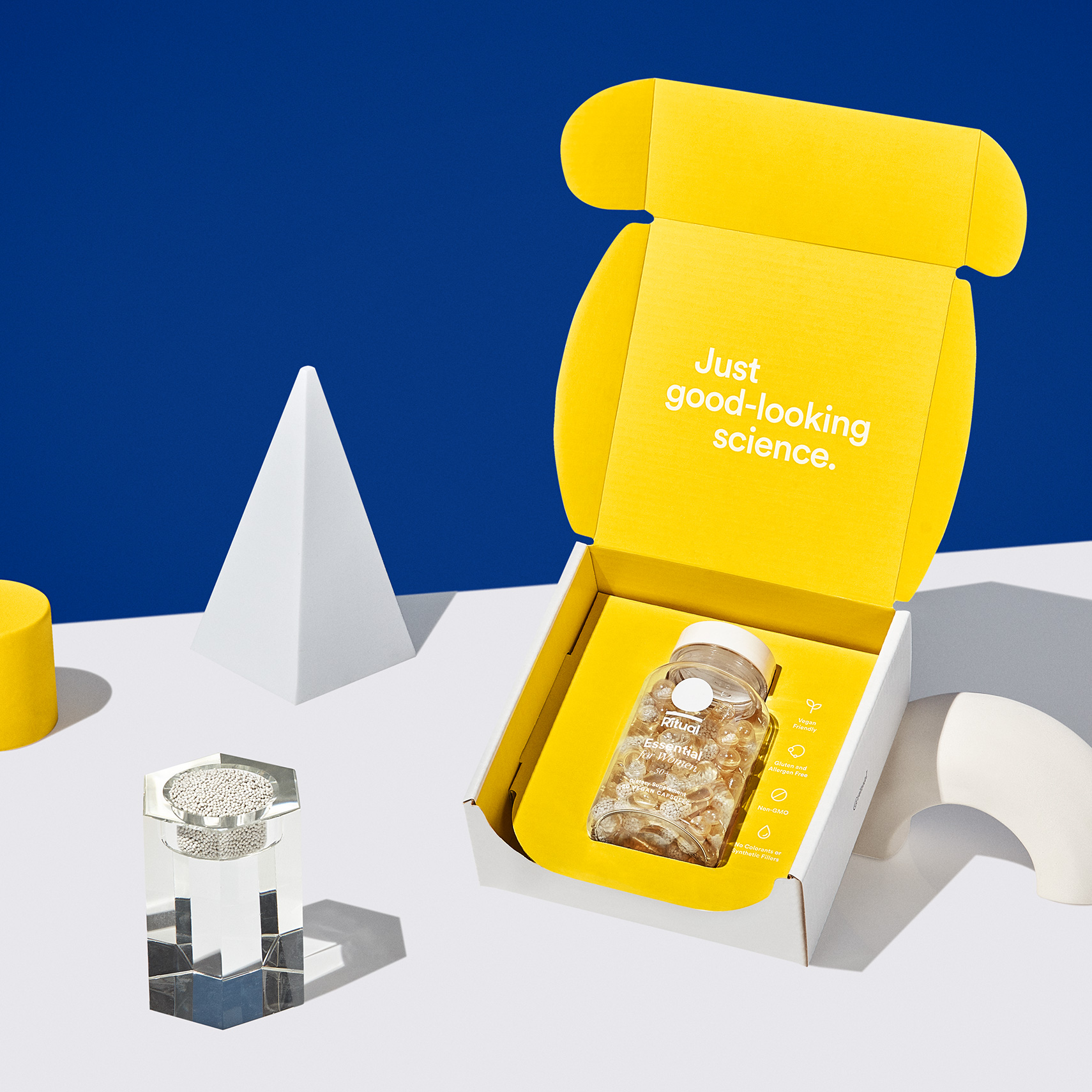 Ritual Vitamins has a great sale to try out this simple vegan vitamin!
Save $10 on your first month when you bundle any 2+ Ritual products! Deal applies automatically, just use this link to subscribe – no coupon code needed.
Ritual Vitamins delivers an obsessively researched vitamin directly to your door. It has 60 capsules per bottle and costs $30-35 per month. They believe in simplicity, traceability, and ingredients that work best in the body. Essential for Women was expertly developed to be the only daily vitamin you need. The vitamins are vegan-certified and 100% cruelty-free!
Ritual also offers Kids' Multivitamins for 4+, Women's Multivitamins for 18+ ($30 per month), 50+ ($35 per month), Prenatal Multivitamins ($35 per month), Essential for Men 18+ ($30 per month), the Essential for Men 50+ ($35 per month), the Essential Teens for Girls ($30 per month) and Essential for Teens for Boys ($30 per month)!  Plus, the BRAND NEW Essential Protein 18+, Essential Protein Pregnancy & Postpartum, and Essential Protein 50+ ($40 per month)!
Here's how Ritual works:
It's your Ritual: we'll send you an email each month, a few days before we charge you and ship your next bottle. You're free to rush or delay an order, or cancel your subscription, at any time, right from your account page. You're in control.
Here are the benefits:
Delayed-Release Capsule Design
Vegan Friendly
Gluten and Major Allergen Free
Non-GMO
No Artificial Colorants or Synthetic Fillers
Ritual will also be donating $1 for every new Ritual subscription to Food Forward, a non-profit organization that helps fight hunger and food waste.
Ritual will be partnering with Food Forward, a nonprofit organization that fights hunger and prevents food waste by rescuing fresh surplus product and distributing 100% of it to food insecure communities across Southern California. As a company, we decided to partner with them because we believe in their mission to end nutrition inequality happening in our own backyard since we're based in Los Angeles — and because we want everyone to have access to the nutrition they need.

Through June 2021, we're donating $1 for every new Ritual subscription, which helps distribute 10 pounds of fresh, healthy product to food insecure communities across Southern California. We're committing up to $100,000 to help recover and distribute 1 million pounds of produce by June 2021.
Are you getting Ritual Vitamins?
You can see our full review of Ritual Vitamins here to find out more about this easy monthly (and healthy!) subscription box or our Ritual Men's review!