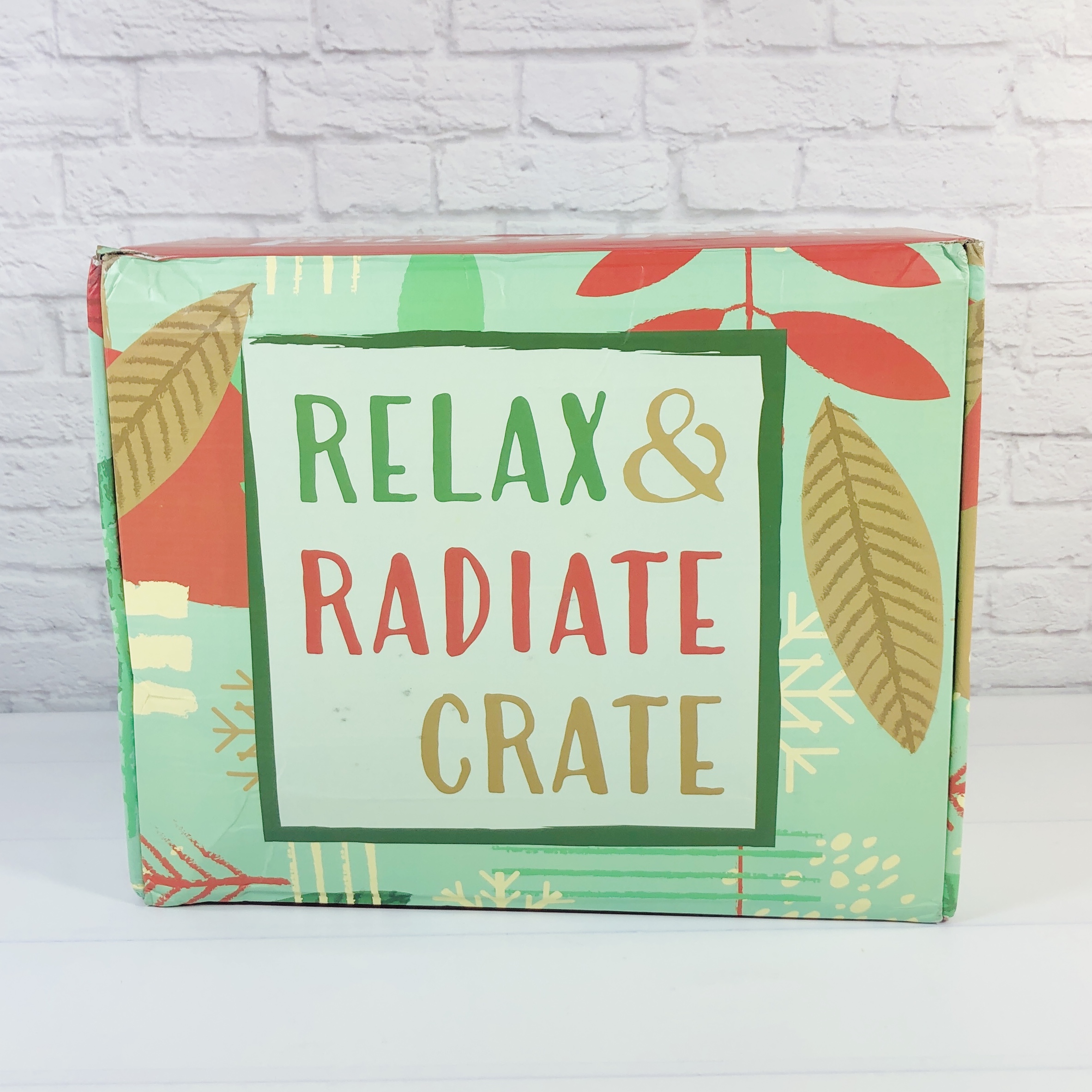 Relax & Radiate Crate is a quarterly collection of thoughtfully curated products chosen by The Girlfriend, an AARP-sponsored website especially for Gen X women over 40, and CultureFly. Each box will contain 7-12 unique and custom-designed home, beauty, and wellness items with a value of over $200. The items support mind, body, and soul.
The Relax & Radiate Crate is a quarterly subscription box filled with a collection of unique and custom-designed products selected to bring you comfort while nourishing your mind, body, and soul. Each seasonal box includes 7 to 12 items hand-picked by members of The Girlfriend team and community, averaging $200 or more in retail value. Each box also includes a copy of an all-new Girlfriend Mini-Magazine produced exclusively for Relax & Radiate Crate subscribers.

Relax & Radiate Crate subscribers also get access to an exclusive online community where you can connect with others, access special giveaways and offers, and provide input on upcoming crates.
My box was packed to the top! This season's box is sold out, but signups are coming soon for the Spring Box, which should be in homes around March.
I received a mini-magazine.
An introduction was on the first page and included a list of the items in the box. Do you remember 1985? They mentioned New Coke, and I remember nobody liked it and it quickly faded away.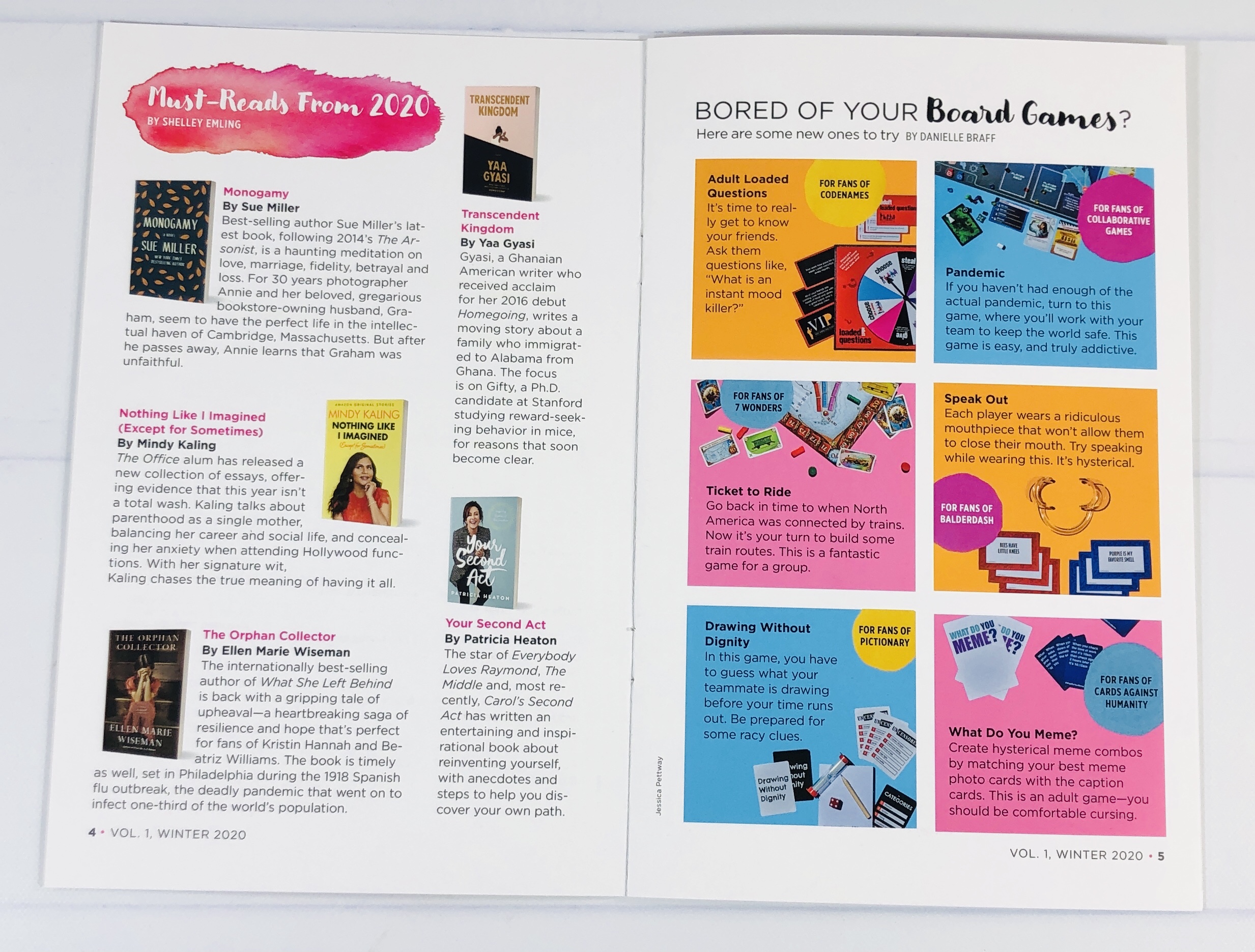 Some must-reads are here, and I can say I haven't read any of them so maybe I need to add them to my TBR list. Here are some board game suggestions too.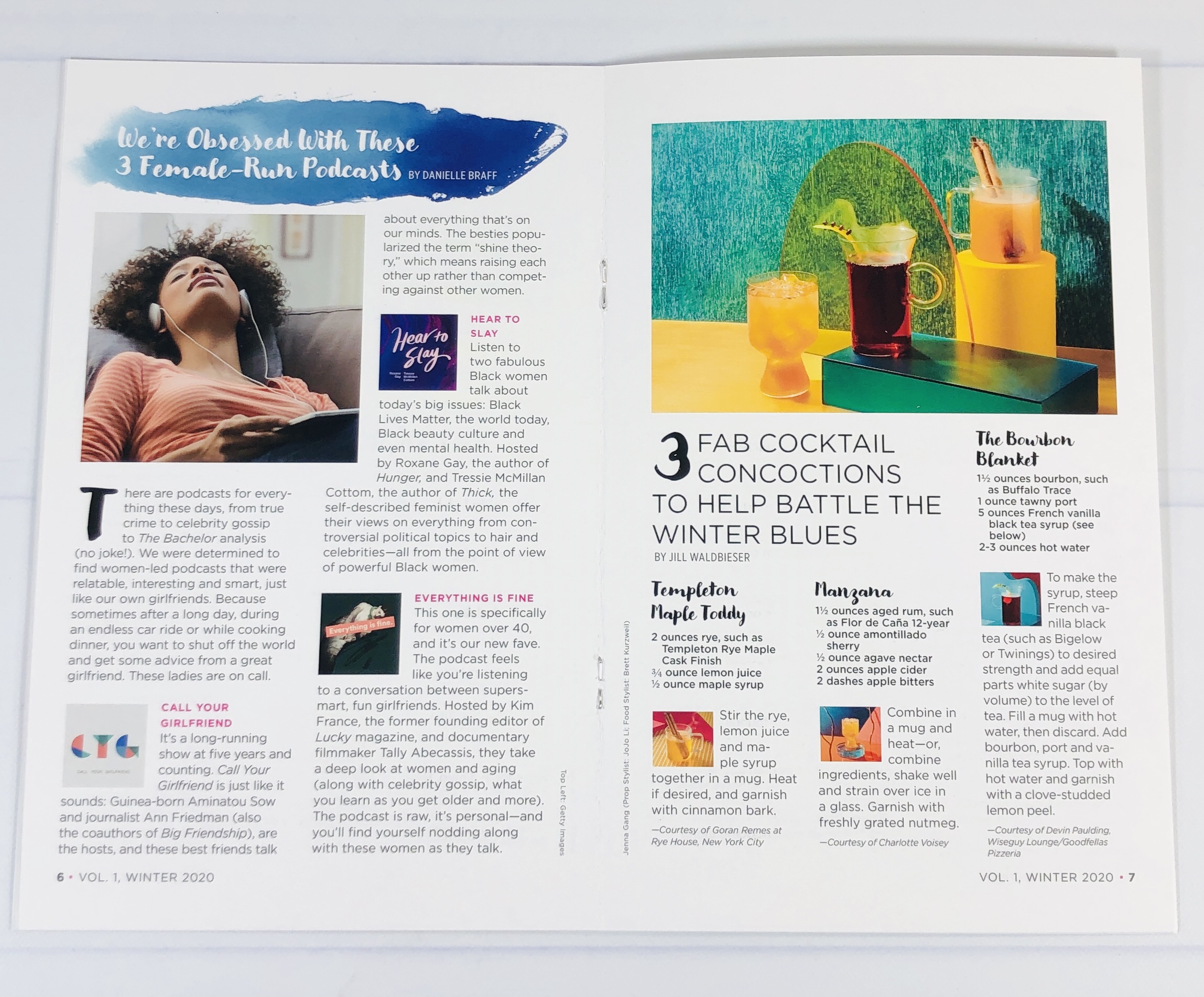 I've never listened to a podcast but they listed a few to get me started. There were some recipes for mixed drinks that sound tasty.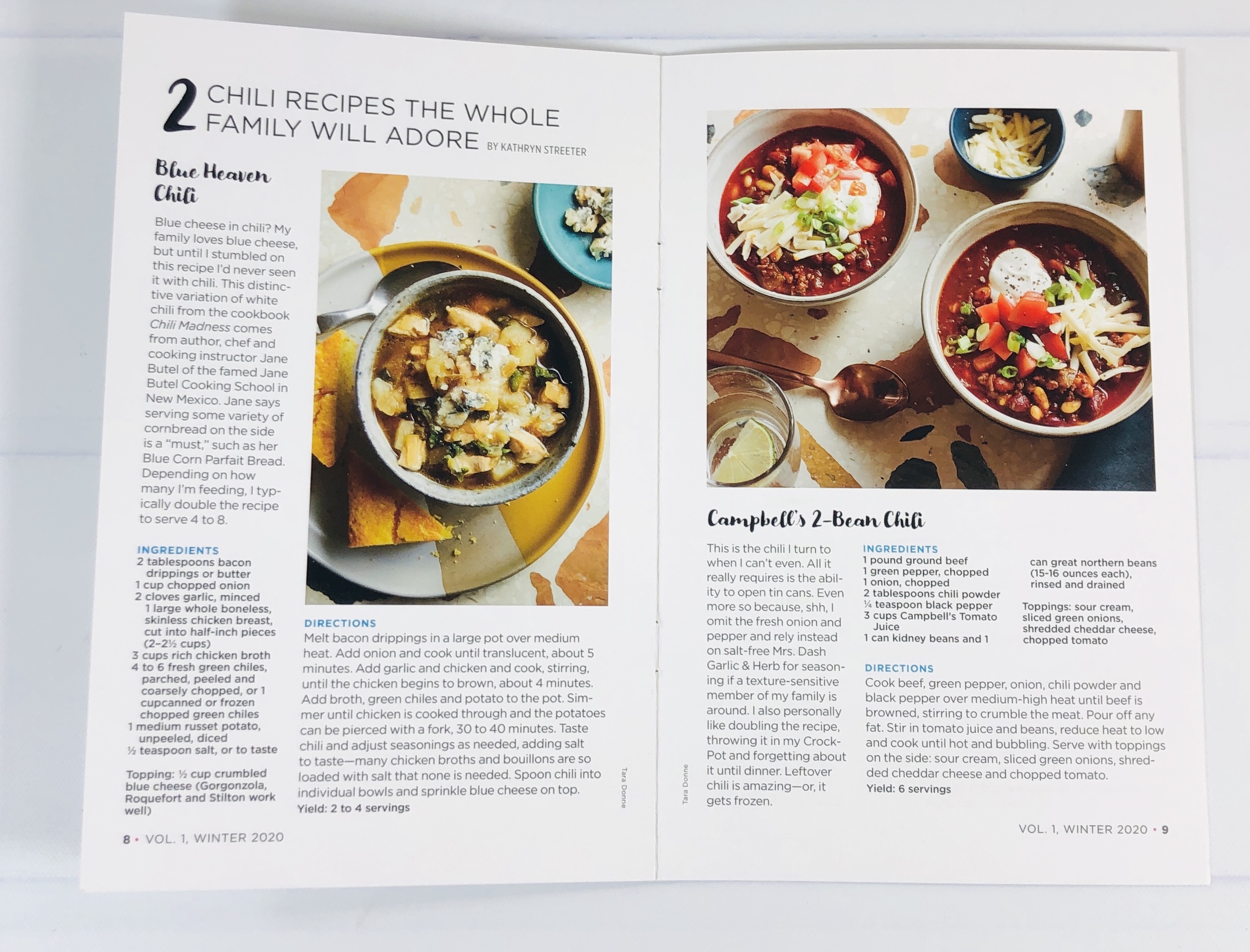 Speaking of tasty, here are some warming chili recipes.
NYE ideas were shown. We already have our noisemakers ready for our family countdown at home.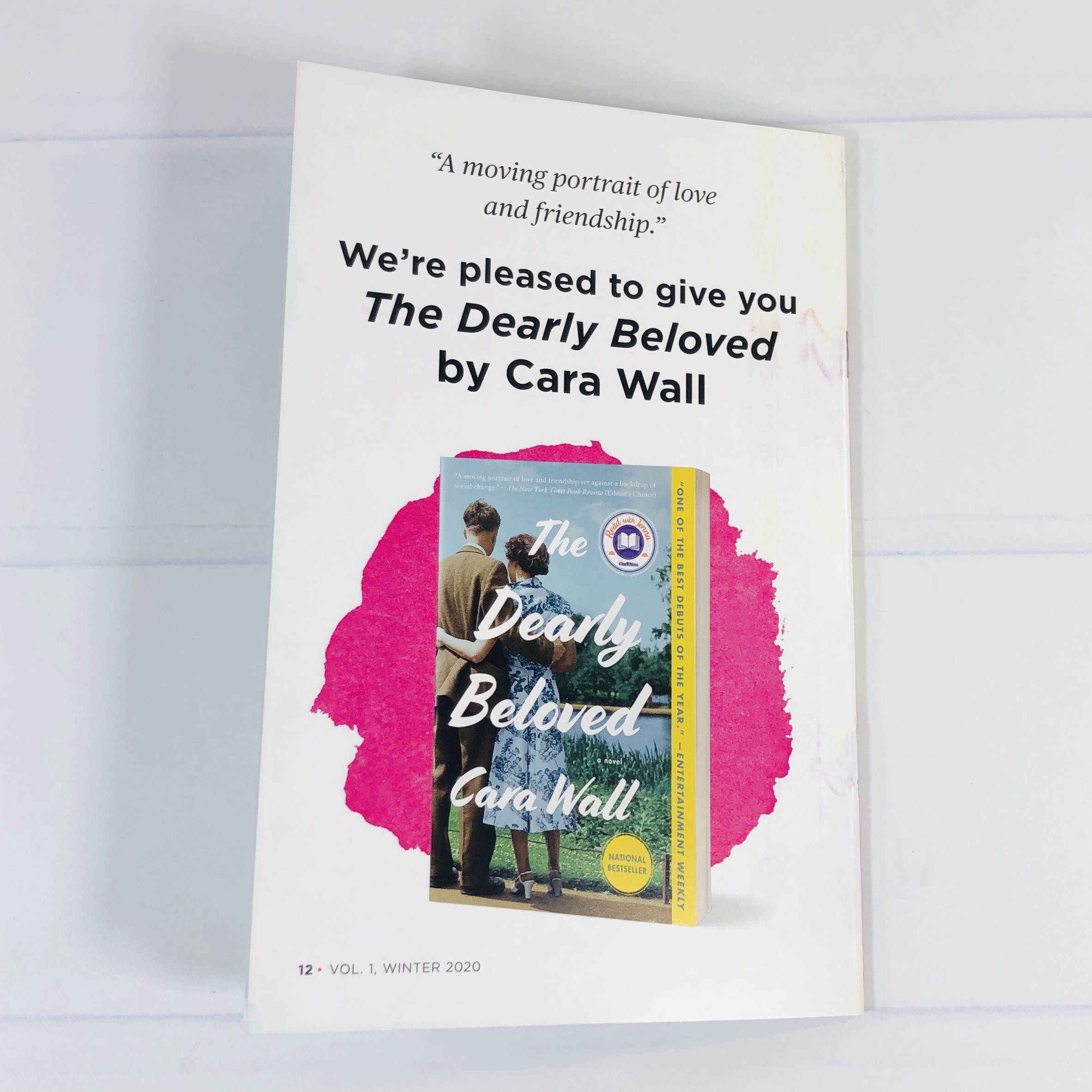 The back had a picture of the book included for this shipment.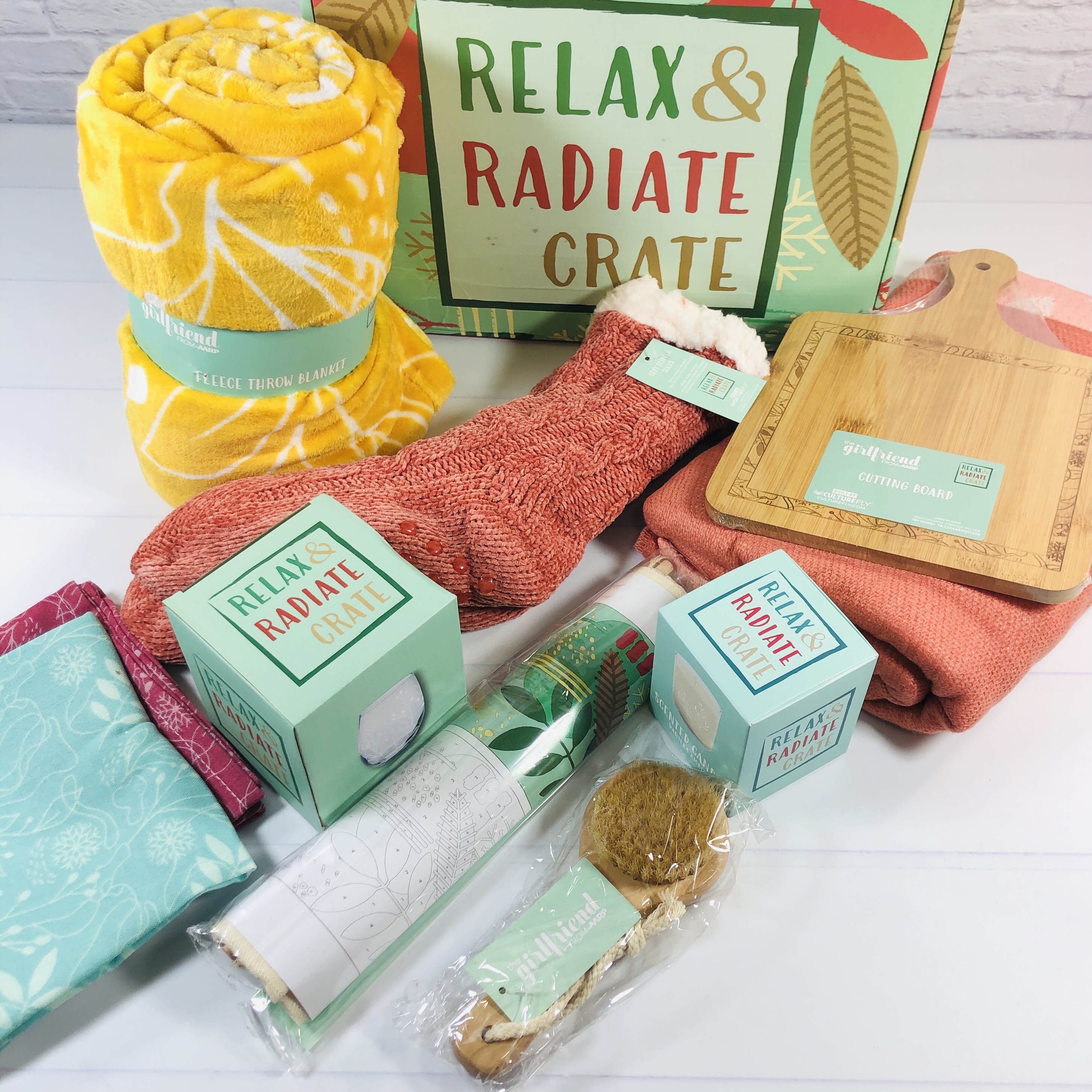 The products are designed by Culture Fly so they aren't available in stores.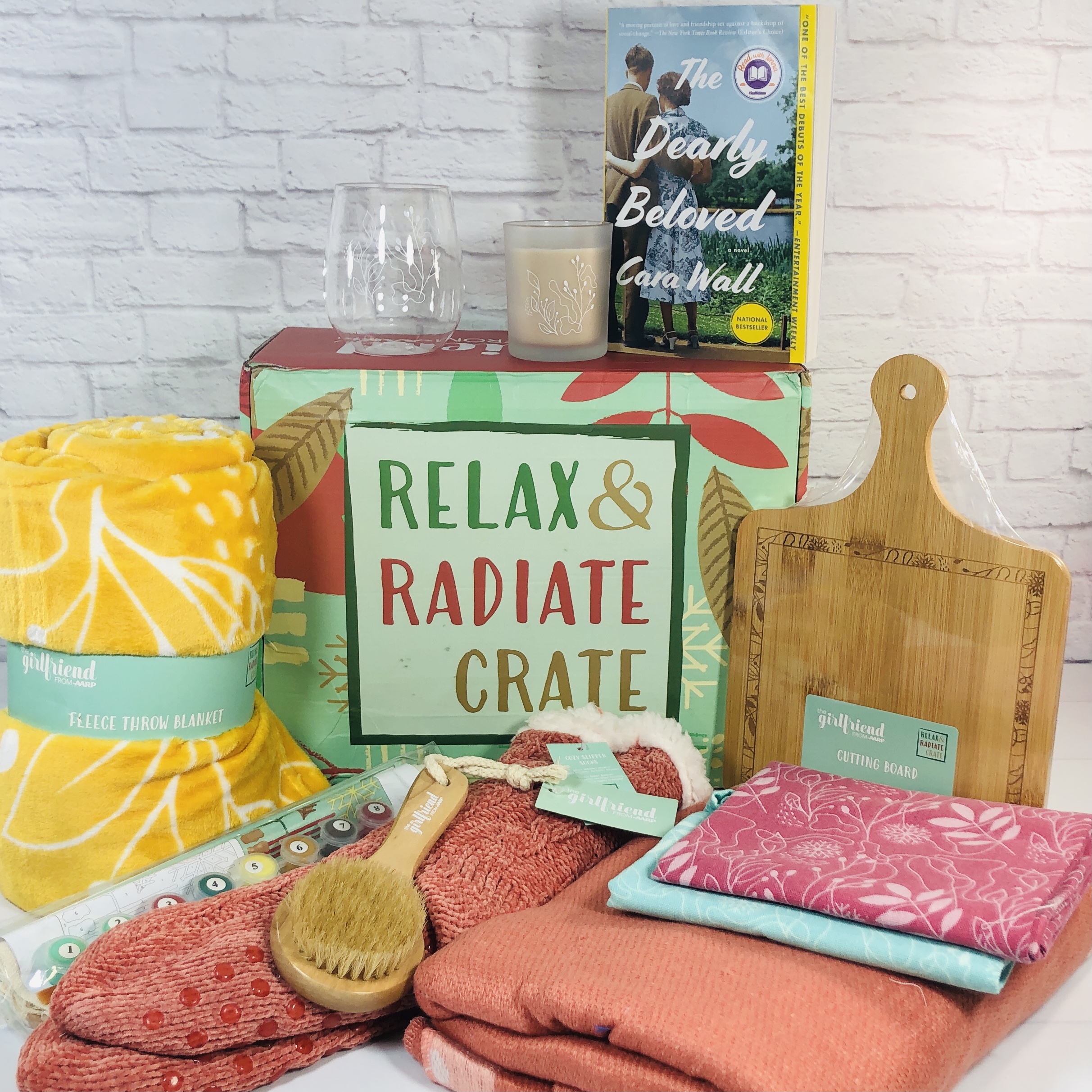 Everything in my box!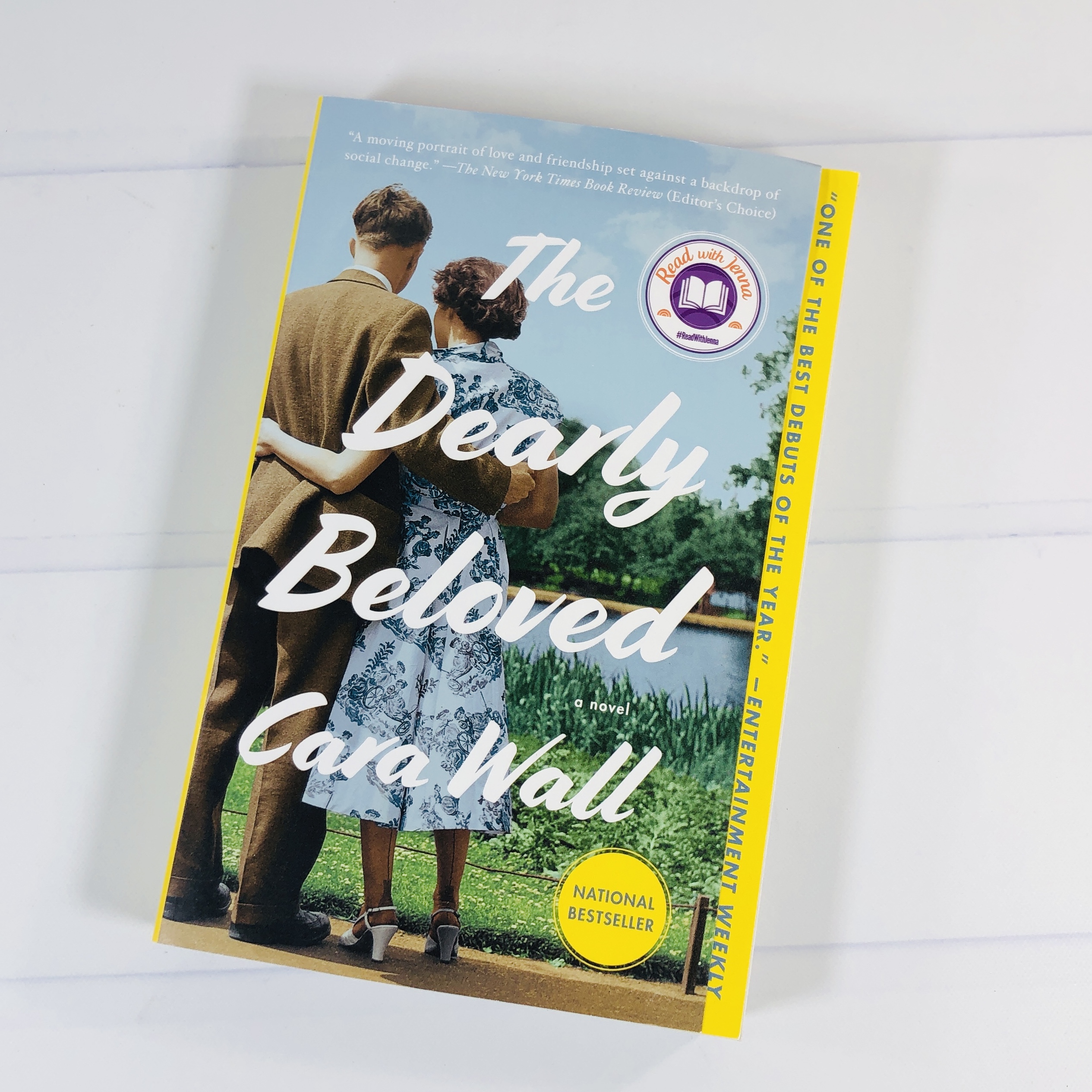 The Dearly Beloved by Cara Wall ($17 list price, now $13.14) Everyone received the same book this shipment. According to the note on the front of the book, this was a Today Show pick by Jenna Bush Hager. It's in the contemporary women's fiction genre and has mainly positive reviews on Amazon!
Charles and Lily, James and Nan. They meet in Greenwich Village in 1963 when Charles and James are jointly hired to steward the historic Third Presbyterian Church through turbulent times. Their personal differences however, threaten to tear them apart.

Charles is destined to succeed his father as an esteemed professor of history at Harvard, until an unorthodox lecture about faith leads him to ministry. How then, can he fall in love with Lily—fiercely intellectual, elegantly stern—after she tells him with certainty that she will never believe in God? And yet, how can he not?

James, the youngest son in a hardscrabble Chicago family, spent much of his youth angry at his alcoholic father and avoiding his anxious mother. Nan grew up in Mississippi, the devout and beloved daughter of a minister and a debutante. James's escape from his desperate circumstances leads him to Nan and, despite his skepticism of hope in all its forms, her gentle, constant faith changes the course of his life.

In The Dearly Beloved, we follow these two couples through decades of love and friendship, jealousy and understanding, forgiveness and commitment. Against the backdrop of turbulent changes facing the city and the church's congregation, these four forge improbable paths through their evolving relationships, each struggling with uncertainty, heartbreak, and joy. A poignant meditation on faith and reason, marriage and children, and the ways we find meaning in our lives, Cara Wall's The Dearly Beloved is a gorgeous, wise, and provocative novel that is destined to become a classic.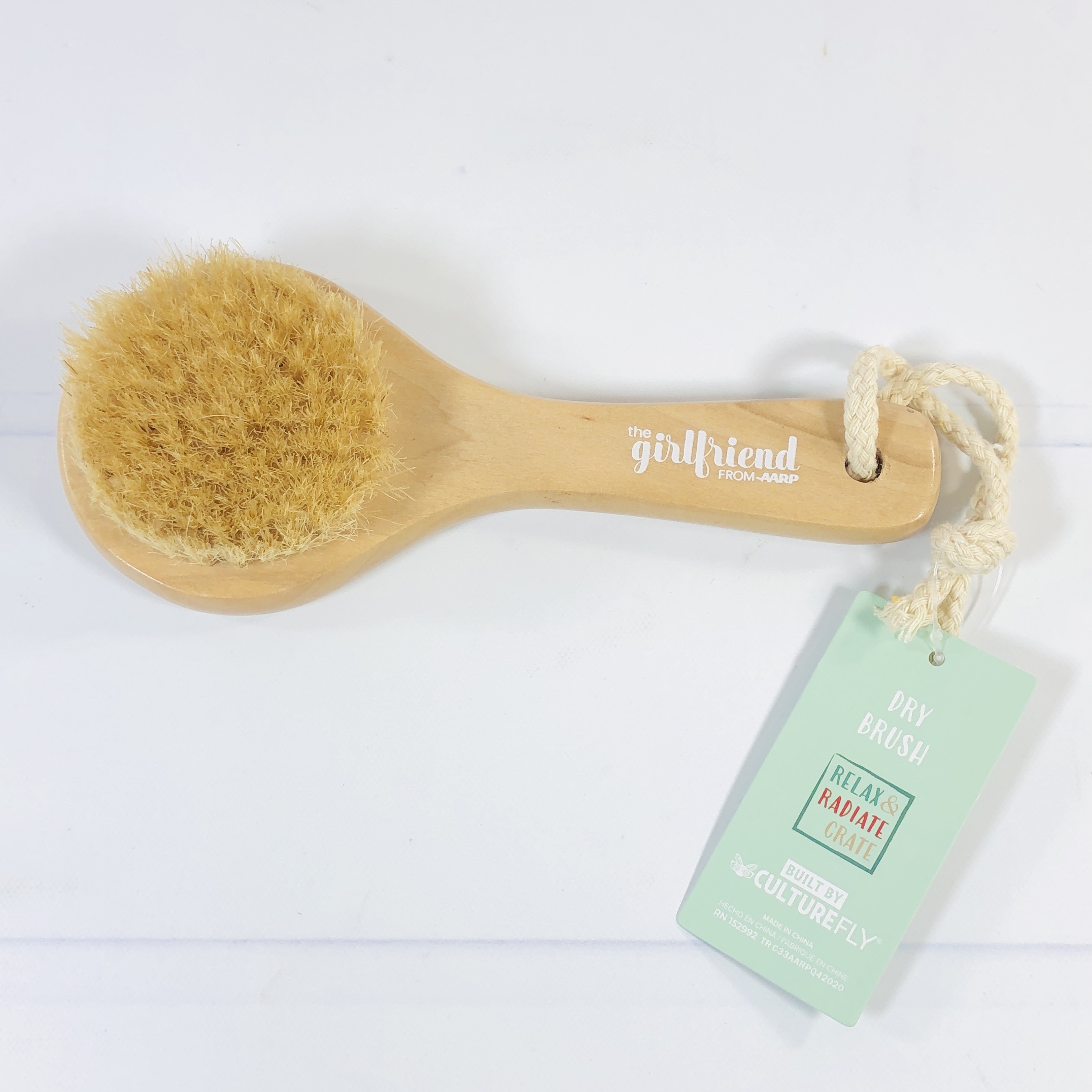 Dry Brush The mini booklet described a "brush that's perfect for every type of hair" but I wasn't expecting a brush for body hair! Maybe there was a last-minute change but this brush isn't meant to be used on the scalp.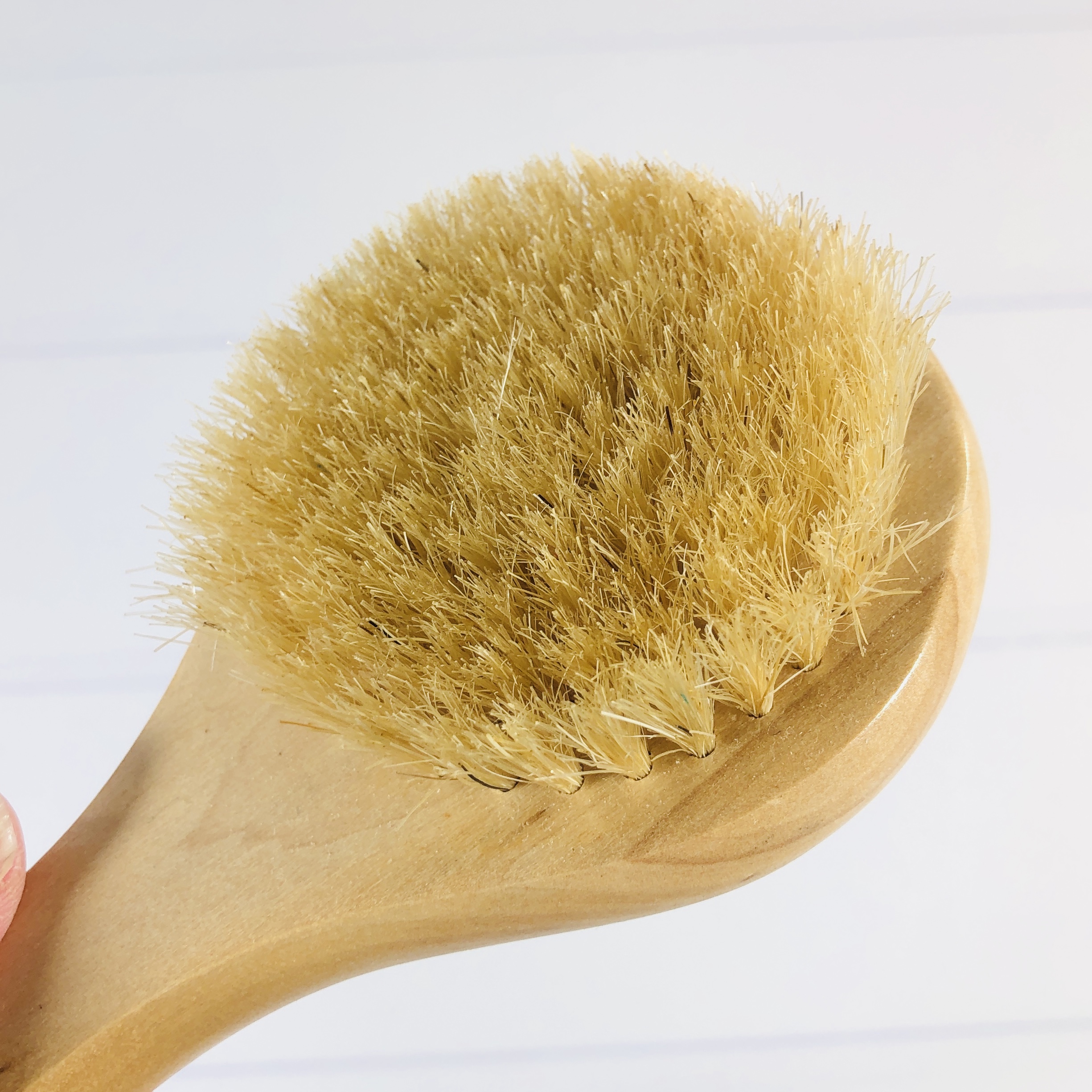 It's smaller than other dry brushes I've used before, only about 3″ across the middle of the brush and 7″ long but it works for the purpose. Brush arms and legs starting at the feet or wrists and brush towards the heart. Use it on dry skin before taking a shower or bath and don't rub vigorously. Google "how to dry brush" to get more instructions or a picture demonstration.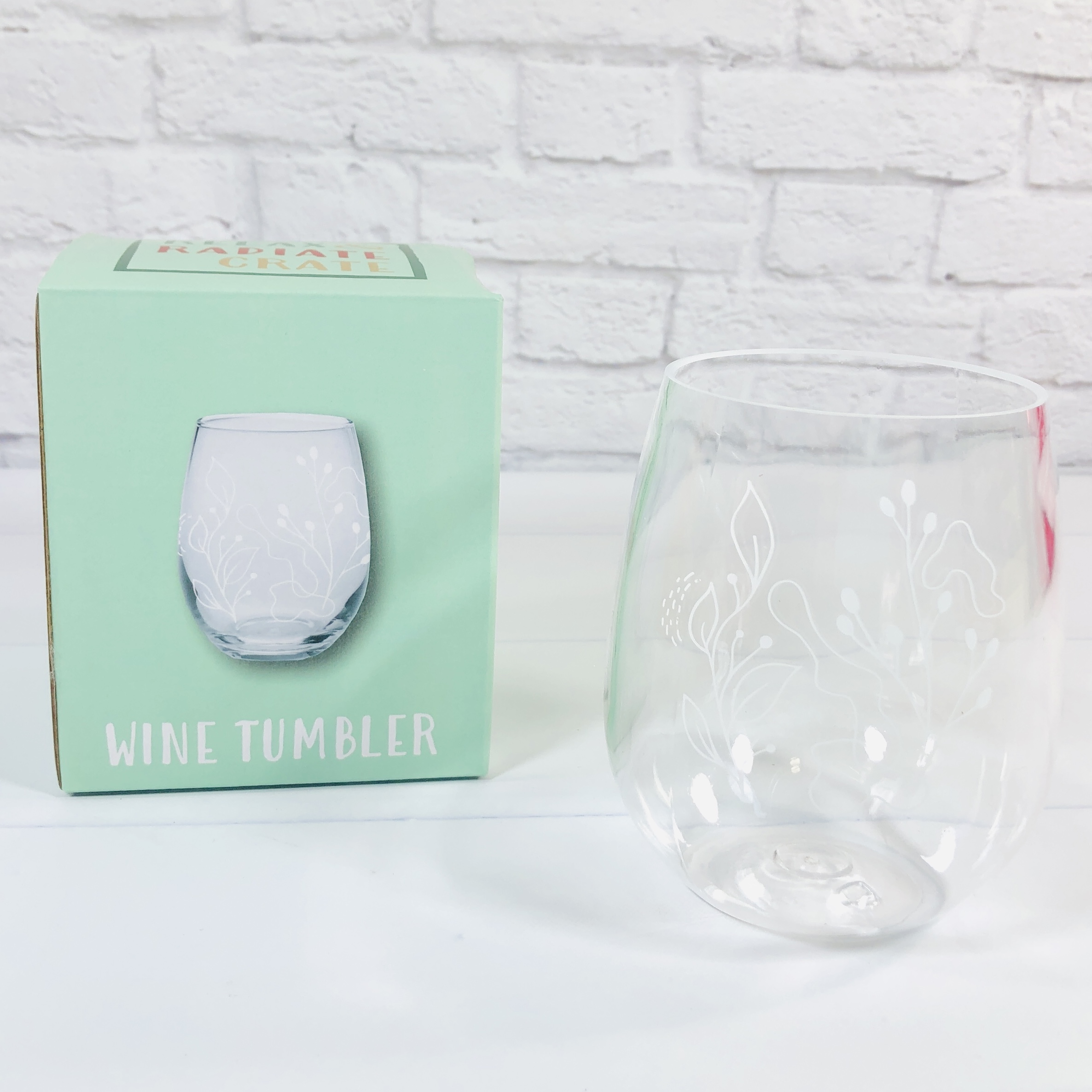 Wine Tumbler A plastic wine tumbler will be included in the first four boxes so that we have a complete set after a year. There is a white motif of leaves or branches on the front and that design is repeated throughout the box. The tumbler is BPA-free and hand-wash only.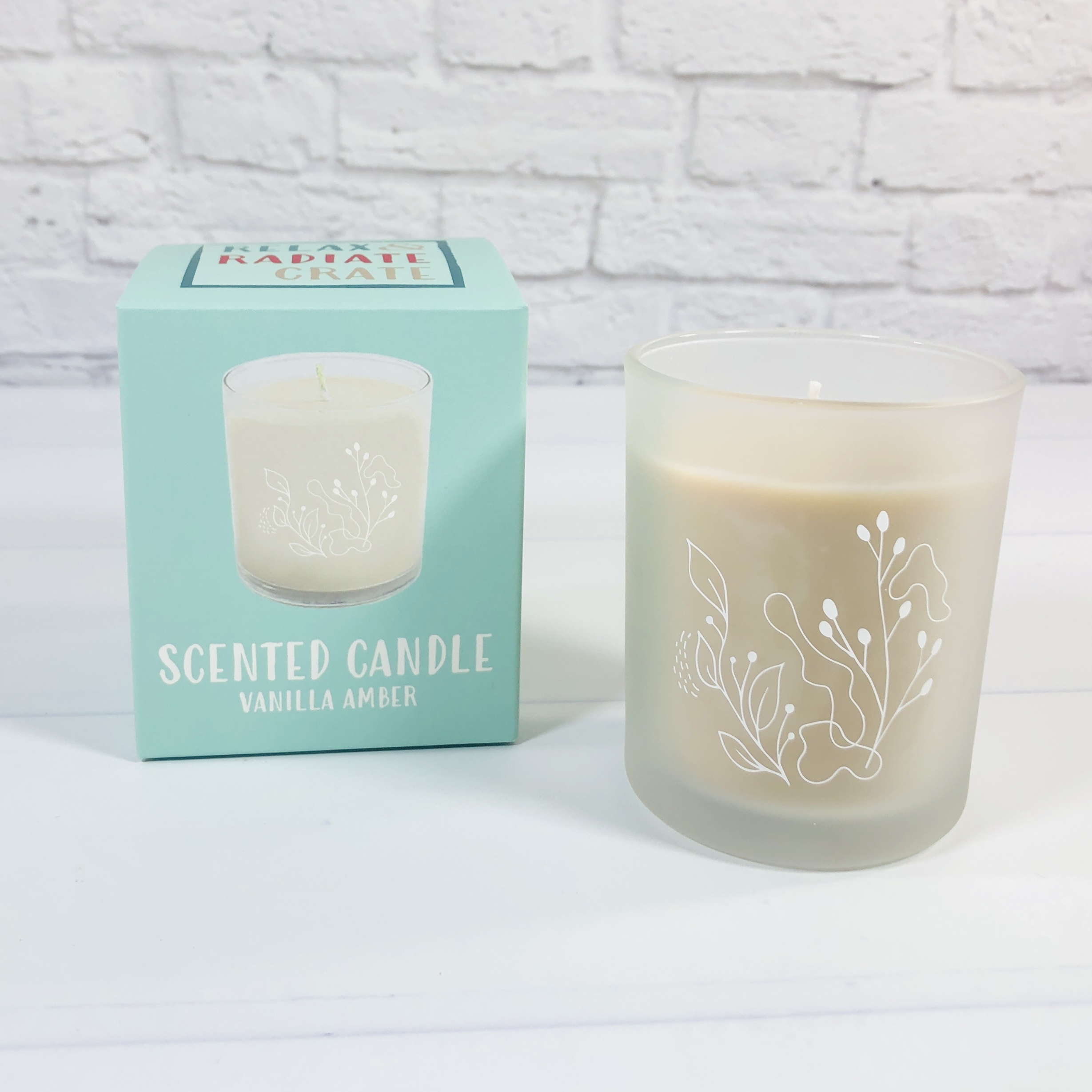 Scented Candle in Vanilla Amber I am the candle queen and am always excited to add another to my collection! This one has that classic sweet vanilla smell like I've been baking a cake or something. This is such a cozy way to set the mood for a chilly afternoon or blustery evening.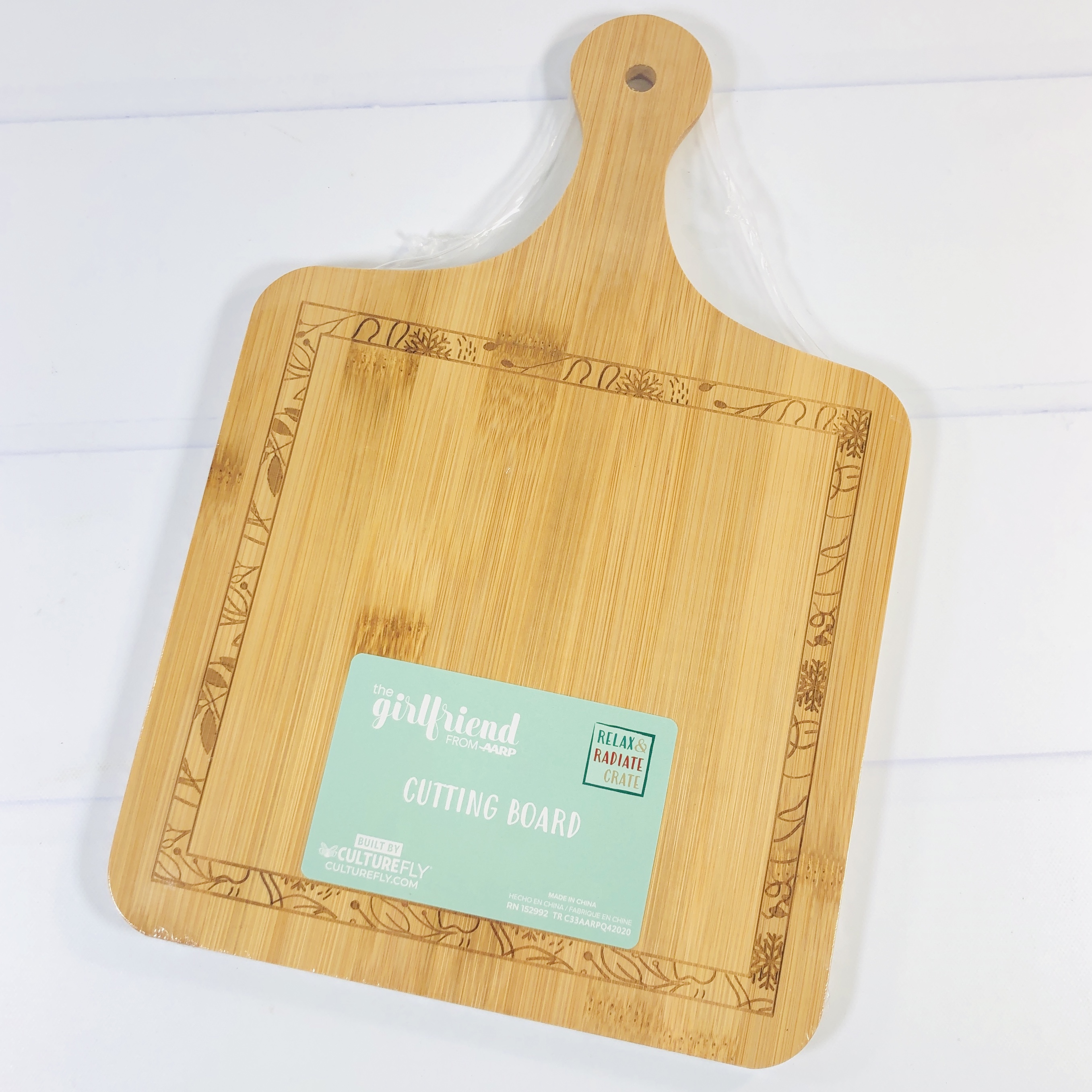 Cutting Board This wooden cutting board is so pretty and I think I will not be putting my knives anywhere near its surface!
It has a decorative design around the edges and the middle is about 8″ square so it's kind of small (compared to what I usually use) but perfect for a cheese or charcuterie board!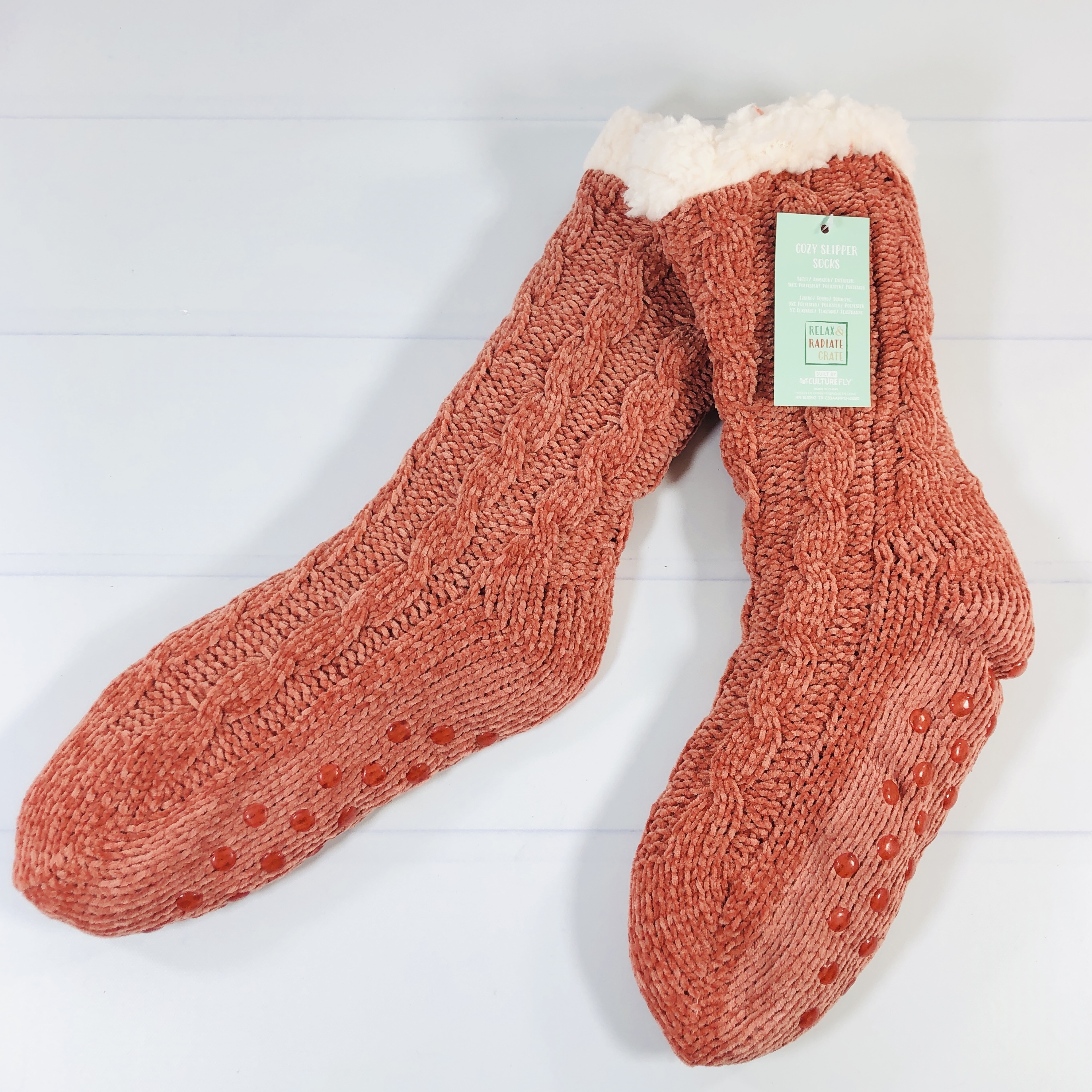 Cozy Slipper Socks My daughter recently came home with something like this from a Secret Santa exchange and I secretly wanted something similar for myself. Here it is!
They are cozy slipper socks with a soft, fuzzy lining and a cable knit design. They are a shade that I call salmon.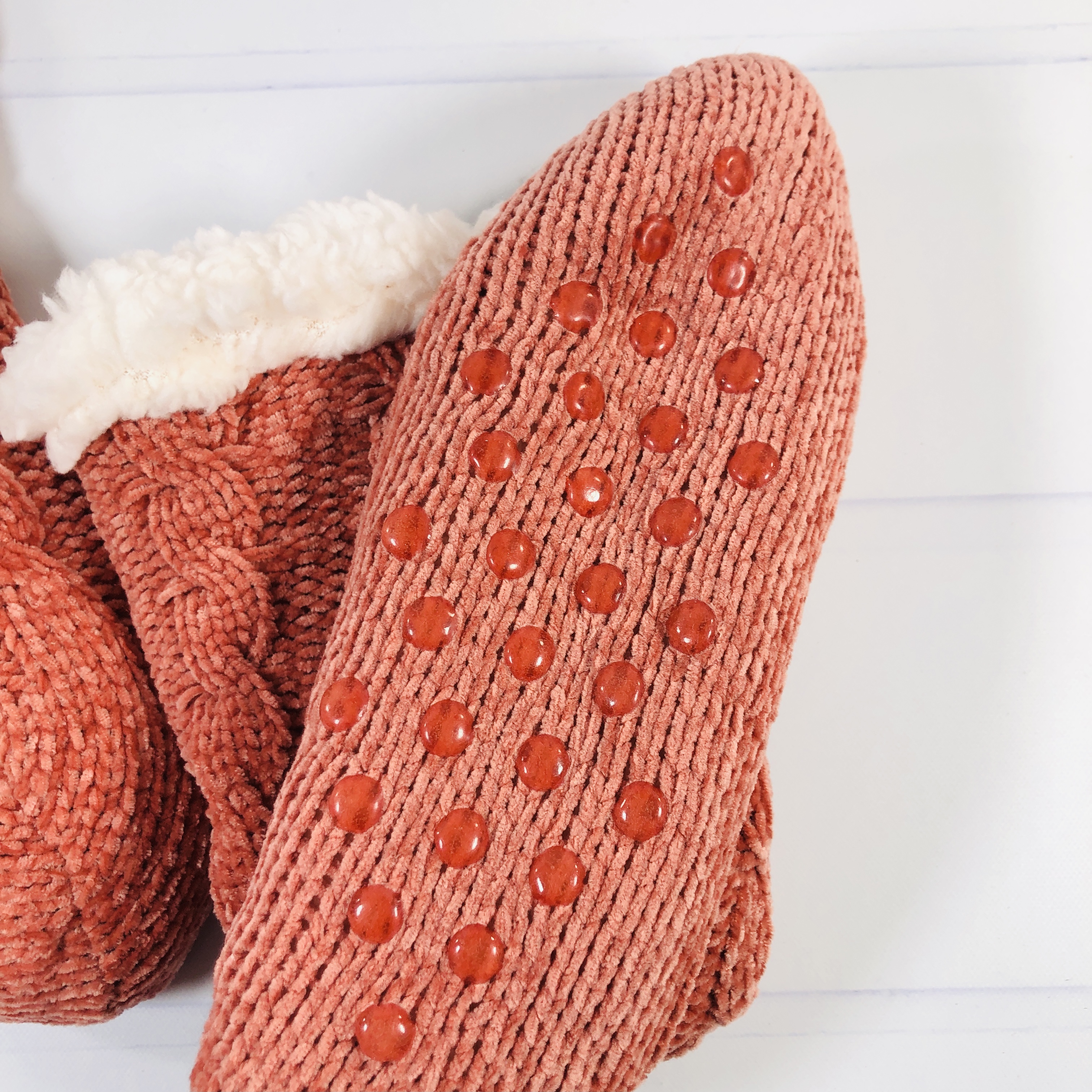 There are non-slip grips on the bottom. These are perfect socks for lounging around in a chair but walking was difficult because the non-stick dots were thick and kind of hard but I try to think of it as a shiatsu massage for my feet, plus, I really don't want to slip and fall. I have tile and carpet and it was fine for walking on the carpet.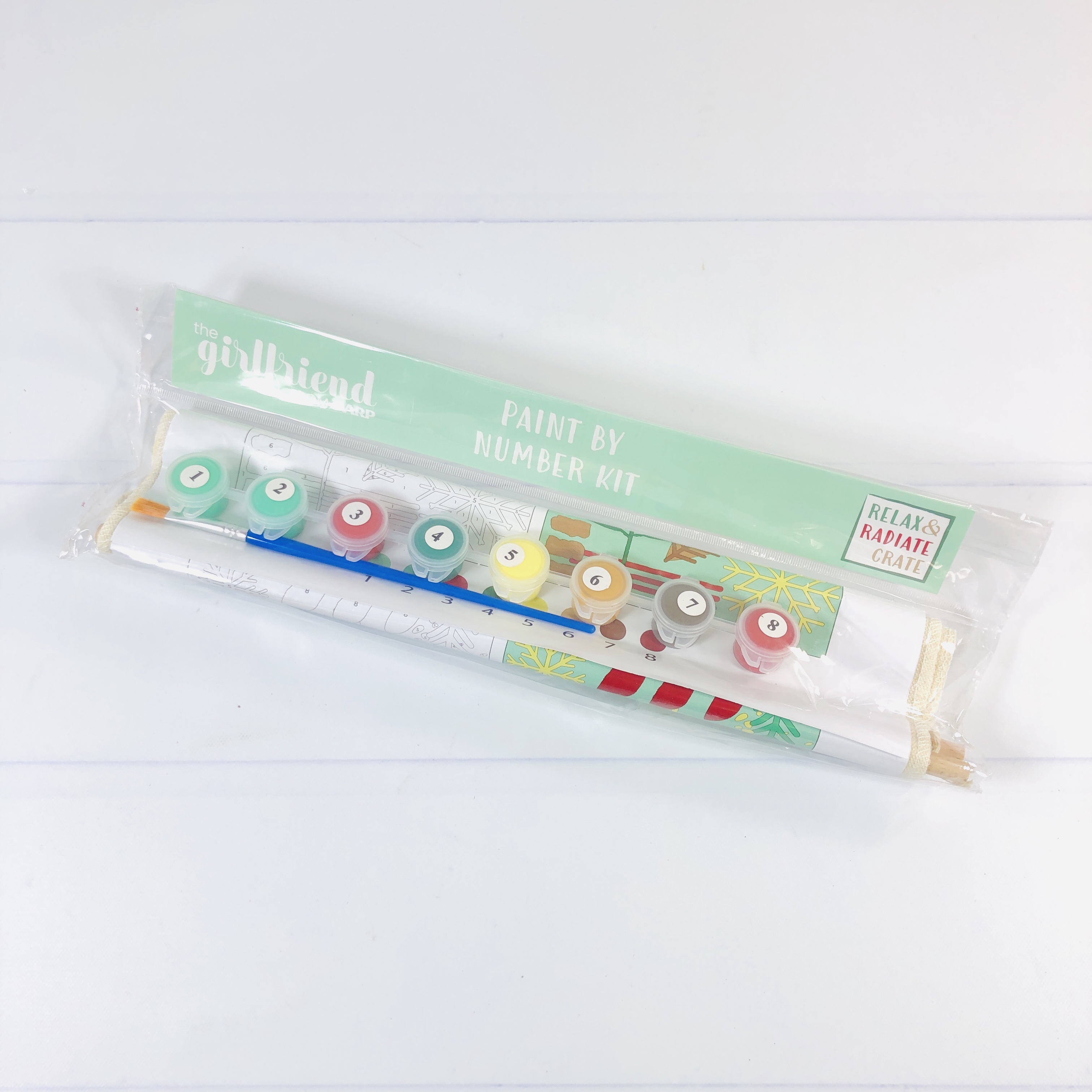 Paint By Number Kit My daughter saw this as I was opening the box and seemed really happy about it, which is good because I'm not into painting.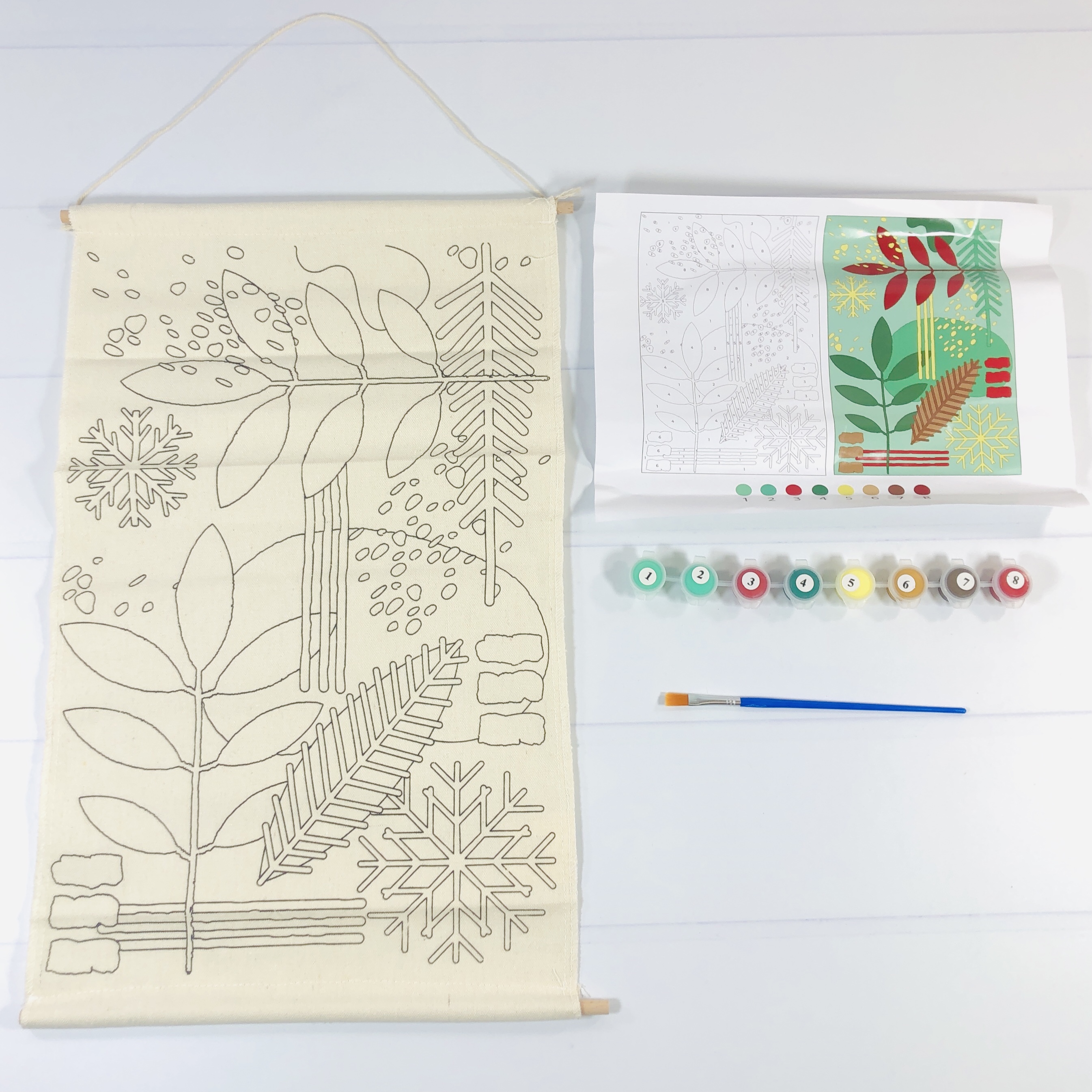 It came with a hanging canvas, paints, a paintbrush, and a numbered sheet. My daughter came back and asked if she could borrow it and I gladly gave it to her, along with an old towel.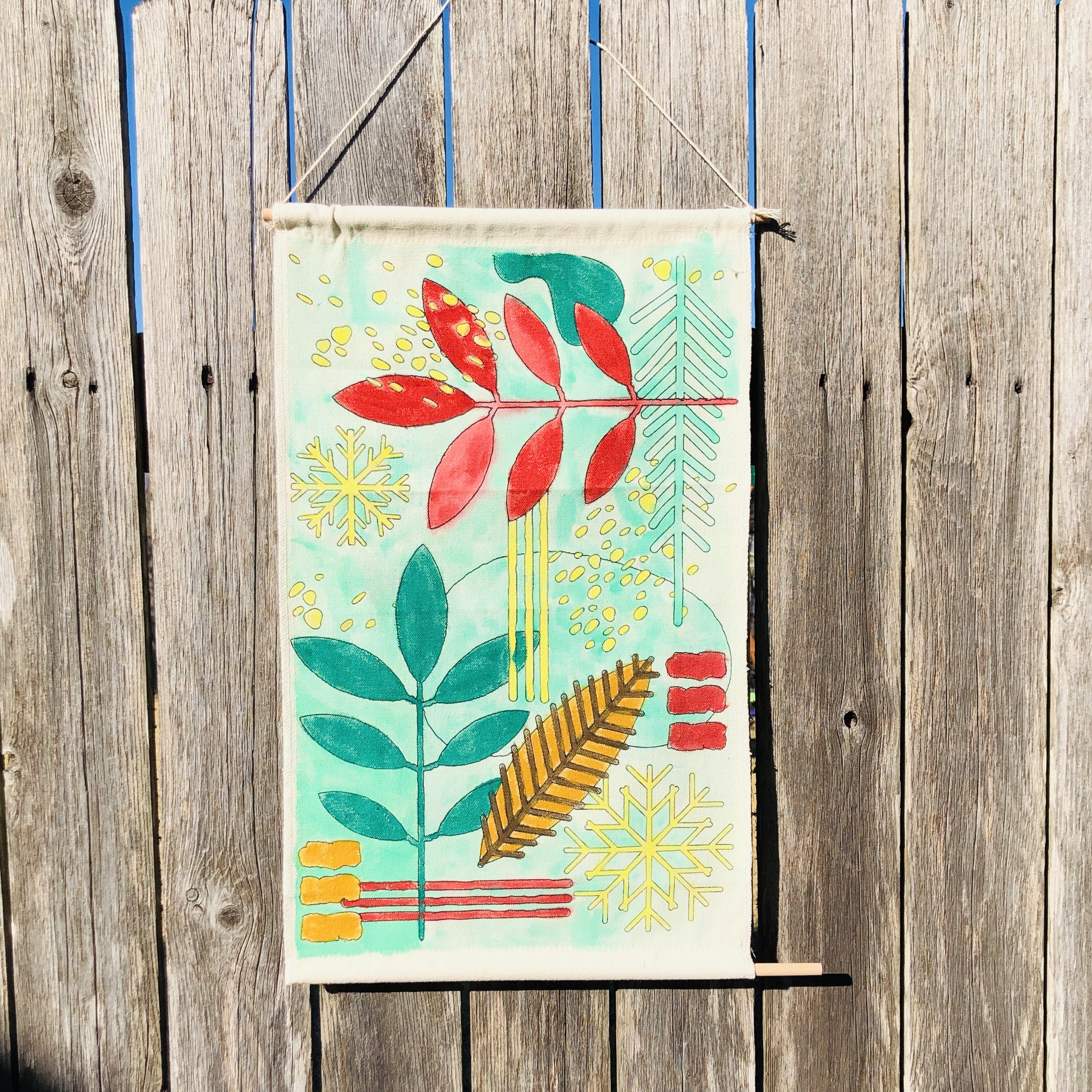 When I got up the next morning I found it hanging on a door, like a little elf had finished the project for me and I was super excited because that meant that I wouldn't have to paint it myself. Although I don't think I would have minded much, it is kind of sweet! My elf used a couple of different brushes that didn't come with the kit and ran out of some of the paint colors, which is why the entire background isn't painted.
Fleece Throw Blanket Oh this blankie is super soft and cuddly! I have been snuggling up in it on my couch while watching TV or reading a book.
It is golden yellow and measures about 47″ x 65″. It's made of 100% polyester.
Kitchen Towels Two kitchen towels in two different colors were next.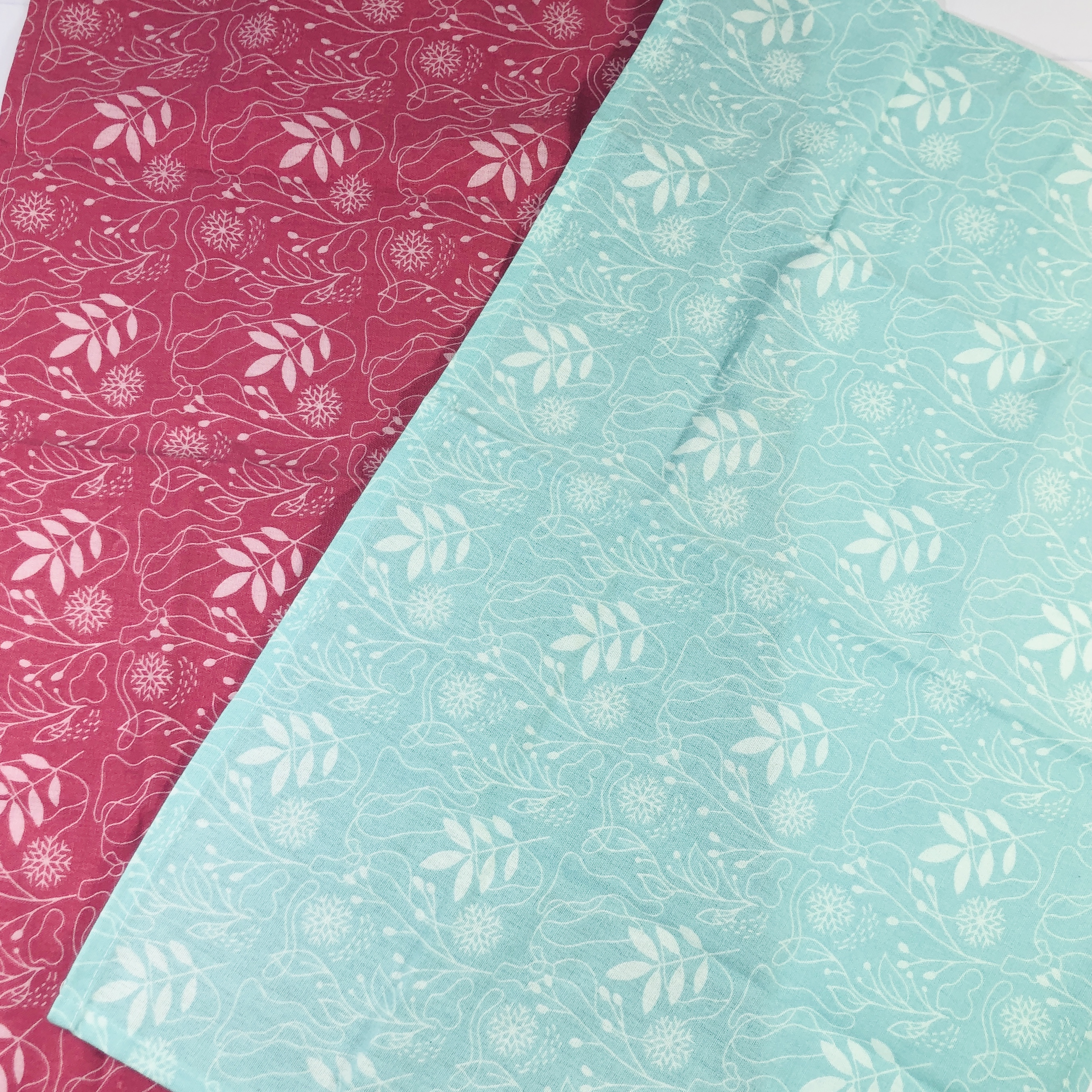 One is a seafoam blue-green while the other is a mauve shade.
They measure about 18″ x 28″ and are a cotton polyester blend. These will brighten up my kitchen!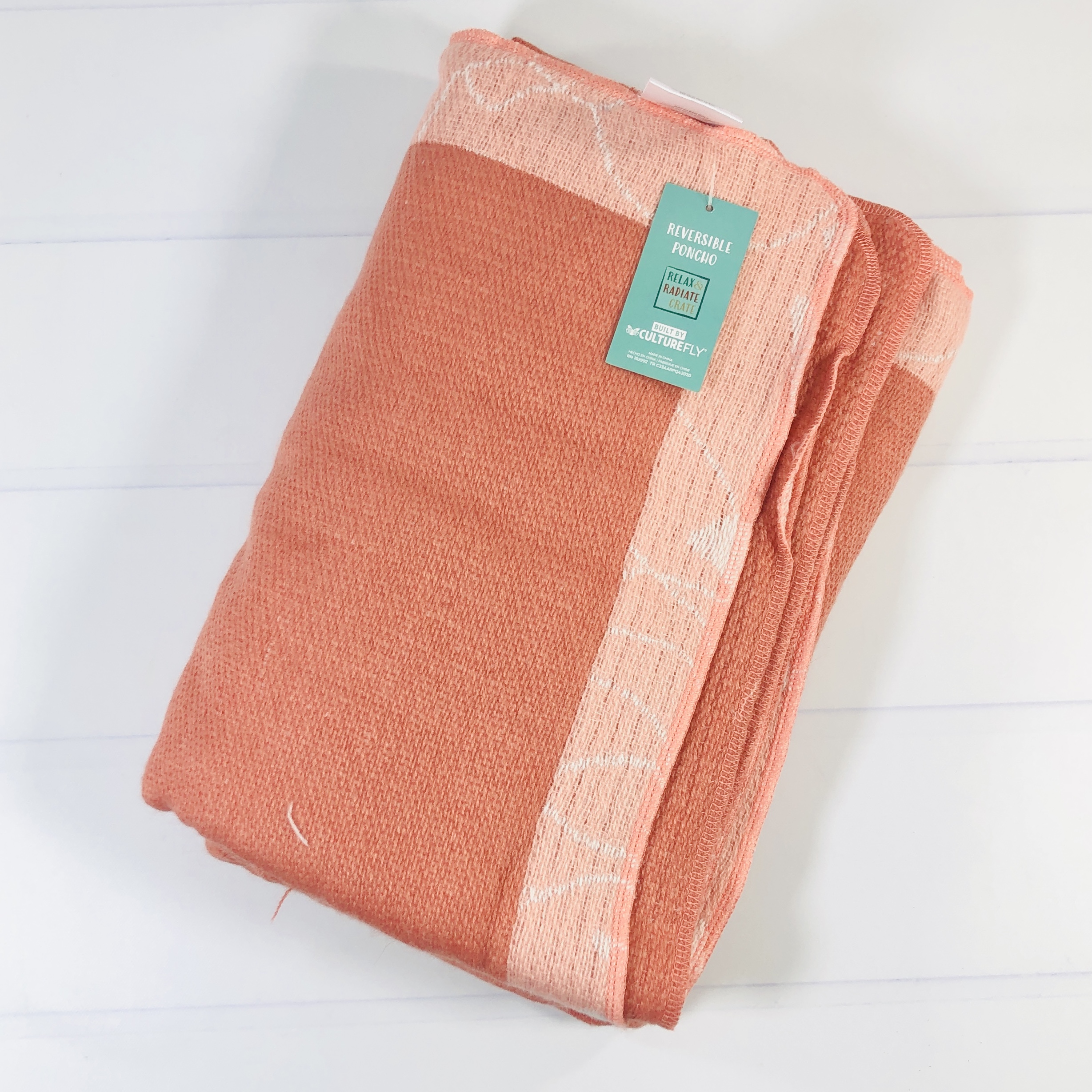 Reversible Poncho I have been wearing this on all of the cold days. I never knew I needed a poncho but I am a convert.
The poncho is reversible and a light peach color on one side, salmon on the other. It says one size fits most and works fine on my plus-sized self.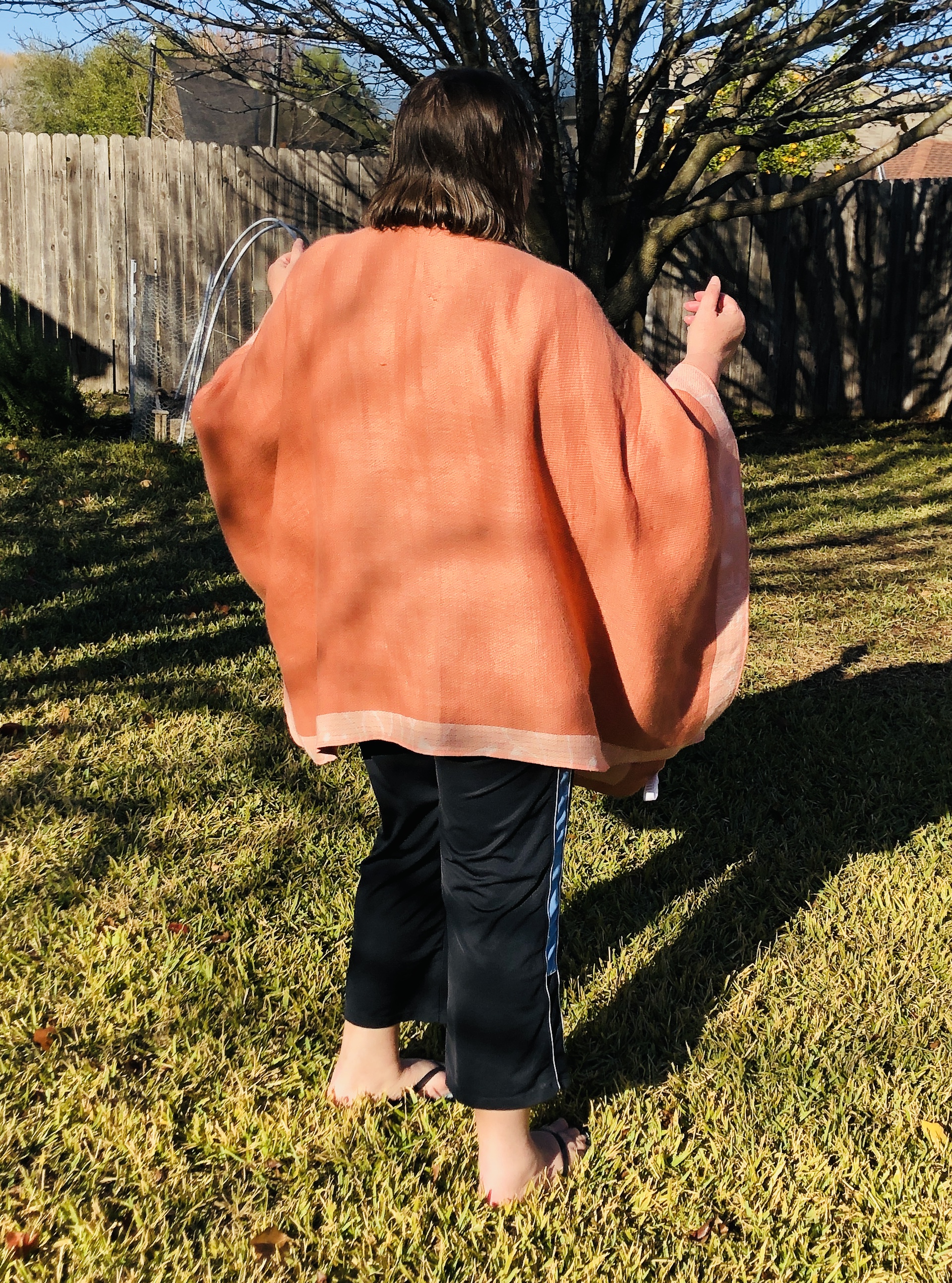 It is an acrylic/polyester blend. I find it to be very comfortable and it's easier to keep my shoulders warm when I wear this as opposed to sitting with a blanket, plus, my hands are free. I sit with this on and then pull the yellow blanket over my lap and I am snug as a bug in a rug.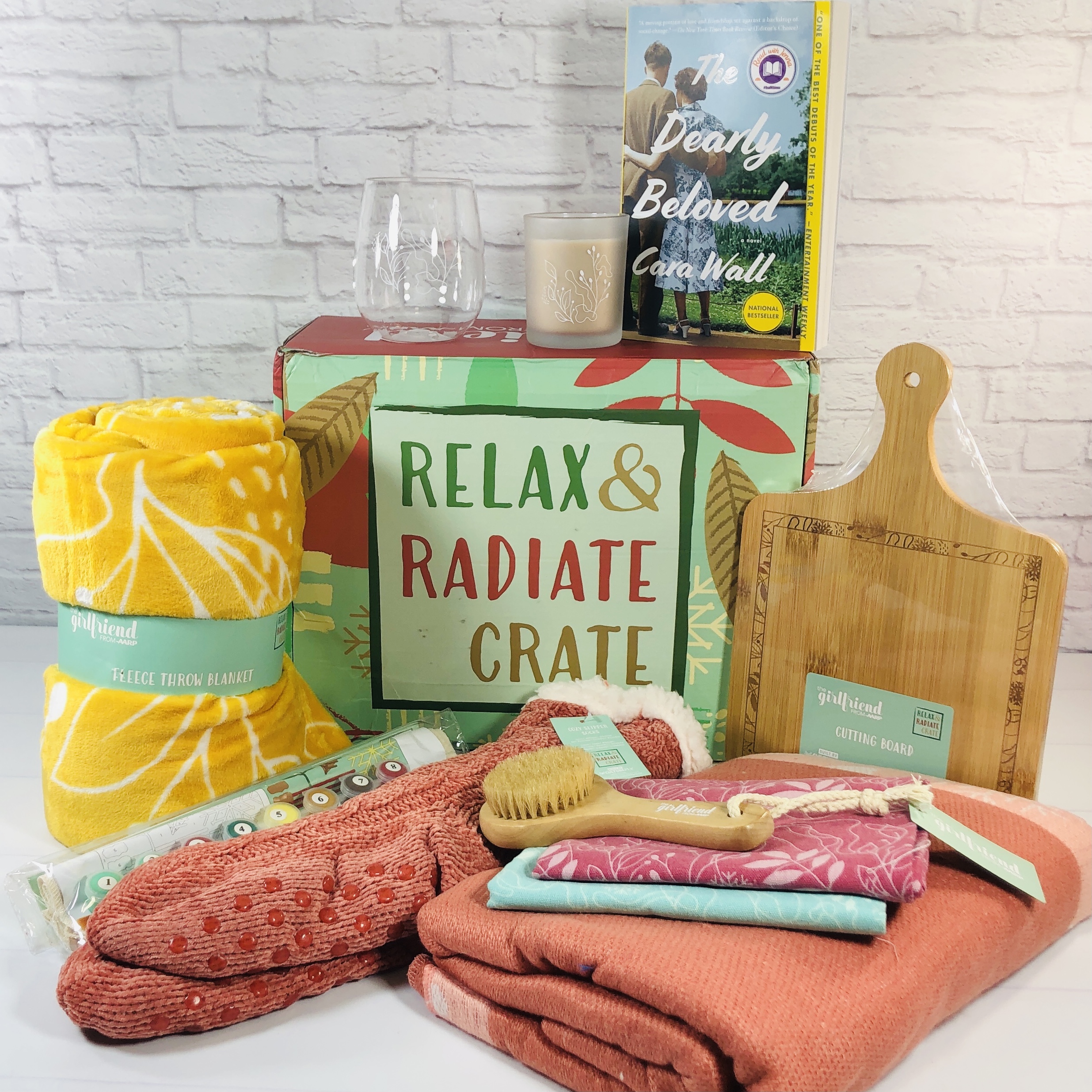 The Winter Relax & Radiate Crate was just what I needed to keep myself warm and cozy and comforted during the cool days of fall and the colder winter ahead. The poncho and slipper socks were items that I didn't know that I needed until I had them in my hands and was saying to myself, "Hey, I am so glad I have this!". The cutting board is too pretty for a knife to ever touch it so I will use it as a fancy cheese board. Cheese on plates seems so boring to me now. The blanket is soooo soft and of course, a candle is a quick way to change the mood, just light it and everything will soon be better. My daughter was kept busy for a couple of hours as she worked on the paint by numbers kit and the other items rounded out the box nicely.
What do you think of the Relax & Radiate box?