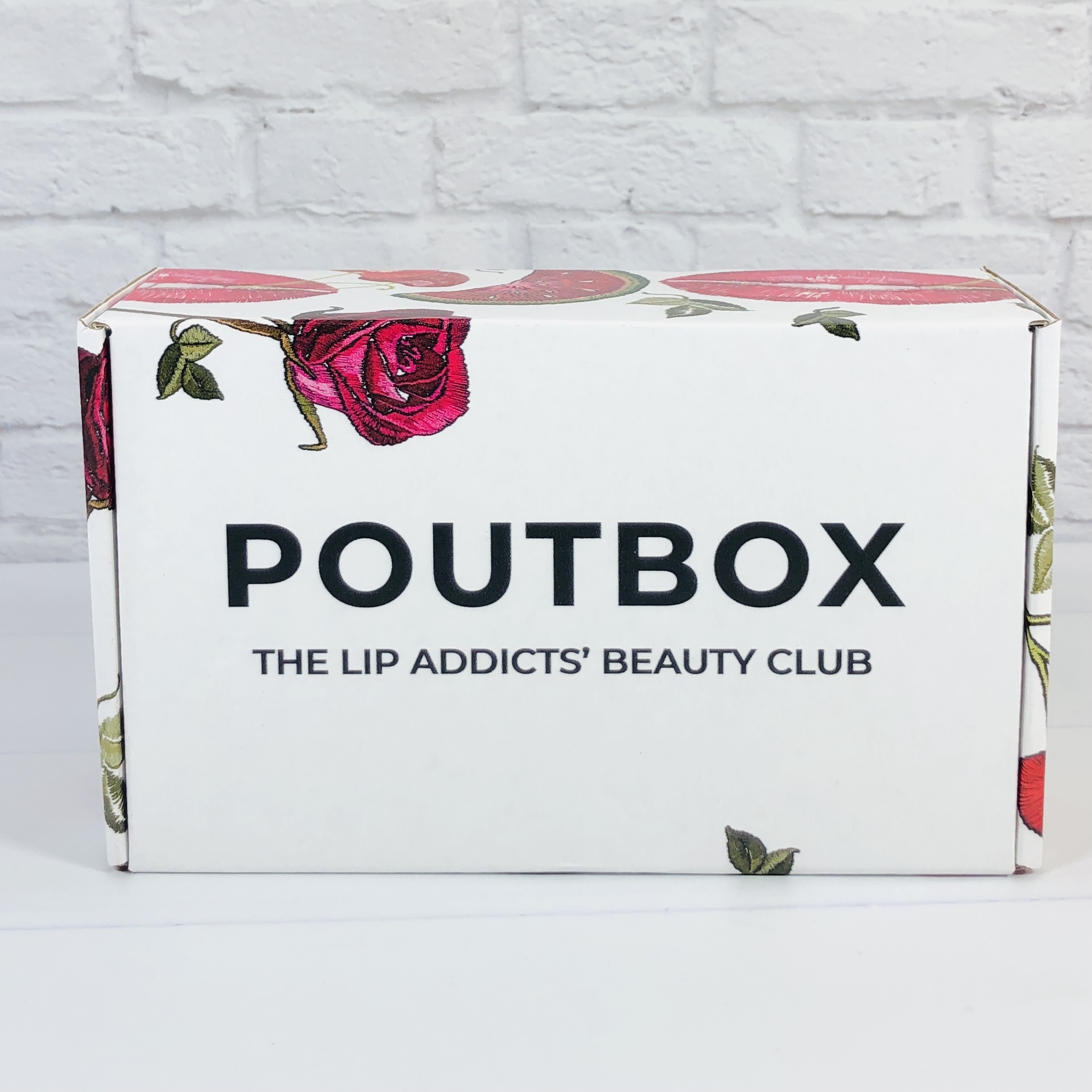 Poutbox is a monthly subscription of beauty products for your lips! You can expect to find makeup items like lipsticks, glosses, and liners, and lip care products such as lip balms, masks, and oils. Boxes will have a value of $100+ and shipping is free. You can get the original monthly Poutbox for $34.99 or you can purchase a gift box for a friend (or a splurge for yourself) for $49.99.
We partner with boutique and name beauty brands to bring you lip colors and formulas you know and love, as well as giving you the opportunity to discover lots of new favorites. We only ever include 100% cruelty-free products, so you can look and feel great when wearing them.
DEAL: Get 10% off on your first order! Use coupon code LIPS10.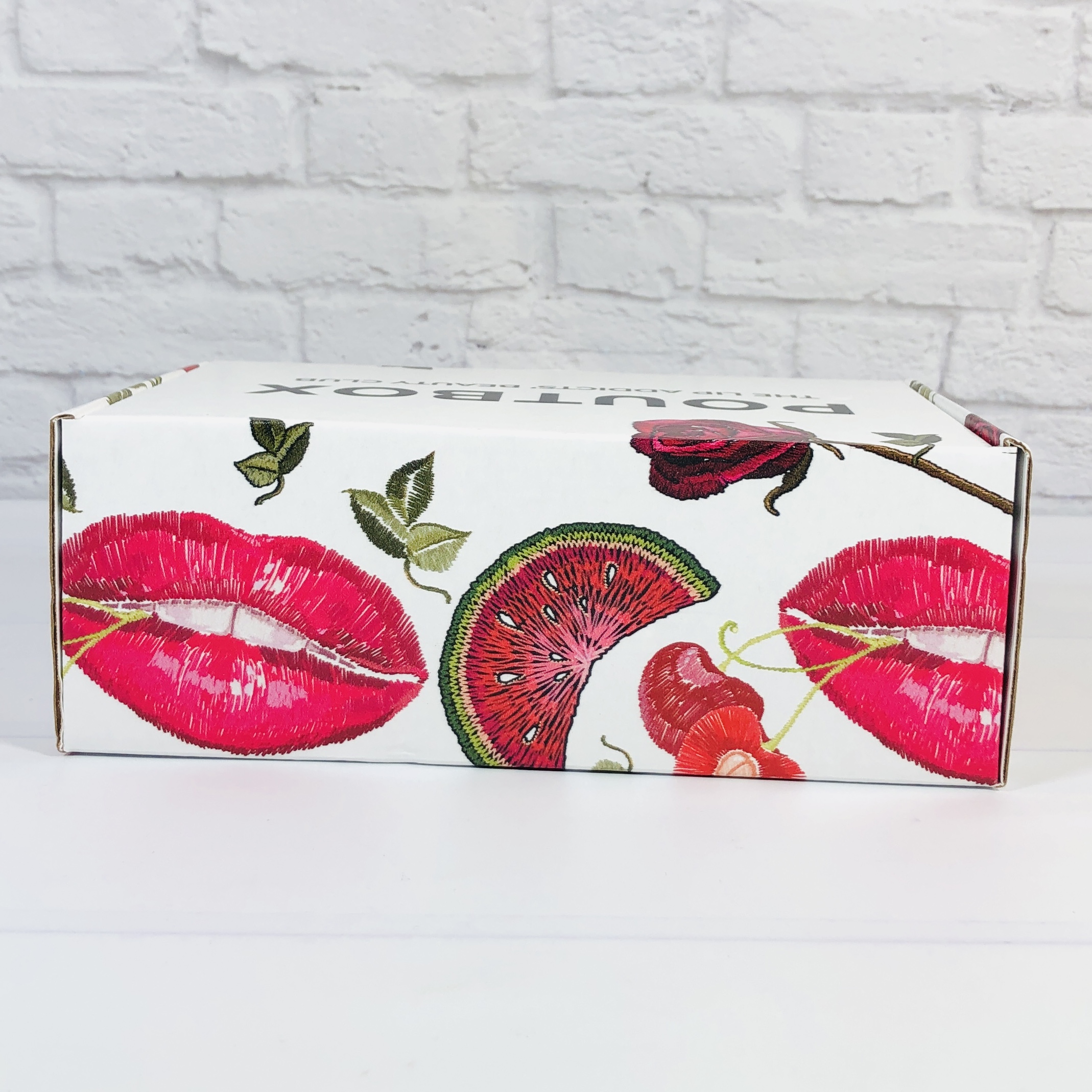 Look at the box, it's so colorful and has flowers, fruits, and of course lips all over! I am reviewing the original Poutbox!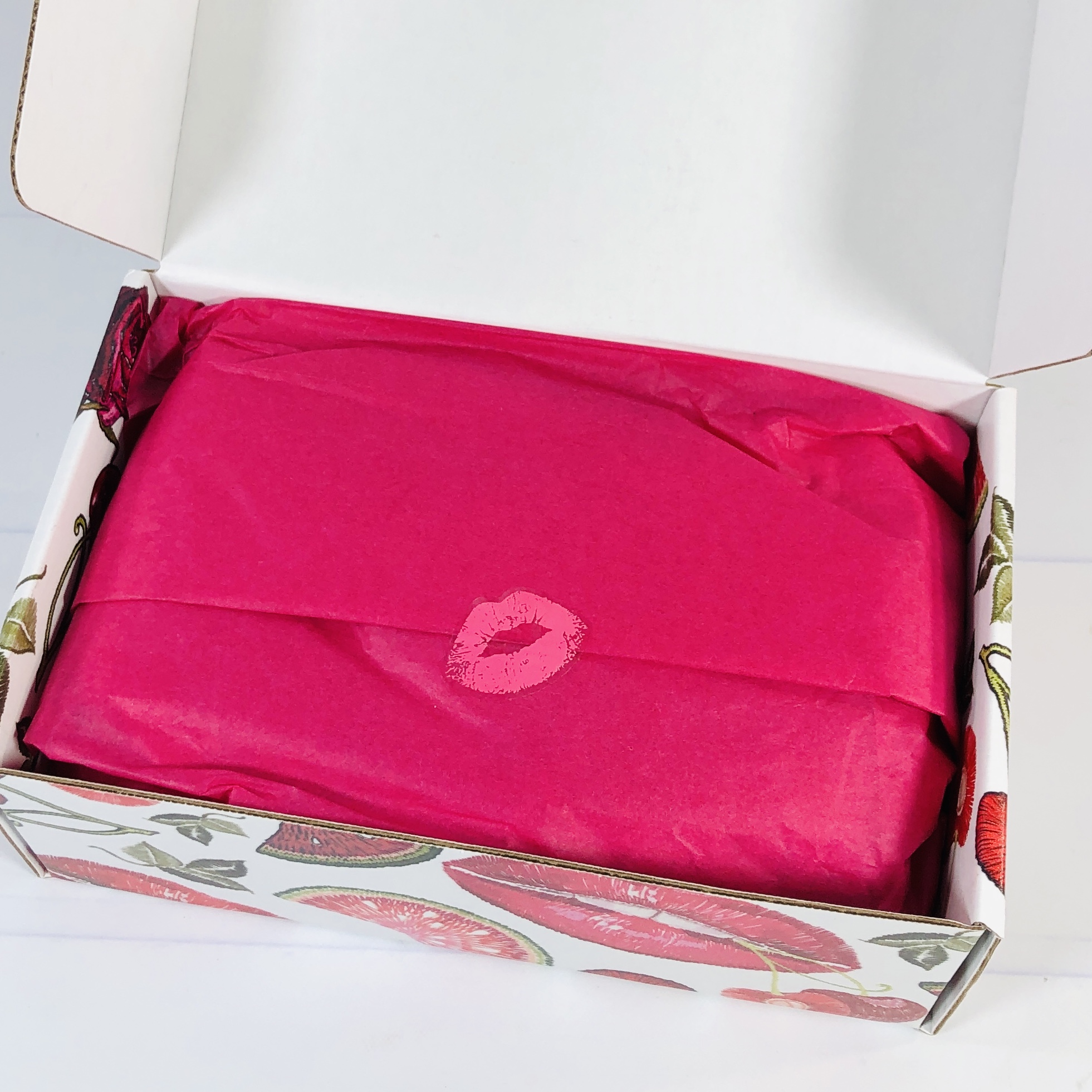 Even the tissue paper was sealed with a kiss. Sticker, that is.
I found a product info guide.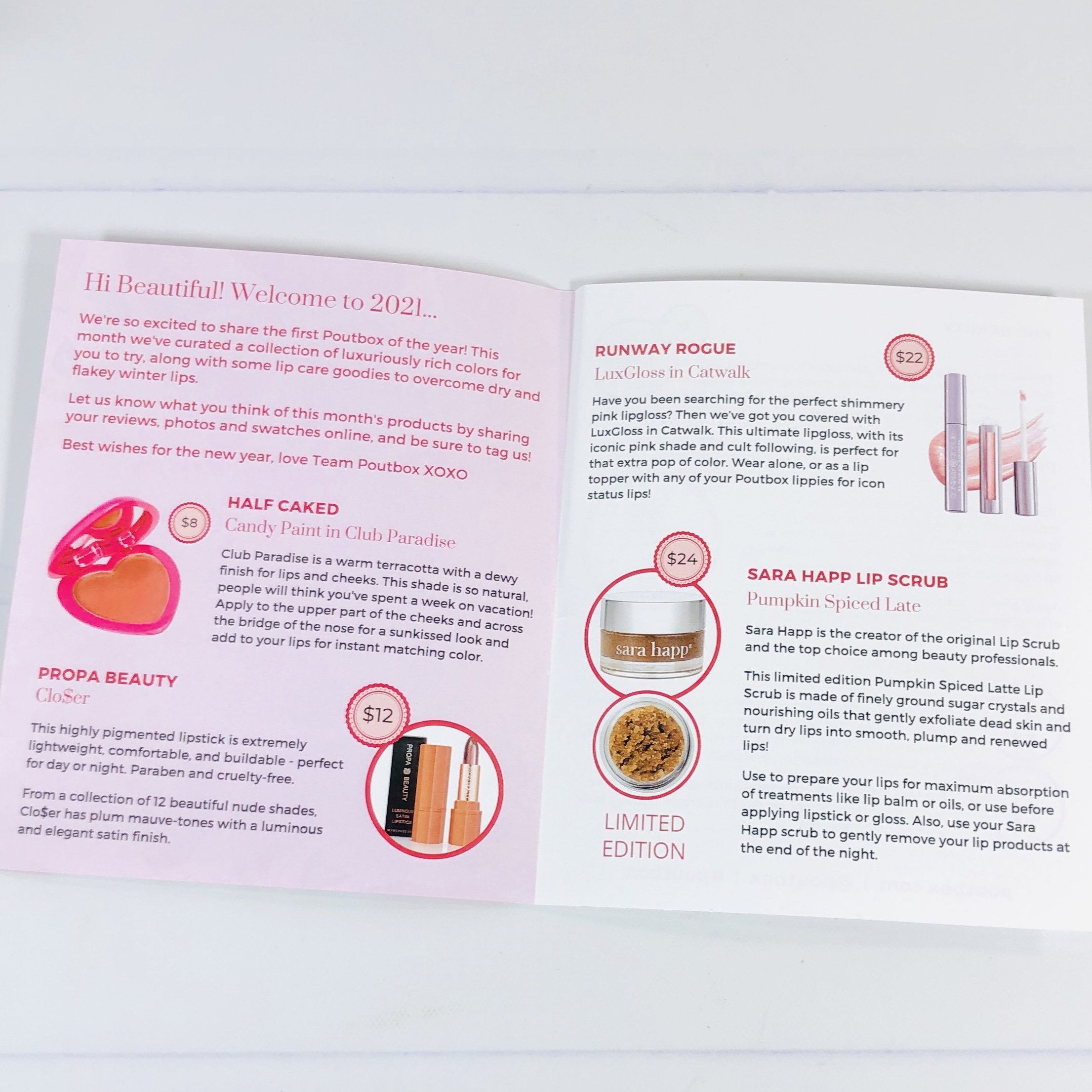 Inside I found all of the products listed plus a description and MSRP.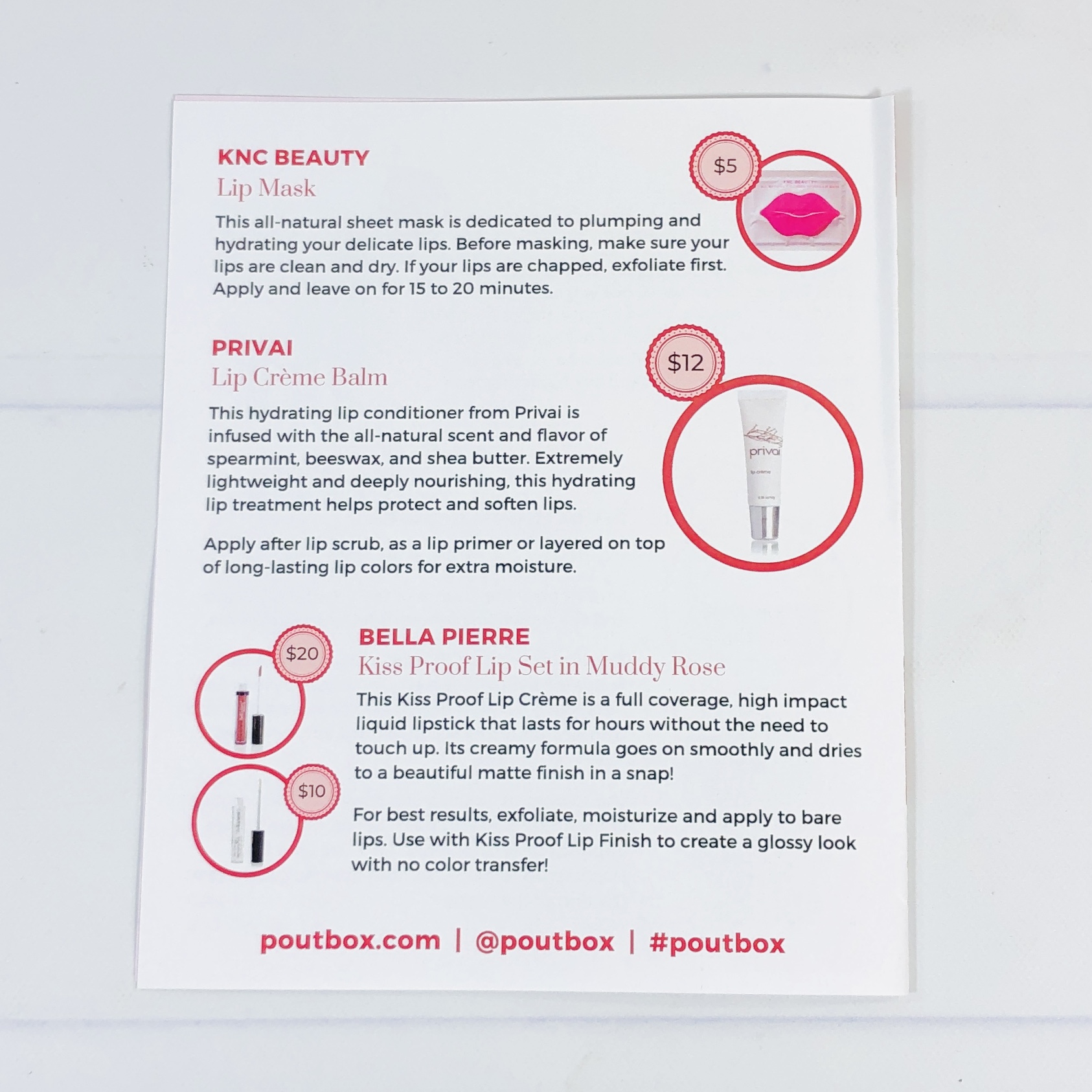 The back had the rest of the items.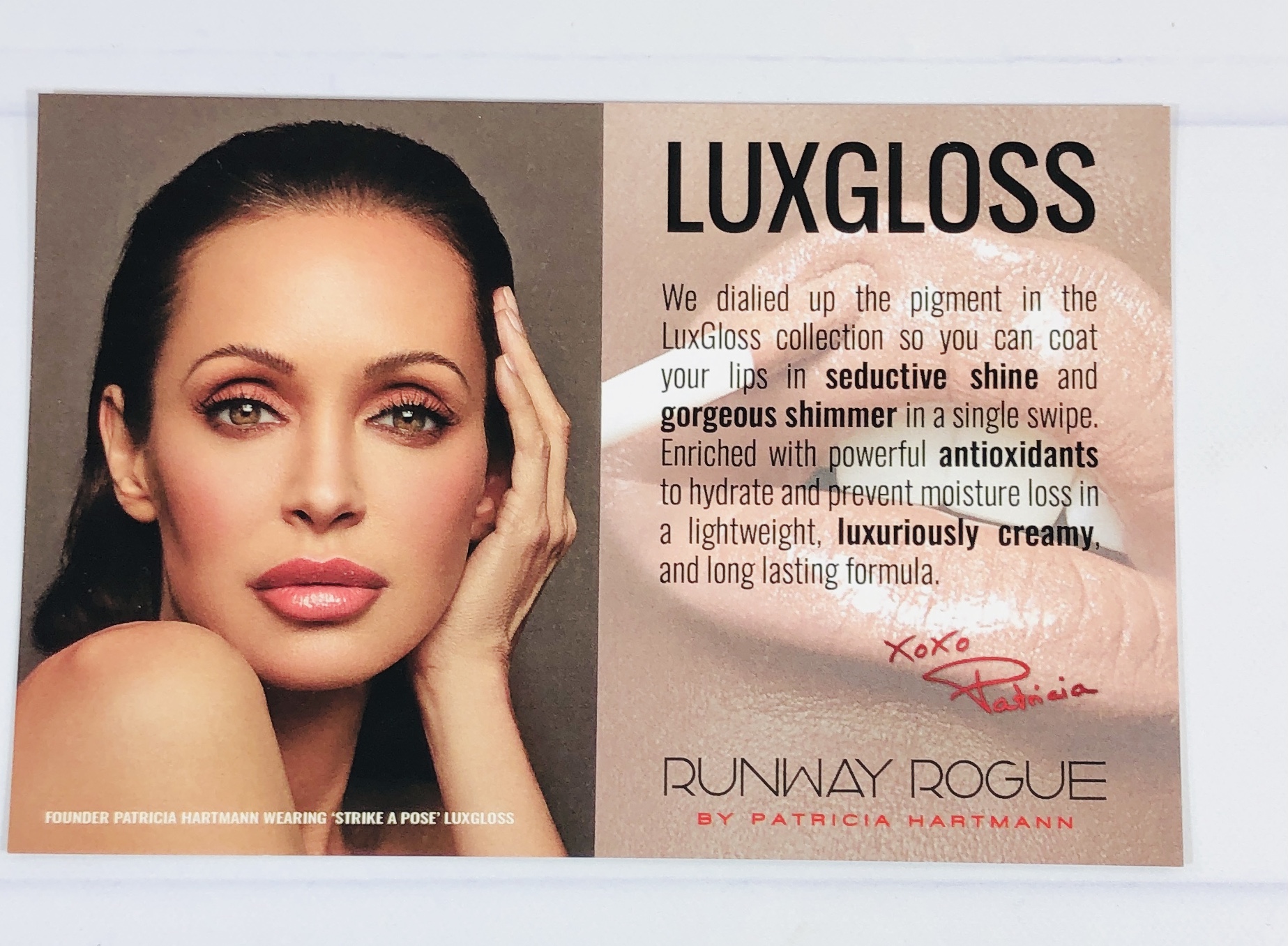 The only other insert was an informational card from one of the featured brands.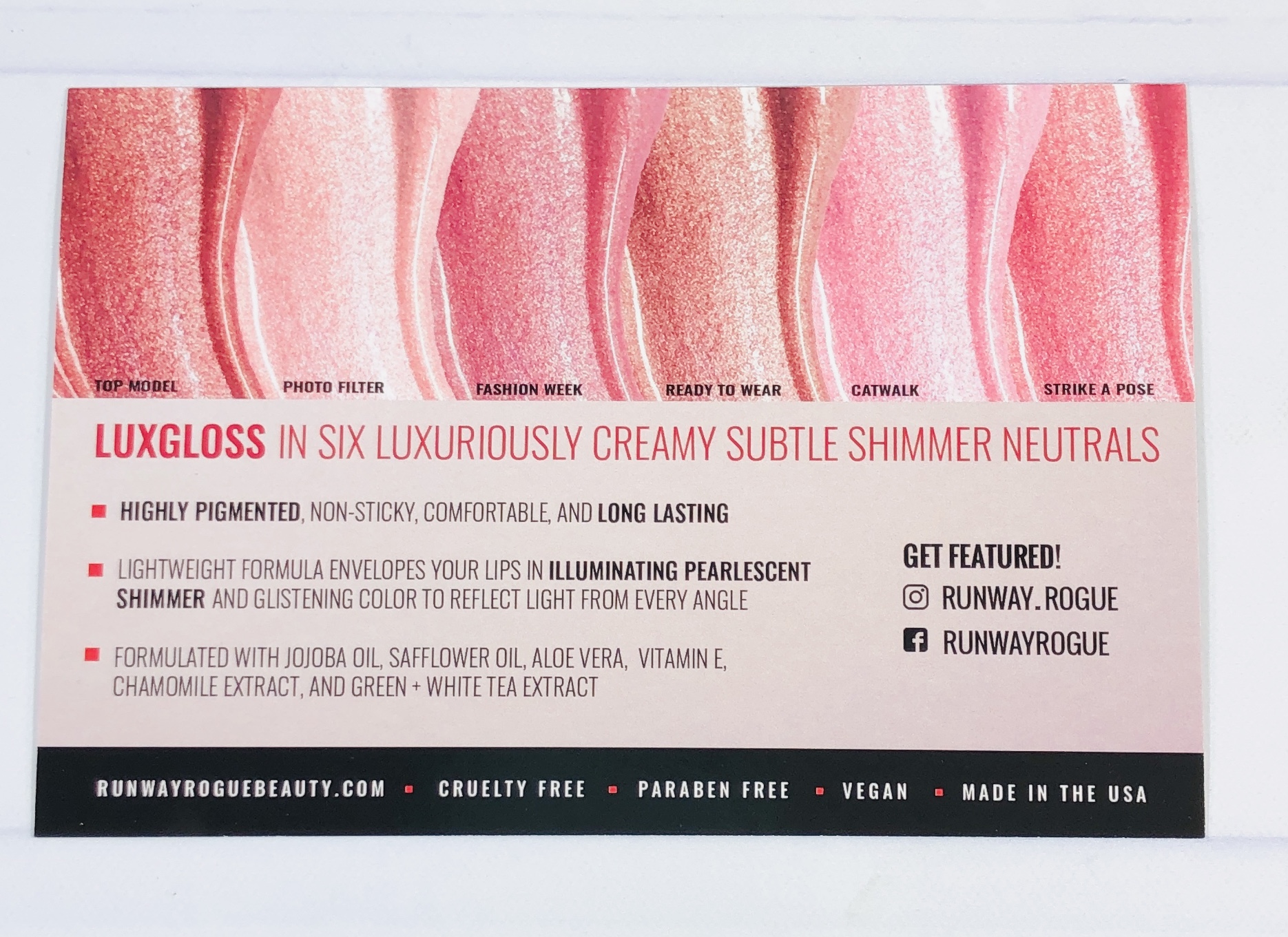 I think I would have been thrilled with any of those shades shown!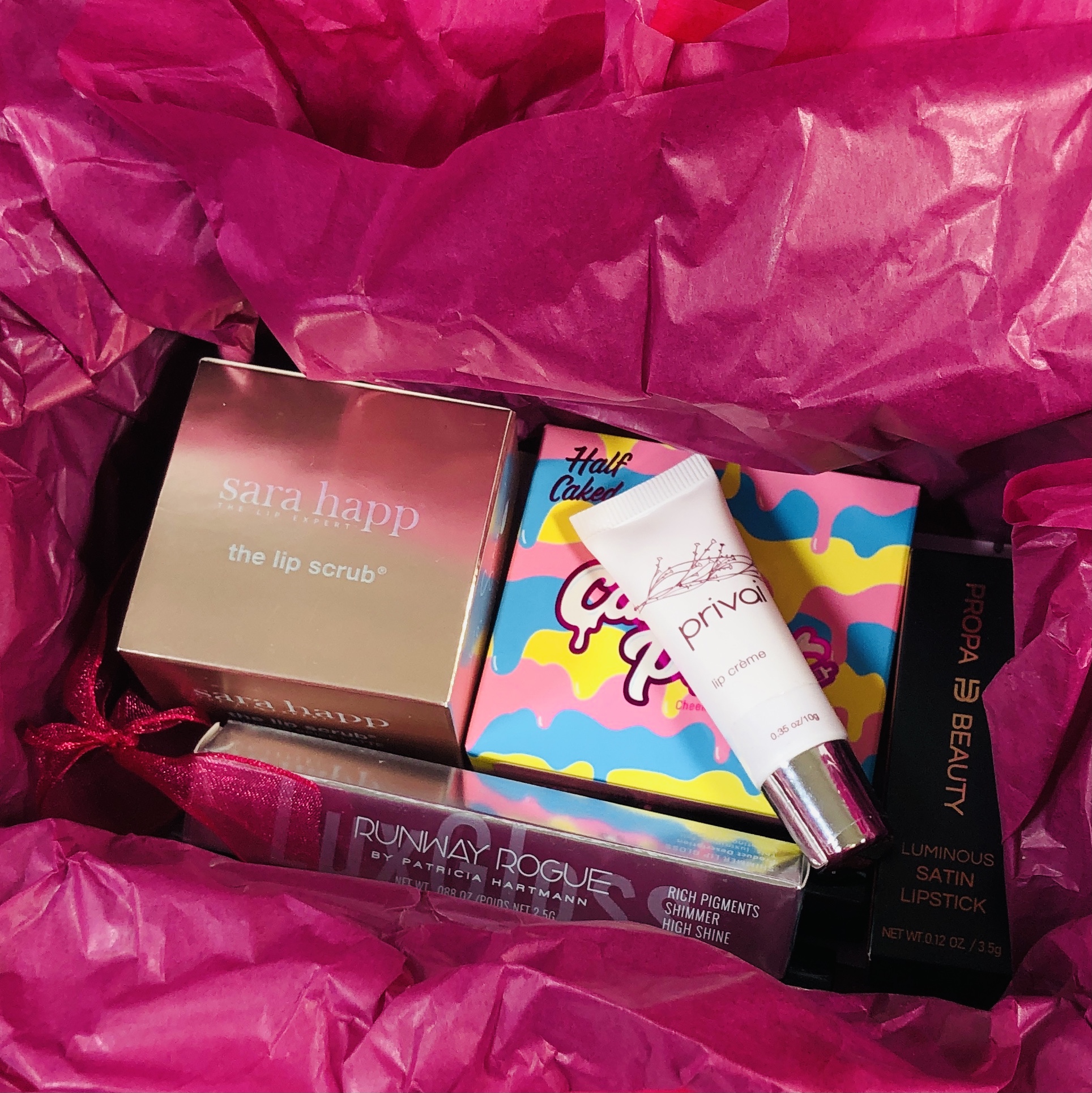 Most of the items came in their own boxes.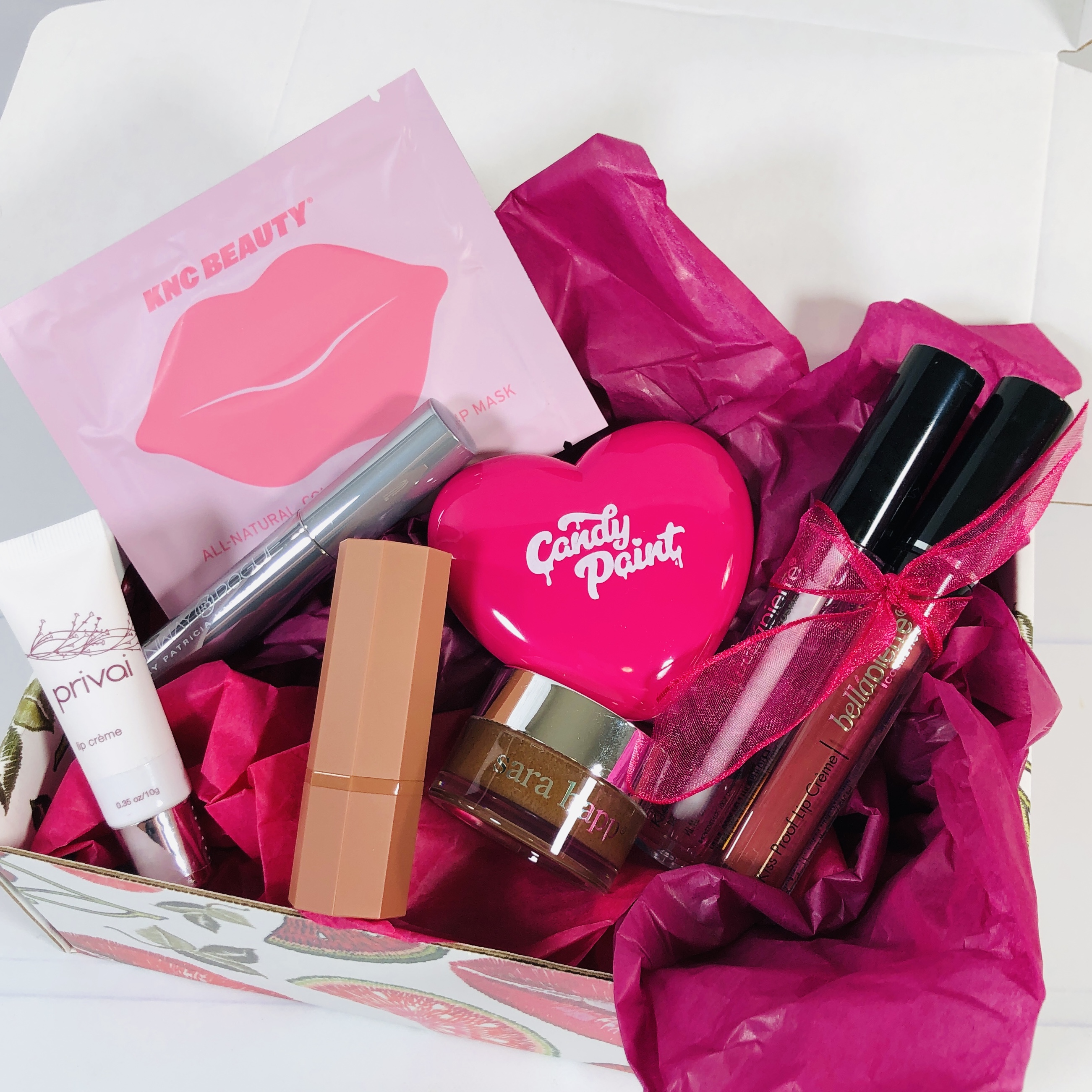 This is my first ever PoutBox!
Everything in my box!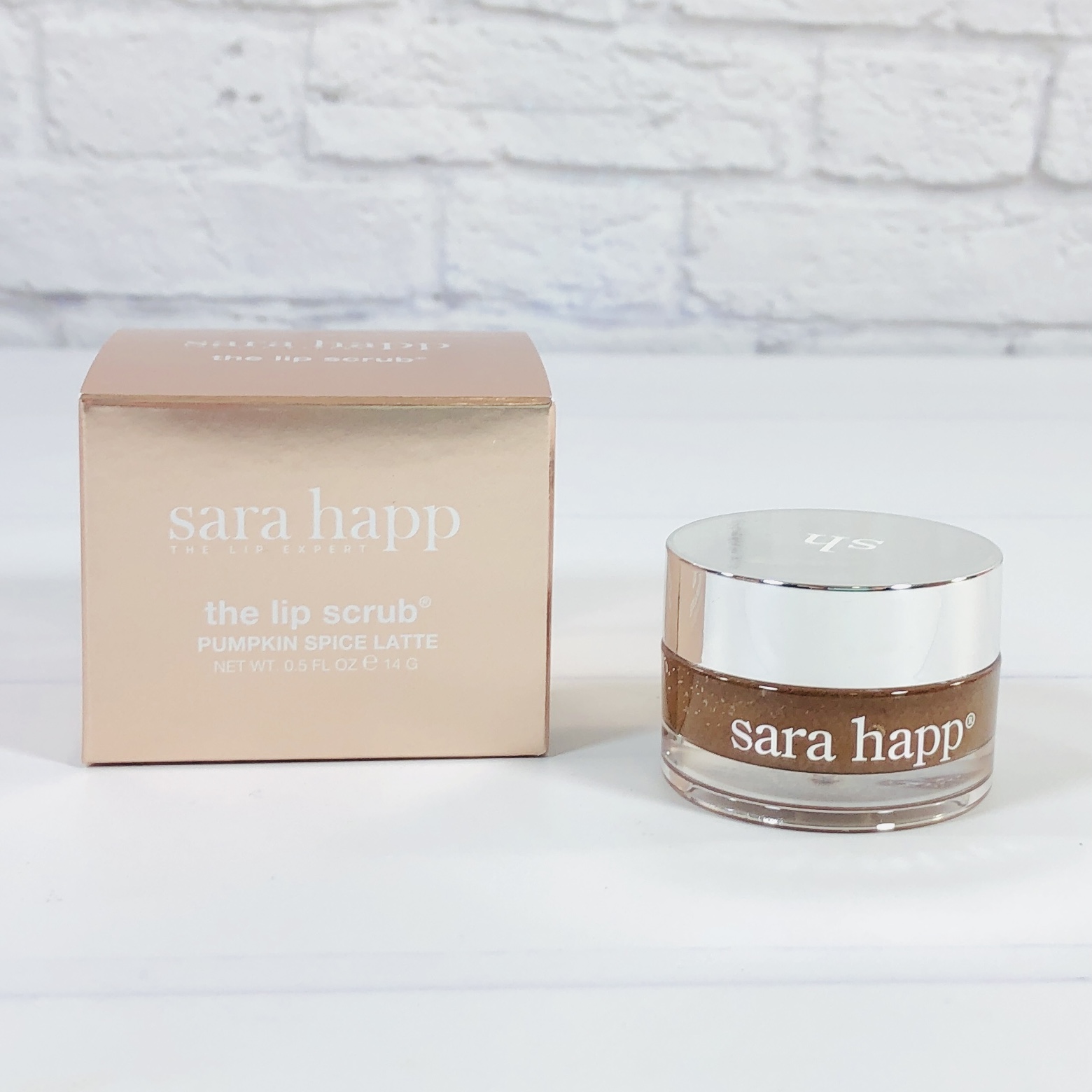 Sara Happ The Lip Scrub in Pumpkin Spice Latte ($24) A lip scrub is a great way to prep your kisser for all of those fabulous products that showed up in this box!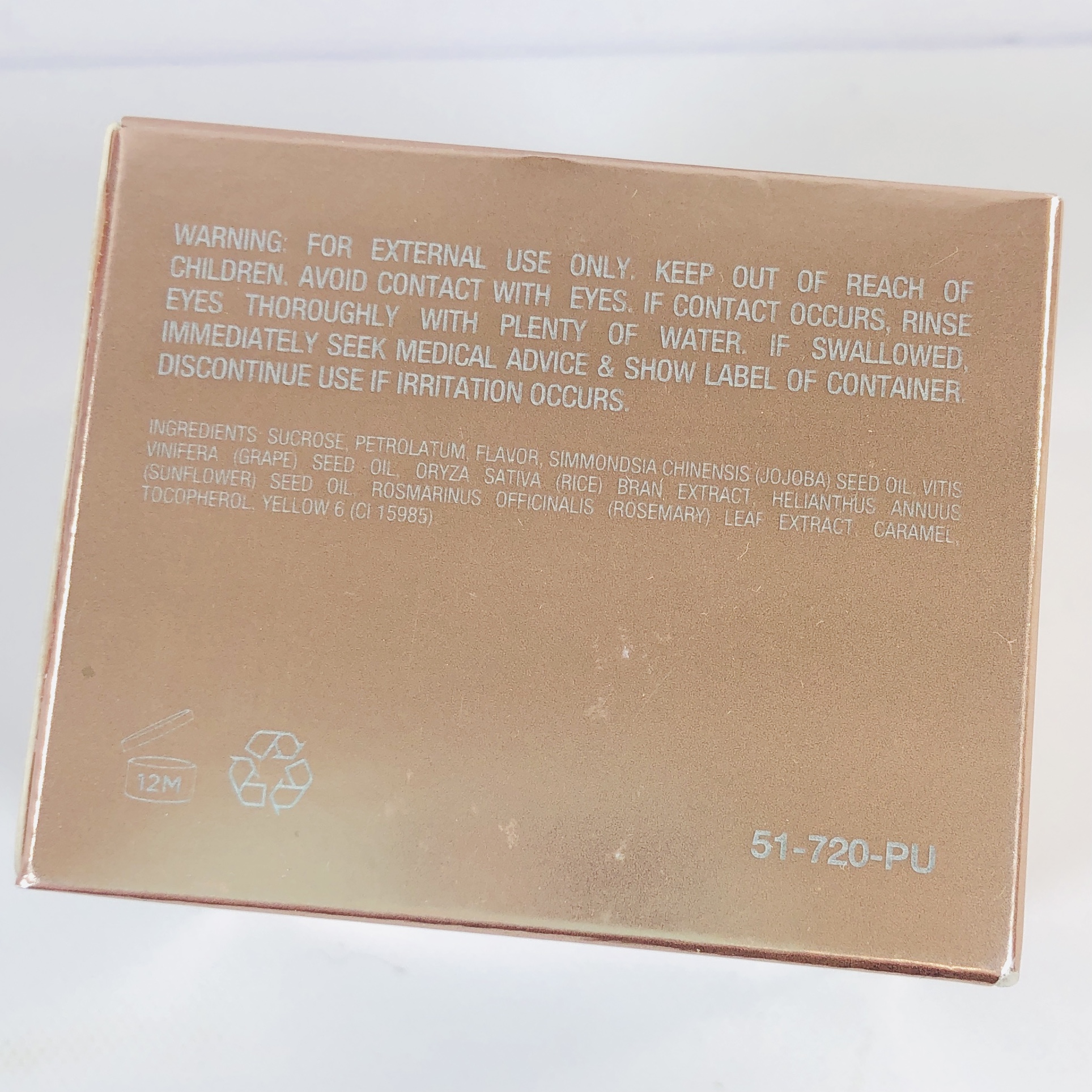 Sugar, petroleum jelly, and flavoring are some of the ingredients here.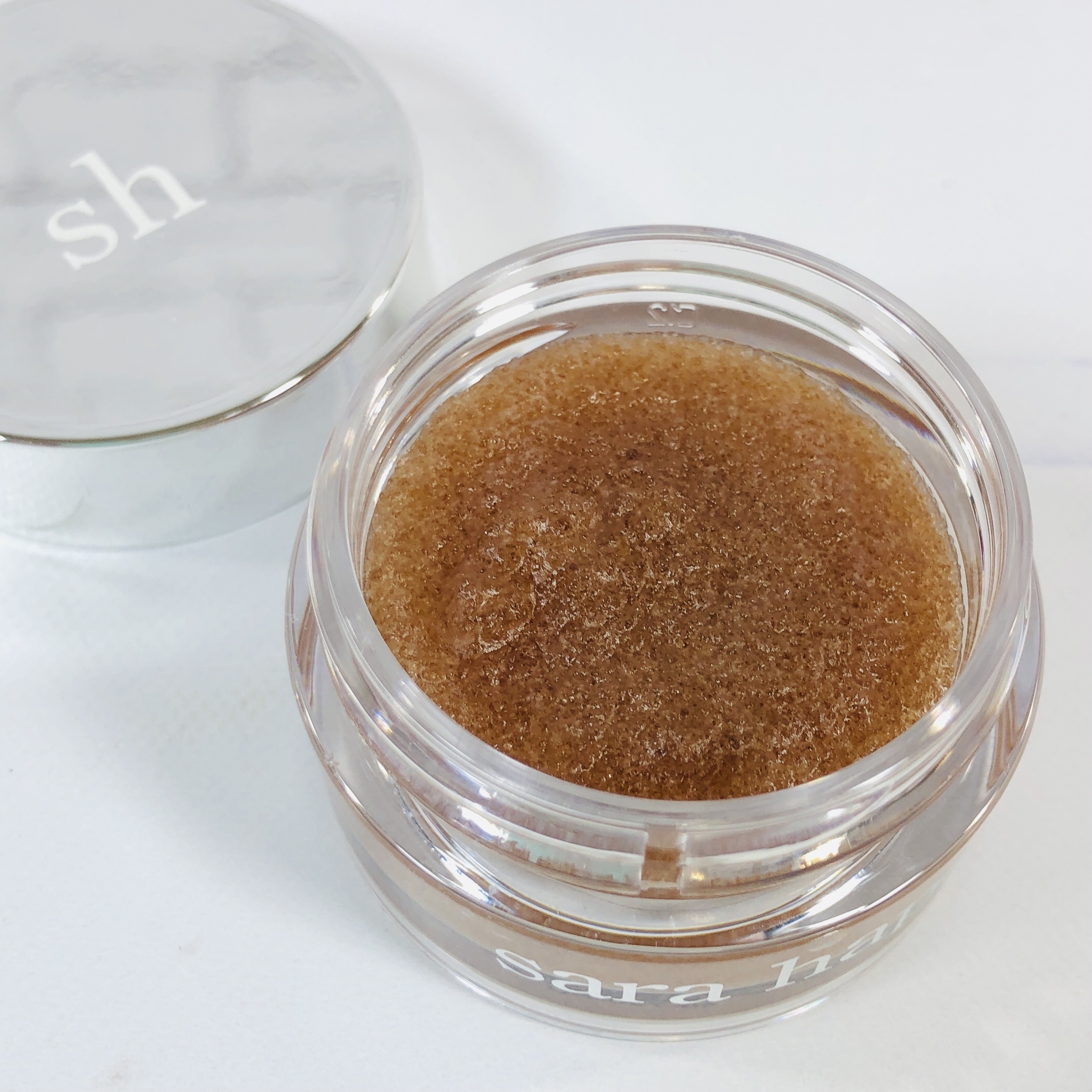 I placed about a pea sized amount on my damp lips and rubbed it around for a bit, 30-60 seconds should do it. I removed it with a tissue and then went over it with a warm, damp wash cloth. My lips felt smooth for the rest of the day! Despite the name I didn't really detect much scent or flavor, which is fine by me.
KNC Beauty Lip Mask ($5) A lip mask sounds like a fun way to infuse lips with moisture!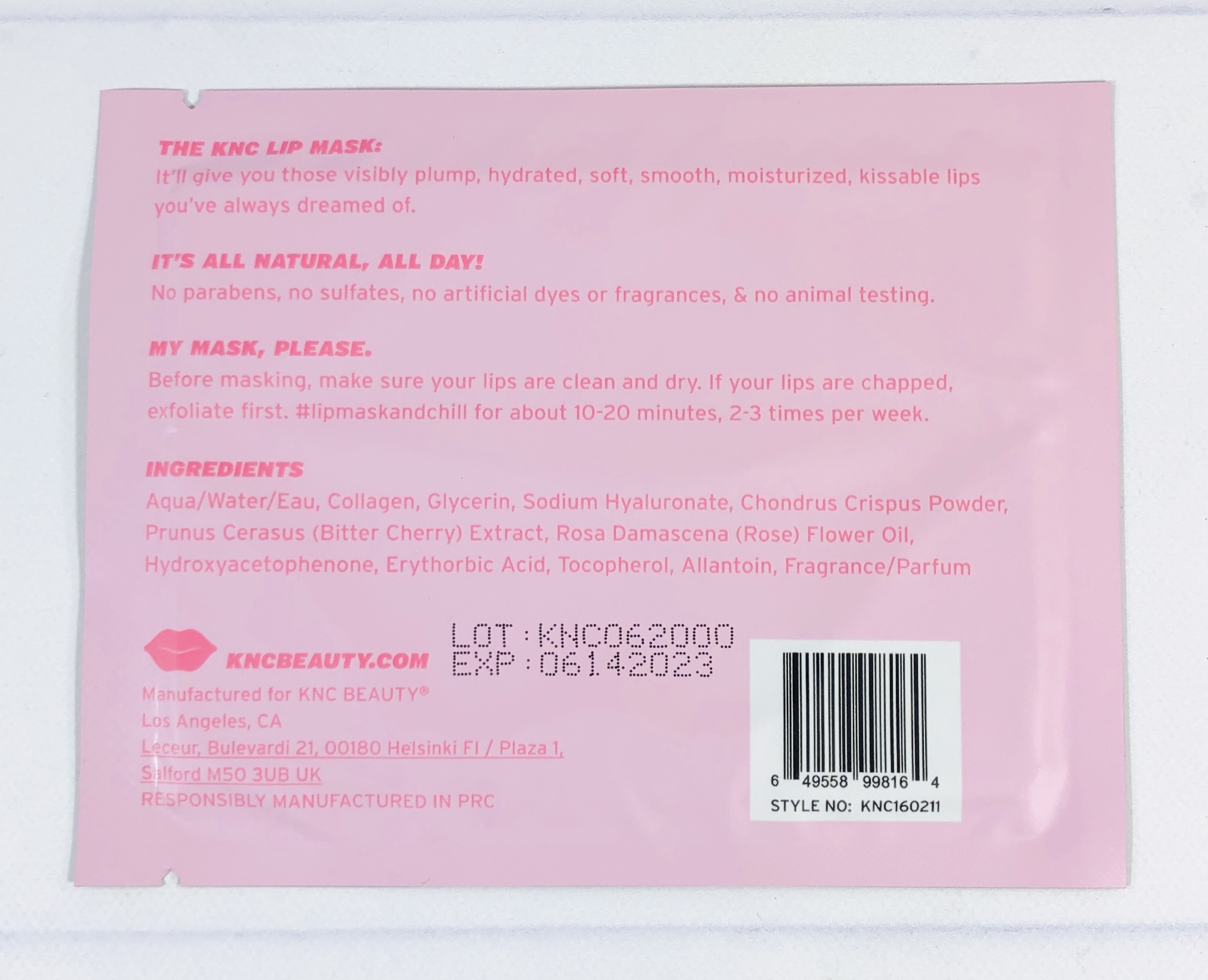 Here are the full ingredients, which doesn't exactly match the brand's website. Collagen, hyaluronic acid, and glycerin are a few of the first ingredients listed.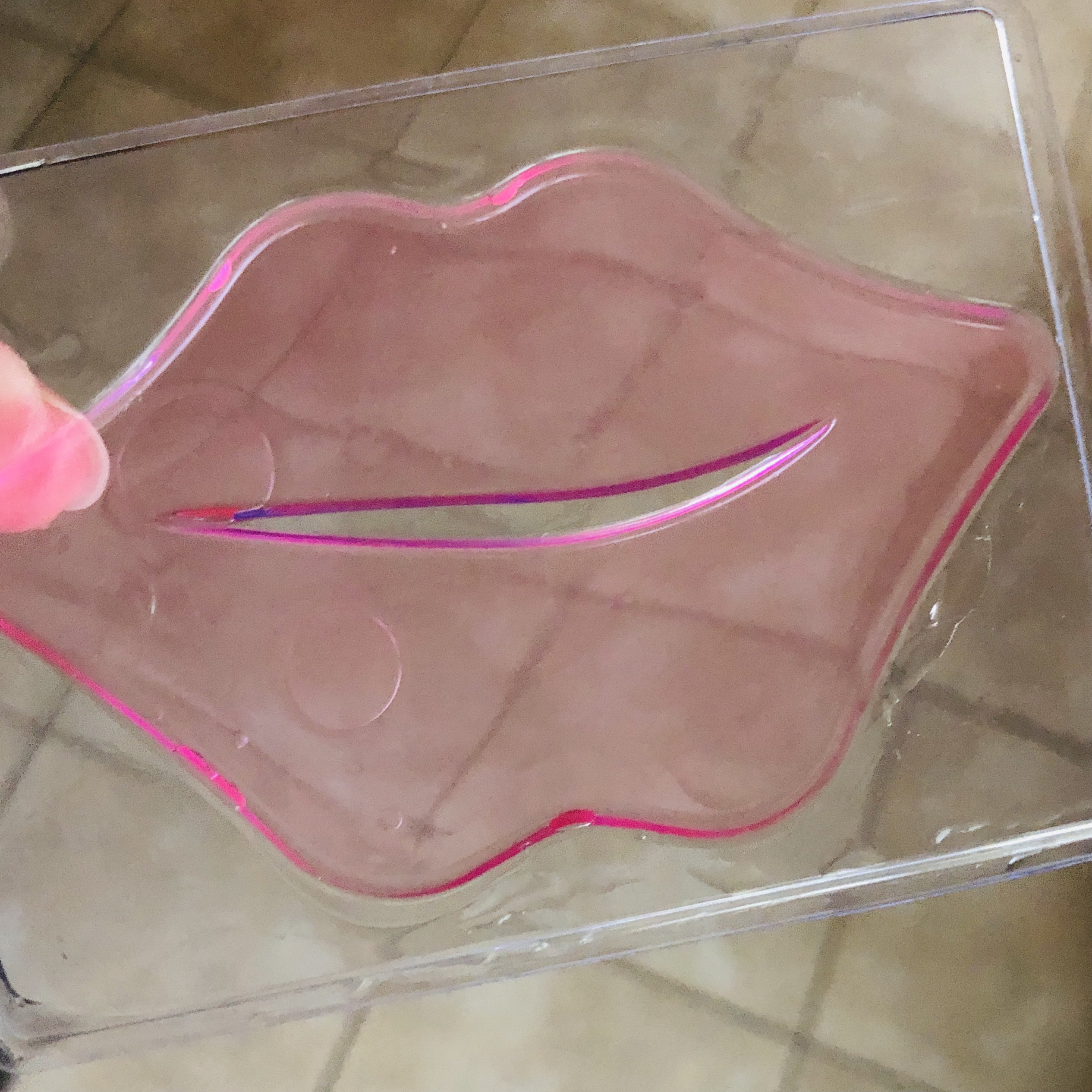 The mask was light pink and didn't have much scent even though parfum is listed. The model on the website has nice full lips but mine are virtually non existent unless I purposefully pout them out so this mask never really came into contact with my actual lips. It was a thicker jelly type of mask with a little serum but the mask itself wouldn't stay on unless I laid down on the bed or something. I felt a slight tingling and other than that the mask made no difference to my lips but it looked funny and gave me and my daughter a laugh.
Half Caked Candy Paint Cheek + Lip Tint in Club Paradise ($8) Based on the look of this compact I expected this to be a makeup line for teenagers but nope, the models are grown women so this is perfect for those who have that little girl inside or who are into girly stuff, so cute!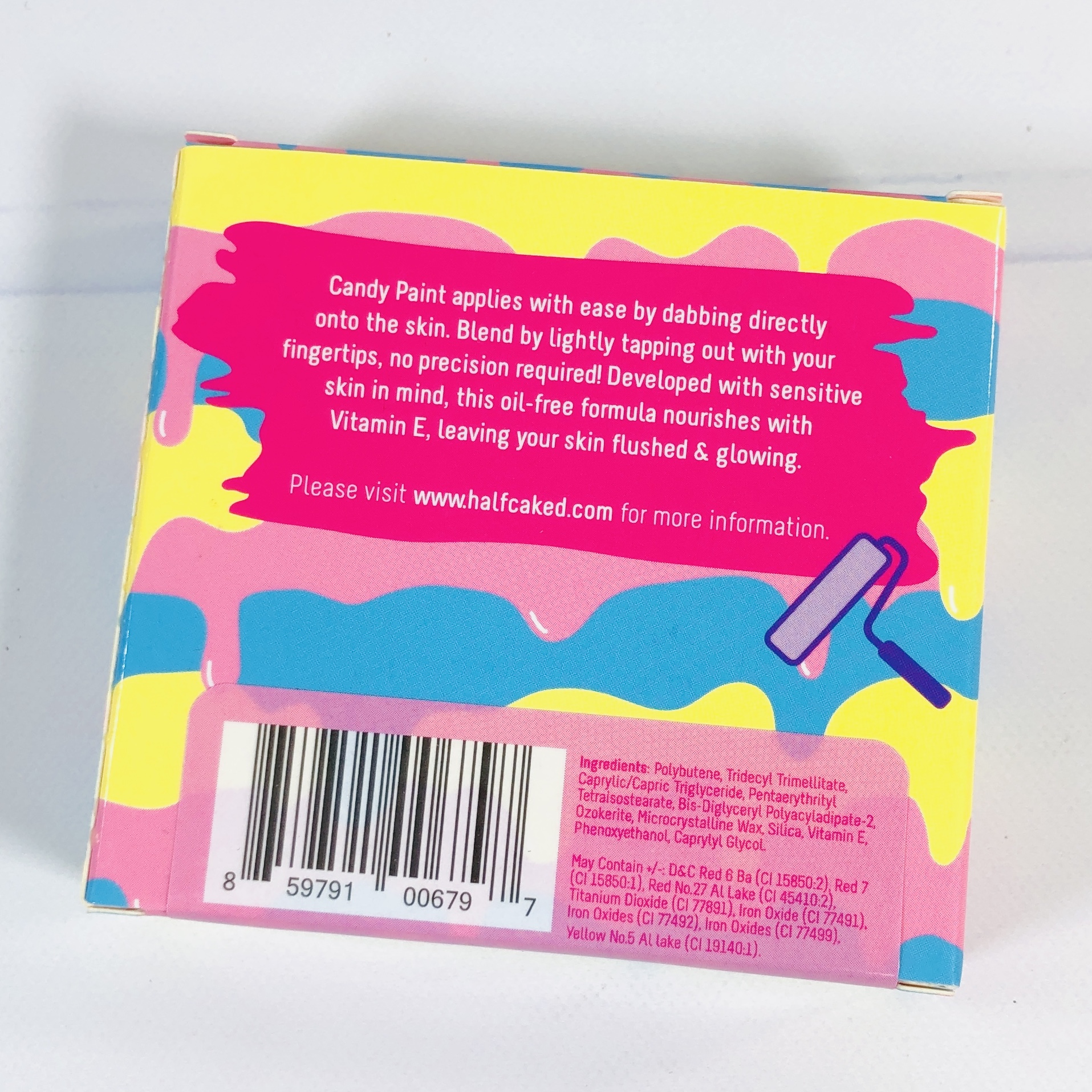 Here's the ingredients.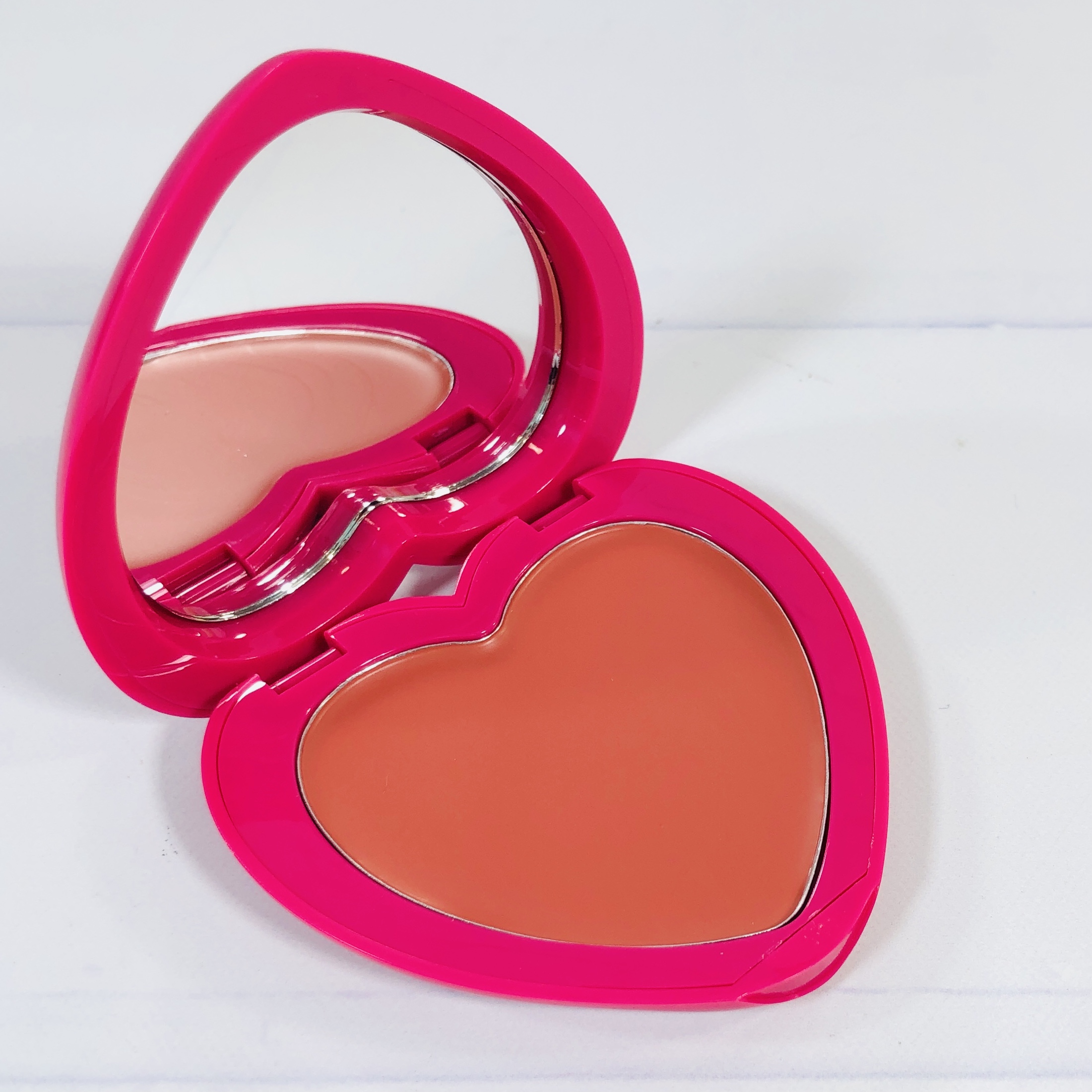 Club Paradise is described as "warm terra-cotta with a dewy finish" and I think that sounds about right. I dabbed it onto my cheeks and it was easy to apply and blend, a little gives a healthy looking flush. I also used it on my lips where it was more of a gloss and again, I was happy with the results!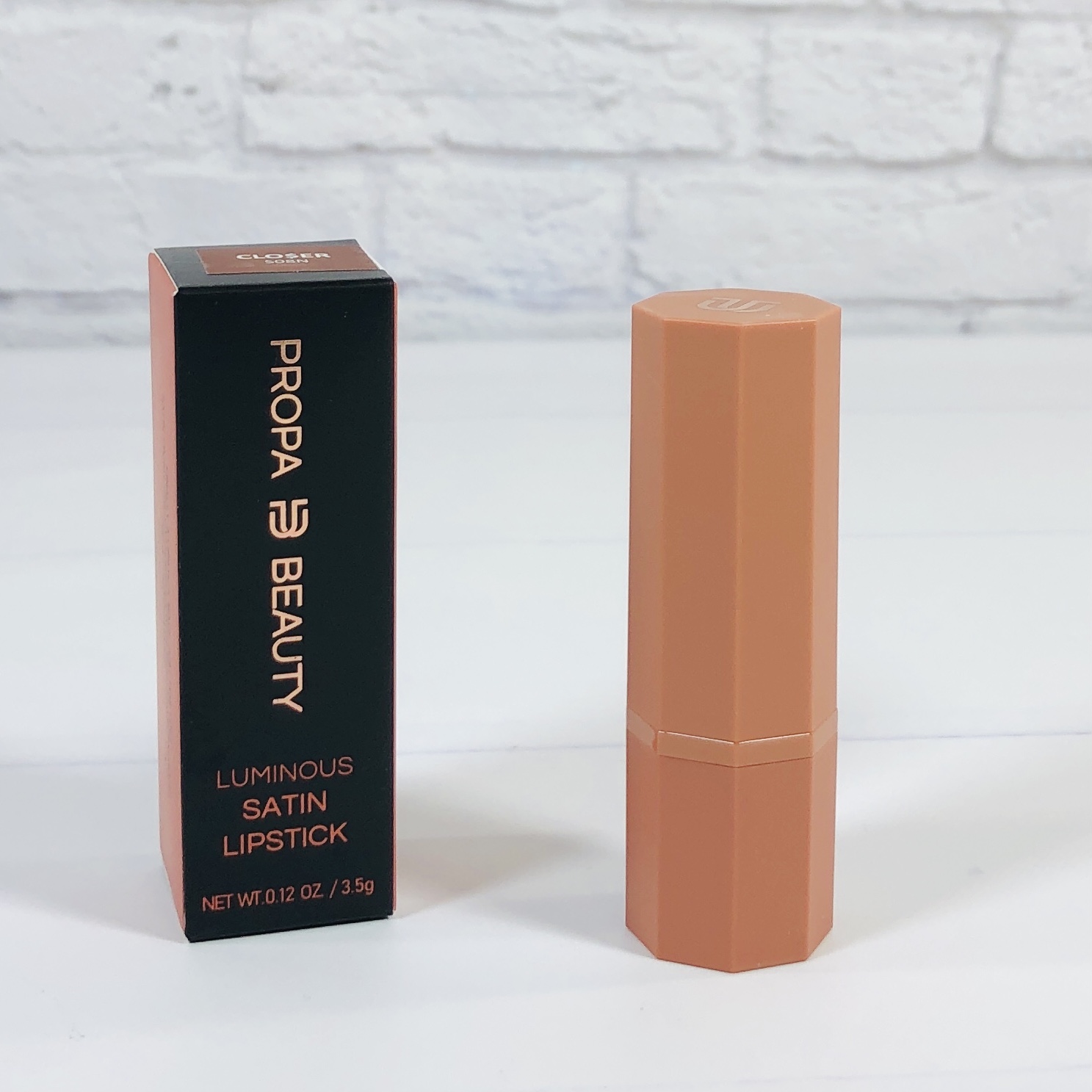 Propa Beauty Satin Lipstick in Clo$er ($12) I have been introduced to several new-to-me brands in this subscription box and here is another one!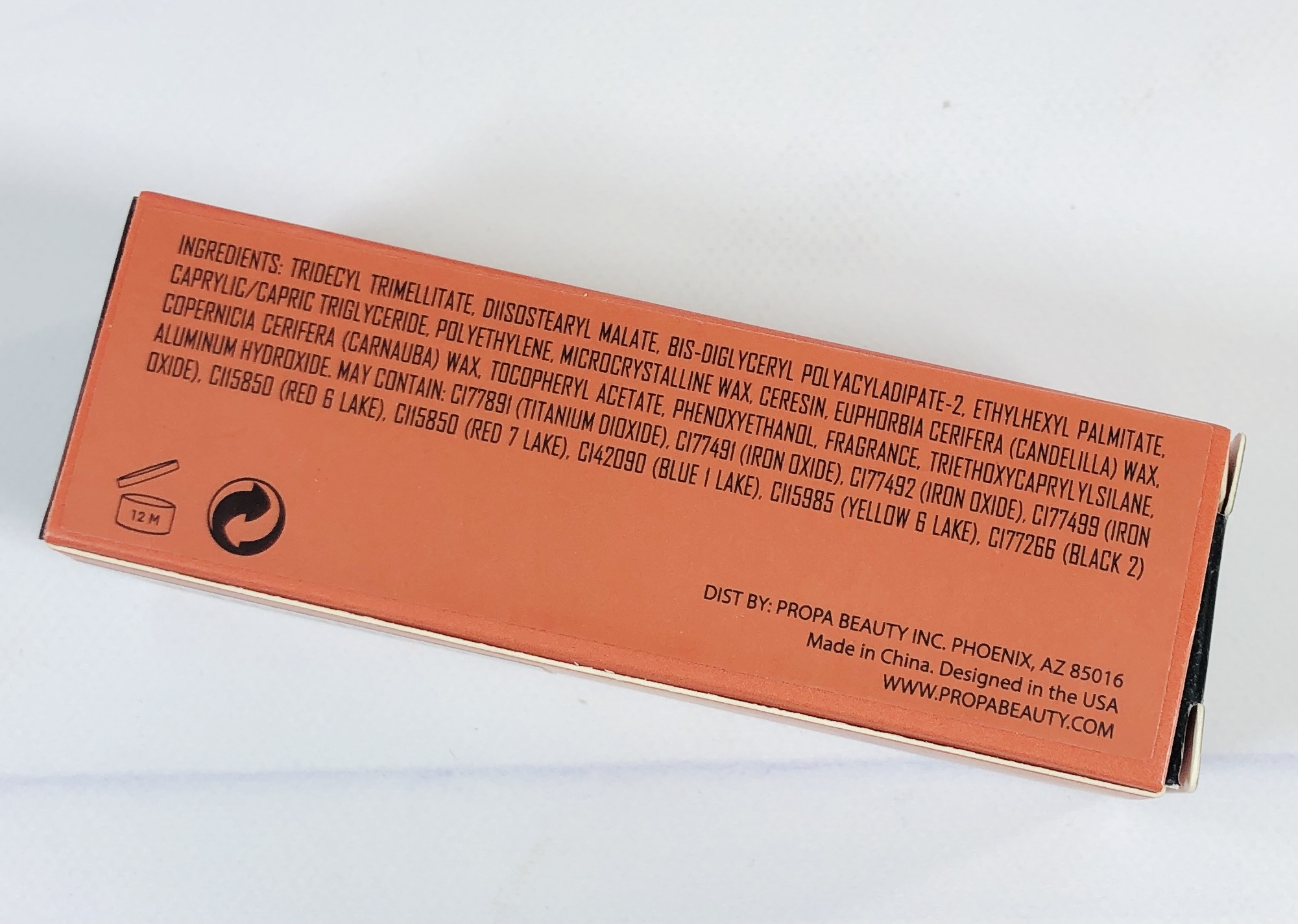 Here's the ingredients.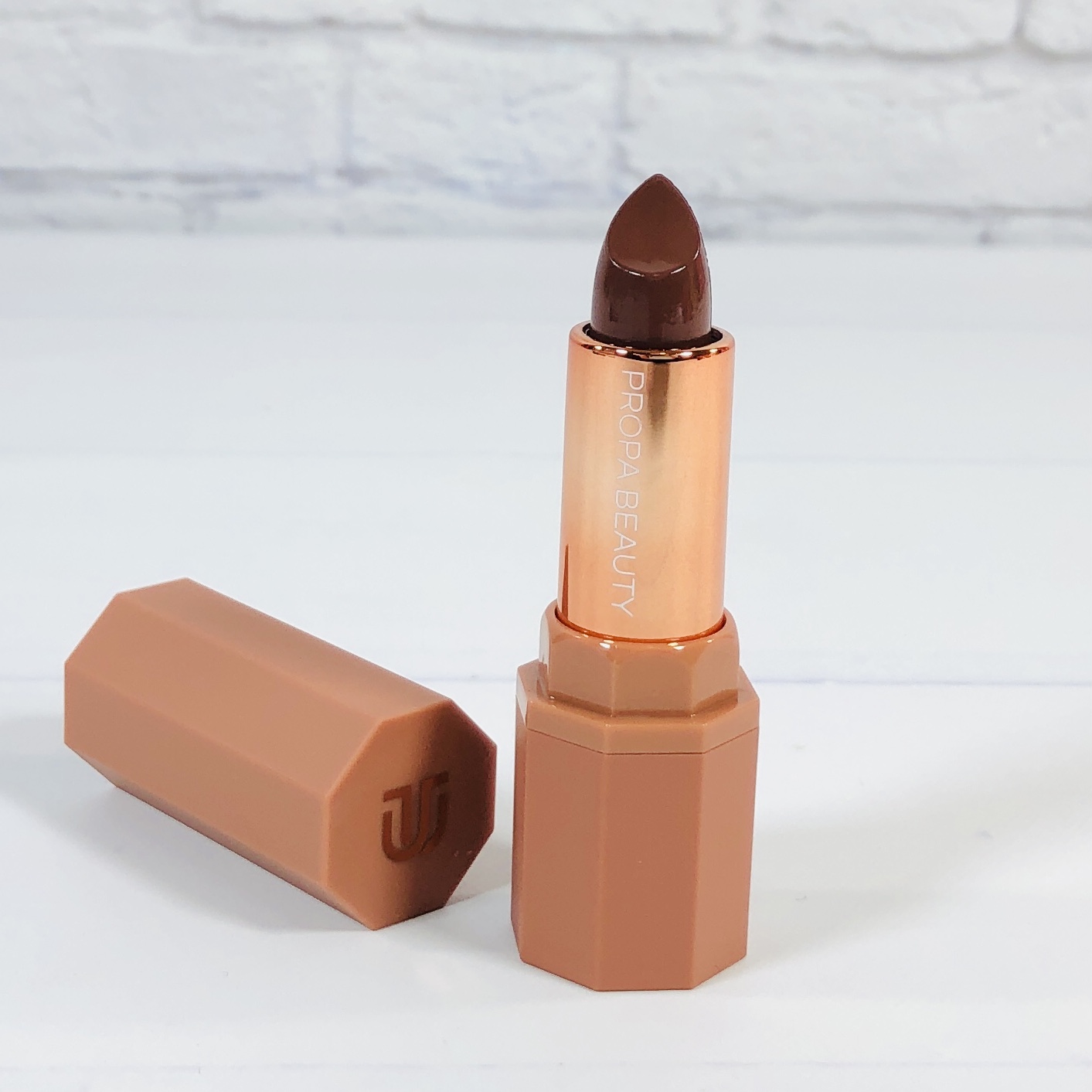 I was prepared to dislike this, I would never have chosen this shade for myself. The description says it is supposed to have plum mauve tones and it looks chocolate brown to me. It has a satin finish and left my lips feeling moist rather than dry and was really creamy. It wasn't too deep though and although I still probably won't get much use out of it I did decide that I liked the formula and that the color wasn't too bad on my pale skinned, brown haired self. It reminded me of a retro 1990's look. Are the '90's considered retro yet? Swatched below.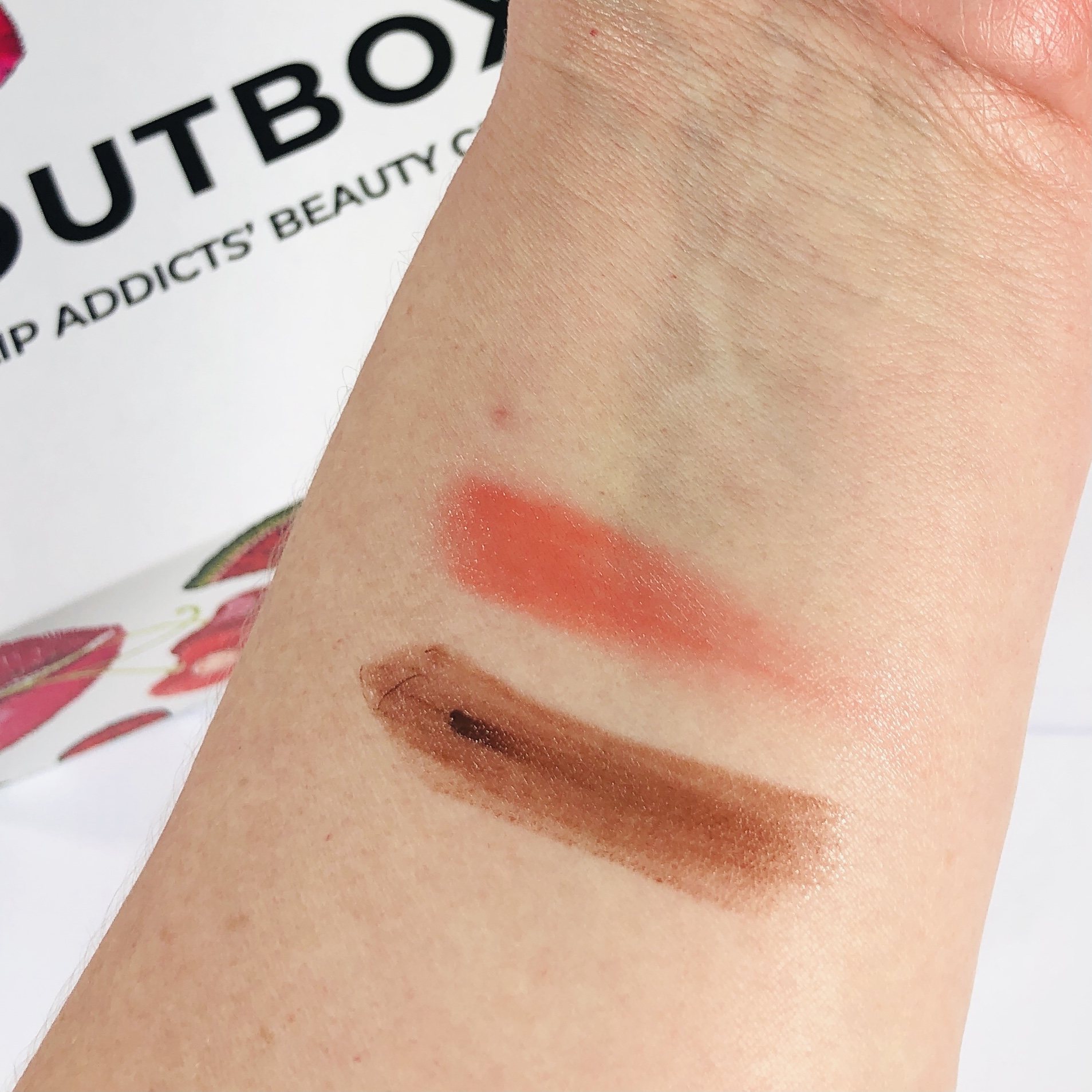 Swatched on top is the Half Caked blush/lip color and on bottom is the Propa lipstick.
Privai Lip Crème  ($12) A minty lip balm is refreshing and nourishing, perfect for winter dry lips.
Safflower oil, beeswax, shea butter, and some plant extracts can be found in here.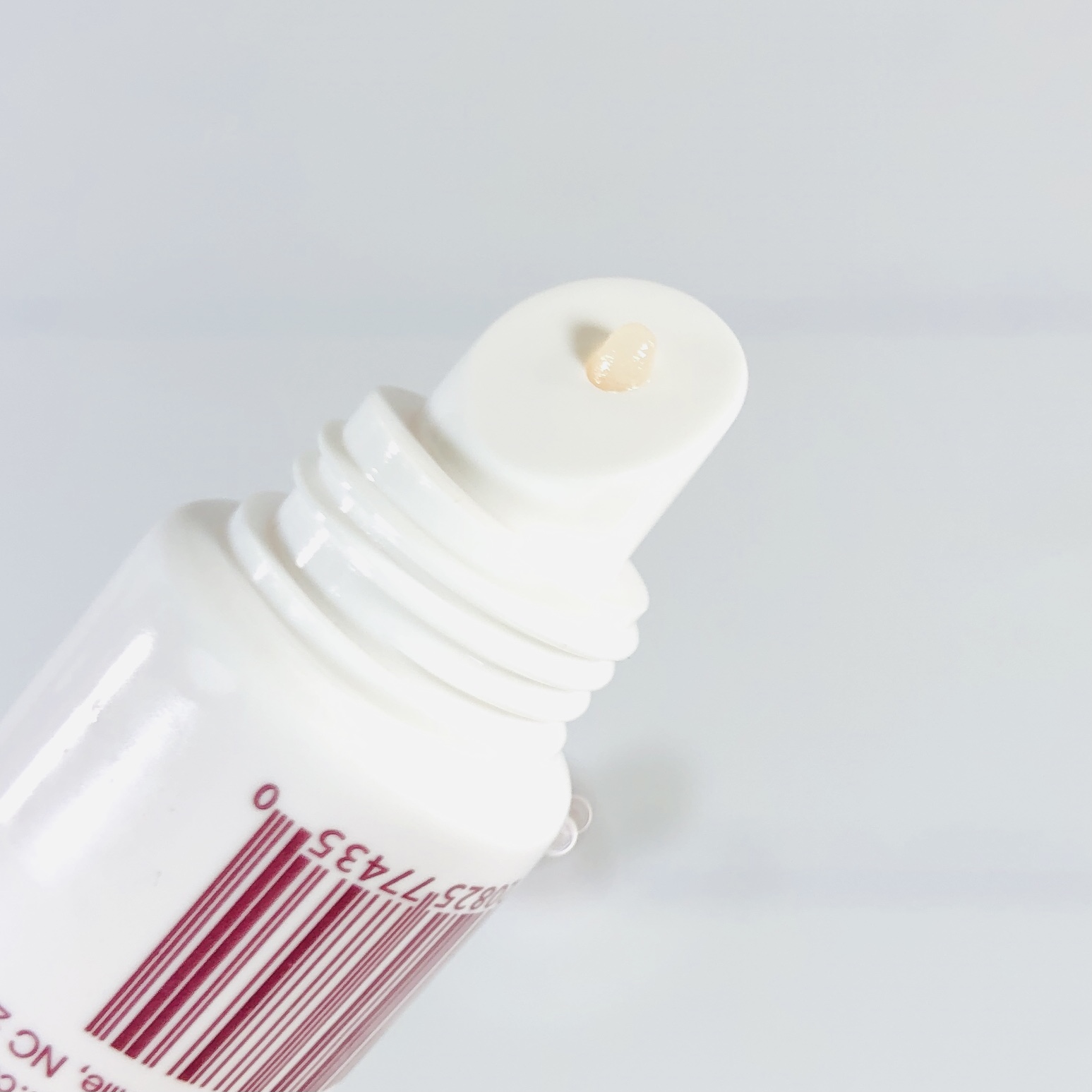 The product has a super light pink tint here and the spearmint gives it a refreshing scent/flavor. It left my lips soft and flavorful.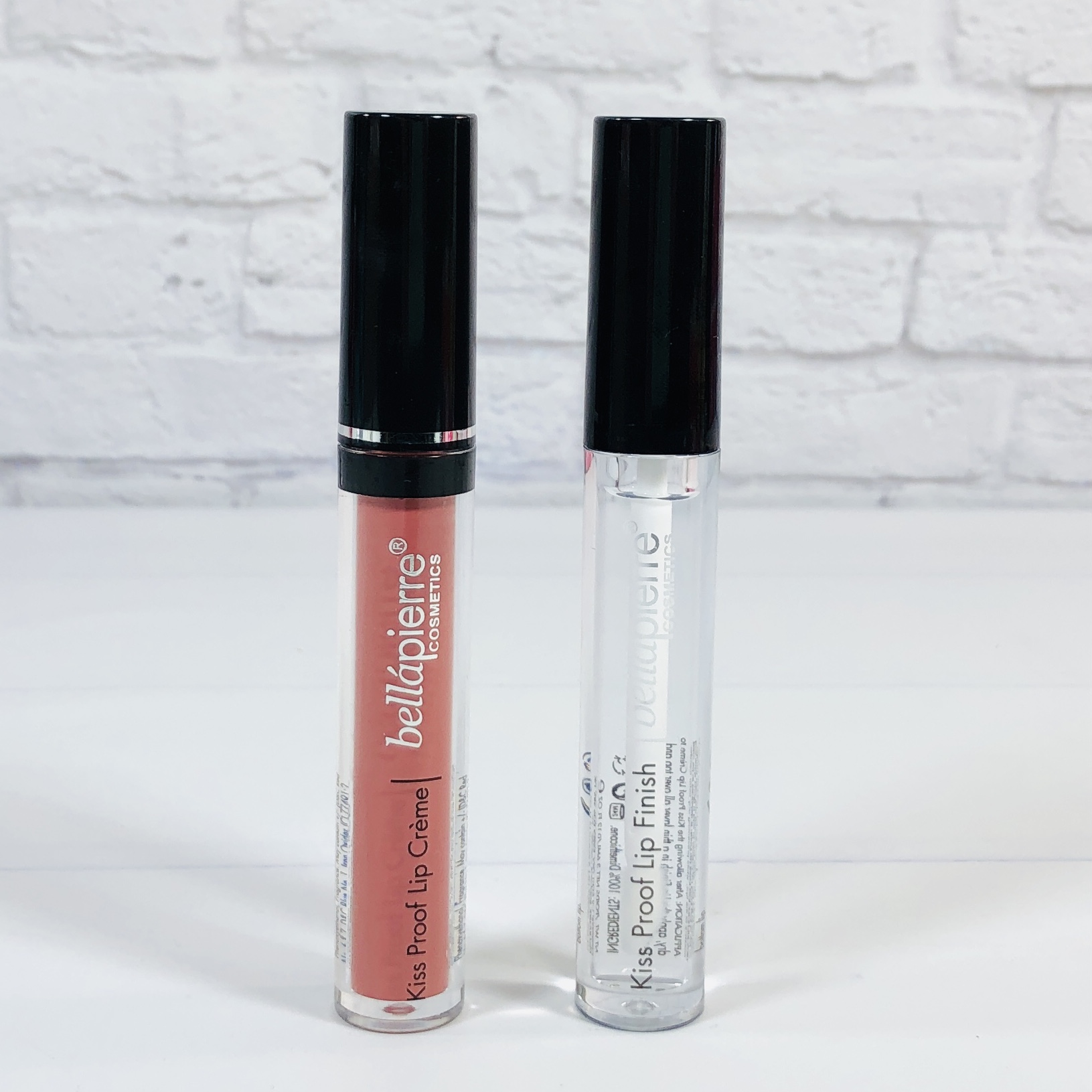 Bellápierre Cosmetics Kiss Proof Lip Crème in Muddy Rose ($20) and Bellápierre Cosmetics Kiss Proof Lip Finish ($10) This lip color is supposed to lock in place while the topper gives it a glossy finish, so you get two lippie looks instead of one.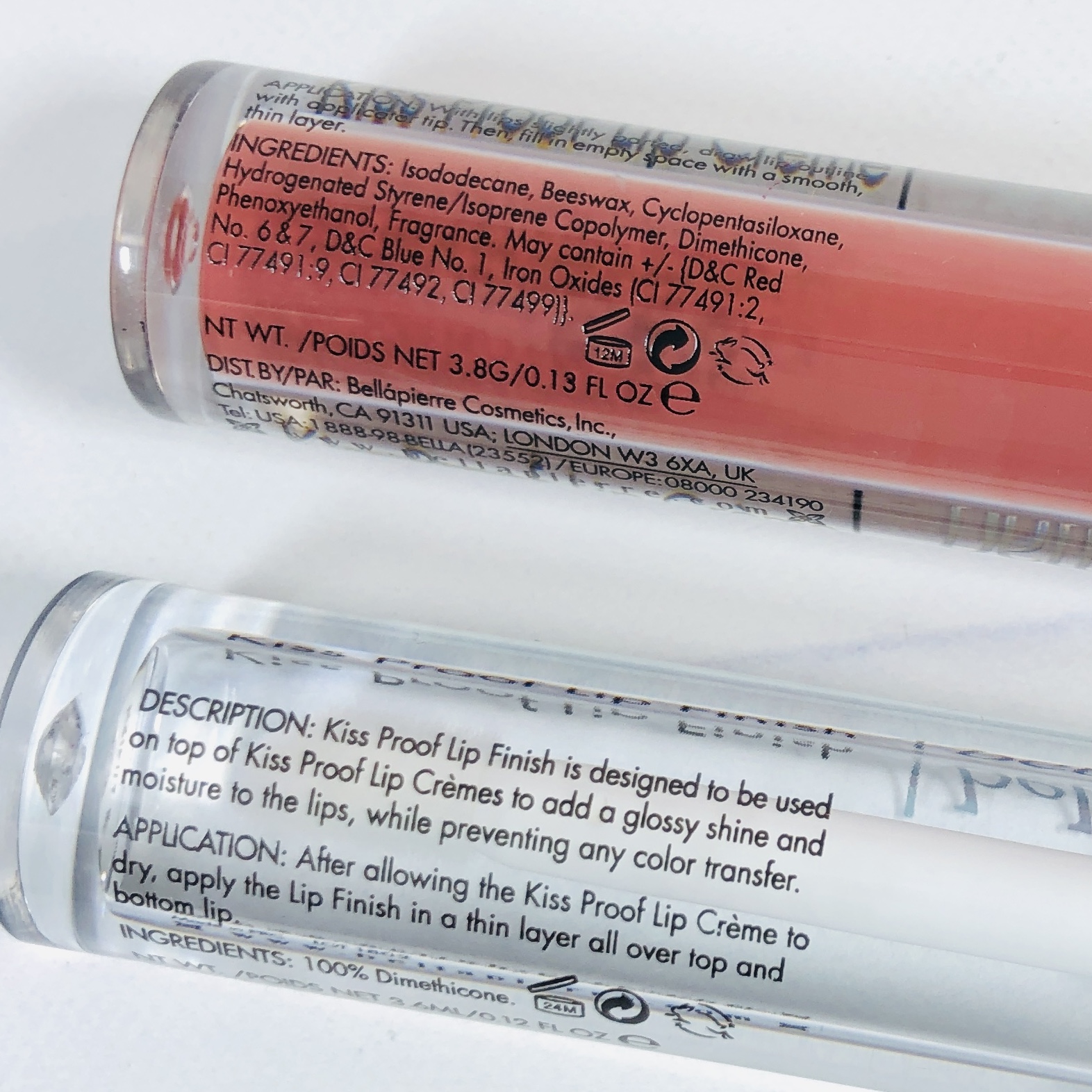 Here's the ingredients for your perusal.
The lip color dried matte and it does so quickly, make sure to get it in place! The topper is optional, it simply turns the look glossy but it doesn't transfer the color, so the wand stayed clear. The color was darker than I expected and as it faded it left a ring around my lips. If you are wearing it around others then I would suggest keeping a lip balm close by. When the color starts to fade, you can use the balm as a makeup remover in a pinch, just slick it on and wipe it off with a tissue. Then you can reapply if you choose to. Swatched below.
Runaway Rogue Lip Gloss in Cat Walk ($22) Here is another lip product that reminds me of being a teen, wearing glossy lip stuff everywhere.
Here's those ingredients.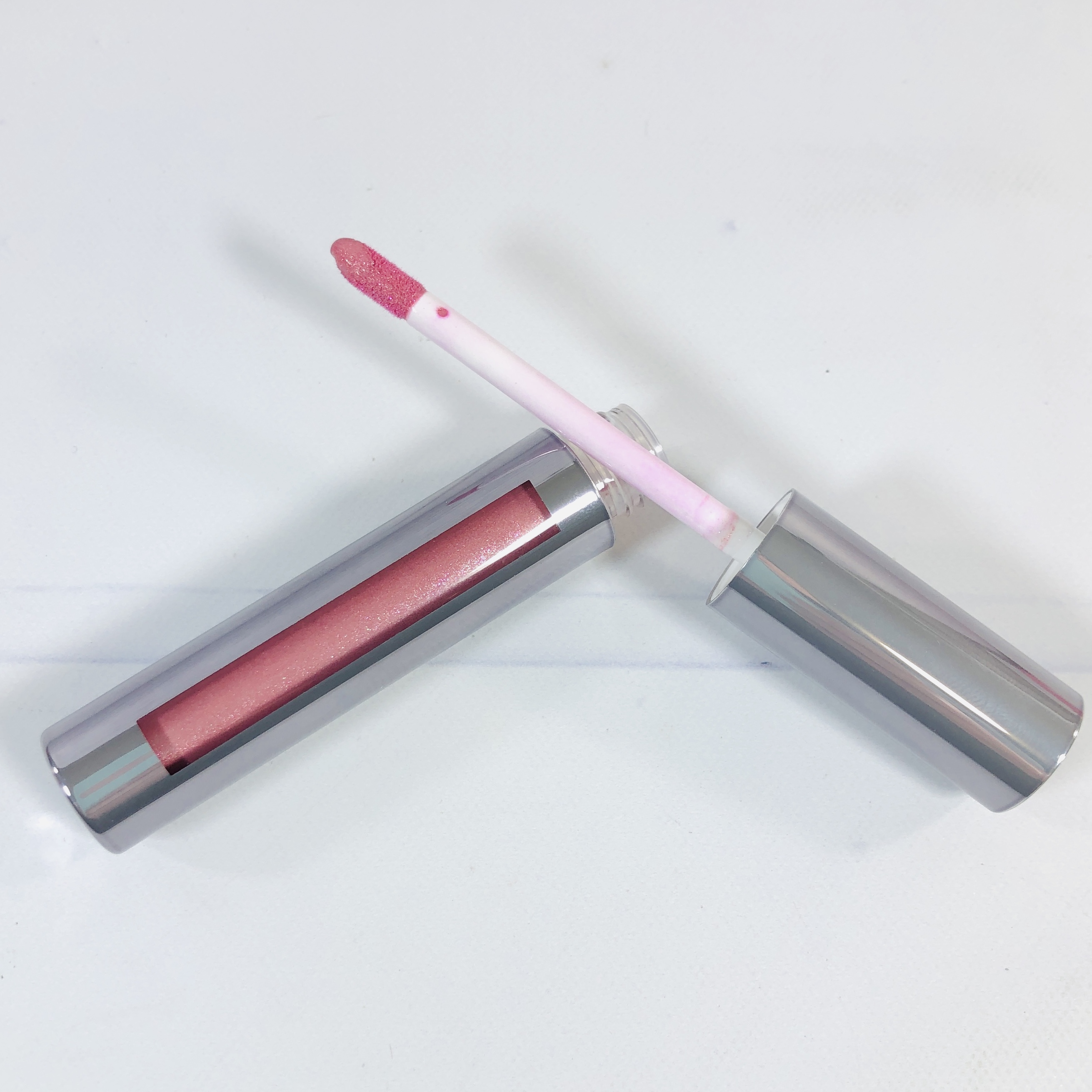 The shade Cat Walk is described as "pale pink with subtle shimmer".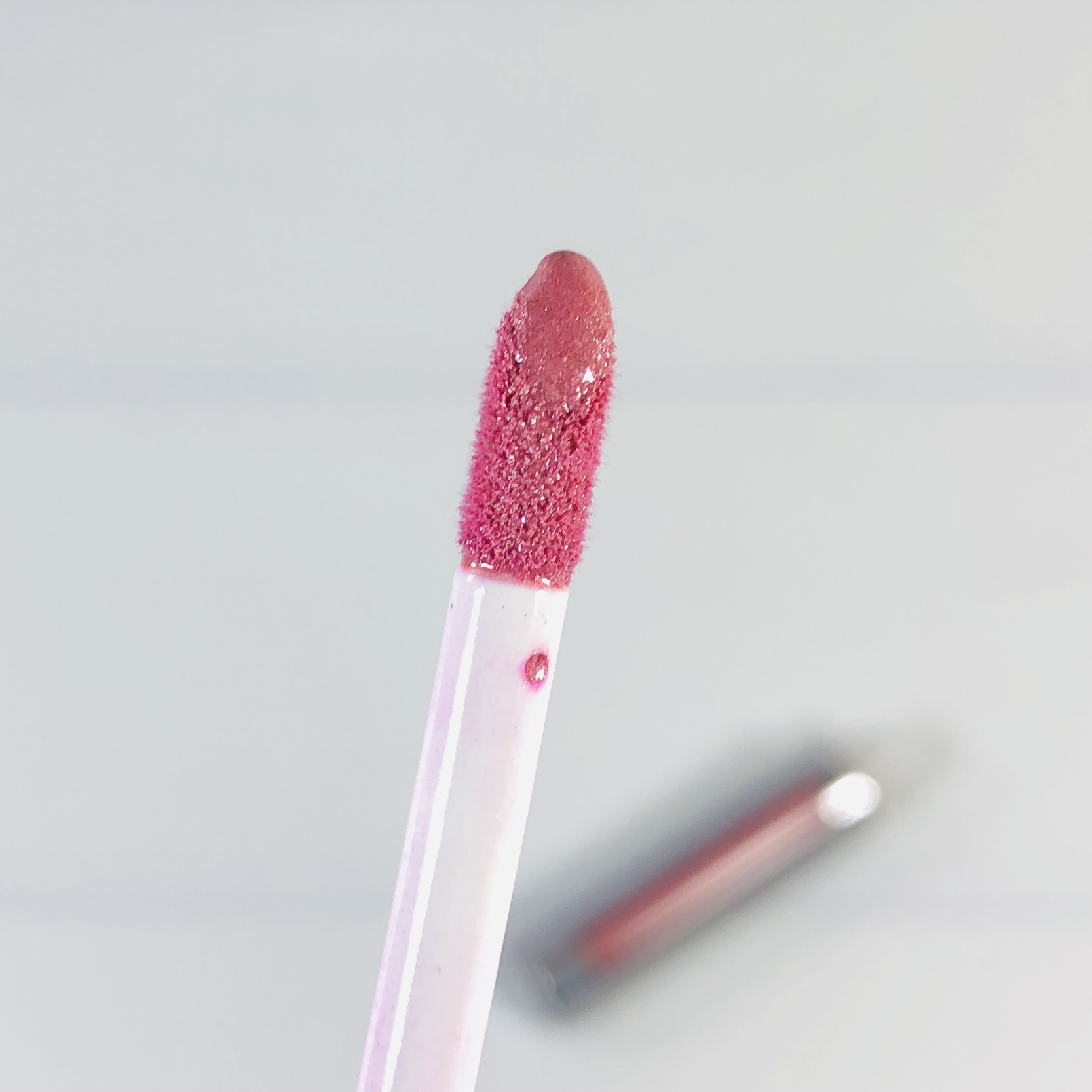 It's also opaque, which I wasn't expecting. It covered my natural lip color completely so that I had pale pink lips with lots of glittery shininess. I combined it with the chocolate brown lipstick and it was a pretty good look, still kind of pale for my lips though. The formula felt great on my lips and wore off evenly. I think it would have been perfect if it was a little less opaque, that white base was kind of much for my personal style.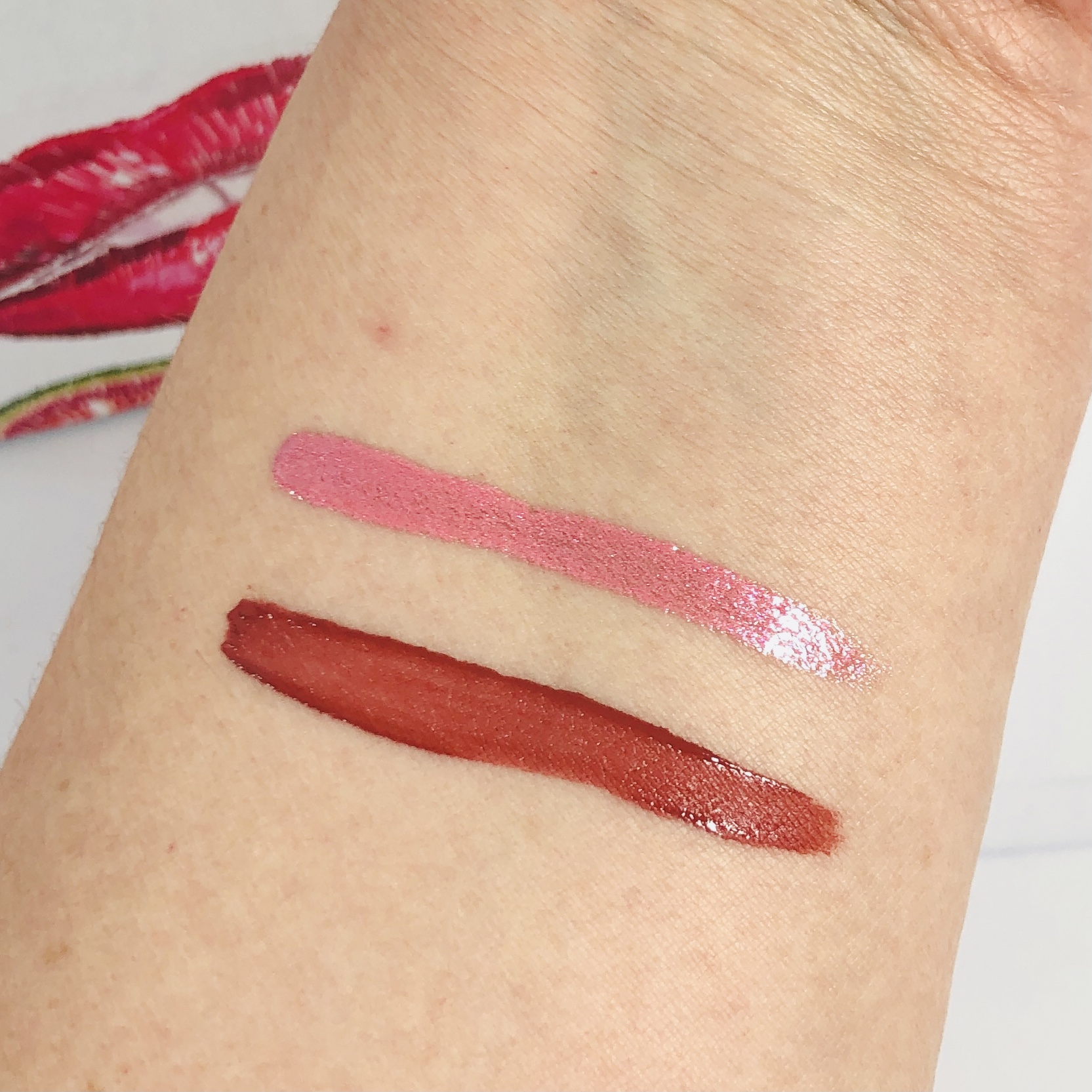 Swatched on top is the Runway Rogue shimmery gloss and on the bottom is the Bellápierre.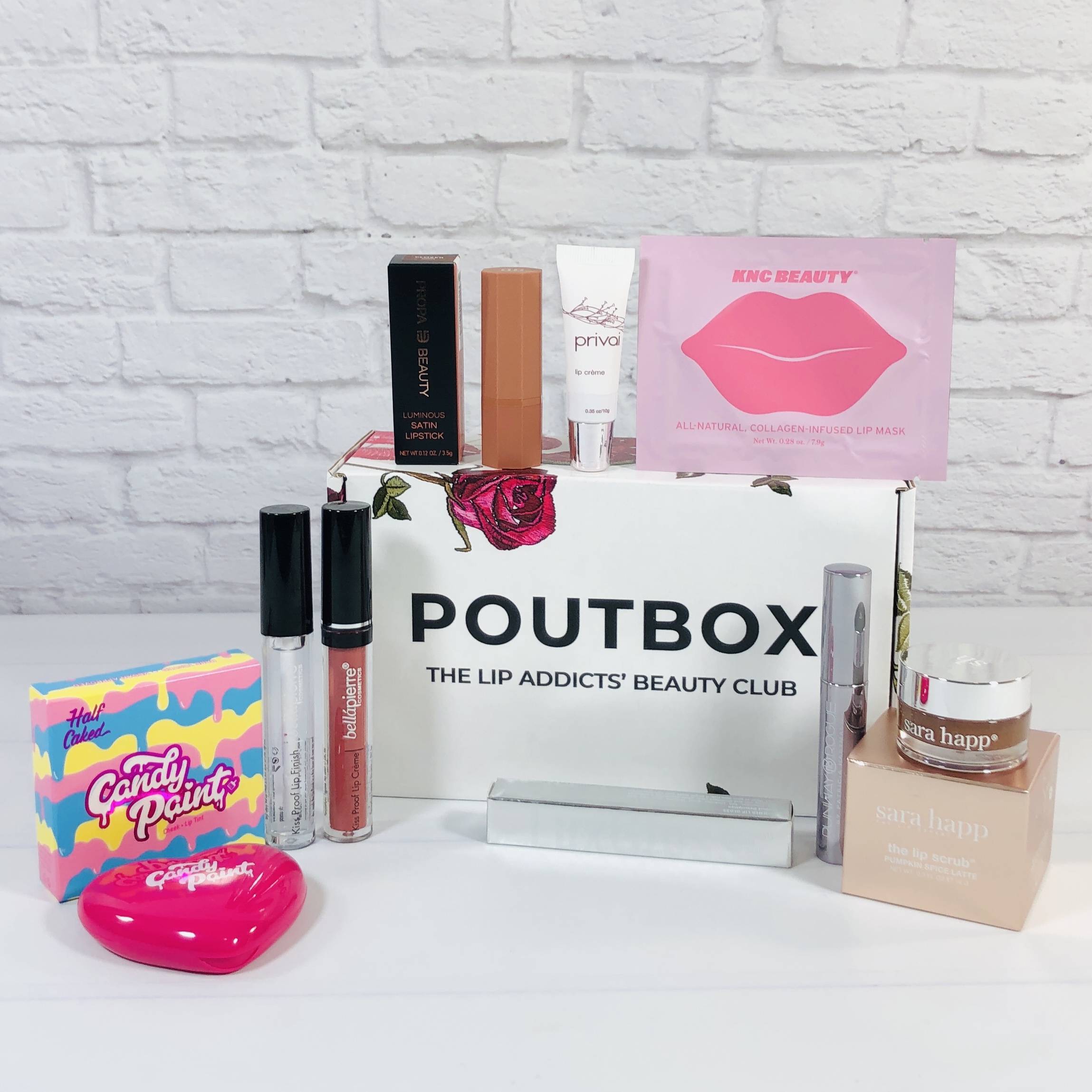 I have so many new lips products to play with thanks to Poutbox! I had so much fun trying everything, they sent a really cool assortment and I was happy with the performance of each of these products. Some of the colors were different than what I might choose for myself but I actually enjoyed wearing them and it gave me a gentle nudge out of my comfort zone. They weren't too out there, nothing off the wall. My lips felt fully pampered, with a scrub and a mask starting things off. The lip balm is perfect any time of day, and the rest of the products helped me breeze through a gloomy month. I wear lipstick every day, even under my mask, because I know it's there even if no one else does. Since I'm at home most of the time anyways I have been trying out bolder looks than I might wear out in public. I believe most of these brands were new to me so it was exciting to see something new and different in the box. My box had a value of around $113!
What do you think of this box?